bobspirko.ca | Home | Canada Trips | US Trips | Hiking | Snowshoeing | MAP | About

Mount Backus
Castle Provincial Park, Alberta
March 15, 2014
Distance: 5.6 km
Cumulative Elevation Gain: 460 m
Mount Backus never held much appeal to me. The mountain seemed too treed and too small to hike, hardly worth the two-hour-plus drive to get there. Then I saw Dave McMurray's amusing snowshoe attempt. With few safe objectives during a high-avalanche-risk period, gentle Backus beckoned as a worthwhile snowshoe trip.
The logical route takes the curved southwest ridge, but I planned a more direct approach, one that would incur some elevation loss but would pass through thin tree cover. I was dissuaded from following the entire ridge after I noticed much of it appeared thickly treed on Google Earth.
After stopping at the little general store in Beaver Mines, Sonny, Dinah and I drove 9.2 km down Hwy. 774 to a pullout next to a labyrinth of wooden fences, likely an old cattle corral (we were, though, on public land). After crossing the road and clambering over a gate and a fence, we snowshoed through aspens, crossed a clearing and then ascended a wooded ridge, actually the end of the southwest ridge.
Sticking to our plan, we dropped nearly 50 m down the other side of the ridge into a pleasant open valley. After starting up the other side, our course became more interesting. We snowshoed through sparse trees punctuated with delightful little glades. Not only did the clearings offer good views of the mountains behind us, but they made travel easy. In trees, our snowshoes frequently punched through the weak snow crust, whereas in clearings they barely dented the sun-hardened crust. And throughout our trip, except when we went over the ridge, we encountered very little deadfall.
We regained the ridge 700 m before the summit. Still mostly in trees, we made our way to a clearing where we could view the bare top of Backus. A few minutes later, we dropped our snowshoes and tramped up grassy slopes to a cairn. Up until then, trees shielded us from the wind, but on top, we were buffeted by strong gusts. We soon retreated down to our snowshoes to have lunch.
It should have been easy to retrace our steps back to the car, but with temperatures rising in the afternoon, we often broke through the weakened snow crust. Sonny yelped when he found himself up to his crotch in a deep hole. We all became a little frustrated trying to stay on top of the snow crust on our descent and were glad when we reached the road. Indeed, returning to our car was one of the highlights of our trip. I'm kidding of course. Mount Backus didn't really have any highlights unless you consider the summit. But aside from the usual hardships that come with snowshoeing, it was a safe and enjoyable trip. Sometimes that's all you want.
Sonny Bou's Trip Report
KML and GPX Tracks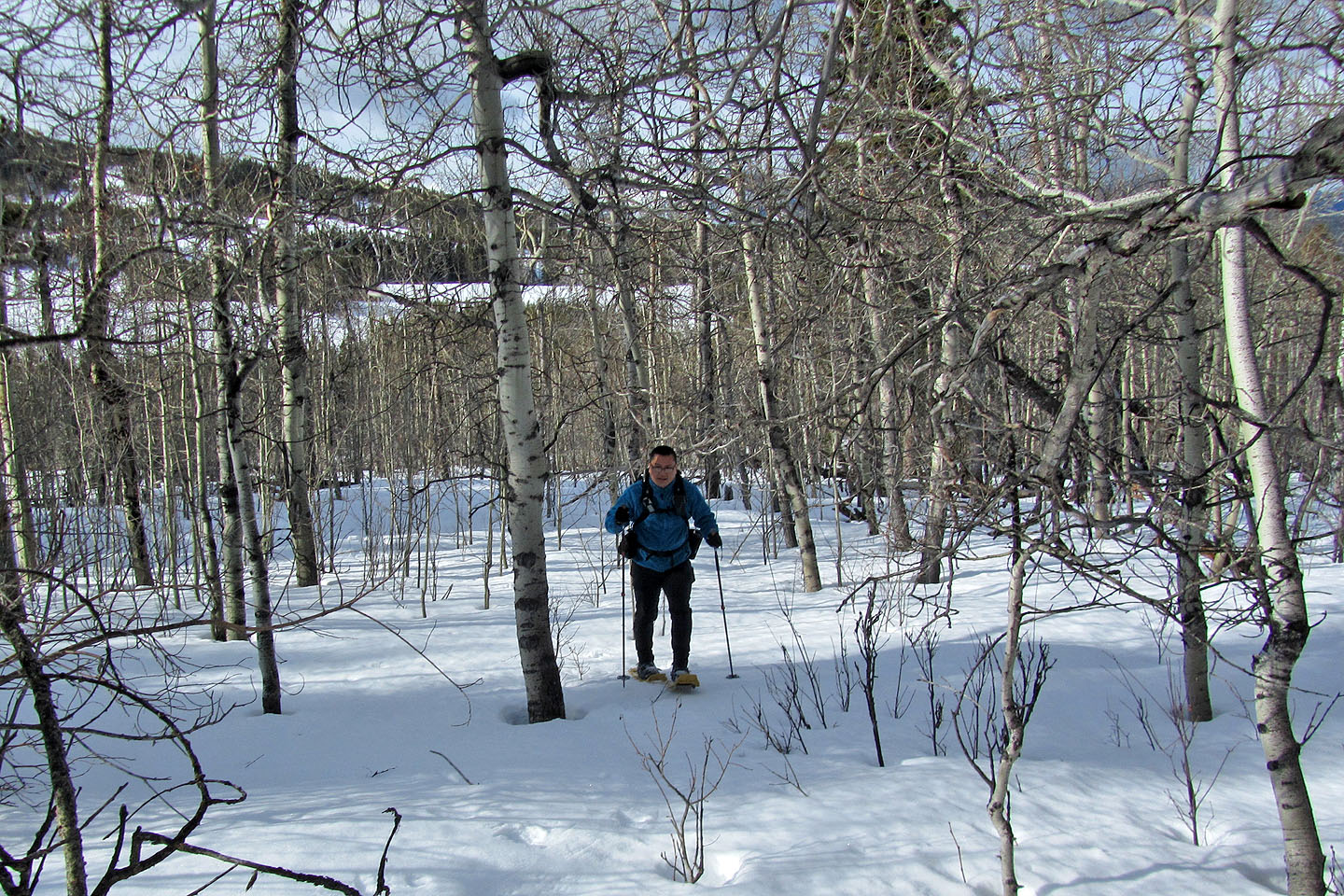 Starting through the aspens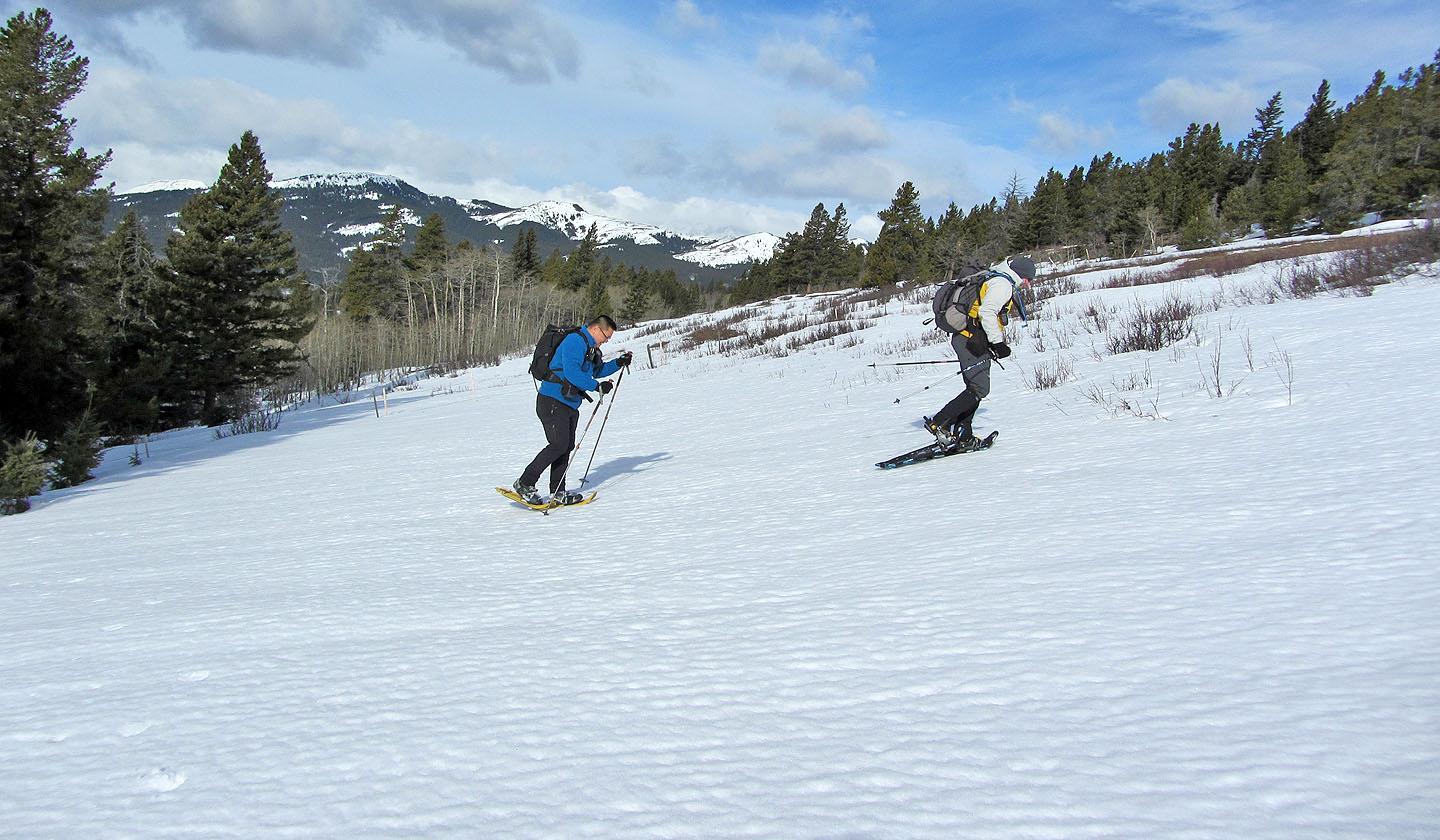 Crossing a clearing near the start of our trip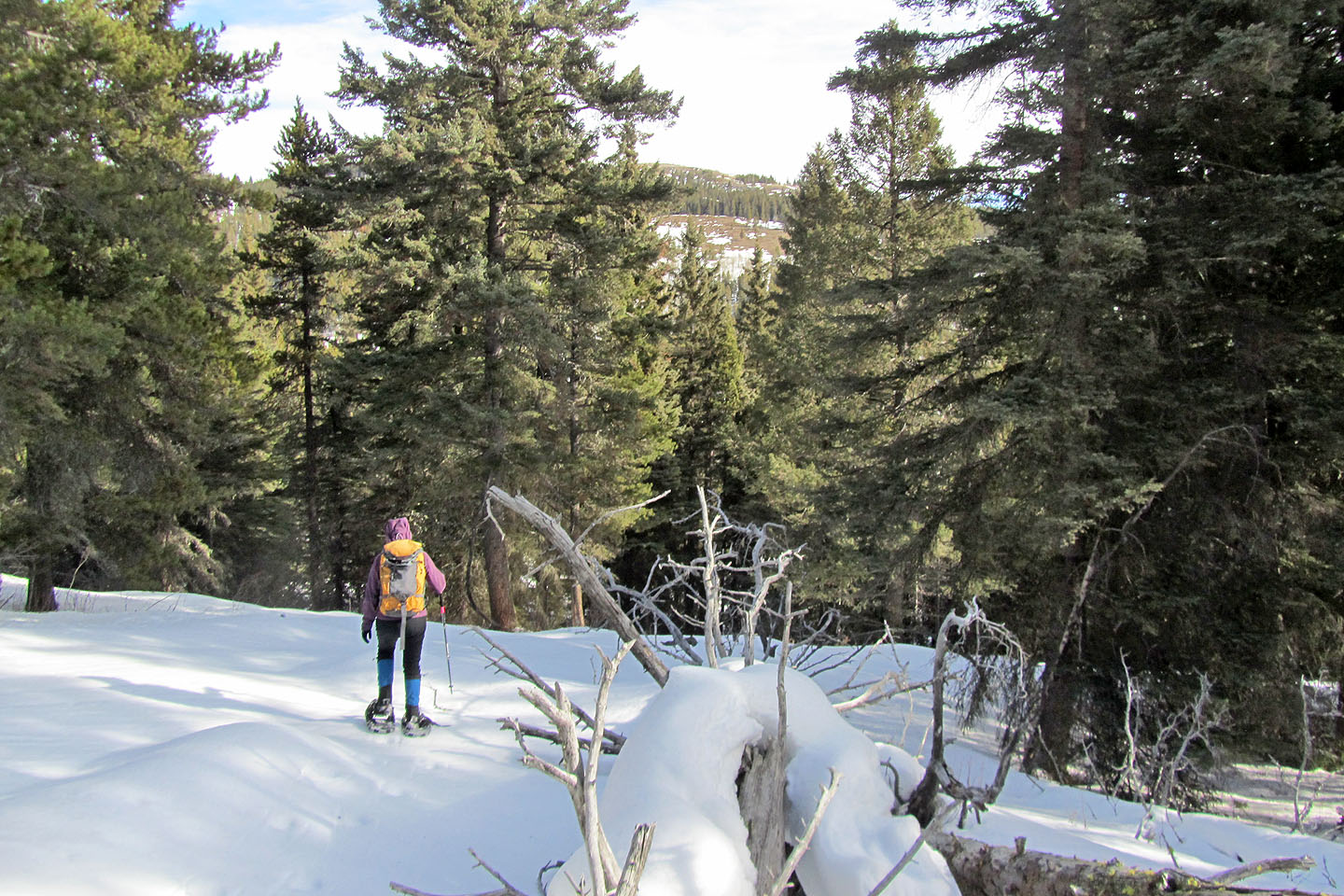 Going over the ridge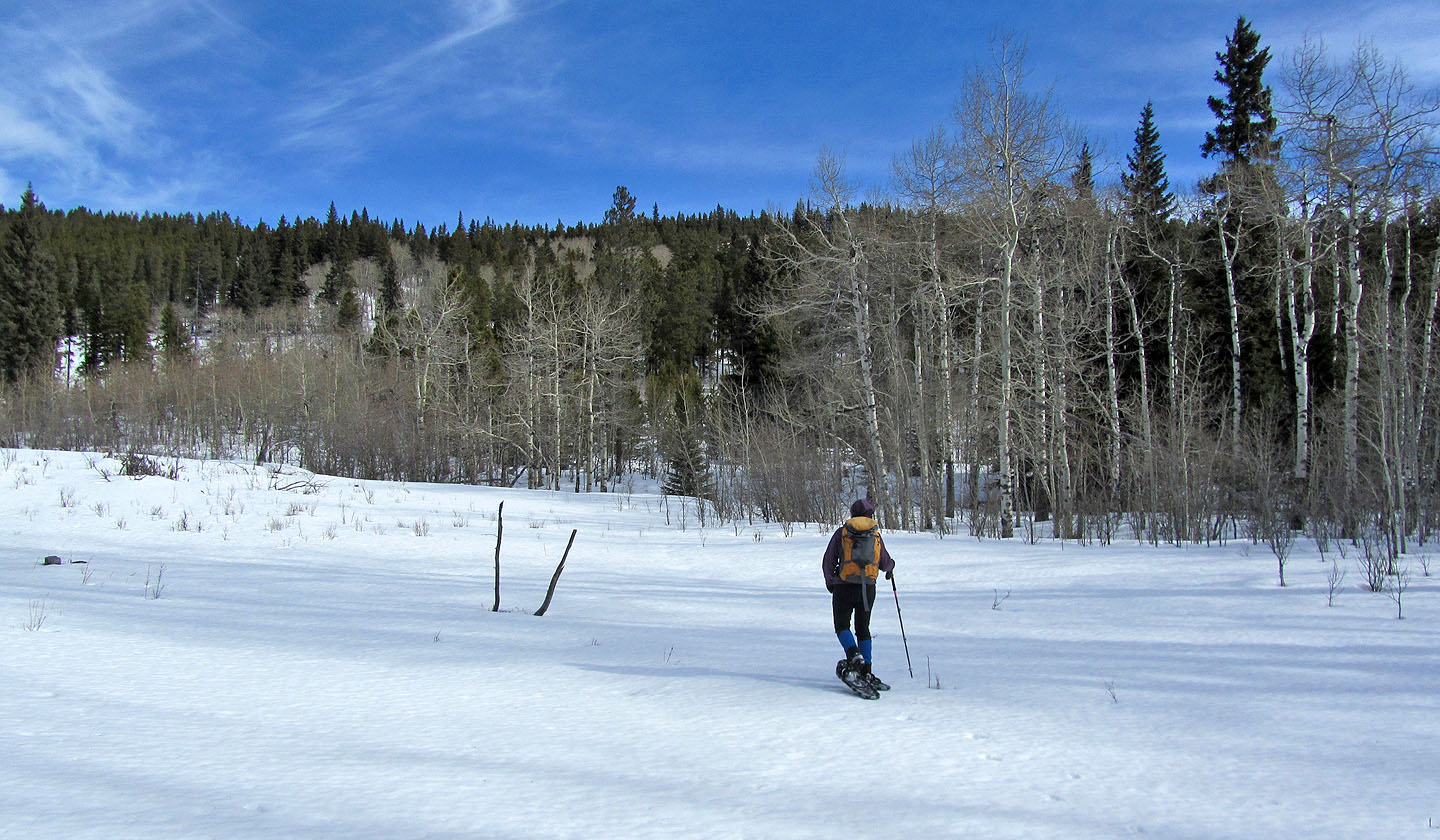 Crossing the valley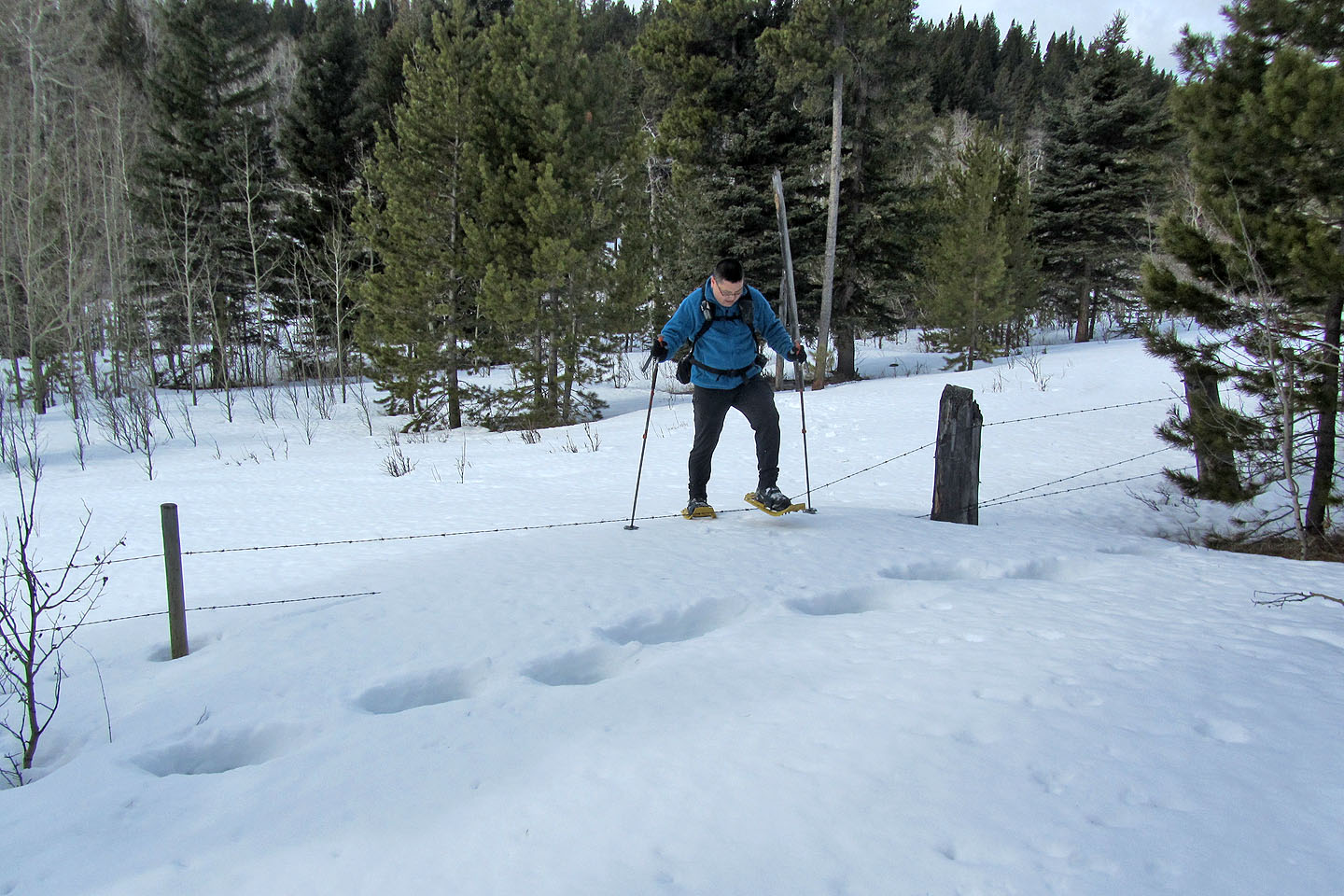 Sonny steps over a barbwire fence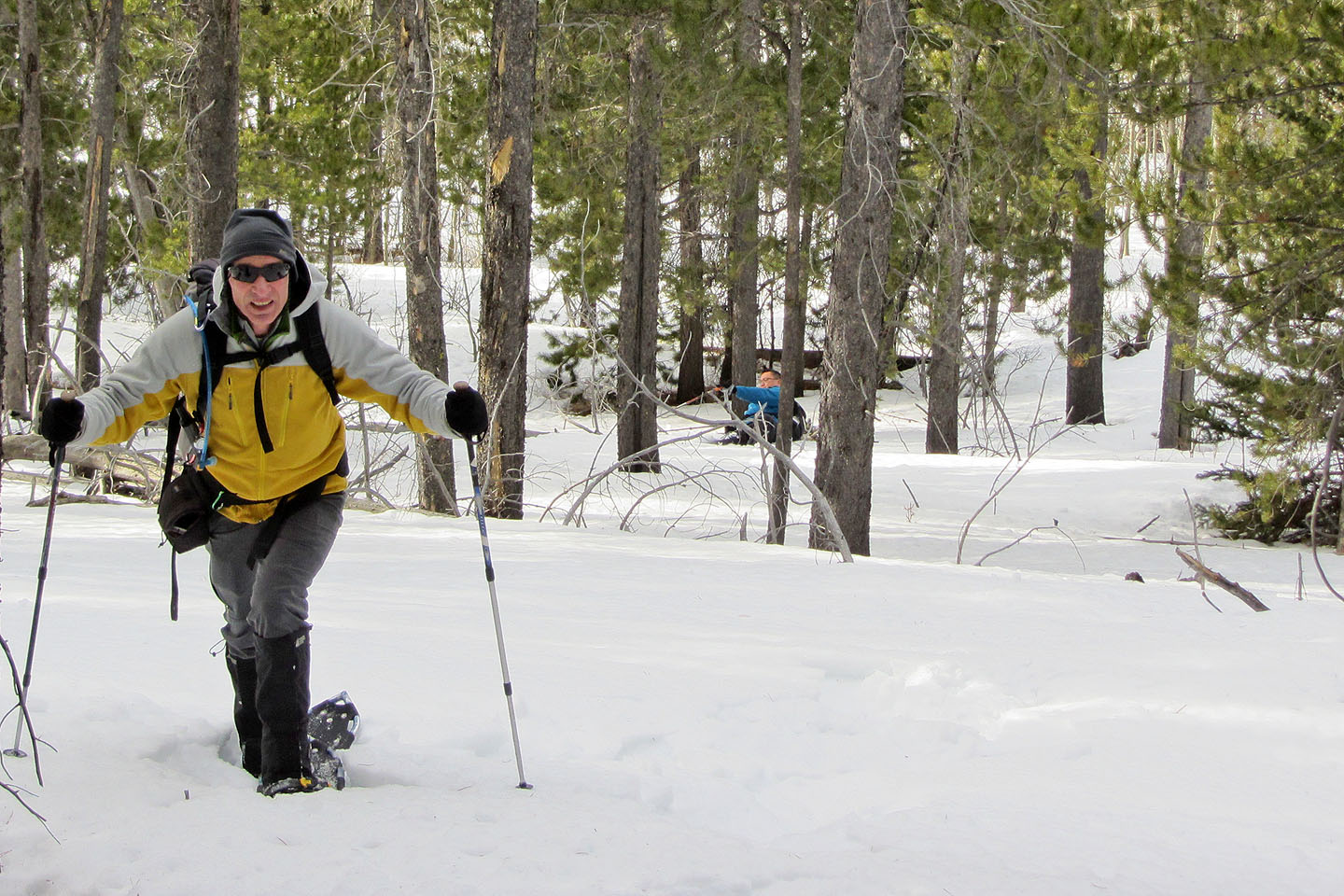 We all had our share of falls. Behind me, Sonny tripped soon after we left the valley.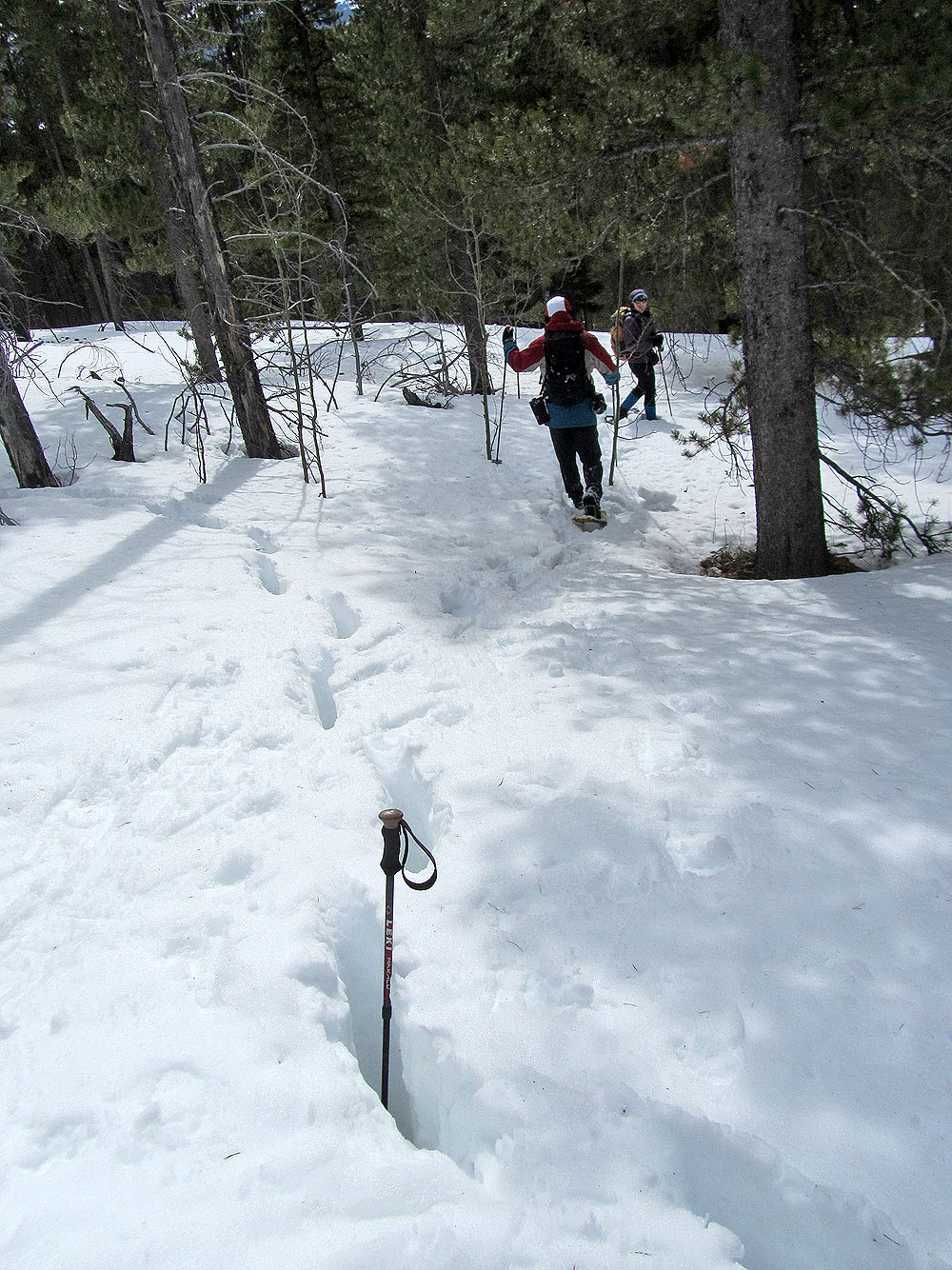 I dropped my pole in an animal track to show the snow depth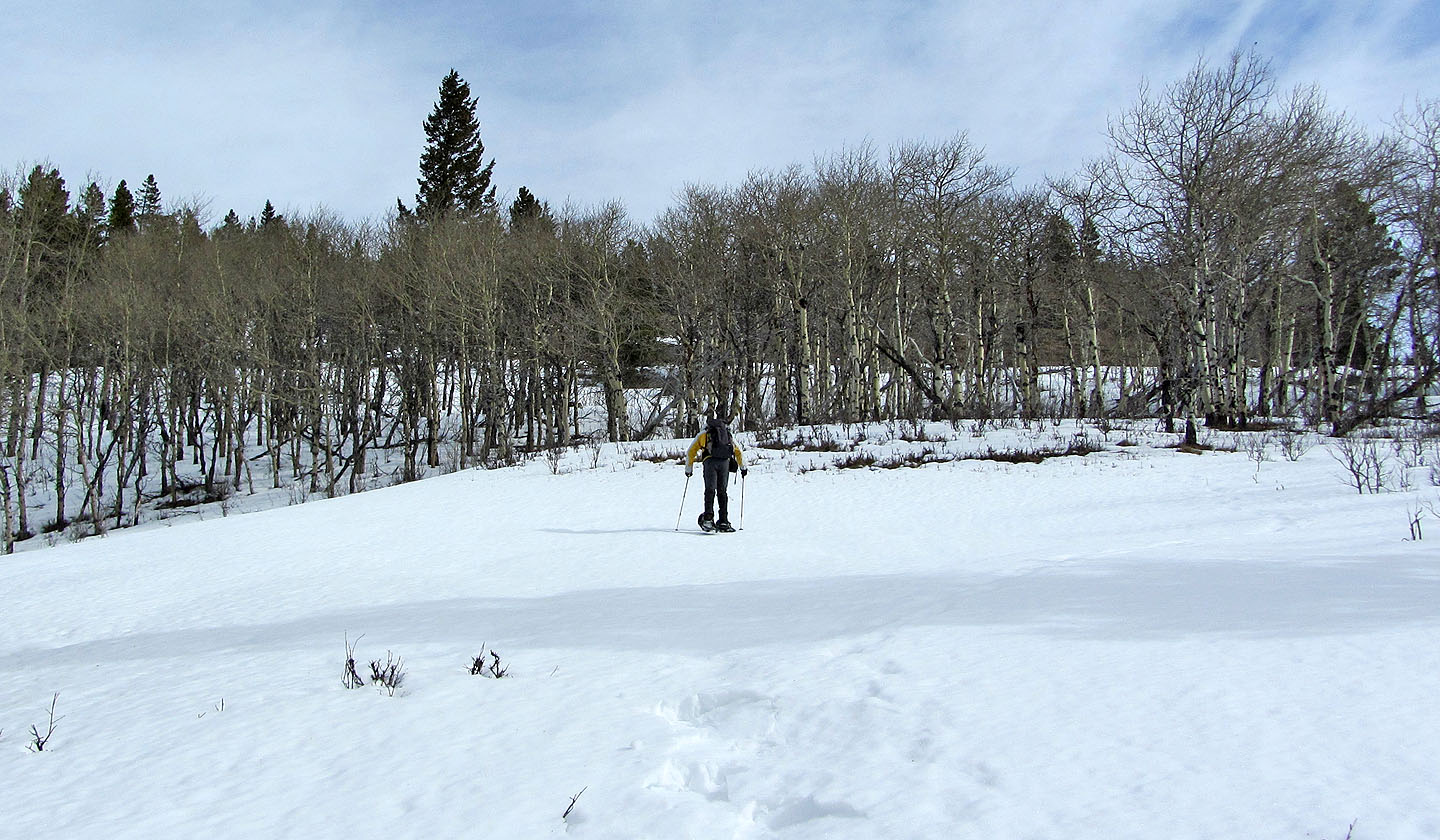 Crossing one of several glades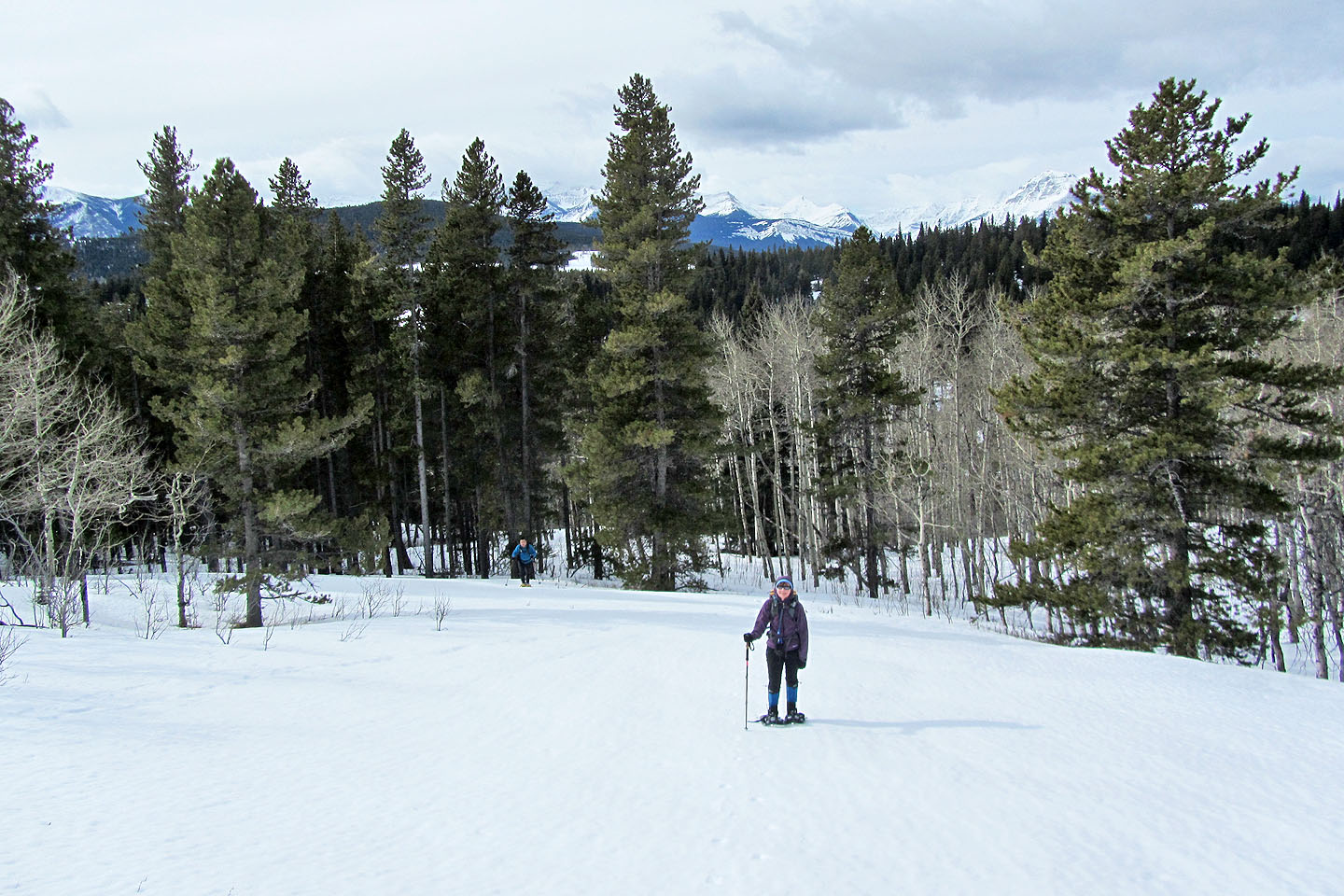 In clearings, our snowshoes barely left marks in the hard snow crust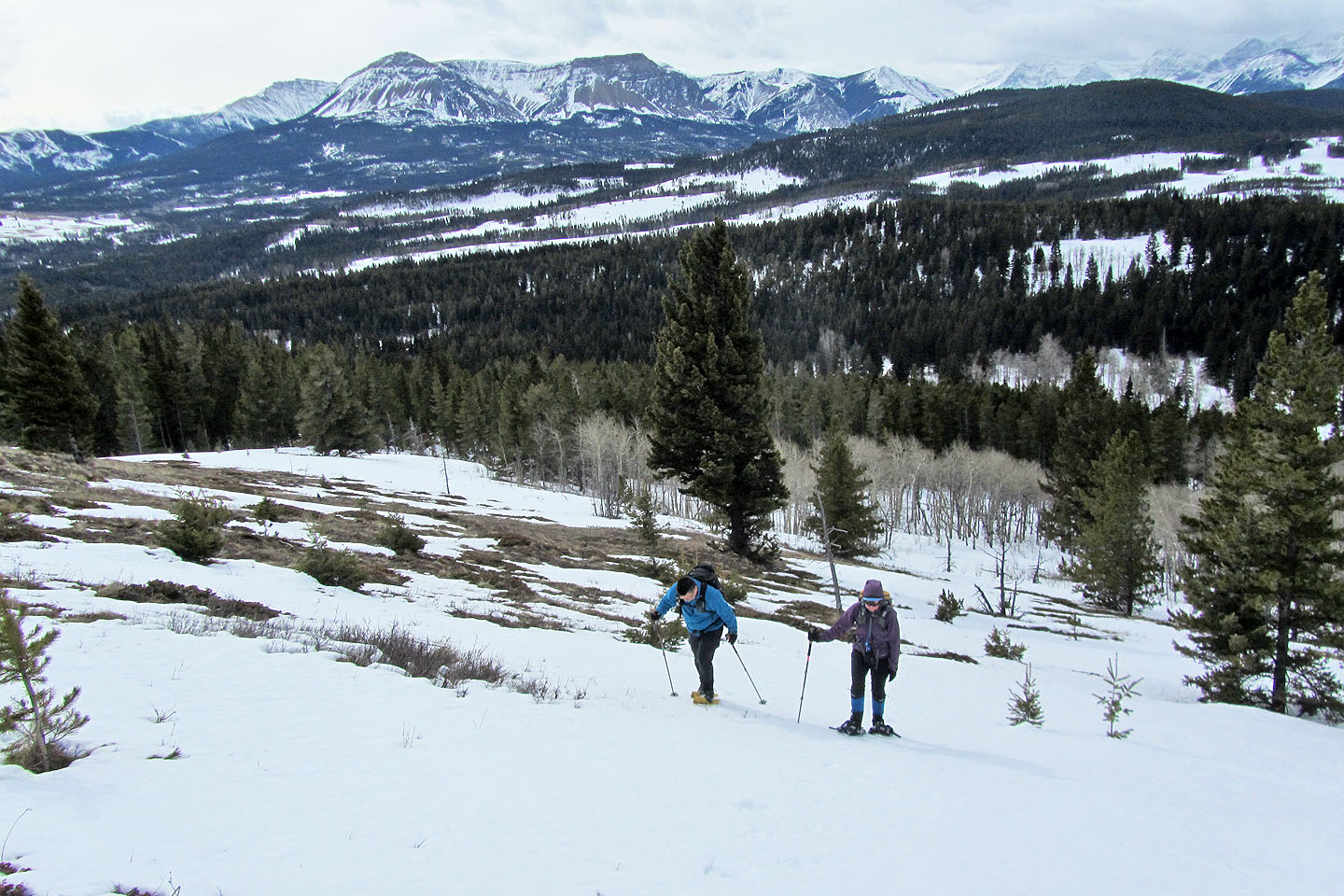 Table Mountain in the background (mouse over for a close-up)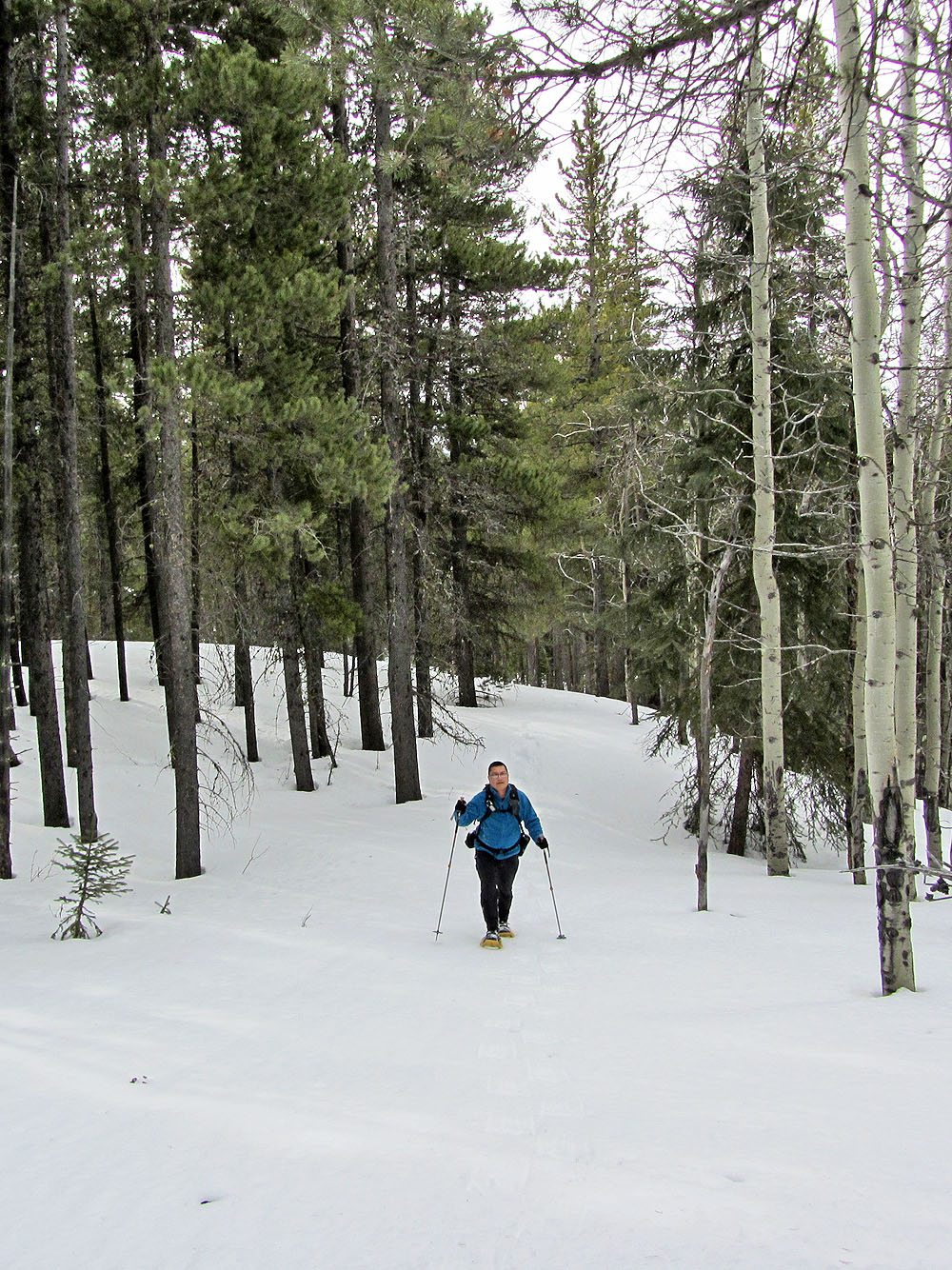 Even in the trees snowshoeing was usually easy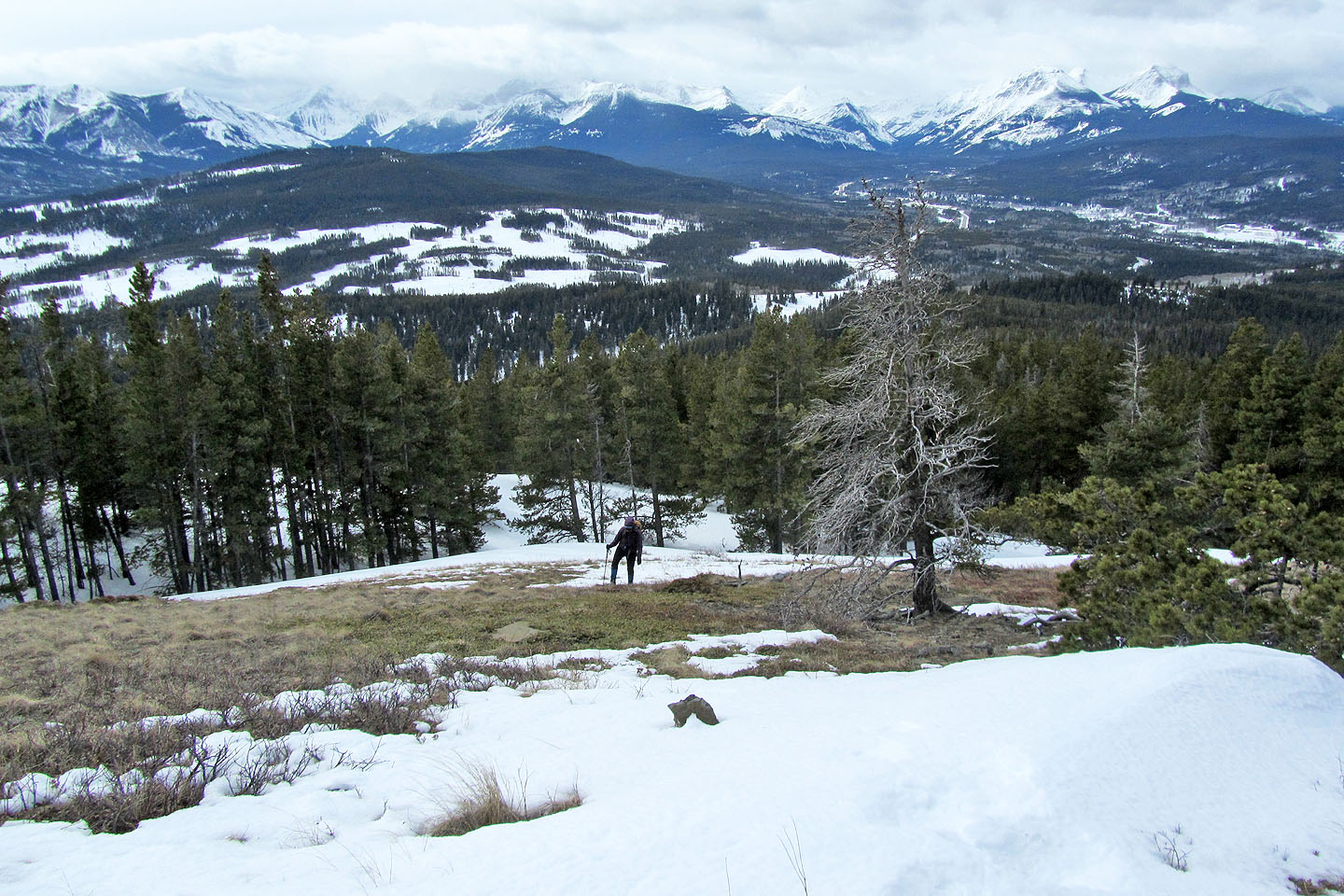 Syncline Mountain on the far right (mouse over)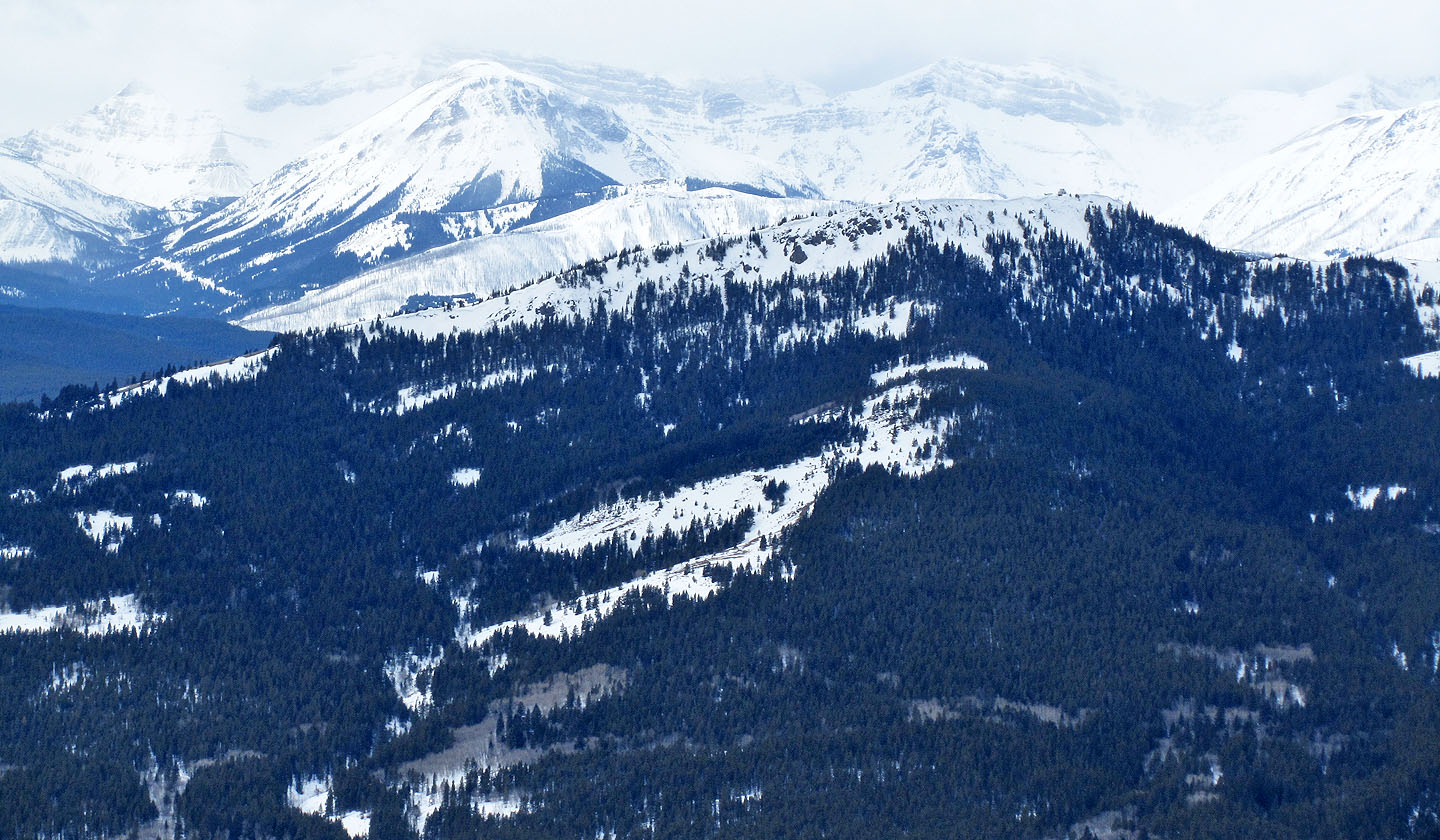 Carbondale Lookout in the foreground (mouse over)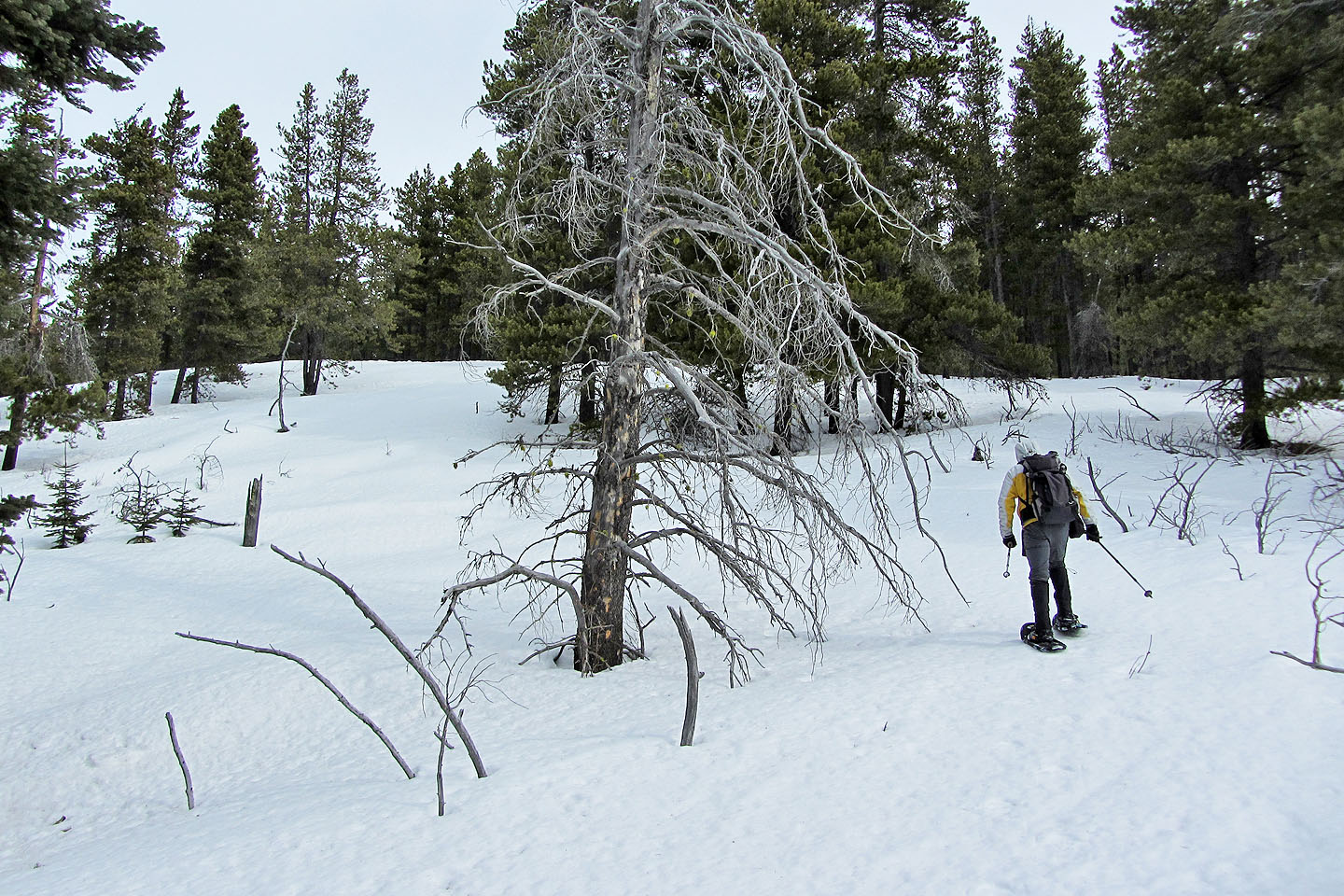 Approaching the ridge crest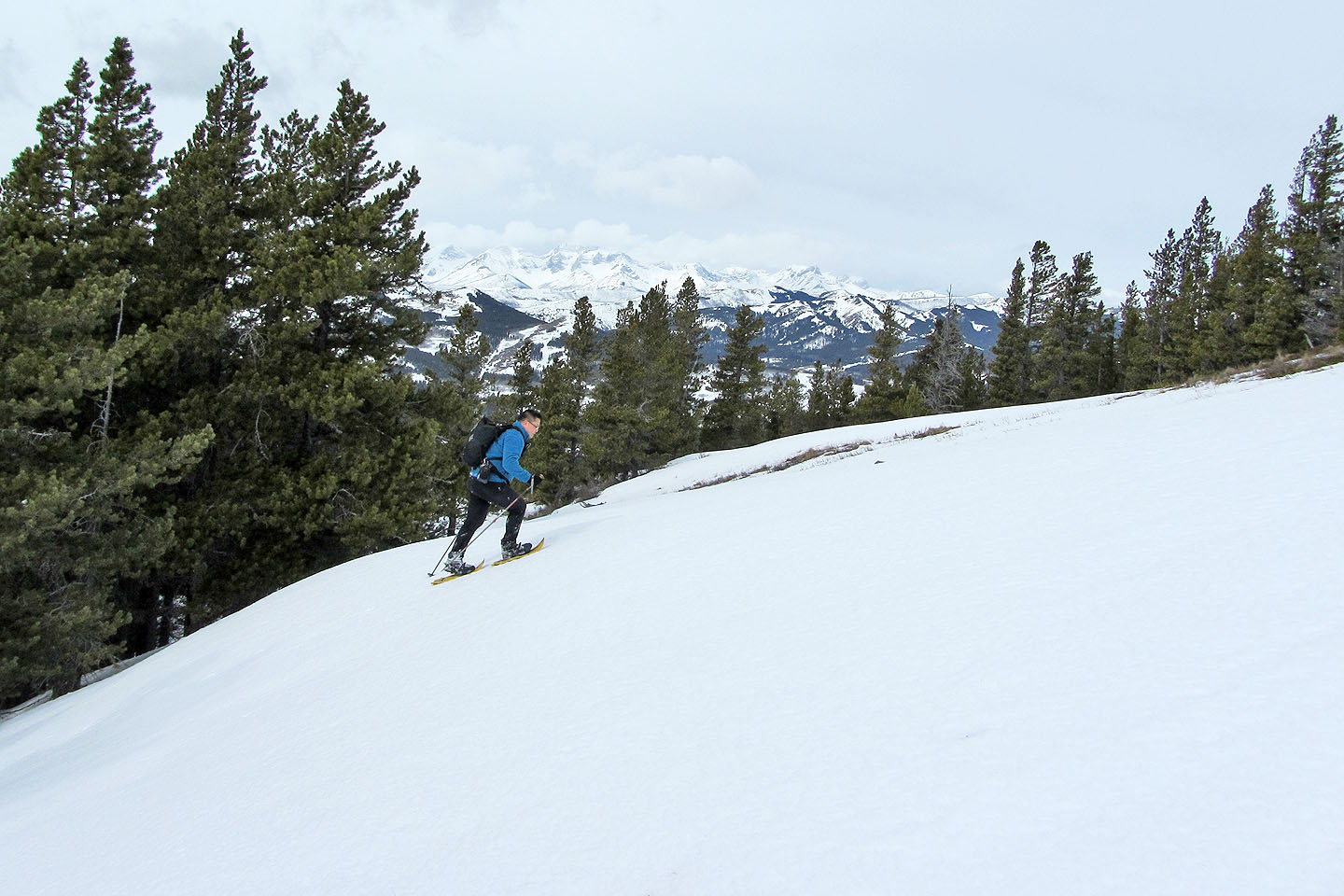 From an opening on the ridge crest, we got a view of the peaks to the northeast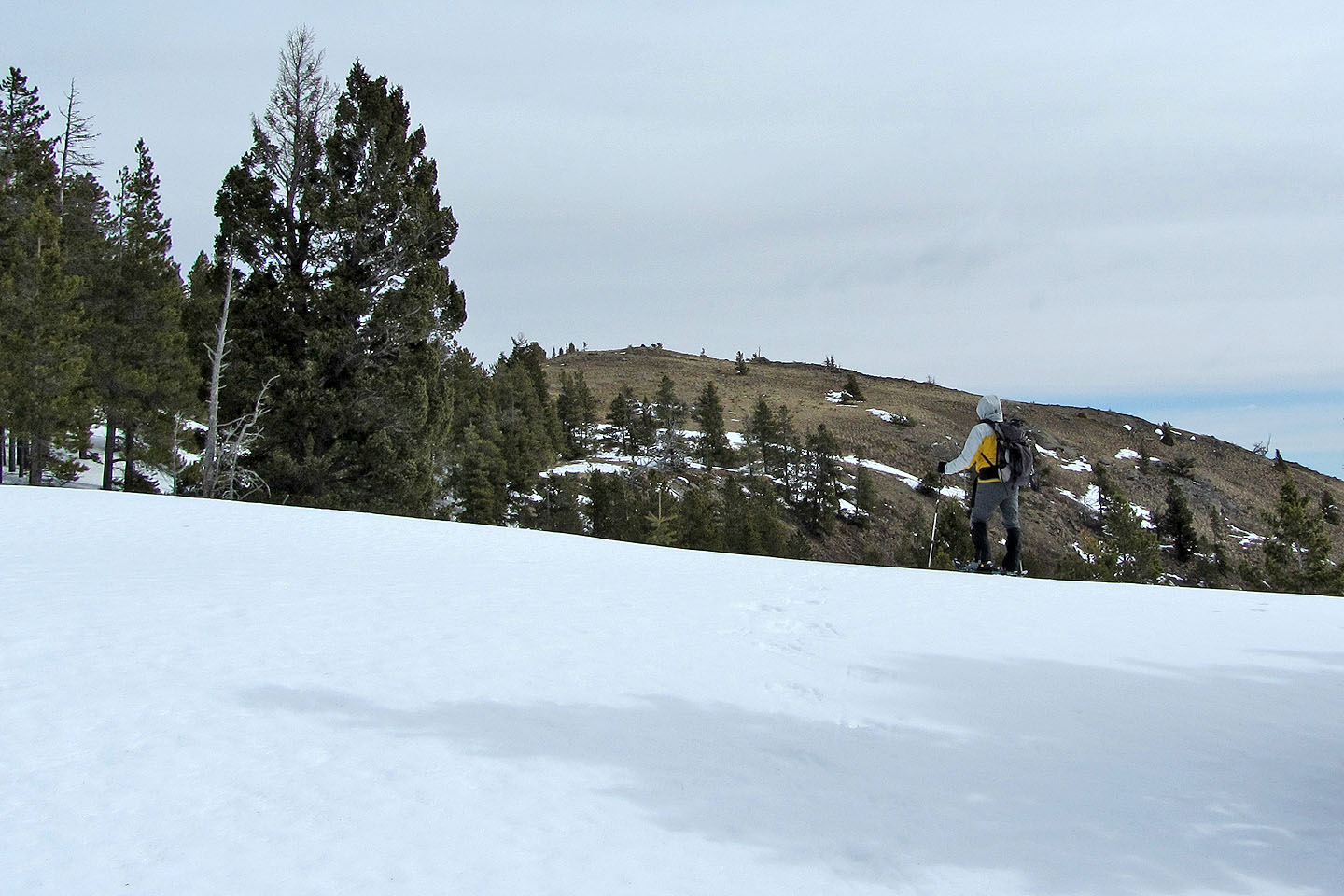 Looking at the snow-free summit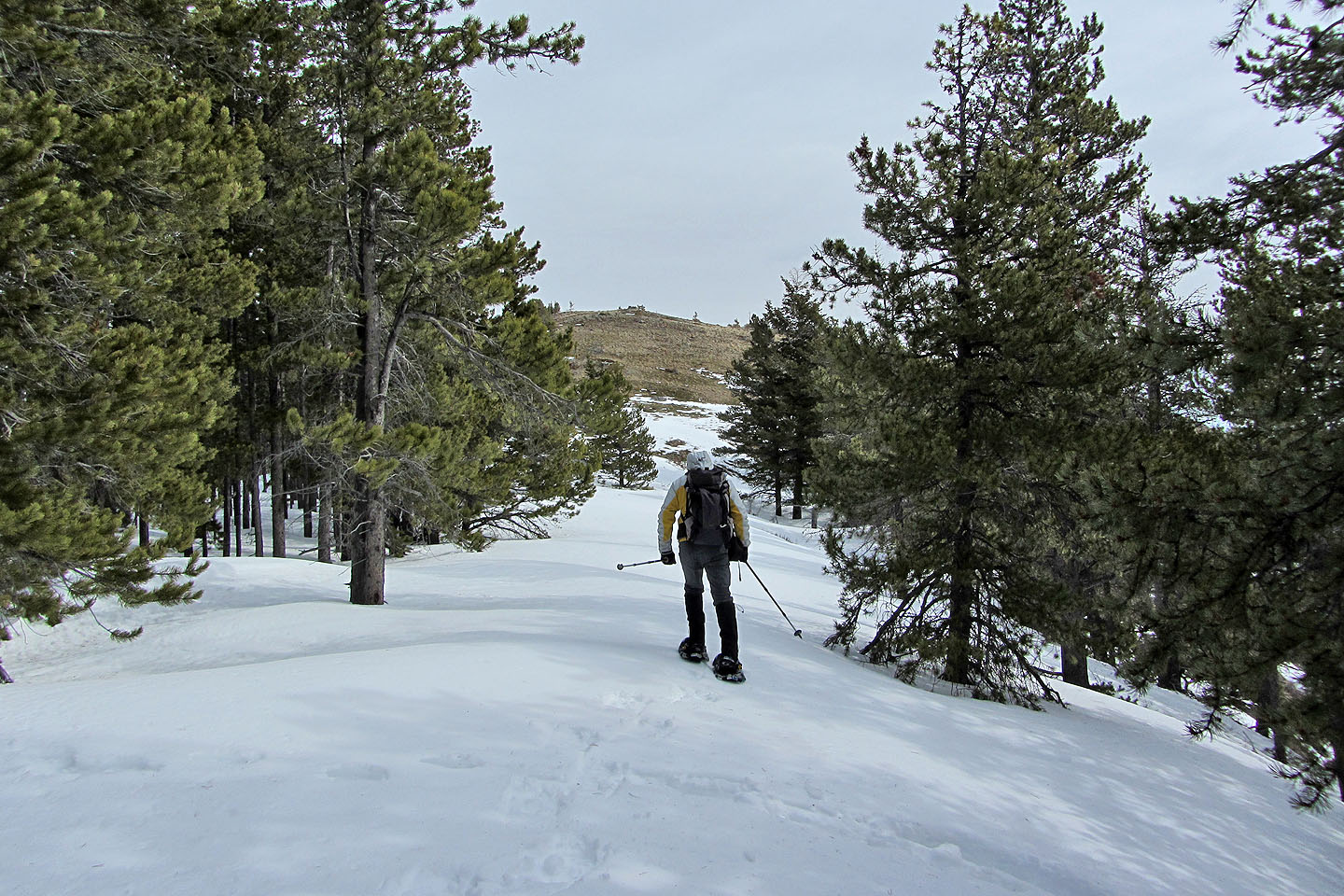 A corridor through the trees leads to the top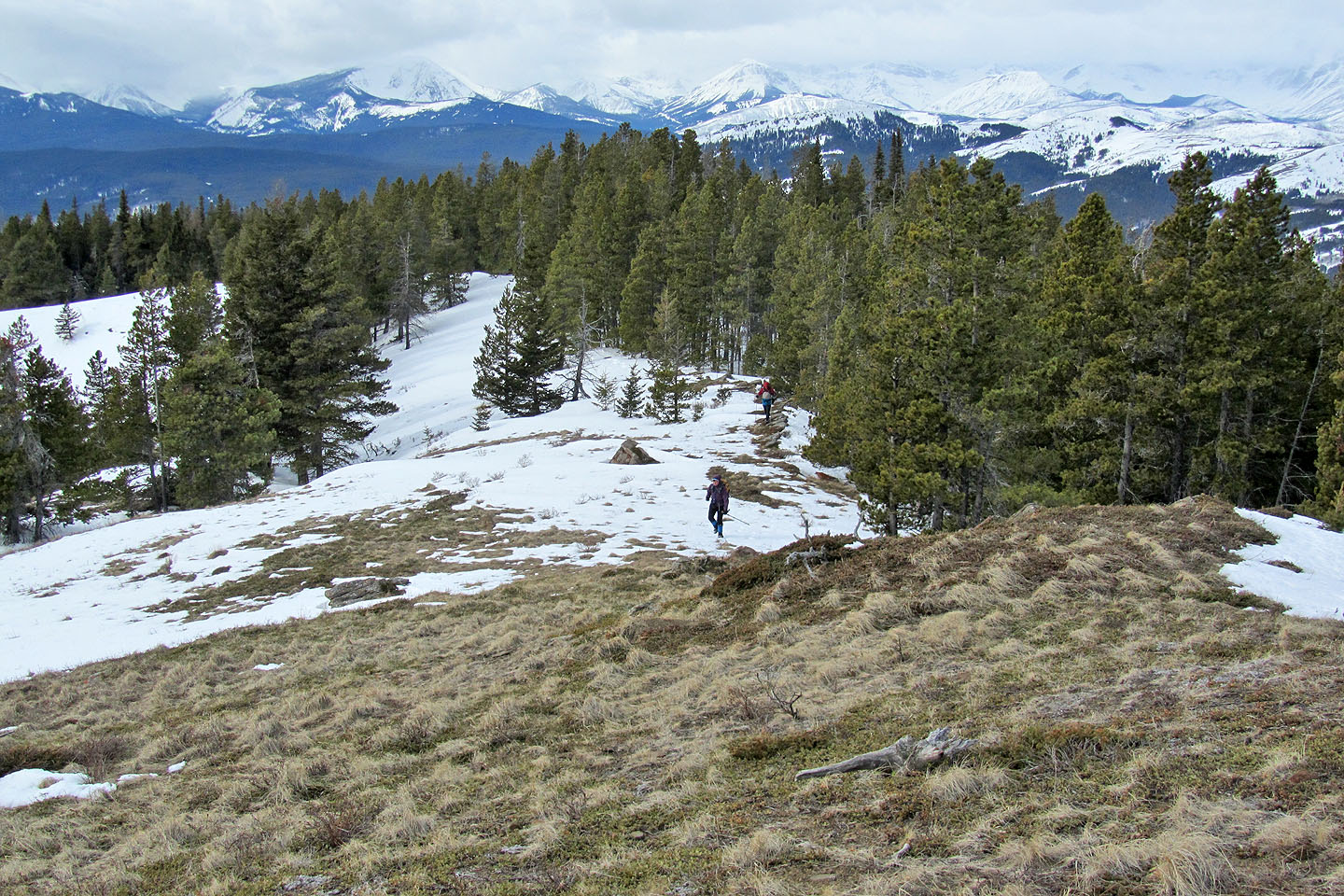 After removing our snowshoes we walked 150 m to the summit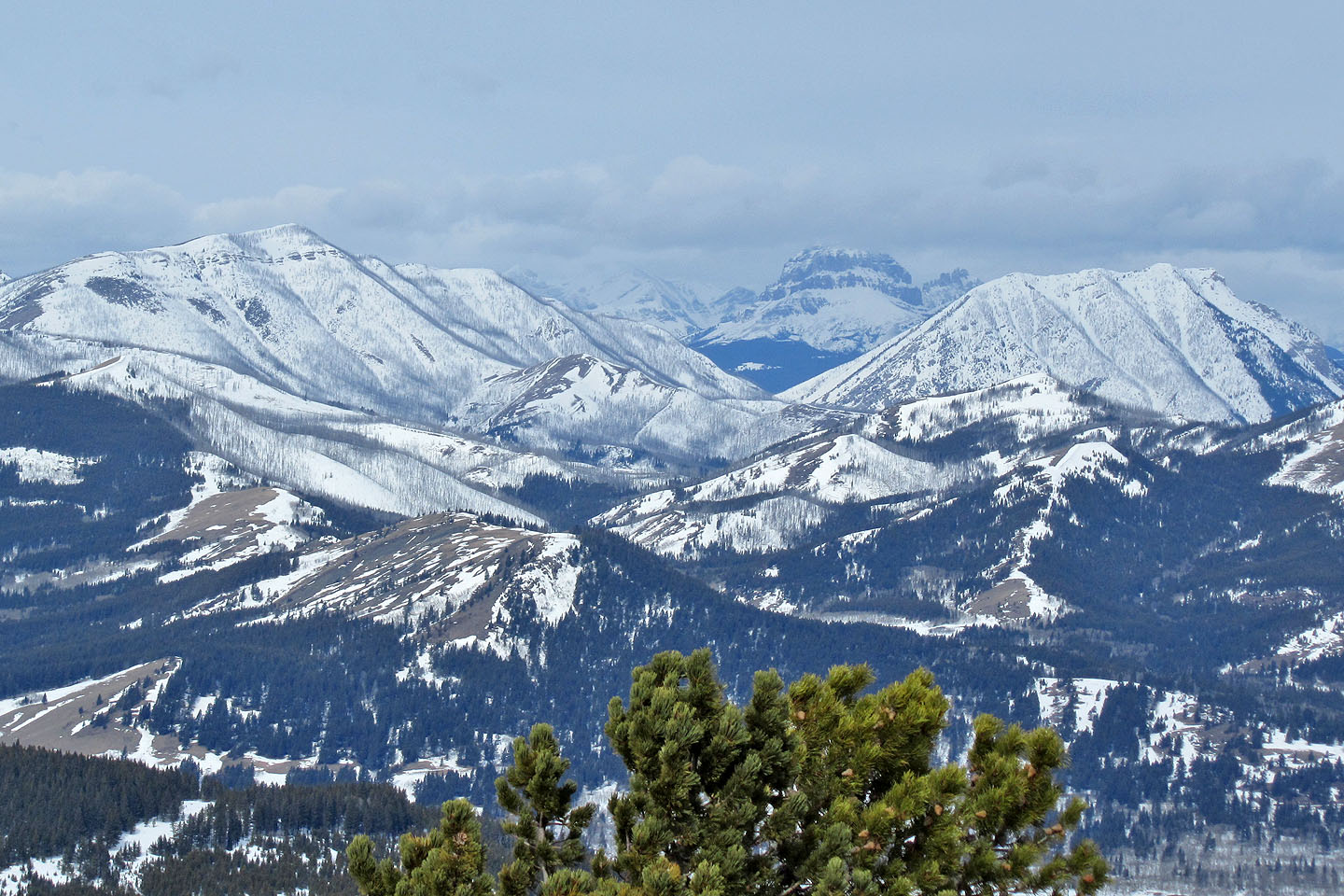 From the summit, Crowsnest Mountain appears to rise between Hillcrest Mountain and Turtle Mountain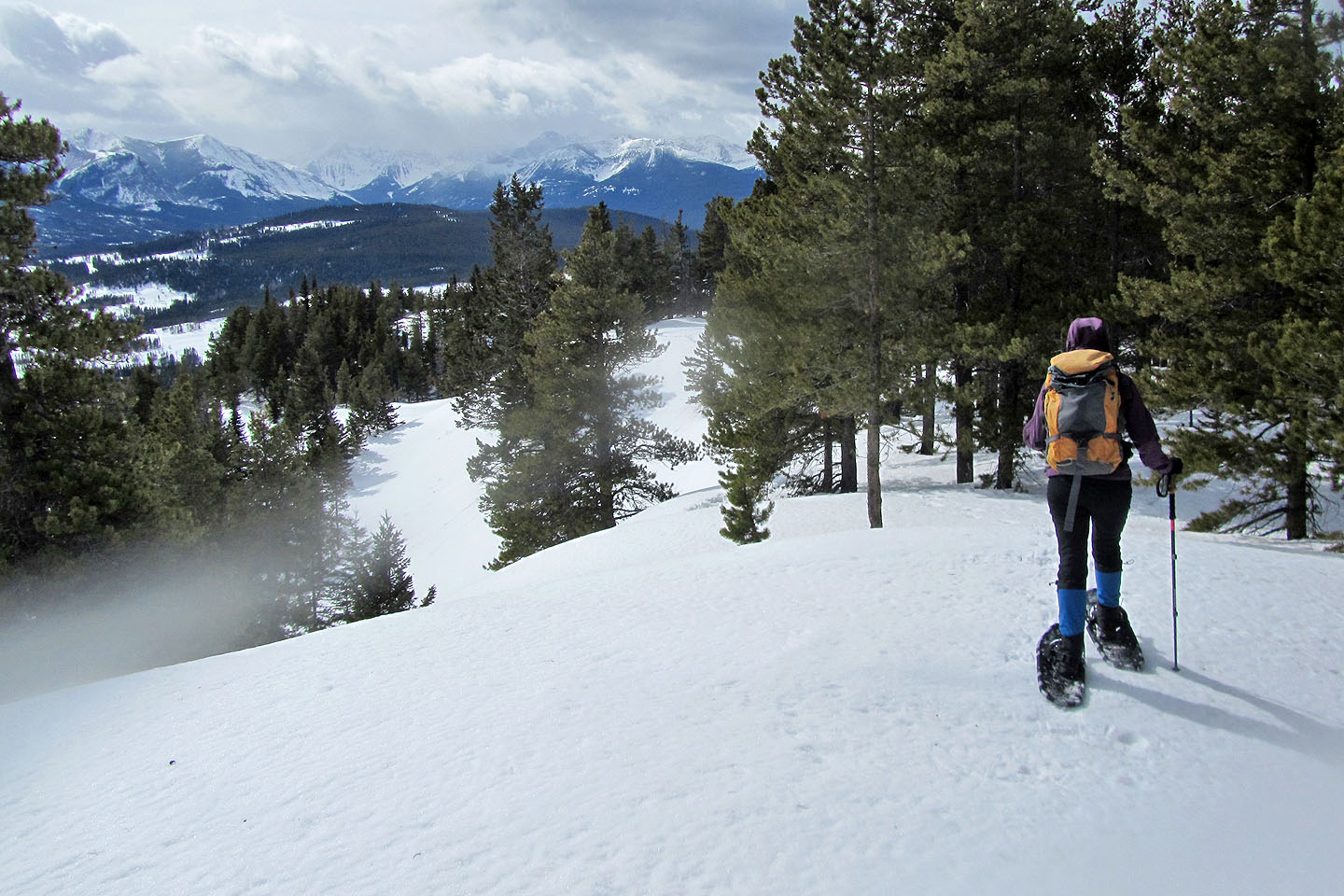 Heading down from the summit, wind kicks up some snow (left)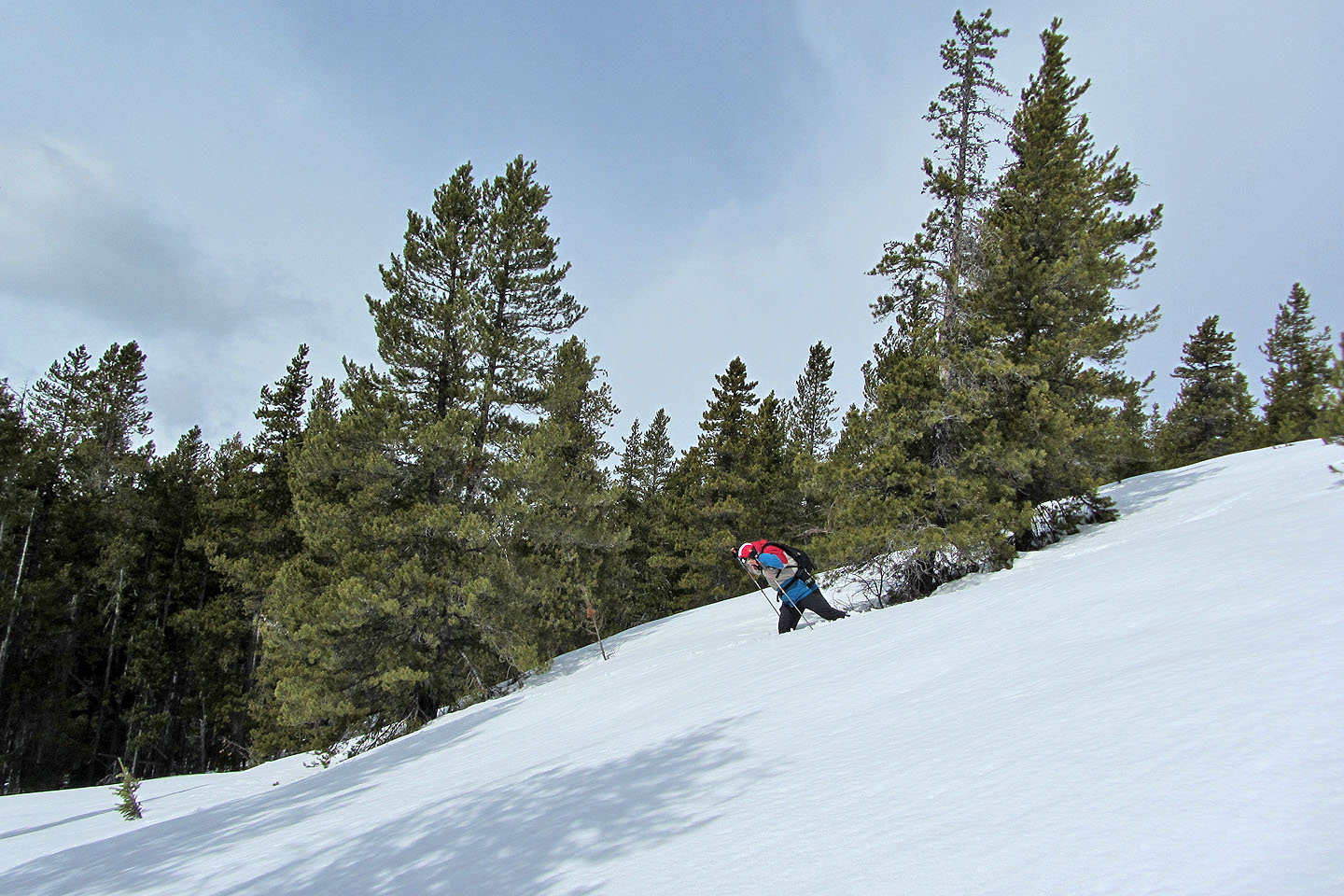 Sonny sinks to his knees in the softening snow on our return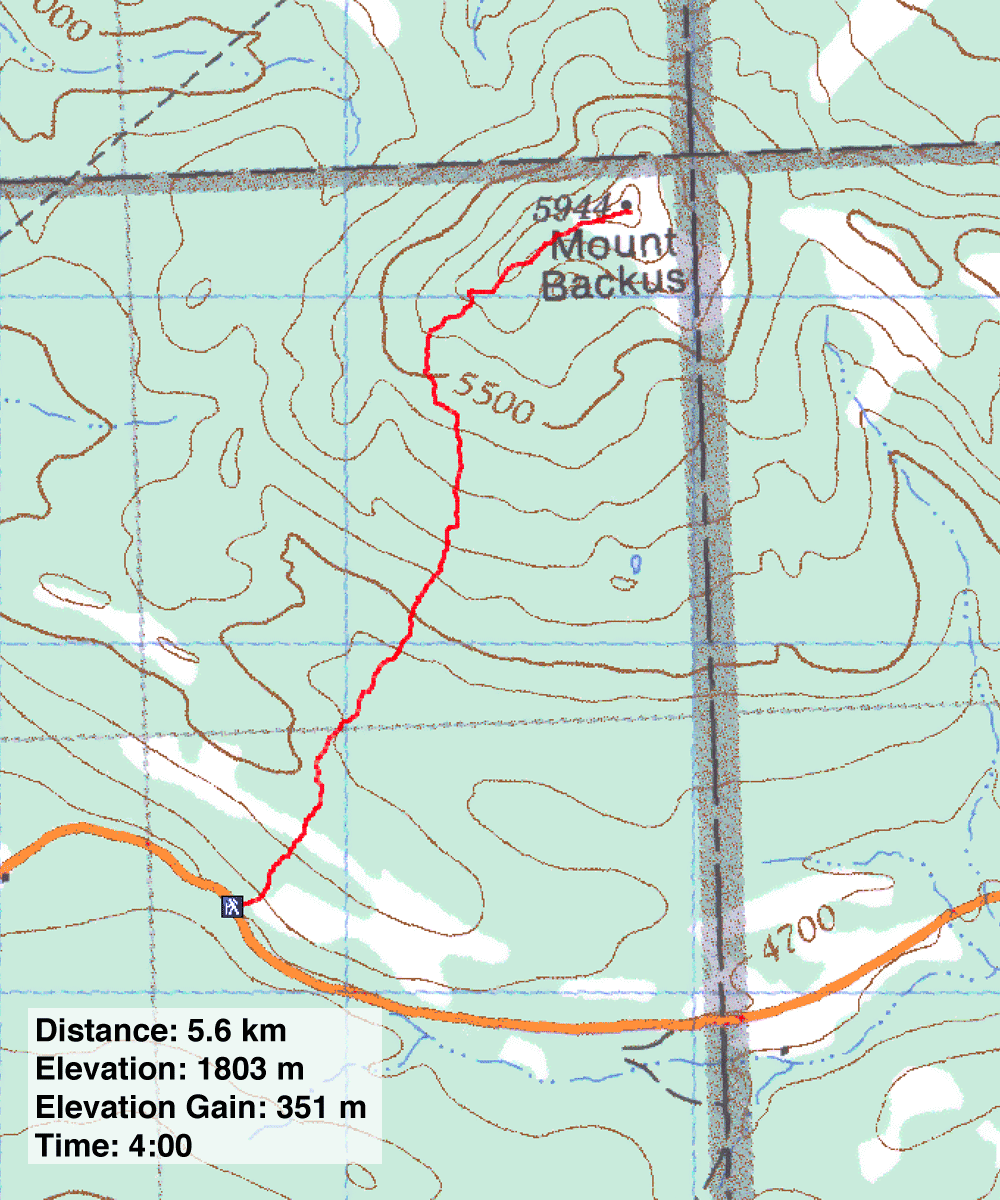 82 G/8 Beaver Mines