bobspirko.ca | Home | Canada Trips | US Trips | Hiking | Snowshoeing | MAP | About

Crowsnest Mountain
Crowsnest Pass, Alberta
September 2, 2007
Distance: 8.2 m
Cumulative Elevation Gain: 1086 m
Although I had climbed Crowsnest Mountain 6 years ago, I offered to take Dinah and Bernd Wagner up as neither had done it. Dinah and I had only met Bernd the previous day on Wedge Mountain, but he proved to be an interesting character.
Bernd has written 18 guidebooks for his native country Germany and was in Western Canada researching another guidebook. He's also extremely fit. After doing Wedge Mountain the day before, he climbed Turtle Mountain in a couple of hours: an hour and a half up and 35 minutes down. I wasn't surprised as he is an ultra-marathoner capable of running 70 km a day on consecutive days. He related interesting details of some of his races and explained his next race is a run across Europe: a 4,500 km journey that will take 64 days, averaging 70 km a day. (A search on the Internet came up with his name and photo as participant #10 for the 2009 Trans Europe Foot Race.)
For Crowsnest Mountain, Dinah and I met Bernd at the trailhead. Less than an hour after starting up the trail, we were above the treeline hiking on a scree trail. Here Bernd had difficulties on the loose rock. When traveling in North America, he takes old boots and equipment – he's never had anything stolen. However, his worn, light hiking boots provided poor traction on loose rock. Nor did he have trekking poles. (I offered him the use of one of my poles, but he declined.) Despite his ungainliness on scree, it was evident Bernd enjoyed climbing Crowsnest Mountain.
After scrambling up the first cliff band, Bernd was concerned about finding our way down so he built a "stein mann" or "stone man," what we call a "cairn."
After reaching the top of a long scree slope, we scrambled easily up a cliff band and angled left to the long gully that would take us up through the second cliff band. We took advantage of the chain at the end of the gully to gain the trail on the gentle slope above.
The grade on the slope soon increased, and when we came to a fork, we went right which would take us directly under the summit. The trail, however, disappeared. Continuing meant ascending a steep slope of loose rock, so Dinah and I worked our way left until we found a trail. We followed it easily to the summit. Meanwhile, Bernd scrambled up the loose rock slope and eventually joined us on top. By his slow progress, it was evident he was having difficulties. The trail is certainly the easiest and safest way up the mountain and everyone should stay on it.
We spent about an hour on the summit, much of it chatting with a couple from Montana – the only other people we saw on the mountain – before starting down.
On our descent, Bernd didn't think that Crowsnest Mountain should go into his guidebook (he showed me one of his books and it deals with hikes, museums, historical sites and the like). But when we reached the trailhead, he had a change of heart and said he wanted to add it to his book after all!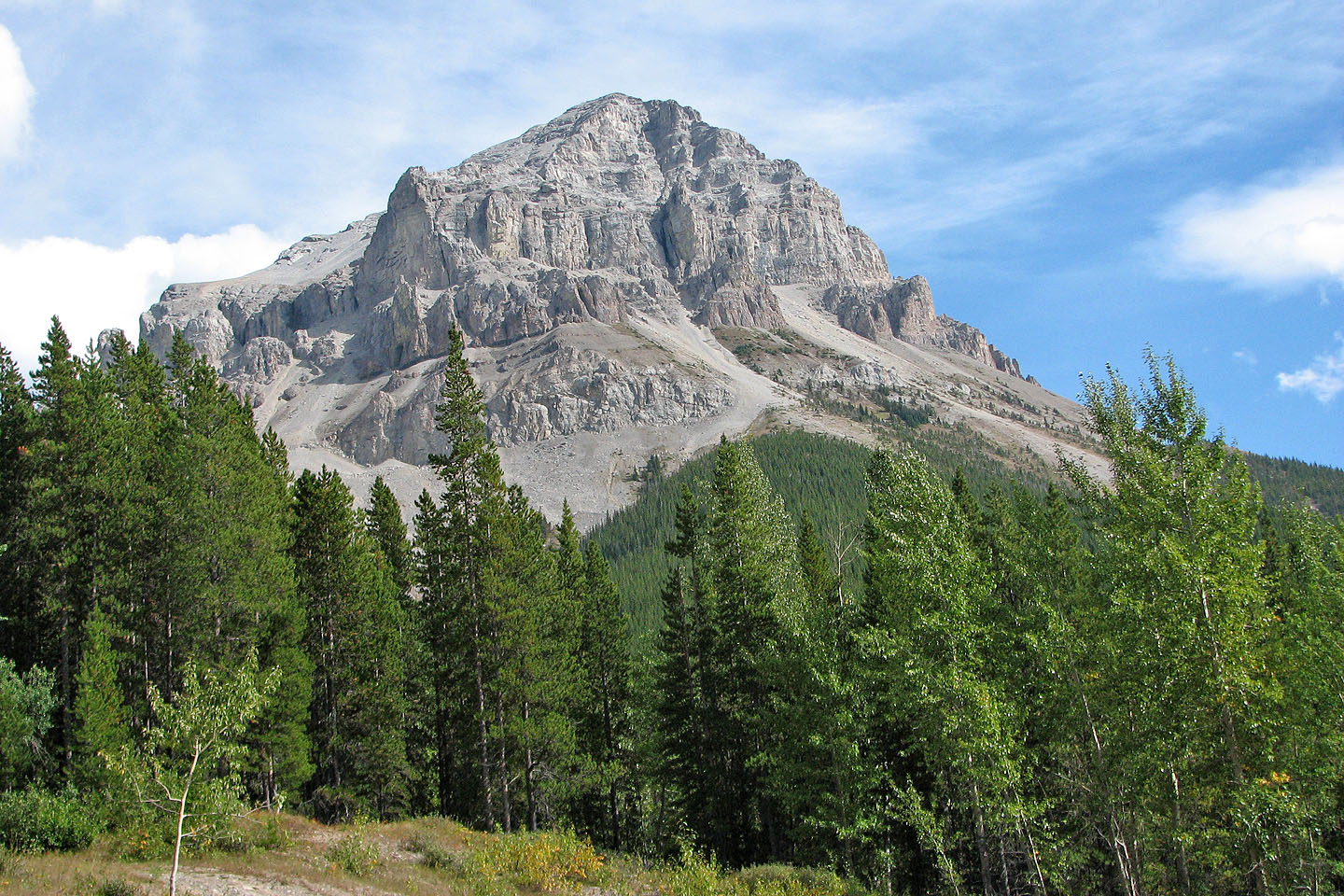 Crowsnest Mountain seen from the trailhead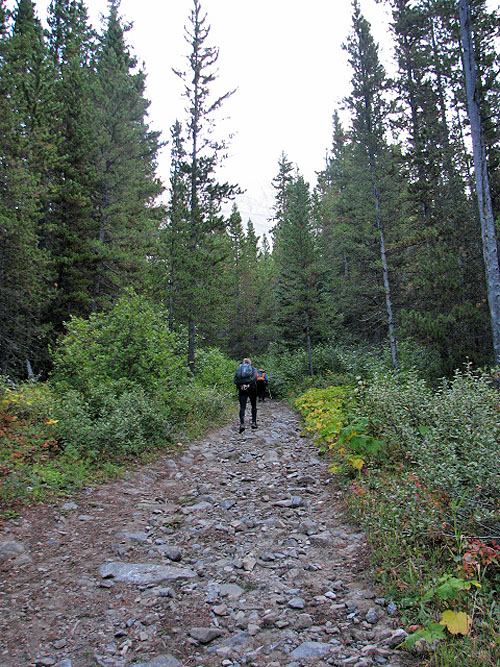 At the start, the trail is rather obvious!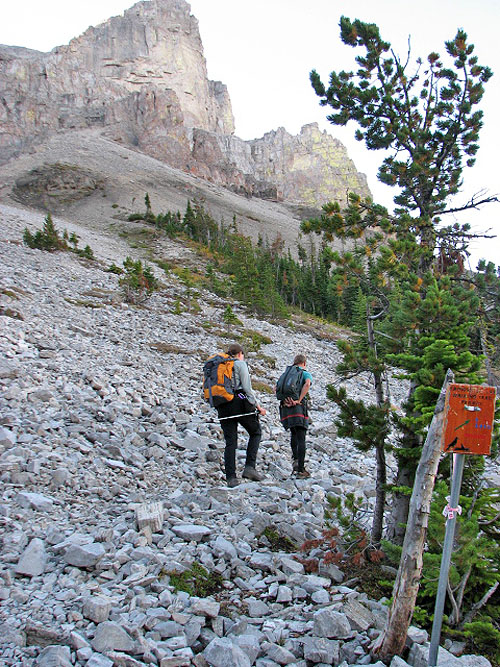 From here the trail follows the scree up and left. The sign reads: 3.6 km, 3 hours.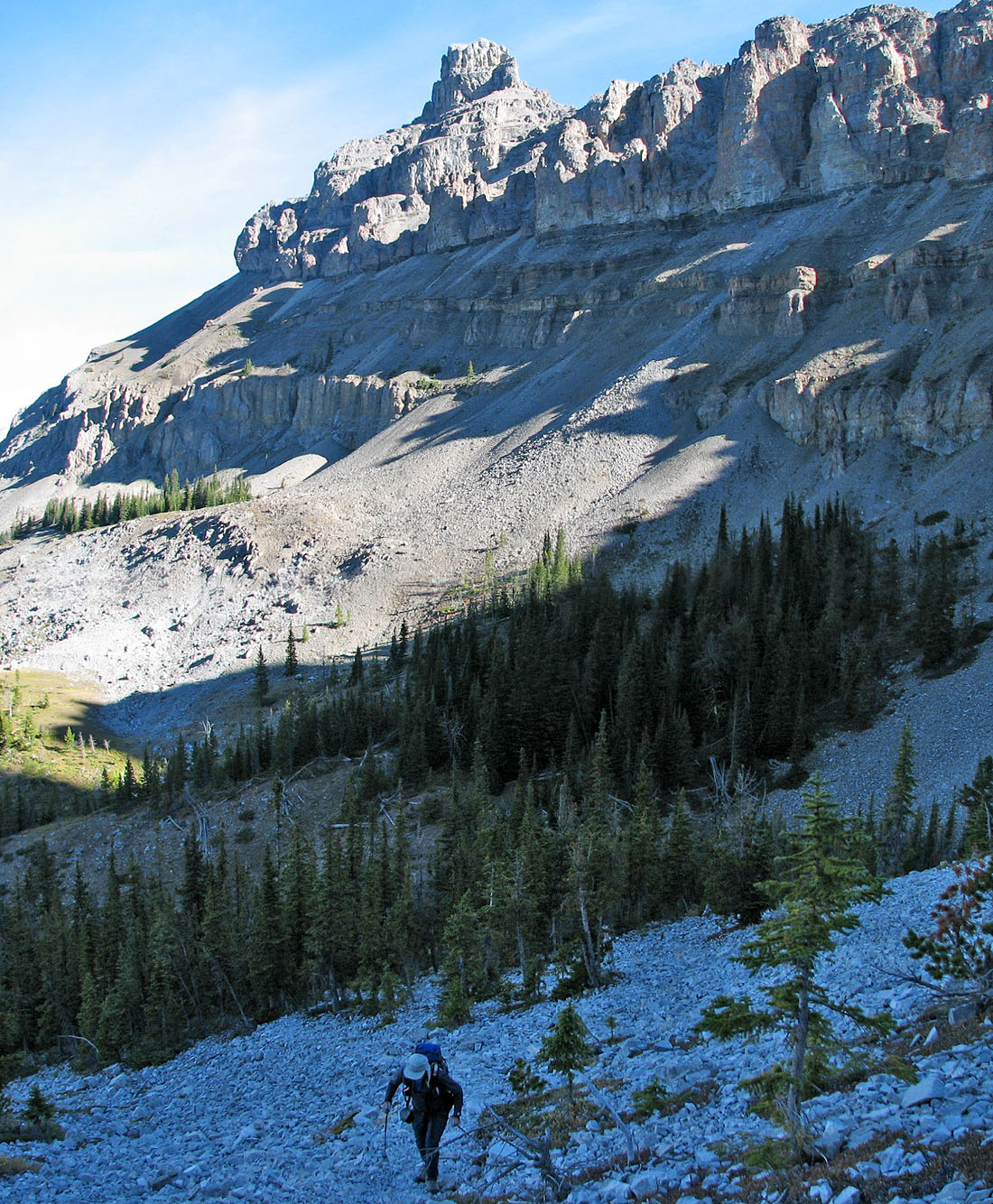 Seven Sisters behind us

We passed under pinnacles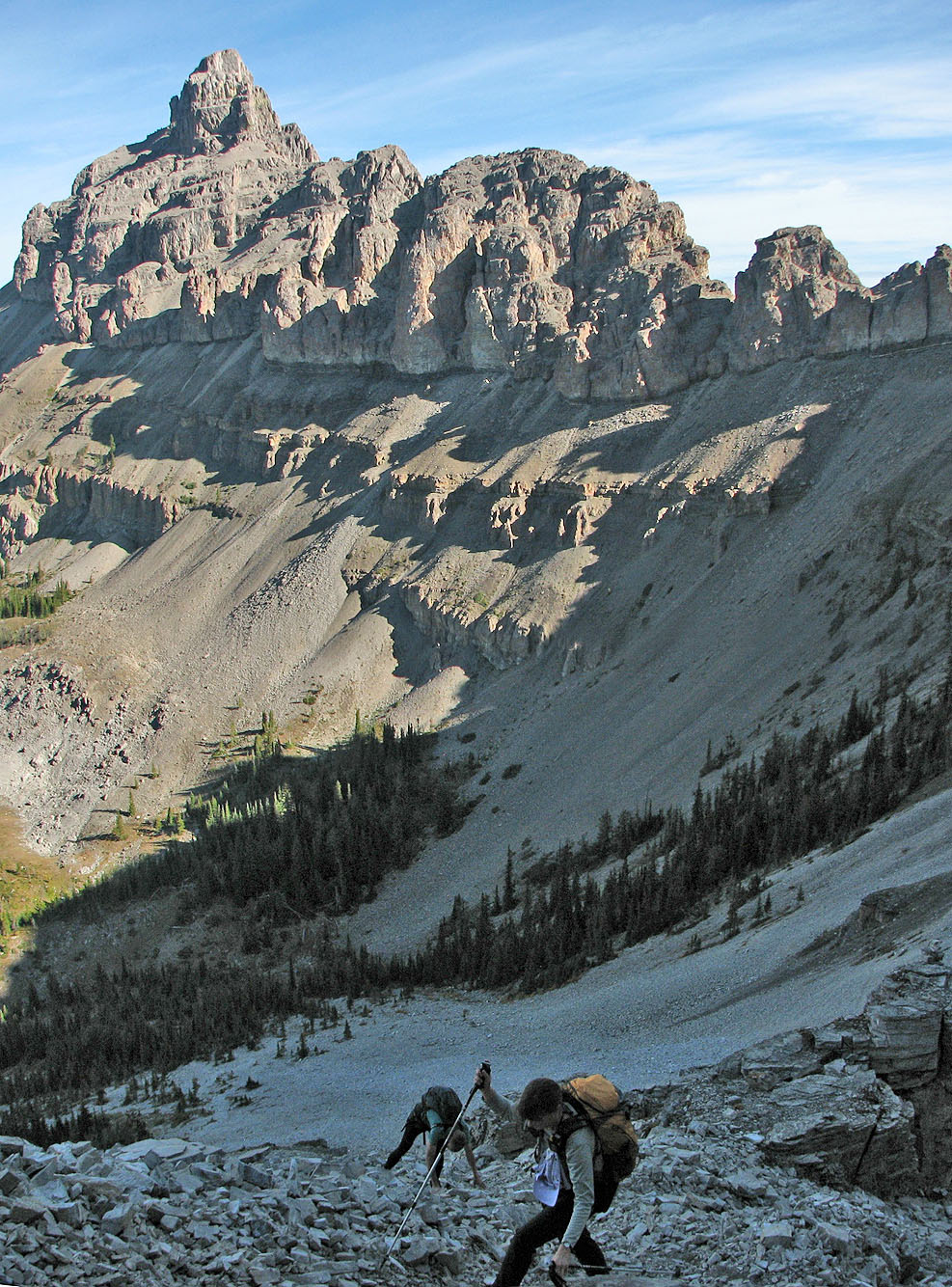 Without trekking poles, Bernd had an awkward time ascending the scree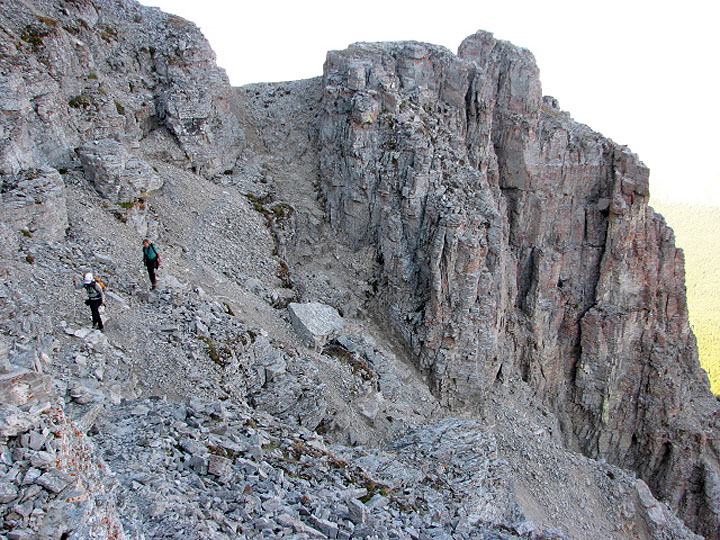 After scrambling up the cliff band we traversed to the ascent gully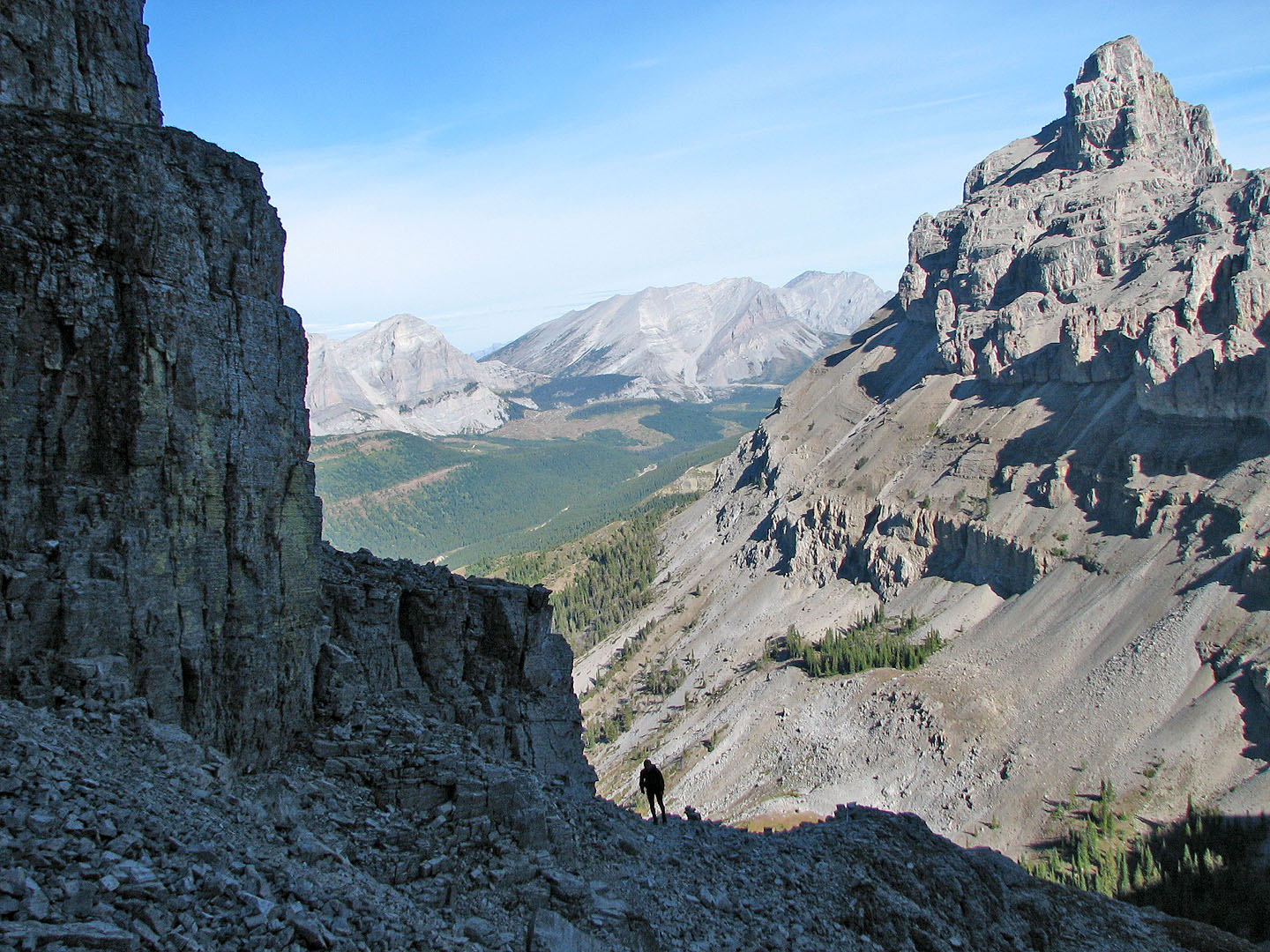 Bernd comes around a corner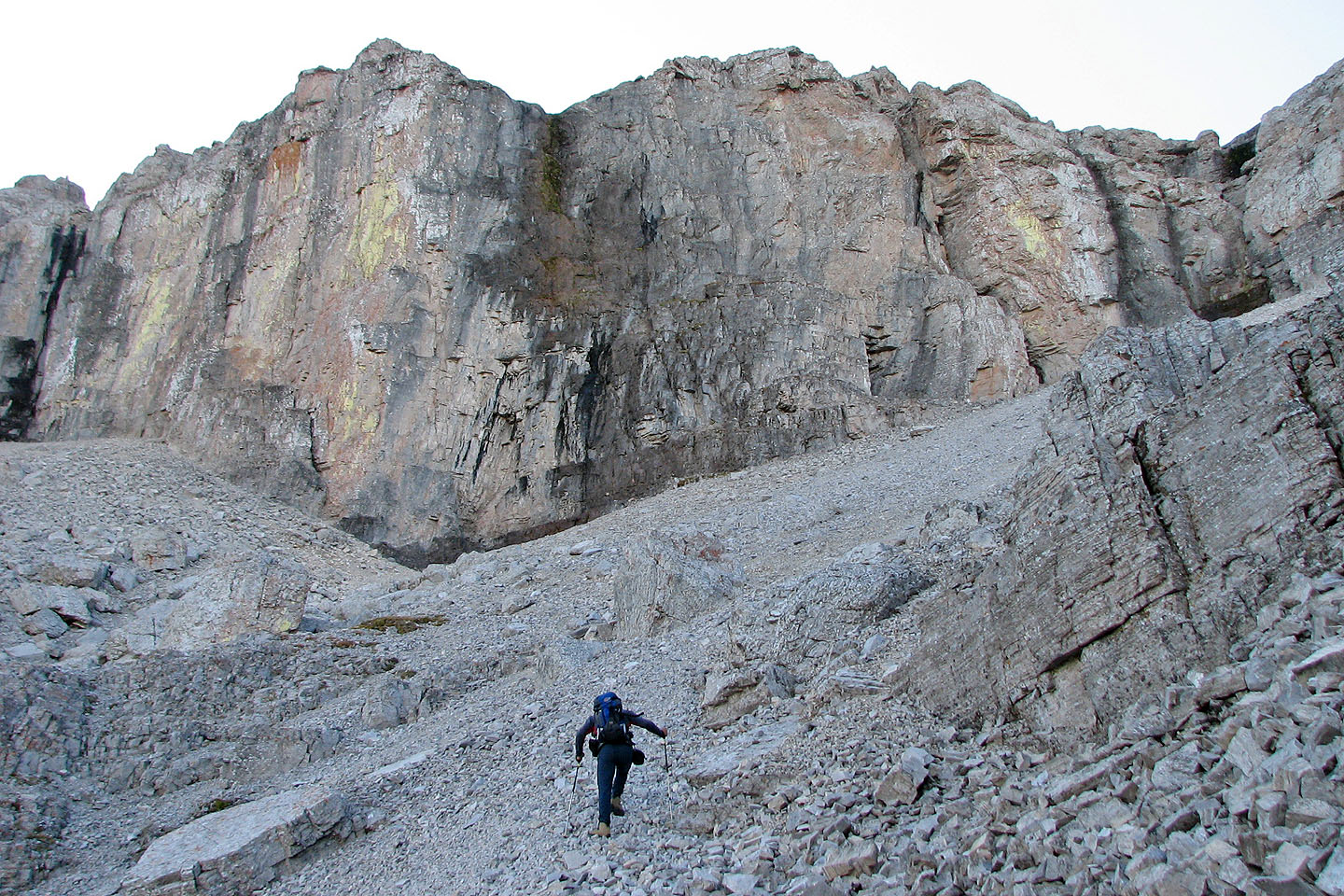 The ascent gully is on the left, out of sight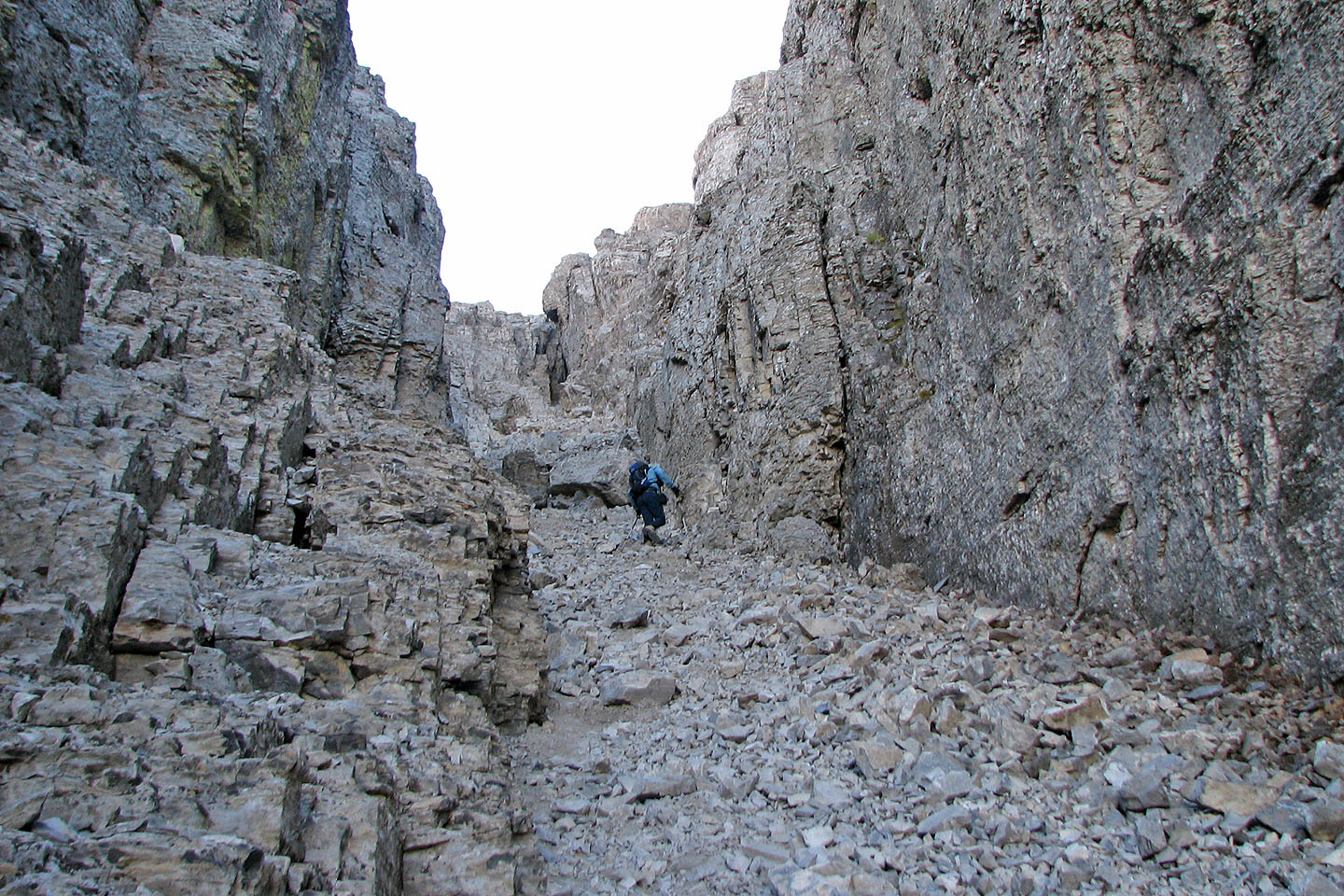 Ascending the gully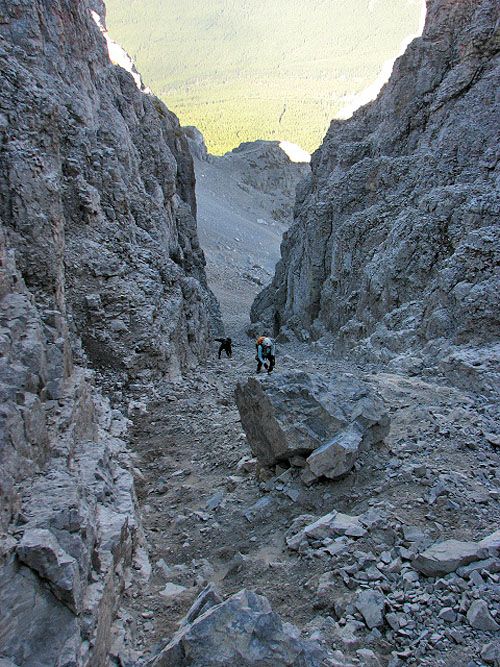 Looking down the gully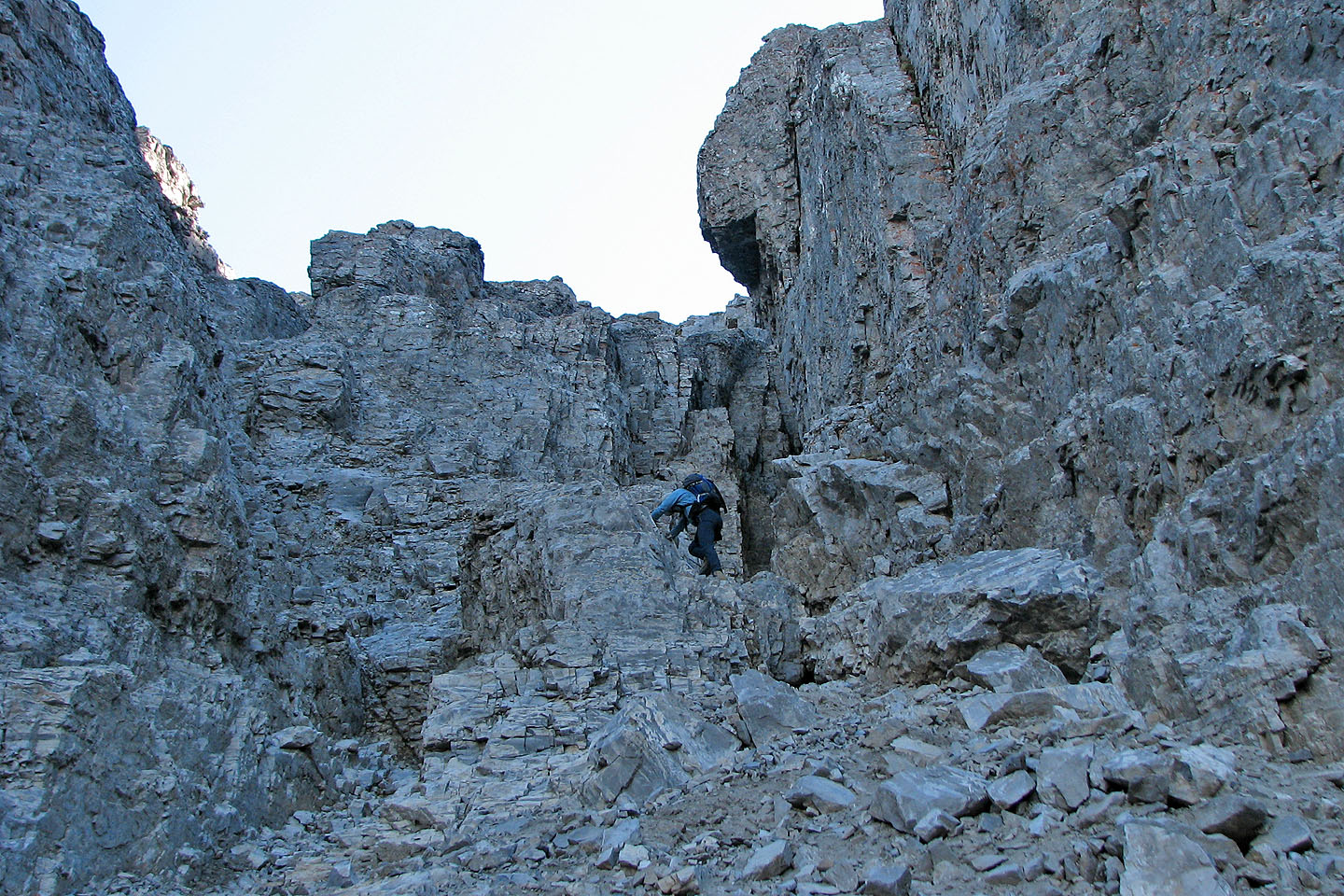 The chains are at the end of the gully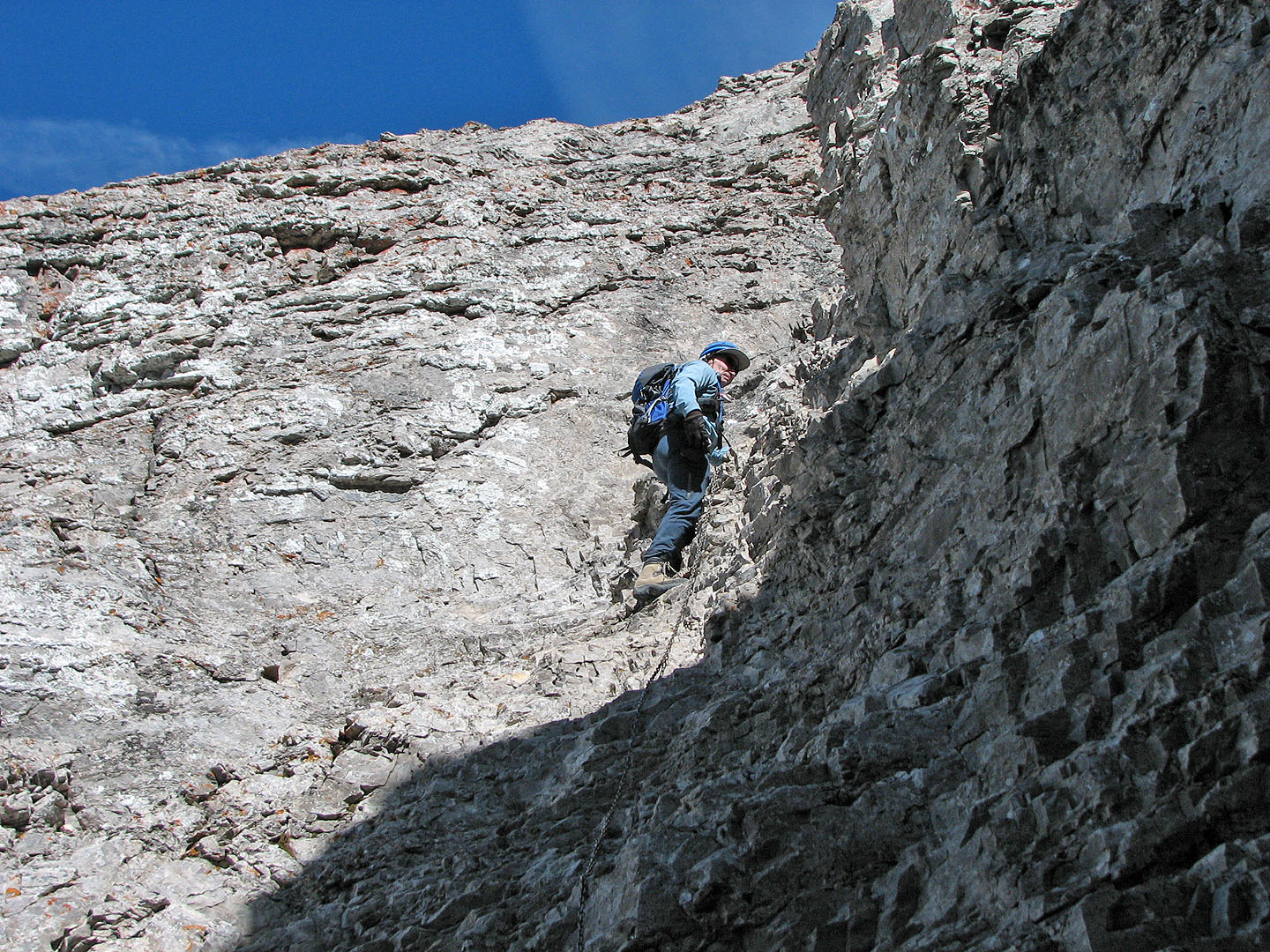 On the chain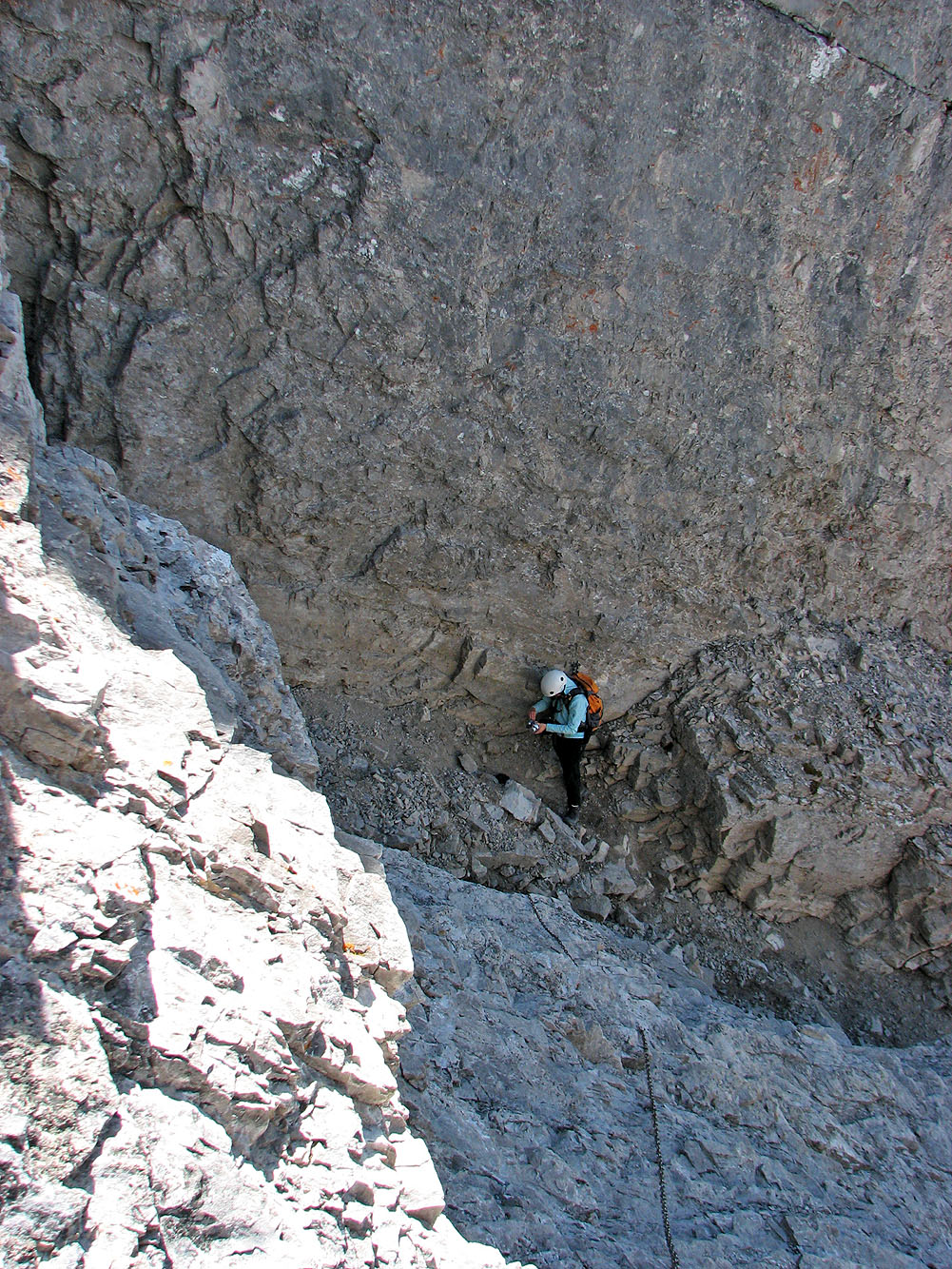 Looking down while holding the chain (mouse over for the view up)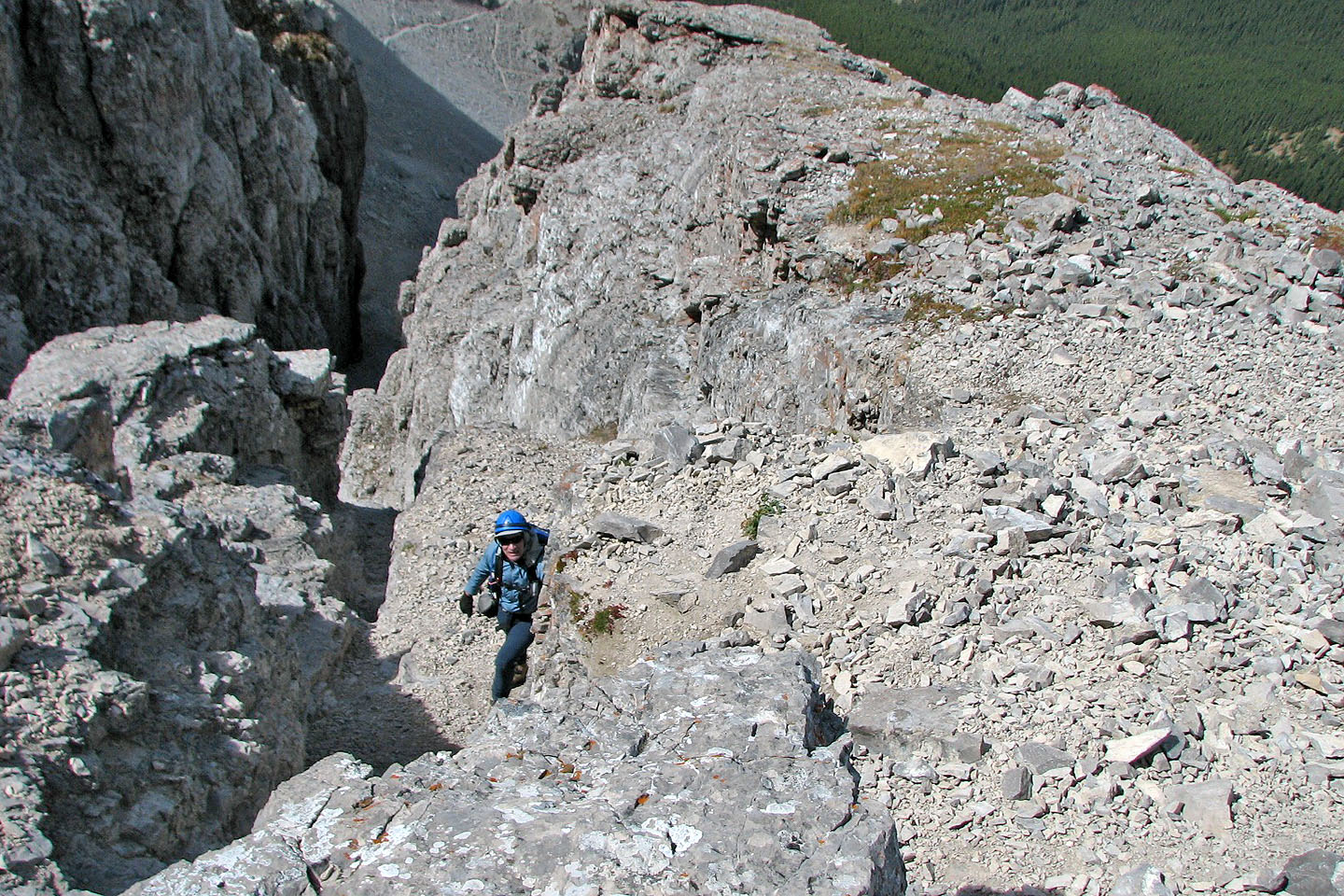 Reaching the end of the gully

Above the gully the grade eases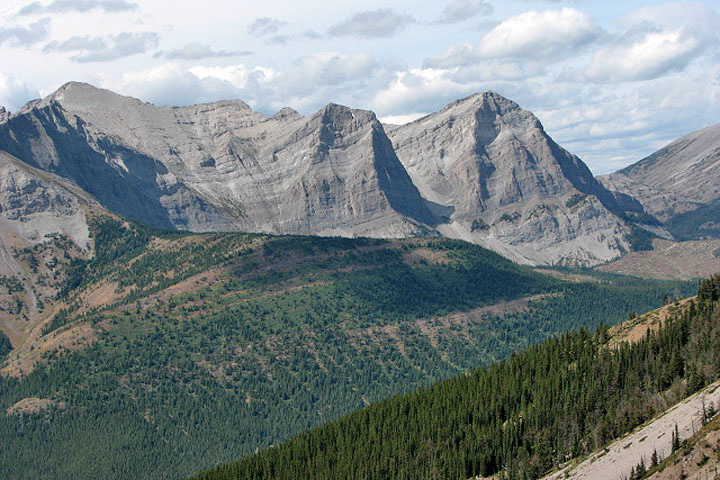 Alison Peak, Window Mountain and Mount Ward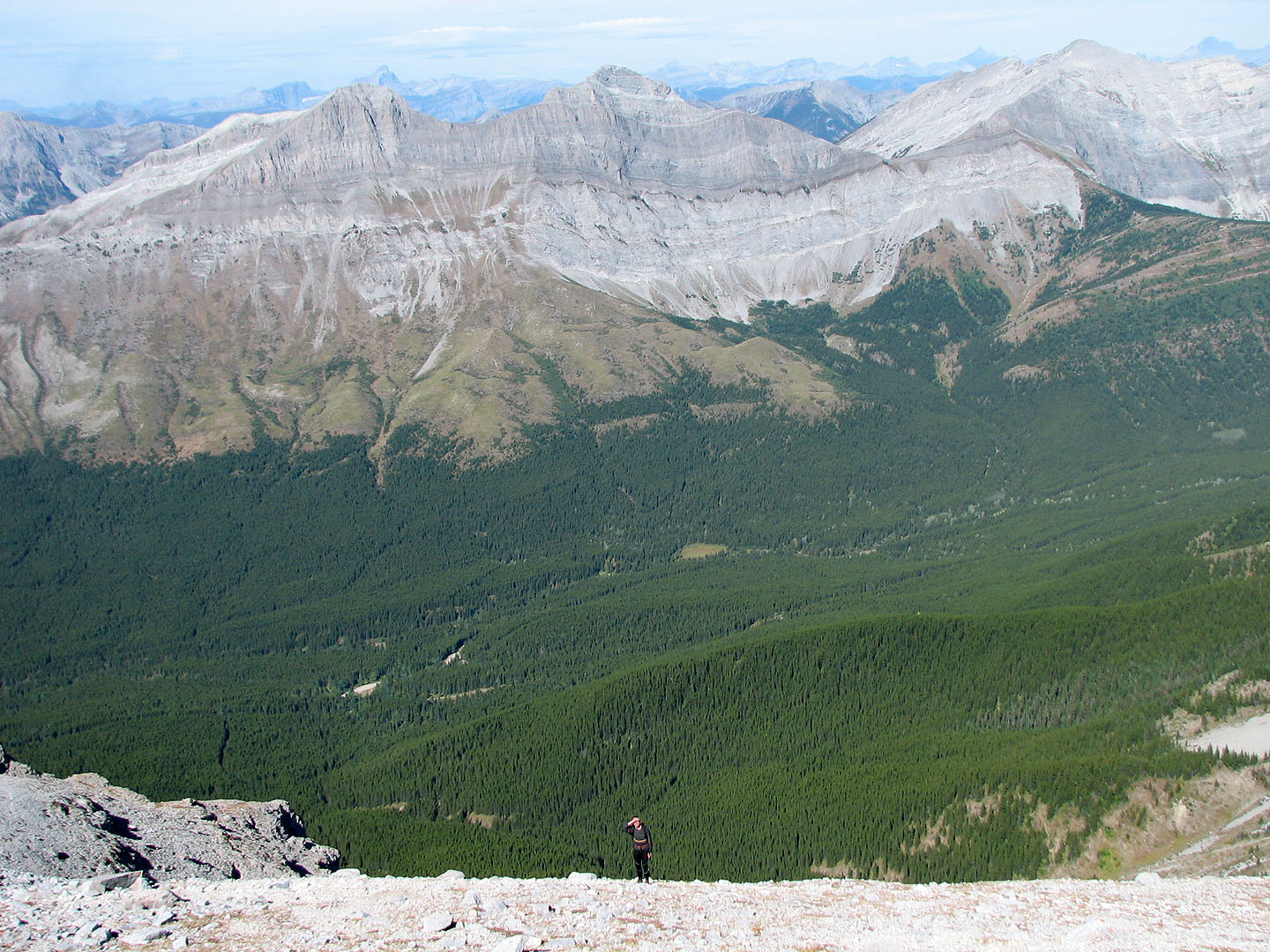 Bernd comes up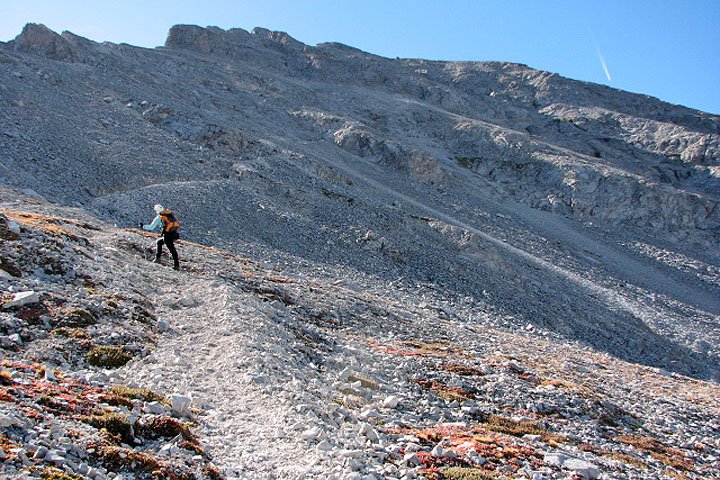 Summit is right of centre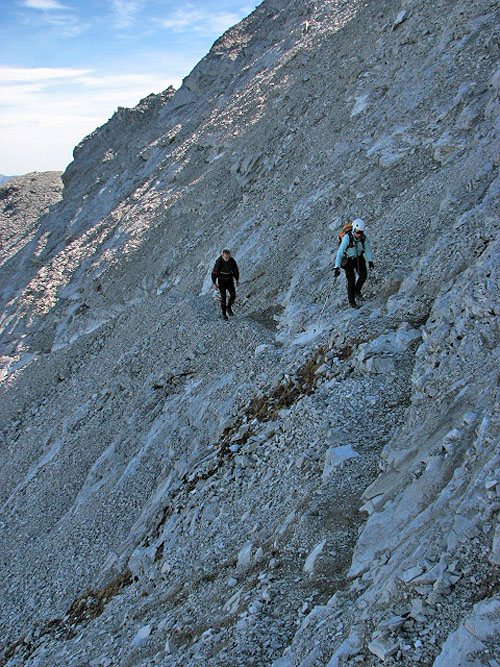 Below the summit the trail runs on a steep slope of loose rock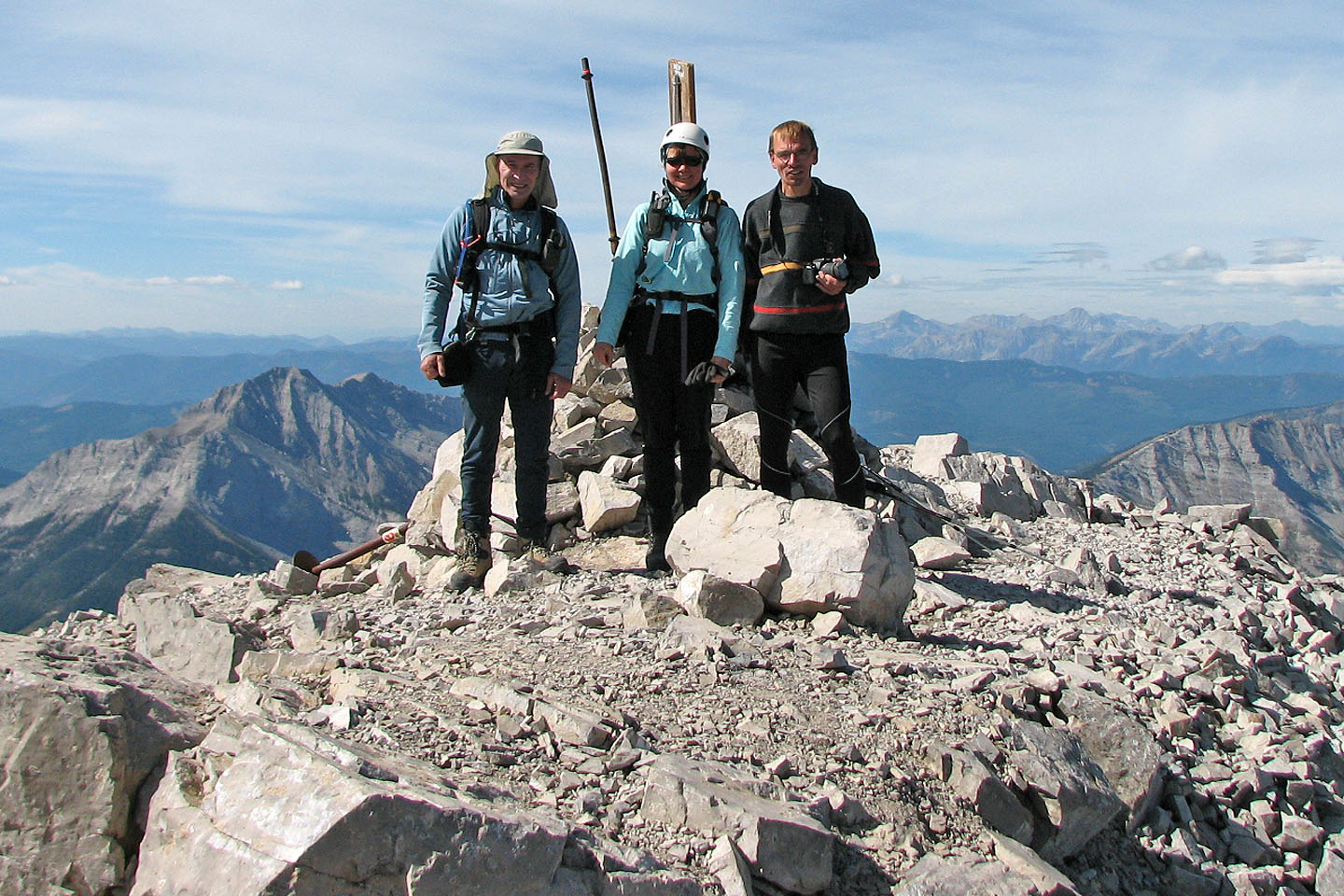 Myself, Dinah and Bernd on the summit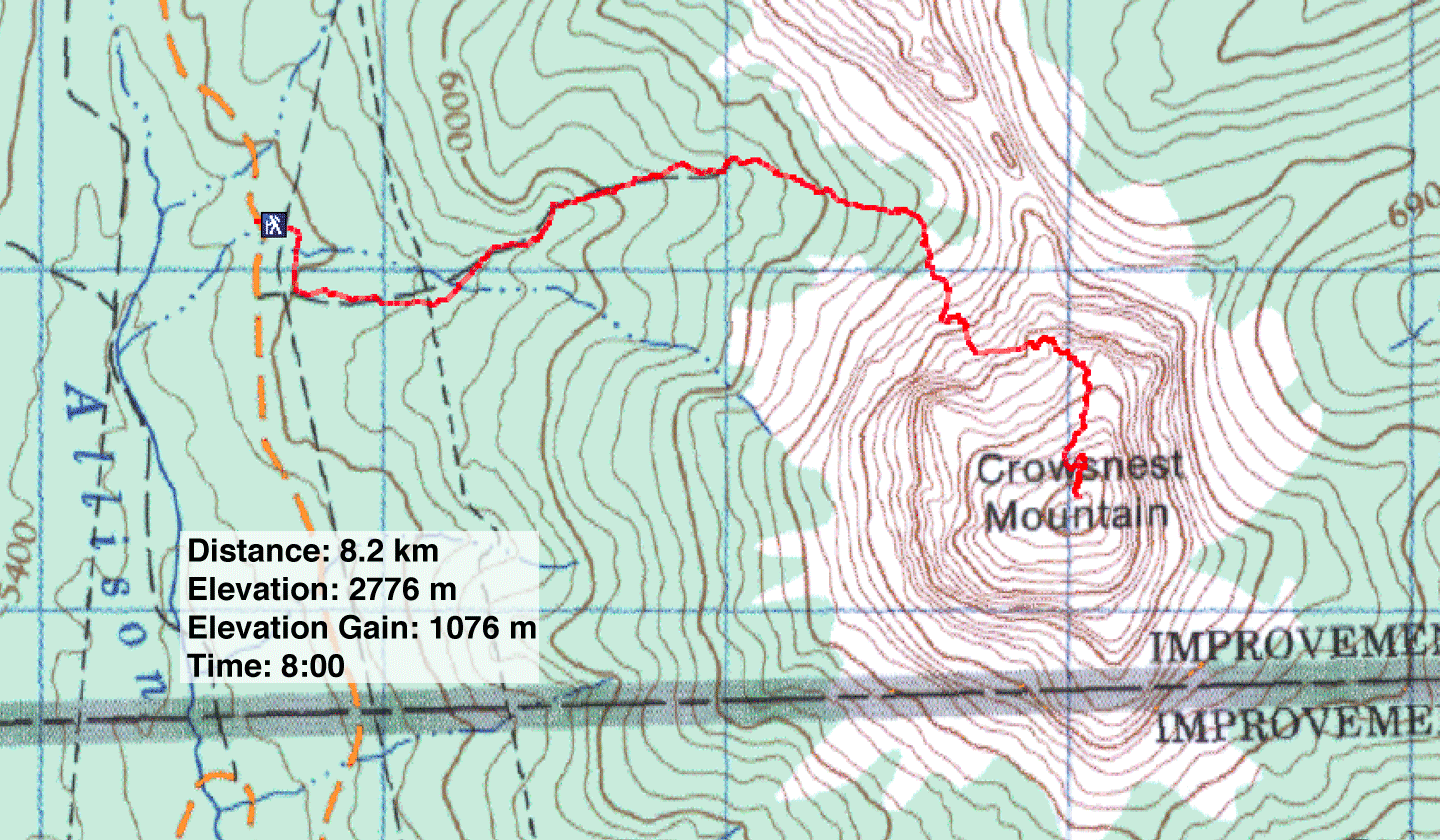 82 G/10 Crowsnest