bobspirko.ca | Home | Canada Trips | US Trips | Hiking | Snowshoeing | MAP | About

Glasgow North
Kananaskis, Alberta
July 2, 2017
In Kananaskis Country Trail Guide, Gillean Daffern paints an enticing picture of the climb up Peak 446270, the north subpeak on the massif of Mount Glasgow. Above the treeline, it's a nice ridge ascent. In the trees there's a good trail, although it doesn't extend to the toe of the ridge: some bushwhacking is required.
After parking by the suspension bridge, Zora and I crossed it and made our way to the end of the east ridge of the subpeak. There are plenty of trails in the area, including a new flagged one that bypasses a washed-out section. However, the farther west we went, the more indefinite the trails became, especially in the trees. After leaping over Glasgow Creek, following questionable trails, we started bushwhacking up the ridge. We found the trail, although not at the beginning.
Once on the ridge trail, we forgot our travails of getting there, happy to follow a path that was mostly obvious and mostly profusely flagged (I say "mostly" as we did lose it briefly in a couple of places). The trail stays in the forest until it climbs to a bald knob with a 360 degree view. Then the trail dips briefly into trees before climbing and disappearing on a rocky crest. Easy scrambling down short cliffs provides welcomed breaks from an otherwise scree slog to the summit.
After having lunch on top of Glasgow North, we followed the trail down to its start: a steep, open bank above the Elbow River. We dropped down, but in retrospect we might as well have stayed on the ridge as there was no trail on the flats. After making our way through the trees on the flats, we found the toe of the ridge (494282). It's not easy to discern in the trees, but it's flagged. This is where one should start the ridge ascent. If you can find your way there from Glasgow Creek, then you're set for an enjoyable climb.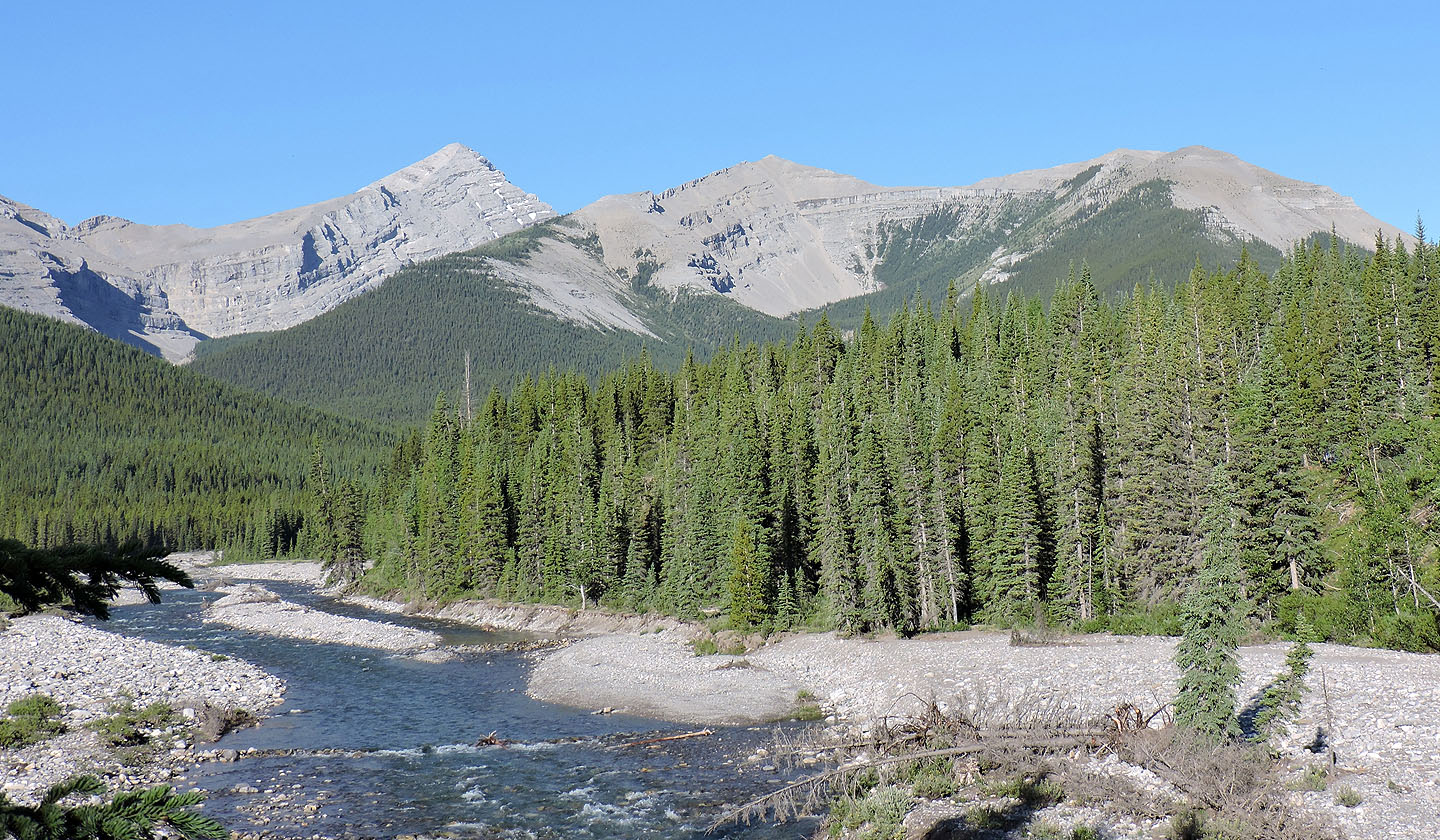 Mount Glasgow (left) and Glasgow North (far right) seen after crossing the suspension bridge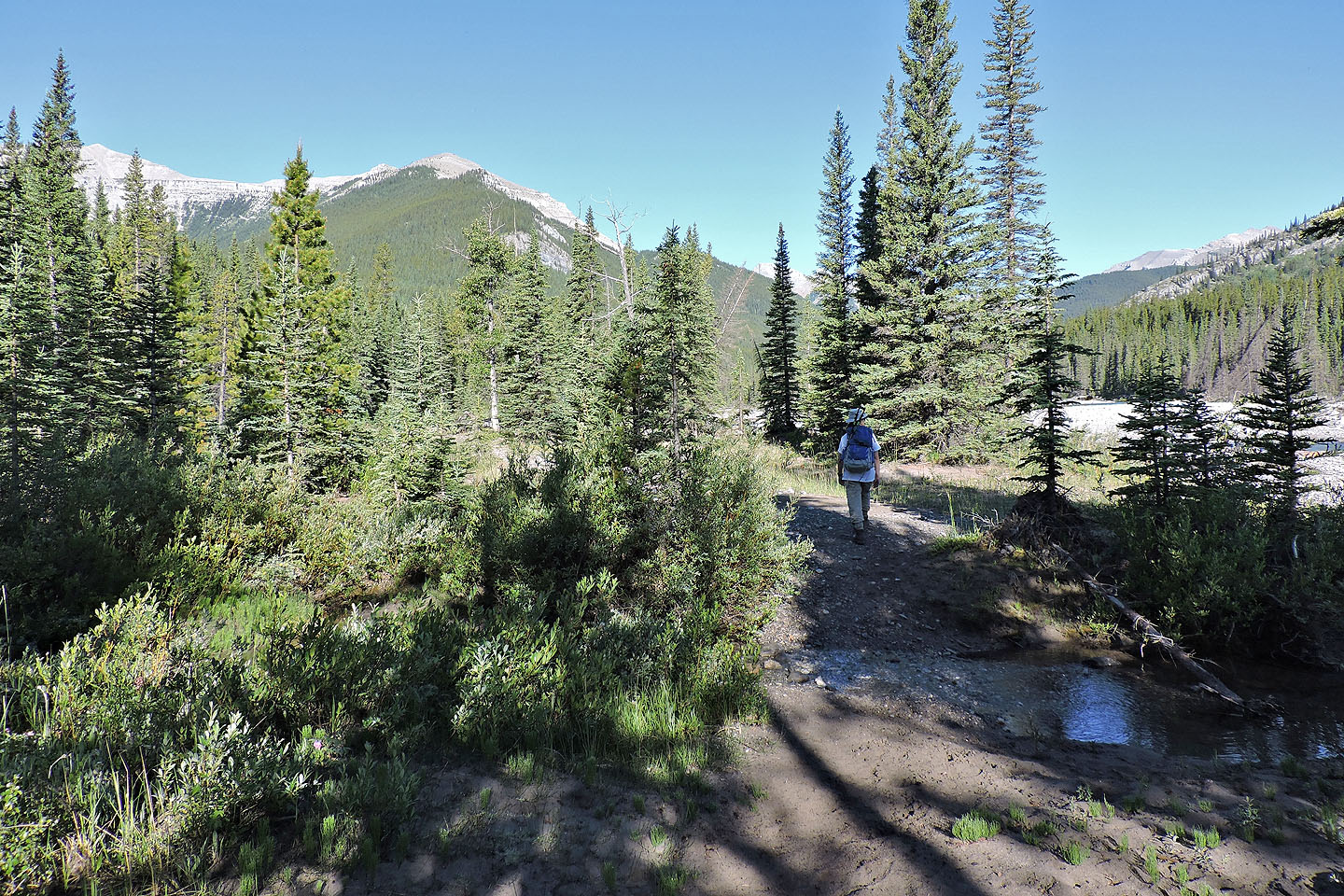 Following the trail towards Glasgow North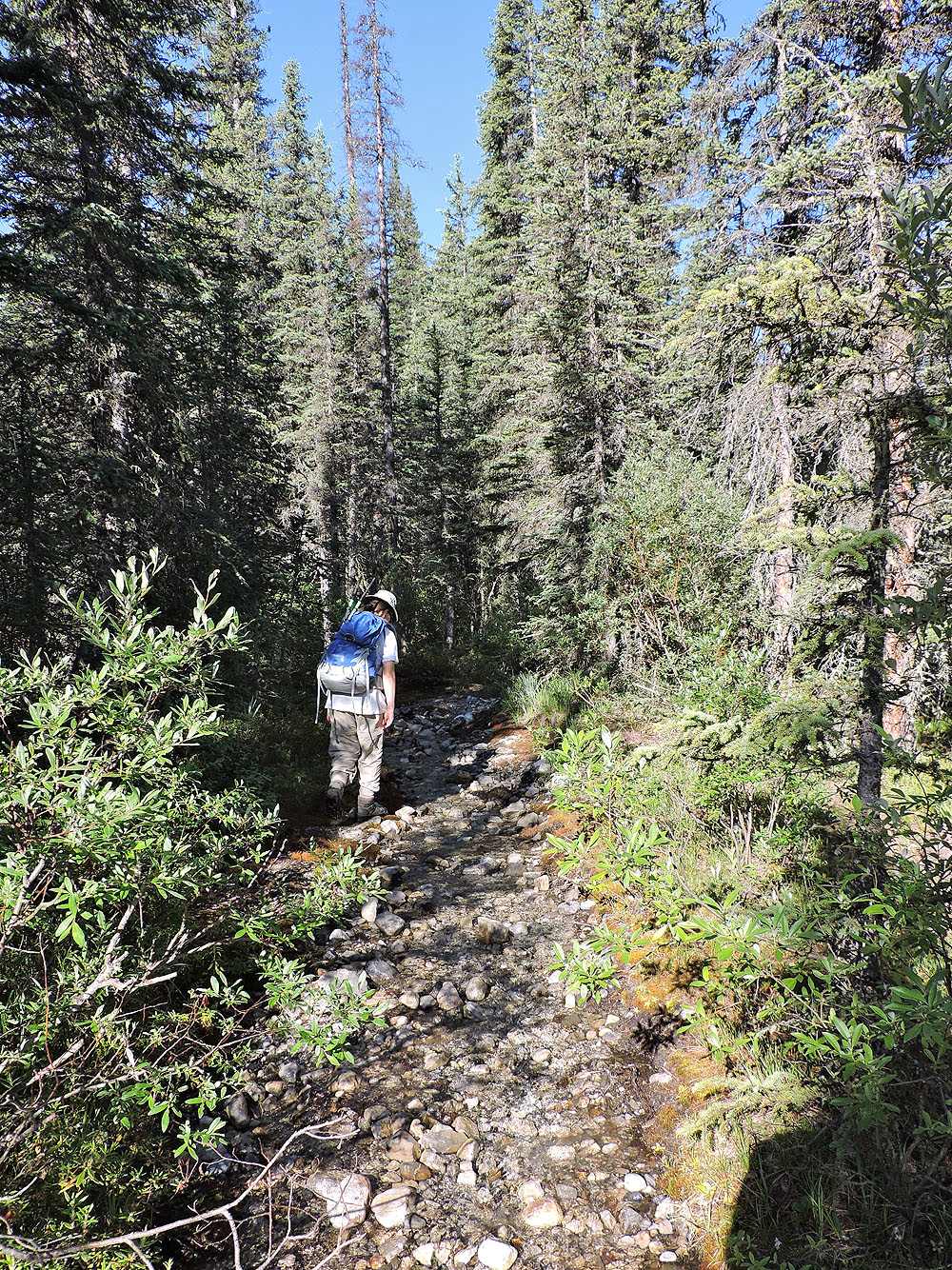 What looked like a stream was probably a trail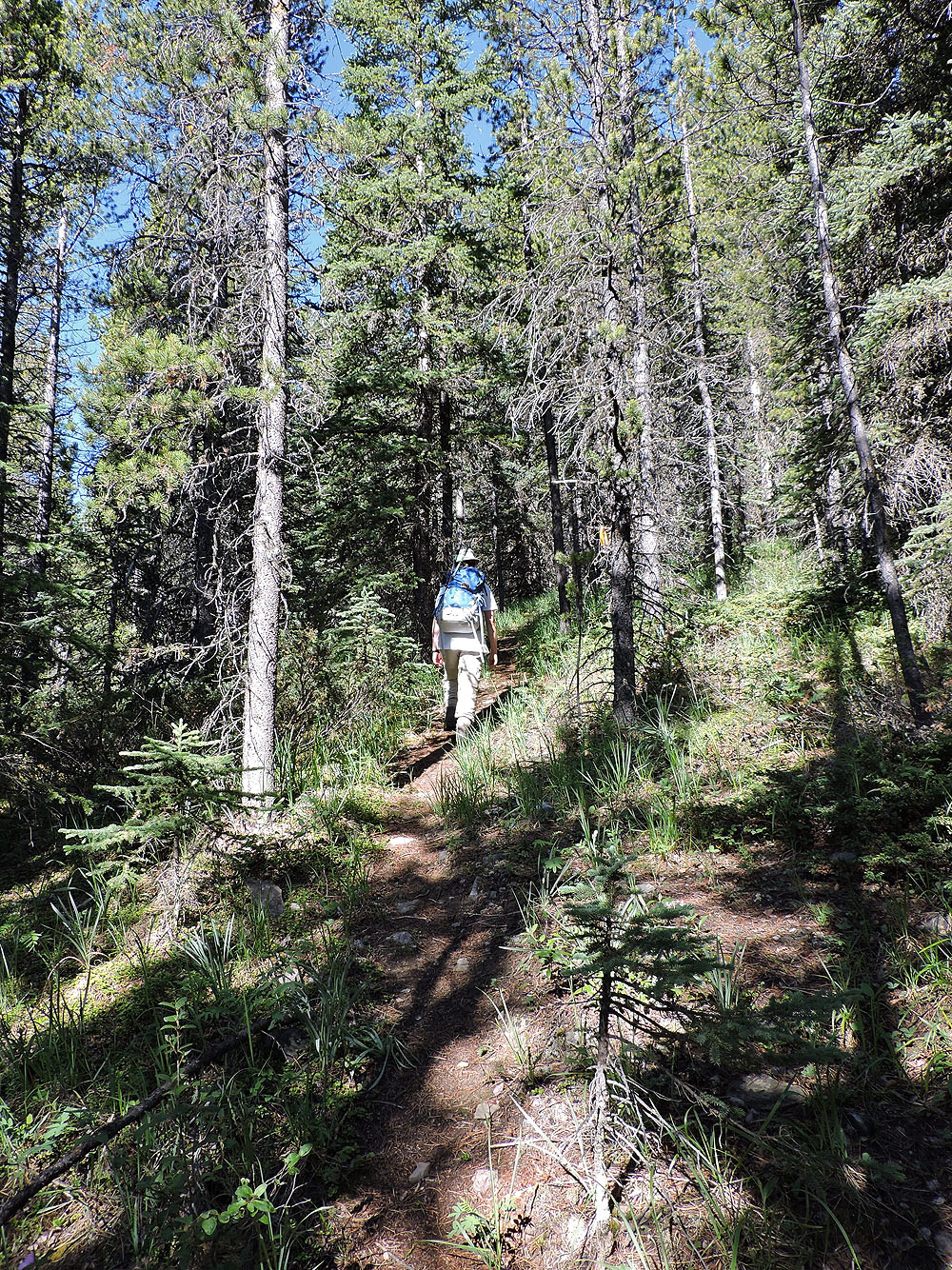 On the ridge trail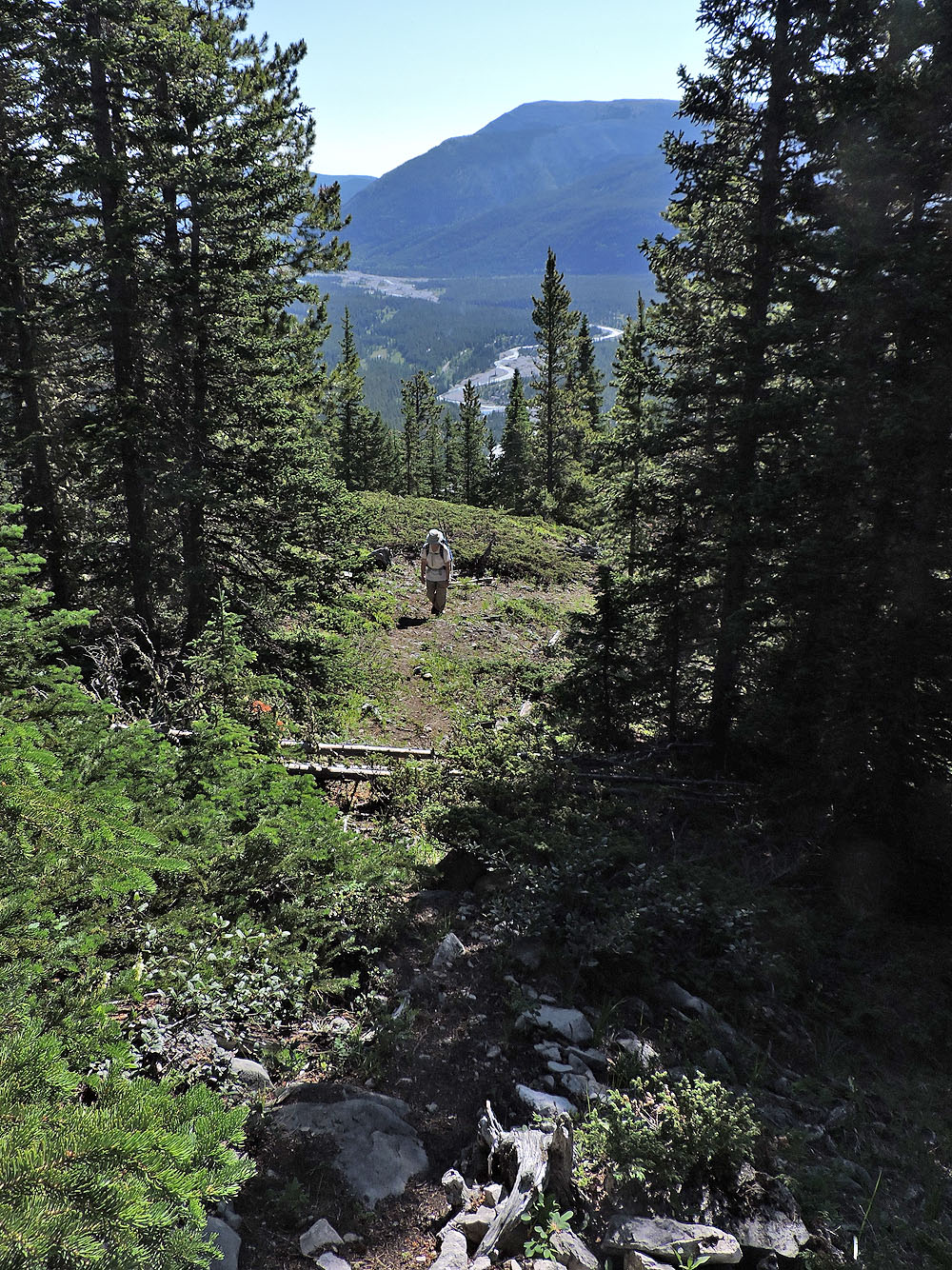 Eventually breaks in the trees provide a few views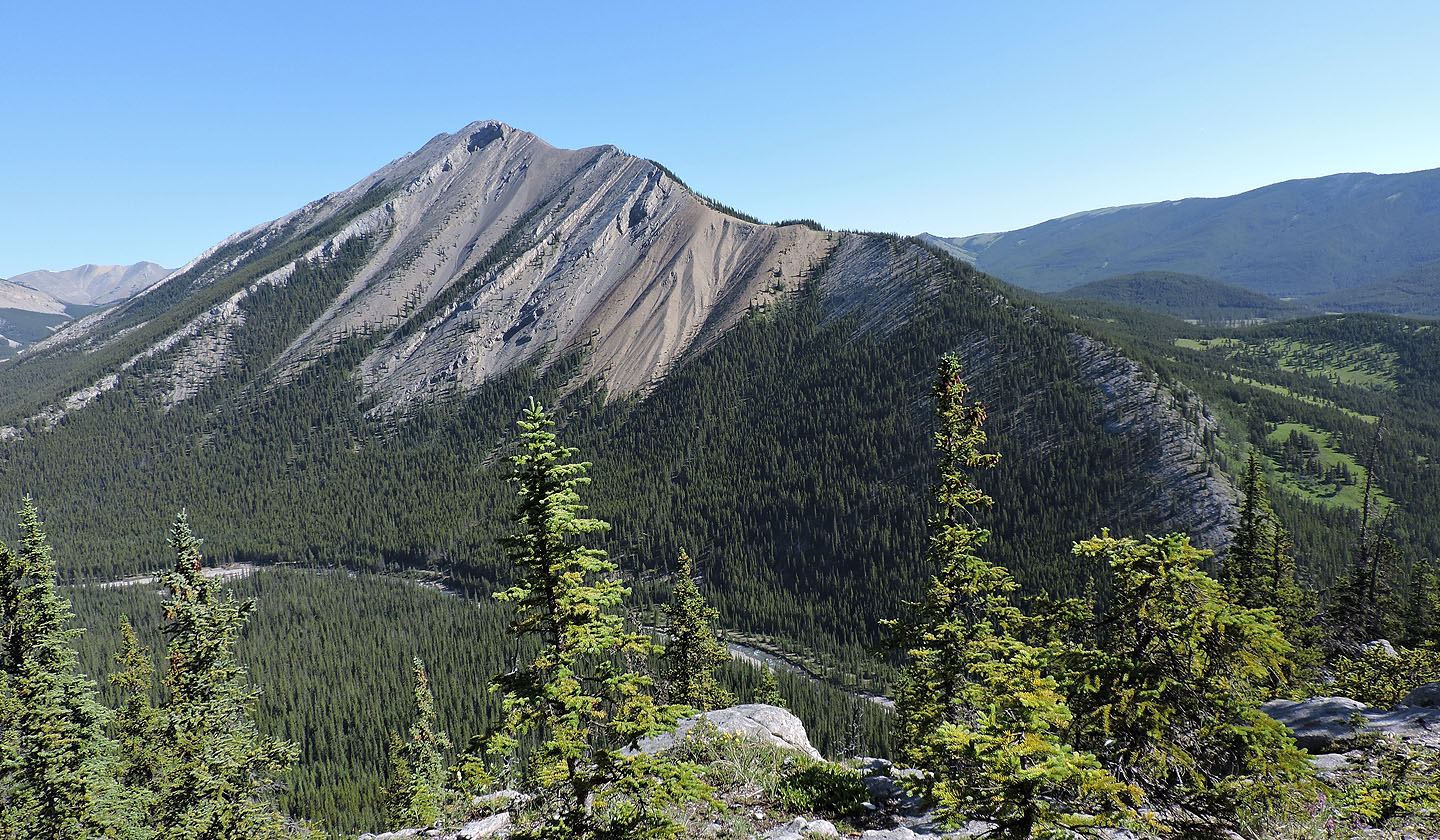 The South Summit of Nihahi Ridge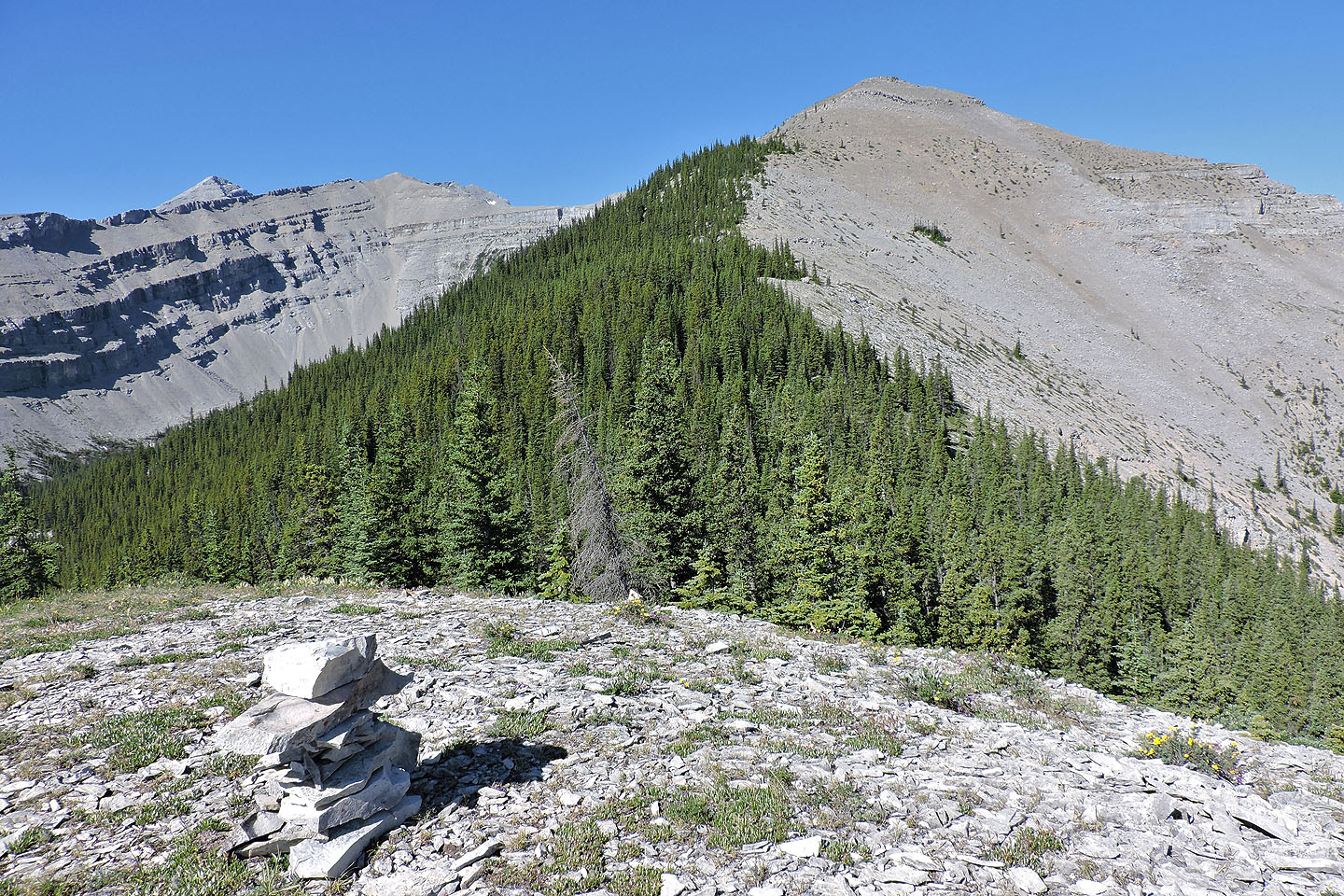 The first false summit can be seen from a bald knob on the ridge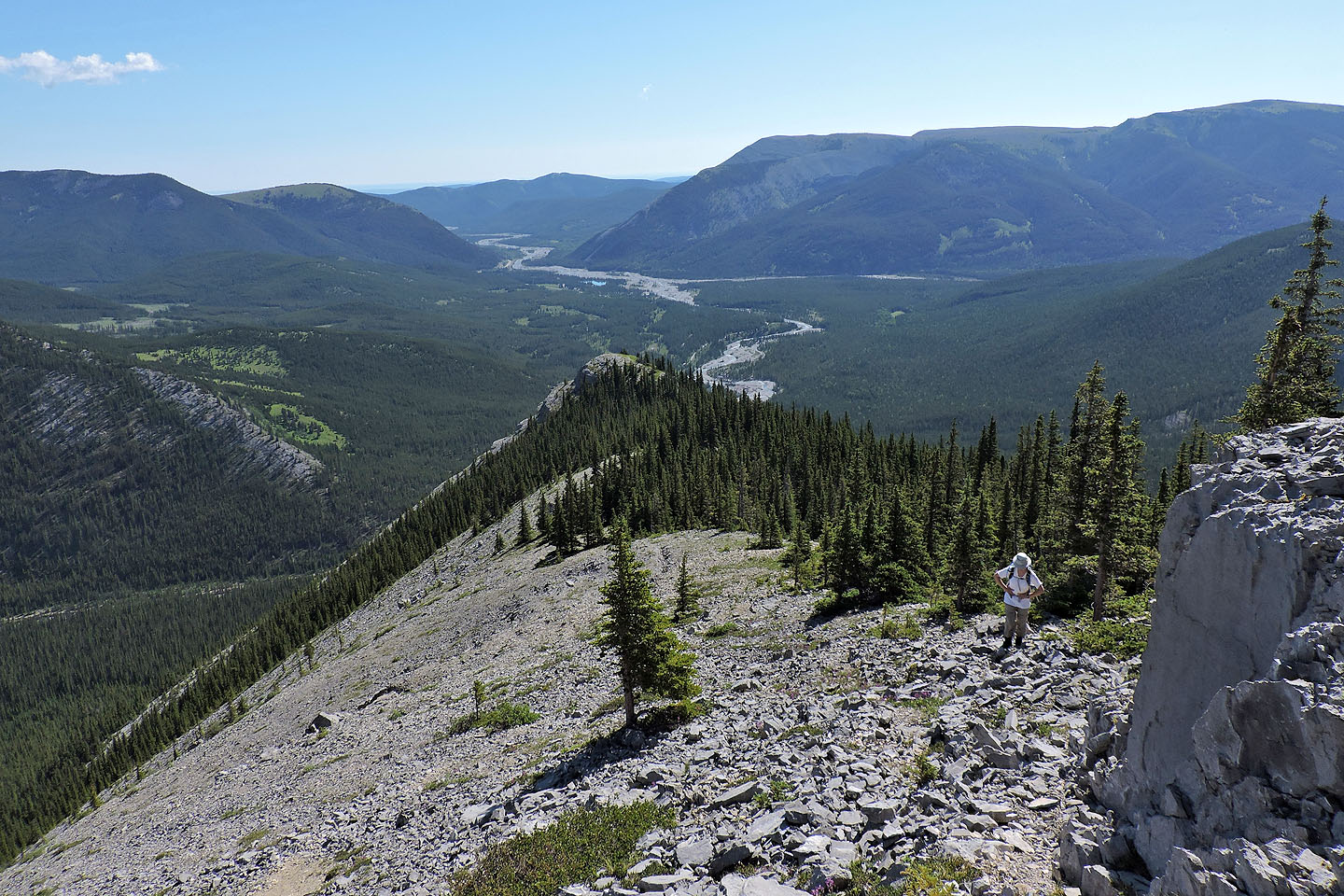 Looking back at the knob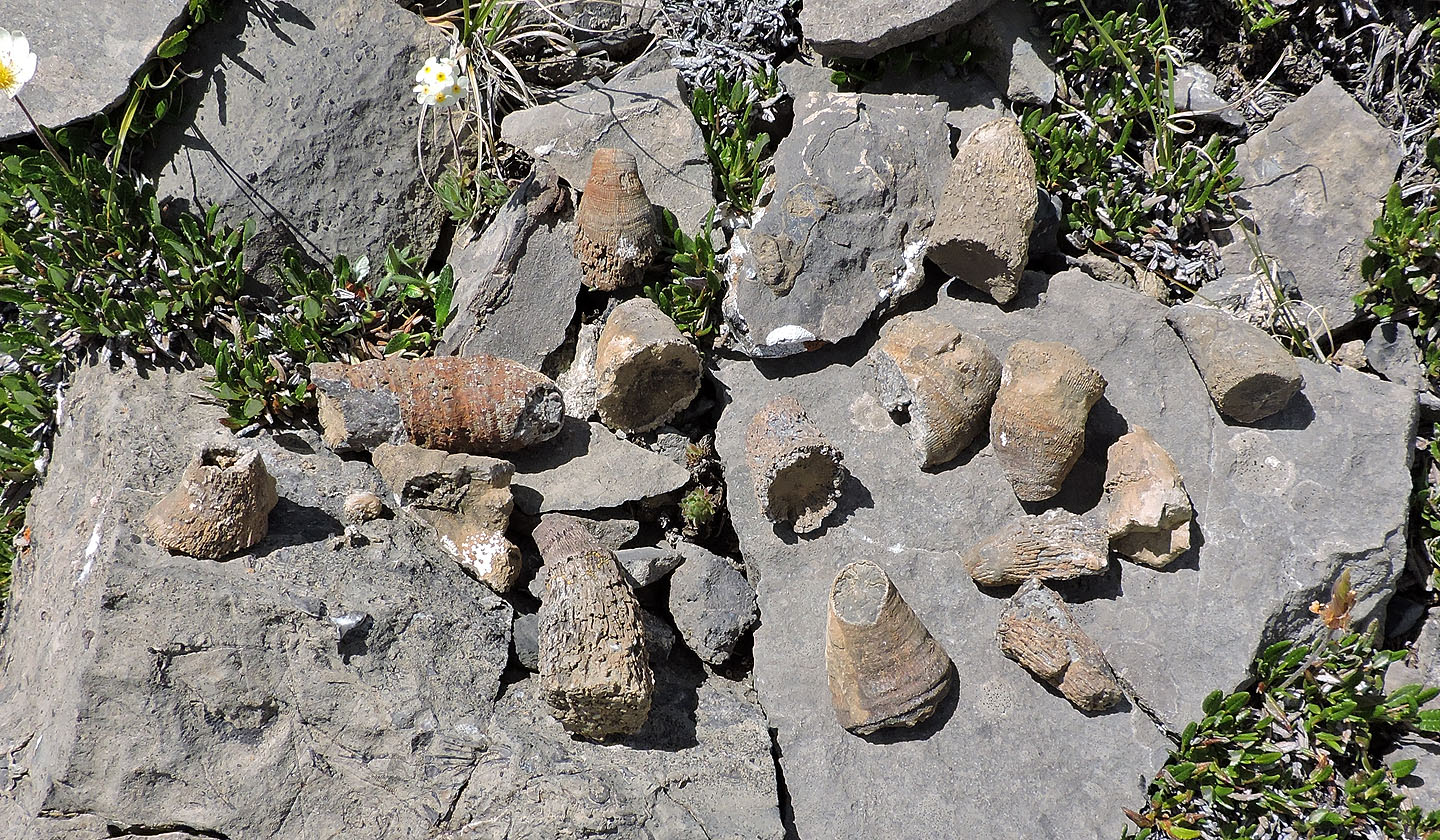 I found these horn coral fossils all within a small area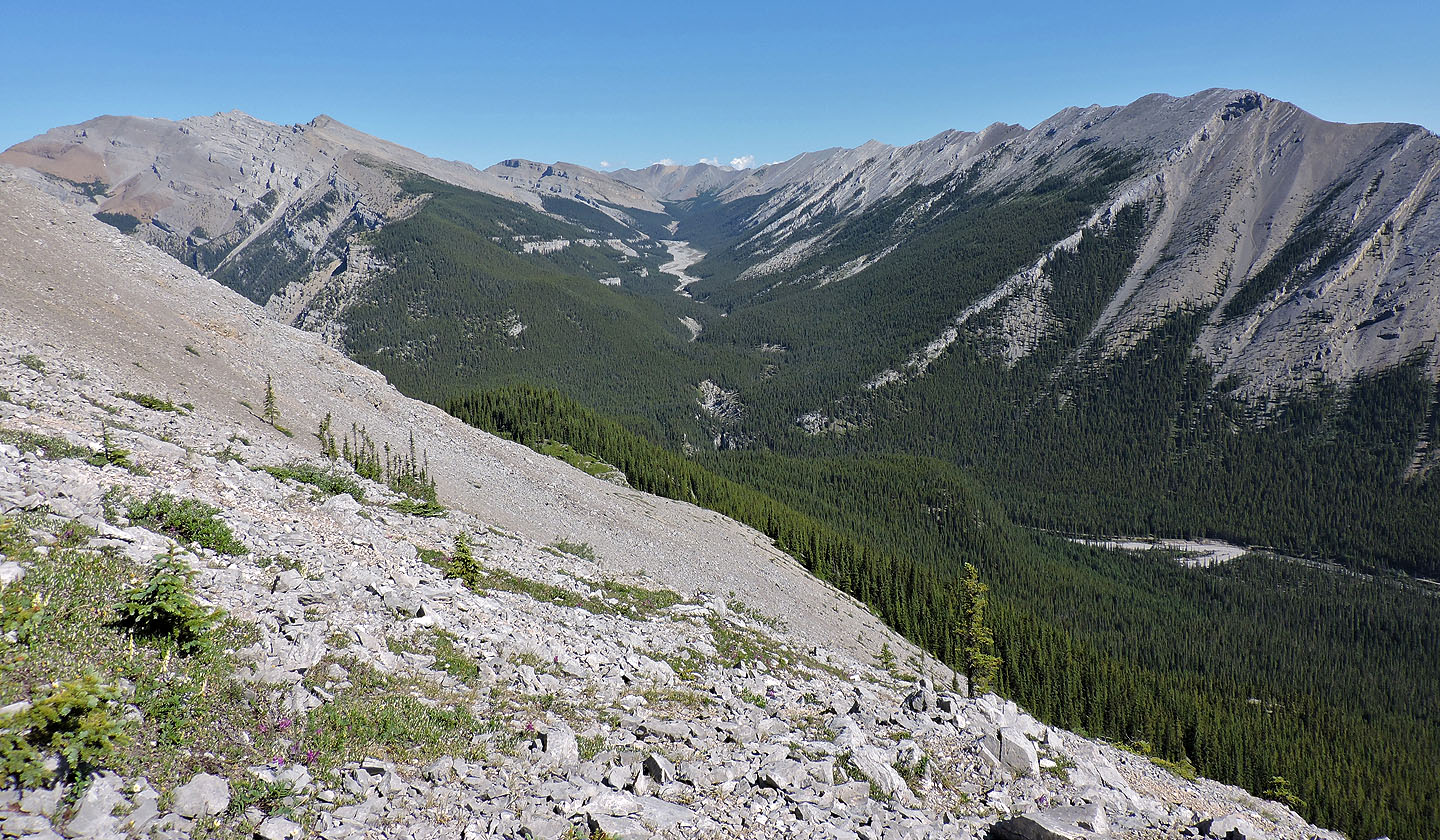 Mount Fullerton, Compression Ridge and Nihahi Ridge surround Nihahi Creek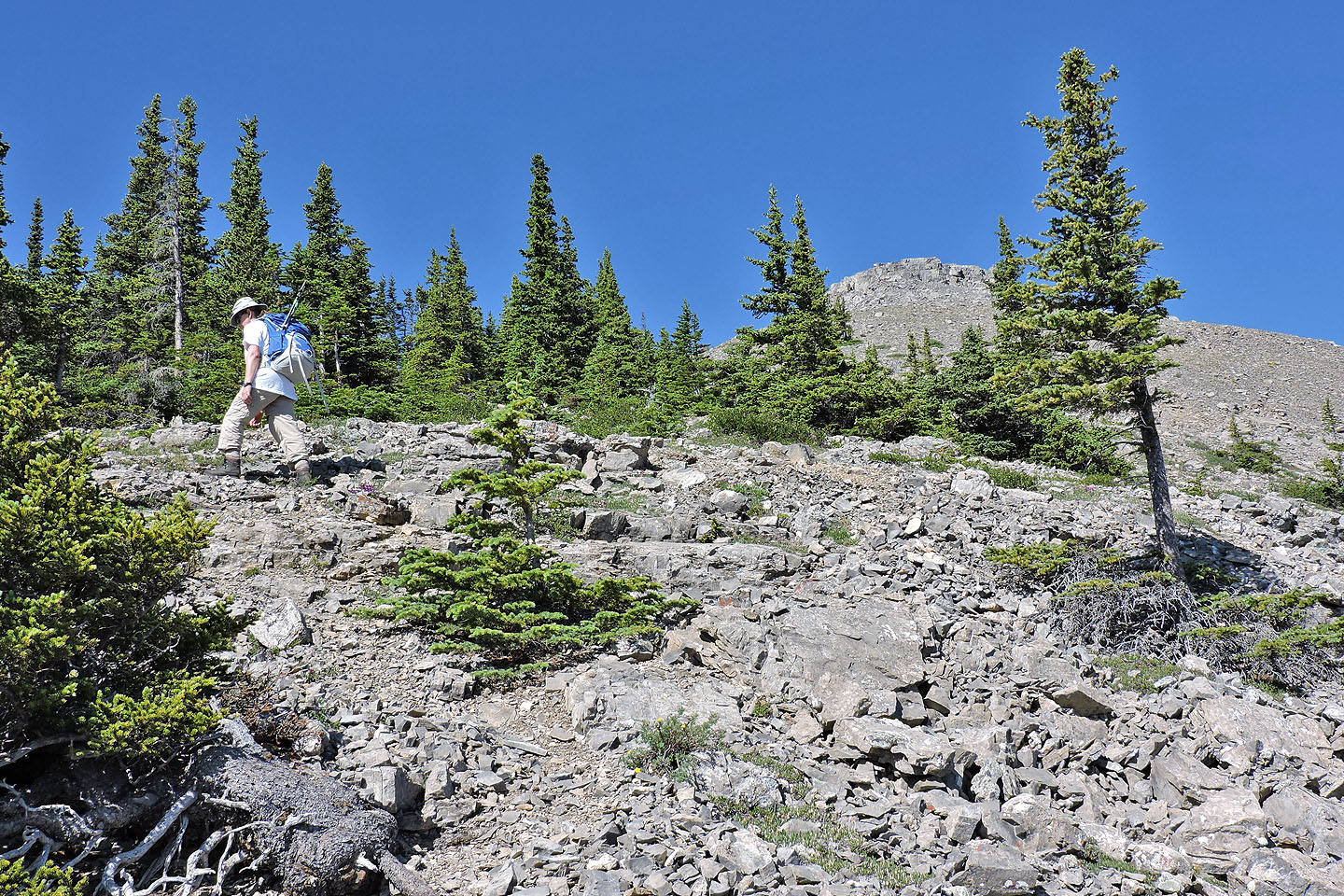 Hiking to the false summit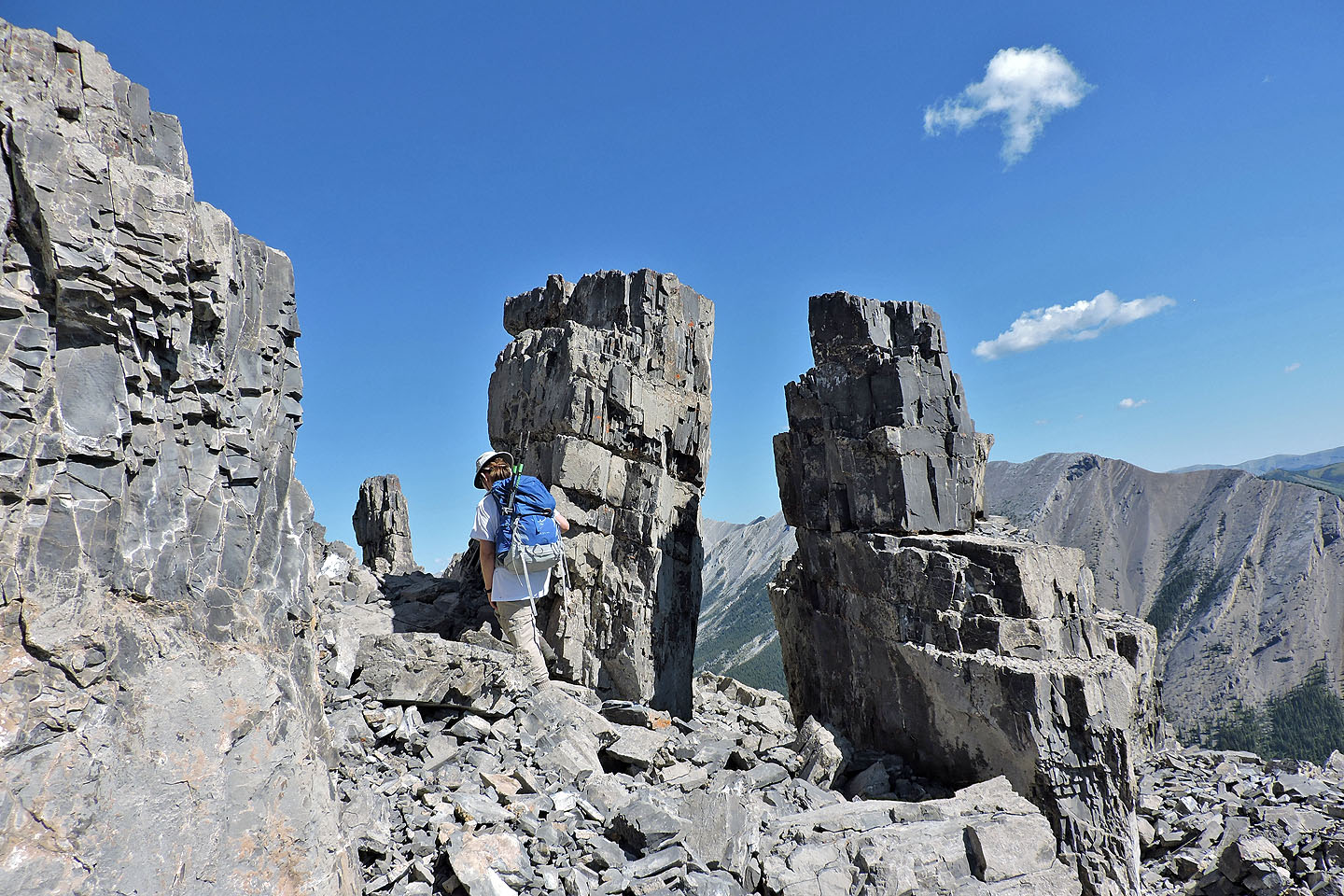 We passed these rock flakes on the false summit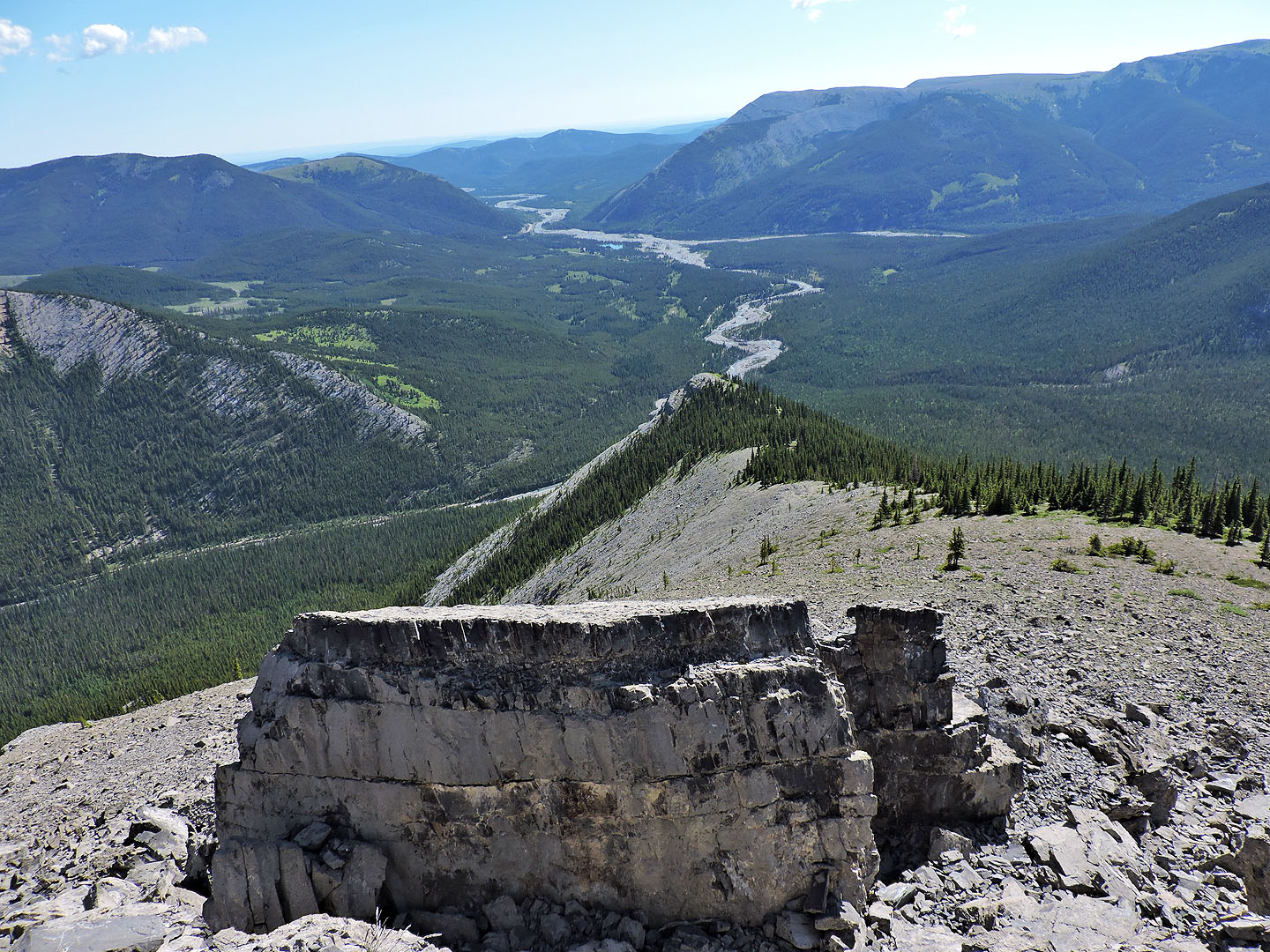 Looking back at the rock flakes

Mount Romulus and Mount Remus in the centre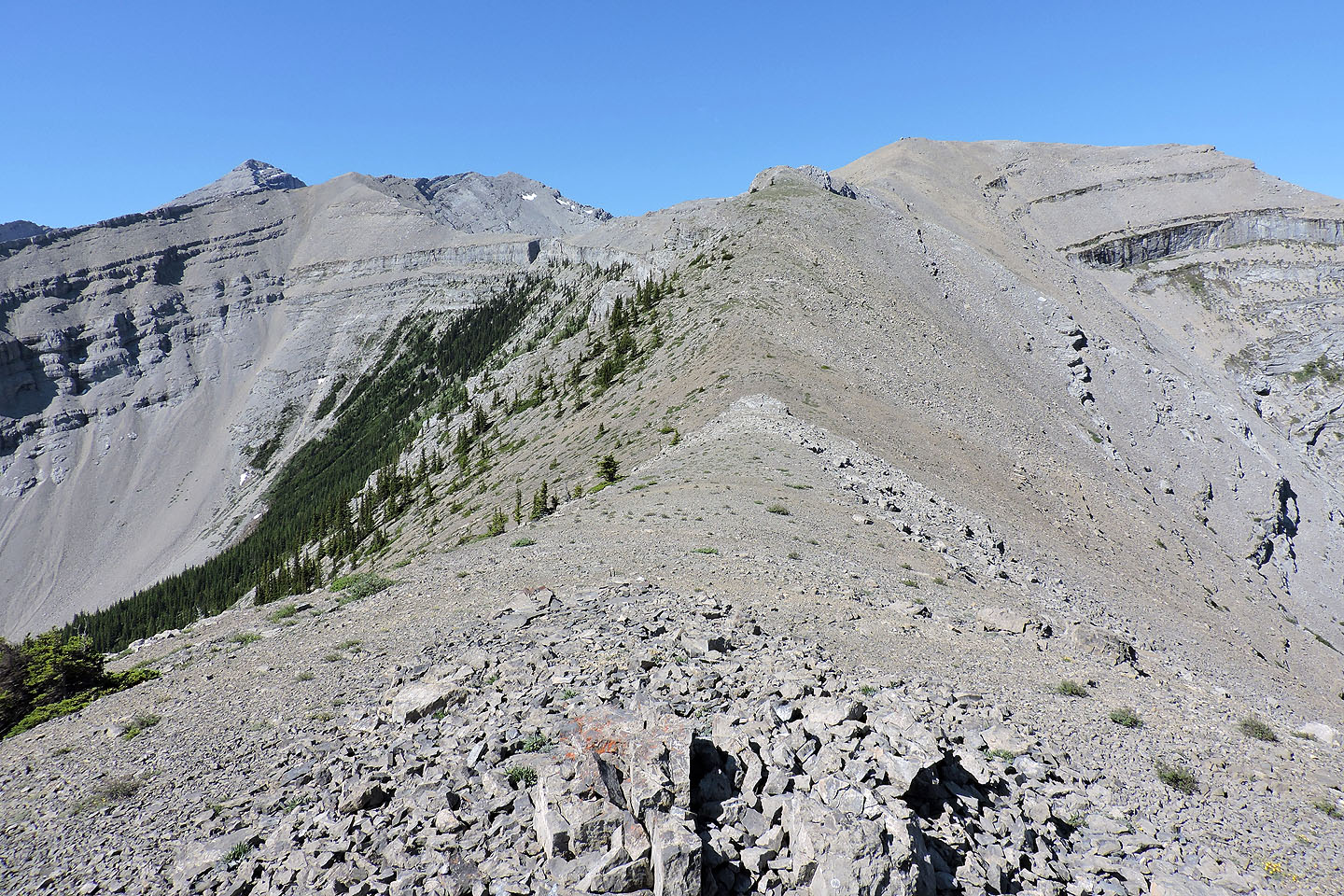 View from the next false summit. The ridge almost runs straight to the true summit.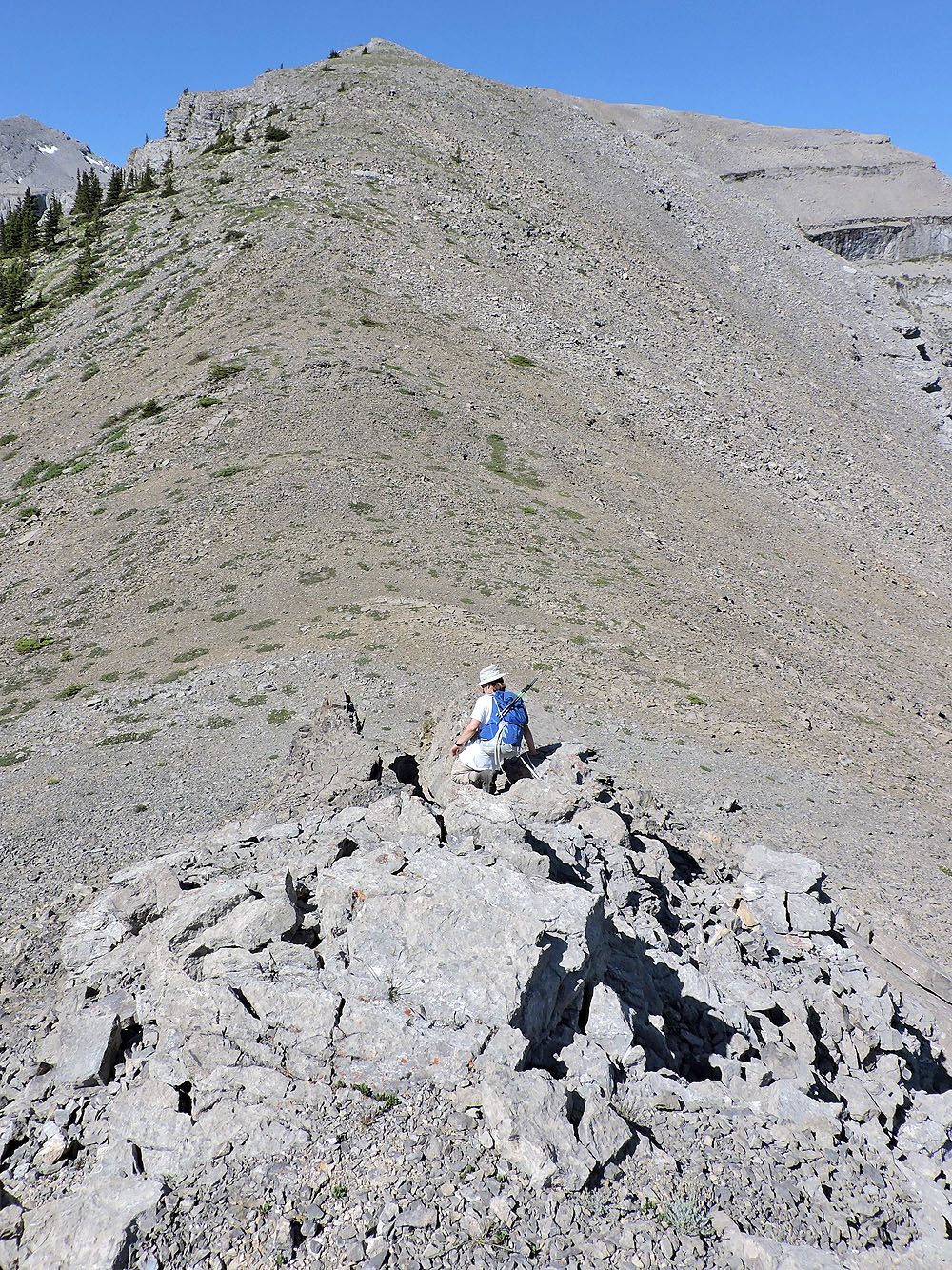 All the drops along the ridge can be scrambled down easily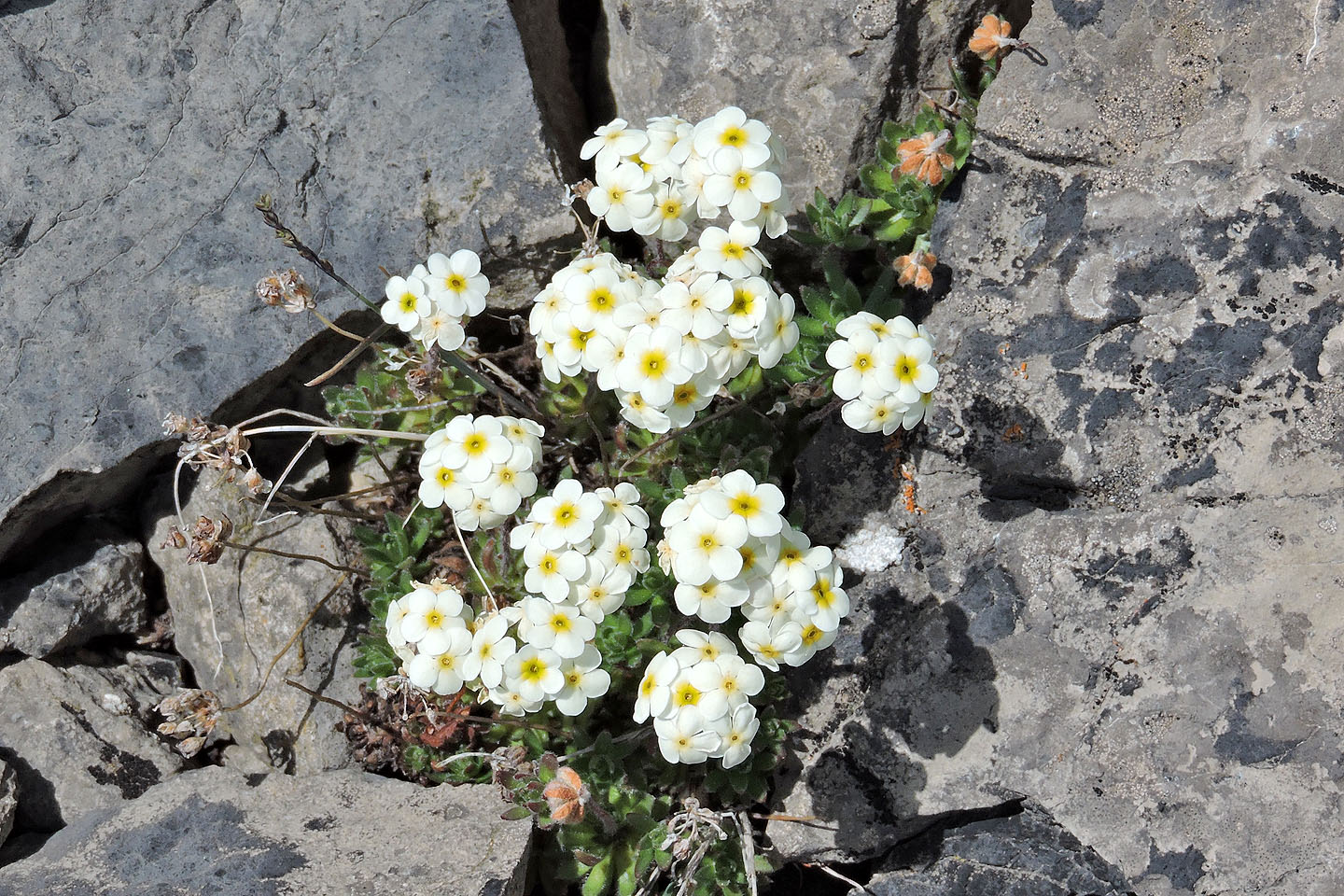 Rockjasmine wildflowers were common above the treeline

Looking back along the ridge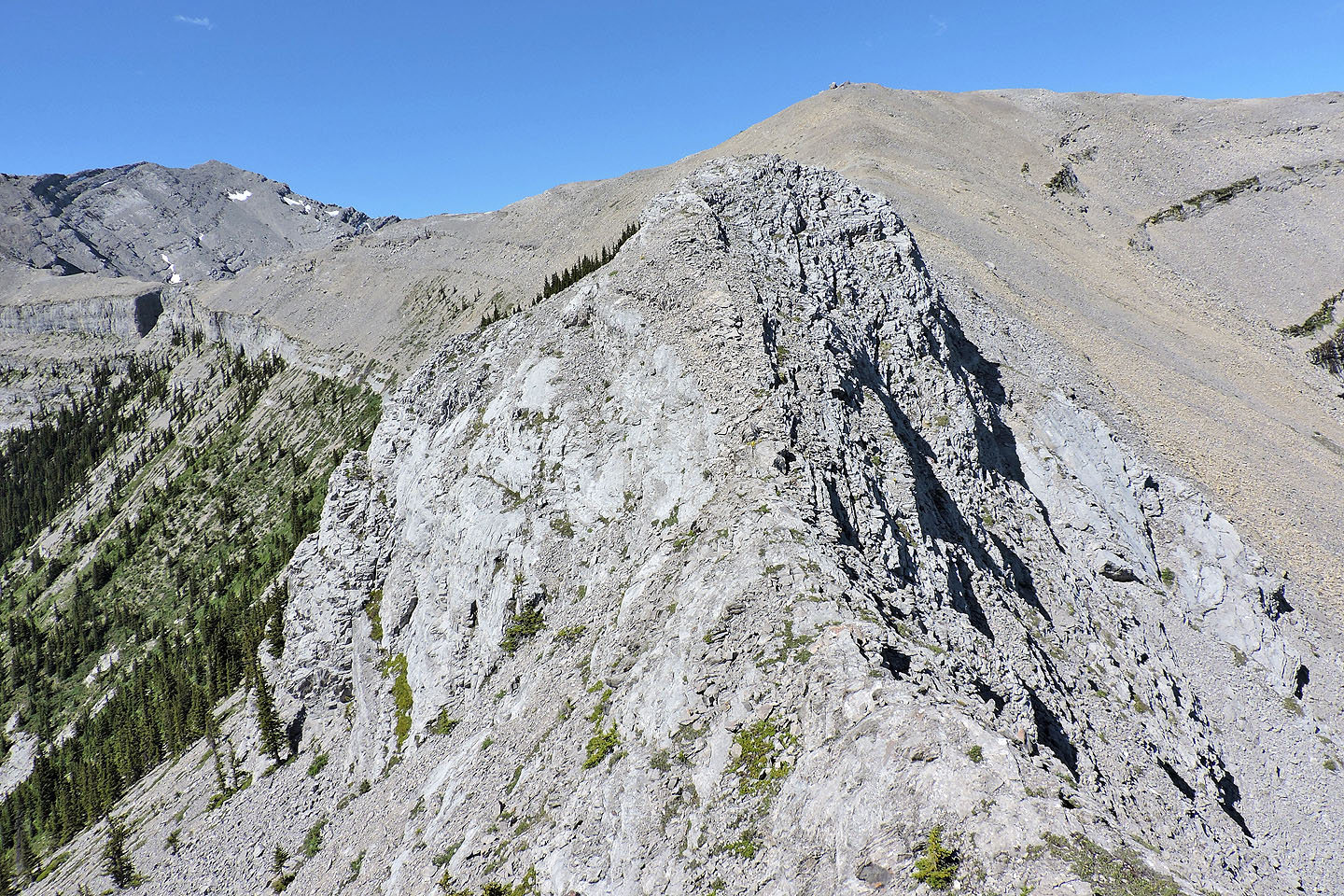 There's a short, narrow section just before the summit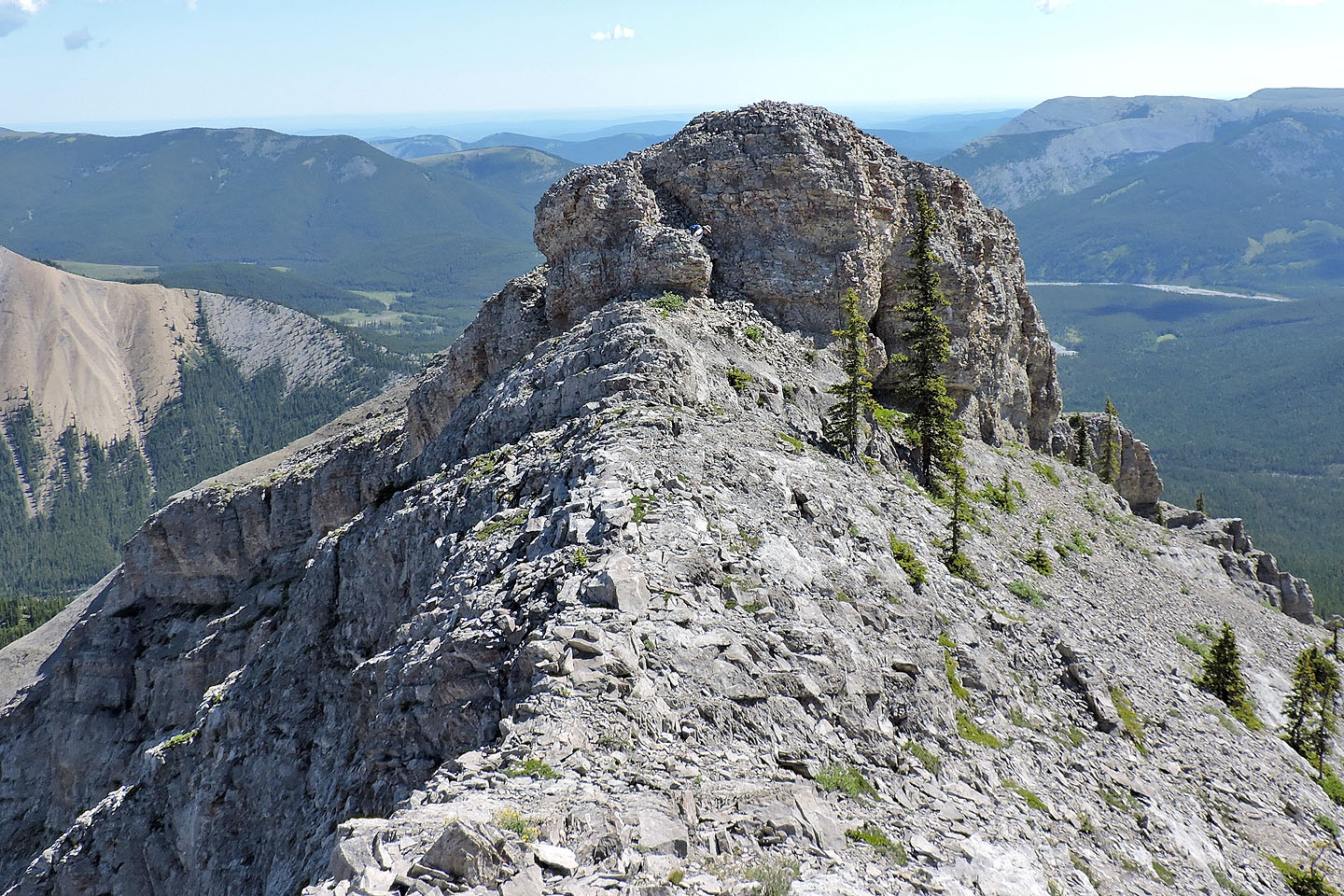 Looking back as Zora descends to the narrow ridge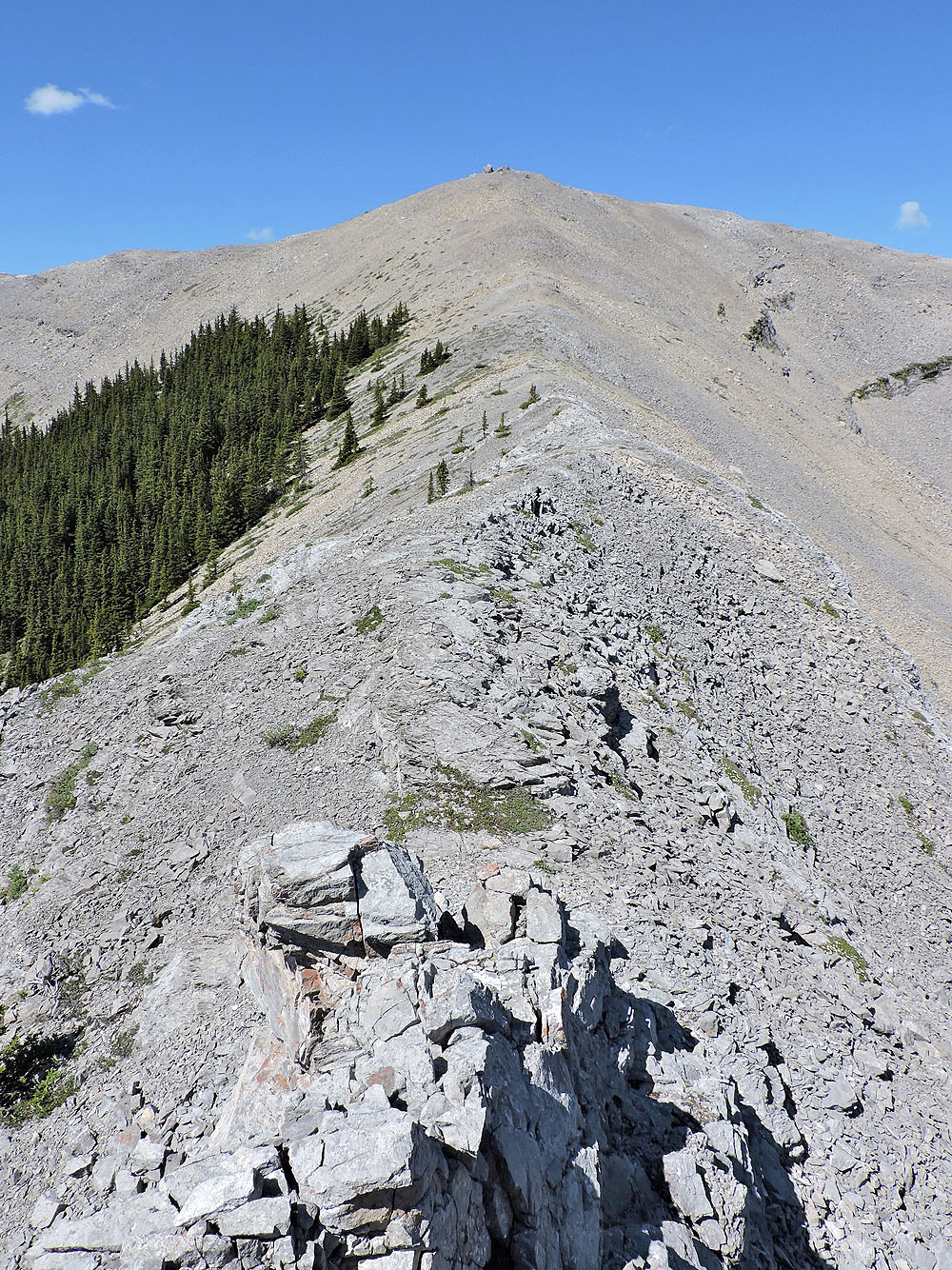 One more downclimb and then it's a walk to the summit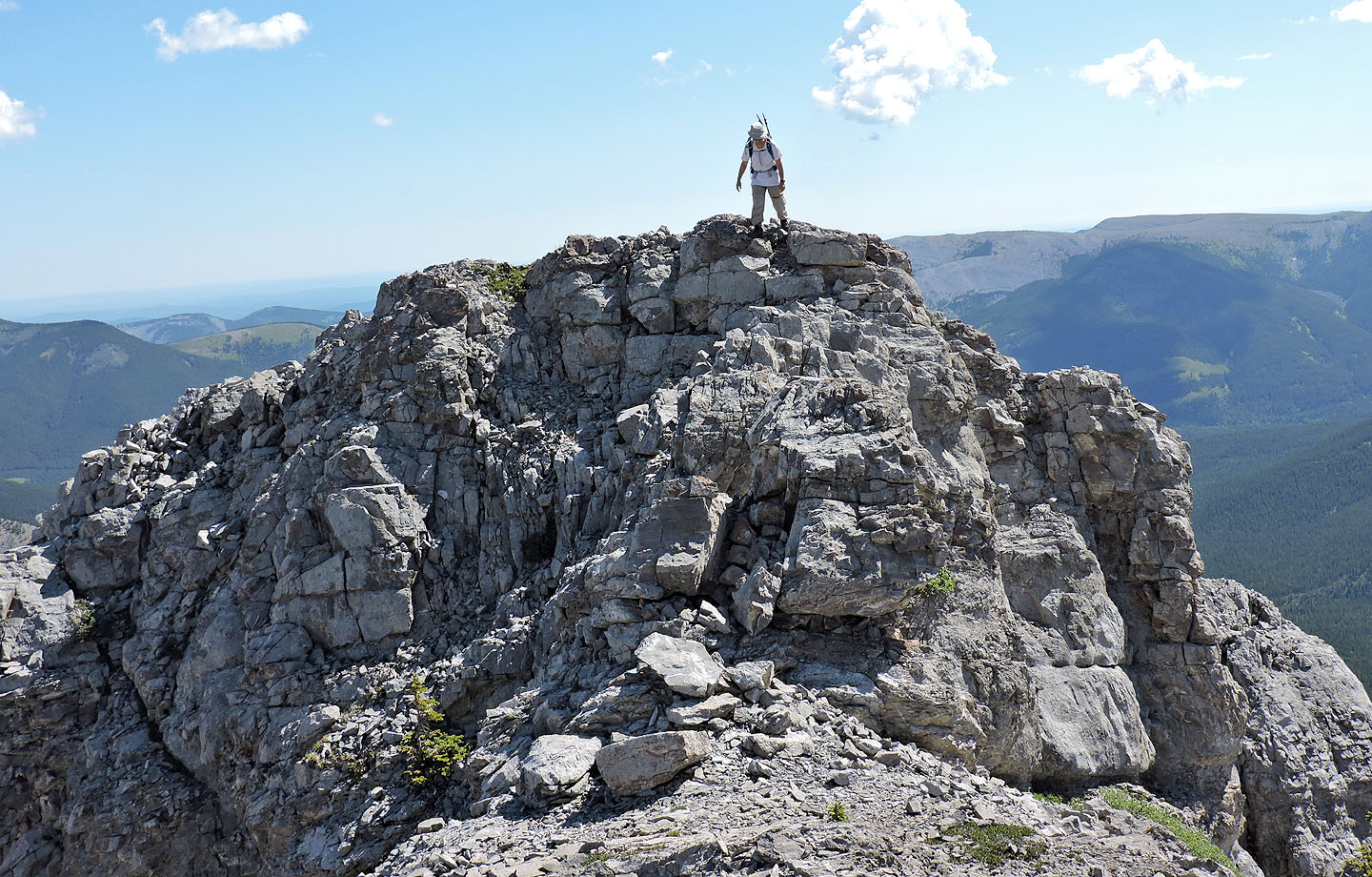 Zora is poised to scramble down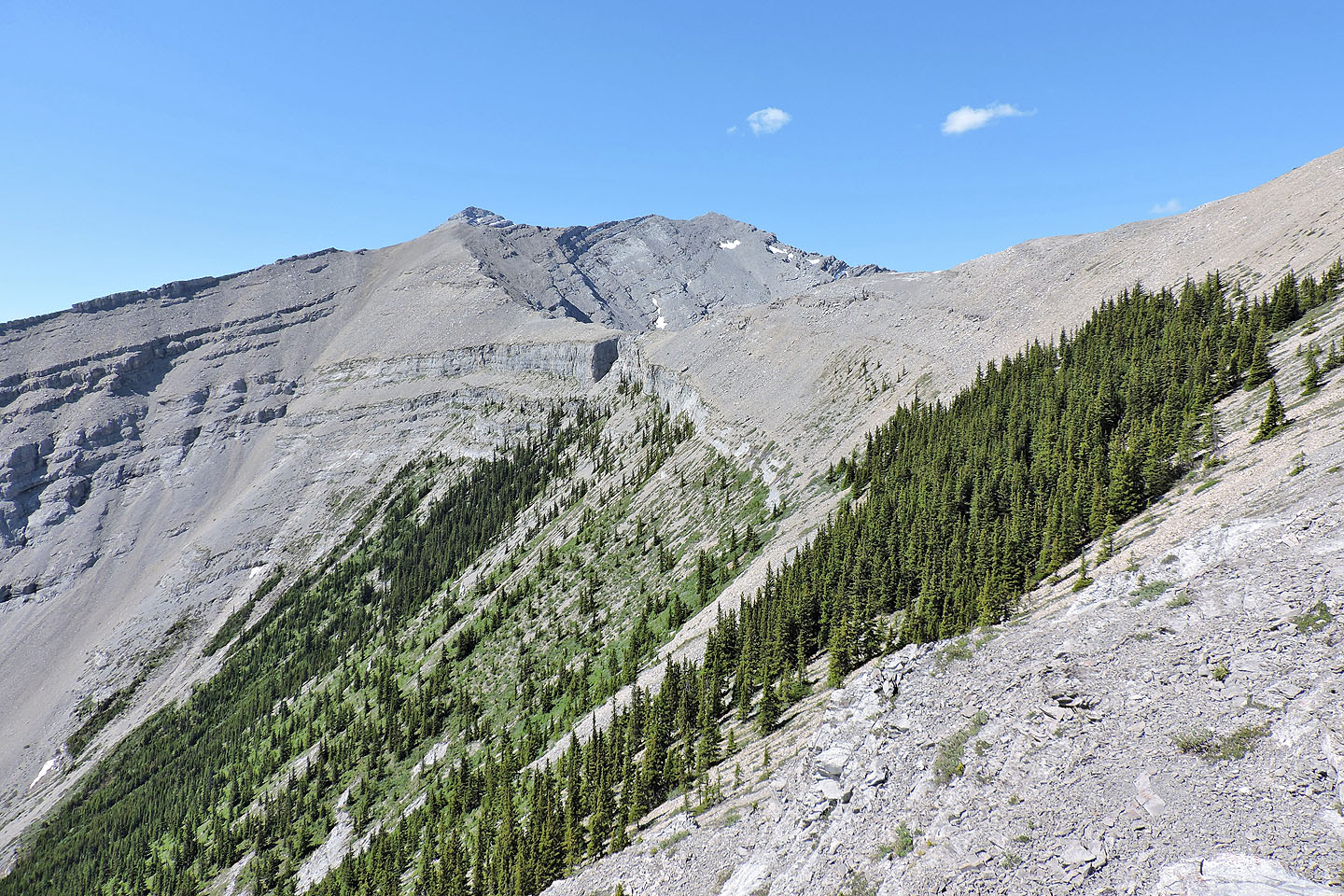 The south ridge leads to another Glasgow subpeak, Garriochmill (centre), an exposed scramble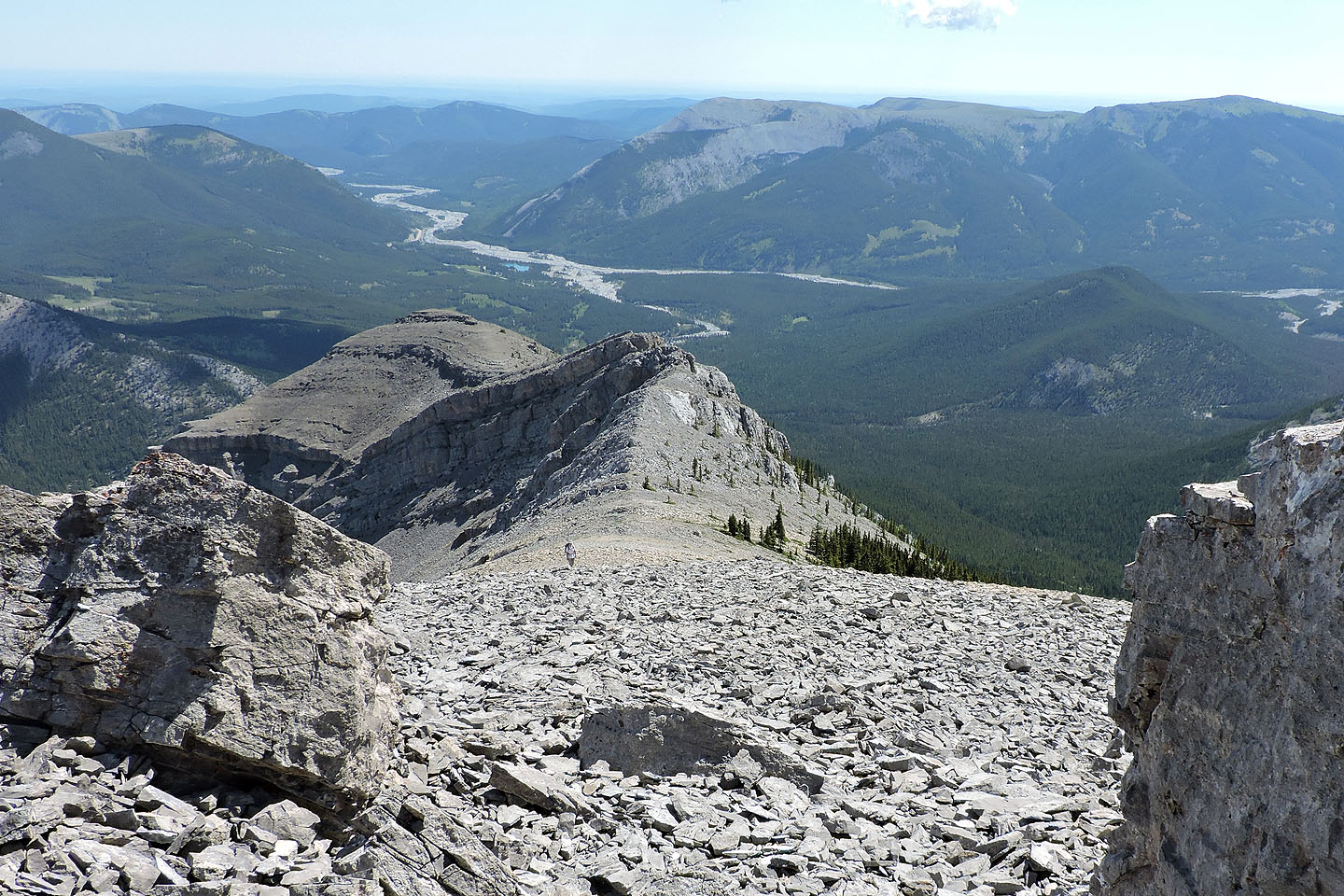 Looking back from the summit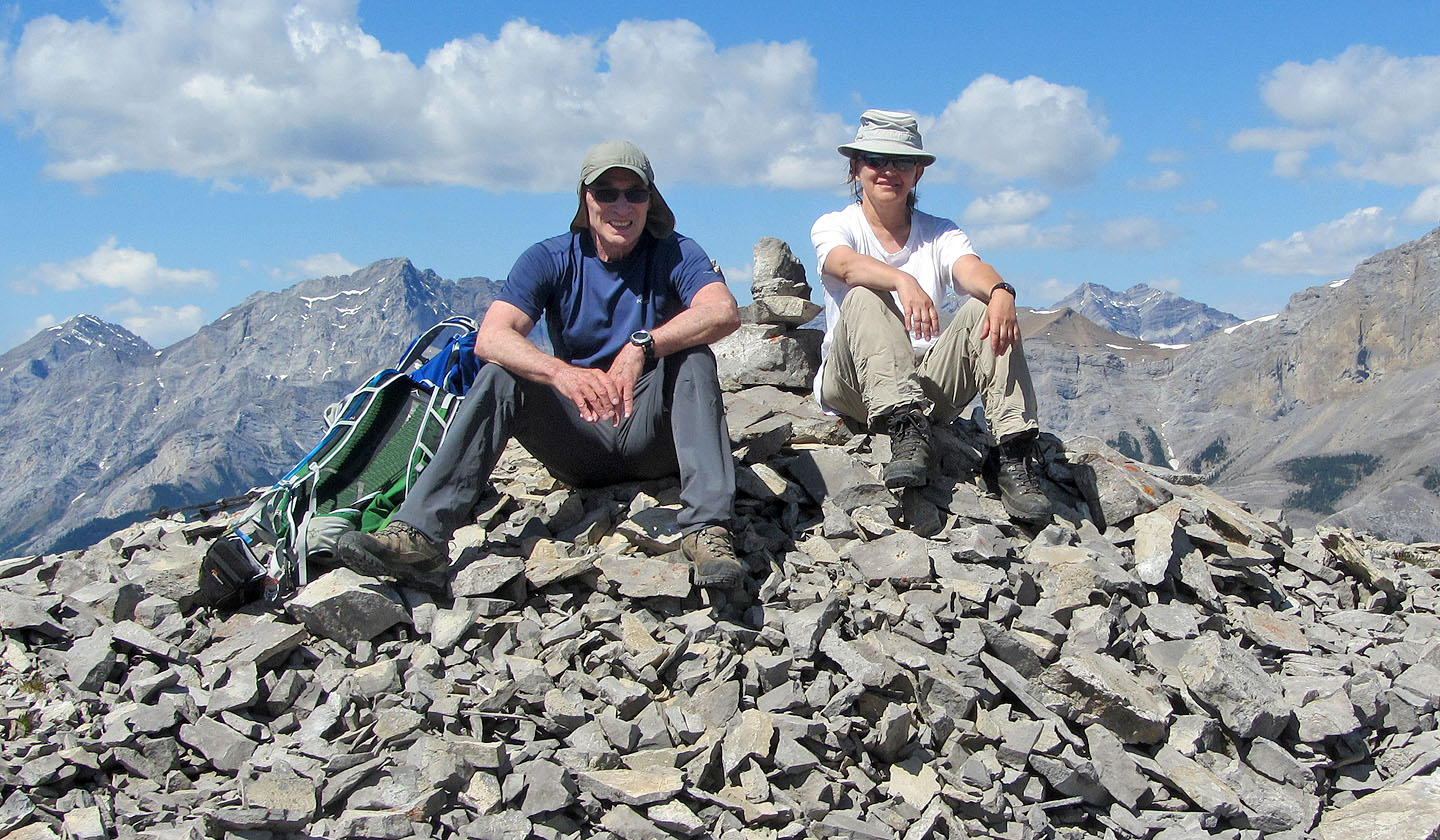 On the summit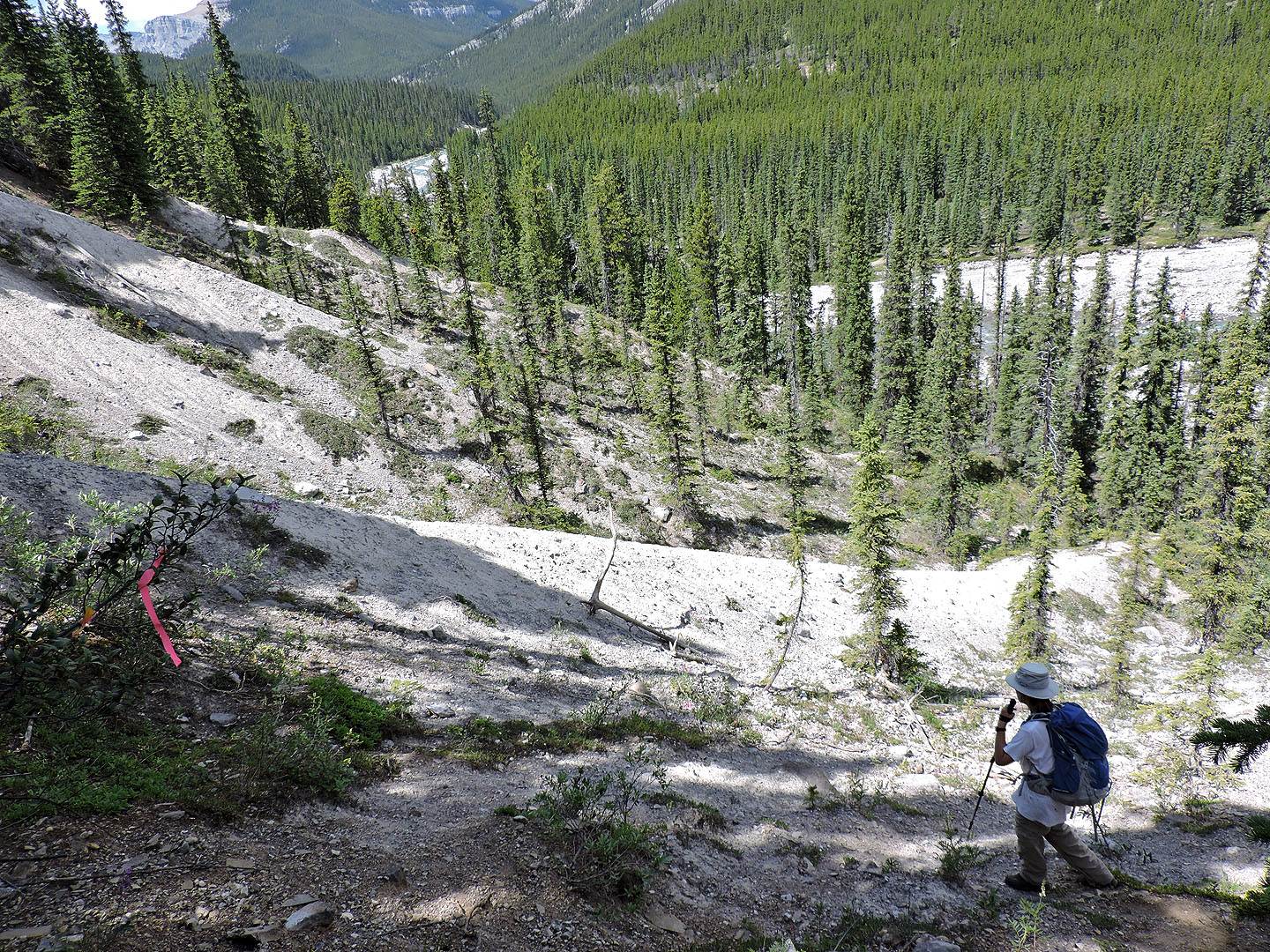 We followed the trail all the way down until it ended at the foot of these slopes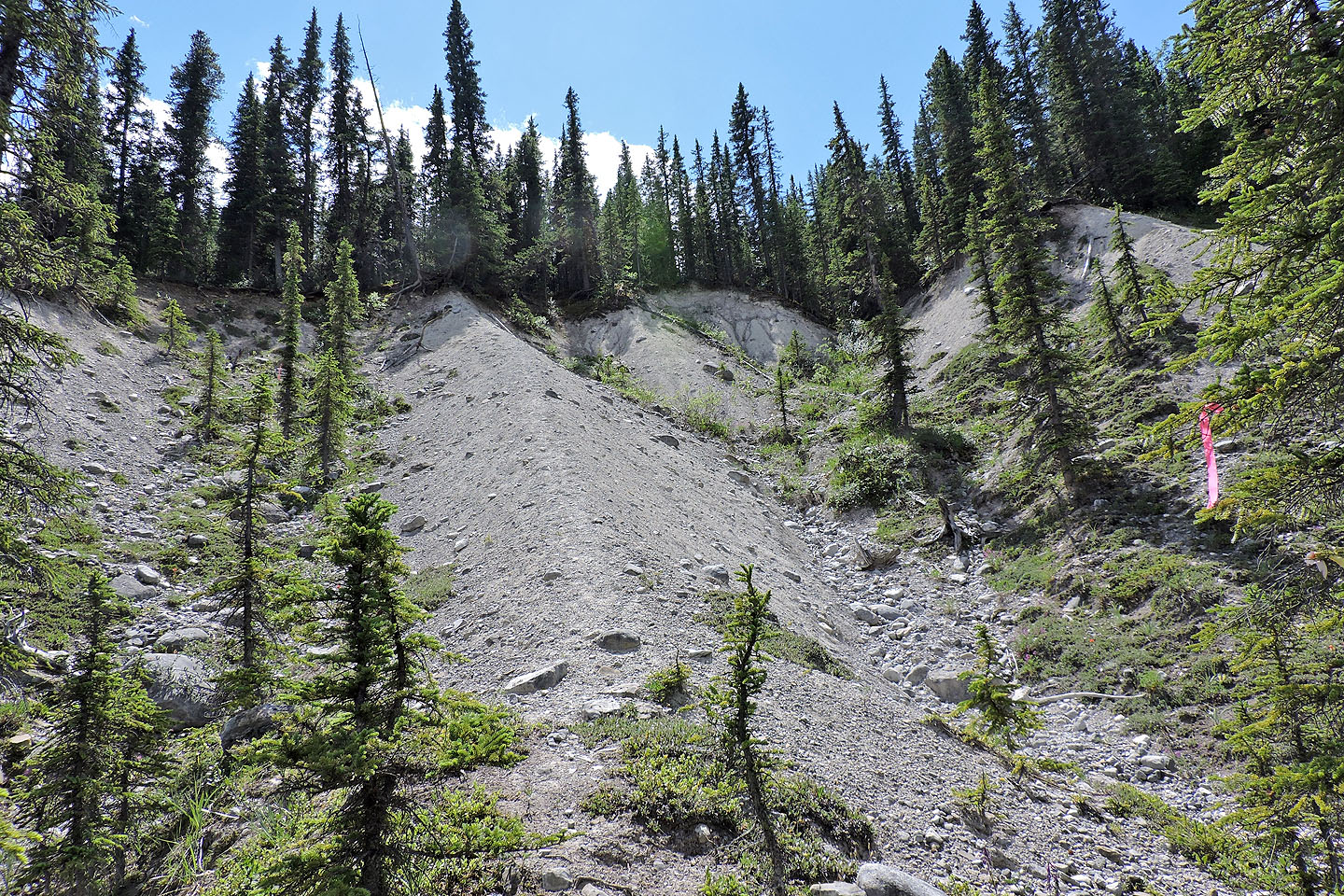 Looking up at the route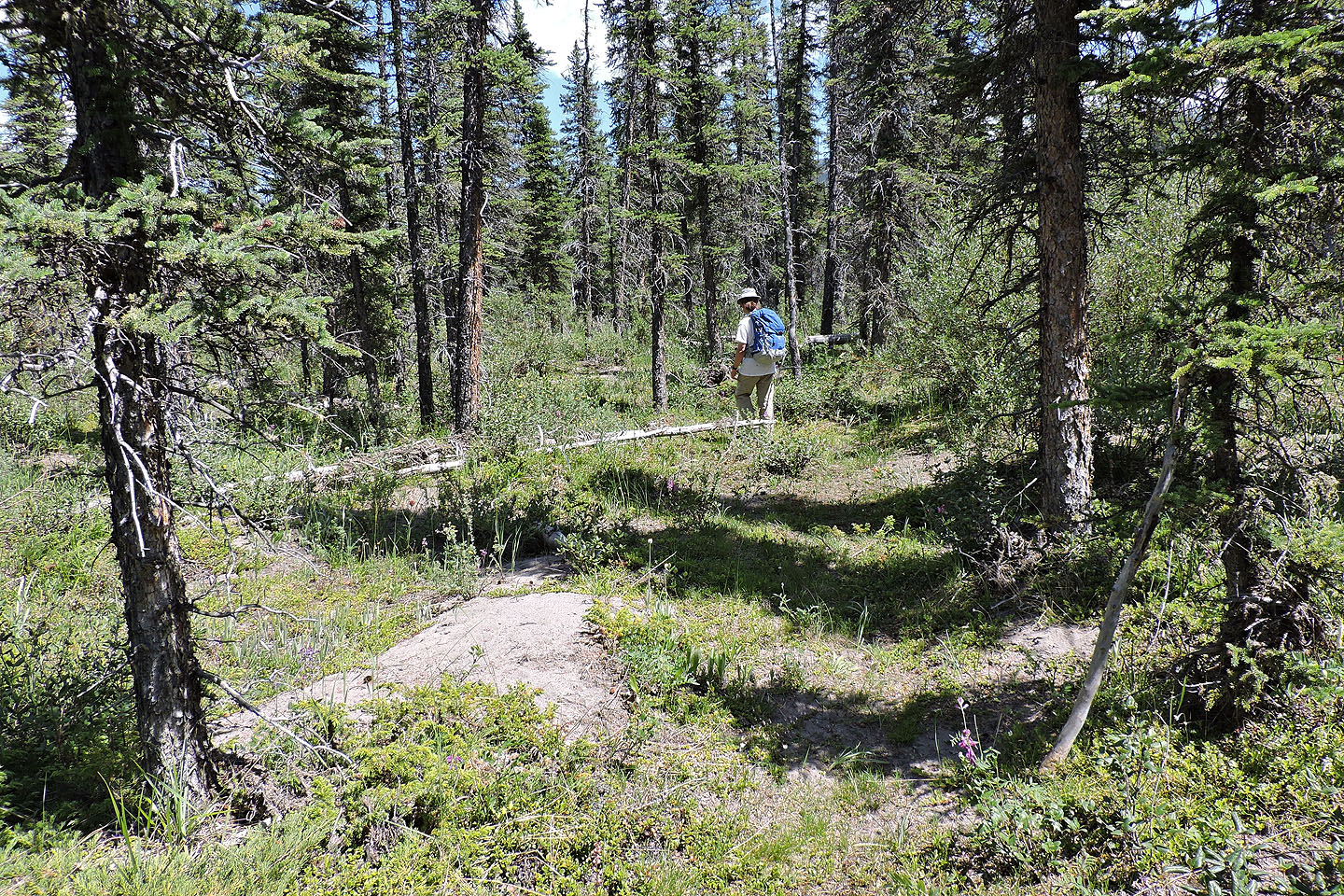 After reaching the bottom, we made our made back to Glasgow Creek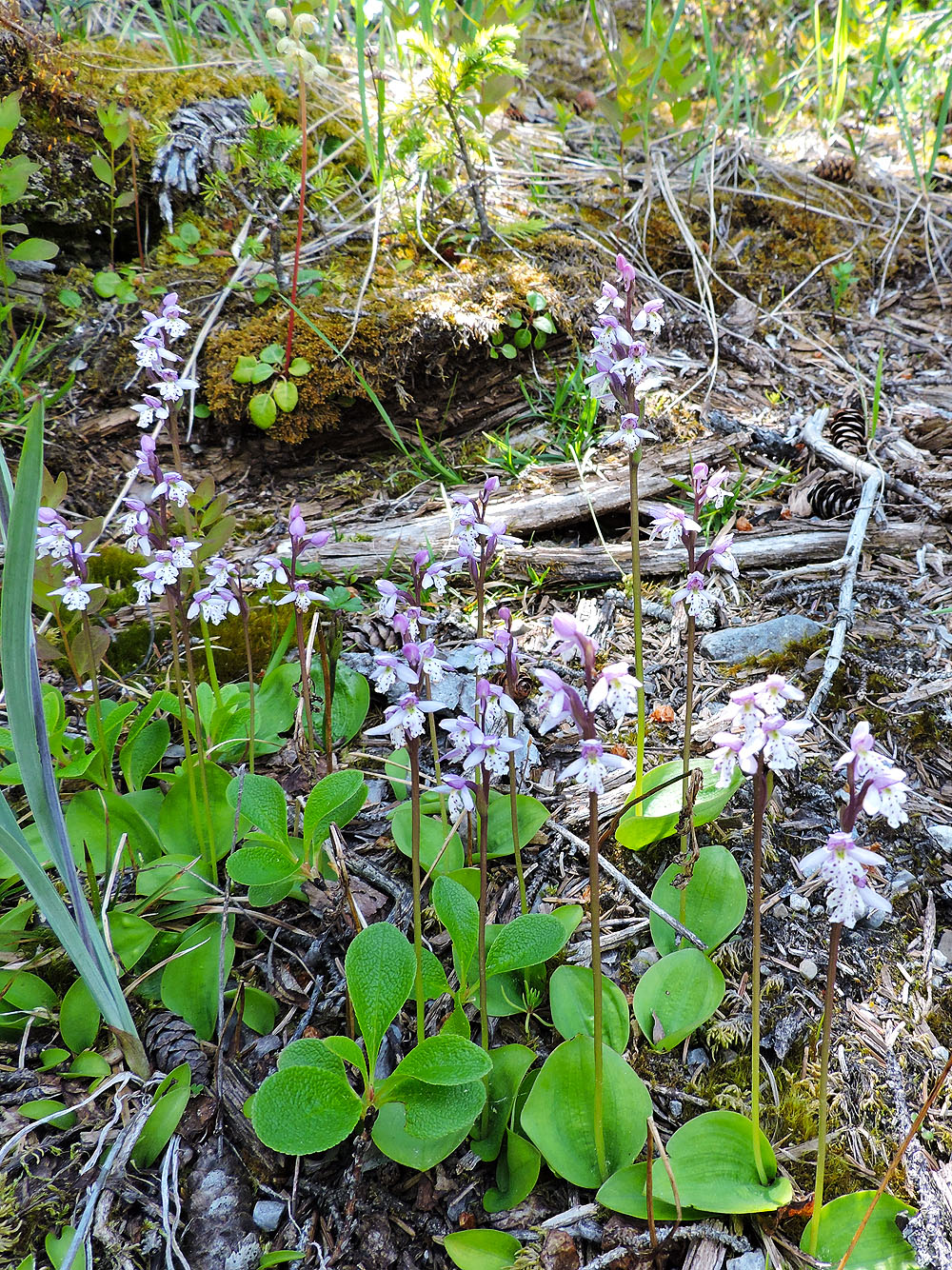 Round-leaved orchids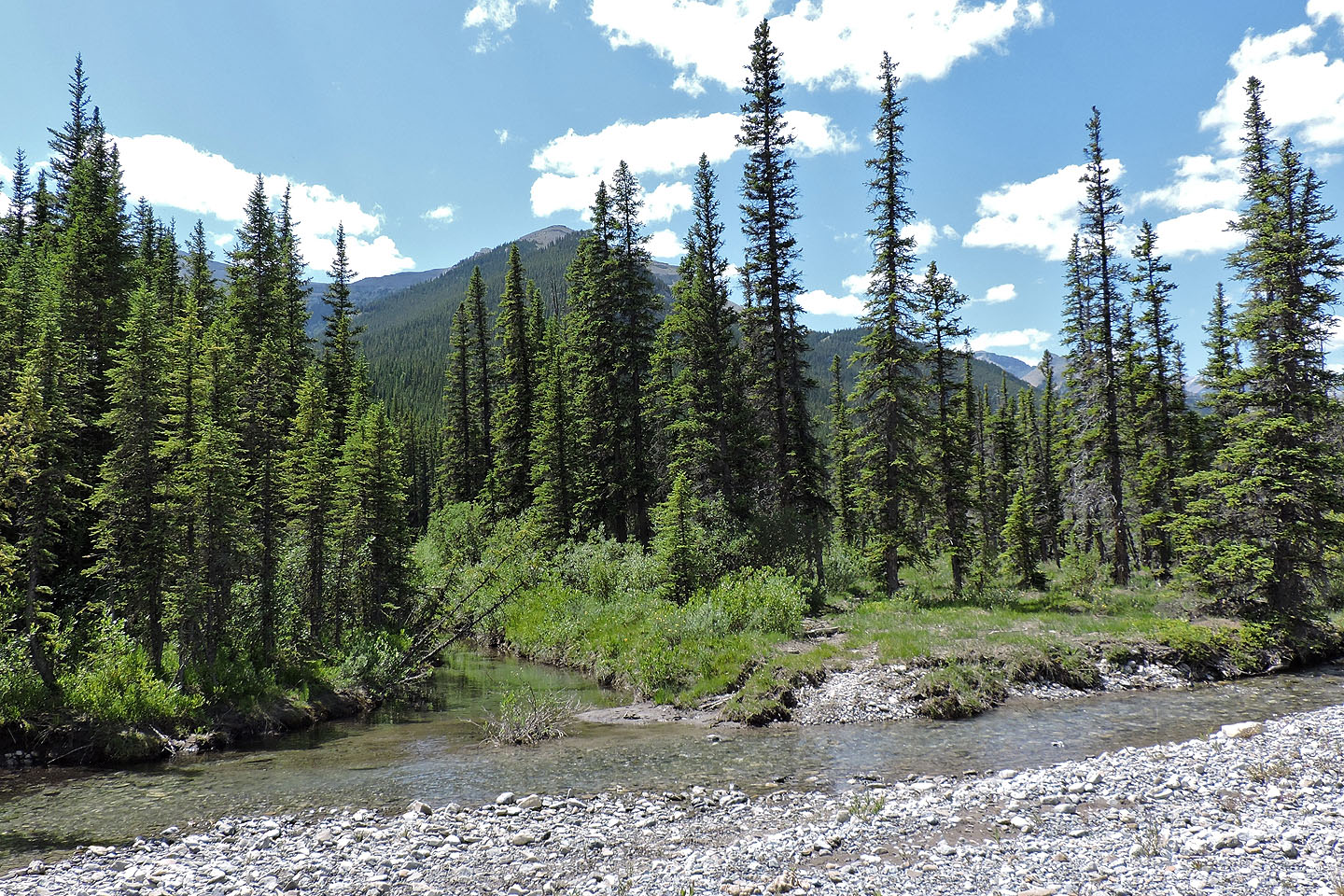 Looking back at the subpeak after crossing Glasgow Creek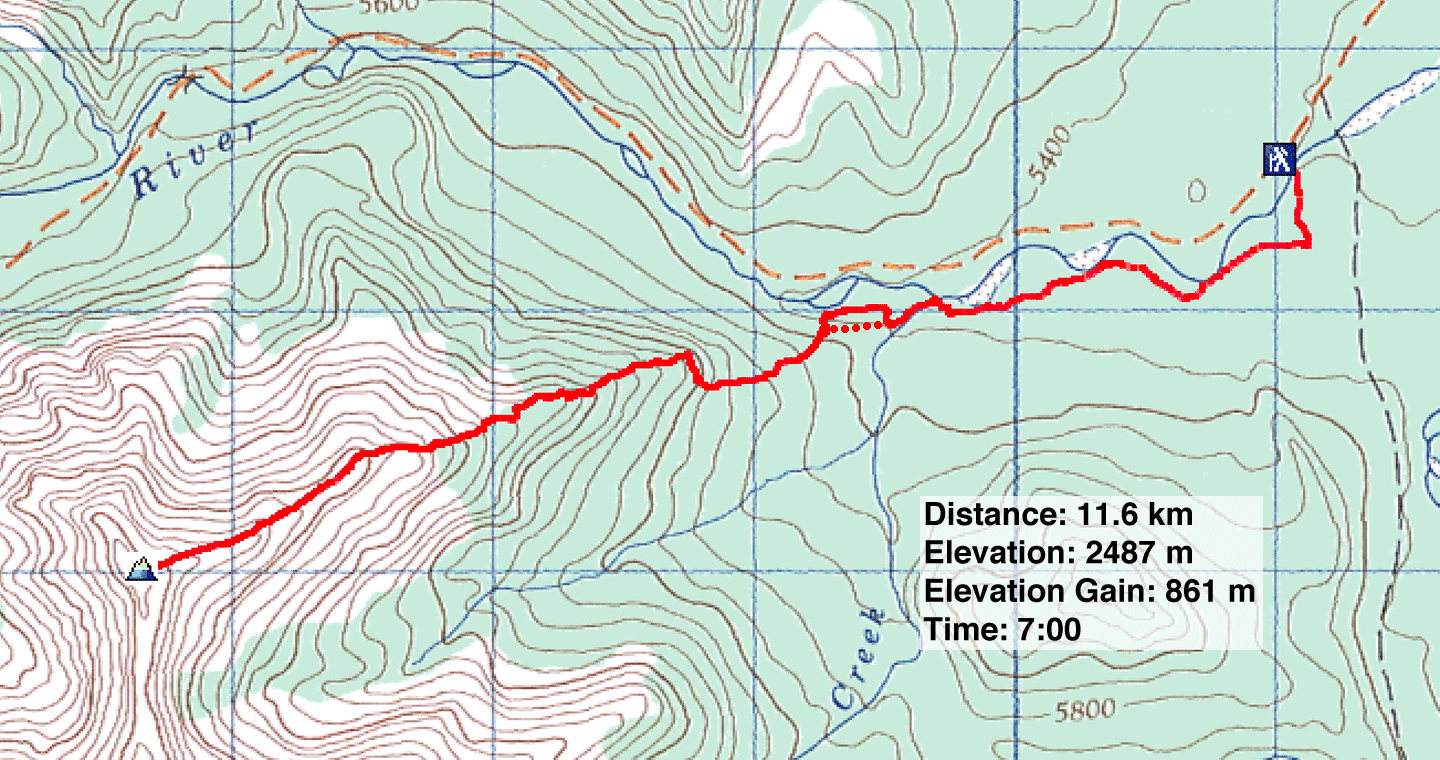 82 J/15 Bragg Creek (I recommend following the ridge section with red dots)