bobspirko.ca | Home | Canada Trips | US Trips | Hiking | Snowshoeing | MAP | About

Mount Glasgow
Kananaskis, Alberta
September 11, 2004
I haven't tried the Scrambles guidebook approach Mount Glasgow, but the east ridge probably offers a more interesting trip: it's largely a ridgewalk rather than a scree slog, and no bike is required for the approach.
From the Little Elbow Recreation Area, Dale, Bruce, Dinah and I crossed the suspension bridge and took a sharp right onto a side trail that leads to the river. Ten minutes later, we left the riverside trail at a right angle and set off to find a cutline. After hiking about 100 m or so, we came across a trail that follows the cutline. The cutline trail eventually ends above a valley meadow. Picking up on another trail, we headed down to the meadow; which placed us at the foot of an outlier (484250) marking the end of the east ridge. We headed up the wooded slope towards it.

Just below the outlier, we avoided a cliff band, traversed below the top and dropped down to the col at 479247. A trail on the left took us past a small point. After that, we stayed close to the ridge, except for a rock prominence that we detoured left around. At this point, a brilliant rainbow came into view and held our attention up and down the summit.

We continued along the ridge until about 70 m below the summit where a buttress stopped us. We headed left to the open slope and scrambled up some steep, scree-covered slabs where we could regain the ridge. This section upped the trip to a difficult rating.

On the return, we saved time by going down a scree gully at the col before the outlier and followed Glasgow Creek back to the cutline.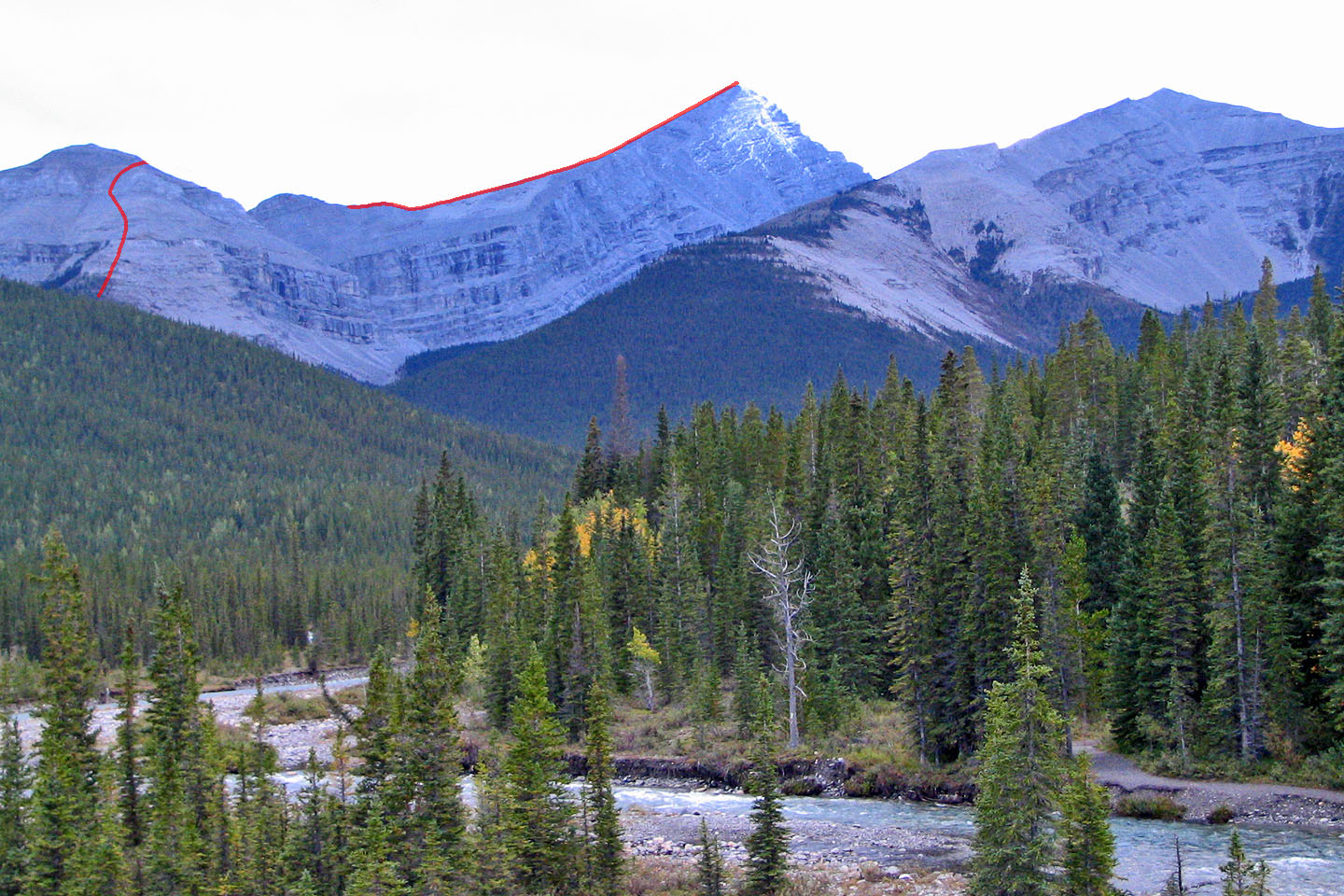 The route seen from the suspension bridge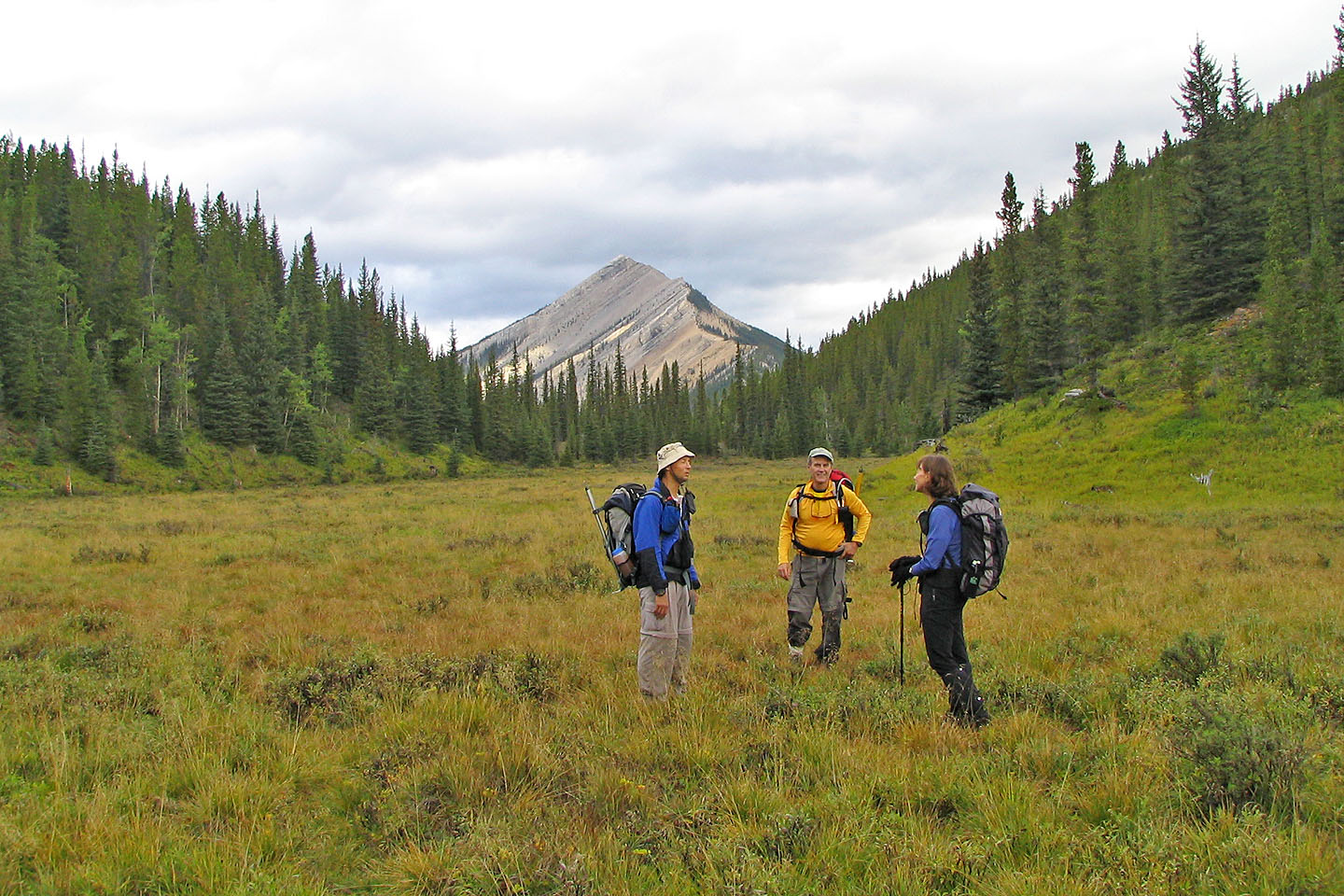 Taking a break in a meadow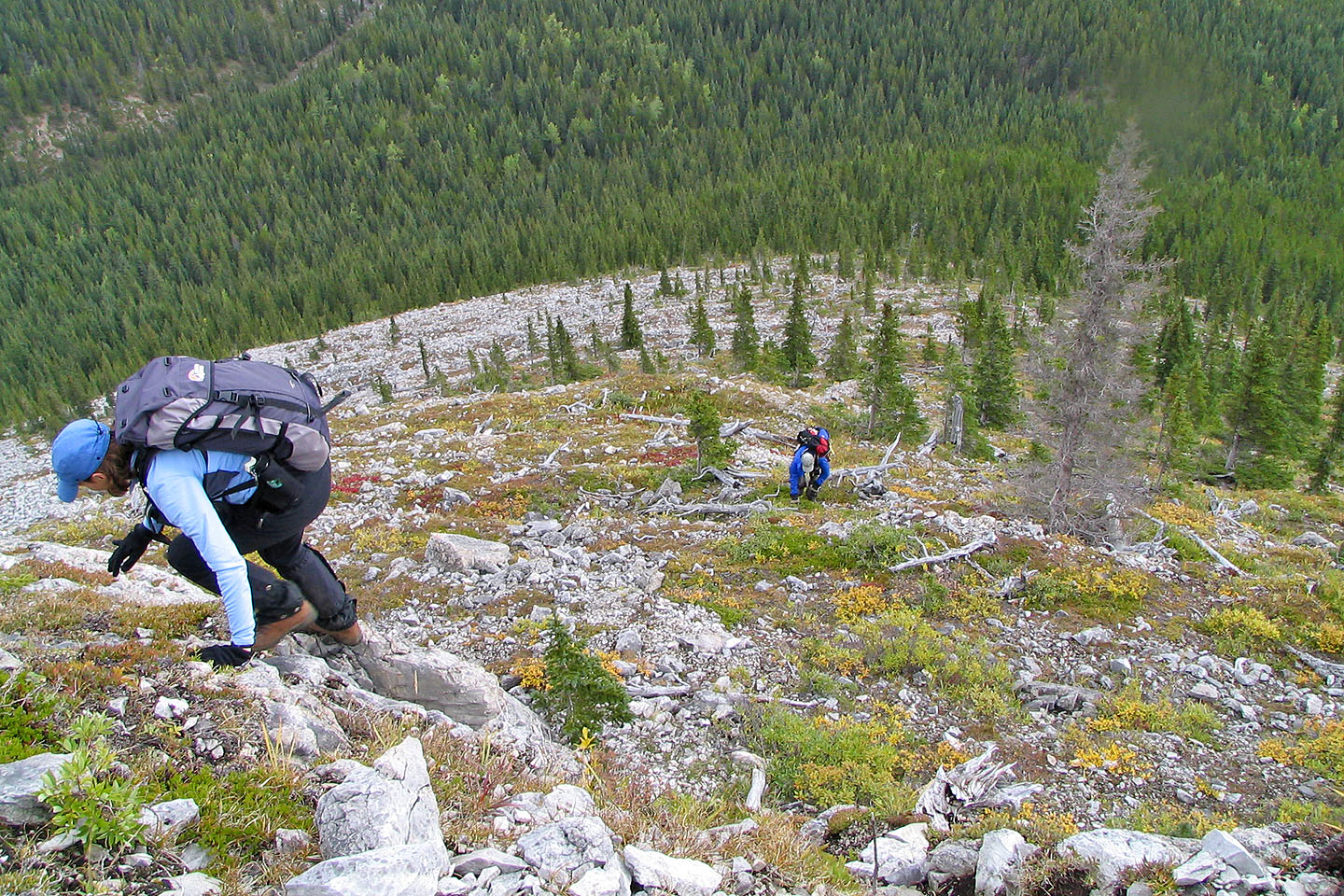 We left the treeline far below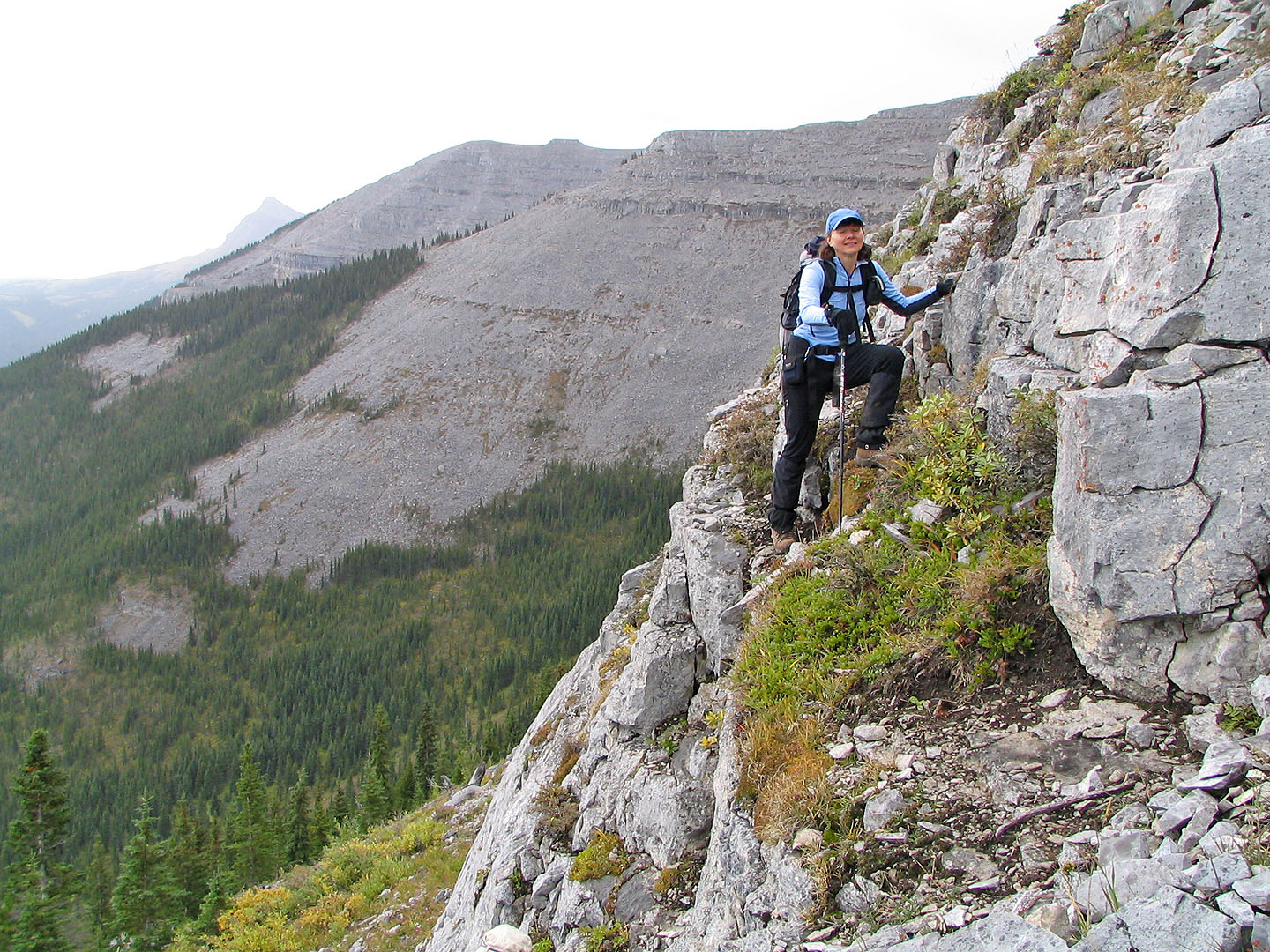 Dinah reaches a ledge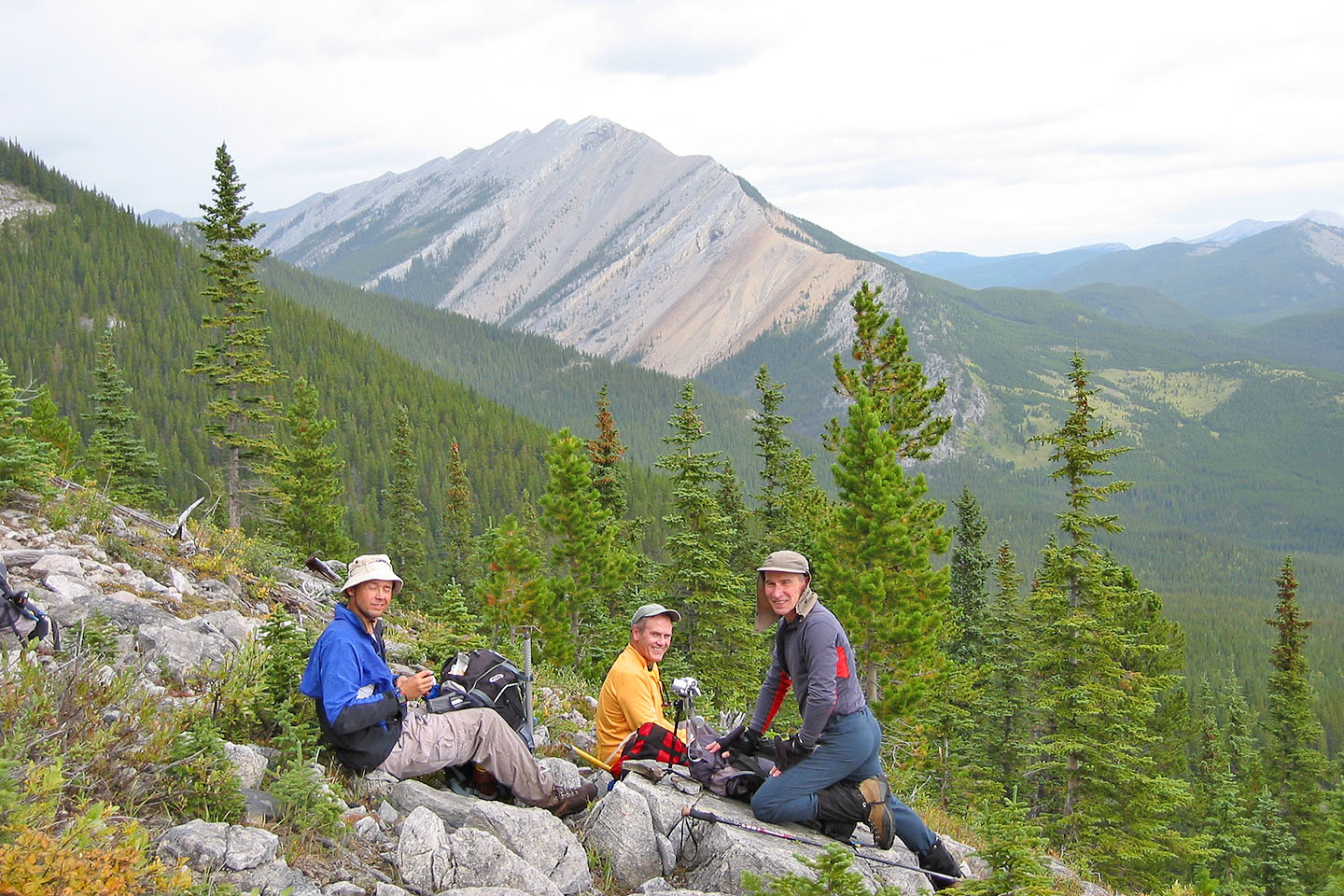 Taking a break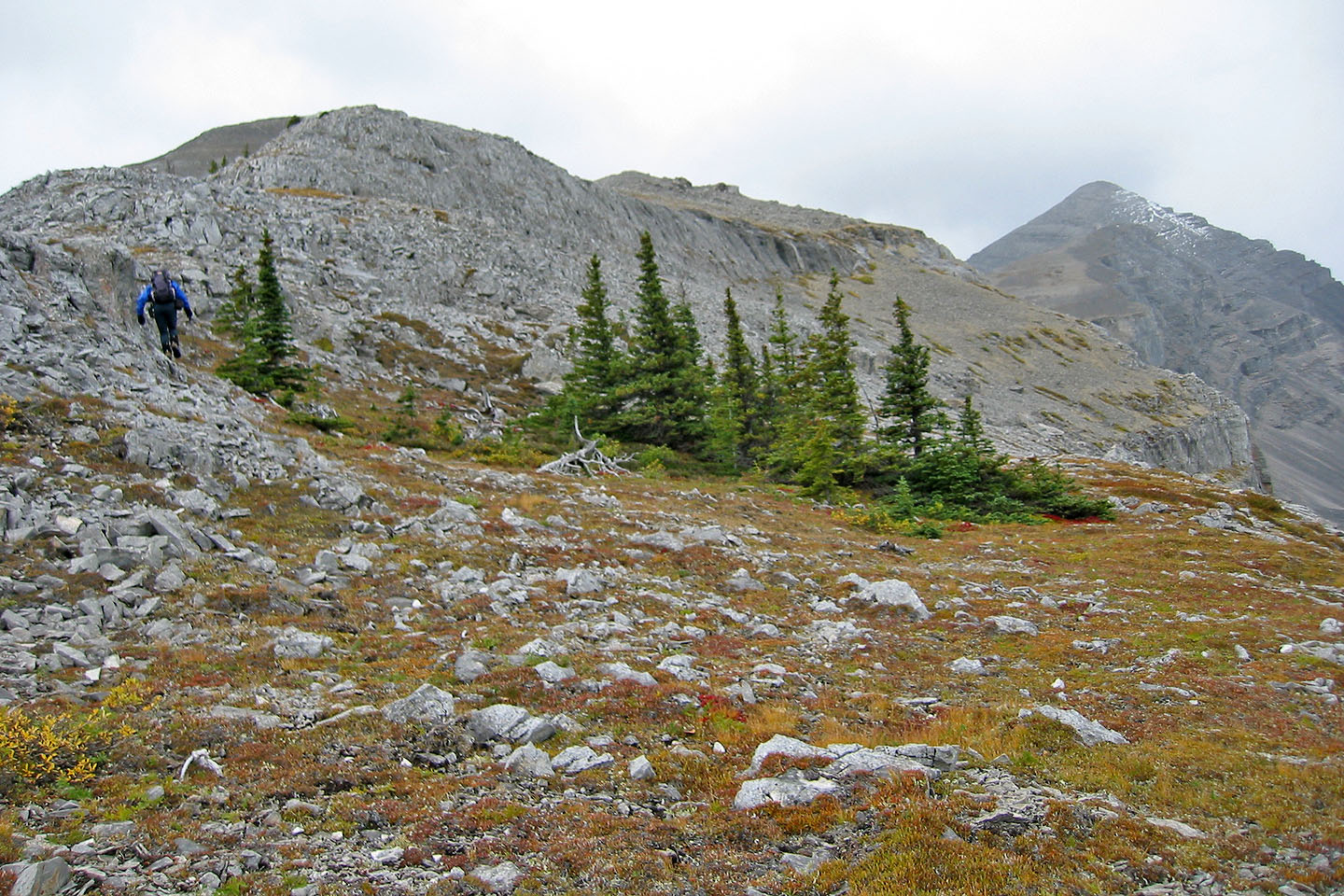 Ascending the end of the east ridge. Mount Glasgow on the right.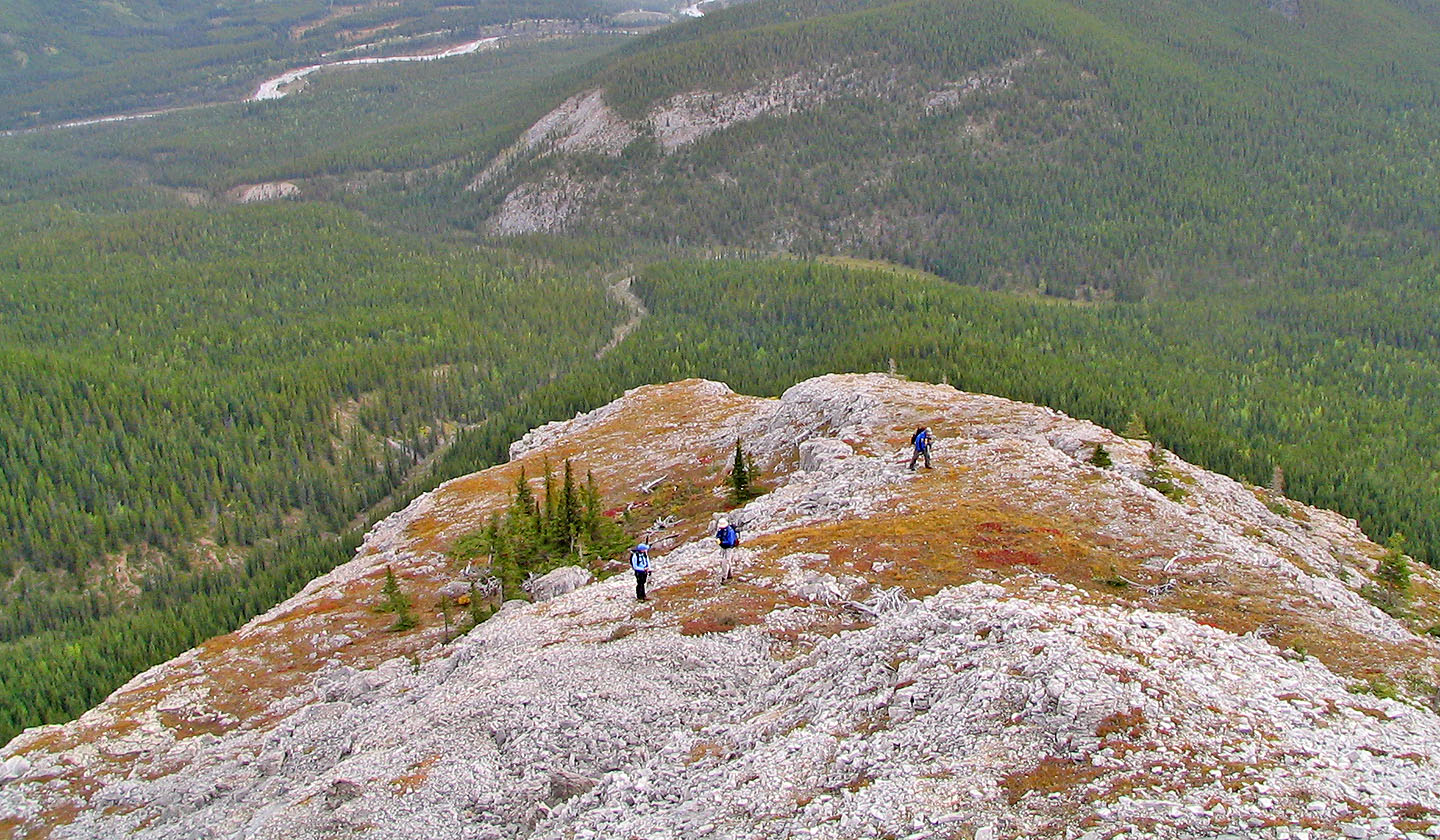 The slope begins to level off

Looking back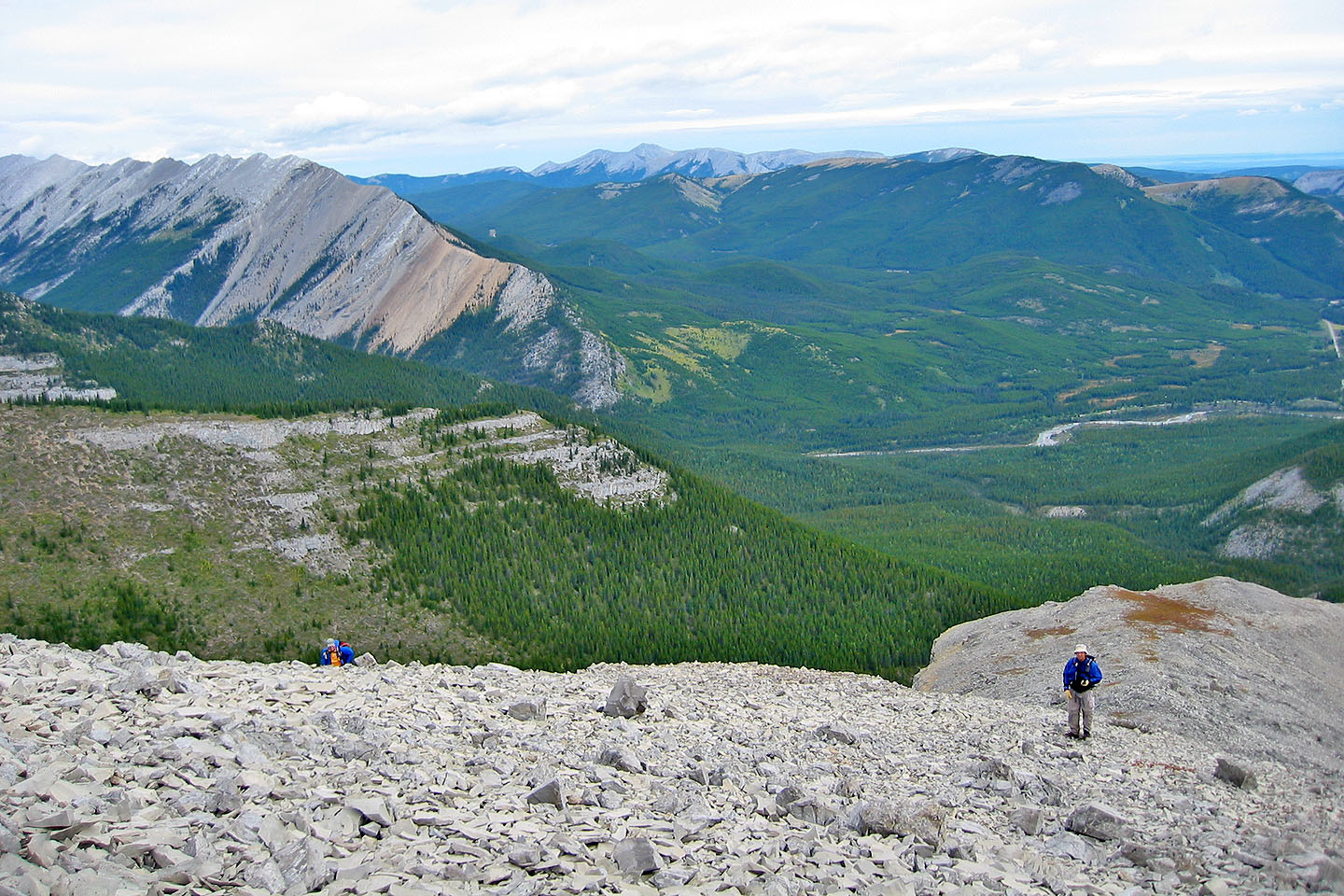 The slope changes to scree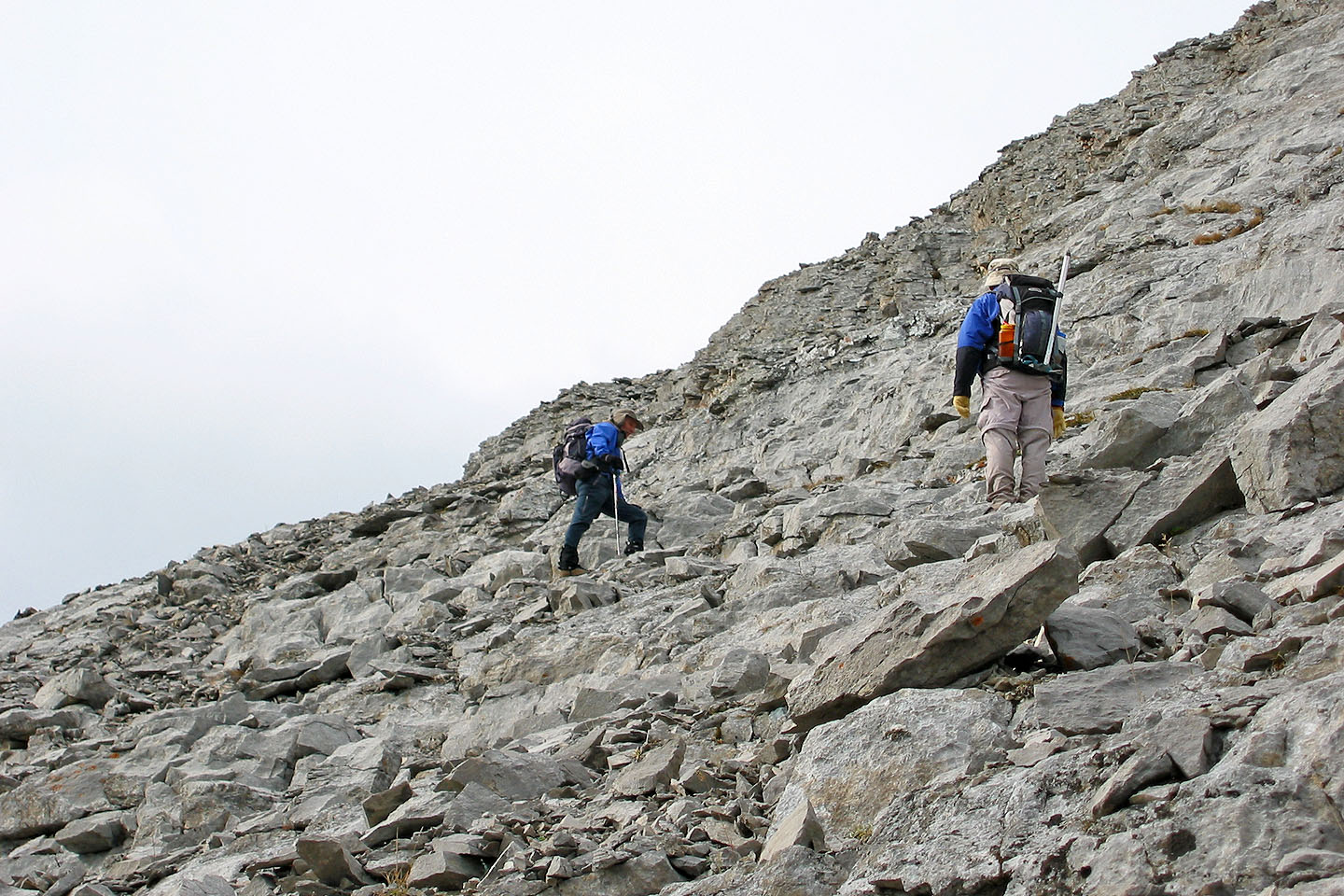 We traversed below the outlier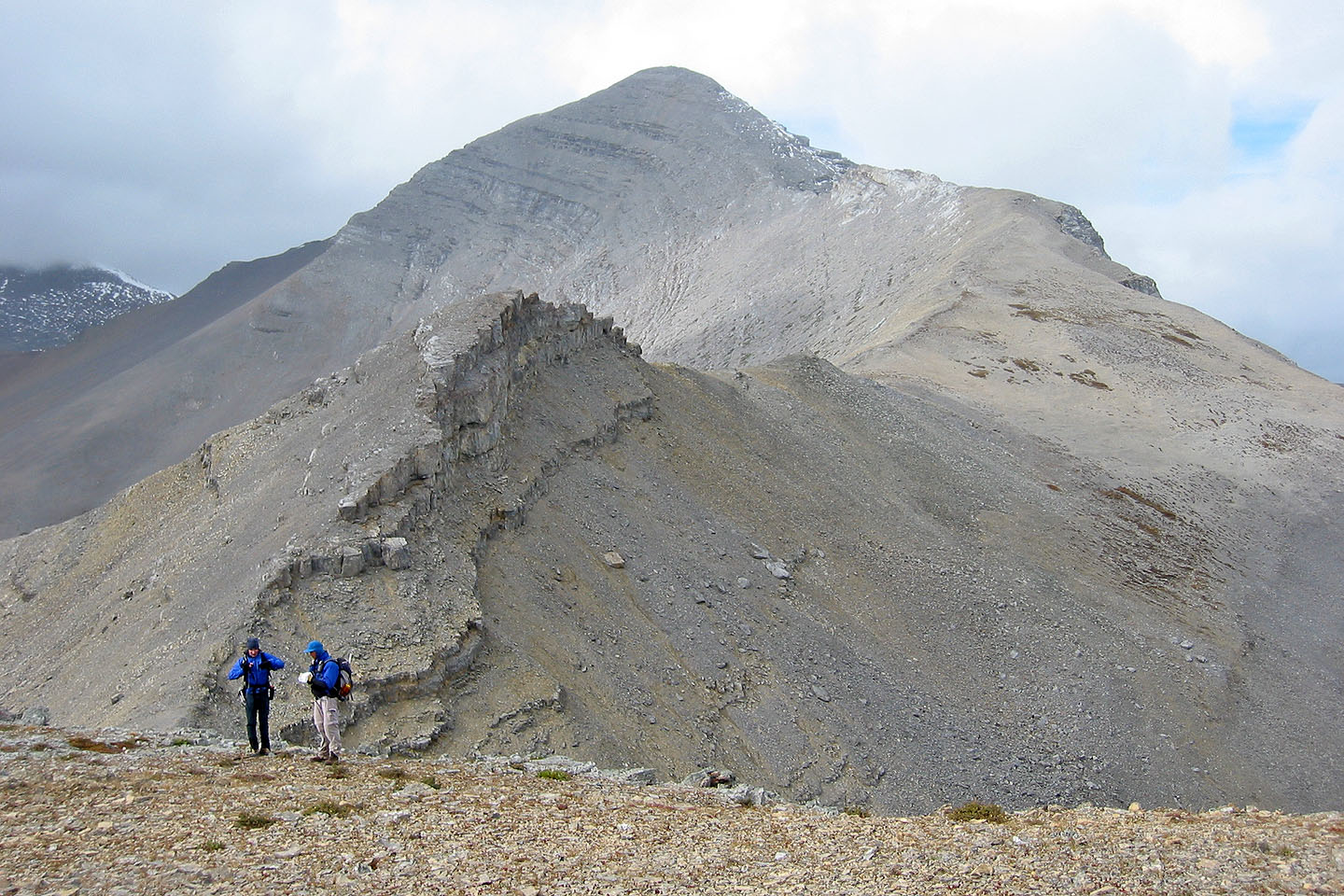 Above the col: the ridge to the summit can now be seen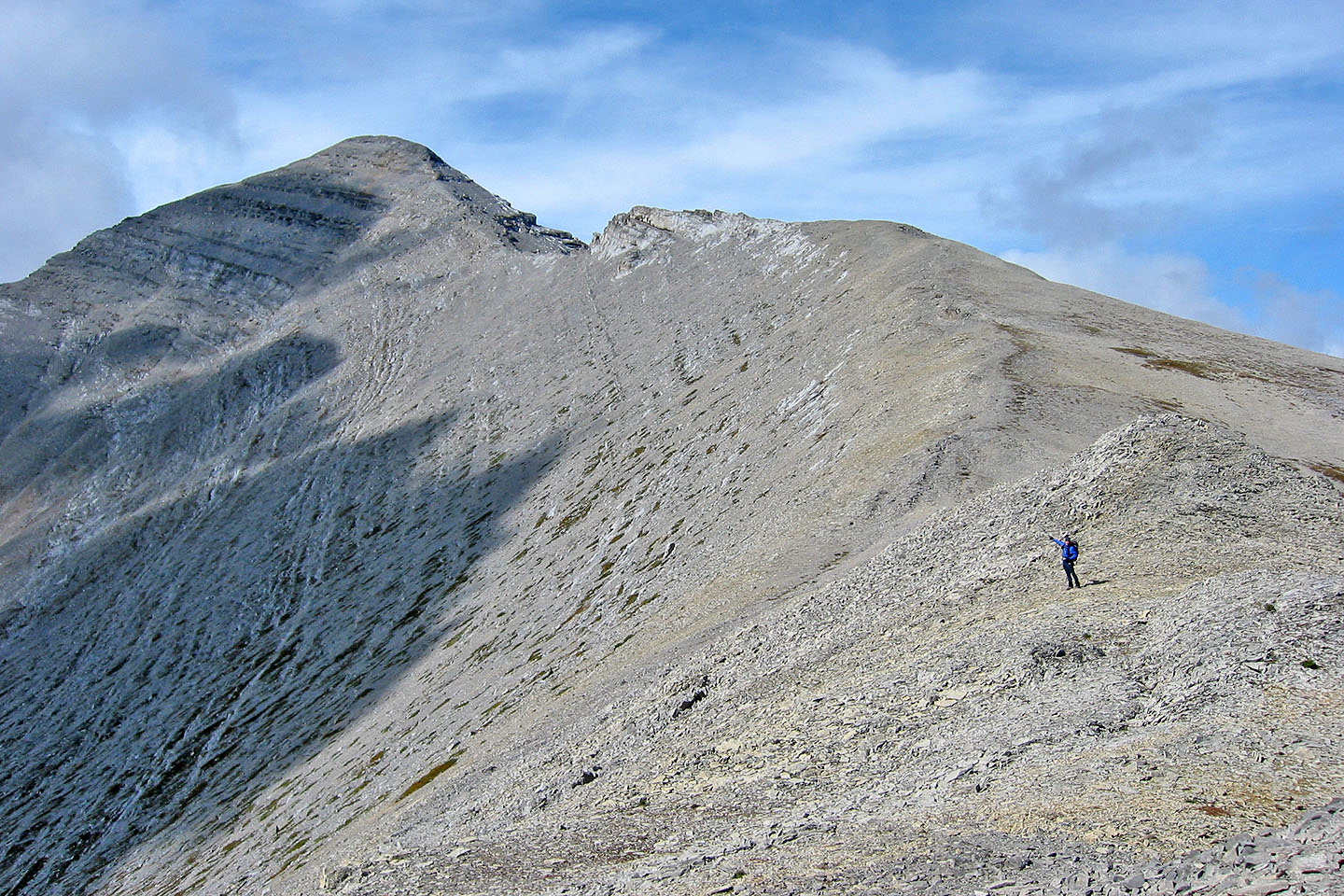 We continued along the ridge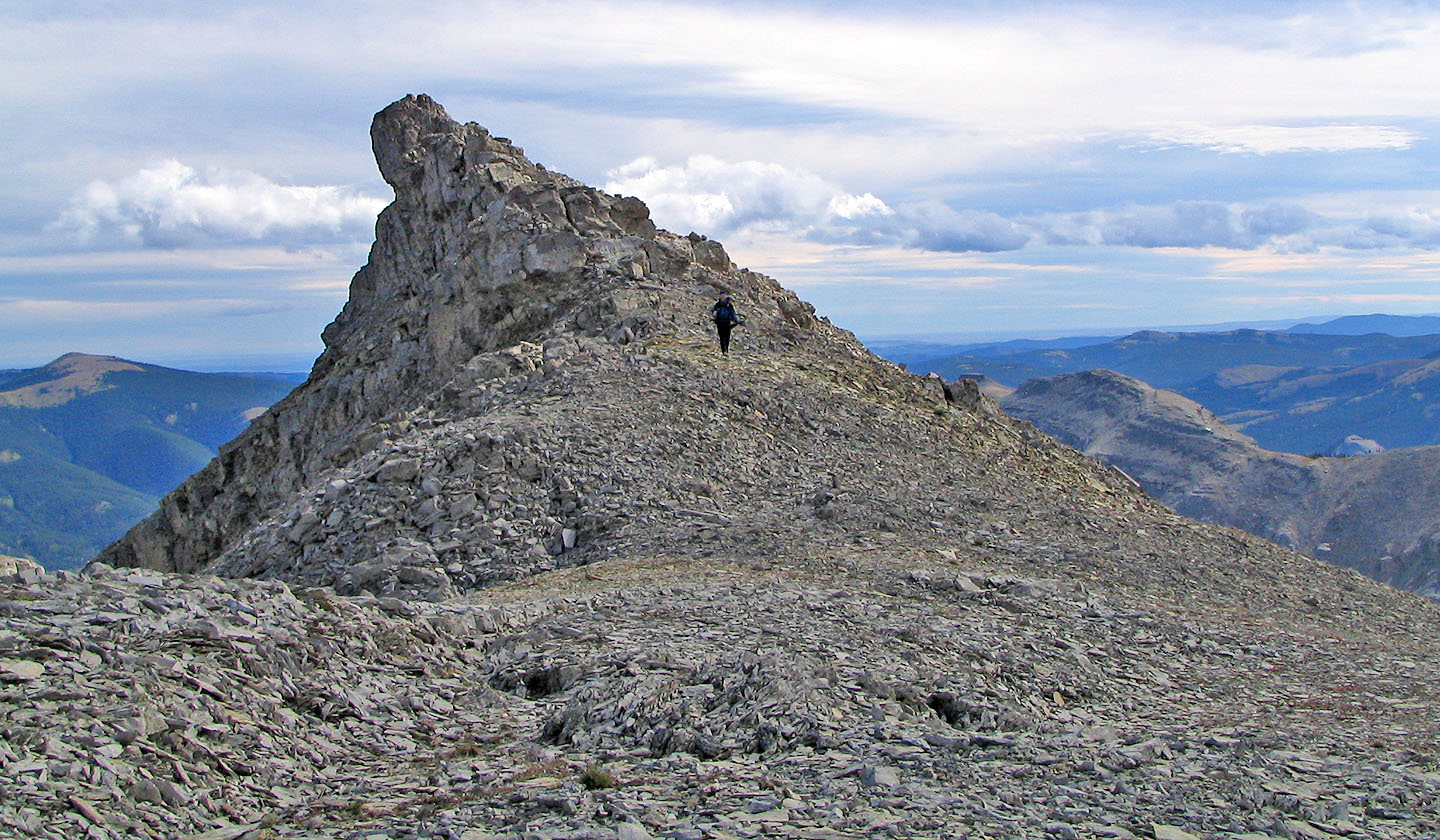 We passed an unusual rocky point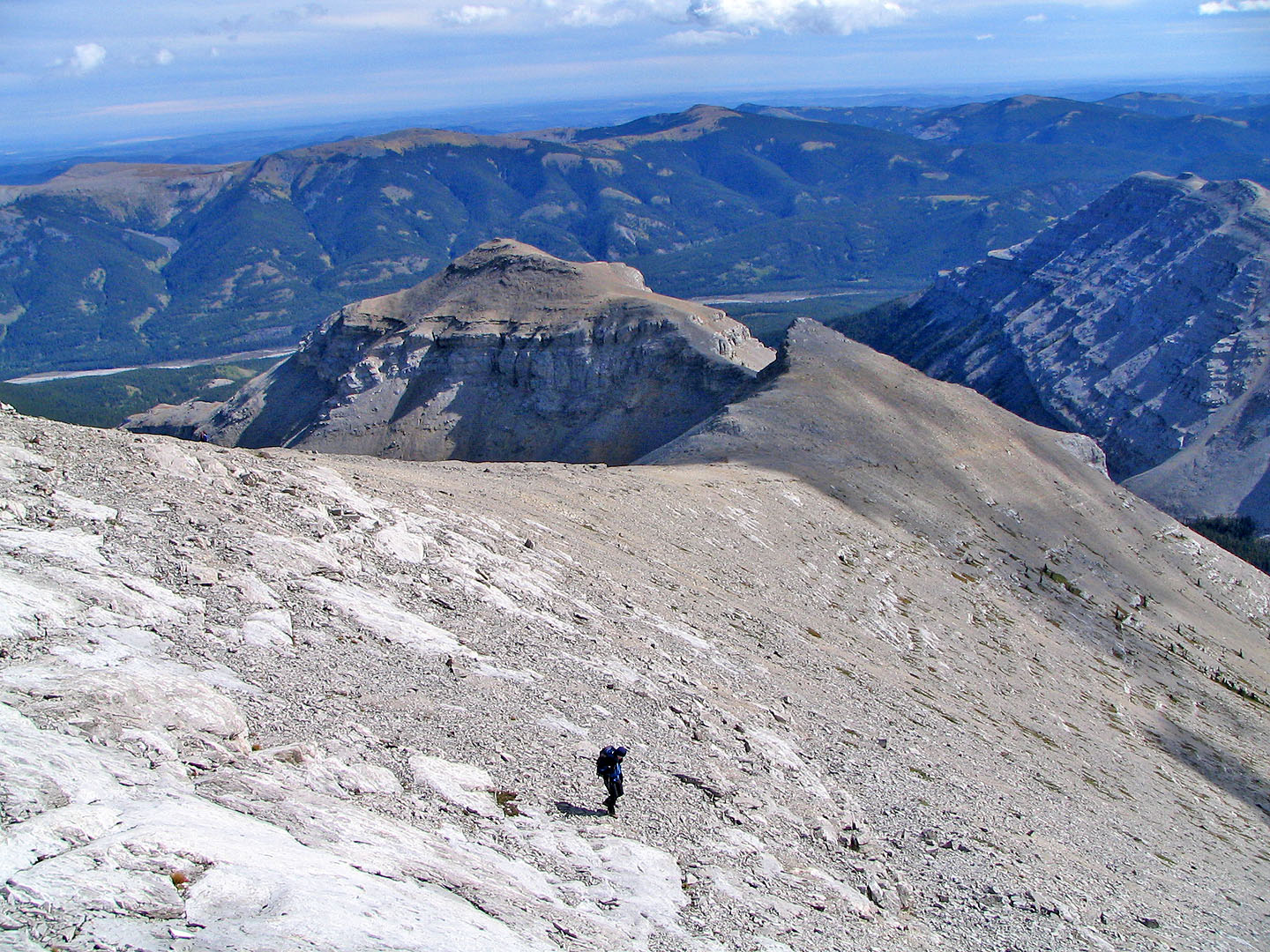 Looking back along the ridge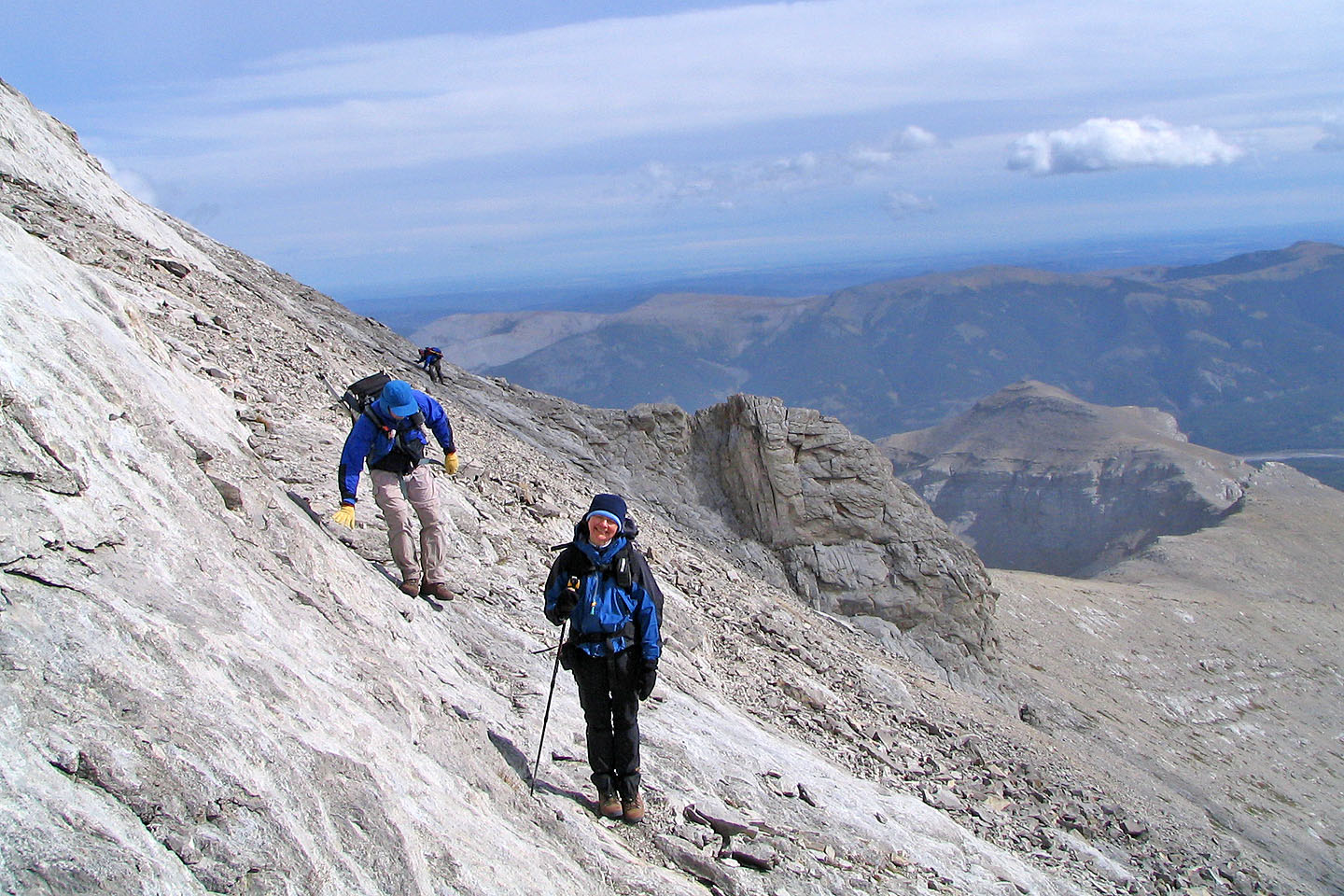 Crossing rock slabs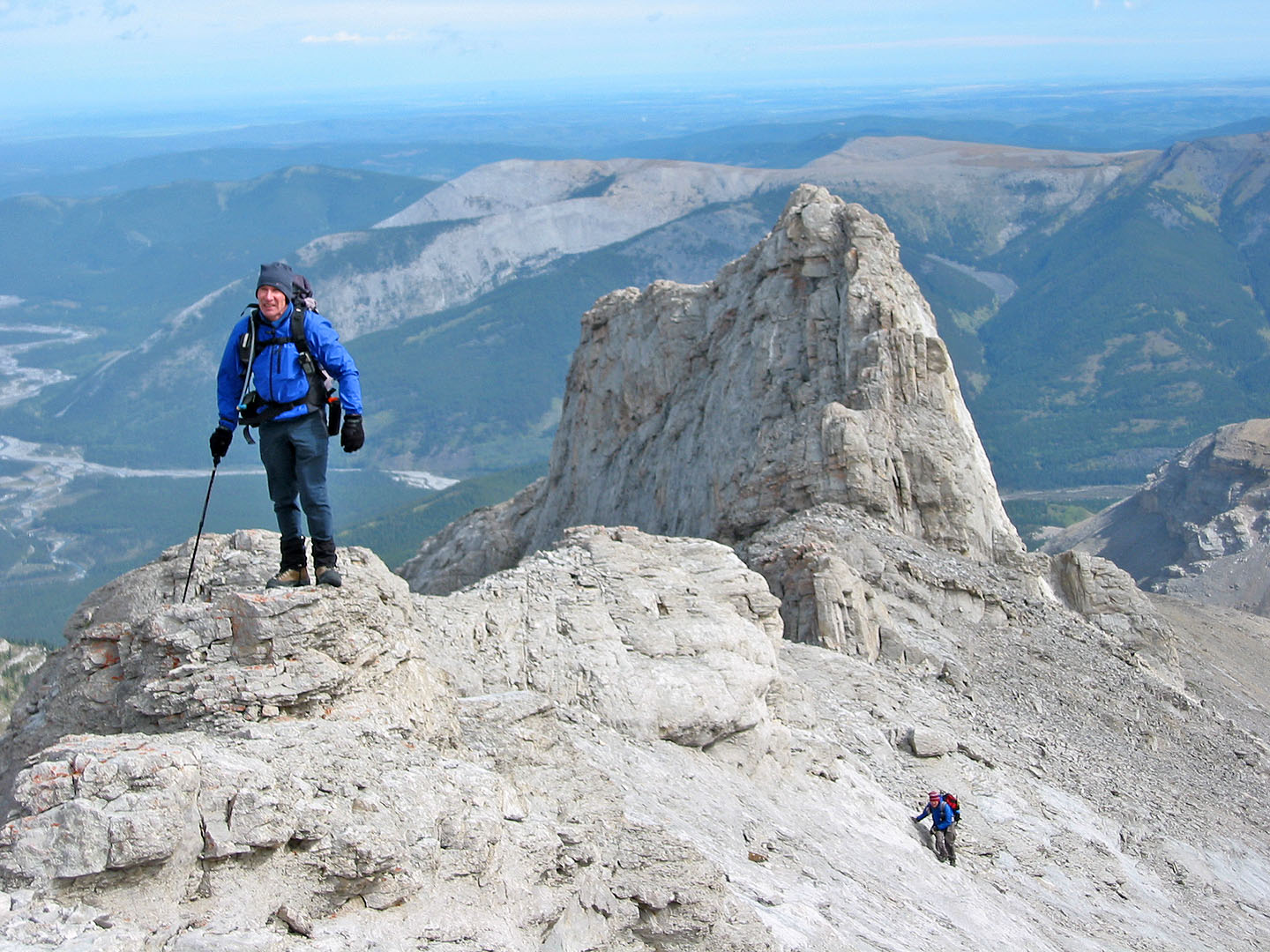 Interesting rock formations along the ridge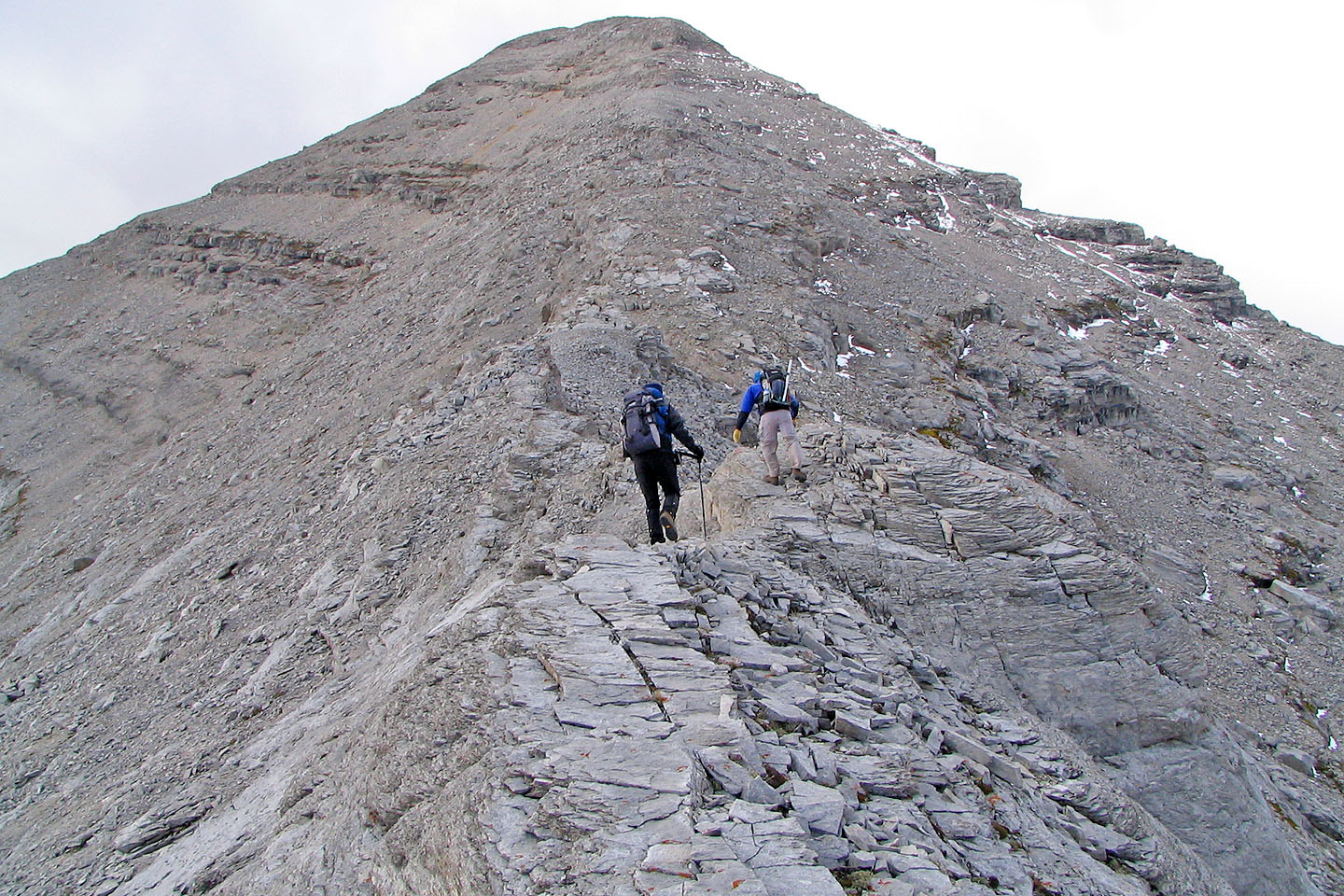 The ridgewalk ends and we'll soon start scrambling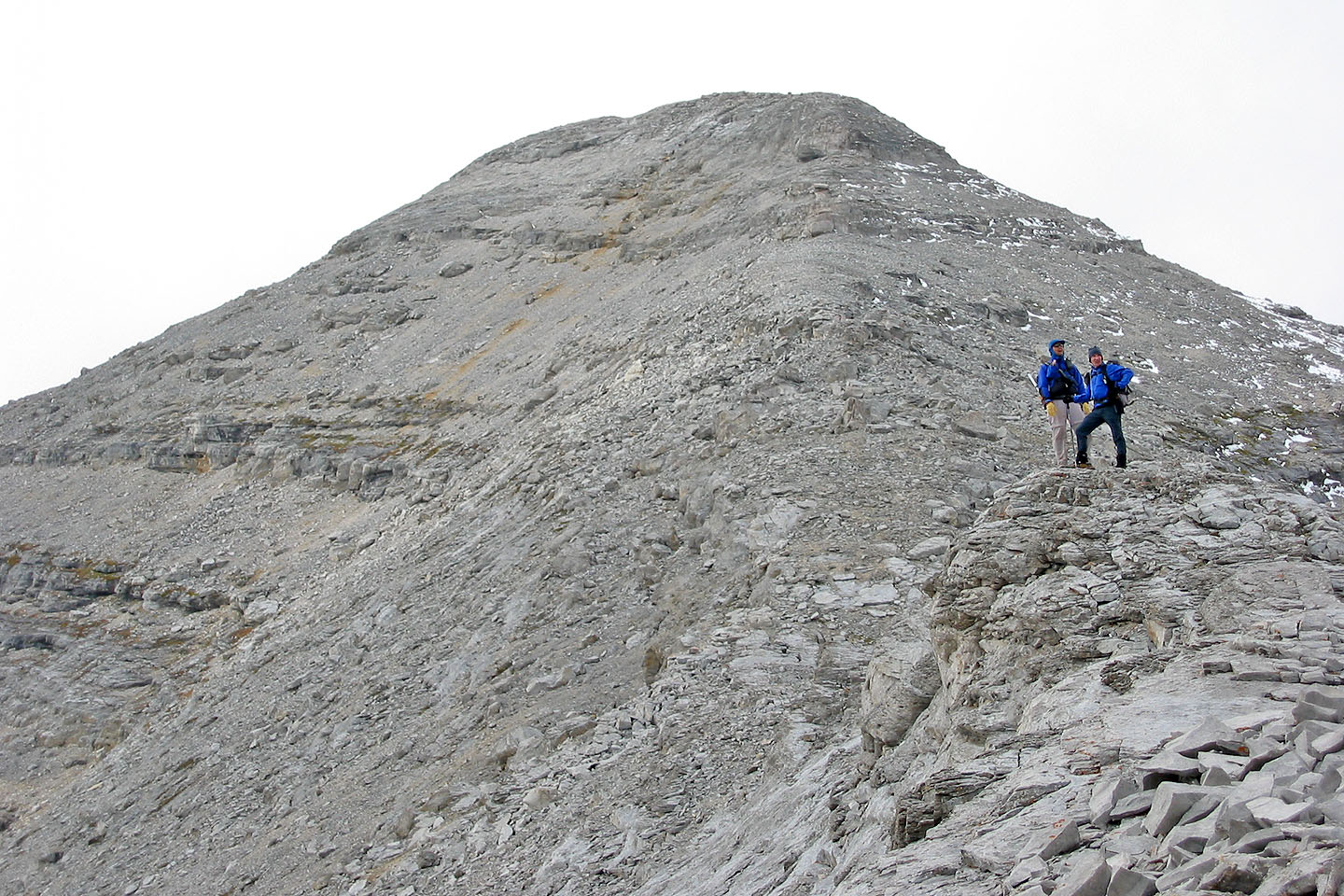 We'll leave ridge below the summit and scramble up the slope on the left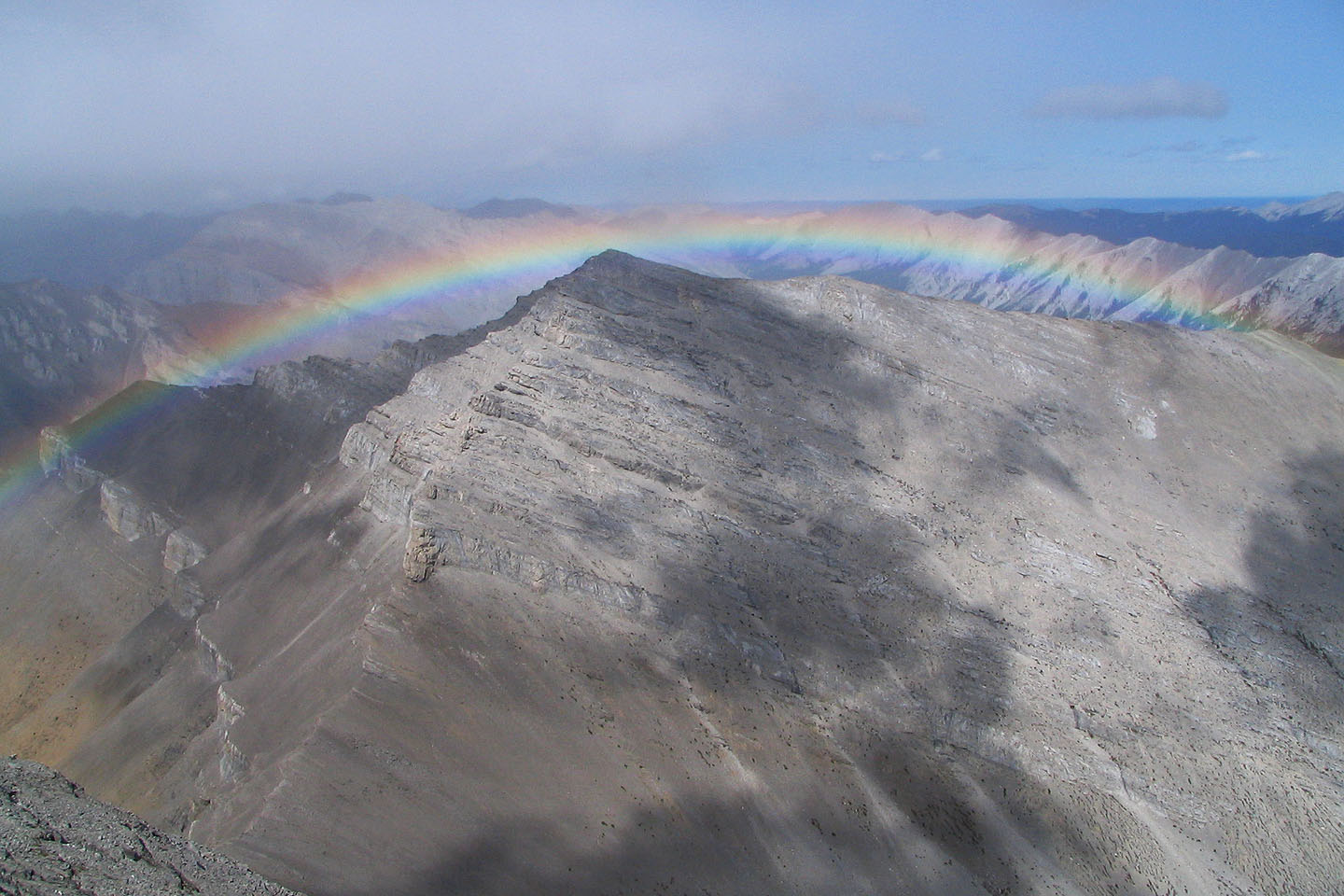 Impressive rainbow appeared over an unnamed peak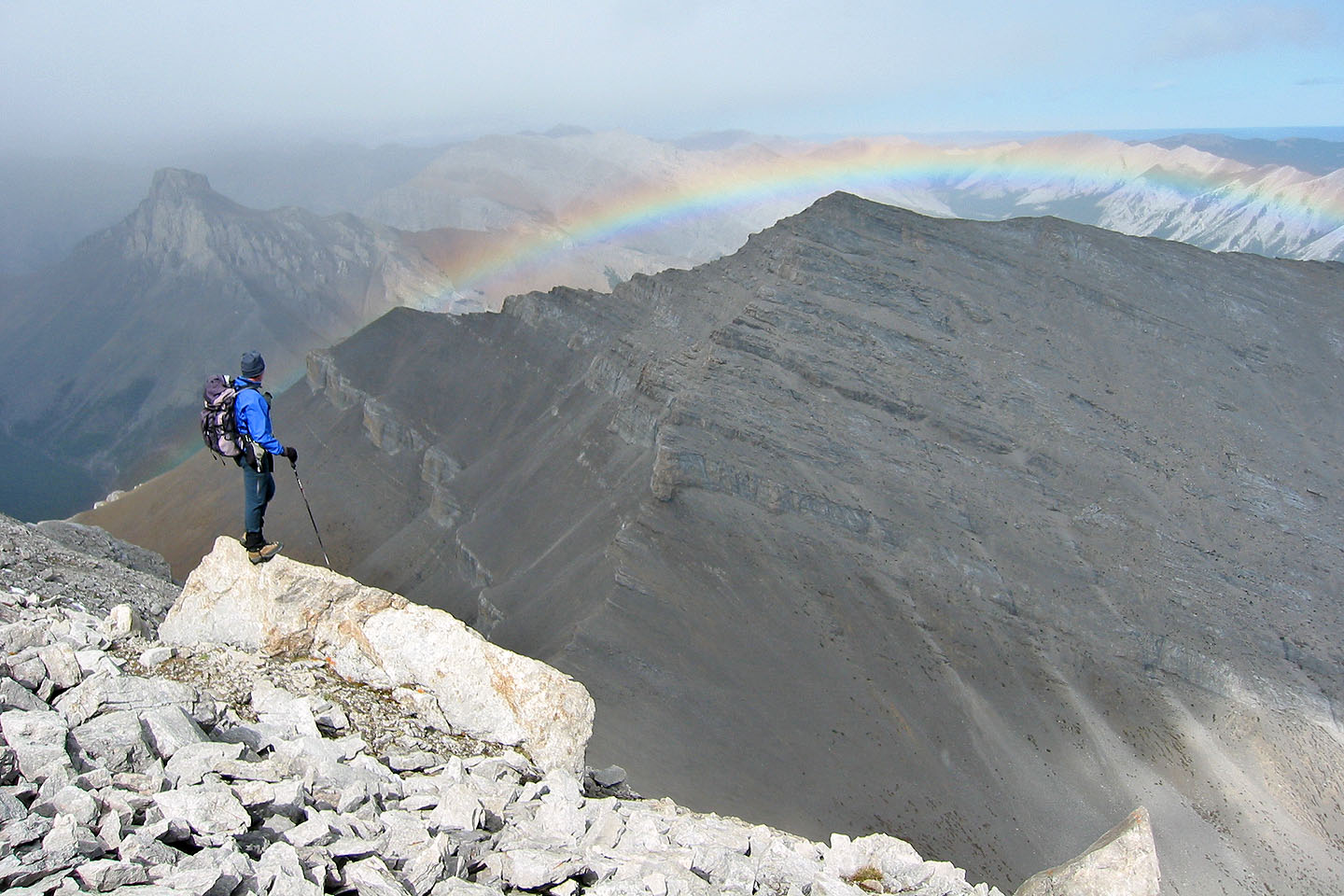 The rainbow lasted for hours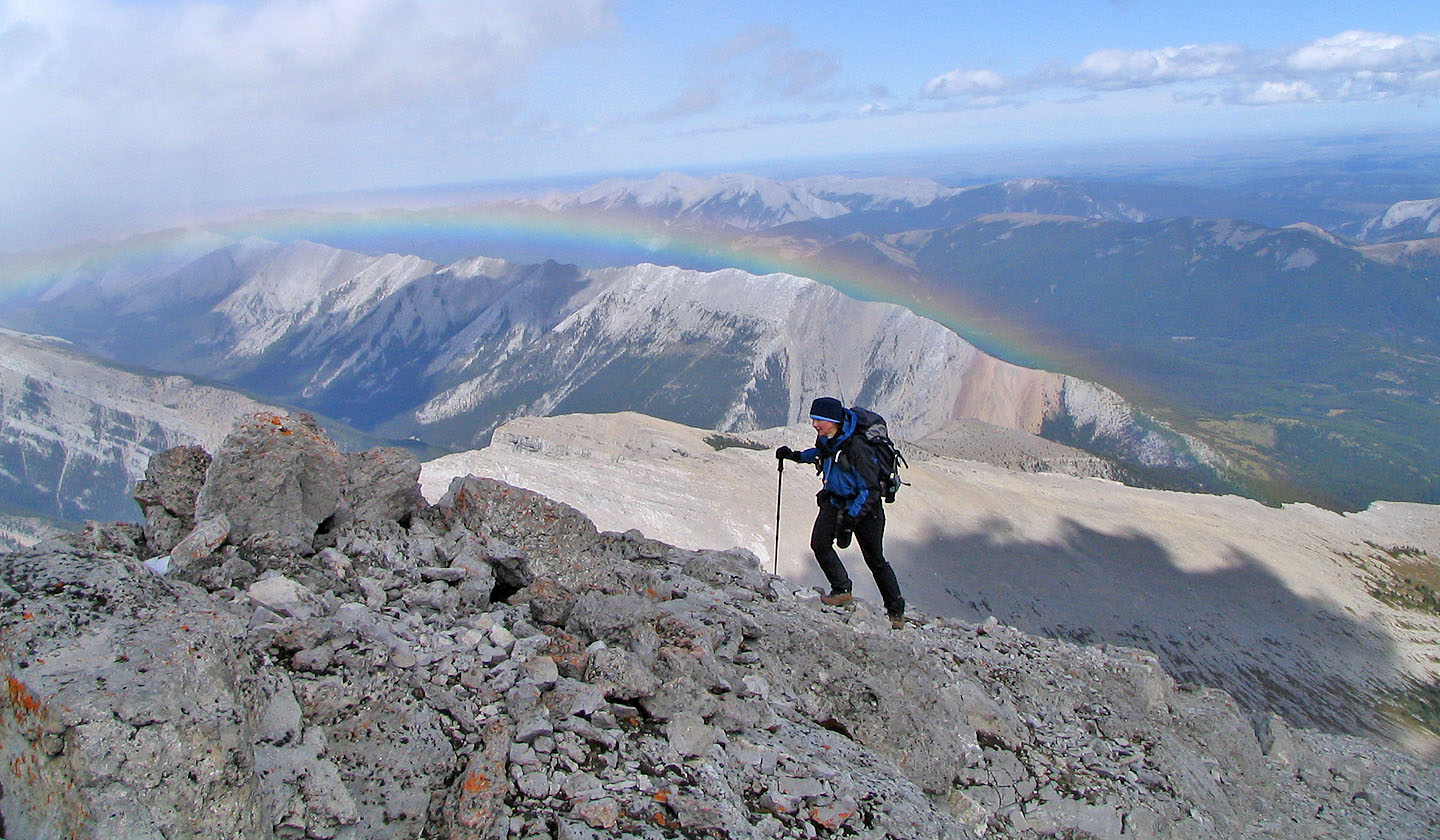 Nihahi Ridge in the background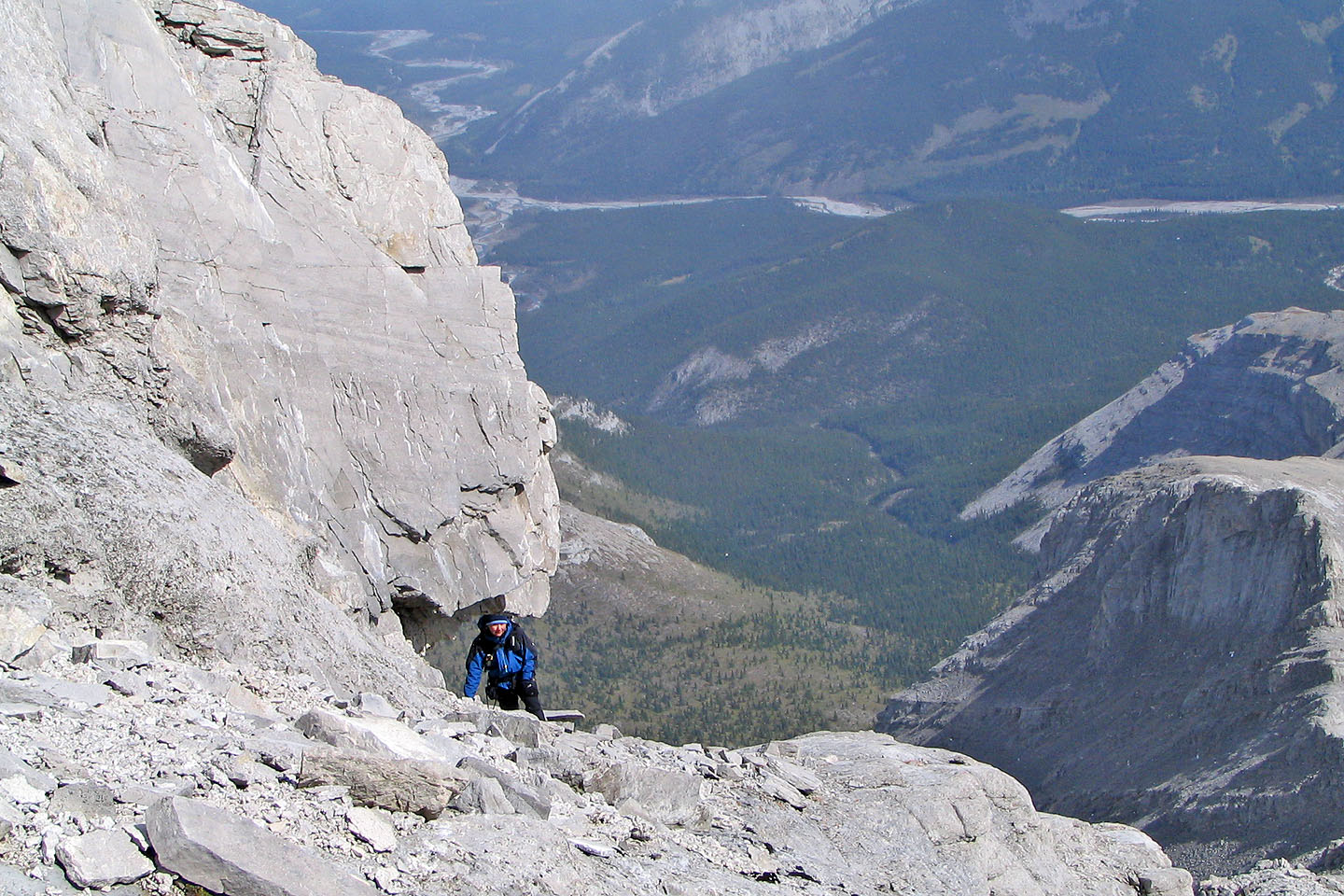 We left the ridge at this overhanging buttress and scrambled up the slope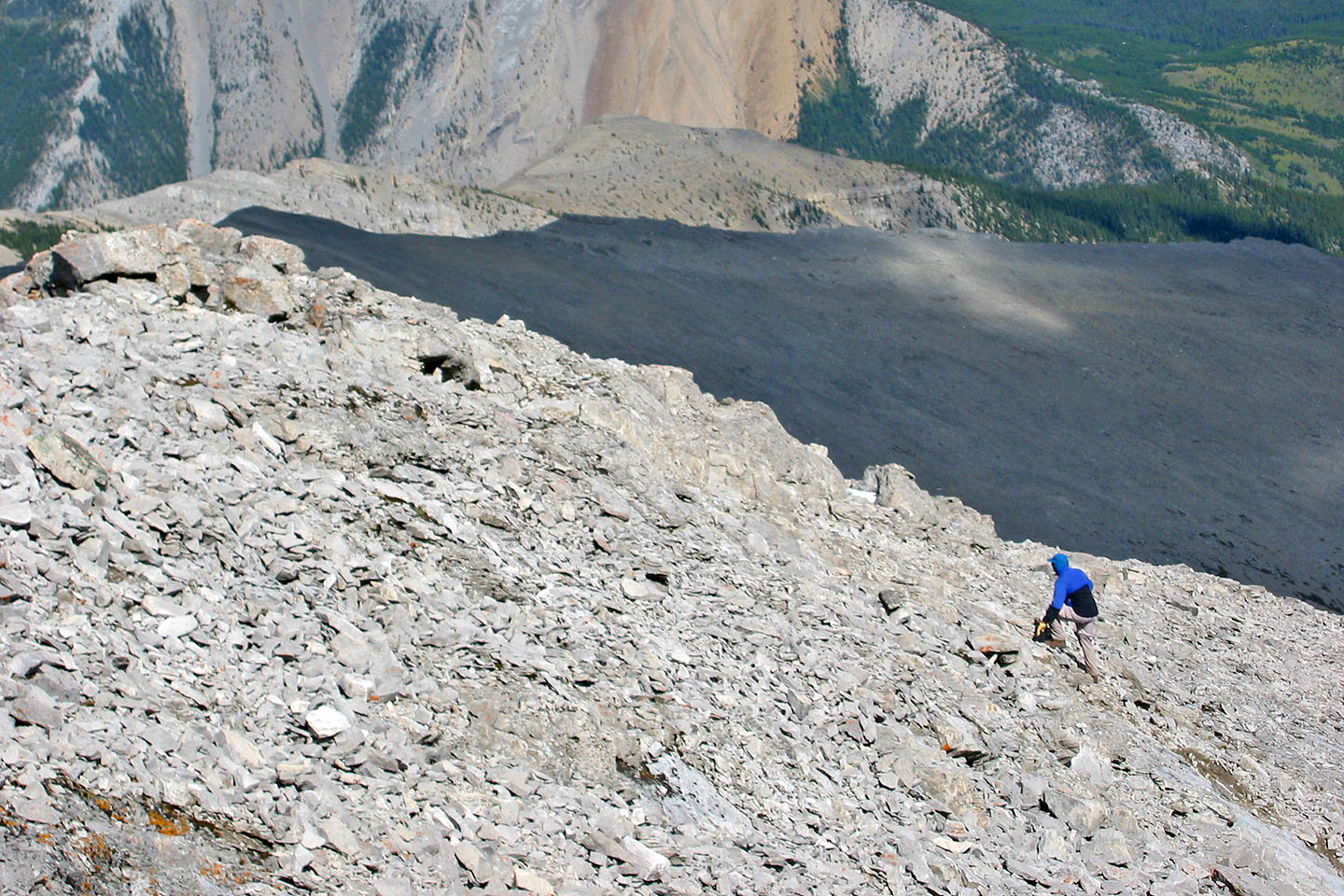 Looking back from the summit as Dale, now above the crux, comes to join Dinah and me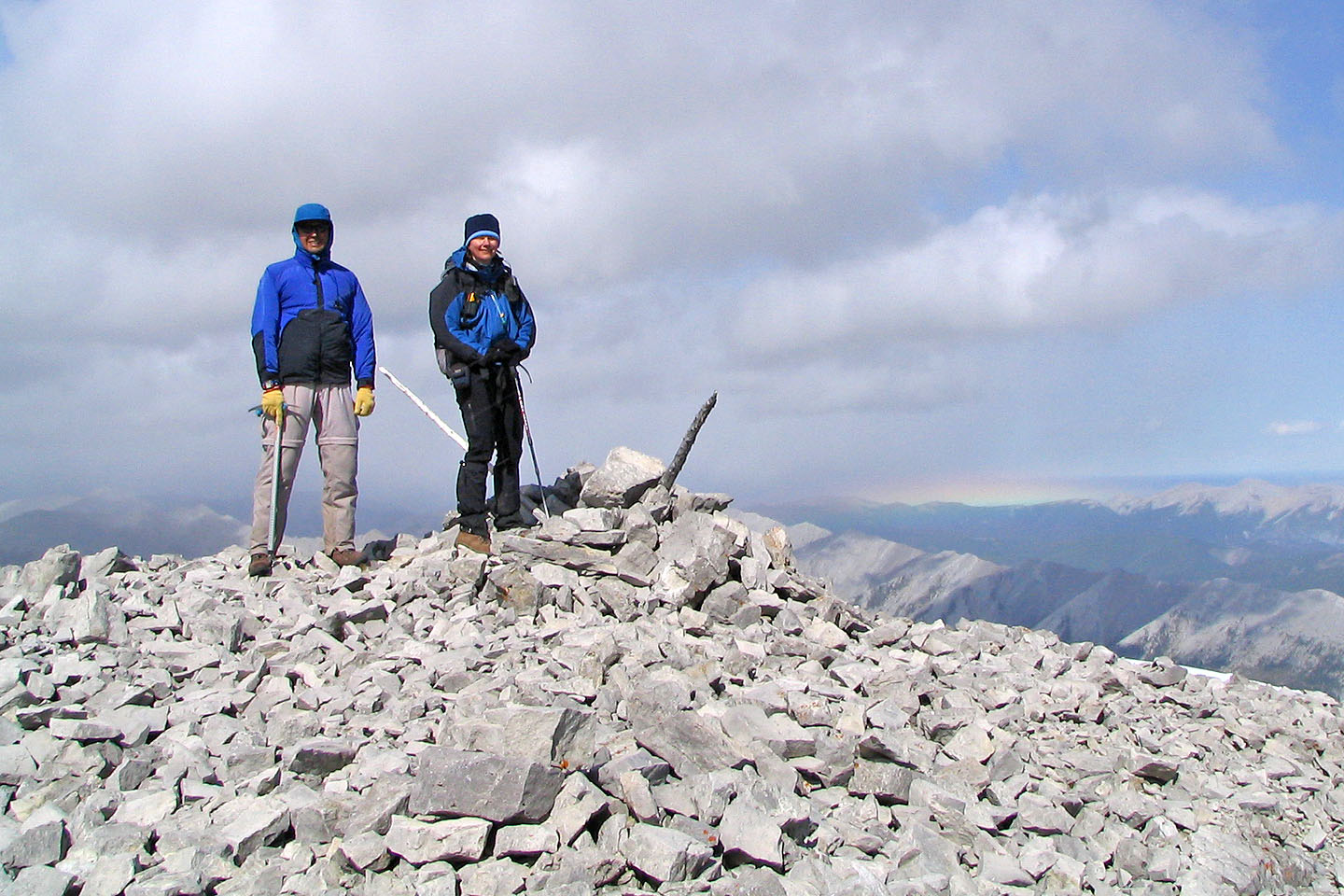 Dale and Dinah on the summit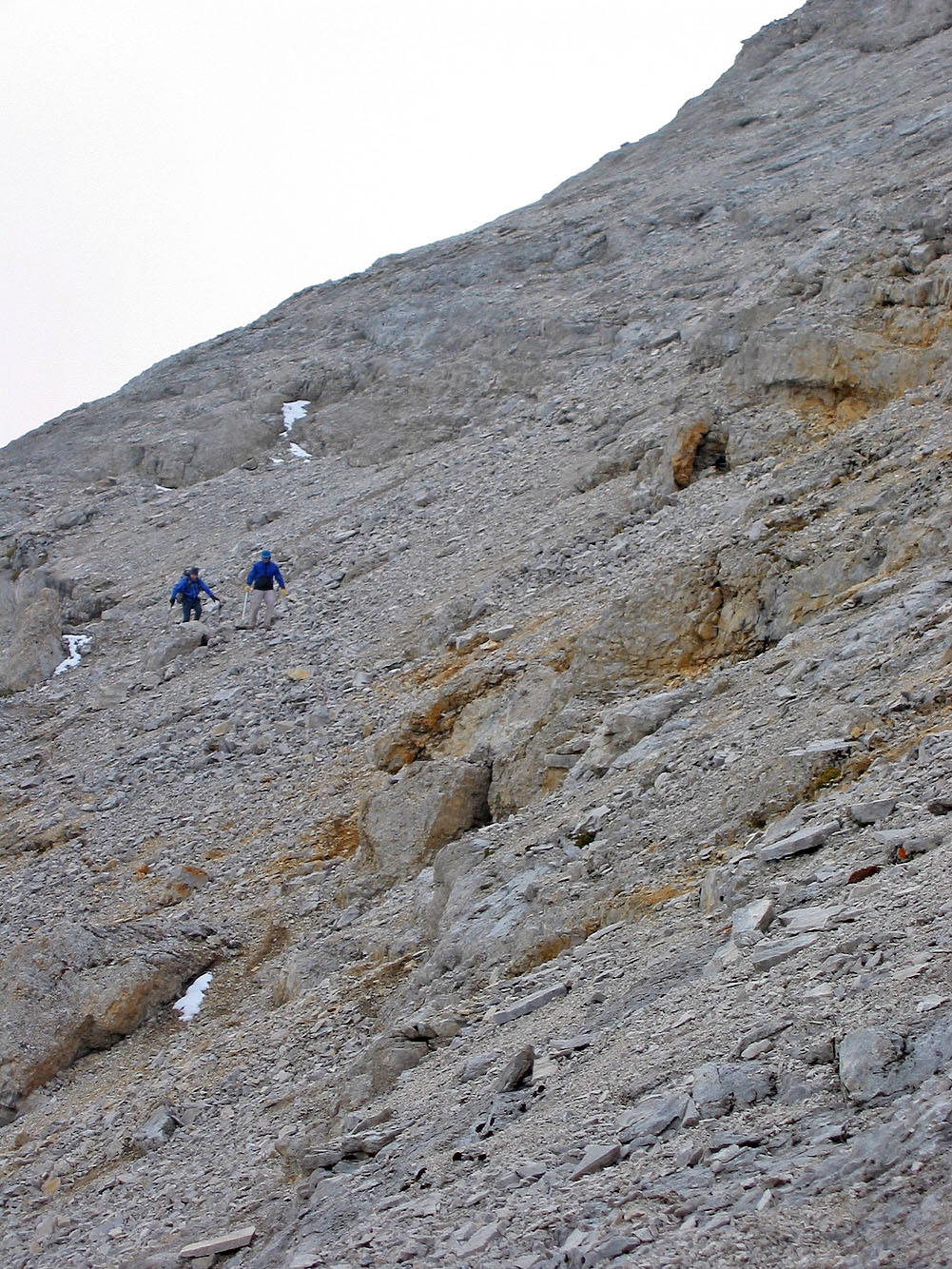 Coming down the open slope from the summit. Above us is the crux.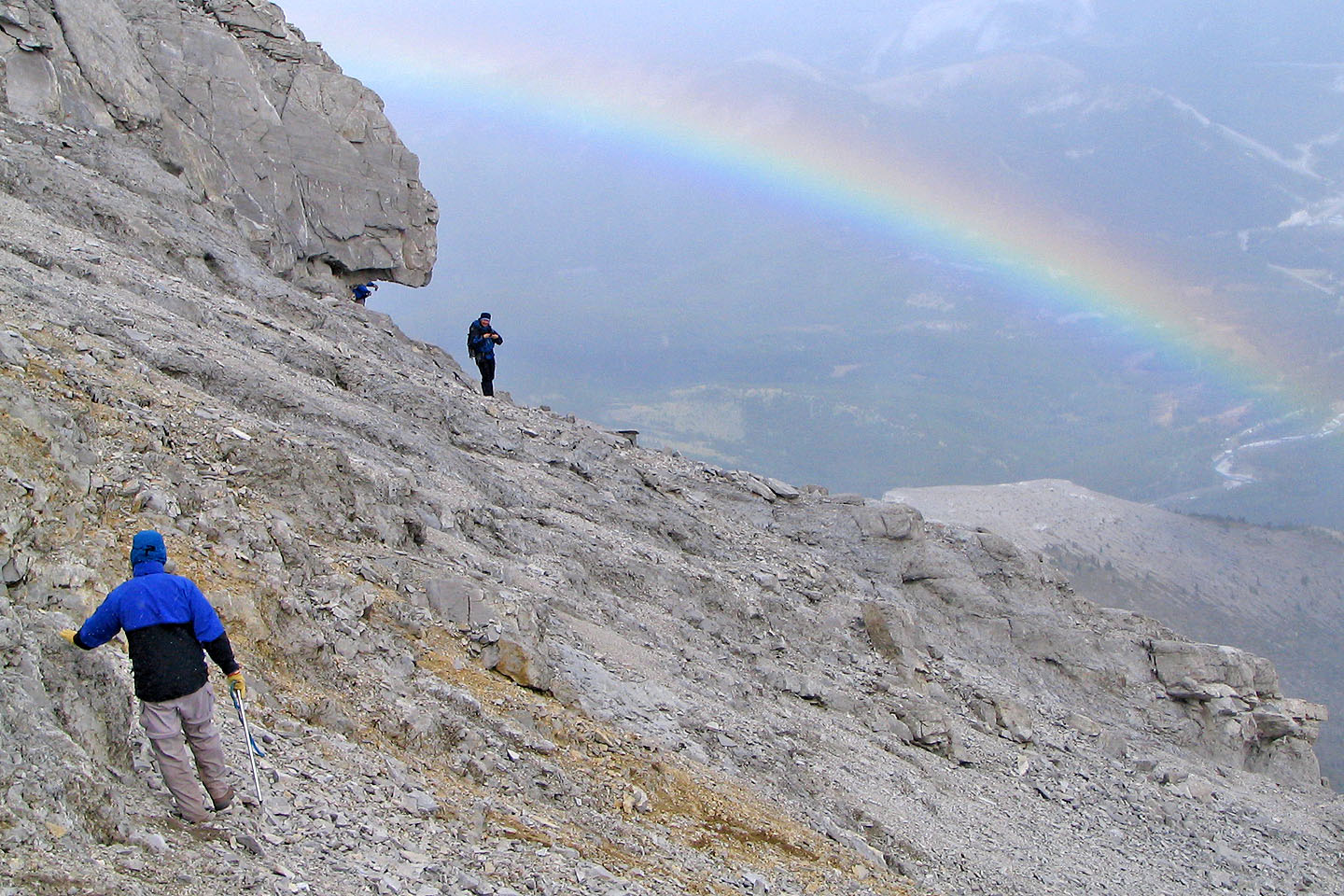 Back at the buttress. Notice the Indian's profile in rock.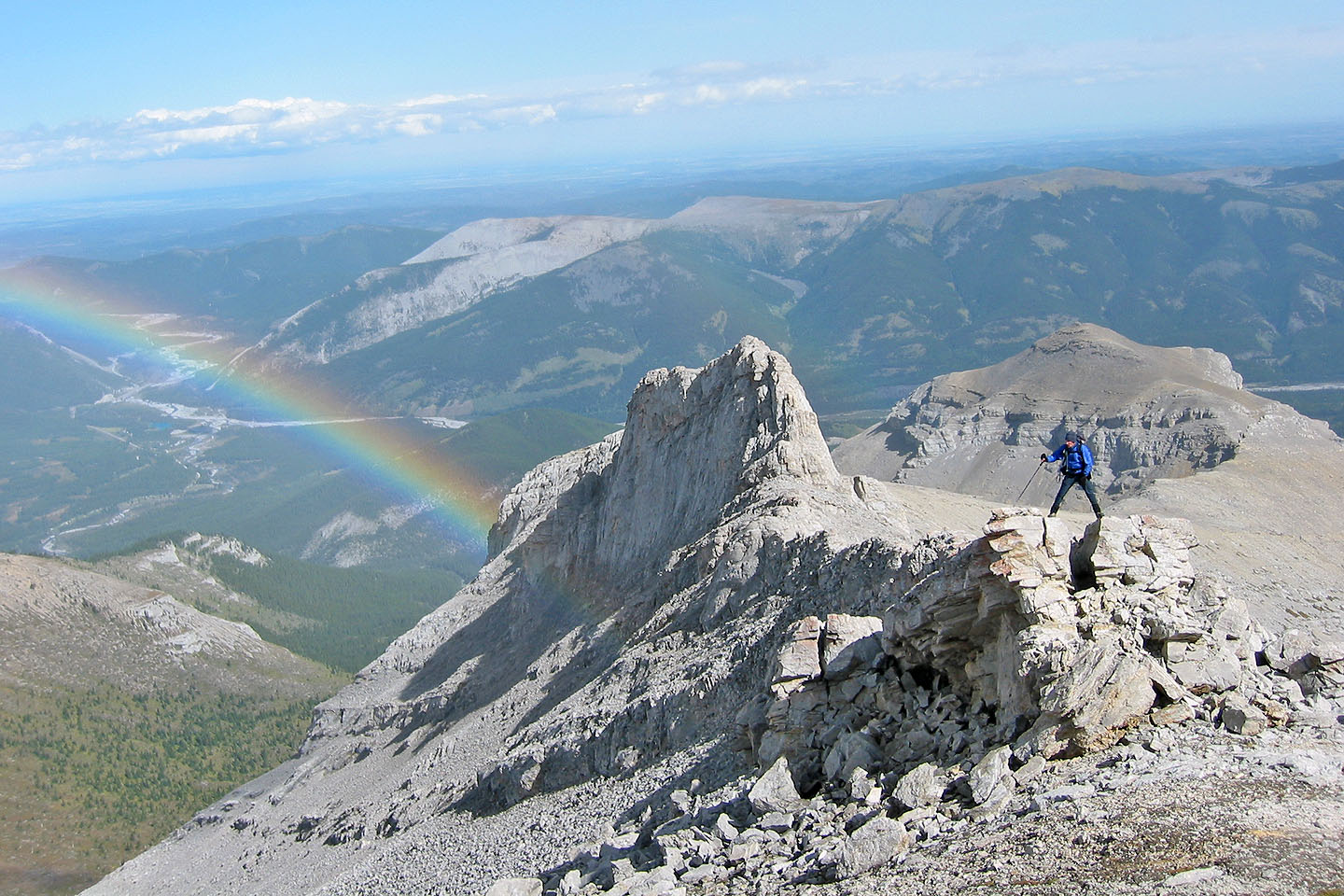 On the ridge with the outlier behind me. Forgetmenot Ridge in the background.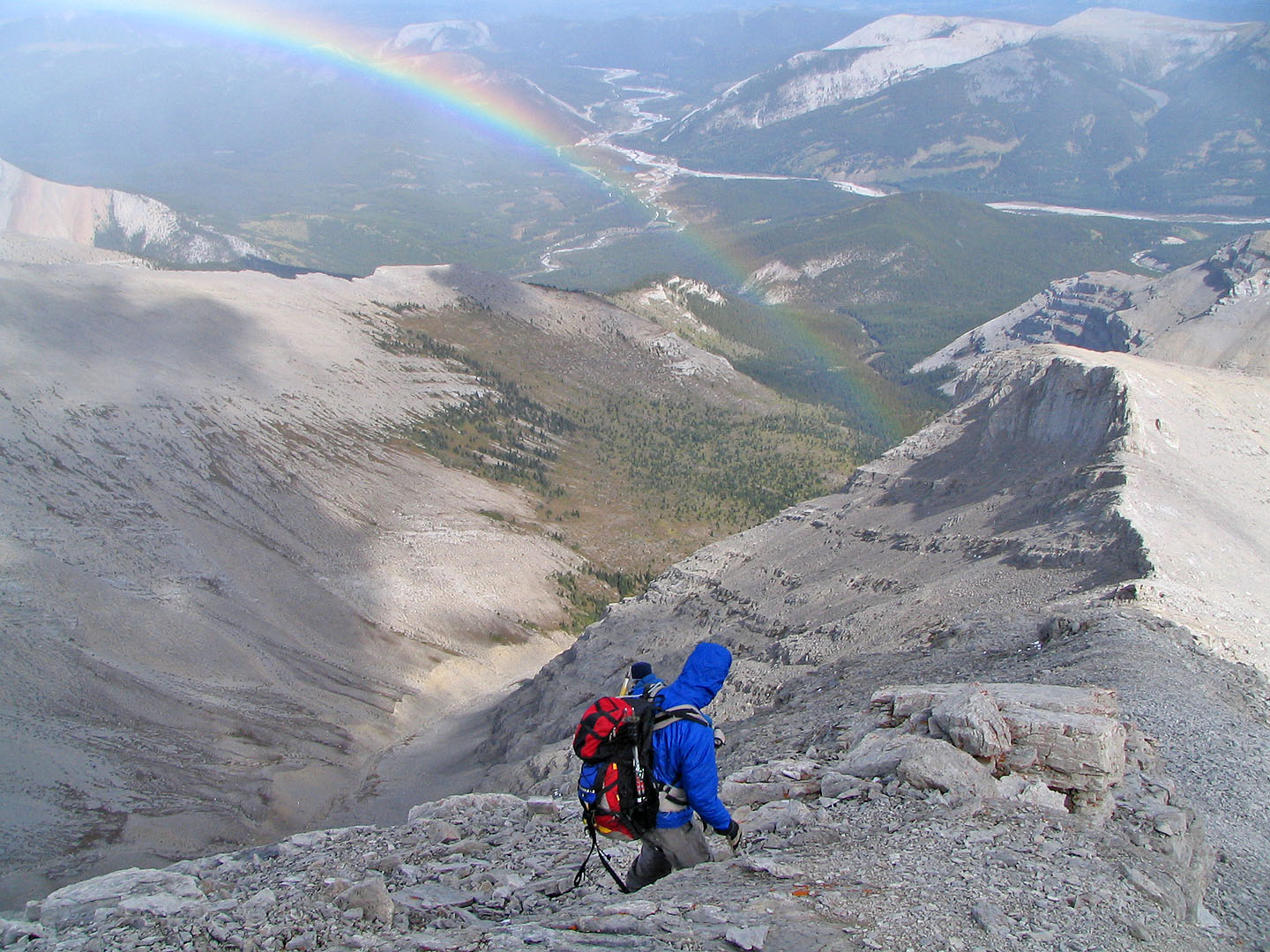 Heading back along the ridge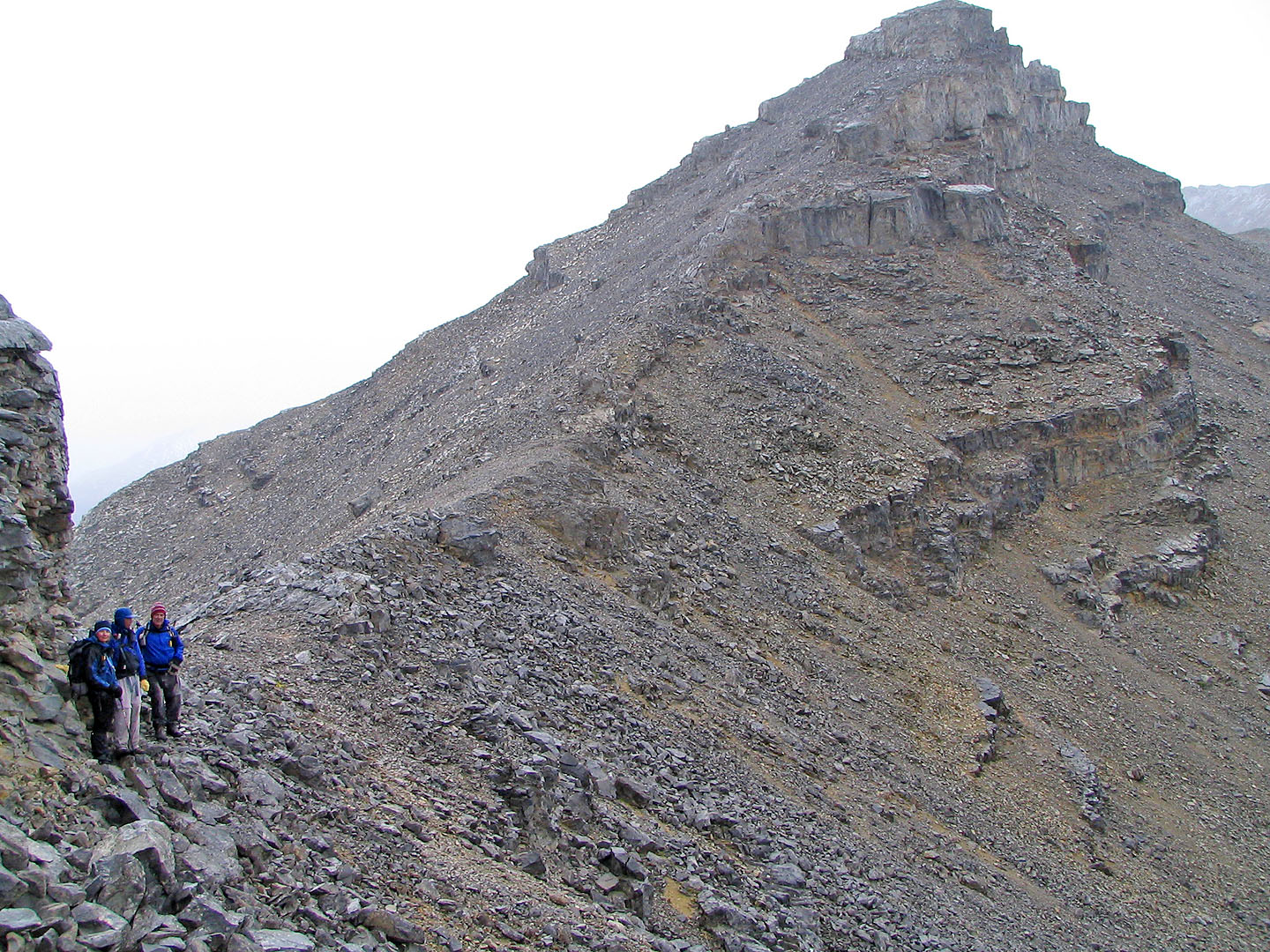 Looking back at the summit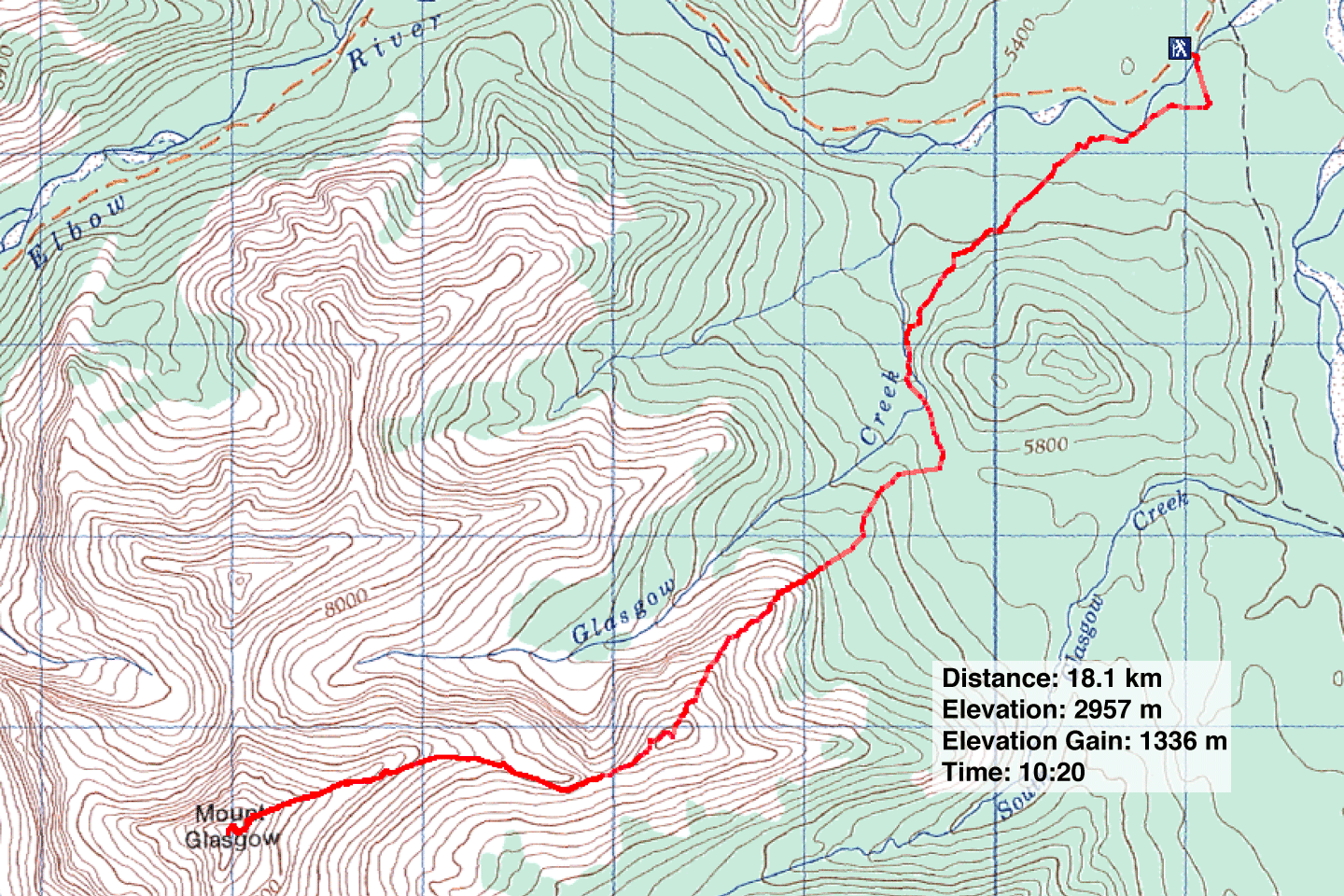 82 J/15 Bragg Creek