bobspirko.ca | Home | Canada Trips | US Trips | Hiking | Snowshoeing | MAP | ABOUT
---

In Memoriam: Becky Mansour

On September 11, 2015, Becky Mansour, 59, passed away following a tragic fall on Mount Daly on August 23. An avid hiker and scrambler, she completed hundreds of trips. Dinah and I had the pleasure of knowing her on a few trips and would like her to be remembered. As well as joining her on Quartzite Peak, we were with her on Crystal Ridge, Crystal Ridge GR, Noseeum Peak and Twin Cairns.

---

Quartzite Peak
Banff National Park, Alberta
August 1, 2015
Of the three peaks at the headwaters of Mosquito Creek, Quartzite Peak is the easiest to ascend. Not only is it shorter than Ramp Peak and Mosquito Mountain, but the route offers more trail and less bushwhacking. Routefinding is simpler too.
Having done Ramp and Mosquito, Dinah and I returned to Mosquito Creek to climb Quartzite. Joining us was our friend, Zora and her friends Becky and Goulfia, along with Goulfia's daughter Alina.
We parked at Mosquito Creek Campground and followed the trail alongside Mosquito Creek. Unlike the other two peaks, however, we didn't cross the log bridge over Mosquito Creek. Instead, we stayed on the left bank and followed a little-used trail through trees and bushes to a drainage that joins Mosquito Creek below Quartzite.
We crossed Mosquito Creek and the drainage, and then hiked up the southwest slopes. After a stiff climb through thinning trees, we reached the edge of a high plateau. Now above the treeline, we could see clear across the flats to Quartzite and the little subpeak in front of it. There are few obstacles on the plateau, so one could wander at will to the base of the mountain. We crossed the plateau, skirted the subpeak, and slogged up the rubbly slopes to the summit. Because of the endless stretch of loose rocks, the last couple hundred metres seemed interminable. As much as we were happy to reach the summit, I suspect everyone was more happy just to end the grind up the rocks.
We lounged on top of Quartzite for an hour before heading down. Setting a slightly different course on the rubble below the summit, we hunted for scree to run down but only found small patches. We made our way back to the plateau, this time to stare in wonder at the huge boulders below the subpeak. A short time later, we crossed Mosquito Creek and followed the trail back to the parking lot.
It may seem like overkill to return to climb Quartzite Peak after ascending Mosquito Mountain and Ramp Peak. After all, the three peaks share much the same scenery. But that scenery is superb, and Dinah and I were glad to find an excuse to return.

Hiking alongside Mosquito Creek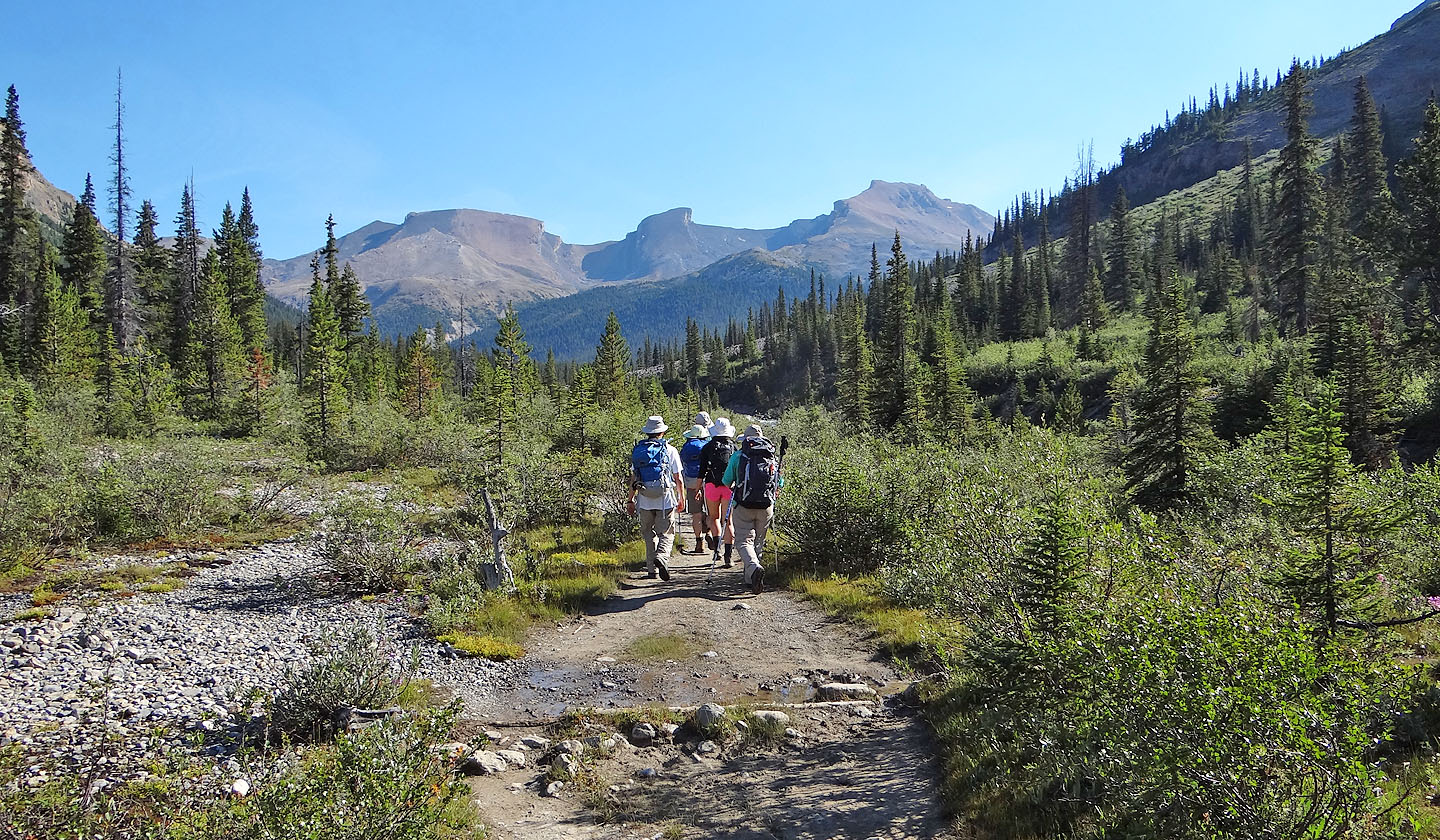 Quartzite Peak, Ramp Peak and Mosquito Mountain ahead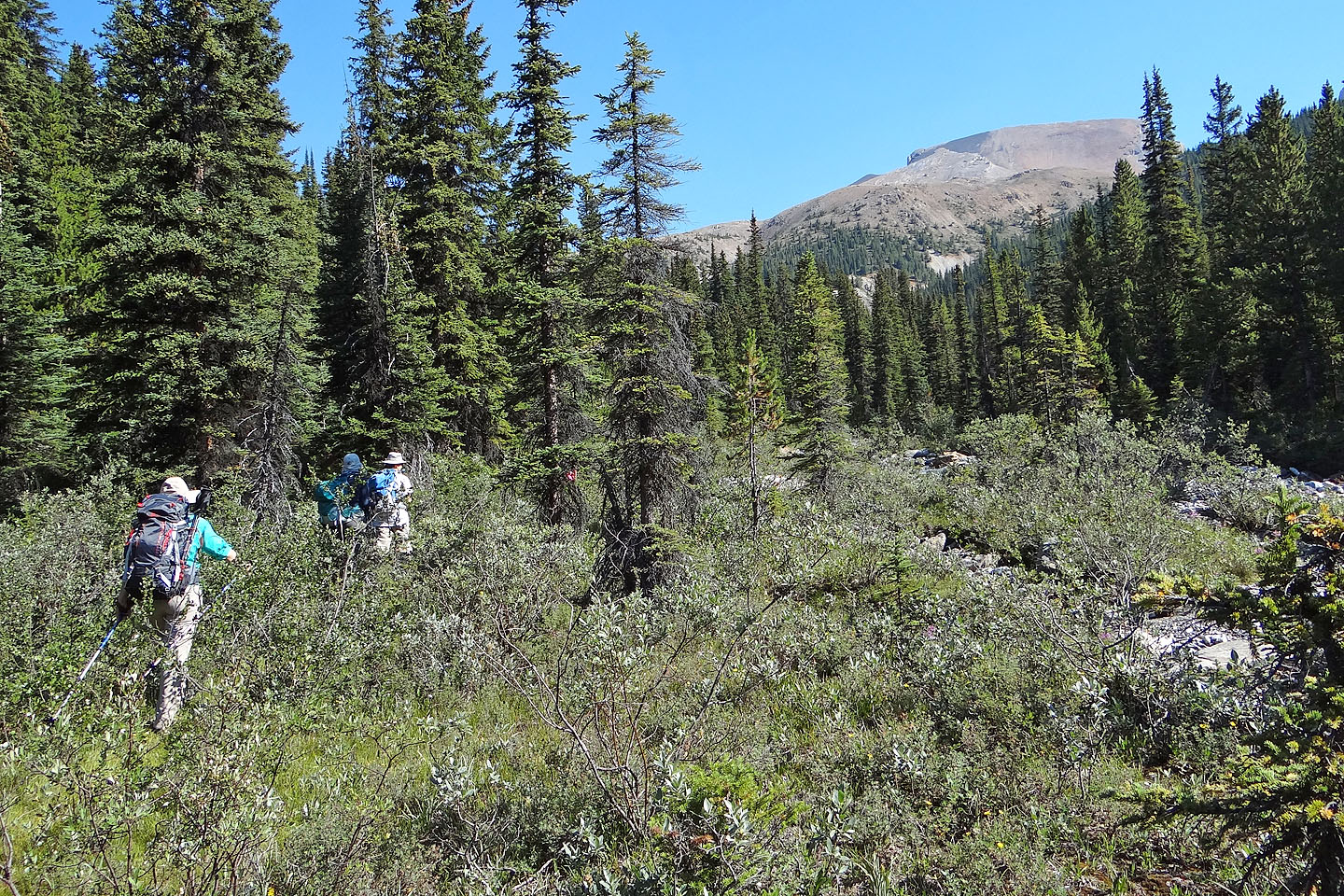 After passing the log bridge, we turned onto a bushy side trail that leads to the base of Quartzite

After crossing Mosquito Creek, we headed to the open slopes on the left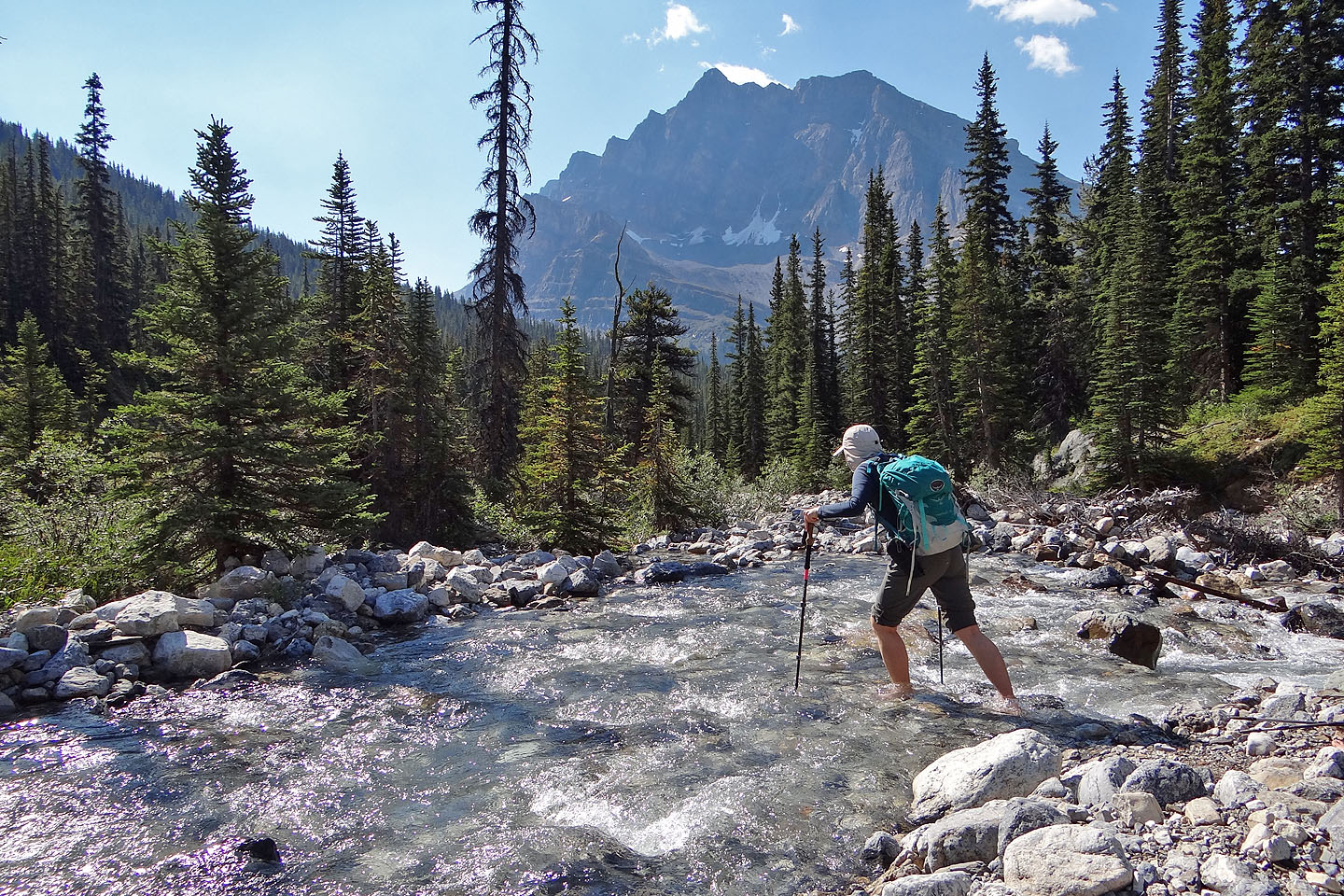 Dinah crosses the creek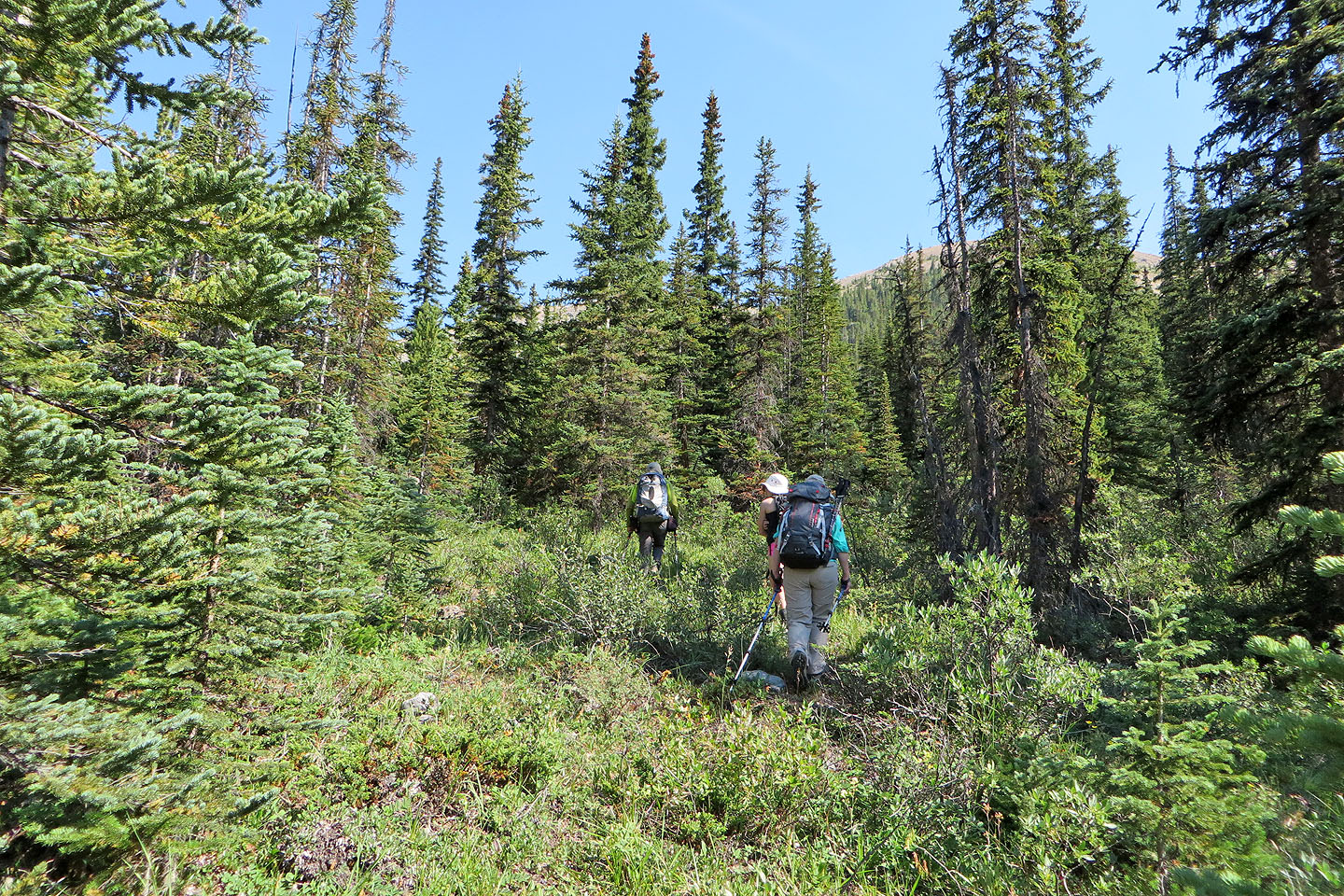 Light bushwhacking after the creek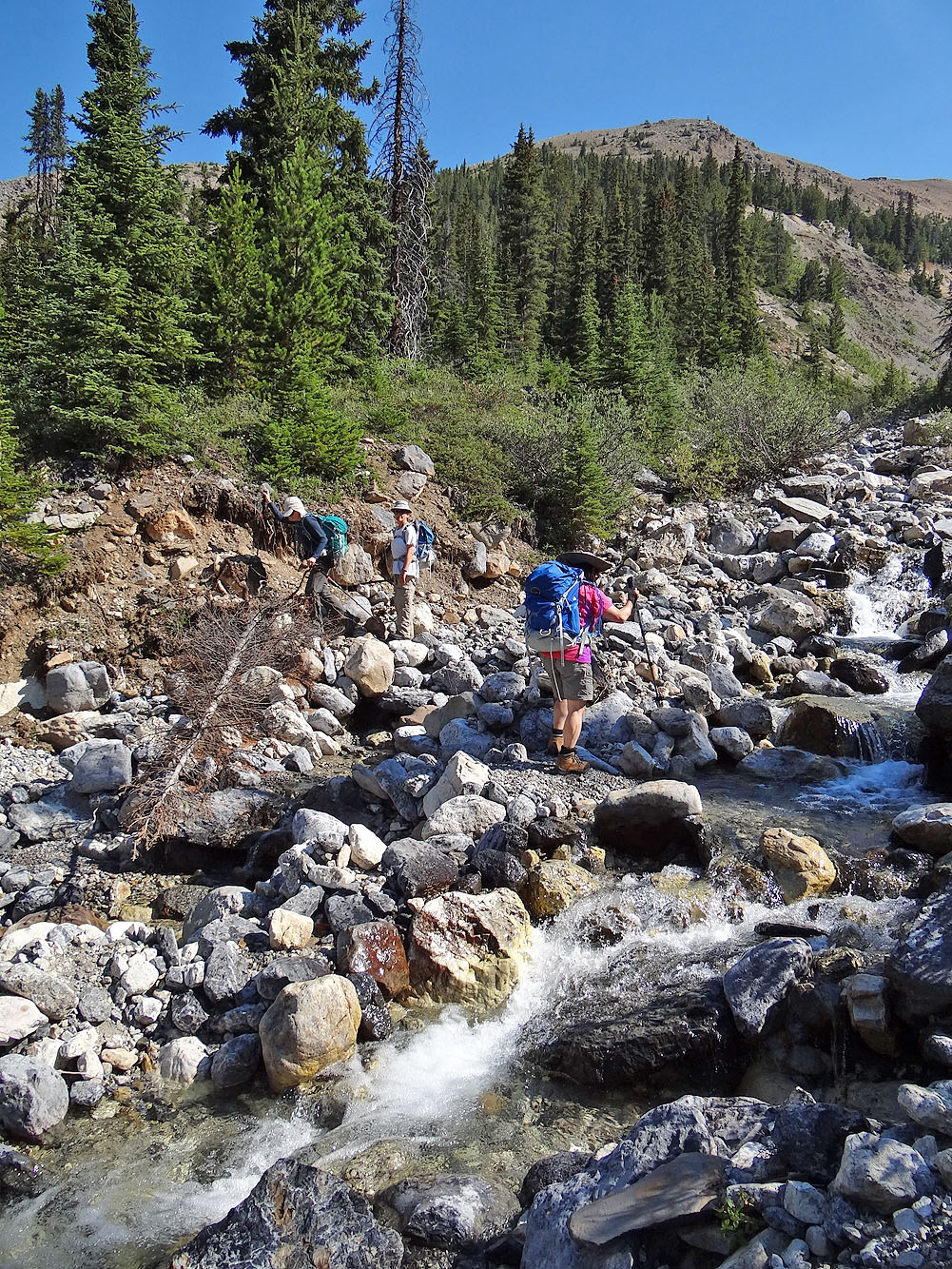 Crossing a side stream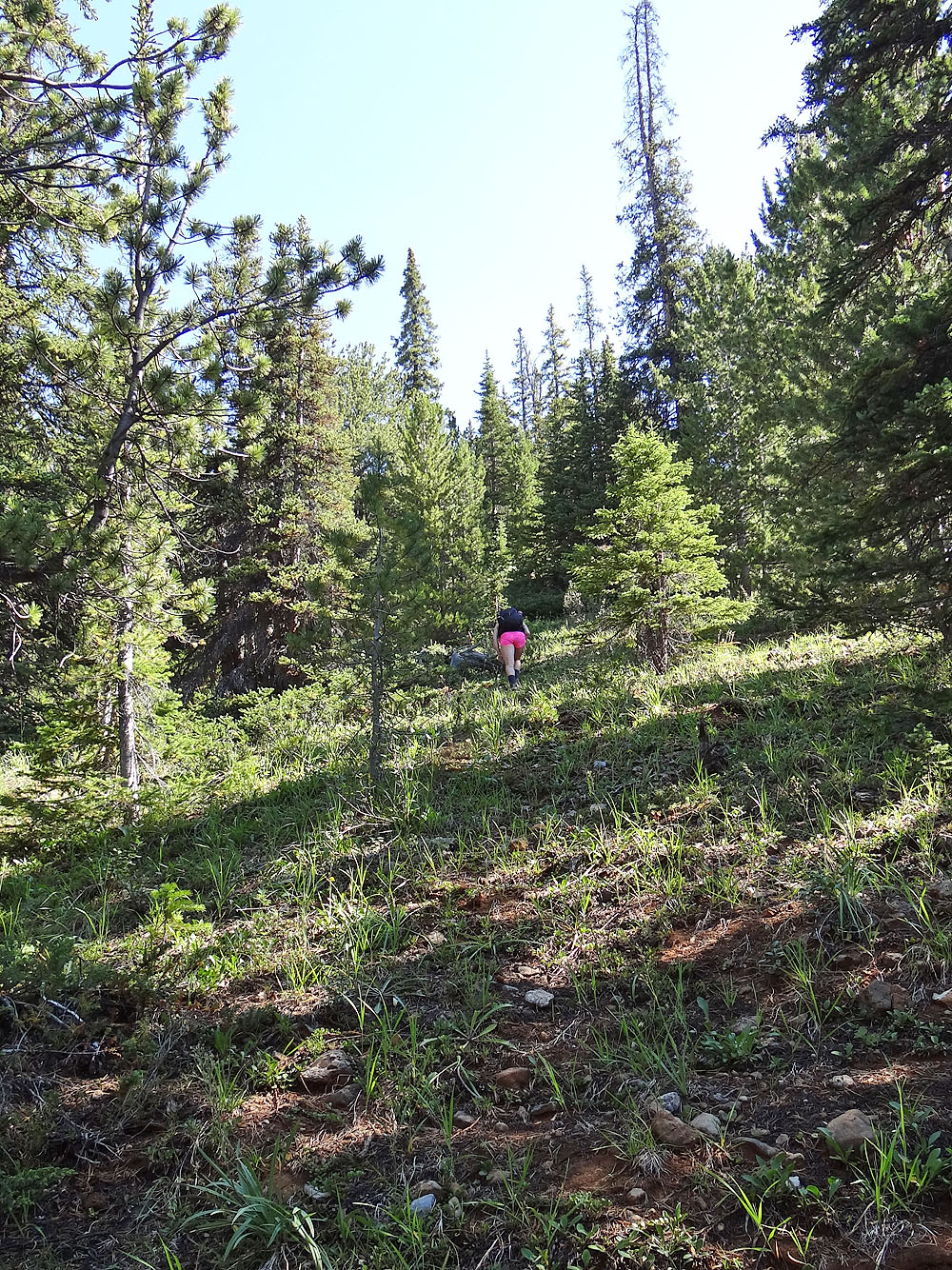 We found spacious corridors in the trees as we headed to the treeline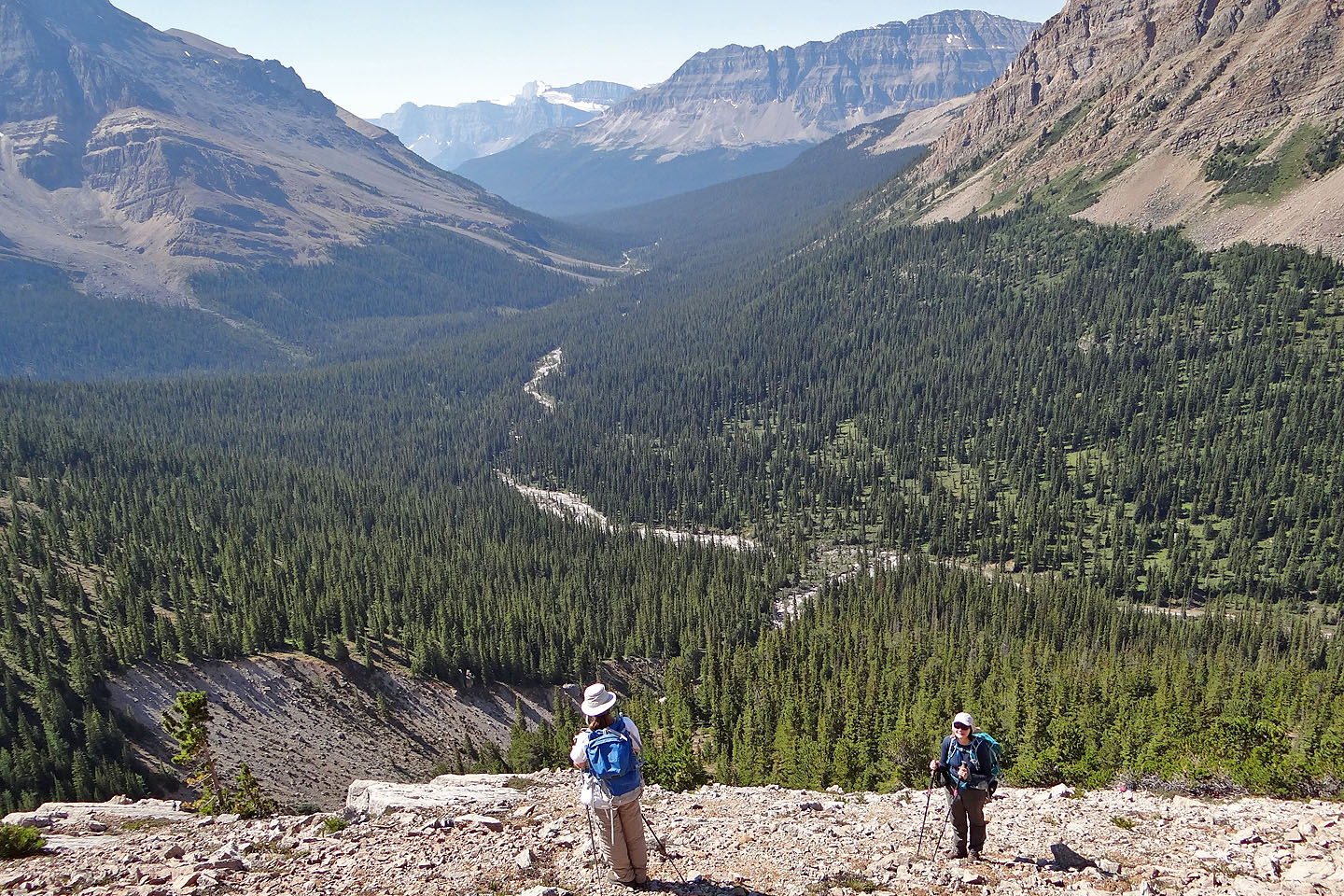 Looking down at Mosquito Creek valley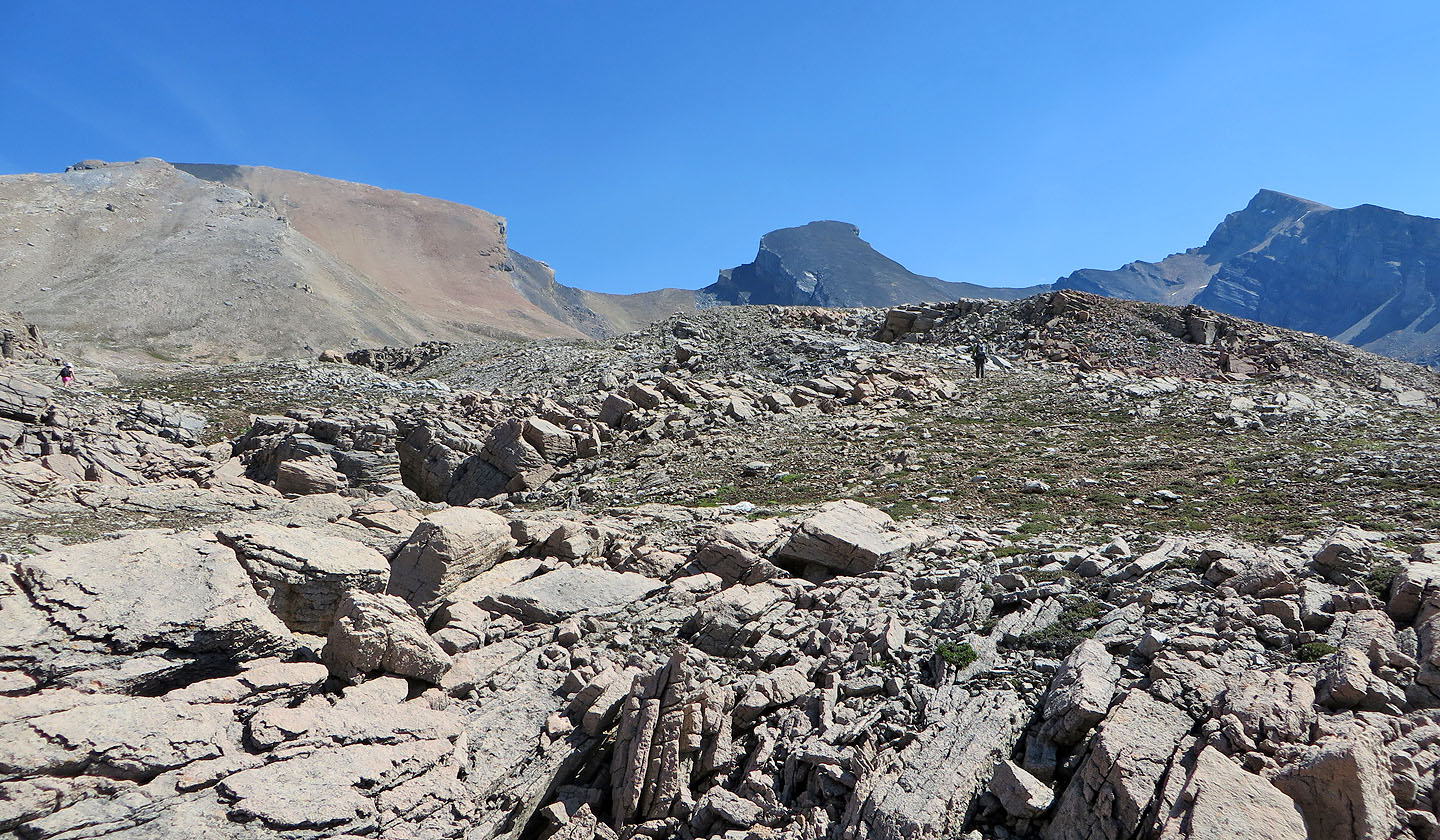 Looking at Quartzite from the end of the plateau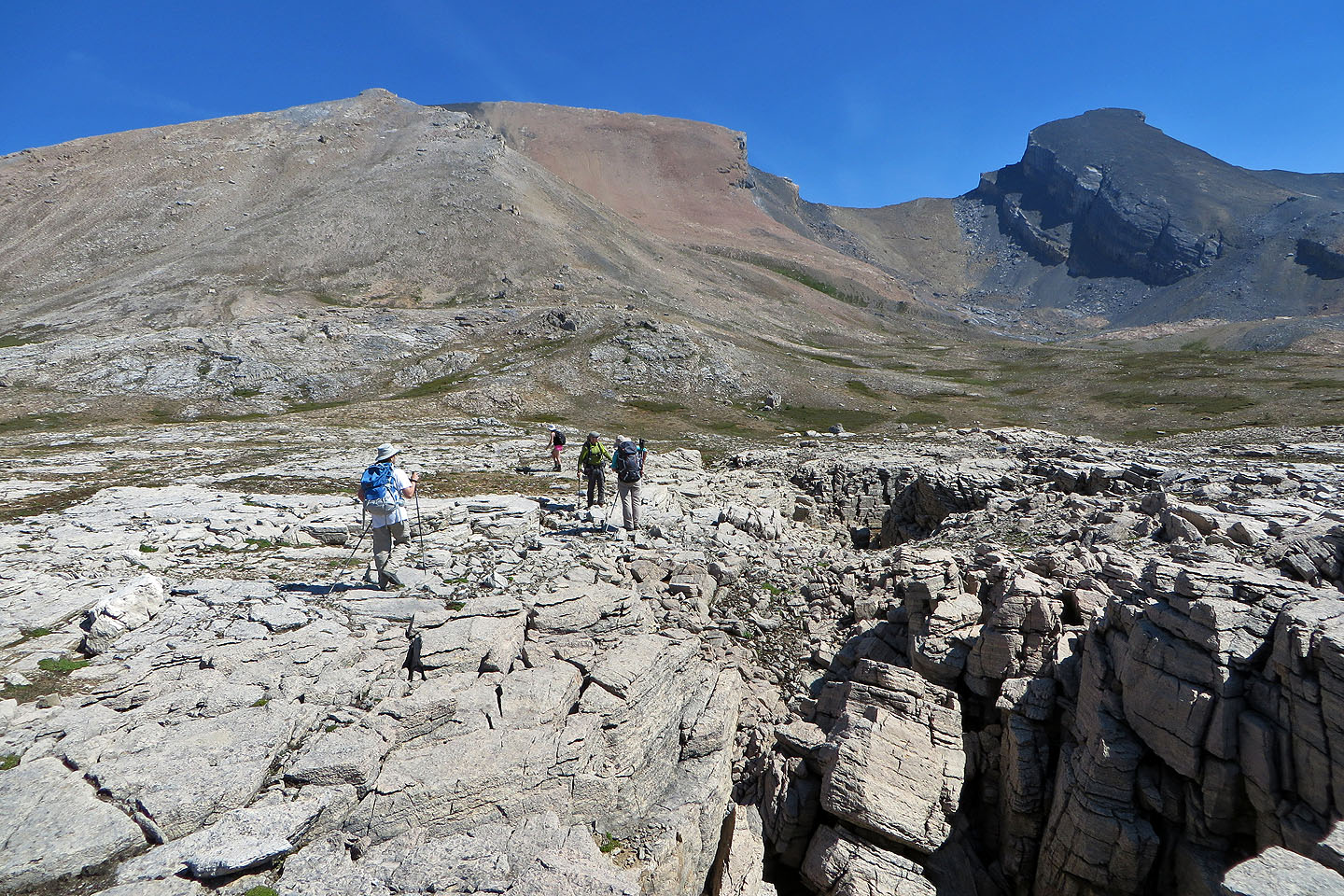 The plateau is rife with fissures (click for a larger image)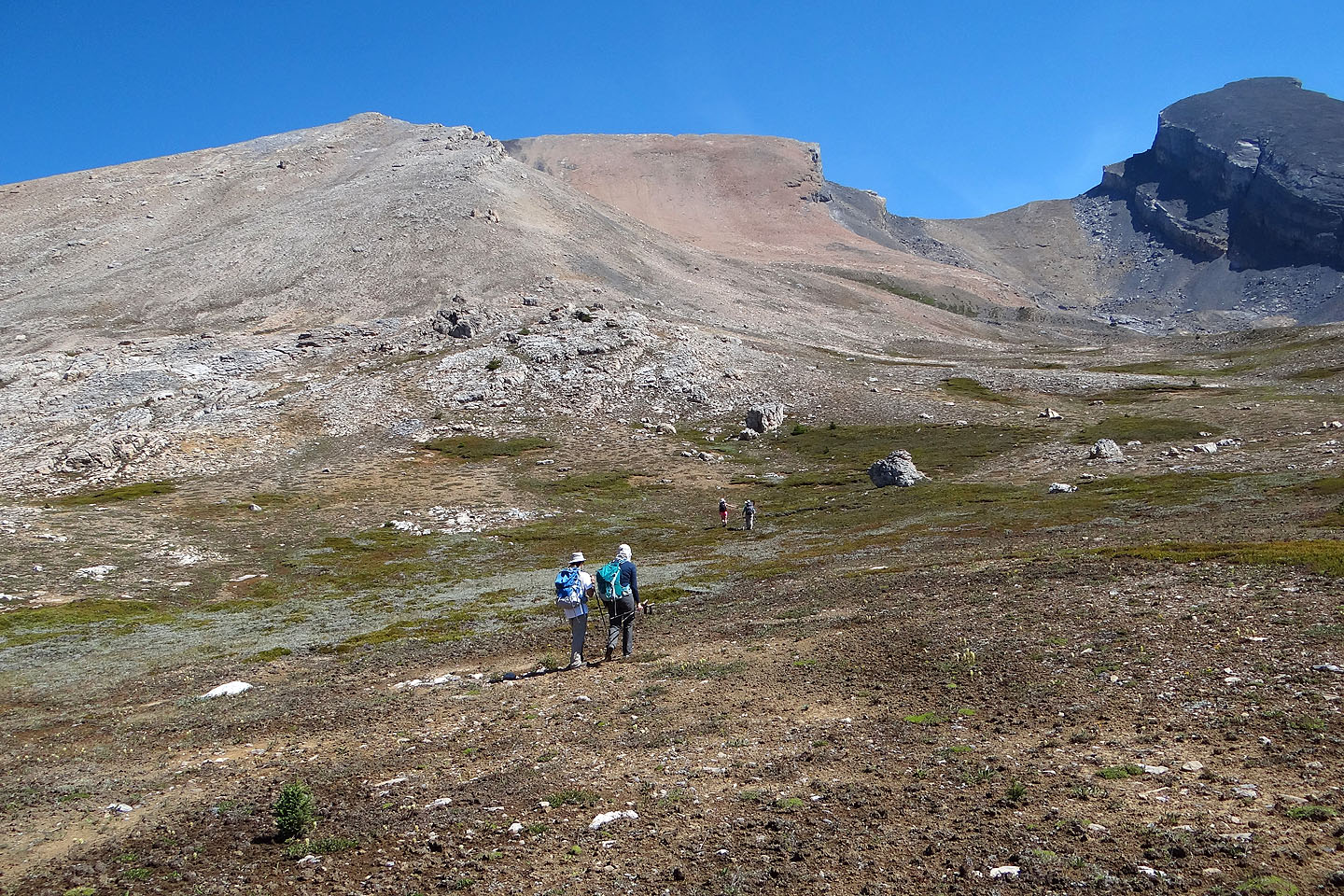 We skirted the subpeak on the right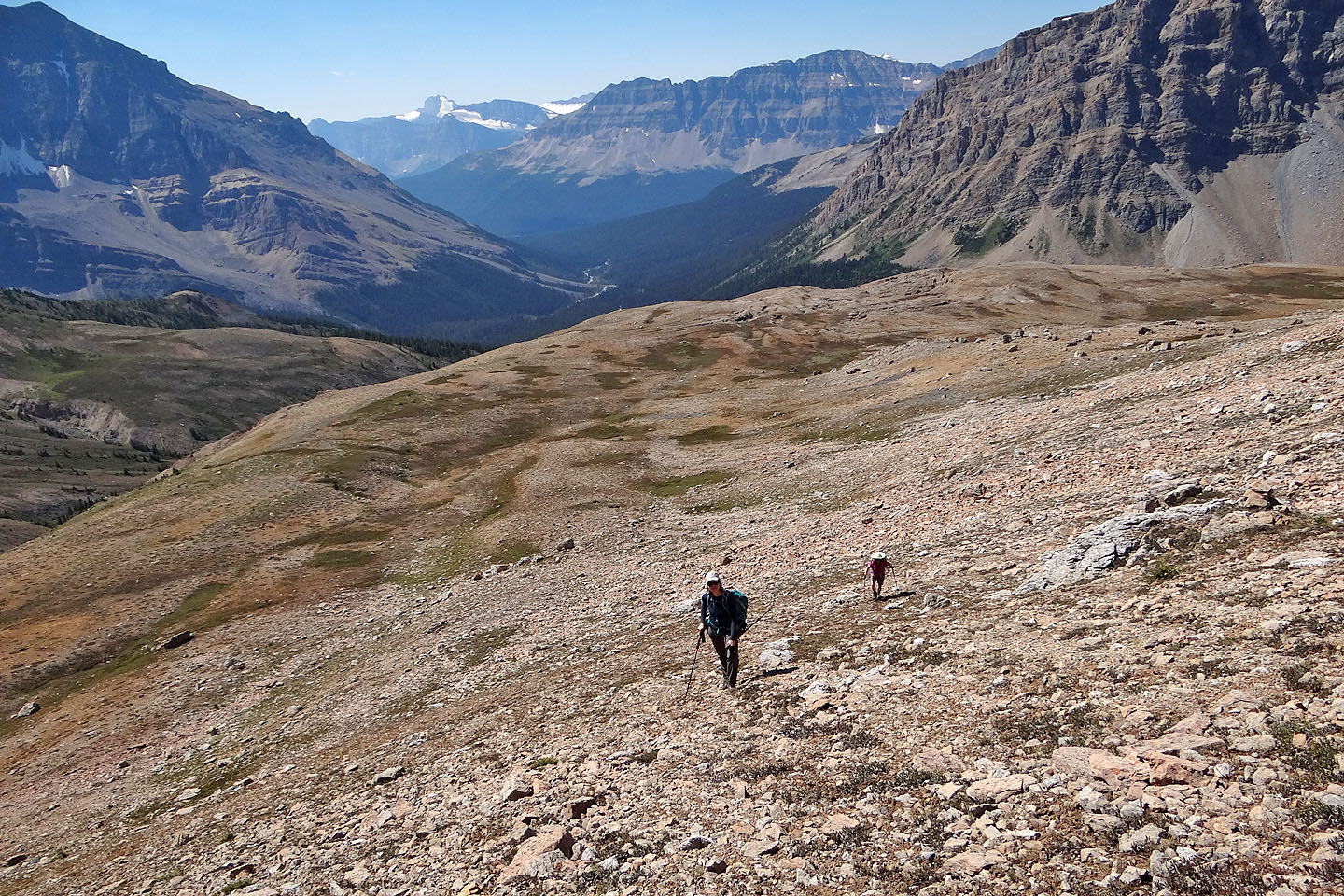 Looking back at the plateau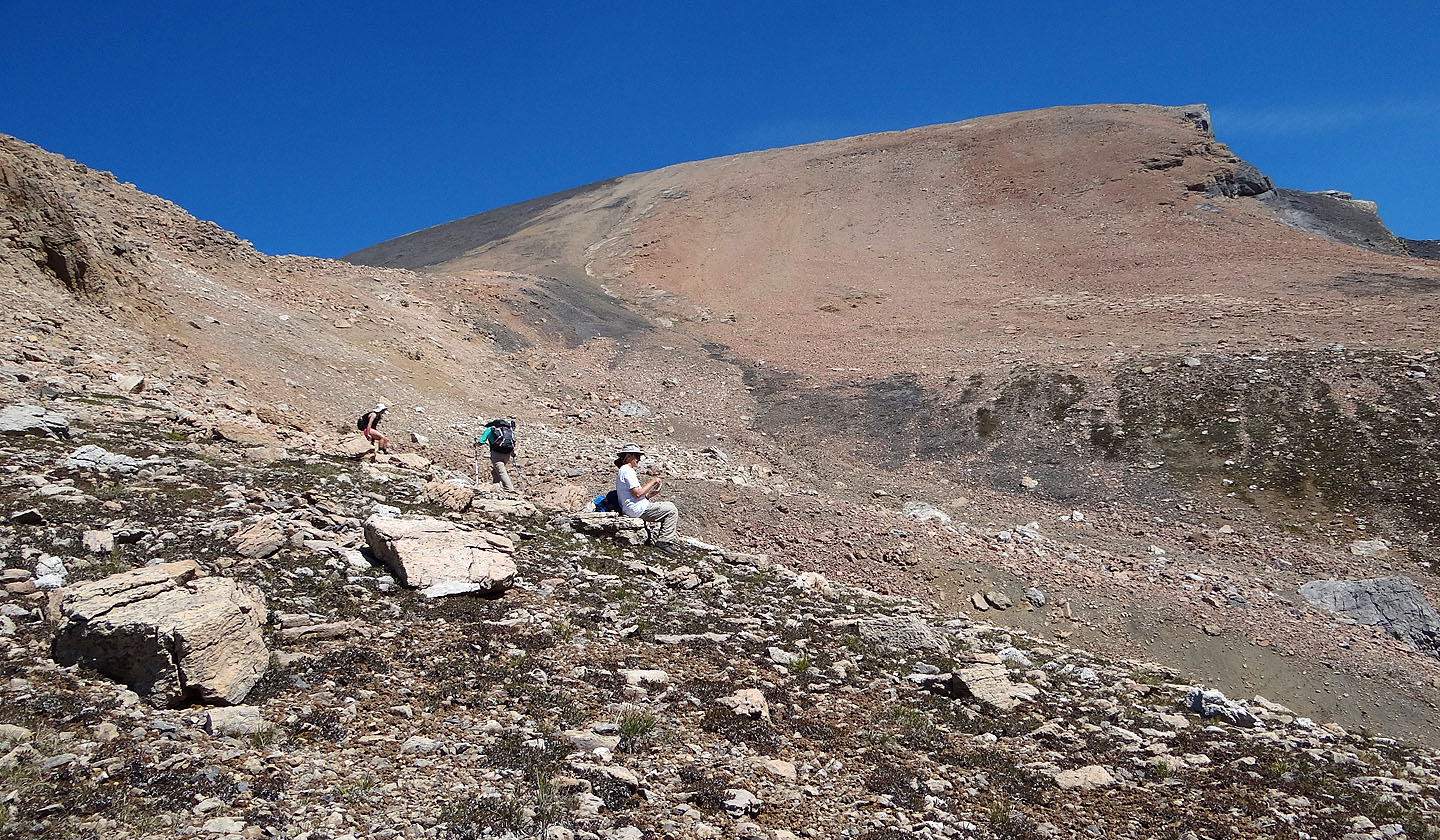 A short saddle connects the subpeak to Quartzite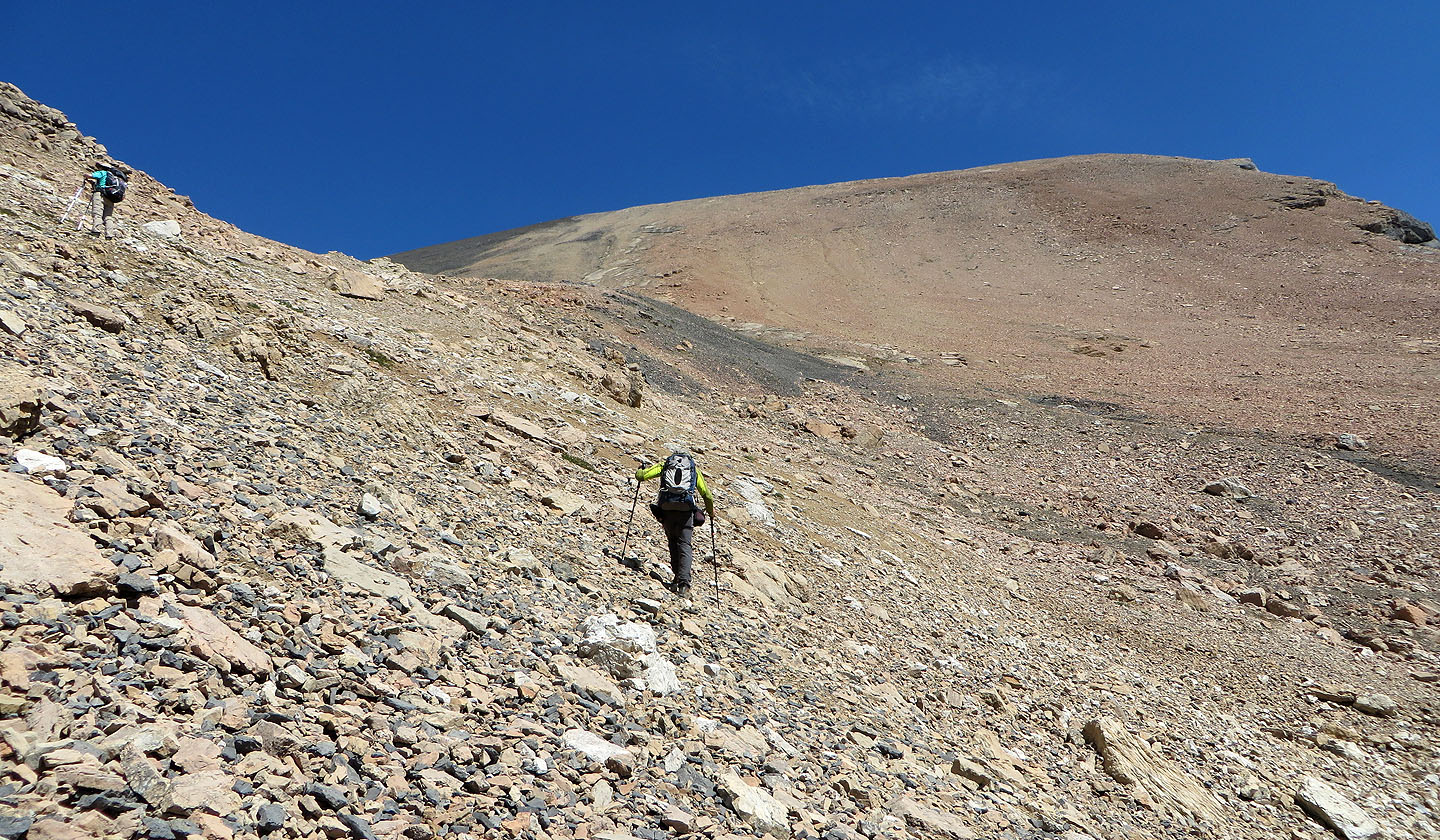 The summit is above the saddle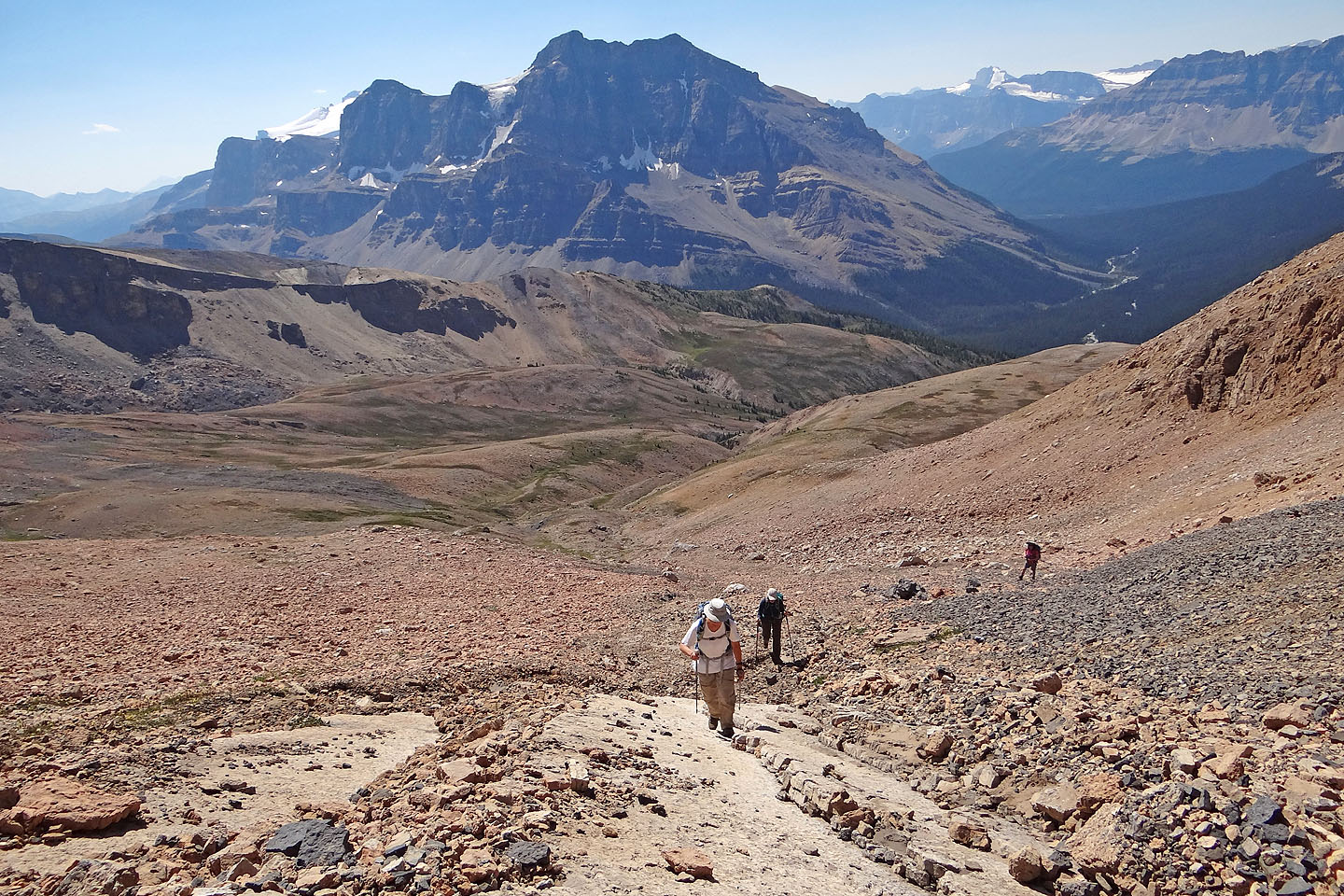 We took advantage of the slabs on the lower slopes

Ramp and Mosquito in the background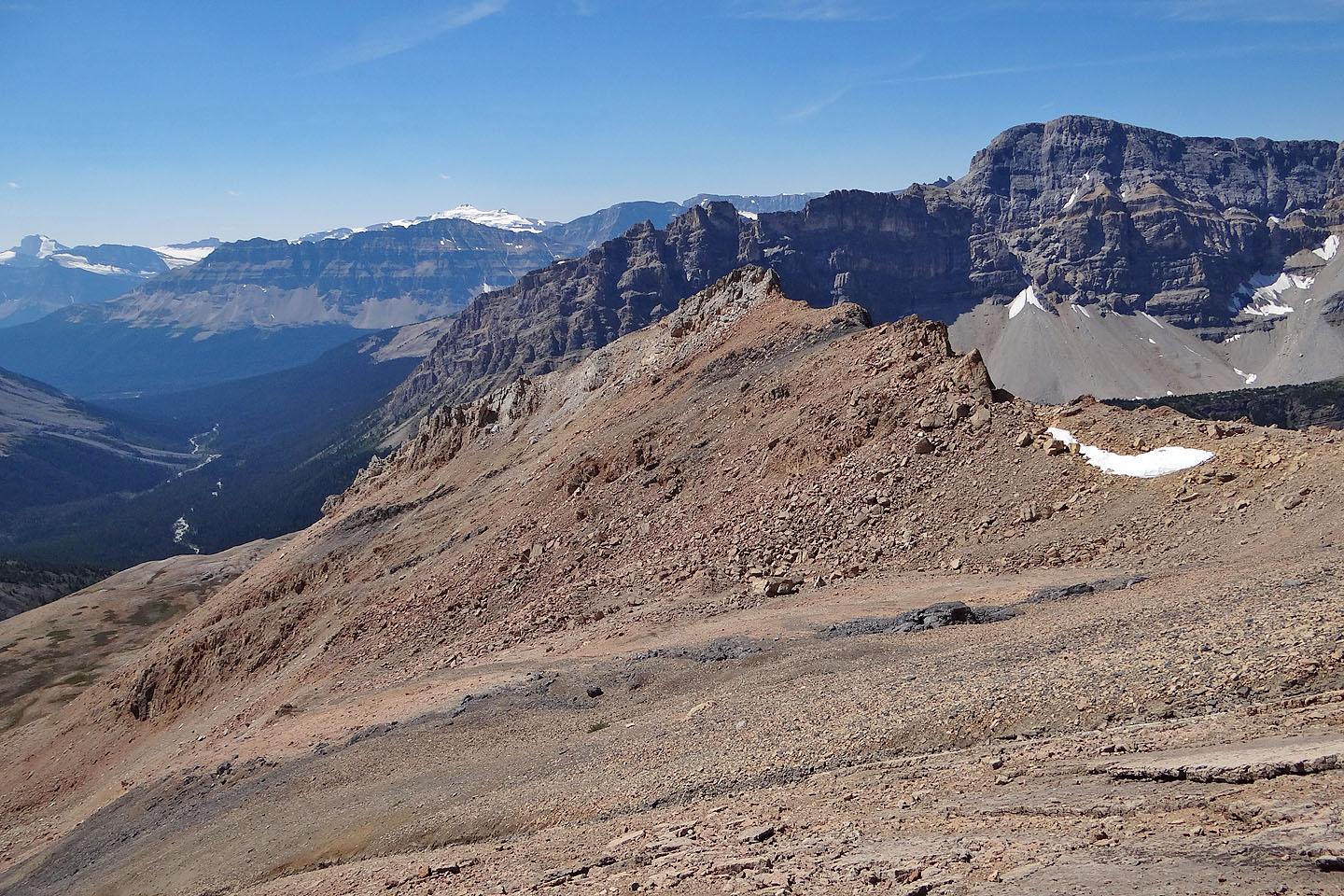 We didn't try it, but the subpeak looked easy to surmount (click for a larger image)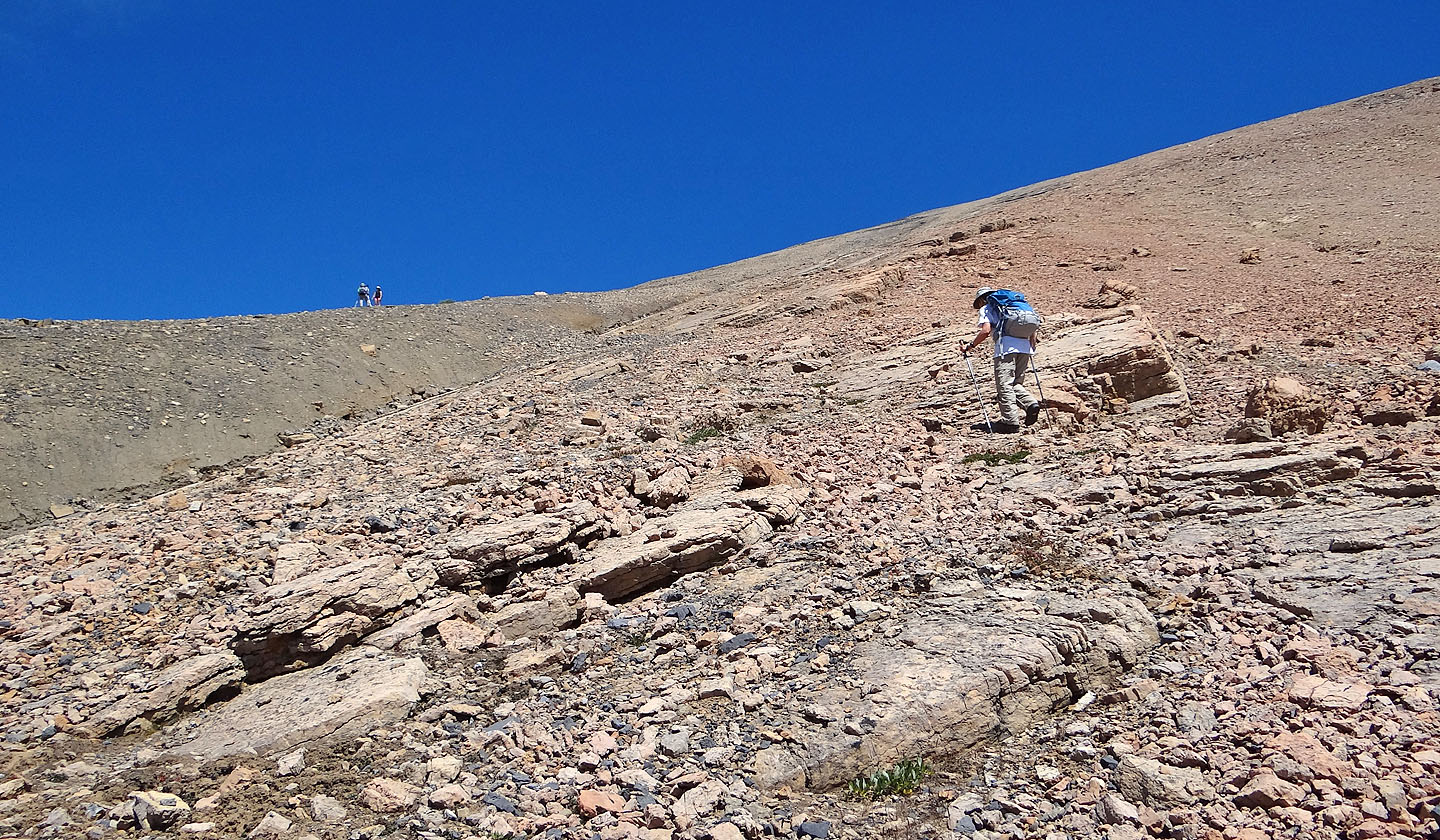 From here it's a scree slog to the summit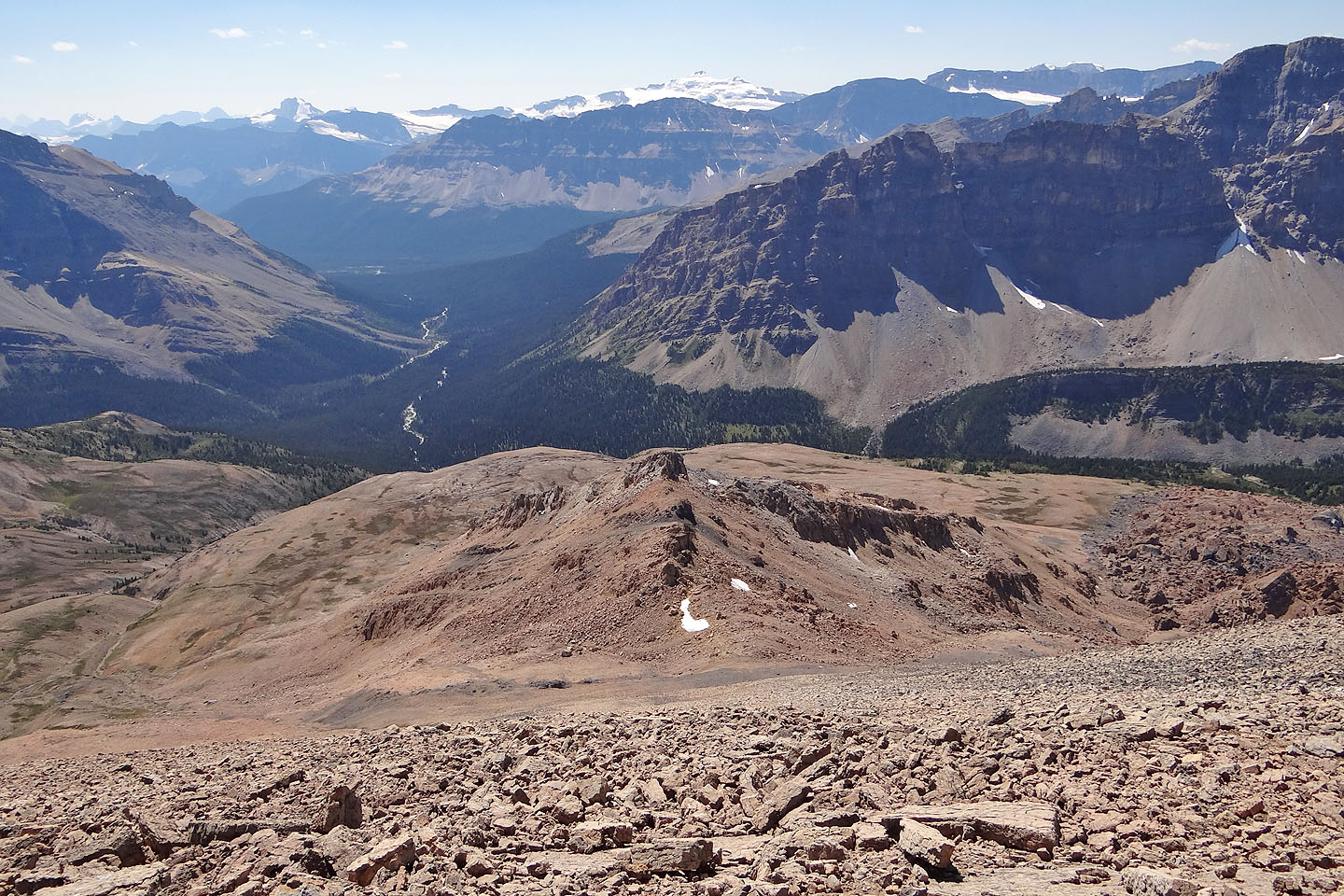 Looking down the slope from the summit (click for a larger image)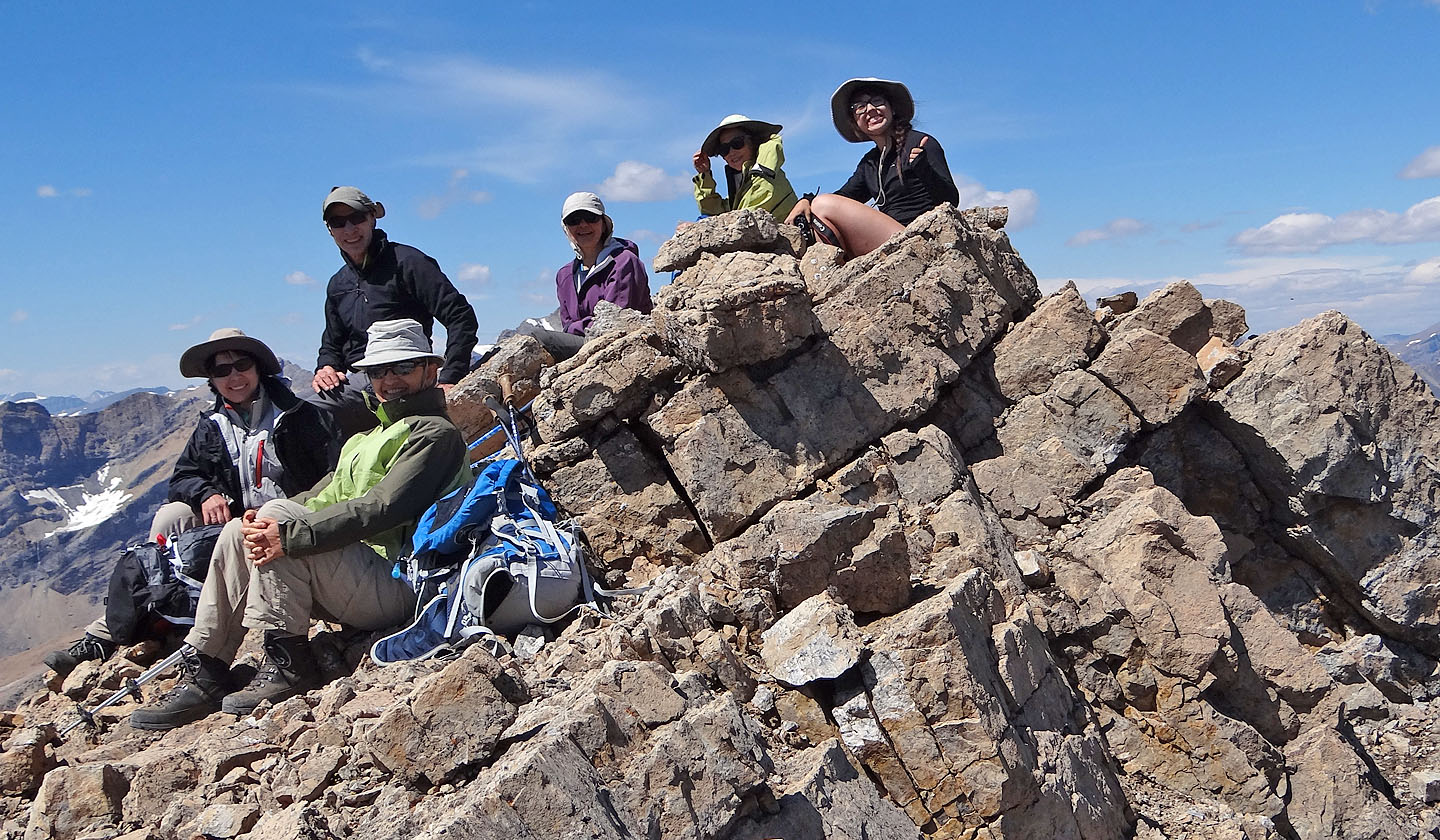 Goulfia, me, Zora, Dinah, Becky and Alina on the summit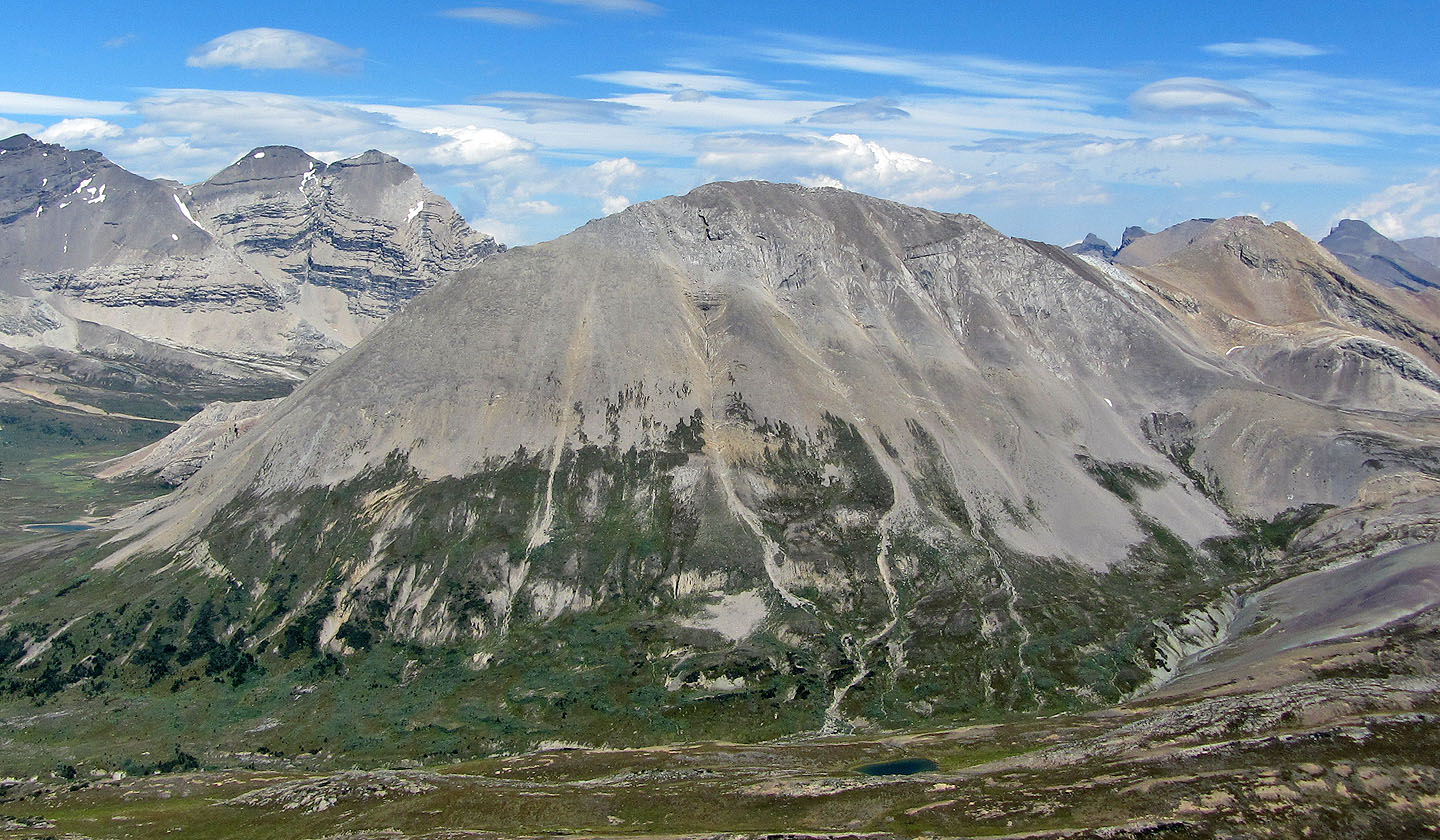 Devon Mountain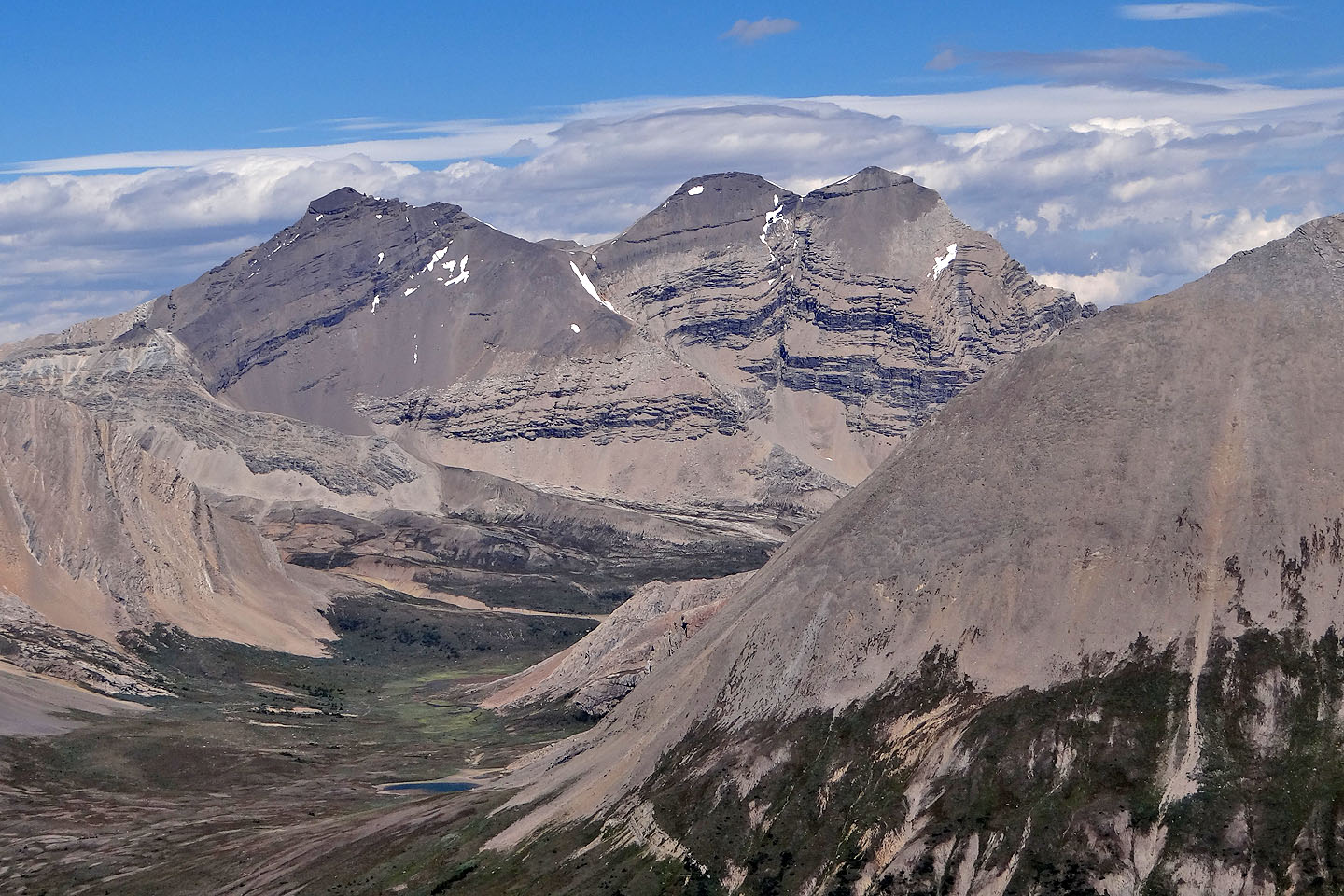 Mount Willingdon, Willingdon South and Willingdon 3 (click for a larger image)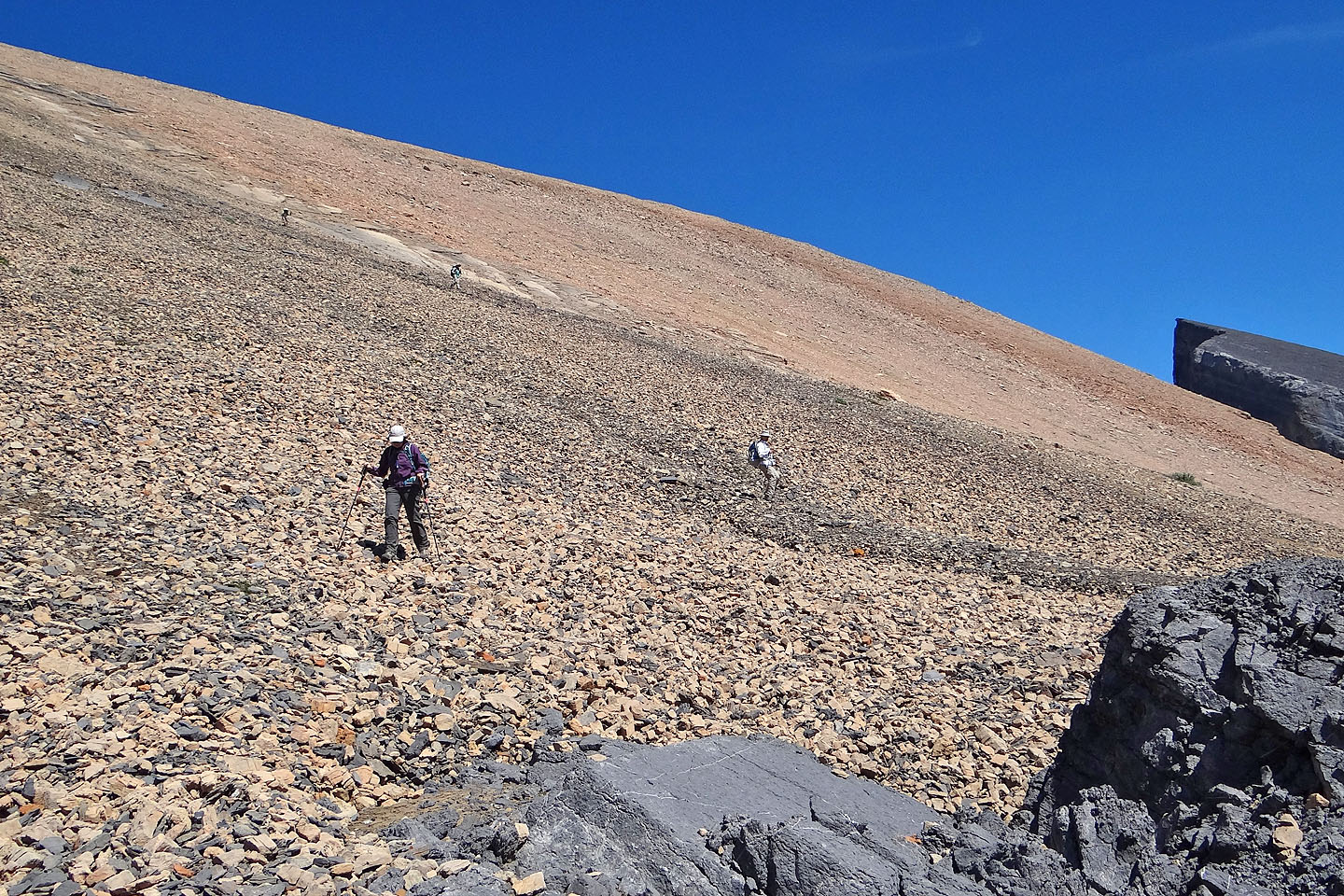 Heading down towards the saddle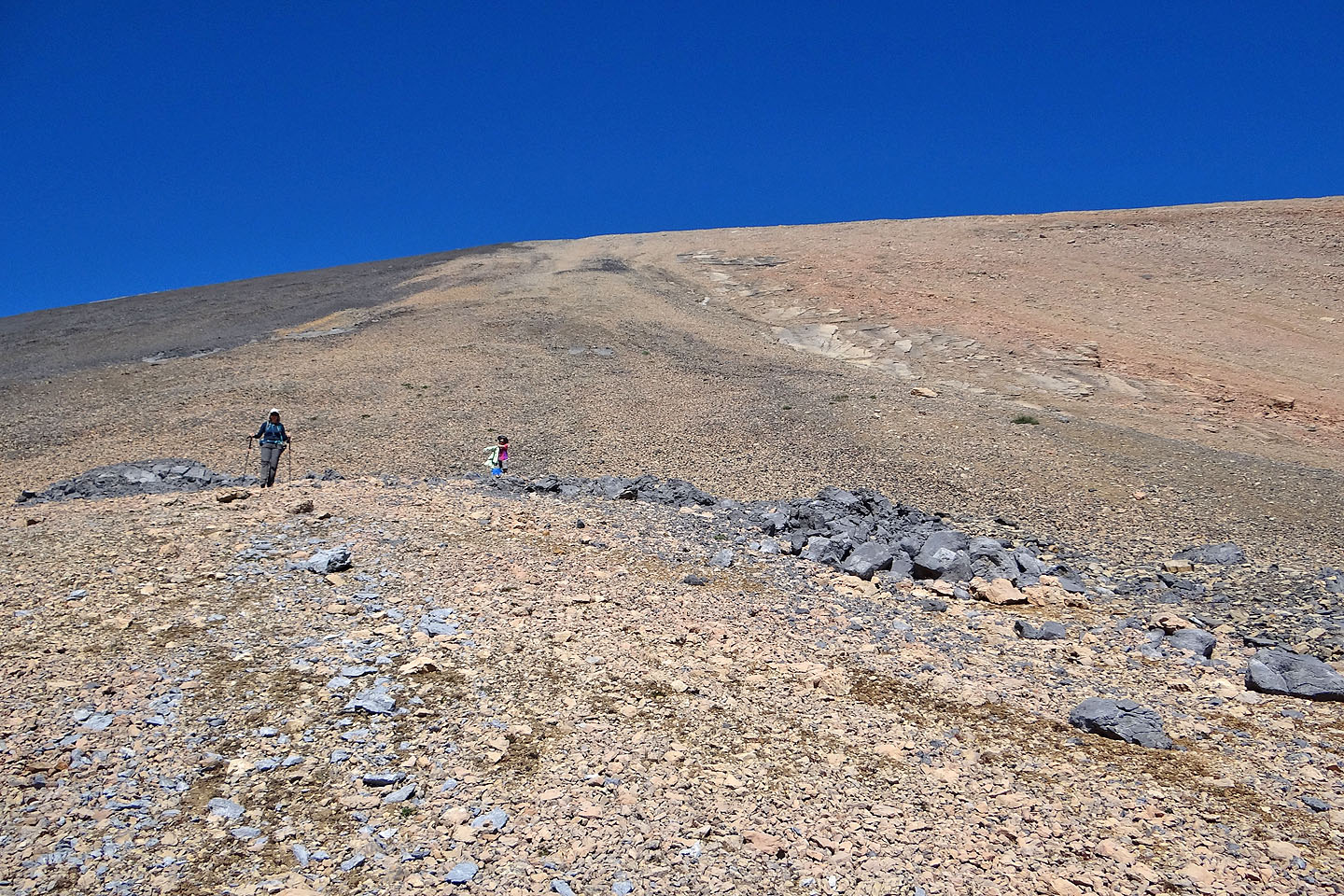 We ascended on or near the slabs on the right, but came down left of them, hunting for soft scree but found little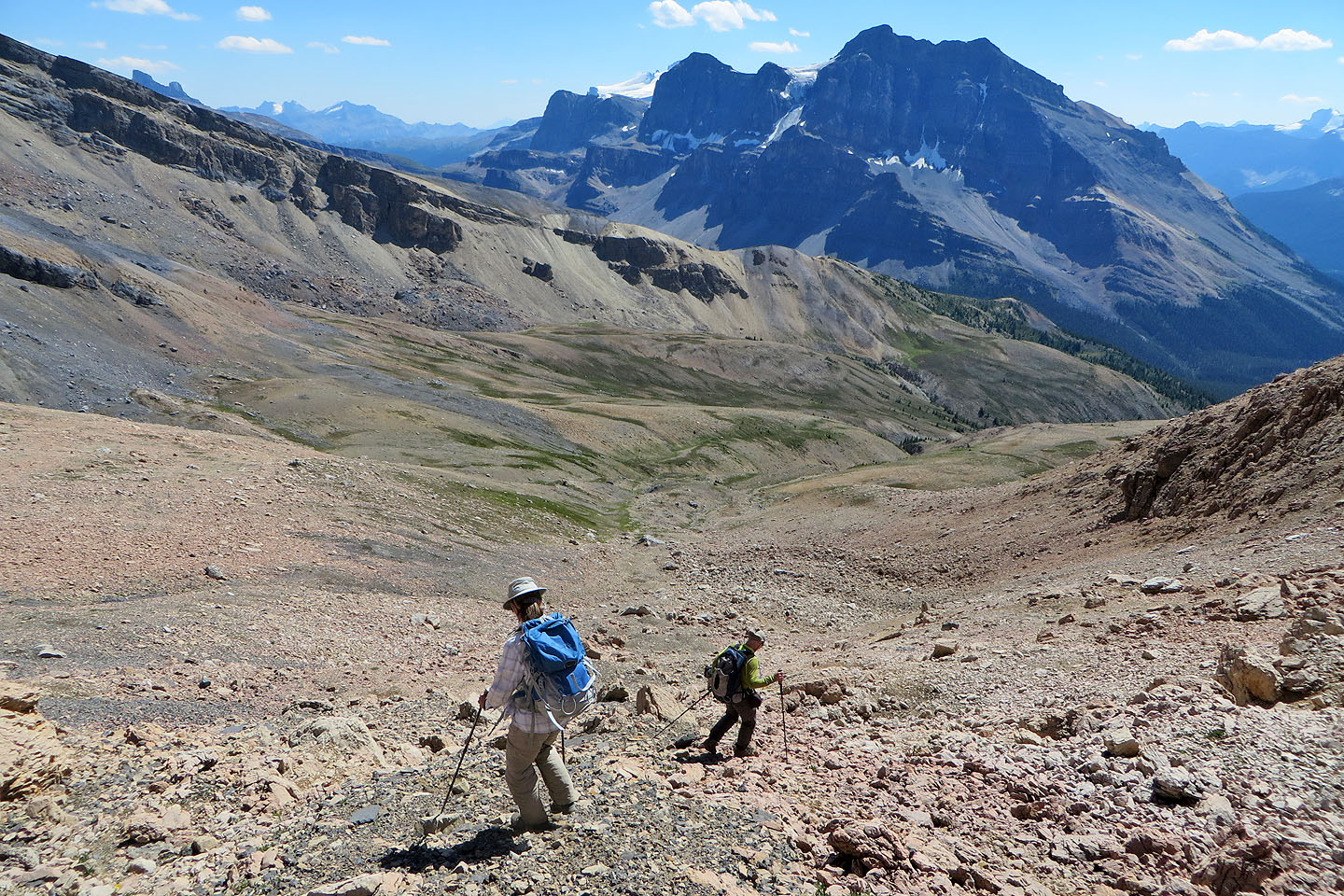 Going back to the plateau. Noseeum Peak in the background (click for a larger image)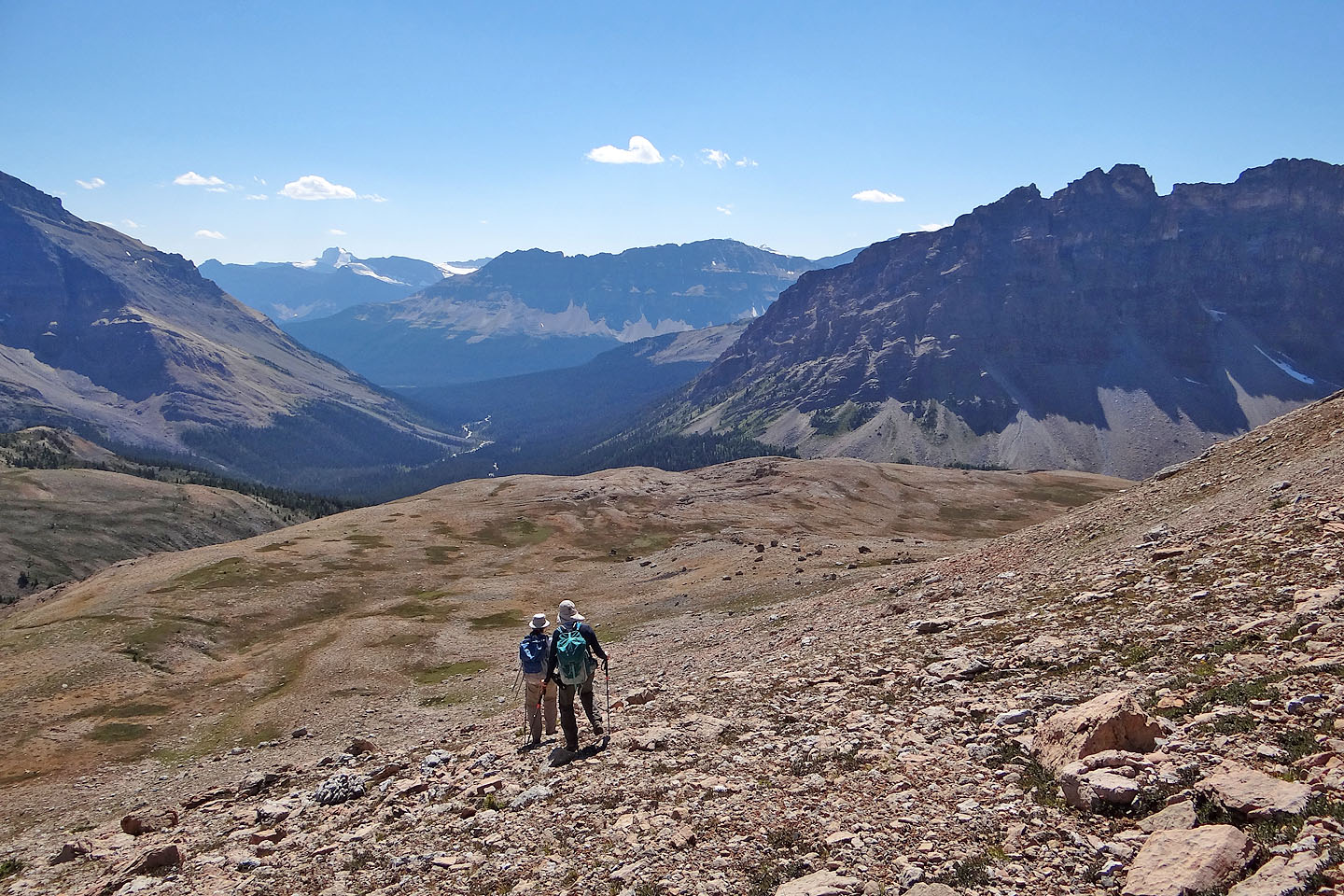 Almost back at the plateau (click for a larger image)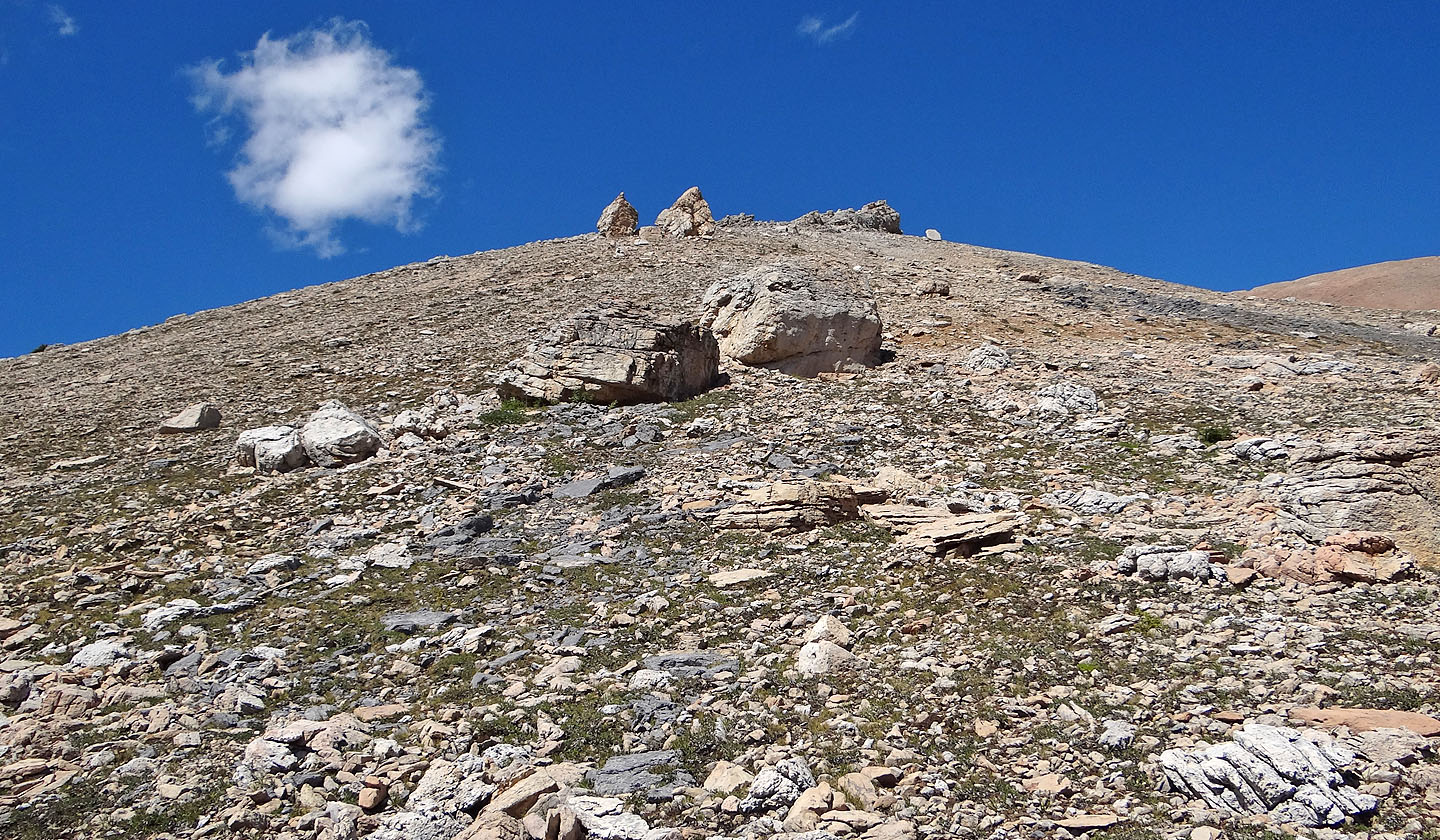 Massive boulders below the subpeak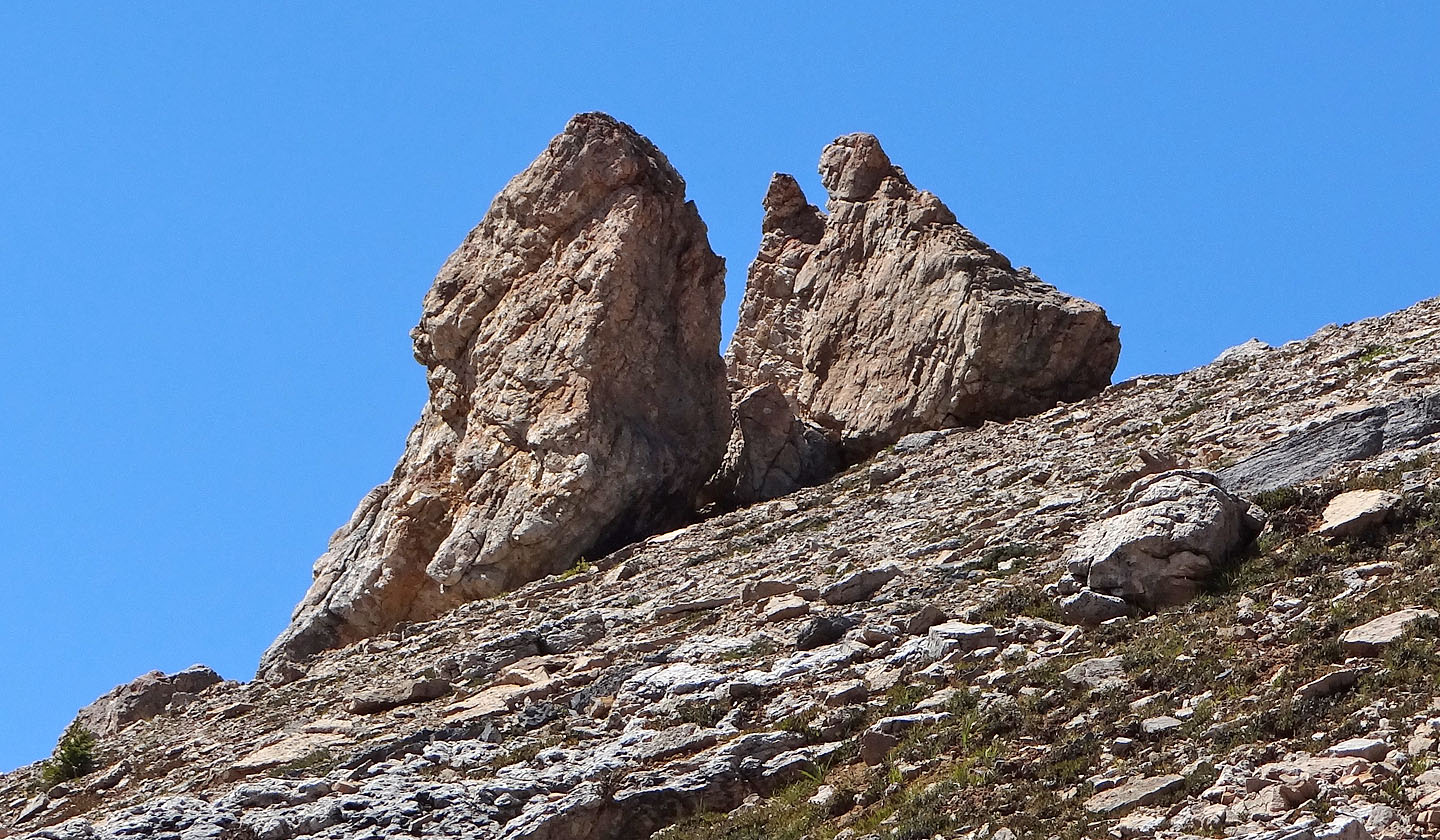 A couple of the largest boulders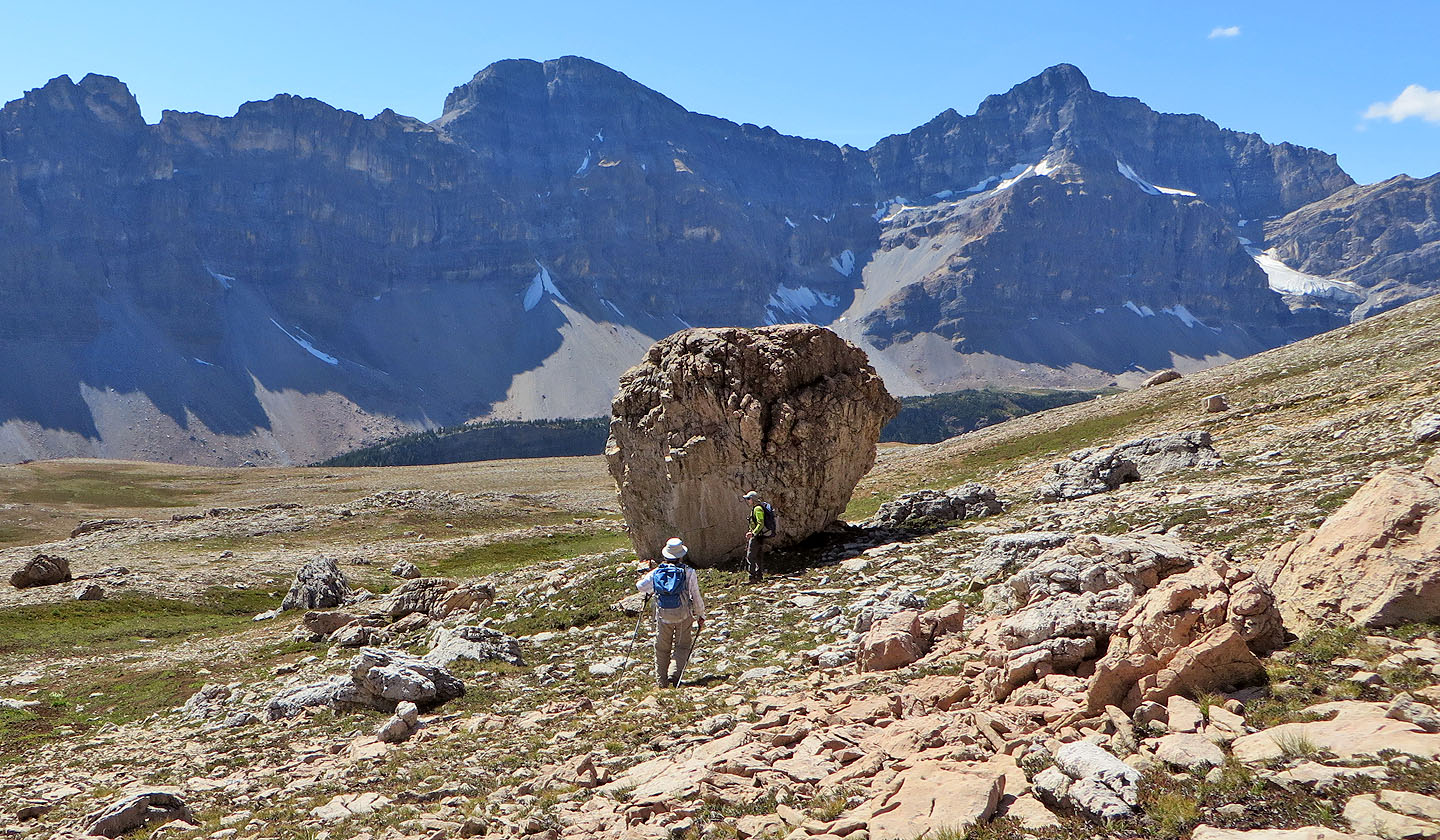 Inspecting one of the boulders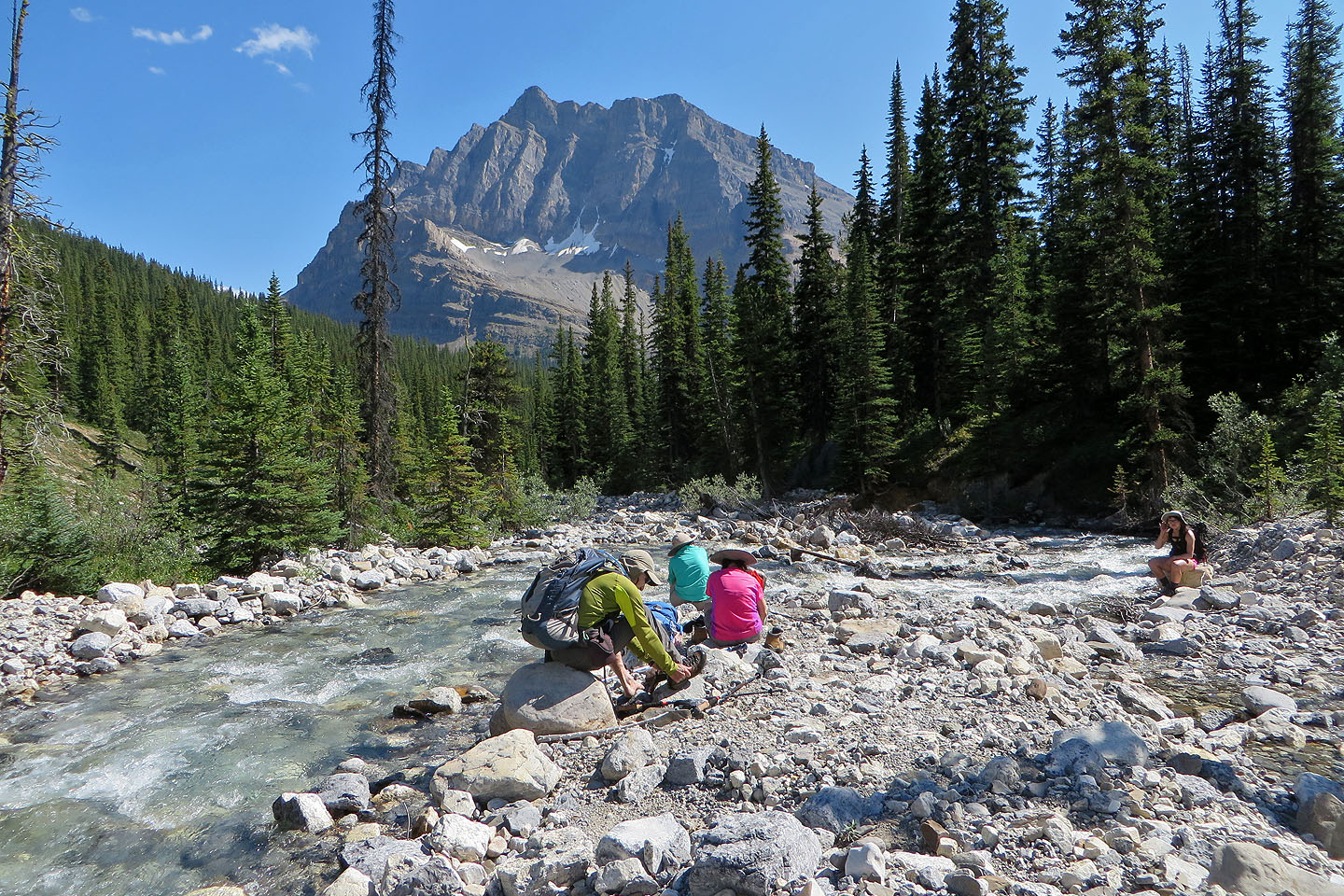 Putting on our boots after crossing Mosquito Creek a second time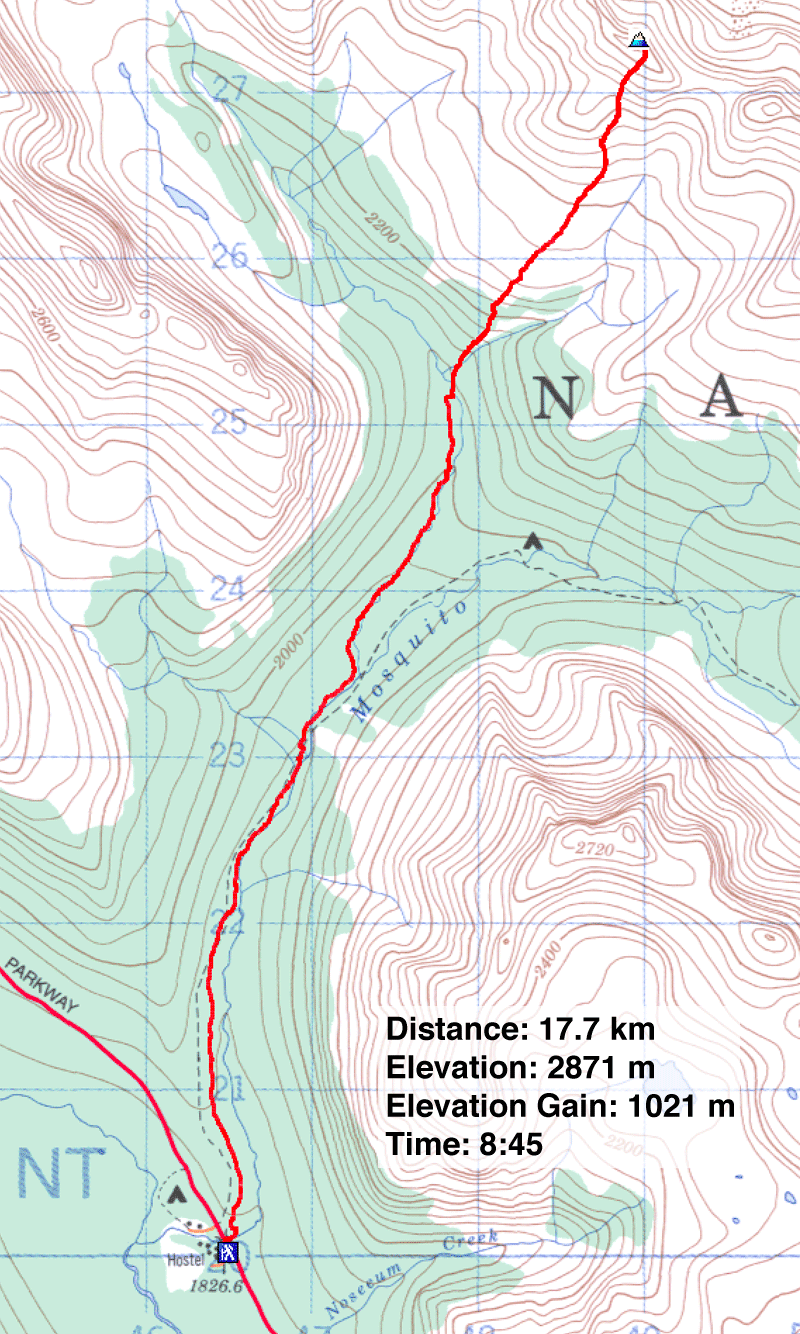 82 N/9 Hector Lake