bobspirko.ca | Home | Canada Trips | US Trips | Hiking | Snowshoeing | MAP | ABOUT
---

In Memoriam: Becky Mansour

On September 11, 2015, Becky Mansour, 59, passed away following a tragic fall on Mount Daly on August 23. An avid hiker and scrambler, she completed hundreds of trips. Dinah and I had the pleasure of knowing her on a few trips and would like her to be remembered. As well as joining her on Twin Cairns, we were with her on Crystal Ridge, Crystal Ridge GR, Quartzite Peak and Noseeum Peak.

---

Twin Cairns
Banff National Park, Alberta
August 8, 2015
Twin Cairns is a minor ridge that rises 200 m above Sunshine Meadows. It's so slight, it's probably better to think of it as a feature rather than a ridge, hardly worthwhile given the long approach. But when a bear closure turned Zora, Becky, Dinah and I away from ascending Mount Howard Douglas, Twin Cairns was a welcomed alternative, surprisingly pleasant and interesting.
Following the description for Mount Howard Douglas in More Scrambles, we parked at Sunshine ski resort. We started up Healy Creek Trail but soon took a short connector to get onto a road that runs to Sunshine Village, a road we shared with buses and trucks. After walking three km we came to Goat's Eye Express ski lift. But after we started up the trail that heads to the base of Mount Howard Douglas, we encountered a sign saying the area was closed due to bear activity. (The following day, Dinah and I could find no mention on the Internet for a bear closure here.)
Since we couldn't climb Howard Douglas, we considered our options. We discussed hiking up nearby Eagle Mountain, but in the end, we decided to continue up the road to Sunshine Meadows. Although we had snowshoed in that area, none of us had been there in the summer. We would hike up Twin Cairns.
No trails run directly to Twin Cairns. We started walking up a road leading to Rock Isle Trail, but soon left it and hiked cross-country to the north end of Twin Cairns. We found a simple way to reach the ridge crest where we came across a huge cairn, likely built by hikers since after this point, the ridge becomes a scramble, albeit an easy one. On our way to the summit, we enjoyed clambering along the boulder-strewn crest. Despite the modest elevation, summit views were far-ranging. After lingering for some time on top, we continued south until it was feasible to drop down the east side of the ridge. We hiked back to Sunshine Village and back down the gravel road to our car.
As much as we enjoyed climbing Twin Cairns, I hesitate to recommend it. The dreary 5-km approach on the road is overlong for a mere feature, and the $27 shuttle bus overpriced. But if you happen to find yourself in Sunshine Meadows with time on your hands, then consider hiking Twin Cairns.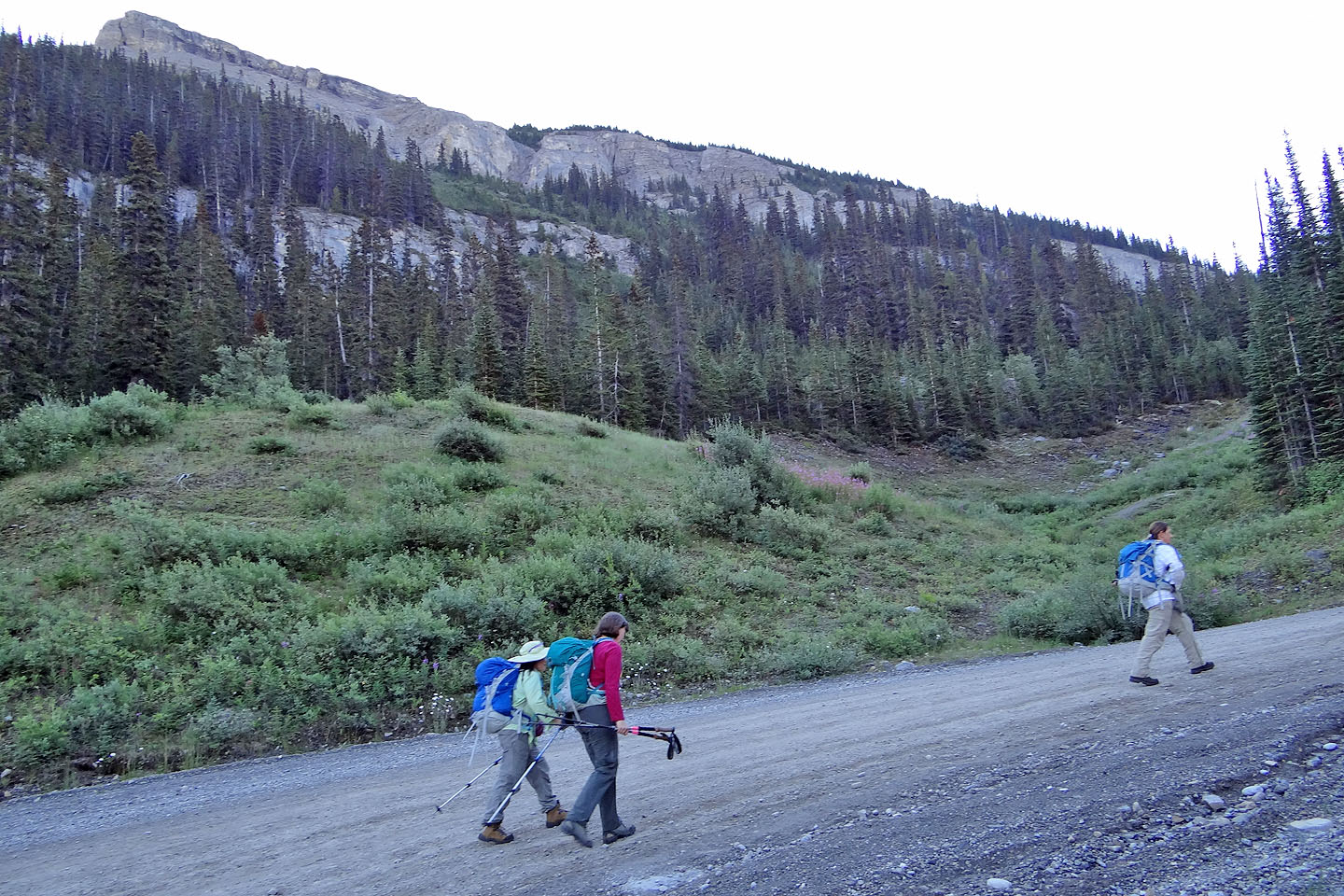 Hiking up the road, Eagle Mountain above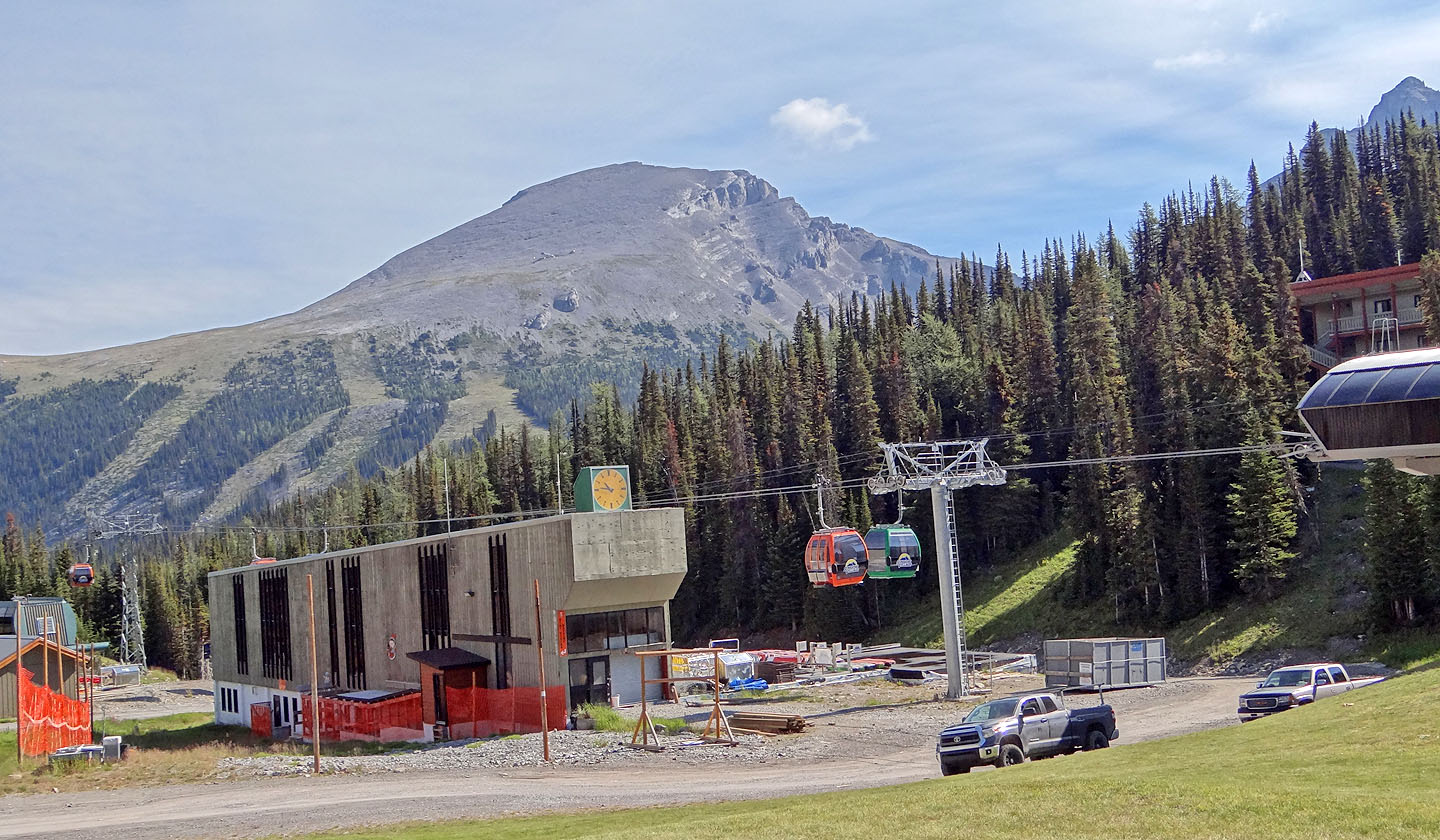 Eagle Mountain from Sunshine Village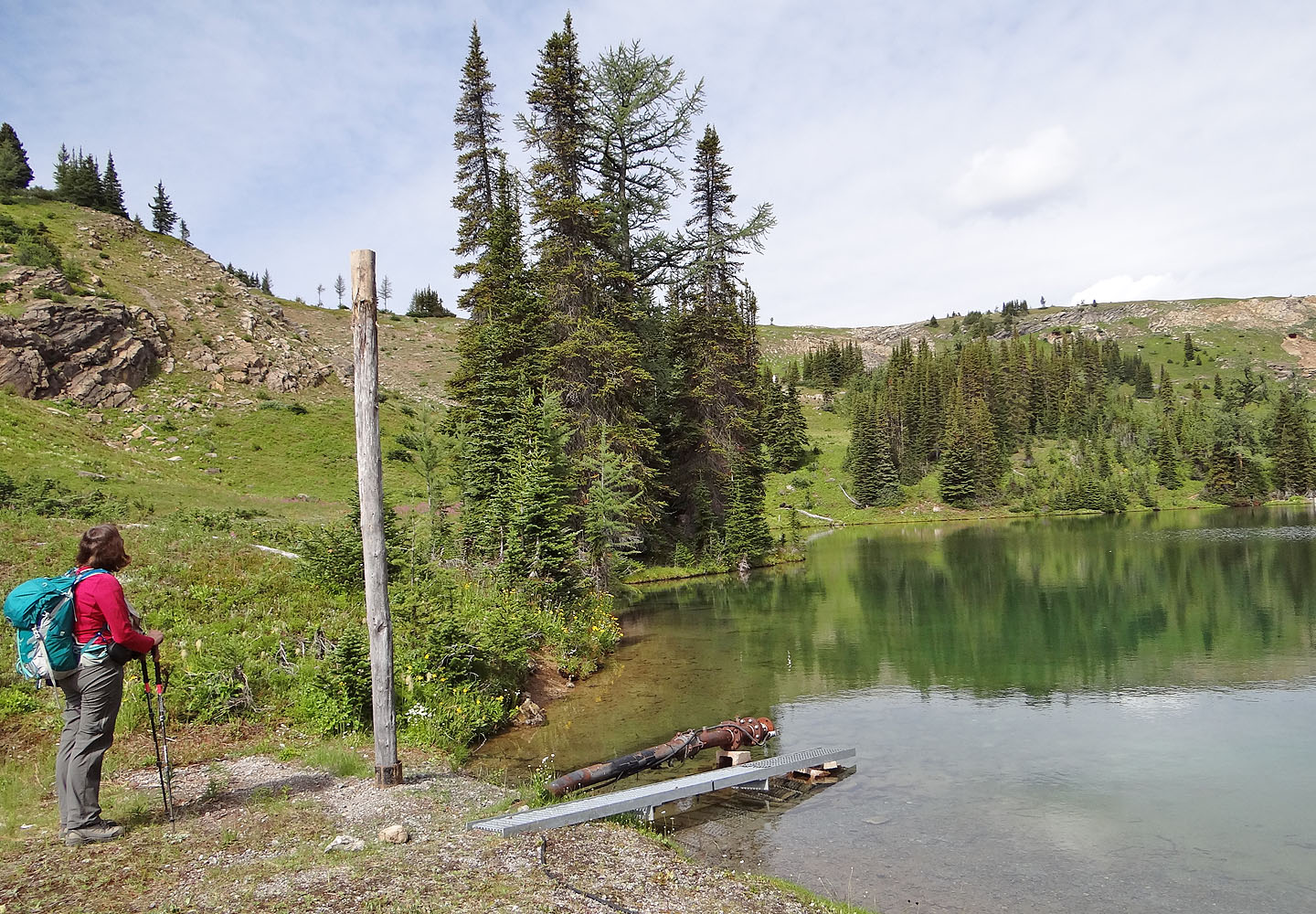 After leaving the road, we came to an unnamed tarn. From here we started up a faint trail.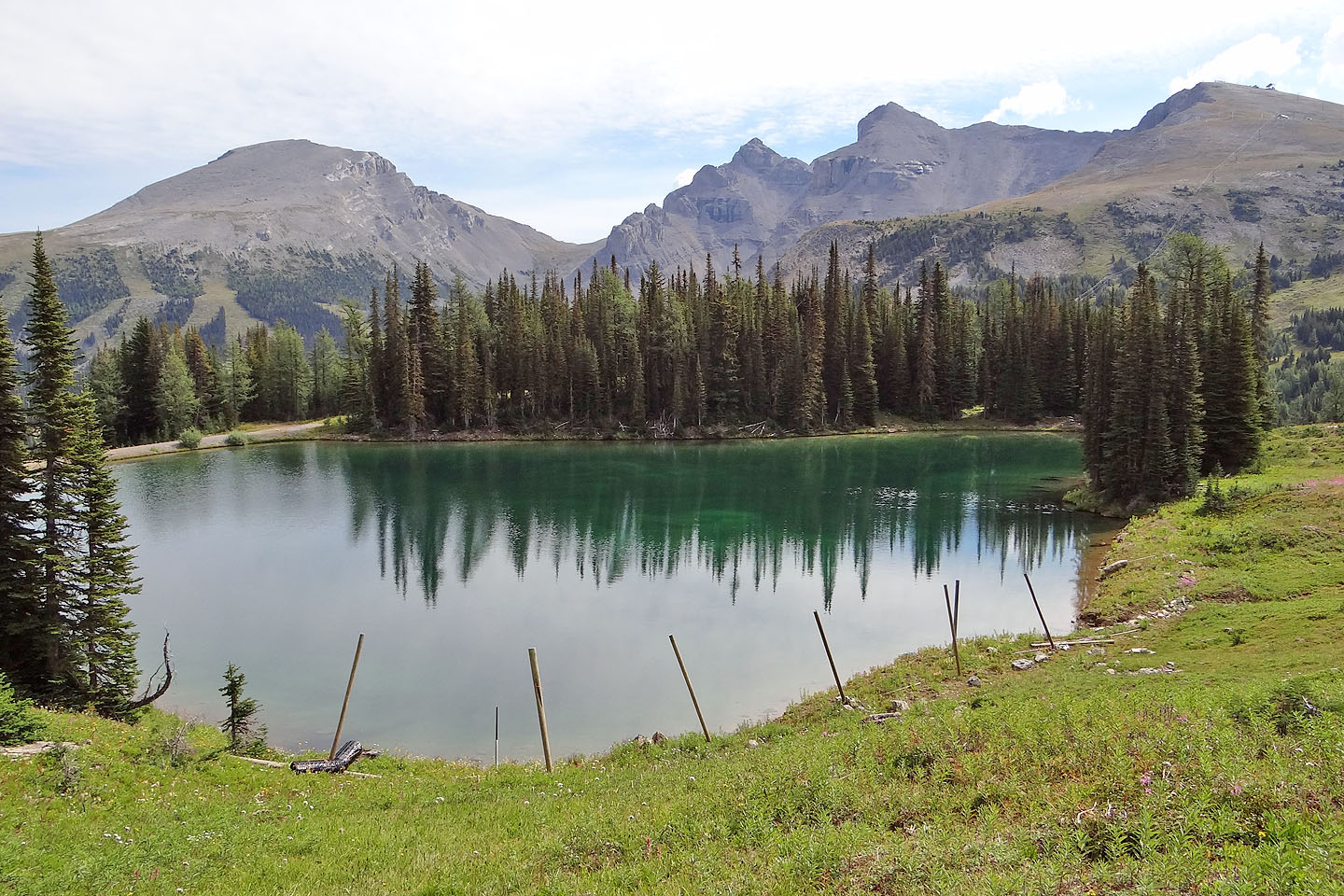 Behind us are Eagle Mountain, Mount Howard Douglas, an unnamed peak and Brewster Rock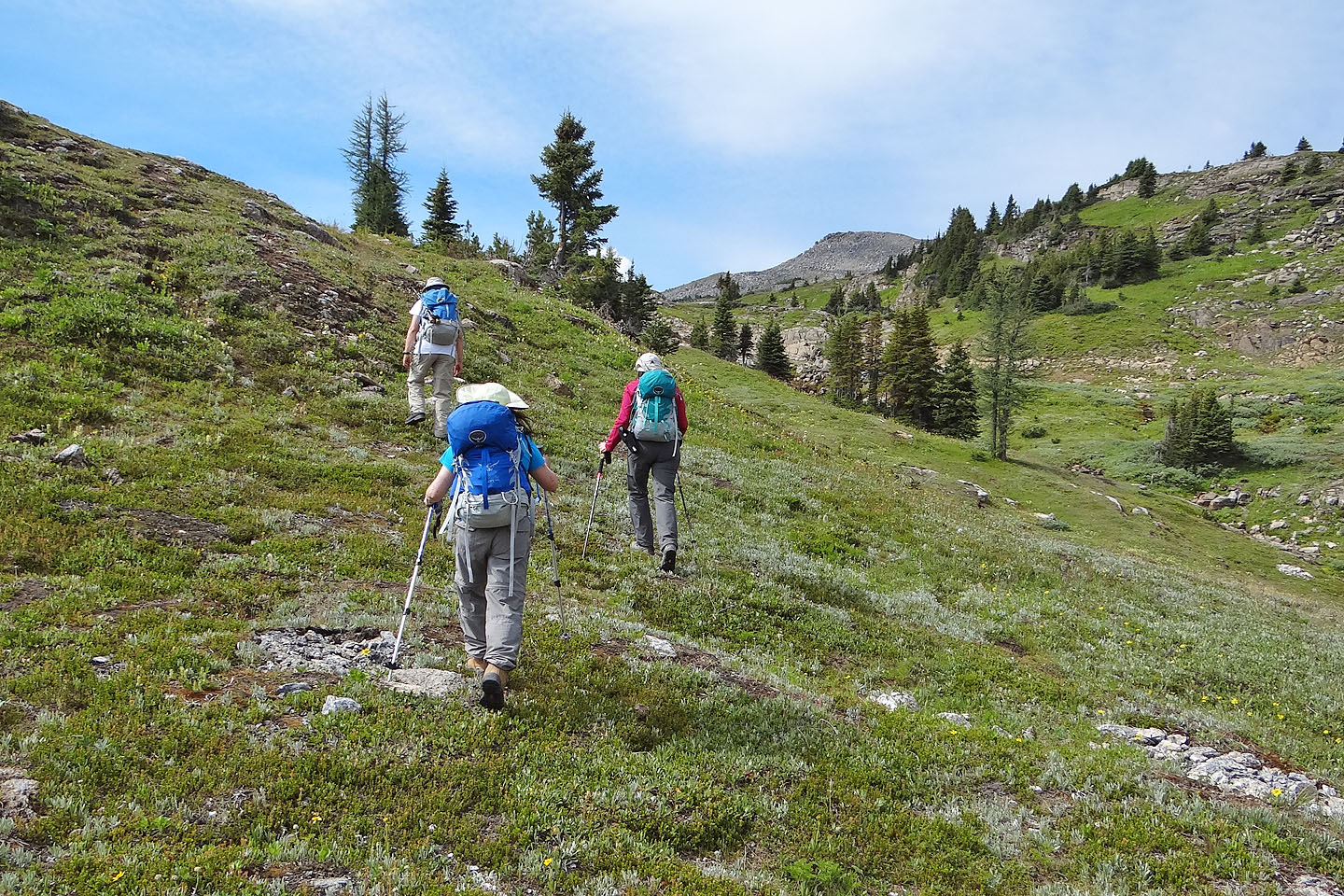 A short time later, we spied our objective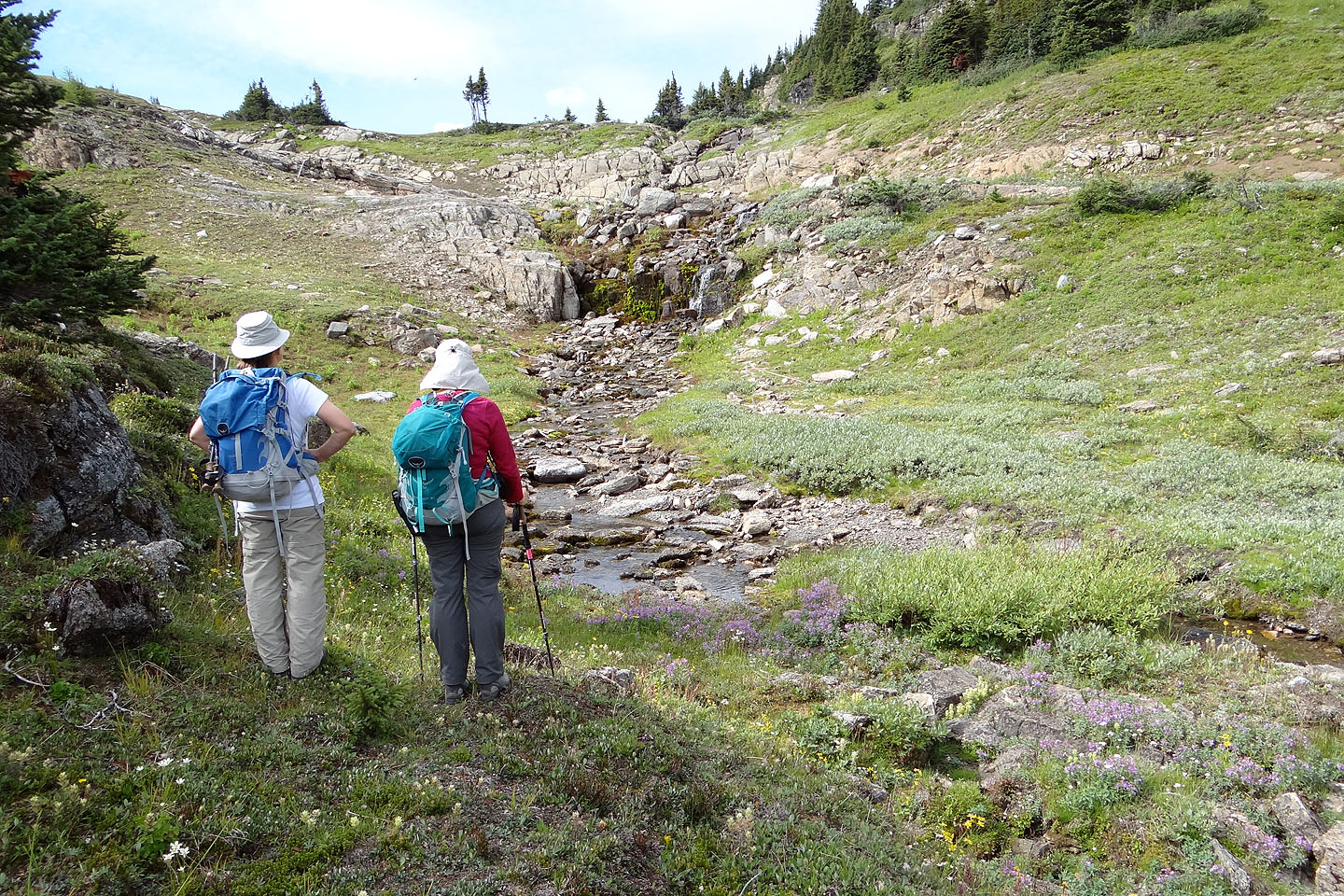 We found idyllic alpine scenery along the way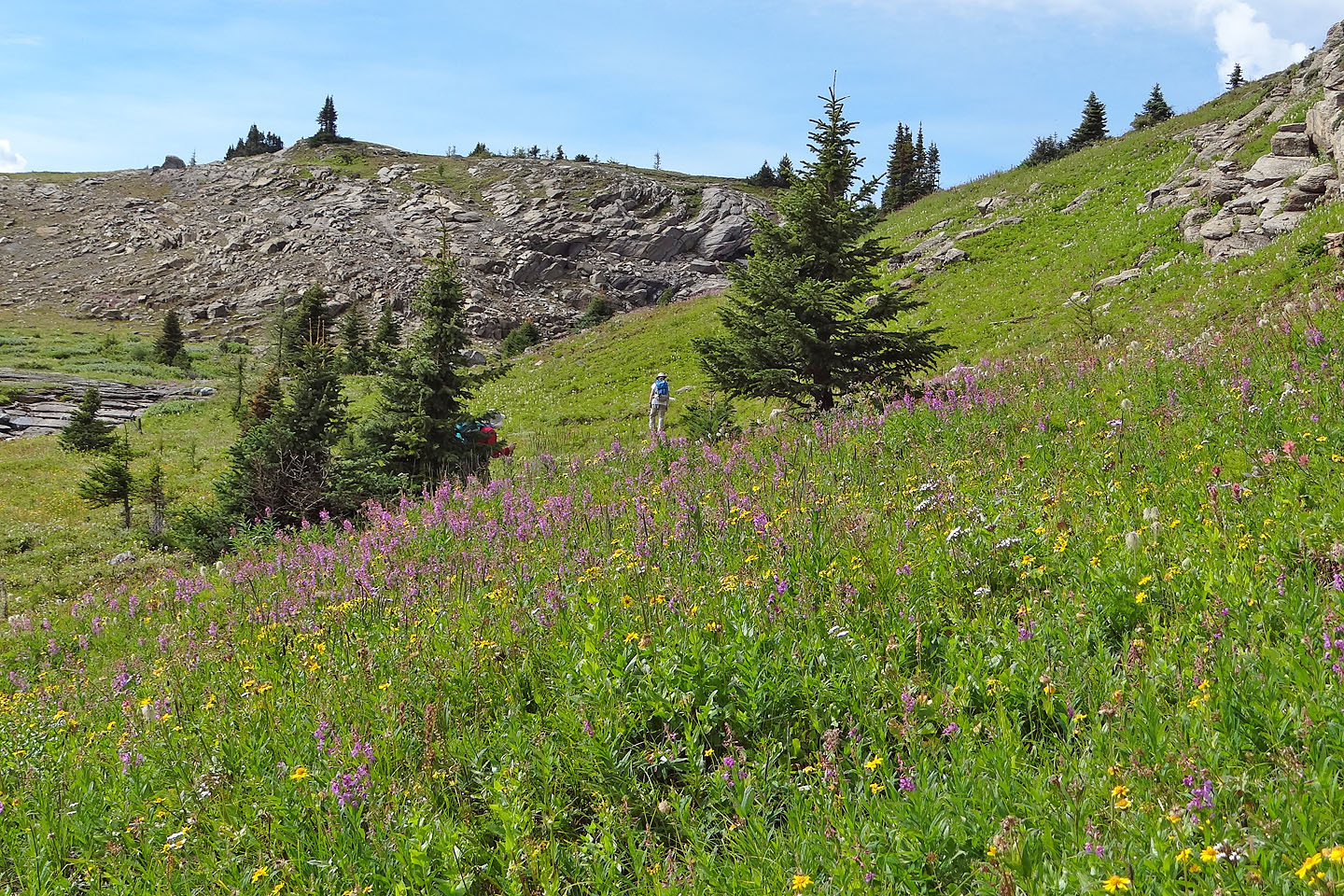 Despite being August, there was still a perfusion of flowers in the meadows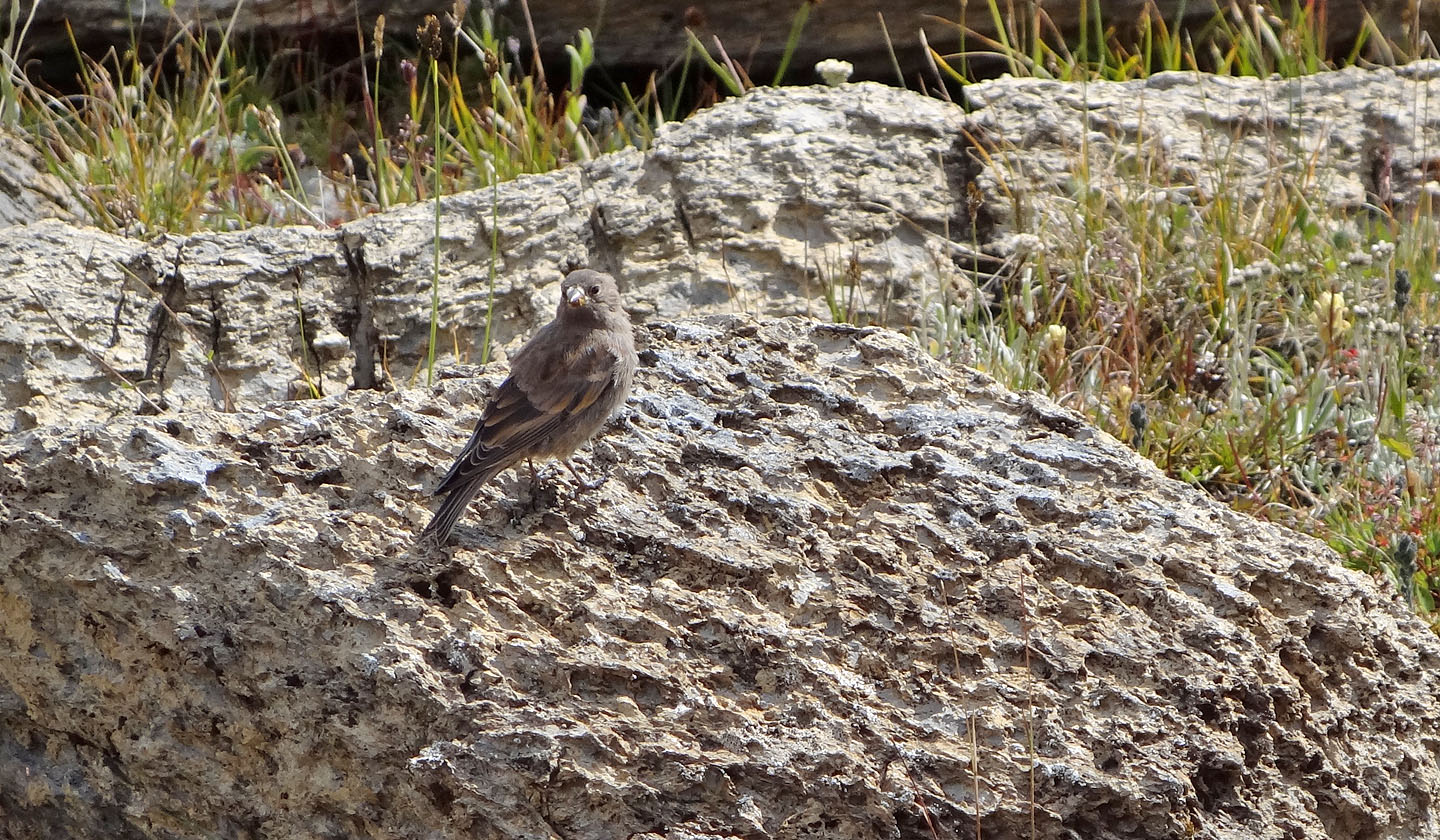 Unknown bird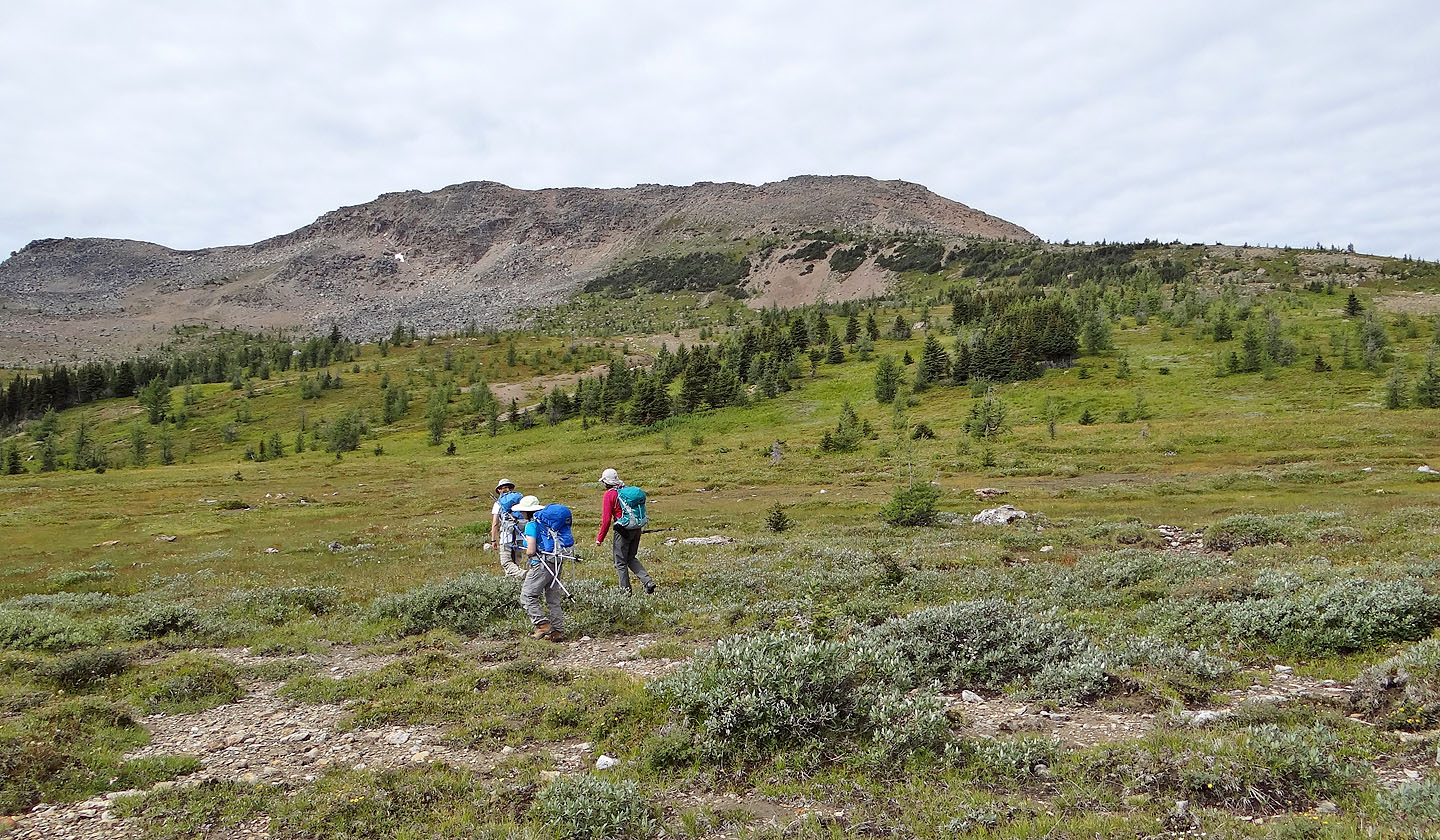 After crossing Twin Cairns Park Trail, we set off for the north end of Twin Cairns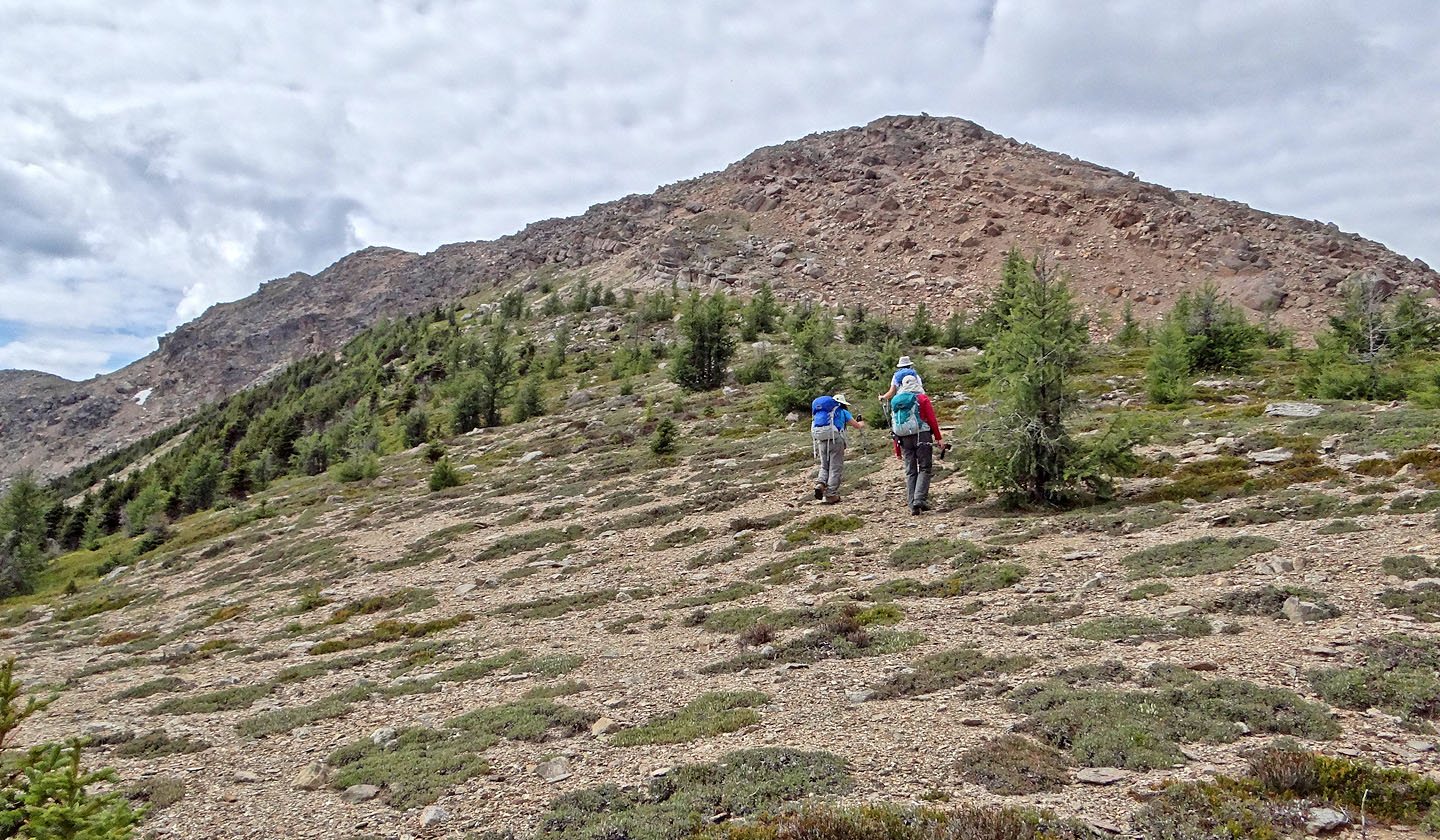 From the shoulder we headed to a ramp on the left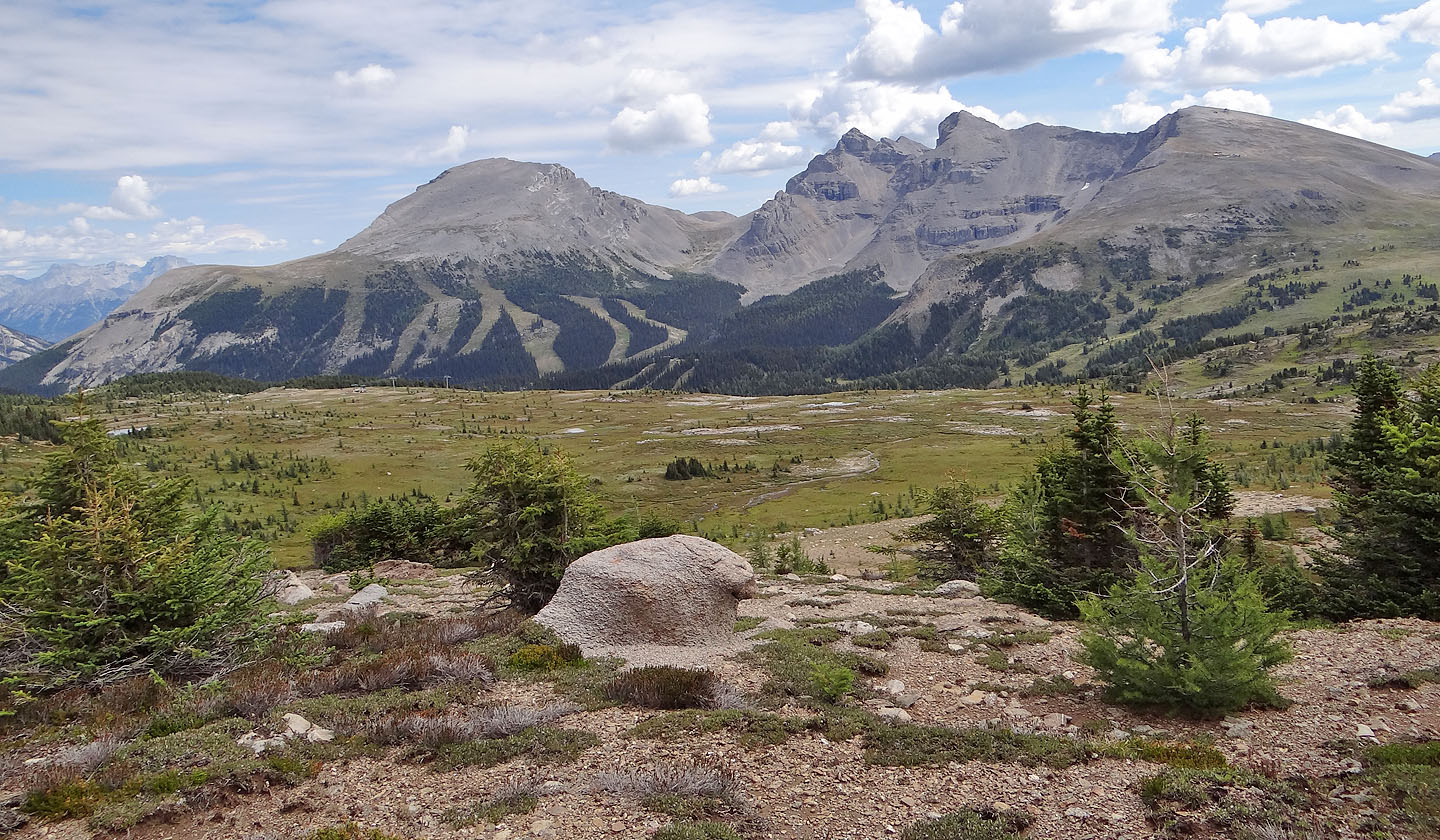 Looking back at Eagle and Howard Douglas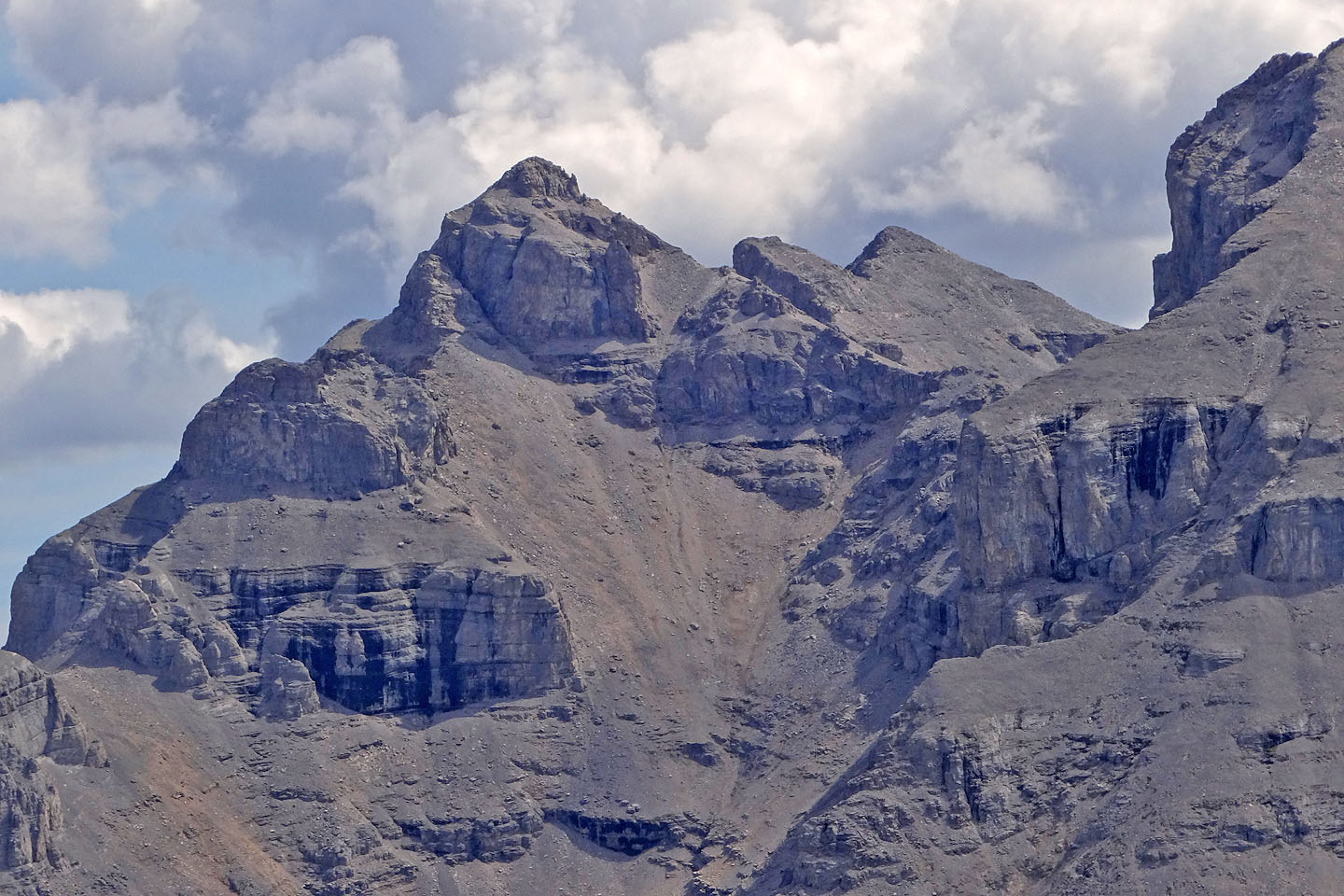 A close-up of Howard Douglas shows the extensive scree ascent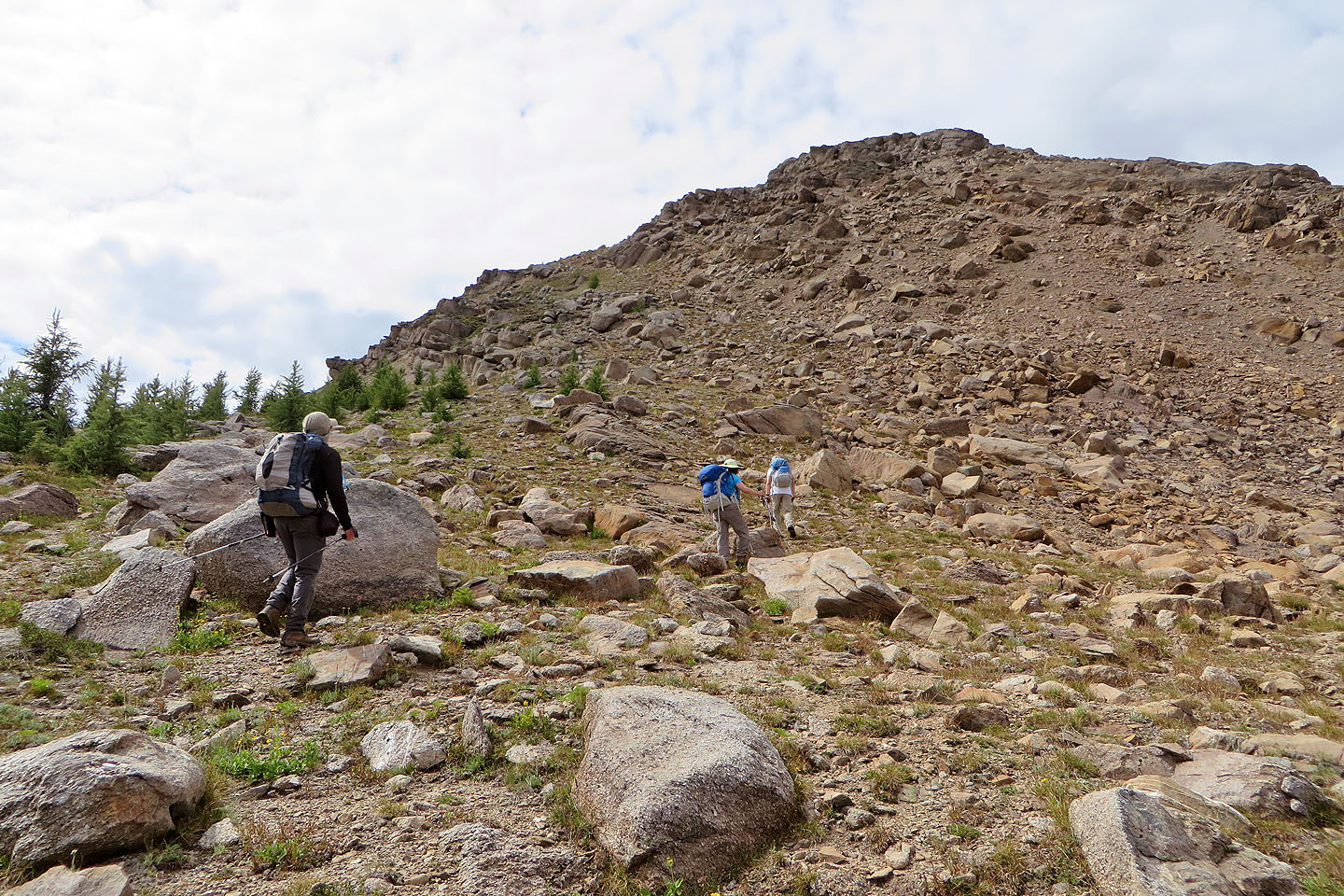 The ramp is an obvious way to gain the ridge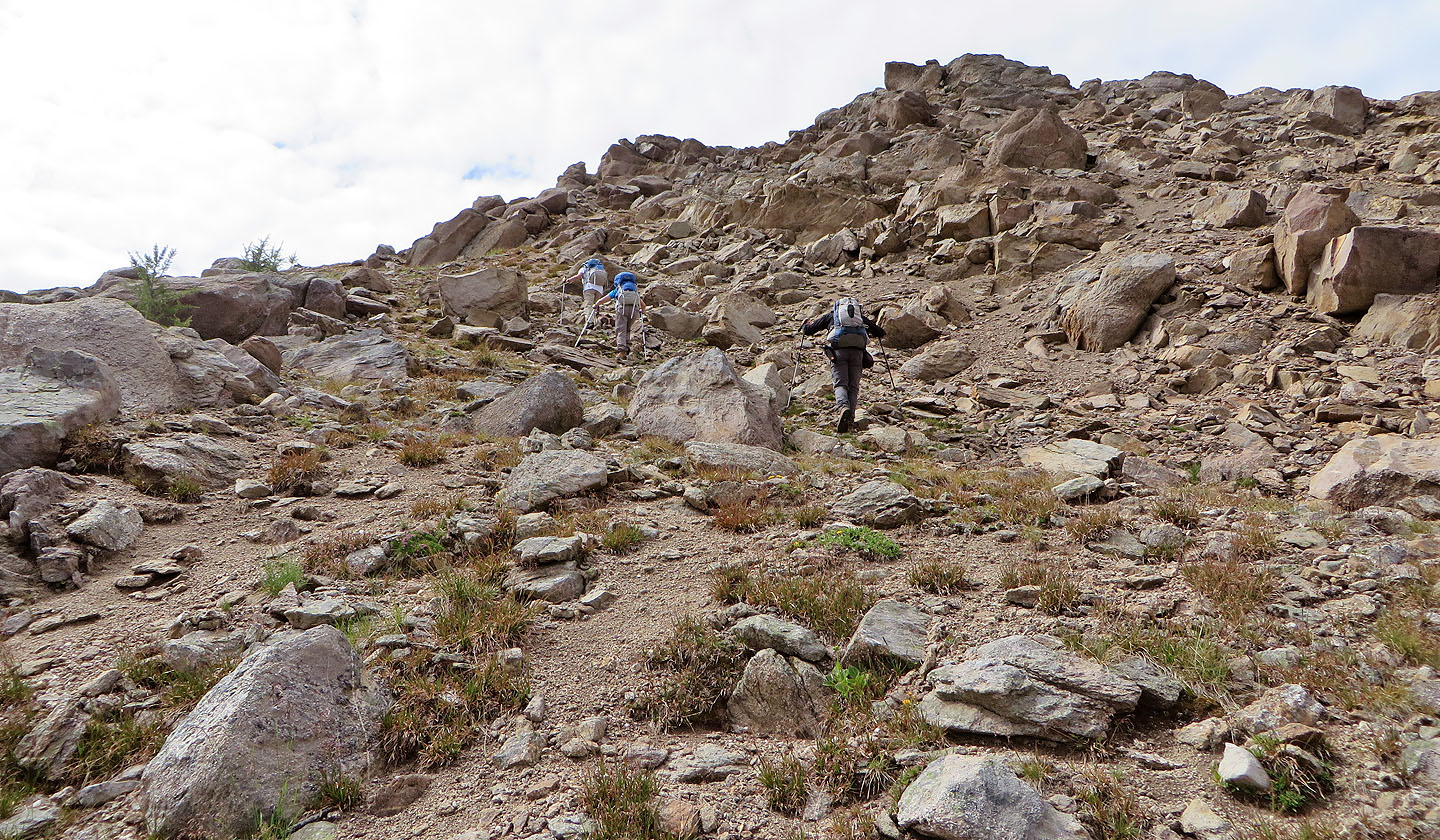 Hiking up the ramp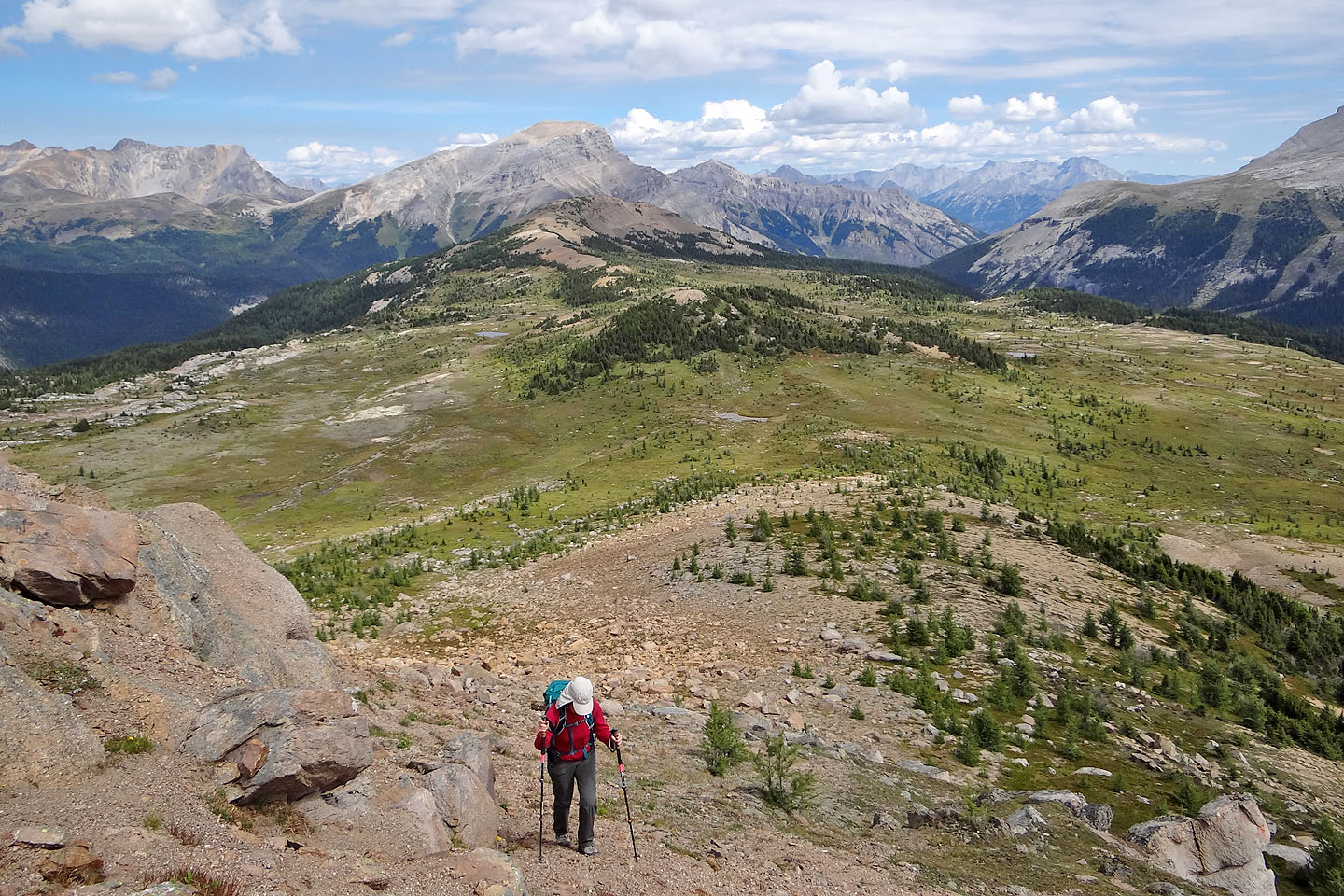 The view north includes Mount Bourgeau in the centre (mouse over for a close-up)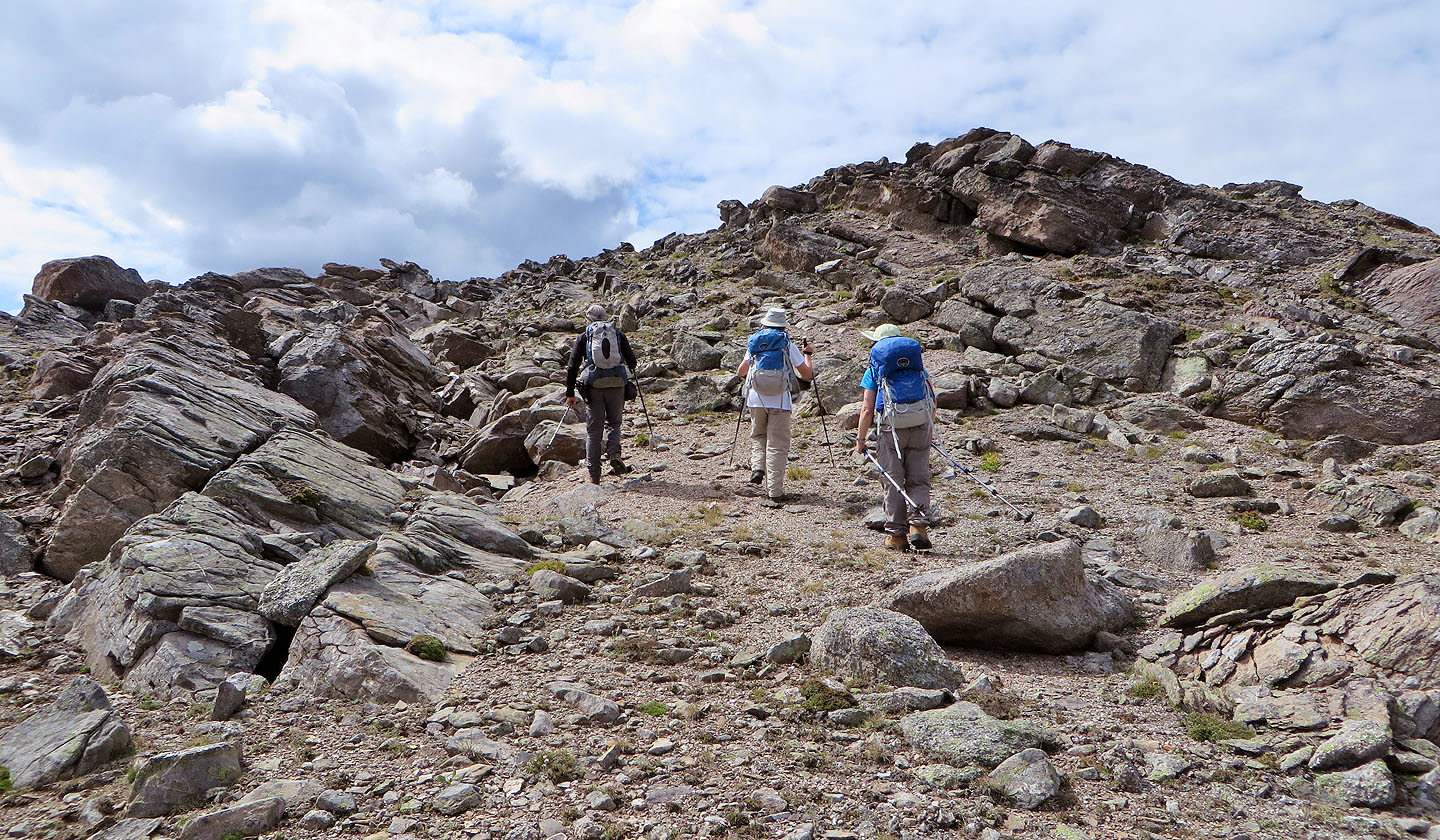 After reaching the ridge crest, it's still just a hike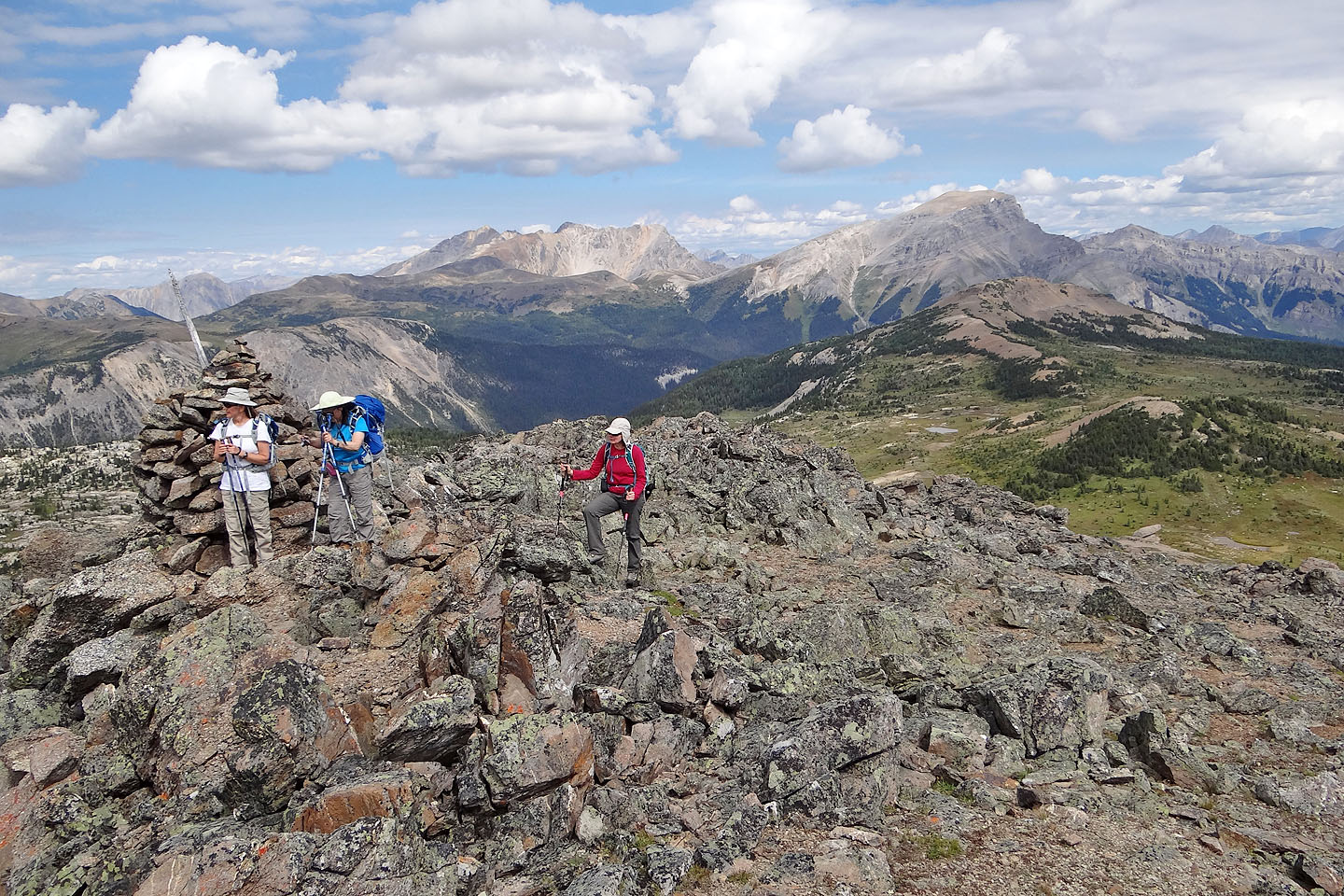 The huge cairn doesn't signify the summit. More likely, it's the spot where hikers turn back. It's the largest cairn we came across. (click for a larger image)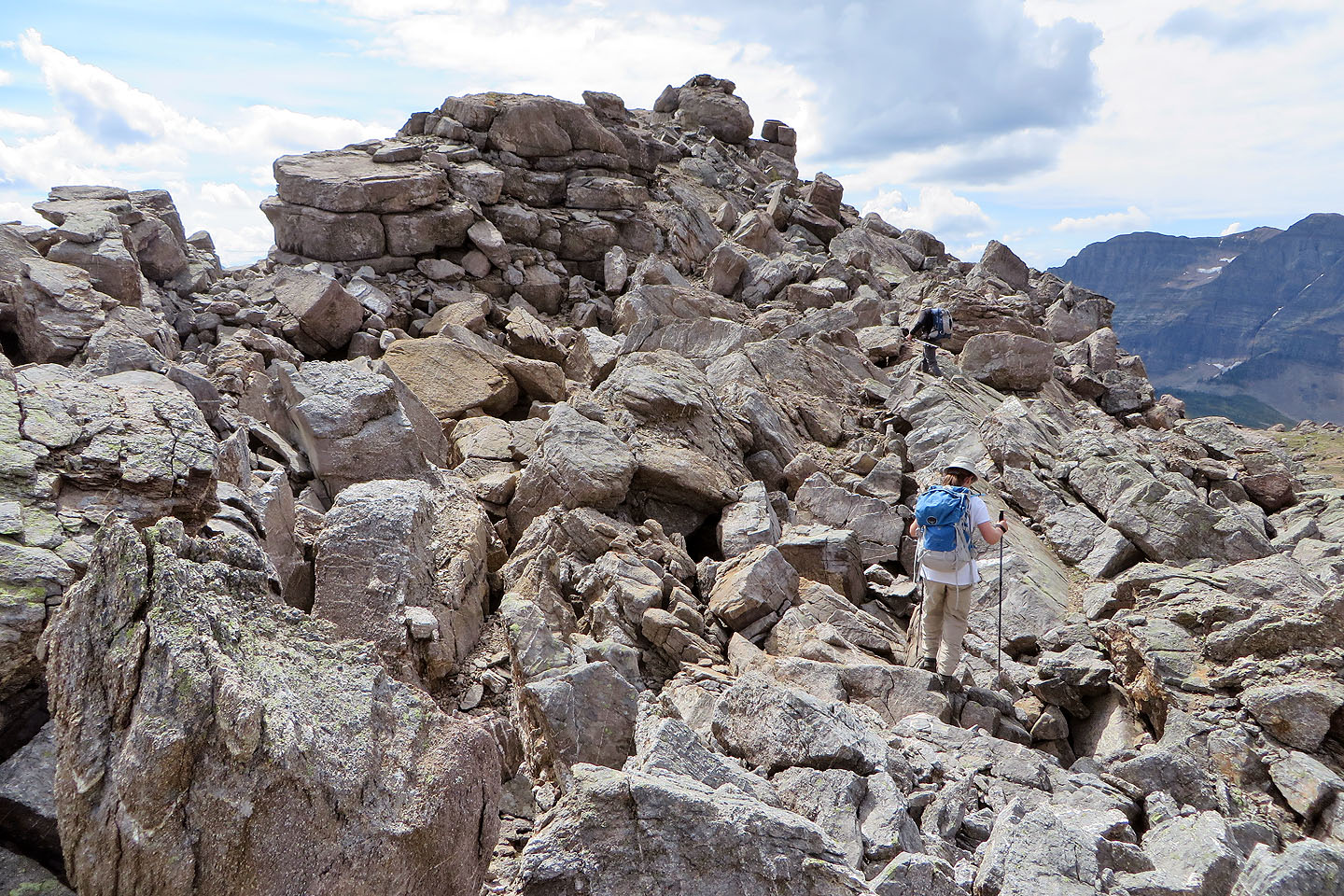 After the first cairn, we made our way along a boulder-strewn ridge section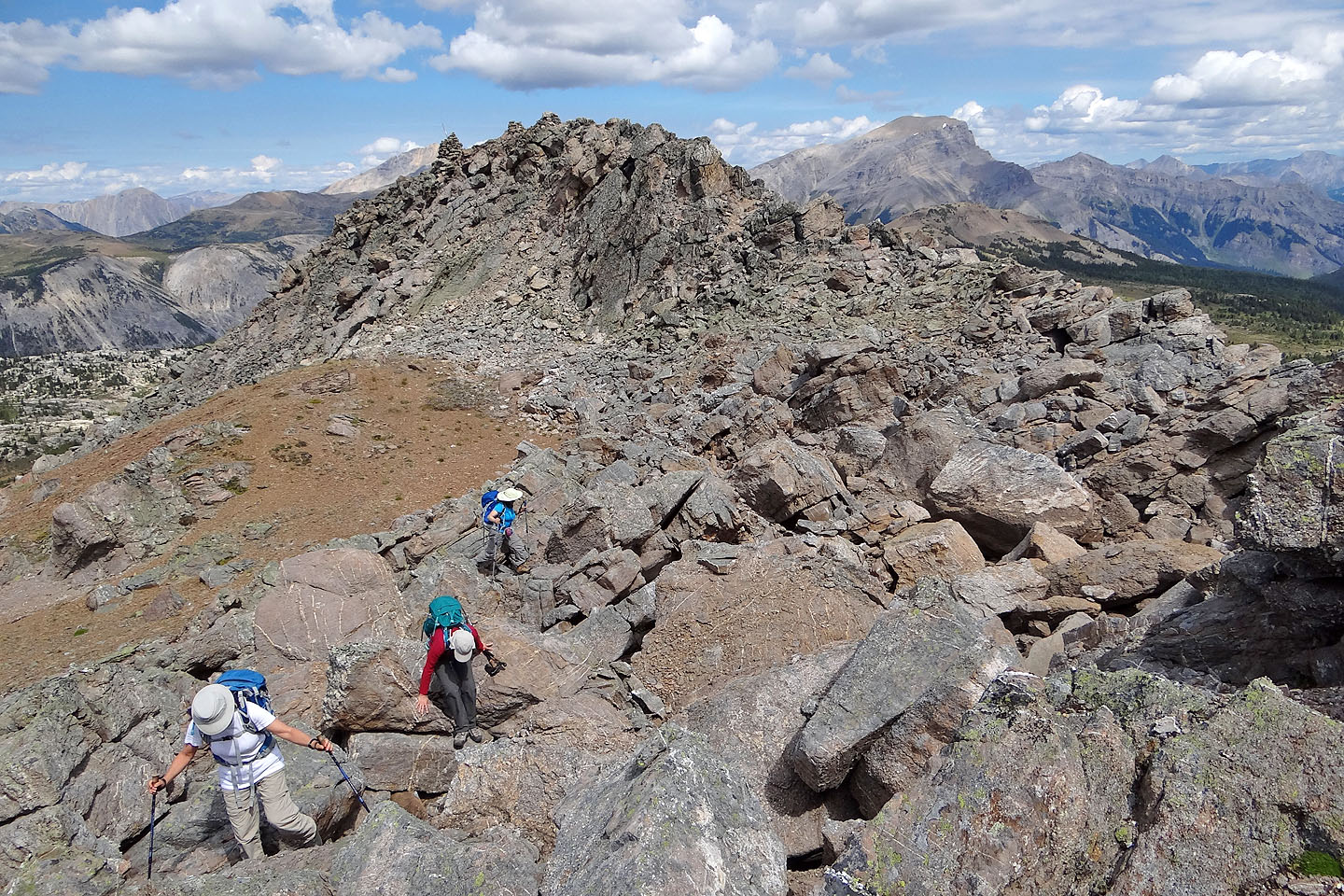 Looking back at the first cairn (click for a larger image)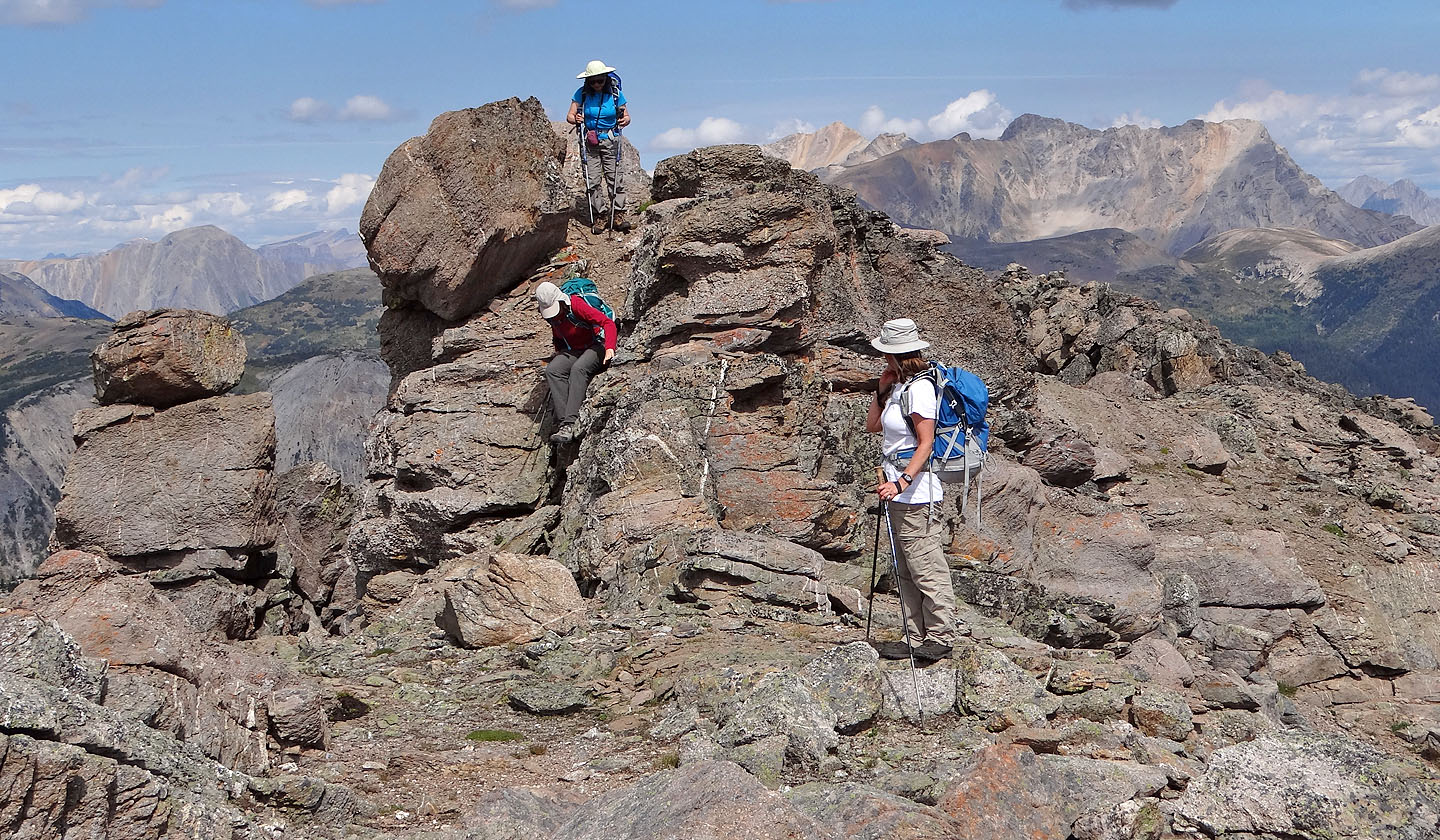 Little scrambling bits added interest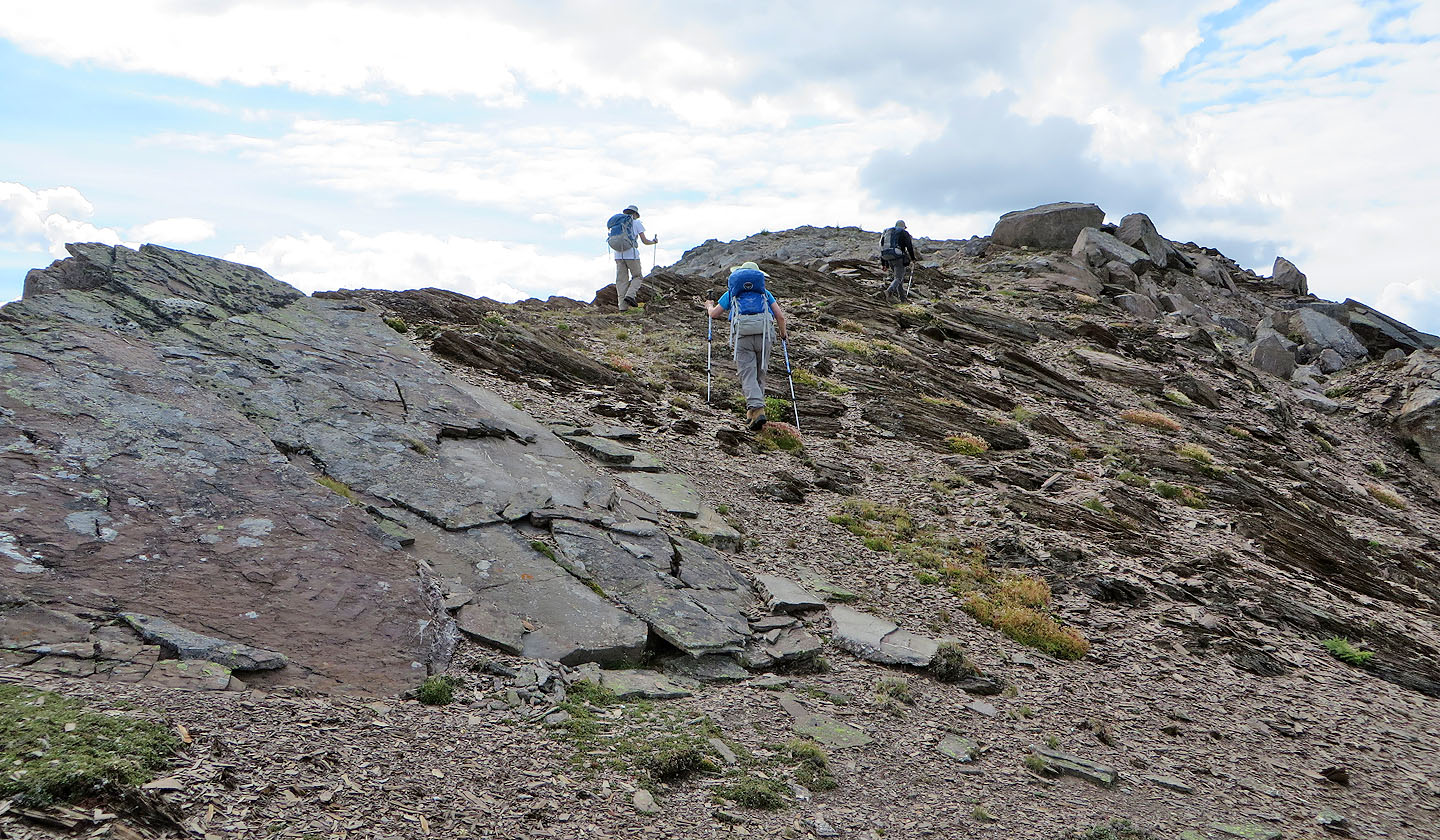 Heading to the summit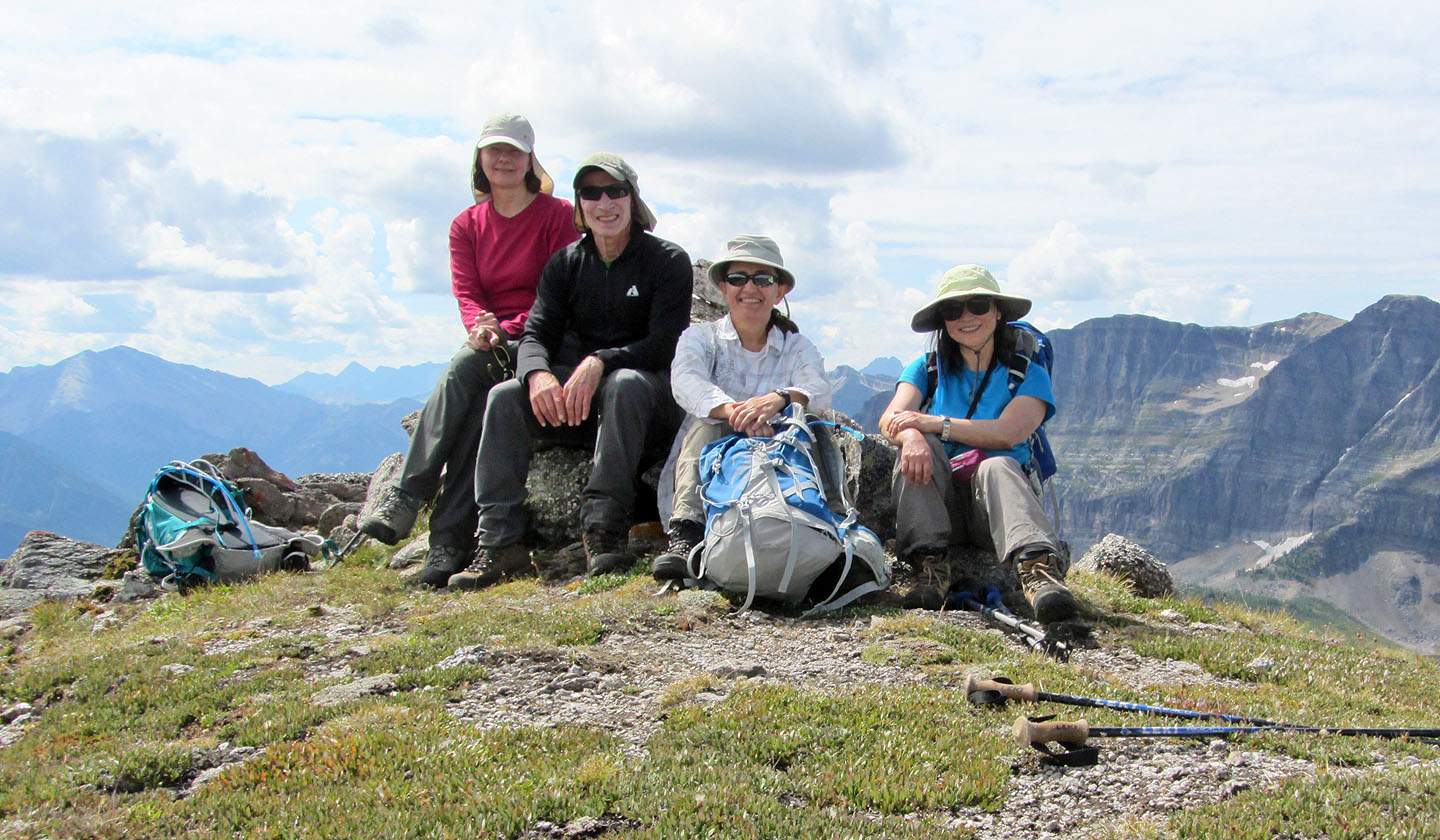 Dinah, me, Zora and Becky sitting in front of the summit cairn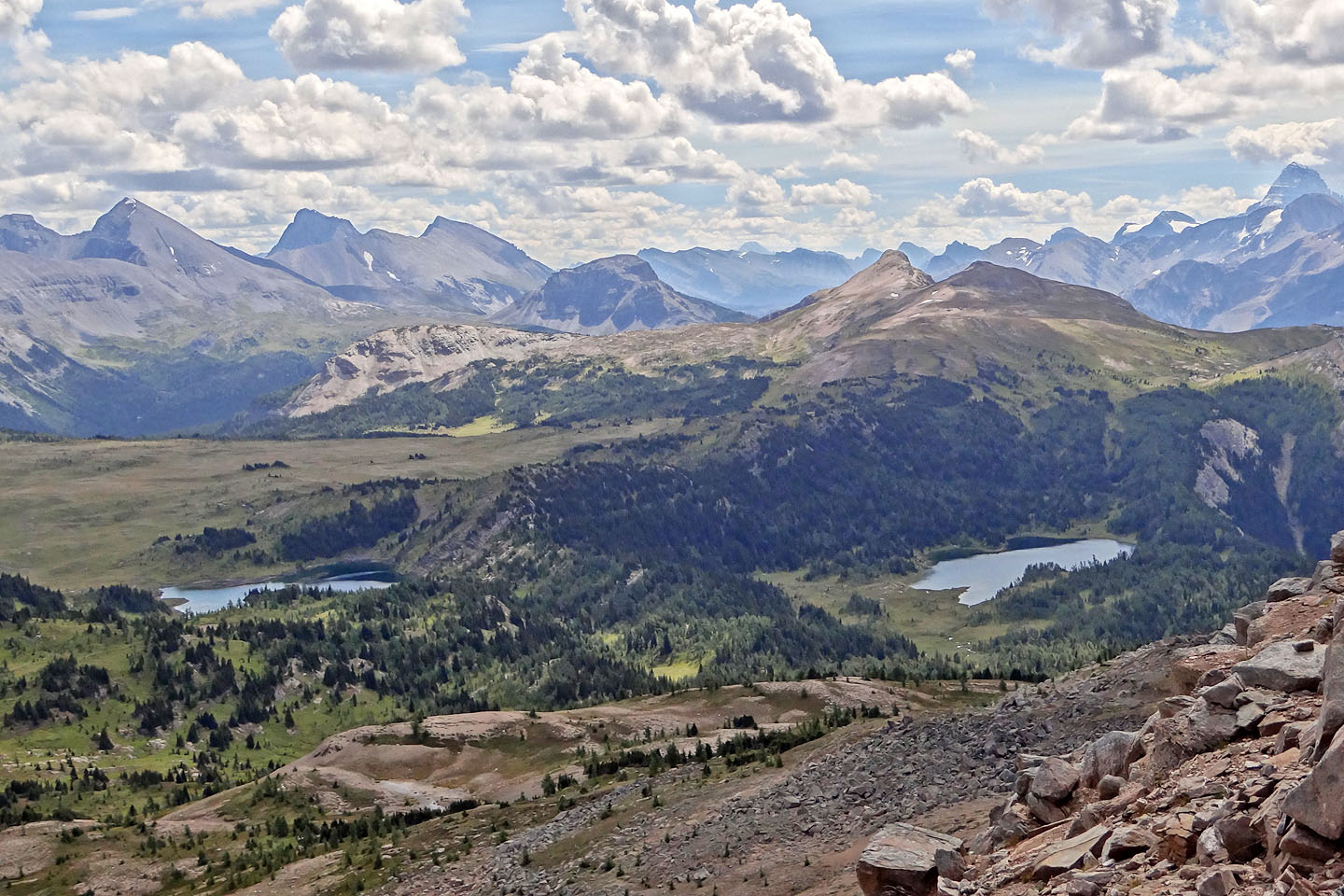 On the left, Fatigue Mountain appears above Rock Isle Lake, while right, Quartz Hill rises above Larix Lake. Citadel Peak is in the centre. Mount Assiniboine is far right. (click for a larger image)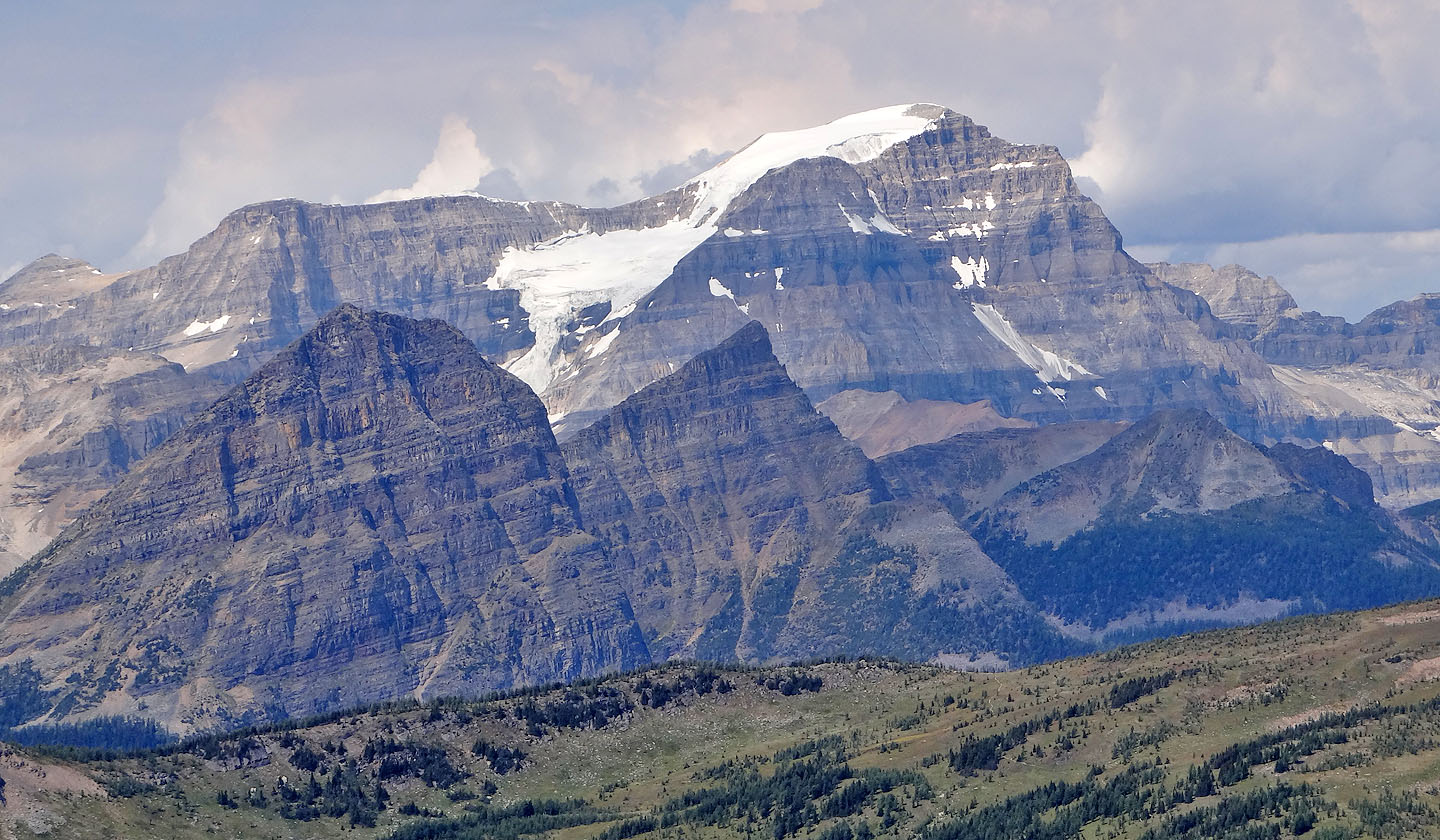 Mount Ball

We continued along the ridge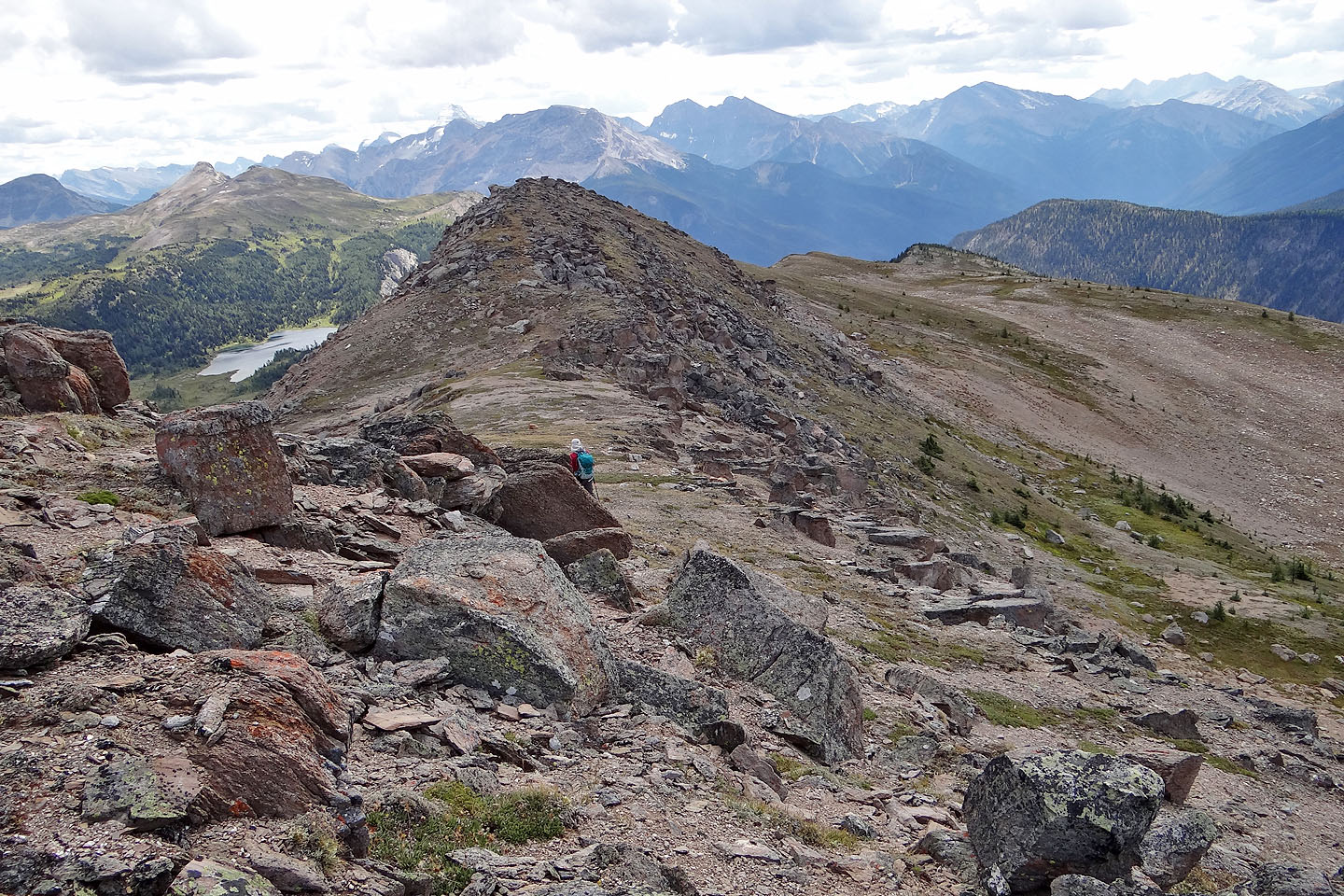 We have one more bump to climb over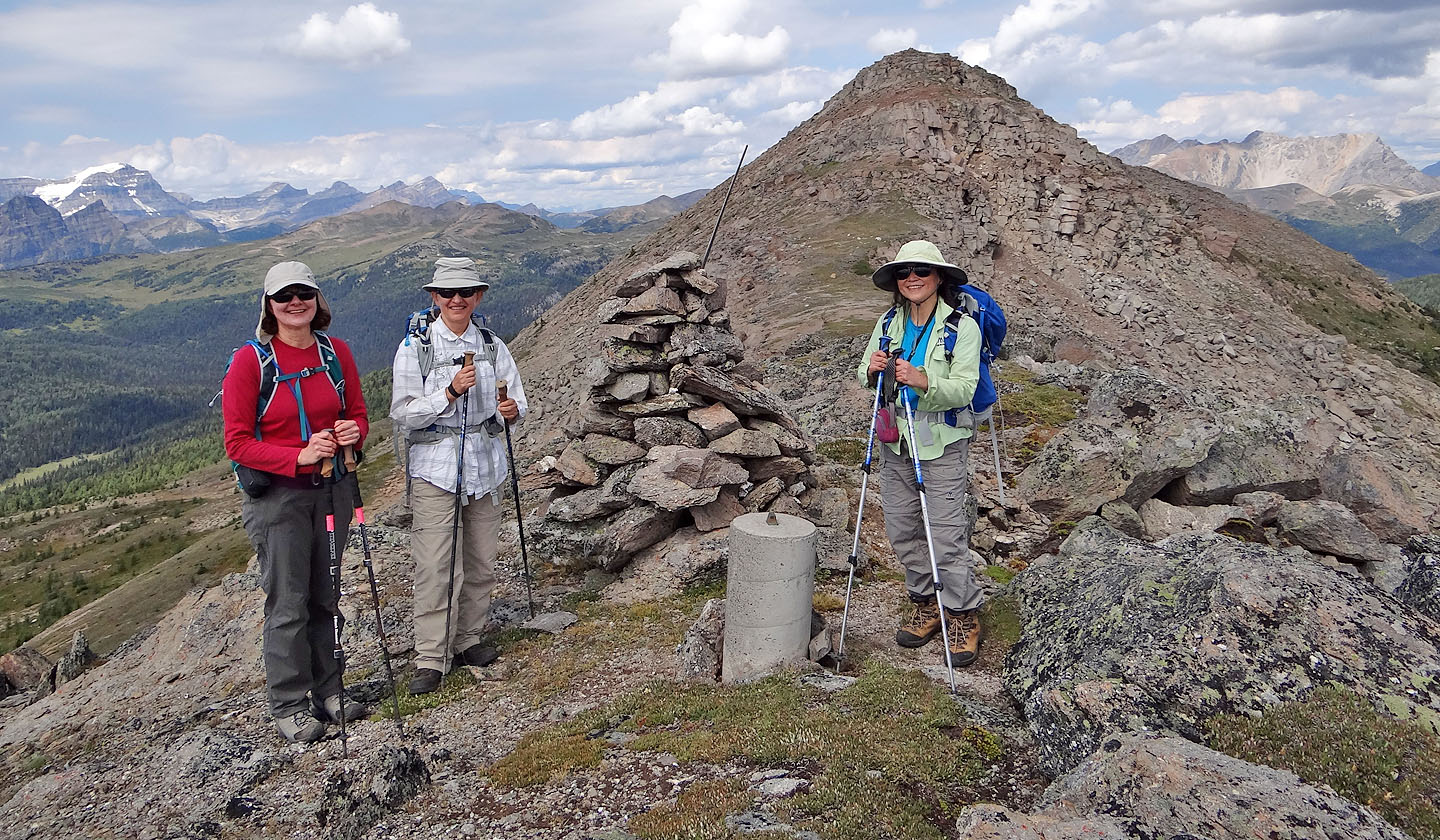 On the bump, we found a cairn and a boundary marker: Dinah and Zora stand in B.C. while Becky is in Alberta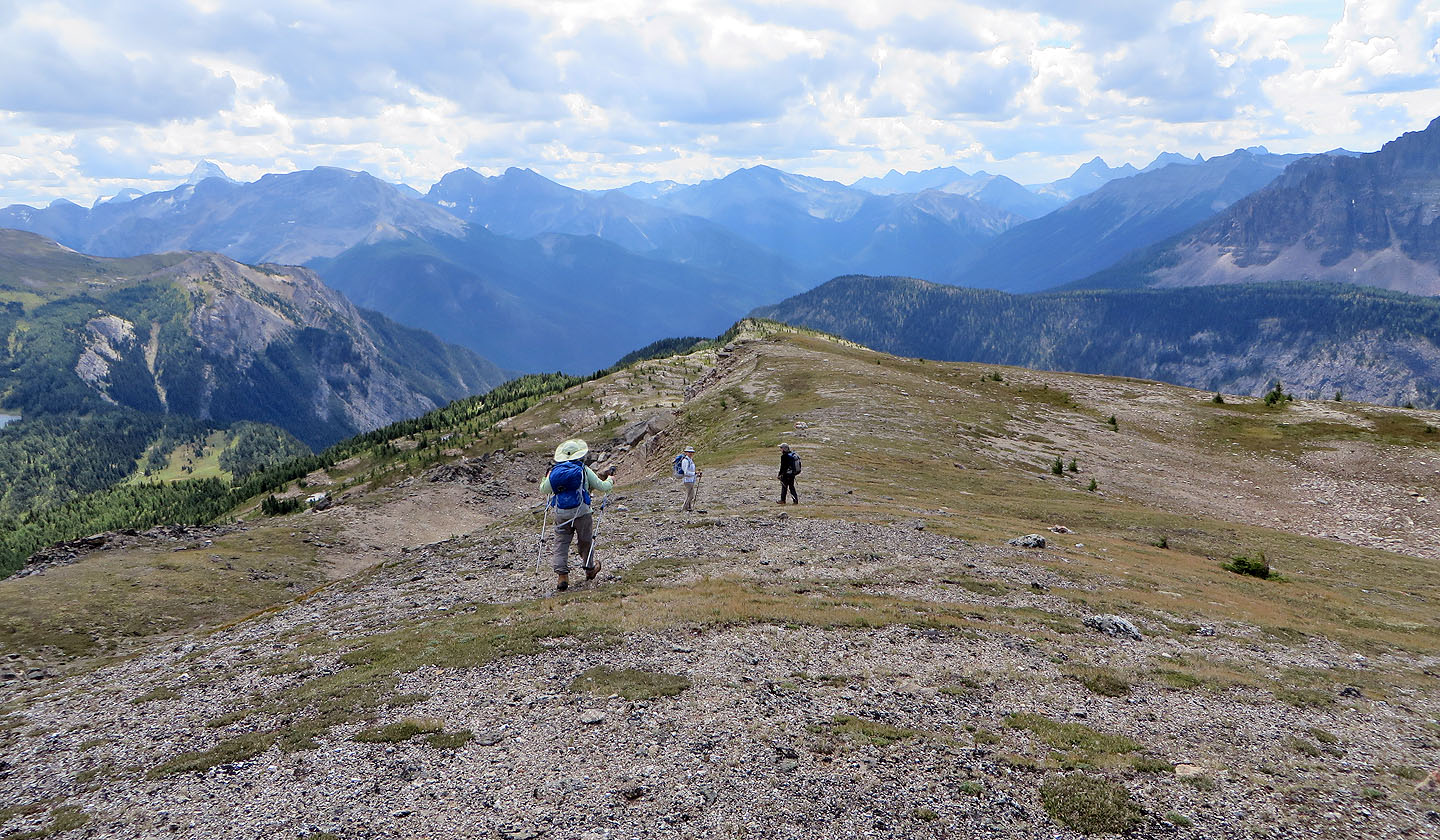 When the ridge petered out, we dropped down the left side

We had to work our way through the boulders on our left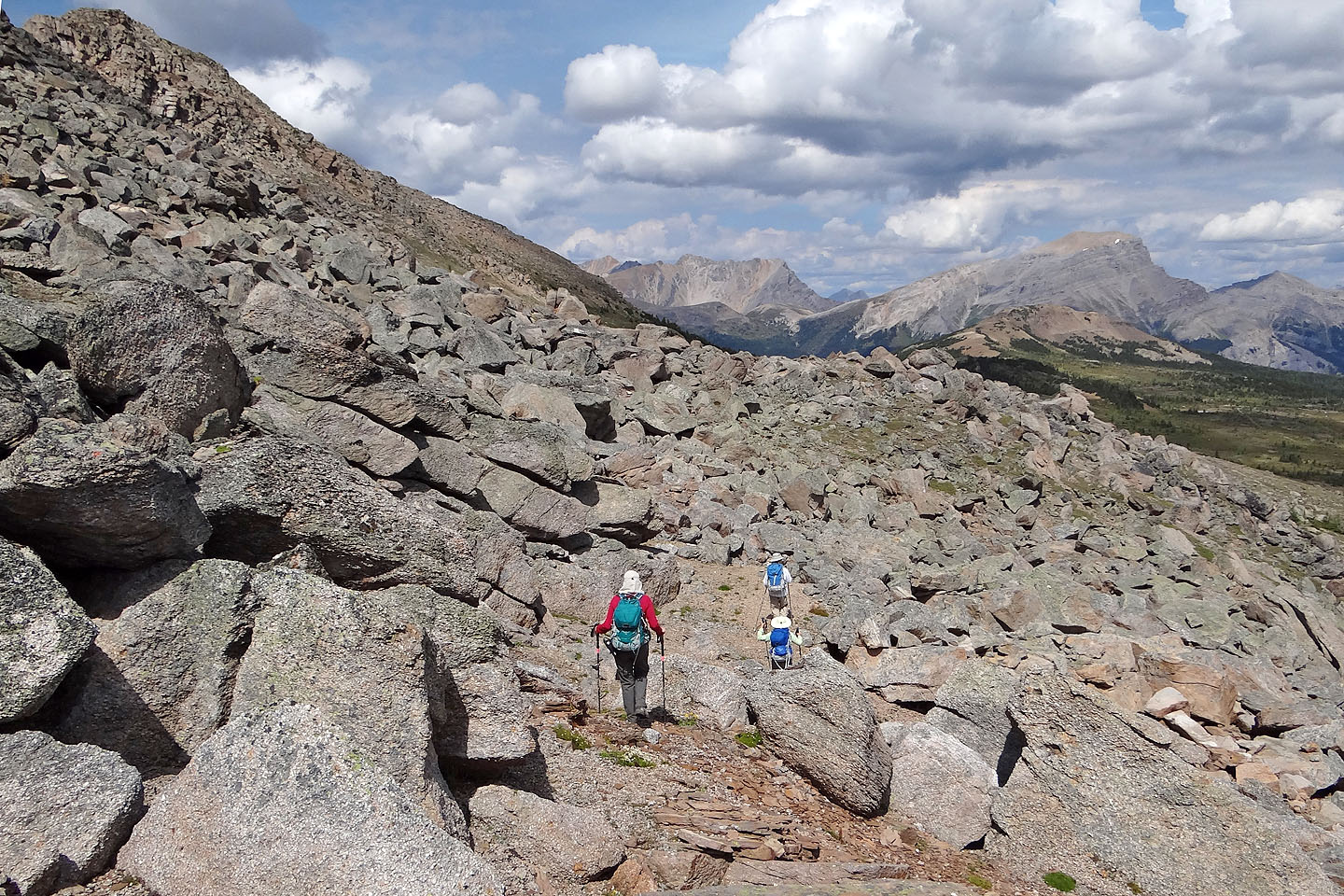 We easily made our way around or over the boulders

Heading back to the meadows where we'll hook up with our ascent route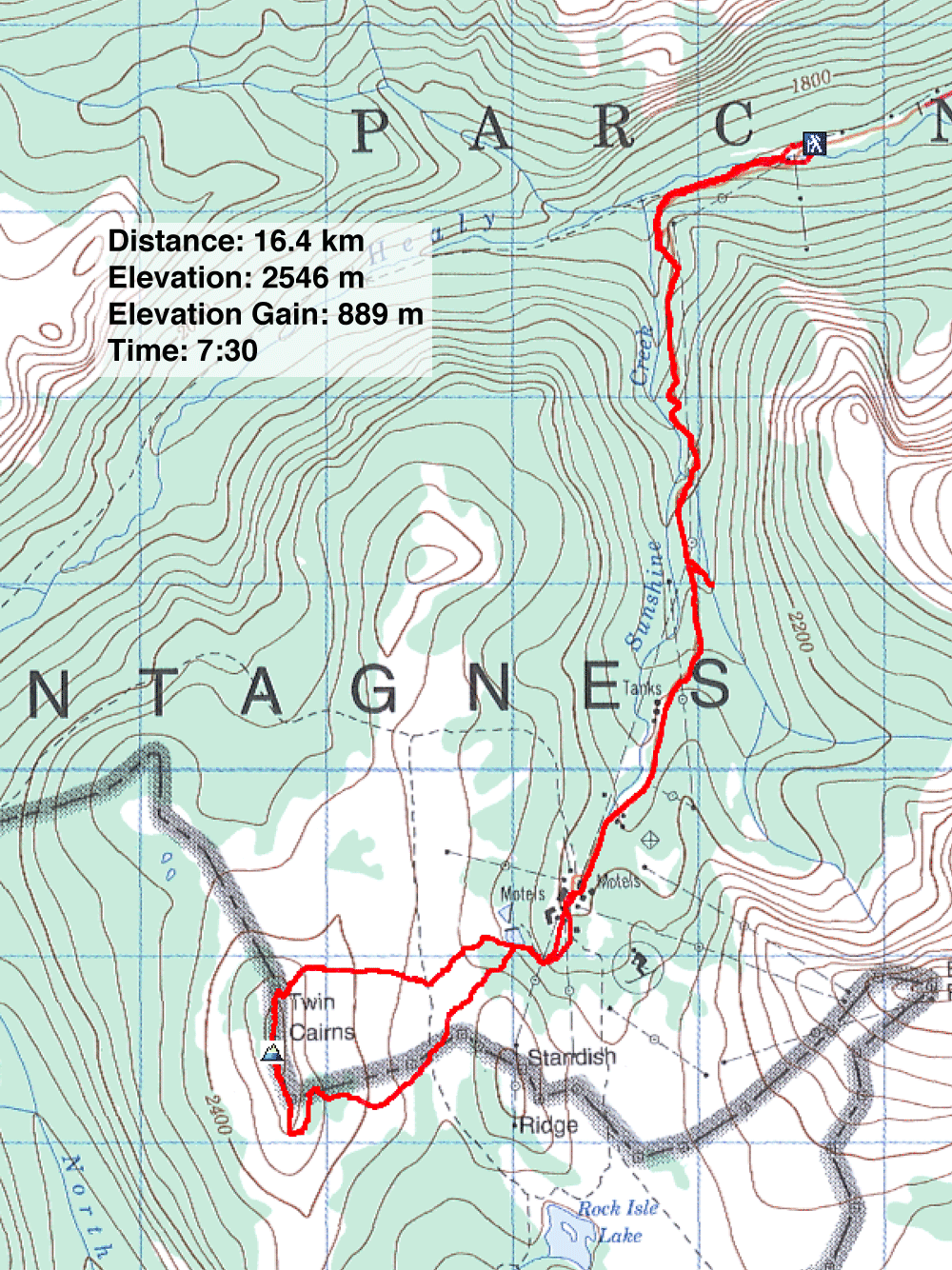 82 O/4 Banff