bobspirko.ca | Home | Canada Trips | US Trips | Hiking | Snowshoeing | MAP | ABOUT

Boundary Peak
Jasper National Park, Alberta
August 20, 2016
If the number of Internet postings are any indication of a peak's popularity, then Boundary Peak hits the mark, and for a good reason. This peak is little more than a hike, most of it on a trail, yet it provides magnificent alpine views, including a ringside seat to glaciated Mount Athabasca. It's enough to justify the 3.5 hour drive from Calgary.
The trip begins at the parking lot across the highway from the Columbia Icefields visitor centre. The trailhead is a kilometre up an access road. The road is closed to public vehicles, but you can walk up it, mindful of buses constantly going up and down. To save time, not to mention pavement pounding, Dinah and I took a shortcut across the meadow to the road. Just before the road crosses a culvert, we found the trail. It starts up an open slope and leads to the base of the northwest spur of Boundary Peak. From there one can ascend the spur or hike up the meadow on the left. We climbed the spur, but took the meadow on our descent.
From the broad spur, we studied the west slope of Boundary Peak ahead of us. Two steep trails are etched into the scree slope. The one on our left was obvious but a bit out of our way. The one ahead was less distinct, but once we started up it, we had little trouble following it. We slogged our way to the ridge. Turning right, we took the crest trail and easily scrambled up two metres of rock to reach the spacious summit of Boundary Peak.
On the top, we met two young guys relaxing, Tao and Peter. They're from Comox Valley on Vancouver Island, and are on an impressive bicycle tour. Peter started from Anchorage, Alaska, and joined Tao in Smithers, B.C. Cycling south, they are stopping along the way to take in hikes. Boundary Peak is just one of a few. They plan to cycle all the way back home.
After sharing some stories with them, not to mention a few laughs, Tao and Peter headed back down. Dinah and I soon followed, retracing our steps down the west slope. At the base of the slope, we turned right to reach the meadow. We tried following trails to the meadow, but they had the annoying habit of disappearing. However, we reached the meadow and made our way back to our car.
As we expected, the Icefields Parkway was busy, sightseers and lumbering RVs slowed traffic, but at least we didn't have to bike back home.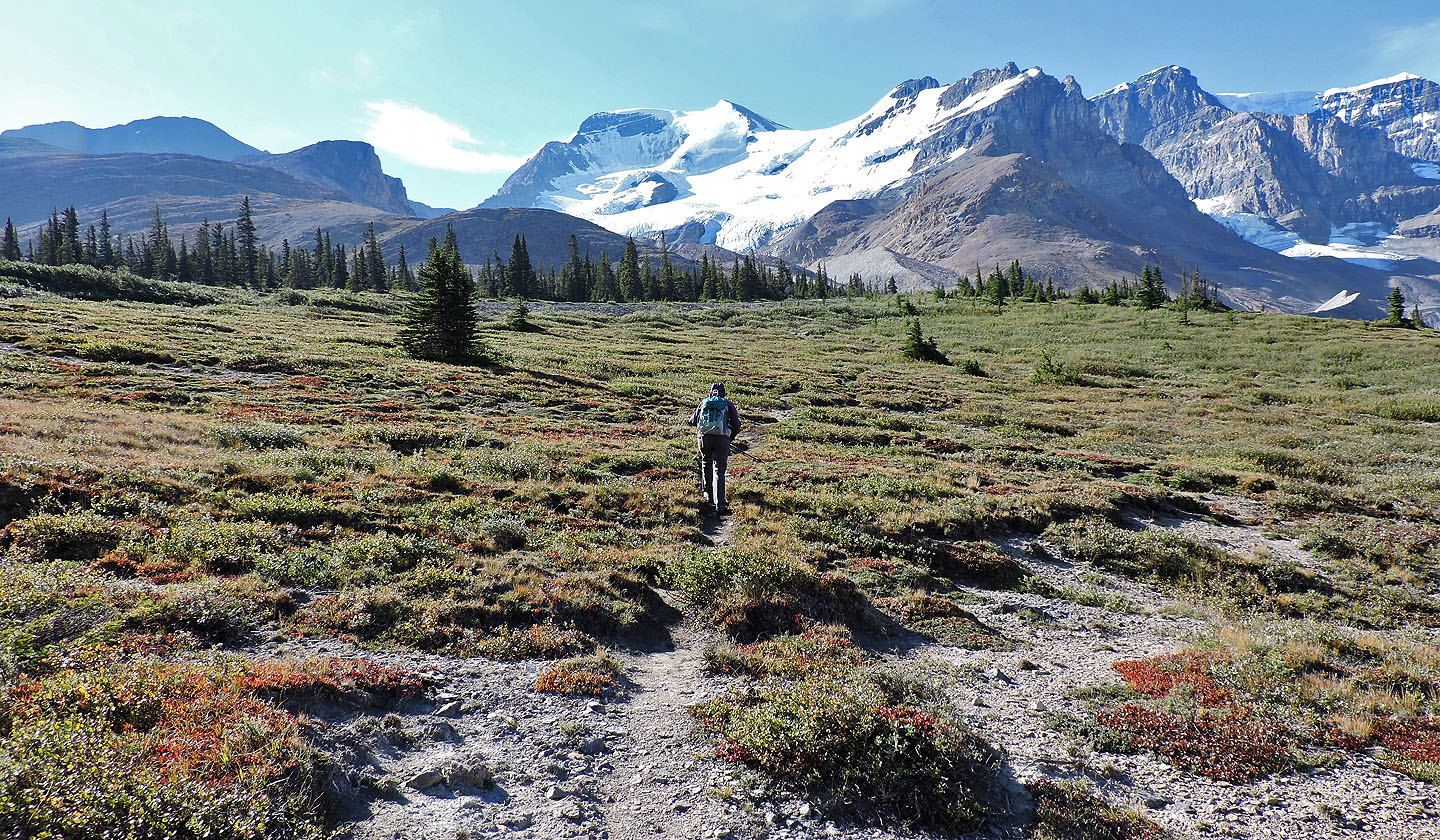 Taking the shortcut to the road. Boundary Peak on the left.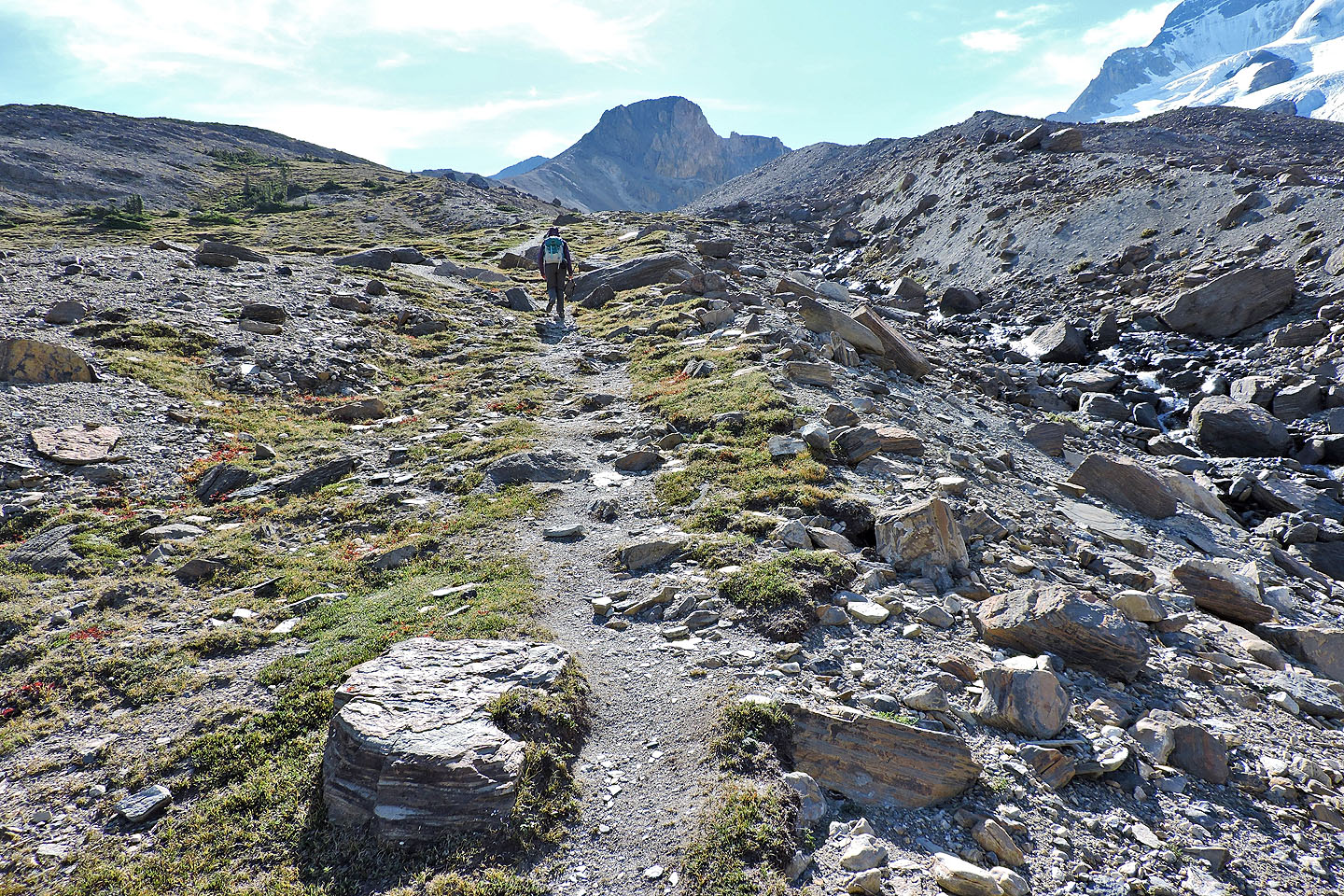 On the trail heading to the northwest spur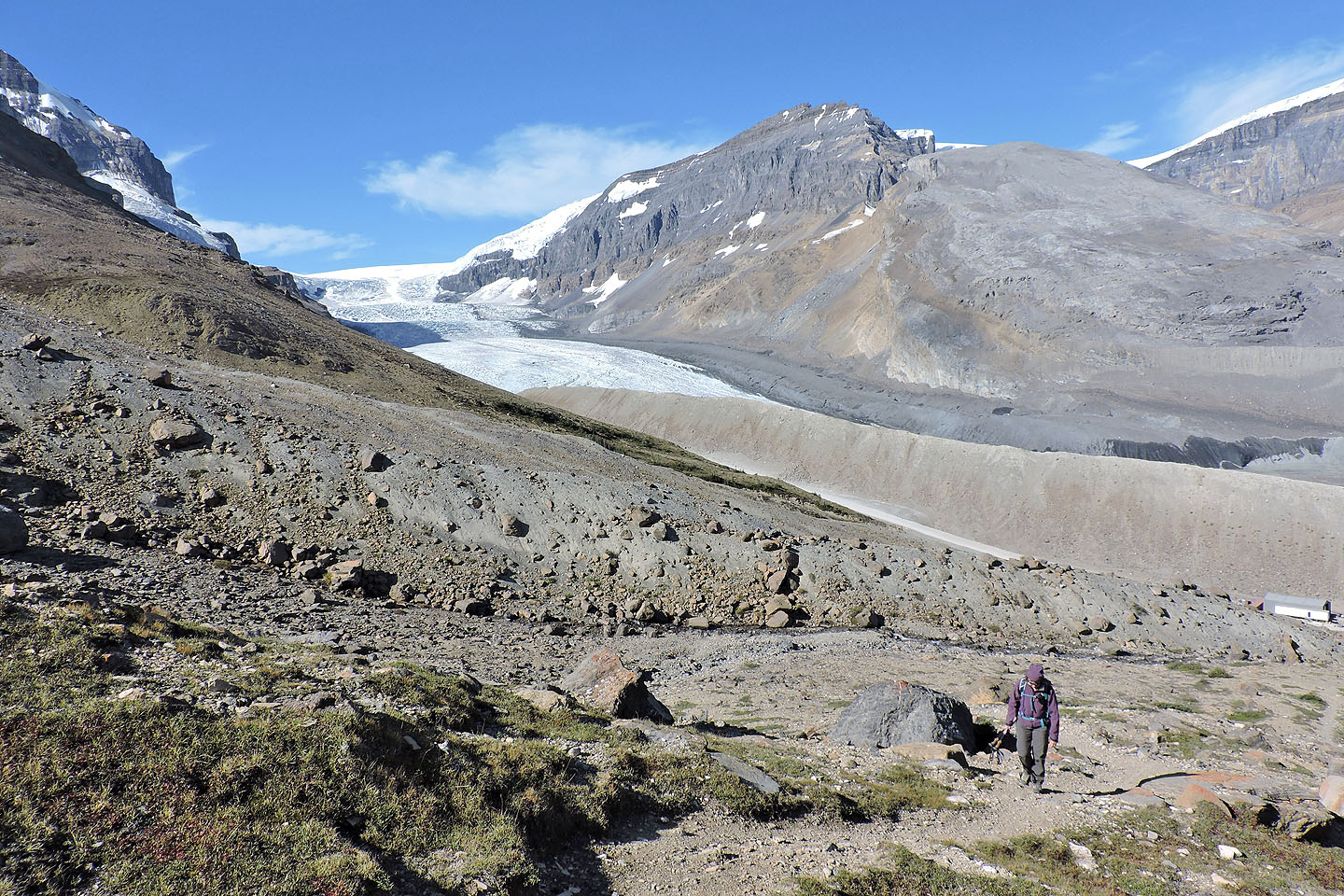 Athabasca Glacier in the background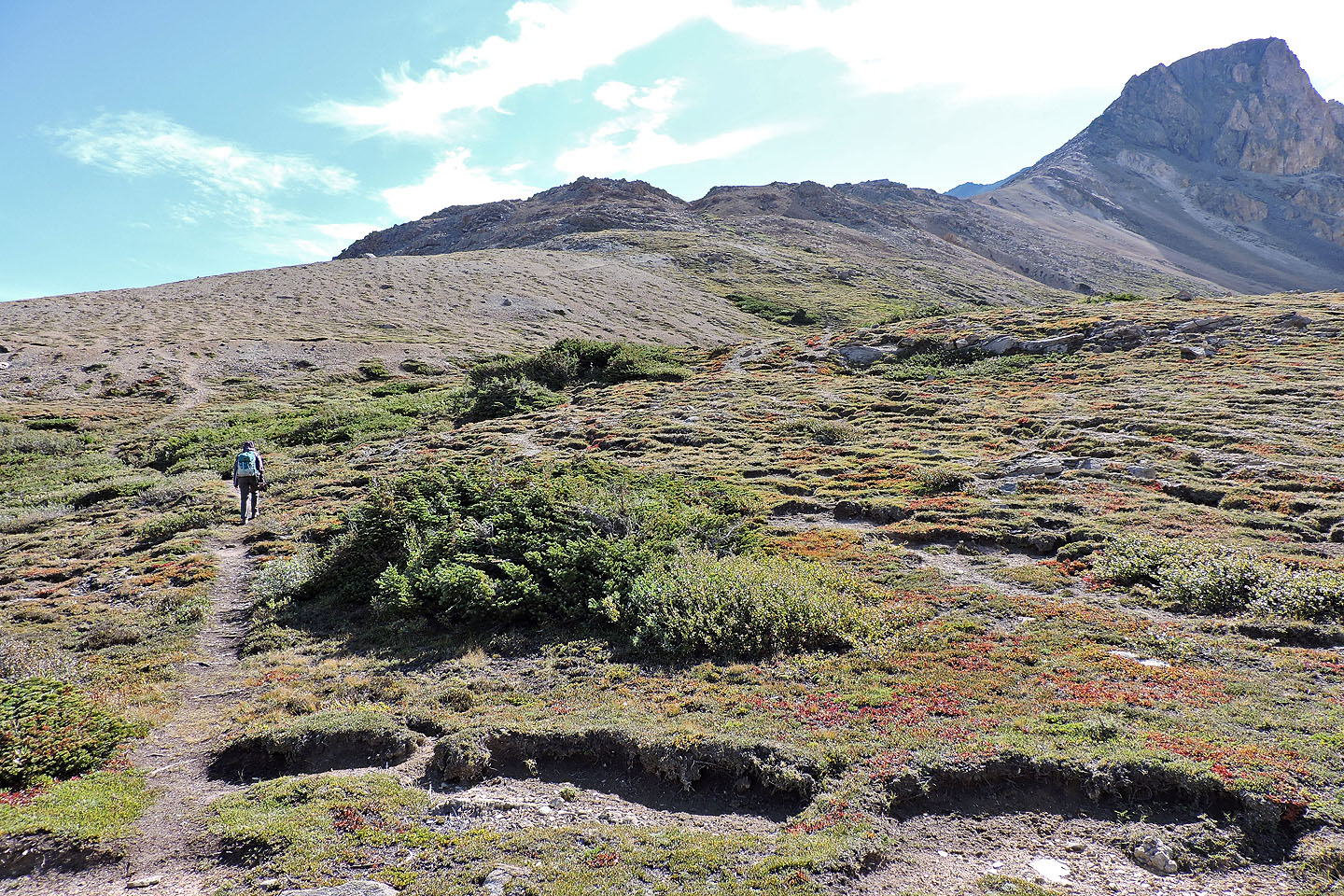 The trail follows the low ridge ahead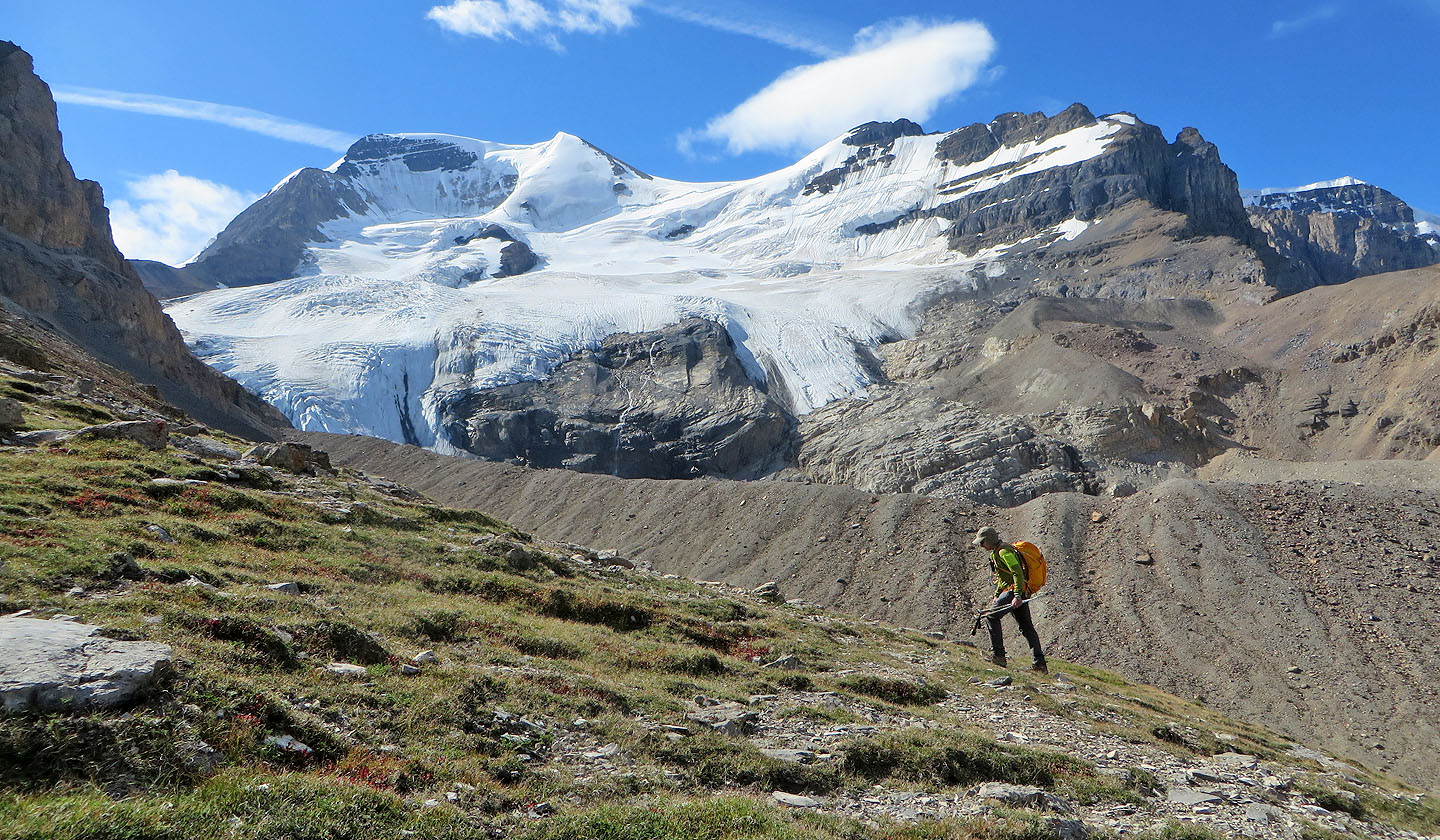 Mount Athabasca fills the view west (click for a closer look)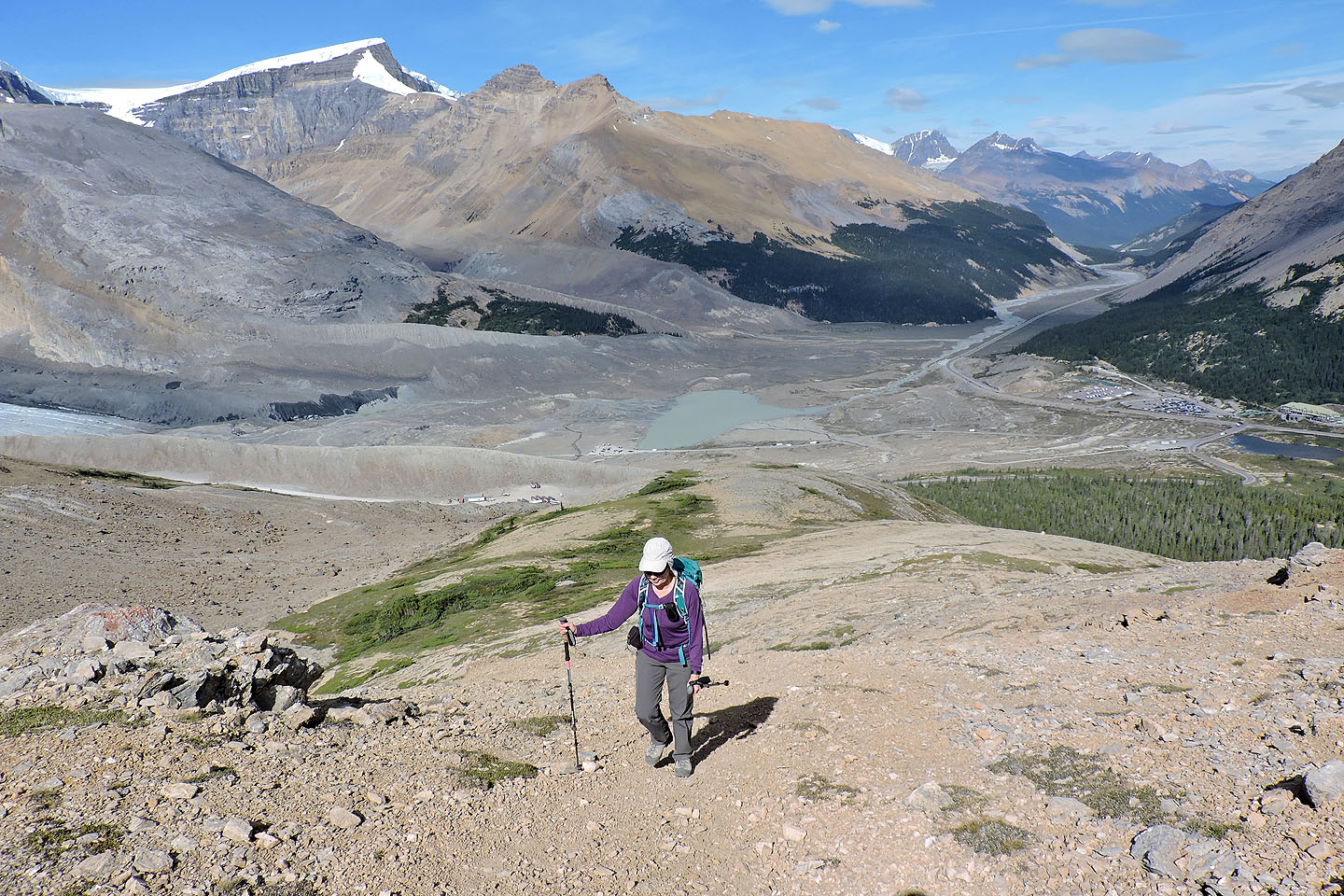 Looking back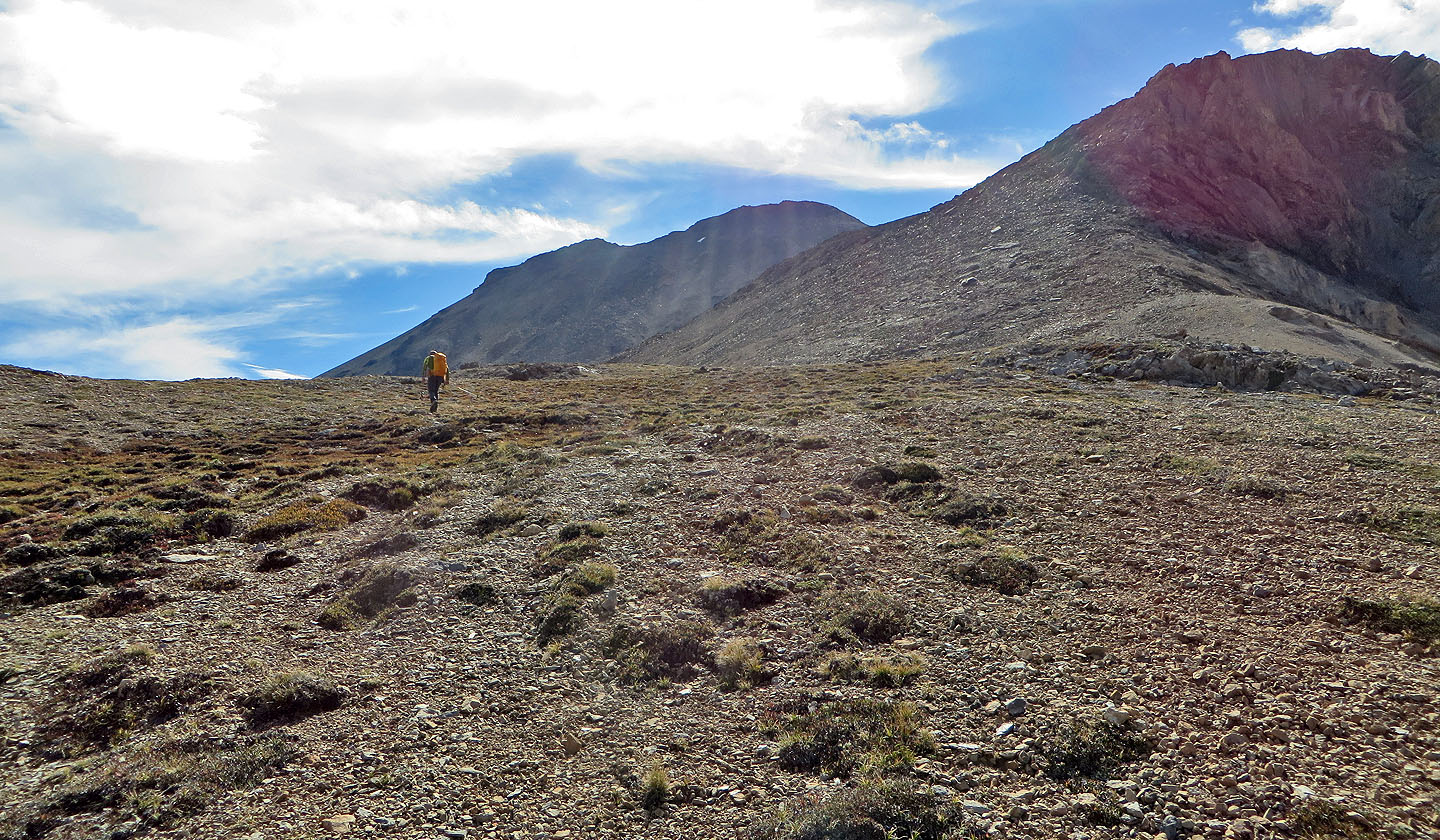 We climbed the spur (right) but used the meadow on our descent. The summit is in the background.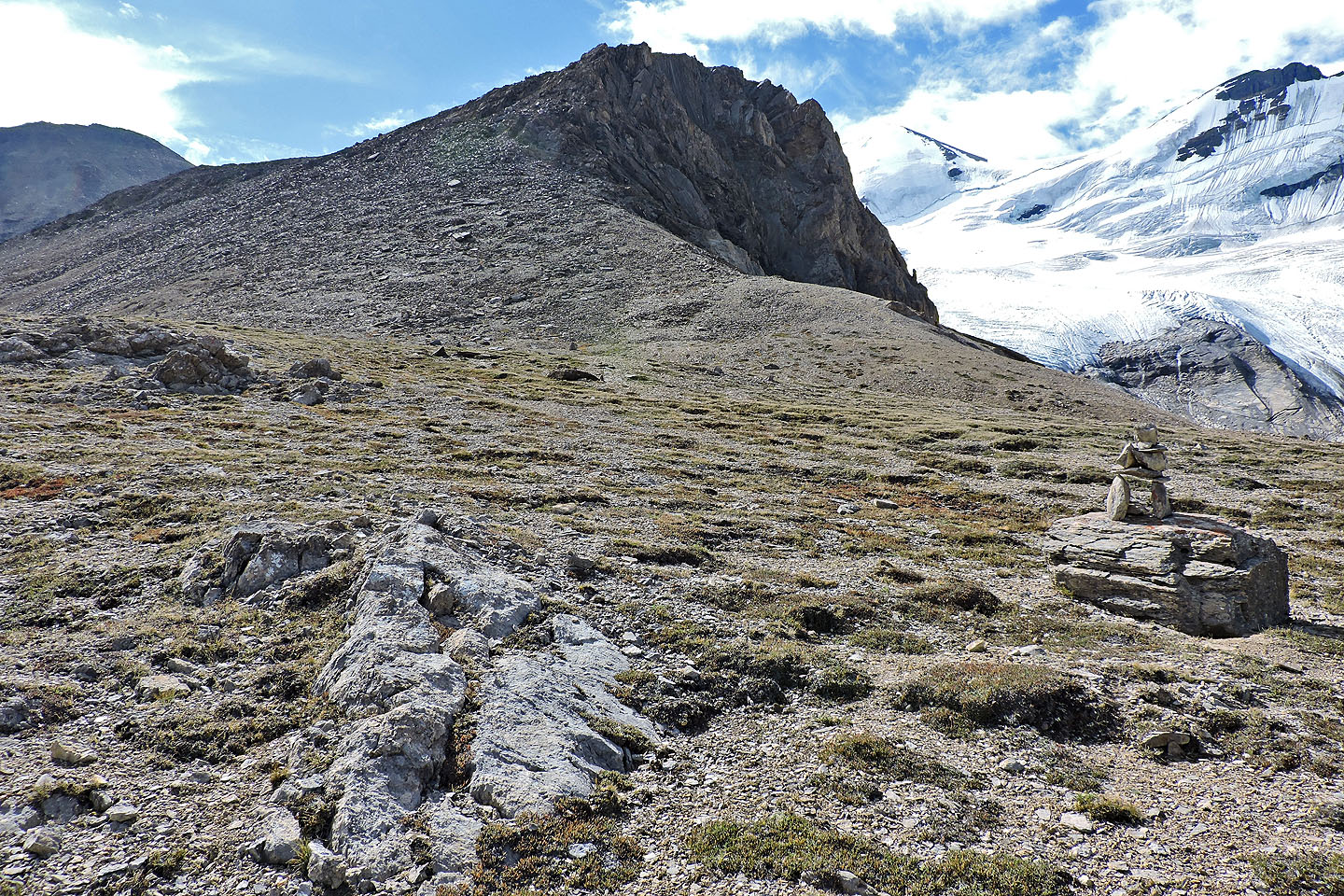 The spur is easily ascended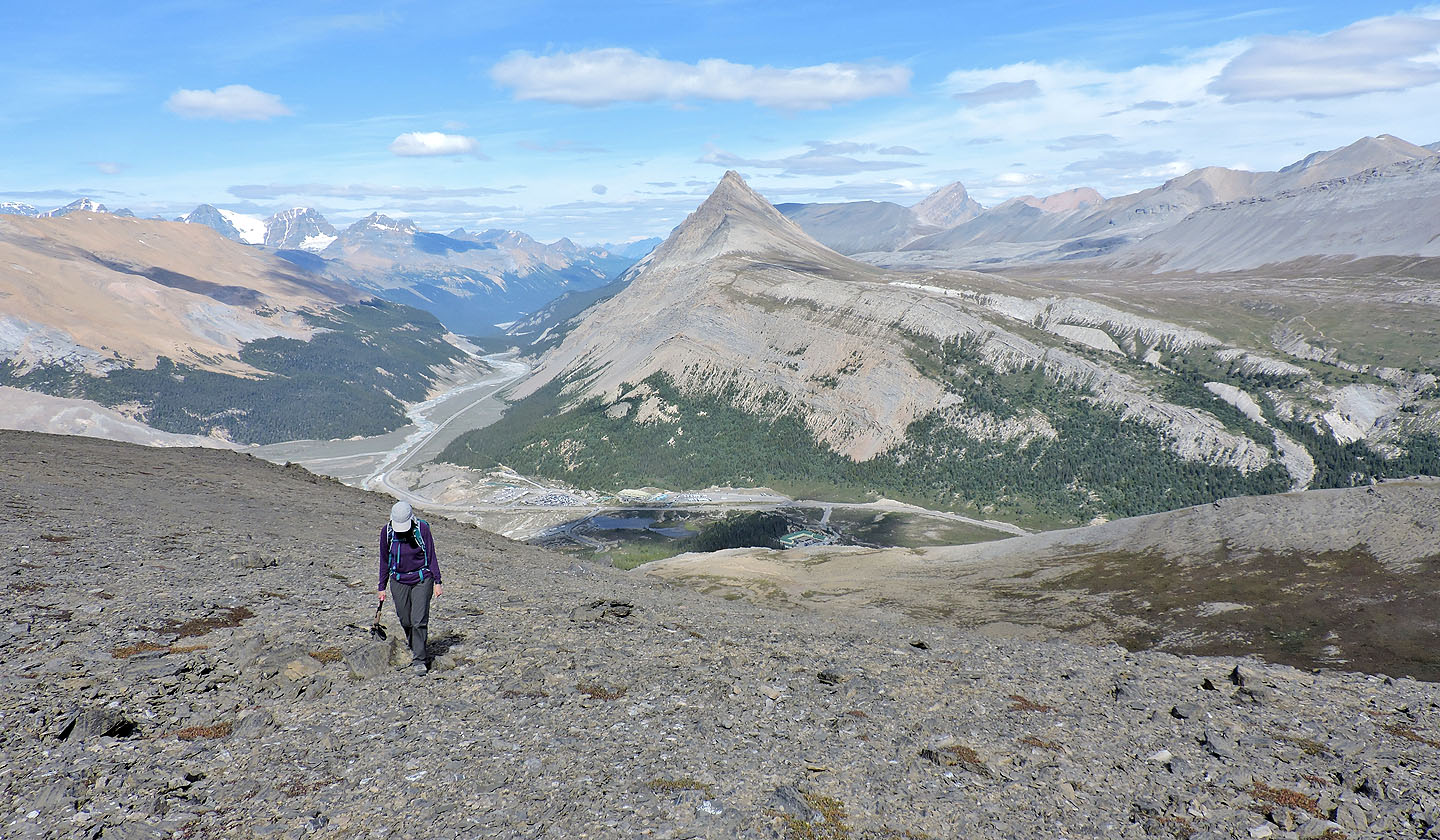 On the spur looking back at Mount Wilcox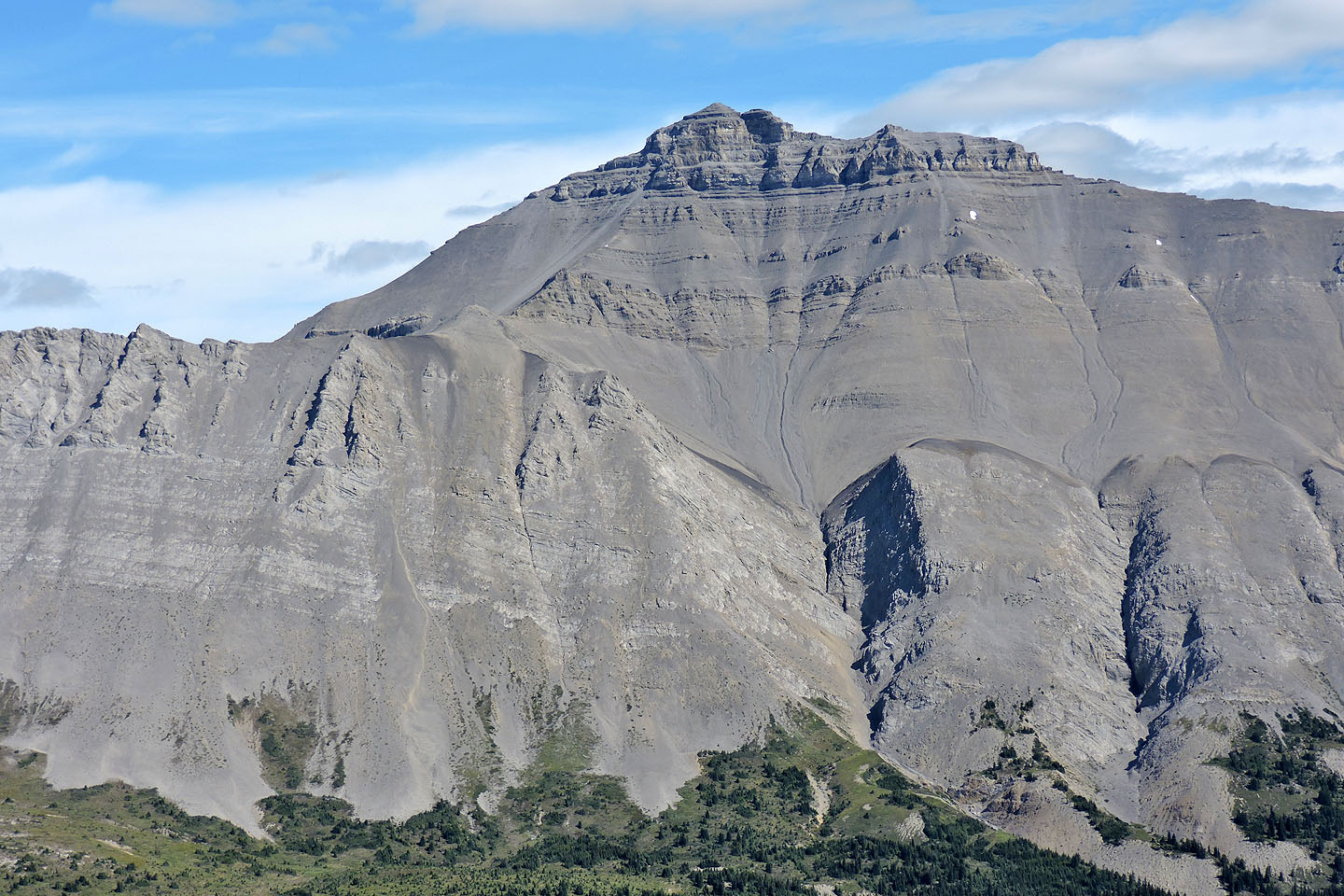 Mount Nigel lies east (click for a larger image)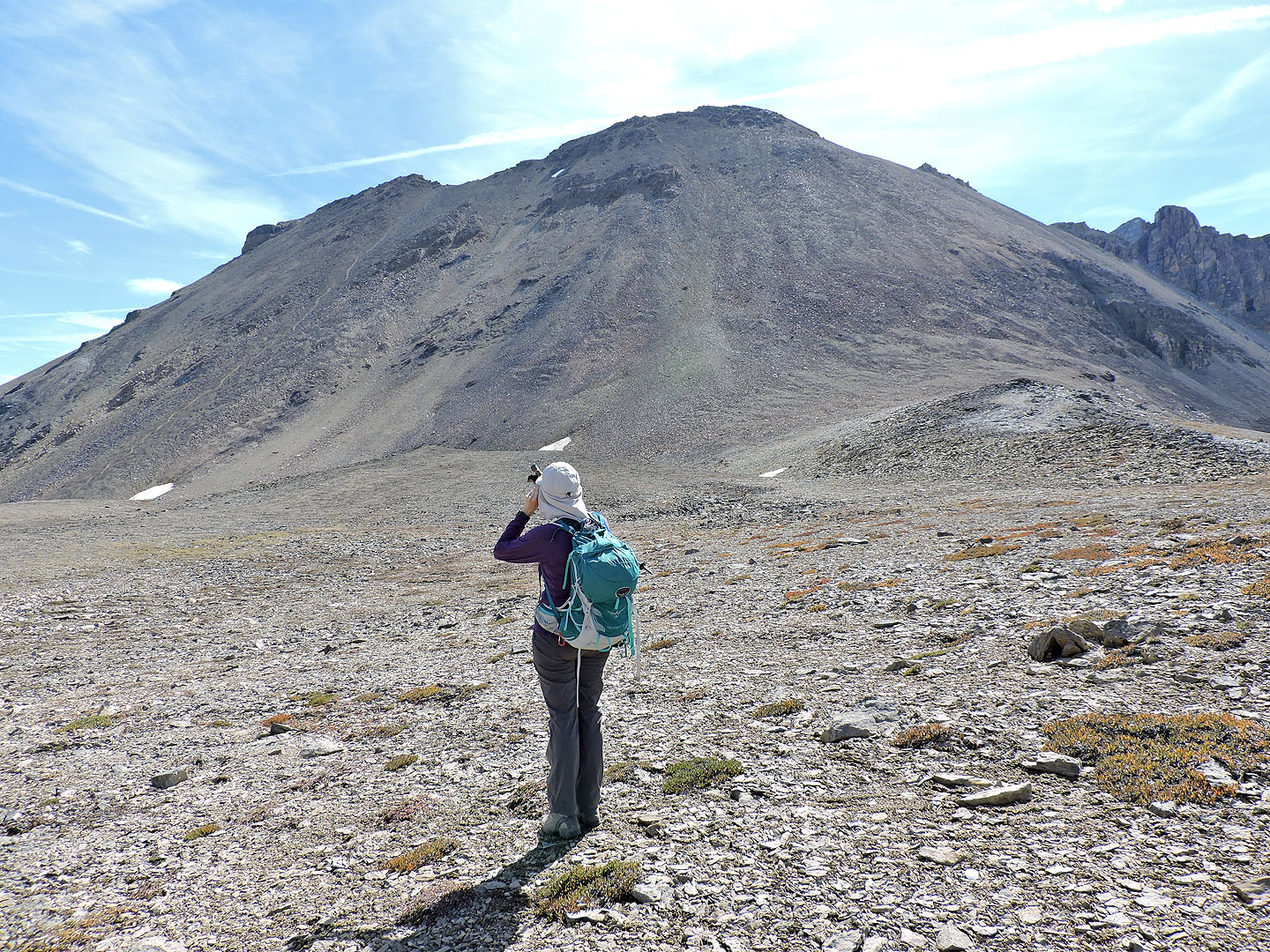 Looking at the west slope from the spur: the trail on the left is obvious but the trail below the summit is much less apparent (click for a larger image)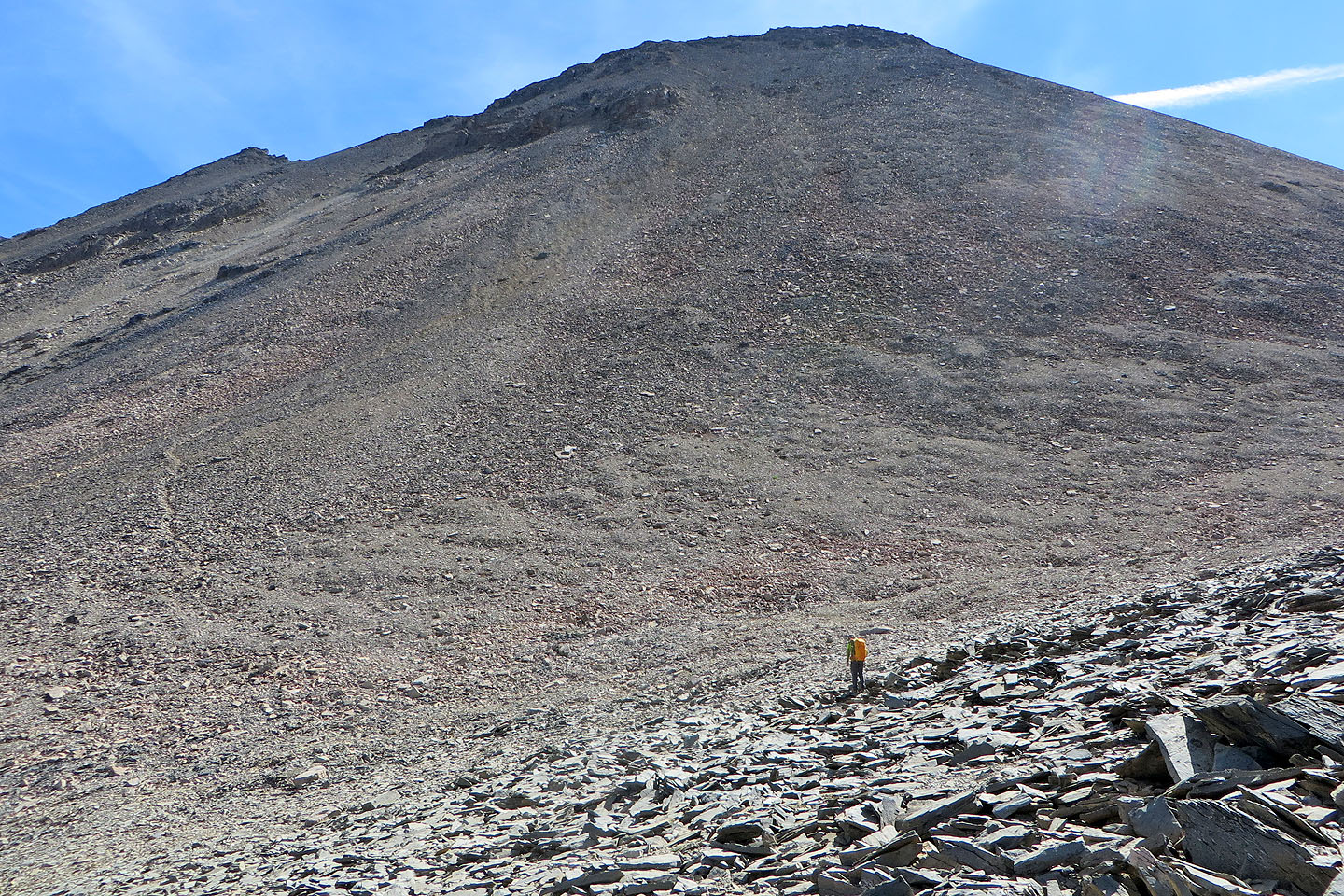 We made our way to the bottom of the trail below the summit

Going up the trail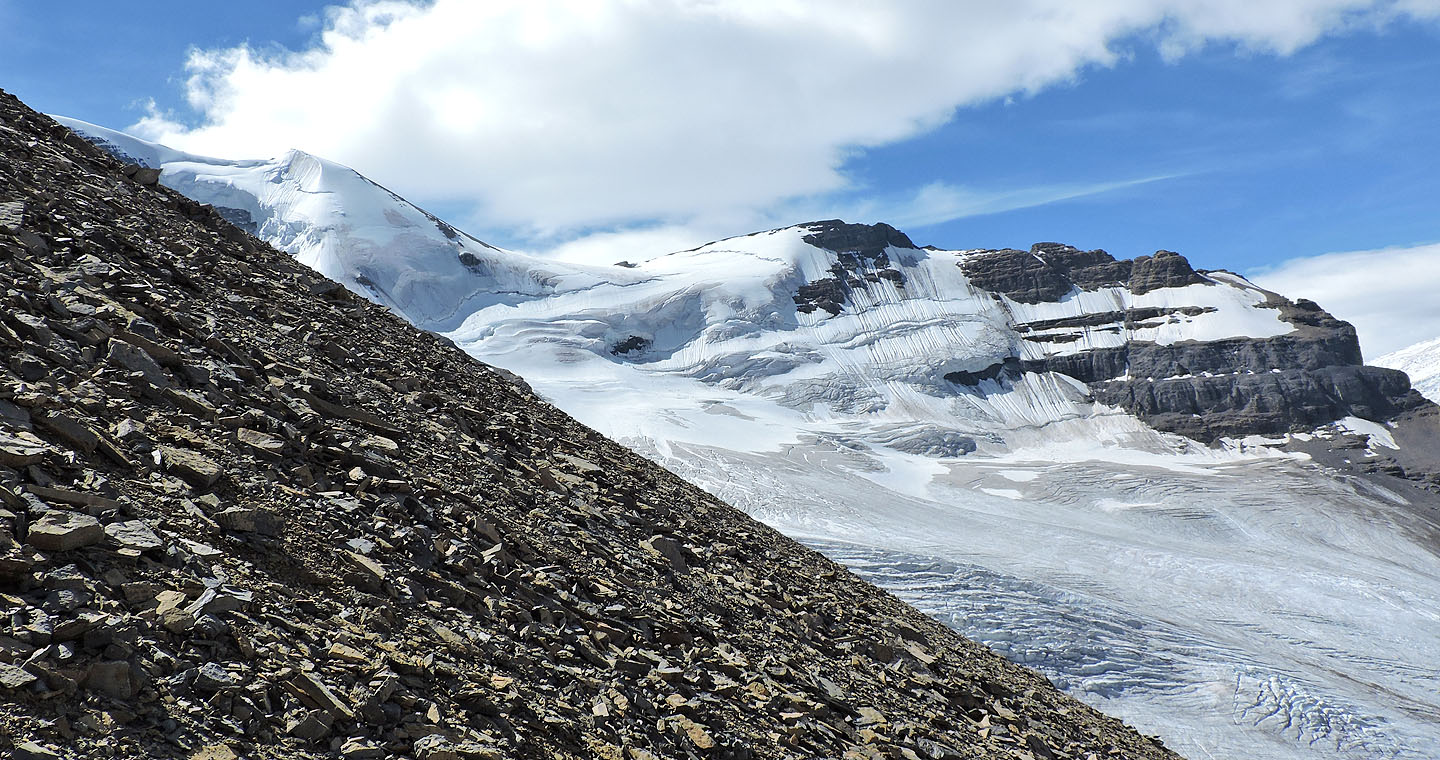 Meanwhile, climbers descended a saddle on Athabasca (mouse over for a close-up)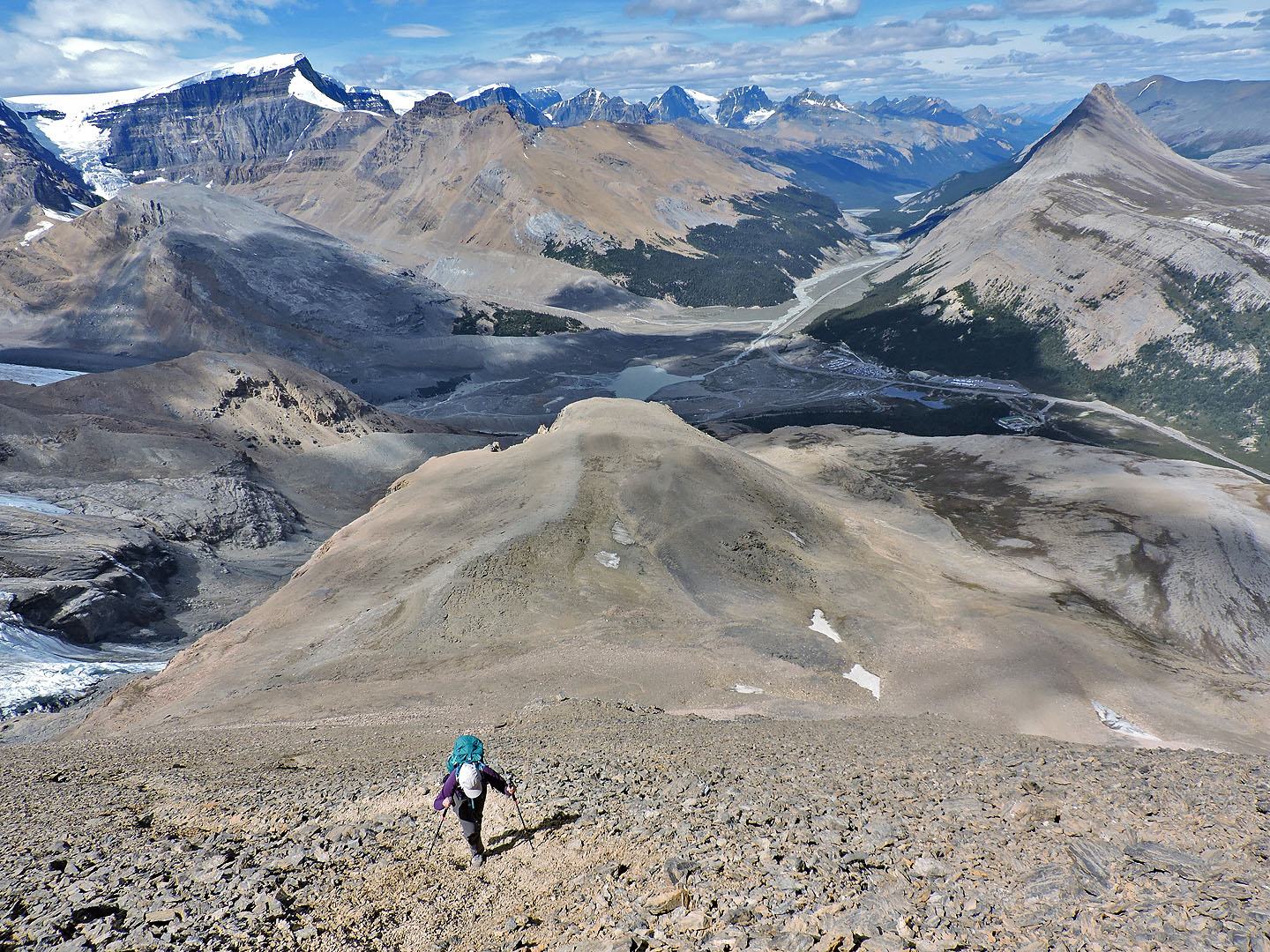 Looking back (click for a larger image)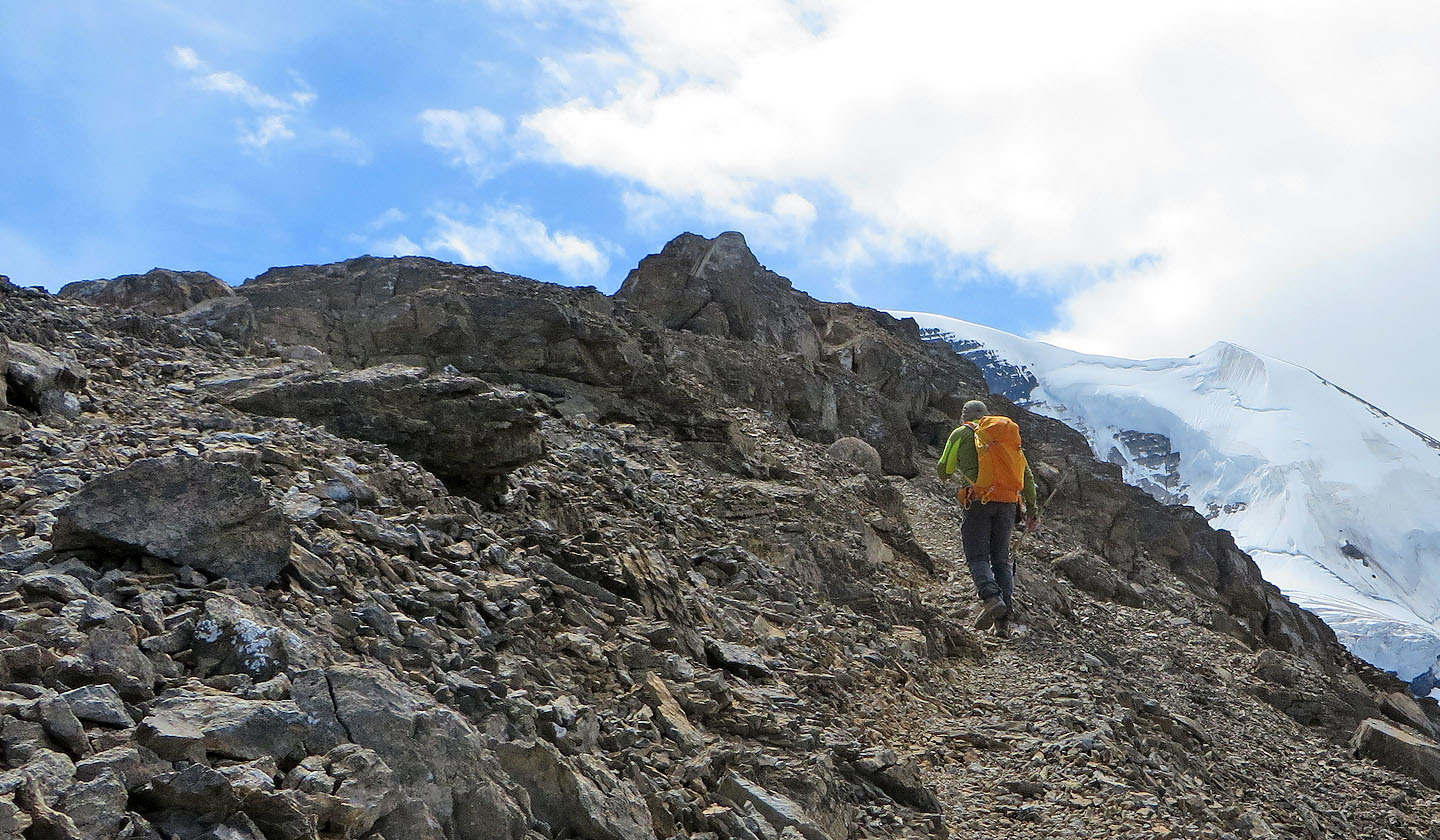 After reaching the ridge there's an easy two-metre scramble before the summit

Coming up to the summit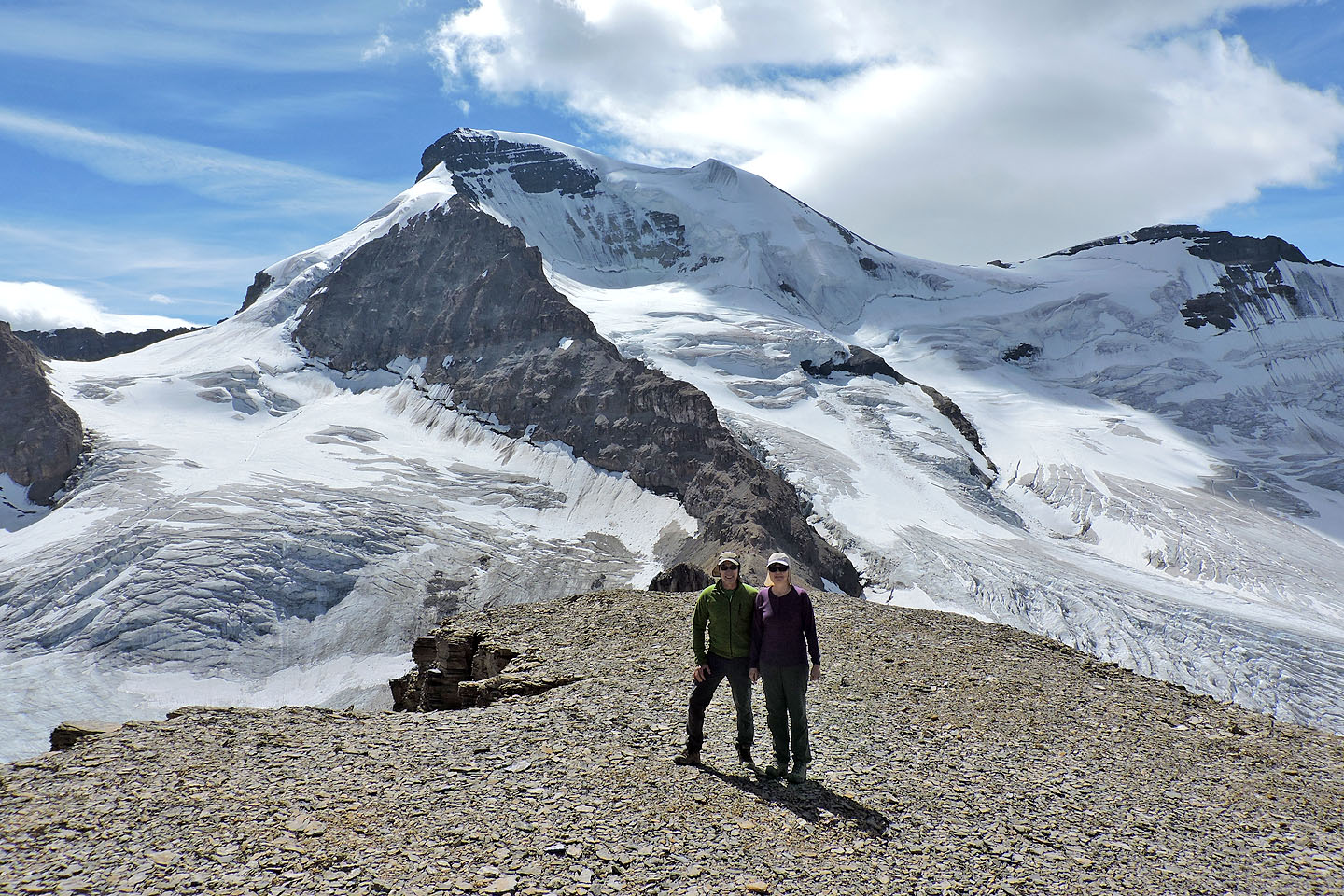 On the summit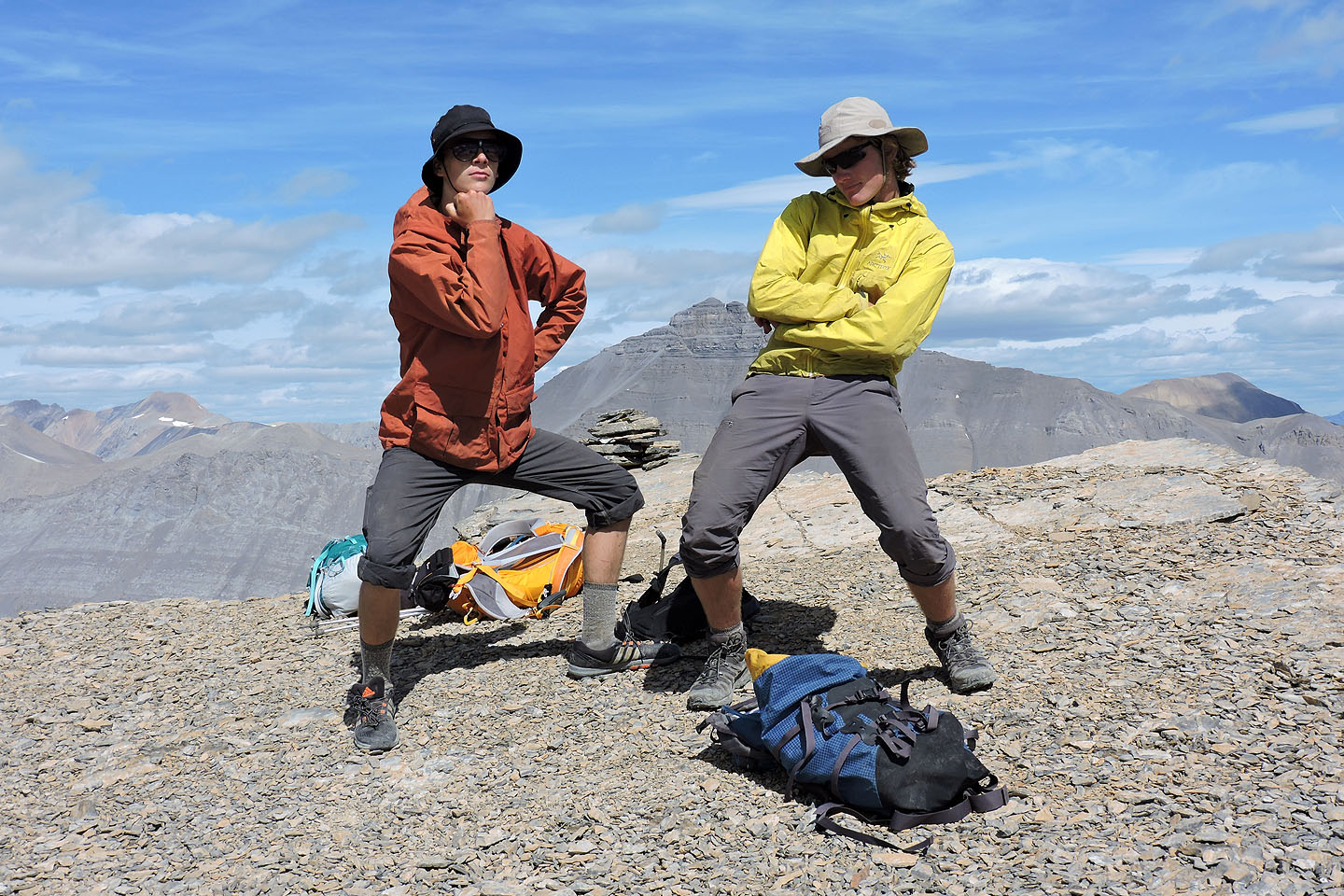 Long hours in a bicycle saddle apparently have left Tao and Peter unable to relax by the summit cairn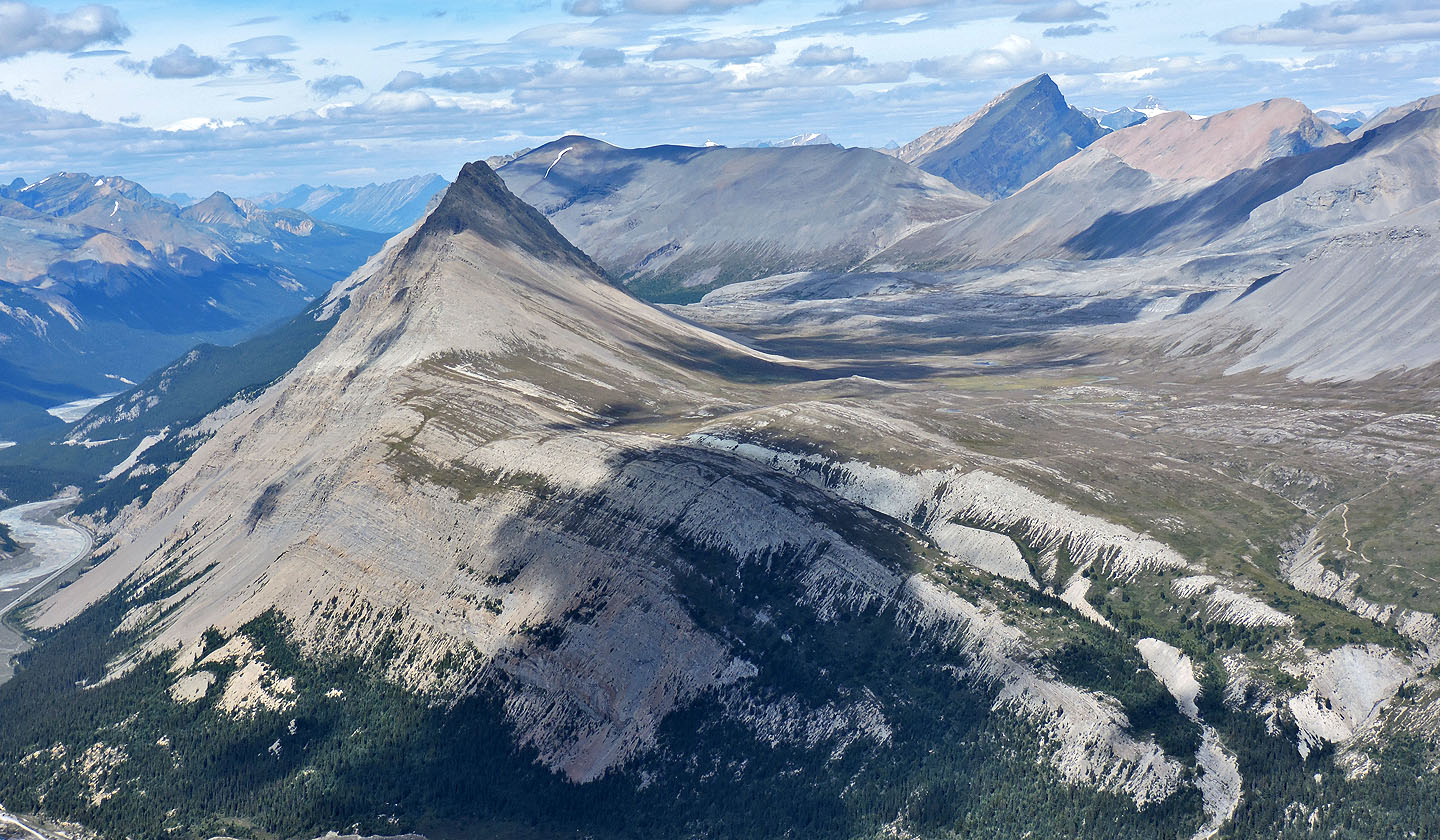 Mount Wilcox, Tangle Ridge and Sunwapta Peak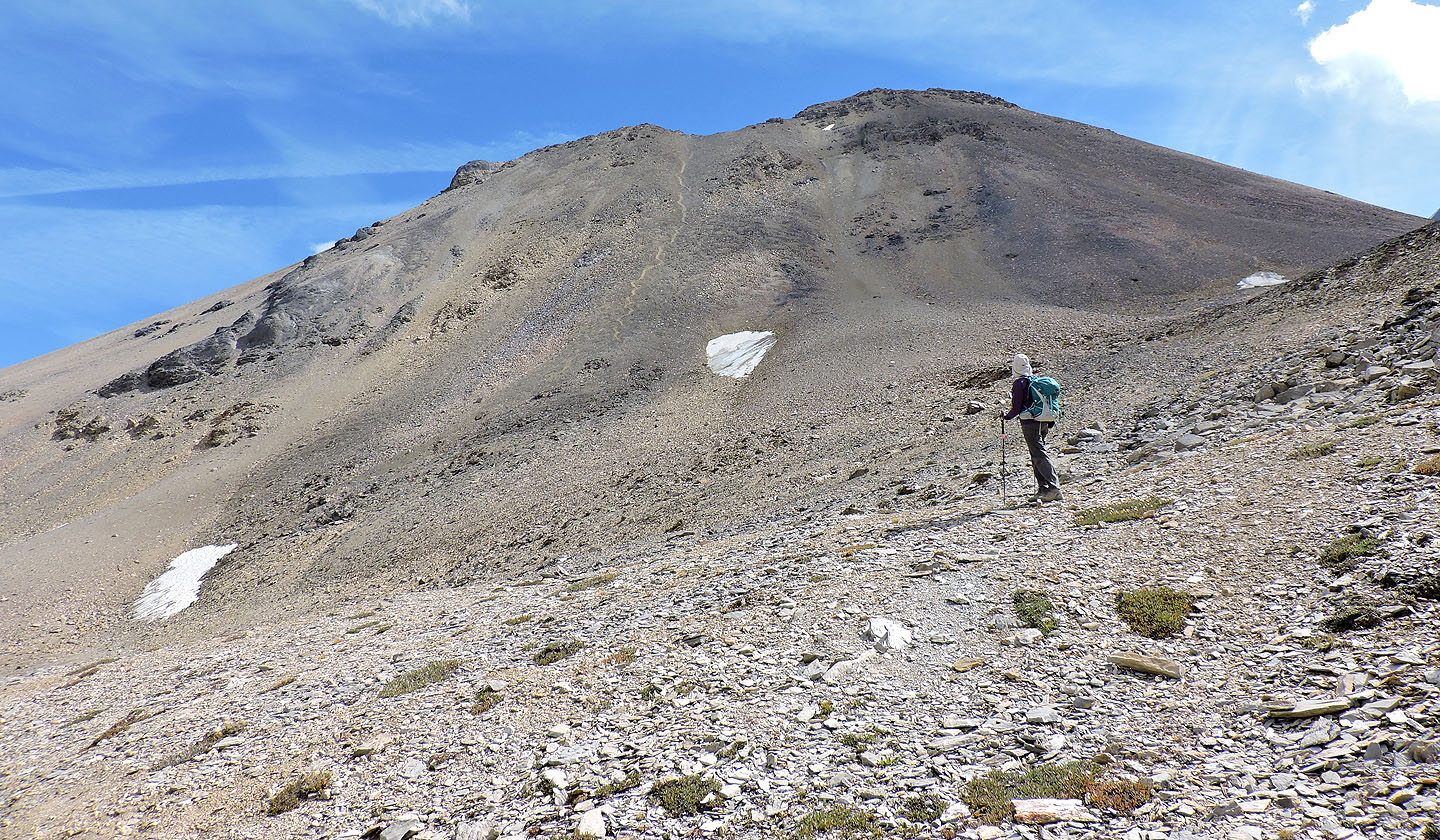 Looking back at the summit (click for a larger image)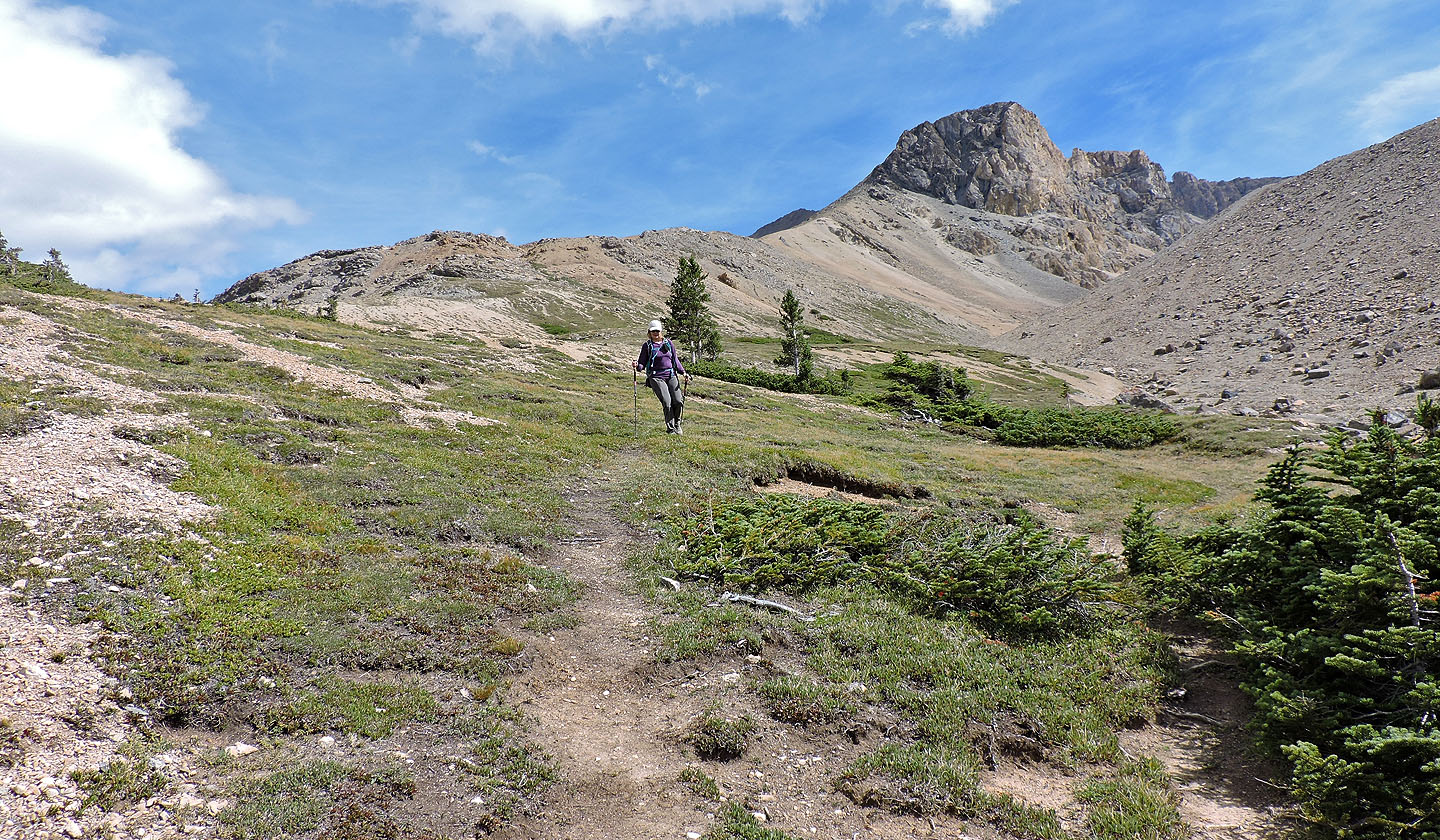 Heading back down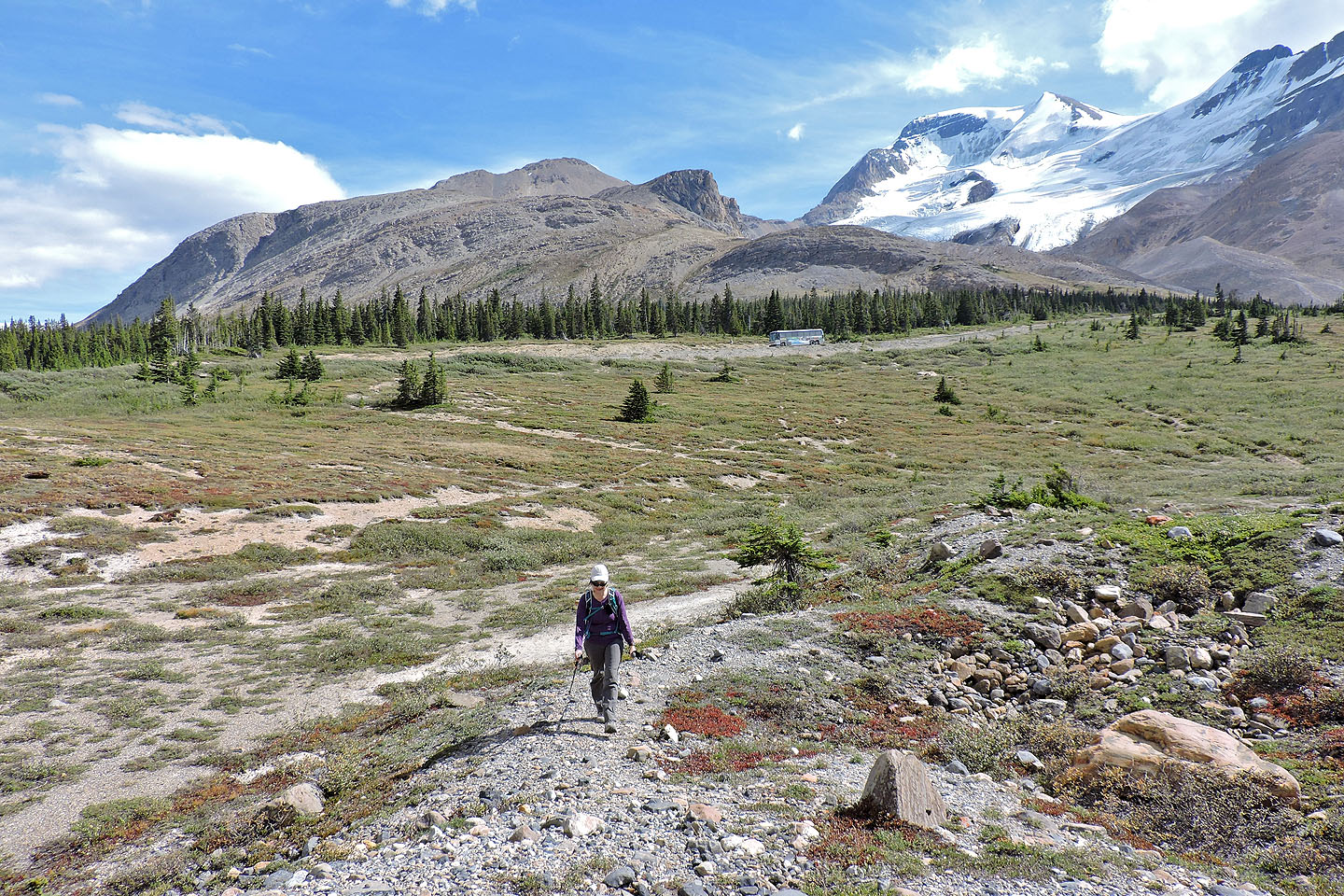 Taking the shortcut from the road back to the parking lot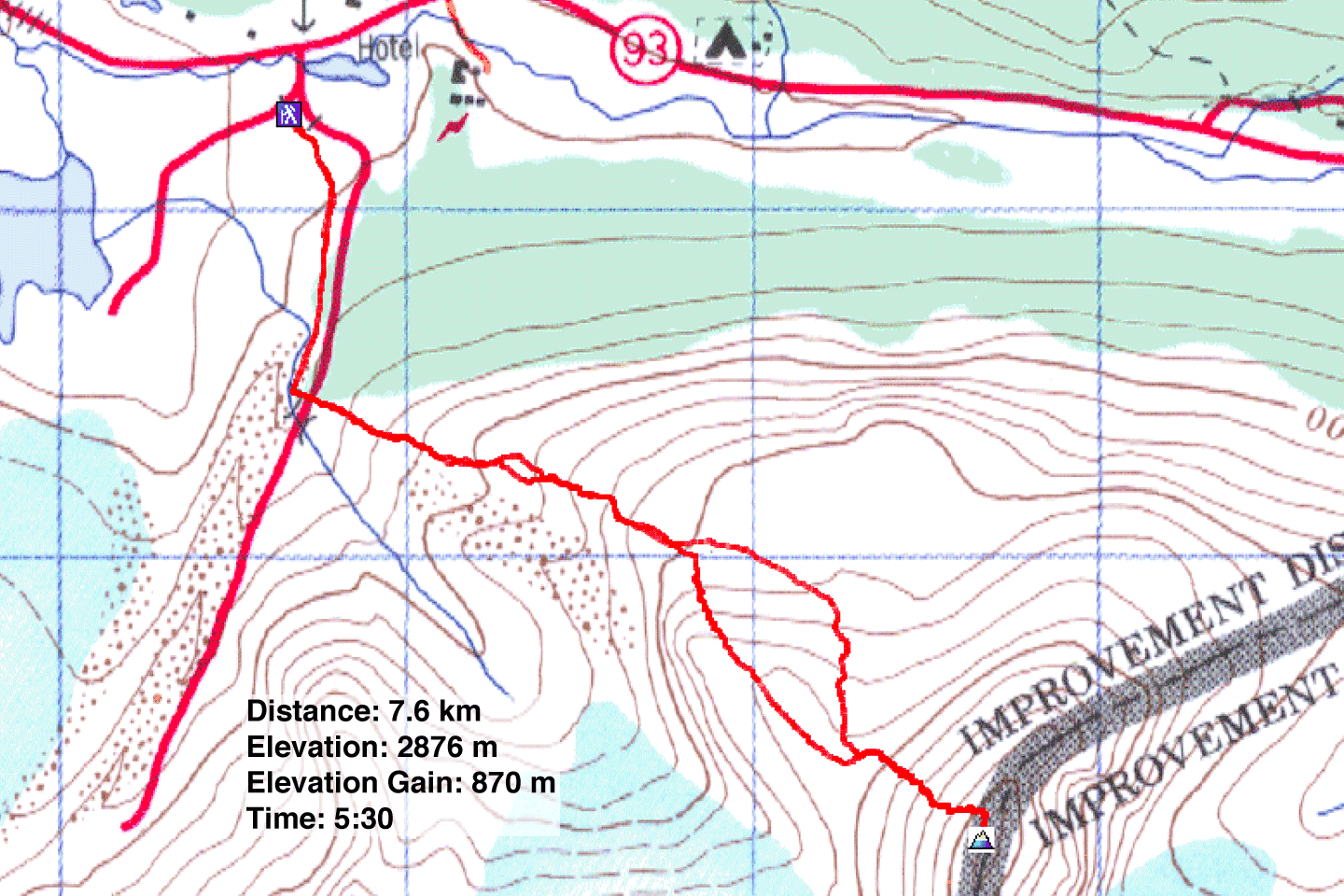 83 C/3 Columbia Icefields