bobspirko.ca | Home | Canada Trips | US Trips | Hiking | Snowshoeing | MAP | About

Harris Mountain
Spring Mountains, Nevada
October 14, 2018
Distance: 6.7 km (4.2 mi)
Cumulative Elevation Gain: 795 m (2608 ft)
Having climbed most of the highest peaks in the Spring Mountains, Dinah and I turned our attention to the ninth-highest one, Harris Mountain. But rising over 3,000 m, it's no lightweight.
Shin joined us, which was a good thing since he's been up it before. Even with his help routefinding wasn't easy. After parking in a small parking spot in Rainbow Community, we headed to the start of the trail 800 m away. On our descent we followed the road, but on our way up we cut through the forest. Along the way, we passed cabins as well as trees blackened and dead from the forest fire in 2013.
We found the trail on the left side of a wash and started up it. The wooded path wasn't easy to follow. At times it faded, was hidden under deadfall, or disappeared altogether, but we quickly got back on track by looking for faded orange flagging.
The sketchy trail disappeared on the saddle that connects Harris Mountain to Griffith Peak. From there, Harris is just a klick away. The treed ridge is relatively easy to follow, provided you keep to the south side of the crest. Here trees are fewer, unlike the left side where bushwhacking is miserable. With trees running all the way to the summit, the hike up Harris isn't exciting and offers few vistas, but the summit provides clear views of Mount Charleston and Mummy Mountain. We could also see Mummy's Toes. That will be our next climb when we return to the Spring Mountains.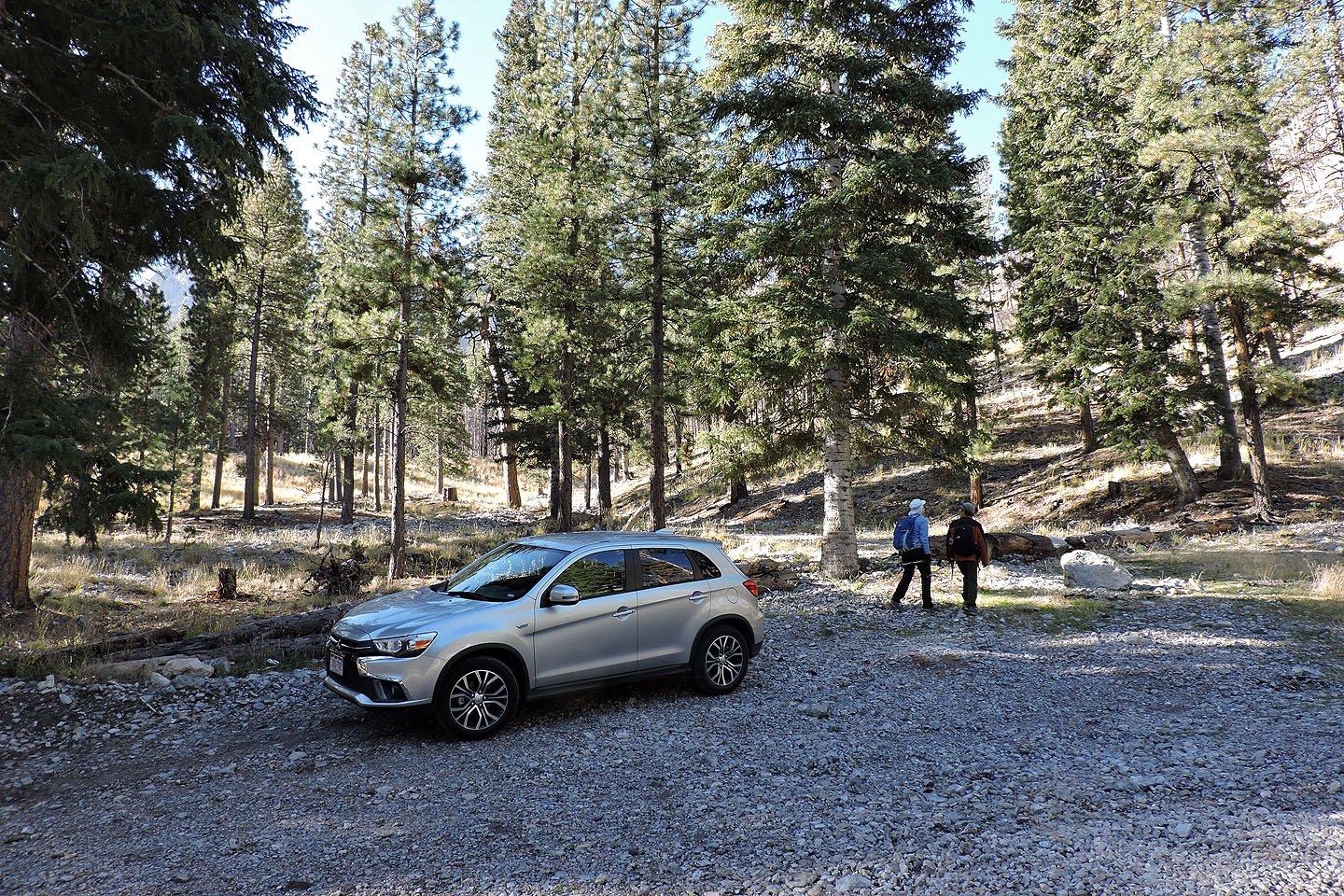 The parking spot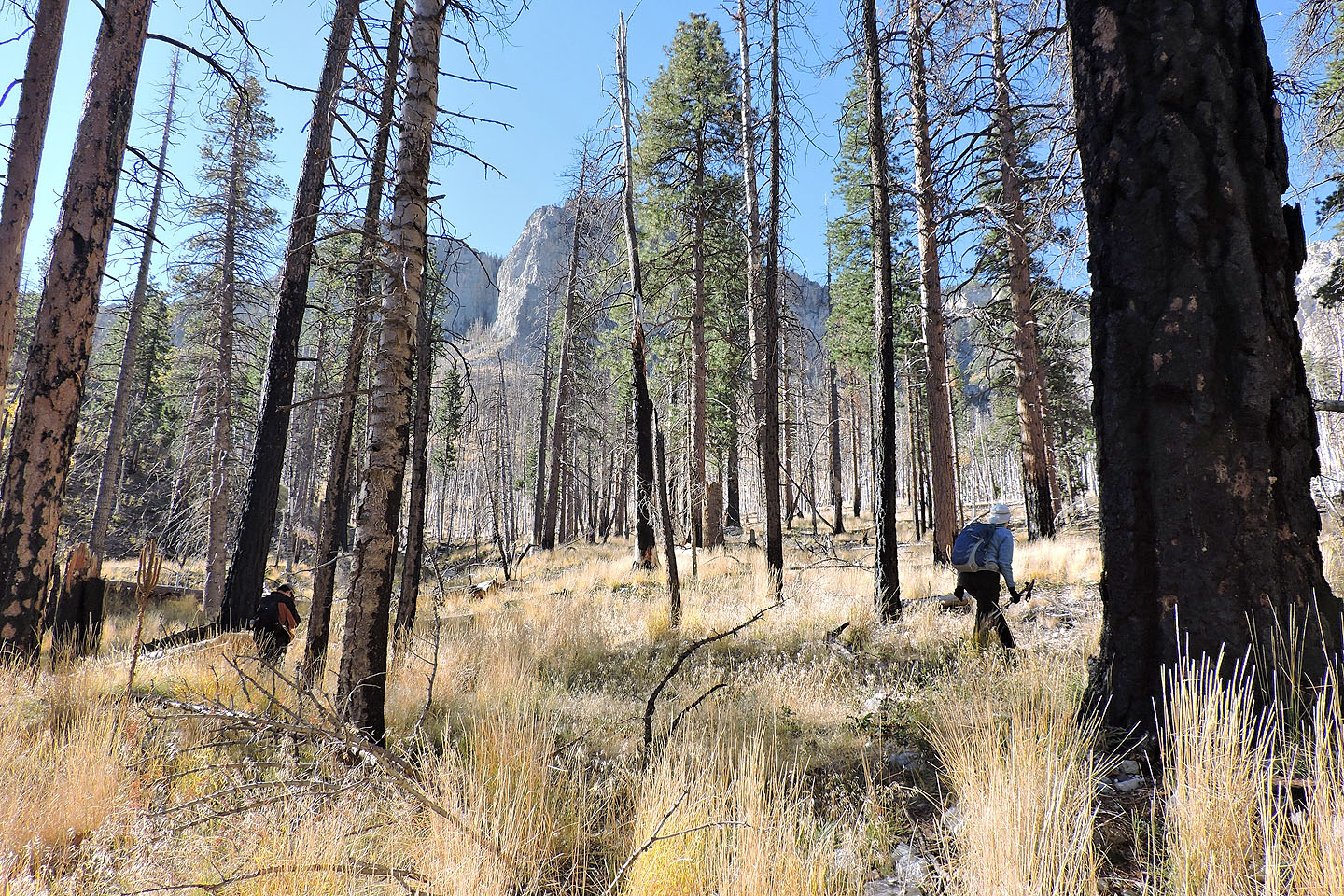 Cutting across the forest to the trailhead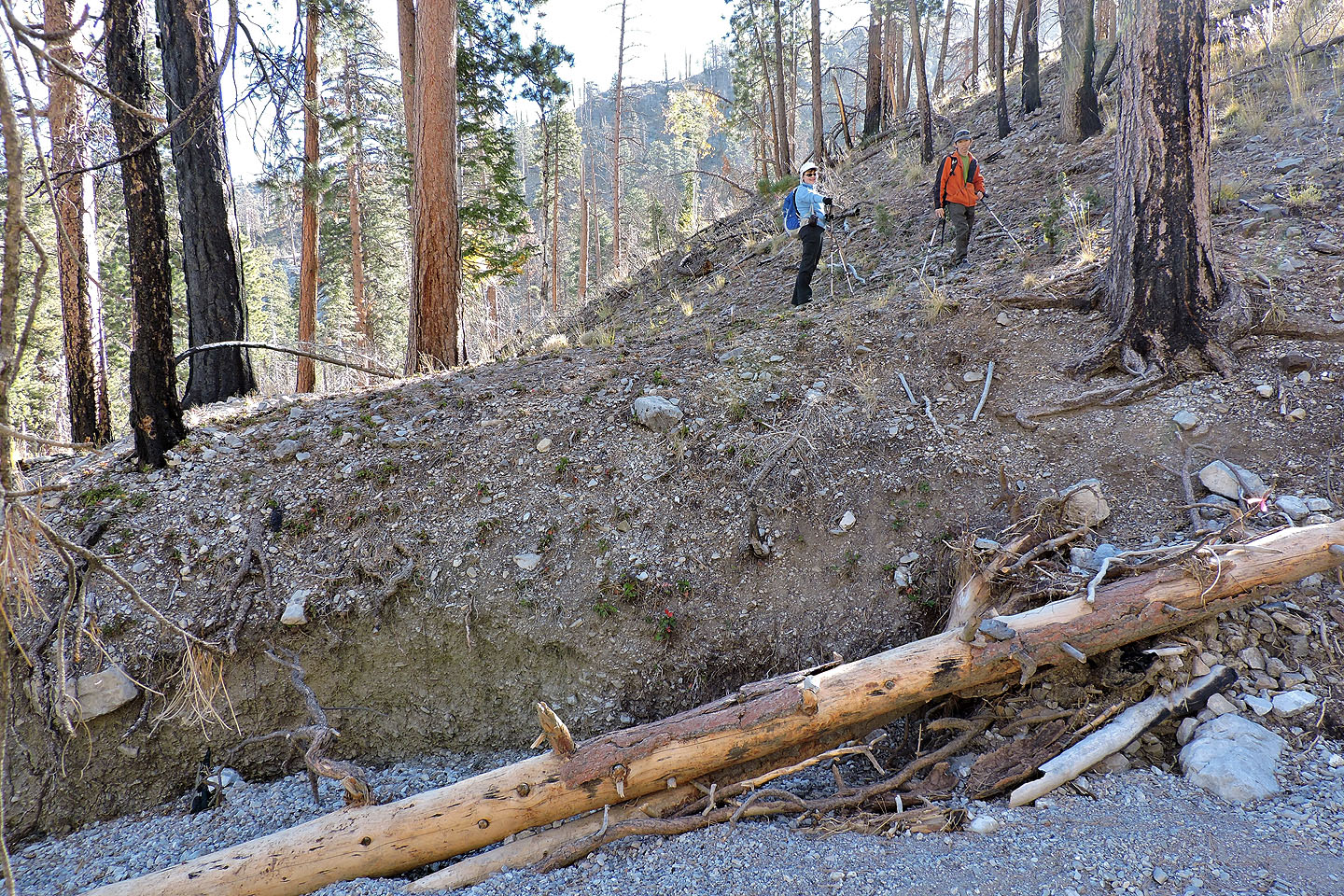 We found the trail on the left side of a wash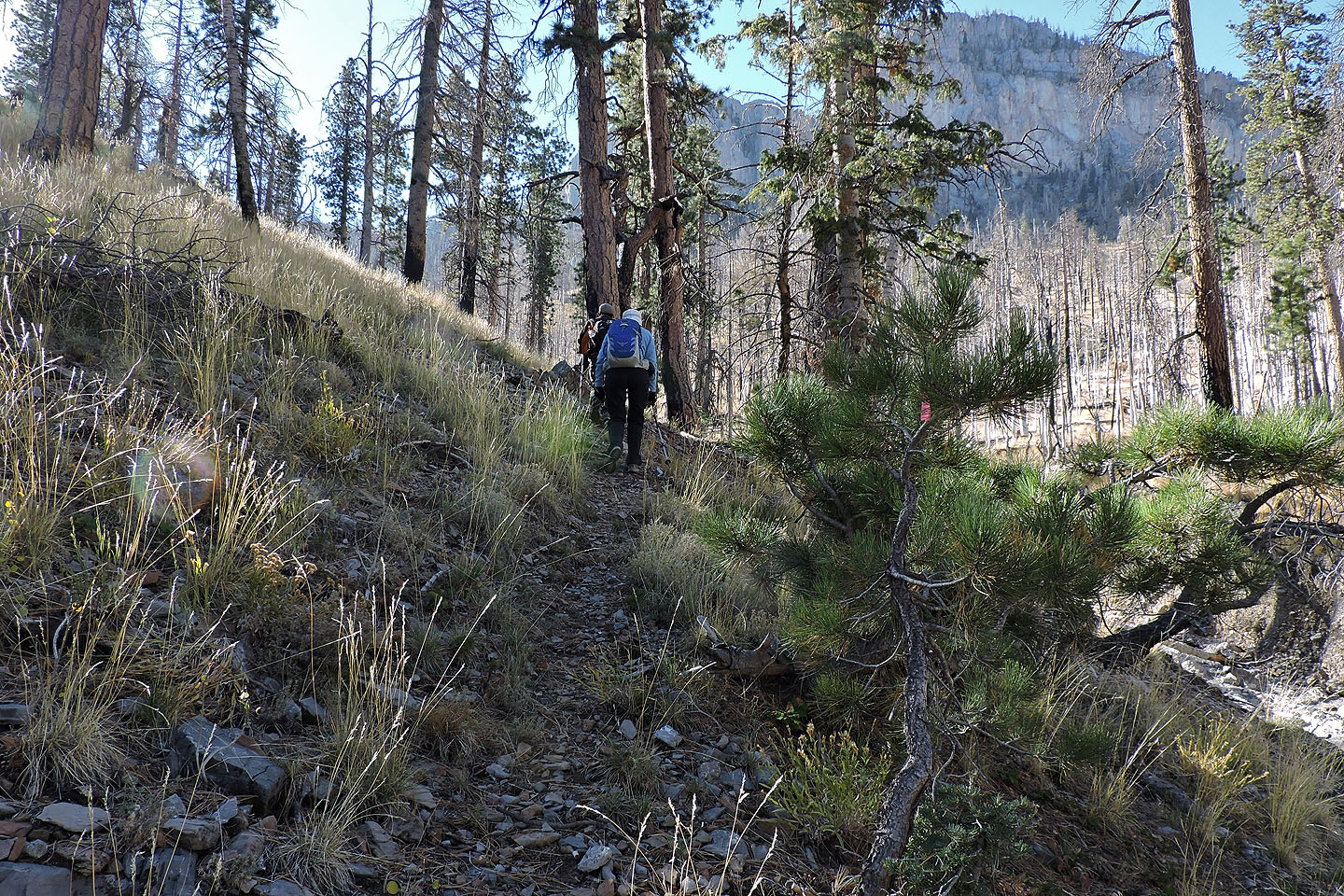 Following the trail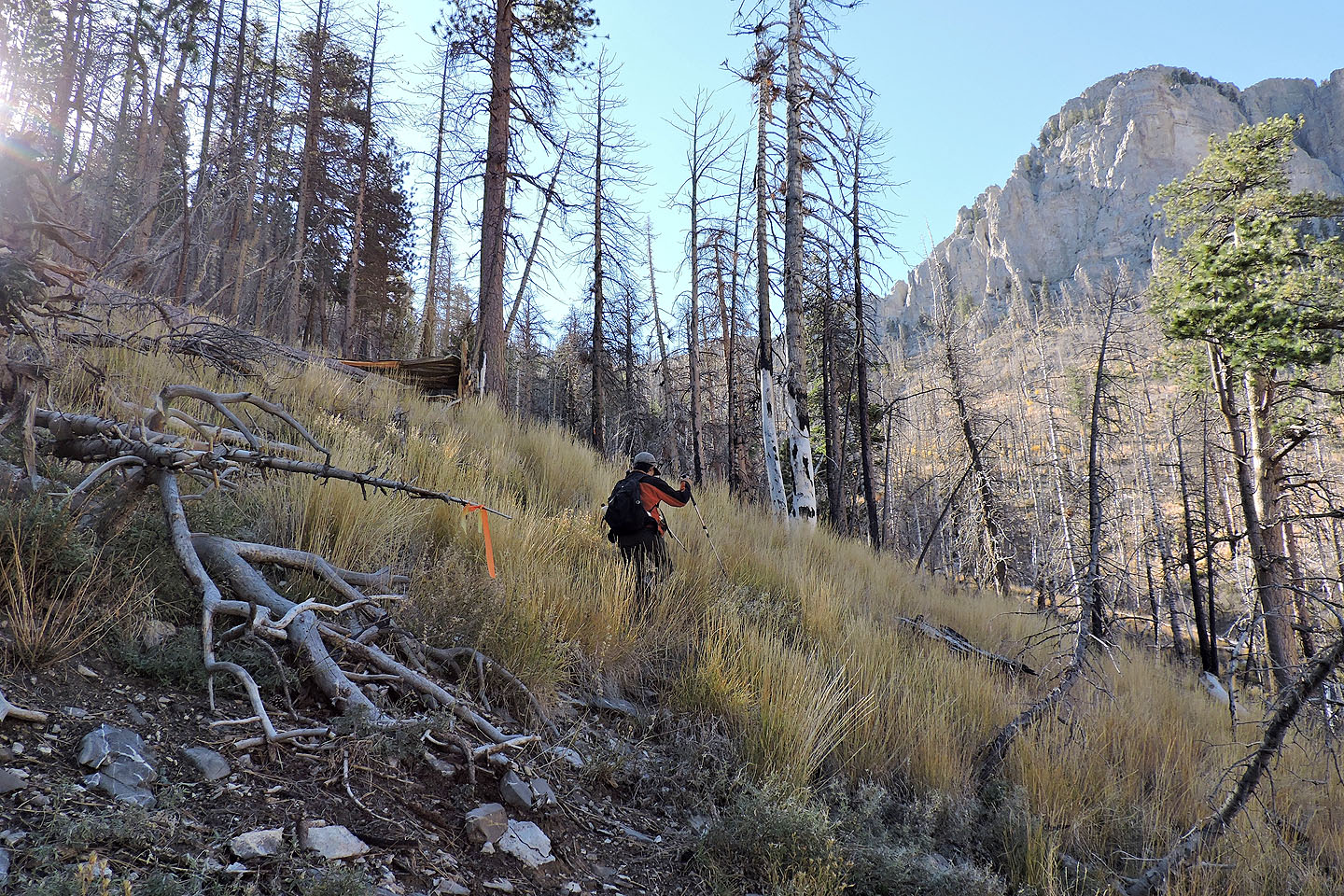 We often lost the trail and relied on flagging to stay on track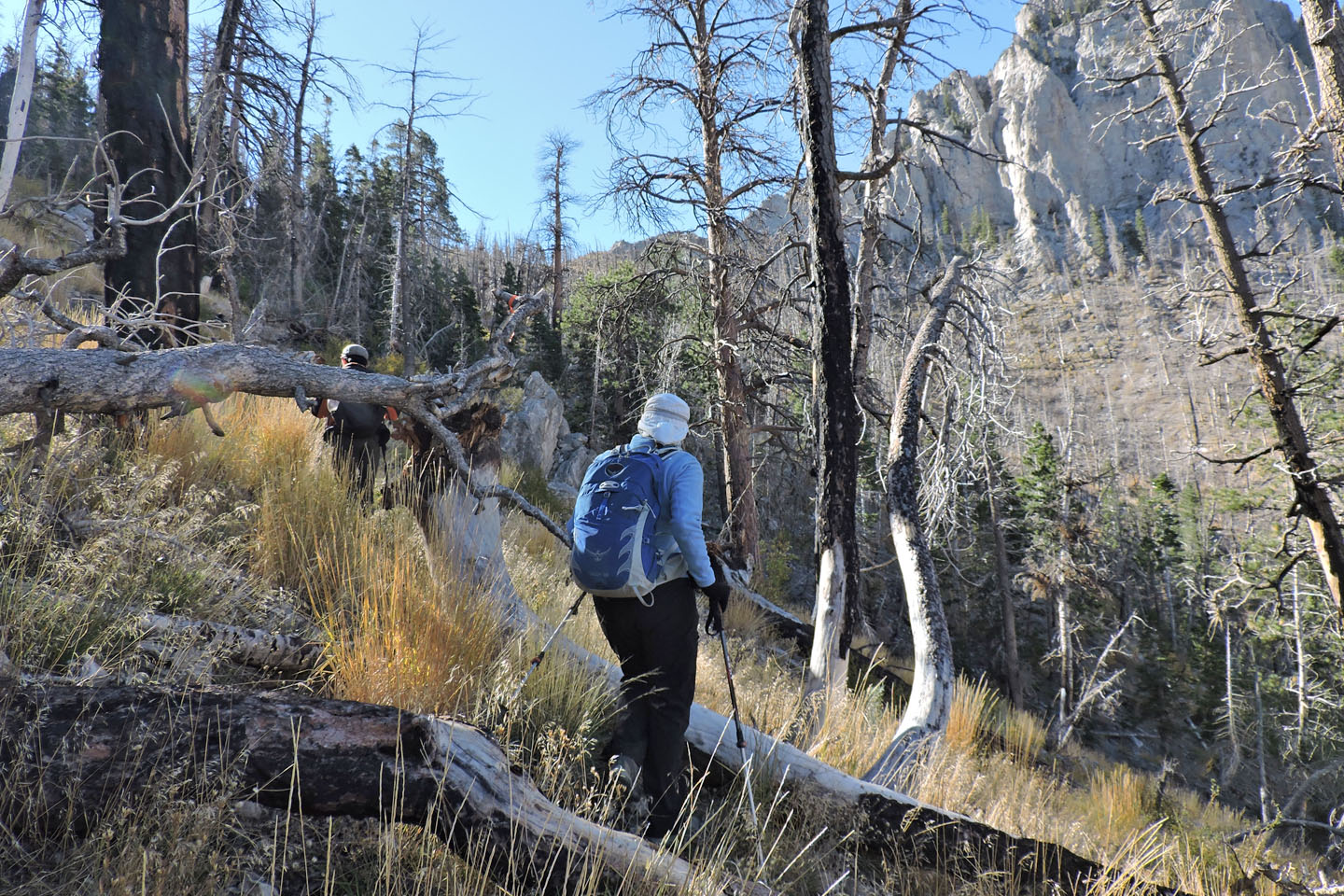 Deadfall on the trail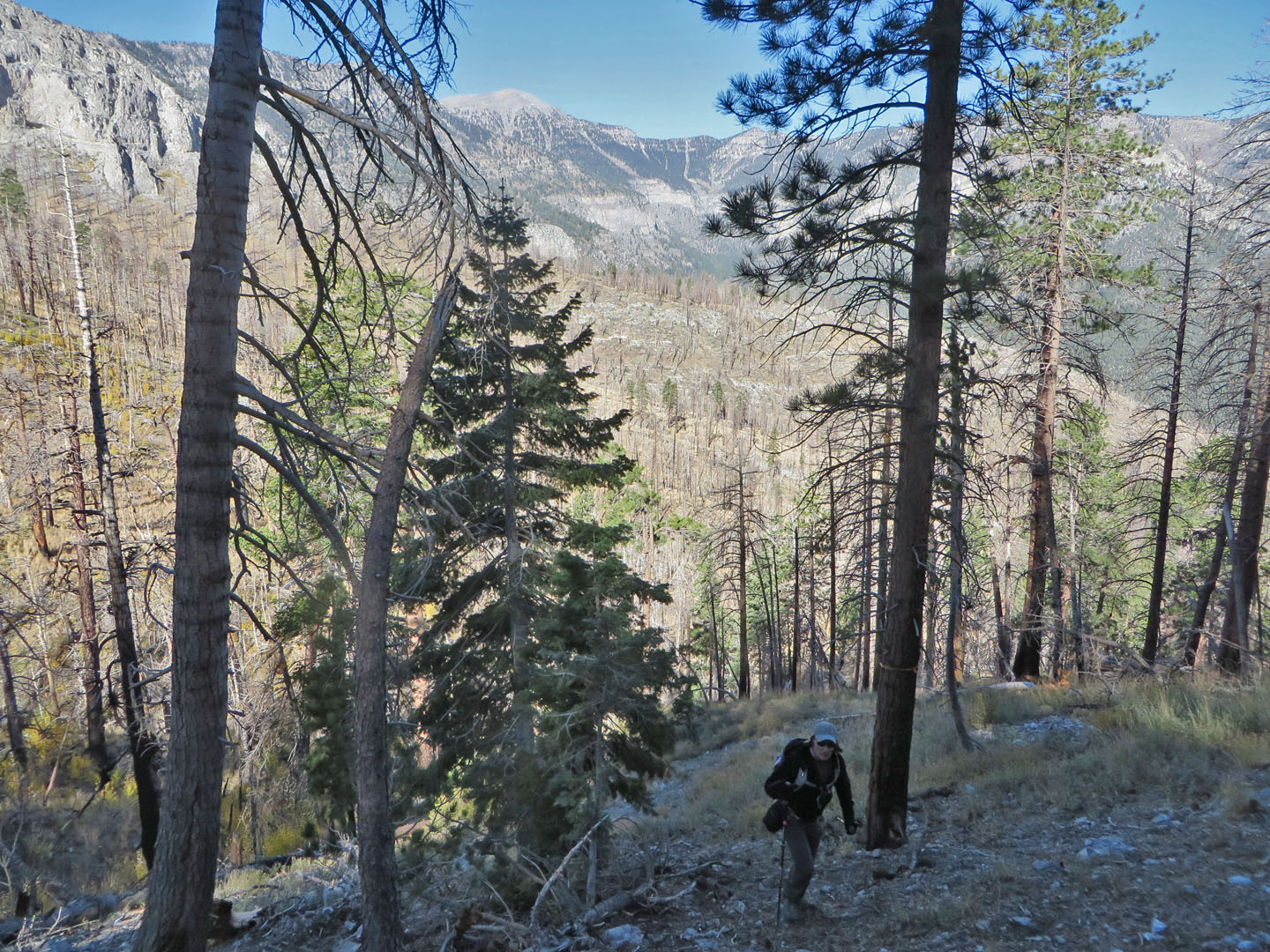 Behind us is 3600-metre Mount Charleston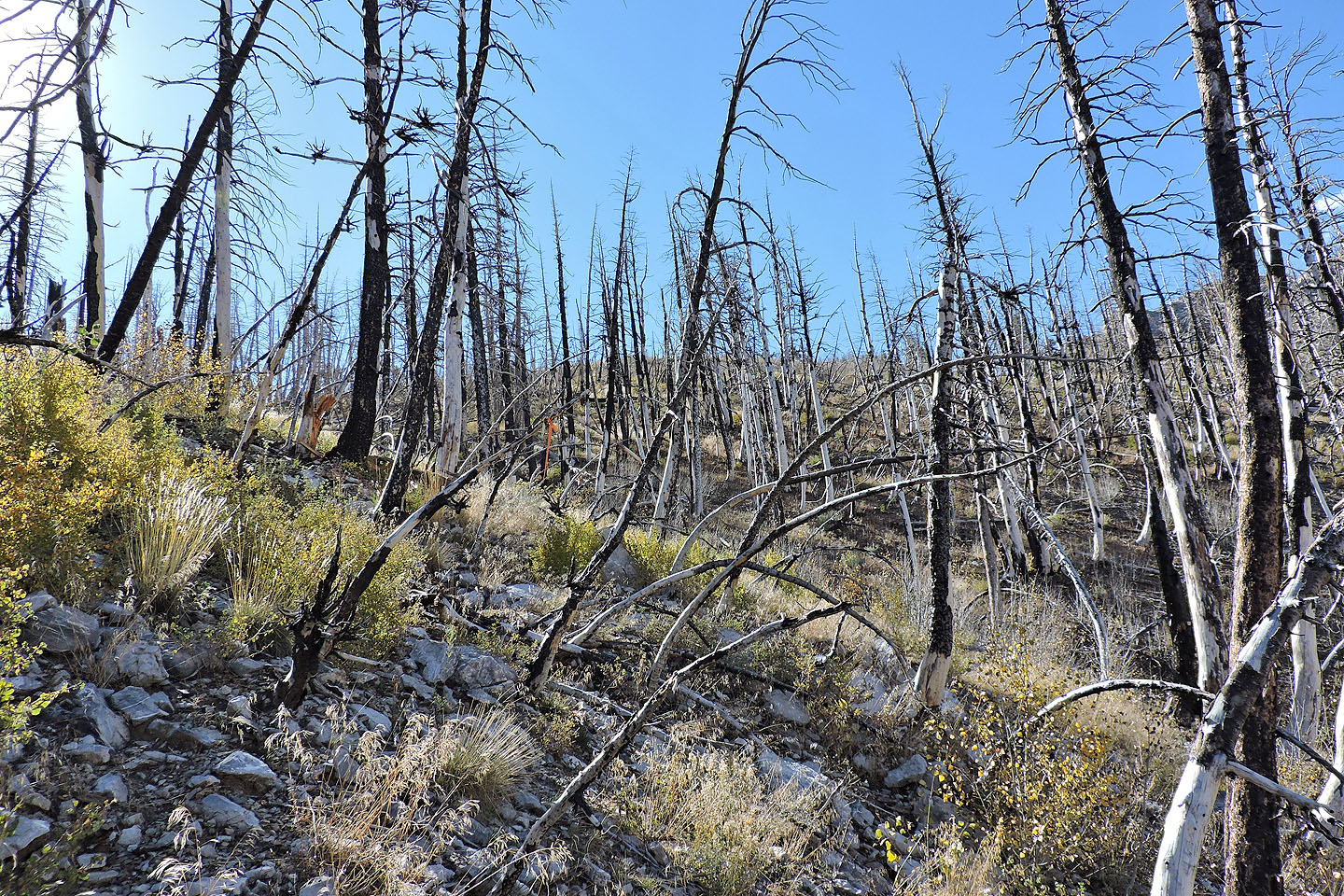 Heading to the saddle through a burnt forest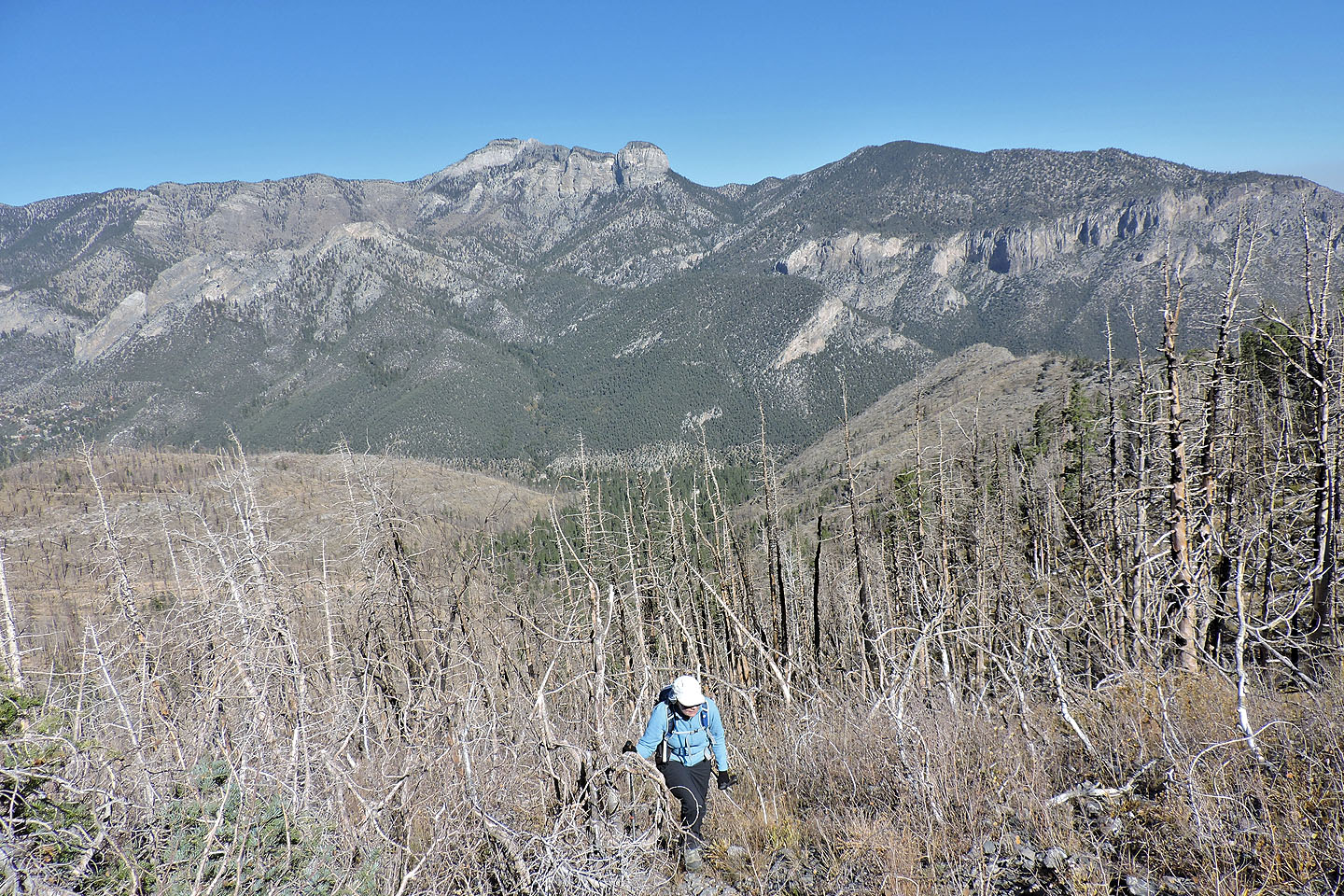 Looking back after reaching the saddle. Mummy Mountain and Fletcher Peak in the background.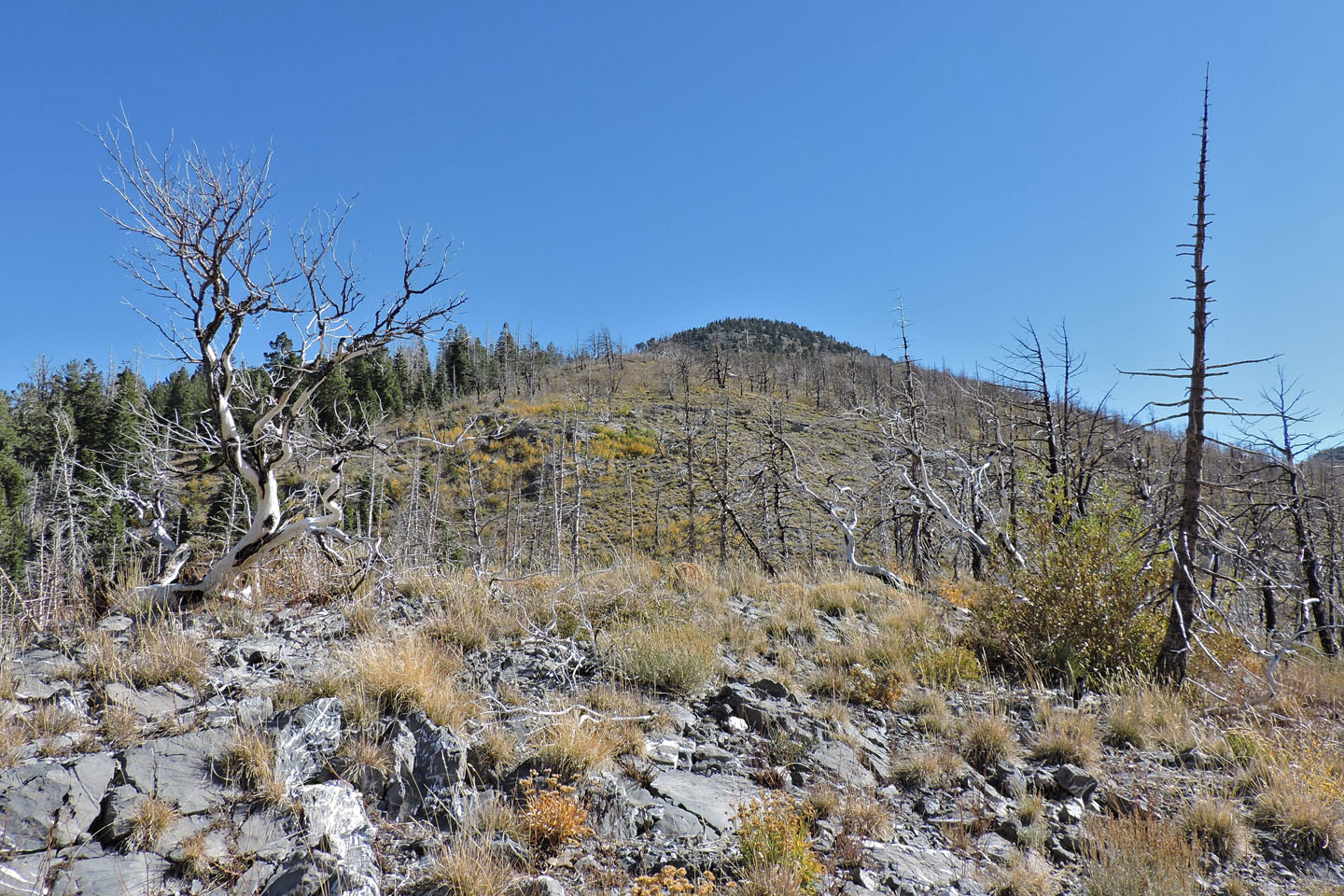 From the saddle we made our way to a false summit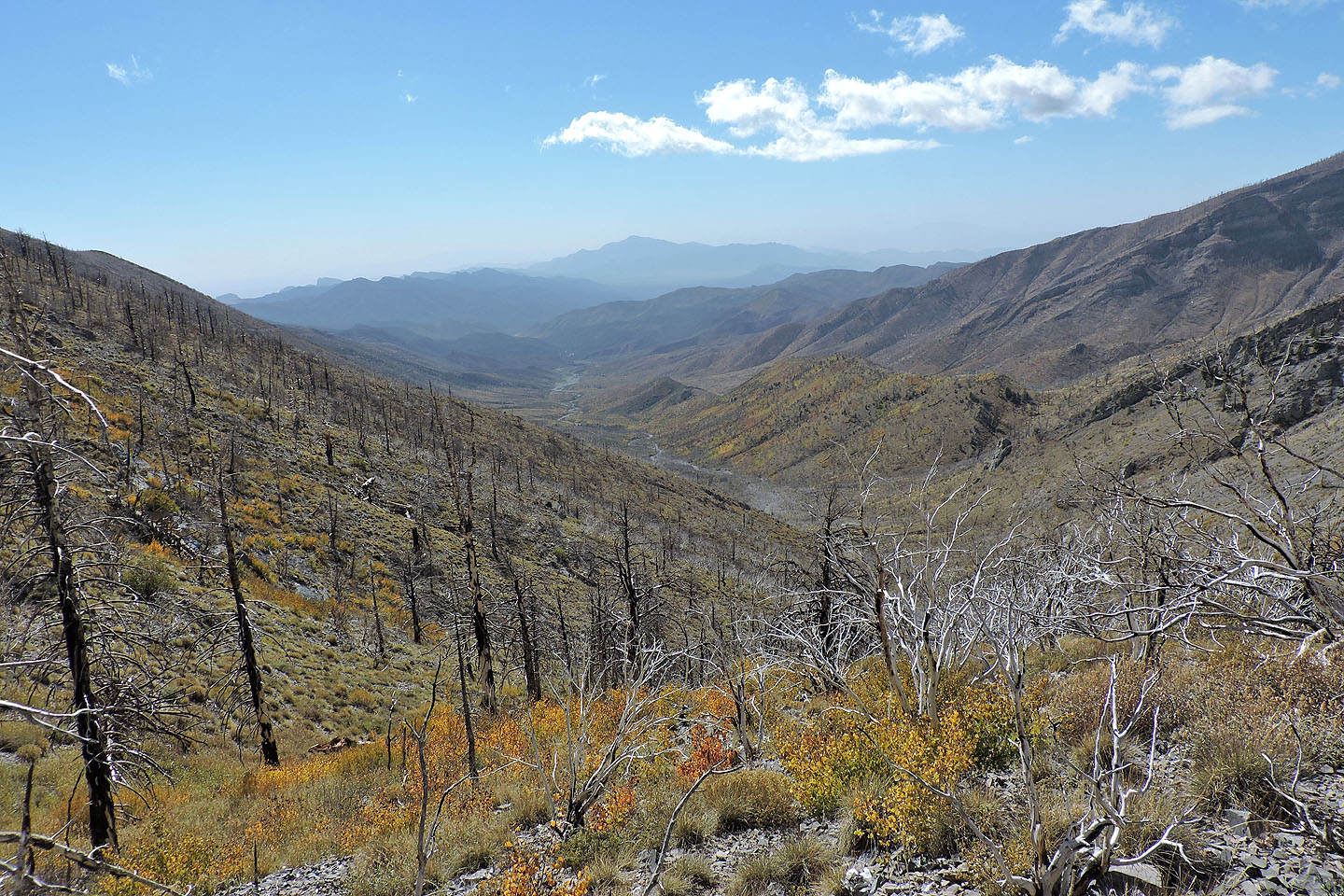 Mount Potosi lies south, far in the distance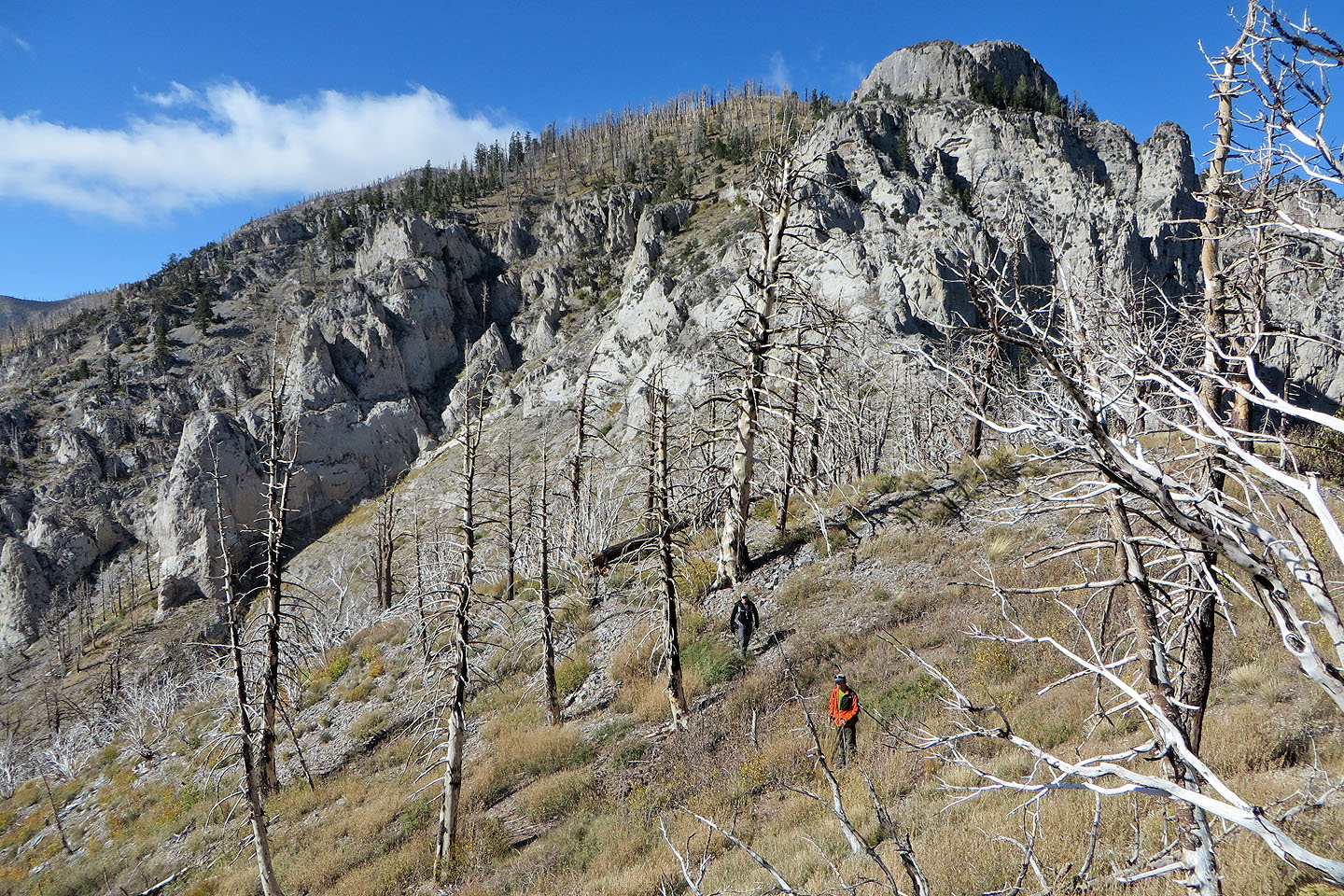 Looking back at the saddle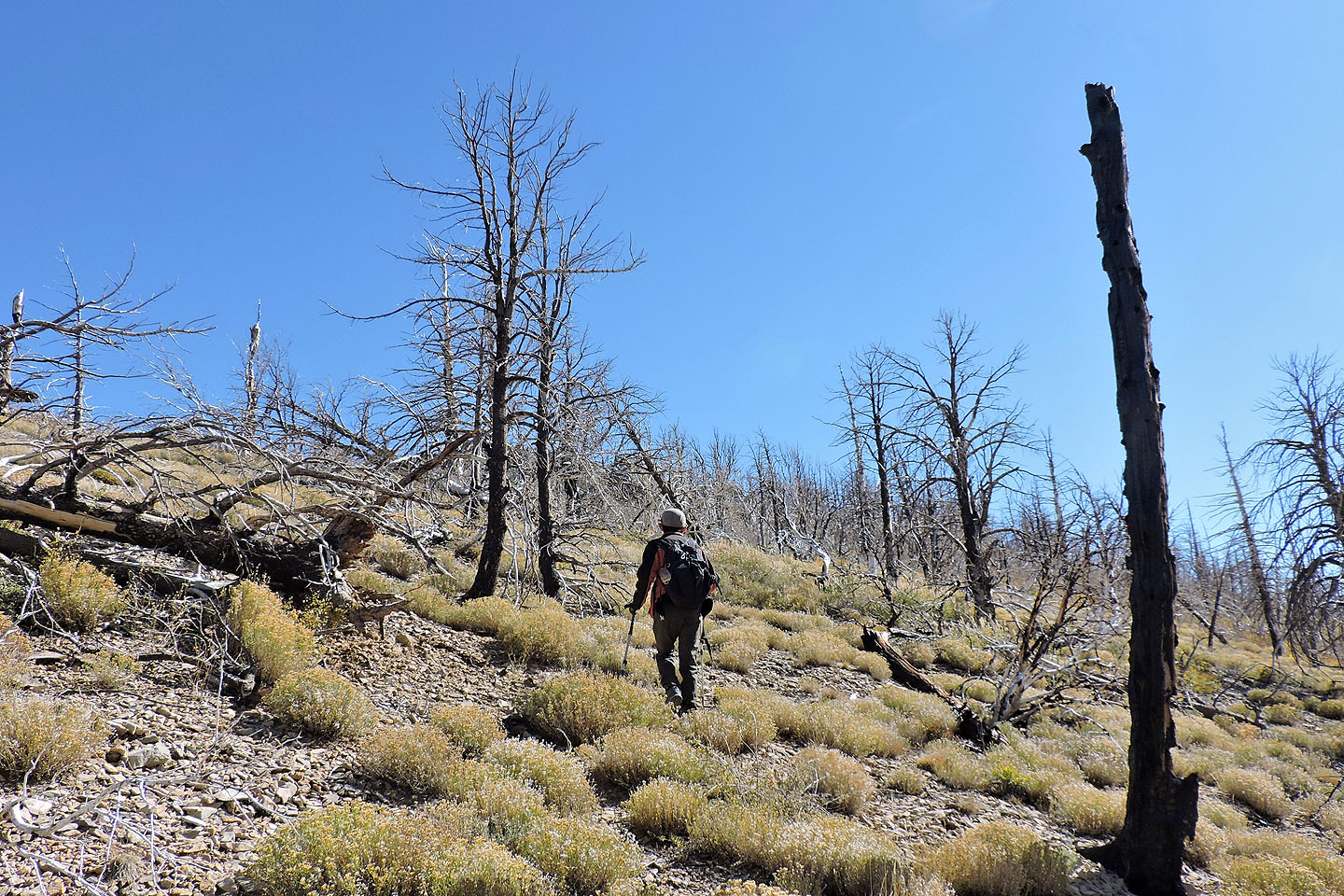 We encountered little bushwhacking by keeping to the right side of the ridge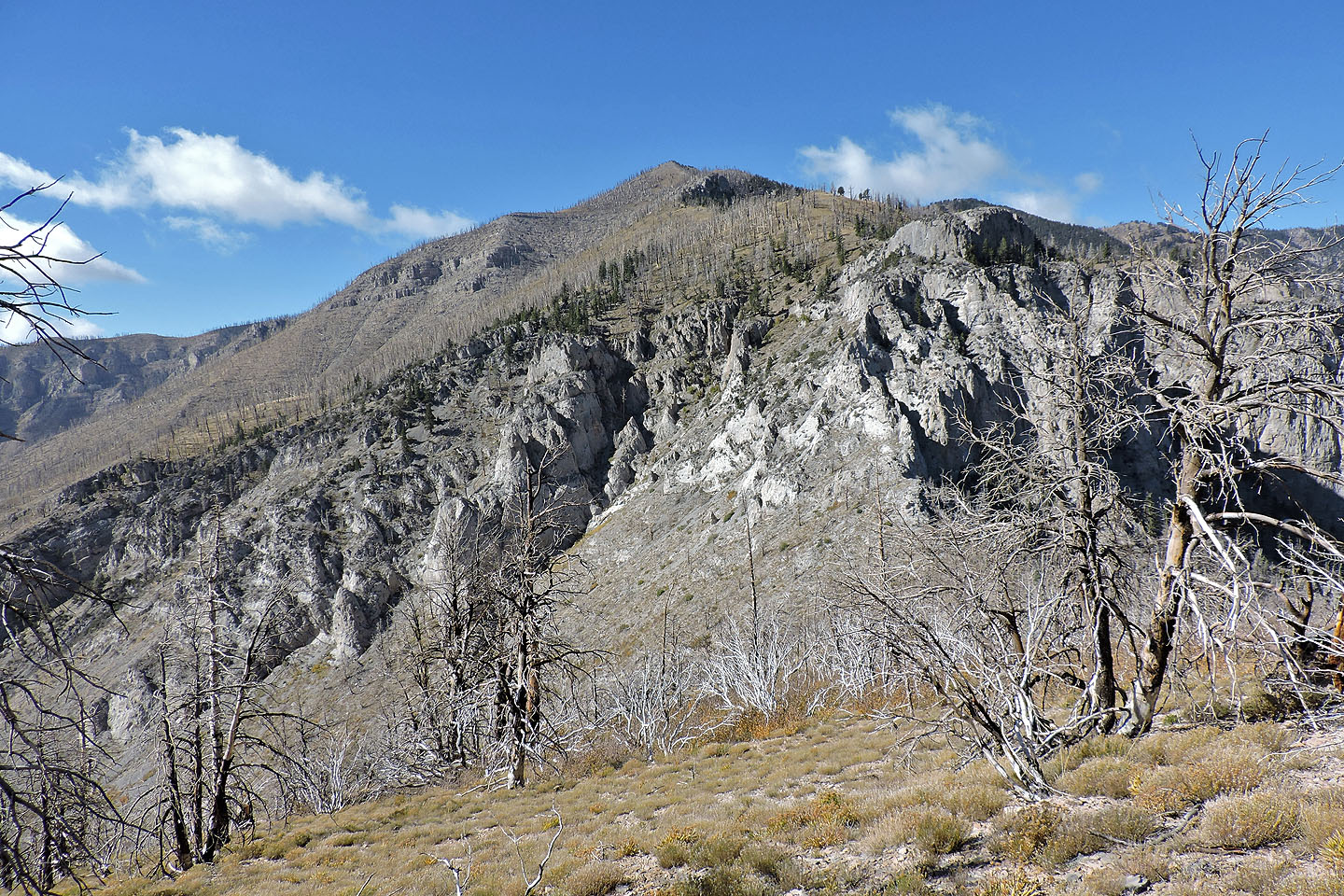 Griffith Peak behind us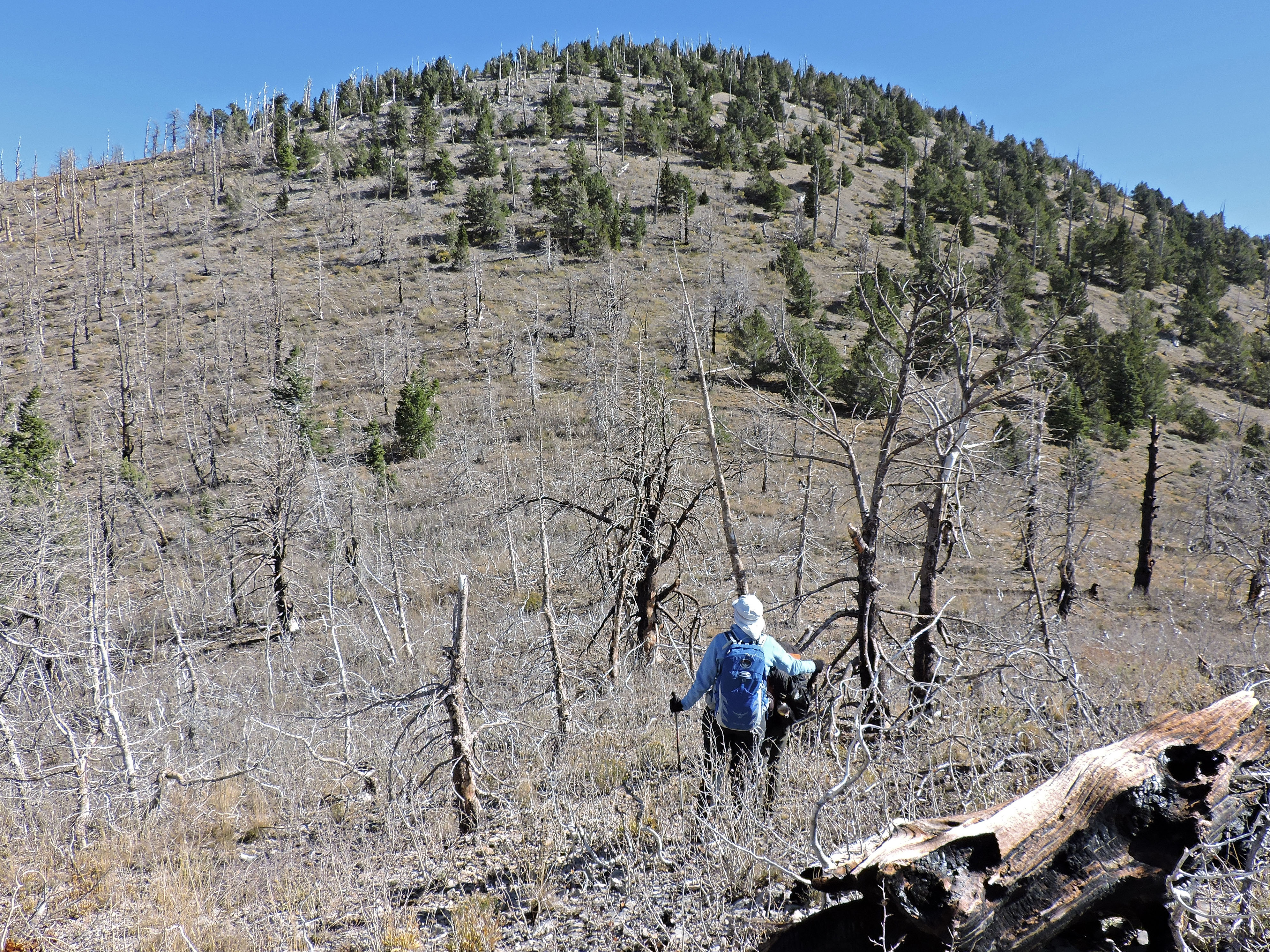 Coming to the false summit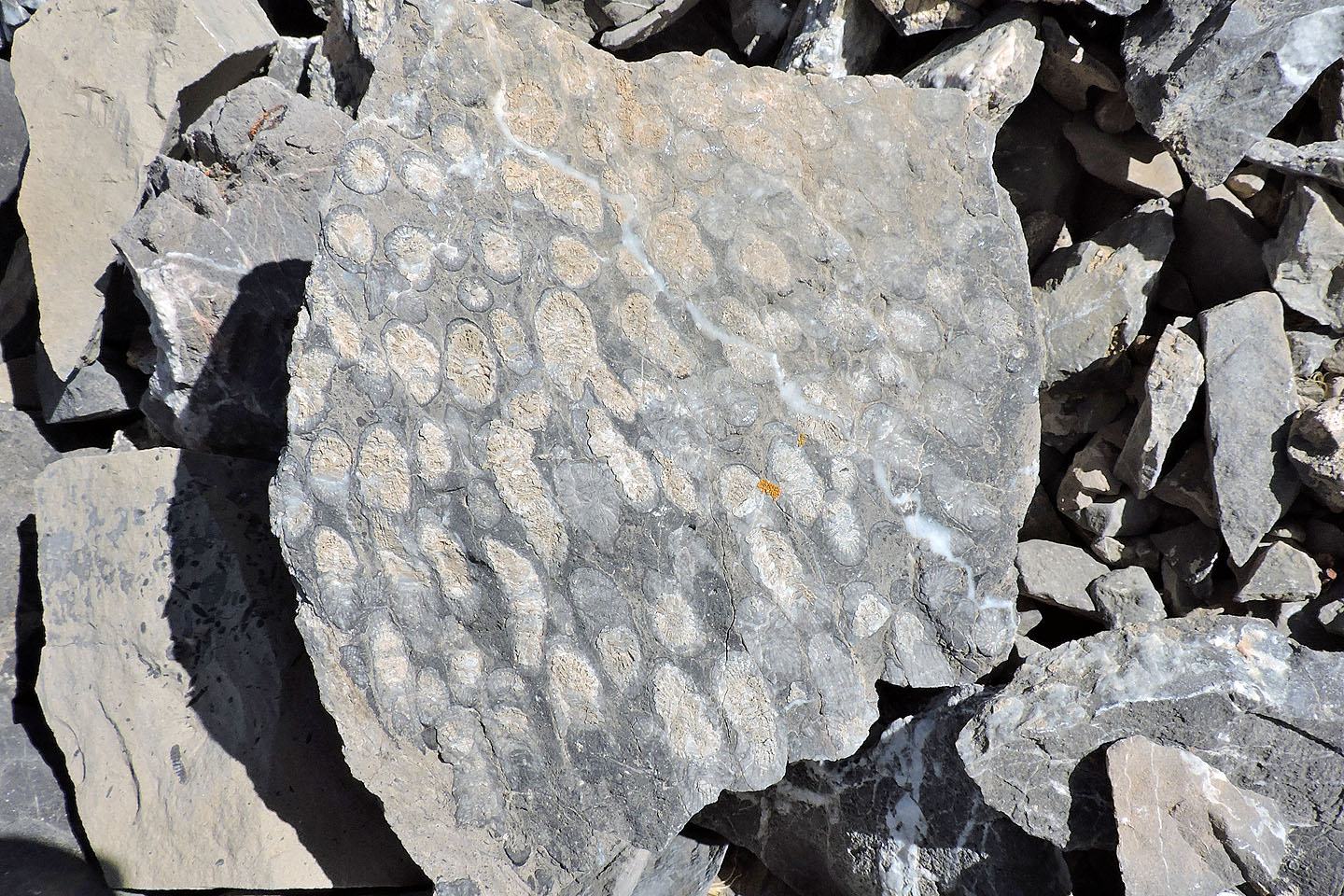 Fossils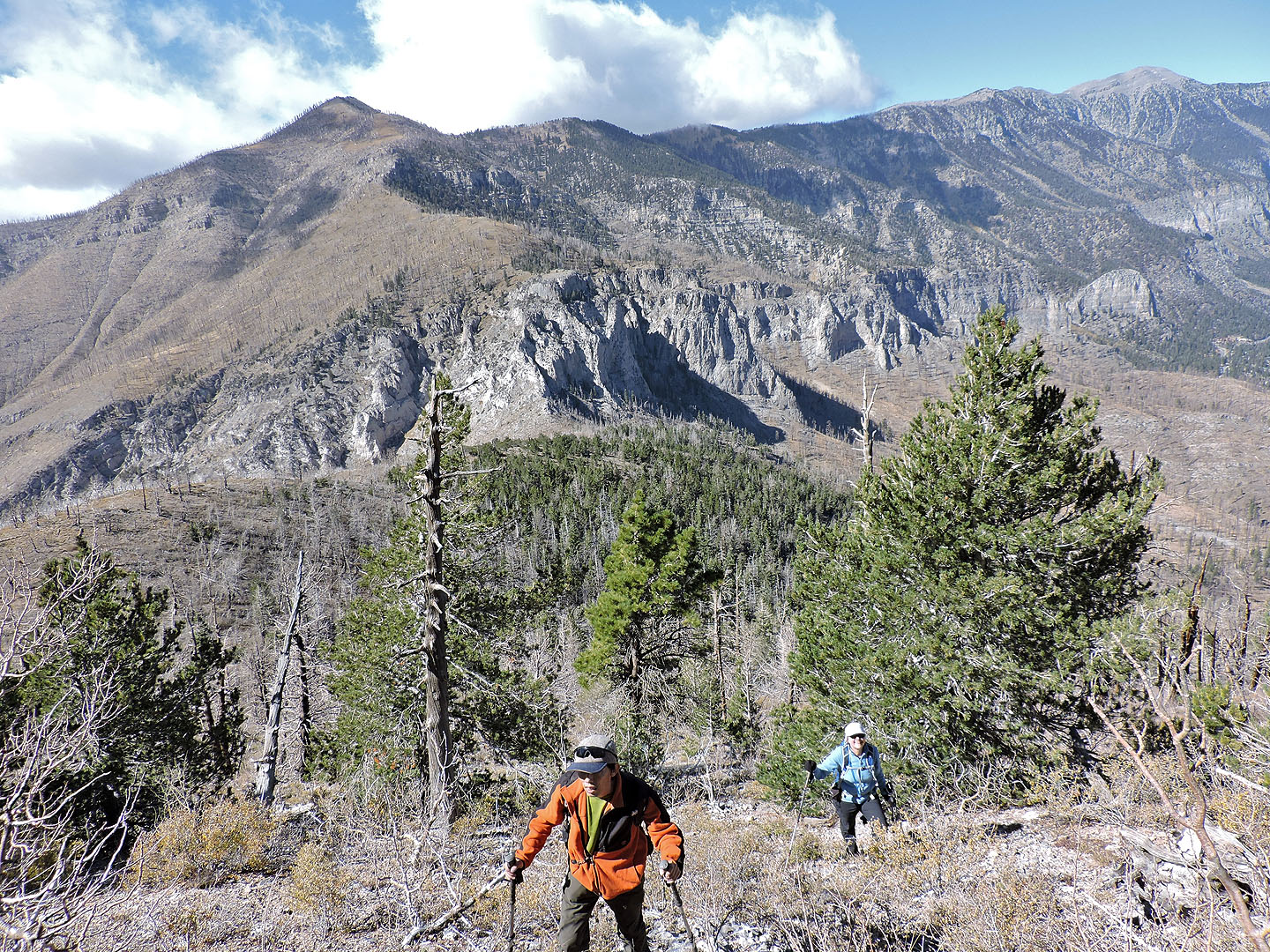 A long ridge connects Griffith Peak to Mount Charleston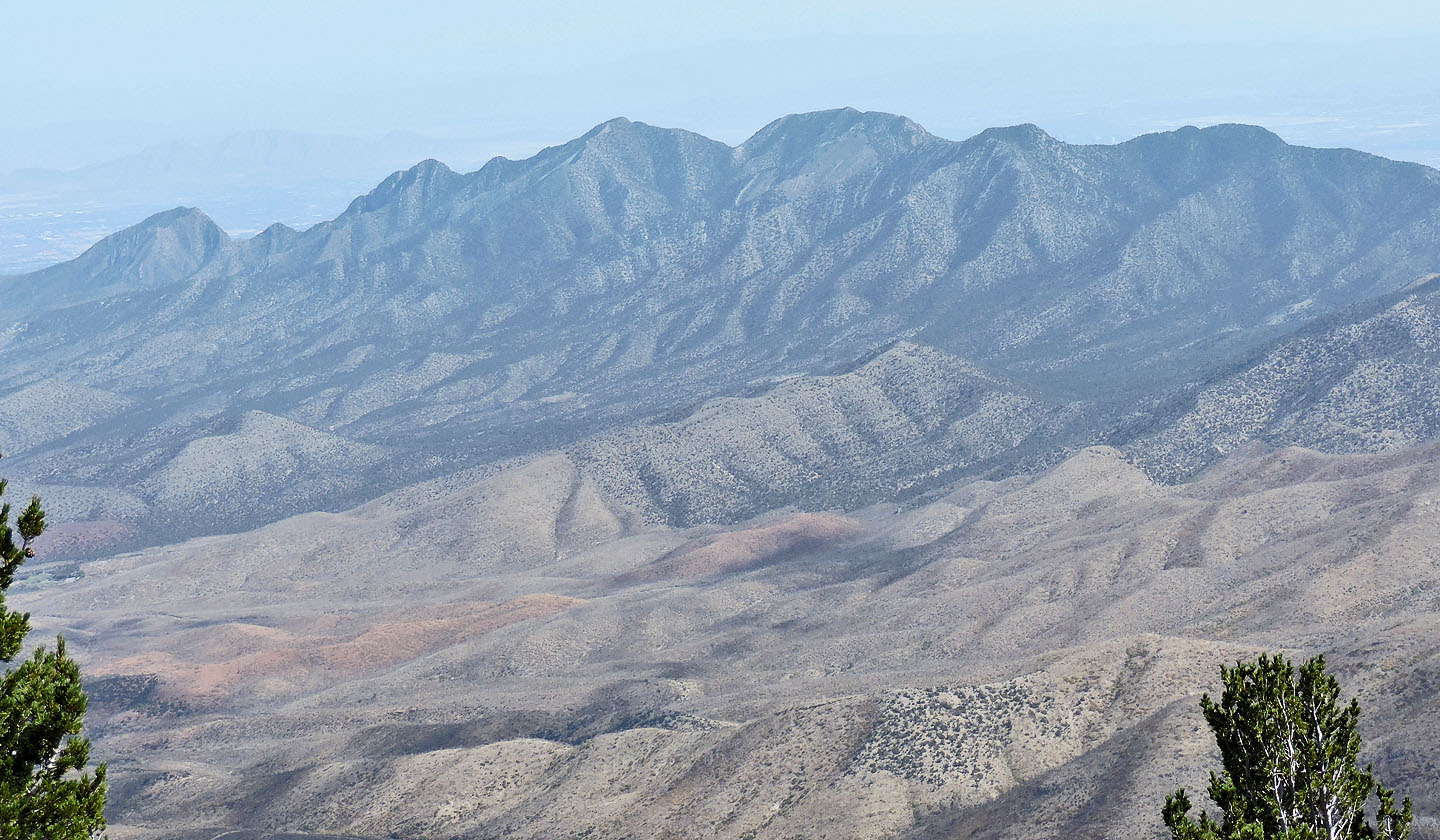 La Madre and El Padre Mountains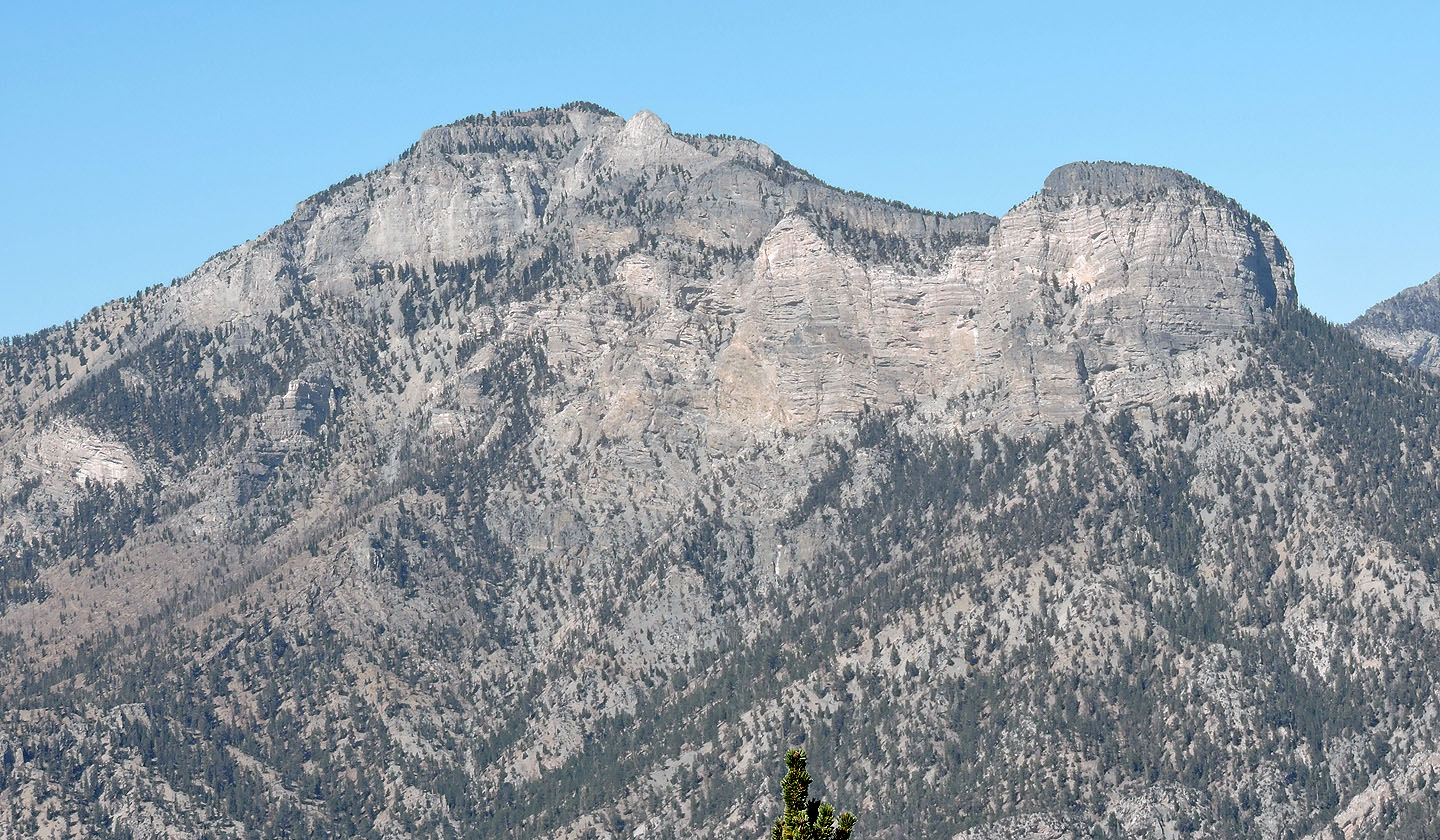 Mummy Mountain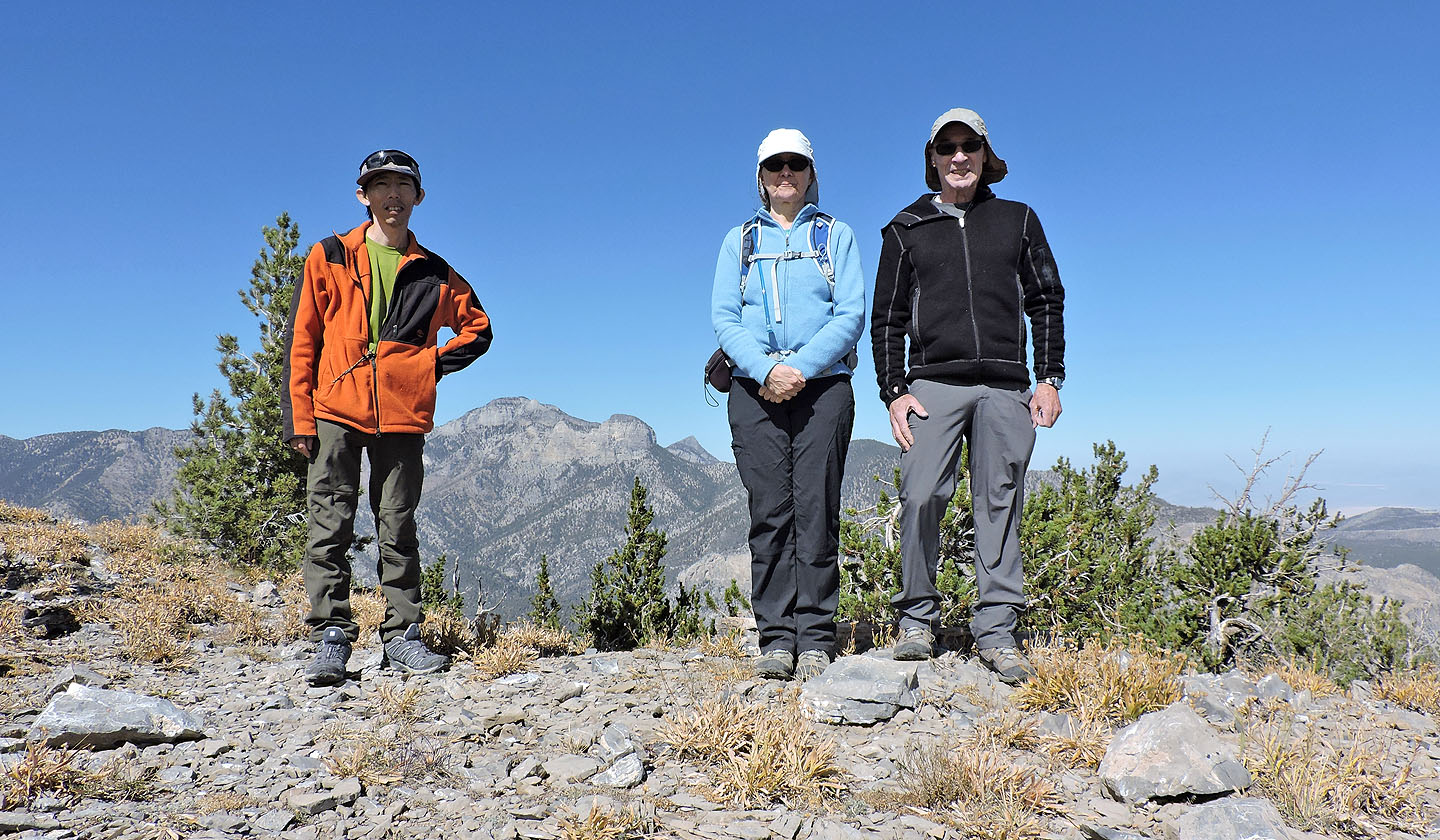 Standing on the summit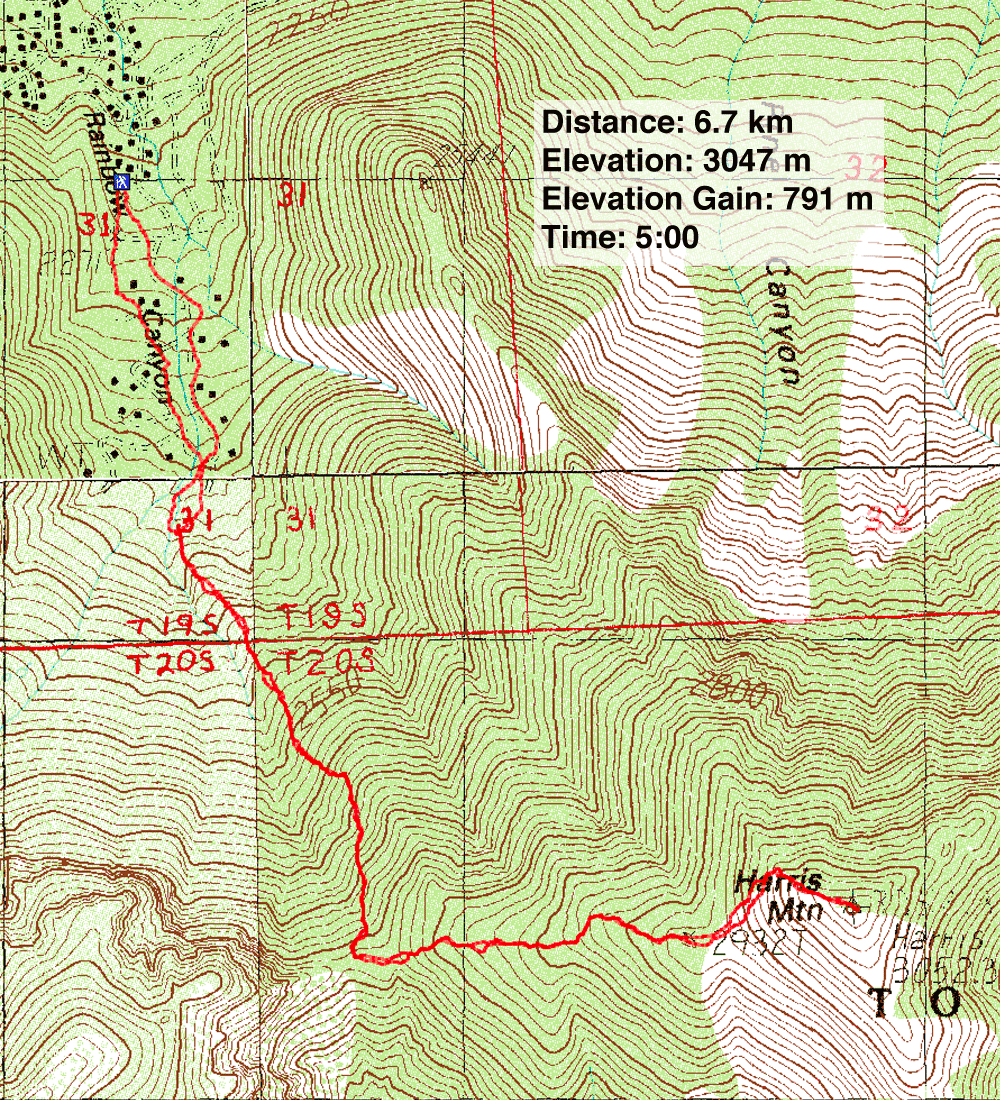 Charleston Peak, Angel Peak, Griffin Peak, La Madre Spring (4.2 mi, 9997 ft, 2595 ft)