bobspirko.ca | Home | Canada Trips | US Trips | Hiking | Snowshoeing | MAP | About

Mummy Mountain
Spring Mountains, Nevada
April 23, 2009
Fearing snow conditions, Mummy Mountain wasn't even on our agenda, but we heard about a hiking party that nearly made the summit two weeks earlier. Even though we lacked crampons and ice axes, Dinah and I decided to give it a try. And with temperatures expected to reach 33°C in Las Vegas, this mountain would be a good place to beat the heat. Mummy is the second-highest peak in the Spring Mountains.
Shin from the Las Vegas Meetup group emailed us all the information we would need to climb Mummy Mountain. Mummy is Shin's favourite mountain: he climbed it twelve times last year!
It took us about an hour to drive to the trailhead from our hotel at the edge of The Strip. We started up the Trail Canyon Trail and then turned left at the junction, taking the North Loop Trail a short distance before going offtrail up a scree slope.
The scree slope topped out onto a ridge that we followed to the base of a cliff band. There was still plenty of snow here, and we cautiously kick-stepped across and up the steeper slopes. A break in the cliff band, called "the chute," affords access to the summit.
When we reached the top, the wind picked up. Nonetheless, we hiked to the north end of the summit plateau to look around. Our seven-hour trip included a 40-minute stay on the summit.
The descent was fast. The snow had softened so much that there was little likelihood of sliding down the steep slopes that concerned us on the ascent. In some places the snow allowed us to run down.
We were certainly pleased to bag a peak in the Spring Mountains on our last full day in Las Vegas, nicely capping off our two-week vacation there.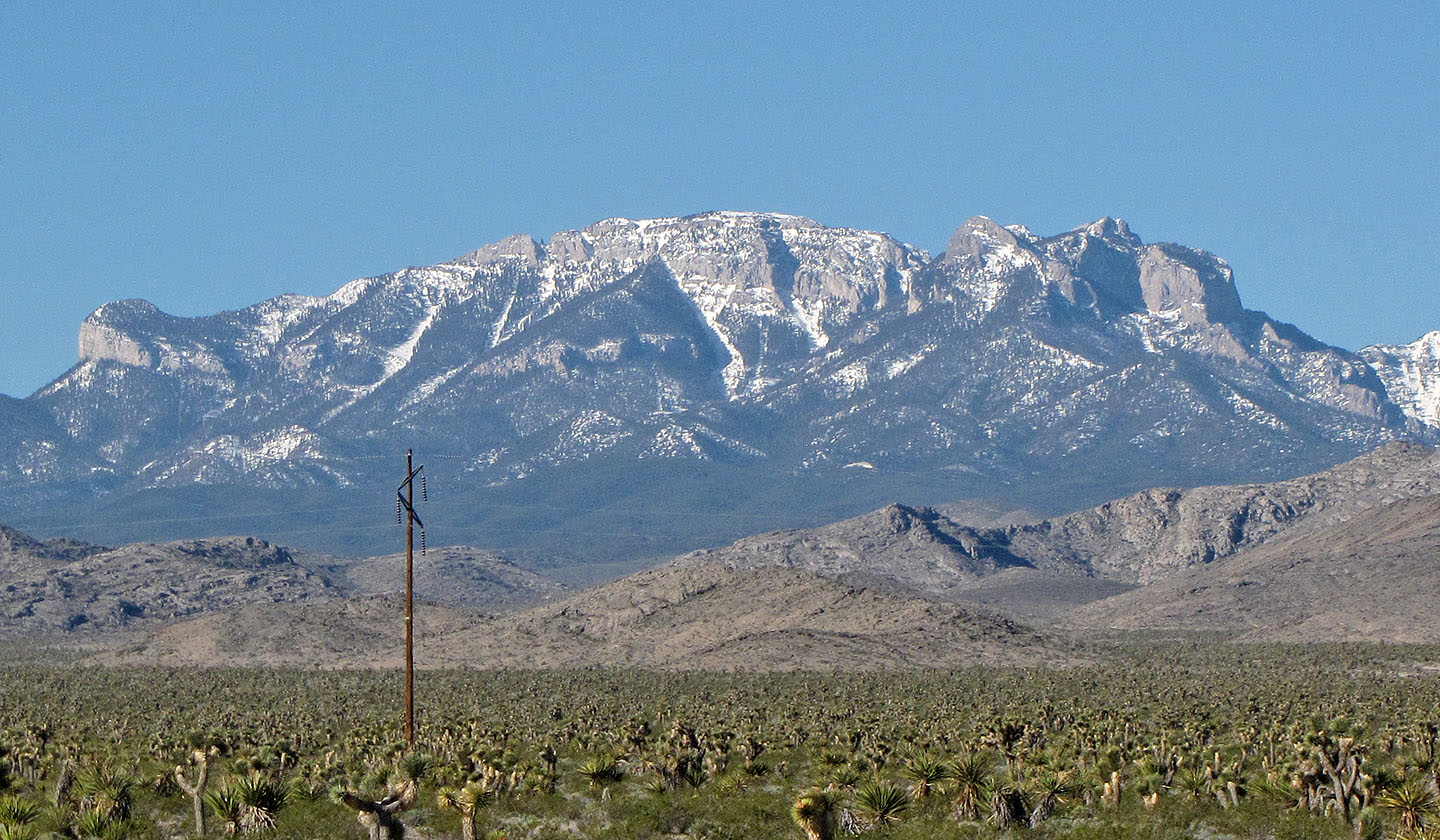 Looking NE from HWY US95, Mummy Mountain looks, well, like a mummy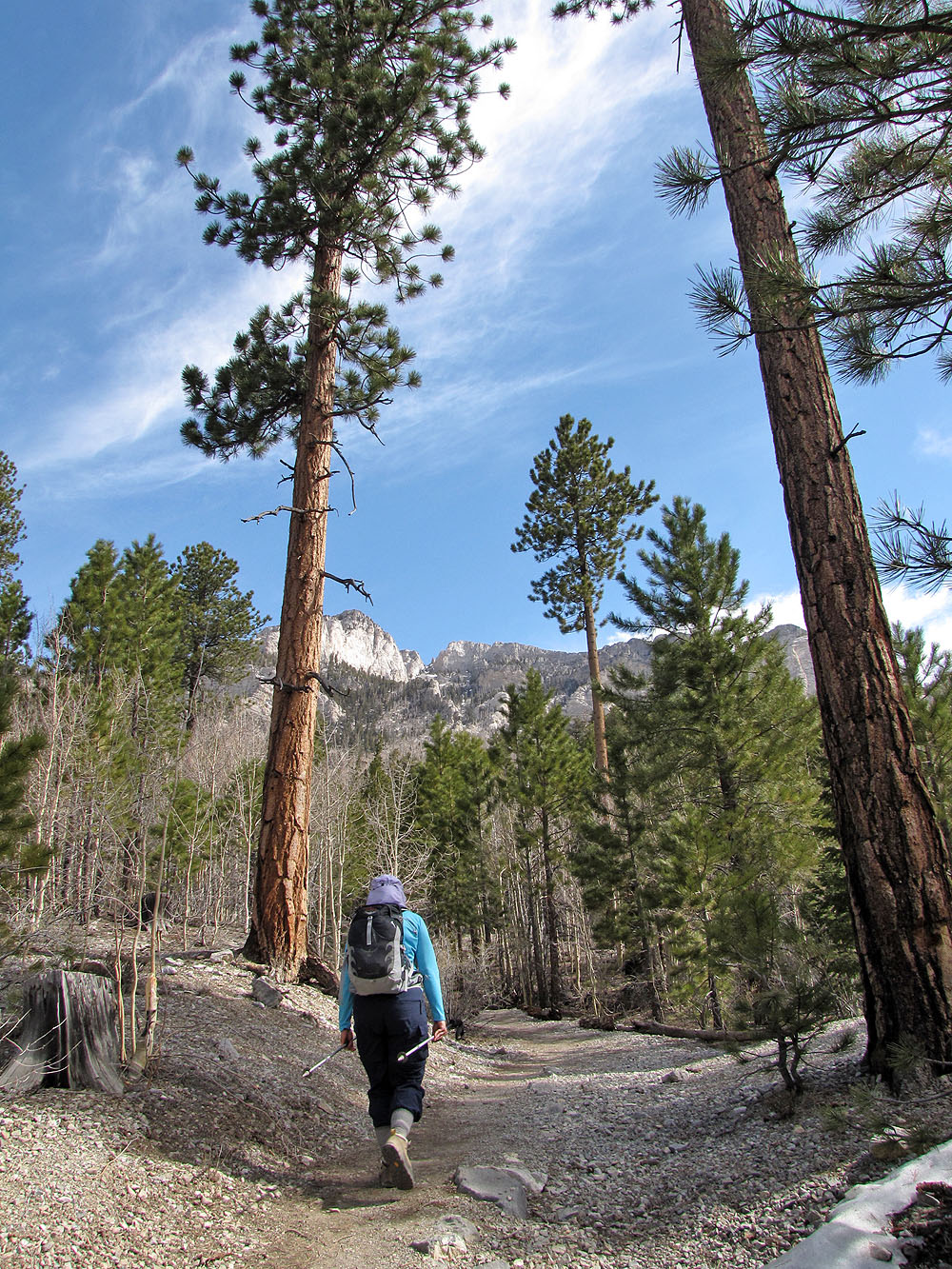 Ponderosa pines line the trail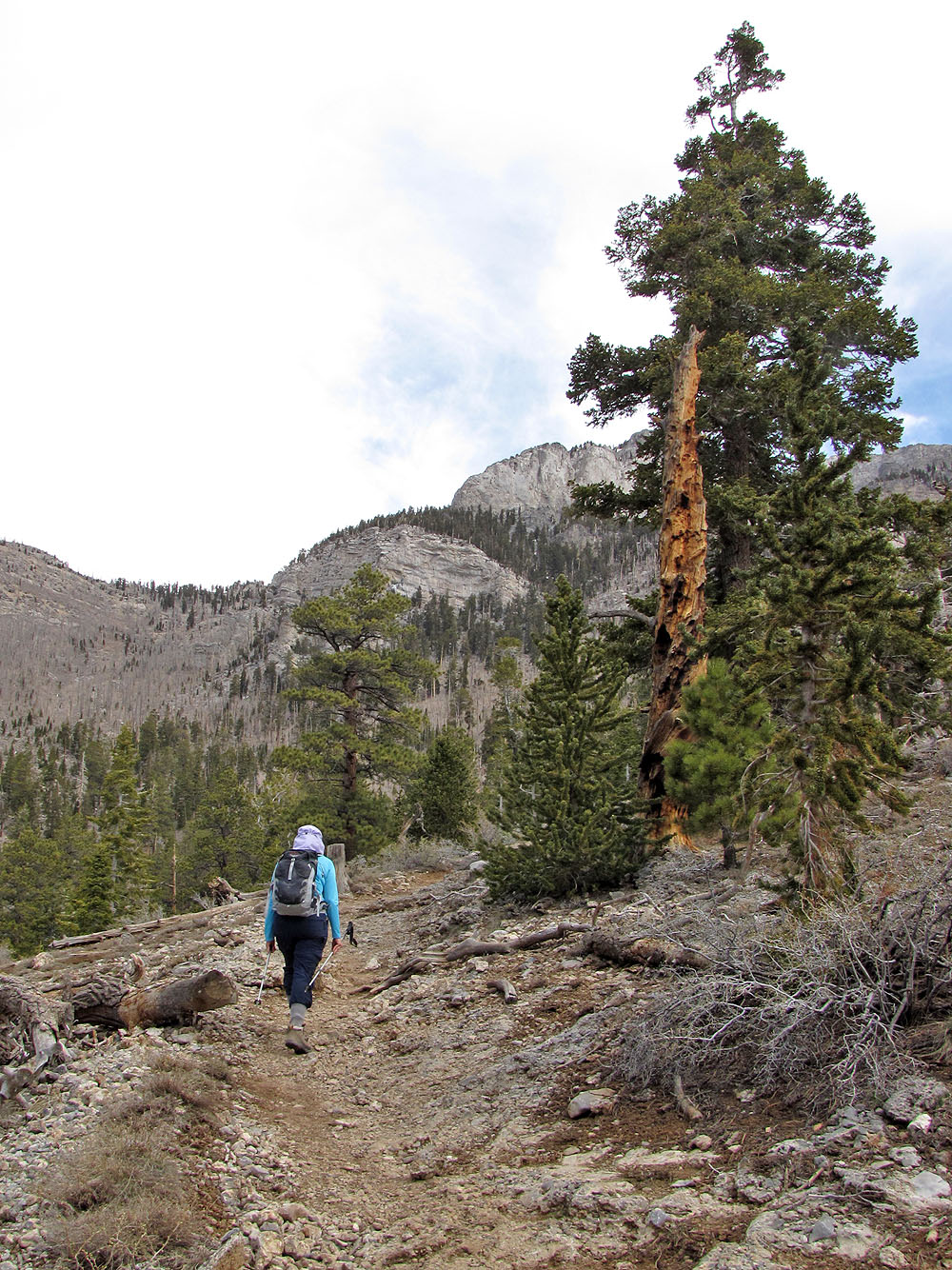 Much of the trail is treed but there are a few breaks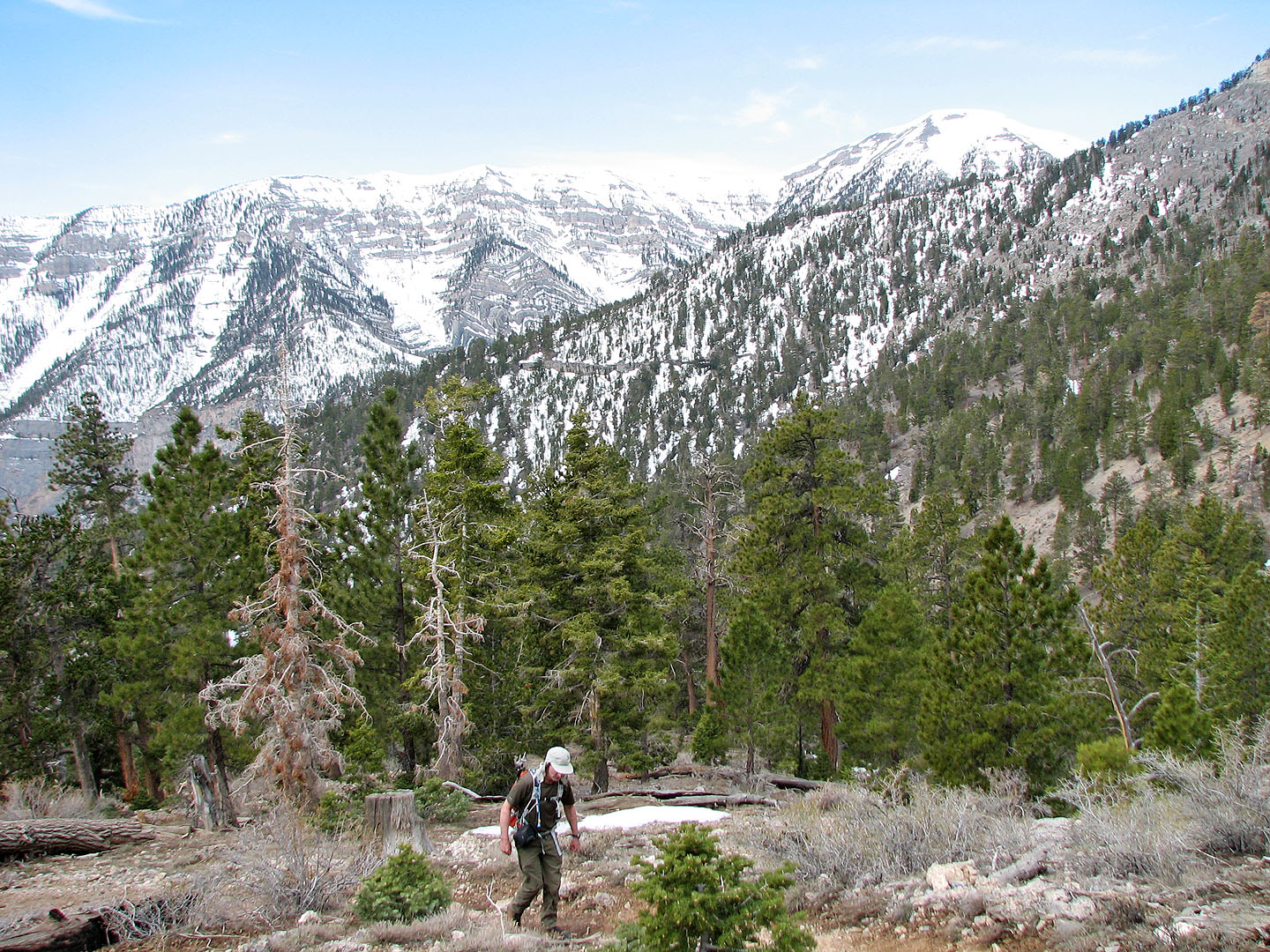 Still plenty of snow on the north slopes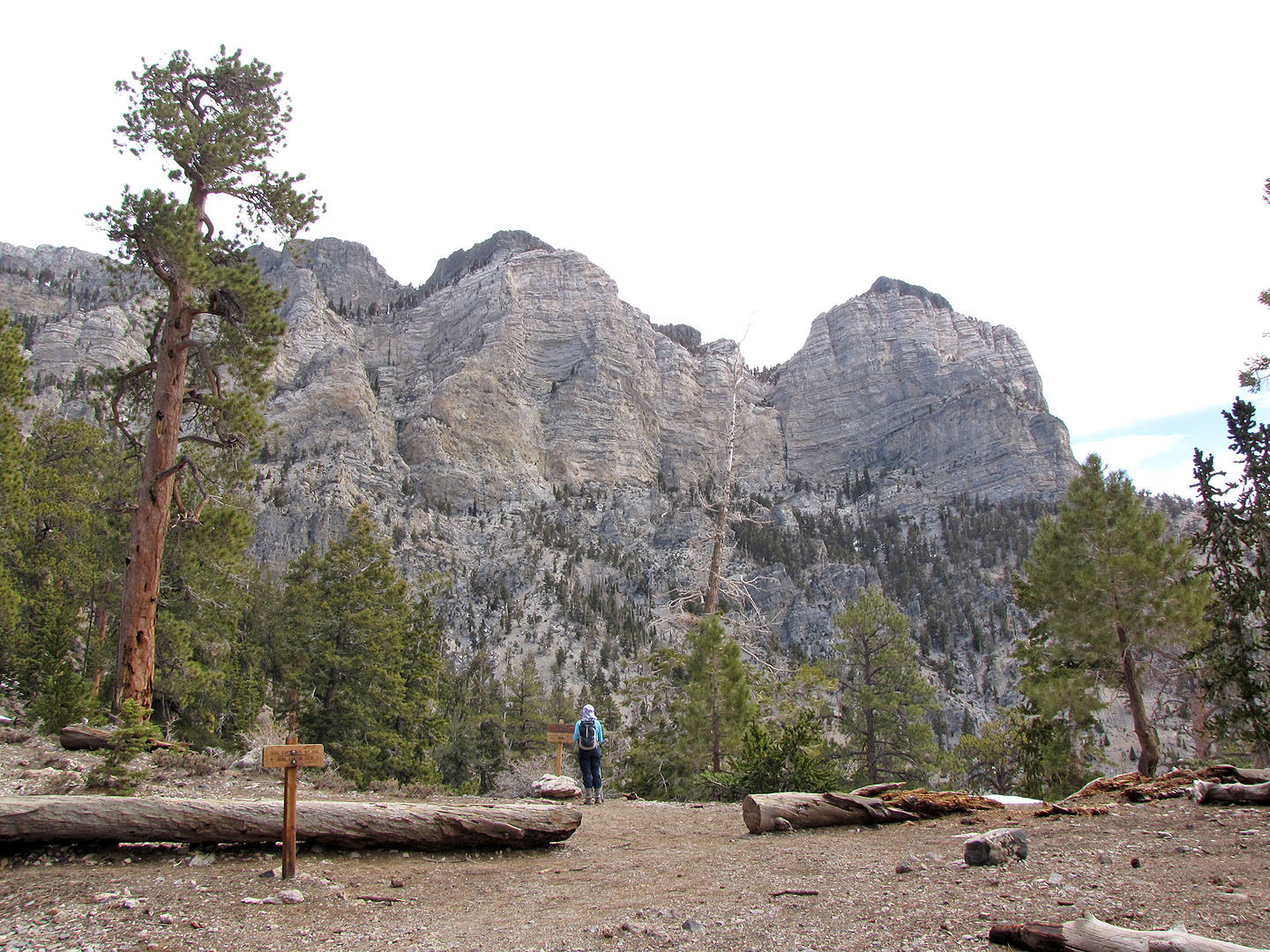 The junction: we left Trail Canyon Trail and turned left onto North Loop Trail. This trail leads to Charleston Peak but we'll soon exit it and make our way offtrail to Mummy Mountain.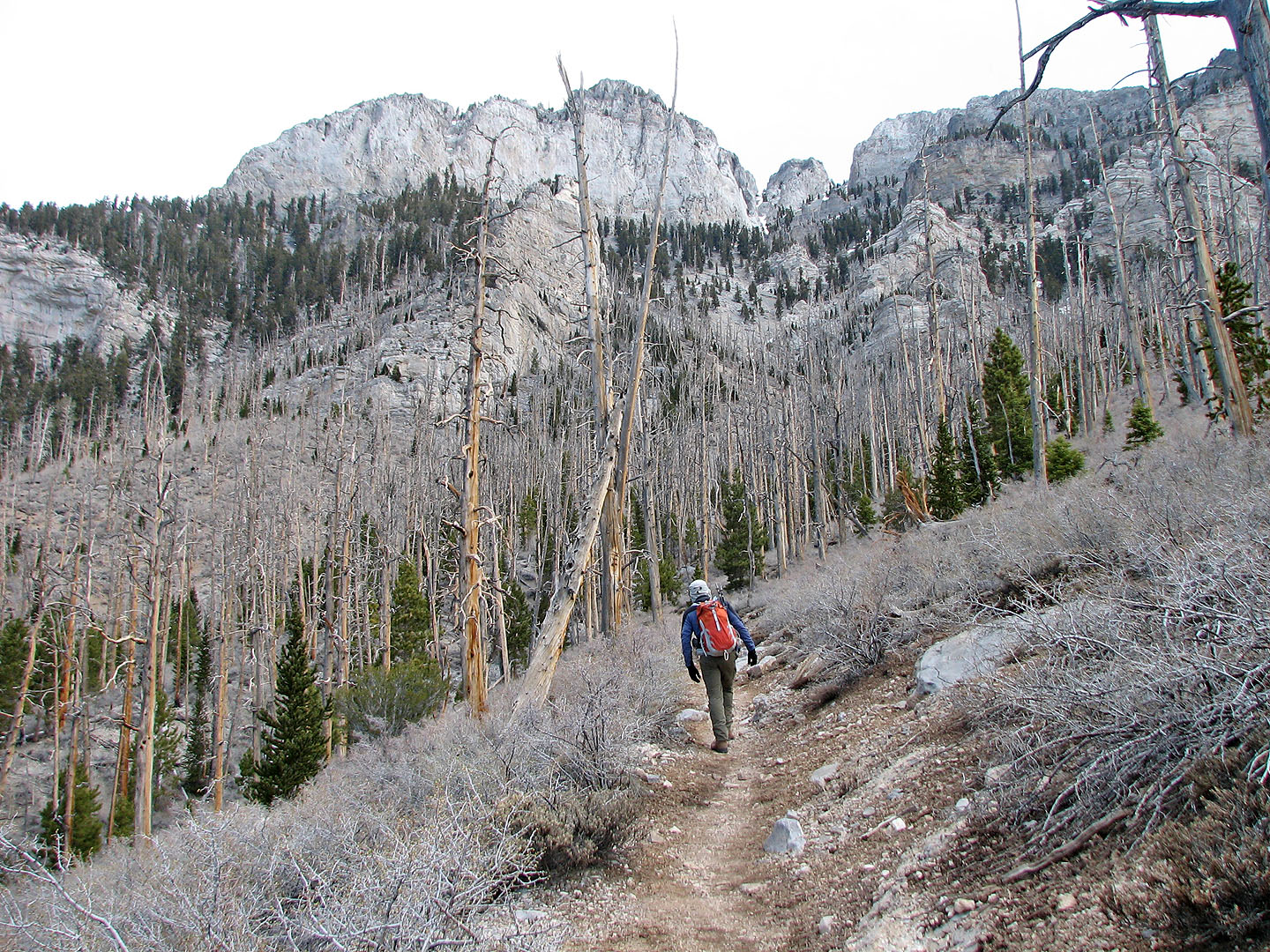 Heading toward a forest of dead trees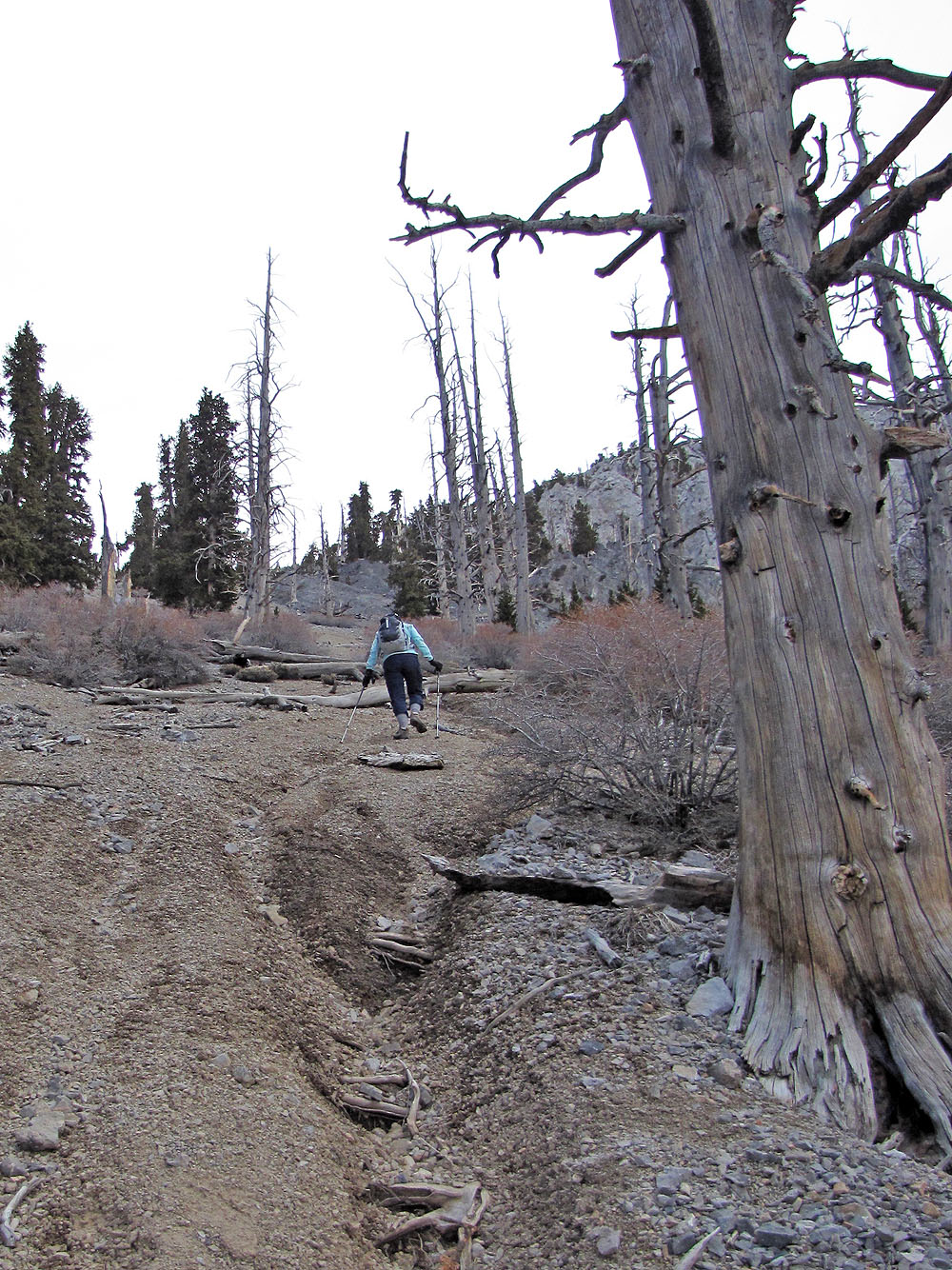 After leaving the trail we ascended a scree slope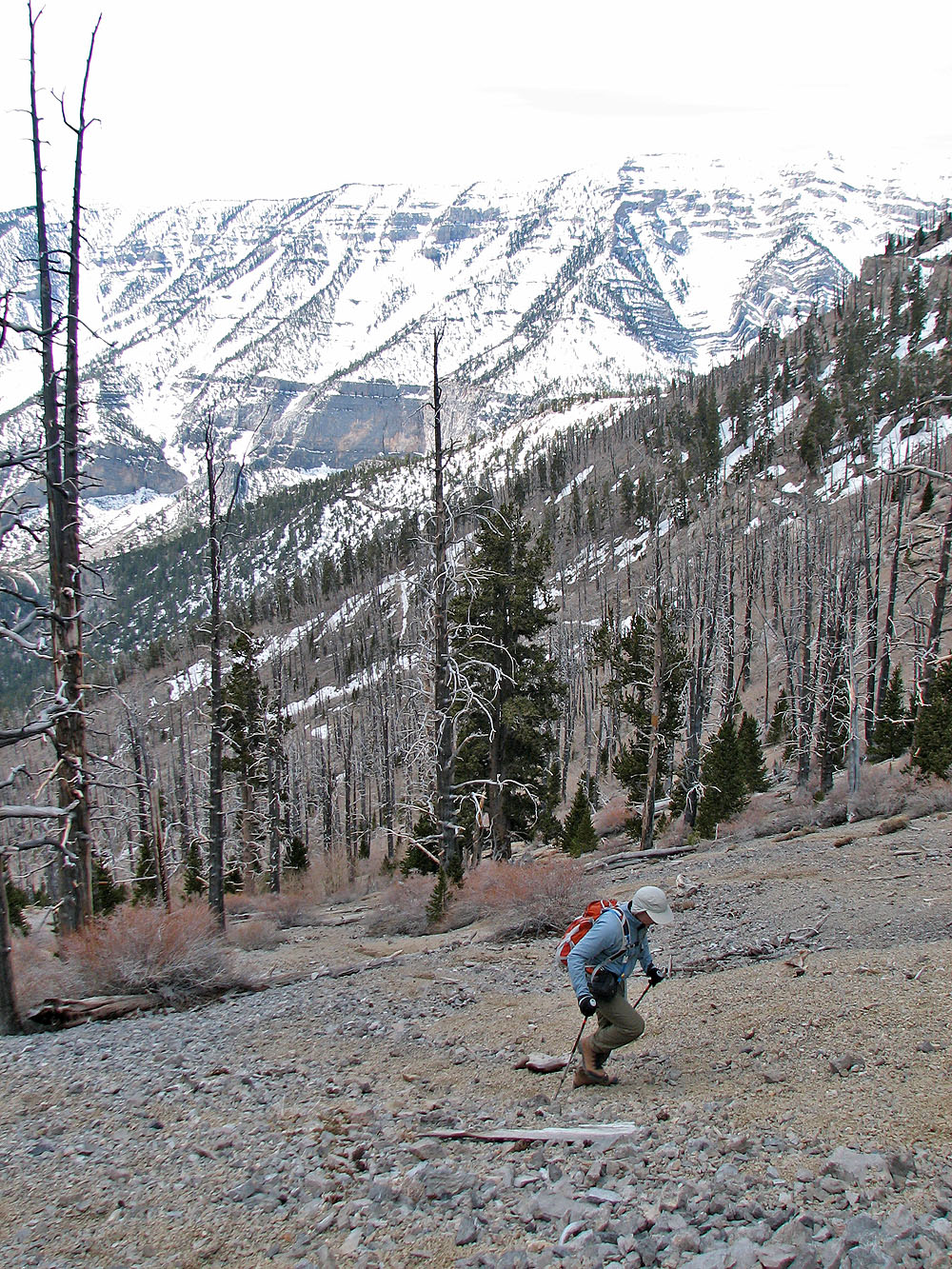 The 150 m ascent up the scree was slow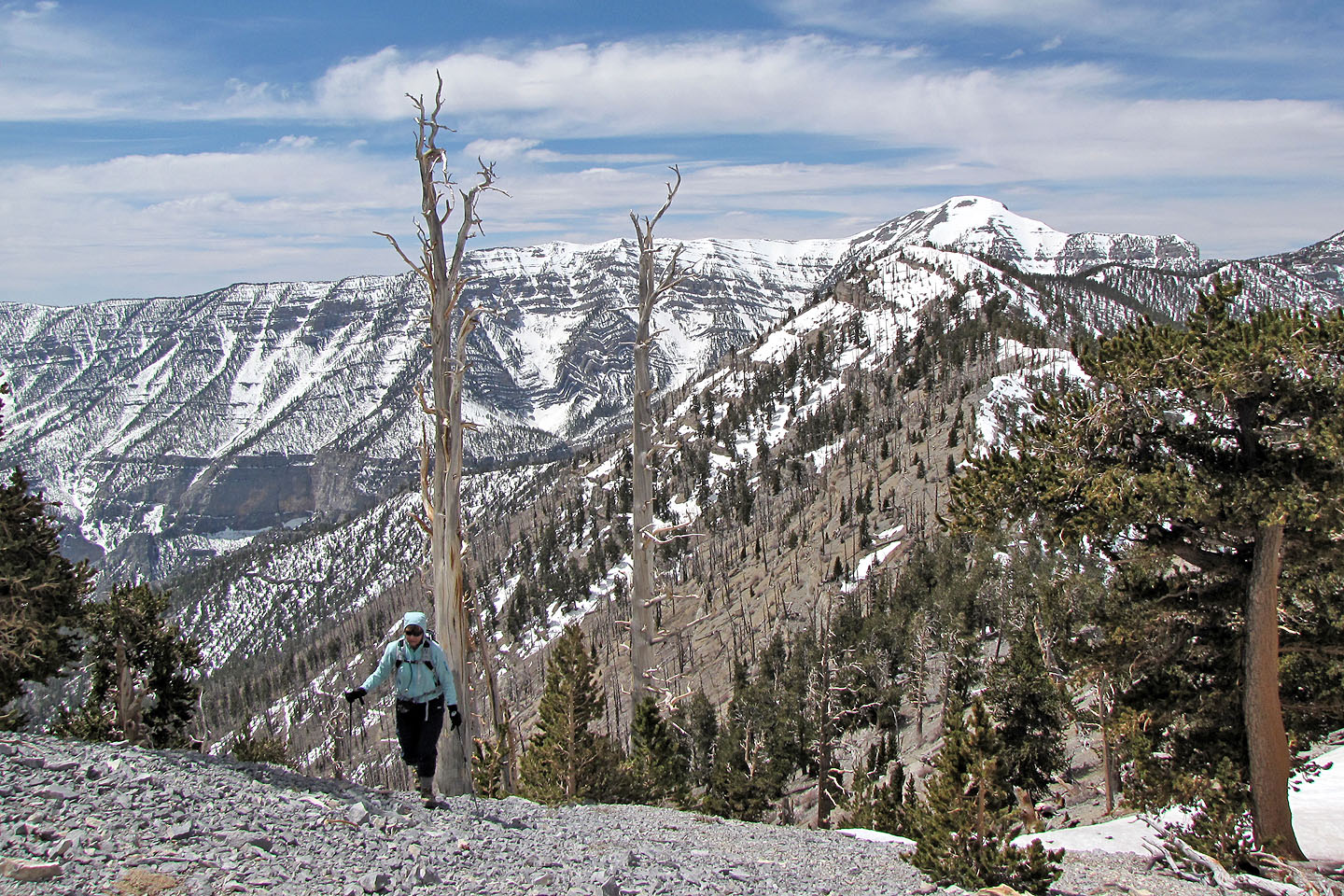 We reached the ridge at the top of the scree slope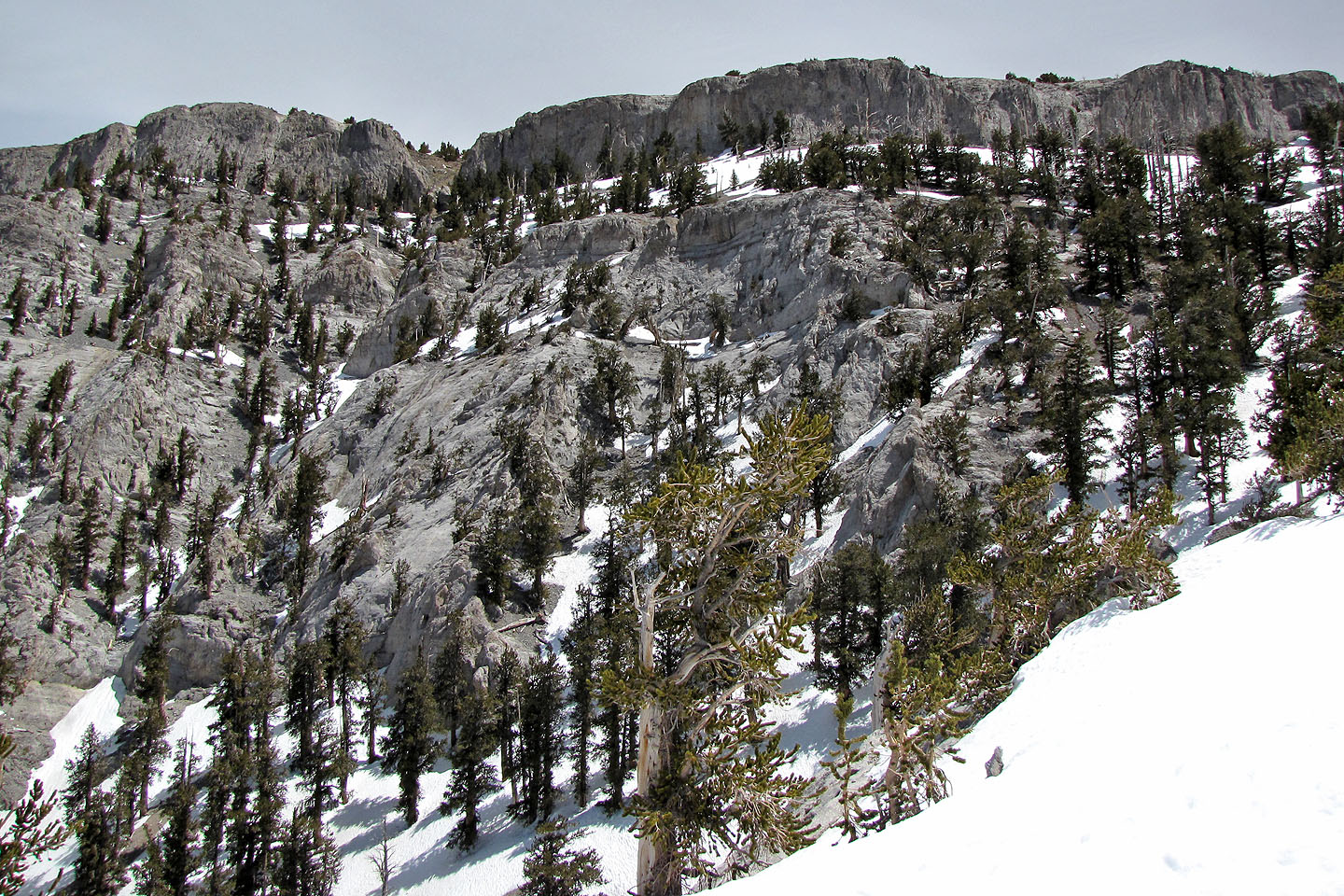 We kept right until we reached the base of the cliff band, and then we followed the cliff band to the chute on the left (mouse over)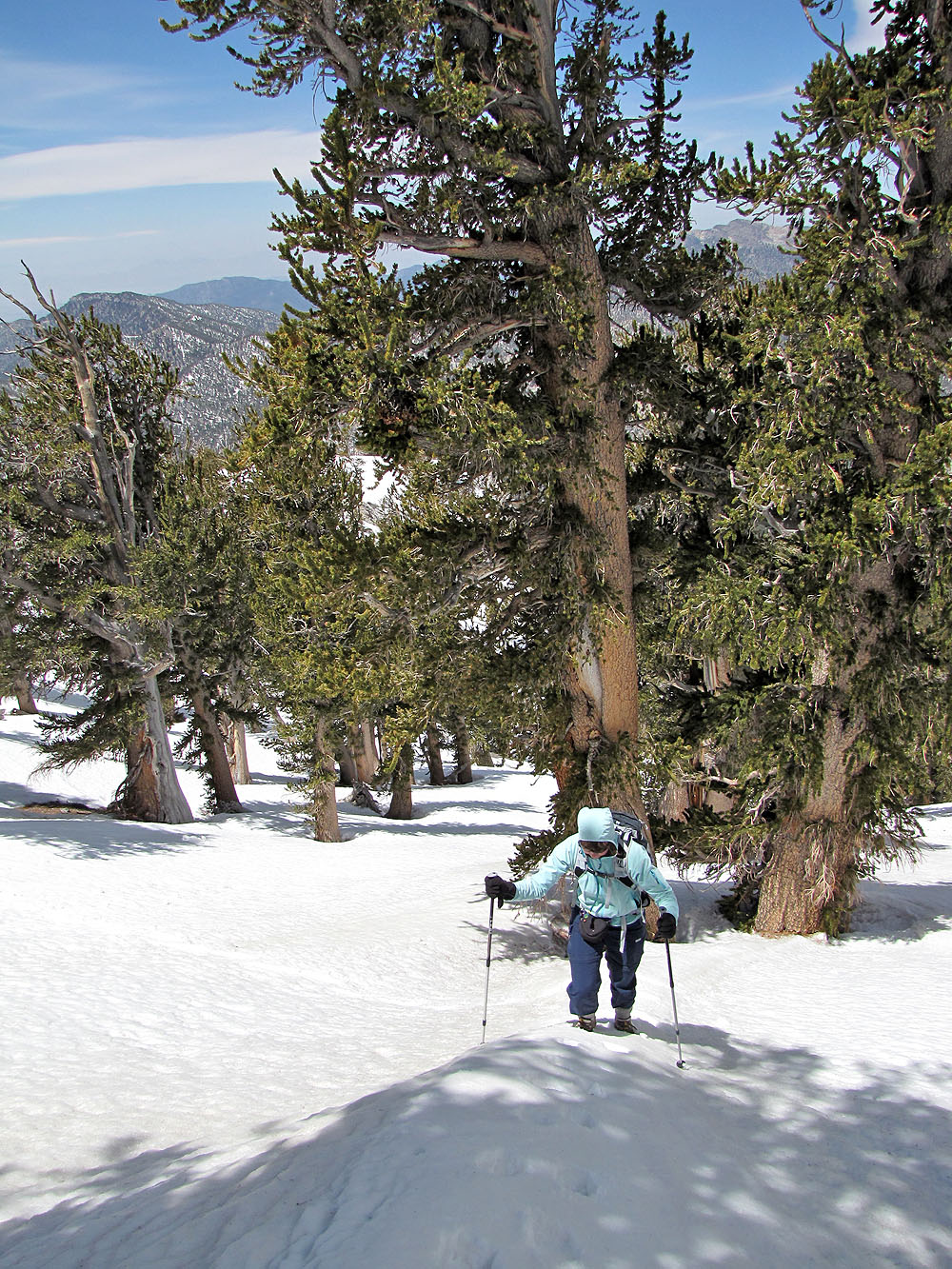 Kick-stepping up a snow slope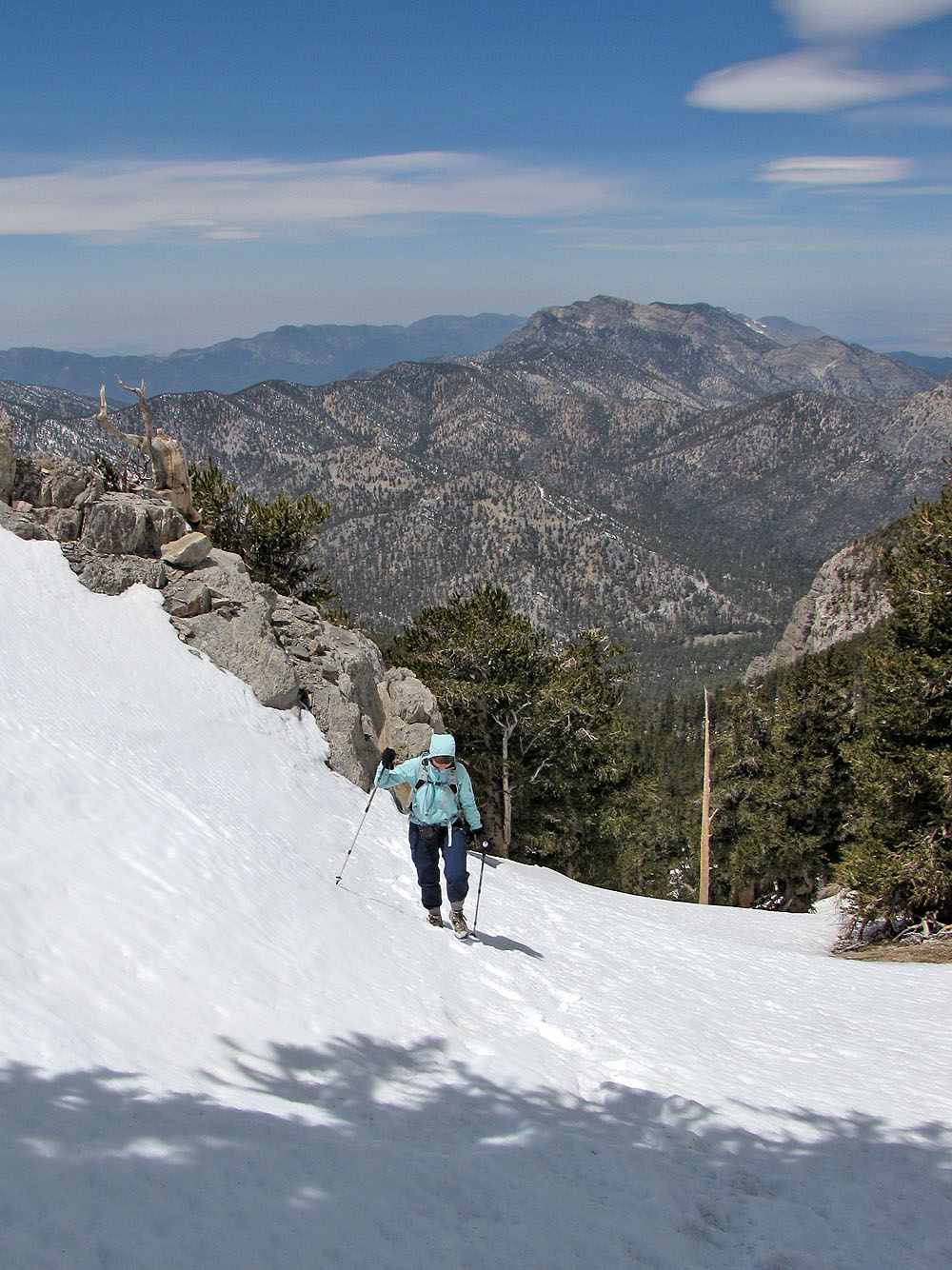 Lots of snow on the ridge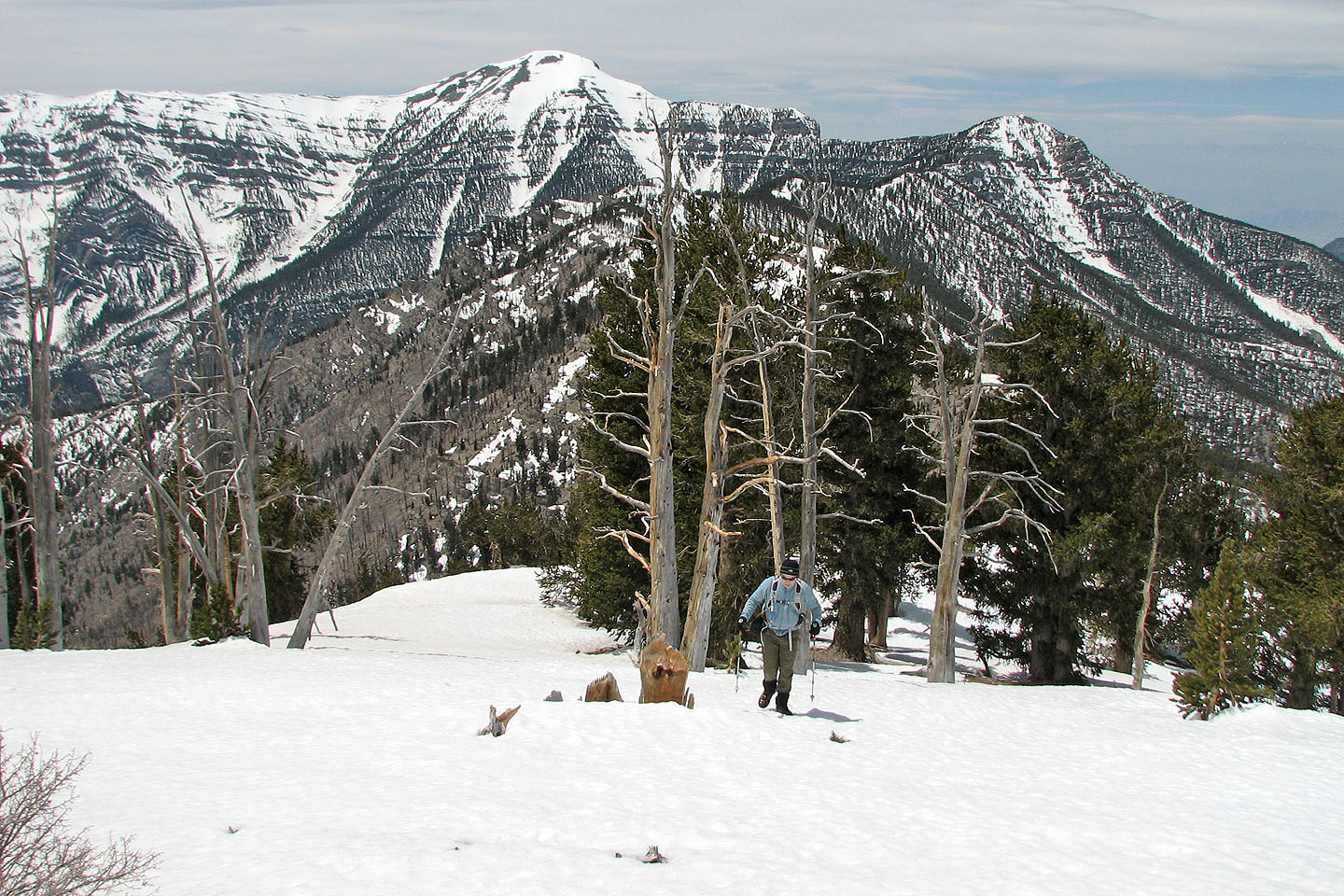 Mount Charleston in the background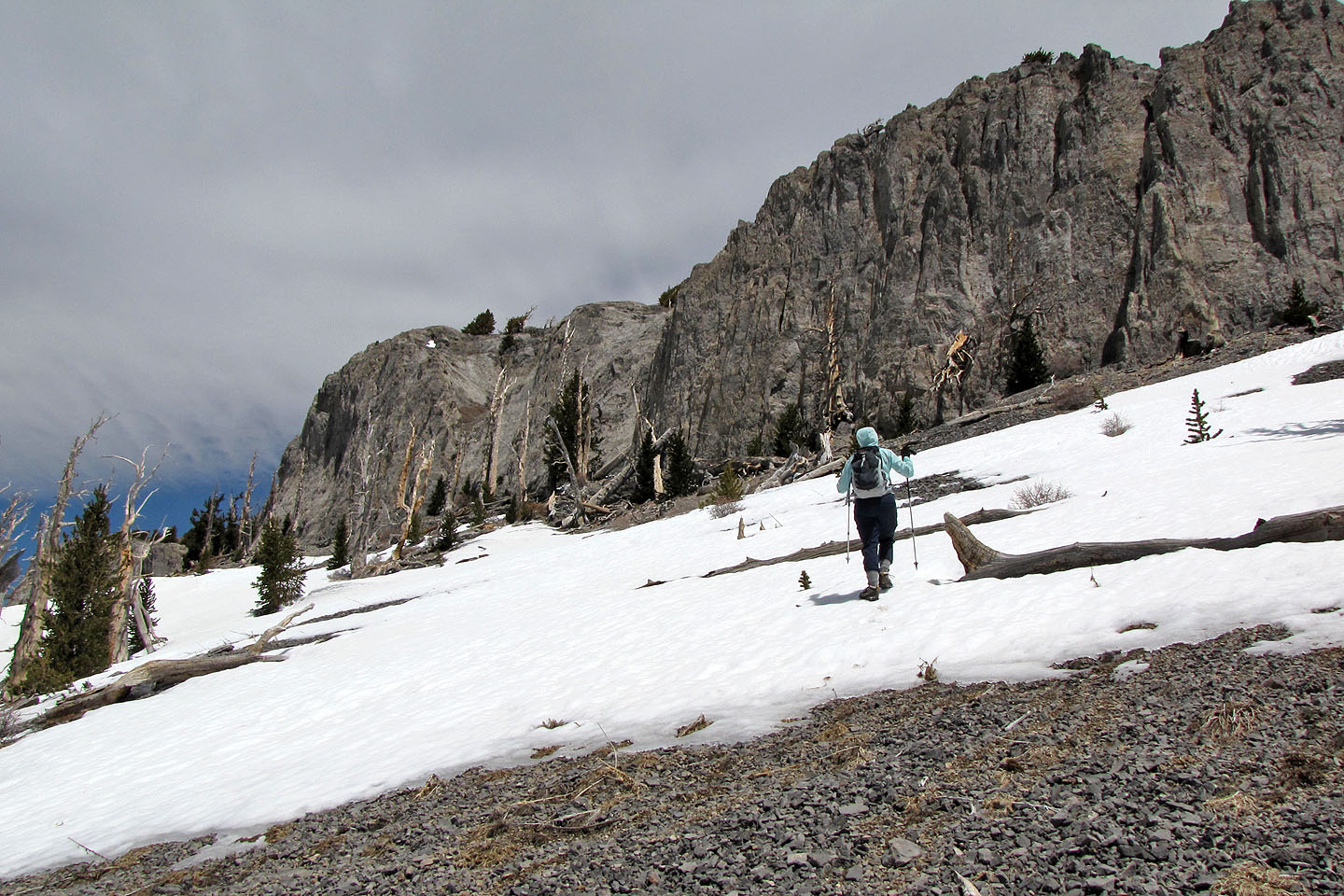 Cliff band ahead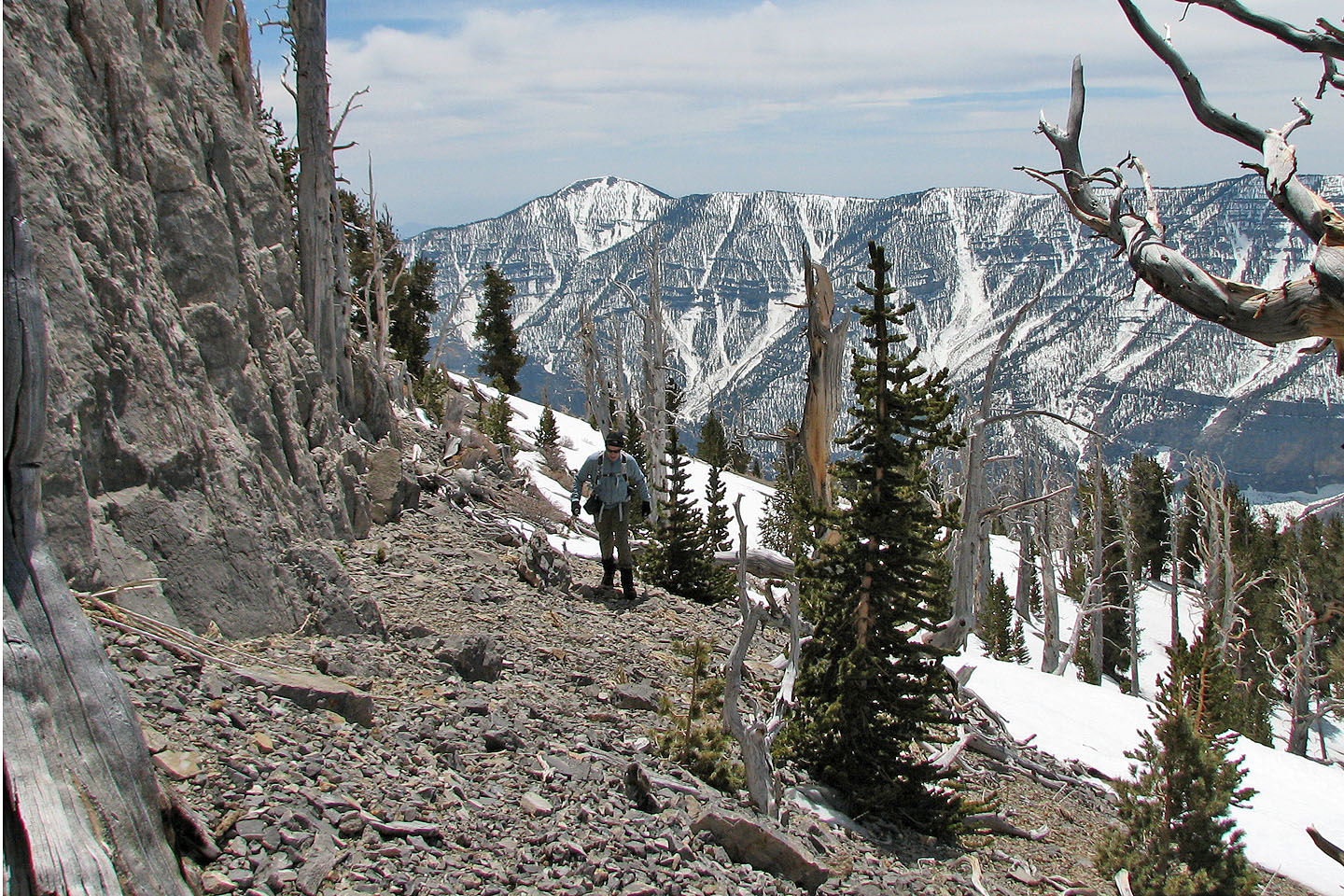 After reaching the cliff band we hiked along the base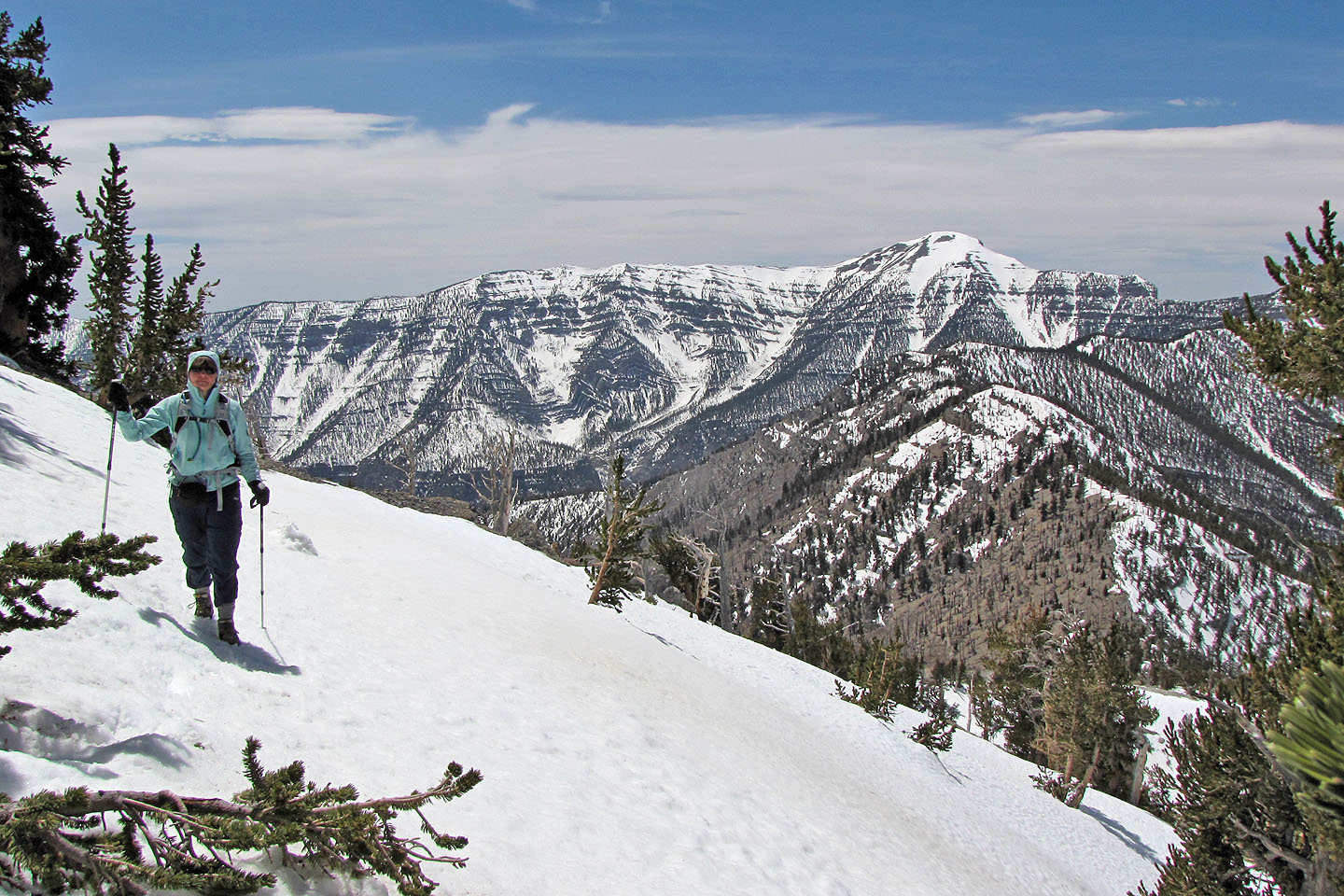 Crossing more snow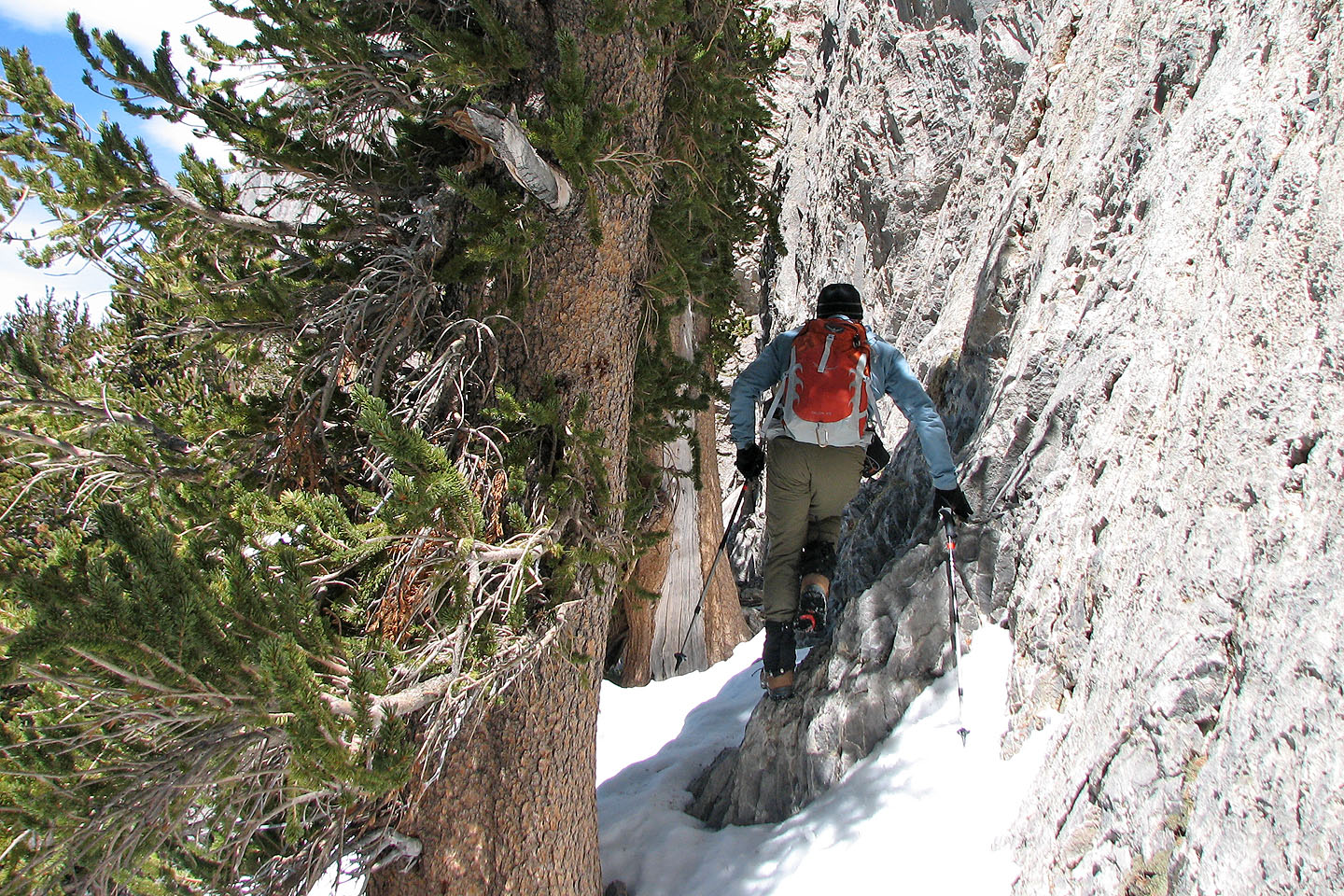 When a snow-covered slope looked too steep to safely cross, we sidled up to the cliff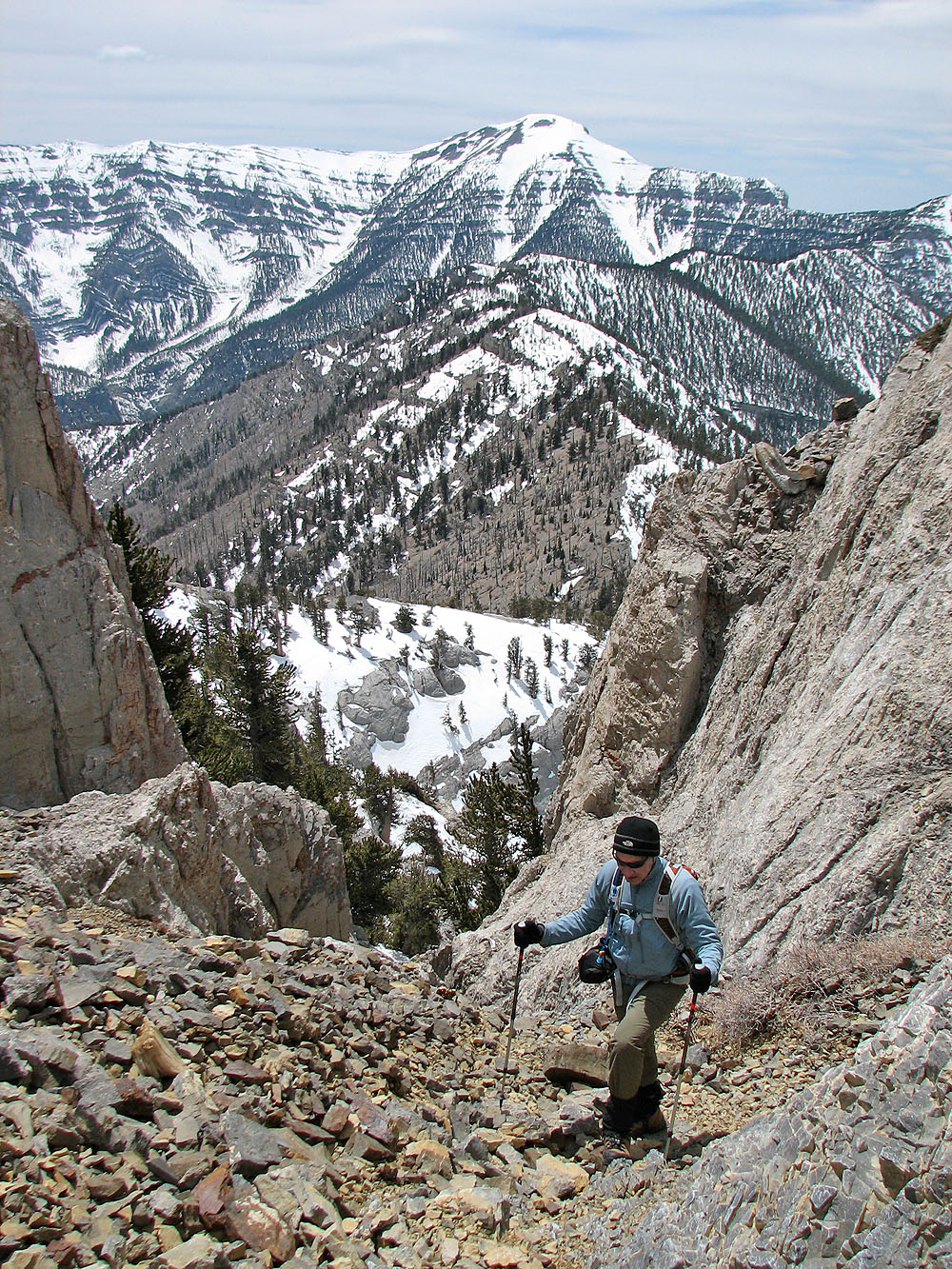 Climbing out of the chute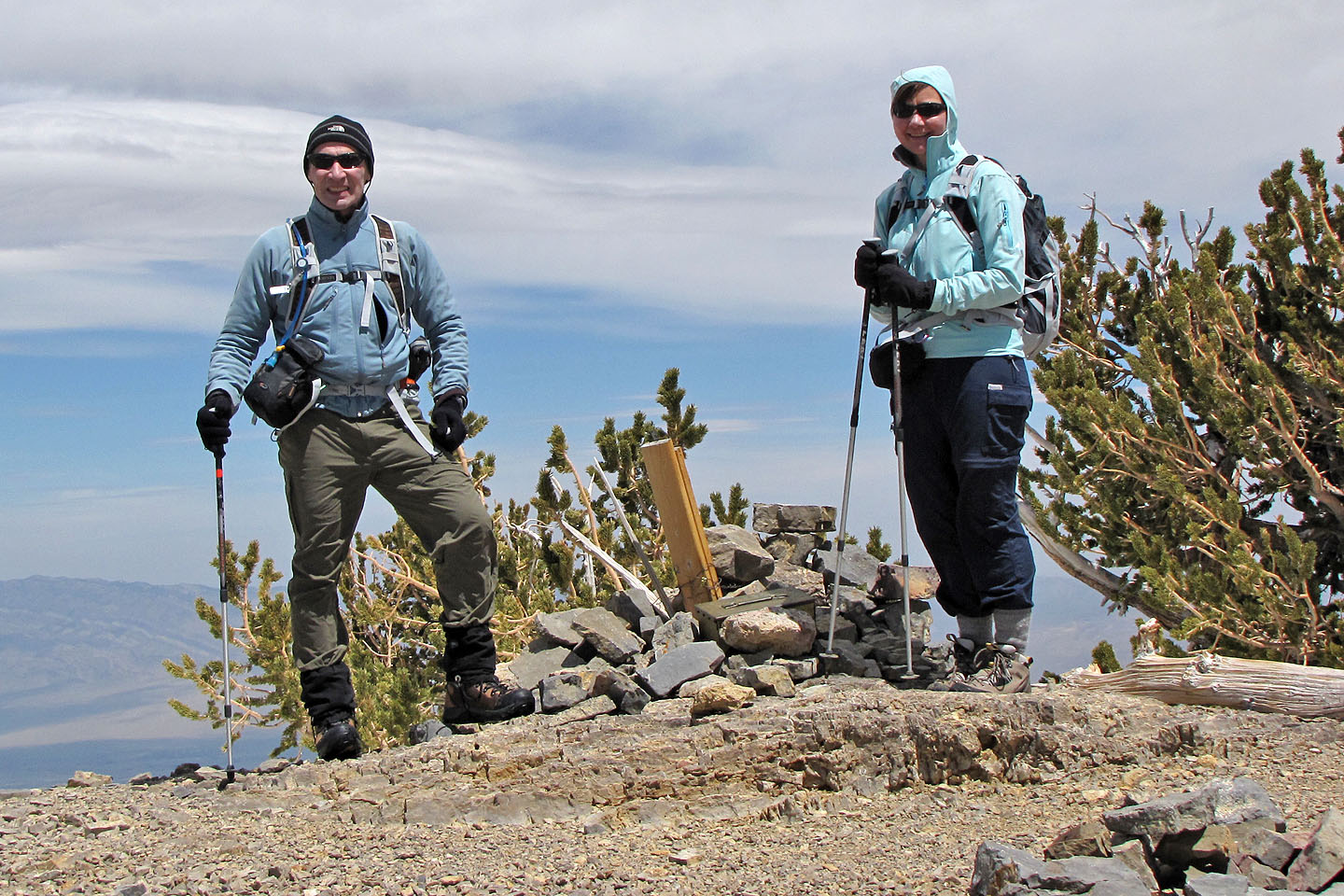 On the summit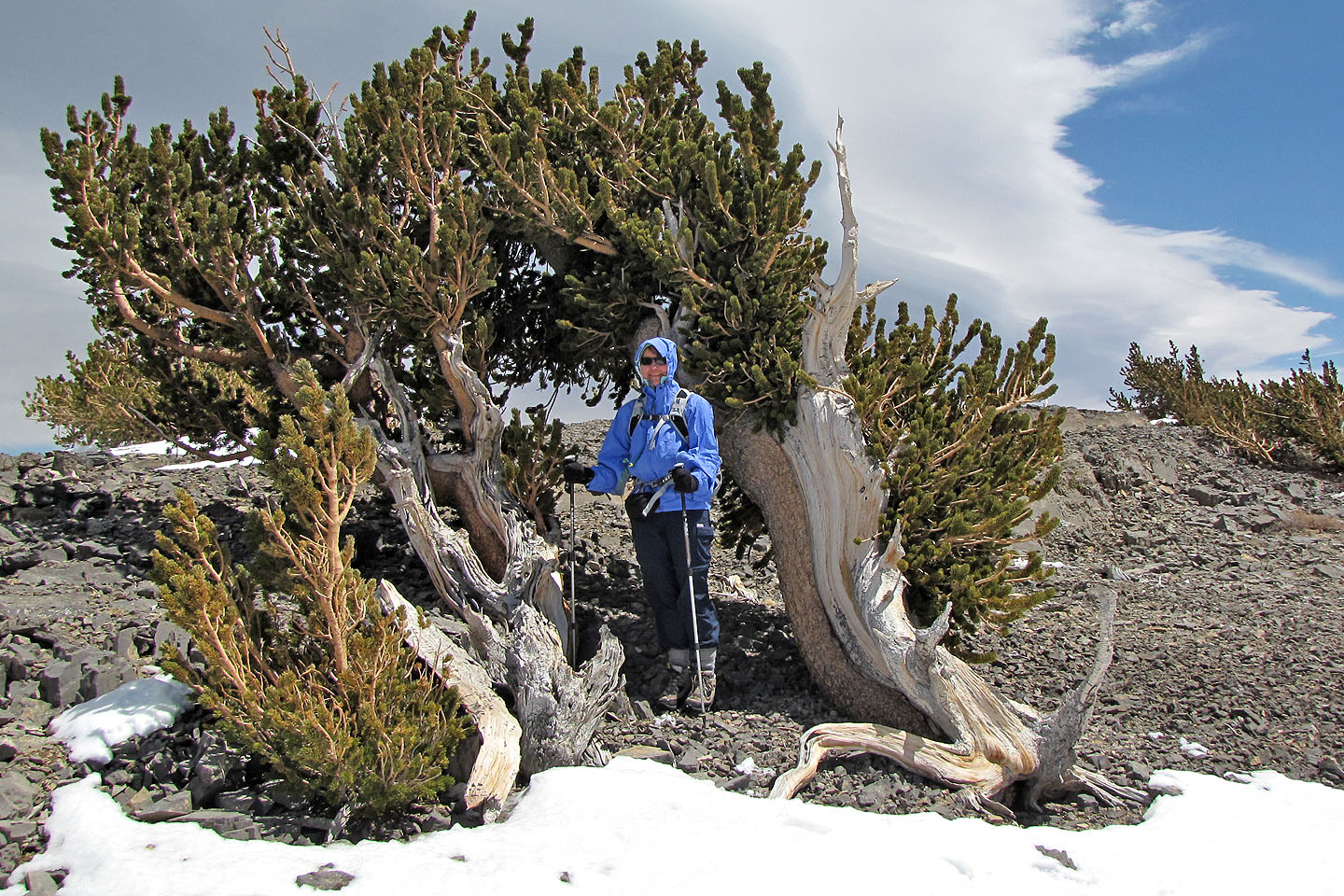 Dinah found shelter from the wind in a gnarled bristlecone pine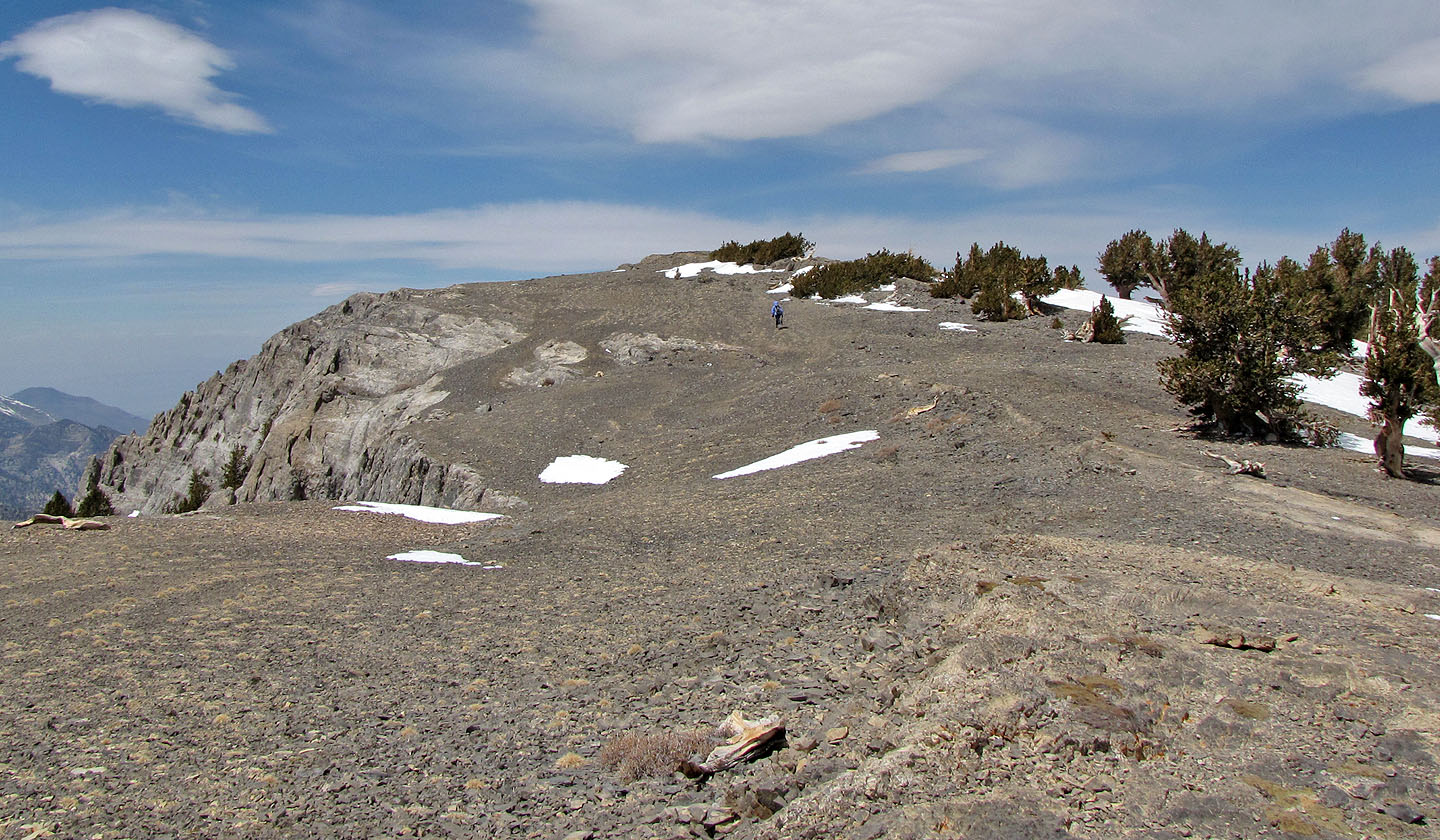 We headed to the north end of the summit plateau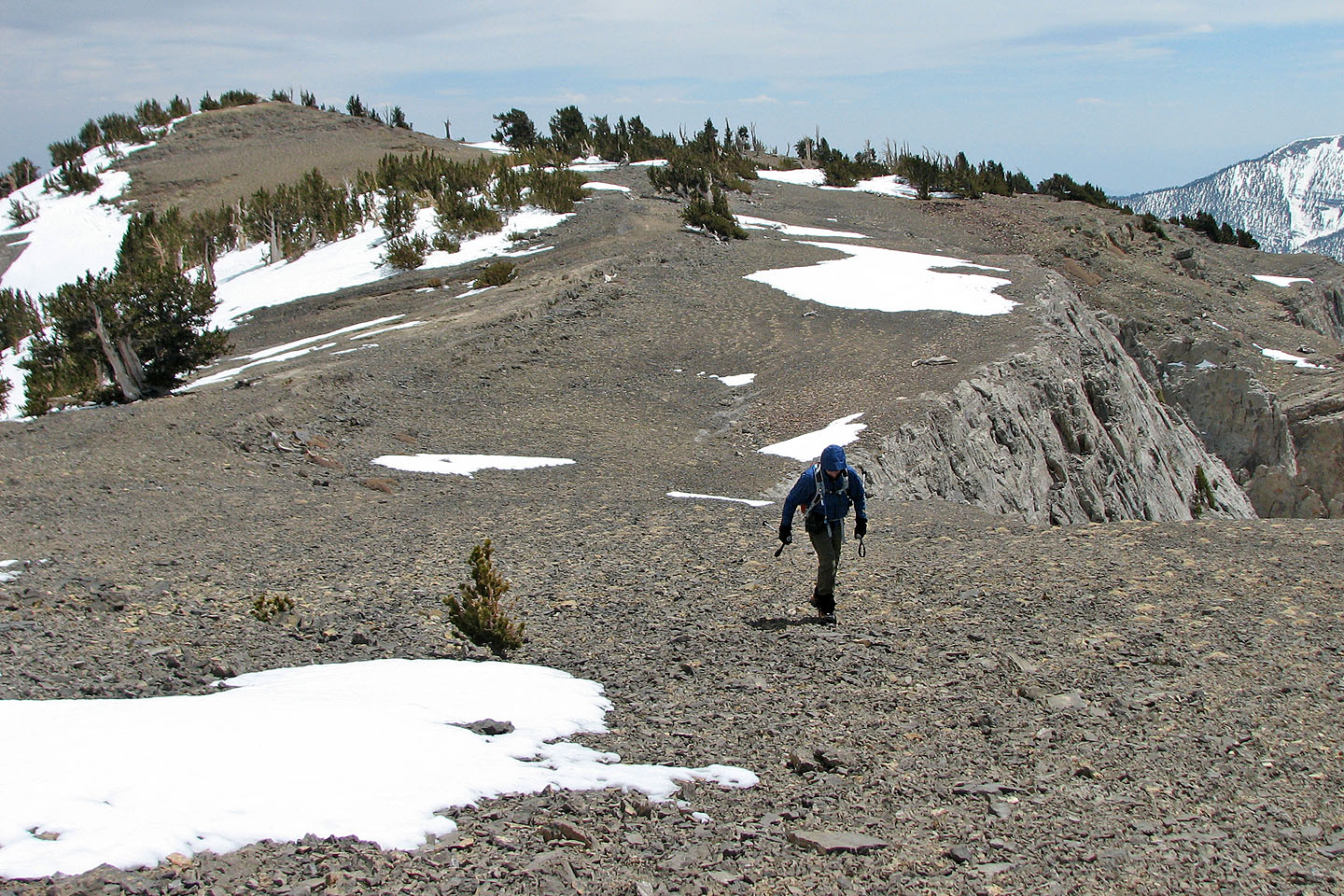 Looking back at the summit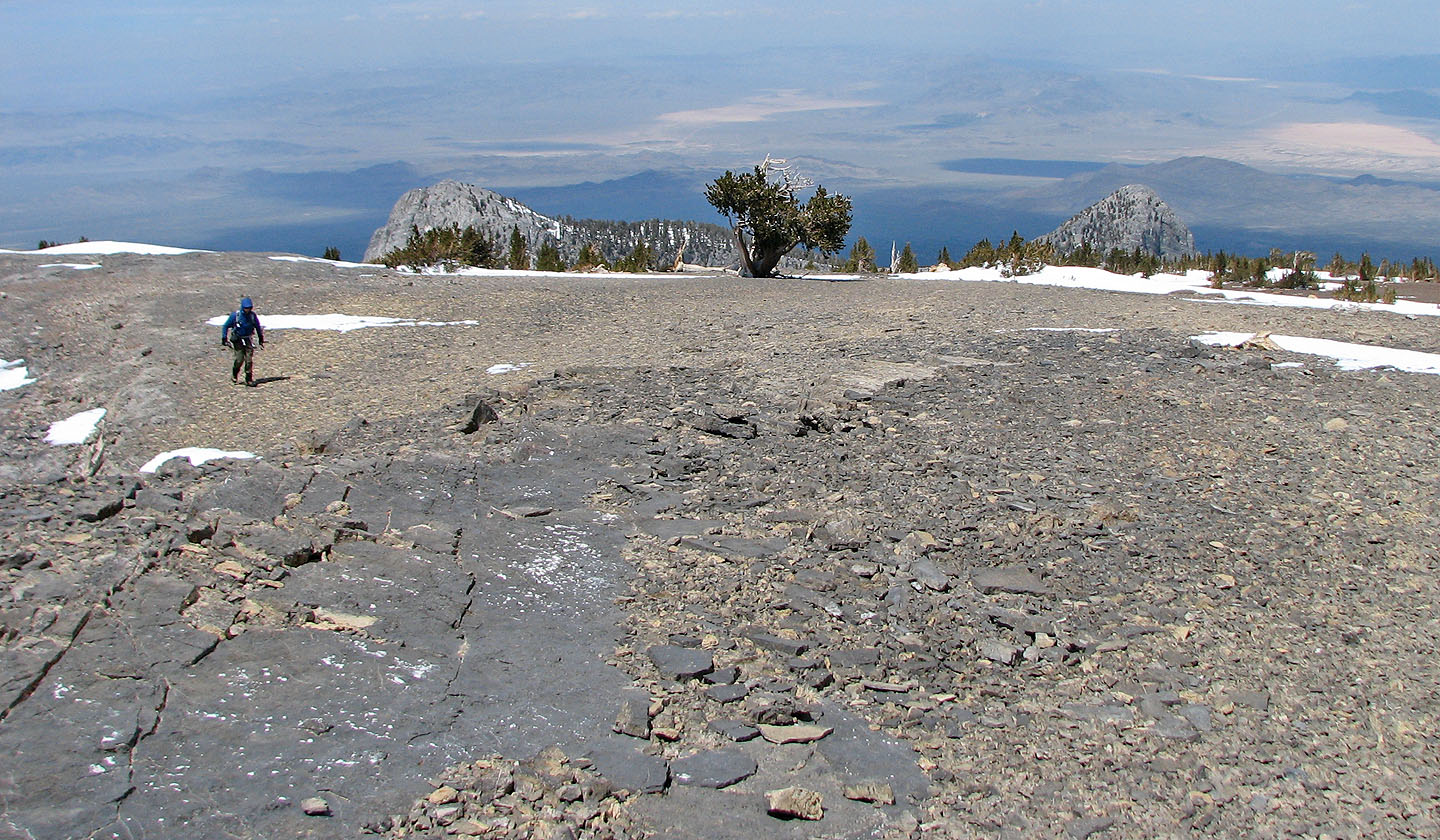 View to the northeast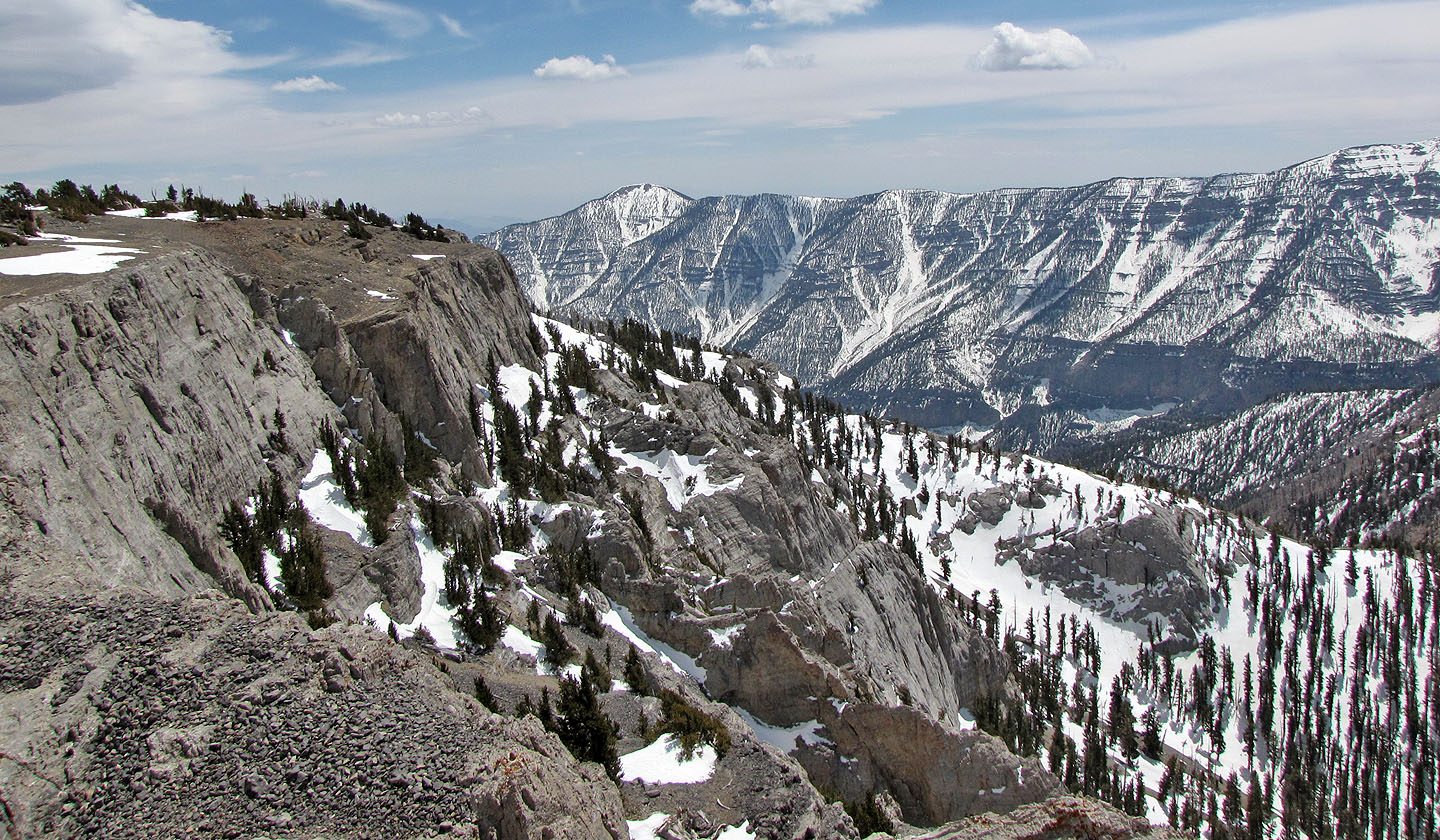 Mount Griffith (mouse over for a close-up)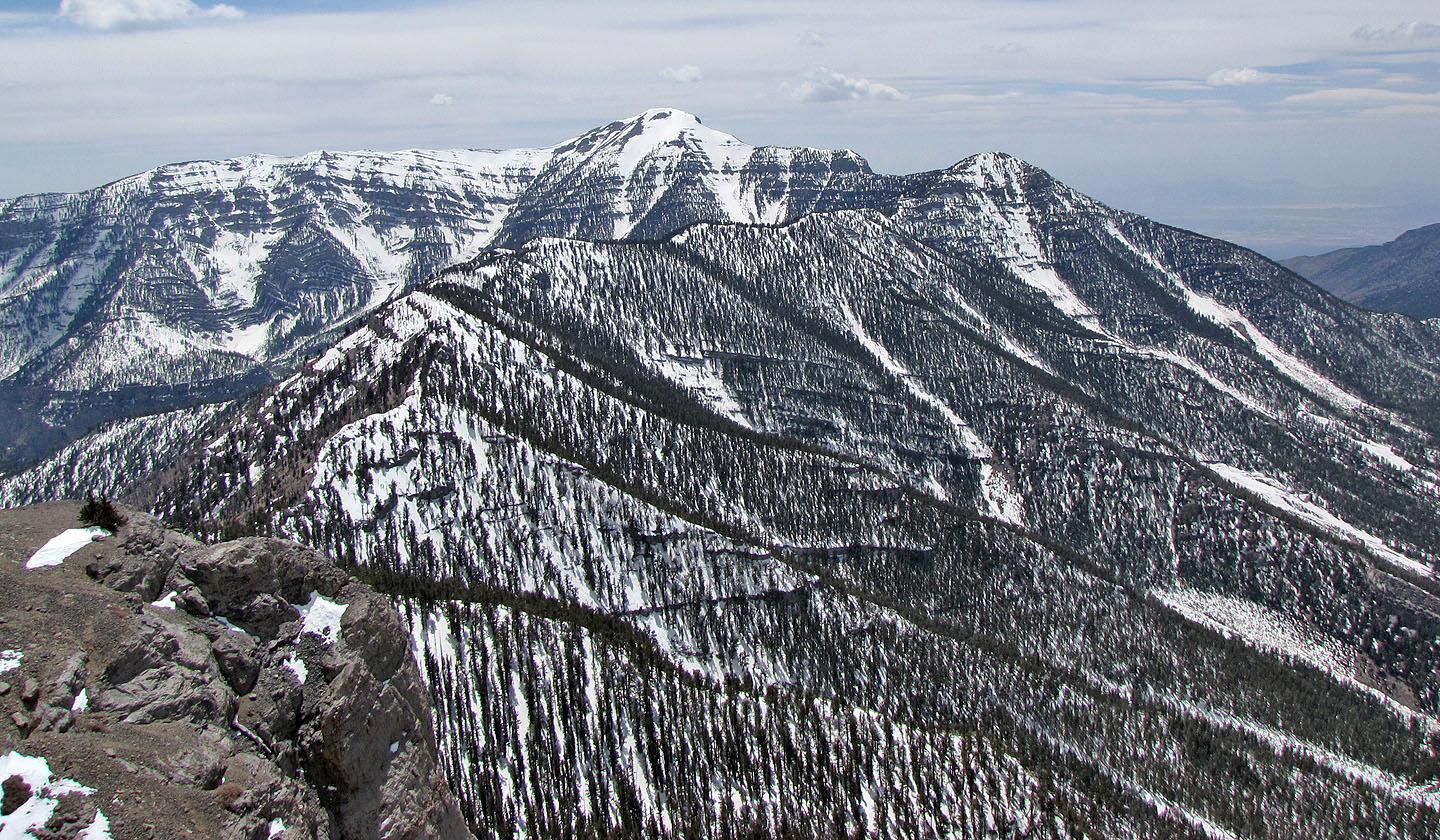 Mount Charleston is still snowed under (mouse over)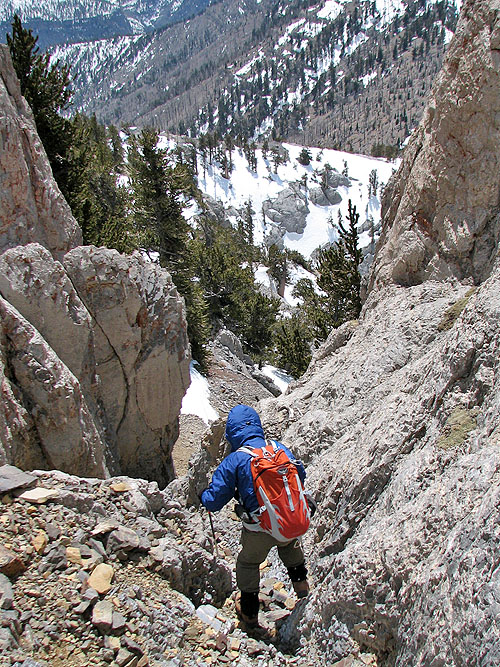 Starting down the chute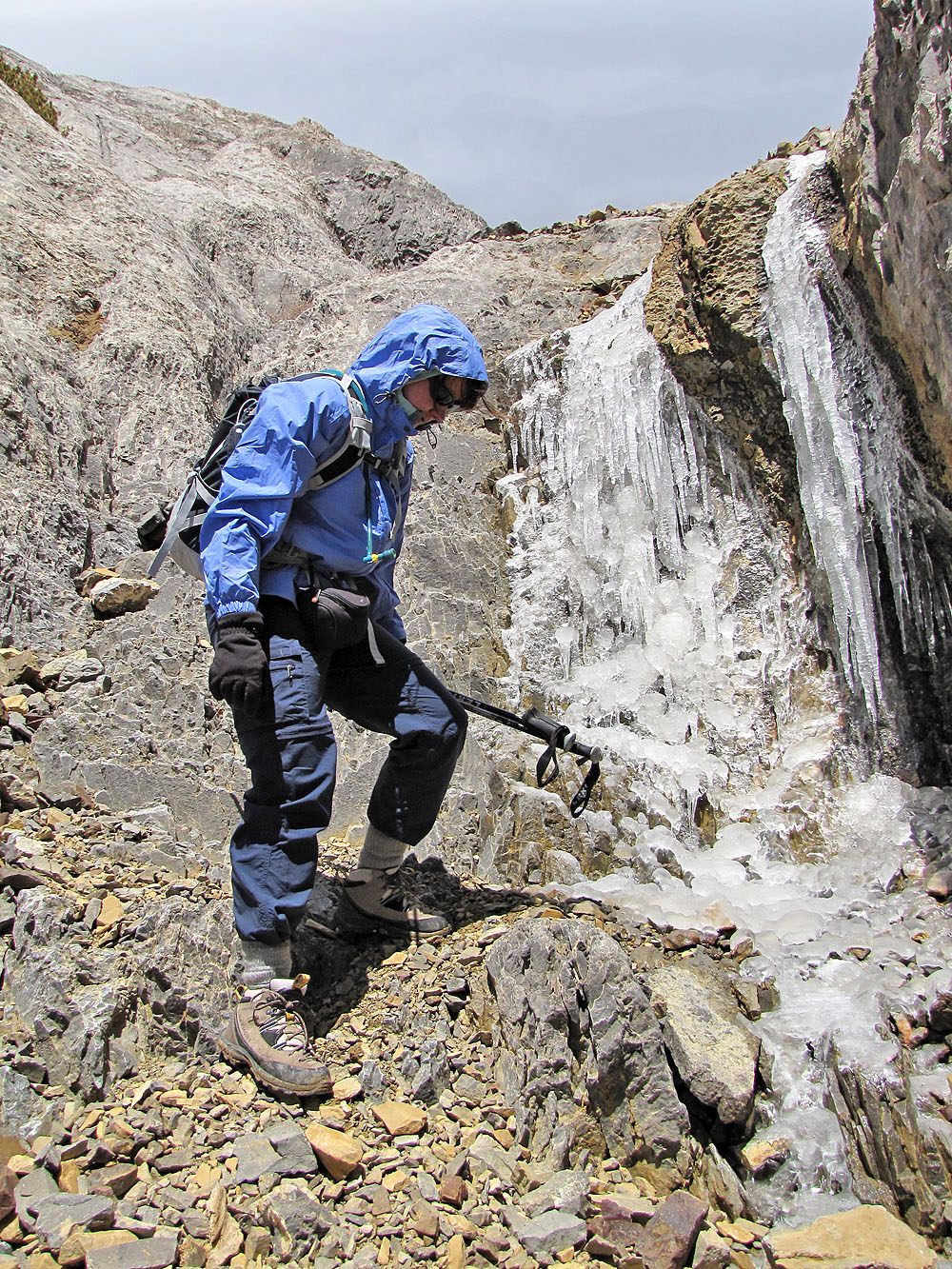 Lingering ice in the chute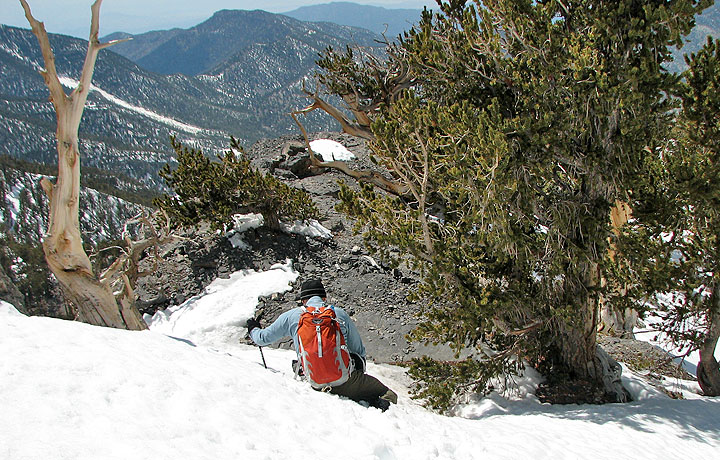 Heading back, the snow had softened and sometimes we sank up to our hips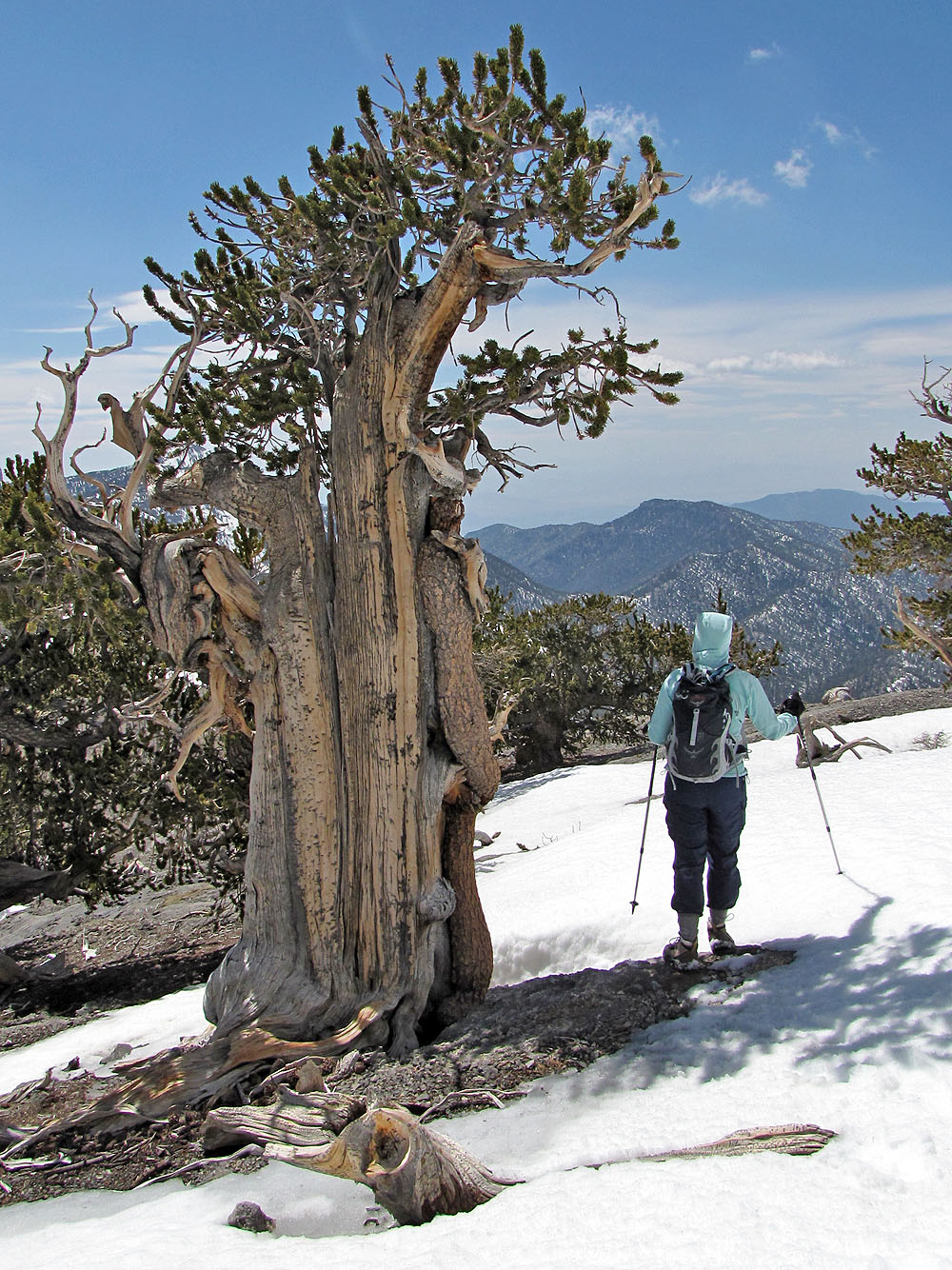 Dinah passes an unusual bristle cone tree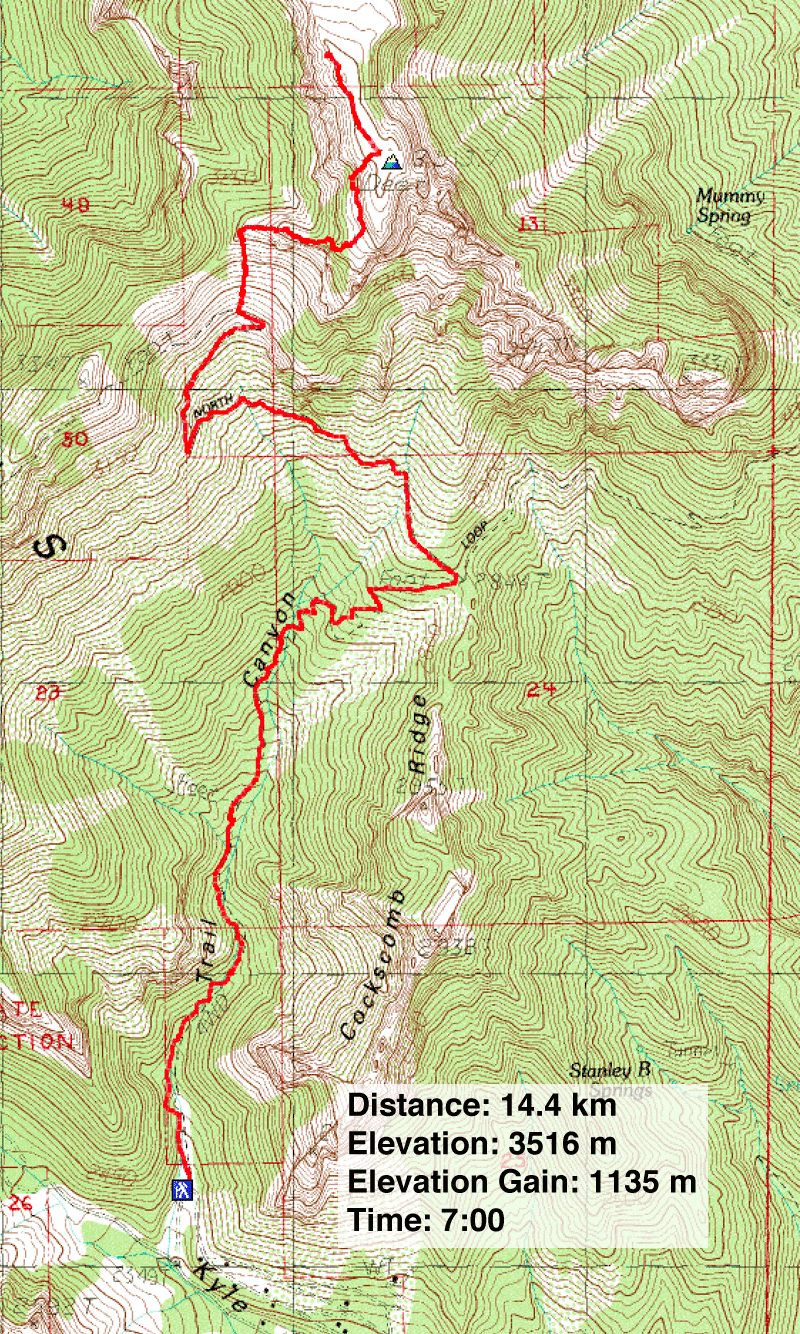 Charleston Peak Topo (8.9 mi, 11,535 ft, 3,724 ft)