bobspirko.ca | Home | Canada Trips | US Trips | Hiking | Snowshoeing | MAP | About

Lineham Creek Peak 618951
Kananaskis, Alberta
October 29, 2004
Distance: 13.8 km
Cumulative Elevation Gain: 1127 m
When I first spied a pair of peaks in the Highwood Range from Lineham Ridge, I was drawn to climbing them the following week. I called them "Lineham Twin Peaks," but after posting my trip report, Andrew Nugara summited a series of connected peaks starting with the ascent of Peak 618951. He calls those peaks "Lineham Creek Peaks."
From the valley, it appeared the second peak could be easily reached via the 250 m ridge connecting to 618951. But looks are deceiving. To our disappointment, Dinah and I were only able to reach the lower peak, 618951. We couldn't get safely close to the edge because of snow to study it, but there appeared to be a big drop to the connecting ridge. Steep, snow-covered slabs lead up to the second peak.
To reach the lower peak, we followed Lineham Creek trail following the description in Kananaskis Country Trail Guide. We reached the confluence and crossed Lineham Creek after an hour and half. Minutes later, we left the main trail and struck out east on a side trail that followed a semi-forested gully. We left this trail to head up through forest to the ridge, but as we learned on the return trip, it's easier to stay on the side trail. It turns northeast and leads to a basin at 610942. From there it's a matter of following the ridge to Peak 618951. The ascent took four hours (the descent took 3.5 hours as it was a nice day so we took our time).
There was no cairn and it was far too cold to stay long enough to build one. Maybe the next person up can build one!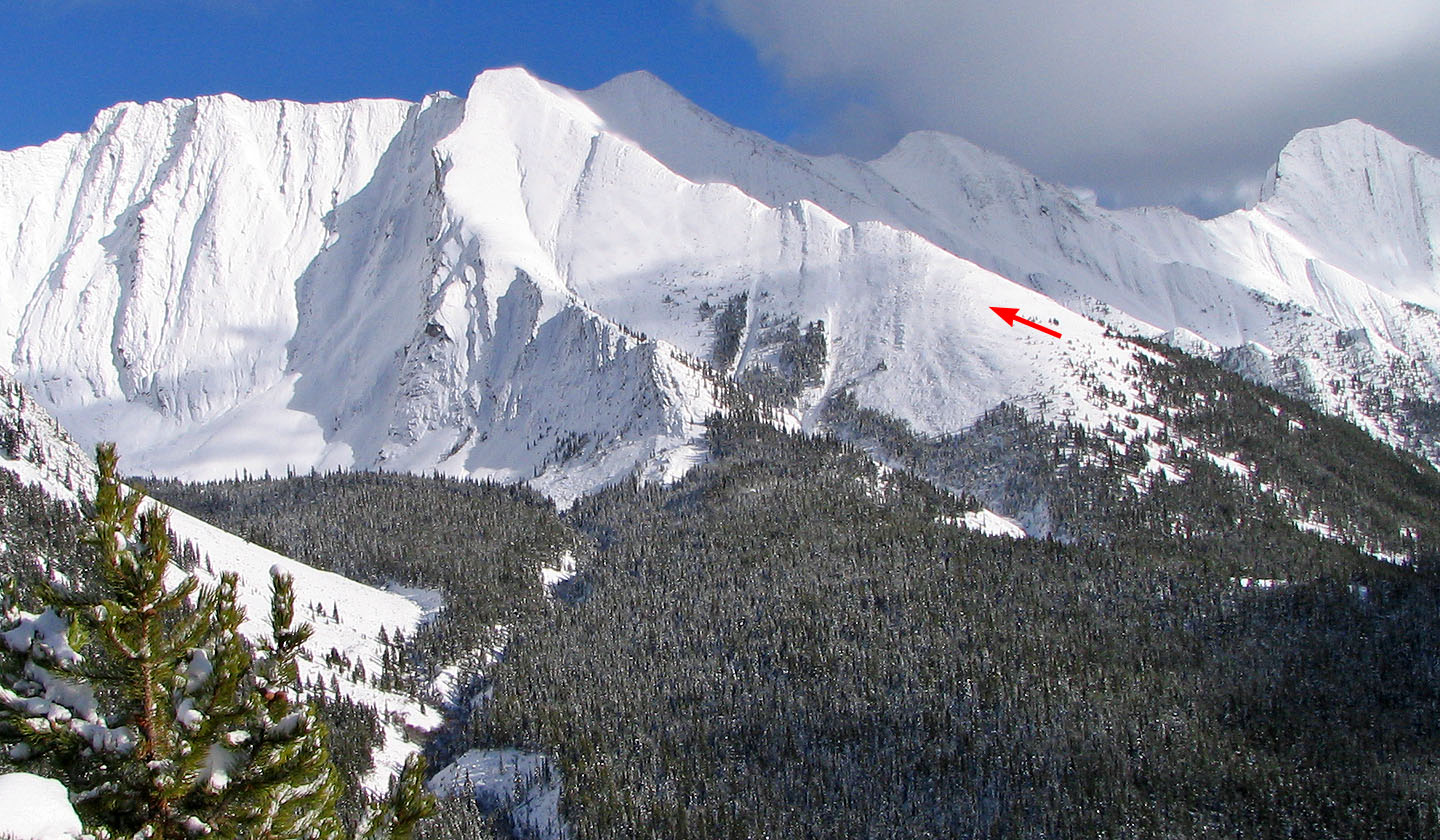 Photo of Peak 618951 taken from Lineham Ridge taken a week earlier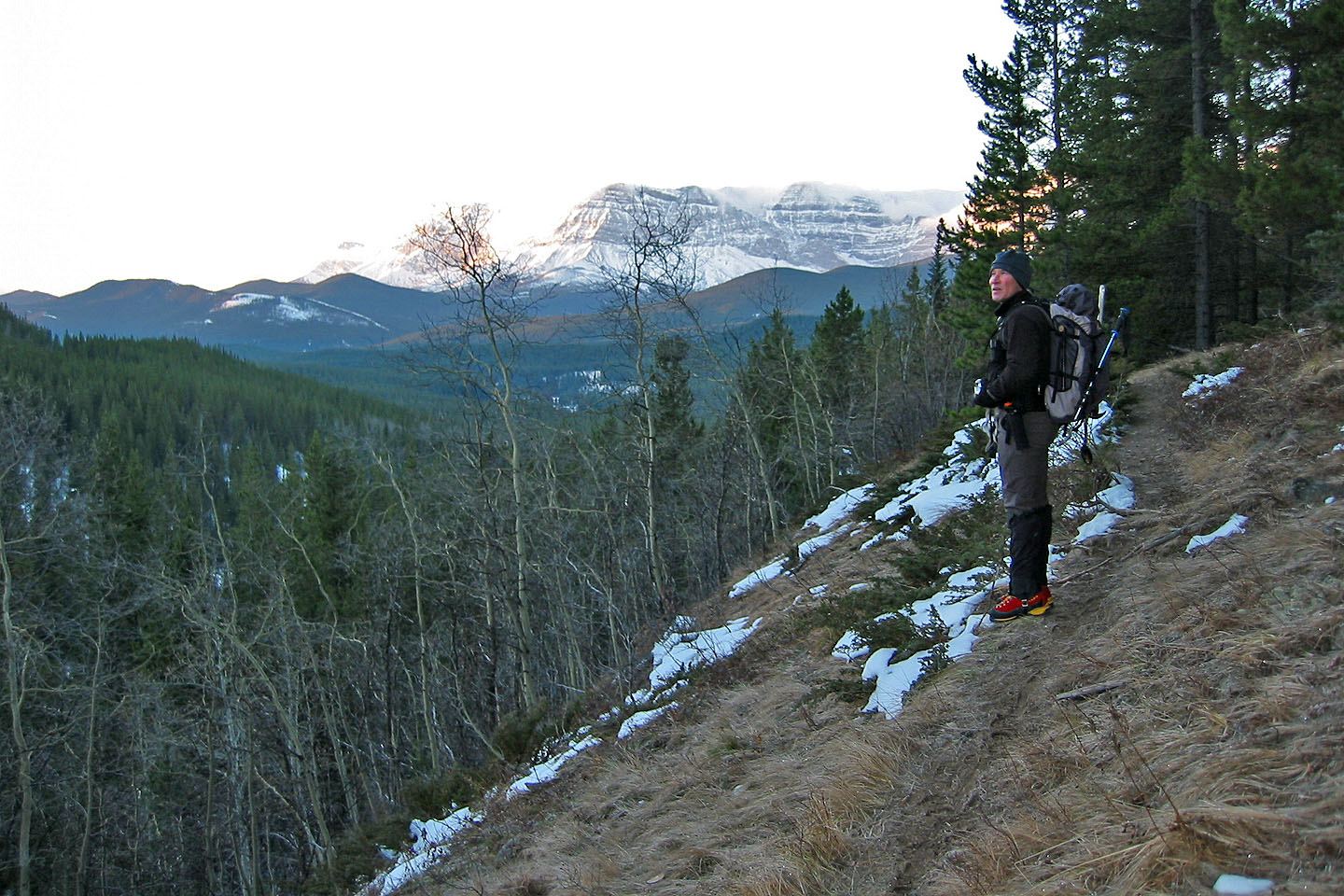 Looking back after starting up the Lineham Creek trail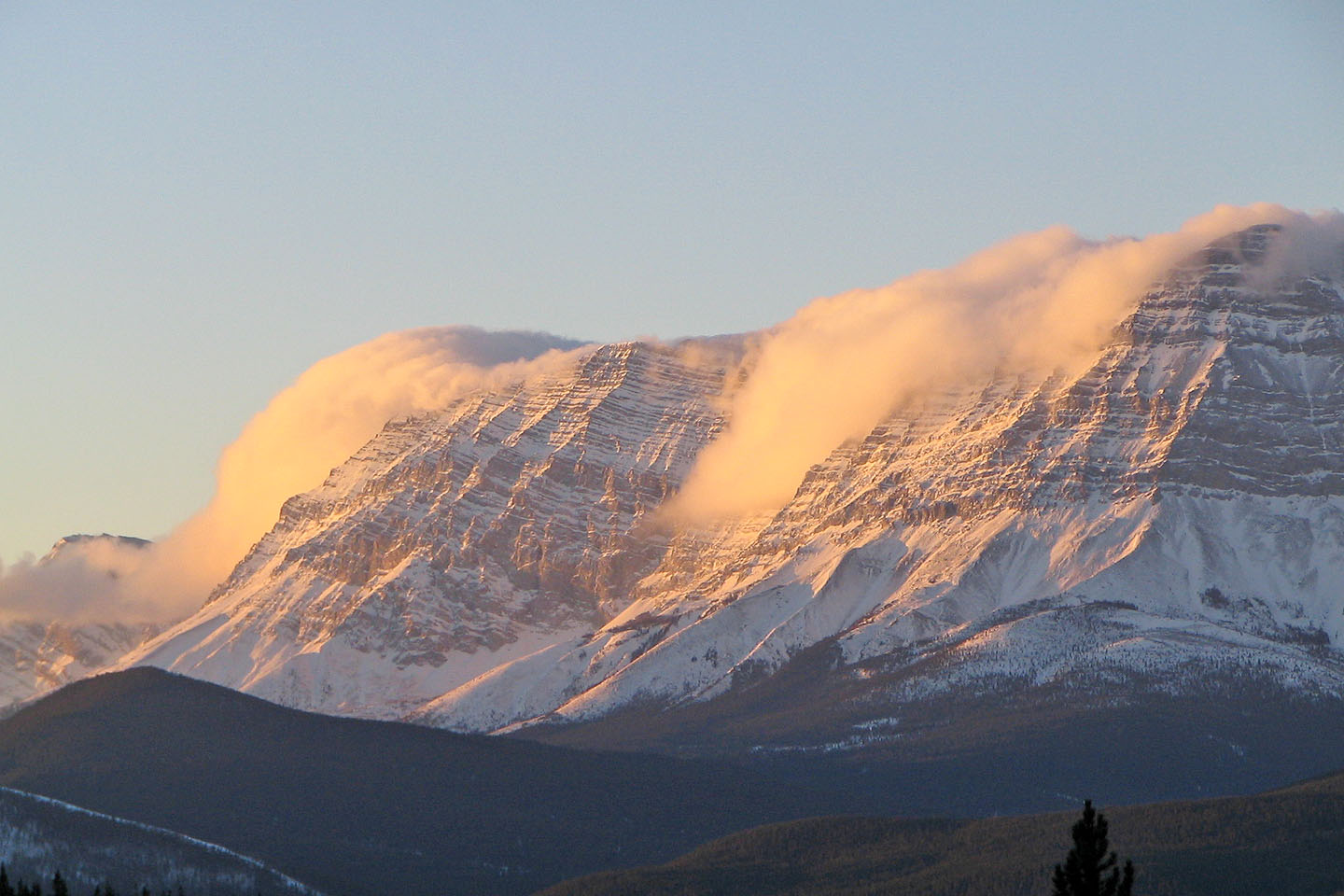 Mist rises from sunlit peaks in the Elk Range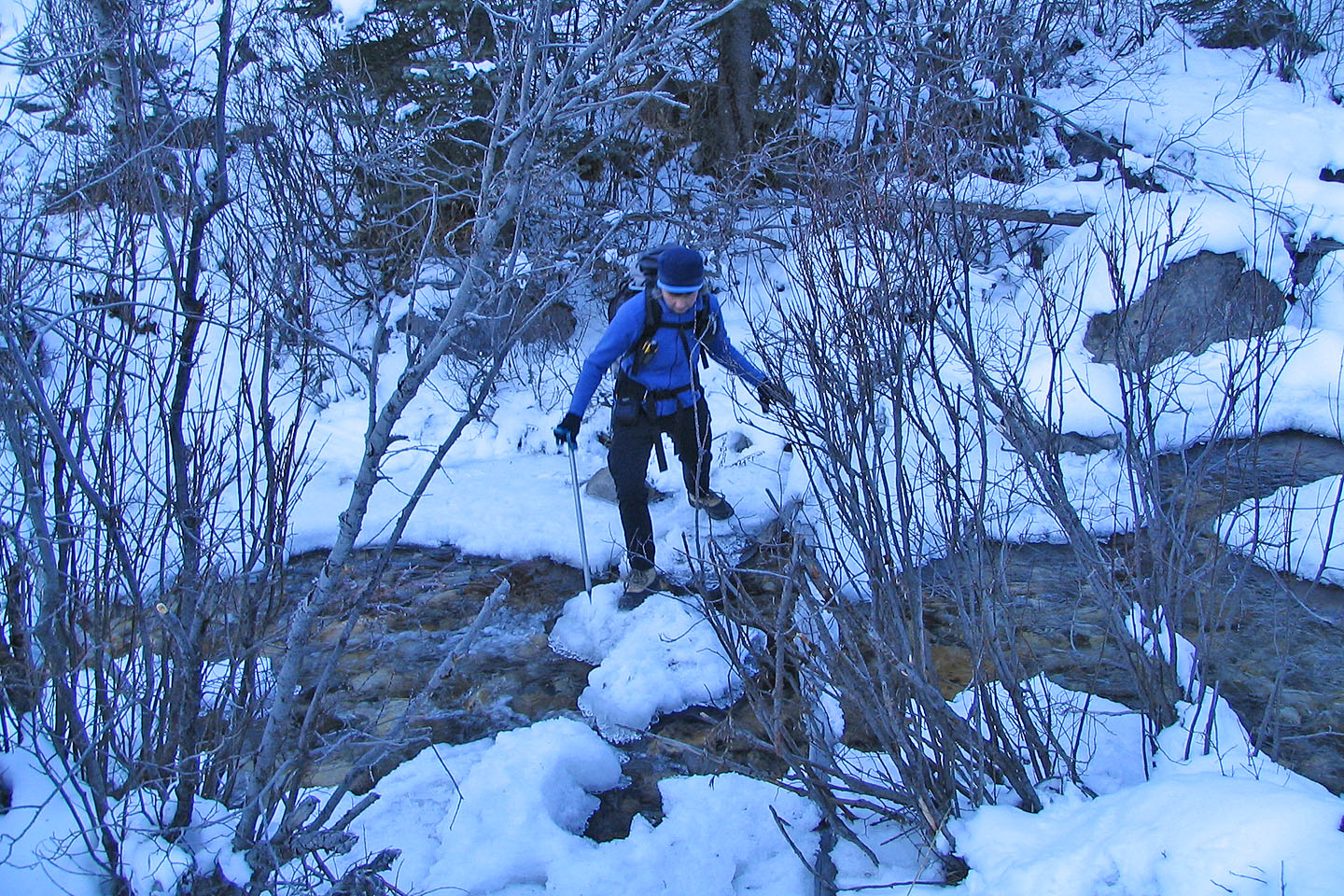 Dinah steps across a creek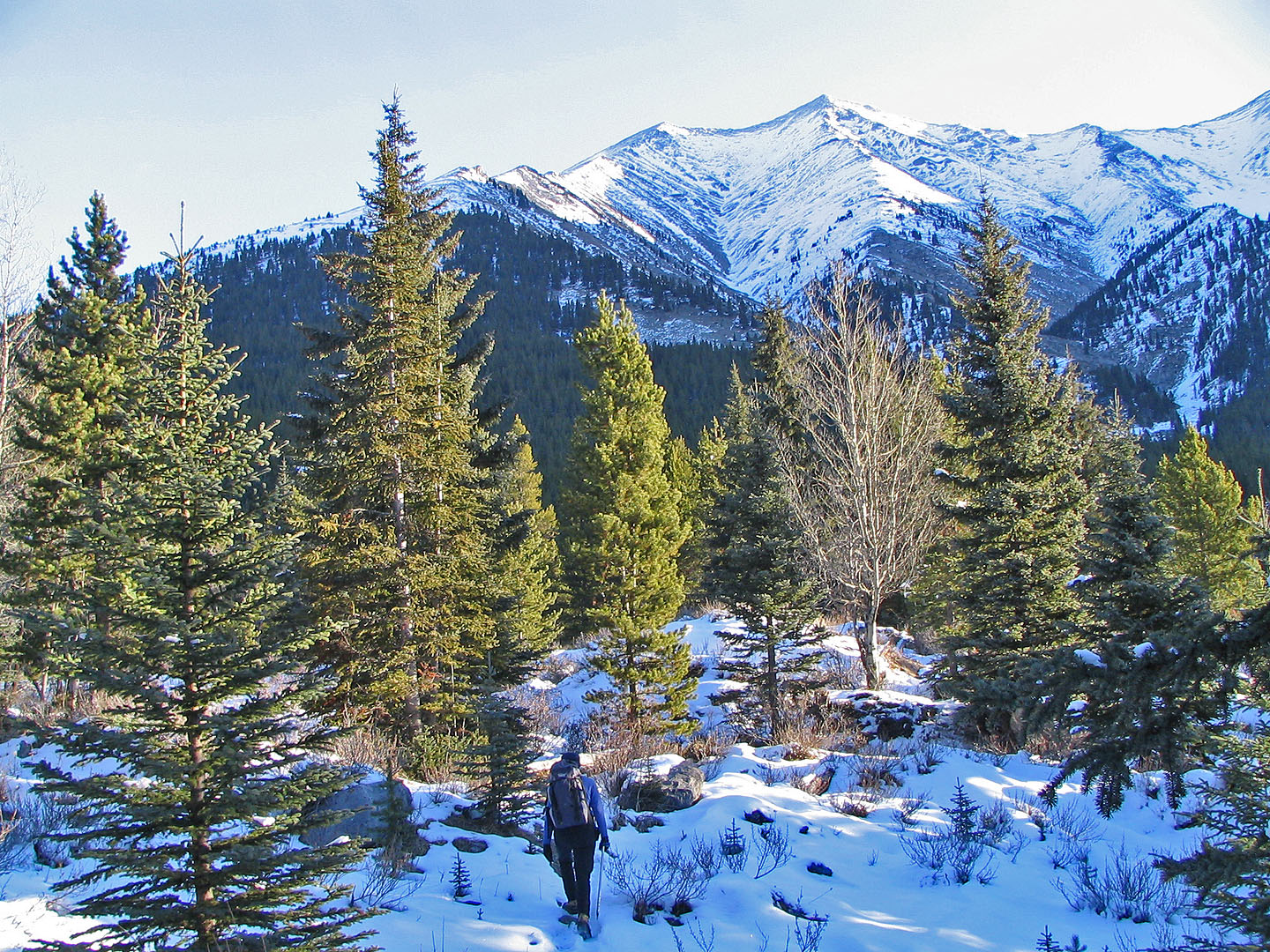 Twin Peaks from the trail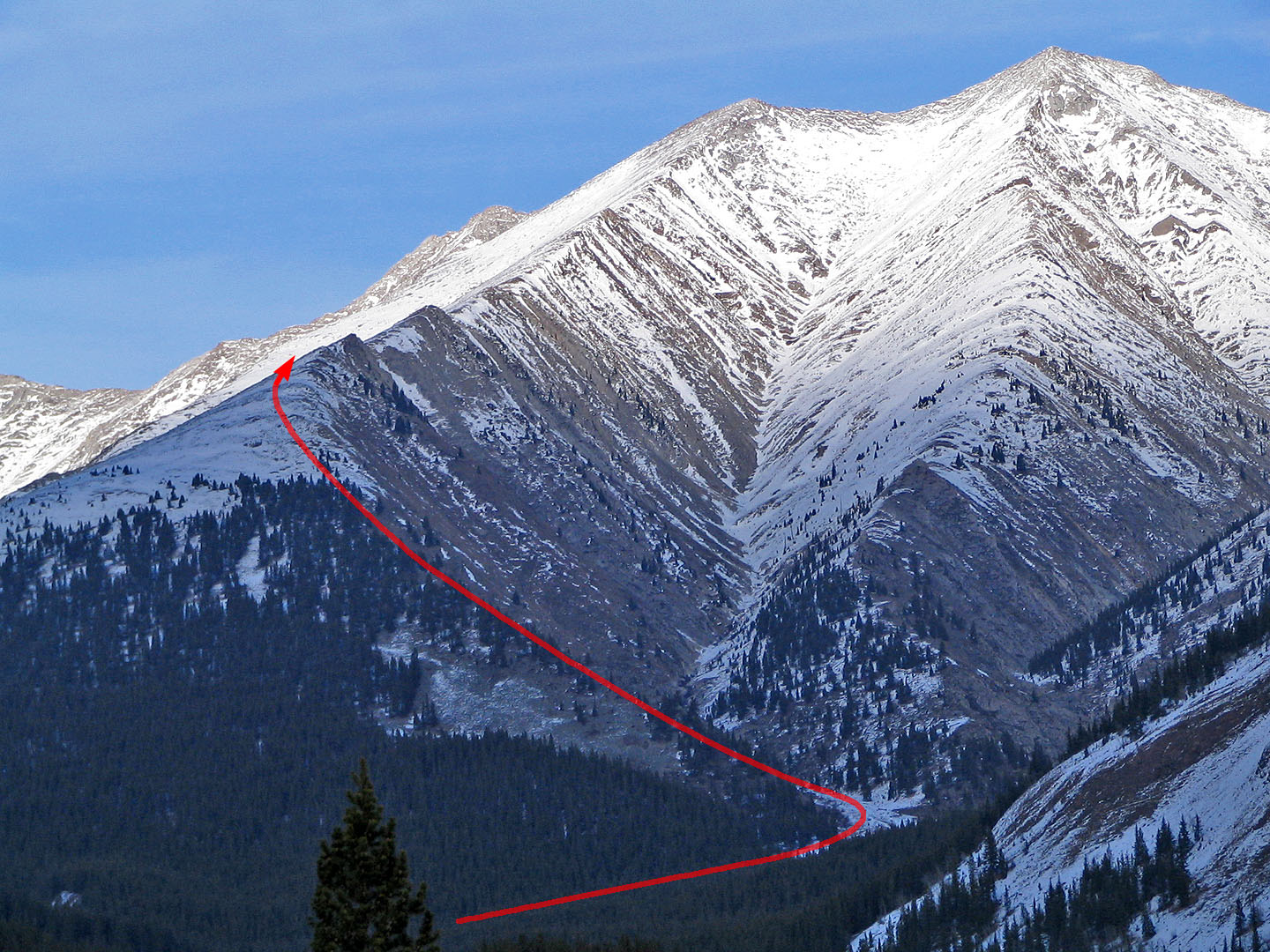 The peaks come into view just minutes after starting out on Lineham Creek Trail.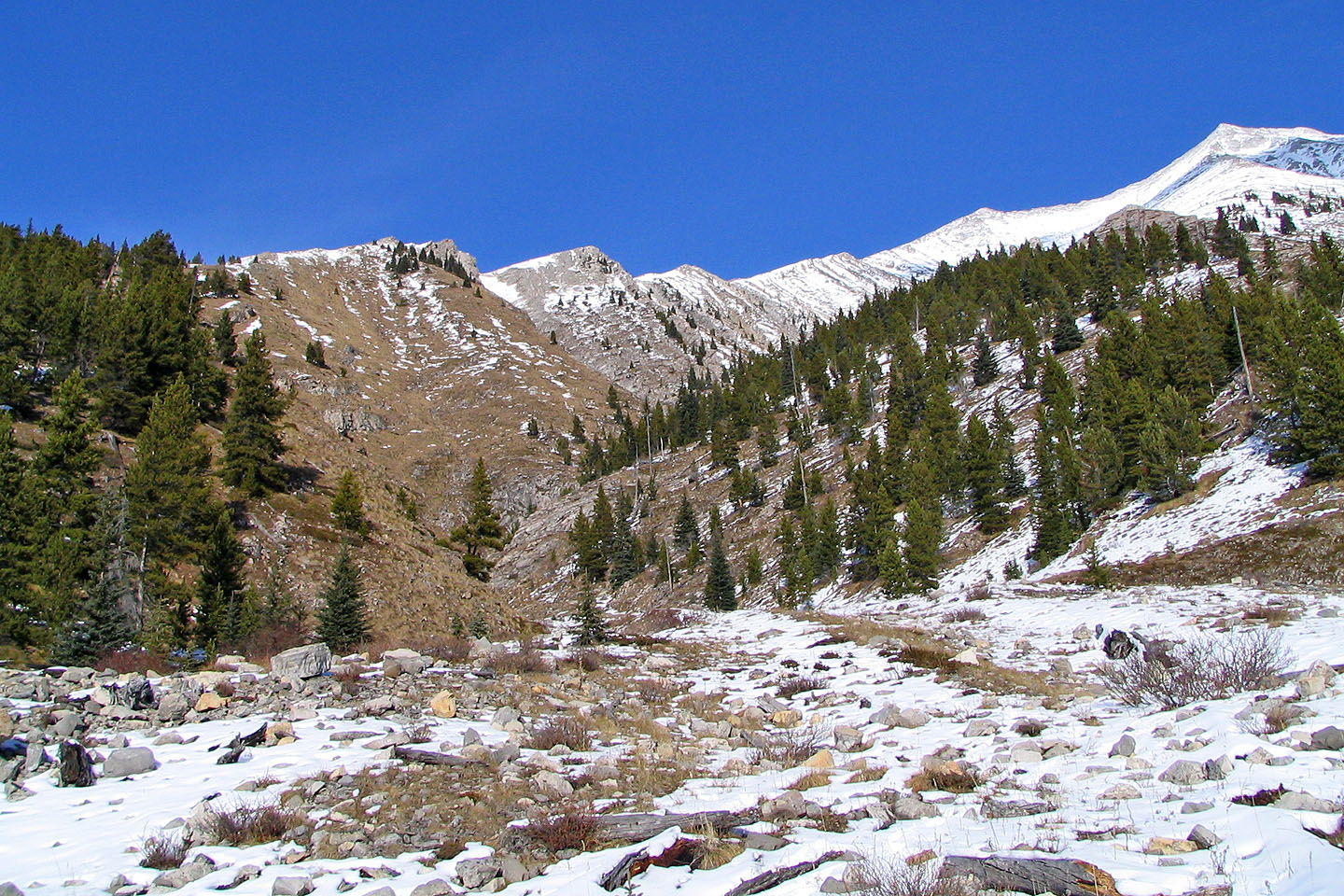 From the basin, head up the ridge on the left. The Peak 618951 is the second point from the left.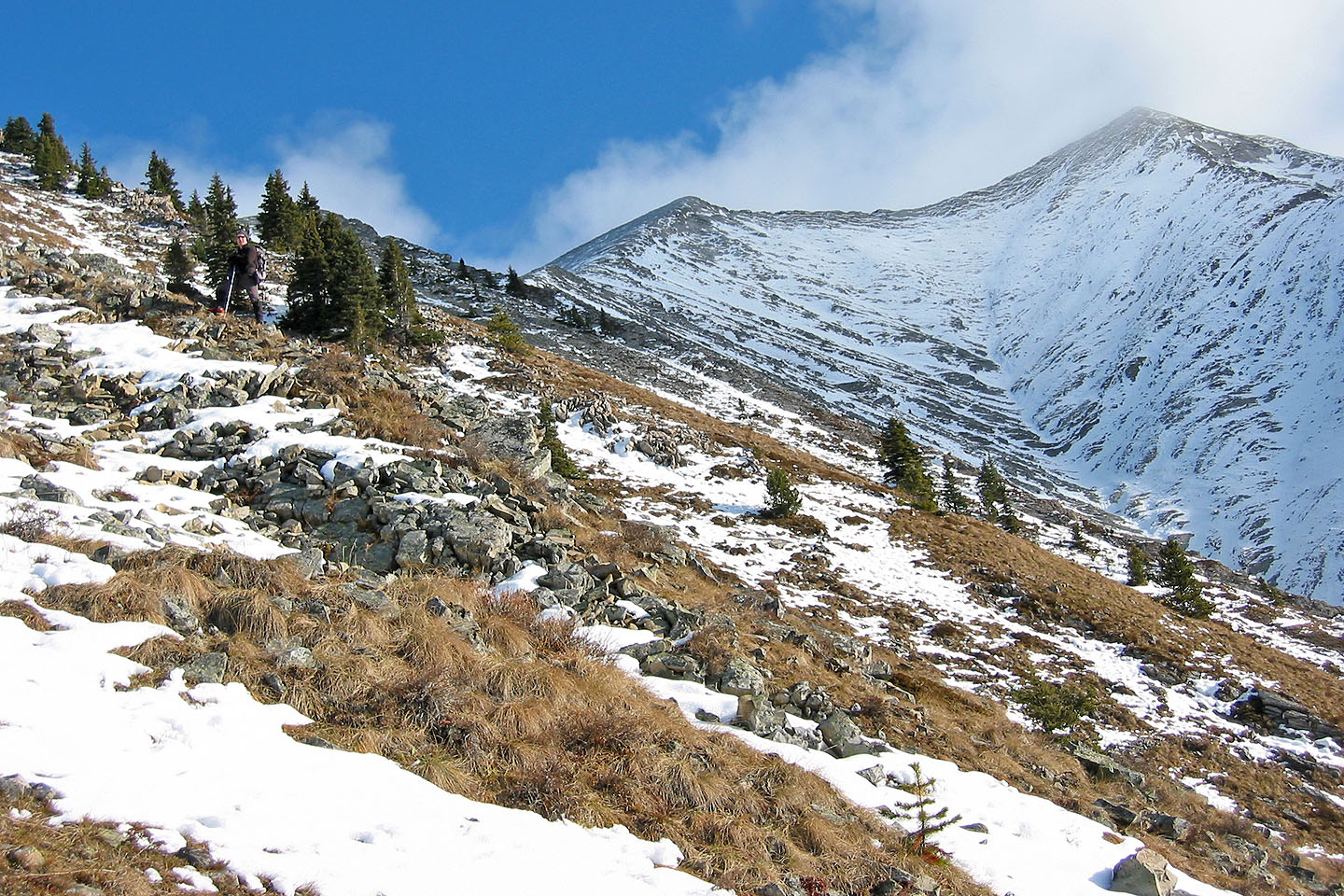 Starting up the slope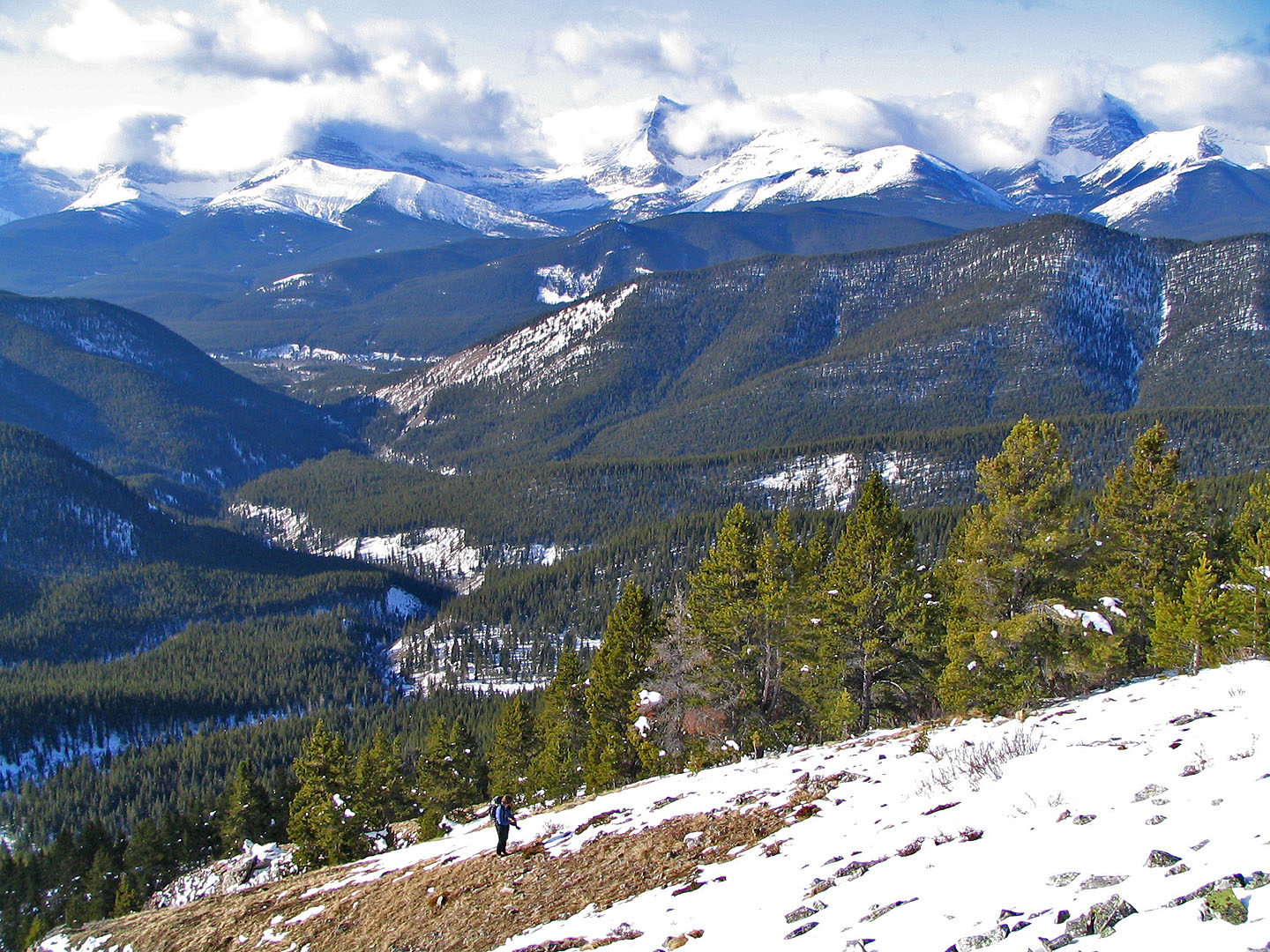 Looking back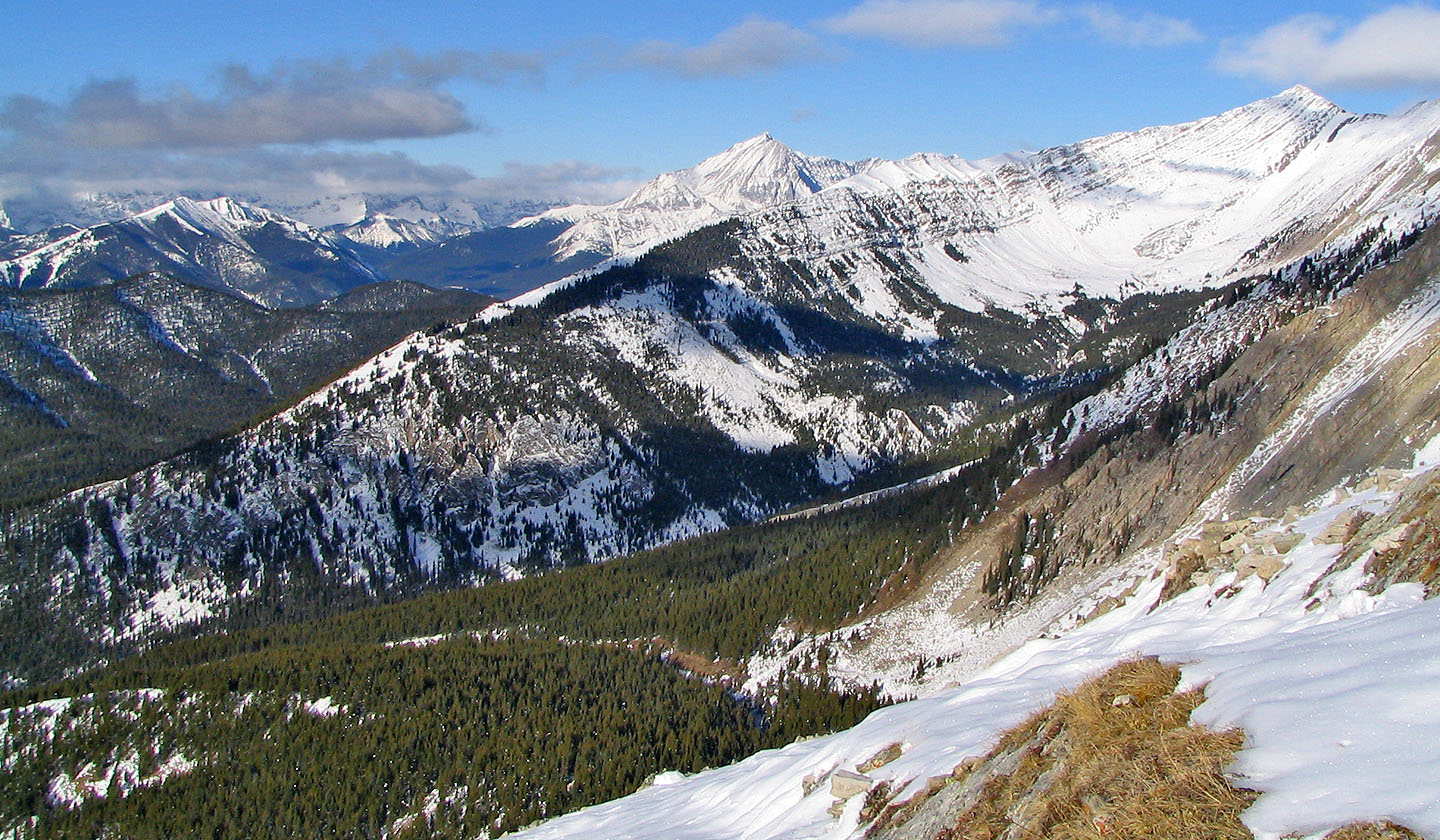 Lineham Ridge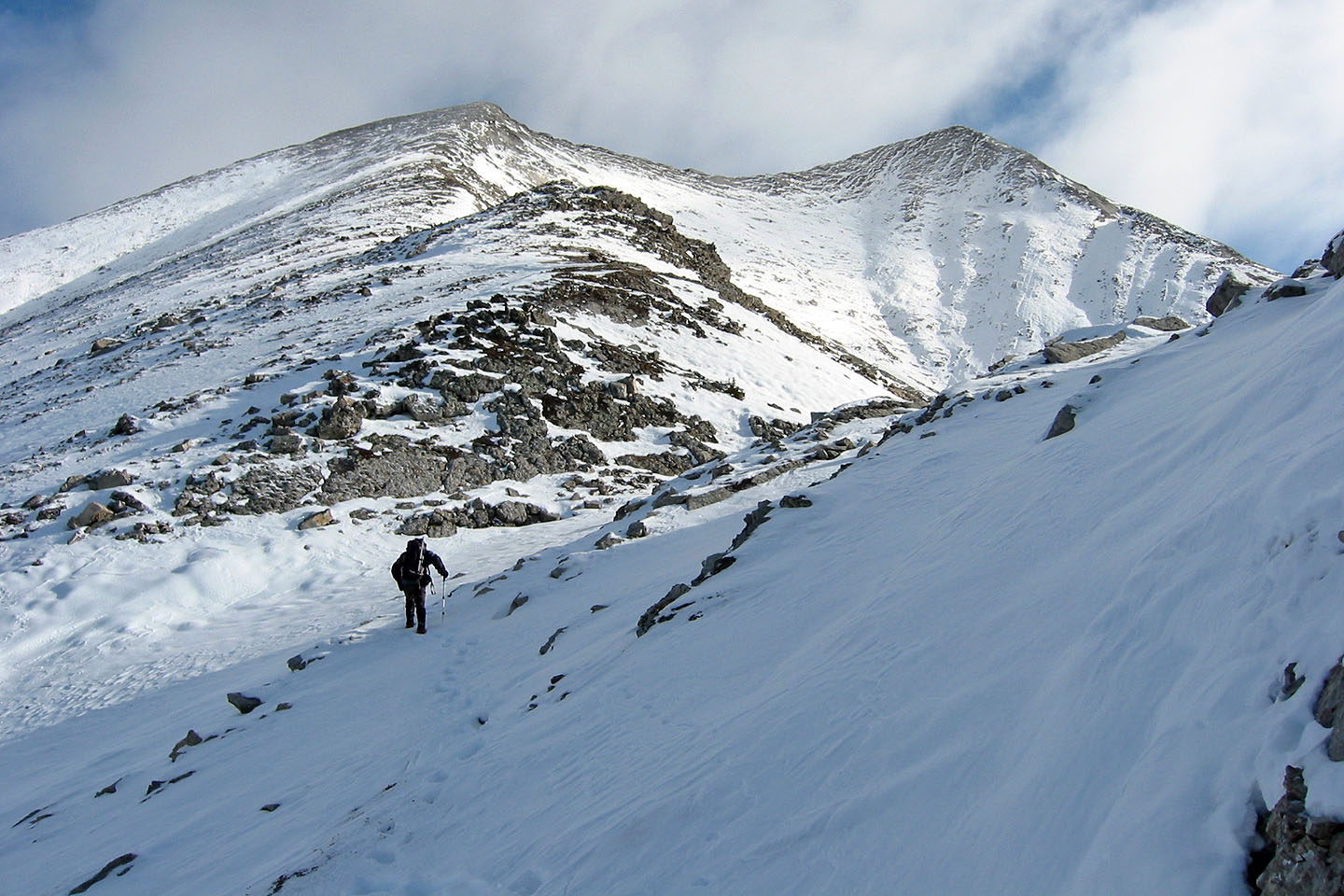 Typical of the ridge terrain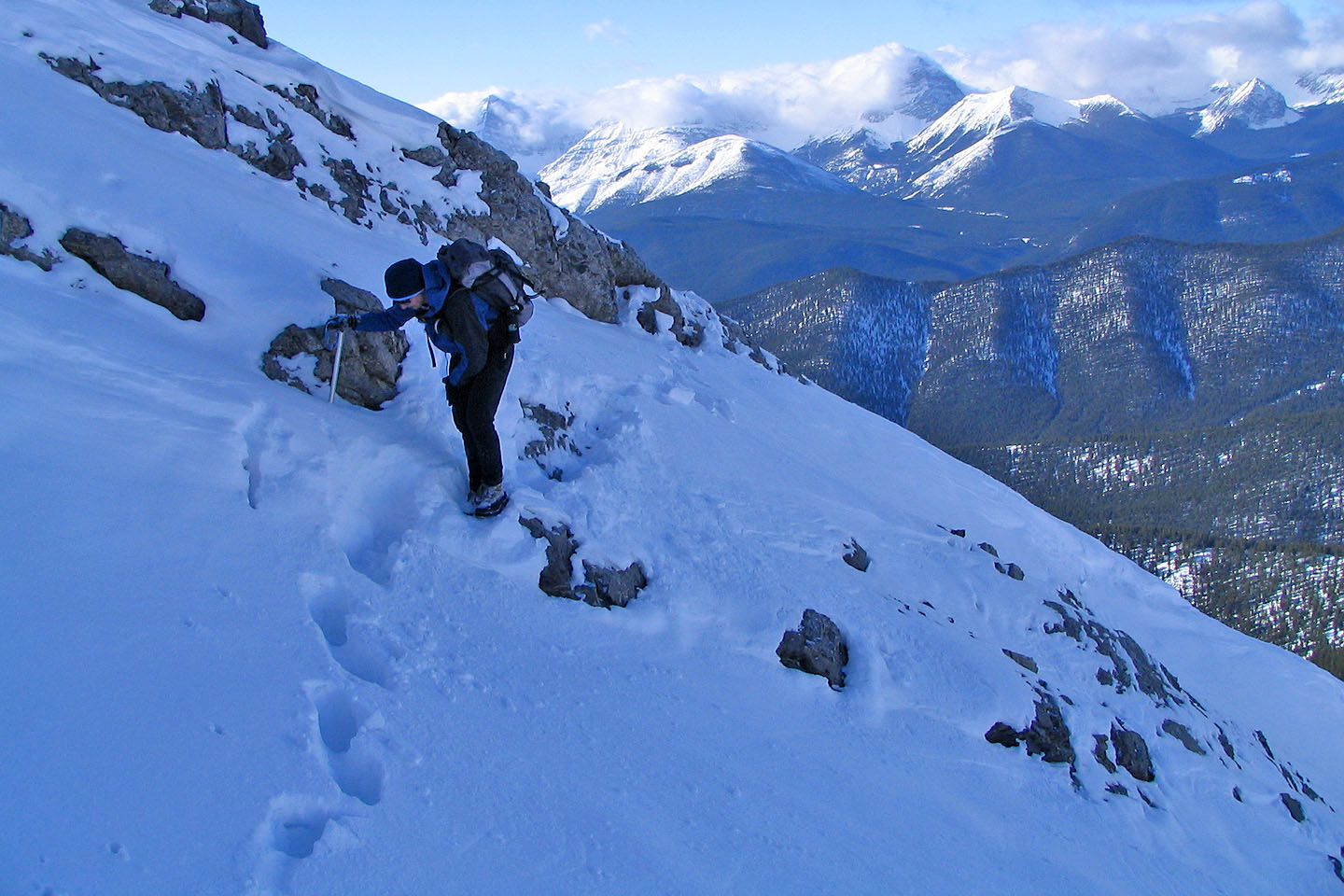 Dinah follows in my footsteps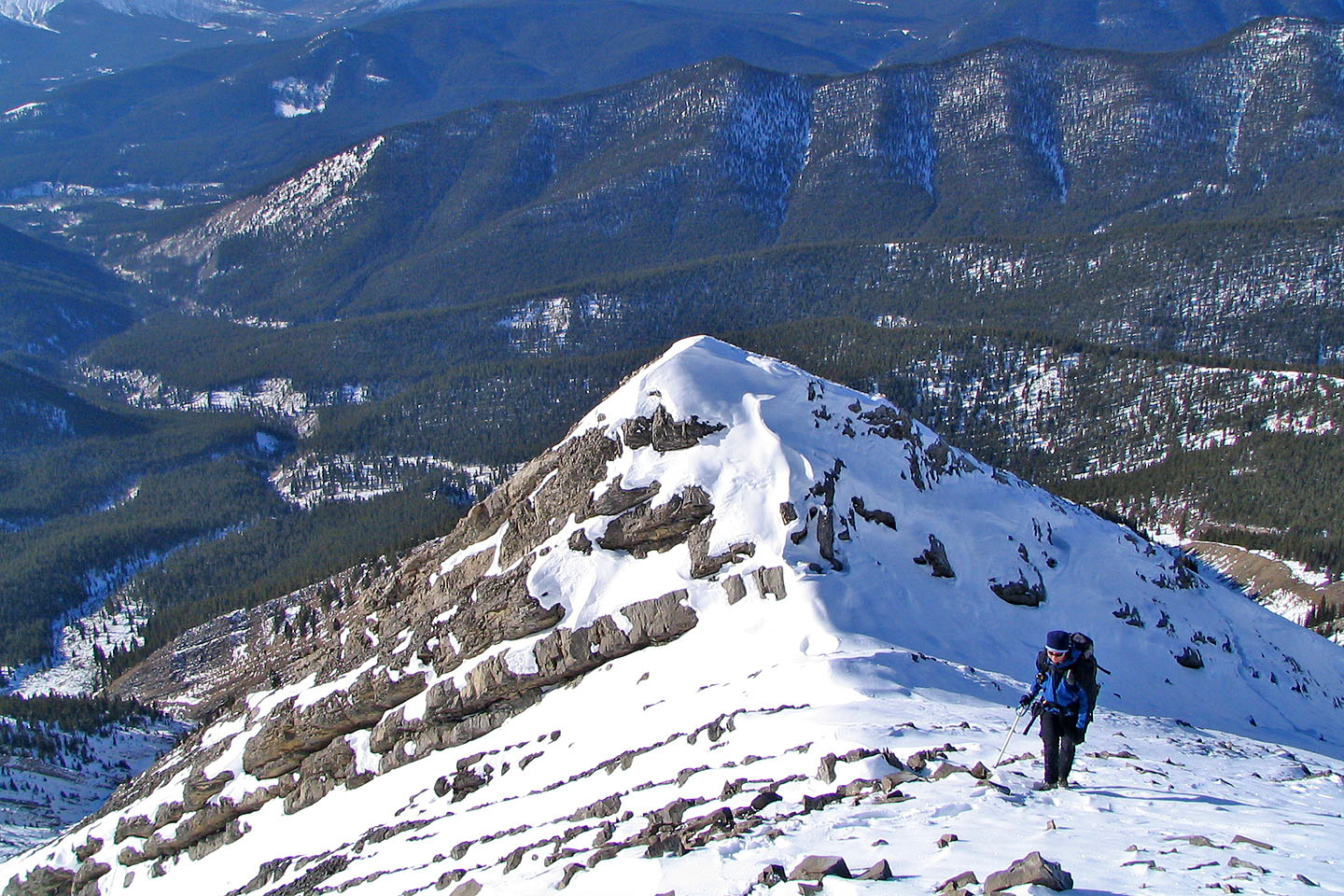 This point could probably be downclimbed easily in dry conditions, but we dropped down to get around it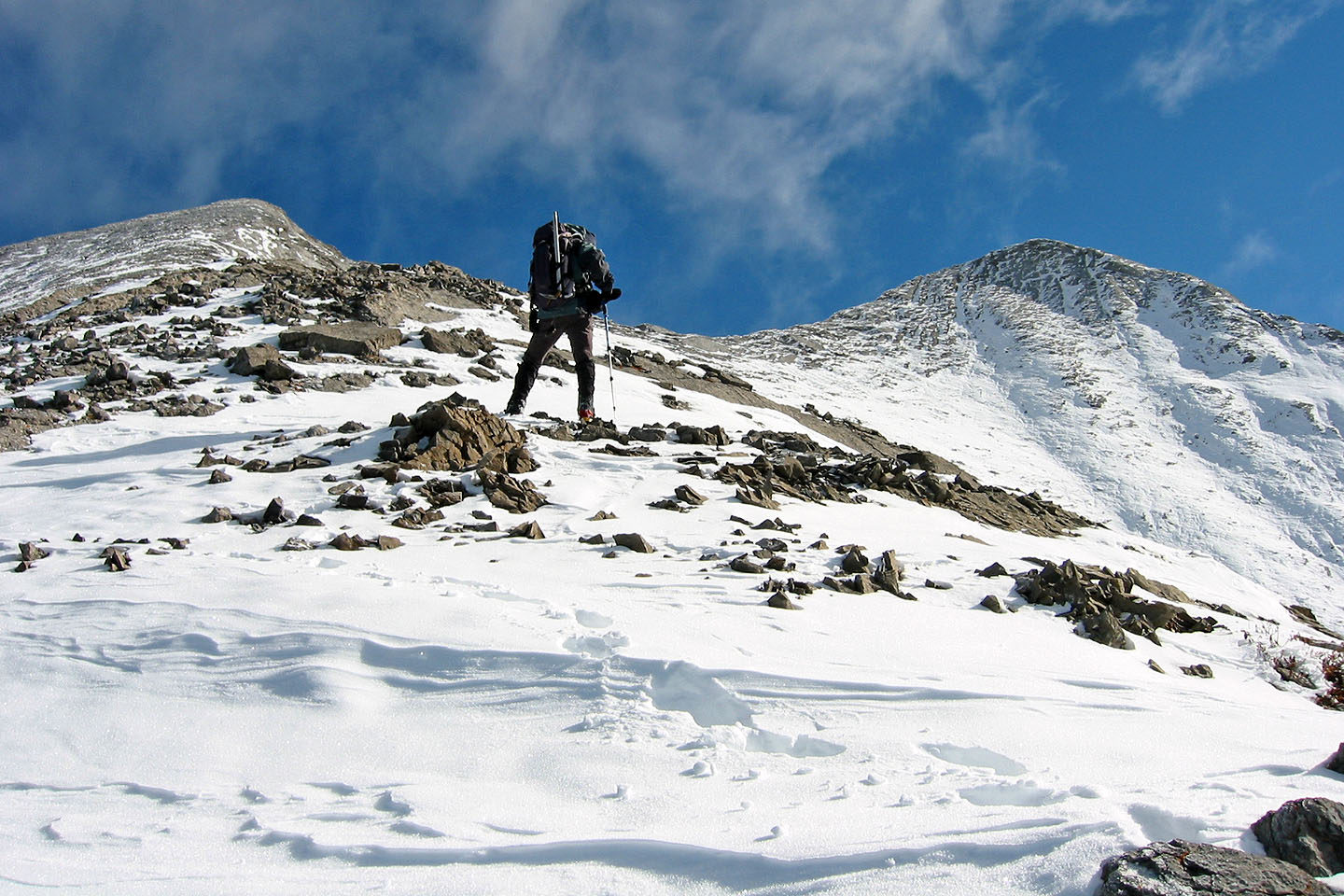 We had ice axes but never used them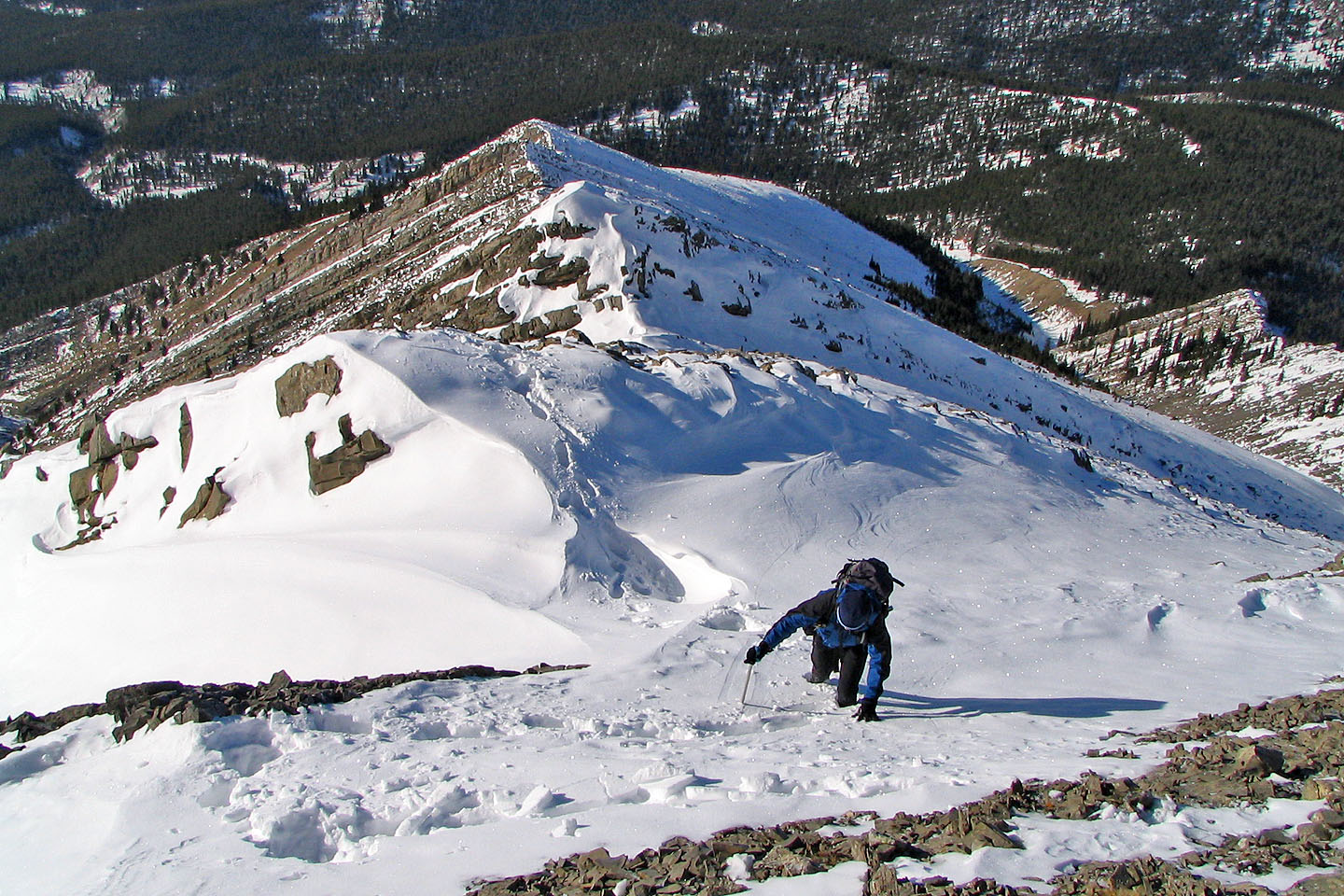 Dinah hits a steep section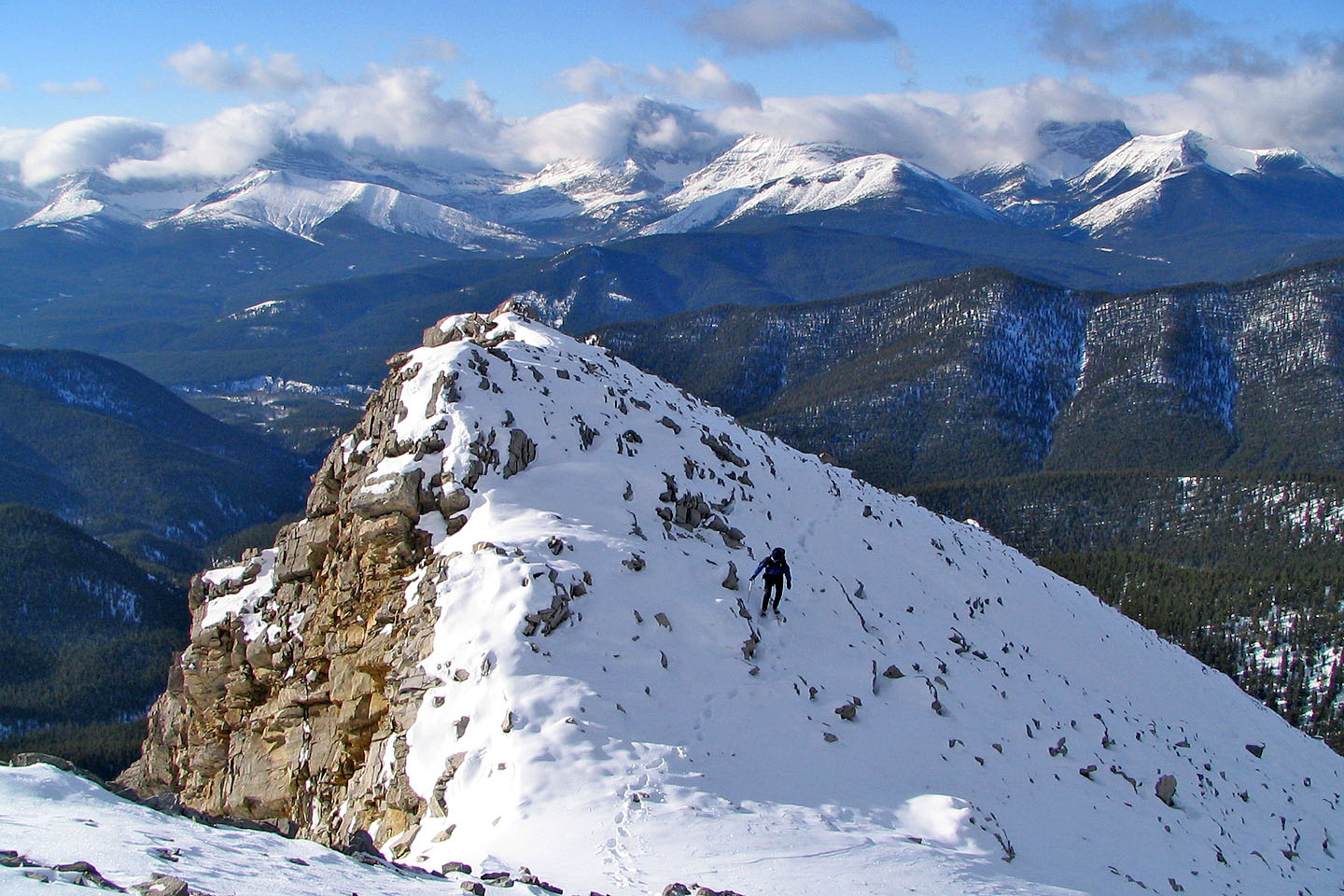 We skirted below some of the prominences, but in retrospect it may have been more enjoyable to go over them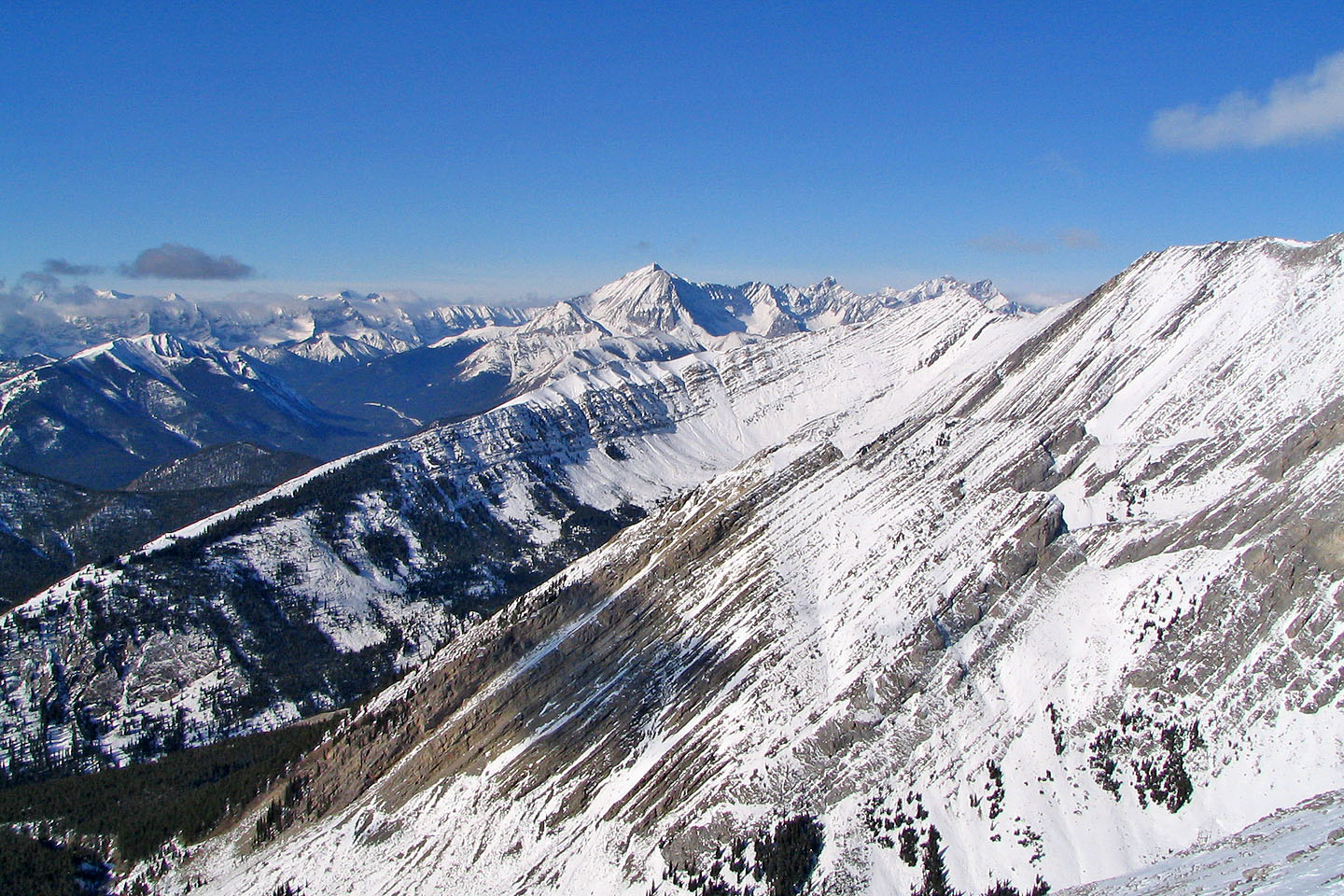 Mist Mountain (mouse over for a close-up) rises above Lineham Ridge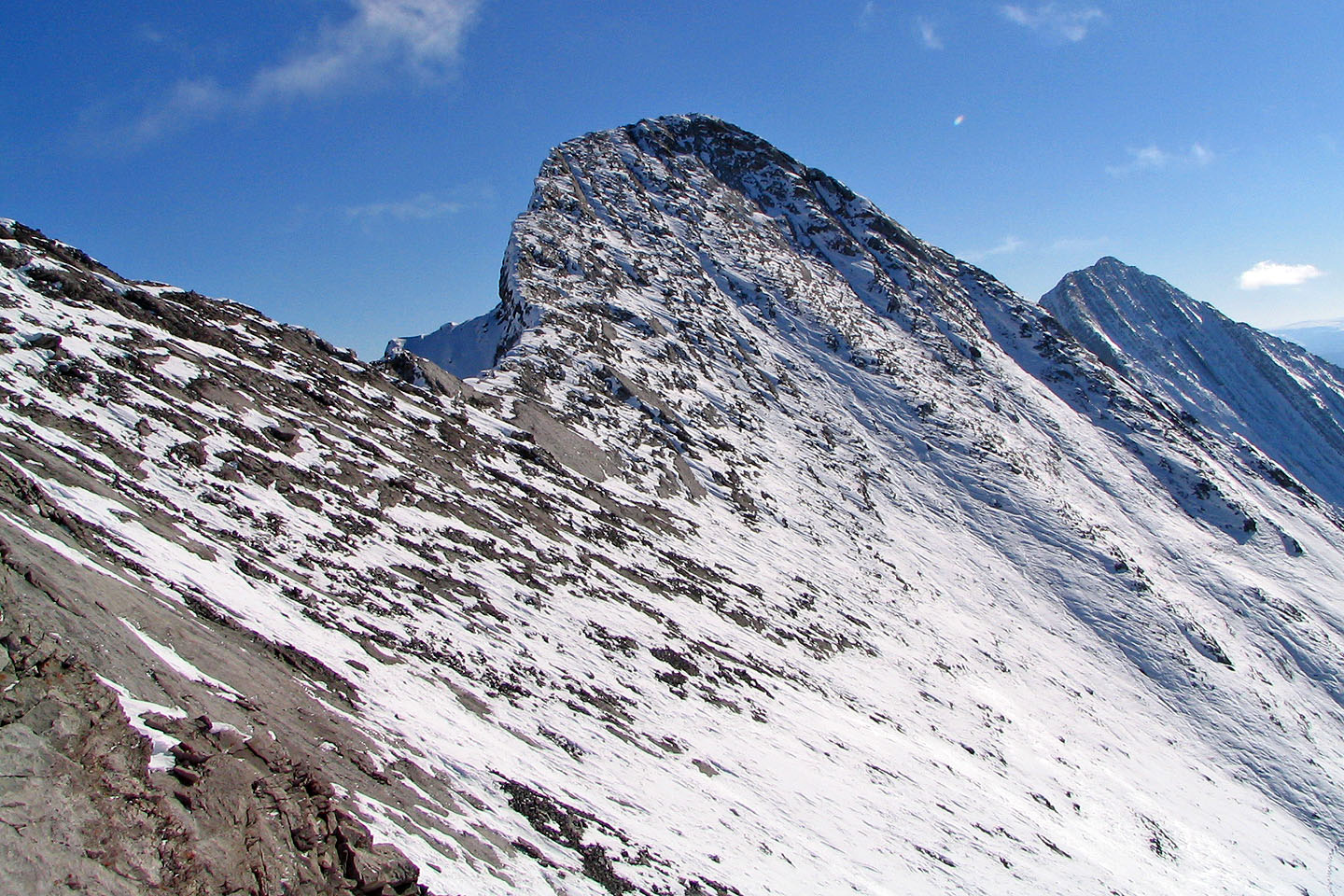 The connecting ridge and second peak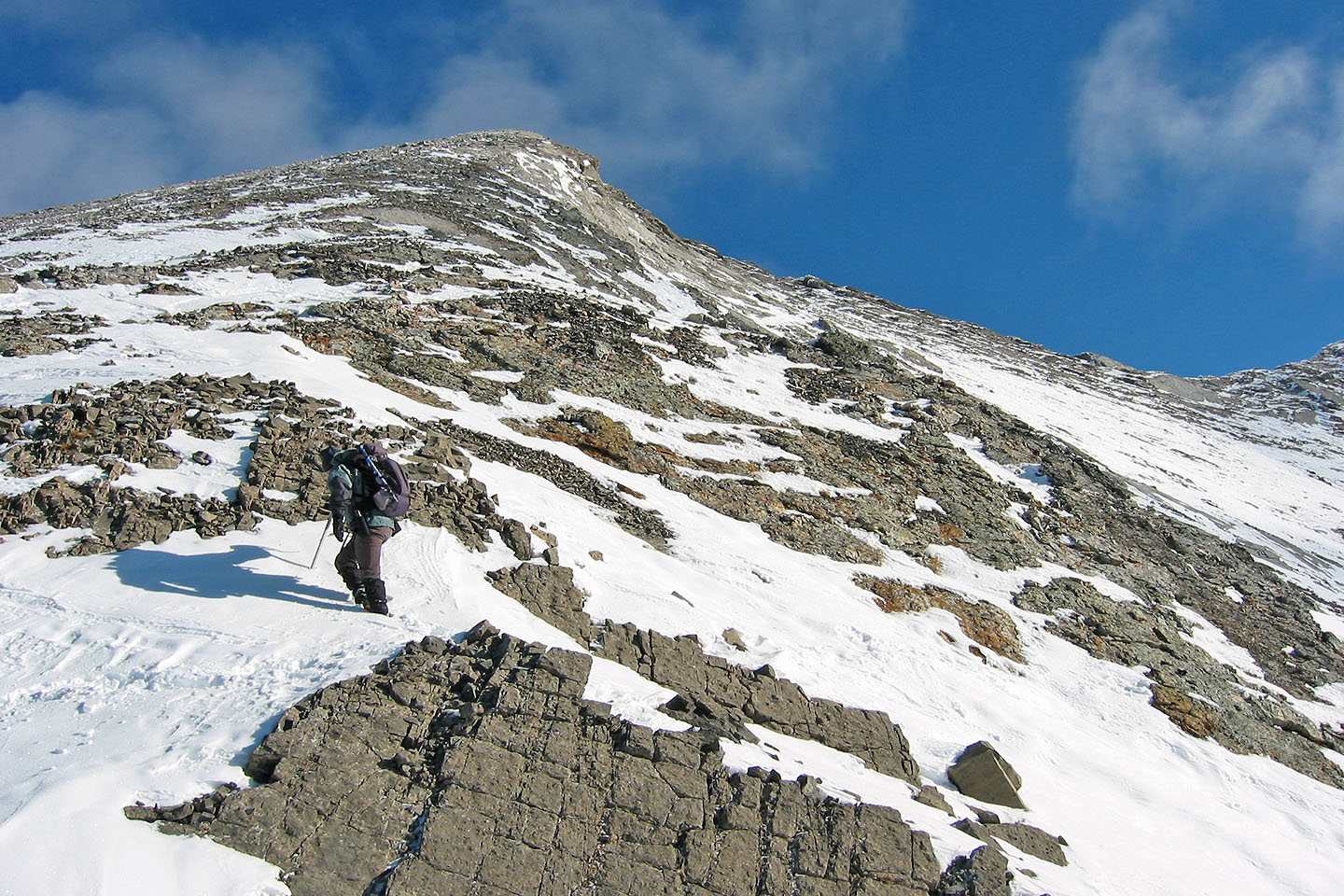 After the prominences, the rest of the climb is straightforward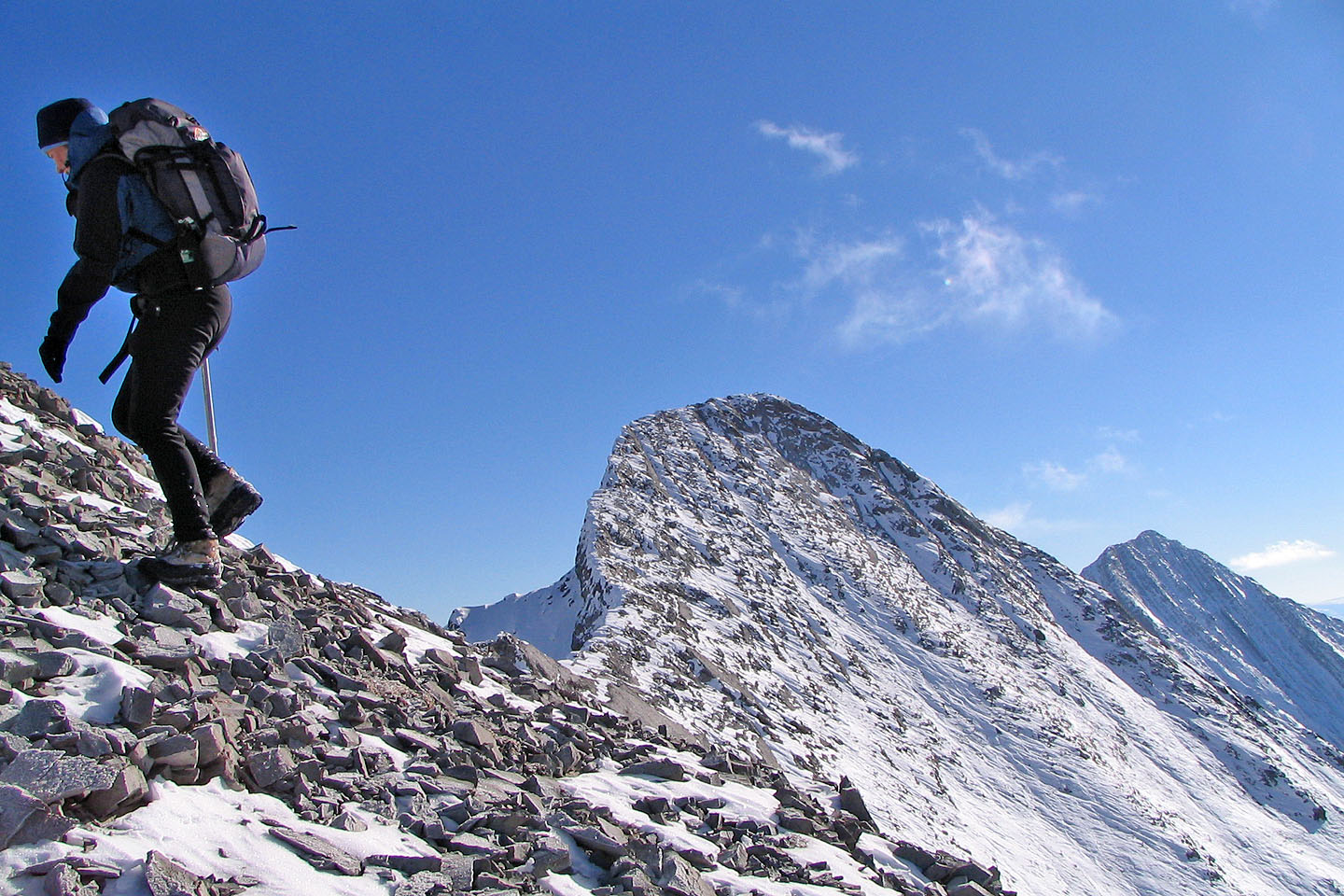 The second peak looks so close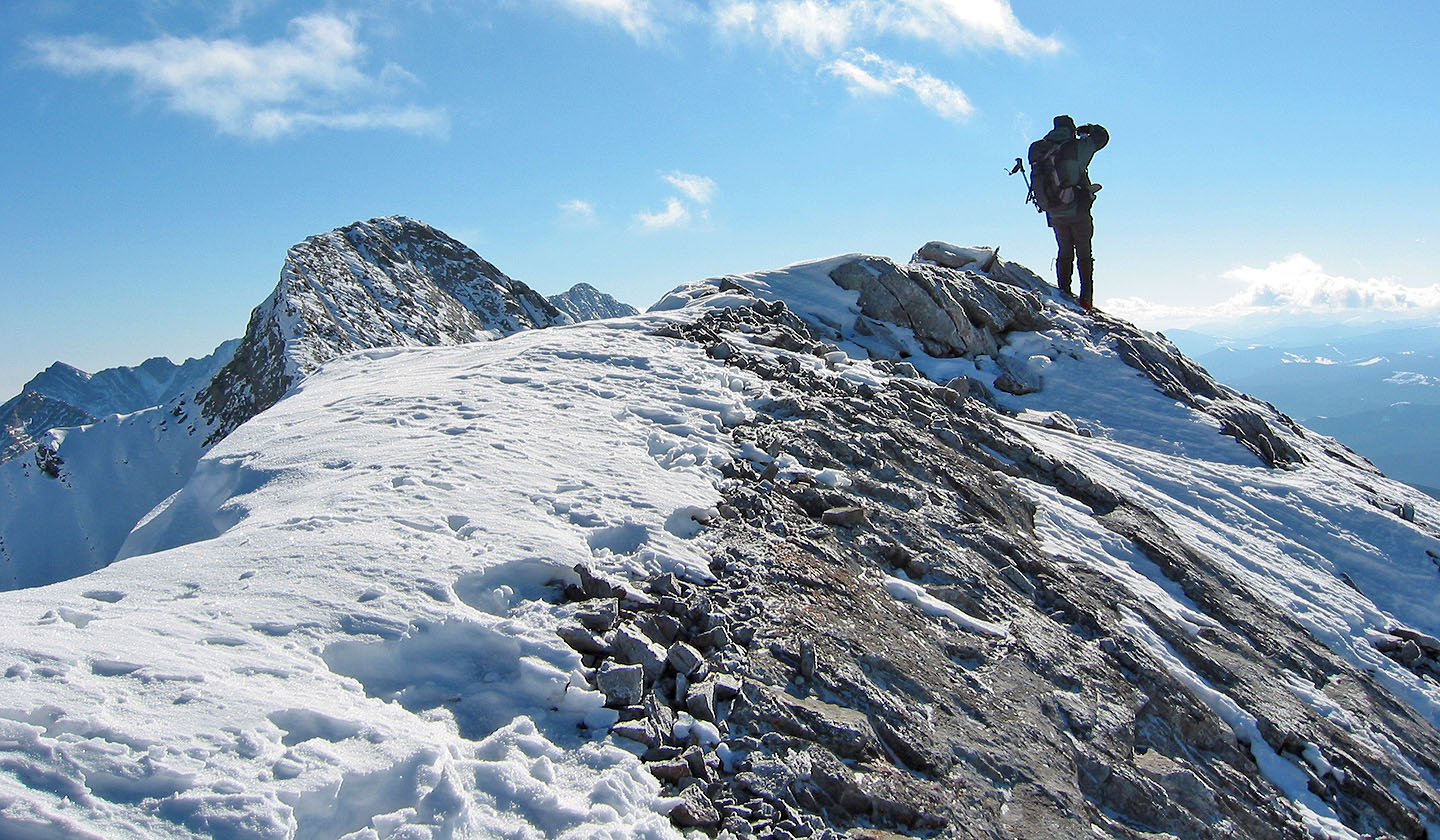 On top of the first peak. Second peak is on the left.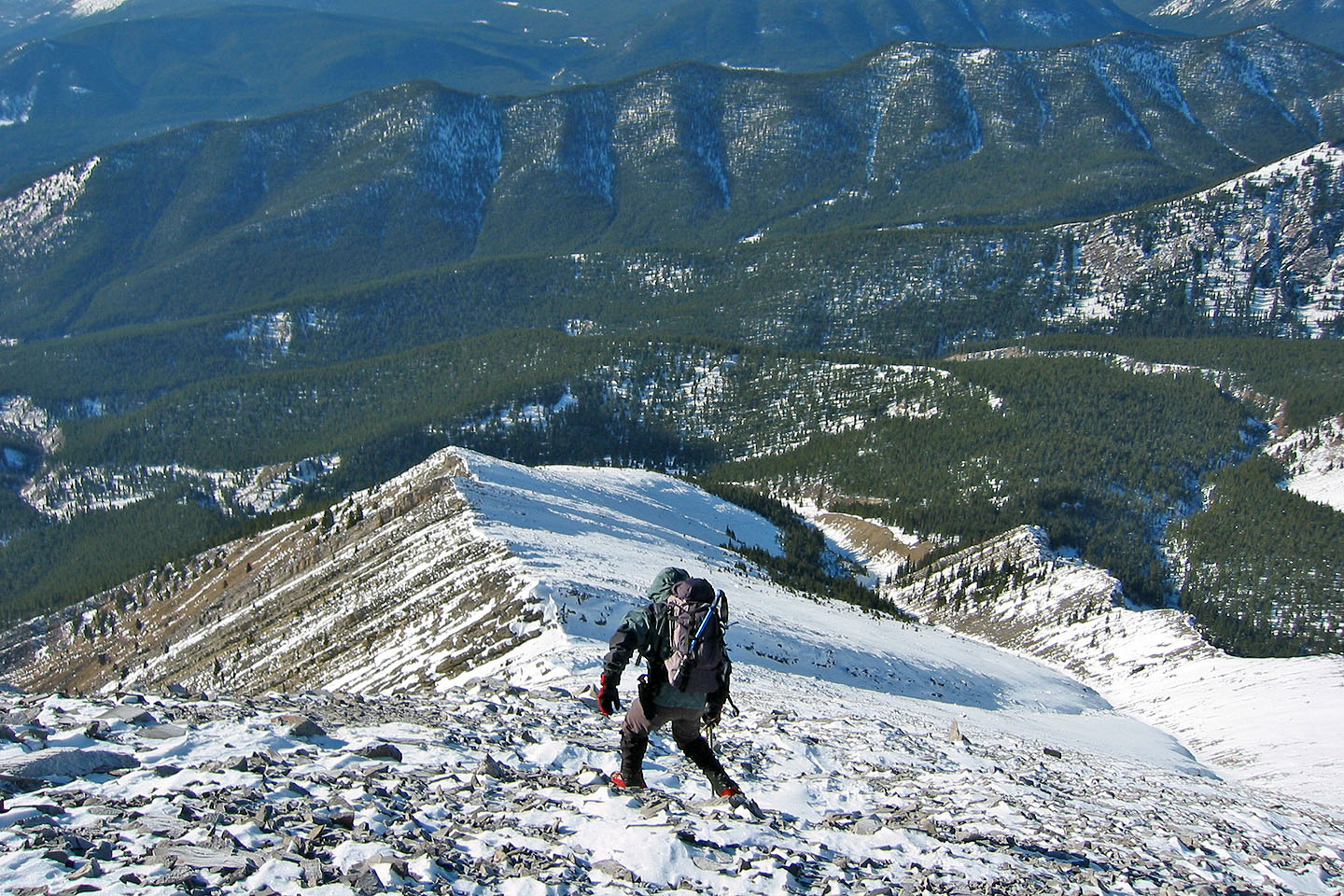 Starting back down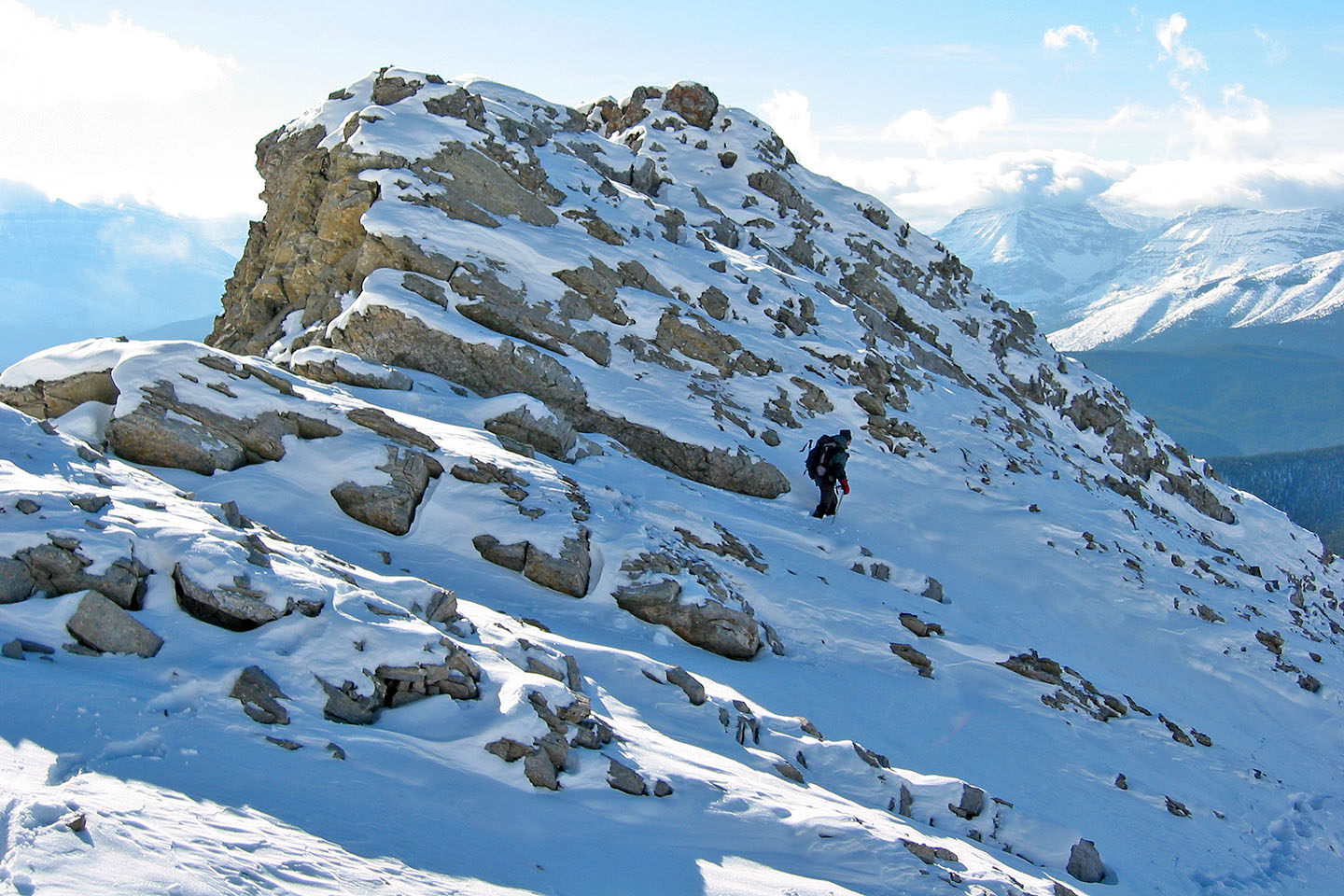 Heading back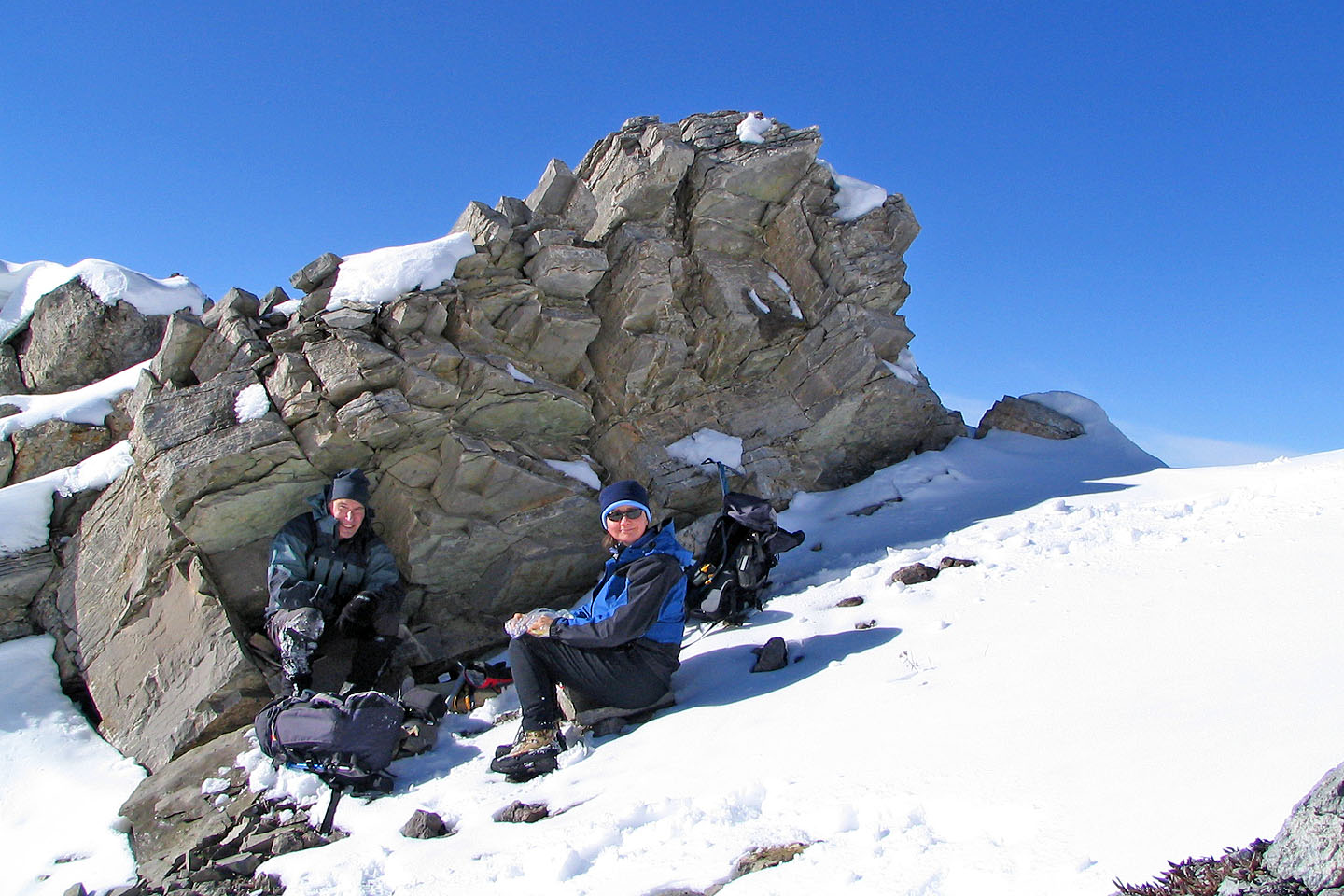 On the way down, we found shelter and took a break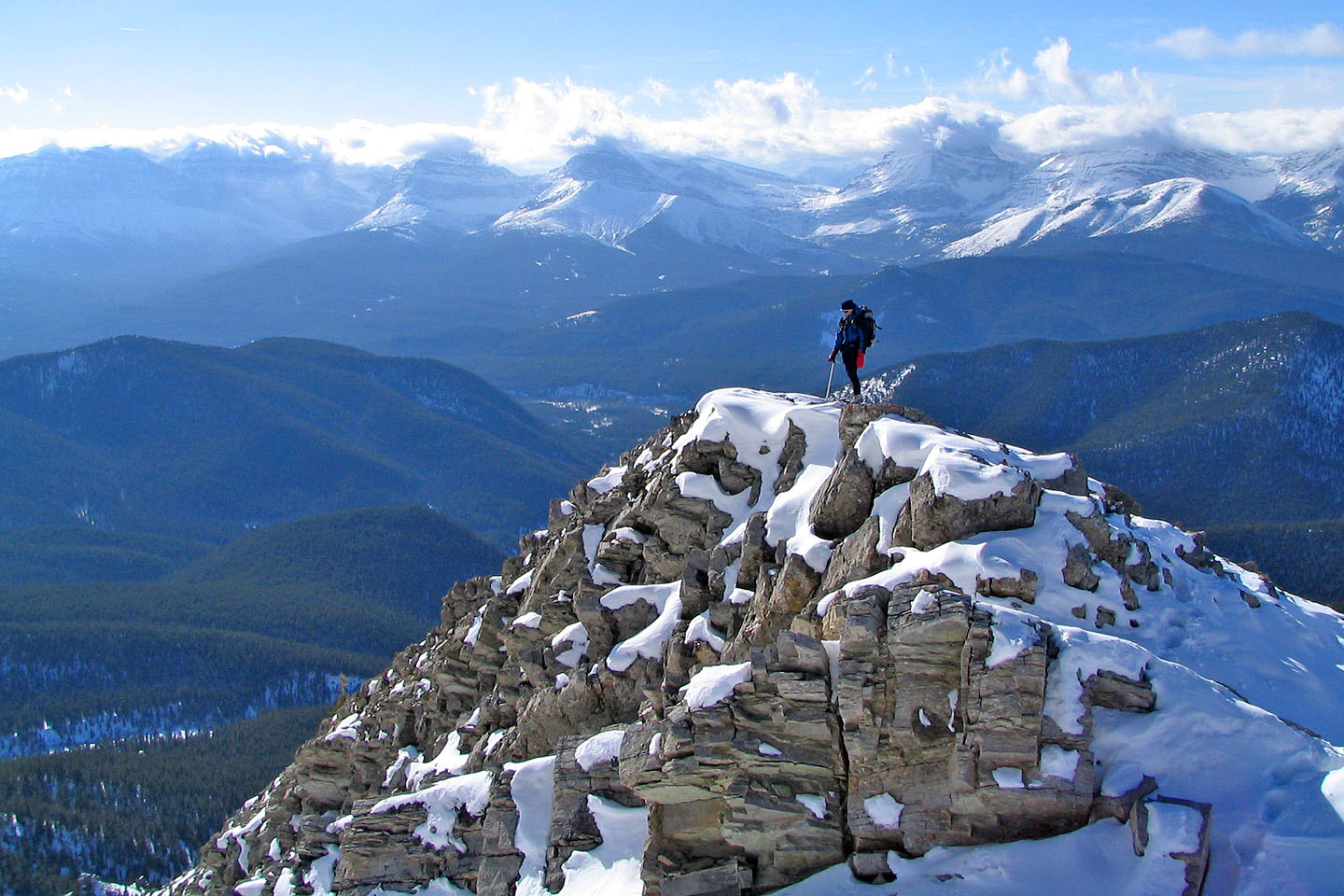 Dinah pauses on a high point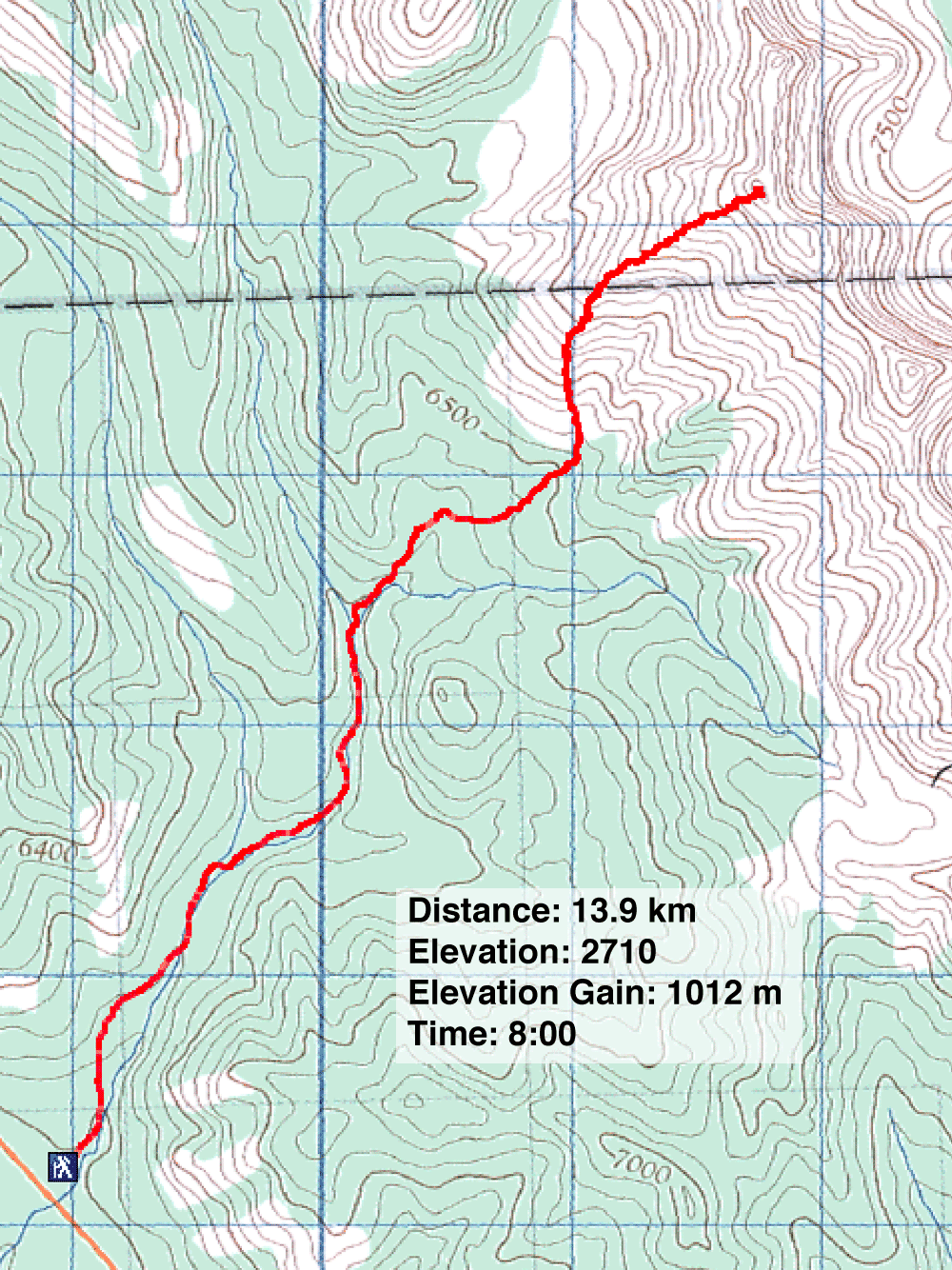 82 J/7 Mount Head