bobspirko.ca | Home | Canada Trips | US Trips | Hiking | Snowshoeing | MAP | About

Lineham Ridge
Kananaskis, Alberta
July 18, 2020
Ever since our aborted trip up Lineham Ridge in 2004 because of snow conditions, Dinah and I have been meaning to return. I'm not talking about the scramble route to the summit described in More Scrambles in the Canadian Rockies. I'm referring to the hiking route in Kananaskis Country Trail Guide. It reaches a bump on the ridge 800 m before the summit. Continuing to the top means a difficult, exposed scramble which we didn't wish to do.
From Lineham Creek trailhead, we followed the path as it rises and falls like a rollercoaster until it descends to Lineham Creek. Here the 2013 flood had rearranged the landscape. Comparing it to our 2004 track, almost 250 m of trail is missing. Some of the trail loss may be due to a recent landslide, so fresh that leaves were still green on fallen trees. After getting through the slide, we crossed a stream and found a nascent trail leading to the main trail running up the ridge.
After a brief but steep initial climb in the open, the trail gently climbs through the forest. Unencumbered by roots and rocks, it's a pleasant path, but after a couple of kilometres, the pleasantness wore thin and we yearned to be out of the trees.
When we did break free of the trees, we weren't disappointed. The jagged, gray peaks on our right contrasted with the dark-green hills behind us. Ahead, the ridge ran to our objective, but it remained hidden until we got closer.
We followed trails when we could find them, hiked through meadows and over rocks, and crossed a cornice before reaching a bump carpeted with yellow and blue wildflowers. Certainly we could have pushed on, but knowing we would eventually be stopped by an exposed ridge, we saw little point. And it was a fine viewpoint to stop for lunch before we began the trek back to our car.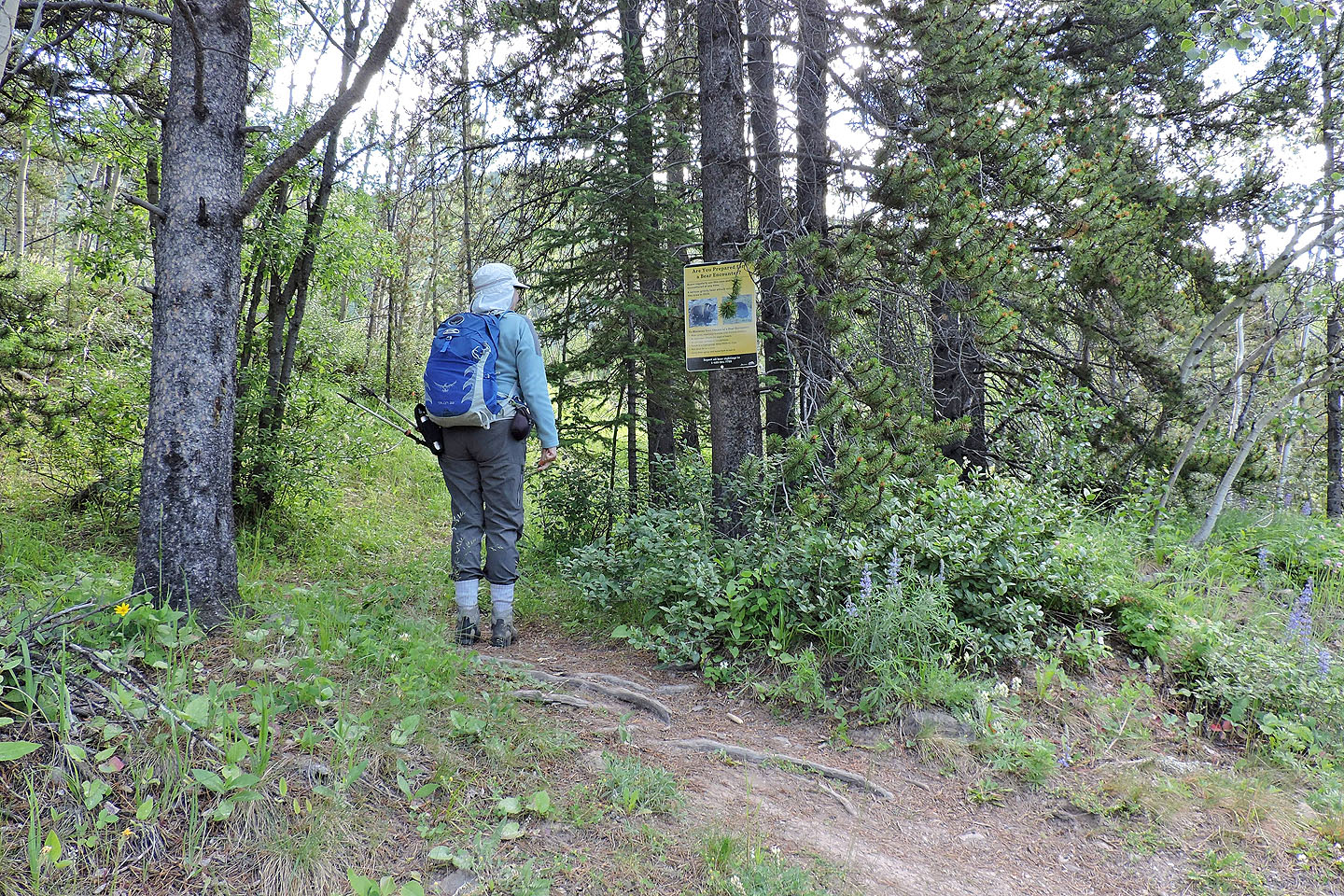 A sign at the trailhead warns bears regularly use this area, but we didn't see a bear or any bear signs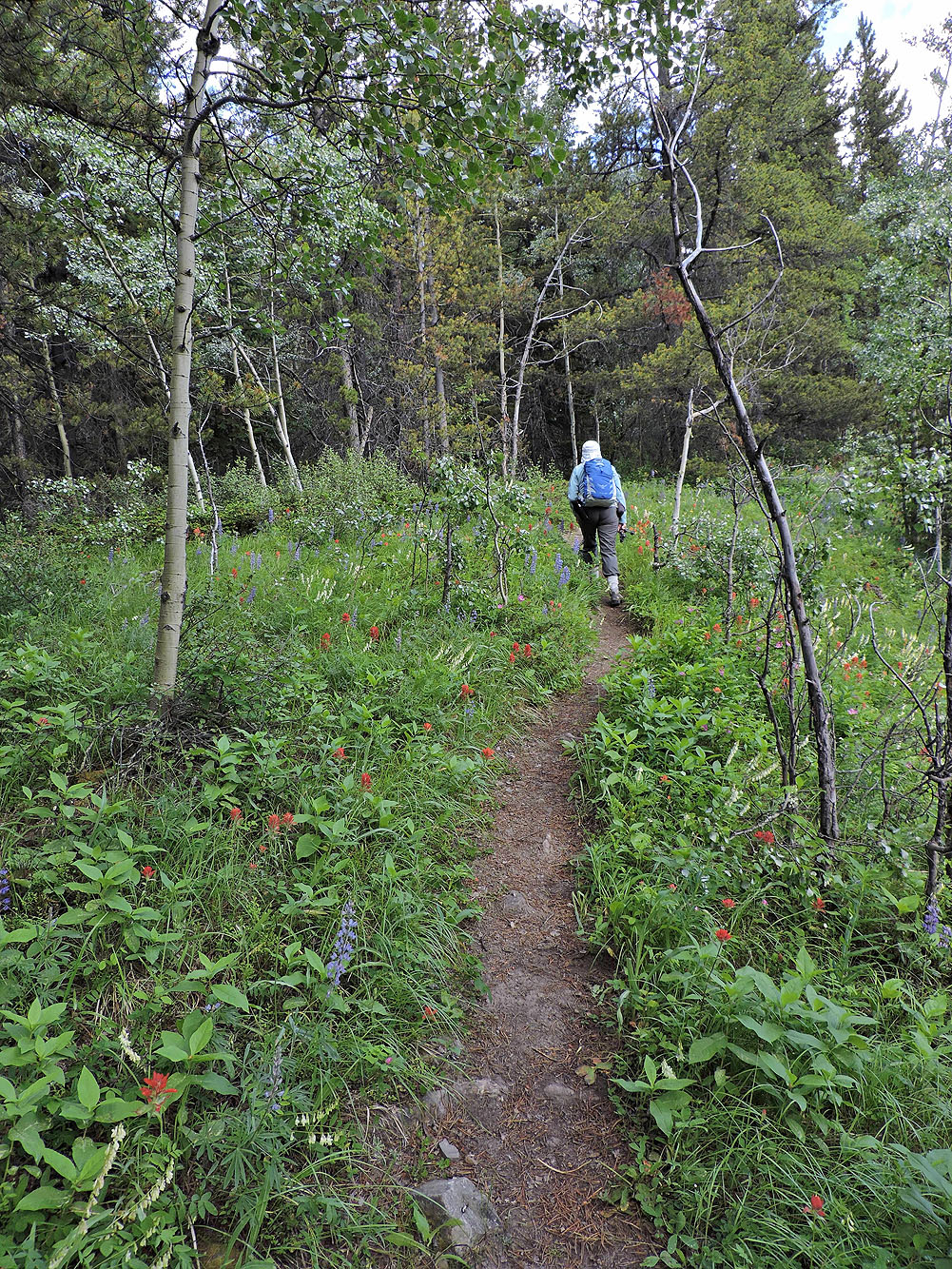 The path was lined with wildflowers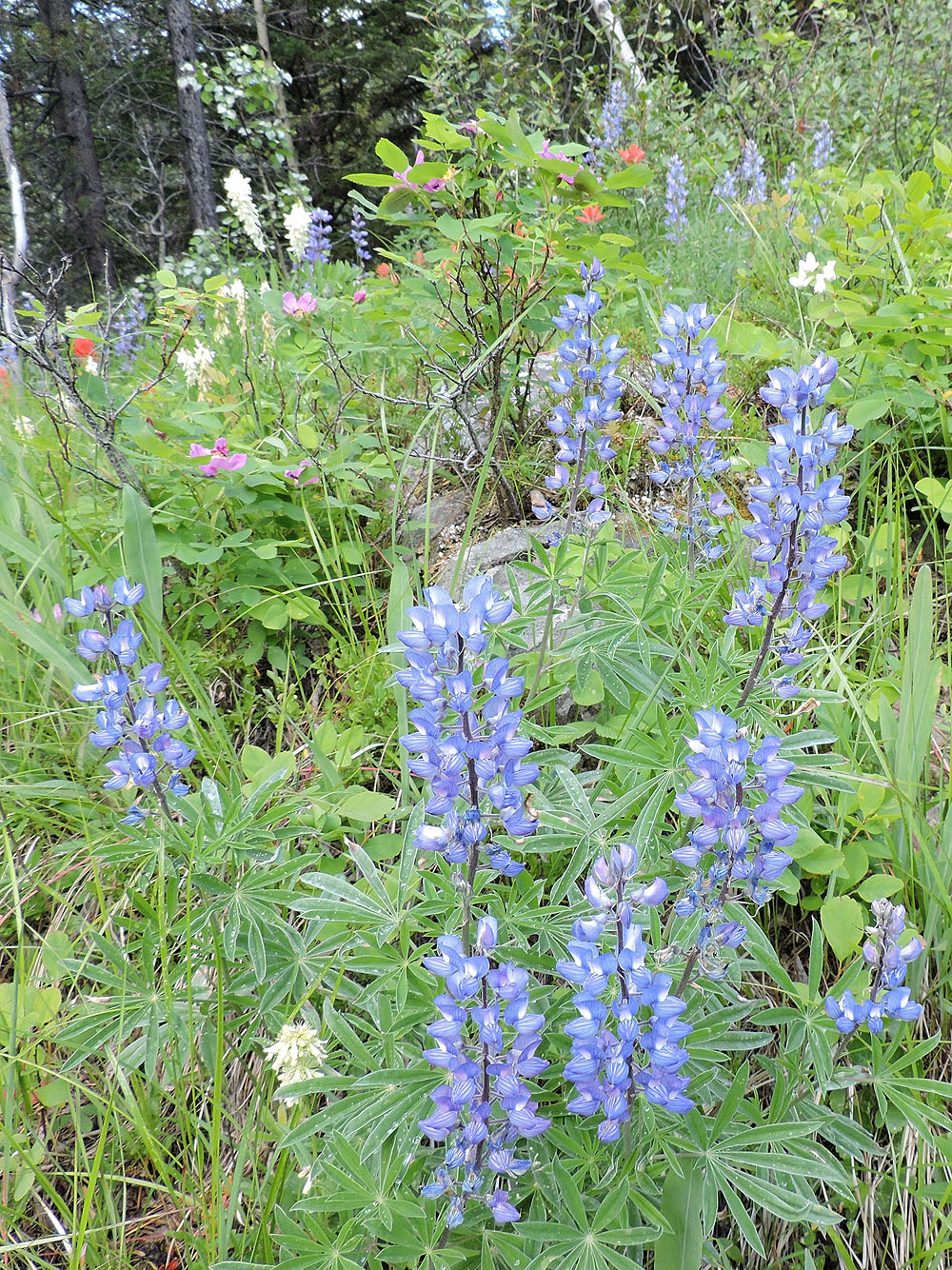 Silvery lupine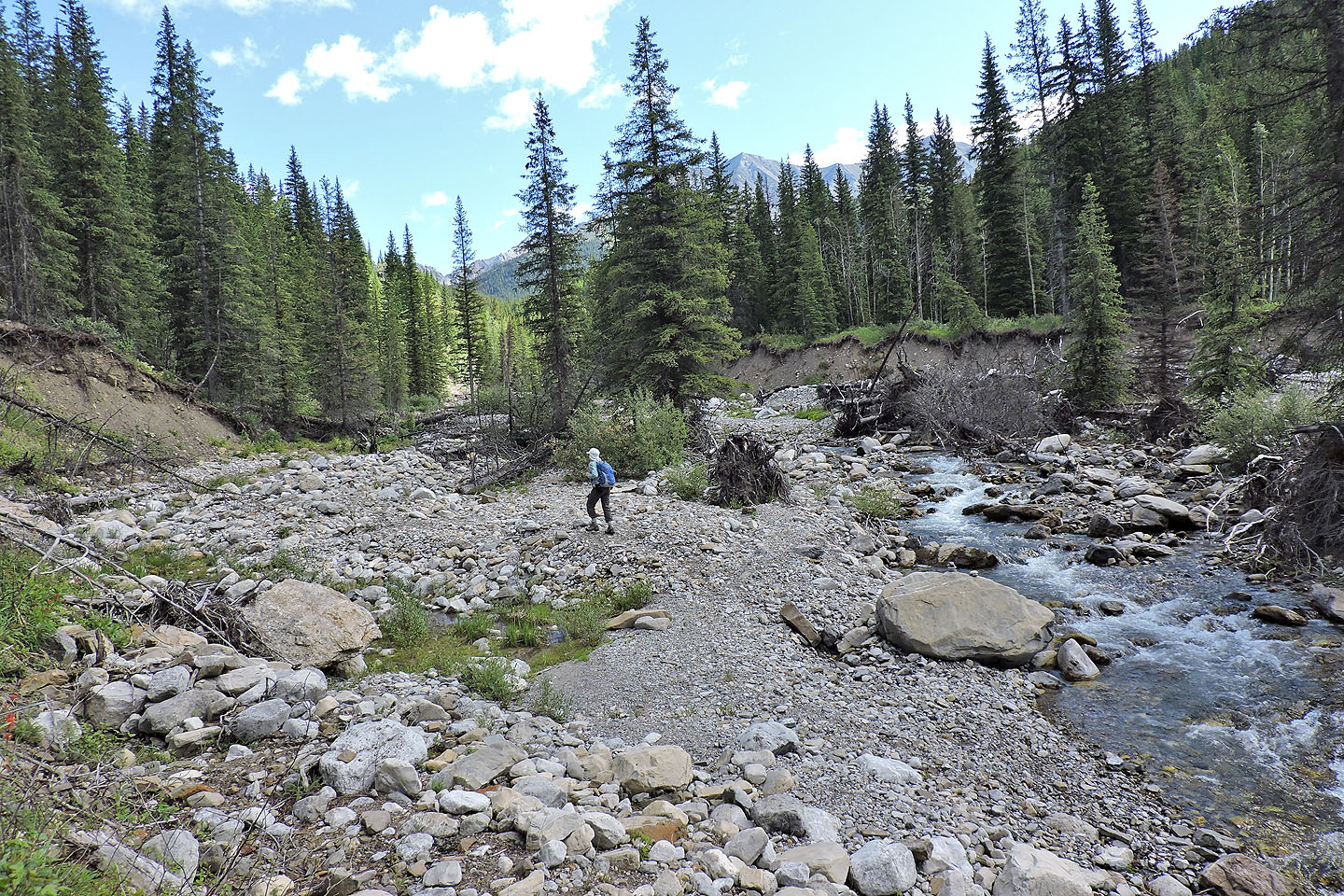 When the trail ended – washed away in the 2013 flood – we hiked along Lineham Creek

A recent landslide downed trees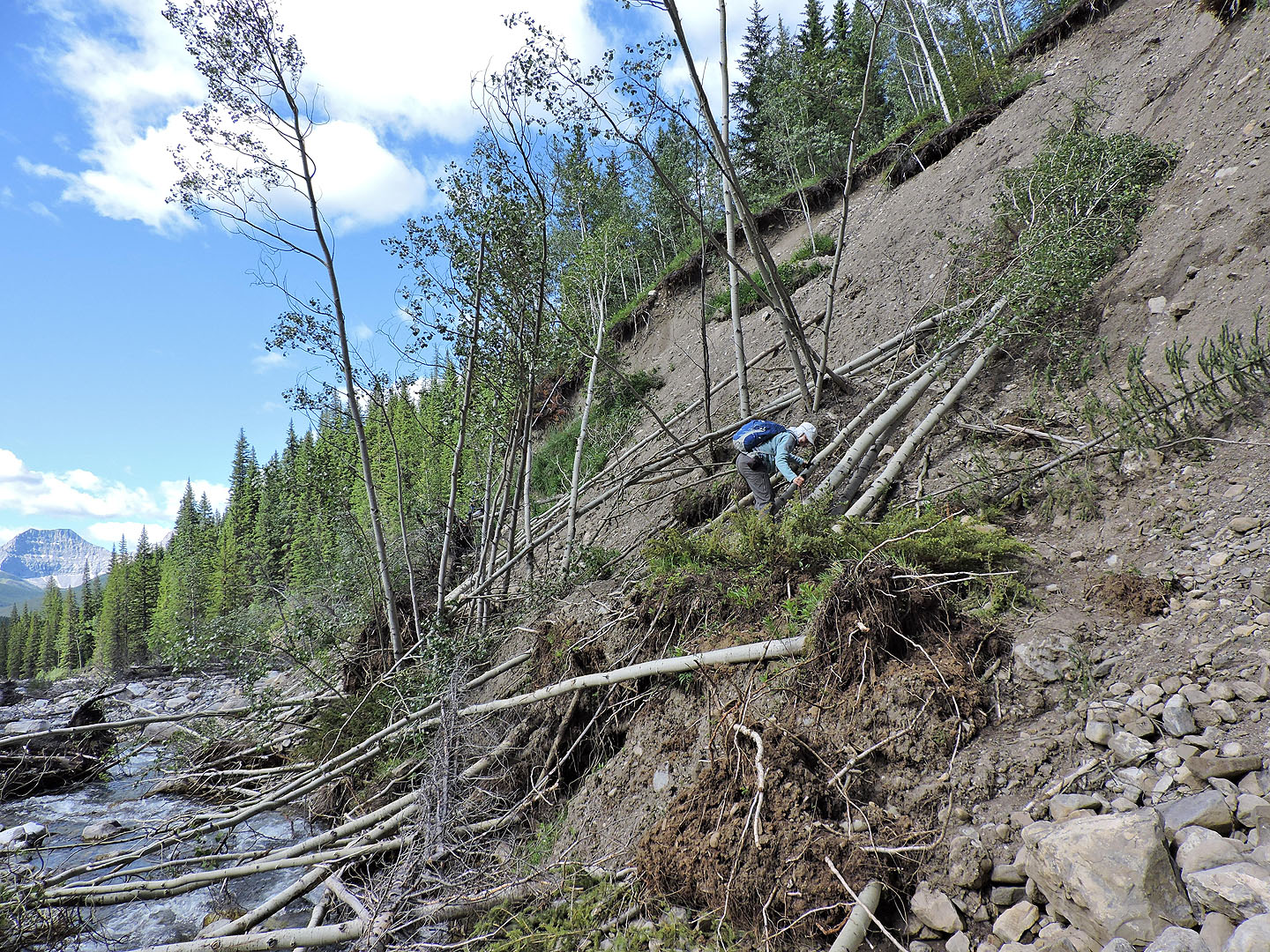 The slide created an obstacle course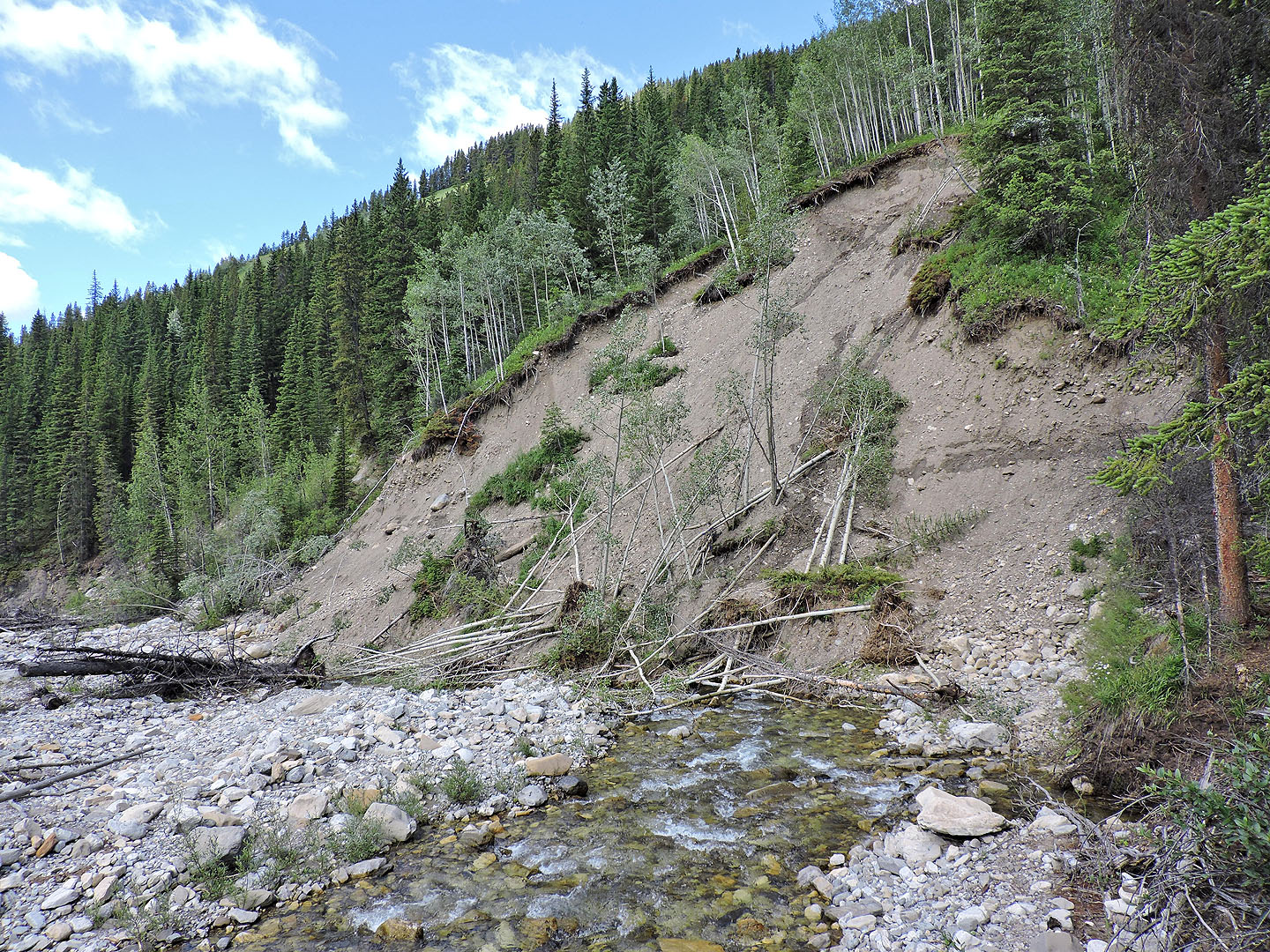 Looking back at the slide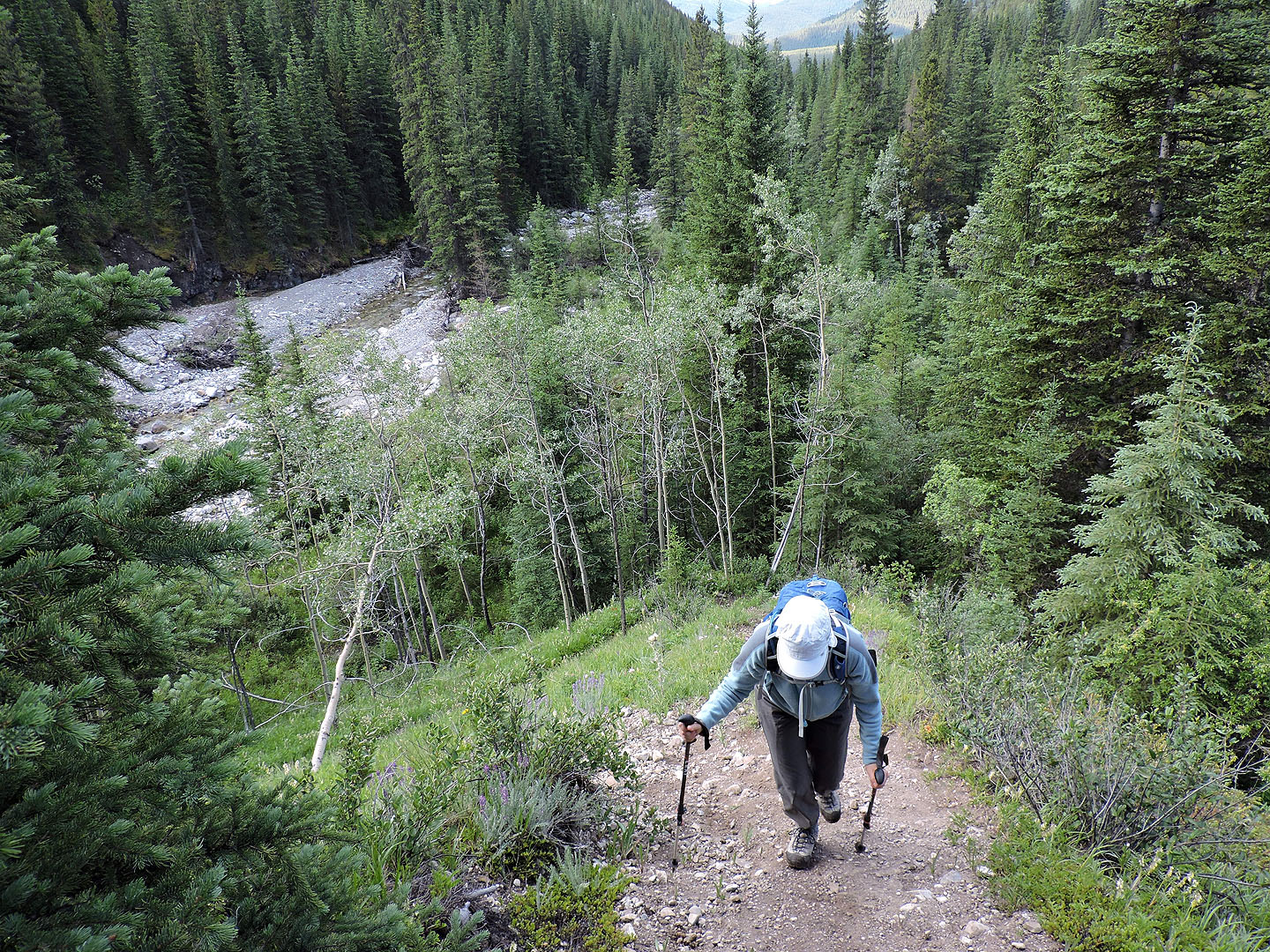 Starting up the end of the ridge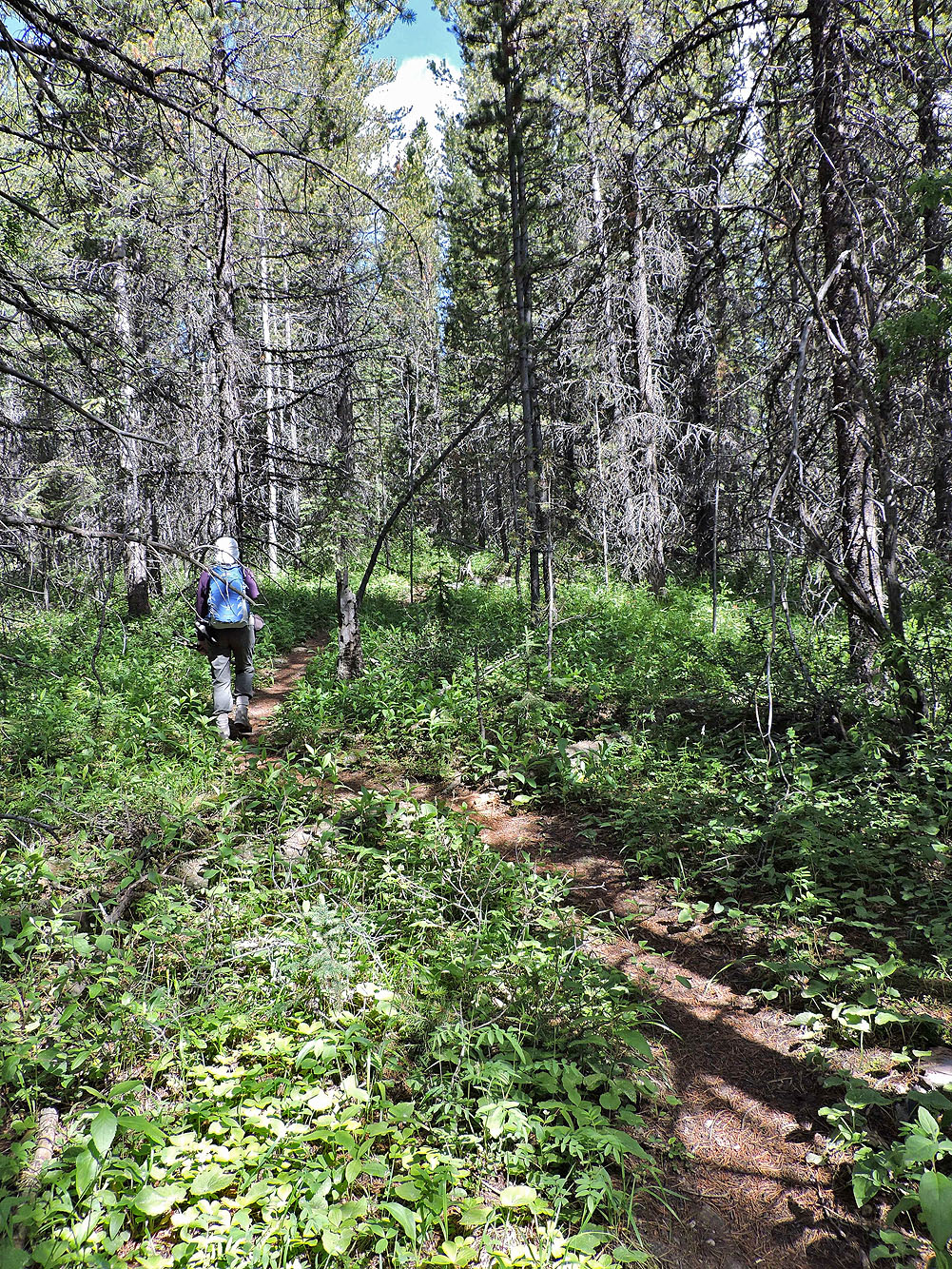 A path climbs a gentle grade in the trees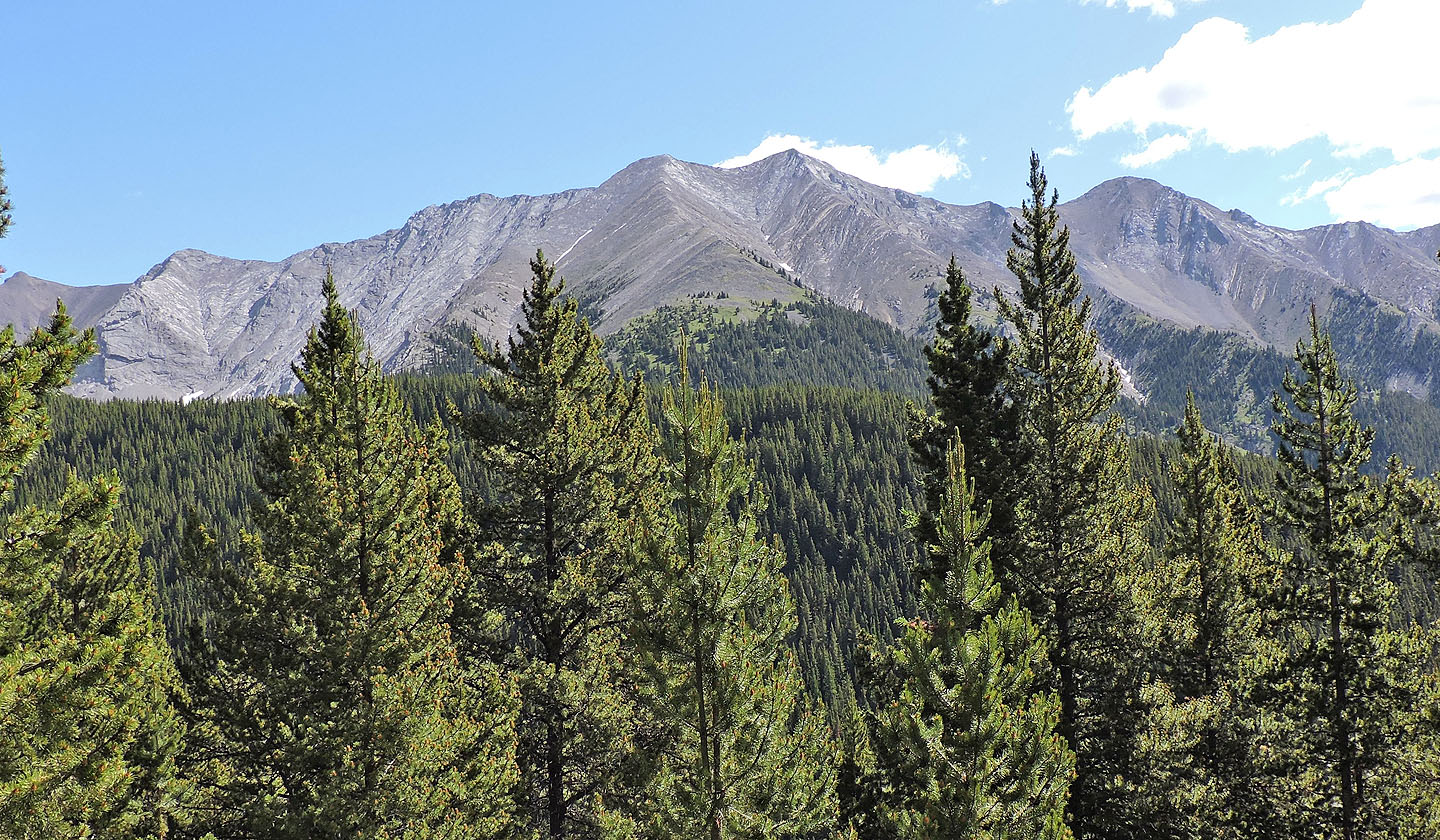 Lineham Creek Peaks (Dinah and I climbed the lower peak in the centre)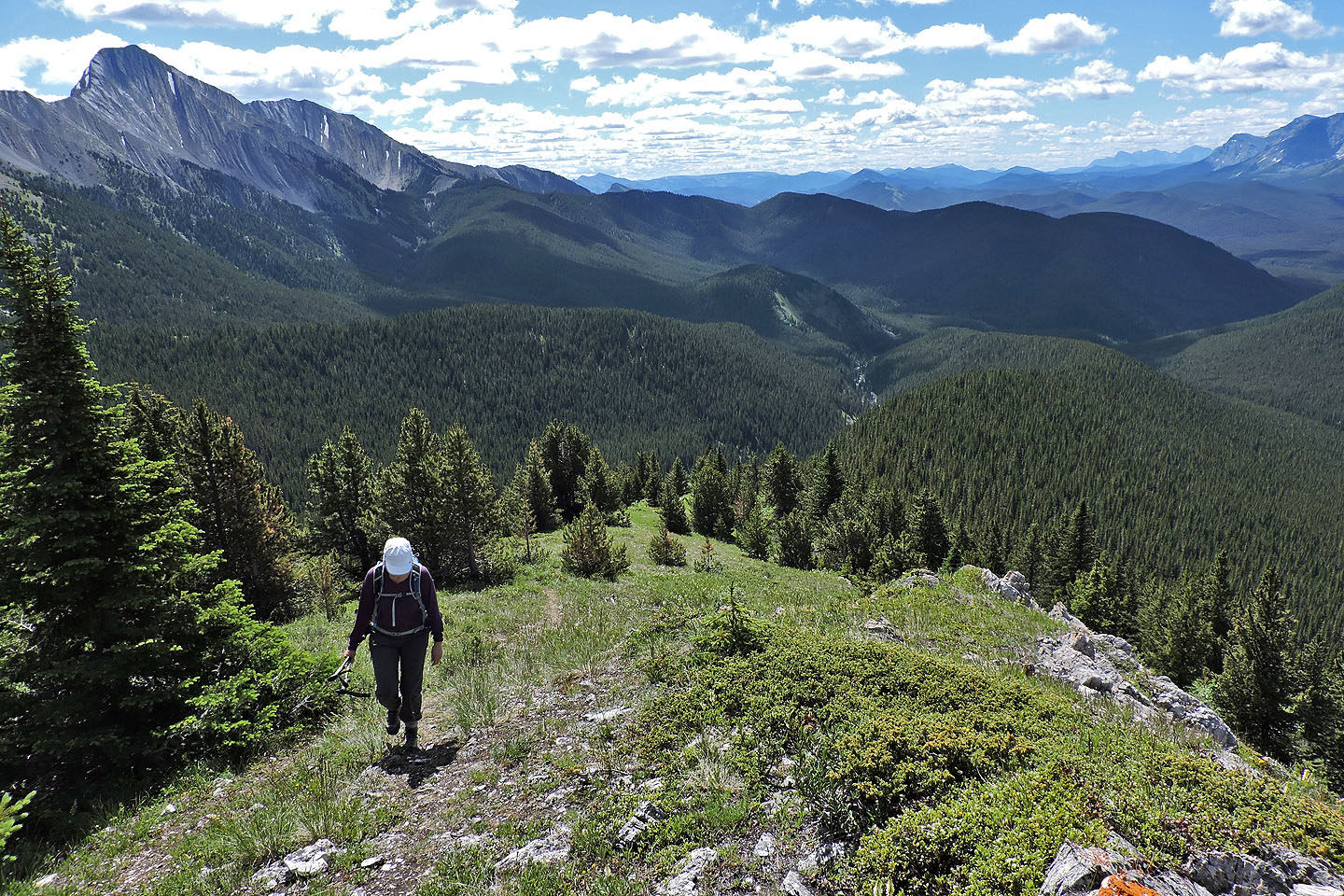 After the long stretch through the wooded ridge behind us, we welcomed the open crest. The half-hidden mountain above Dinah is Serendity Peak (mouse over for a close-up)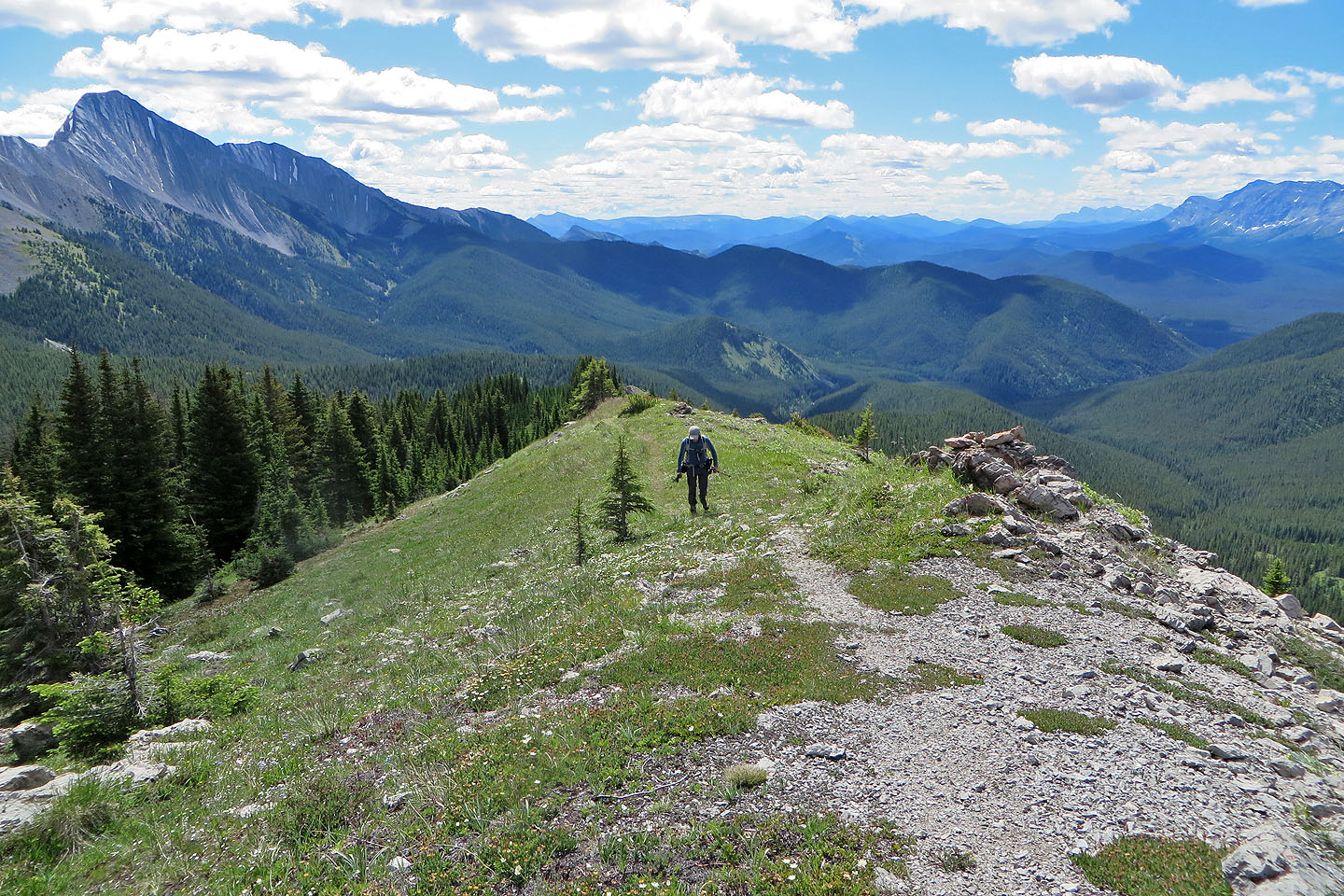 Hiking a barren stretch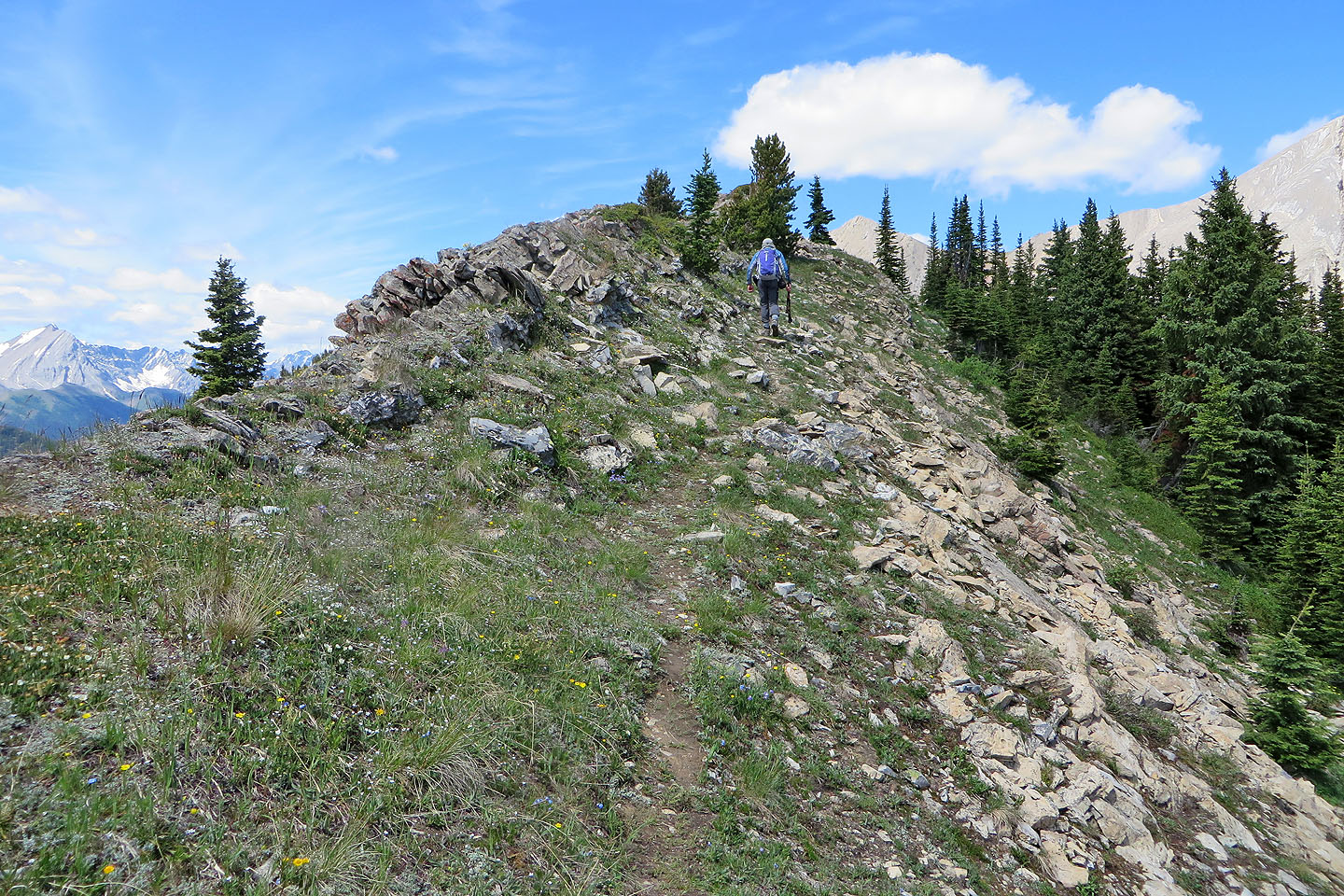 The trail follows the right side of the crest but soon crosses over

We could see well along the ridge, but our objective was not yet in sight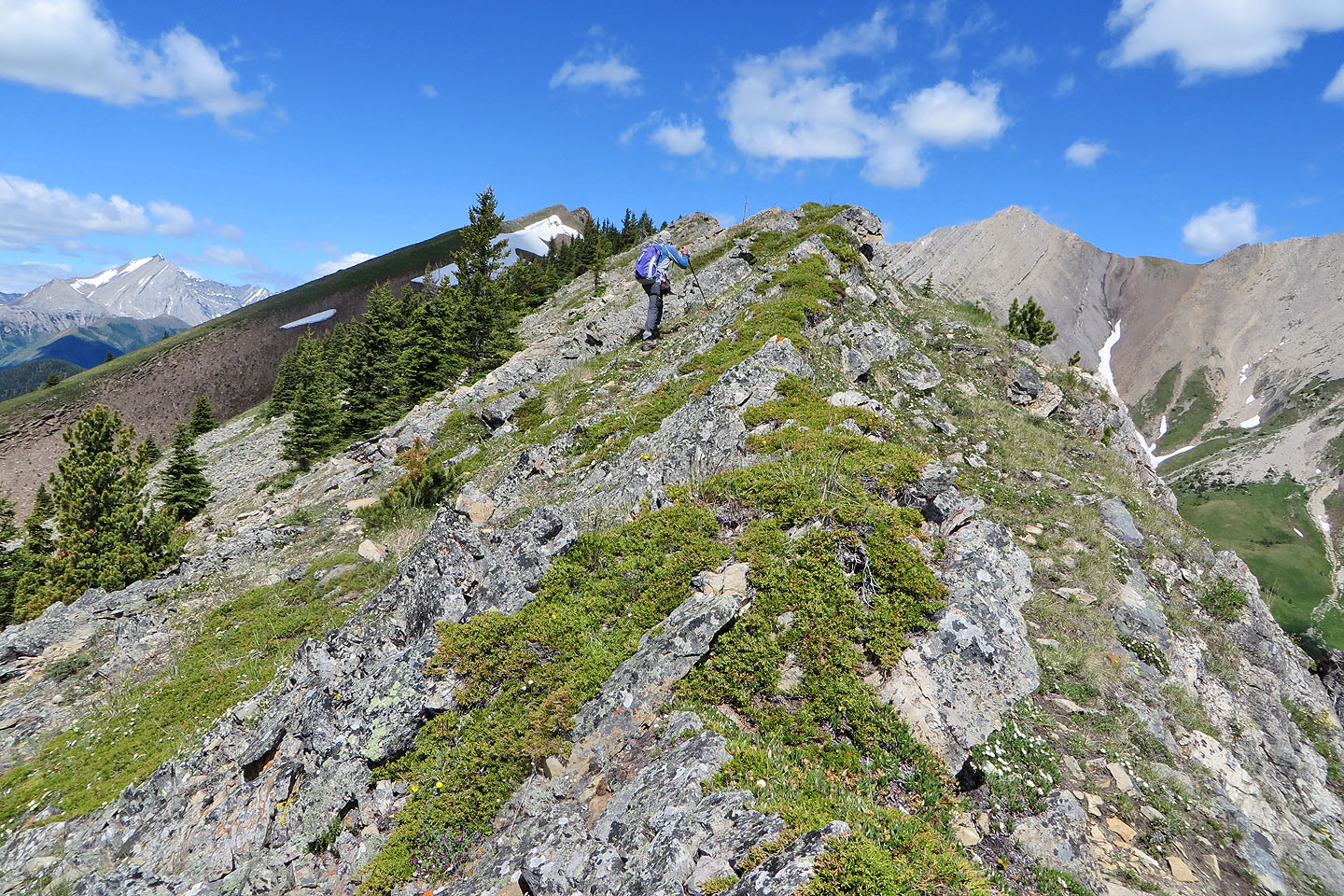 After hiking below the crest for a time, we regained the ridge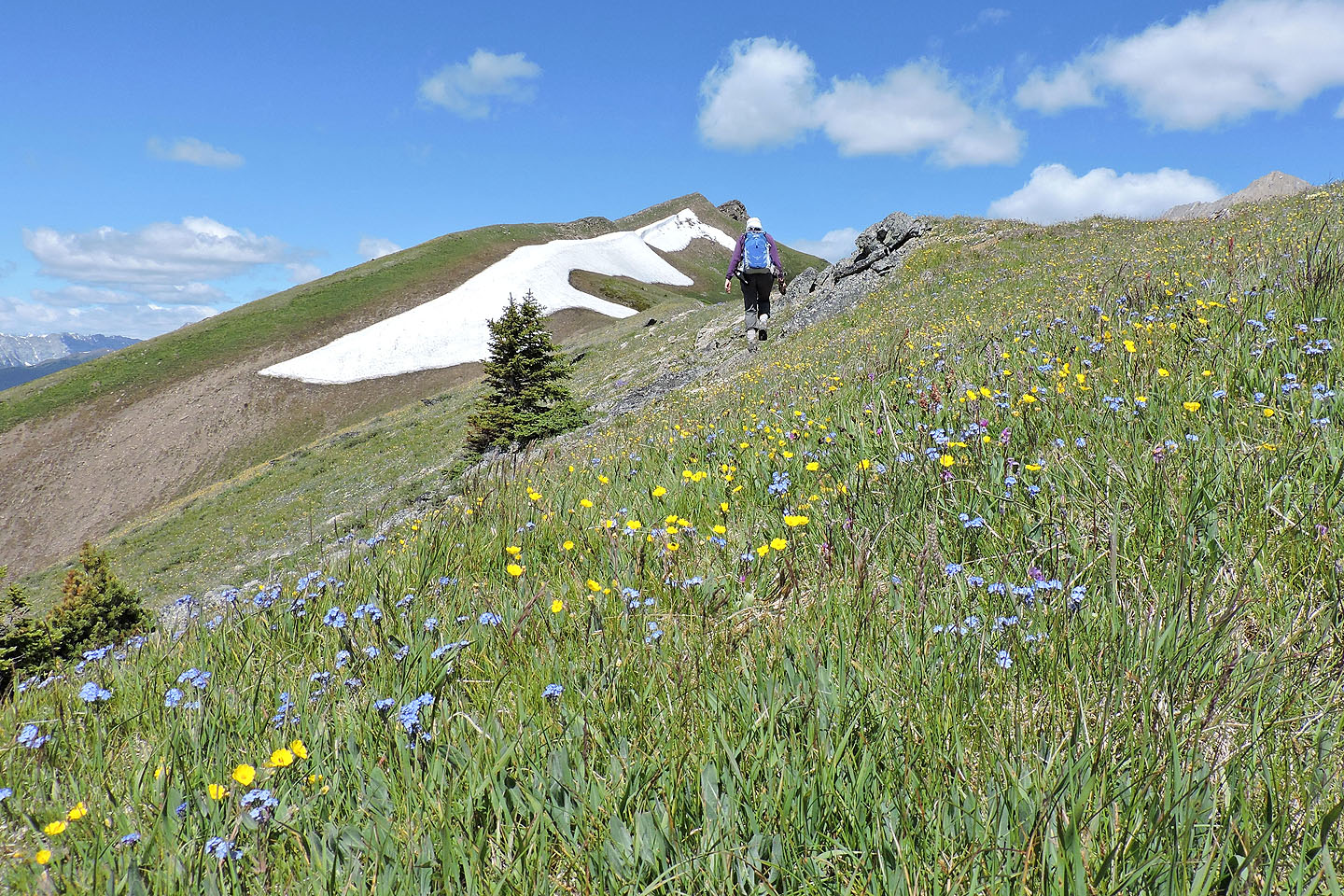 Forgetmenots and buttercups dominated the meadow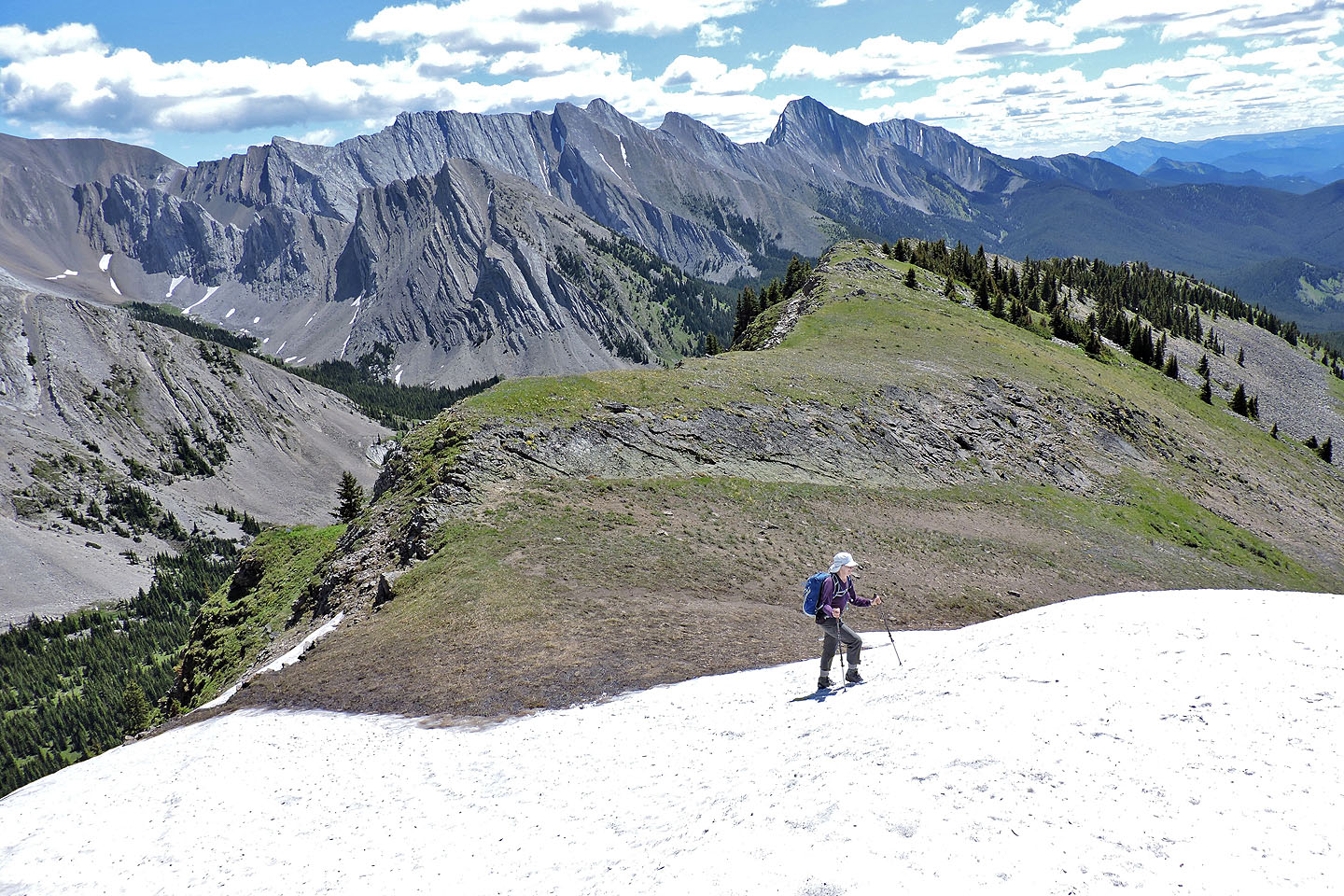 Looking back along the ridge

The summit of Lineham Ridge is right, but we headed to the little point between two cornices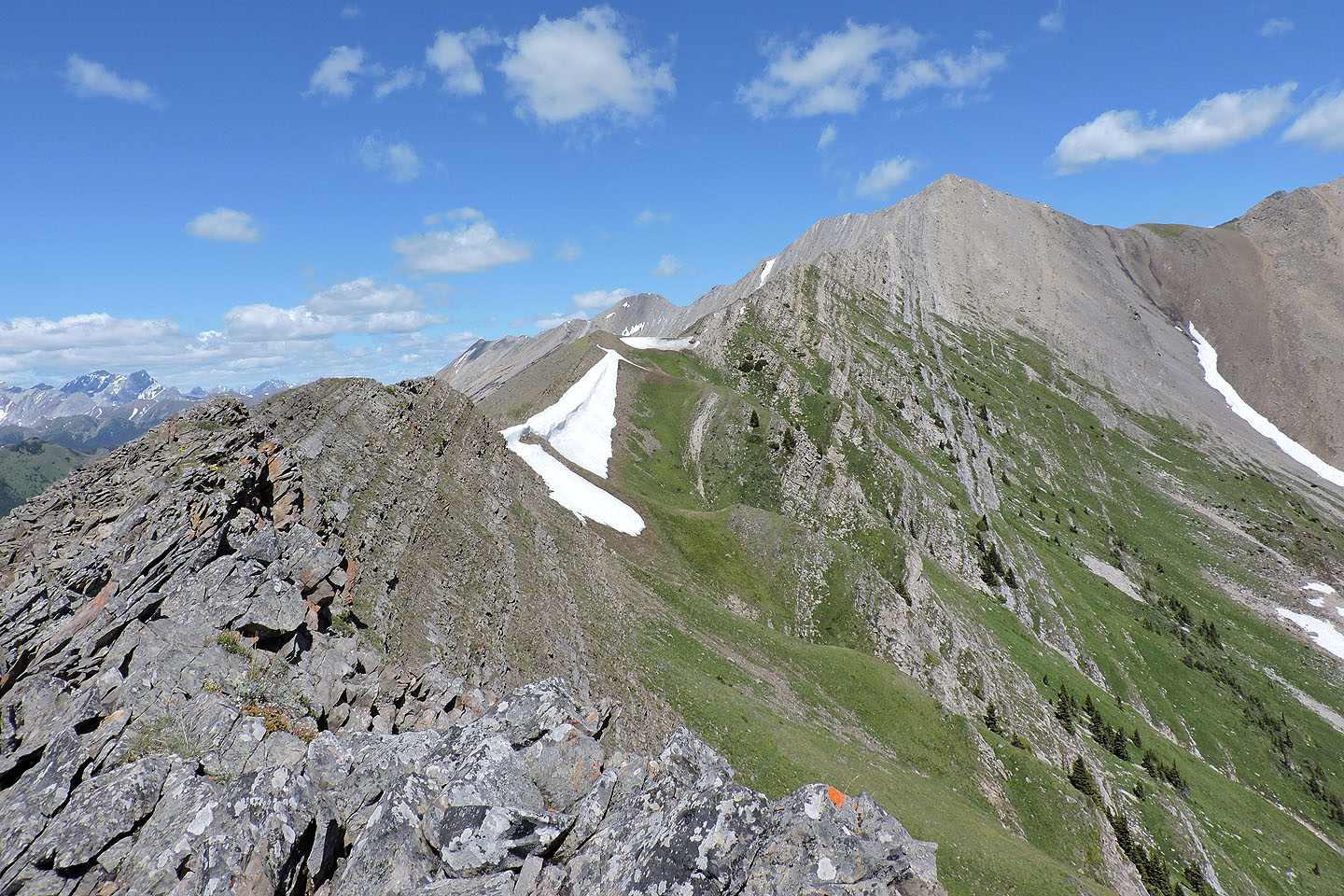 There's a short drop before the high point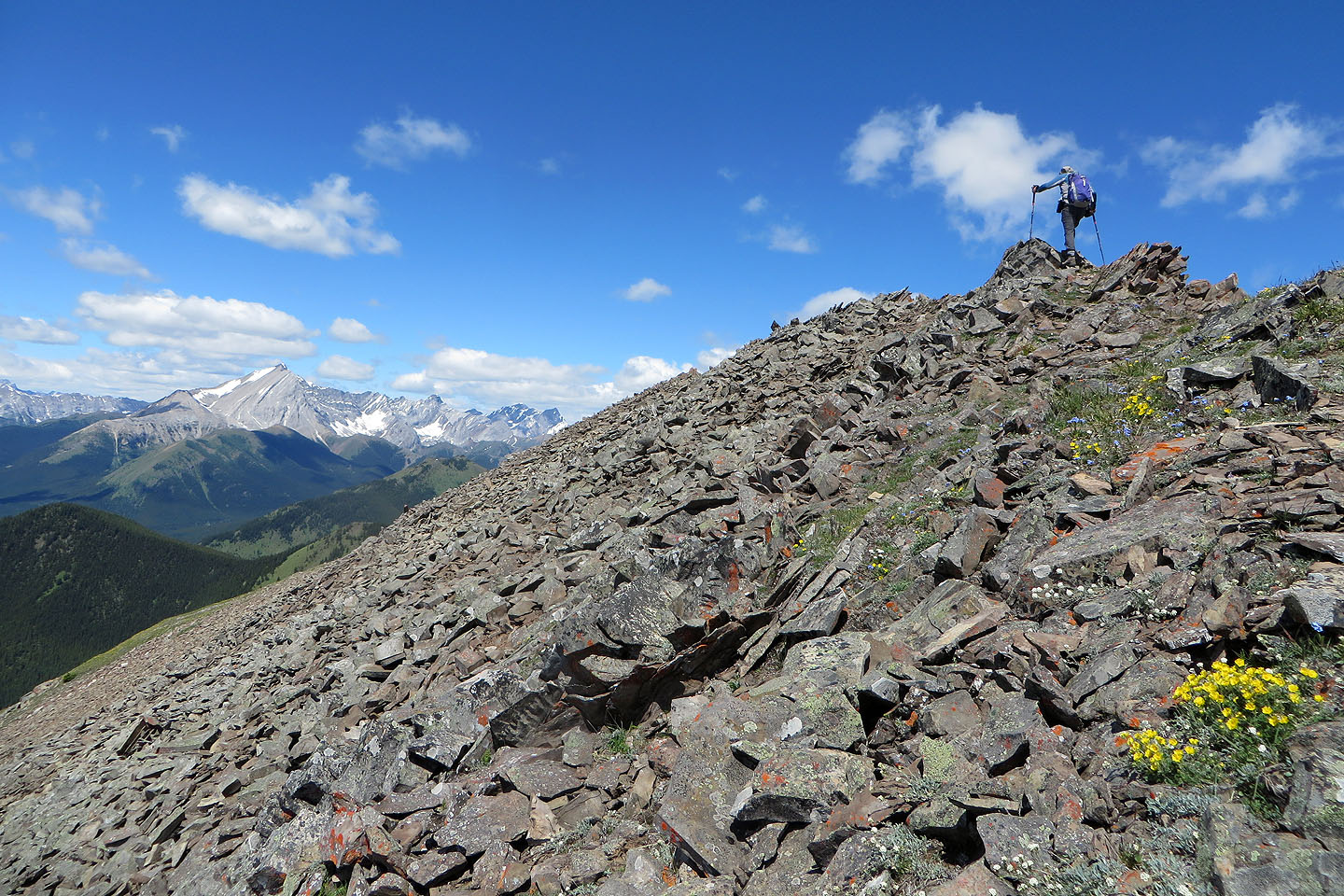 Crossing the loose talus here was the worse part of the trip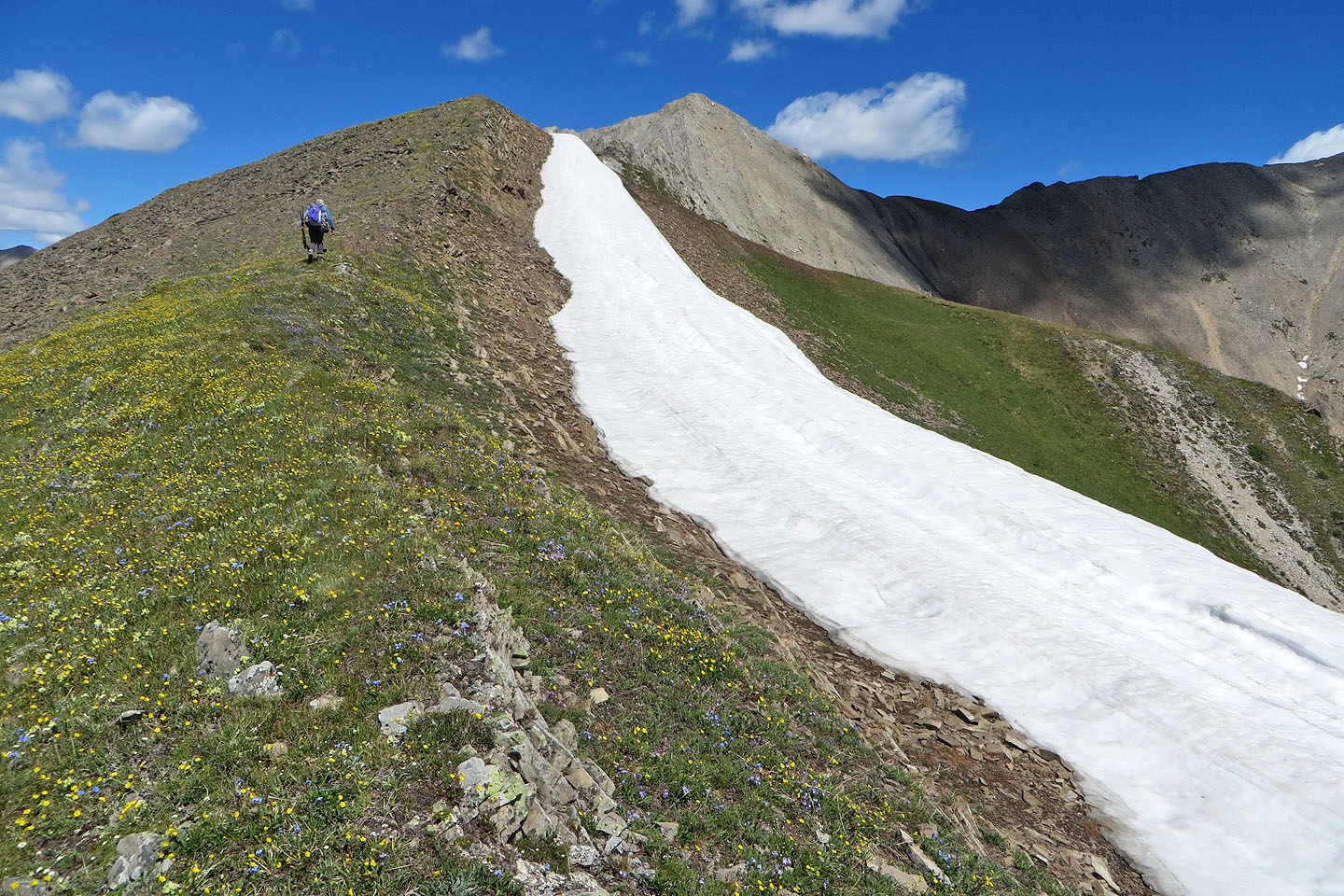 Almost at our objective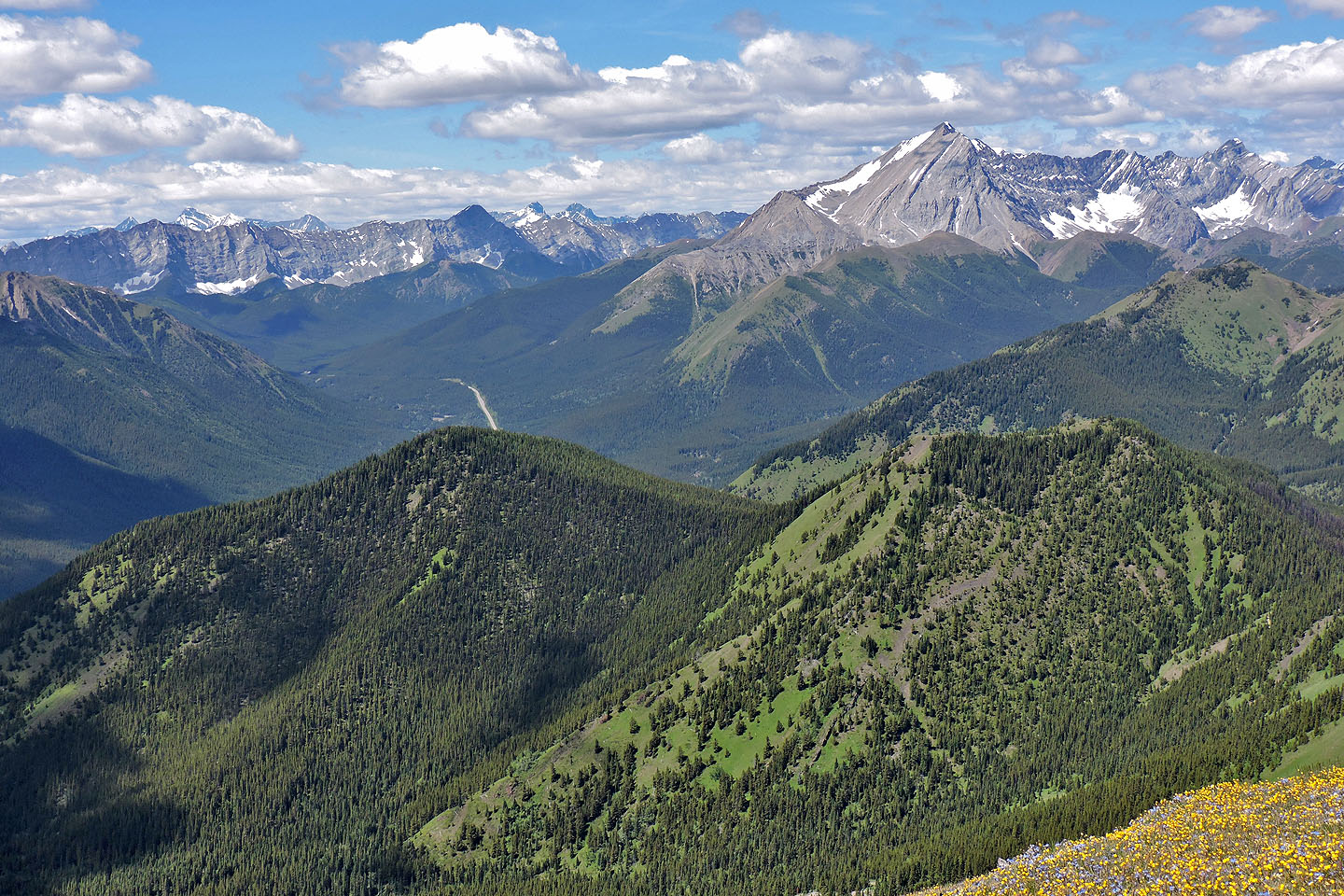 South Mist Hills in the foreground. Above it are Nameless Ridge and Mist Mountain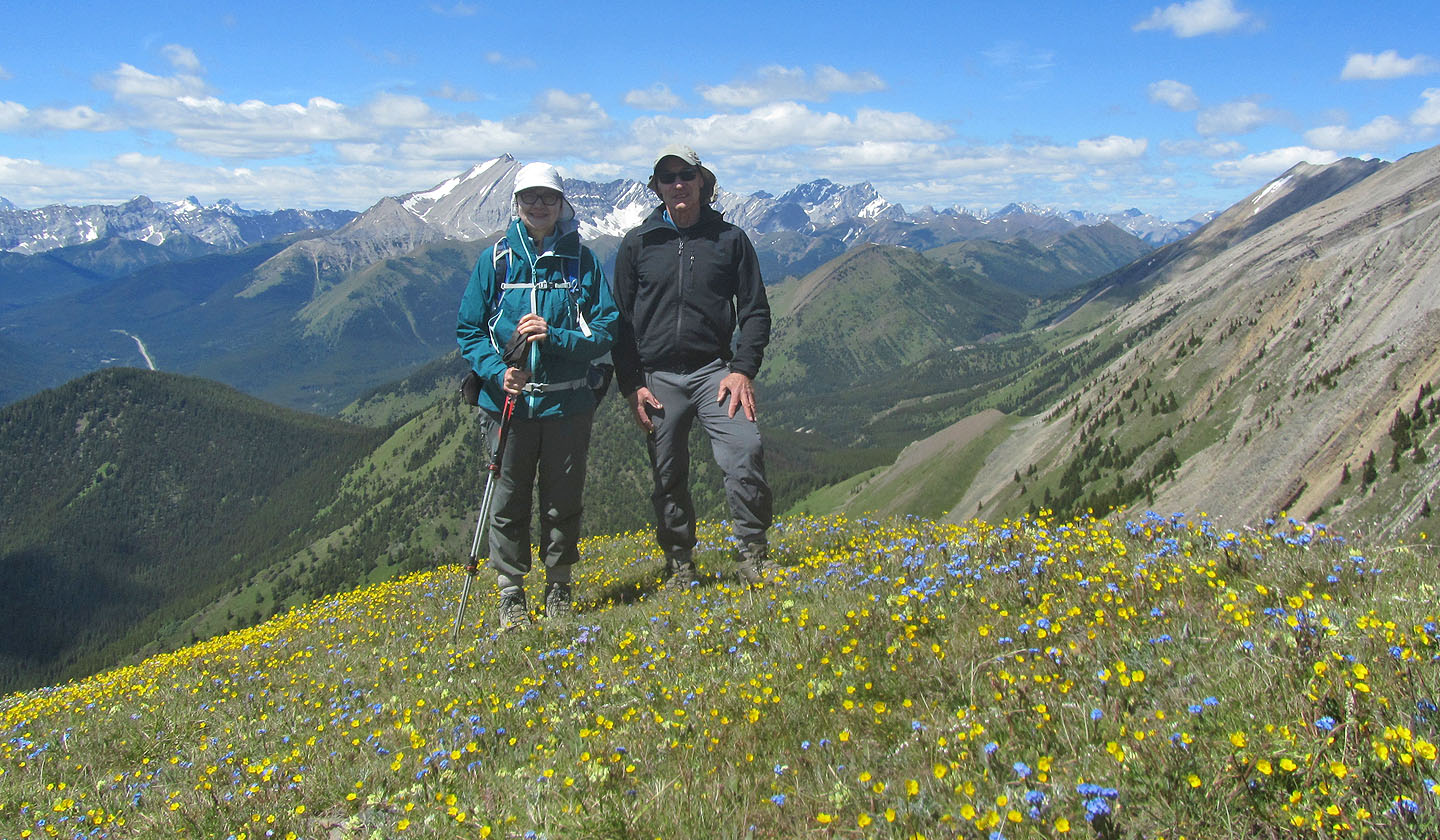 Posing on top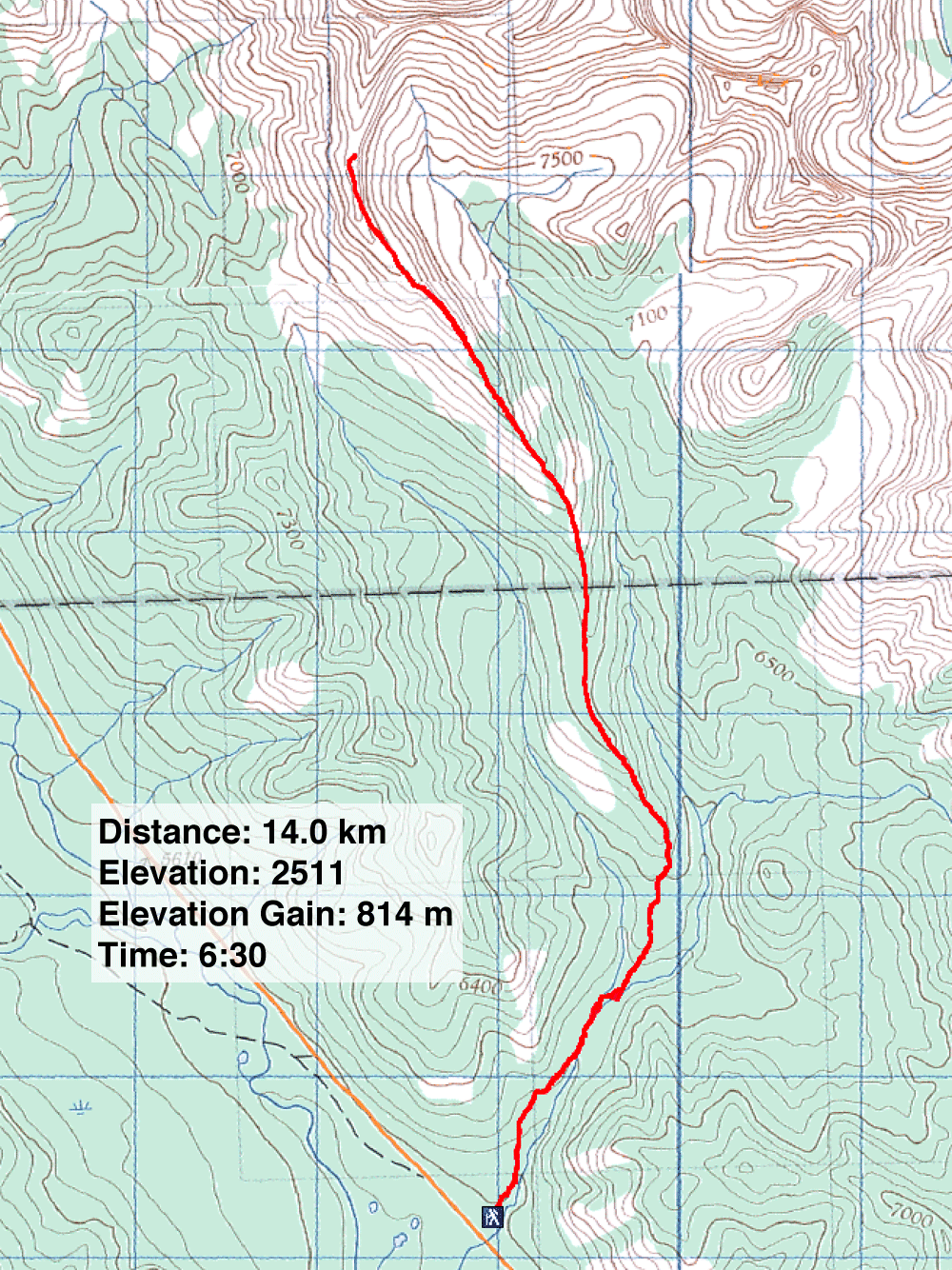 82 J/10 Mount Rae, 82 J/7 Mount Head