bobspirko.ca | Home | Canada Trips | US Trips | Hiking | Snowshoeing | MAP | About

Spread Eagle Mountain
aka Mount Roche
Castle Provincial Park, Alberta
July 4, 2009
Distance: 17.3 km
Cumulative Elevation Gain: 1195 m
This would have been a good trip had we only summited Spread Eagle Mountain, but by traversing west along the ridge to climb a high point it became a great one! Climbing an airy ridge with pinnacles capped our trip nicely.
When Dinah and I attempted Spread Eagle four years ago via the northeast ridge, we turned back because of snow and wet conditions. Andrew Nugara would later use this route to tag the summit. But the long, arduous route held little interest for us when we realized we could save time and avoid the worrisome crux by using his descent route. Moreover, the time saved would allow us to explore a high point that I'll call it the West Peak.
The trip began after driving 500 m up the road from the bridge crossing Spionkop Creek. We turned left and parked at a gated road.
We hiked 4.2 km down the road to where it crosses Spionkop Creek. After walking over the culvert, we dropped down the left side and found a trail that led to a creekbed. We tramped up the creekbed to a scree slope. At the top of the slope, we found an animal trail and followed it to the hanging valley. When we came to a break in a cliff band on our left, we scrambled up it. After that, we plodded up a grassy slope to the ridge to see Spread Eagle Mountain ahead. The way to the summit was obvious.
Throughout our climb, we kept eyeing the West Peak and its steep sides. We debated trying it but settled on taking a closer look.
After bagging Spread Eagle Mountain, we traversed back along the ridge. As we drew closer, to our surprise, not only could the summit block be ascended, but it was merely a steep hike!
The summit block turned out to be a short ridge that held an irresistible surprise: a jaw-dropping north cliff face spiked with pinnacles. Fortunately, a shelf behind the pinnacles allowed Sonny and us to scramble up a chimney.
While Dinah stayed at the east end of the ridge, Sonny and I ambled to the summit. Although 50 m lower than Spread Eagle, the views were finer.
After a lengthy stay on the ridge, we started back down. We made good time on the slopes that held snow or good scree. When we got to the road, time seemed to slow, but a glance back at Spread Eagle Mountain and the West Peak reminded us of the great time we had.

MOVIE
KML and GPX Tracks
Sonny's Trip Report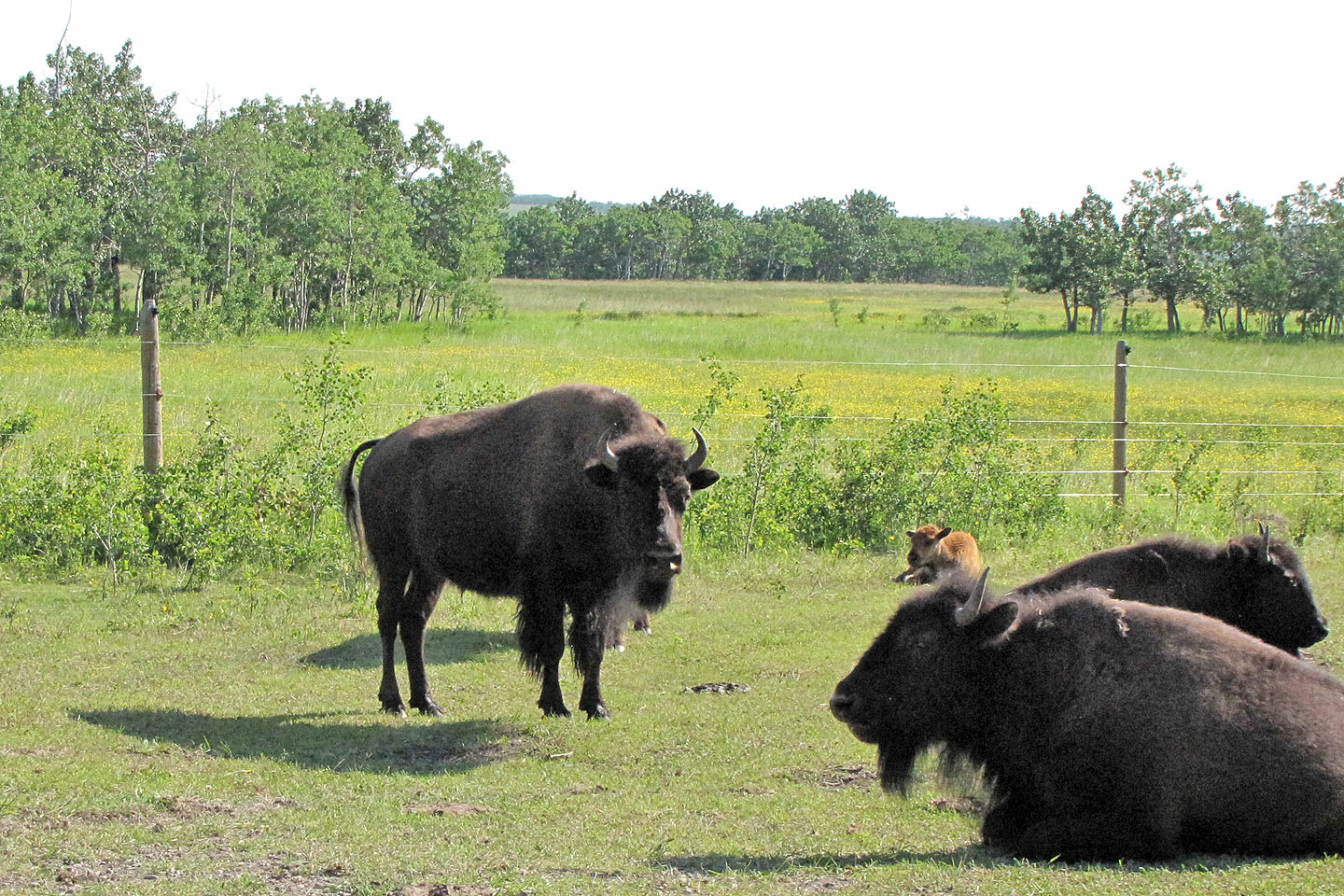 Castle Provincial Park, where the buffalo roam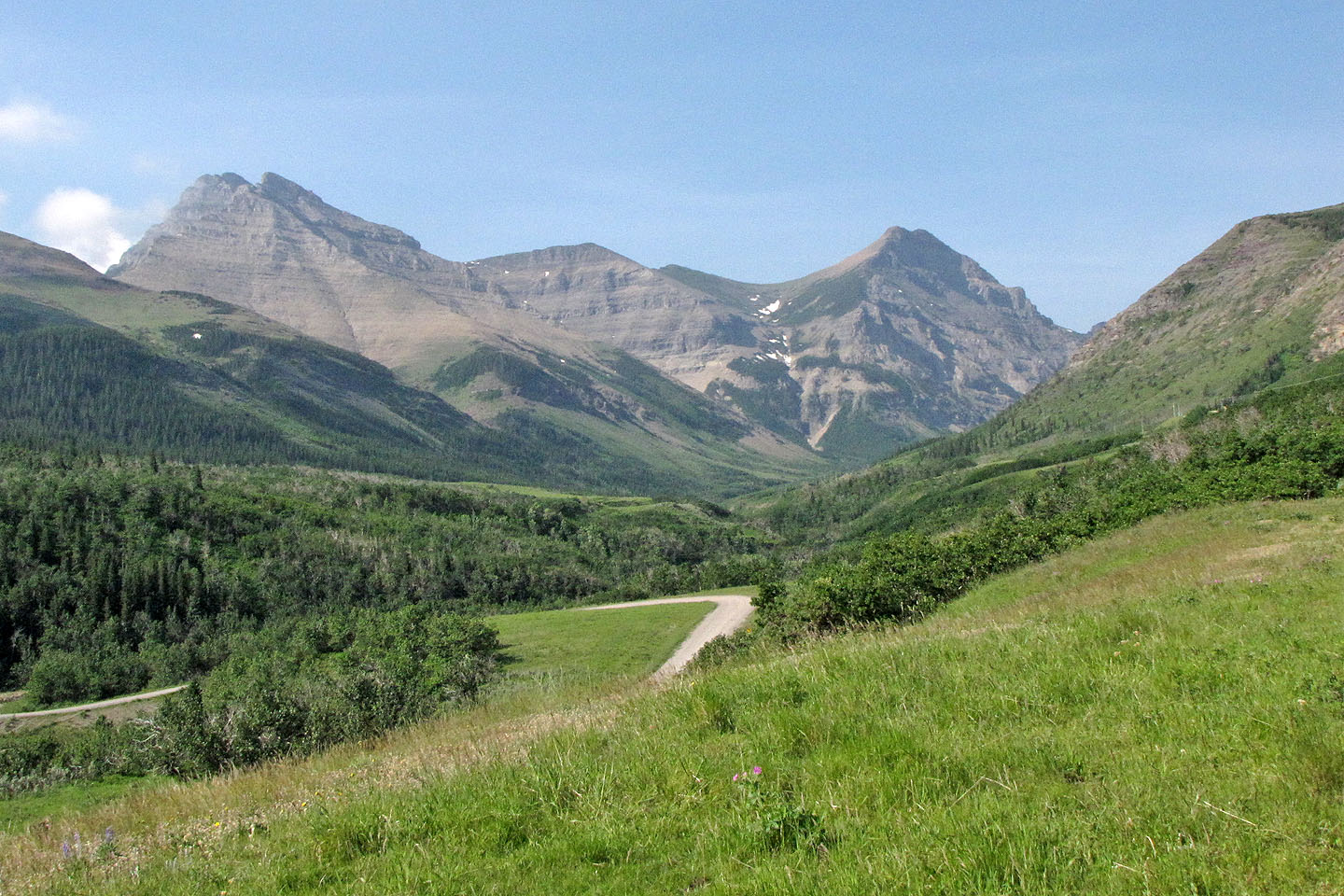 Spread Eagle Mountain (left) and the West Peak (right)

After hiking up the creek, we ascended the scree slope to reach the hanging valley (mouse over to see our route)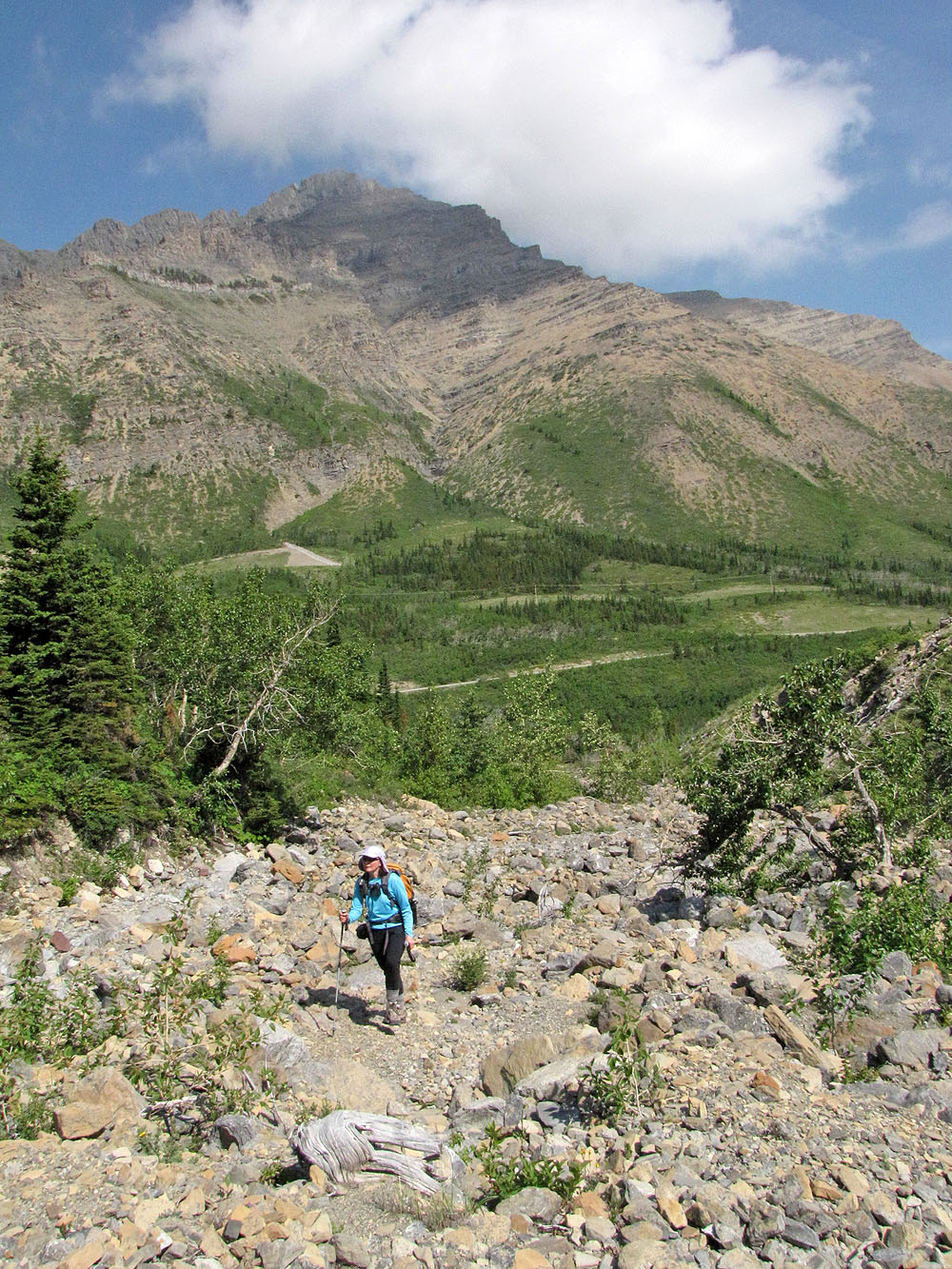 Coming up the creek bed, East End of Loaf Mountain behind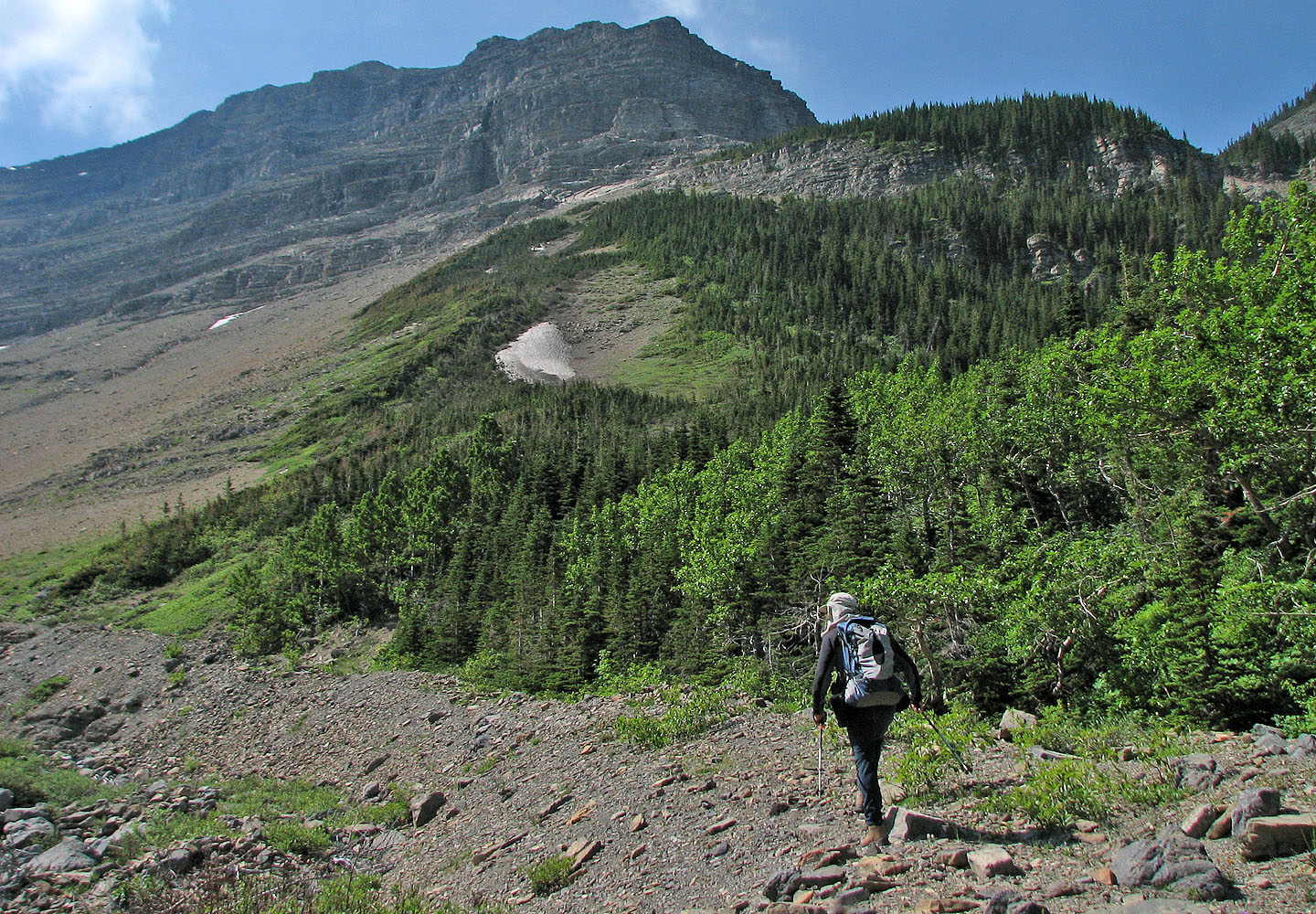 We headed to the scree slope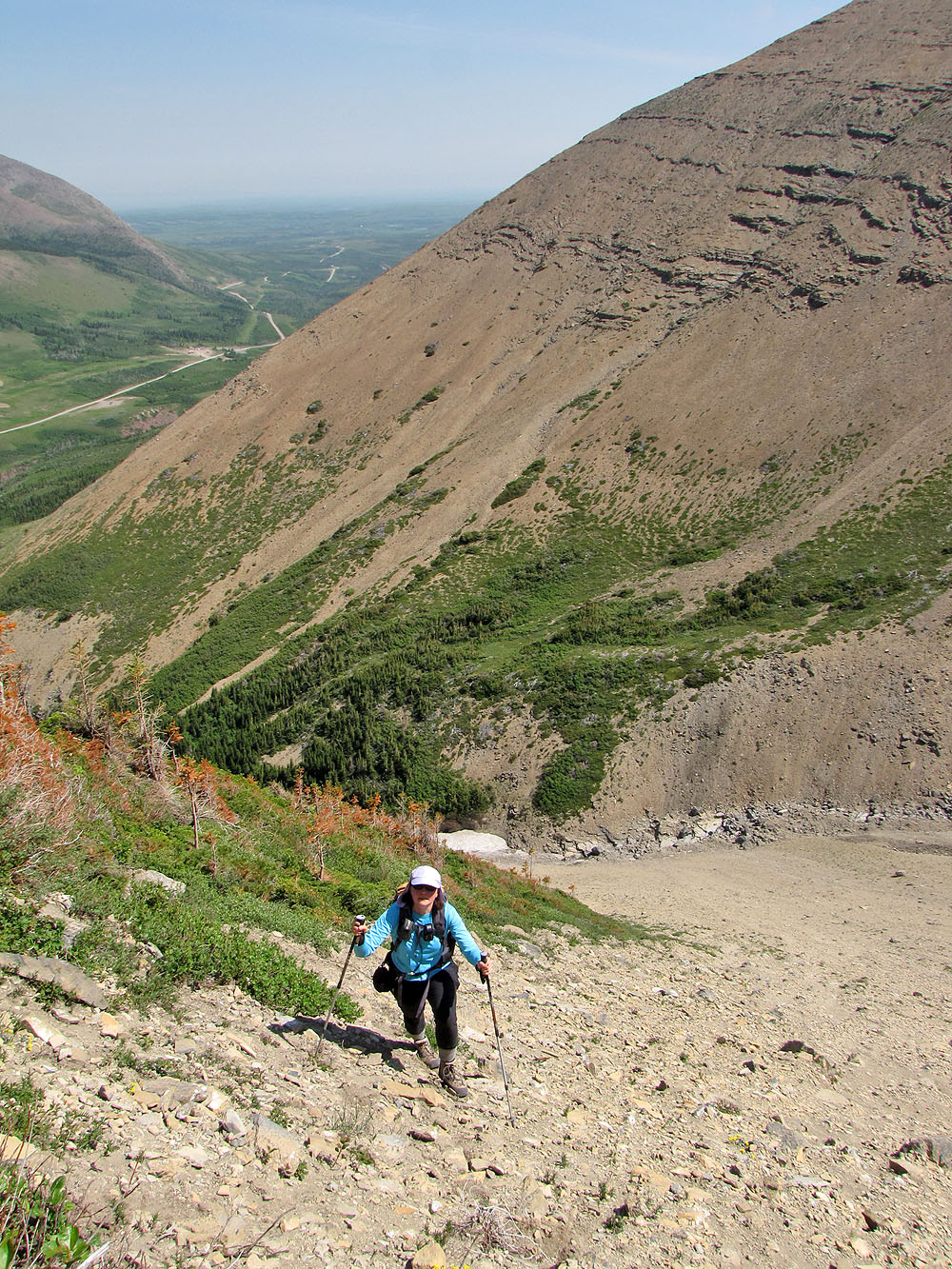 We left the creekbed far below as we ascended the scree slope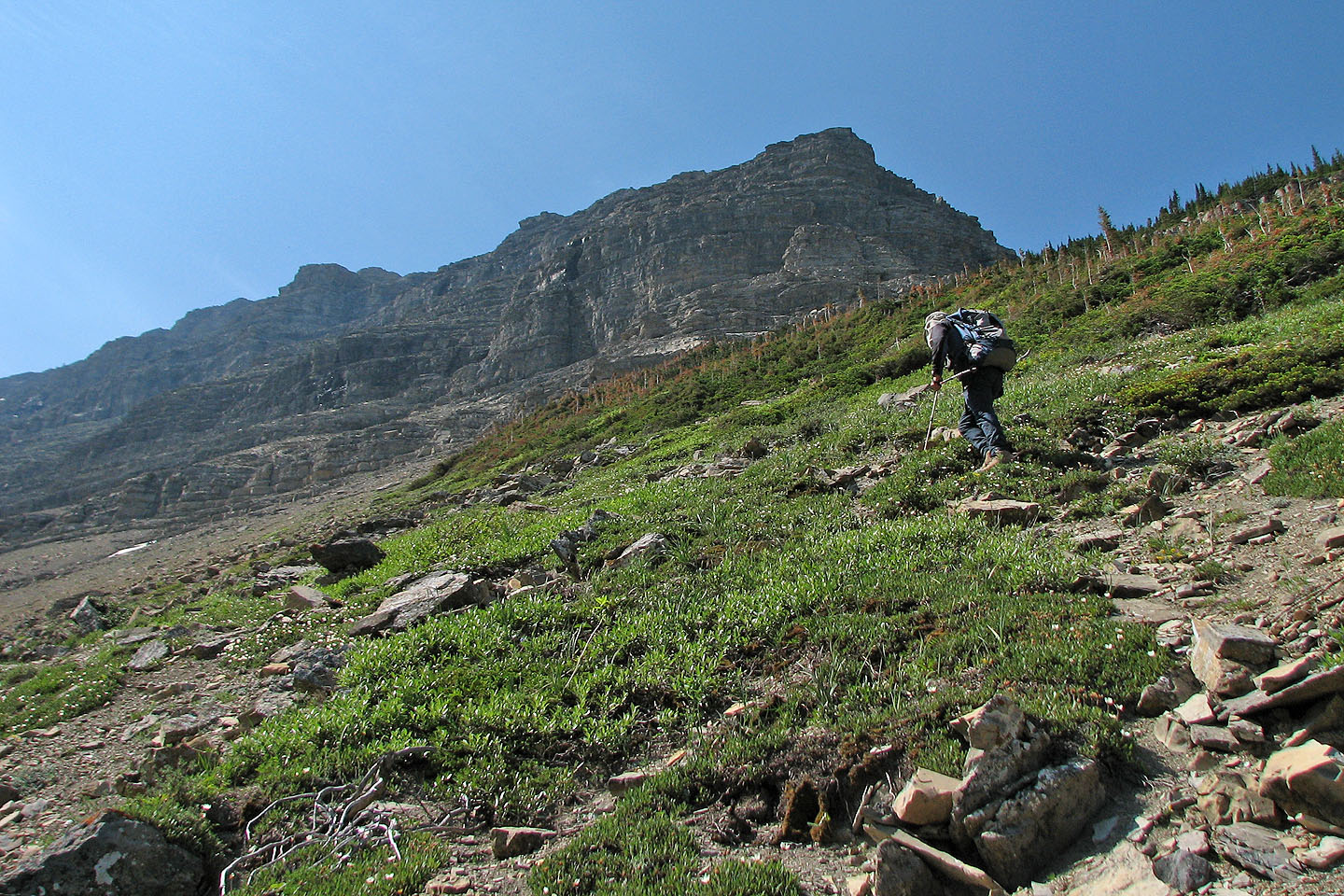 The vegetation on our right is impossibly dense so we skirted left around it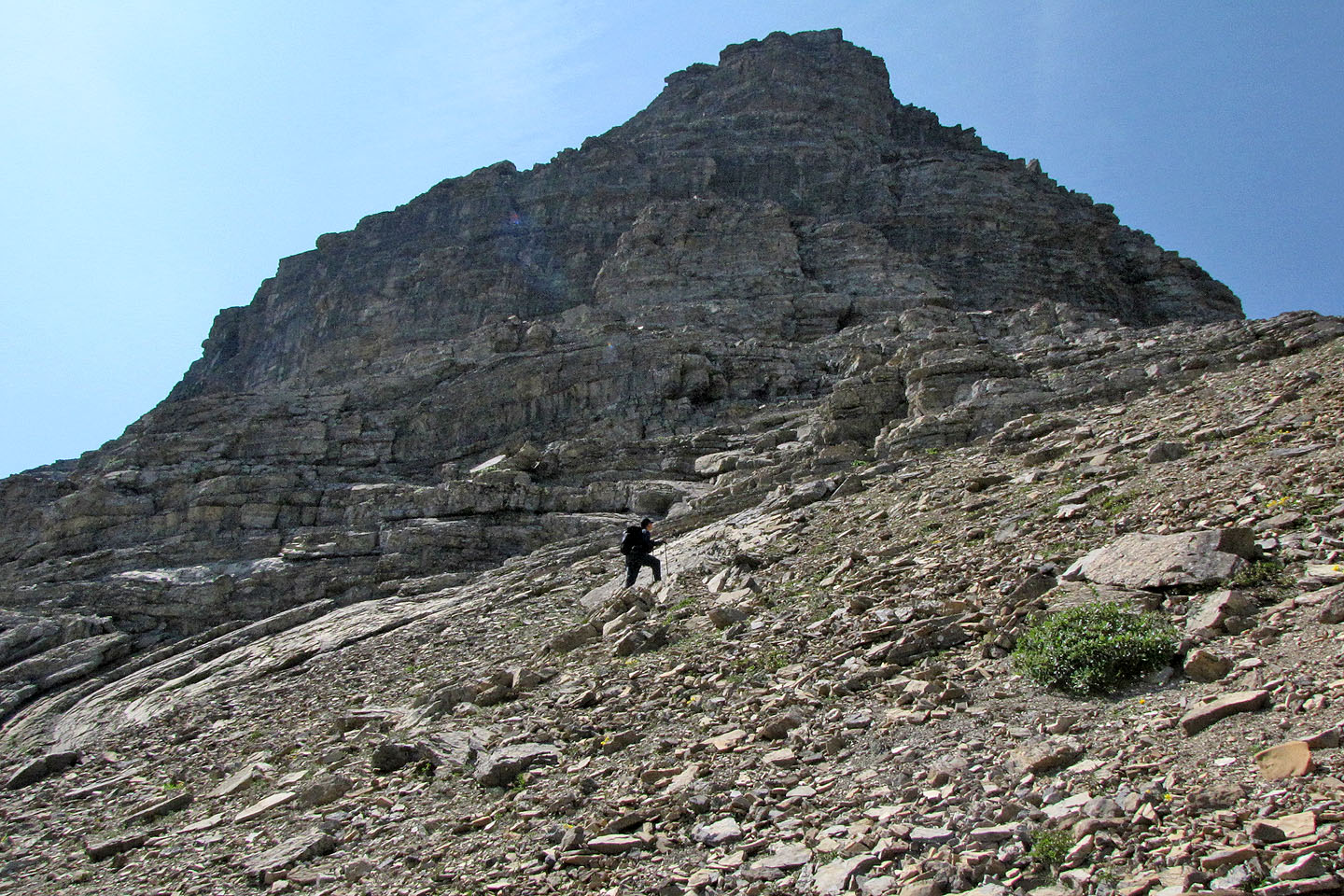 Sonny passes some interesting rock formations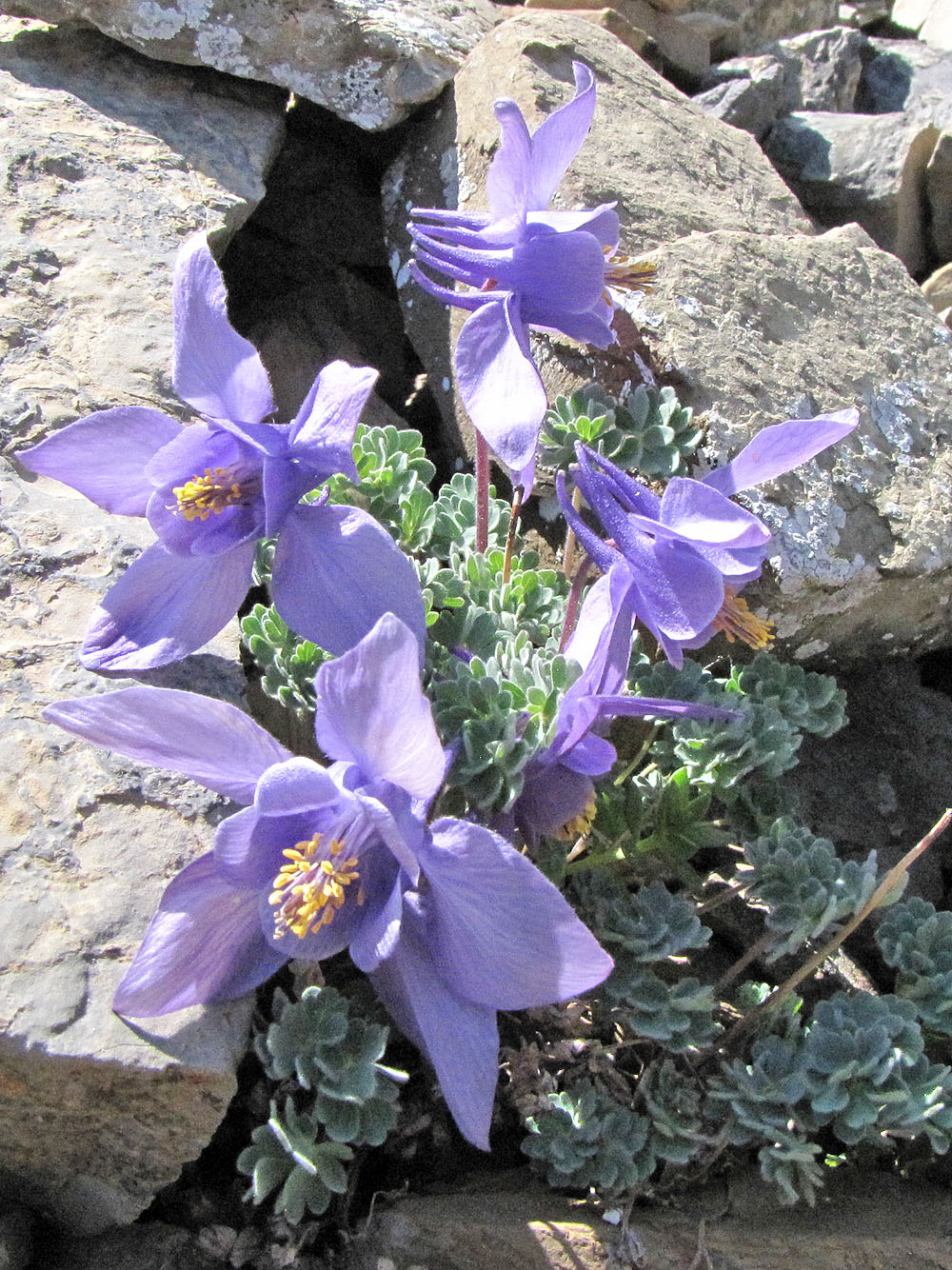 Jones columbine wildflowers were everywhere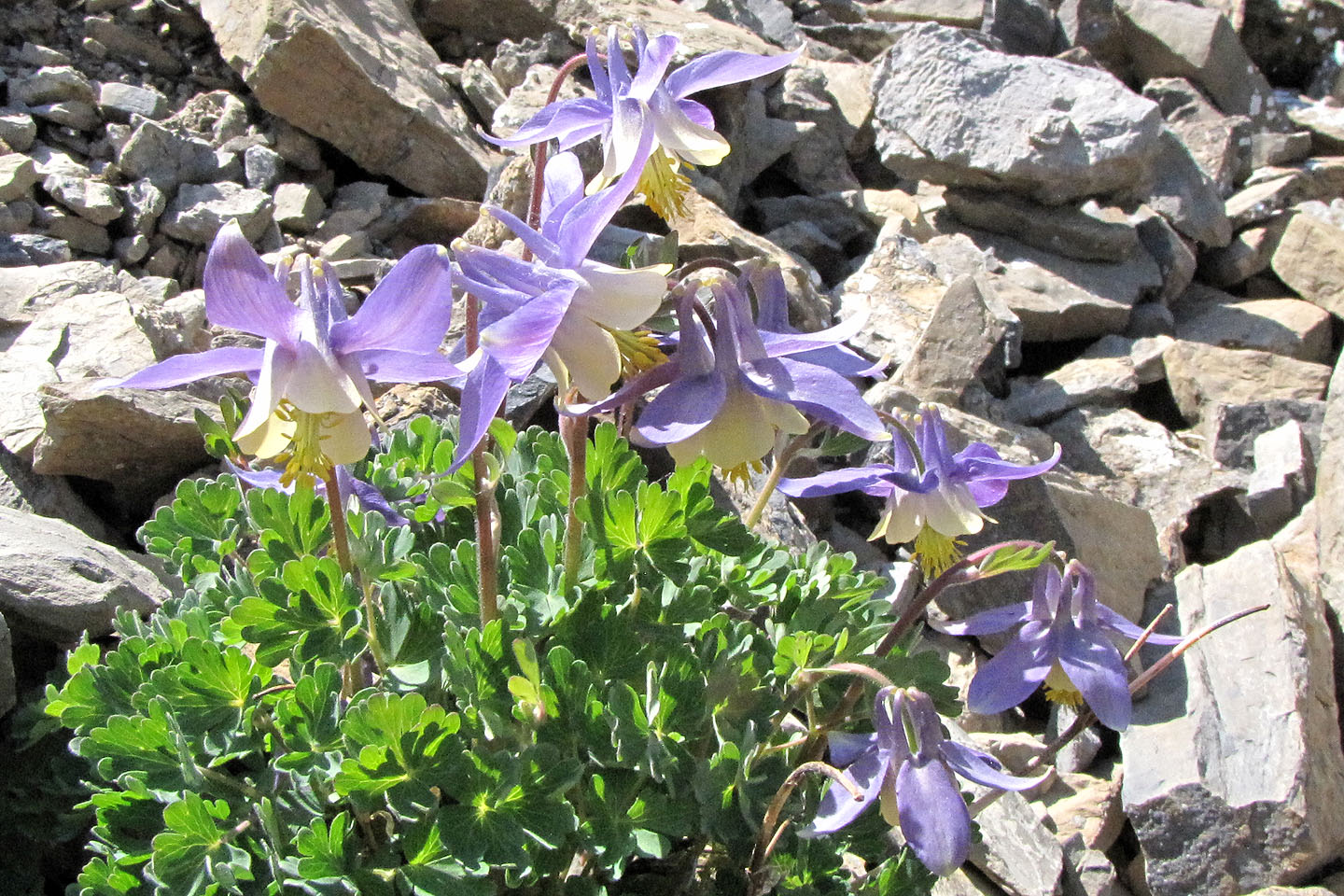 Another variety of columbine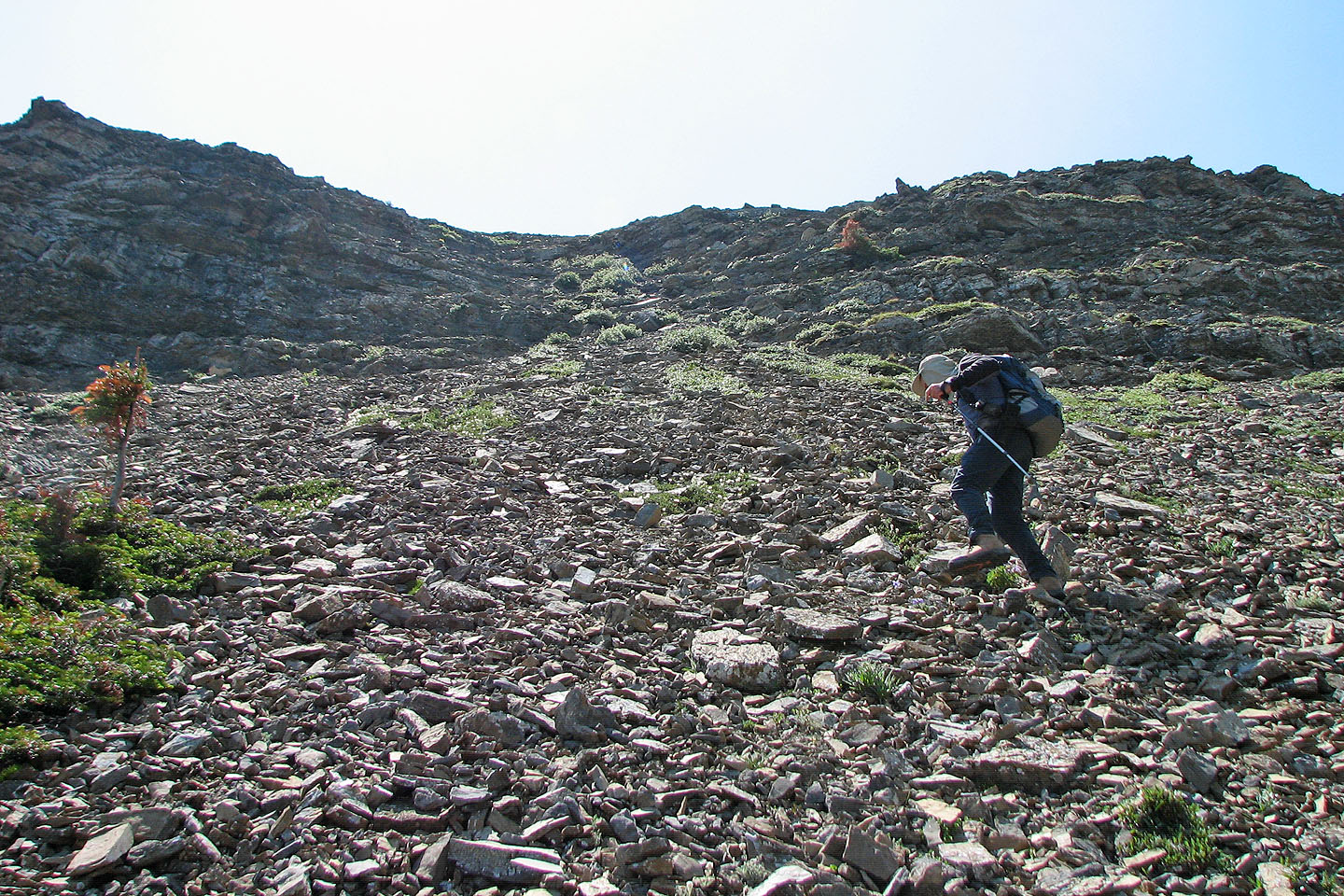 We left the animal trail and headed to a weakness in the cliff band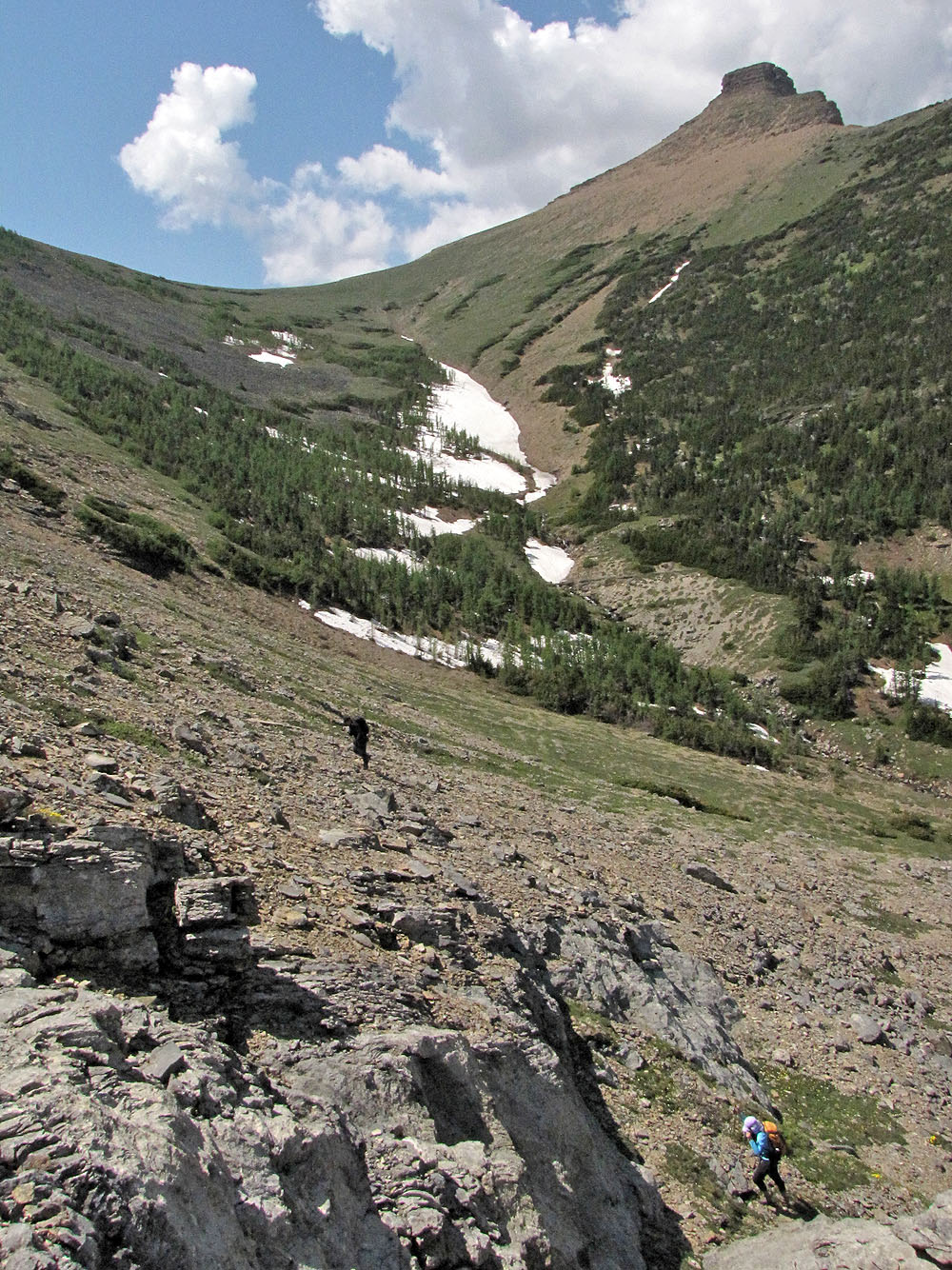 The West Peak appears formidable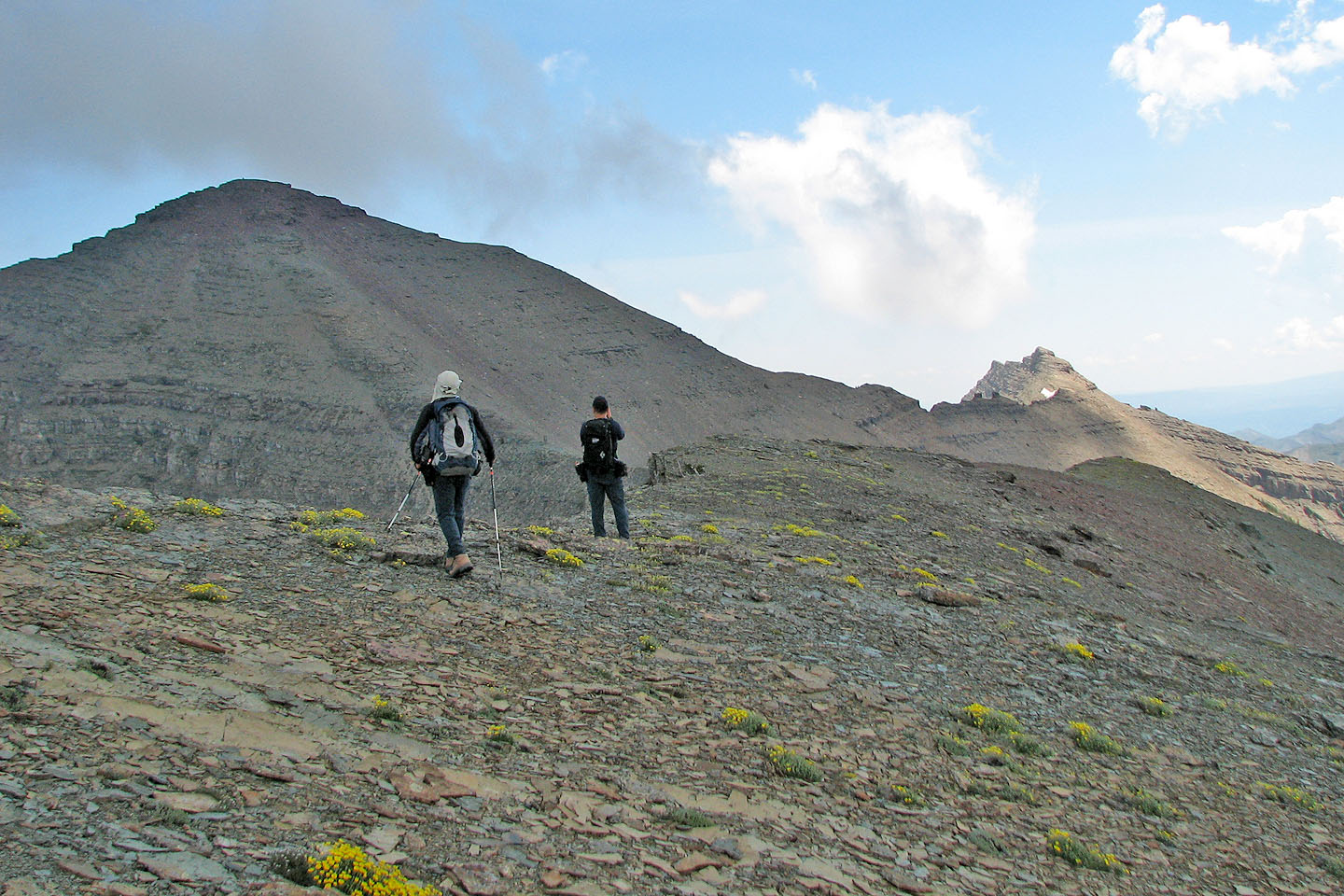 When we reached the crest, we could see the summit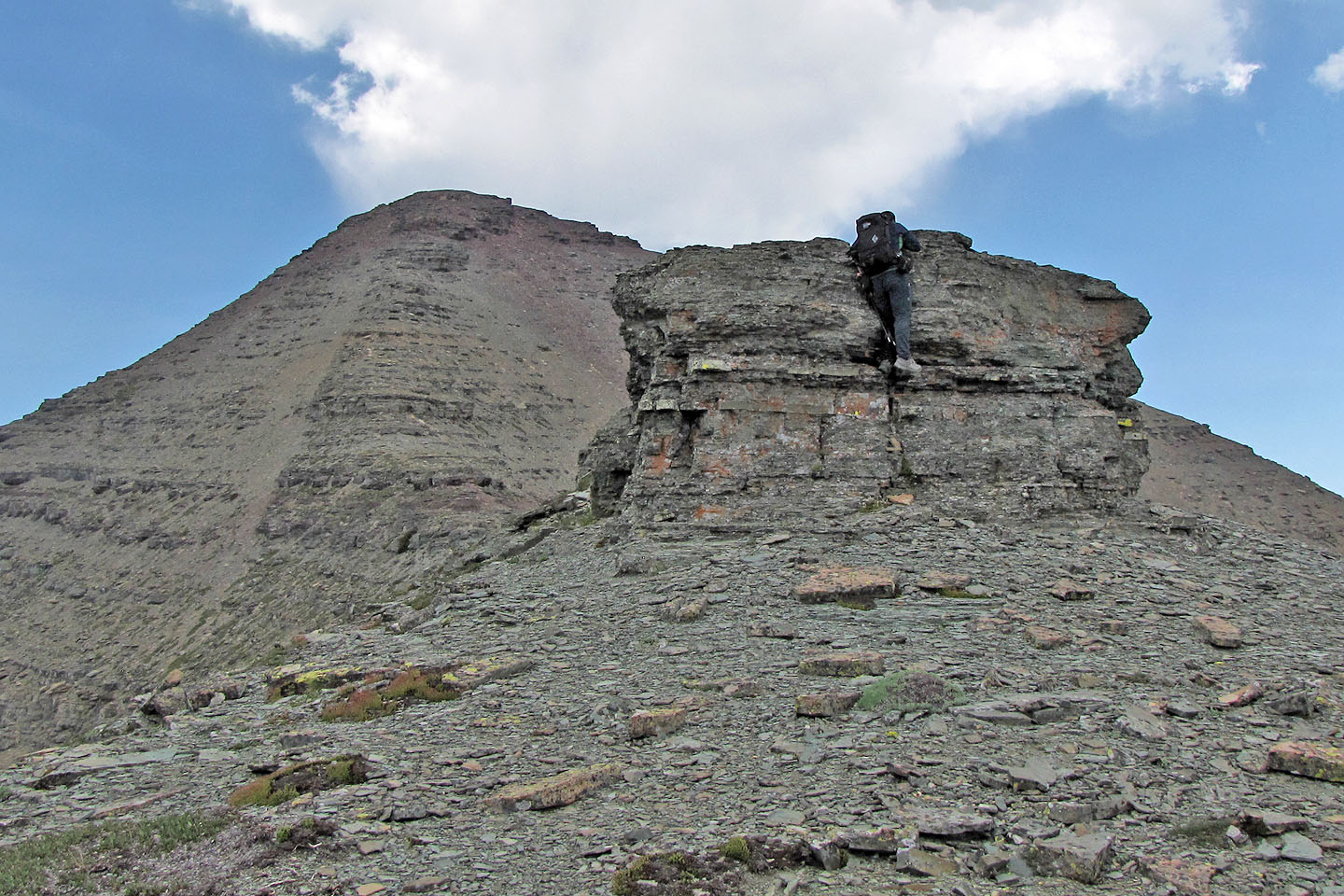 Sonny never declines to climb an obstacle even when it can be easily avoided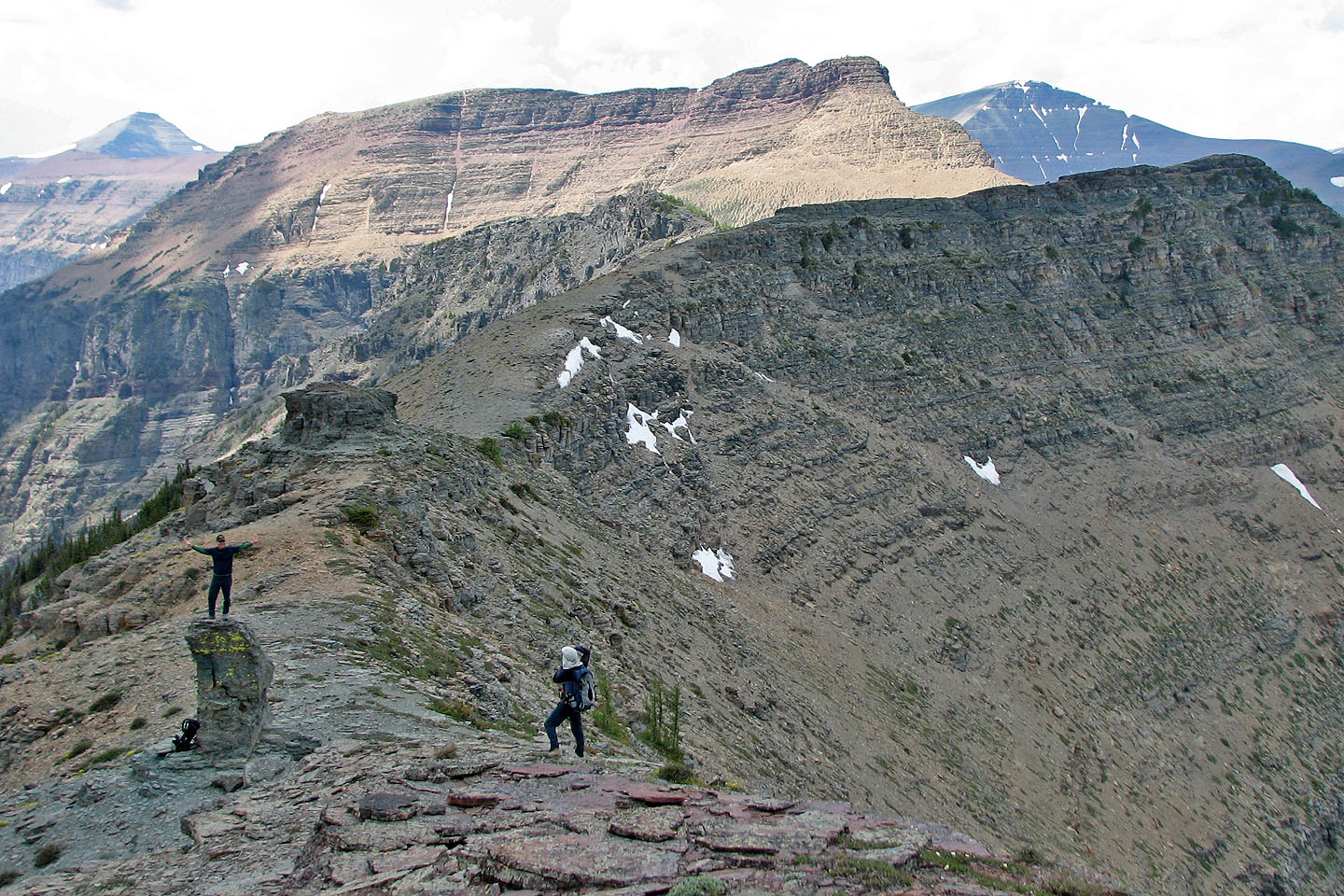 Sonny on a small pinnacle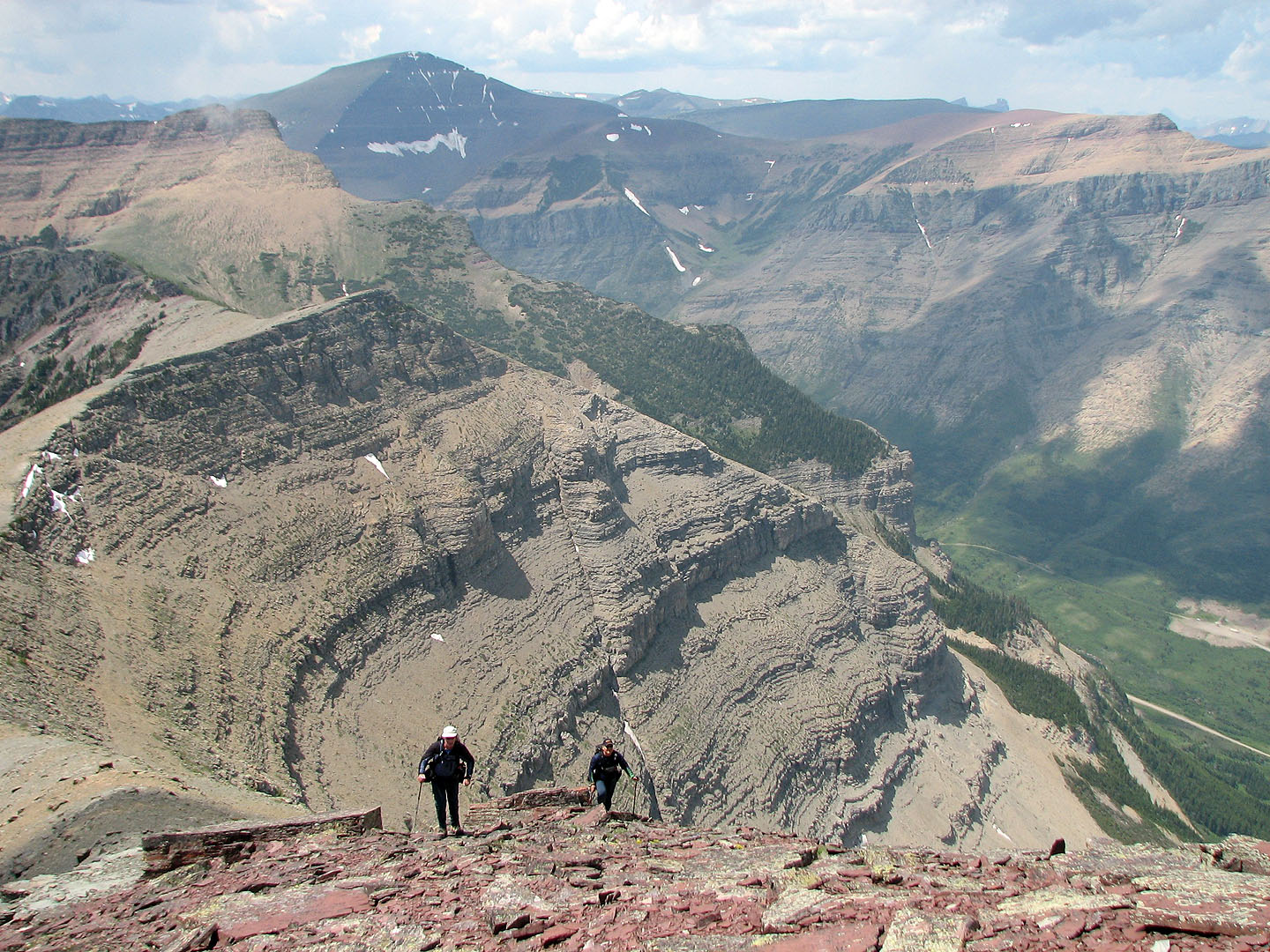 Loaf Mountain in the background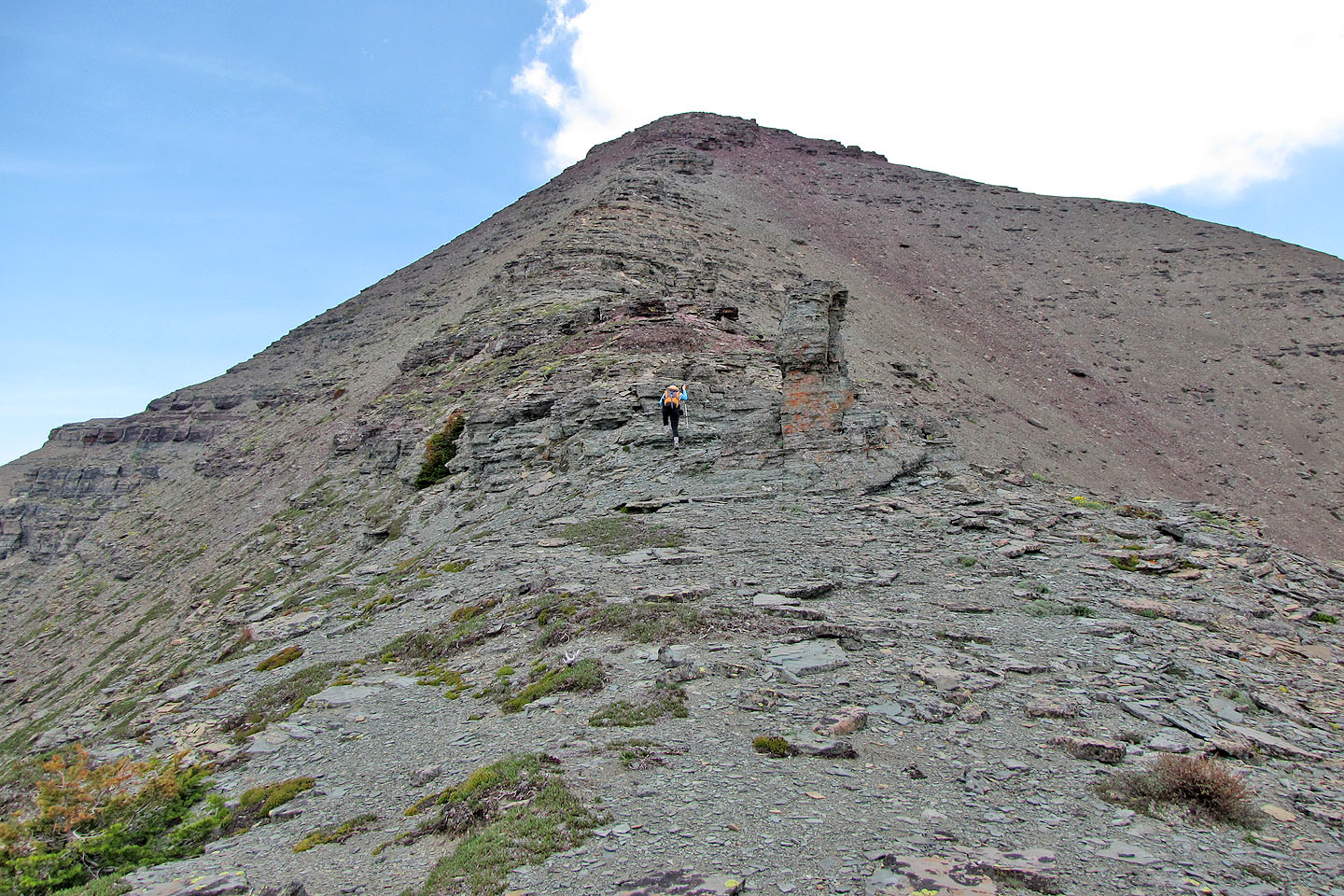 Dinah led the way to the top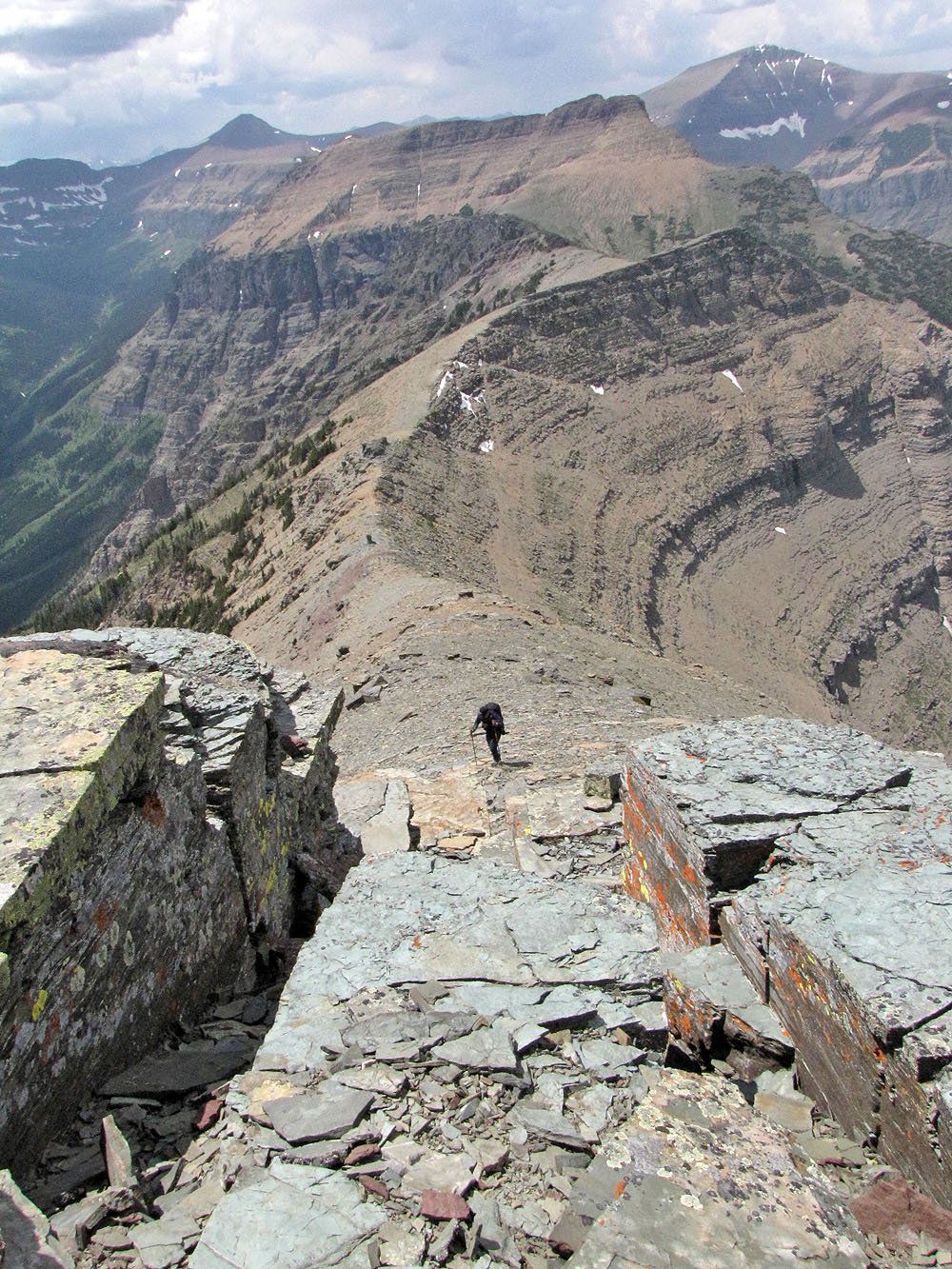 Behind, the ridge winds its way to the West Peak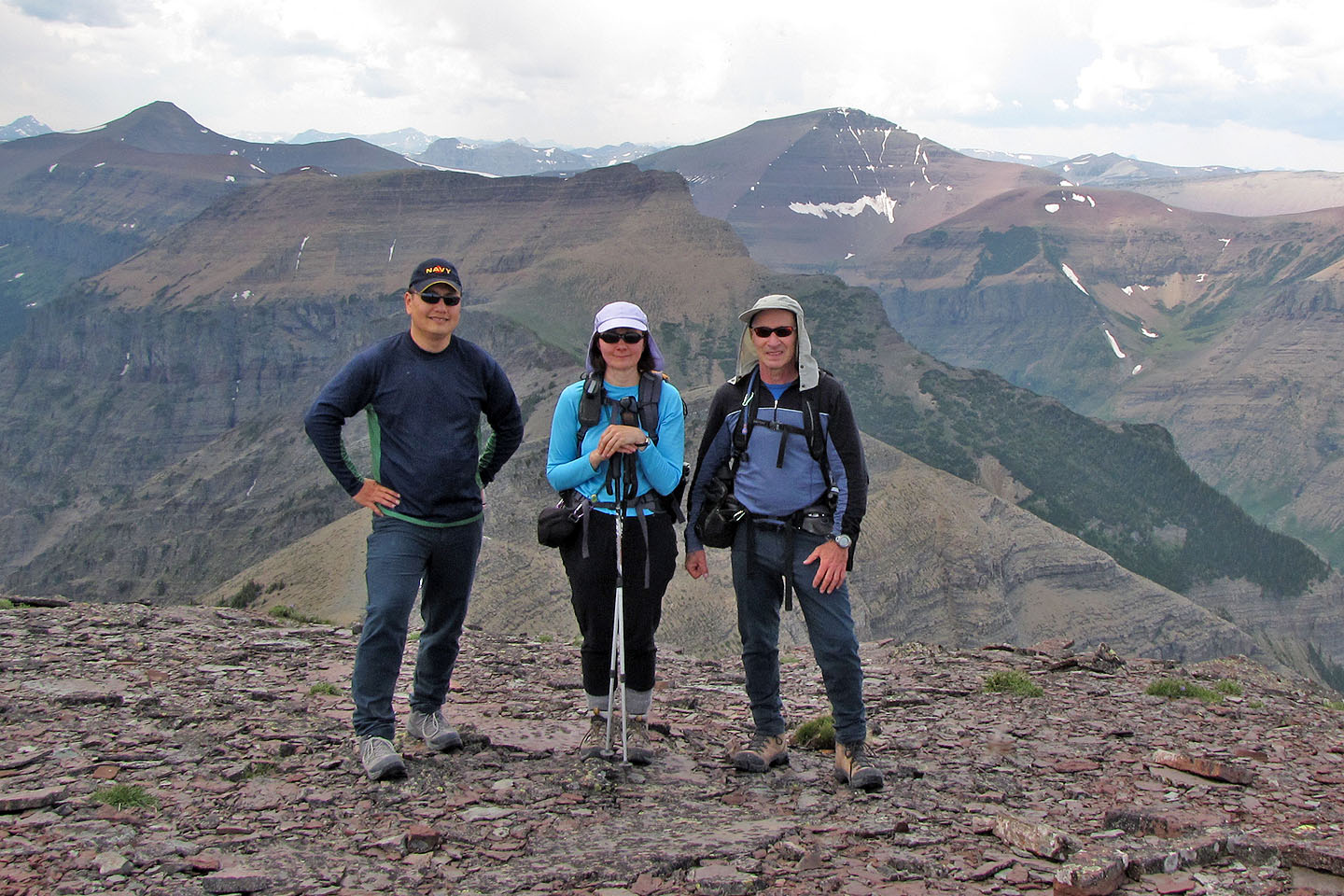 On Spread Eagle Mountain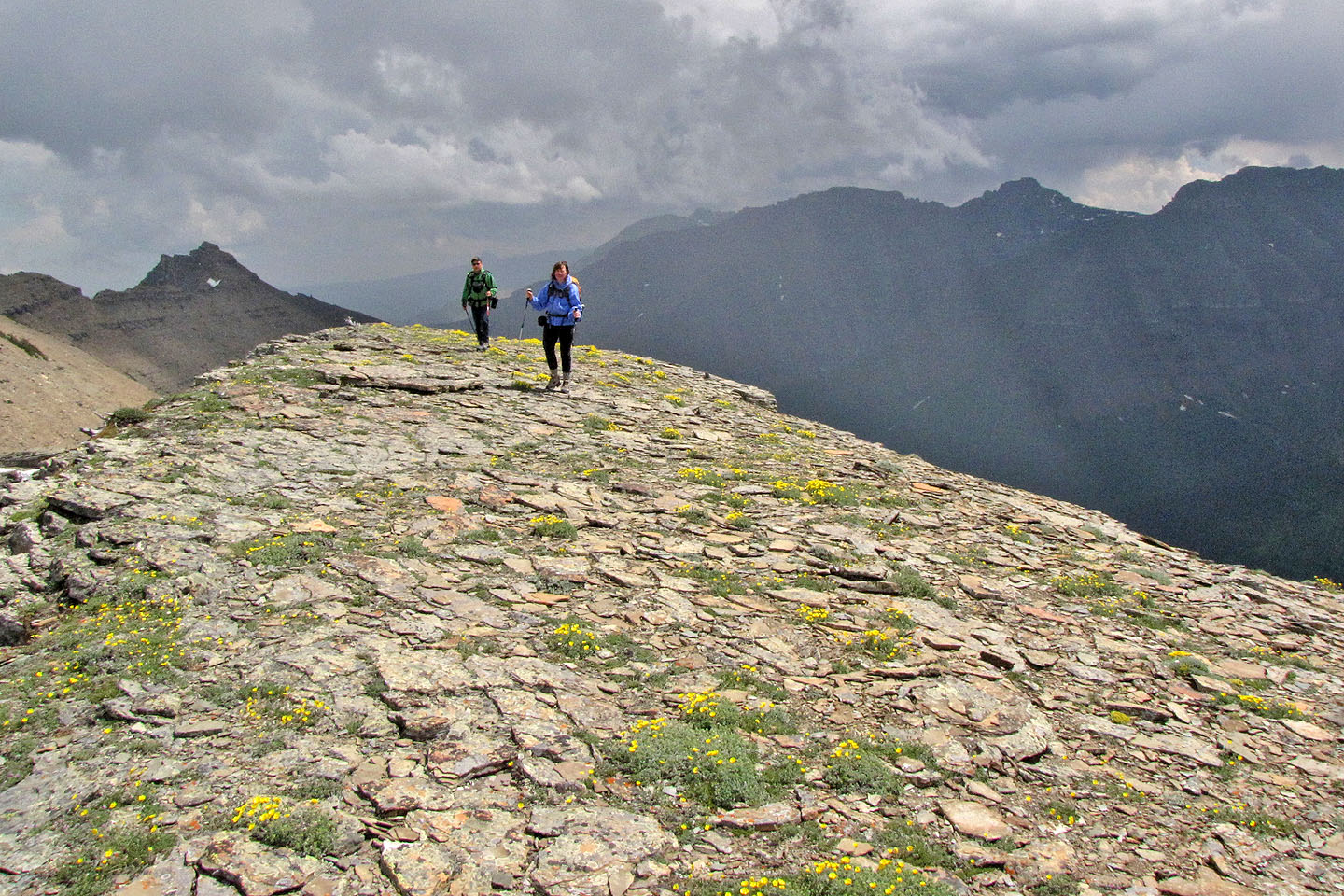 After a mild squall passes, the sun comes out as we headed back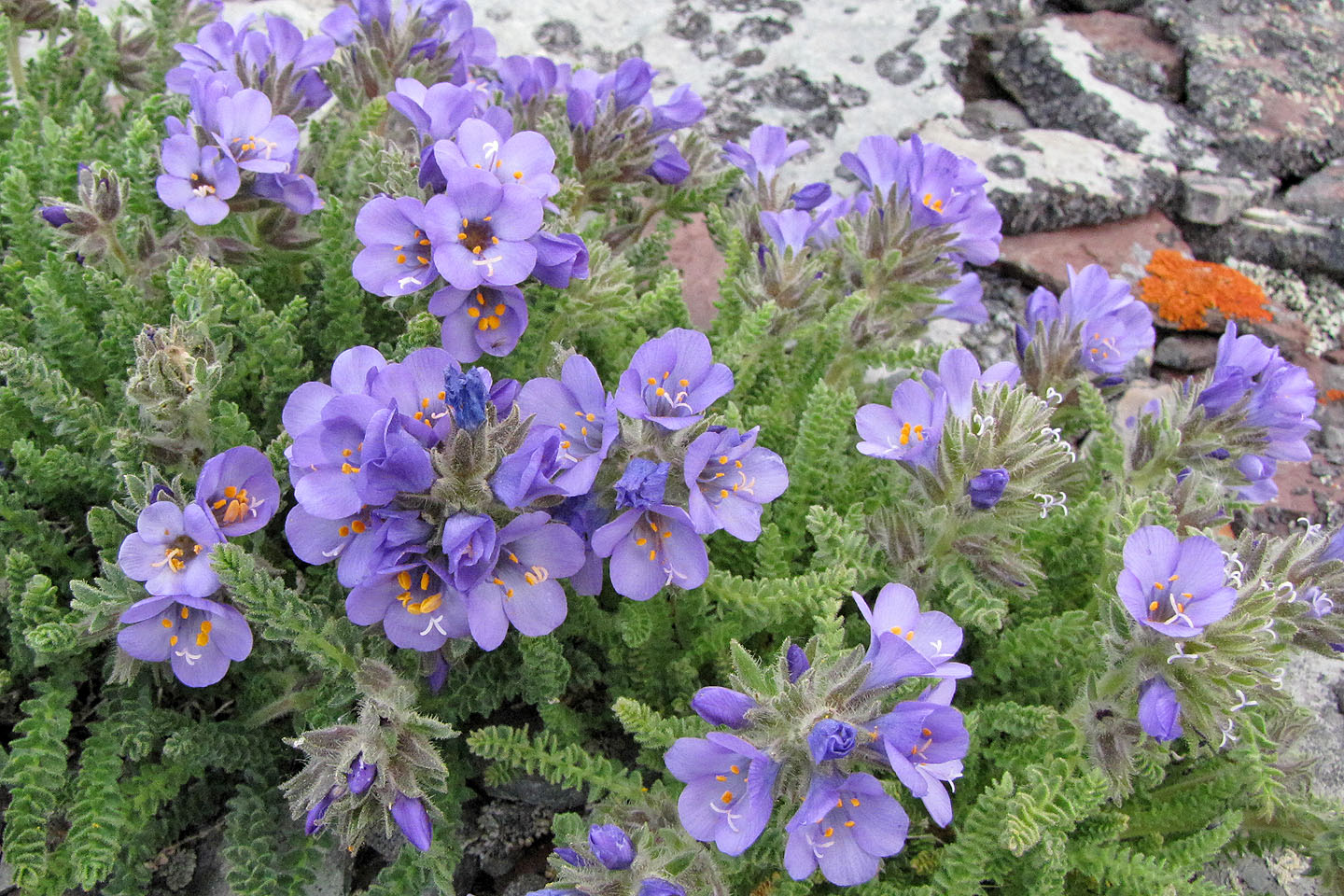 Sky pilot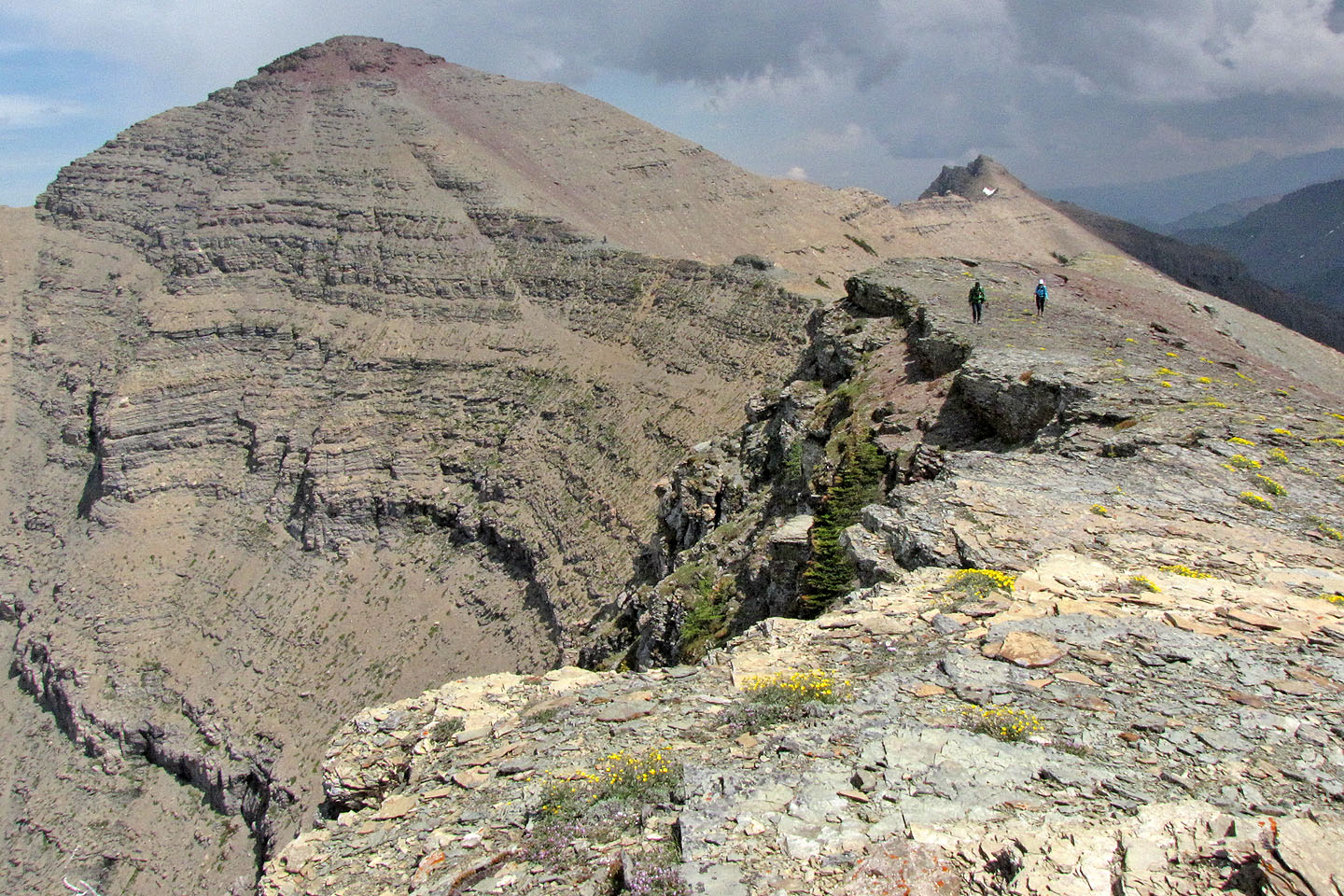 Spread Eagle in bright sunlight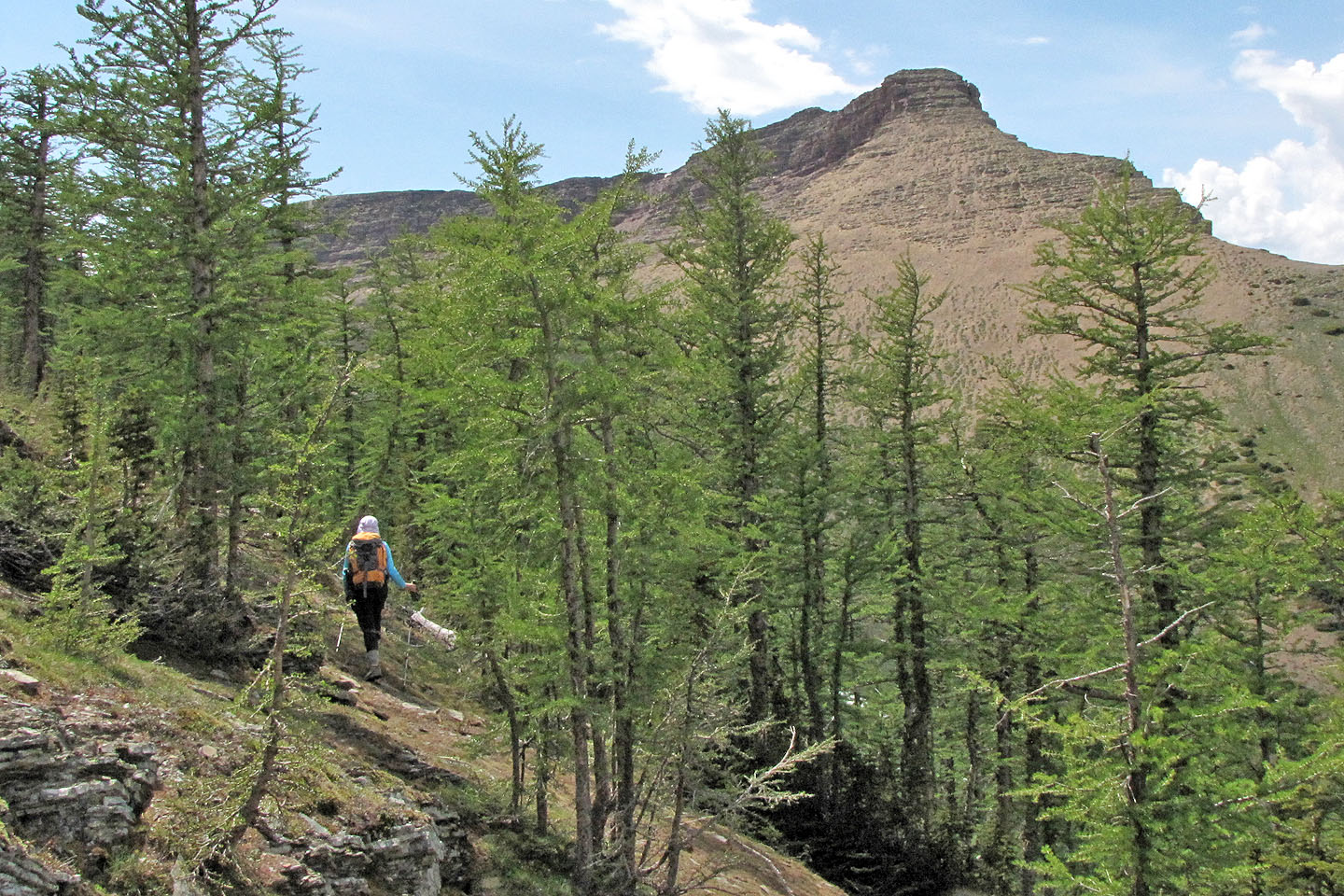 We followed the ridge southwest where it meets the West Peak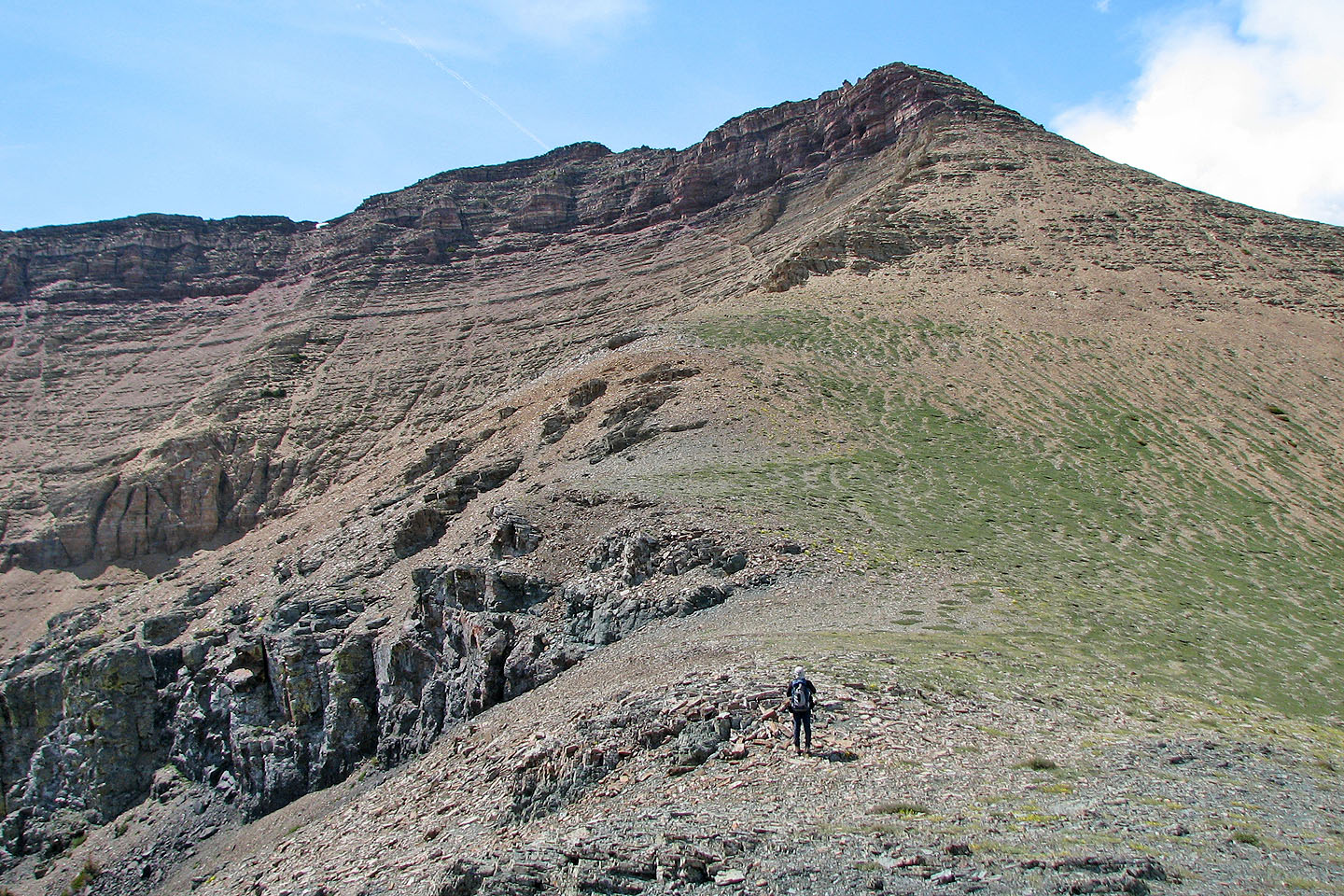 Heading to the West Peak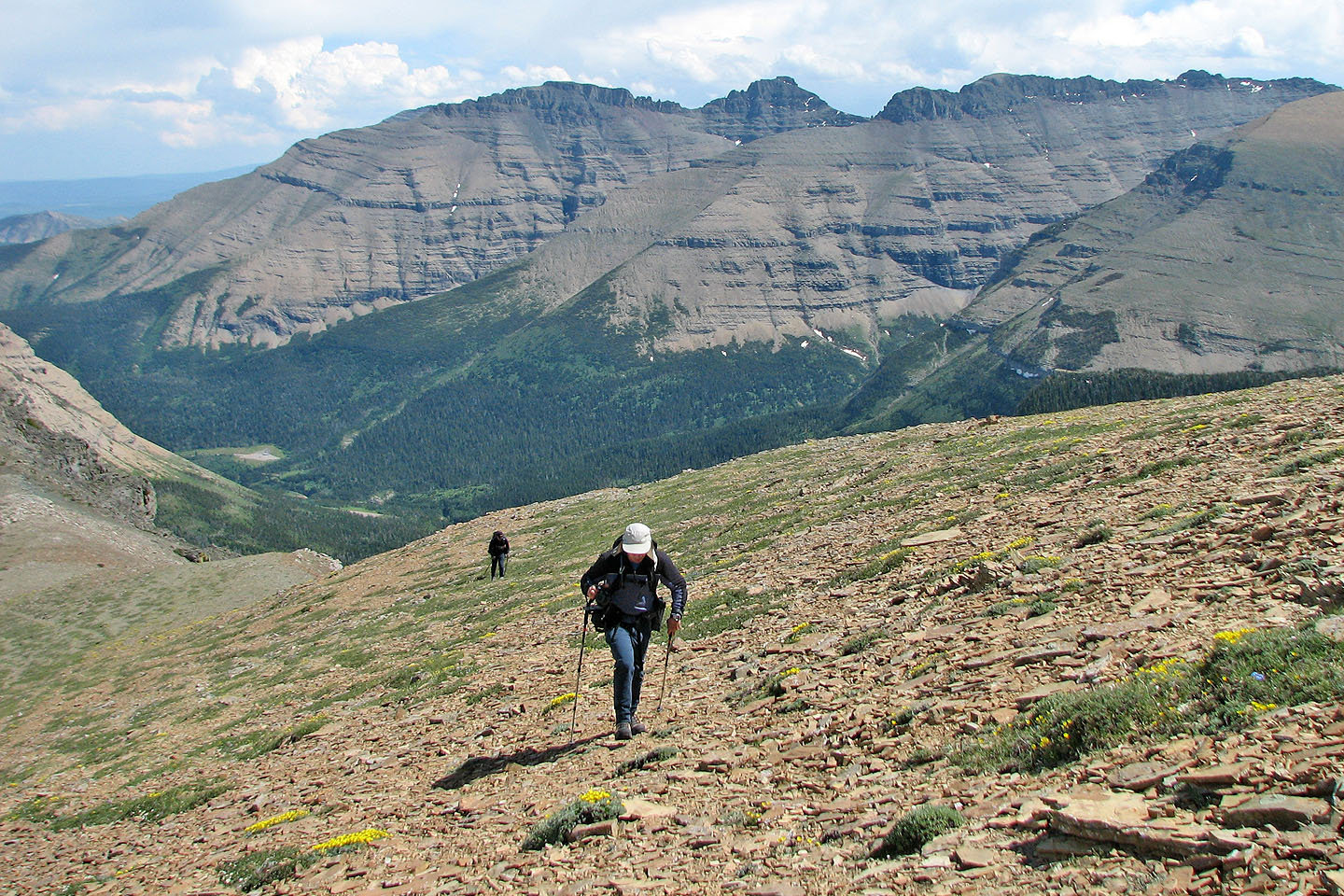 Cloudy Ridge on the left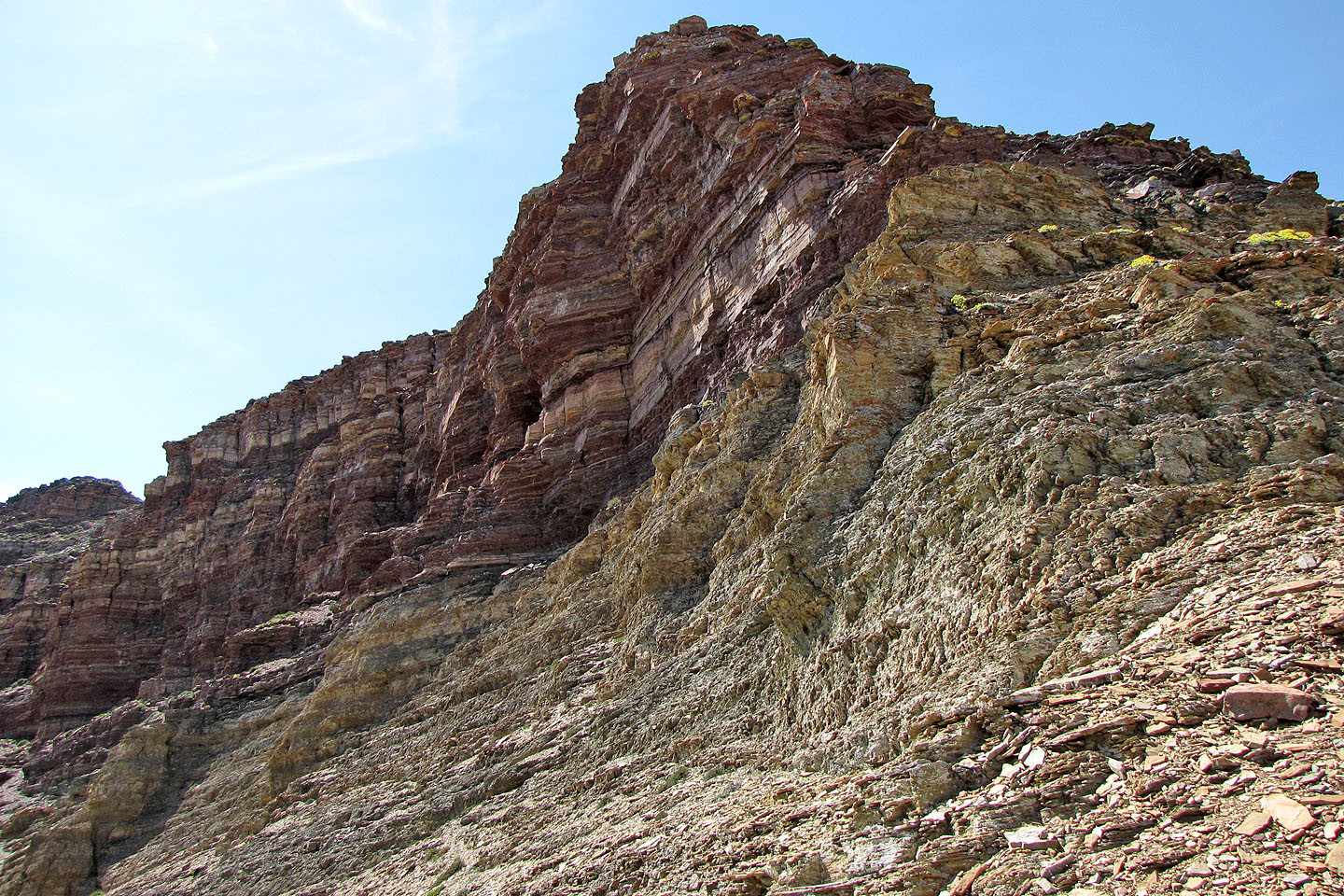 Impressive south face of the West Peak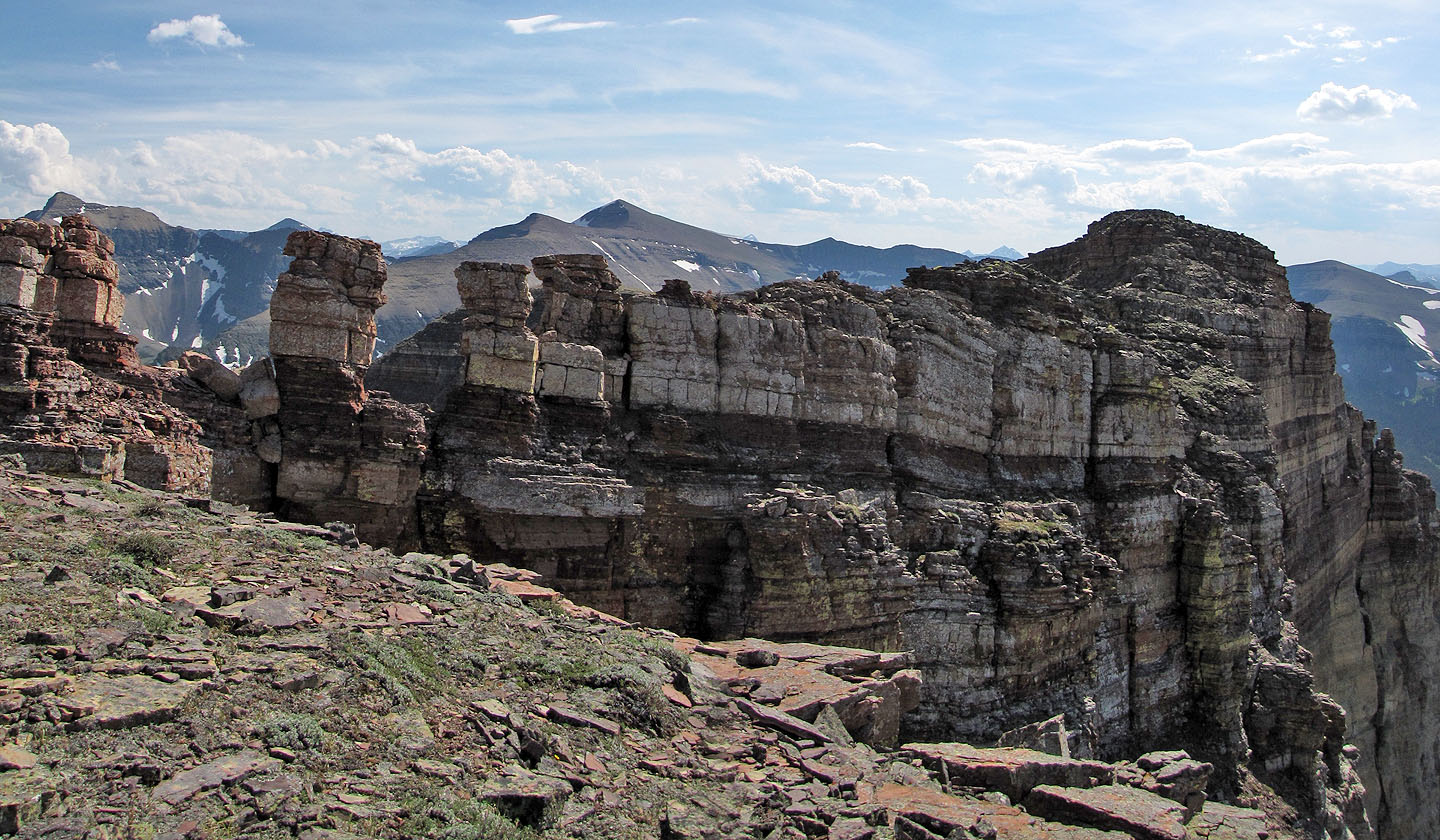 The ridge leading to the summit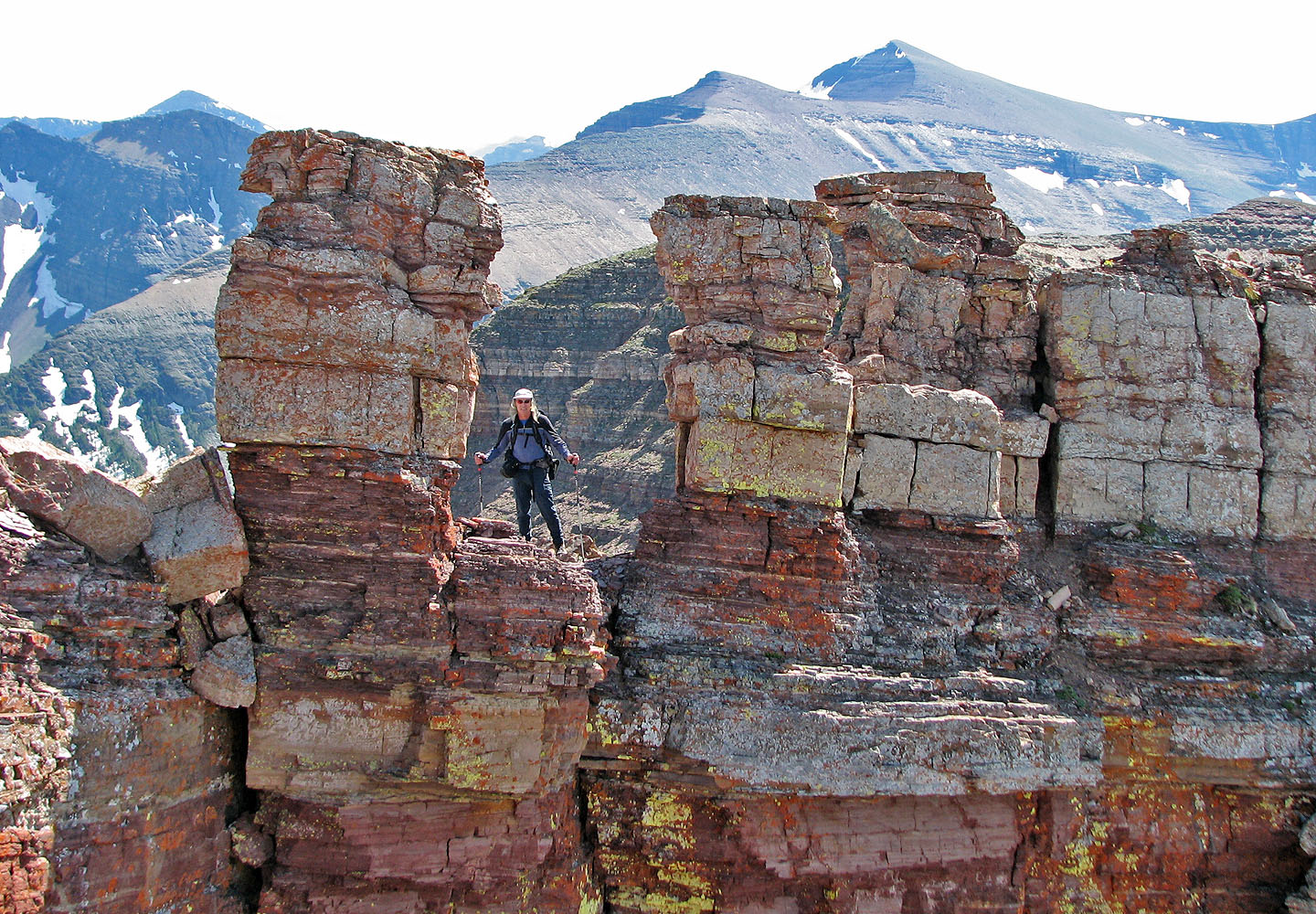 The pinnacles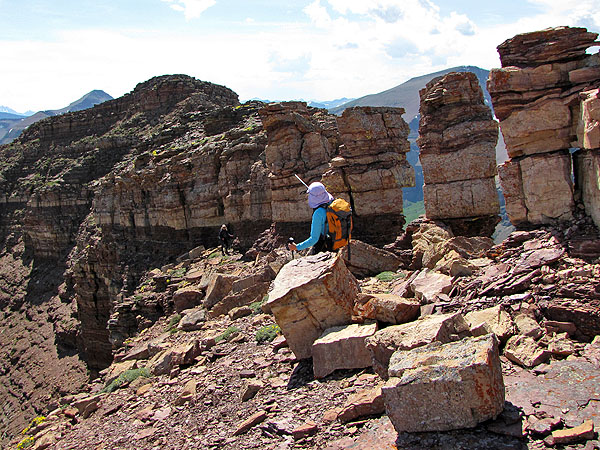 Looking for a way up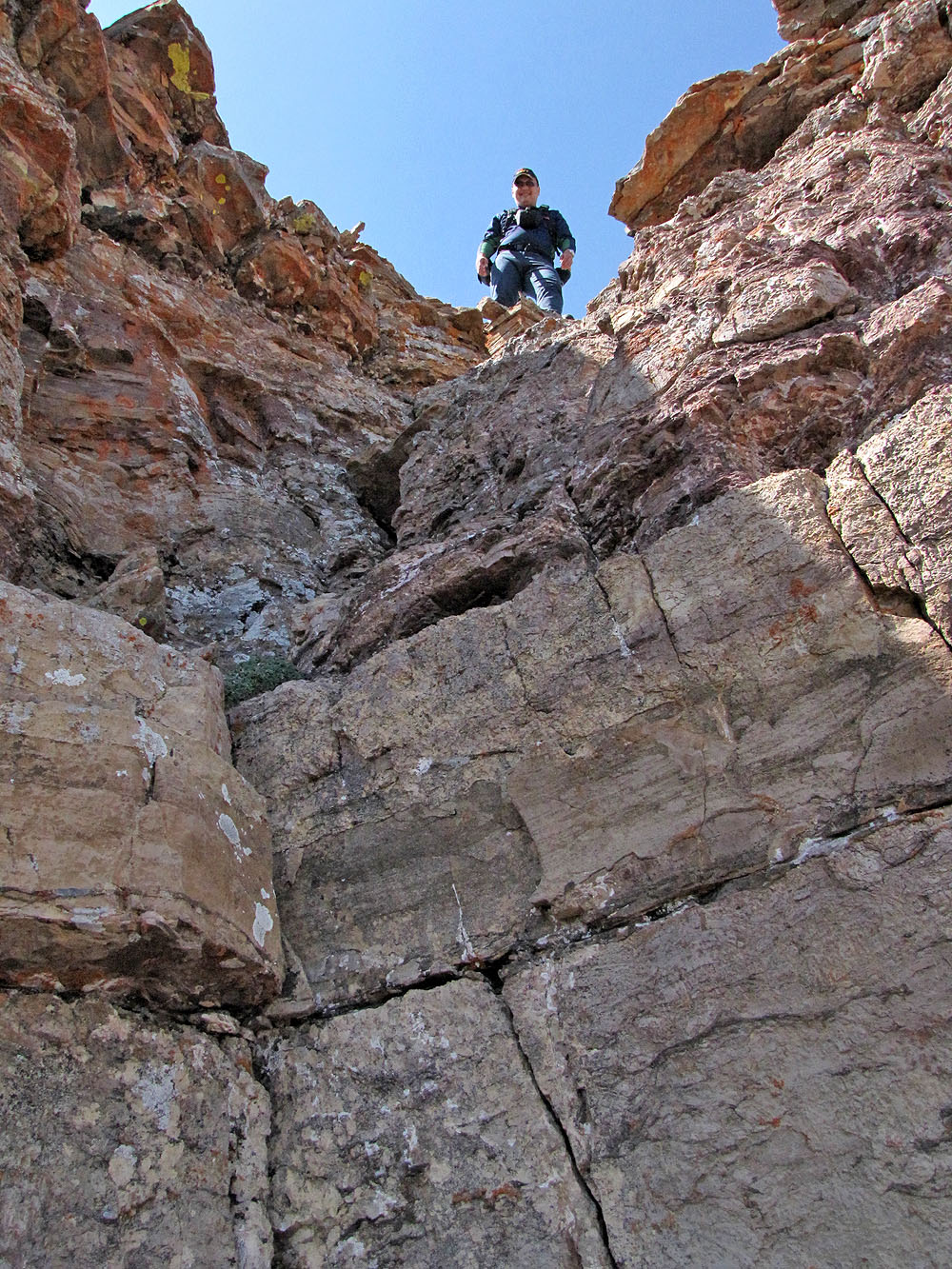 Sonny at the top of the chimney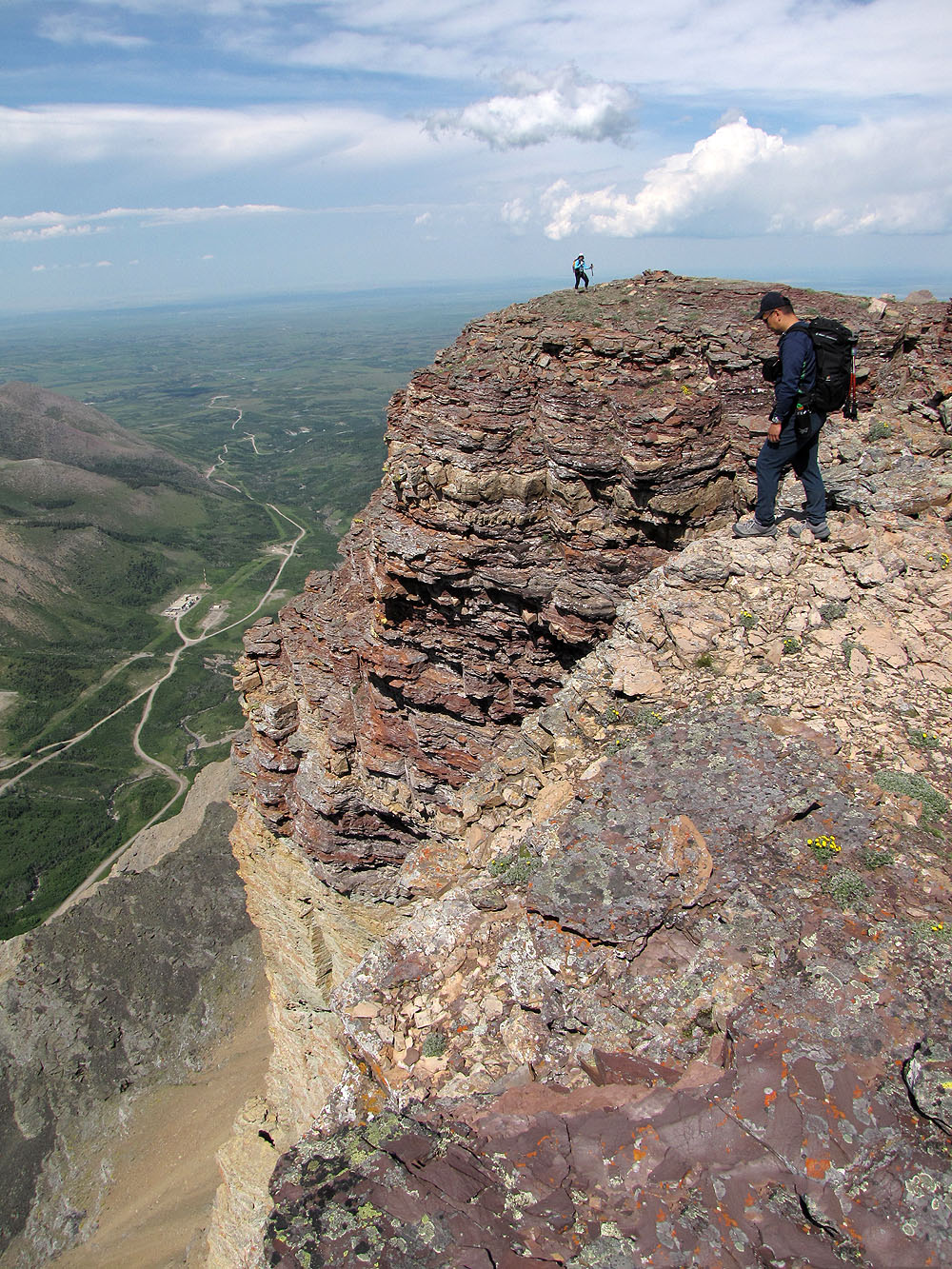 Sonny looks over the edge while Dinah hangs back at the end ridge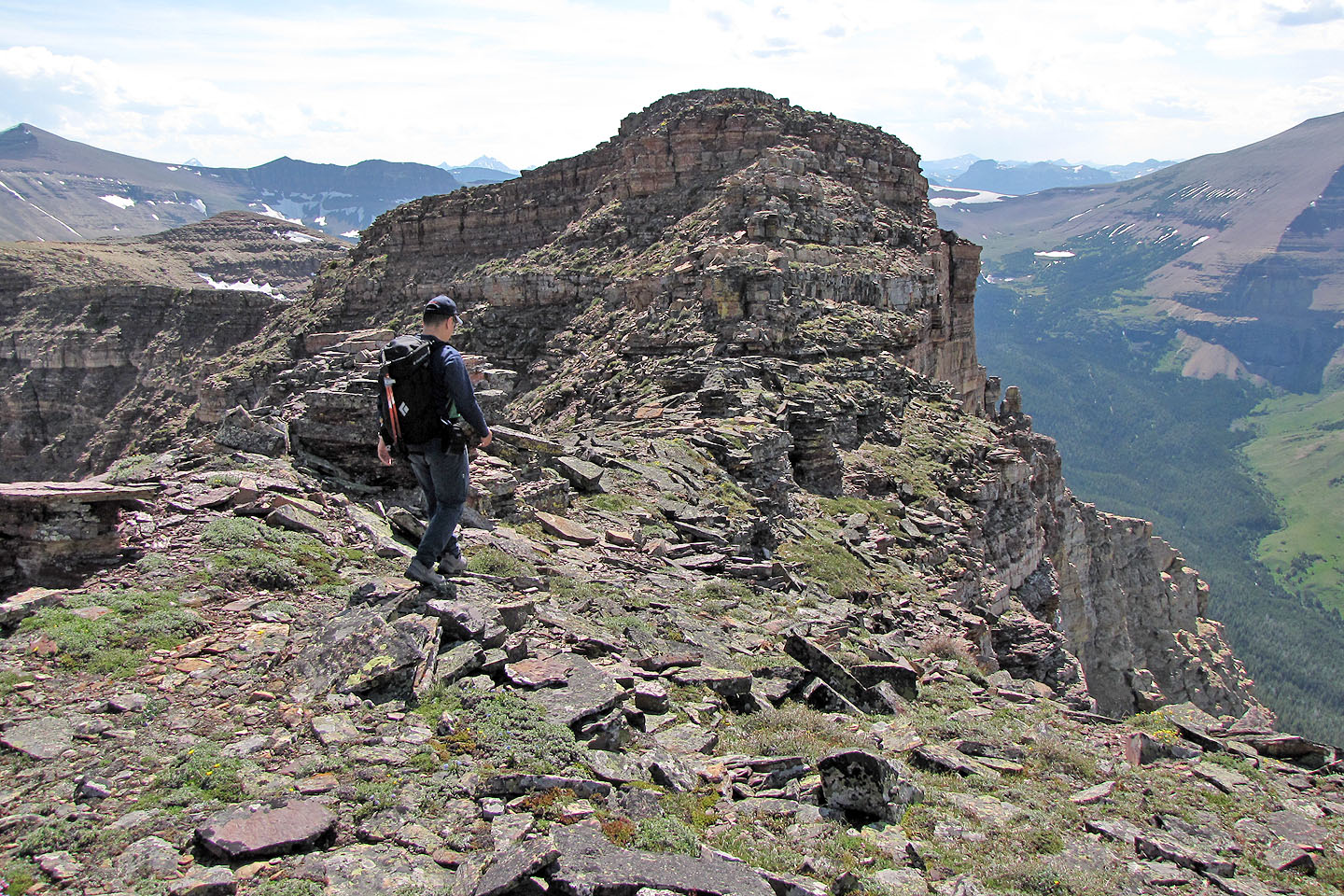 After the crux, the summit is quickly and easily reached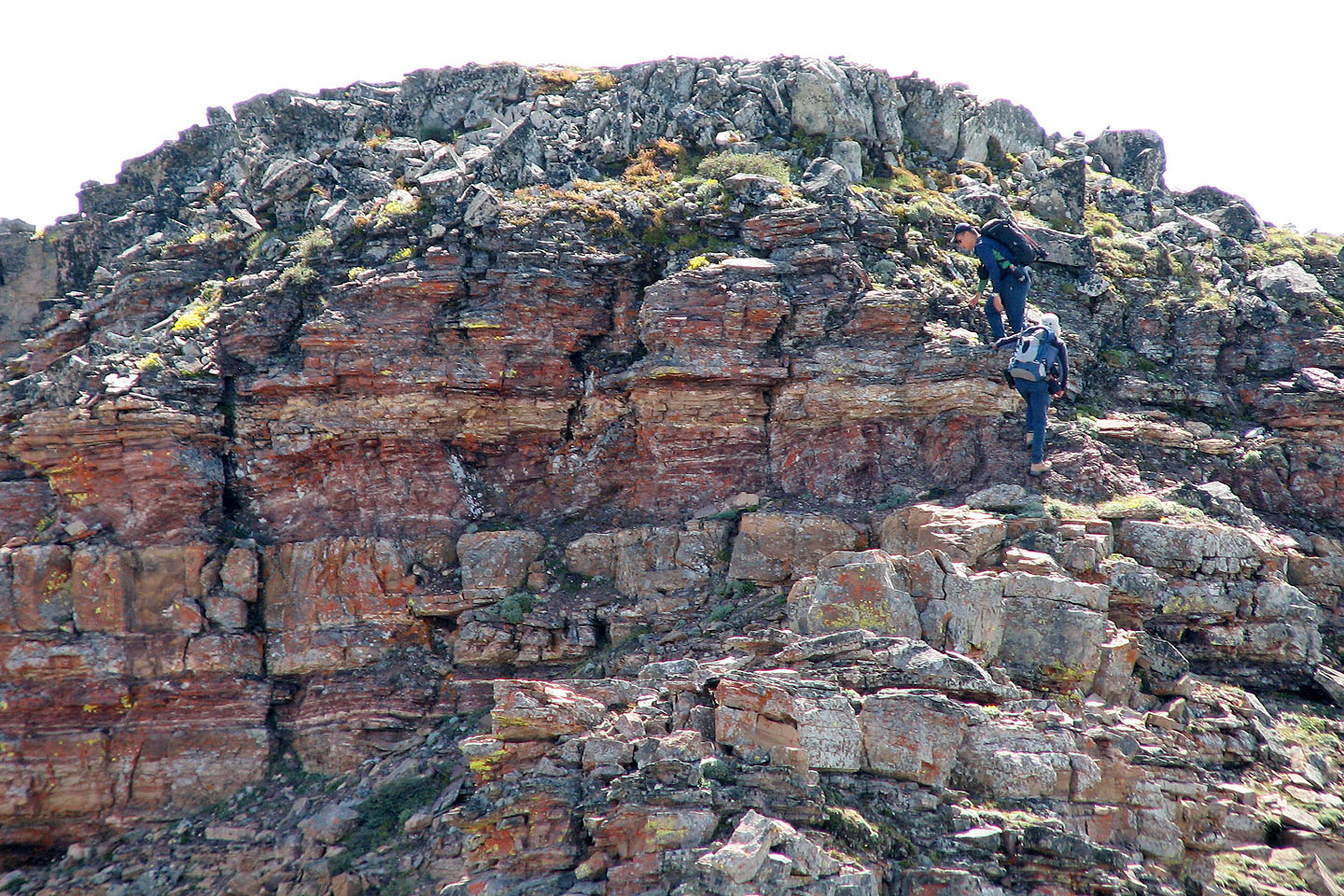 Almost there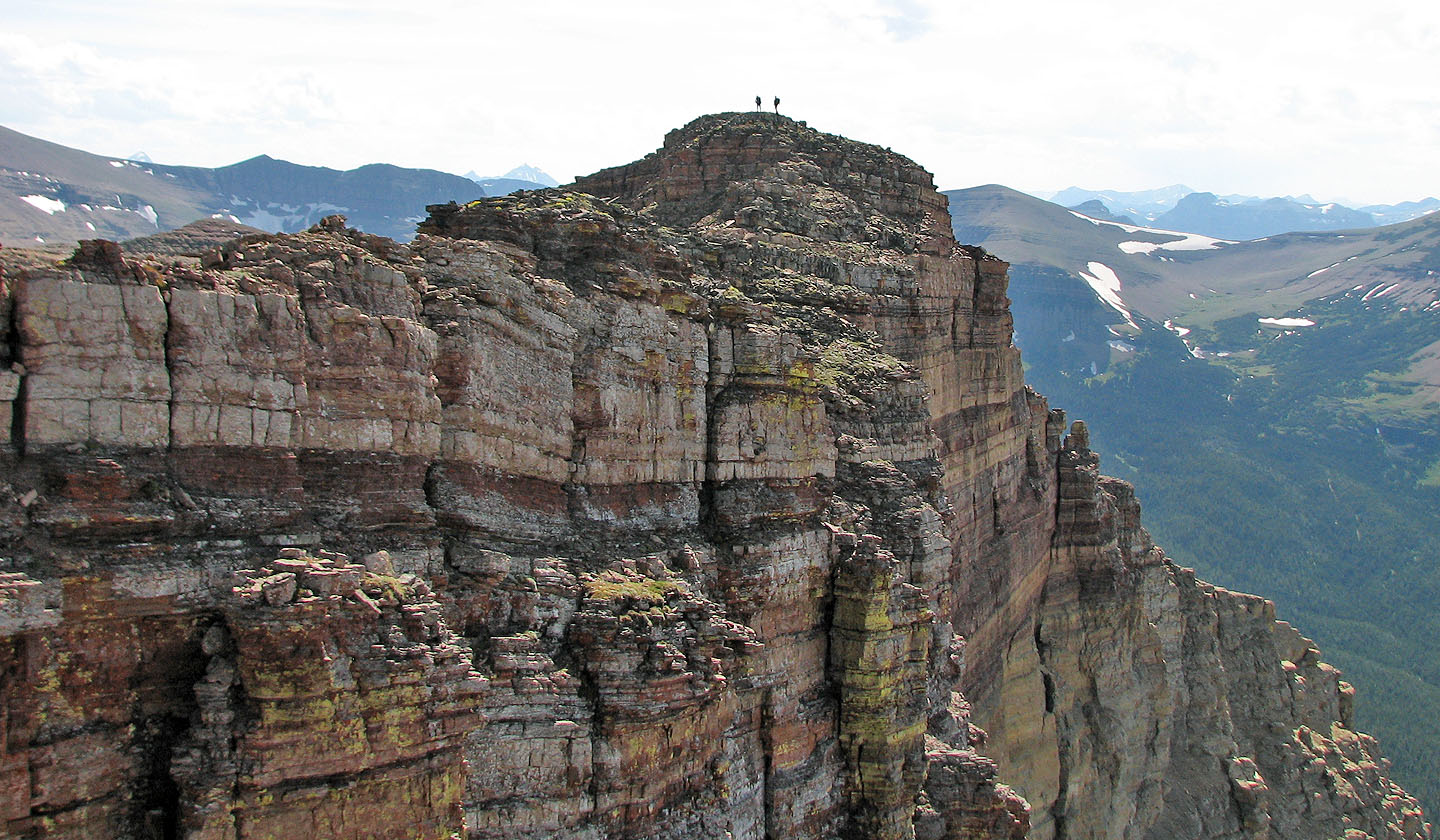 Sonny and I on top of the West Peak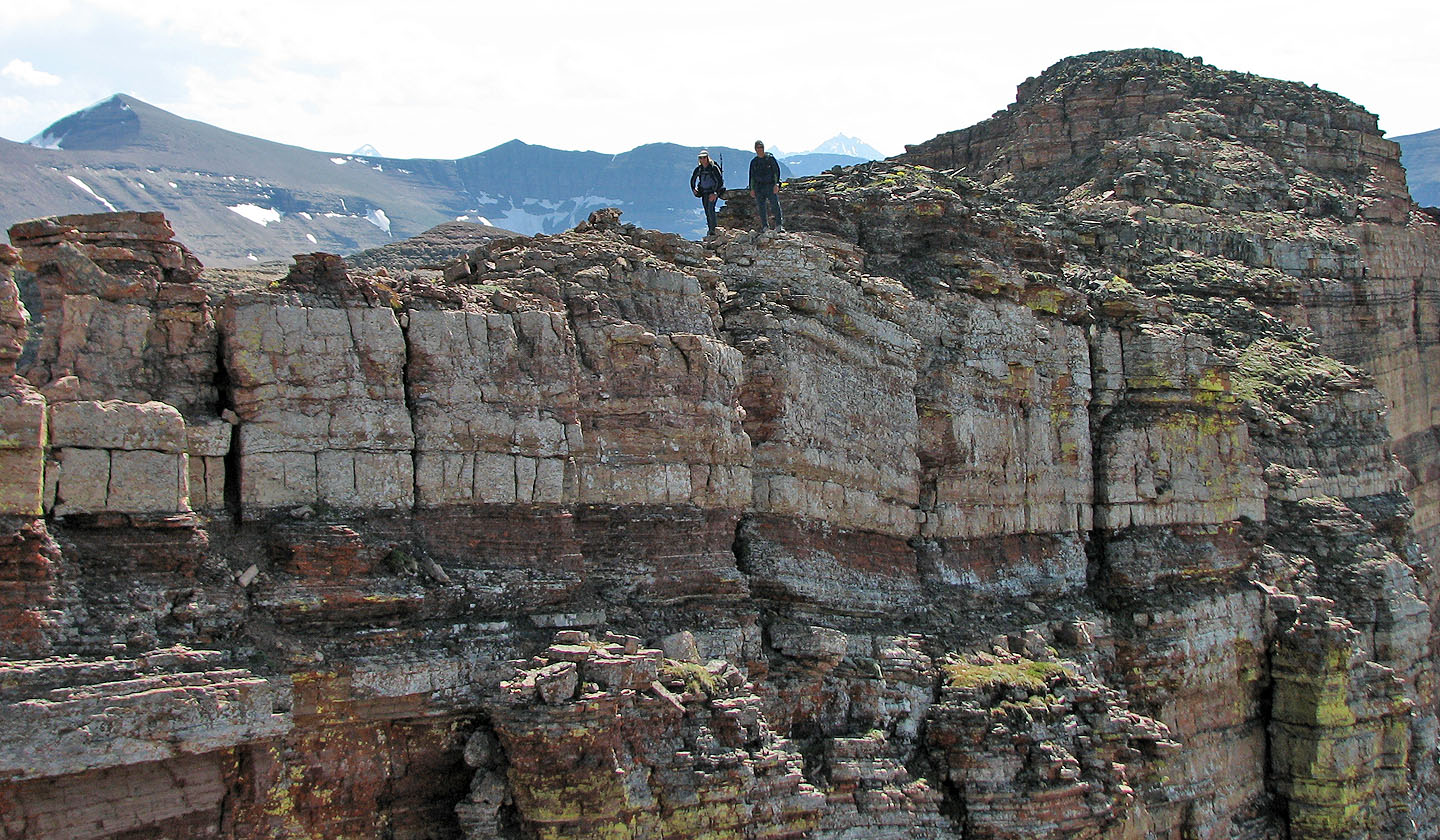 Heading back from the summit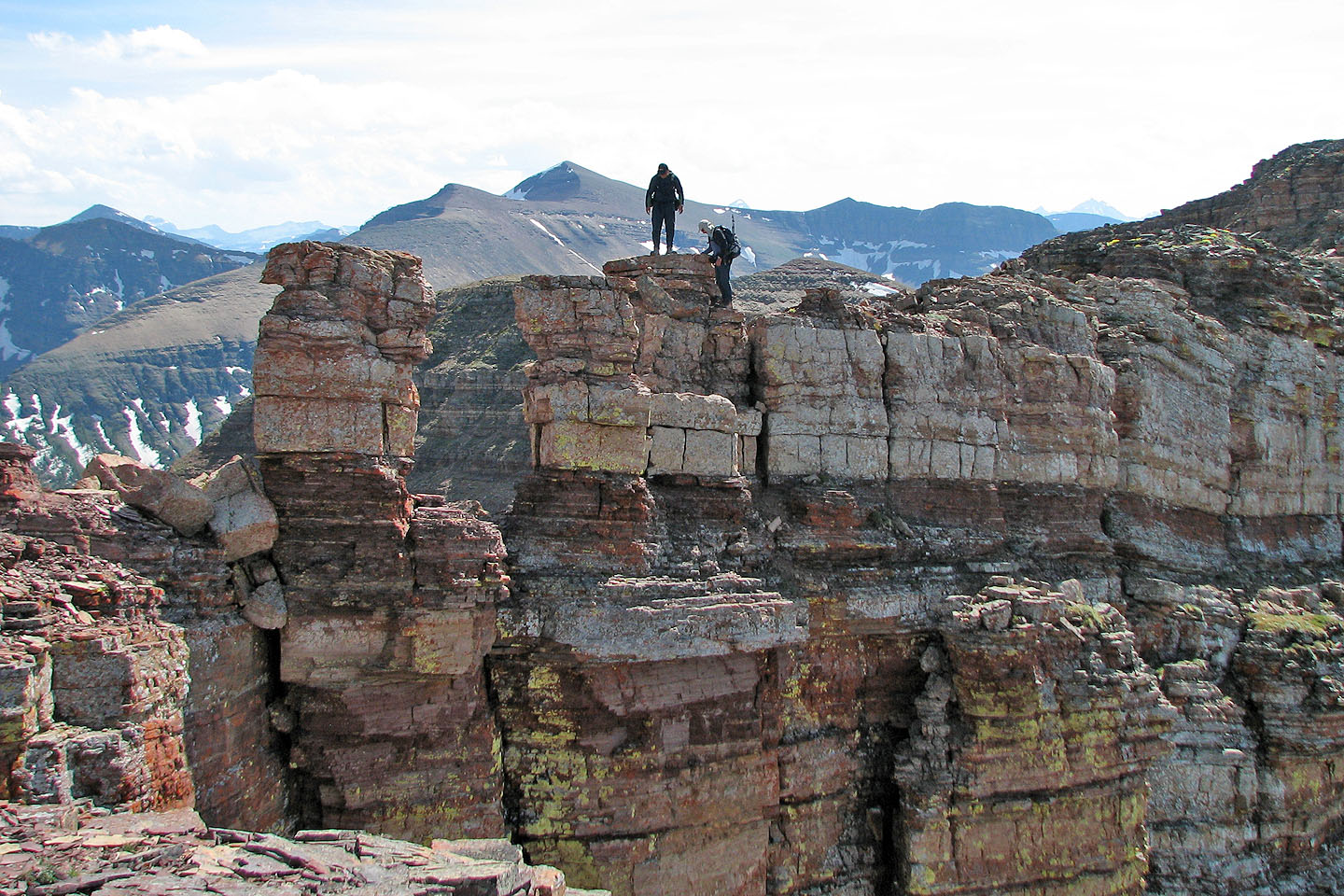 Sonny makes room for me so we can pose on a pinnacle (mouse over)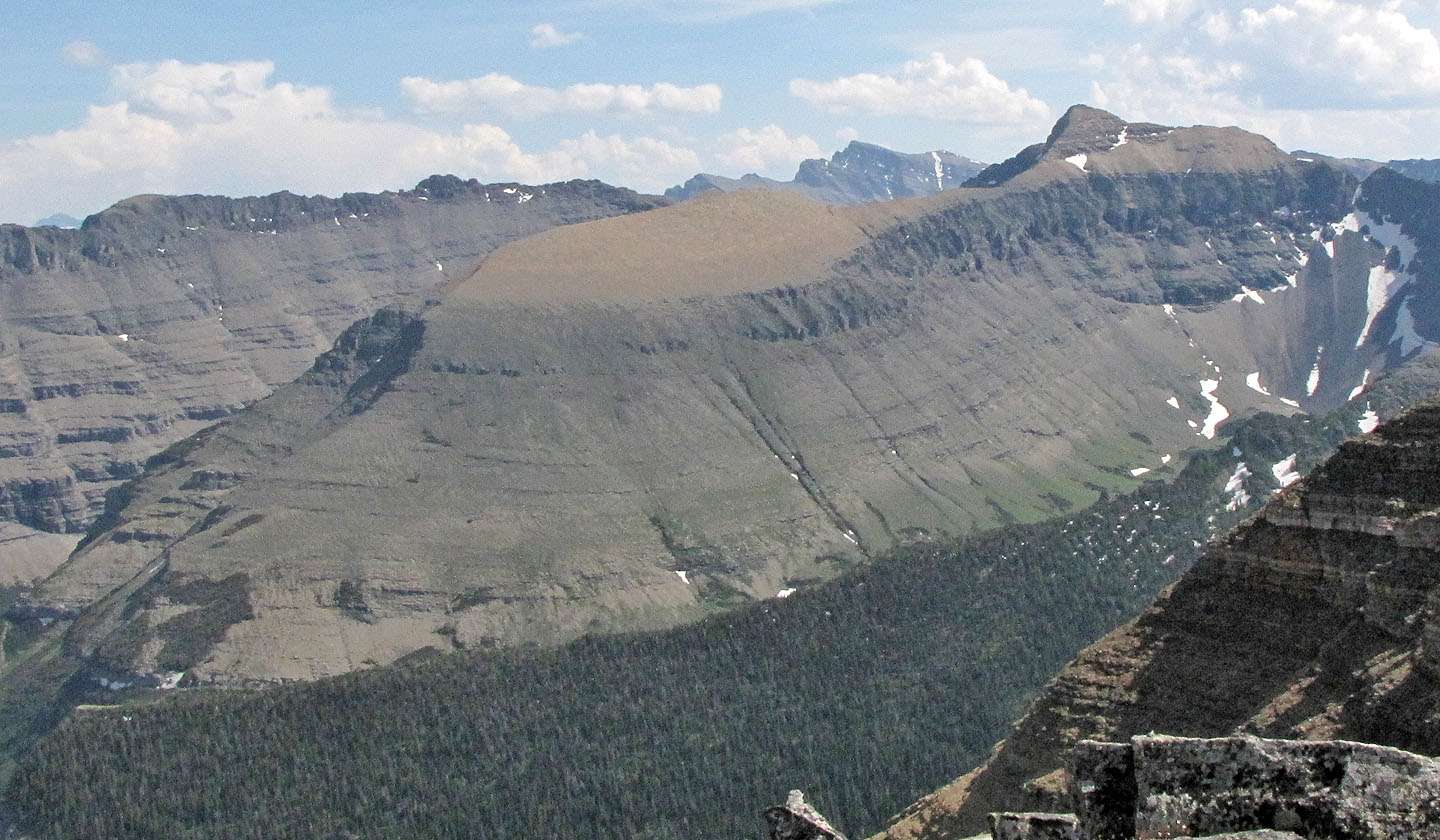 Mount Glendowan

Dinah and Sonny quickly descended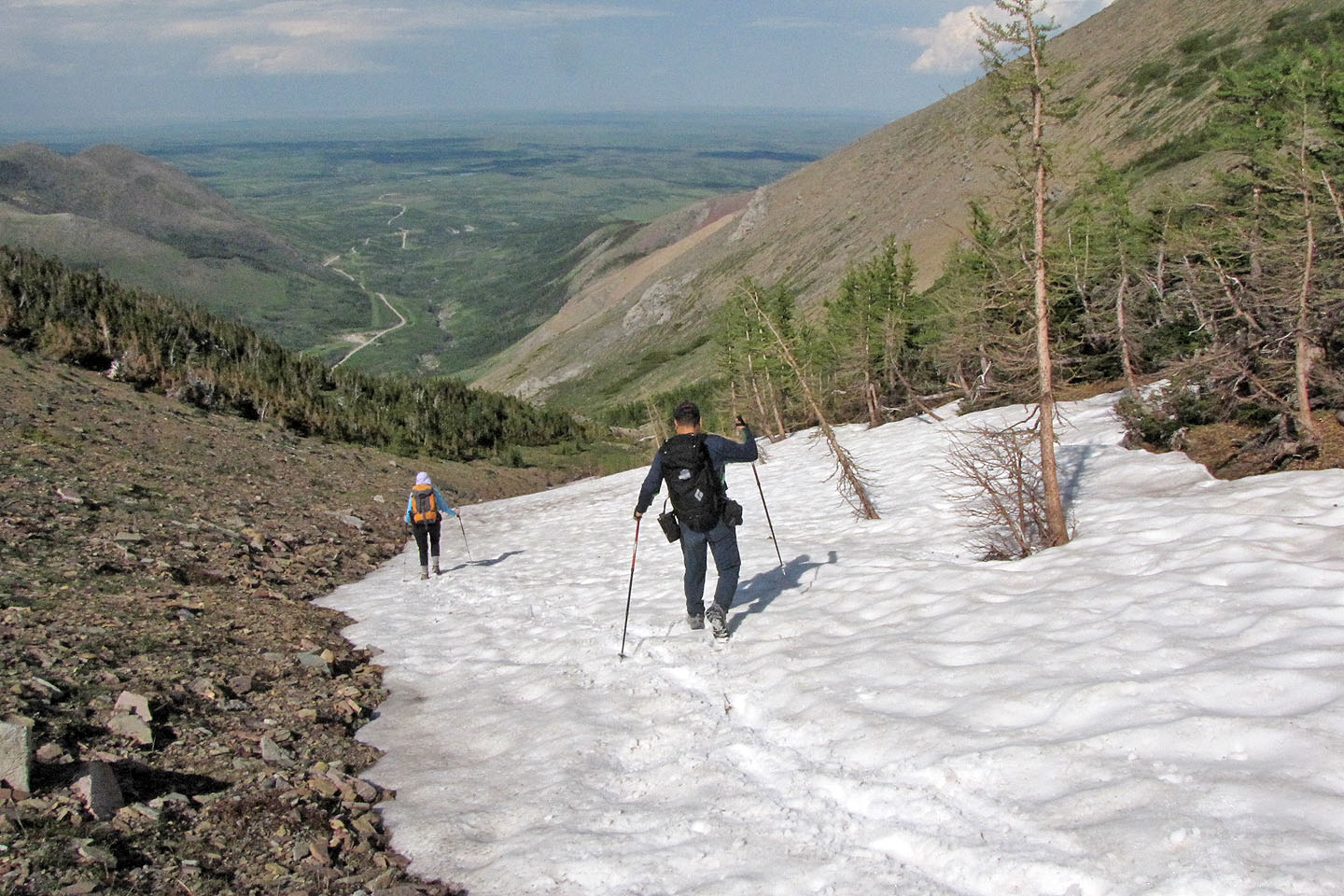 We took advantage of the snow in the gully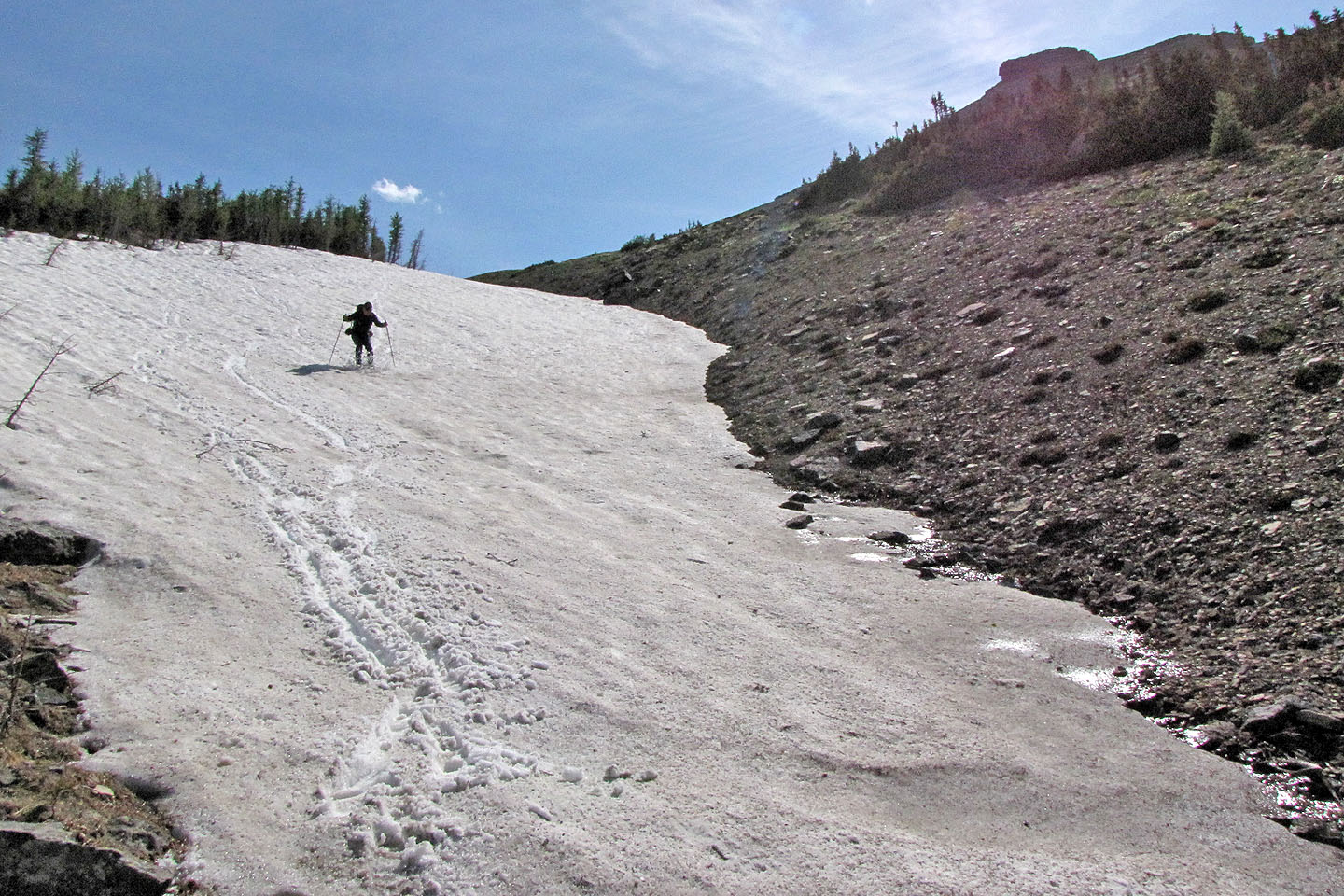 Sonny boot-skies down a snow patch

Cascade below the West Peak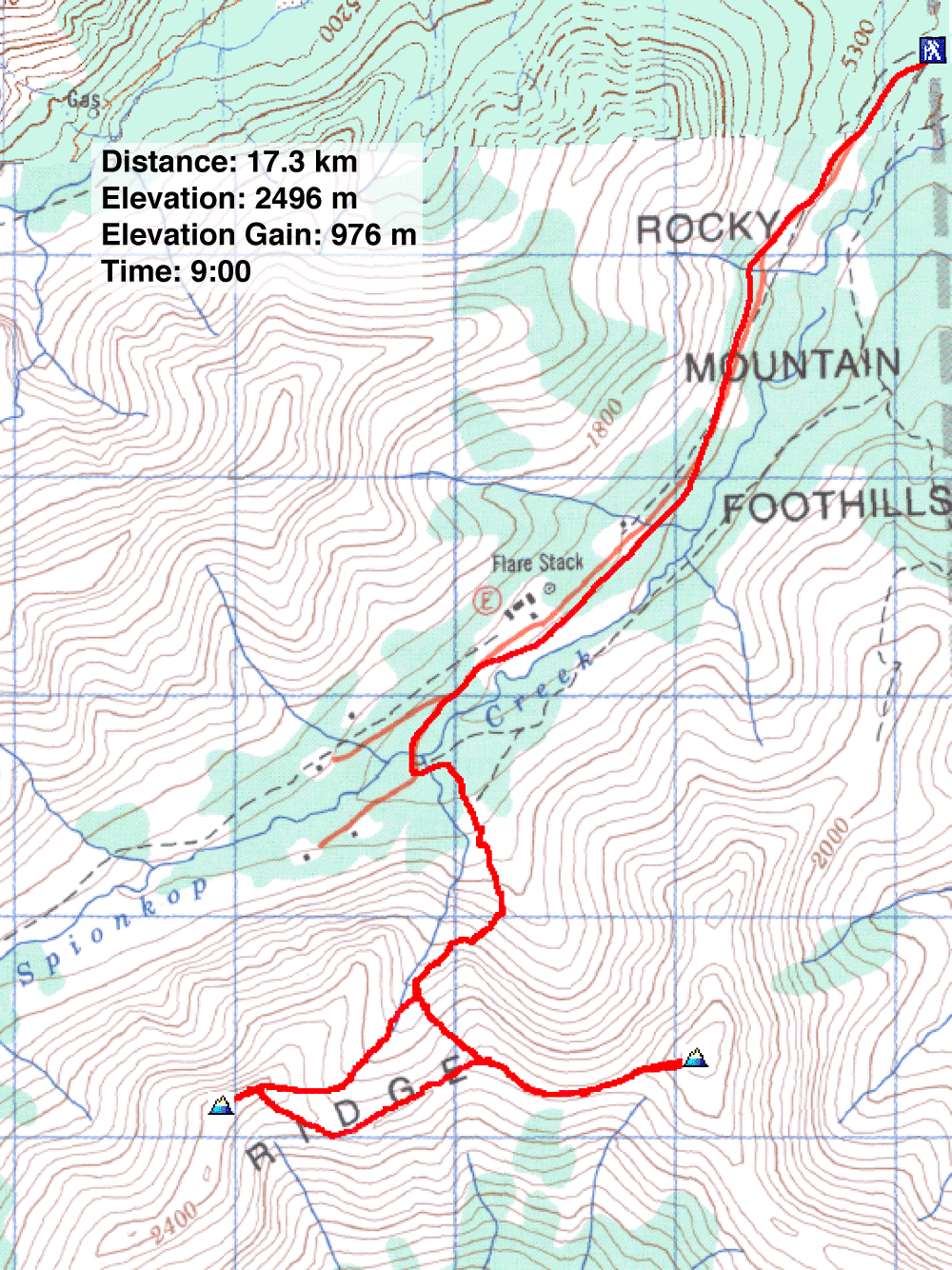 82 G/1 Sage Creek