bobspirko.ca | Home | Canada Trips | US Trips | Hiking | Snowshoeing | MAP | ABOUT

Mount Rowe
Waterton, Alberta
July 11, 2009
Dinah and I drove to Waterton to ascend Mount Rowe using Andrew's route up the southeast slope. There's now a "No Parking" sign at the pull-out so we parked across the road at the day-use area.
After walking up the road to a culvert we headed in the bushes. Staying near the drainage wasn't easy because of the dense trees and bushes and we wandered off-course a bit. Because of the steep slopes on our left, we were committed to ascend until we could bushwhack back to the drainage.
The drainage was a mix of bush and deep grass on open slopes. Here we had to push through bear grass, so much of it so we became covered in yellow pollen. Eventually vegetation drew back from the drainage and we hiked easily alongside it.
The route calls for scrambling up a gully, but the gully, with its steep sides and loose shale floor held little appeal for us. We hiked up the adjacent steep grassy slope. In a short time we reached the false summit and walked the short ridge crest to the top.
We didn't enjoy the ascent route and had no interest retracing our steps so we decided to take the Rowe Lakes trail back to the road. First though, we walked along the northwest ridge to the high point at GR136374. The pleasant walk afforded us great views in all directions. We soon reached the high point, a couple dozen metres higher than Mount Rowe.
Afterwards, we backed down the ridge part way before descending to a shoulder that dropped down to the Upper Rowe Lakes. The 6 km trail back to the road was more scenic than we expected. At the Rowe Lakes trailhead, I left my pack with Dinah and hoofed it 2.6 km back along the road to my car.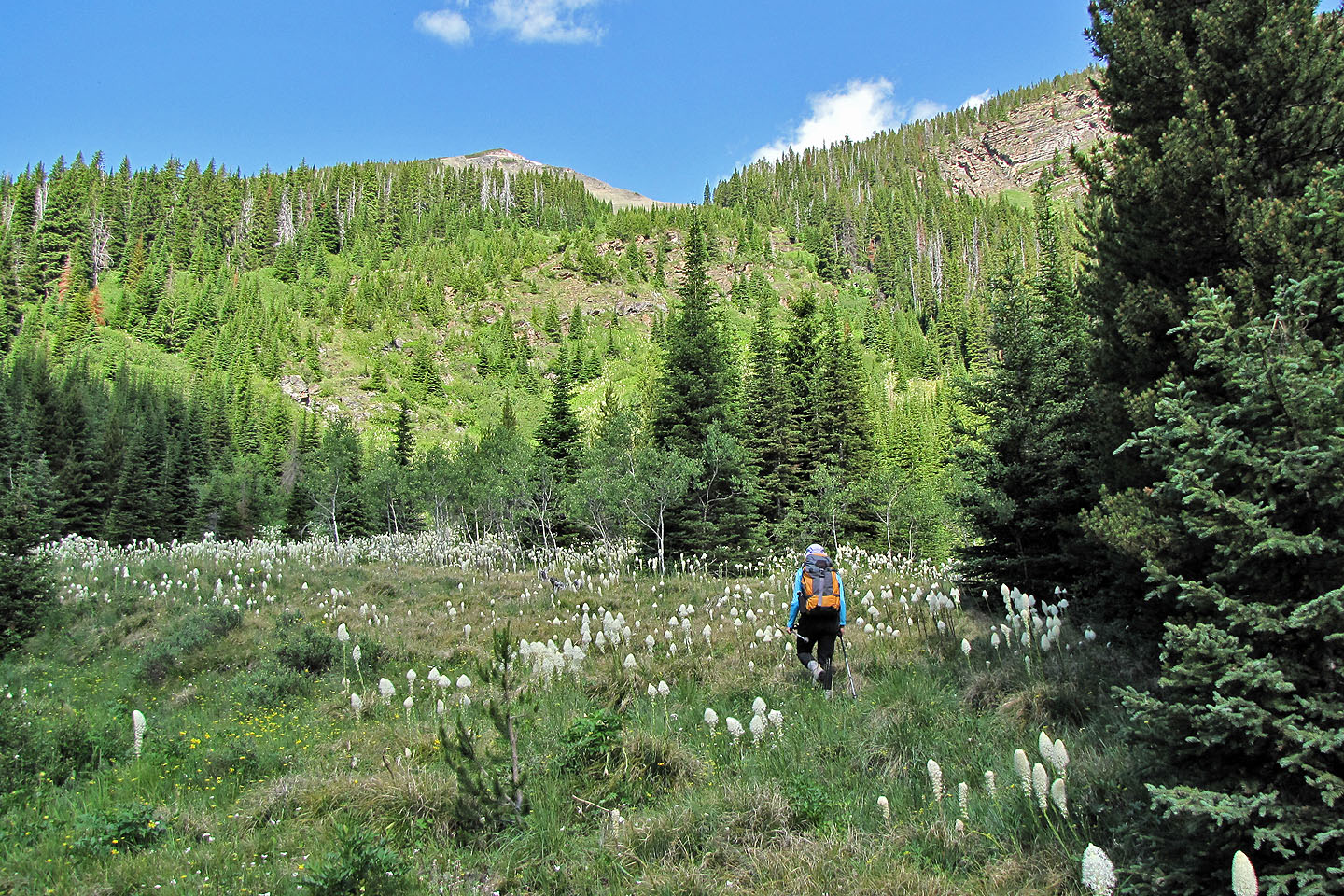 A clearing shows the way up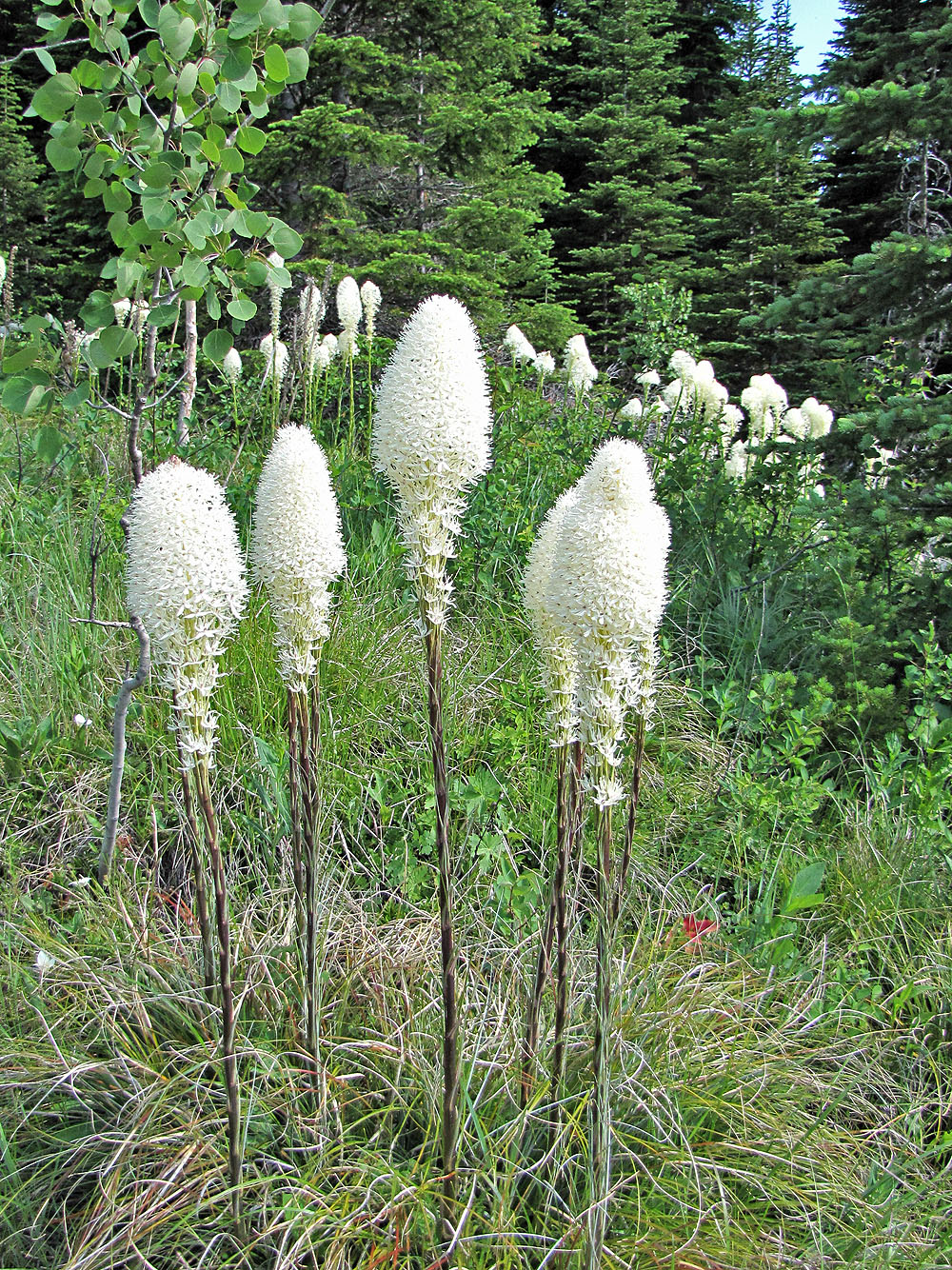 Bear grass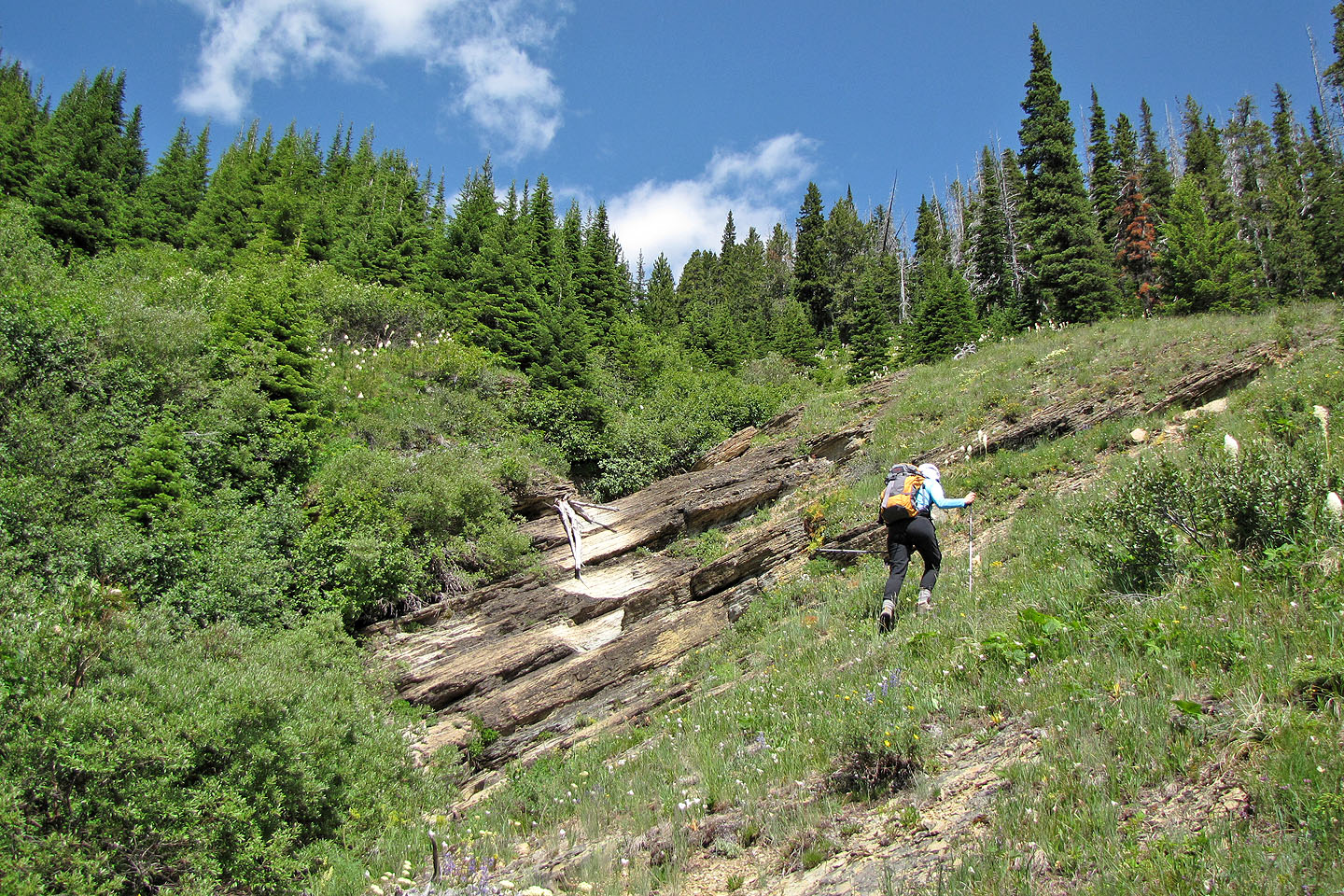 As much as vegetation allowed, we kept close to the drainage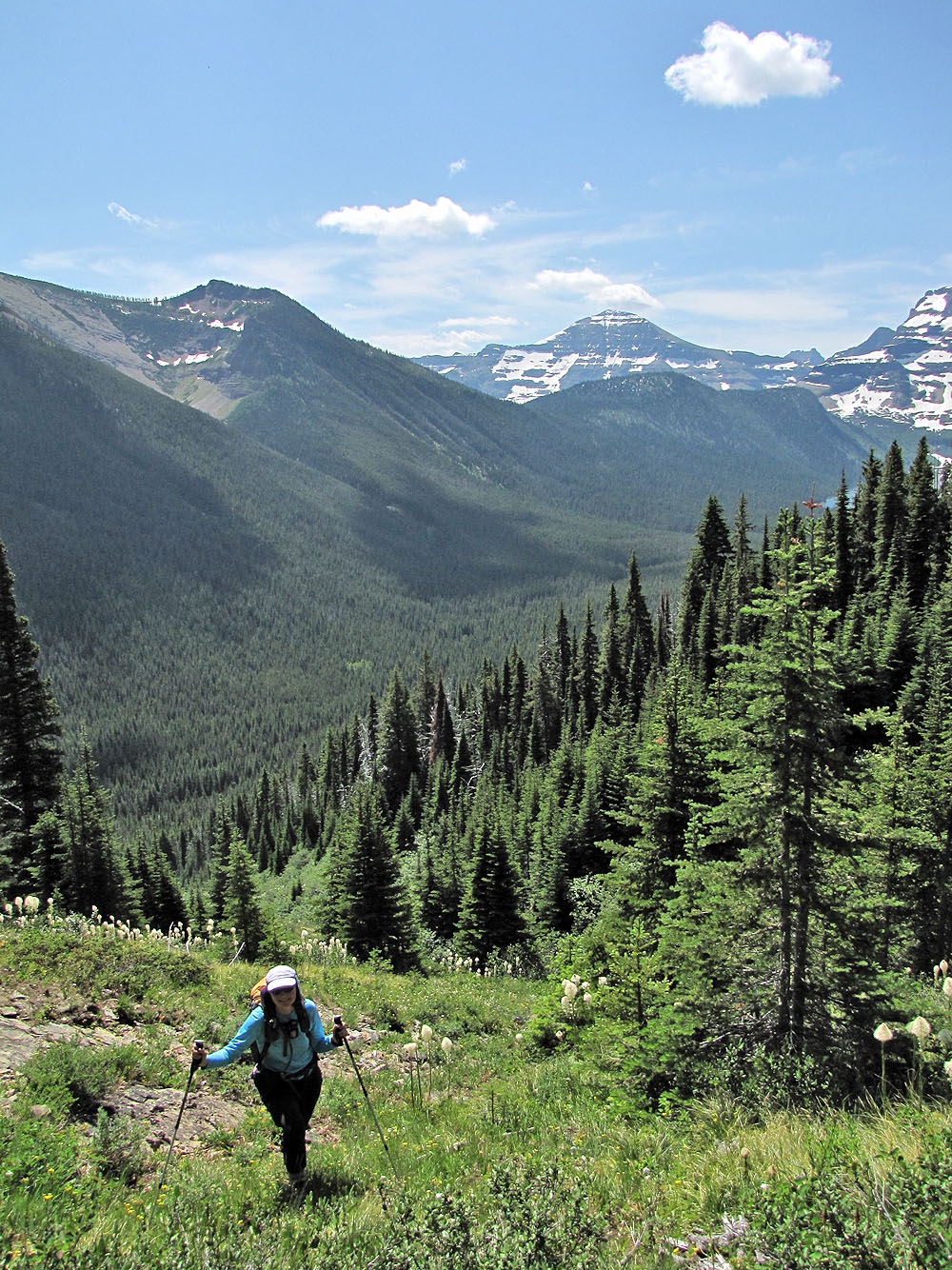 The views began to open up behind us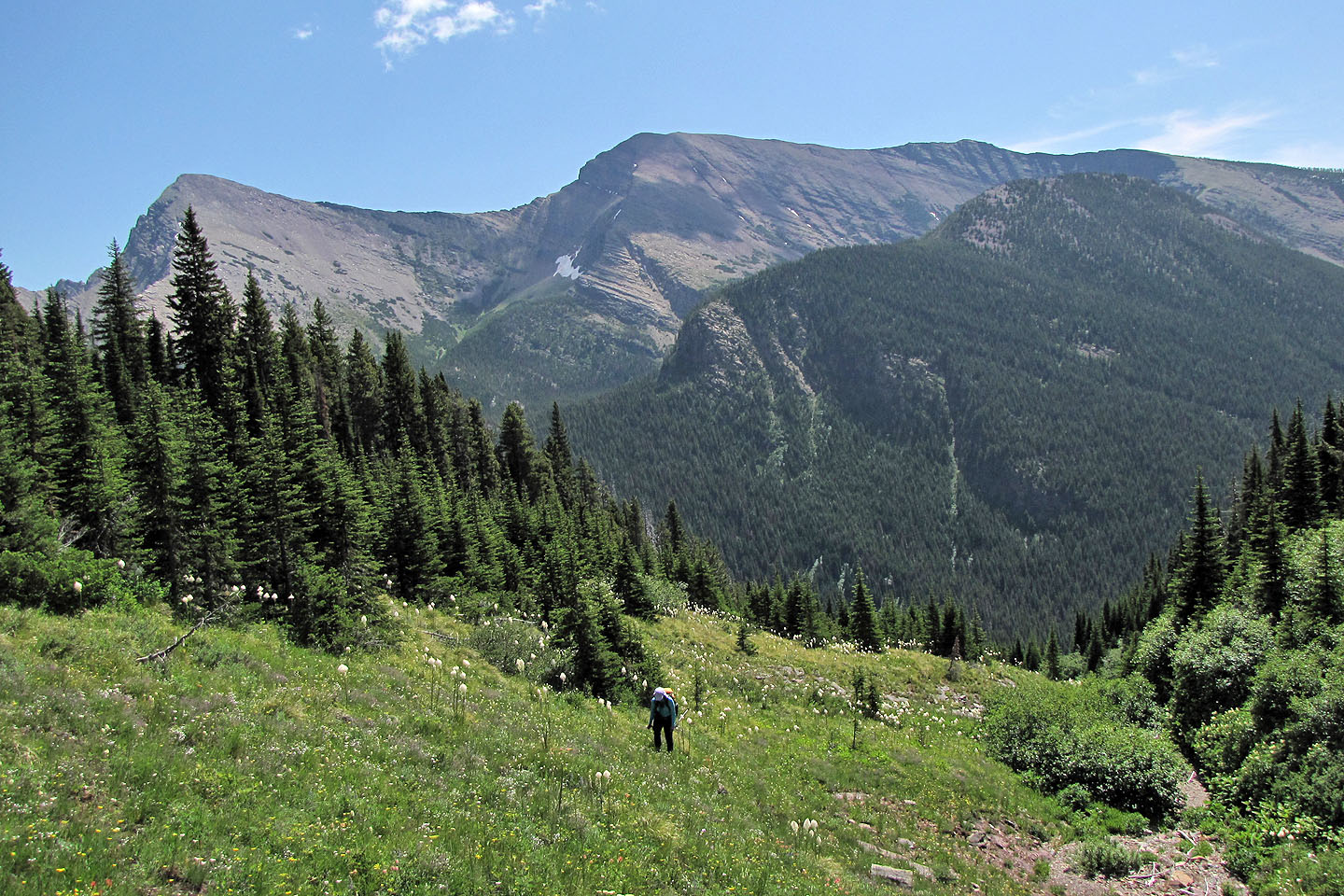 Mount Carthew behind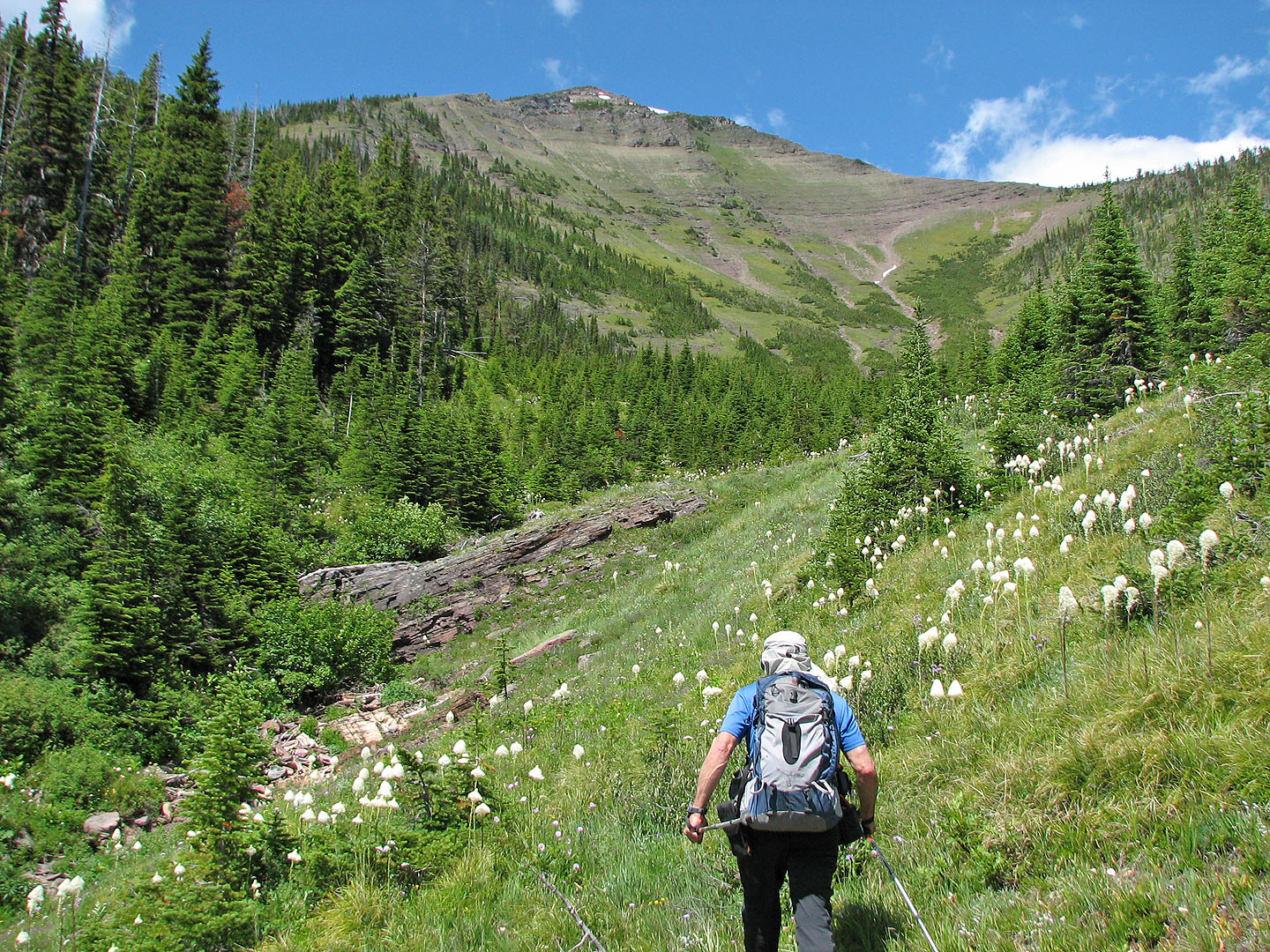 We get a clear view of Mount Rowe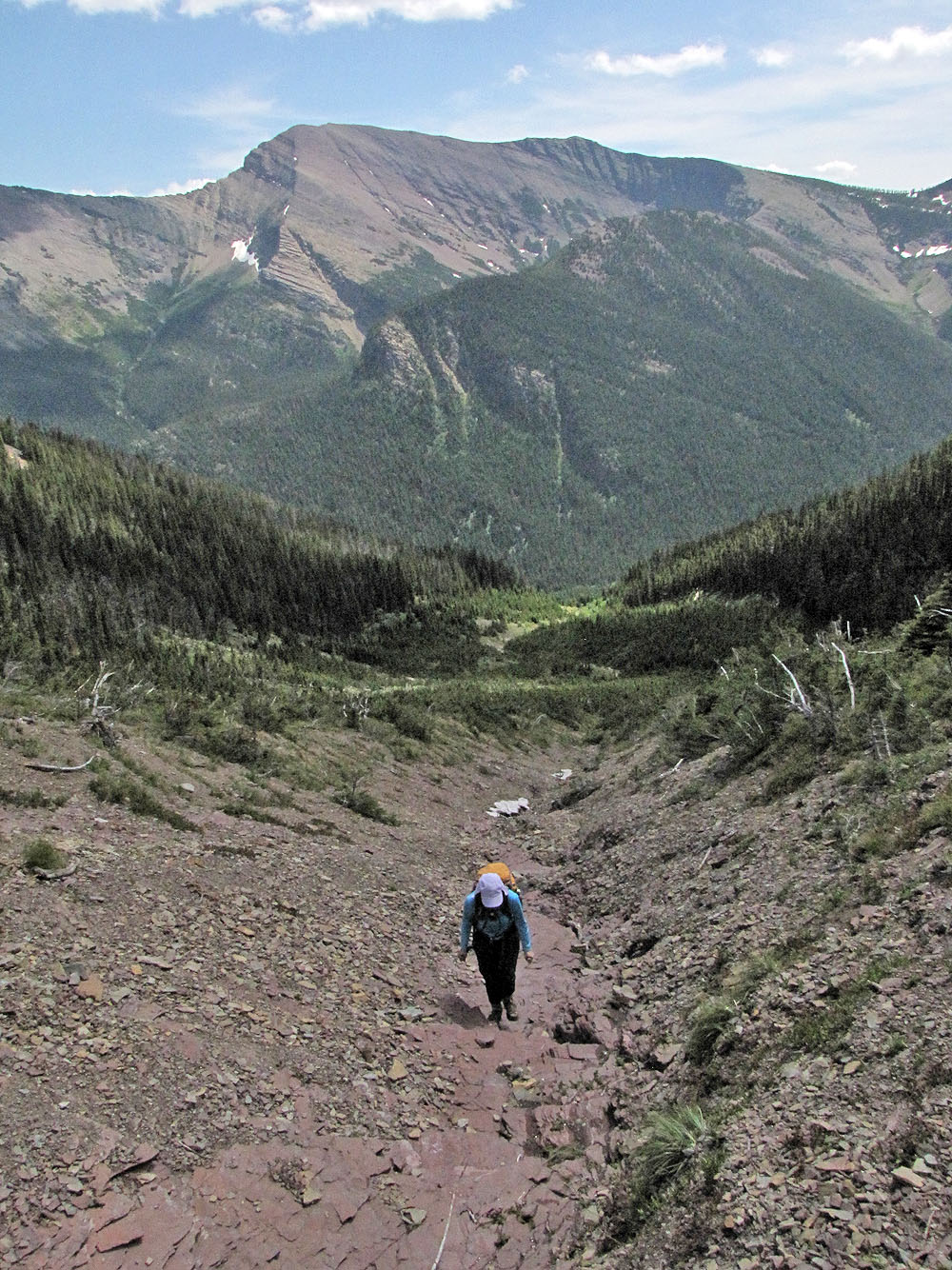 Travel became easier here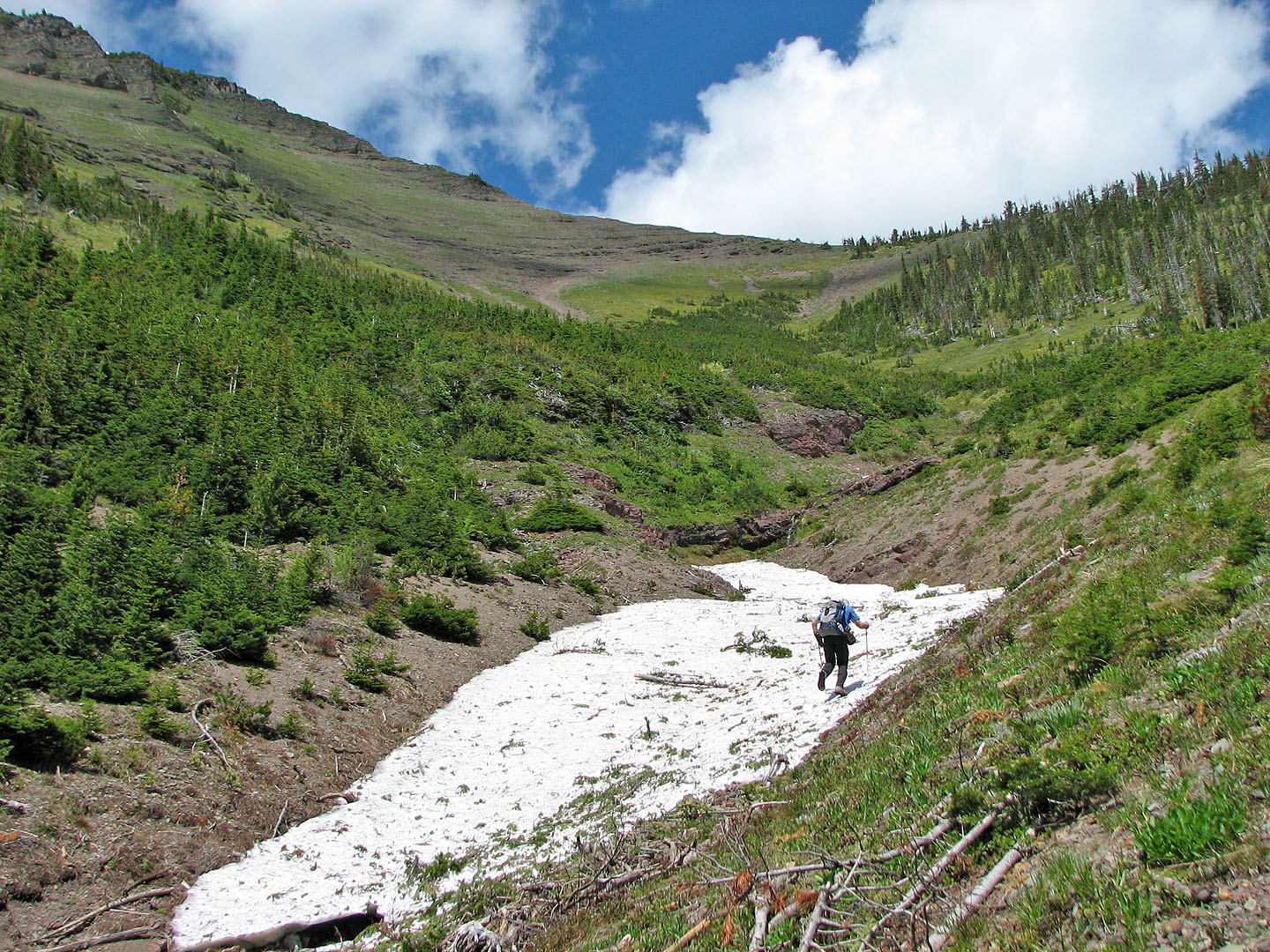 Lingering snow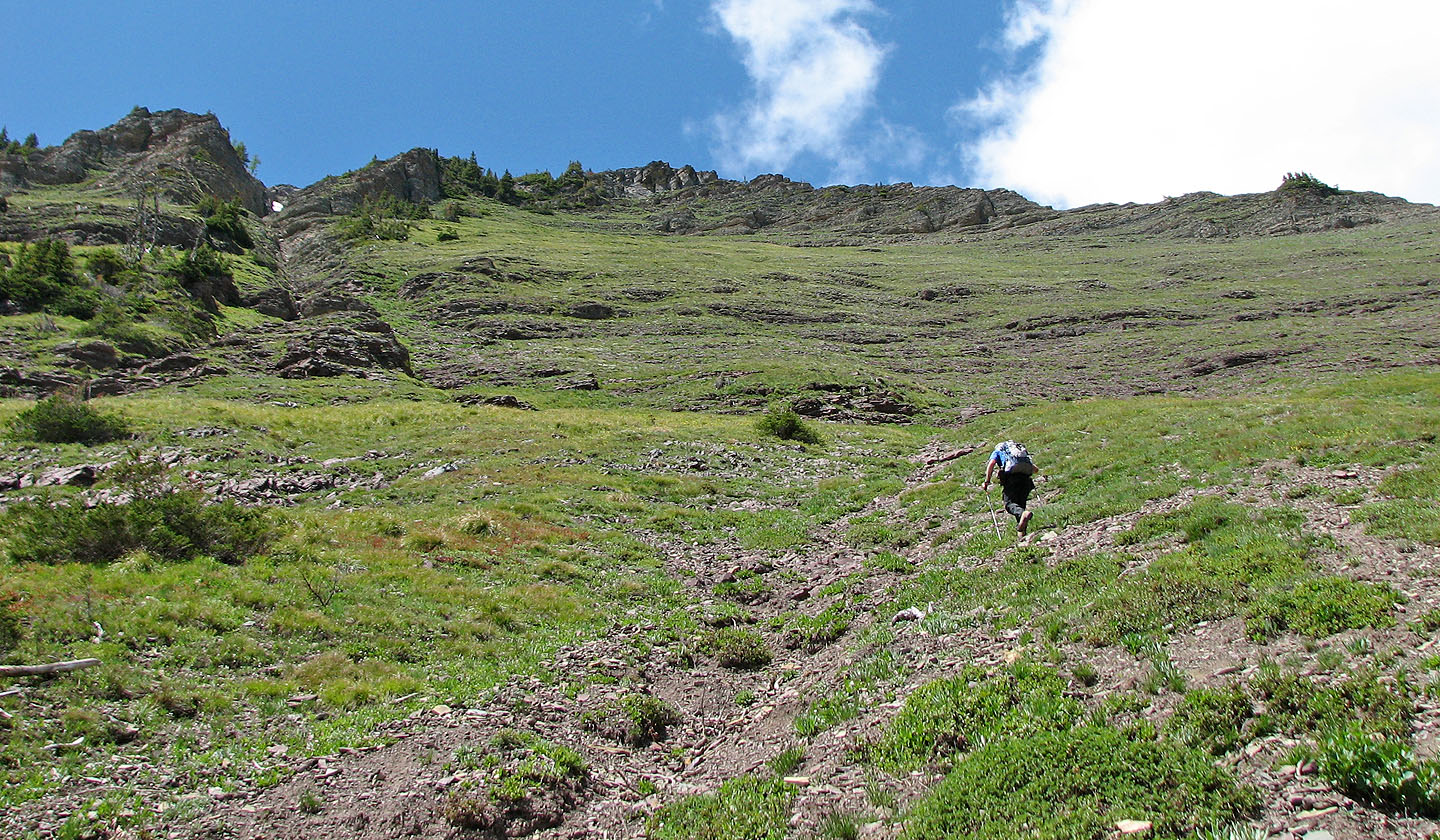 The gully route is on the left, but we hiked up the grass slope (mouse over to look back)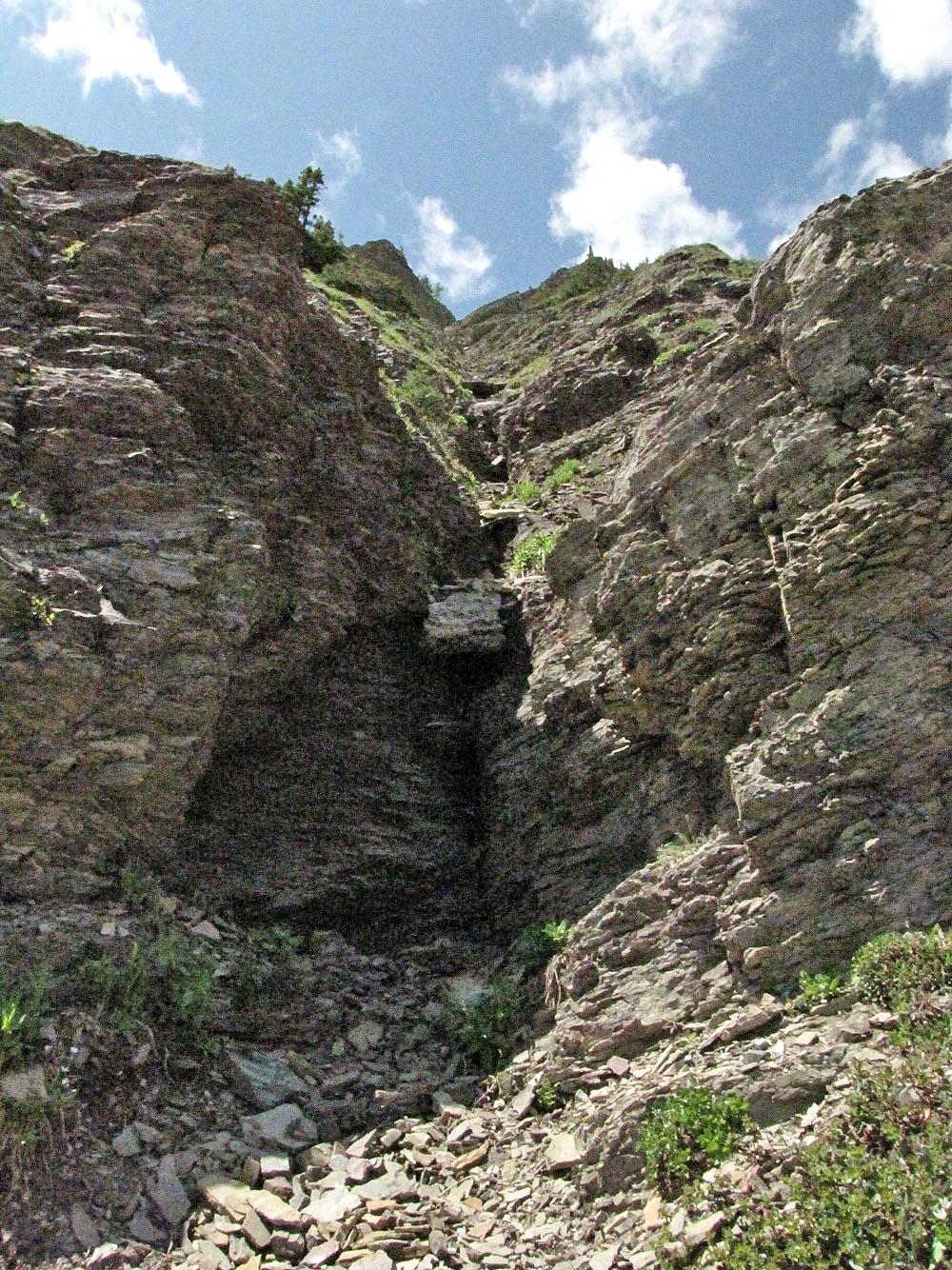 Looking up the gully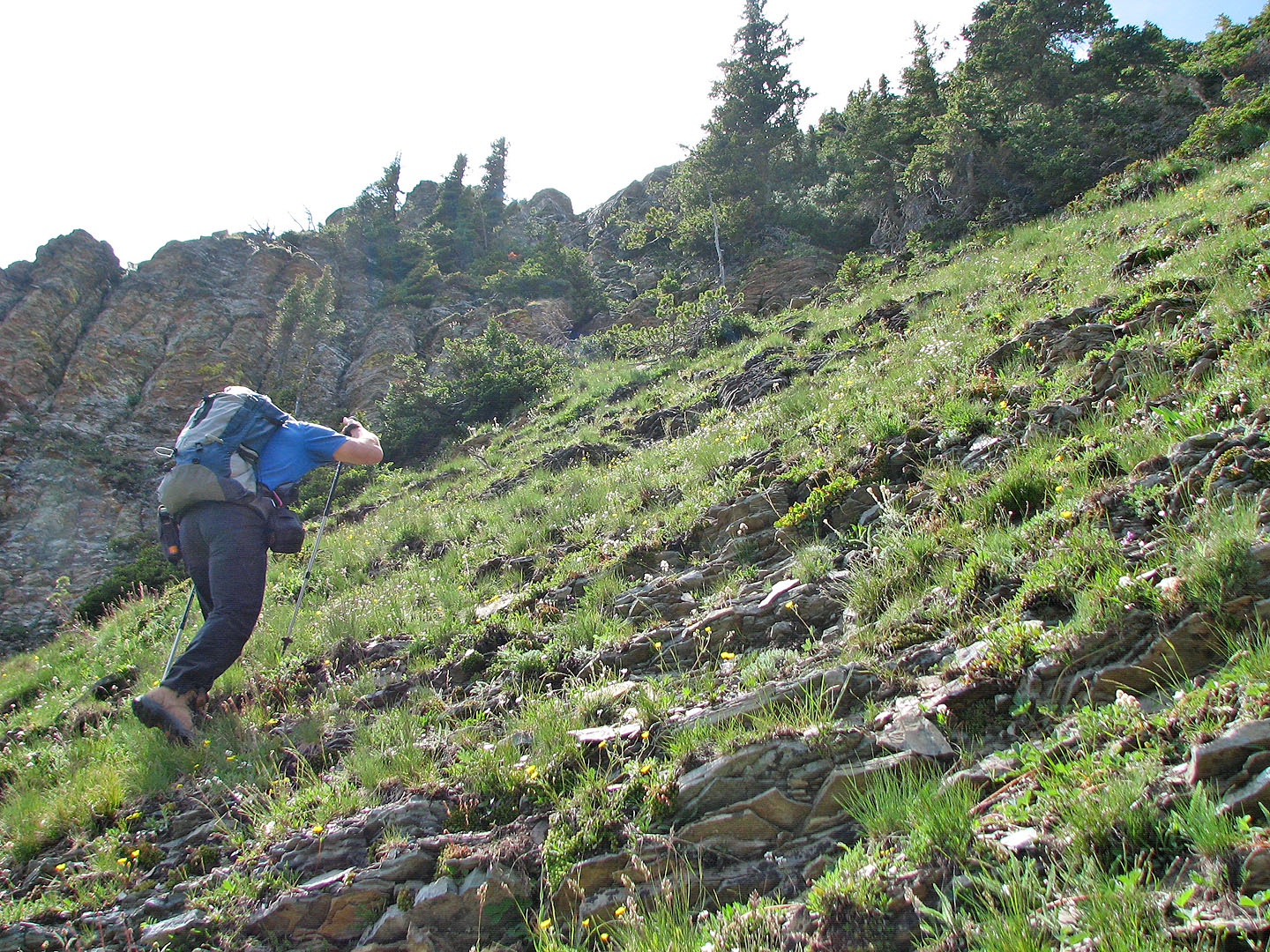 Ascending the grassy slope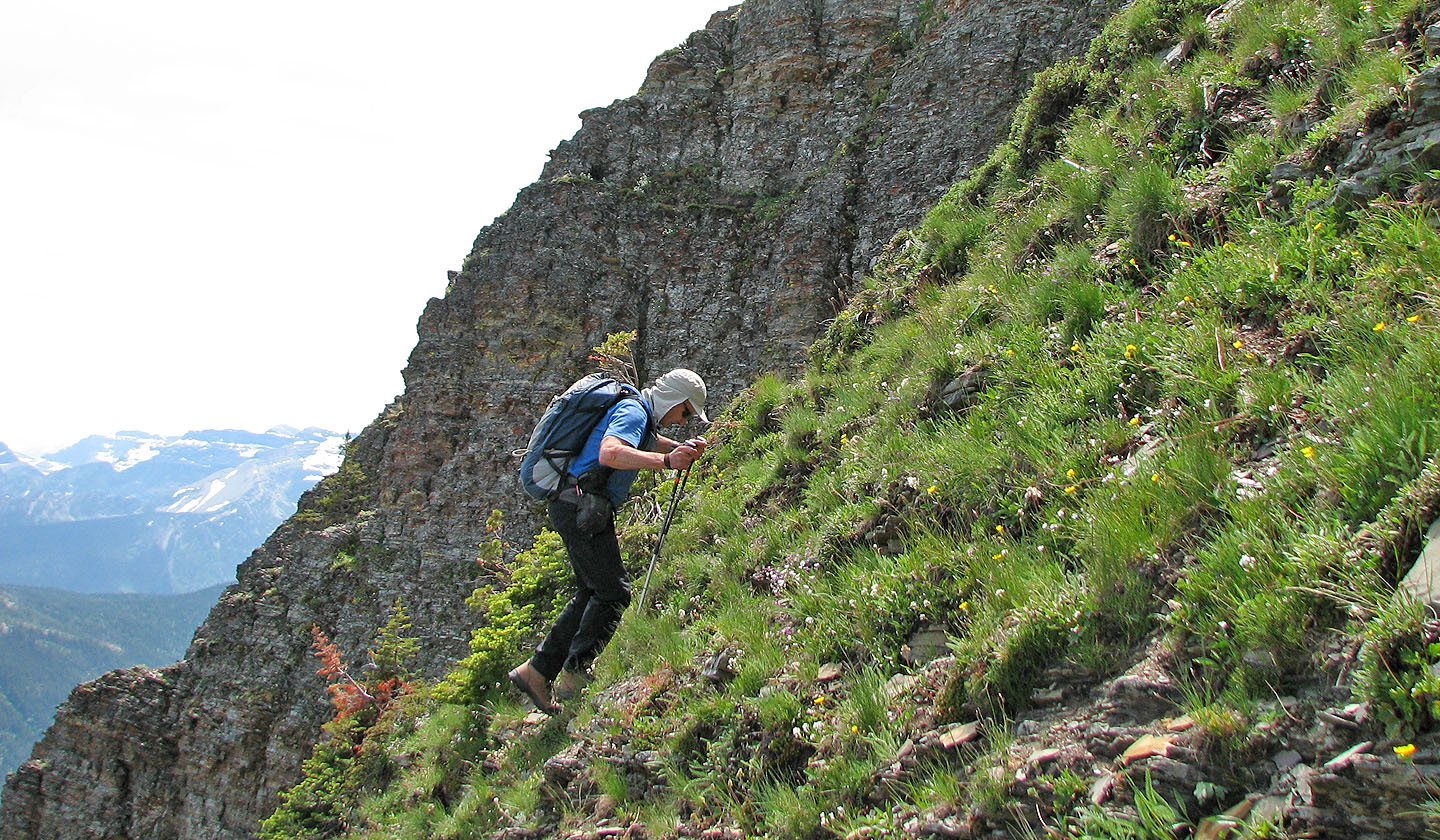 It's surprisingly steep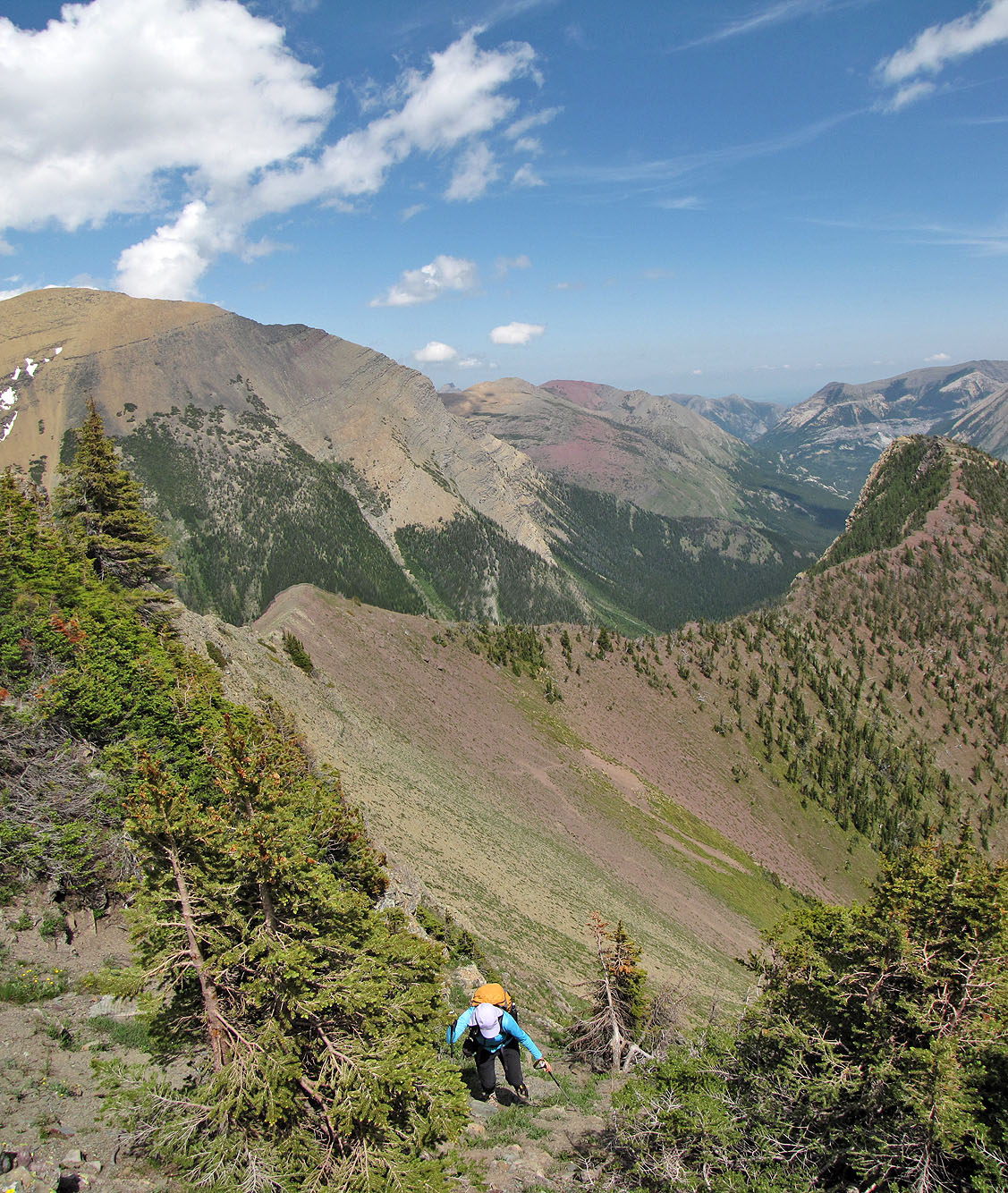 Looking back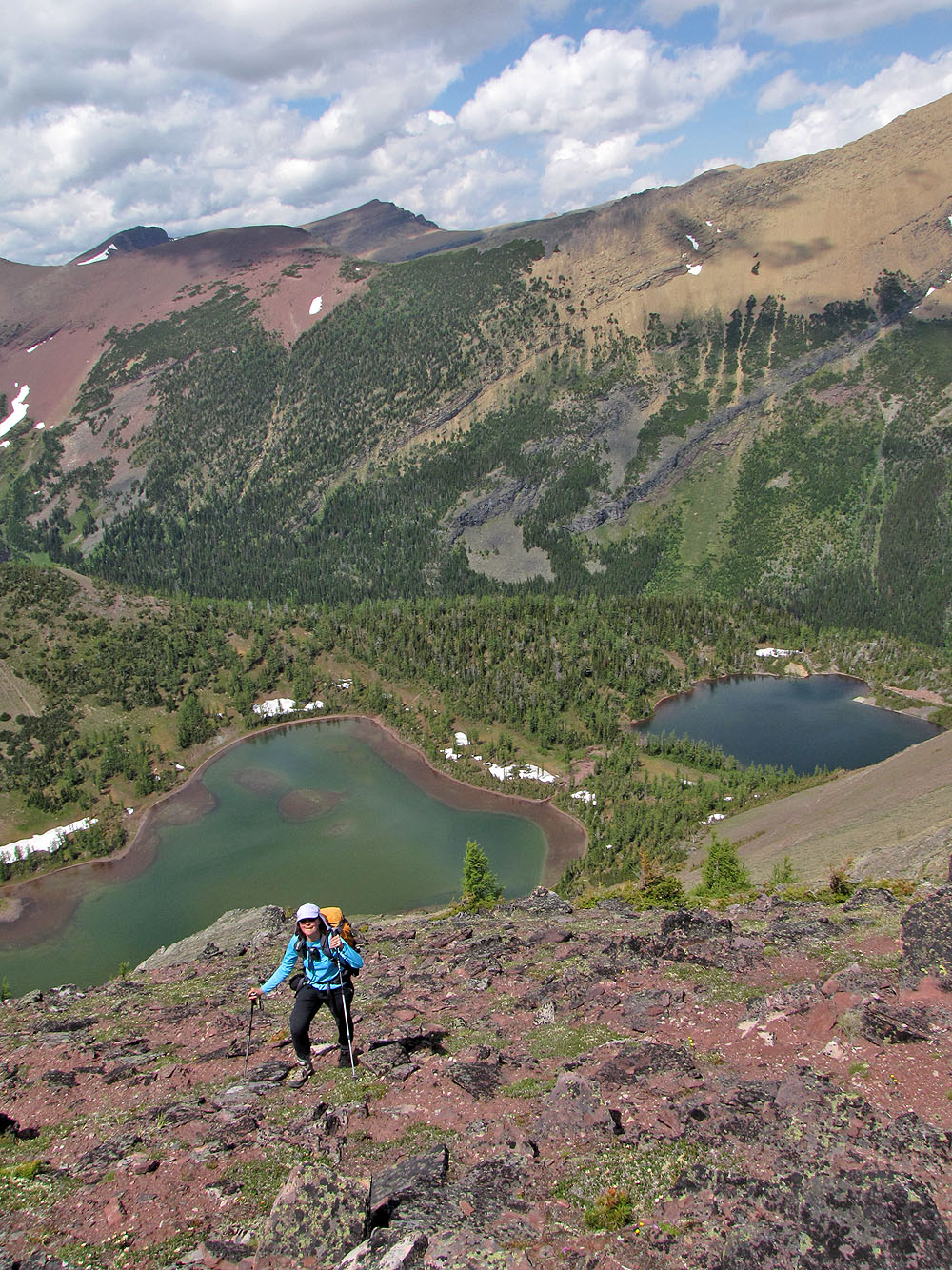 Heading to the false summit, Upper Rowe Lakes below.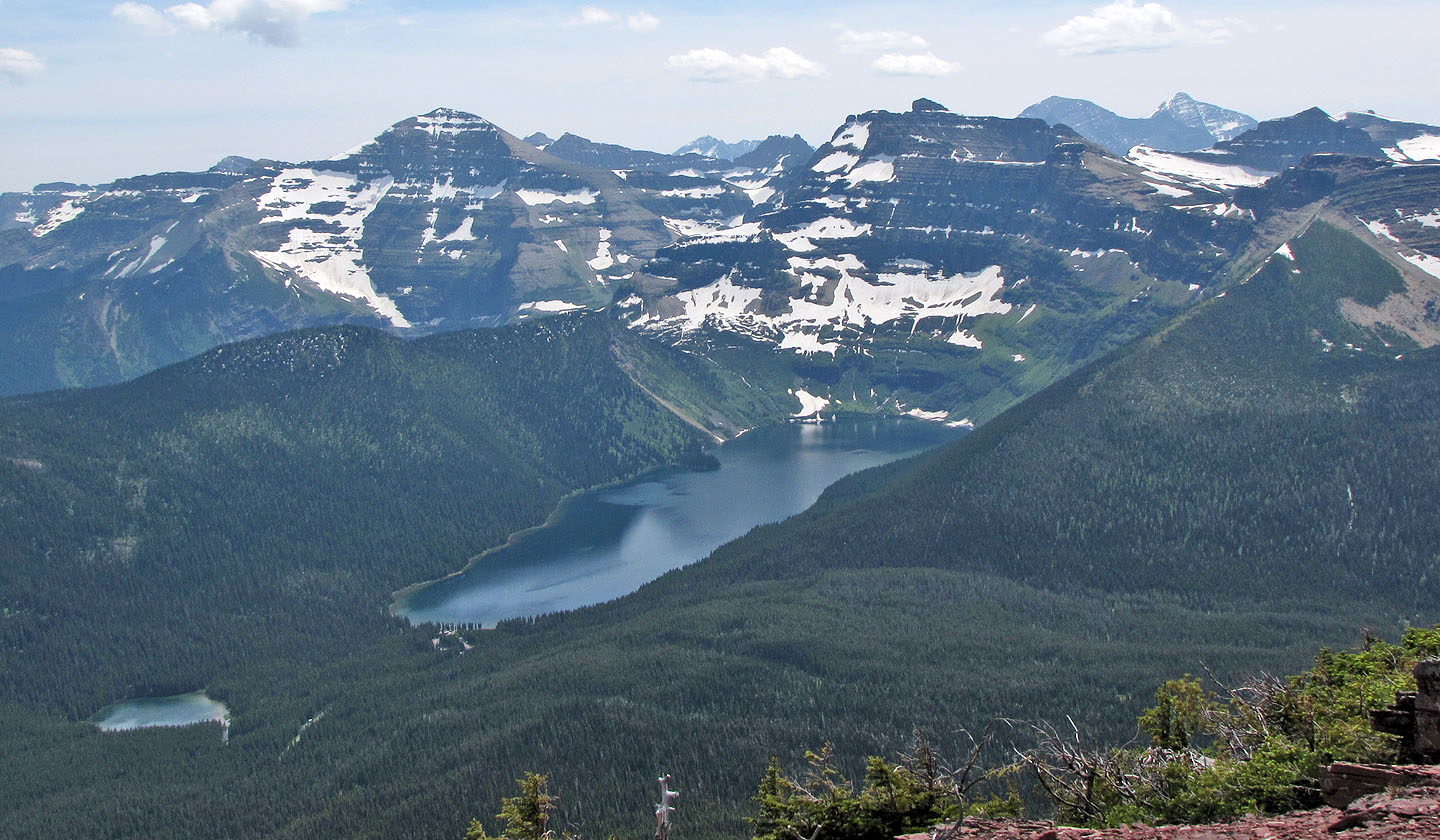 Akamina and Cameron Lakes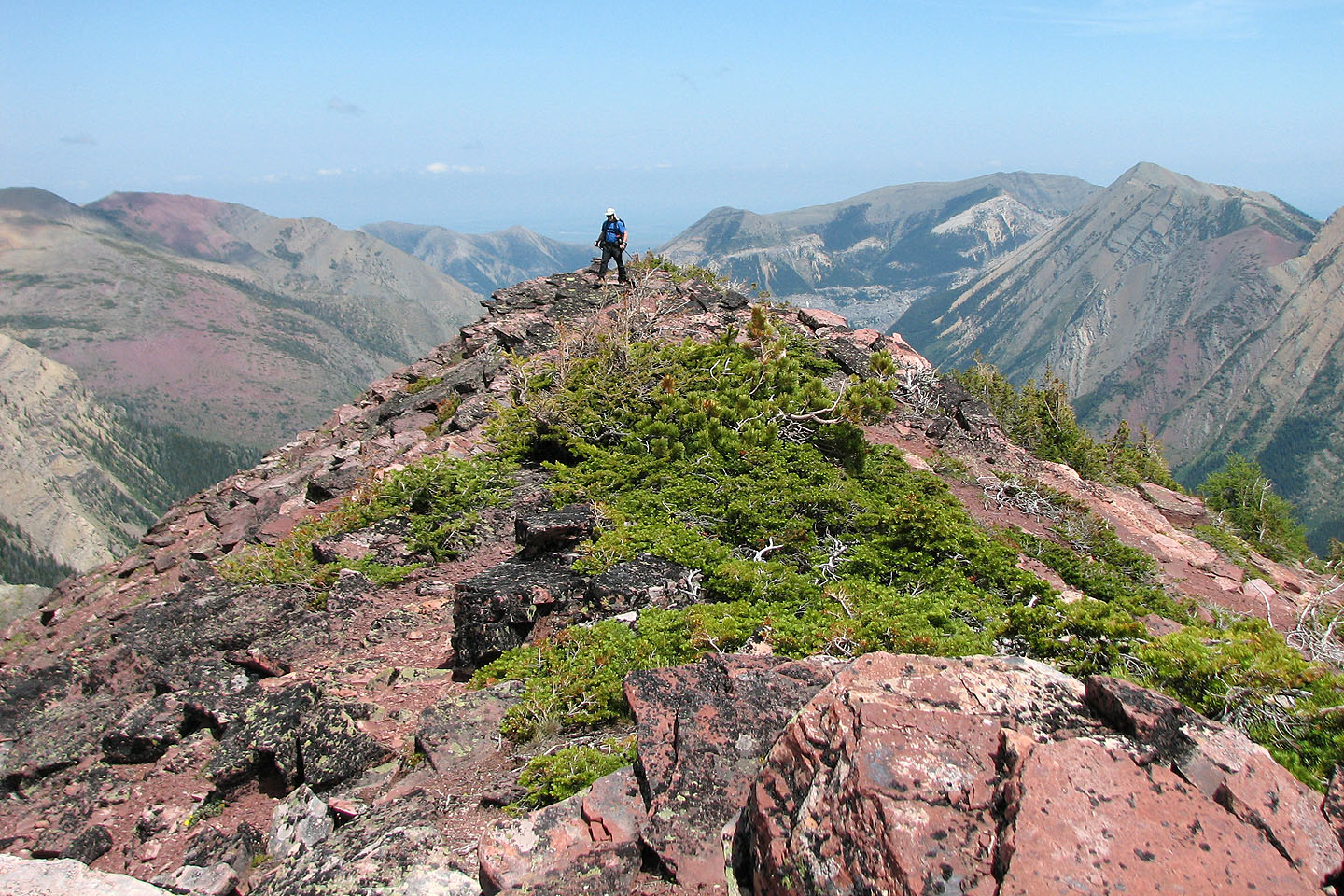 Looking back at the false summit while heading to the summit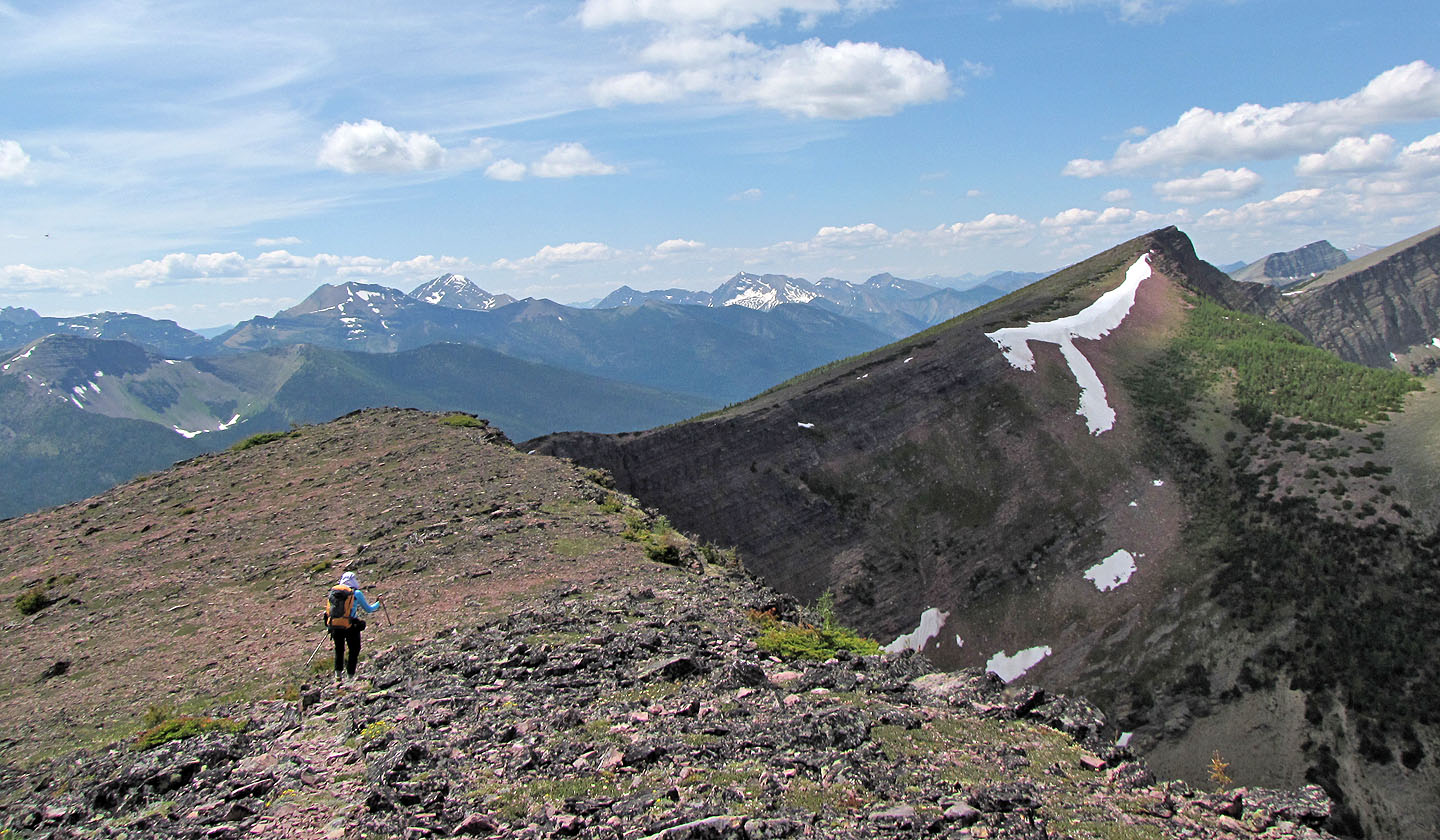 From the summit we headed for the high point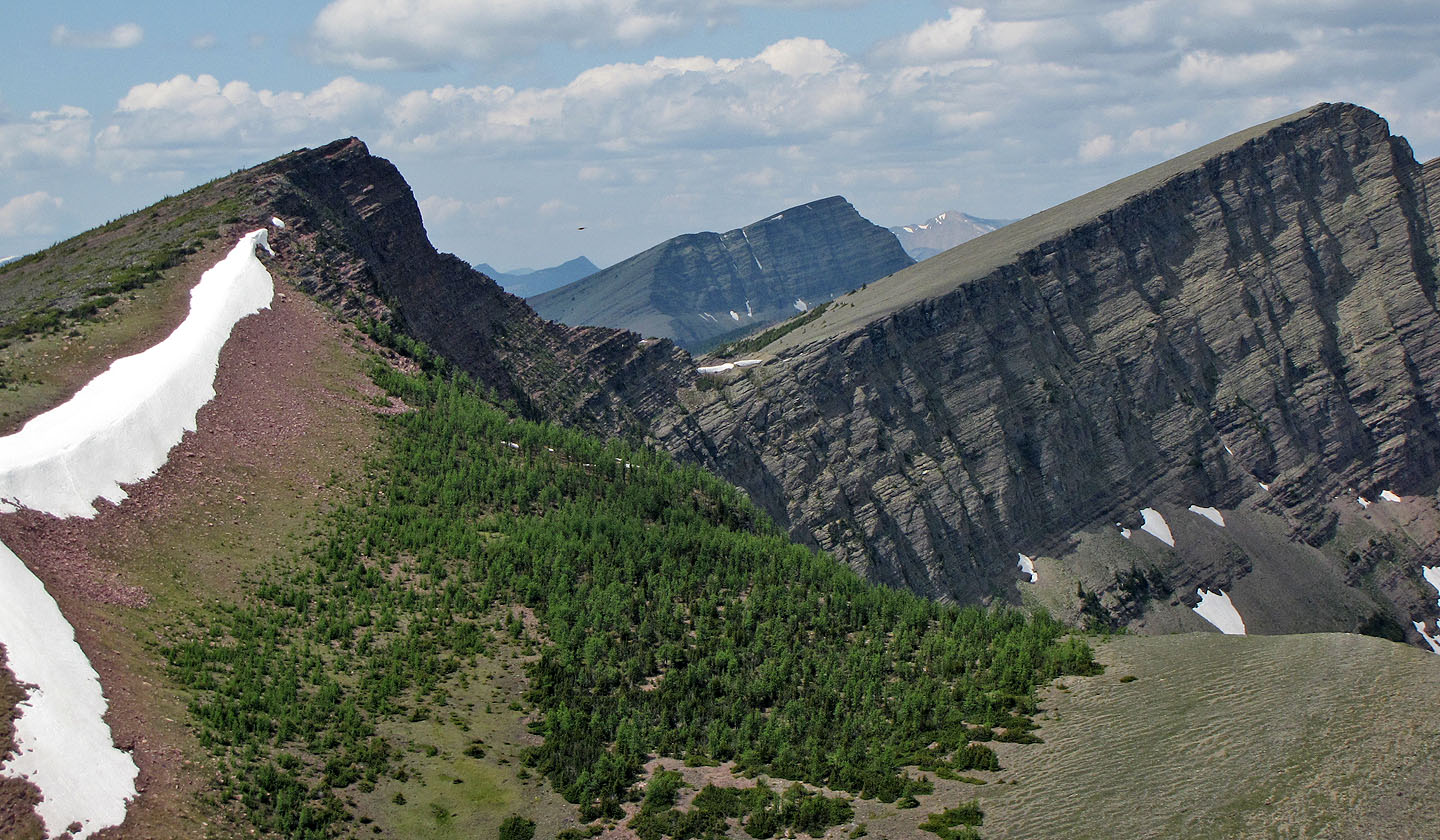 Afterwards, we descended the shoulder in the foreground to the Upper Rowe Lakes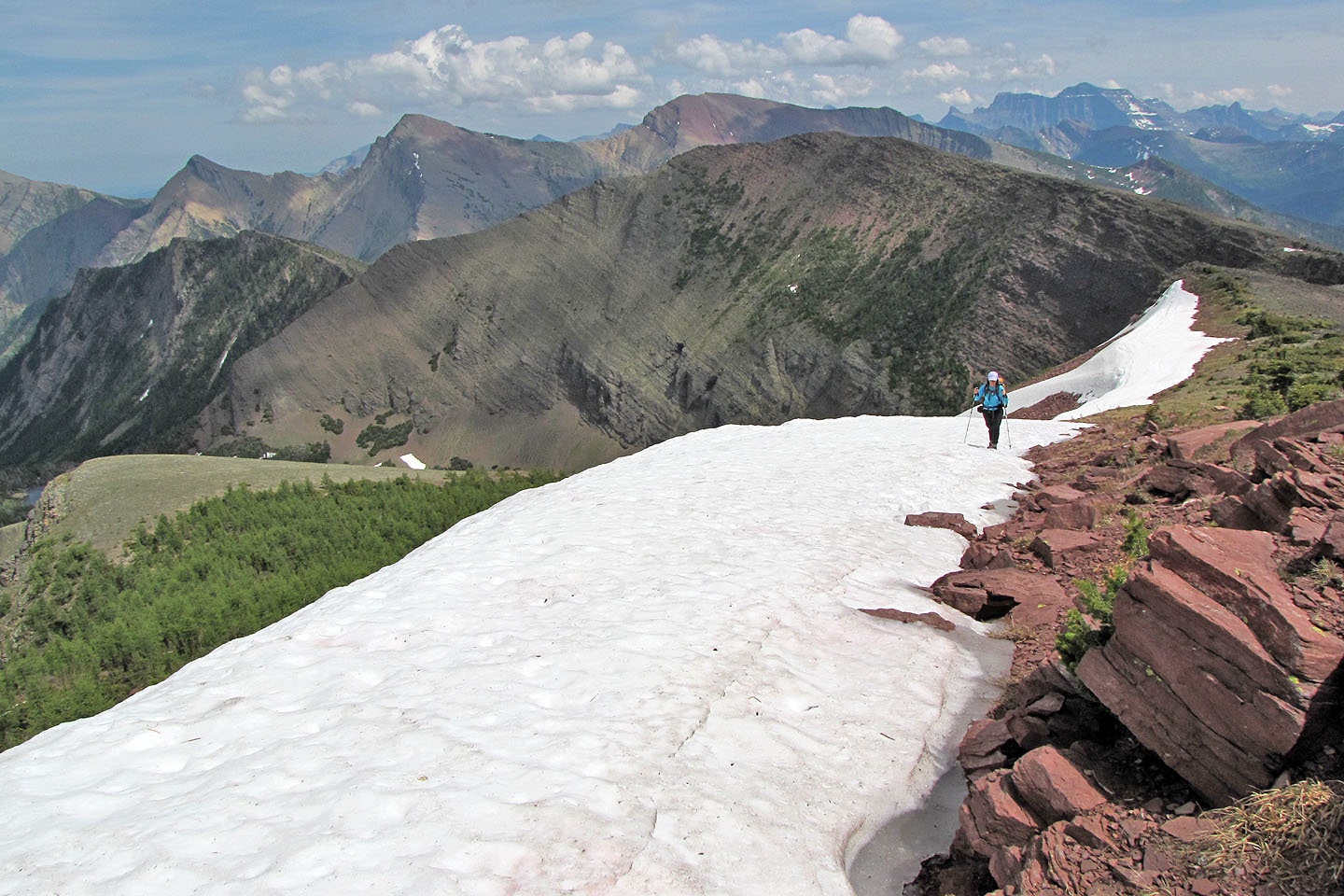 Cruising on firm snow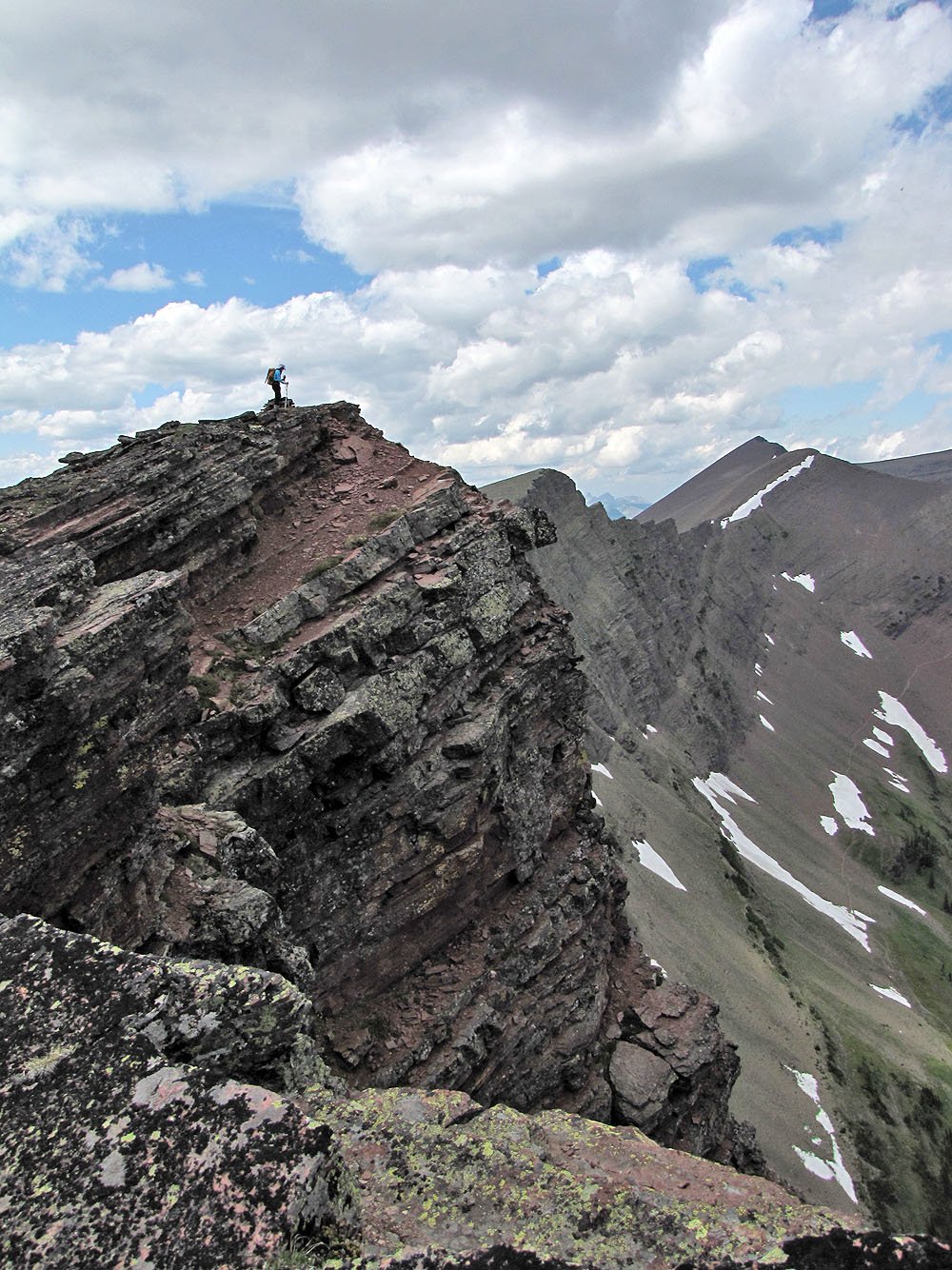 Dinah on the high point. Mount Festubert on the right.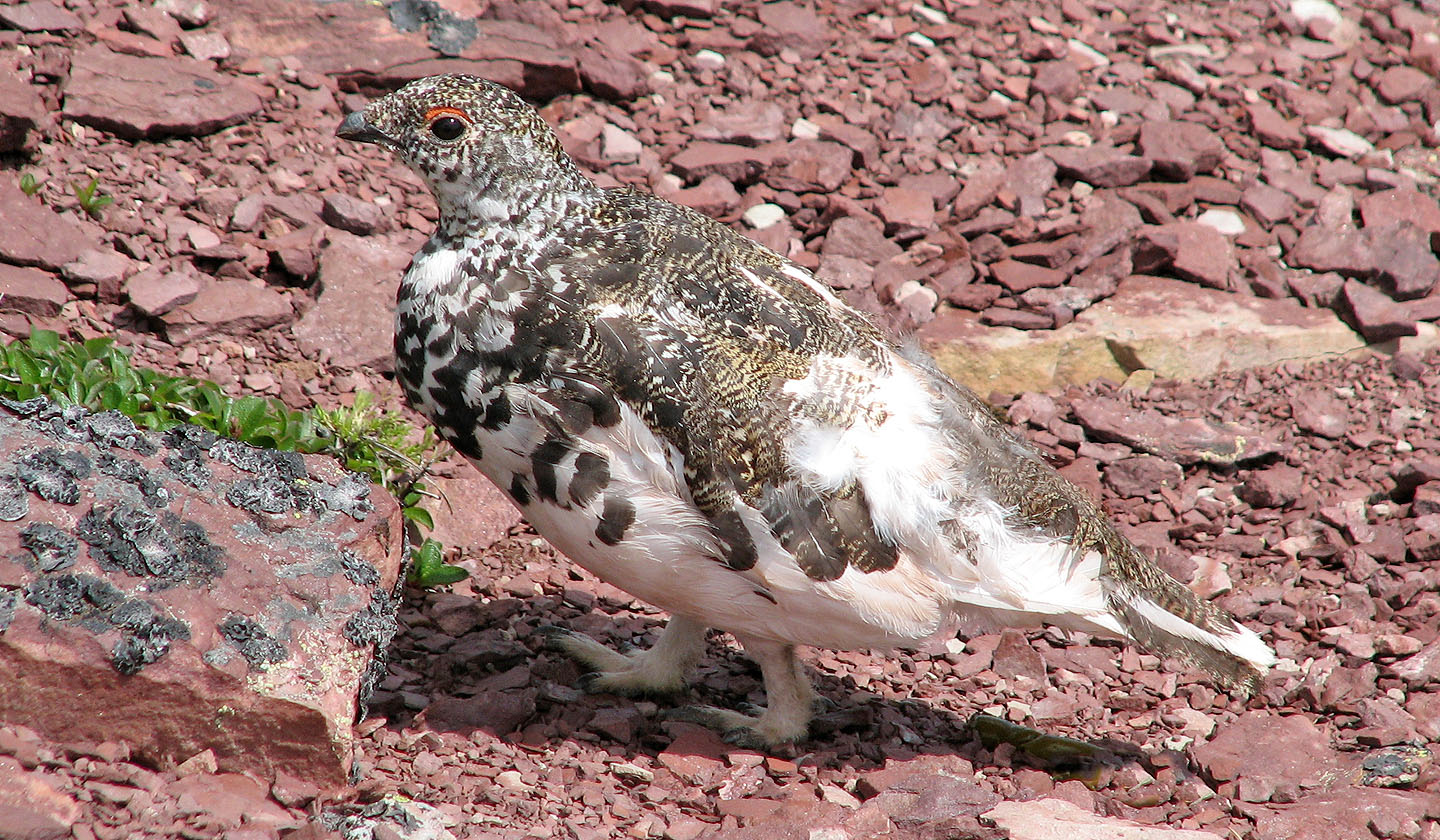 Ptarmigan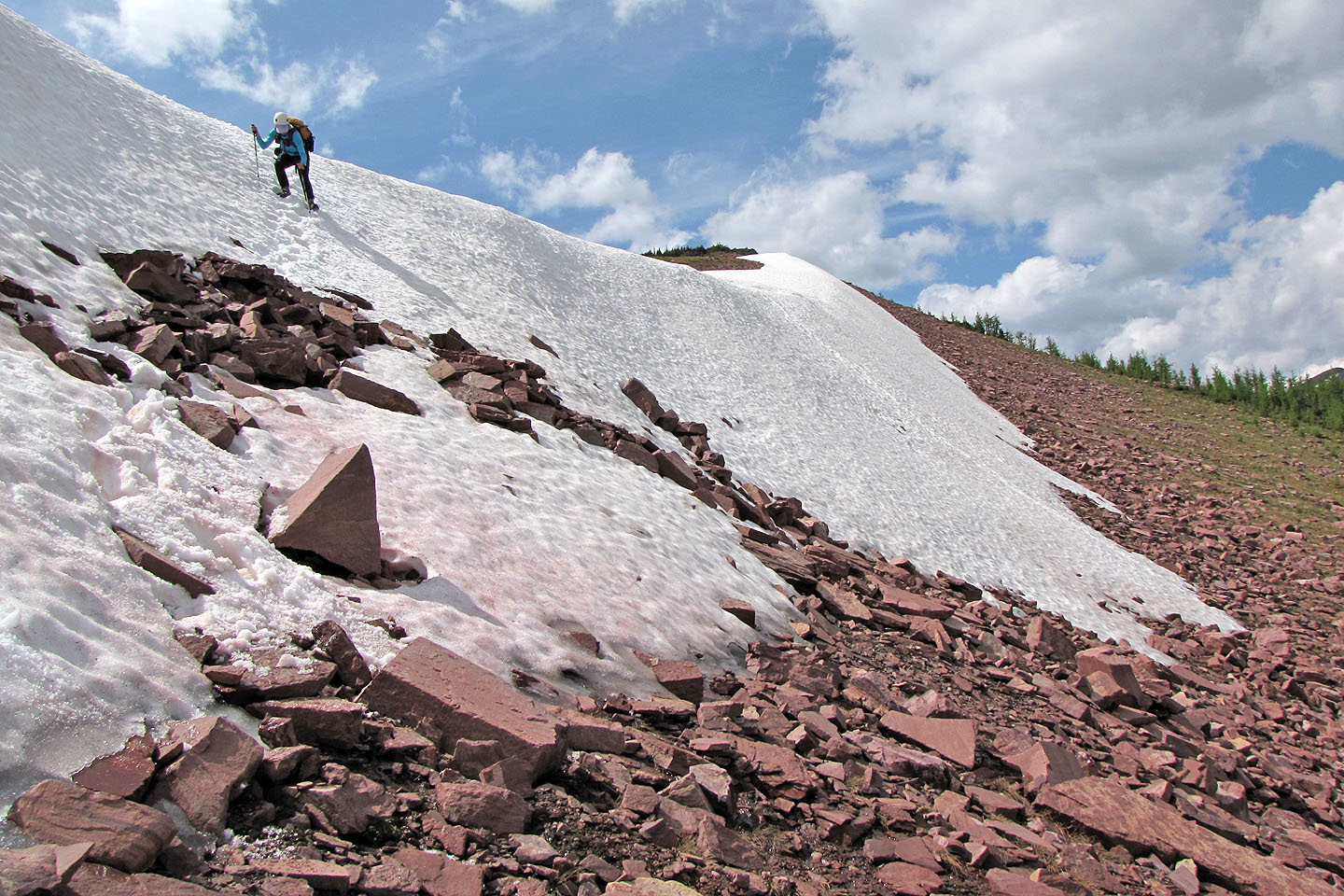 We descended on snow as we headed to the lakes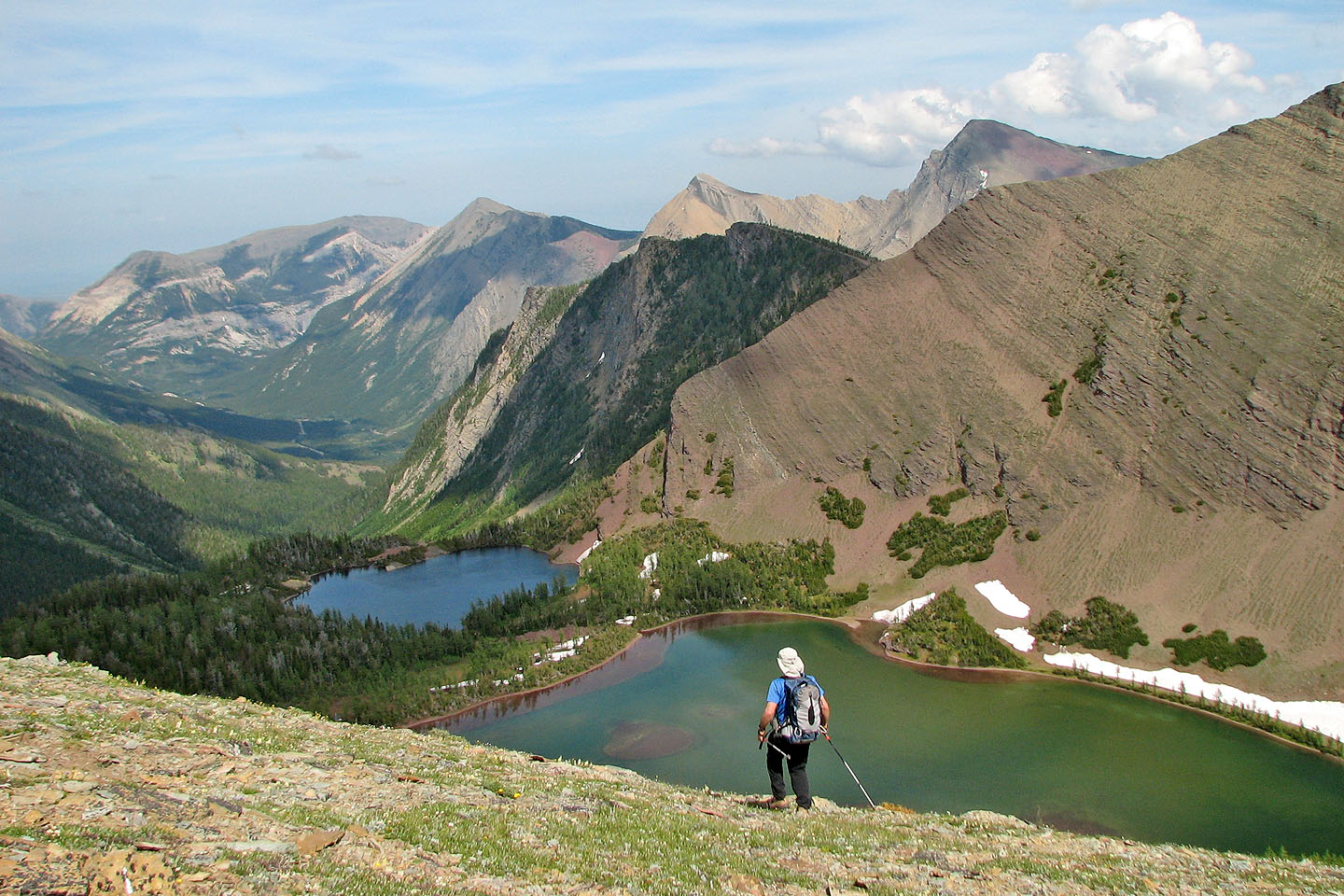 Upper Rowe Lakes: the trail is at the far end of the lake below us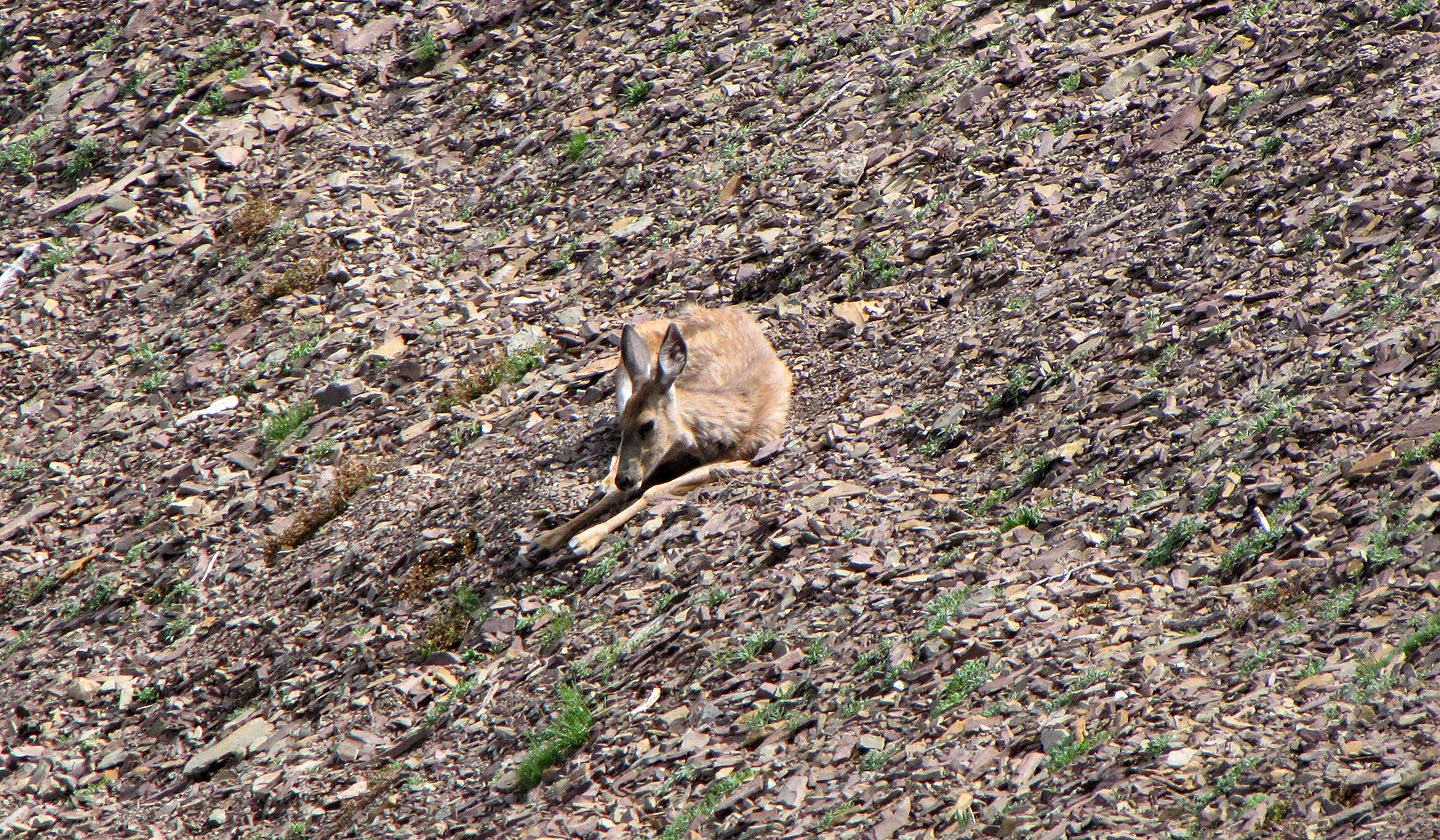 A deer reposes on the trail but soon gets up (mouse over)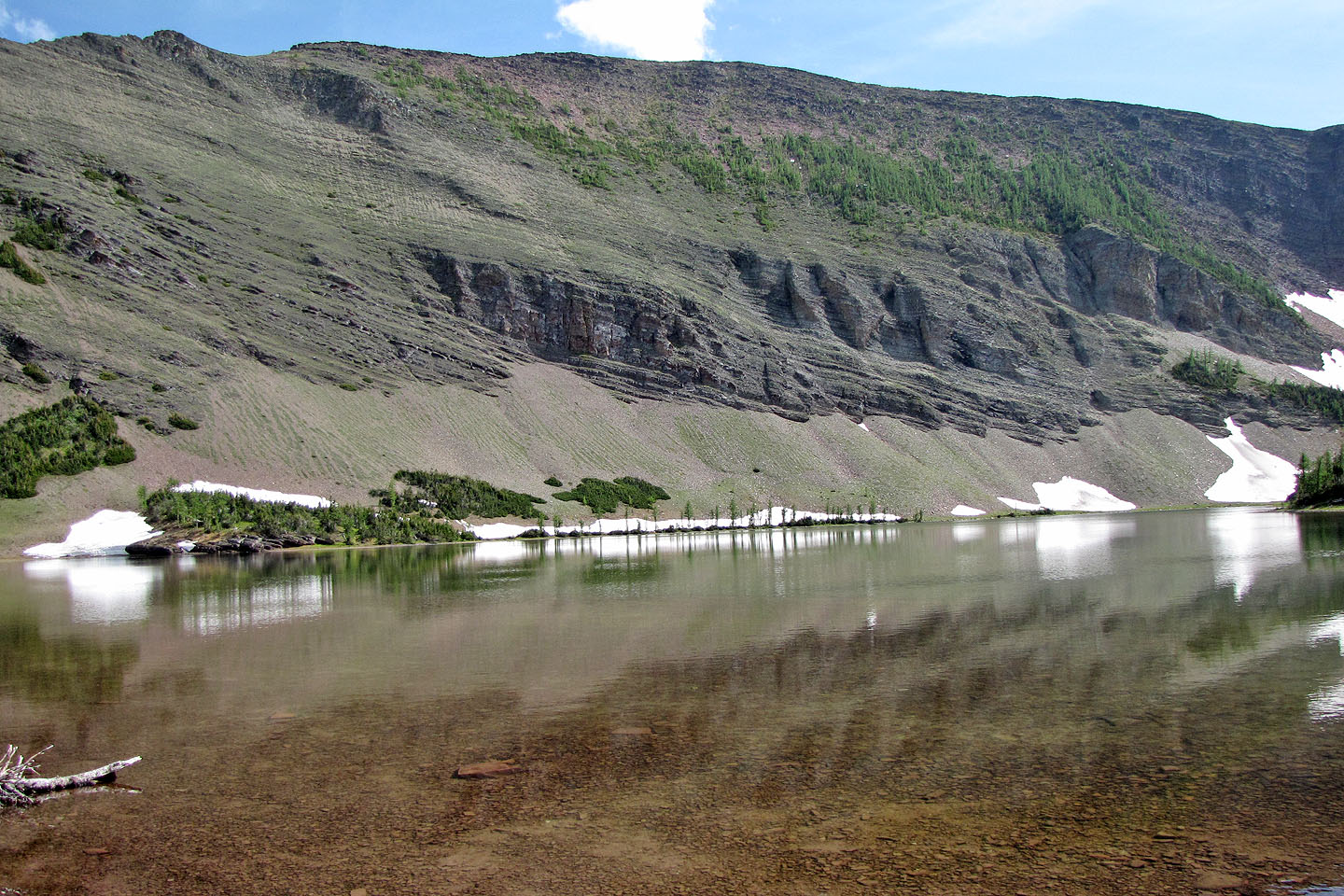 Upper Rowe Lake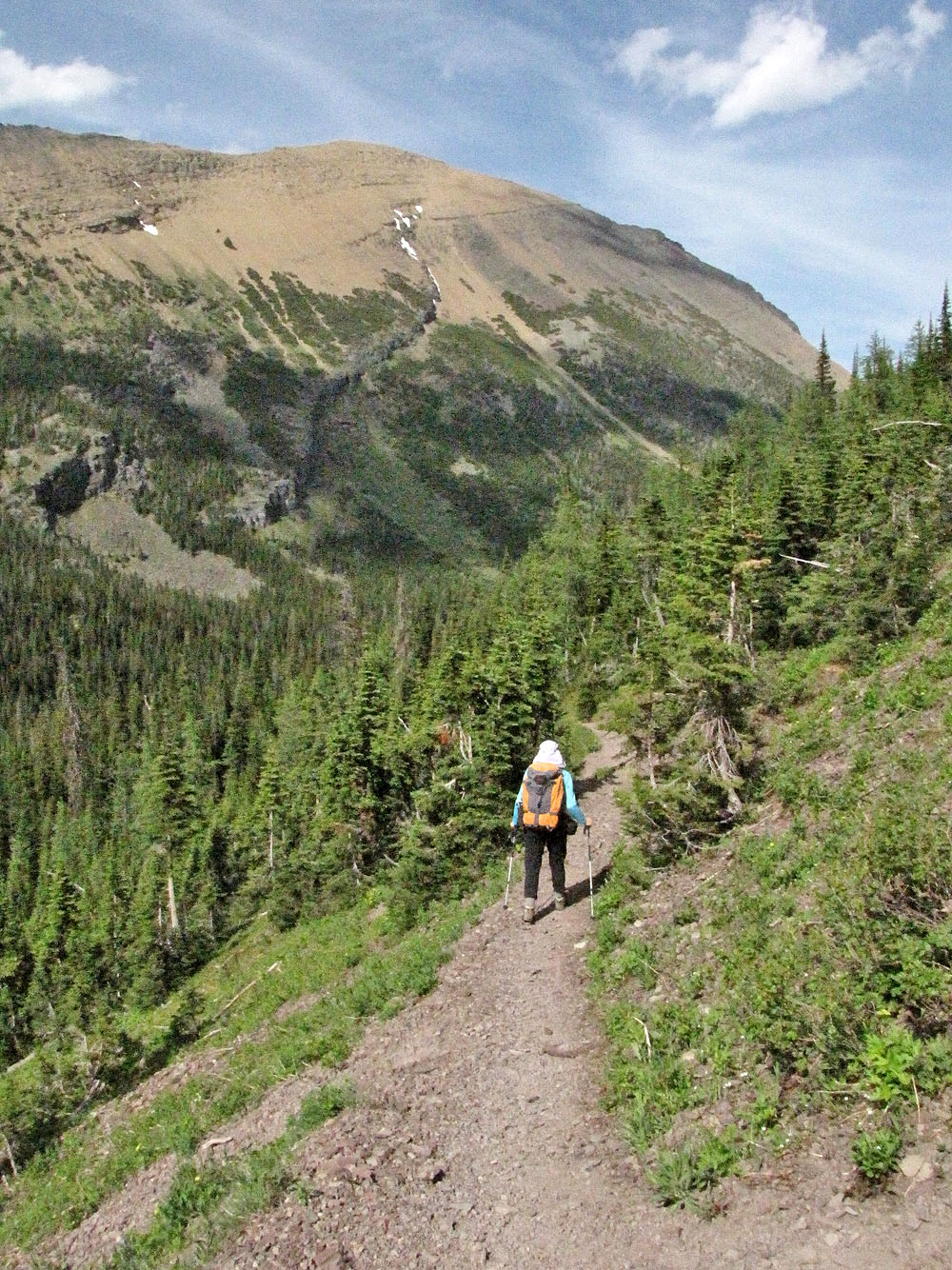 Heading down the trail, Mount Lineham fills the view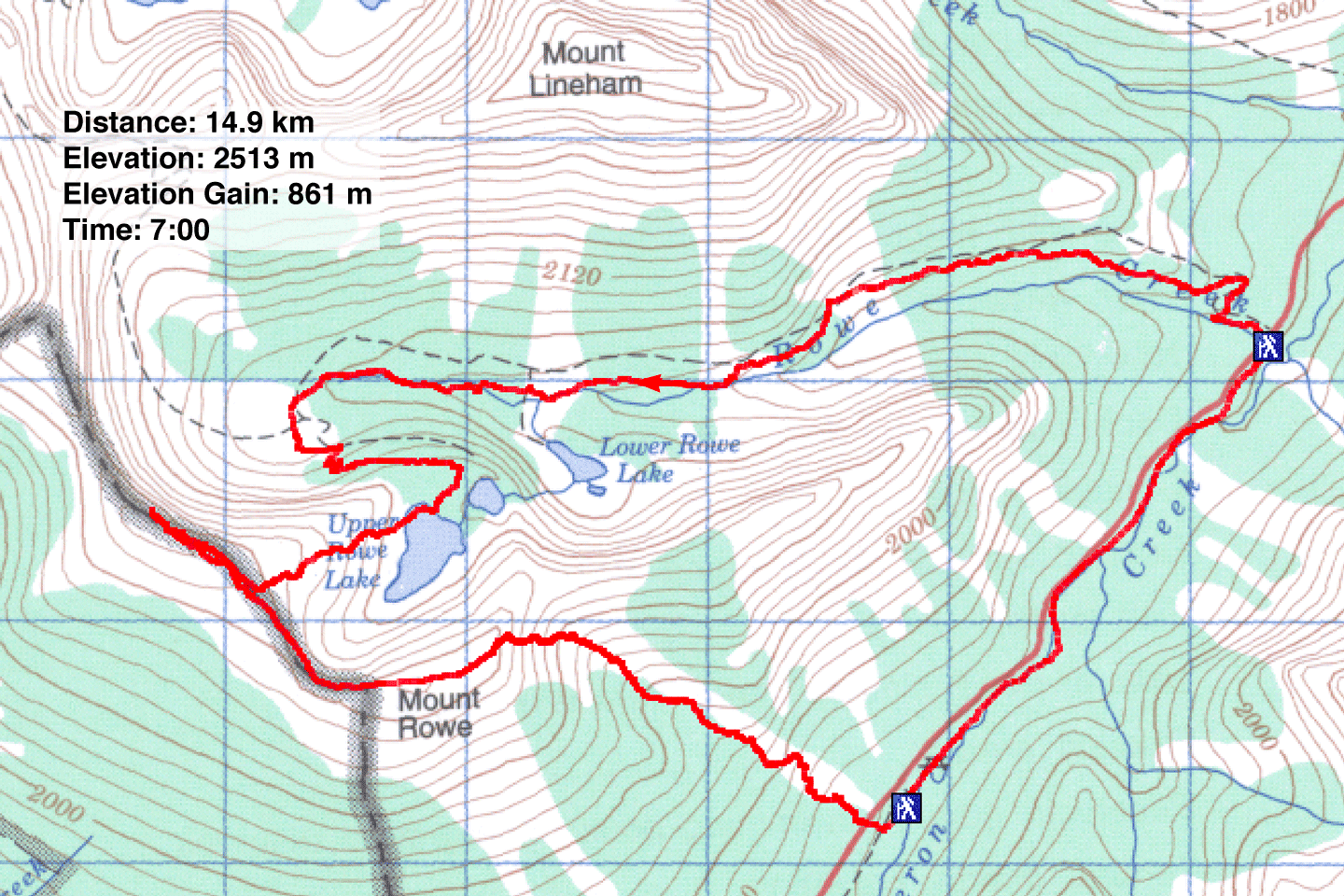 82 G/1 Sage Creek