View from Akamina Ridge
Akamina Ridge II and Forum Peak
Waterton, Alberta
September 1, 2012
Eight years ago, after a rainy, miserable traverse of Akamina Ridge, Dinah and I vowed to come back to better appreciate the vibrant colours of the ridge under blue skies. We returned not only to climb Akamina but also to knock off Forum Peak. And instead of Kane's scramble route, we used the popular trail that begins at Forum Lake. To reach the lake we followed the well-signed Akamina Pass Trail. From the lake, an excellent trail threads west through the trees to a saddle on a spur. This spur, in turn, rises to meet Akamina Ridge.
On the saddle we ran into another climber. Before we could introduce ourselves, however, he hastened up the trail, although he frequently stopped to check back on Dinah and I. From the saddle he followed the trail that traversed below cliffs before sheering off and up a steep slope. Racing up ahead of us, he was not only as agile as a mountain goat, he was a mountain goat! He wasn't leading us, but in fact fleeing. And he succeeded. He left the trail and disappeared over the side of the ridge.
Fortunately the trail was so obvious we didn't need a mountain goat to guide us. Winding up through minor cliff bands and trees, the trail, braided in spots, clung close to the crest until it disappeared onto the broad, open spur leading to Akamina Ridge. The summit of Akamina was on our right, but Forum Peak was left and we would climb it first.
We were one of several groups streaming up Akamina that day (I should've known better to come to Waterton on the Labour Day weekend), but when we veered off the popular route, we found solitude: no one else wanted to climb Forum Peak.
Now above the treeline, we should have been relishing the sight of mountain tops surrounding us, but instead we were hunched over, battling the infamous winds of Waterton. With the wind whipping our clothes, the summit of Forum Peak was no place to linger. We turned around to hike to Akamina's summit almost three klicks away. When we got on the Akamina Ridge trail, we overtook a few groups, some of which were unprepared for the cold wind. We passed one couple who kept sitting down to warm up. The girl enviously eyed my gloves and wished aloud they had brought some.
Despite the efforts of the wind to blast us off the ridge, Dinah and I made the summit. I took a panorama and then we hastened down the other side. The trail descended down red scree and then dropped into the forest to Wall Lake, a tranquil setting for a break before the five-km hike back to the trailhead.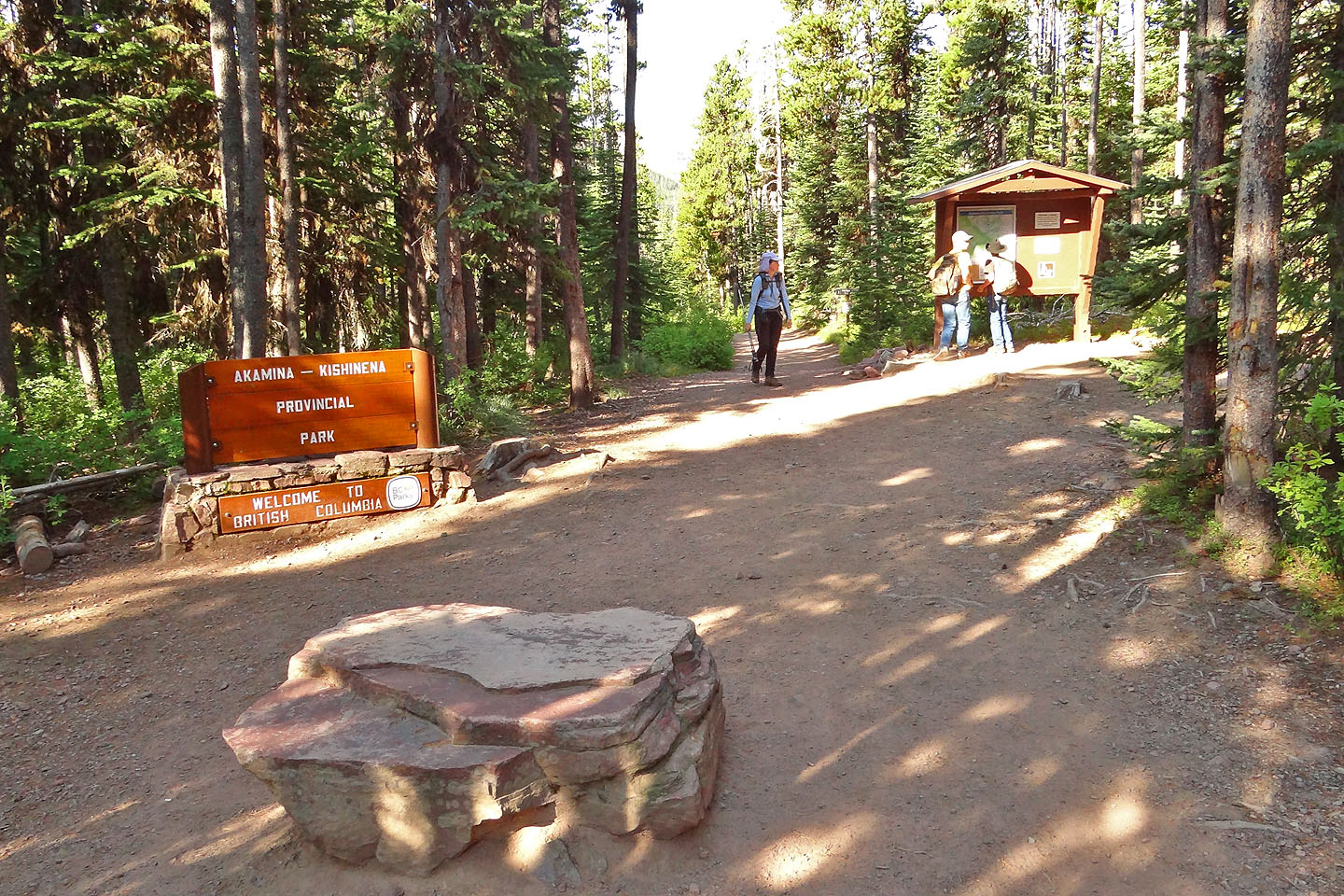 Akamina Pass: a cutline left of the photo is more direct, but we took the trail to Forum Lake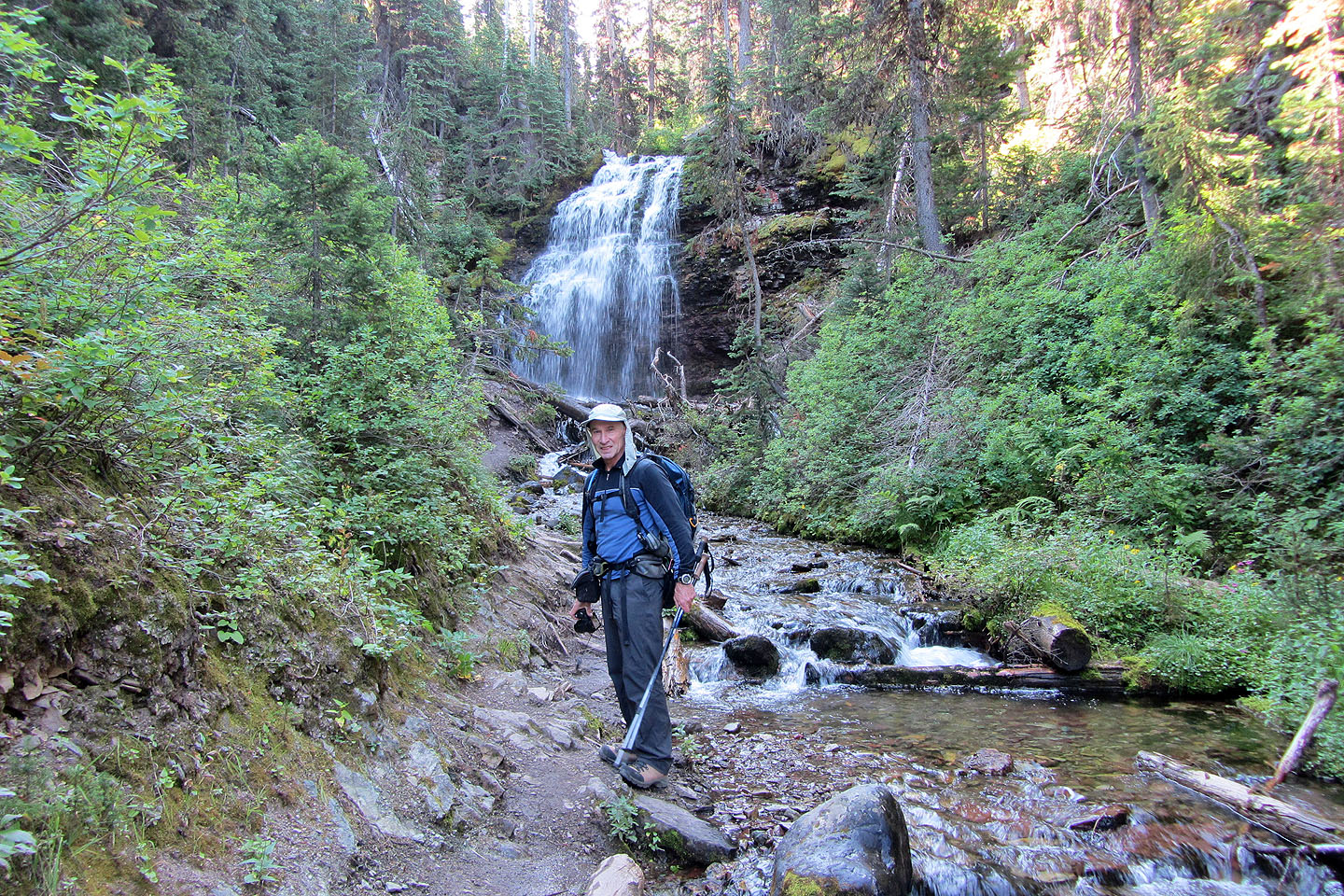 En route to Forum Lake we stopped at Forum Waterfall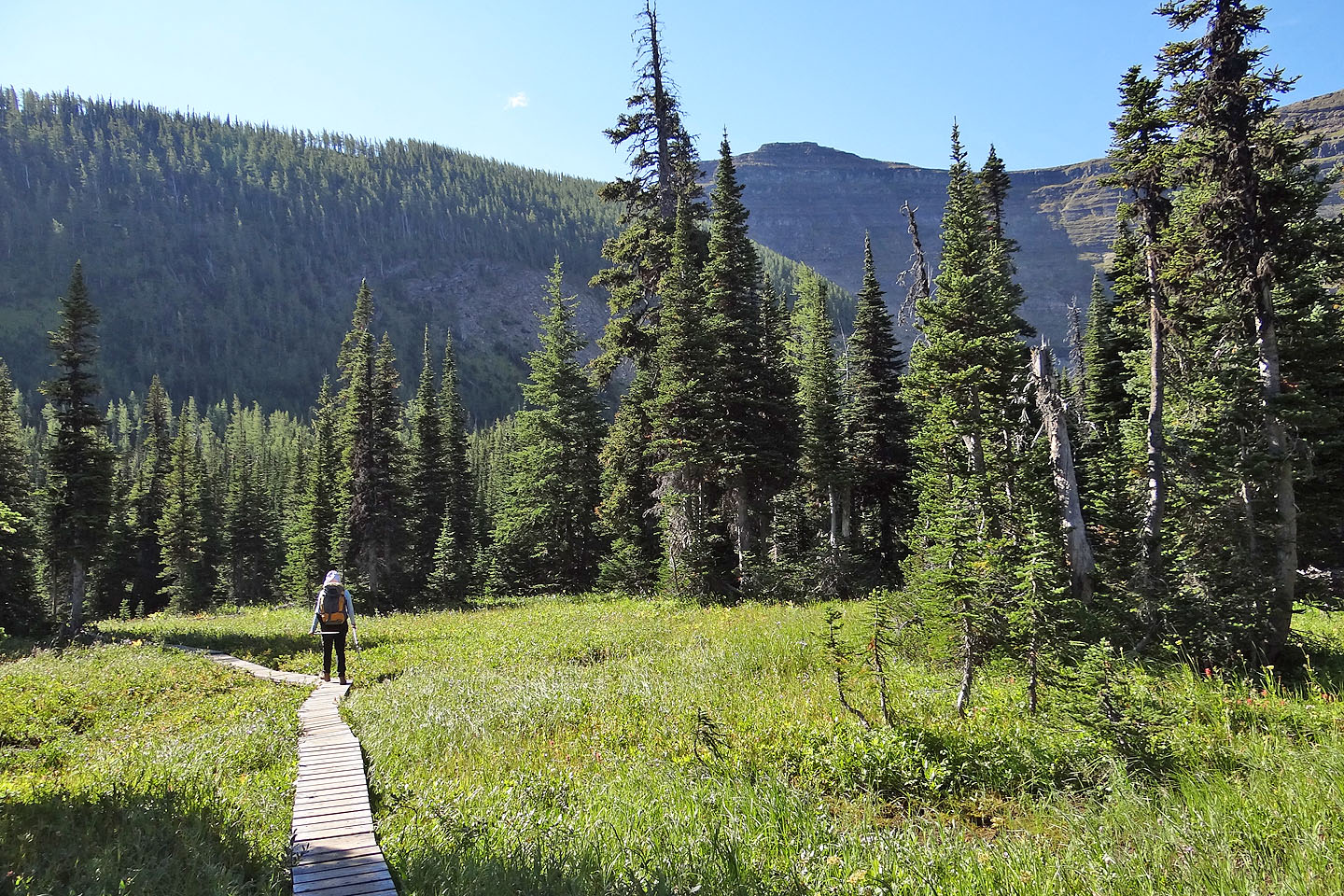 I was surprised to see a boardwalk before the lake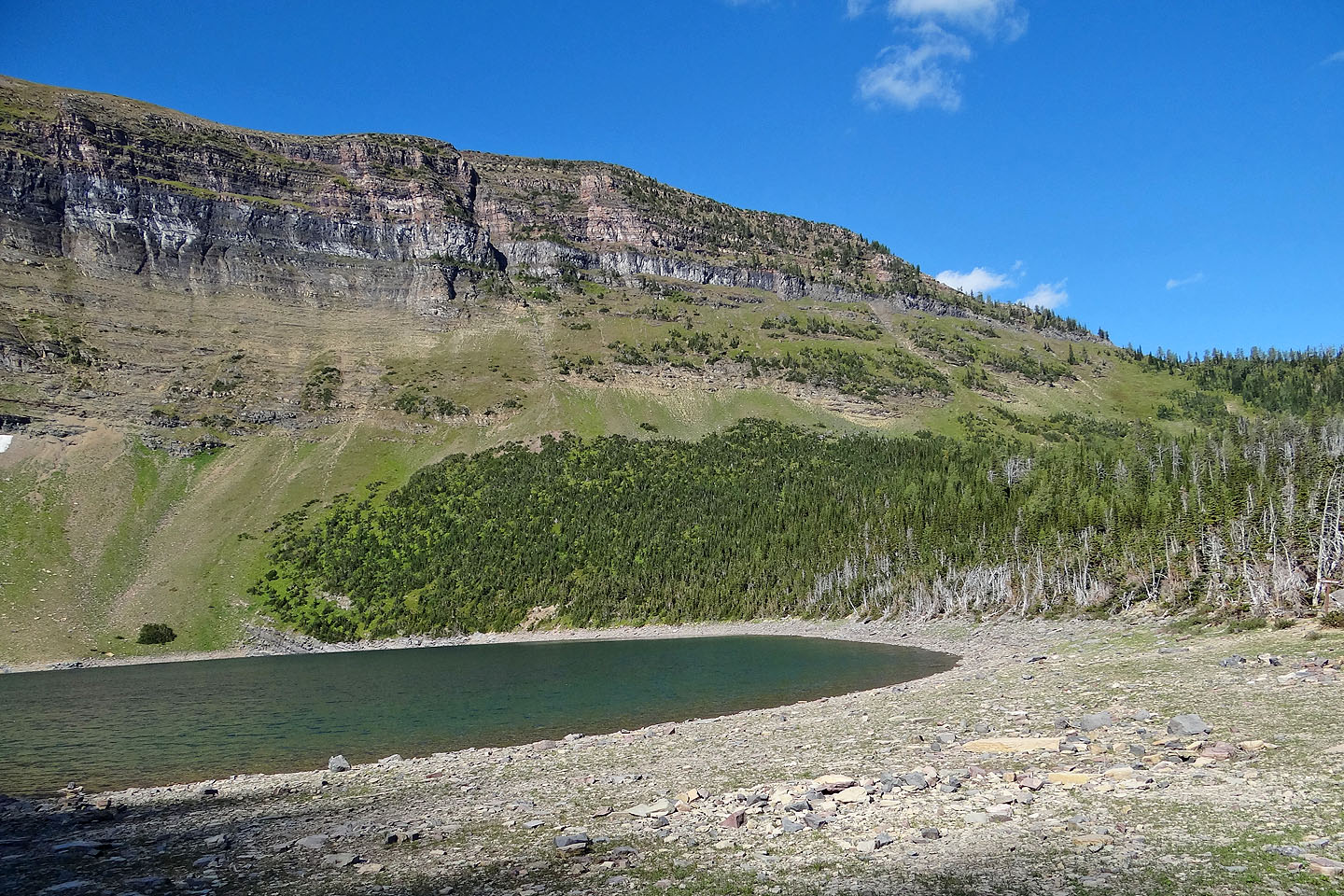 Forum Lake: the trail begins in the trees, climbs to the saddle and follows the ridgeline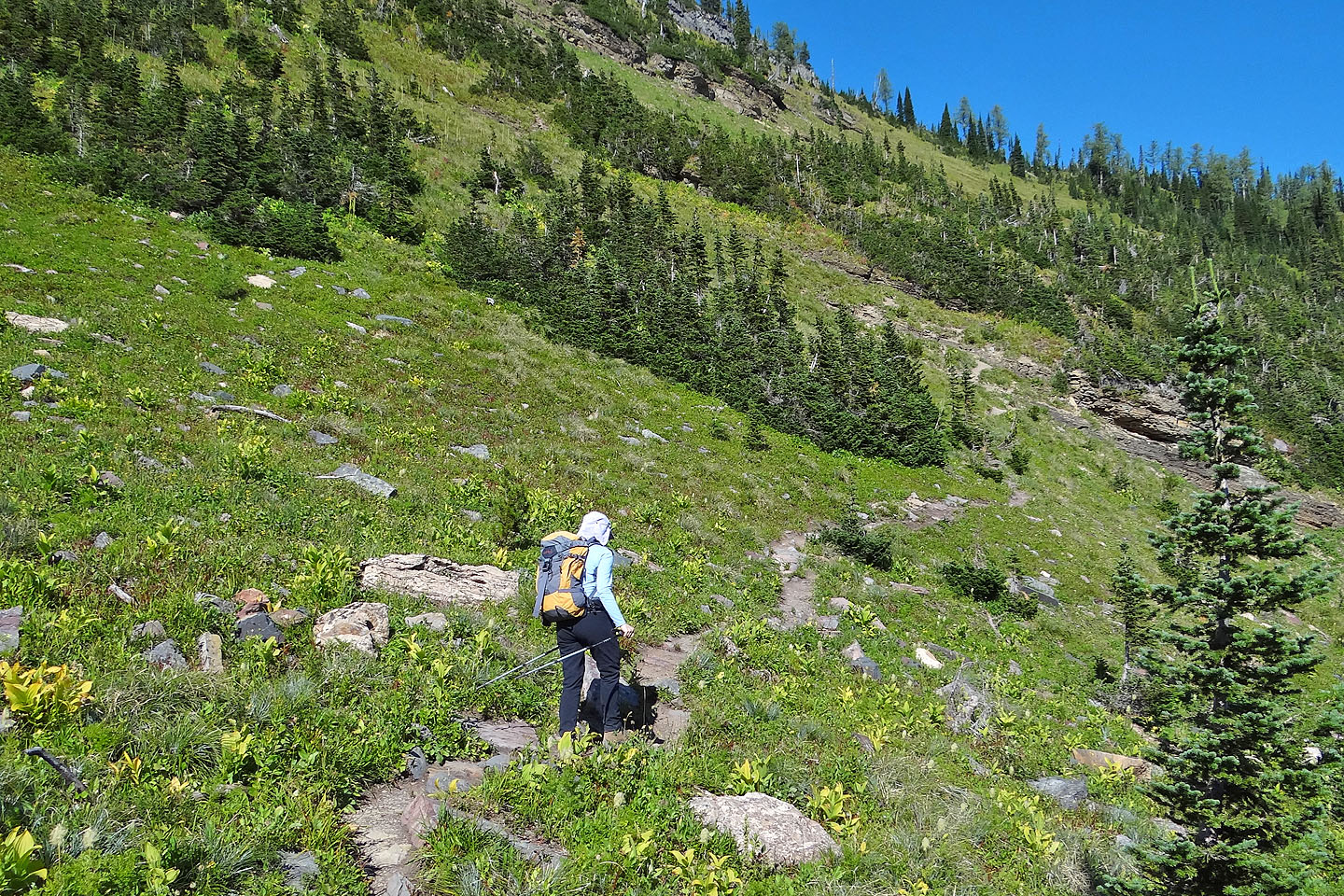 Heading to the saddle. Switchbacks soon begin after this (mouse over to look back)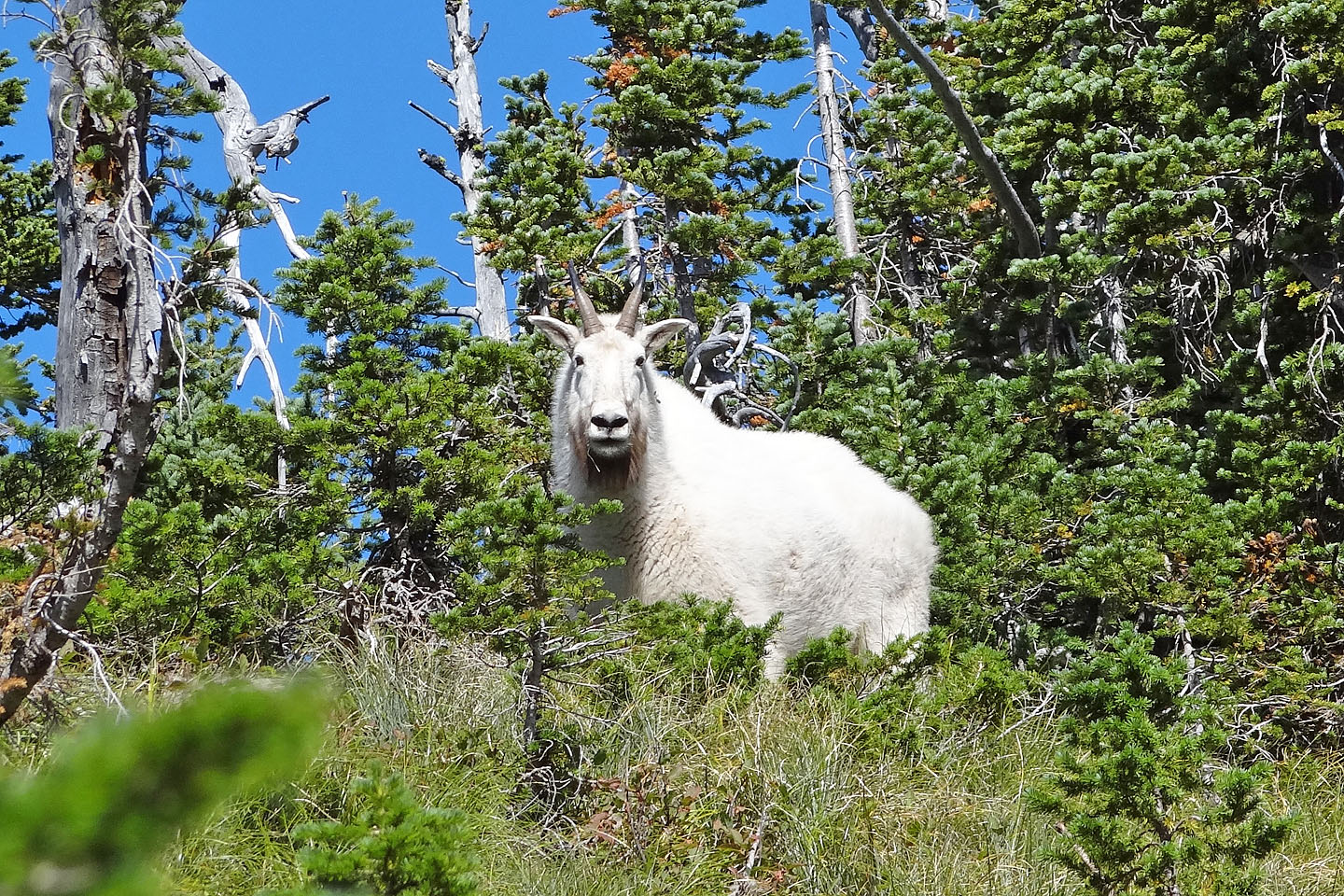 A mountain goat greeted us on the saddle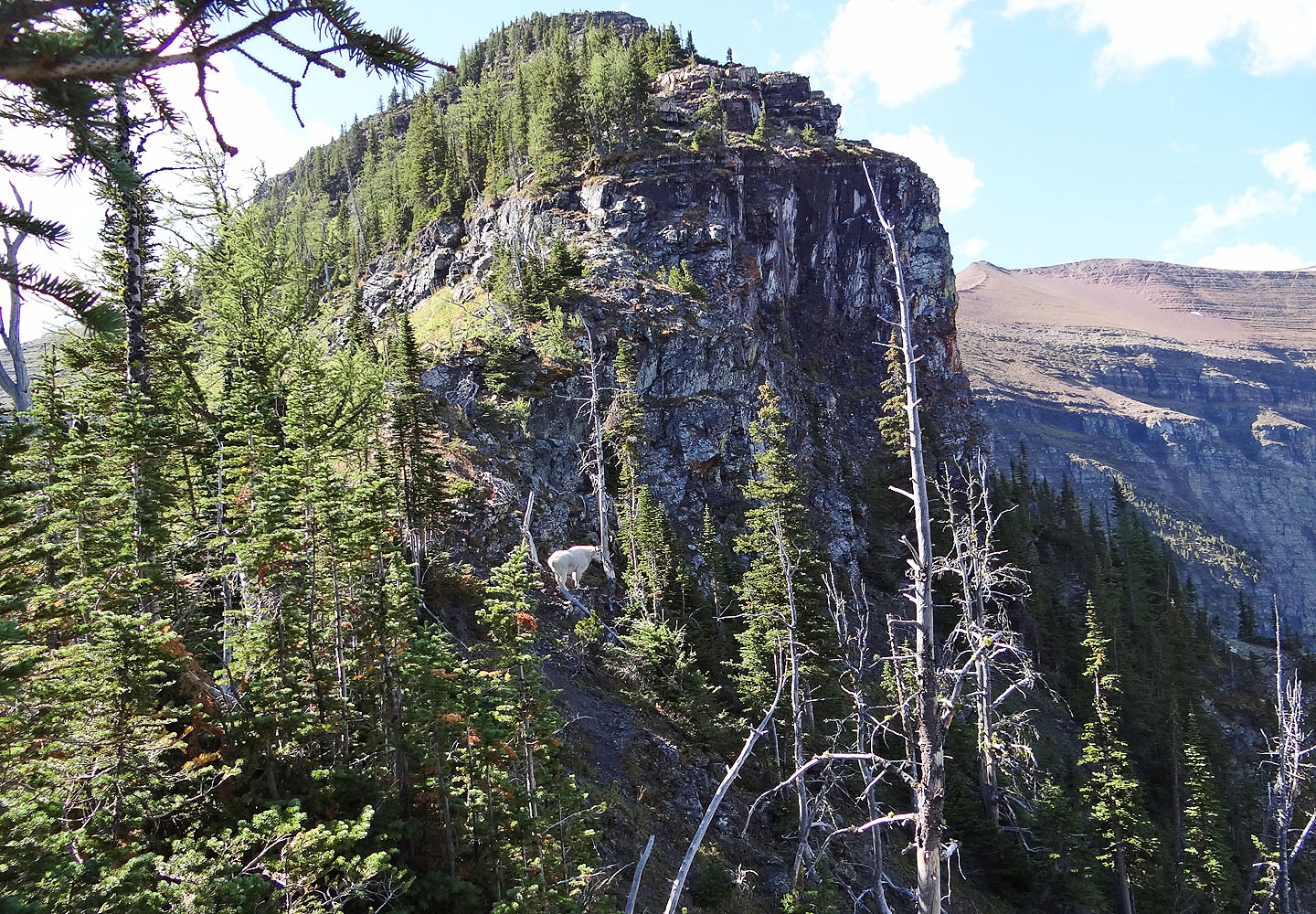 From the saddle the trail traverses the open slopes left before rising steeply among rocks
(mouse over for another close-up of the goat)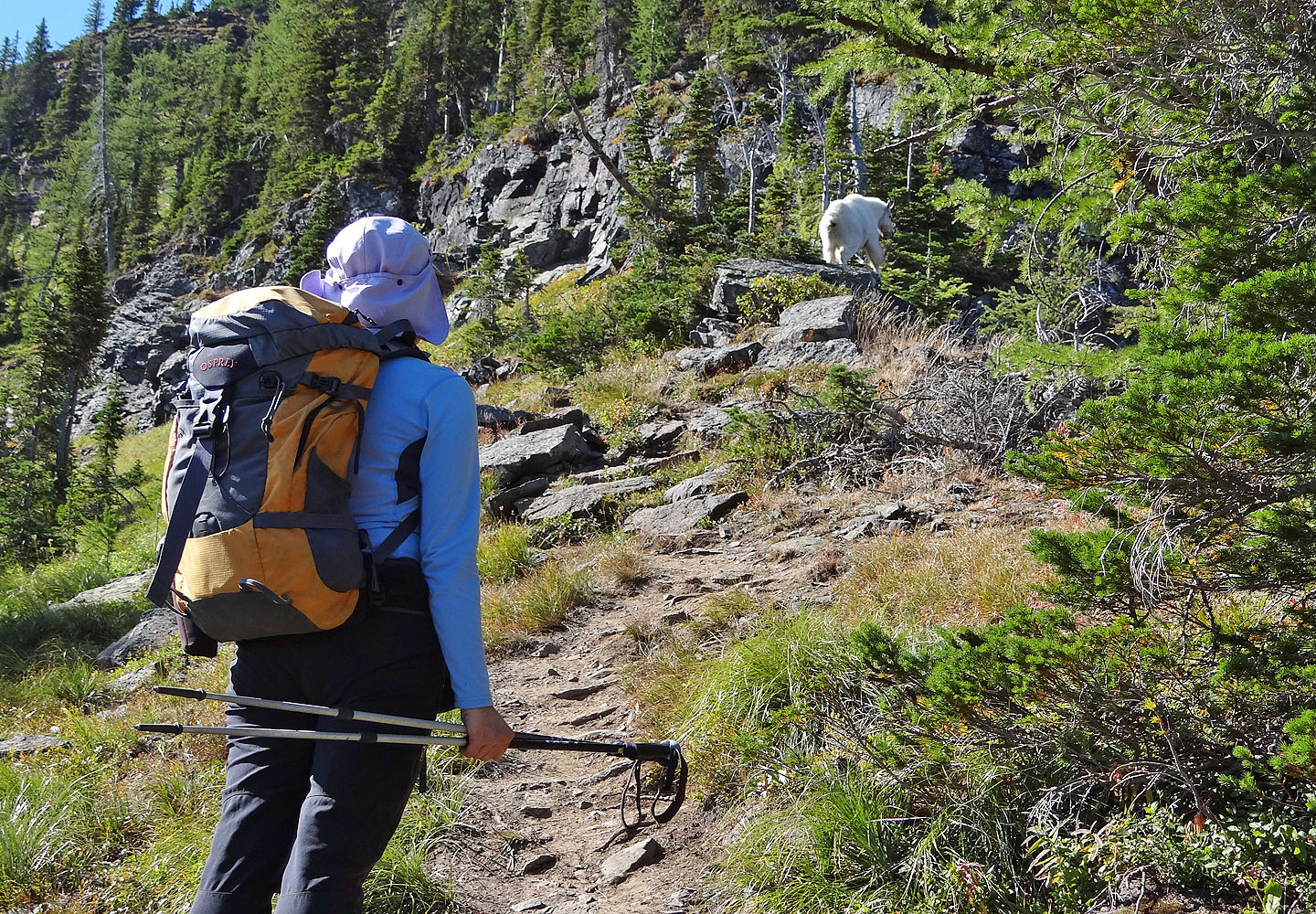 We followed the goat up the trail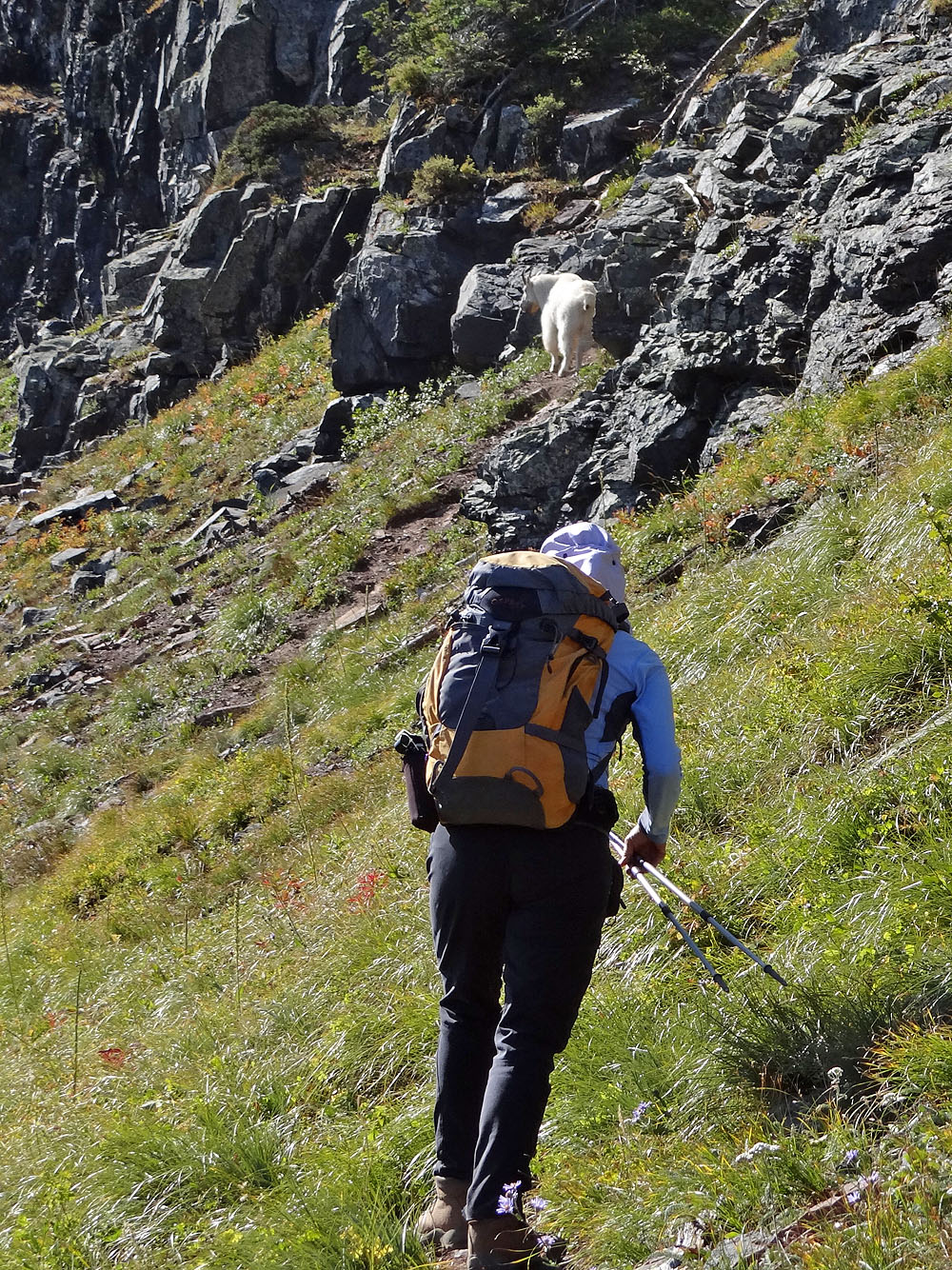 The trail turns and begins to climb steeply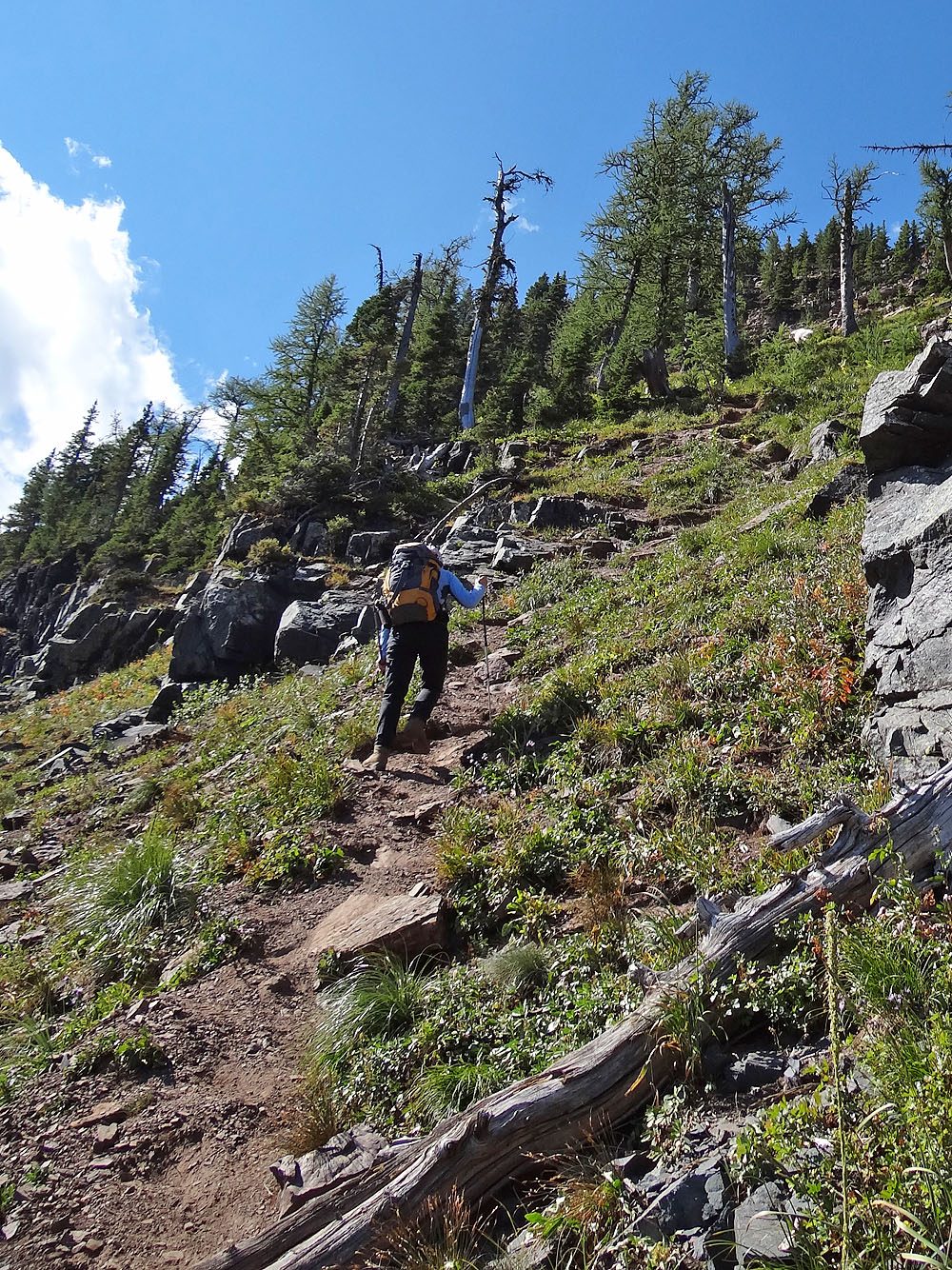 The goat quickly outdistances us on the steep trail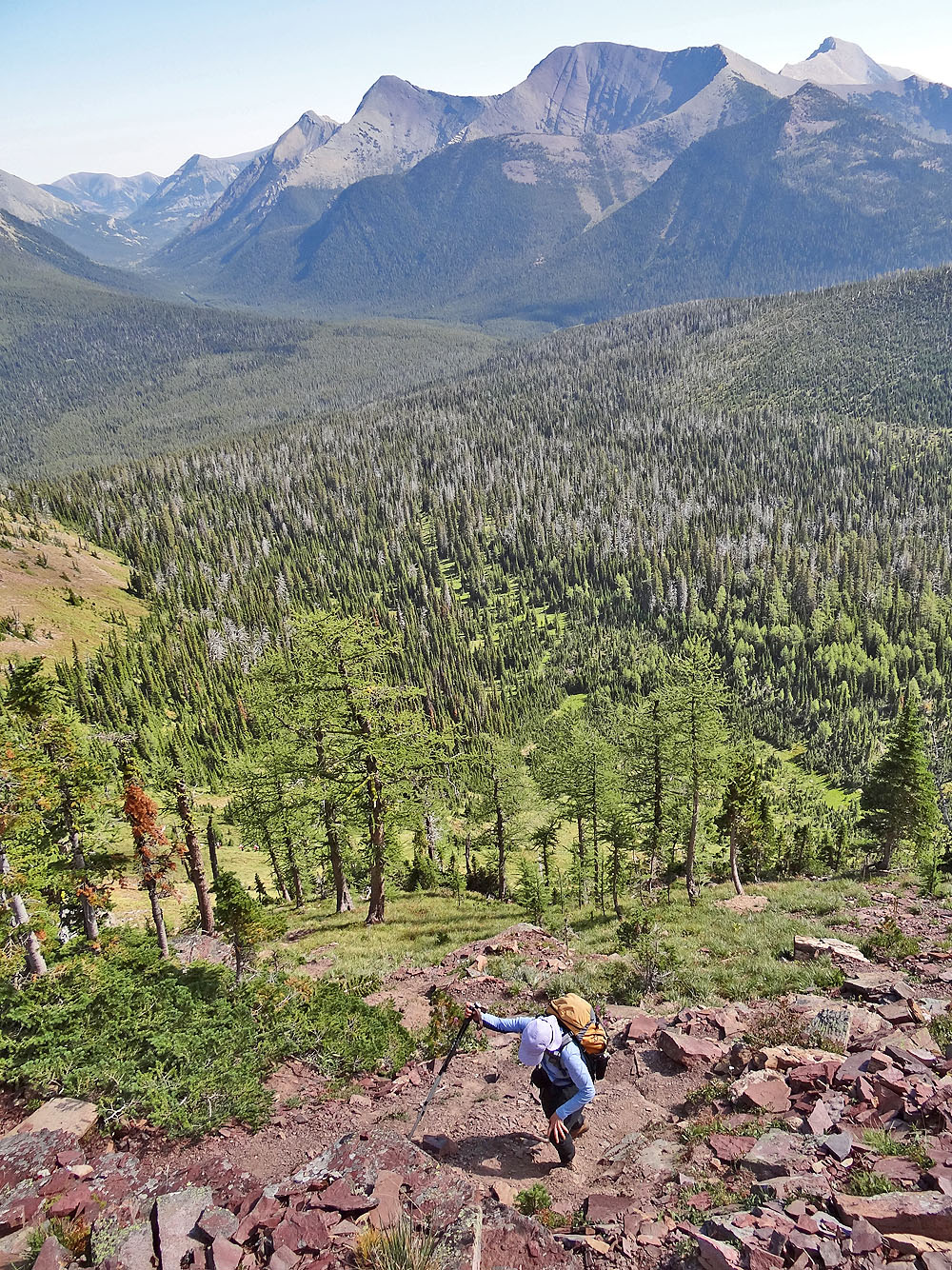 We reach the base of the cliff bands

Dinah scrambles up one of several cliff bands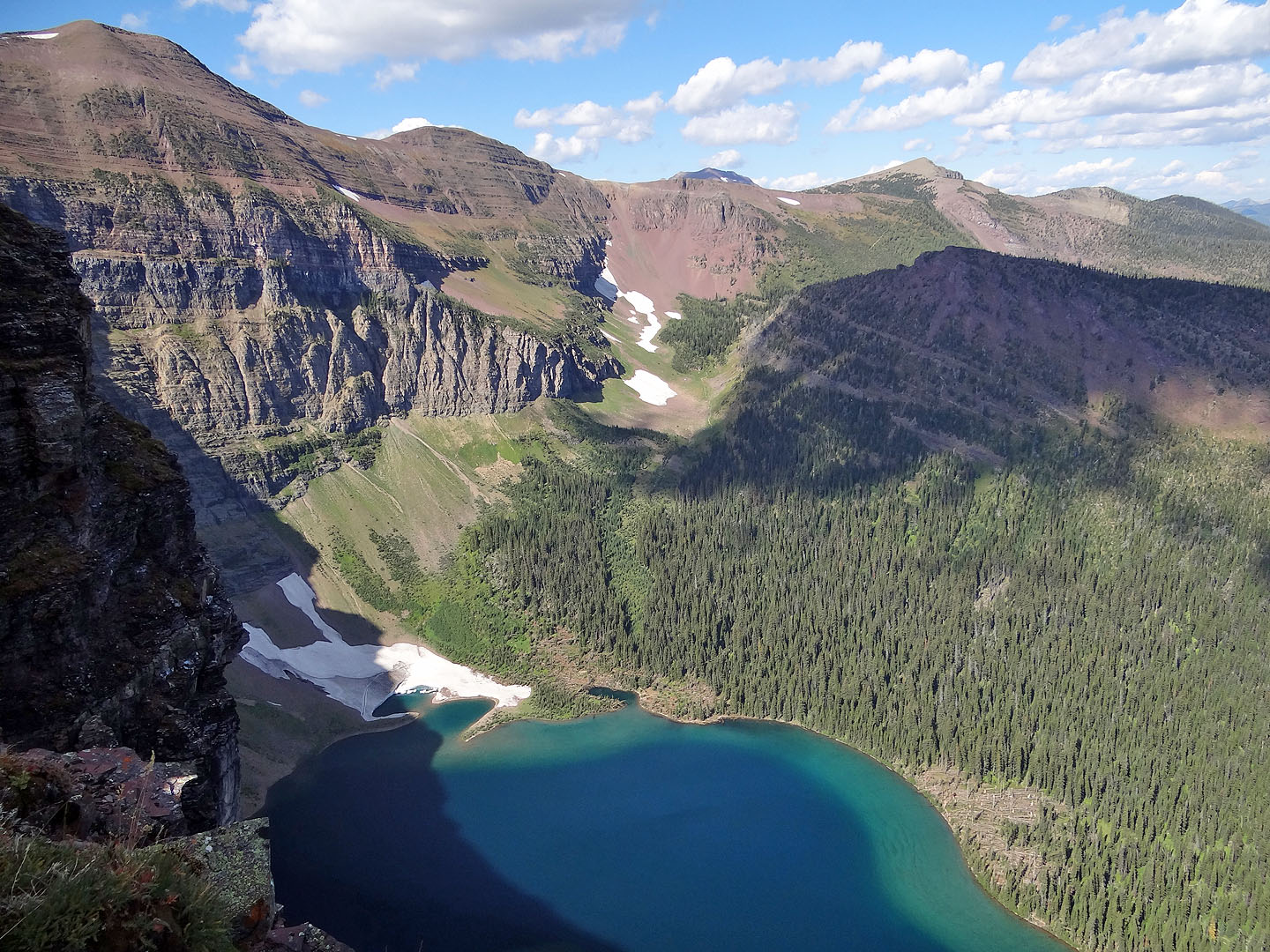 The summit of Akamina towers above Wall Lake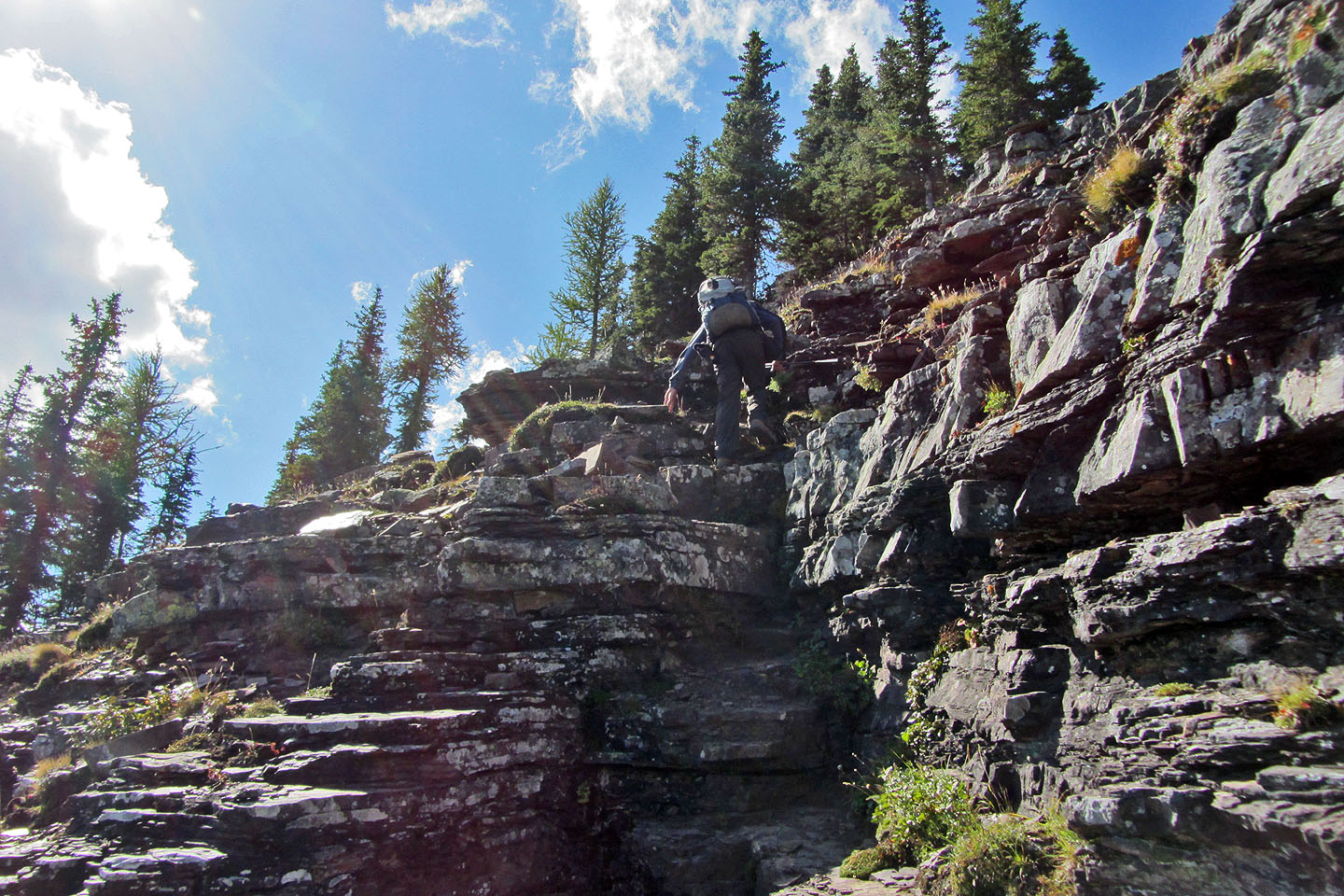 More easy scrambling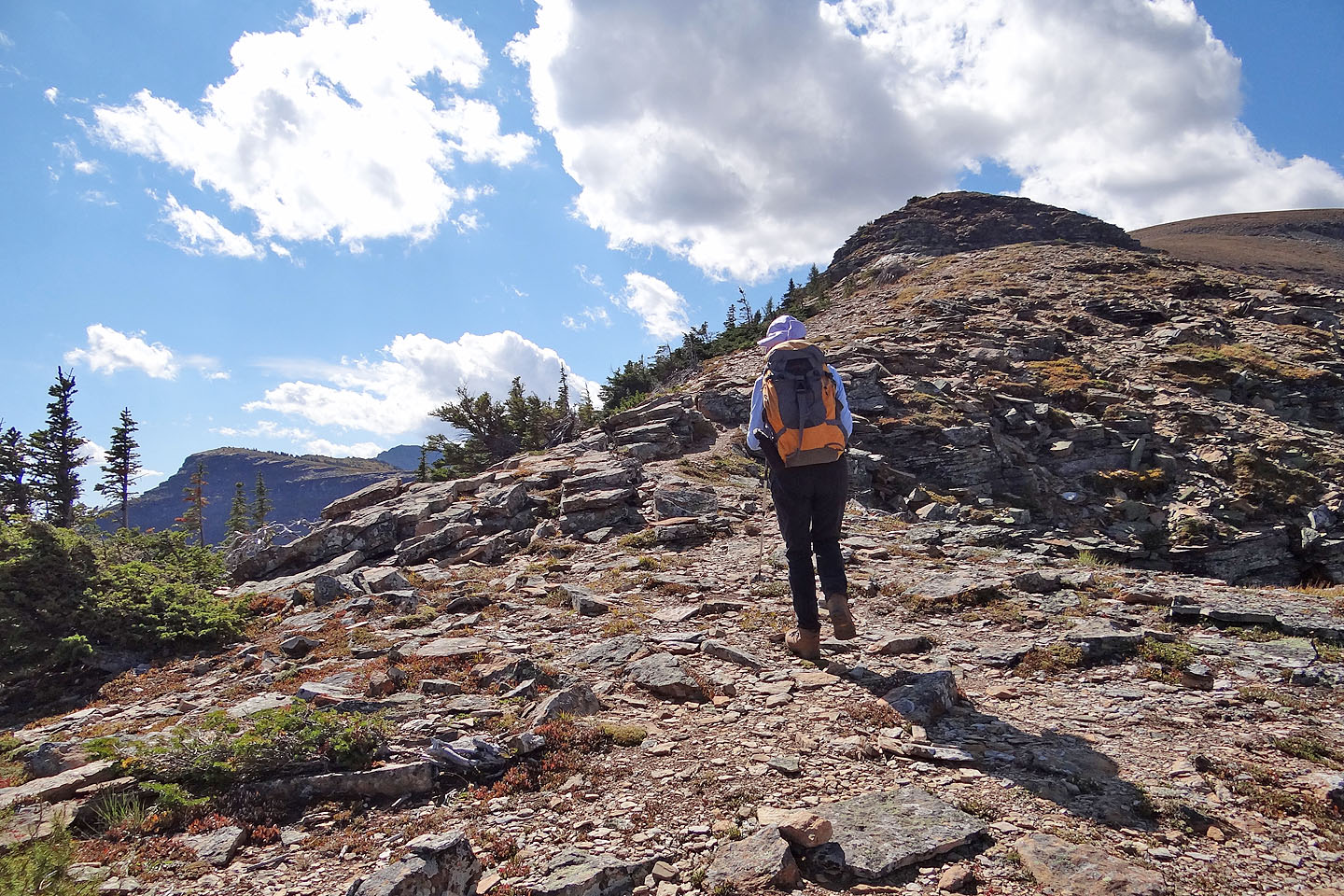 The grade eases and Forum Peak appears on our left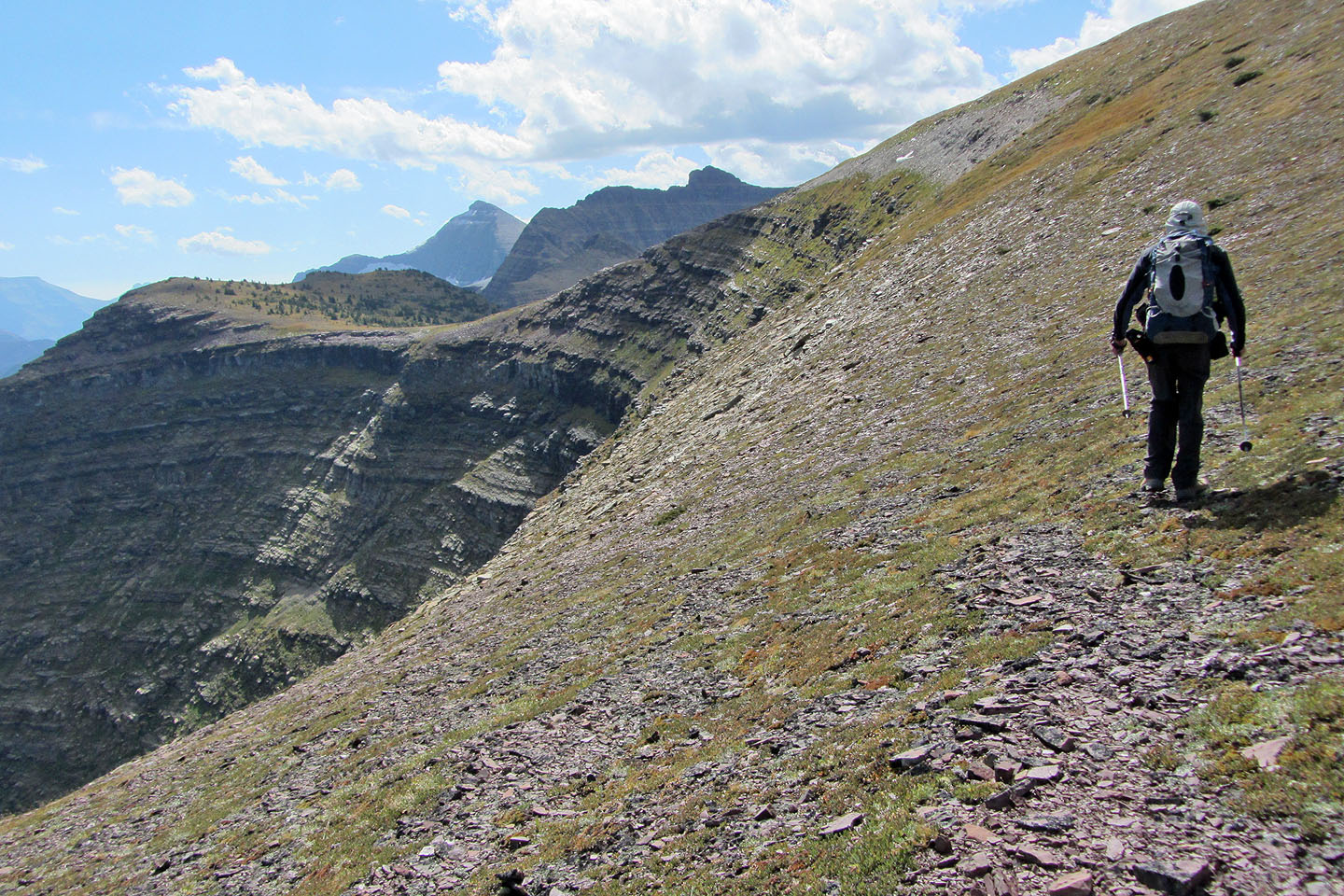 Before reaching Forum Peak we'll lose 50 m of elevation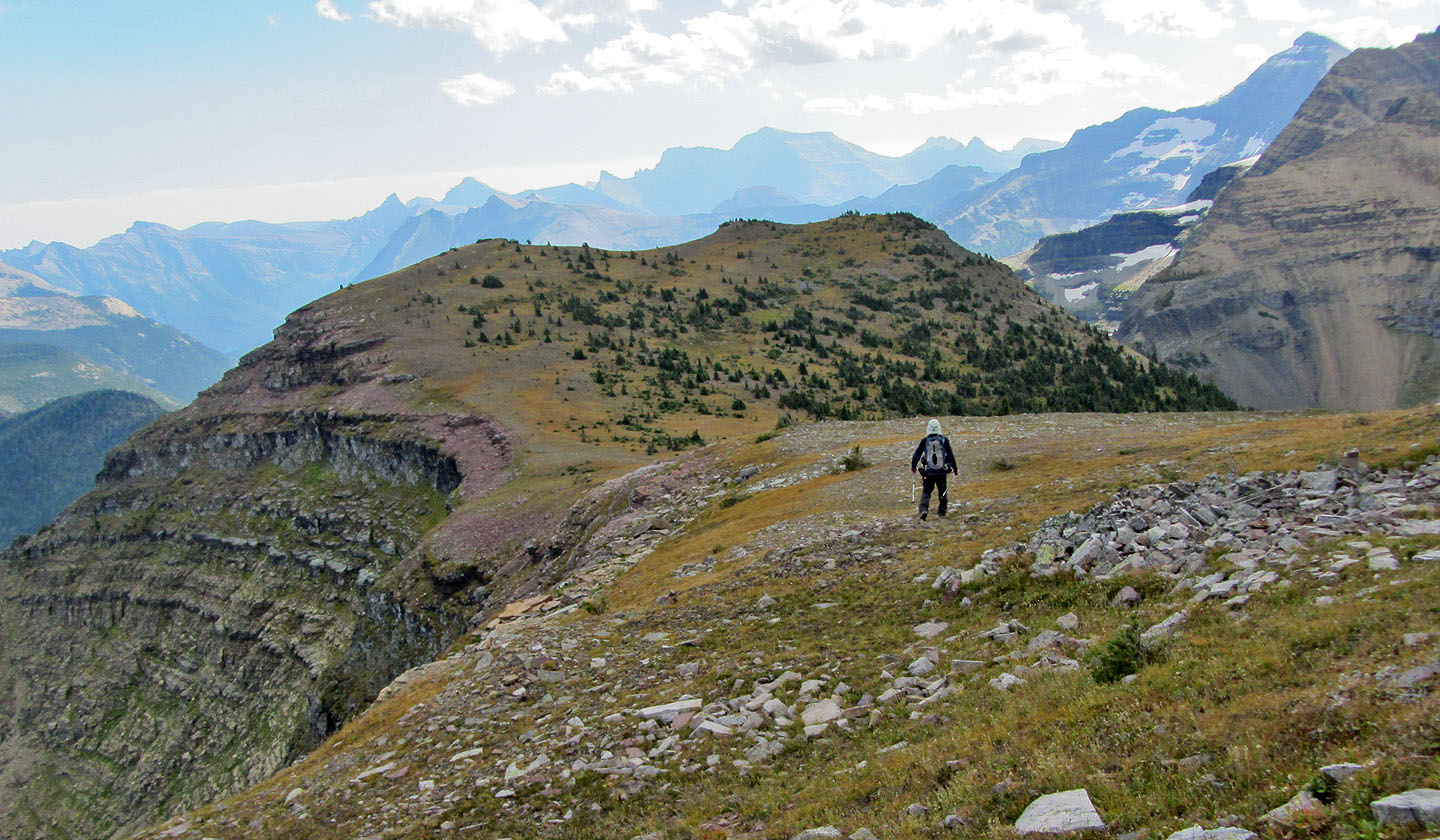 We went to the centre point first before realizing the summit was on the left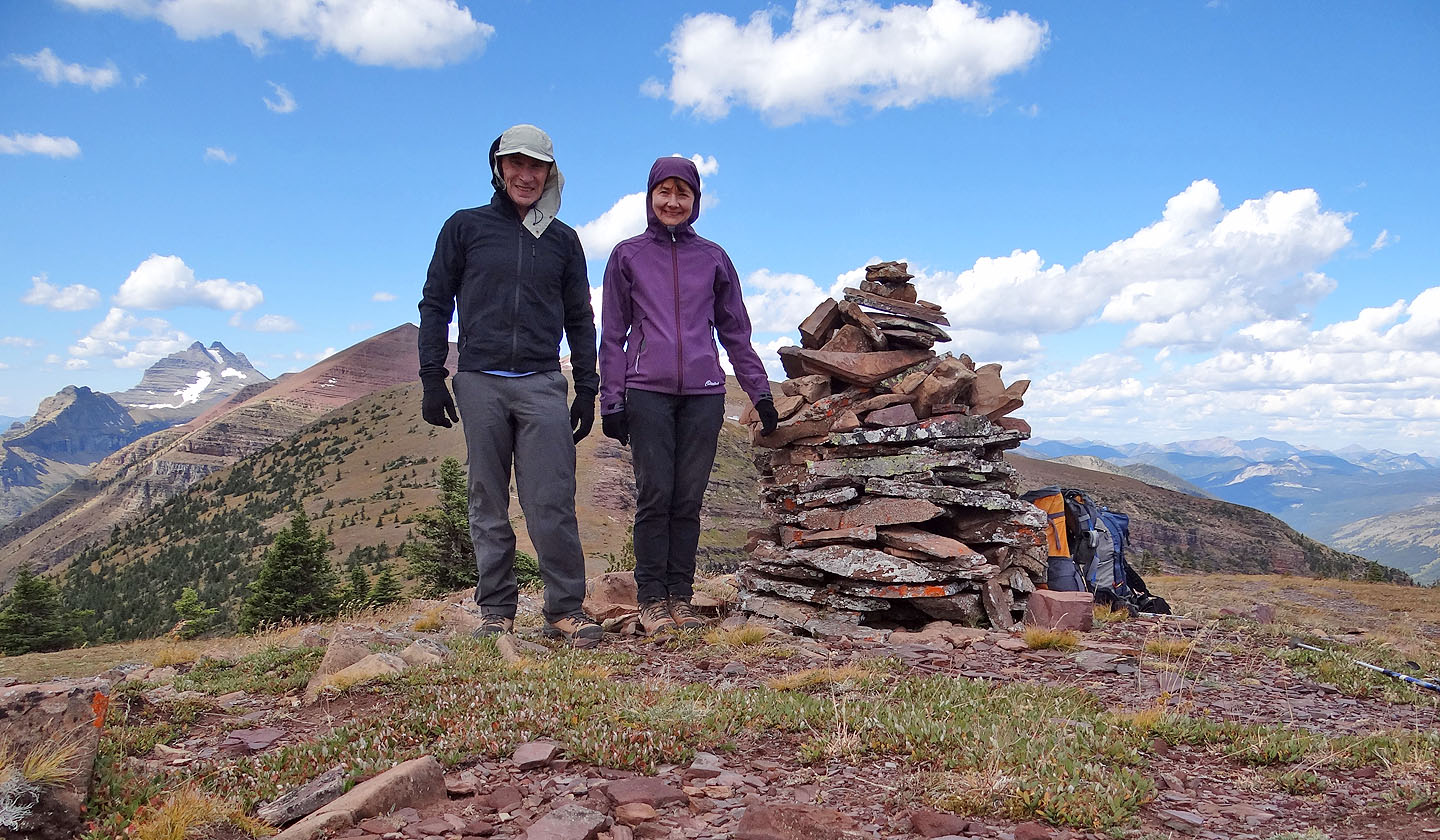 Forum Peak summit

View from Forum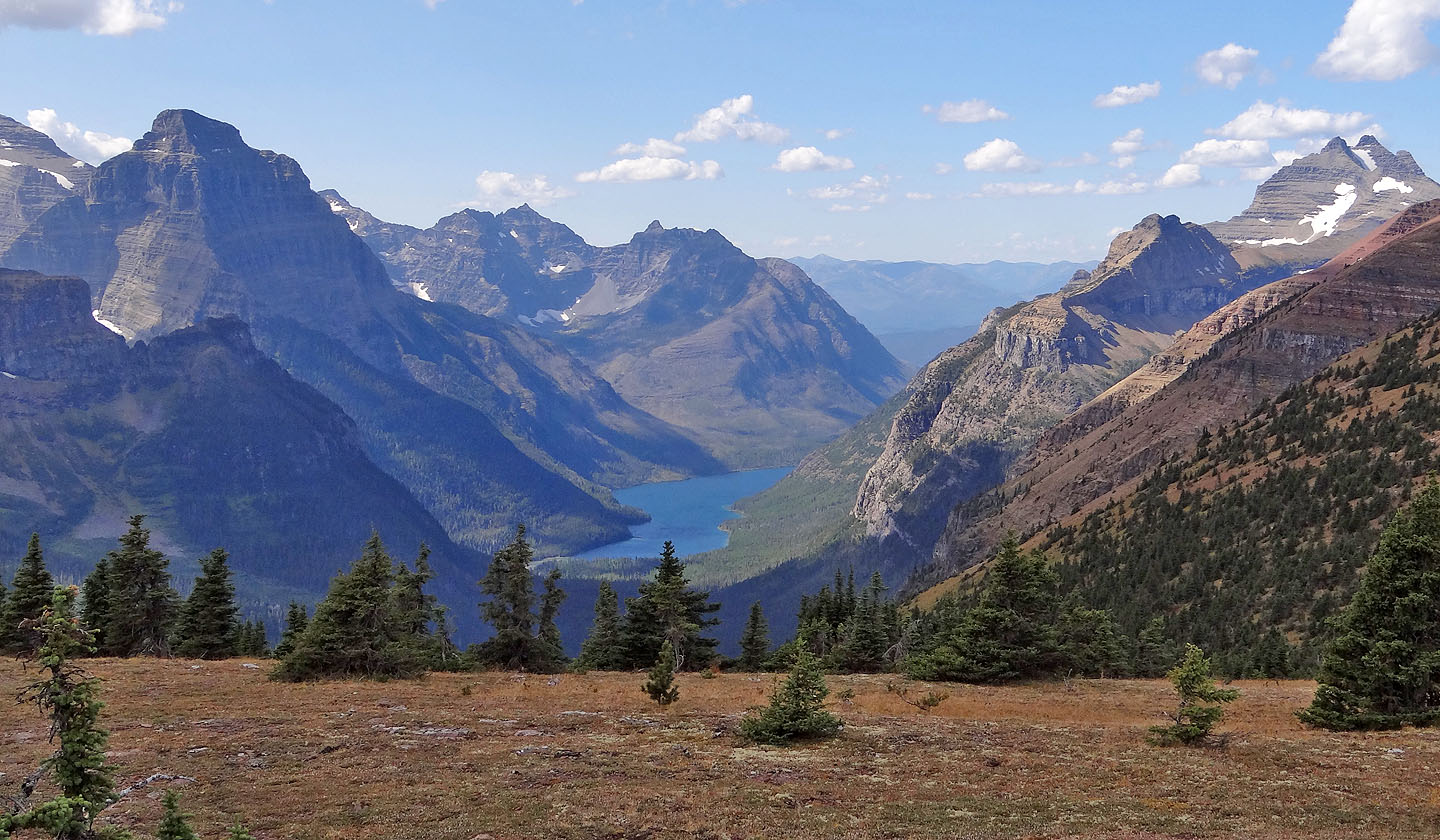 Upper Kintla Lake in Glacier National Park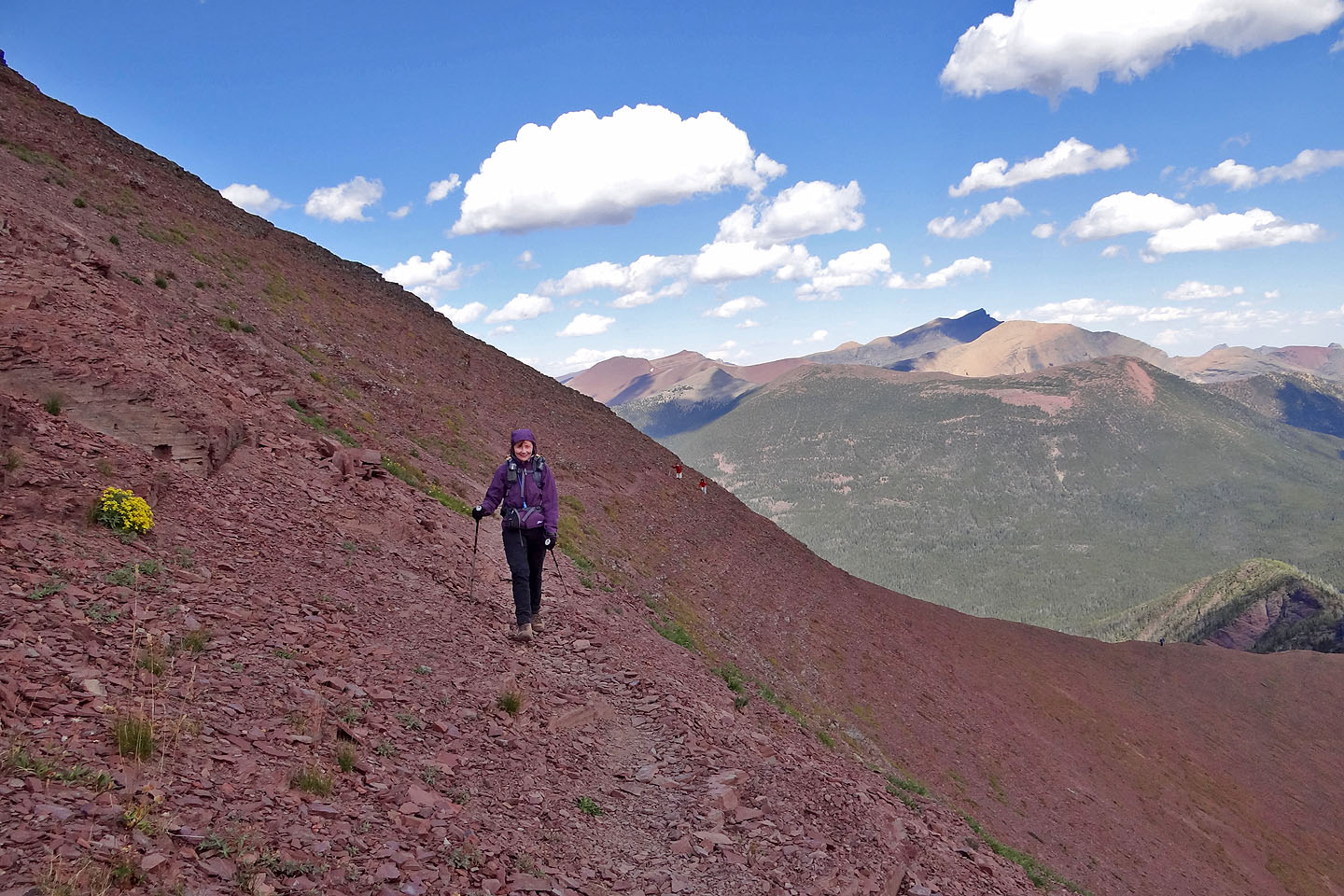 Following the Akamina Ridge trail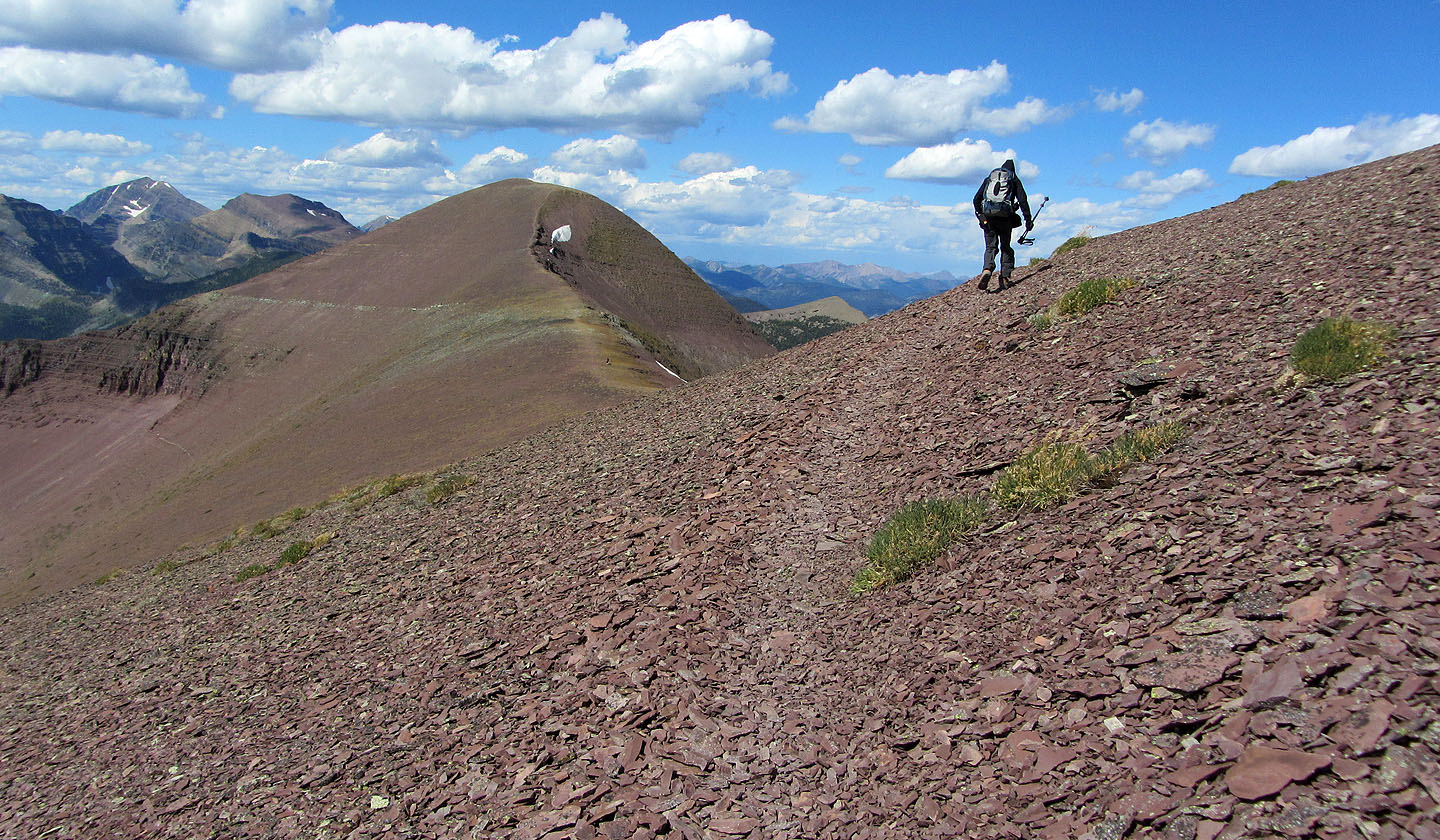 Akamina's summit ahead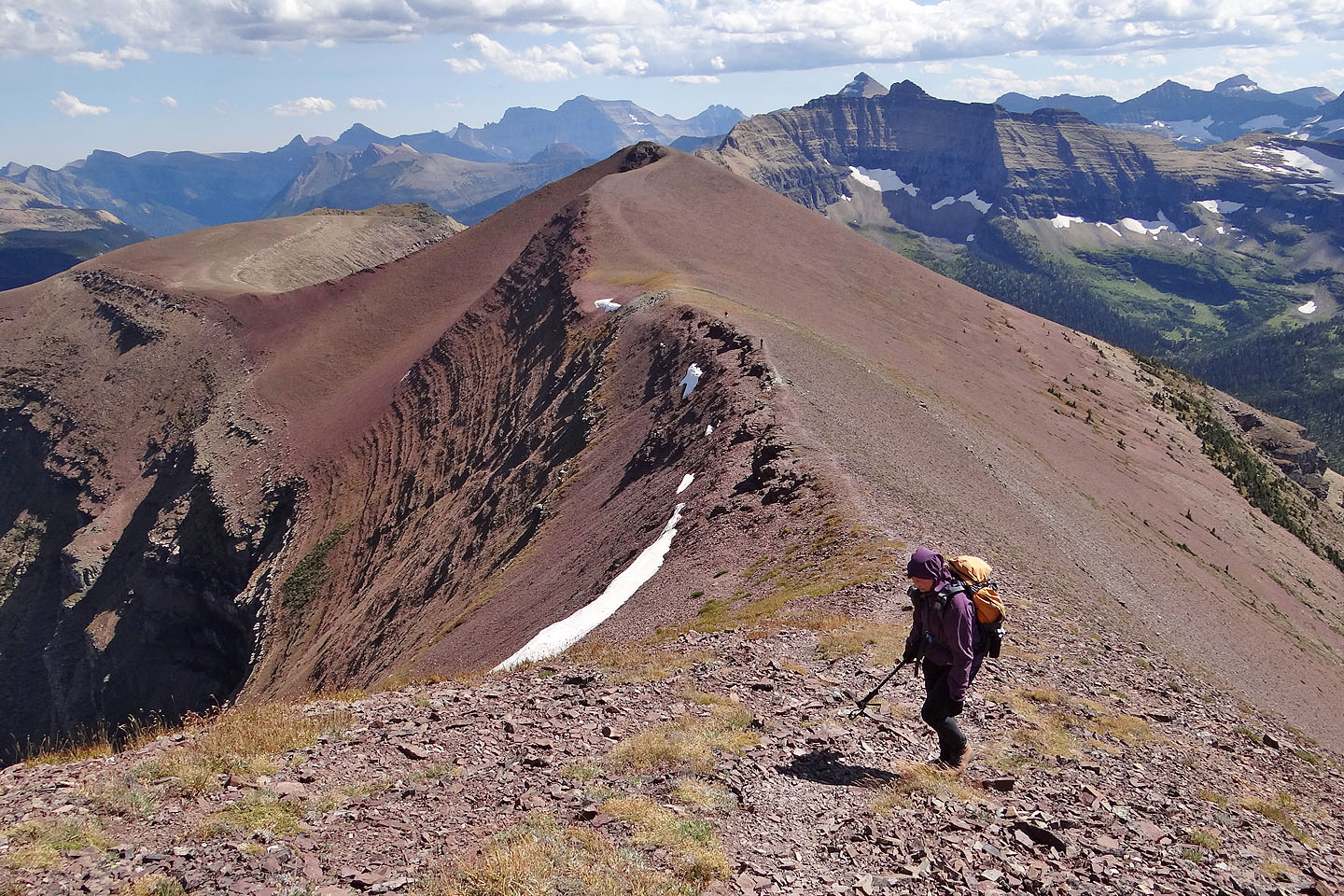 Looking back from below the summit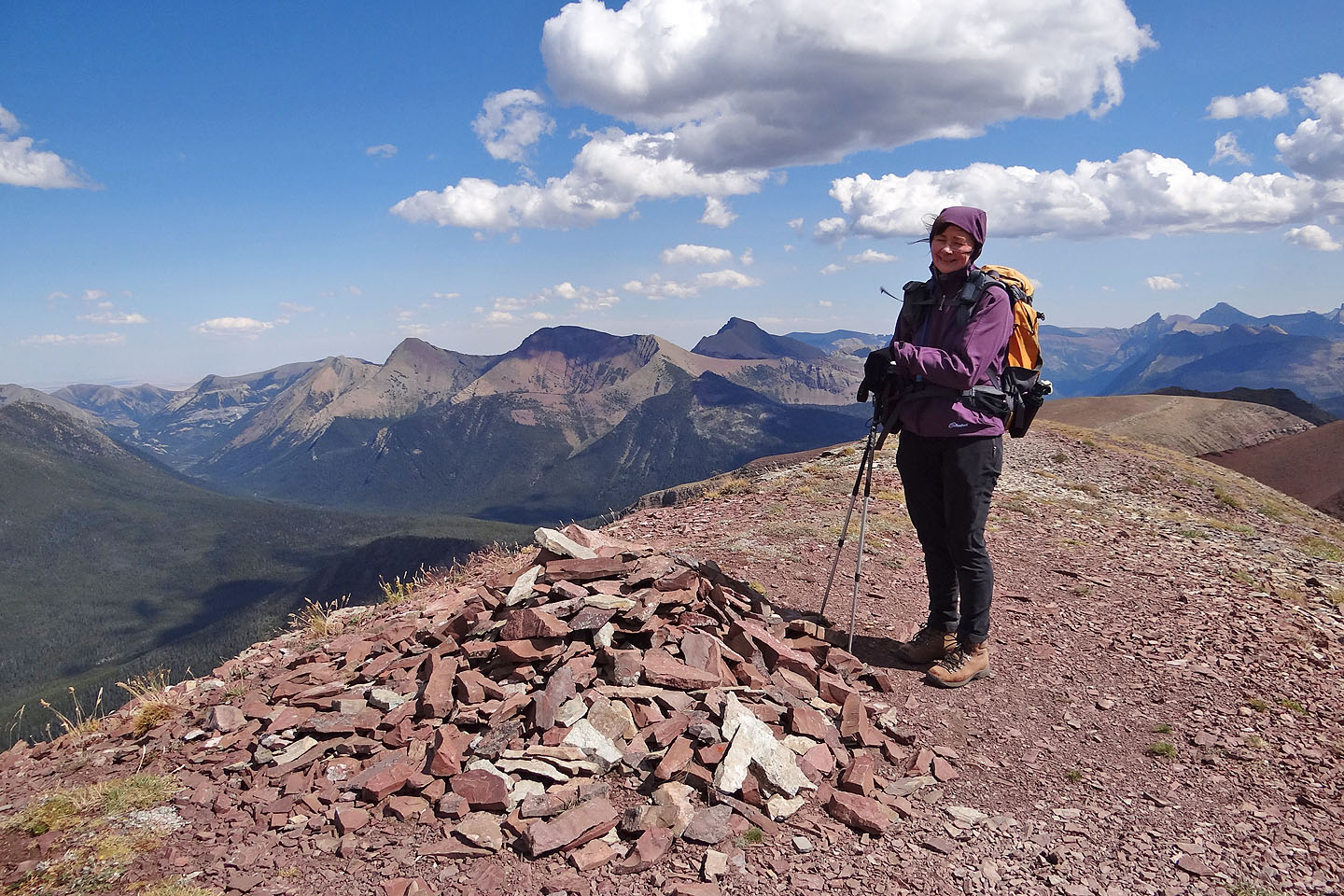 The summit: behind are Buchanan Ridge, Mount Carthew and Mount Alderson (mouse over)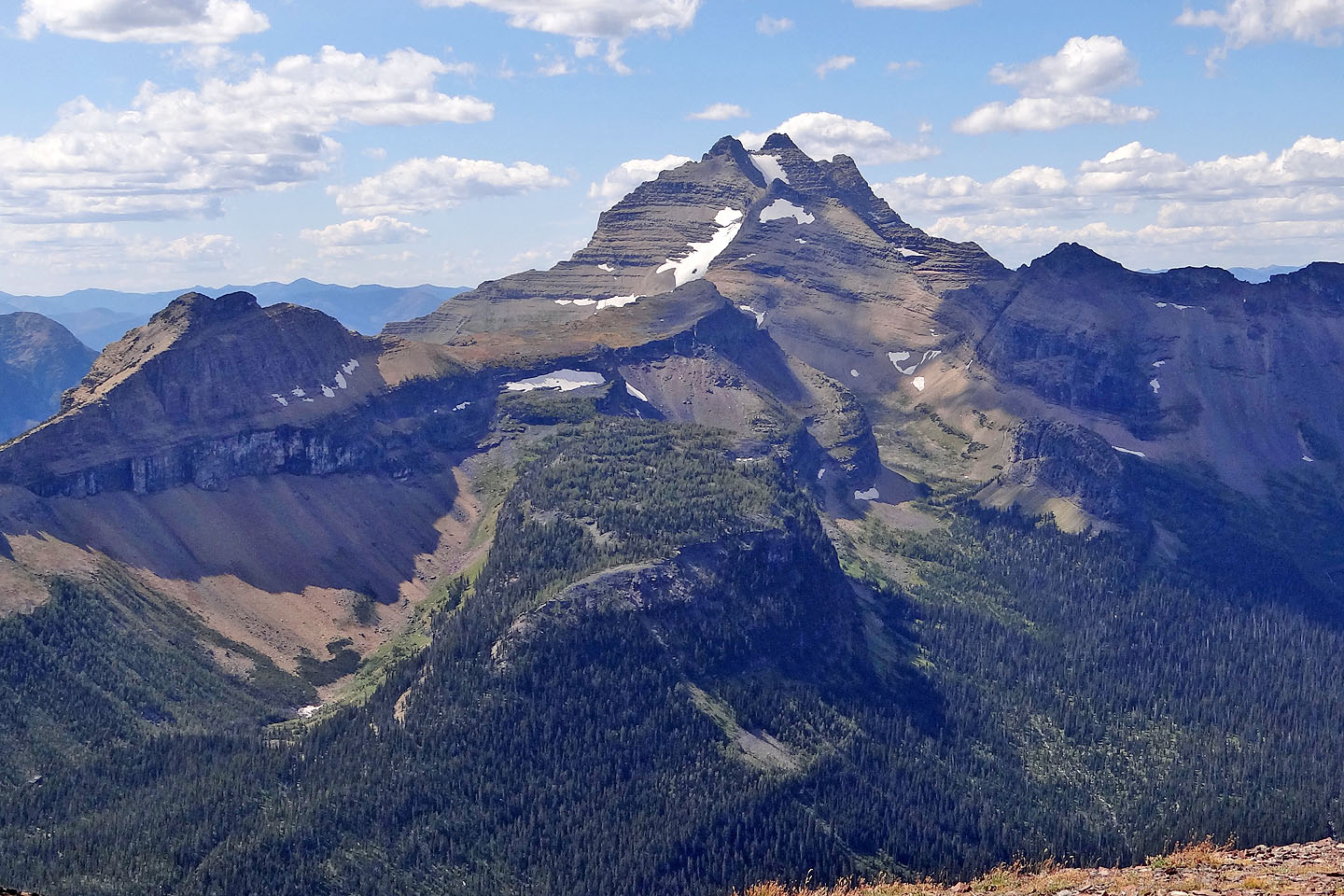 Long Knife Peak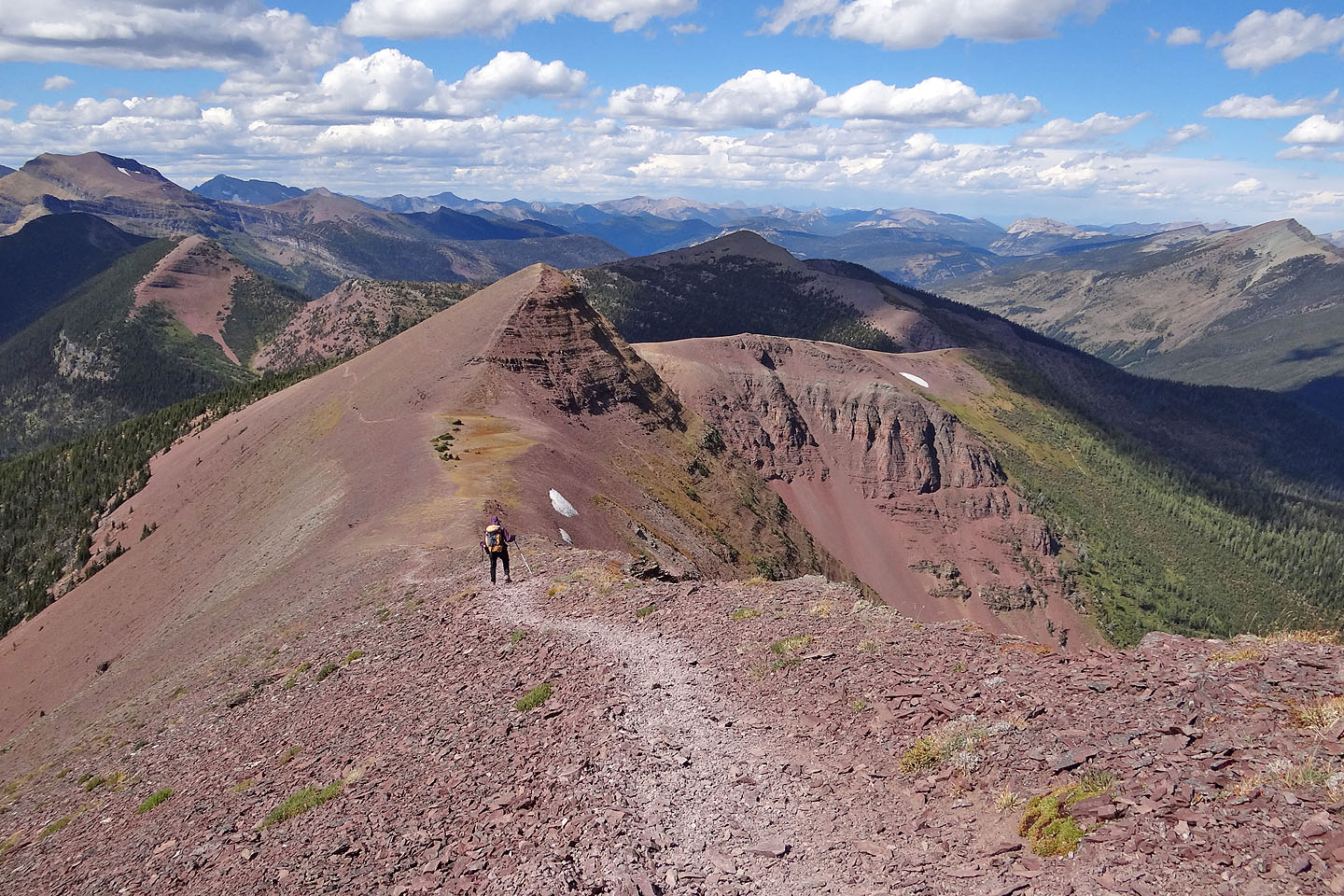 Heading down from the summit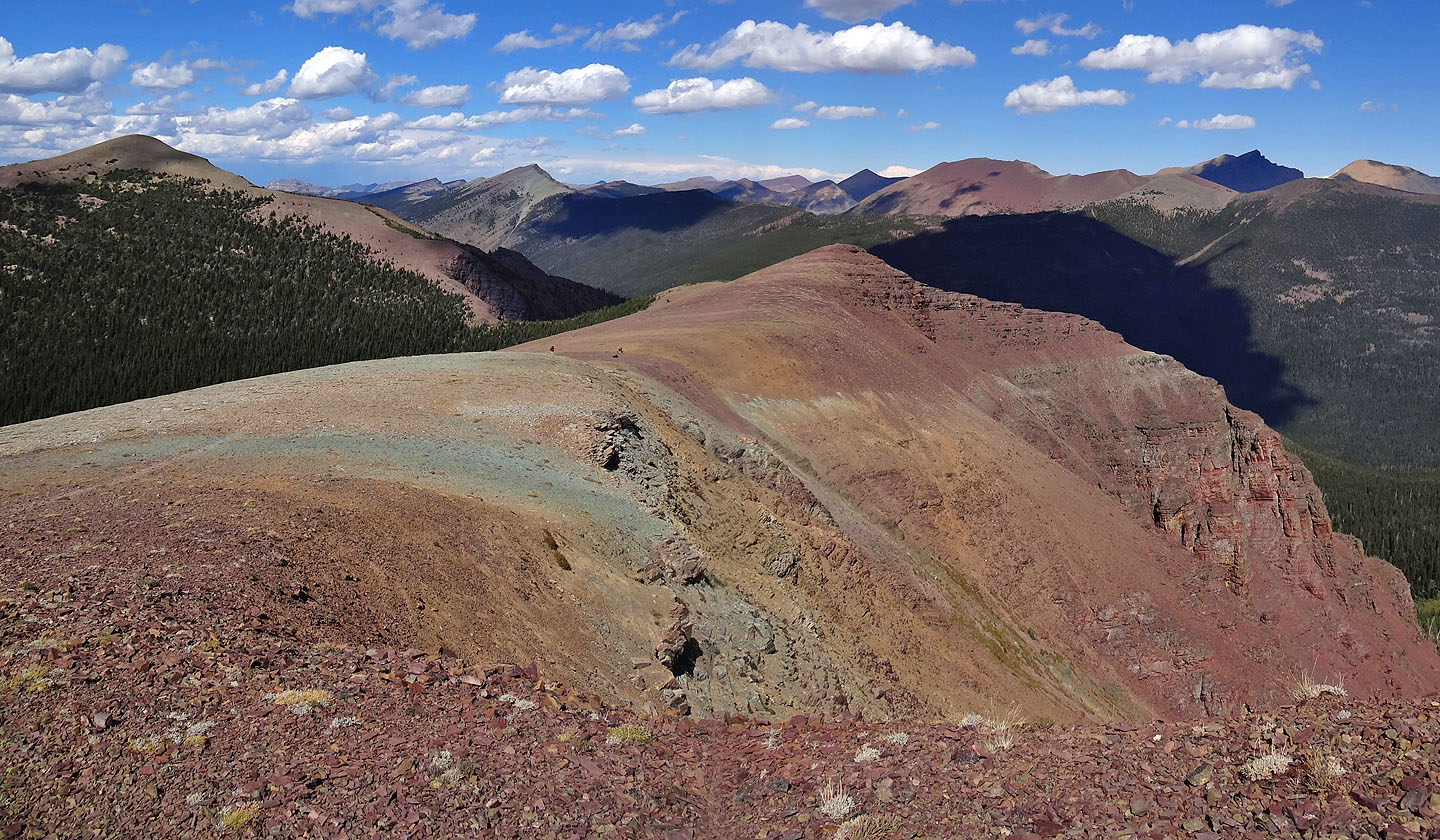 The last and most colorful ridge section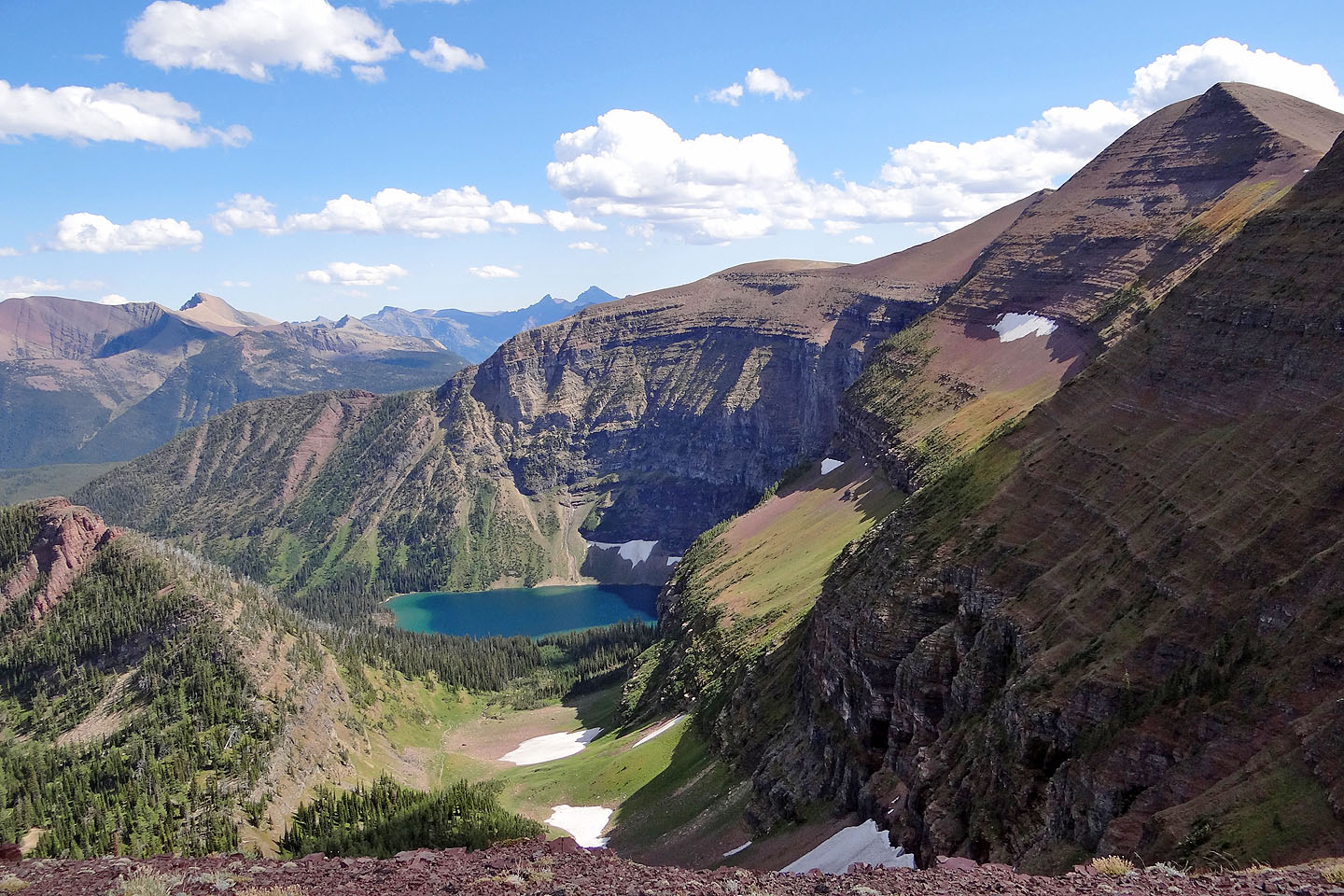 Wall Lake (click for a larger image)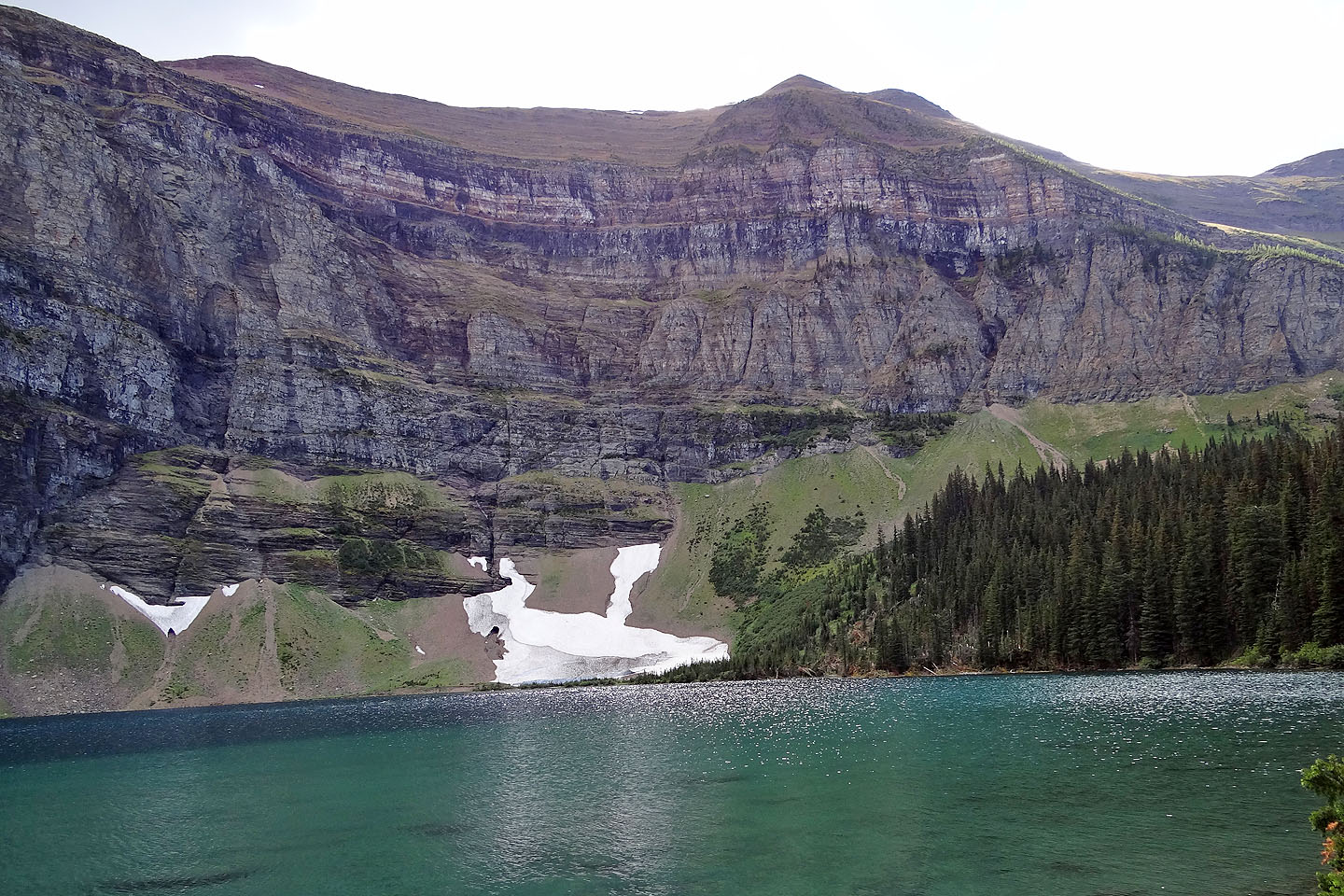 Wall Lake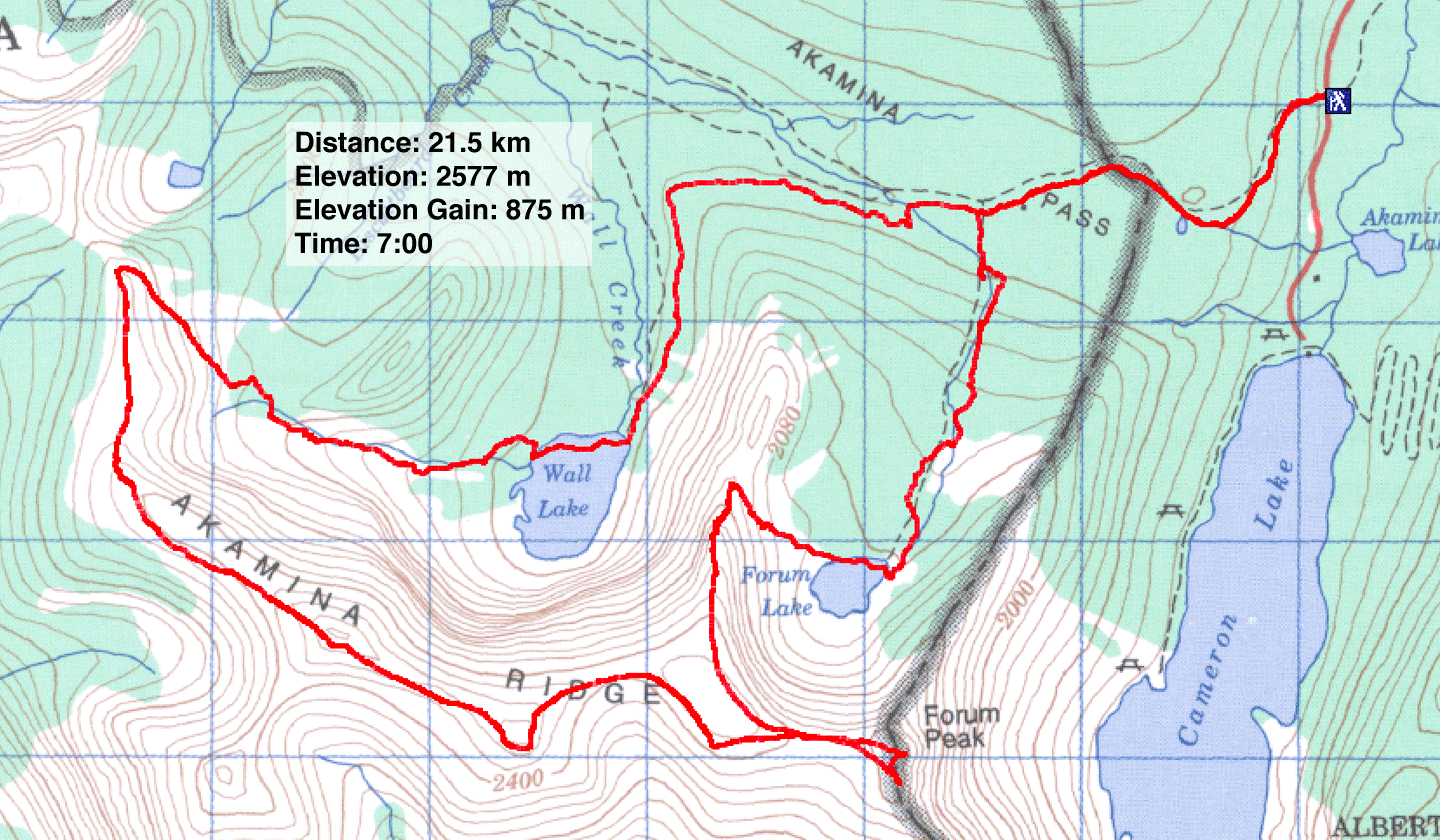 82 N/8 Banff