bobspirko.ca | Home | Canada Trips | US Trips | Hiking | Snowshoeing | MAP | About

Razorback Ridge
Lake Mead NRA, Nevada
January 14, 2019
Distance: 7.3 km (4.5 mi)
Cumulative Elevation Gain: 316 m (1037 ft)

On Google Earth, Razorback Ridge looks like a pleasant ridgewalk. Actually, the ridge comes in like a lion and goes out like a lamb, beginning with steep slabs and ending with gentle terrain before the summit.
Shin, Dinah and I started from a pullout at the north end of the ridge. We walked up the highway a short way and after passing an outlier, we set off through an interesting boulder field. We headed to the saddle between the outlier and Razorback Ridge.
We easily reached the saddle, but after that, climbing higher was more difficult because of steep slabs. We reached the crest where we had an impressive view of Razorback as it stretched out before us, but we couldn't continue along the ridge. We dropped down the slope, and after skirting around the end of a cliff band, travel eased. We soon regained the ridge crest. The rest of the trip was an enjoyable hike.
As we neared the highest part of Razorback, we kept our eye on the elevation, trying to determine the highest point. We came across a small cairn only to find a slightly higher point further on. After a short break on the summit, we started down the east slope. The way down was clear and easy. Soon we were gliding down the wash in the valley bottom, heading back to our car.
Razorback Ridge is best ascended halfway along the ridge, but we found the north half of the ridge engaging, and it offered the best view of the entire ridge.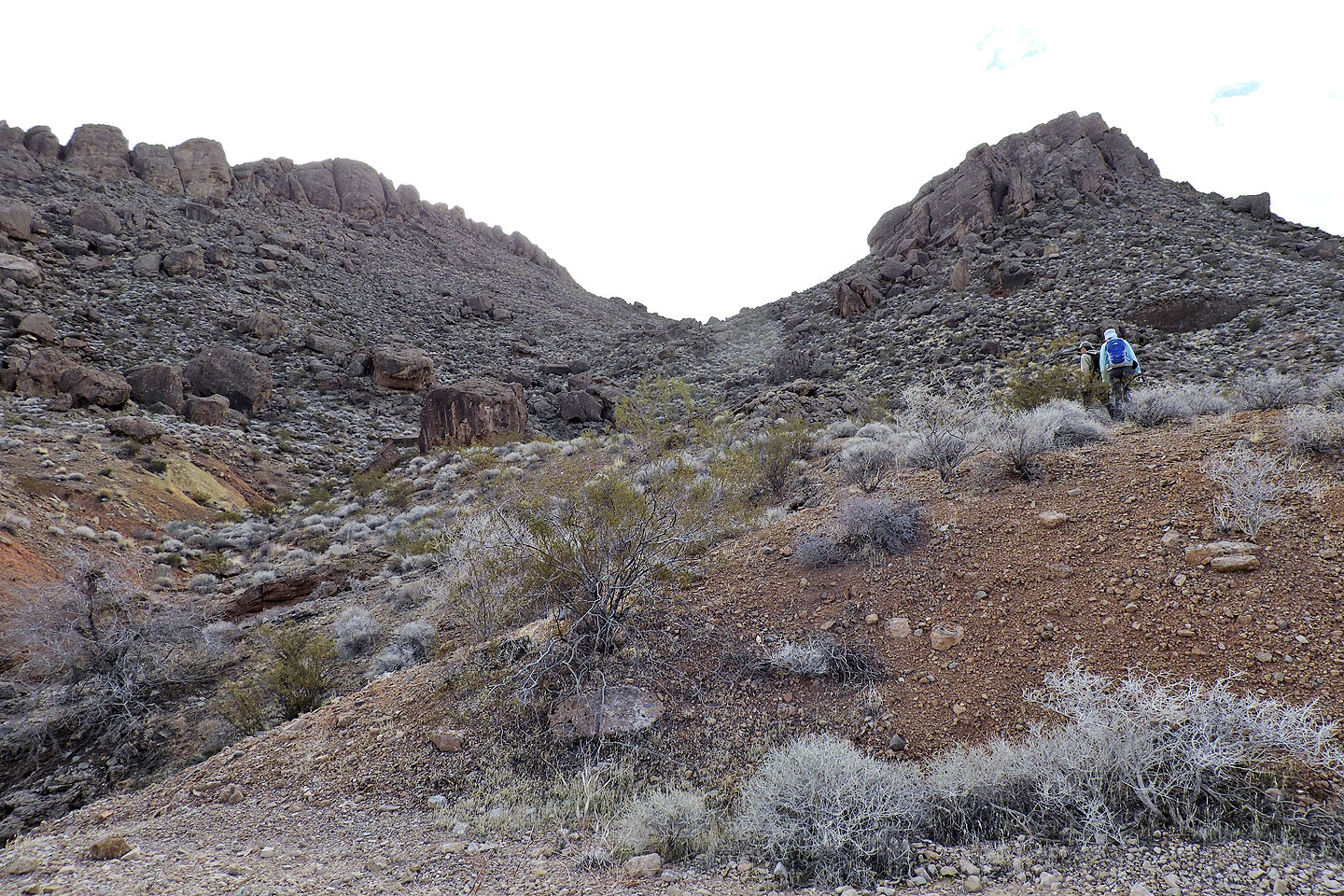 From the highway, we headed to a saddle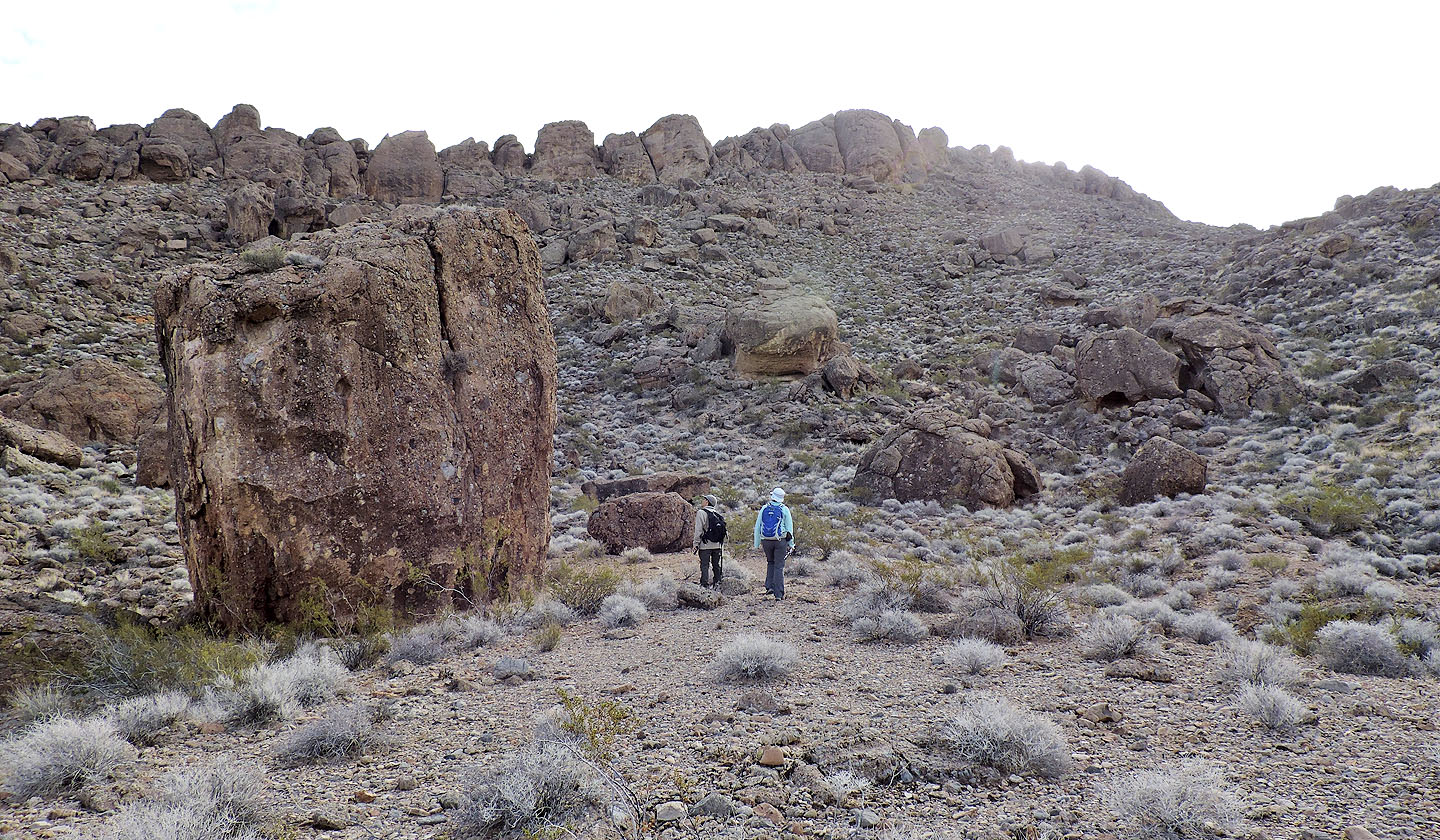 Along the way, we passed impressive boulders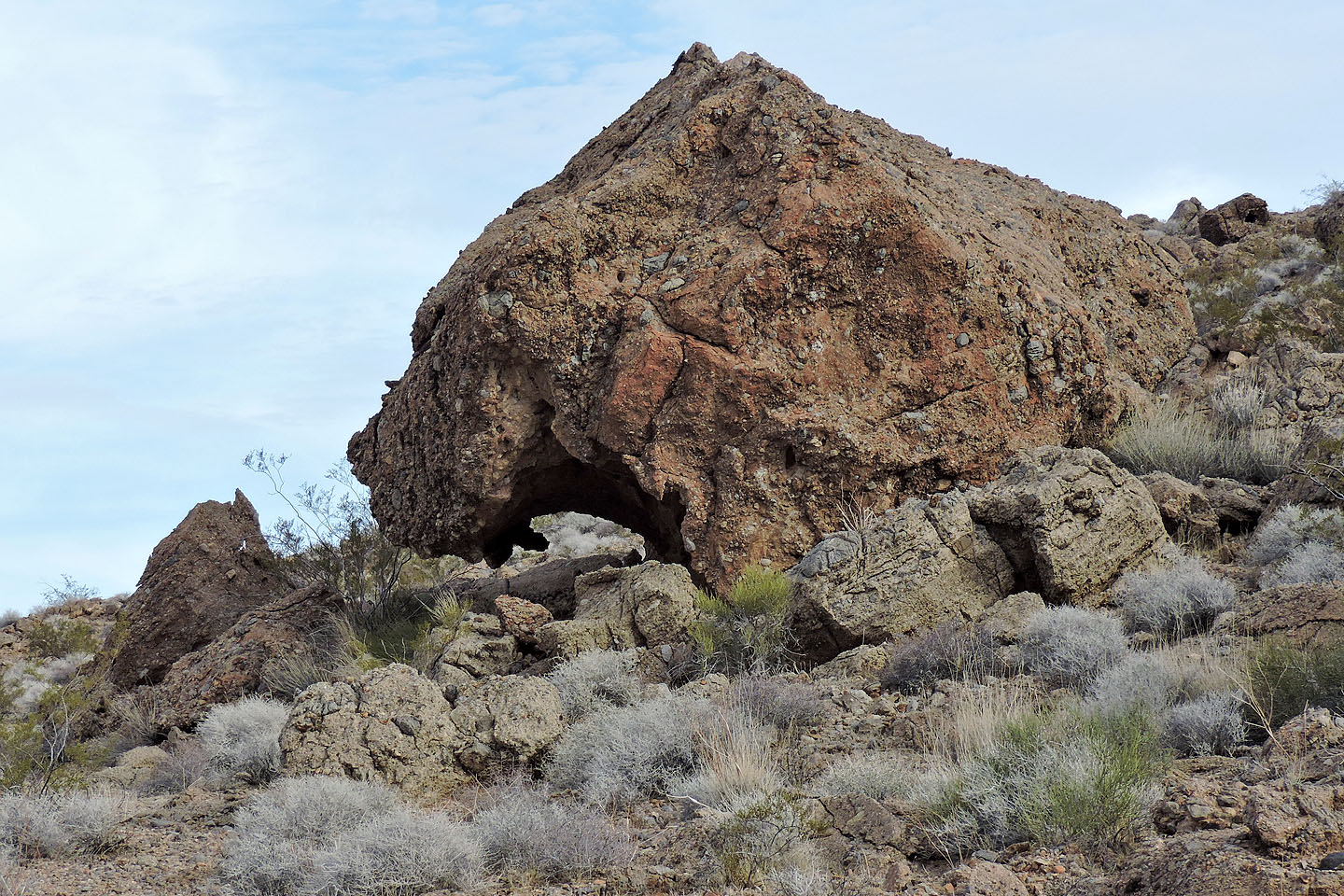 This one looked like a cat's head with open jaws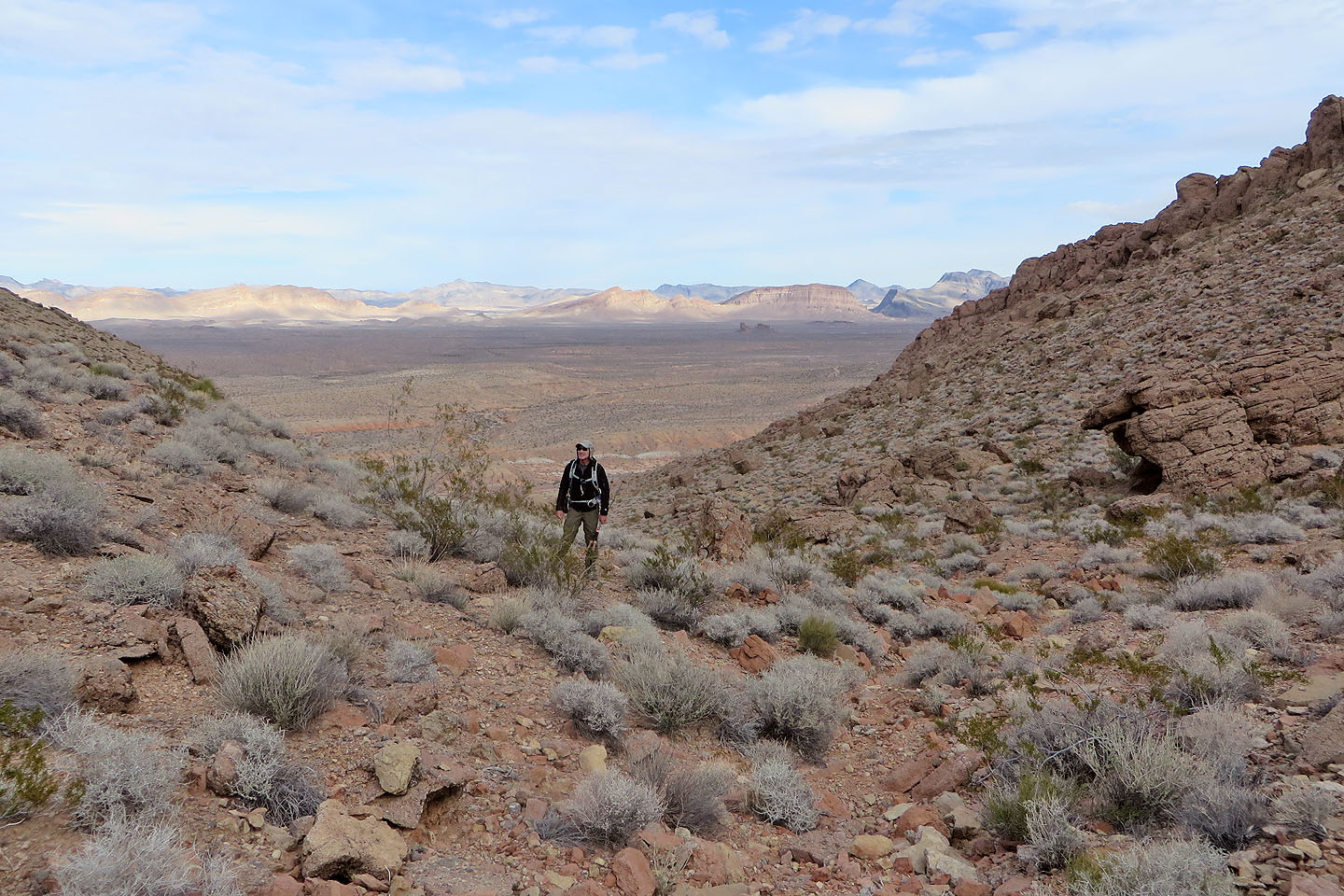 Looking back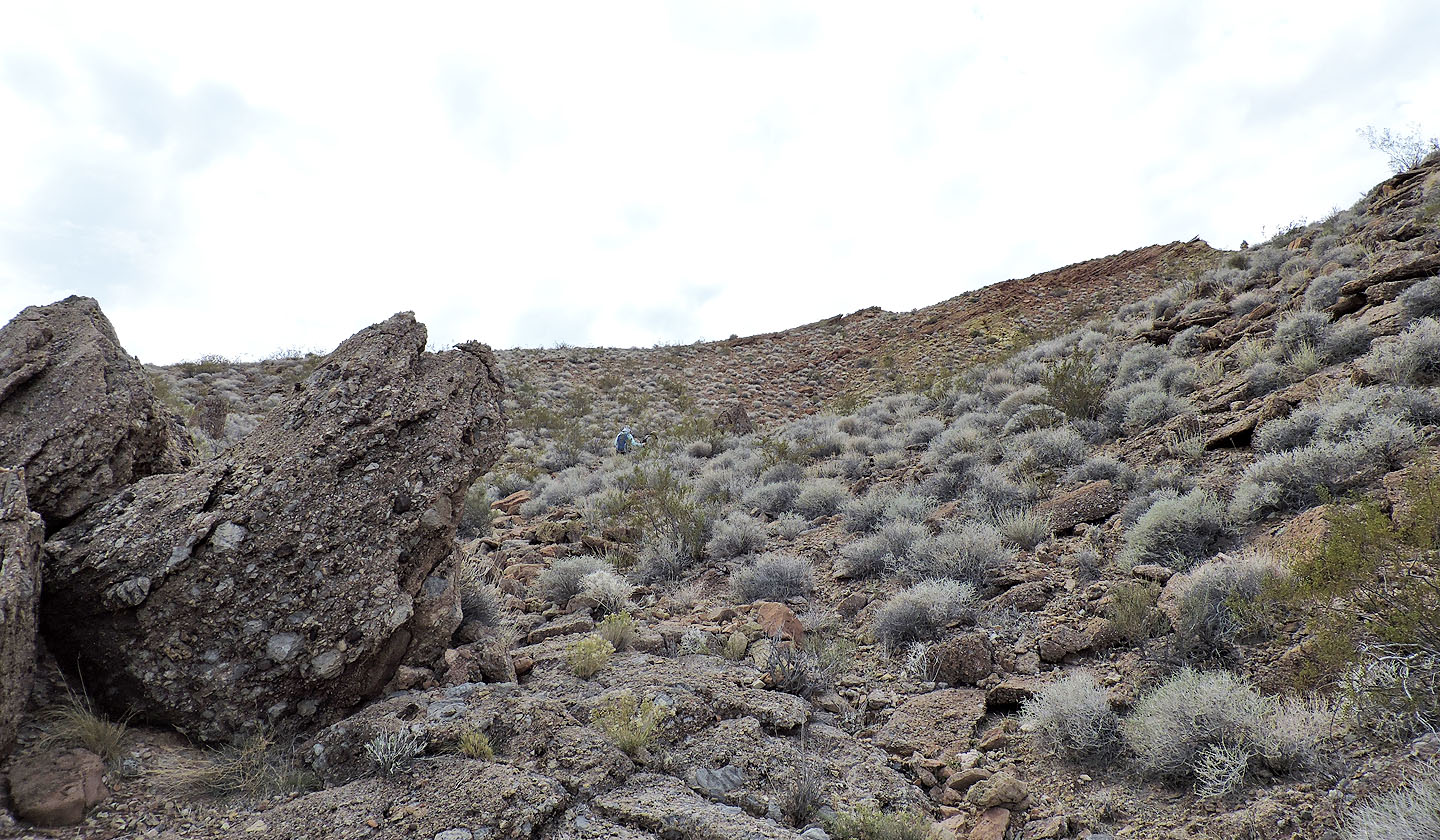 We headed to the spur ahead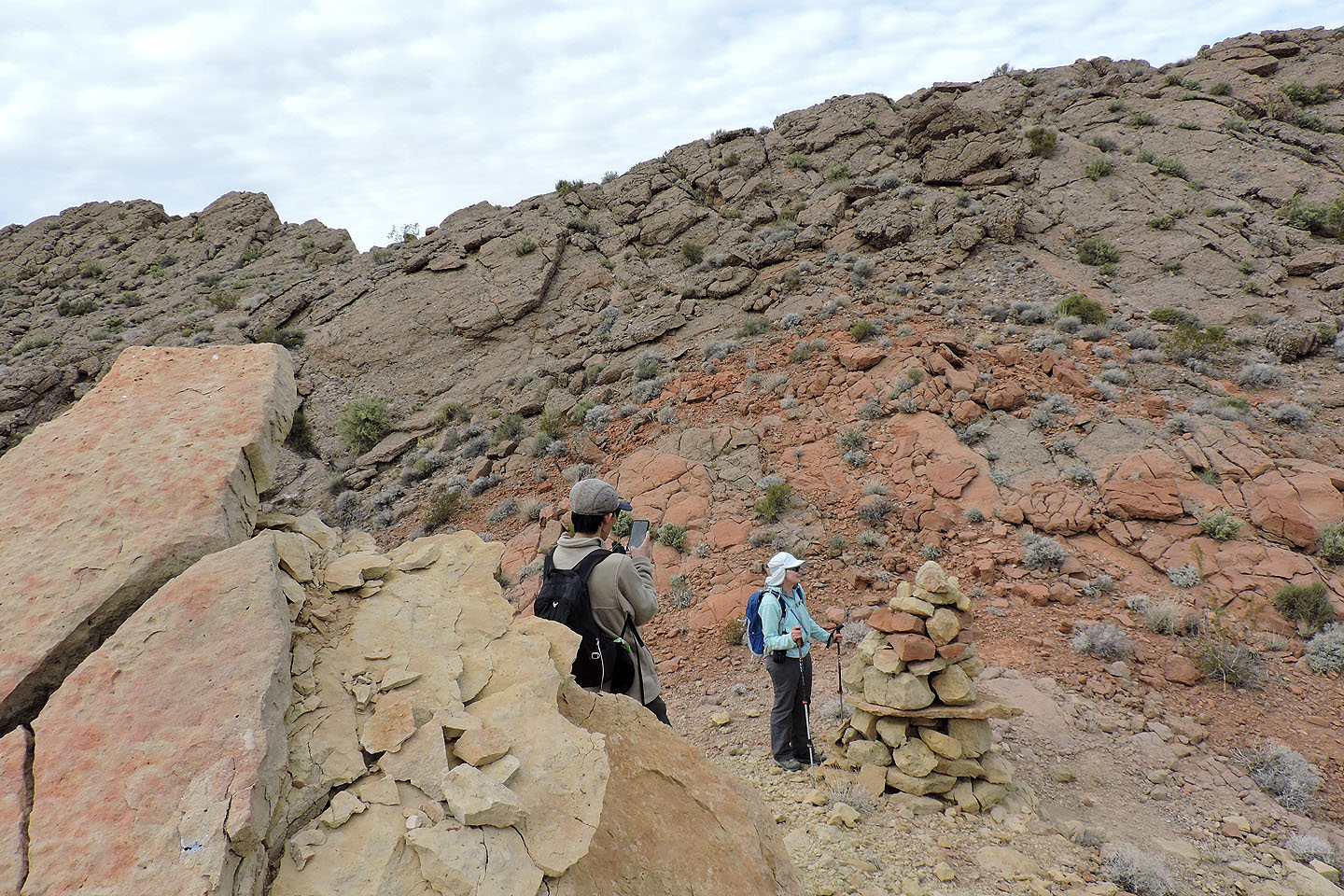 On the saddle we found a huge but meaningless cairn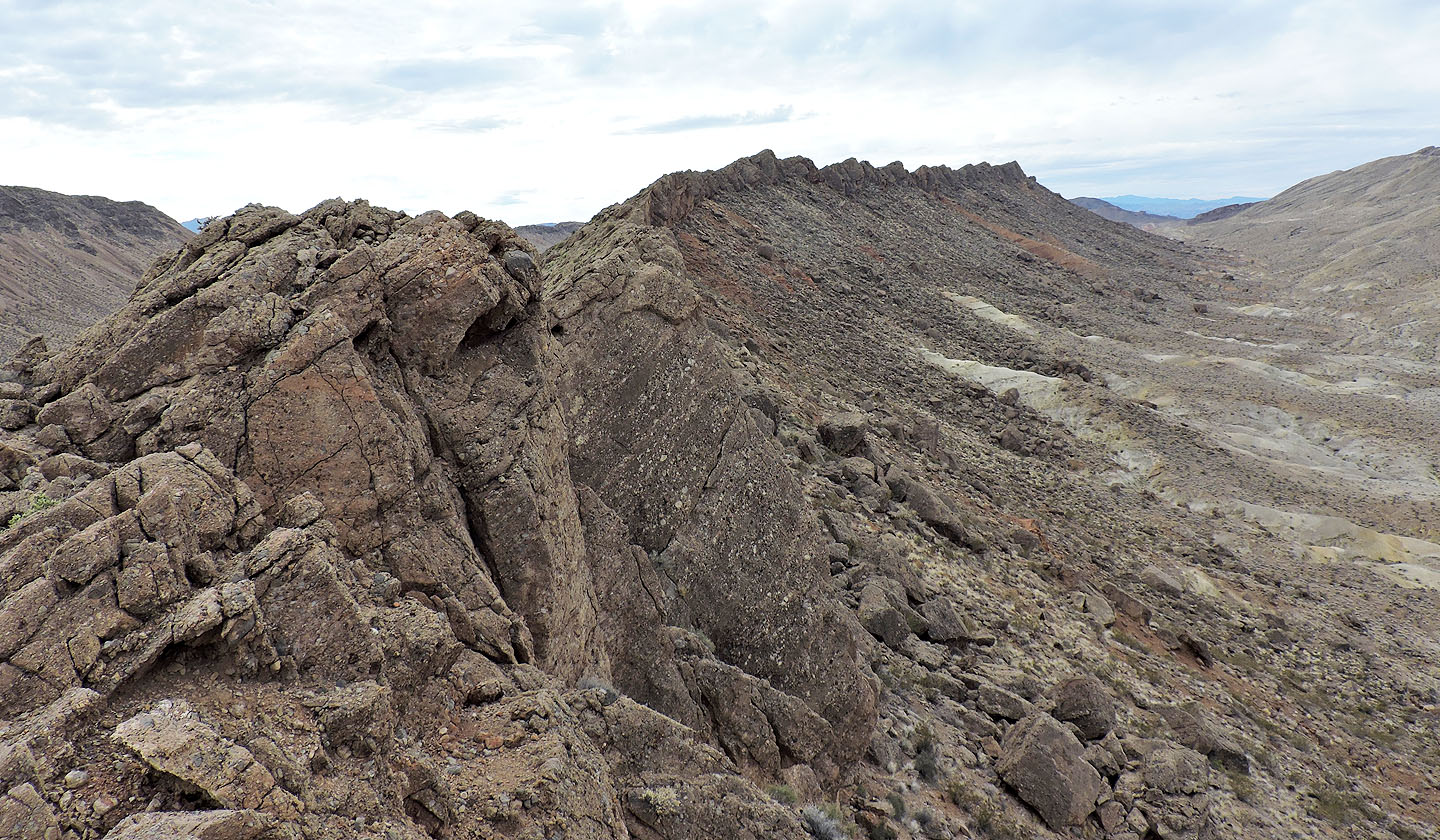 The ridge is long and jagged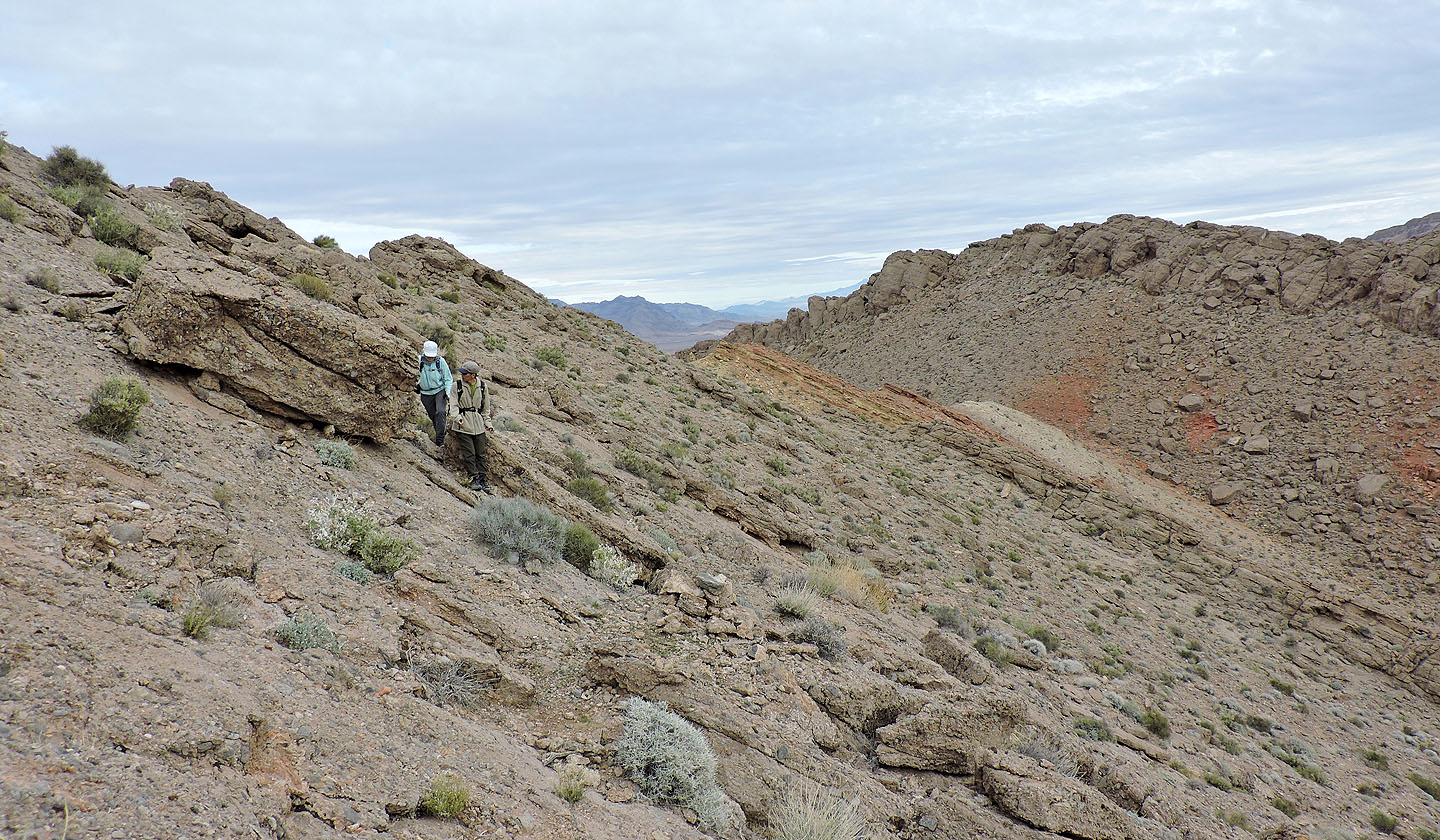 We couldn't follow the ridge crest and the steep slope wasn't easy to traverse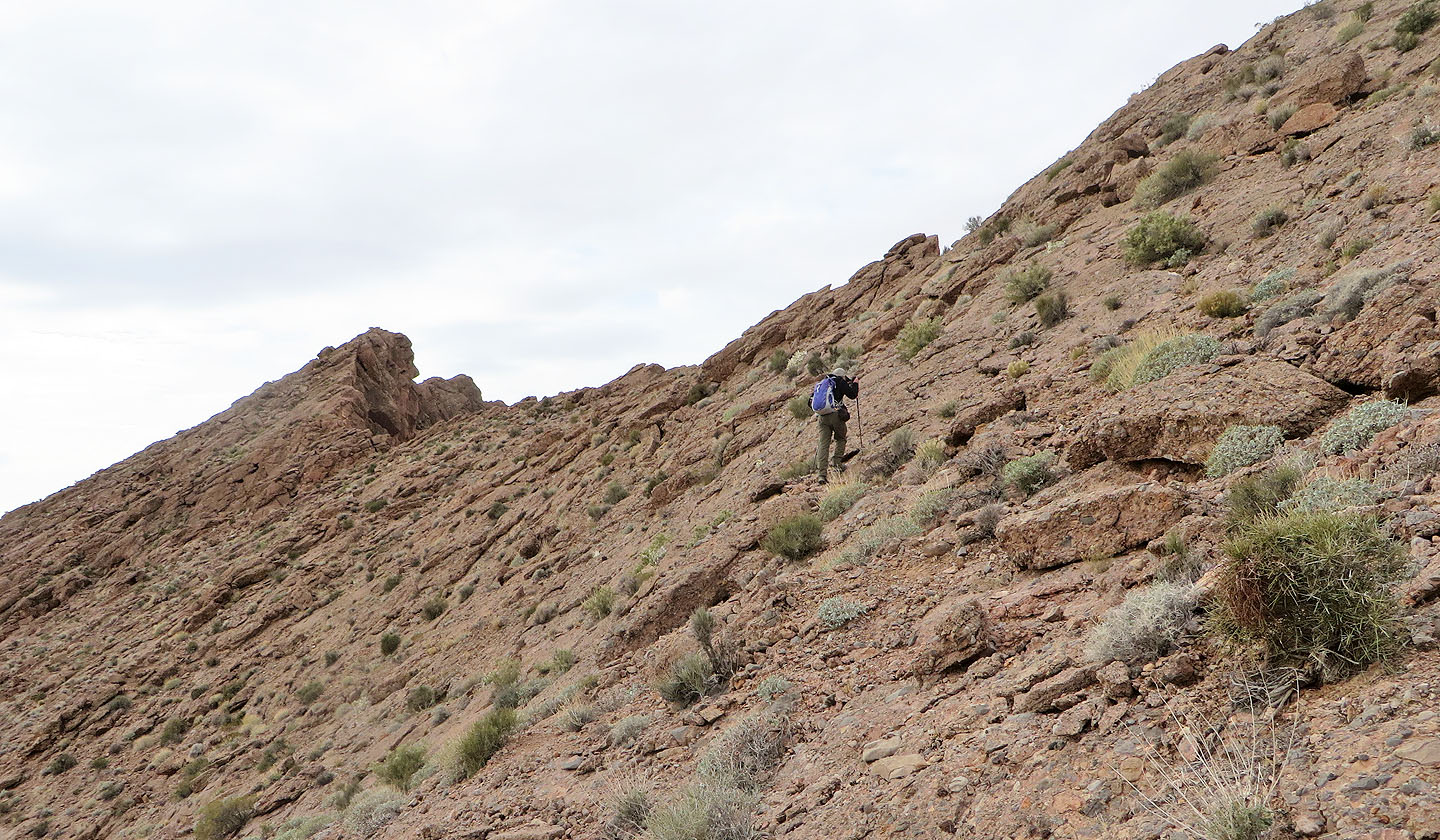 We had to drop well down the slope because of the cliff band ahead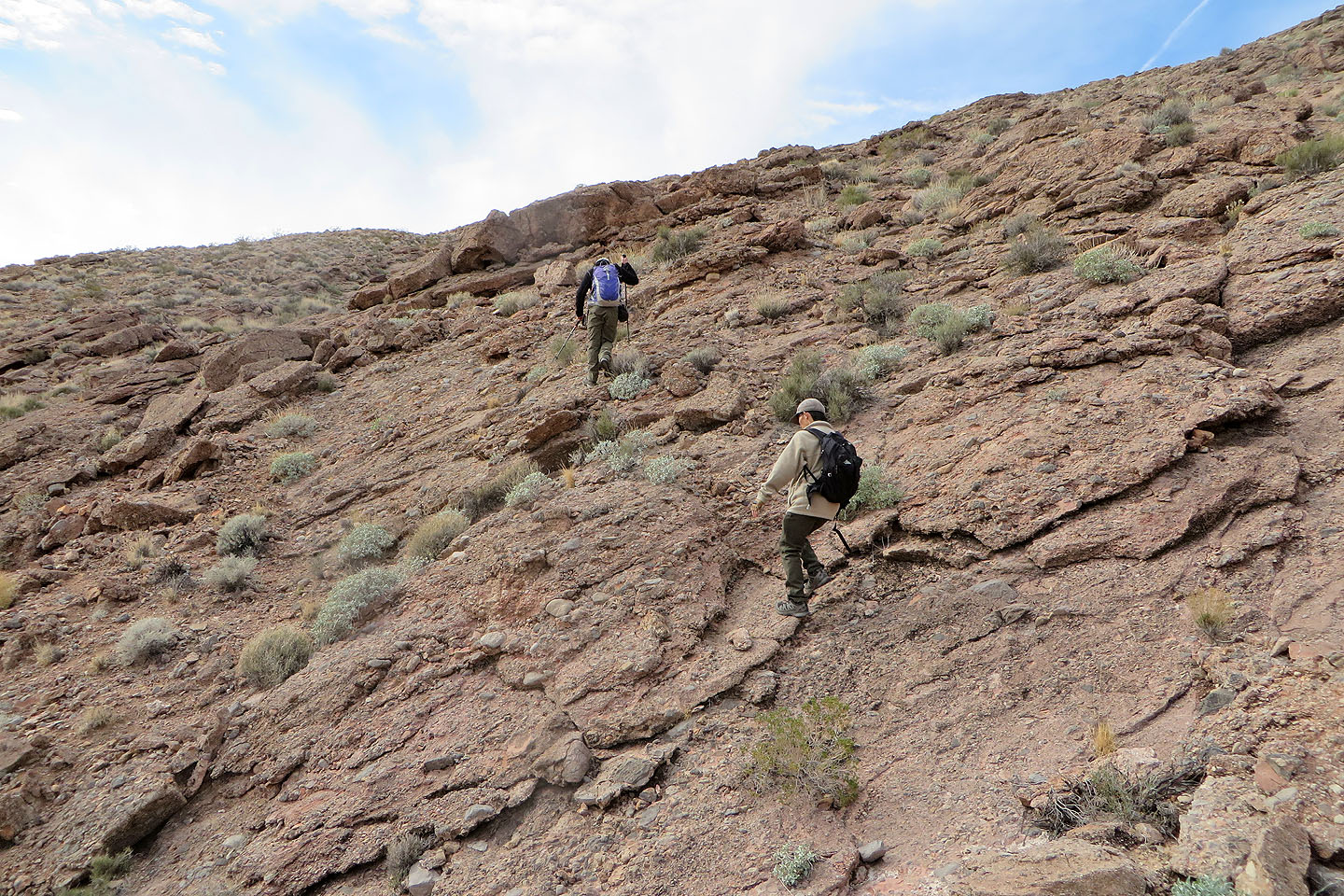 Thankfully, easier terrain was just around the corner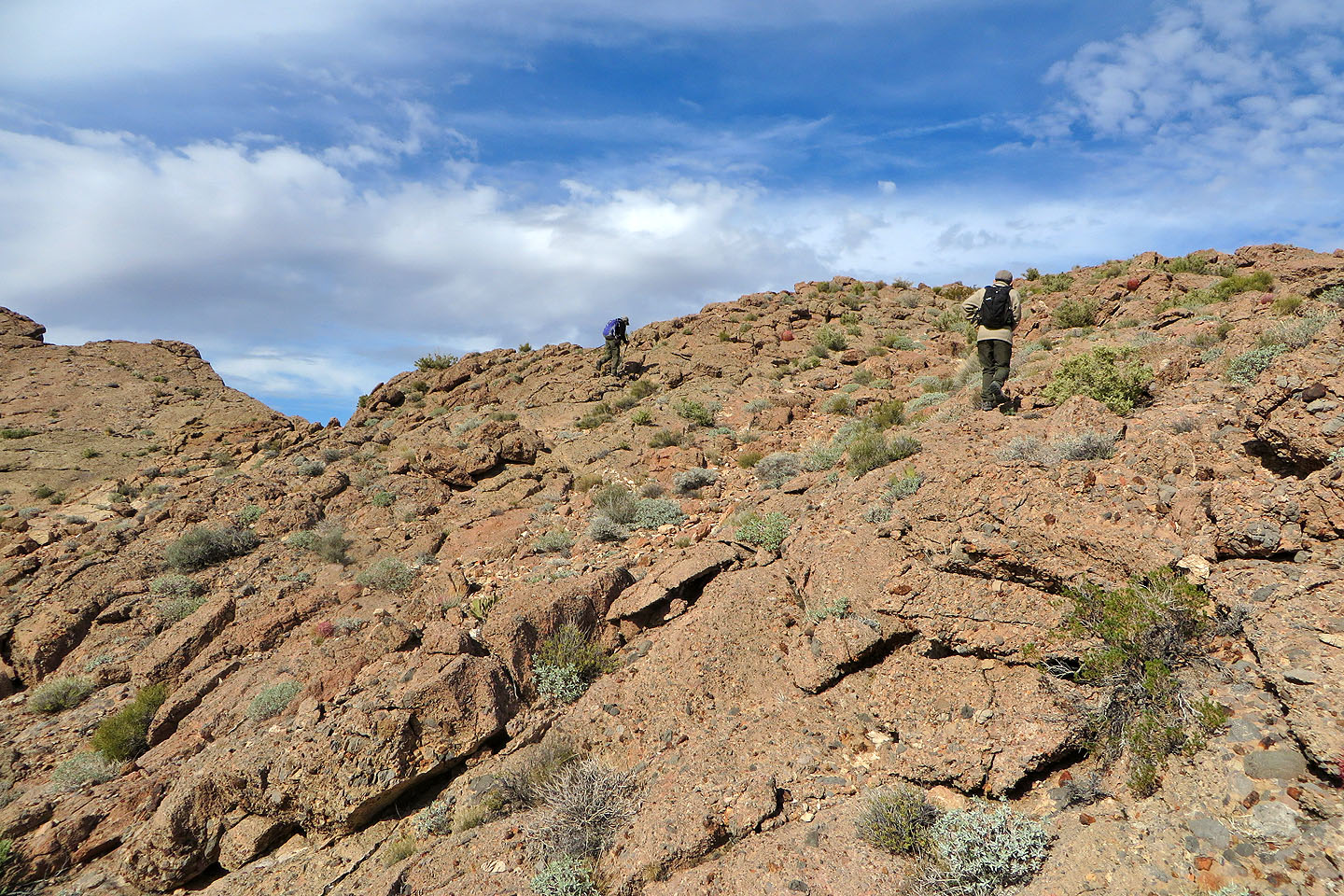 We headed to the ridge crest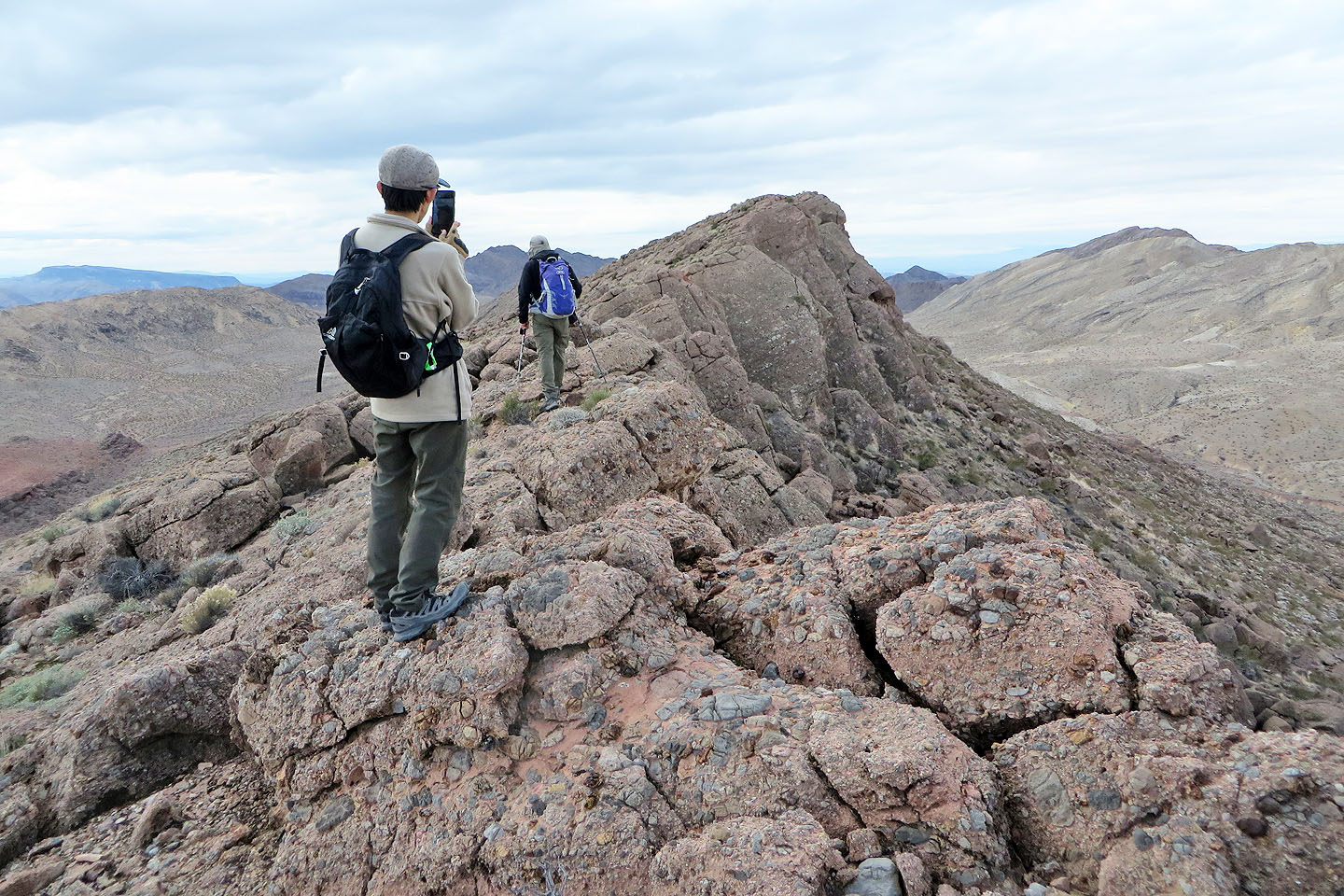 Back on the ridge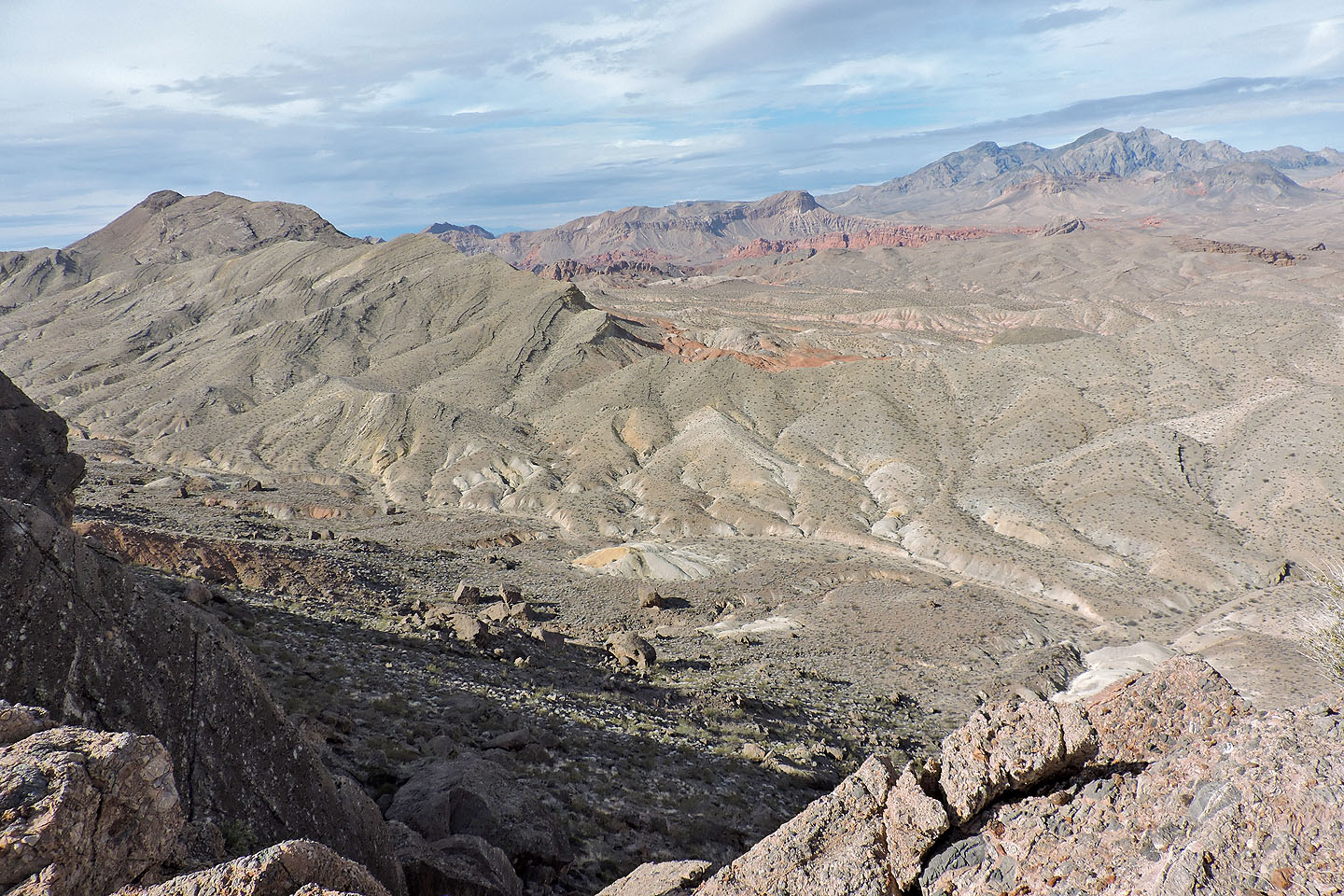 Looking across the valley. Left is Northshore Peak. Muddy Mountain and Muddy Peak on the right.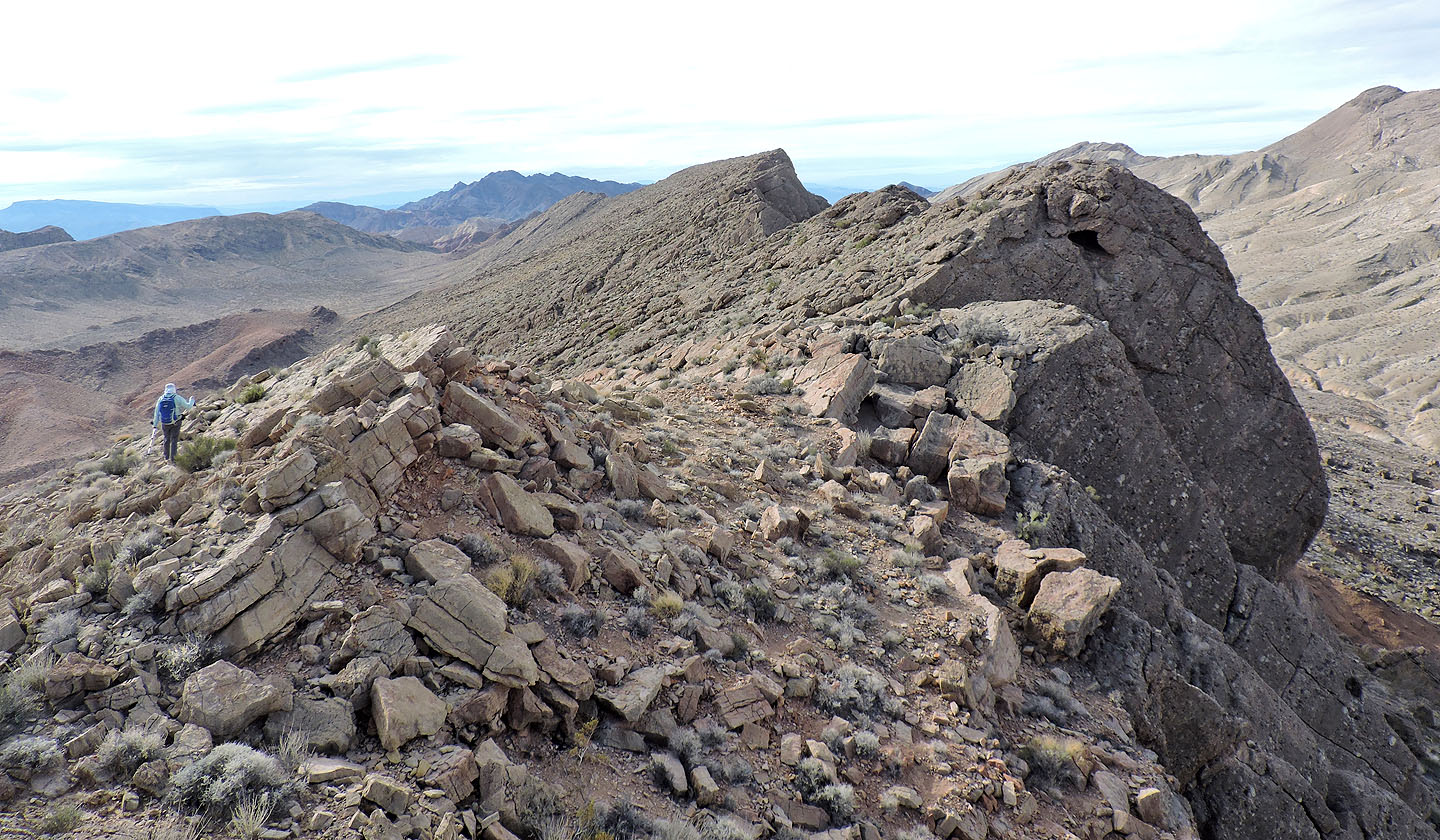 The highest point on Razorback appears in the distance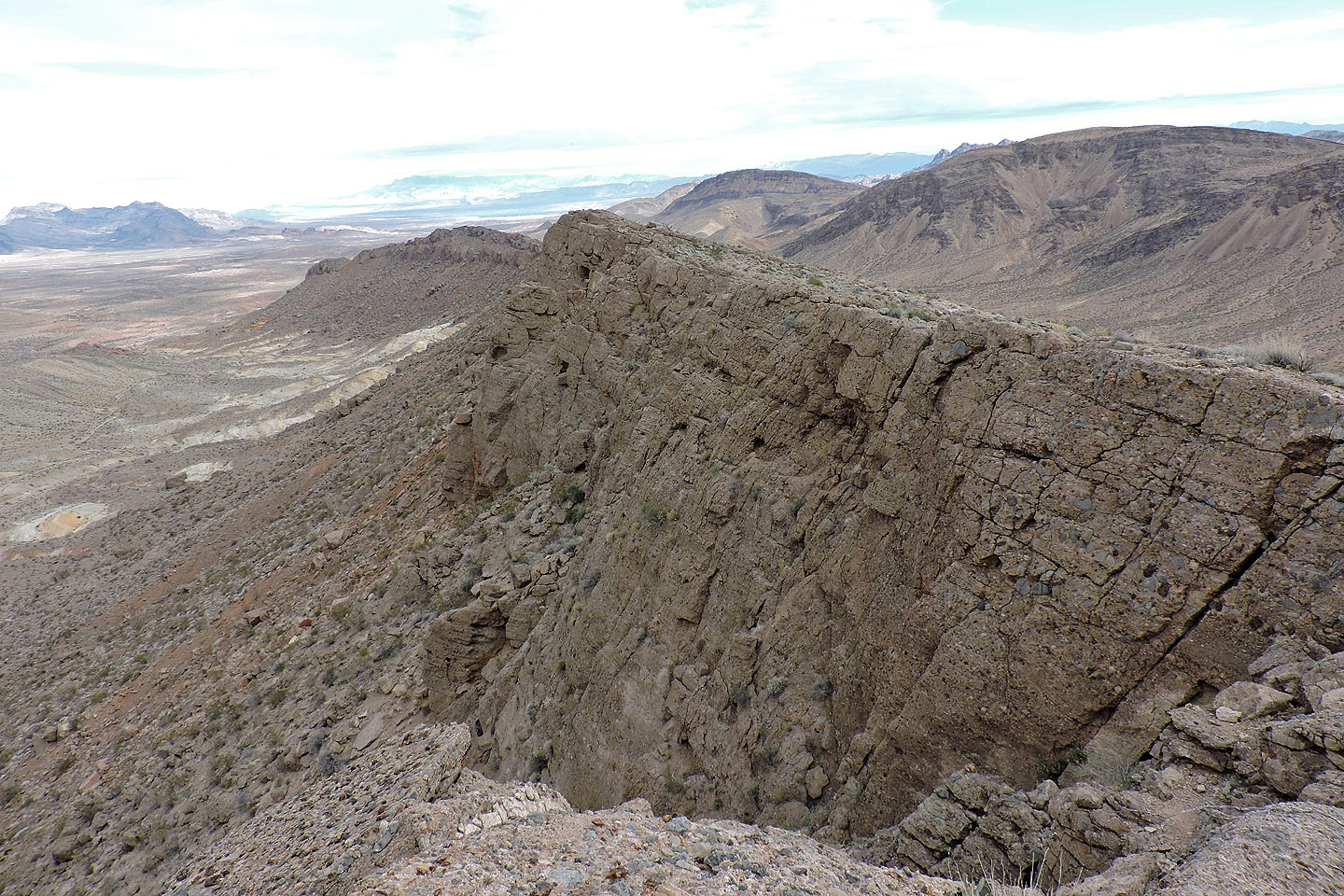 Looking back along the ridge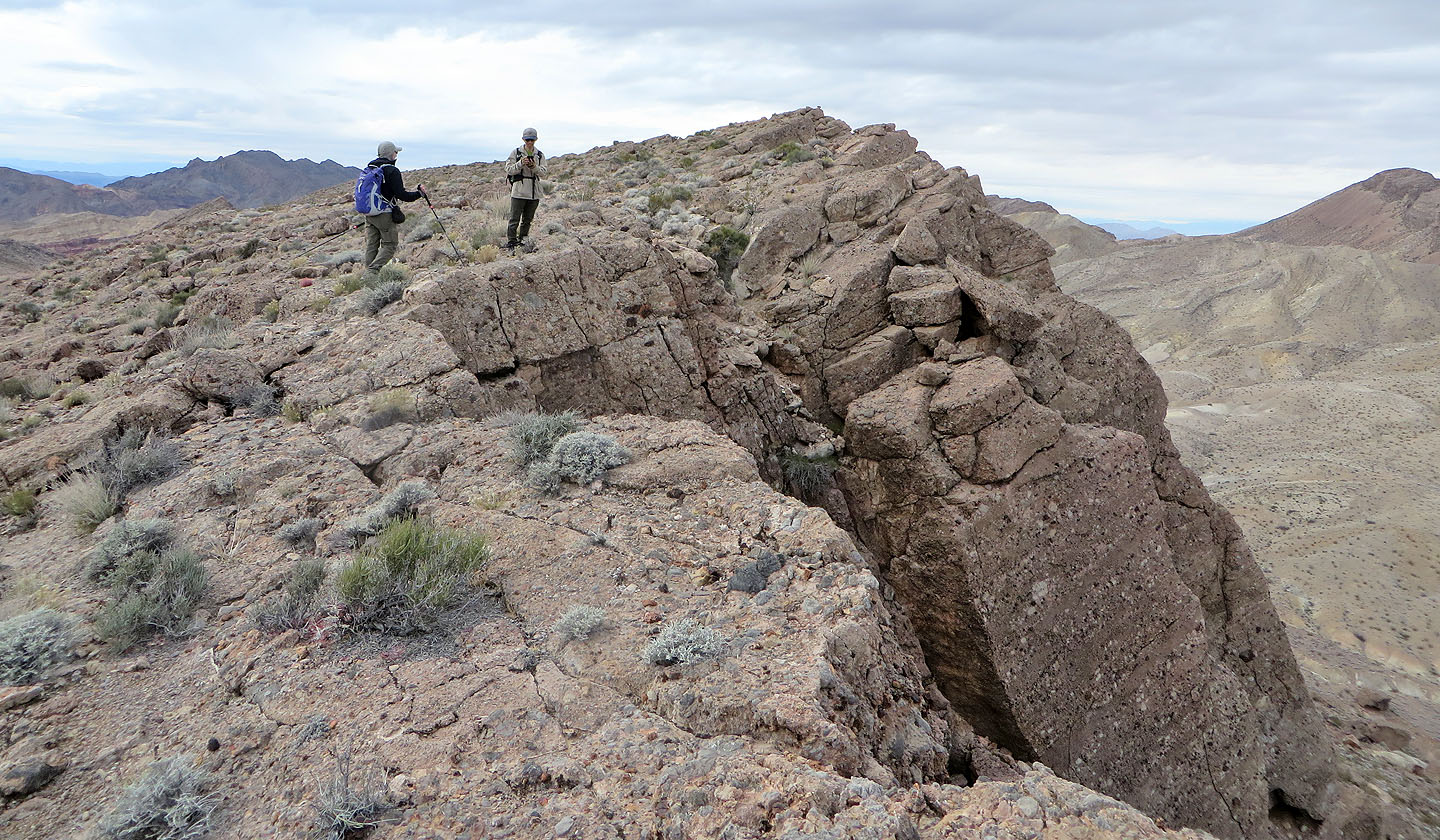 Closing in on the summit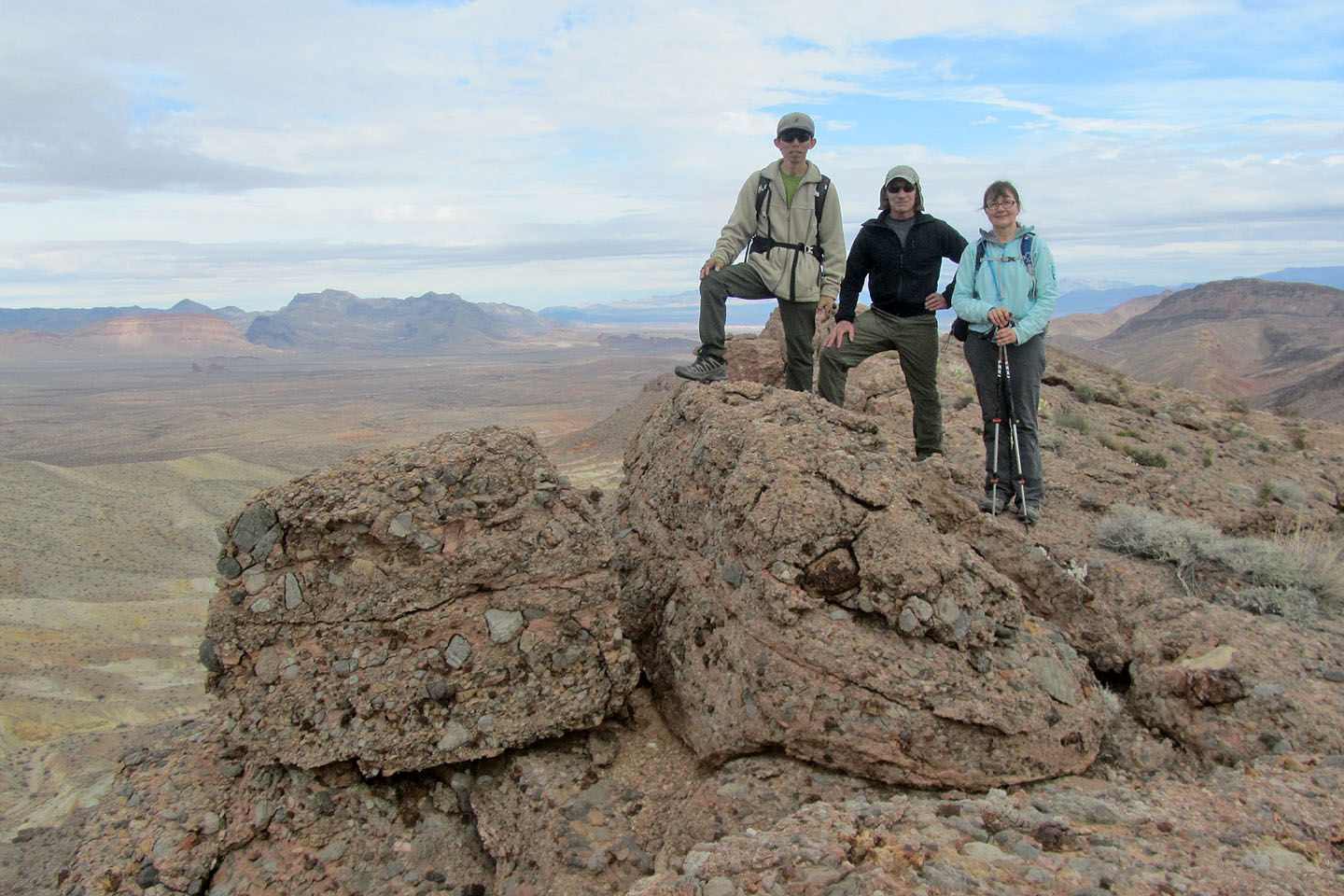 Standing on what we believe is the highest point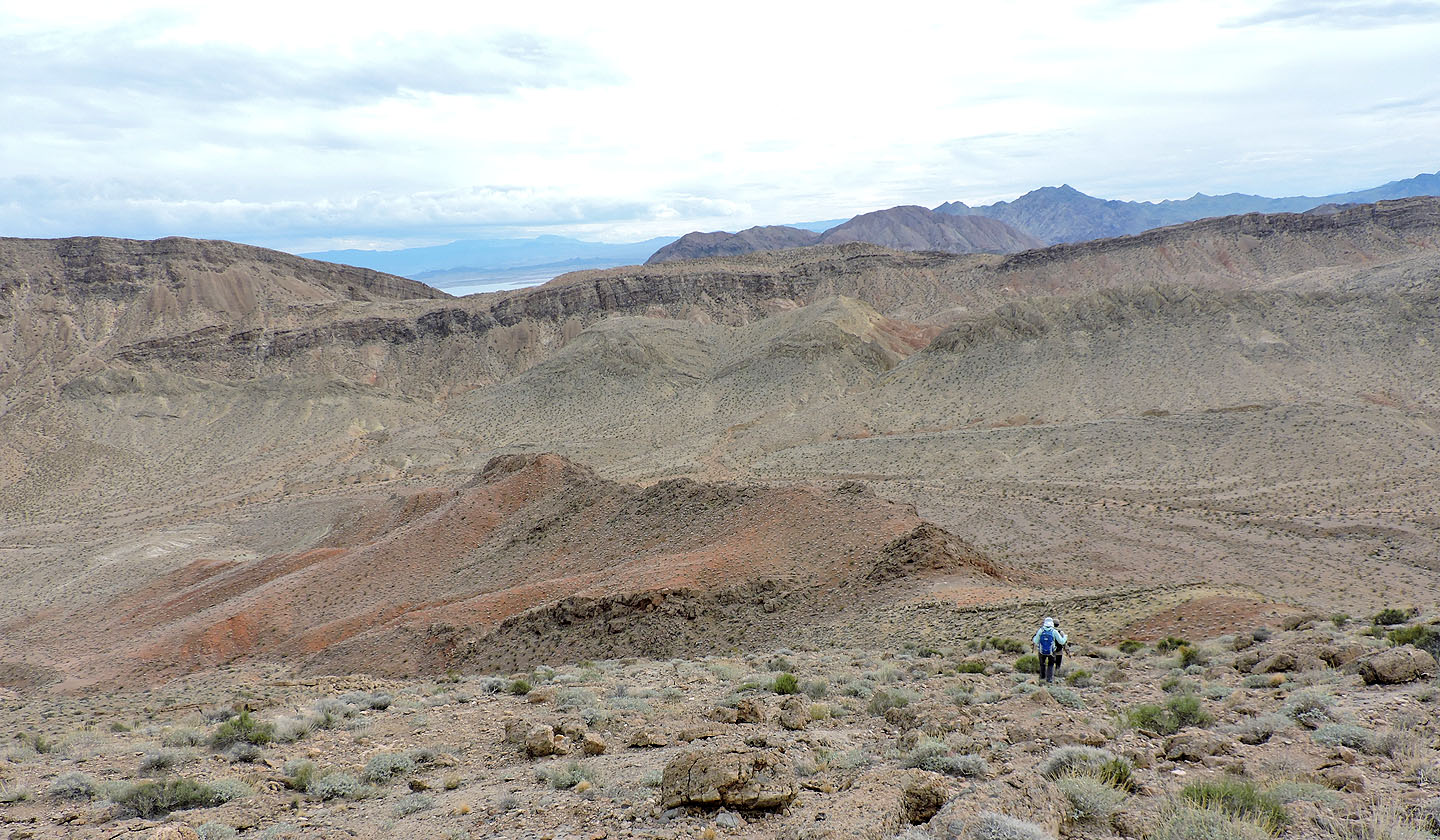 Dropping down to the valley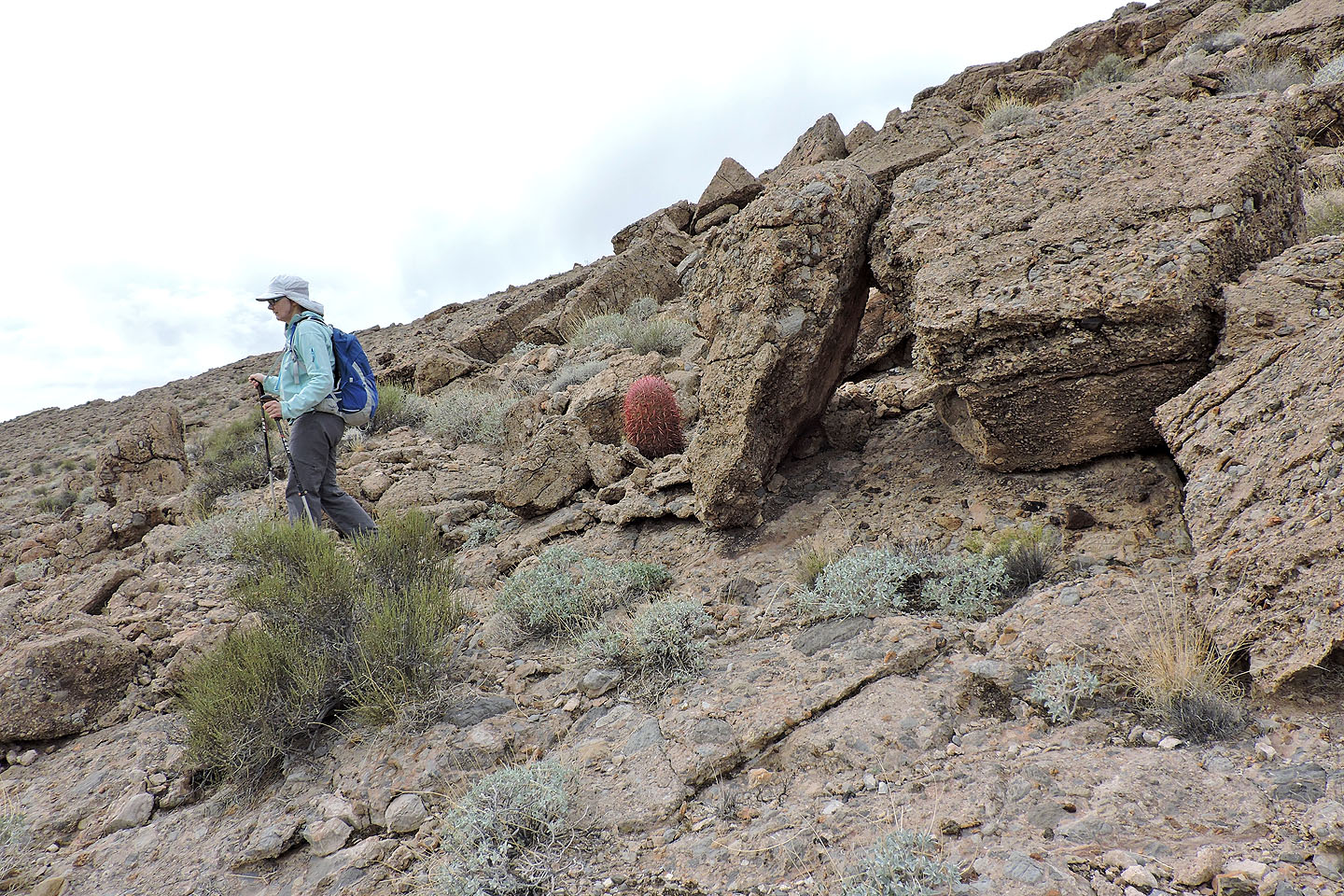 There were few cactus but this red barrel stood out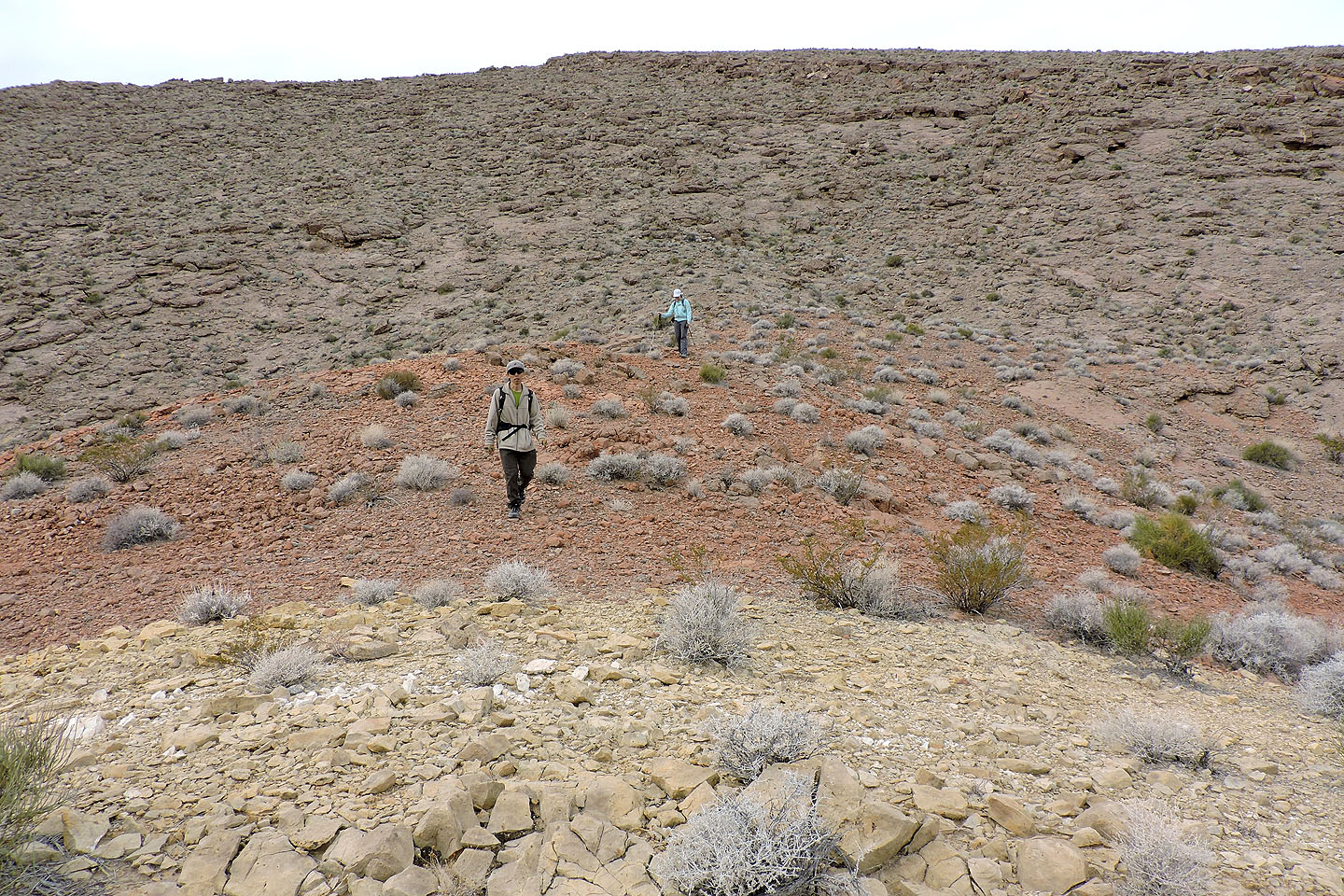 Looking back up the multicoloured slope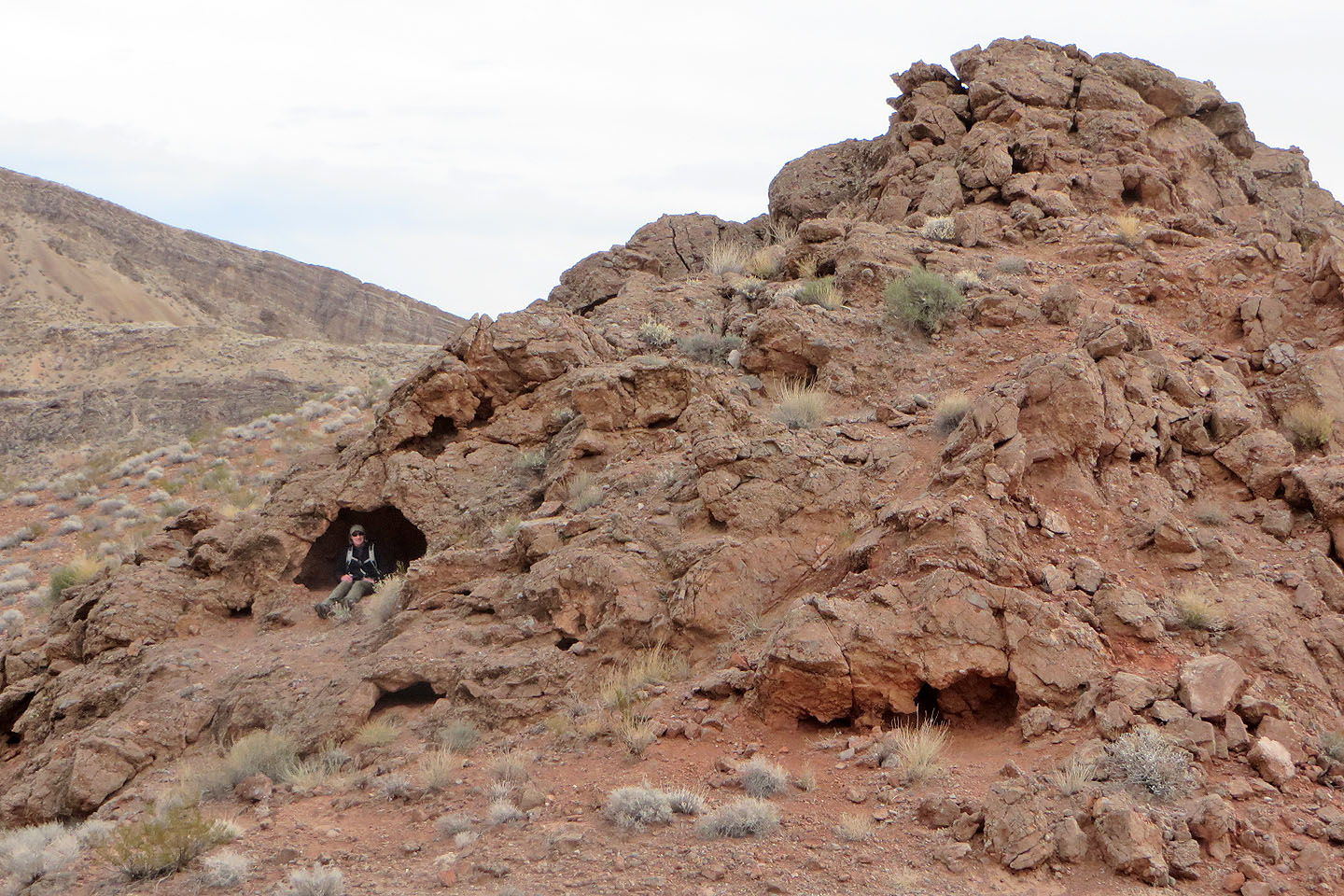 Resting in a shallow cave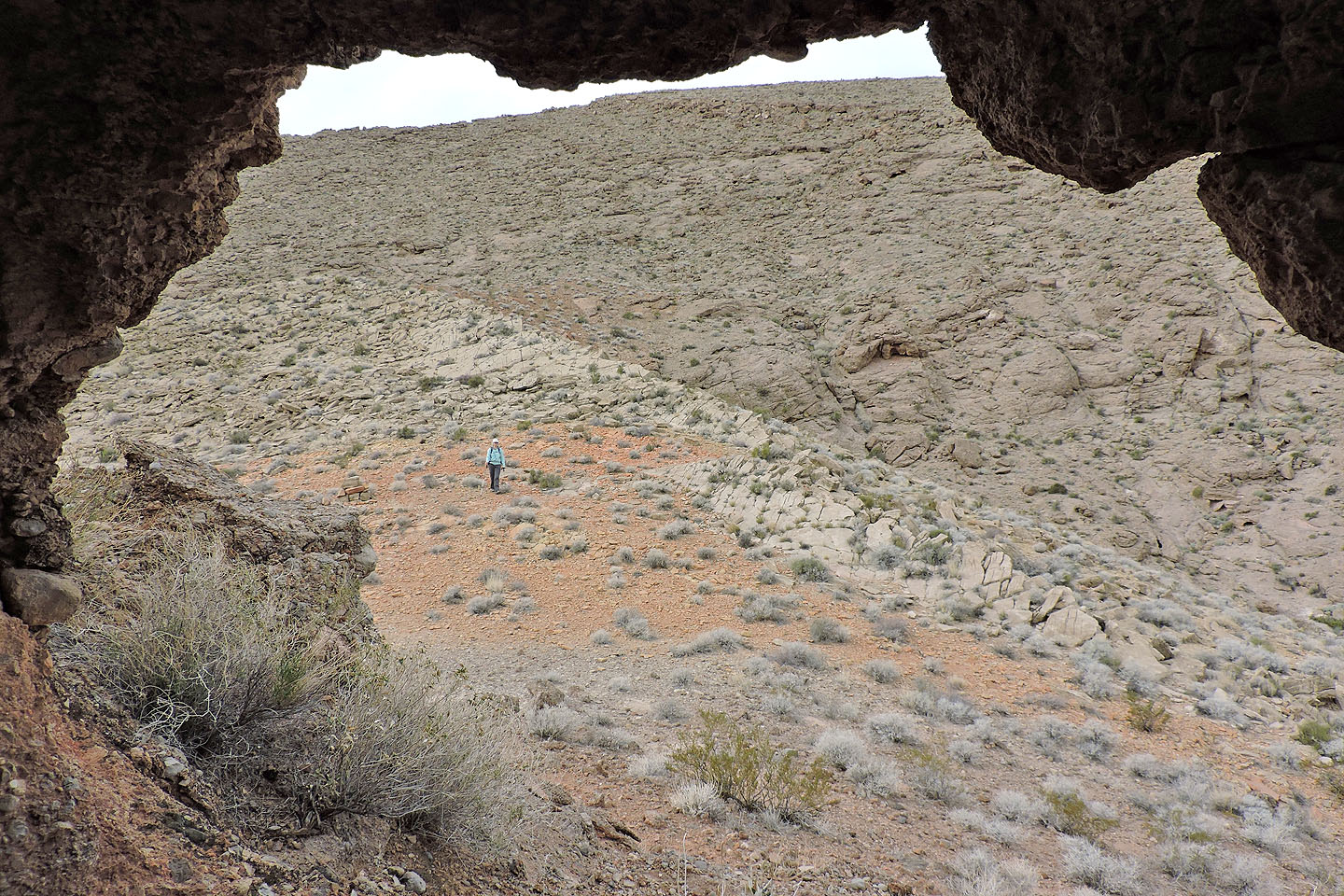 Looking back up the slope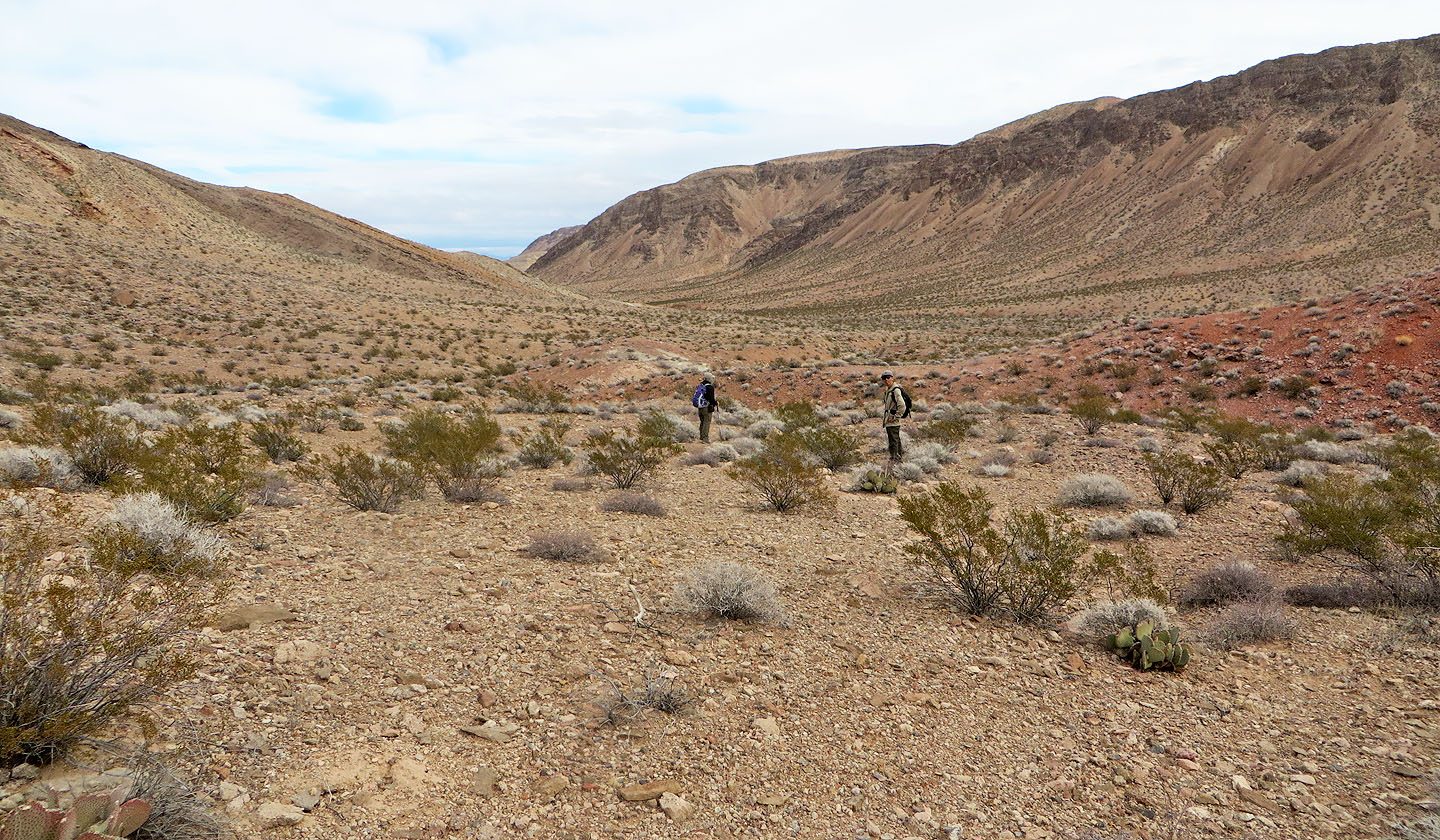 After reaching the valley we made our way to the wash. Pinto Ridge is on the right.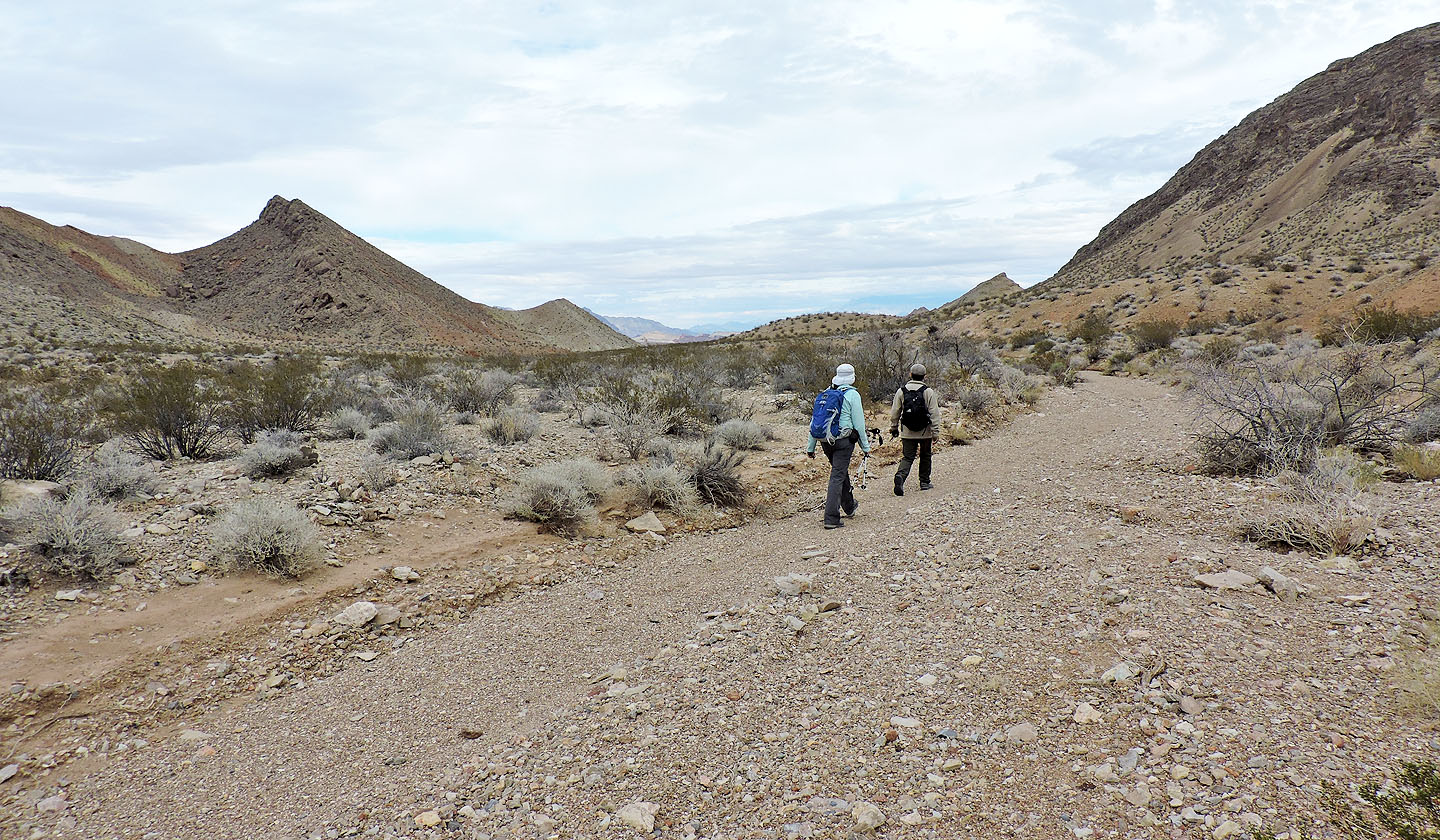 We followed the wash back to our car. Left is the saddle we reached at the start of our trip.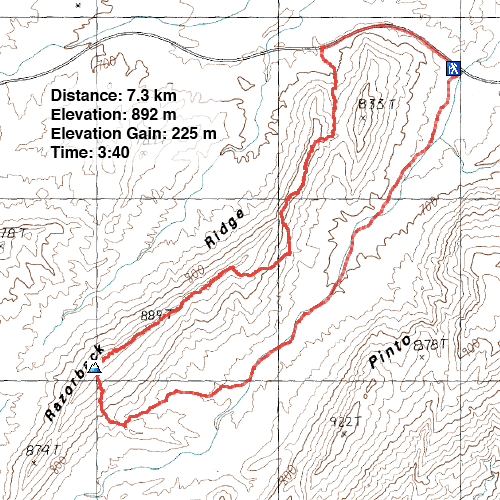 Boulder Canyon (4.5 mi, 2927 ft, 738 ft)