bobspirko.ca | Home | Canada Trips | US Trips | Hiking | Snowshoeing | MAP | About

Pioneer Rock
Spring Mountains, Nevada
April 11, 2018
Distance: 3.3 km (2.1 mi)
Cumulative Elevation Gain: 195 m (640 ft)
Pioneer Rock is such a minor point in the Spring Mountains, that it hardly makes a footnote on the Internet. Only later, when we reached the Rock, did we realize its attraction is to climbers rather than hikers. But on this windy, hot day, we couldn't afford to be choosy. A wind warning for the afternoon prohibited us from engaging in a long trip, and highs of 32°C discouraged us from climbing even a minor desert peak. Our best bet was a short hike high in the Spring Mountains where it would be much cooler.
It had already reached 27°C when we left Las Vegas in the morning, but after driving up into the mountains an hour or so later, the temperature plummeted to a cool 14°C. We parked at the lower Bristlecone Trail parking lot and walked back a bit down Lee Canyon Road. On our right was a low ridge we had to climb.
After ascending the ridge, we found a dirt road that would lead us to Pioneer Rock, but not before passing through a ranger station. There were several buildings here, and we weren't sure if we were allowed to go through, but we saw no one. We passed the ranger station without interference unless you count the friendly dog that greeted us.
After passing Pioneer Rock on our left, we turned onto a short side road. We soon left the road and hiked to a high point that overlooked an impressive rock. Jutting up from its surroundings like a fang, was what must have been Pioneer Rock. It was too steep for our group to take on, although Shin said he would be willing to try it if he had a rope.
We couldn't see much from our little high point, but sitting at 2700 m, it was well below surrounding peaks, like 3500-metre Mummy Mountain that it was up against. However, we enjoyed our short outing.
As we headed back down, we noticed a change in the air. We heard the rustle of leaves in the trees and a roar high above us. The wind had arrived.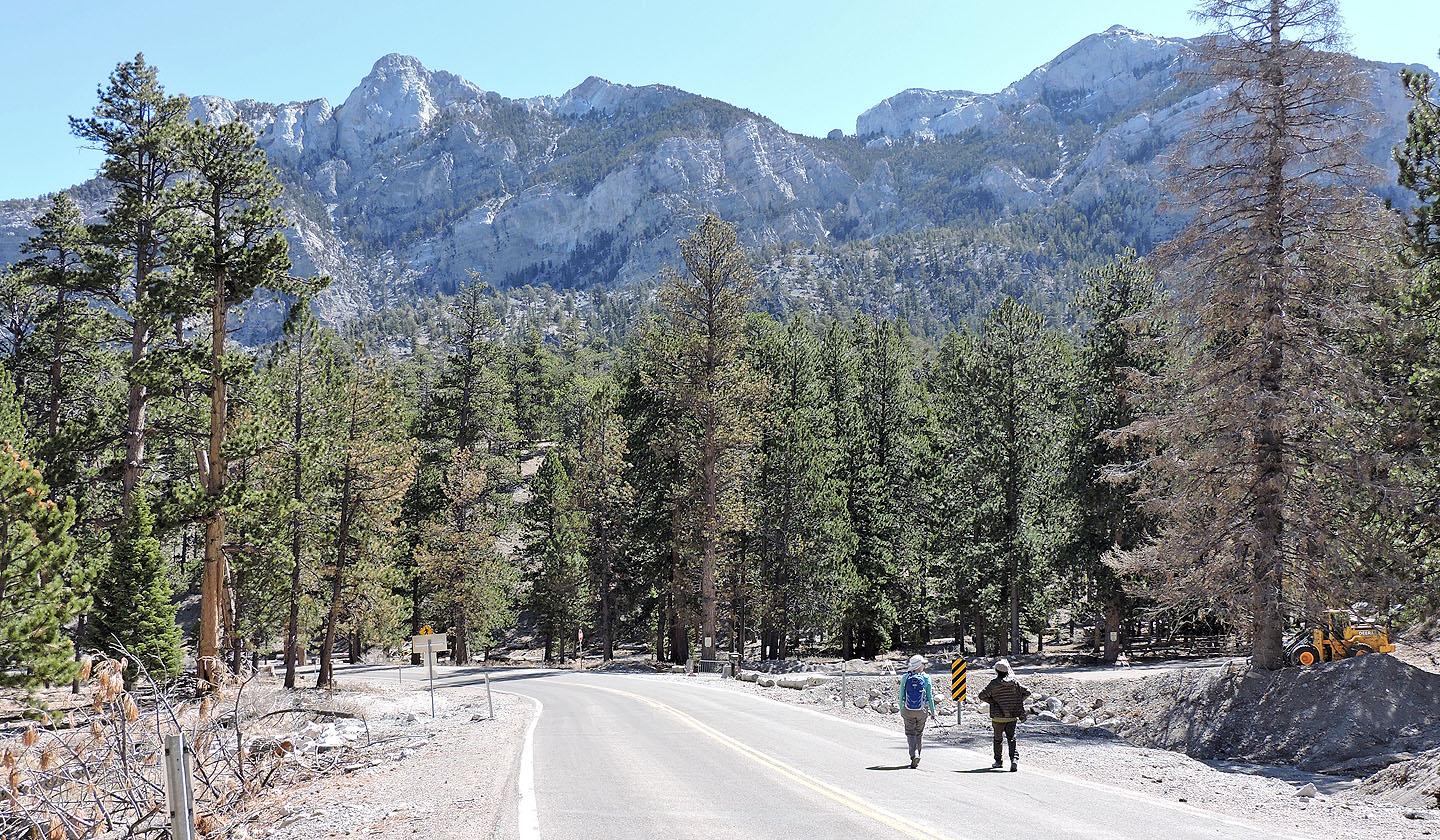 From the parking lot we walked down Lee Canyon Road to the low ridge in front of us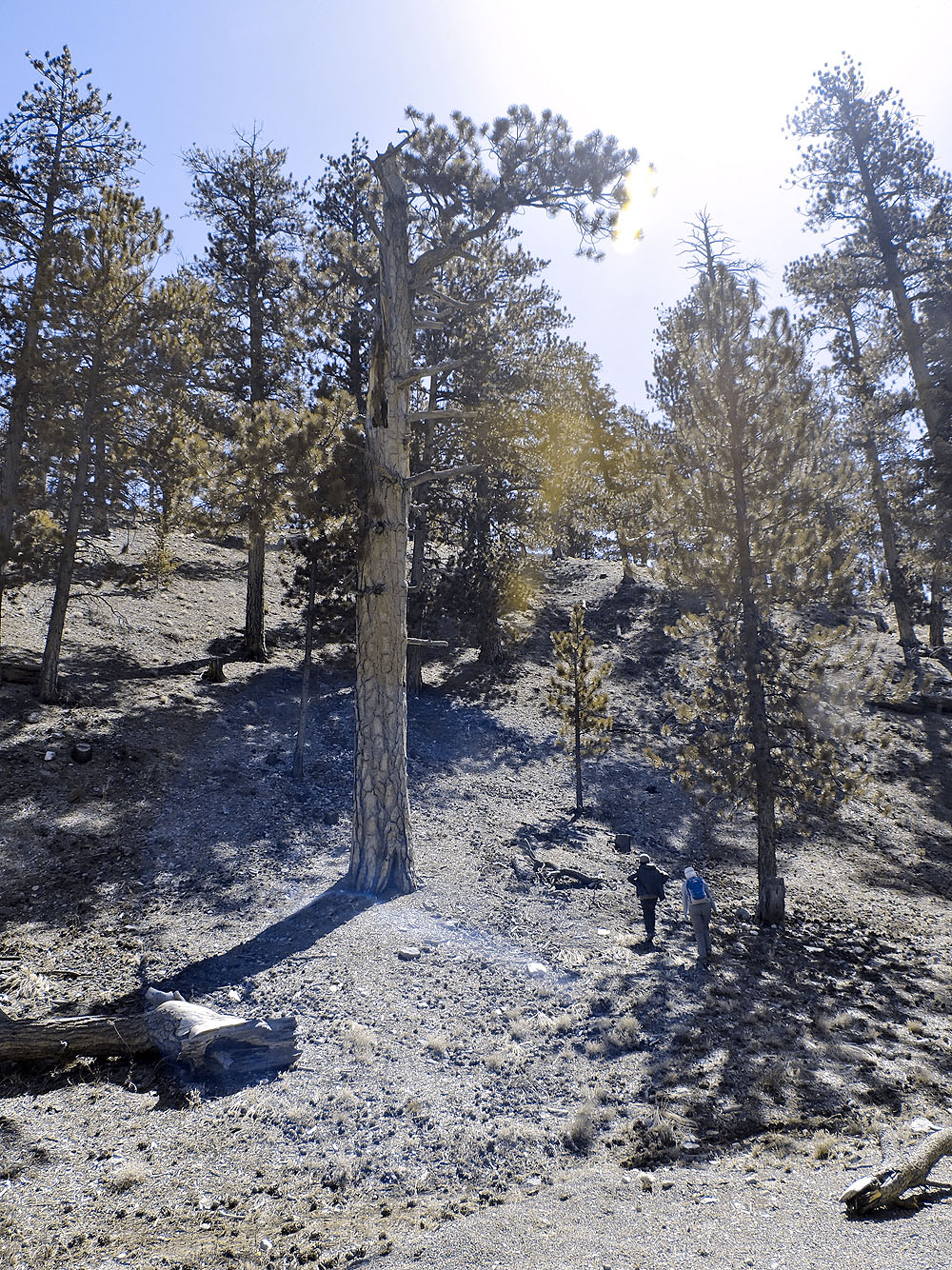 We started up the ridge next to a broken ponderosa pine

We were soon following the road on the ridge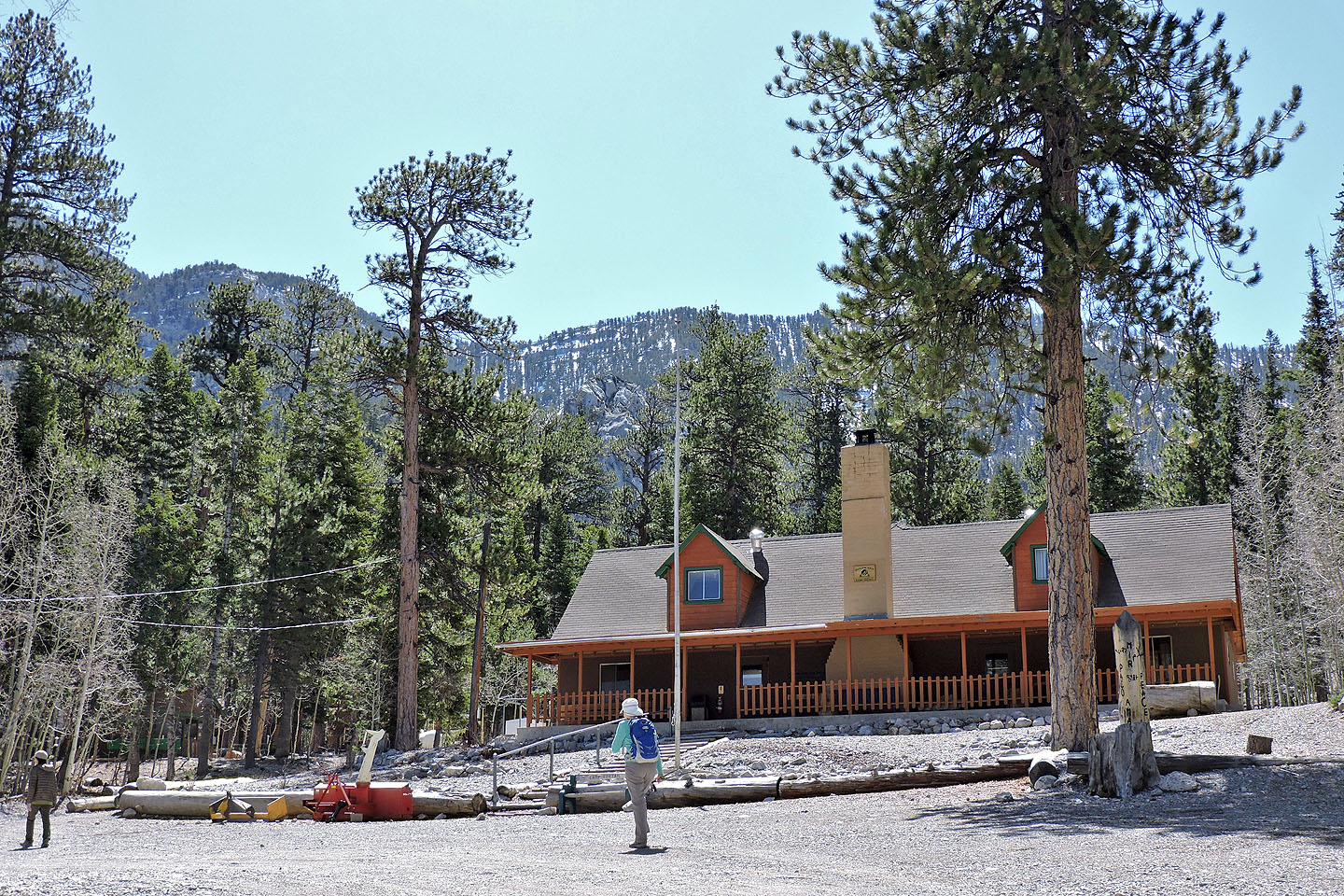 We walked through the ranger station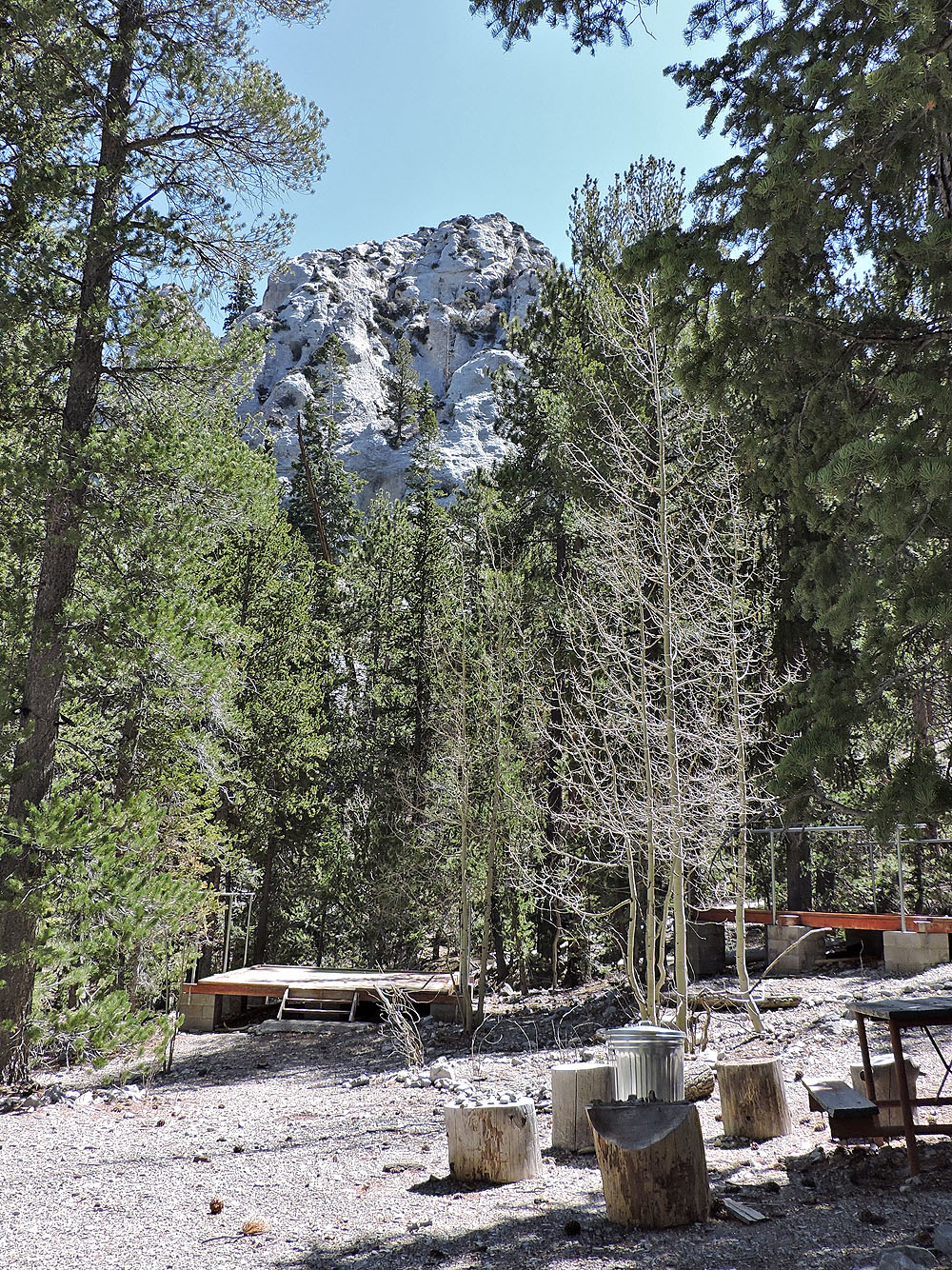 Trees made it difficult to get a clear view of Pioneer Rock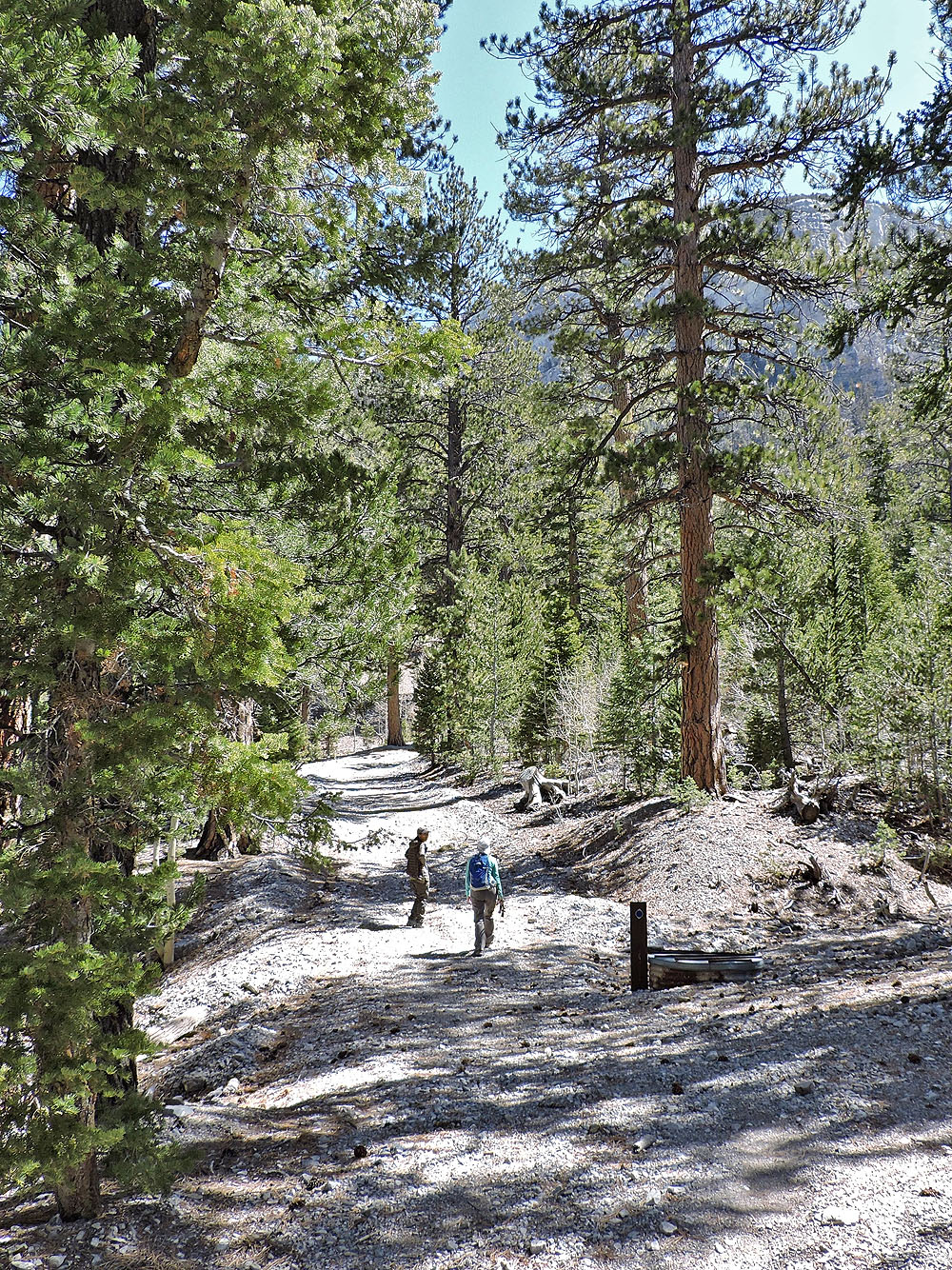 We left the main road and took a side road south of the Rock

We could see the Rock on our left through the trees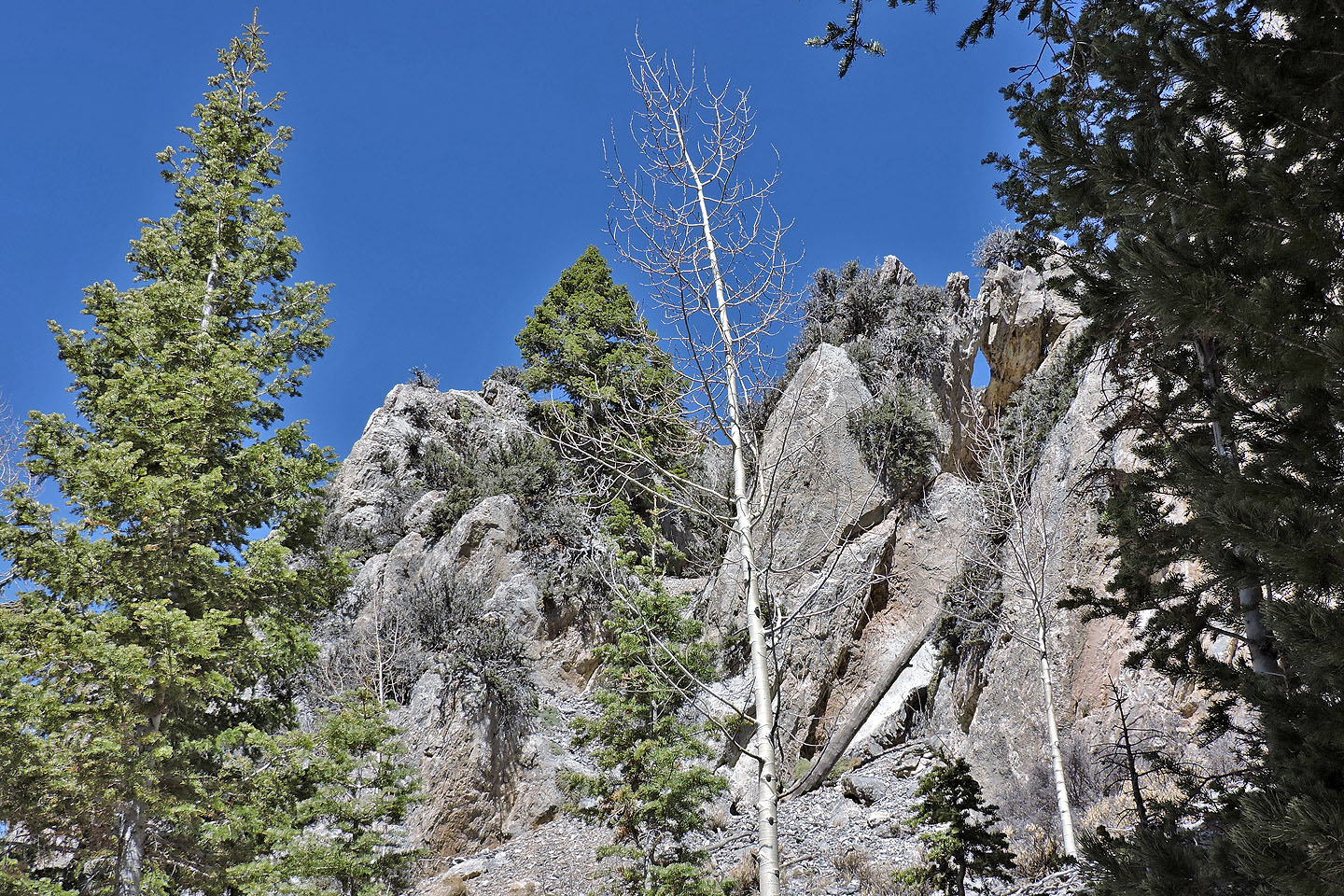 There may be a scrambling route through the rocks to the high point, but we continued up a scree slope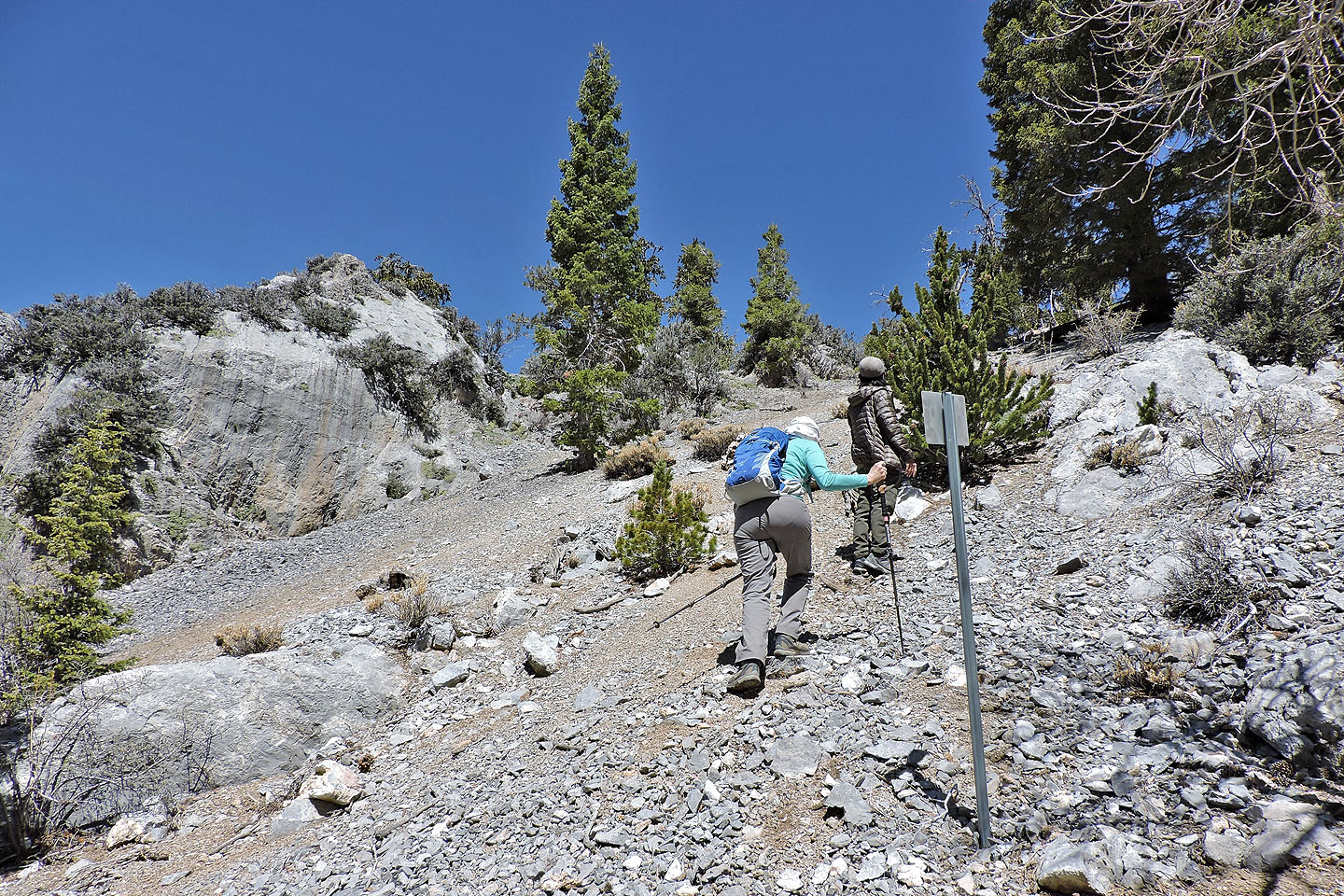 We passed a sign that seemed out of place here (mouse over to read)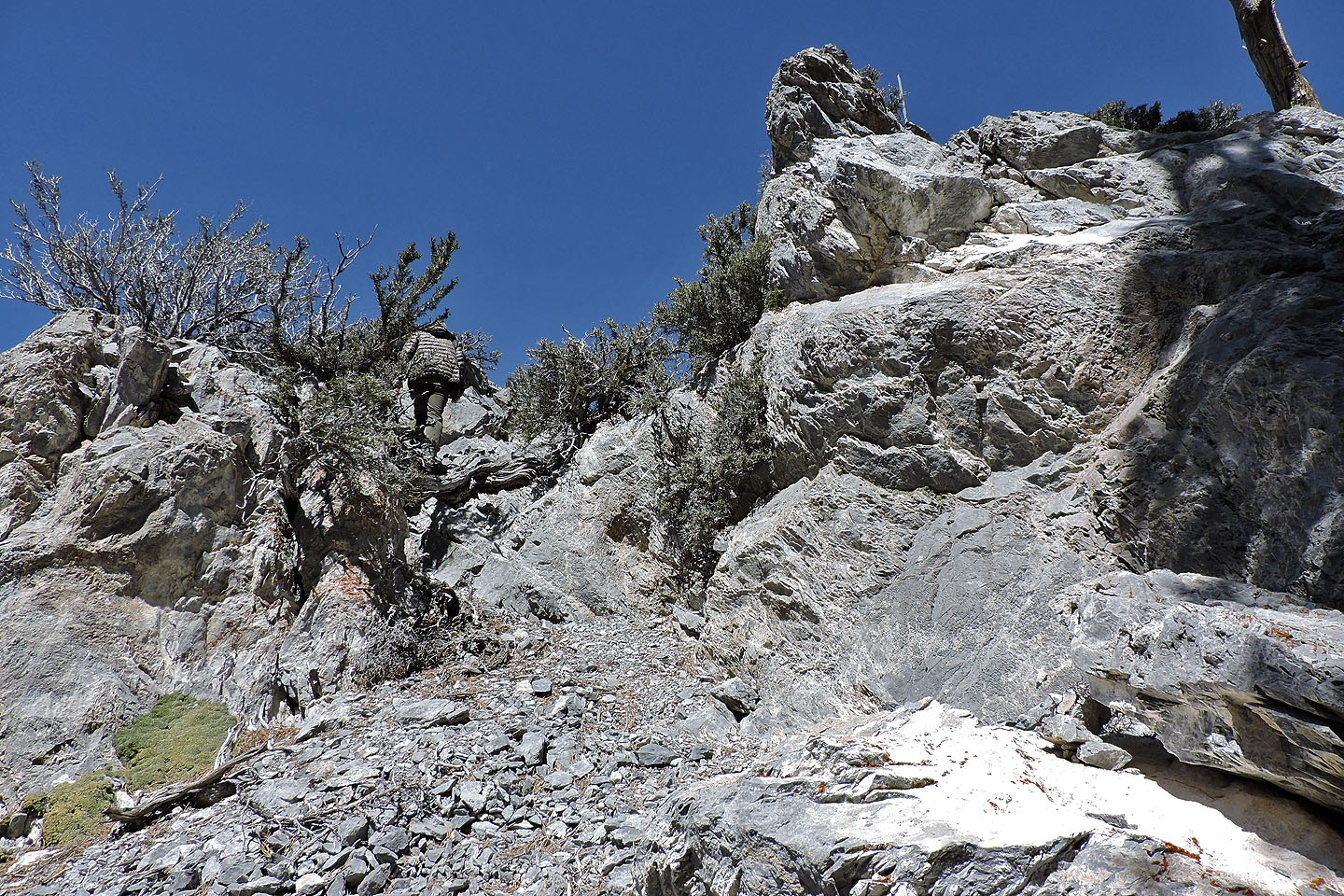 Shin heads to the top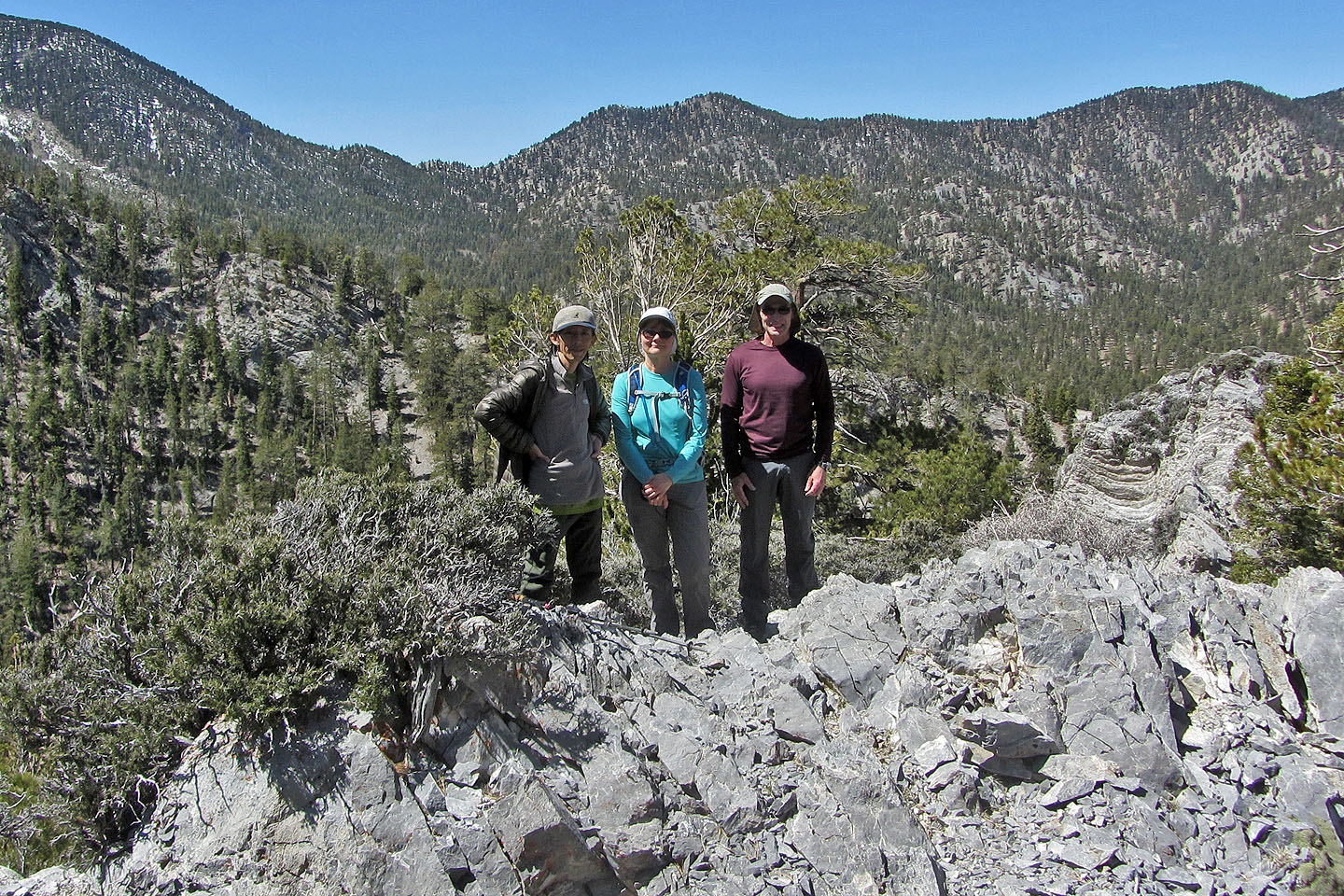 Posing on the high point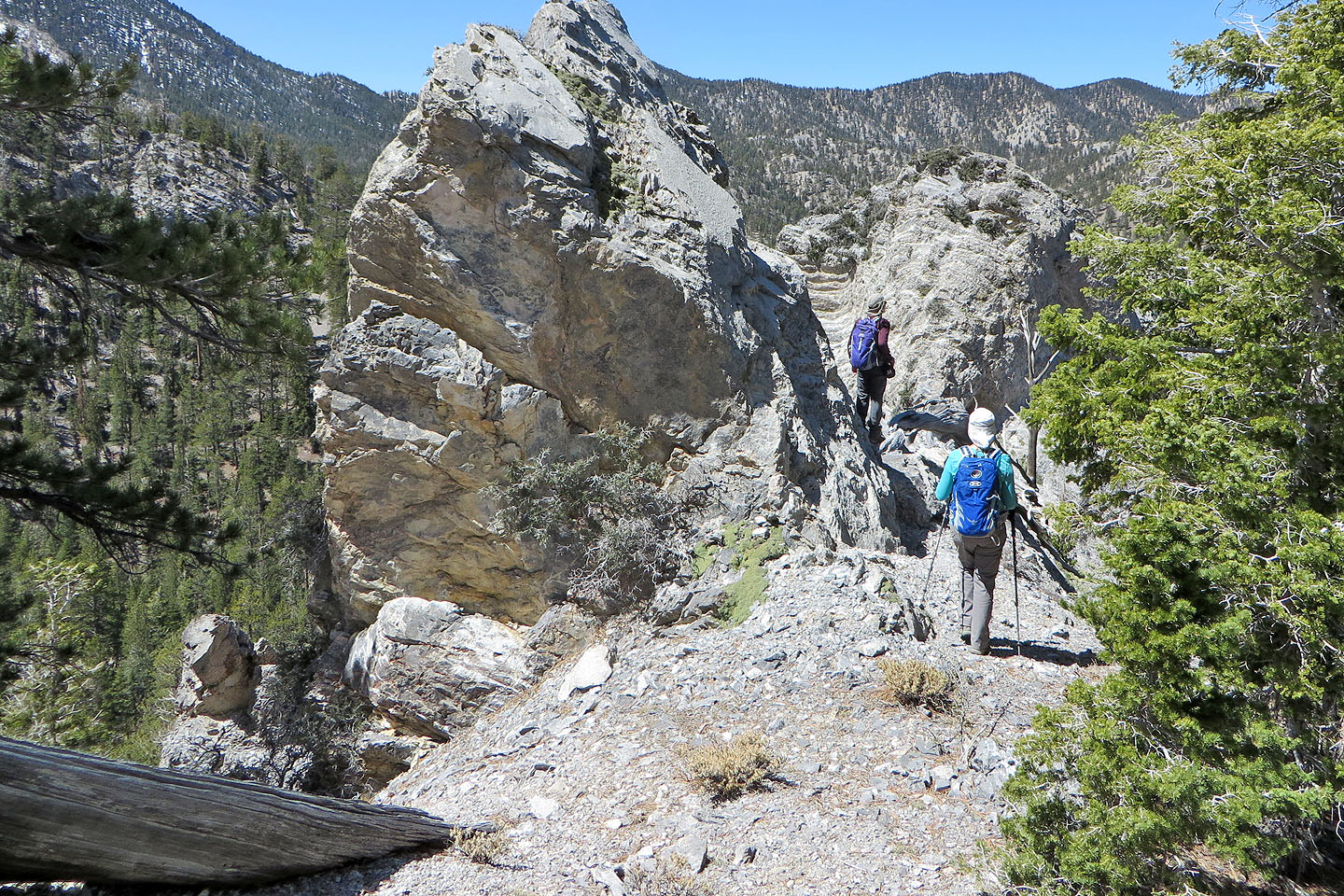 We dropped down to take a close look at Pioneer Rock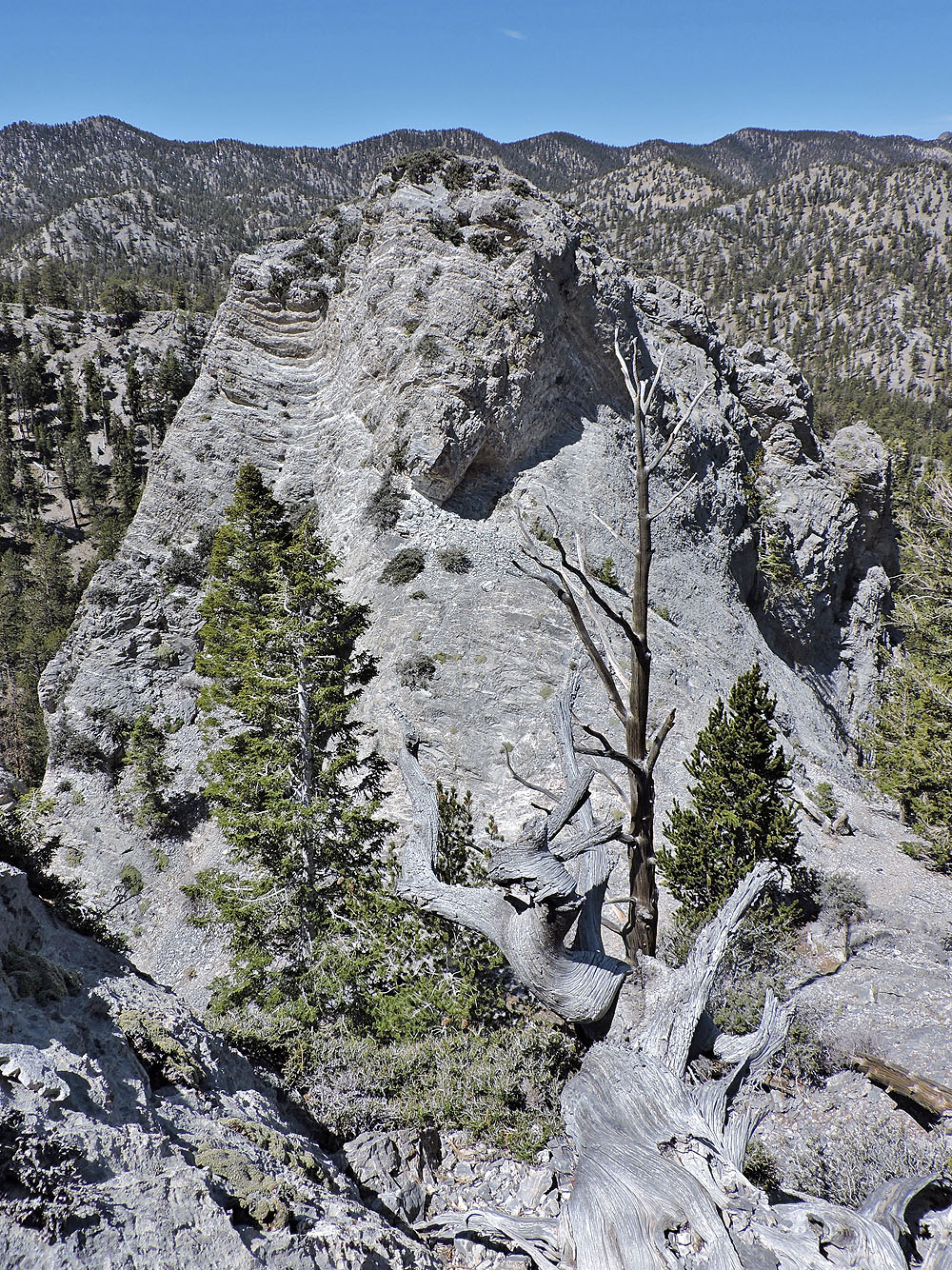 Pioneer Rock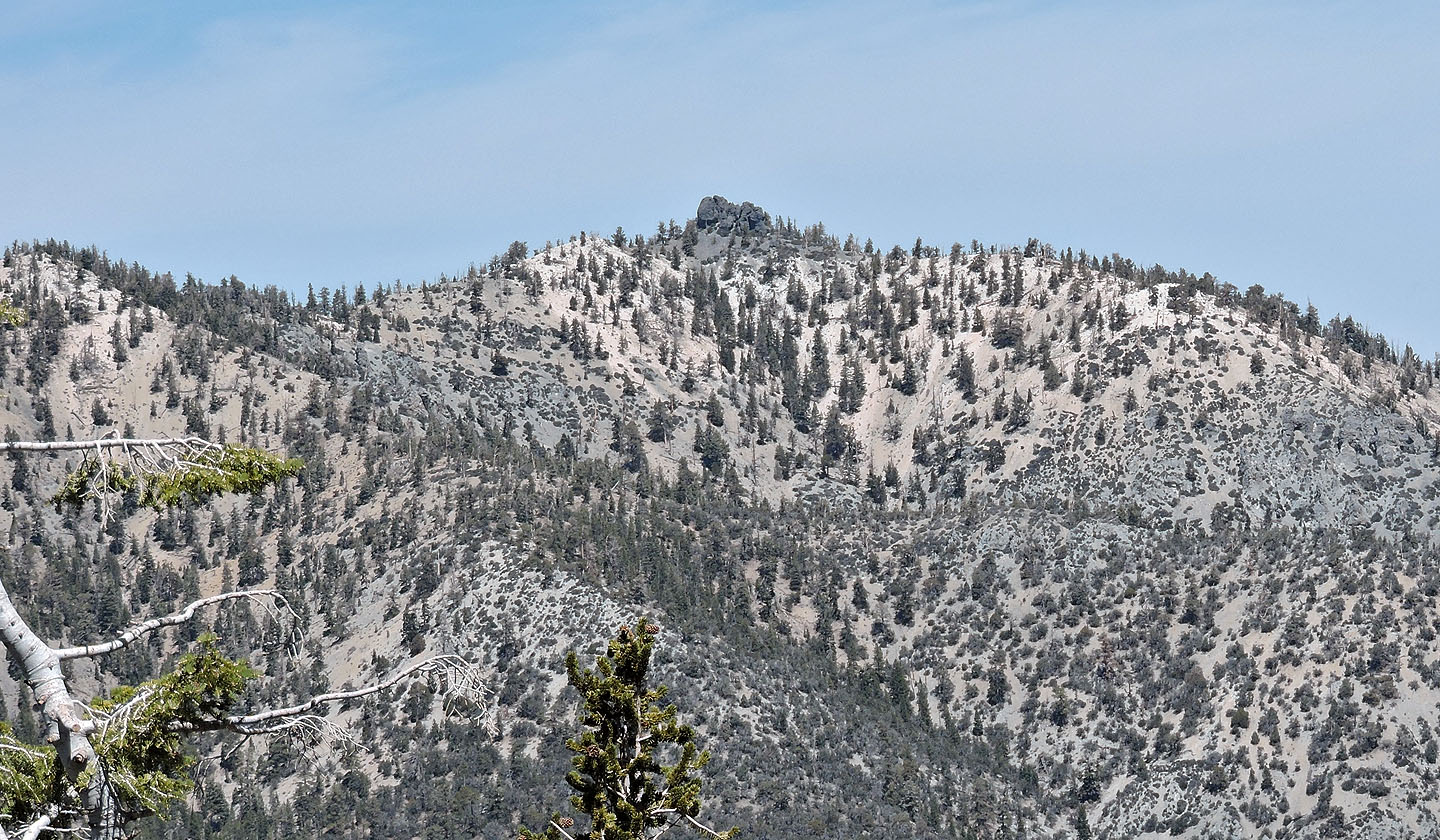 White and Black Sisters lie northeast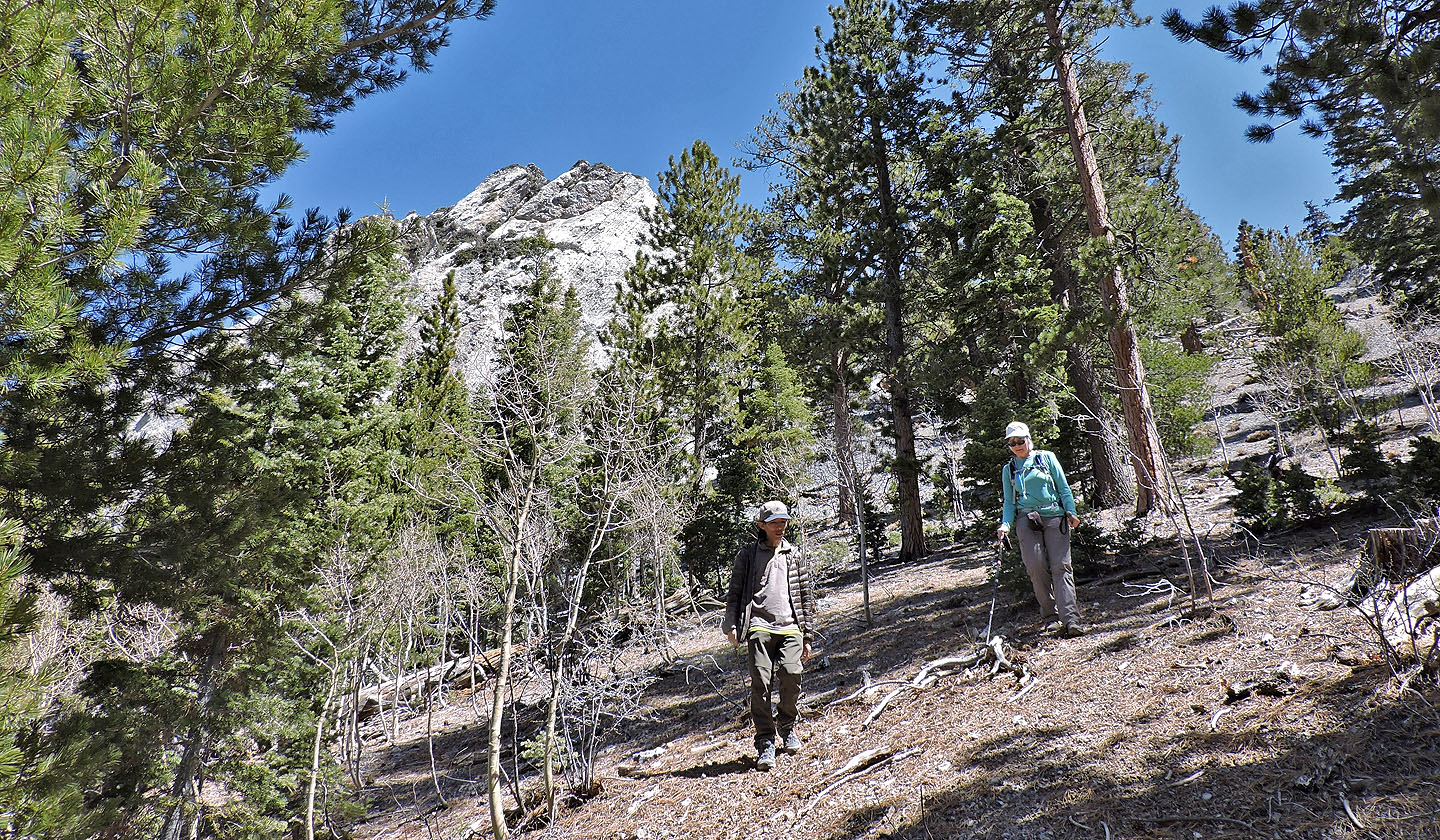 Heading back down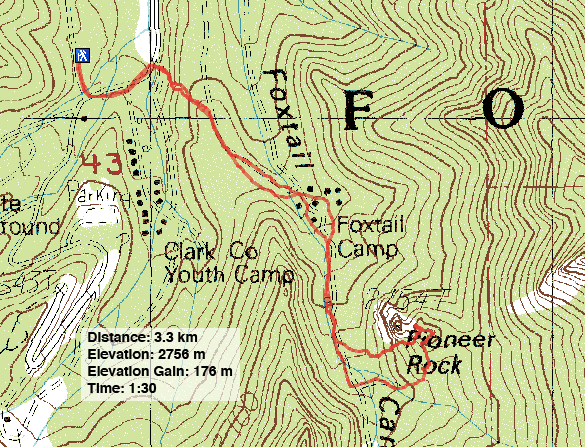 Charleston Peak (2.1 mi, 9042 ft, 577 ft)