bobspirko.ca | Home | Canada Trips | US Trips | Hiking | Snowshoeing | MAP | About

Hamblin Mountain
Lake Mead NRA, Nevada
November 20, 2011
Distance: 11.5 km (7.1 mi)
Cumulative Elevation Gain: 443 m (1453 ft)
Hamblin Mountain is just one of many half-day trips that can be found in Lake Mead Recreation Area. Trips here have never failed to captivate Dinah and me, and Hamblin was no exception. We were amazed by the kaleidoscope of colours en route to this small volcanic peak. Even the overcast skies that day couldn't dull the bright hues. From the rich red sandstone to the multicoloured mudstones, the rocks grabbed our attention throughout the trip.
We used Jim Boone's route description which begins with a hike up Cottonwood Wash. Even with his waypoints, however, finding our way wasn't easy; the route encompasses a maze of washes, and at junctions, we had to be sure we took the correct turn. Although we took our time, we still made a couple of slight navigation errors. Fortunately we didn't venture far afield and were able to get back on track quickly.
Other than a couple of short scrambling bits, Hamblin was a hike. In the final broad wash, we found an obvious trail and followed it to the summit. From there, Lake Mead spread out below, while around us we recognized peaks that we had climbed. But we also saw several unfamiliar peaks, peaks that offered an excuse to return to the area and take in more of the area's vivid scenery.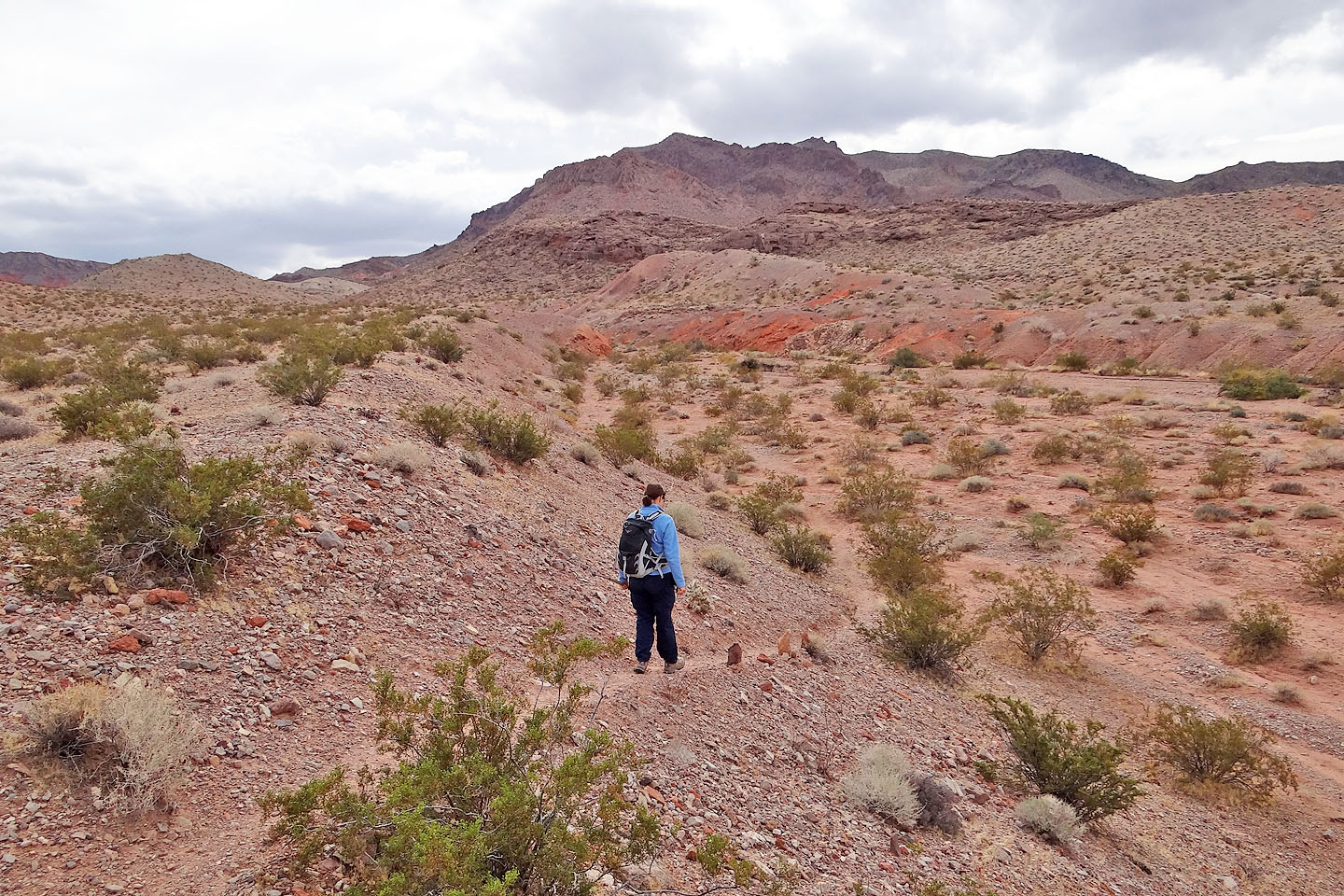 A couple of minutes after starting out, the trail drops down into Cottonwood Wash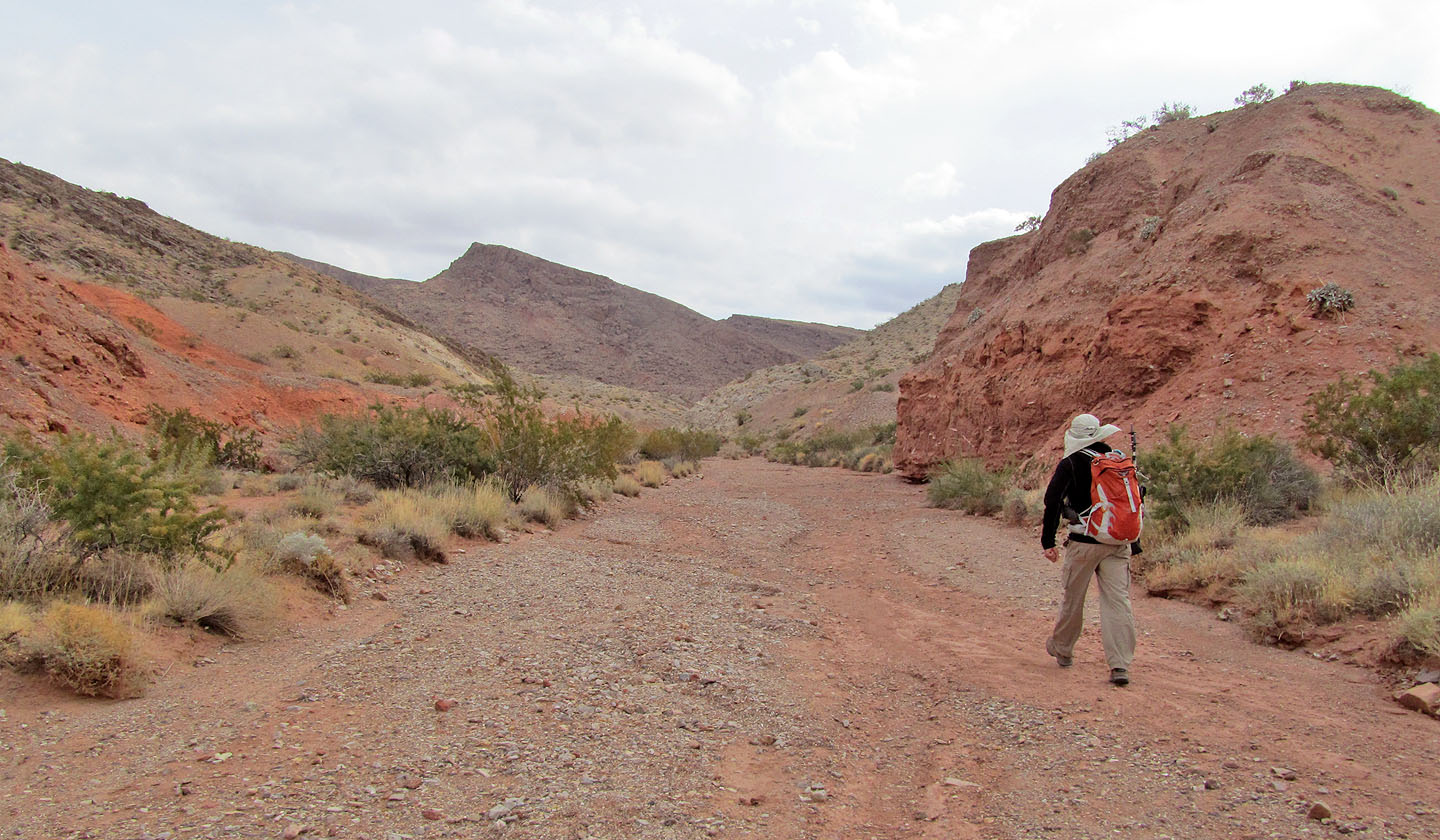 Hiking up the colourful wash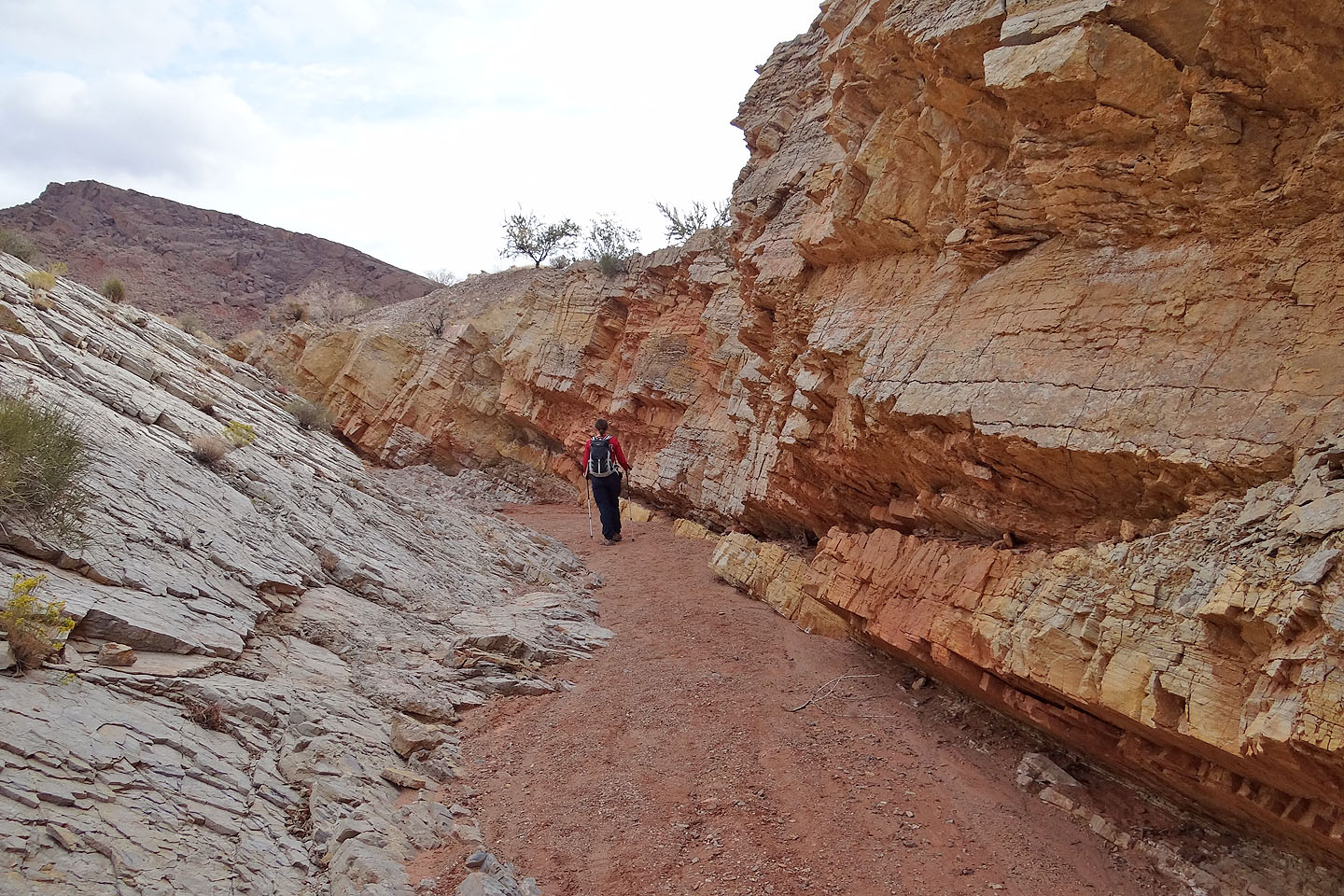 Interesting rocks along the way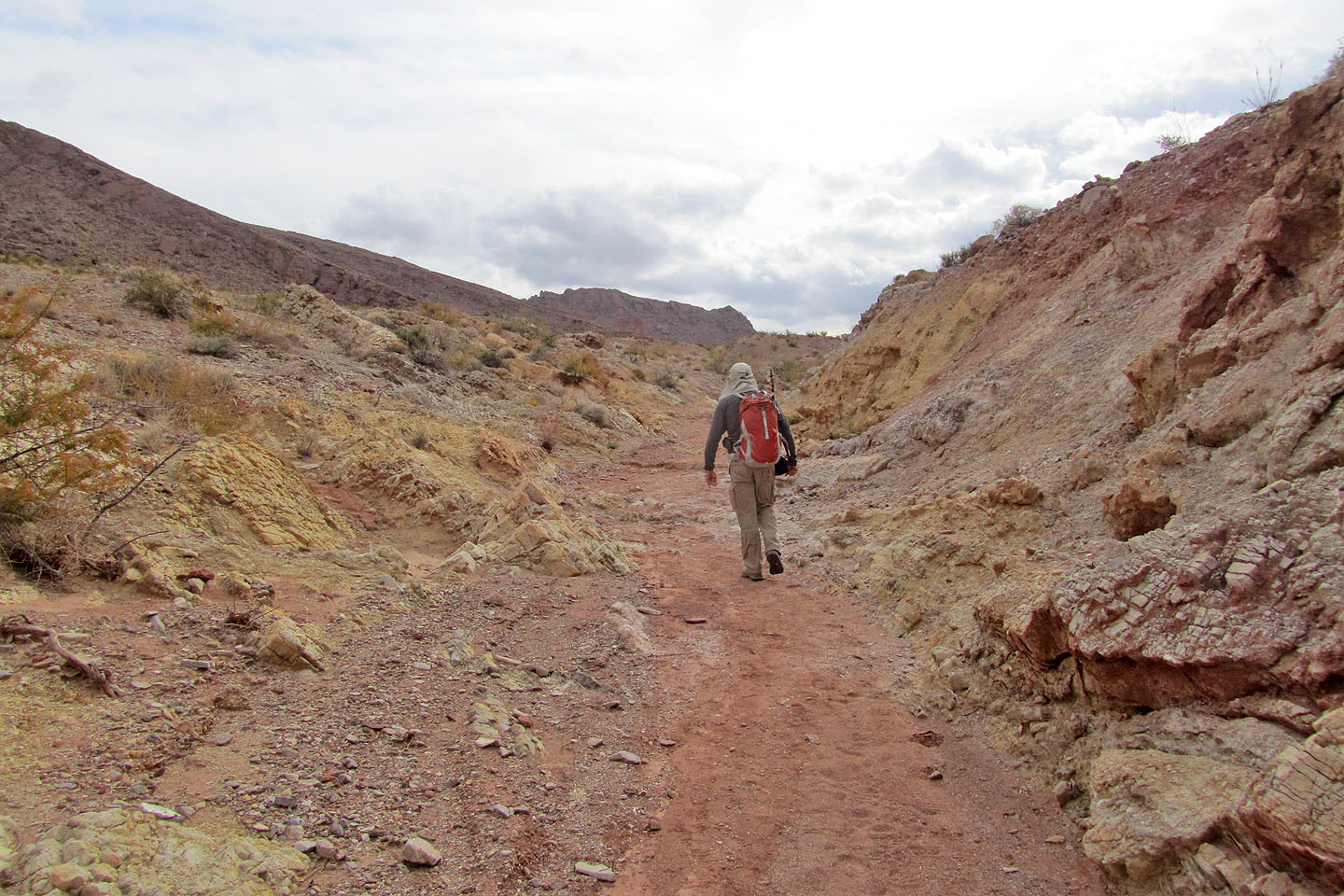 Even overcast skies couldn't suppress the colours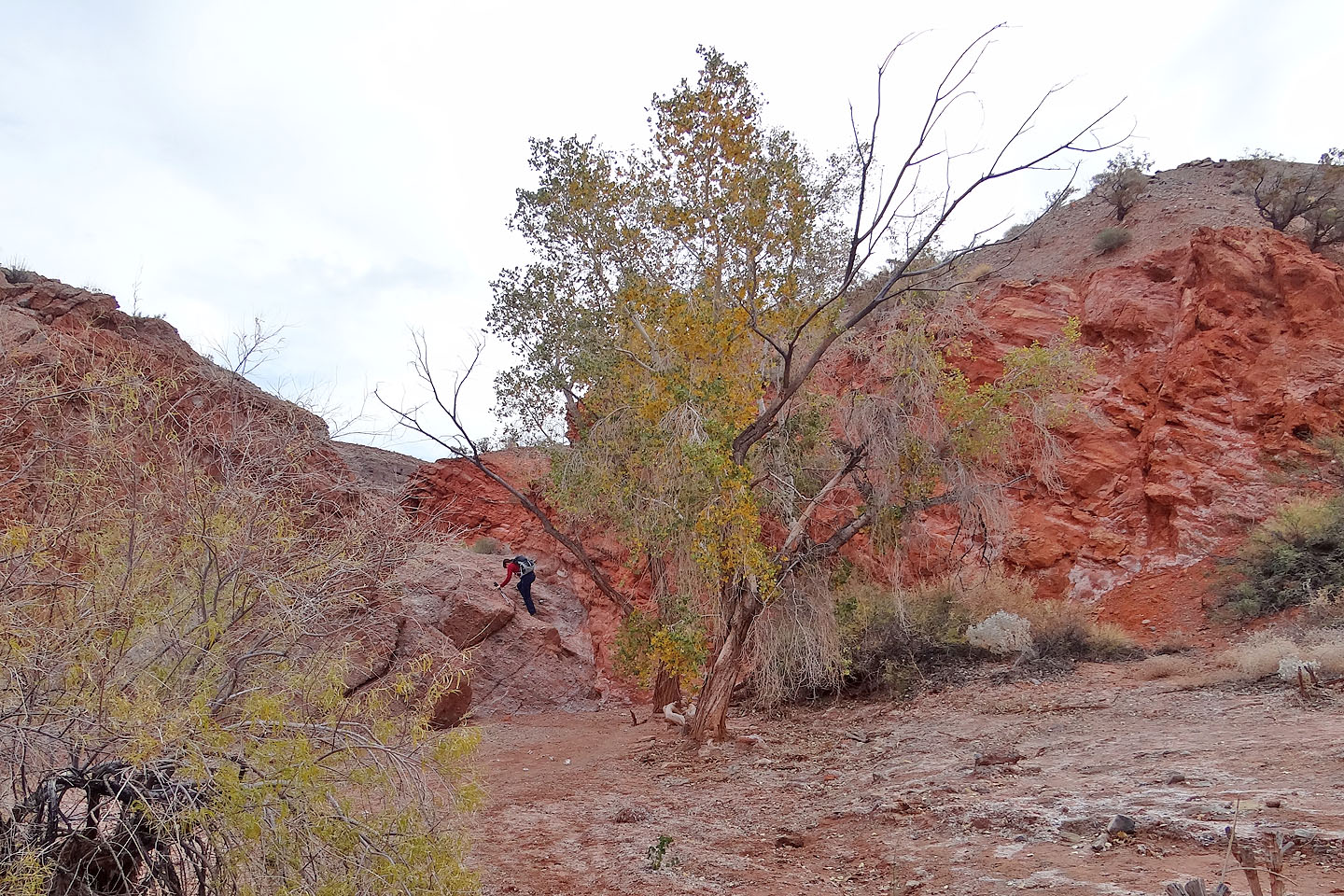 Dinah scrambles up the dry falls at Cottonwood Springs (mouse over to look back)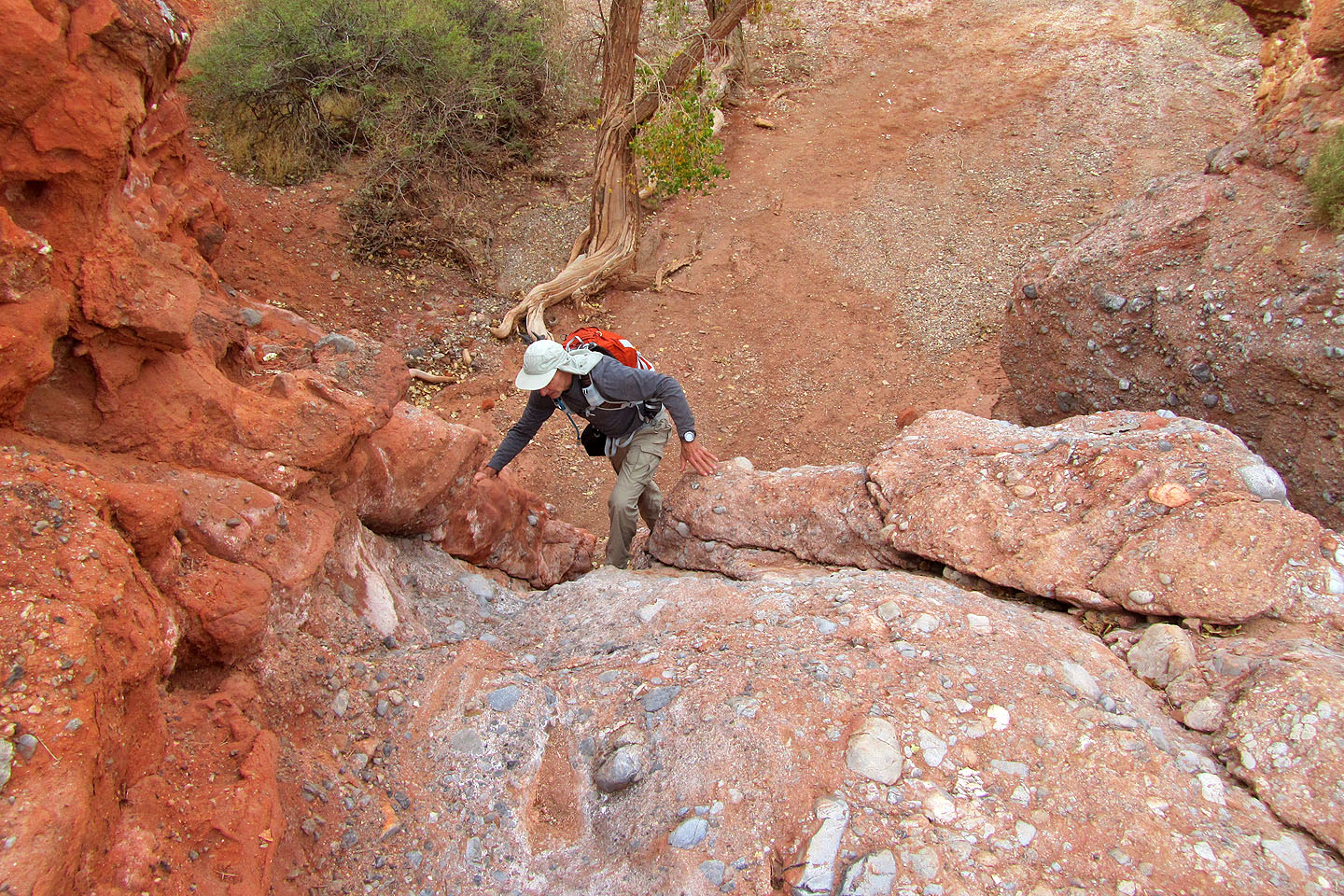 It's an easy climb up the solid rock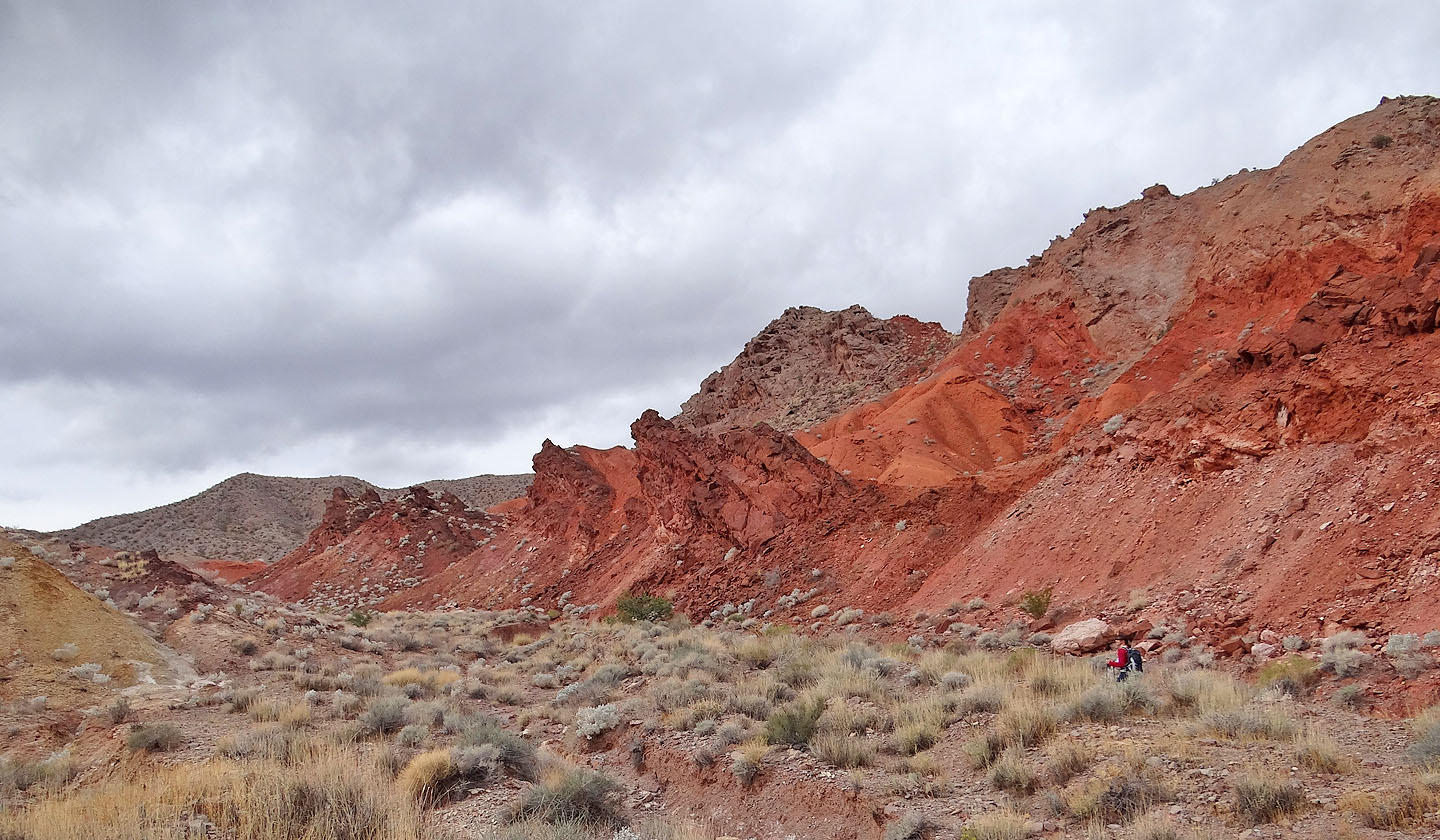 Red sandstone cliffs appear along the route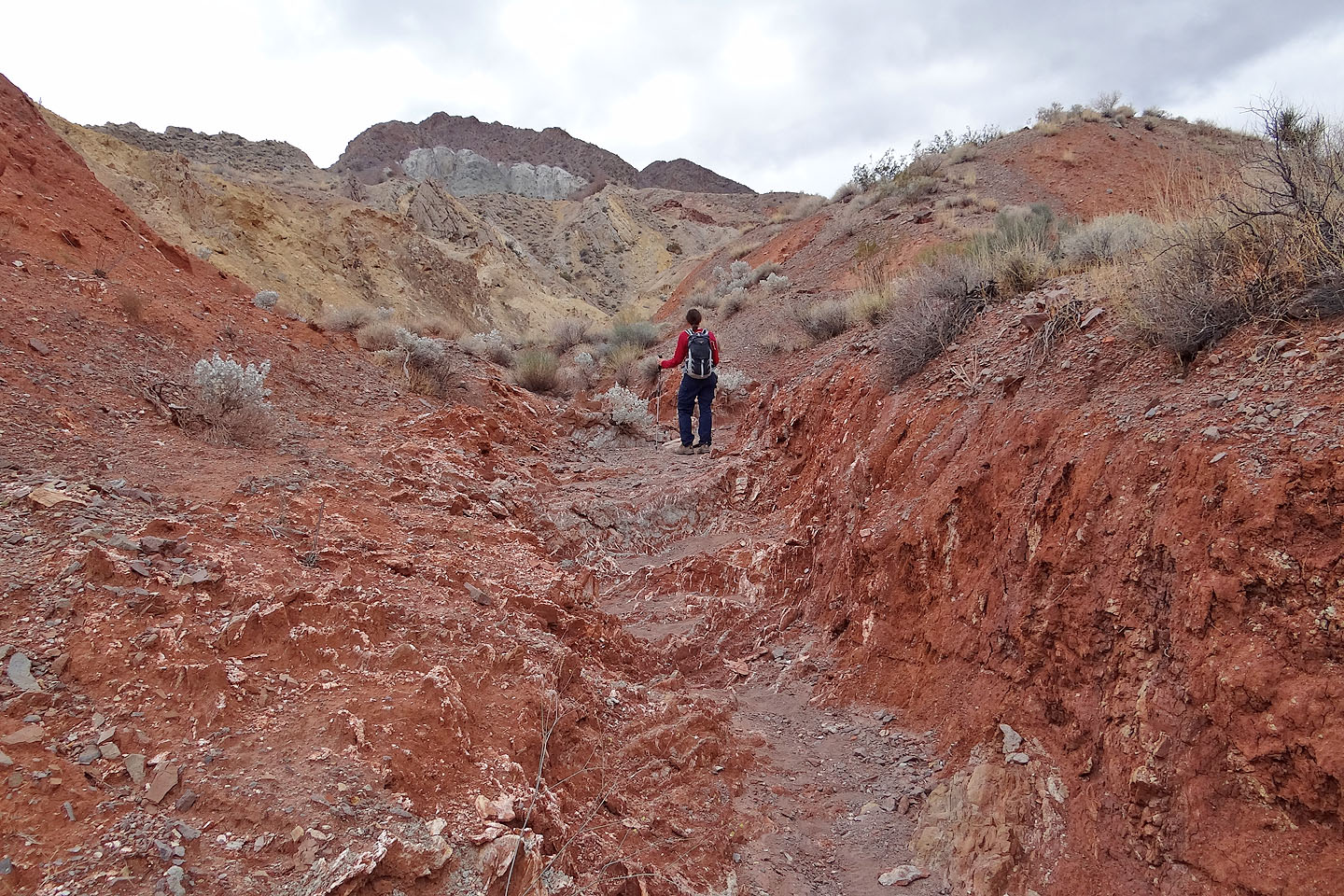 One of a few turns in the wash: we make a right turn where Dinah is (mouse over to look back)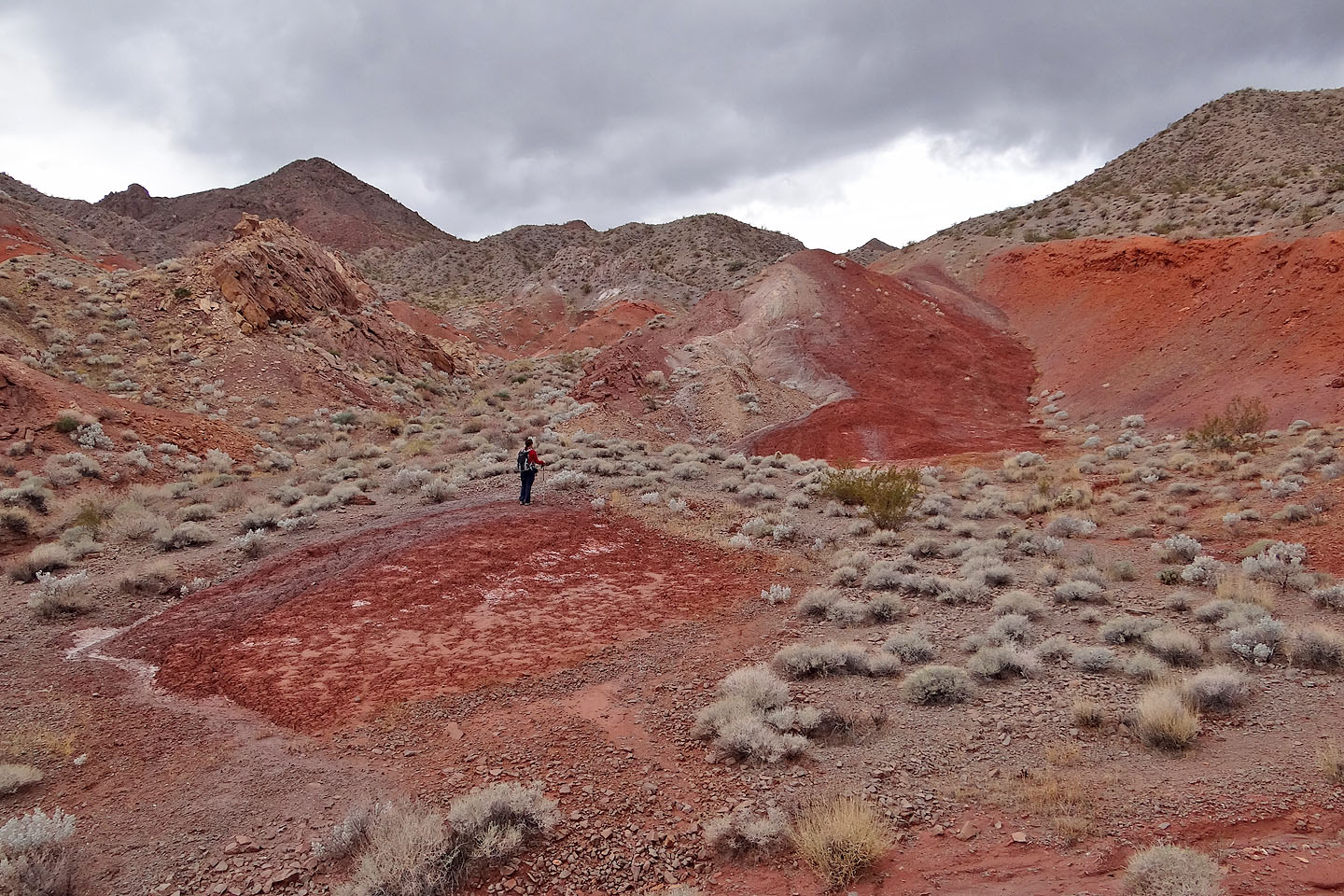 A confusion of washes converge here (not seen are two more left of the photo). We took the wash seen on the far left in the photo.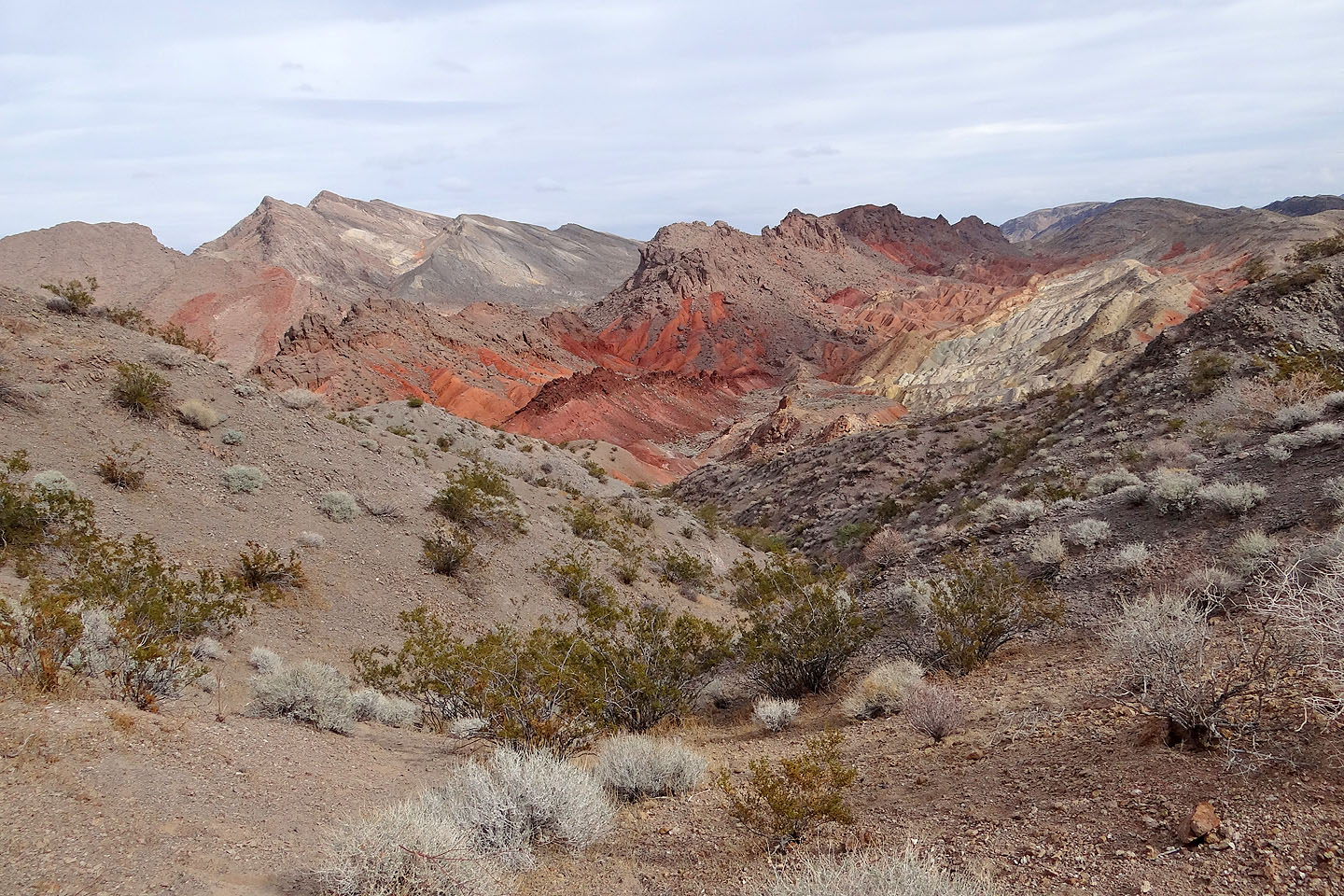 Looking back at some amazing features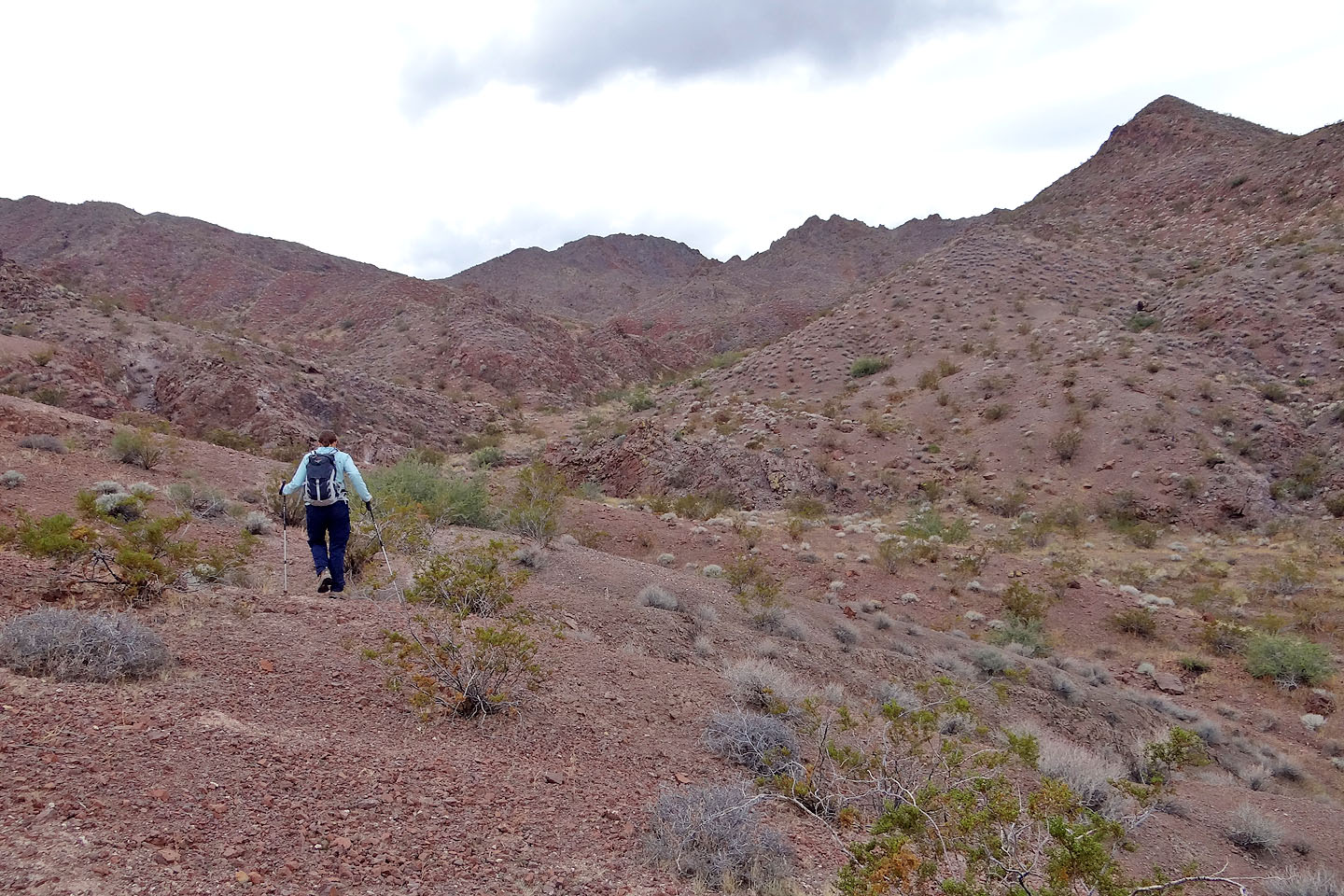 The summit (centre) comes into view. We found a trail in the broad wash on our right.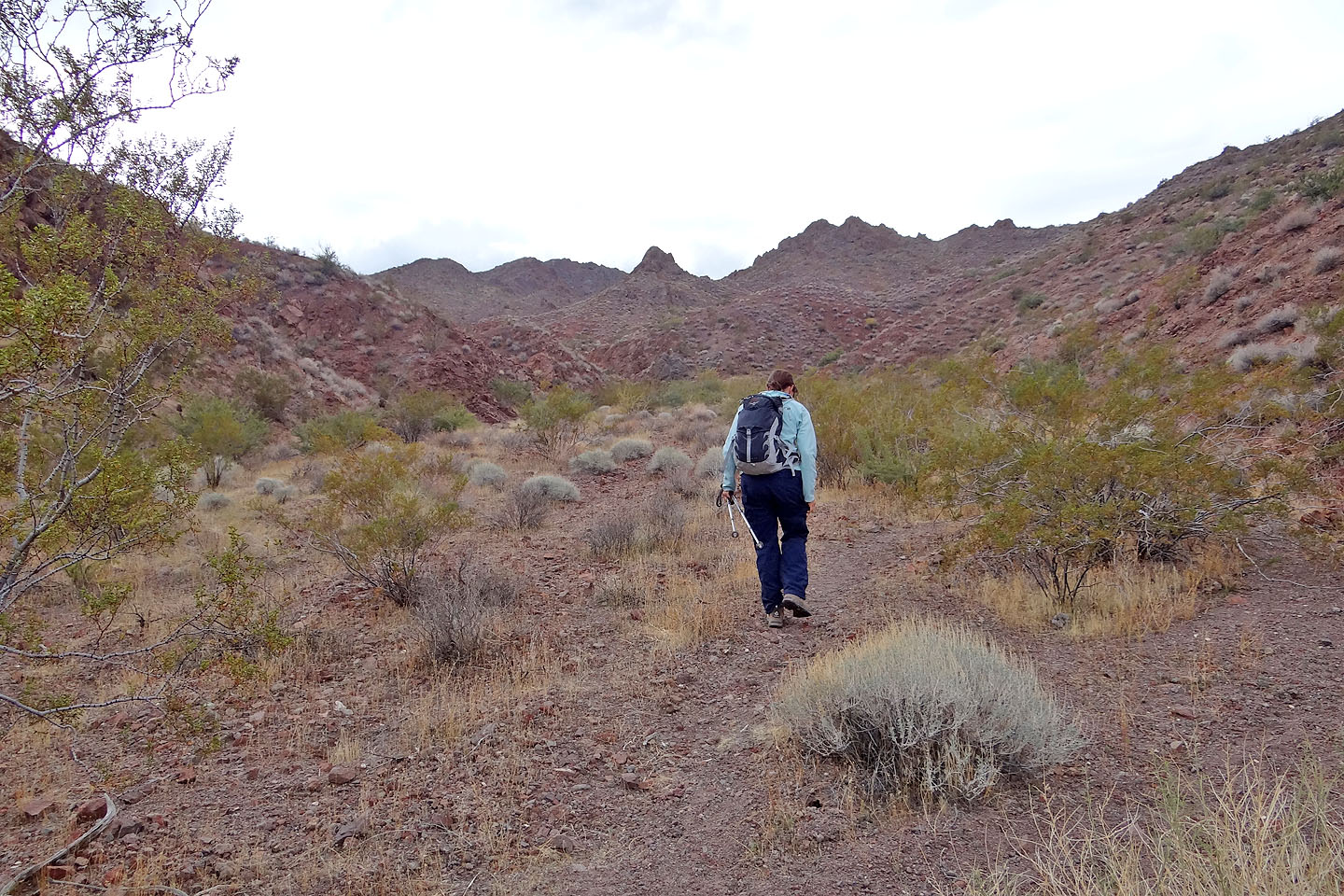 On the trail in the wash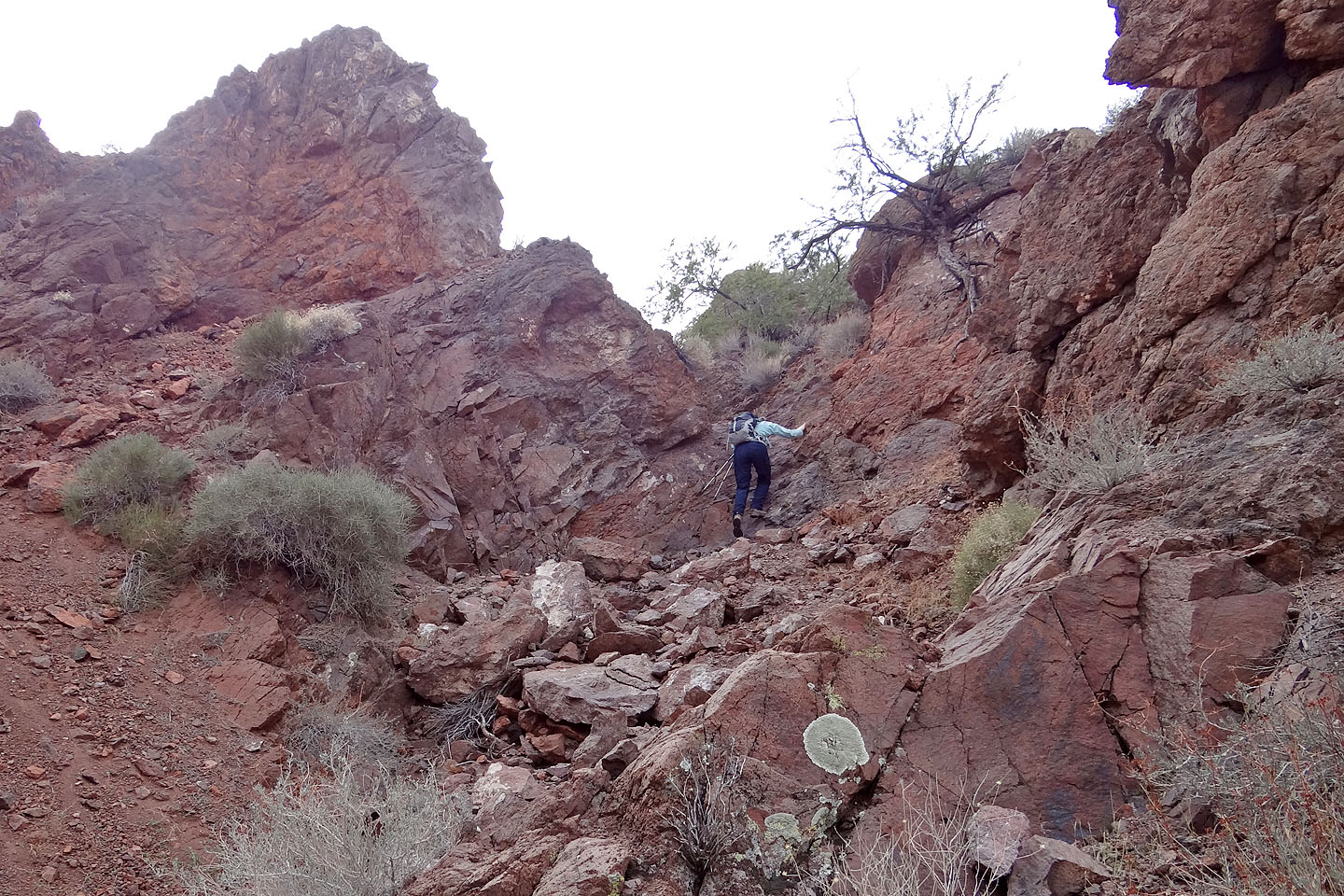 The trail runs through a box canyon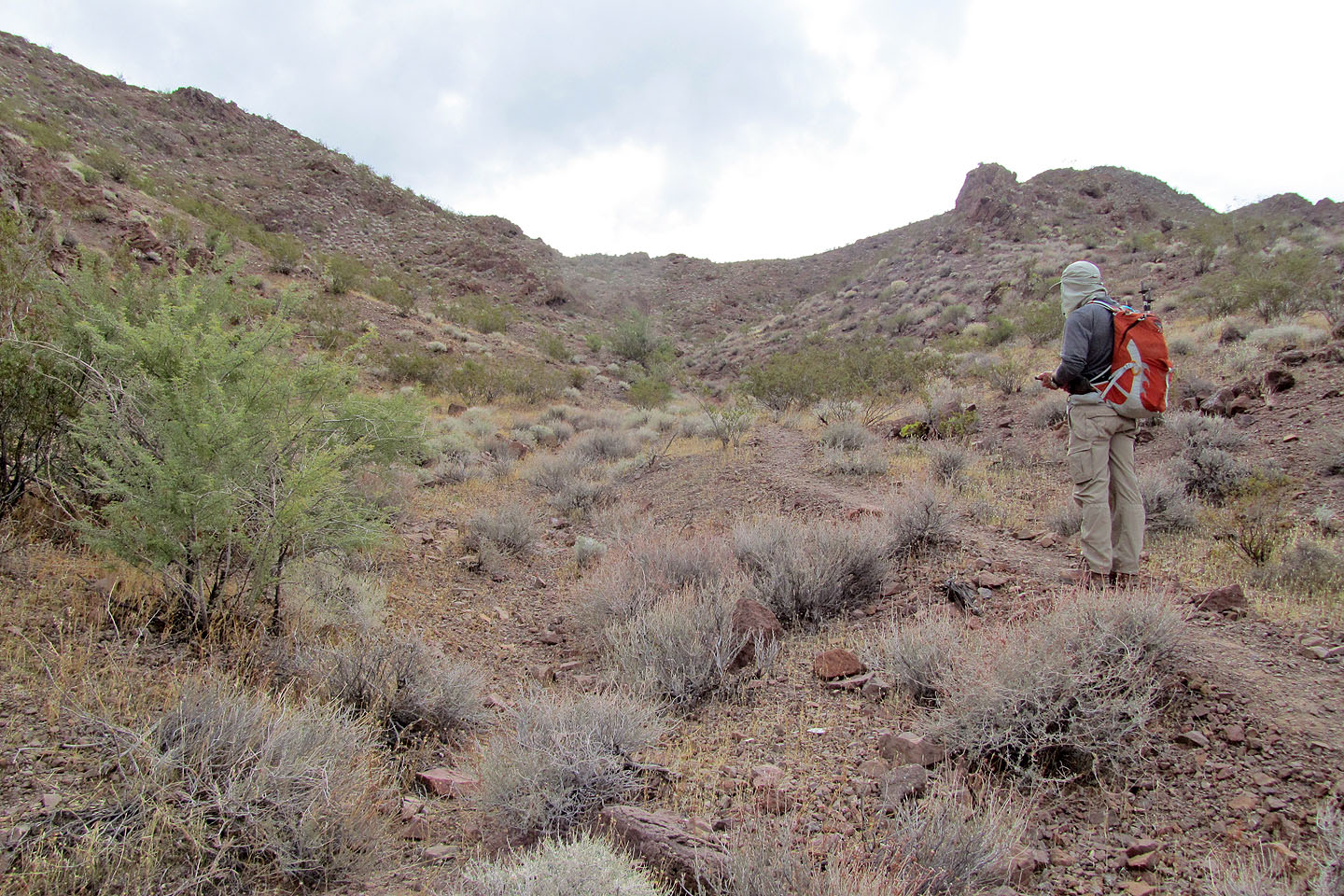 Continuing up the trail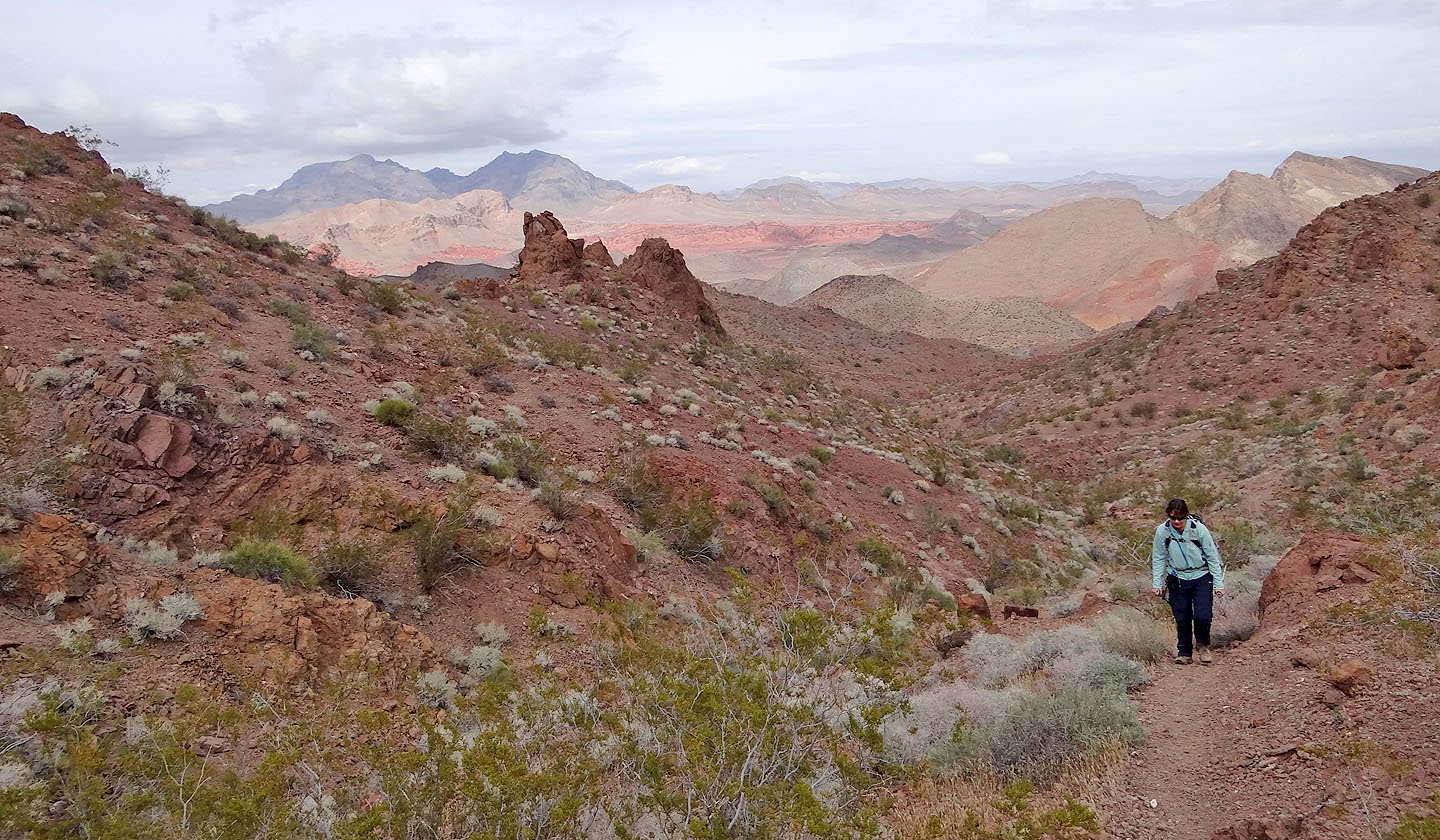 Behind us, Muddy High Point and Muddy Peak (mouse over for a close-up)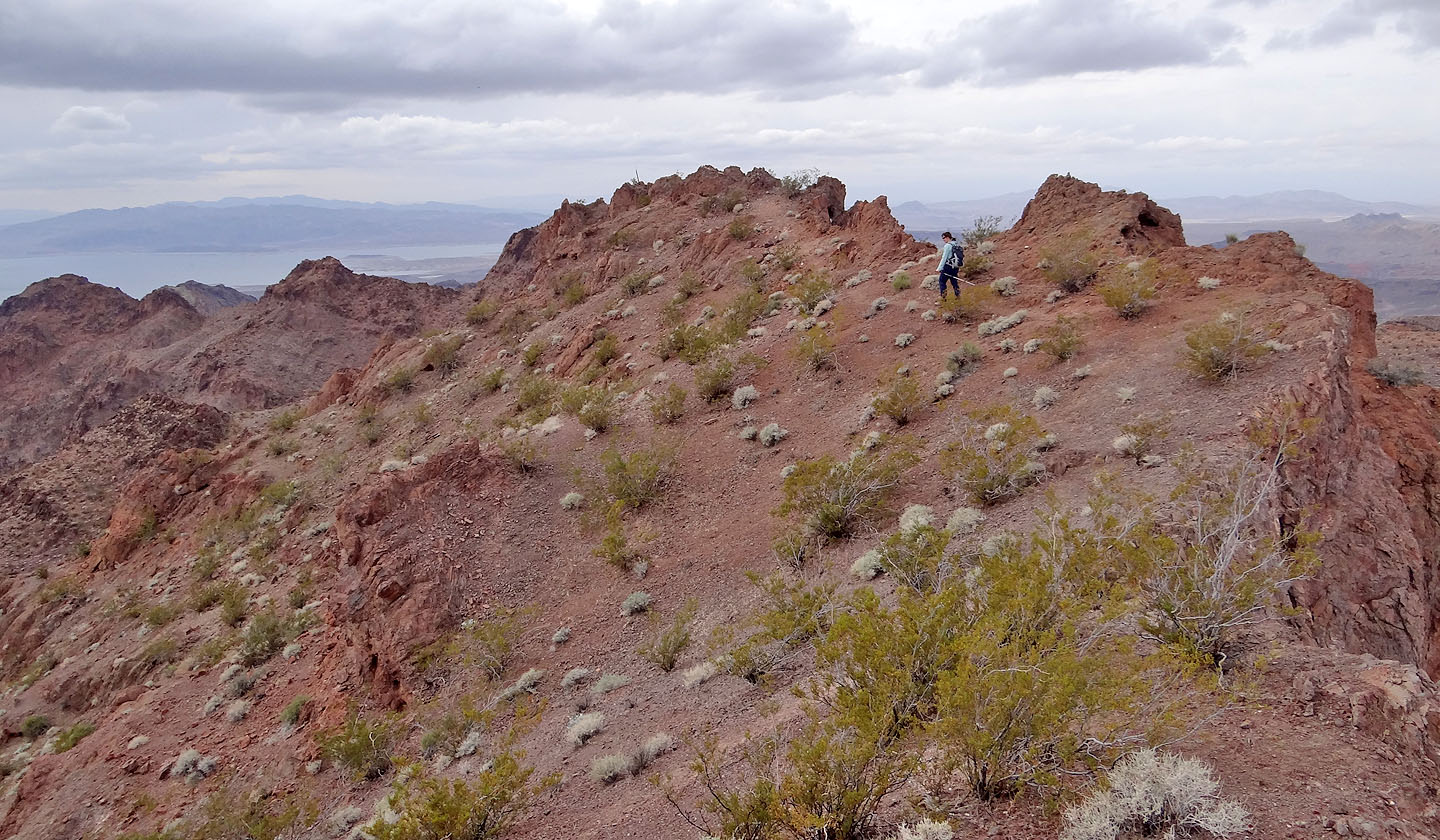 Dinah approaches the summit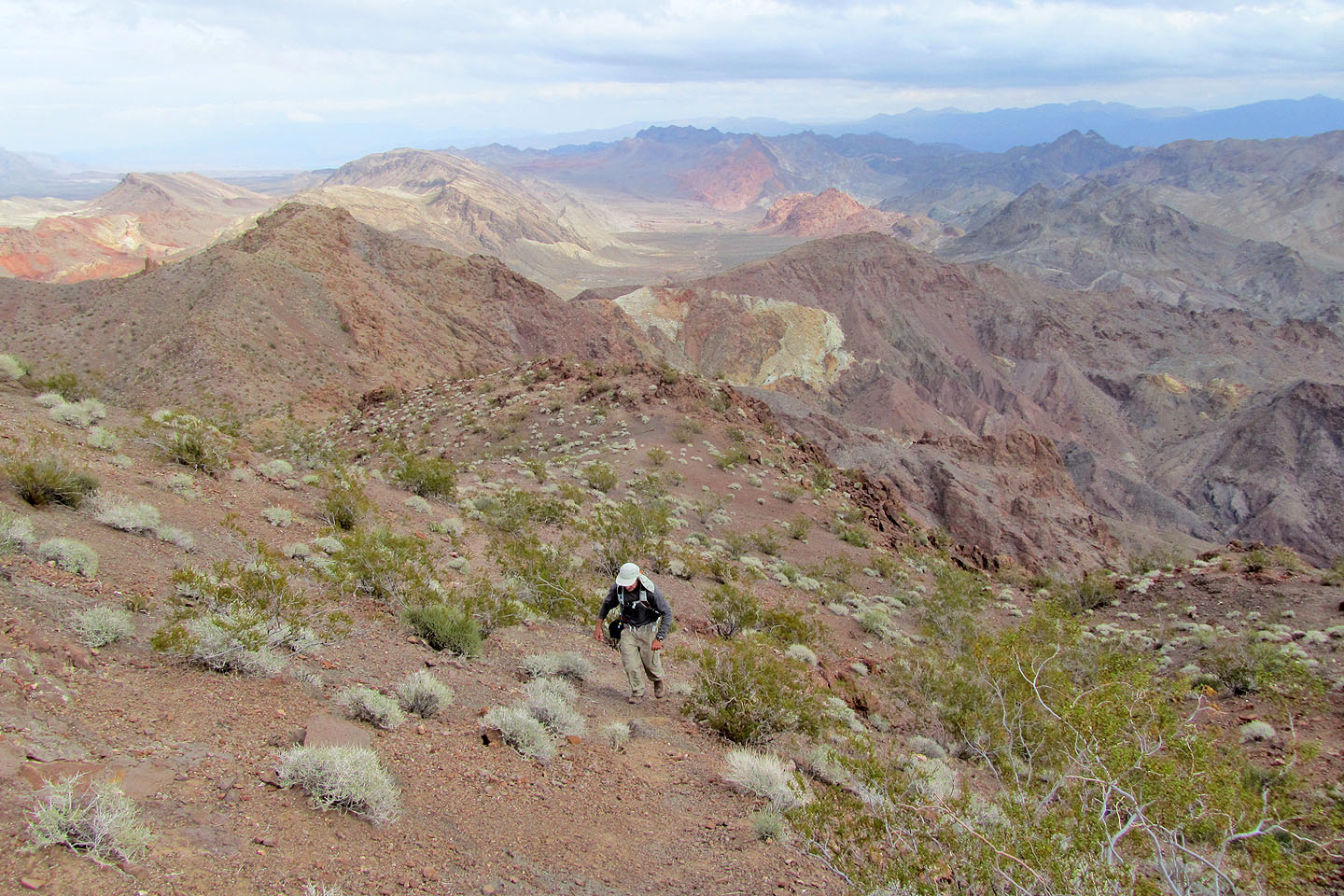 Looking back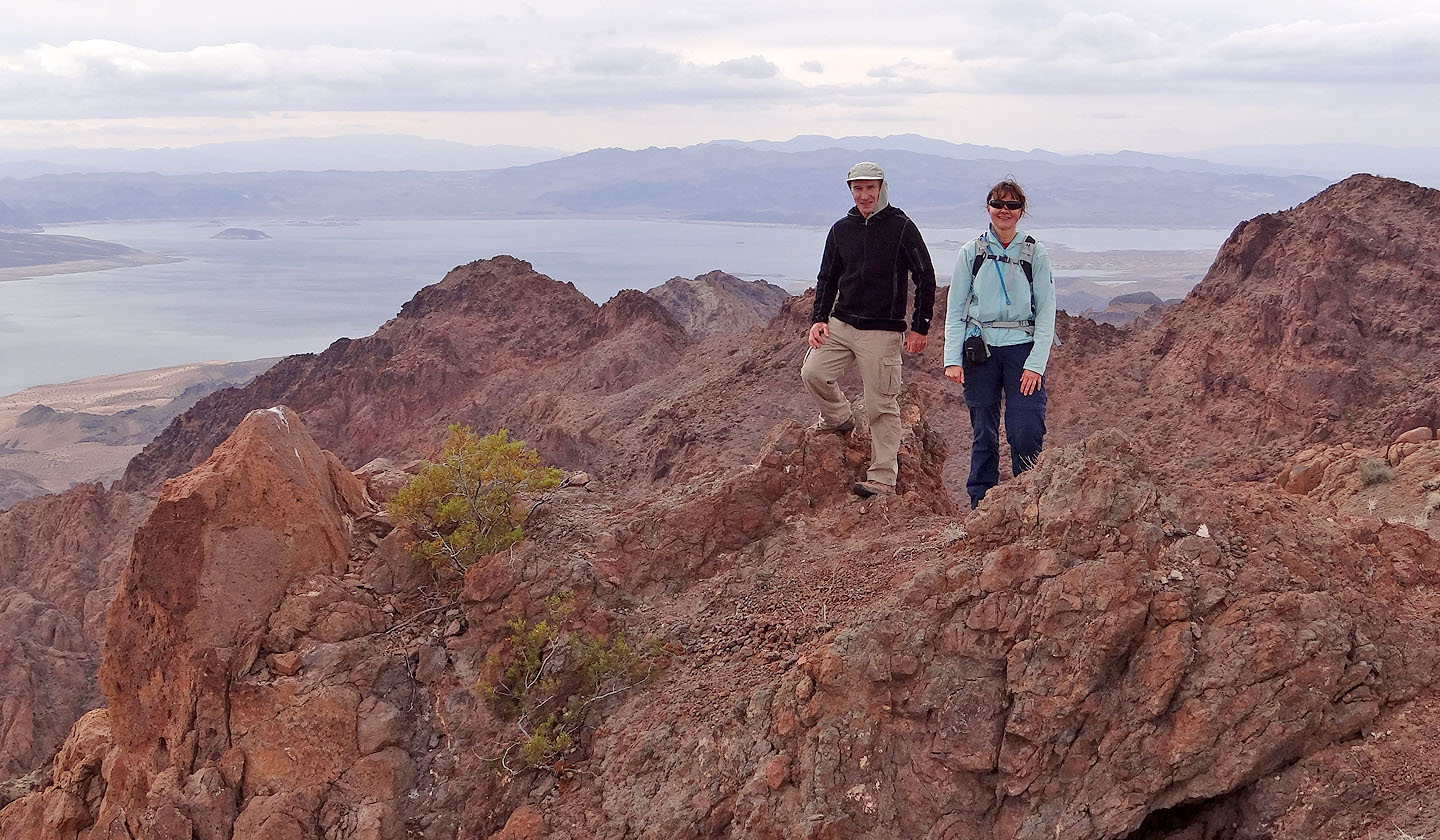 On the summit, Lake Mead sets the background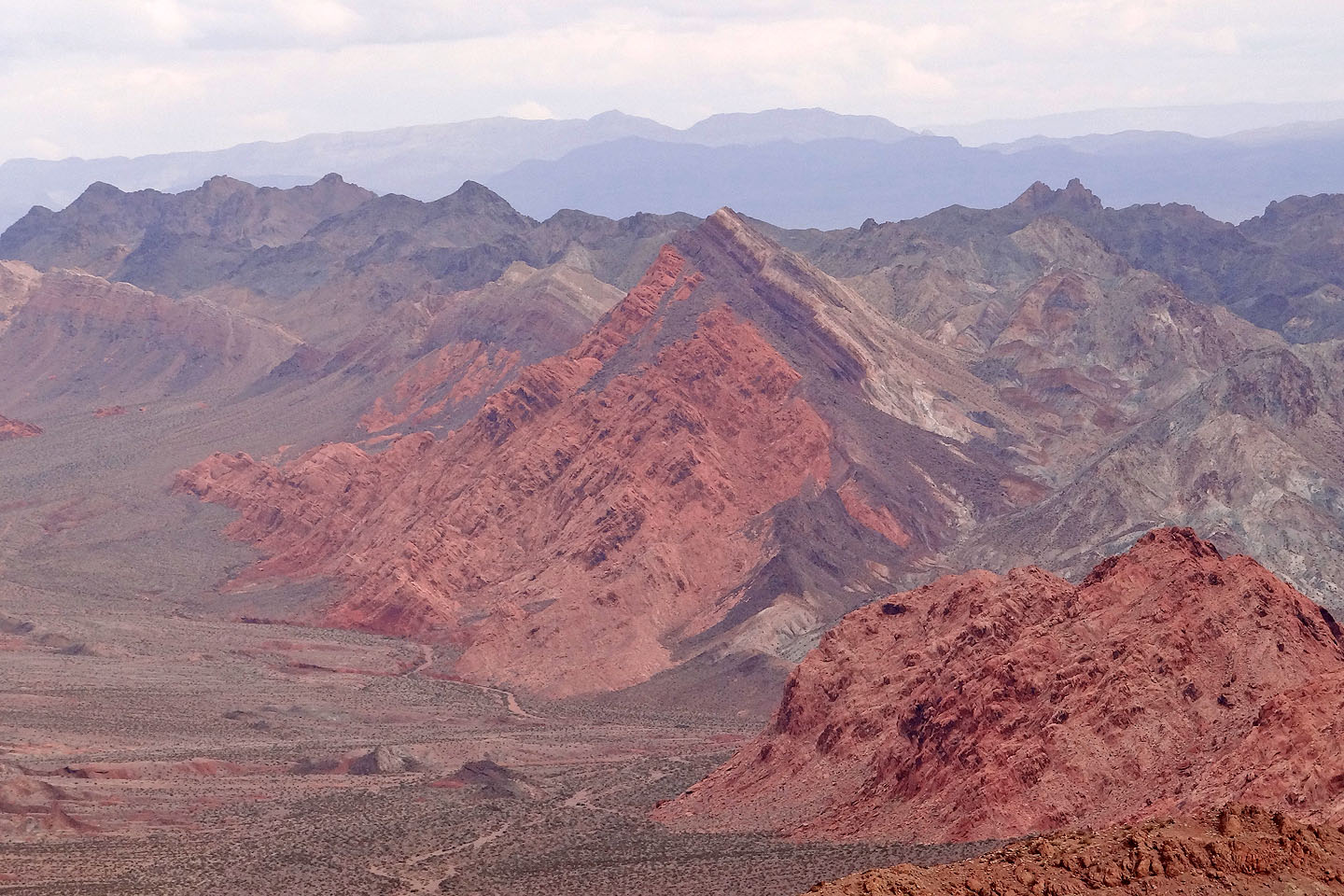 Sentinel Peak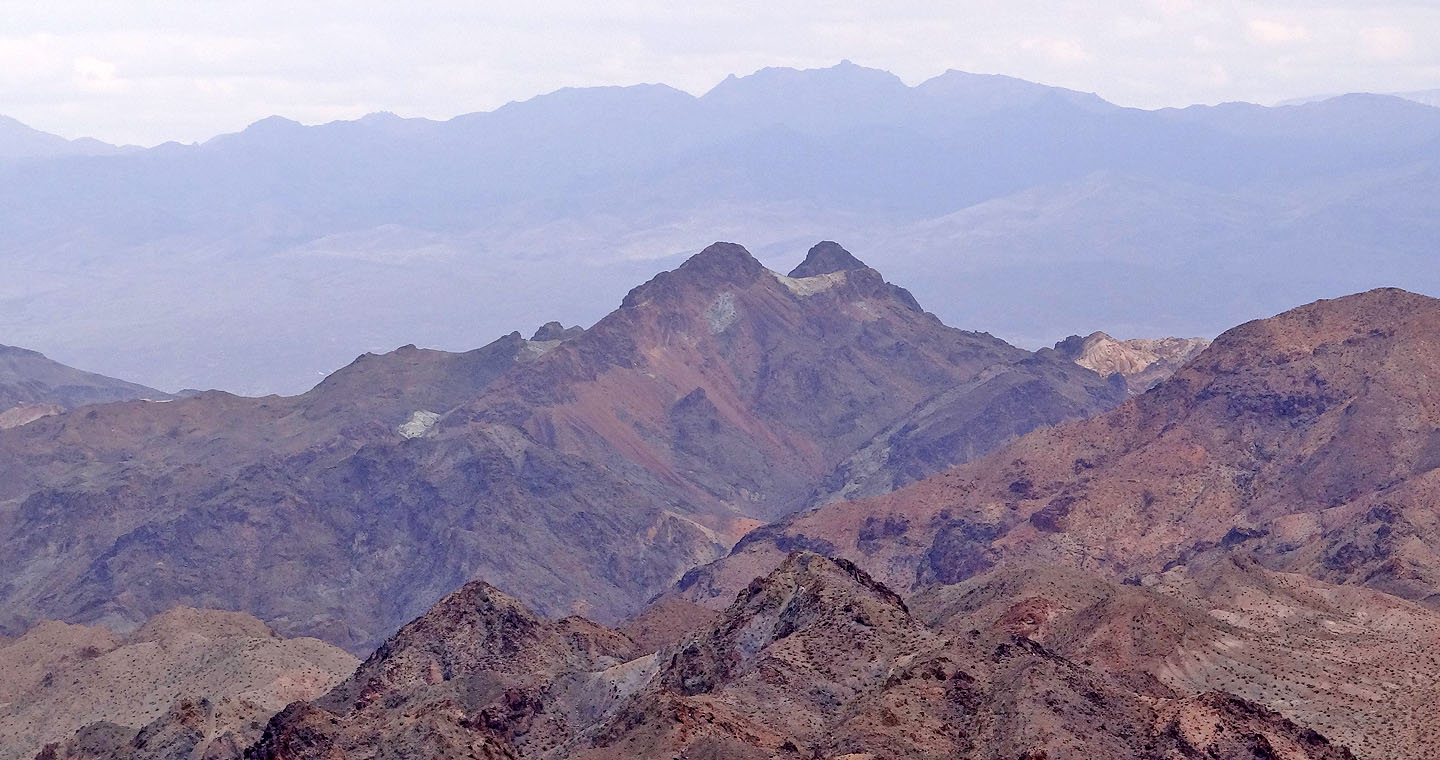 Pyramid Peak and Booth Pinnacle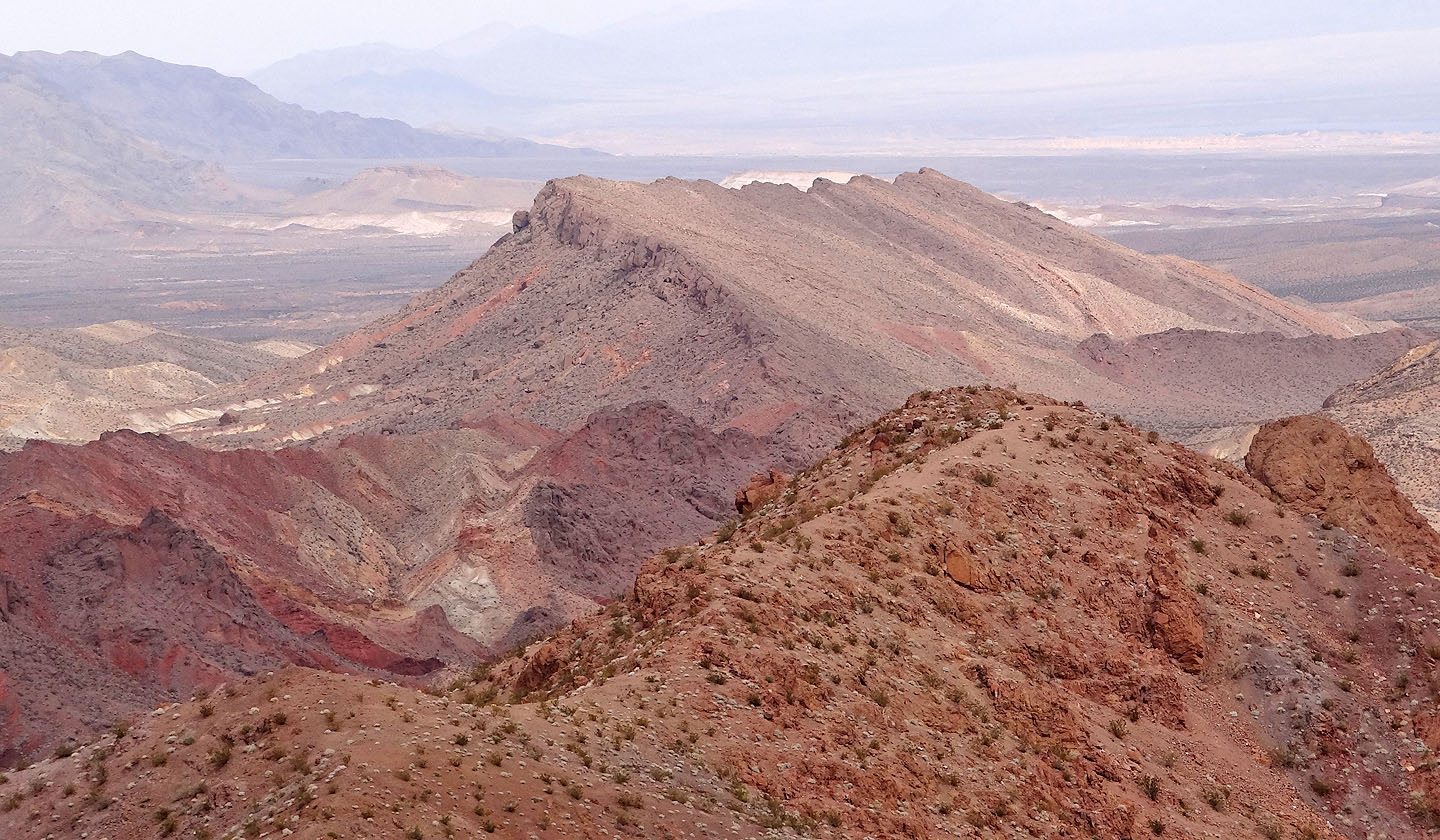 Razorback Ridge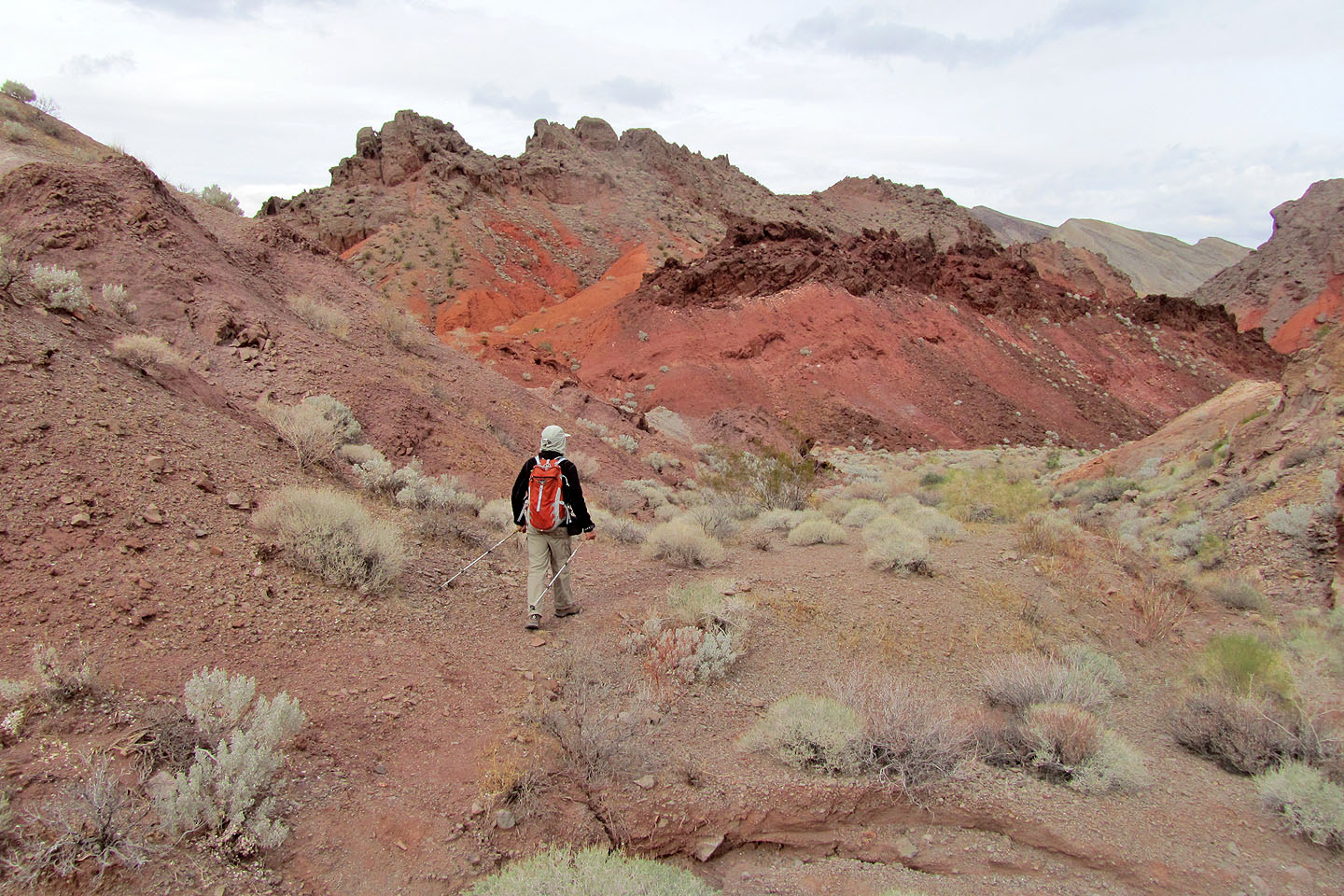 Heading back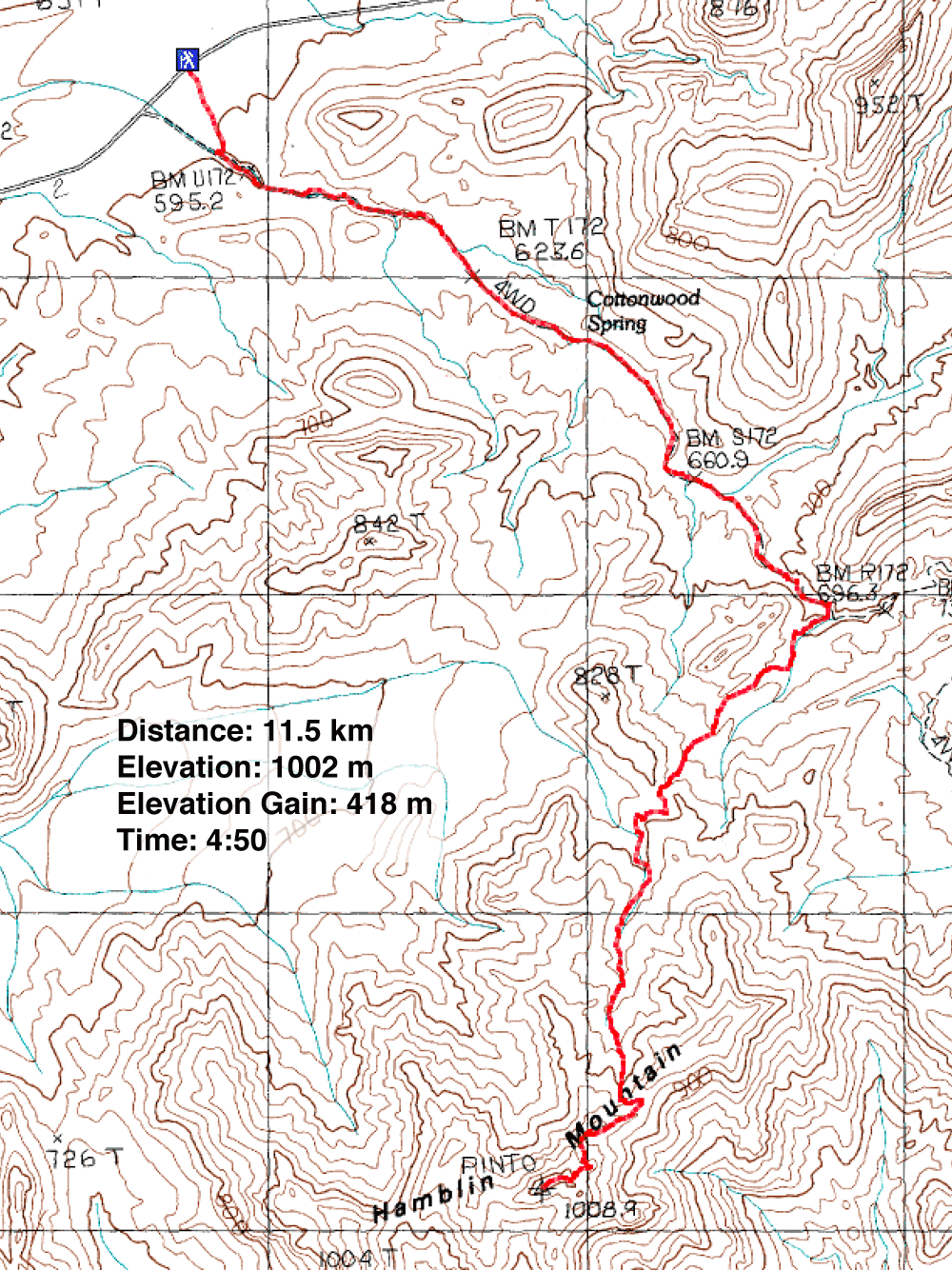 Calville Bay (7.1 mi, 3287 ft, 1371 ft)