bobspirko.ca | Home | Canada Trips | US Trips | Hiking | Snowshoeing | MAP | About

Mesquite Mountain
Mojave National Preserve, California
October 20, 2015
Distance: 16.5 km (10.3 mi)
Cumulative Elevation Gain: 531 m (1742 ft)
Going by the number of trip reports I found on the Internet (one), Mesquite Mountain isn't a sought-after objective even though it appears in Andy Zdon's popular book, Desert Summits. But the route is simple enough: cross 6 km of desert flats to reach the base of the mountain and then hike up. To ease our way across the flats, Shin worked out a route that took advantage of washes. Sonny, Dinah and I followed him as we headed to the mountain.
The approach held a variety of desert vegetation, pleasing to look at but sometimes too dense to easily push through. We all suffered from a few stabs and scratches from needles and thorns. But we were delighted to see several rabbits. Startled, they quickly disappeared.
Eventually we reached a spur that extends to a col connected to the summit ridge. Sonny climbed up the spur while the rest of us broke off to traverse to the col. At the col we were treated to the sight of a desert bighorn sheep.
After gaining the ridge, we followed it to the summit. The summit, however, requires a bit of scrambling. The easiest way is up the backside. Shin, Dinah and I dropped down and crossed a ledge below the summit, before scrambling up. Sonny tackled the ridge crest head-on and soon joined us on top of Mesquite Mountain. The views weren't outstanding, yet it was a satisfying climb. But we still faced a long march back across the flats where cactus needles and catclaw thorns awaited us.
KML and GPX Tracks
Sonny's Trip Report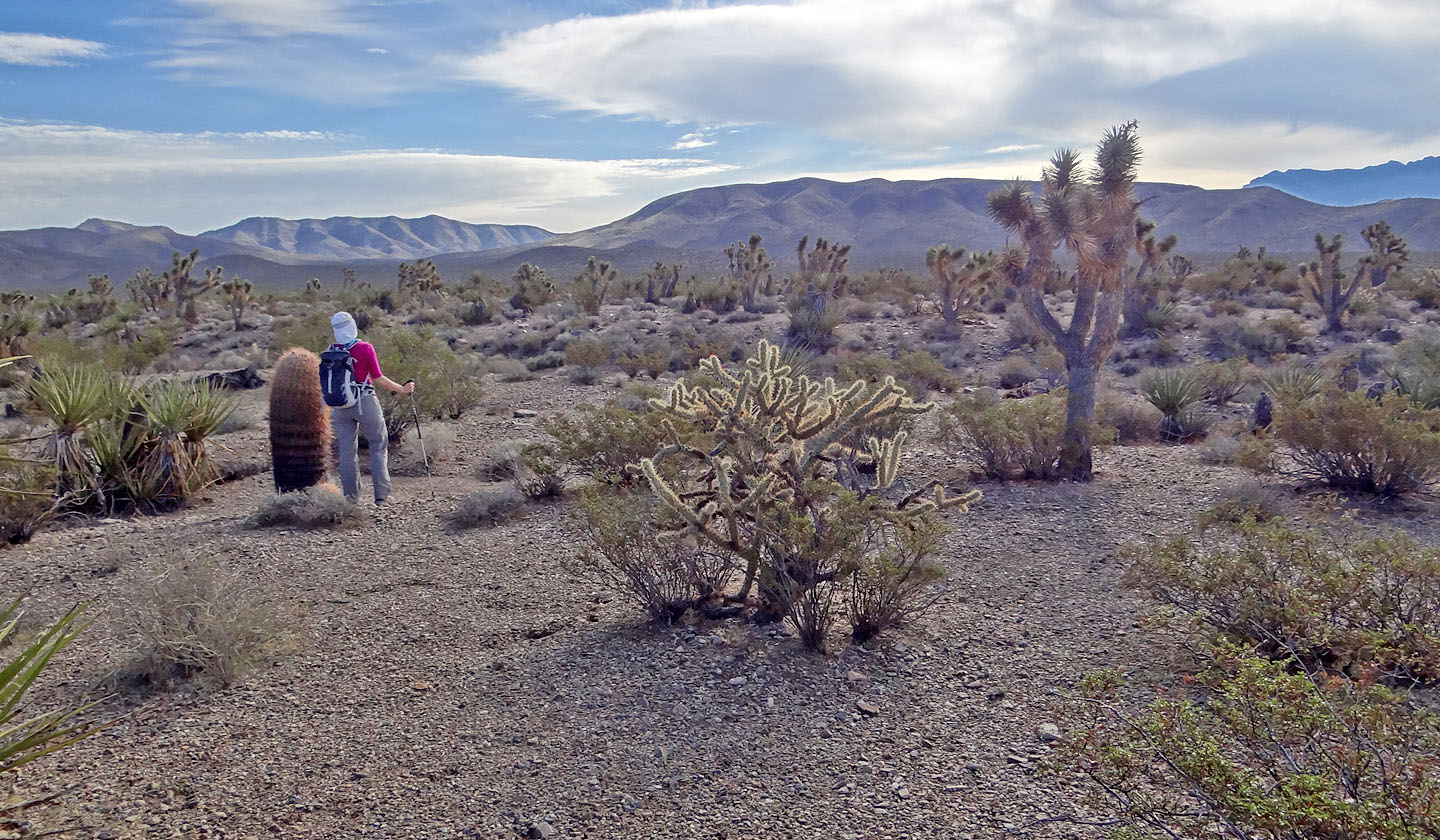 Mesquite Mountain appears above Dinah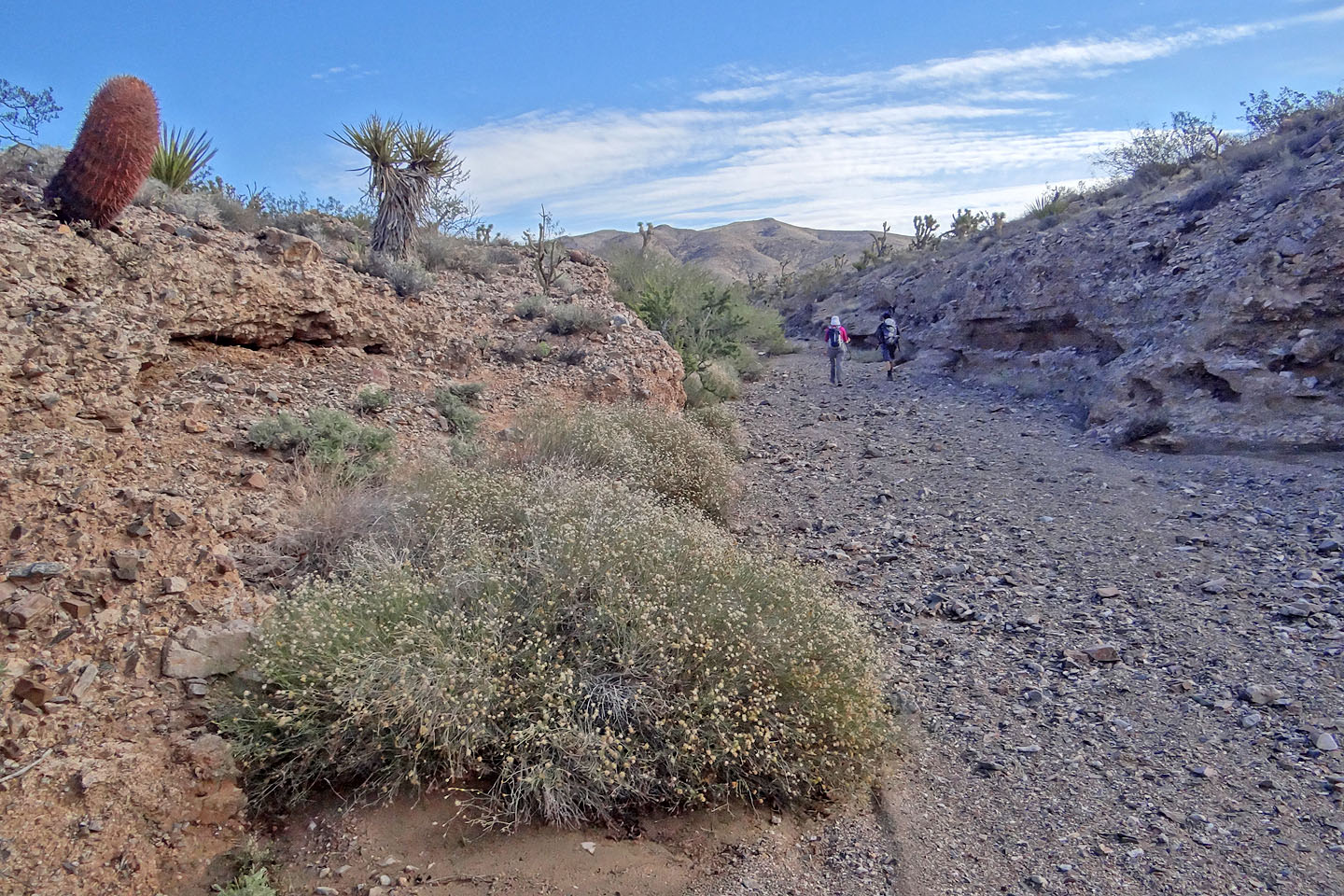 Soon after starting out we dropped into our first wash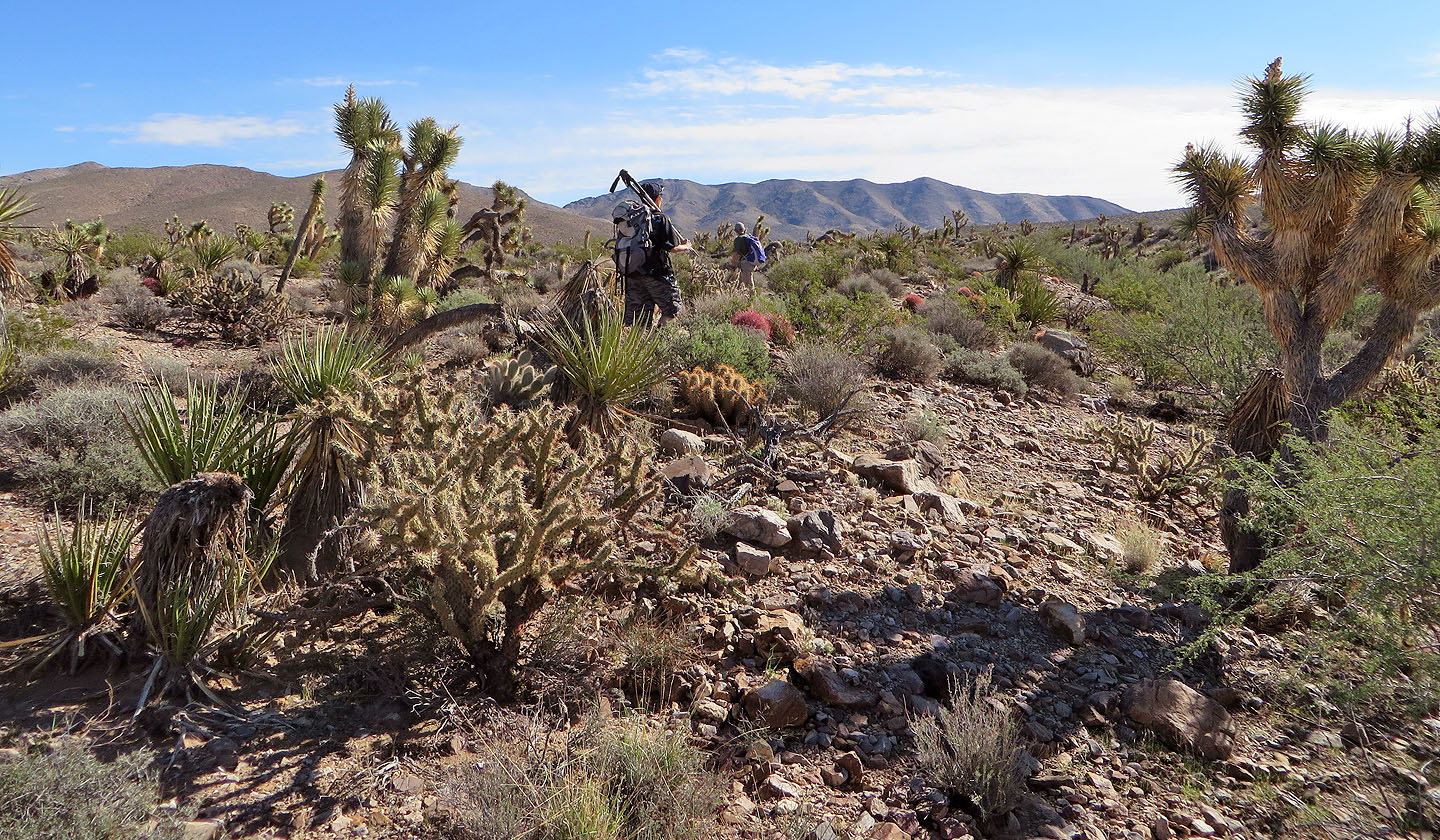 Back on the flats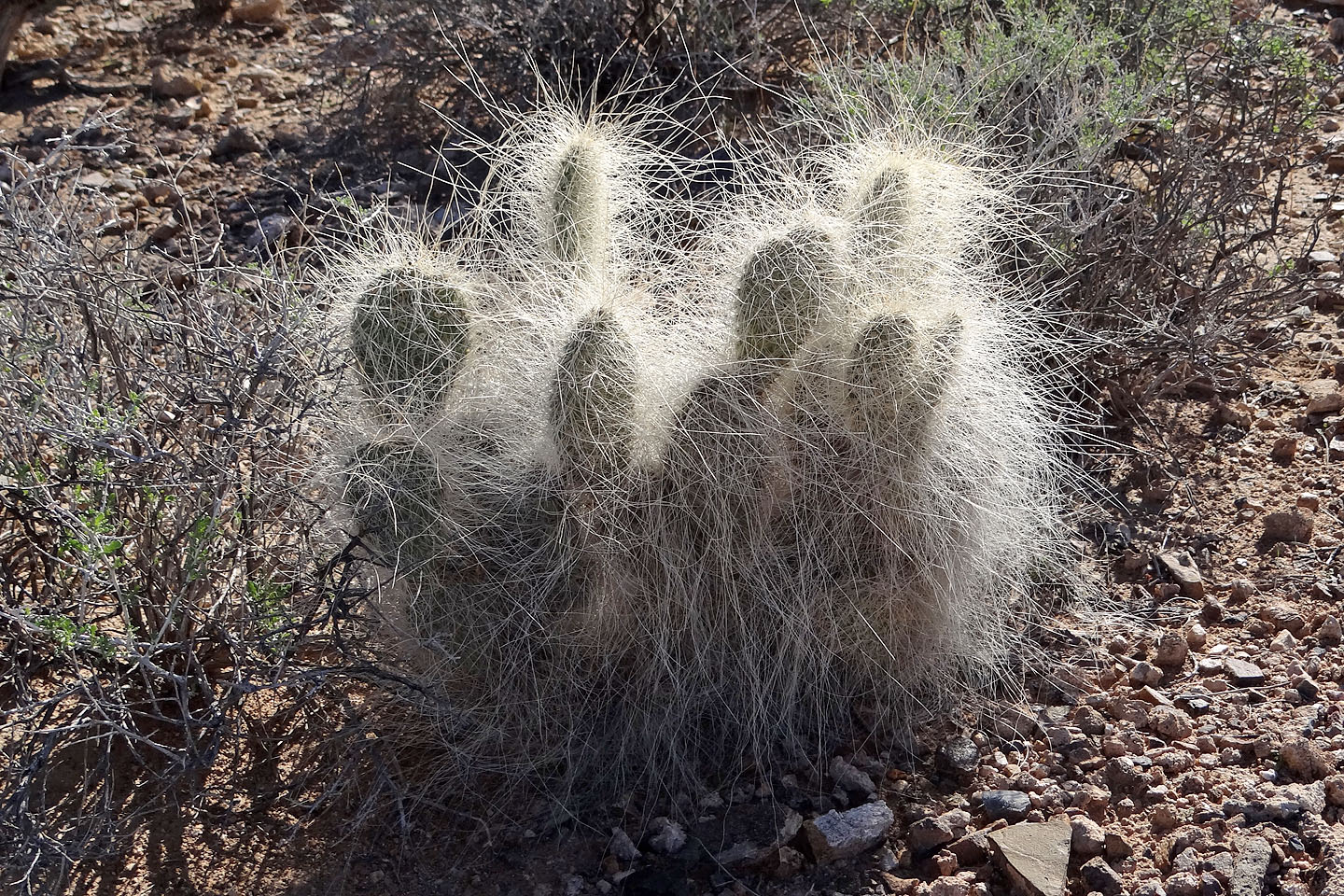 Grizzlybear cactus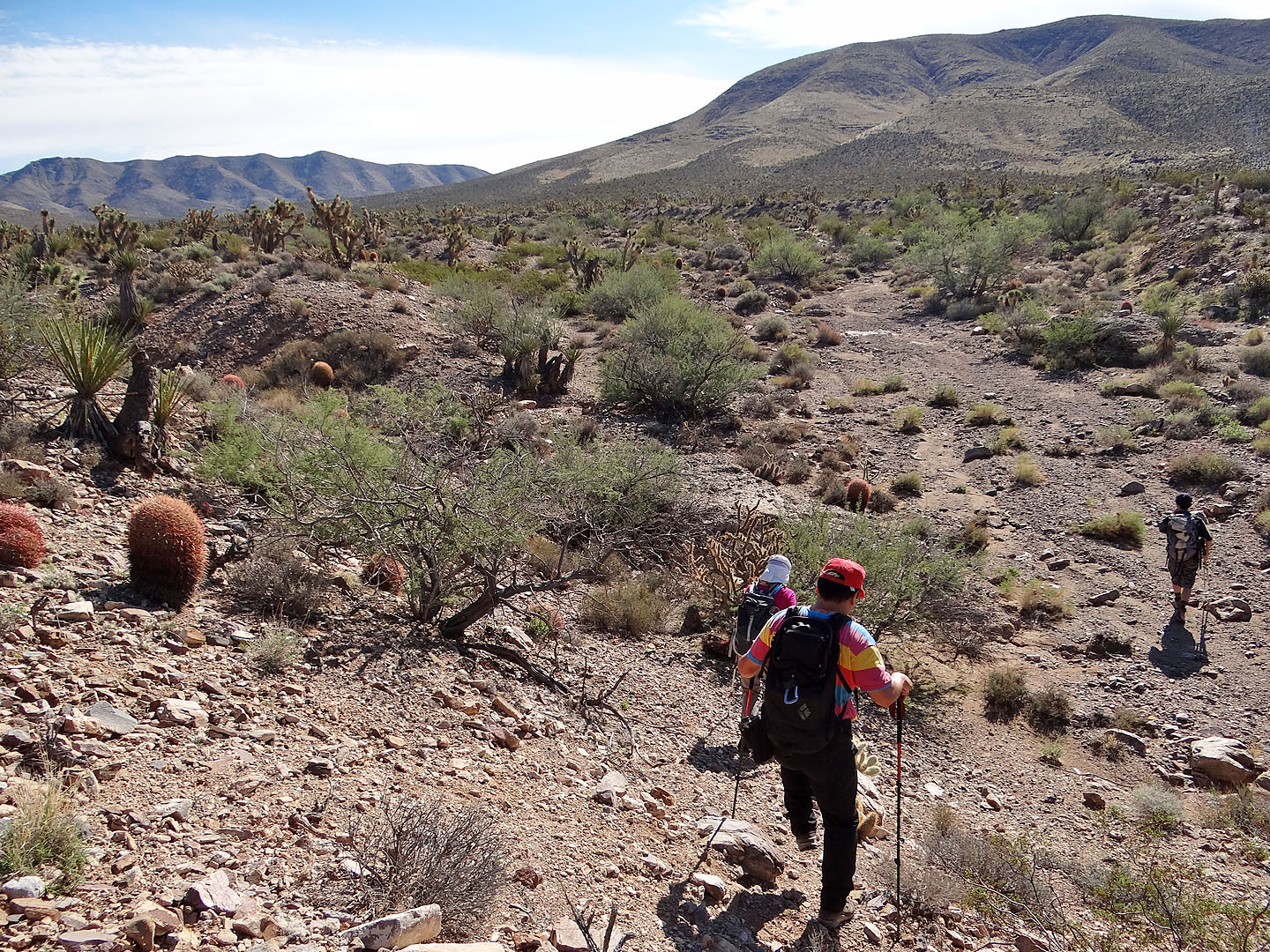 When it was feasible, we took to hiking in a wash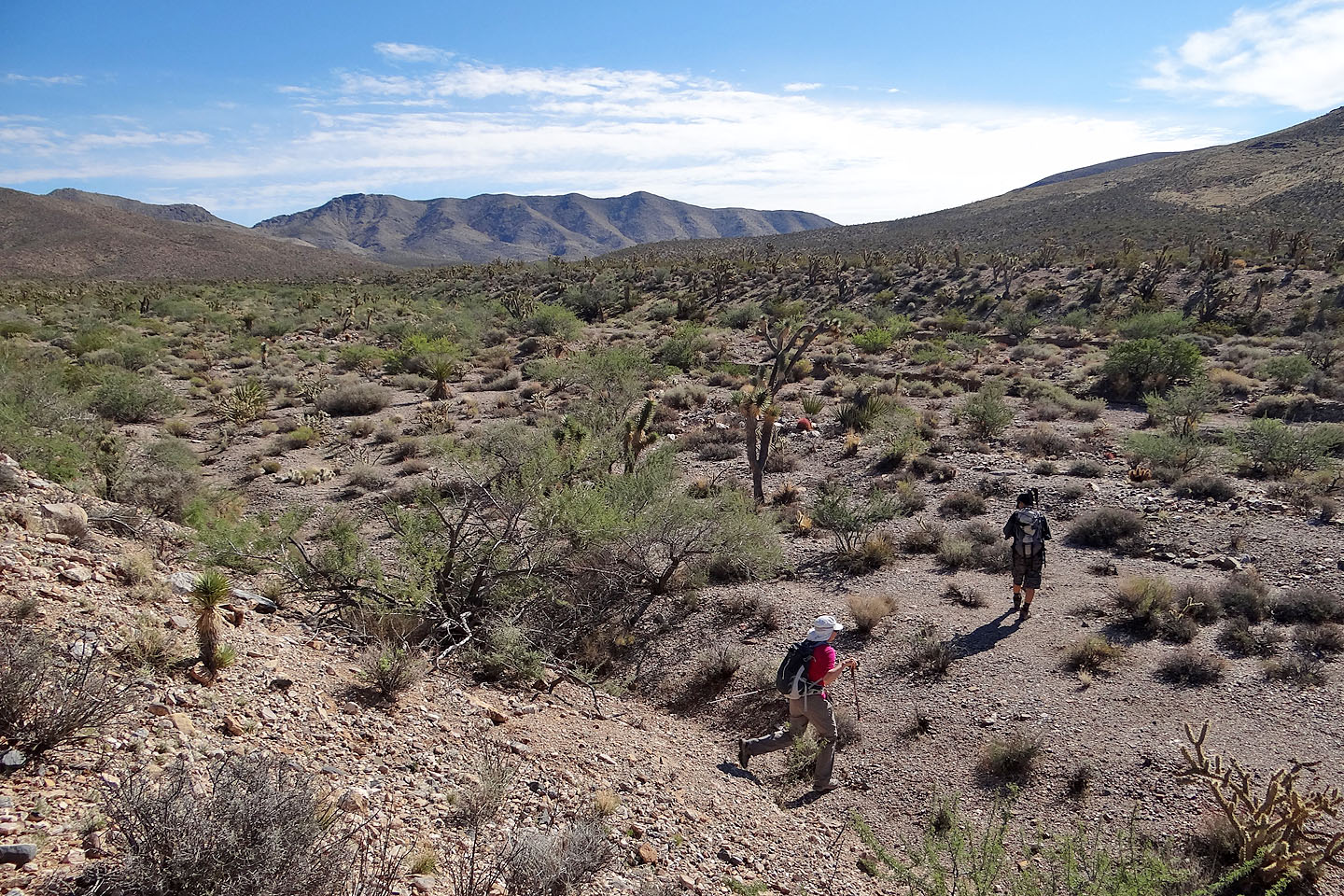 We dropped into a major wash that took us to the base of the mountain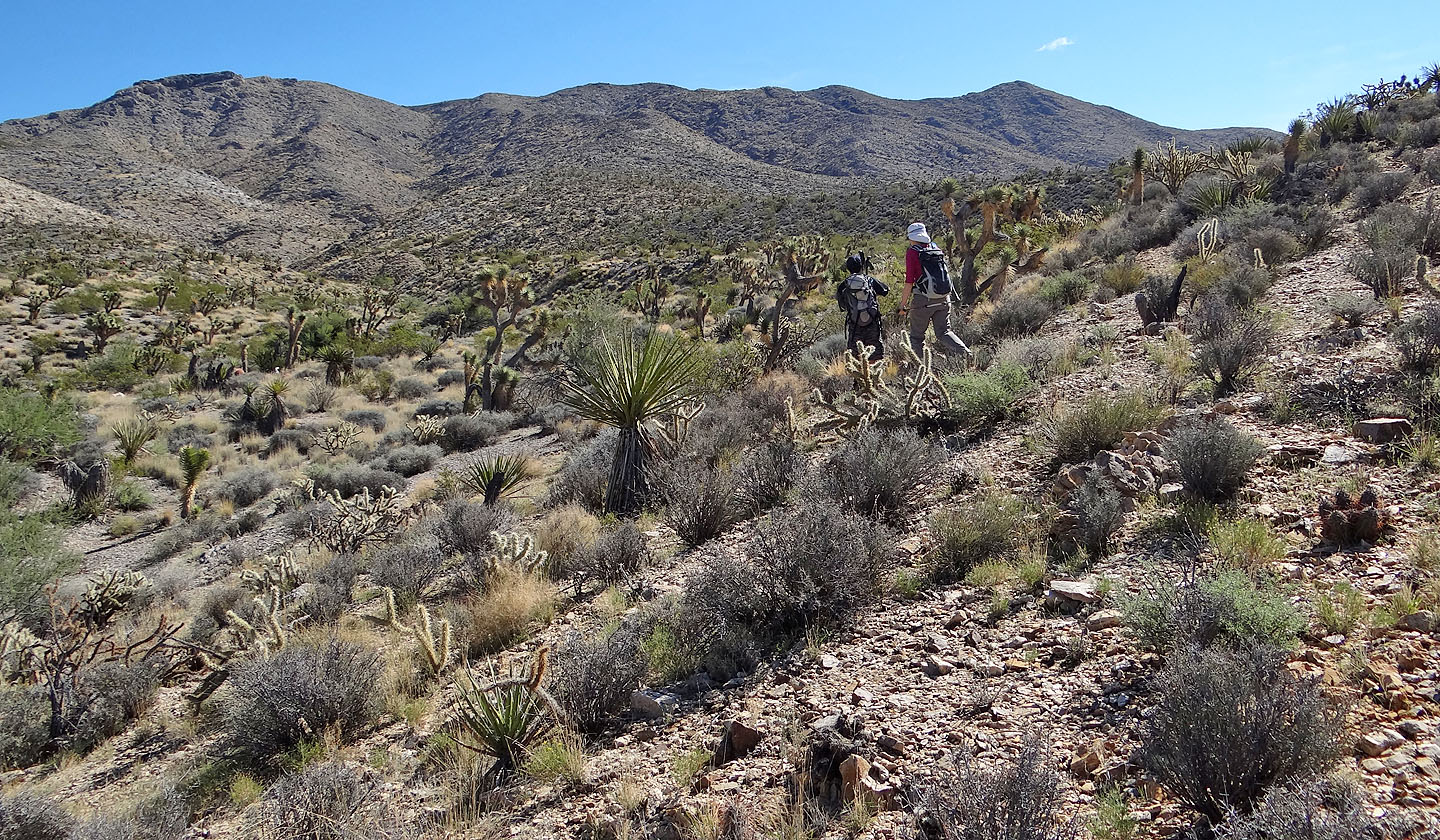 The summit is on the left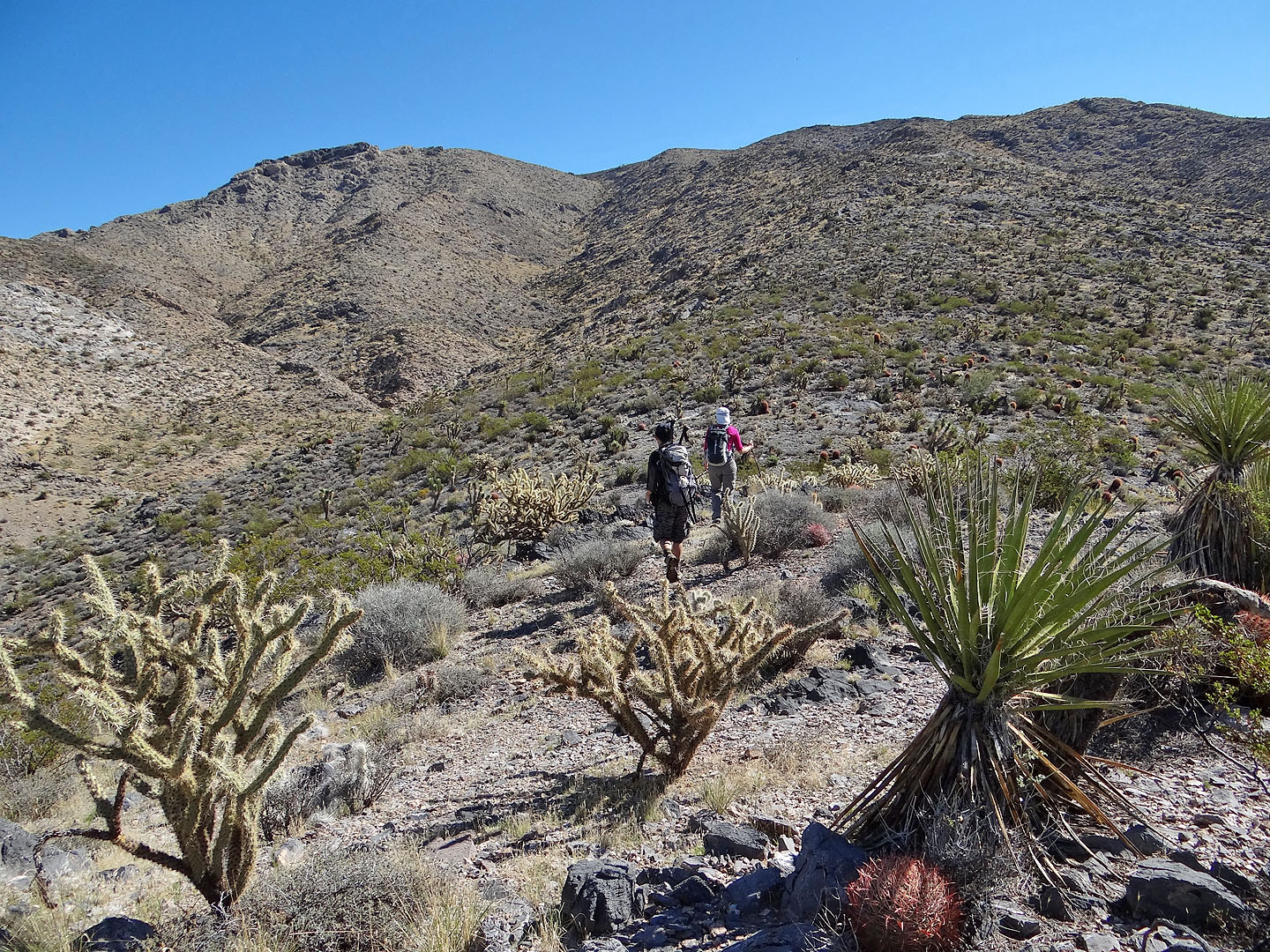 We followed the spur until we could traverse to the col (click for a larger image)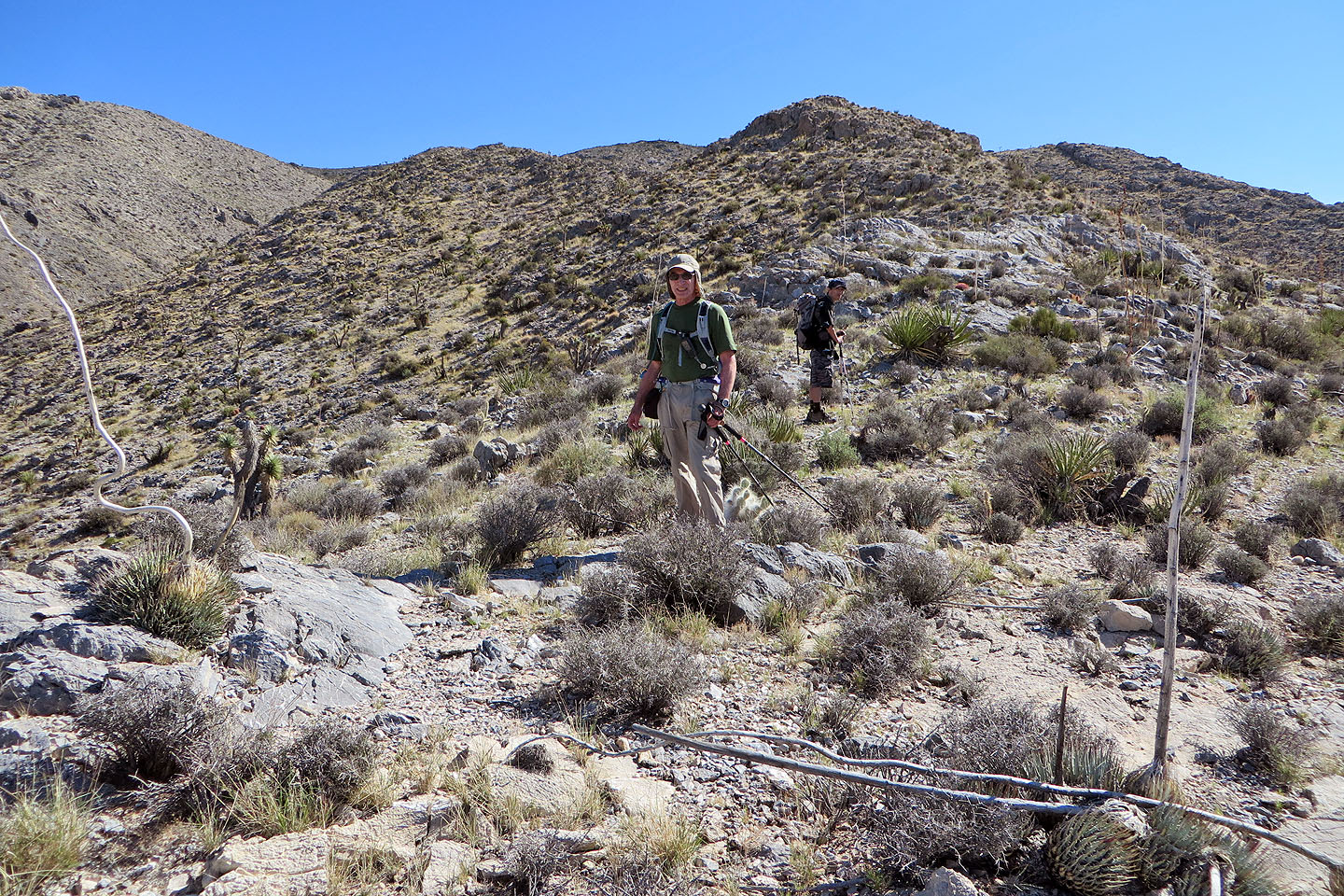 It's a straightforward hike up the spur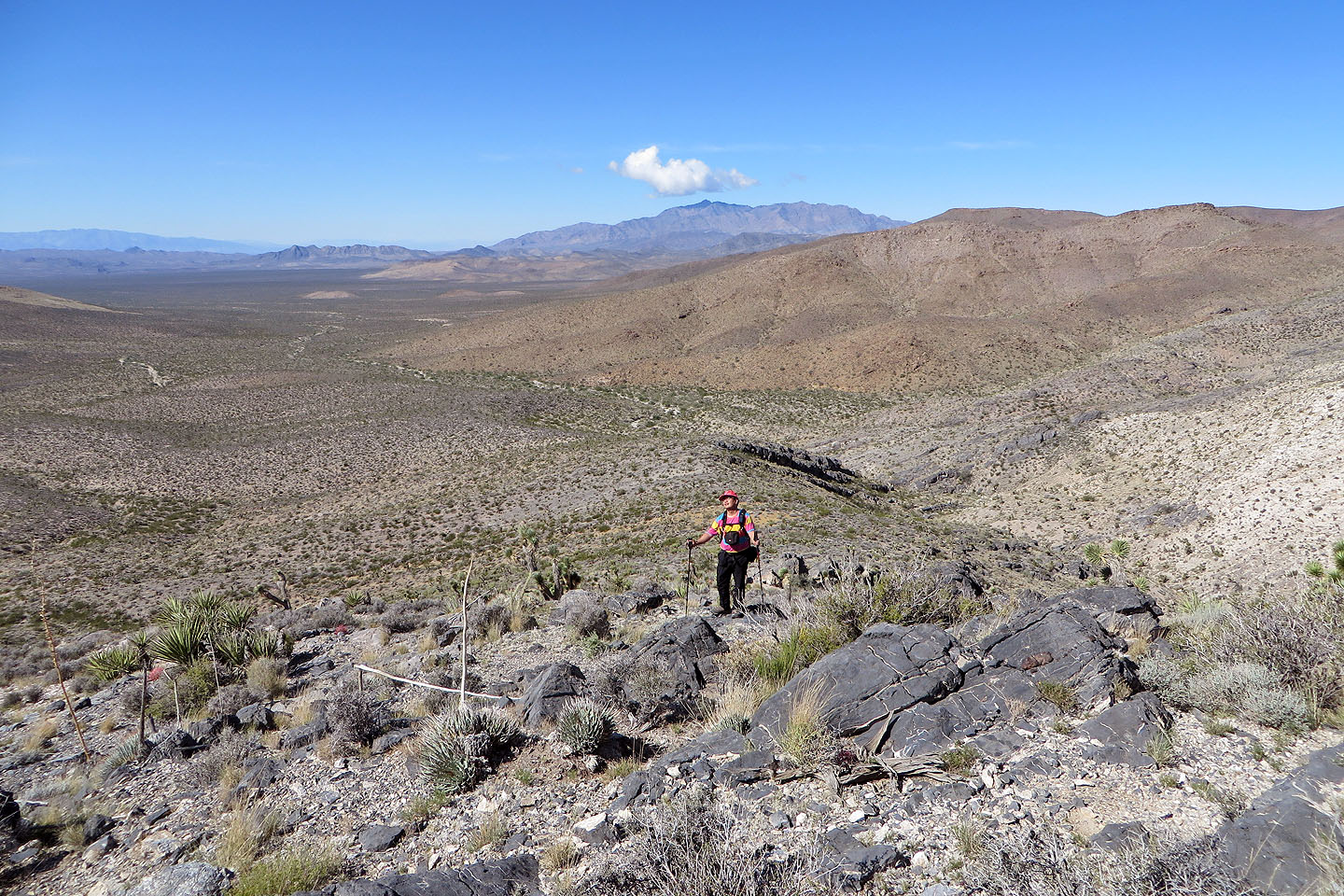 Looking back across the flats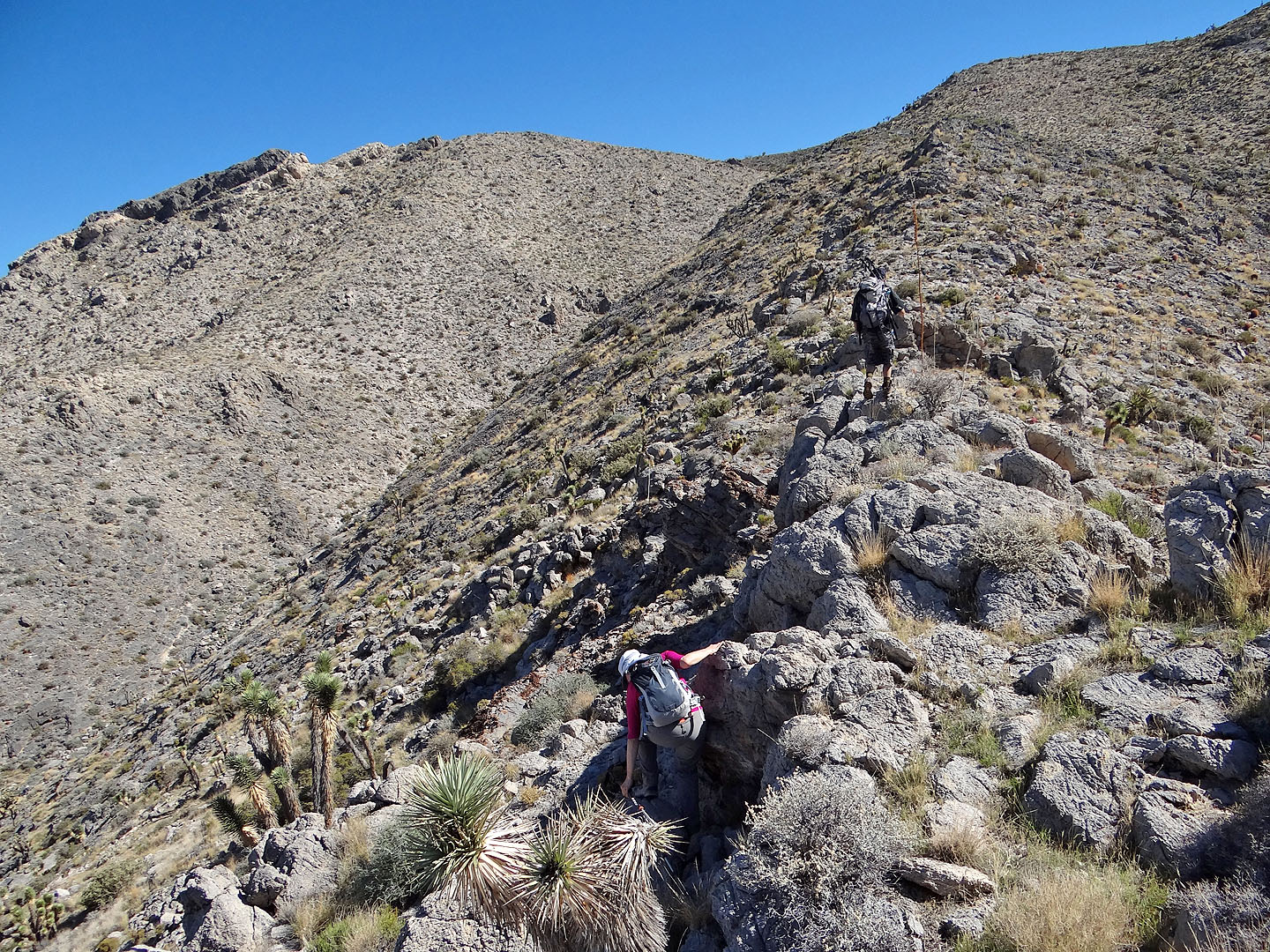 We'll soon traverse to the col on our left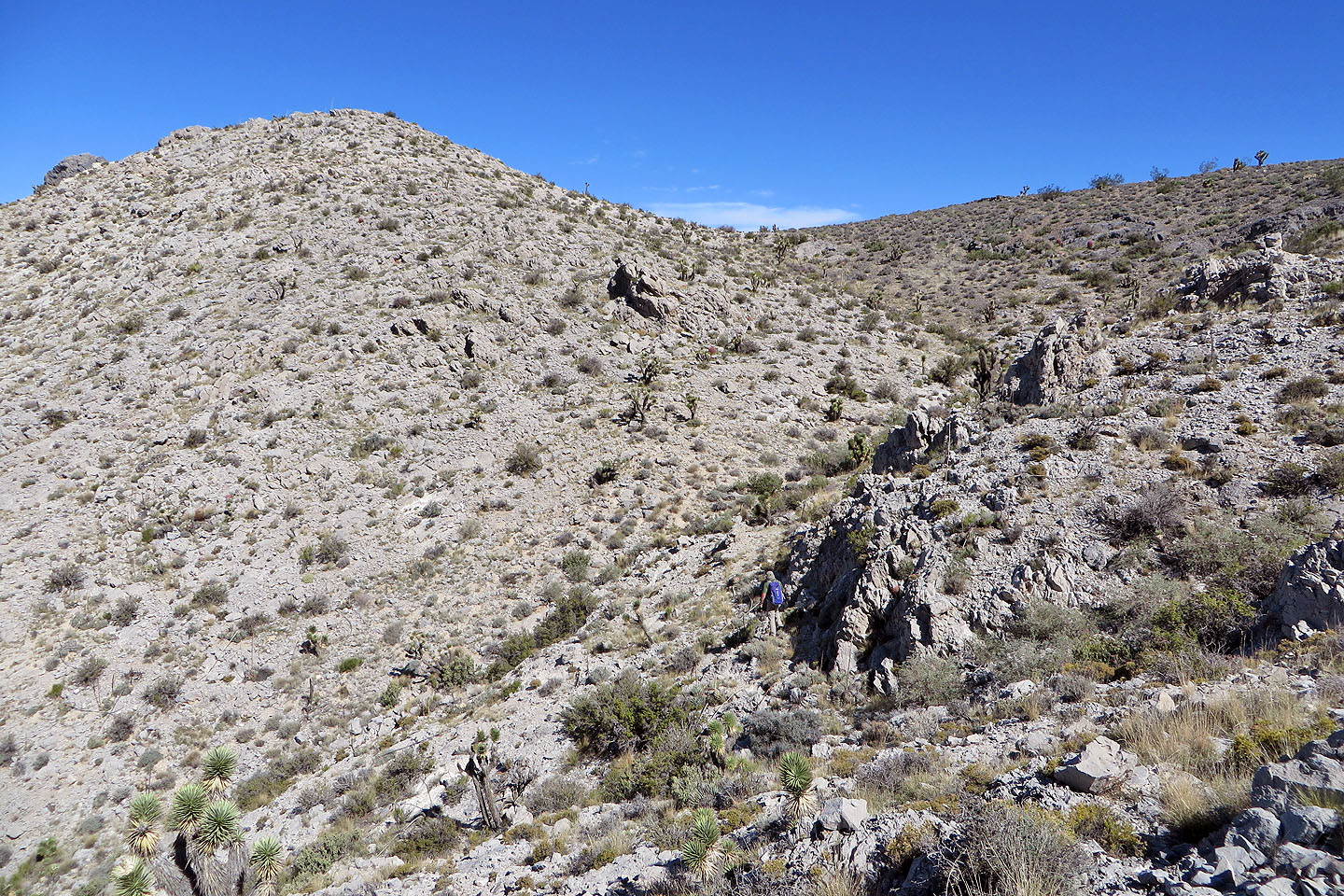 Almost at the col where we'll ascend the ridge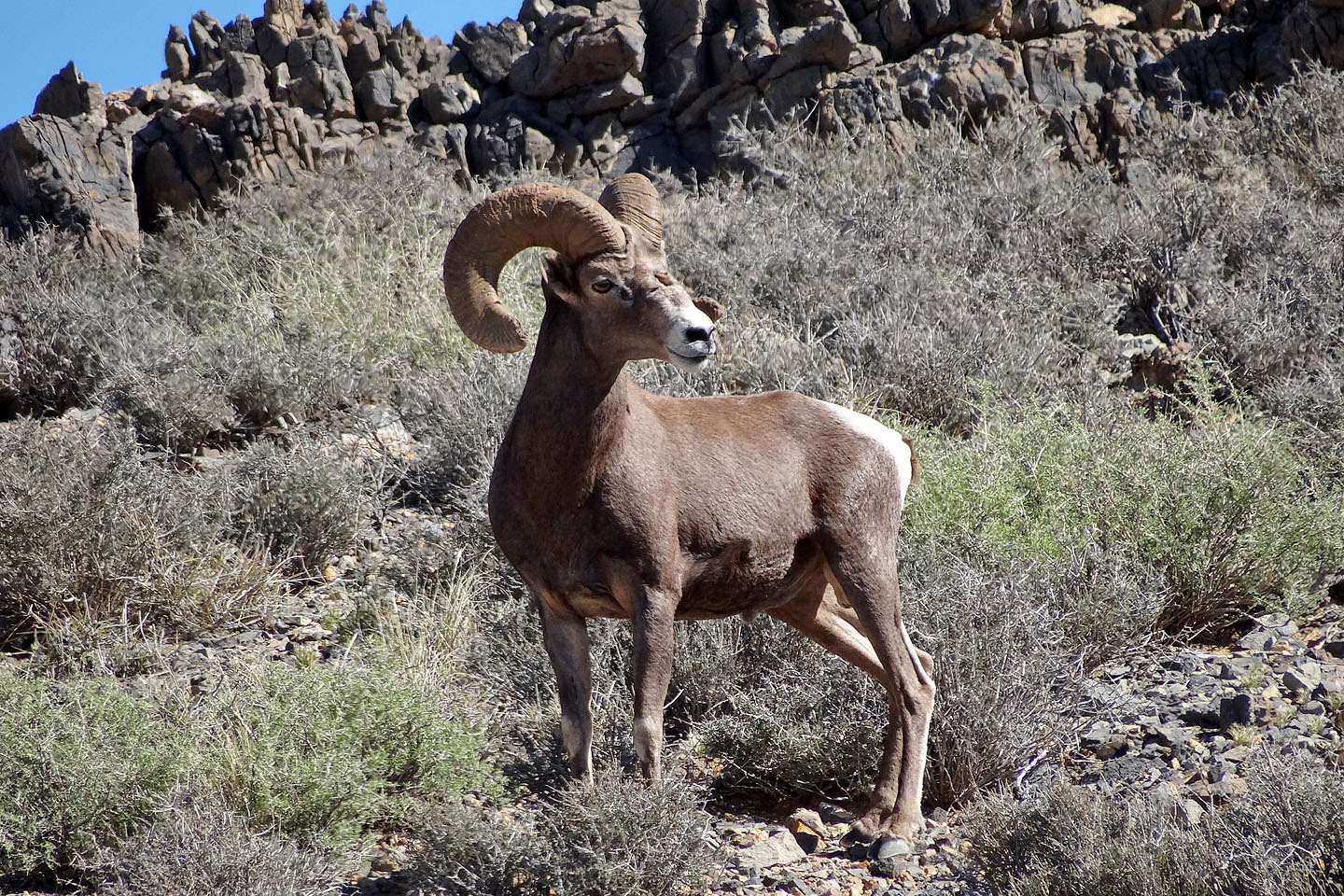 We spotted a bighorn sheep above us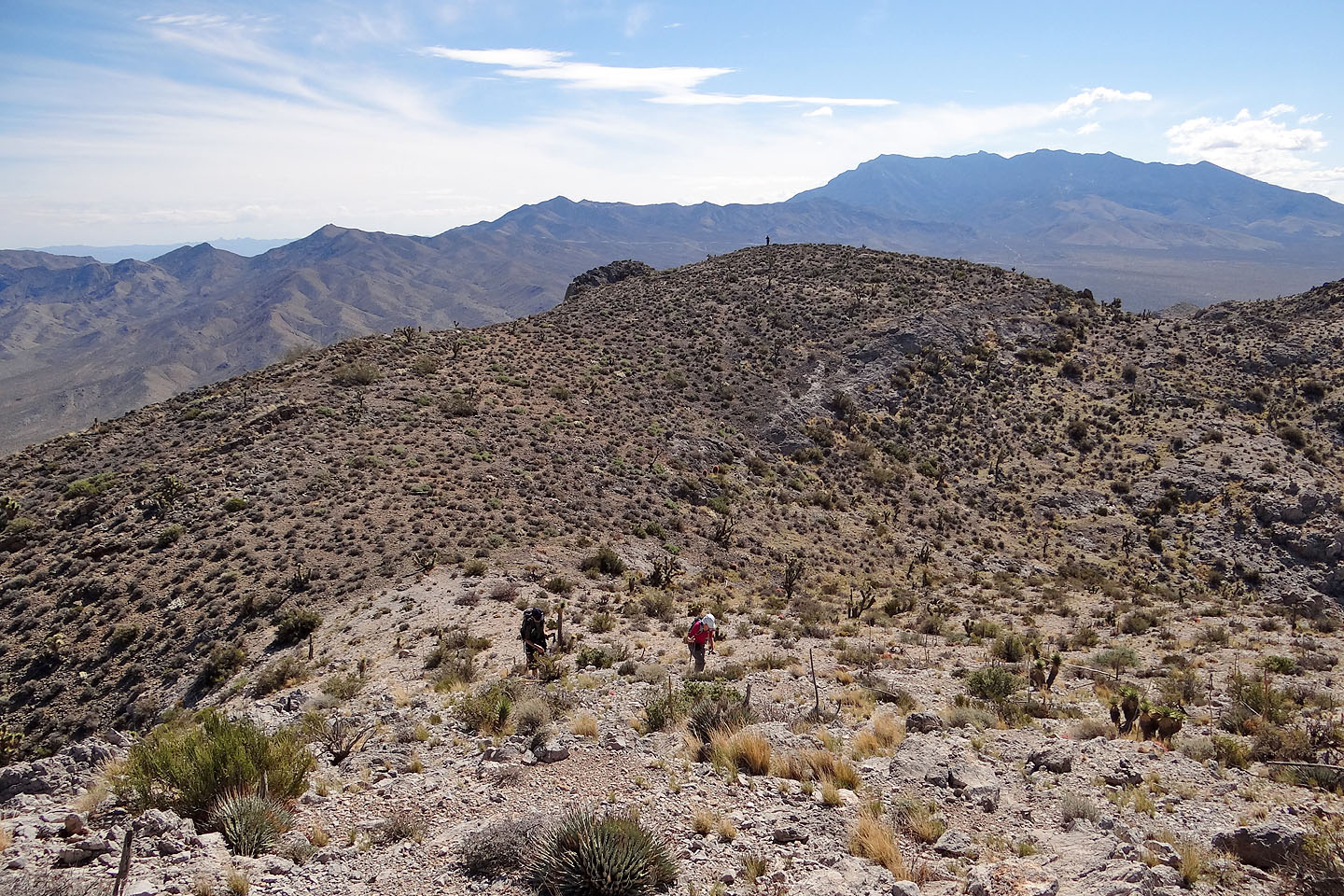 Shin and Dinah head to the summit ridge while Sonny tags a high point. Clark Mountain in the background.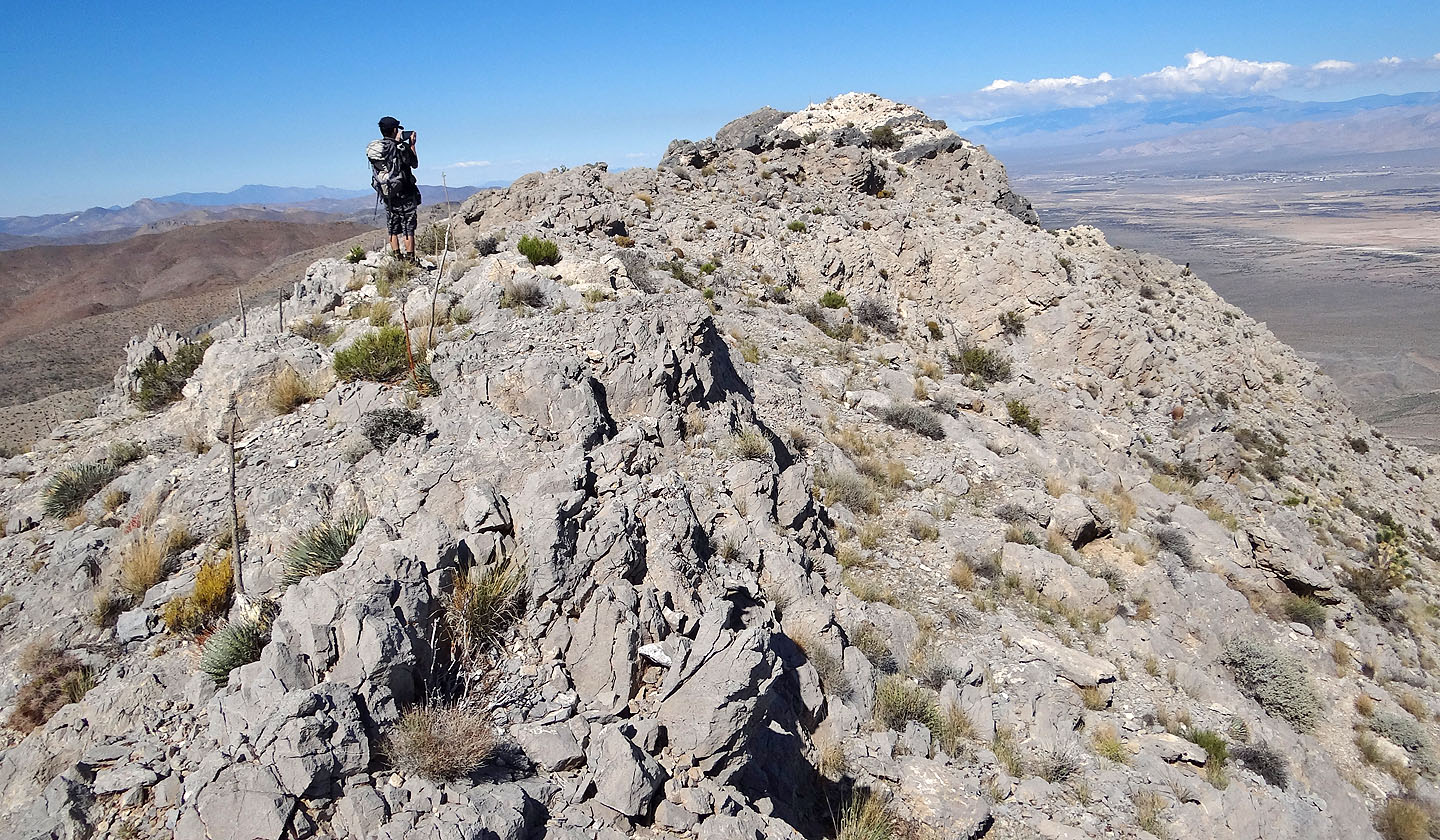 The summit is still some distance away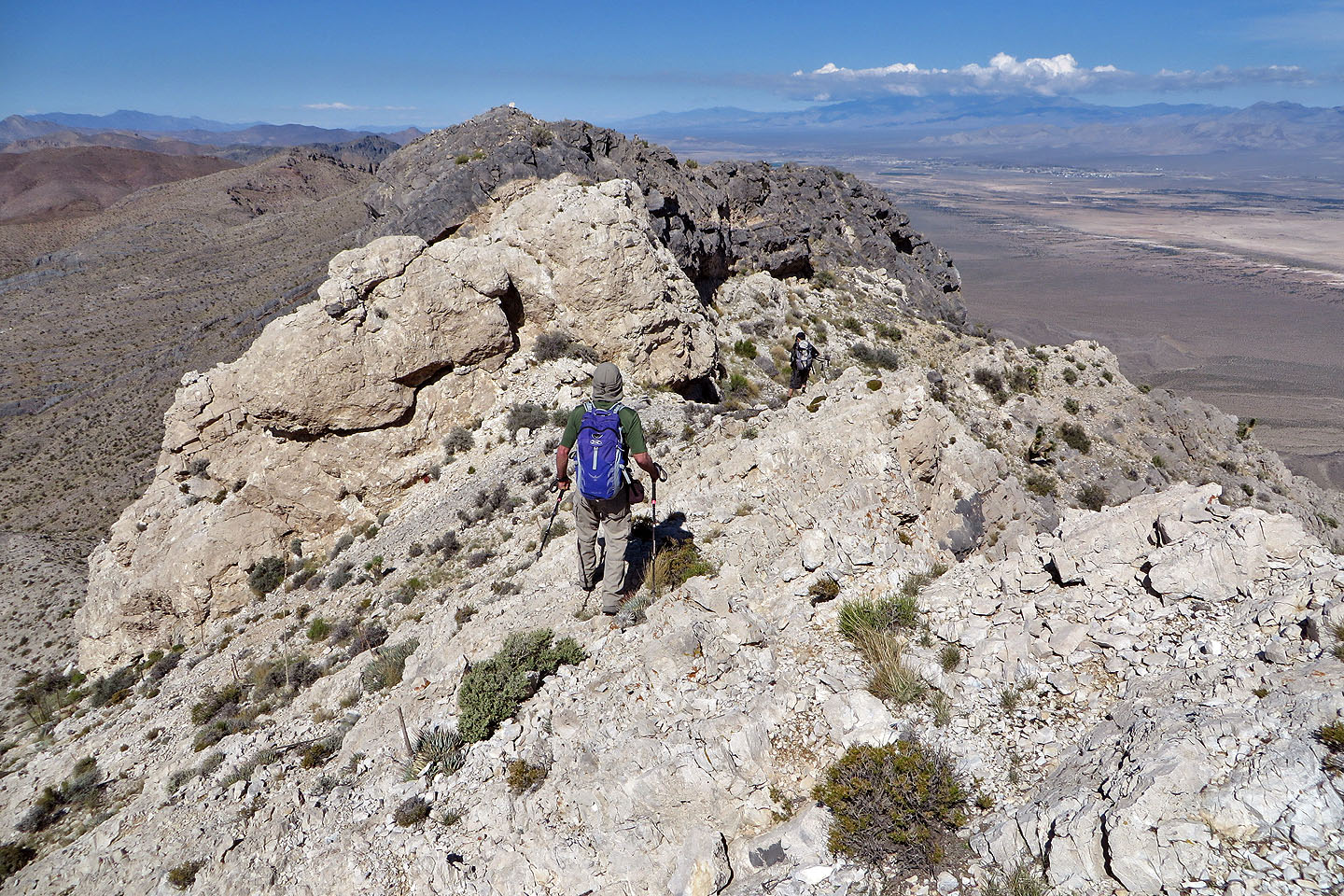 The dark rock is the summit. Sonny scrambled over the white rock, while the rest of us dropped down, passed under the summit and then scrambled up.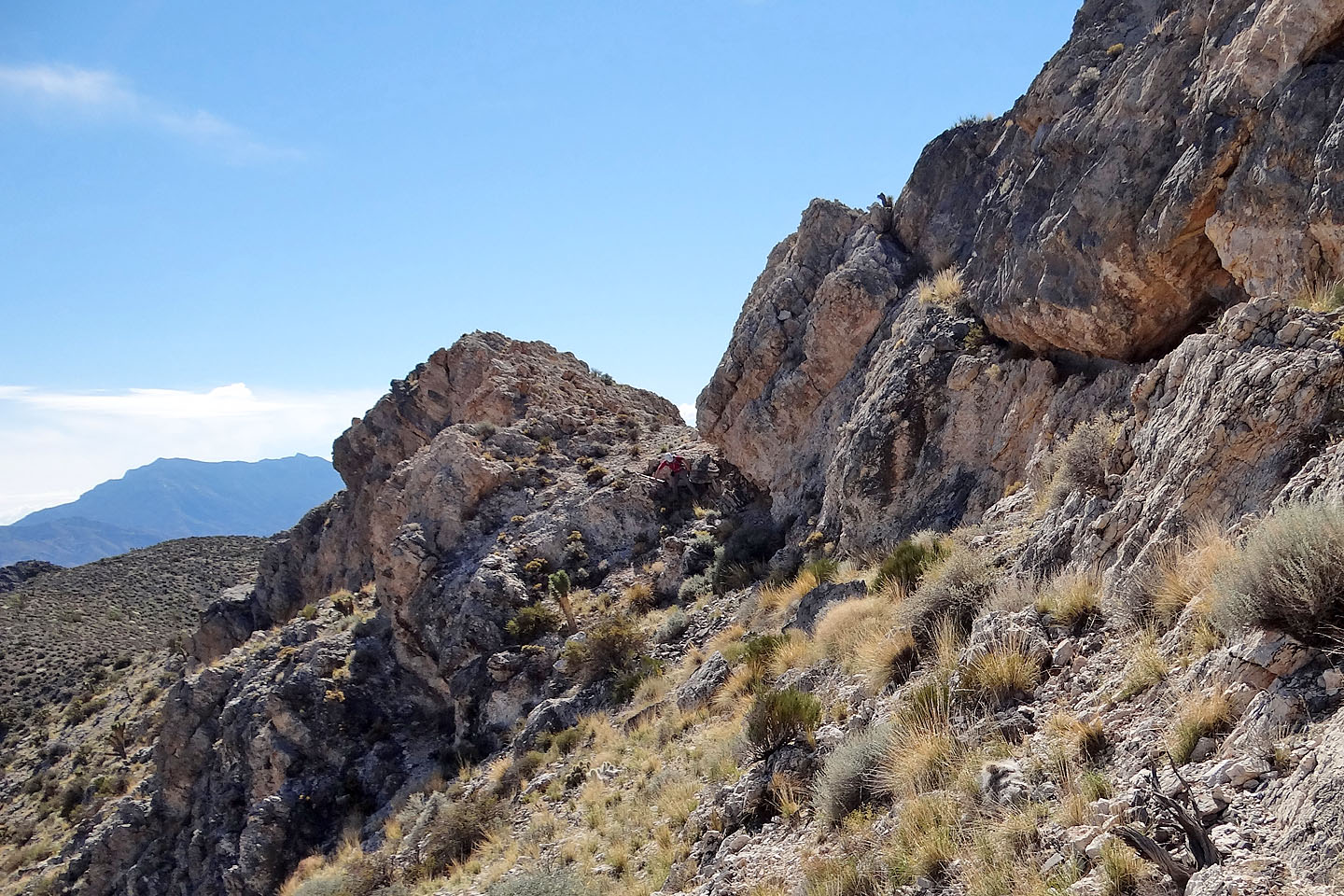 Dinah (centre) follows me below the summit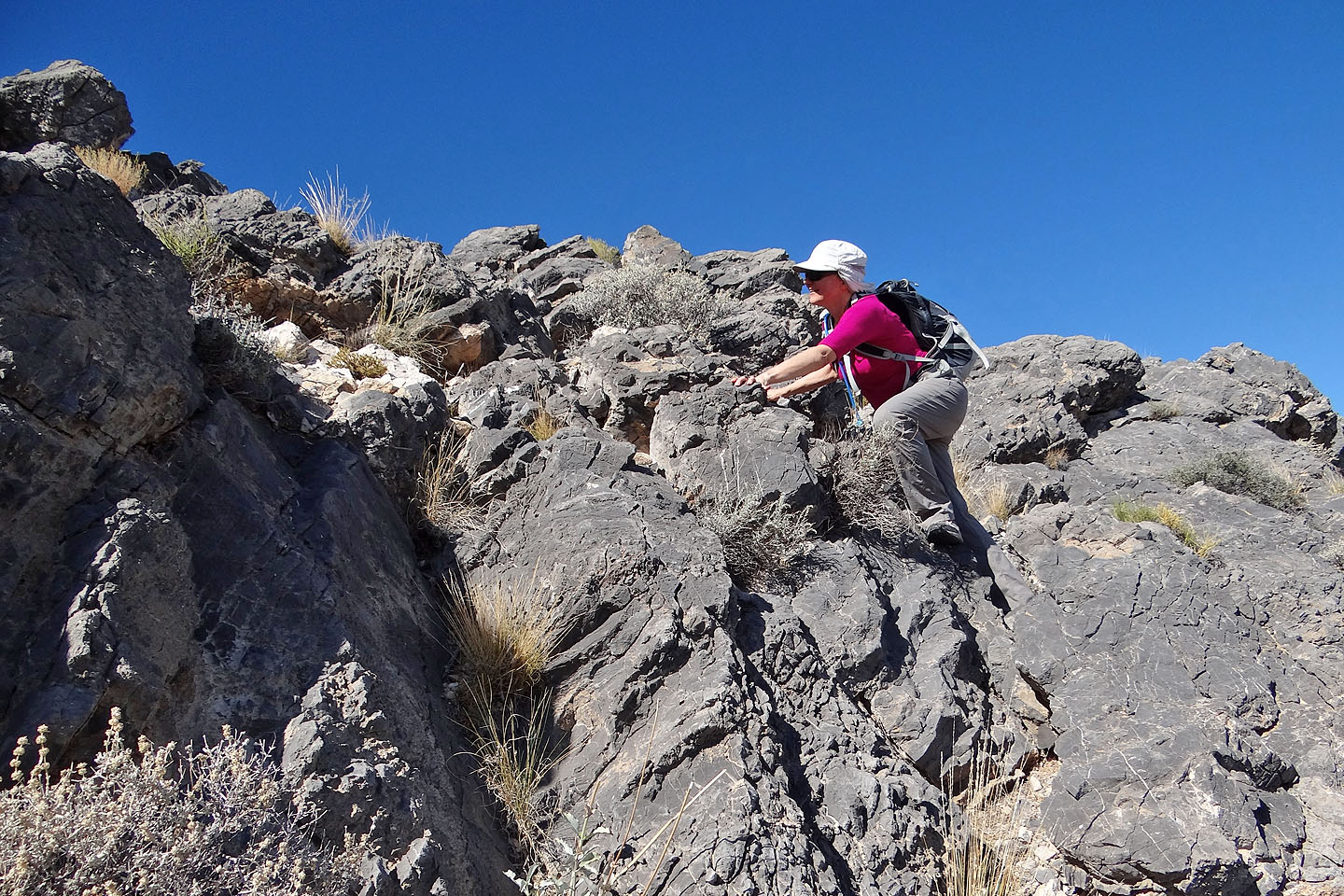 Dinah scrambles up the backside of the summit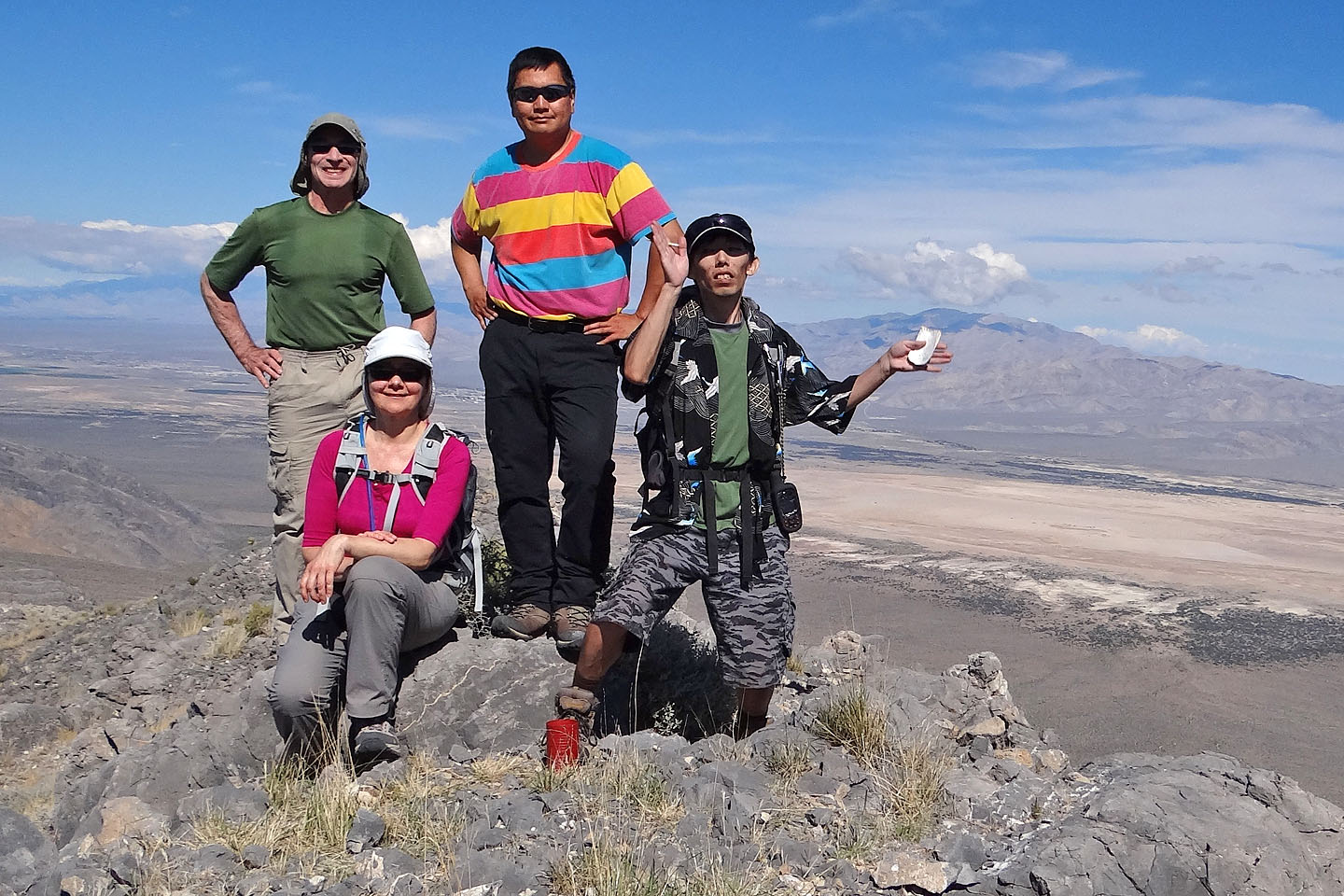 On the summit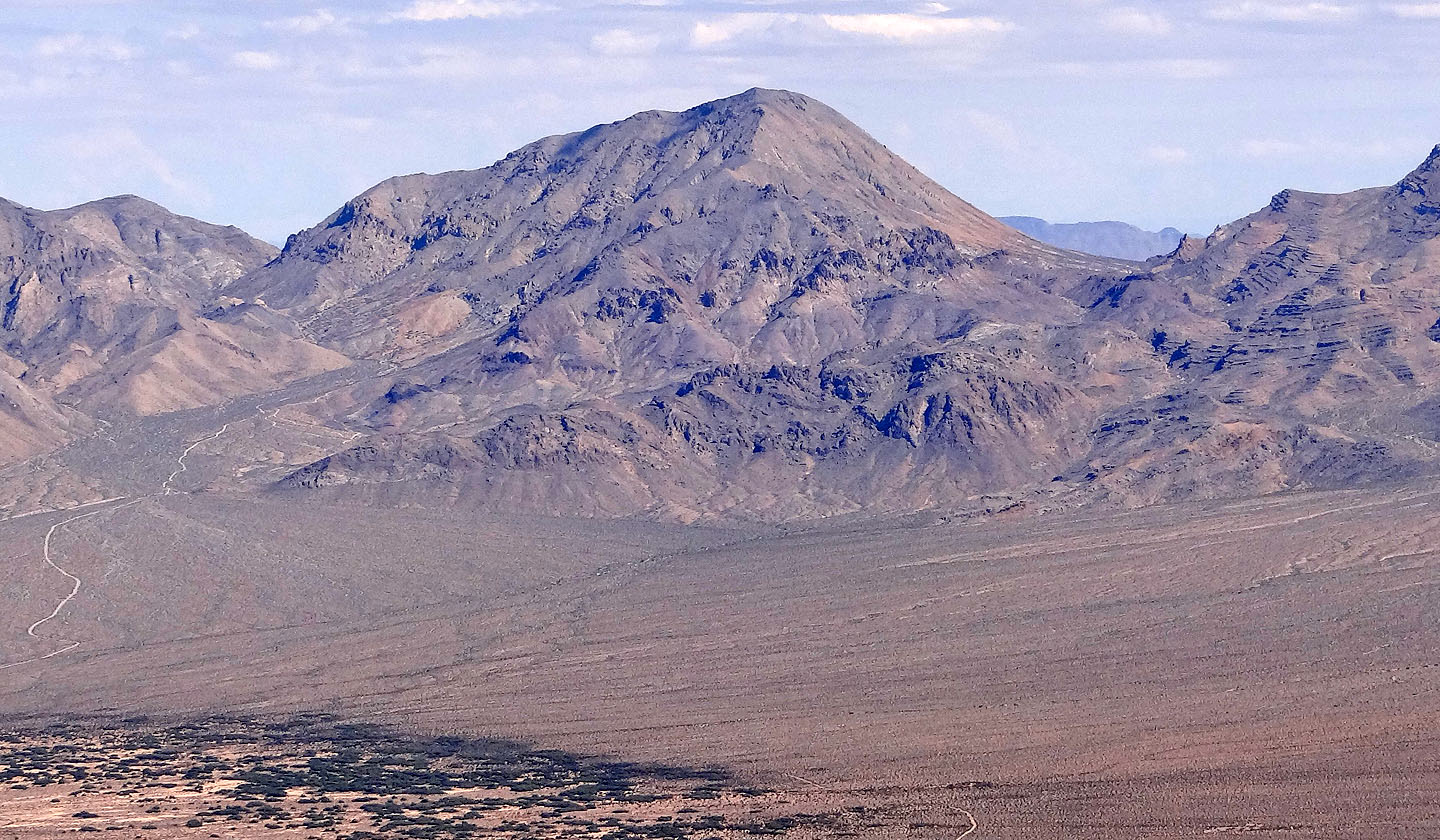 Devil Peak lies east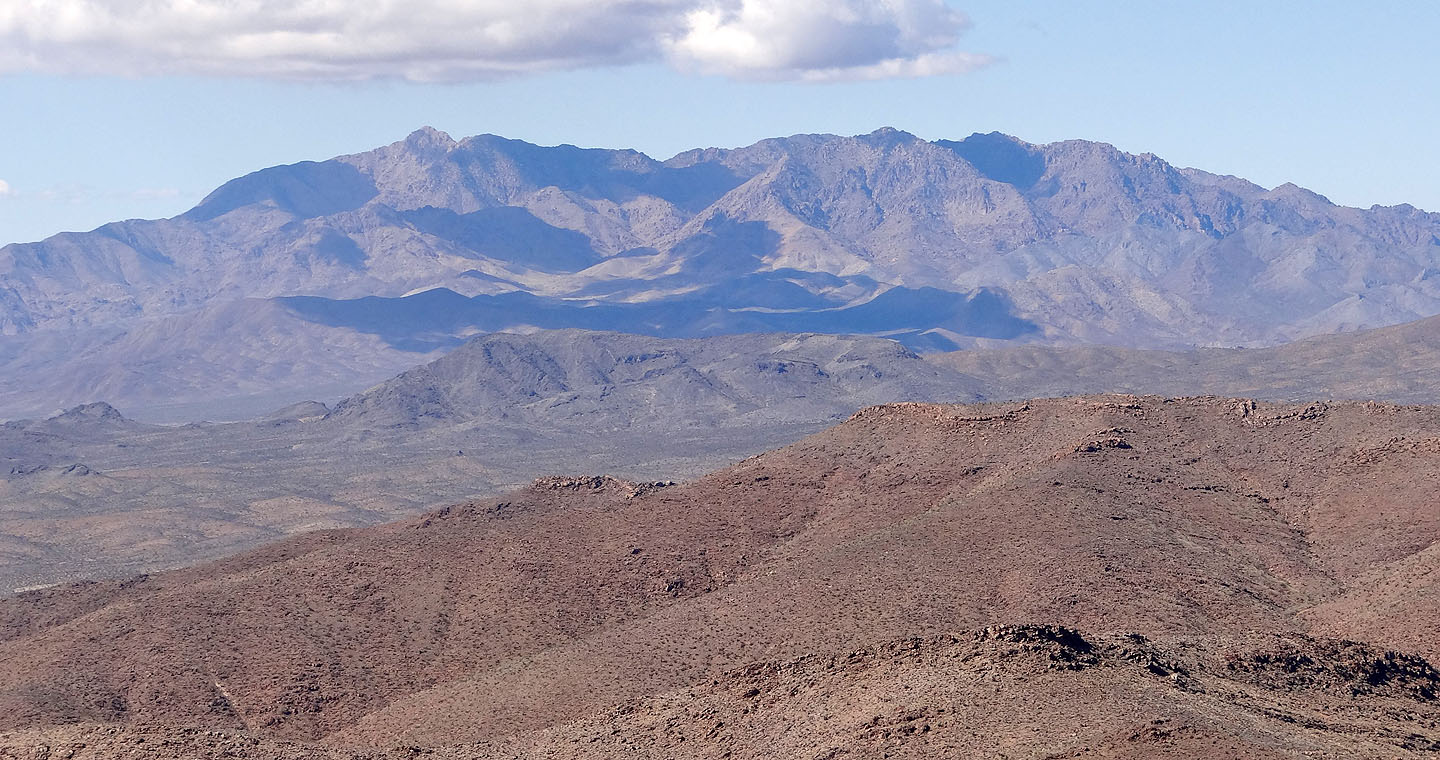 Kingston Peak is west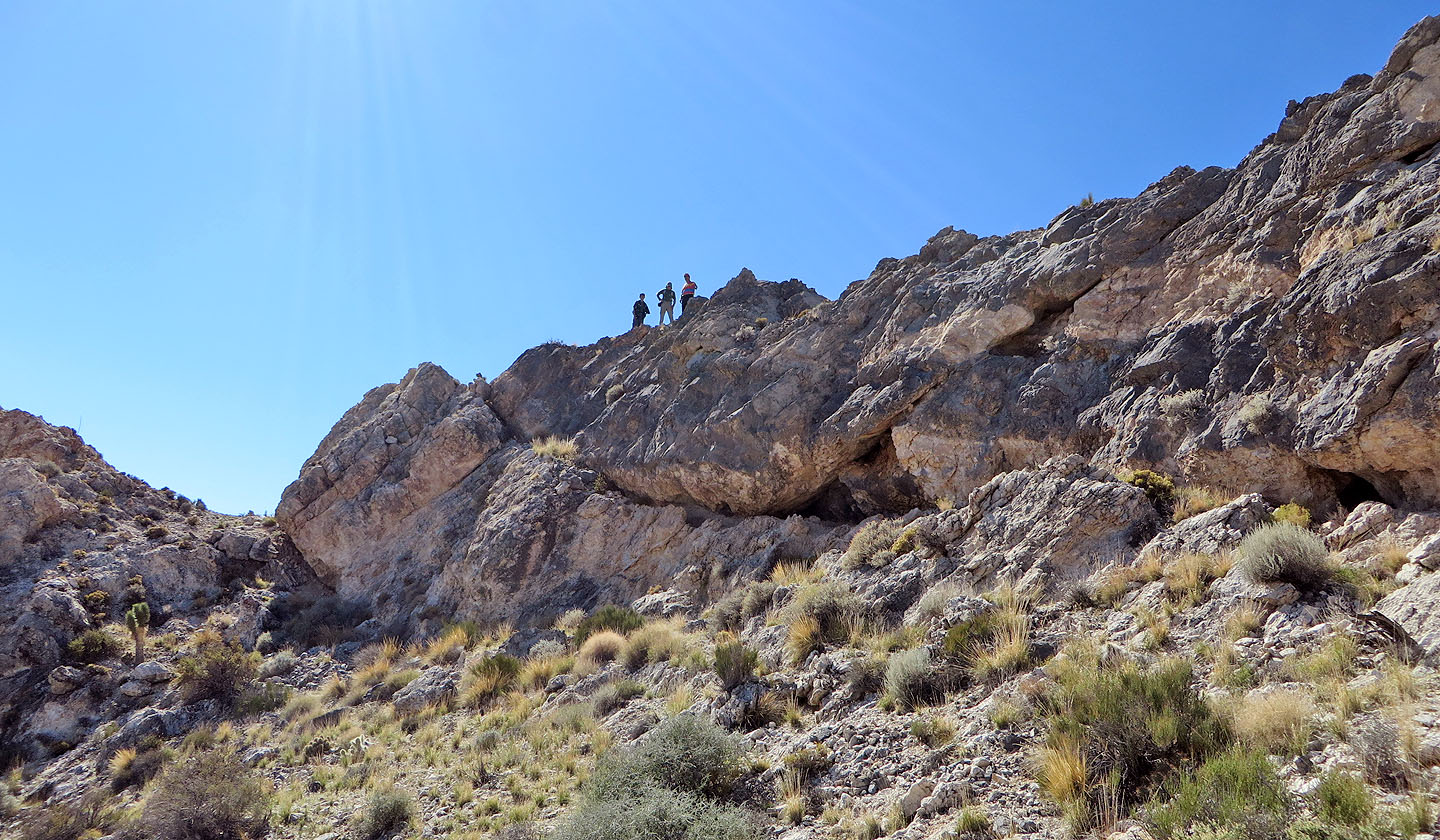 After scrambling back down, Dinah takes a parting shot of us guys on the summit (mouse over)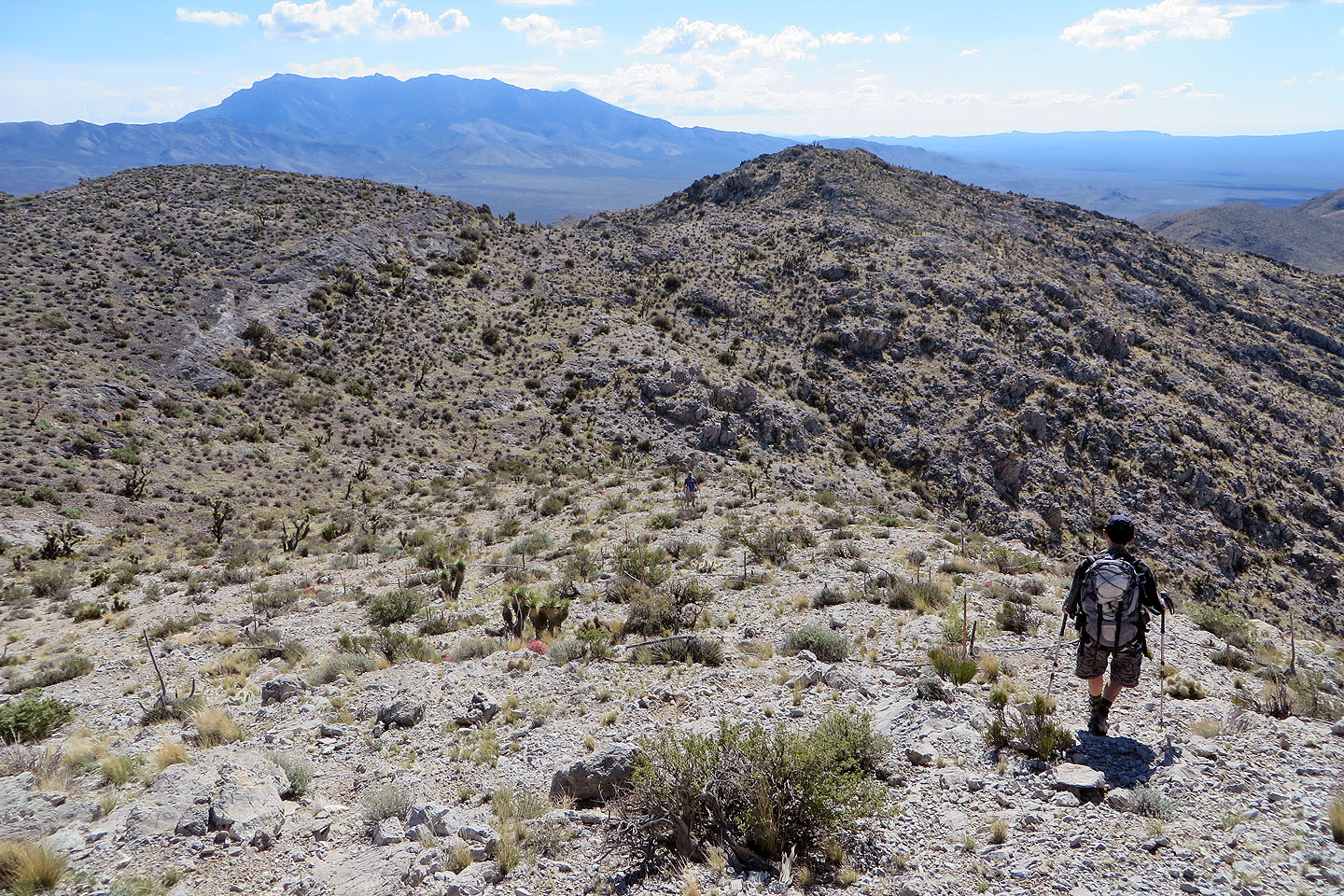 Heading back down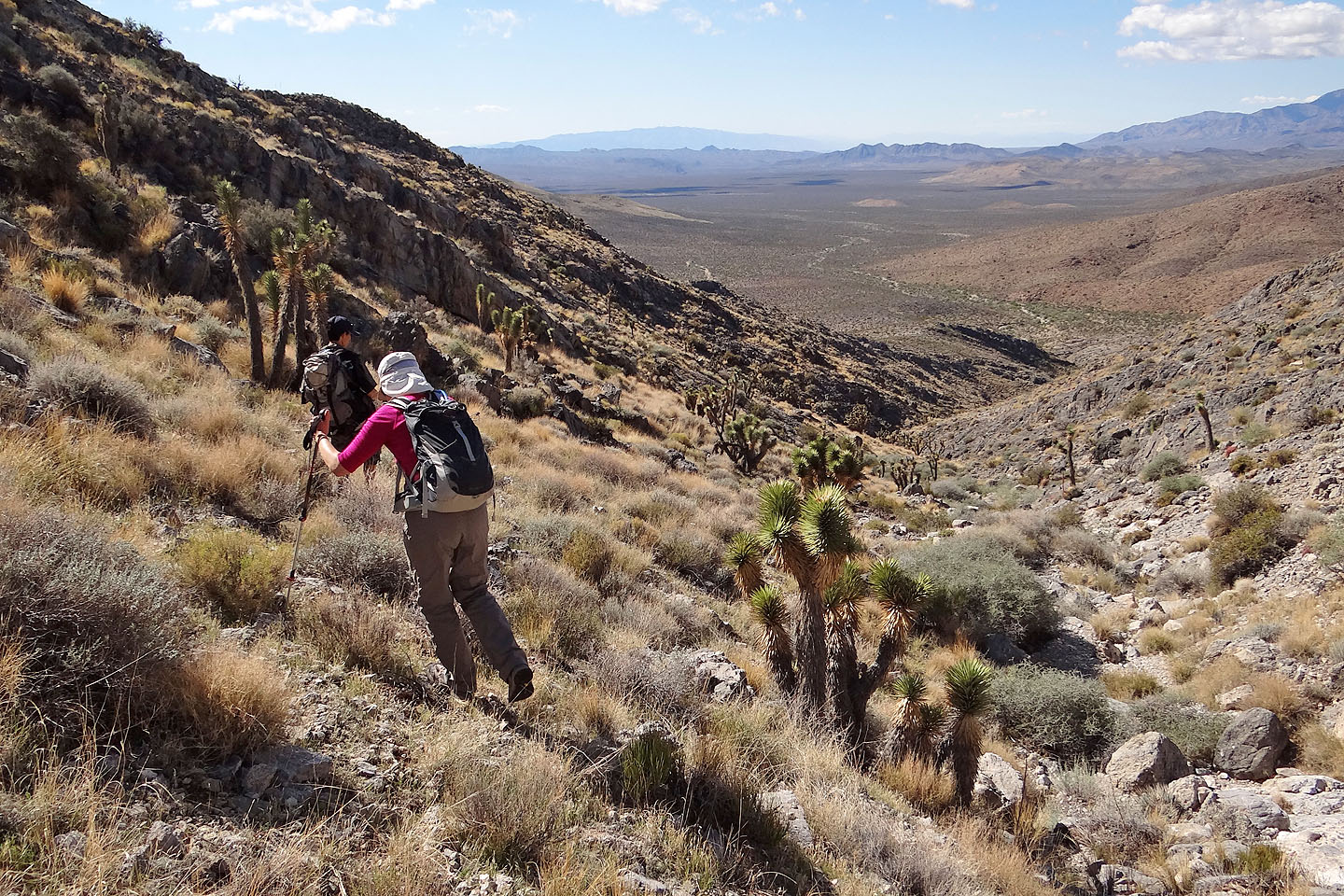 Instead of following the ridge down, we took the wash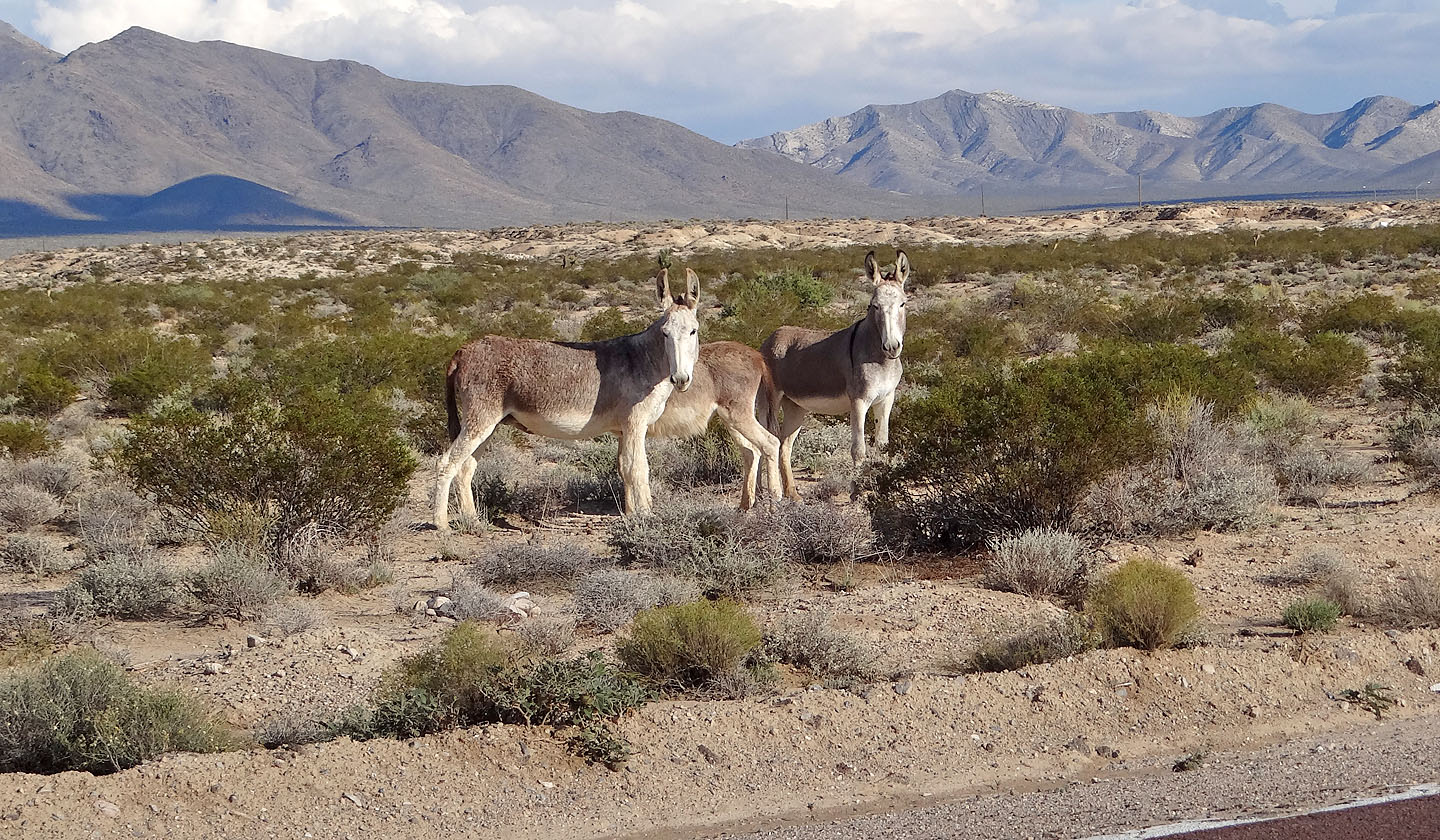 On the way back we spotted feral burros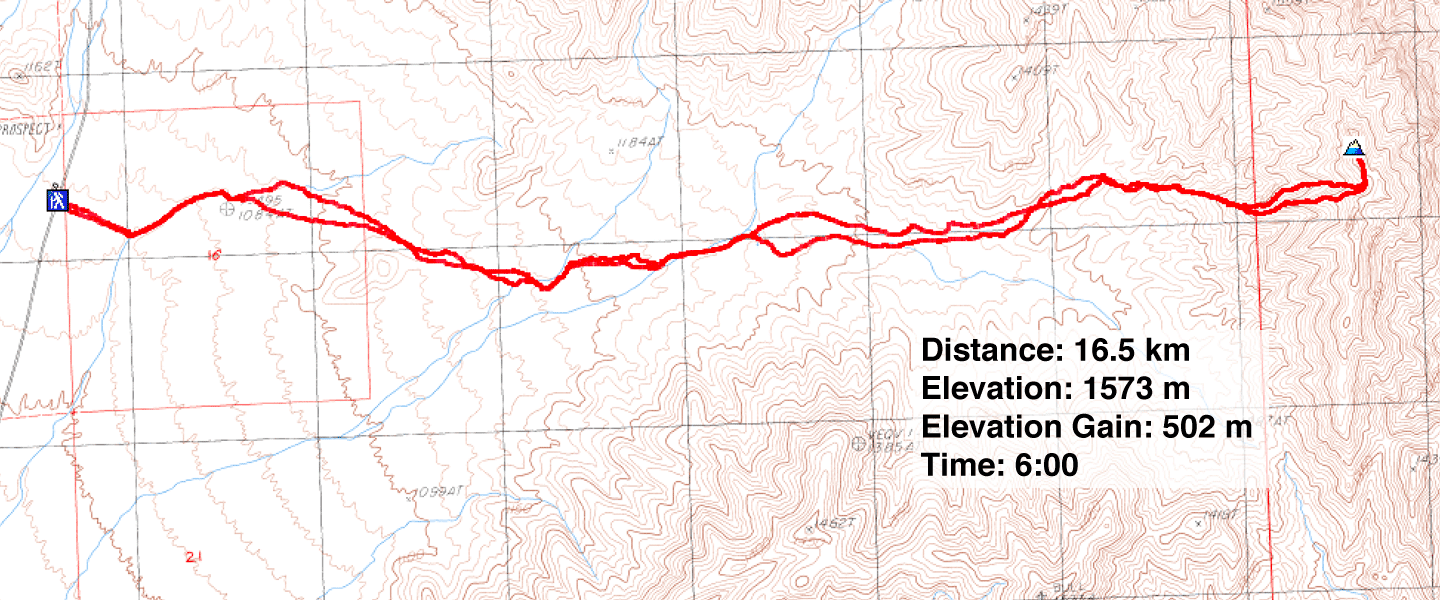 Mesquite Mountains (10.3 mi, 5161 ft, 1647 ft)