bobspirko.ca | Home | Canada Trips | US Trips | Hiking | Snowshoeing | MAP | About

Dublin Hills High Point
aka Beck Benchmark
Death Valley, California
October 17, 2018
Distance: 10.0 km (6.2 mi)
Cumulative Elevation Gain: 444 m (1457 ft)
As a hiking destination, the high point of Dublin Hills has a few things going for it. It has a good approach that passes a historic site, and despite its low stature, views from the summit are surprisingly far-ranging. Our trip began in Shoshone, a good place to buy Mega Millions lottery tickets. With a billion dollars up for grabs at the time, we couldn't resist buying tickets. Shoshone is an hour and a half drive from Las Vegas.
After parking in the day-use area, we started up the gravel road. We passed an old cemetery on the right and stone dwellings on the left. The road was smooth, and we realized we could've driven up it. A sedan could probably handle it.
After walking two klicks, we reached a side road where vehicles are not permitted. We started up it and soon encountered another fork. We turned left but the road disappeared. Rather than try to get back on the other fork, we travelled easily across the desert flats. We headed to the southeast ridge of Dublin Hills HP.
The ridge is a class 2 climb; minor cliff bands are easily negotiated. We found a cairn on top but no summit register. But not lacking were the views. We could spy a few peaks, including Sheephead Mountain and Salsberry Peak which are the most colourful we've climbed in Death Valley. Instead of retracing our steps after lunch, we came down the east ridge. Because of the soft scree and gentle grade, this turned out to be a pleasant descent route.
The ridge ends in a knoll of dark rock, but instead of going over it, we went left and picked up a mid-slope trail. The trail can be found after crossing a narrow wash, a slash of white on an otherwise dark slope. Throughout our trip, we passed several cairns that seemed to serve no purpose, yet there was no cairn marking this important trail. The trail leads back to the road. We followed the road back to our car.
Our hike up Dublin Hills HP was successful, but I can't say the same for our Mega Millions tickets. We didn't win a thing.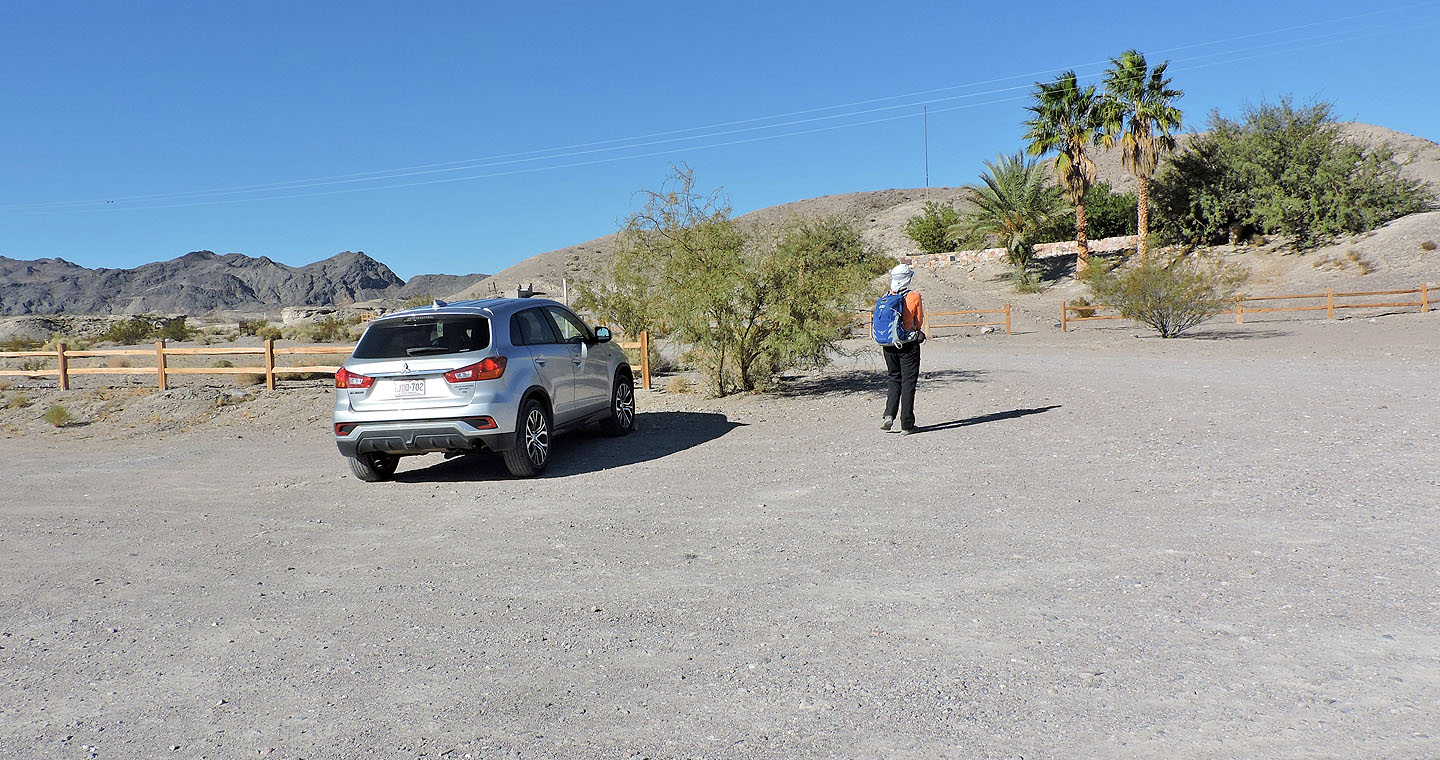 We parked at Dublin Gulch day-use area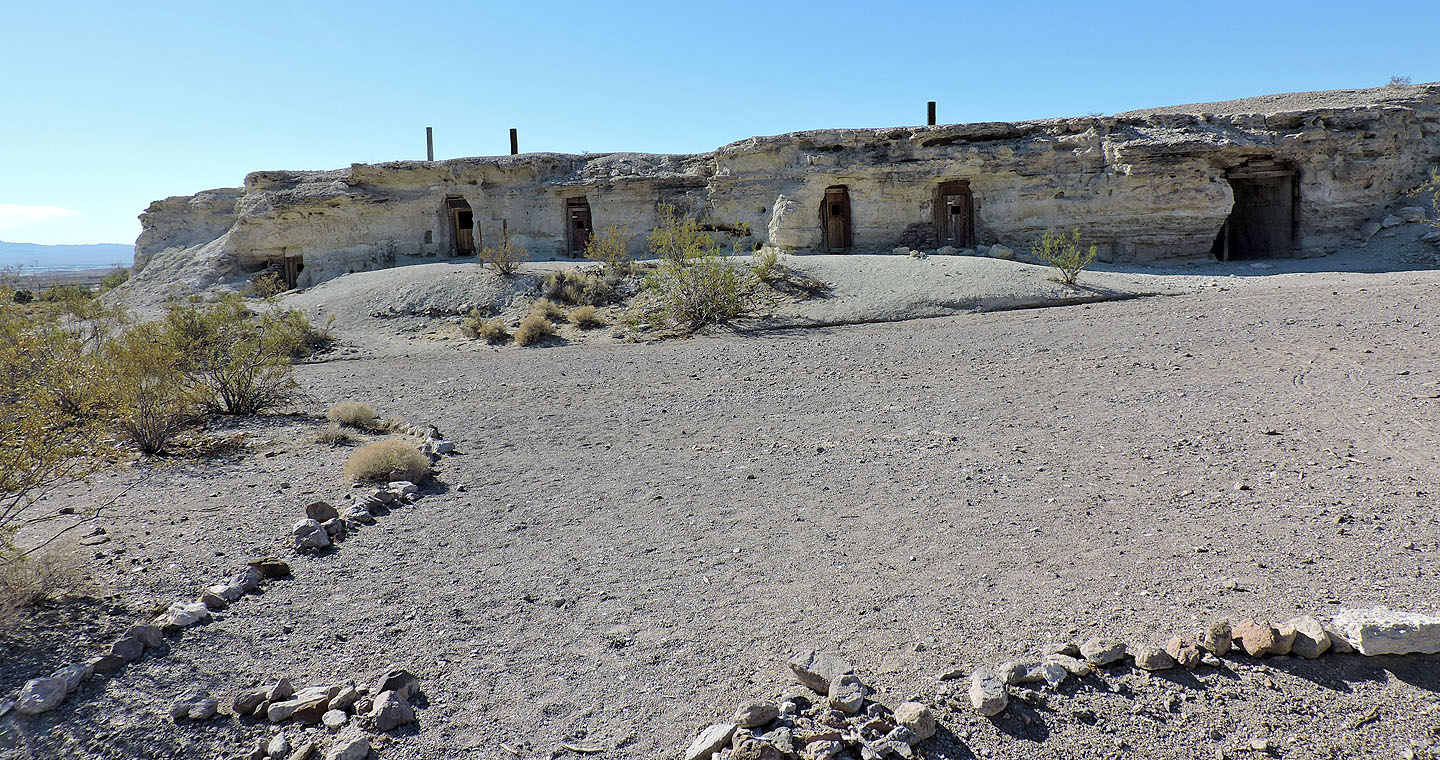 We soon passed dwellings that miners carved in a caliche clay embankment in the 1920s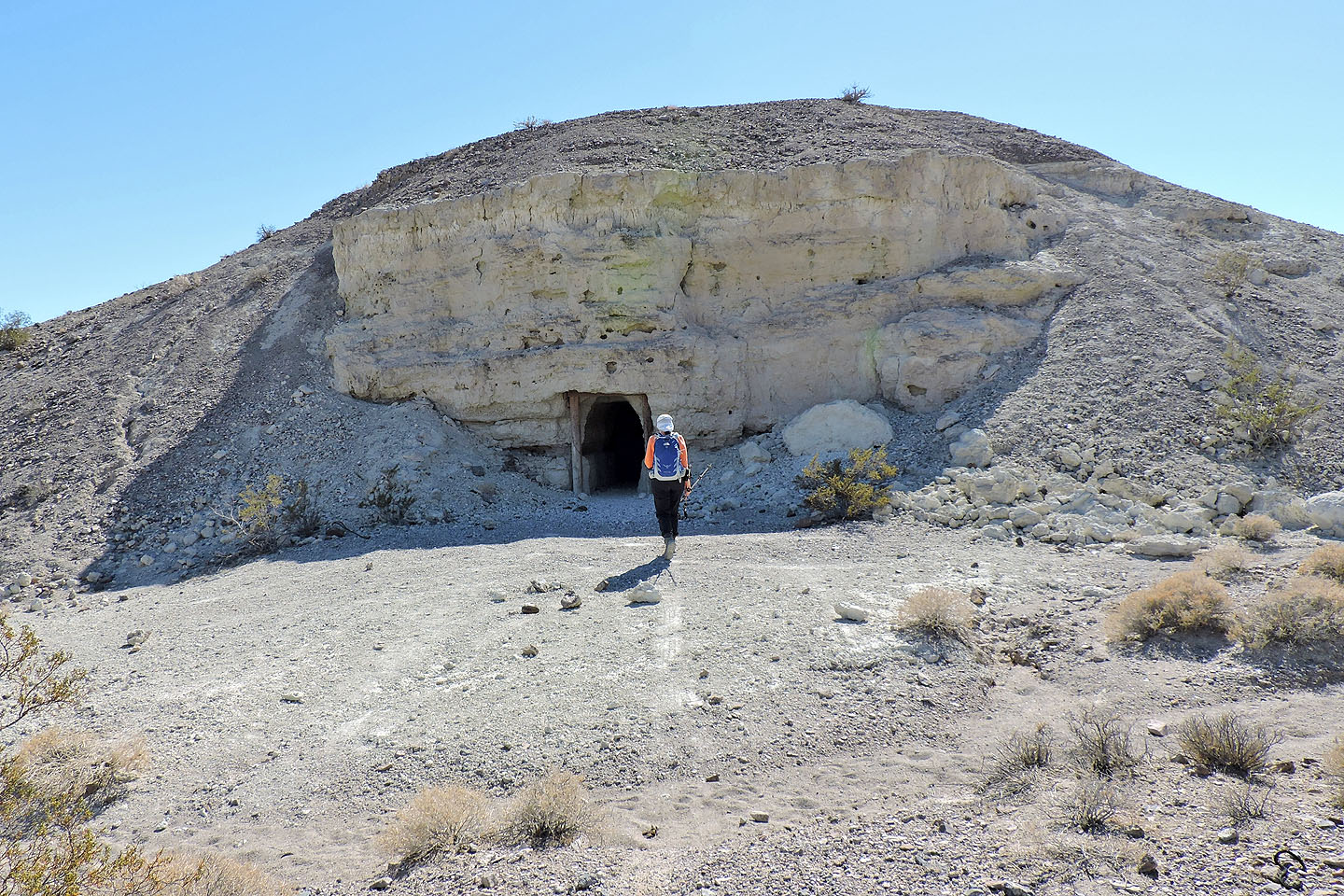 Most dwellings were locked, but the last one was open (mouse over to see the interior)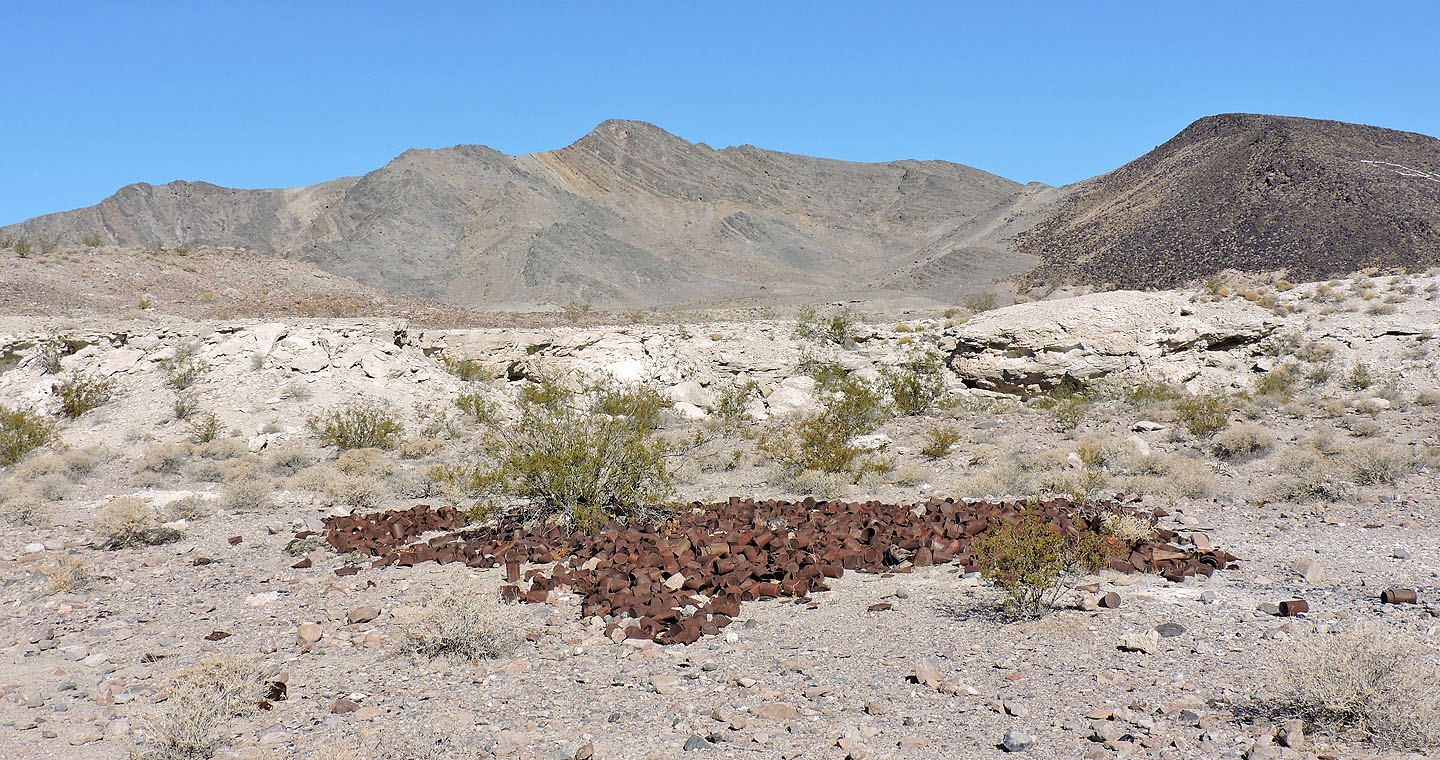 A pile of cans lies near the dwellings. Behind is Fairbanks Mountain.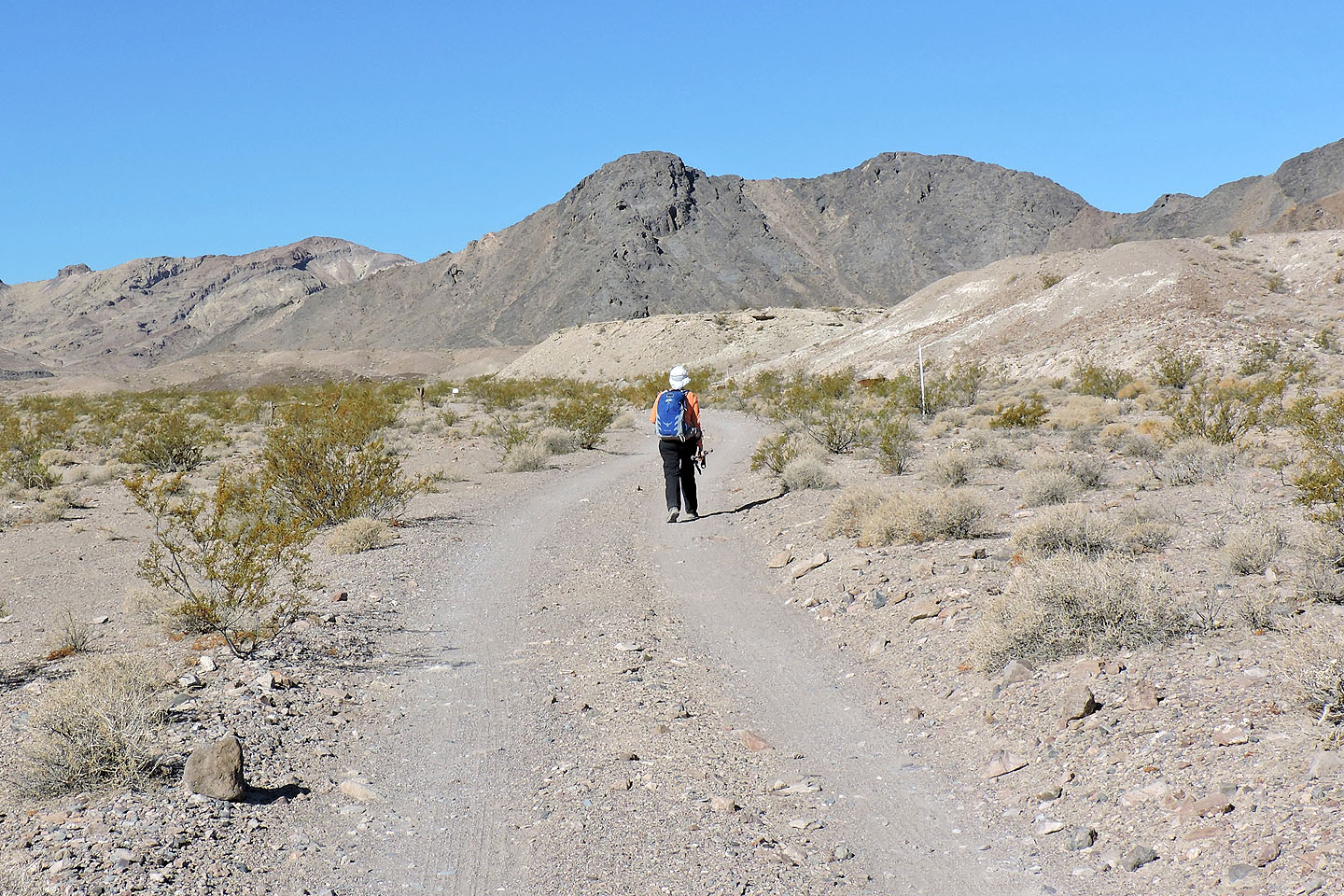 Walking up the road. Dublin Hills HP is in the centre.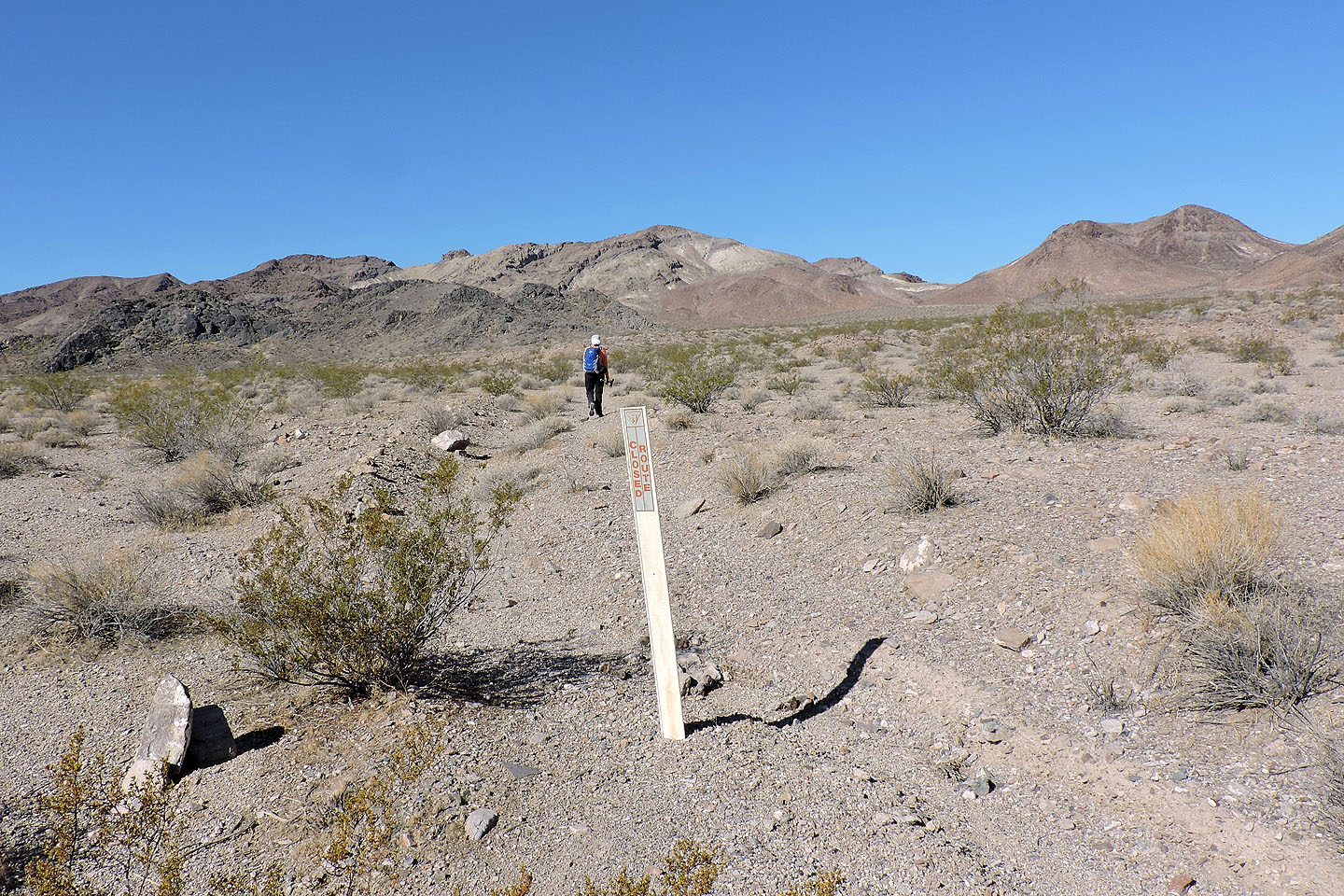 We turned off the main road to take this road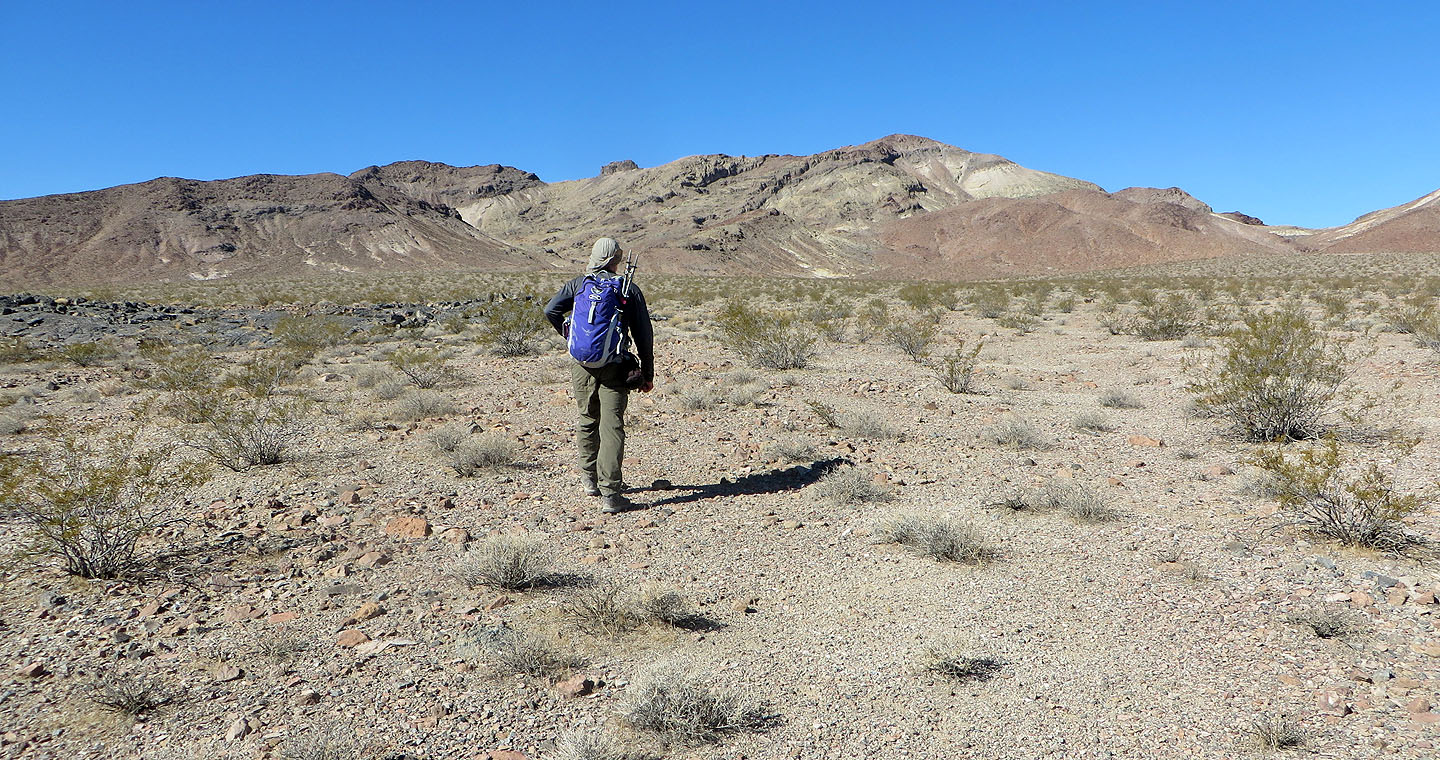 After leaving the road we hiked to the wash at the base of the mountain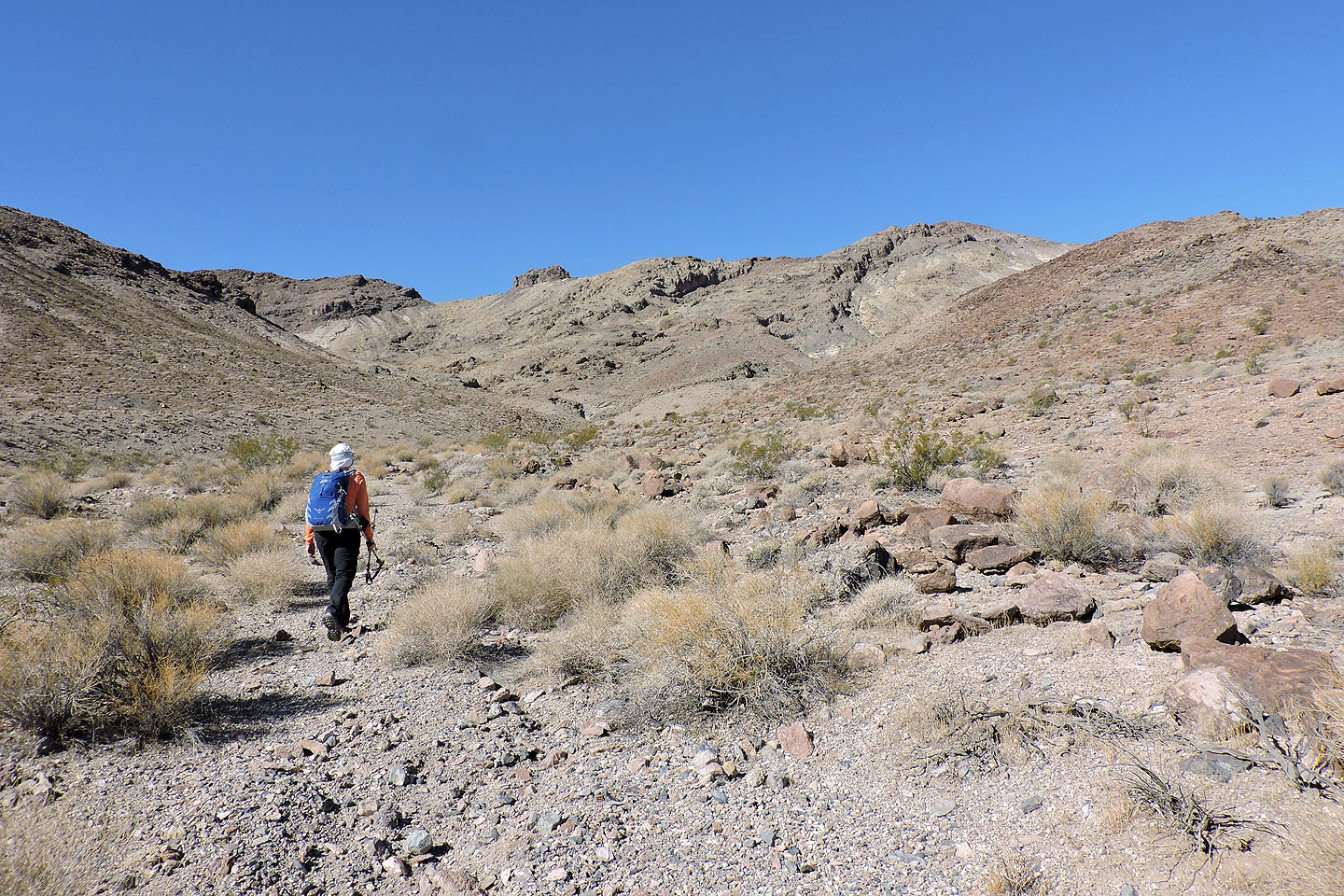 After entering the wash, we headed to the ridge leading to the summit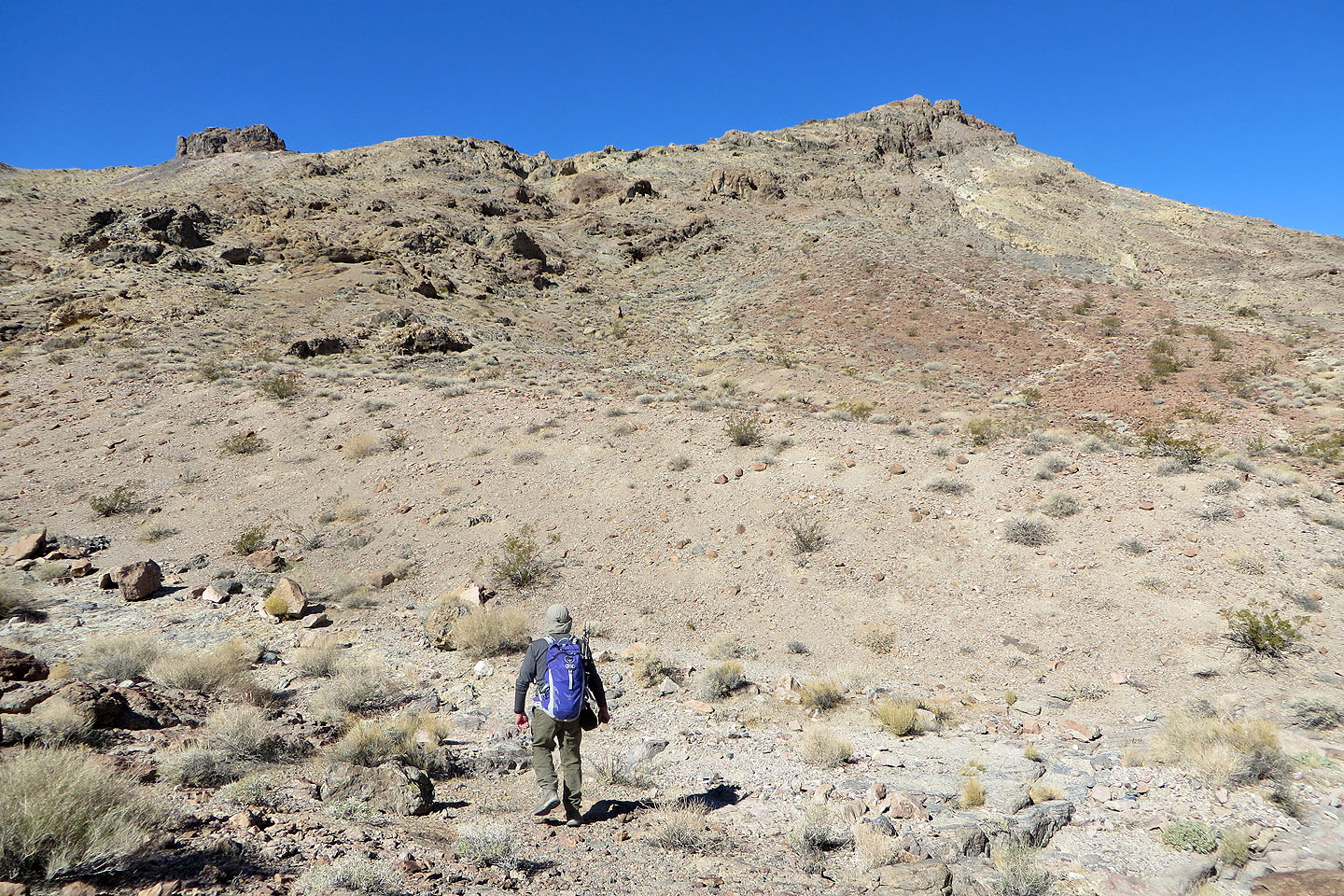 Starting up the slope to the ridge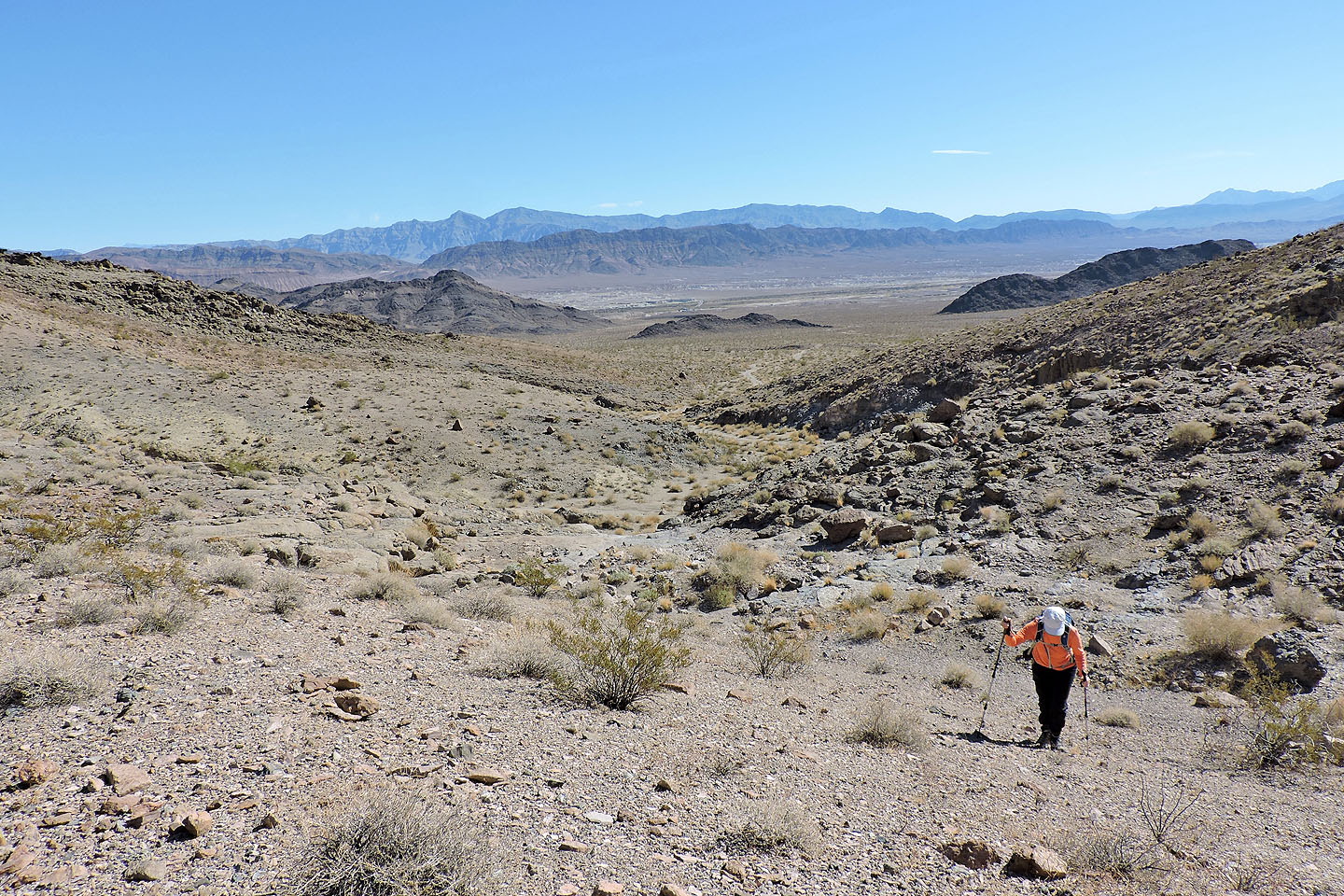 Looking back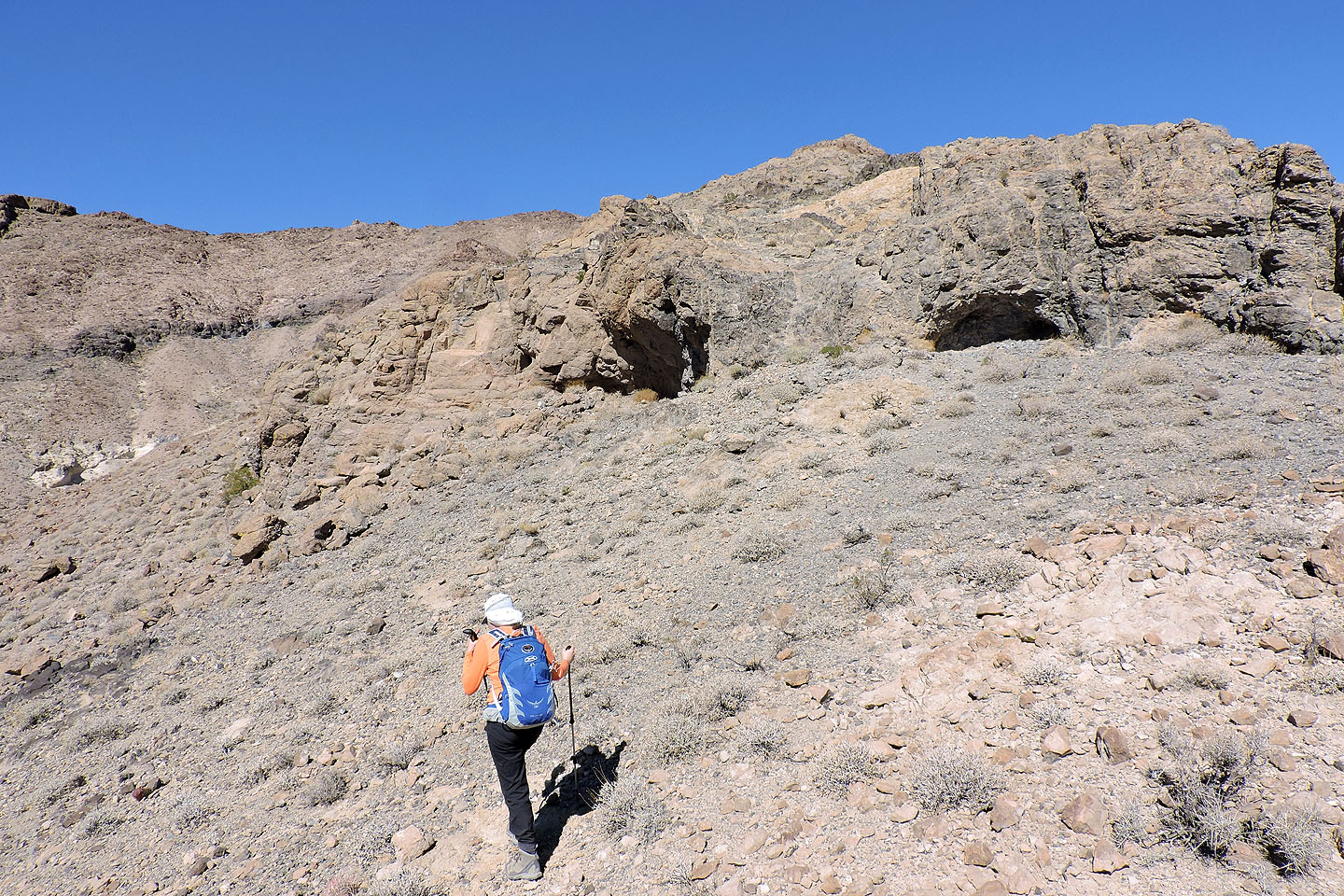 After reaching the ridge crest, we had to go around some cliffs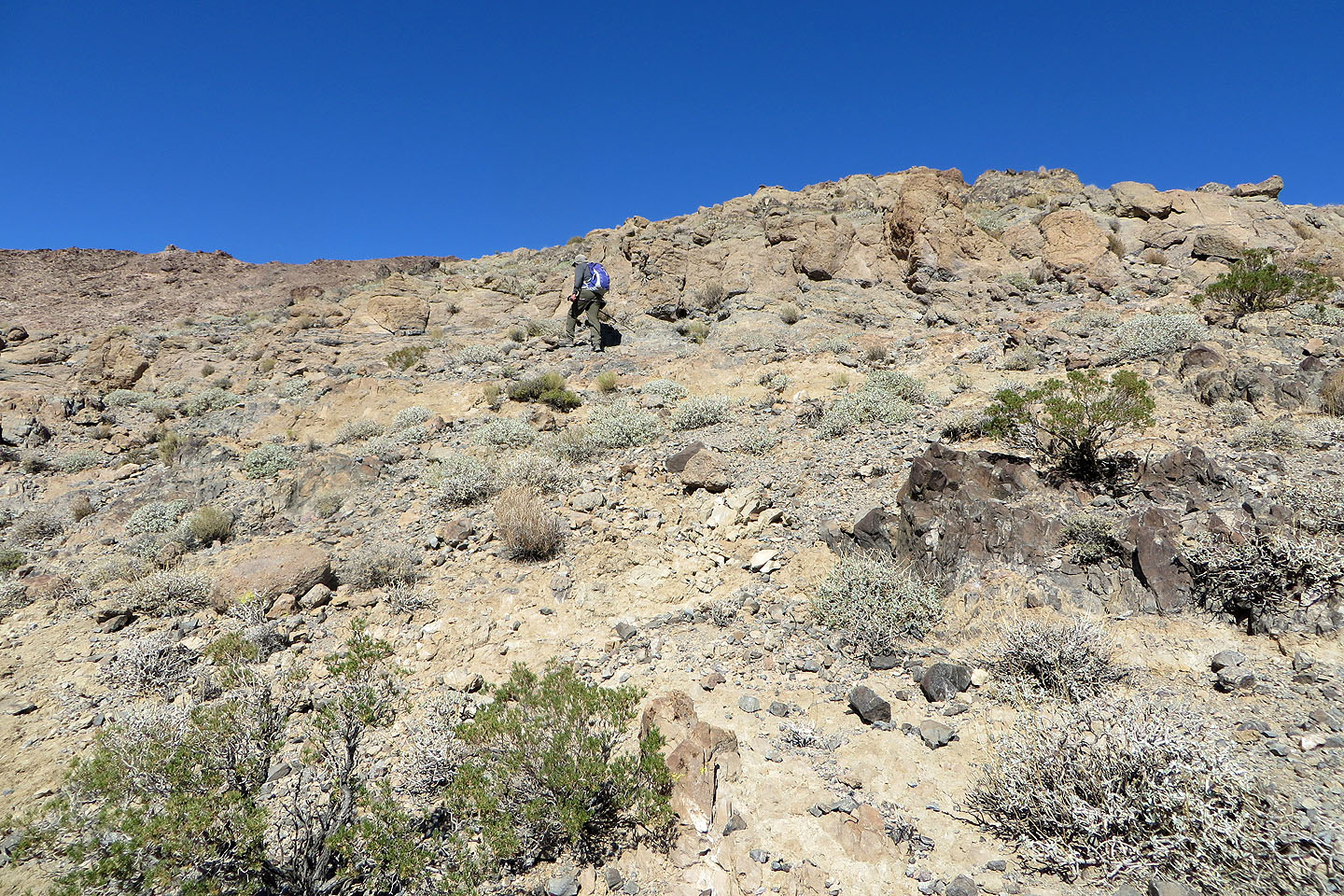 After that we faced only minor cliff bands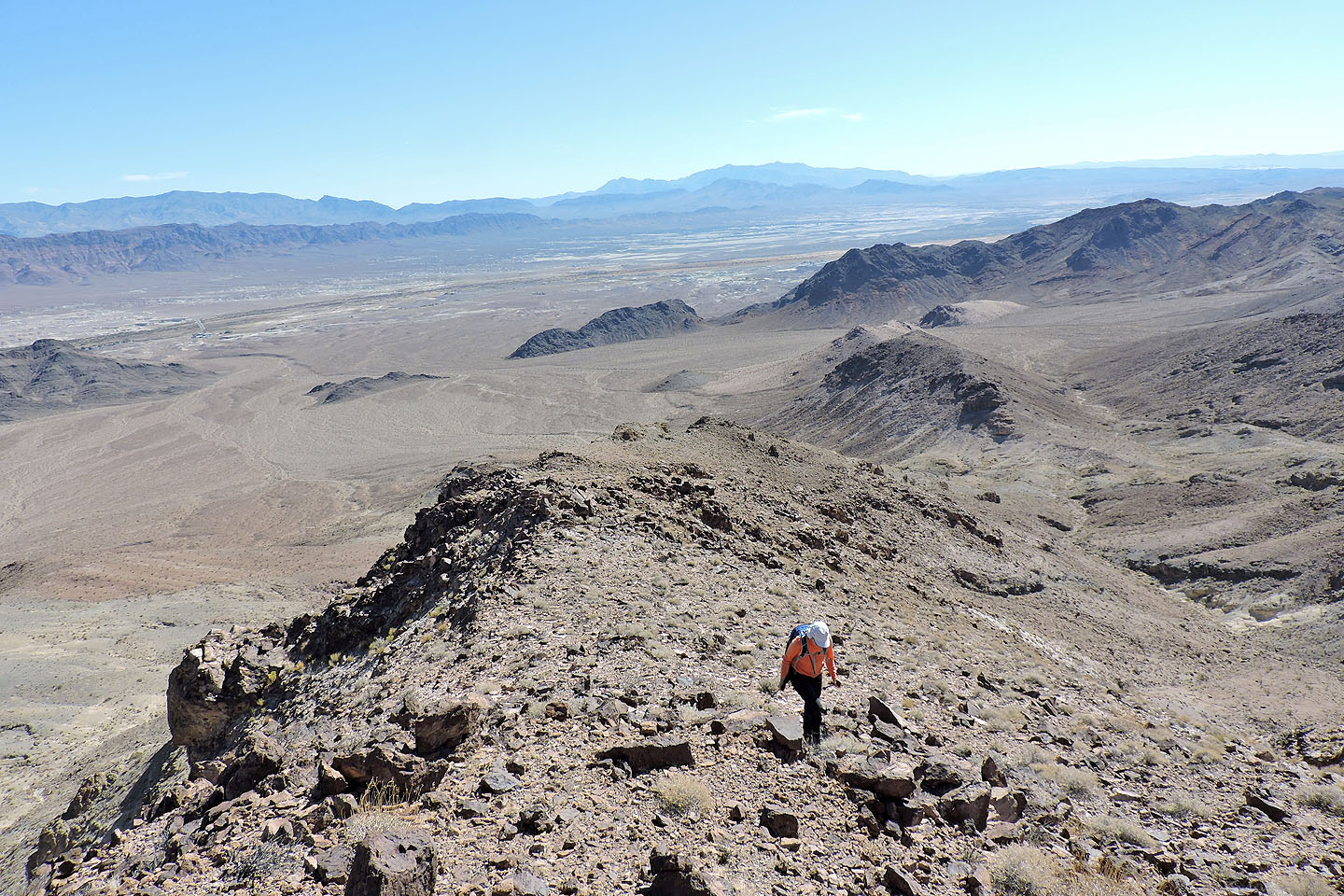 Looking back along the ridge

The summit looks close now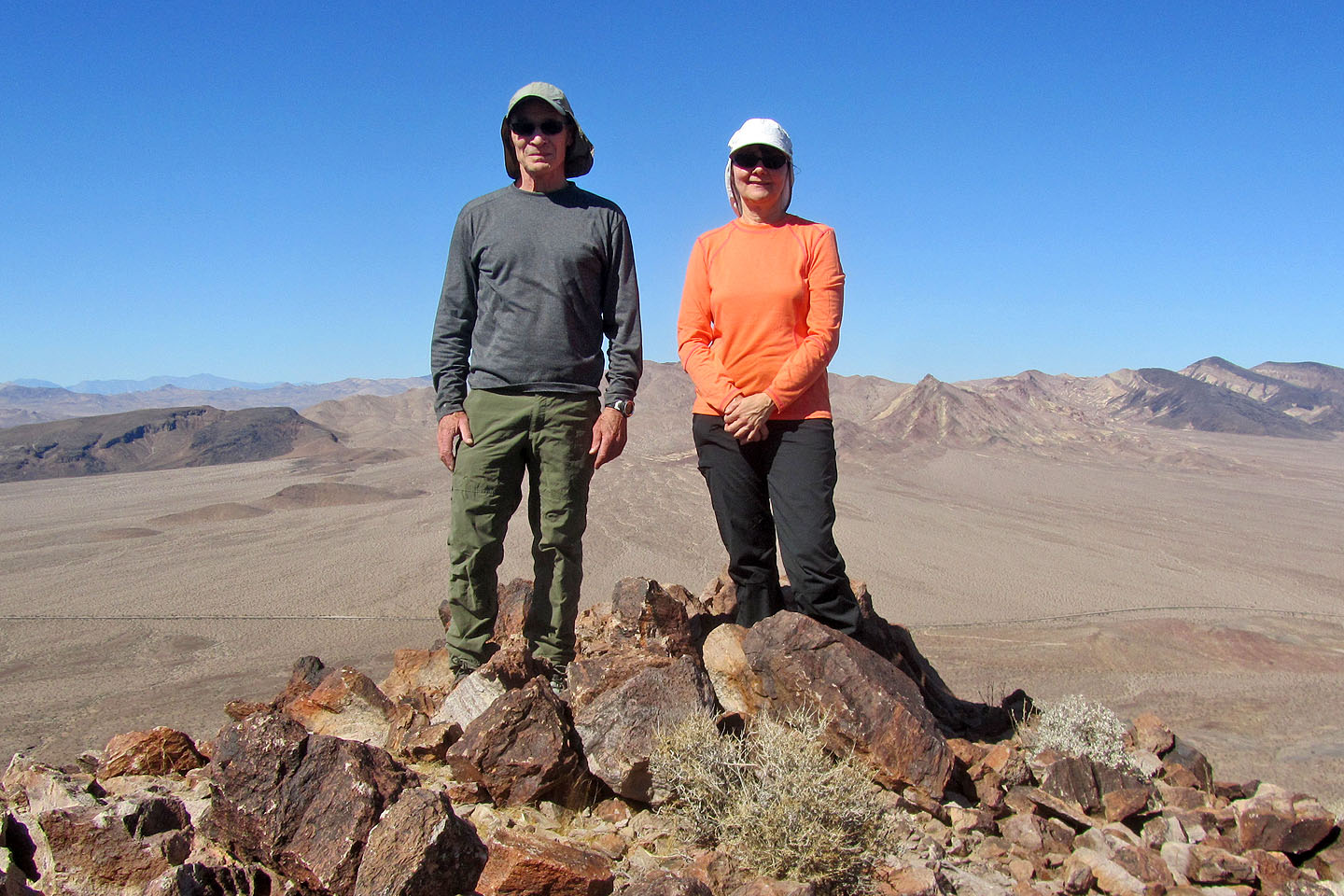 On the summit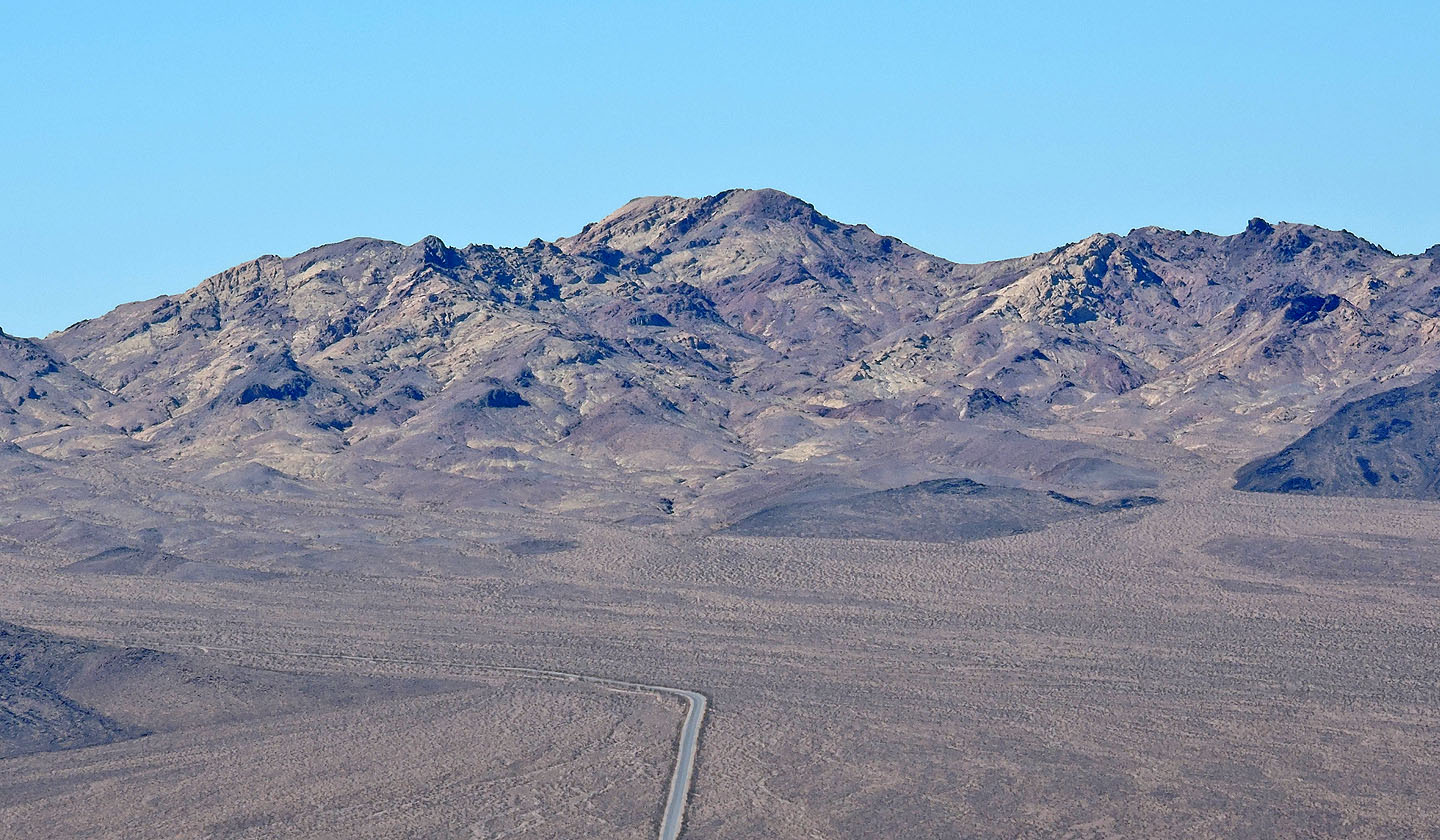 Salsberry Peak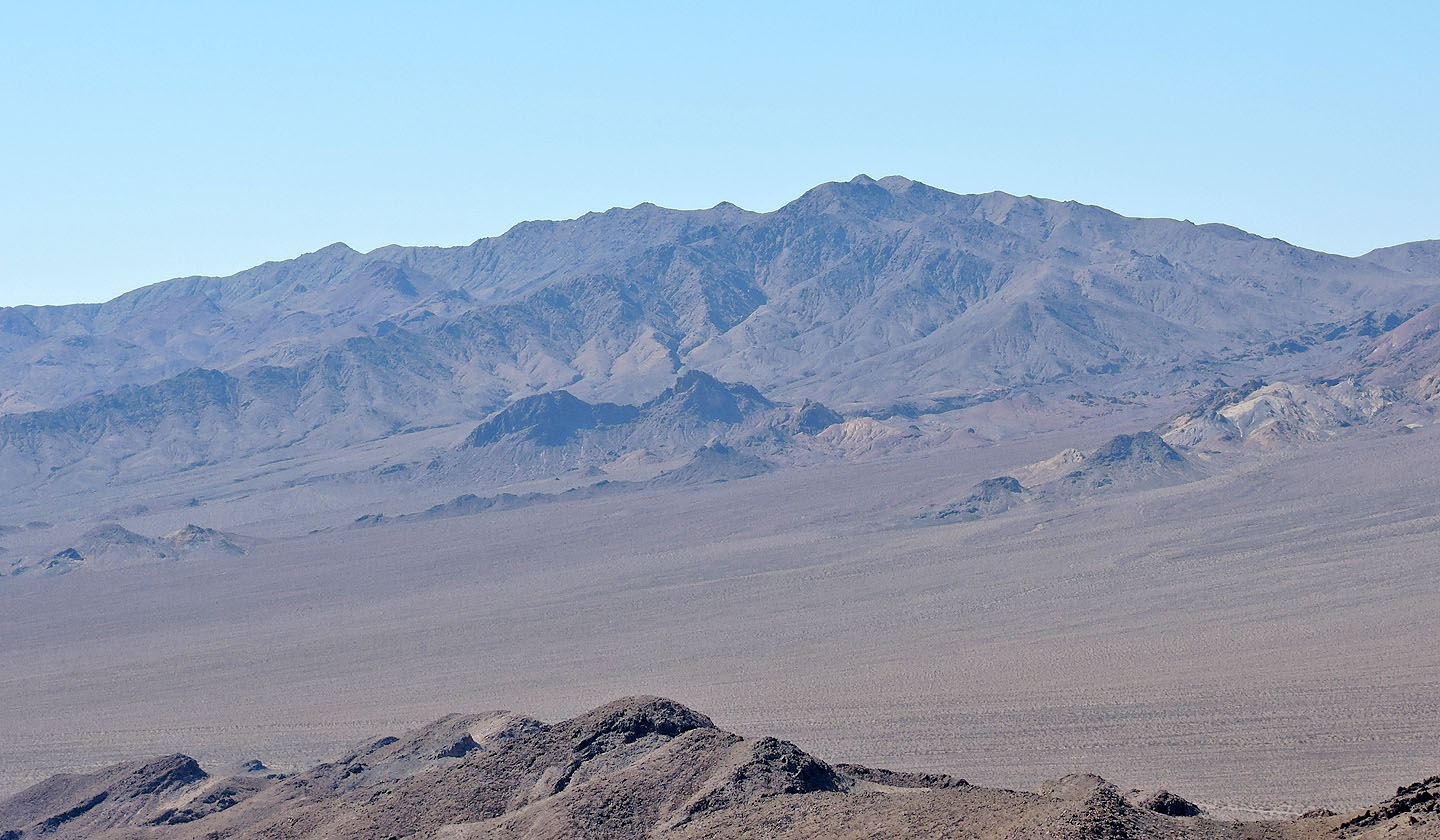 Ibex Peak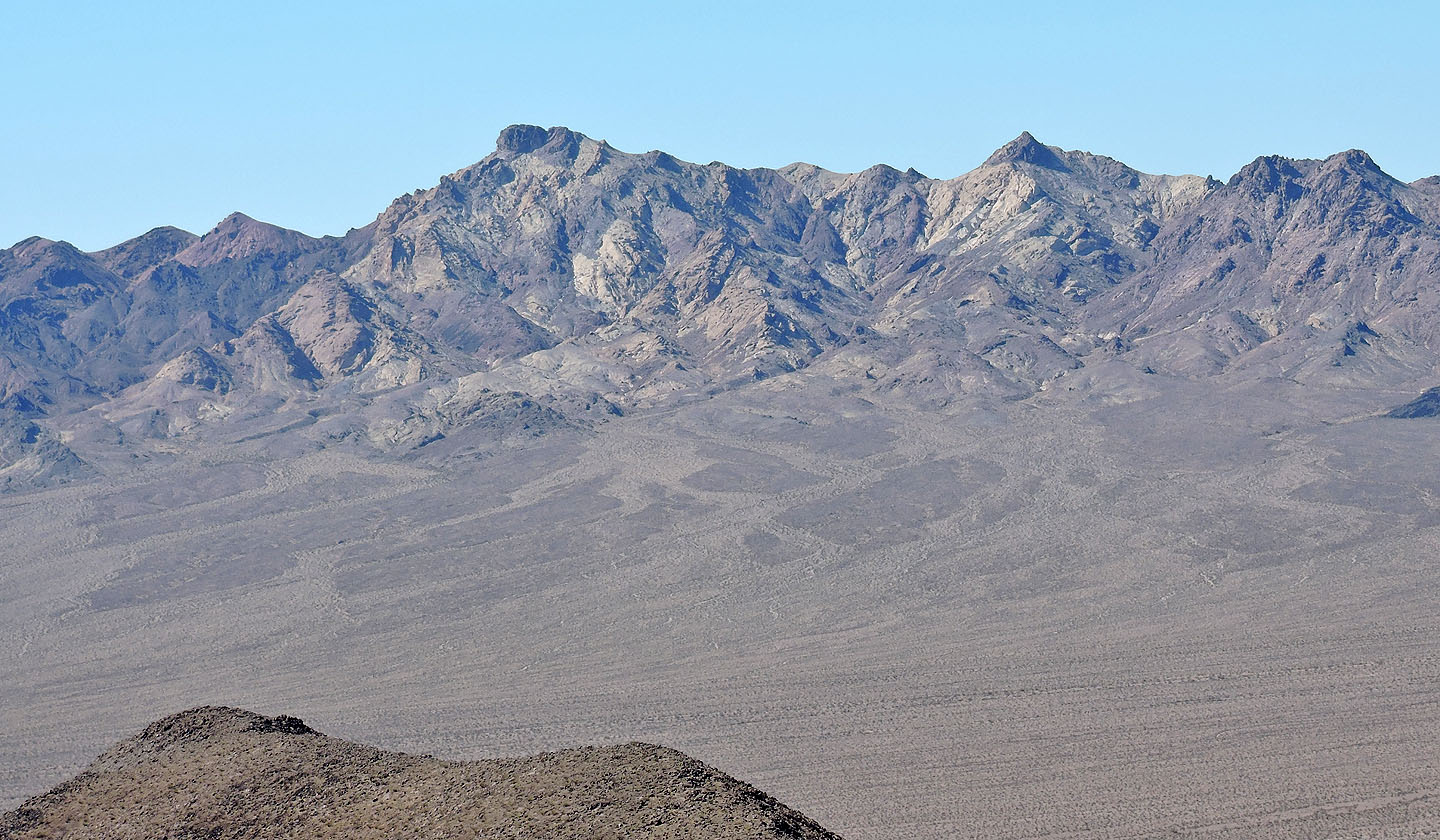 Sheephead Mountain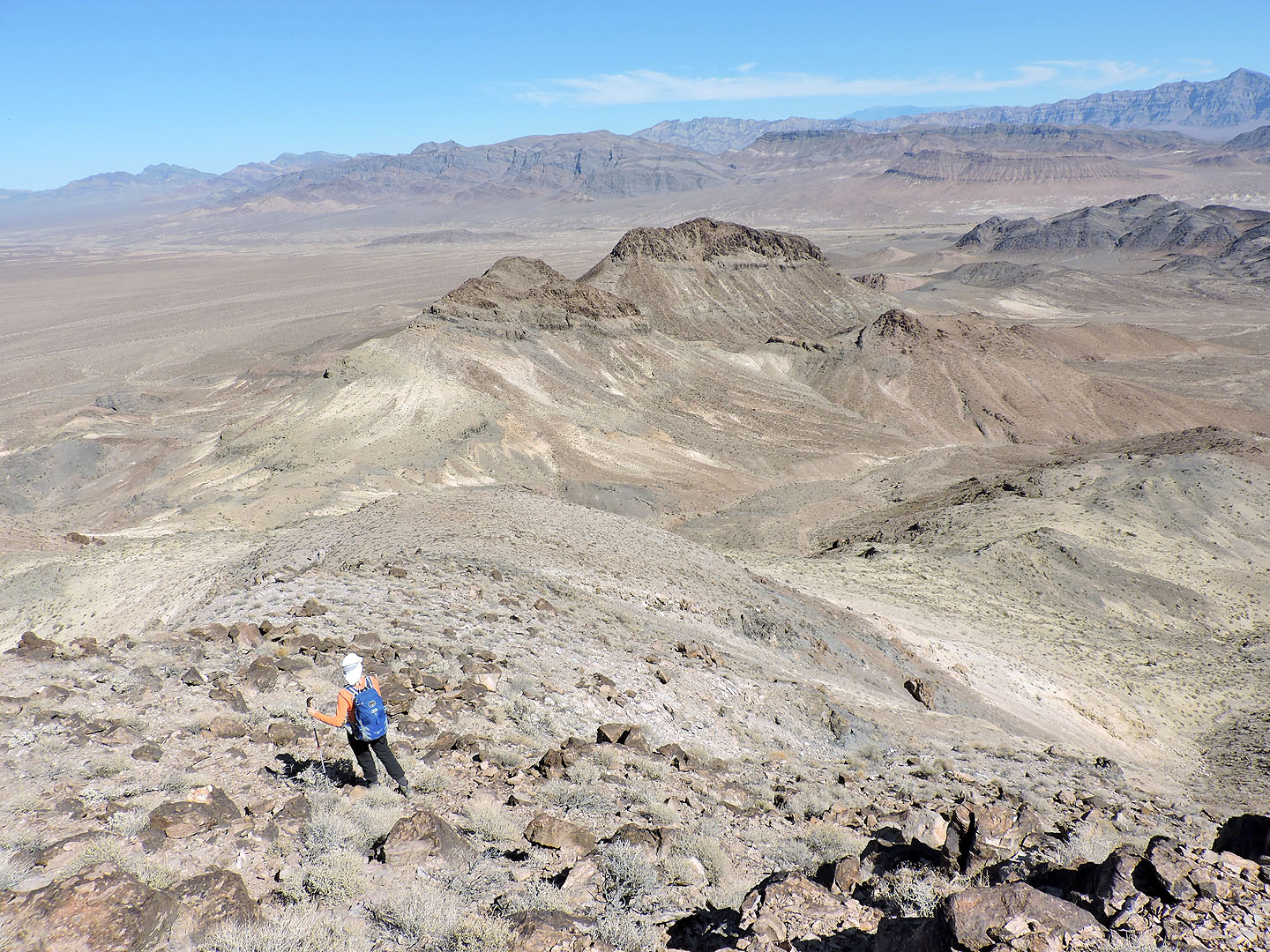 Continuing along the ridge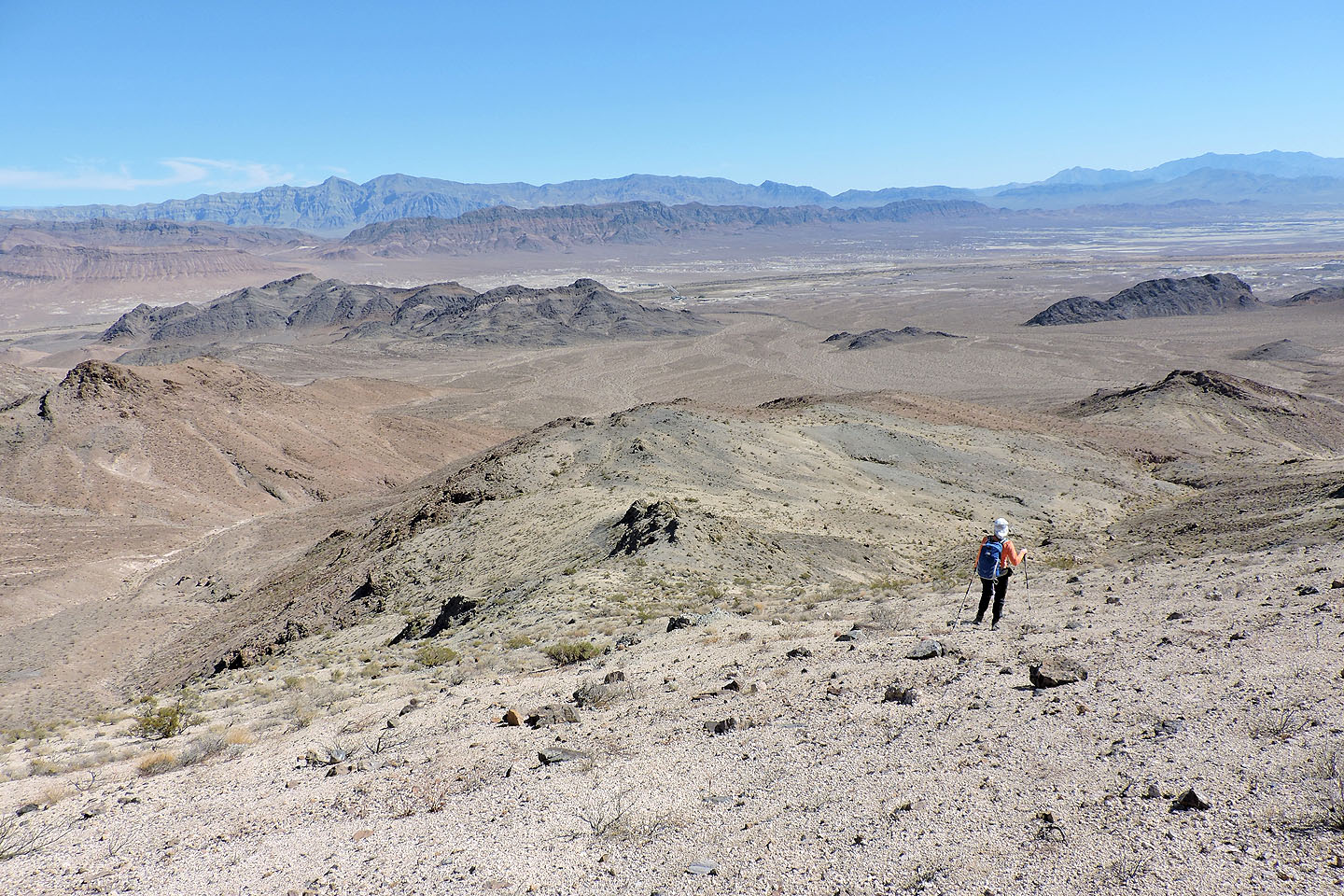 Going down the gentle east ridge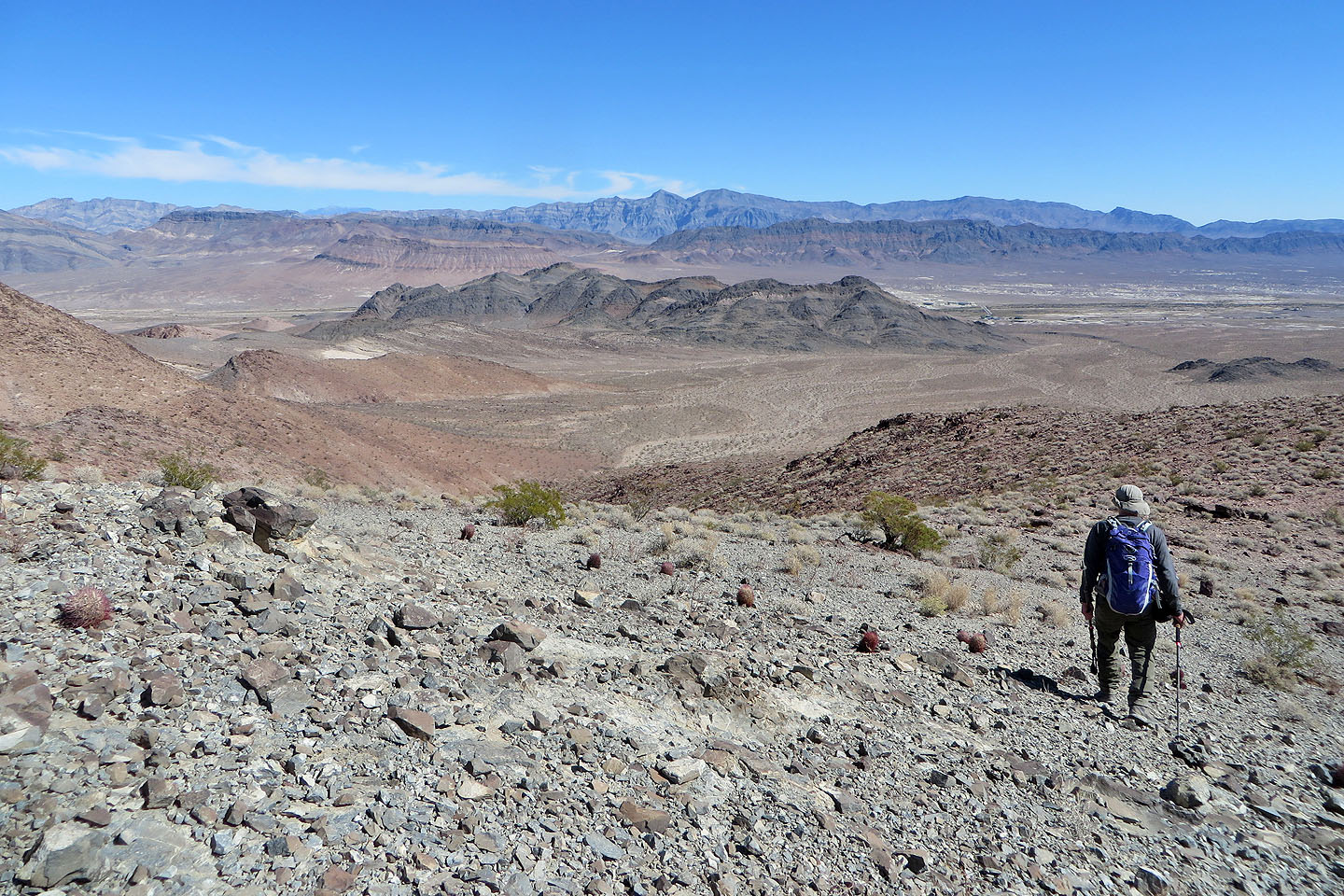 Shoshone lies behind the dark hills in the centre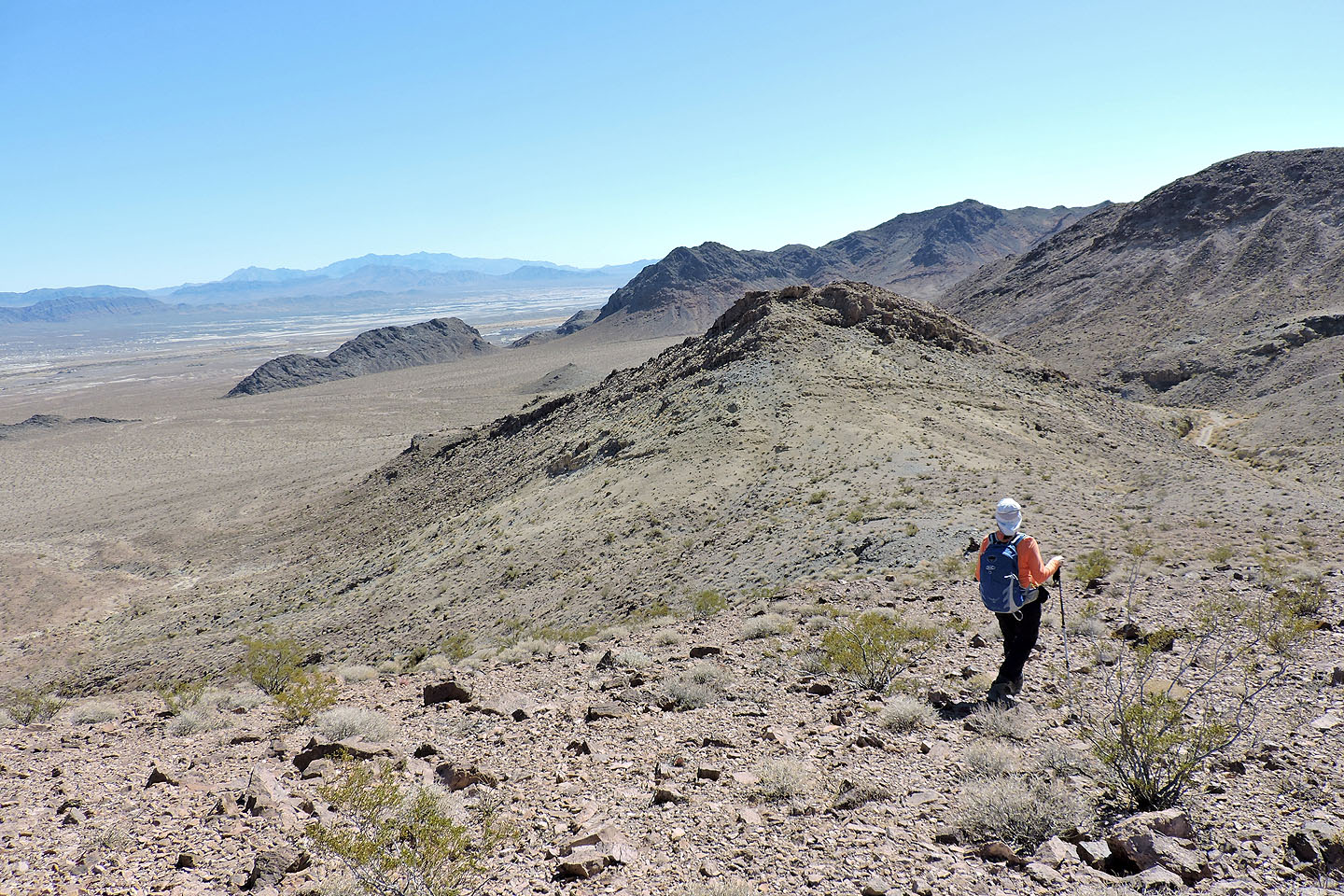 We found a trail on the left slope on the bump ahead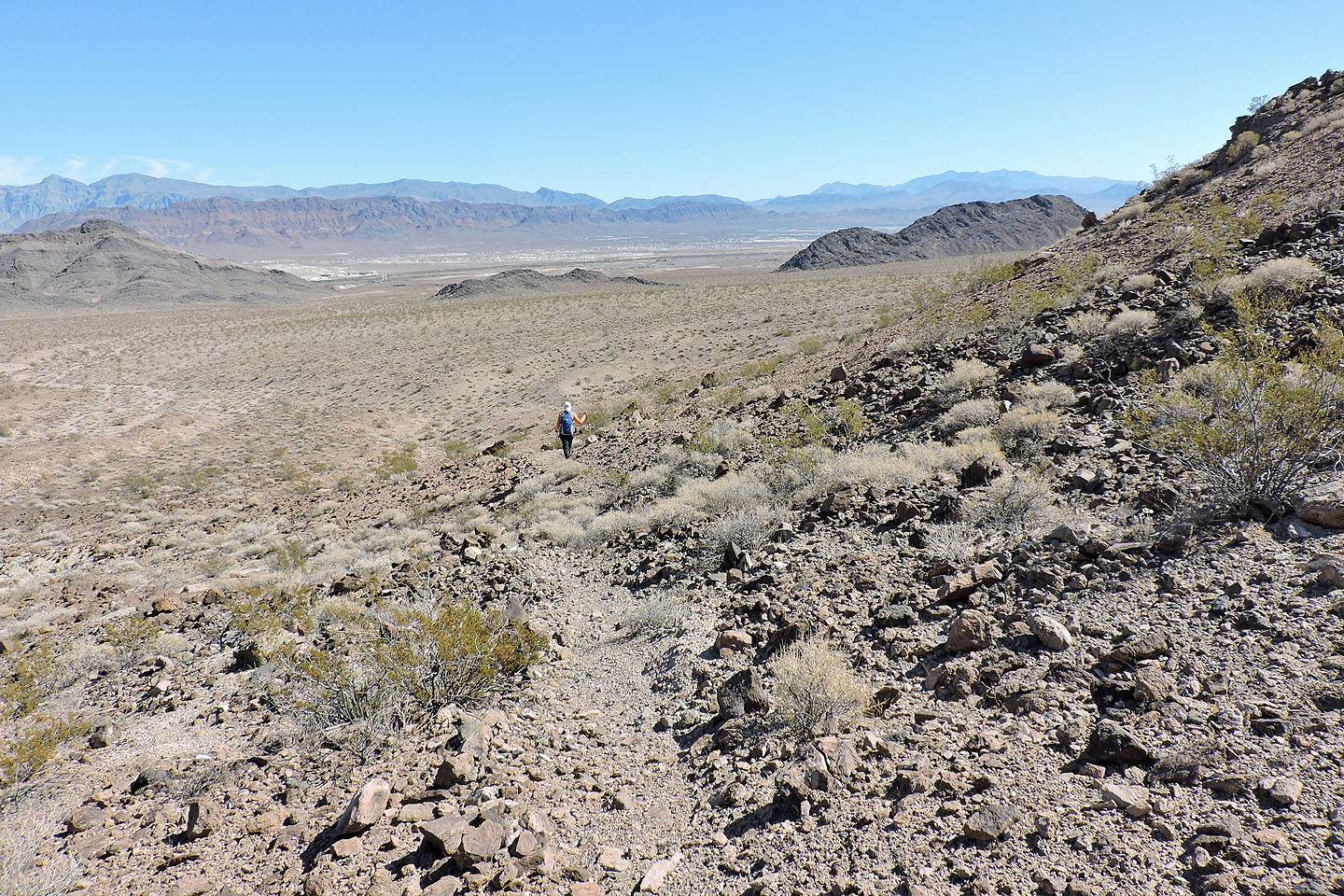 We followed the trail back to the road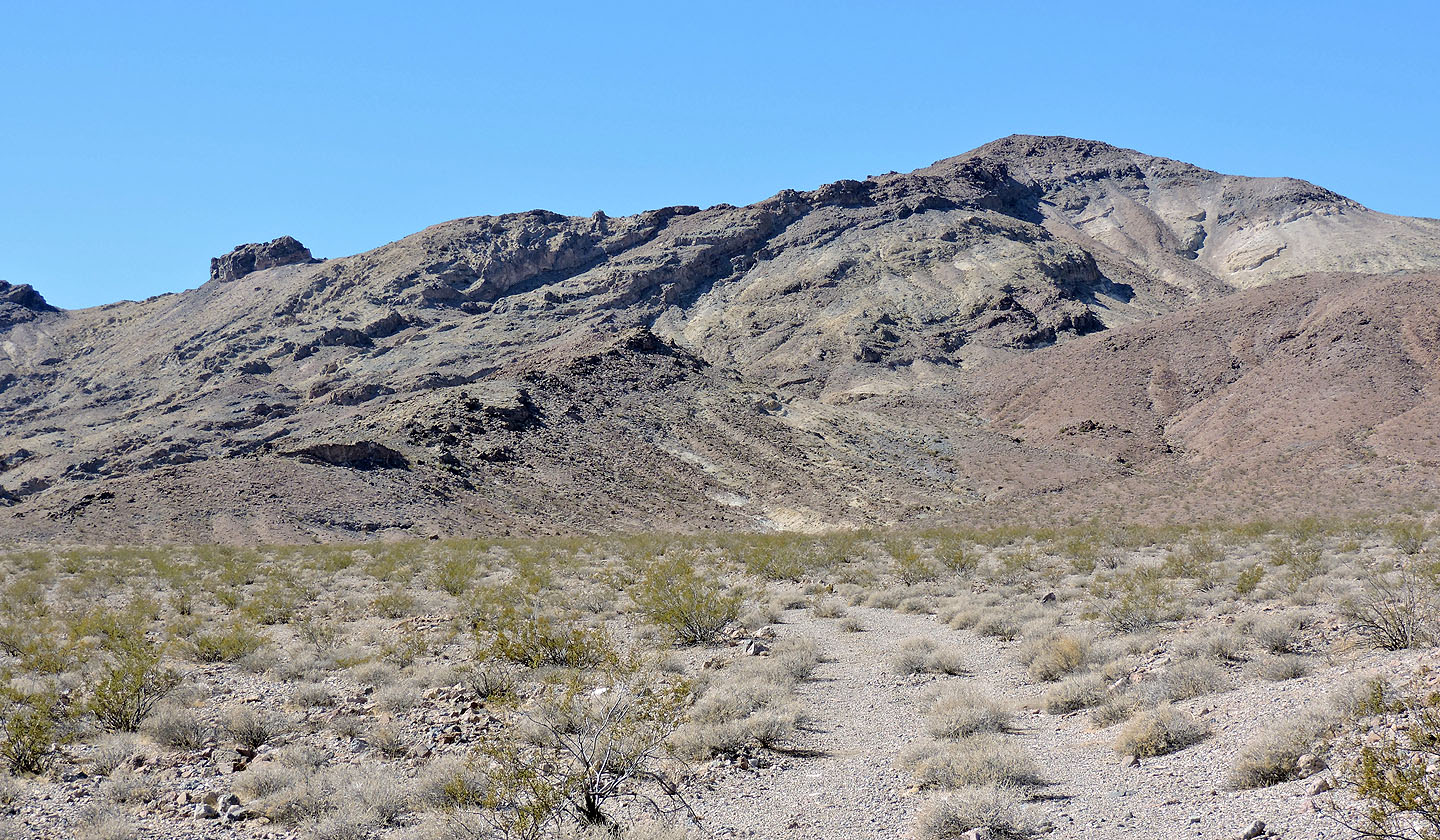 We could see the trail when we looked back at Dublin Hills HP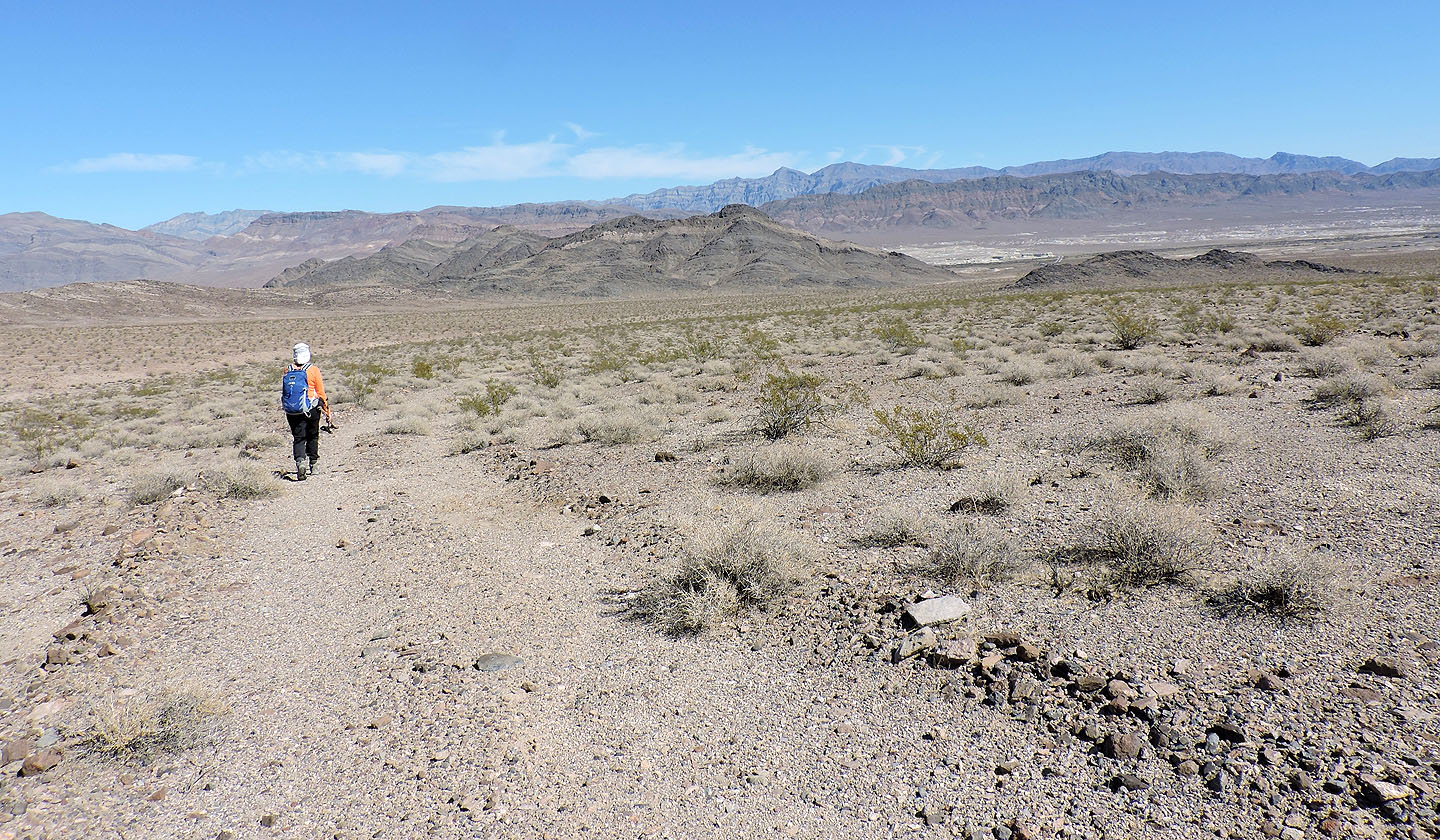 We took the road back to the parking lot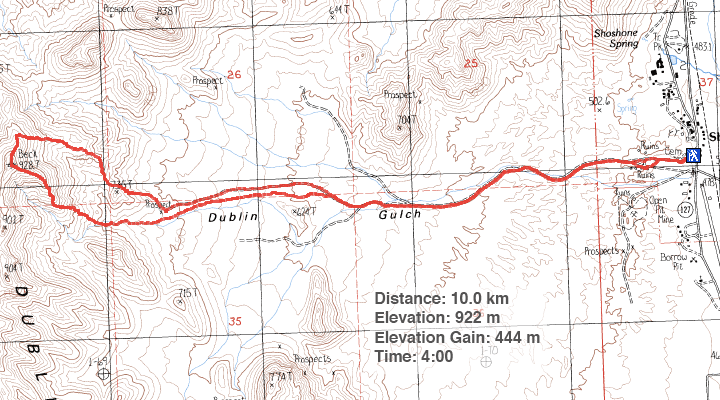 Dublin Hills (6.2 mi, 3025 ft, 1457 ft)