bobspirko.ca | Home | Canada Trips | US Trips | Hiking | Snowshoeing | MAP | About


Sentry Mountain dominates the view southeast
Crowsnest Ridge
Crowsnest Pass, Alberta
February 15, 2014
Distance: 8.6 km
Cumulative Elevation Gain: 570 m
When Sonny invited Dinah and me to snowshoe up Crowsnest Ridge, we readily agreed. He did the homework leaving us only to do the legwork. And there was no lack of that. The soft, deep snow would give us a good workout.
Sonny laid out a solid route that took advantage of back roads, cutlines and the ridge. It began near a rest area (closed for winter) at the west end of Crowsnest Ridge, about 15 km west of Coleman on Hwy 3. We started up a short cutline that intersects a back road. This road parallels Crowsnest Ridge and runs north of the mountain, over Phillipps Pass. A service road branches from the back road and extends to the summit, which is home to a 274-foot microwave communications tower and its service buildings.
However, we didn't stick to the meandering road. Instead, we left it to follow a broad cutline that runs high above the pass. When the cutline crested, we turned right and started along a ridge leading to the summit. The first section of the ridge was the most enjoyable part of the route. Open and windswept, it provided great views while bearing only a thin layer of compact snow. Here snowshoeing was a breeze. But we abandoned the ridge when we encountered the service road. We couldn't resist its gentle grade, and it beat continuing along the ridge crest which had become rocky and undulating. Besides, the road was effort enough, especially later where the snow lay so soft that we punched in a deep trench as we approached the switchbacks below the summit.
The summit held man-made structures that were both an abomination and a blessing. The tower and buildings robbed us of good panoramic views but protected us from a biting, freezing wind that would have otherwise driven us back down the mountain. I was impressed with the huge microwave tower, but I would have rather seen a little microwave oven: I ate a cold lunch. We spent nearly half an hour on top of Crowsnest Ridge before heading back down.
It was our first snowshoe trip of the season and on our descent it had a greater impact on Sonny and me than on Dinah. As we tromped down our ascent tracks, Sonny and I were stricken with leg cramps. But the discomfort didn't deter us from discussing plans to return to Crowsnest Pass. There are still a few summits here that we haven't claimed.
Sonny's Trip Report
KML and GPX Tracks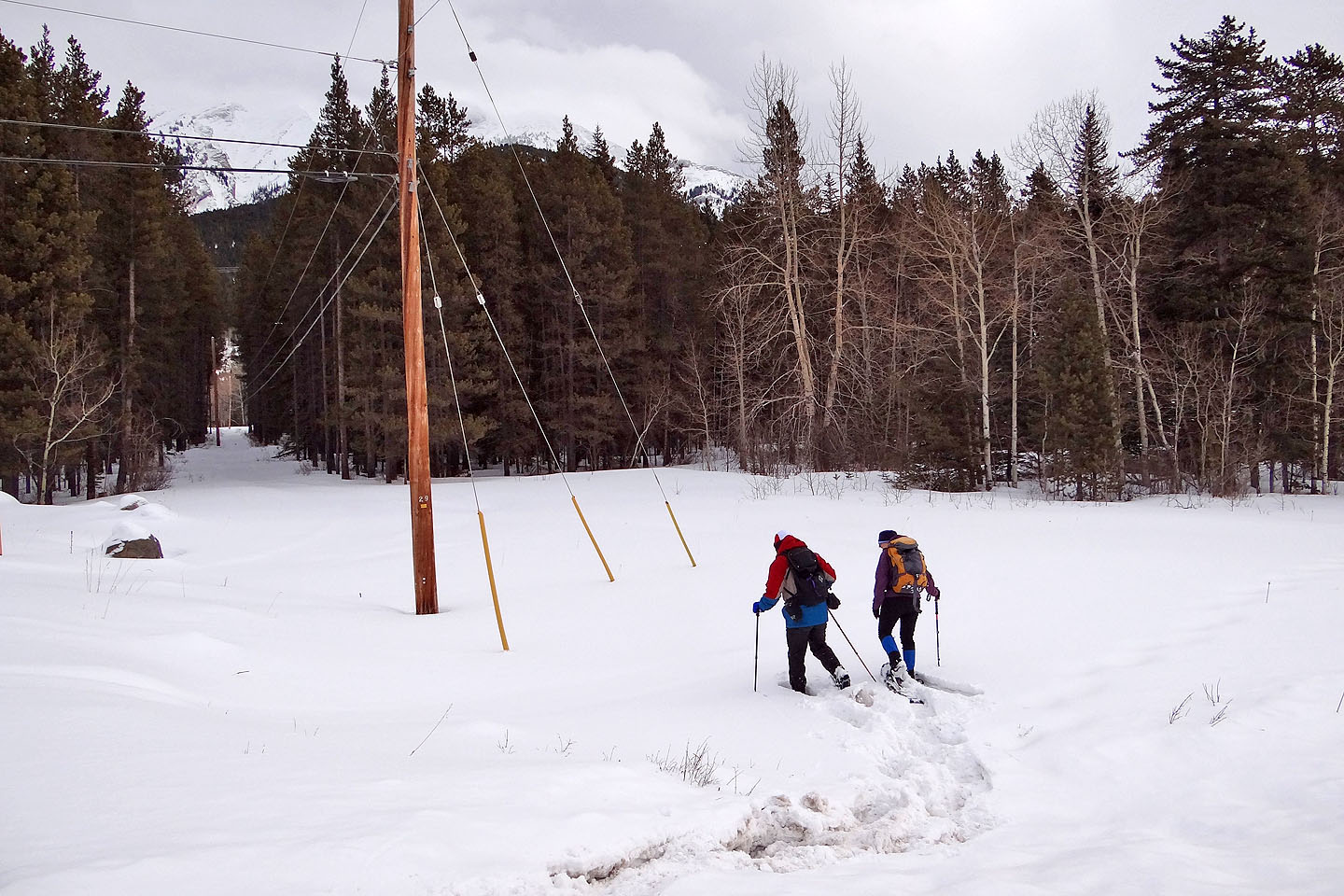 From the car we made our way to a cutline that intersects the road we wanted to get on

After starting up the road, Crowsnest Ridge appeared in the distance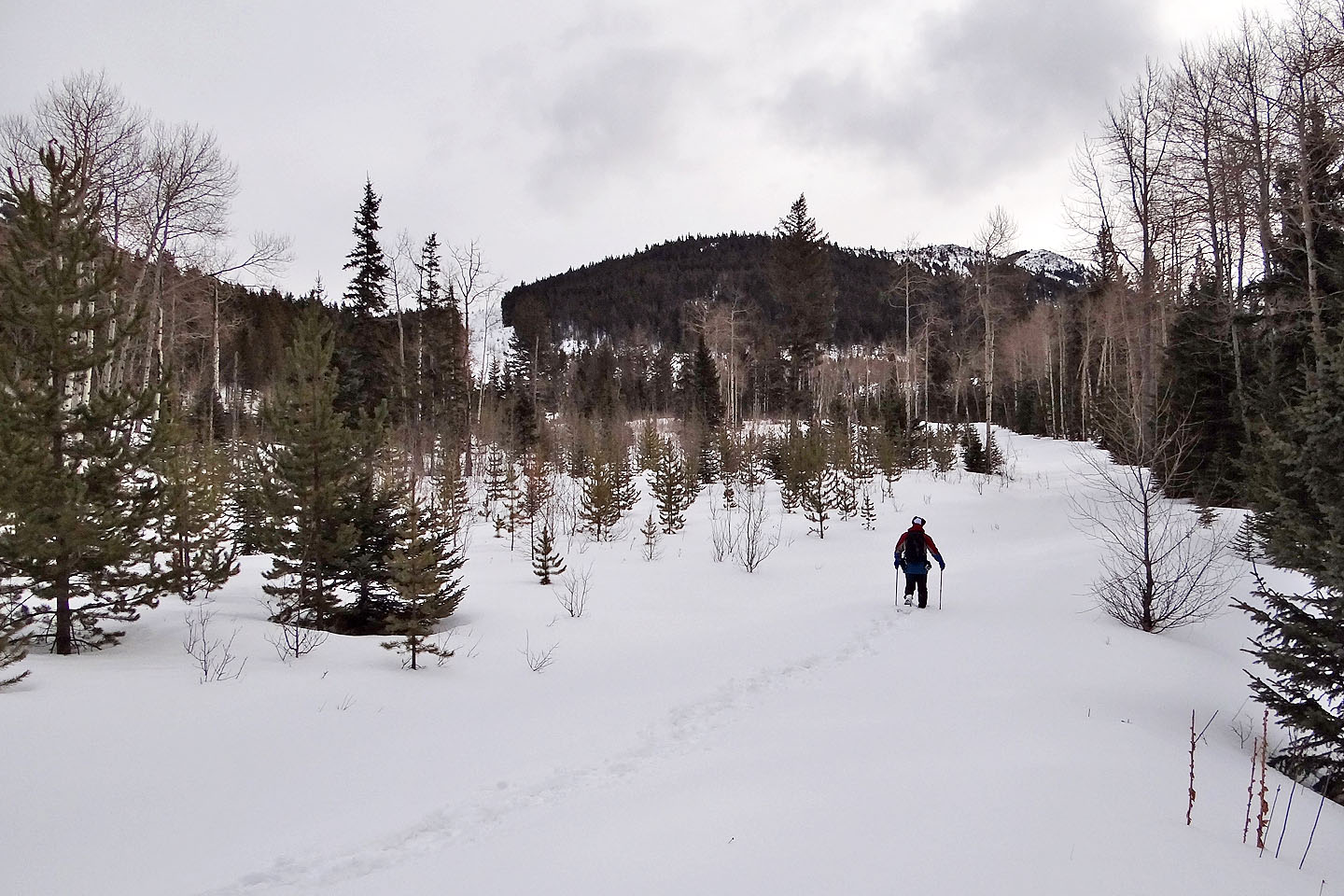 We followed the road to a broad cutline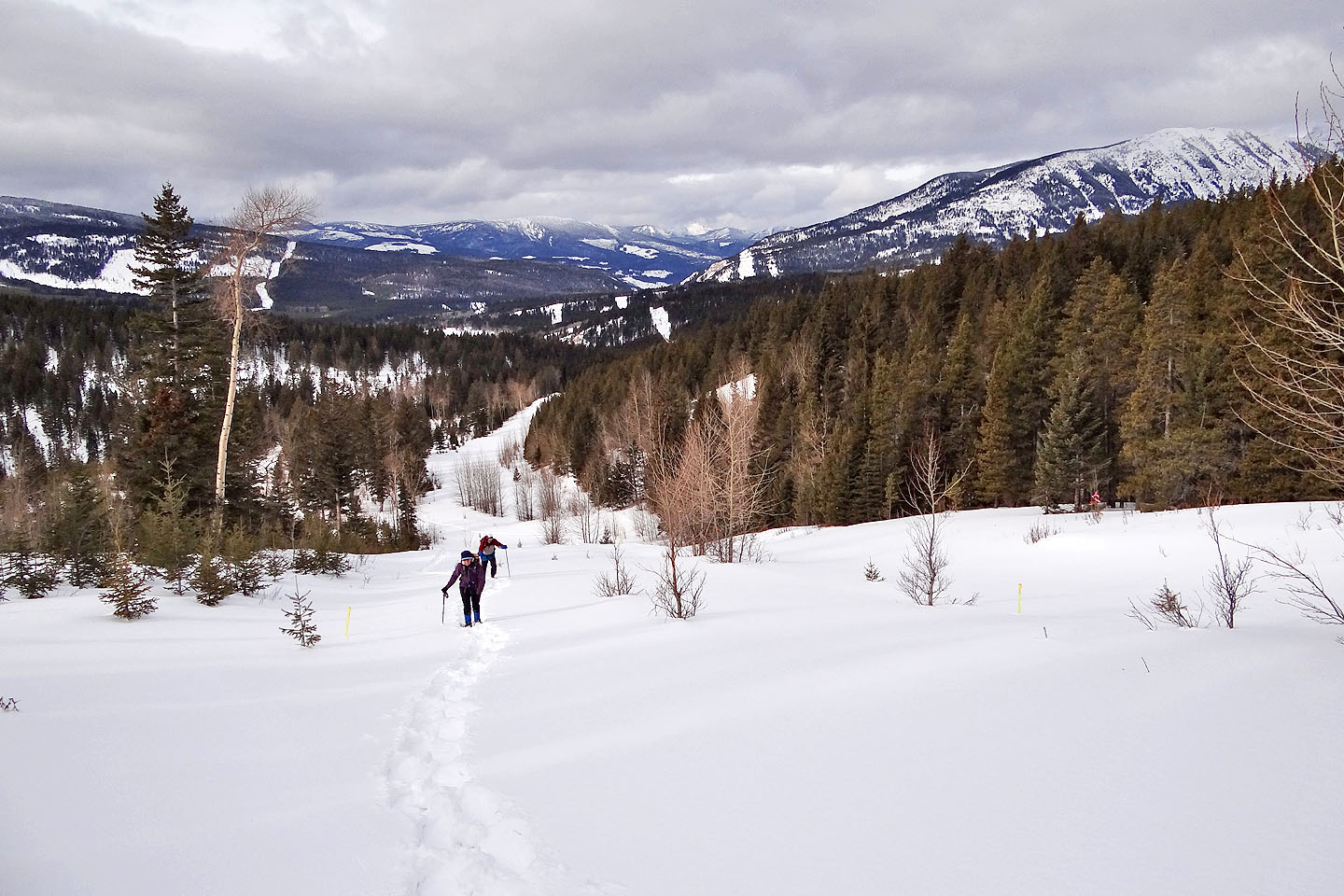 Looking down the cutline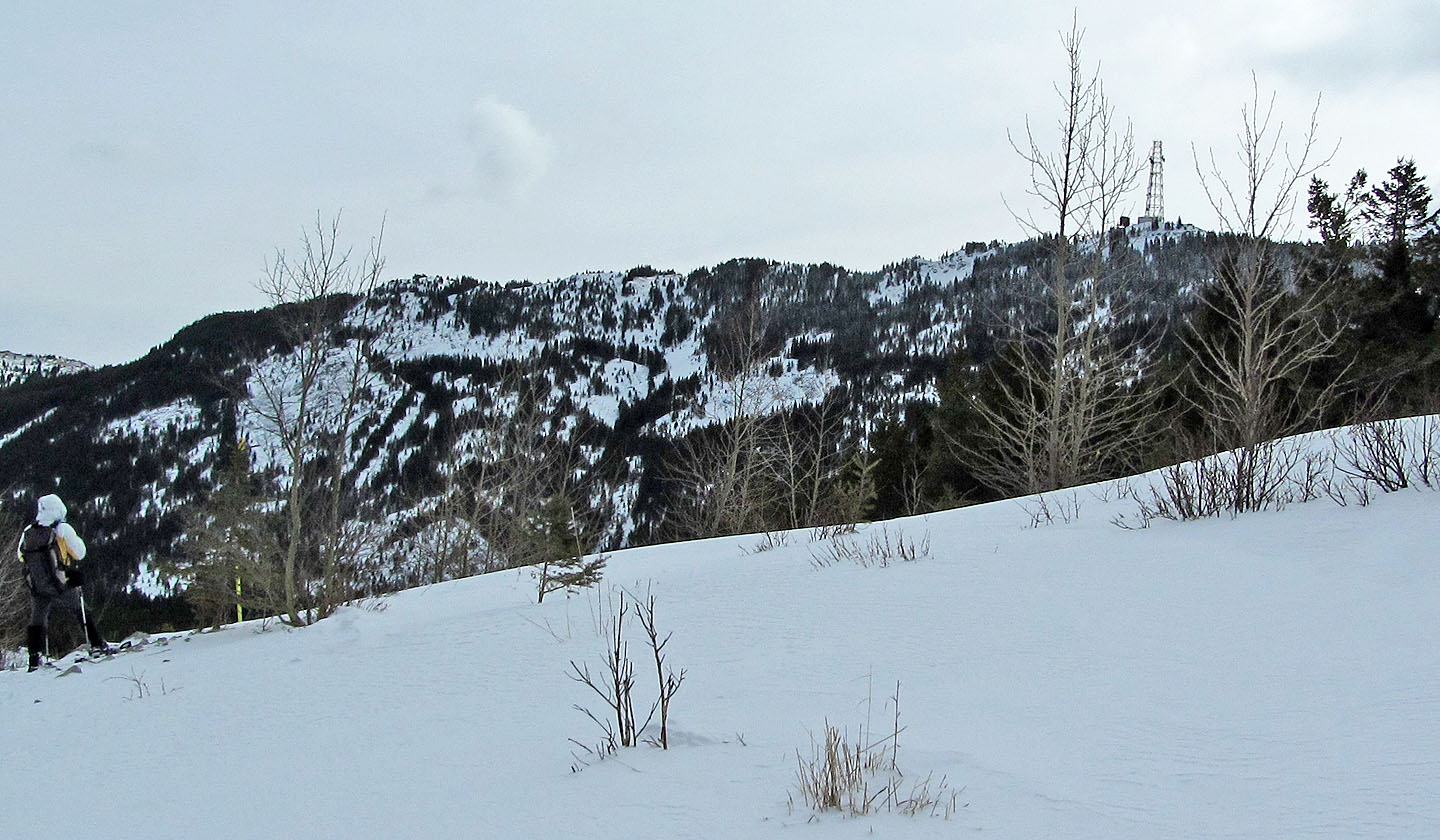 From where the cutline crested, we saw the tower that rises from the summit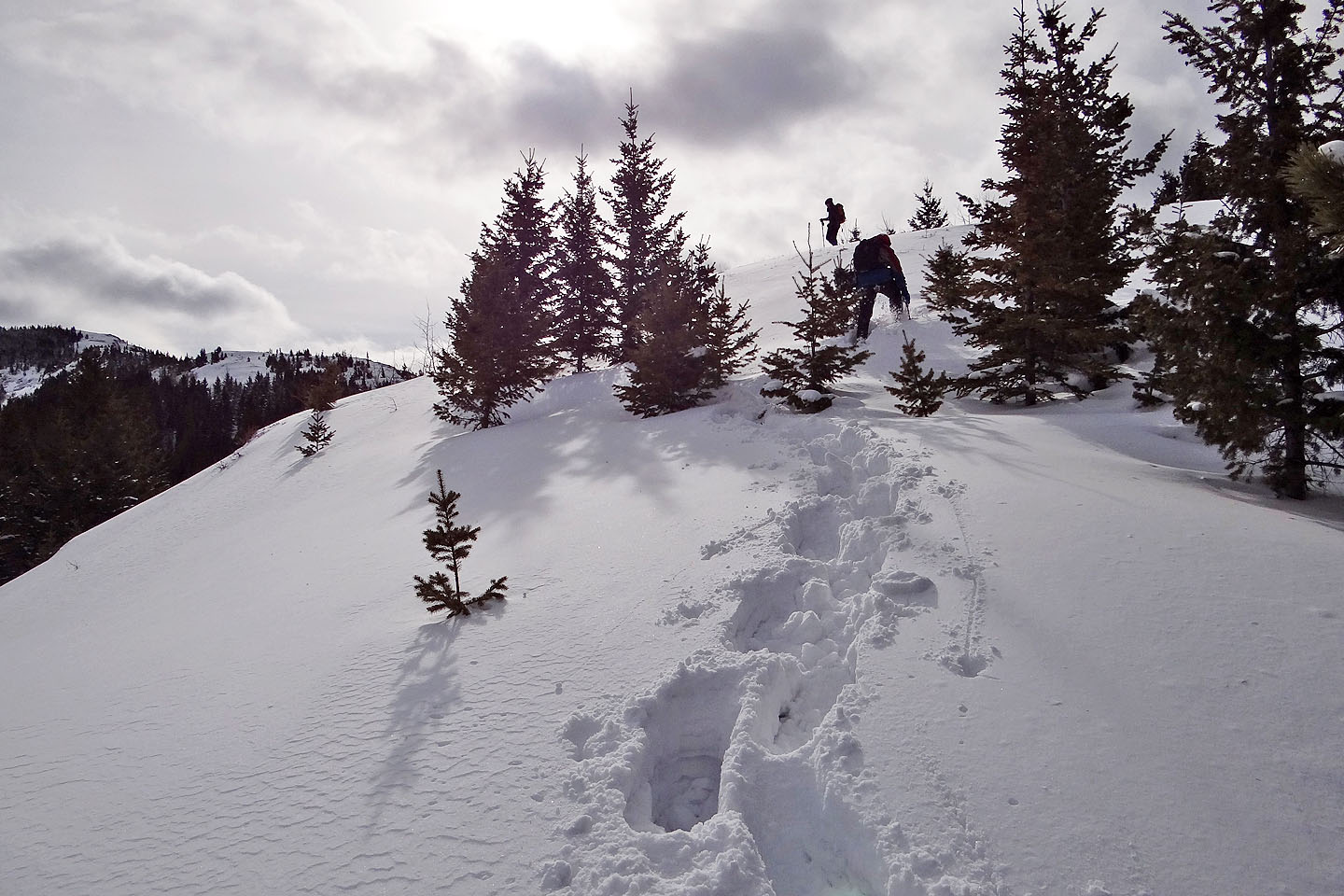 Climbing up after leaving the cutline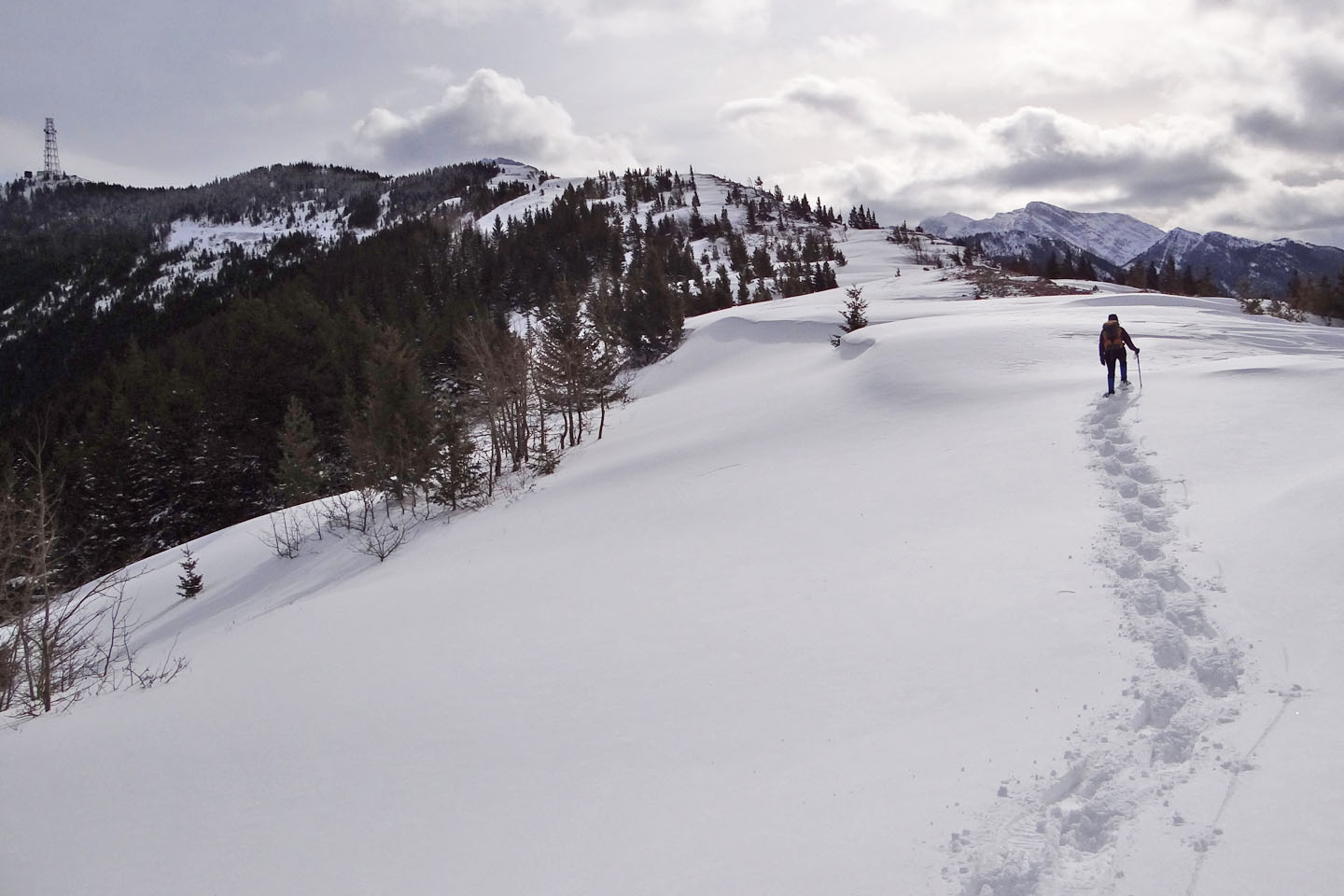 An open ridge leads to a service road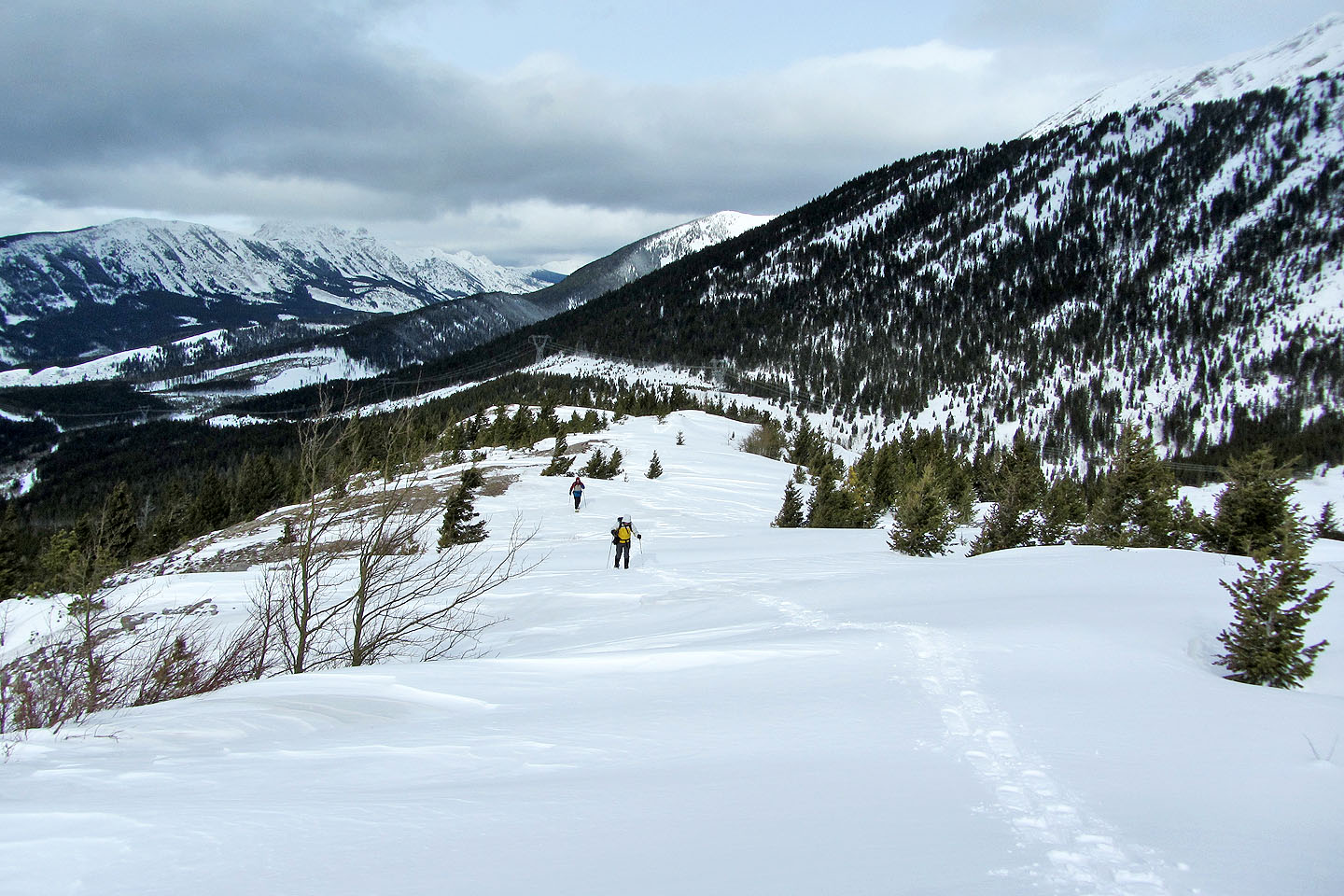 Looking back along the ridge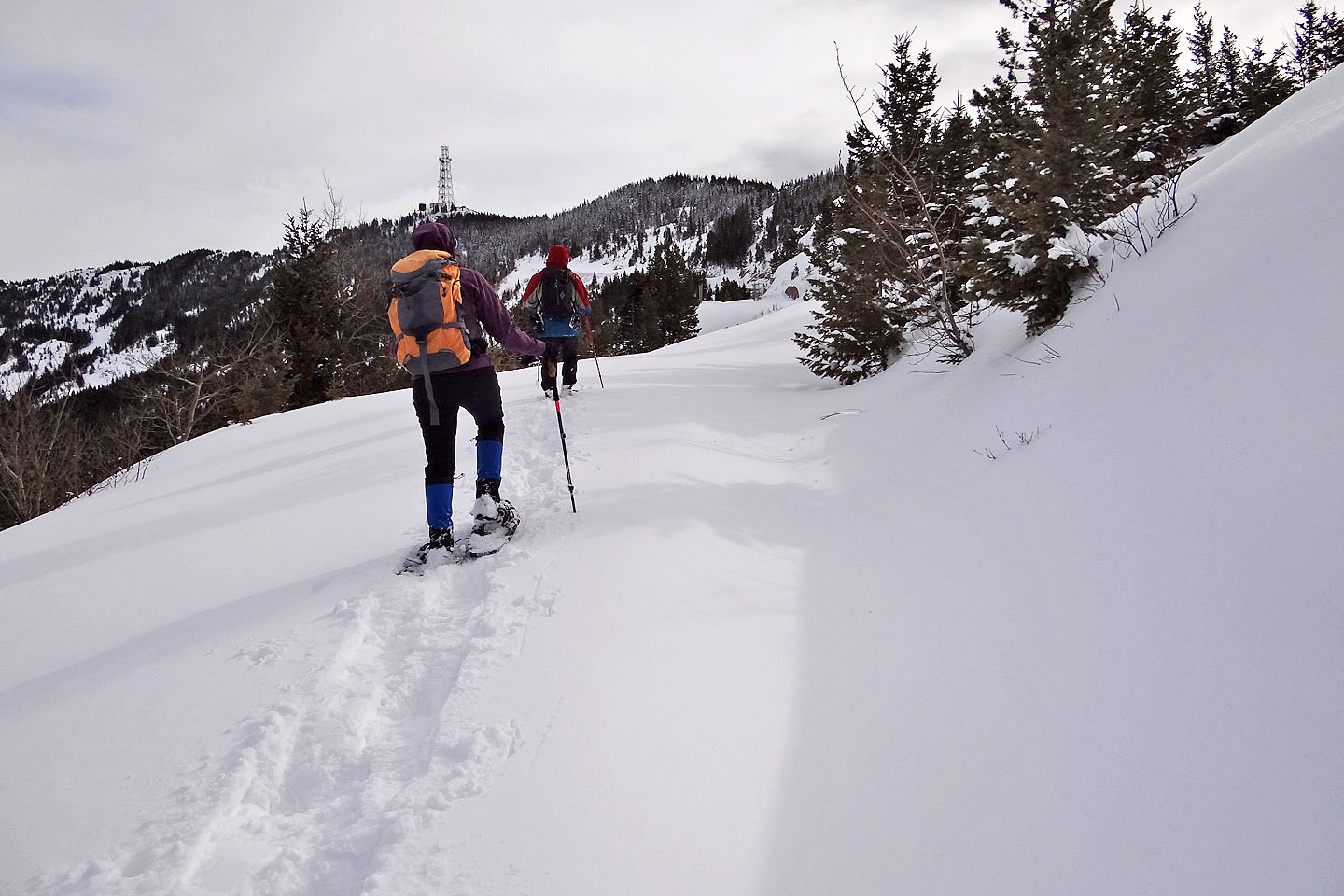 On the service road

We had considered following the ridge, but a drop in the crest made us glad we took the road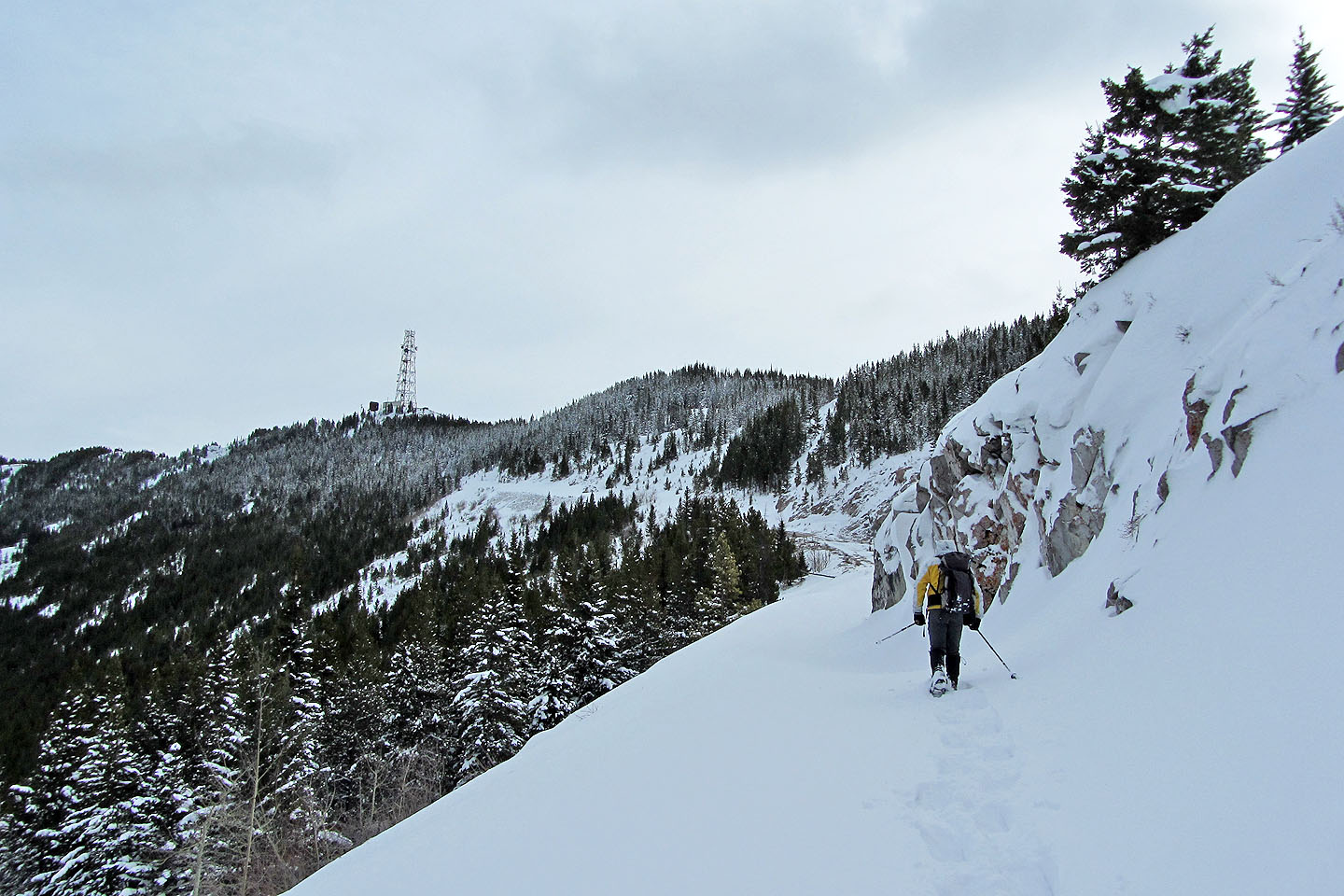 The road cuts into a steep slope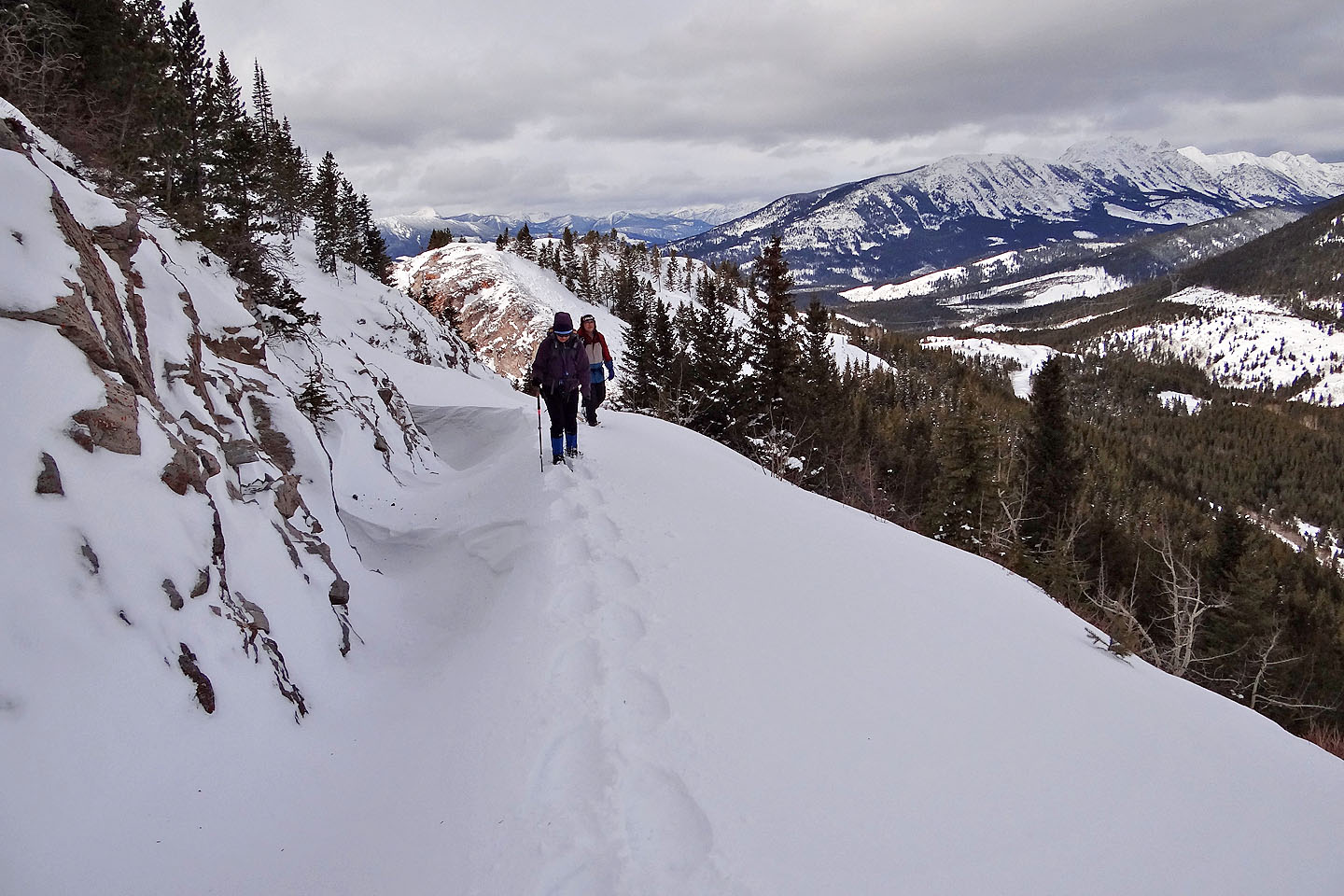 The snow was several feet deep in some places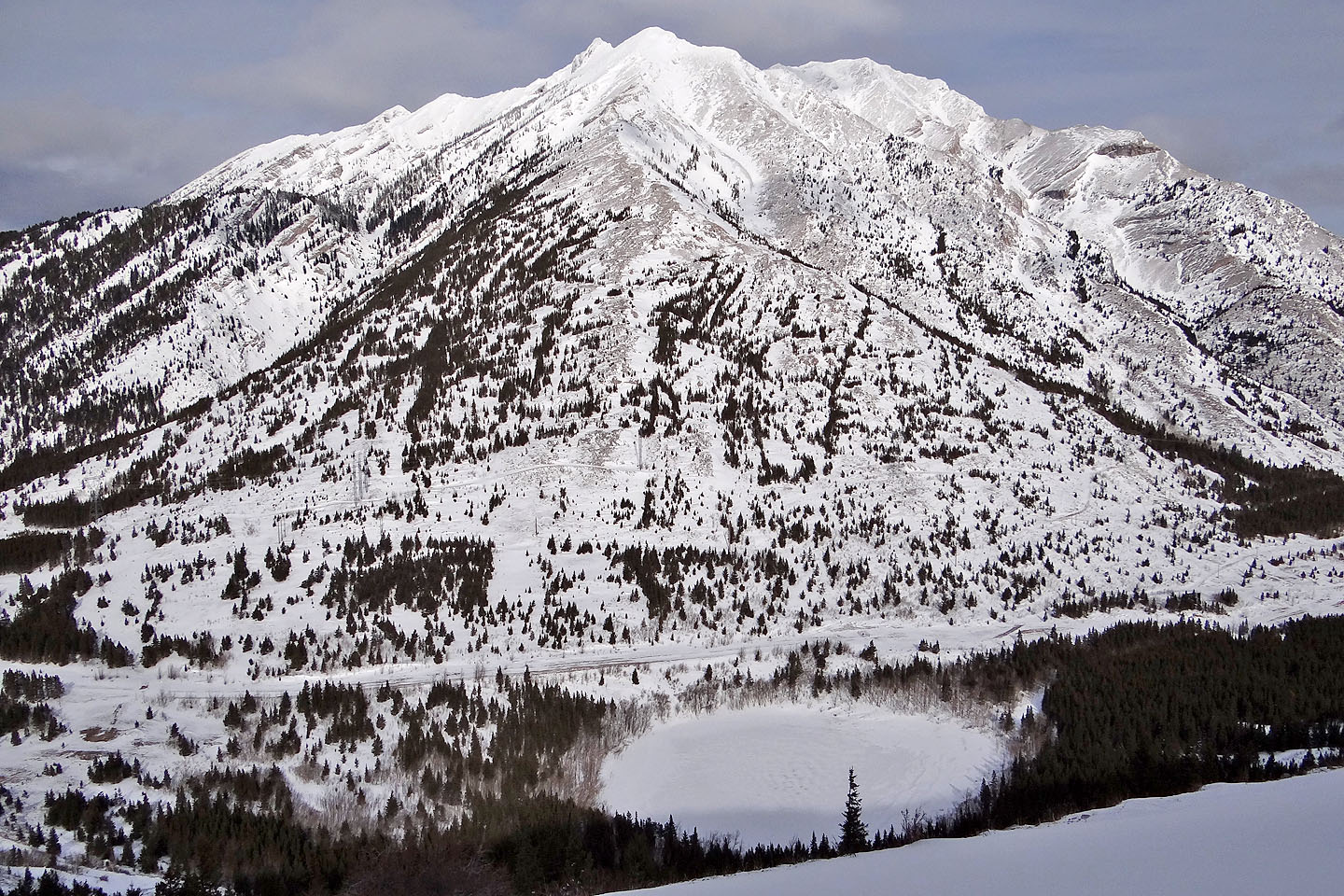 Phillipps Peak and Phillipps Lake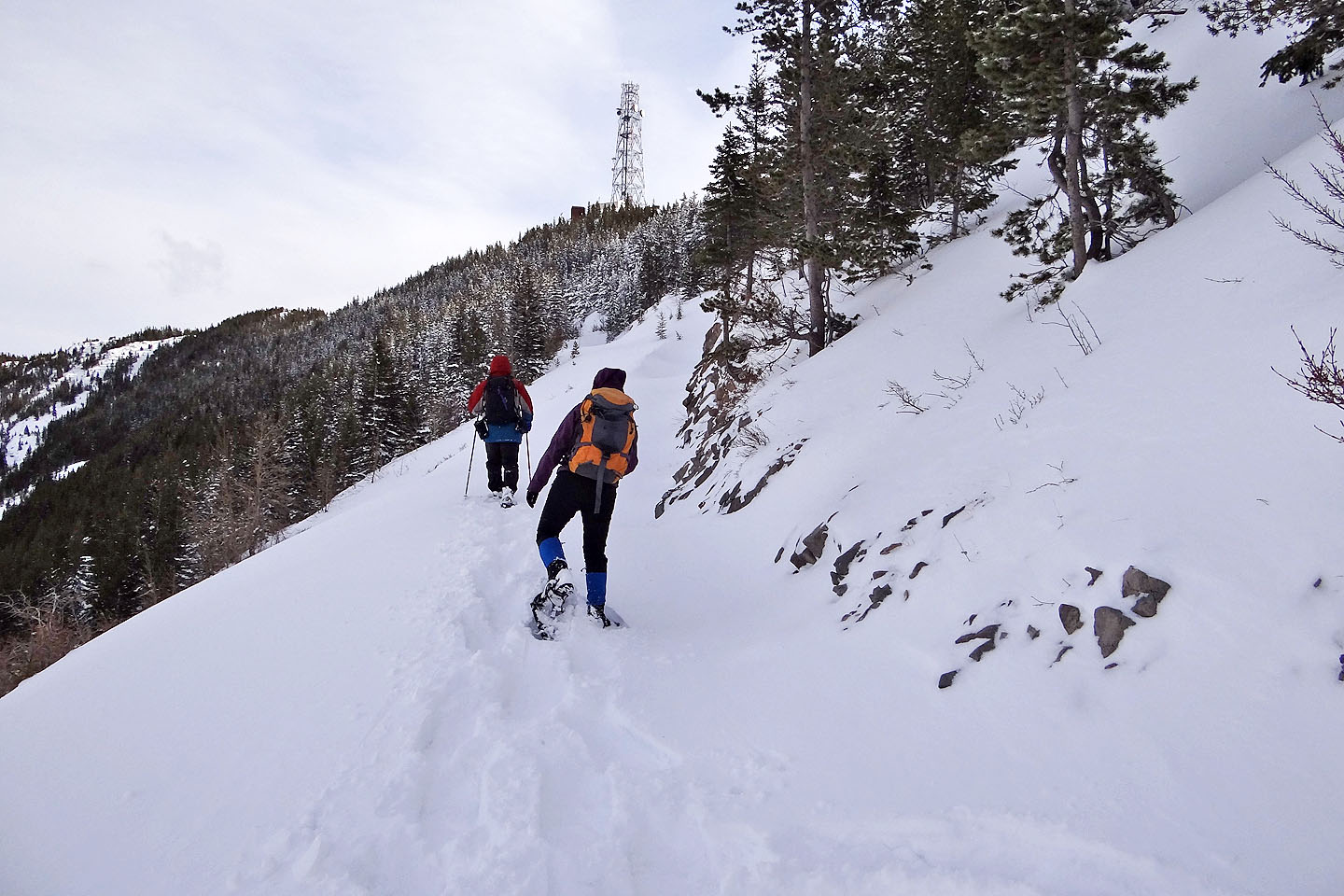 The summit appeared close but the soft snow slowed us down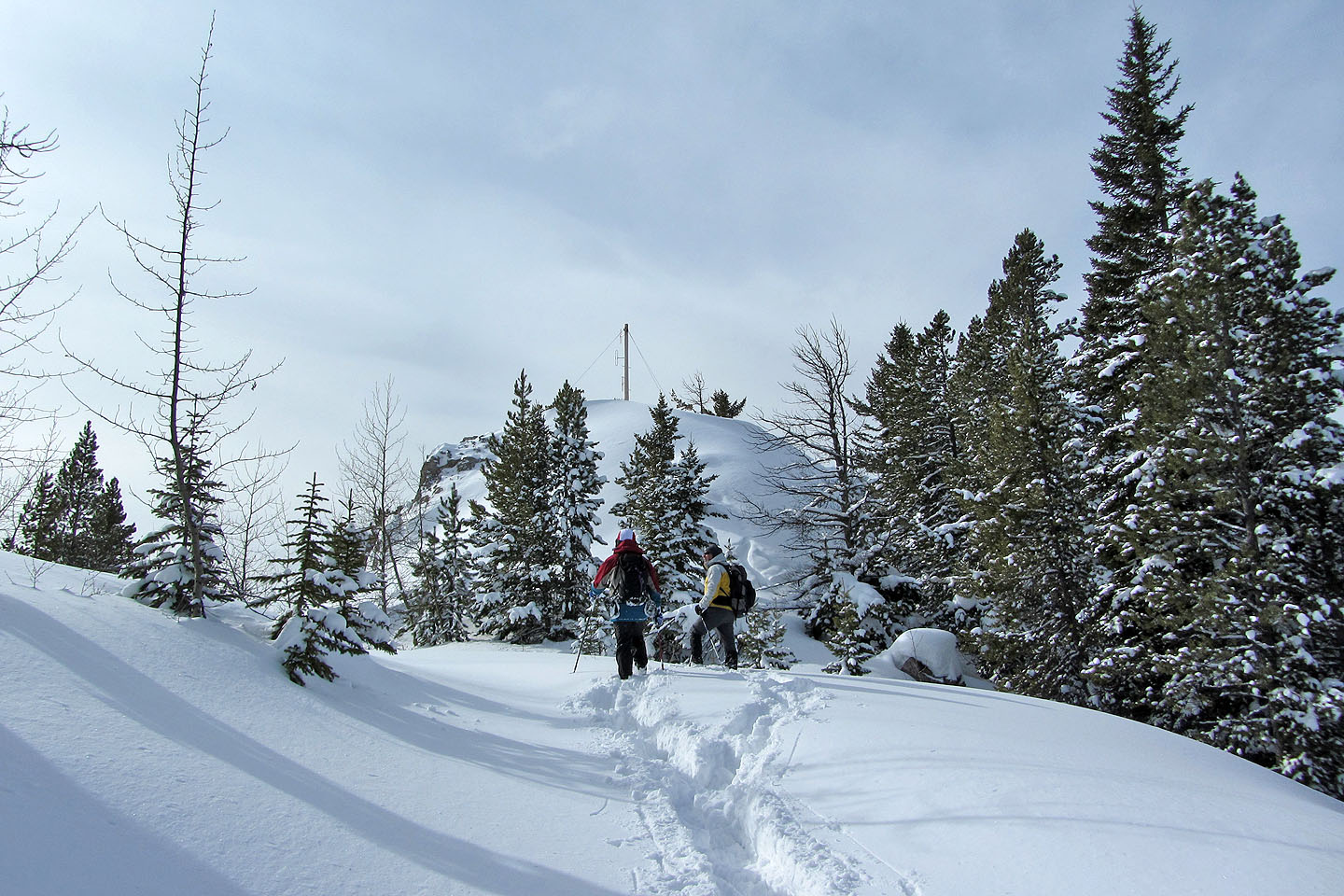 The second switchback put us on back on the ridge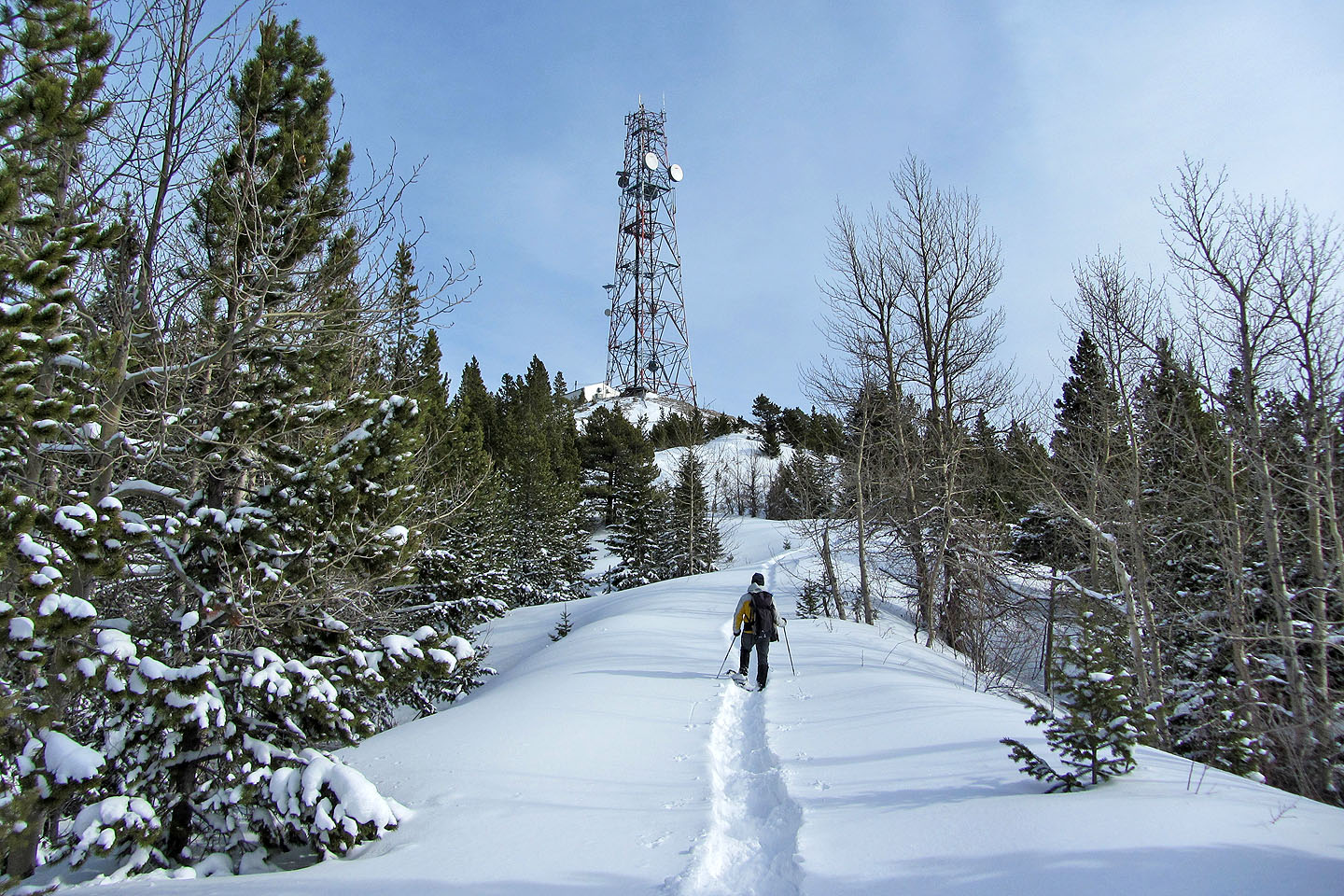 Final stretch to the summit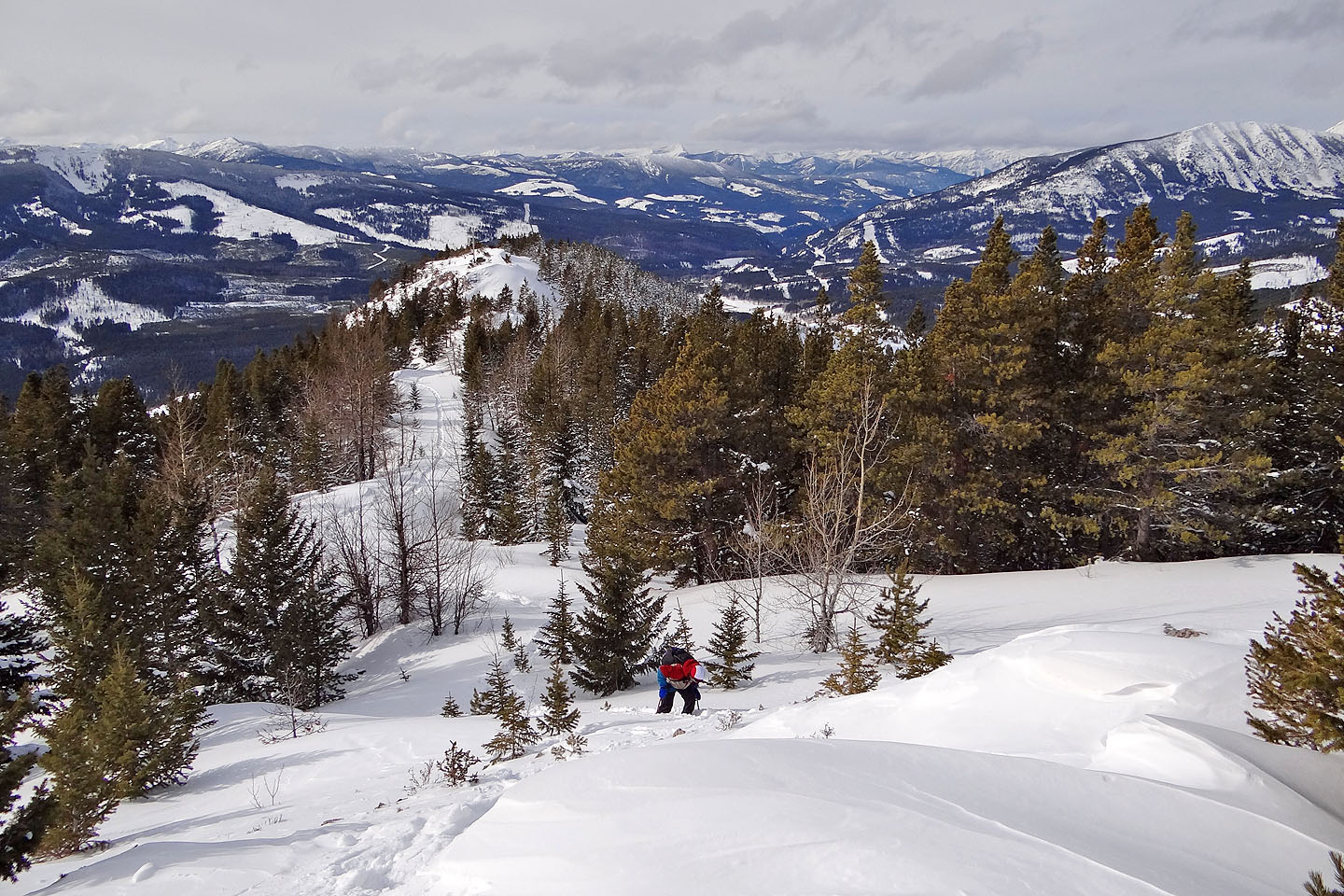 Steep climb just below the summit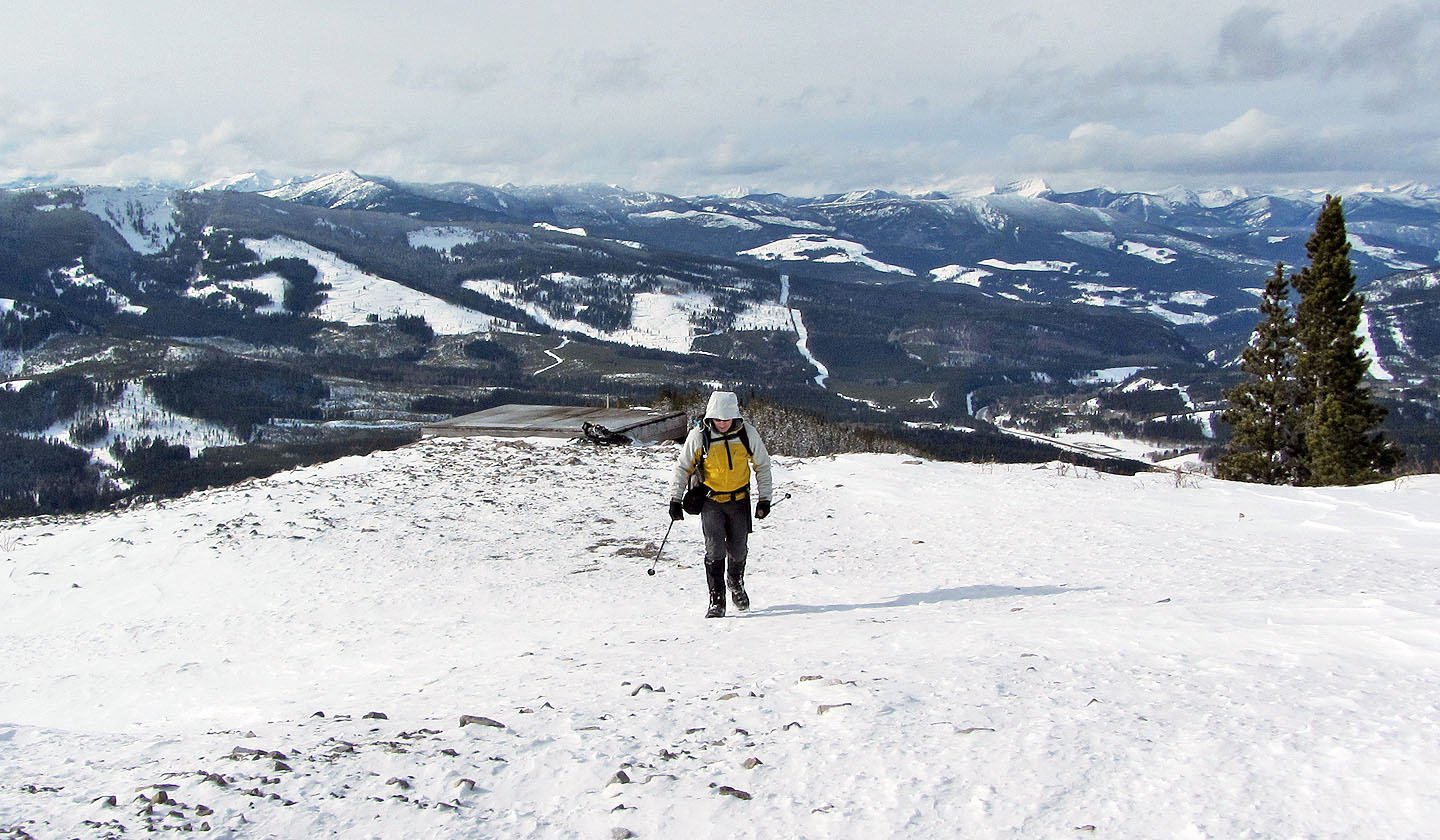 We dropped our snowshoes just before the windswept top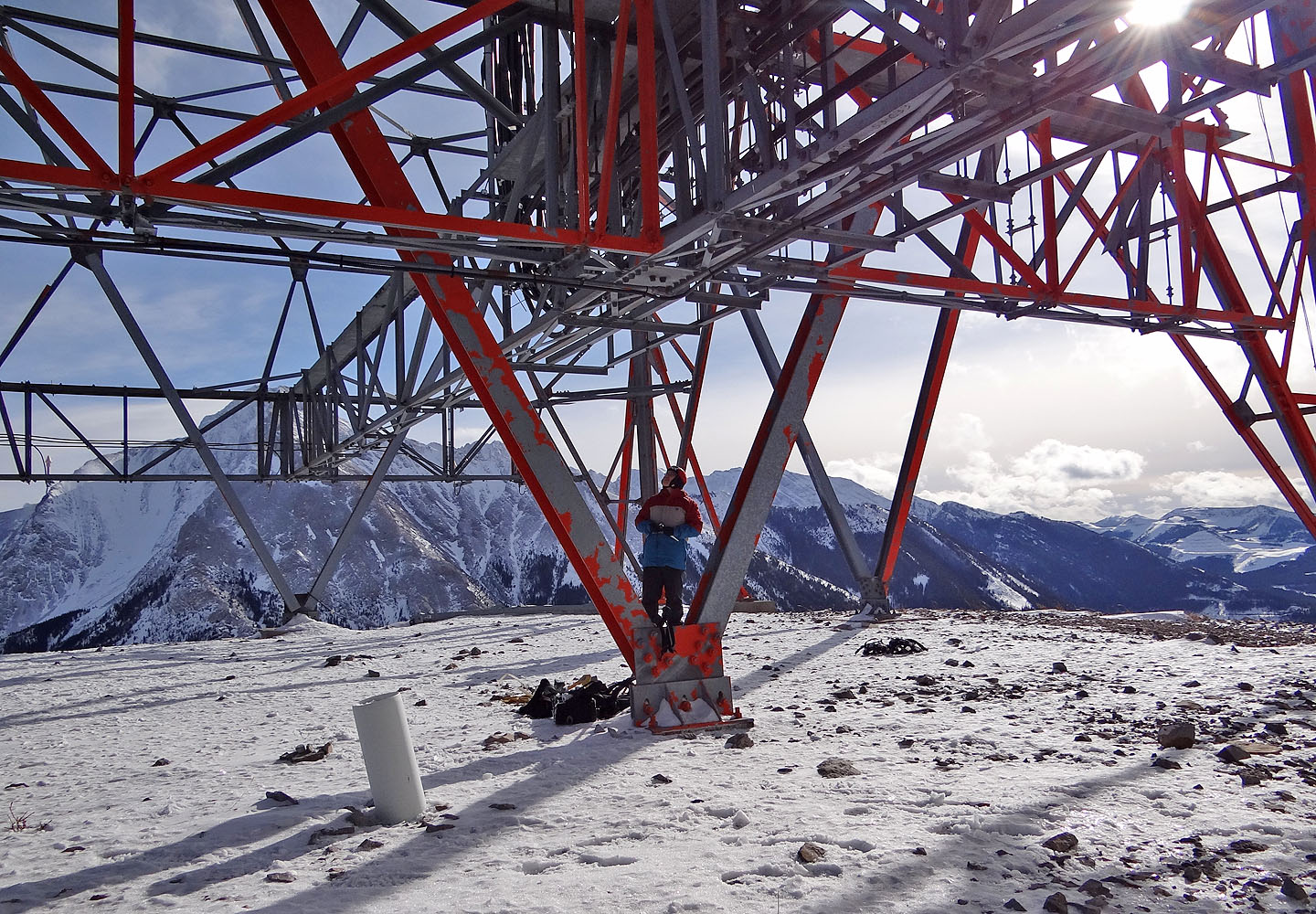 On the summit and under the tower (mouse over to look up)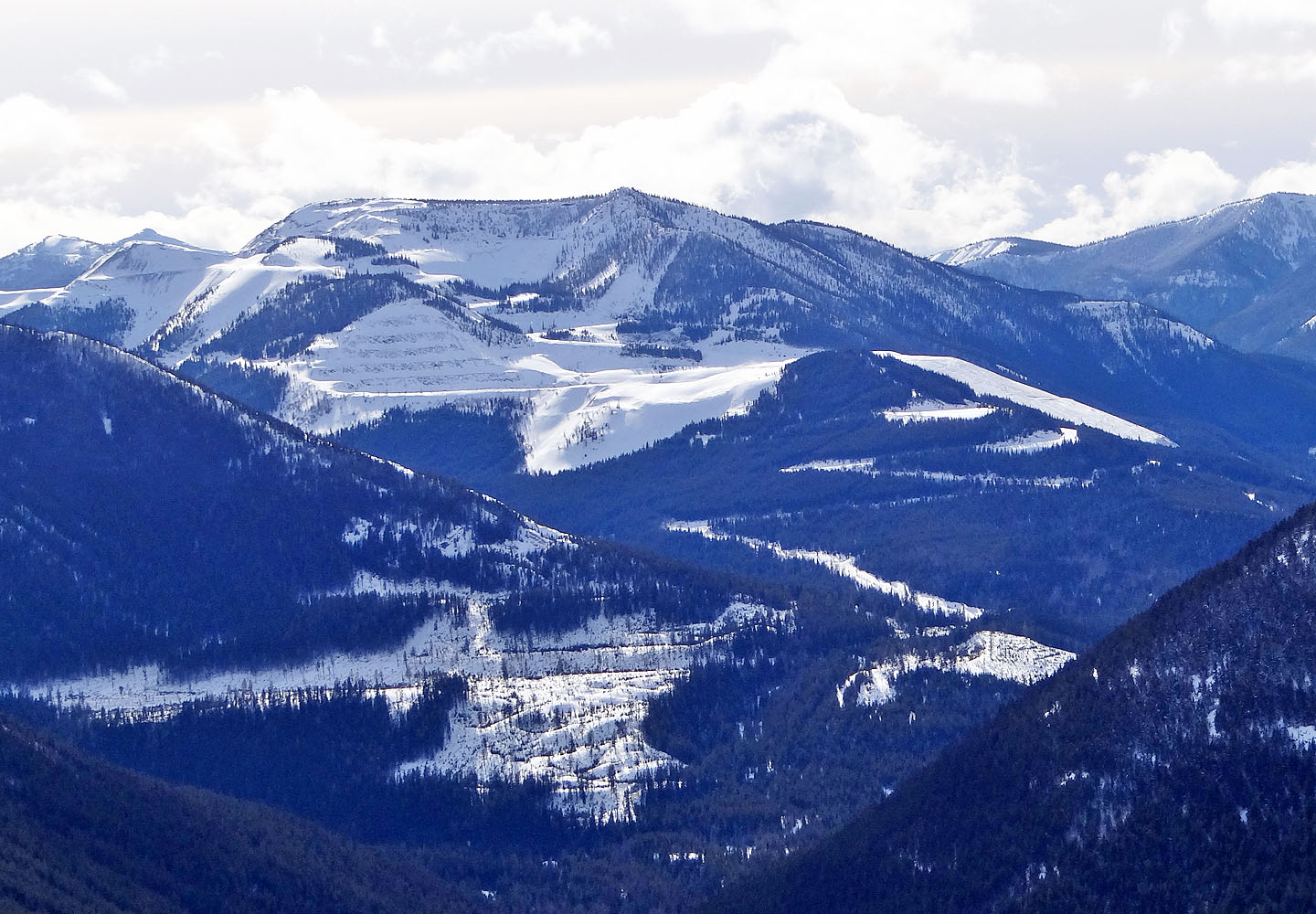 Before 30 years of pit mining destroyed it, Tent Mountain had the profile of a tent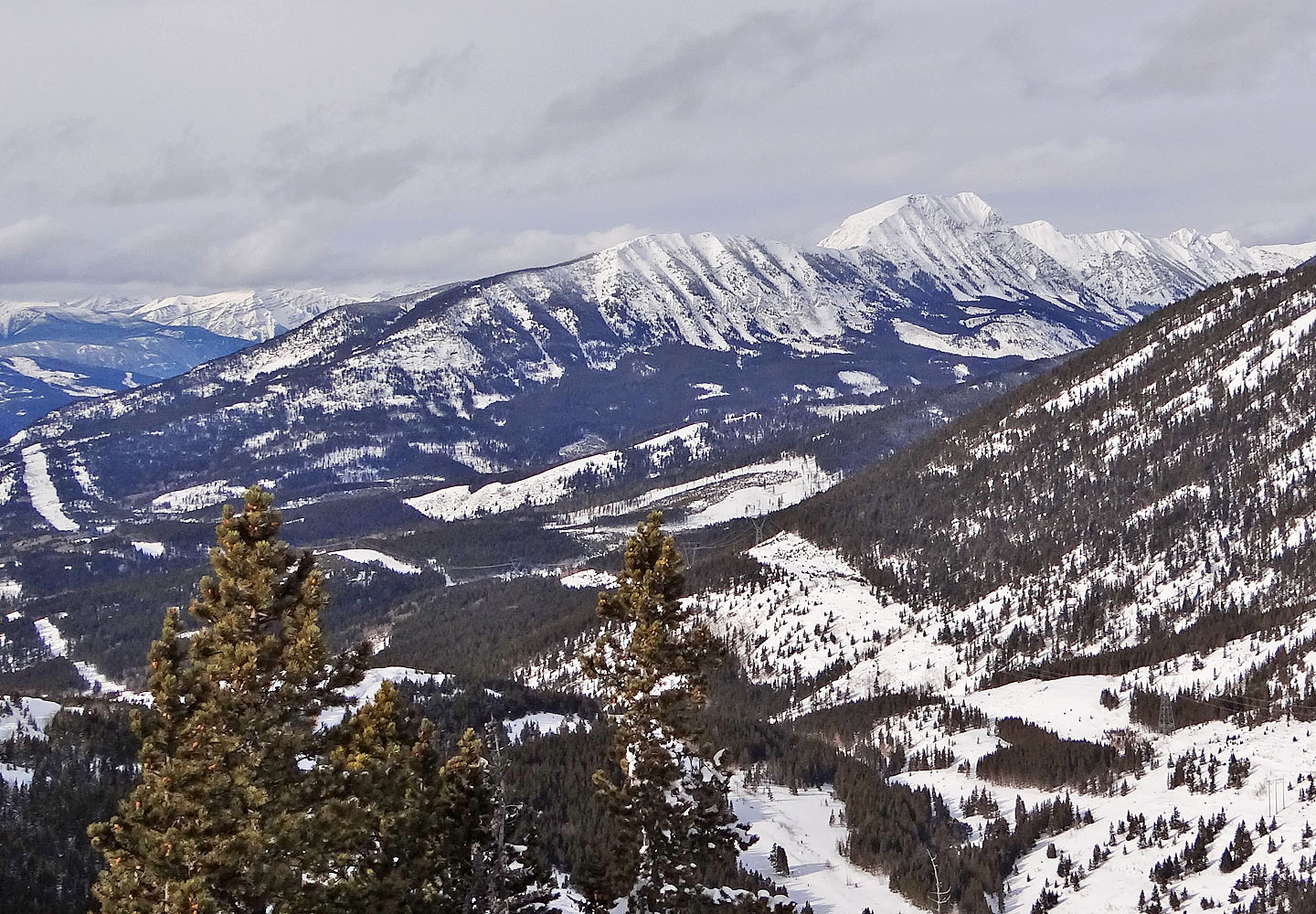 Mount Erickson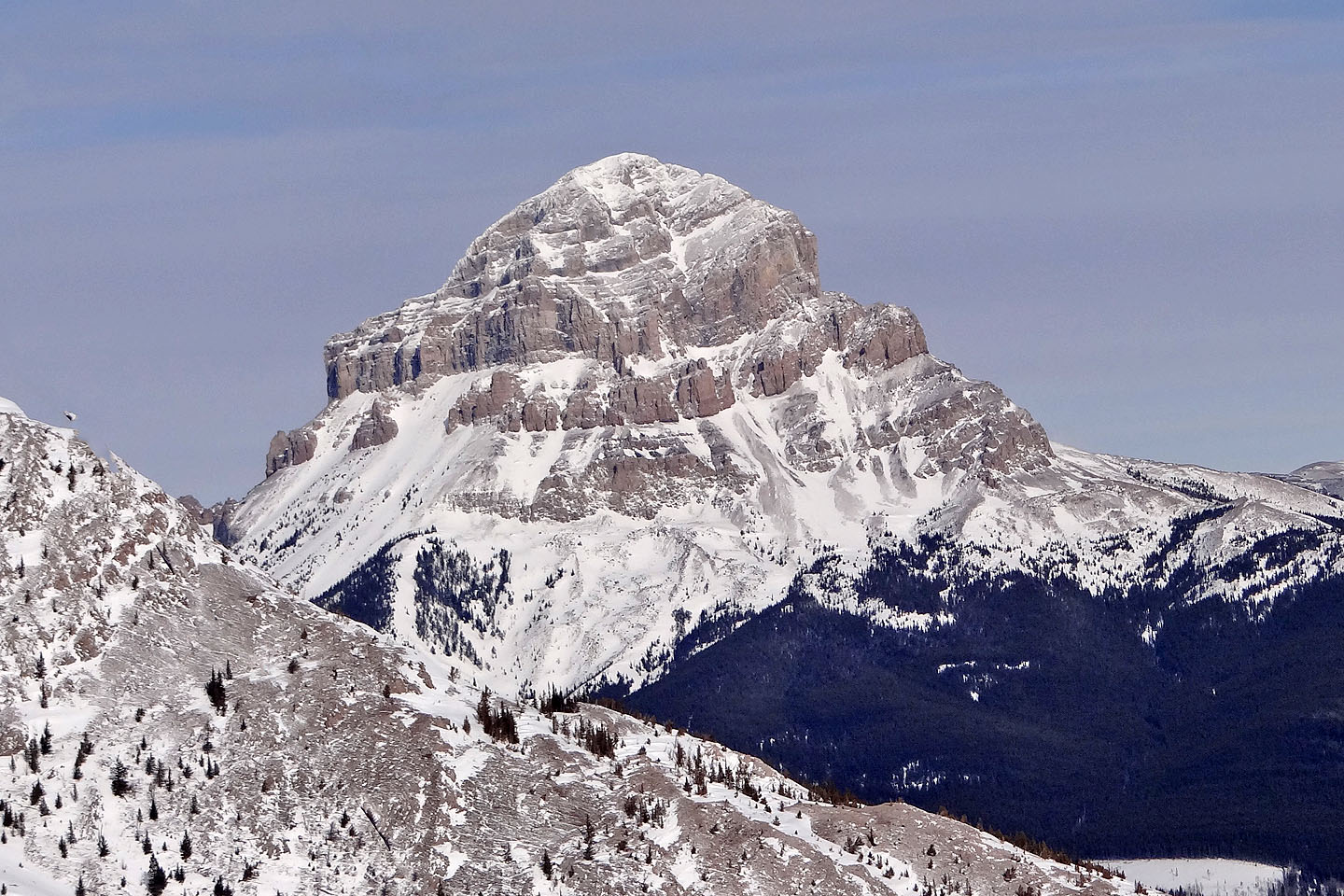 Crowsnest Mountain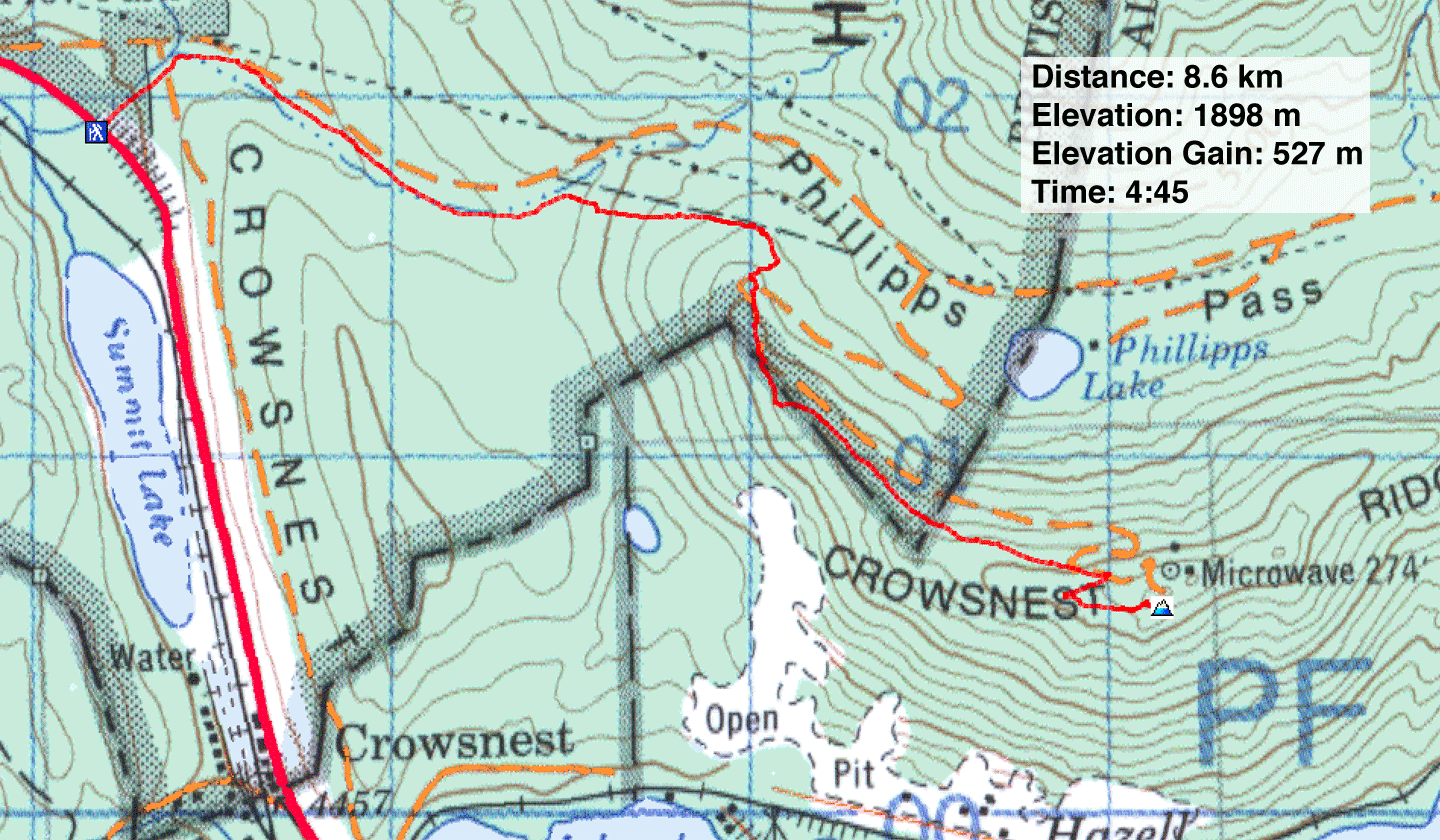 82 G/10 Crowsnest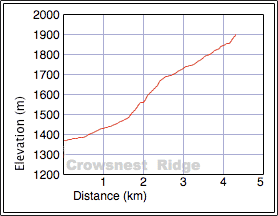 Snowshoeing | Canada | Home