bobspirko.ca | Home | Canada Trips | US Trips | Hiking | Snowshoeing | MAP | About

Cirque Peak
Banff National Park, Alberta
July 28, 2018
Distance: 16.3 km
Cumulative Elevation Gain: 1076 m

Cirque Peak is not only an outstanding climb on the Icefields Parkway, but it is also one of the most popular. When we arrived at the Helen Lake/Dolomite Pass trailhead parking lot at 10:00 am, it was already overflowing. And when we reached the base of the mountain, we saw dozens of hikers streaming up and down the ascent slope. This was a far cry from our September 2003 trip when we only saw a couple of hikers by the lake and no one on the peak.
The well-worn trail to Helen Lake winds around the south end of a treed ridge before swinging north. Long before reaching the lake, spacious meadows give way to grand views of Cirque Peak. After the lake, the trail climbs a low ridge. Here, Dinah and I met Calgarians Kiran Gurm, Karen Cepuran and Thomas Whitman. They had reached the ridge on previous trips, but today they climbed Cirque Peak for the first time.
Unfortunately, a sore knee prevented Dinah from continuing to the summit, much to her frustration. For the two hours I was gone, we kept in touch with CB radios. She passed the time watching a ptarmigan and her chicks running around, and a marmot rooting for food.
Along with Kiran, Karen and Thomas, I set off along the ridge to climb the cliff band ahead of us. Some hikers missed the turn here. Instead of immediately going up the cliffs, which resemble a pile of boulders, they stayed low and ended up negotiating a narrow ledge before turning around. Instead, turn right at the base of the cliffs and look for cairns. An incredibly easy route snakes up through the boulders; it's practically a walk-up.
After reaching the clifftop, routefinding problems evaporate and hikers face a long slog up a scree trail to the top of Cirque Peak. The west and east summits are just a couple of minutes apart, but congested with people, it was difficult to move around either high point. Before retreating, I stayed long enough on the higher east summit to take a panorama and a photo with my ephemeral partners.
Moving quickly back down the scree slope, I joined Dinah below the cliff band and we followed the trail back, still busy with hikers travelling up and down.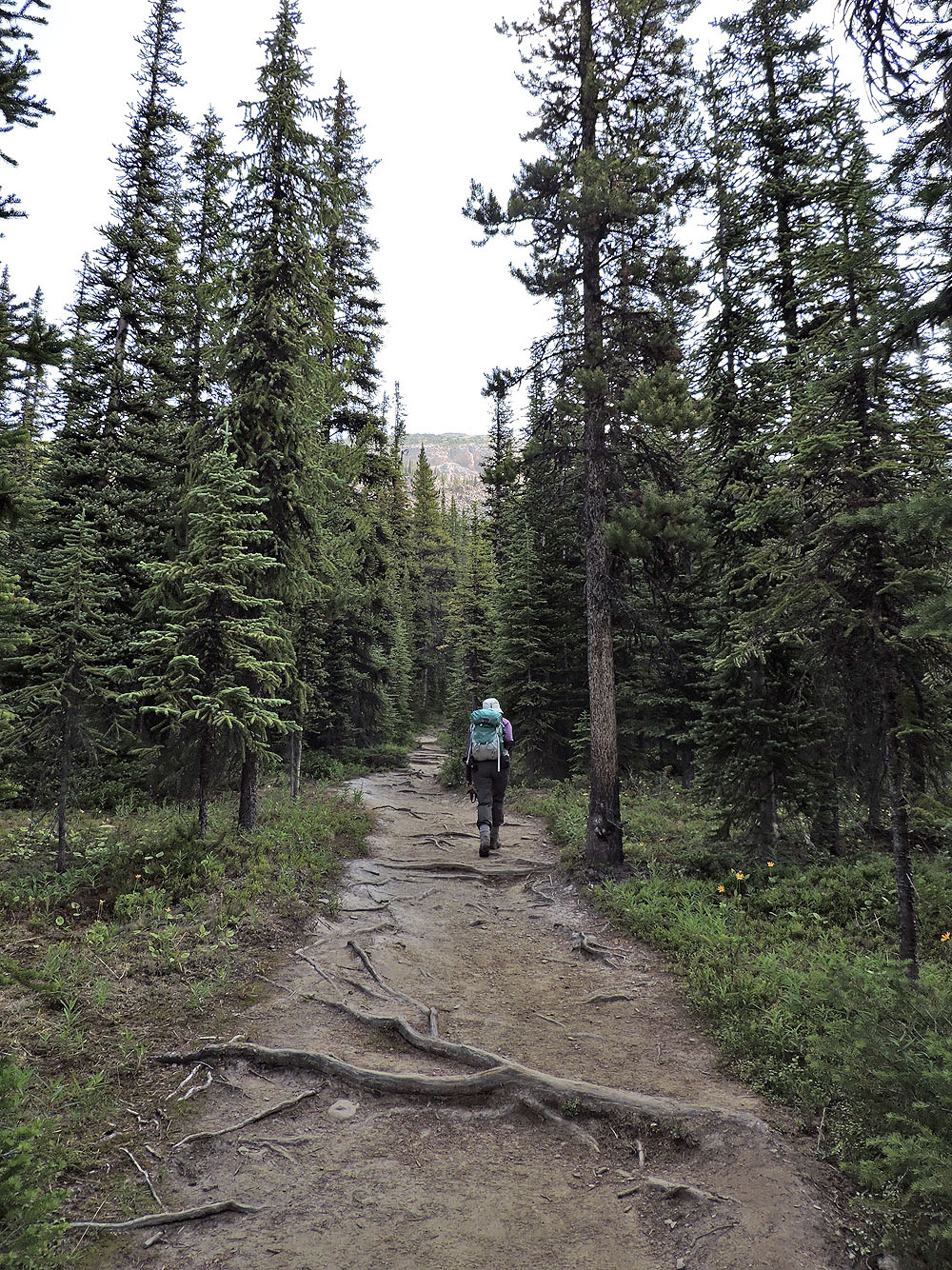 On the trail to Helen Lake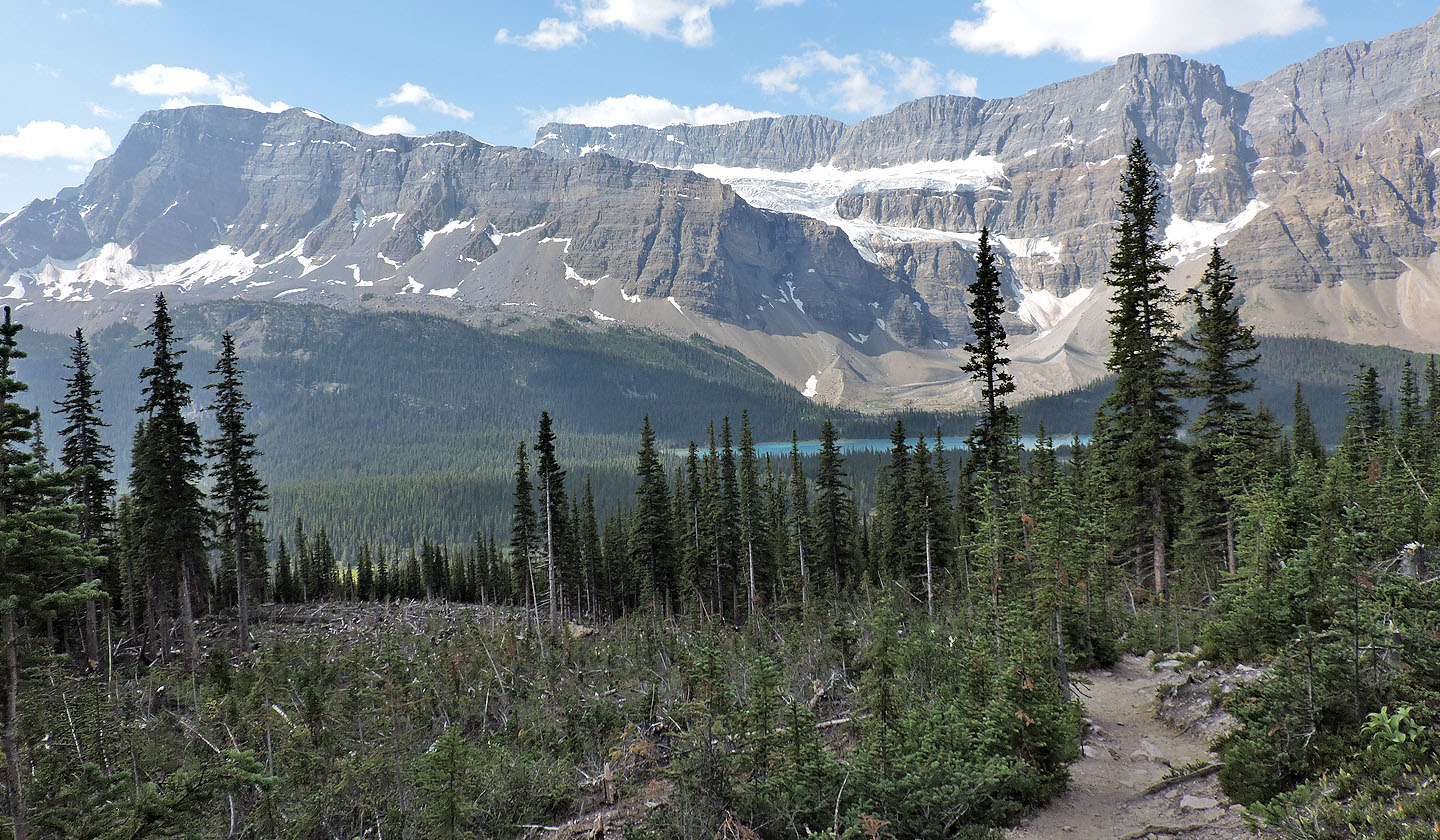 Behind is Crowfoot Mountain

Dinah stops to view Dolomite Peak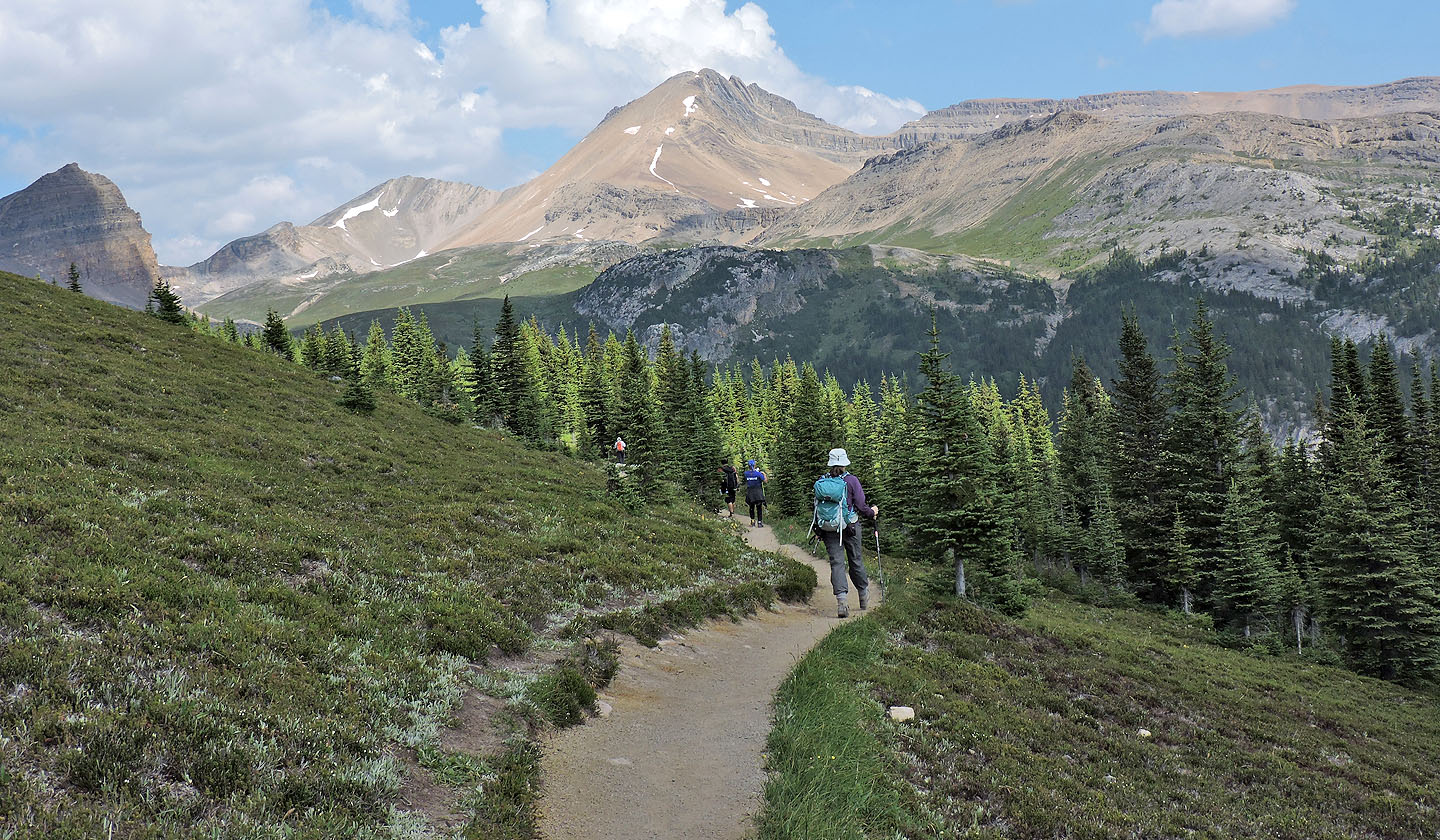 Cirque Peak came into view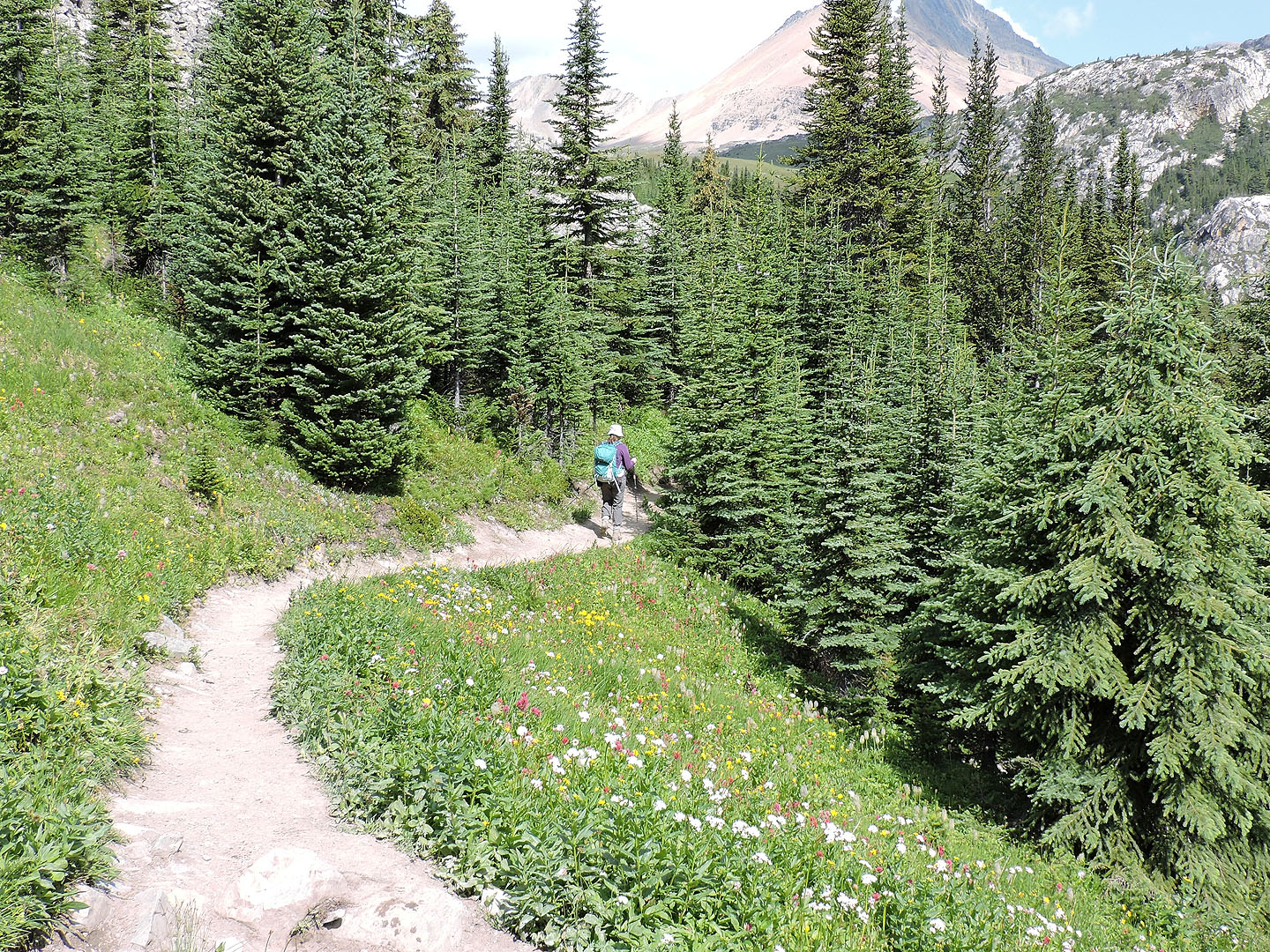 Wildflowers adorn meadows along the way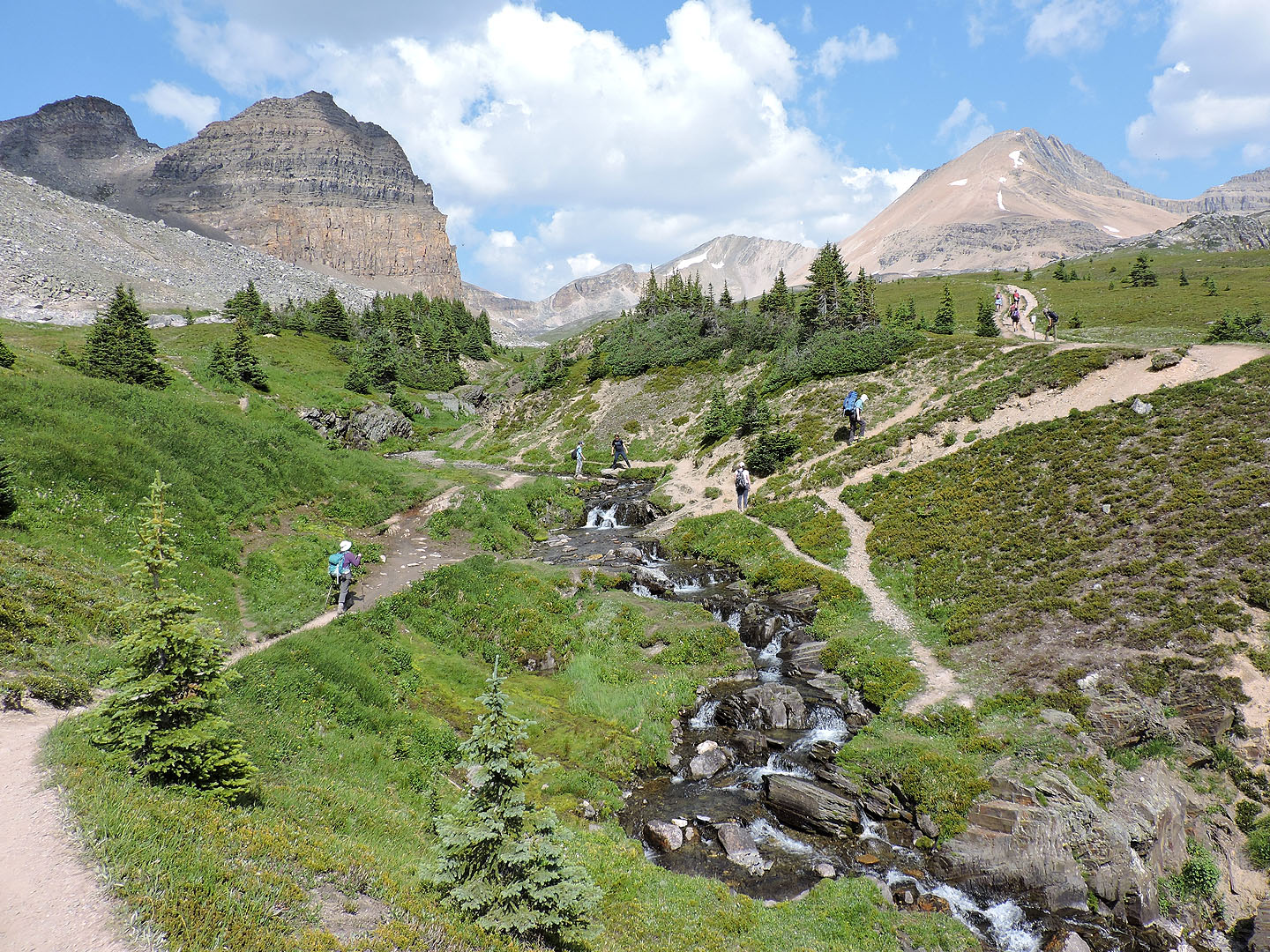 The trail crosses a stream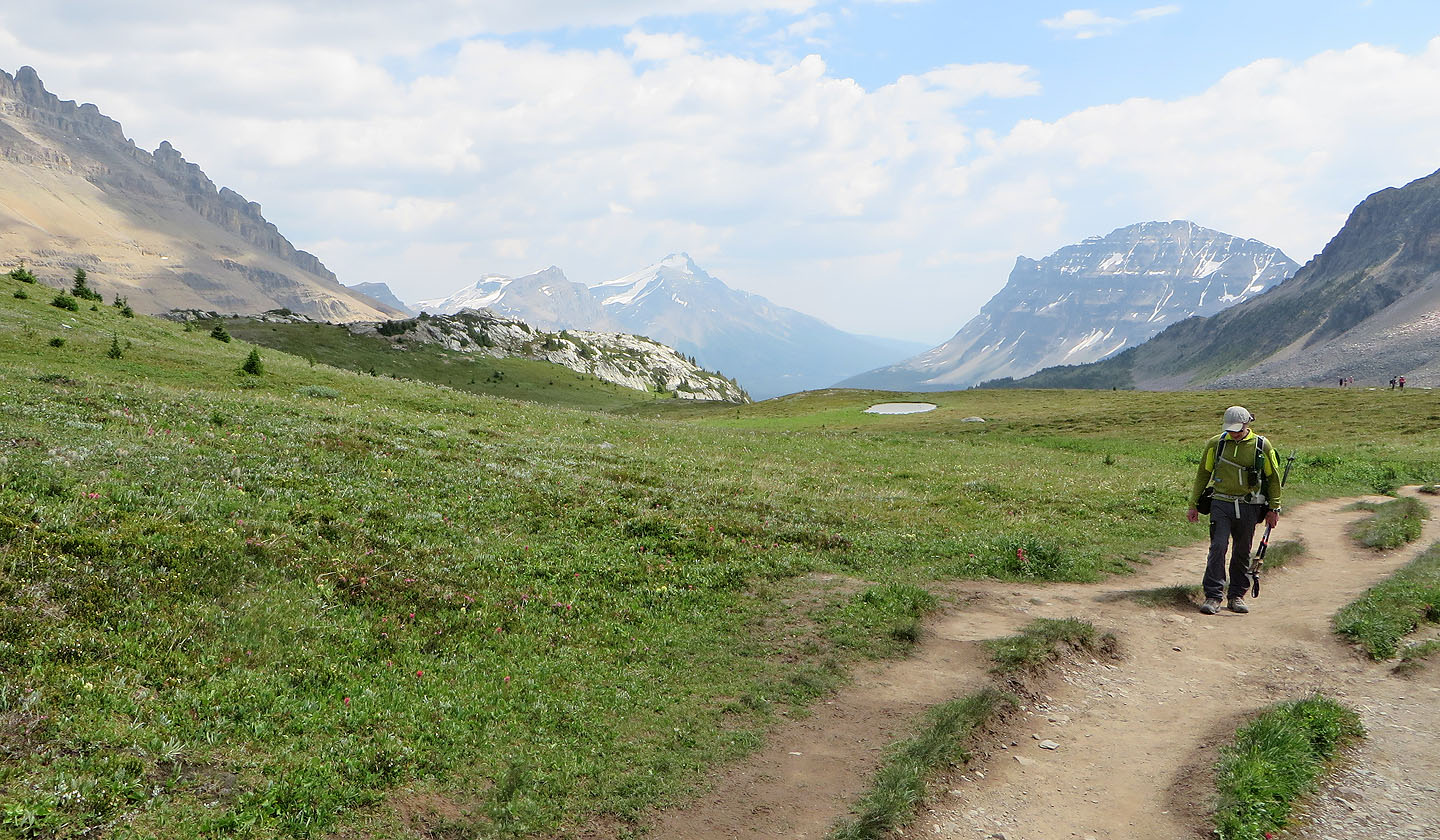 Looking back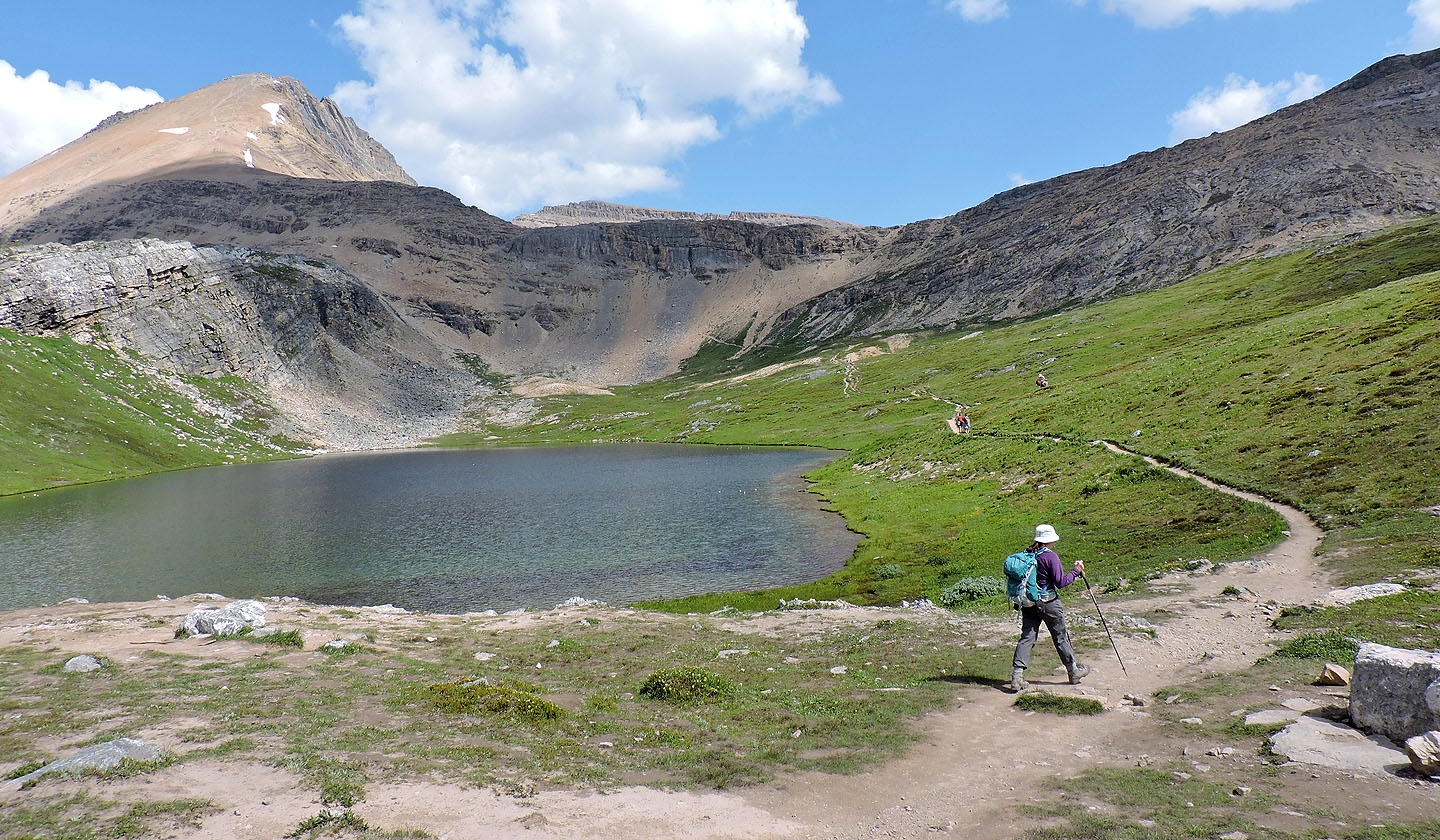 Cirque Peak appears above Helen Lake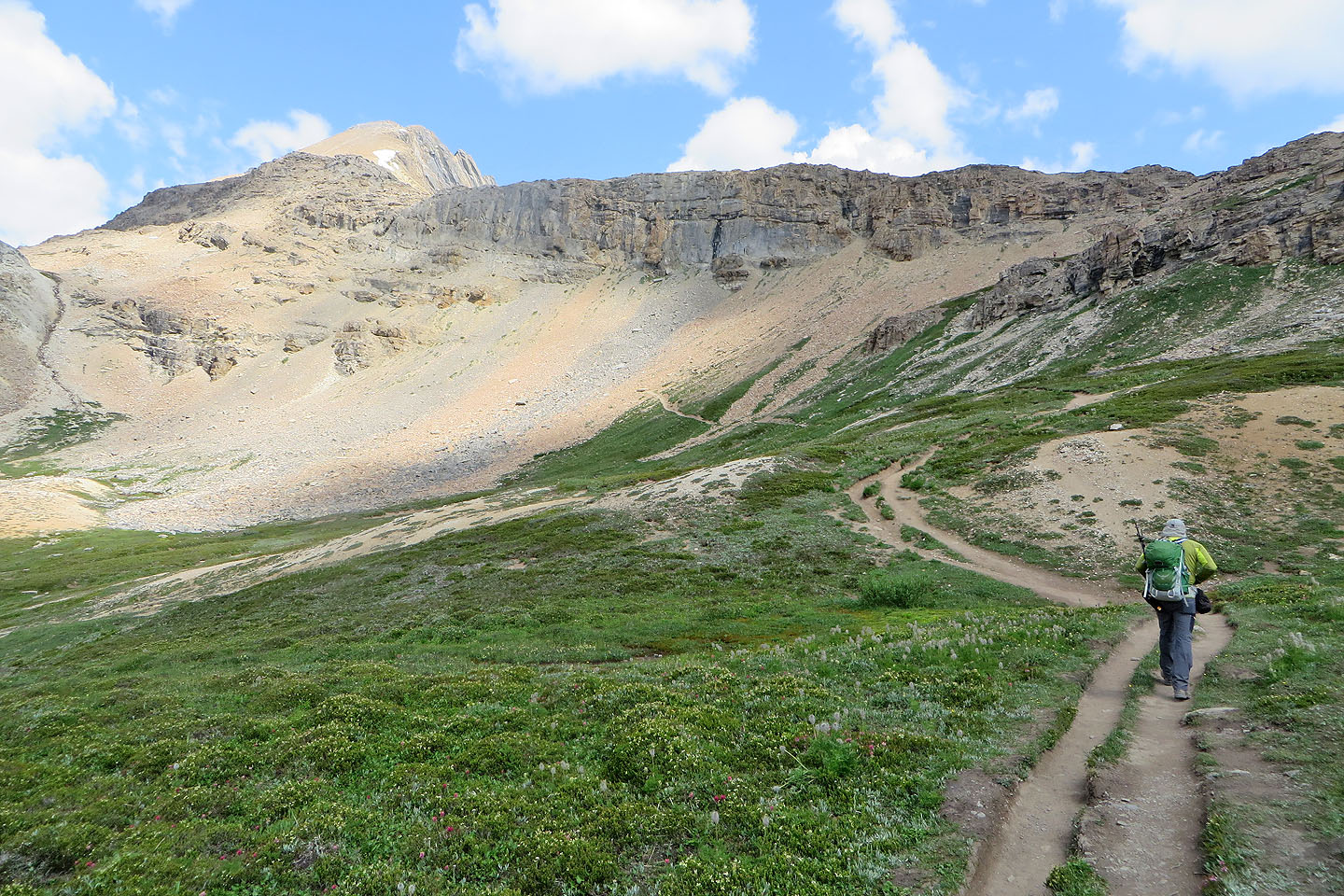 The trail runs to a low point on the south ridge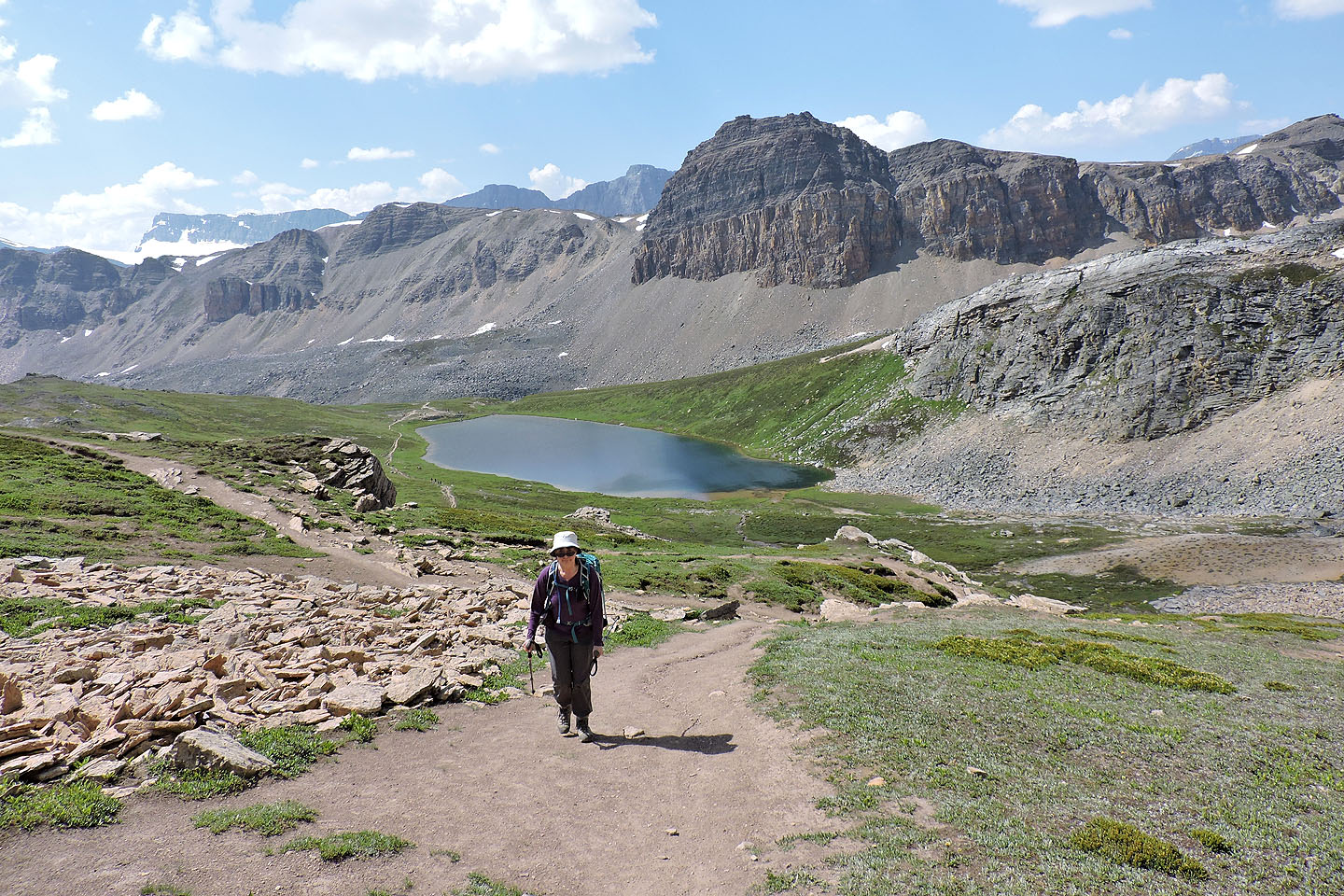 Looking back at Helen Lake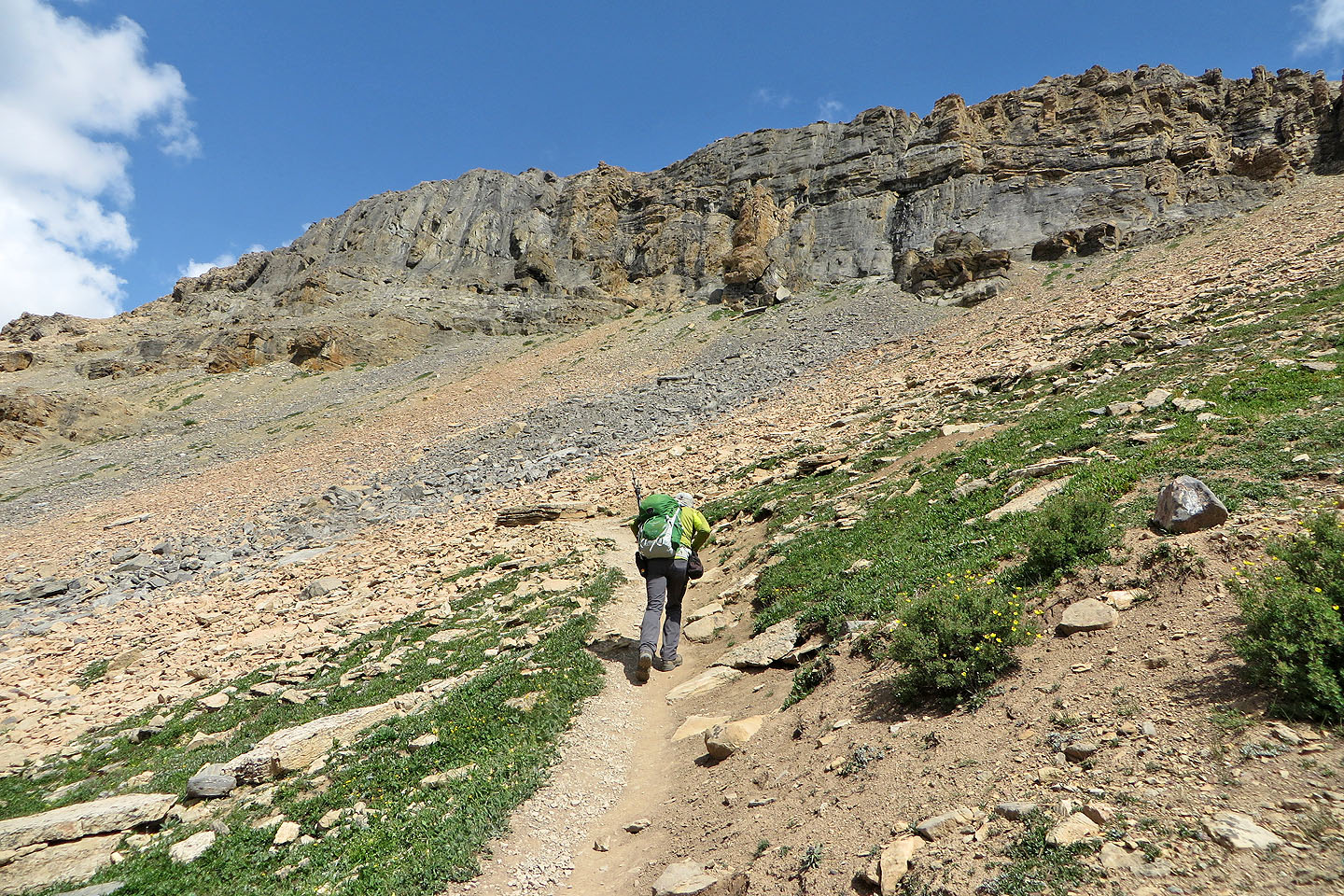 Hiking up the switchbacks to the ridge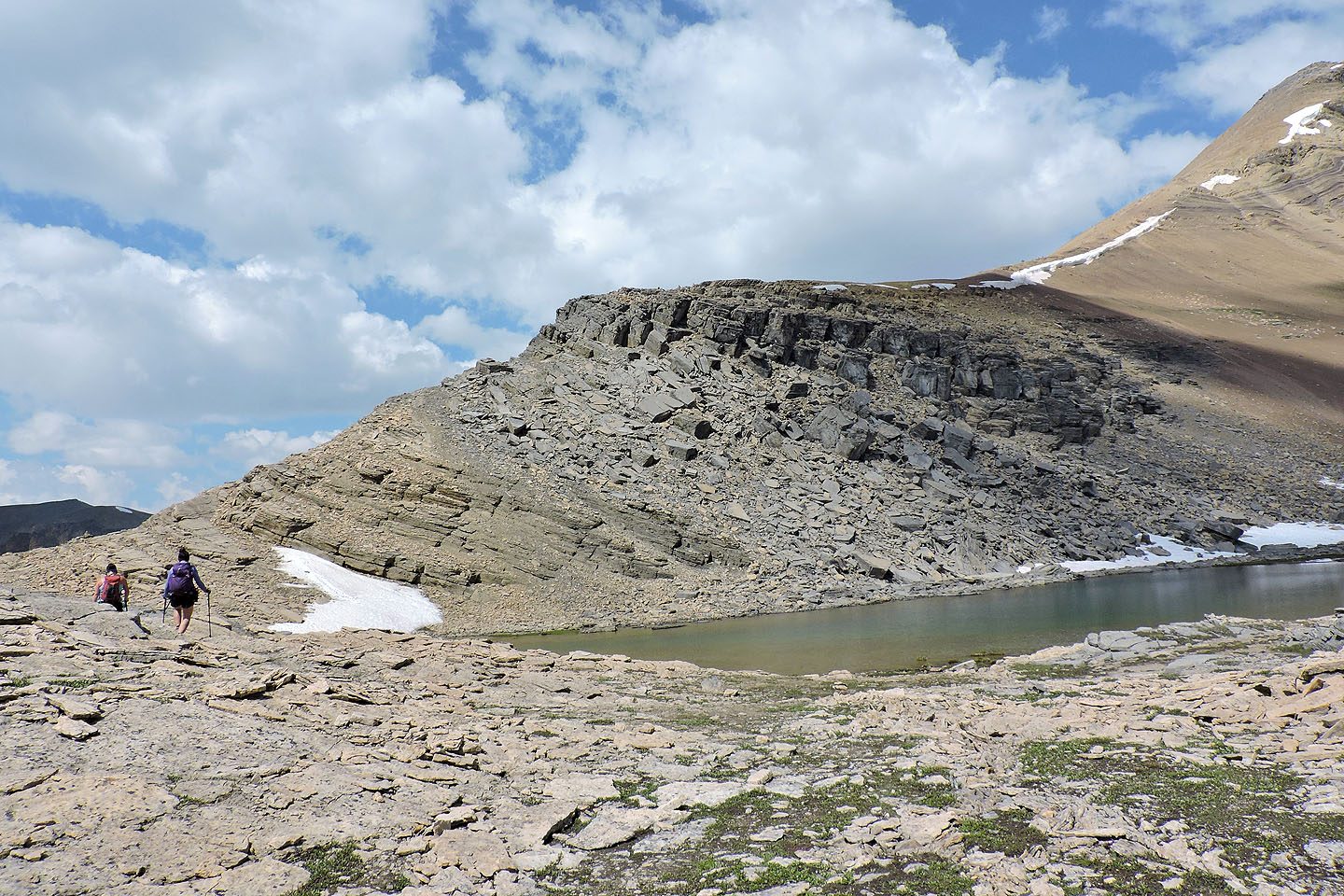 Once on the ridge, stick to the ridgeline and scramble up the rock band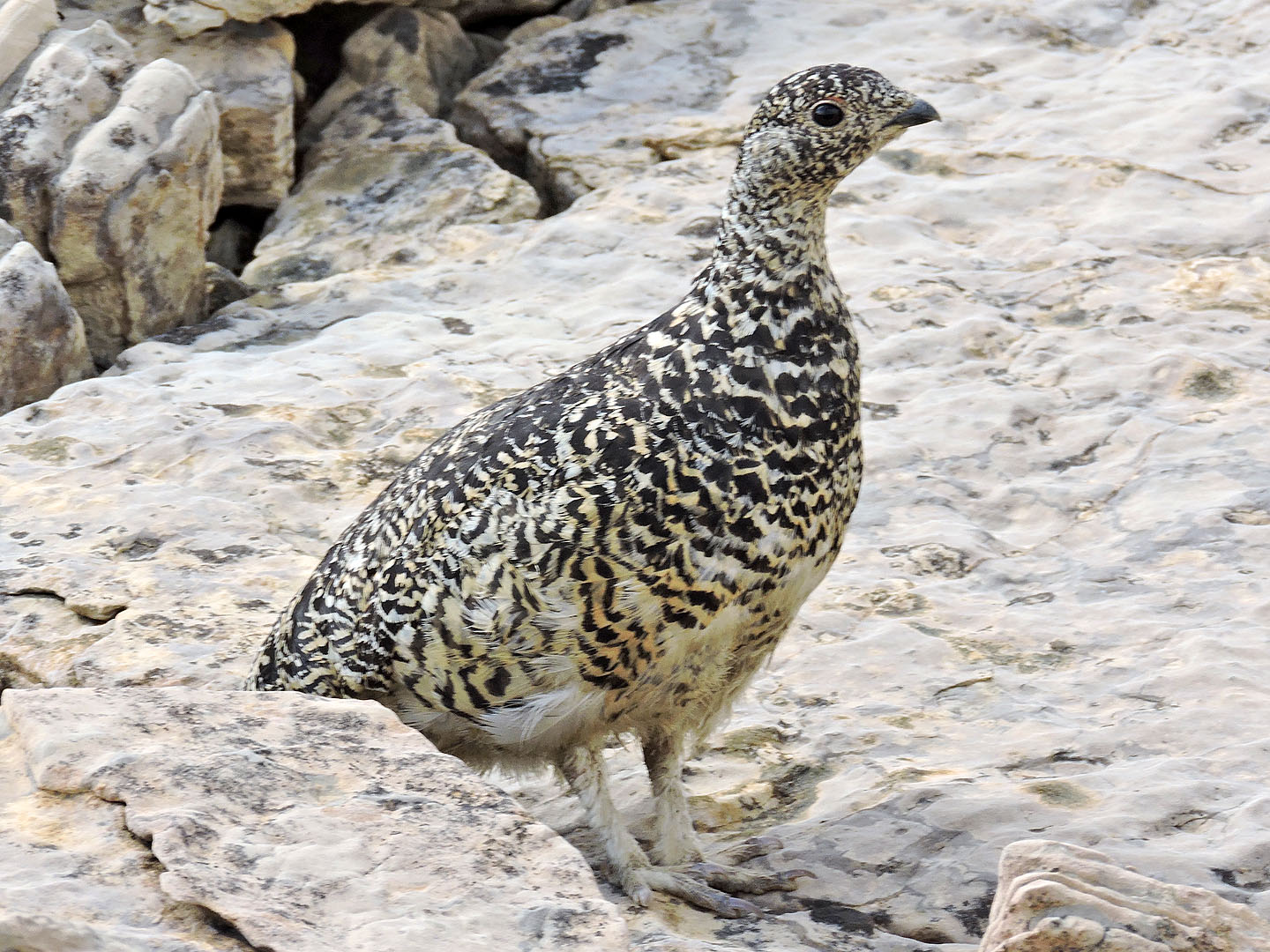 Ptarmigan by the tarn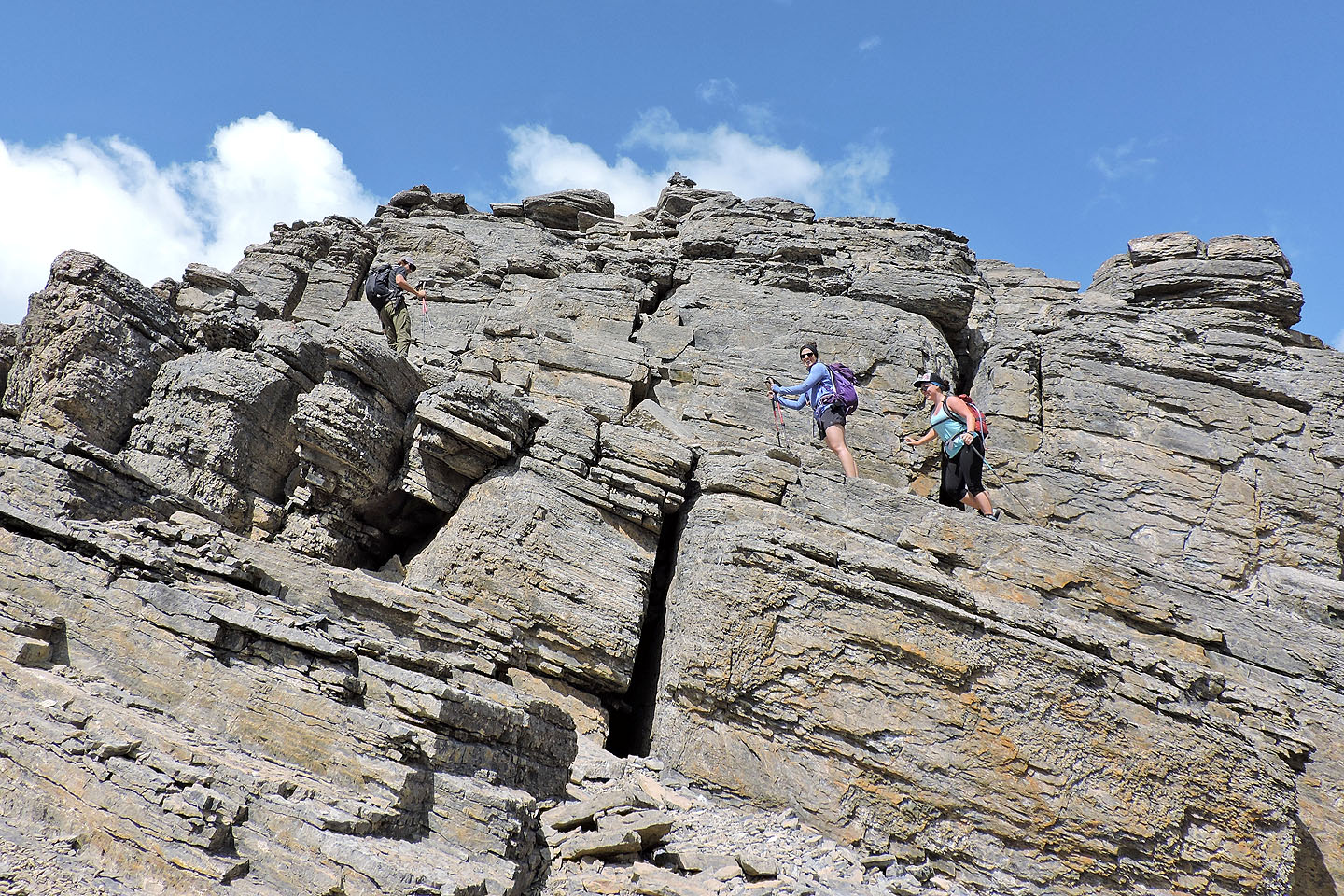 Thomas, Kiran and Karen followed the route as it zigzags up the cliff band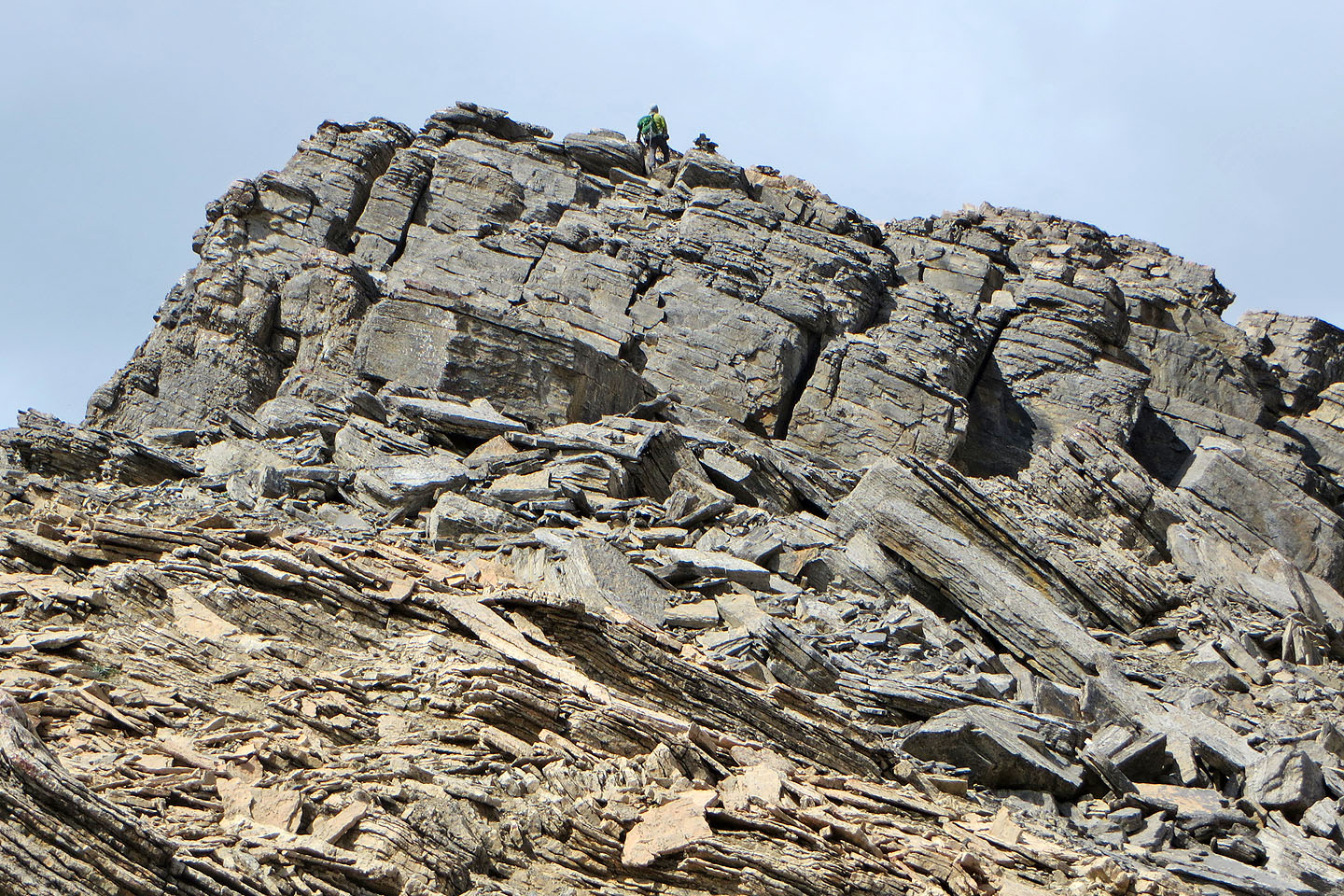 Cairns mark an easy way up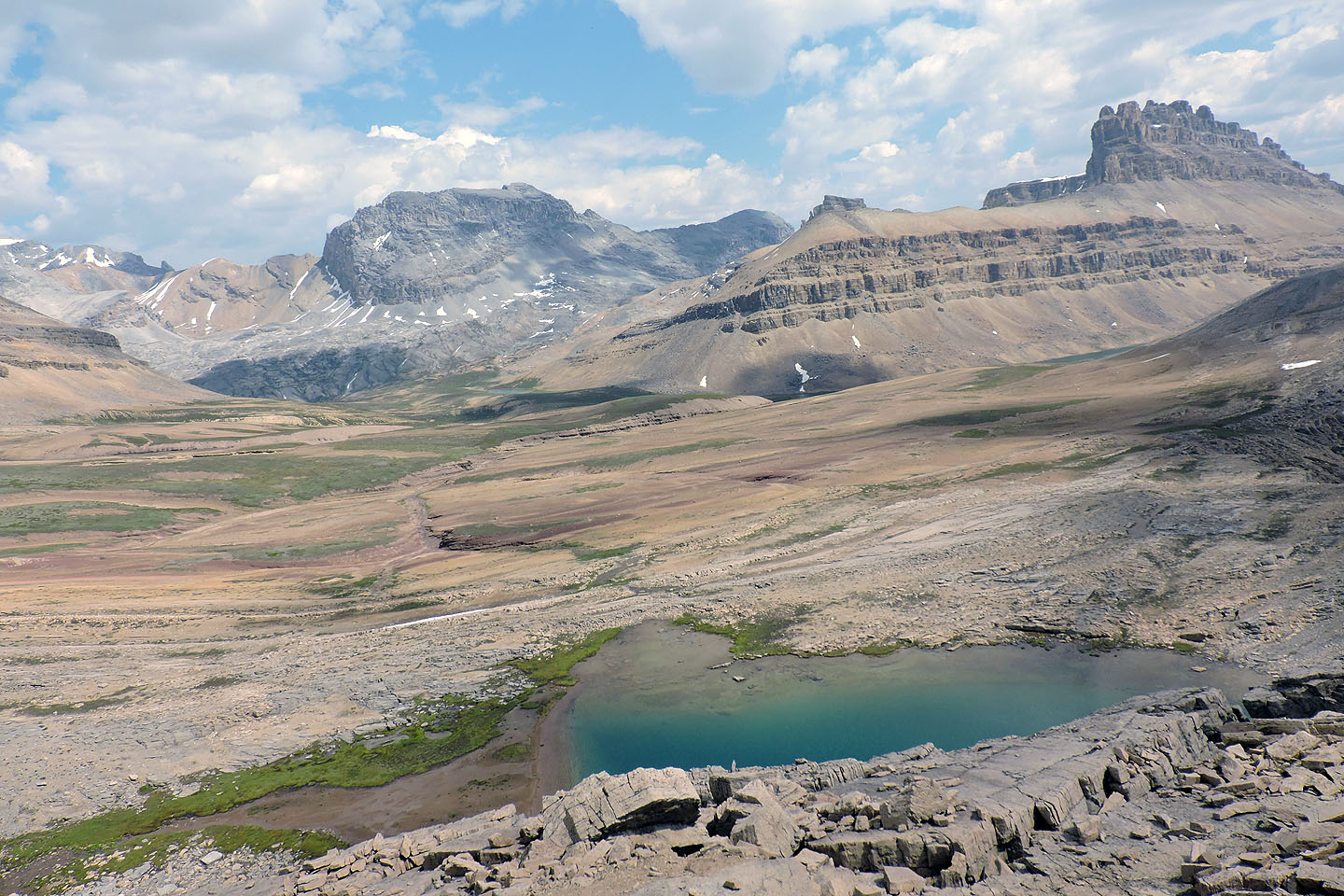 View southeast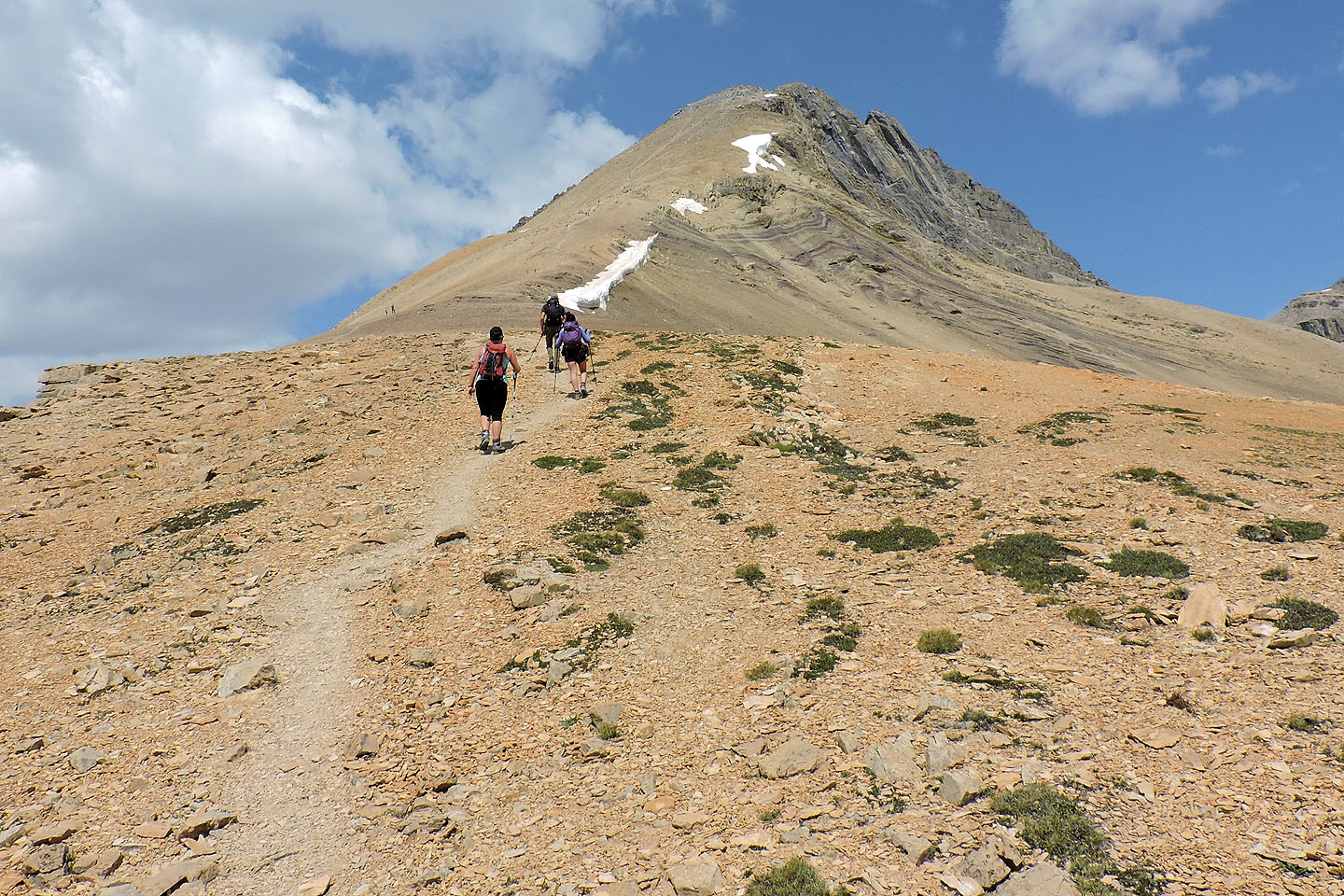 After the cliffs, a long slog awaits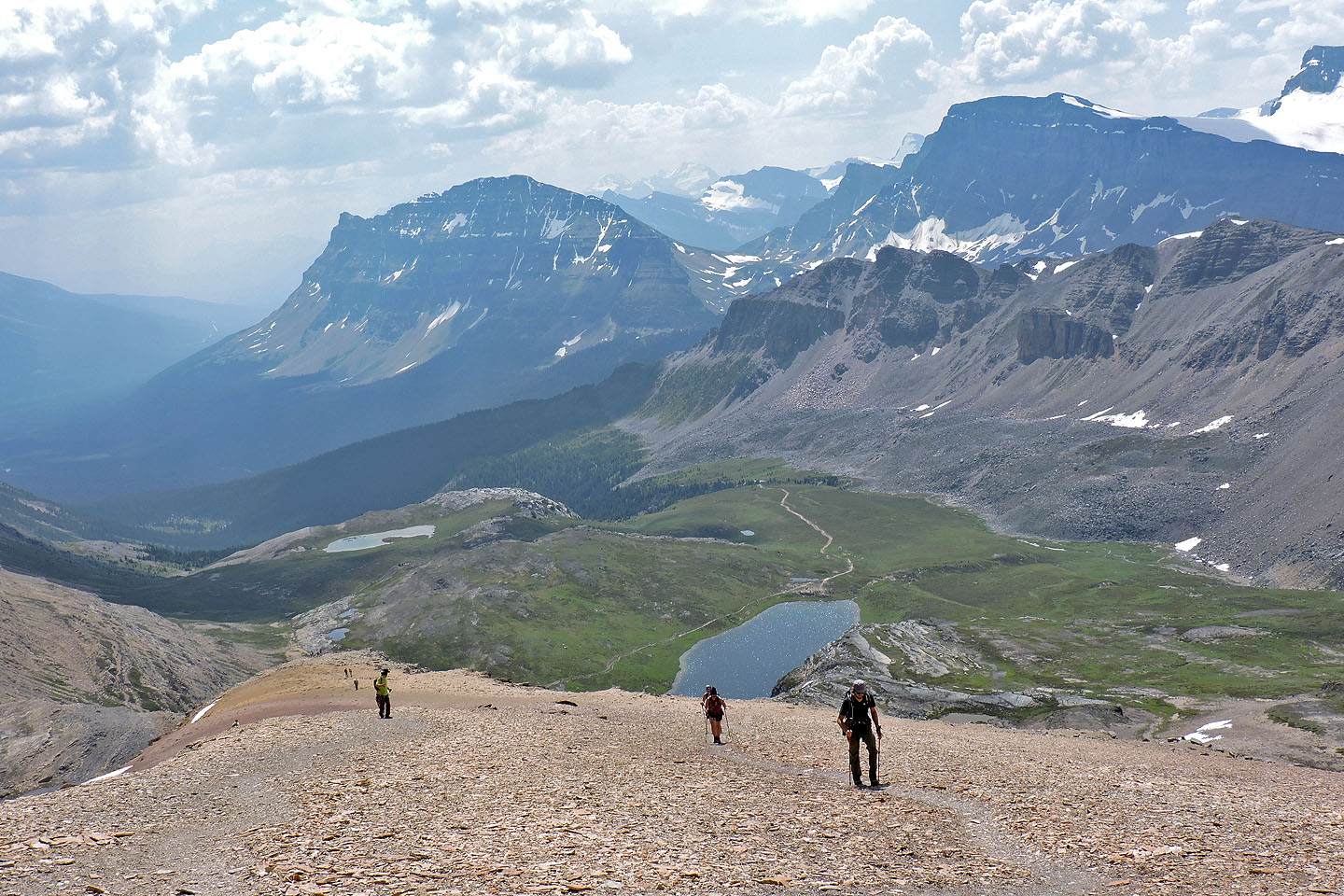 Looking back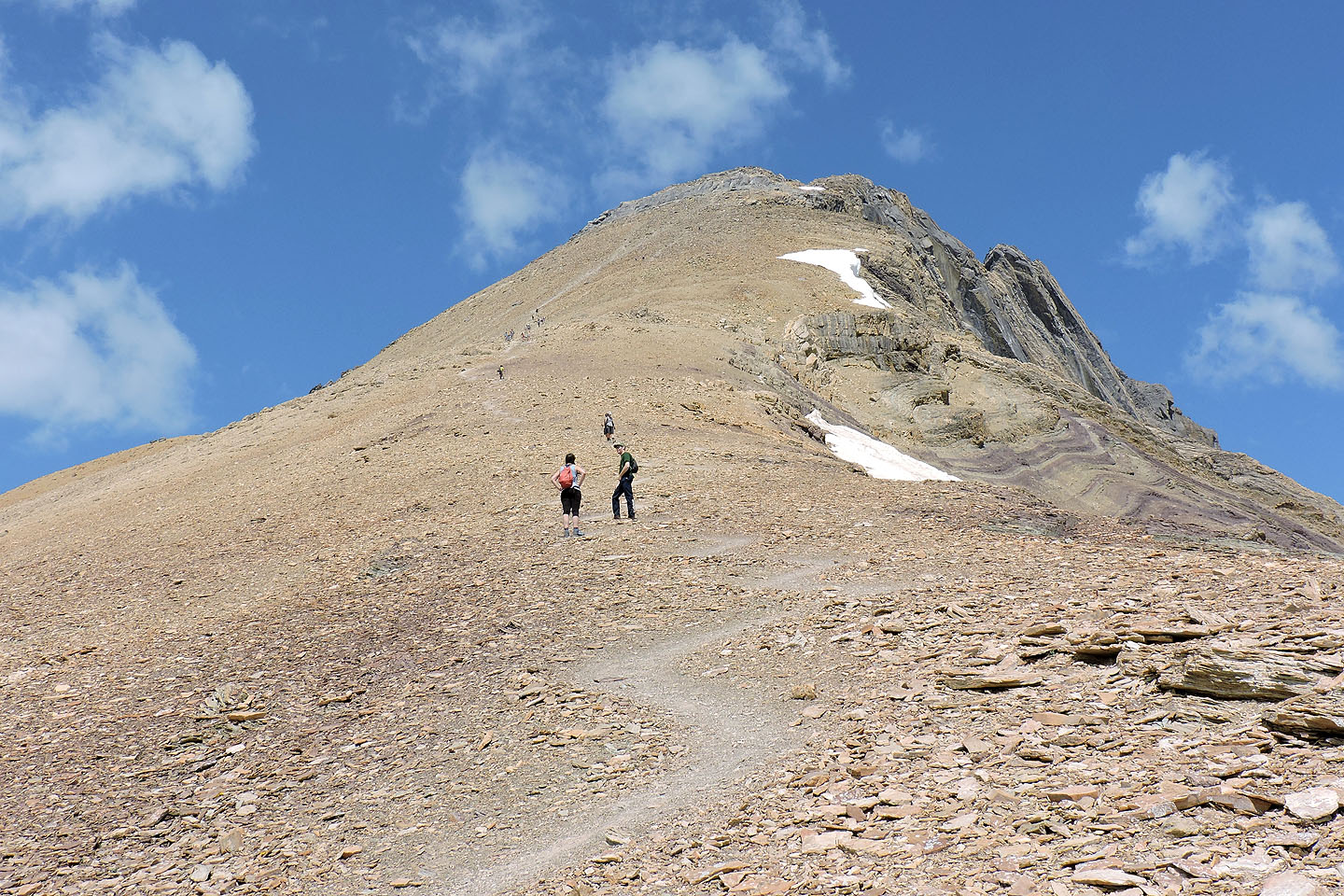 The slope grows steeper ahead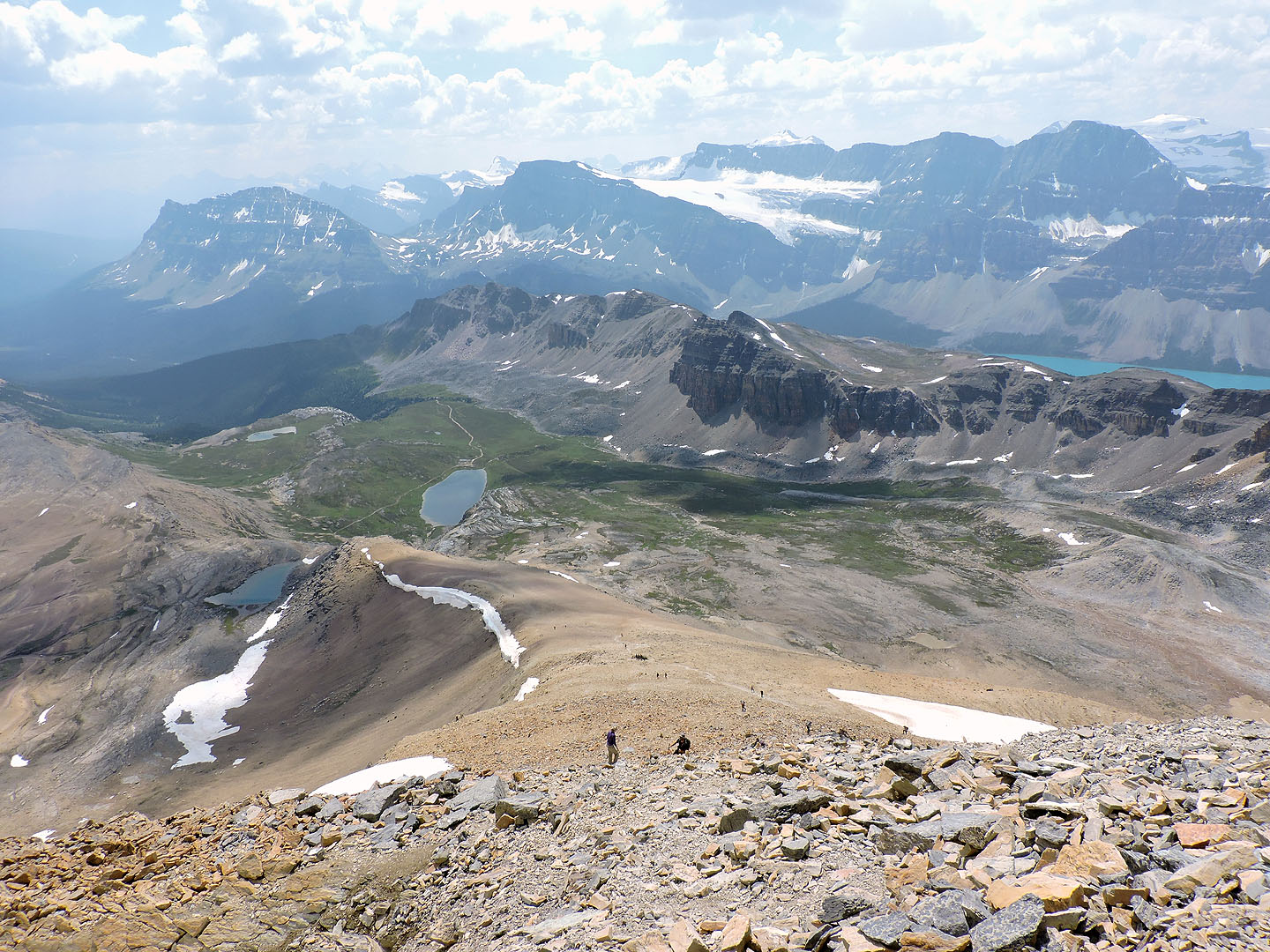 Loose rock fills the last stretch below the summit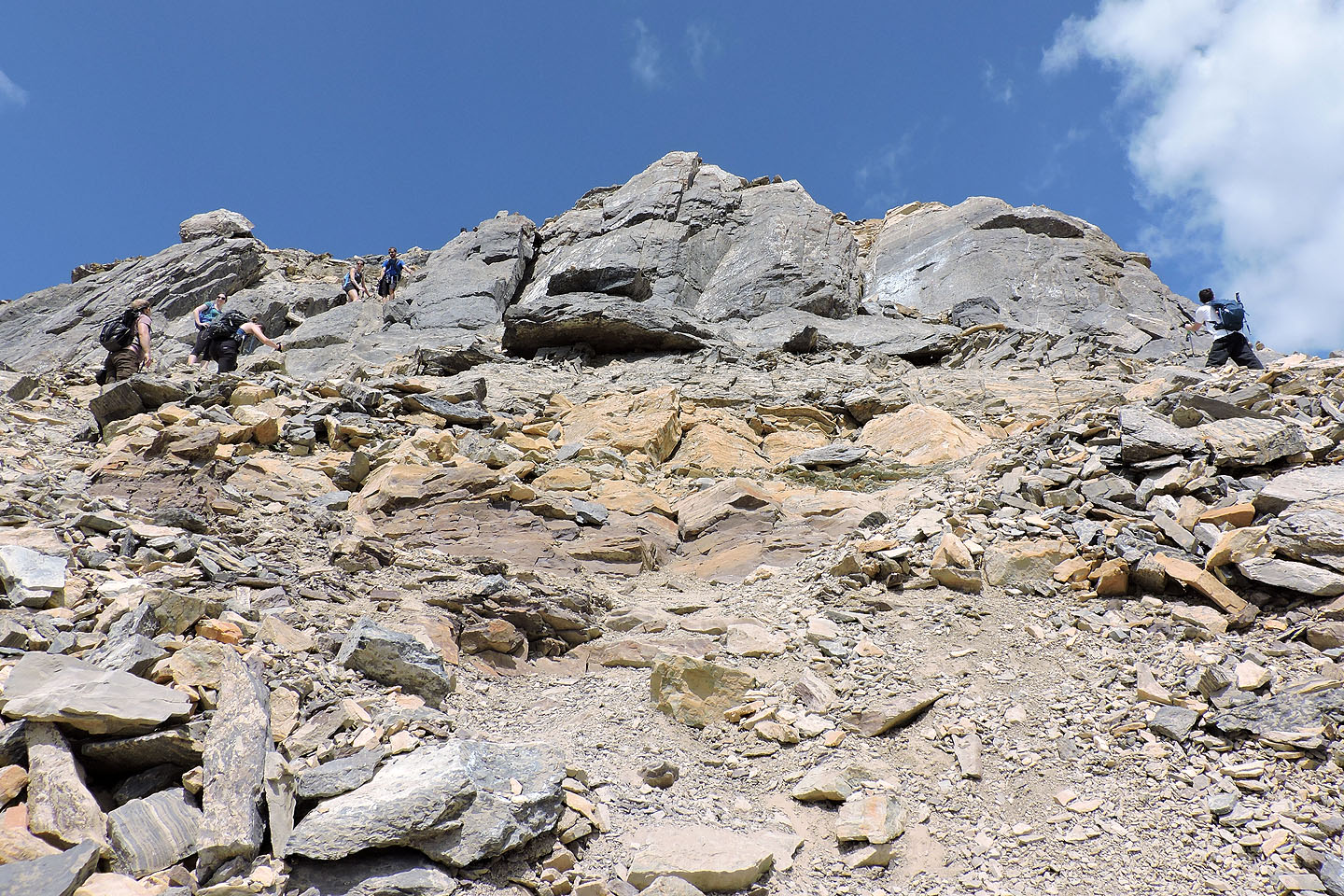 The west summit can be reached by keeping left, but right is easier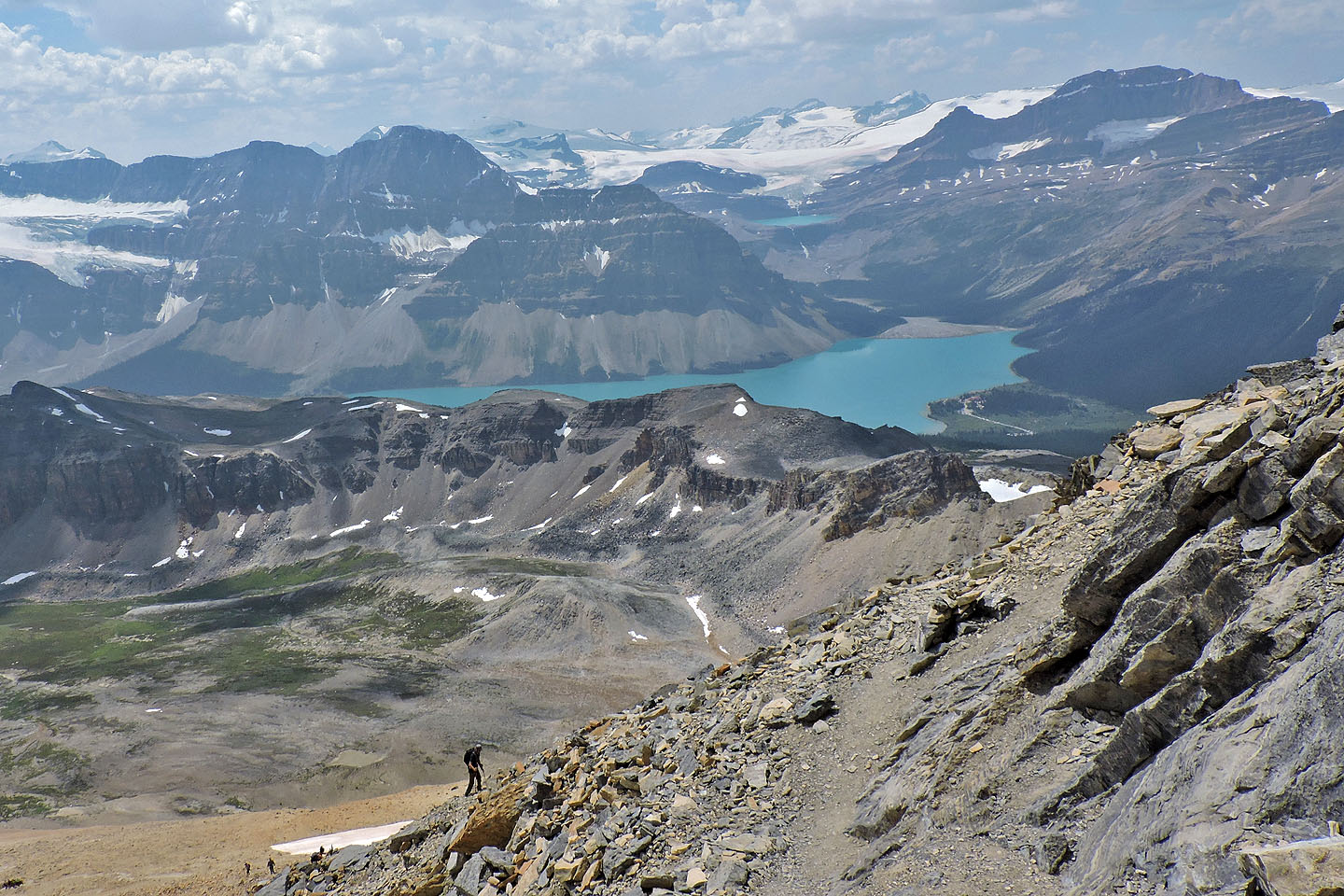 Bow Lake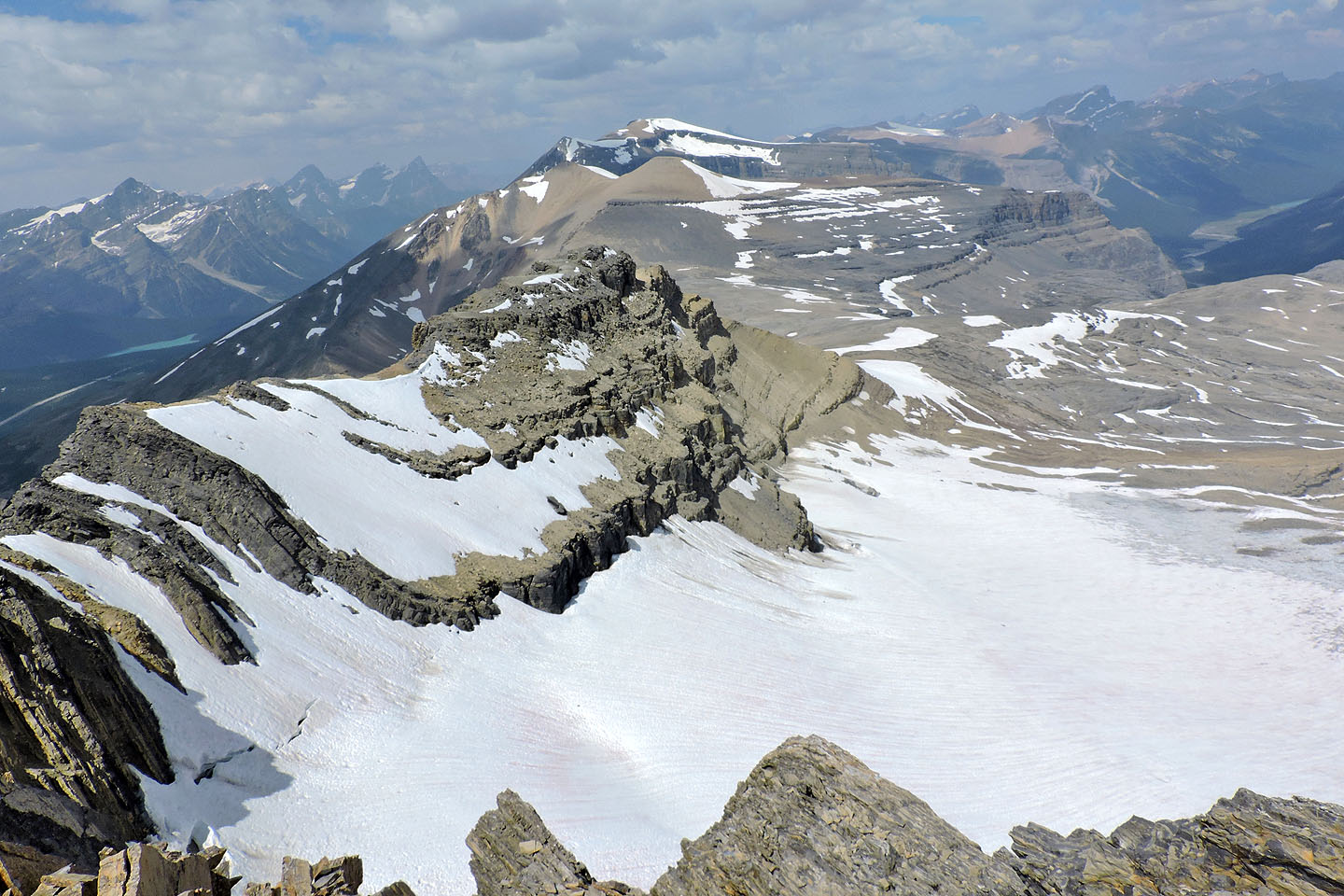 From the west summit looking north at Observation Peak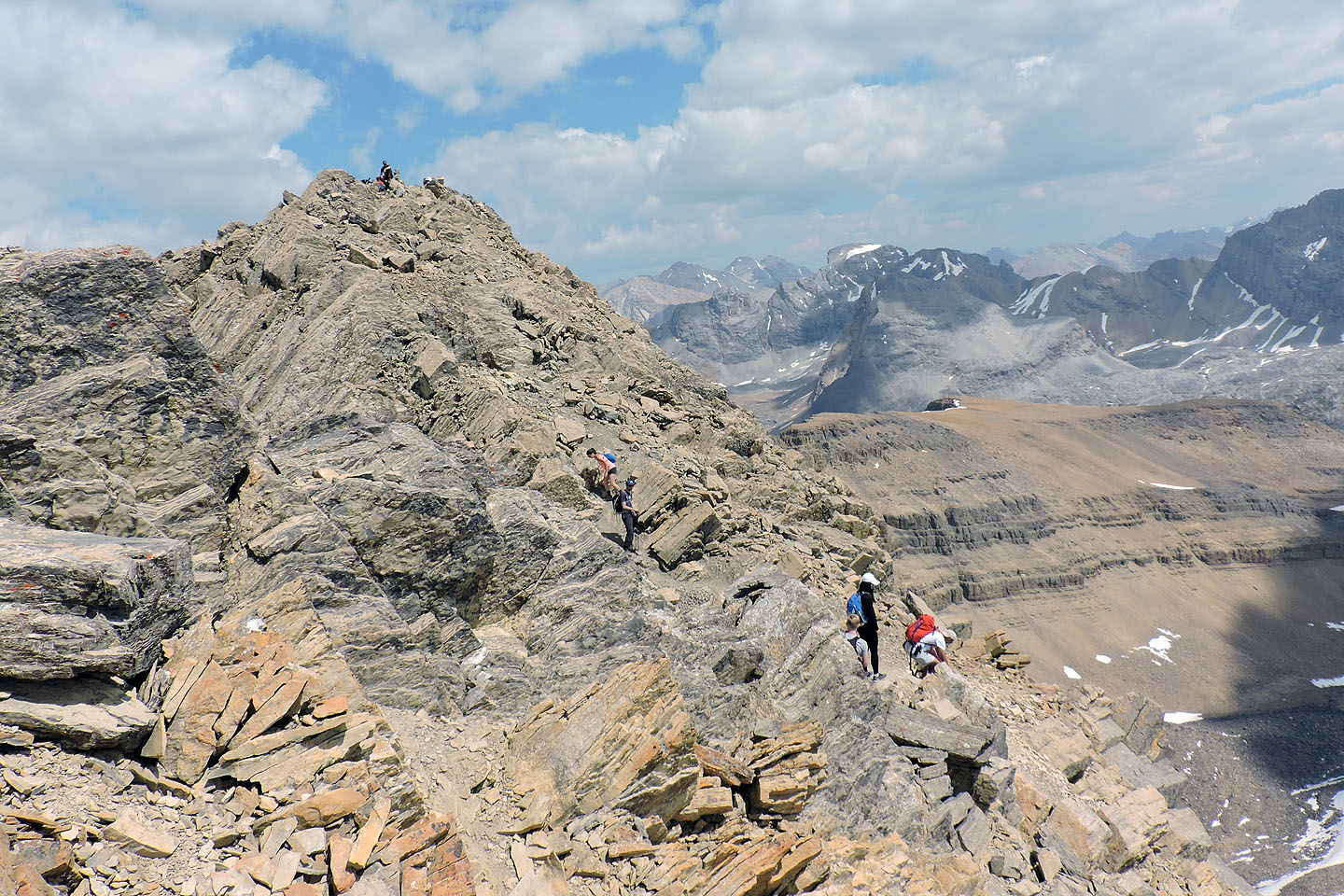 The east summit is less than five minutes from the west summit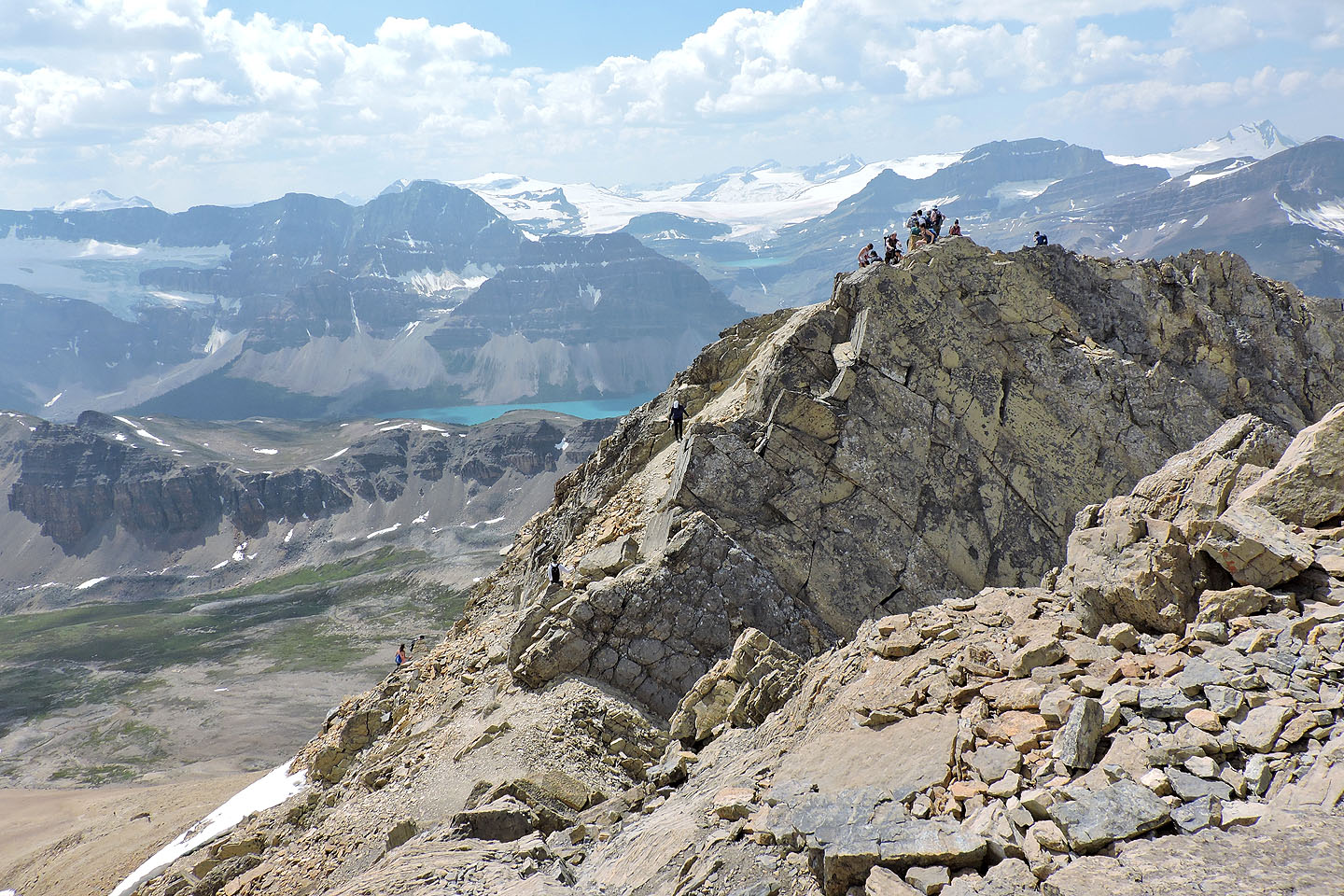 Looking back at the west summit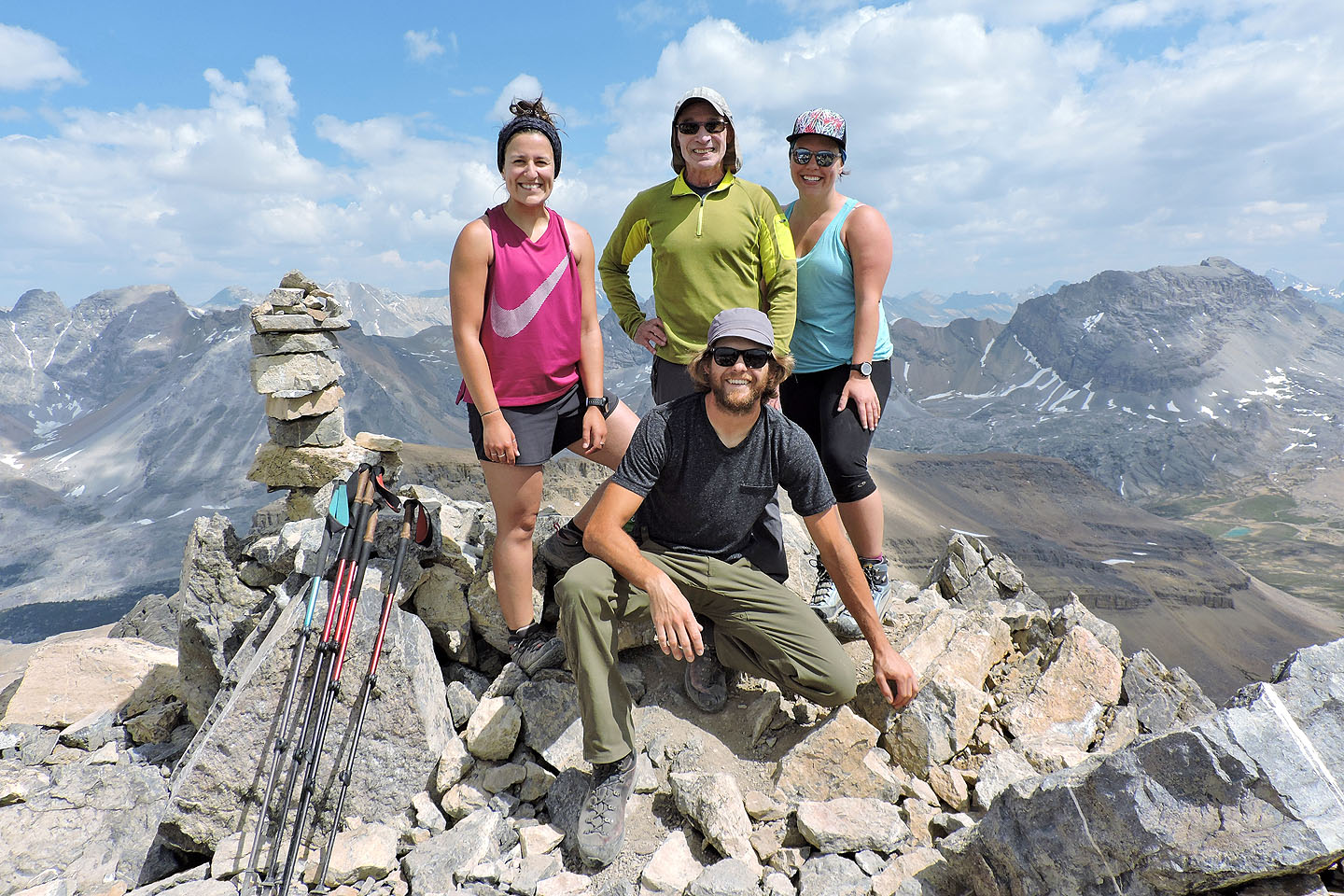 Kiran, Thomas and Karen joined me on the summit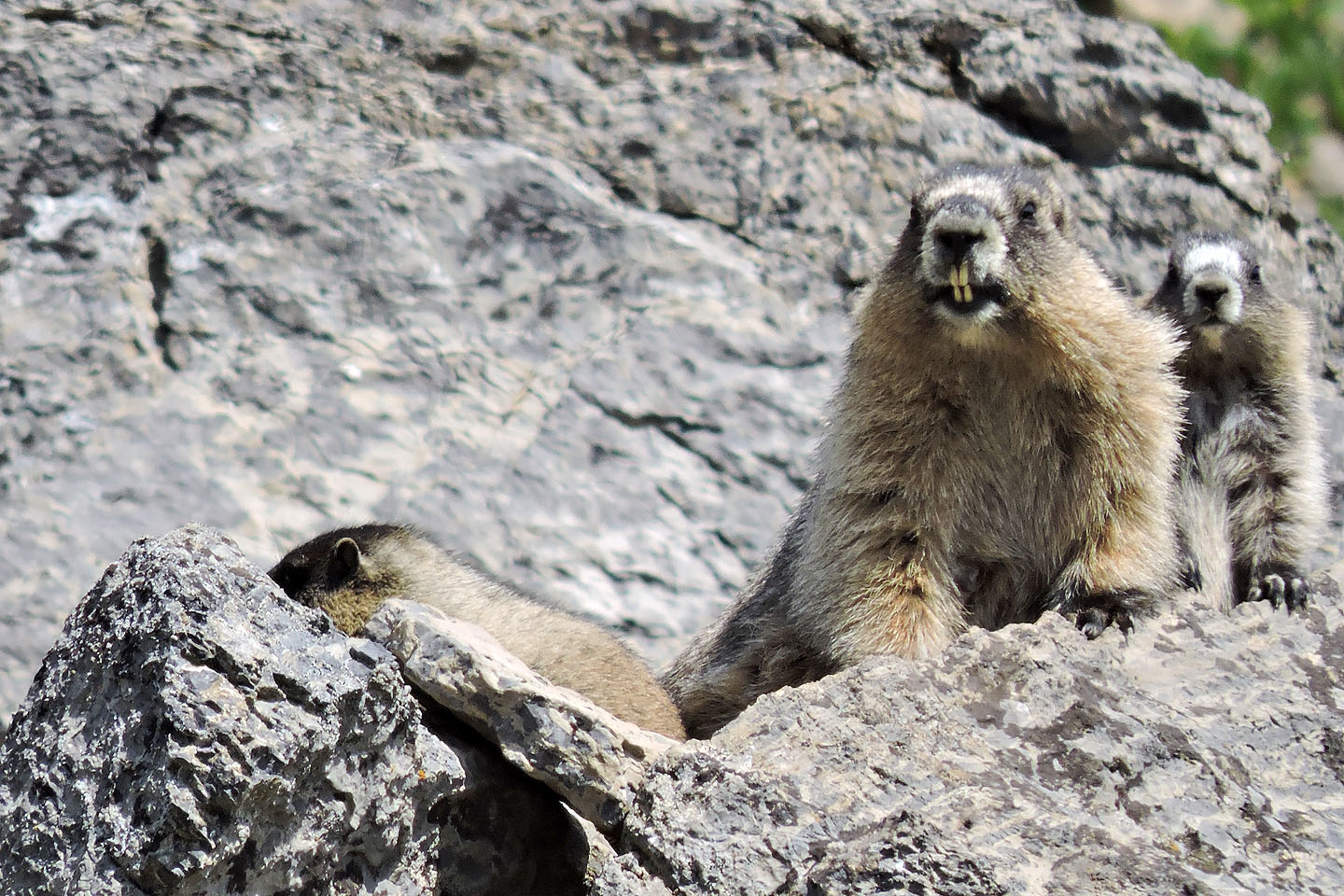 On the way back, these marmots caught our attention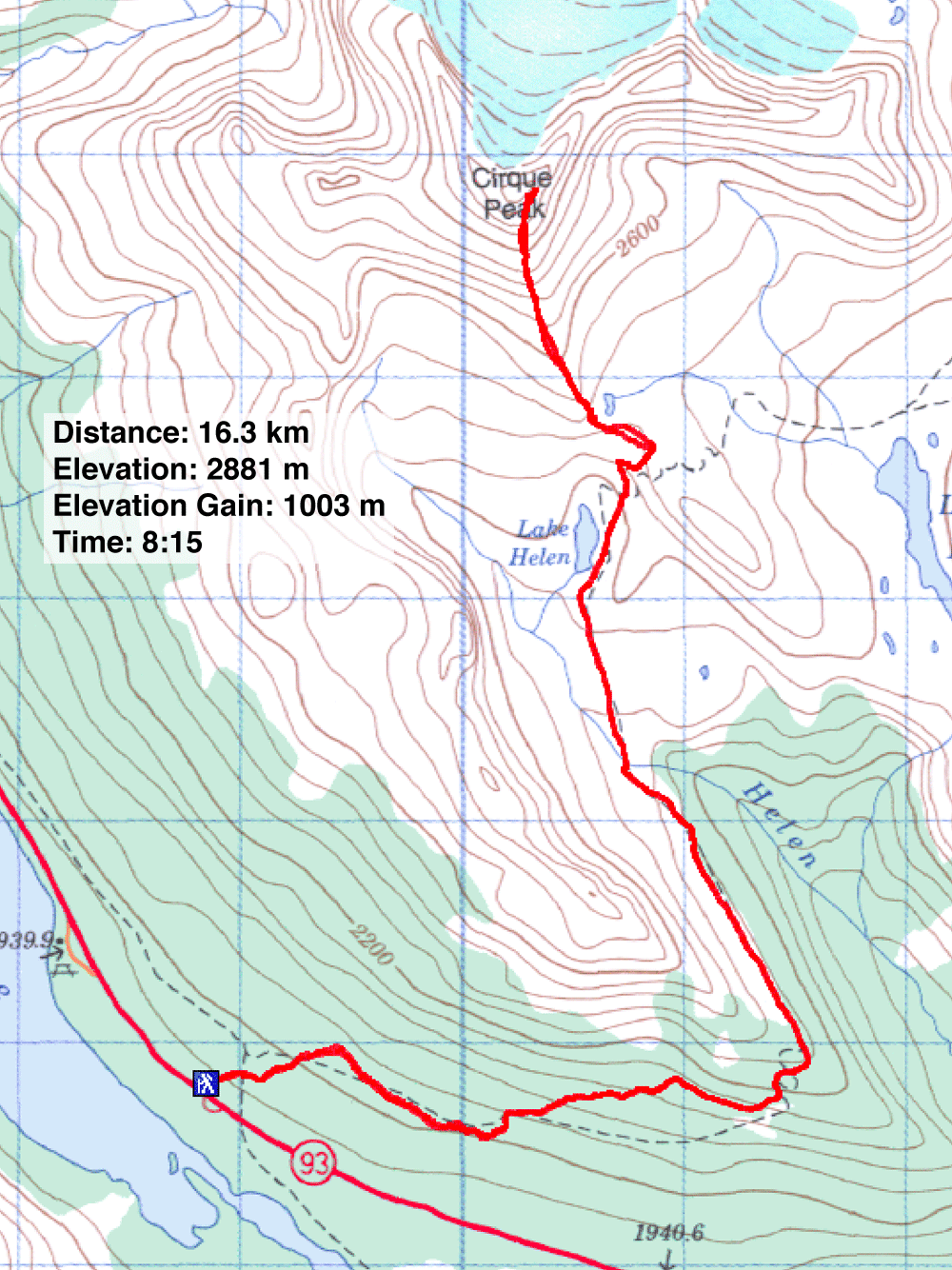 82 N/9 Hector Lake