bobspirko.ca | Home | Canada Trips | US Trips | Hiking | Snowshoeing | MAP | About

Gunnery Mountain Traverse
Kananaskis, Alberta
June 12, 2021
Distance: 8.0 km
Cumulative Elevation Gain: 631 m
My hike up Gunnery Mountain was different this time. Instead of a wintery, out-and-back trip, I did a loop trip in dry conditions. Zora and I climbed the south ridge, went over the summit and came down the east slope. We finished by descending Gunnery Creek trail. Other than having trouble finding paths, it was a fine excursion.
We parked at the side of the highway and started up a trail on the east side of the creek. We kept to the trail, although it might be better to leave it and quickly gain the ridge. The trail ended at the edge of a grassy slope, and we faced a steep climb up to the ridge crest. After that, we followed paths in the trees, although they had a habit of vanishing in meadows. The trails kept left of the ridge top where travel was easy, and we soon arrived on the summit.
After a short stay, we continued to The Notch, the col separating Gunnery Mountain from Holy Cross Mountain. We didn't find a trail, but we had no trouble making our way through a thin forest to The Notch. There, we found a trail and started down it. But we took a wrong turn below The Notch. We realized our error and dropped a bit to catch the correct trail running parallel 40 m below it. This trail was better worn and flagged. We followed it to the valley and then bushwhacked 100 m to Gunnery Creek trail. When we reached the highway, we faced a 1.5 km walk back to the car.
I realize now why Gillean advises "NOT" to do the loop clockwise; the route is hard to follow. We missed the trail on the east slope as well as the trail going down to The Notch. Maybe someday I'll return to do it right and climb Gunnery Mountain counterclockwise!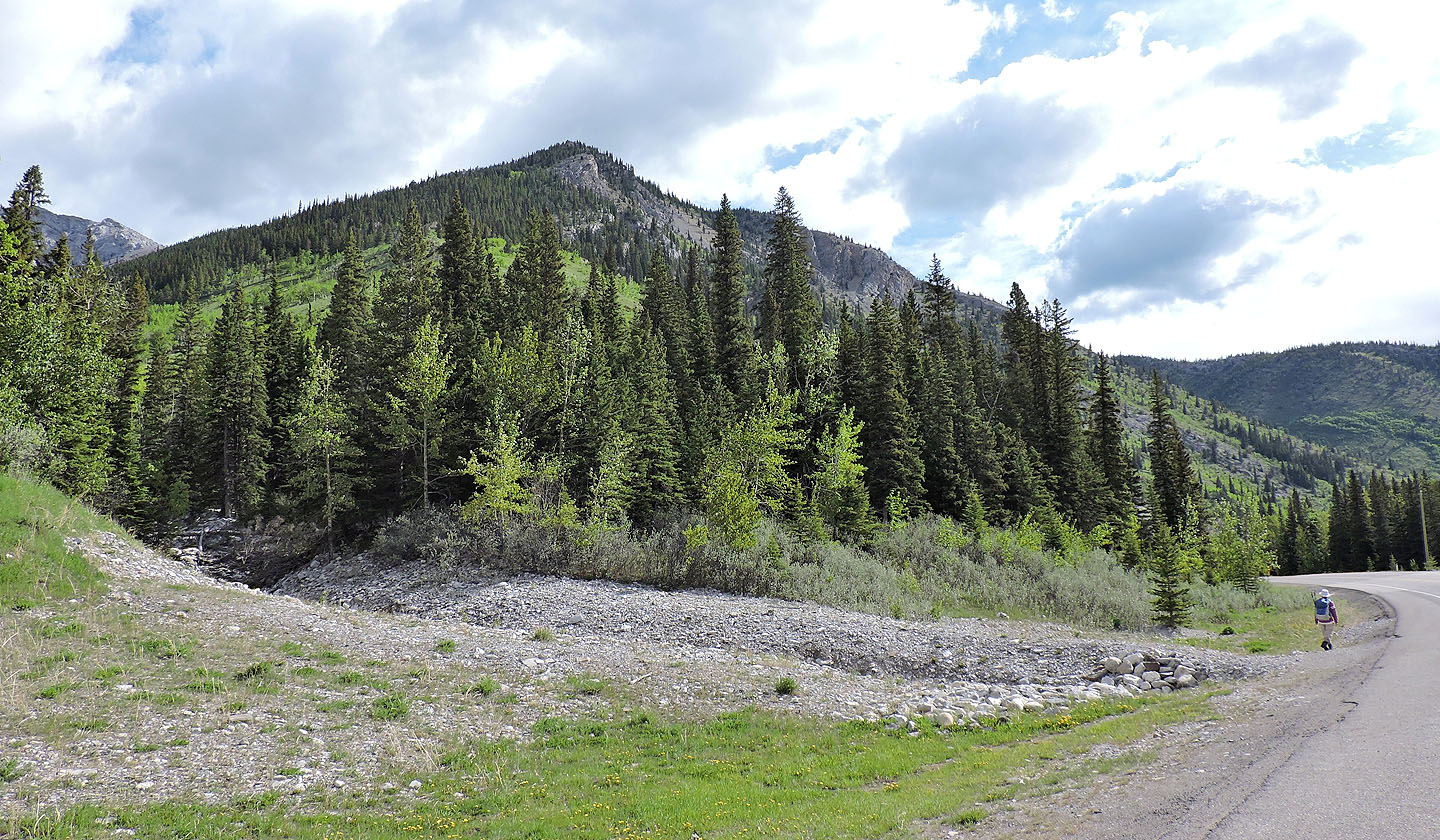 The trail begins in the trees on the east side of Gunnery Creek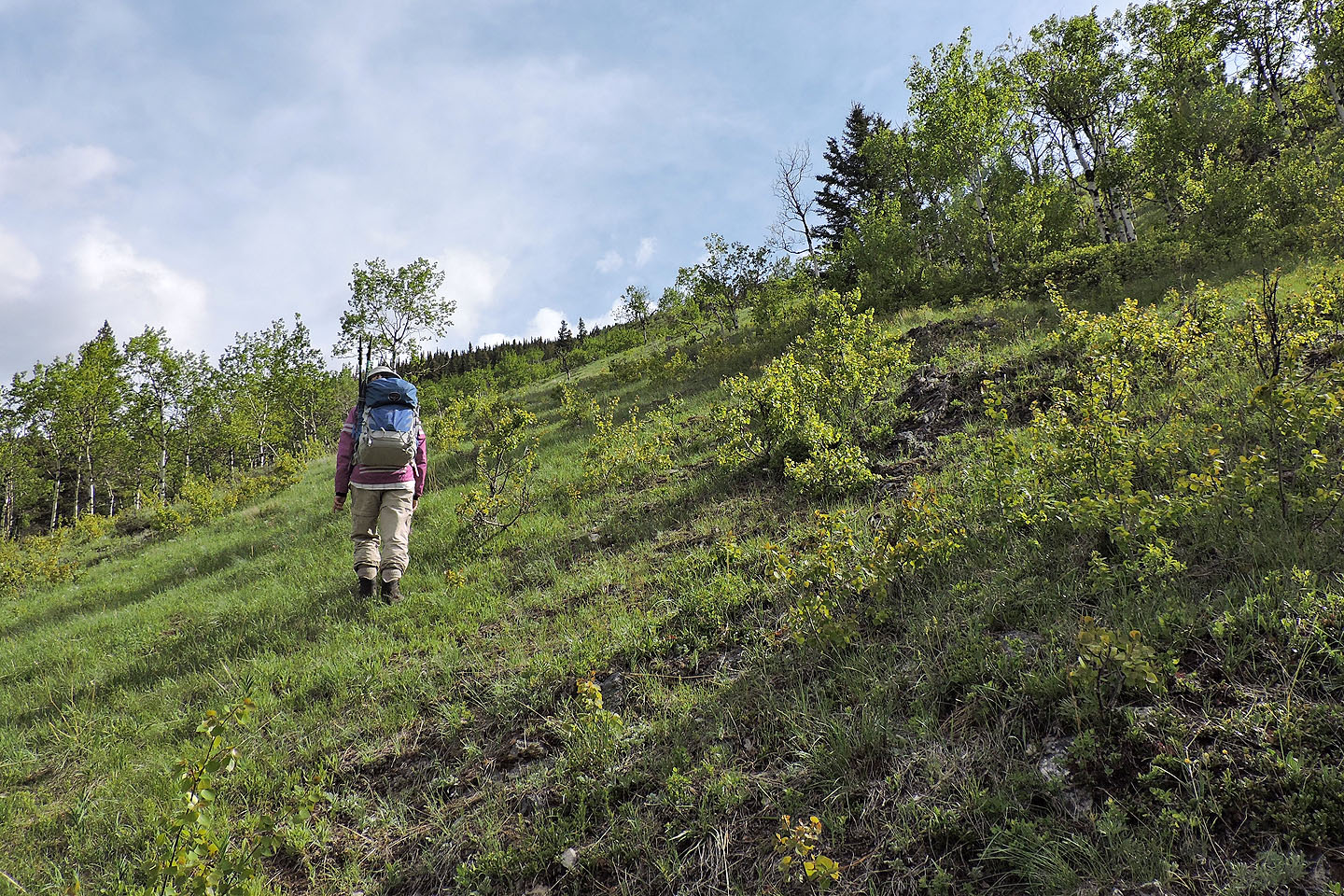 When the trail ended we climbed an open slope to the ridge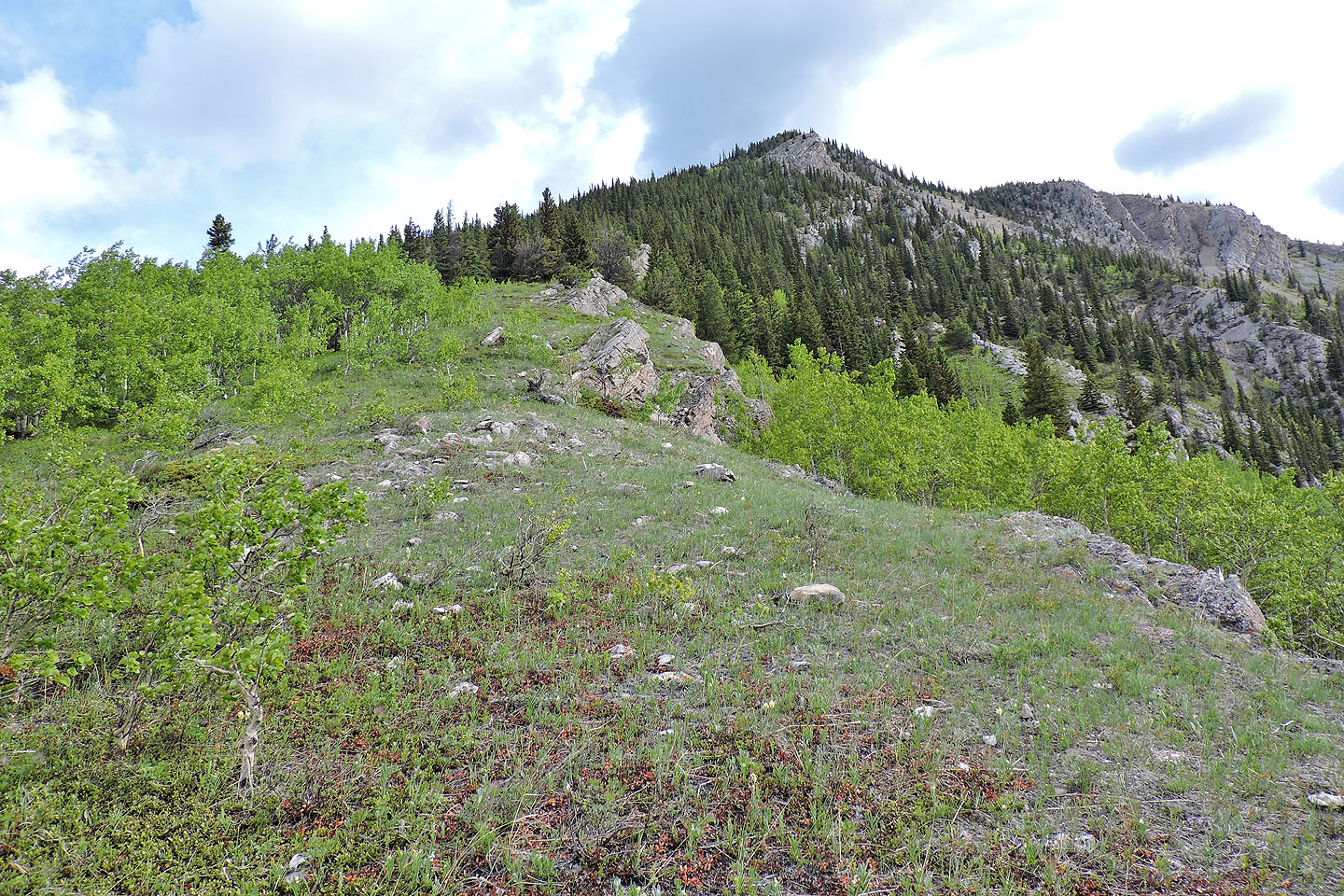 Looking along the ridge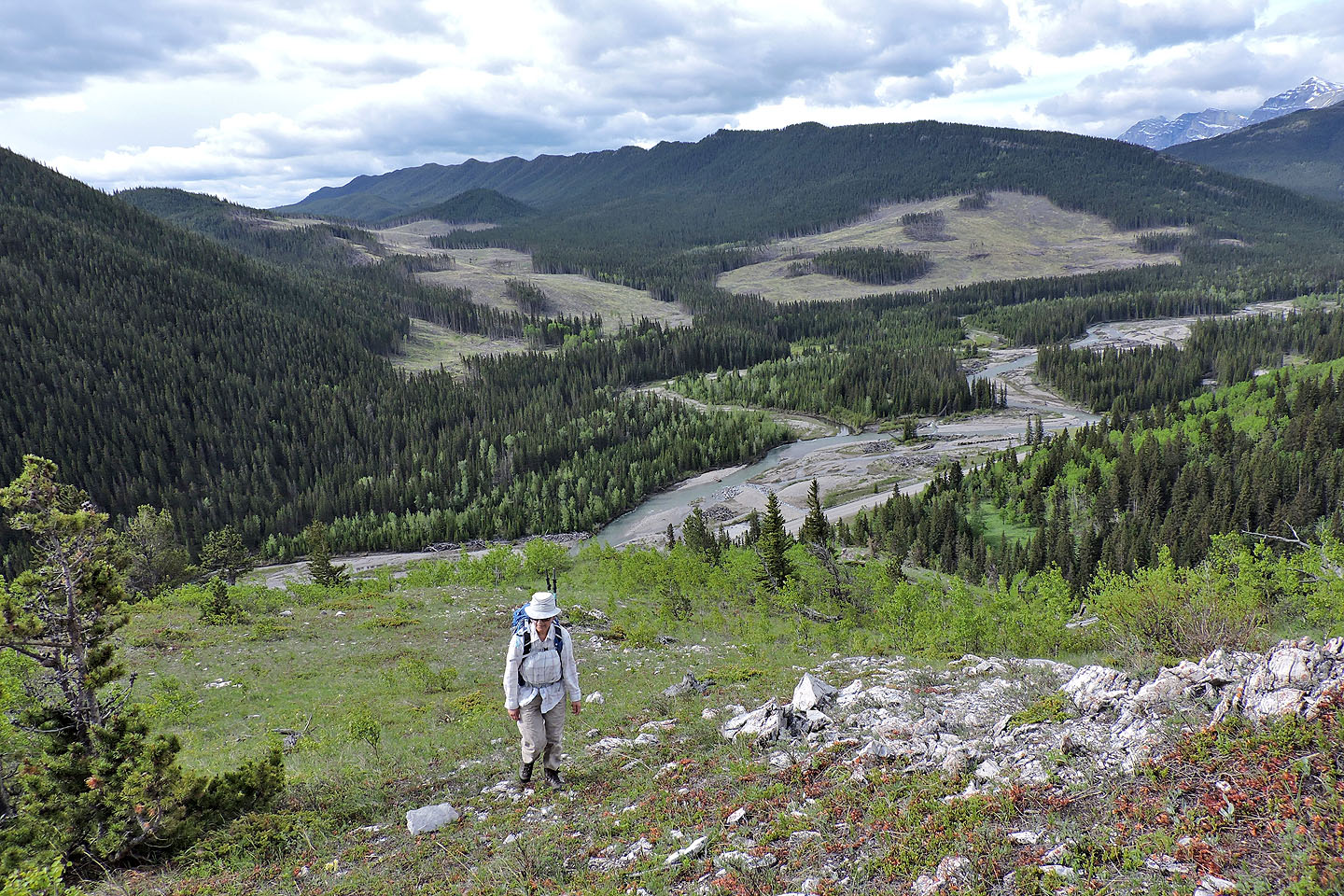 Behind us, Hell's Ridge stretches across the skyline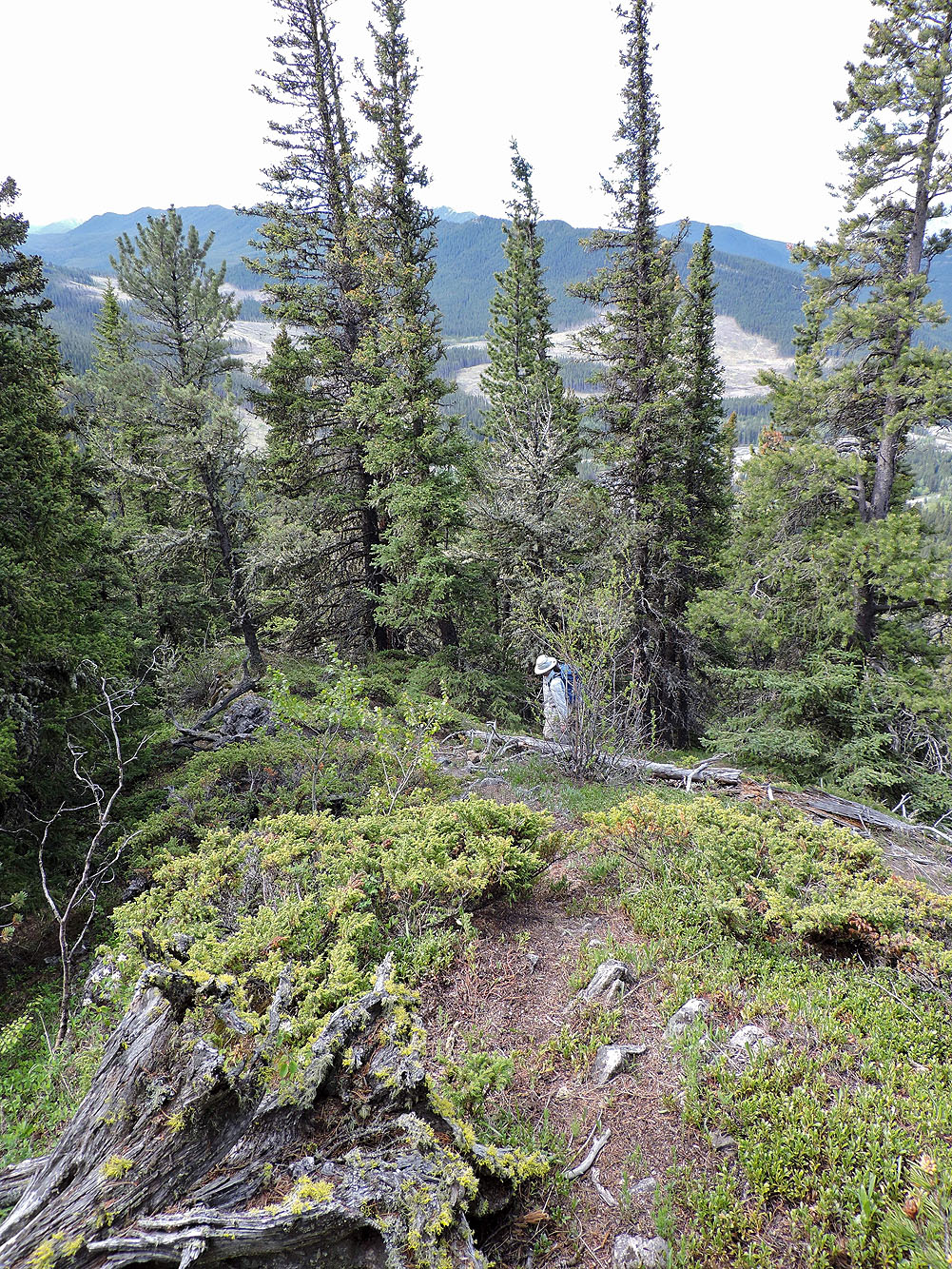 For much of the hike, the trail remained in trees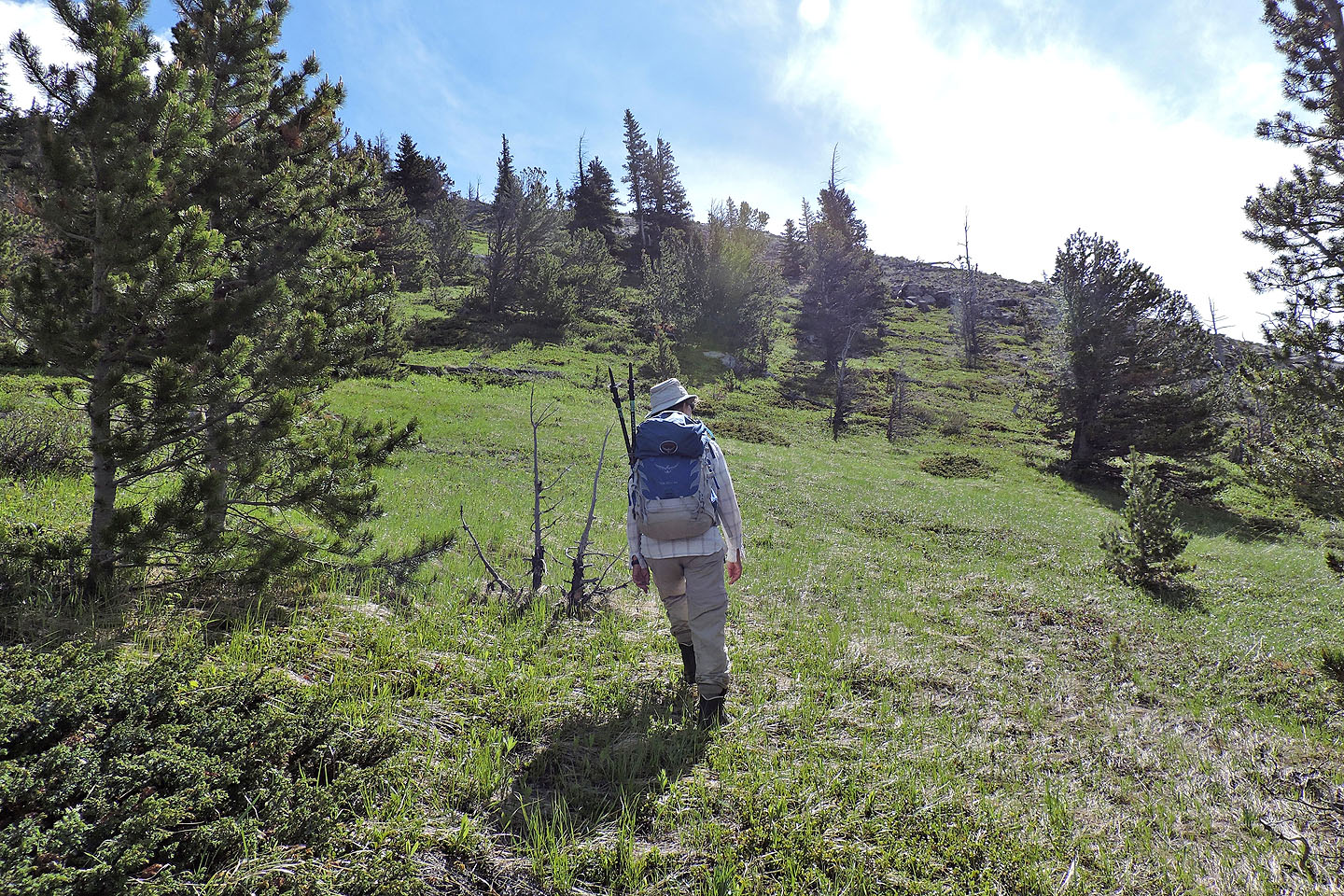 Before we reached the rocky crest ahead, we came across a trail in the trees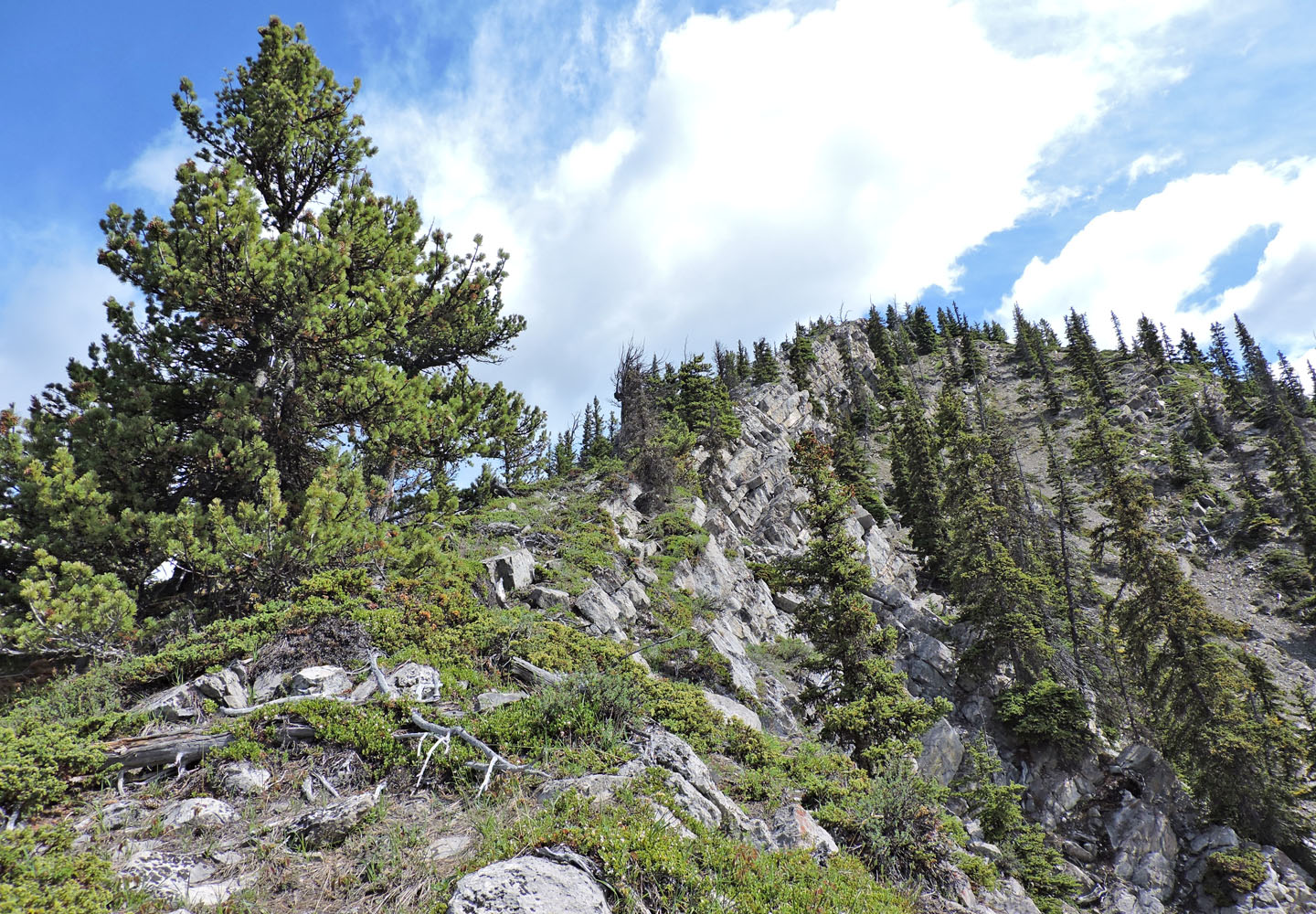 I stepped off the trail to look up the ridge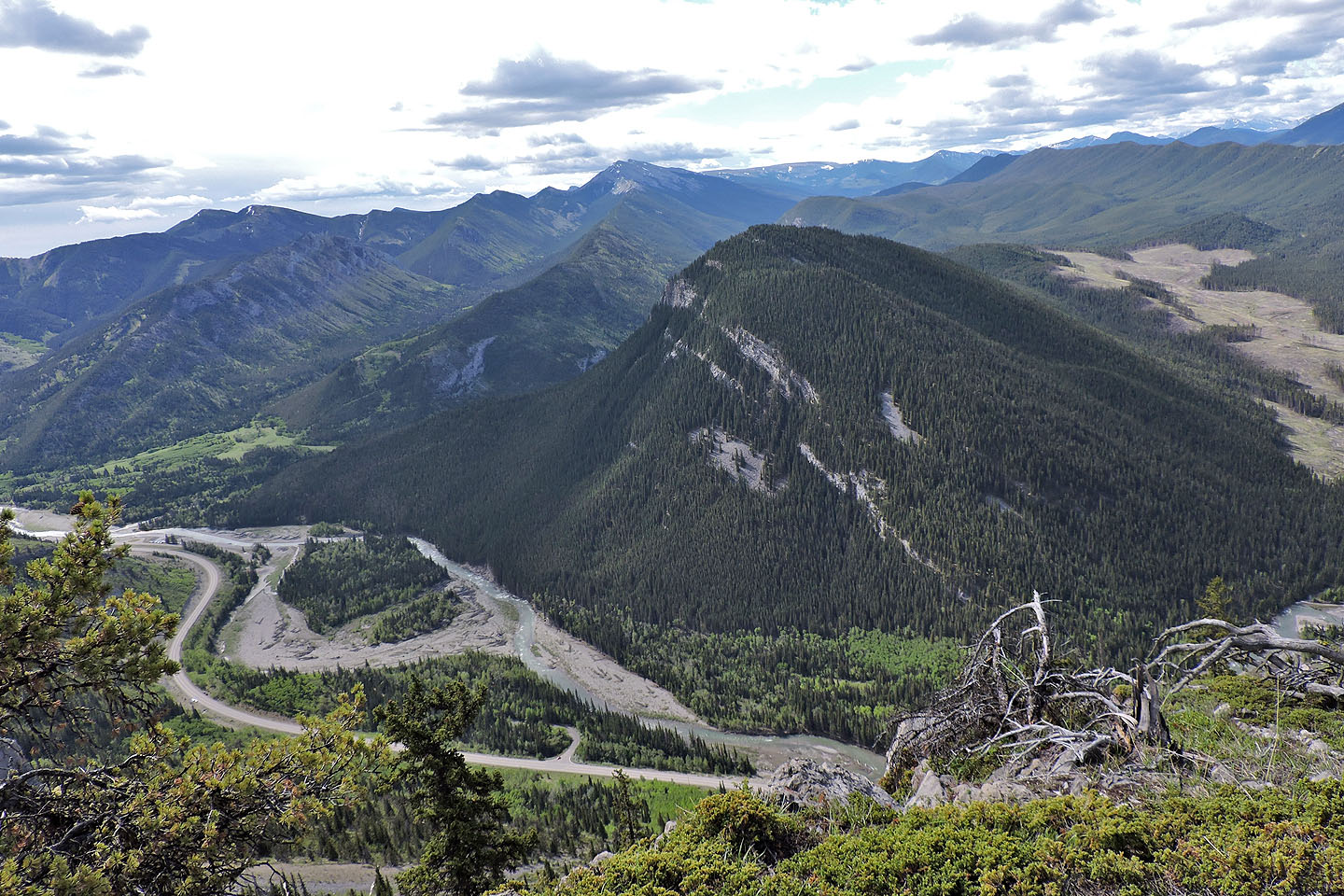 Behind us is Mount Mann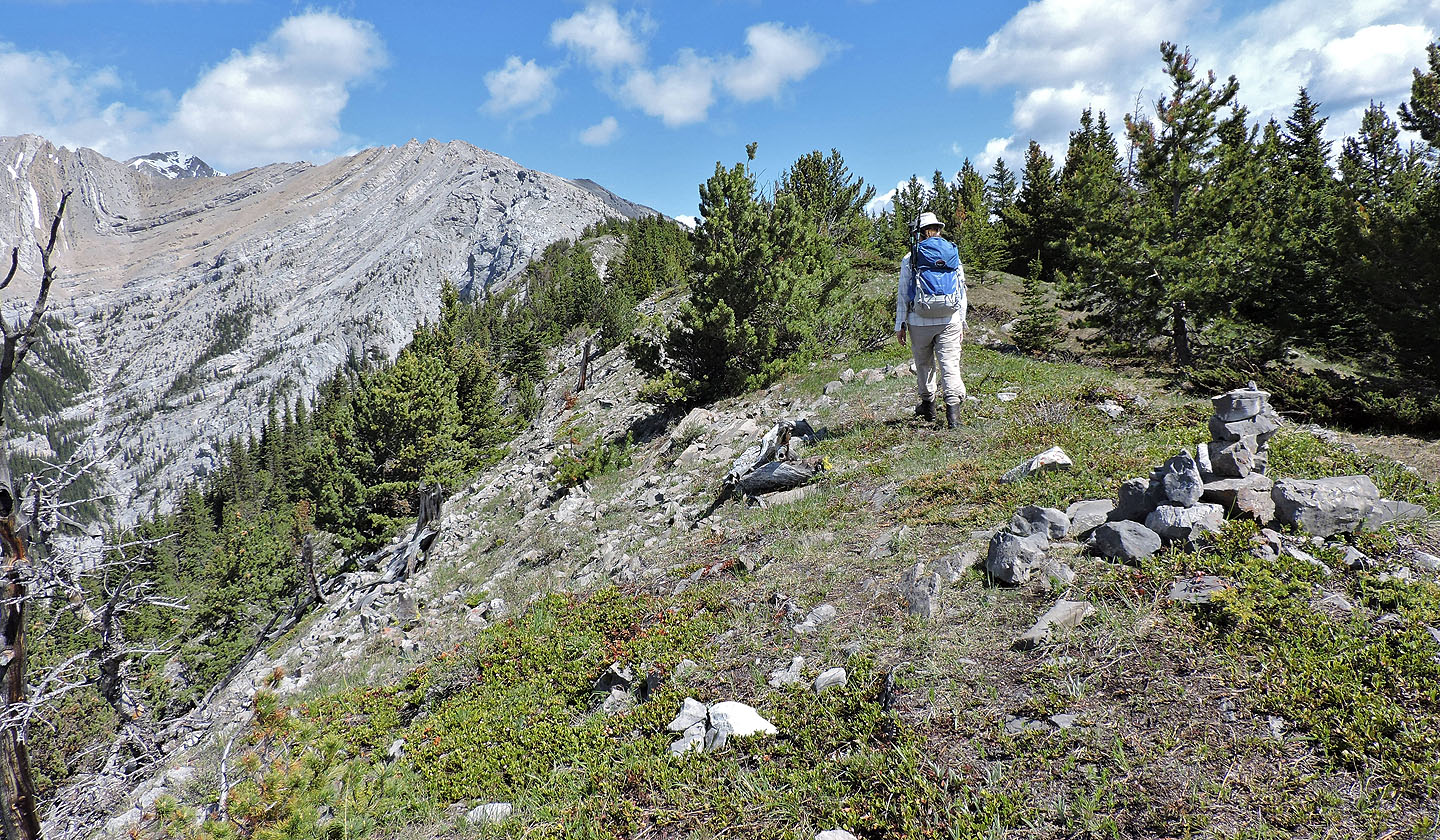 We finally saw the summit 300 m away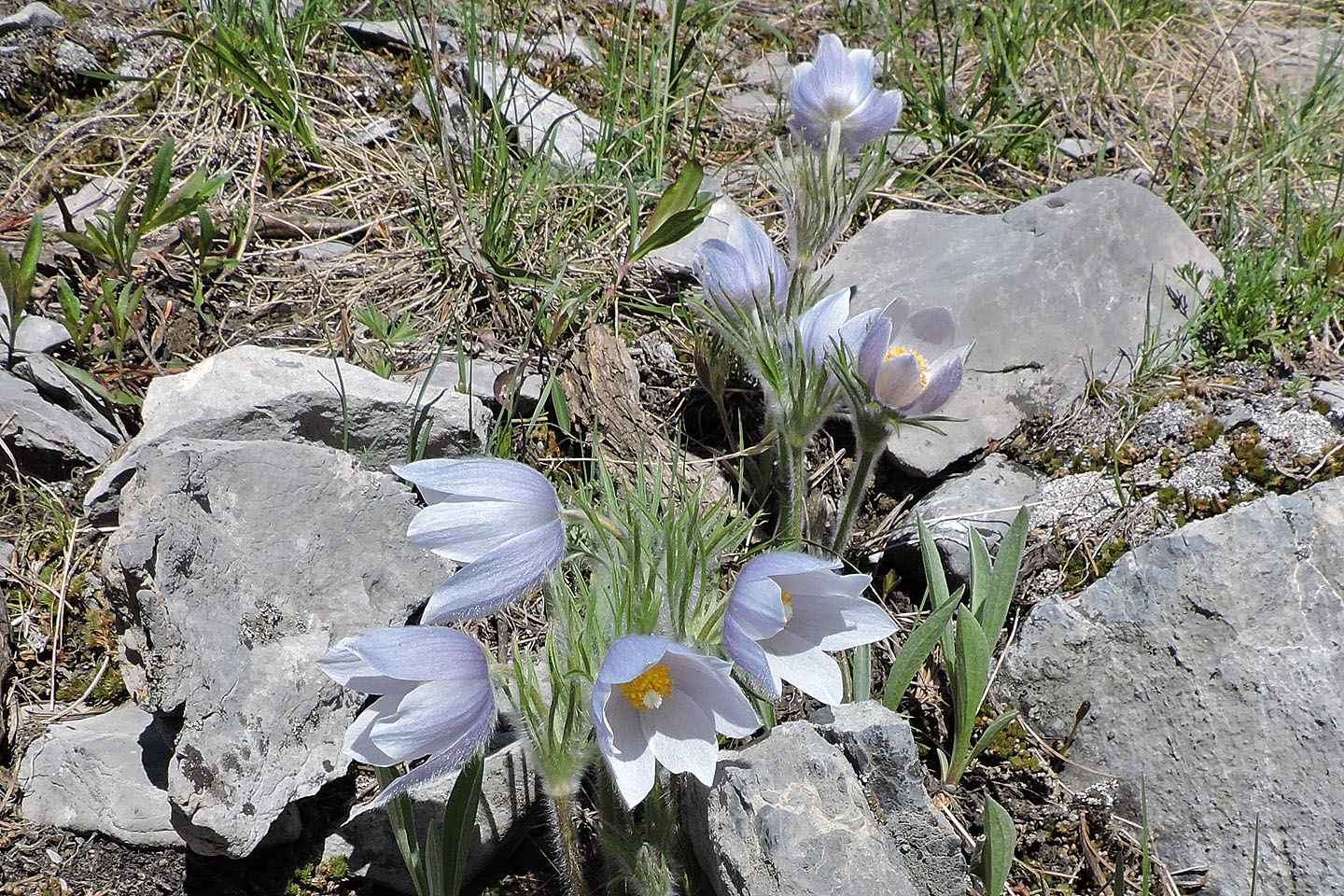 Prairie crocuses flourished on the summit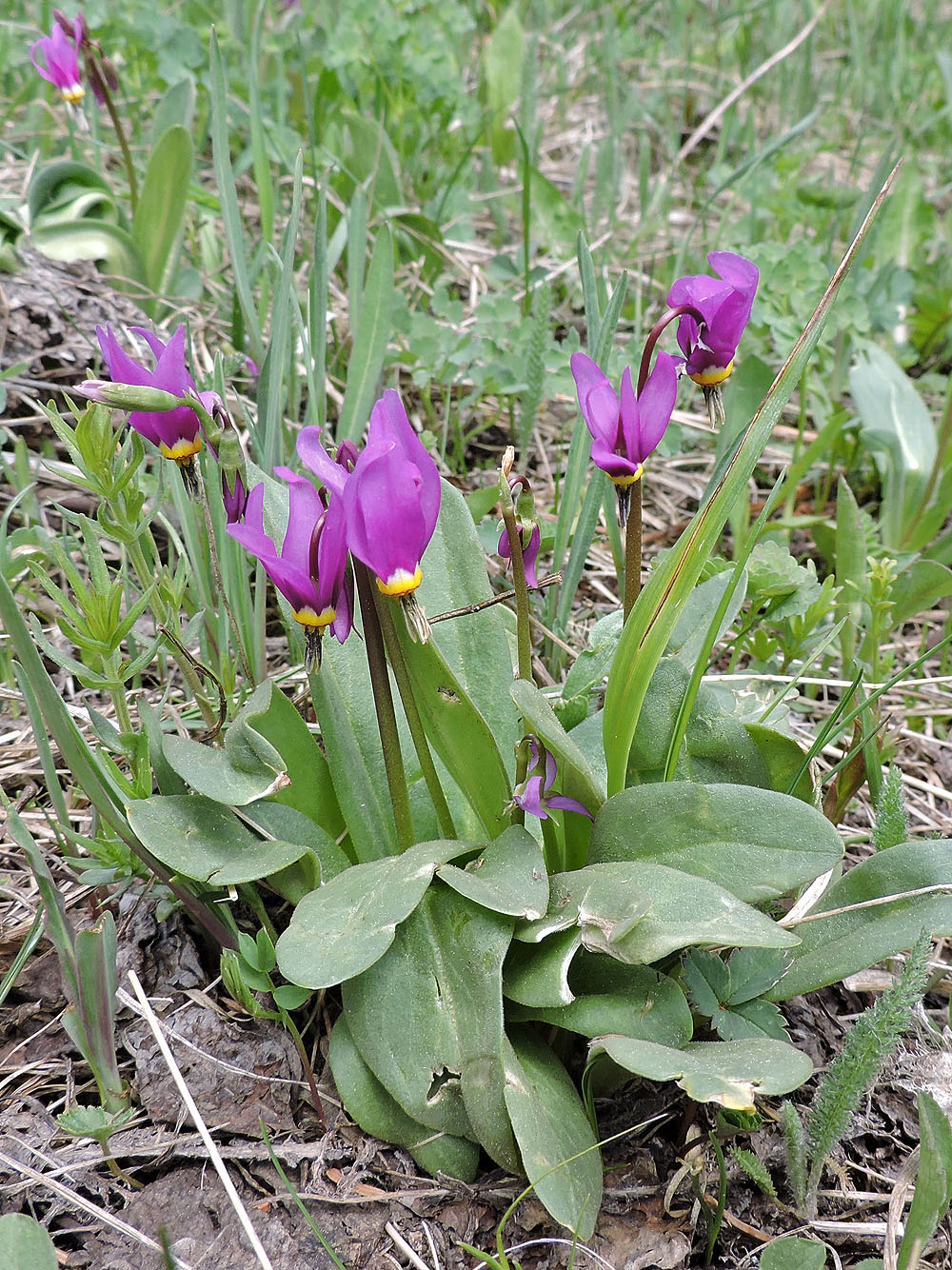 There were also shooting stars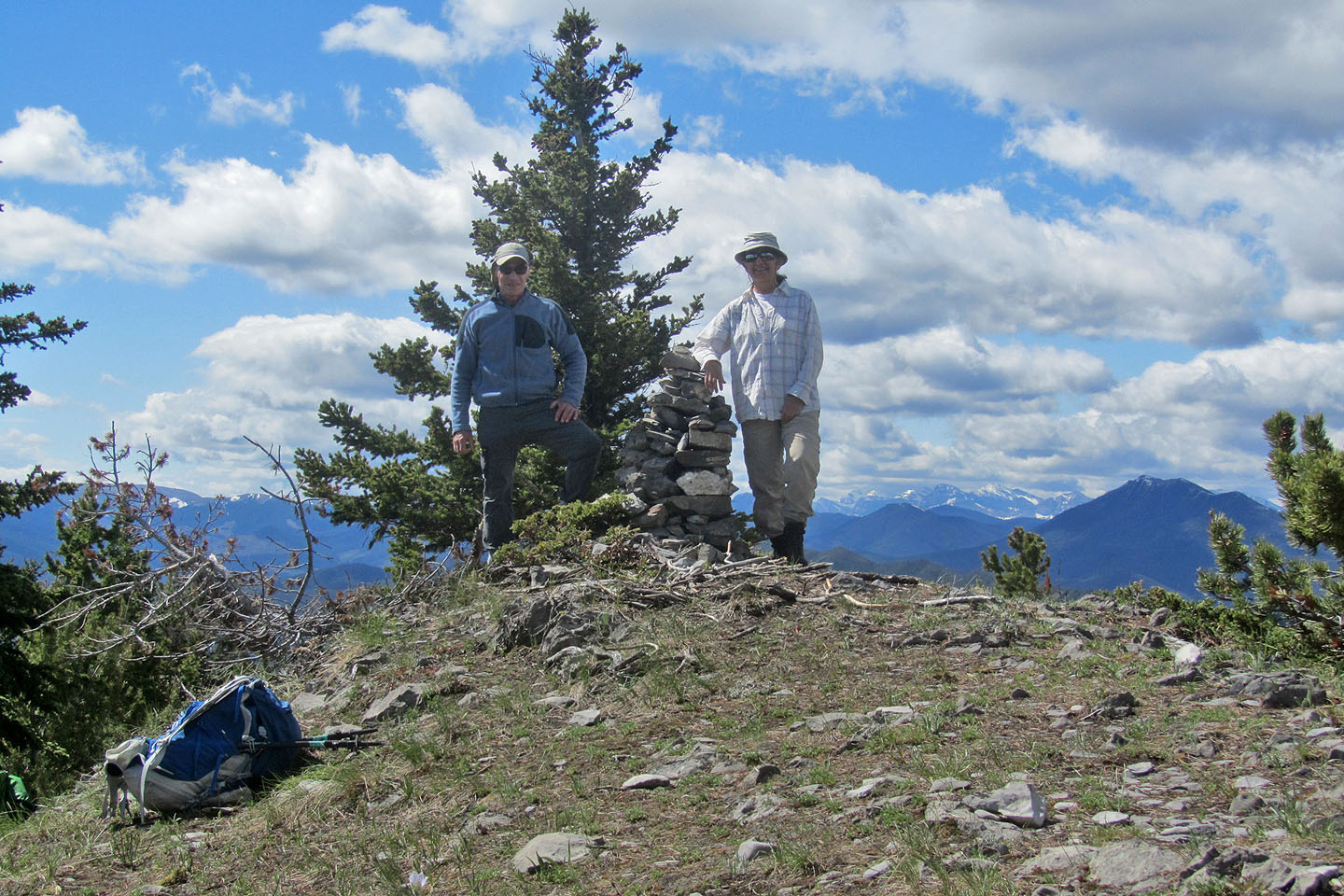 Standing by the summit cairn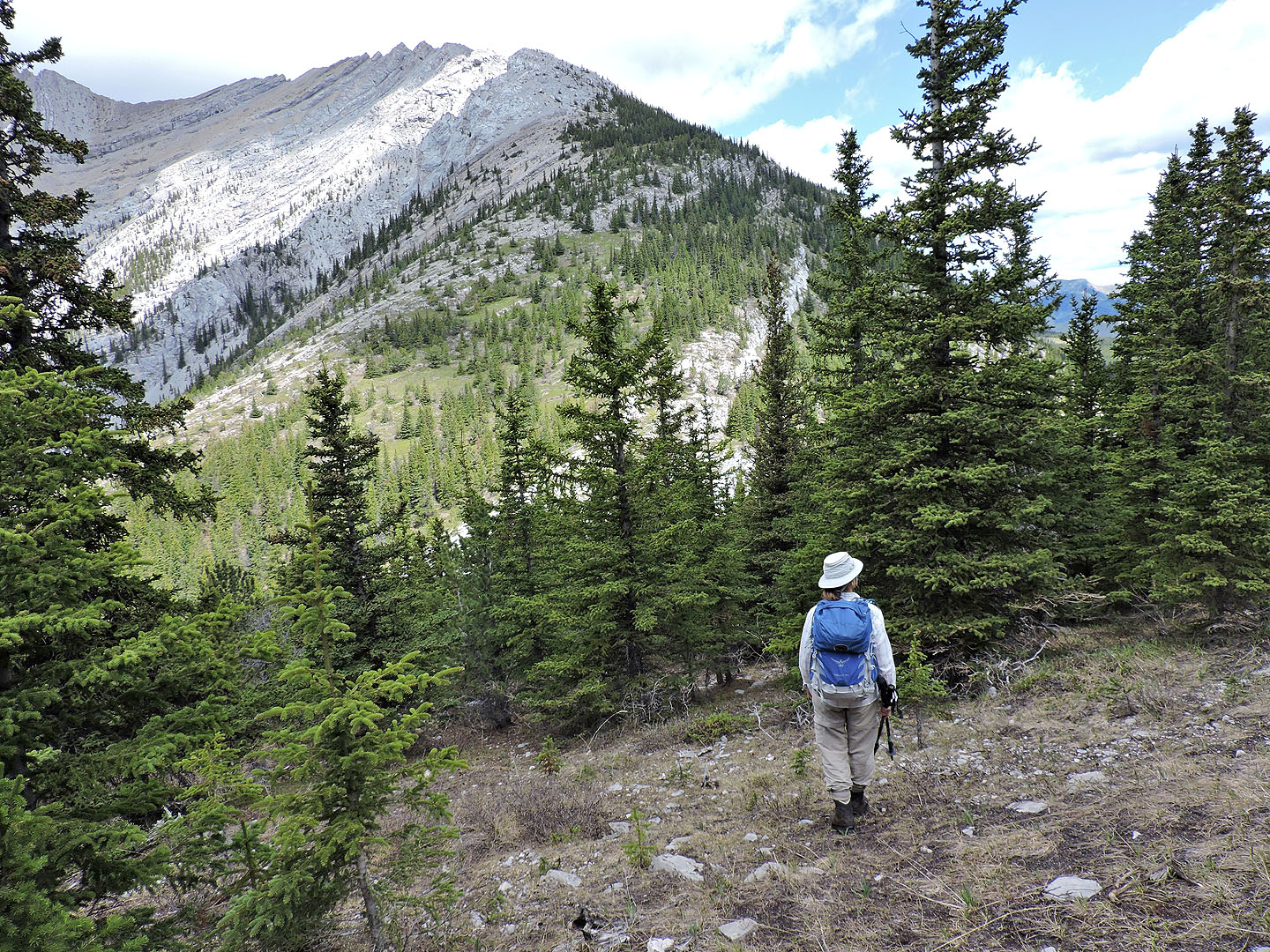 From the summit, we headed to The Notch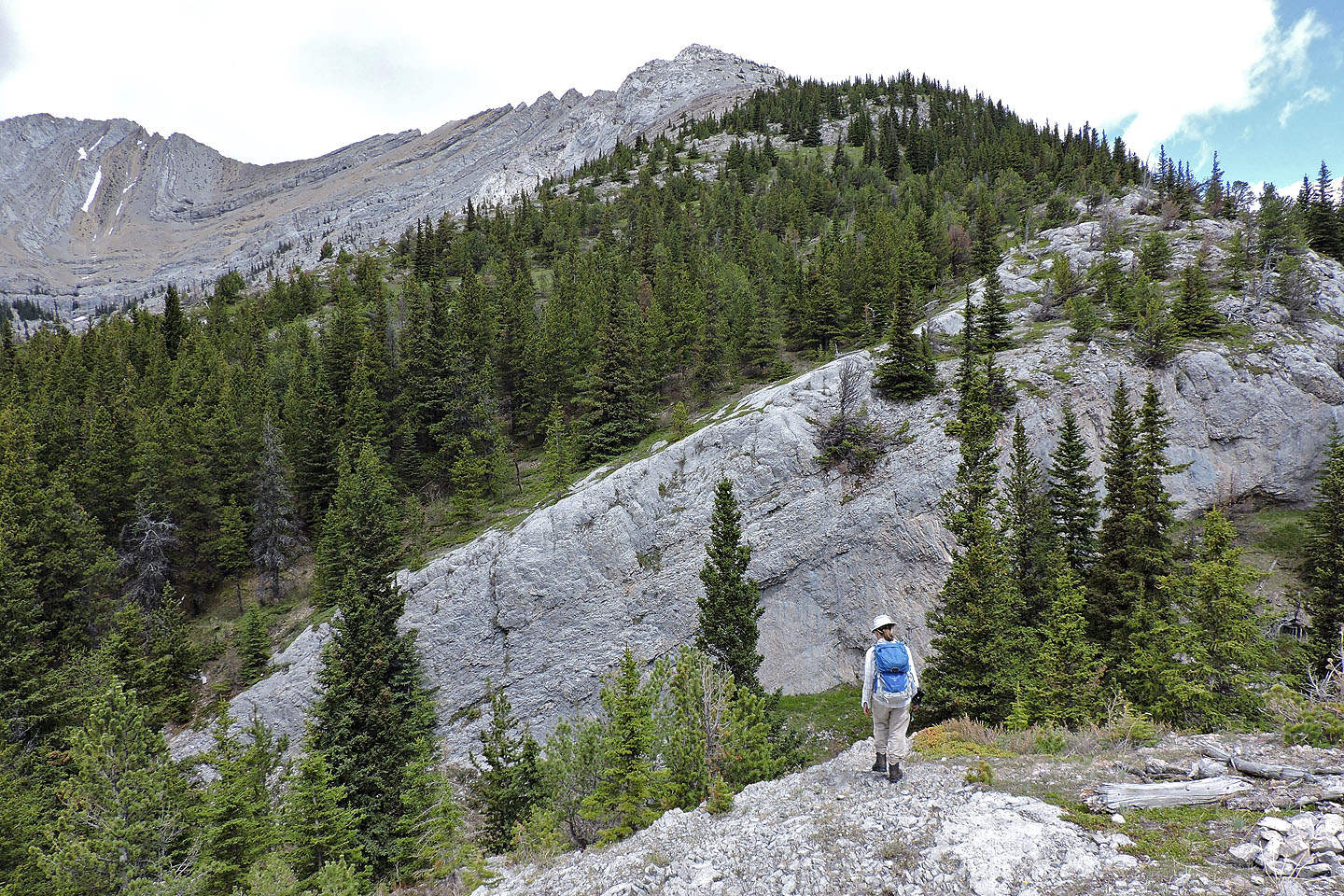 Coming to The Notch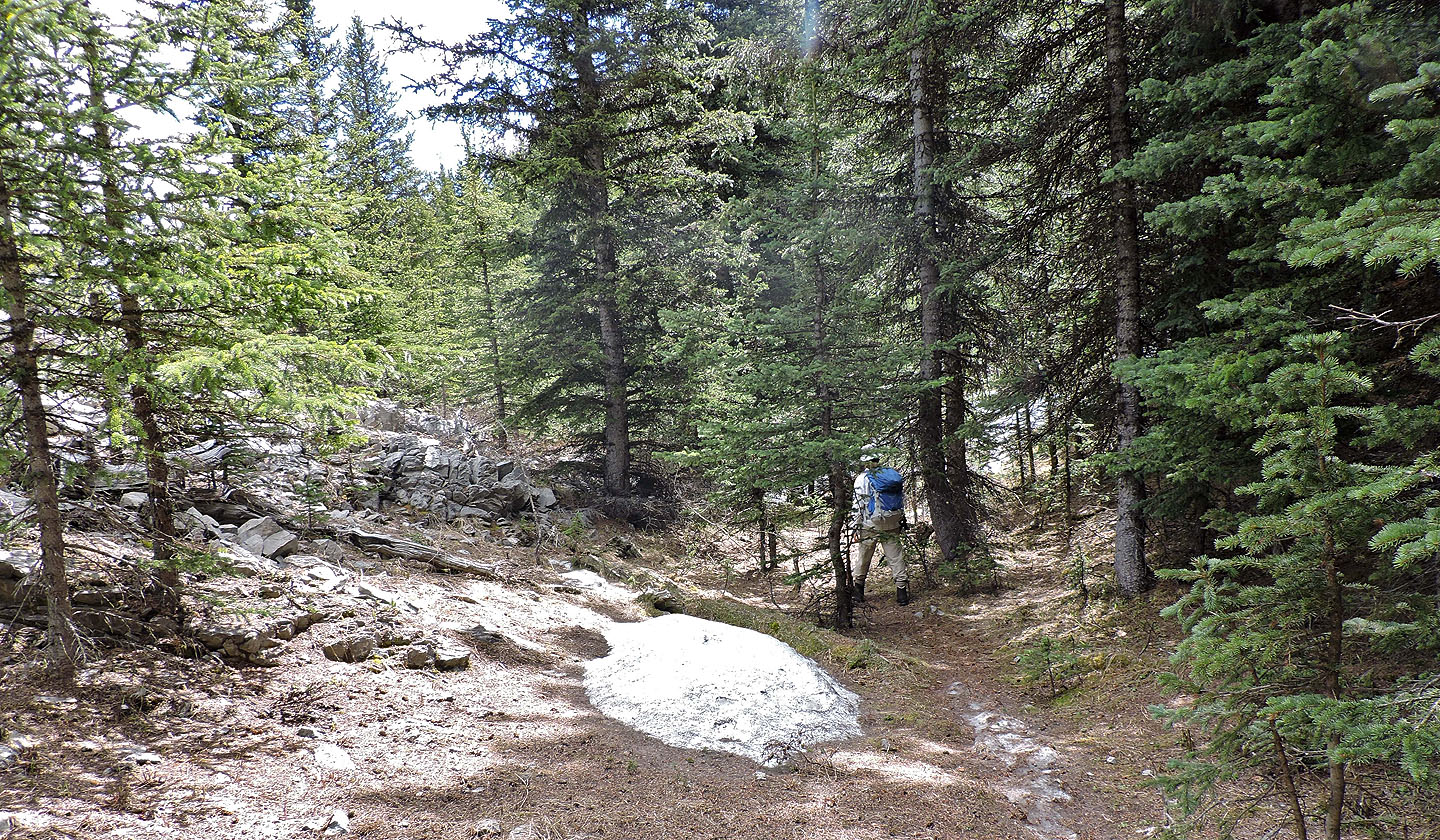 We passed lingering snow in The Notch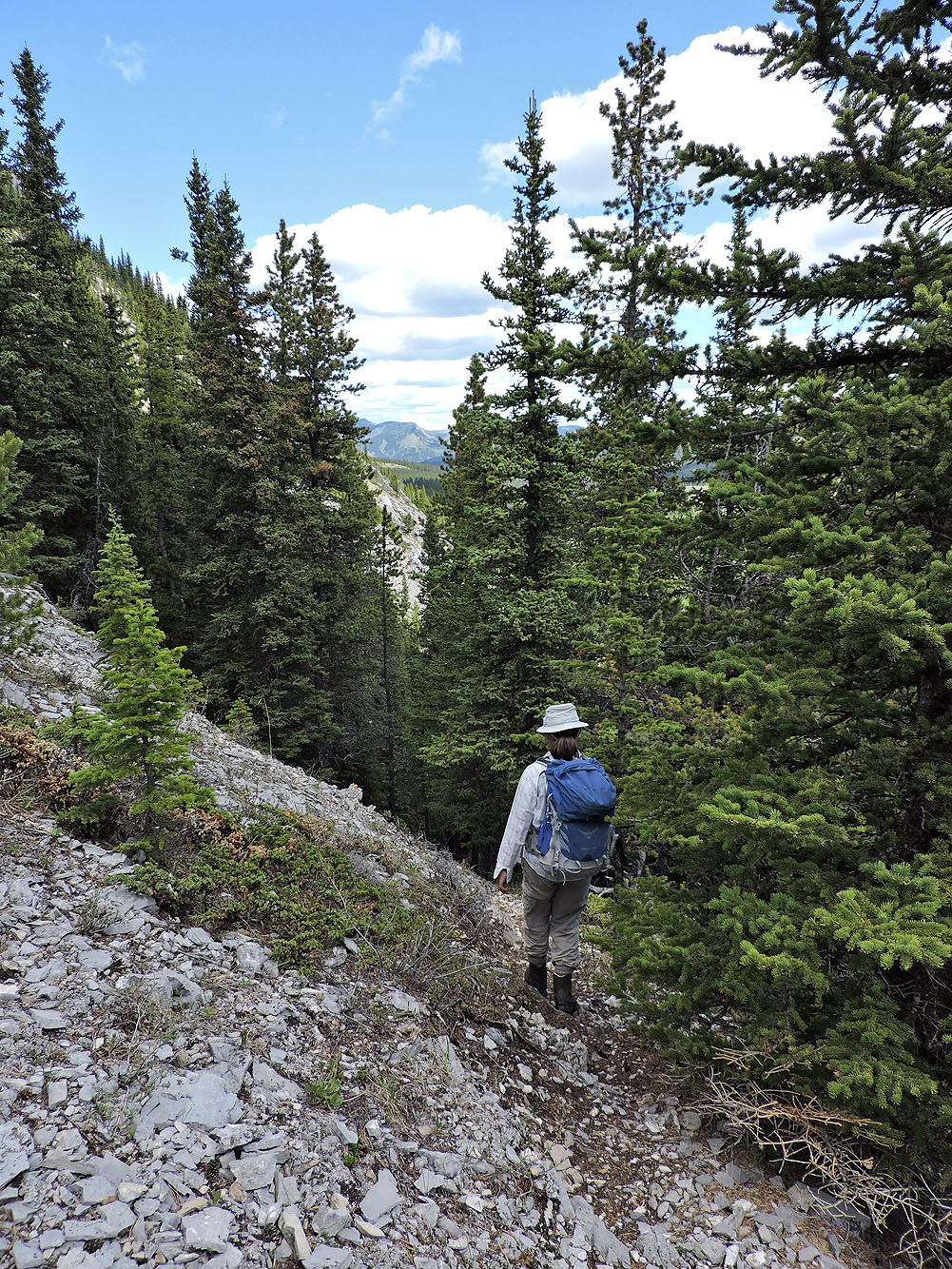 The trail turned left and began dropping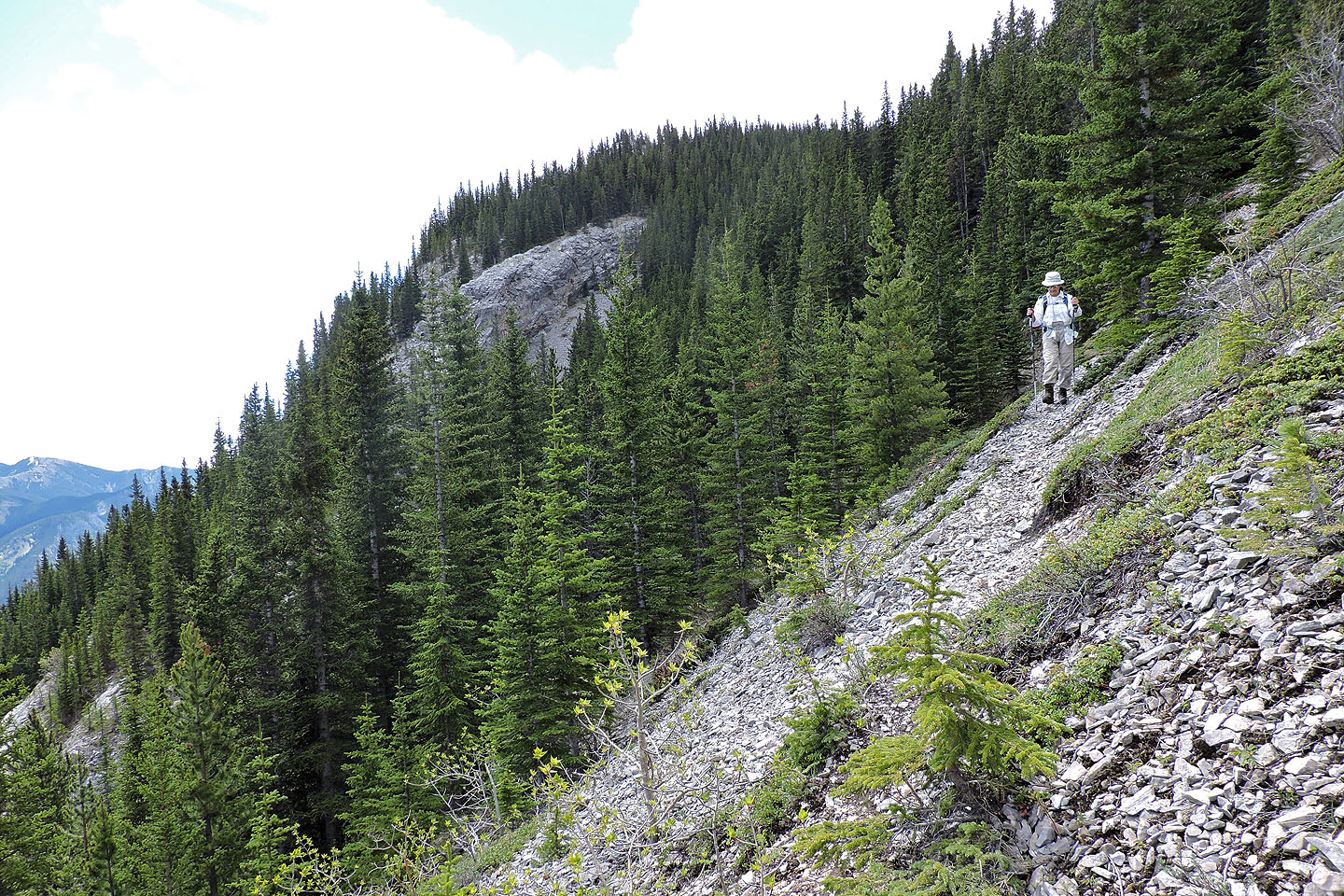 We followed a trail etched into the slope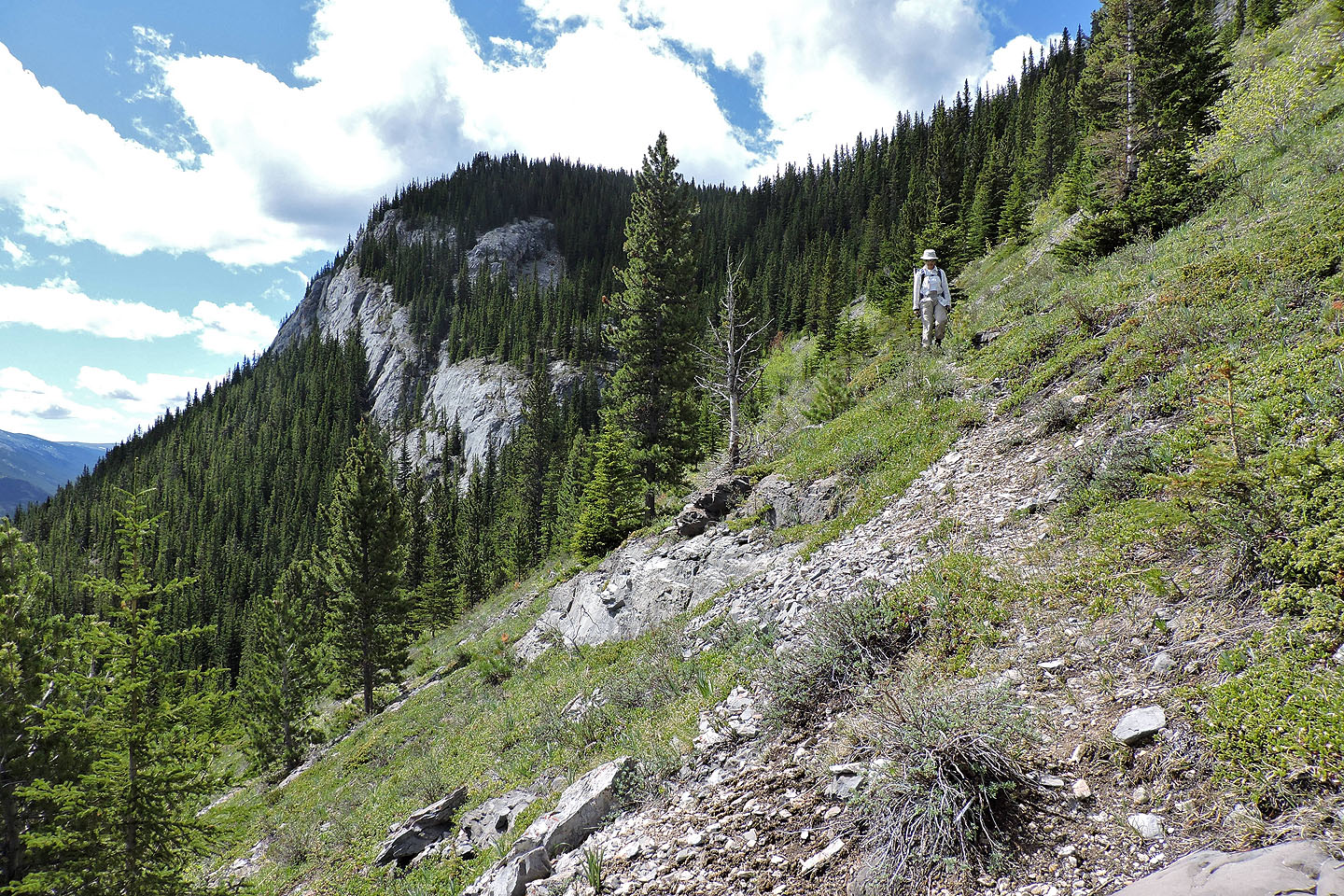 Continuing down the trail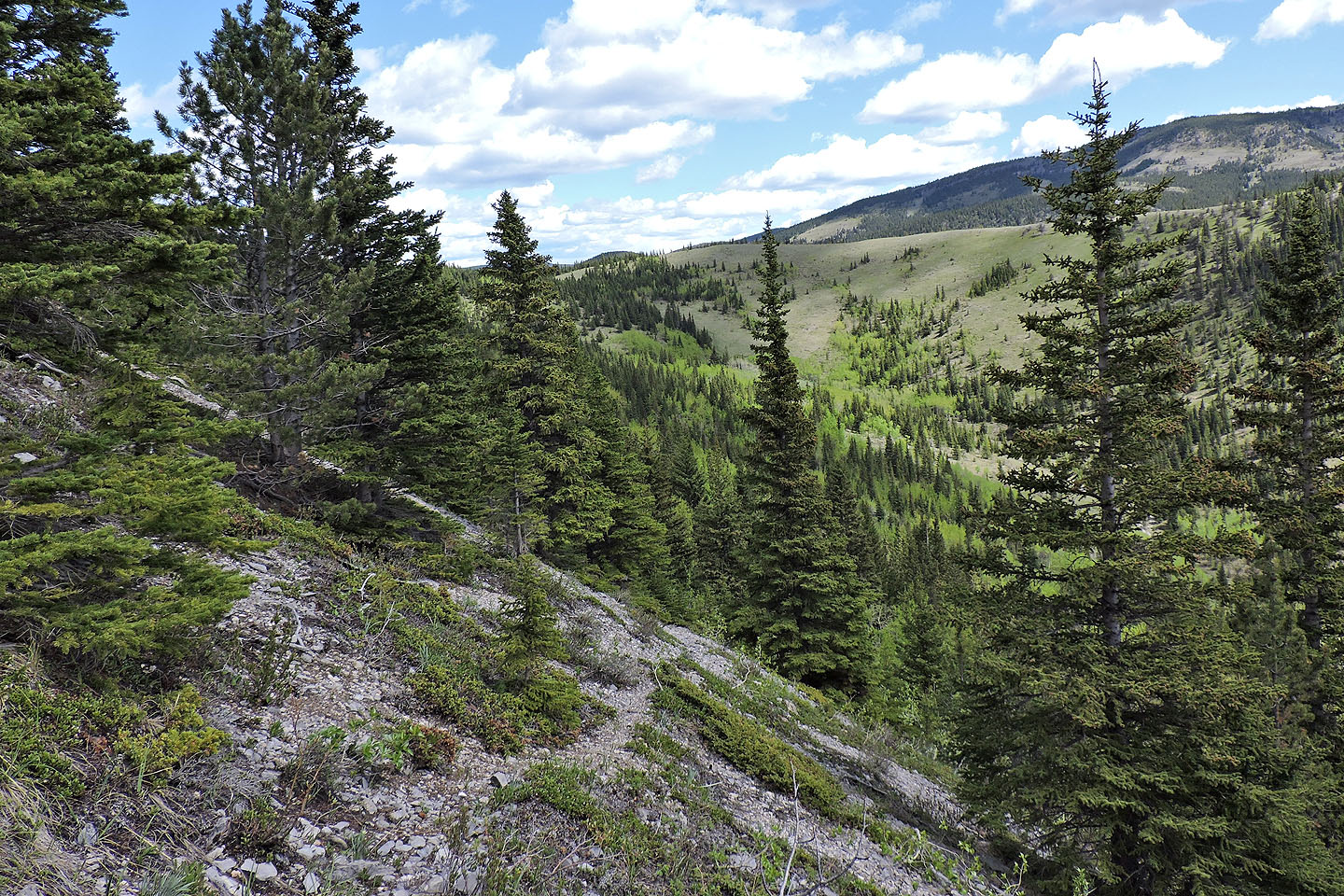 The trail became sketchy here, so we dropped down a short distance to find the correct trail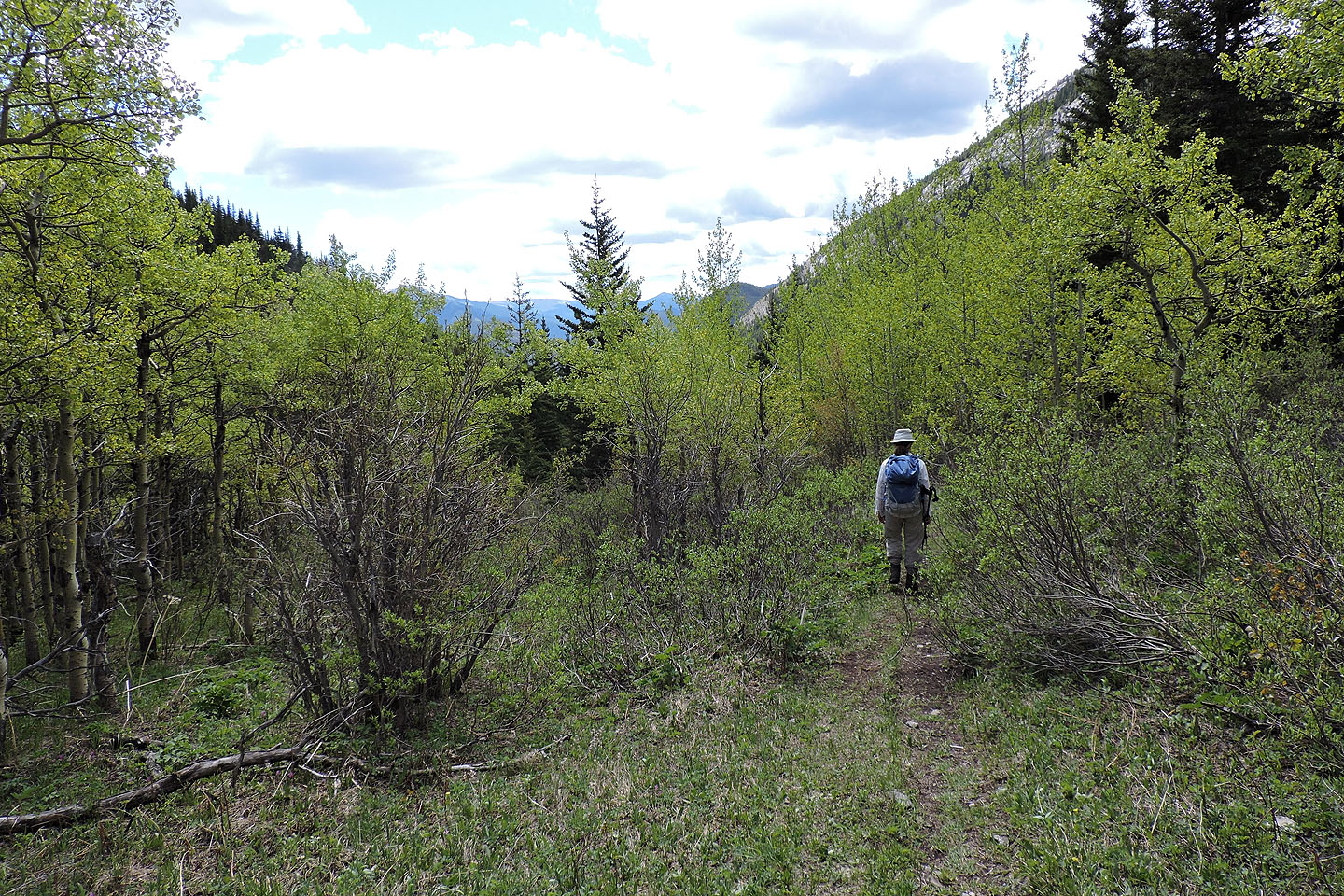 We followed Gunnery Creek trail to the highway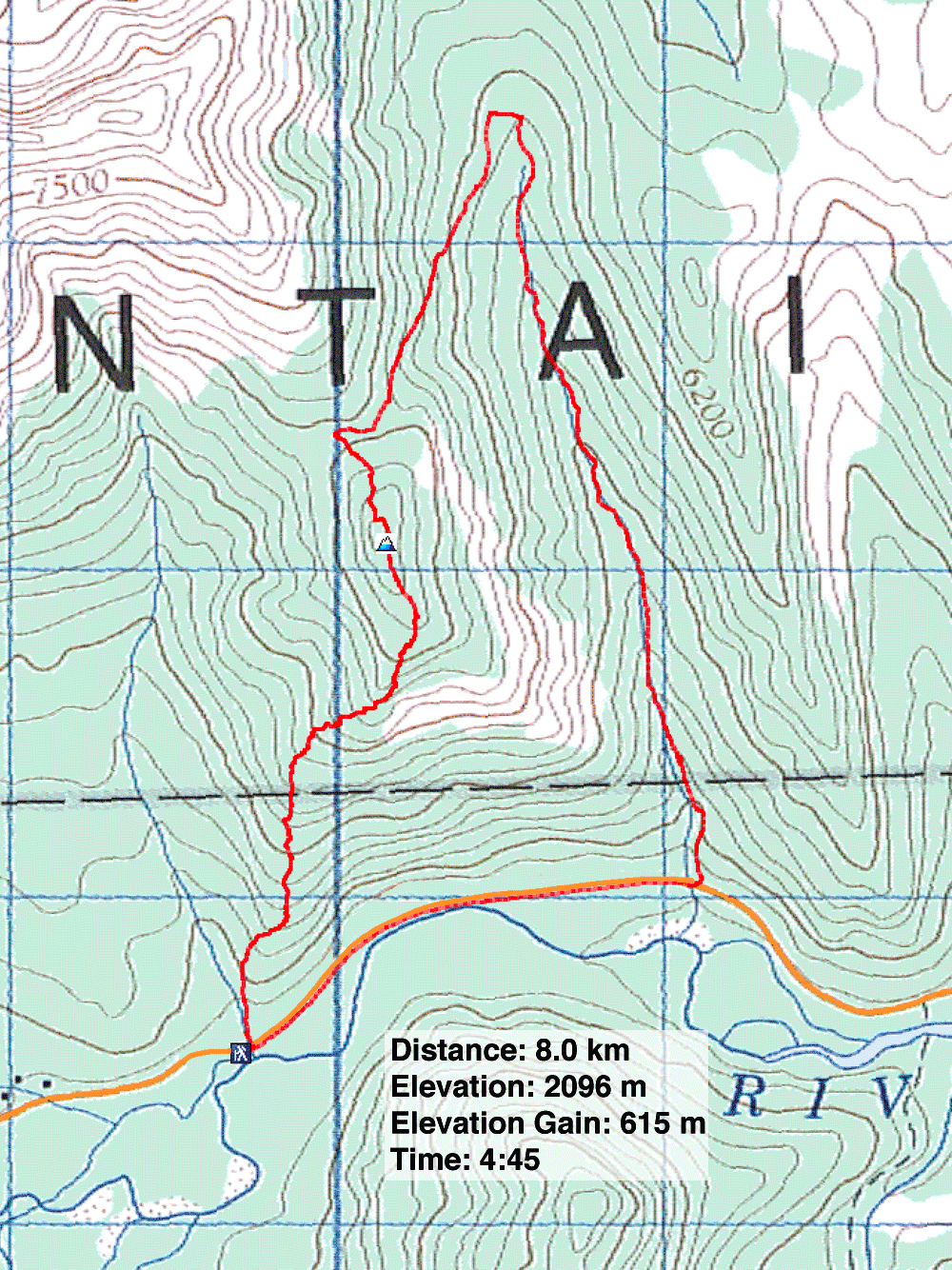 82 J/7 Mount Head