bobspirko.ca | Home | Canada Trips | US Trips | Hiking | Snowshoeing | MAP | ABOUT


A weather instrument prevented a full panorama
Lakeview Ridge, East Ridge
Waterton, Alberta
September 30, 2006
With Dinah recovering from the flu an extended trip was out of the question on this day. We were going to climb Bellevue Hill in Waterton Park but with four bears wandering around the trailhead, it didn't seem like a good idea. Looking around we decided to hike up Lakeview Ridge.
Lakeview Ridge is a horseshoe-shaped ridge north of Bellevue Hill; we ended up hiking the east arm of the ridge. The trailhead lies adjacent to the bison paddock and after parking at the end of the road, we set off up the cutline. At some point we knew we would have to leave the cutline and head towards the ridge. I was expecting to bushwhack but where the cutline crosses Galwey Brook, we discovered a trail that took us to the ridge.
It was a beautiful day. The sky was clear and everywhere were the vibrant colours of autumn. We complained only high on the ridge where strong winds threatened to blow us off.
After reaching the first high point we continued along the ridge and around the bend to reach another high point. Beyond that was another high point, probably the highest point on Lakeview Ridge, but reaching it entailed losing 200 m. Unfortunately Dinah was beginning to tire, so we decided to abandon the ridge after reaching the second high point and turned back.
We hiked down a semi-open side ridge to the valley. As we descended we saw a moose in the valley but it disappeared by the time we reached the valley bottom. We followed trails that skirted around the end of the ridge until we rejoined the trail we came in on.
Although our ridge walk was not an impressive effort, it allowed us to take in the autumn scenery of Waterton. (In 2011 I returned to climb the West Ridge.)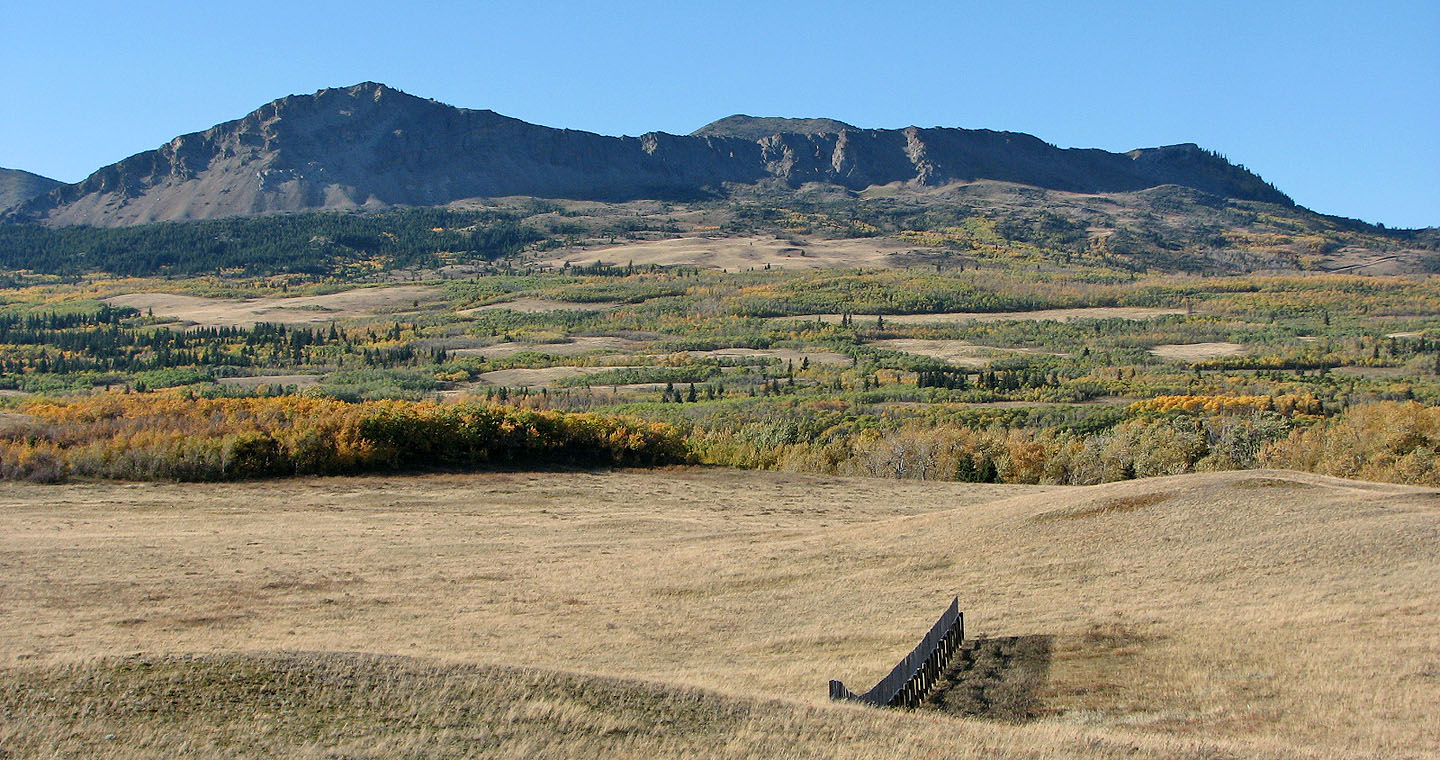 We ascended the high points (left and centre) of Lakeview Ridge as seen from the highway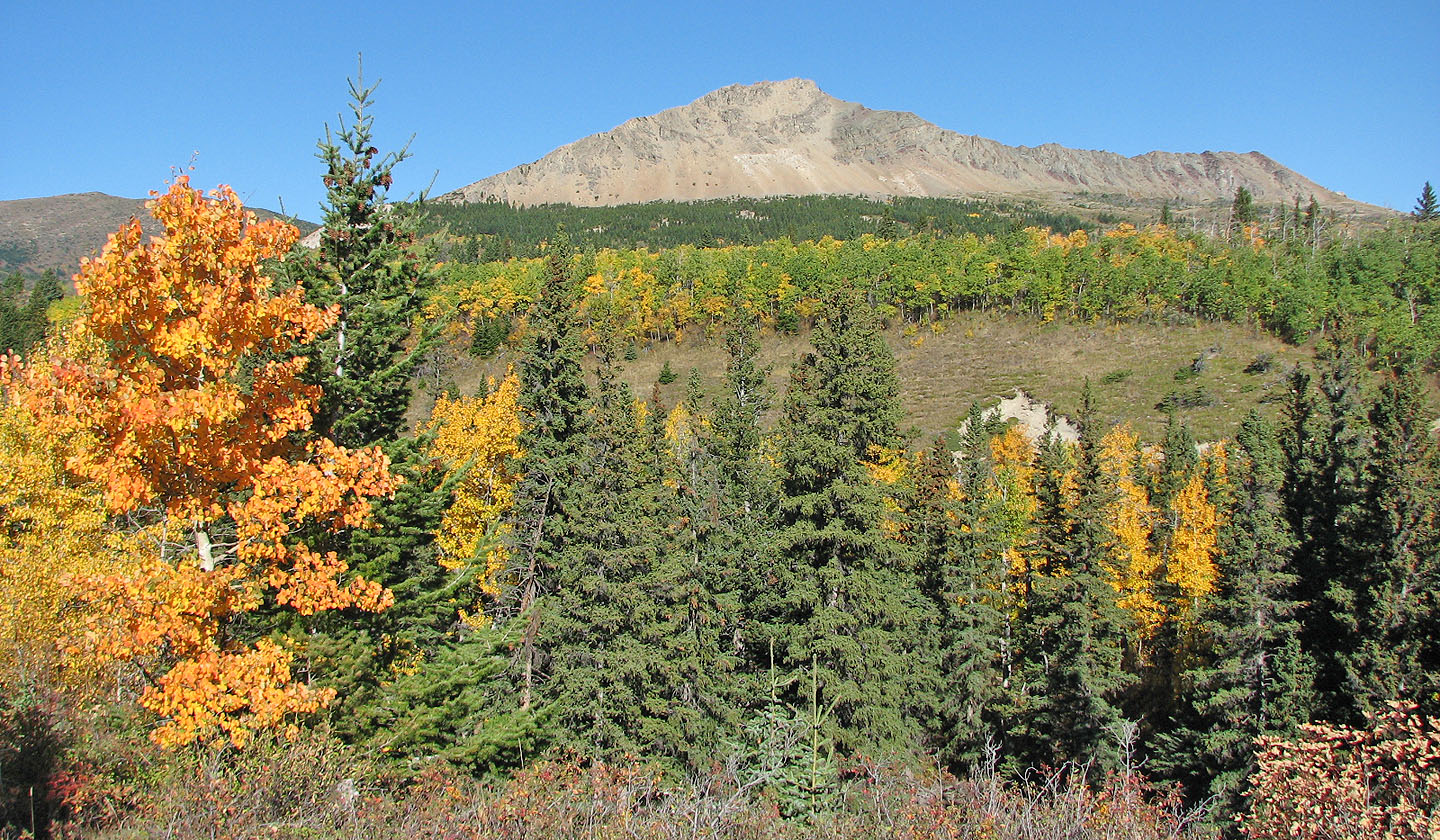 The ridge seen from the cutline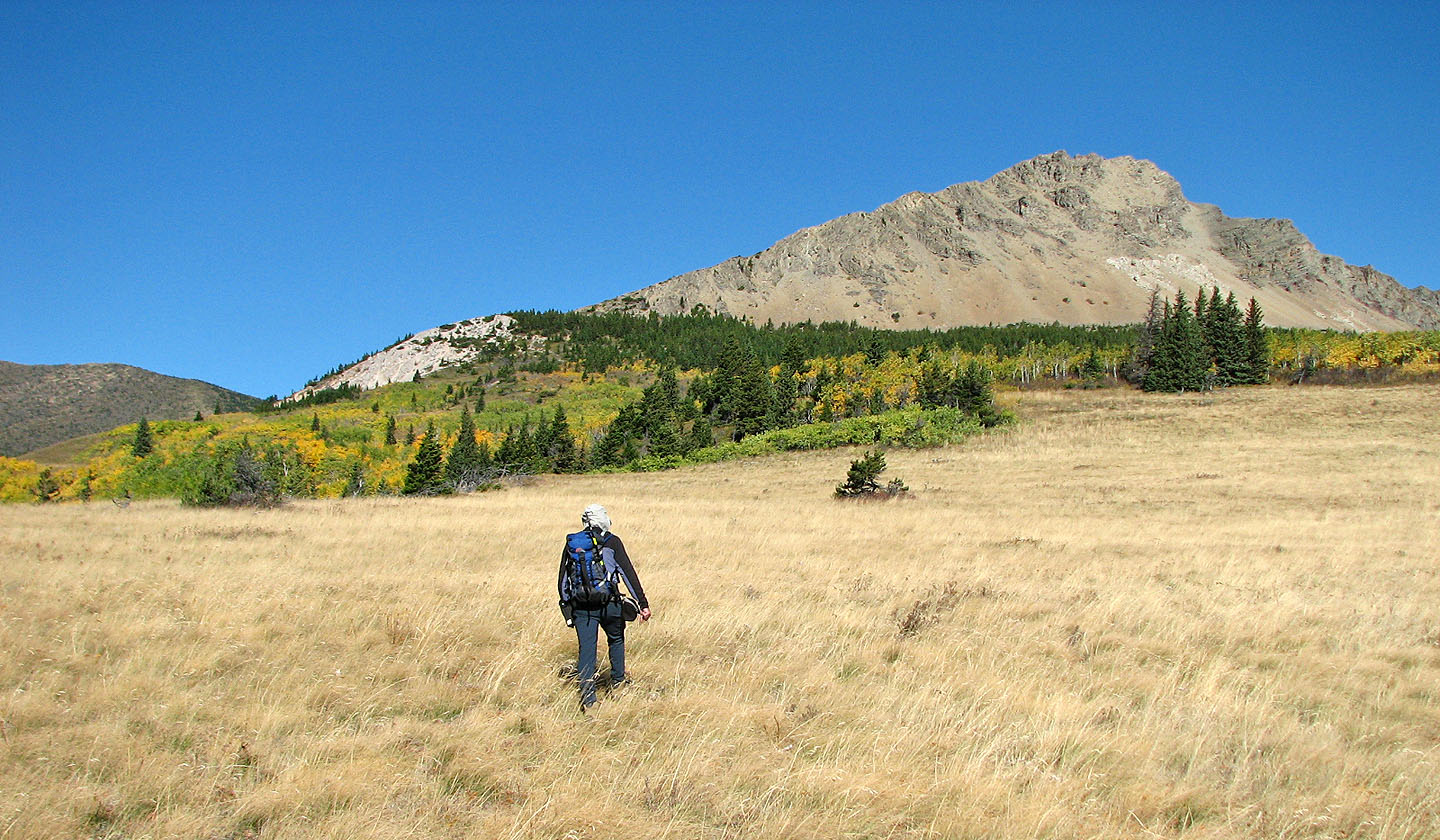 Crossing a meadow as we make our way to the foot of the ridge

The view behind shows fall colours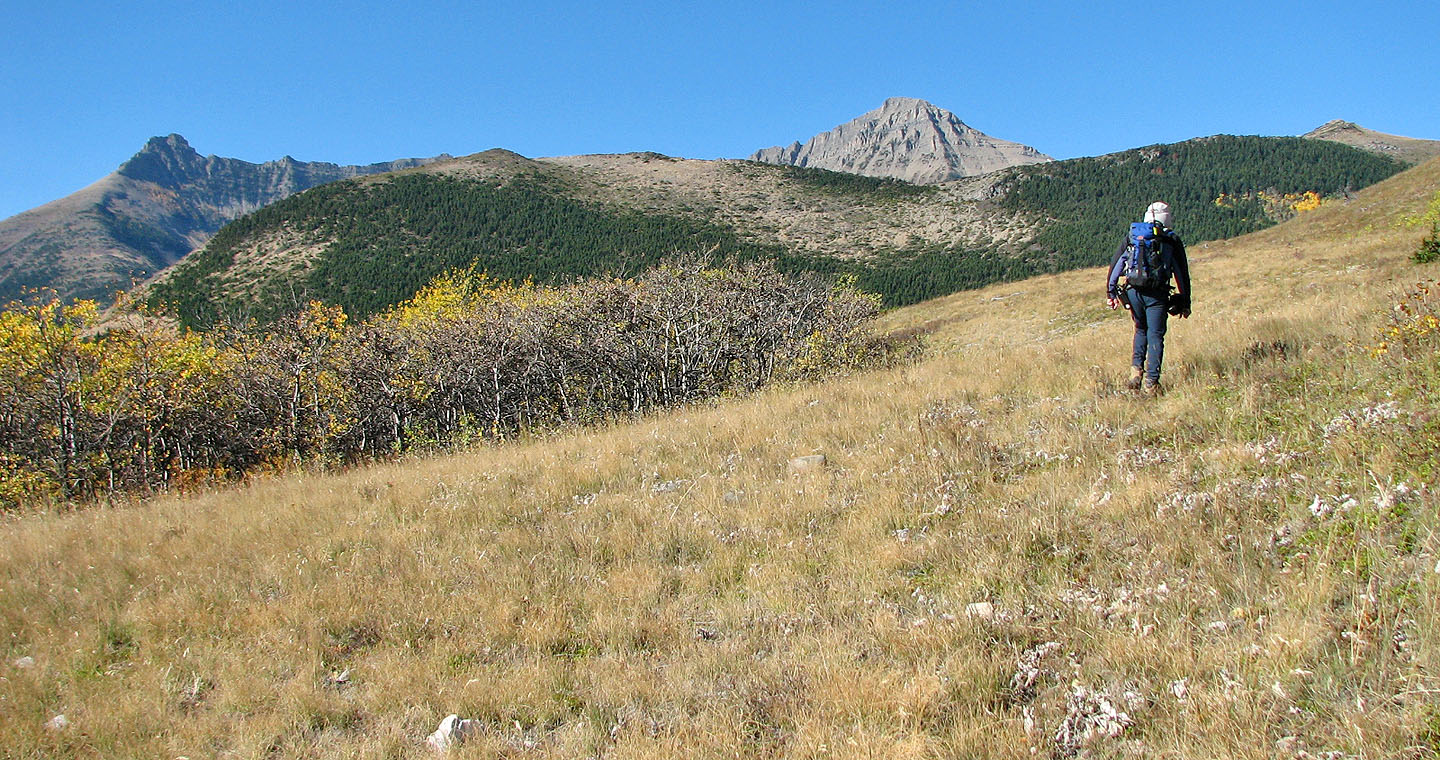 Mount Galwey on the left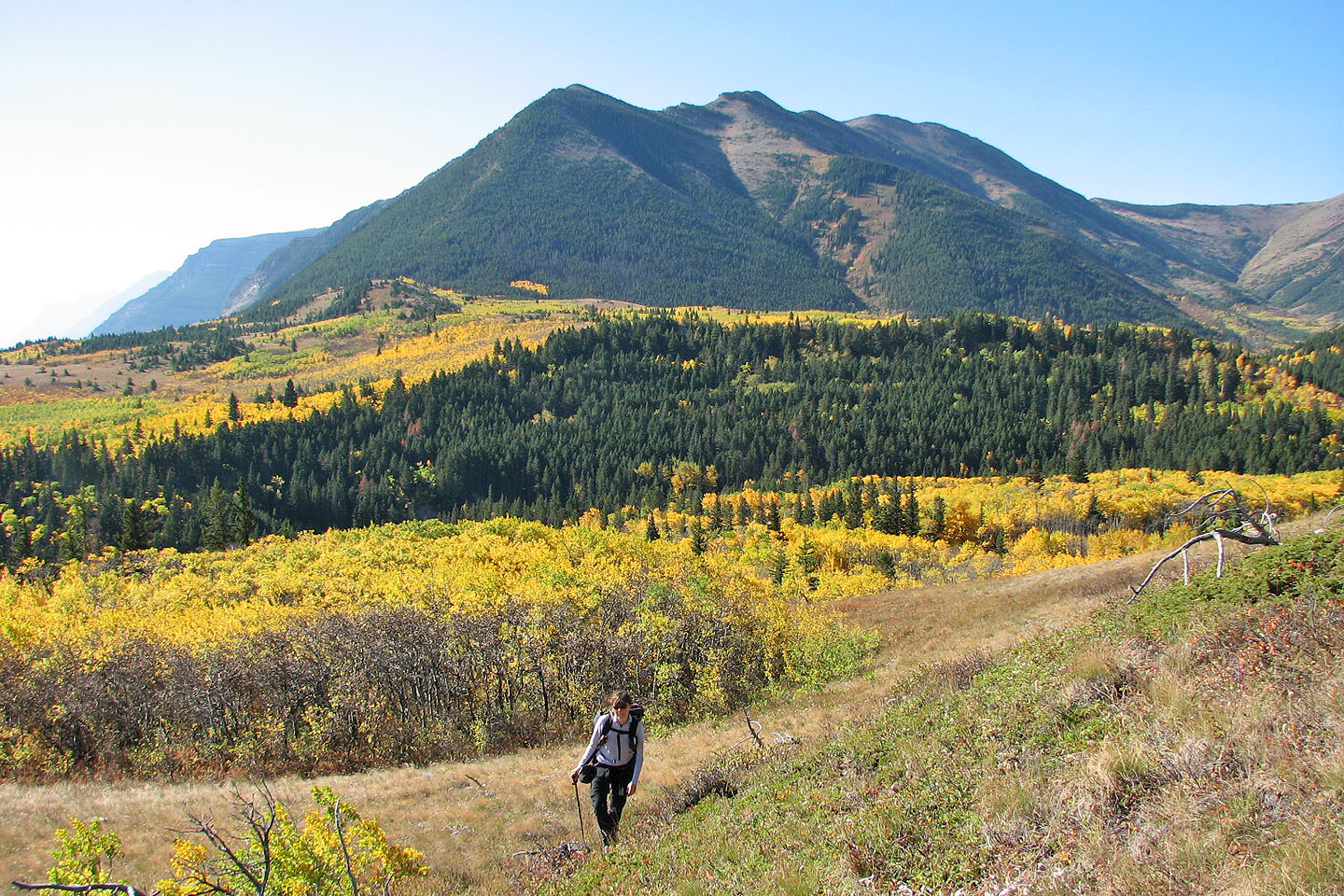 Bellevue Hill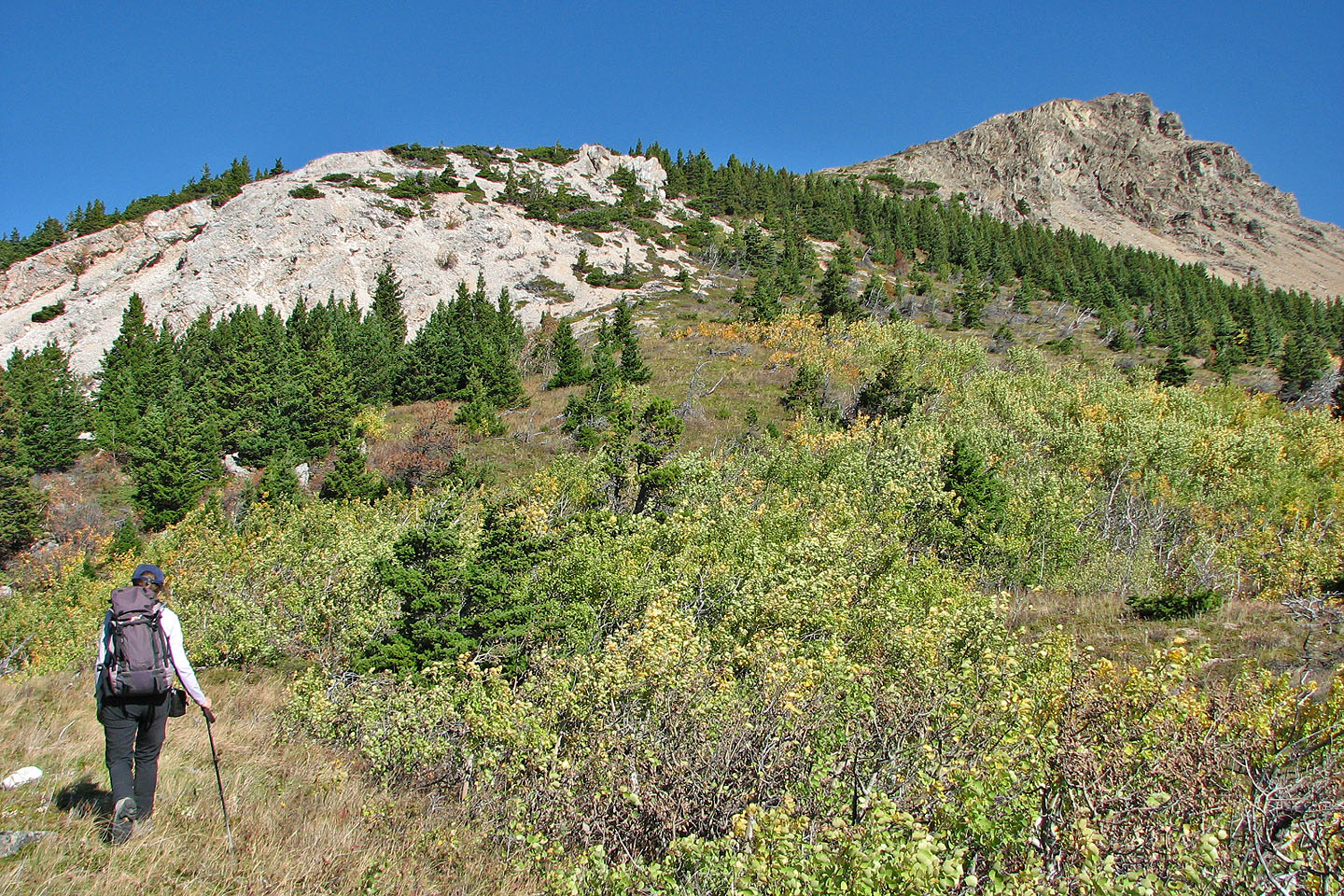 Approaching the end of the ridge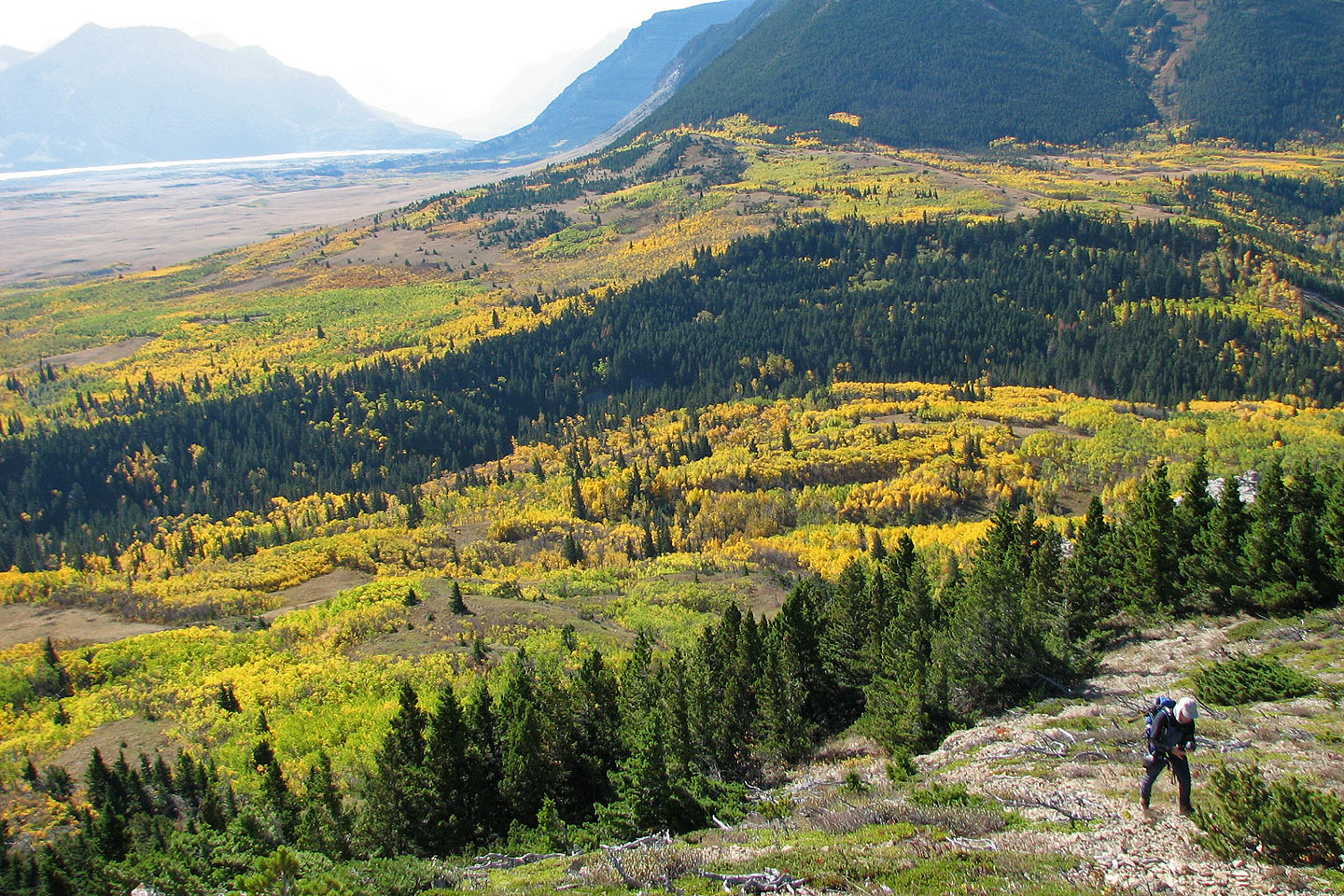 Looking back (click for a larger image)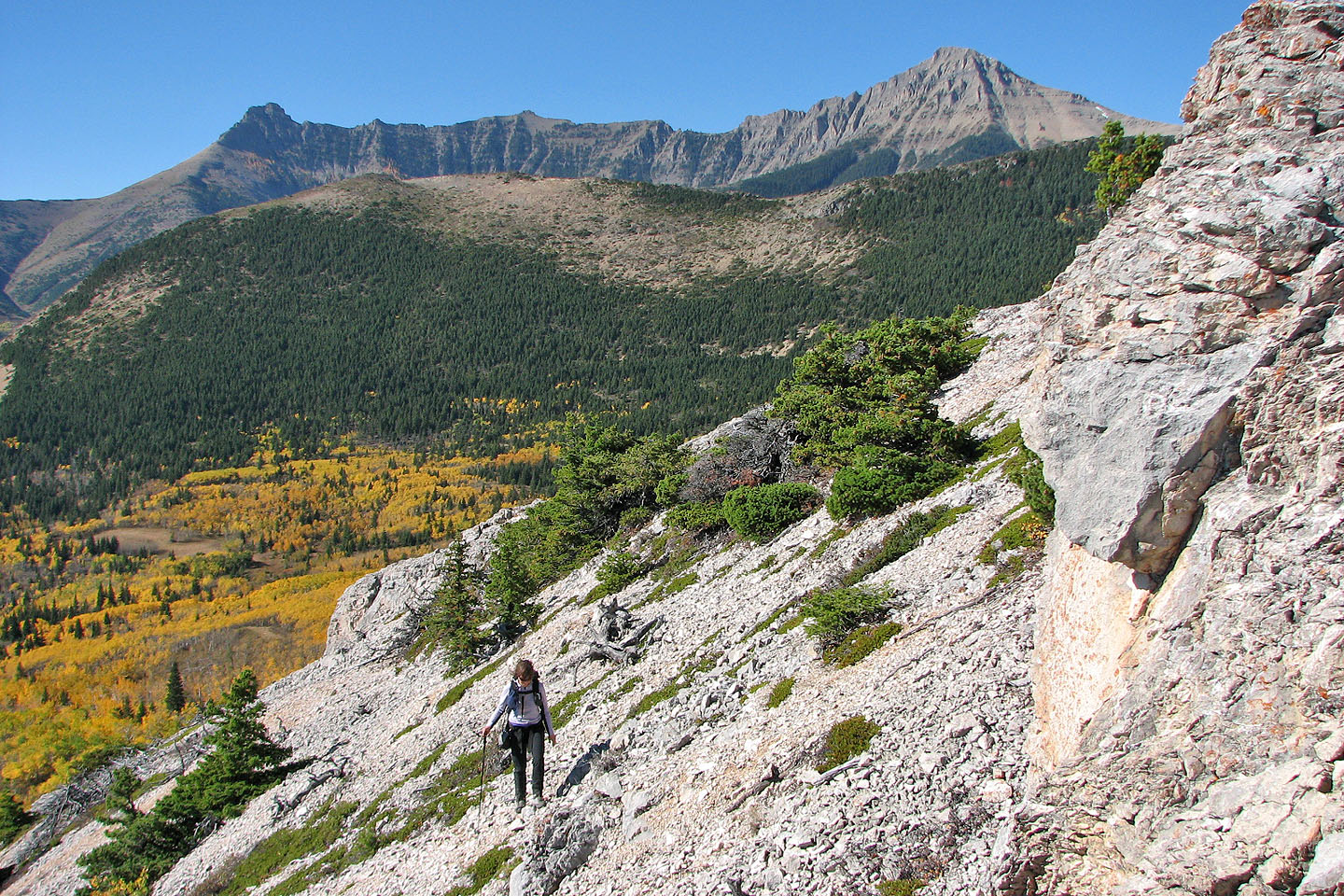 On the skyline, a long ridge connects Mount Galwey to an unnamed peak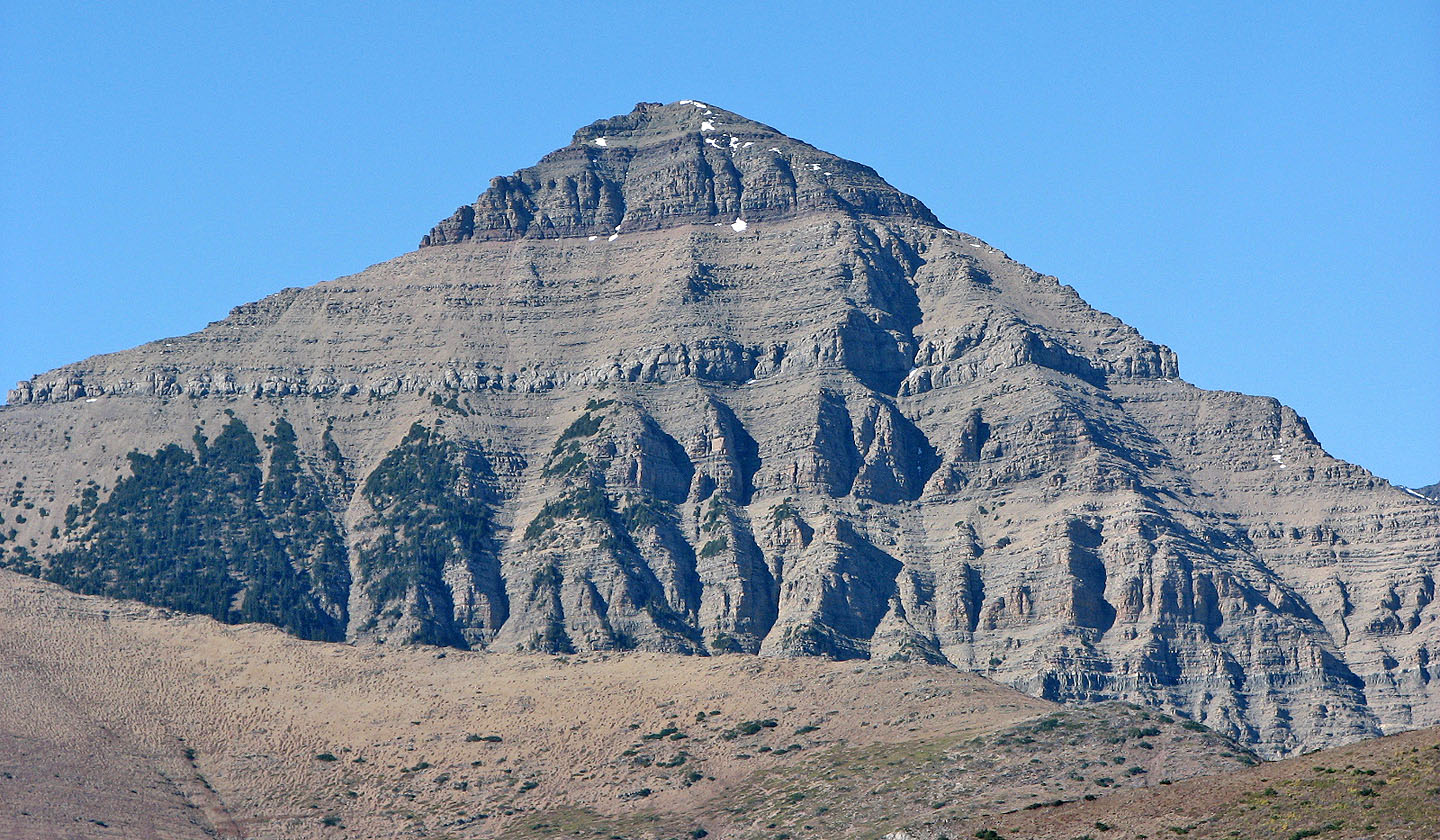 Mount Dungarvan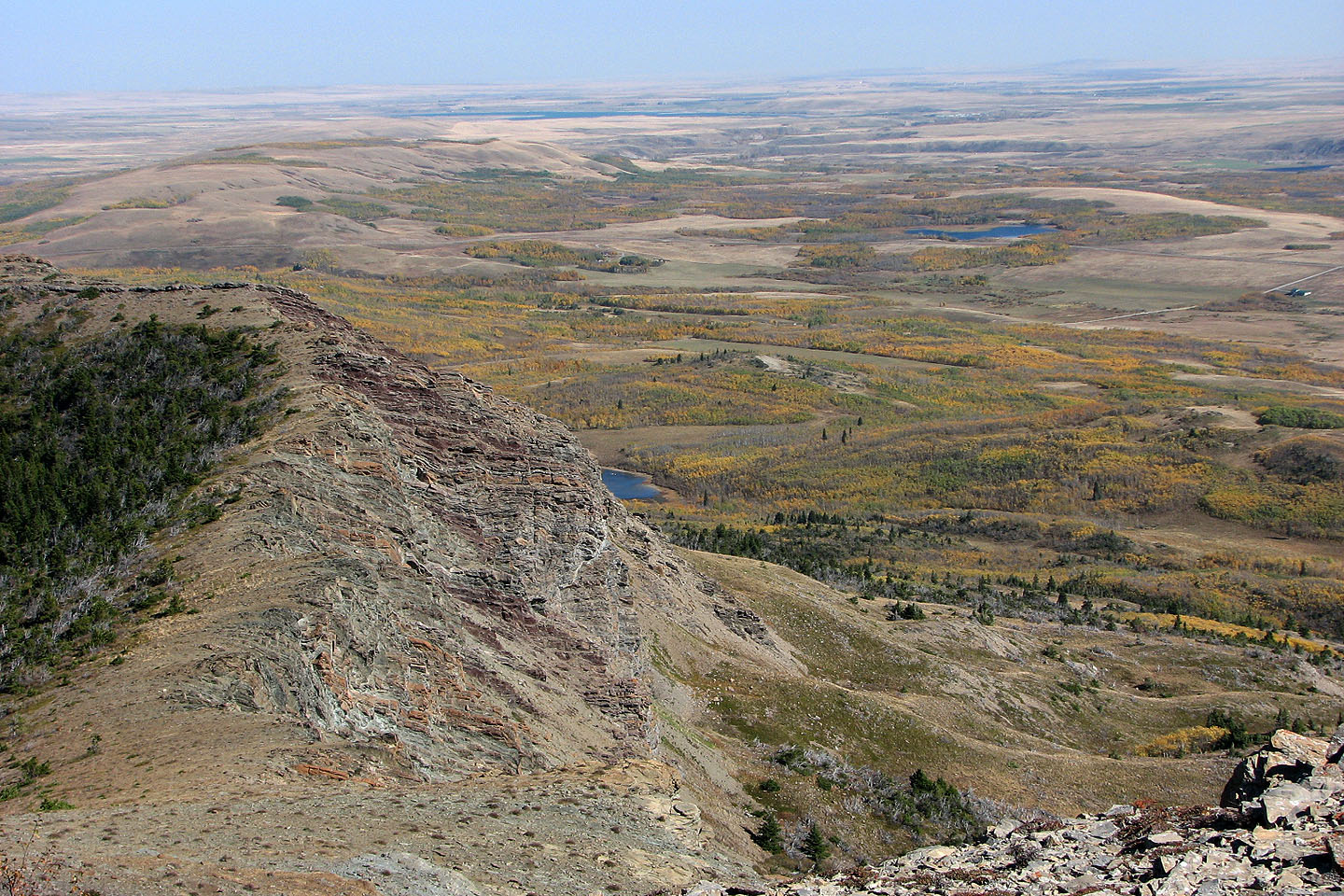 Looking down from the first high point to the ridge section we'll head to next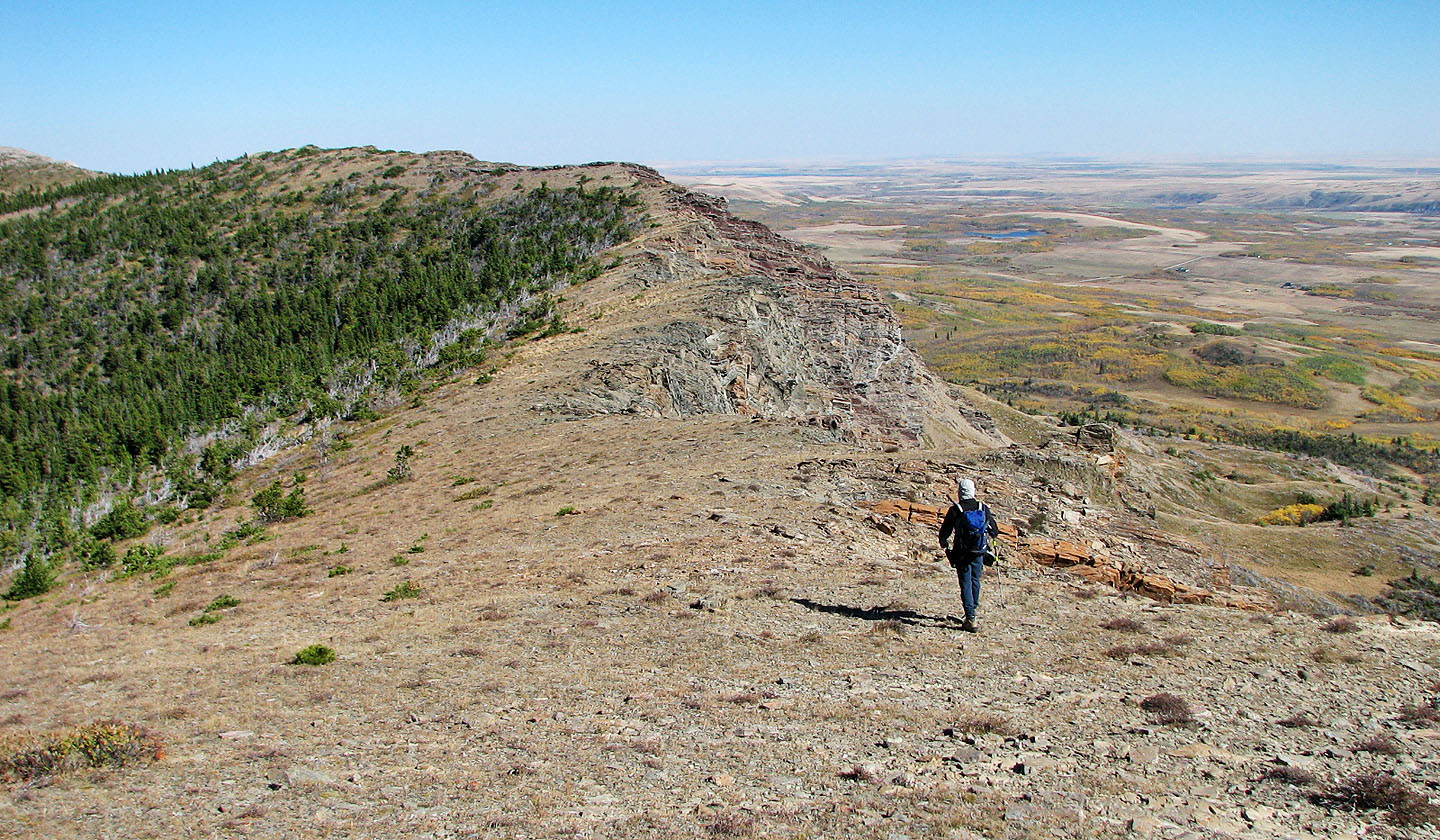 Coming down from the first point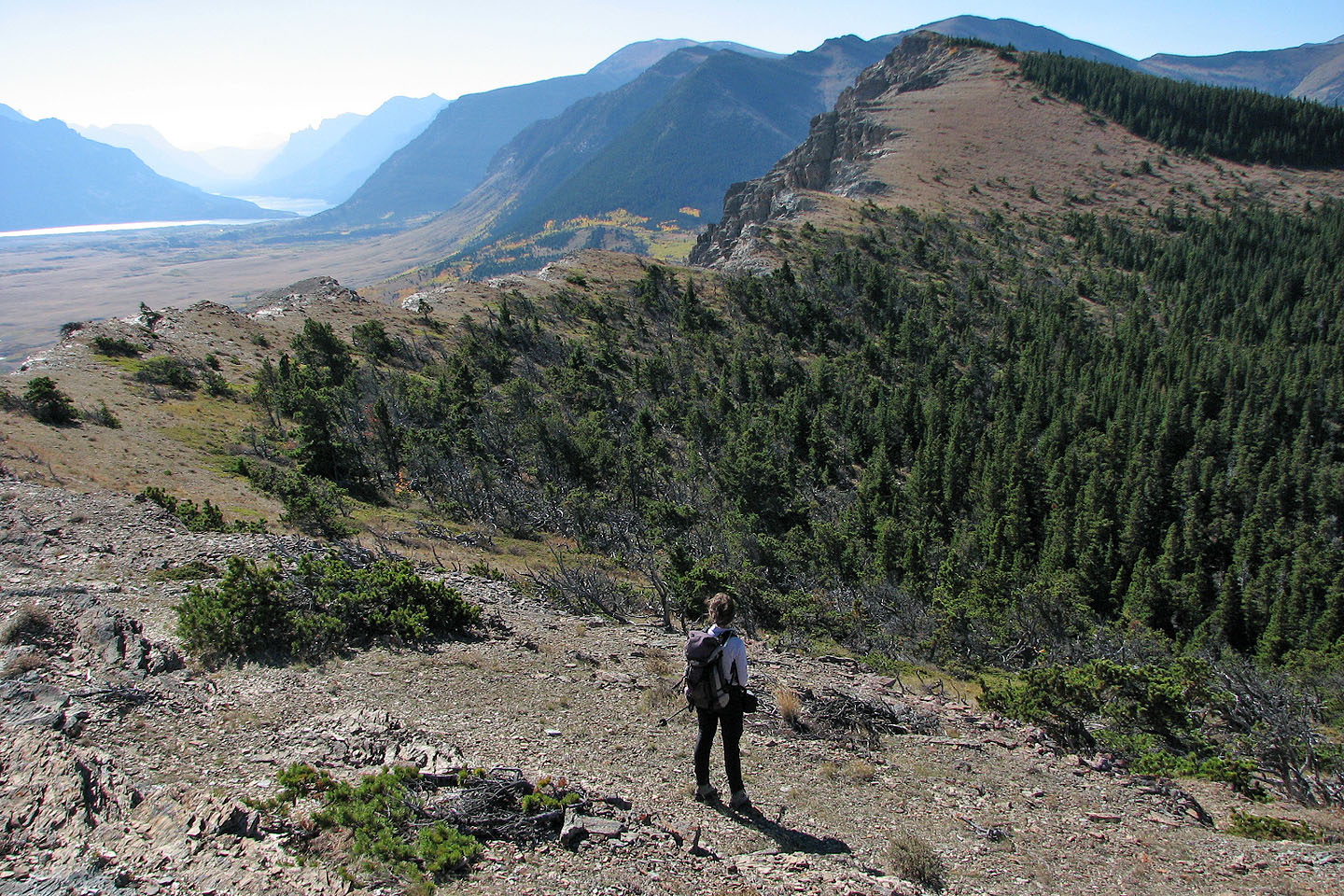 Looking back at the first high point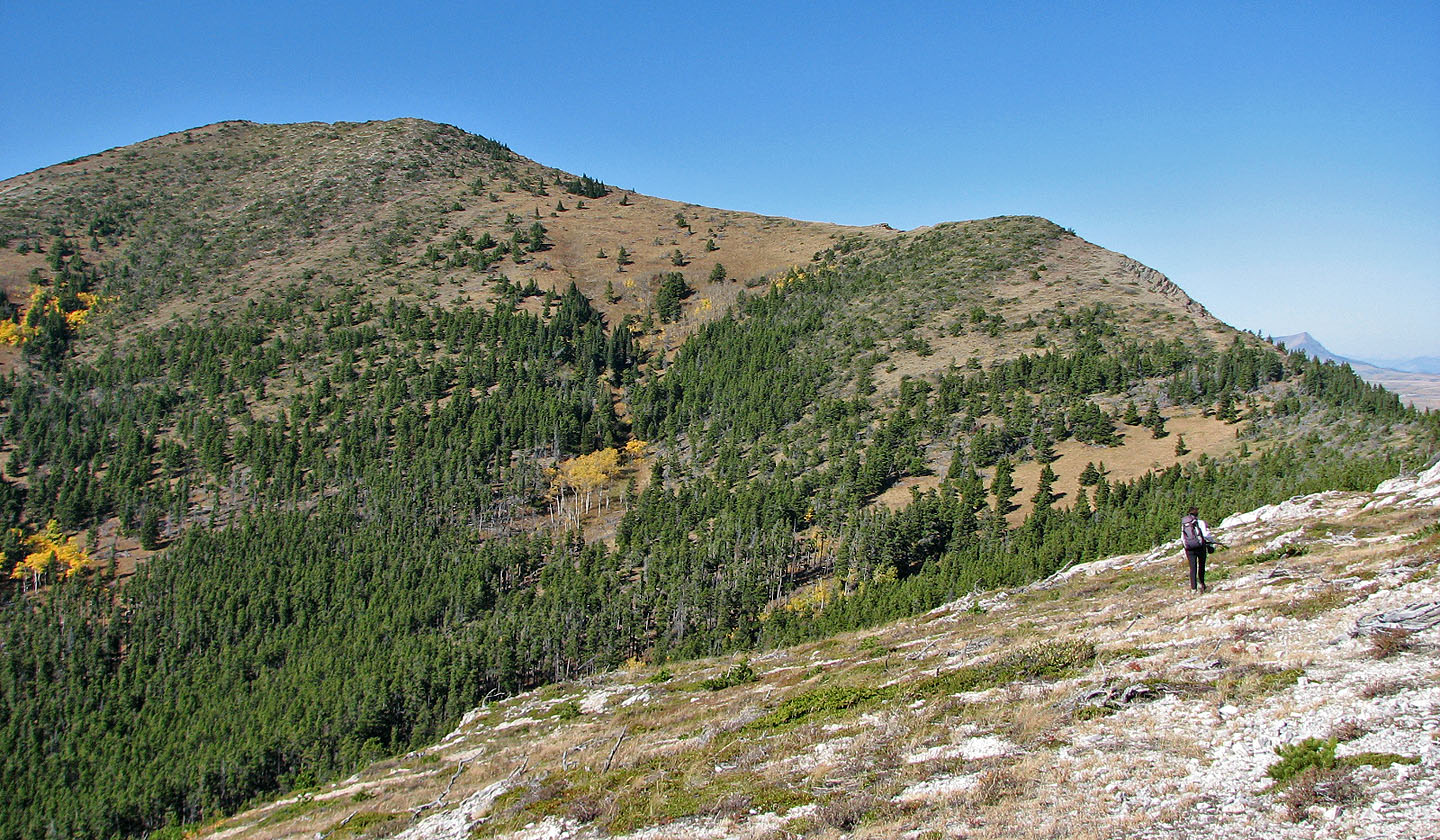 The ridge curves left to the second high point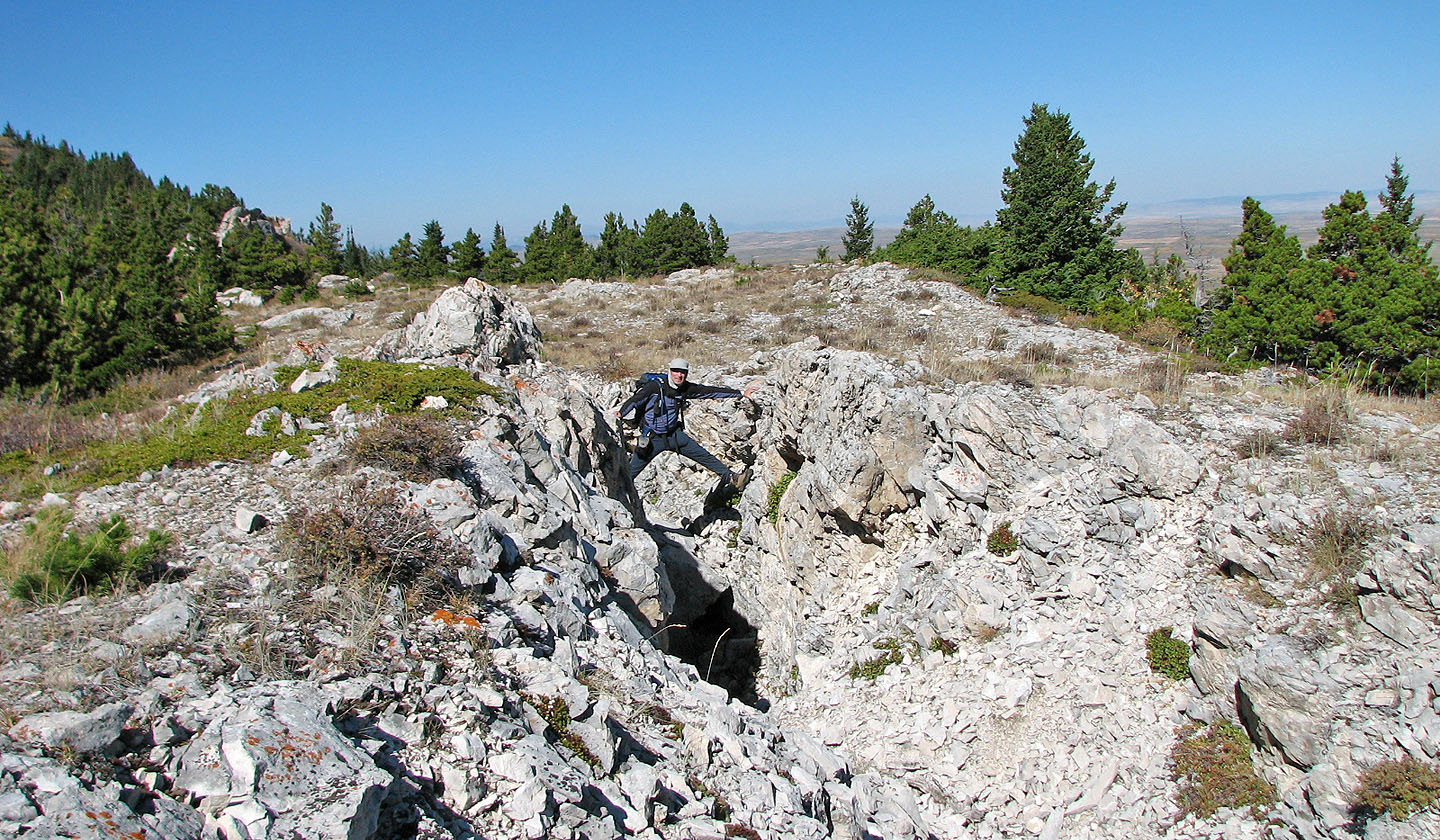 We came across some fissures on the ridge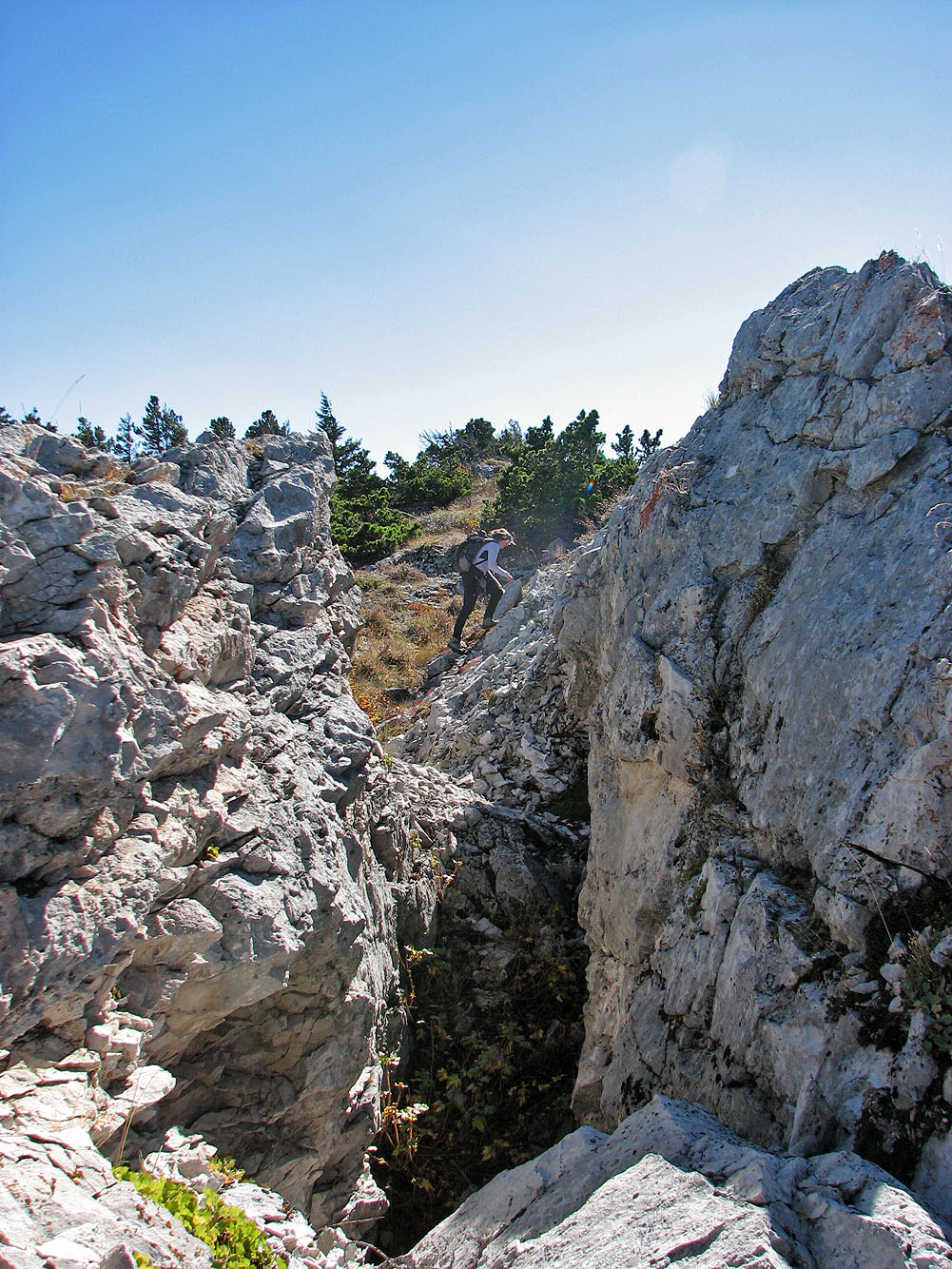 Looking along a fissure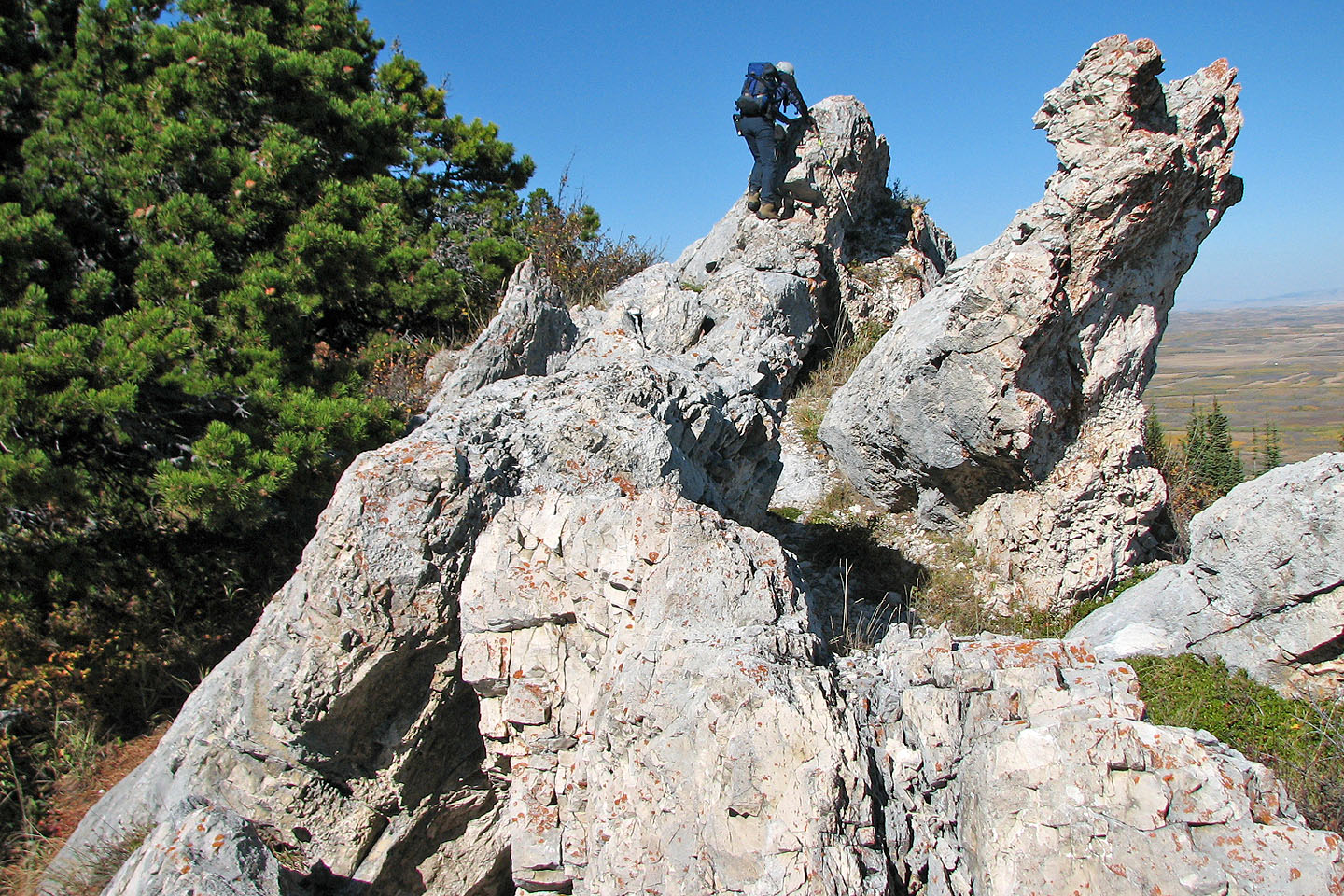 Some unusual rock formations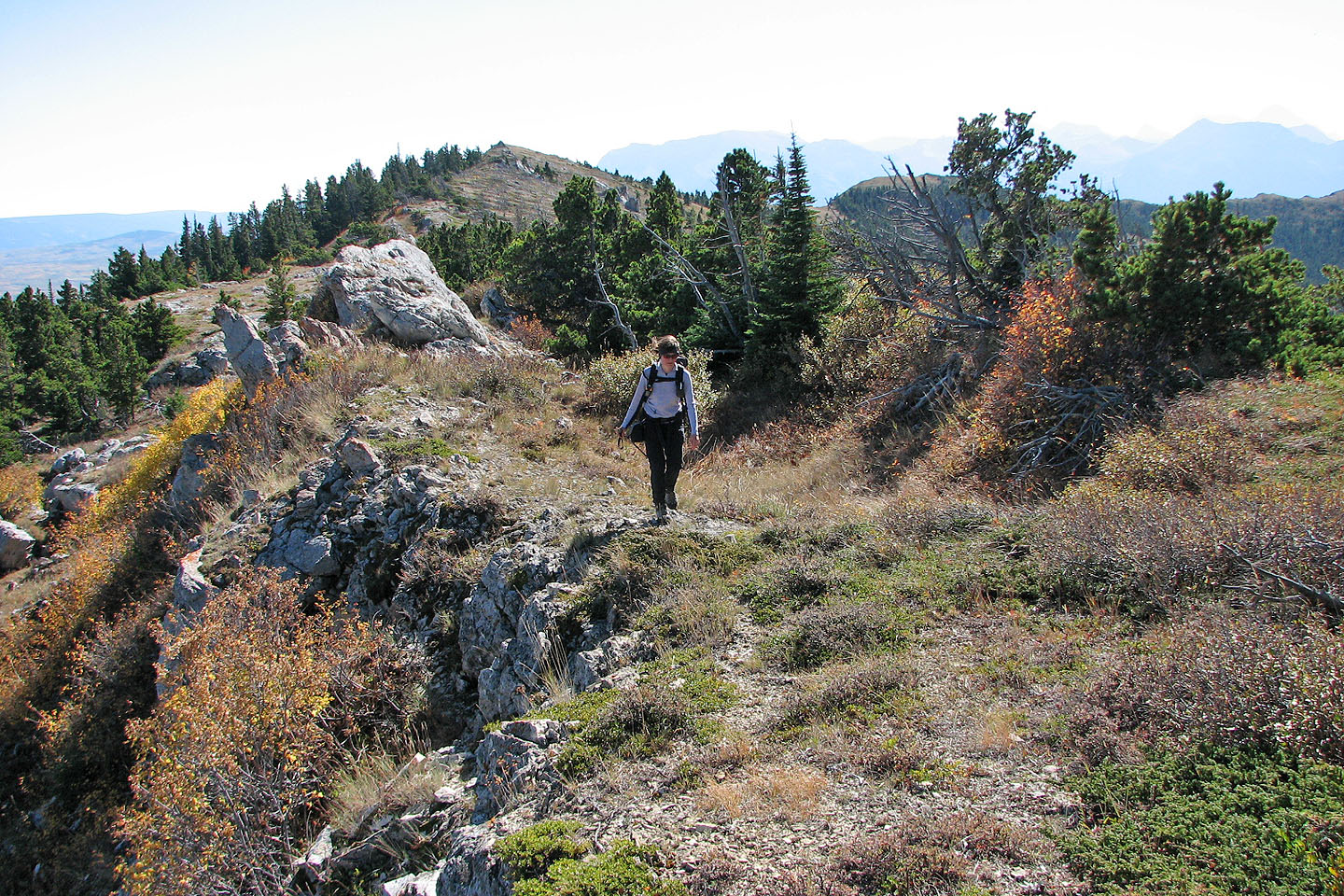 We start ascending to the second high point

Second high point on the left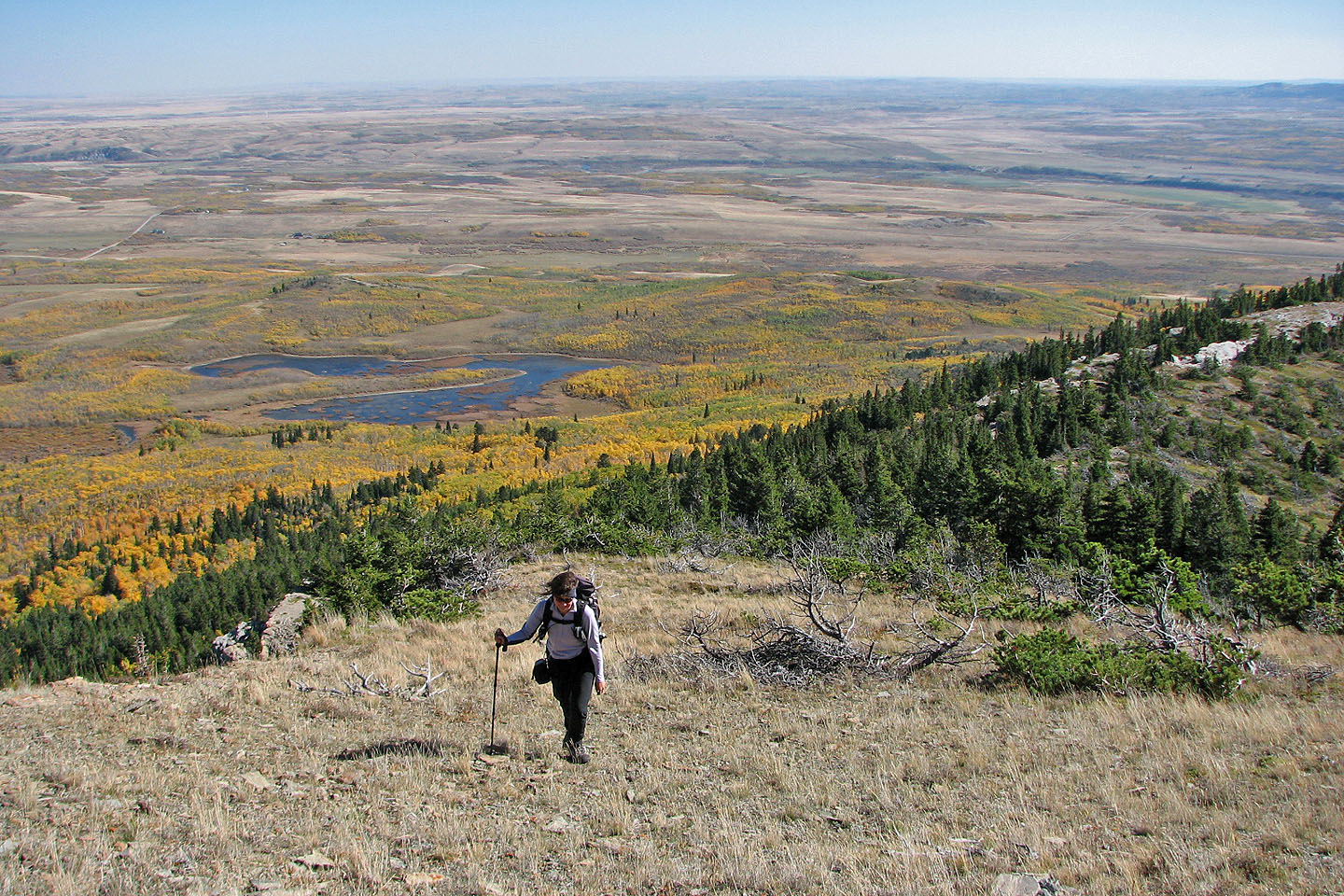 Featureless landscape to the north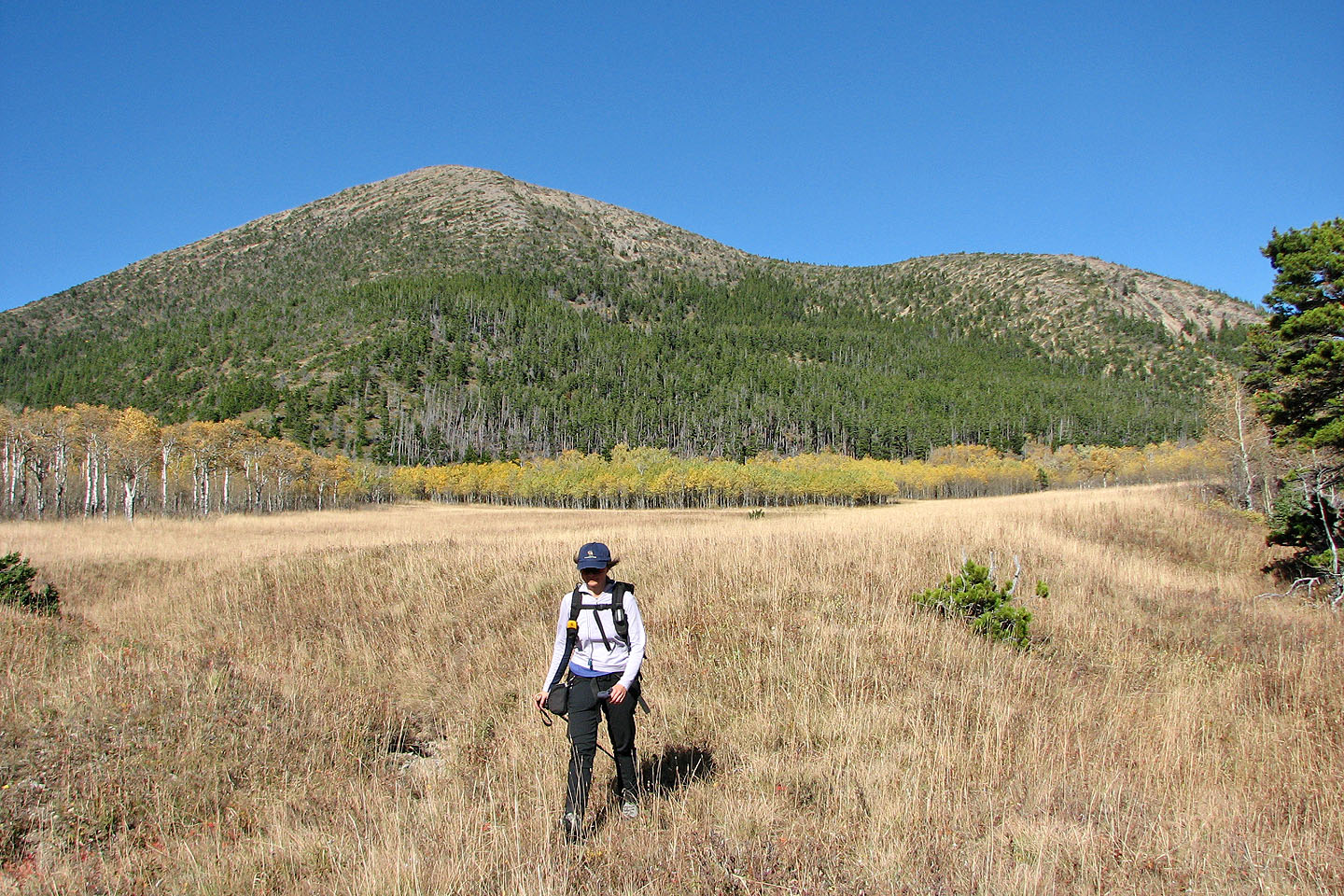 Looking back from the valley to the second high point we reached. We followed the skyline ridge to the valley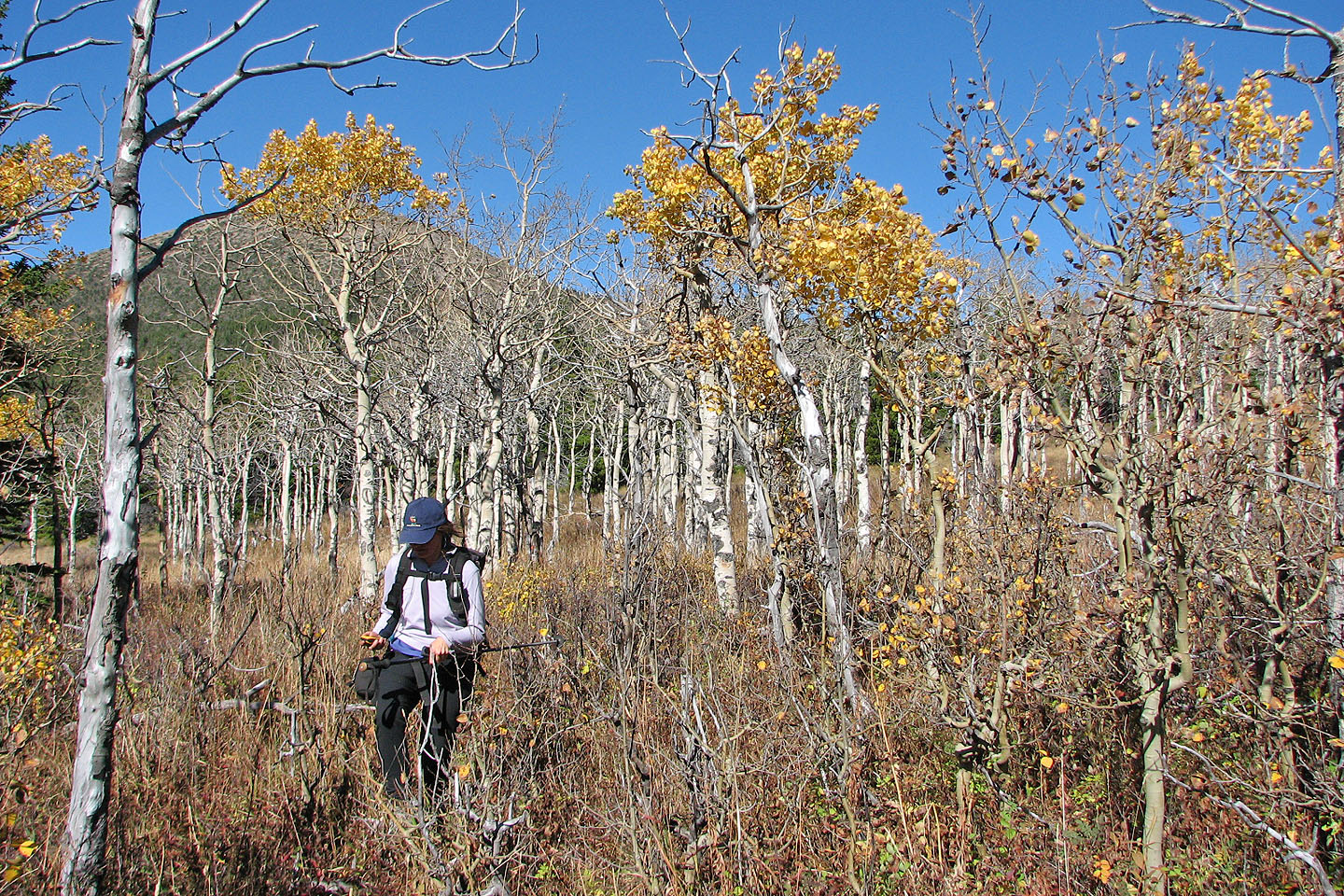 Looks are deceiving: we're actually on a good trail.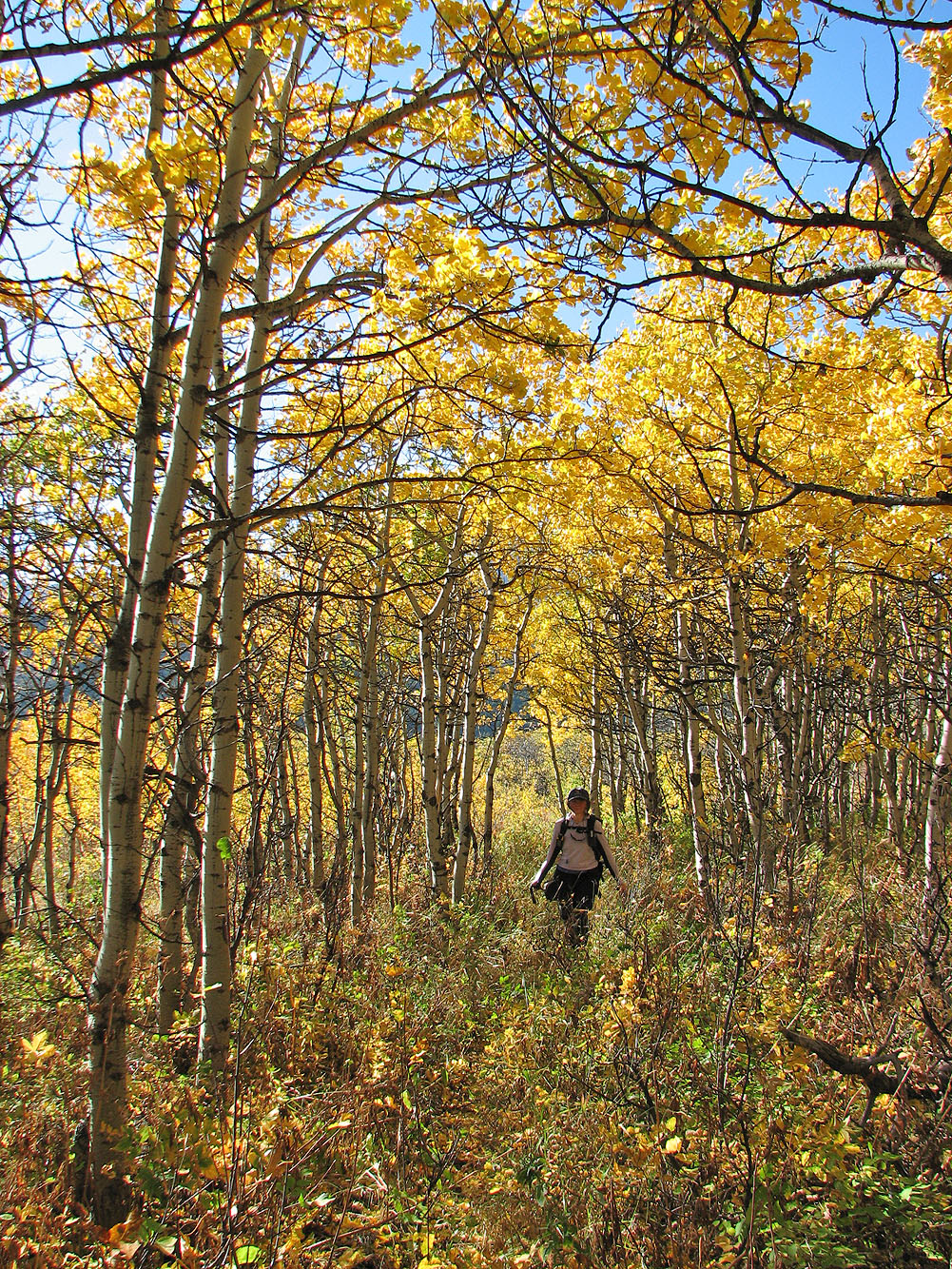 Here the trail lies under a canopy of yellow leaves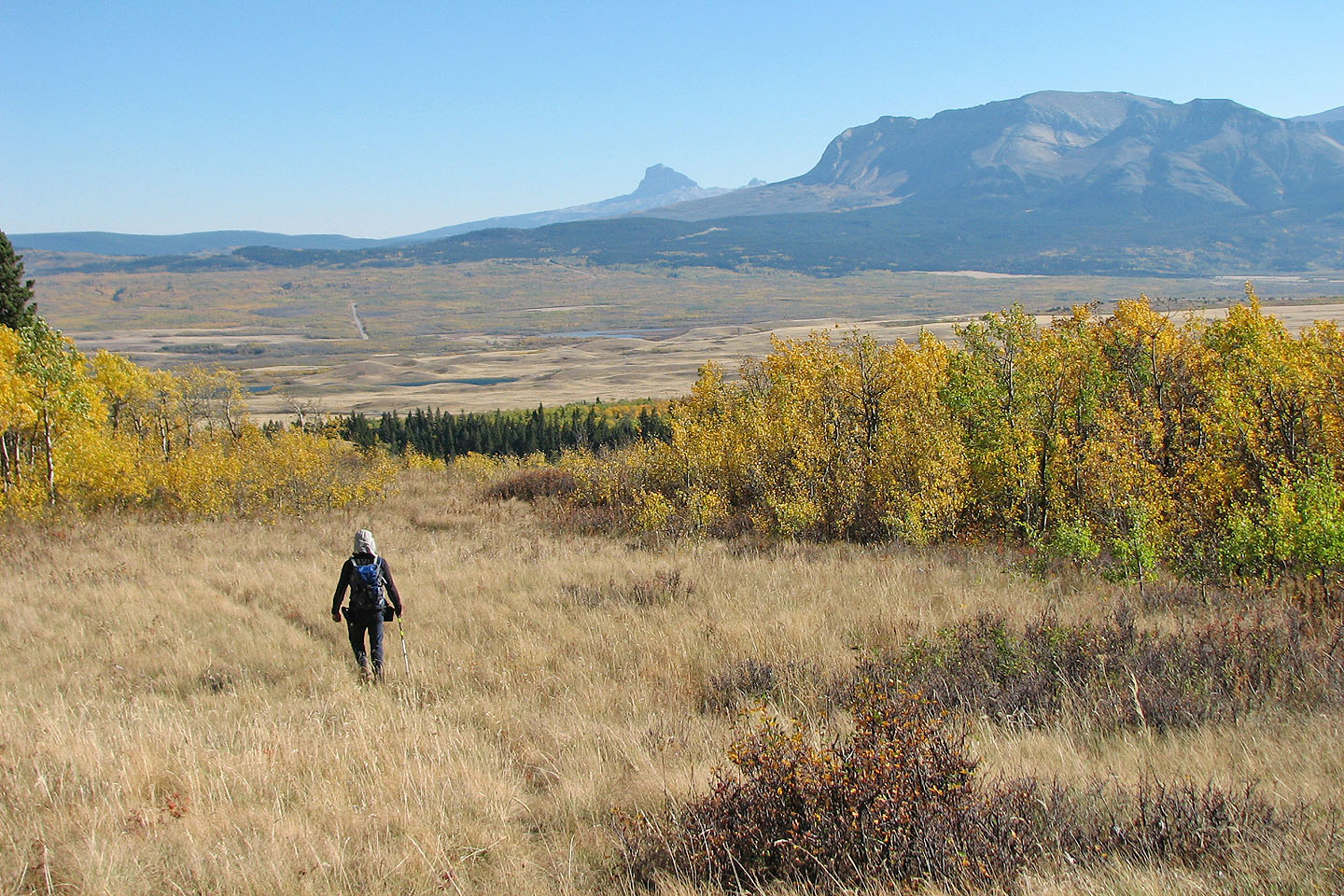 Back on the meadow. Chief Mountain in the middle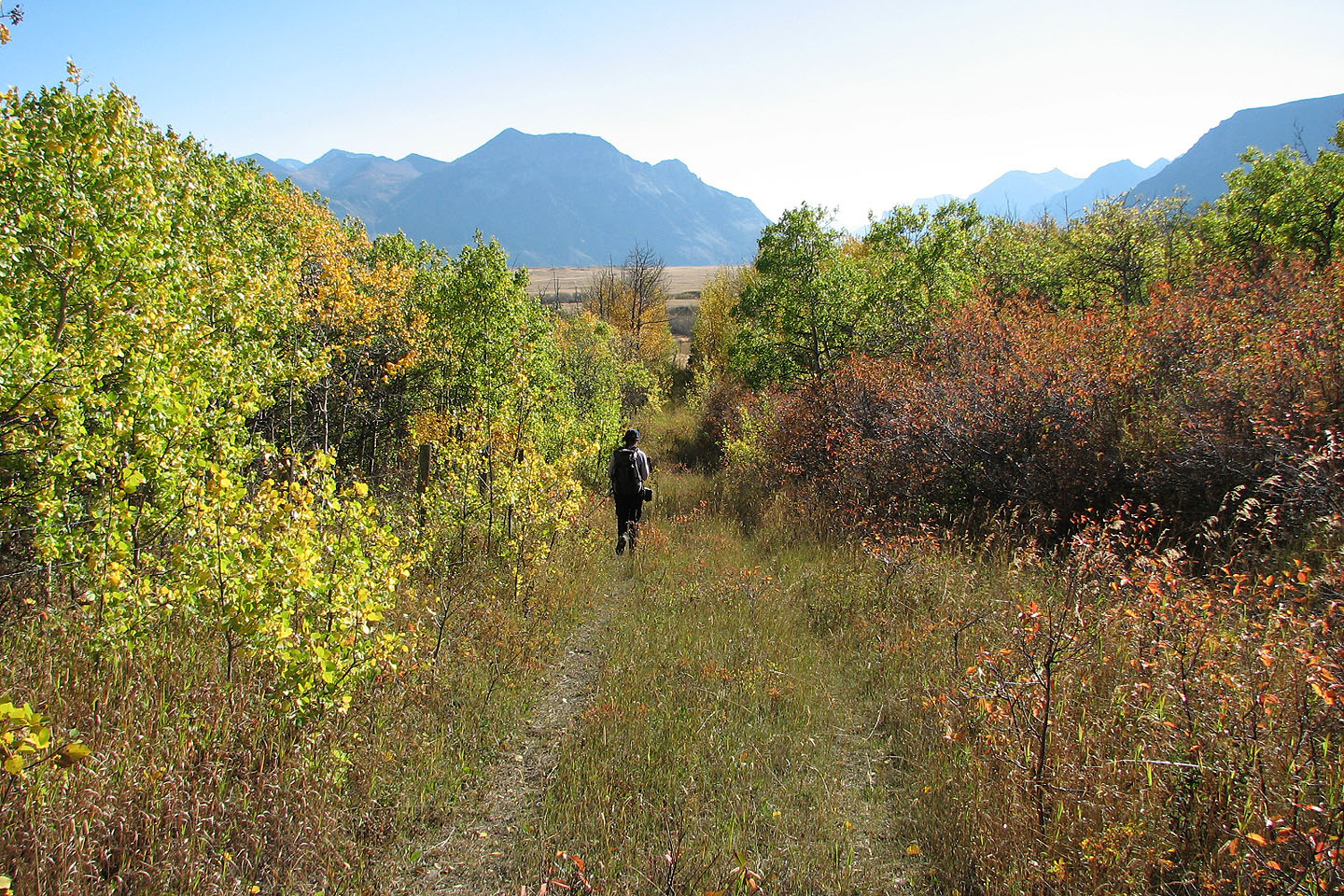 Hiking back on the cutline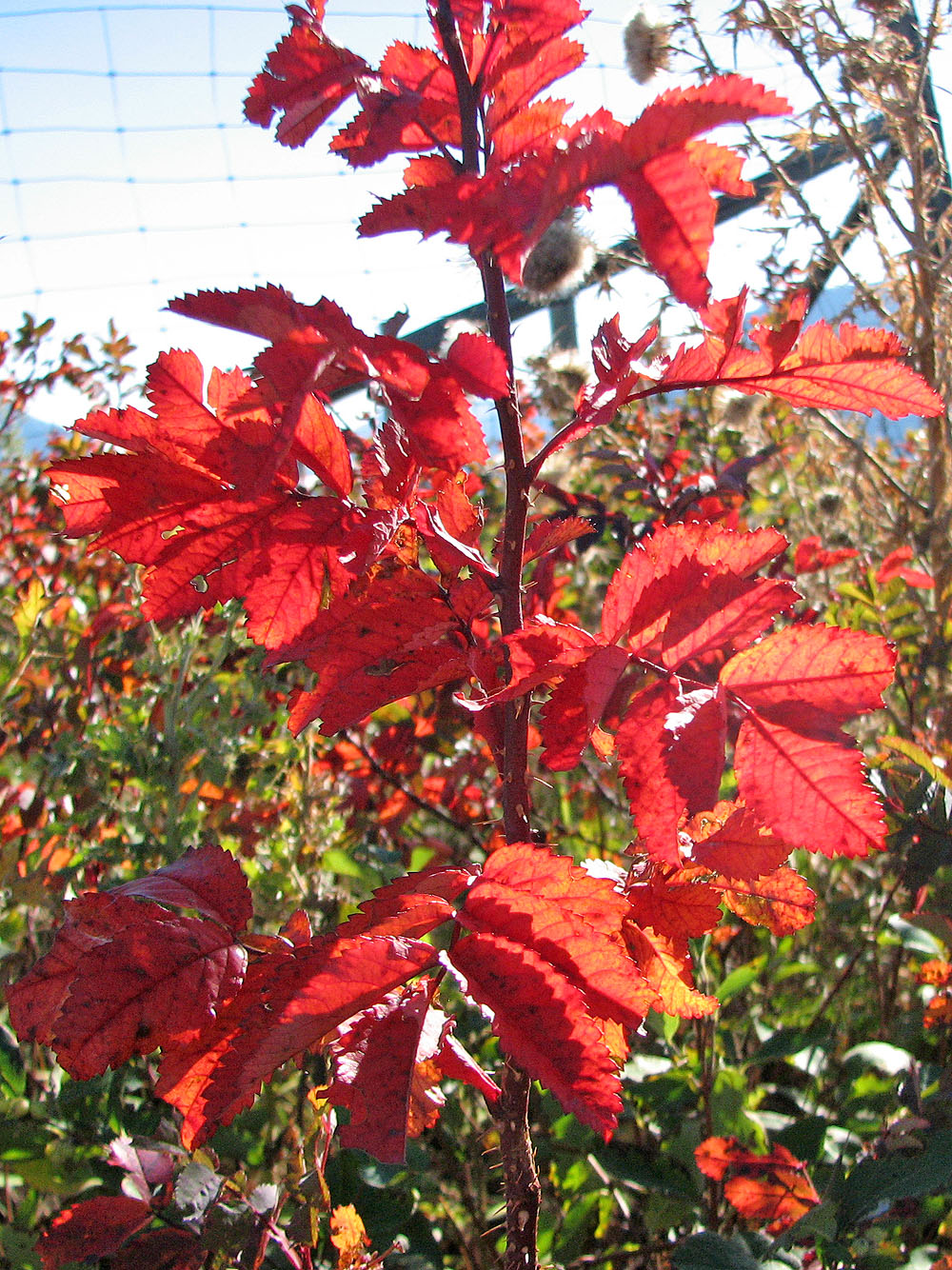 Brilliant autumn leaves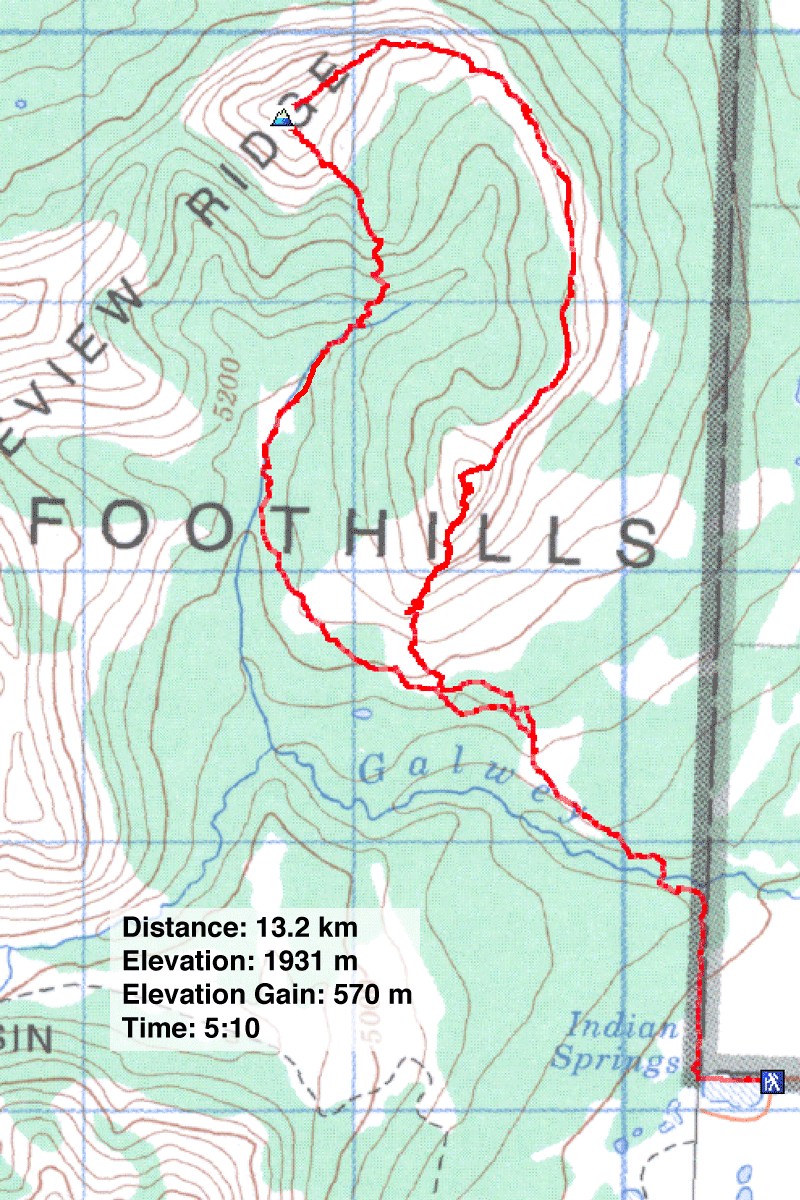 82 H/4 Waterton Lakes