bobspirko.ca | Home | Canada Trips | US Trips | Hiking | Snowshoeing | MAP | About


View from Black Mountain
Red and Black Mountains
Boulder City, Nevada
January 21, 2015
Distance: 12.1 km (7.5 mi)
Cumulative Elevation Gain: 565 m (1854 ft)

What's red and black and hiked all over? The adjacent peaks of Red Mountain and Black Mountain by Boulder City.
The trail for either mountain begins on the edge of Boulder City and climbs to a saddle between the two mountains. There the trail splits: left for Red and right for Black, although reaching Black Mountain is a little more involved. Unlike Red Mountain where a good trail runs to the summit, the trail stops at Black Mountain Overlook, 700 horizontal metres short of Black Mountain. Using the route described on birdandhike.com, Dinah and I found the hike to the Overlook easy. The broad path, not to mention the gentle switchbacks leading to the saddle, was a walk in the desert.
But the trail going from the Overlook to Black Mountain isn't well defined, hardly better than an animal trail. In some places, we lost it, although only briefly. But it was worth the 30 minutes of effort to get to the summit. After having lunch, we started back down the trail. We didn't bother going up and over the Overlook again but instead found a trail that bypassed it. We were soon back on the main trail with Red Mountain in our sights. We hiked to the summit. But after the Overlook and Black Mountain, Red Mountain had little scenery to add, except perhaps the sight of both those points. We didn't linger and soon headed back to our car.
We could have given Red Mountain a miss, but we were glad we climbed Black Mountain. We had often heard about Boulder City's Black Mountain so it was nice to experience it for ourselves.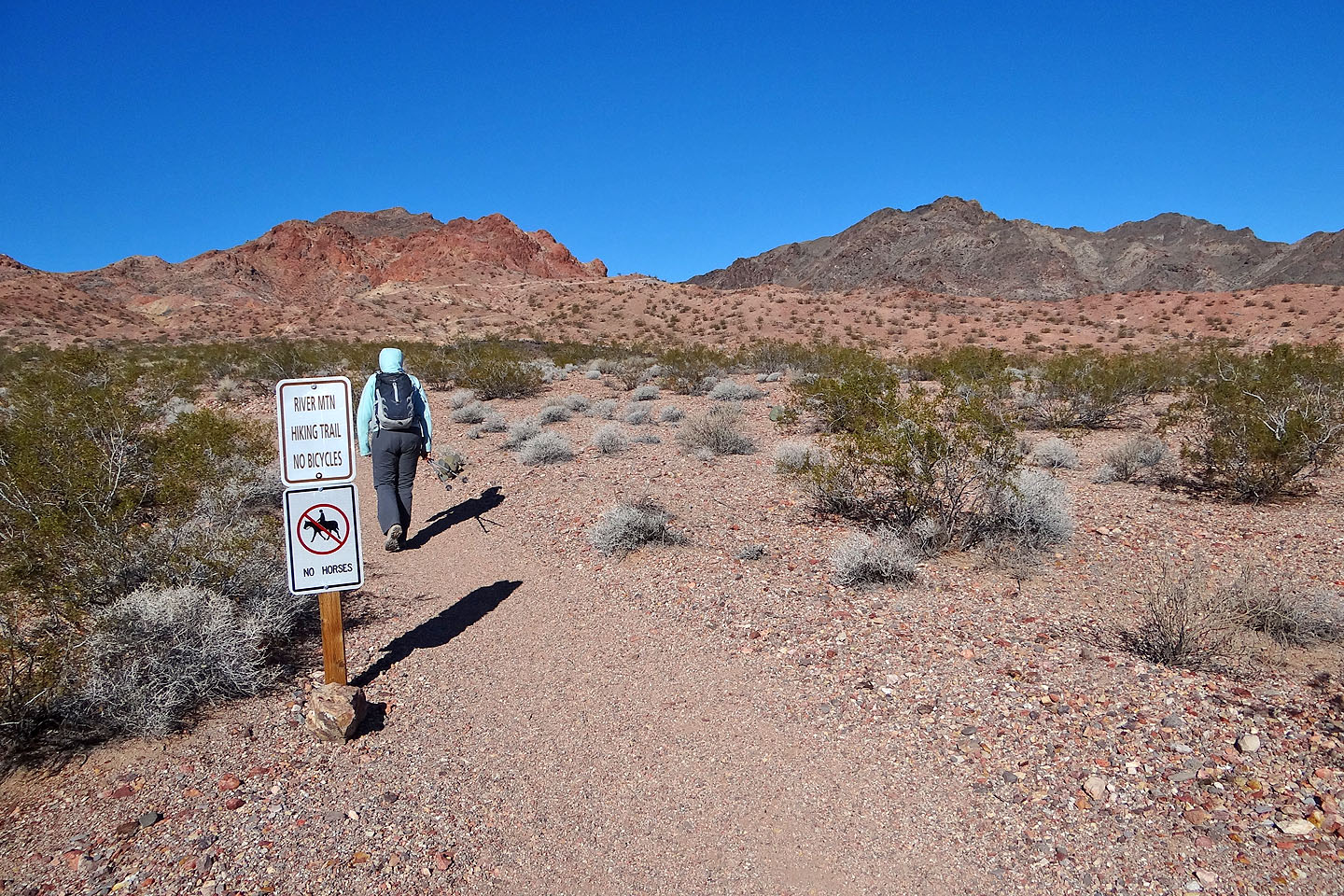 On the trail. Left to Right: Red Mountain, Black Mountain Overlook and Black Mountain.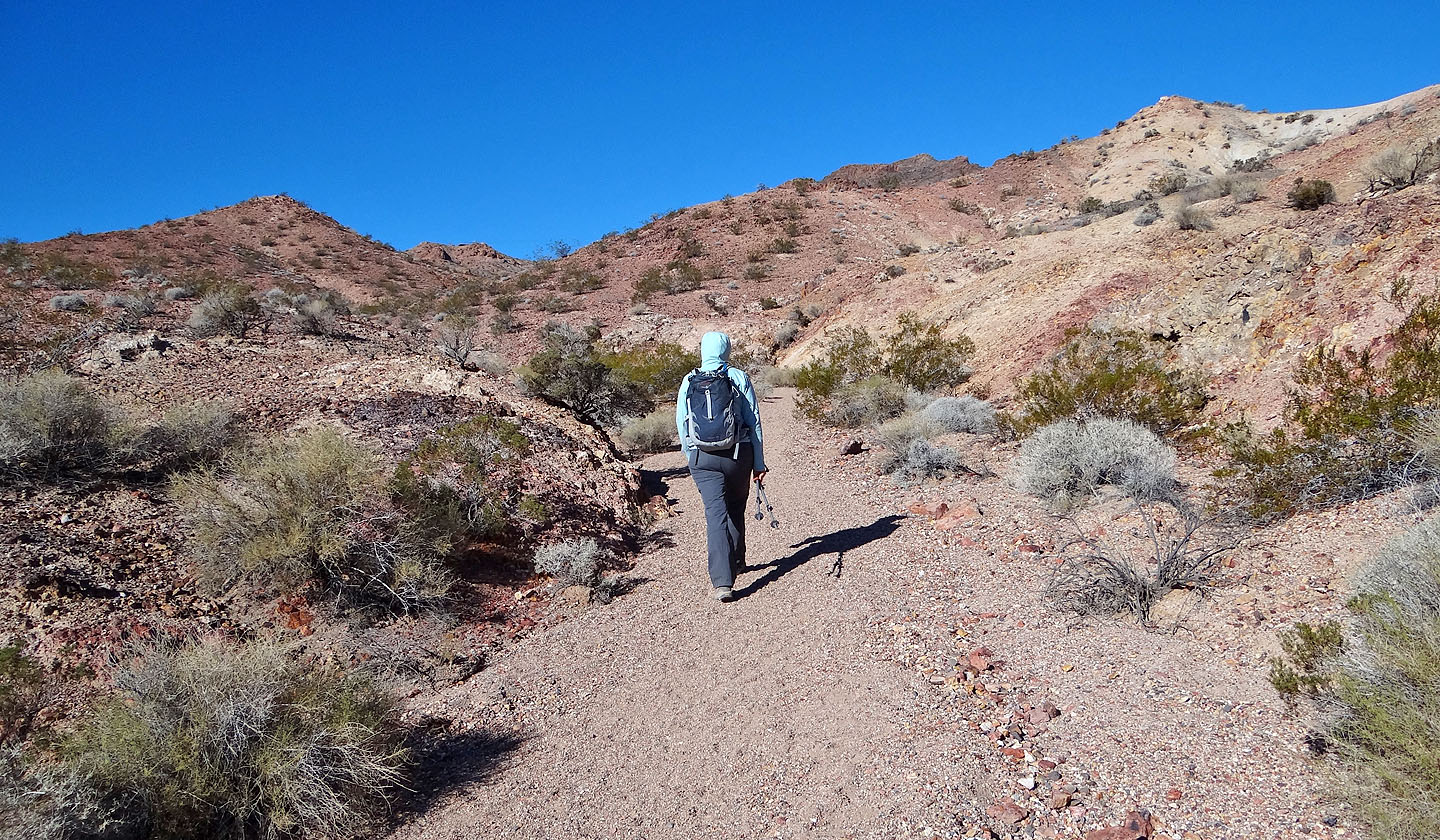 The trail soon enters a wash

Behind us is the city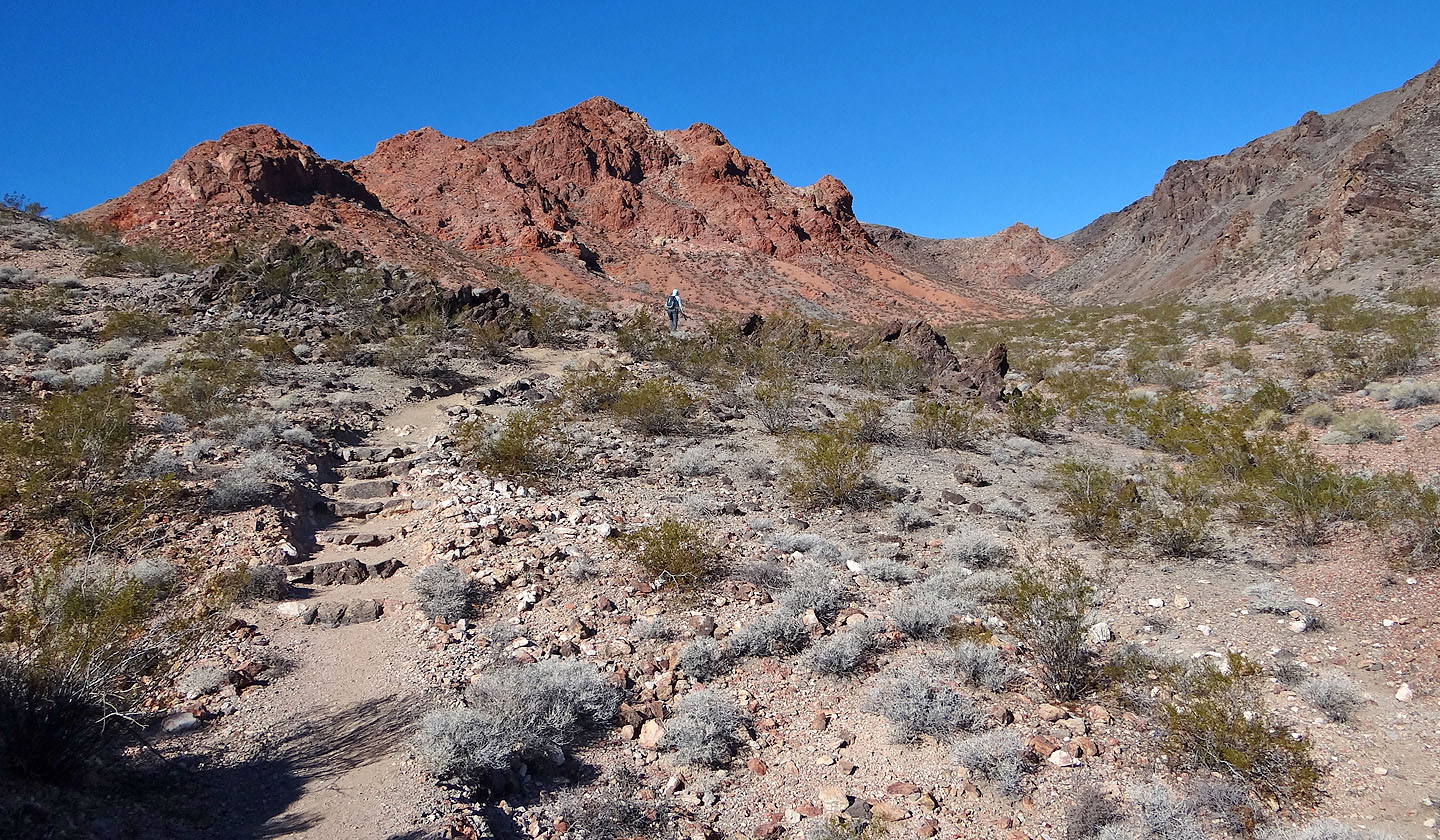 The trail heads to a valley to the right of Red Mountain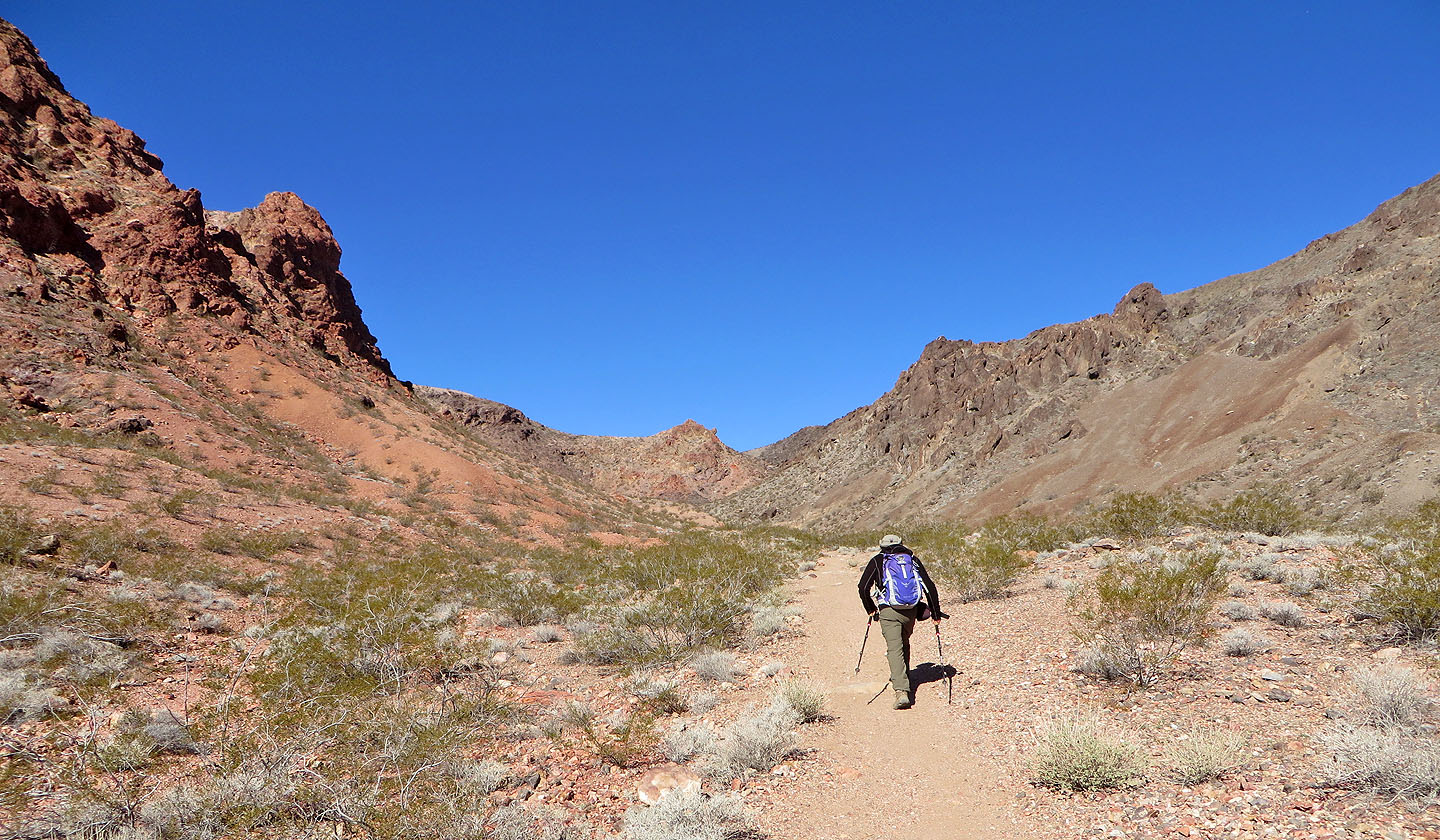 Heading to the saddle between Red Mountain and Black Mountain Overlook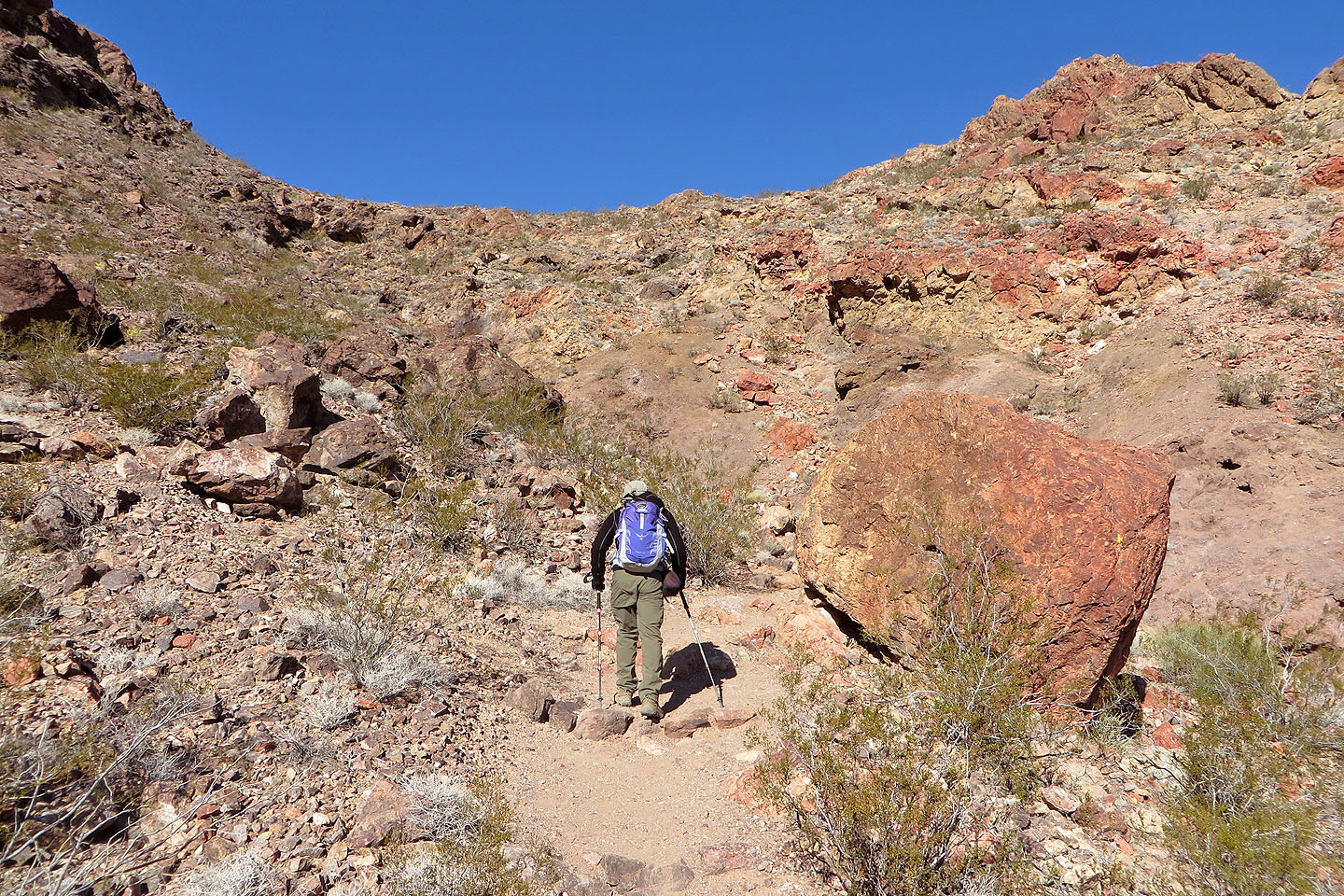 As we started up the switchbacks, we were impressed by the vivid colors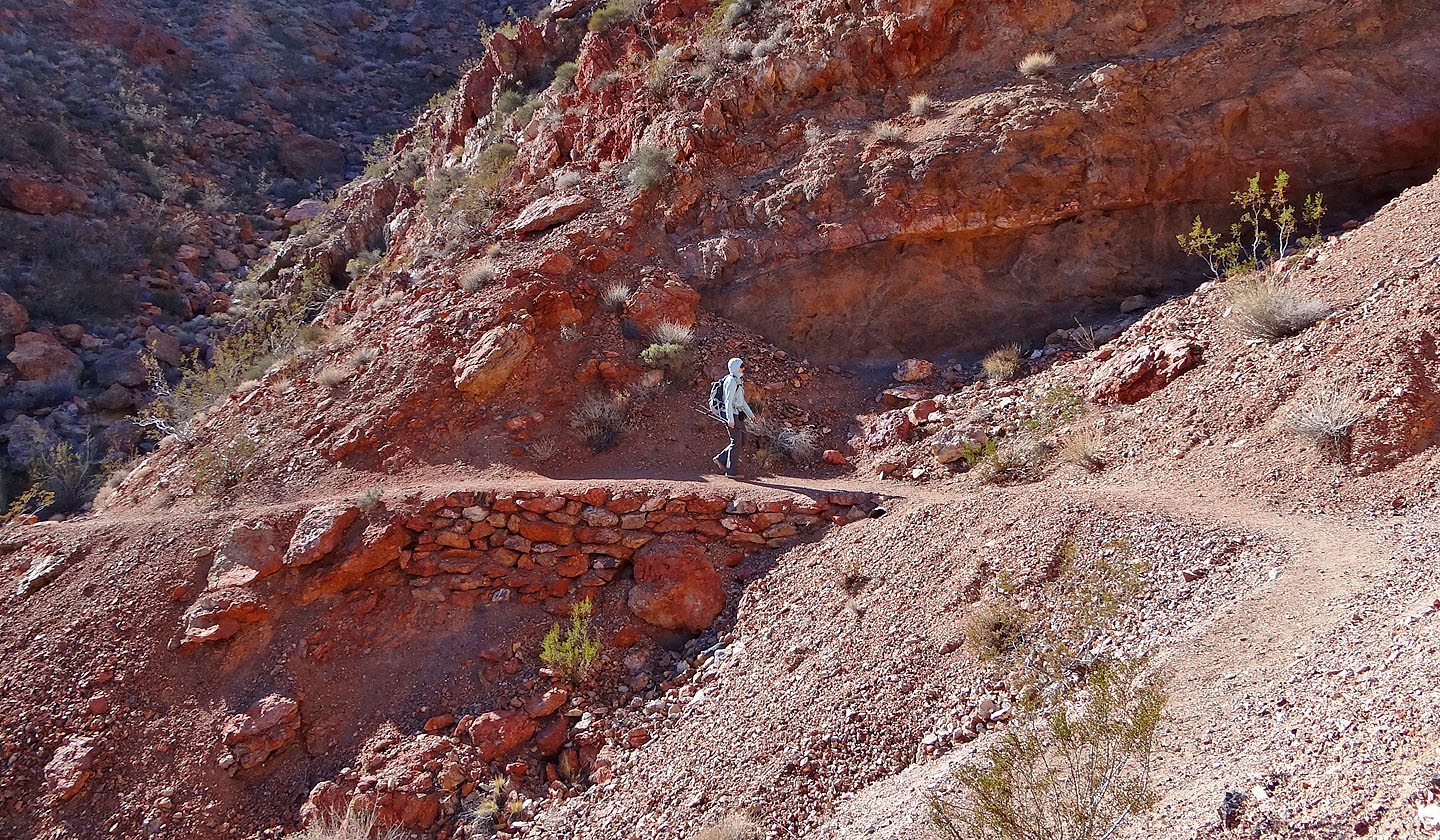 The trail is well-maintained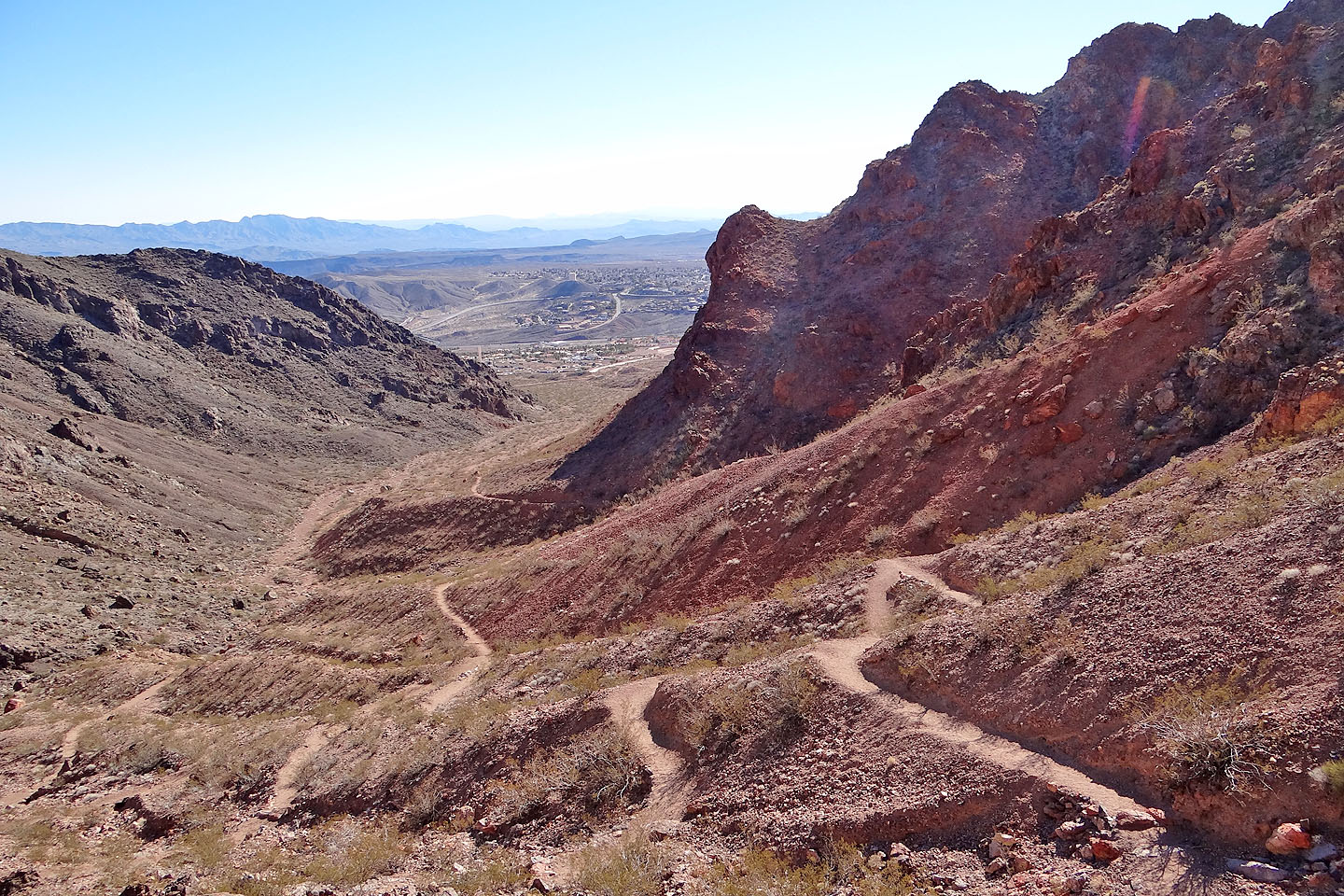 Looking back at the long switchbacks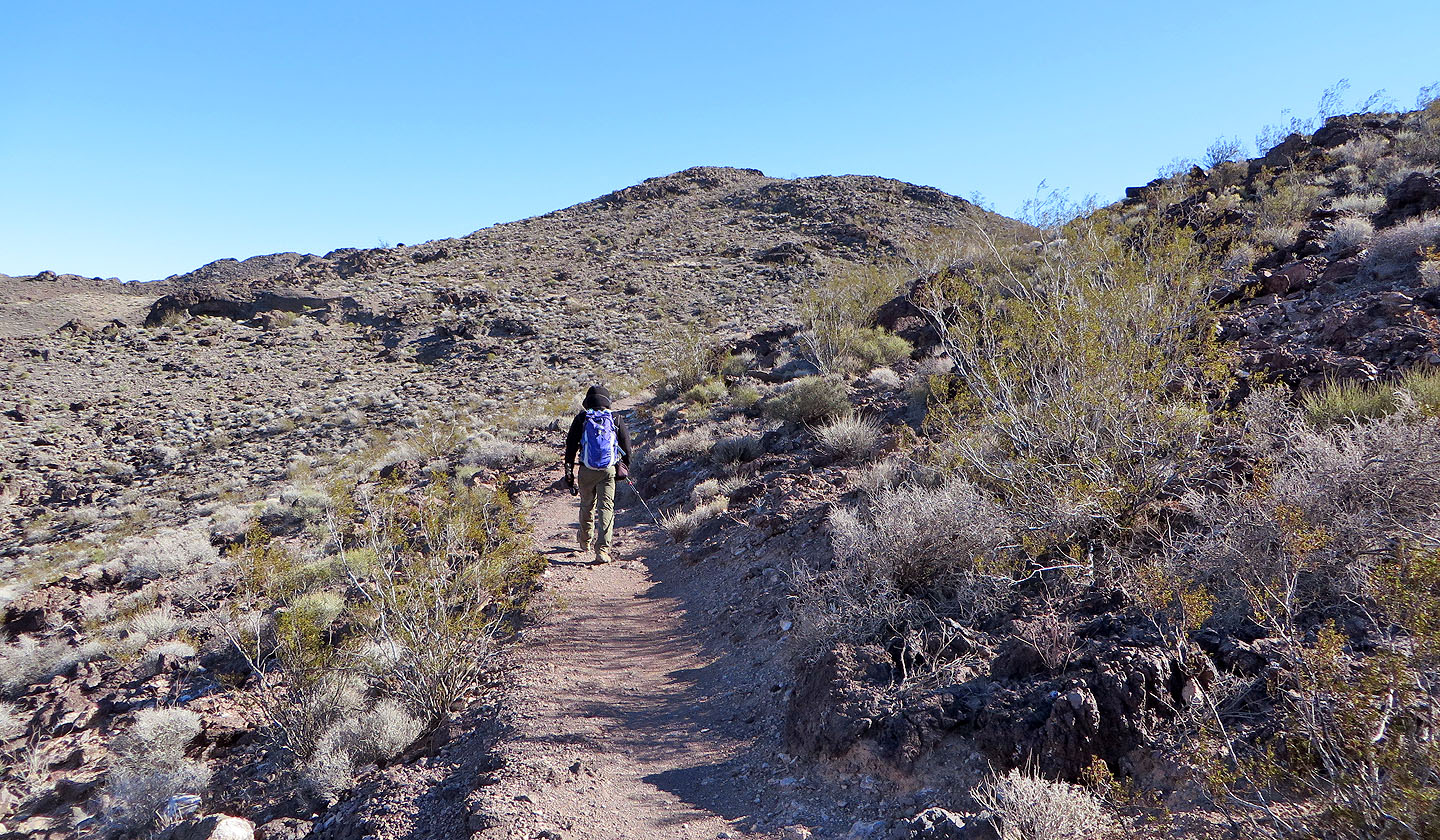 After reaching the saddle we took the trail to Black Mountain Overlook seen ahead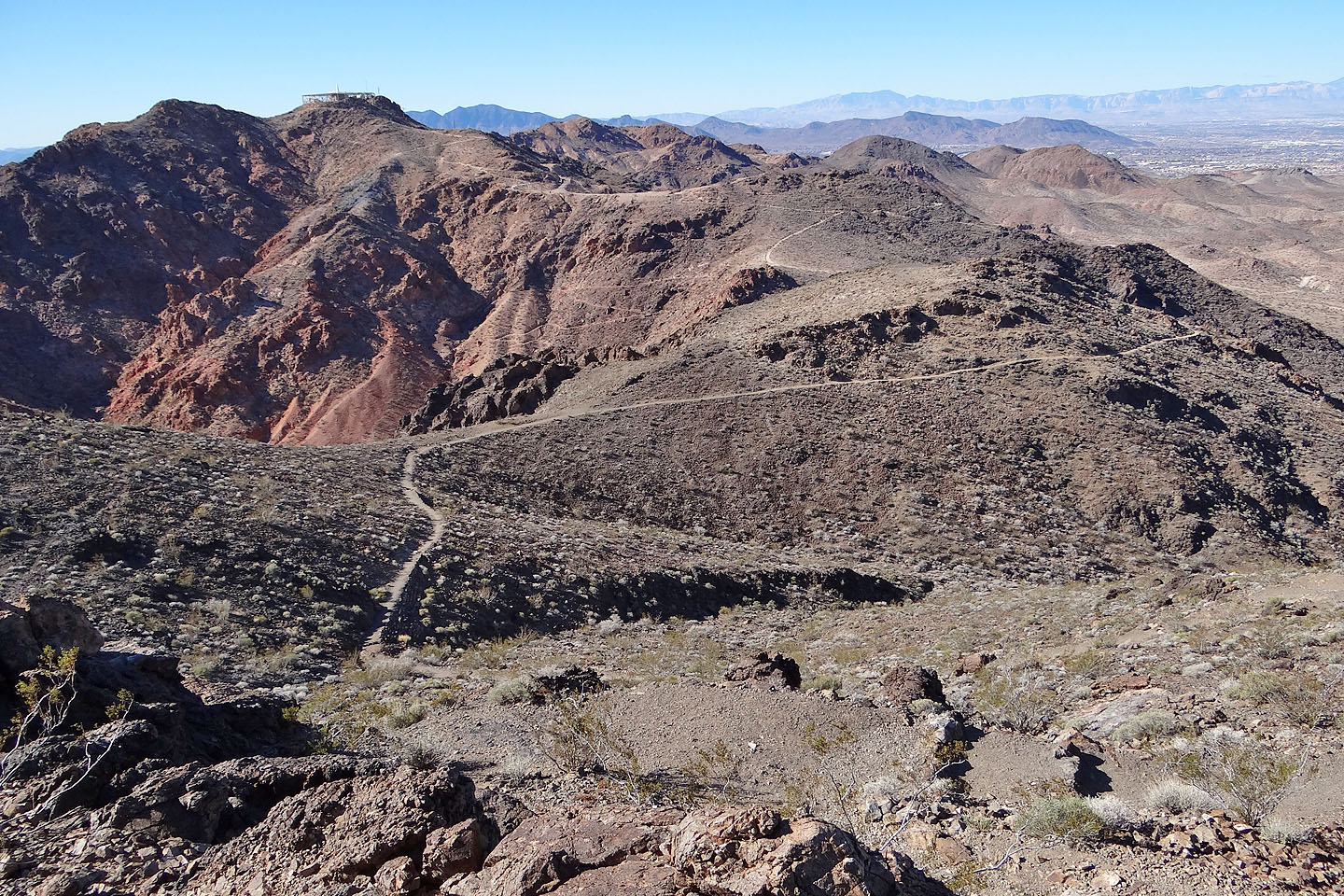 Looking back at Red Mountain and the saddle


Panorama from the Overlook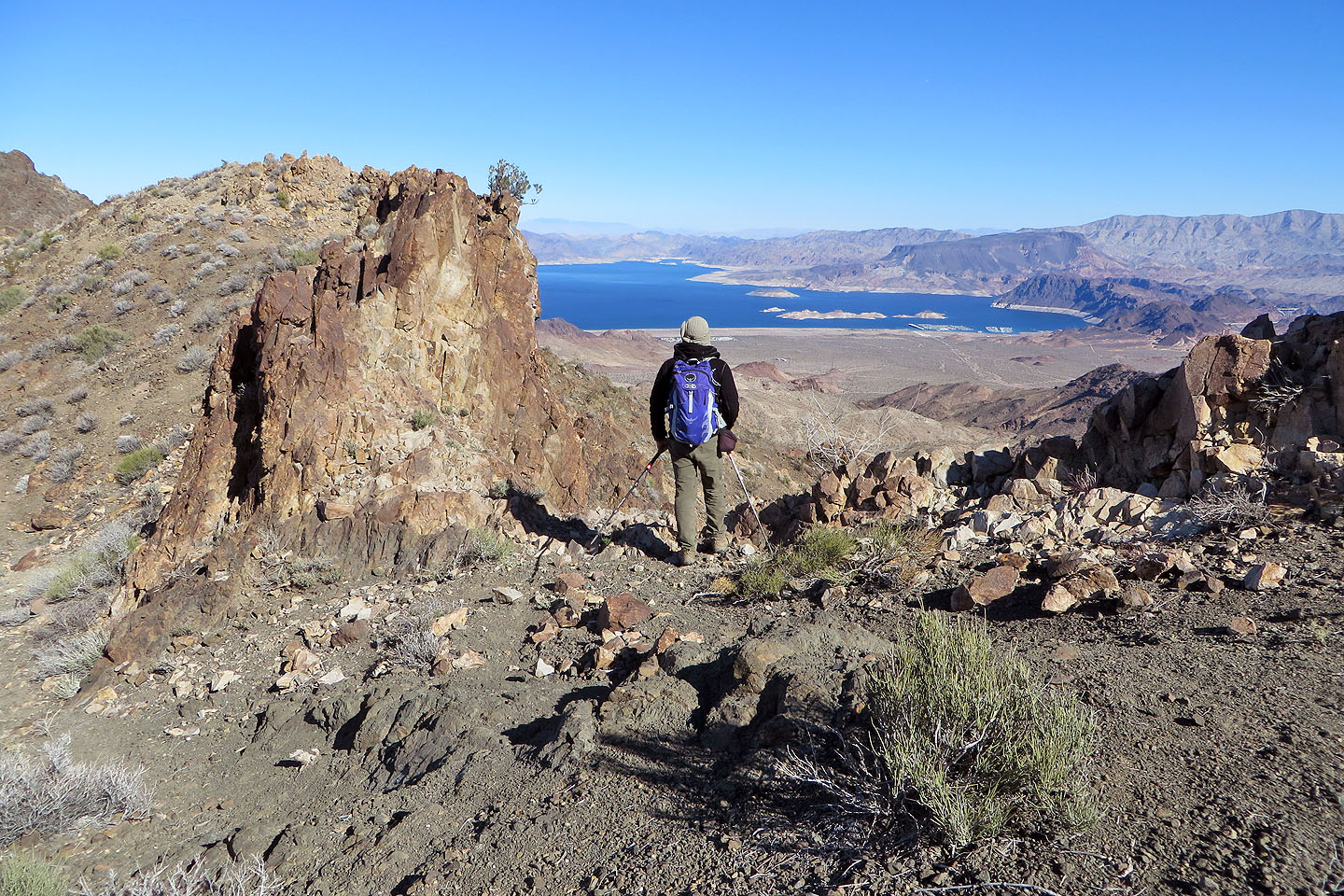 Lake Mead is always an impressive sight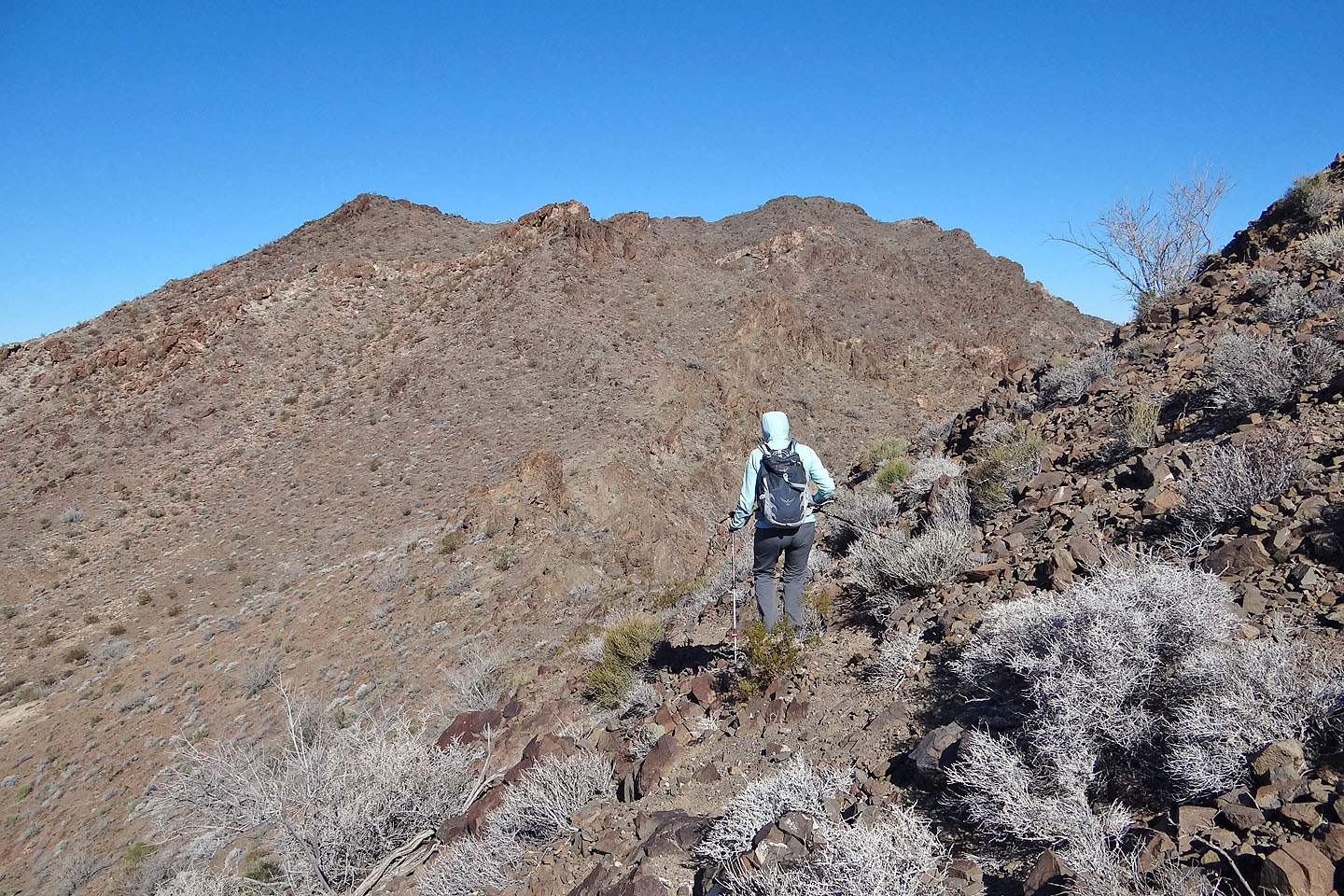 We head to Black Mountain (the summit is above Dinah)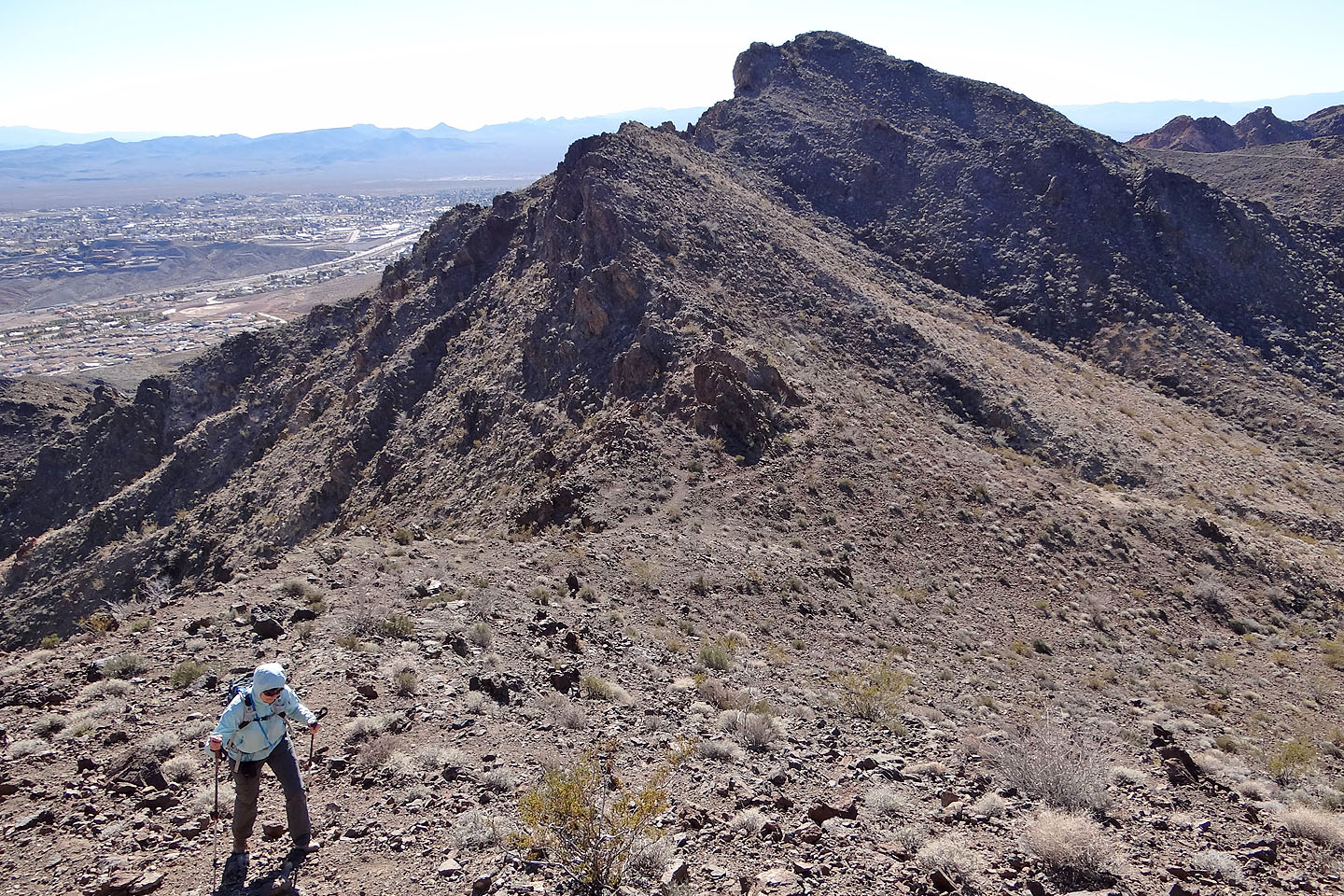 Looking back at the Overlook as we start up Black Mountain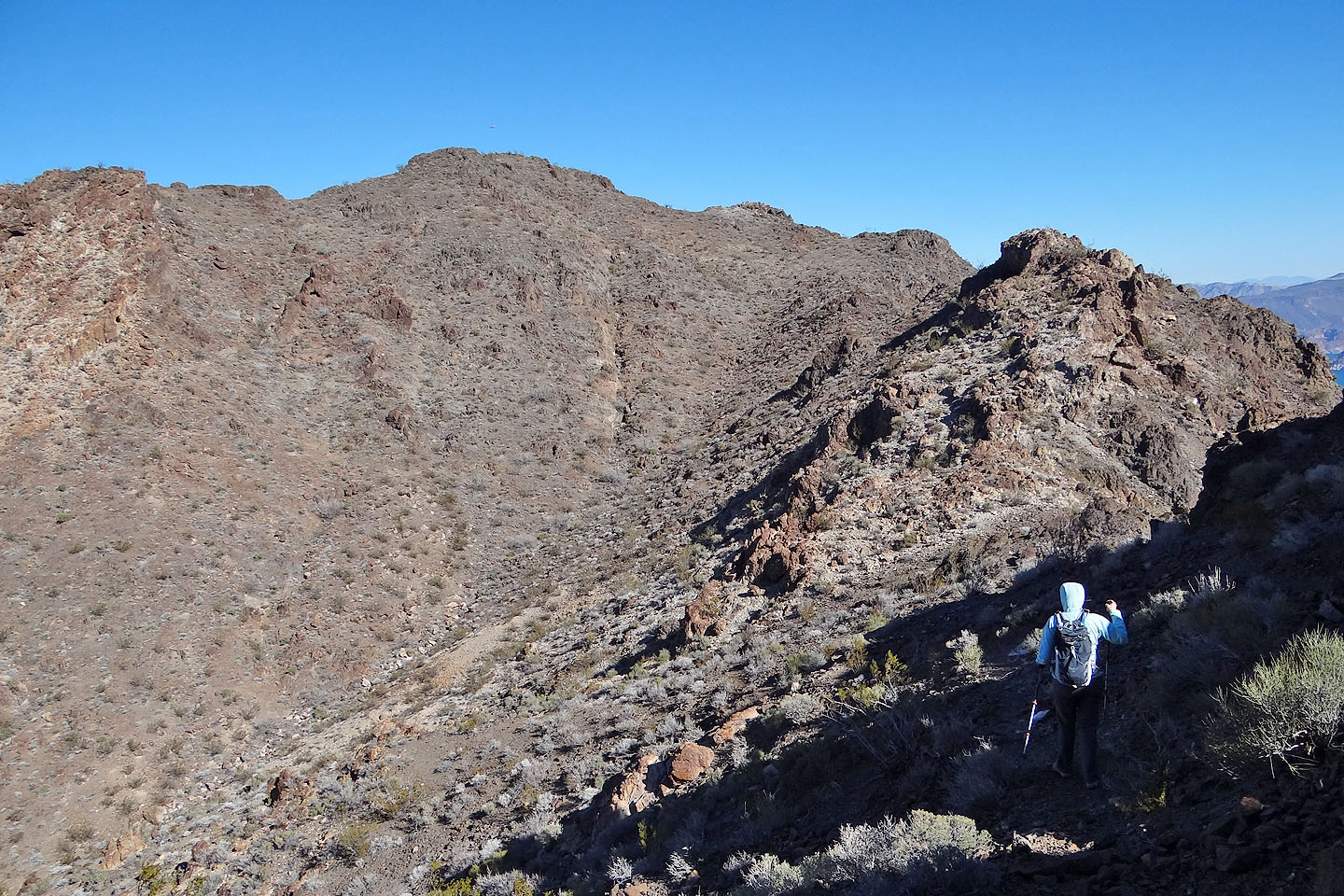 After climbing an intervening ridge, the summit appears ahead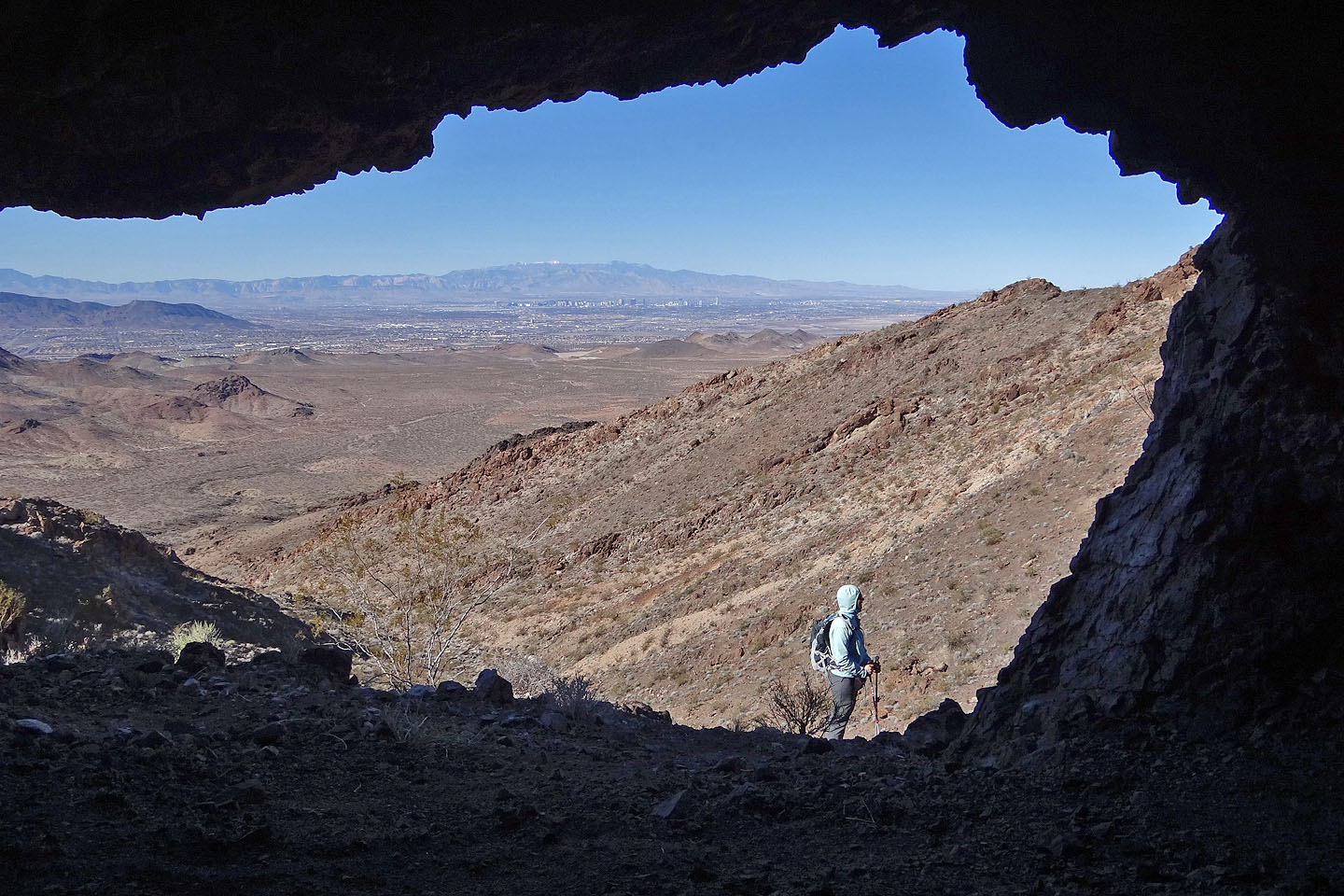 From a cave we could make out Spring Mountains above Las Vegas (mouse over for a close-up)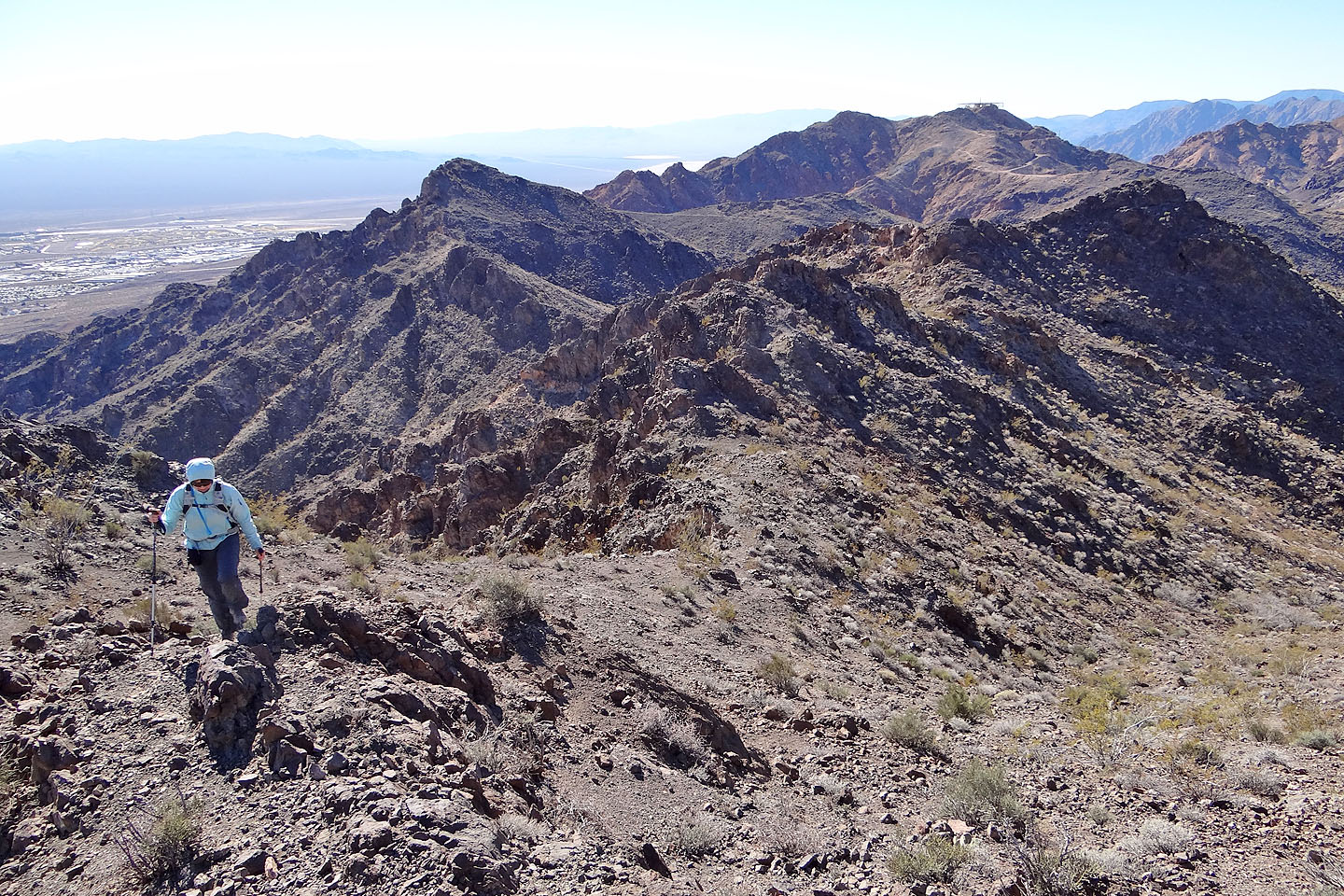 Looking back at the Overlook and Red Mountain as we near the summit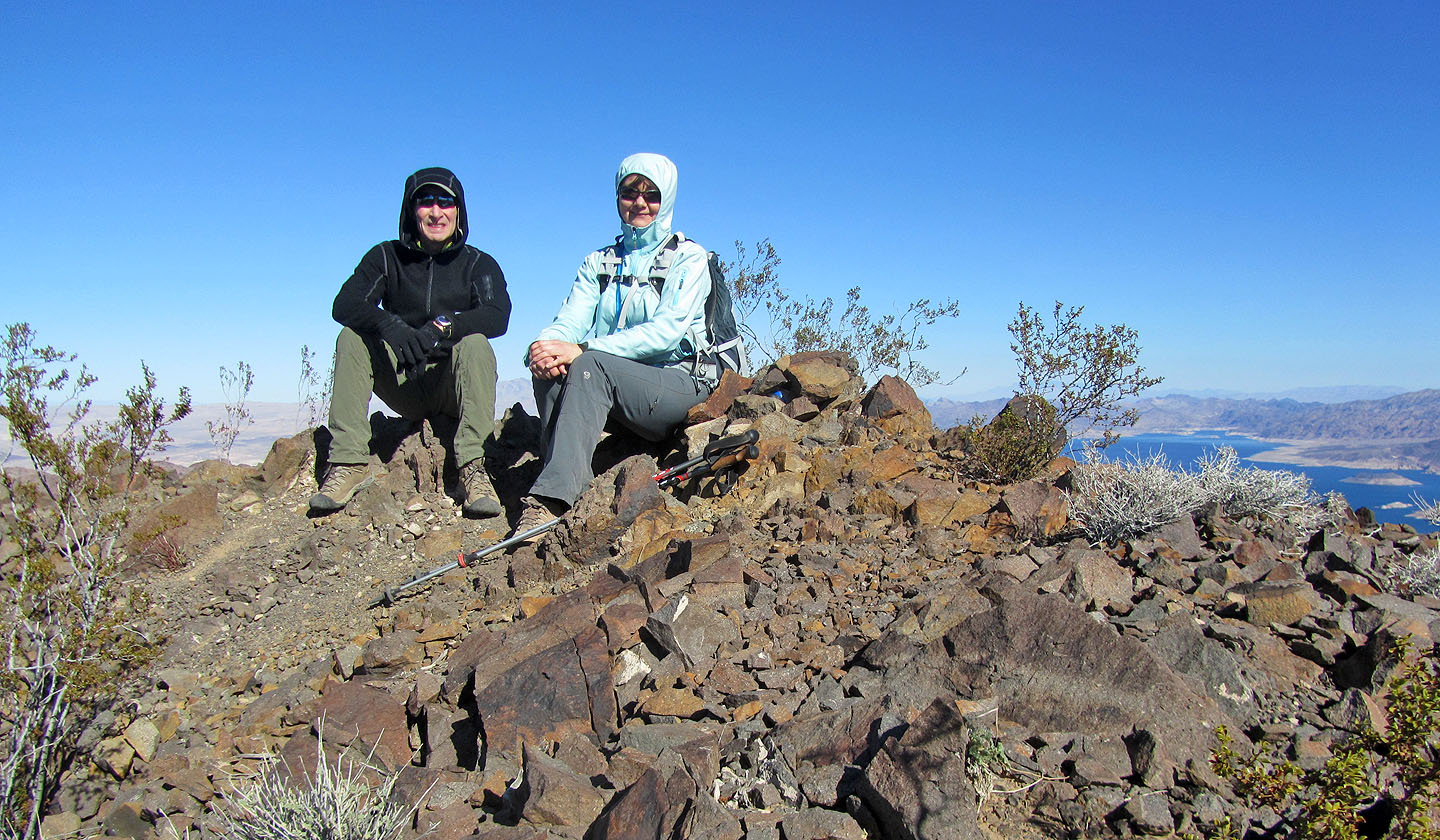 Sitting on top of Black Mountain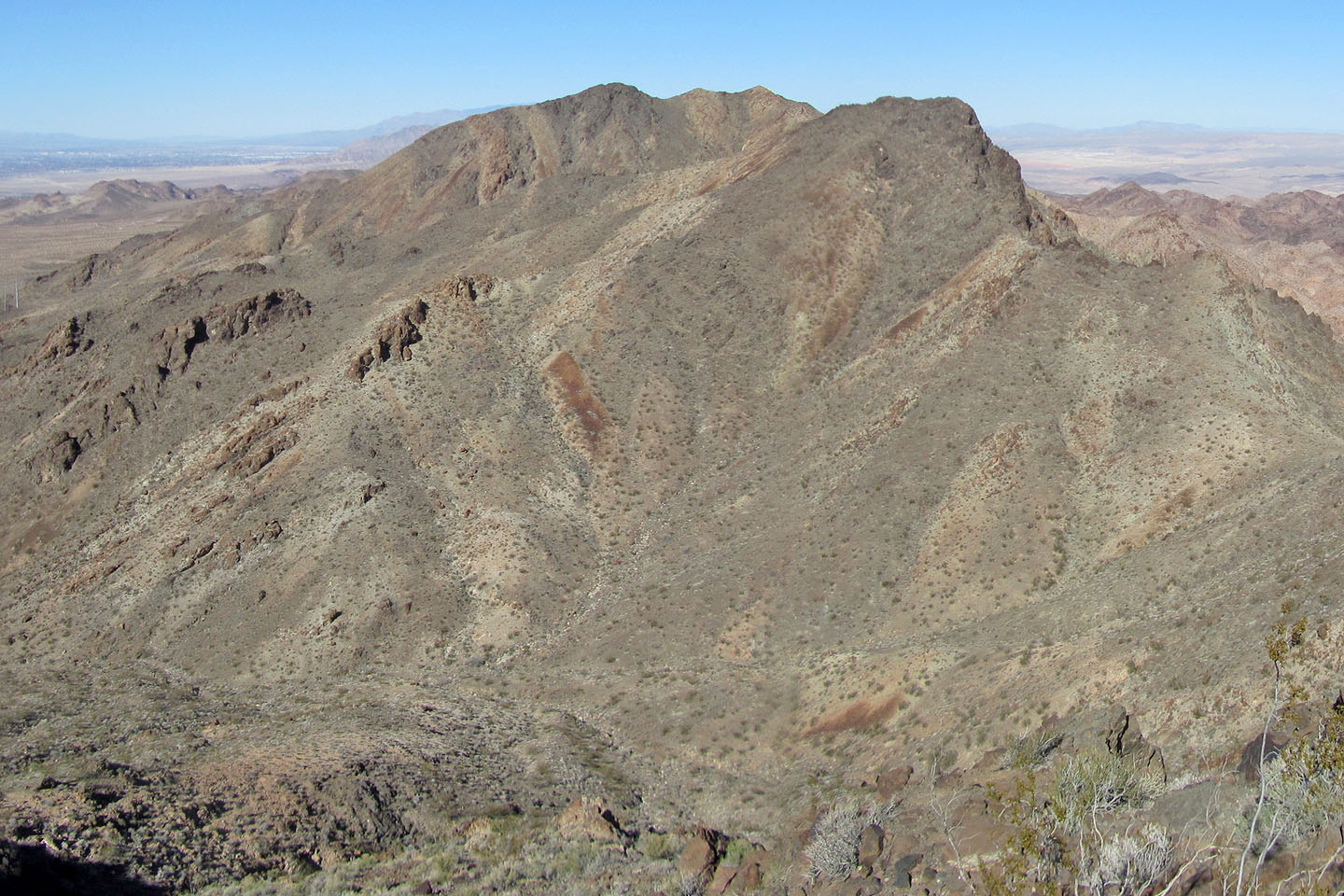 North is nearby River Mountain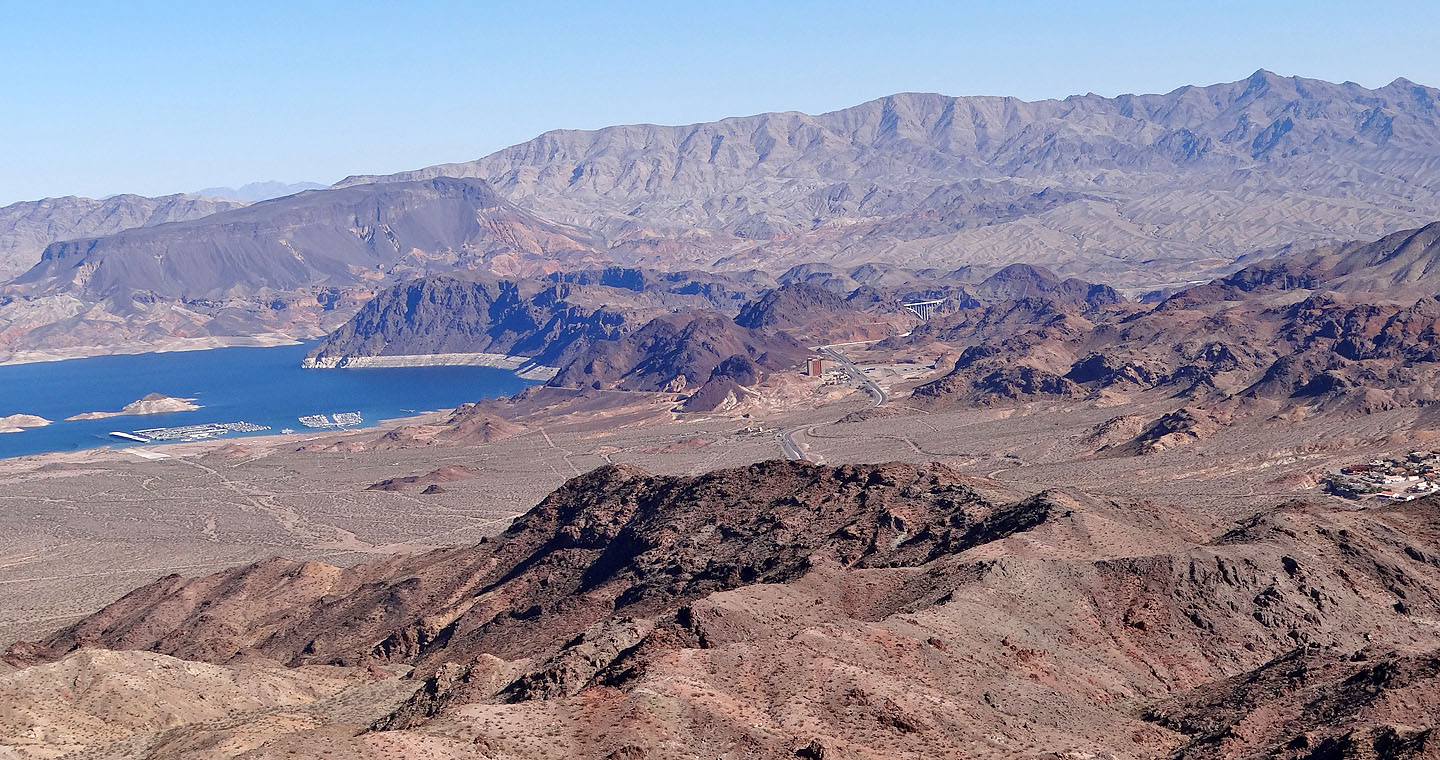 The black mesa is Fortification Hill and far right is Mount Wilson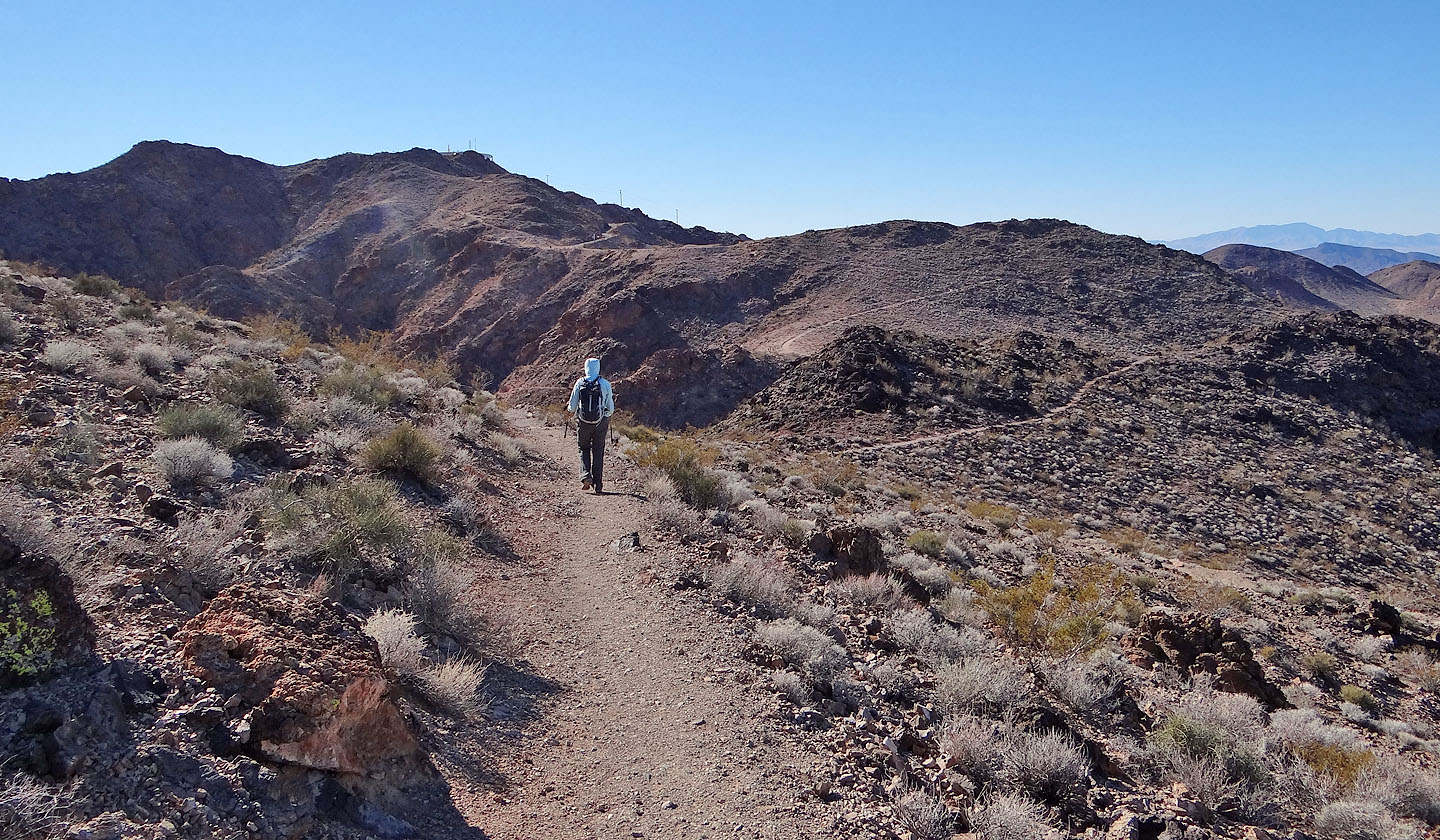 Heading to Red Mountain (far left)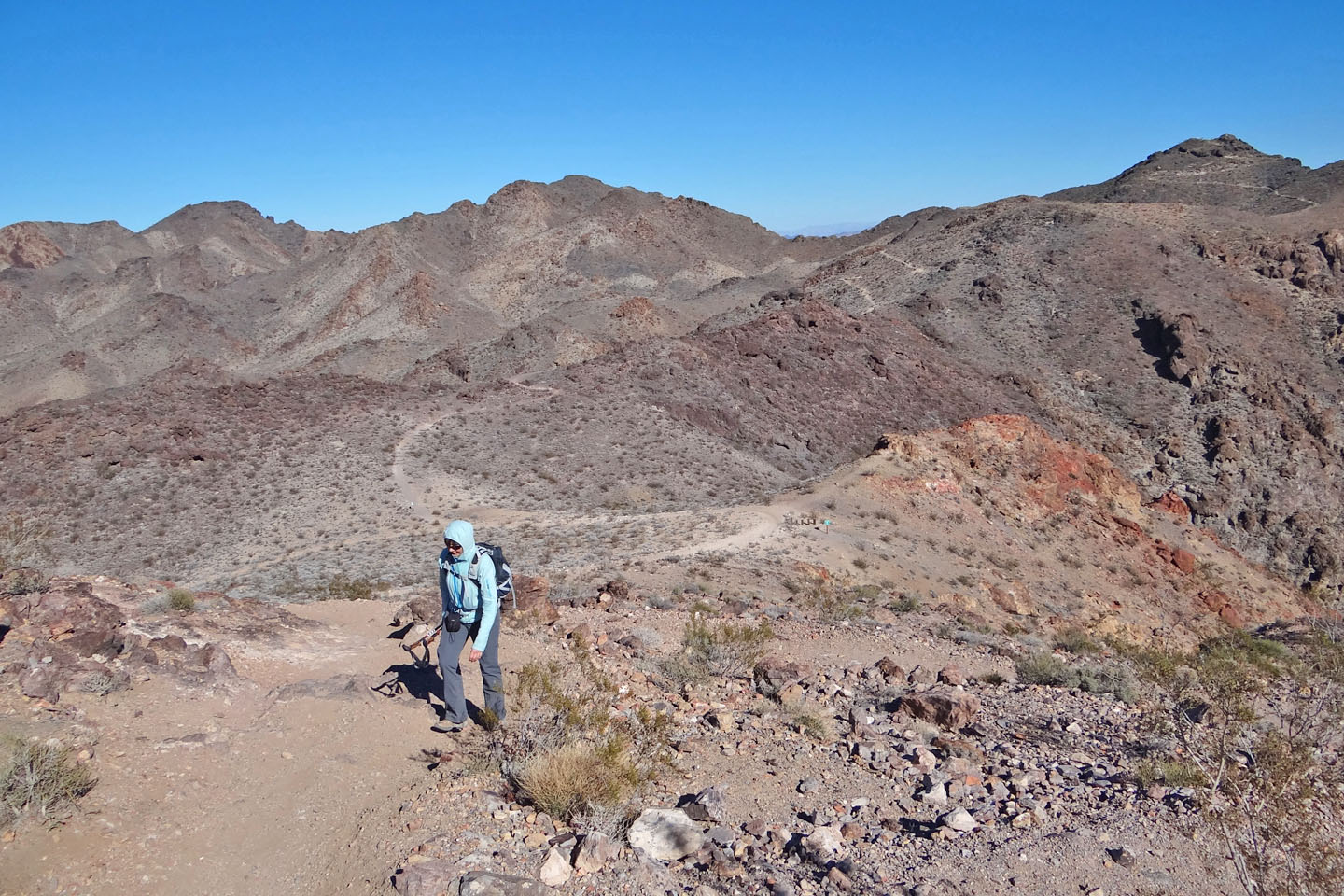 On the saddle we turned left for Red Mountain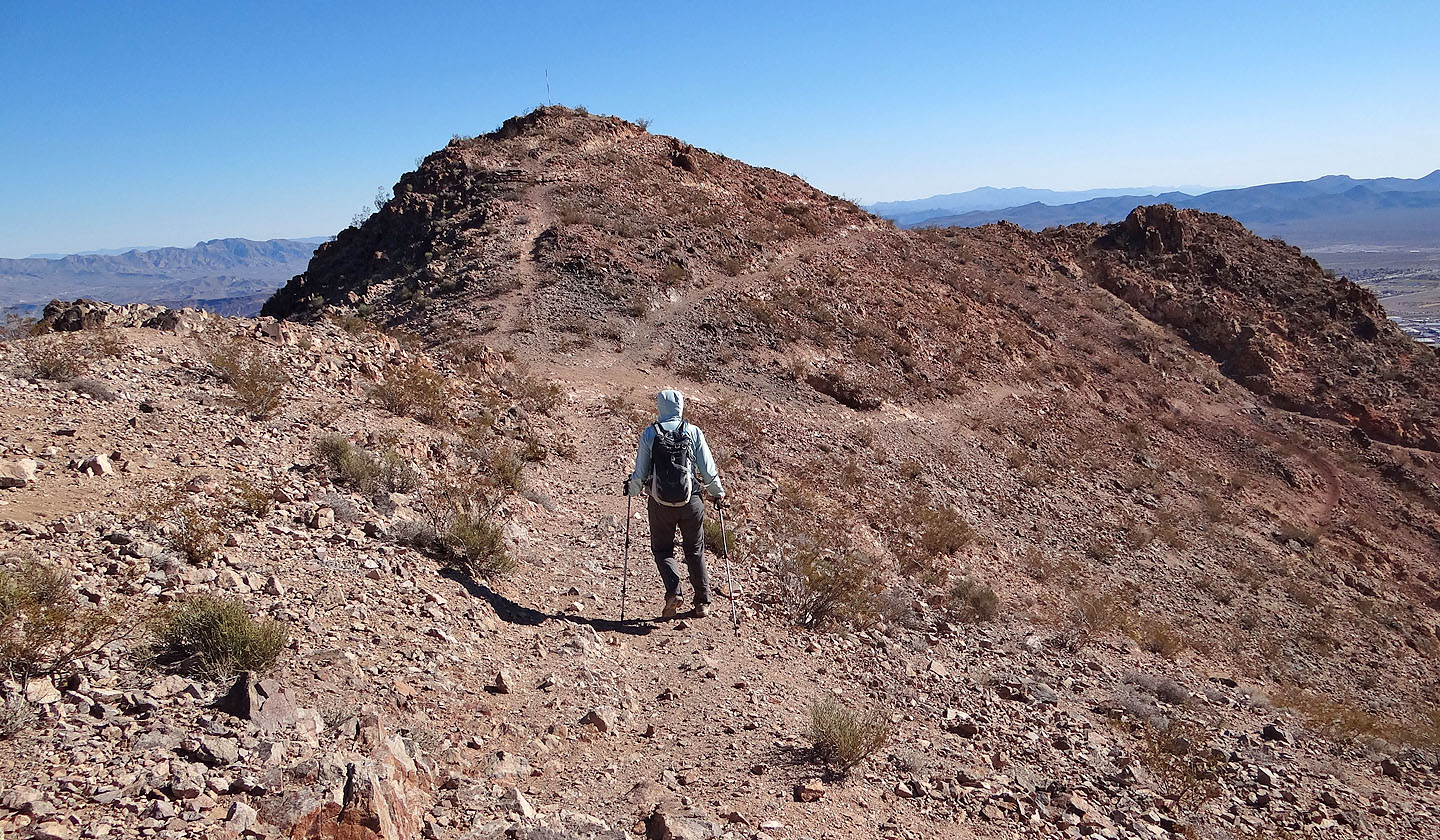 The summit of Red Mountain

Behind us is a strange-looking communication facility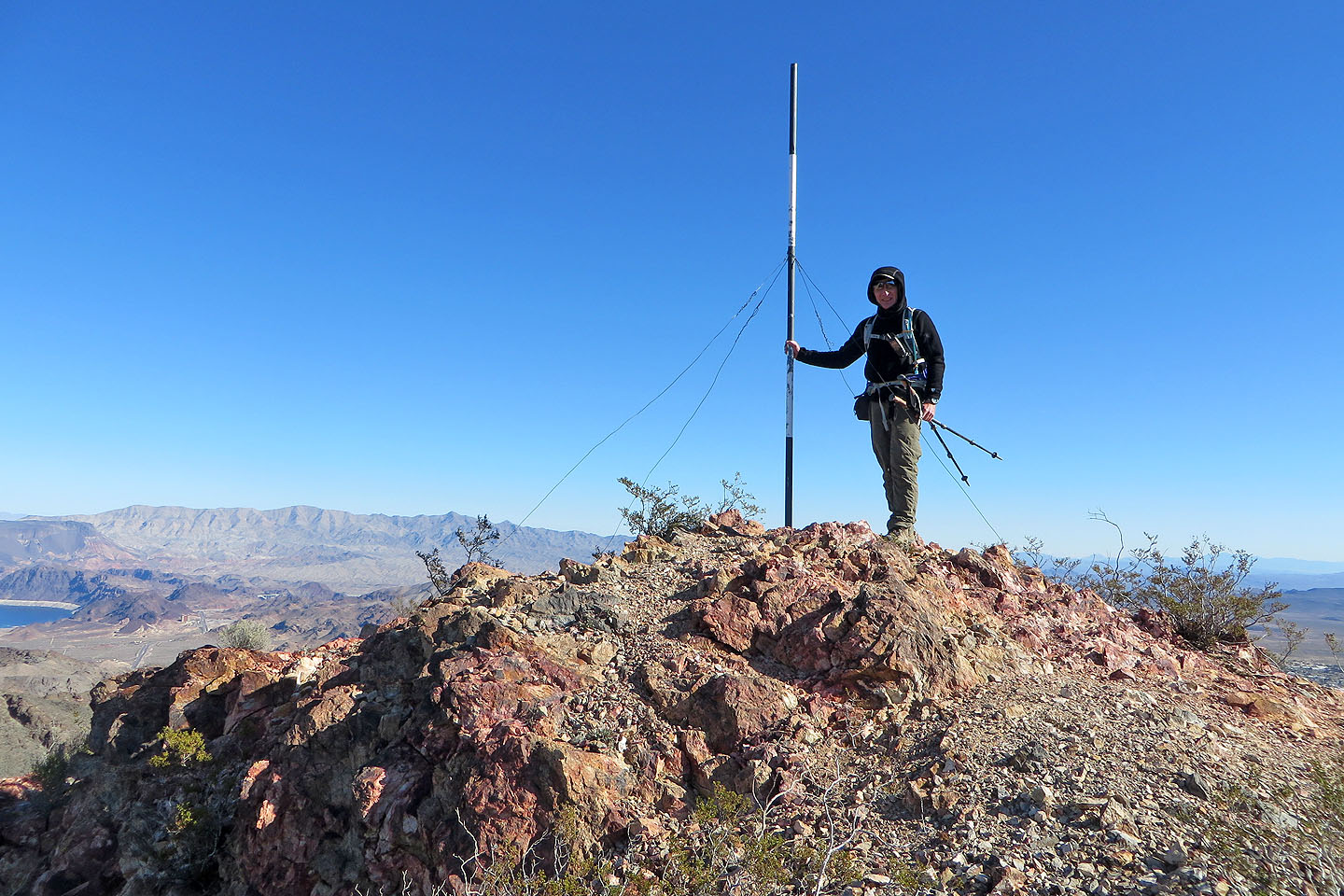 Standing on the uninspiring summit


View from Red Mountain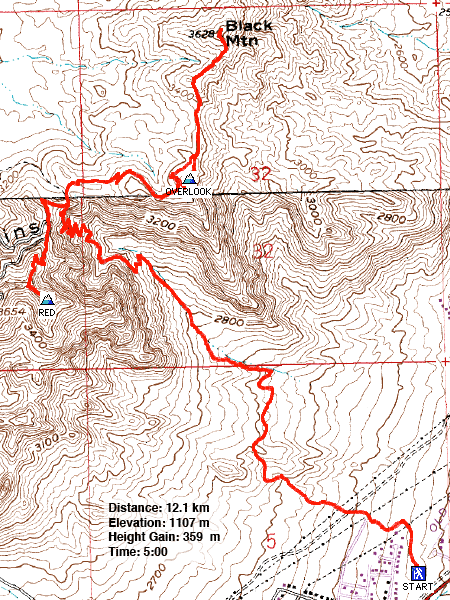 Boulder Beach and Boulder City (7.5 mi, 3632 ft, 1178 ft)