bobspirko.ca | Home | Canada Trips | US Trips | Hiking | Snowshoeing | MAP | About

Crumbly Peak
Valley of Fire, Nevada
January 21, 2018
Distance: 4.9km (3.0 mi)
Cumulative Elevation Gain: 172 m (564 ft)

The Fire Wave is one of the highlights of the Valley of Fire, but few people appear to venture very far beyond it. Certainly none of the dozens of people we saw ascended Crumbly Peak, a small peak so ignored, or perhaps unknown, that it doesn't even bear a summit cairn. But for Dinah and me, it was an attractive goal, especially since we could use the Fire Wave trail for the approach. And it certainly wouldn't hurt for us to visit the Wave, a beautiful, red-and-white-striped sandstone rock.
We parked at the Fire Wave trailhead and followed the sandy trail downhill until it hit smooth sandstone. After that, posts marked the route to the Fire Wave. We passed the Wave and dropped into a wash. We followed it northwest, leaving the tourists far behind. We soon reached the north ridge of Crumbly Peak. We followed the ridge to the summit, a class 2 climb.
Despite its small stature, the summit holds expansive views. After looking around and having lunch, and for variety, we dropped down the northeast slope before veering east to get back to the wash. However, this route added little in the way of scenery and wasn't as pleasant as going up the ridge. The hike back allowed us to see the Fire Wave again, although now the area was crawling with tourists.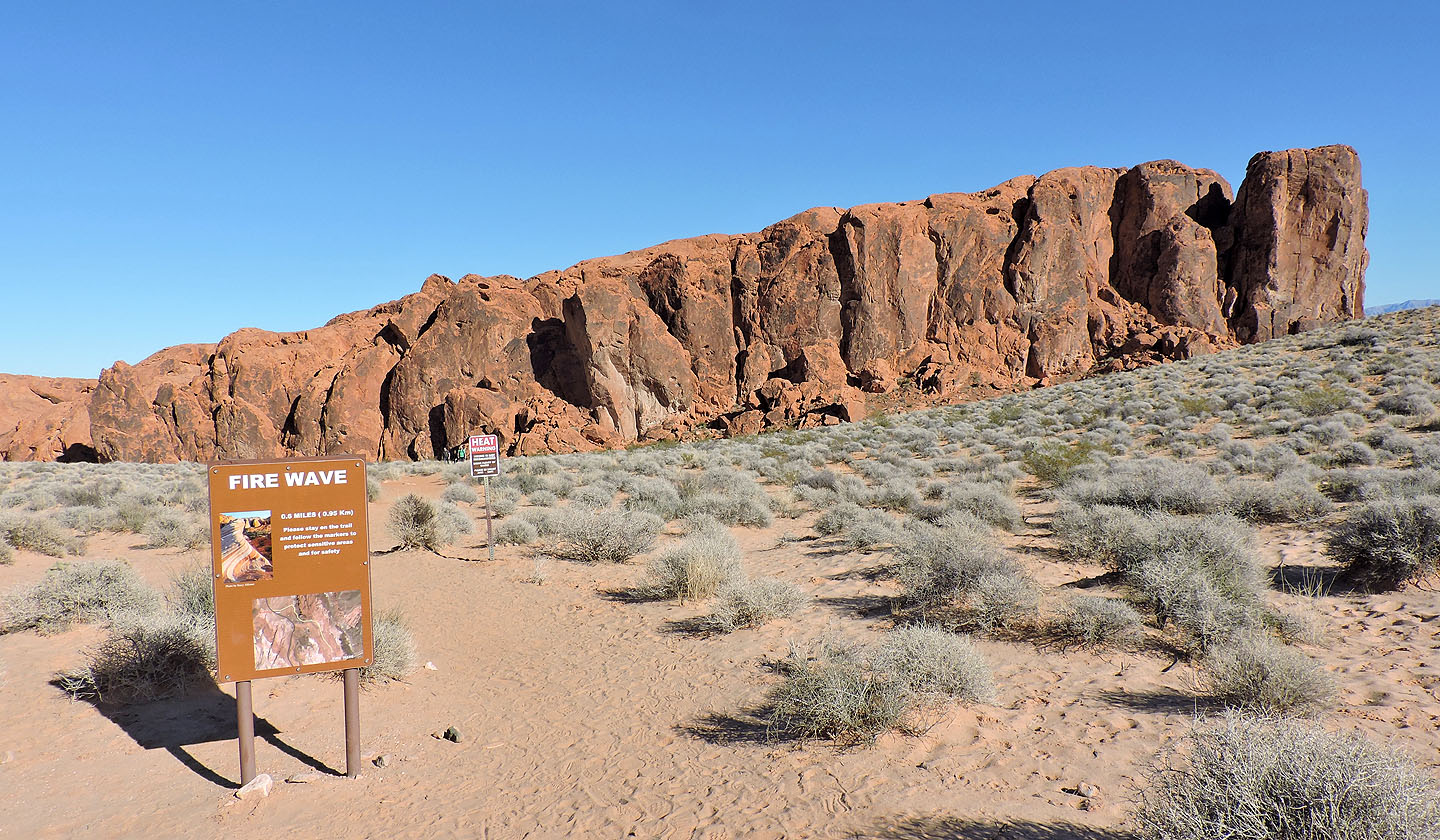 Fire Wave trailhead: the trail winds to the right of Gibraltar Rock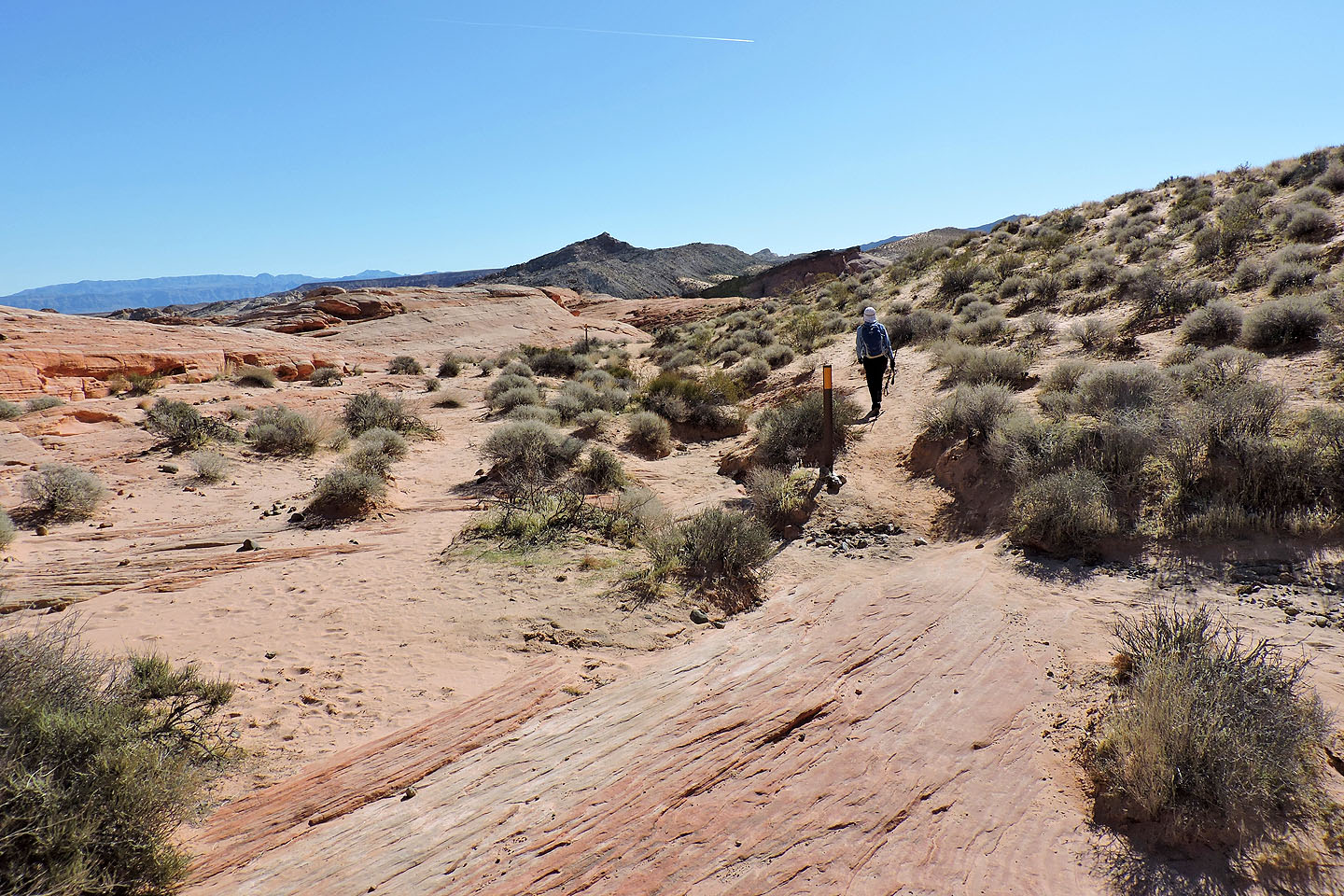 Crumbly Peak rises to a point ahead

Looking back at Gibraltar Rock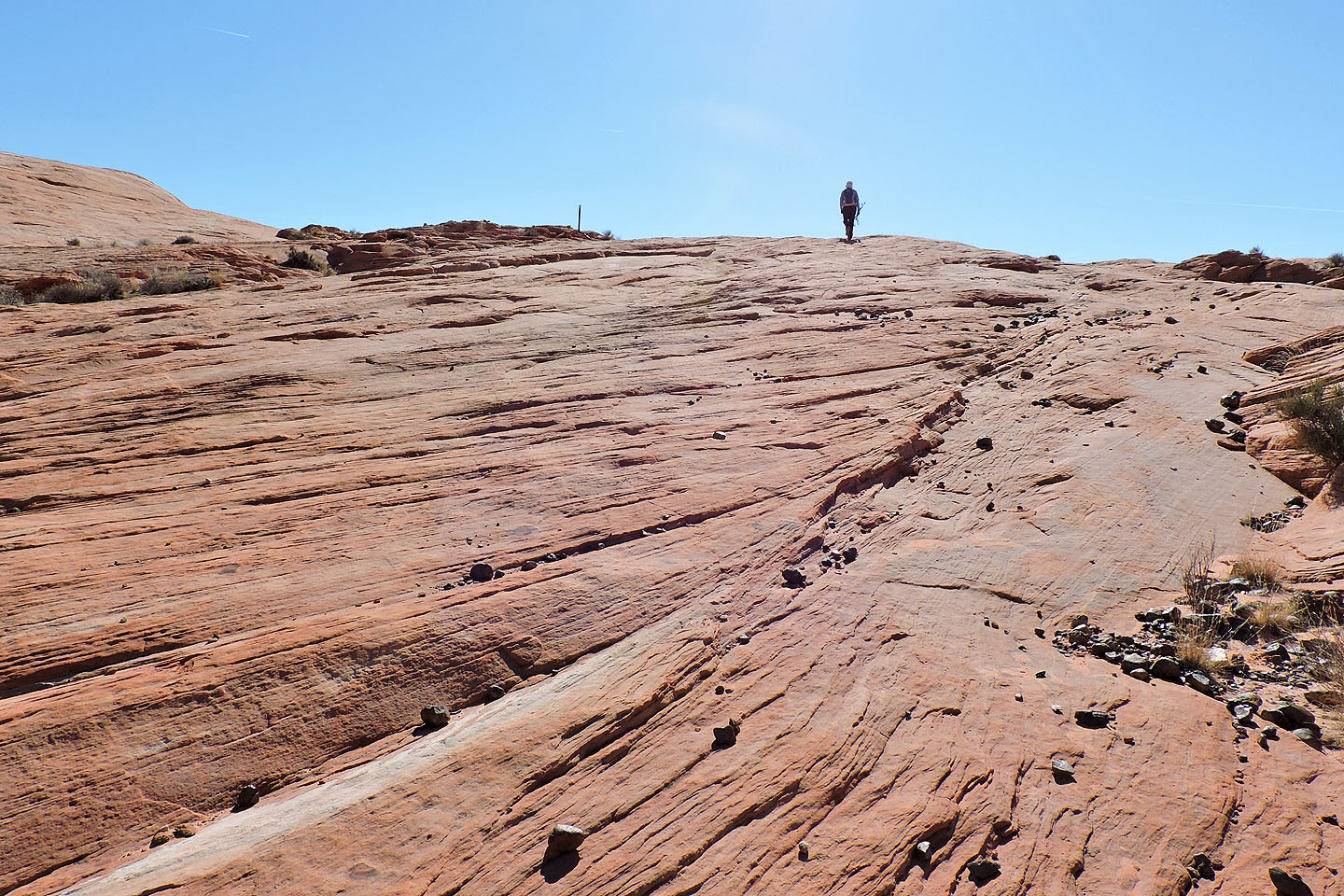 The trail transitions from sand to sandstone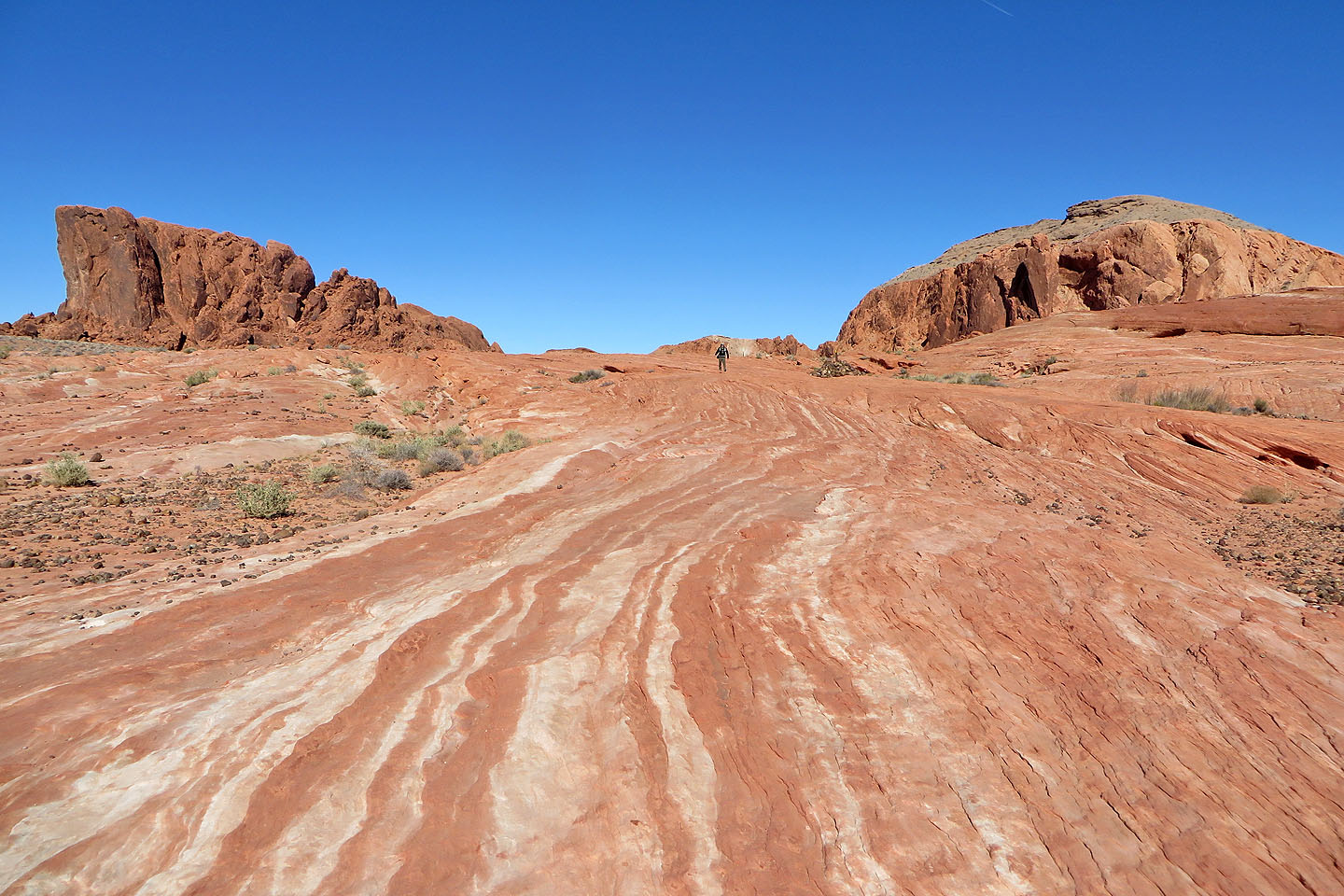 Before reaching the Fire Wave, we encountered colorful sandstone rock

The Wave is just ahead, hidden from view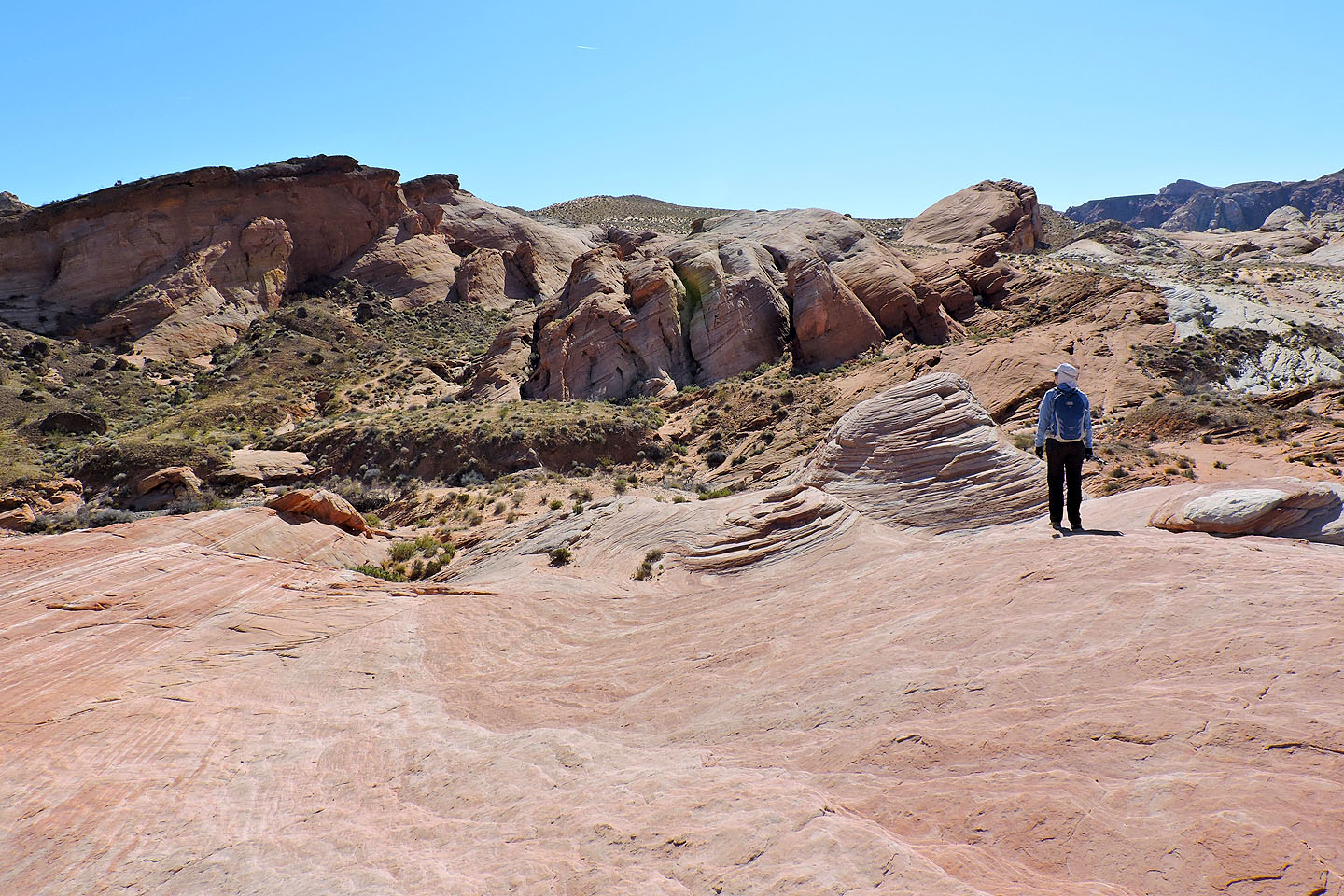 Fire Wave appears left of Dinah although the angle of the sun doesn't reveal the contrasting stripes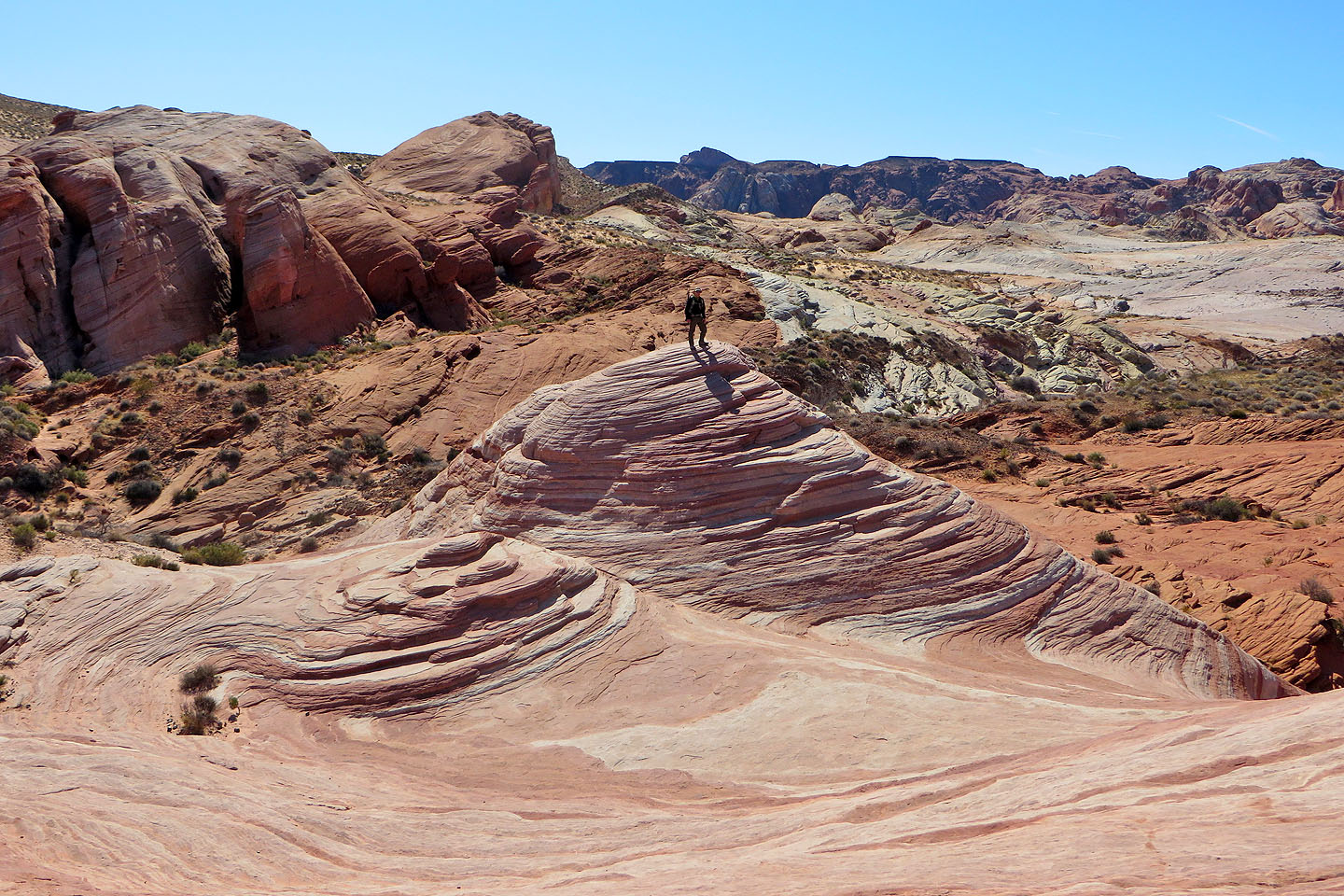 Standing on the Fire Wave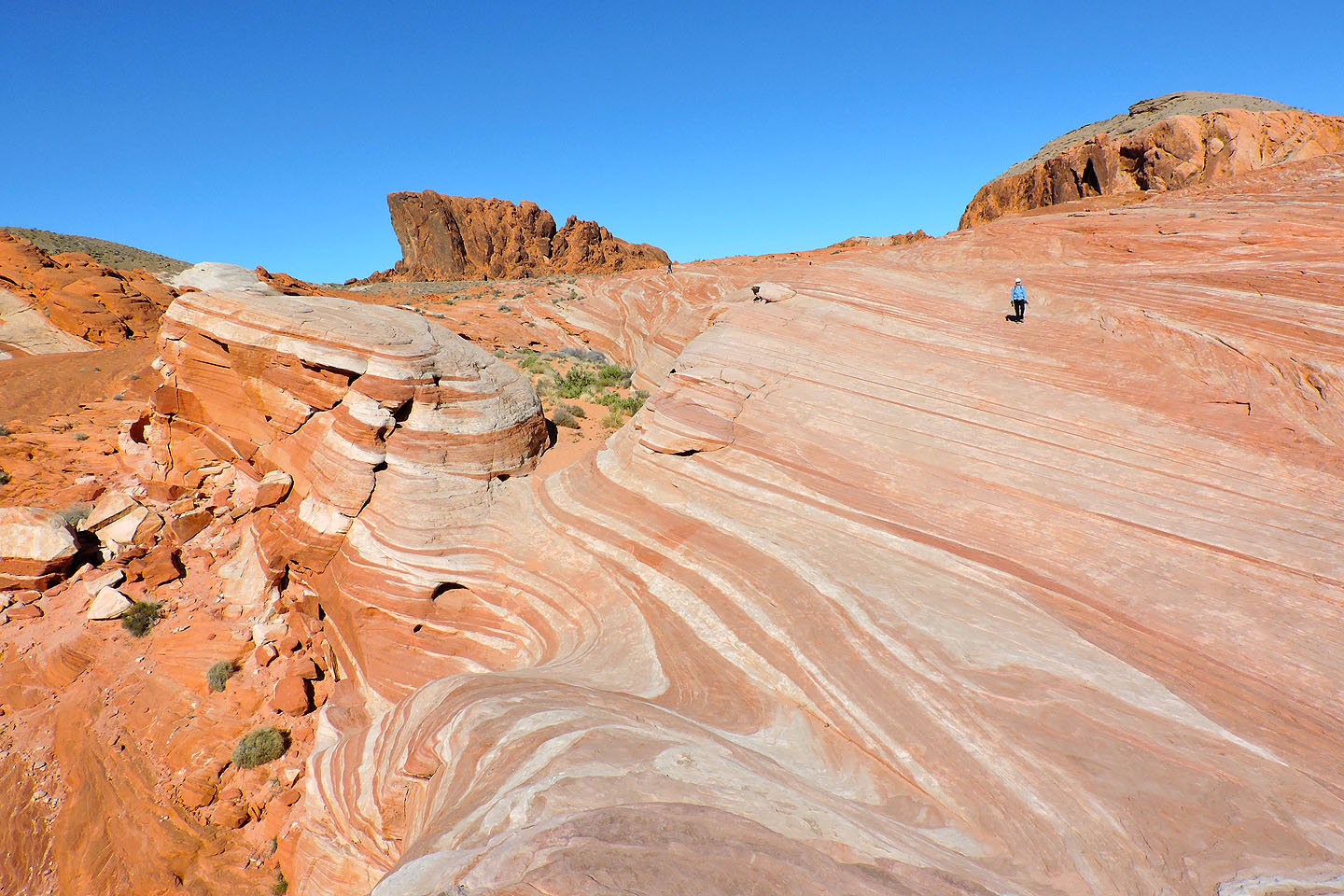 Looking back at Dinah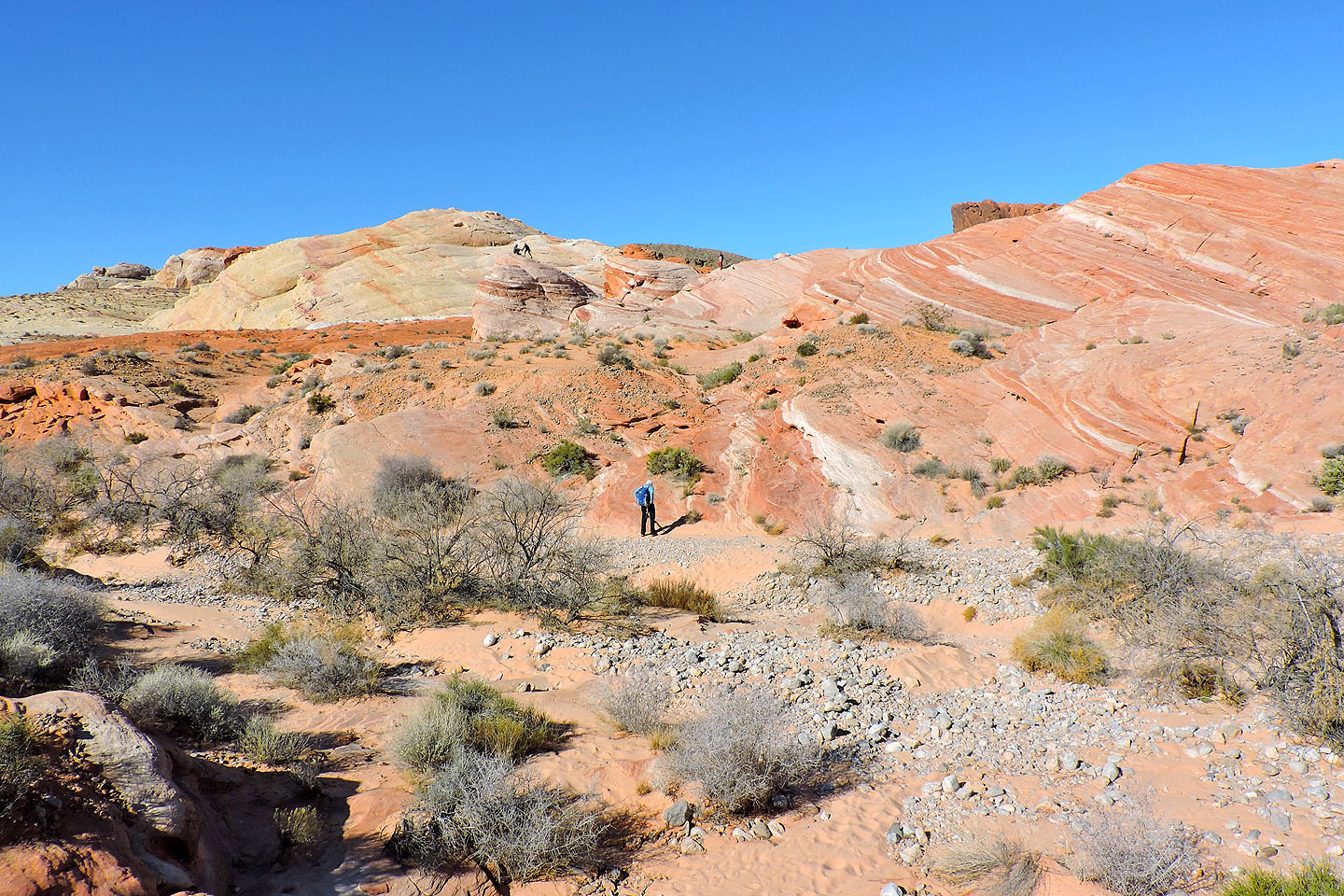 Continuing on, we dropped down into the wash. Two people on the left appear on Fire Wave.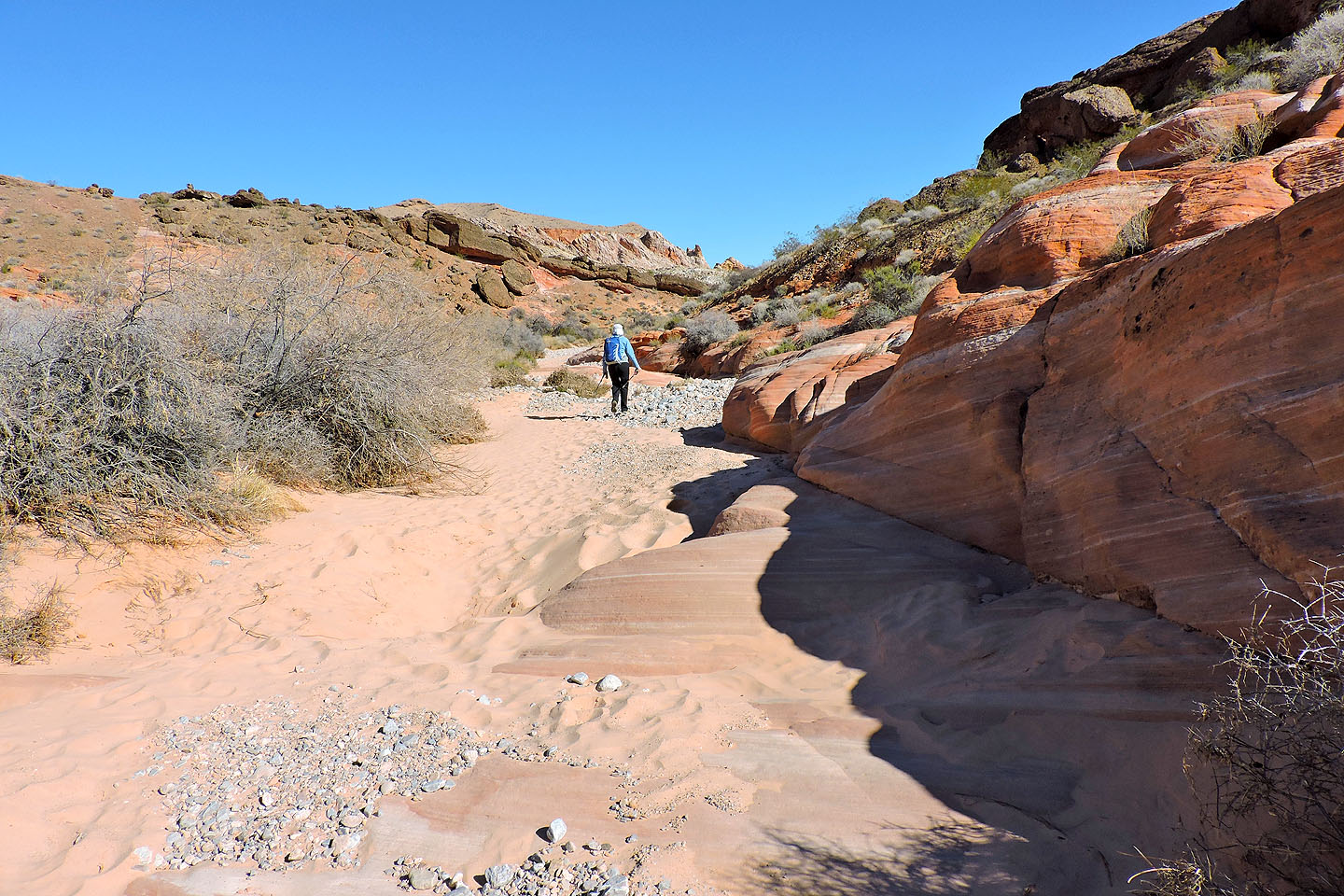 Hiking up the wash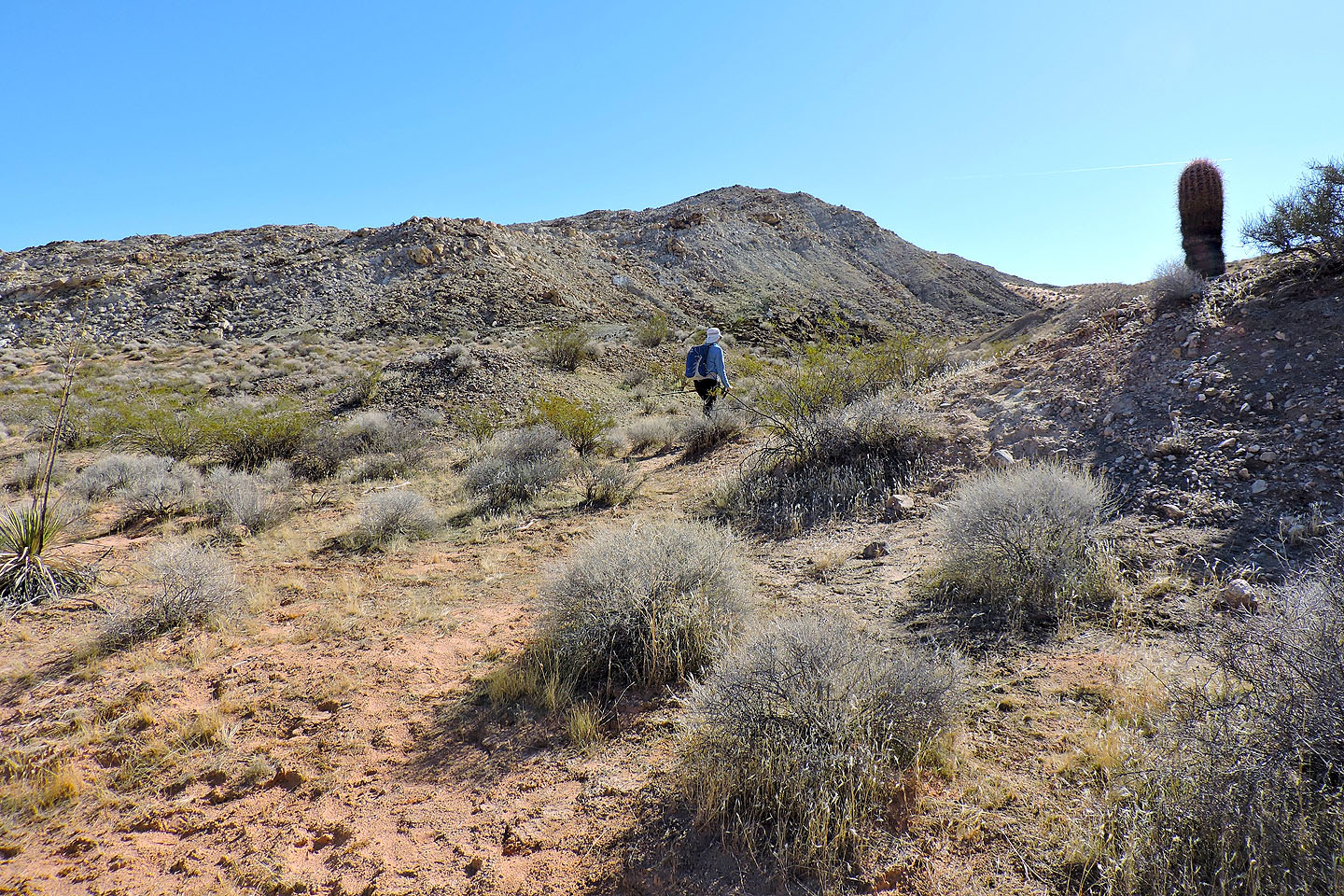 A short time later we could see the north ridge of Crumbly Peak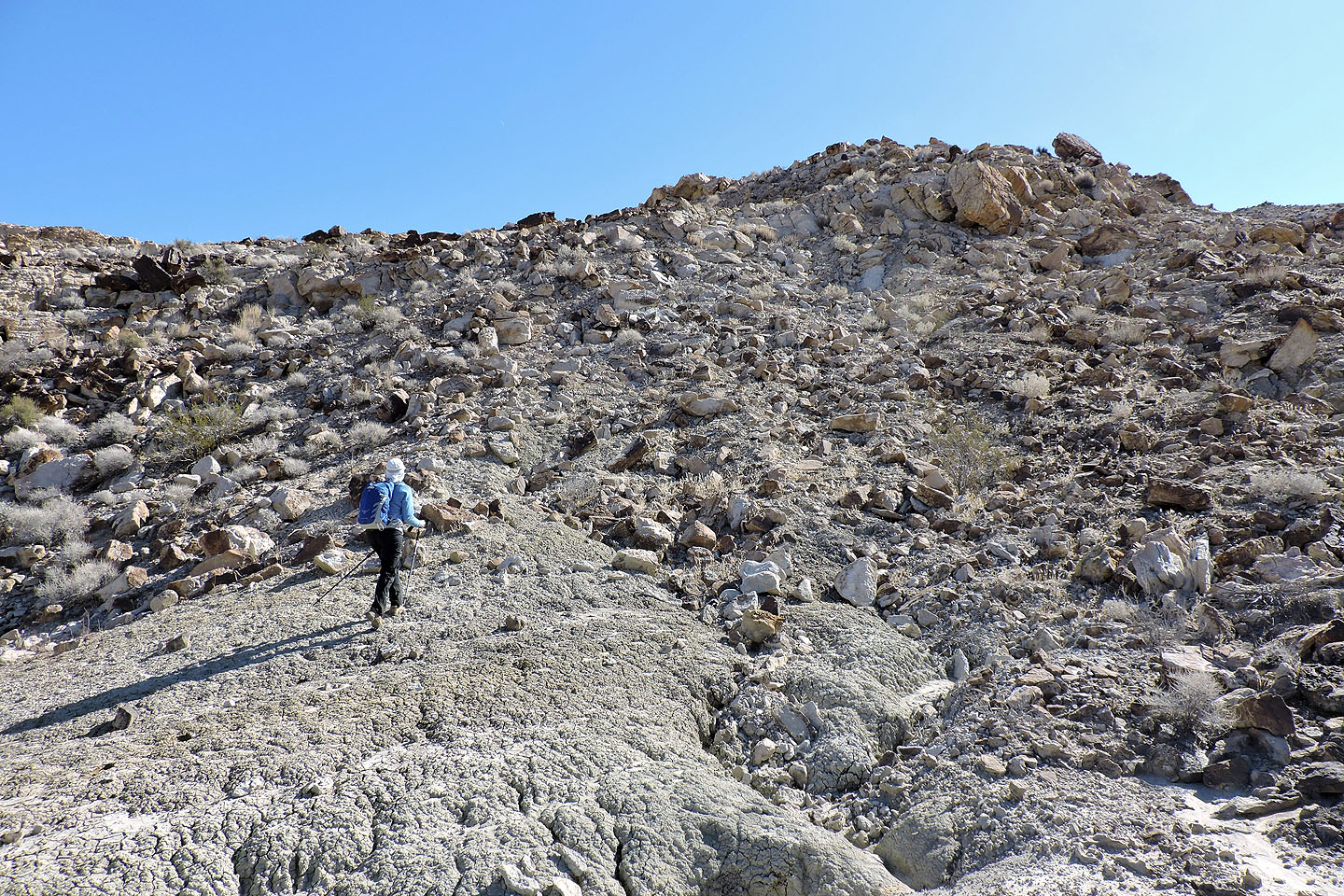 We easily hiked up the slope to gain the ridge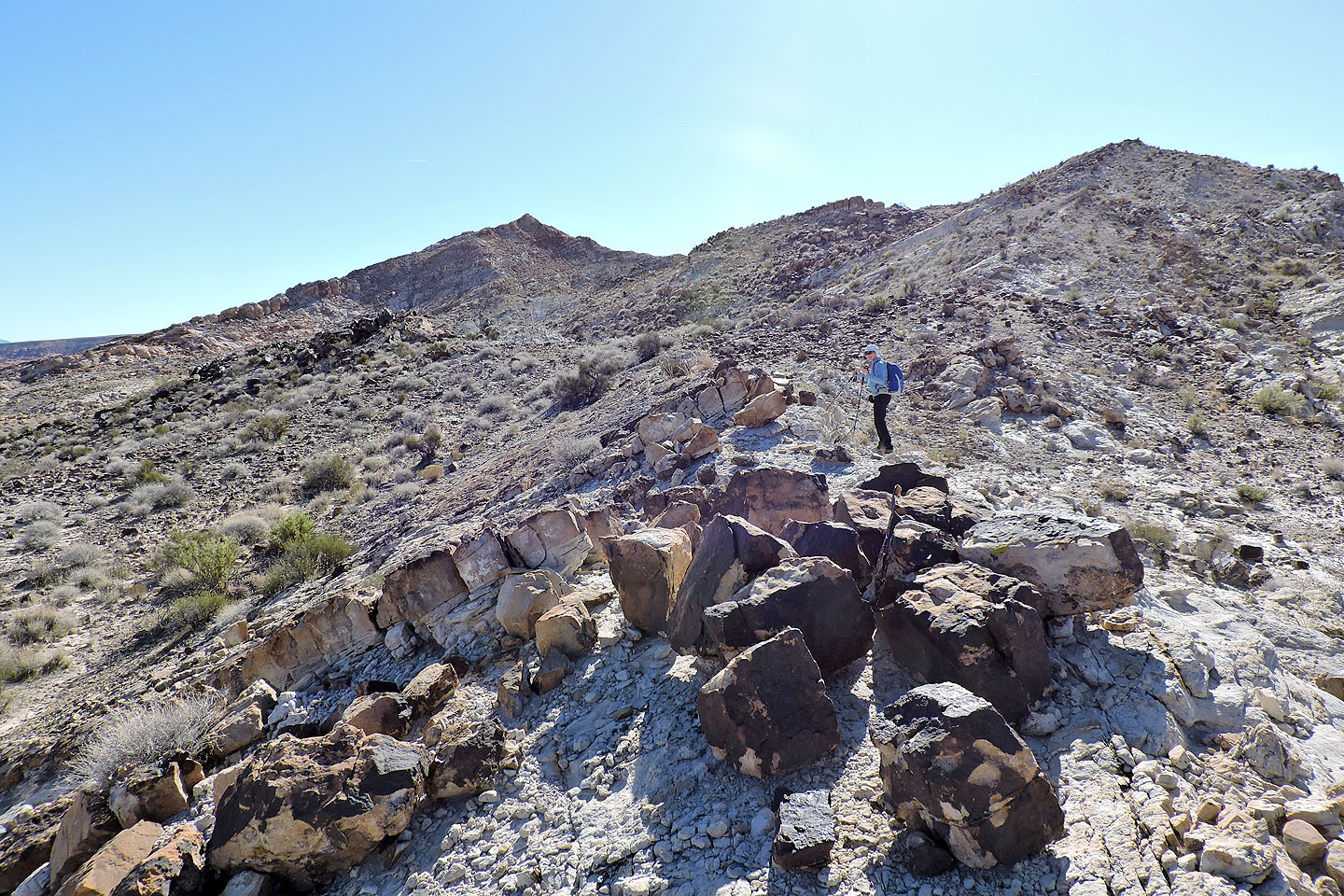 Once on the ridge we followed it to the summit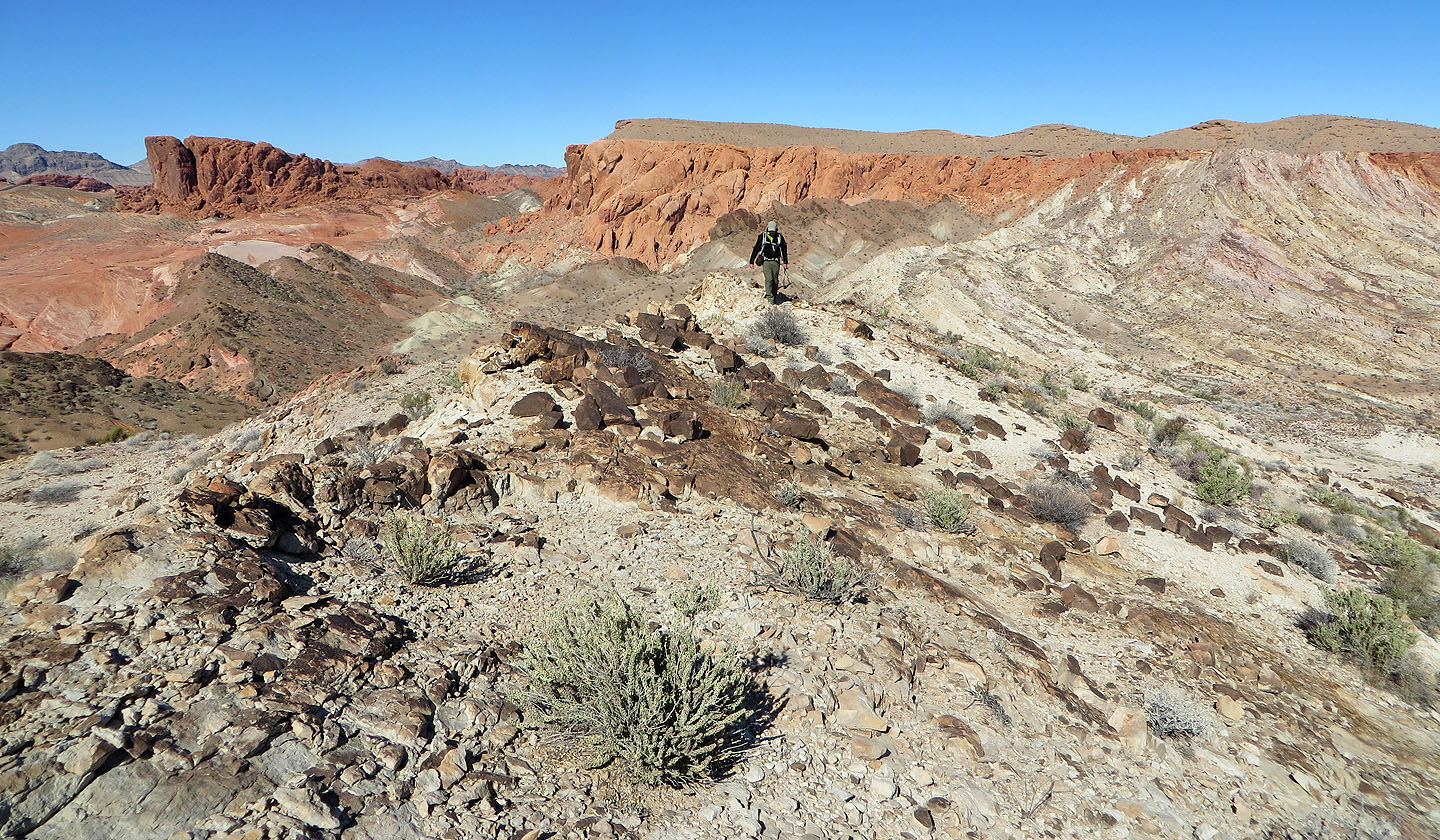 Looking back along the ridge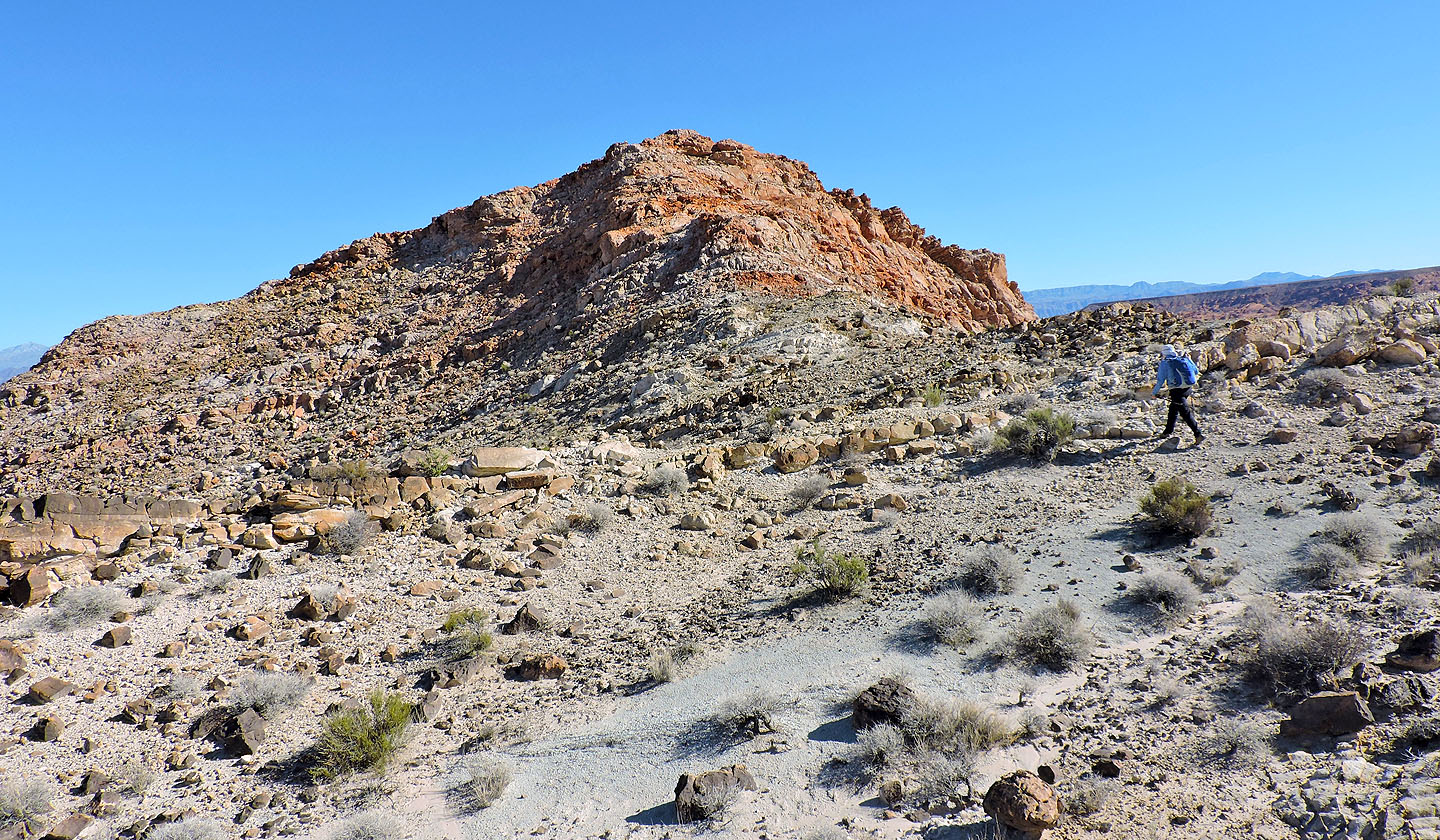 The summit is capped with red rock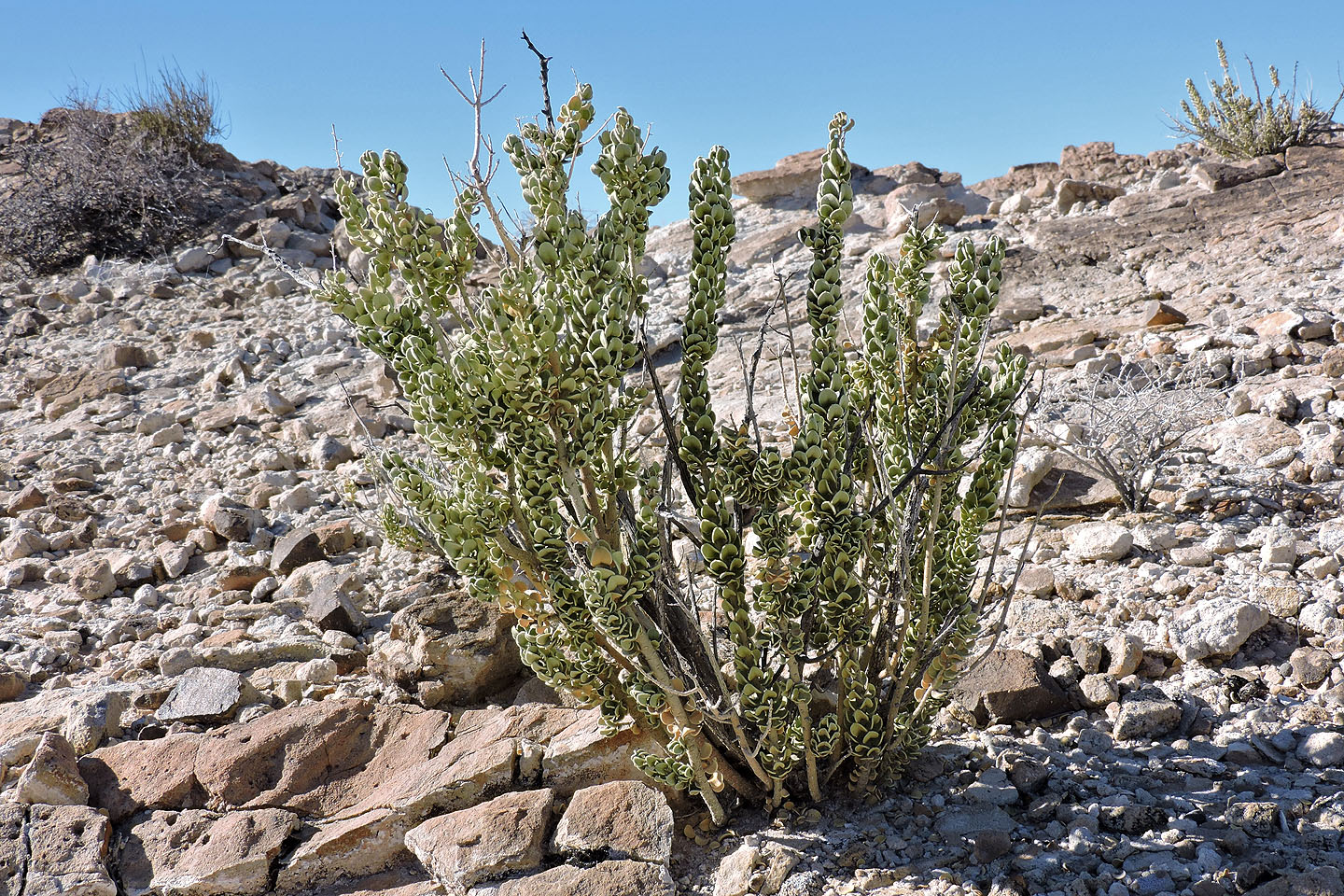 Utah mortonia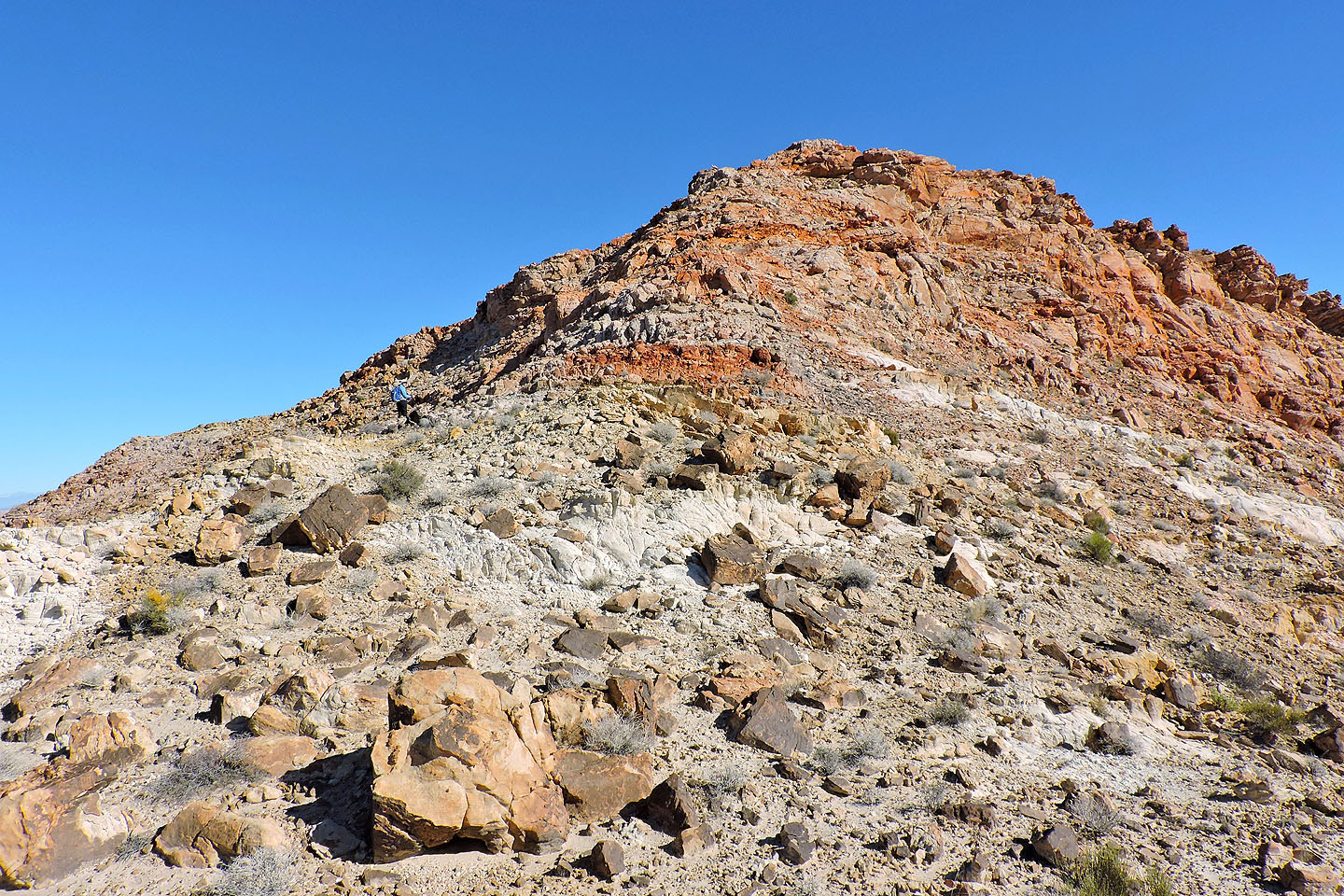 Starting up the summit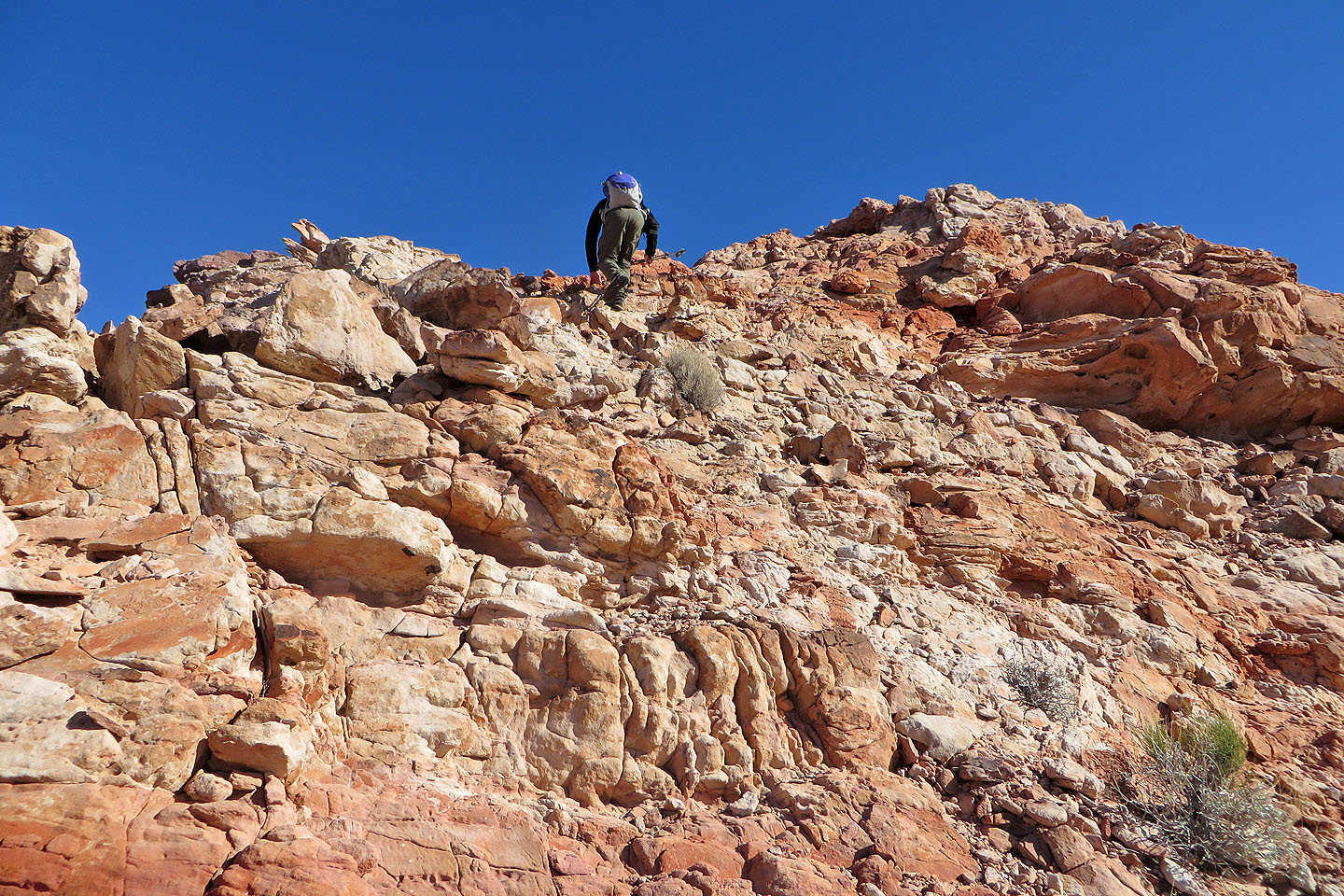 Some easy scrambling just below the summit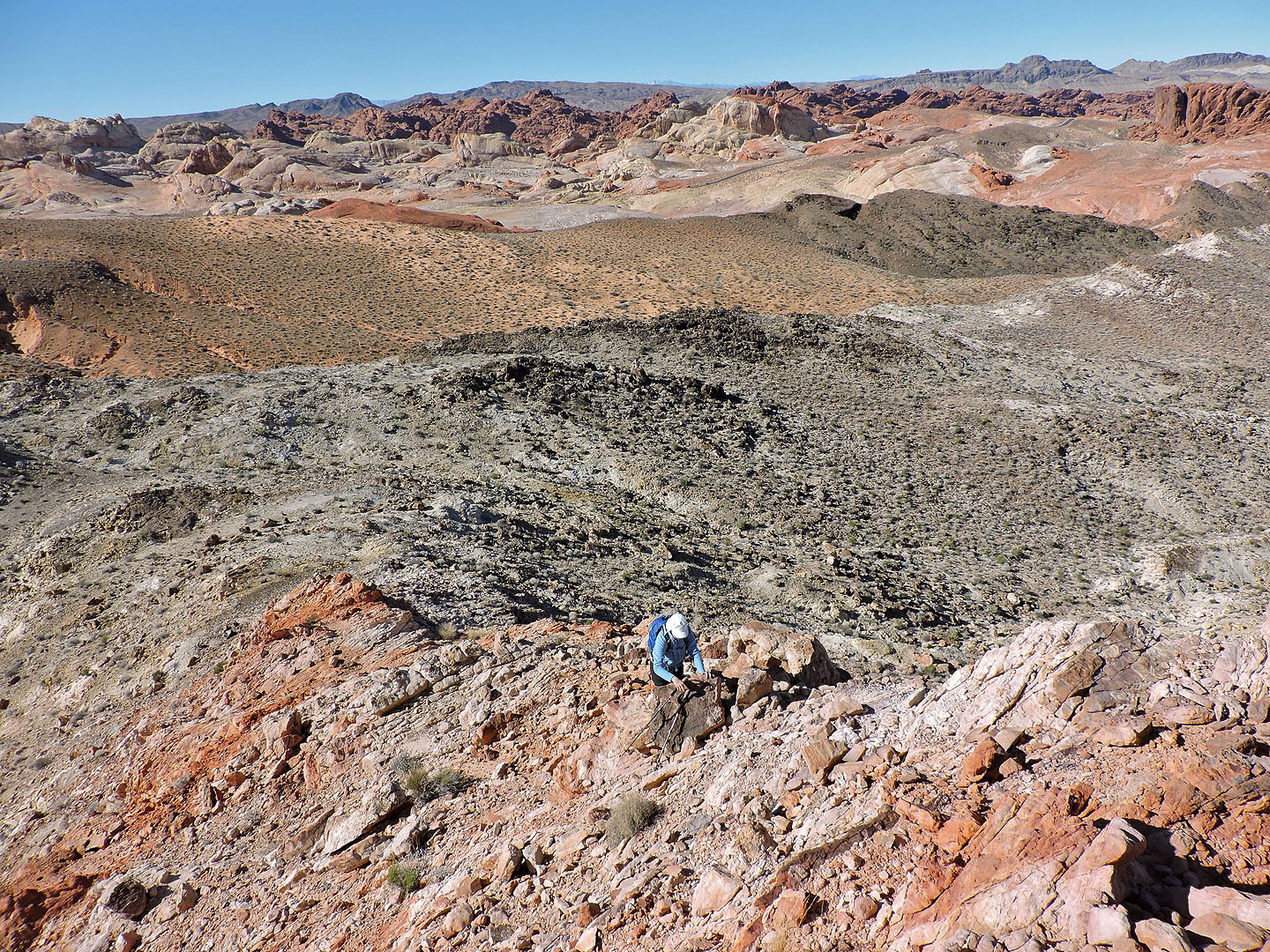 Looking back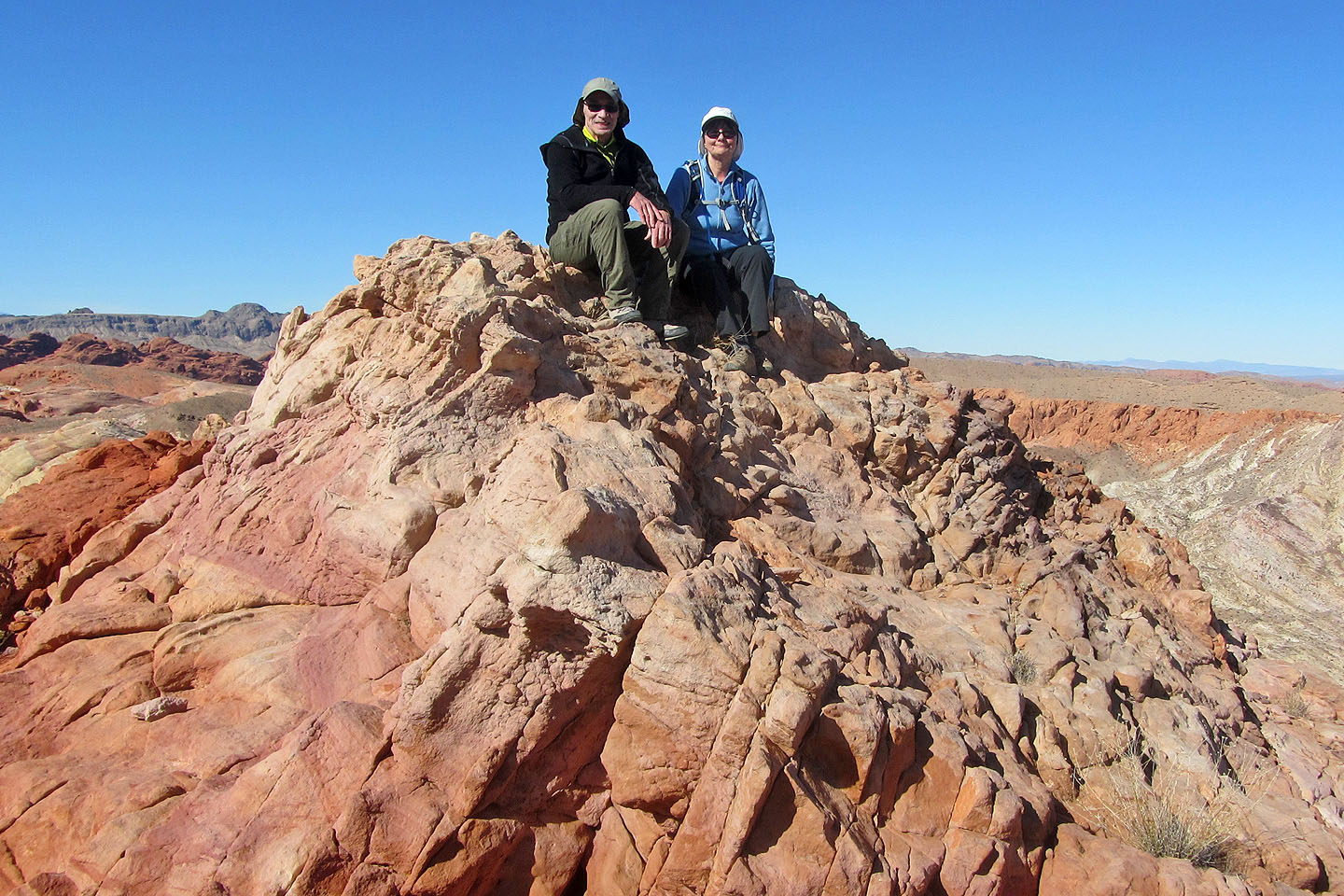 On the summit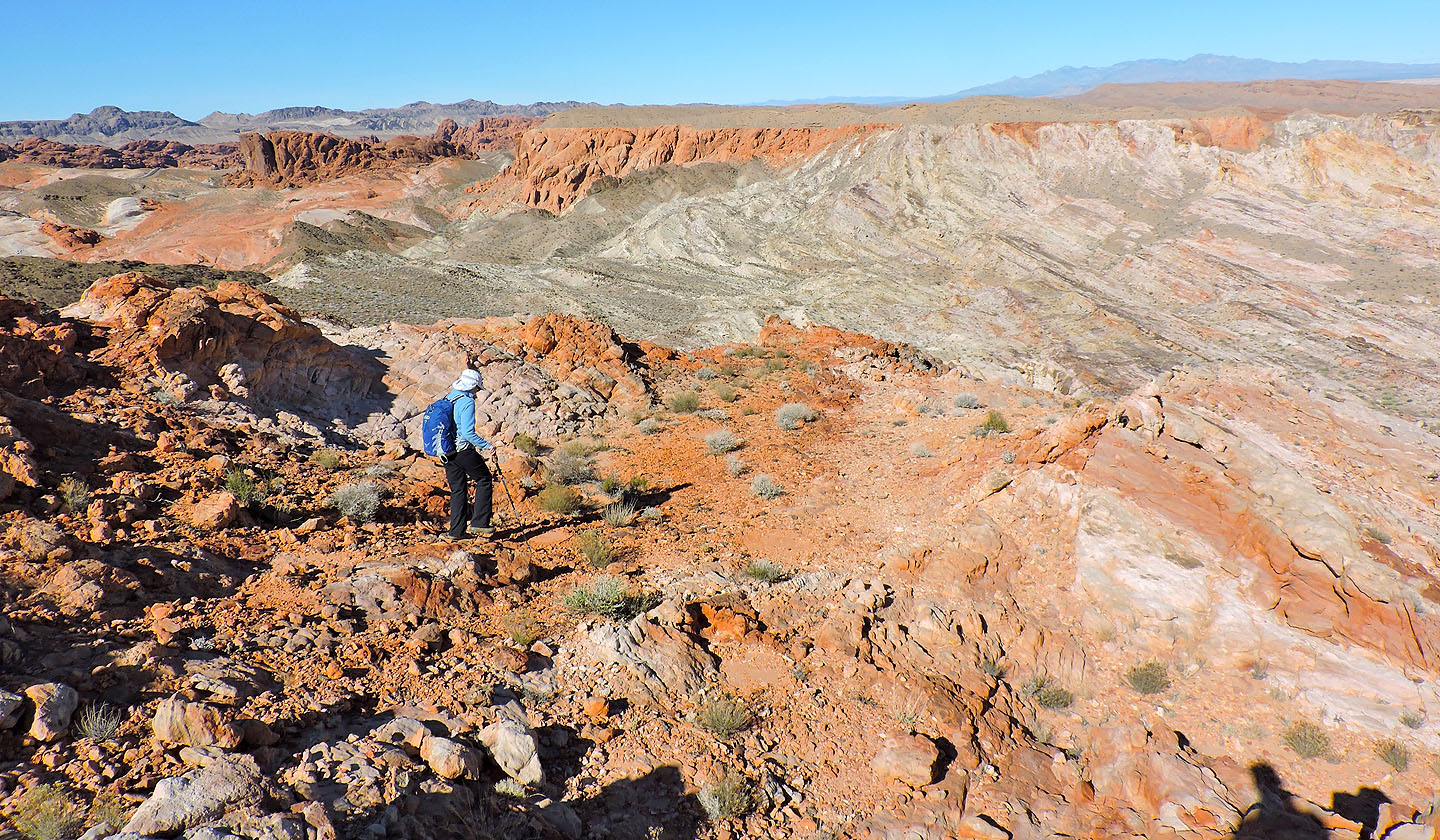 Starting down the north ridge. Virgin Peak can be seen in the distance.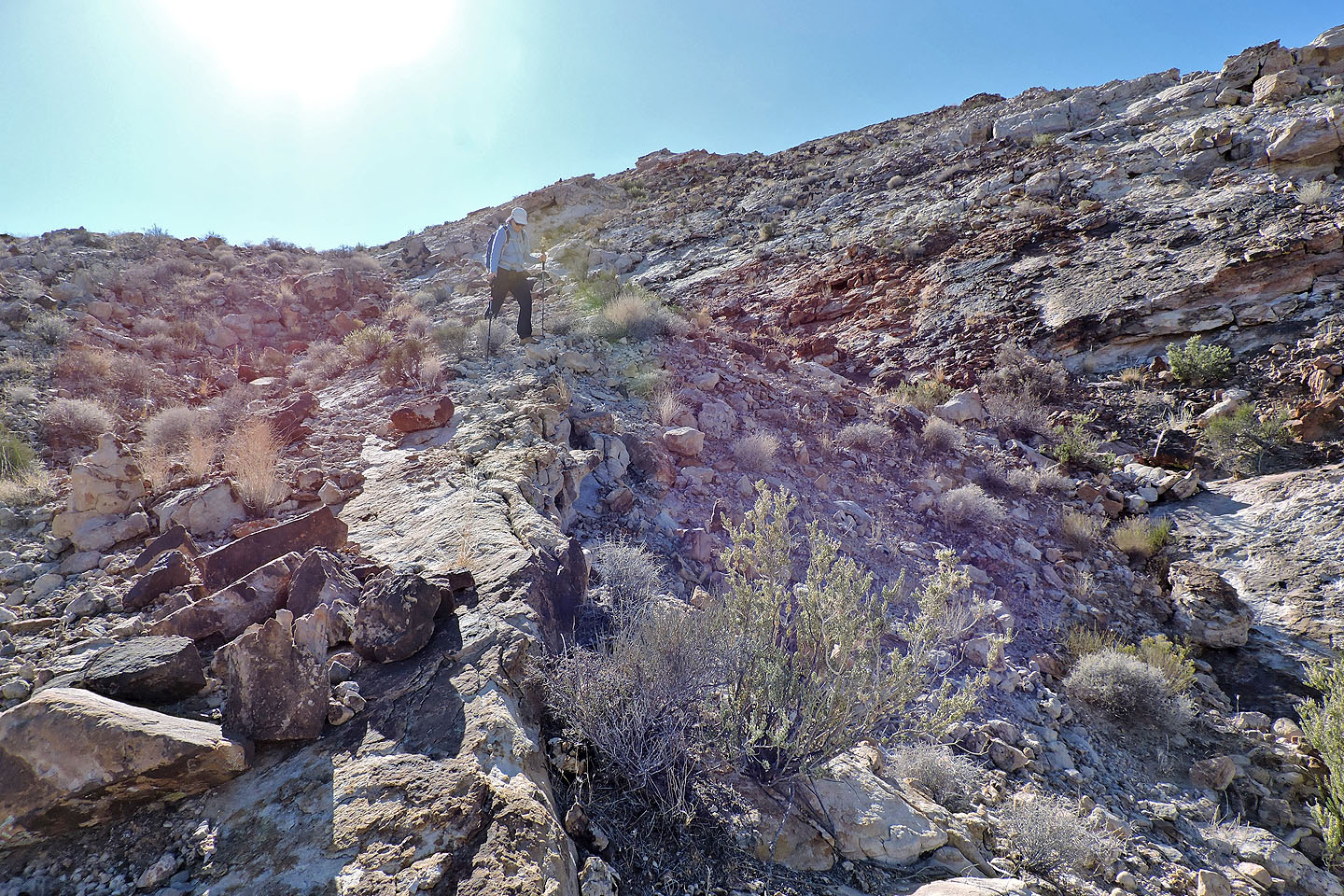 Looking back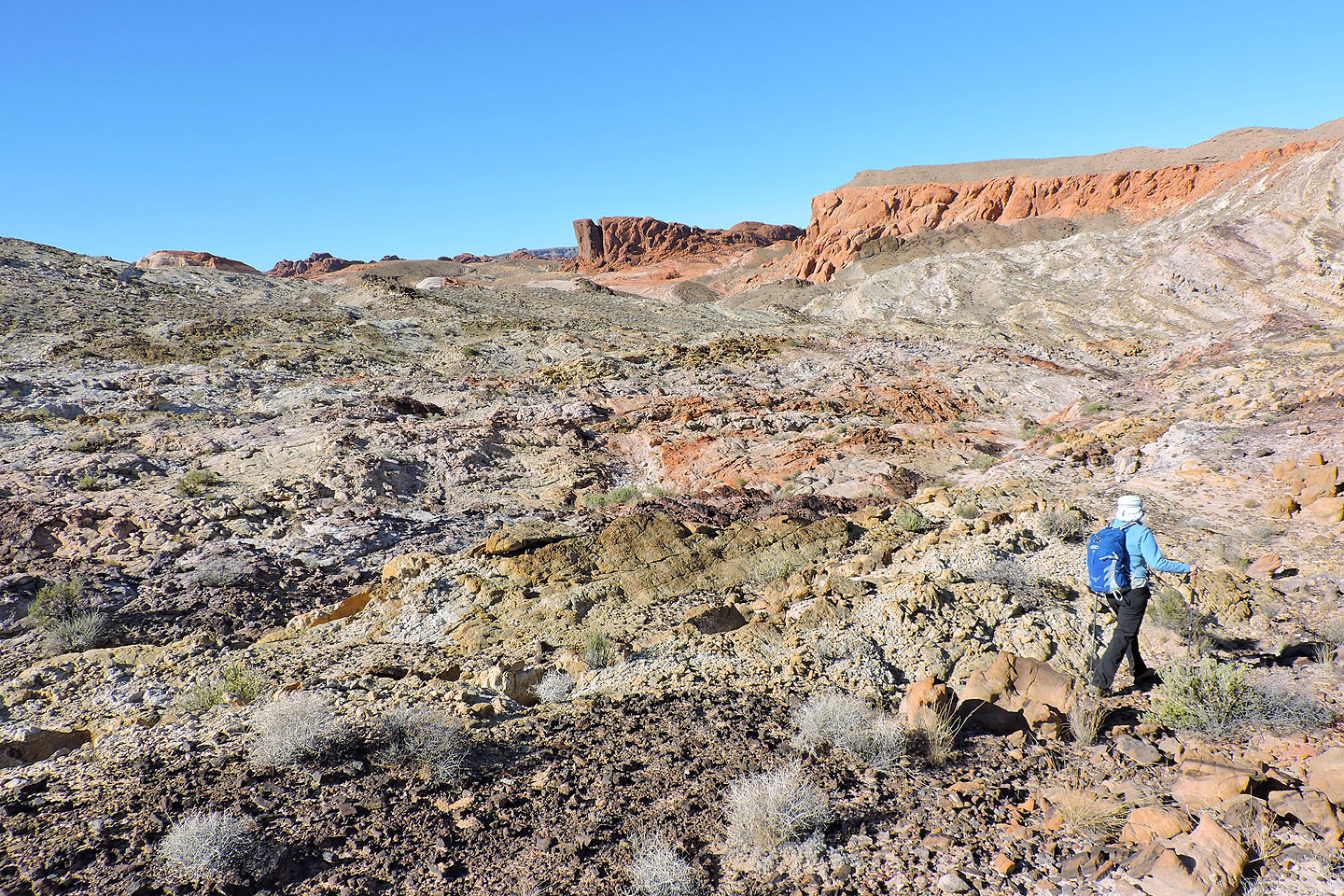 We crossed several low ridges as we headed back to the wash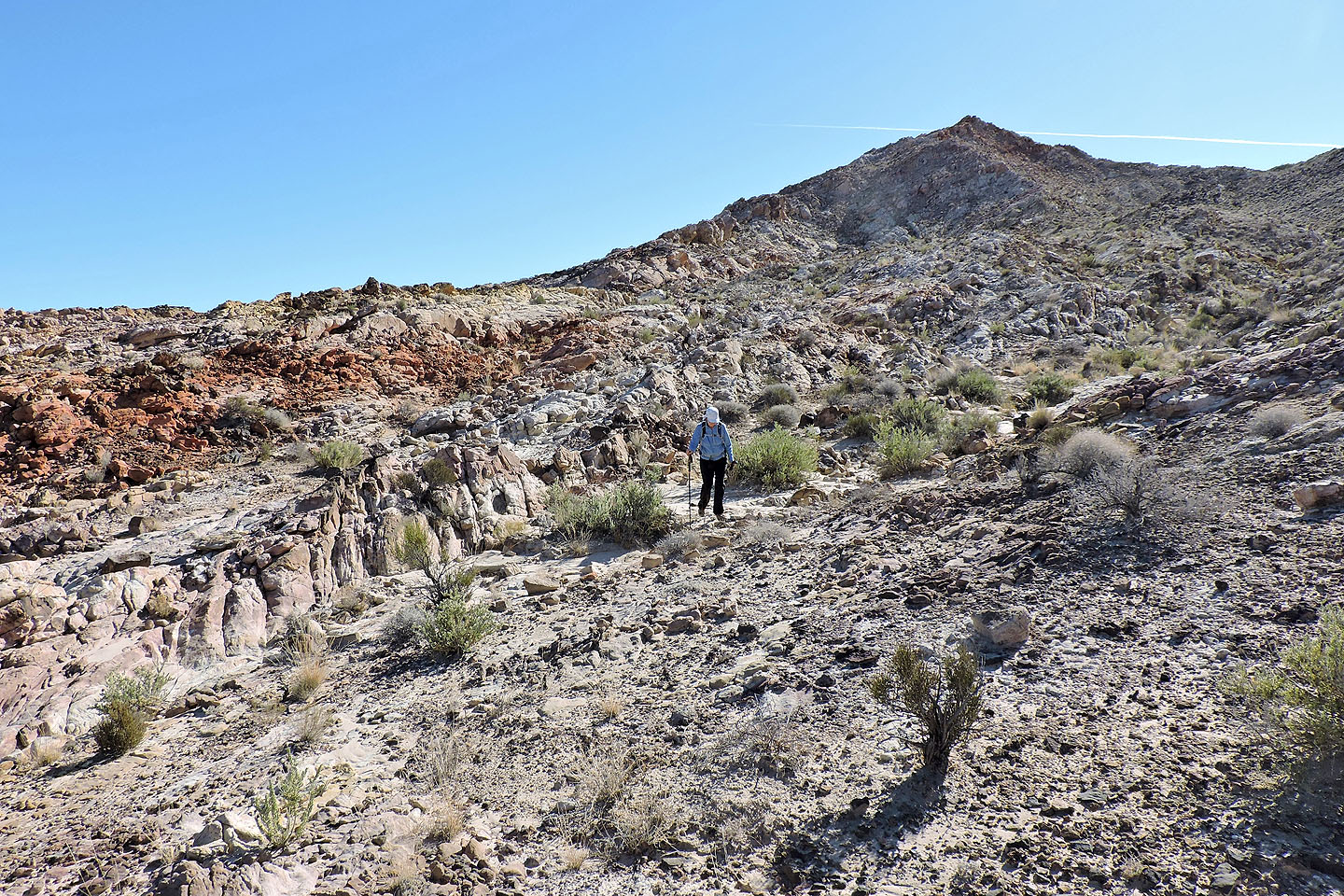 Looking back at the summit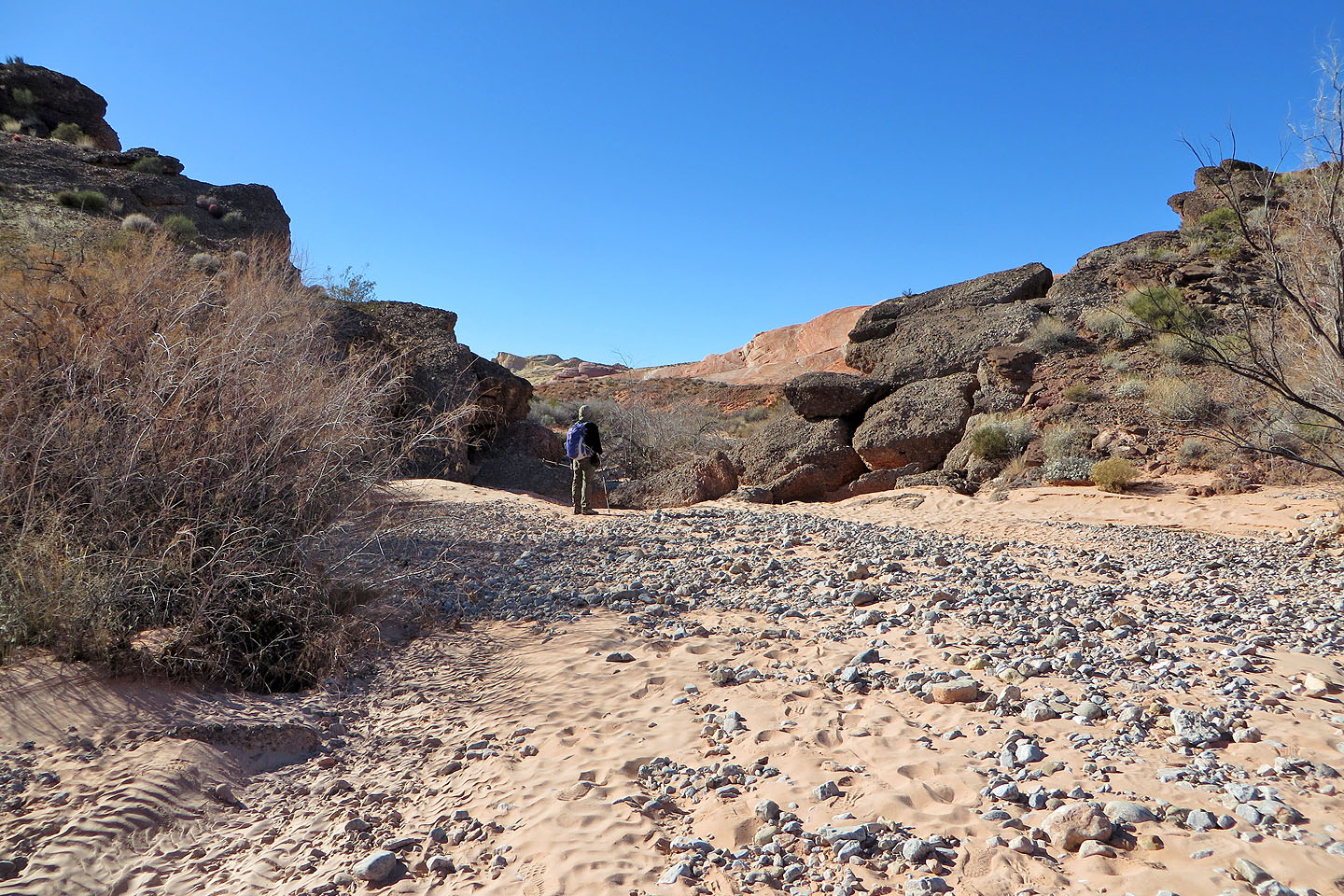 Back in the wash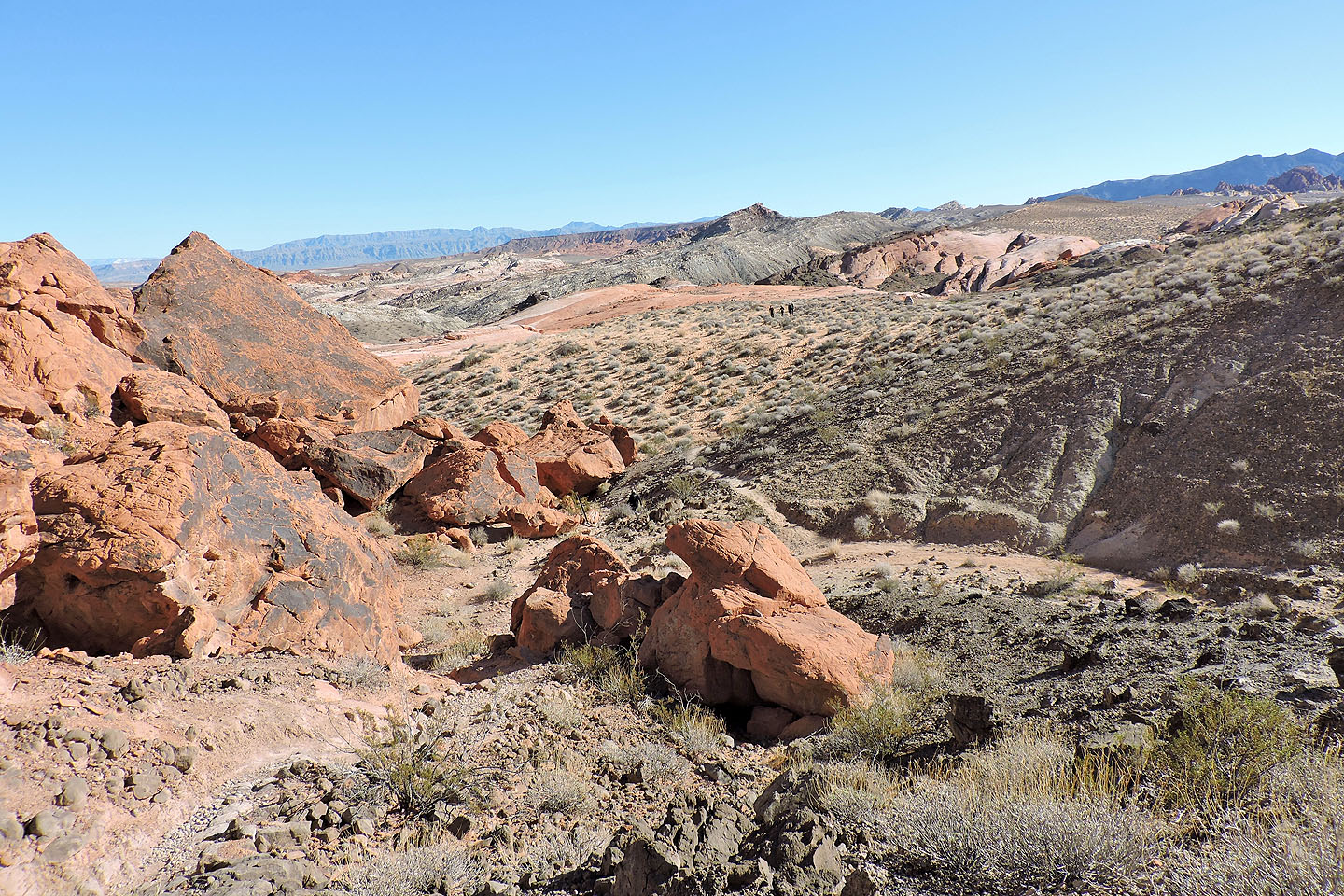 Back on the trail by Gibraltar Rock we looked back at Crumbly Peak (mouse over for a close-up)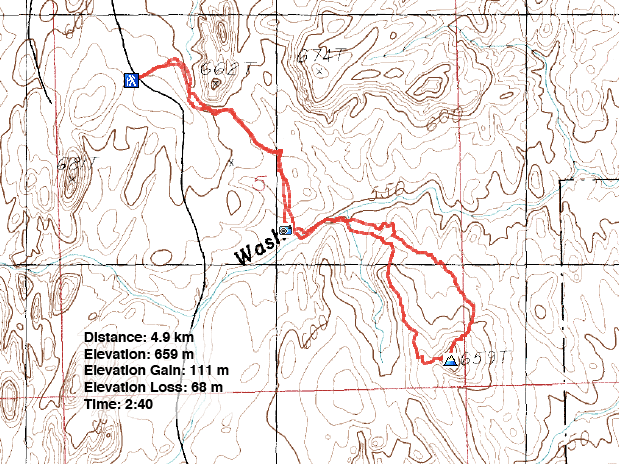 Boulder Valley of Fire West (3.0 mi, 2162 ft, 364 ft)