bobspirko.ca | Home | Canada Trips | US Trips | Hiking | Snowshoeing | MAP | About

Tortoise Shell Mountain
Mojave National Preserve, California
April 16, 2016
Distance: 11.0 km (6.8 mi)
Cumulative Elevation Gain: 406 m (1332 ft)
Tortoise Shell Mountain is one of the easiest peaks that Dinah and I have climbed in the Mojave Desert. Navigation to the low peak is simple, and it's class 2 all the way. In his book, Desert Summits, Zdon suggests starting at Hole-in-the-Wall Campground and striking out for Black Canyon Wash, a wash that leads to Tortoise Shell Mountain. But we parked next to the wash, across the road from the campground at Hole-in-the-Wall Fire Centre, and headed down the wash.
Zdon also suggests following the wash to the south side of Point 1247, but again, we took liberties with his route. We took a shortcut, hiking over a low plateau north of Point 1247. This took us out of the monotonous wash and into some beautiful scenery. Indeed, the desert landscape here, with its variety of flowering cactus, was one of the most colourful we've seen. Everywhere were yellow, orange and pink flowers.
Our only concern in taking the shortcut across the plateau was being cliffed out: to get to Tortoise Shell we had to cross Burro Canyon. Fortunately, that turned out to be easy. We found a good spot to hike down to the canyon floor. We then headed up the gentle east slopes of the mountain. Except for nearly stepping on a snake, we reached the summit without incident.
We took photos and signed the summit register dating back to 1978. Despite its long history, however, Tortoise Shell Mountain isn't popular: the register hadn't seen a signature in two years.
The summit was too windy to stay long so we retreated. We had lunch out of the wind in Burro Canyon before returning to our car. We love this picturesque area and returned to climb nearby Woods Mountain.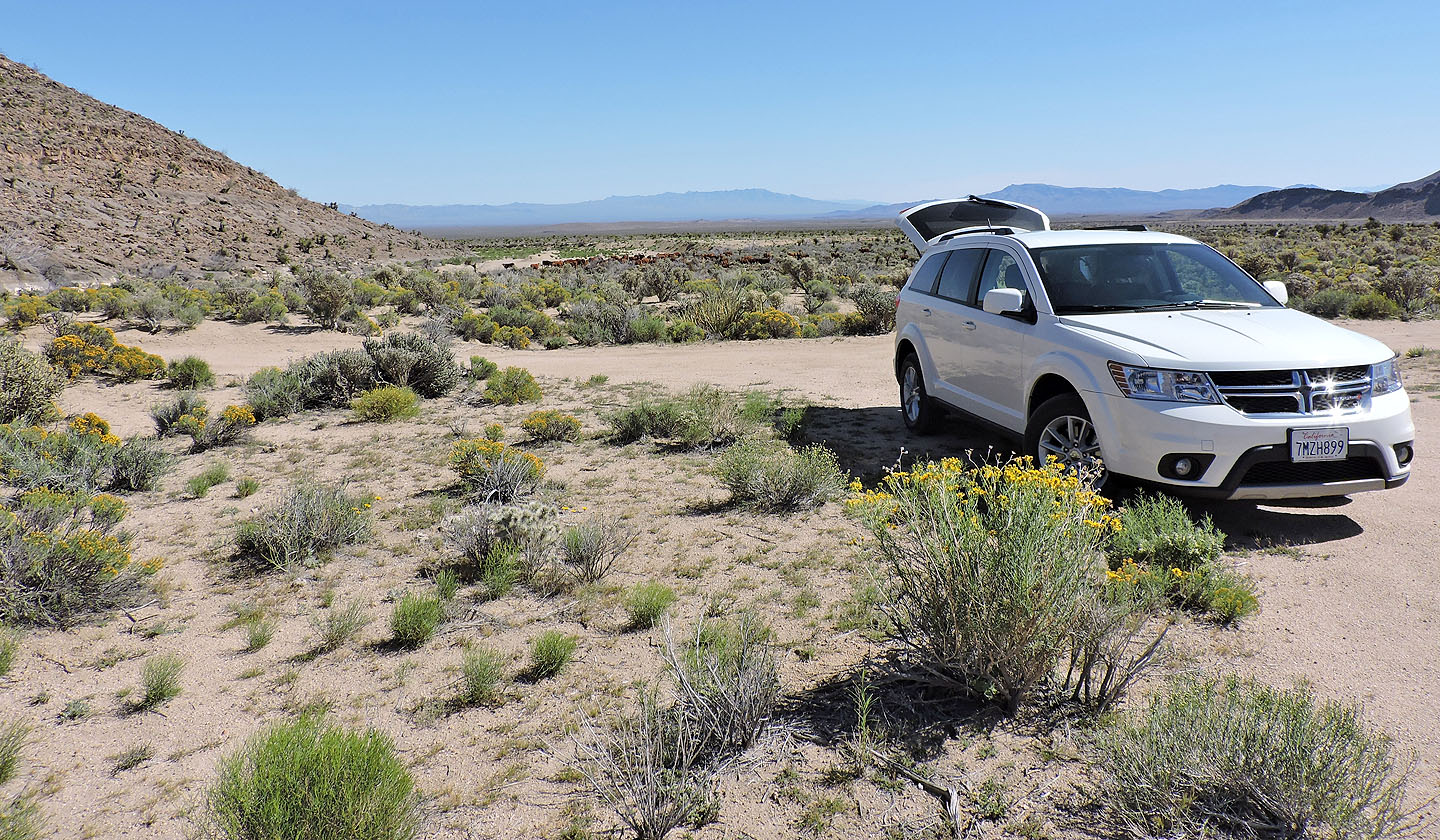 We parked close to the wash on the left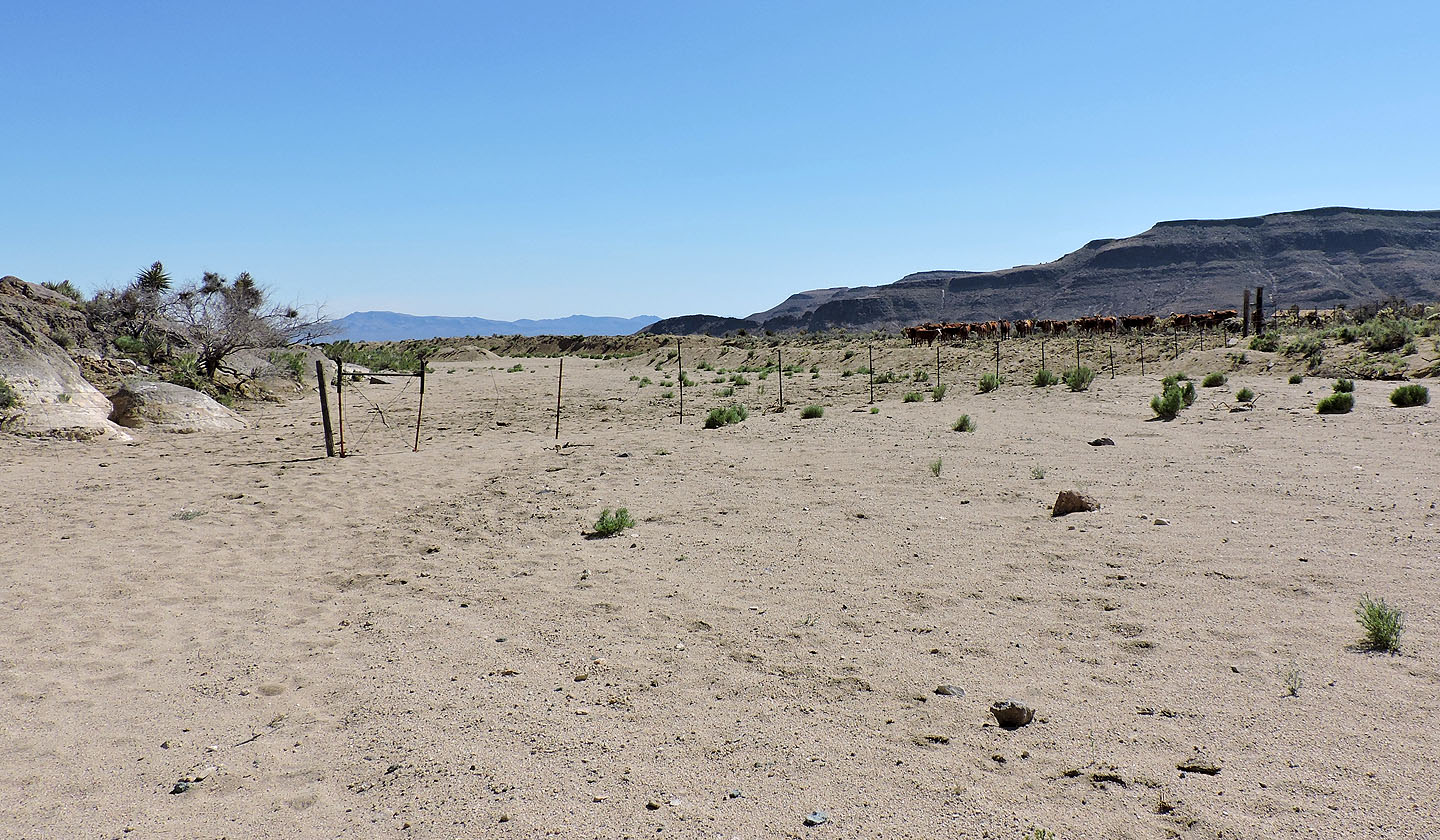 A few minutes after starting out we came across a gate and a herd of cattle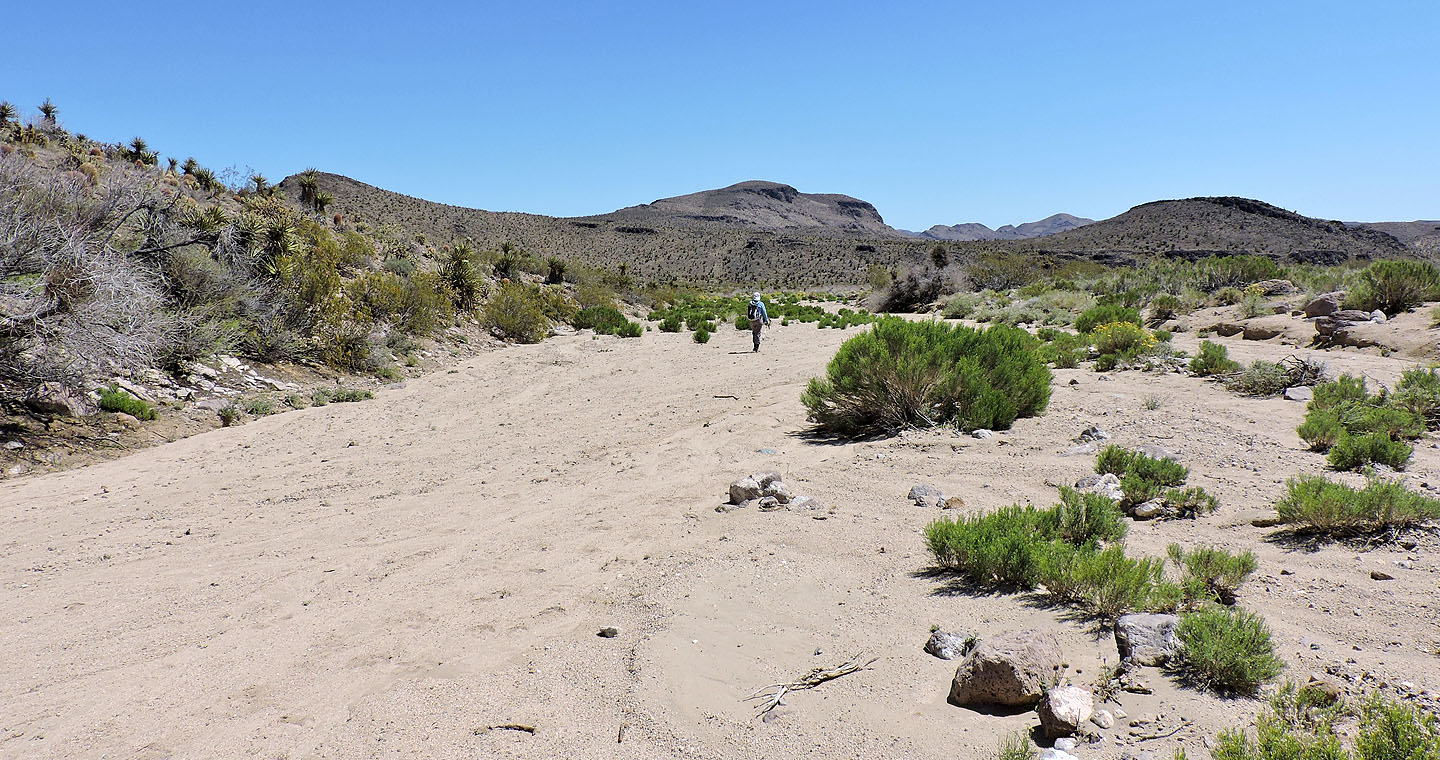 After turning a corner, Tortoise Shell Mountain came into view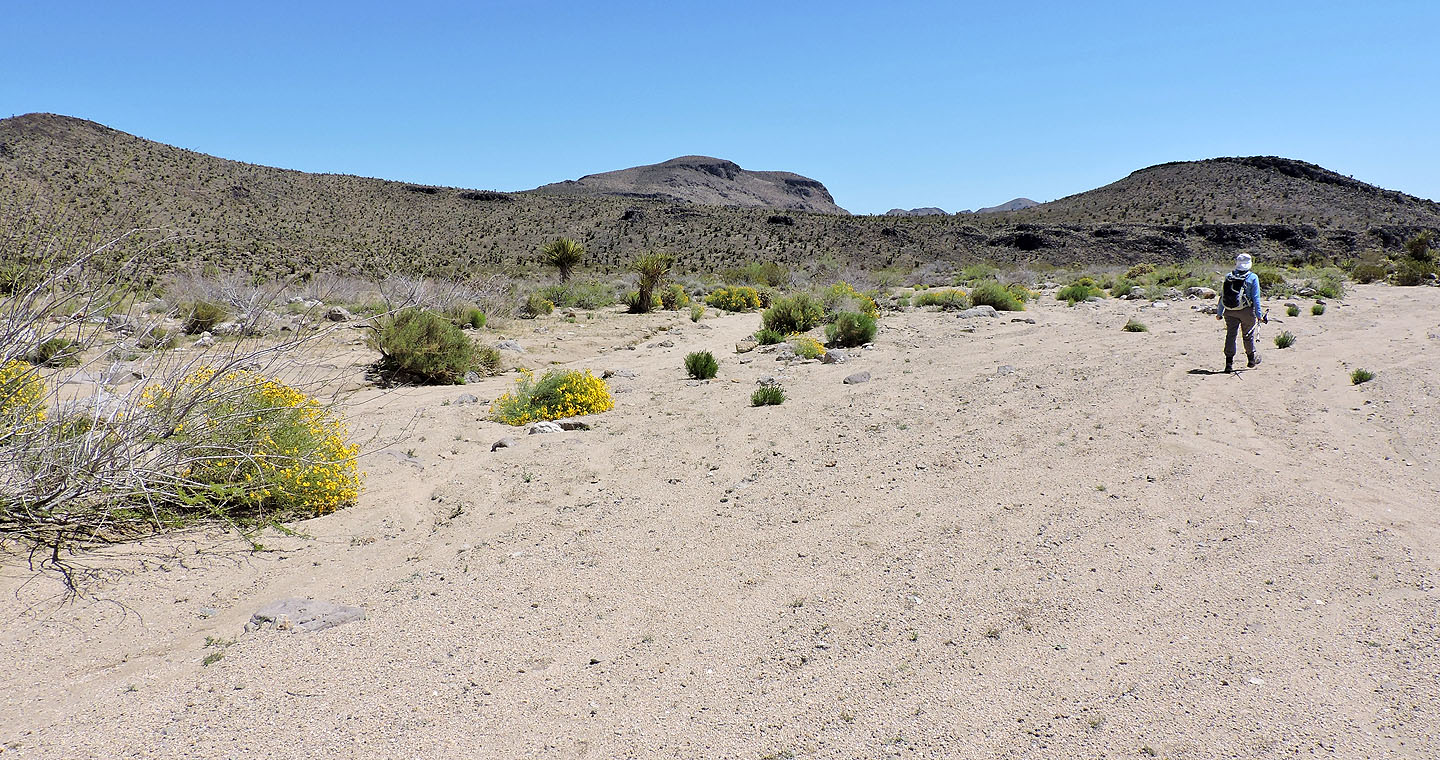 On the right is Point 1247. Zdon suggests keeping right to go around it, but we cut across the low plateau left of it.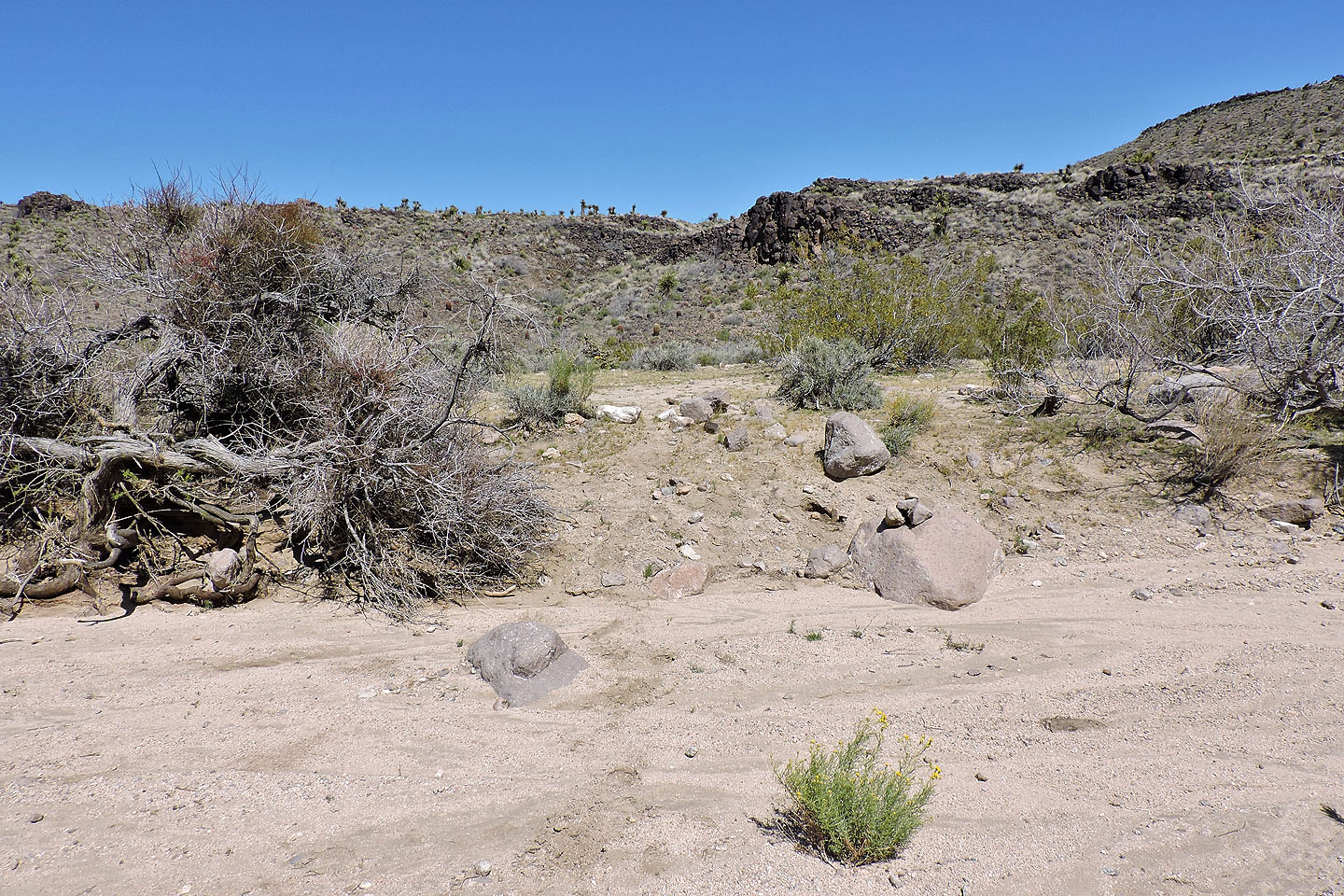 A cattle trail leads to the ridge (I made a small Carian)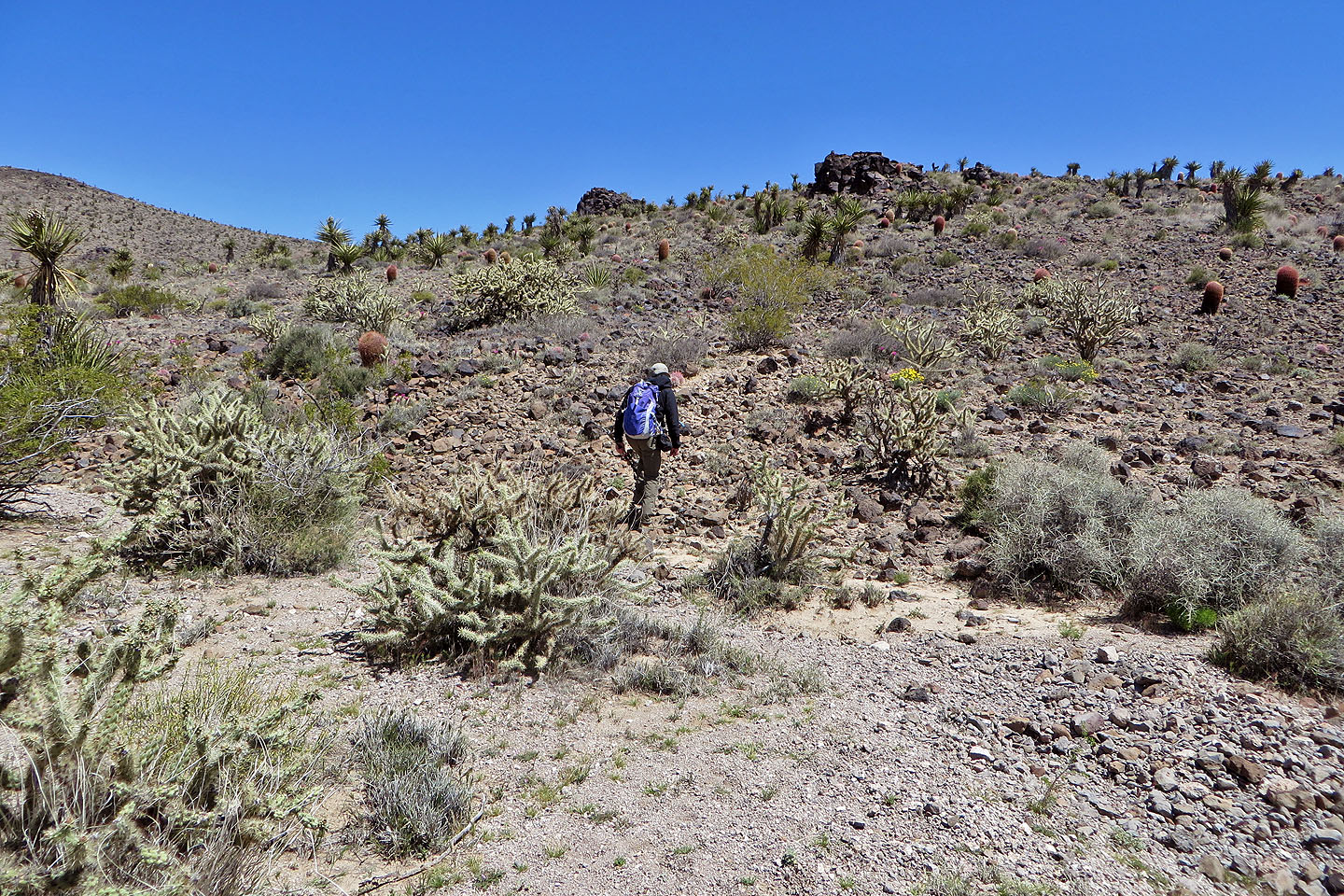 The slight elevation gain and loss was worth taking a shortcut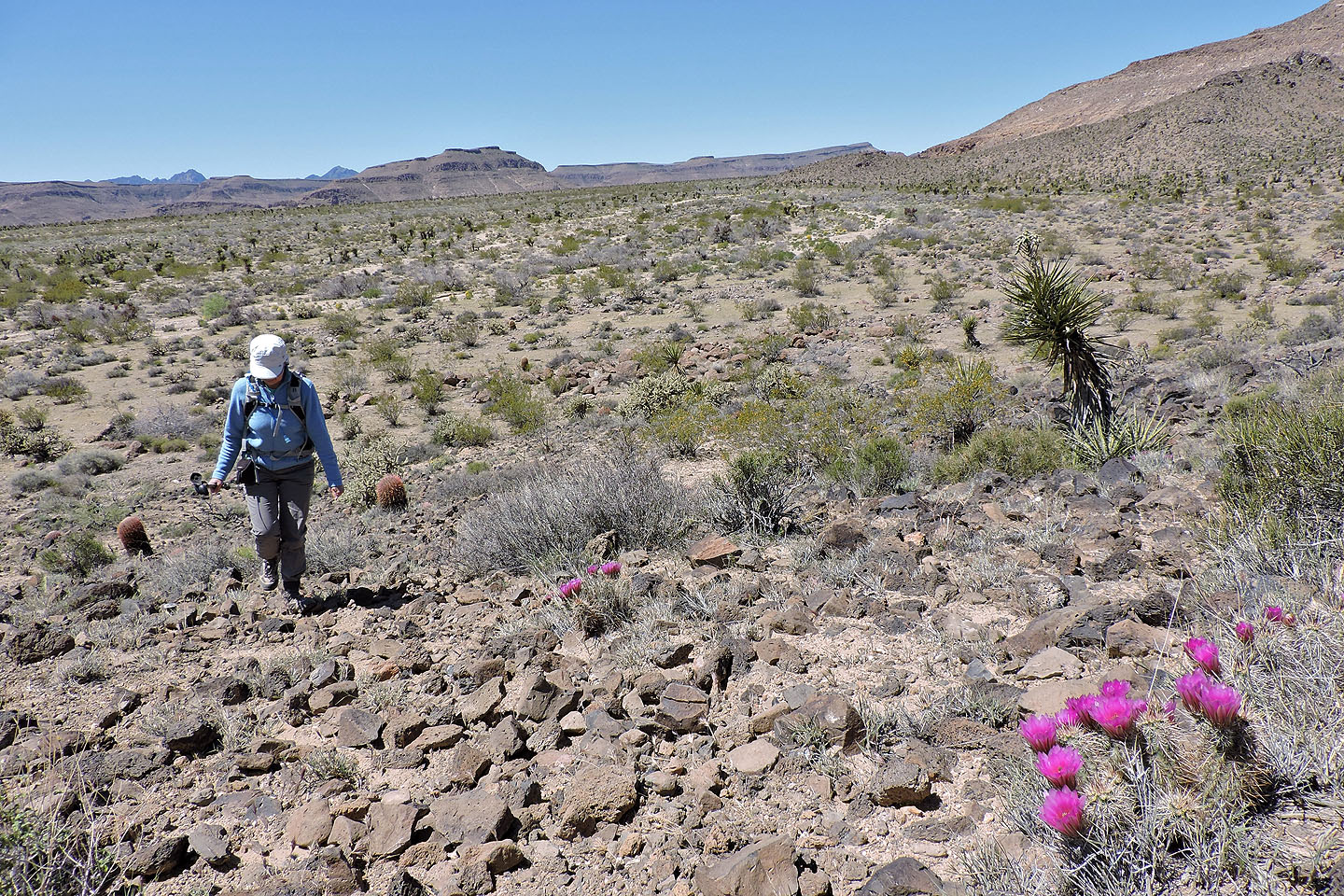 Looking back at the wash we hiked up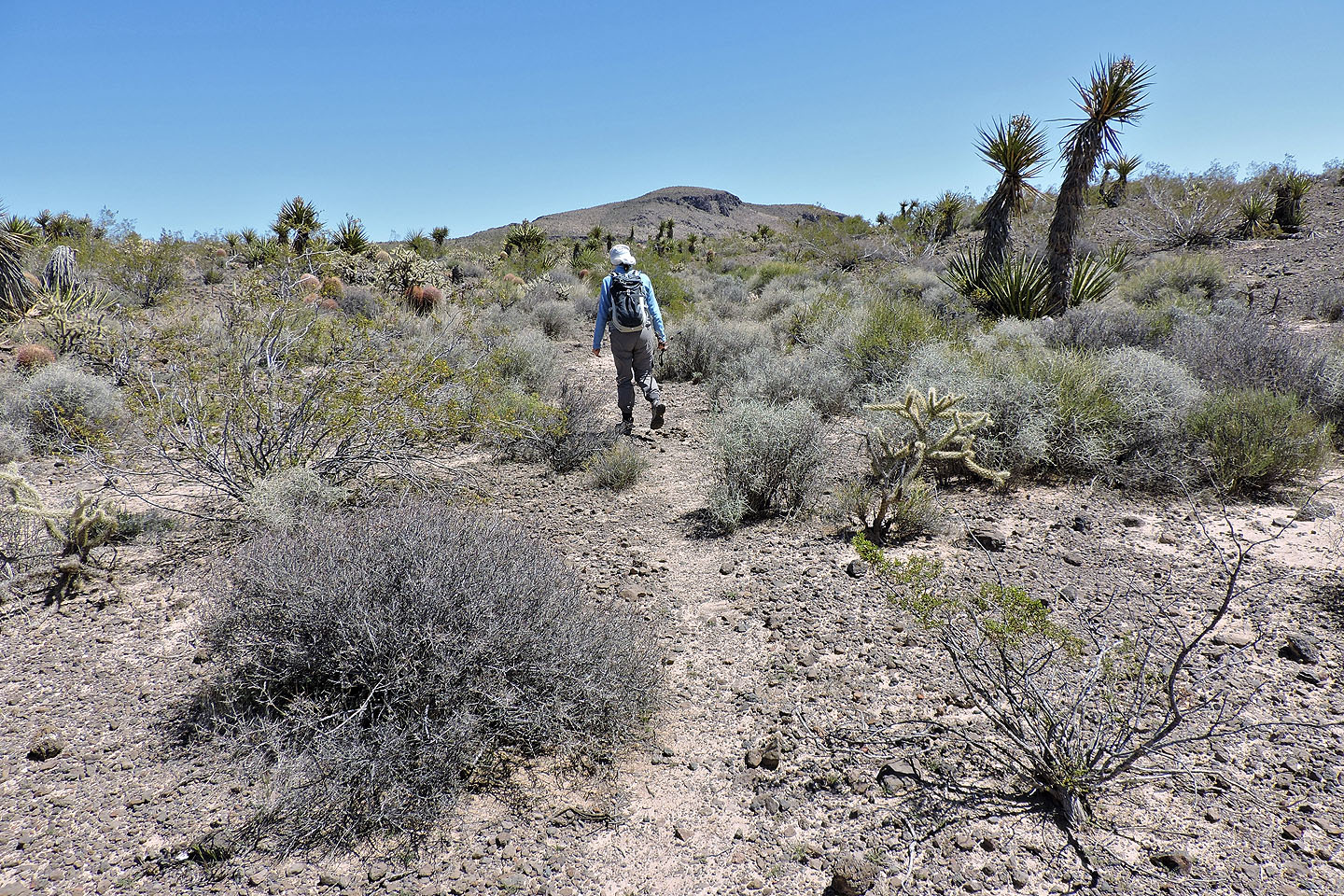 We followed the trail until it disappeared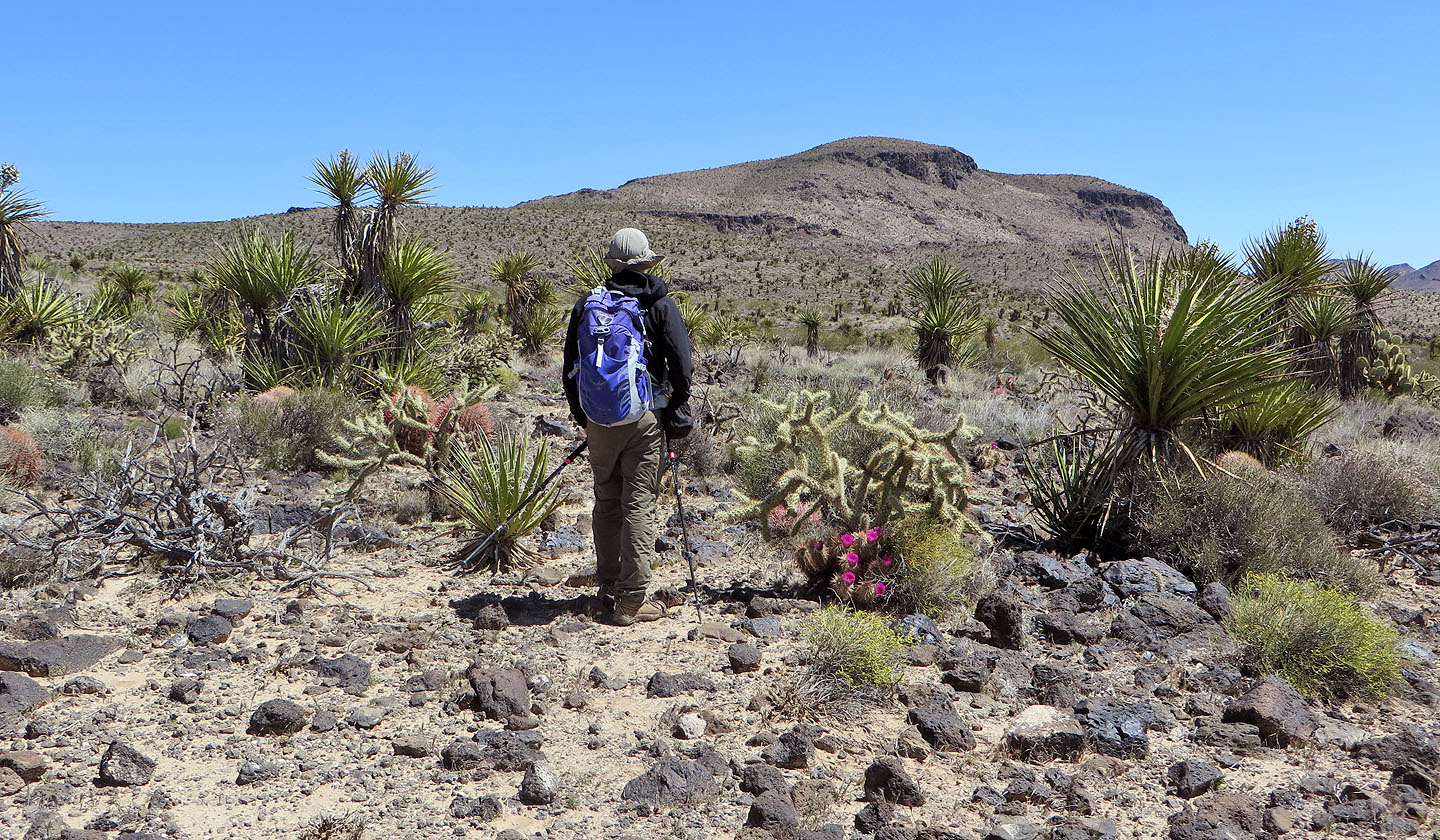 For the rest of the climb, we were treated to some fine desert scenery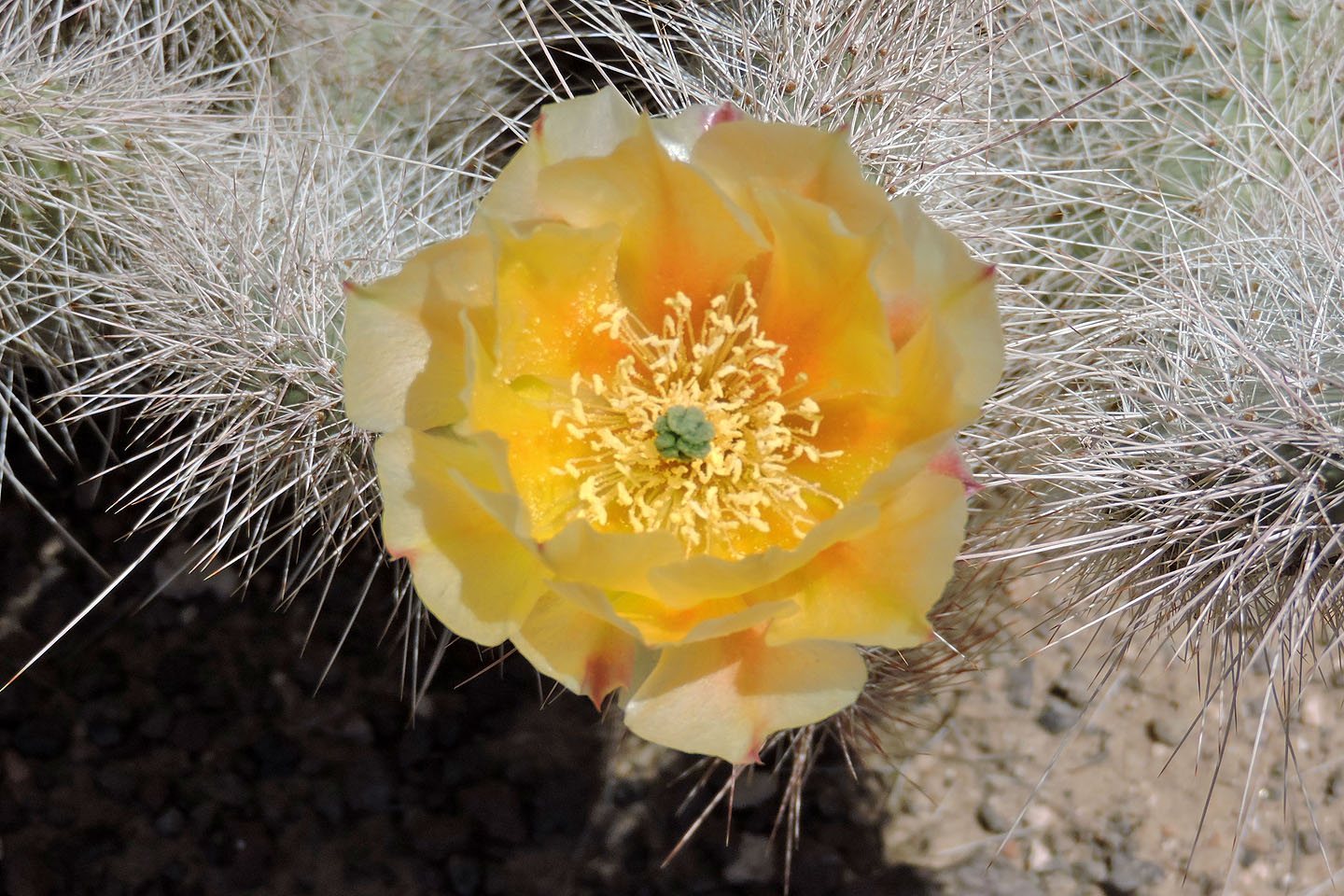 The area held a surprising number of cactus flowers (mouse over to view entire plant)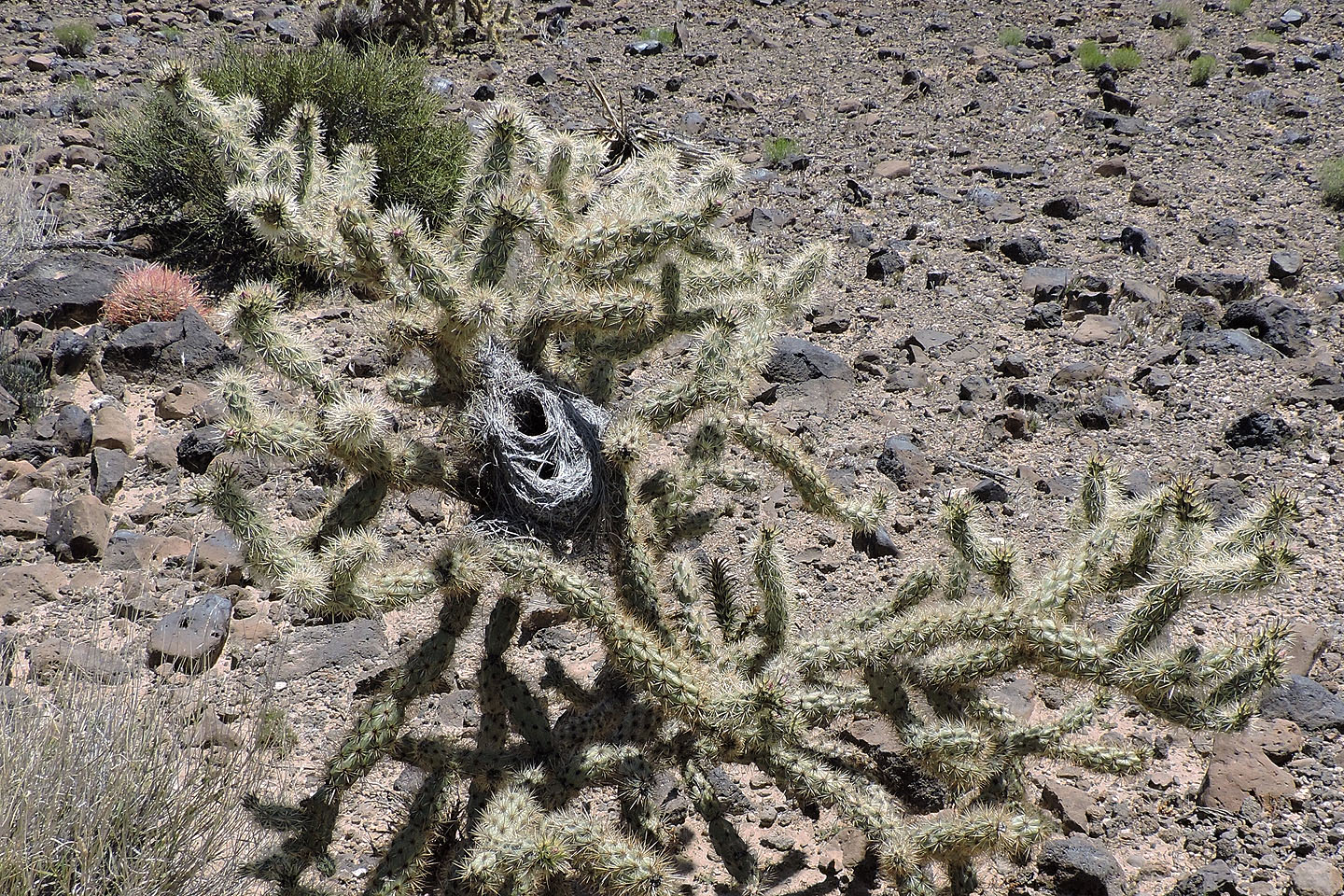 What a place to build a nest!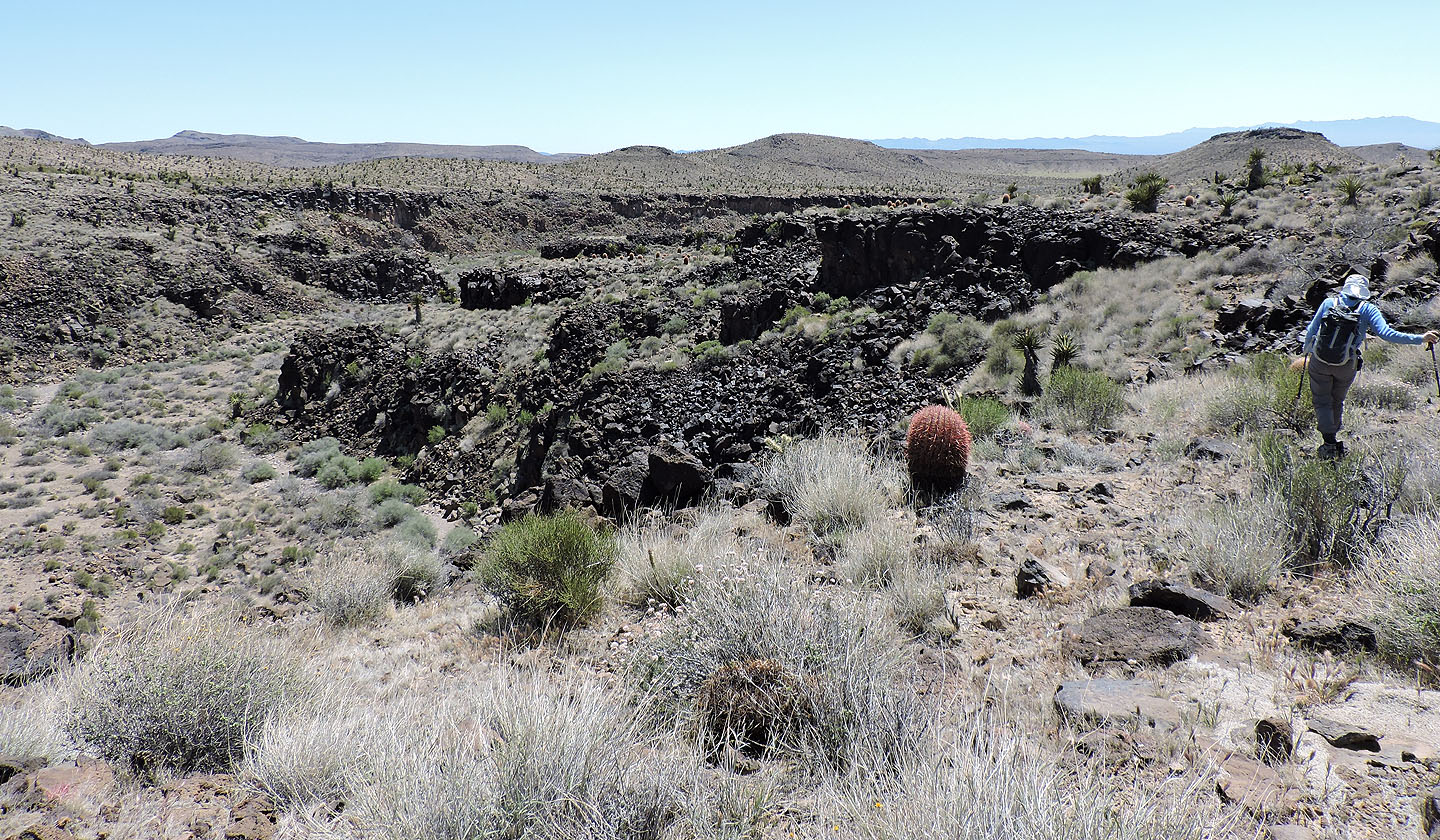 On the east edge of Burro Canyon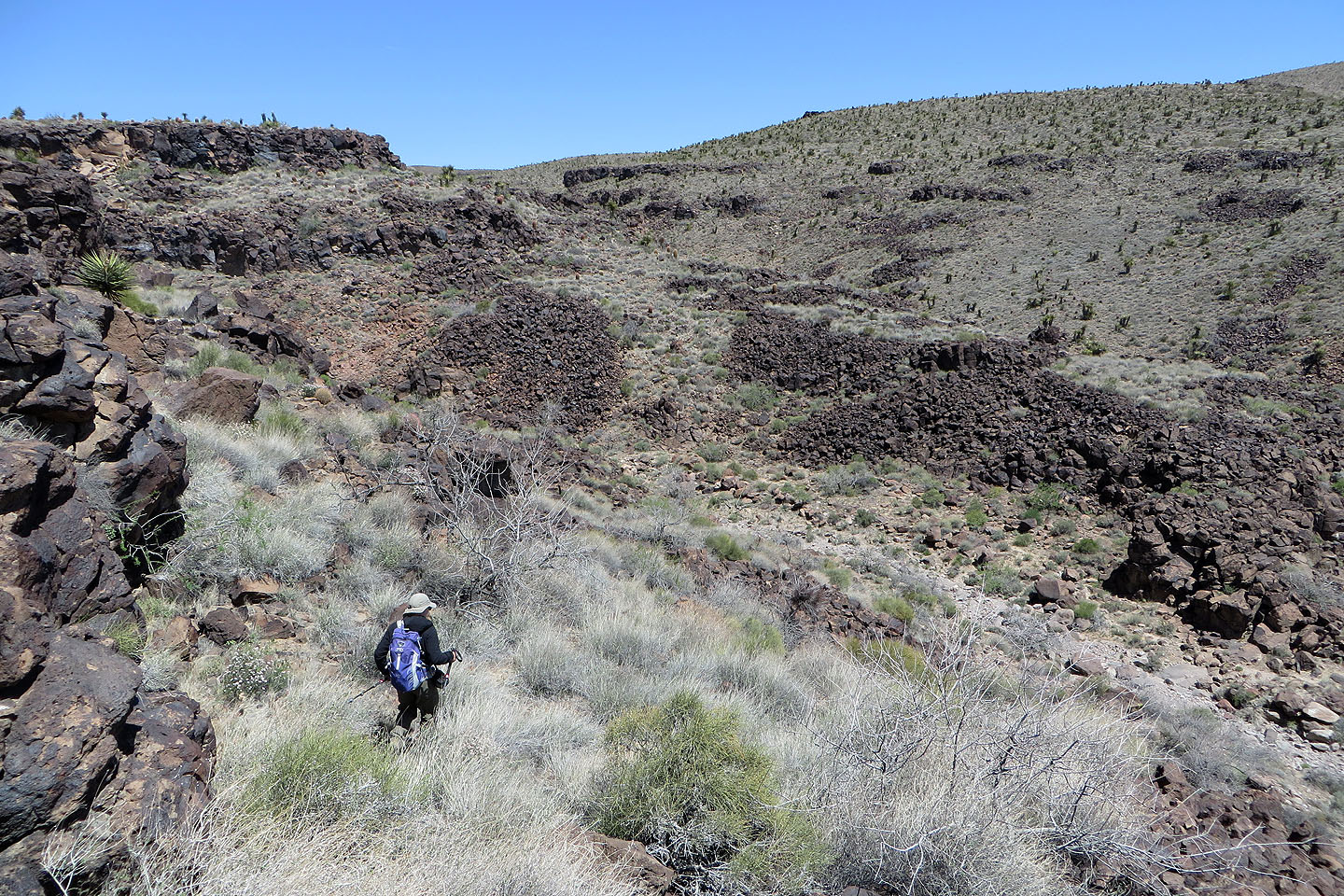 We crossed the canyon and climbed the other side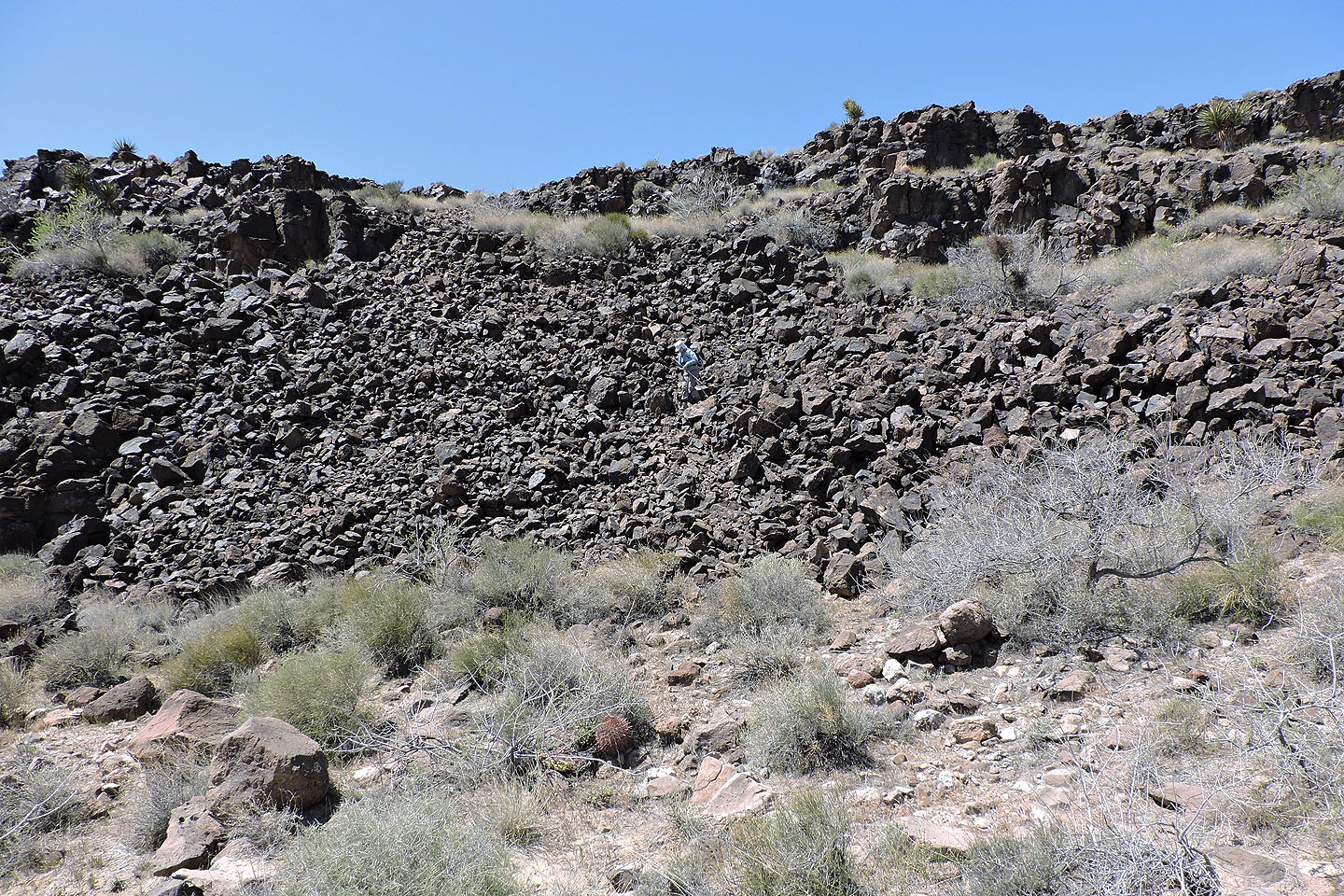 Dinah makes her way down a talus slope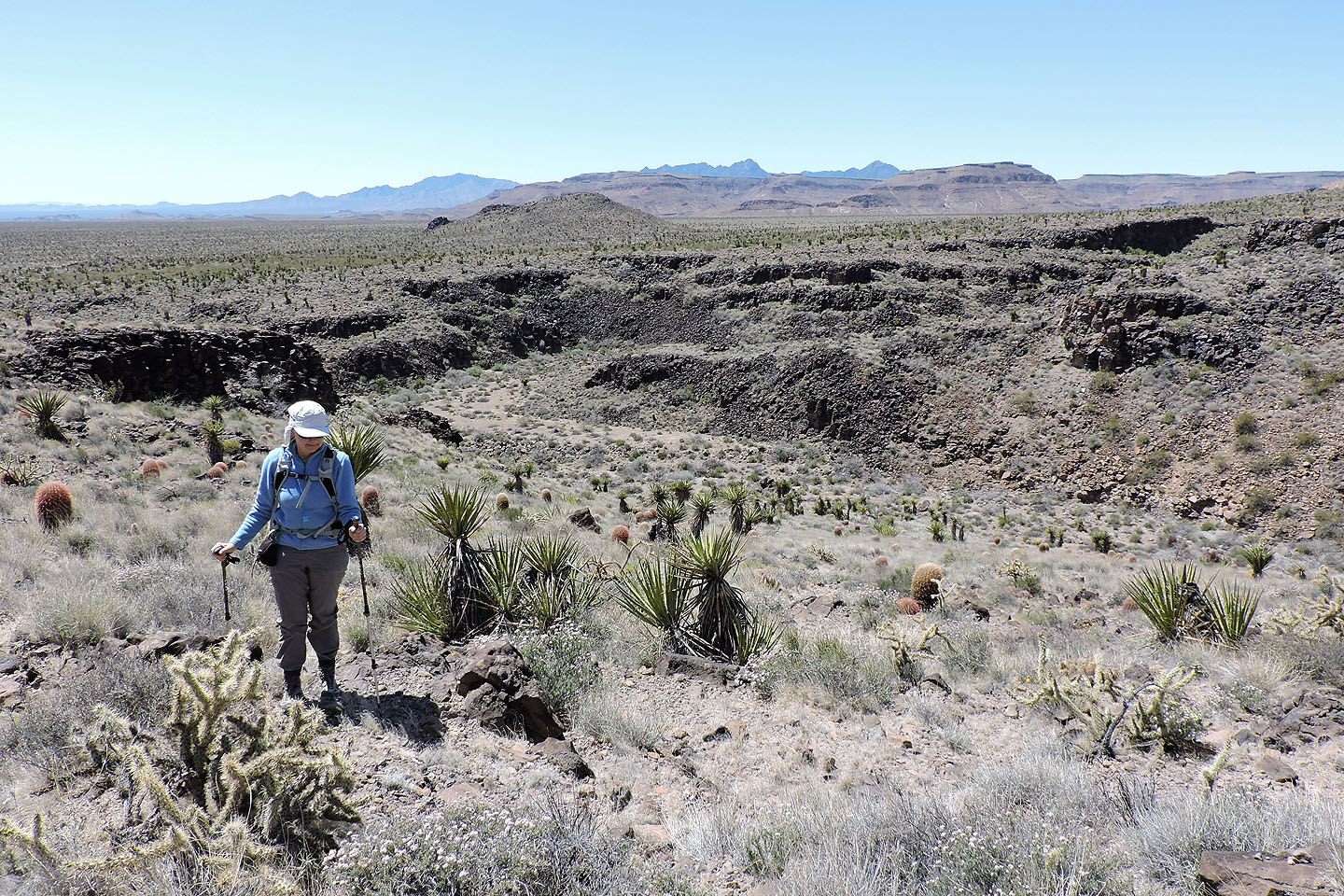 Looking back across the canyon. Point 1247 lies in the foreground. We often referred to it to get our bearings.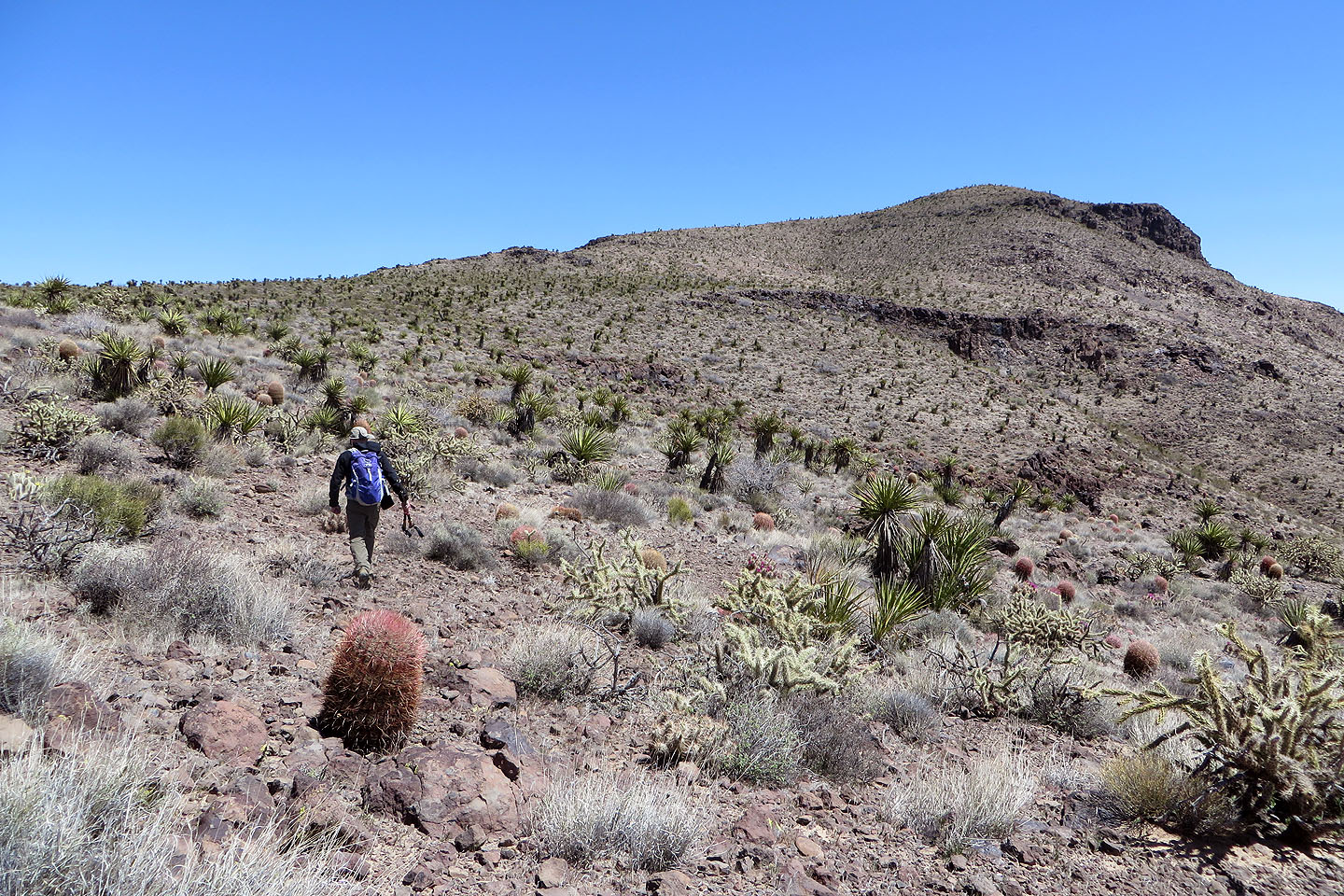 Heading to the summit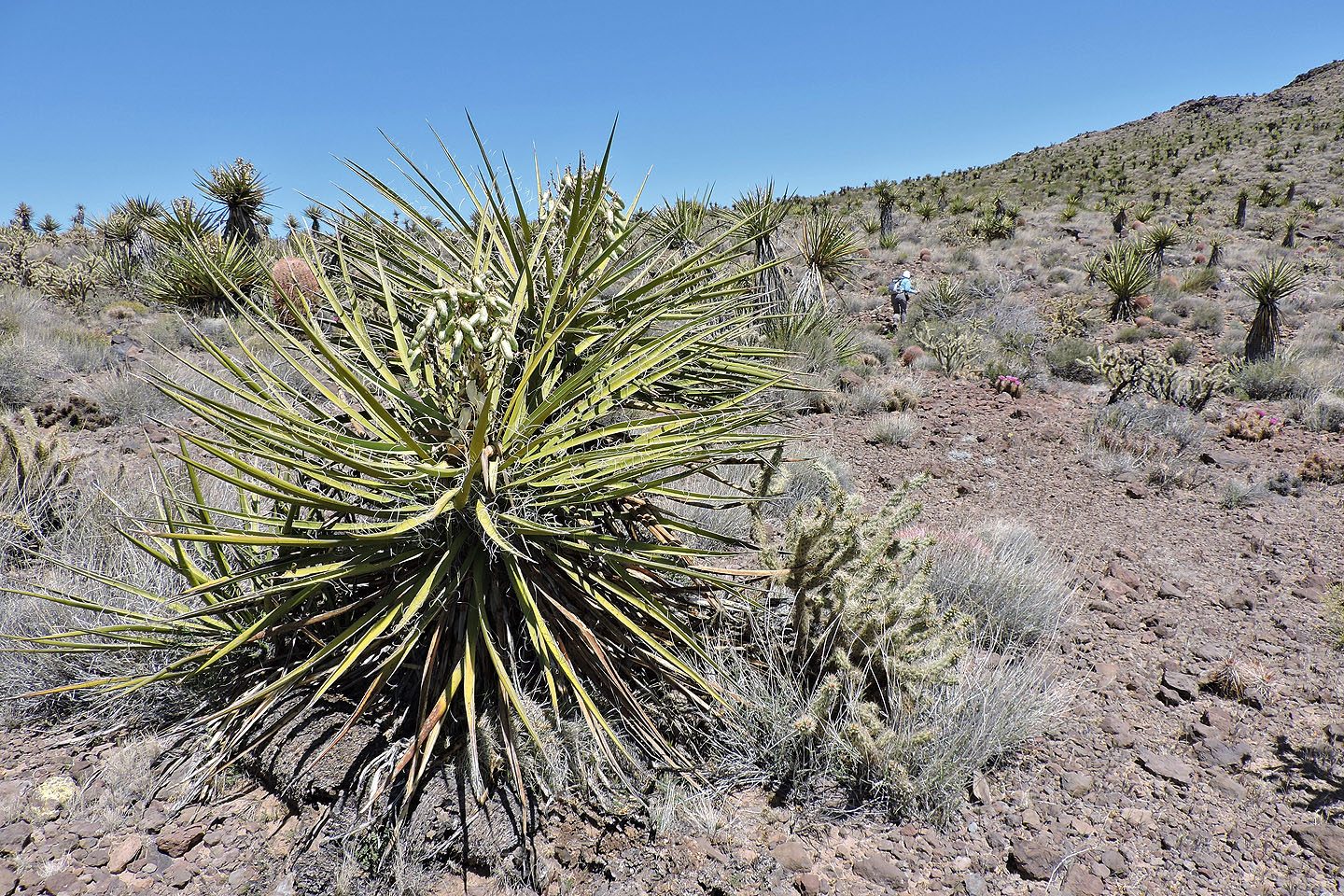 A yucca with seed pods (mouse over)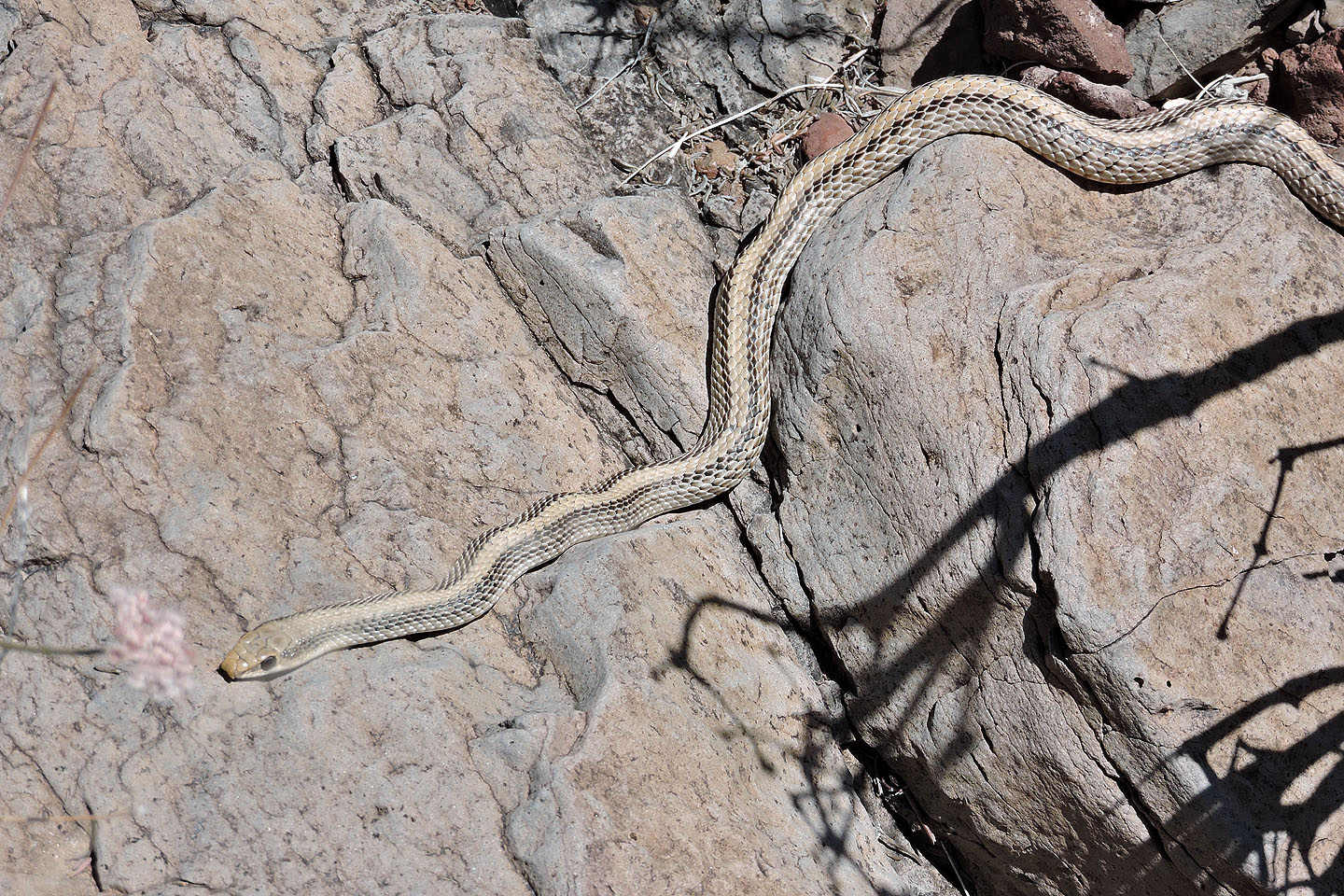 I nearly stepped on this two-foot western patched-nosed snake lying in the sun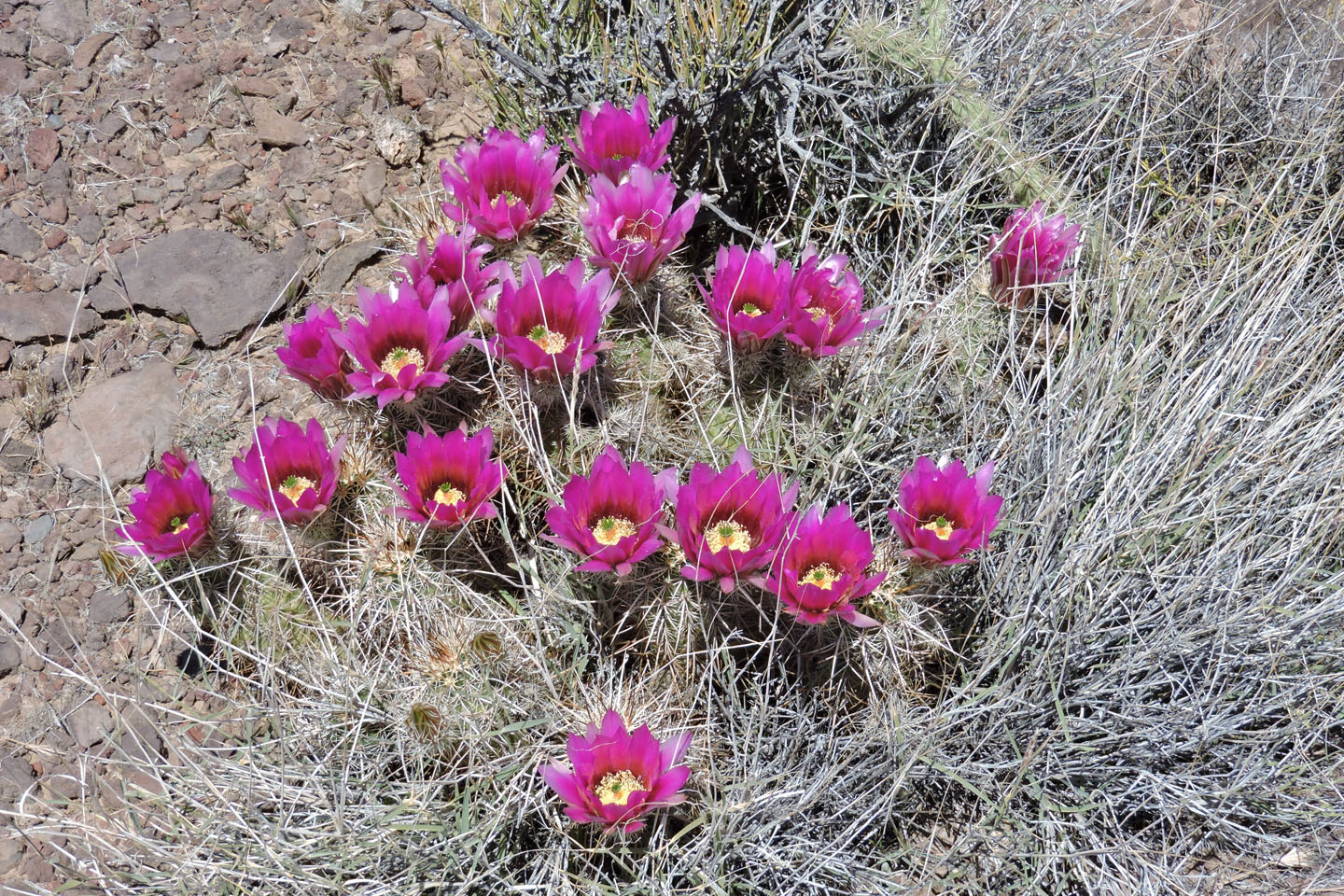 Hedgehog cactus with a profusion of flowers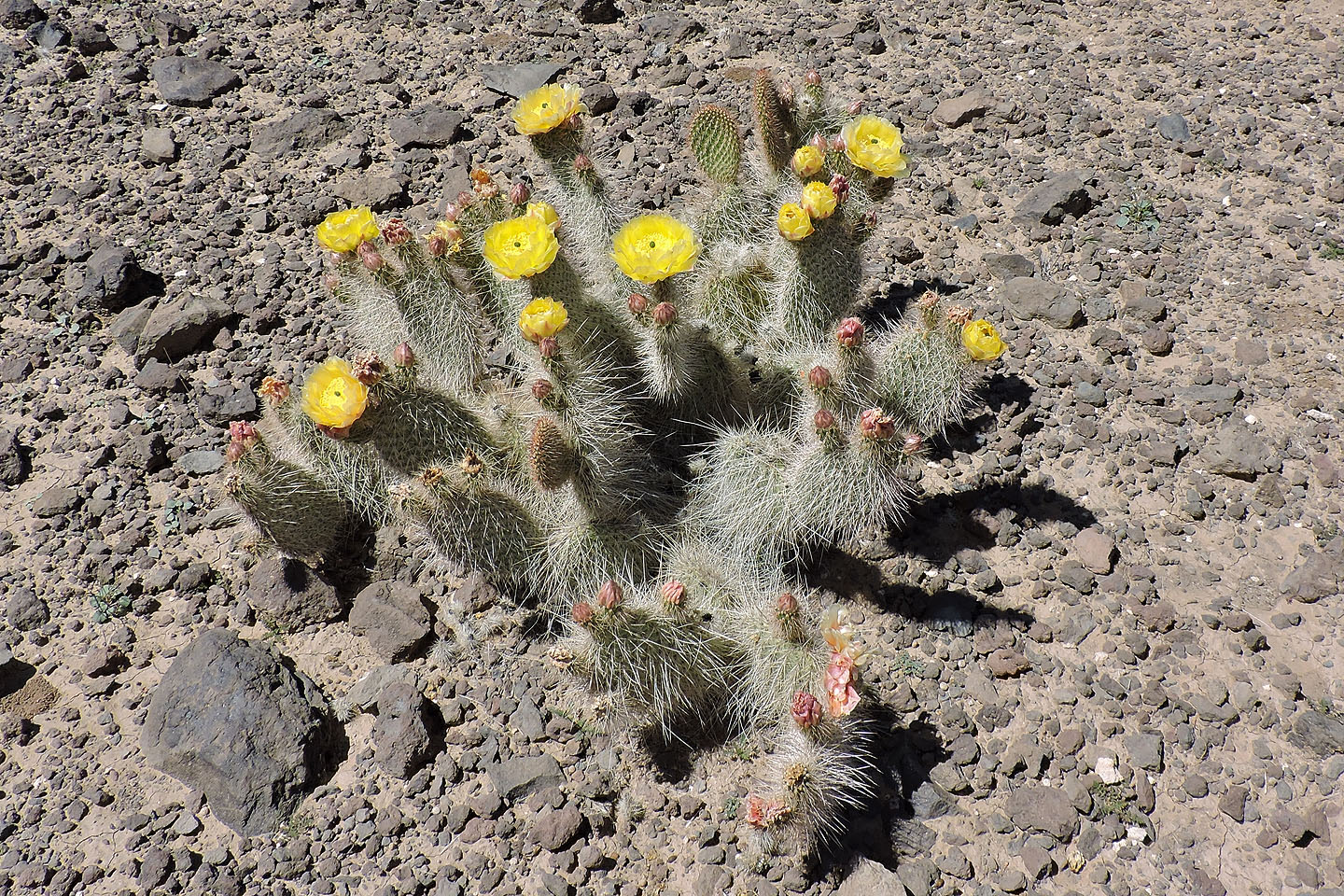 Prickly pear cactus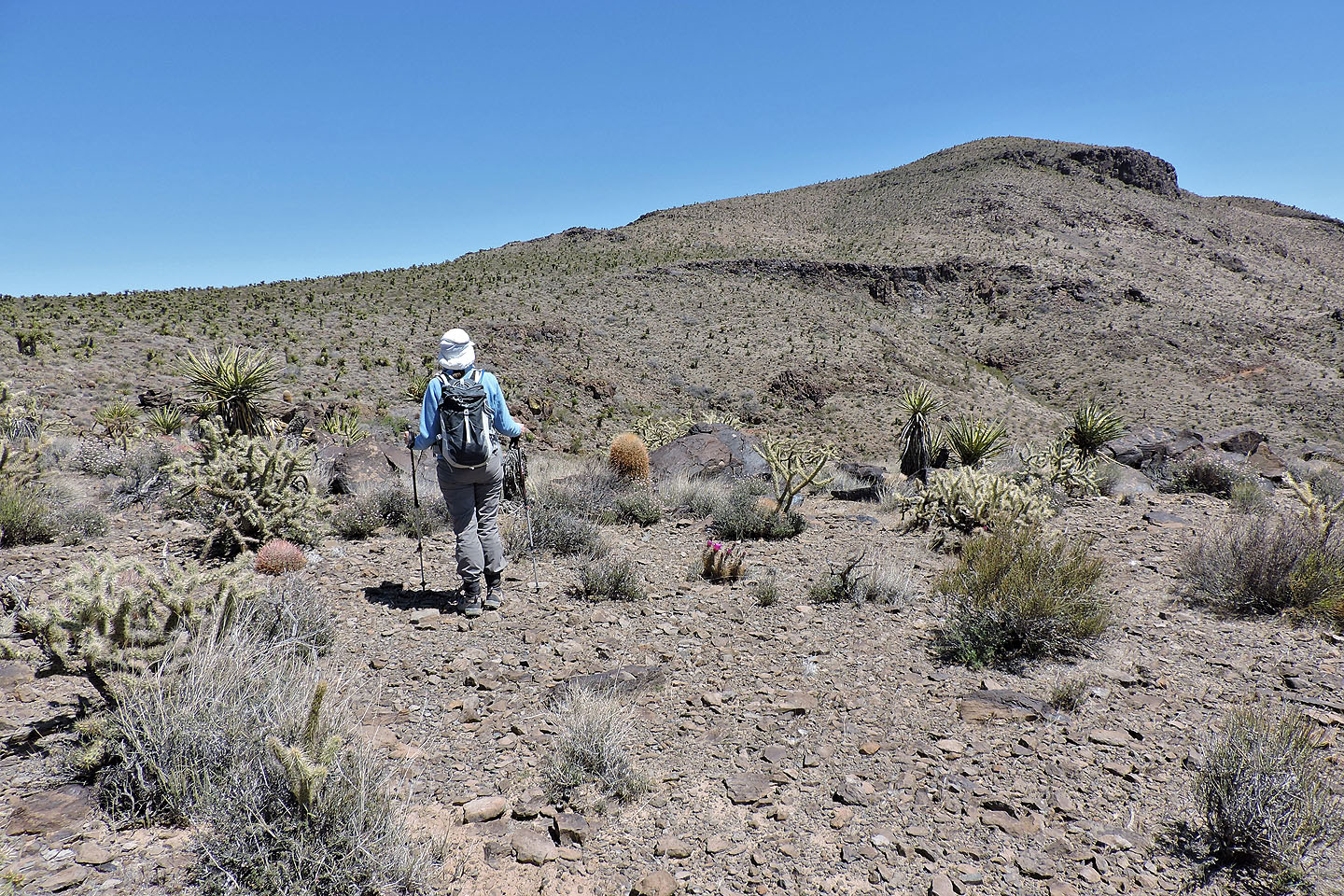 From here it's a stroll to the summit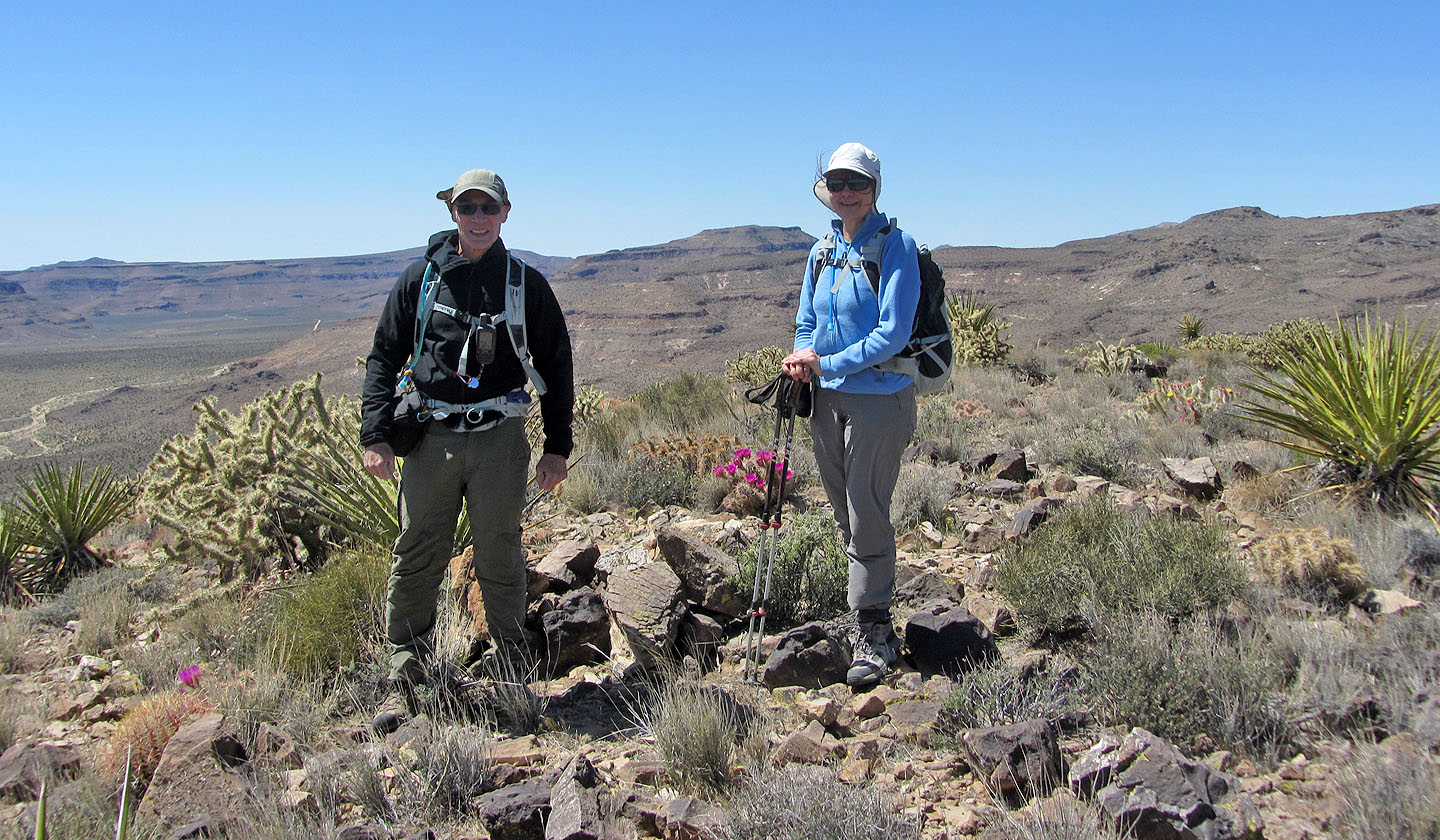 Dinah and I stand on the windy summit of Tortoise Shell Mountain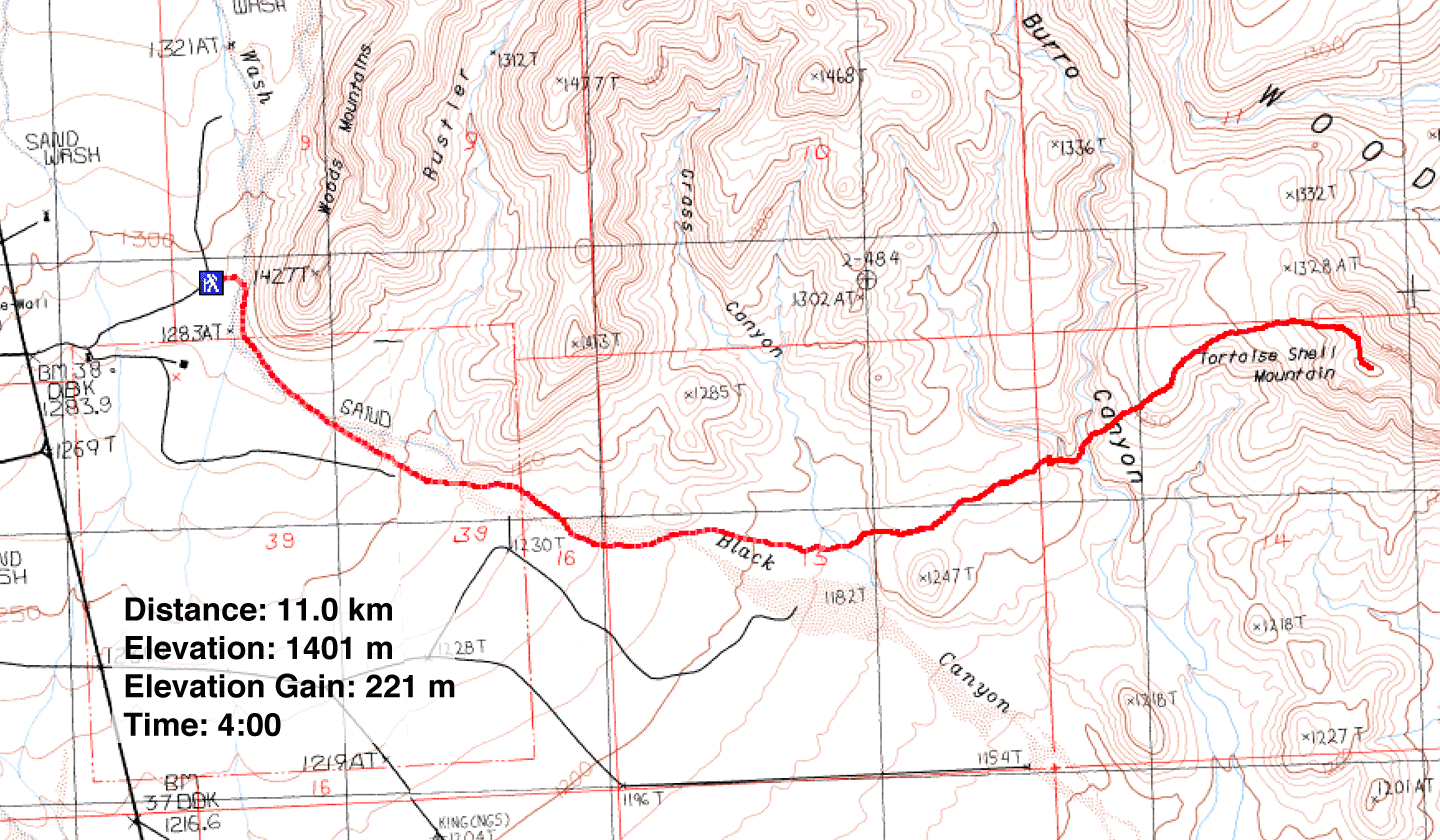 Columbia Mountain and Woods Mountain (6.8 mi, 4596 ft, 725 ft)