bobspirko.ca | Home | Canada Trips | US Trips | Hiking | Snowshoeing | MAP | About

New York Peak
Mojave National Preserve, California
April 19, 2013
New York Peak bears no resemblance to New York City that I could see. The City must have a gazillion elevators but the Peak didn't have even one! There wasn't even a sidewalk. Dinah and I had to hike up a trail.
Stranger than the lack of elevators is that New York Peak is only the second-highest point. The apex, only a couple hundred metres away and modestly called New York Peak 2, is a rocky spire, a sharp contrast to New York Peak's summit bump. But NY 2 was too technical for us to attempt. Dinah and I settled on achieving the slightly lower NY 1.
The route to either peak begins on Keystone Canyon trail. The trail winds its way up the lower slopes and passes a couple of mines before ending on a saddle. After the saddle there's no trail. We crossed a rocky slope to reach a gully that extends almost to the col between the two peaks and then walked to the summit of NY.
The scenery from the top was magnificent, especially given the view of nearby New York Peak 2. We spent over half an hour on the summit before heading back.
Our New York adventure didn't end when we got into our car. Driving back along Ivanpah Road – and mindful of a "Watch for Desert Tortoise" sign, we spotted one on the roadside. We stopped to take a look. It must have been 10 inches long. This was Dinah's first tortoise sighting, and my second after seeing a juvenile on Summerlin Peak.
Desert tortoises are rarely spotted: they spend most of their time underground and just now are emerging from hibernation. When they do, they are rather sluggish, and this one was no exception. We tried to scare it away from the pavement, but the slow reptile managed perhaps three steps in as many minutes (I read it was illegal to touch them as they are a threatened species, but it turns out it's okay to move them out of harm's way). At least it turned away from the road. After pausing a couple of minutes it took one more step and then stopped. It was in no hurry. But we were. We were hoping to get back to Vegas before rush hour.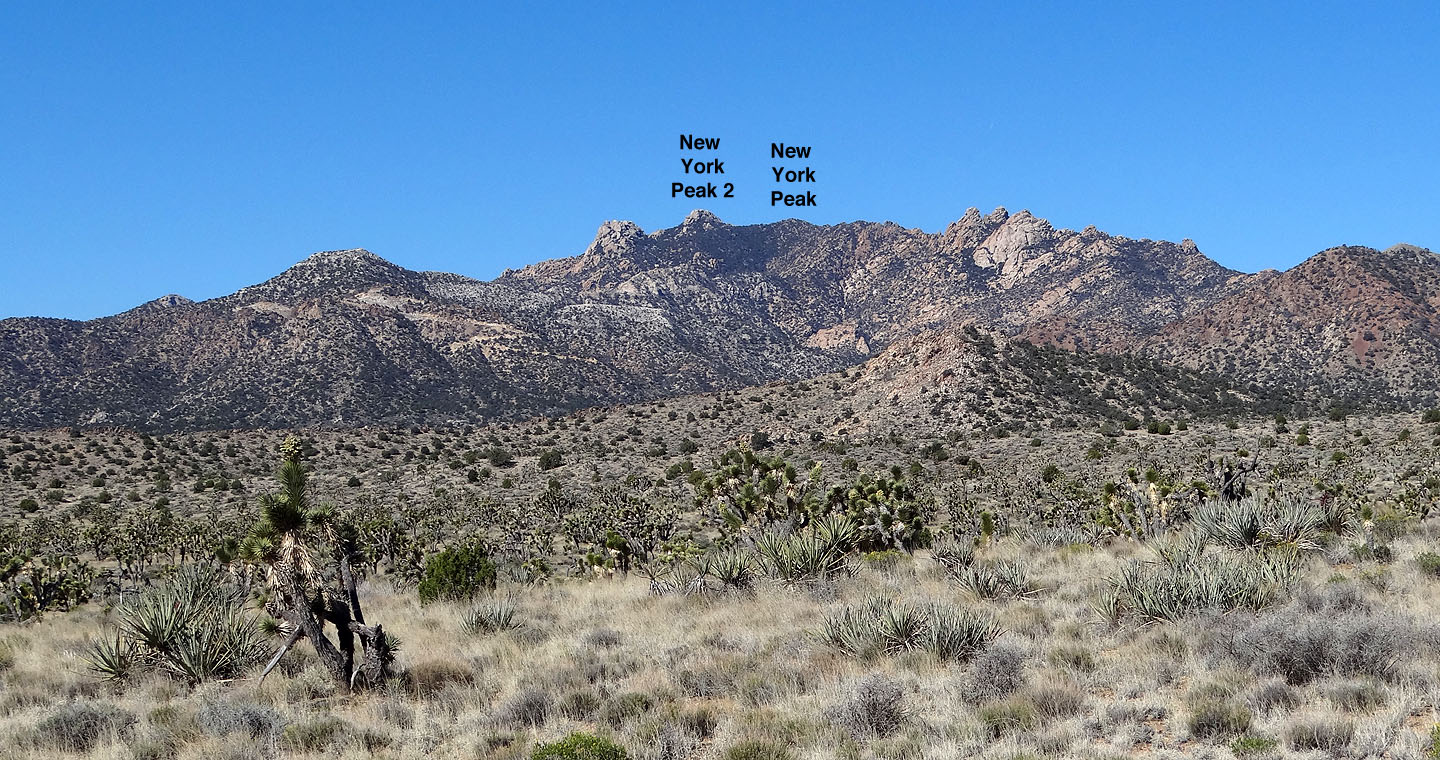 New York Peak 2 and New York Peak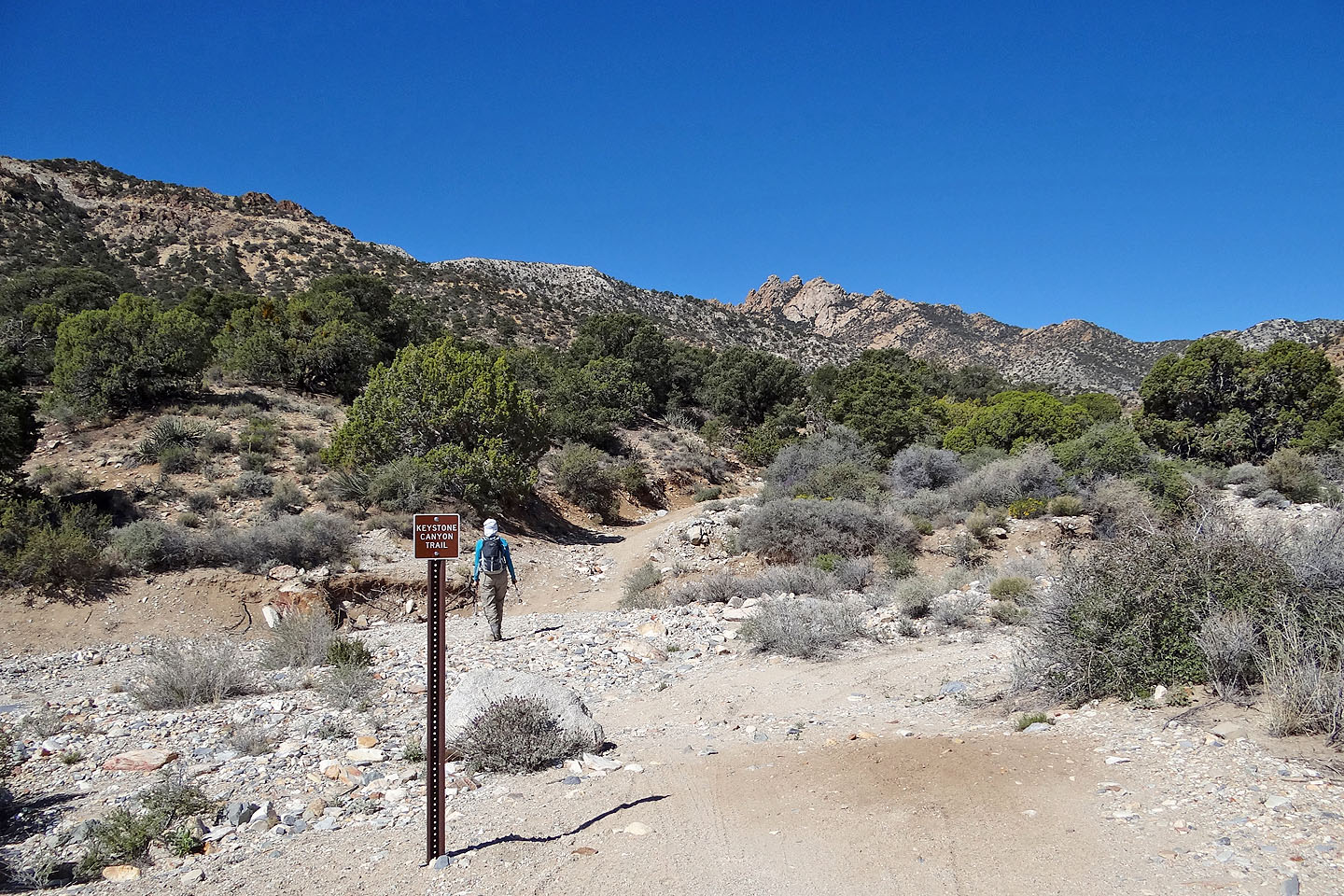 Keystone Canyon trailhead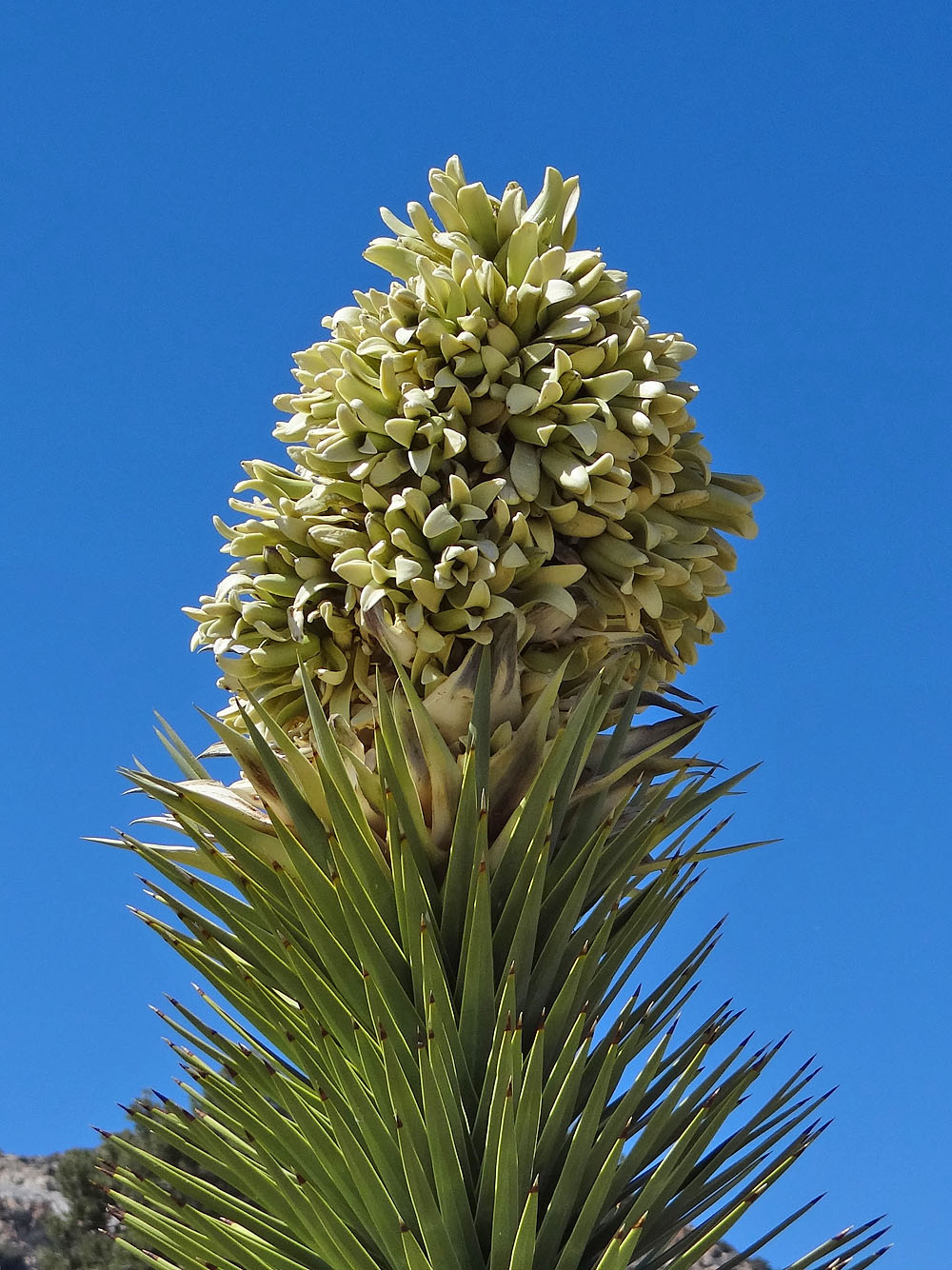 Flowering yucca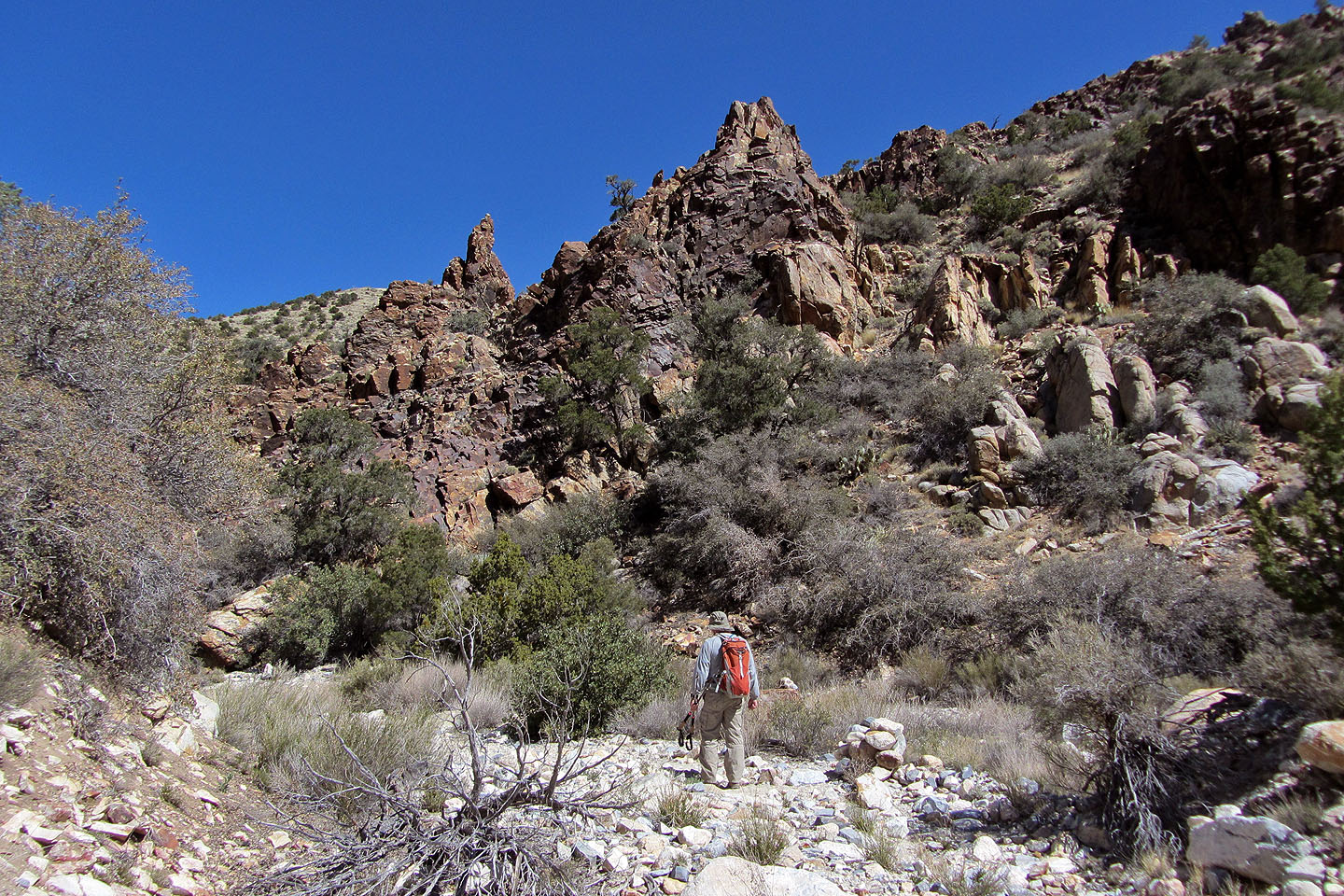 Keystone Canyon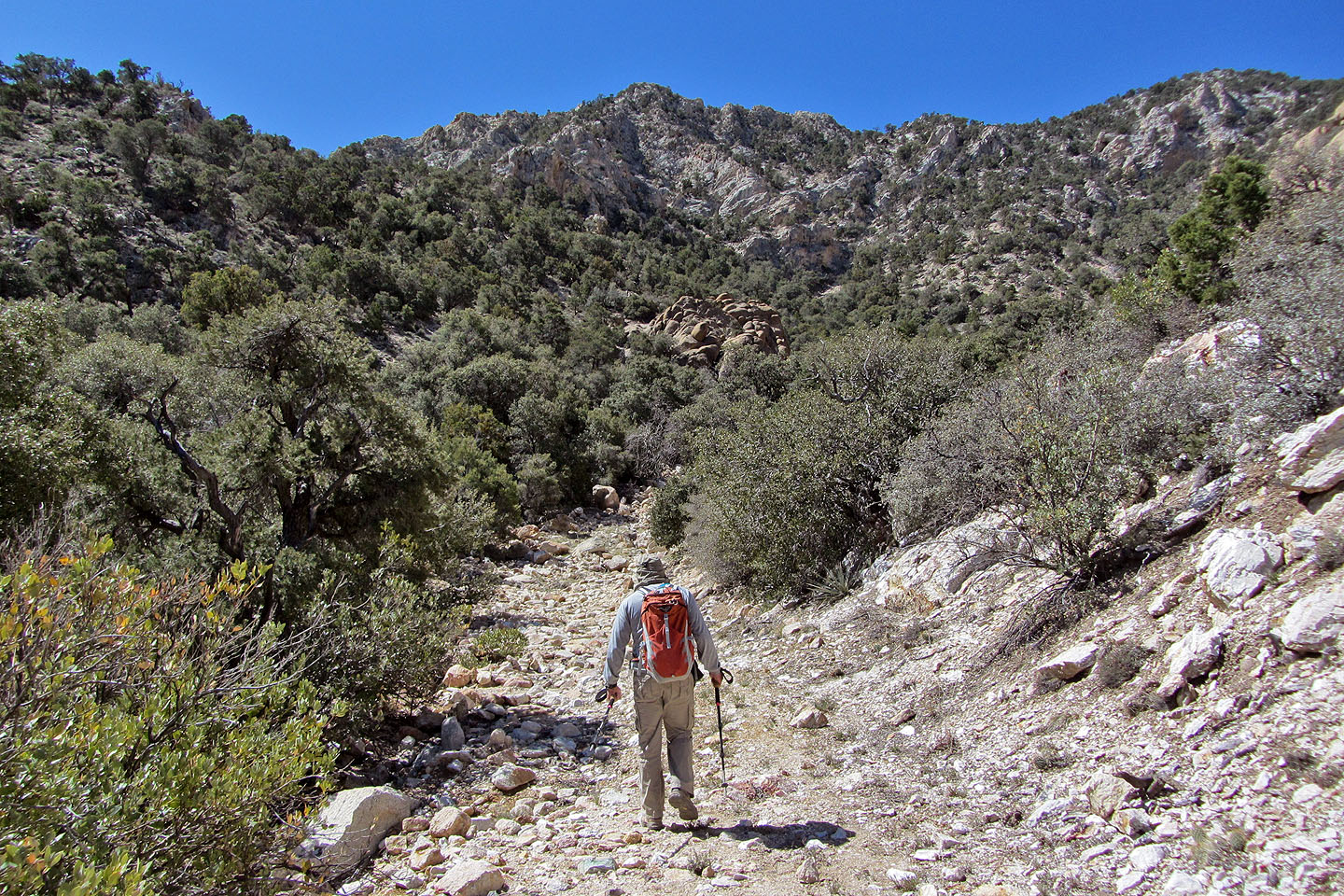 The mine is just past the outcrop ahead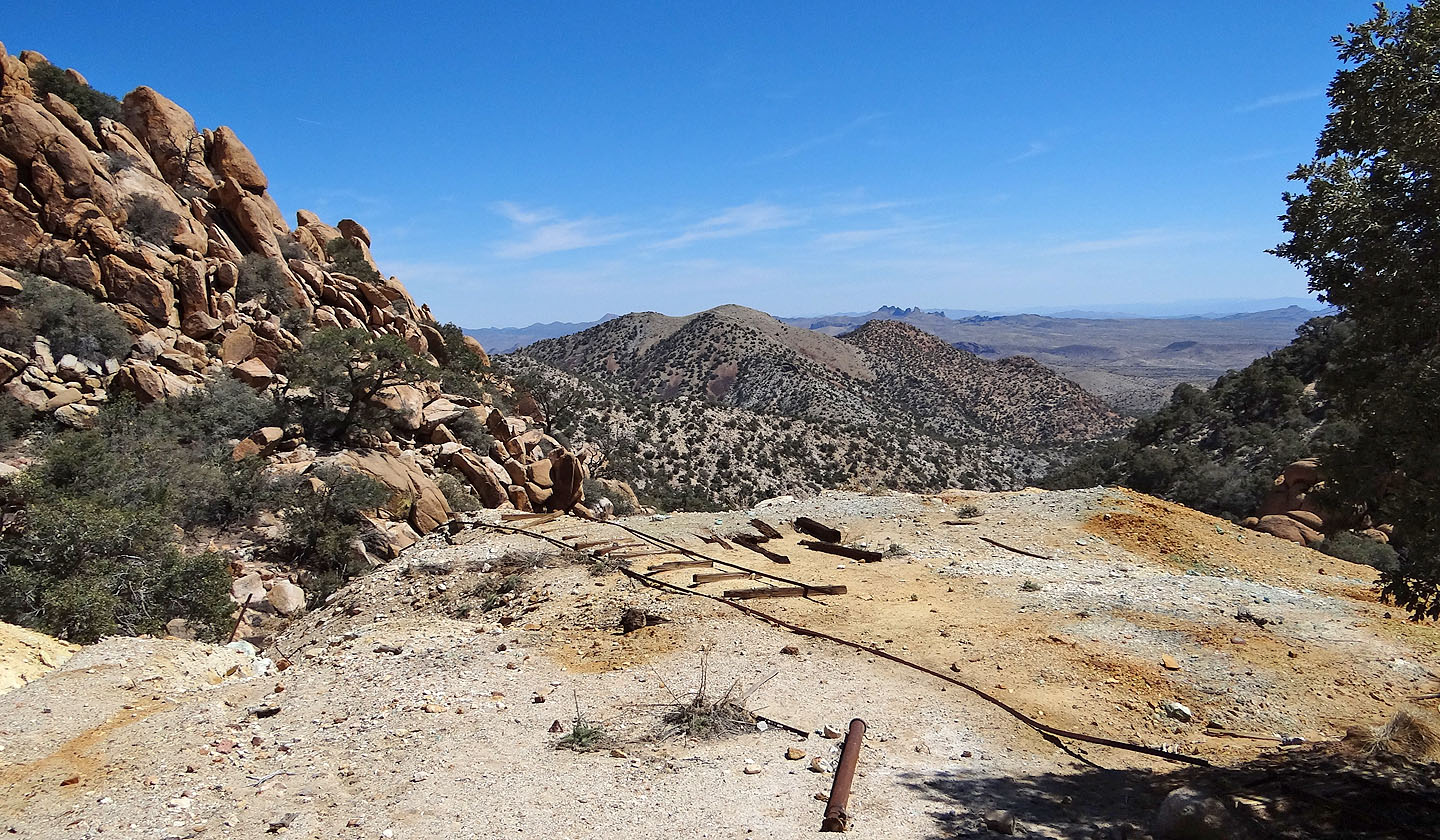 Looking east from the mine site towards Castle Peaks (mouse over to zoom in)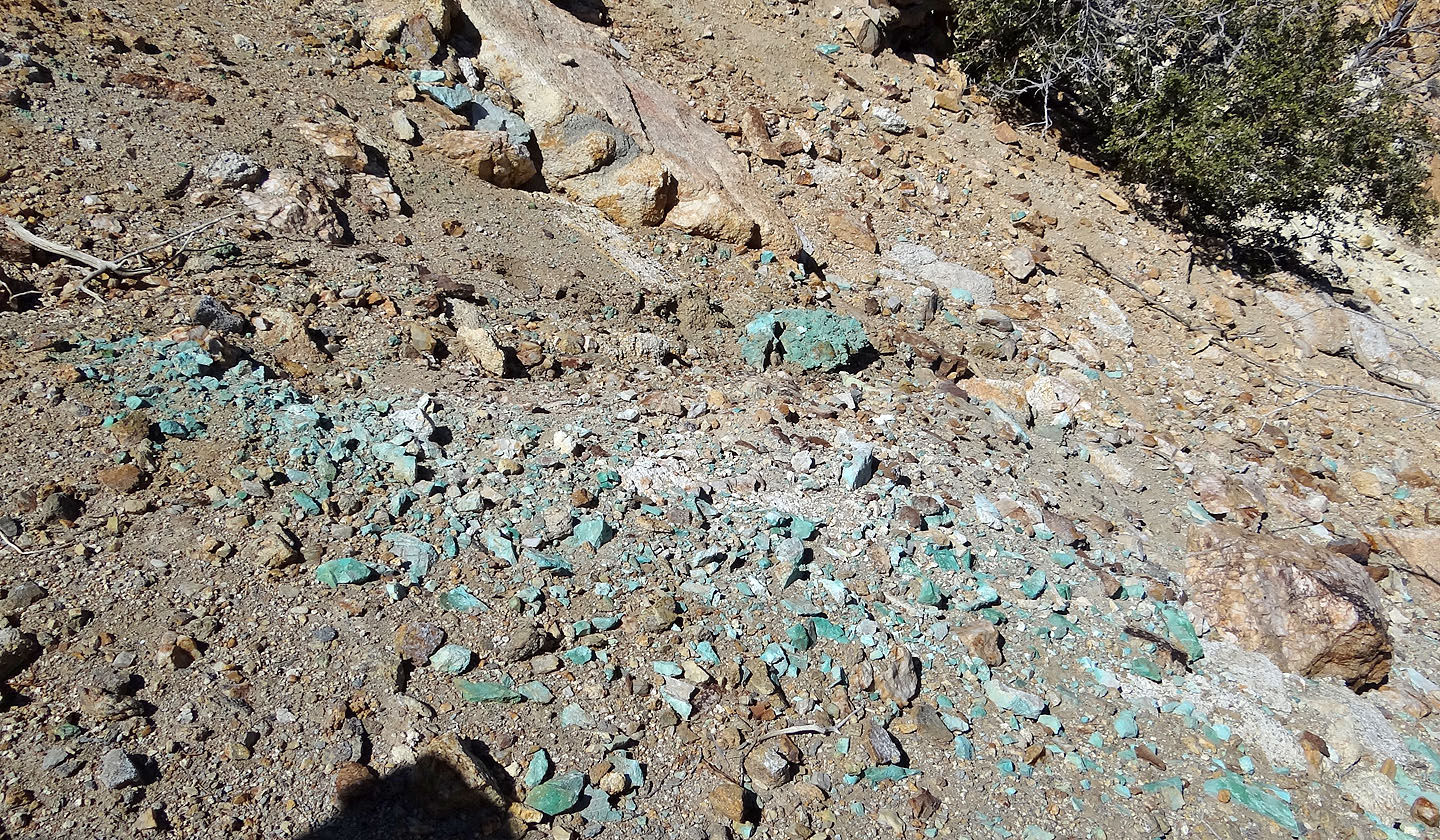 Copper ore fragments littered the mine site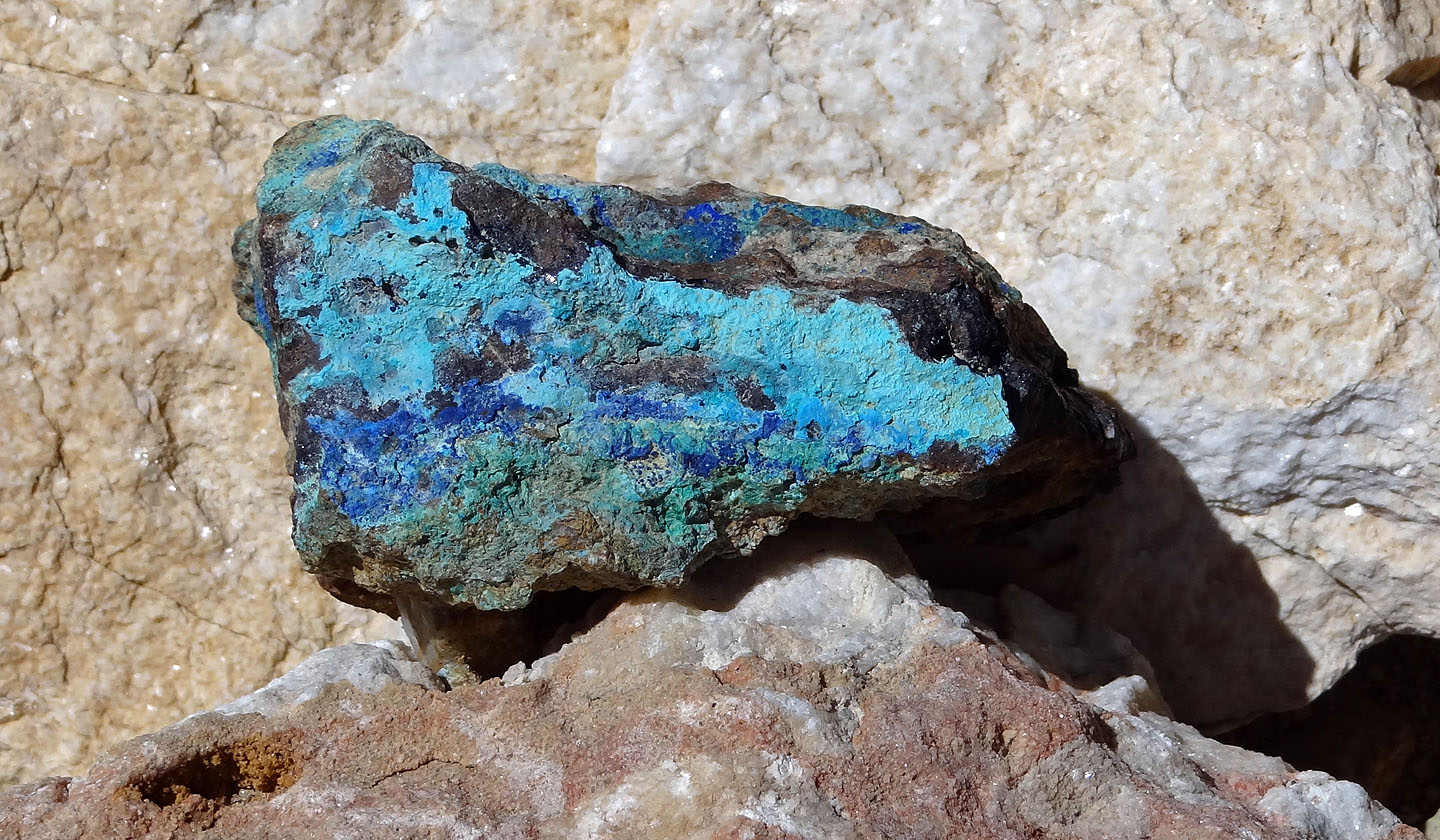 Colourful sample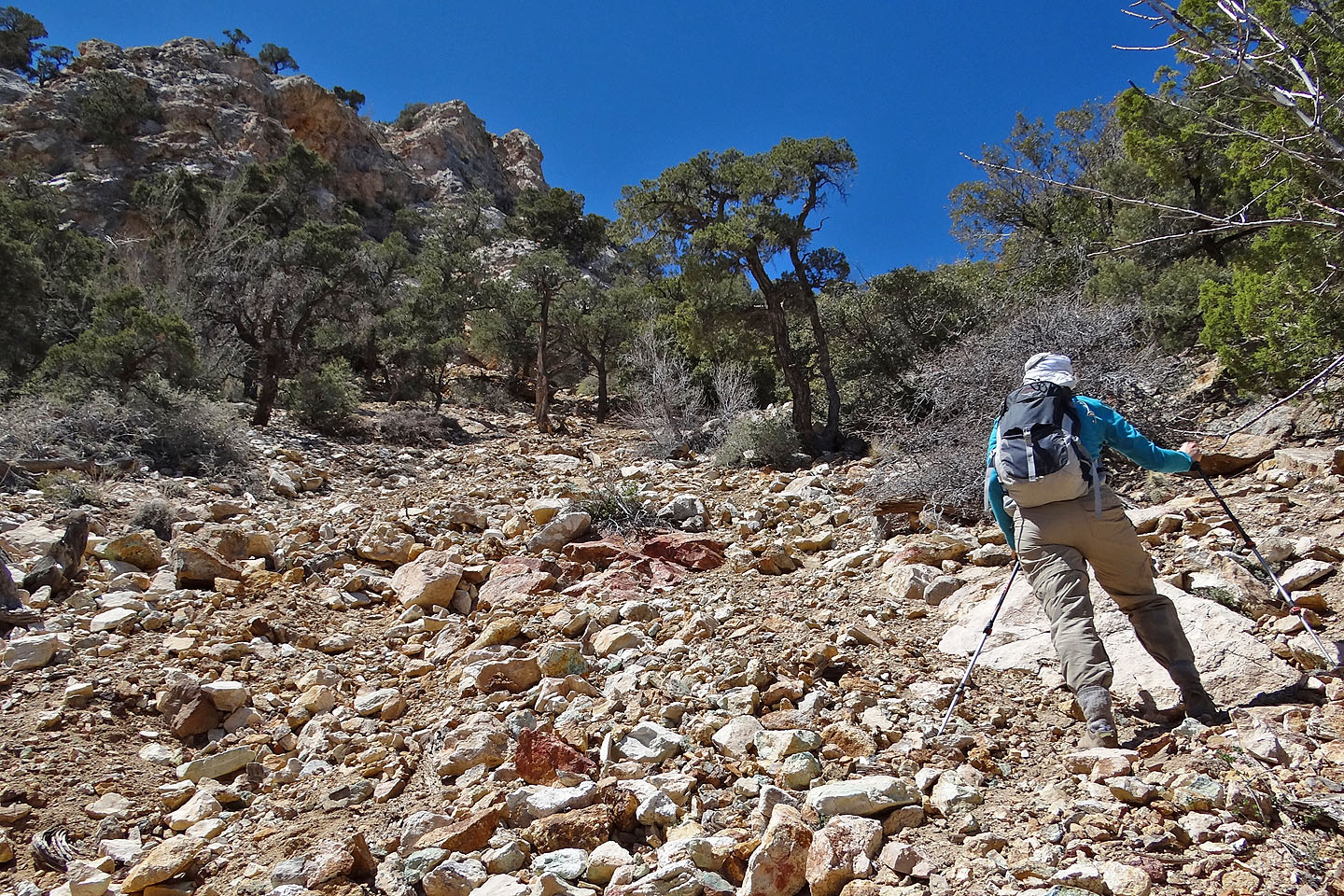 Above the mine loose rock fills the trail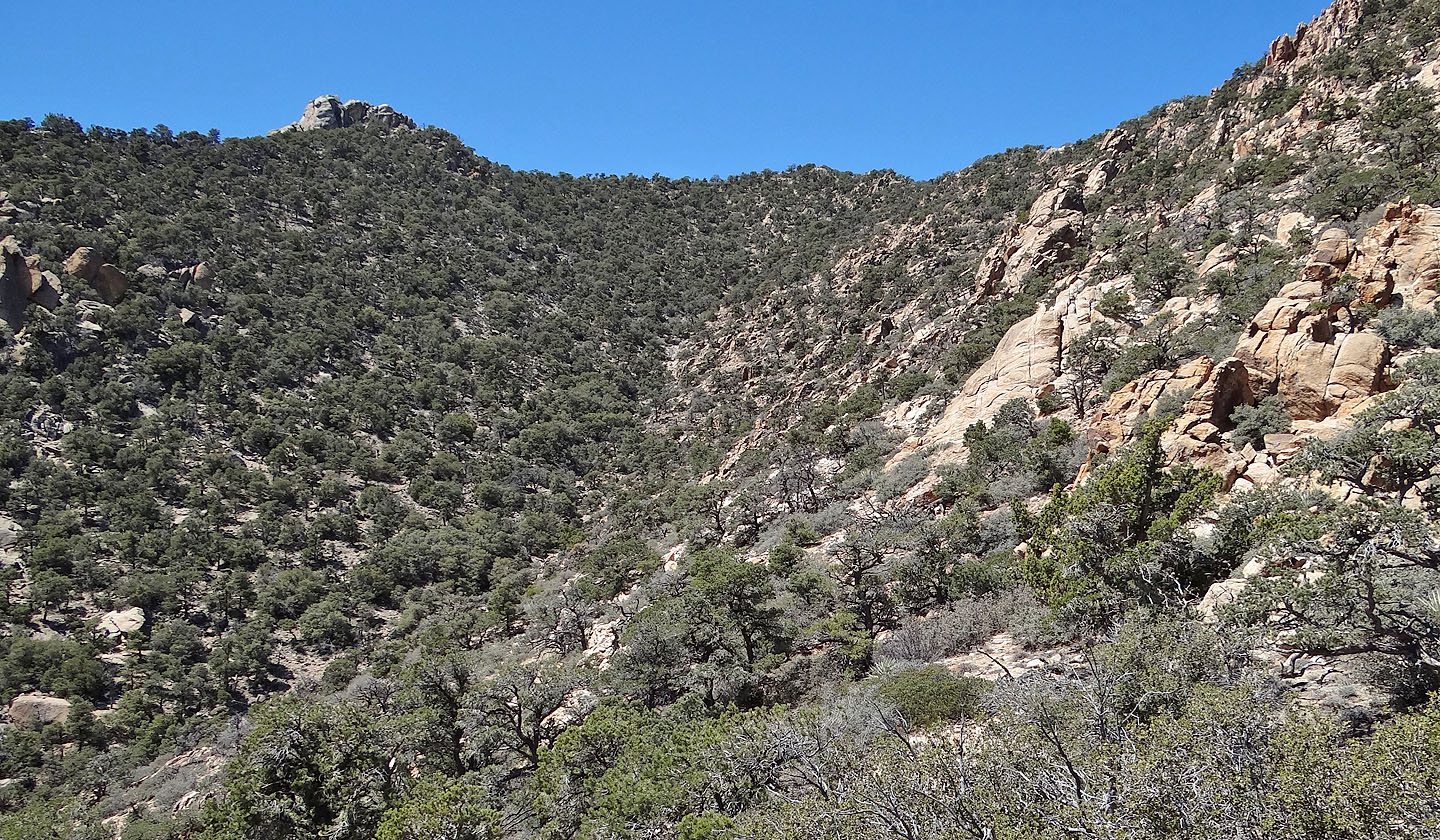 View from the saddle: we traversed the slope to the gully before ascending to the col between New York Peak 2 (left) and New York Peak (centre)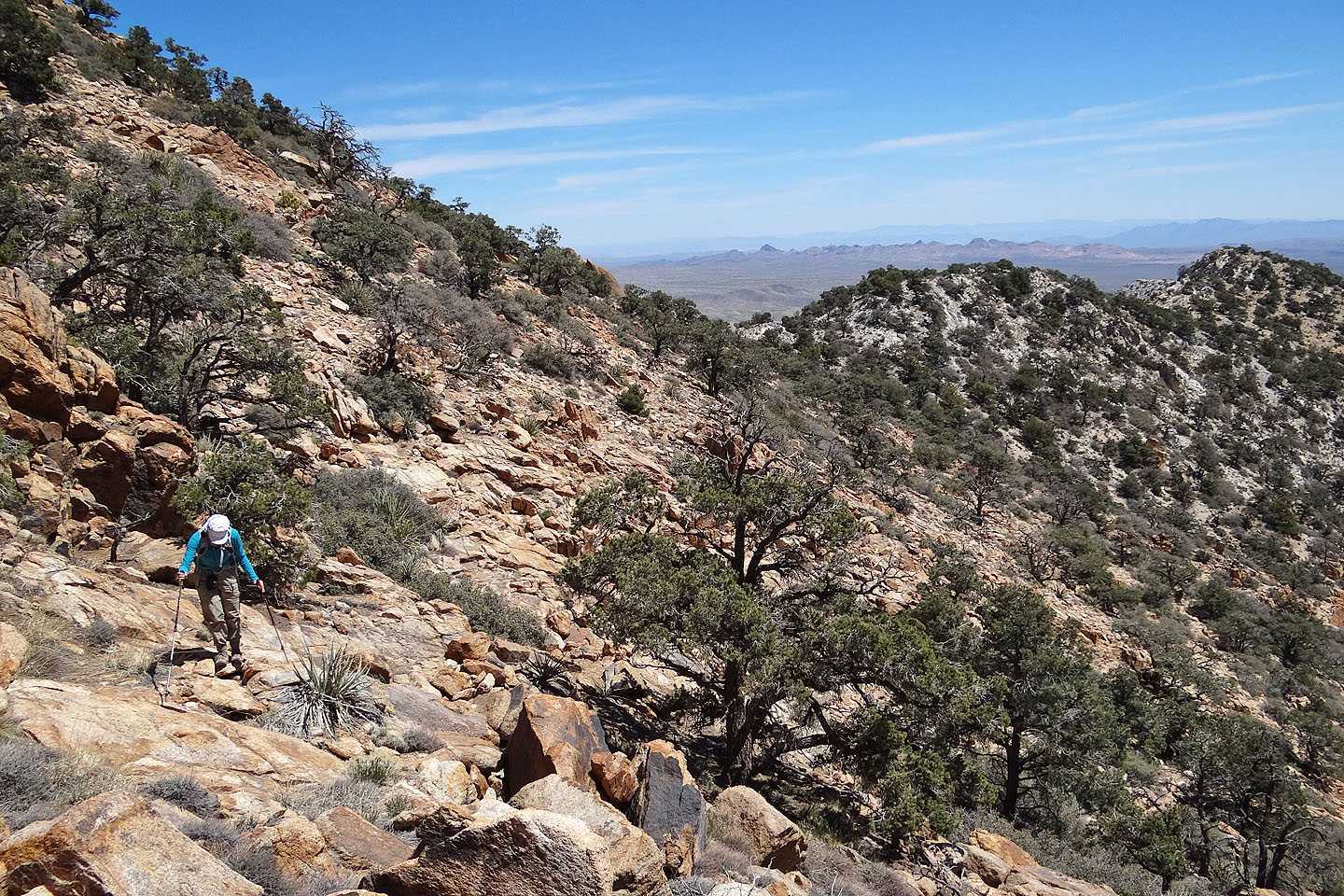 Traversing the slope. On the skyline centre is Hart Peak (mouse over for a close-up).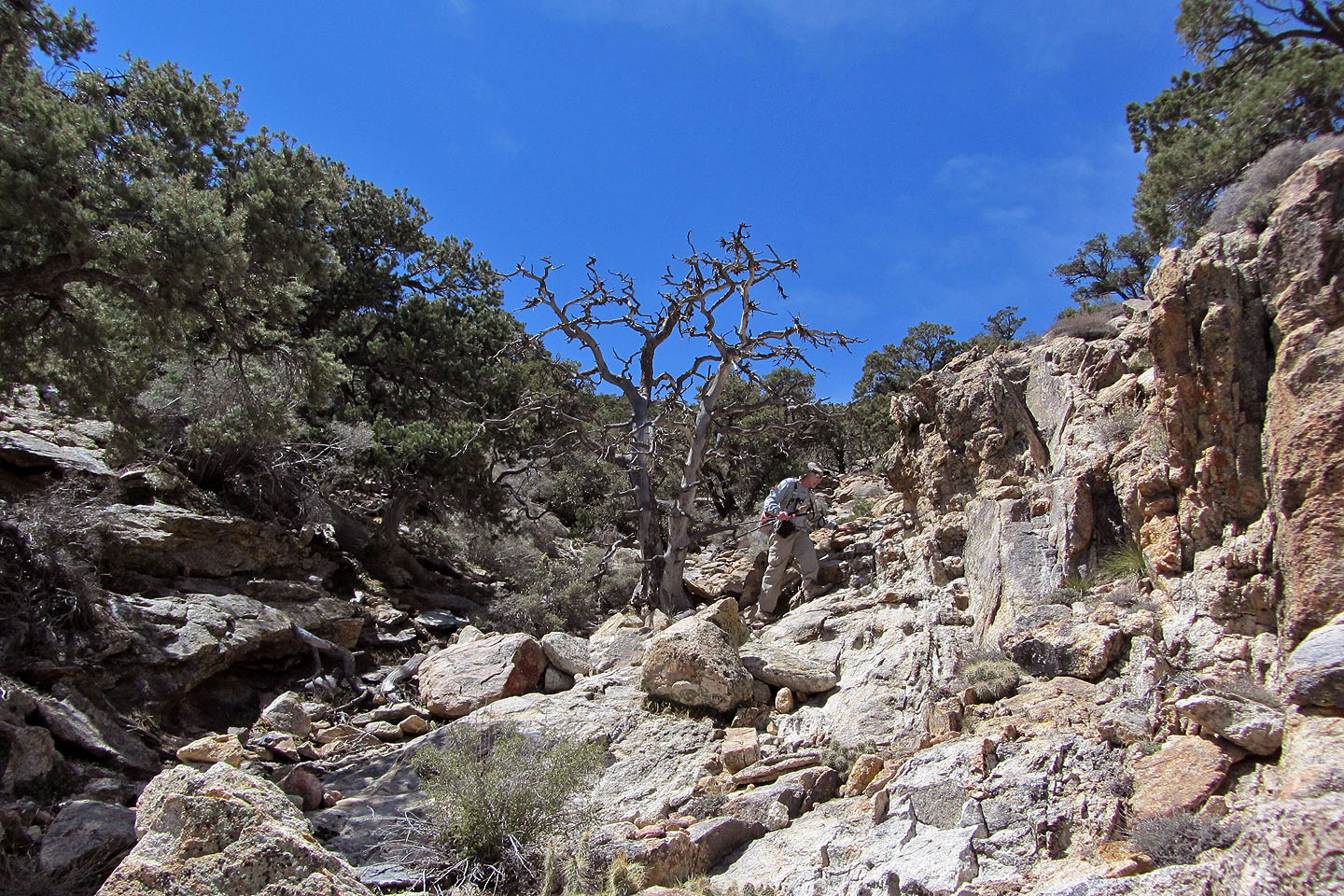 Going up the gully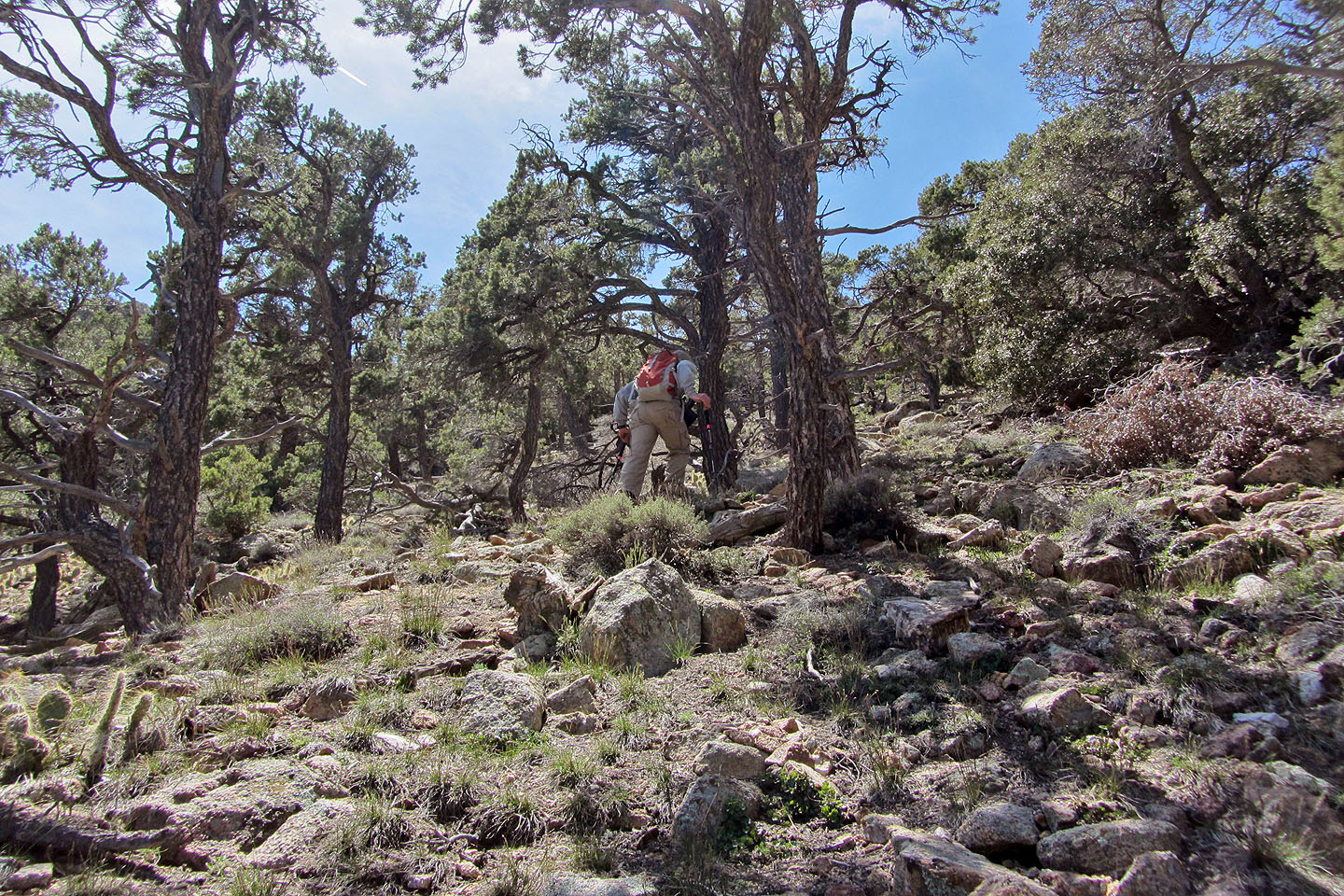 We hiked through some trees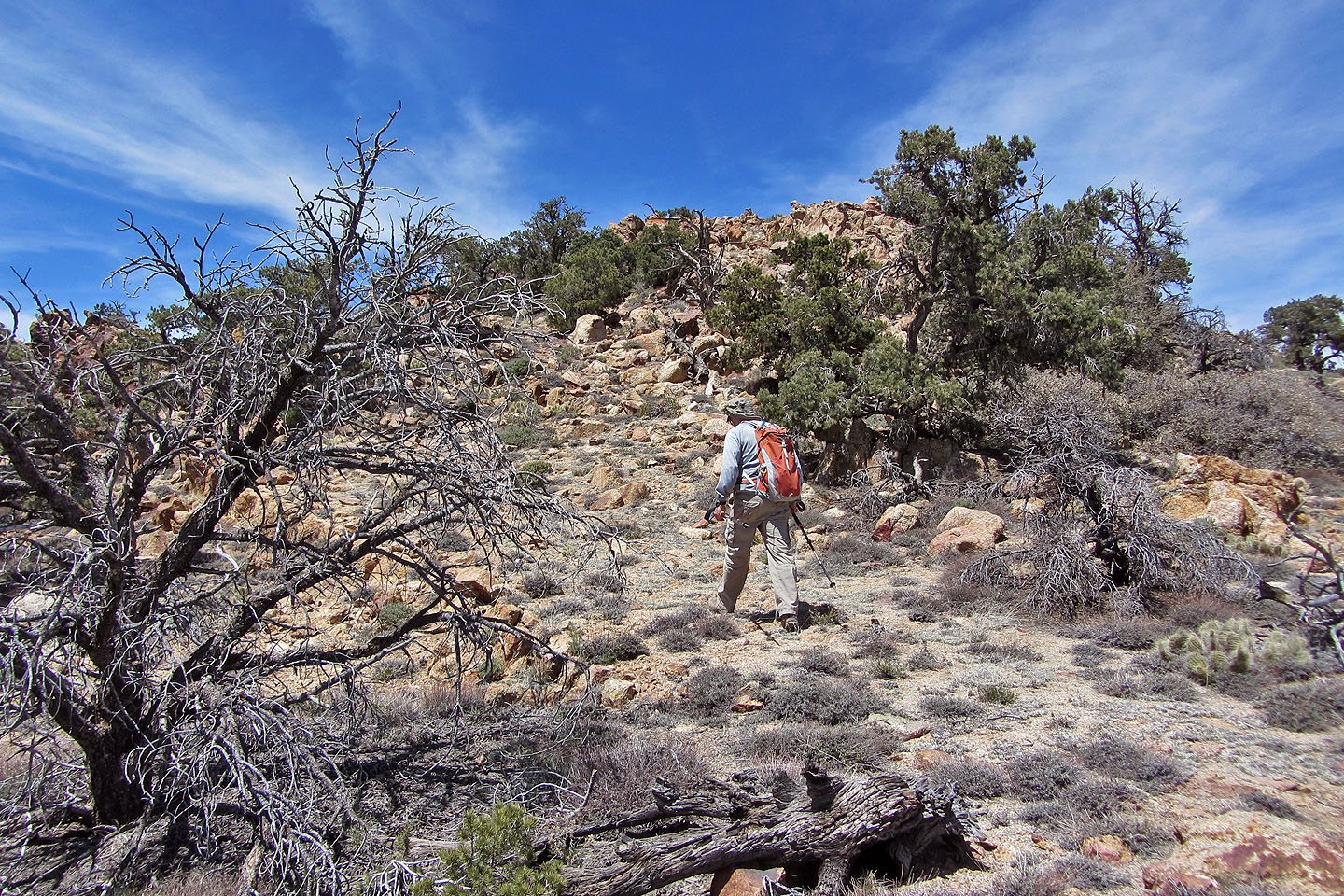 Hiking to the summit of New York Peak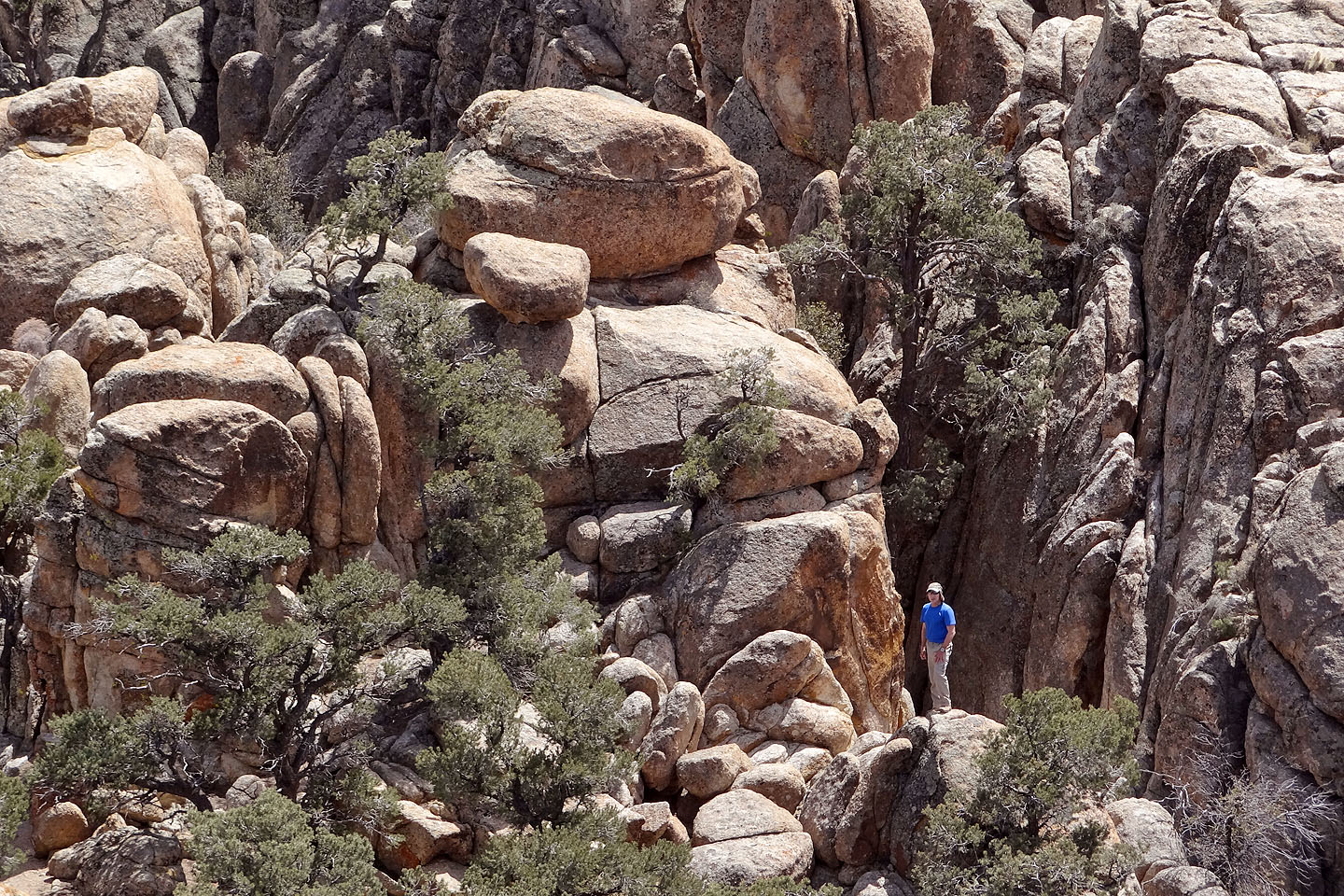 At the base of New York Peak 2, I'm surrounded by steep rock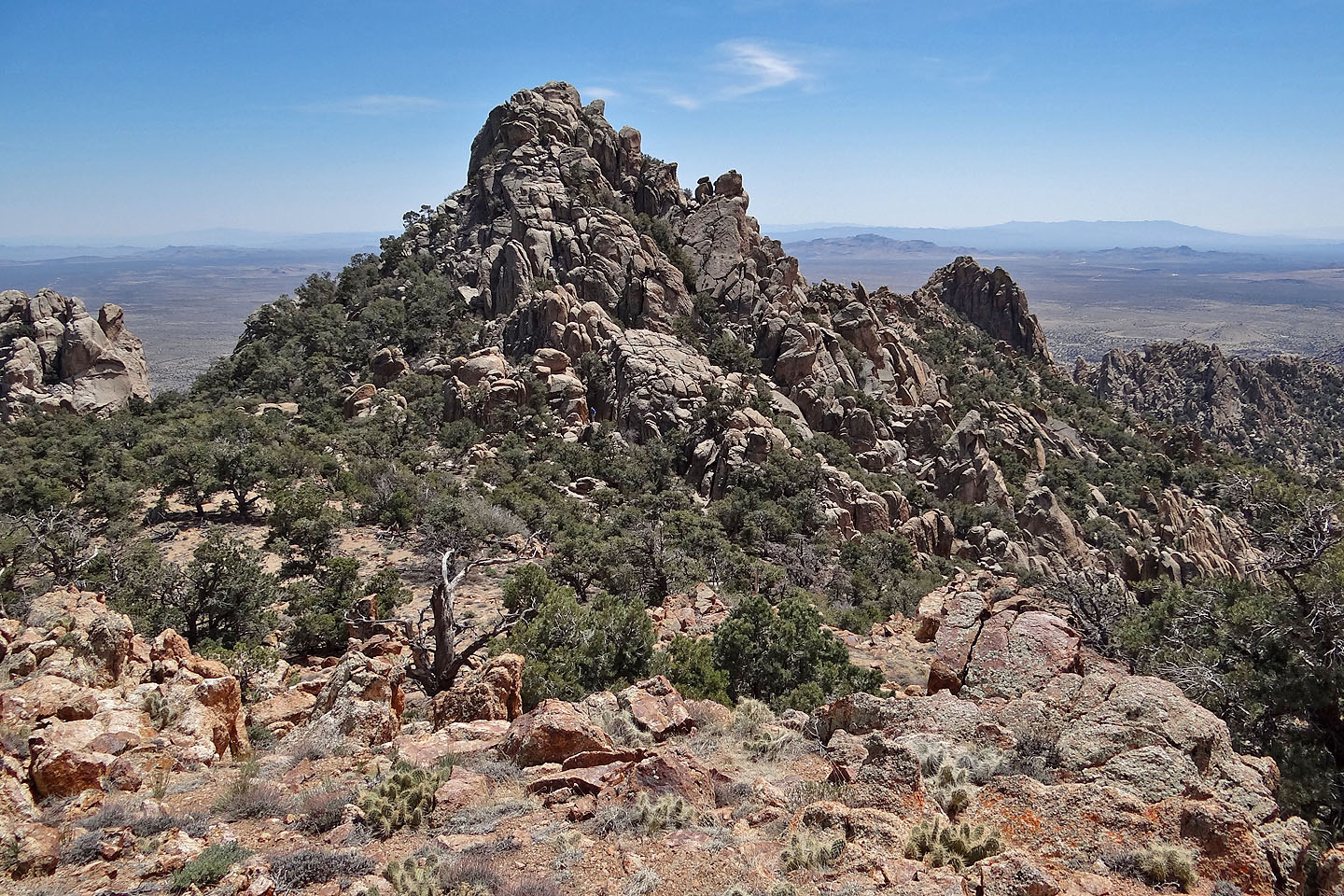 Same scene but zoomed back (I'm in the centre)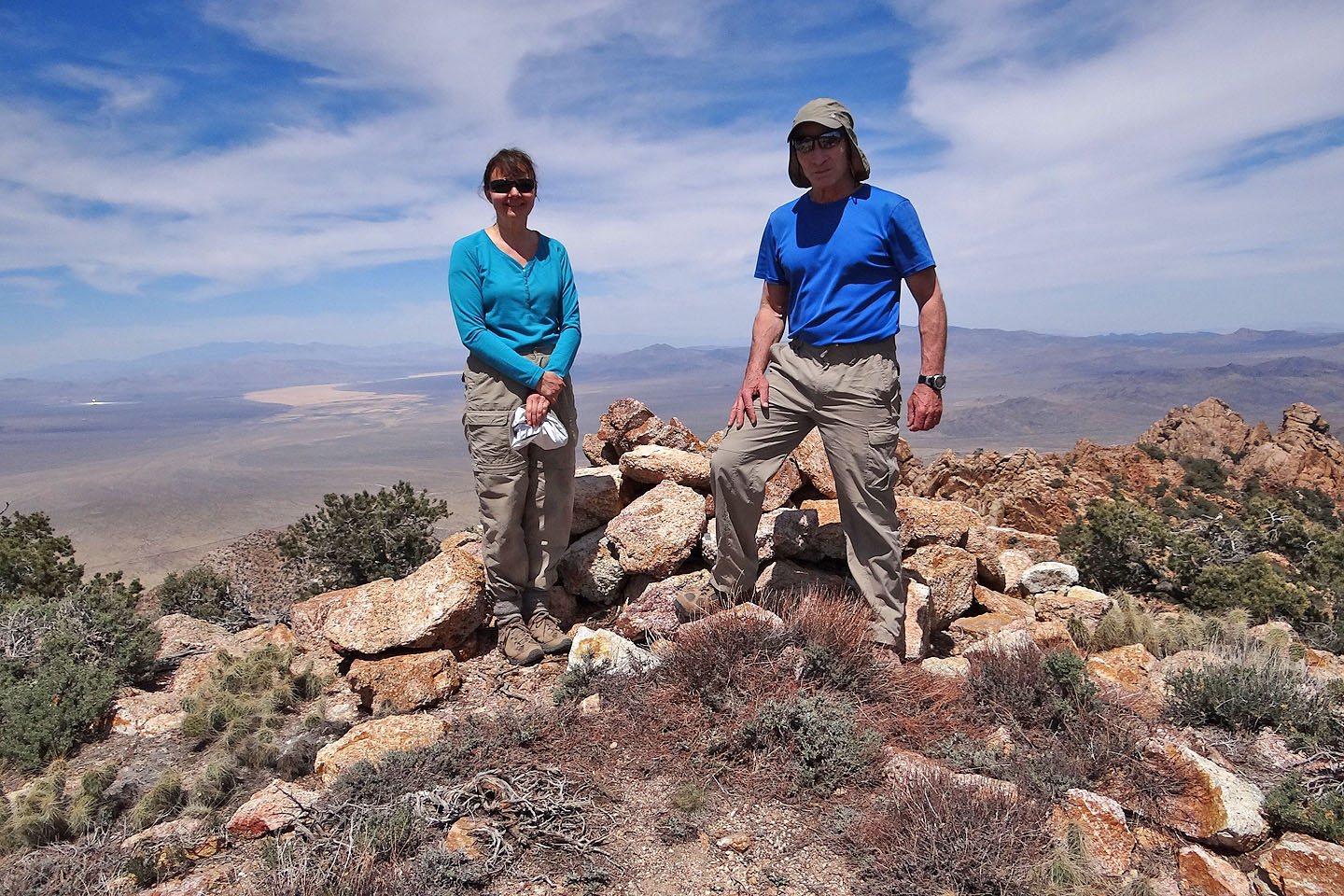 On the summit of New York Peak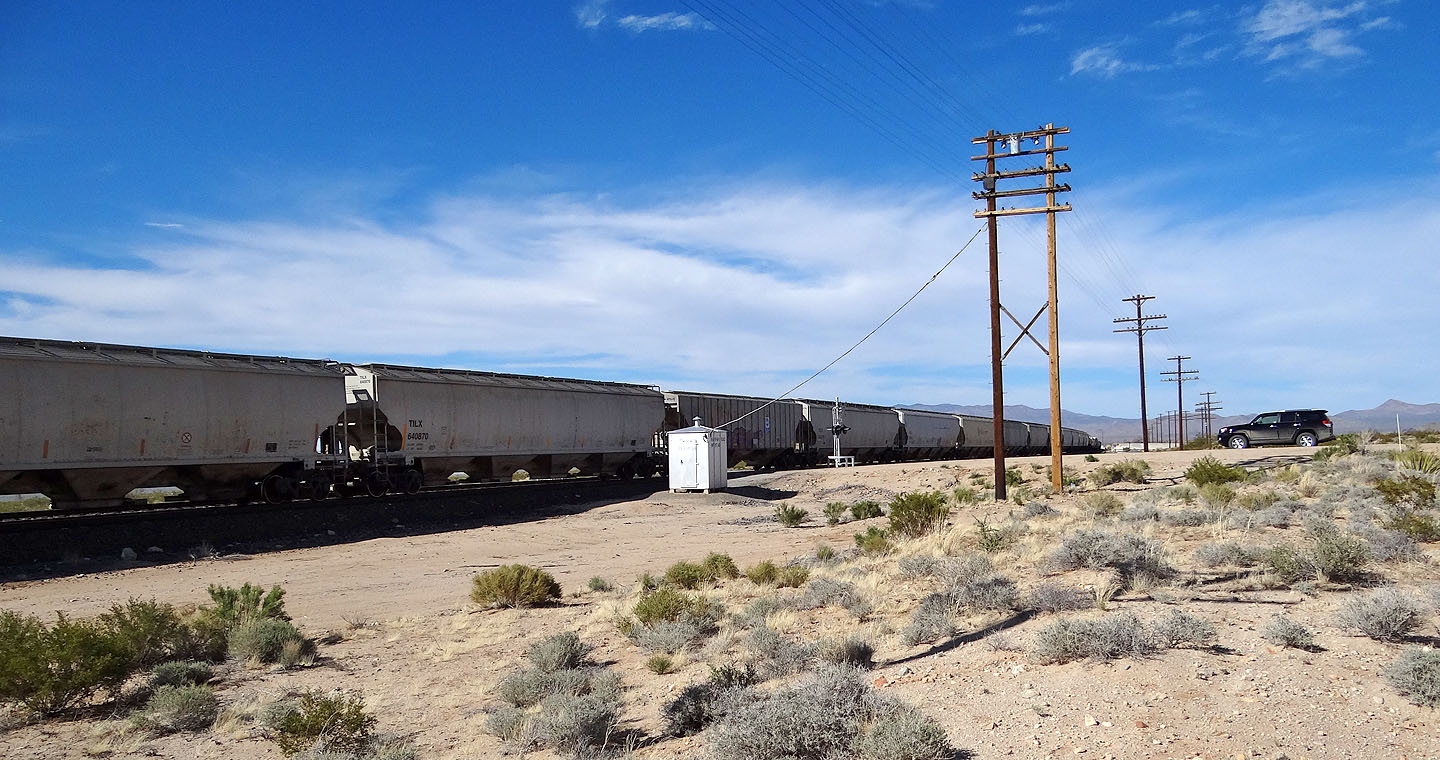 While driving back on Ivanpah Road, we took a walk while waiting 15 minutes for a stopped train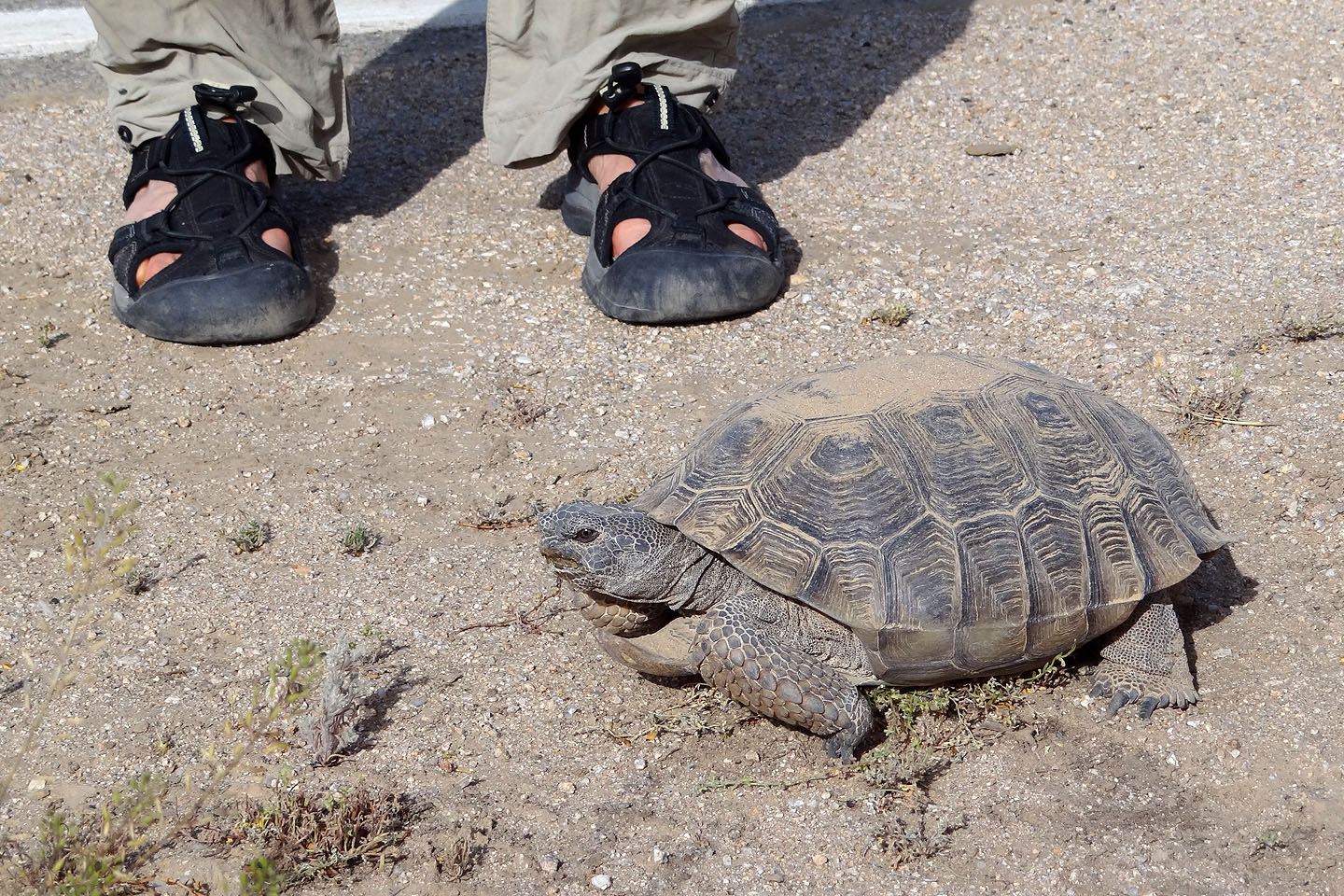 Desert tortoise (mouse over for a closer view)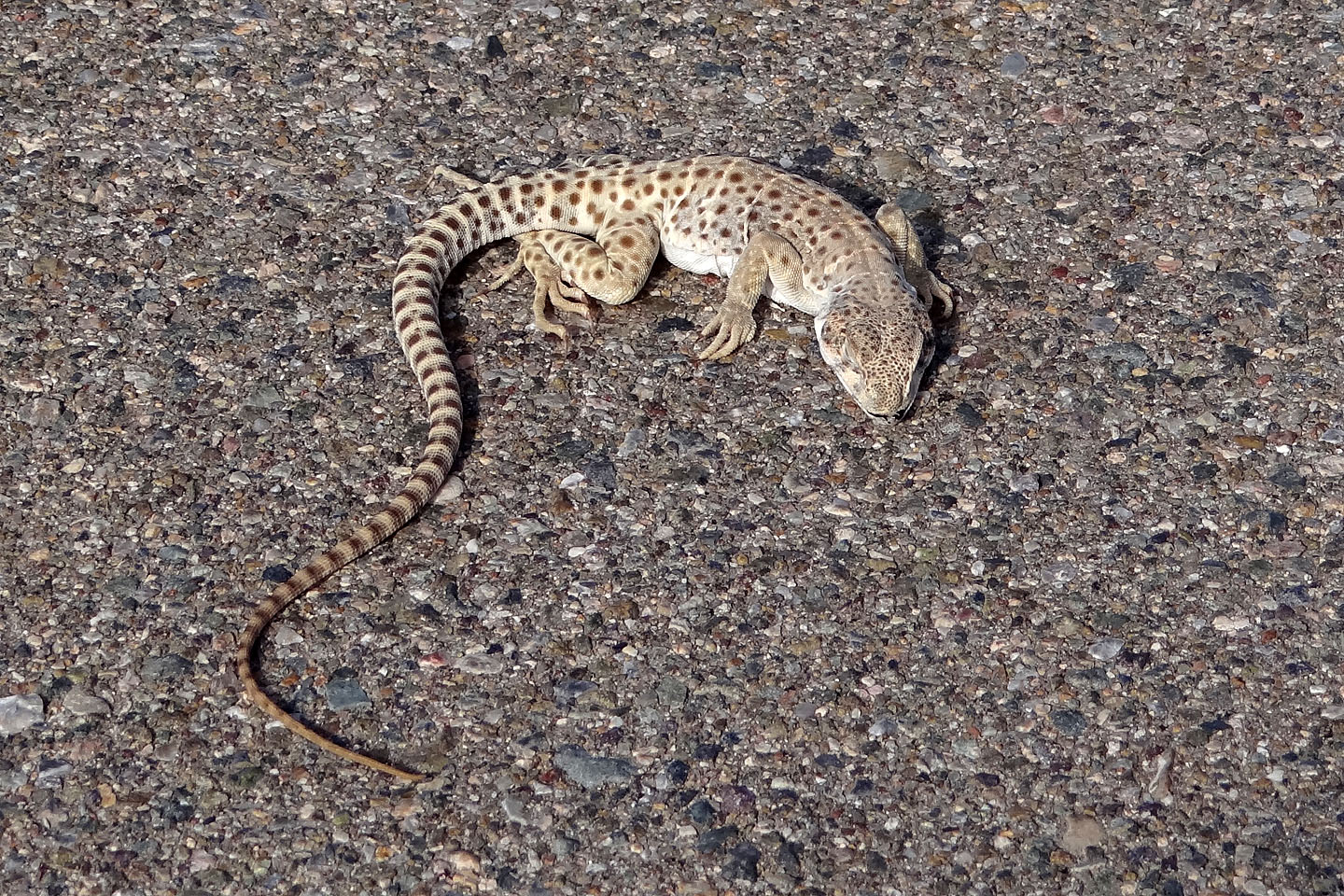 A few hundred metres down the road, this leopard lizard lay basking on the pavement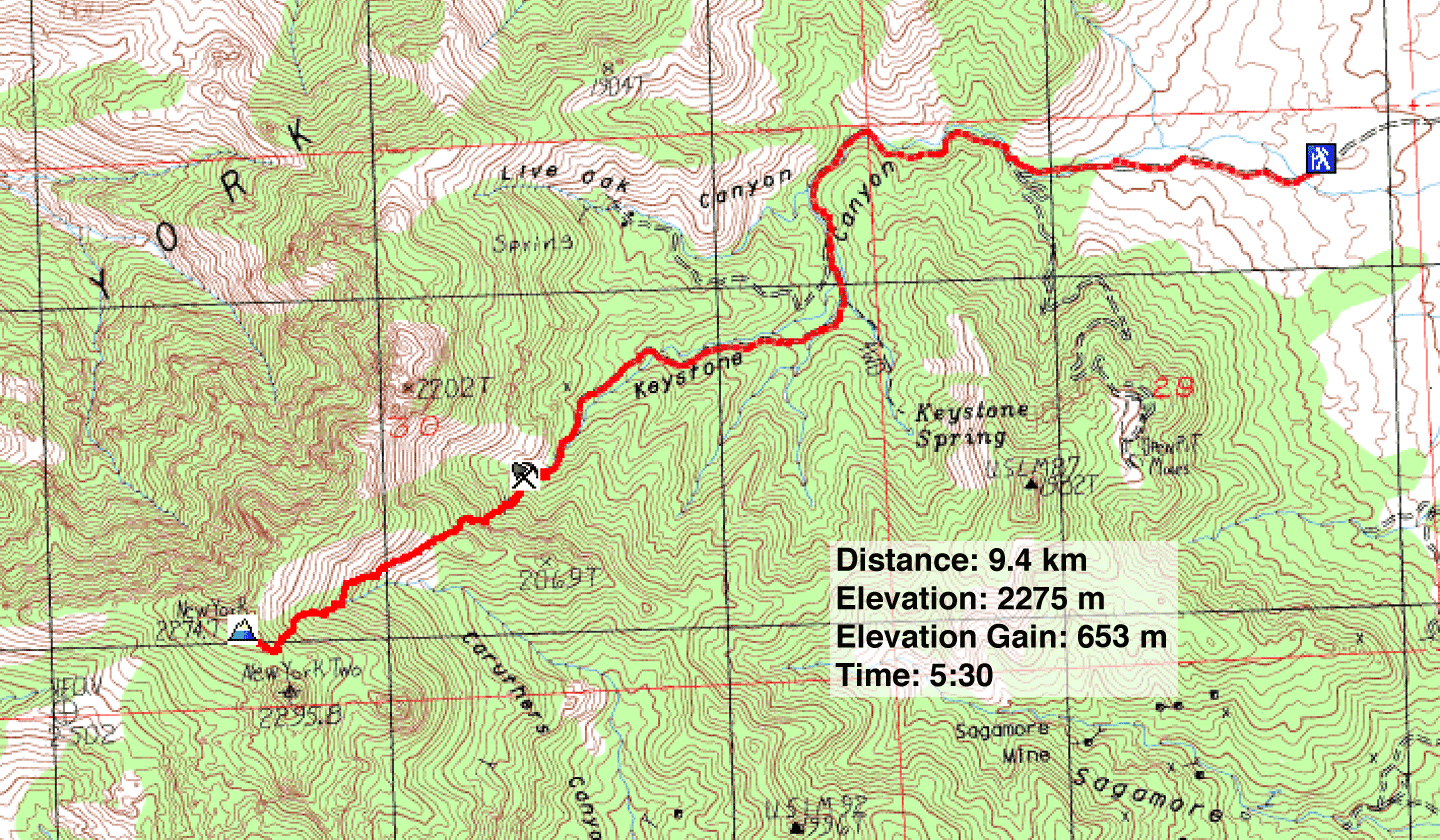 Ivanpah Topo (5.8 mi, 7464 ft, 2188 ft)