bobspirko.ca | Home | Canada Trips | US Trips | Hiking | Snowshoeing | MAP | About

Hart Peak
Mojave Desert, California
April 17, 2013
Distance: 6.7 km (4.2 mi)
Cumulative Elevation Gain: 330 m (1083 ft)

Despite rising steeply above the Mojave Desert, Hart Peak offers two relatively easy ascent routes, although I can only speak of the ascent from the southeast saddle. It's a class 2 climb and an enjoyable one at that. The area reminded me of the beautiful desert landscape of Spirit Mountain 50 km east.
After driving down the oddly named Walking Box Road, Dinah and I parked on a side road west of Hart Peak. The side road appeared promising as it first headed across the desert toward the southeast saddle, but when it doggedly headed south, we exited and started striding across a desert landscape dotted with Joshua trees and flowering yuccas. In a short time, however, we were back on a road, undoubtedly the same meandering road we started up. We hiked up the road to the saddle.
From the saddle, cliffs appeared to bar the way to the top. We climbed well up the mountain before finding the hidden class 2 route: a concave slope extending to the summit. Rife with large rocks and little cliffs, we threaded our way to the top of Hart Peak.
After a short windy, cold stay on the summit, we retraced our steps back down the saddle and down the road. We lopped off a little distance on the flats by hiking back along a wash to the side road.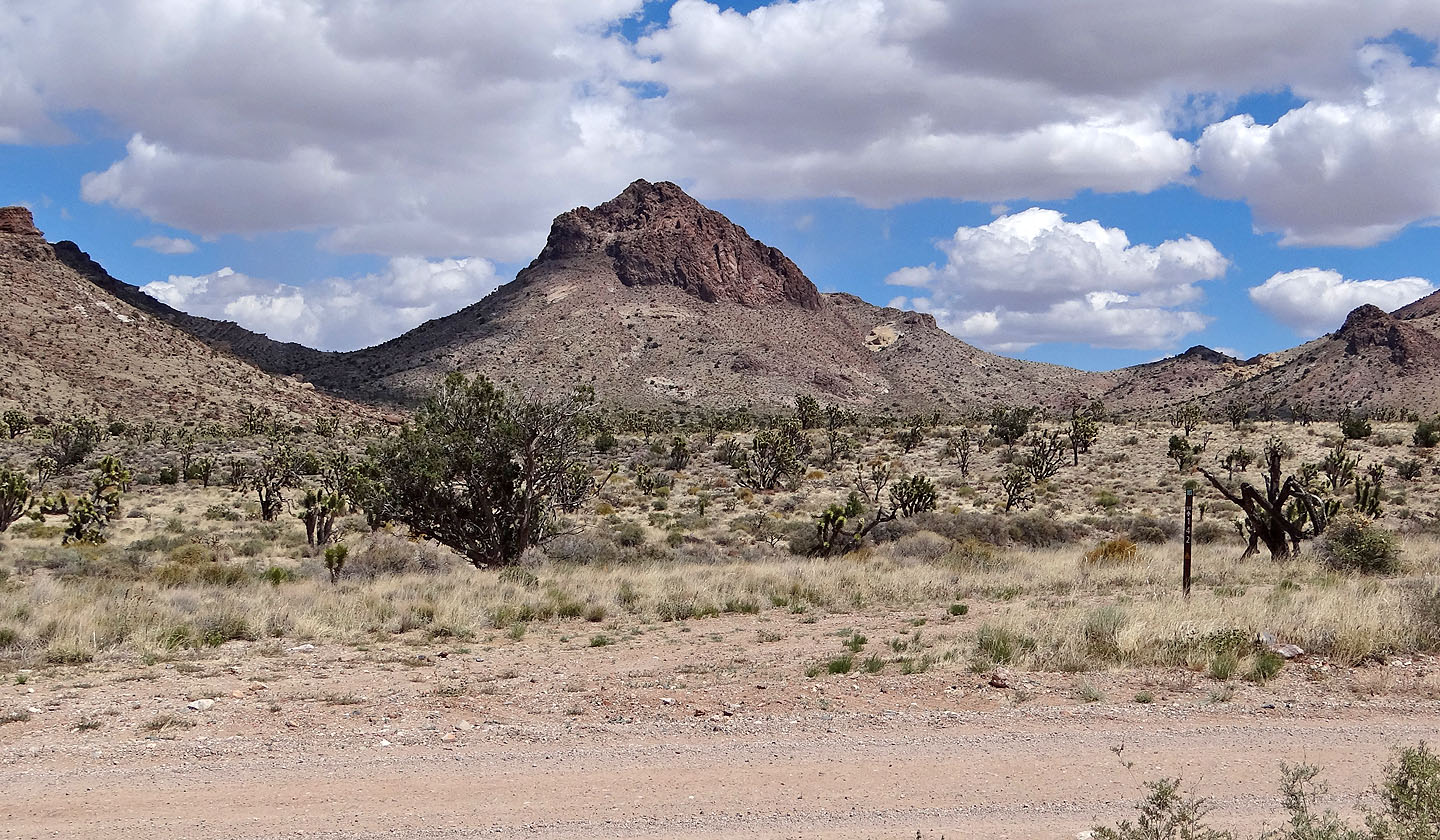 Hart Peak seen from our start. Note the side road ahead that we started on.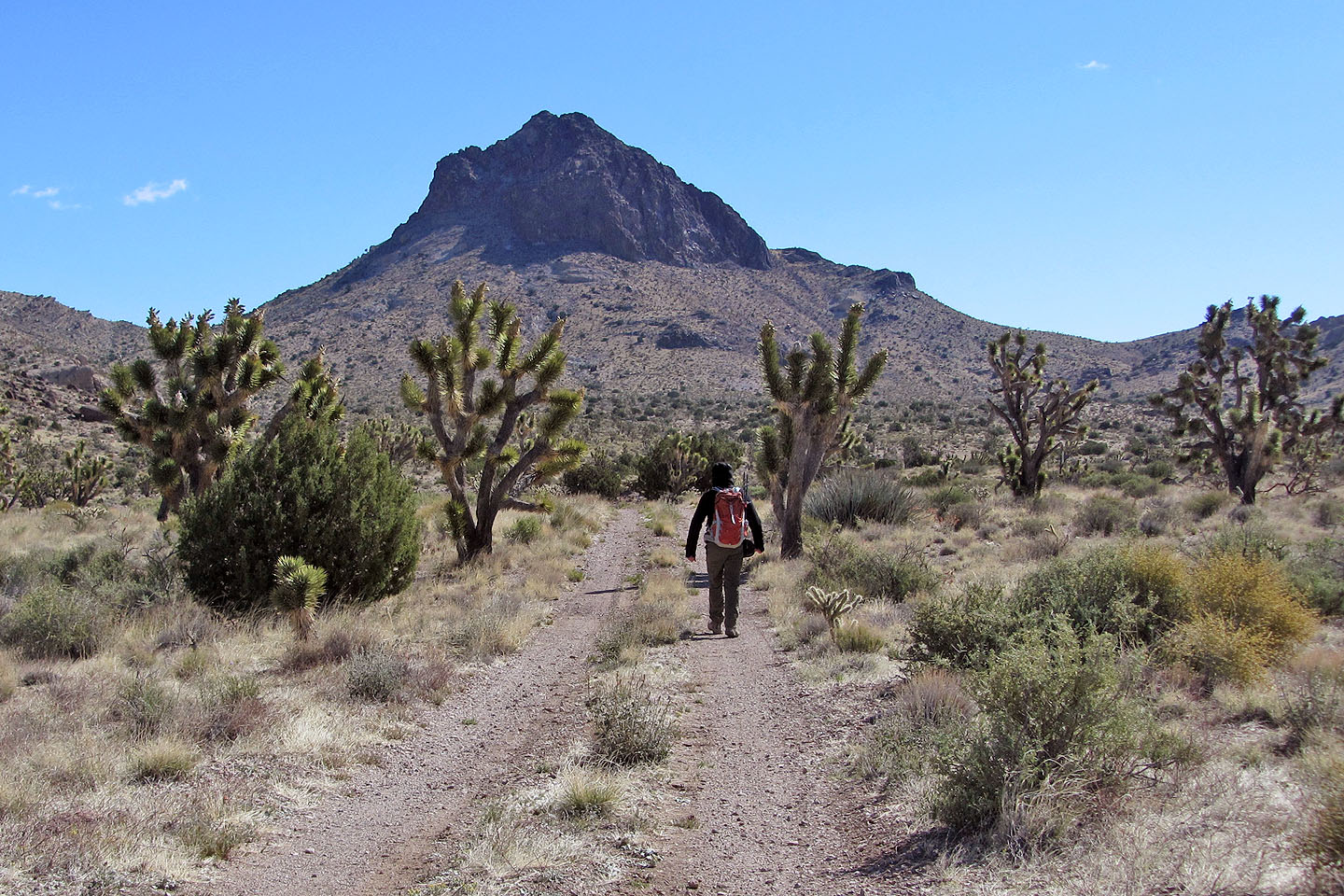 We followed the road a short way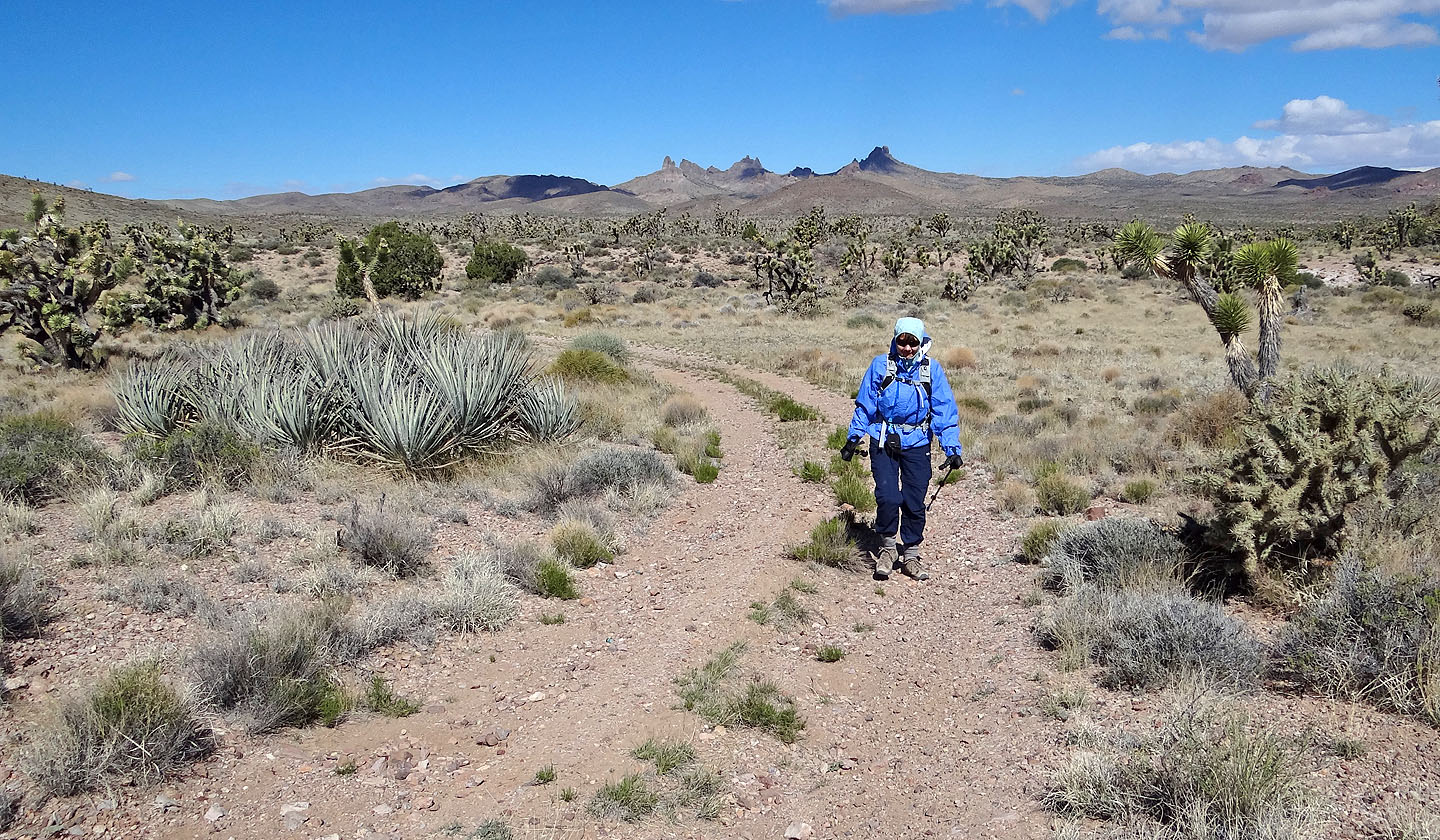 Behind us are Castle Peaks (mouse over for a close-up)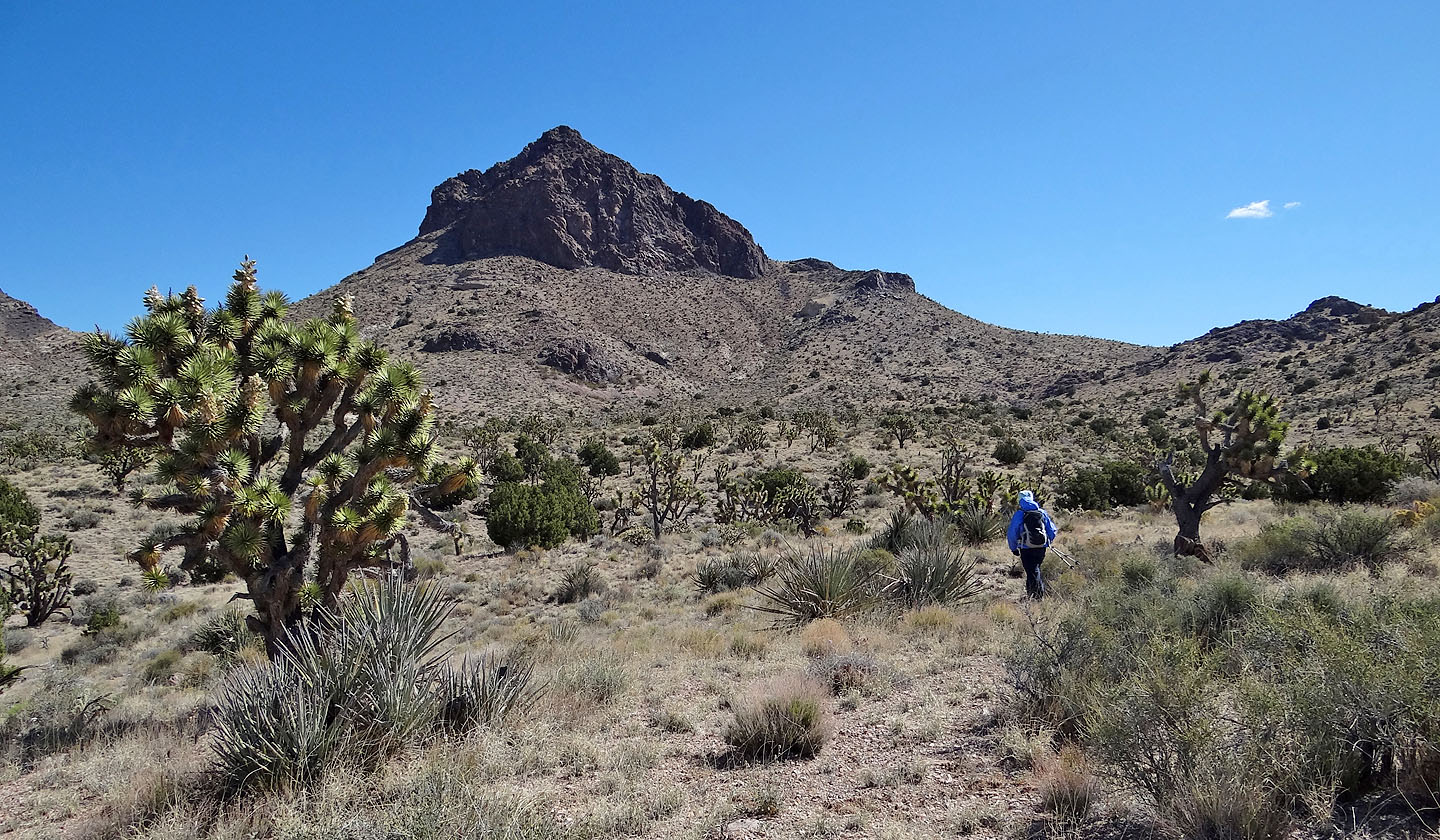 We left the road and set off across the flats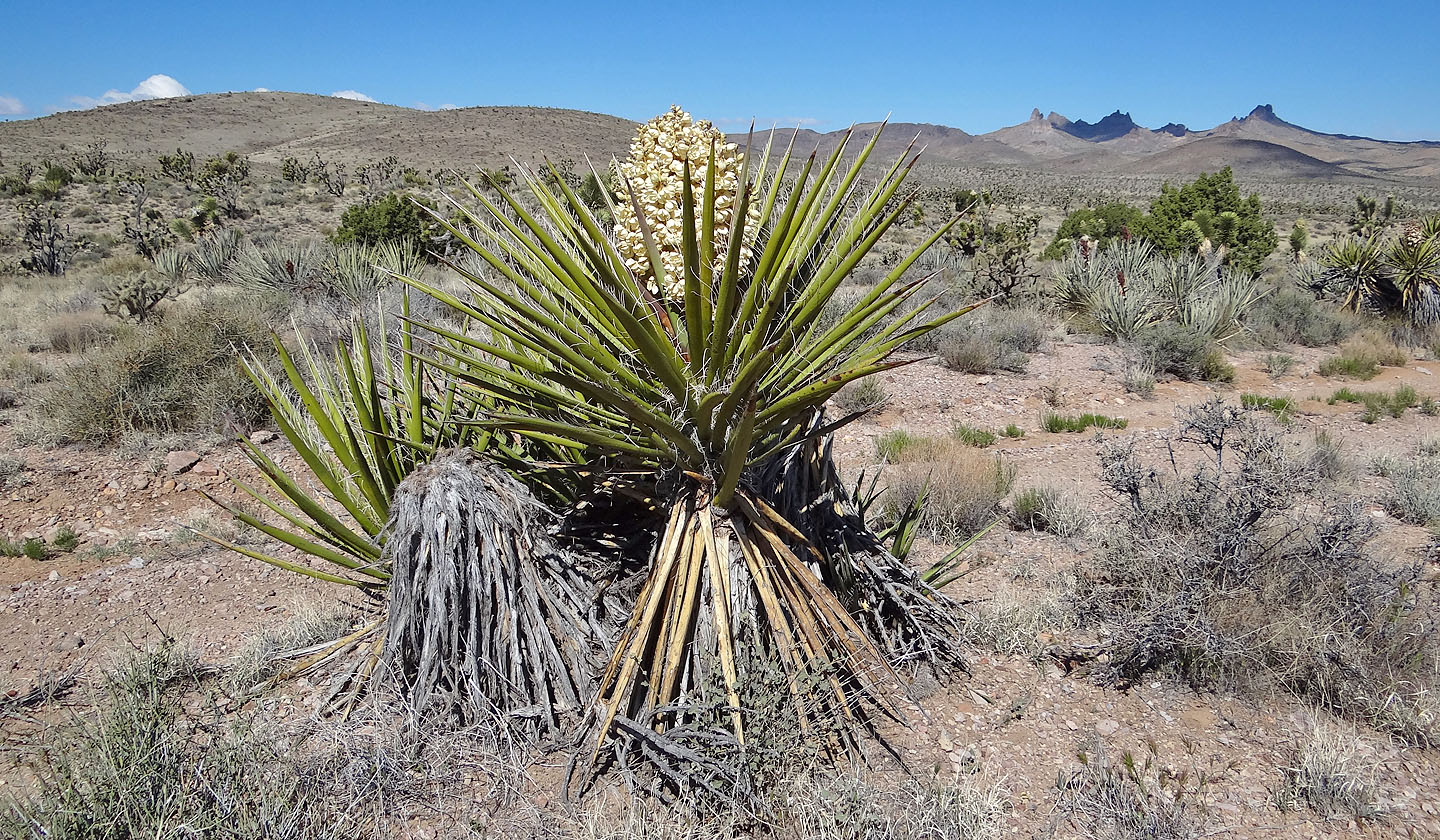 Mojave yucca with flowers (mouse-over)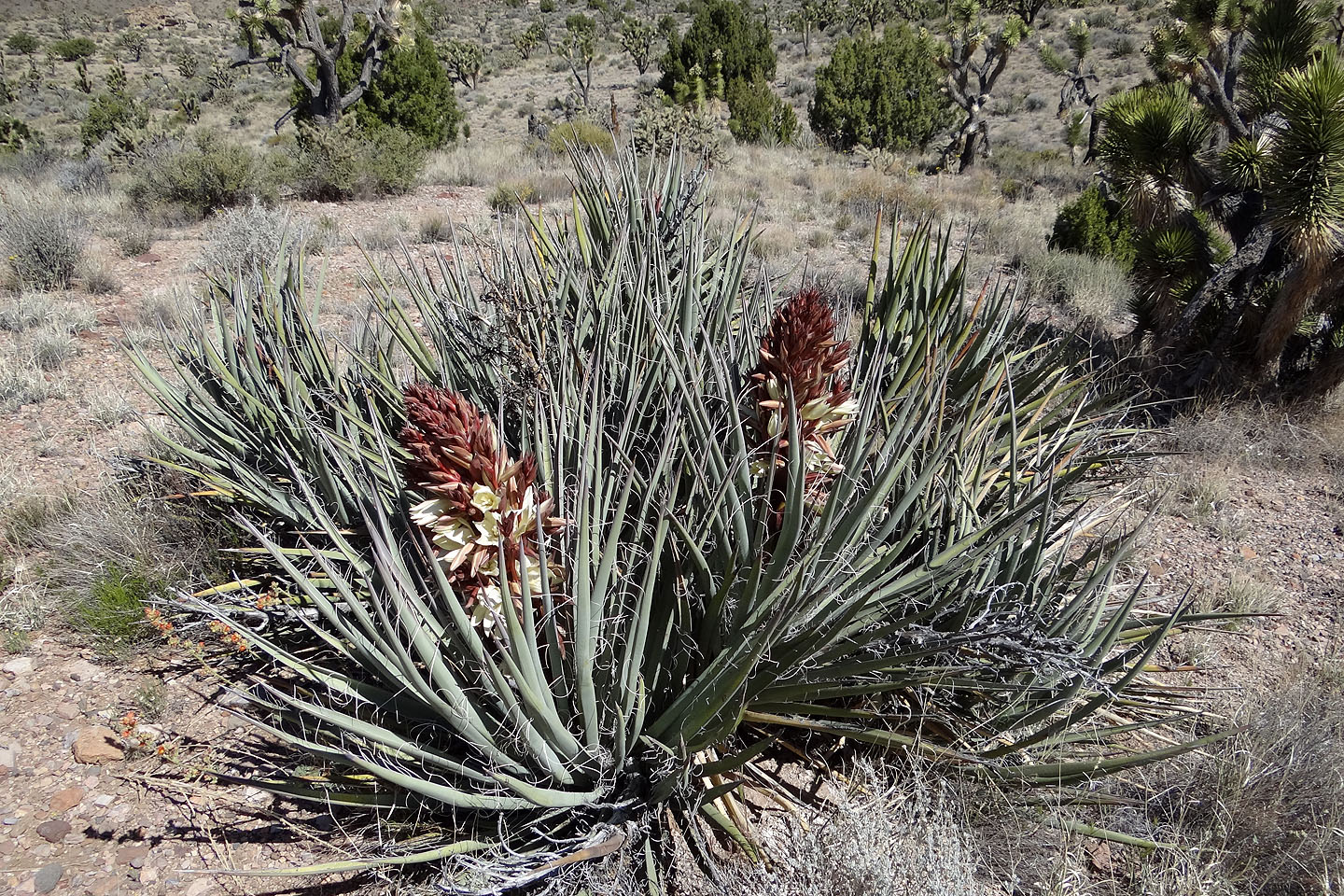 Banana yucca with flowers (mouse over)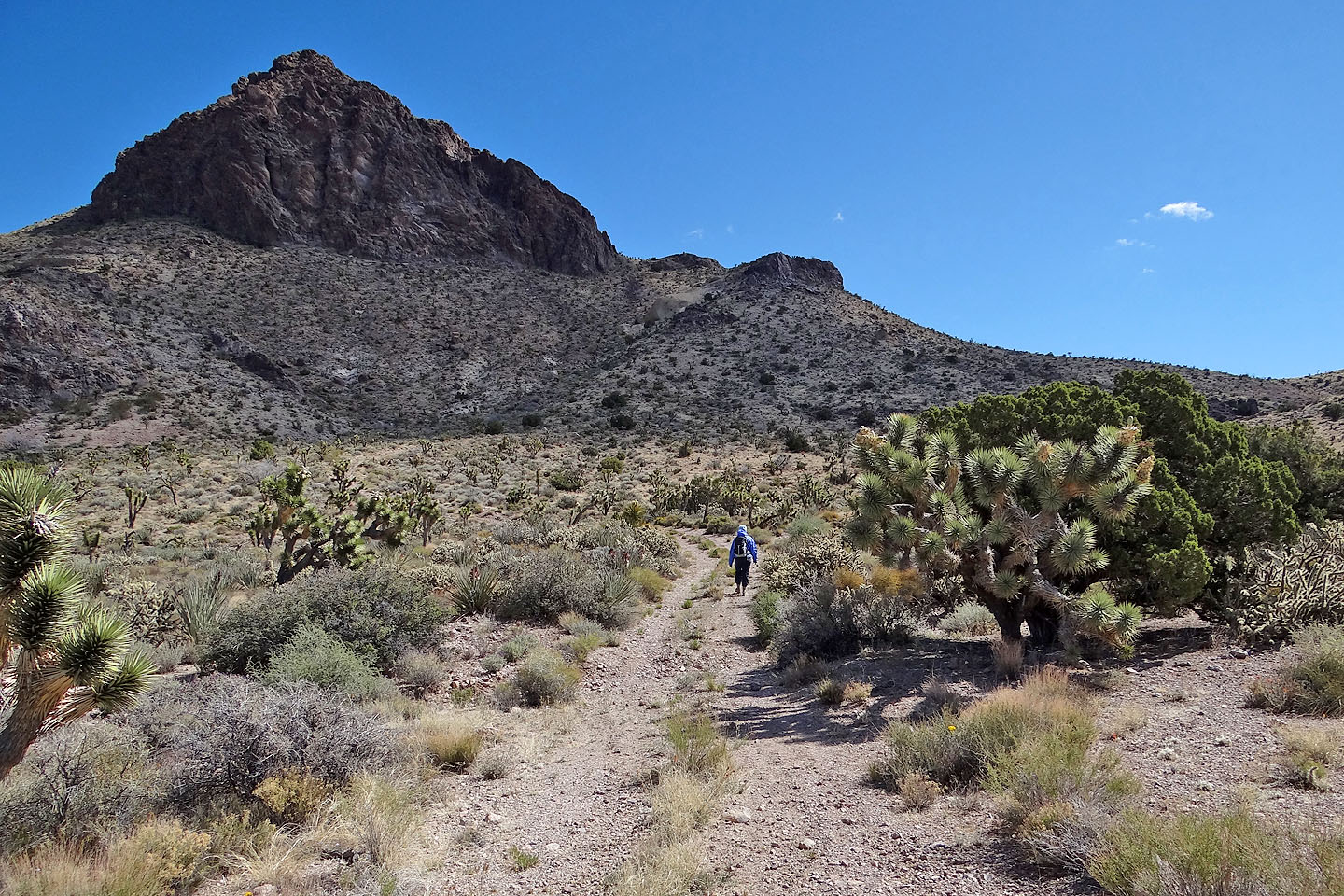 Back on the road; it led to the saddle on the right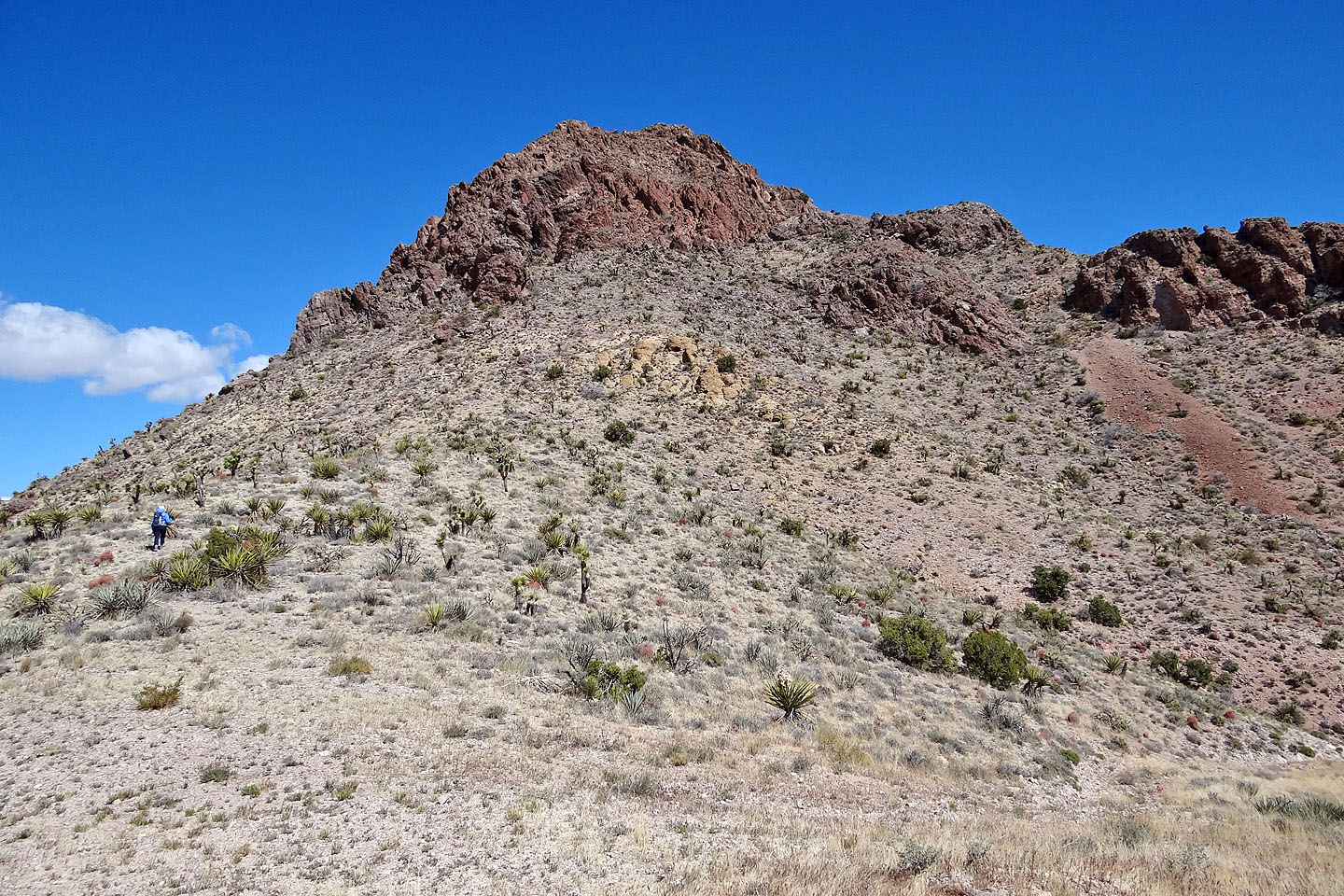 Heading up from the saddle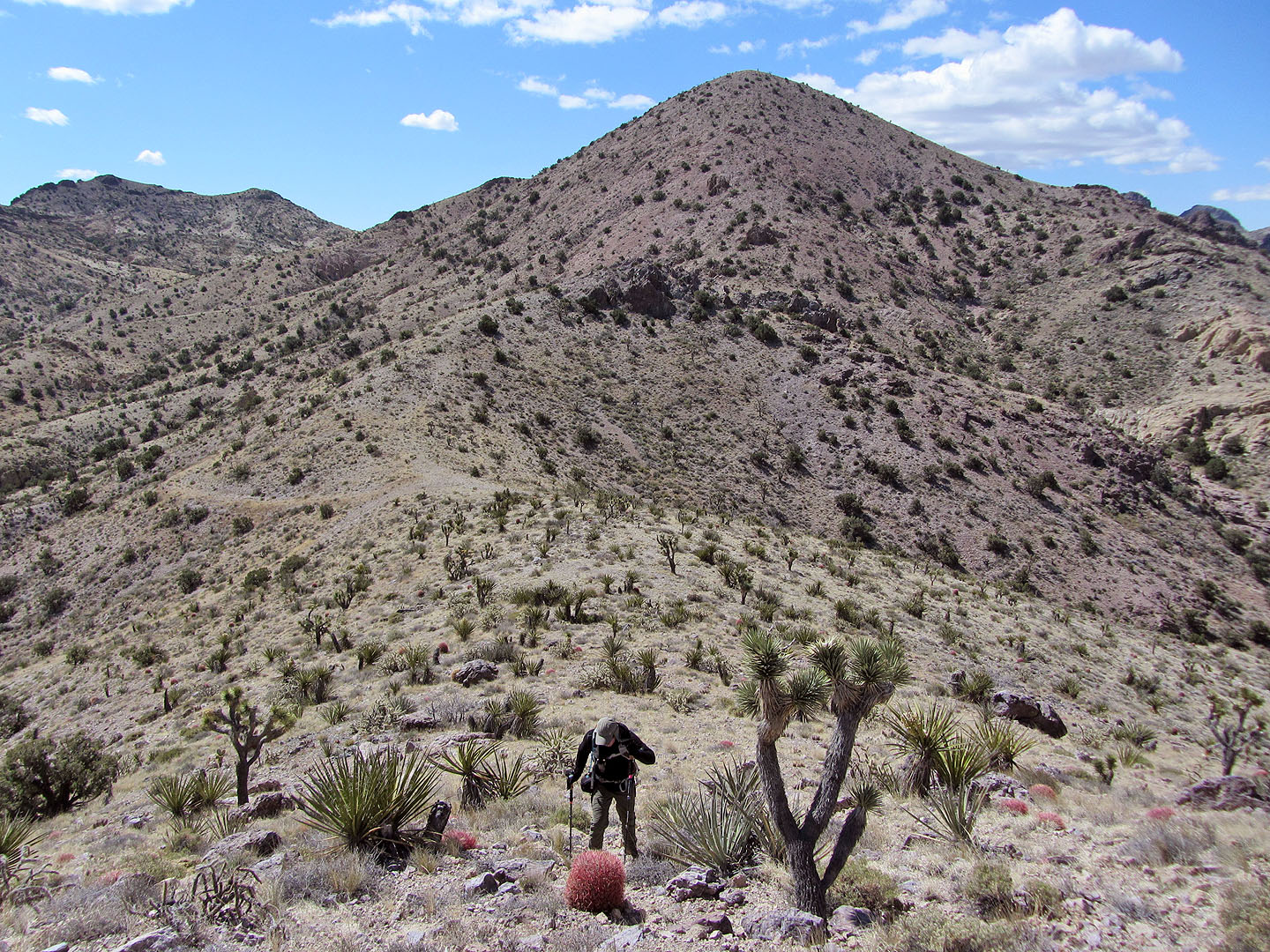 Looking back at the saddle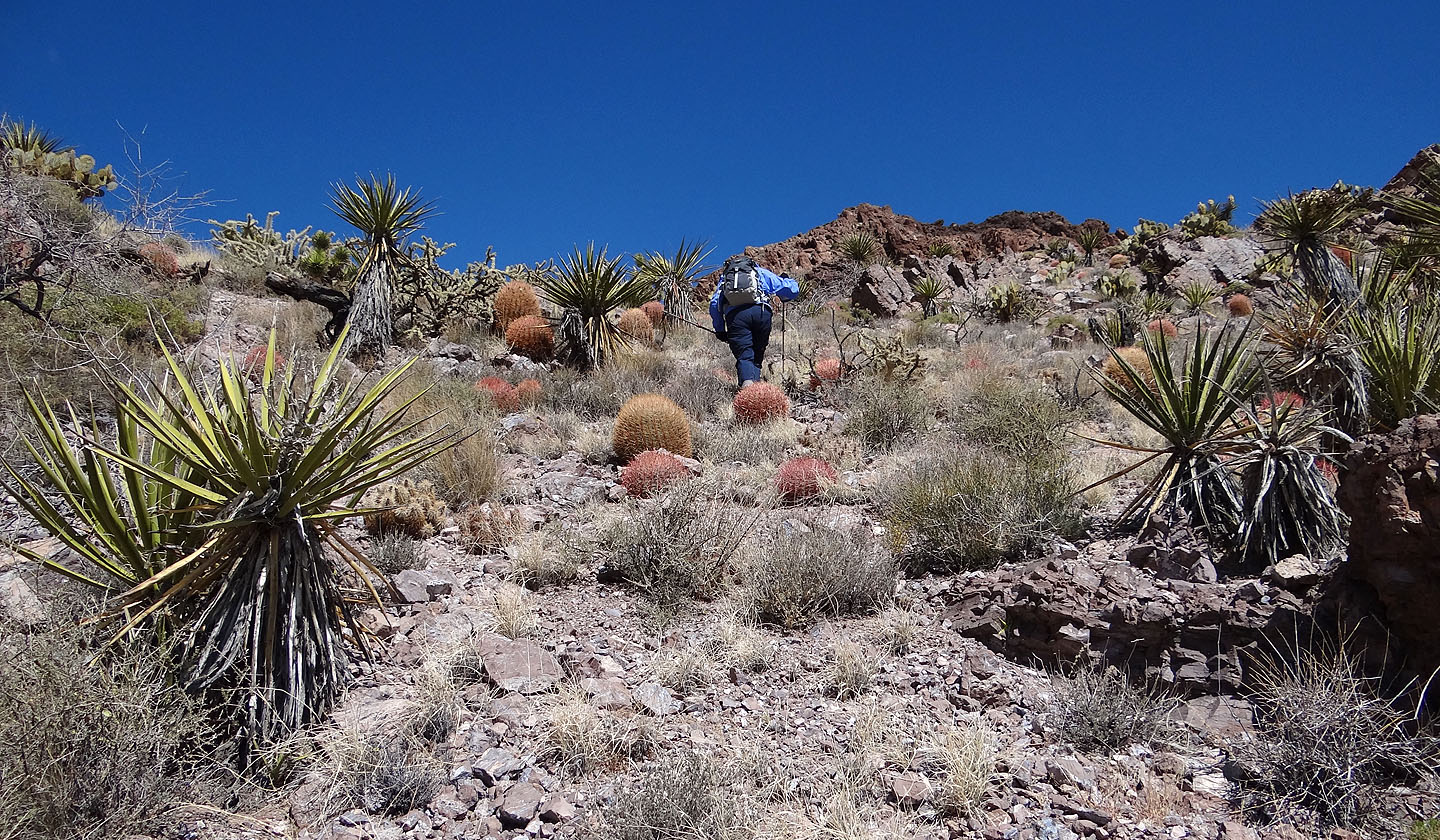 Beautiful desert landscape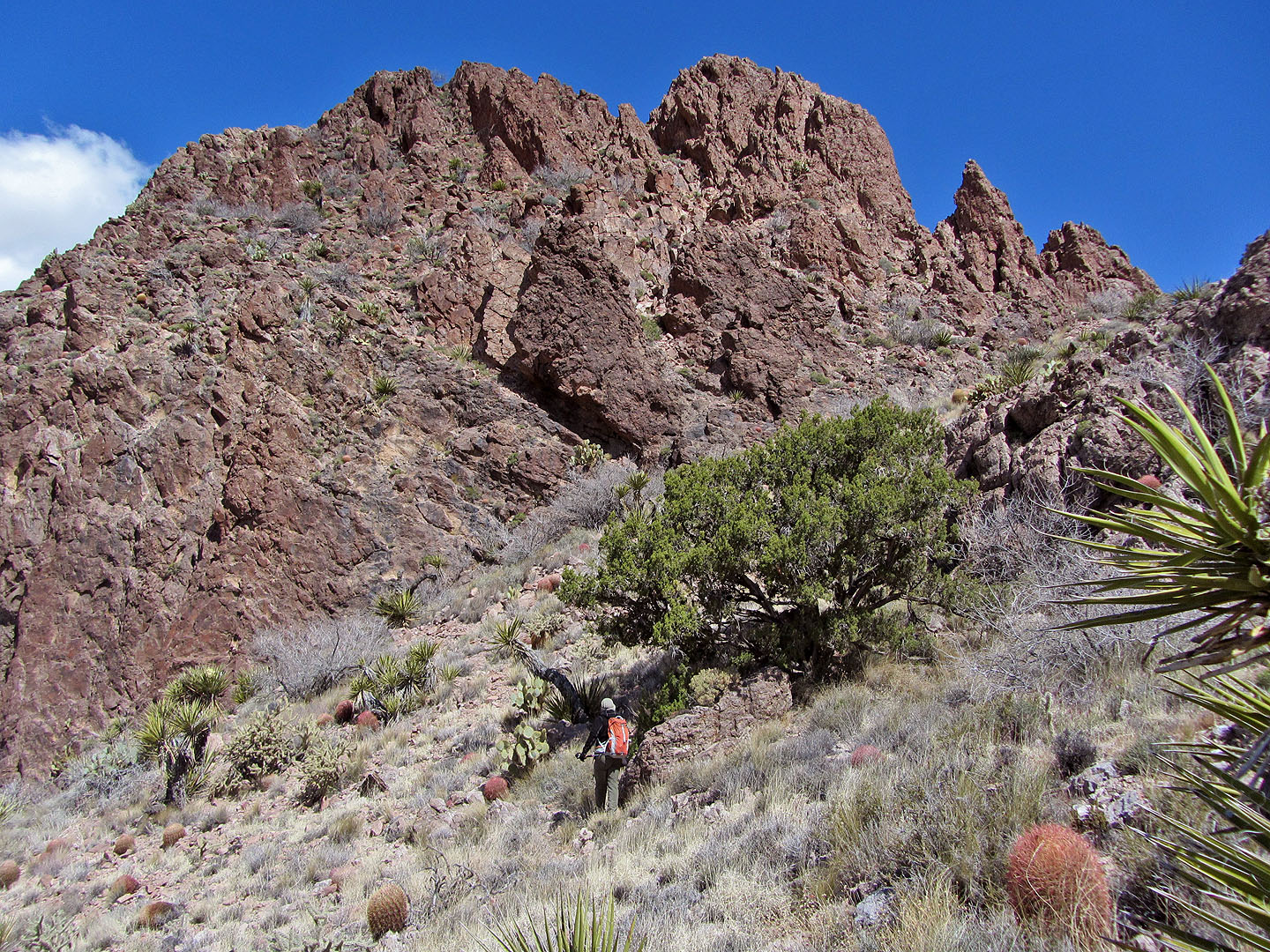 After going over a rise we found cliffs, but we kept right and skirted around them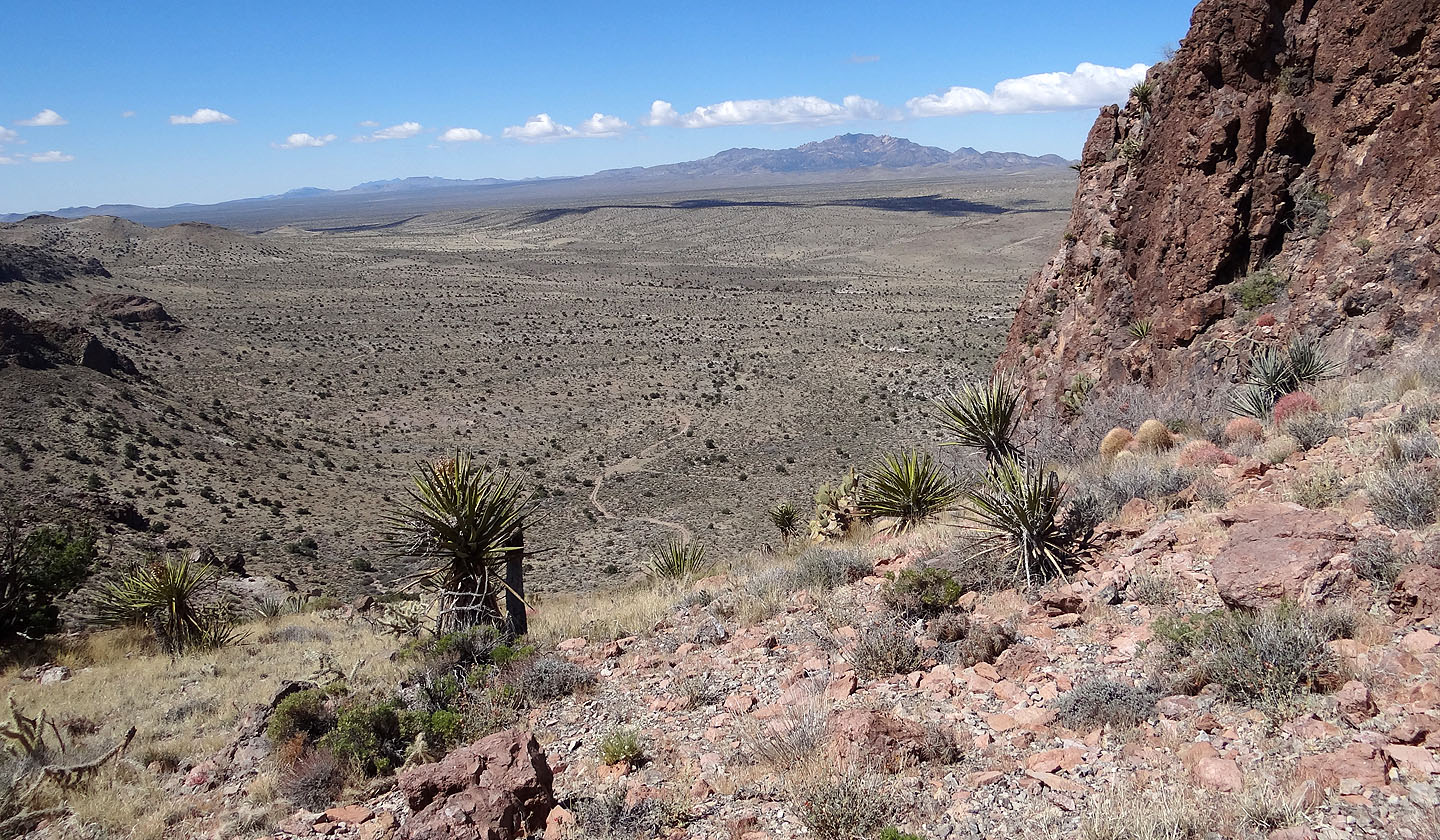 Looking back across the desert we crossed. New York Peak in the background (mouse over).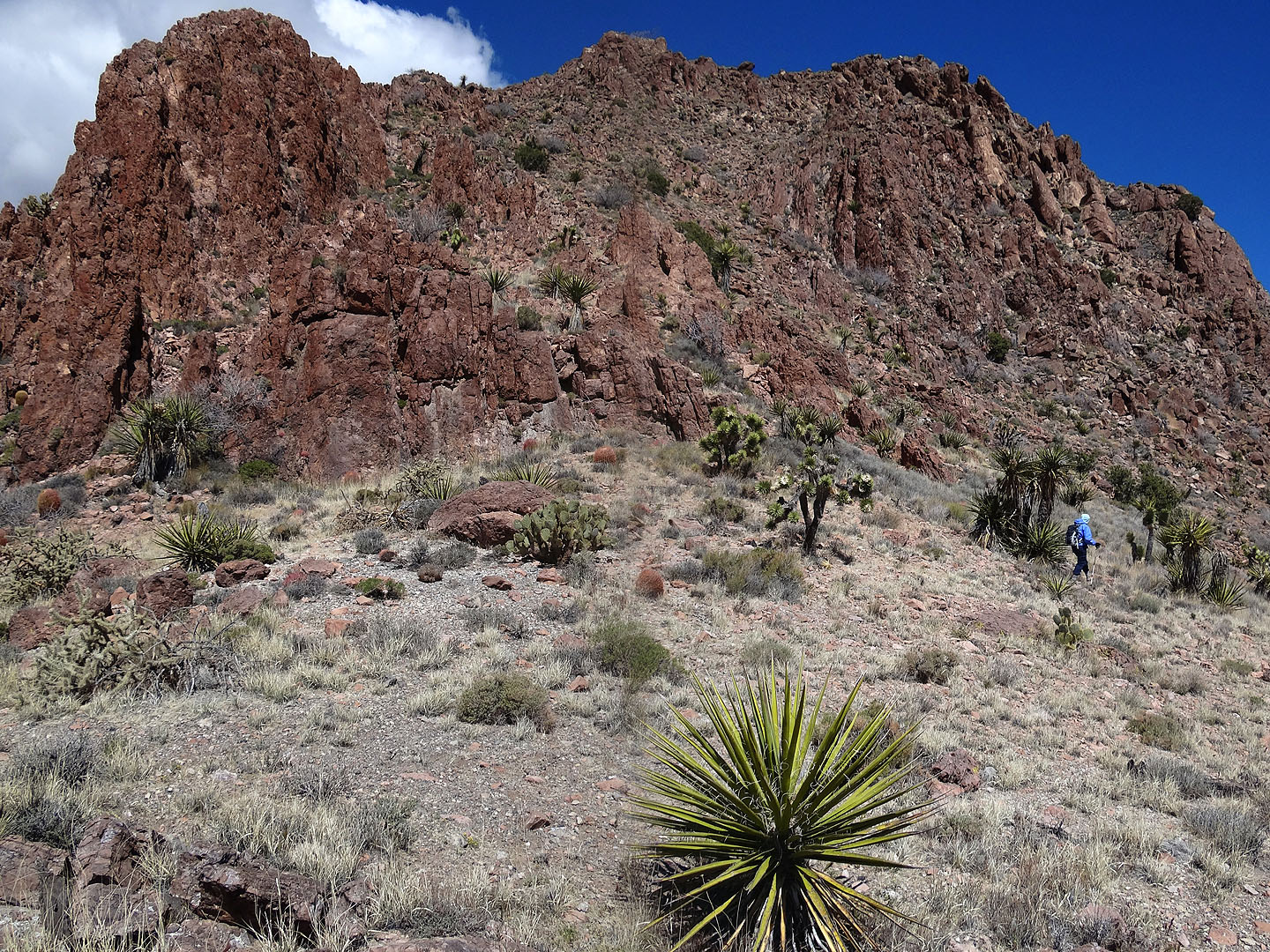 The slope below the summit is little more than a steep hike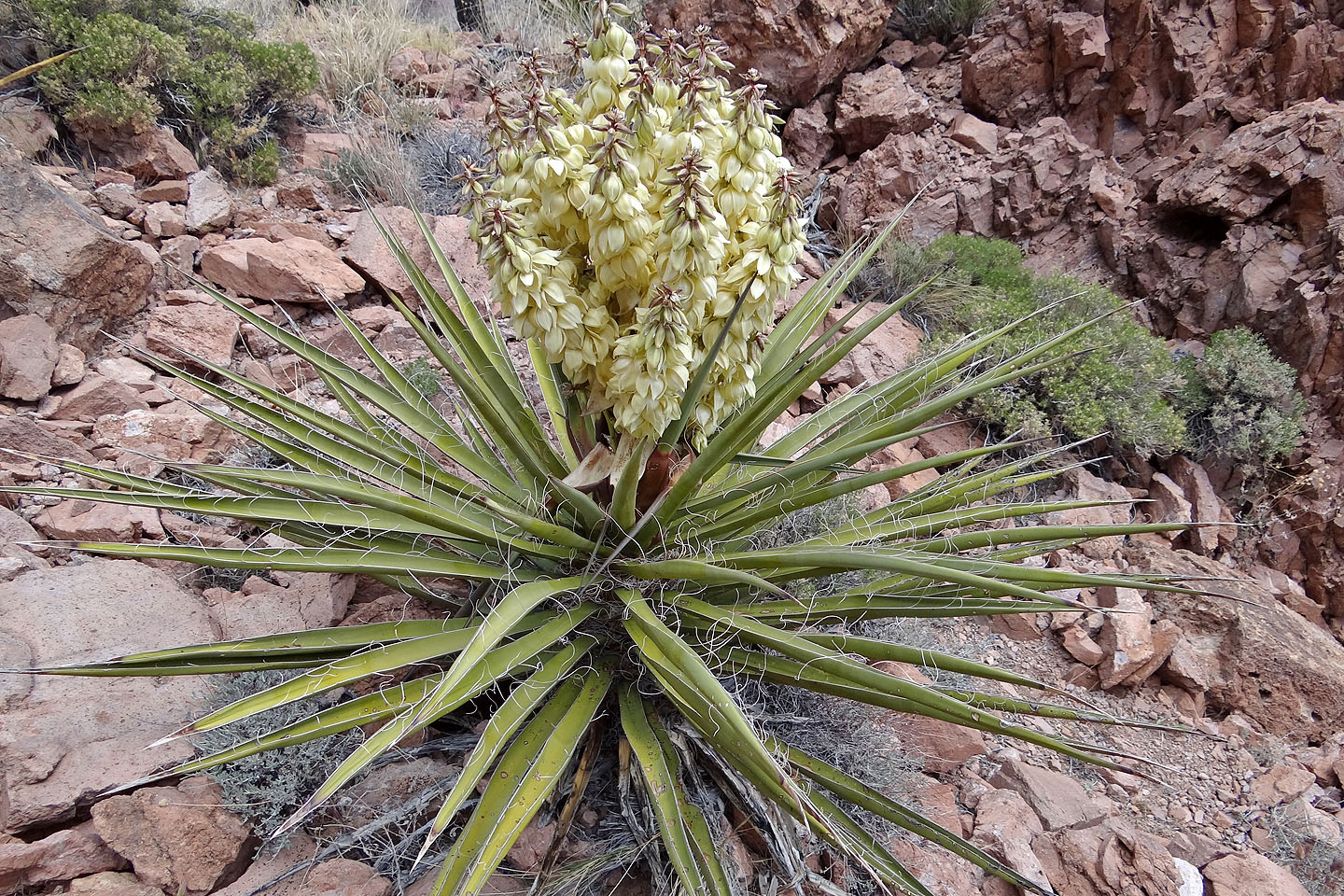 Another flowering yucca (mouse over for a close-up). This is our fifth April that we've climbed desert peaks yet the first time we've seen these plants bloom.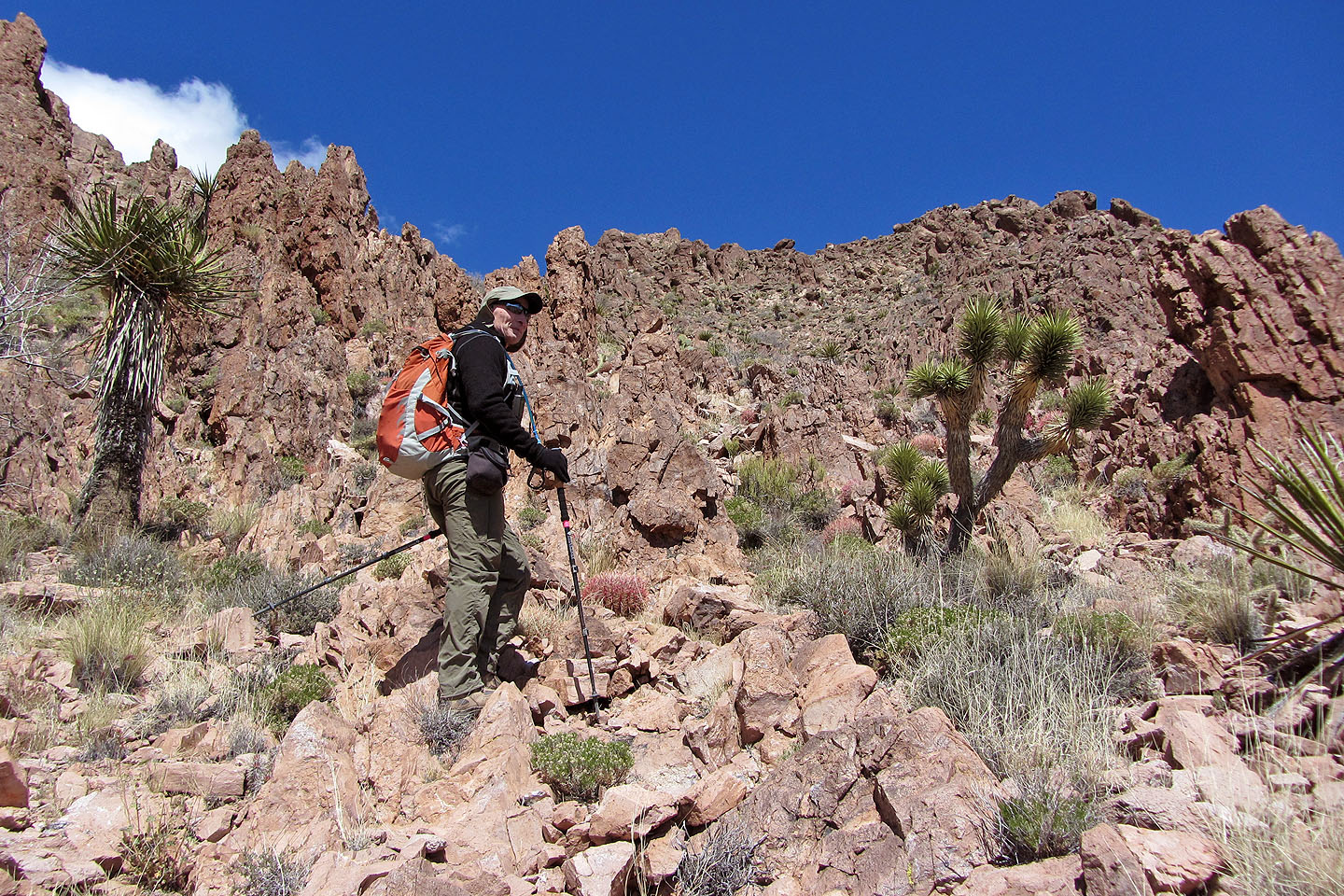 Nearing the bottom of the steep slope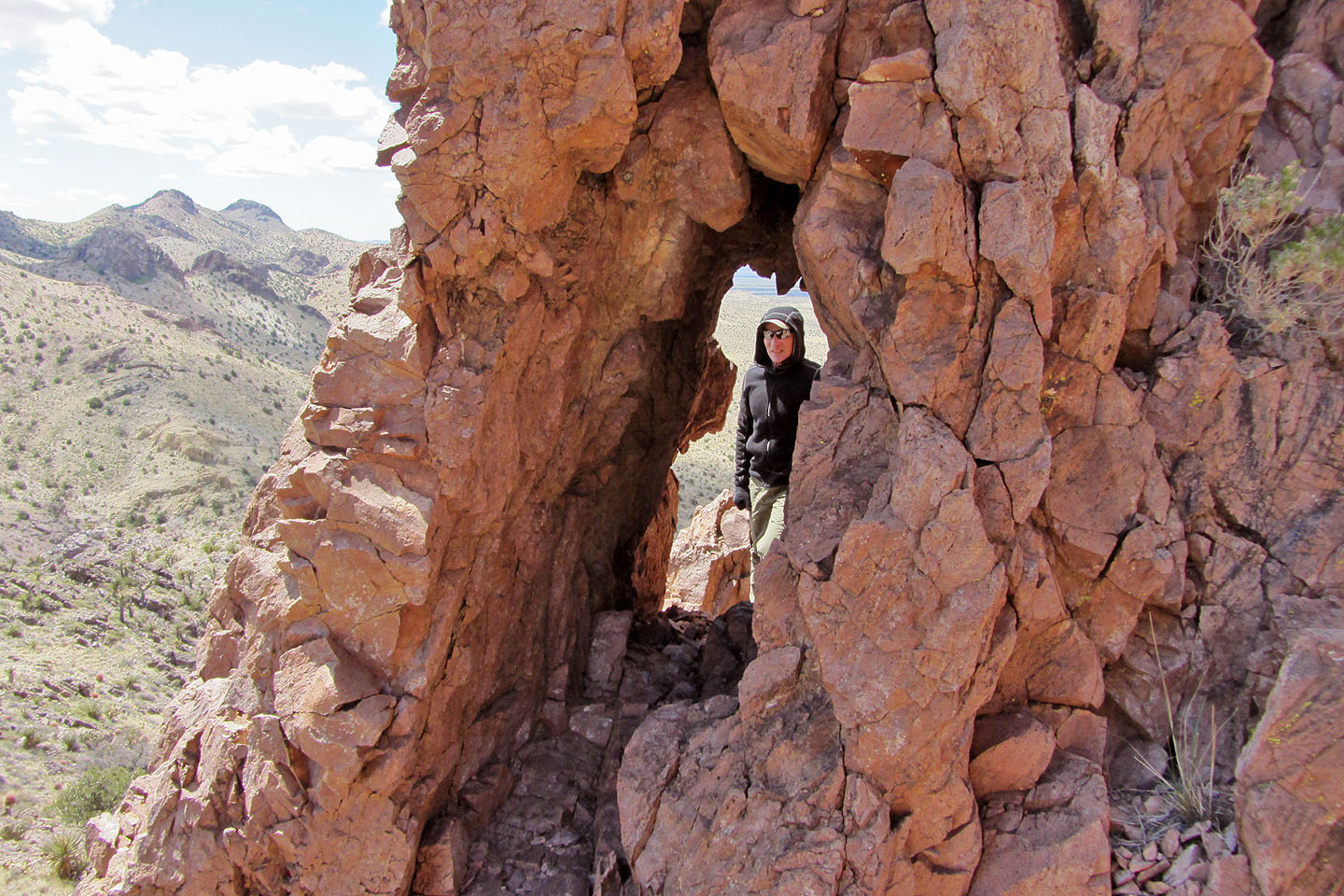 Checking out a window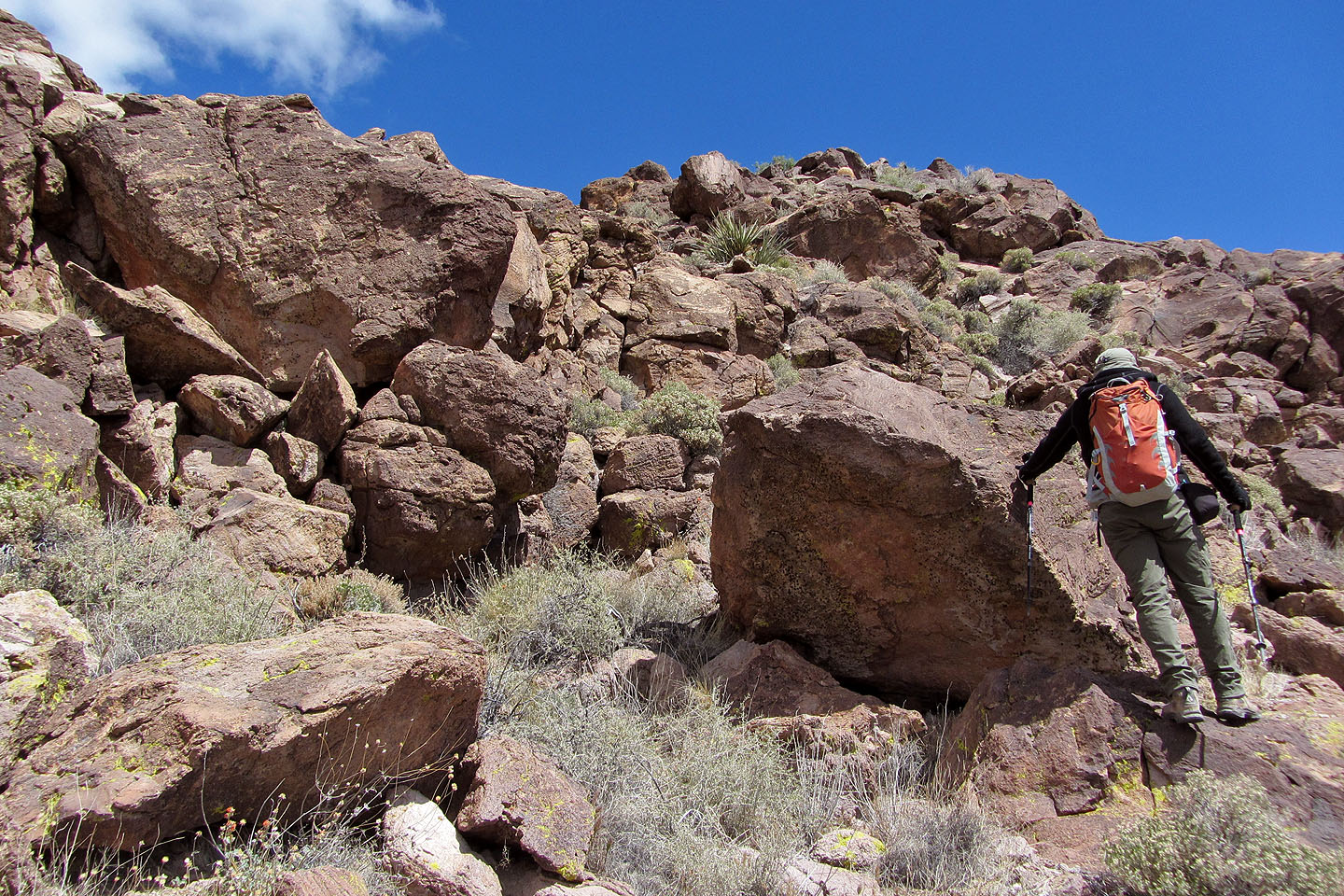 We skirted around large boulders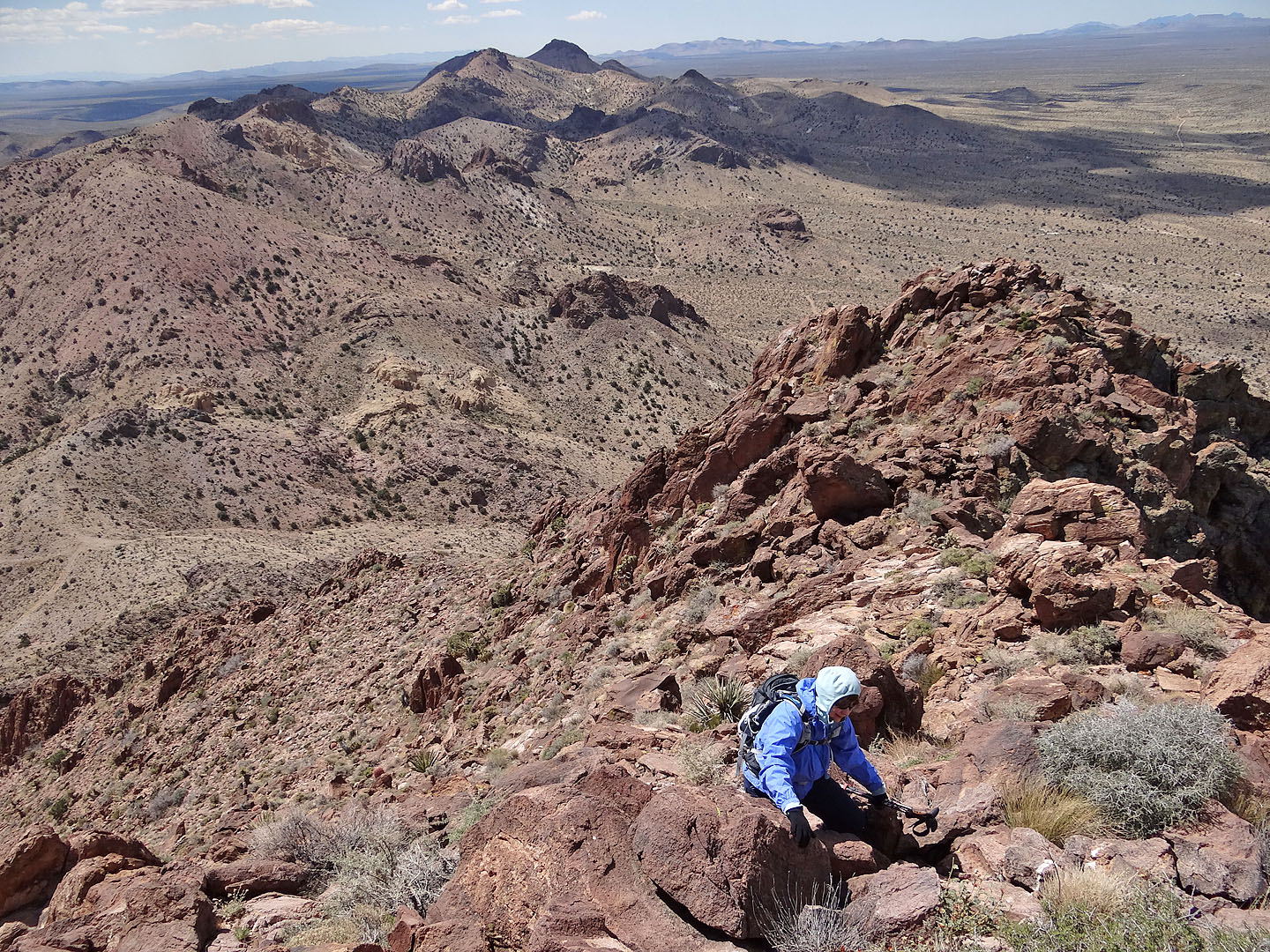 Ascending the slope below the summit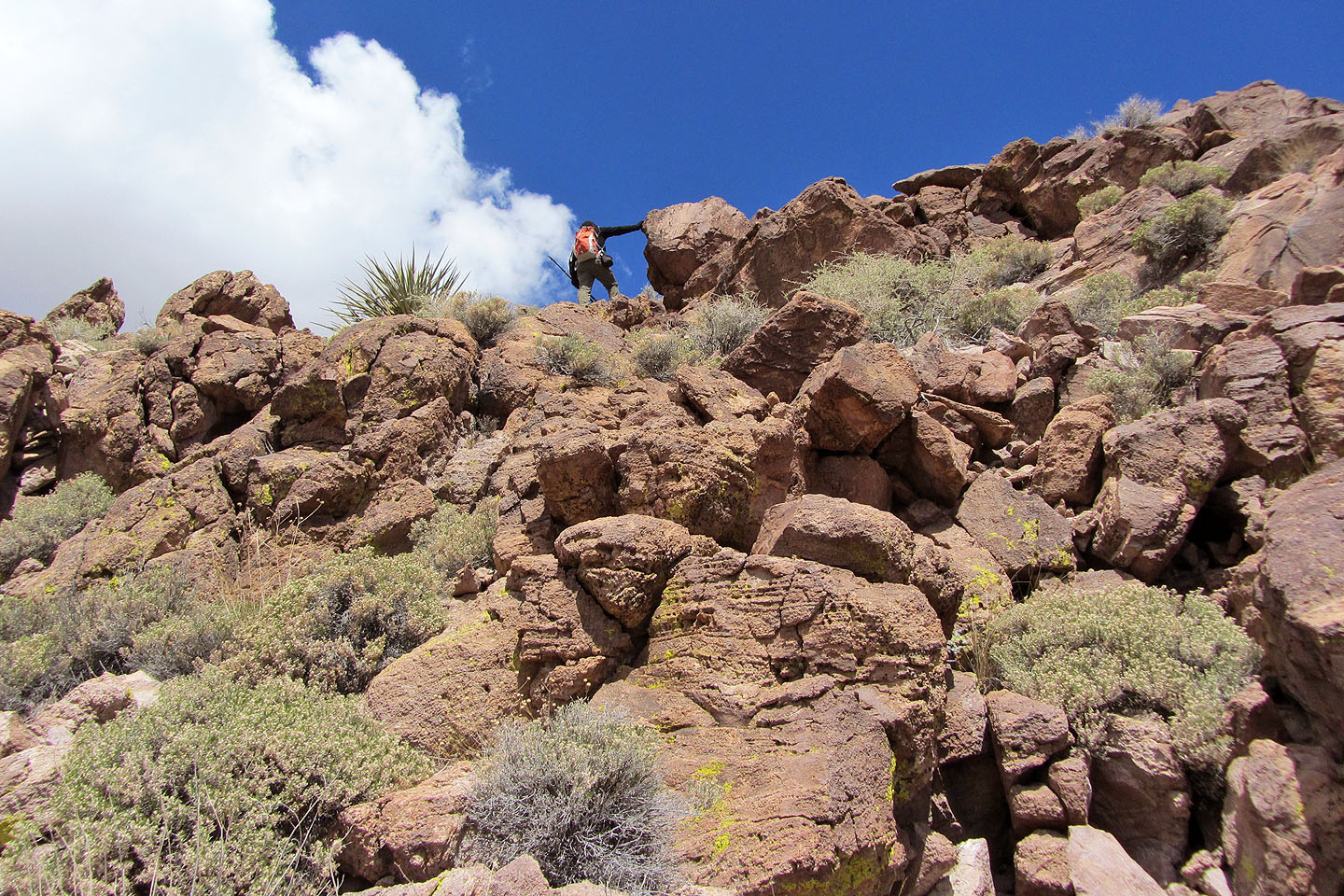 Almost at the top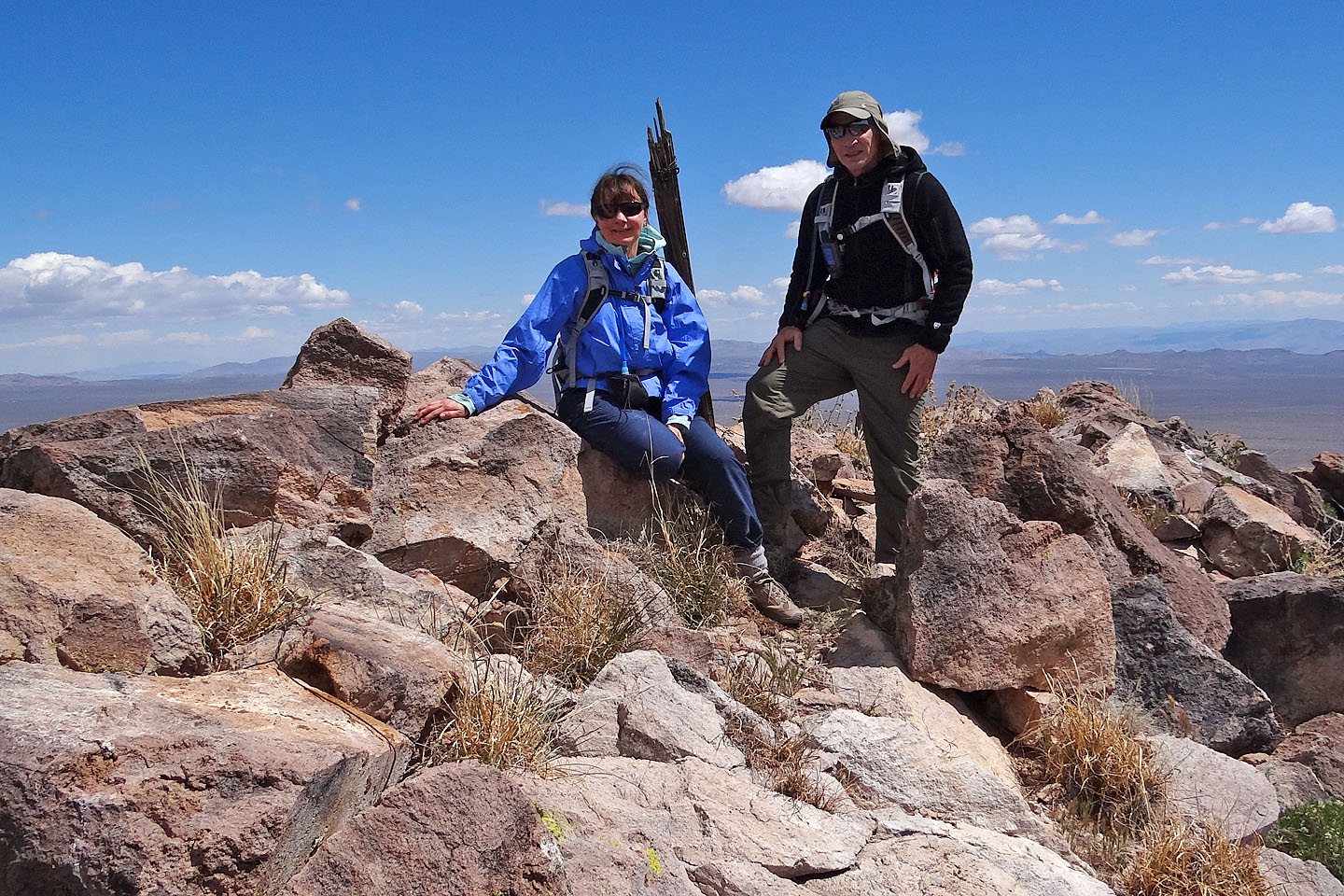 On the summit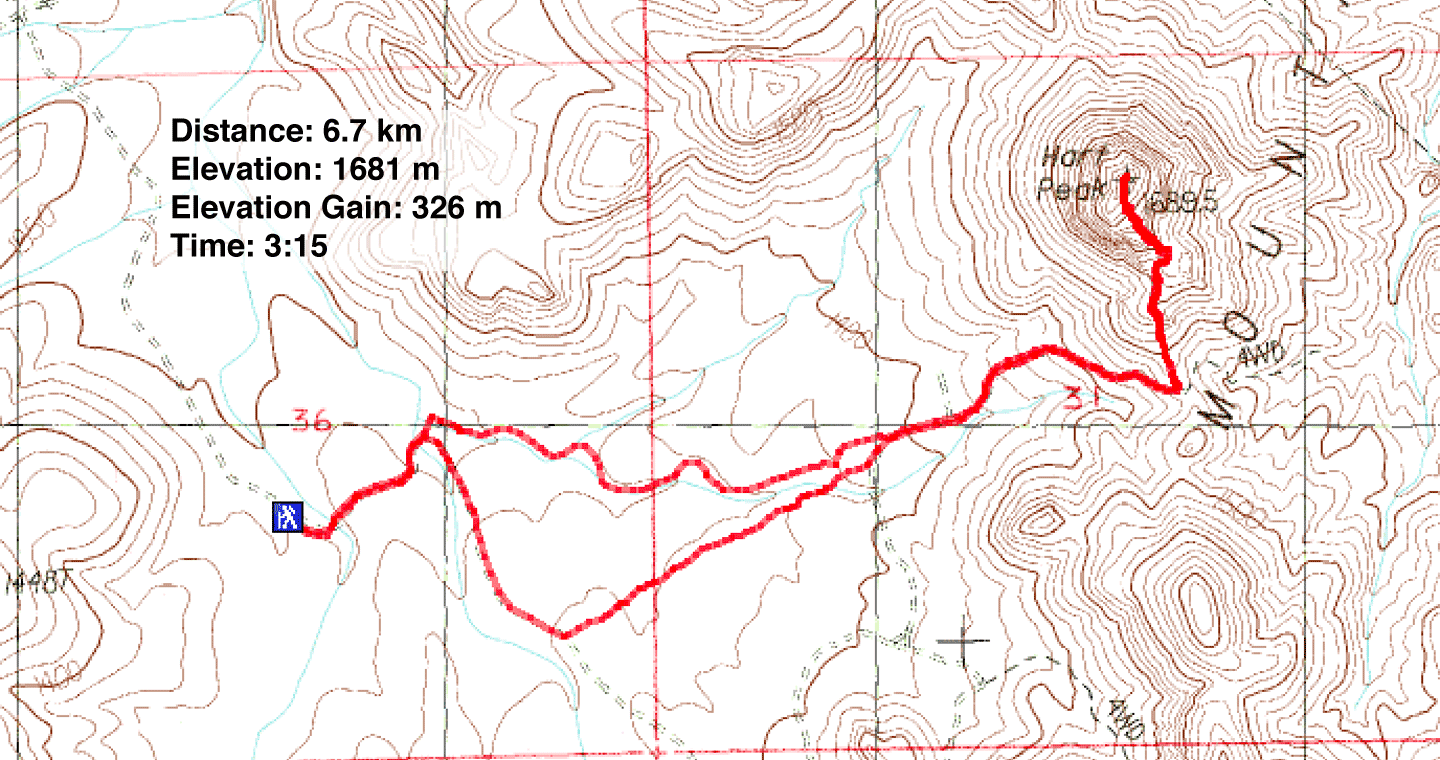 Hart Peak (4.2 mi, 5515 ft, 1070 ft)