bobspirko.ca | Home | Canada Trips | US Trips | Hiking | Snowshoeing | MAP | About

Hualapai Peak
Hualapai Mountain Park, Arizona
October 7, 2014
Instead of heading to our usual hiking haunts around Las Vegas, Dinah and I drove for over two hours to Hualapai Mountain Park in Arizona. The park is a delightful mix of towering pines and aspen trees – the latter were turning yellow – all flourishing amidst monumental stacks of granite boulders. There we would climb the highest mountain, Hualapai Peak, for the modest park entrance fee of $7.
Hualapai Peak is approached using Potato Patch Loop trail. After parking at a gated road, we walked 25 m to the trailhead. From there it's a 20-minute hike to the loop junction. We turned left onto Potato Patch Loop. I'm guessing that it derives its name from the numerous smooth, round boulders that line the trail, although these aren't small potatoes!
Most of the trail winds through scenery-blocking trees, although we did catch glimpses of both Hualapai Peak and Hayden Peak when Potato Patch Loop turns east. Leaving the loop, we went left, up a road.
The slope on our right was obstructed with trees and boulders so we continued up the road. Ten minutes after leaving the Potato Patch Loop, the obstacles thinned. We left the road and headed for Hualapai Peak. At first hiking was easy, but soon we were bushwhacking through trees and bushes with limited sight as to where we were going. We angled left and climbed until we reached a plateau. Here, fantastically-shaped granite boulders sprouted everywhere, but the biggest pile of rocks rose above the treetops ahead of us: the summit of Hualapai Peak. We made our way toward it and soon encountered an old road.
We followed the road until it ended just below the summit on the south side where vertical cliffs stopped us dead in our tracks. So we backtracked to the penultimate switchback. Here there was a likely place to tackle the summit: a bushy trough bounded by boulders that rose to a ridge next to the summit. We made our way up, sometimes bushwhacking, sometimes scrambling, but often getting scratched by cat-claw bushes that seemed to crowd every space not bearing boulders. Eventually we found ourselves a few metres below the rocks topping Hualapai Peak.
Dinah hung back while I made it to the base of the summit rock. From the rock I stood on, and by stretching, I could tag the summit. But the summit rock was slightly overhanging and bore no handholds, so scrambling directly up was out of the question. It looked easier to work left along a ledge a few inches wide and then scramble up, but I didn't like the exposure. Instead, I backed down and climbed the next highest boulder, only a couple of feet lower than the summit, where I took a panorama. On a clear day, the views must be far-ranging, but today they were restricted by overcast skies.
After a short summit stay, we retraced our steps back to the Potato Patch Loop and for a change of scenery, turned right to complete the loop clockwise. Then it started raining lightly. This not only dampened our T-shirts but also our enthusiasm to hike up a side trail to Dean Peak Overlook and climb Aspen Peak. After donning rain jackets we made our way back to our car.
Hualapai Peak is a delightful climb so I'm surprised there are few details about it on the Internet. For us it was worth the long drive from Vegas, not only for the unusual scenery but to escape the heat. While Vegas was on its way to reaching 33C/92F, it was only 19C/66F when we hit Potato Patch Loop trail late in the morning. We enjoyed mild temperatures throughout our trip.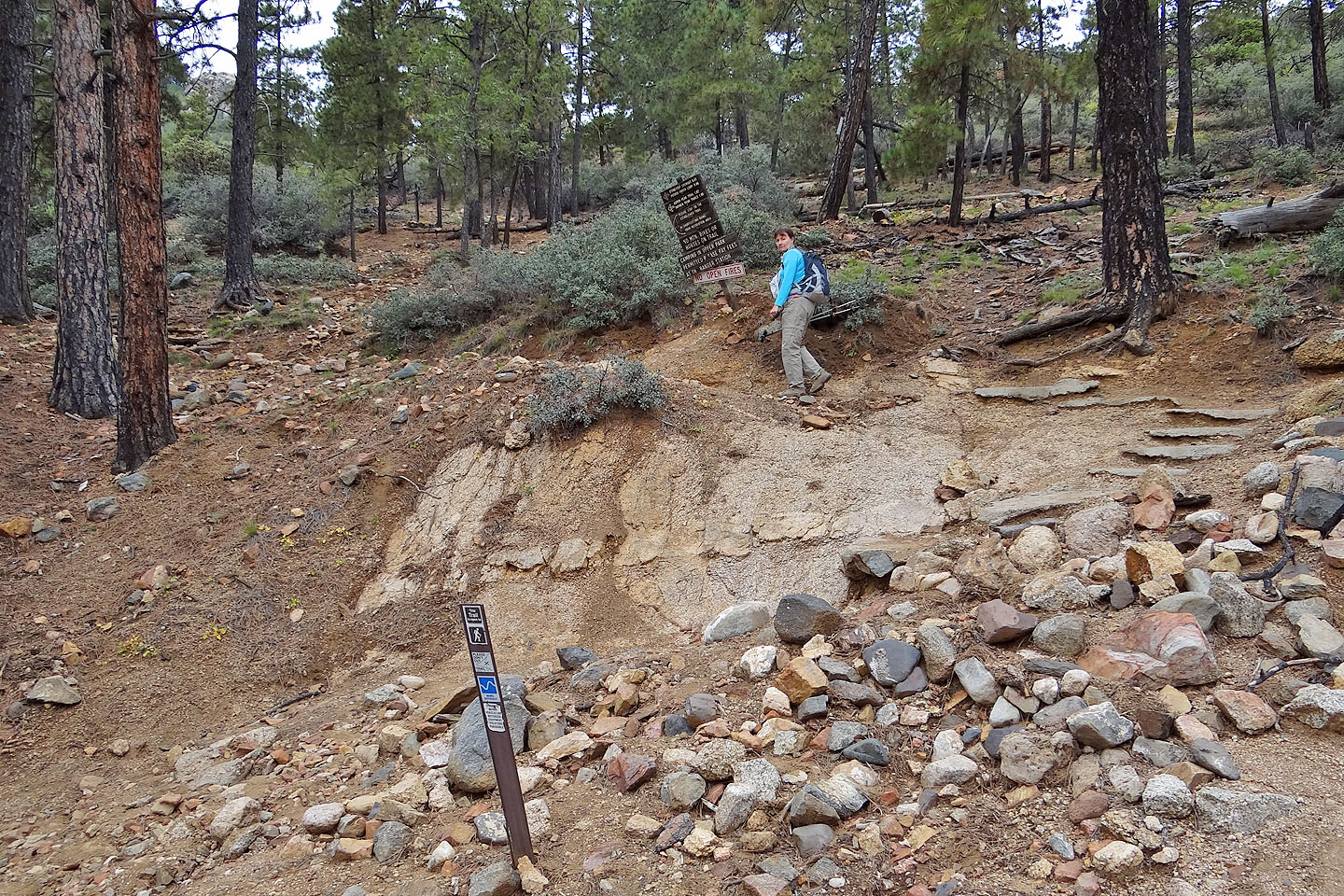 The trailhead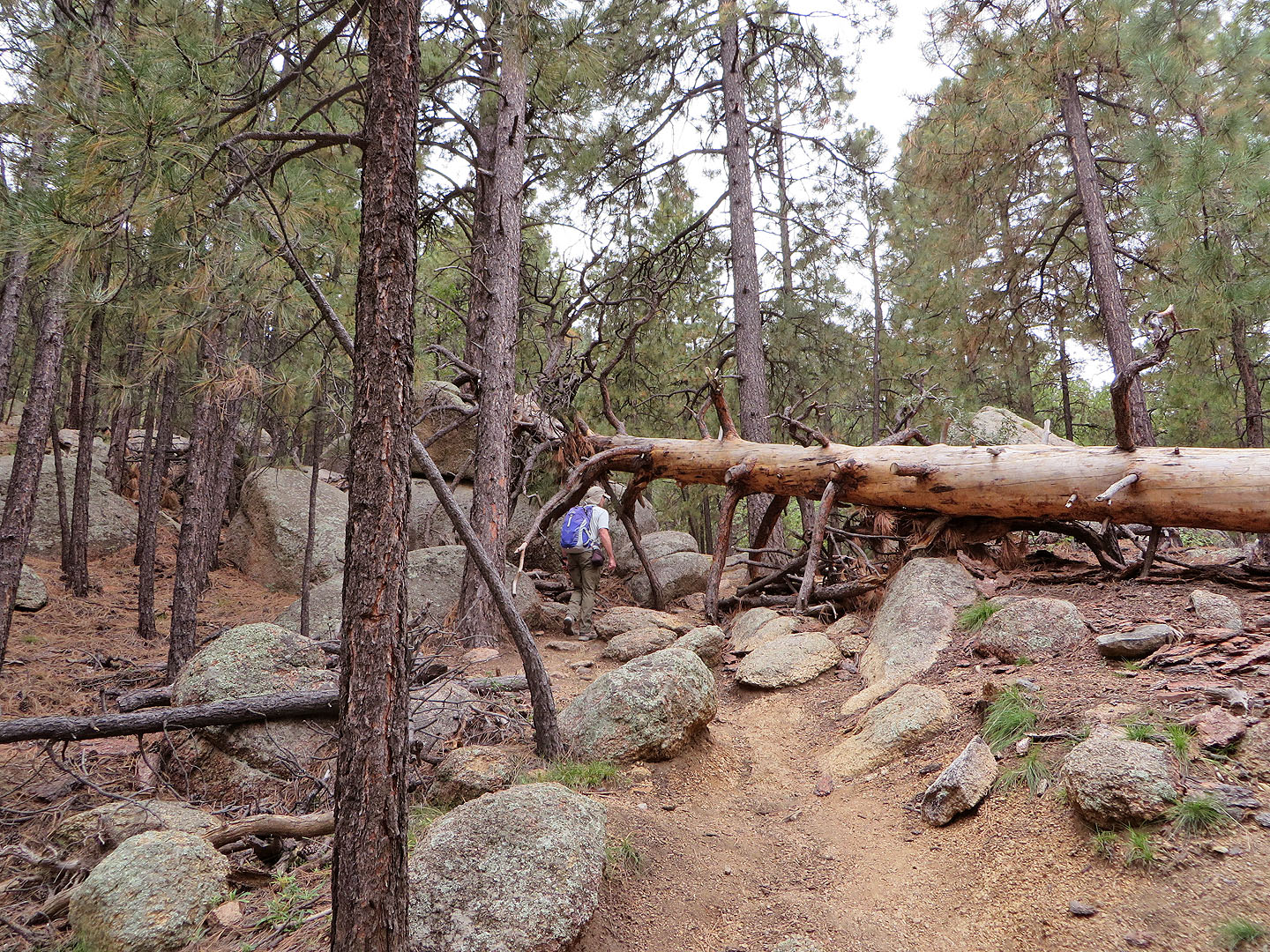 Within minutes of starting out the trail ran under a tree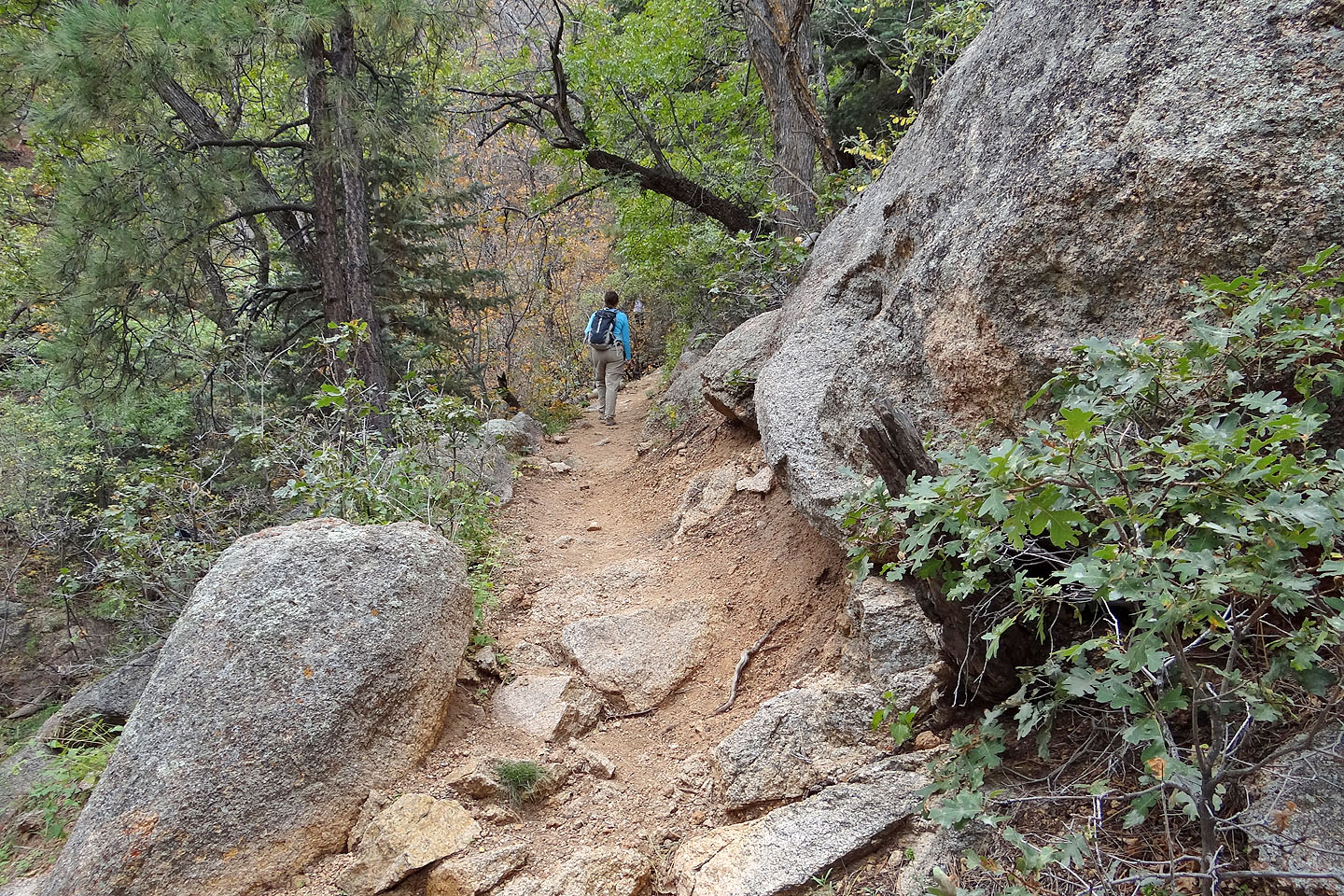 Trees and boulders line the trail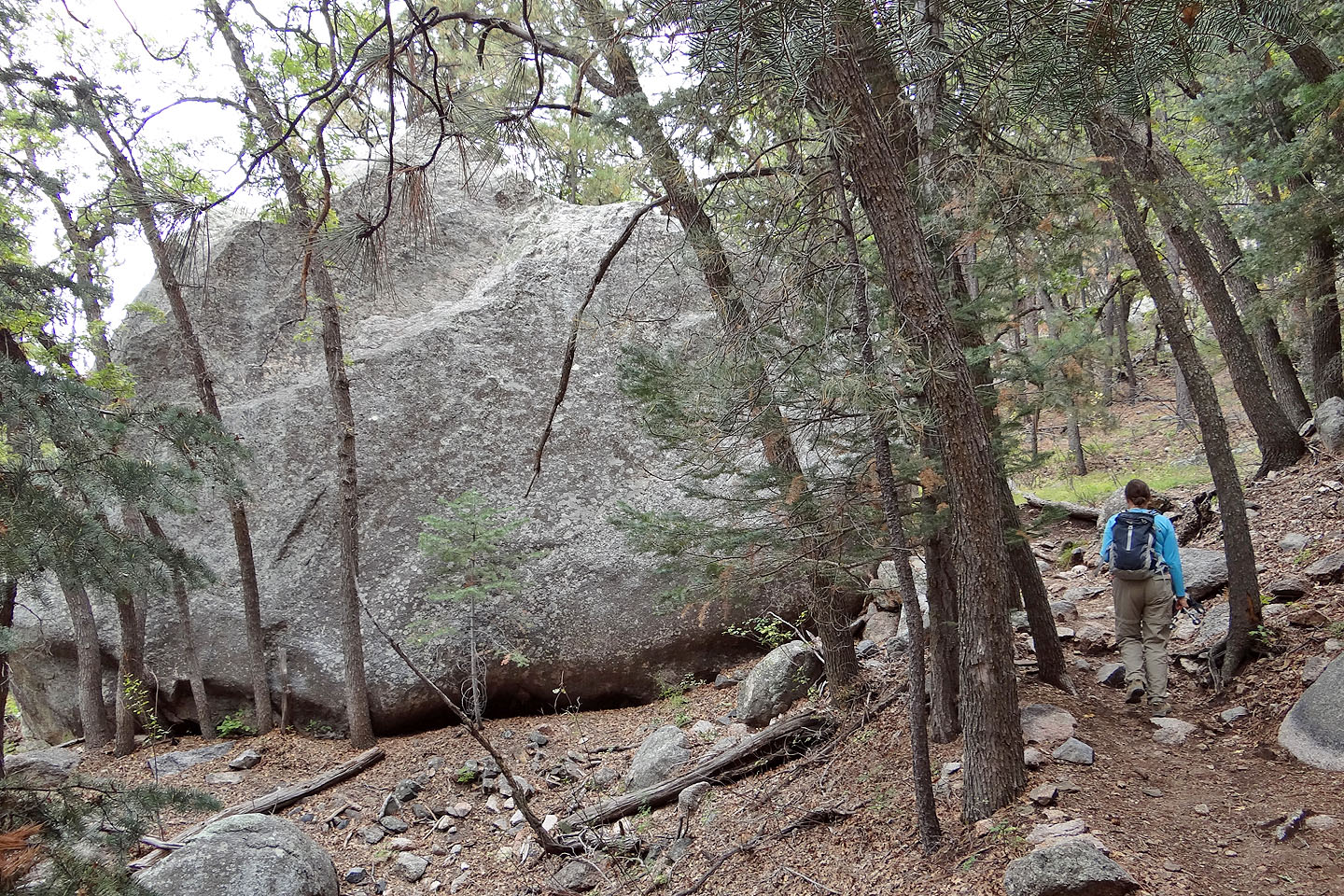 A humongous boulder lies next to the trail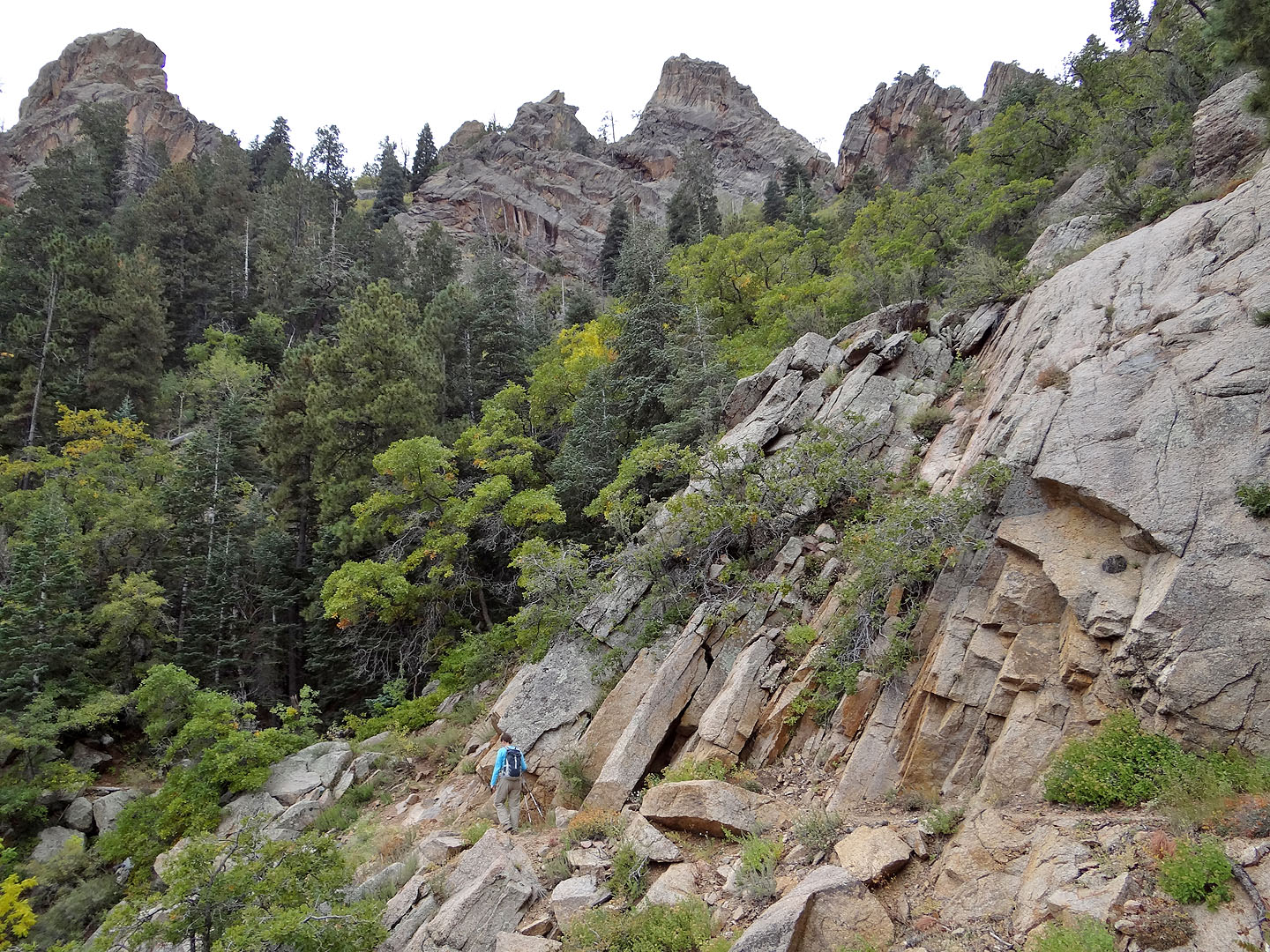 The trail traverses below several rock outcrops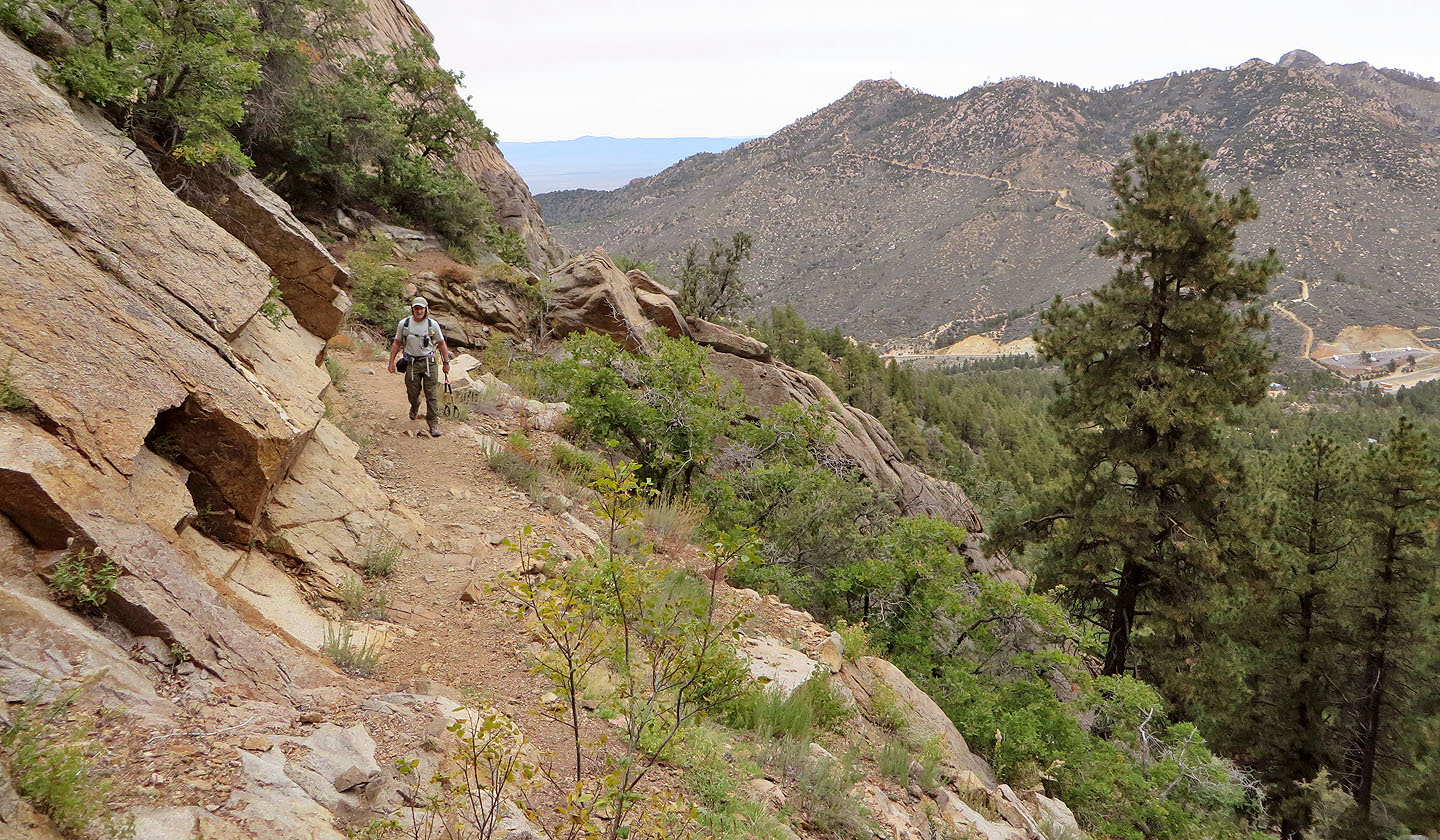 Looking back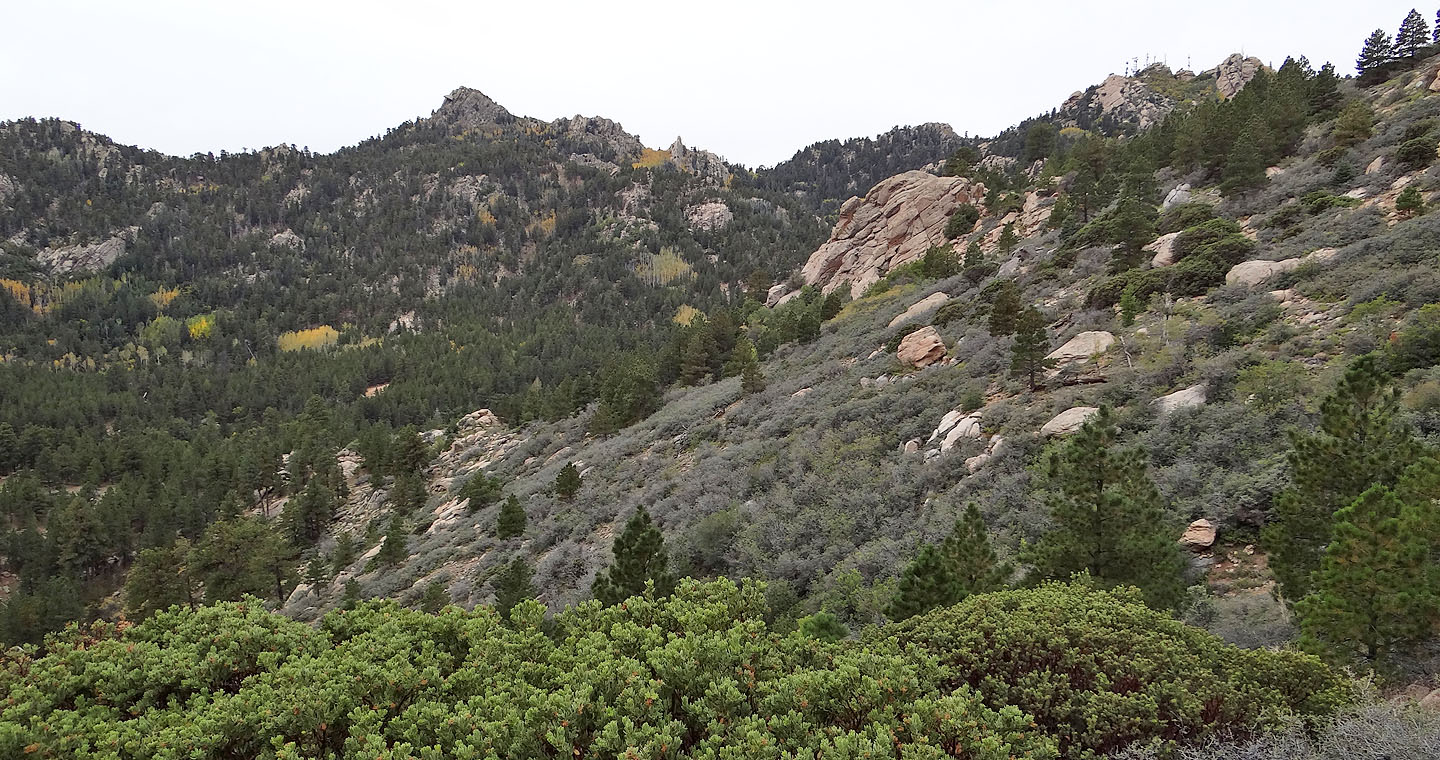 After turning a corner, we could see Hualapai Peak (left, mouse over for a close-up) and Hayden Peak (right, festooned with communication towers)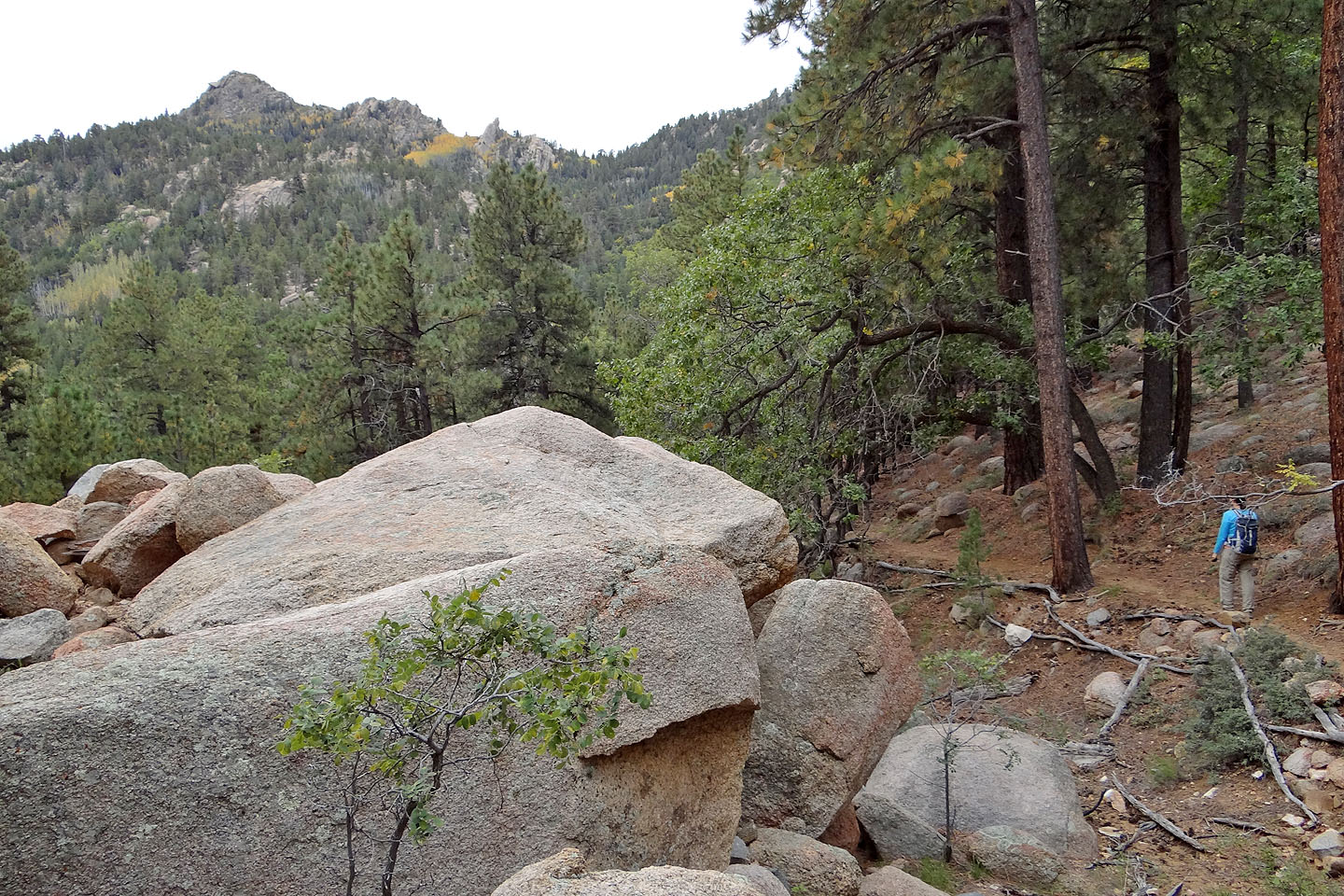 We lost elevation as we headed to the south junction of Potato Patch Loop and Aspen Trail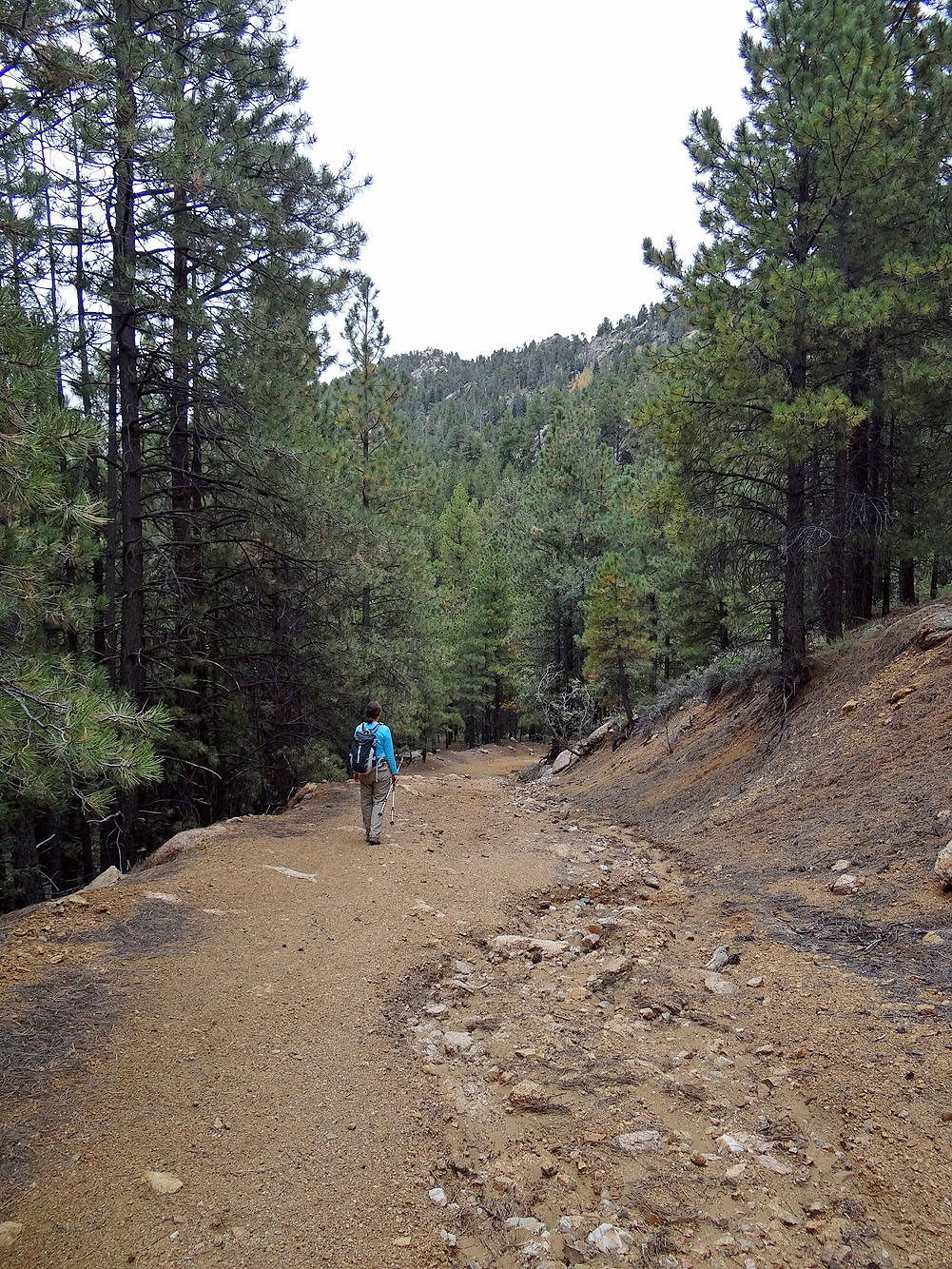 Waking down the road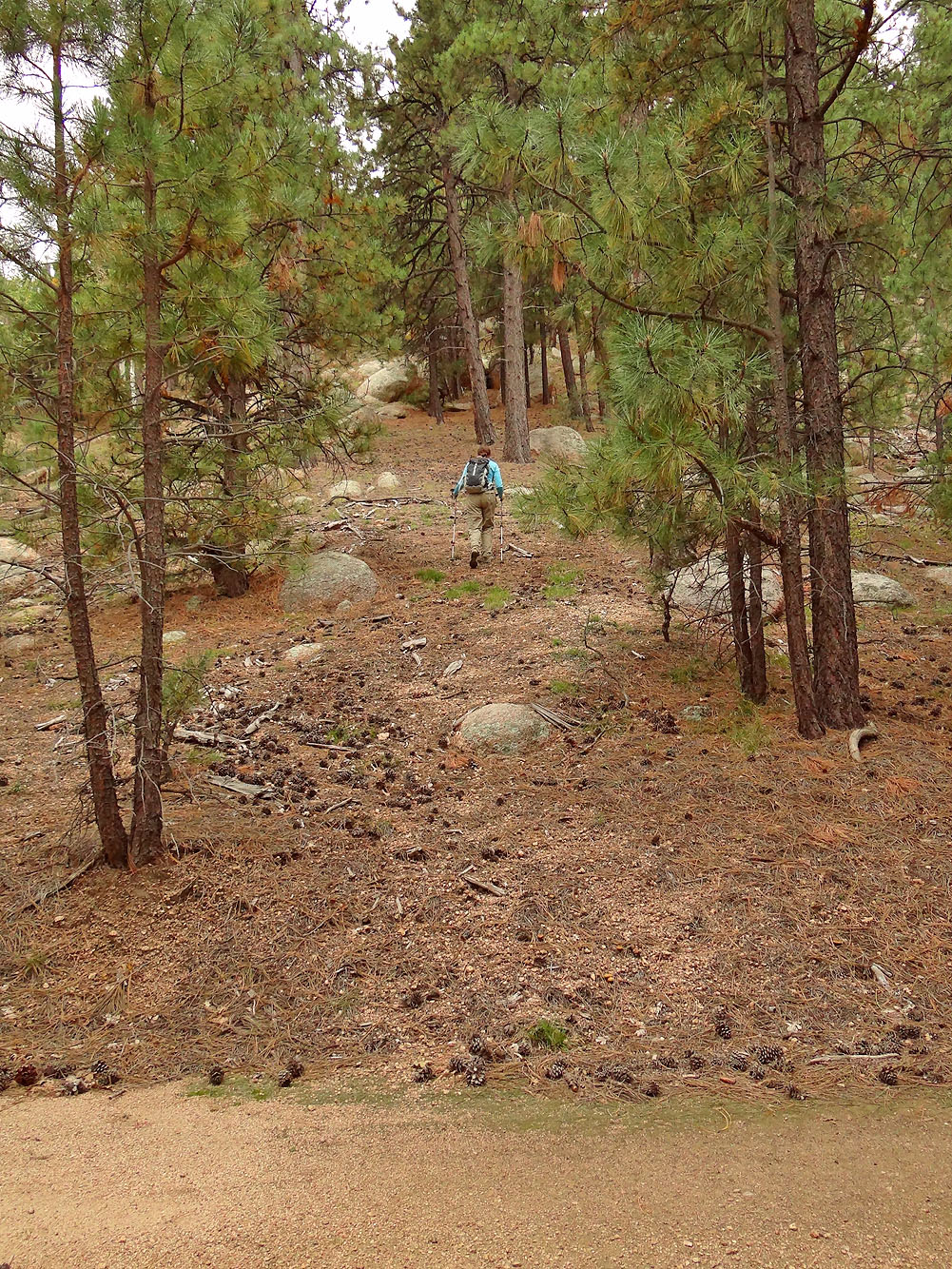 We left the road where there were few trees and boulders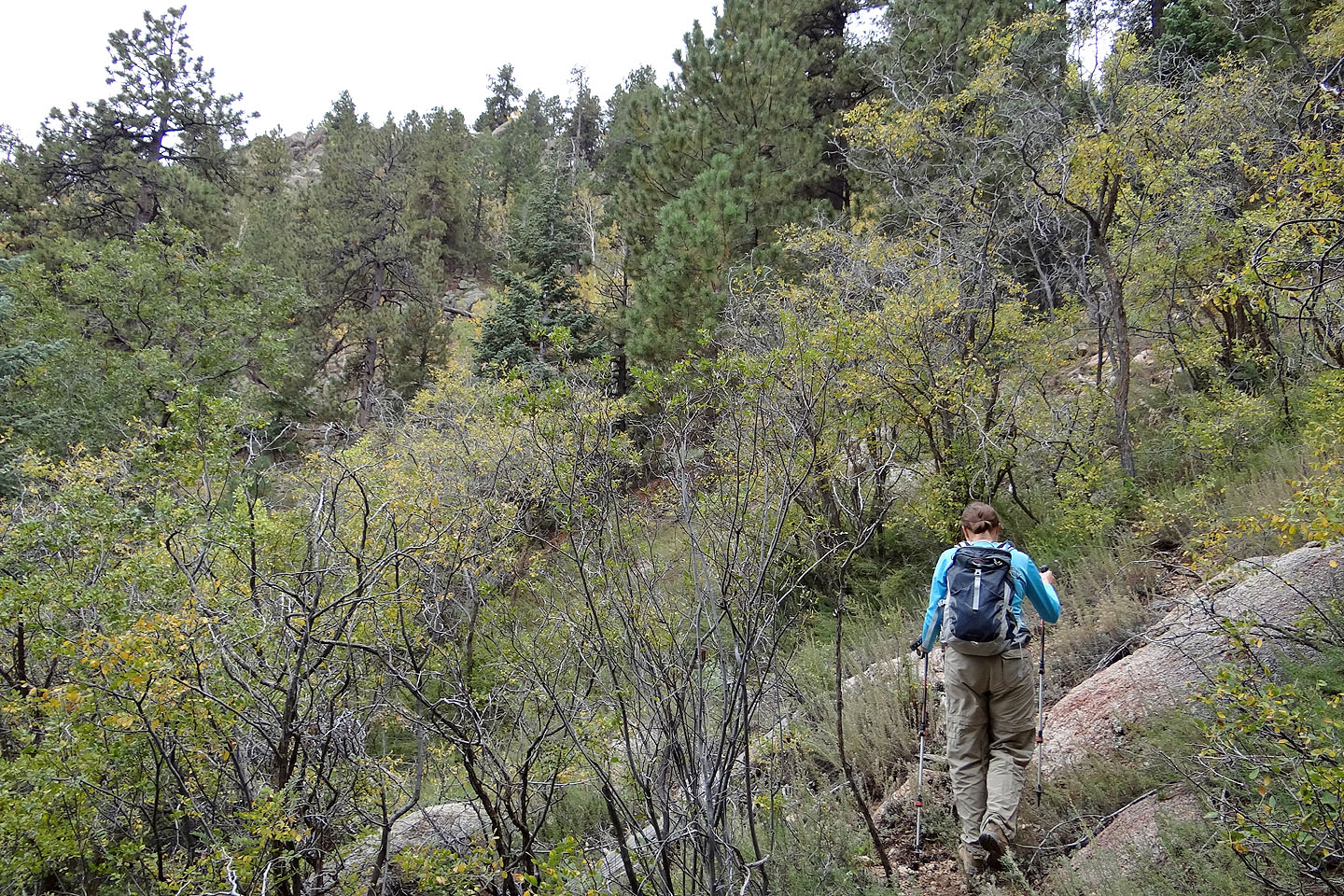 But we were soon bushwhacking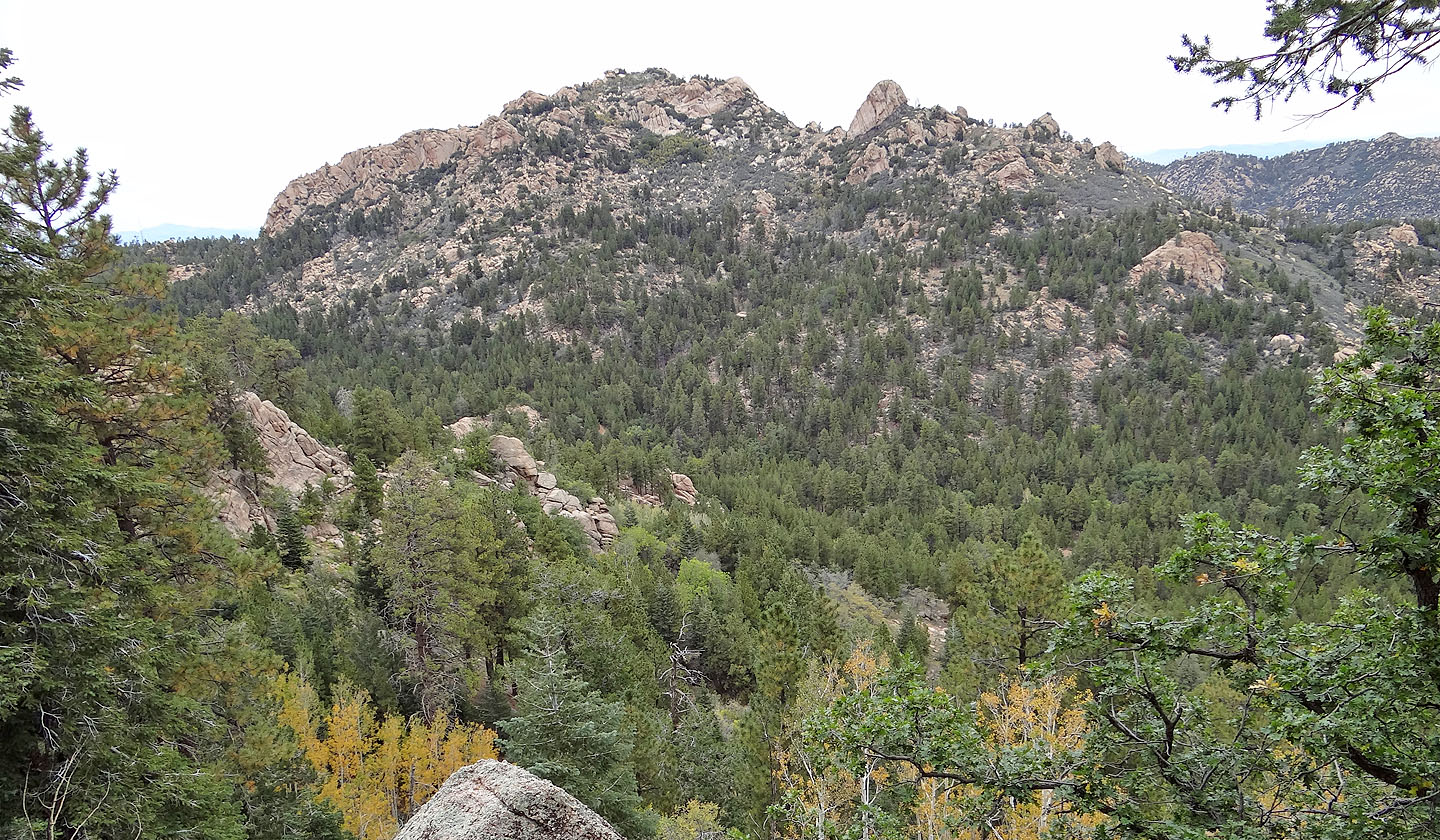 Aspen Peak lies north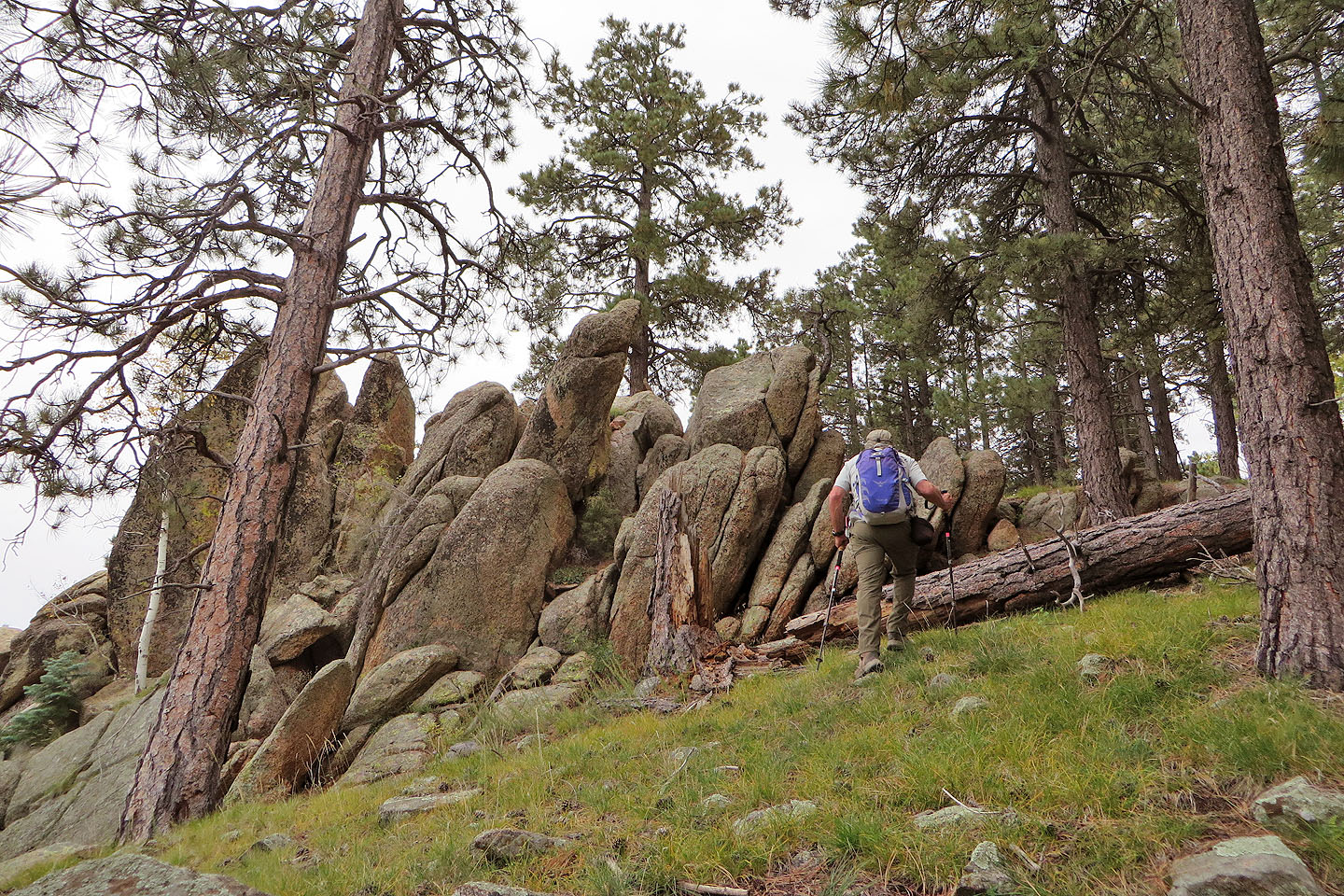 We reached a plateau strewn with enormous boulders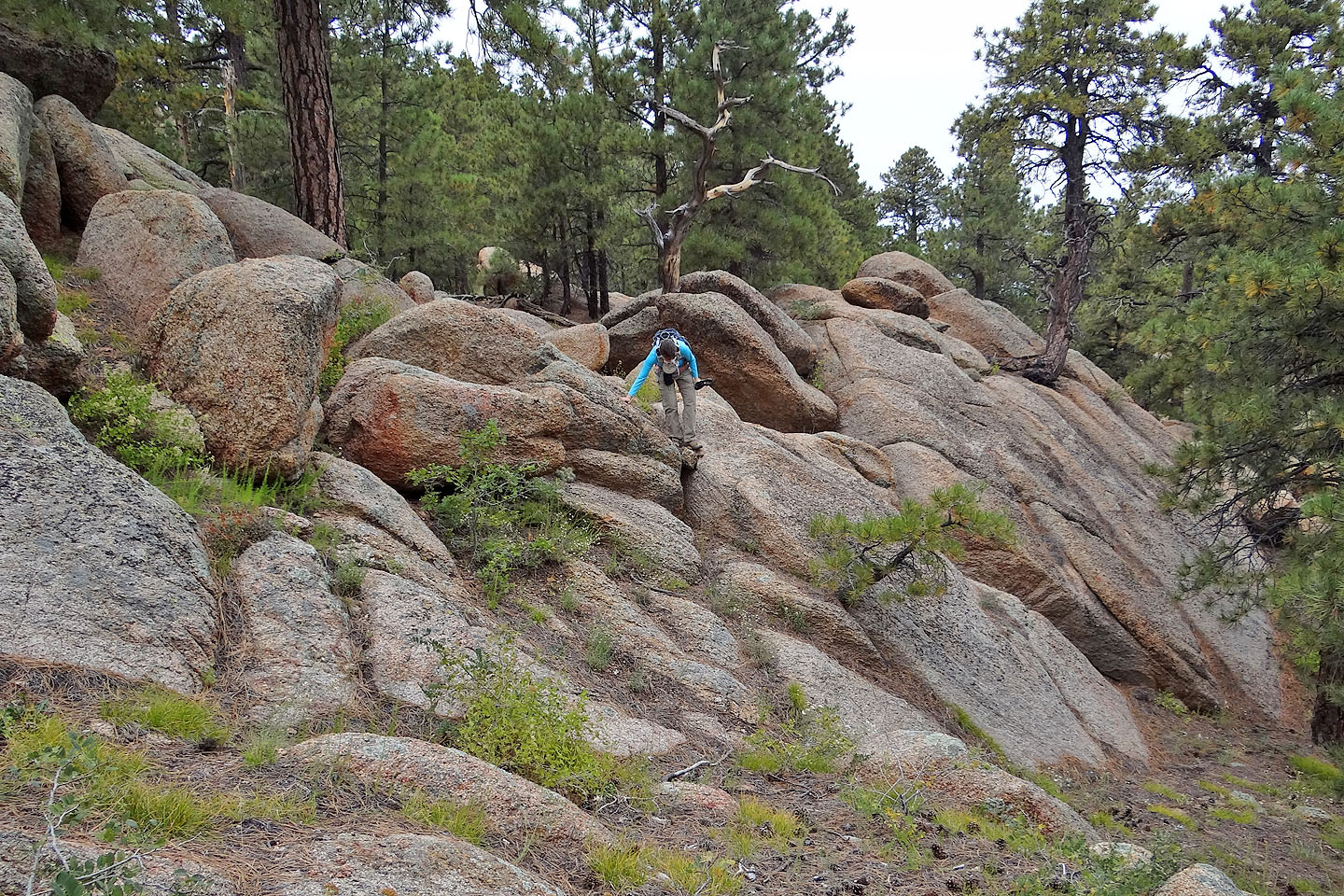 Climbing down rocks as we crossed the plateau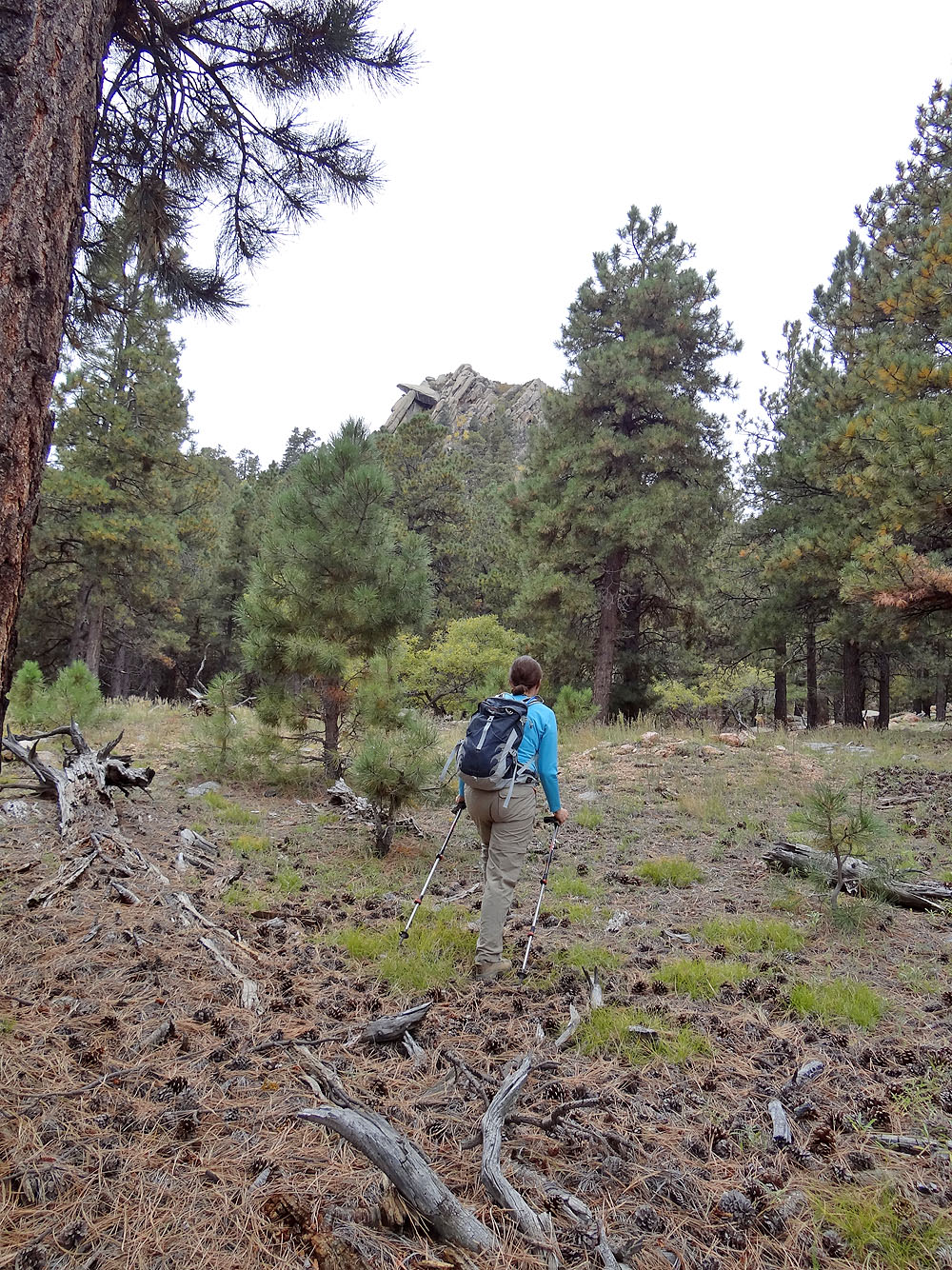 The summit lies ahead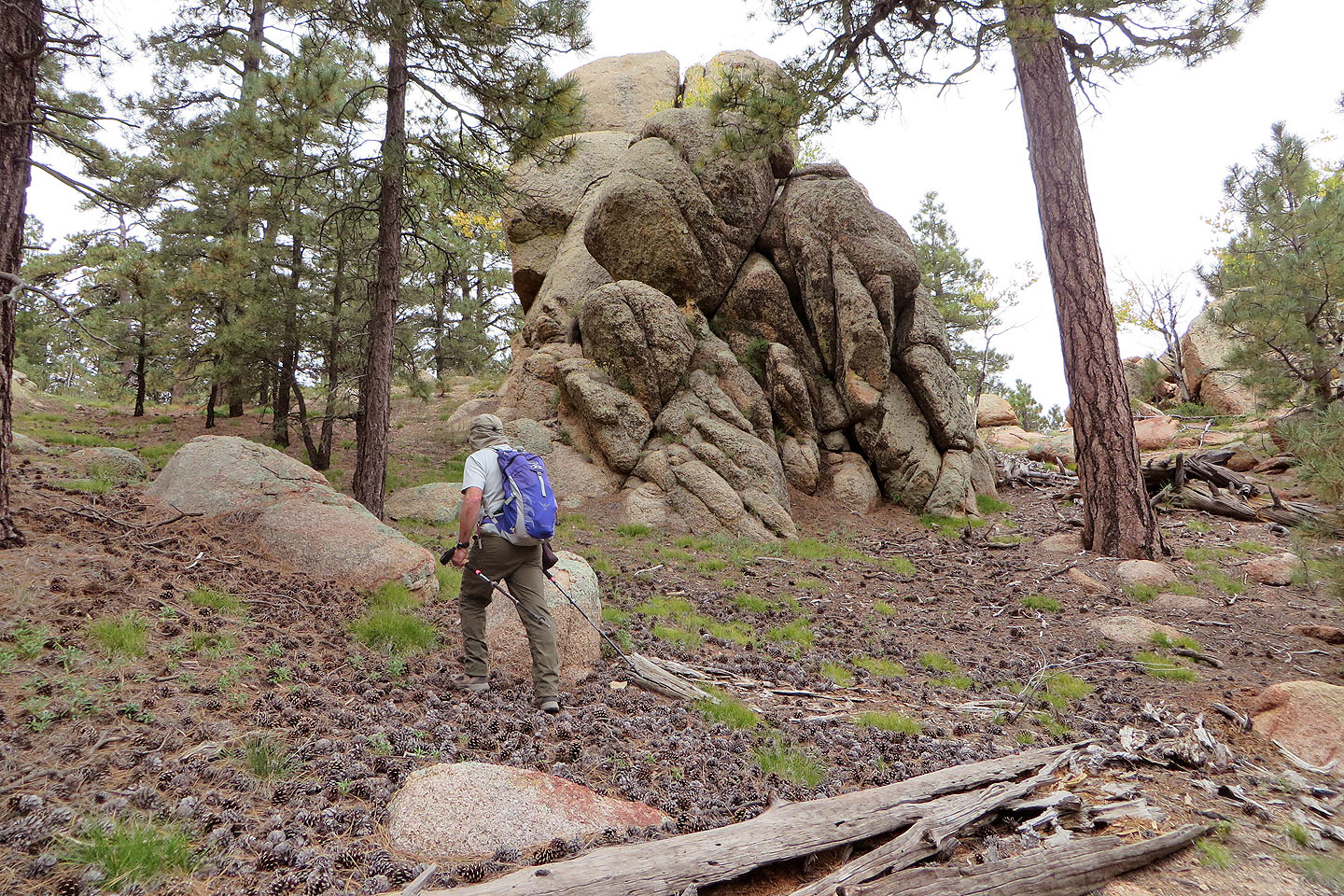 Passing more boulders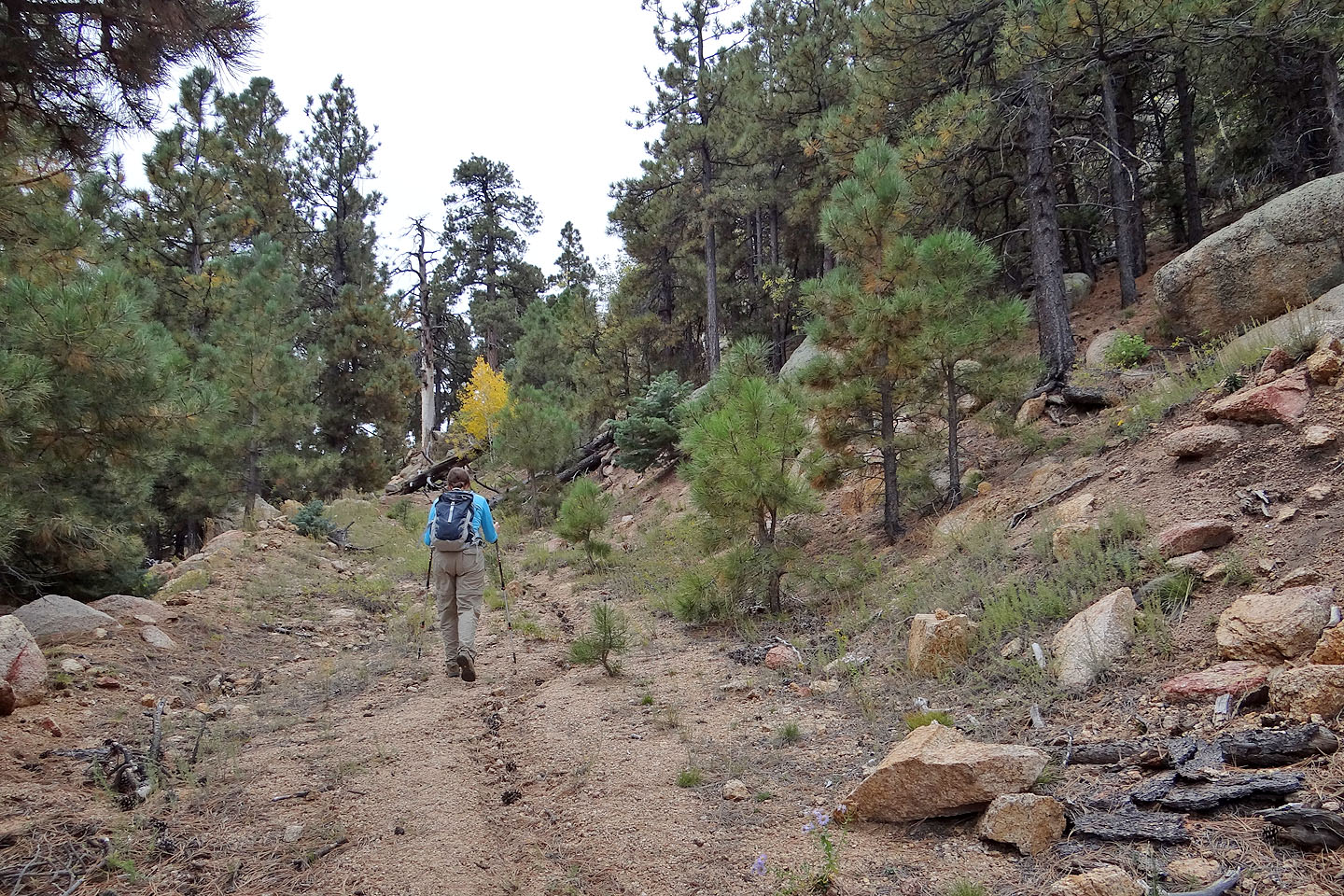 On the road below the summit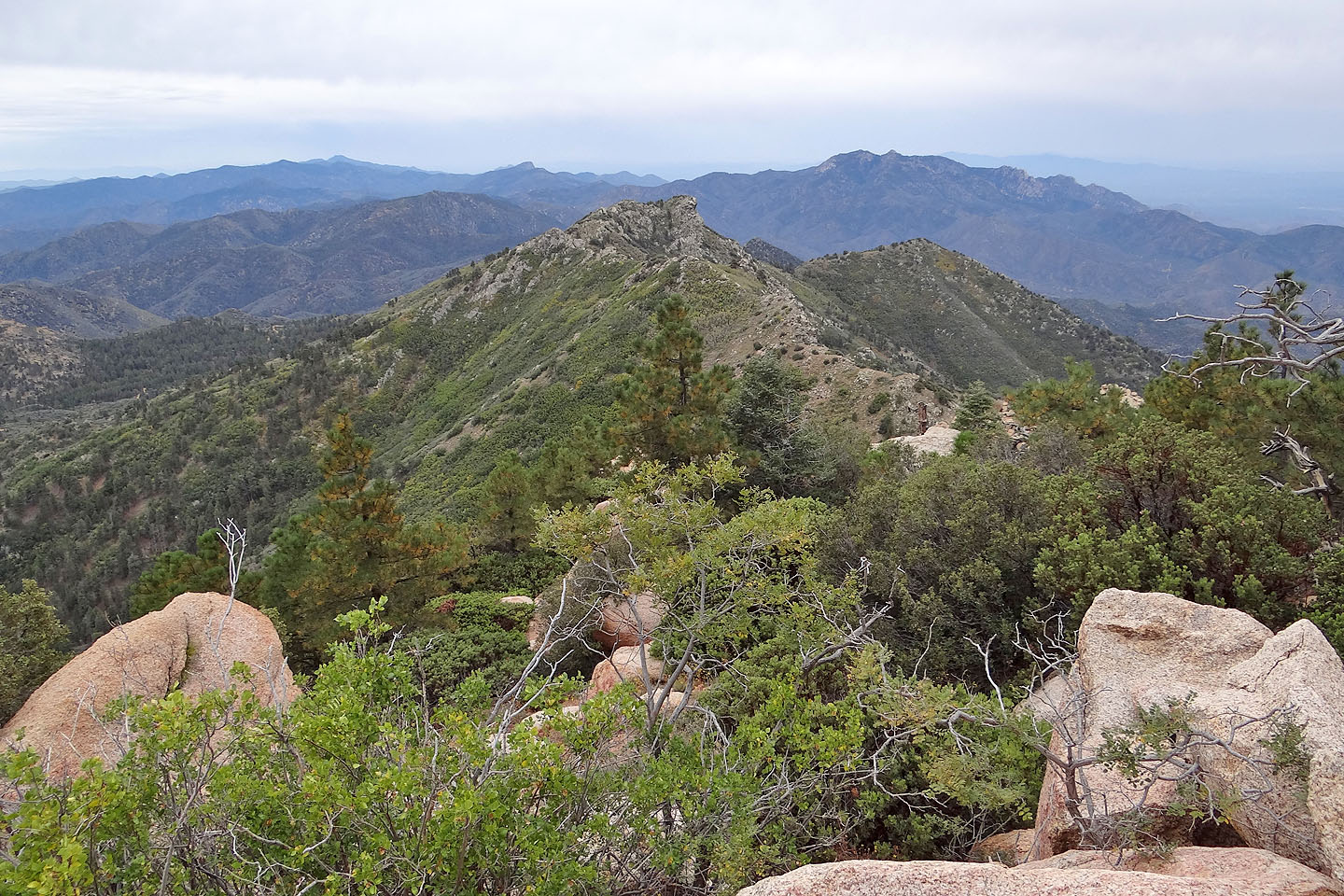 Looking at an outlier west of the summit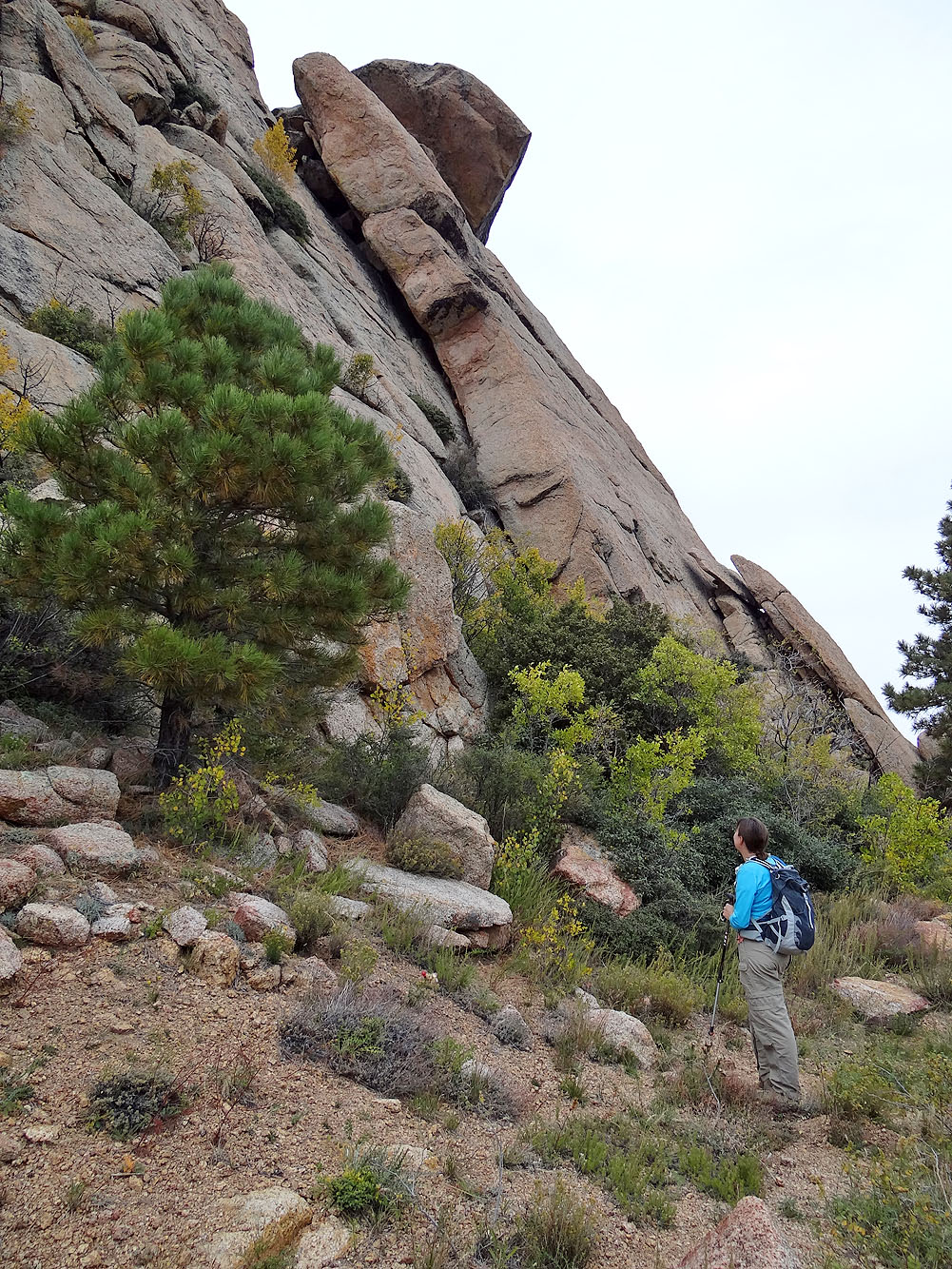 The road ends in impossible cliffs so we backtracked a bit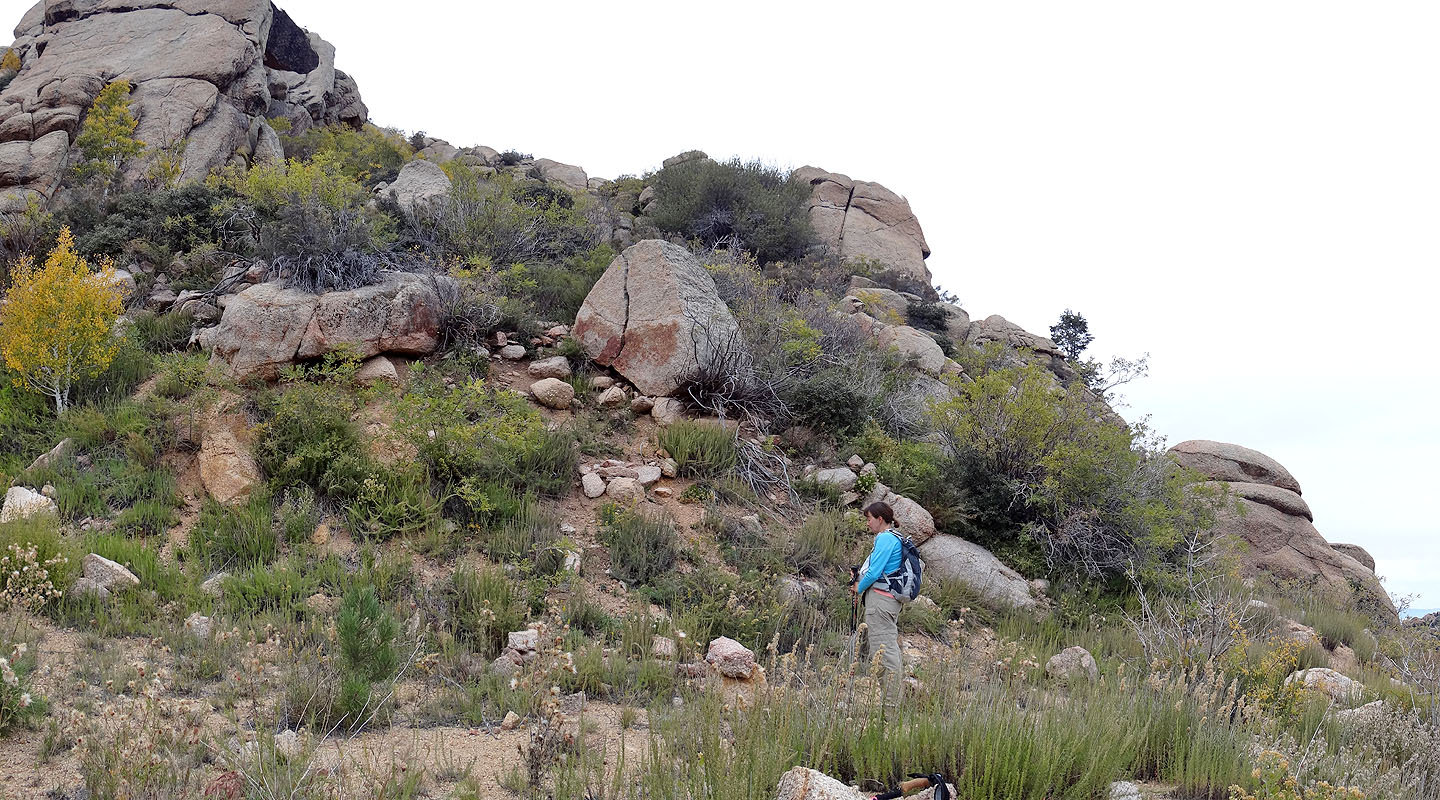 This route looks better!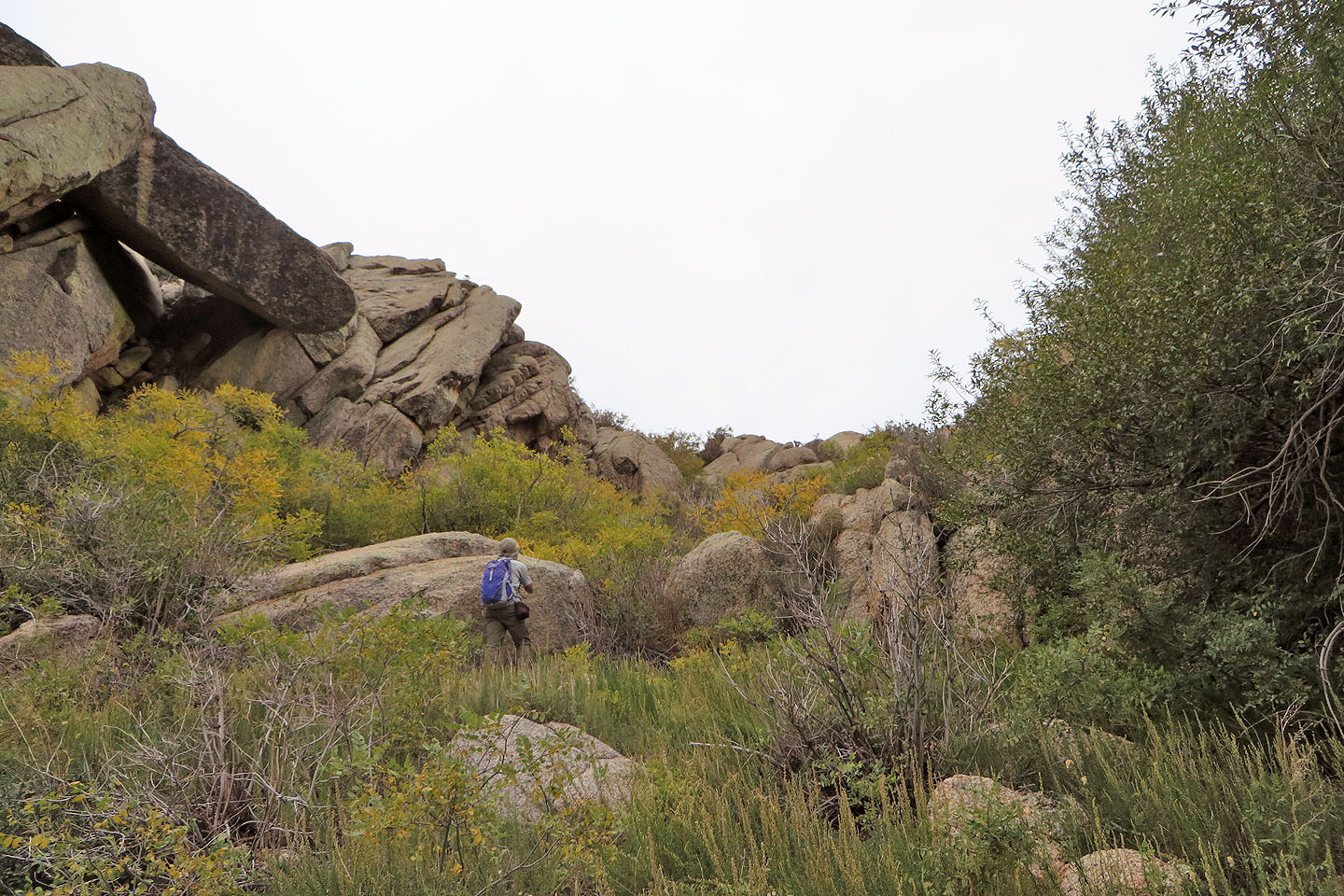 We bushwhacked up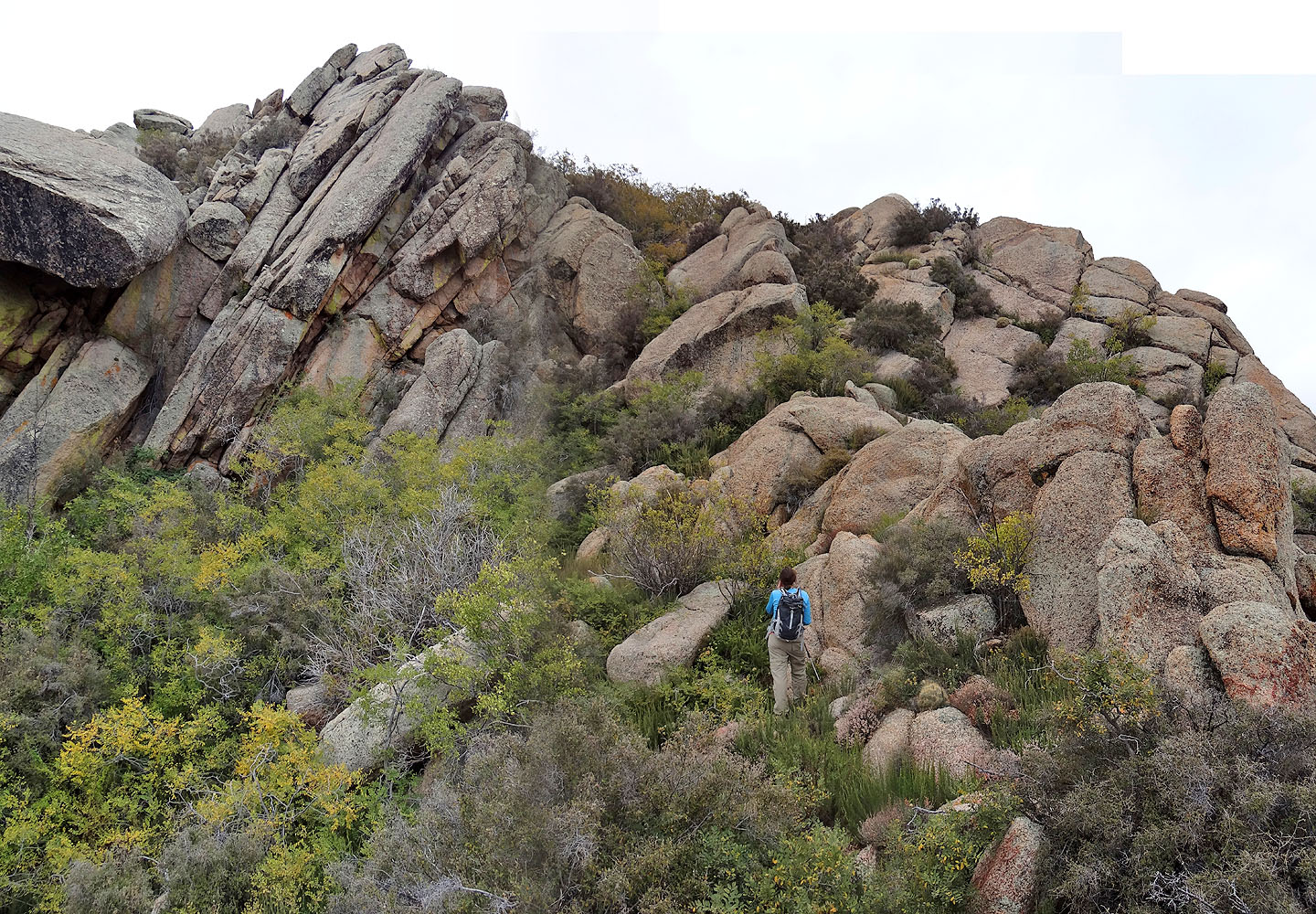 We gained the ridge directly above Dinah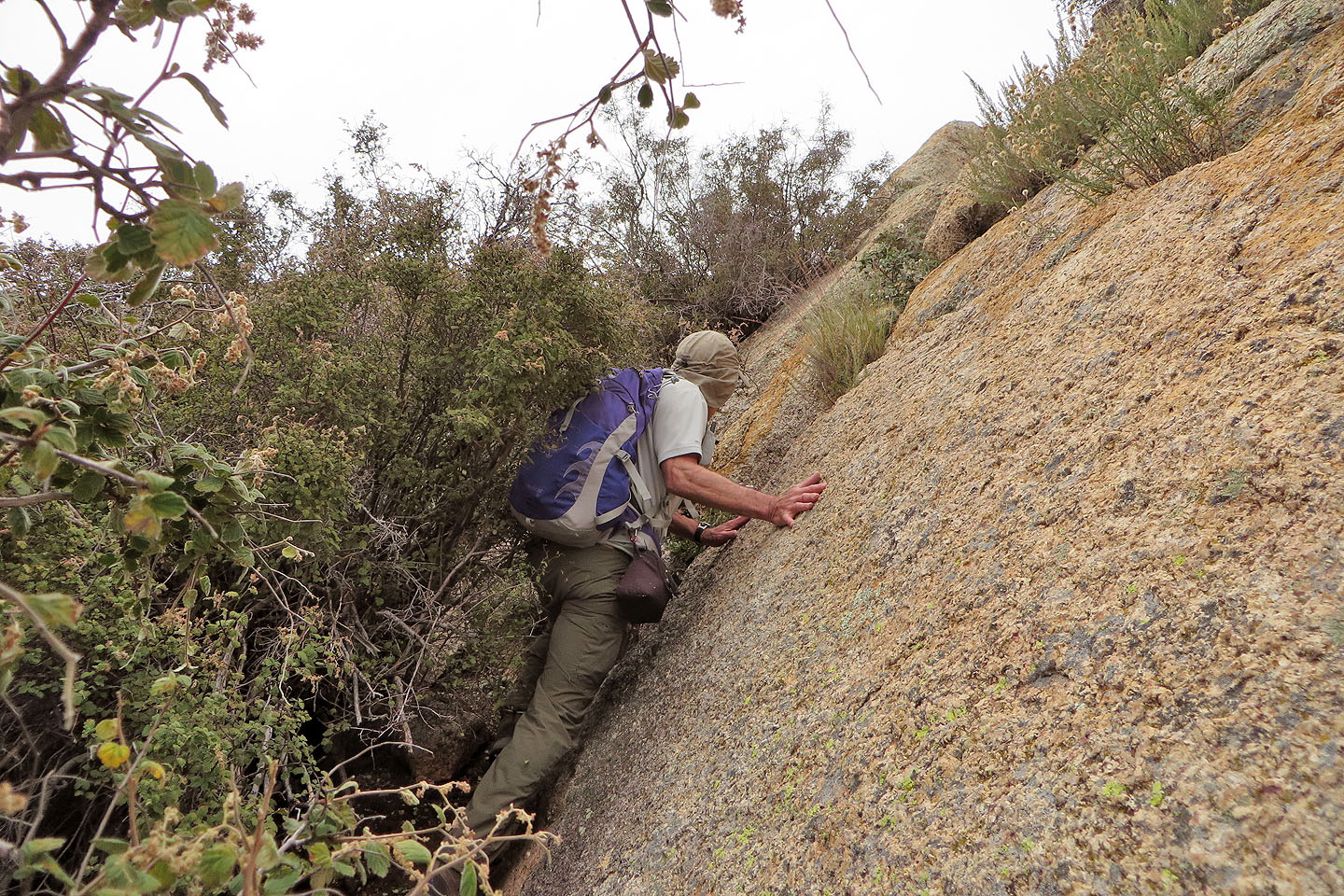 Dinah squeezed between the rock and the bushes but I scrambled up the rock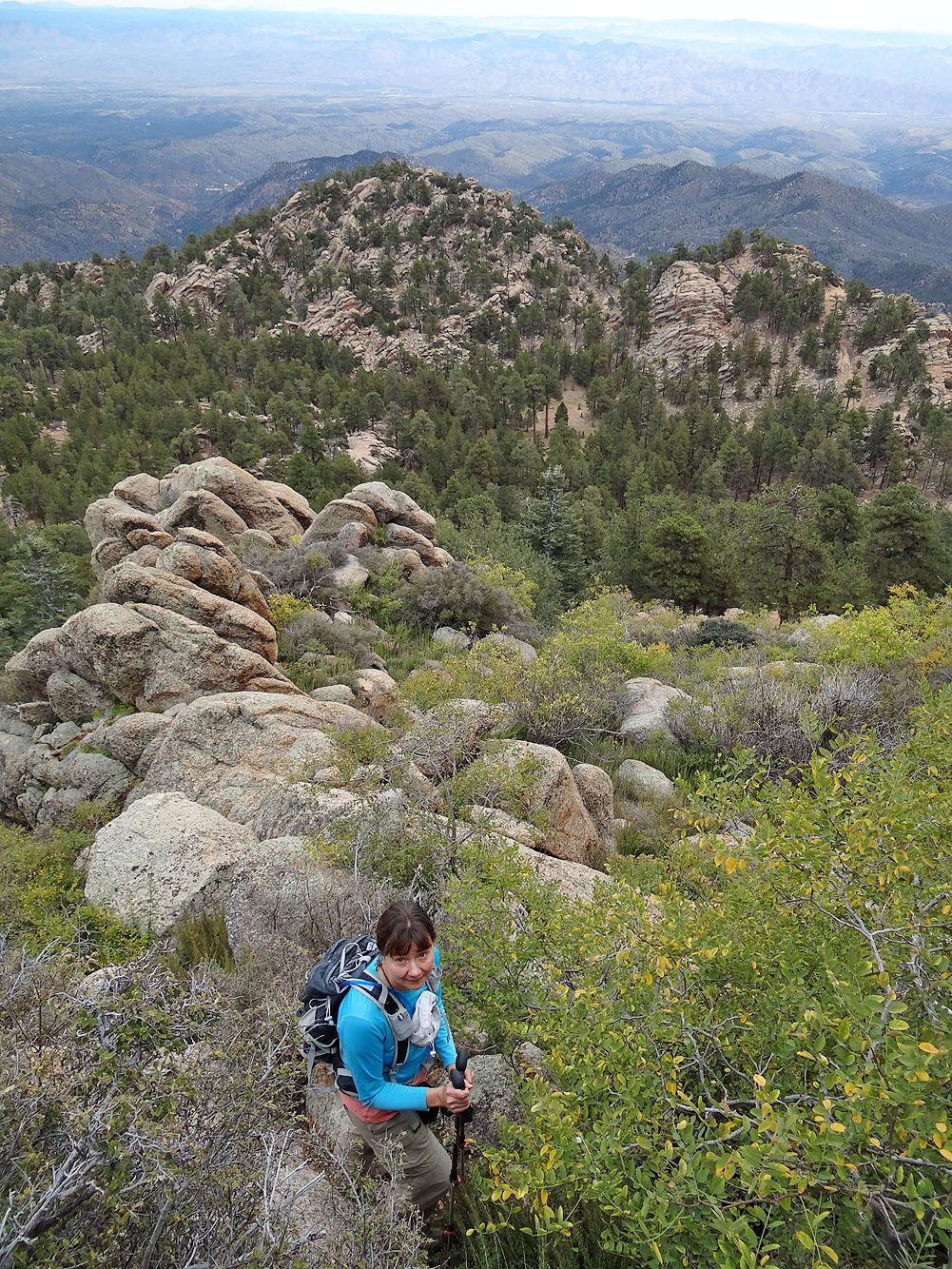 Looking back at the way we came up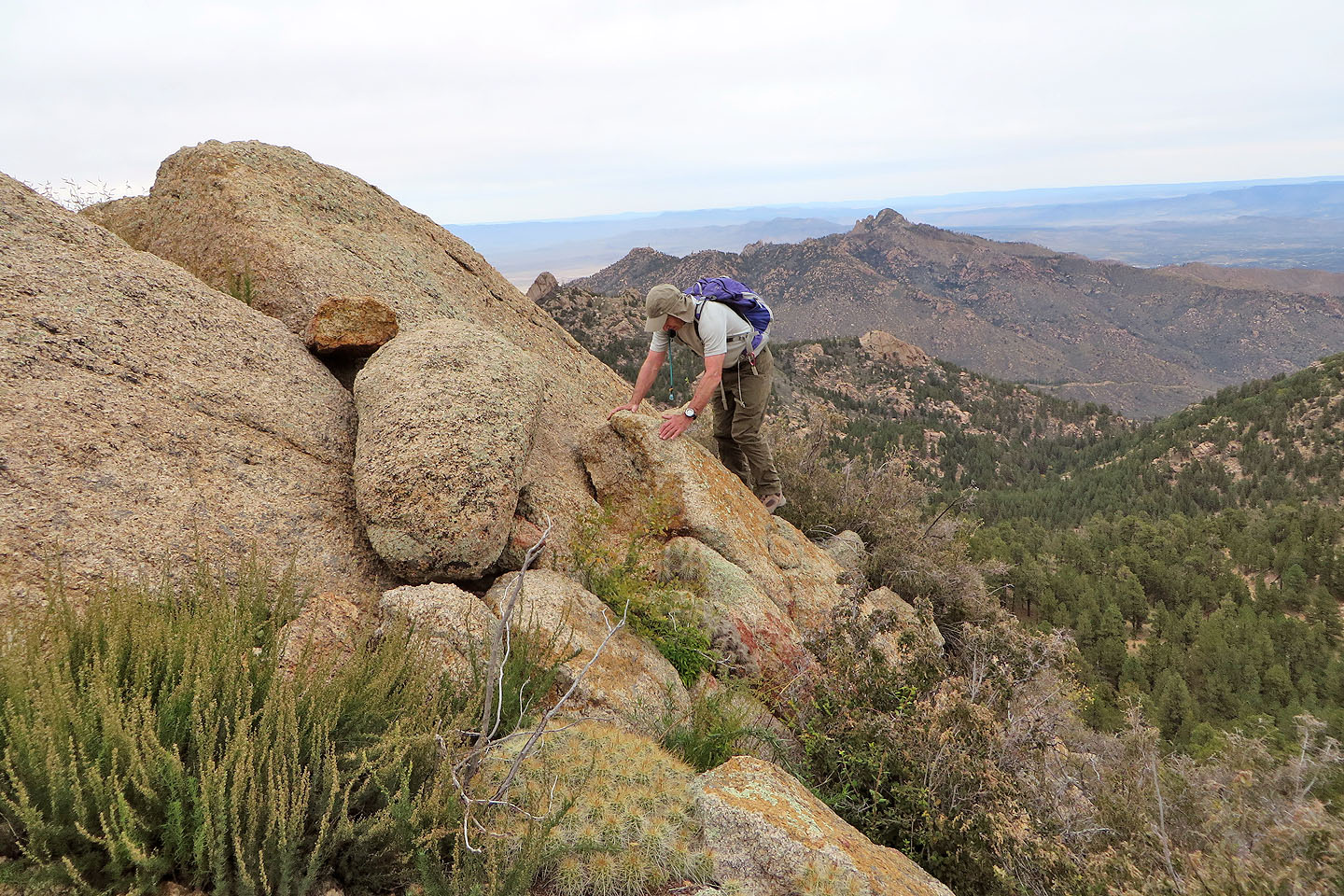 After scrambling up I traversed to join Dinah. Note the large cactus (bottom, centre) in my way.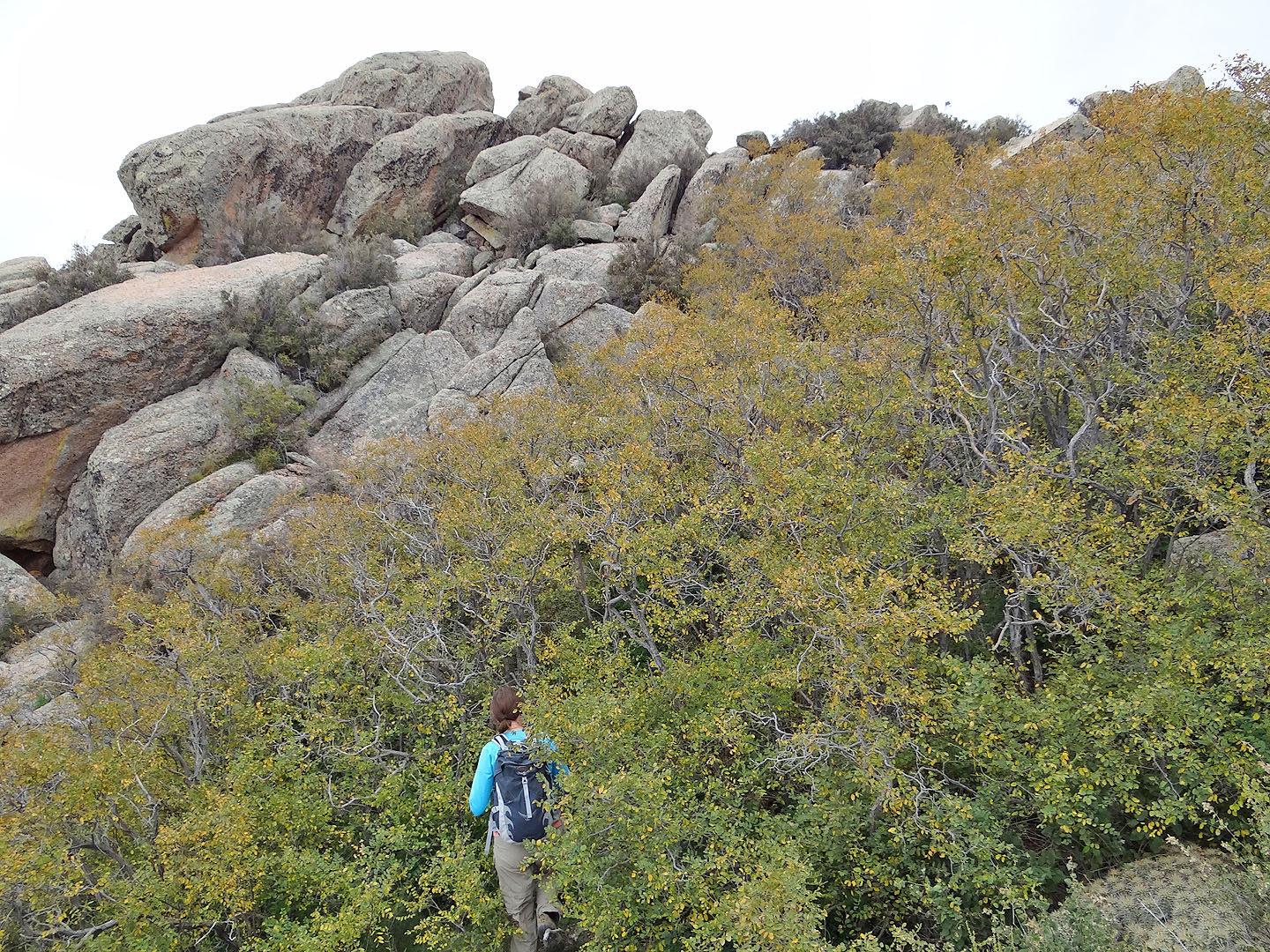 The highest rock is on the left but I climbed the slightly lower one on the right

I was able to touch the summit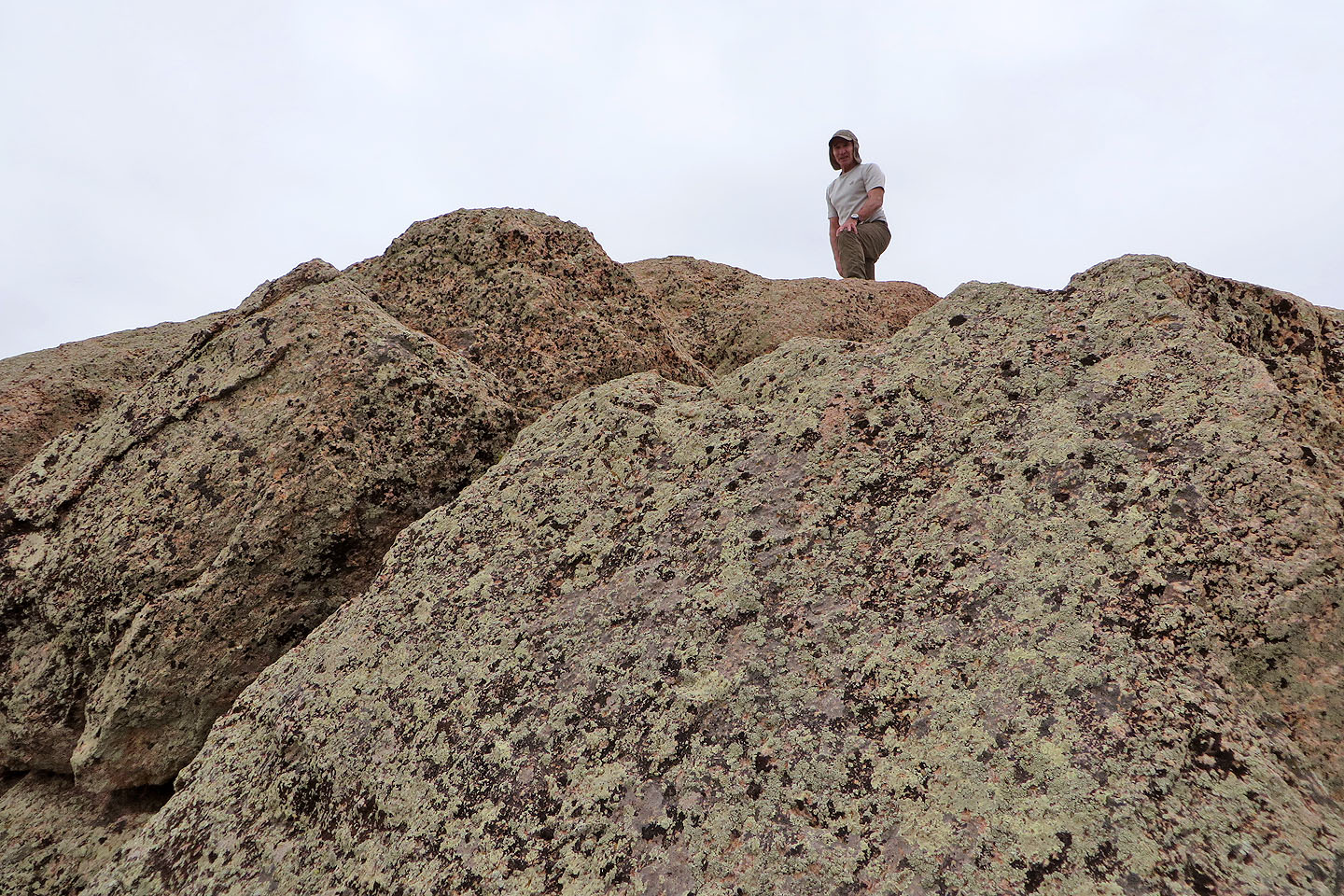 But I could stand on the lower summit rock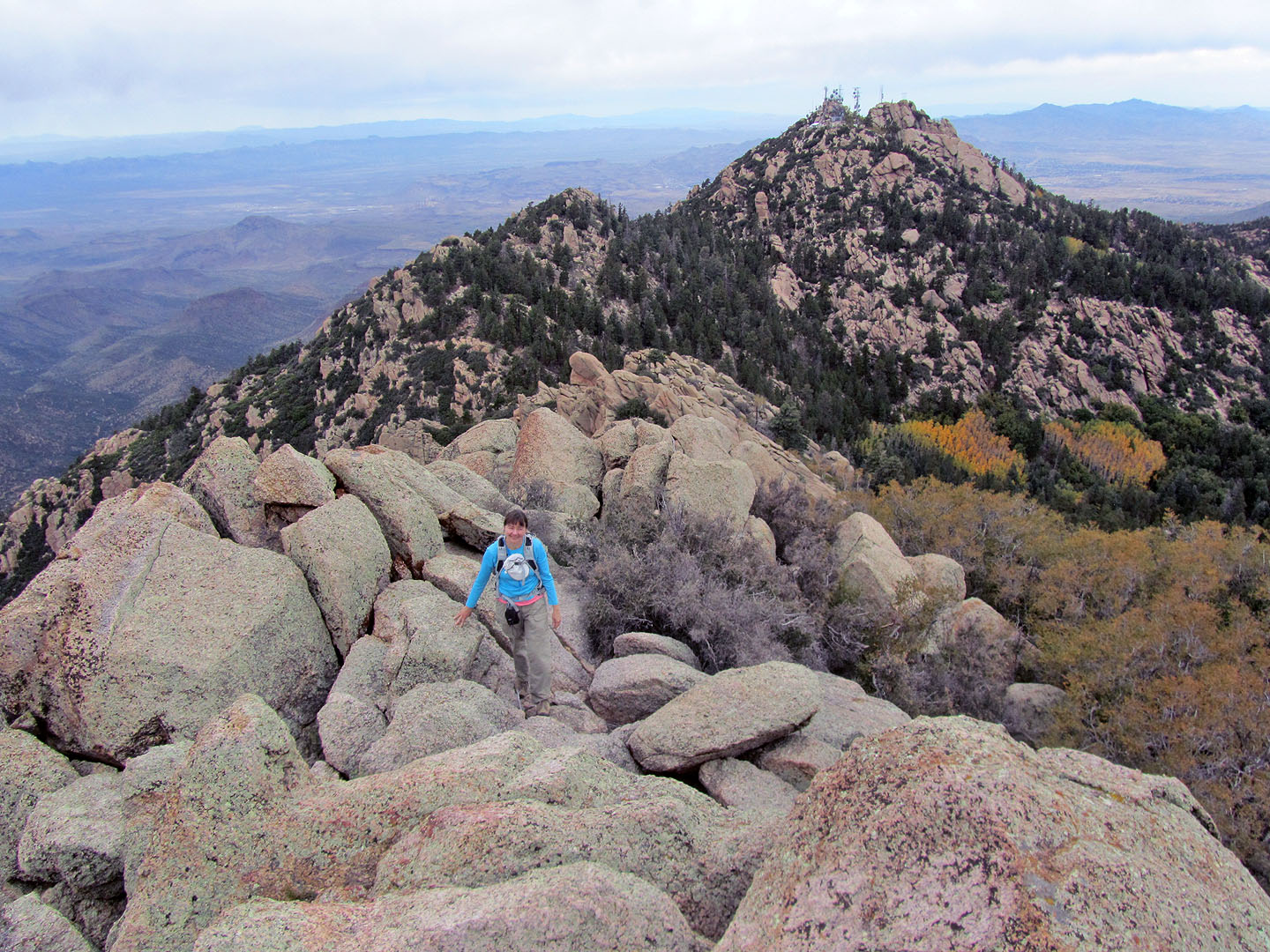 Looking northwest at Hayden Peak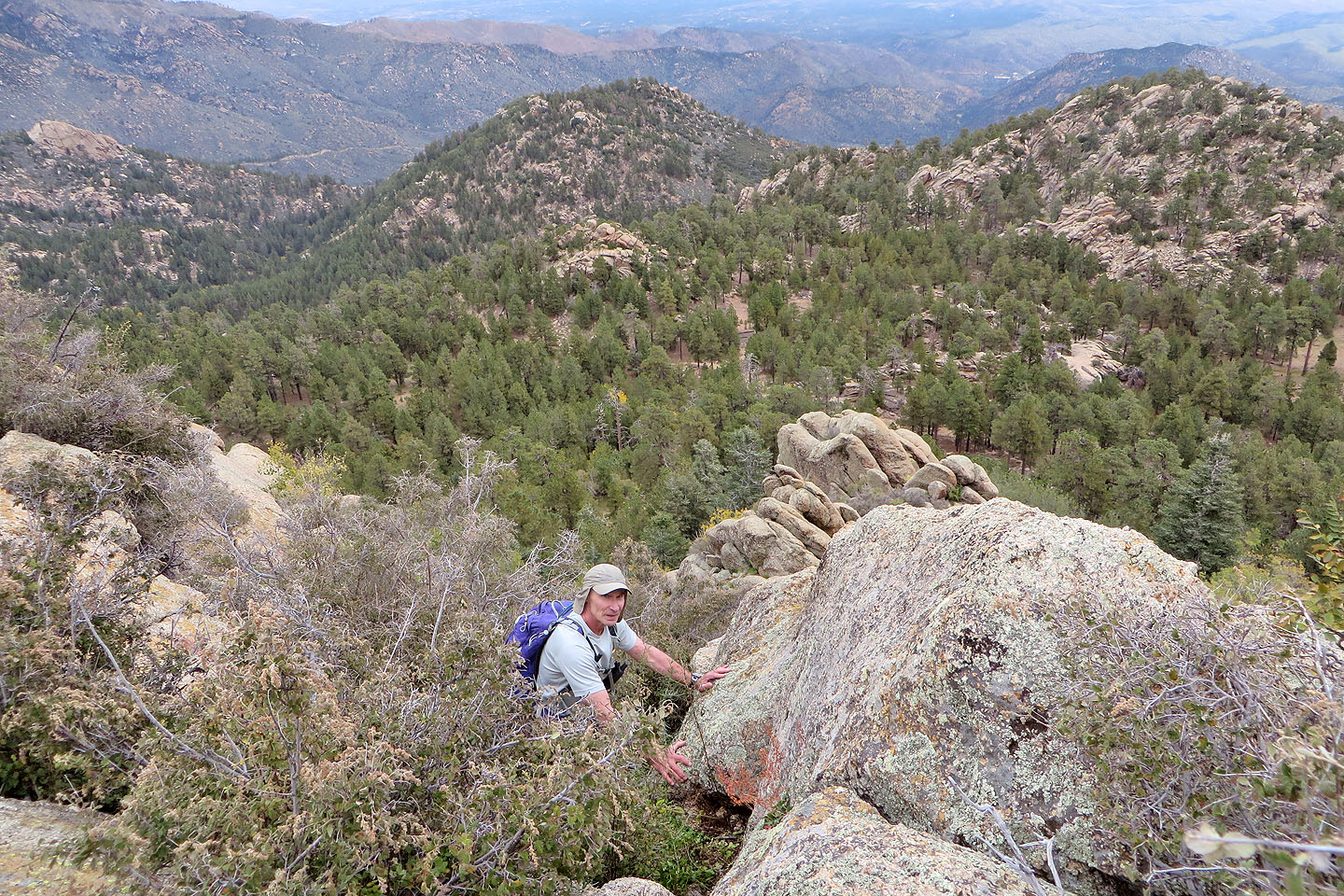 Coming down from the summit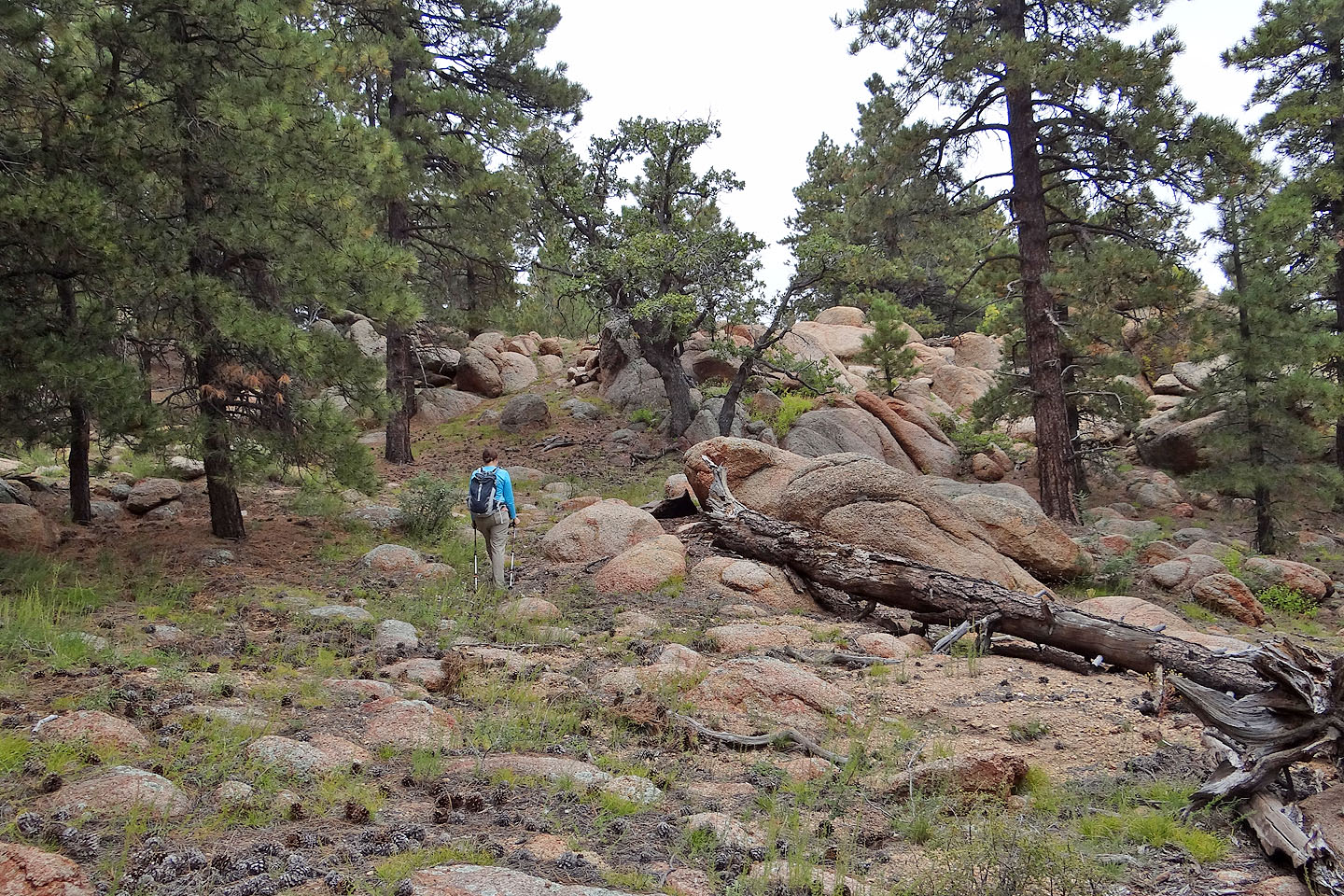 Hiking back across the plateau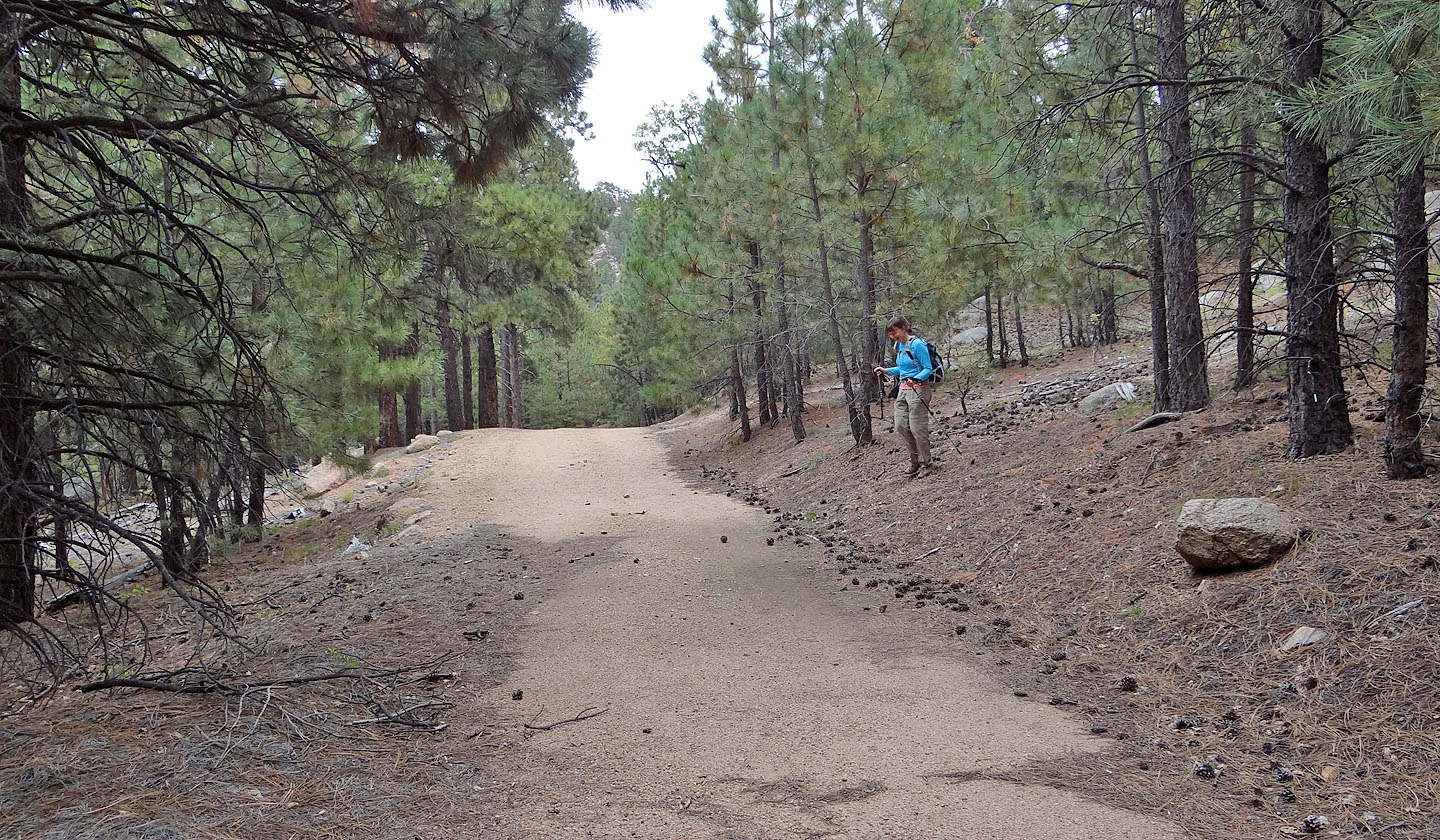 Back on the road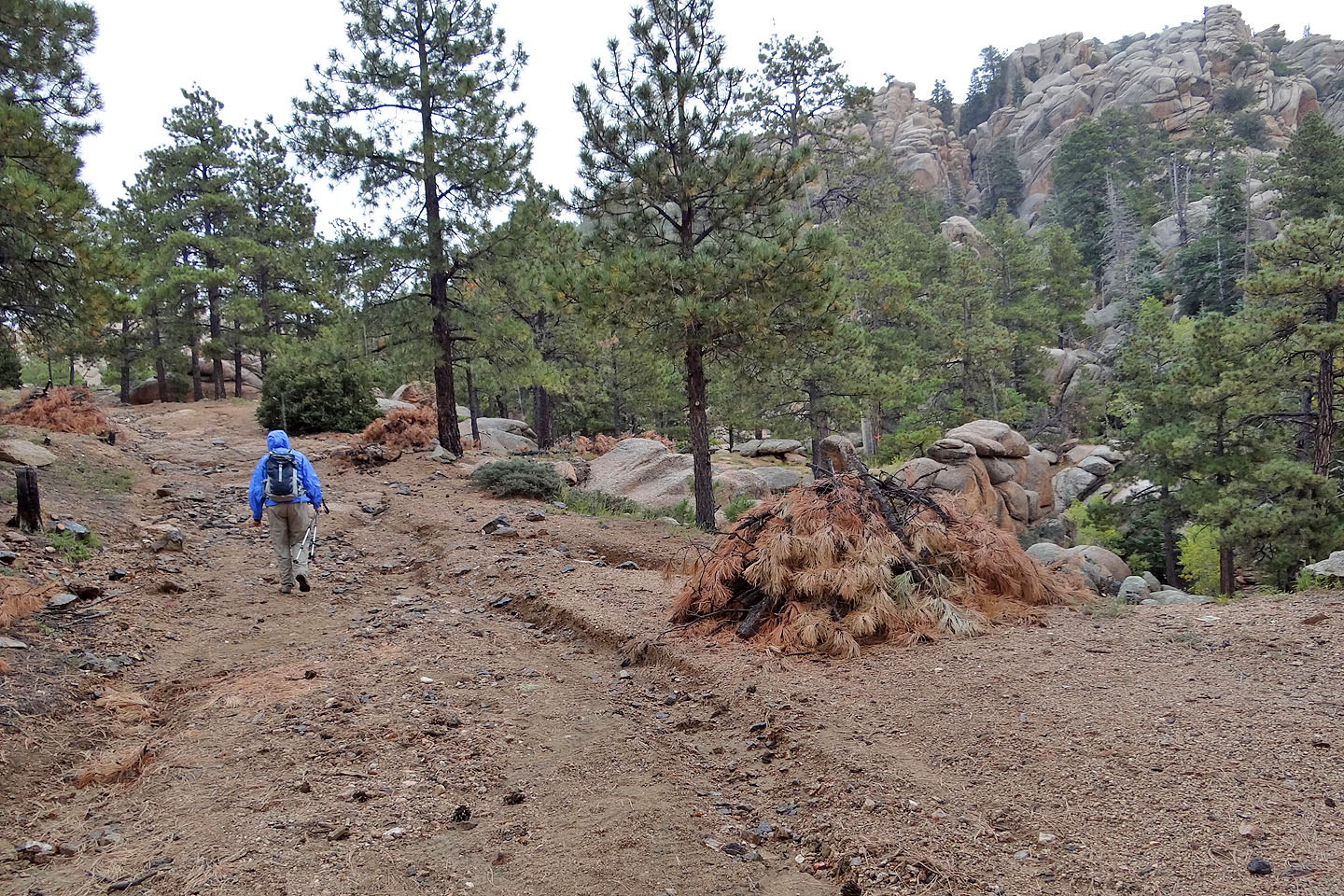 Following Aspen trail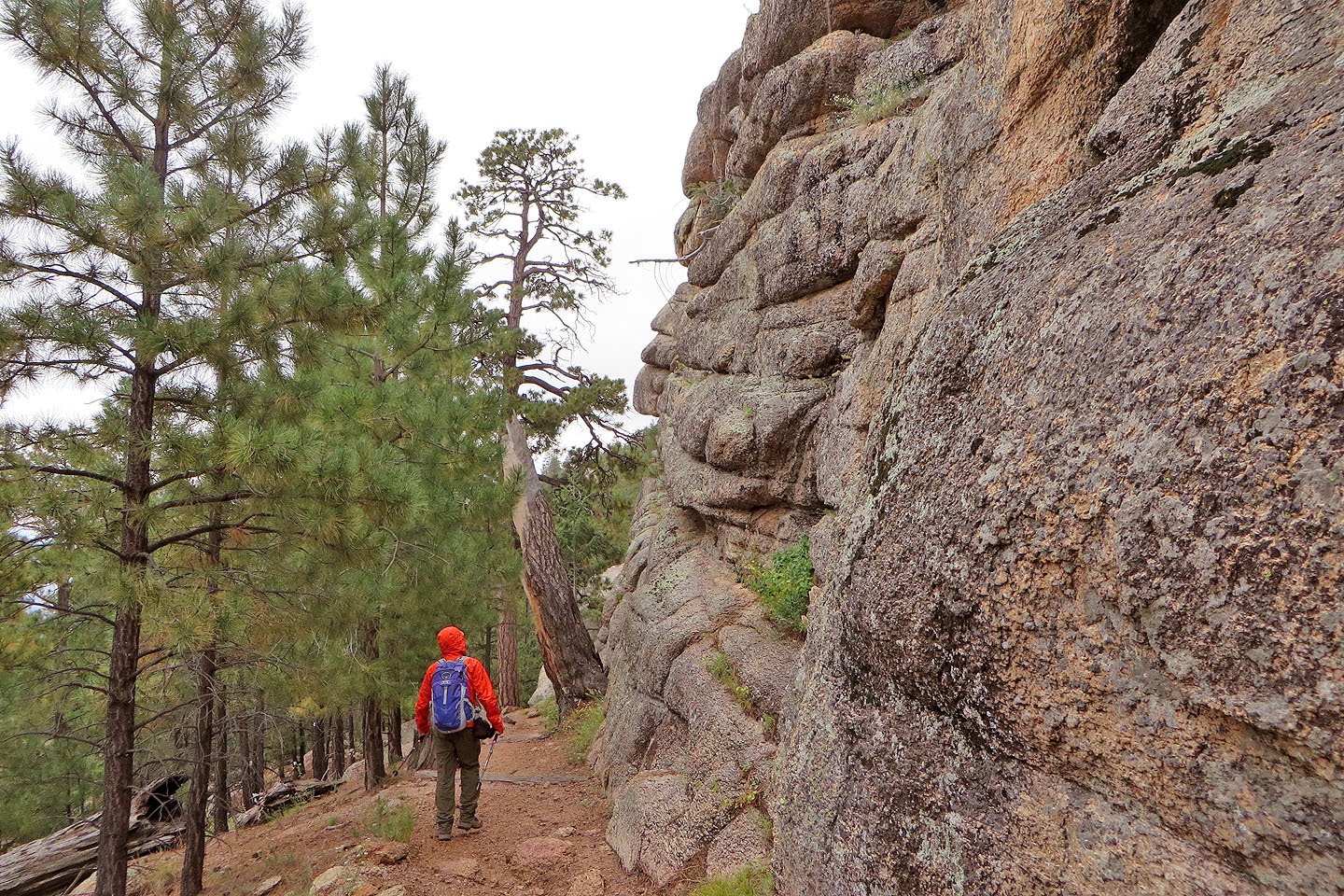 It started raining after we got on Aspen Trail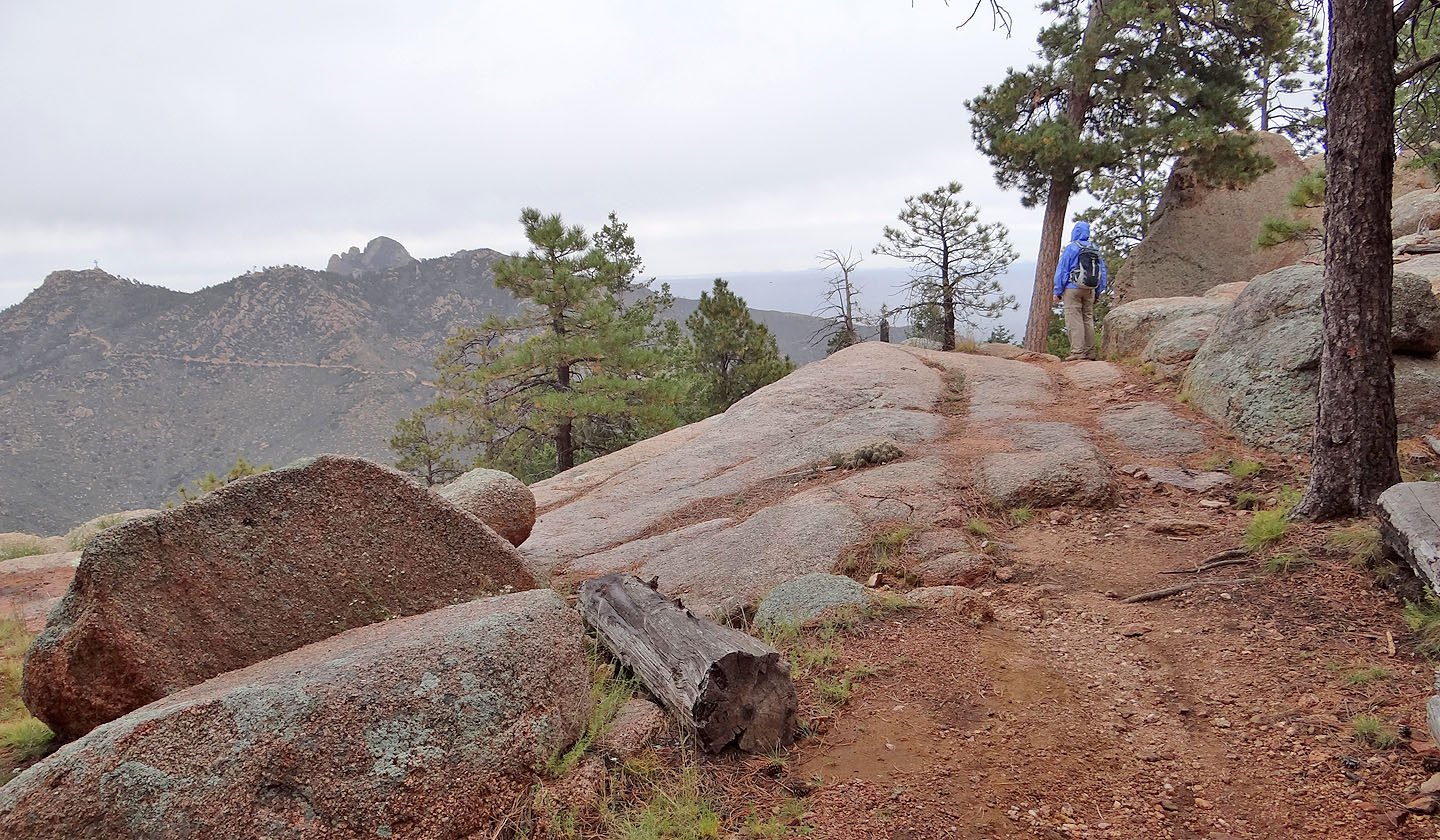 Much of the trail is treed, but there were a few viewpoints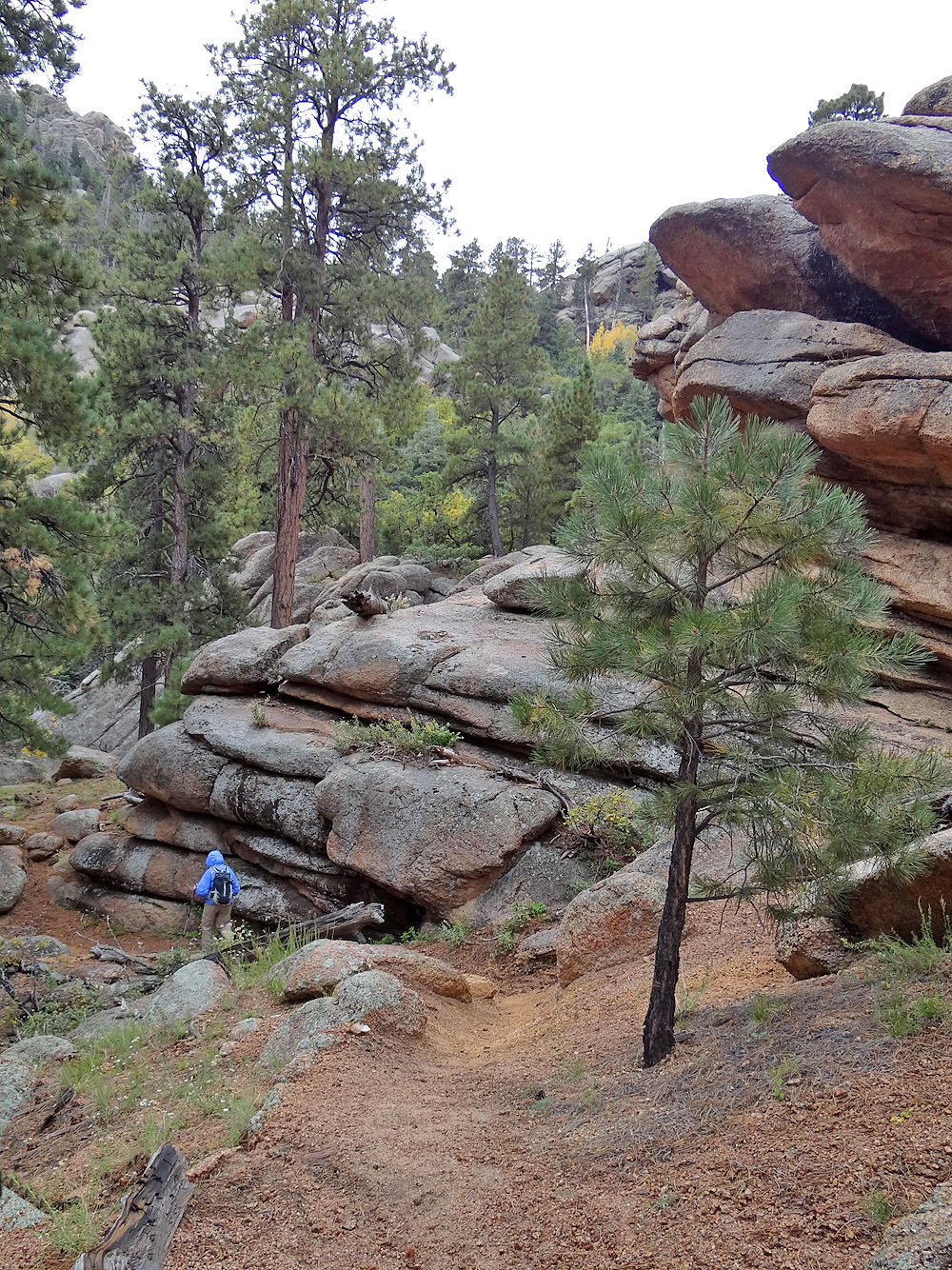 Like Potato Patch Loop, Aspen Trail has its share of great scenery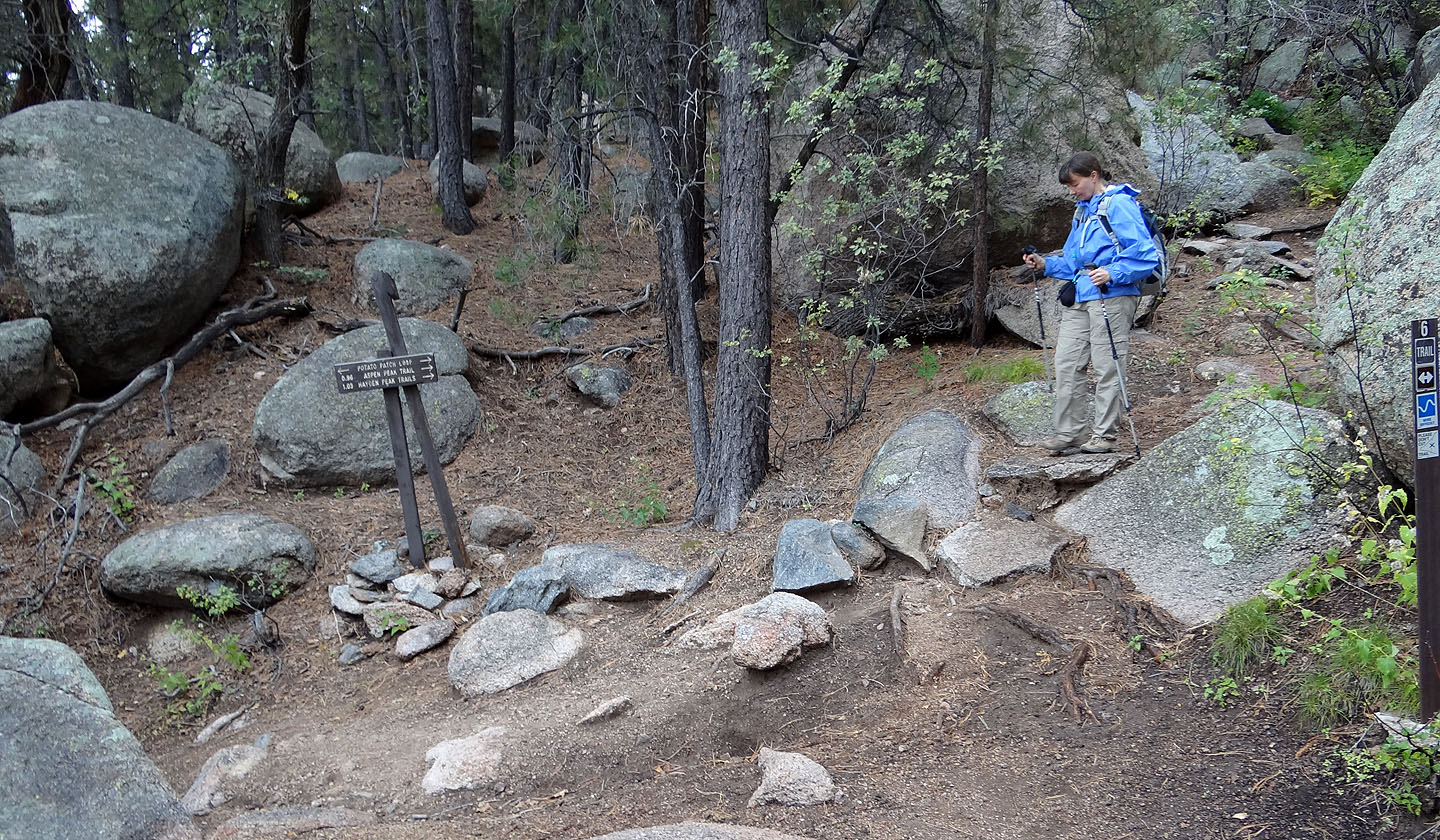 Back at the north junction (mouse over to read the sign)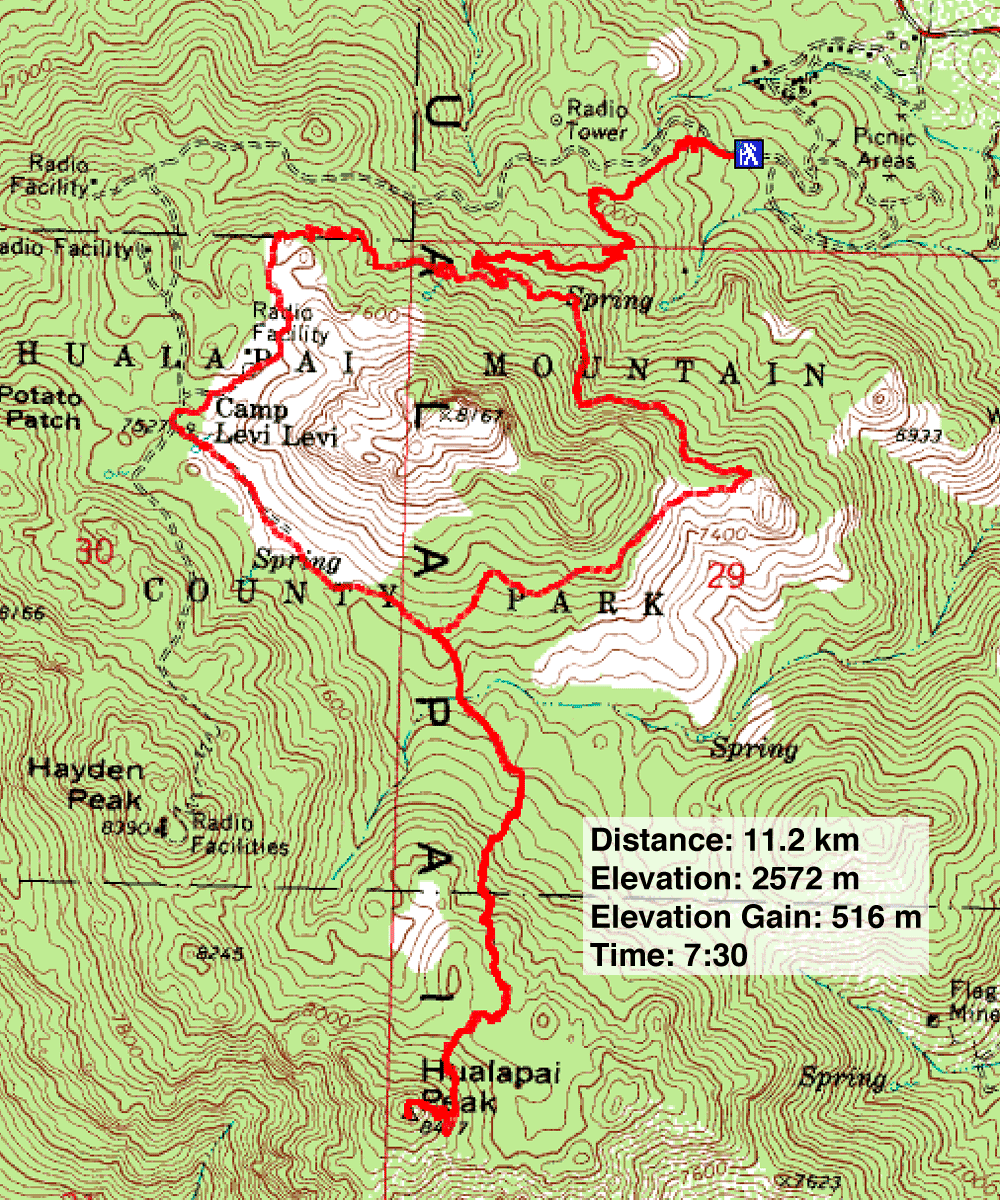 Hualapai Peak Topo (7.0 mi, 8438 ft, 1693 ft)