bobspirko.ca | Home | Canada Trips | US Trips | Hiking | Snowshoeing | MAP | About
Loaf Mountain (Attempt)
Castle Provincial Park, Alberta
May 7, 2005
After an enjoyable scramble up Table Mountain two weeks ago, Dinah and I returned to Castle to climb Loaf Mountain. We planned to follow the Spionkop Creek trail that leads to a col between Loaf Mountain and Spionkop Ridge. From there it appeared possible to hike up the ridge to the summit of Loaf Mountain.
Joining Dinah and I were Andrew Nugara and Linda Breton from the Rocky Mountain Books Forum on the Internet. For months, we had followed each other's scrambles on the forum and occasionally exchanged emails. This, however, would be the first time we'd meet. It was great to have them along as their delightful company kept us in good cheer on an otherwise dreary day.

Unfortunately, a few unpleasant surprises lay ahead of us. First we discovered that the trailhead had been moved forward 4.6 km. My information, obviously outdated, indicated we could drive up a road to the trailhead, but when we got there we found that road was locked and gated due to environmental concerns. Despite the added distance, we set off anyway.

Our hike up the road went quickly, and we soon arrived at the end of the road and the start of the trail, a 4WD road that had deteriorated in some sections. The sky was overcast, and the clouds extended nearly to the base of the mountains so there was little to see. After starting, it began to rain lightly and worsened as the day went on. The large lens of my camera collected rain like an inverted umbrella. Despite constantly wiping my lens, the unrelenting rain would ruin most of my photos.

Two hours after starting out, it was obvious we had to abandon our original plans to reach the col. Snow choked the trail at the end of the valley, and the col lay over 2 km away. If we wanted to climb Loaf, we would have to ascend the slope. But there was only one break in the cliffs above us, and the low cloud ceiling prevented us from seeing what lay beyond them. However, I think we were all glad to leave the trail and start climbing. When we reached a small bowl, we found cliffs on our right, a shallow gully full of snow ahead and a steep slope of snow and rock and our left.

Up until this point, I had been leading, but now Andrew took over and headed up the left slope. He was in his element and quickly outdistanced us. After easily negotiating a couple of small cliff bands, we headed up a long, steep, snow-covered slope. The snow was soft, and we kick-stepped to ascend. As we climbed, the fog closed in. Looking back, Andrew remarked that the slope we came up looked "spooky." Indeed it did. A slip here, and you'd be sliding into a wall of fog.

Eventually we were able to leave the snow and set foot on solid rock. However, the rock was steep and wet. While the three of us hung back, Andrew continued for a short way seeking a way up. It didn't look promising, so we all turned back. By this time, our boots were soaked and everyone, I suspect, was literally getting cold feet.

I started down but found I wasn't digging into the snow very much. I didn't put much faith in my ice axe to stop me if I were to start sliding. I turned my back to the sky, or rather the fog, and started kick-stepping down backward on all fours. Dinah and Linda had no trouble following in my steps as if walking down a staircase. Andrew, like me, descended backward, making his own tracks. I think he was an old hand at this as he soon passed me.

Once we were off the steep snow slope, travelling was easier, and we were soon back on the trail. Despite the long hike back, time passed quickly as we chatted and laughed all the way to the car.
Postscript: Three years later, Dinah and I returned with Grant Myer to successfully climb Loaf Mountain and Spionkop Ridge.

We had to hike the 4.6 km up this road before getting to the trail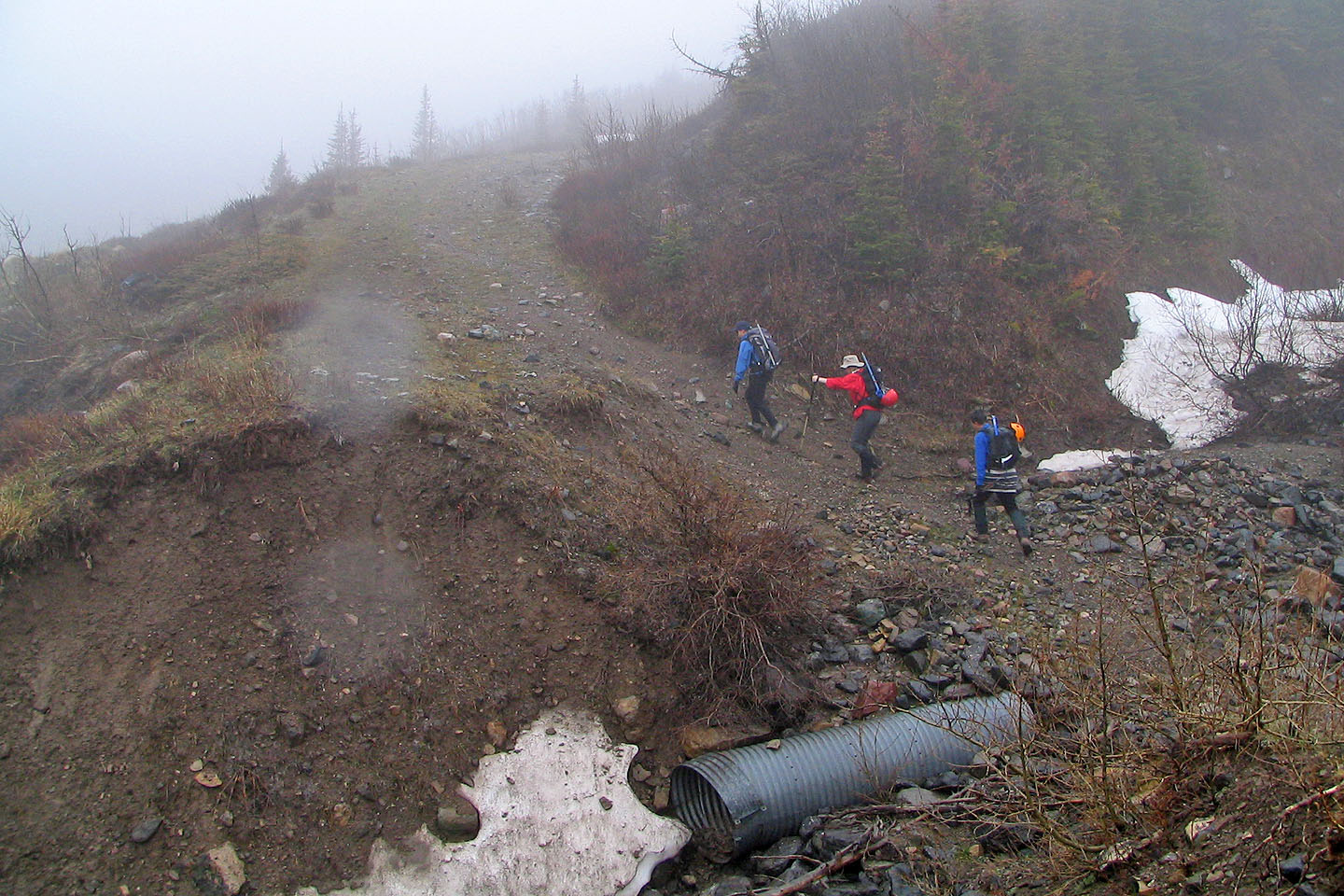 We left the pavement and followed a dirt road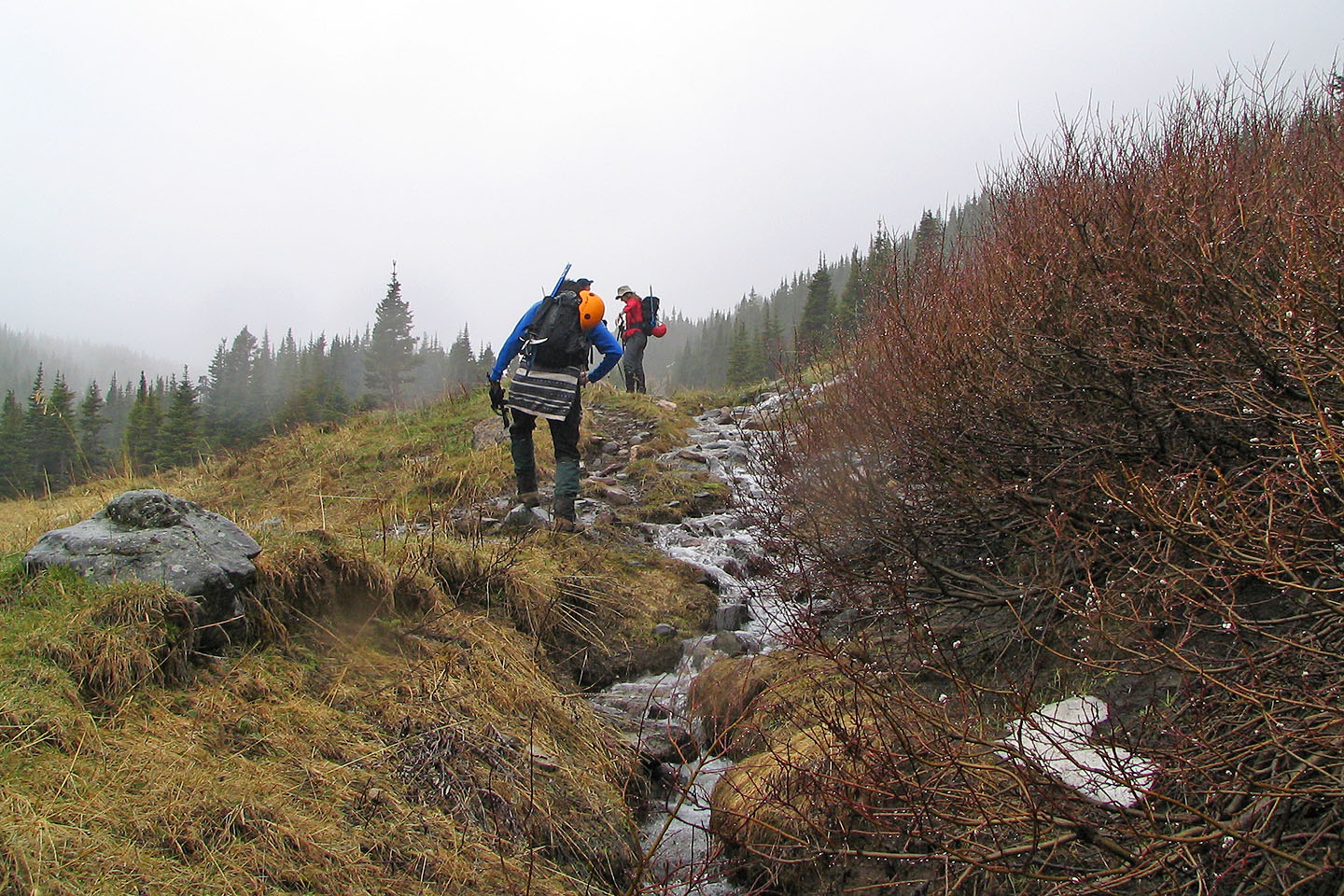 On trail now, we hiked alongside a run-off that feeds into Spionkop Creek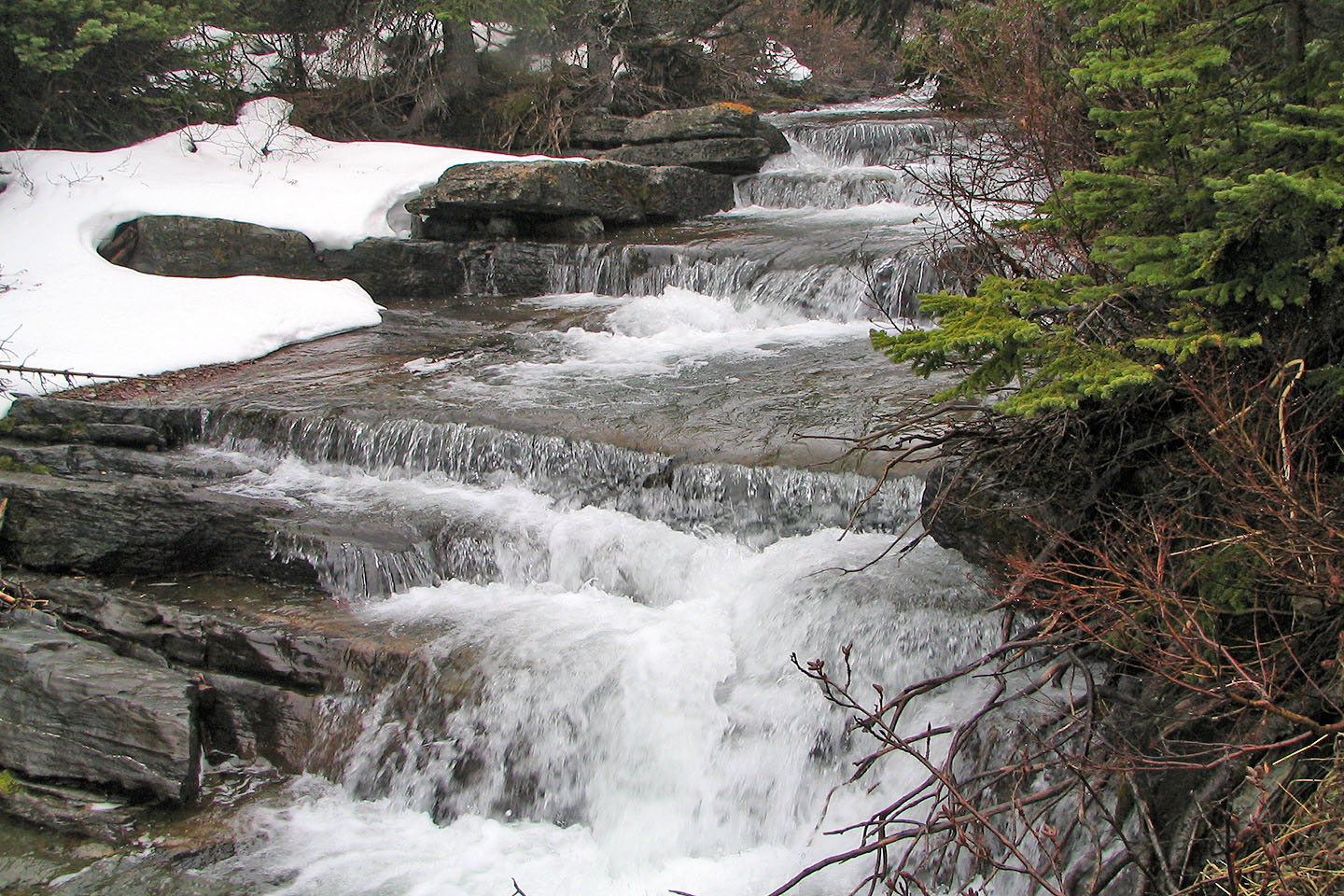 Spionkop Creek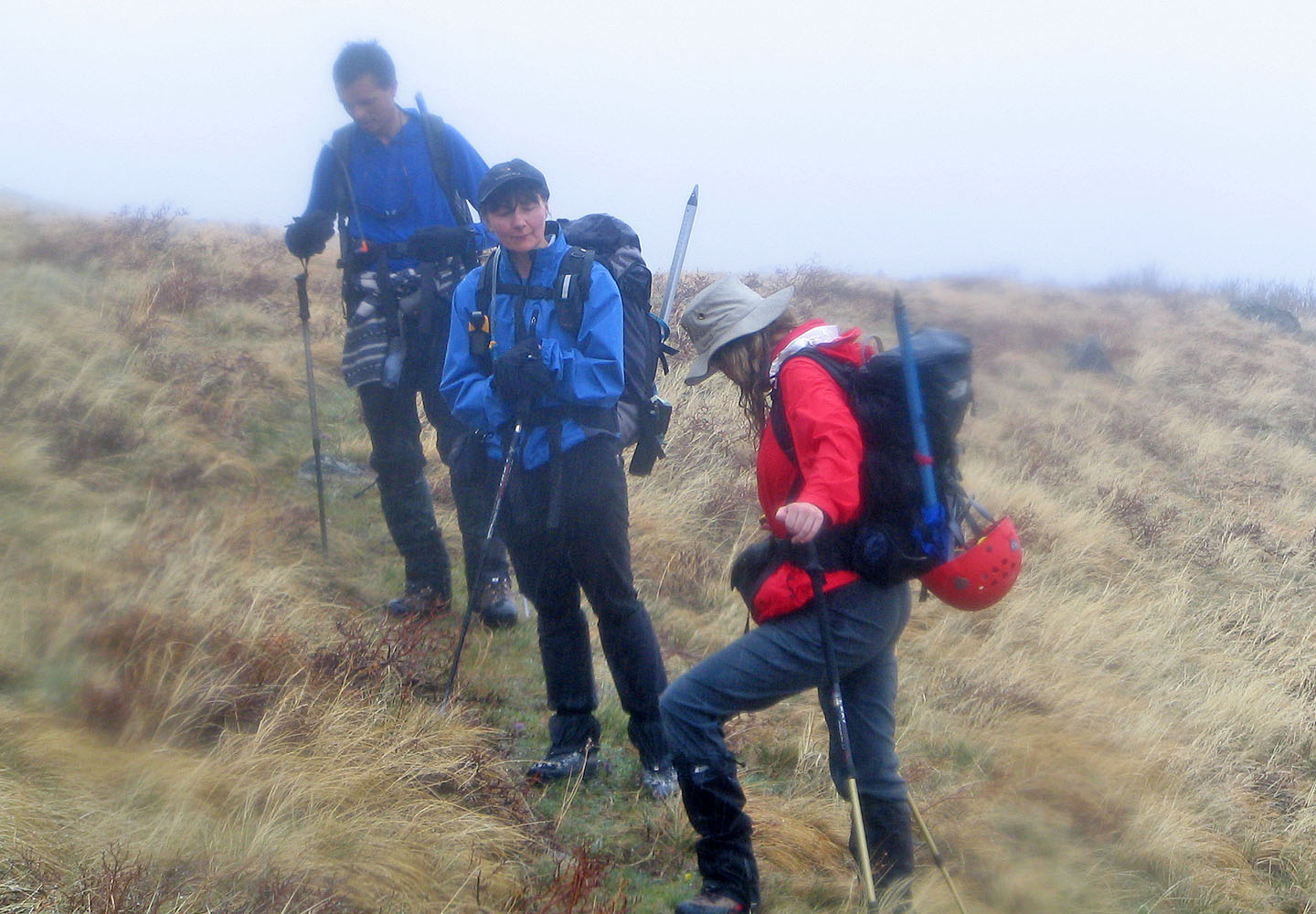 Less than two hours into the trip and already we look bedraggled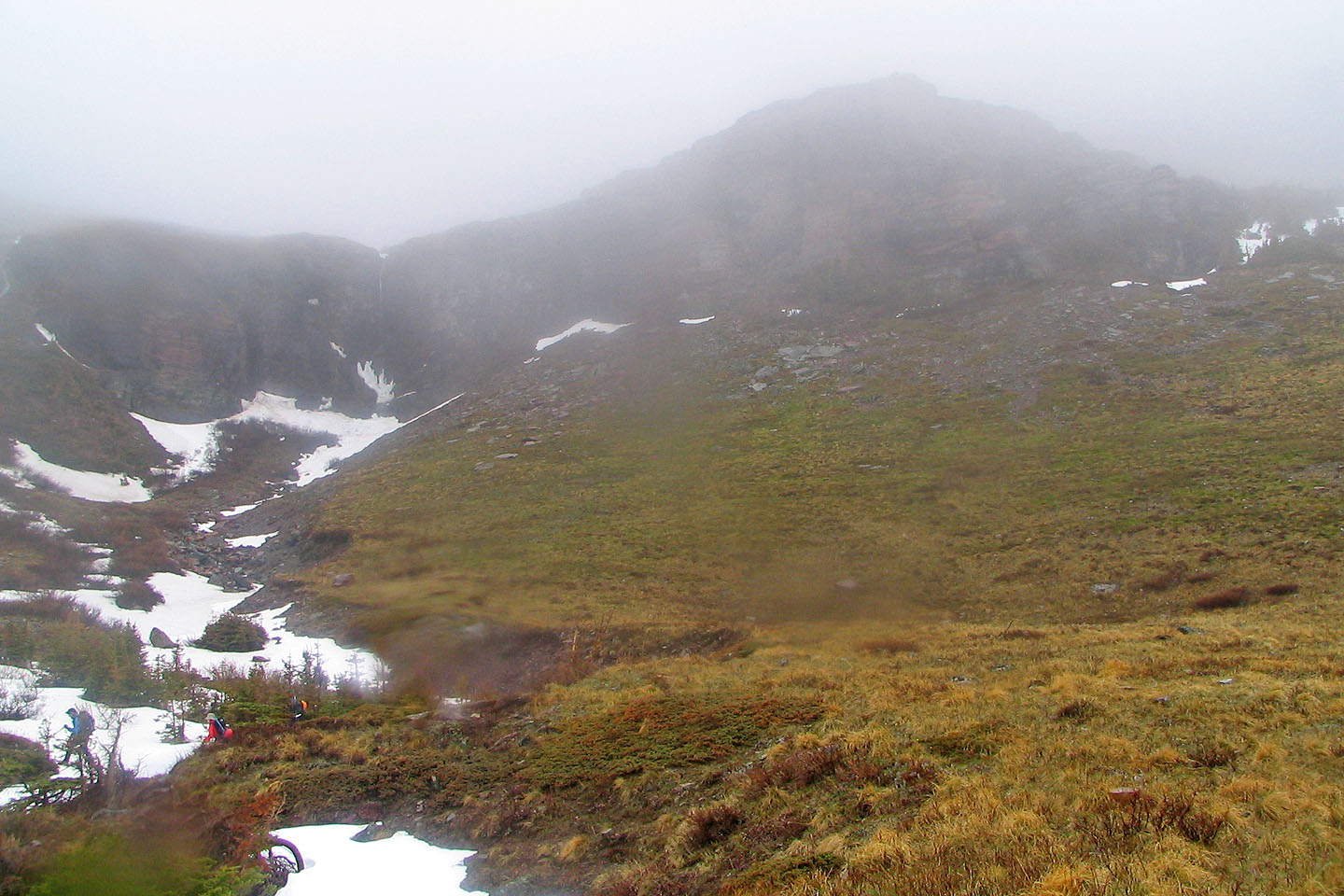 Dinah, Linda and Andrew (lower left) cross a drainage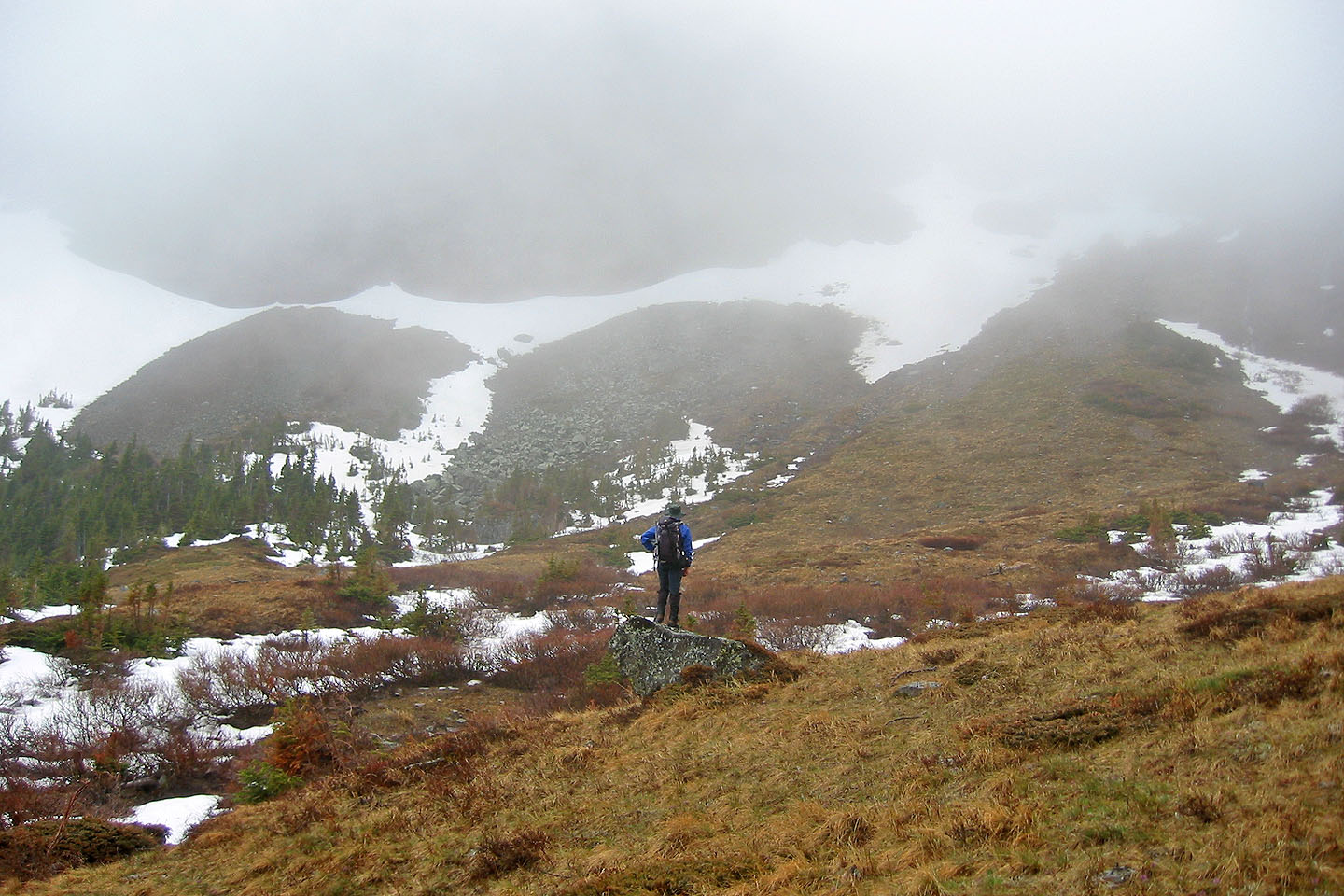 Looking for a way up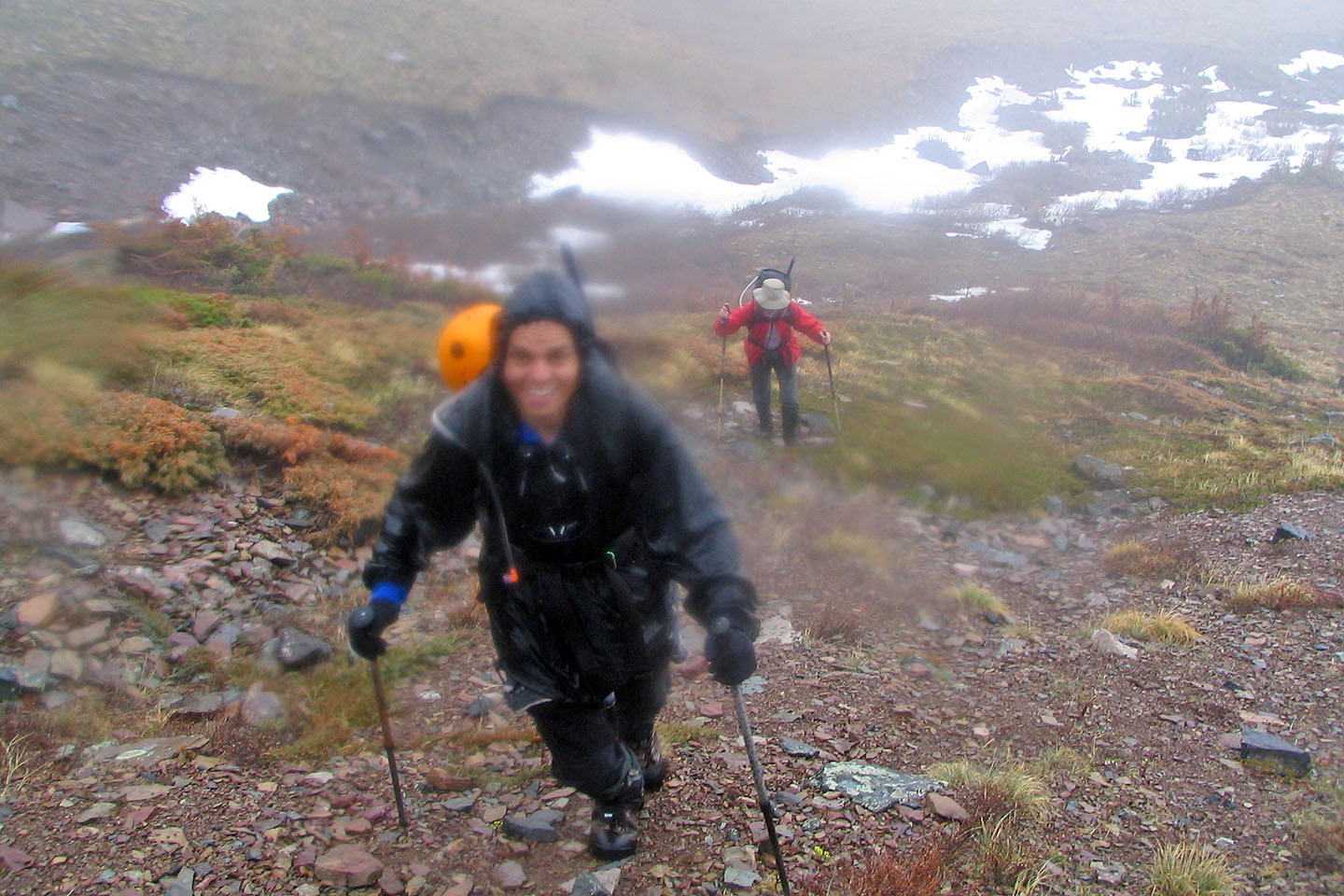 Hiking up the break: despite the miserable conditions we were all in good spirits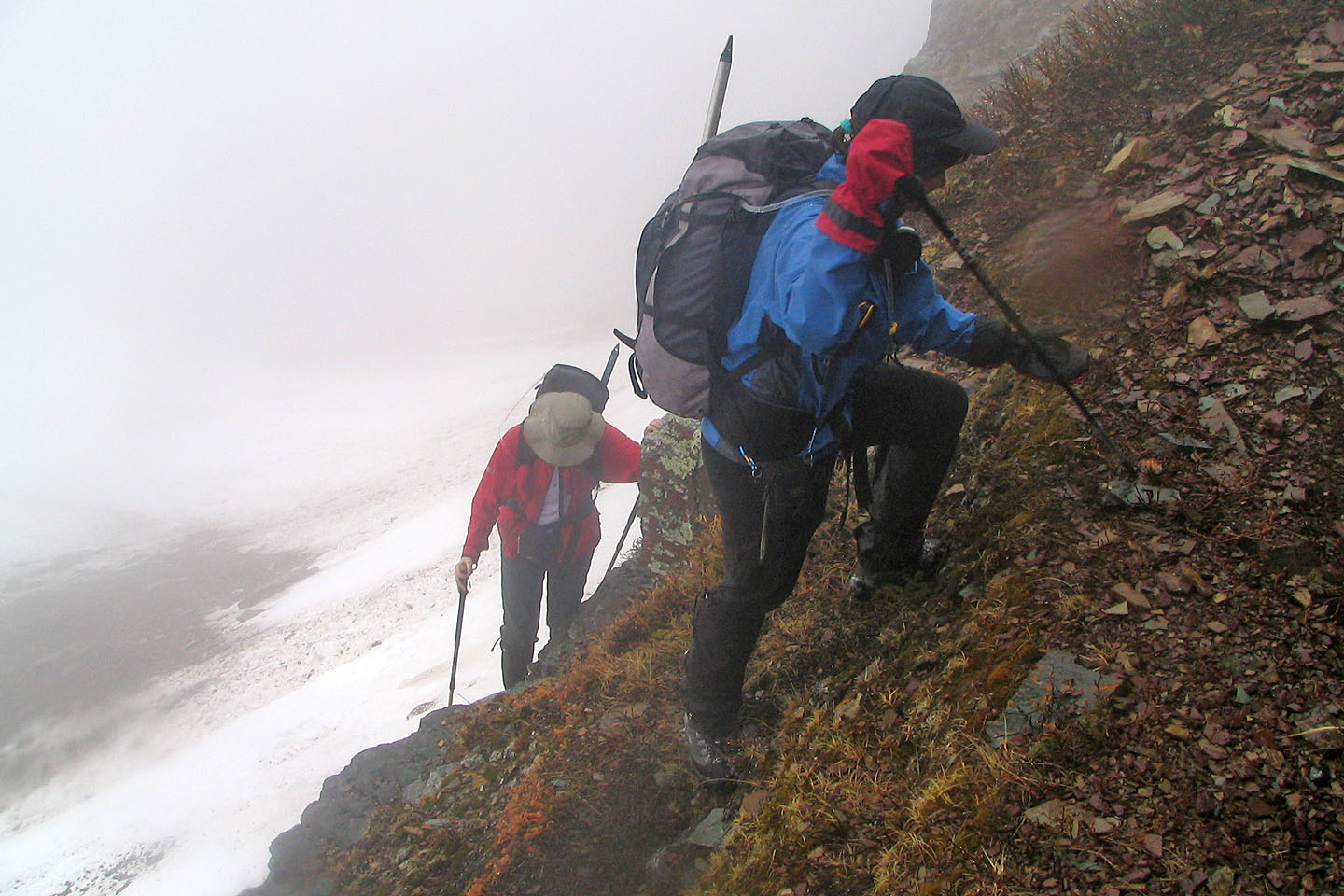 Going up a cliff band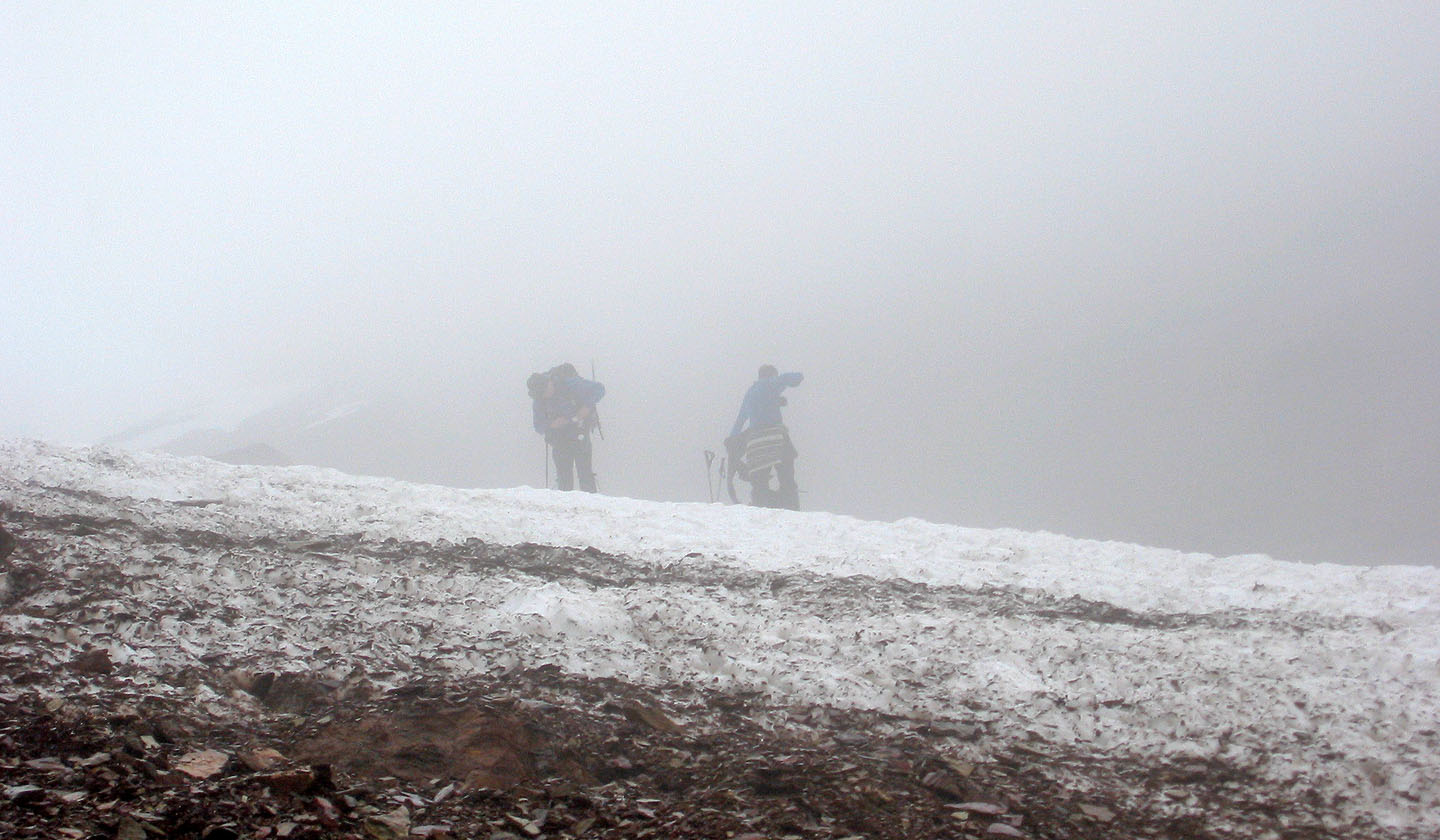 Taking a break in the fog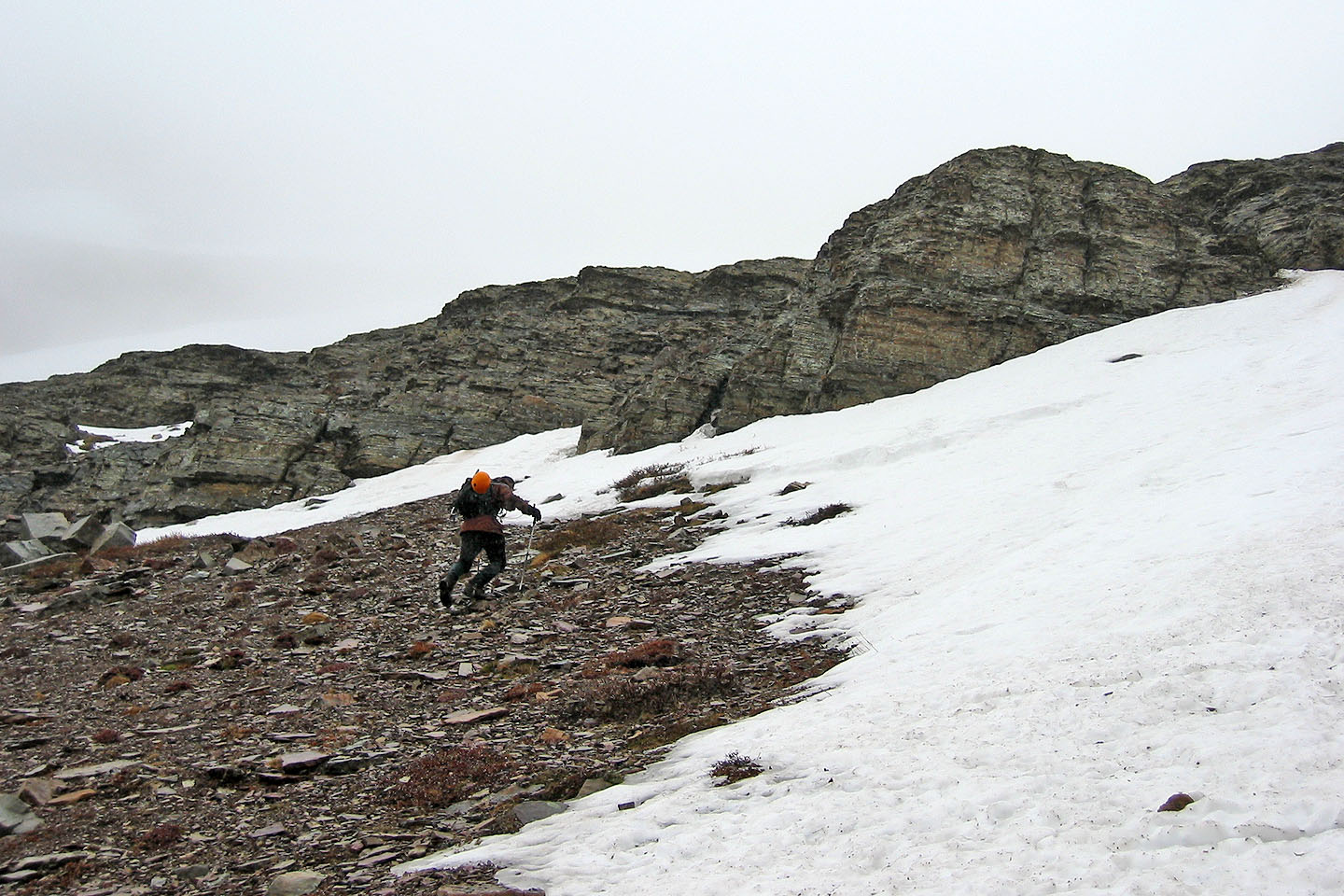 Andrew looks for a break in this cliff band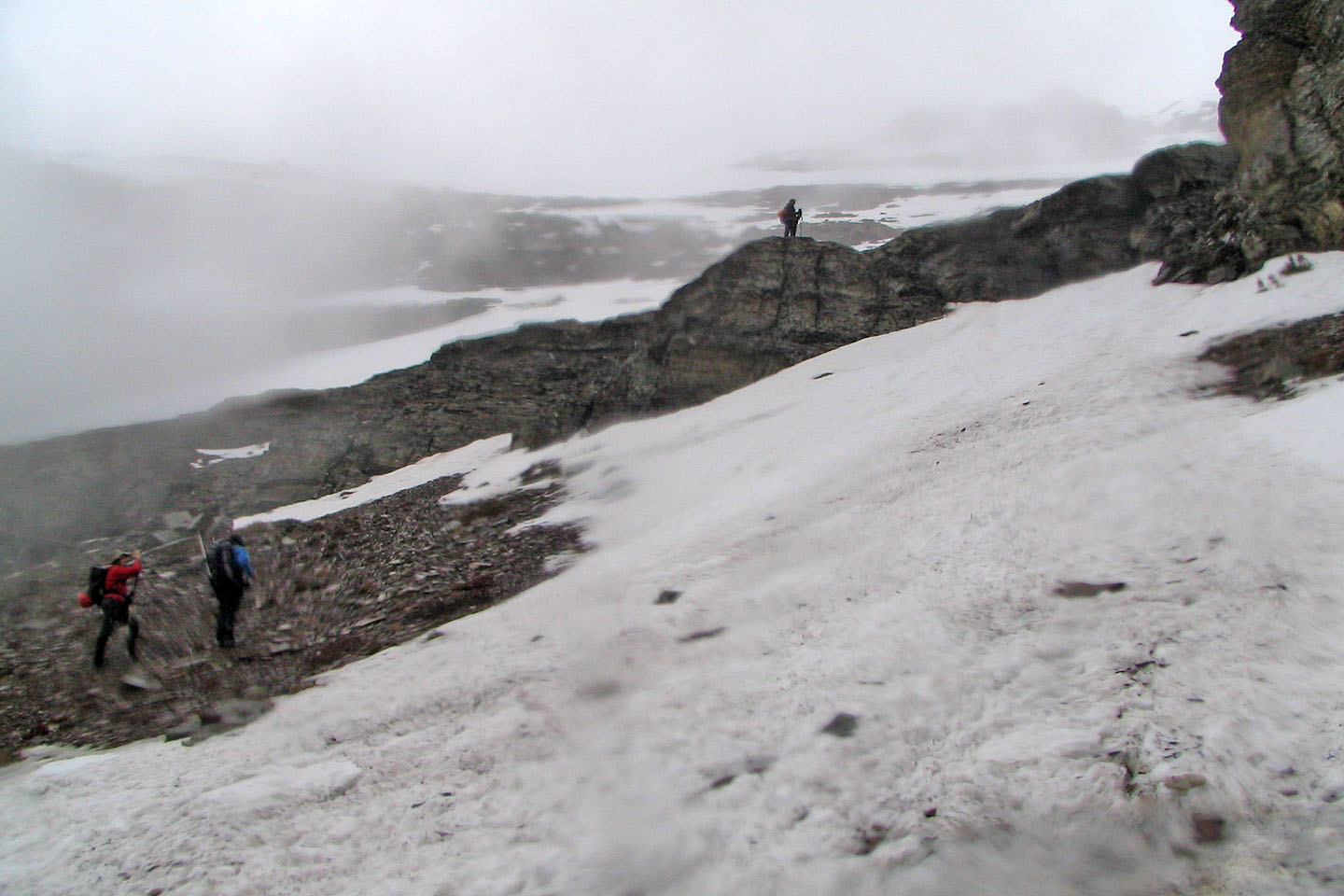 Andrew leads the way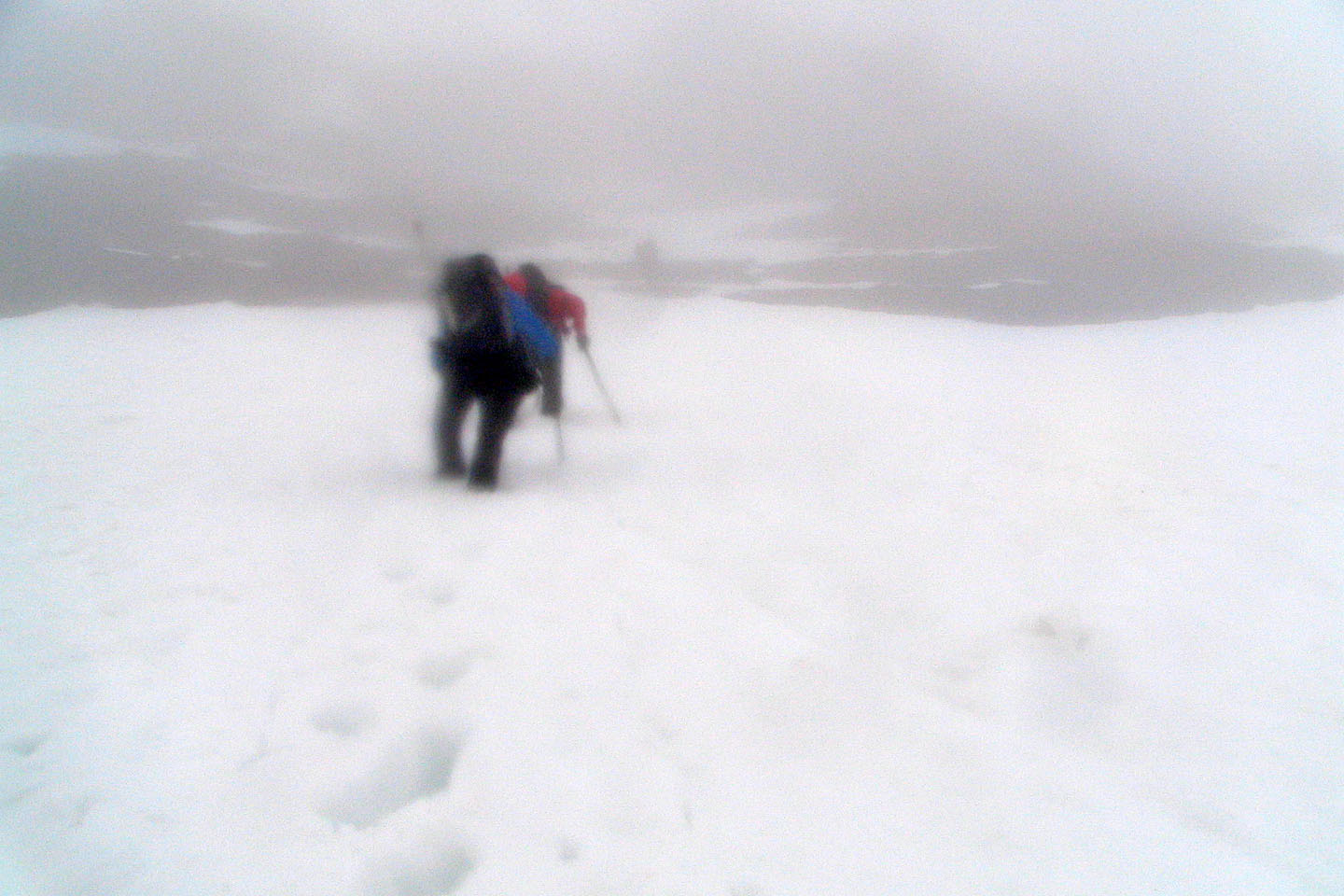 Andrew, just a shadow in the fog, waits ahead while we climbed in his footsteps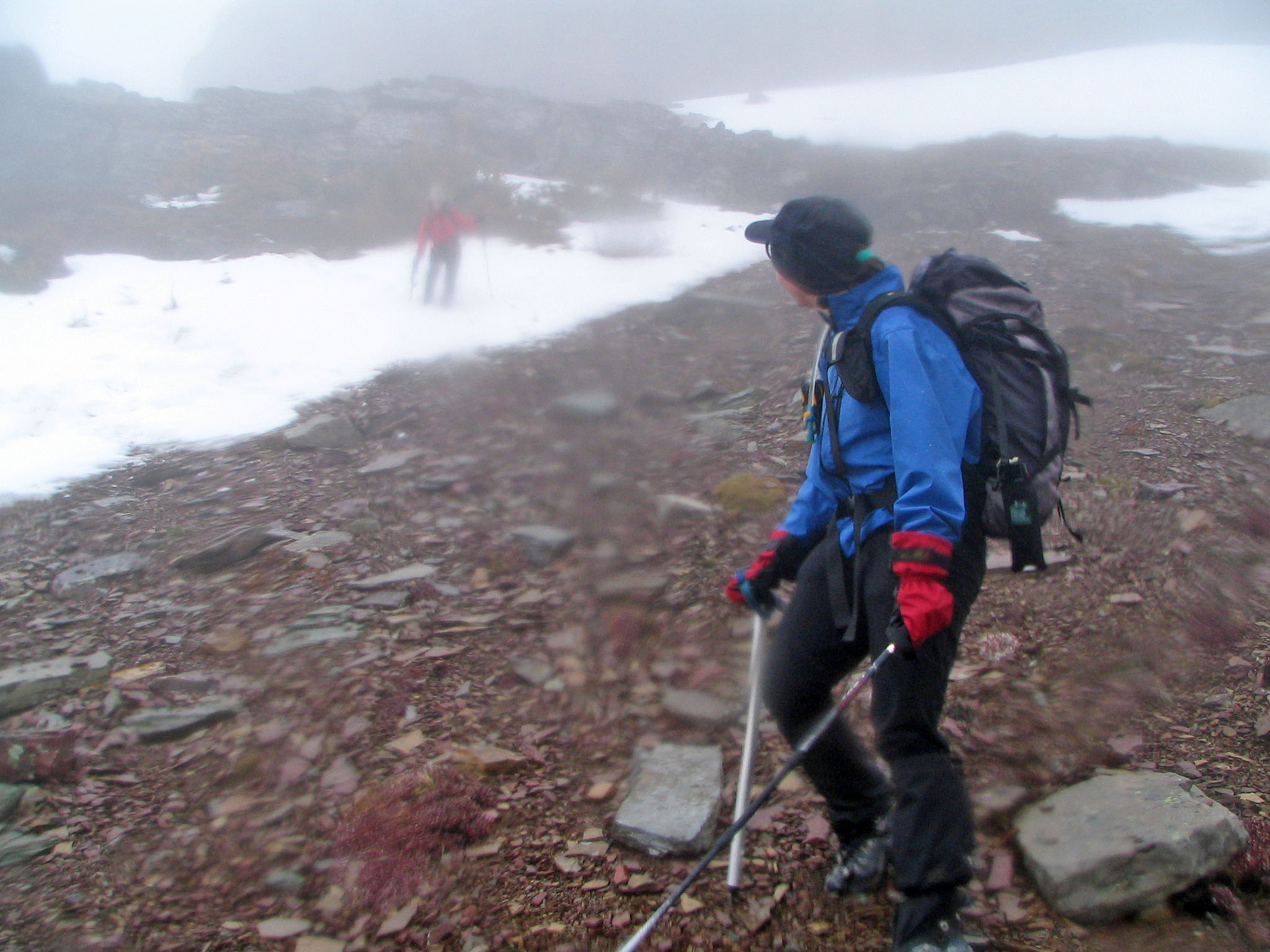 Dinah waits for Linda as she descends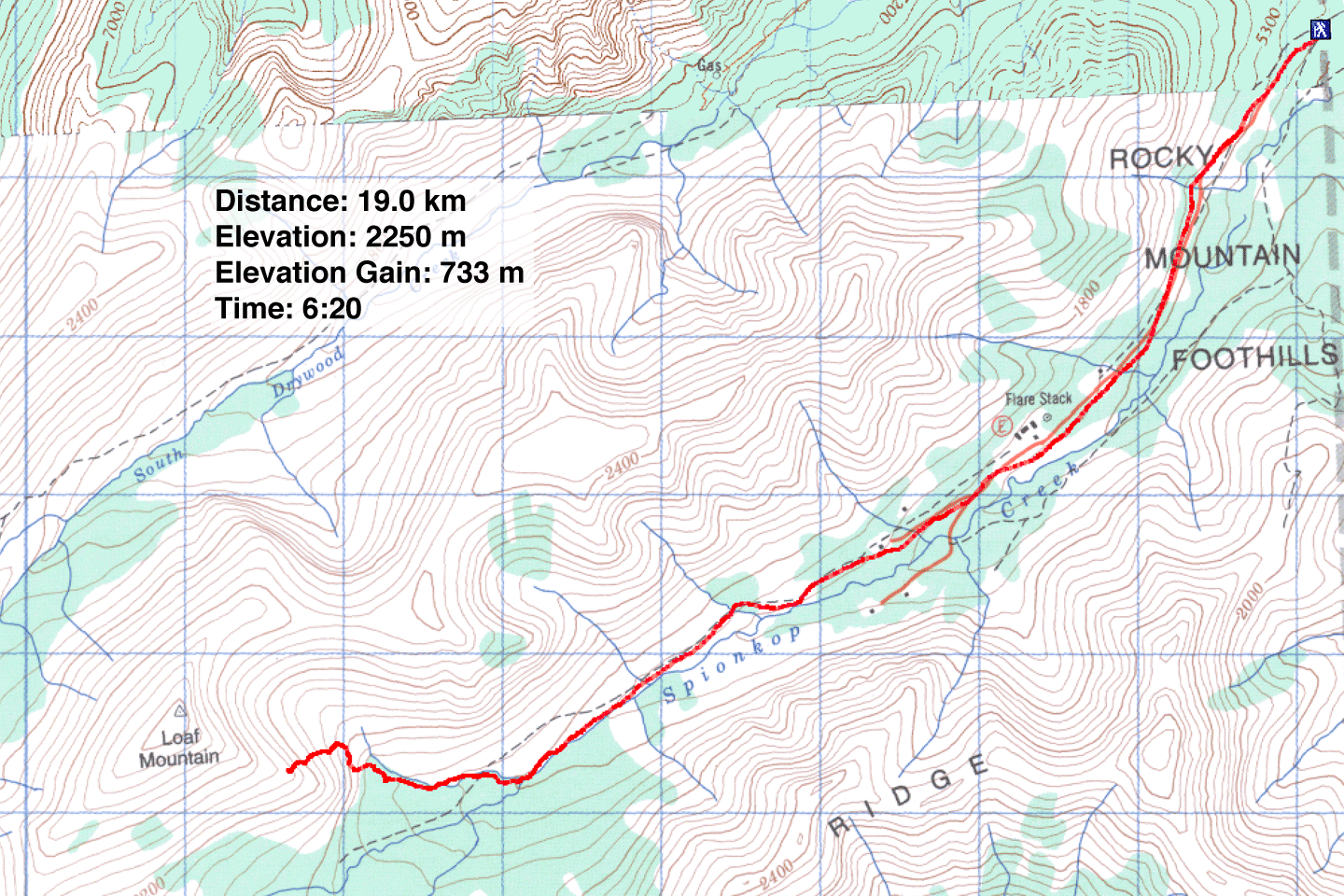 82 G/1 Sage Creek