bobspirko.ca | Home | Canada Trips | US Trips | Hiking | Snowshoeing | MAP | About

Victoria Ridge
Castle Provincial Park, Alberta
July 1, 2007
Distance: 27.3 km
Cumulative Elevation Gain: 1137 m
After reading Andrew Nugara's website account of Victoria Ridge, we've been meaning to see this colourful ridge ourselves. Dinah and I planned to hike the trail to the summit. On our return, however, we wanted to follow the ridge to the col next to Victoria Peak. From the col, we could drop down and take the trail back.
Starting from the gate, we walked to the end of the road and then continued down the trail. After passing Victoria Peak, the trail leaves the valley and begins climbing. The trail climbed for a long time, and we wondered if we were on the right path until we reached a fork. We took the left fork (on an exploratory trip later, we learned the right fork soon ends).
We continued up the trail which cuts high on the slopes of the ridge providing good views. However, we were mostly focused on the distant summit. Eventually we reached the col that separates Victoria Ridge from Victoria Peak and from there followed the trail along the ridgetop.
We reached the summit with great anticipation only to find it was a false summit! The true summit was ten minutes away and 30 m higher. Four hours and 13 km after starting, we reached the true summit.
We didn't stay at the top long because of high winds. While trying to photograph a panorama, I lost my balance several times even though I braced against a rock. Once we finished taking pictures, we headed back to the col.
At the col we left the trail and ascended the ridge. We were expecting colourful scenery and weren't disappointed. The colours jumped out at us. And as we followed the ridge, the scenery kept changing, new surprises after each corner.
When we reached the high point at 071616 – Peakery.com calls this Kensington – we paused to study the ridge that swung around to Victoria Peak. Unfortunately, Dinah's feet were causing her grief, and we decided against continuing to the col west of Victoria Peak. Hiking for Dinah had been uncomfortable since doing St. Eloi Mountain the day before, but now the pain had become unbearable. We retreated back down the high point and dropped down to the main trail.
The trail to the summit is surprisingly good, and I highly recommend it as a hike. But returning along the ridge best displays the colours of Victoria Ridge.
Postscript: The usual start is now closed to the public, and a No Trespassing sign is posted. For the new access, see our hiking route for Victoria Peak.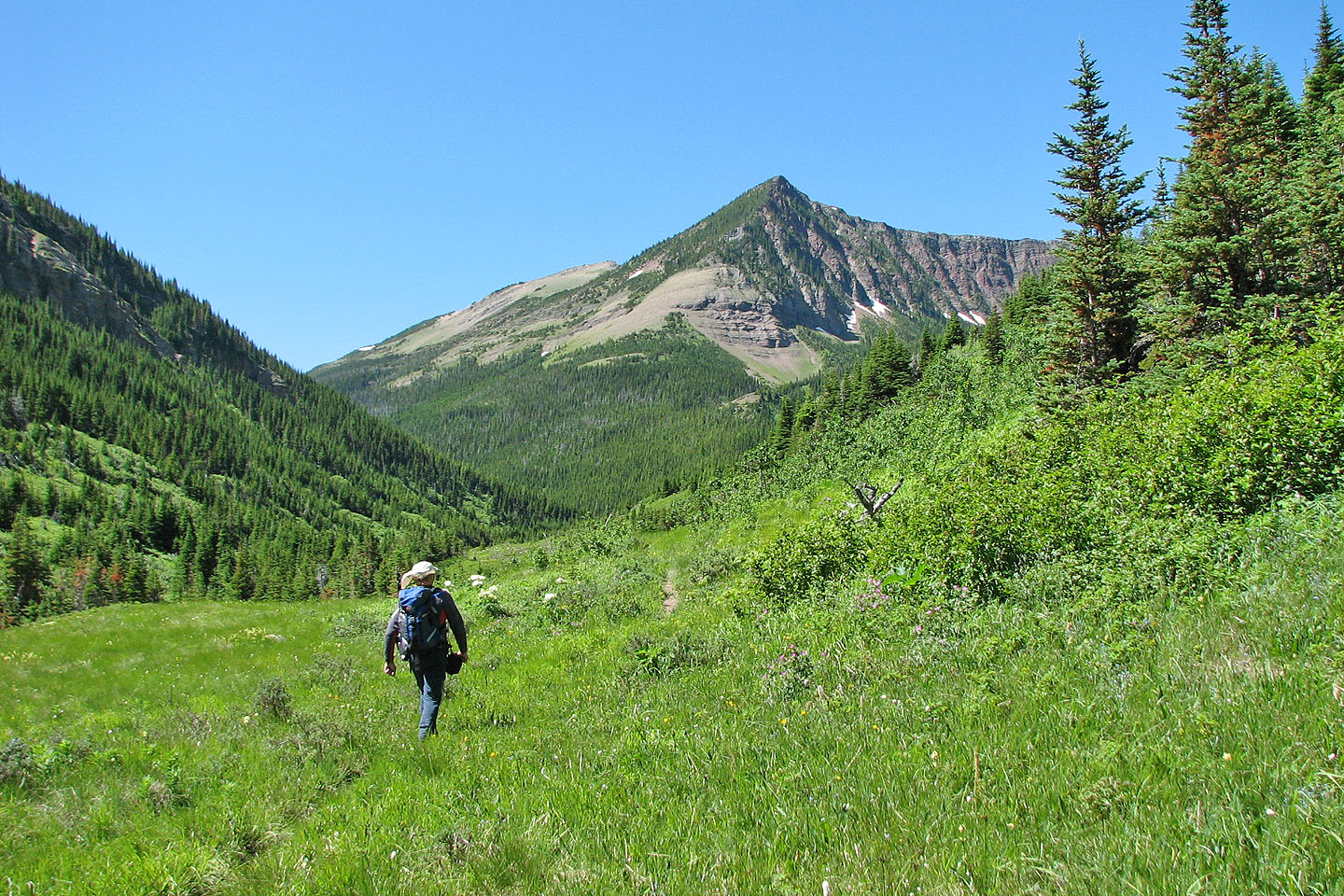 Hiking up the trail with the high point (071616) ahead that we ascended on the return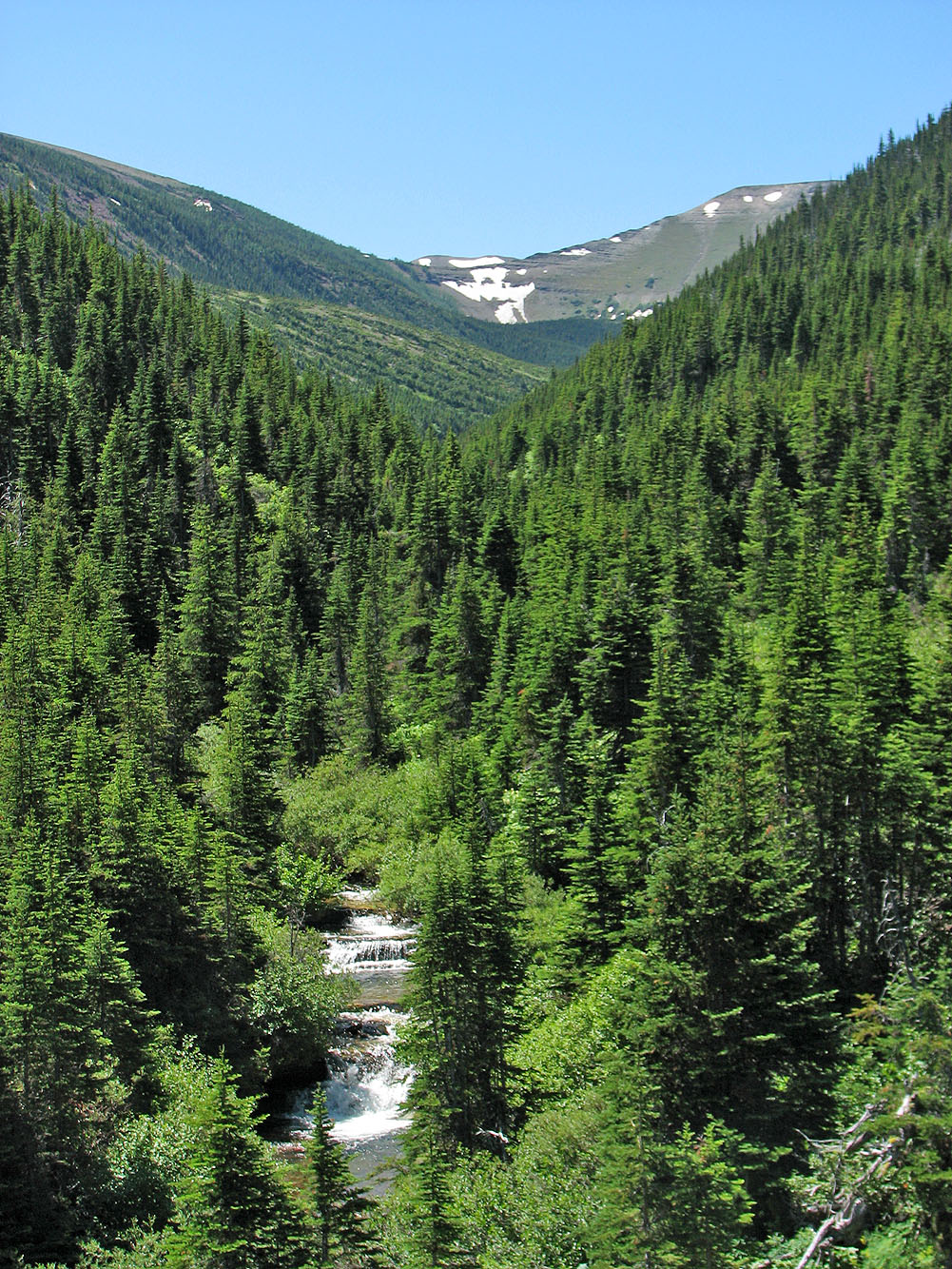 The trail begins to climb steeply above the valley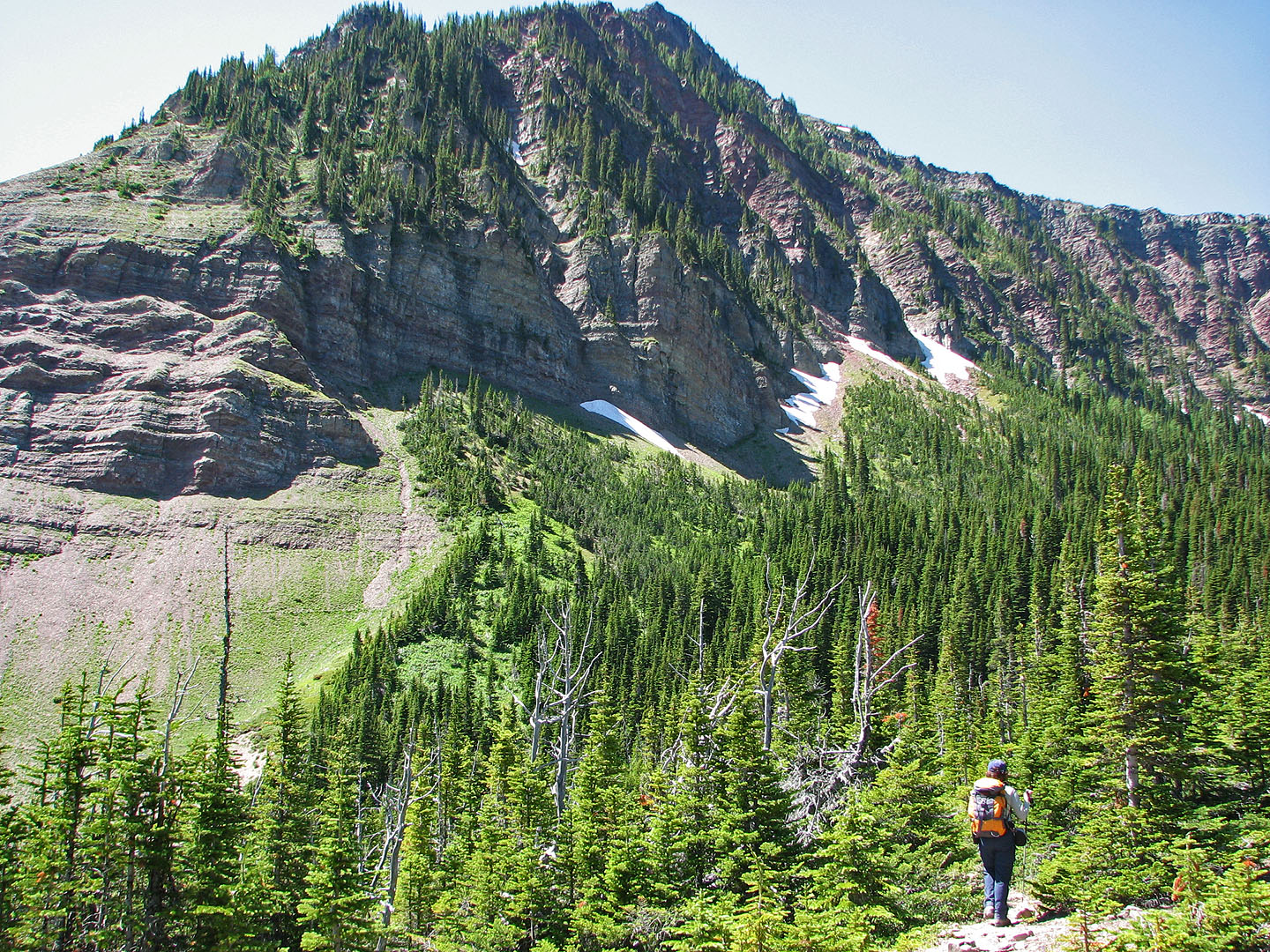 The trail loops to the drainage to the right before cutting across the scree below the high point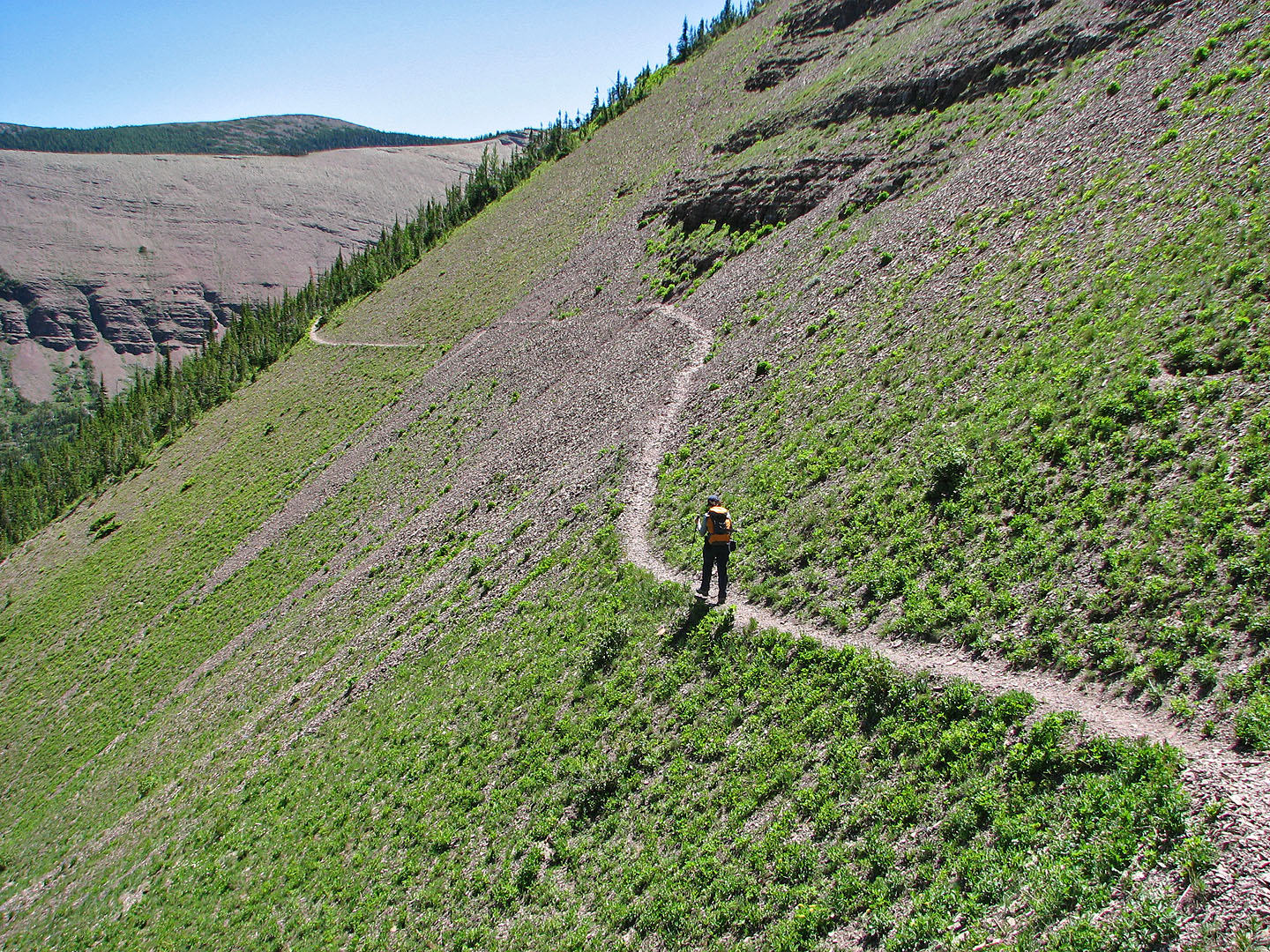 Following the trail in the scree below the high point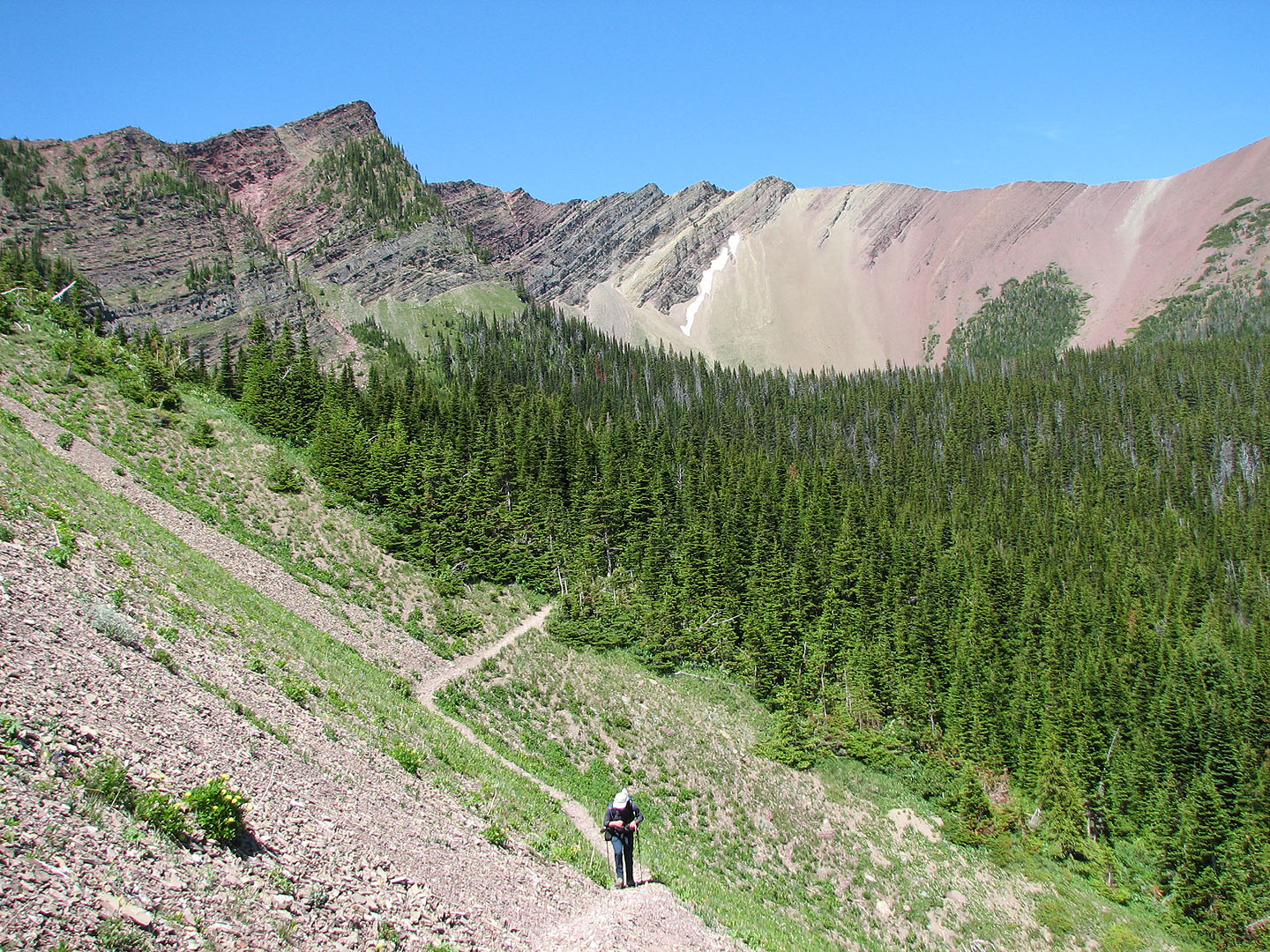 Looking back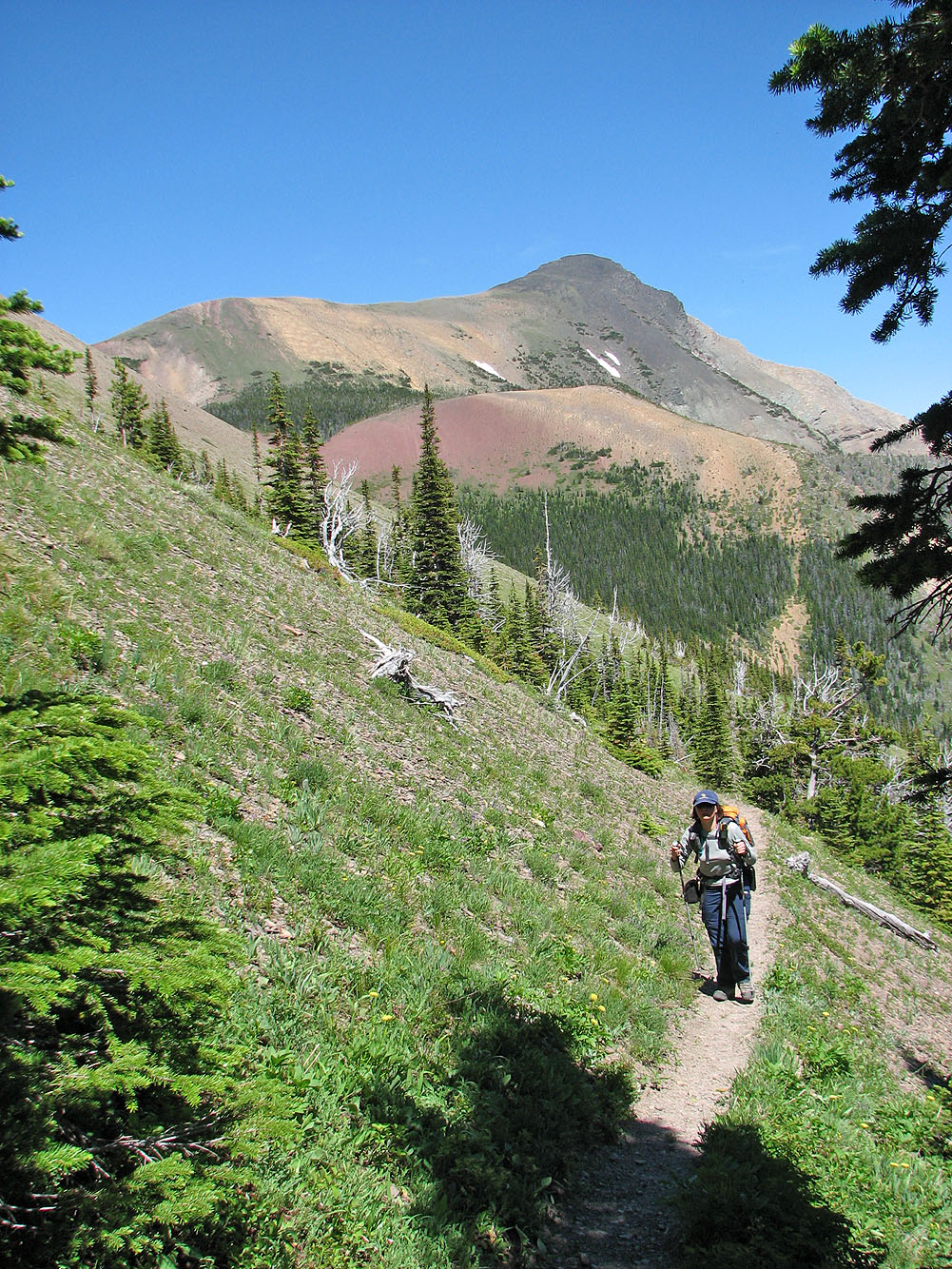 Good views of our surroundings from the trail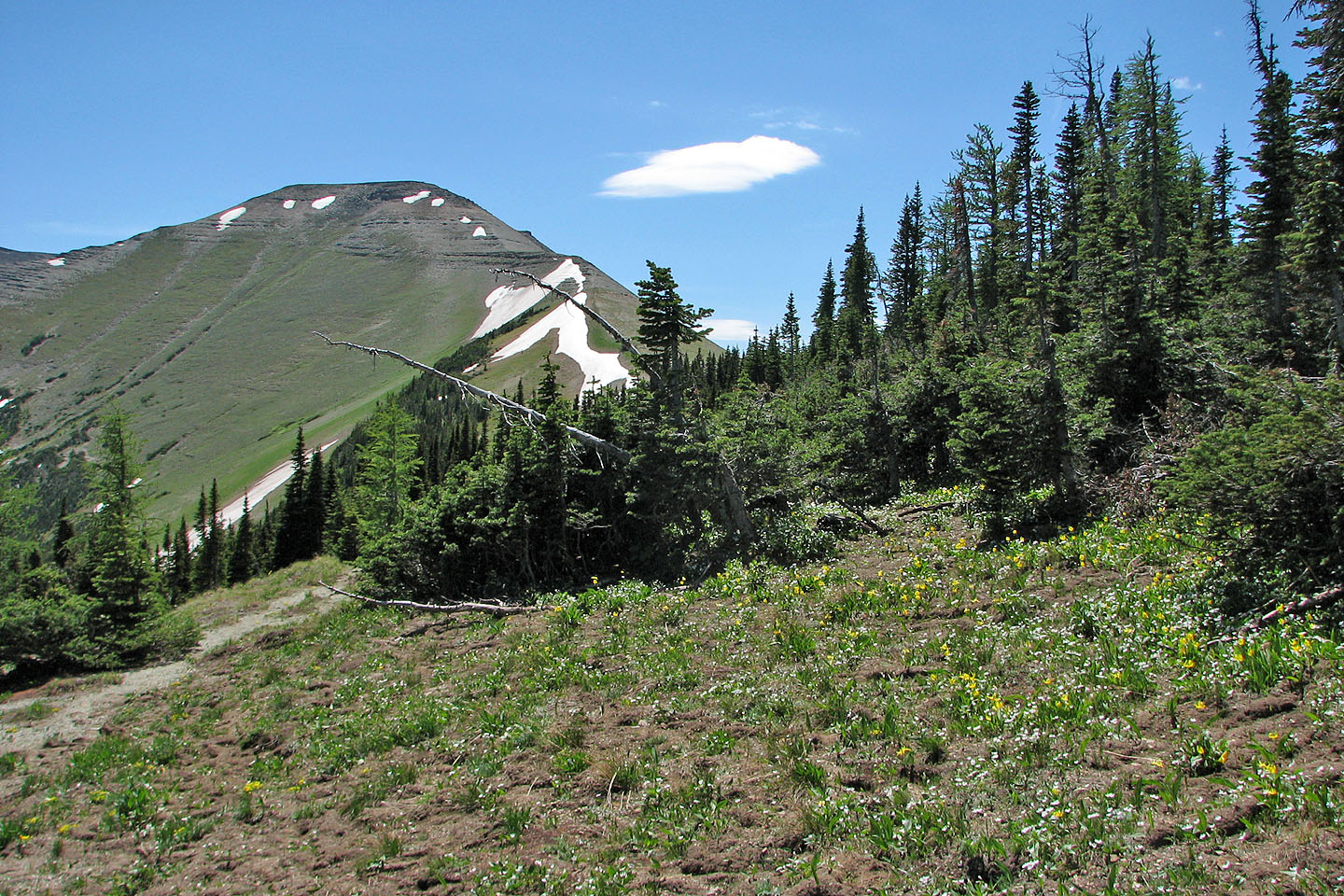 Trail goes through some woods before the false summit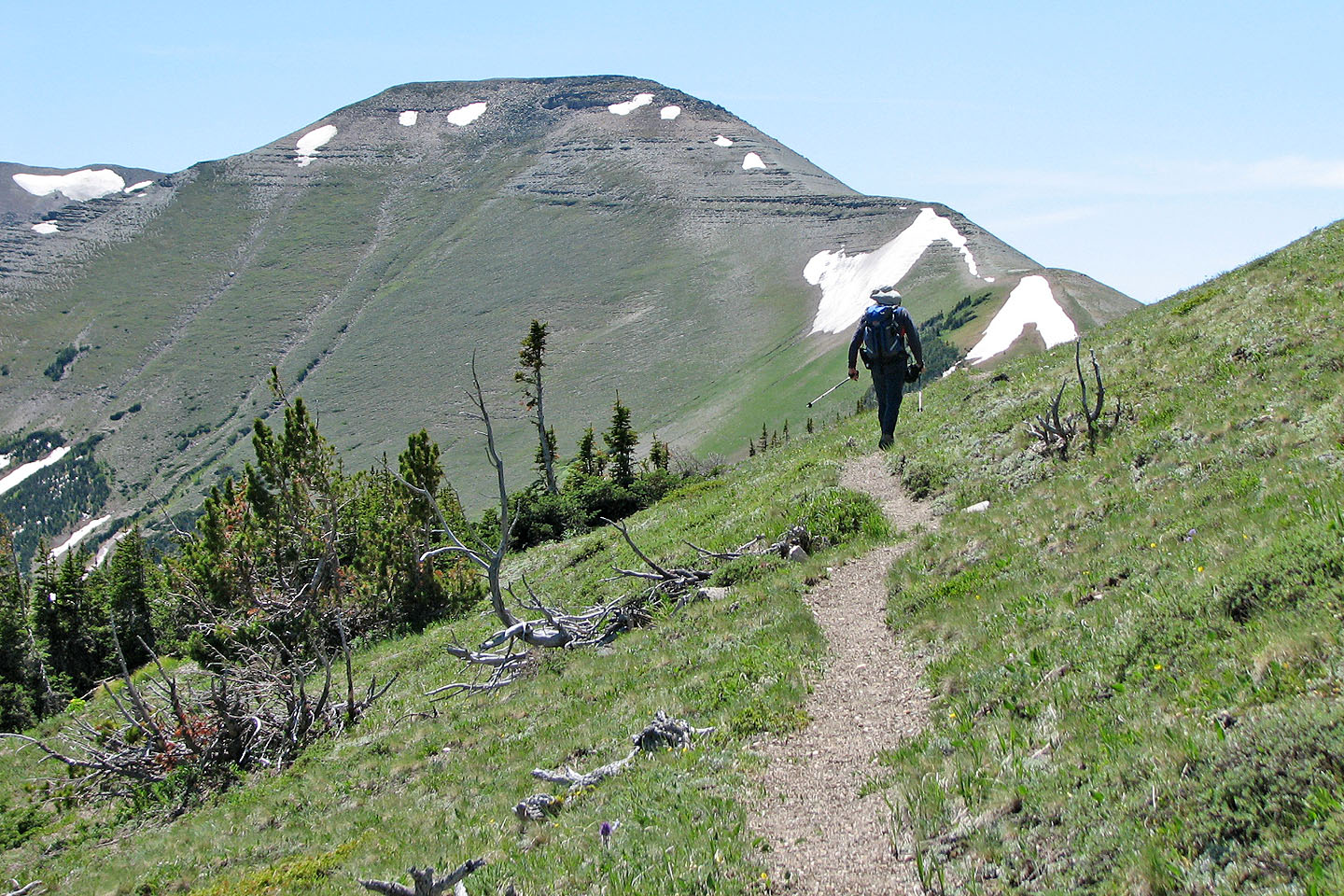 The trail leads to the false summit ahead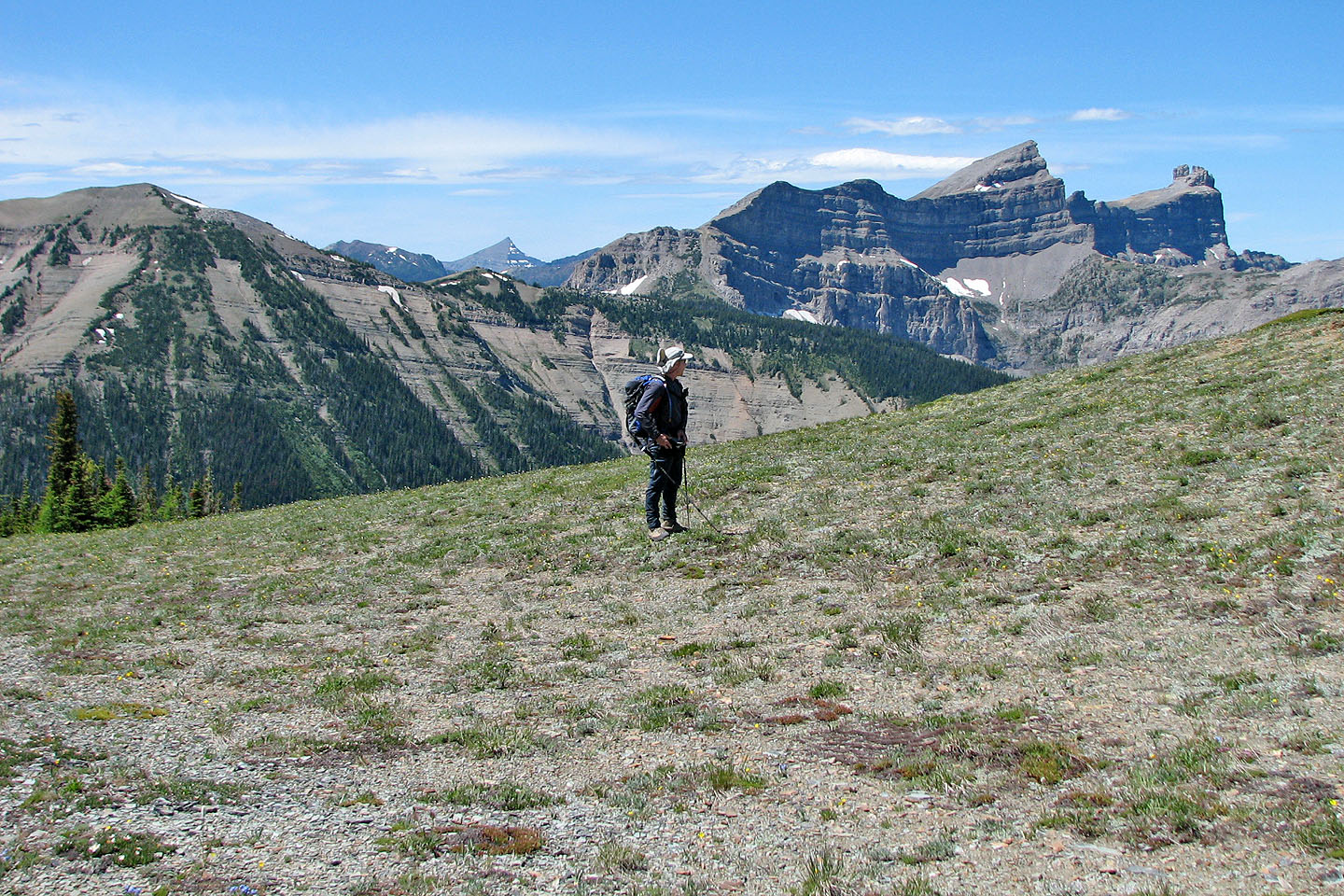 We stopped to look at Castle Peak (mouse over)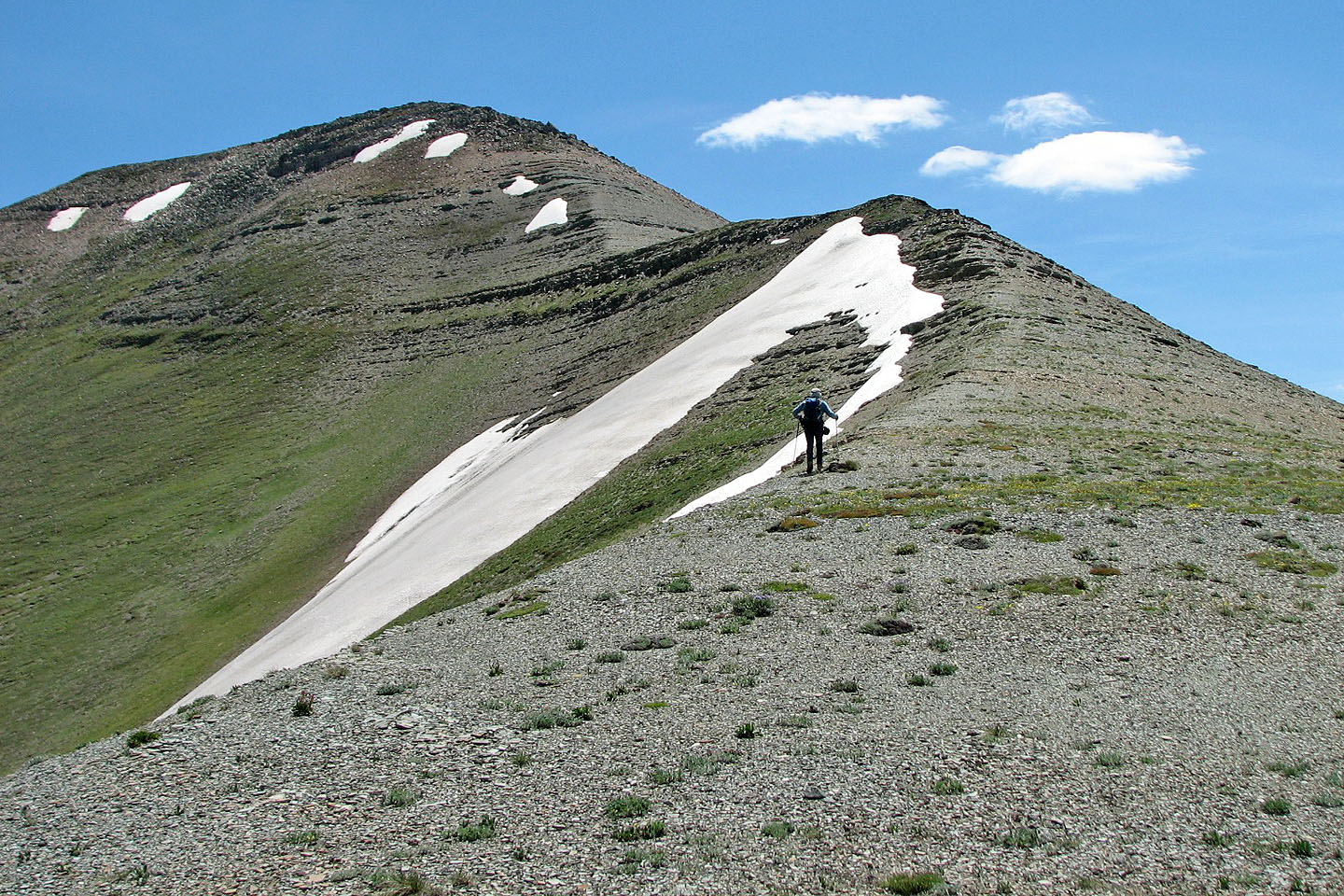 Heading up the false summit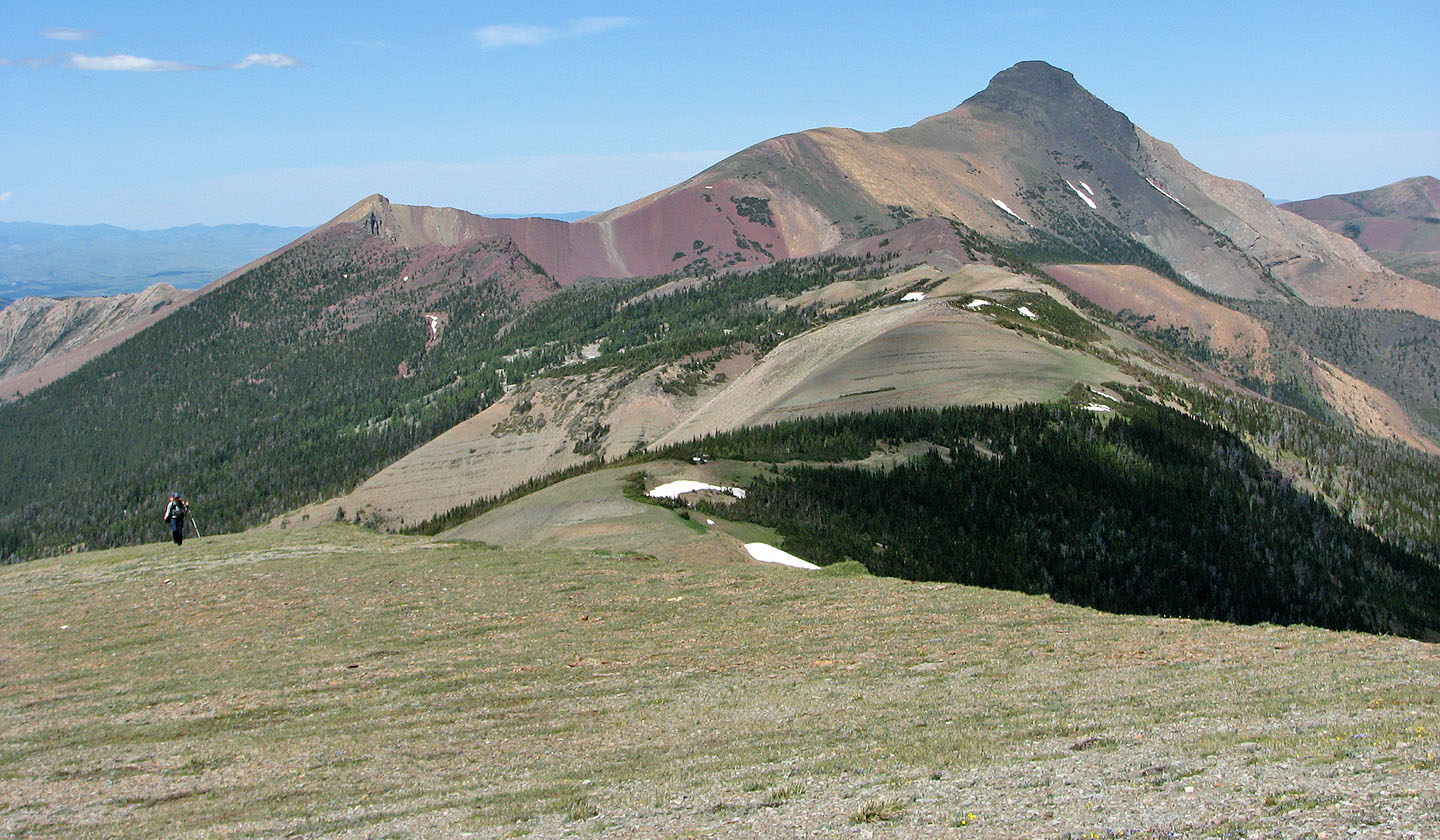 Looking back at Victoria Peak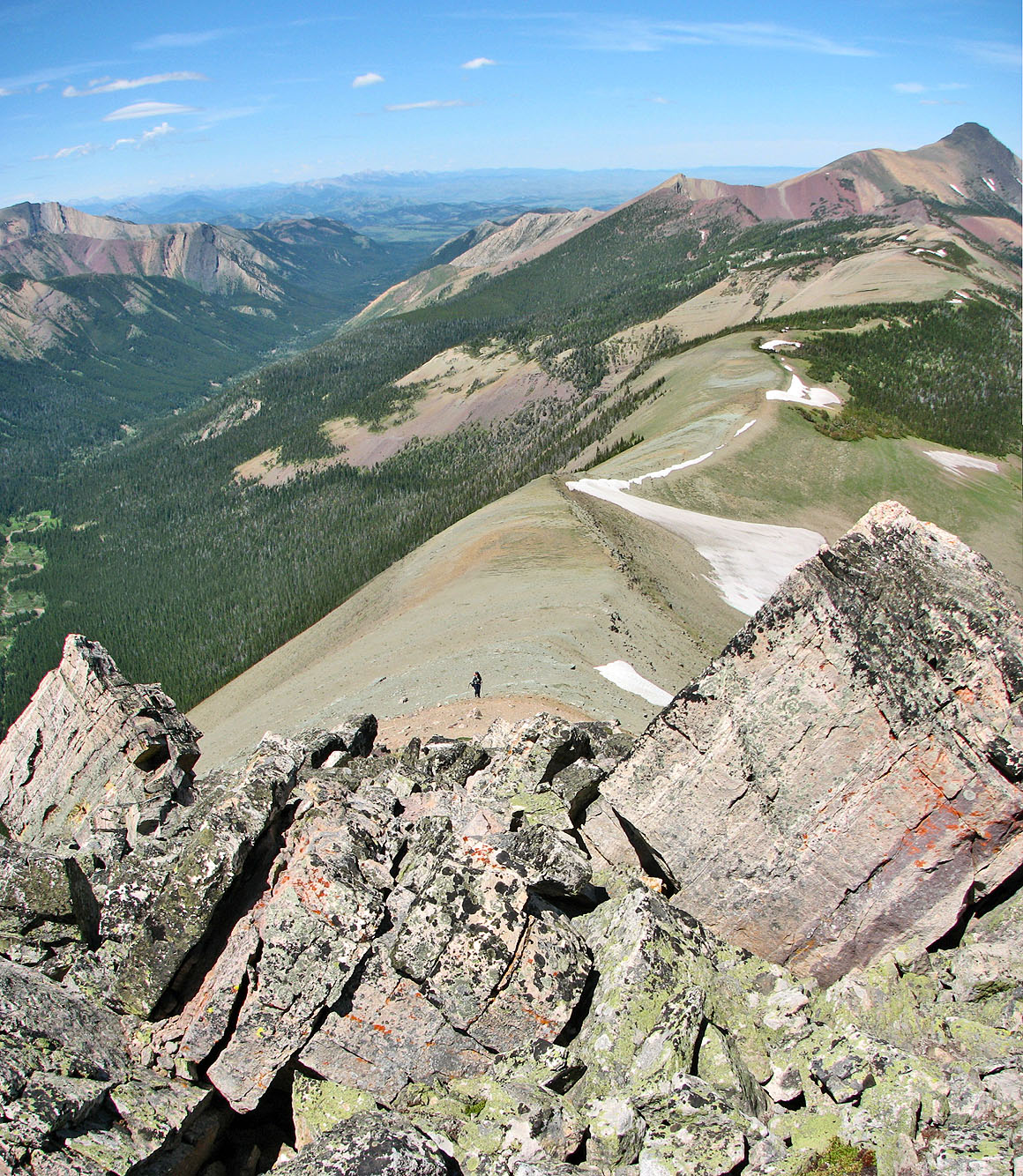 Looking back along the ridge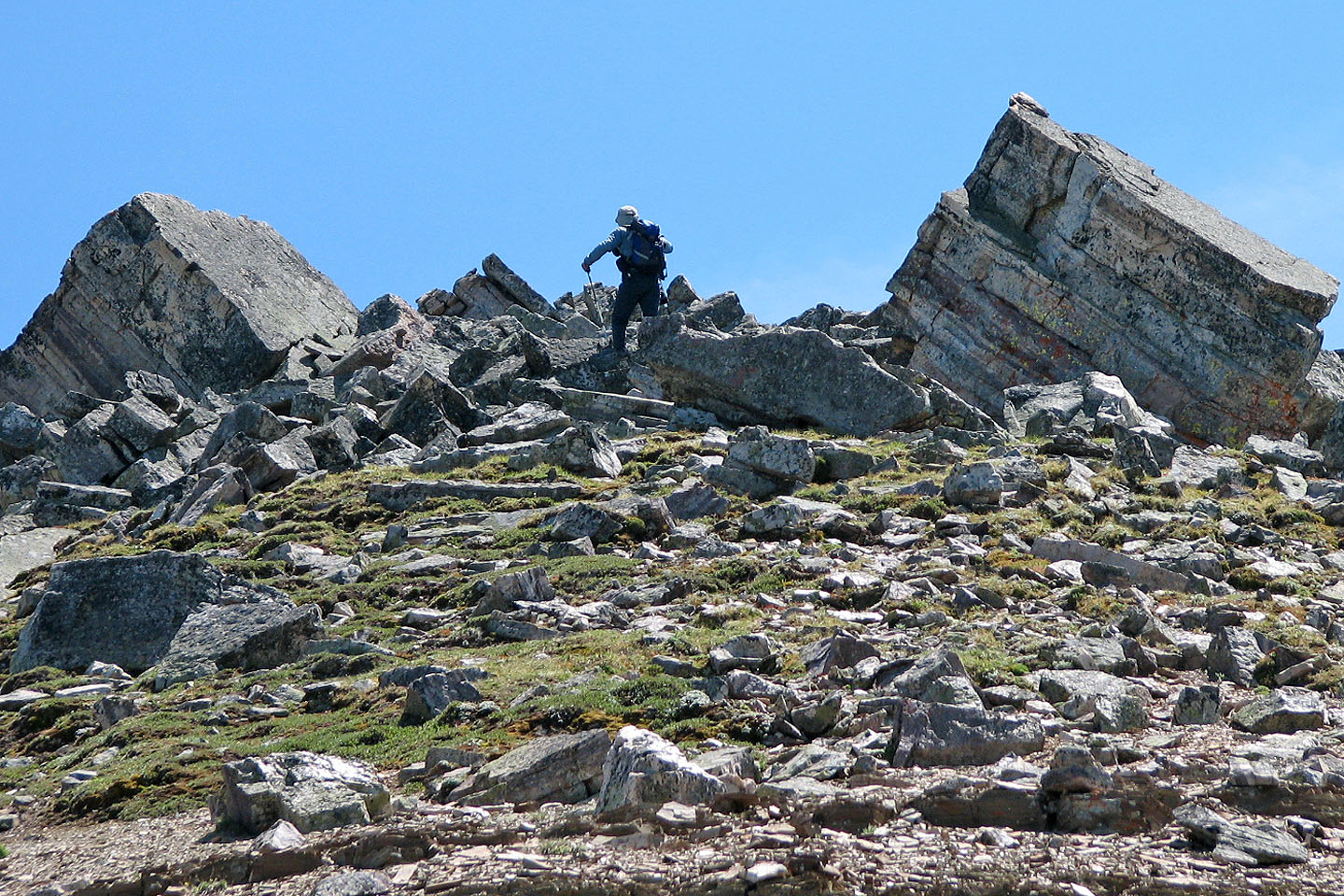 Passing between a couple of boulders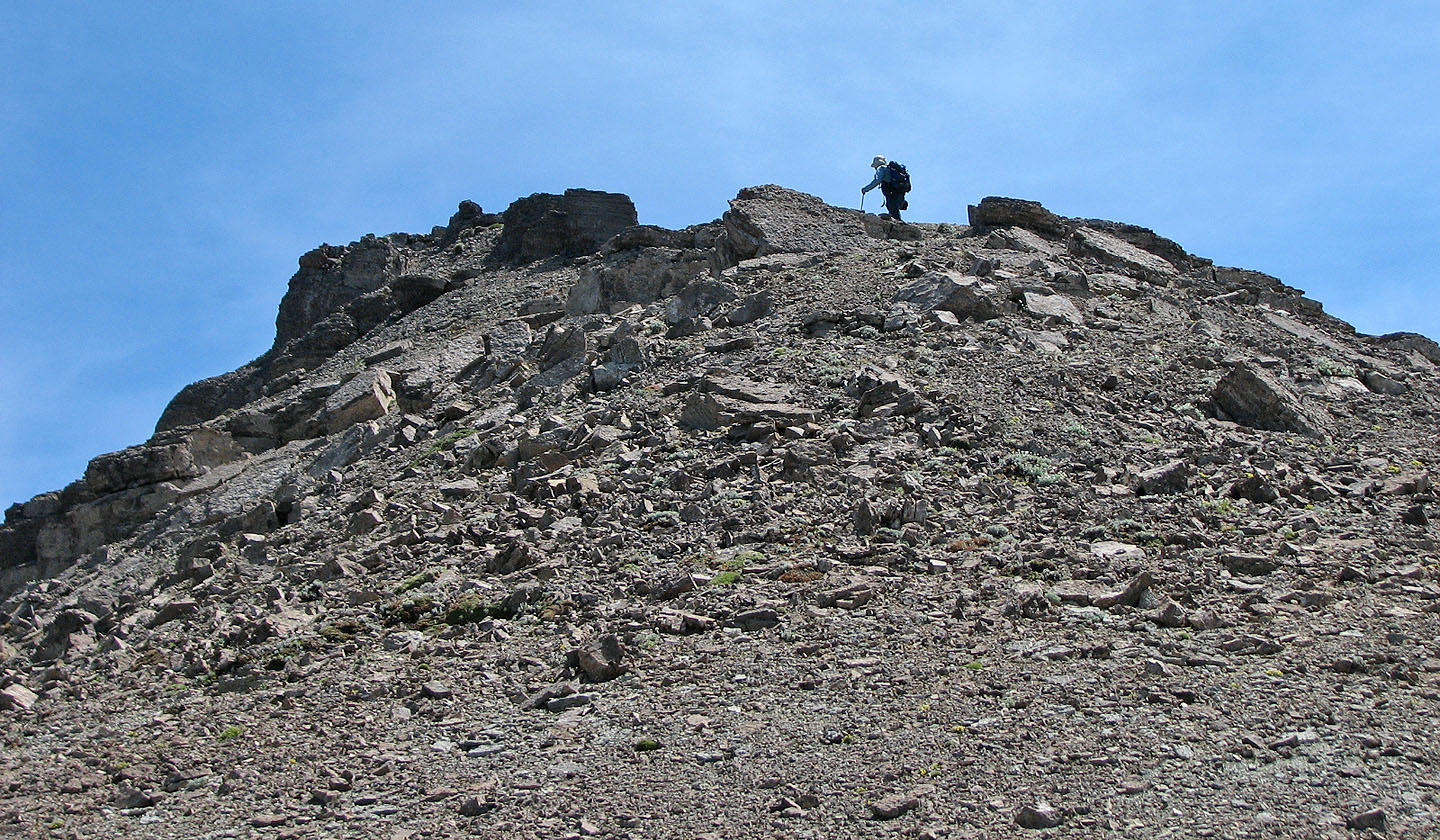 Almost on the true summit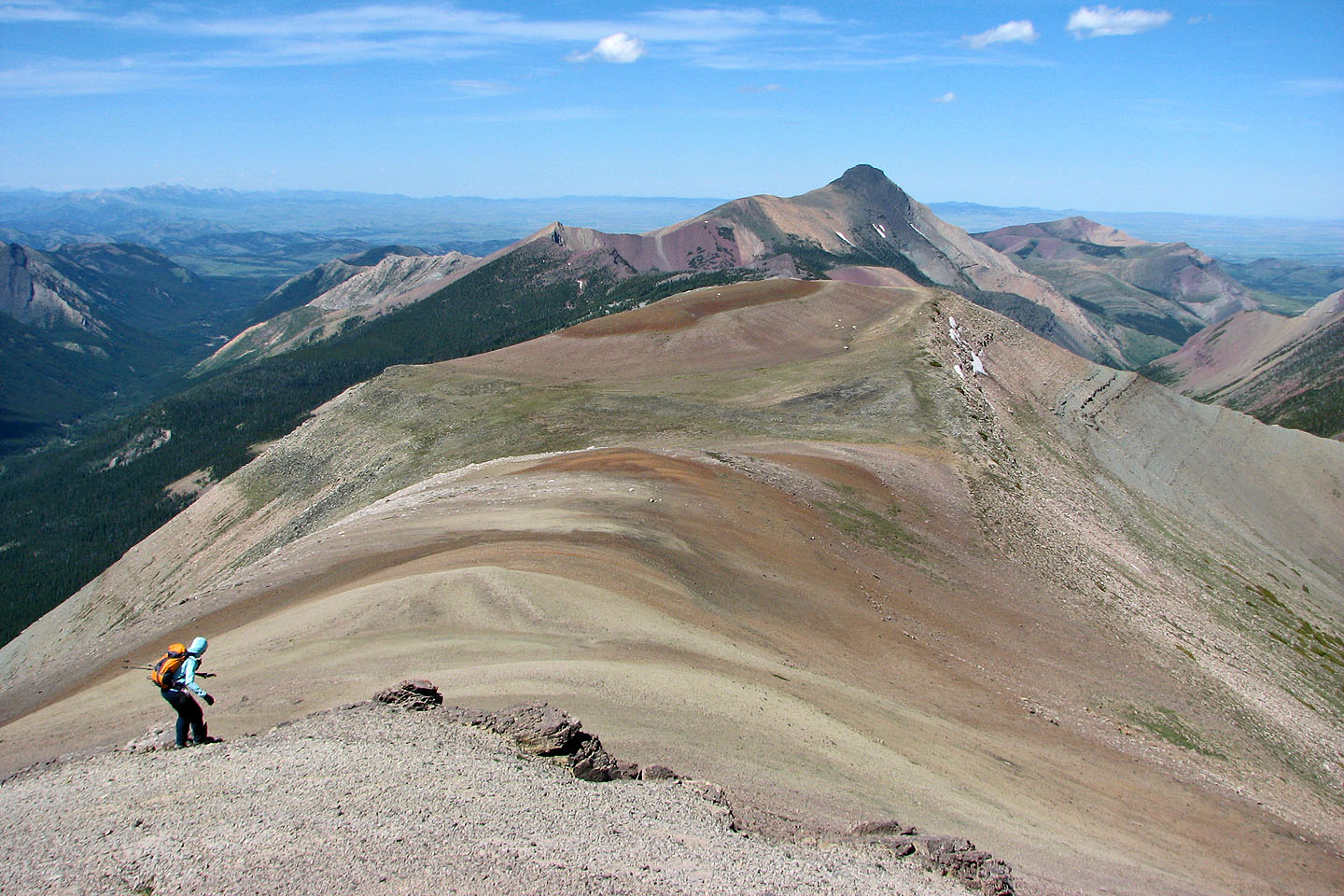 From the true summit we started back to the false summit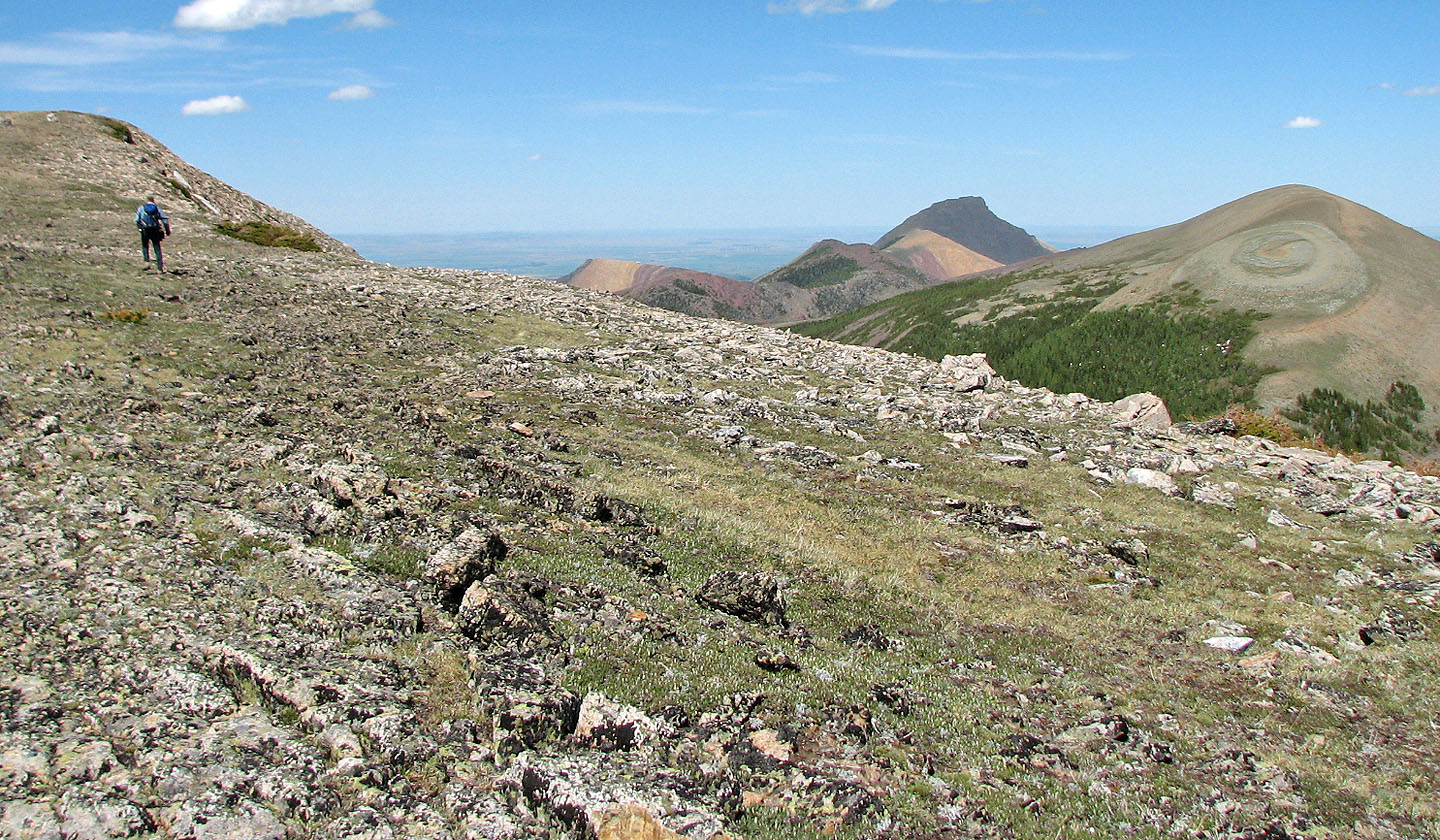 The connecting ridge between the true and false summits is quite broad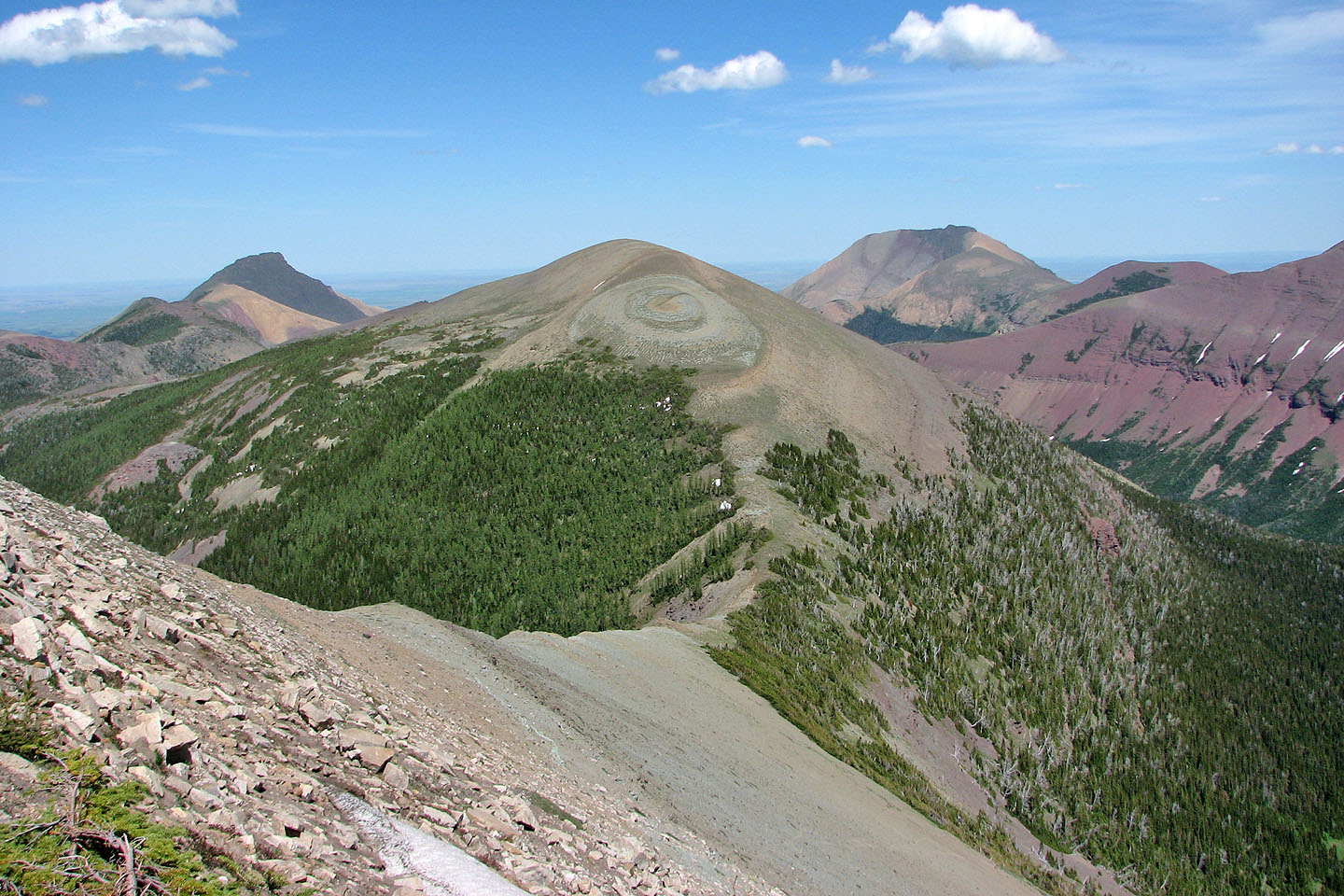 Curious bullseye on Pincher Ridge (mouse over)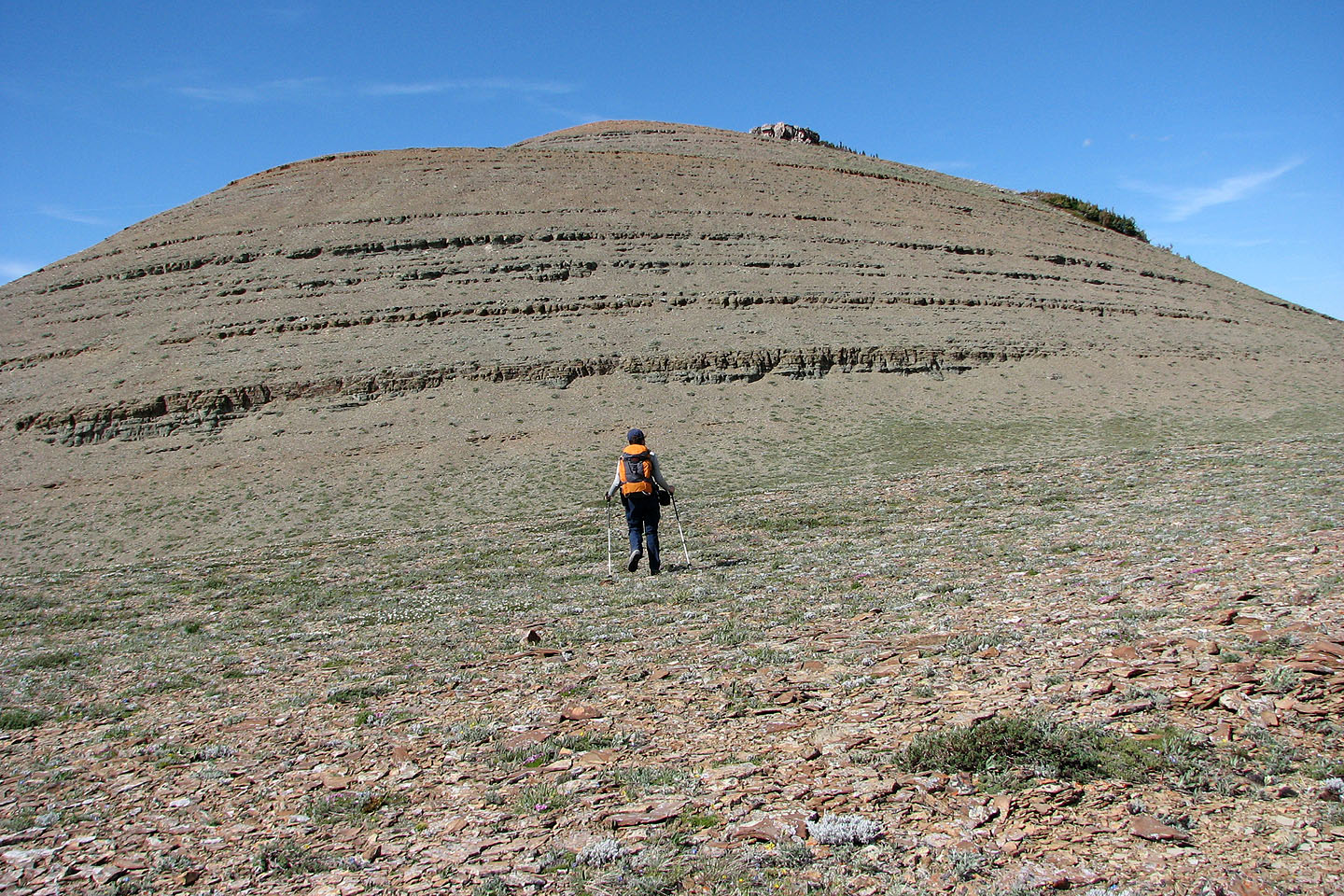 Starting up the ridge from the saddle between Victoria Ridge and Victoria Peak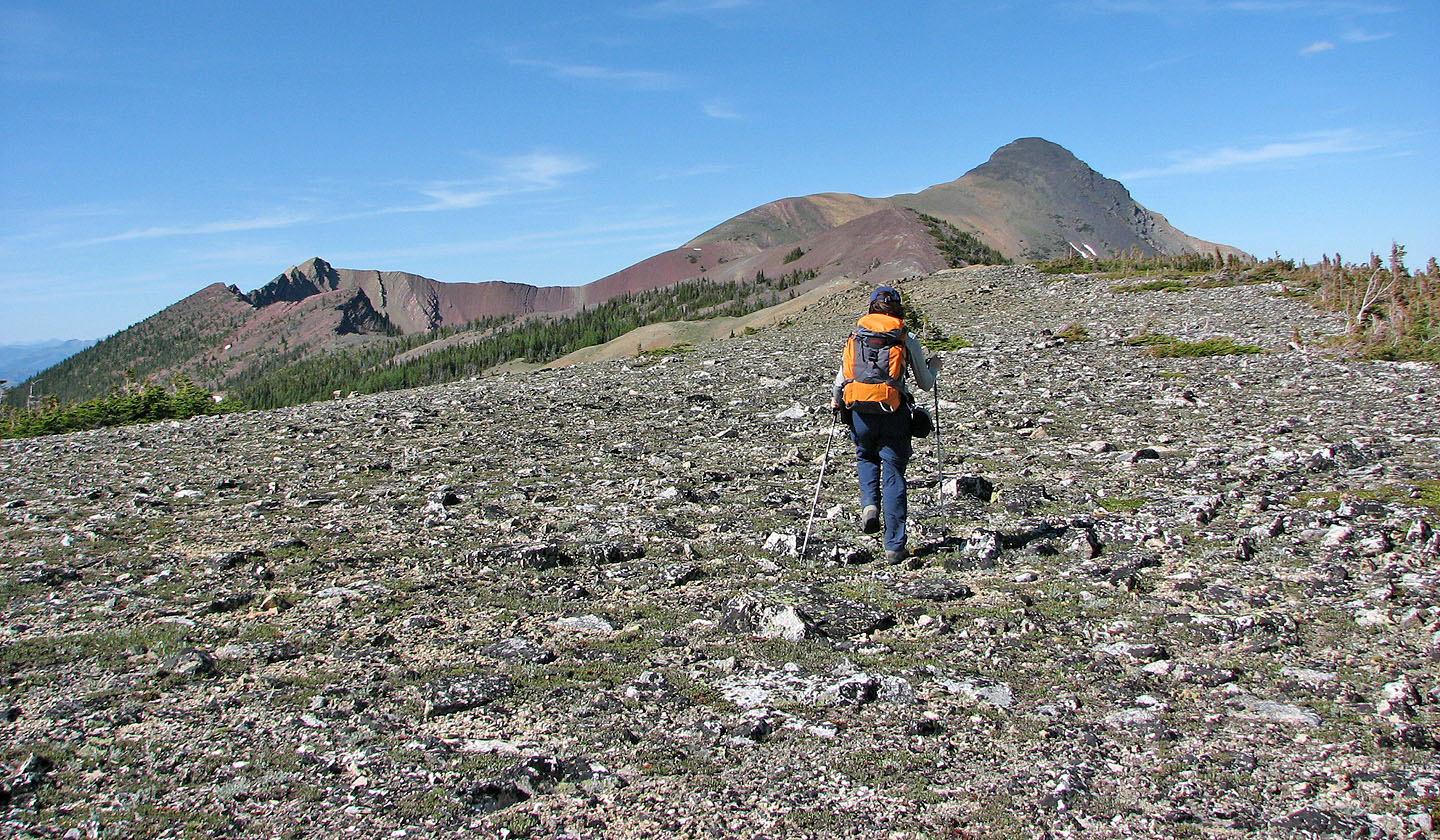 Heading to Kensington, the bump above Dinah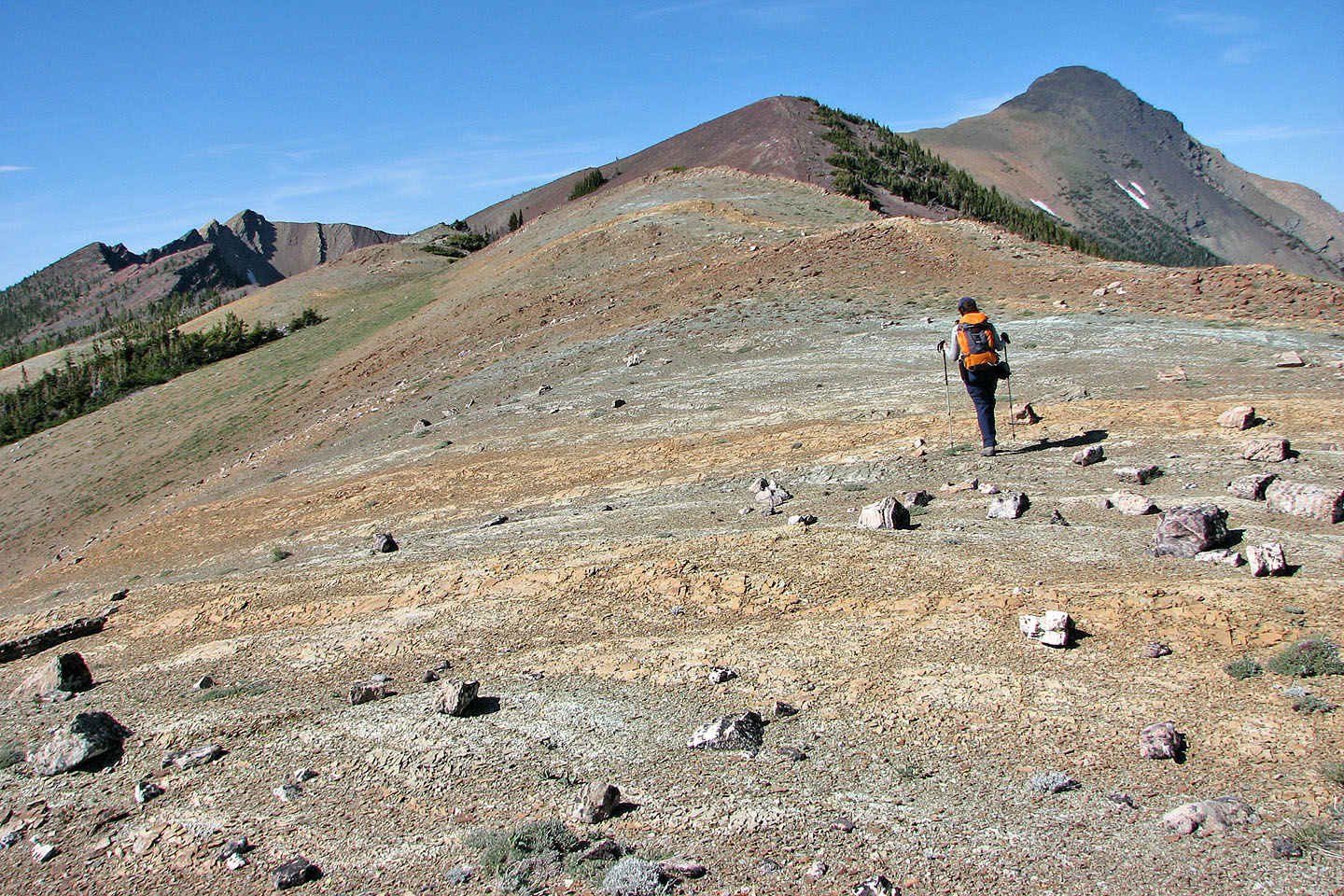 Landscape appears alien here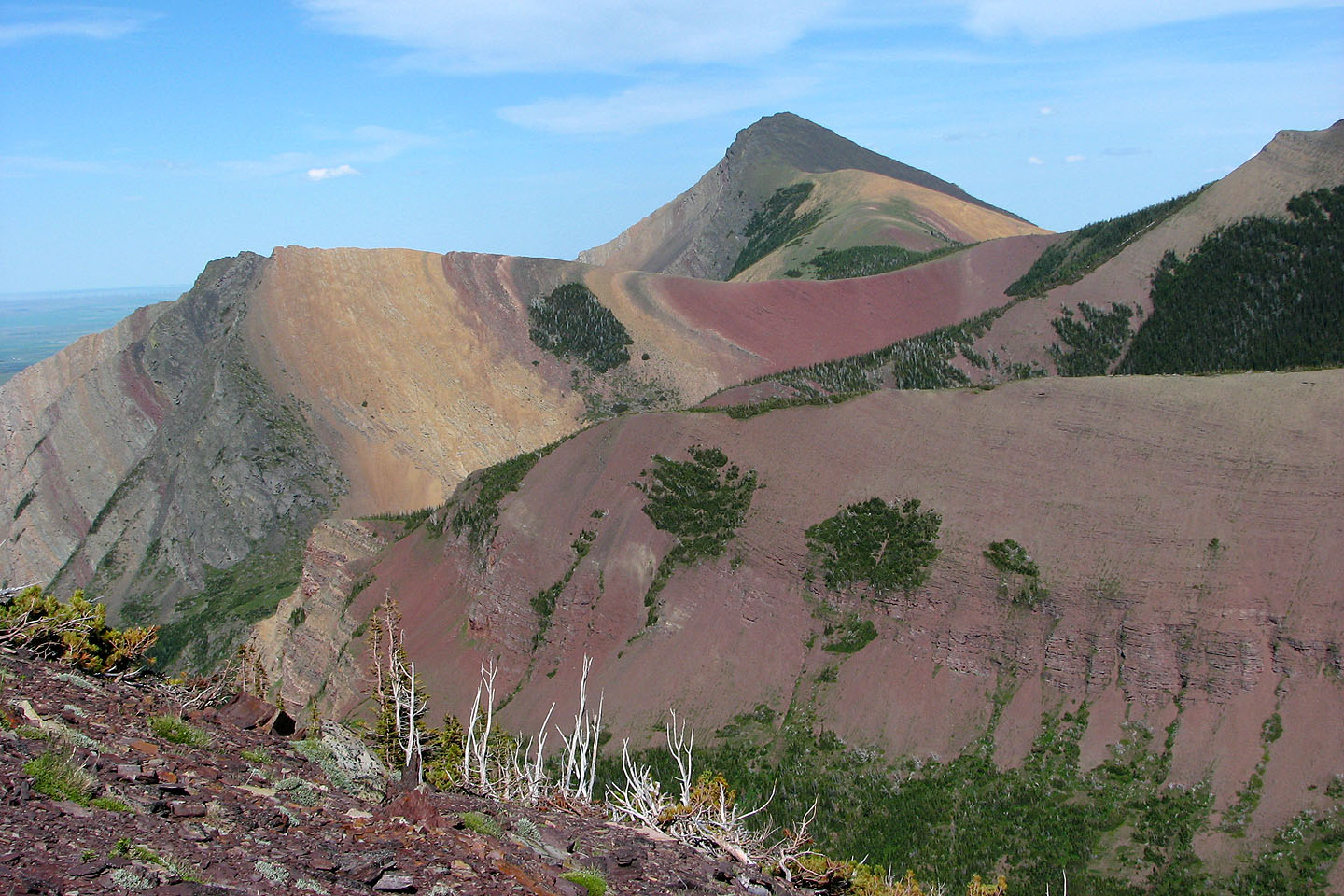 Pincher Ridge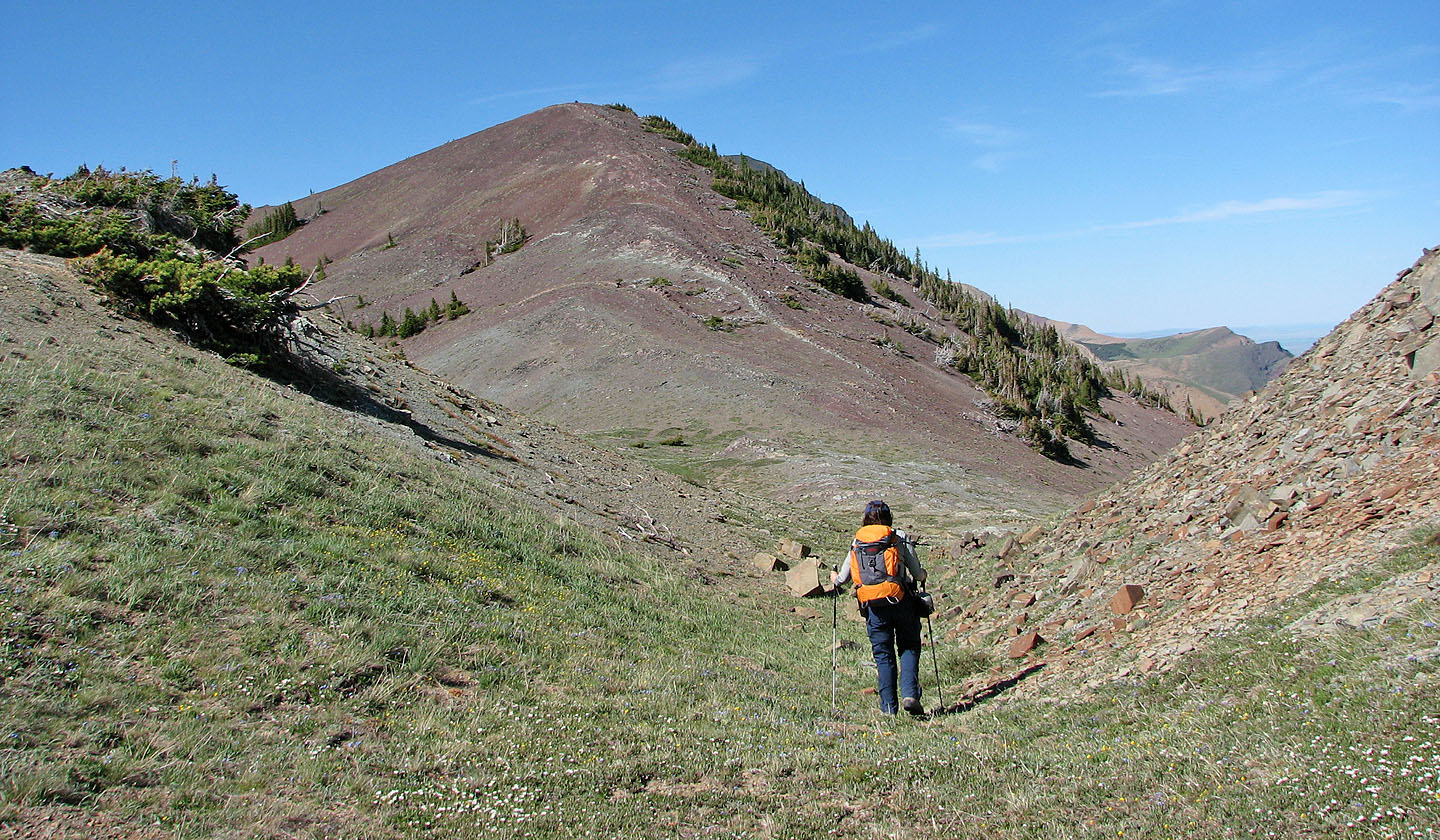 After reaching Kensington ahead, we descended from the the col on the right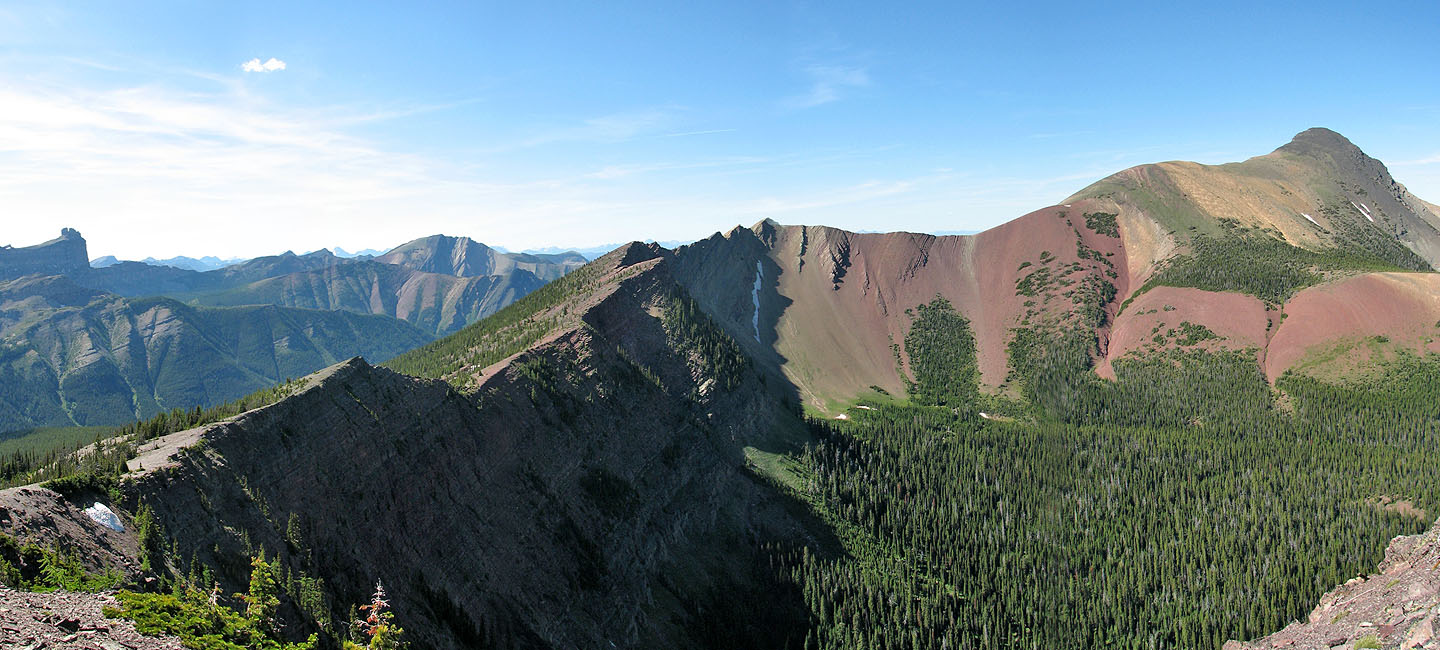 View from Kensington shows Victoria Peak on the right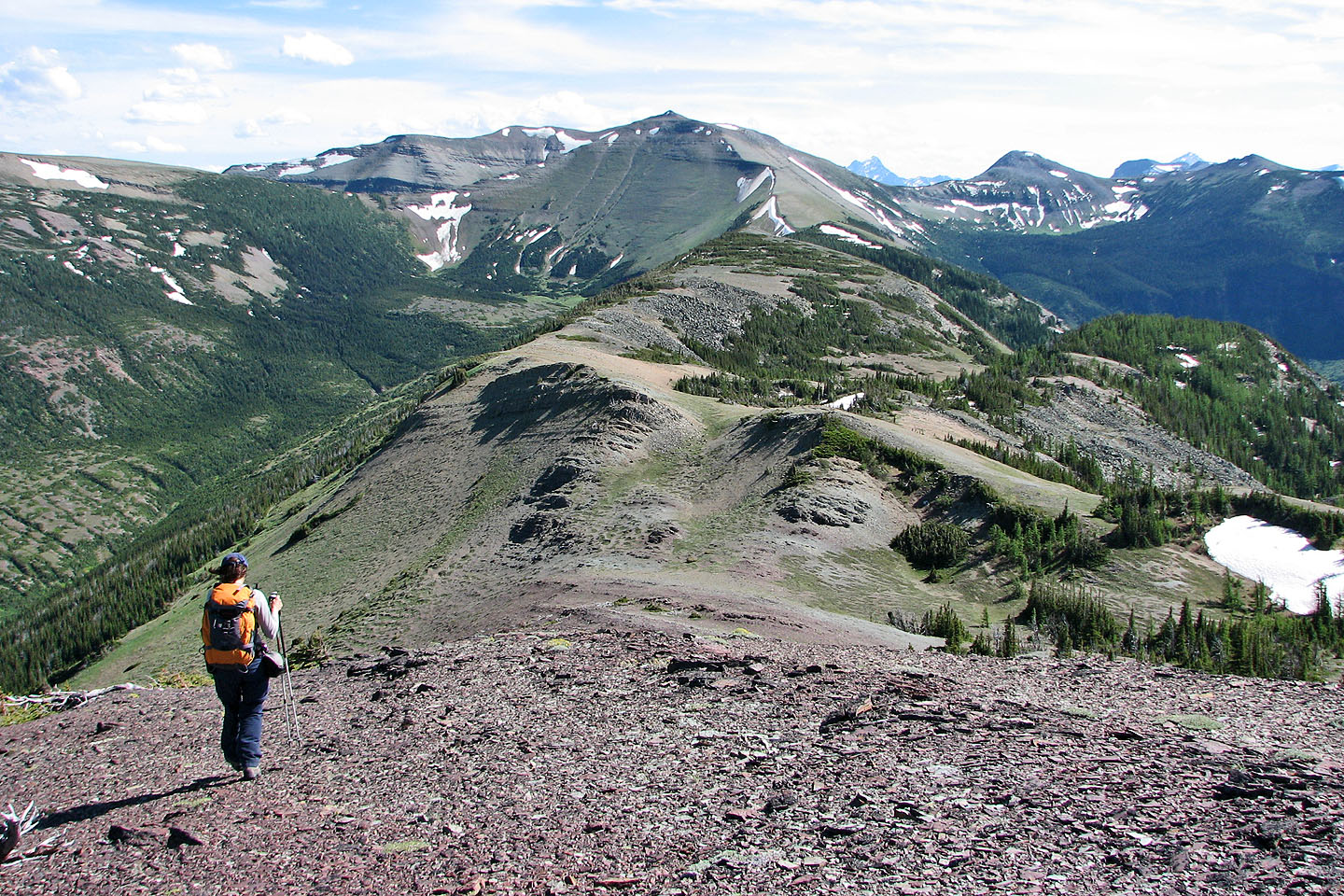 The view west along the ridge is strangely dull compared to the colourful east view from the summit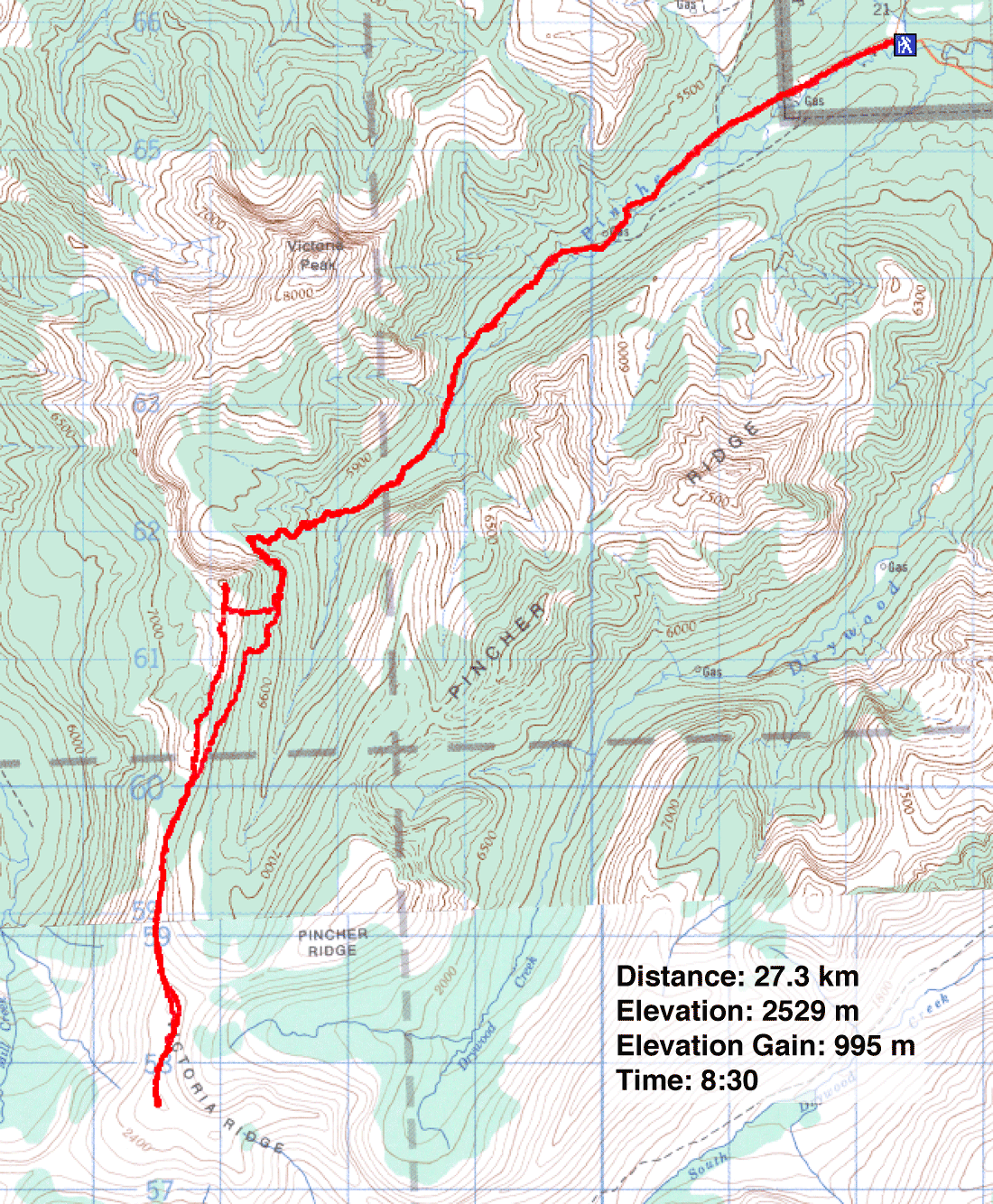 82 G/8 Beaver Mines, 82 G/1 Sage Creek