bobspirko.ca | Home | Canada Trips | US Trips | Hiking | Snowshoeing | MAP | About

Tiara Peak
Kananaskis, Alberta
September 8, 2007
Distance: 11.4 km
Cumulative Elevation Gain: 890 m
Tiara Peak, named for its resemblance to a crown, begins as a hike and finishes as a steep scramble. Since Dinah and I were short on time, it was a suitable objection, being both a short drive and a short trip.
After parking at the trailhead (there's room for one car), Dinah and I started down the trail. The snow that had fallen the previous night was melting, and the wet vegetation crowding the trail at the start soon soaked our pant legs.
We followed the trail to a cairned fork in the cut block. The right fork leads to a cutline that eventually ends at the creek. We followed the left side of the creek where we found trails and open areas. Following Nugara's ascent directions, we found a likely place to ascend to the crest of the ridge. We traversed the ridge to the striking summit block of Tiara Peak and circled halfway around the rocky base before starting up the SW slope.
So far, it had been an easy scramble, mostly a hike, but it changed to a moderate scramble on the backside. Dinah didn't like what lay ahead, so I continued on my own. After negotiating loose rock on slabs, the ascent became a steep climb on loose rock to the summit.
Despite seeing clouds all day, we enjoyed blue sky overhead all the way up. After joining Dinah at the base of the summit block, the clouds started filling the sky. We dropped to the east gully. The loose rock wasn't great for descending, but after moving left we found good scree and made our way quickly down. After some brief bushwhacking, we reached the creekbed that led back to the cutline trail.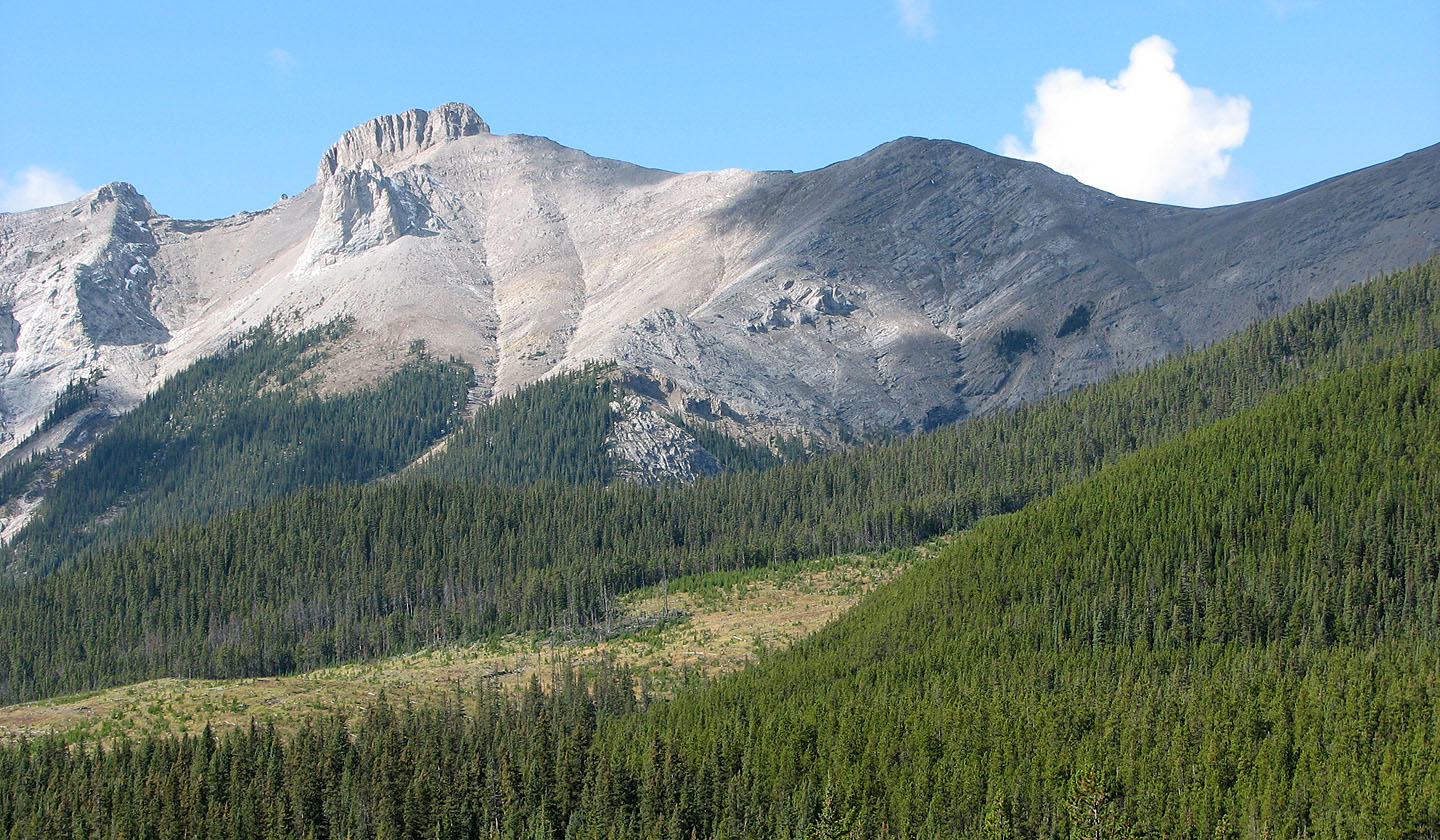 Tiara Peak from the trailhead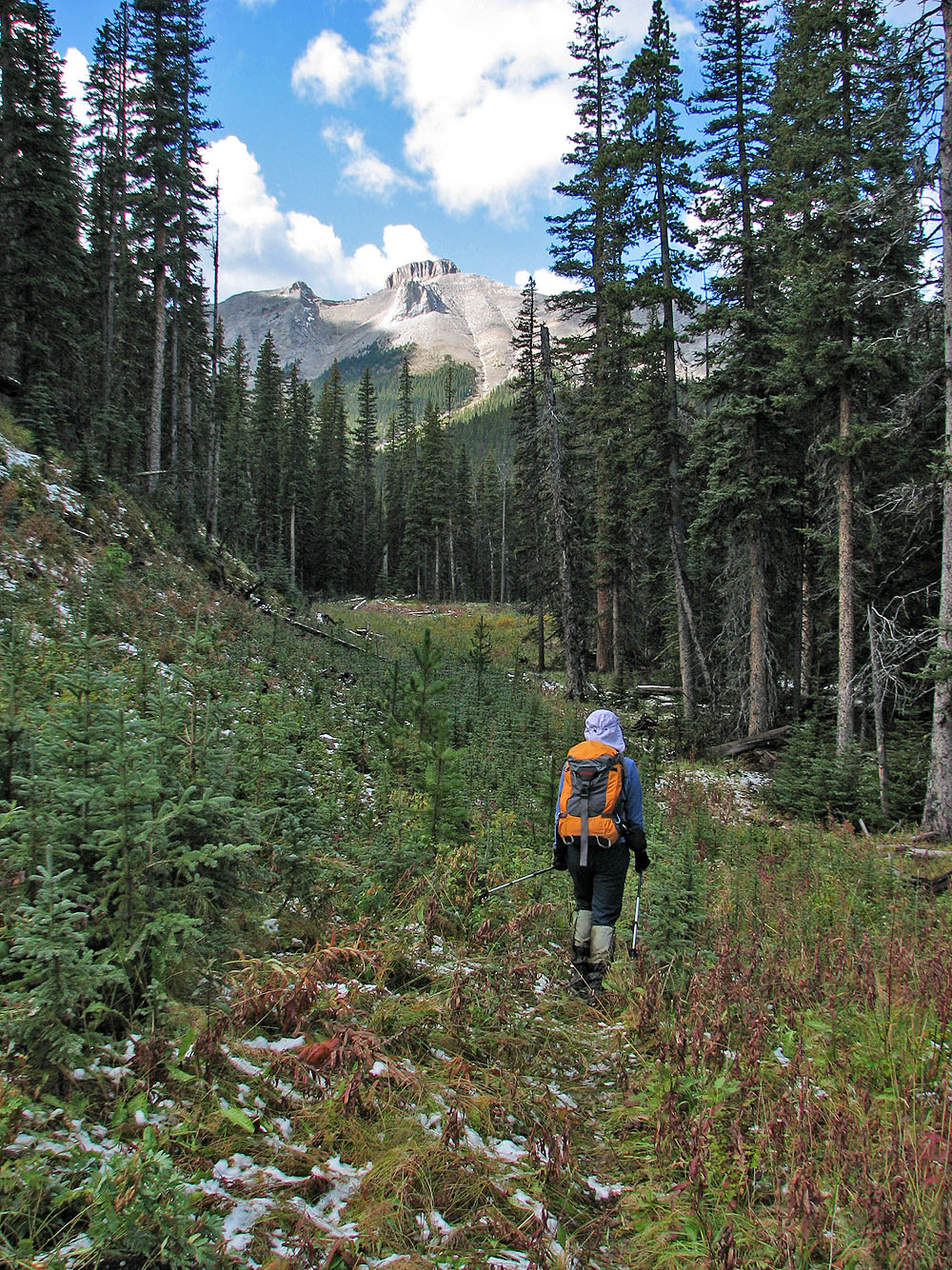 Lingering snow by the trail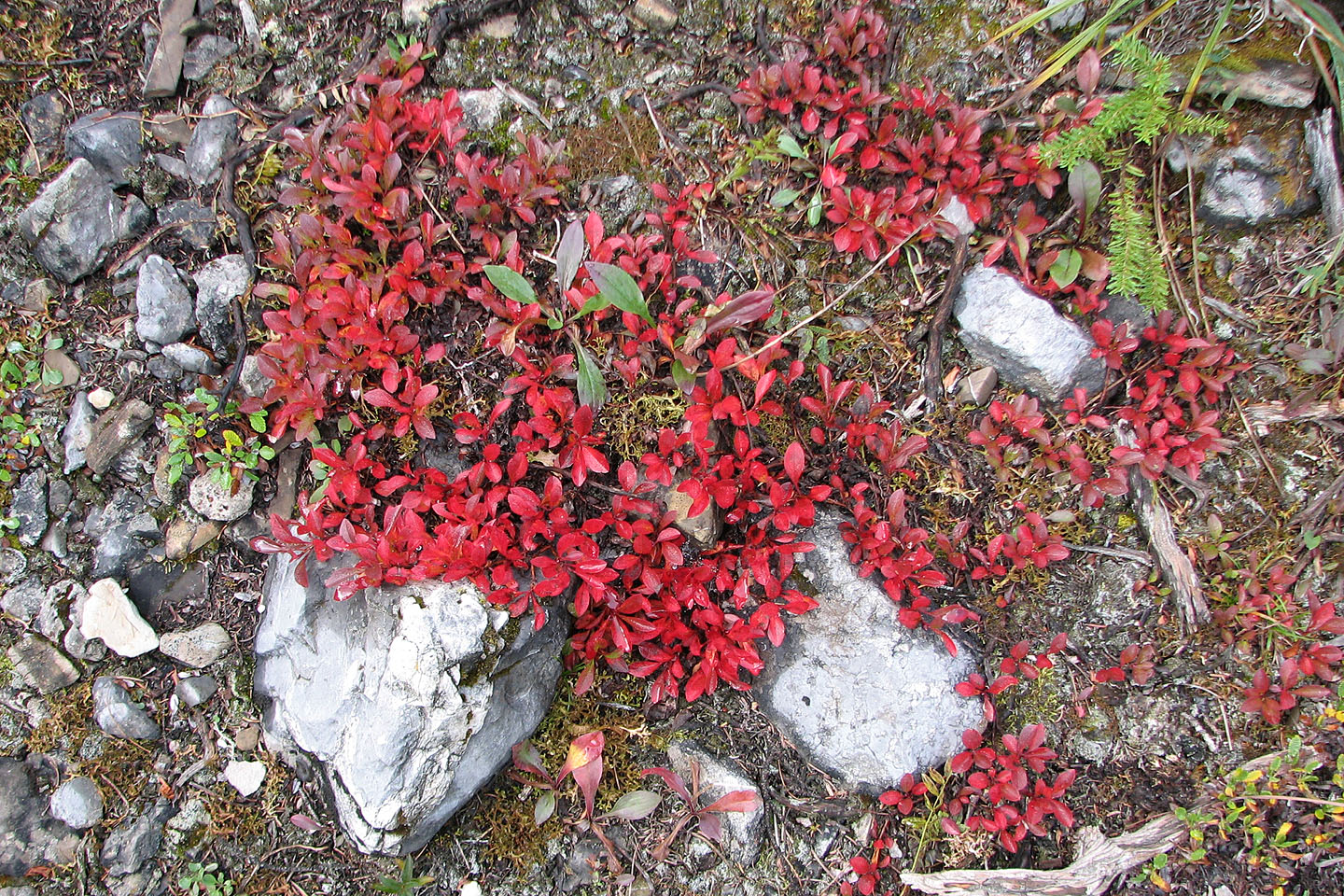 Fall colours kicking in

Northern flicker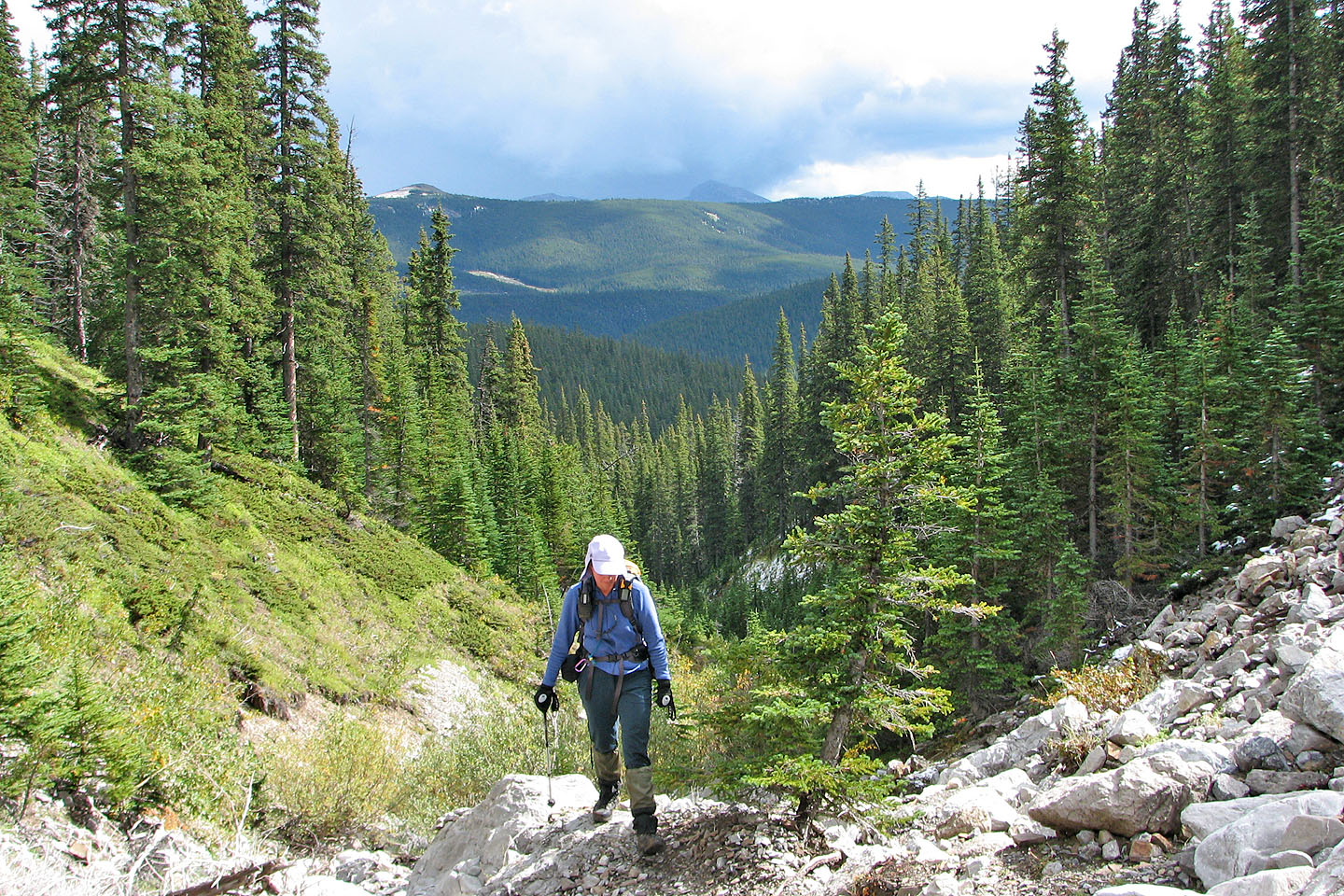 Hiking up the drainage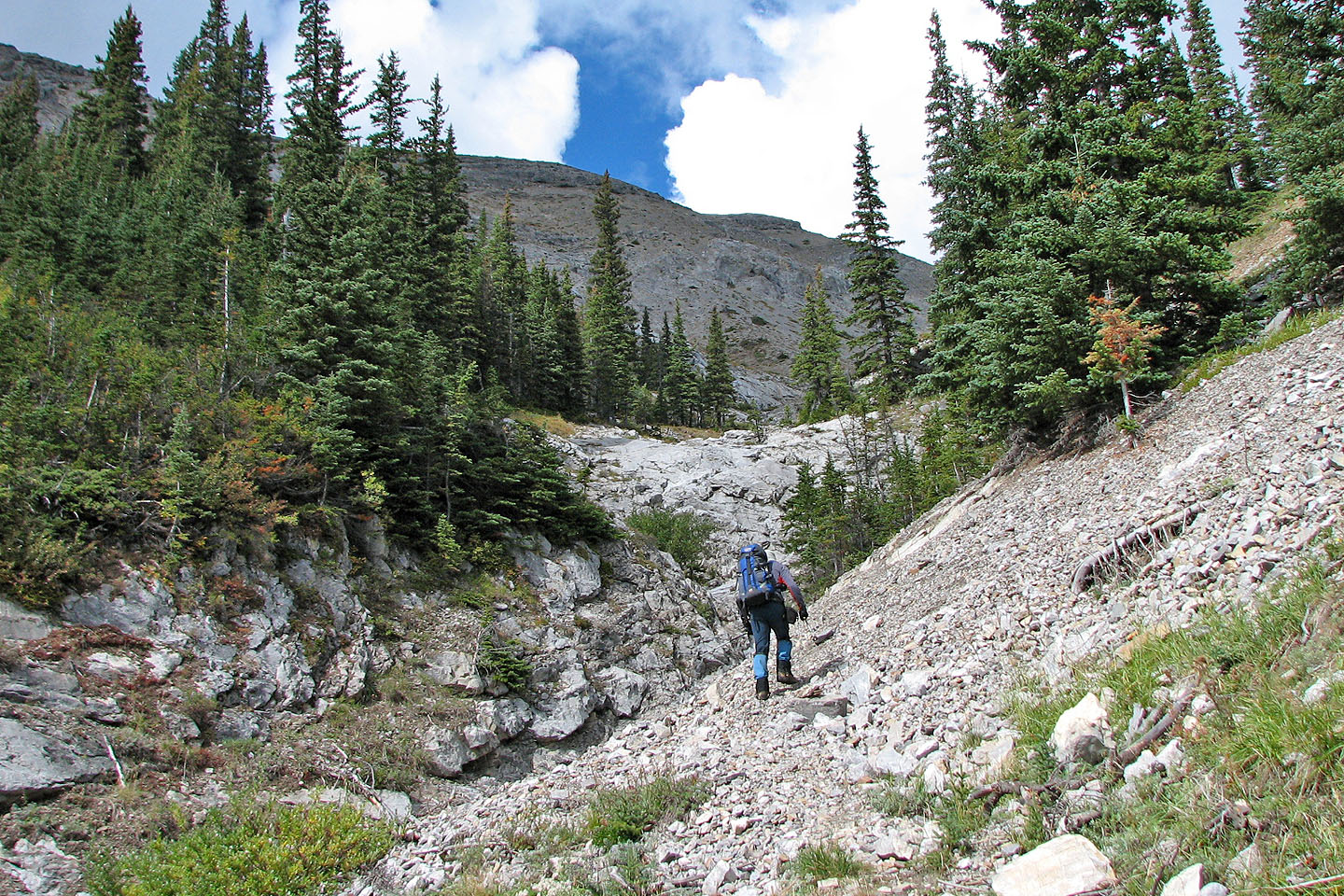 Ahead on the left is the slope we'll take to gain the ridge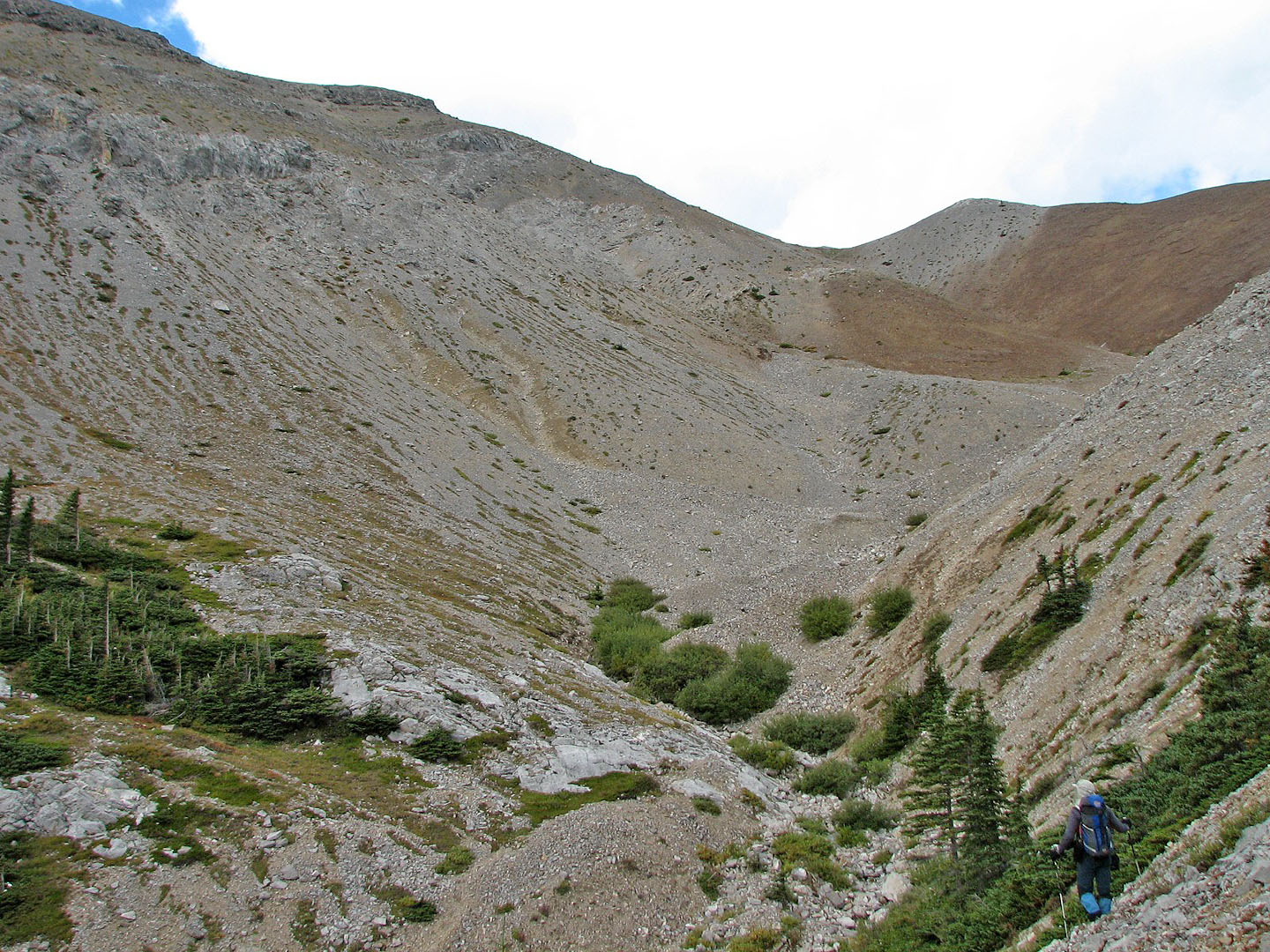 From here we'll cross the gully and head up the slope on the left going through a weakness in the cliff band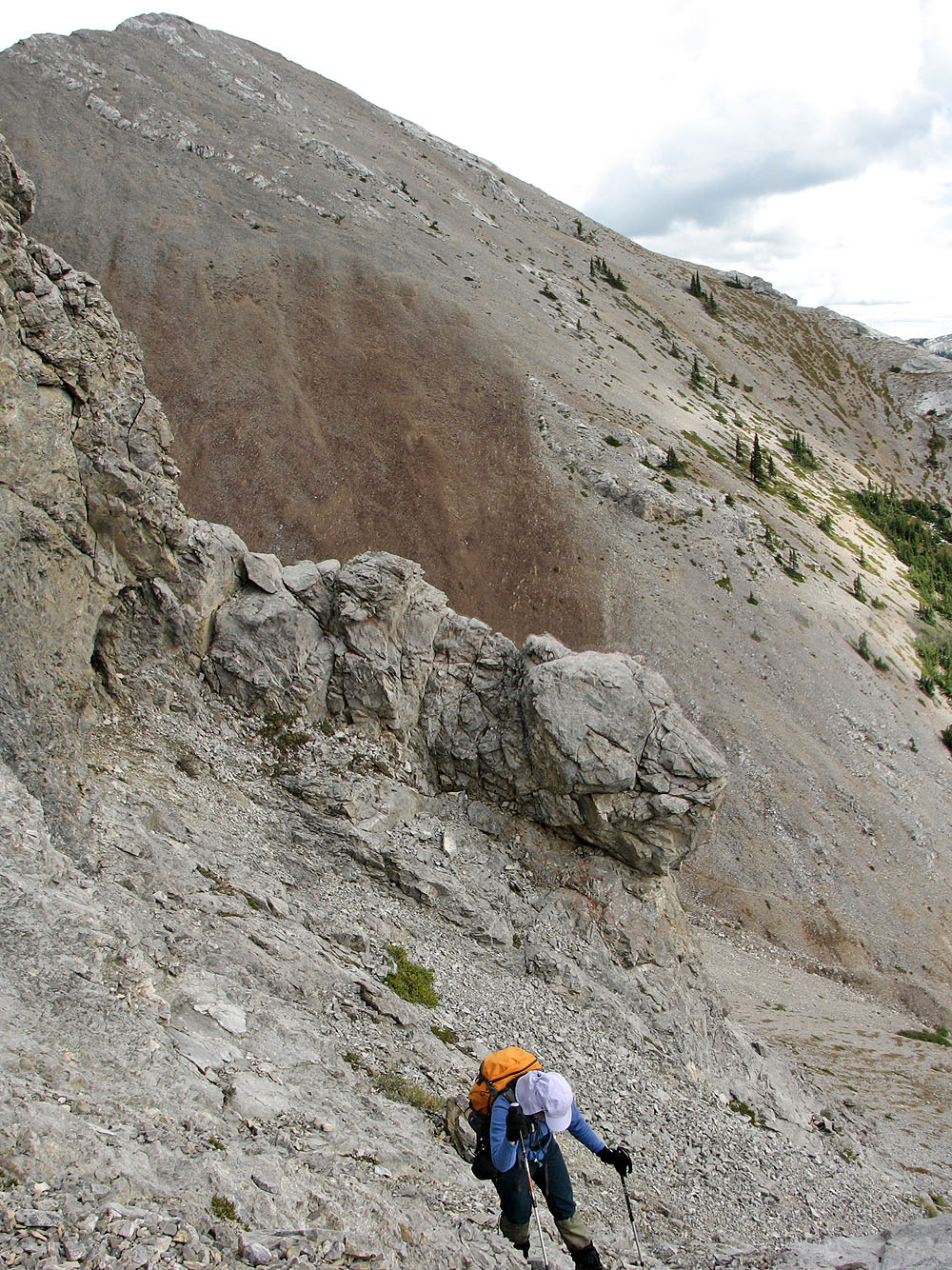 Coming up through the cliff band with Belmore Browne Peak in the background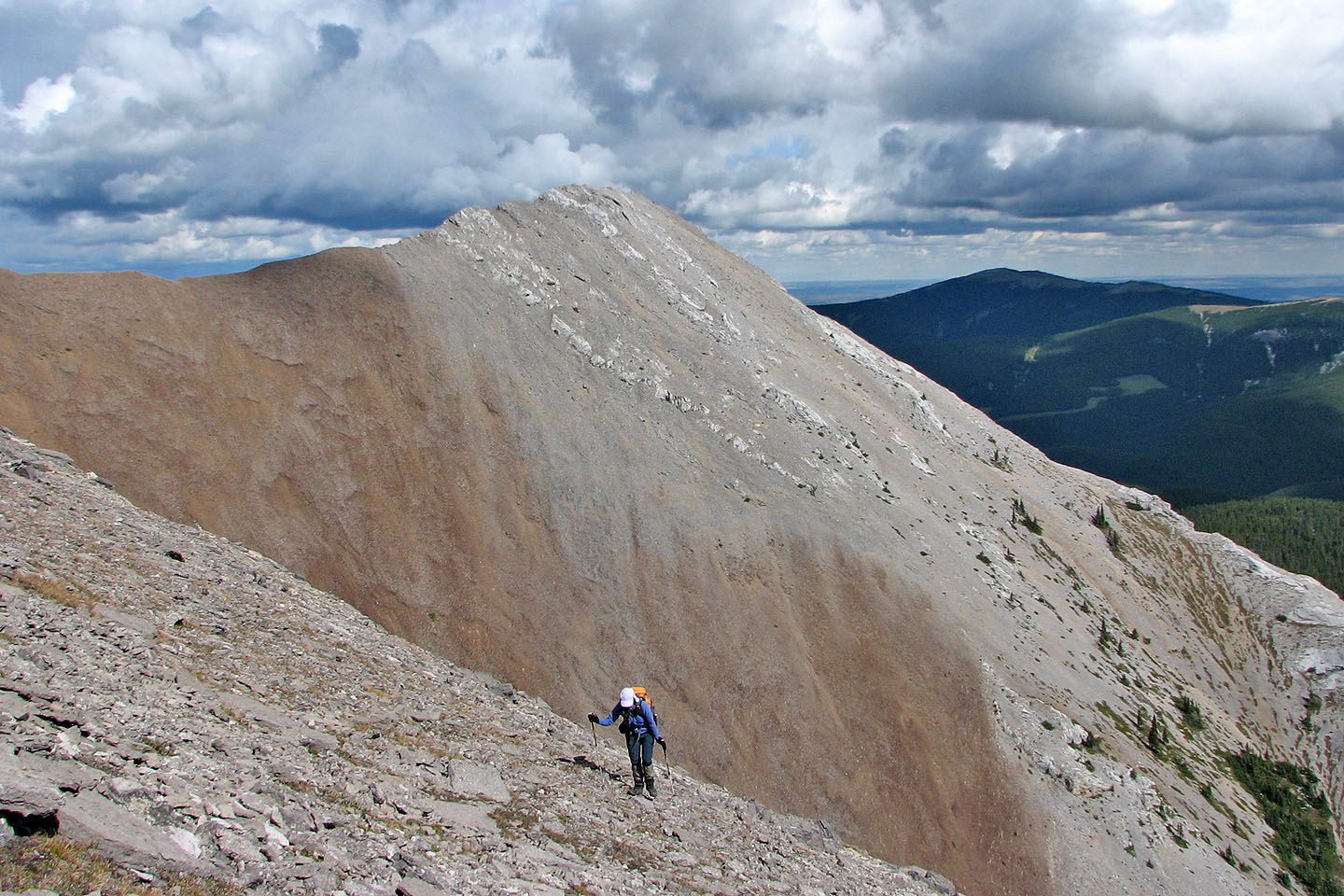 Hiking to the crest of the ridge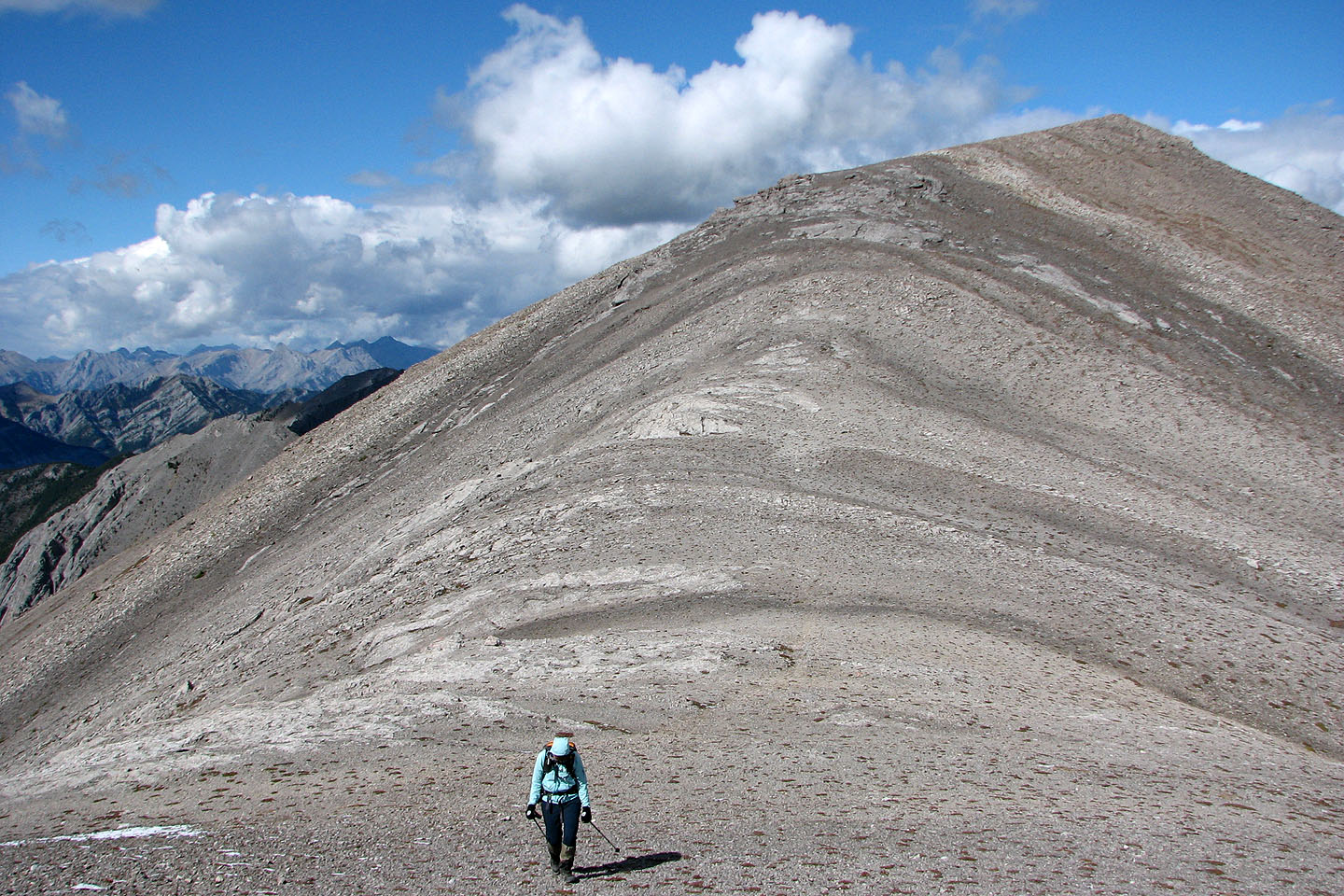 On the ridge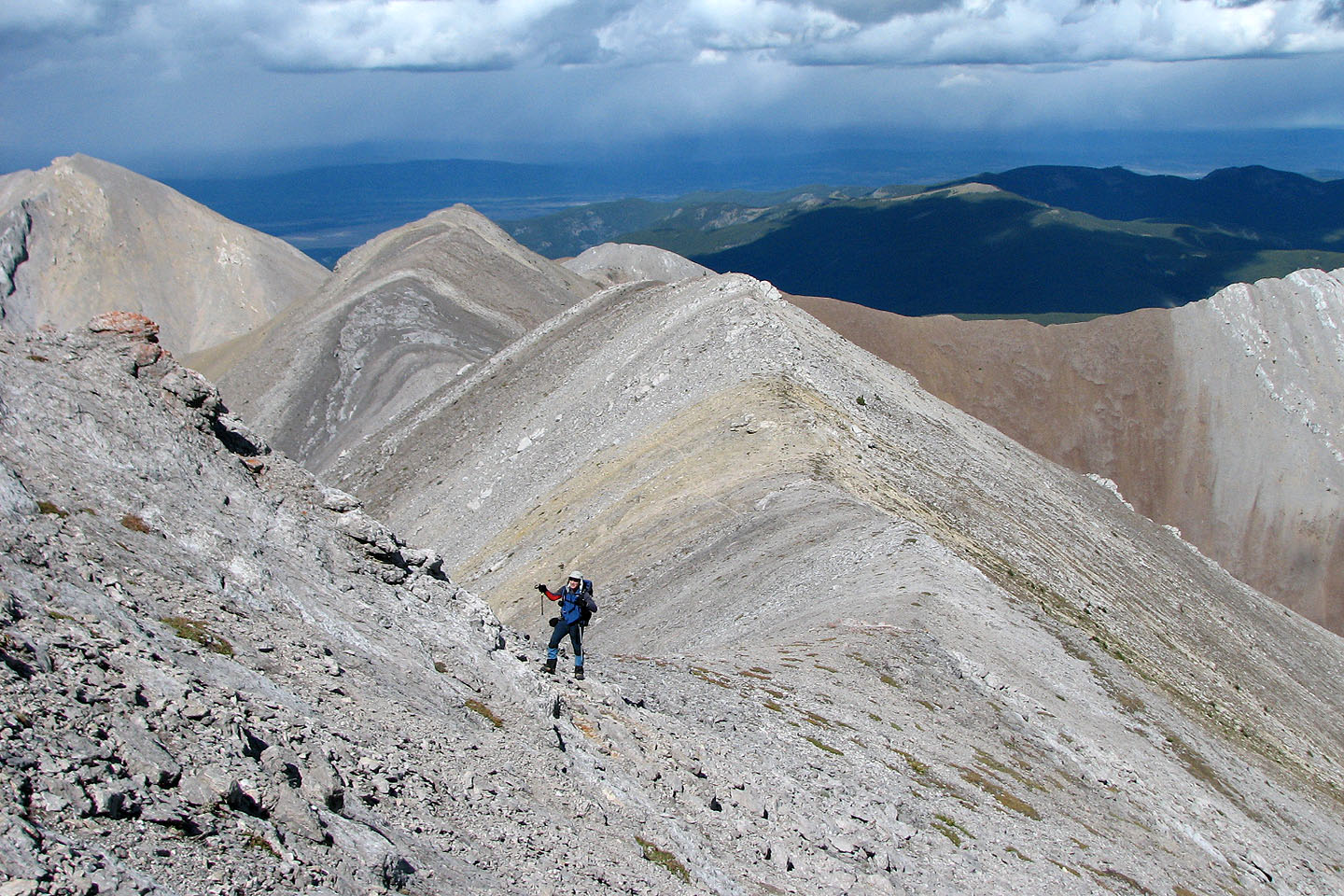 Looking back as we ascended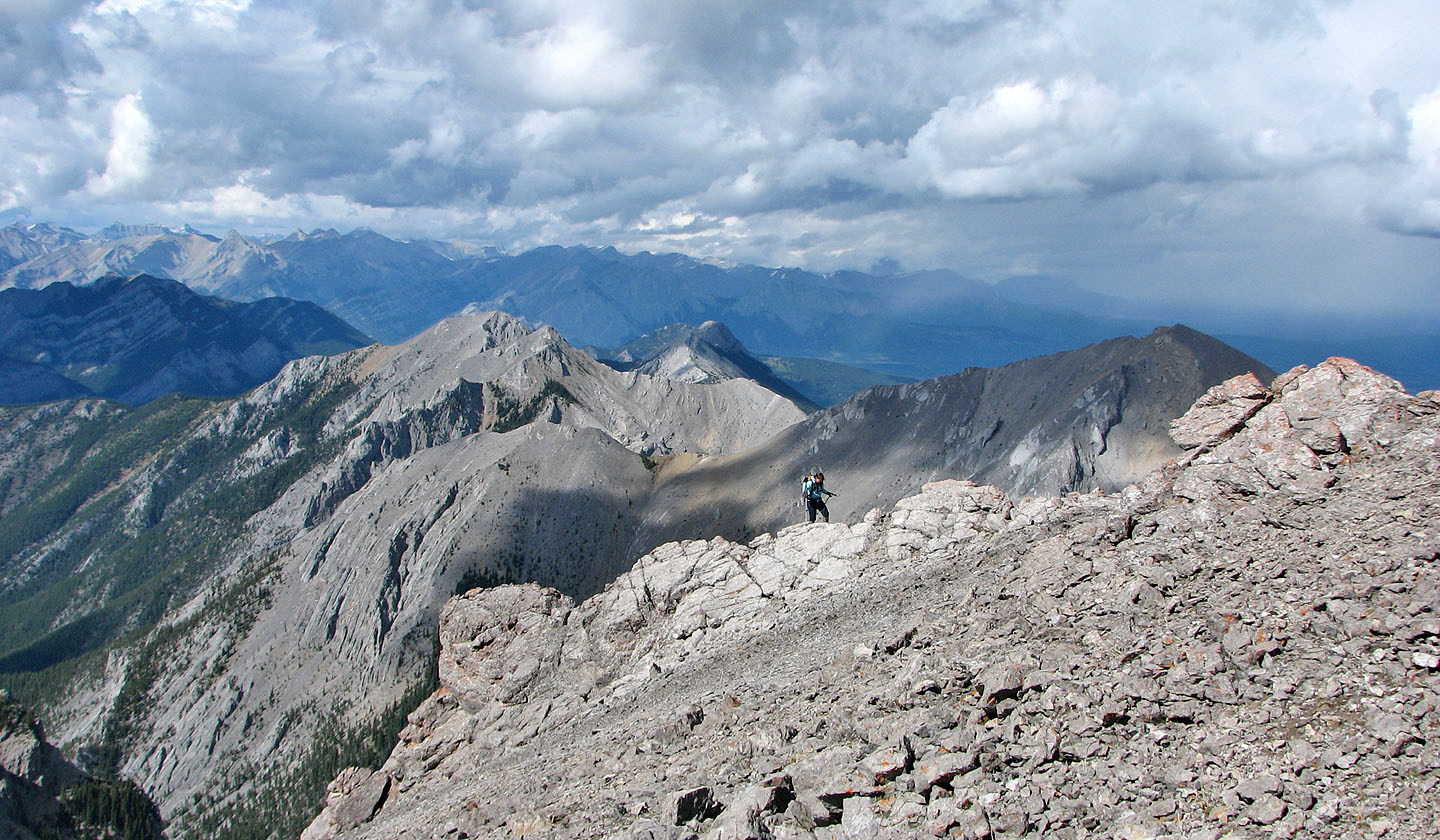 Looking back as we approach the summit block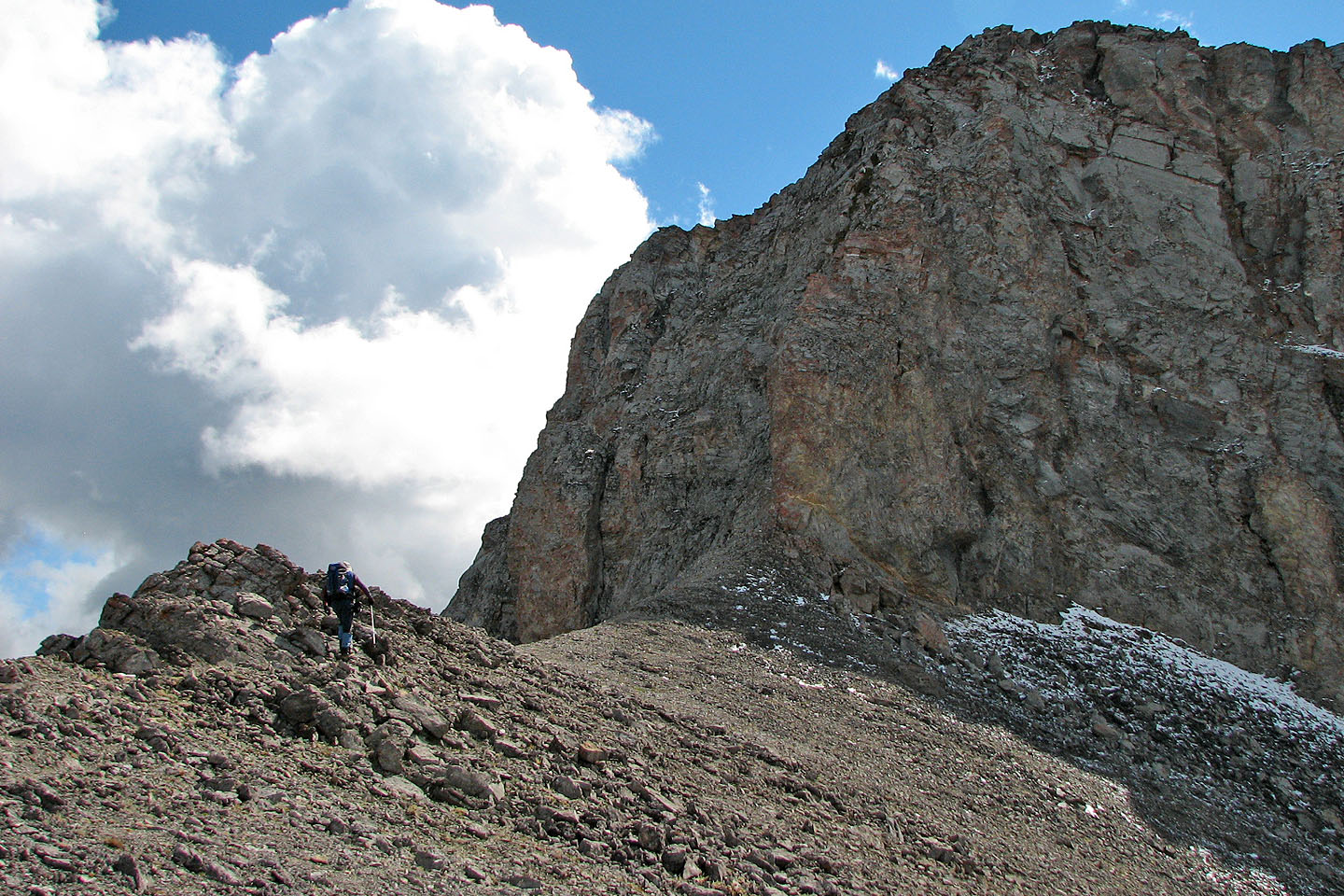 The summit block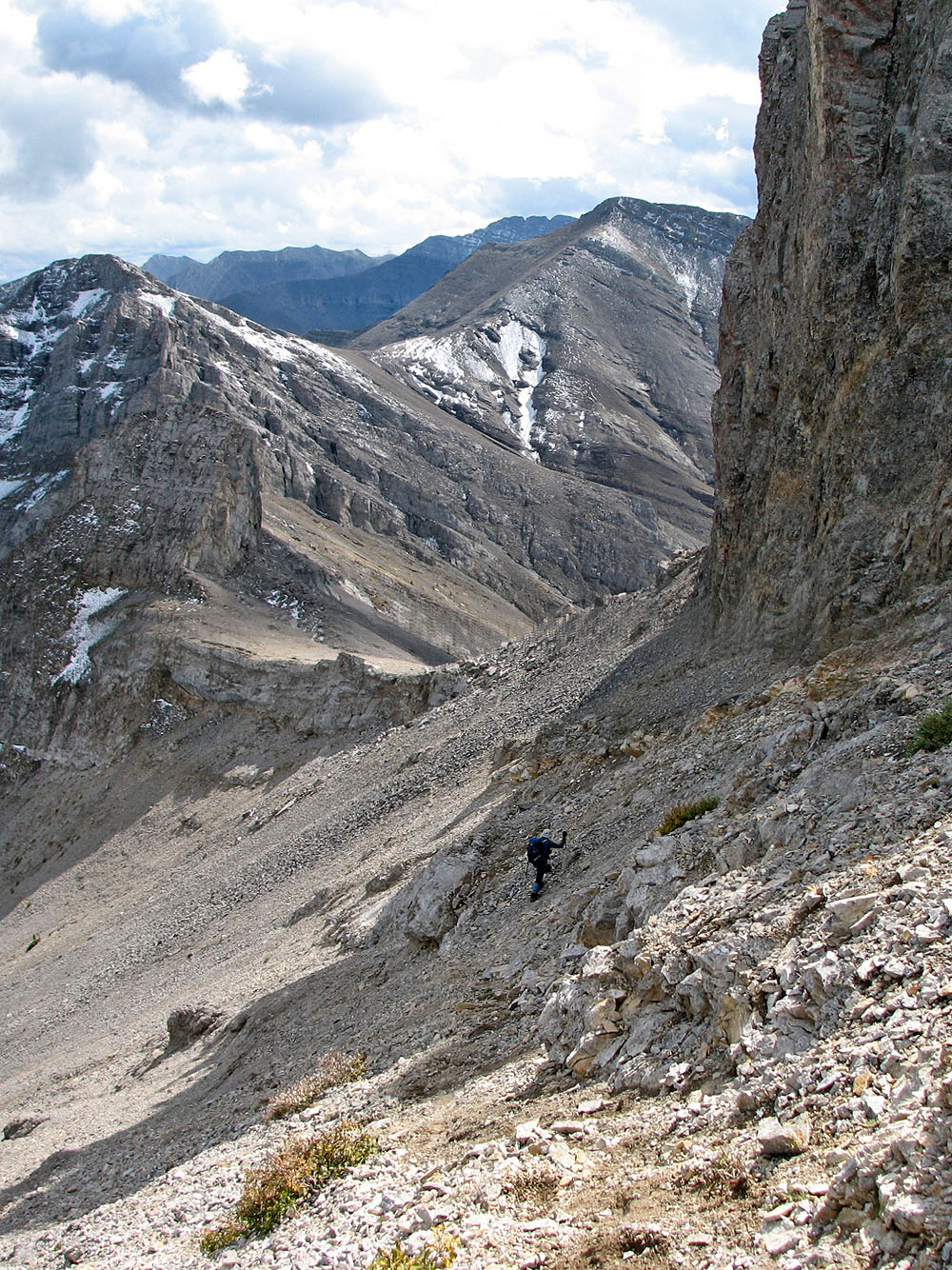 Working around the east side of the block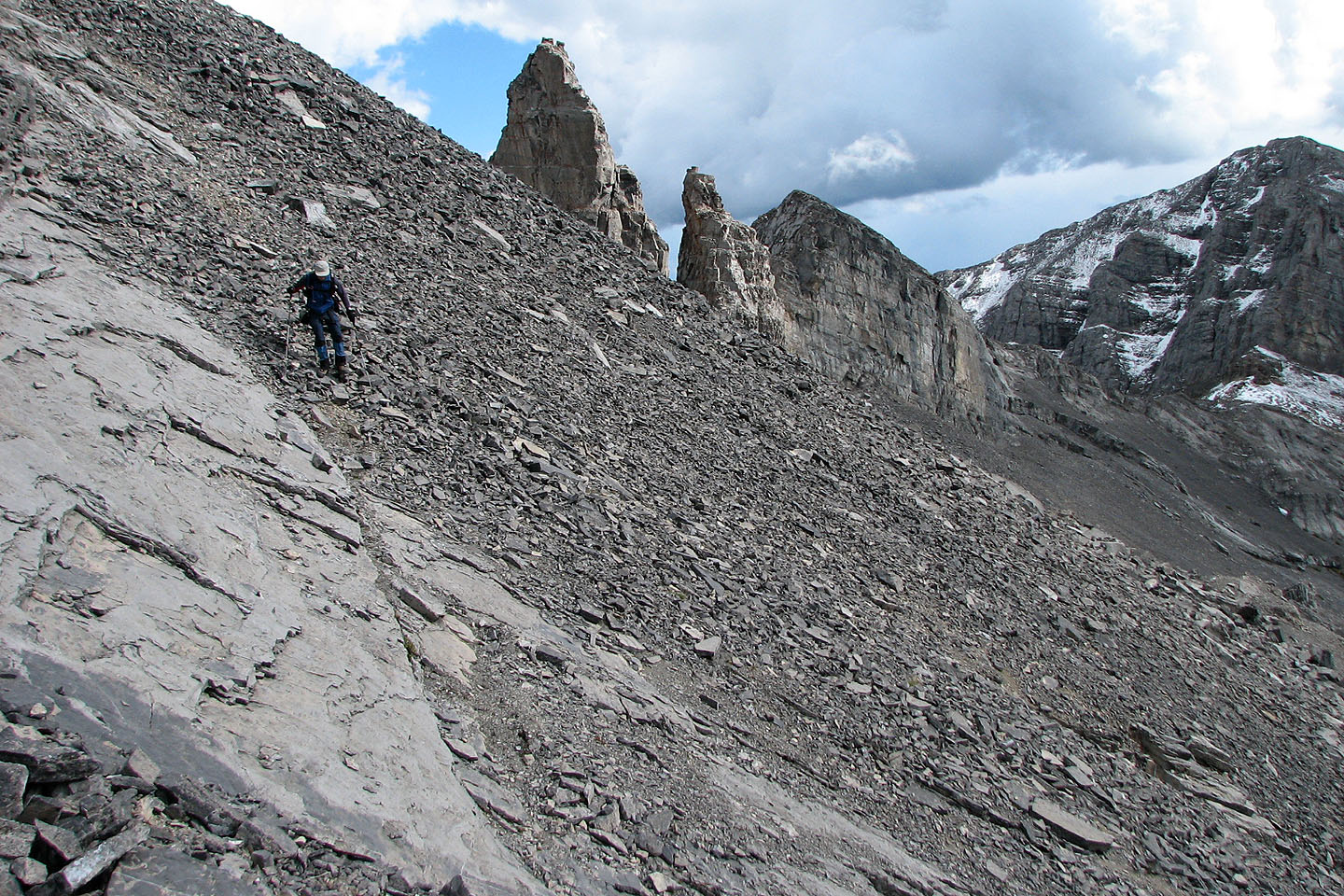 Still working our way around the block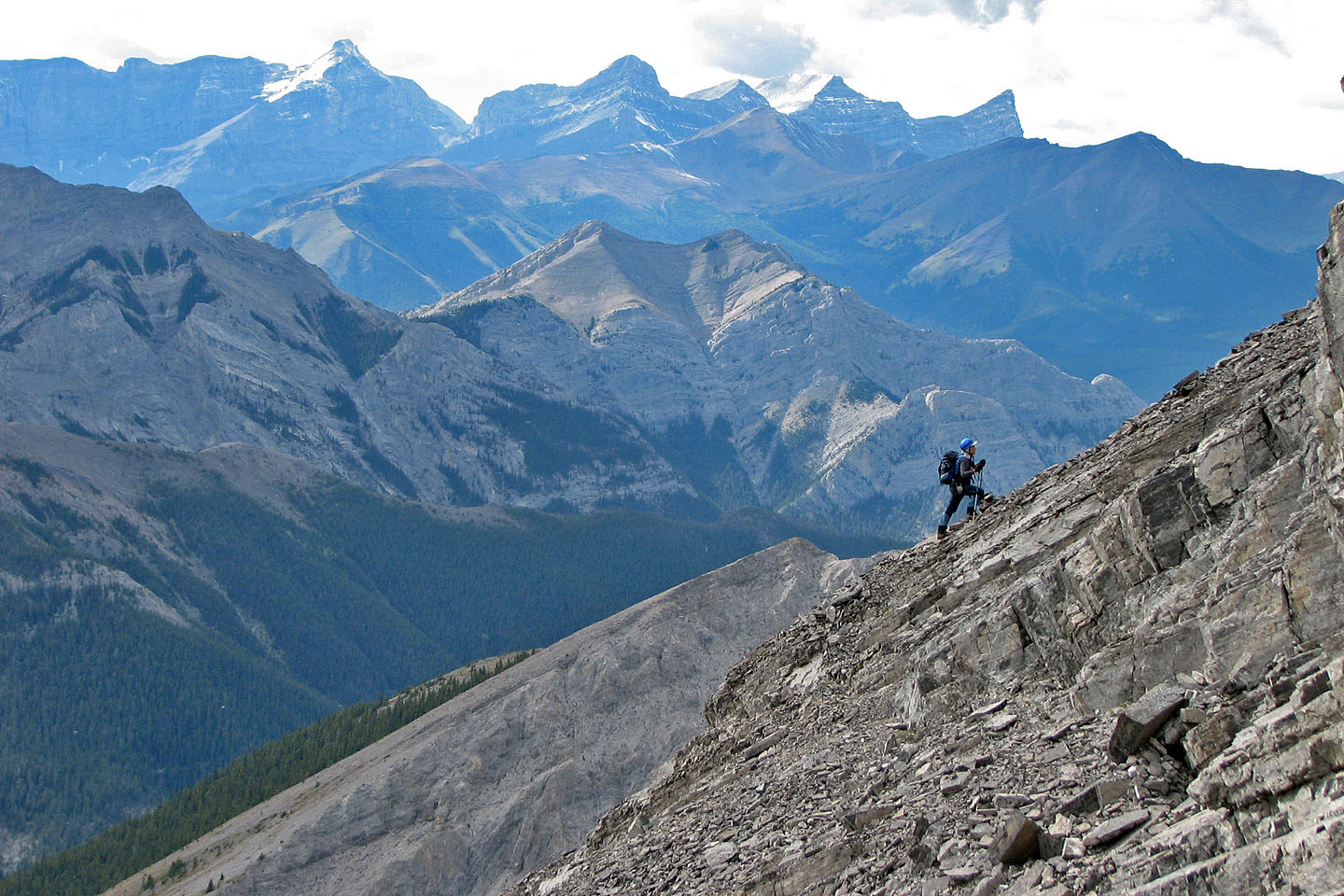 Ascending up the SW slope. Here I'm on loose rock on slabs.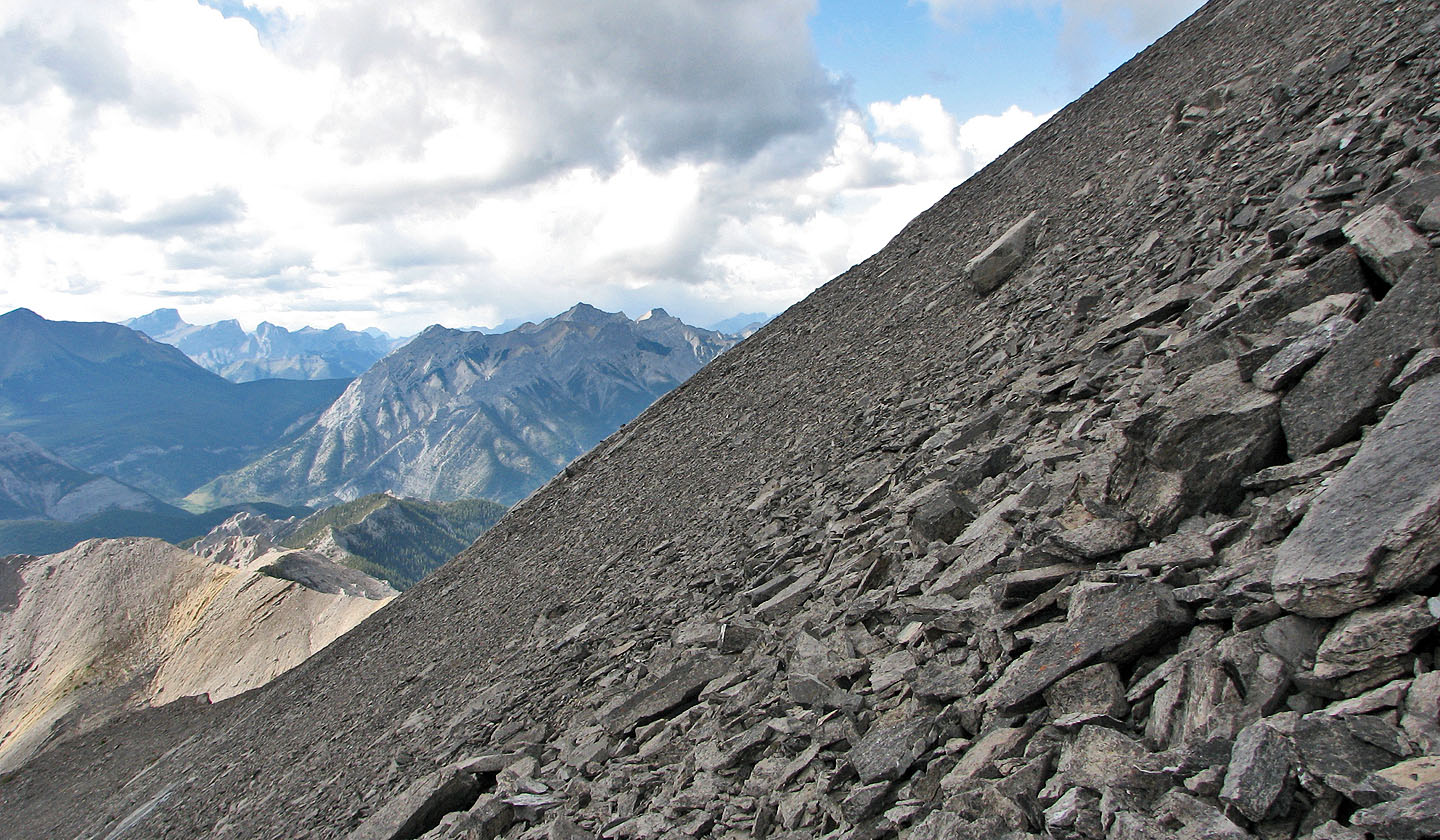 Slope is mostly loose rock. Mount Lorette in the background (mouse over).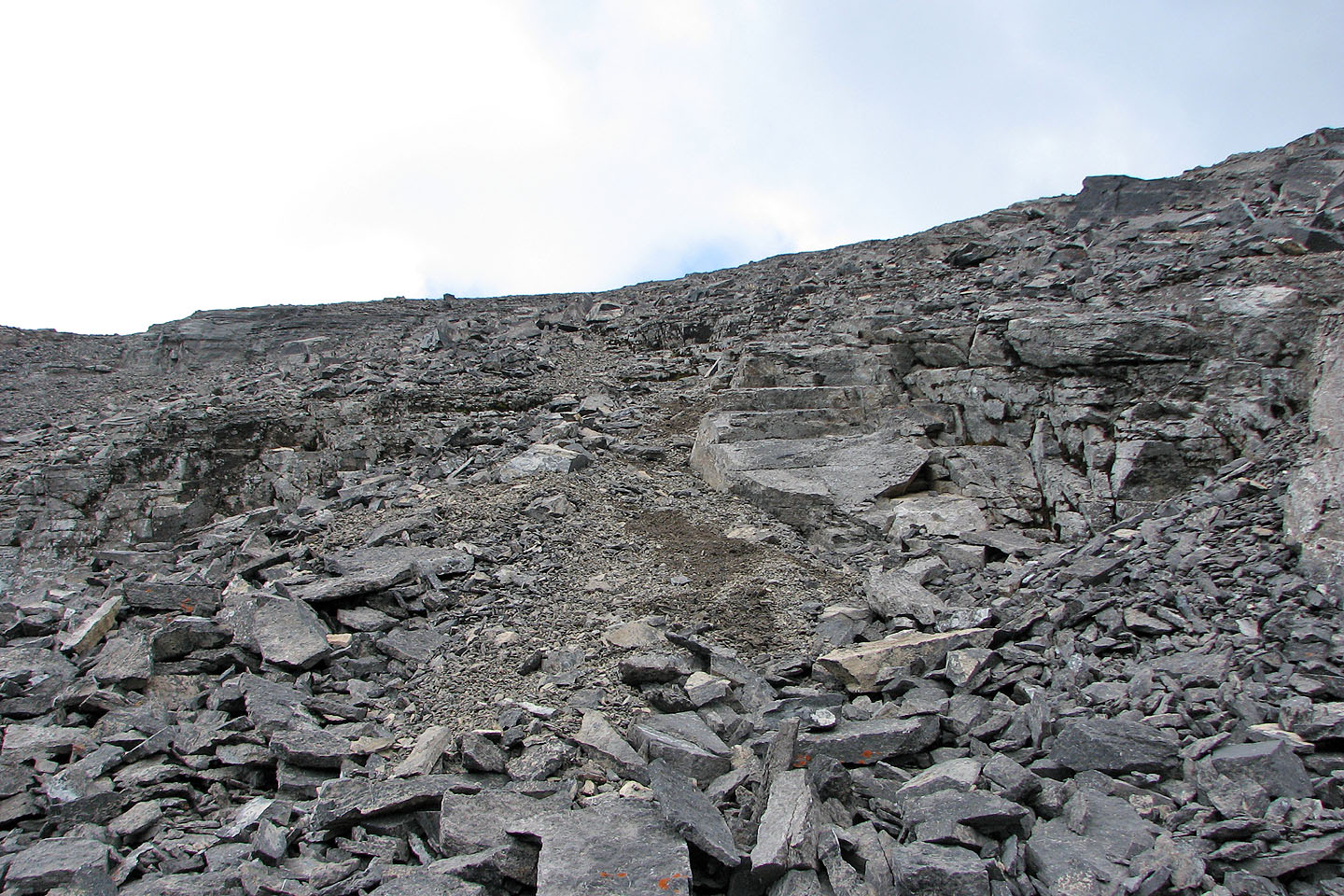 Looking up, the summit is somewhere on the left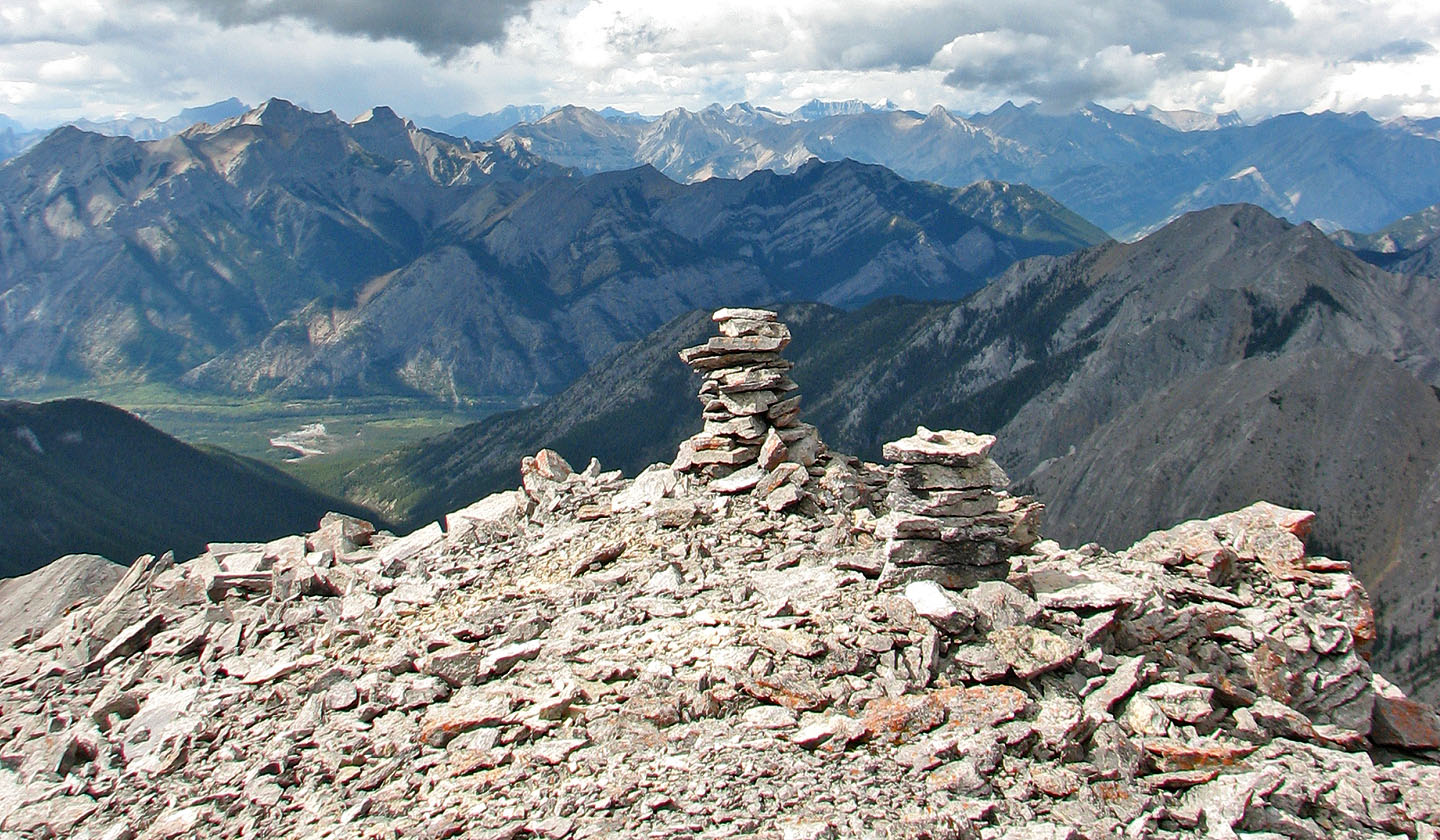 Summit cairns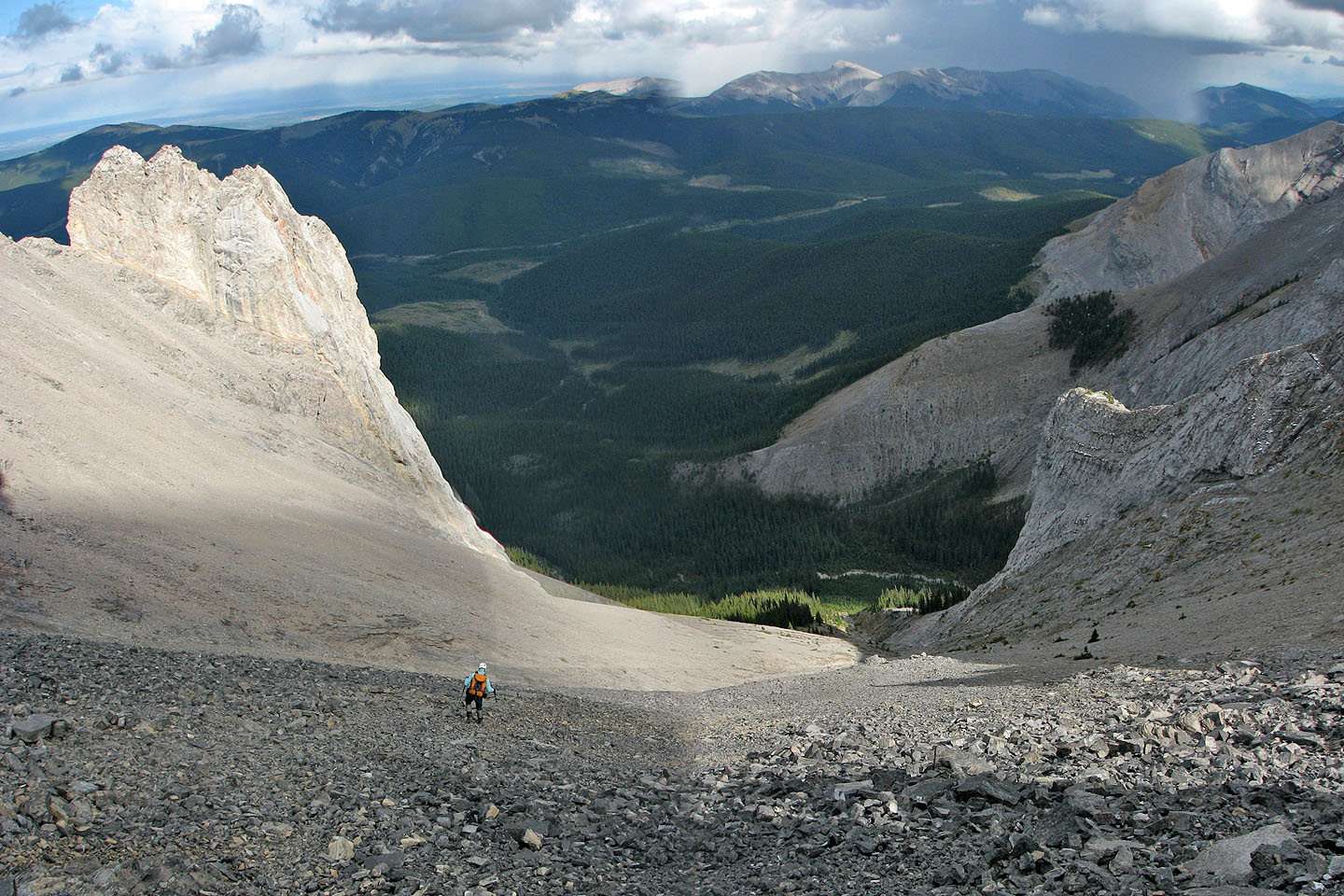 Heading down the east gully. Note the storm in the upper right. We heard thunder from that direction.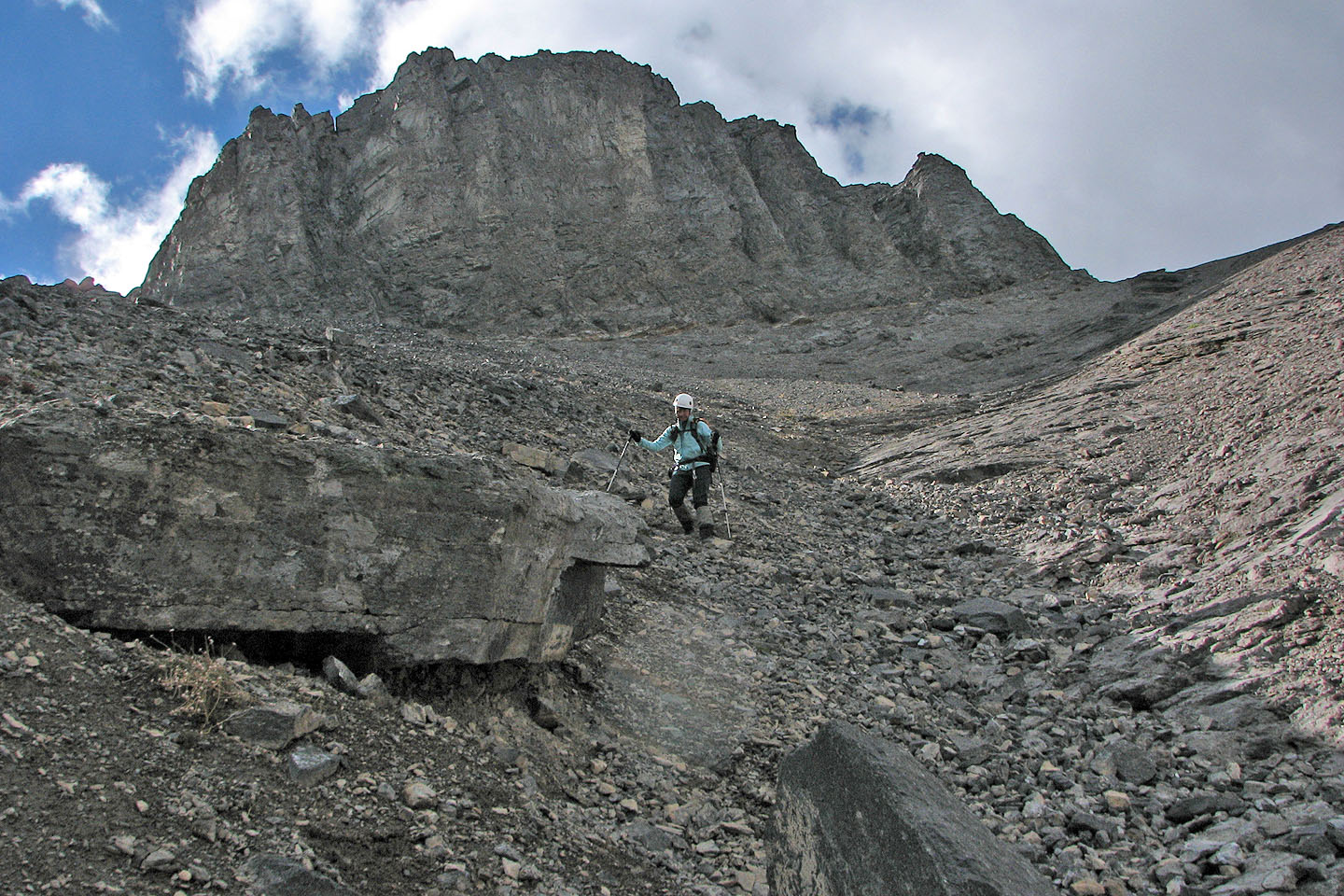 Coming down in Tiara's shadow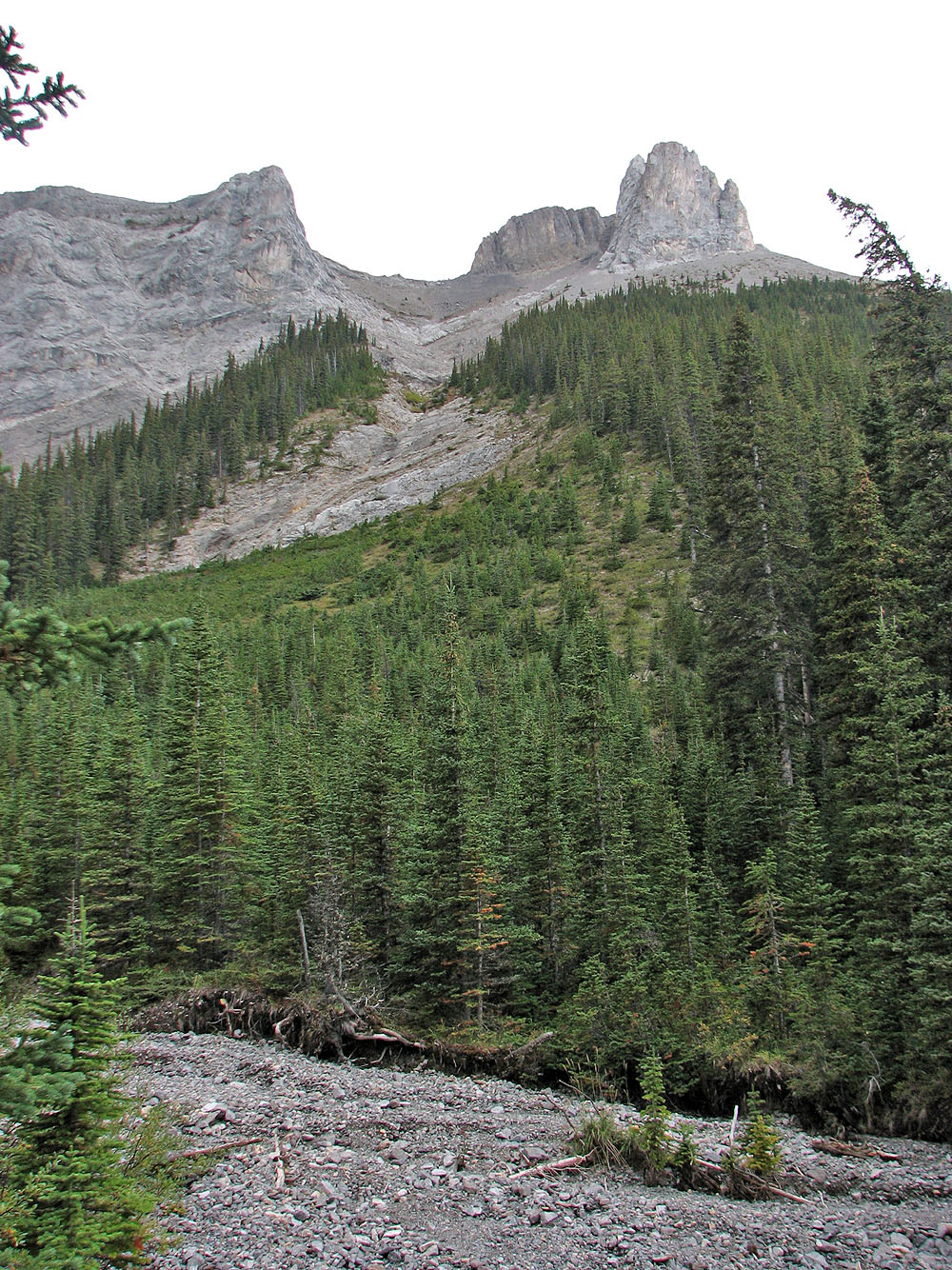 Looking up the drainage we descended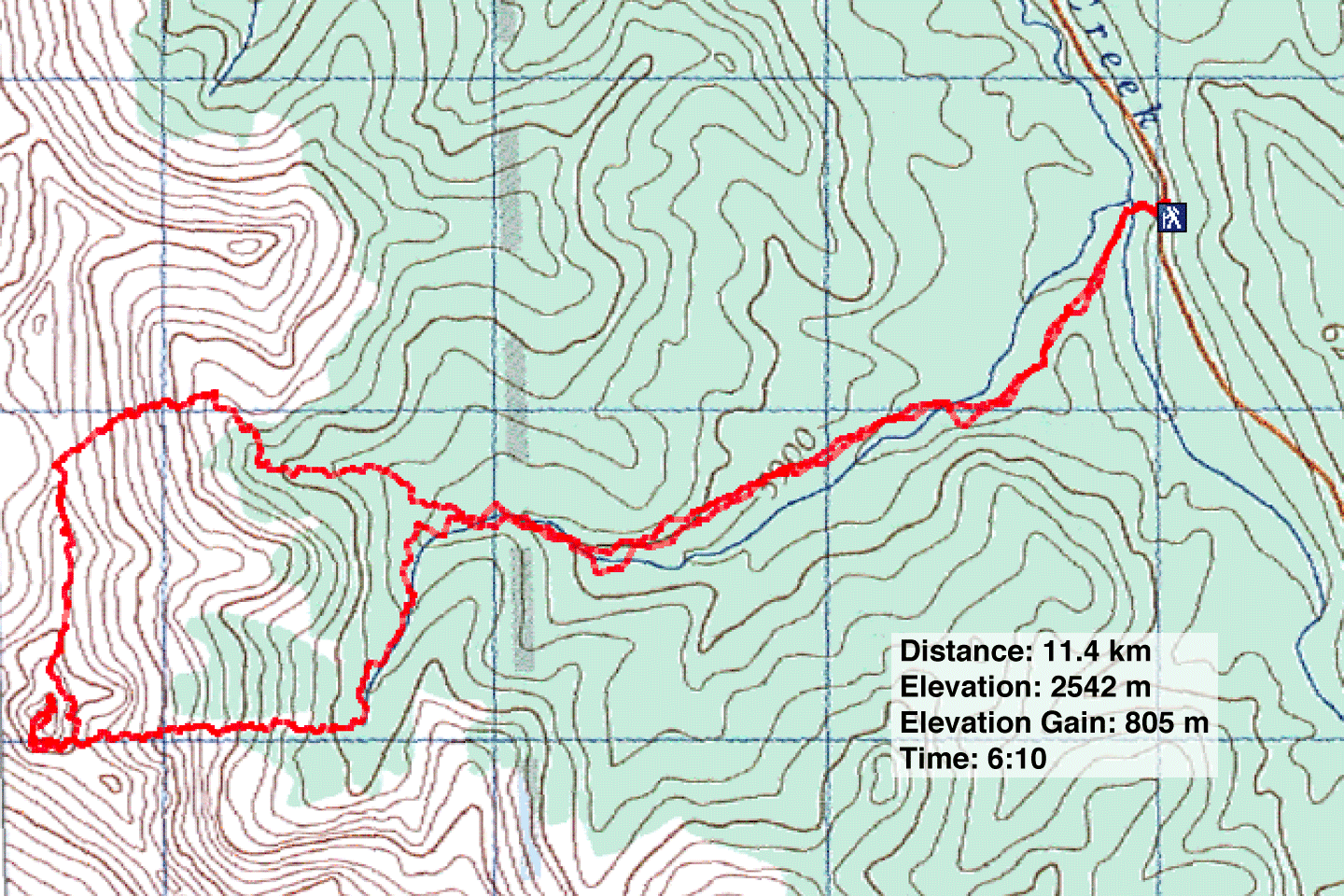 82 J/15 Bragg Creek