bobspirko.ca | Home | Canada Trips | US Trips | Hiking | Snowshoeing | MAP | About

Iceline Summit
Yoho National Park, B.C.
August 8, 2022
Distance: 14.6 km
Cumulative Elevation Gain: 809 m

Starting from towering Takakkaw Falls and climbing to a vast, barren plateau with stunning glaciers and tarns, it's no wonder Iceline Trail is popular. Dinah and I saw dozens of hikers, many wandering around the plateau far from the trail.
Some parties hike Iceline Trail by completing a loop with Little Yoho Valley Trail and Yoho Valley Trail. Including these forest trails, however, adds distance while adding little scenery. On Iceline Trail, we turned around after reaching the highest point, a little moraine called Iceline Summit.
From the parking lot, we followed signs to Iceline Trail. But the trail doesn't begin to climb until after it crosses the access road. Aided by switchbacks, the trail quickly climbs through the forest. After the switchbacks, we broke out of the trees and gazed down at Takakkaw Falls.
The trail continues climbing while running over small ridges and through shallow glacier-fed streams. After covering several delightful kilometres, we reached a small hill next to the trail: Iceline Summit. It rises only 20 m above the plateau, but it's high enough to peer down at the north end of the plateau and see two more tarns. It's also a great perch to gaze at several peaks, including nearby Isolated Peak and Whaleback Mountain. After looking around, we started heading down. The best thing about doing Iceline Trail as an out-and-back trip is getting to see all the great scenery again!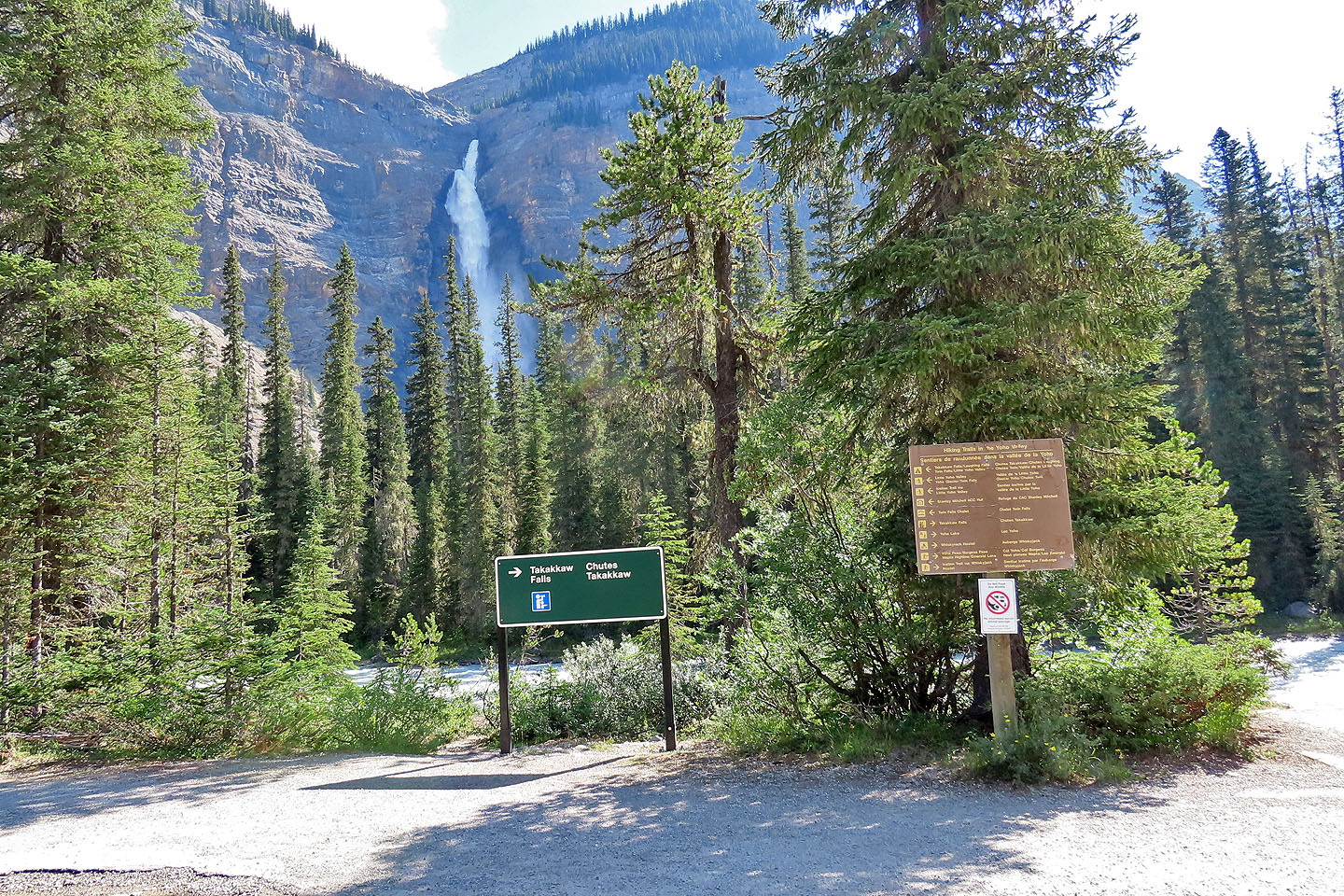 Iceline Trail, along with several other trails, begins in front of Takakkaw Falls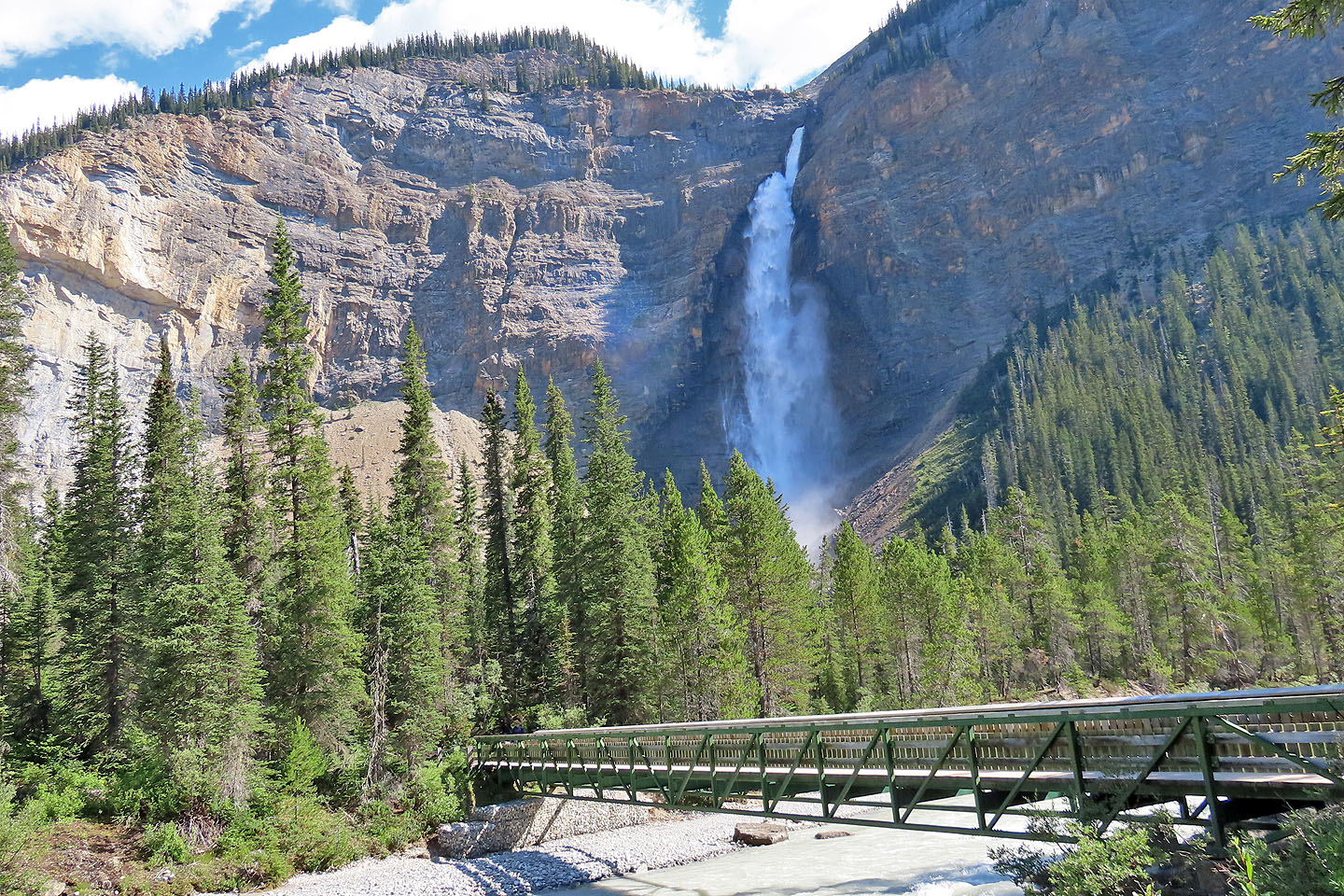 A bridge leads to Takakkaw Falls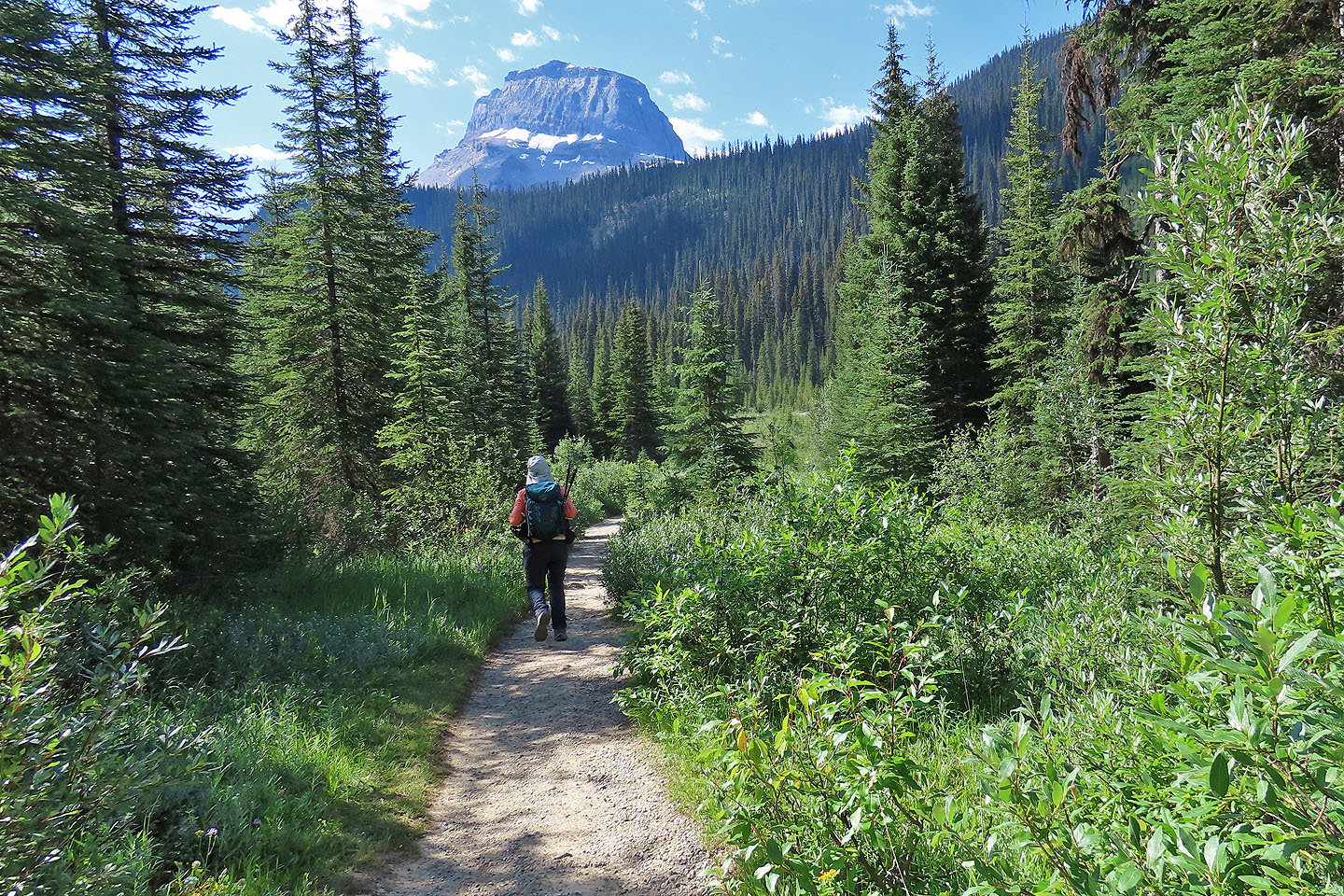 The trail heads towards Wapta Mountain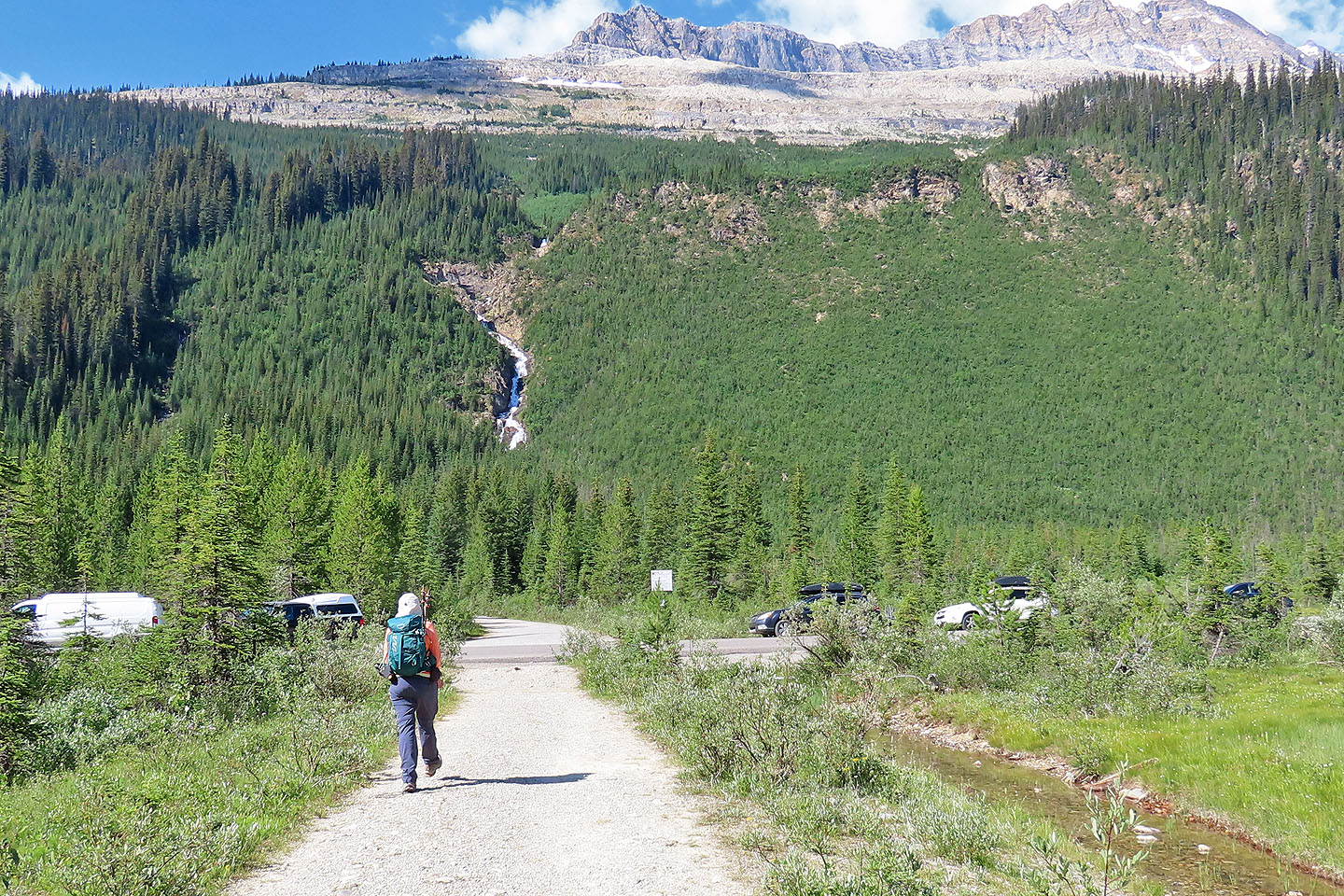 The trail crosses Yoho Valley Road. Had we parked here, it would have shortened our trip by 2 km.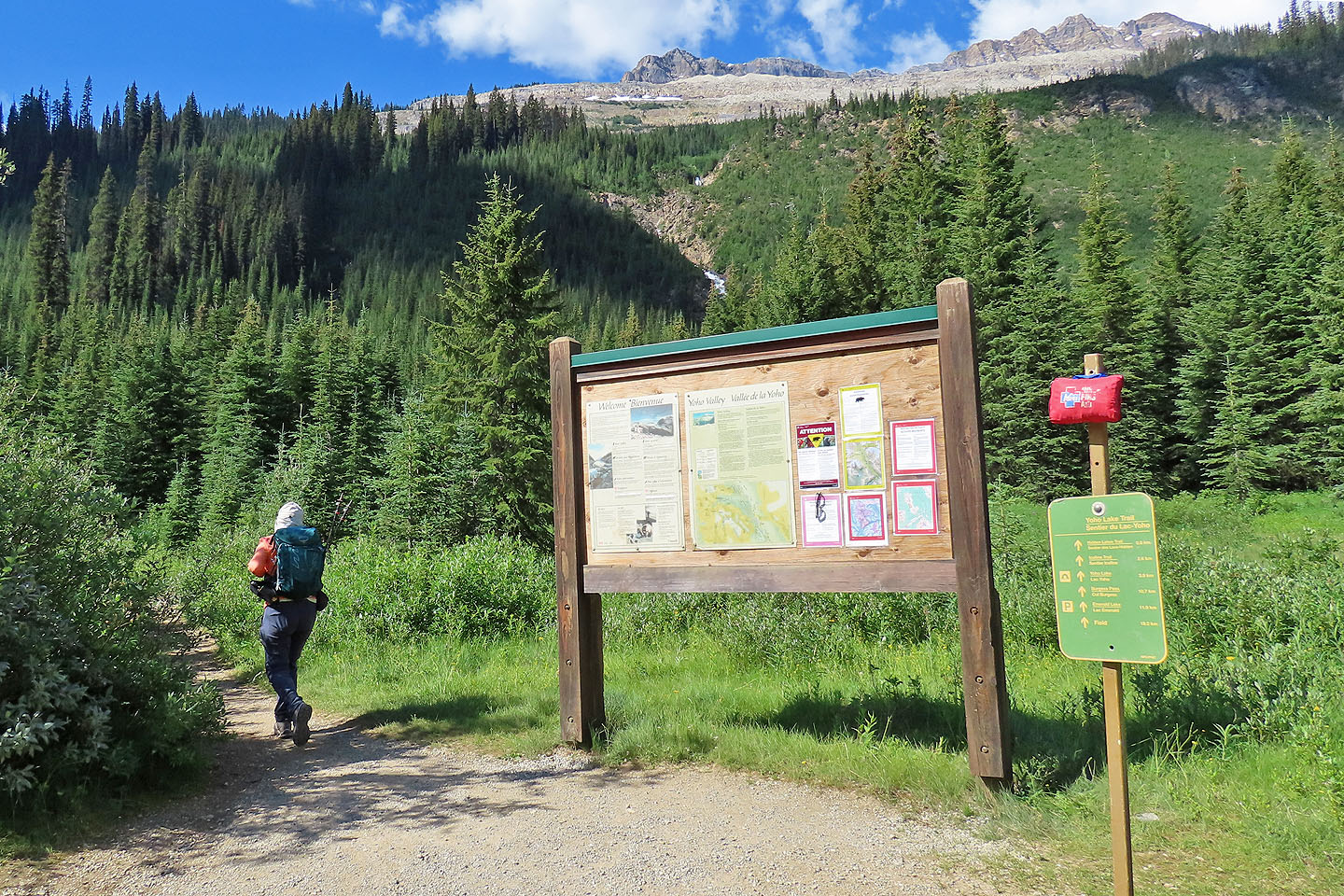 The hike really begins here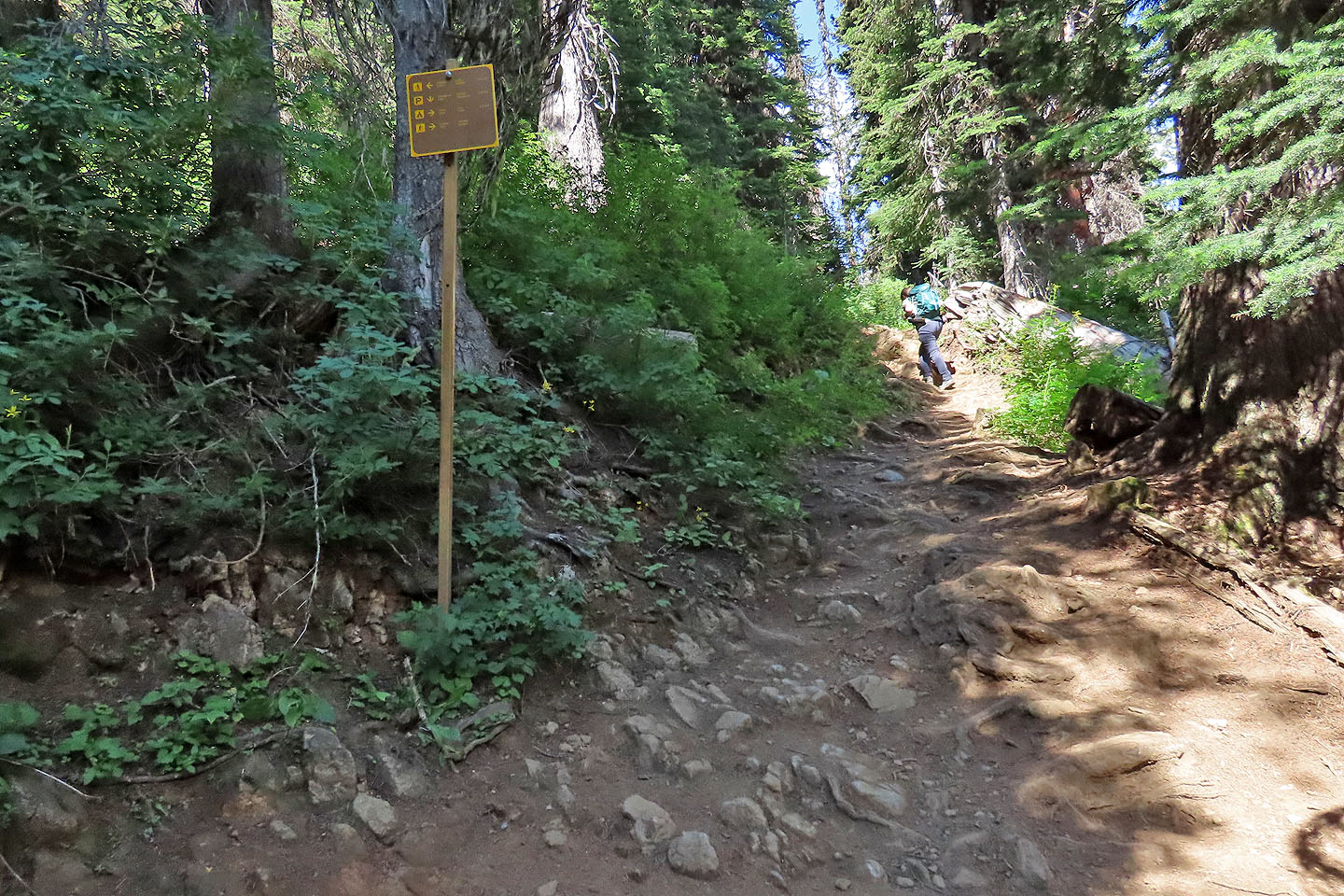 We passed Hidden Lakes Trail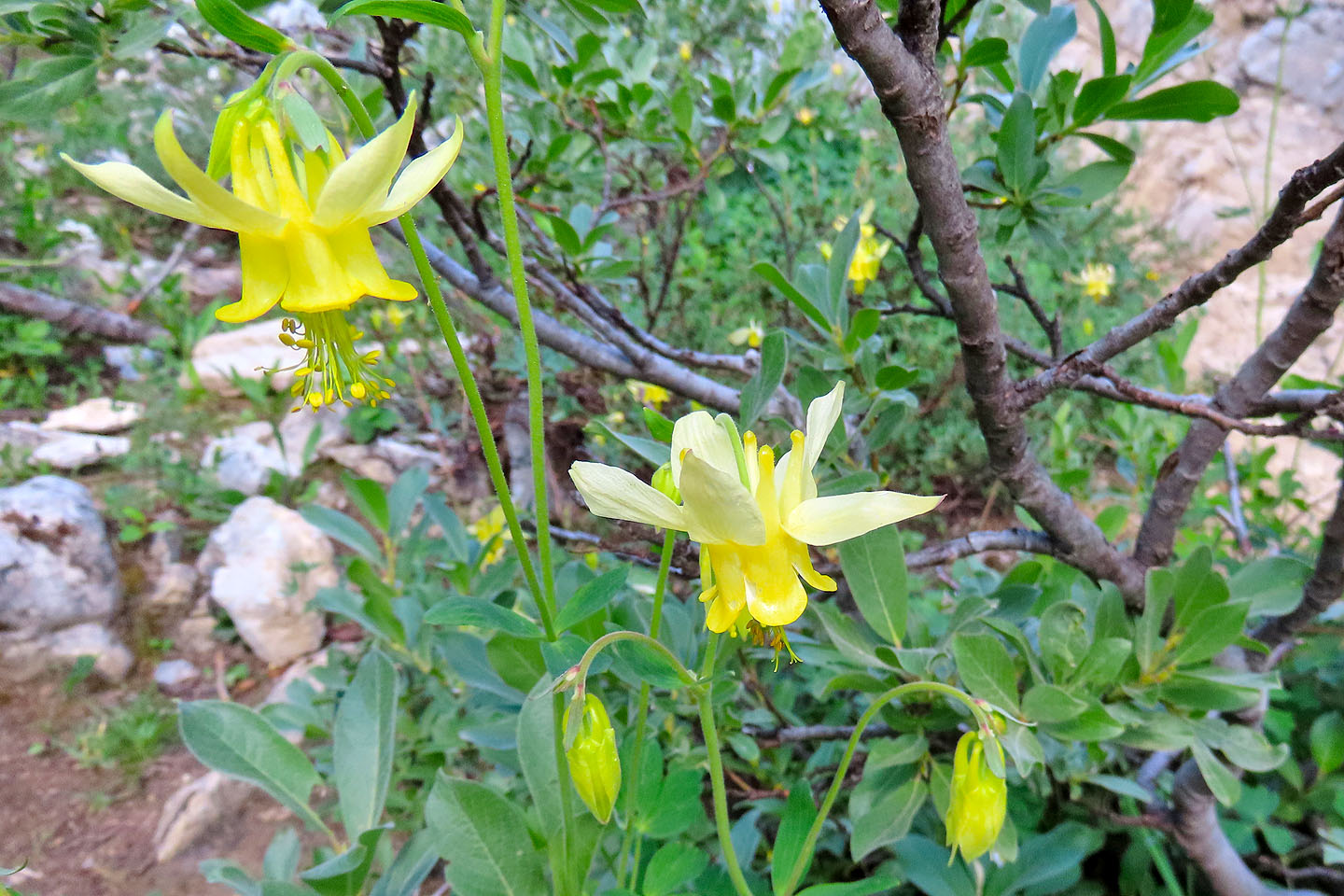 Columbine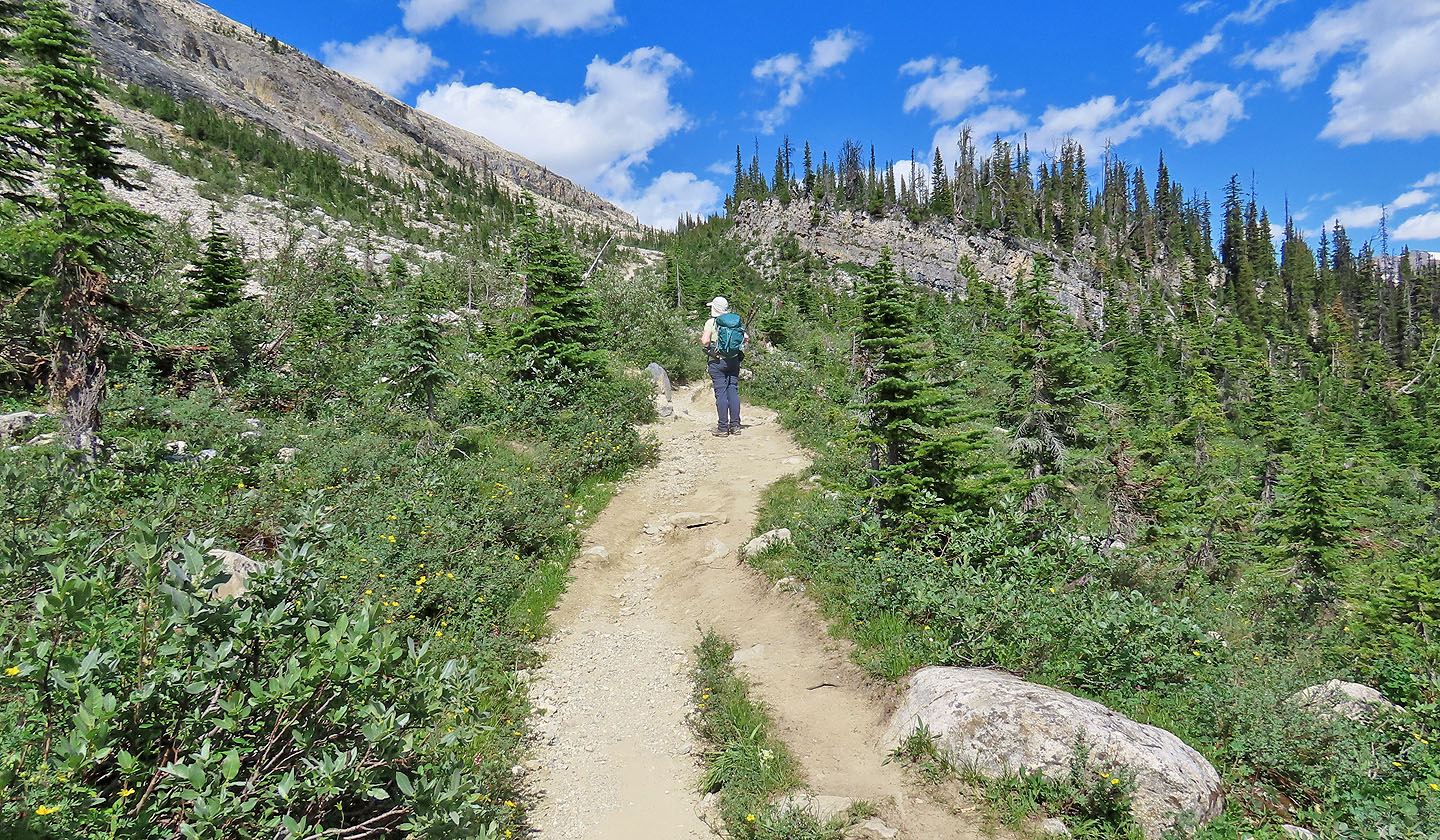 The scenery opened up as we approached the treeline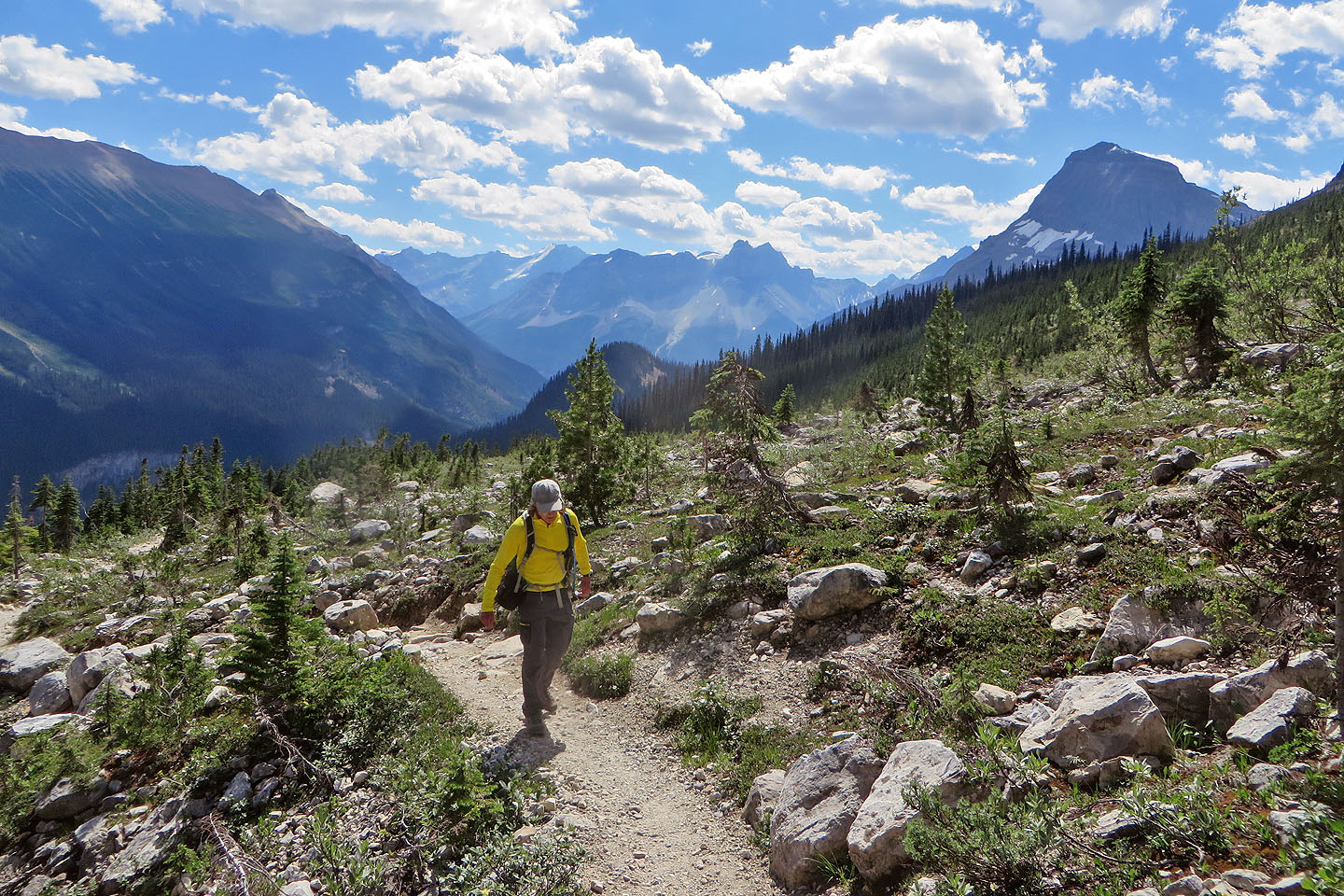 Looking back at Mount Ogden left and Wapta Mountain right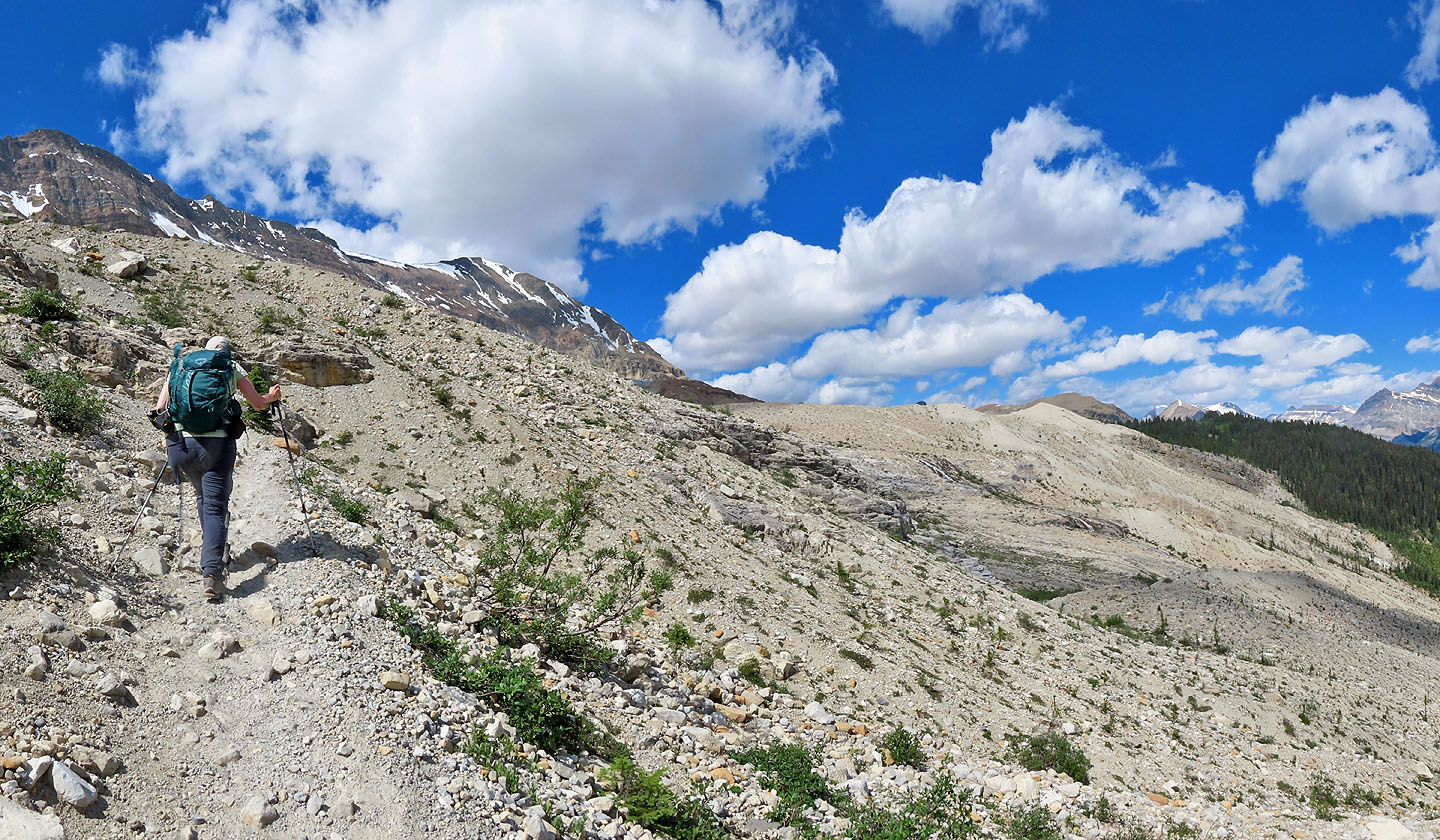 The trail continues climbing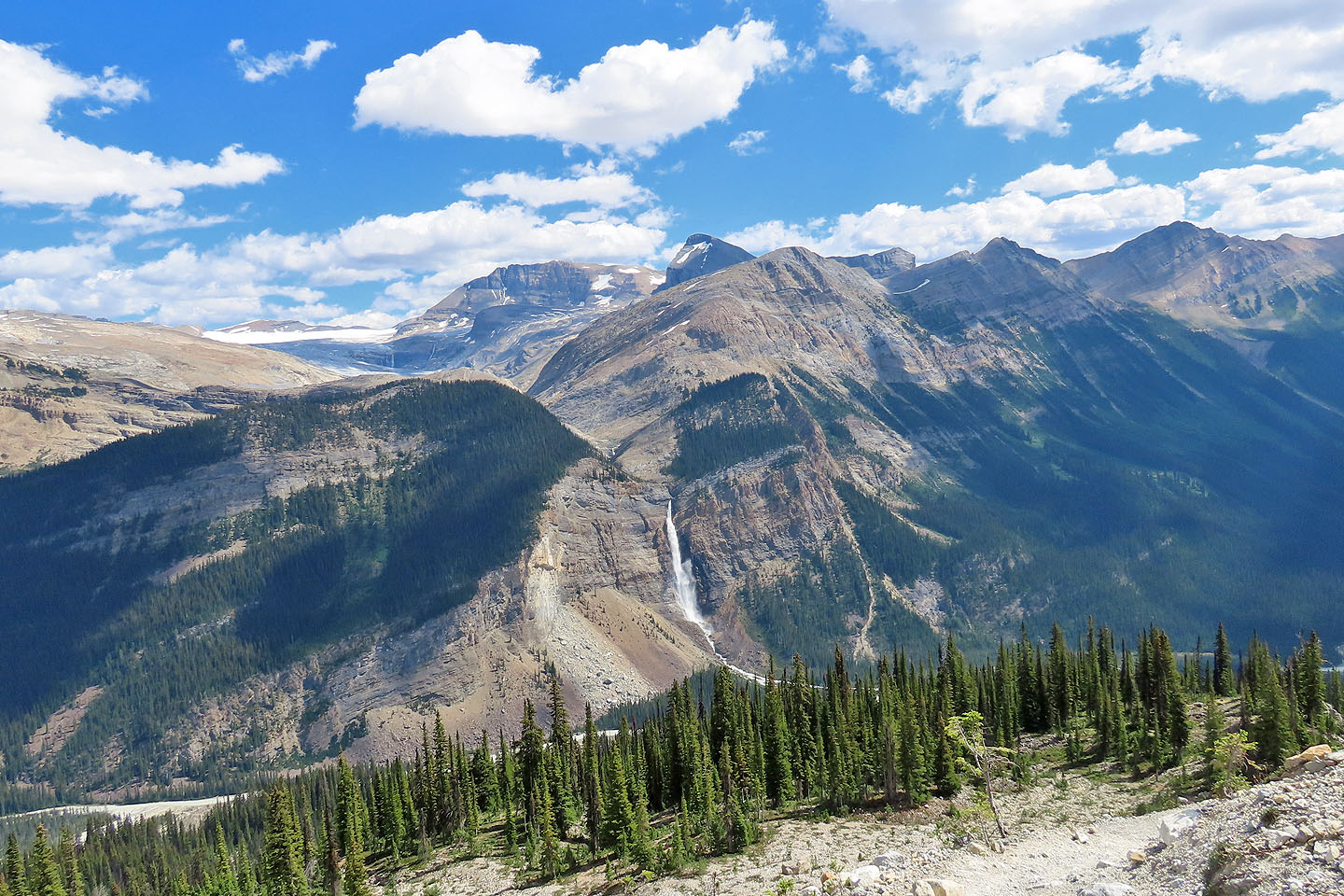 Looking down at Takakkaw Falls (mouse over for a close-up)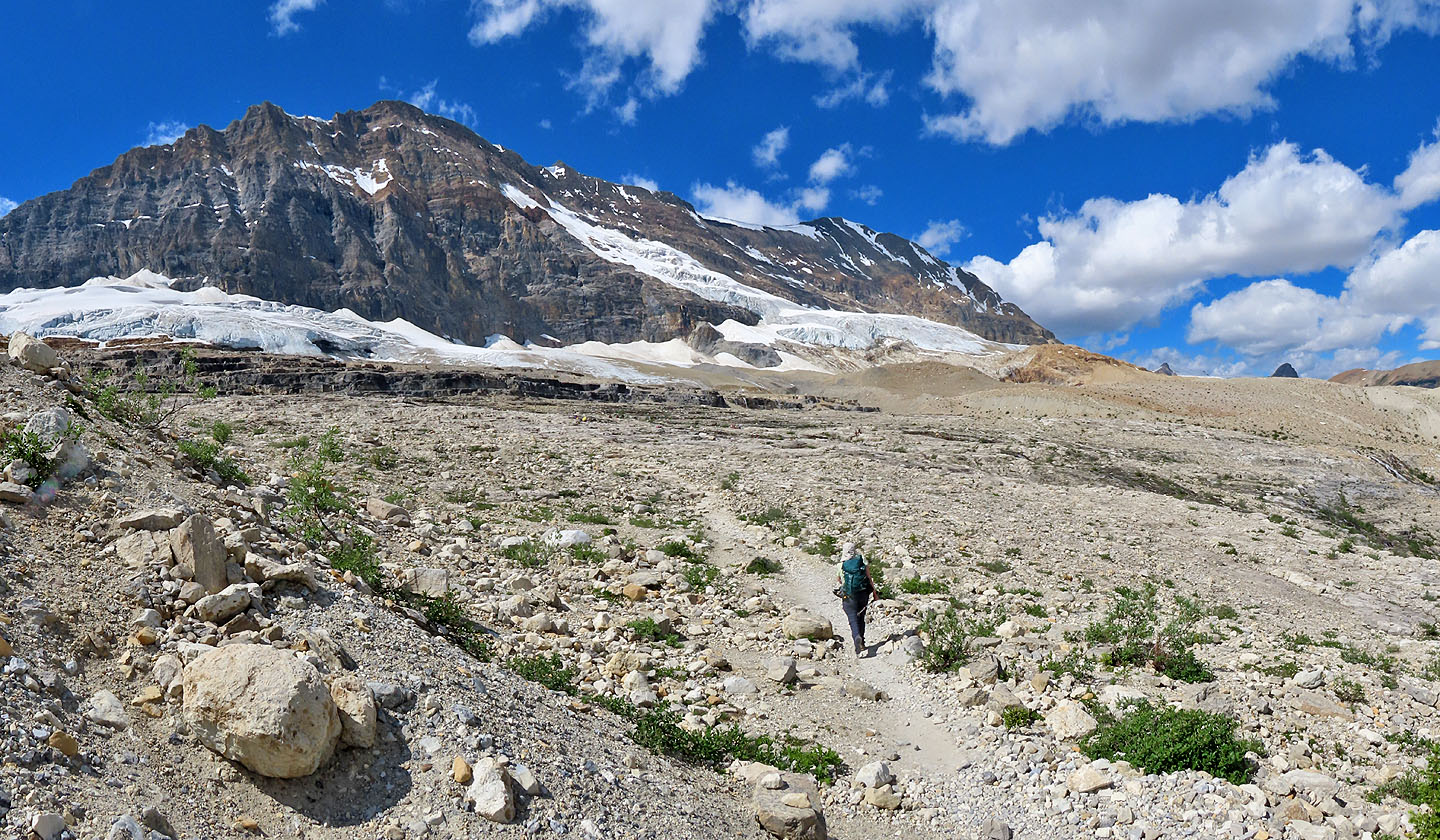 President Range rises above the plateau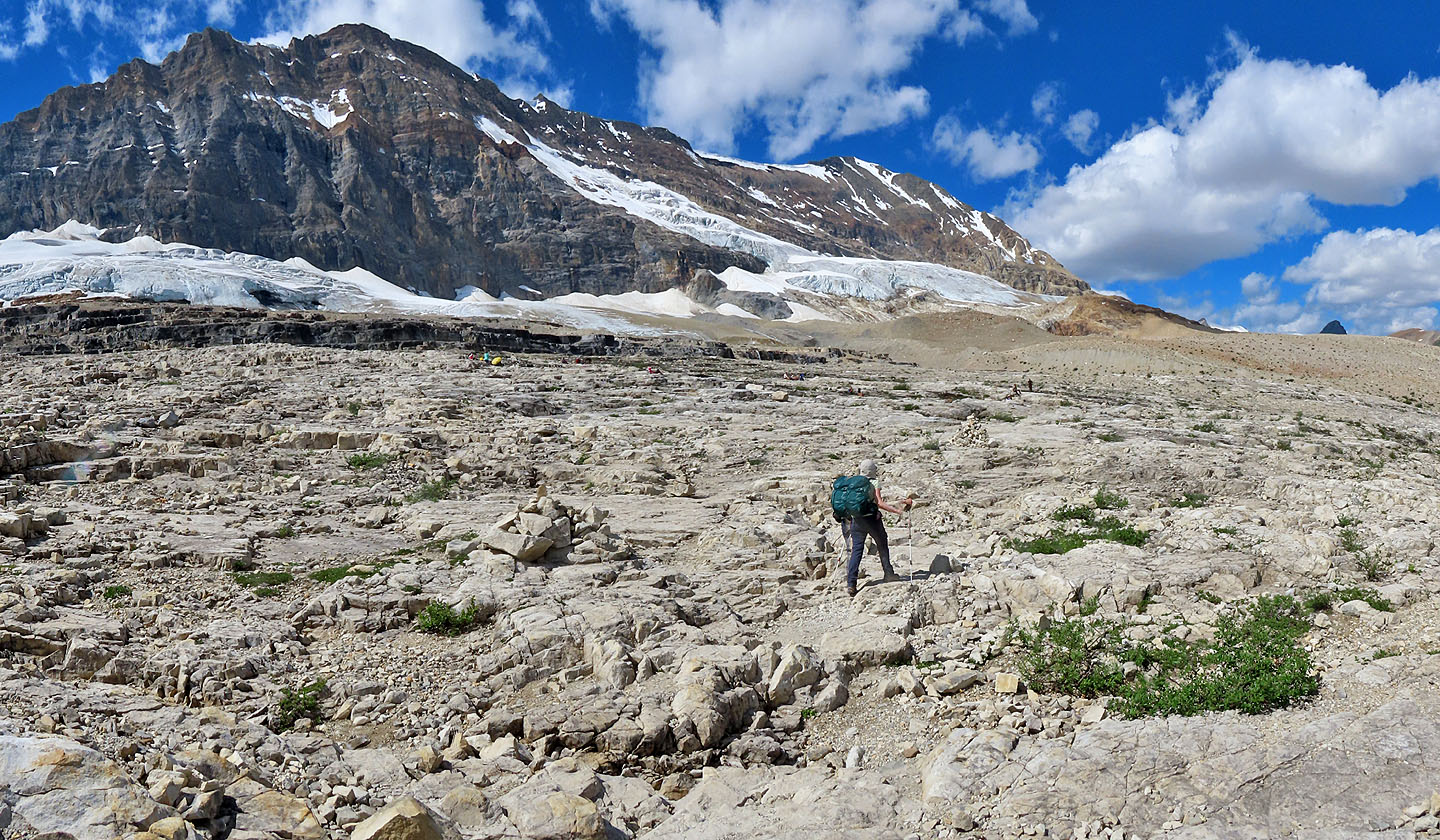 People were scattered about, relaxing or exploring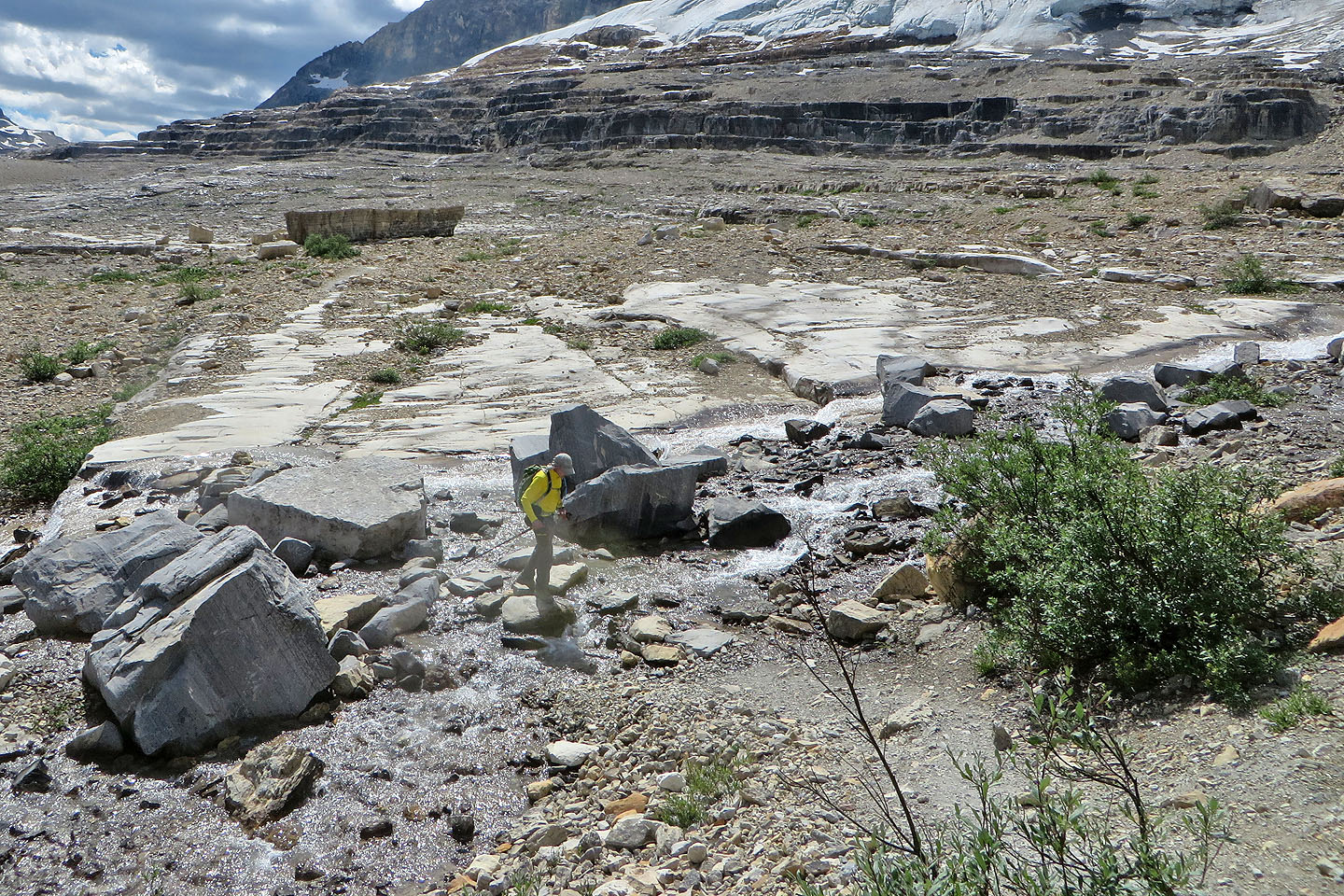 Crossing a stream before the trail goes over a ridge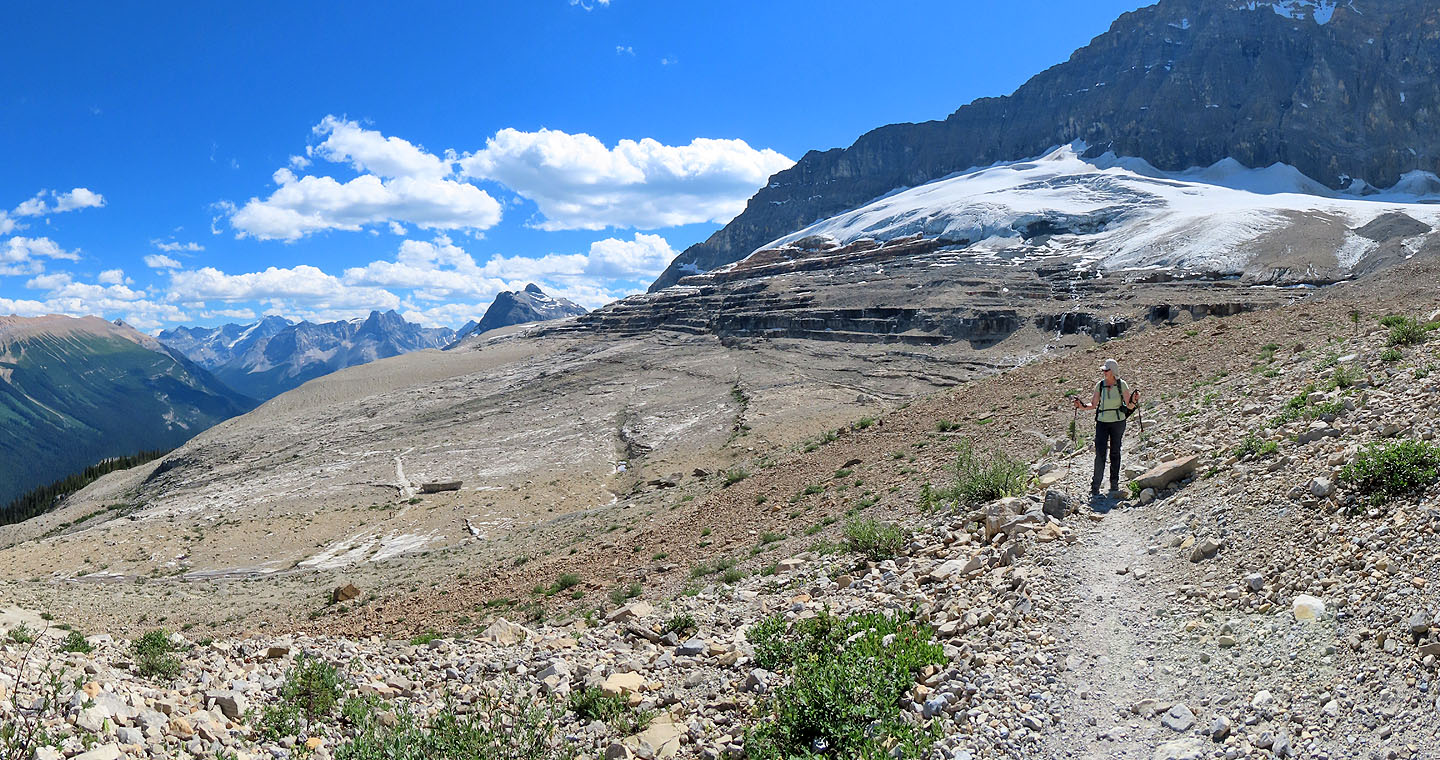 Looking back. Wapta Mountain, centre (mouse over for a close-up)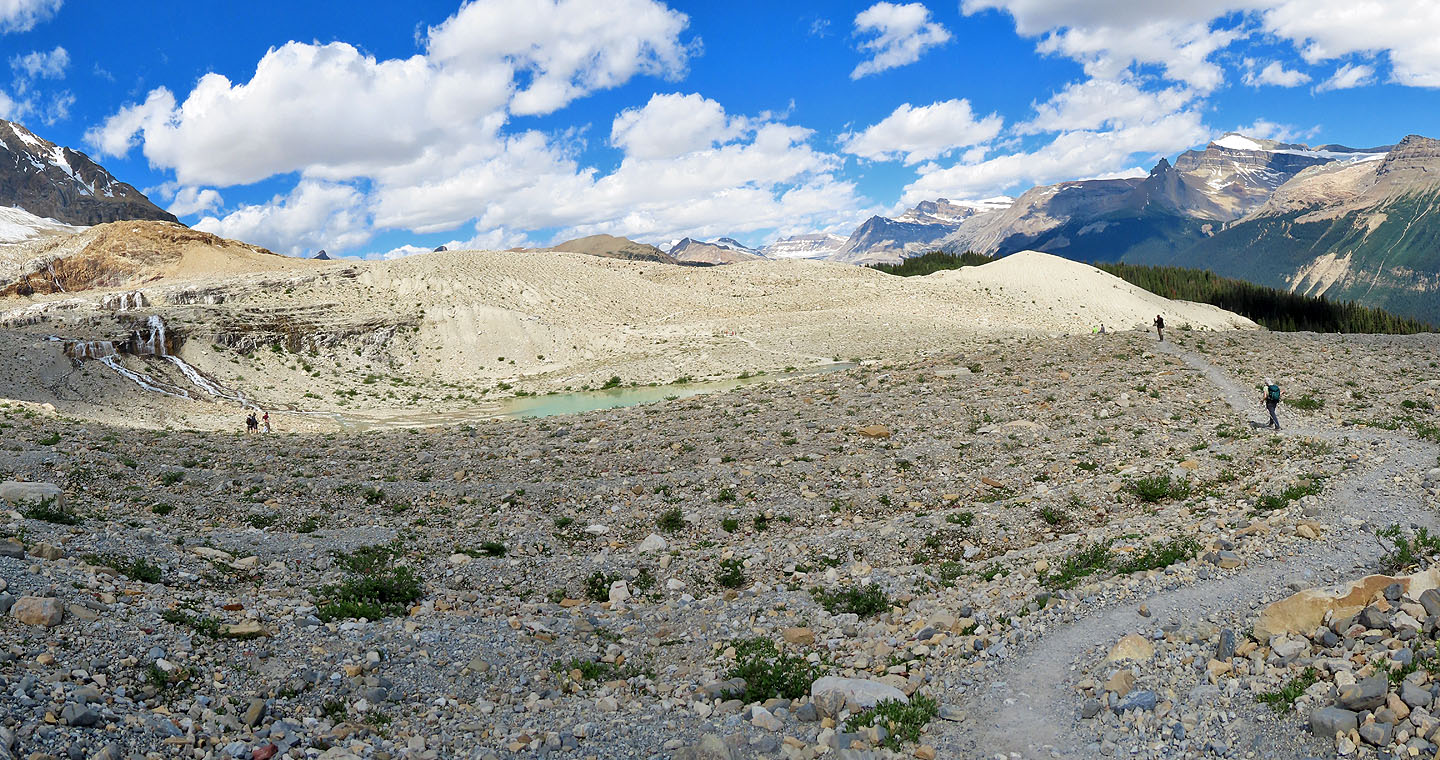 Coming up to the first tarn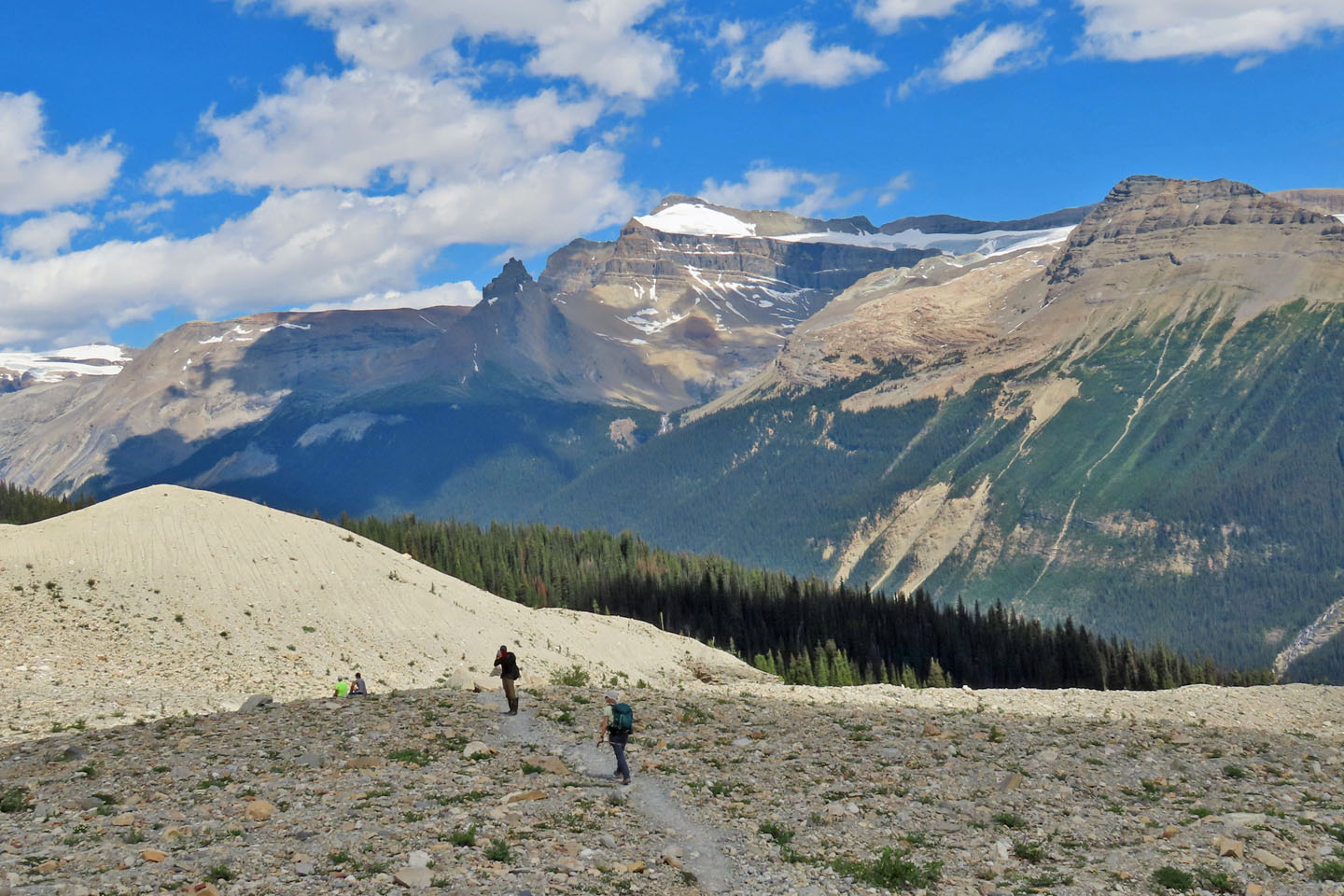 Mount Balfour in the centre (mouse over)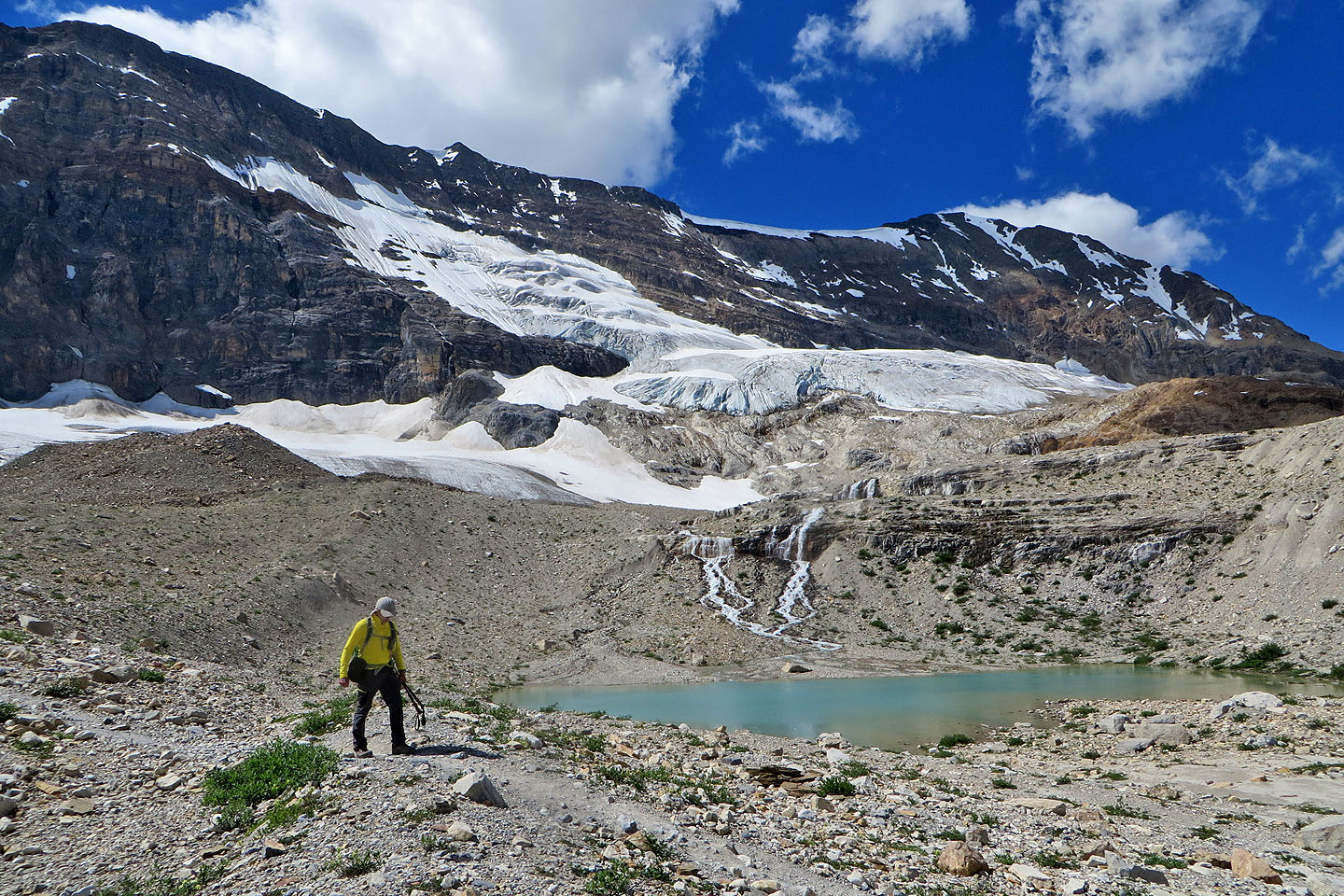 Runoff from Emerald Glacier feeds the tarn

The trail crosses several streams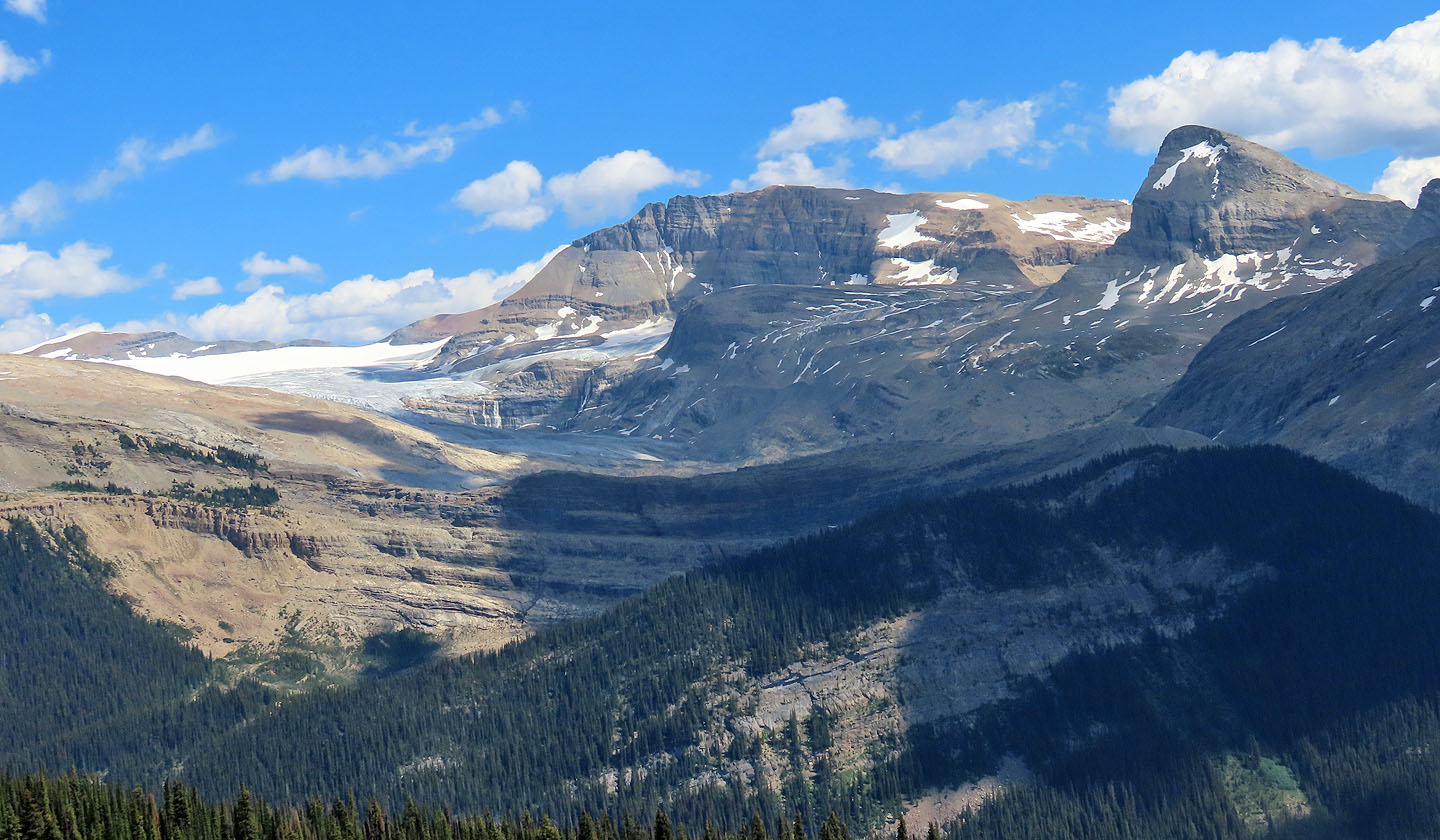 Behind us are Mount Daly and Mount Niles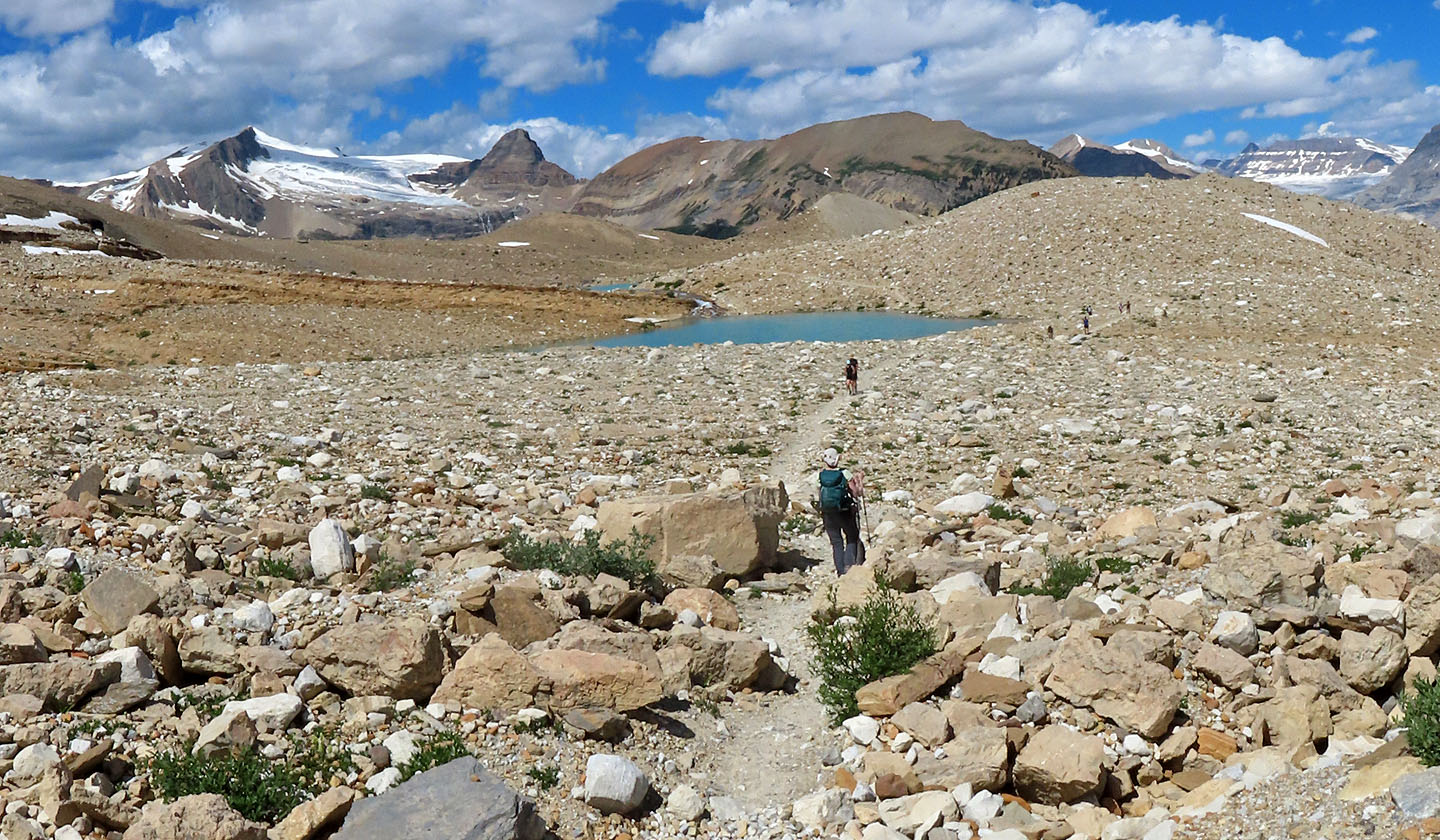 Isolated Peak and Whaleback Mountain in the centre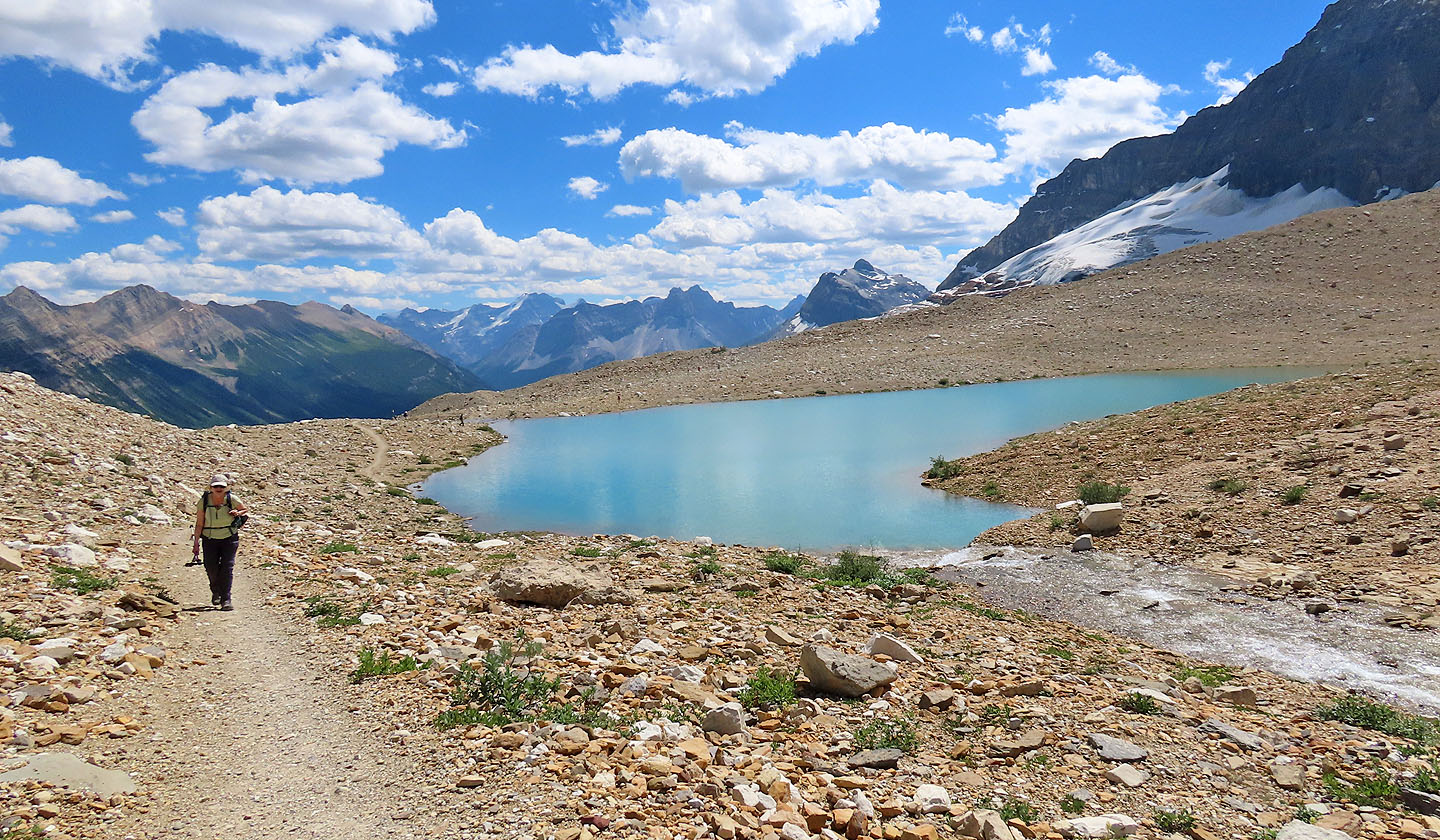 Passing the second tarn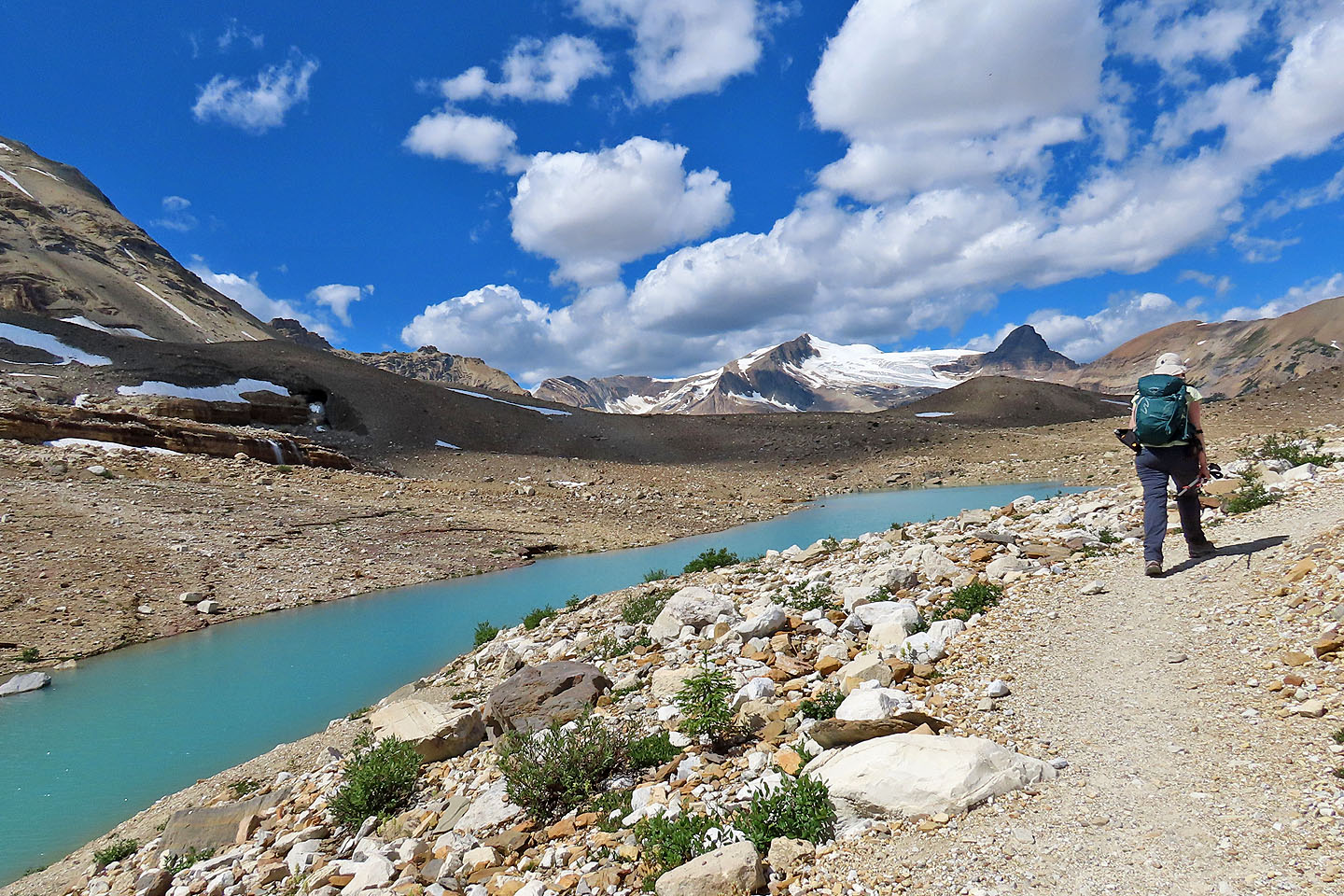 Passing the third tarn. Iceline Summit is the bump left of Dinah.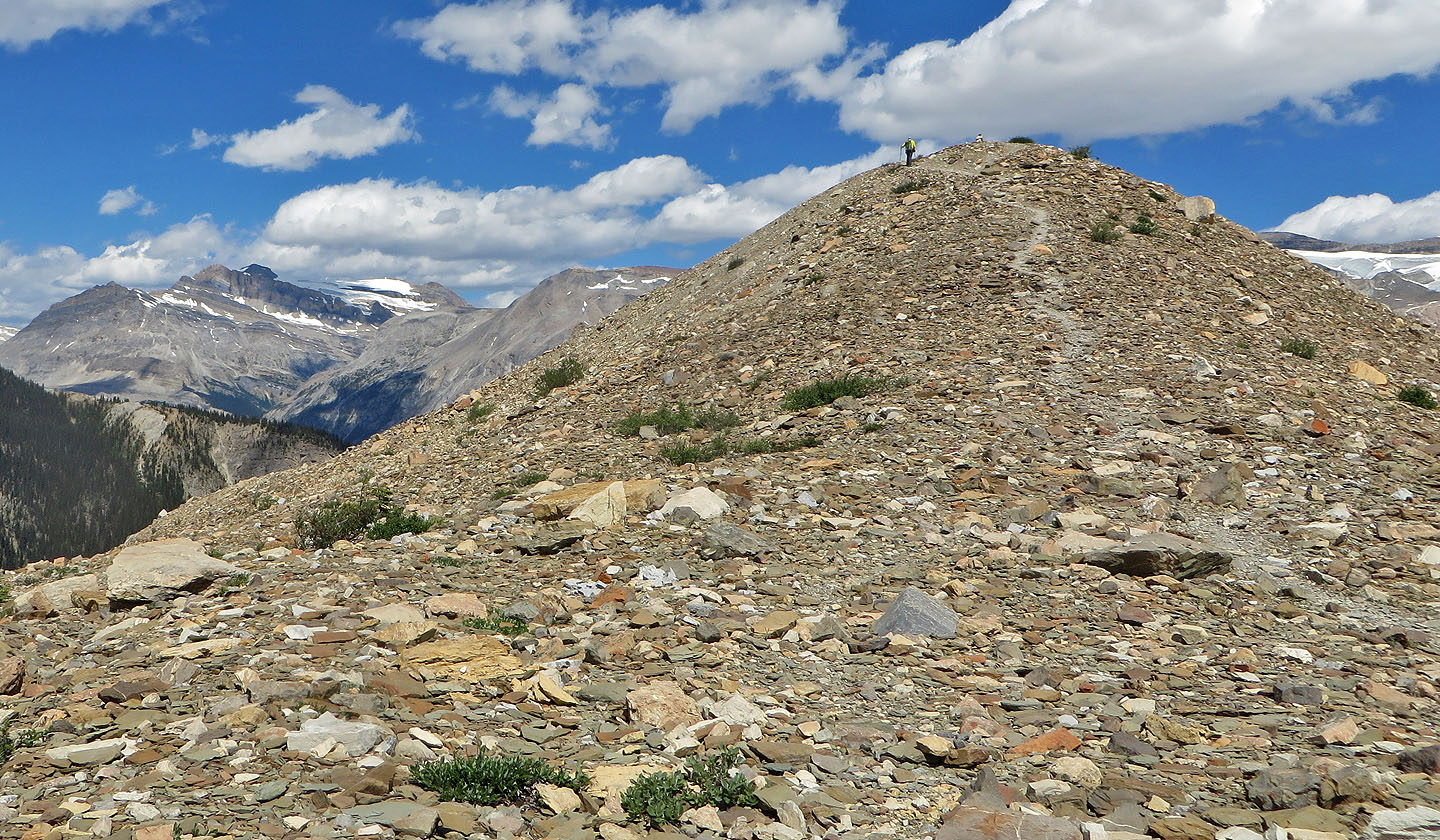 A path leads to the top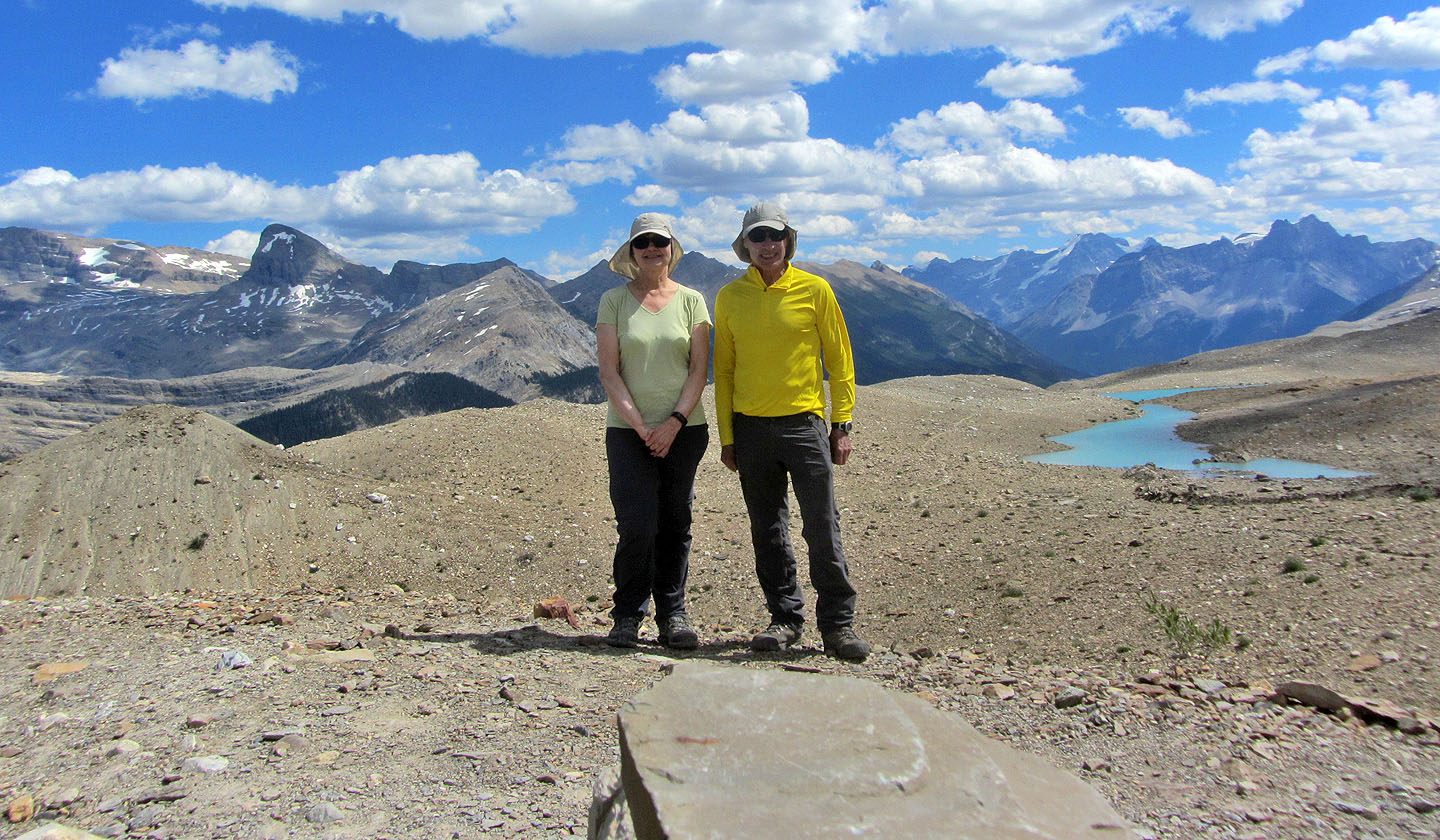 Posing on top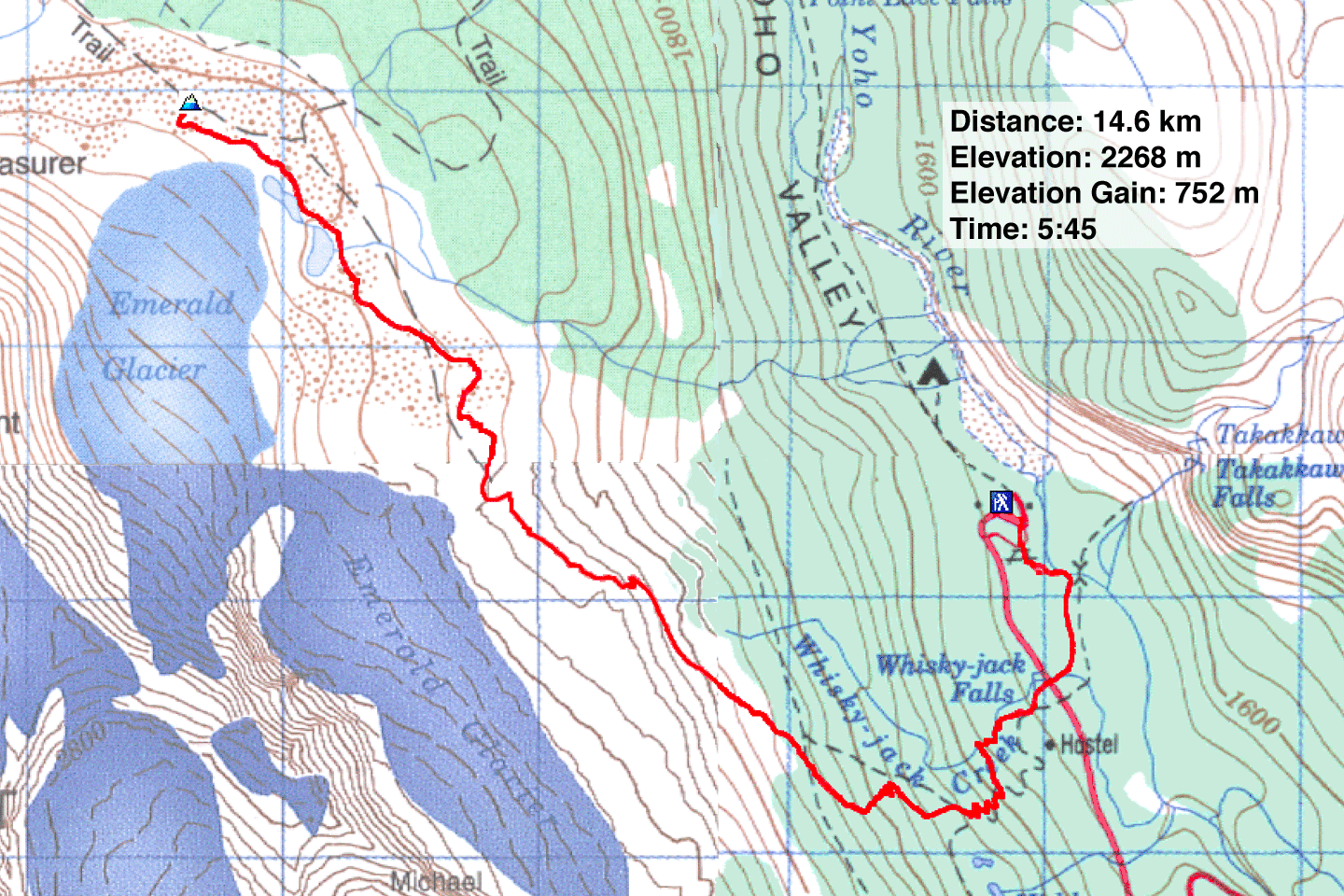 82 N/07 Golden, 82 N/08 Lake Louise, 82 N/09 Hector Lake, 82 N/10 Blaeberry River