bobspirko.ca | Home | Canada Trips | US Trips | Hiking | Snowshoeing | MAP | About

Mount Yamnuska
Kananaskis, Alberta
June 20, 2009
Distance: 9.3 km
Cumulative Elevation Gain: 889 m
It's been over ten years since I did the Yamnuska traverse, and Dinah had never done it. So with a short day in mind, we paid the popular mountain a visit.
The trail runs flat but soon rises and hits a T-intersection on a level spot. We went right to do the traverse counterclockwise. We followed the trail as it traverses below the east shoulder of Yam, climbing gradually, before reaching the ridgeline. After that, it turns west, heading to cliffs. After scrabbling through the notch in the cliffs, we continued up the trail until we reached the crux. Years ago, when I had done the traverse, there was no cable and few people ventured past this point. Now, we waited in line as hikers took their turn shuffling along a narrow ledge while holding onto a cable.
After the crux, it was still tricky going (and difficult to pass slower groups) until the trail moved off the rocks and back onto a scree slope. We made our way to the summit. As expected, we found no solitude and shared the top with several others.
After a half-hour stay, we started down the west side of the mountain, quickly descending a scree trail to the col. Here footing was less agreeable – loose stones on hard-packed ground. Past that, we hiked easily along the trail that hugs the base of a towering cliff. We looked for, and found, a soft stretch of scree and scooted down. Minutes later we were back at the parking lot which now overflowed with vehicles.
Postscript: In 2022, the trail to the East Ridge was improved. See Raven's End.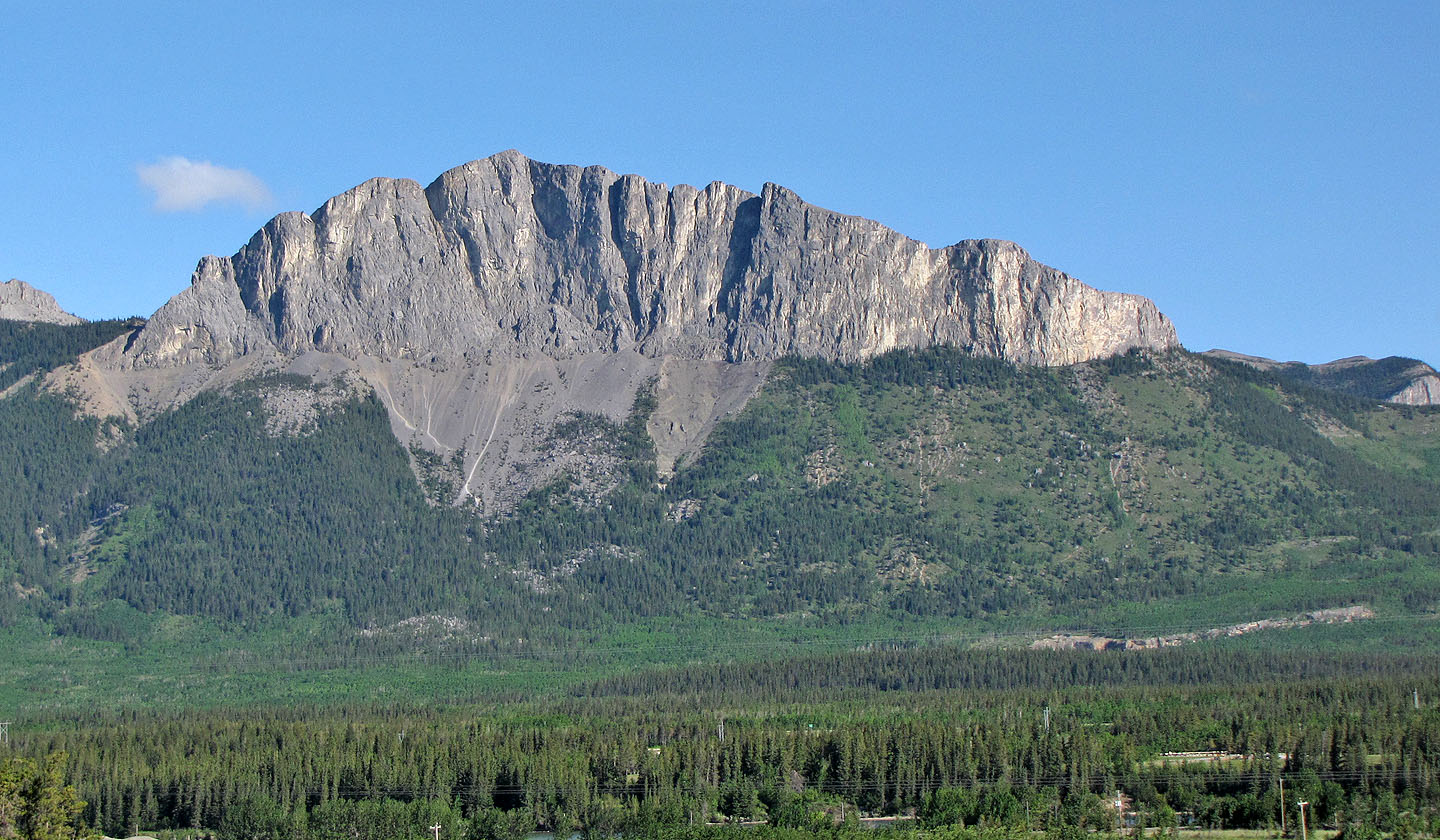 Mount Yamnuska from the highway

On the trail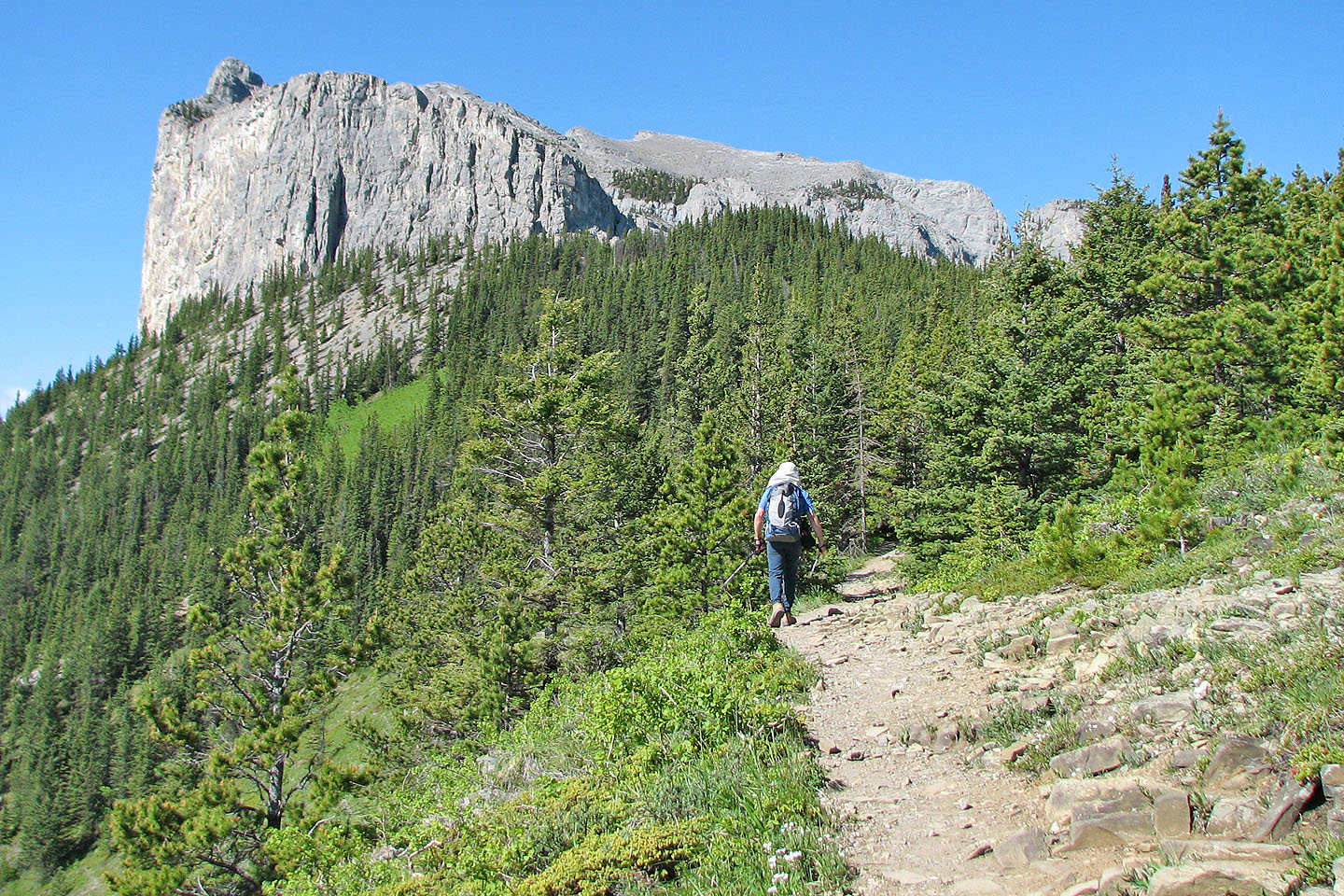 The trail leads to the base of a huge cliff face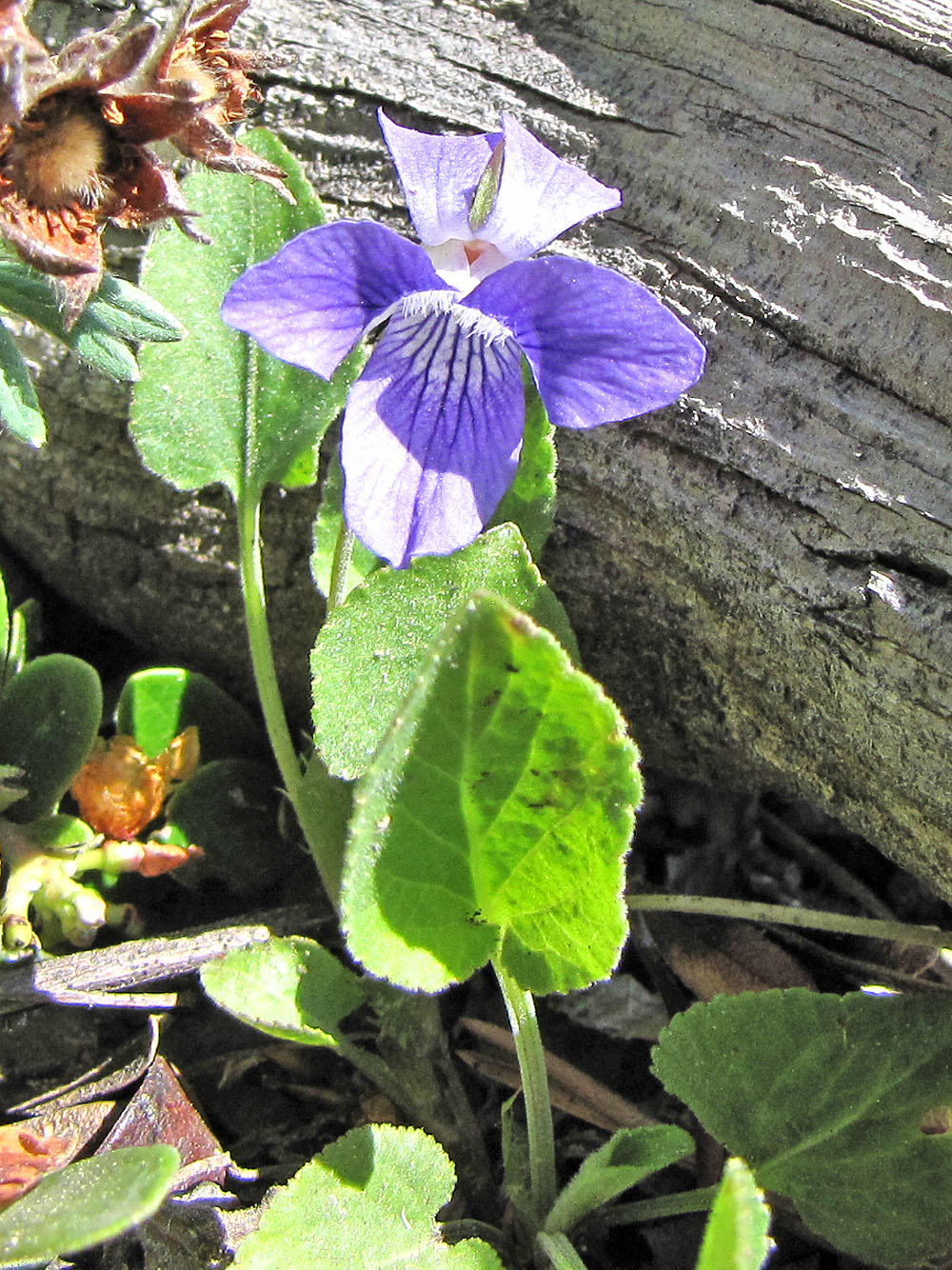 Early blue violet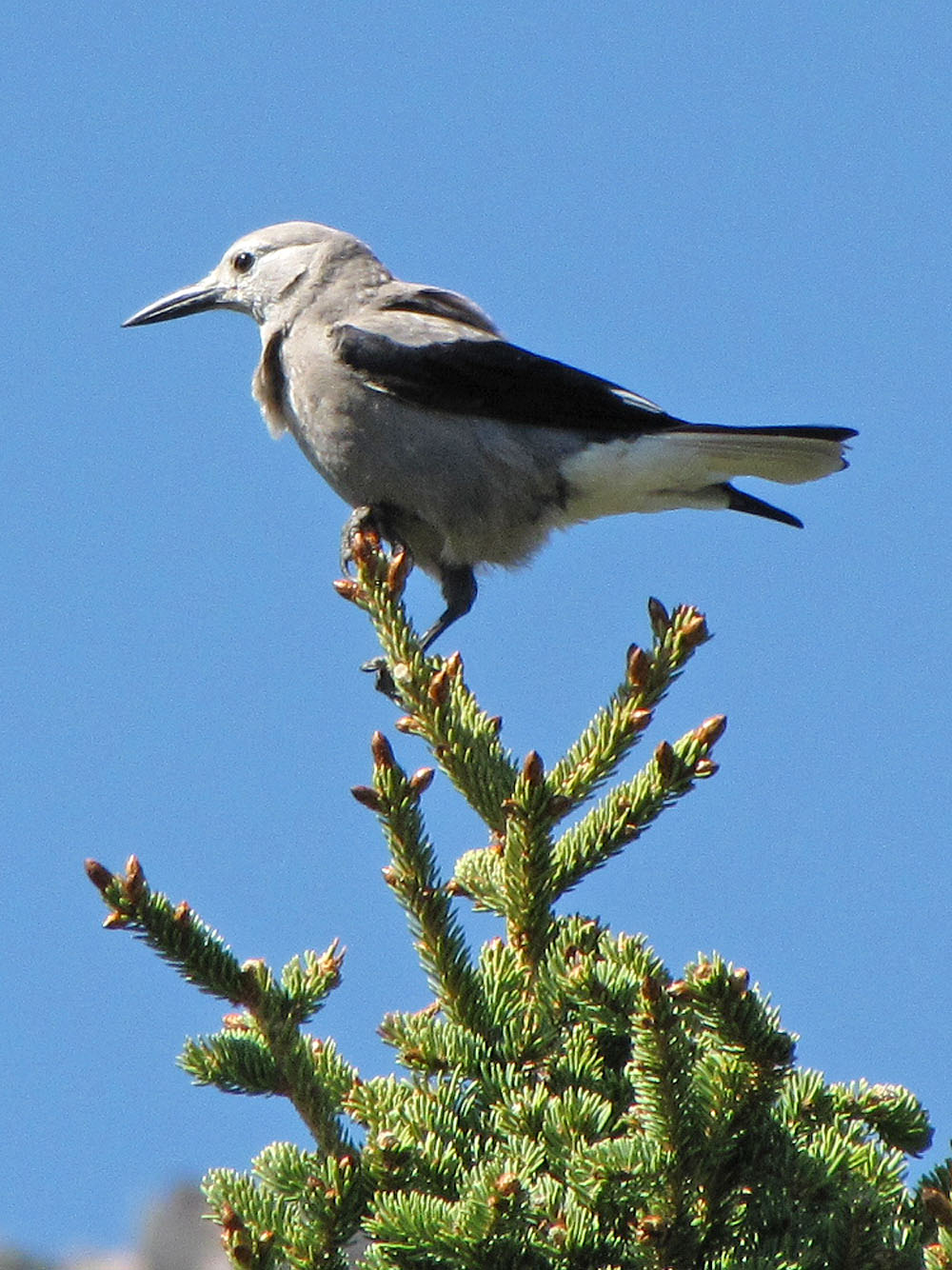 Clark's nutcracker

Route goes through to a notch in the cliffs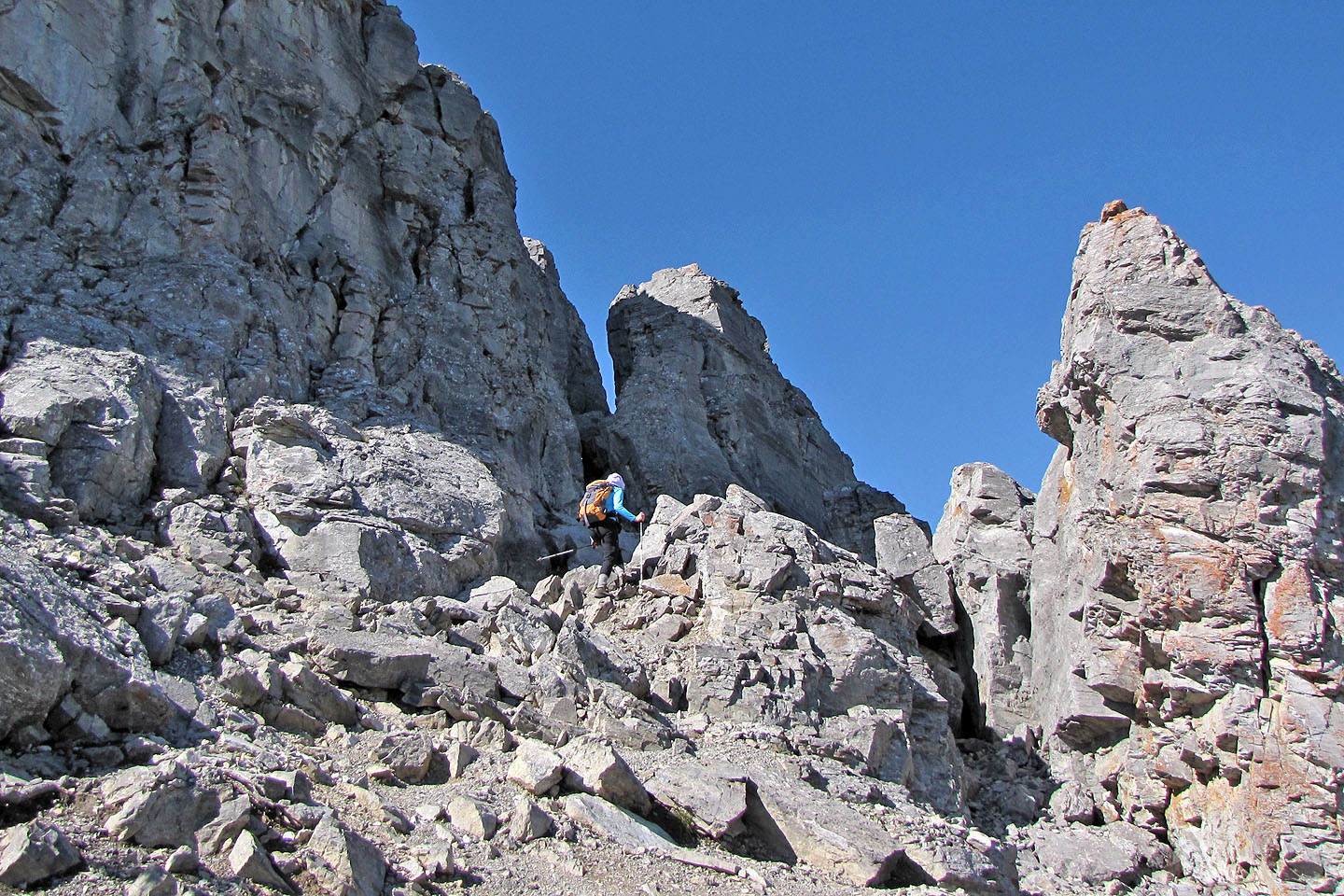 Heading to the notch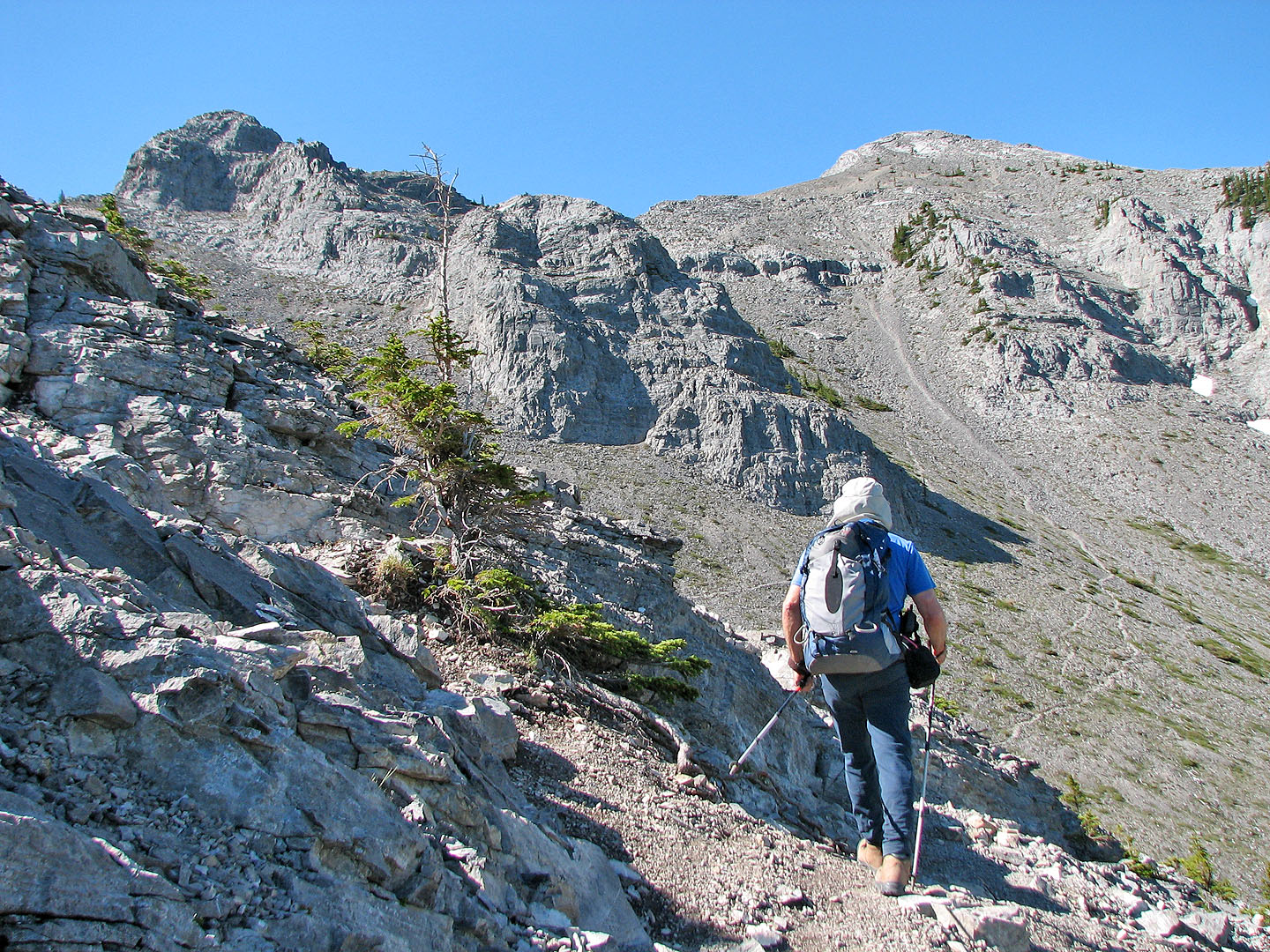 The view after the notch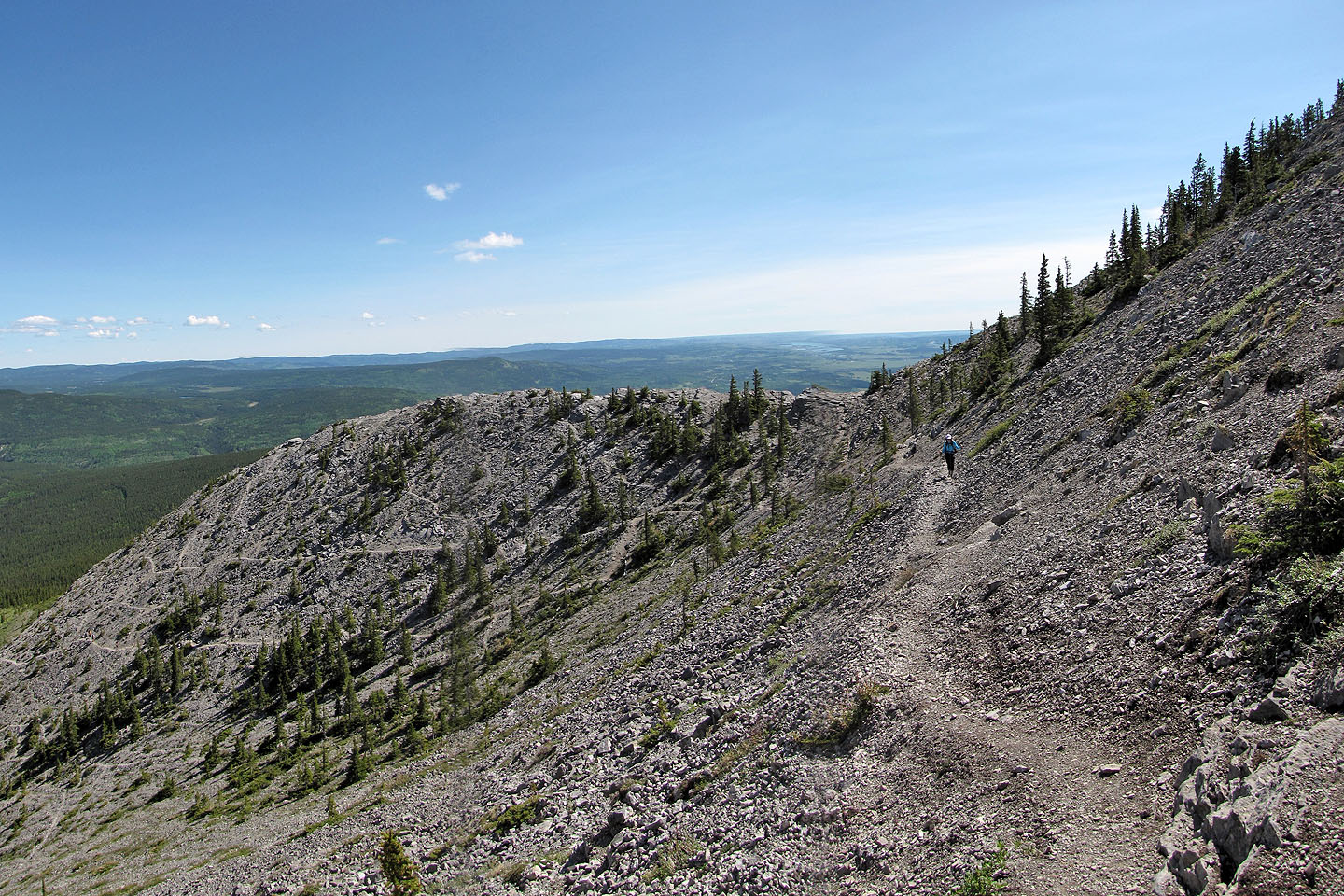 After the notch the trail cuts into the slope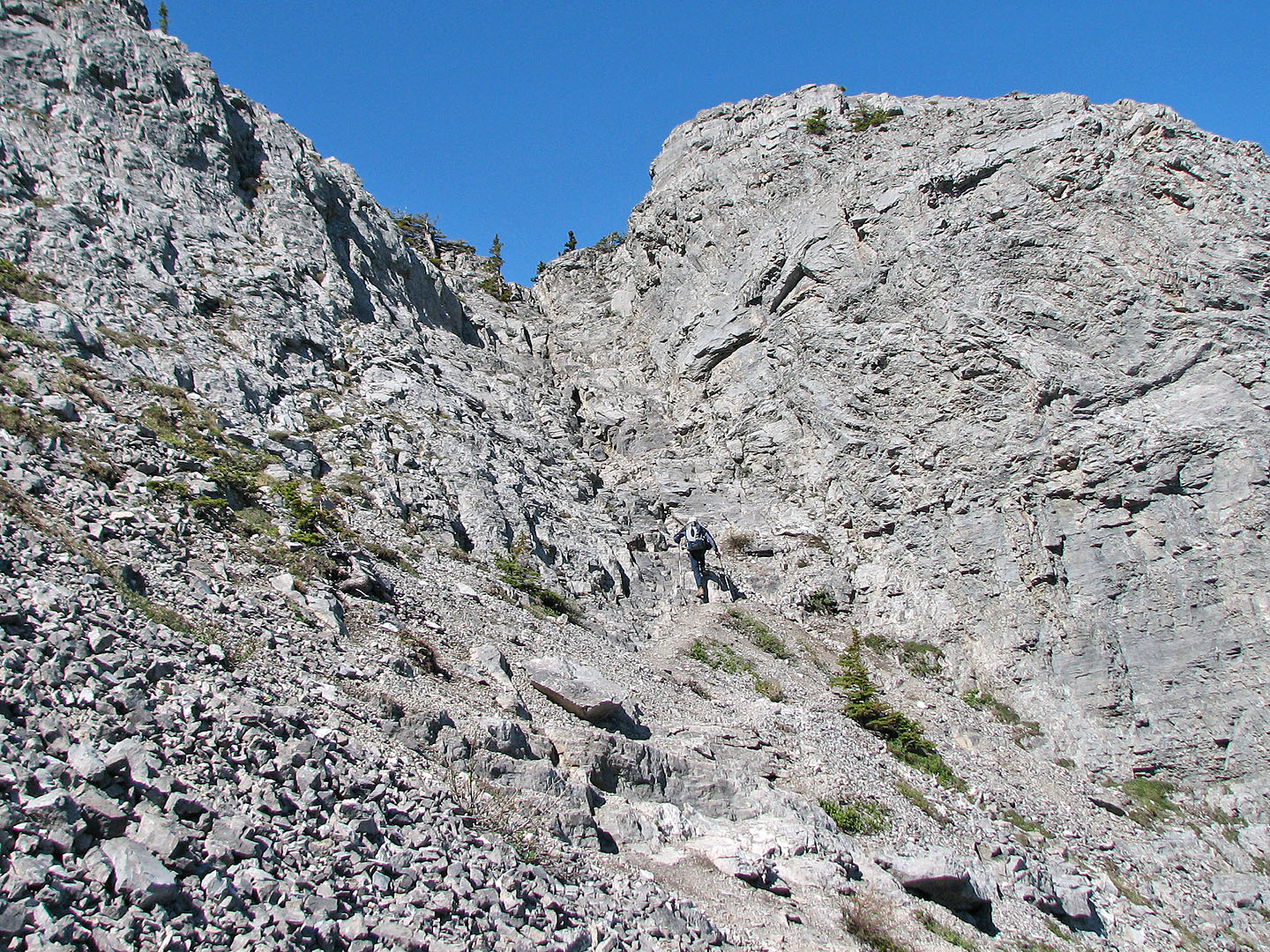 Easy scramble to a small saddle (mouse over for a close-up)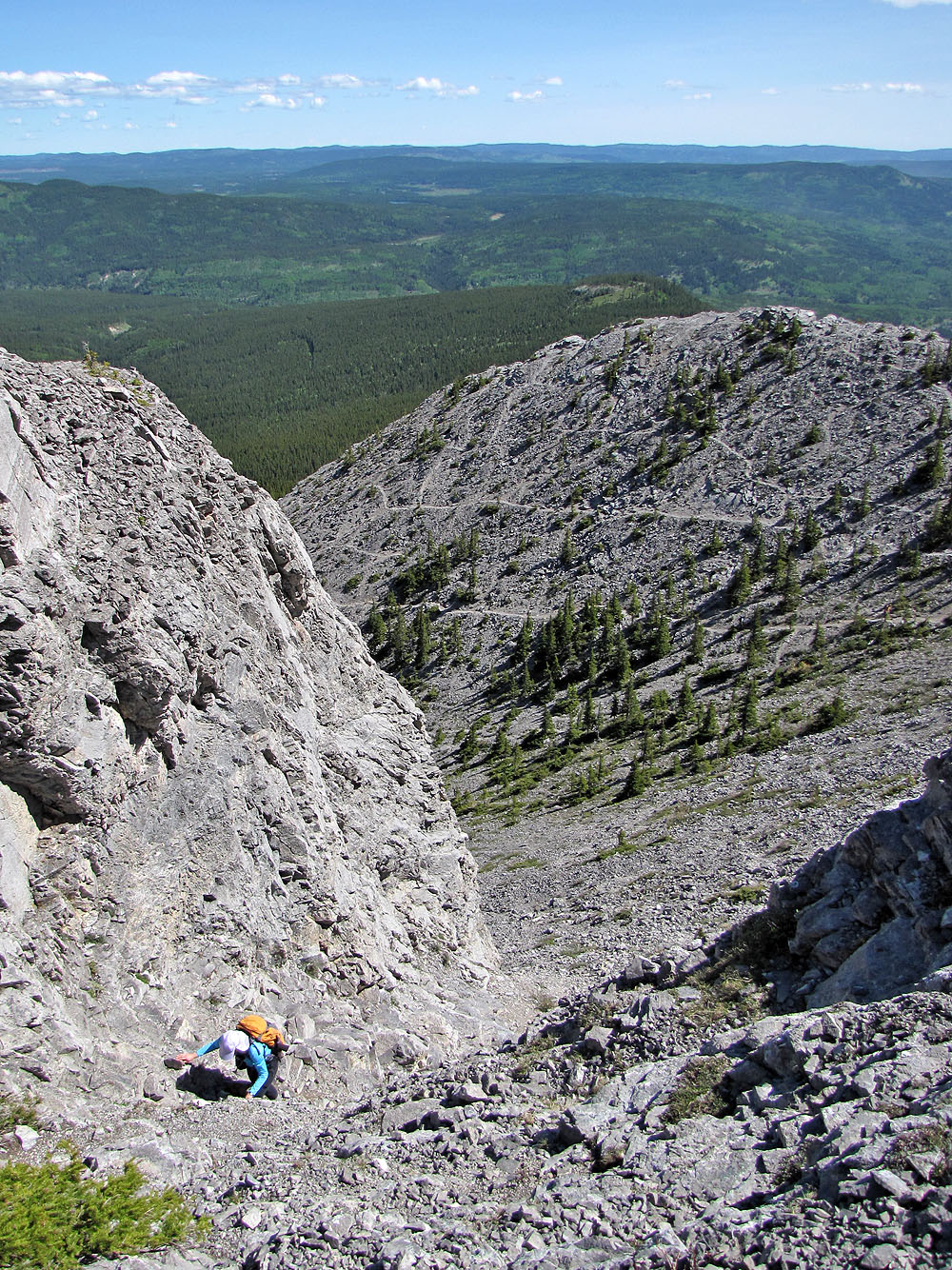 Looking down as Dinah climbs up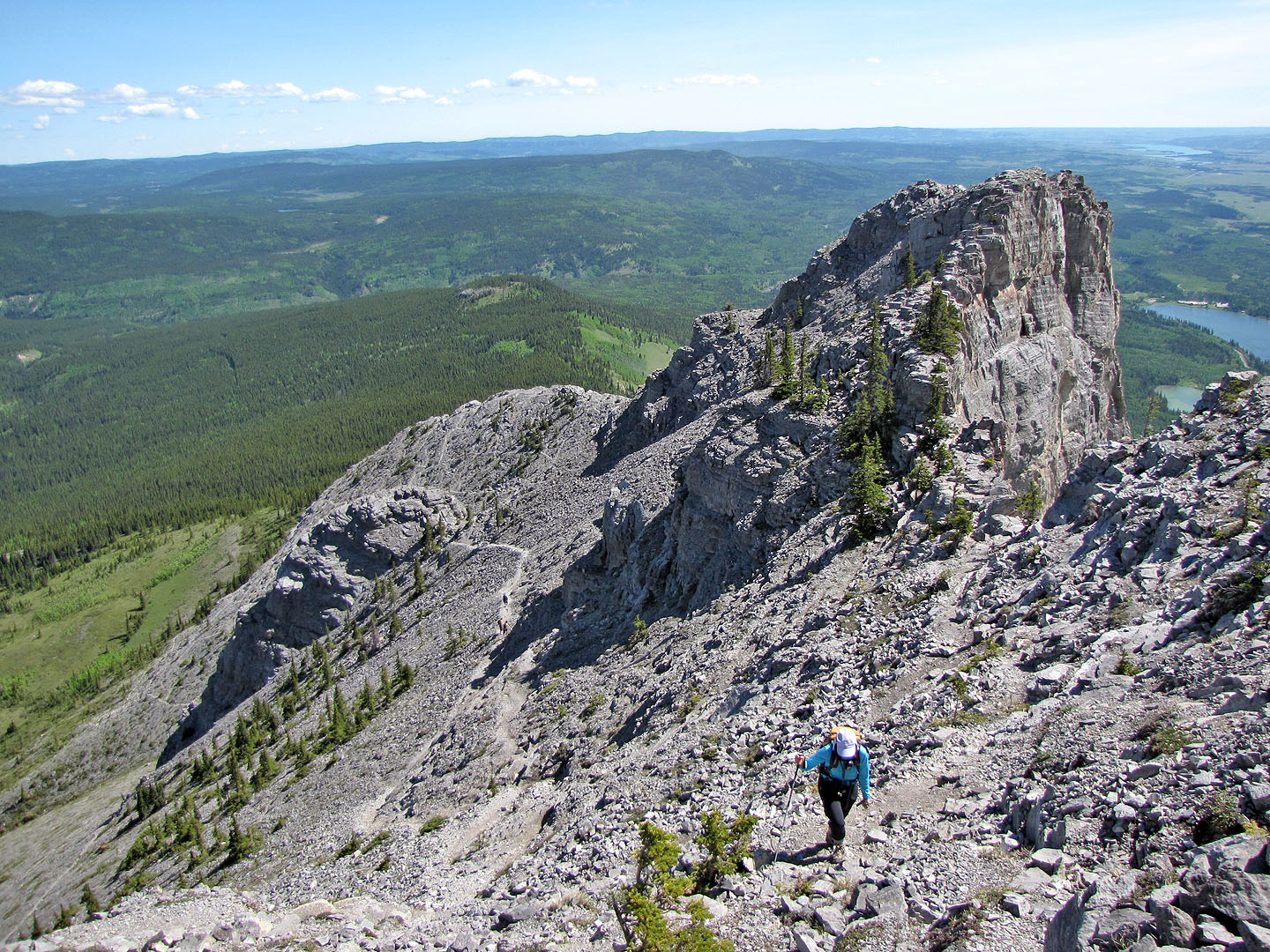 Looking back along the ridge

The trail continues below the crest of the ridge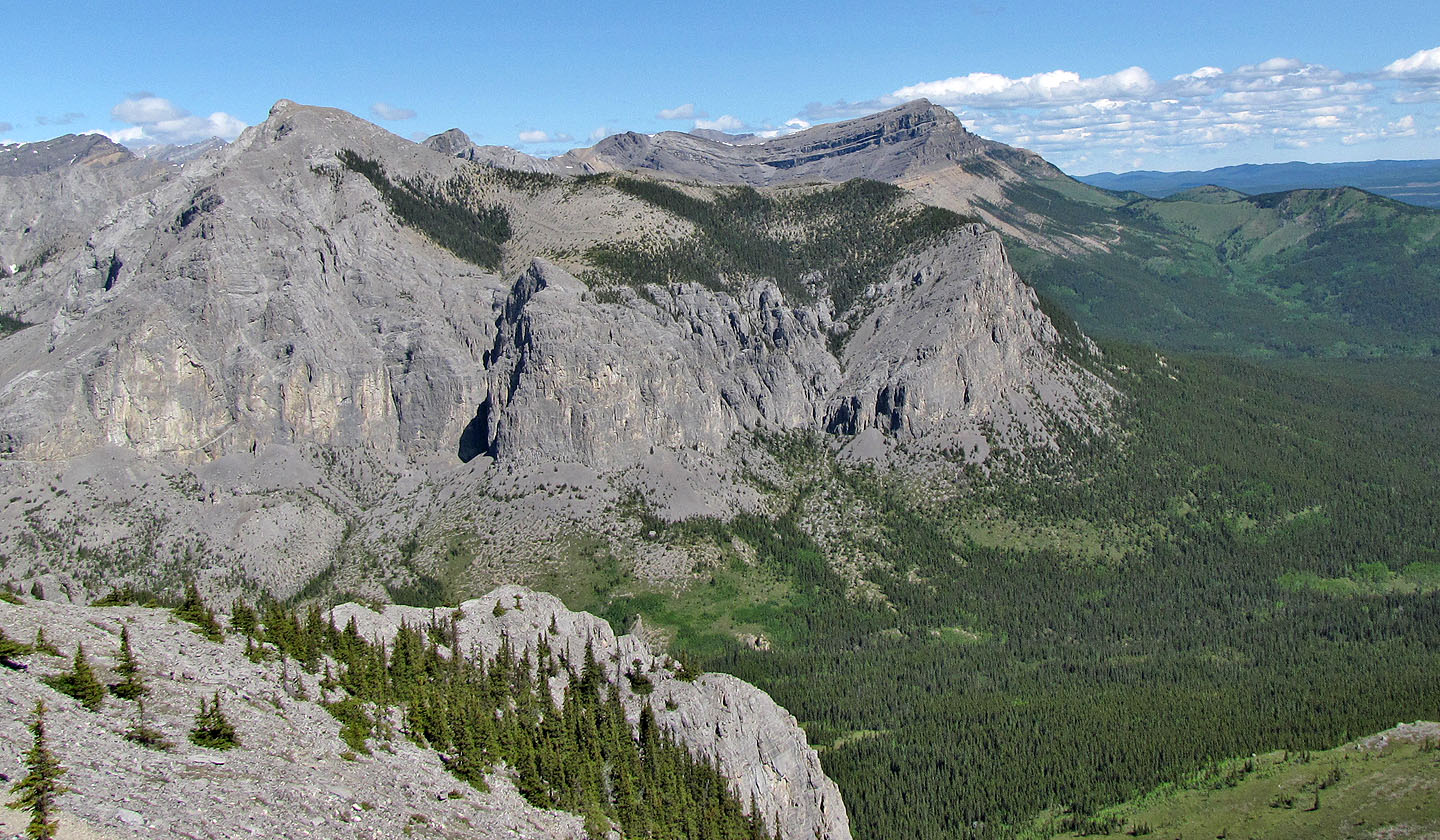 East Peak of Wendall and Association Peak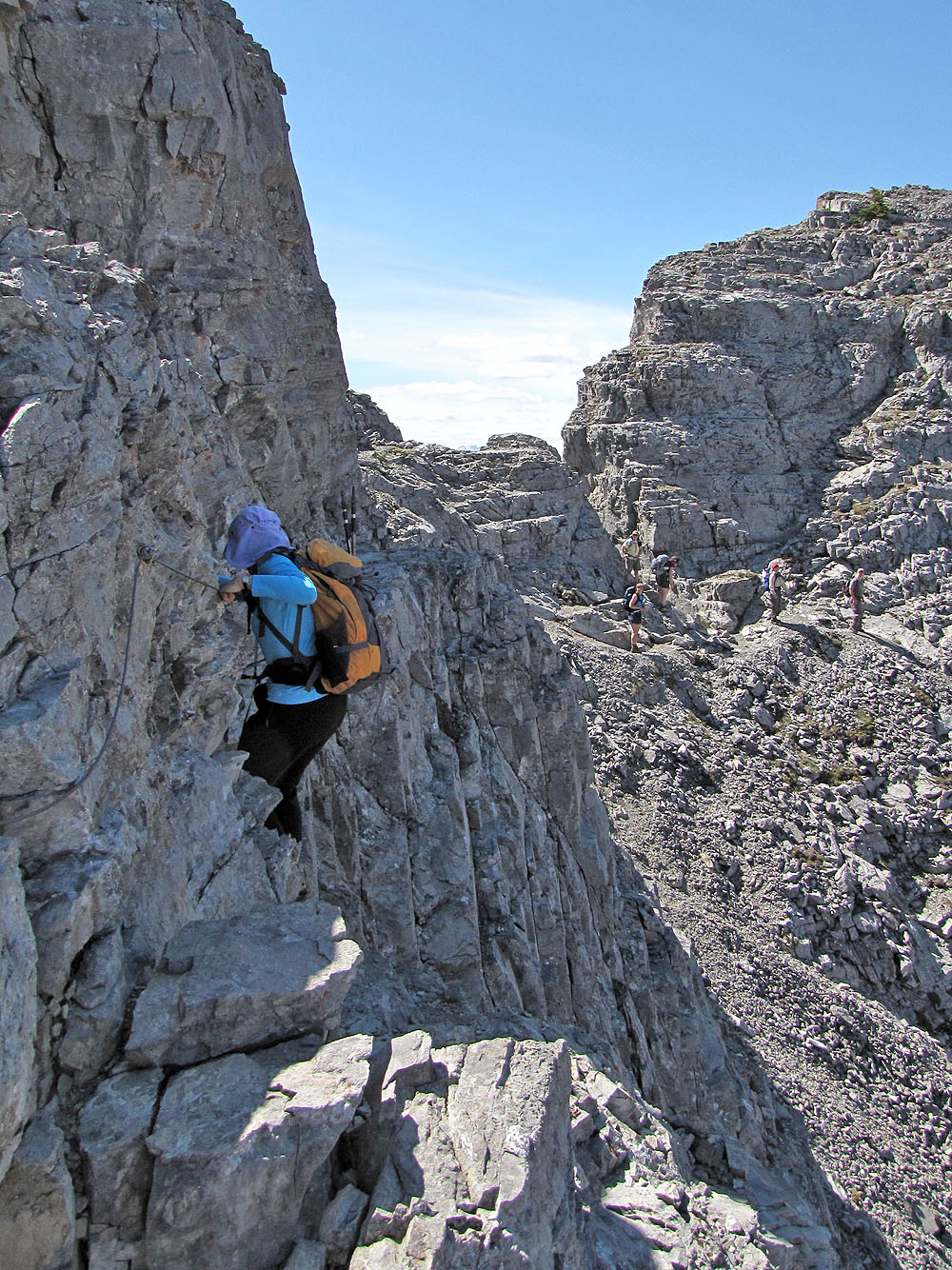 Dinah uses the cable to traverse the ledge at the crux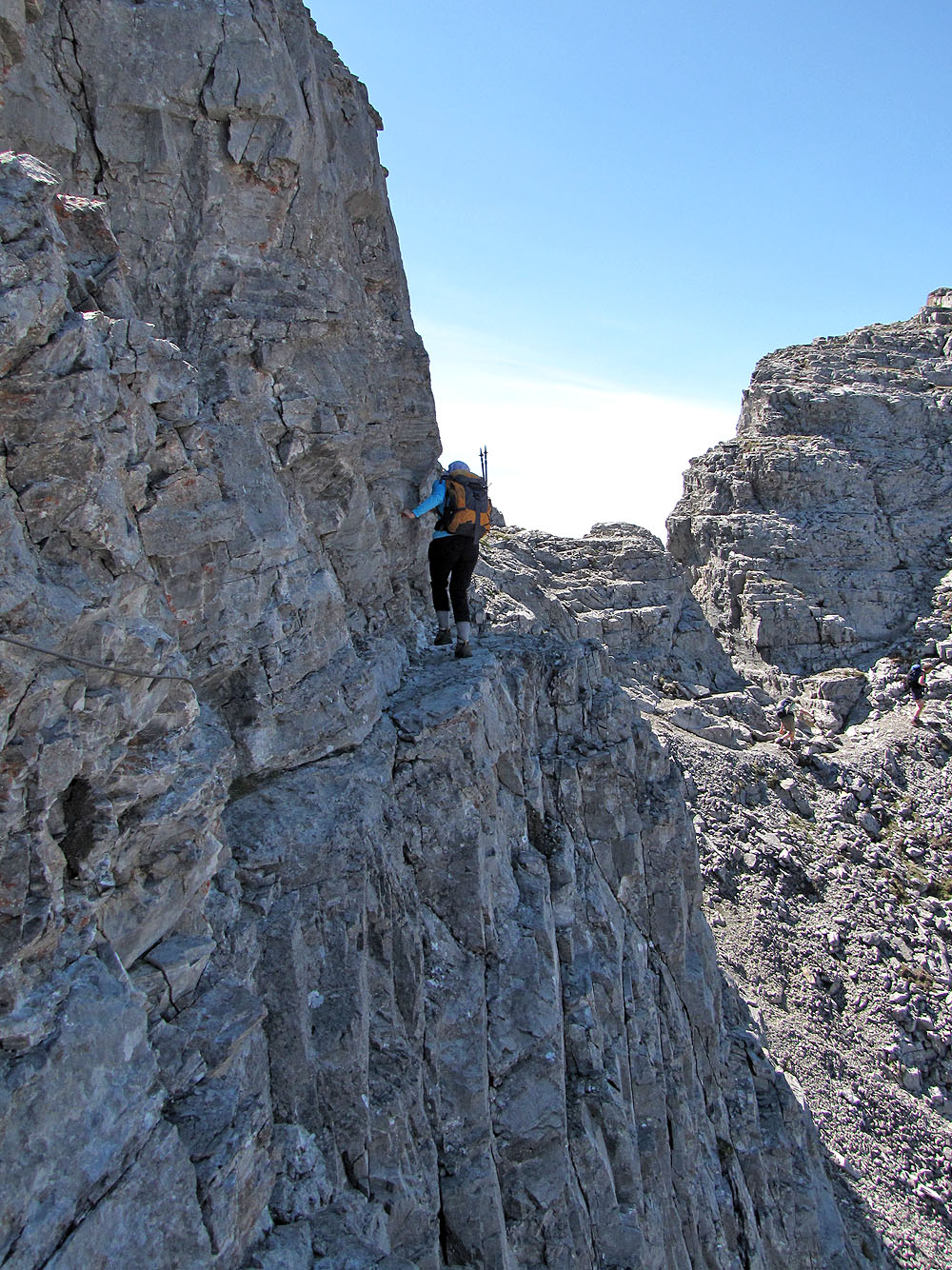 Further along the crux

My turn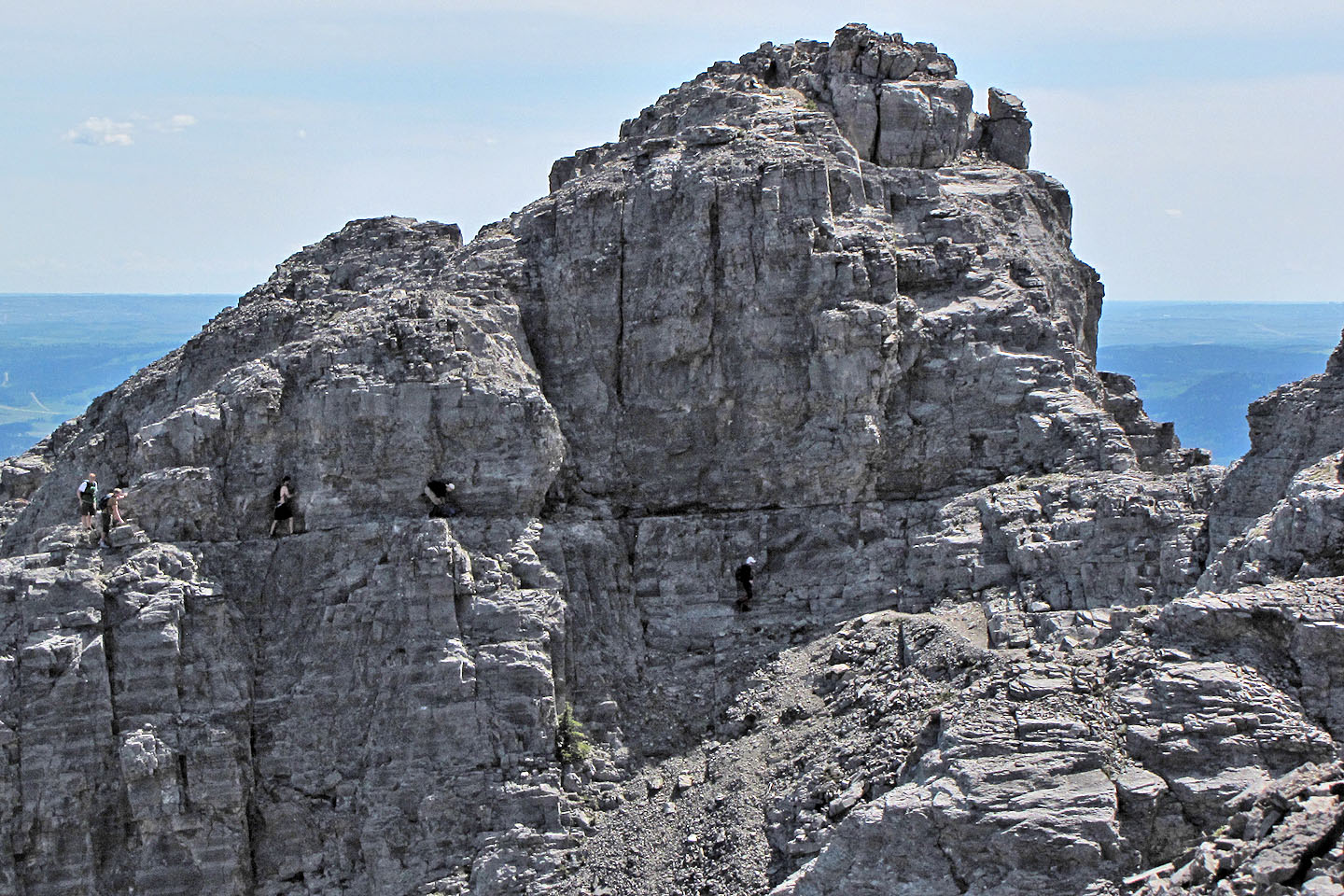 Looking back at the crux (mouse over for a close up)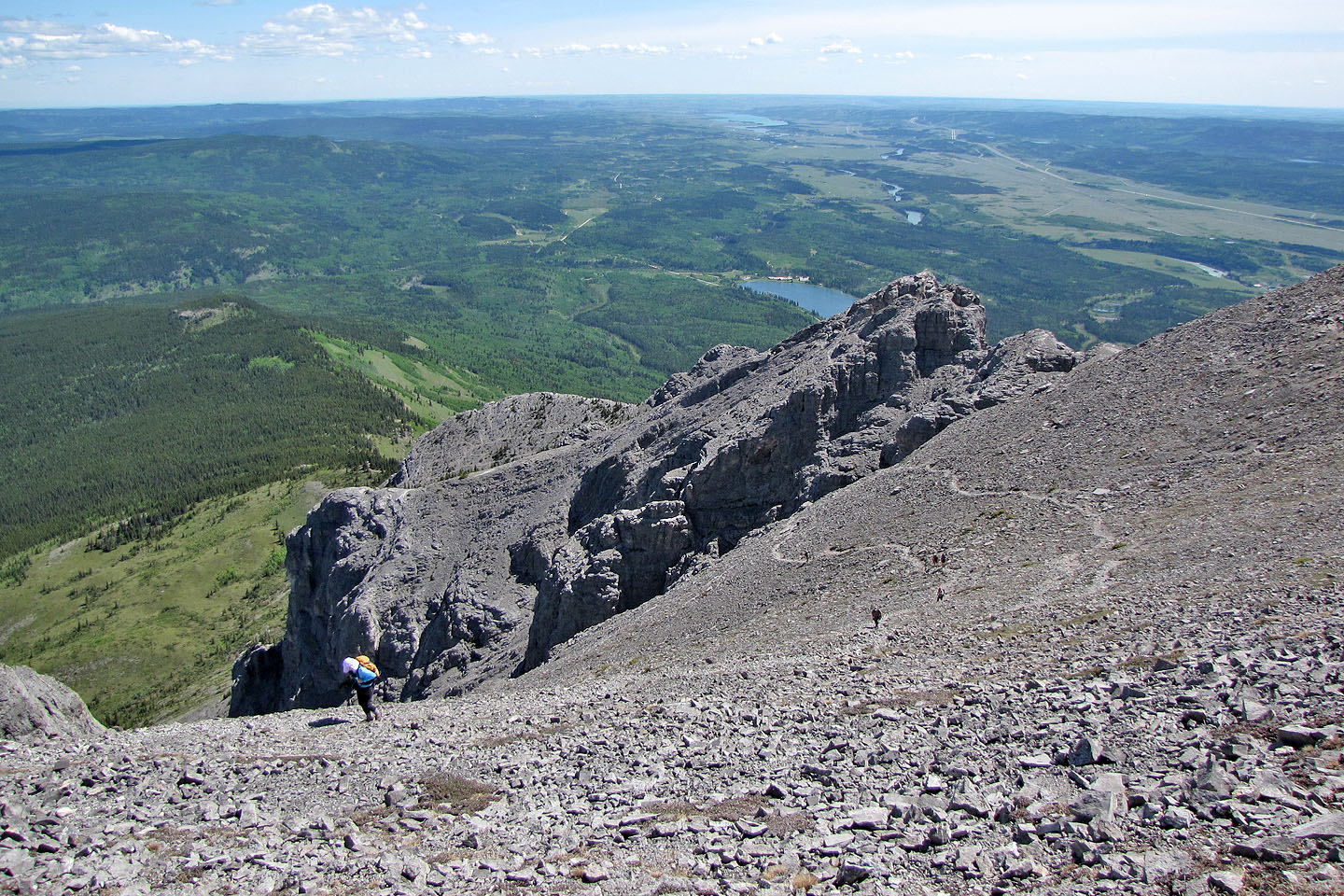 Looking back just below the summit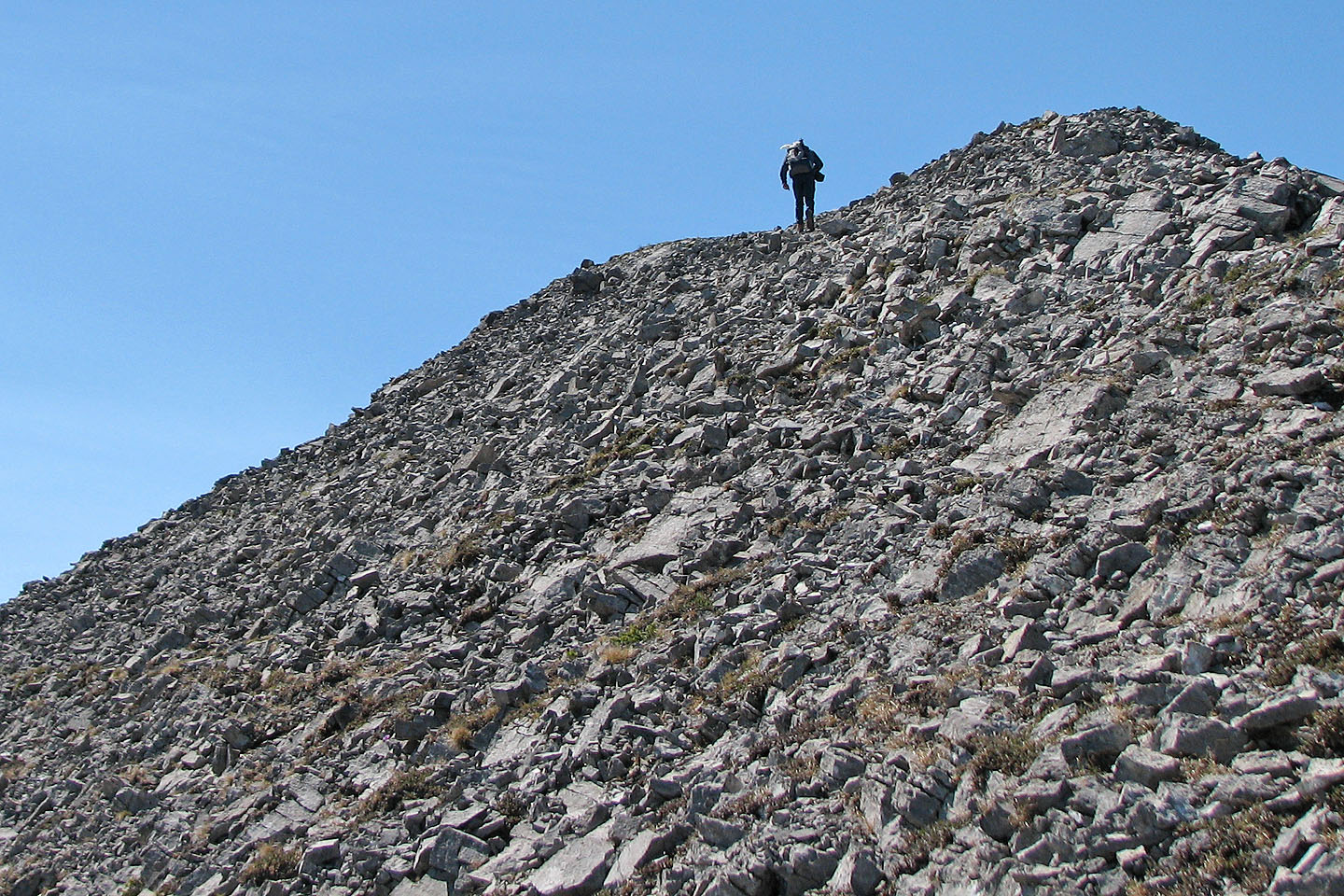 Coming to the summit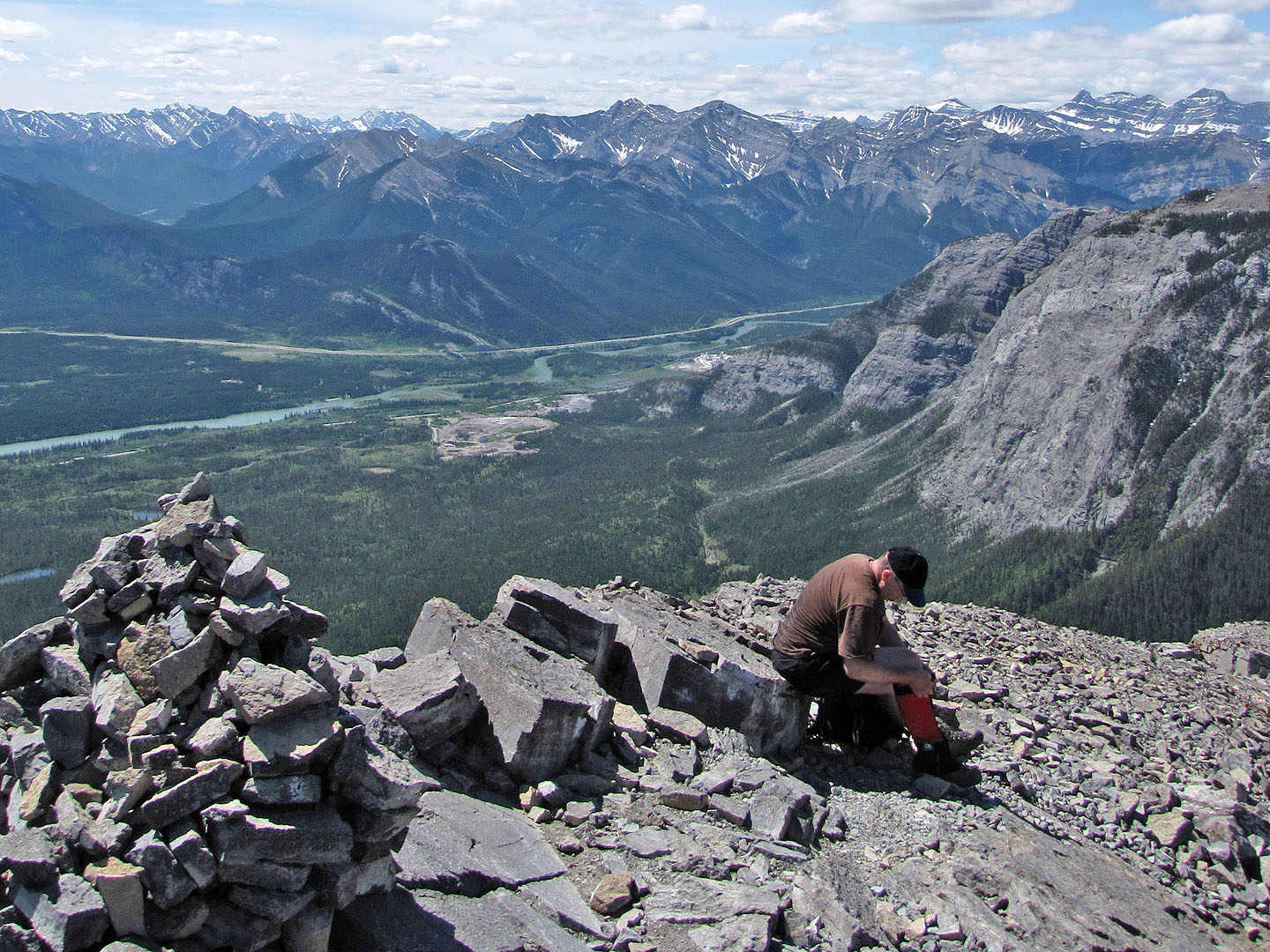 A hiker straps on gaiters by the summit cairn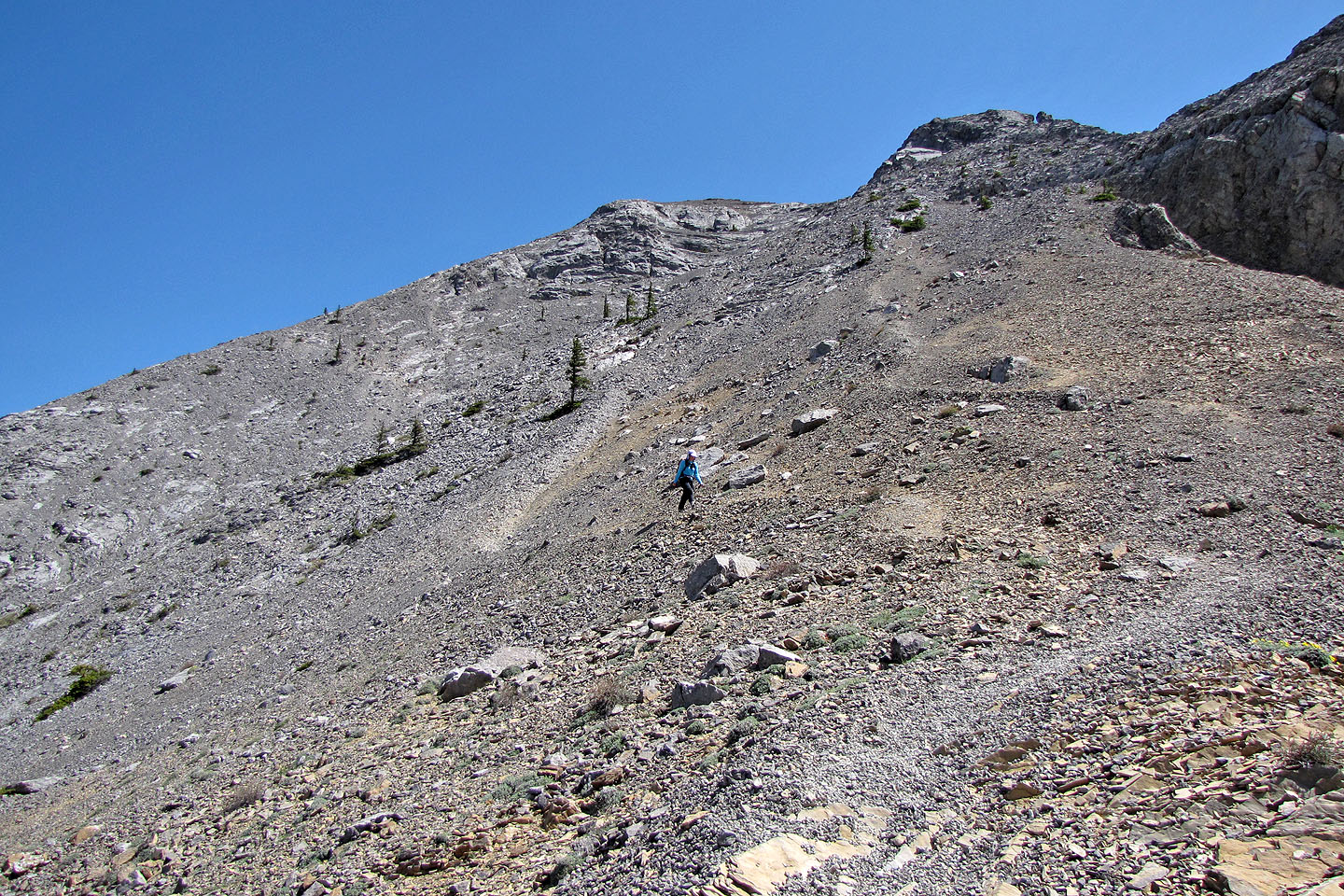 Heading down to the col from the top of Yamnuska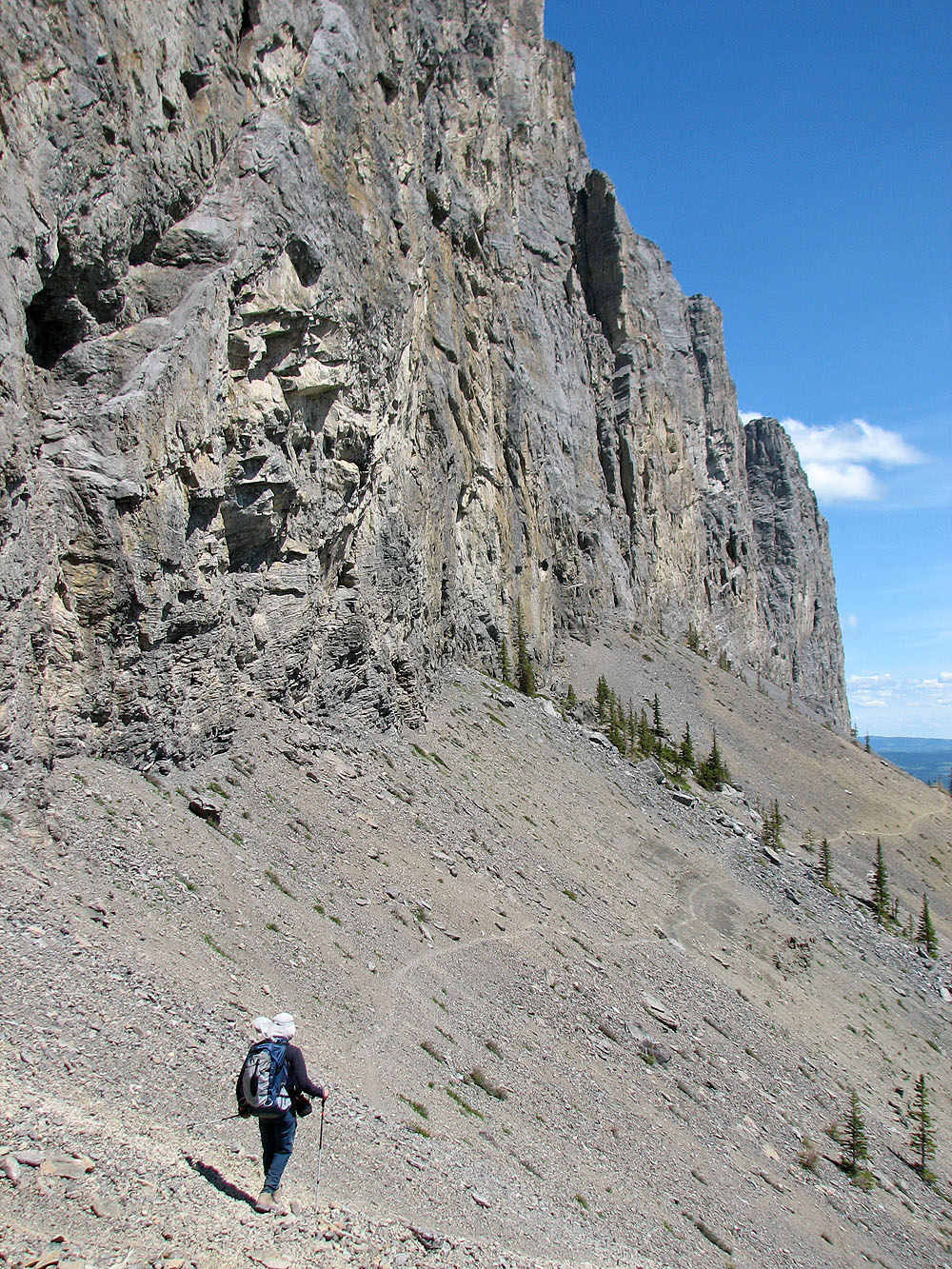 On the scree below the cliffs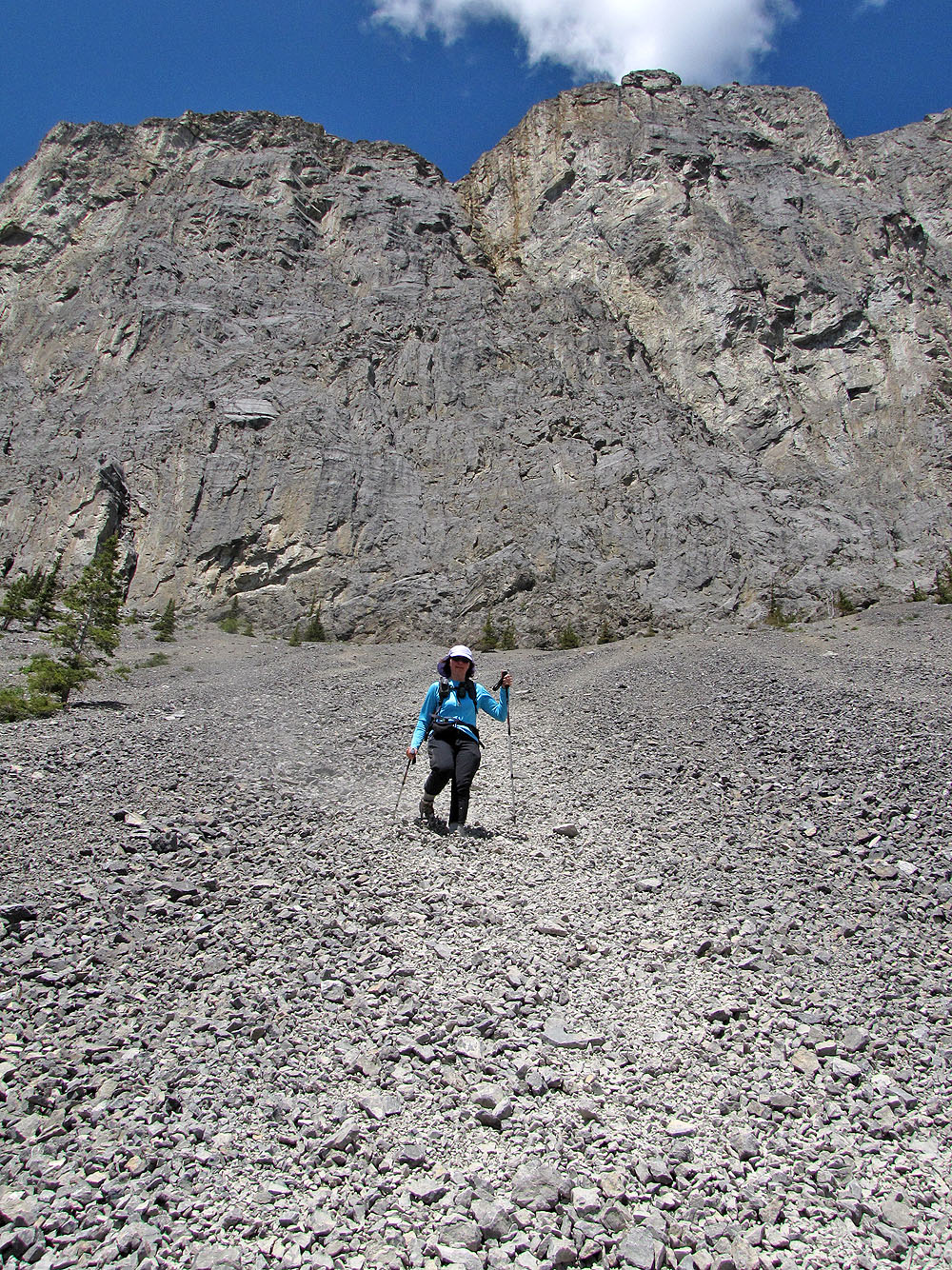 Fast descent down scree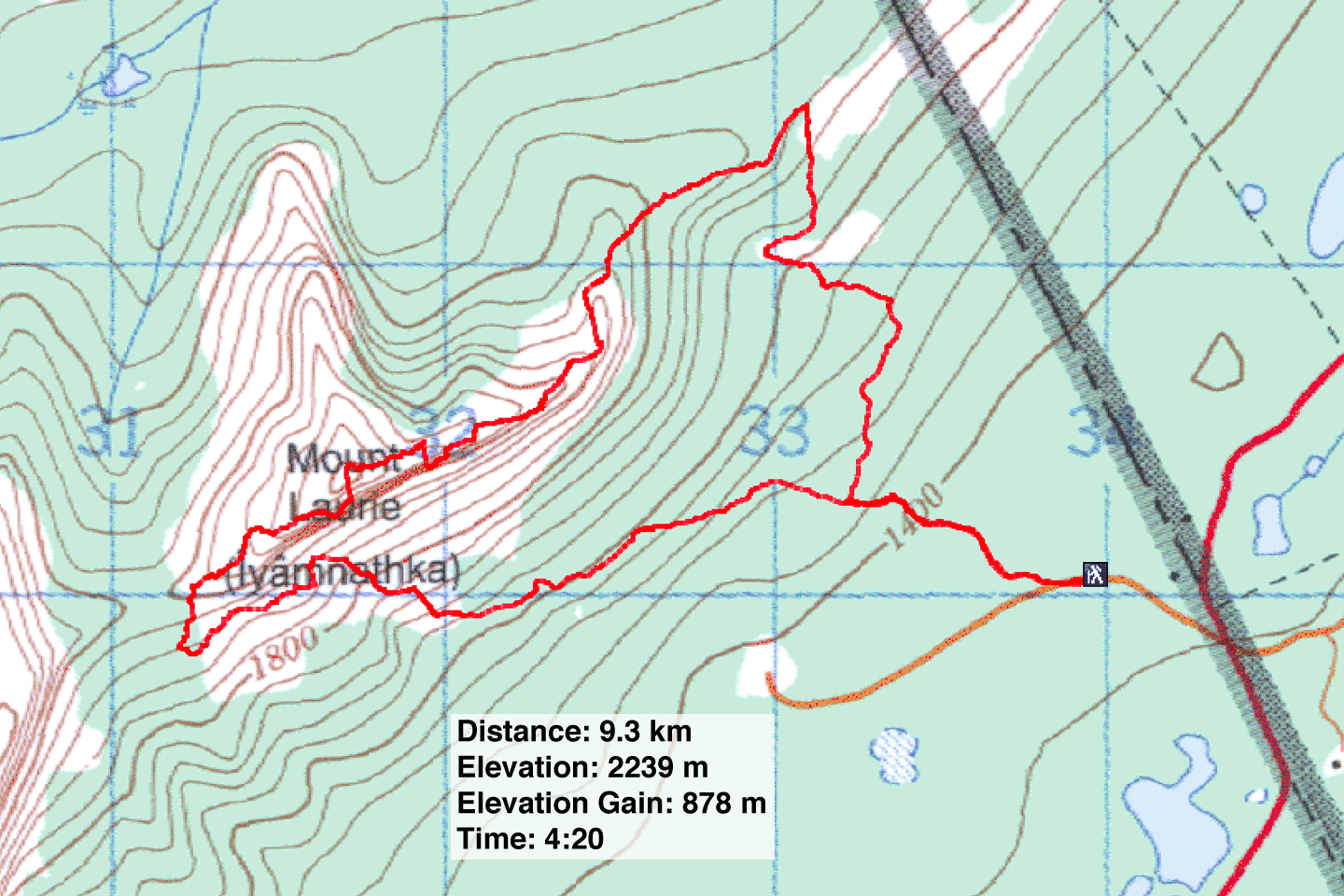 82 O/3 Canmore