bobspirko.ca | Home | Canada Trips | US Trips | Hiking | Snowshoeing | MAP | About

Sentinel Peak
aka The Sentinel
Lake Mead NRA, Nevada
October 28, 2009
Distance: 12.8 km (8.0 mi)
Cumulative Elevation Gain: 426 m (1395 ft)
With cool, windy weather persisting, I turned to Lake Mead Recreational Area. Because of its low elevation, it's warmer here than in Las Vegas. While Dinah shopped for condos, I climbed Sentinel Peak. I used information from Harlan Stockman's website. Instructions were sorely lacking, but it provided a map with a GPS route.
I parked at a pullout on the south side of Northshore Scenic Drive and walked east a short distance to the guard rail where I found a road. I followed the road for 2 km before leaving it and taking a wash on the left. After leaving the wash, I headed across Pinto Valley to Sentinel Peak. Specifically, I headed to the drainage east of the peak. I enjoyed ascending the drainage as it twisted and turned; I never knew what lay around the next bend.
After reaching a saddle, I followed a sheep track below the ridge connected to the peak. When the slope became too steep to continue, I scrambled over the ridge to another saddle. Here the mountain rose precipitously, and I hiked along a shelf below steep rock slabs to a chute that I climbed easily. To my surprise, I came out next to the summit. After a short stay, I attempted Harlan's descent route.
I had no difficulties until I reached a huge drop in a deep drainage. I knew I had to exit the drainage on my right, but the only advice given was to "Follow the GPS Trace"! After an exhausting hour-long search where I kept hitting steep, smooth rock, I gave up. Mindful of the amount of daylight left, I climbed back up to the summit. Having dropped almost level to the trailhead elevation, I had to ascend 350 m.
Two and a half hours after leaving the summit, I stood on it for the second time. Had I not tried the descent route, this would have been a five-hour trip. My return was uneventful save for the setting sun lighting up the red sandstone. I enjoyed stunning views as I made my way back to the car in the fading light.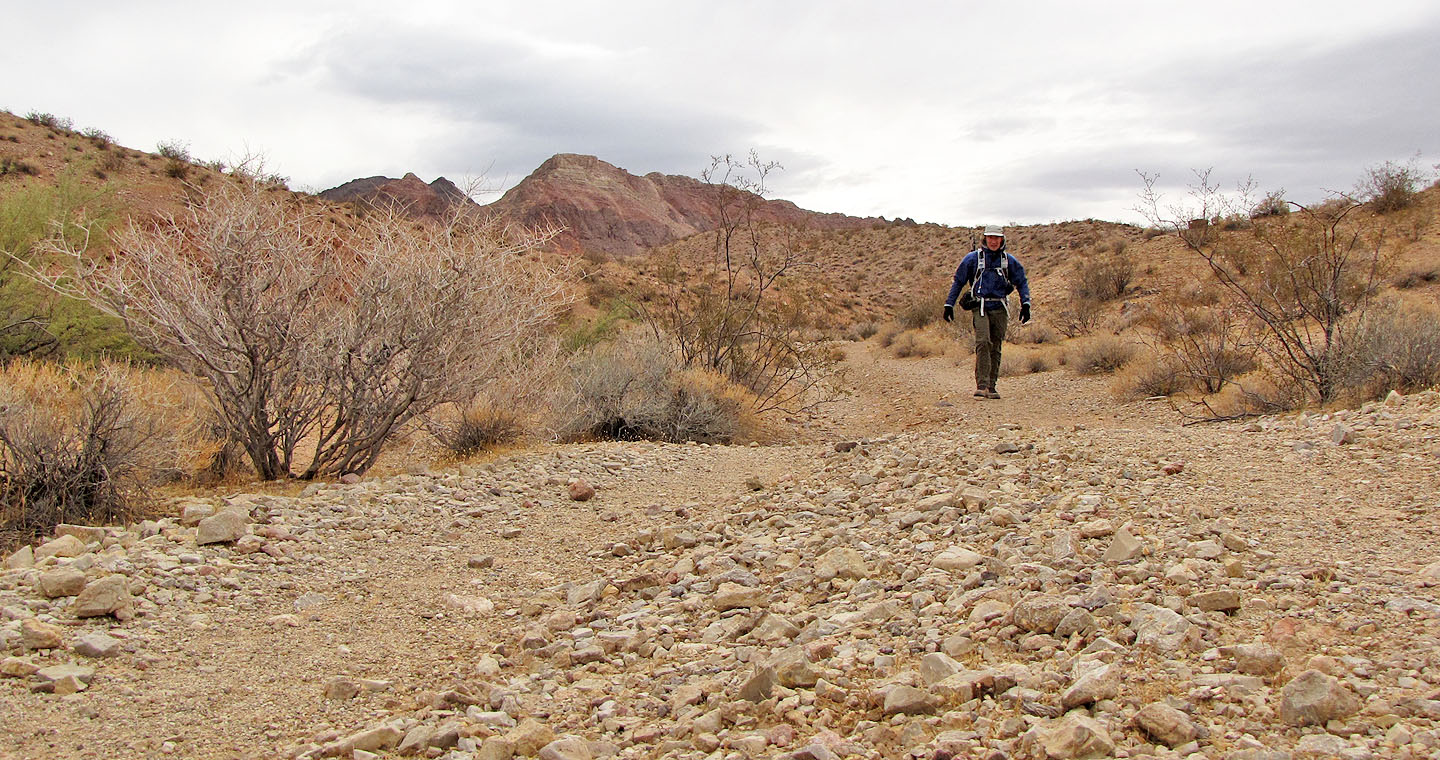 Hiking up the road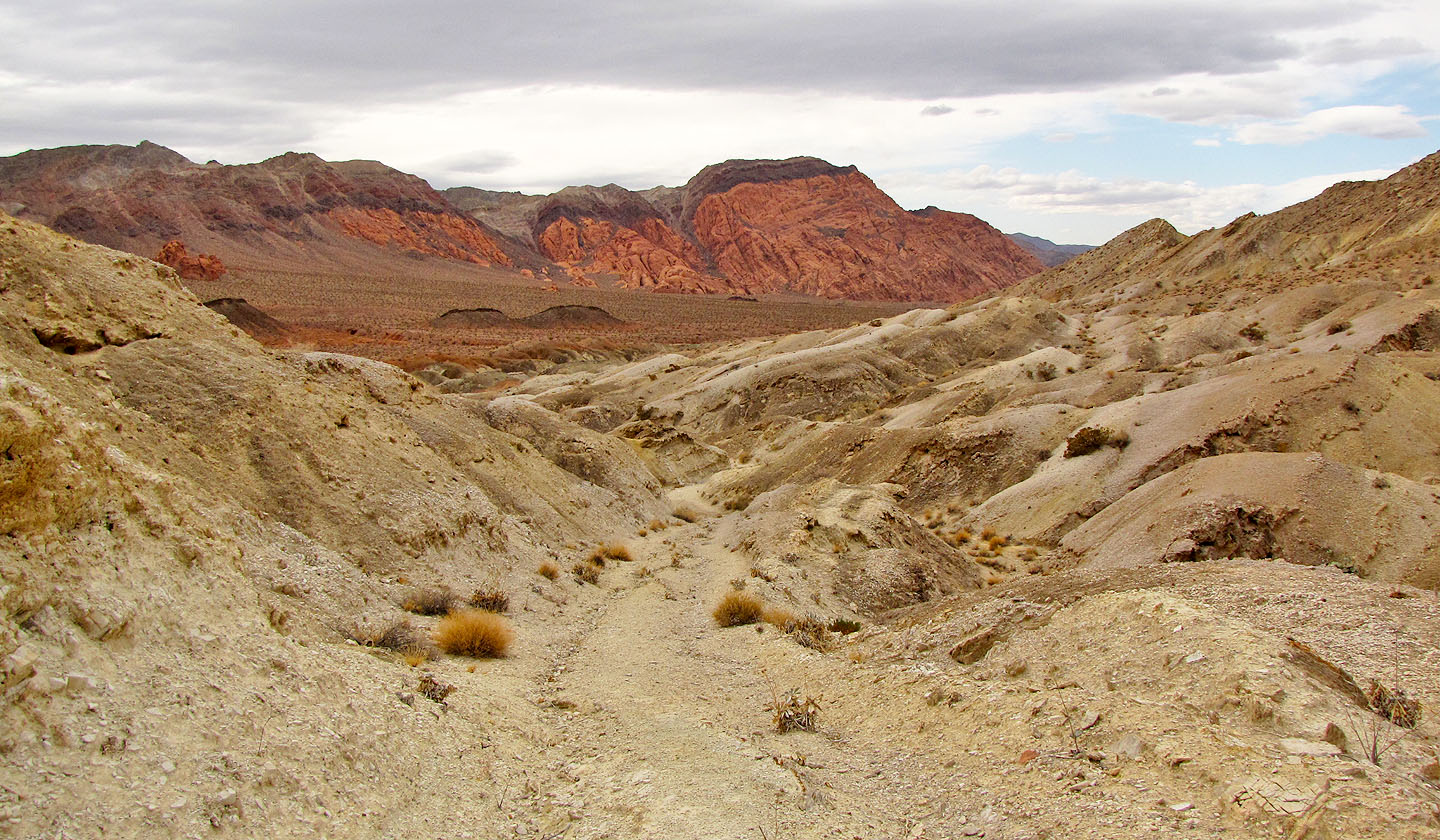 Sentinel Peak ahead

I left the road and followed a wash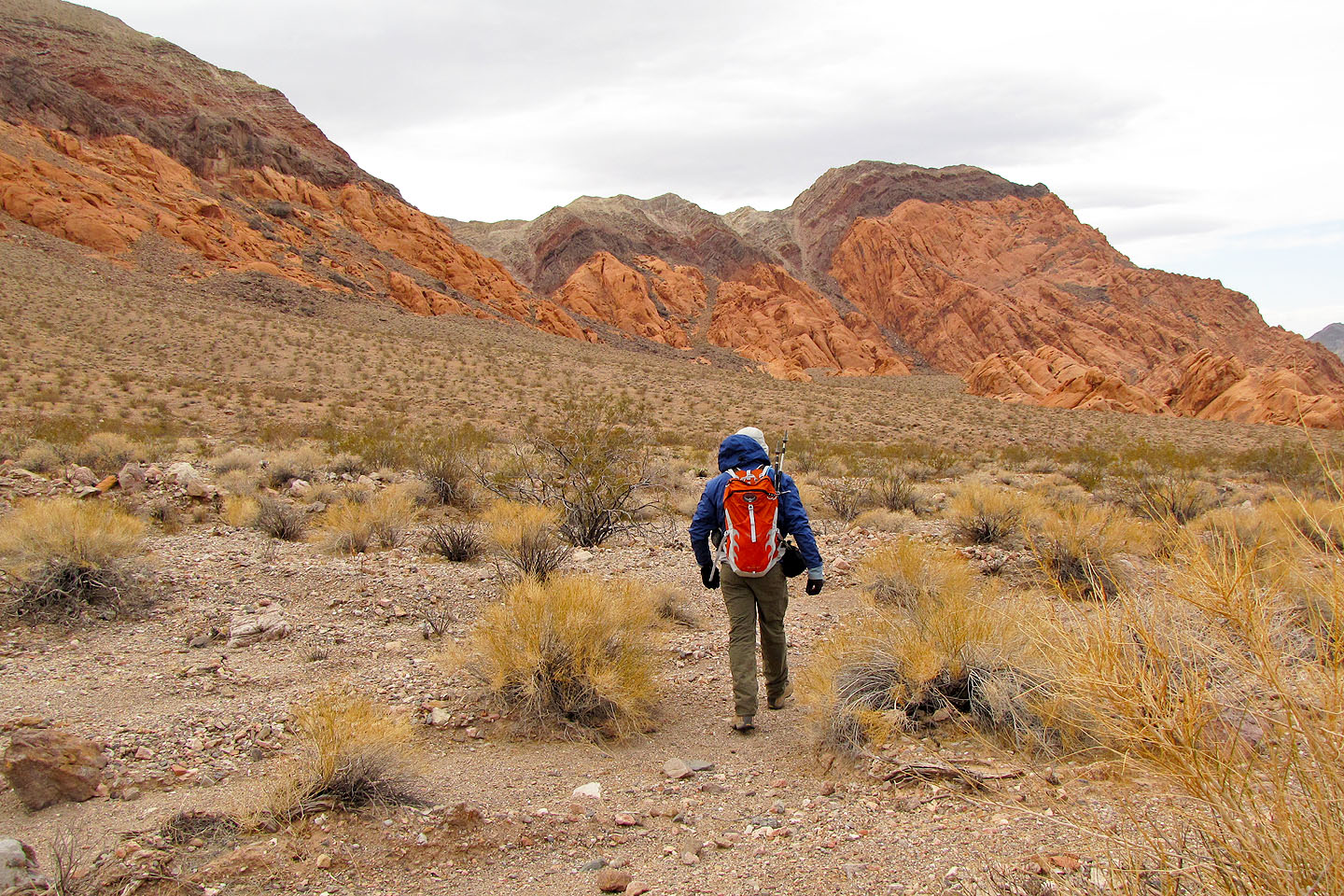 On the flats heading to the drainage on the left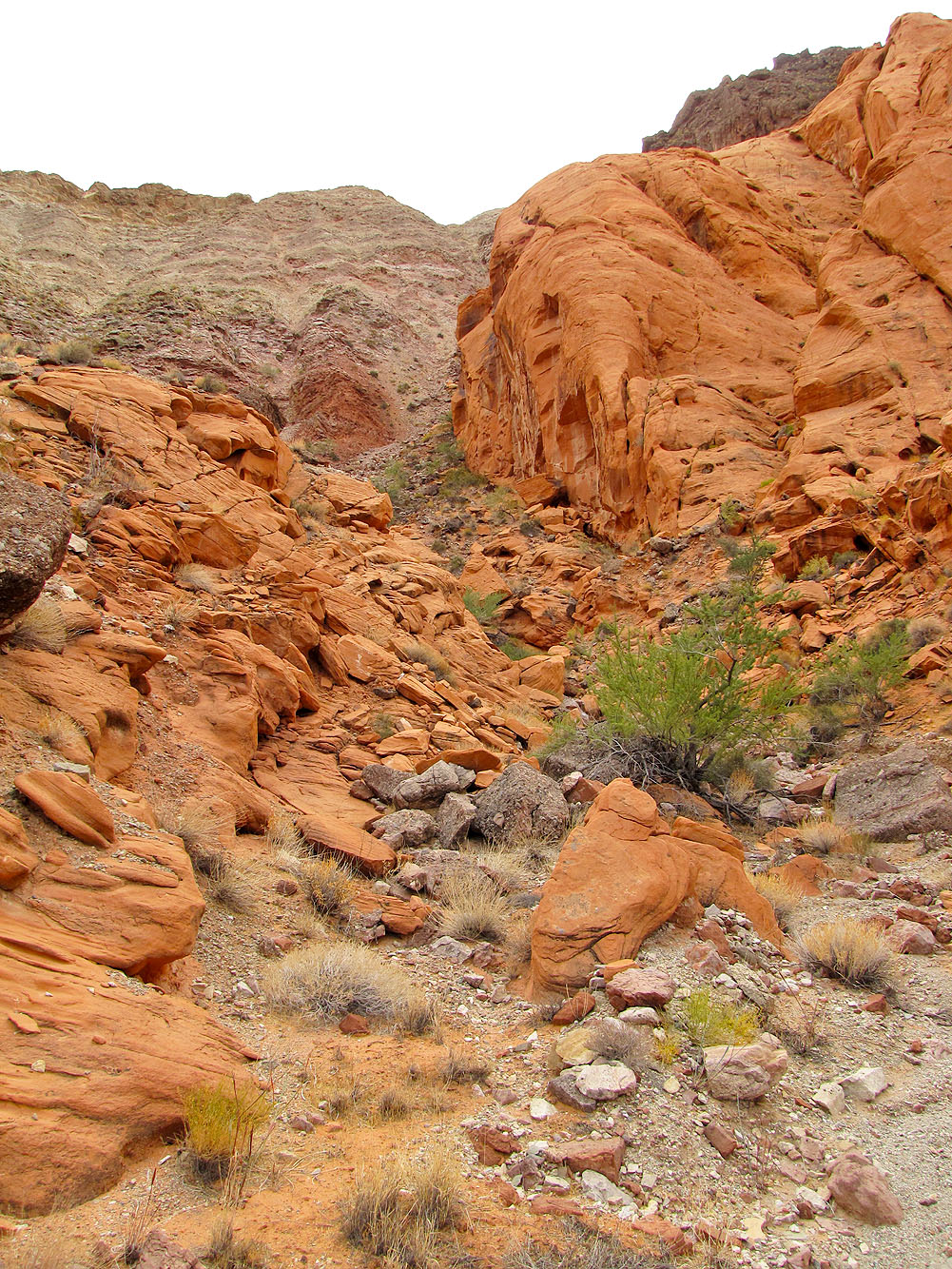 The ascent drainage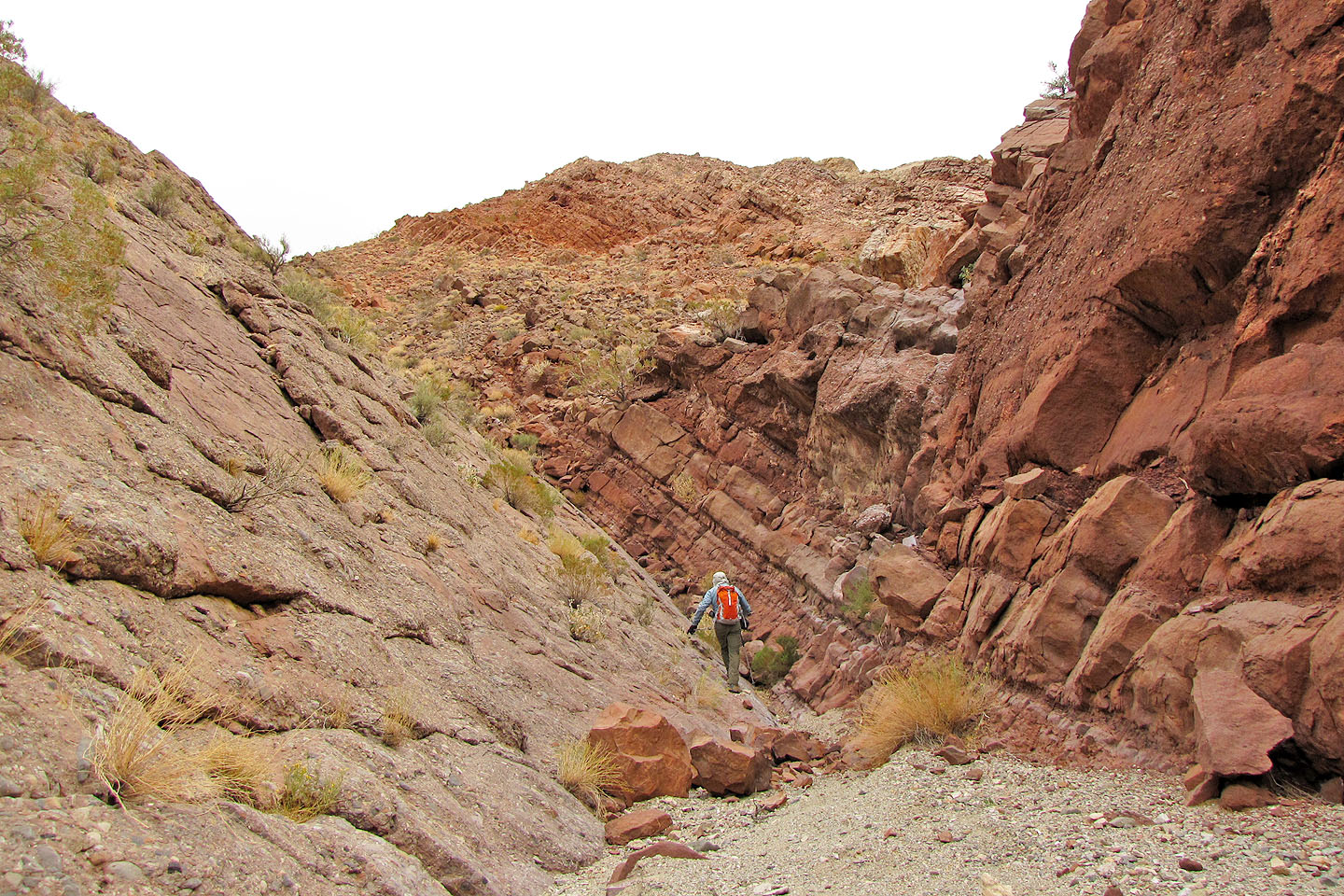 Going up the drainage

It's a steep hike up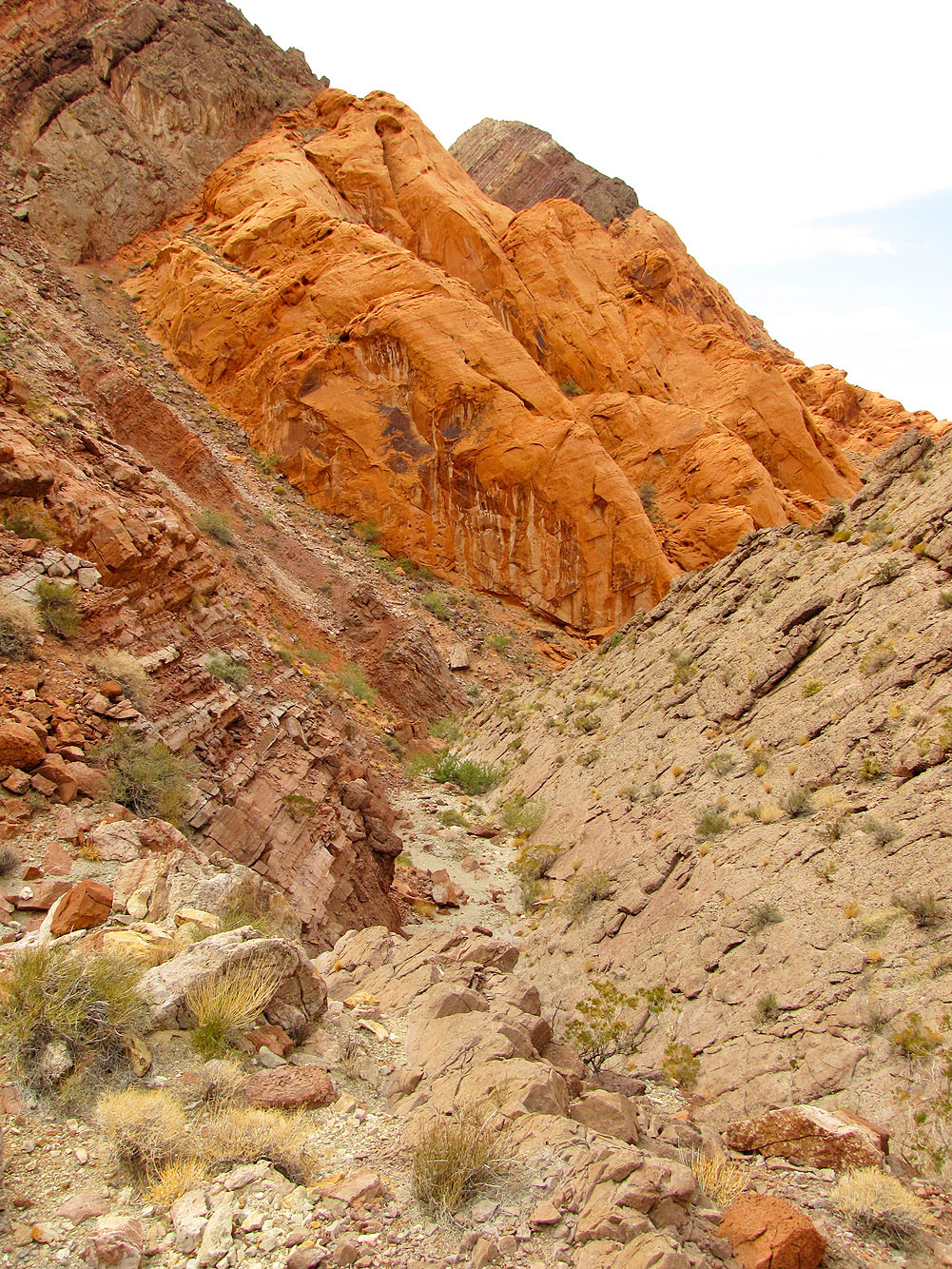 Looking back at the red sandstone above the wash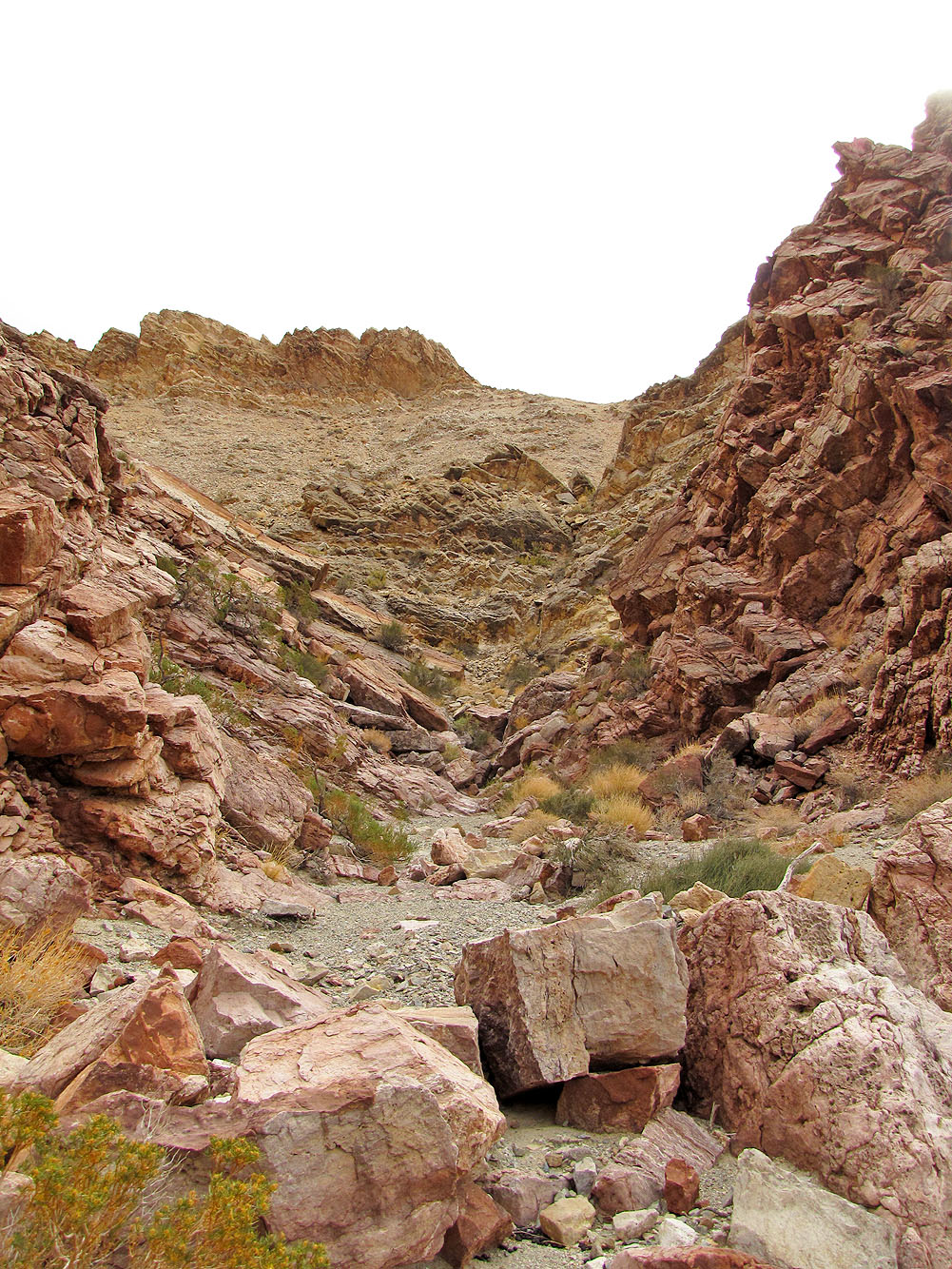 Looking up the wash

Utah mortonia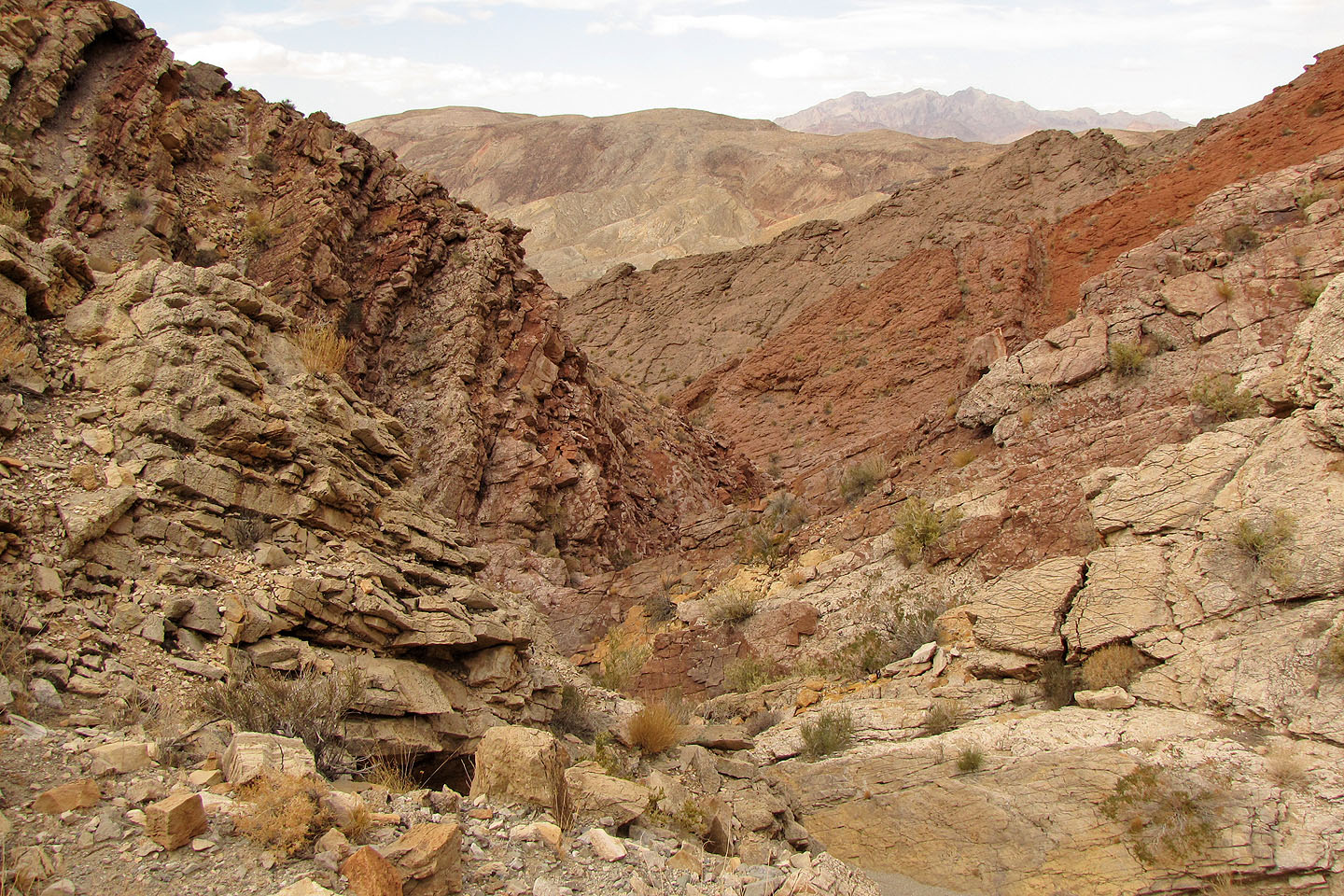 Looking back down the drainage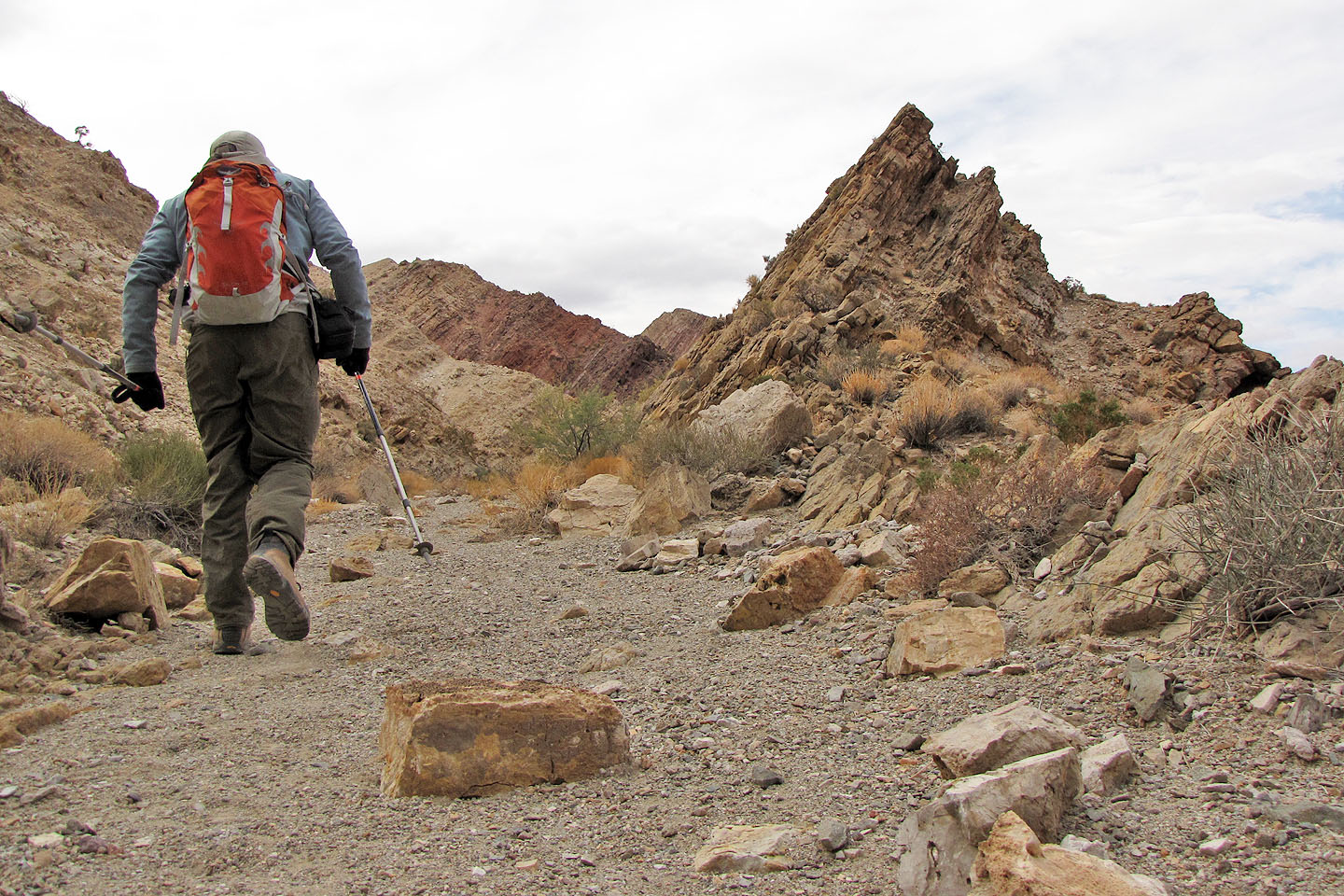 I was surprised to find this wash partway up the mountain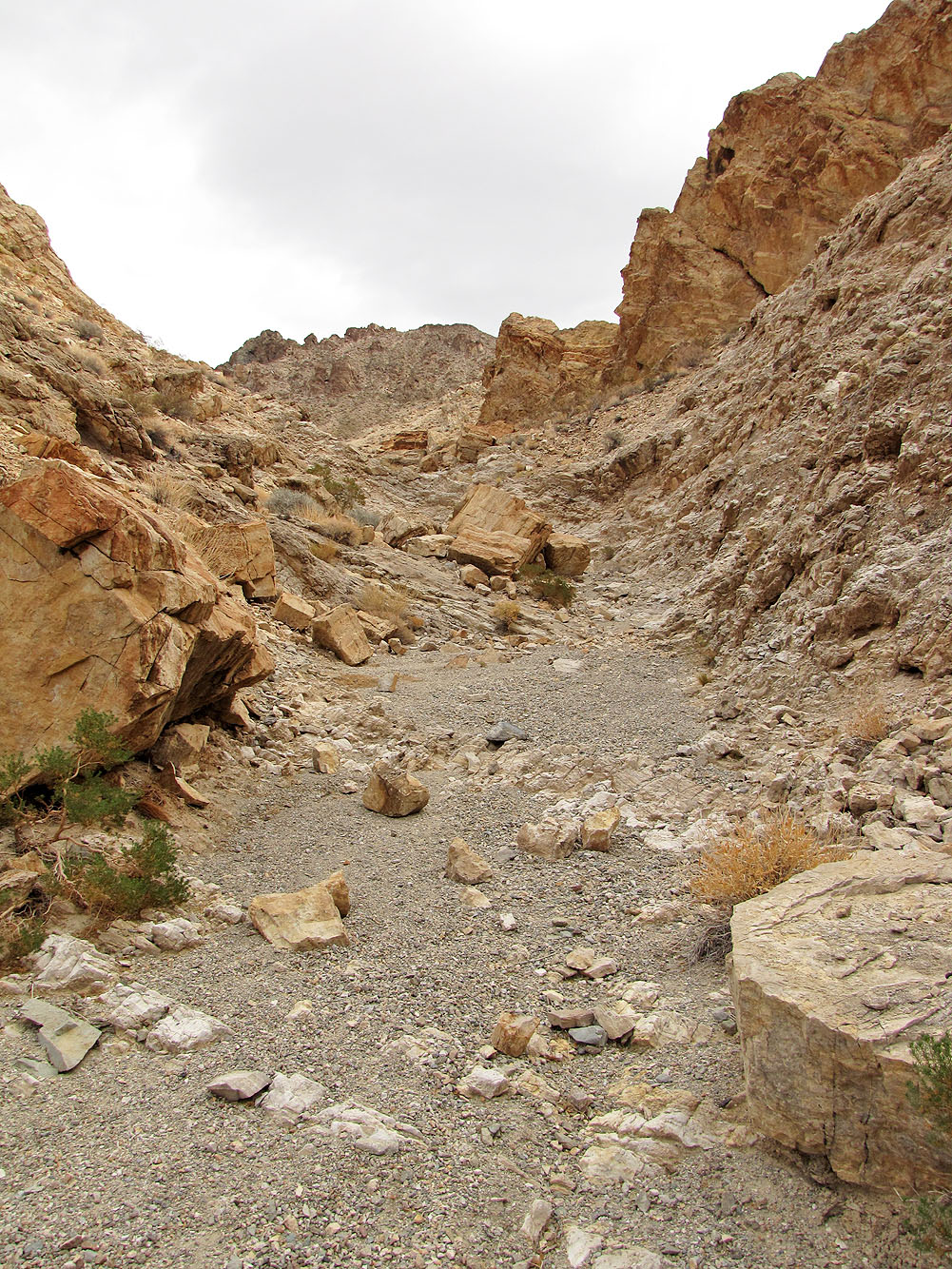 Route follows this wash and turns right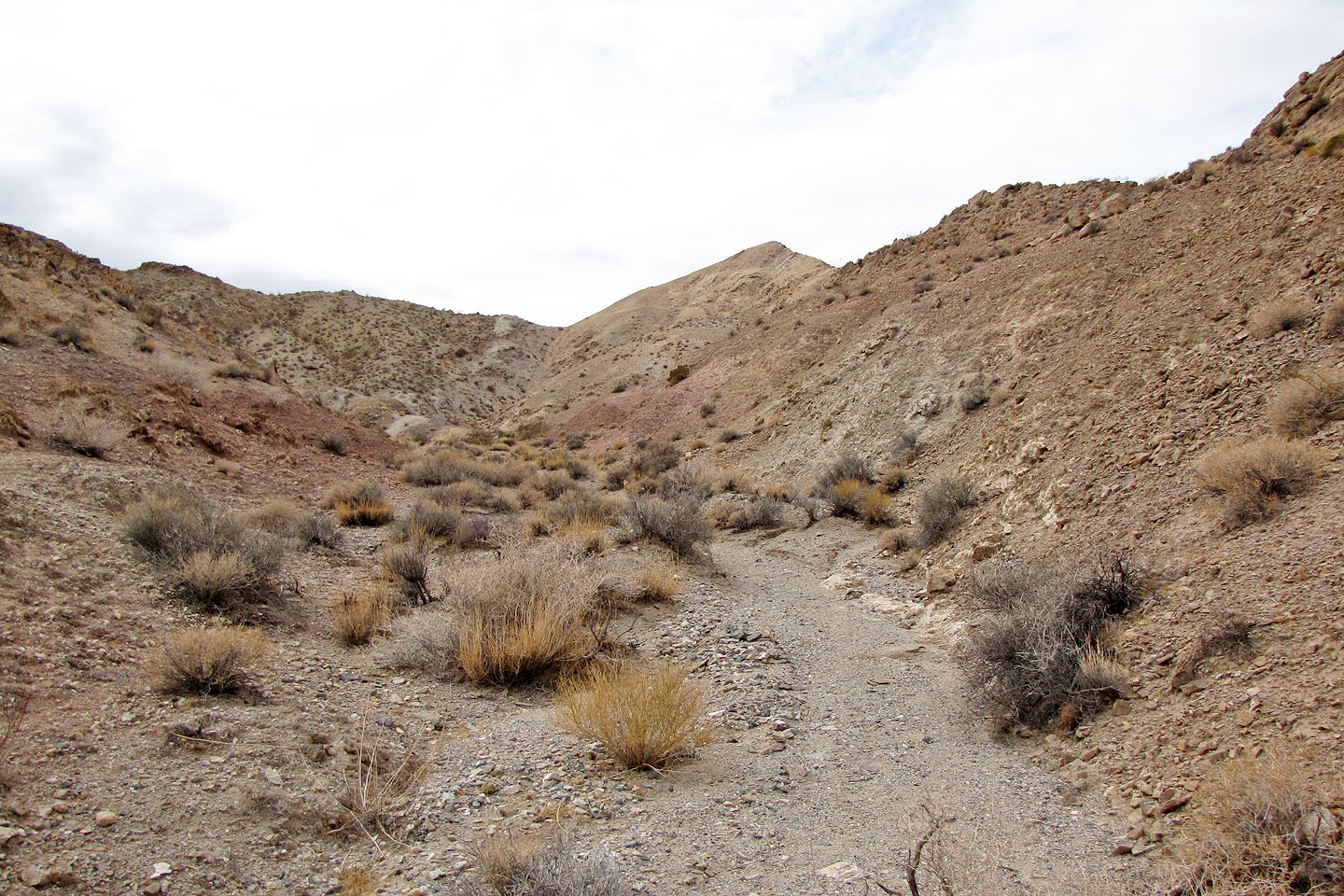 After turning right, I headed to the saddle ahead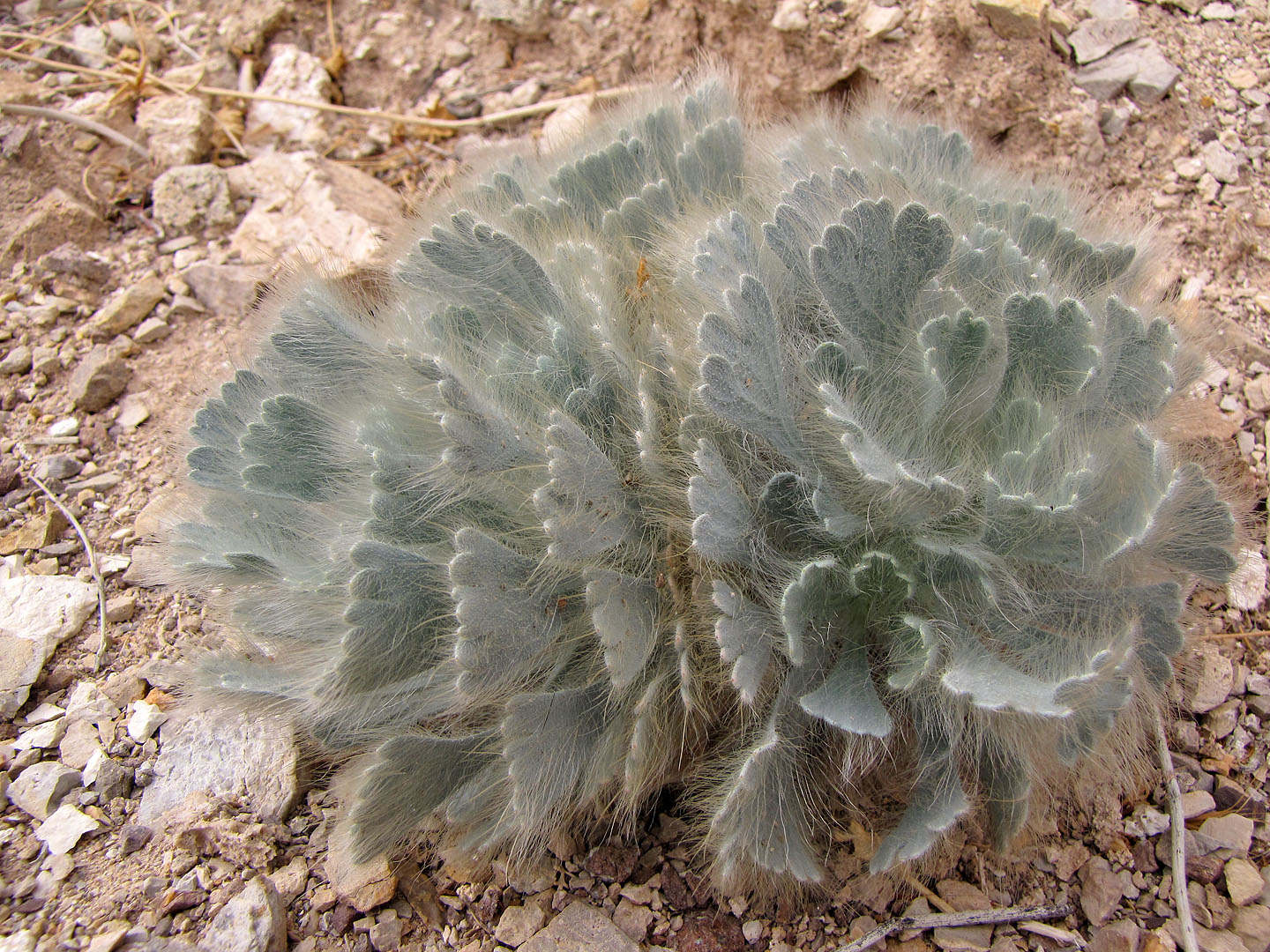 Hairy plant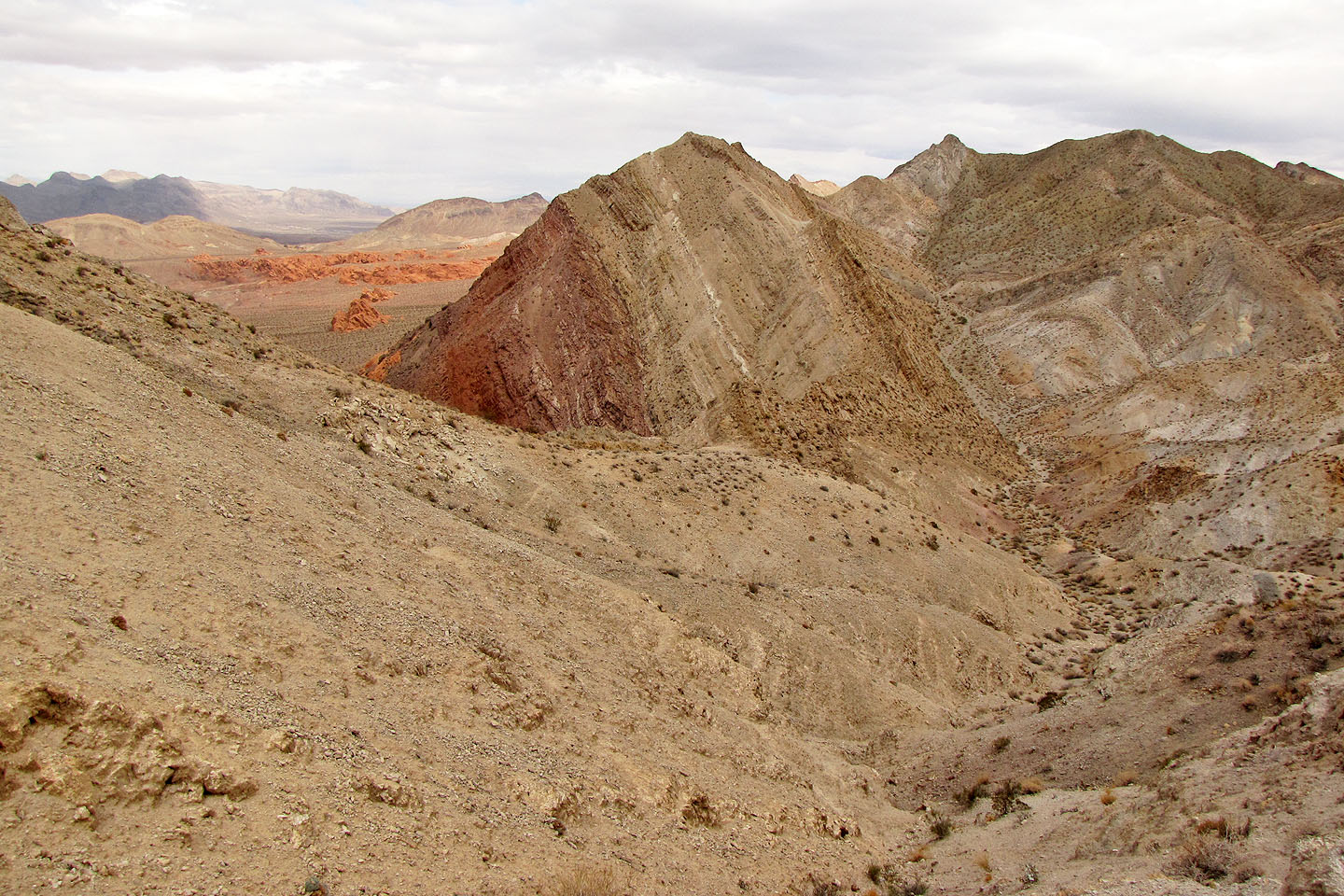 At the saddle looking back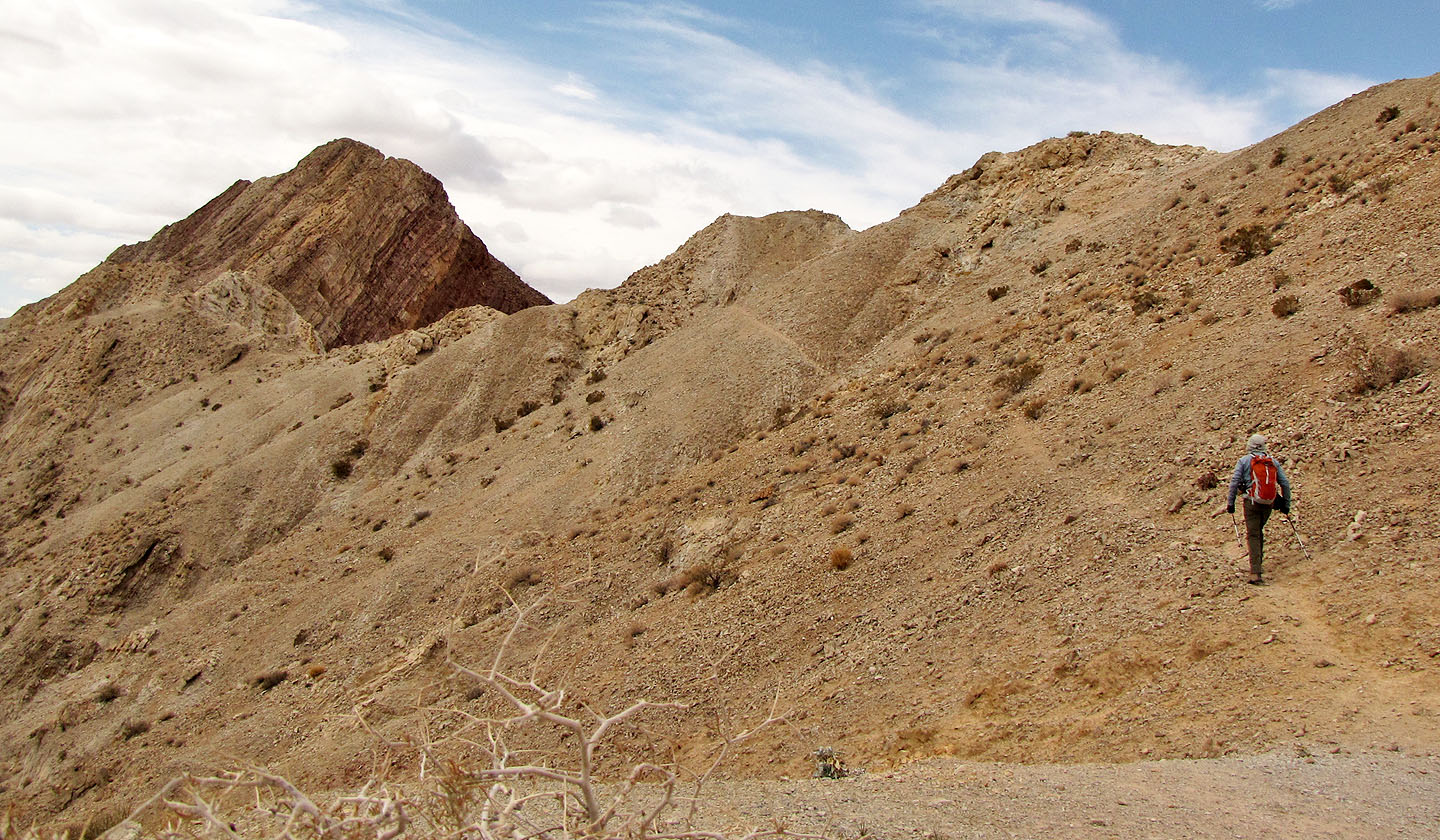 Ahead is a false summit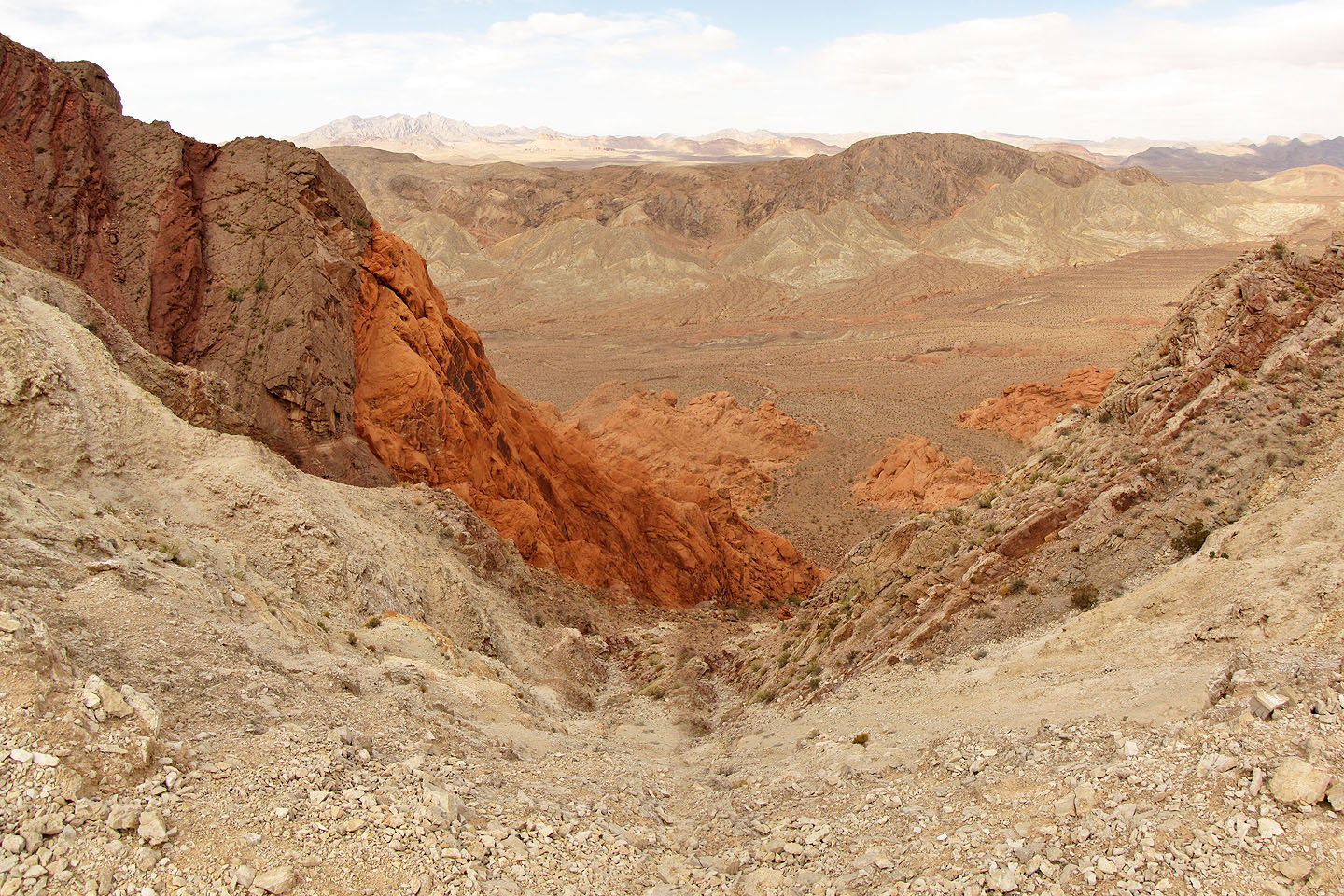 View from the ridge. Mount Graybeard in the foreground.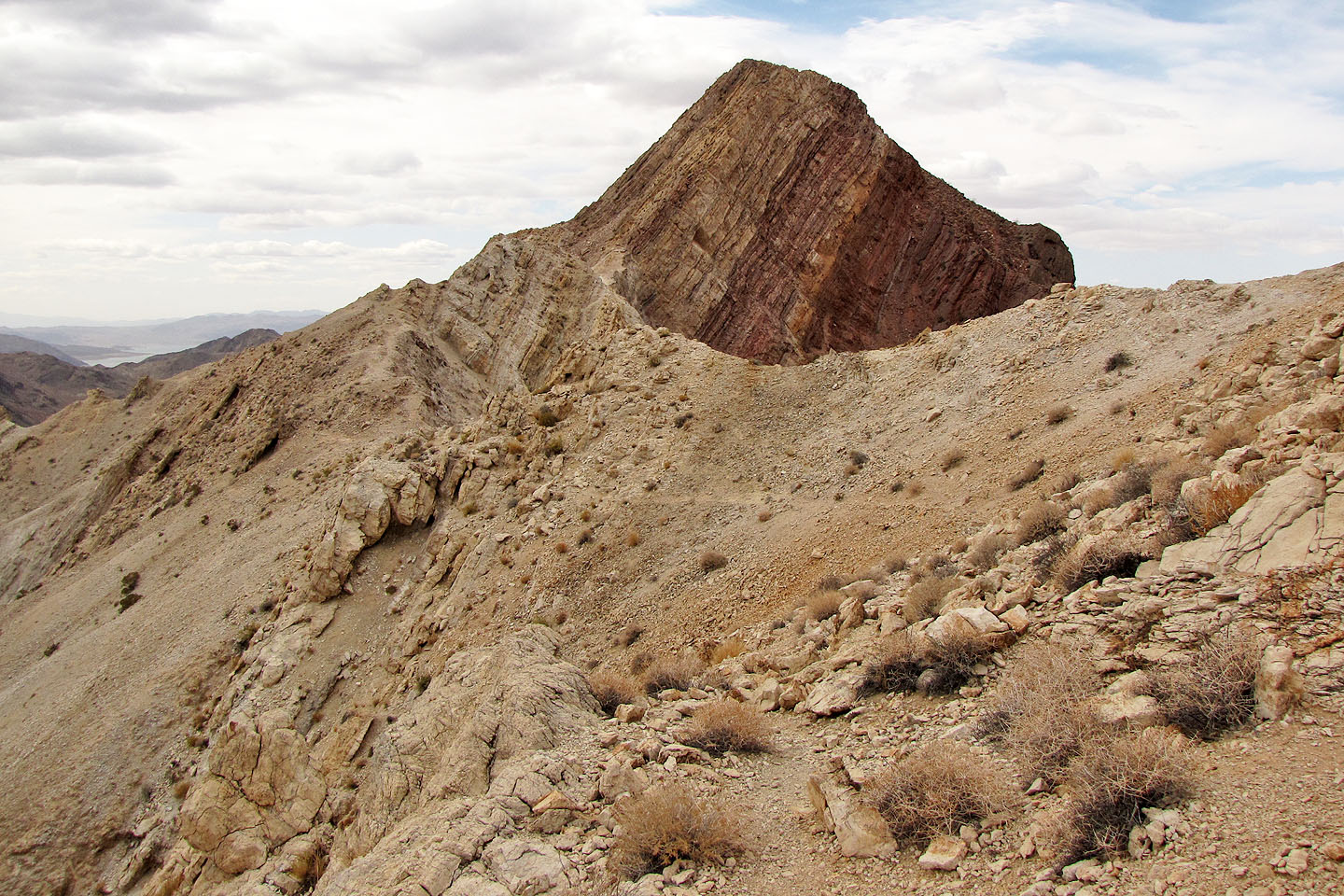 Following a sheep track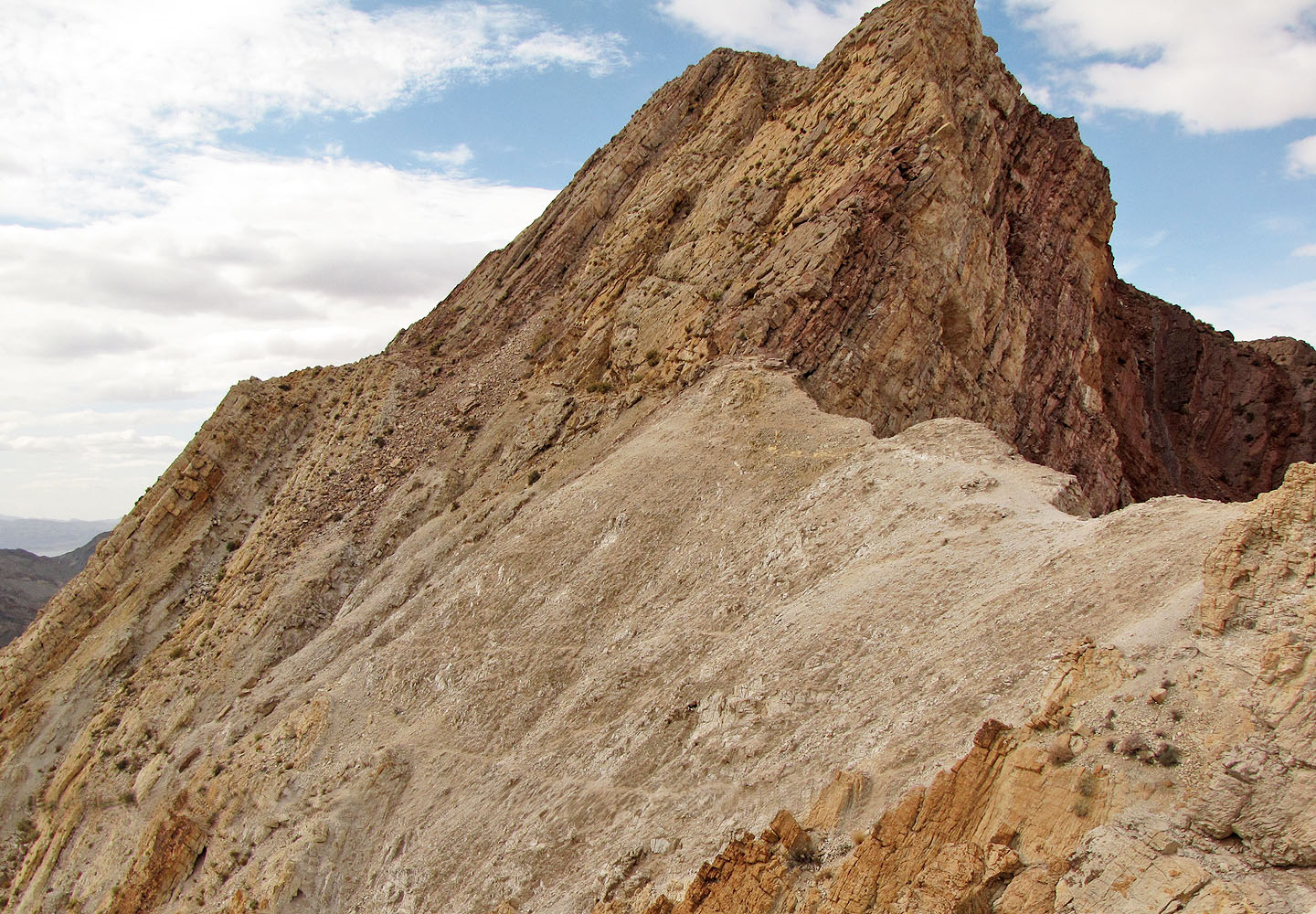 I spent several minutes figuring out how to reach the ridge ahead. From here I climbed up and over the ridge on my right (not seen).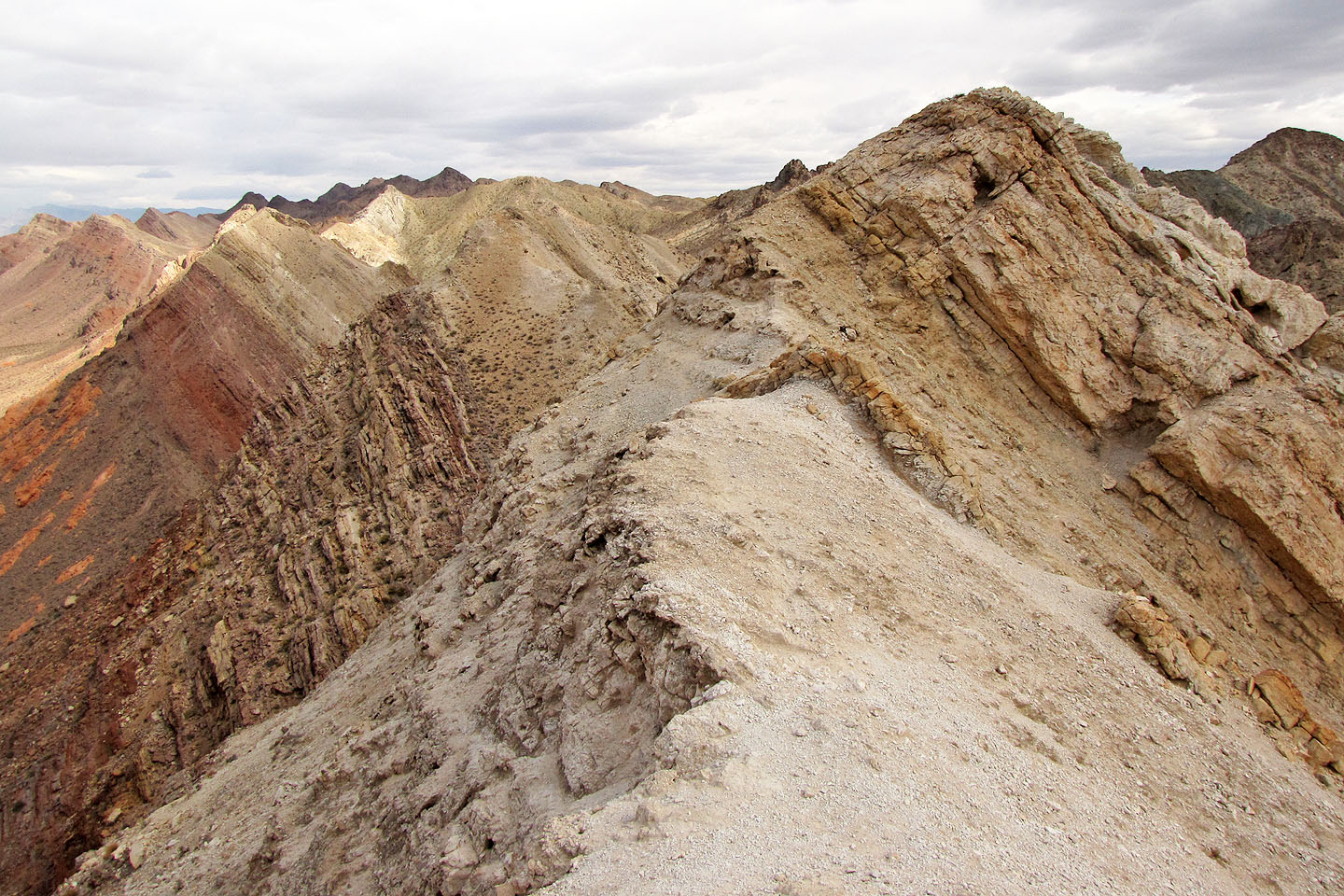 Looking back at the bump I had to climb over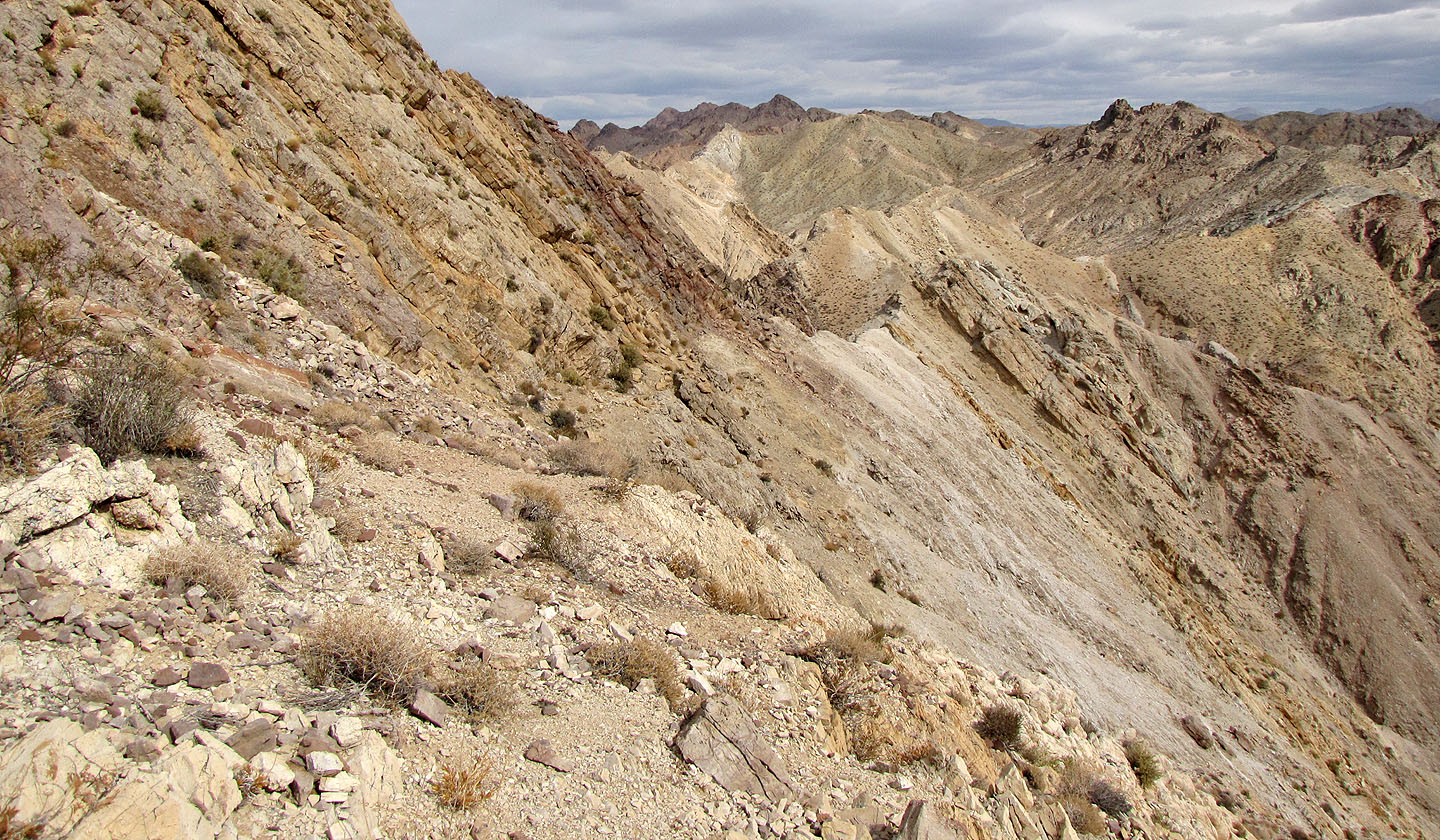 Looking back as I followed below the rock slabs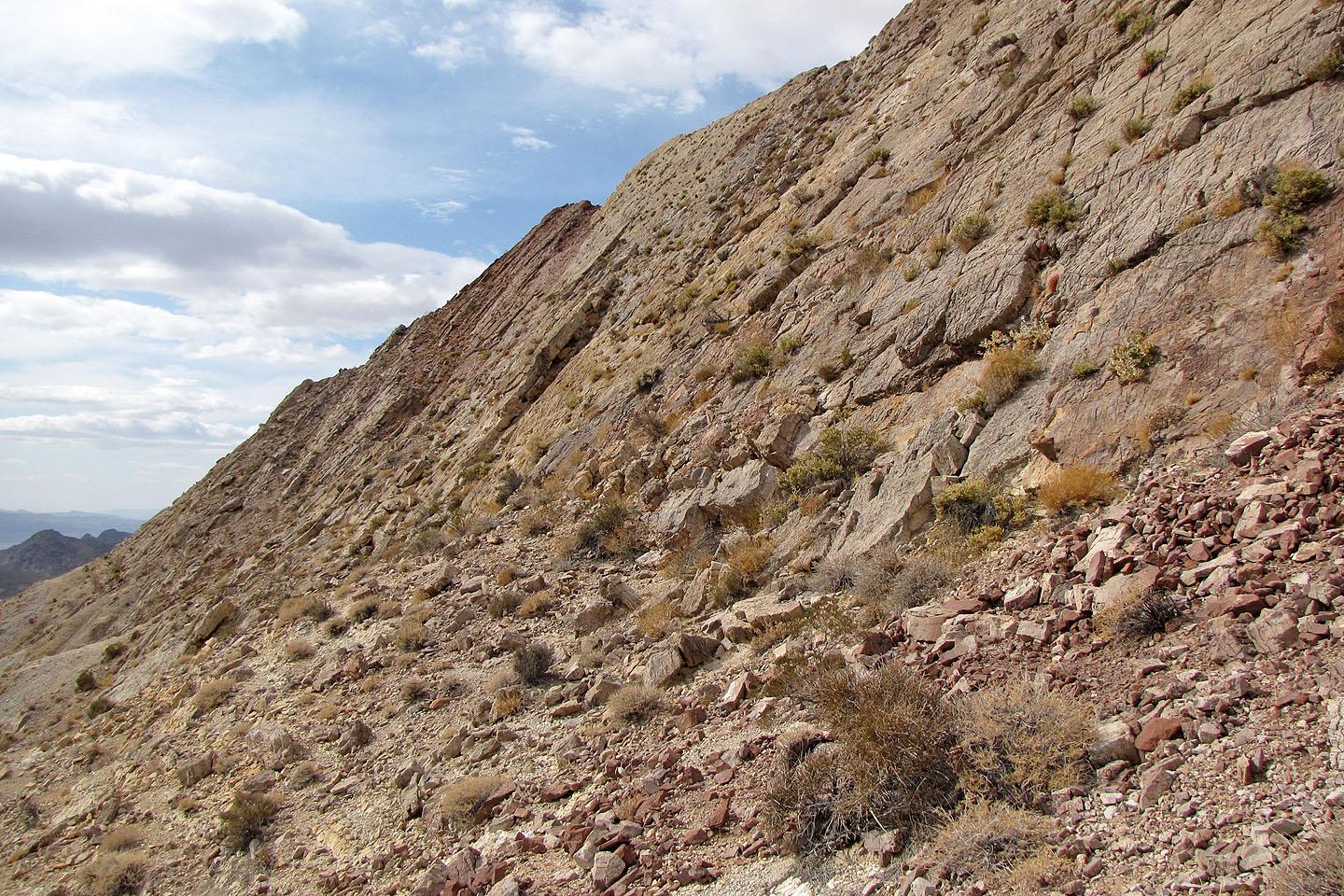 I hiked below the rock slabs until I found a weakness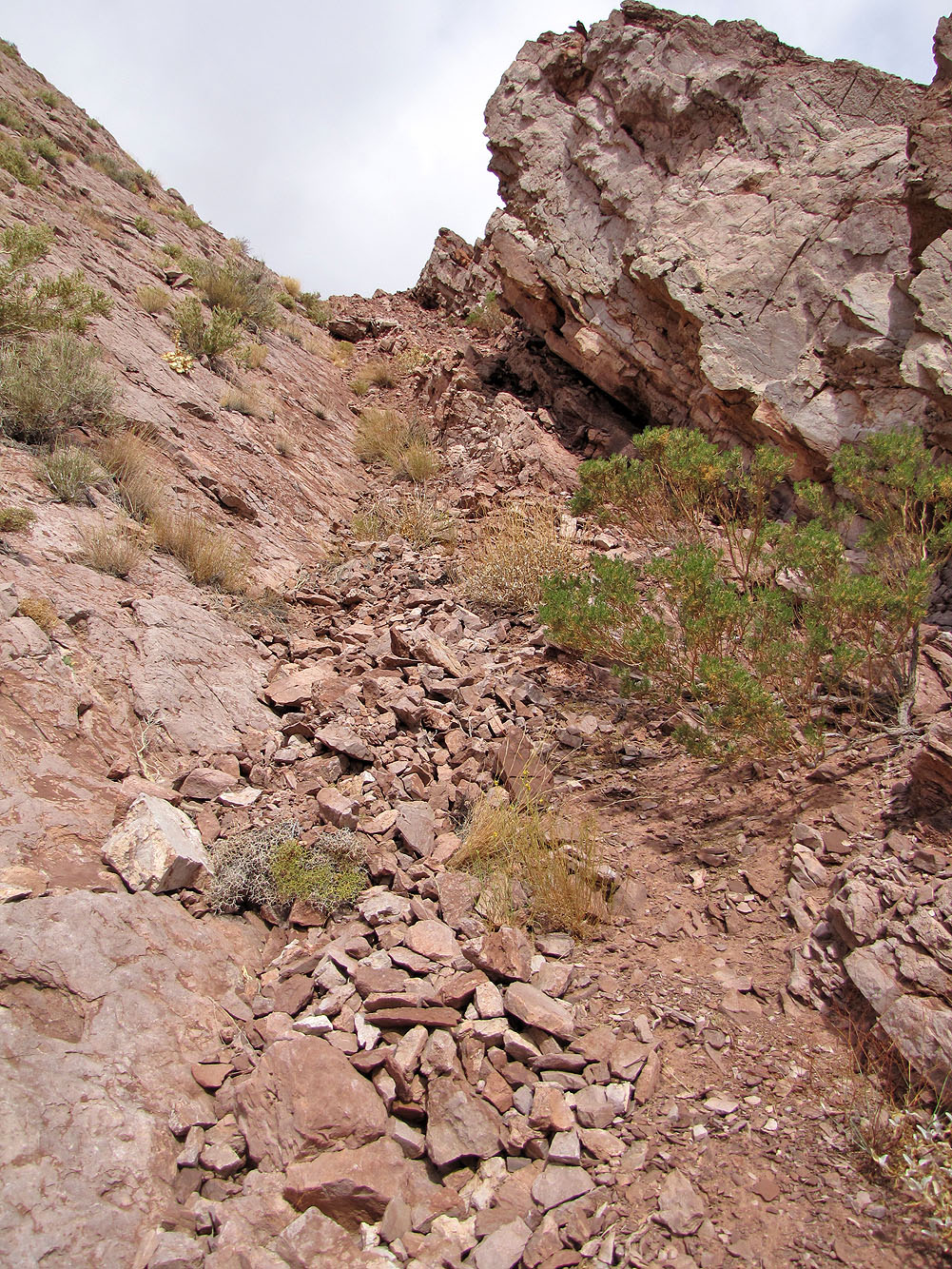 I scrambled up this chimney (steeper than it looks) to find myself next to the summit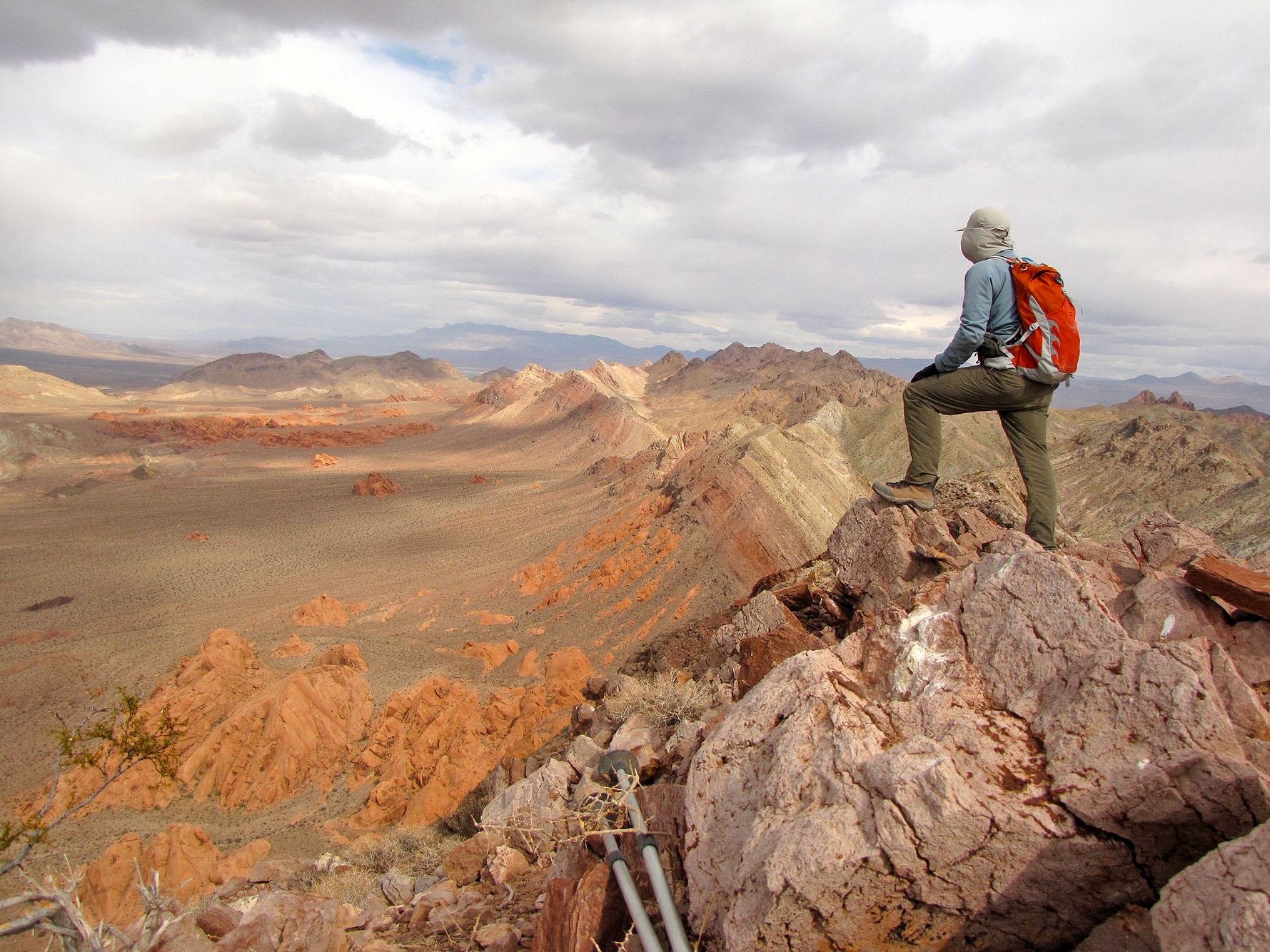 Looking northeast at the flats I had crossed earlier from the summit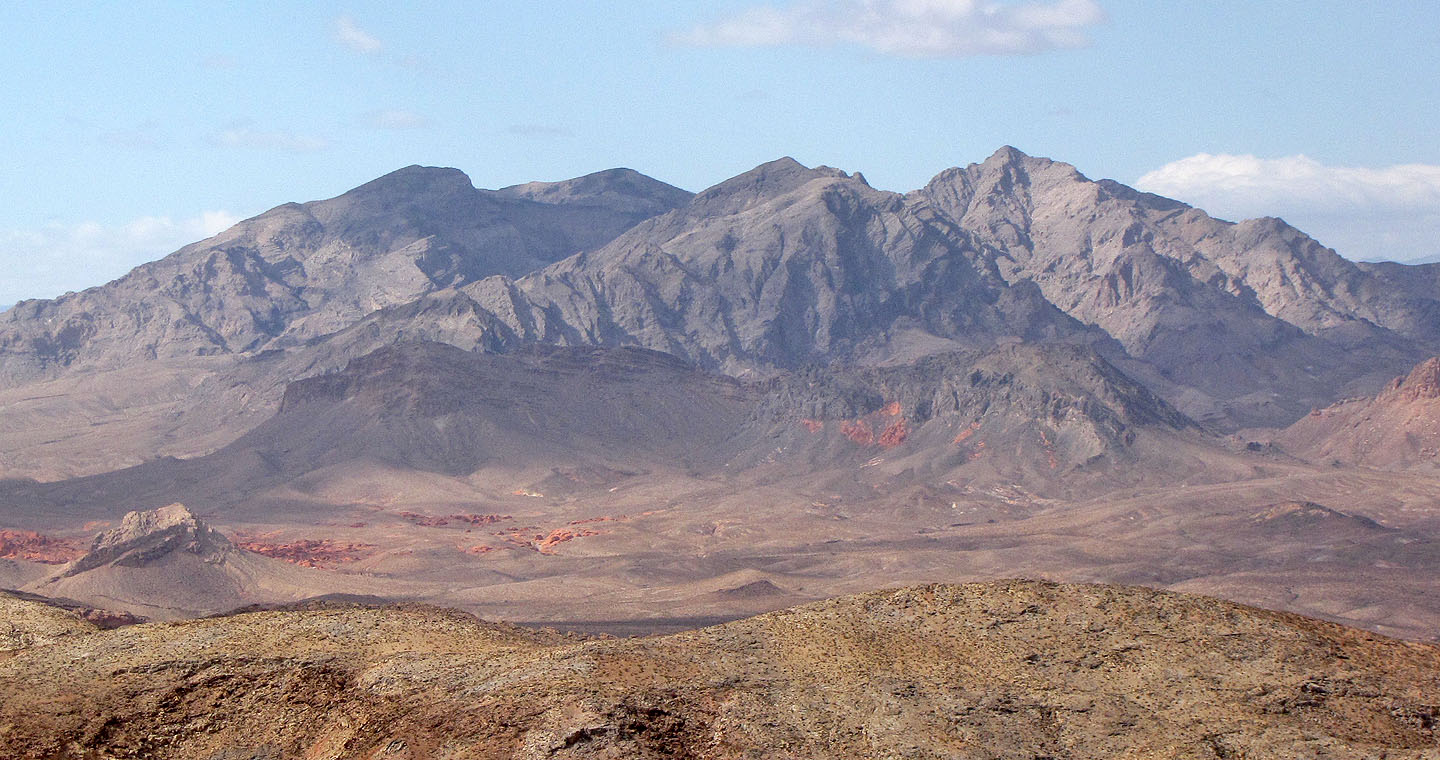 Muddy Mountain (centre) and Muddy Peak (right)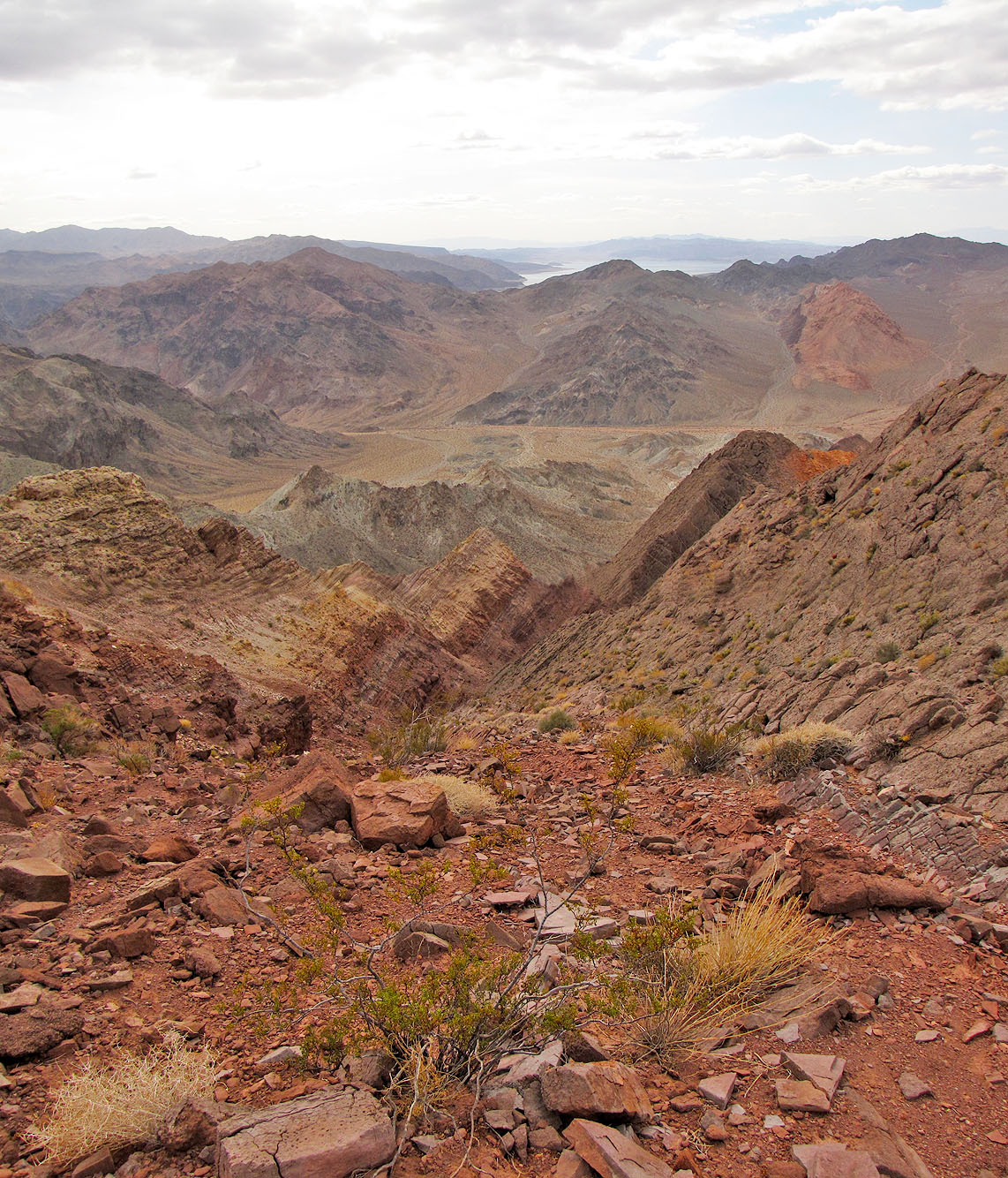 After continuing past the summit, I dropped down here and turned right to take the drainage at the bottom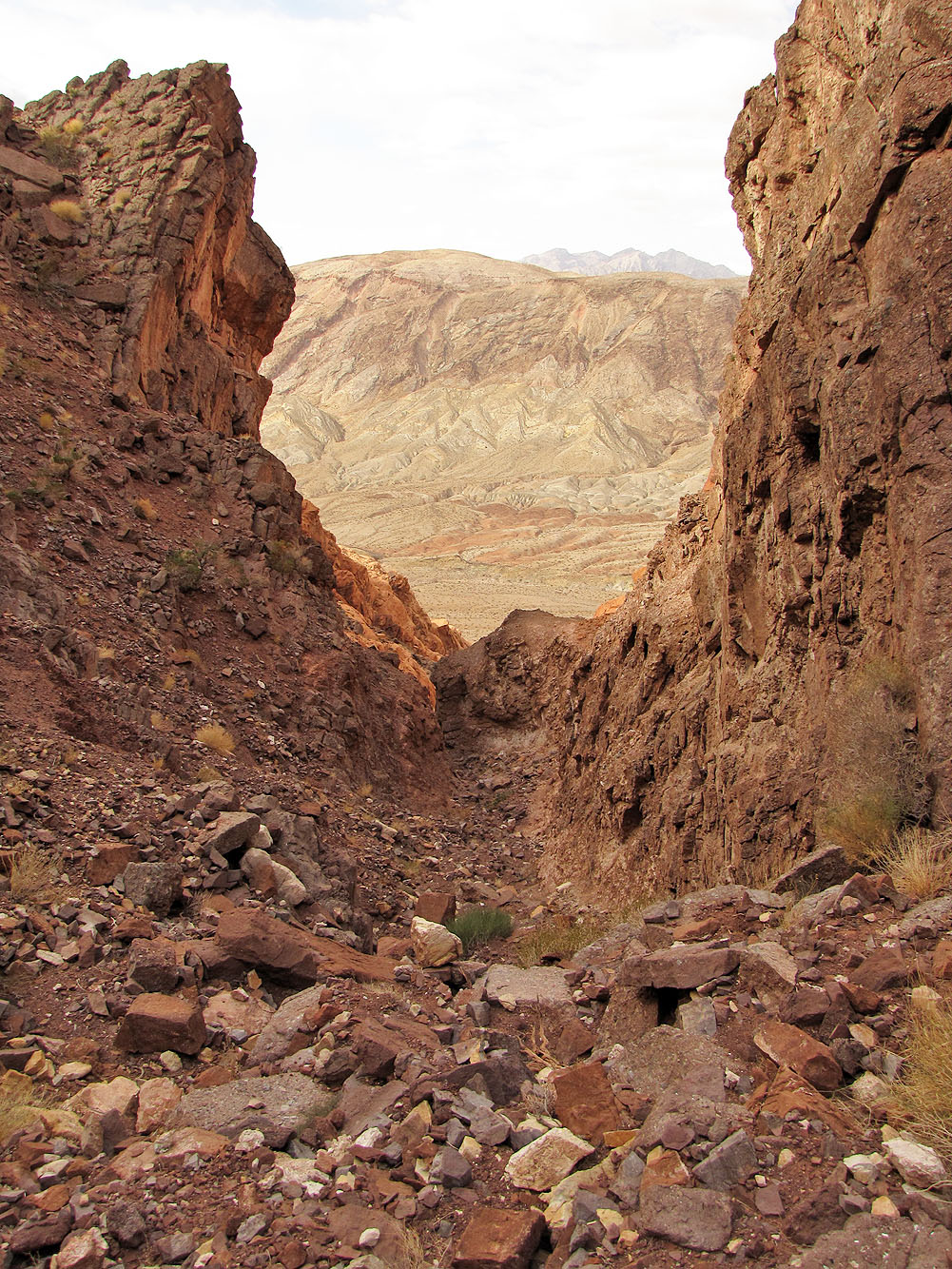 Start of the drainage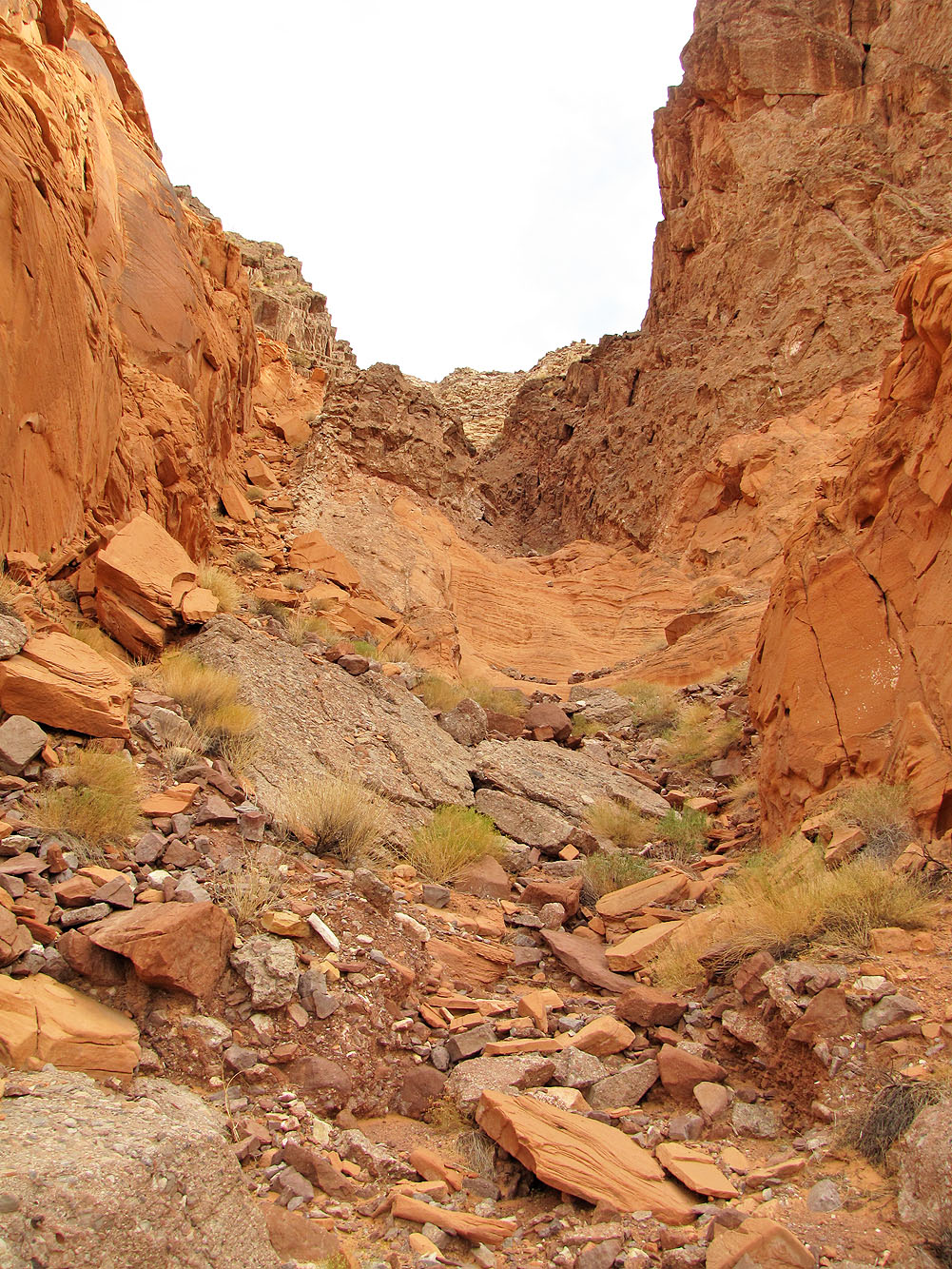 Looking back at the drainage after climbing down a ways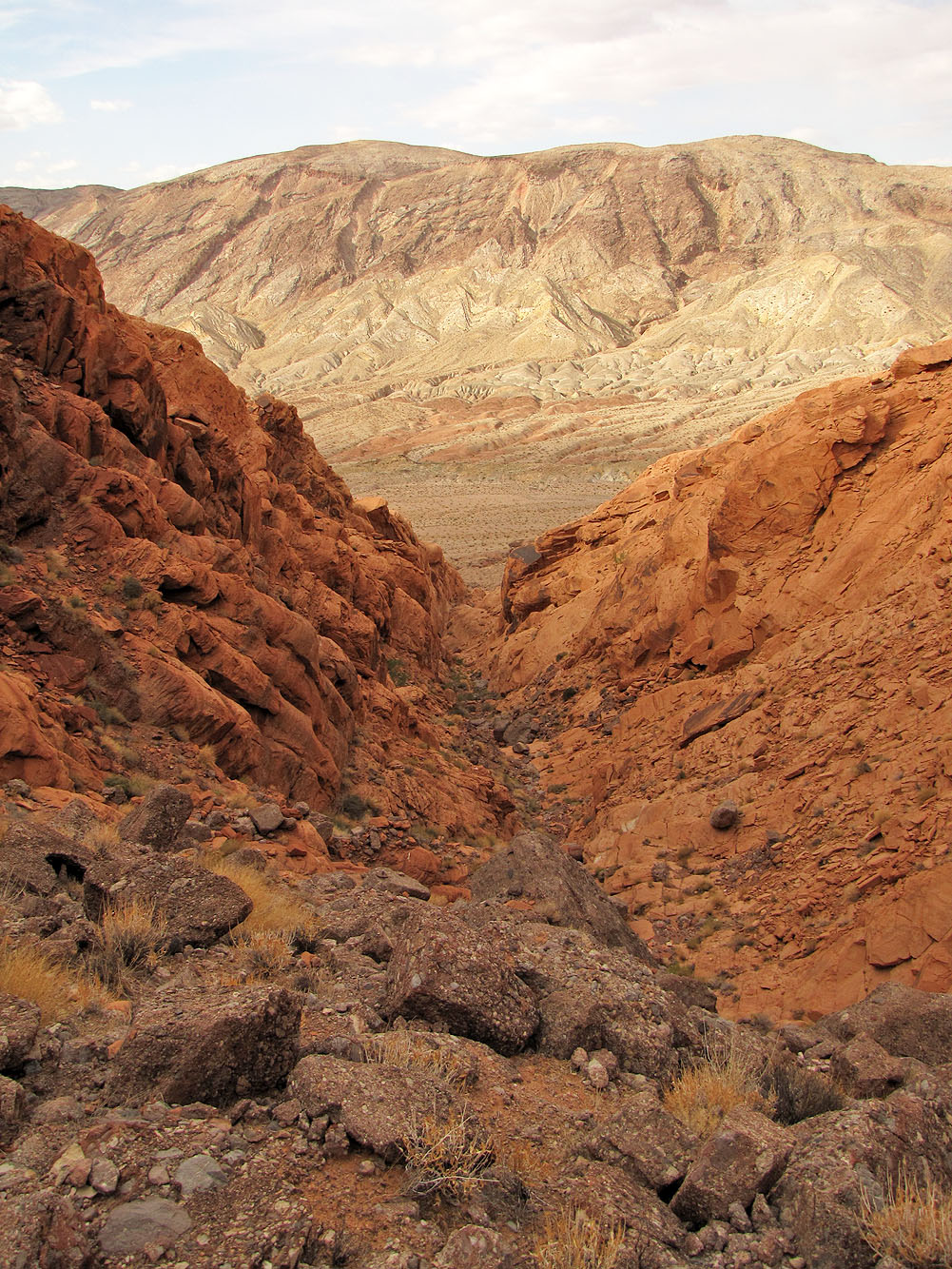 I continued down as far down as I could before turning back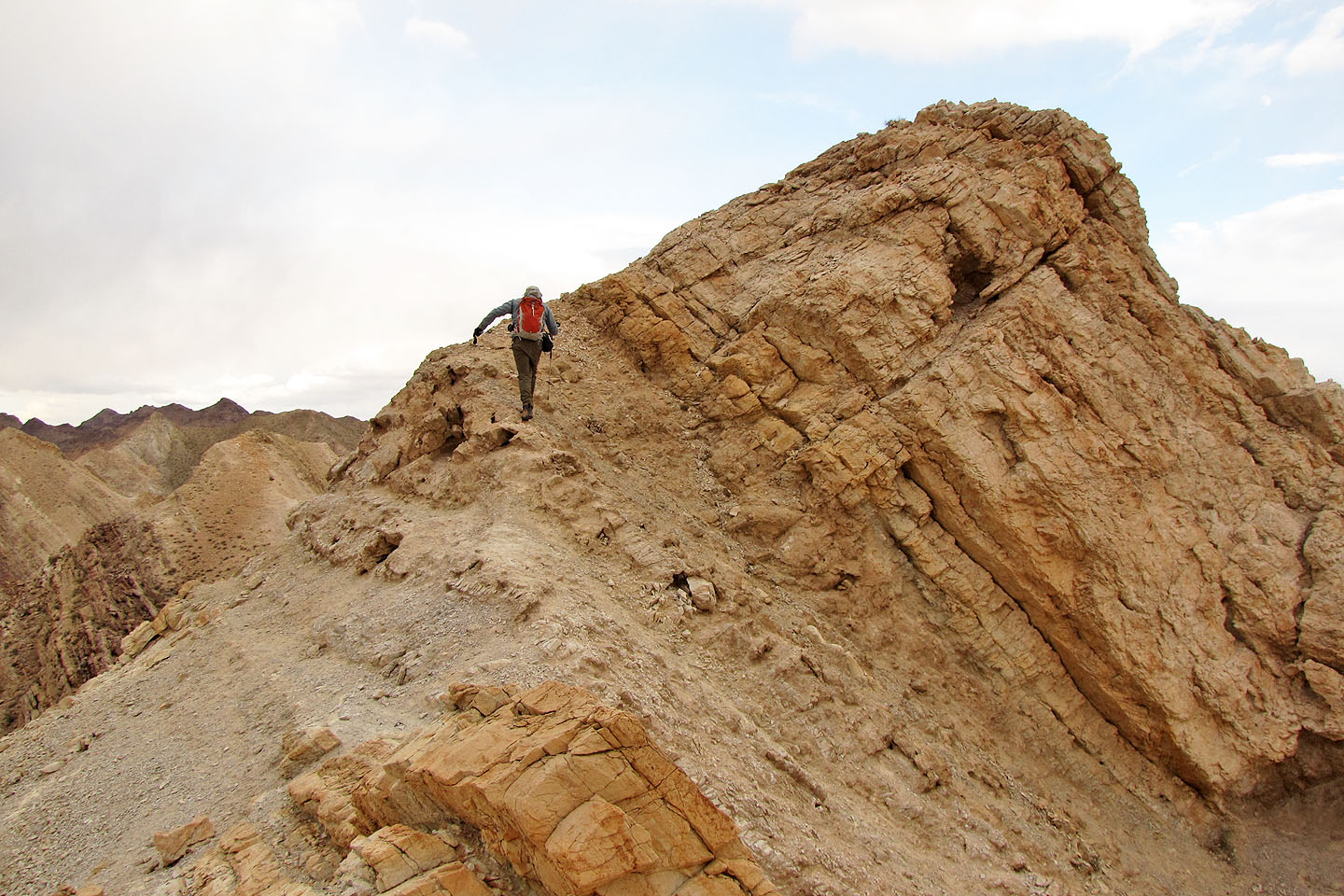 Going back over the bump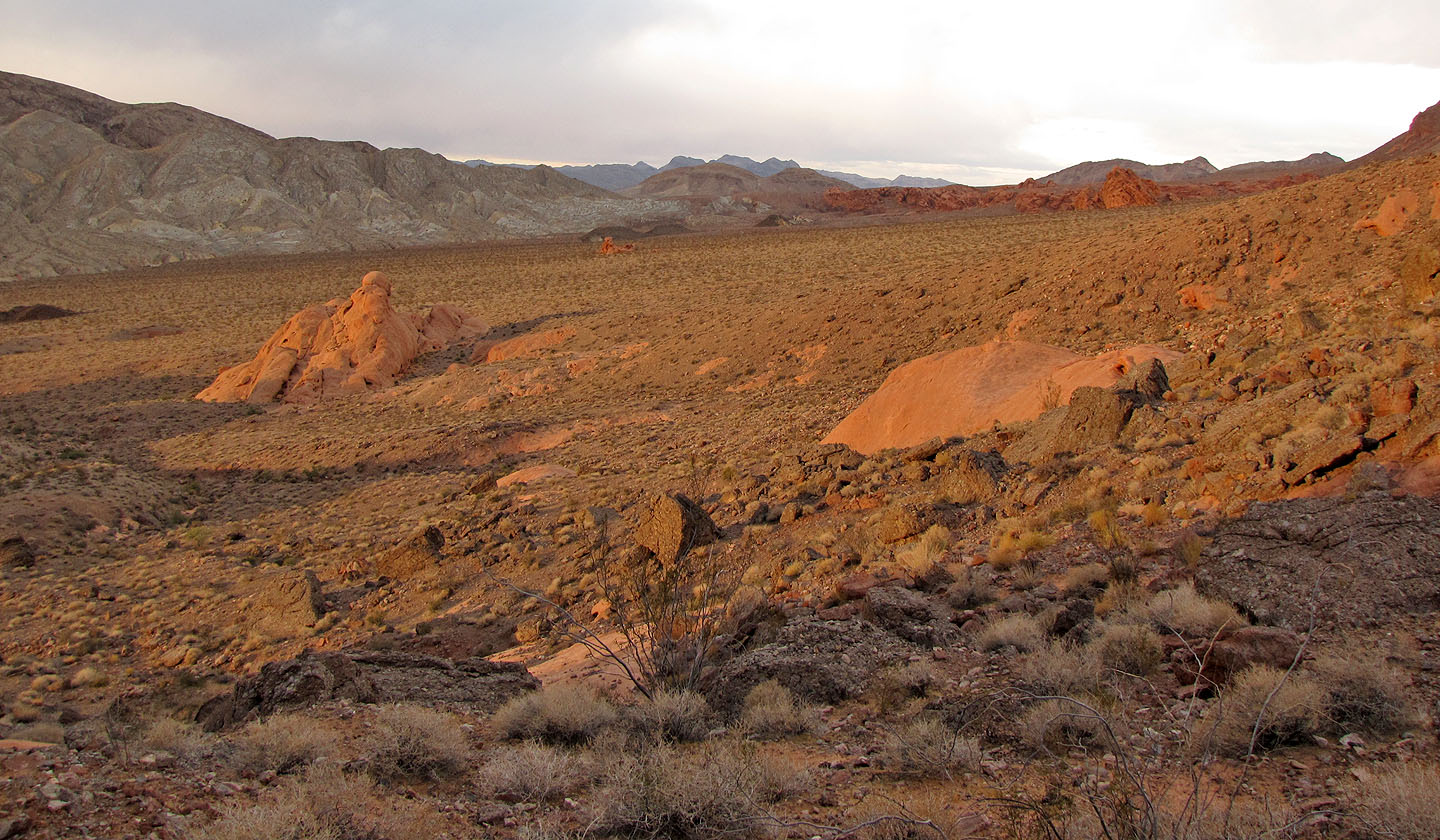 The sun will soon set as I set off across the flats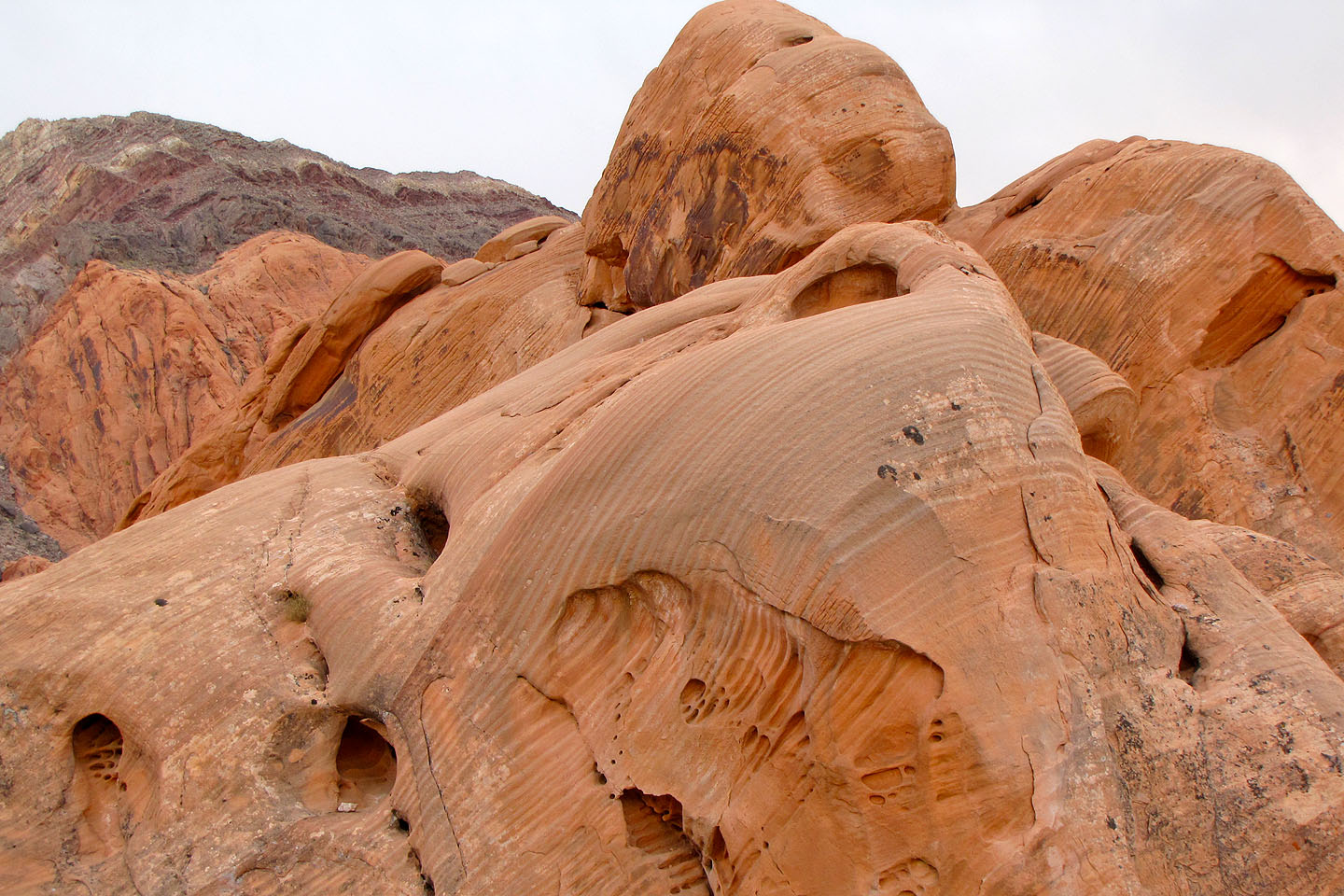 I passed some nice rock patterns as I headed back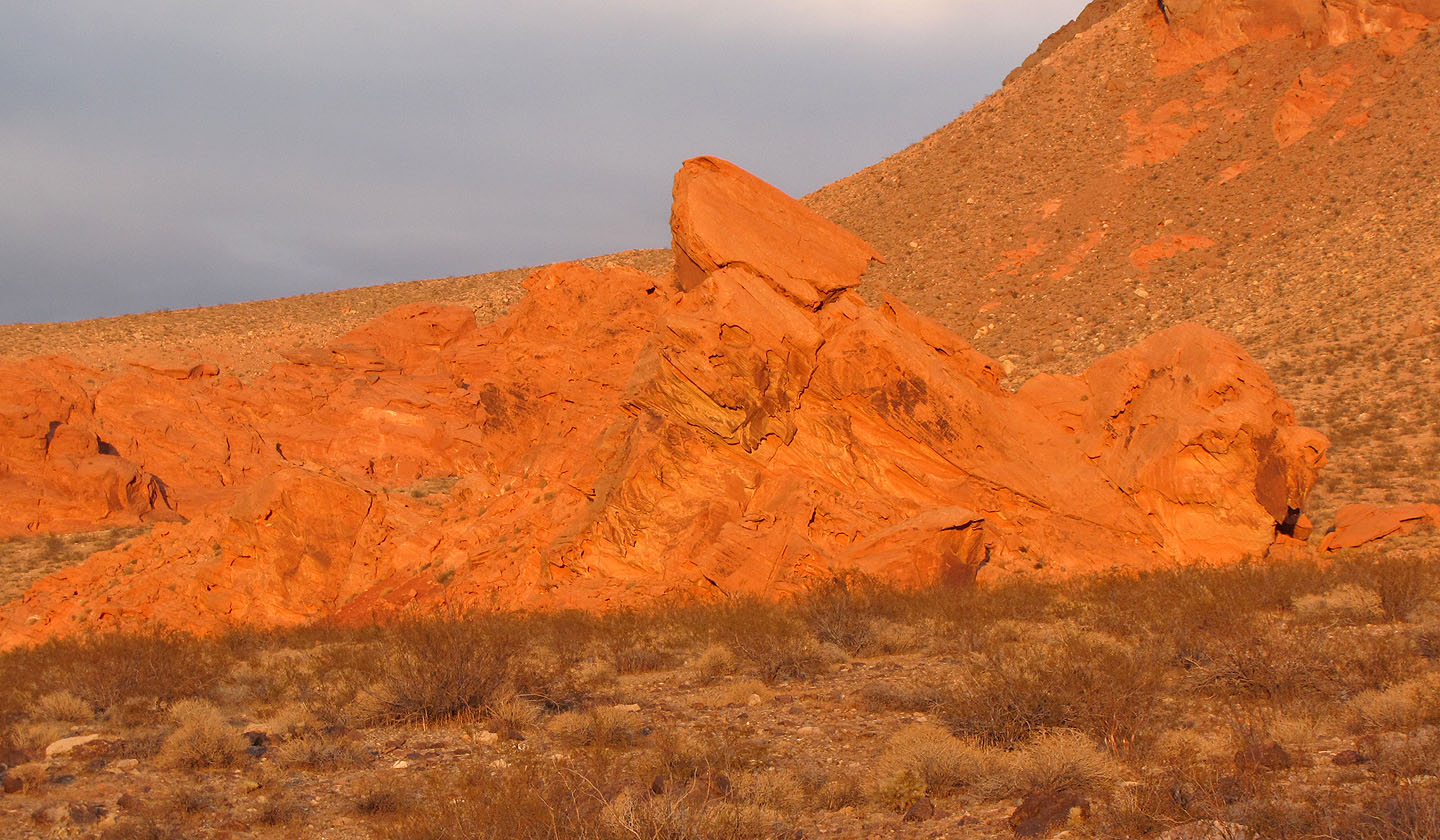 The setting sun set the red rocks ablaze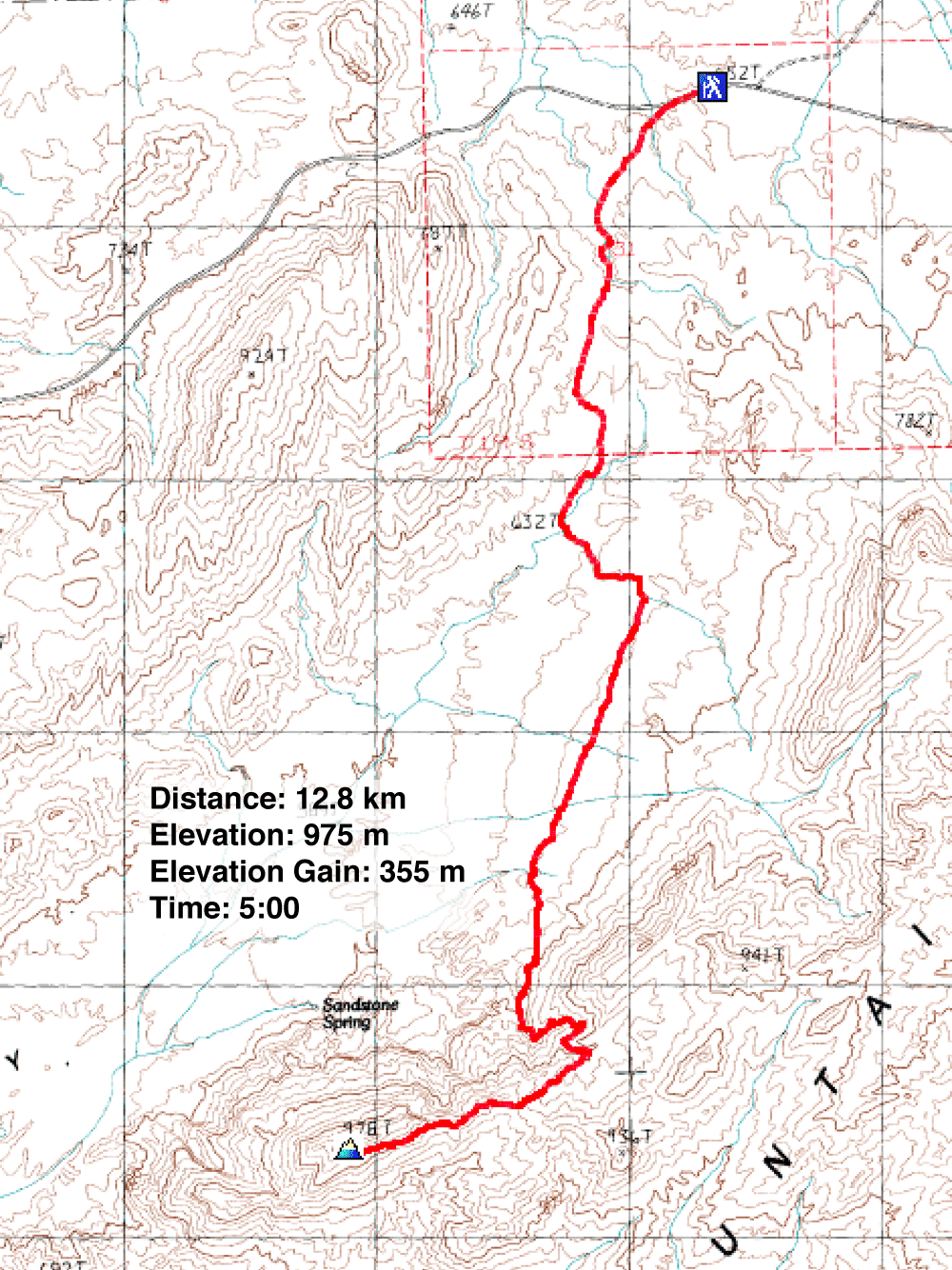 Boulder Canyon (8.0 mi, 3199 ft, 1165 ft) (ascent route)