bobspirko.ca | Home | Canada Trips | US Trips | Hiking | Snowshoeing | MAP | ABOUT

Scotchman Peak
Sandpoint, Idaho
July 29, 2019
Scotchman Peak is a popular hike not only for the maintained trail running all the way to the summit, but for its mountain goats. The trailhead is also readily accessible, less than an hour's drive from Sandpoint, most of it along scenic Idaho State Highway 200 as it runs to Clark Fork. After the town, a series of back roads go to the trailhead, although I'd recommend a high clearance vehicle.
But don't rely on GPS navigation to get to the trailhead. That didn't work well, putting us and a hiker from Oregon on the wrong back road. Sonny Bou's trip report has details to get to the trailhead, and we were about to use them when we ran into a ranger. She led us to the trailhead. (I've included a GPX track for the drive from Clark Fork.)
When we arrived at the trailhead, there were already a few parked vehicles. Dinah and I grabbed our packs and started up the trail. Numerous switchbacks keep the hike moderate; there are no steep sections. And for a long time, there was little to see. The lower, short switchbacks lack views because of trees, but higher up, long switchbacks traverse meadows that give way to expansive views of Lake Pend Orielle (pronounced pond oh-RAY). Soon after the upper switchbacks end, the trail hits a talus slope. But despite winding up rocks, the trail is surprisingly easy to follow, the rocks stable, and we arrived on a high point, a bump bearing a benchmark. Five minutes later, after a short drop and a brief, easy scramble, I was standing on the next bump, a mere two metres higher.
On our ascent, hikers coming down told us there were goats, but we didn't see any. However, after talking to people on top, we realized we must have passed them. Sure enough, after going back down the trail a bit, we spotted what appeared to be a billy (male goat), and a kid. The billy was busy feeding, using his front hooves to dig up foodstuff. Meanwhile the kid was nearby, apparently exploring. We sat down on the rocks and ate lunch while watching the animals.
Just as we started to leave, the billy laid down in the shade, and the kid ambled over and laid down beside him. While the goats rested, we summoned the energy to get back down the mountain. As we expected, the numerous switchbacks, while easy on the knees, seemed excruciatingly slow.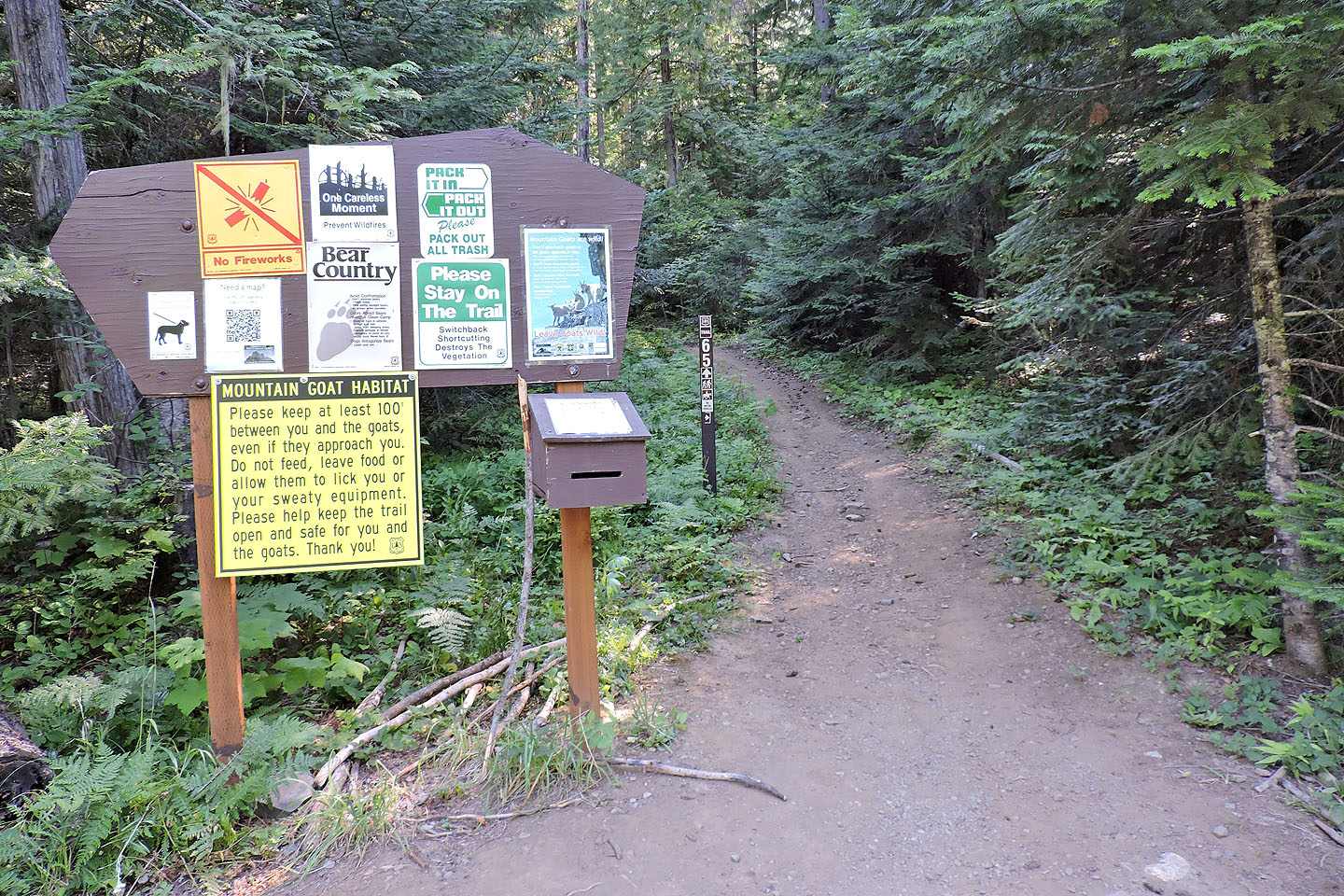 Warning signs at the trailhead. The post indicates Trail 65.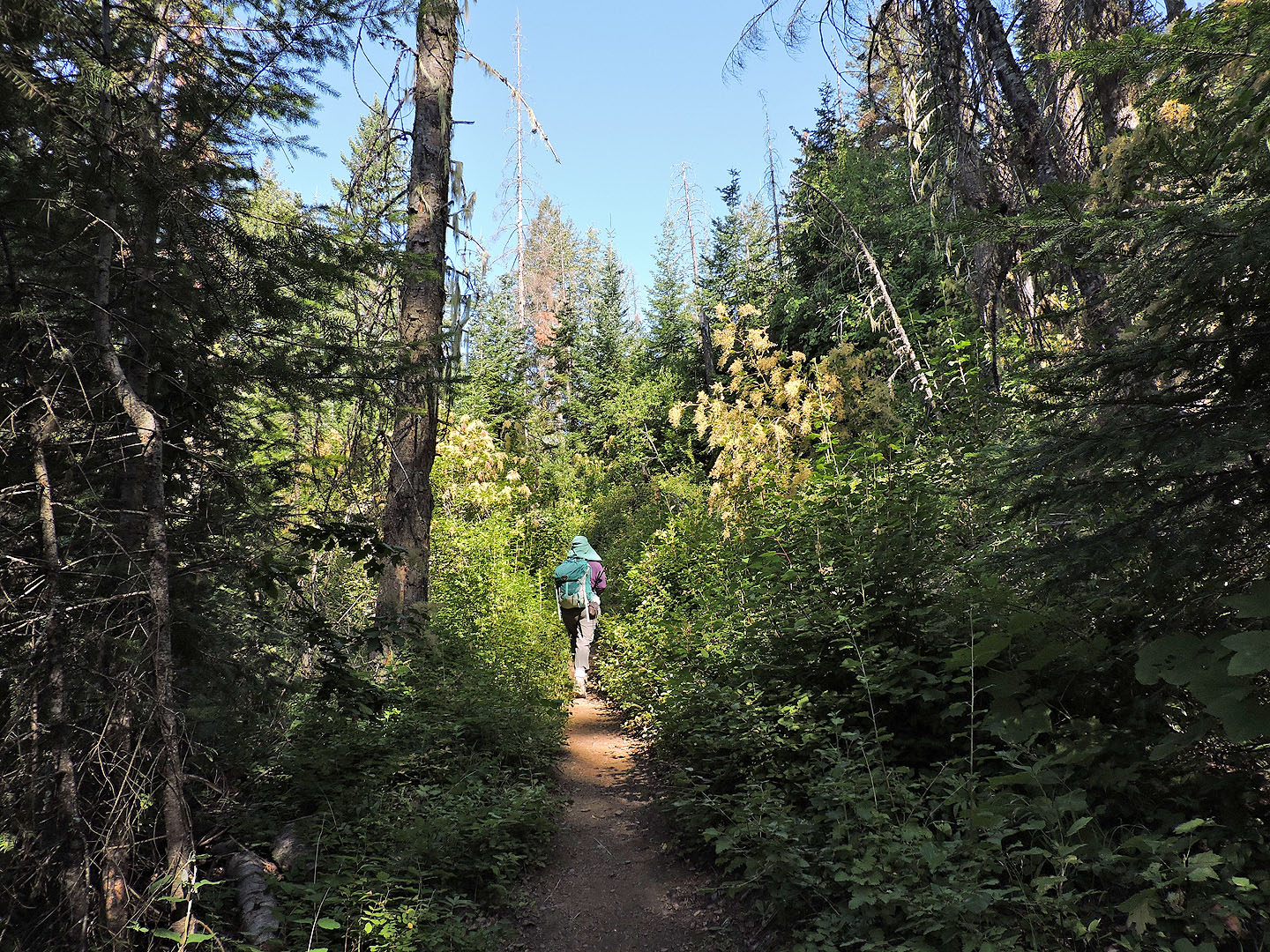 There are no views for a long time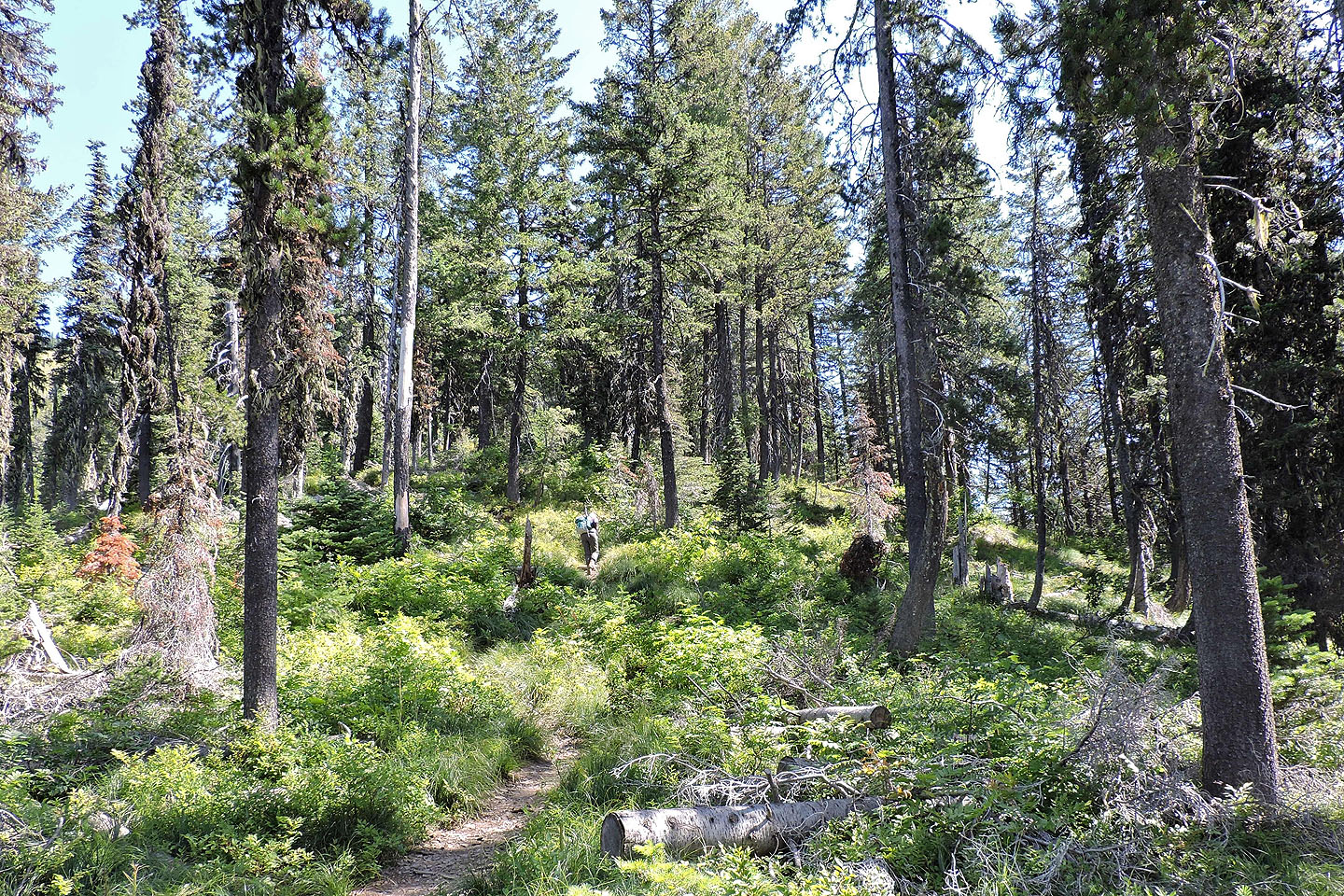 Above the lower switchbacks, the trail follows a ridge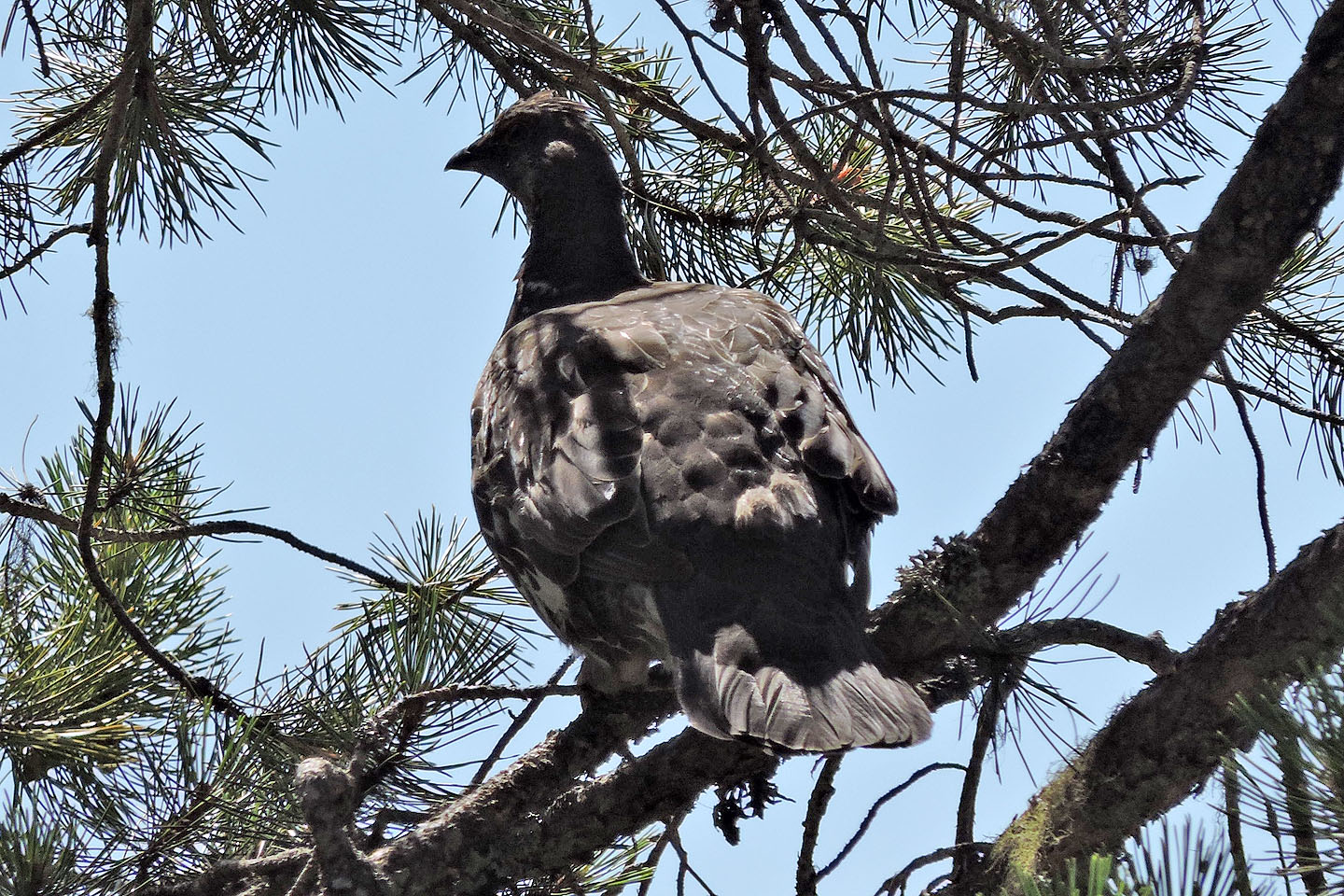 Startled, this grouse flew to a tree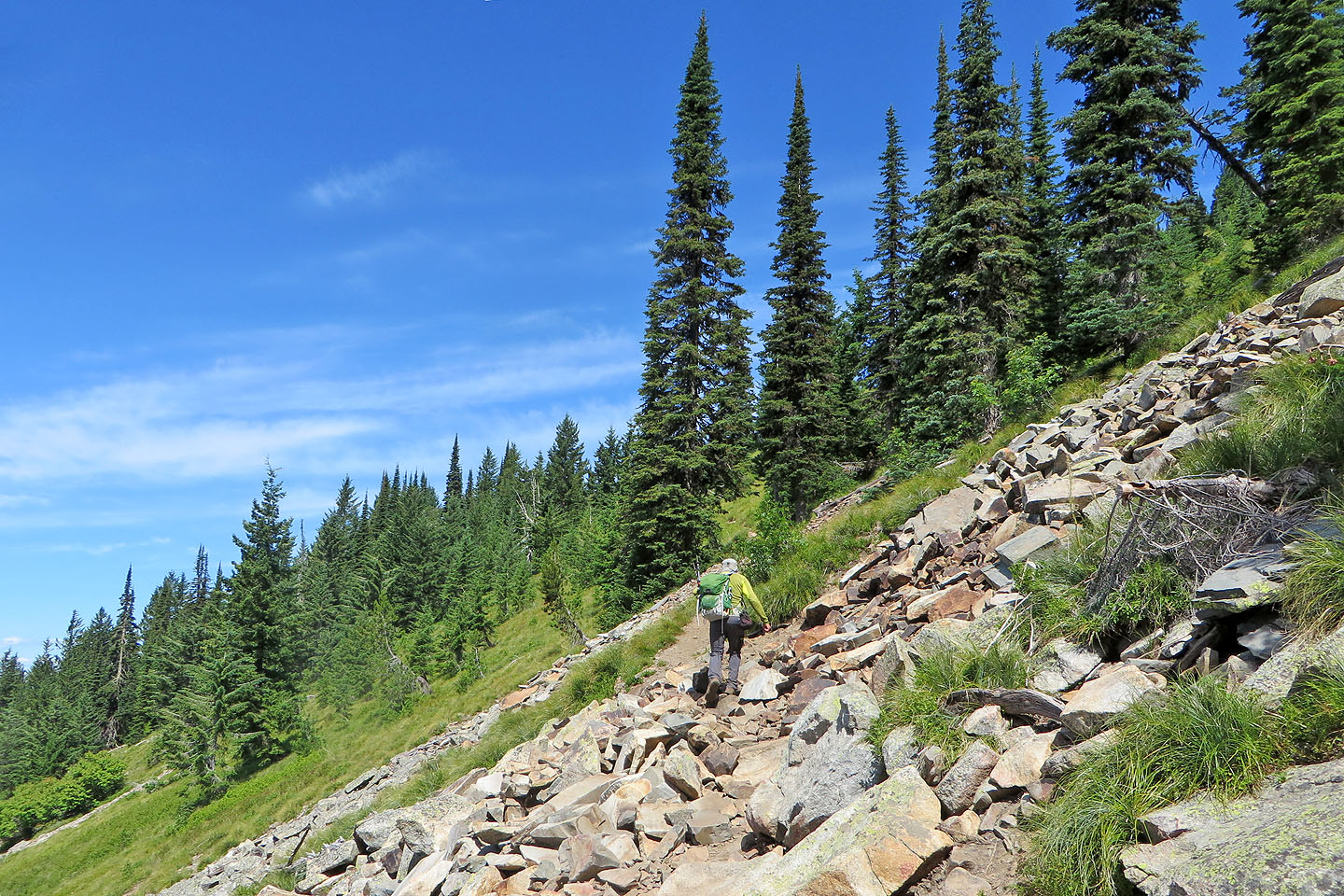 The trail crosses an open slope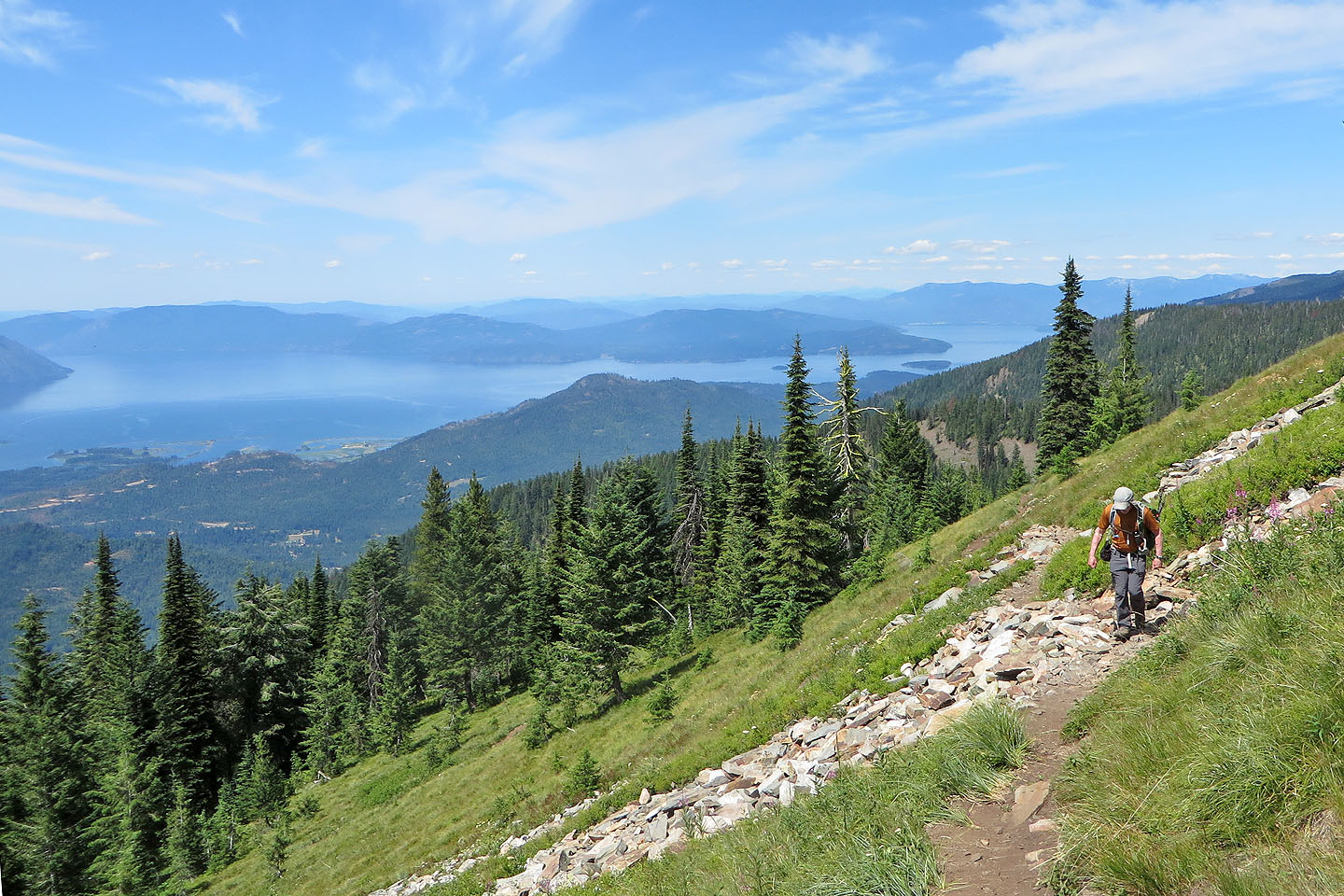 A long switchback traverses a meadow with Lake Pend Orielle in the background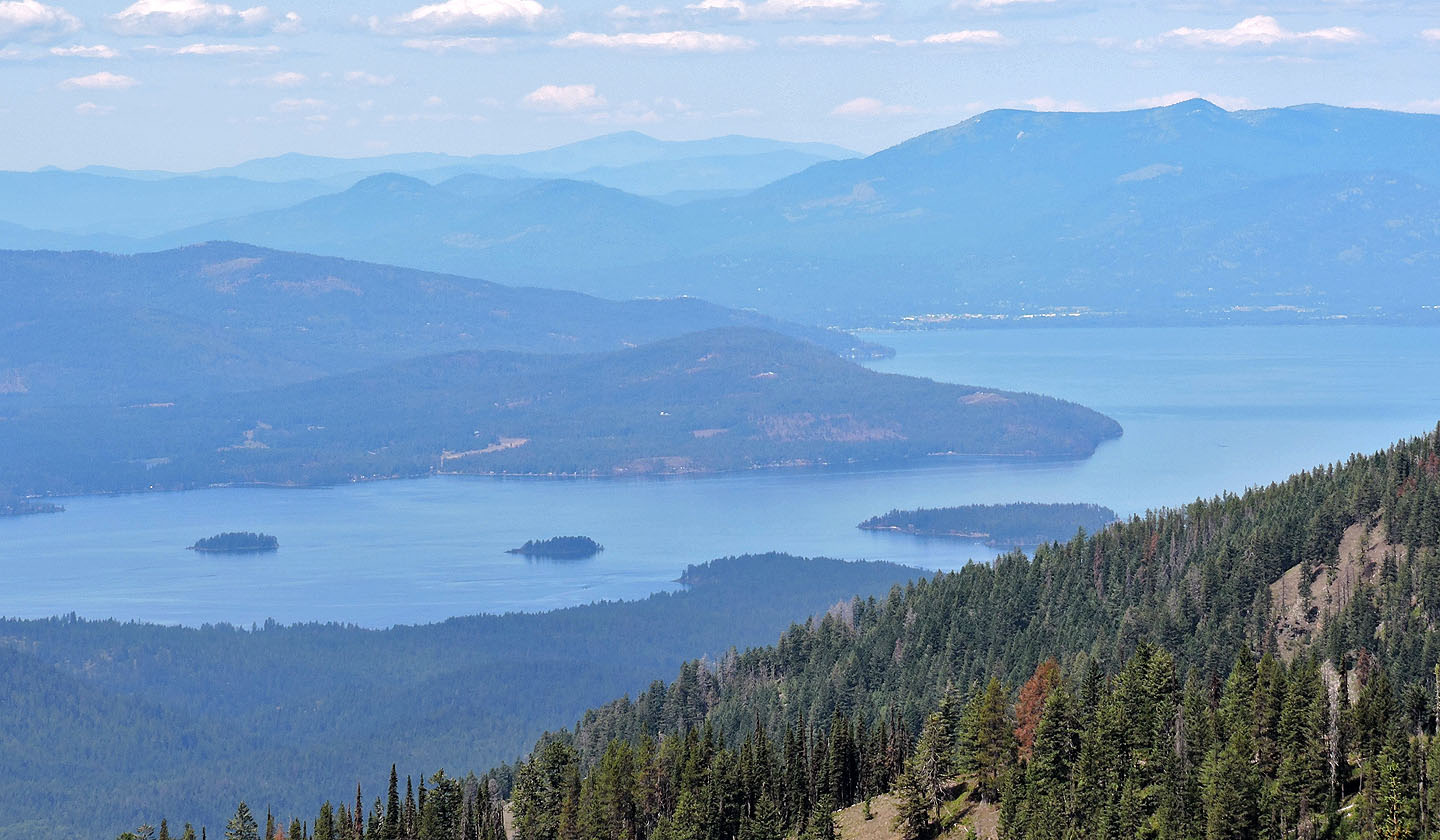 On the far shore is Sandpoint. Above the first island from the left is Gold Hill which we hiked the next day.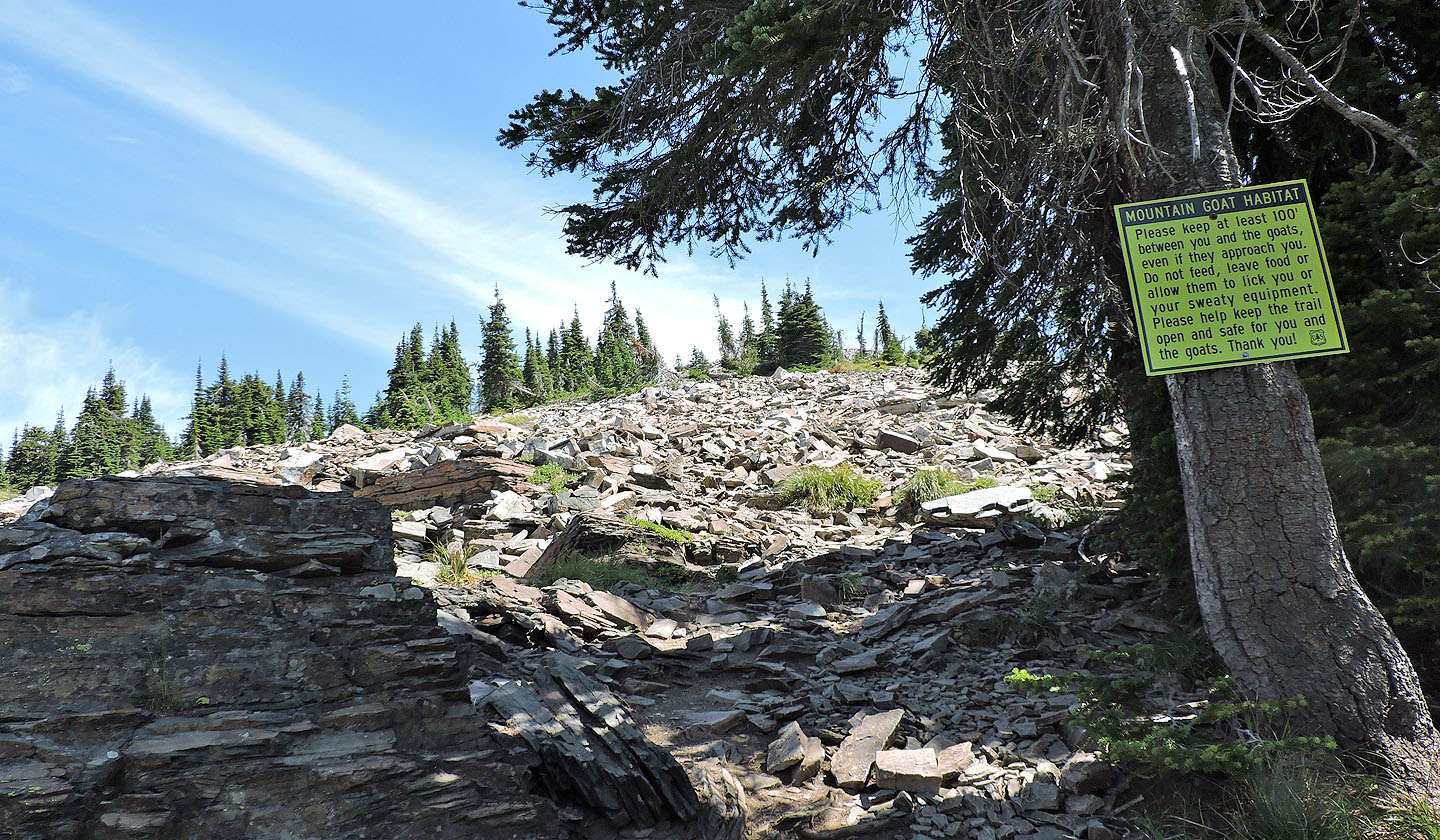 A final warning to stay 100 ft from the goats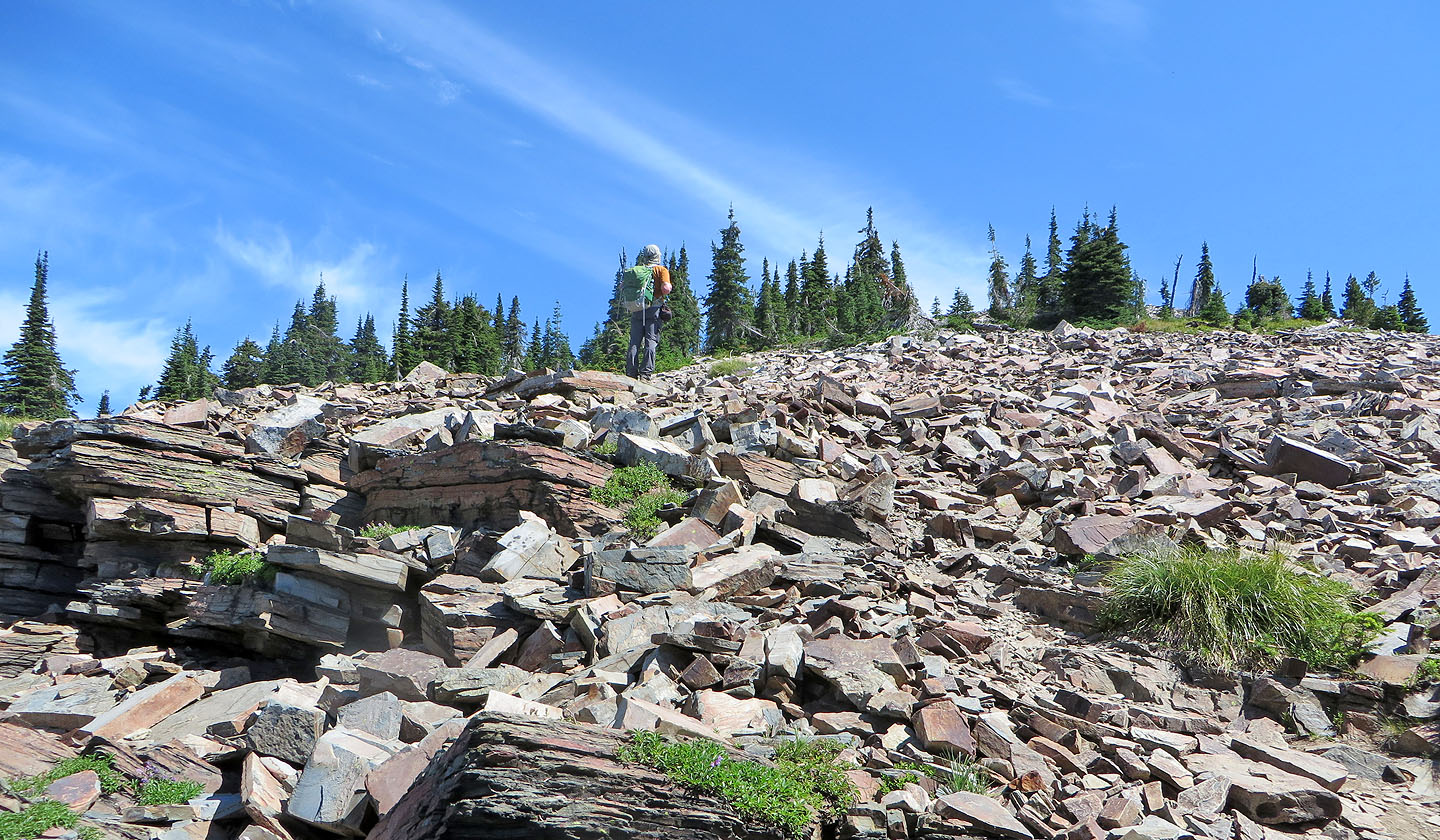 The trail transitions to rocks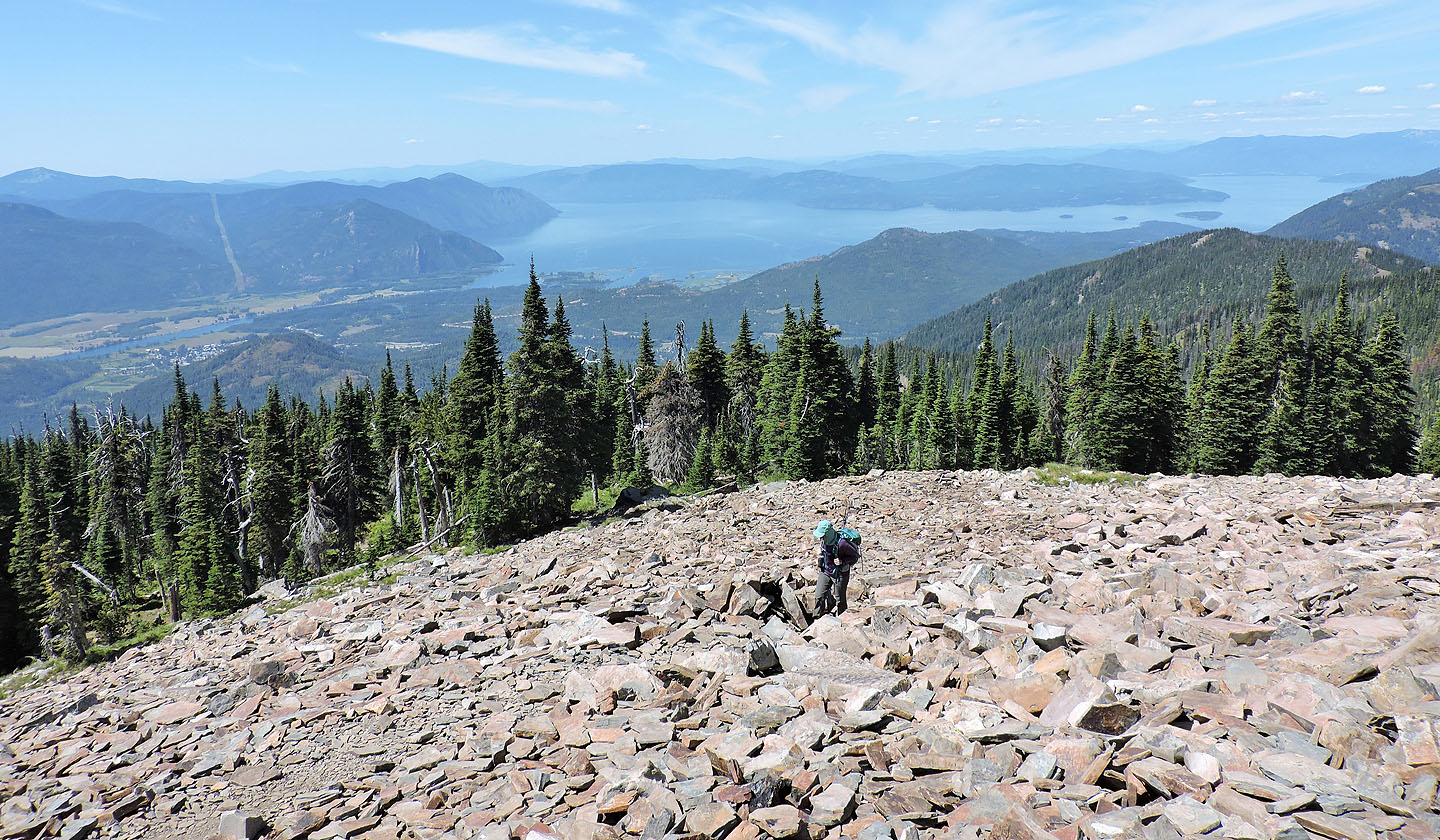 Looking back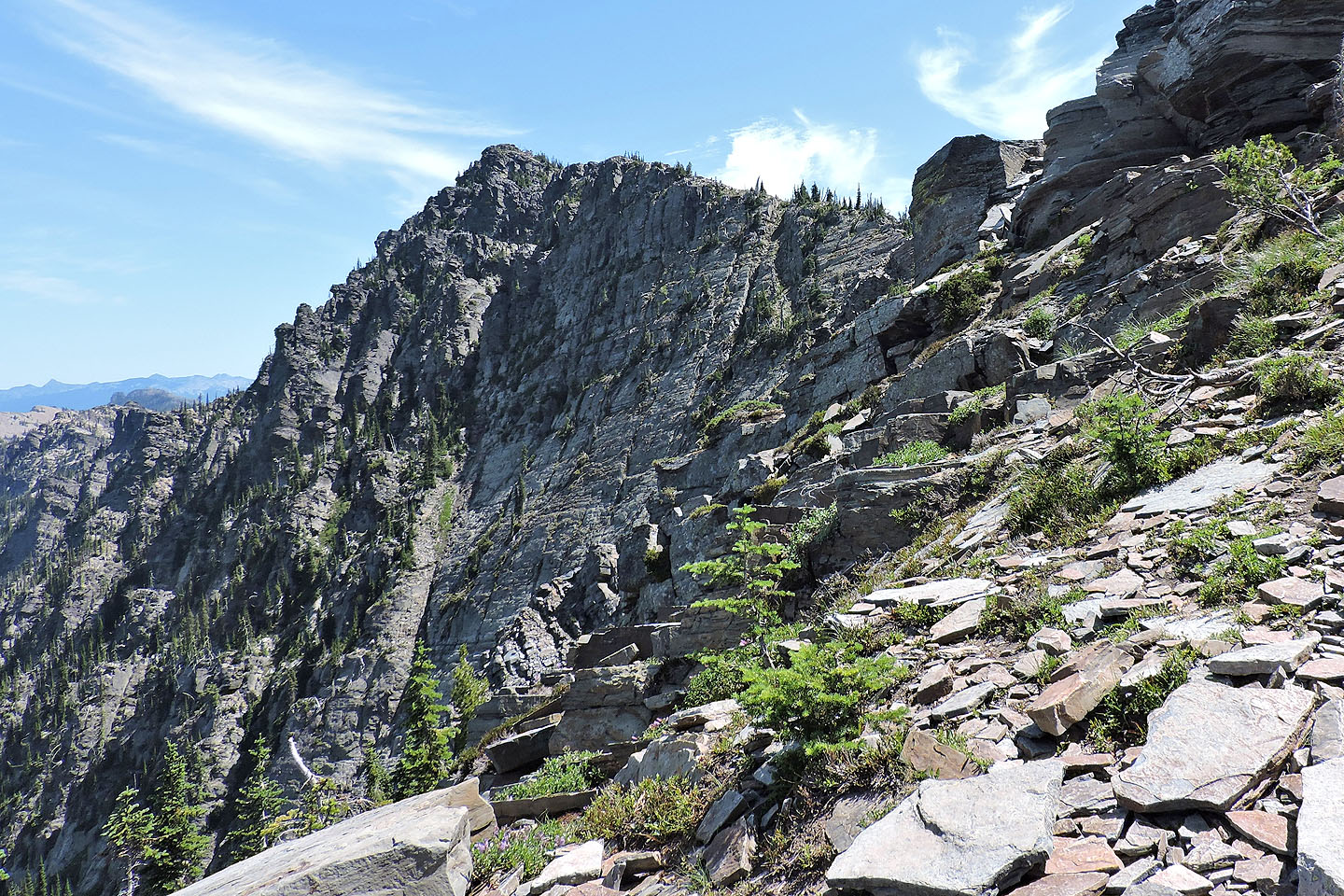 The impressive north face of Scotchman Peak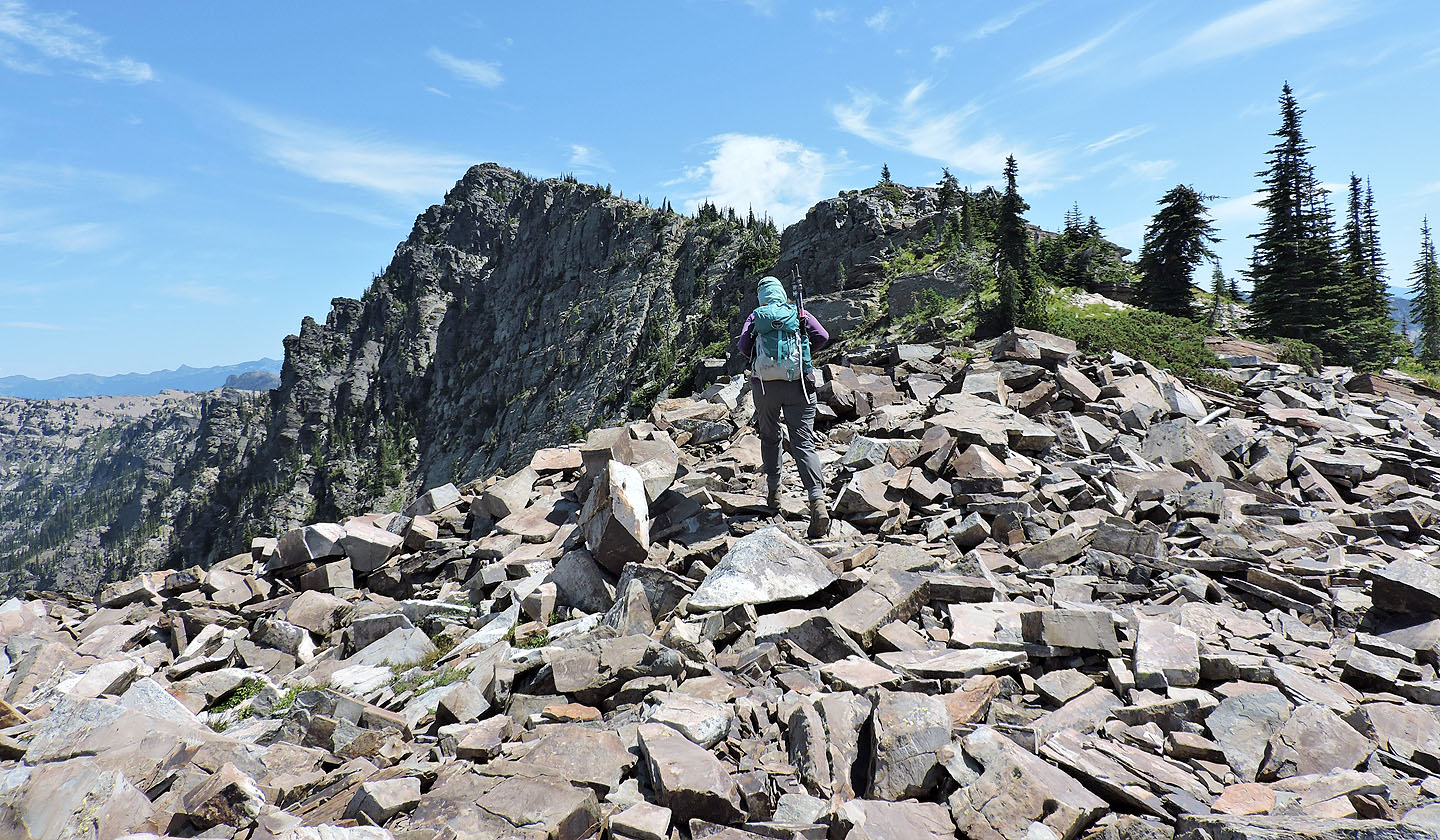 The first bump is ahead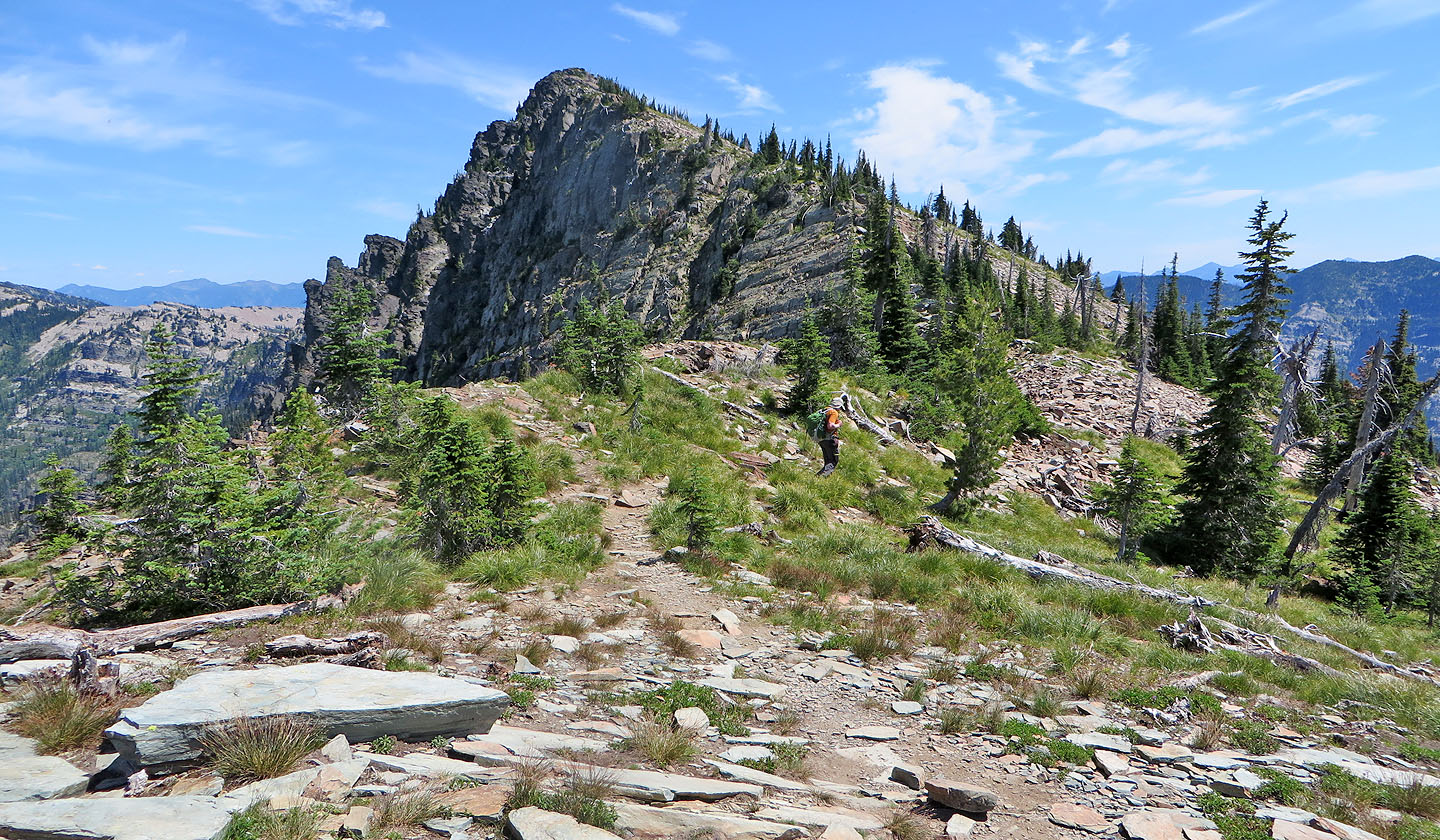 It looks close but the view is foreshortened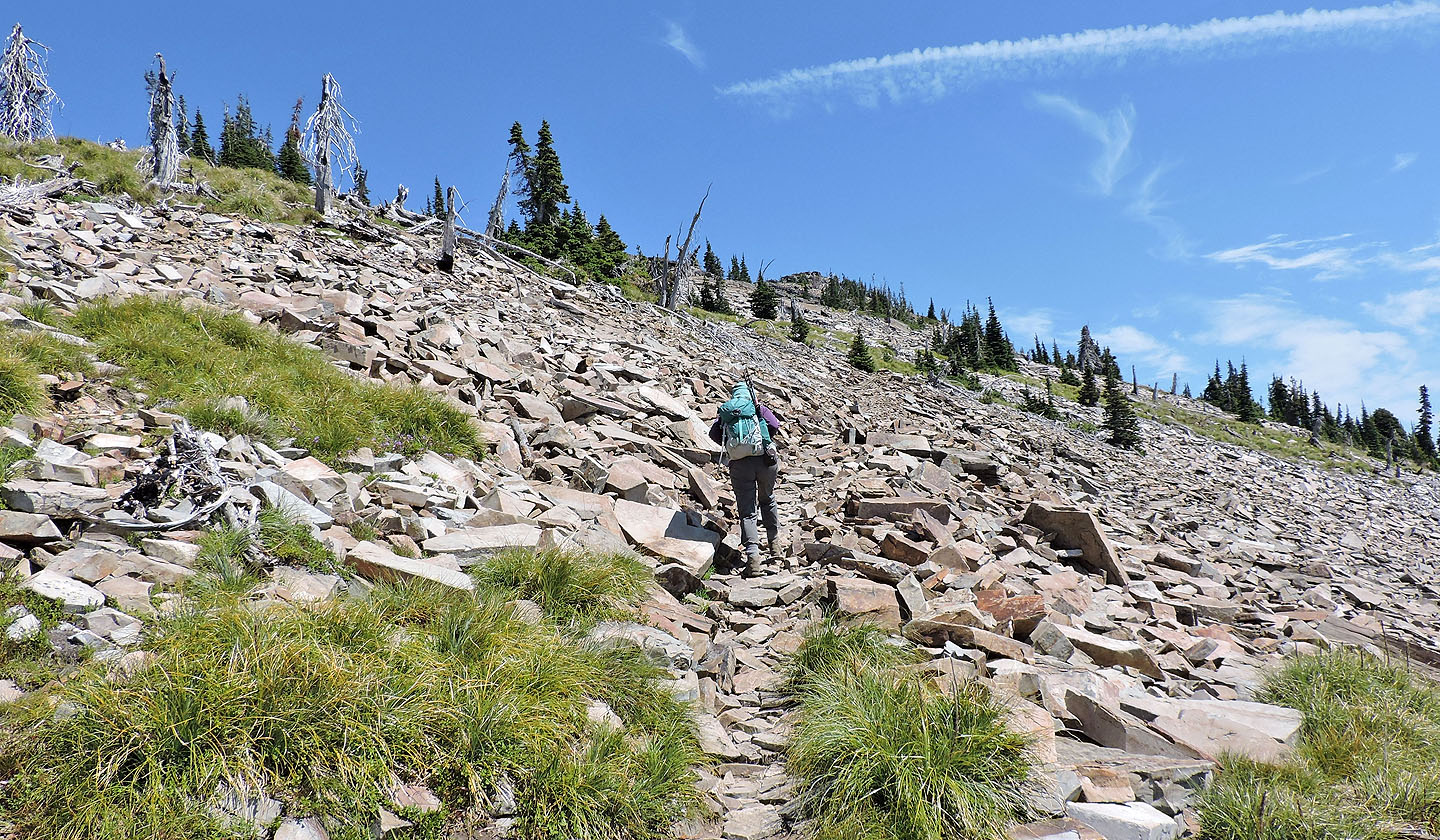 Now the first bump appears far away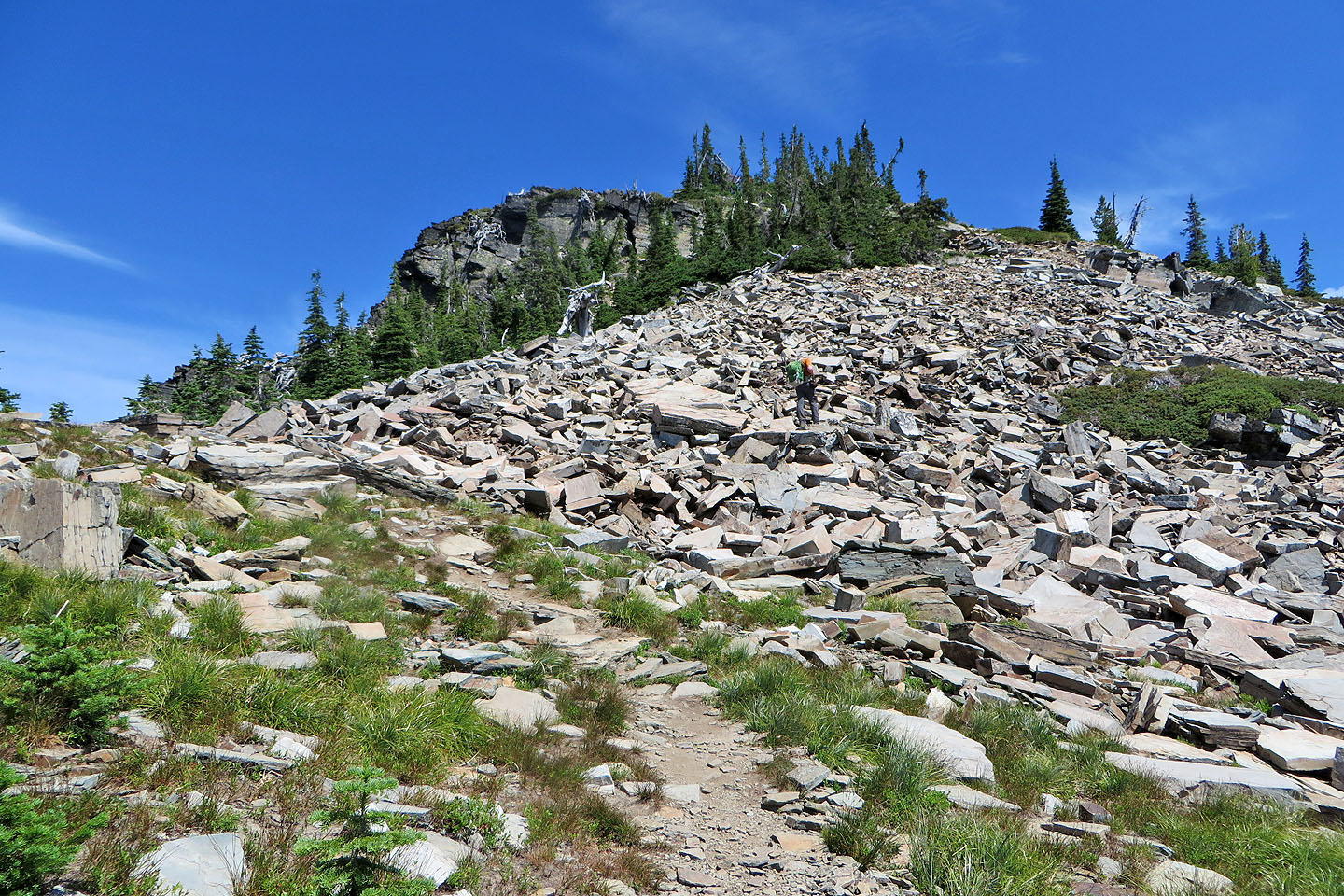 The trail continues up talus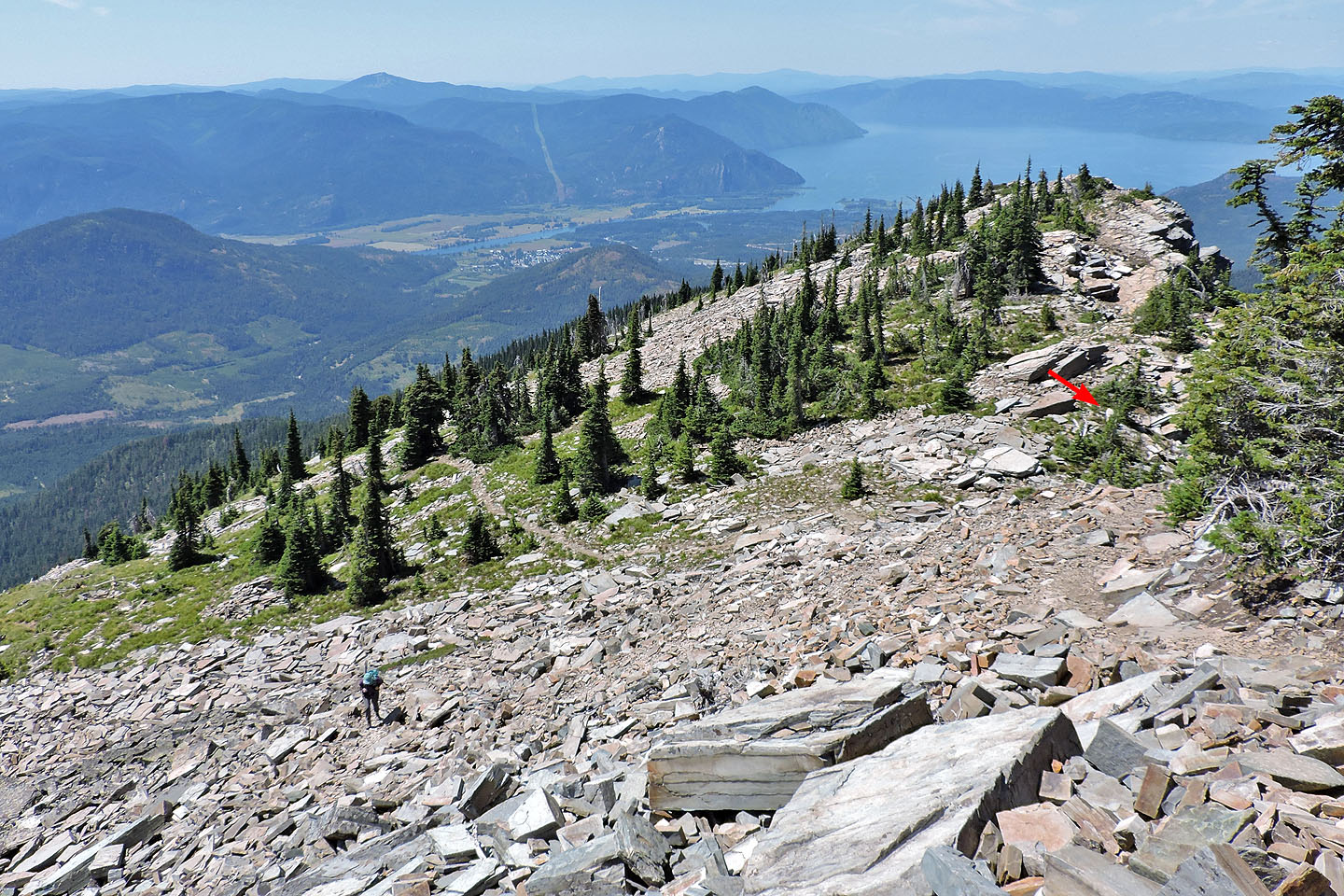 Unknowingly we passed by the billy goat, a white speck in this photo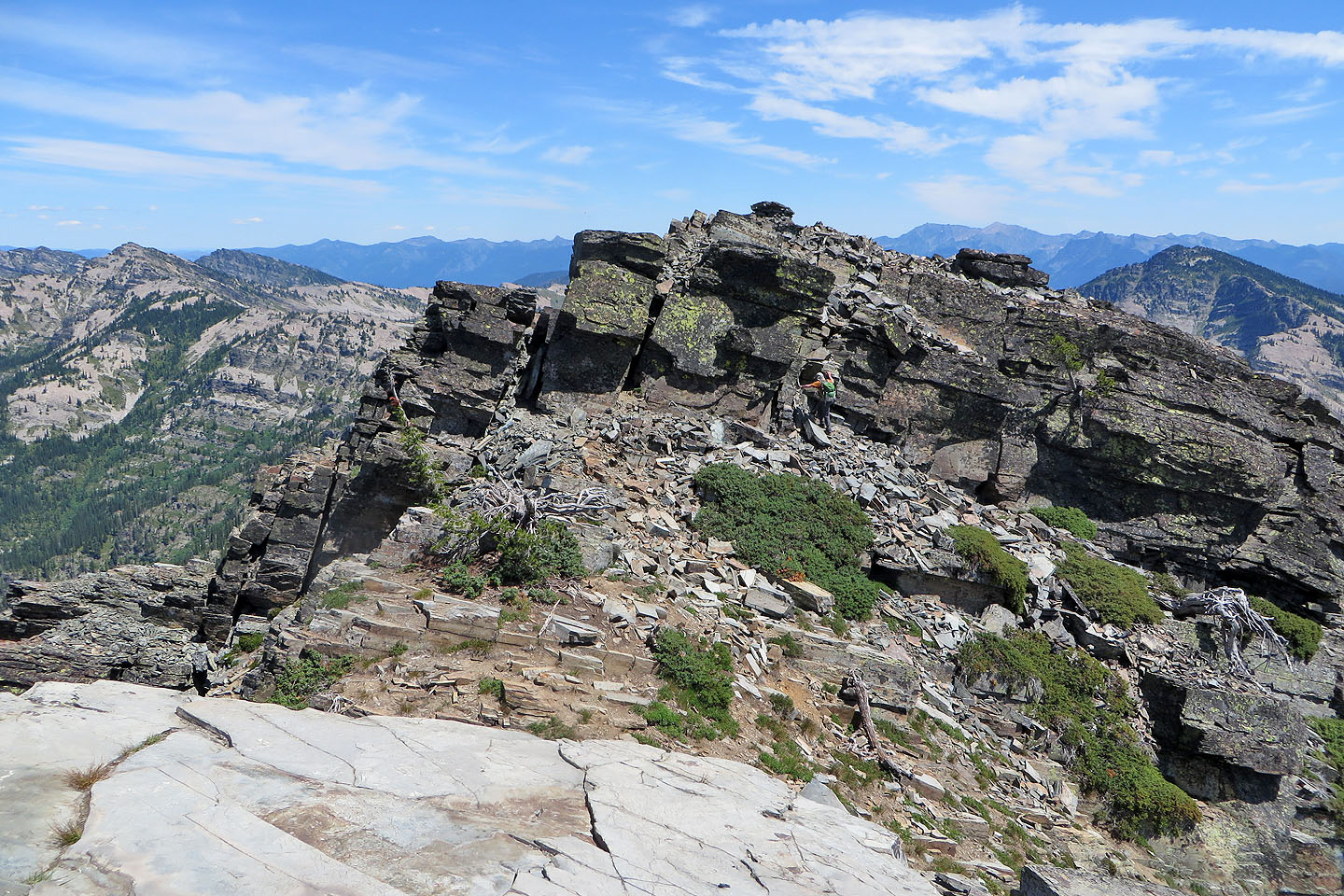 After reaching the first bump, I started up the higher second bump while Dinah took photos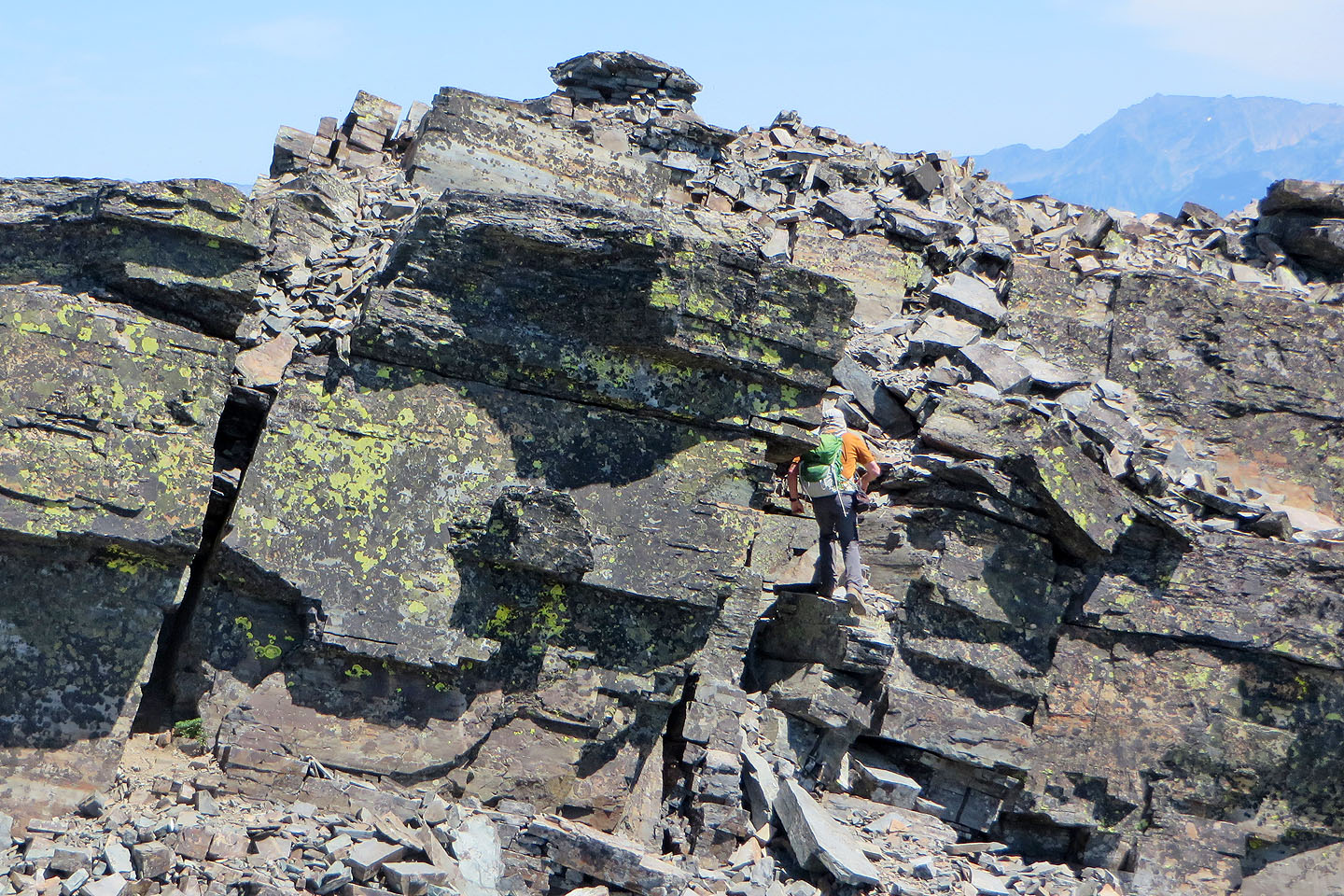 The scramble was short and easy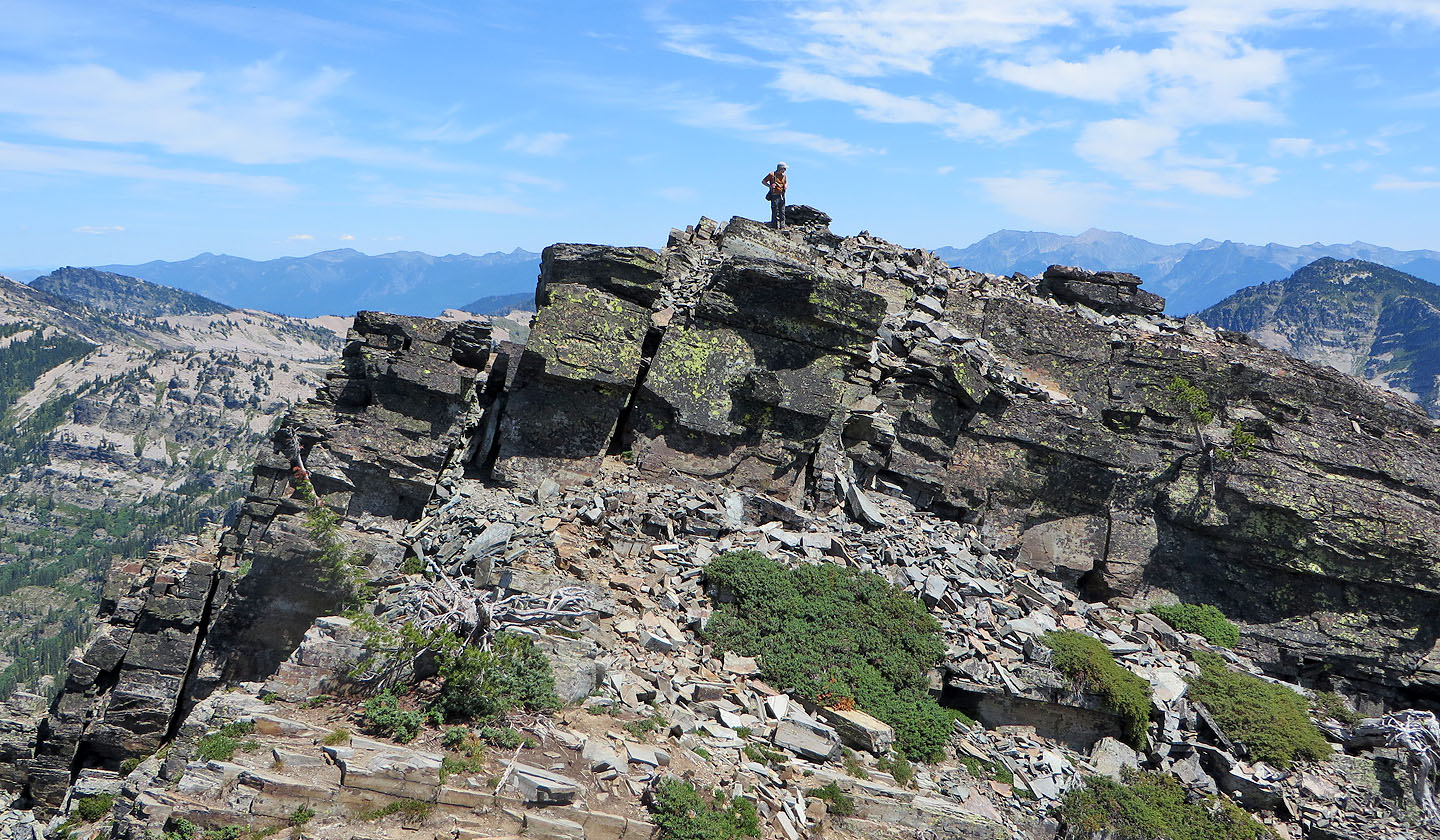 Standing on the second bump

Looking back at Dinah on the first bump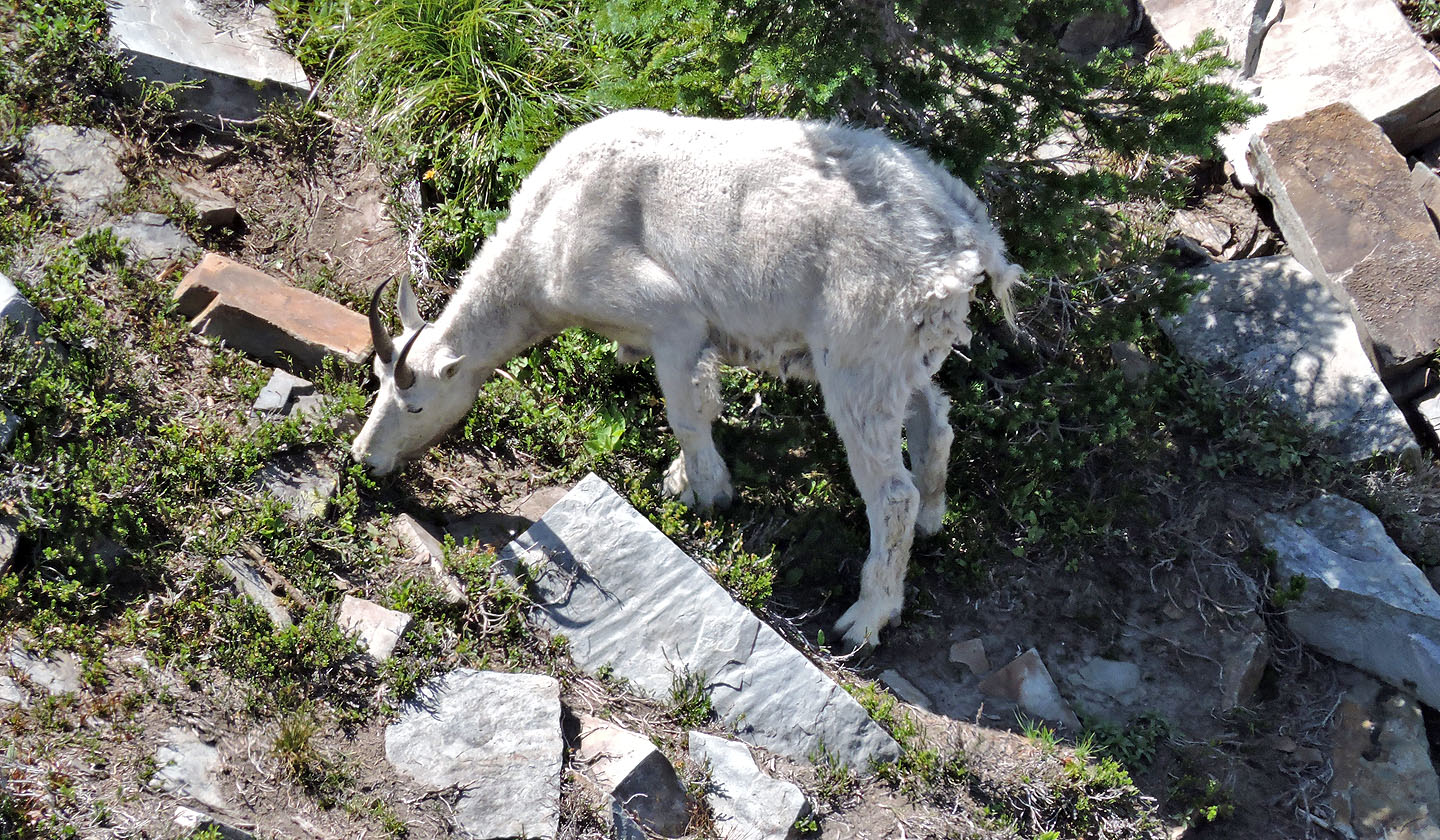 After starting back down, we spotted the billy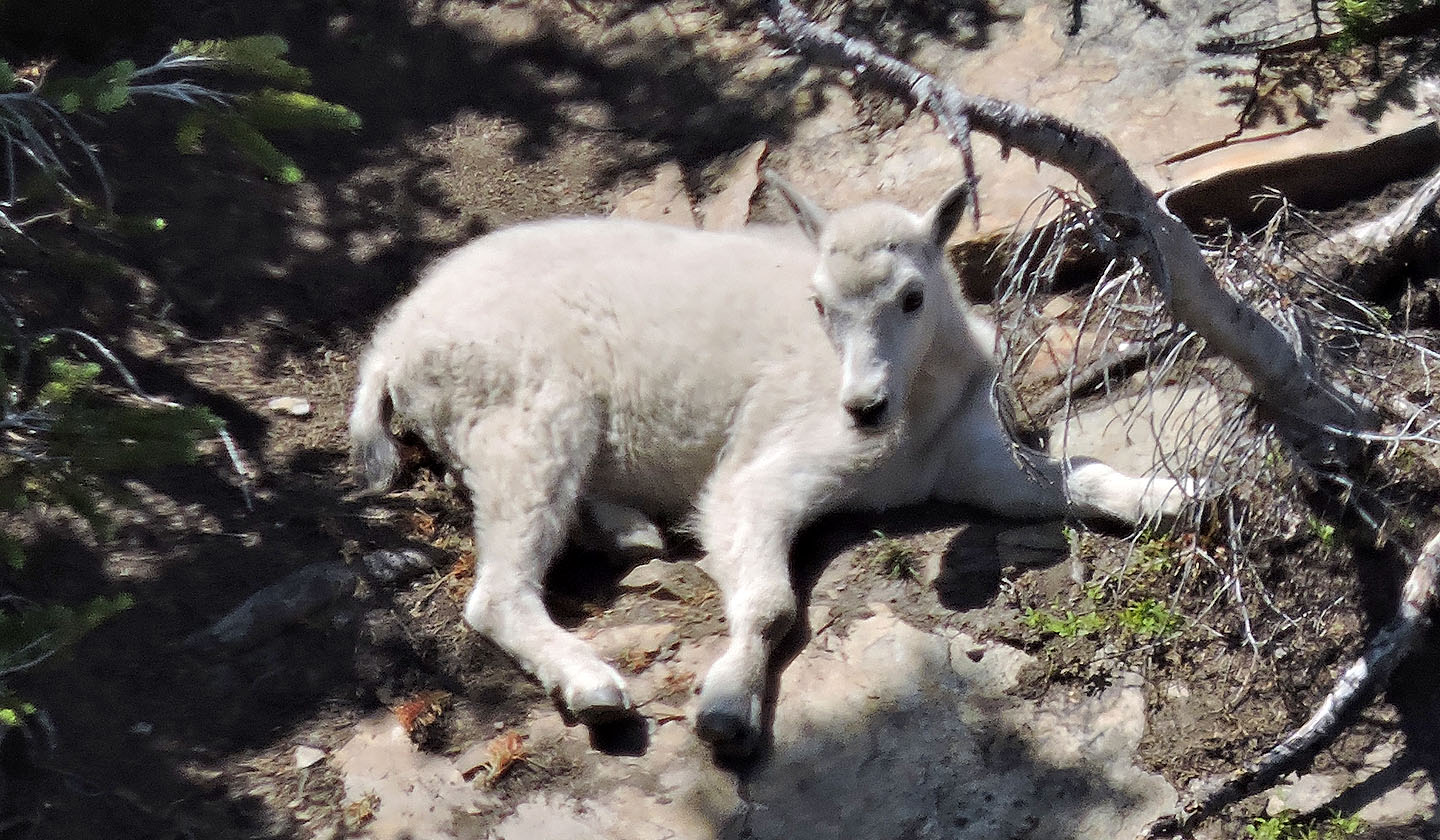 The kid reposes nearby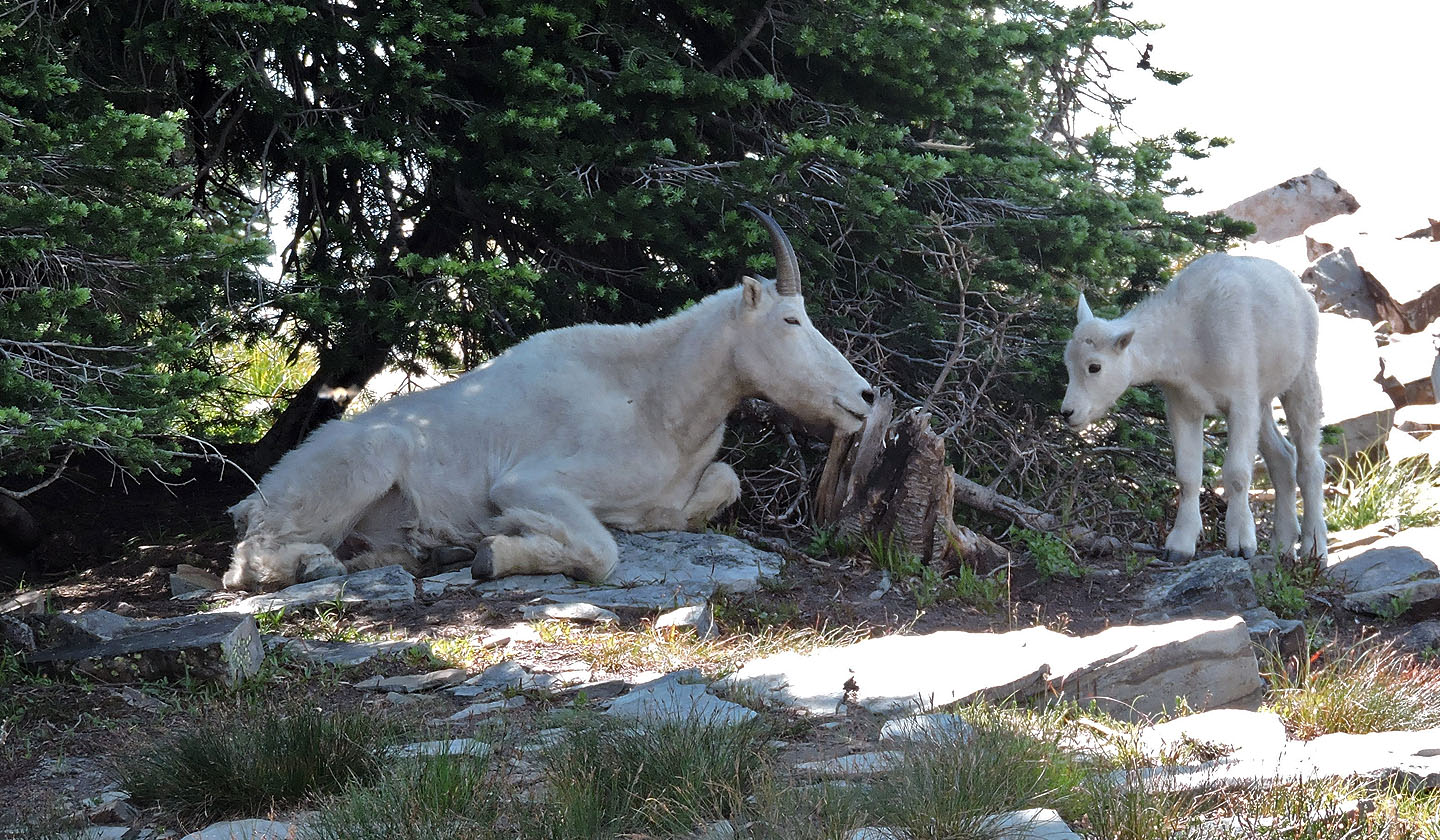 Afterwards, the kid joined the billy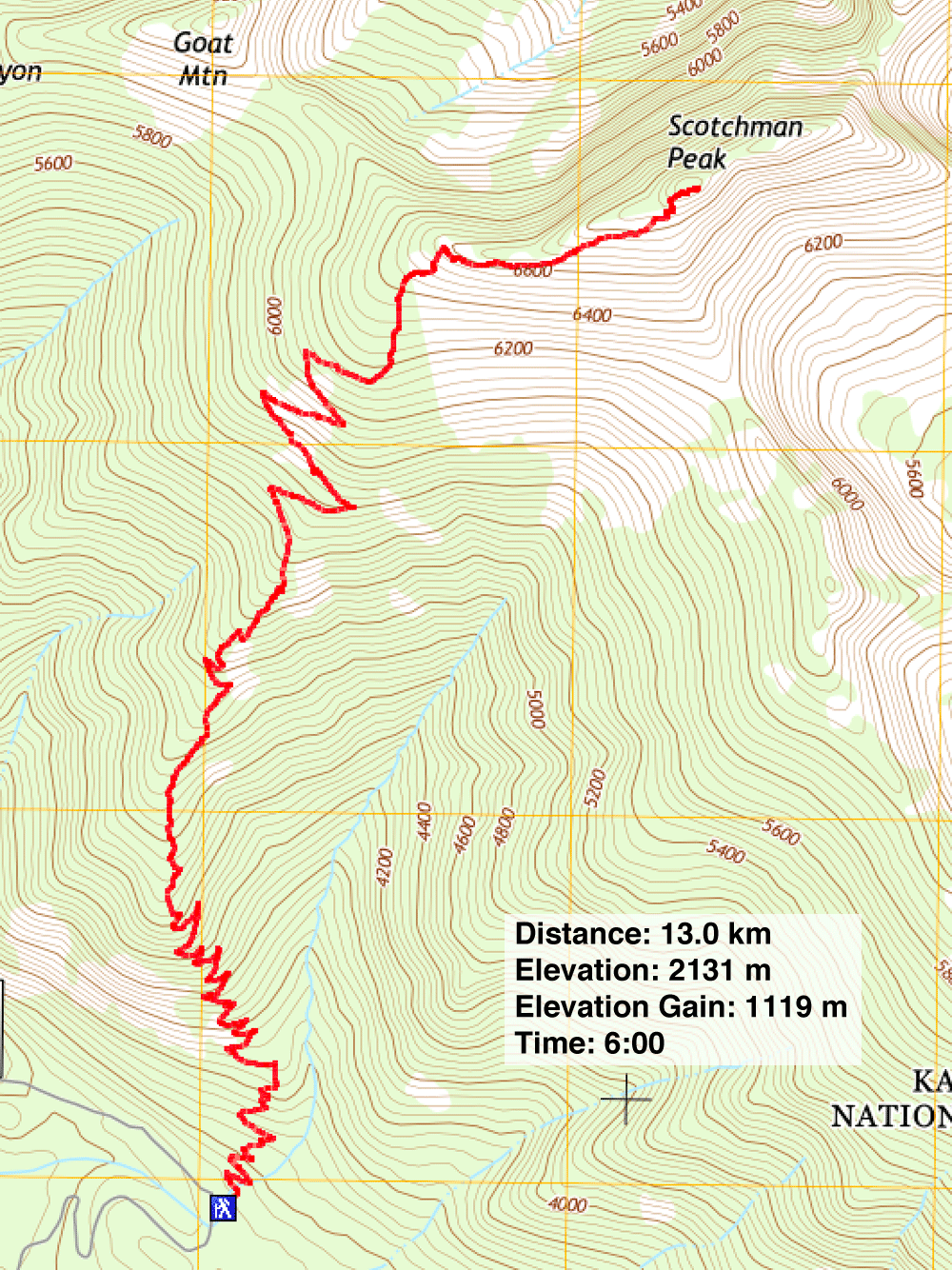 1:24,000 Scotchman Peak Topo (8.1 mi, 6663 ft, 3343 ft)