View from Forgetmenot Mountain
Forgetmenot Ridge and Mountain
Kananaskis, Alberta
September 2, 2008
With cool temperatures and snow coming to the mountains we settled on hiking up Forgetmenot Ridge and Forgetmenot Mountain. The route unfolds as it is described in the guide book. We walked over the suspension bridge but after that we deviated slightly from the book by keeping left, by the river bank and in the sunshine. Then we caught an old road that took us into the trees and onto the main trail.
In a short time, we came to the cairn marking the trail up Forgetmenot Ridge. The trail ascends steeply without respite until it reaches an open ridge. After that, the grade levels and the trail ends. We followed the open ridge toward the summit which is called Forgetmenot Ridge.
After reaching the summit, we continued along the ridge, losing nearly 150 m in the process, to climb Forgetmenot Mountain. The book says the summits are of equal height. We were hoping that for the added effort, Forgetmenot Mountain would be higher. It wasn't the case: our GPS units showed Forgetmenot Mountain was lower than Forgetmenot Ridge by ten metres.
Nonetheless, Forgetmenot Mountain provided great views of Bluerock Mountain, Mount Rose and Threepoint Mountain. We spent forty minutes on the summit, most of it spent in a fruitless search for the cave mentioned in the book, before heading back.
I was expecting a monotonous hike but for some reason – perhaps it was the wide-open vistas – Forgetmenot Ridge turned out to be a memorable hike.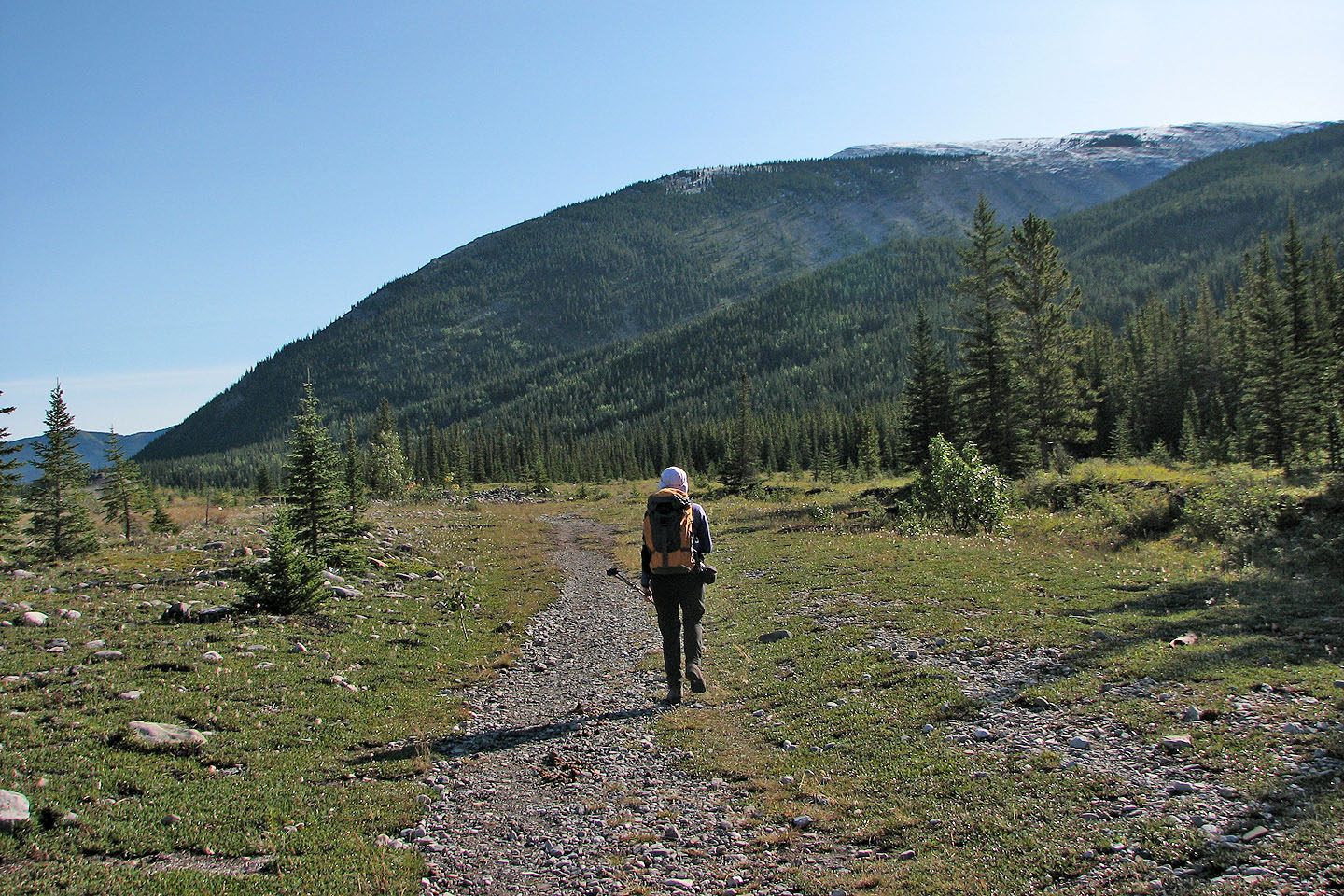 Heading to the end of Forgetmenot Ridge (skyline) where we'll start our ascent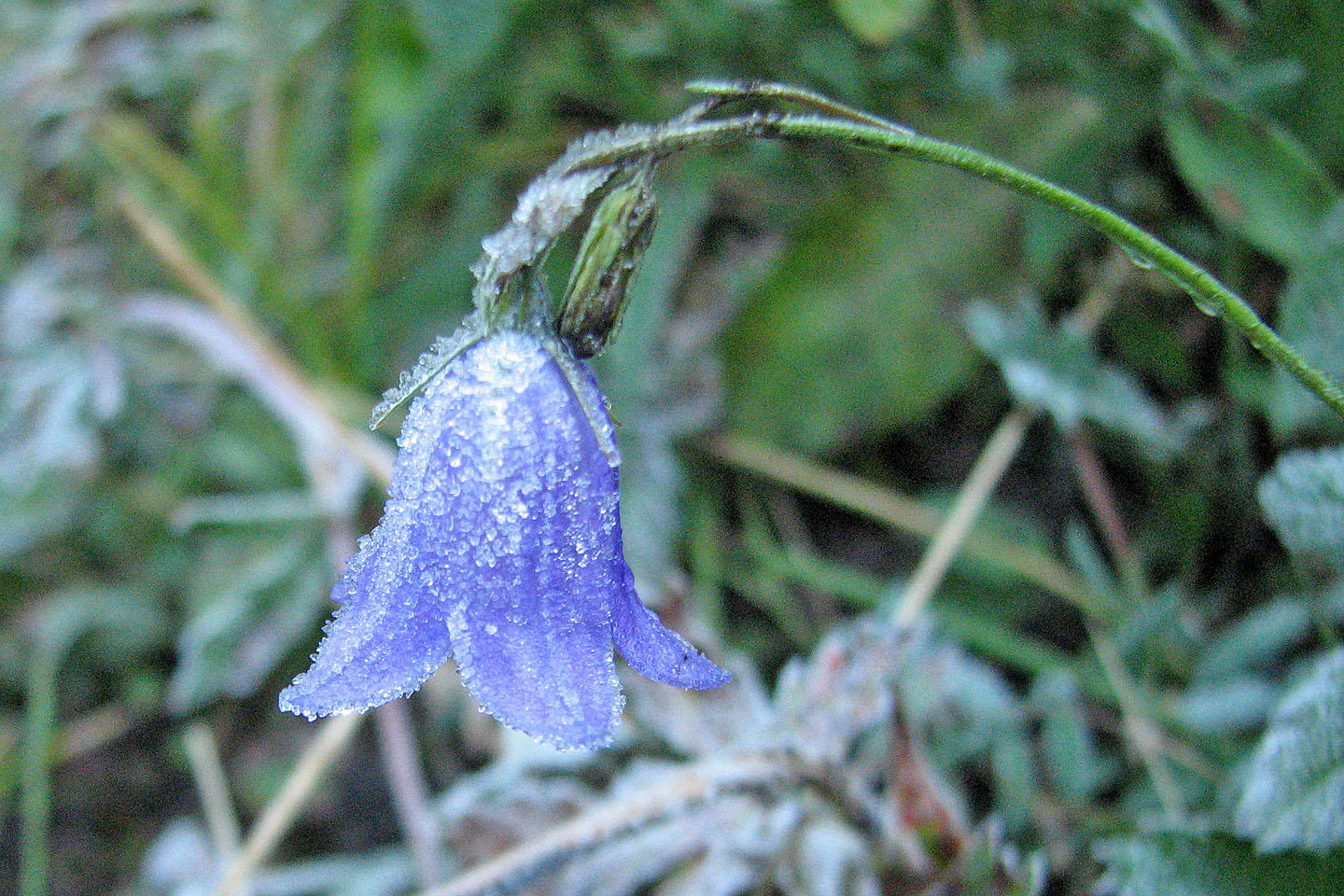 Harebell covered in frost: Record lows were reported in a few places in
Southern Alberta the previous night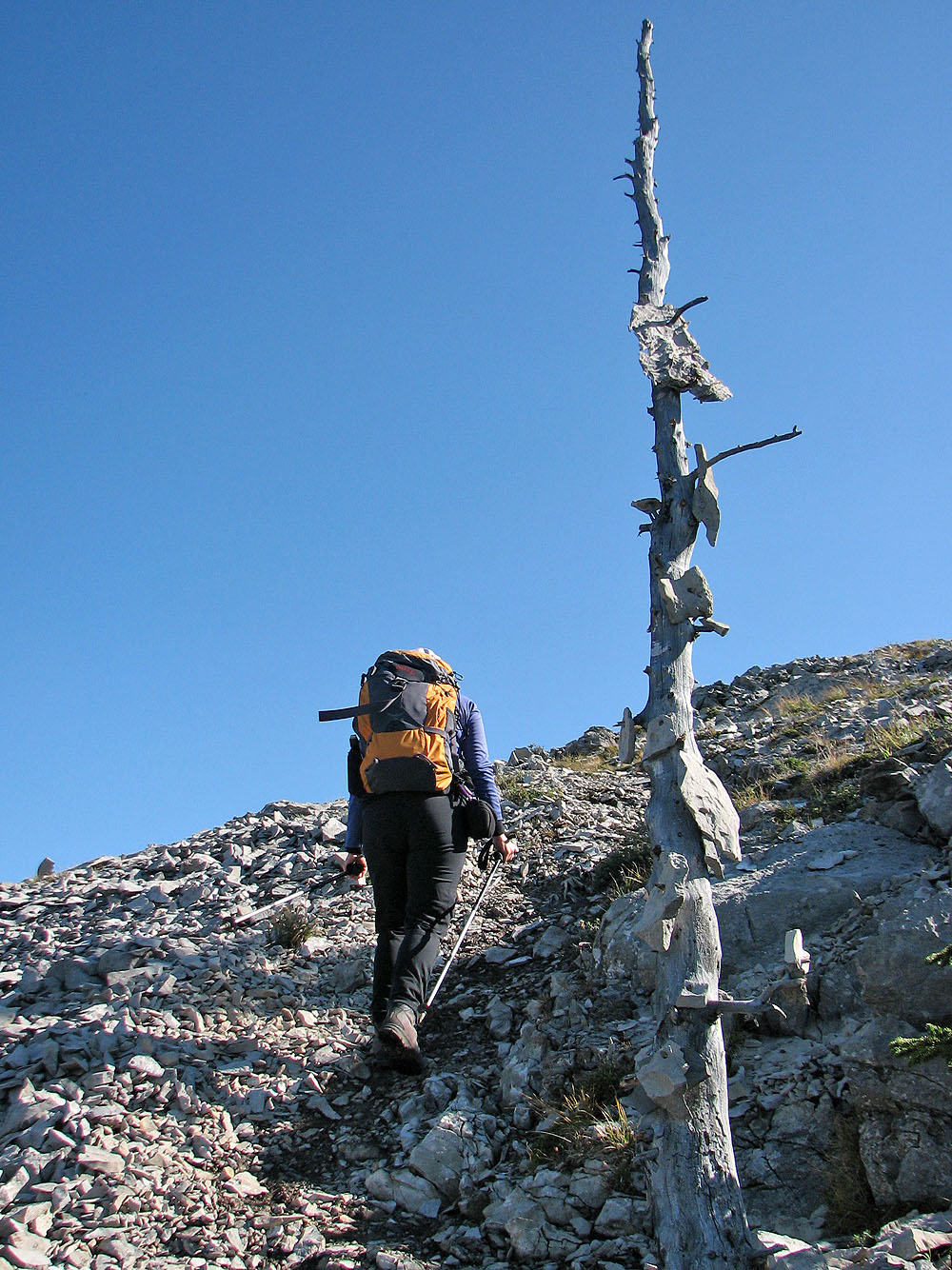 Hiking up the ridge we came across a tree with rocks hanging from it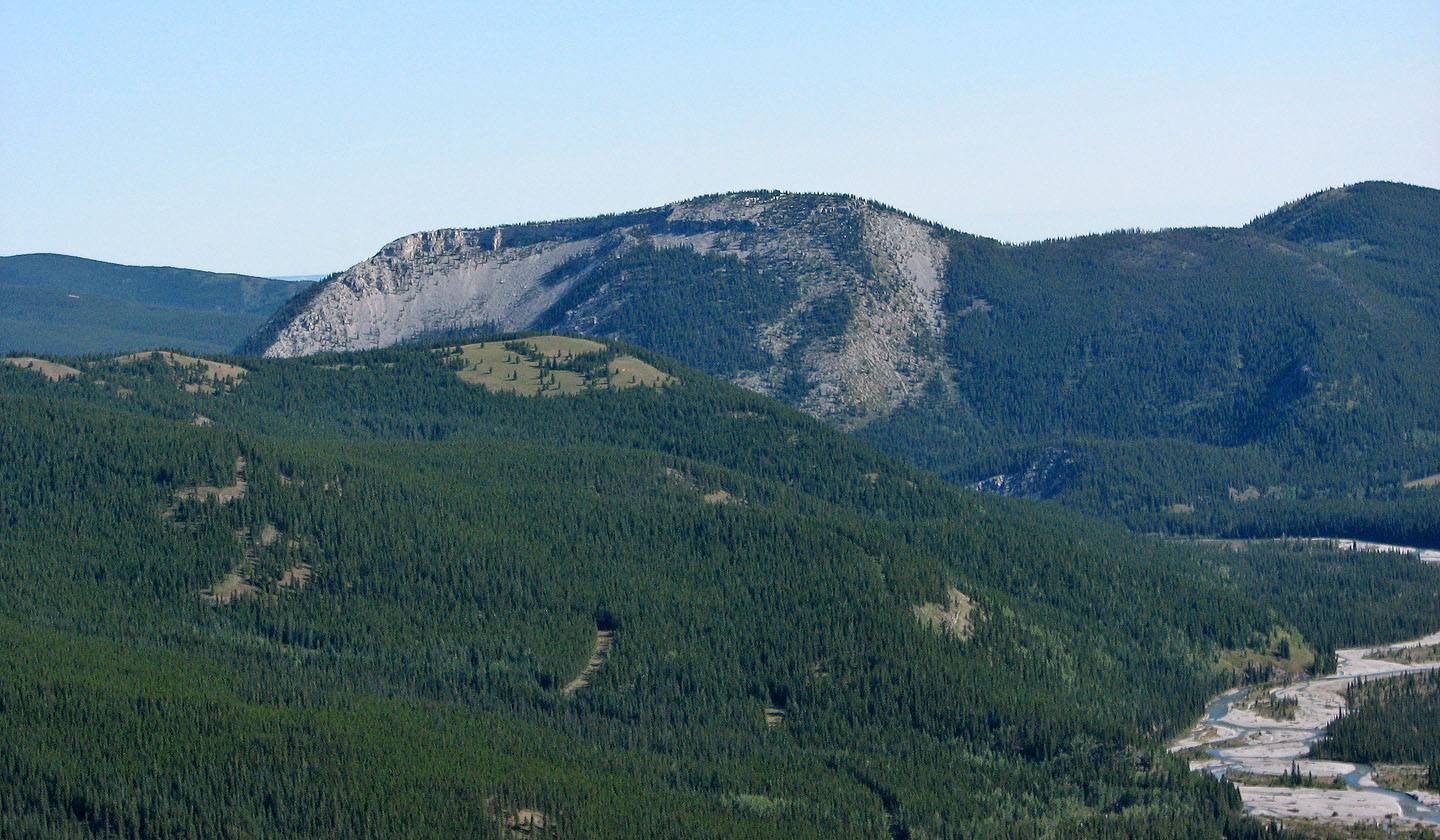 Iyarhe Ipan

Several of these birds, probably red crossbills, were busy feeding on pine cones. Mouse over
any to enlarge.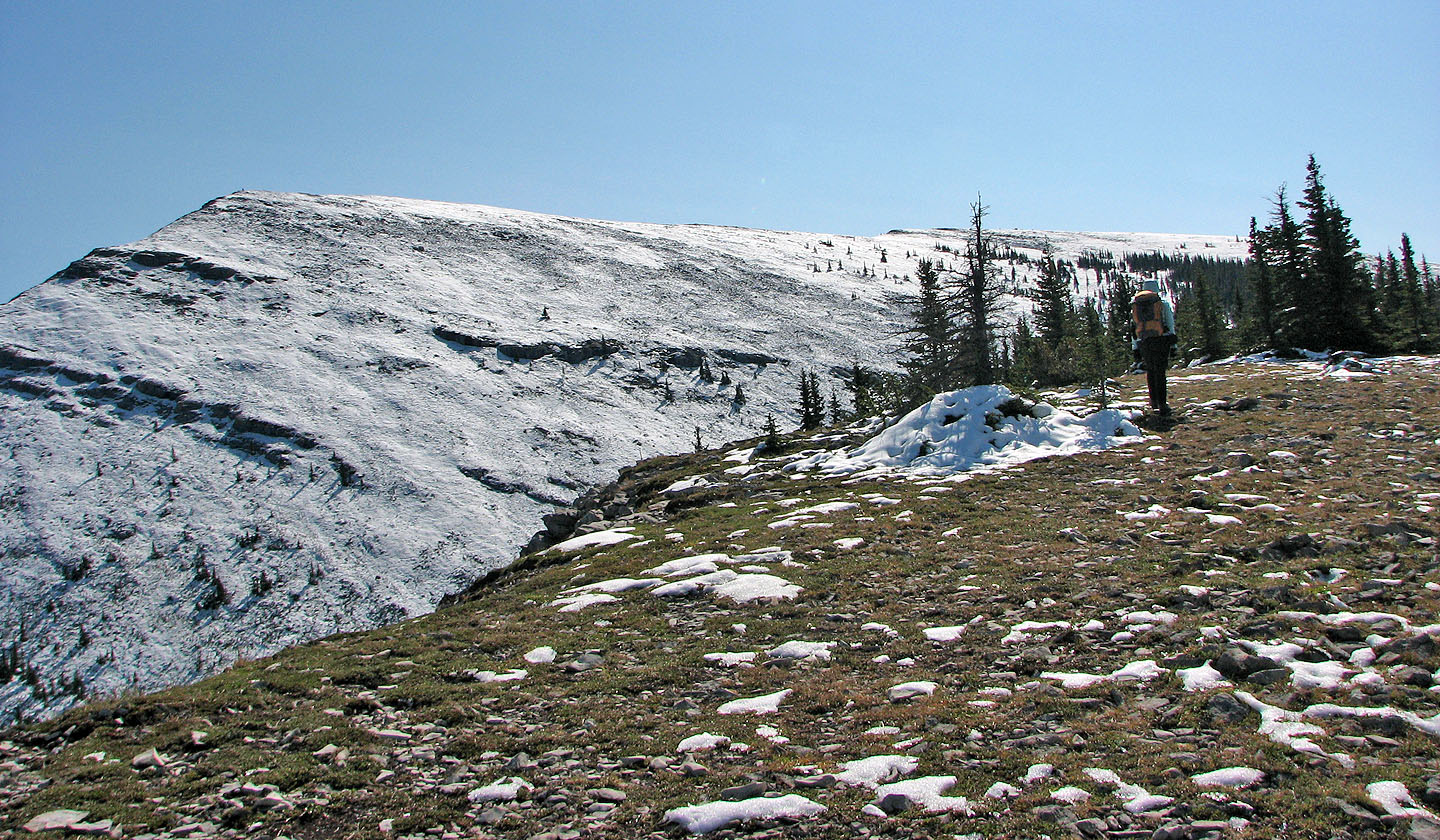 The northernmost summit is left but we didn't bother doing it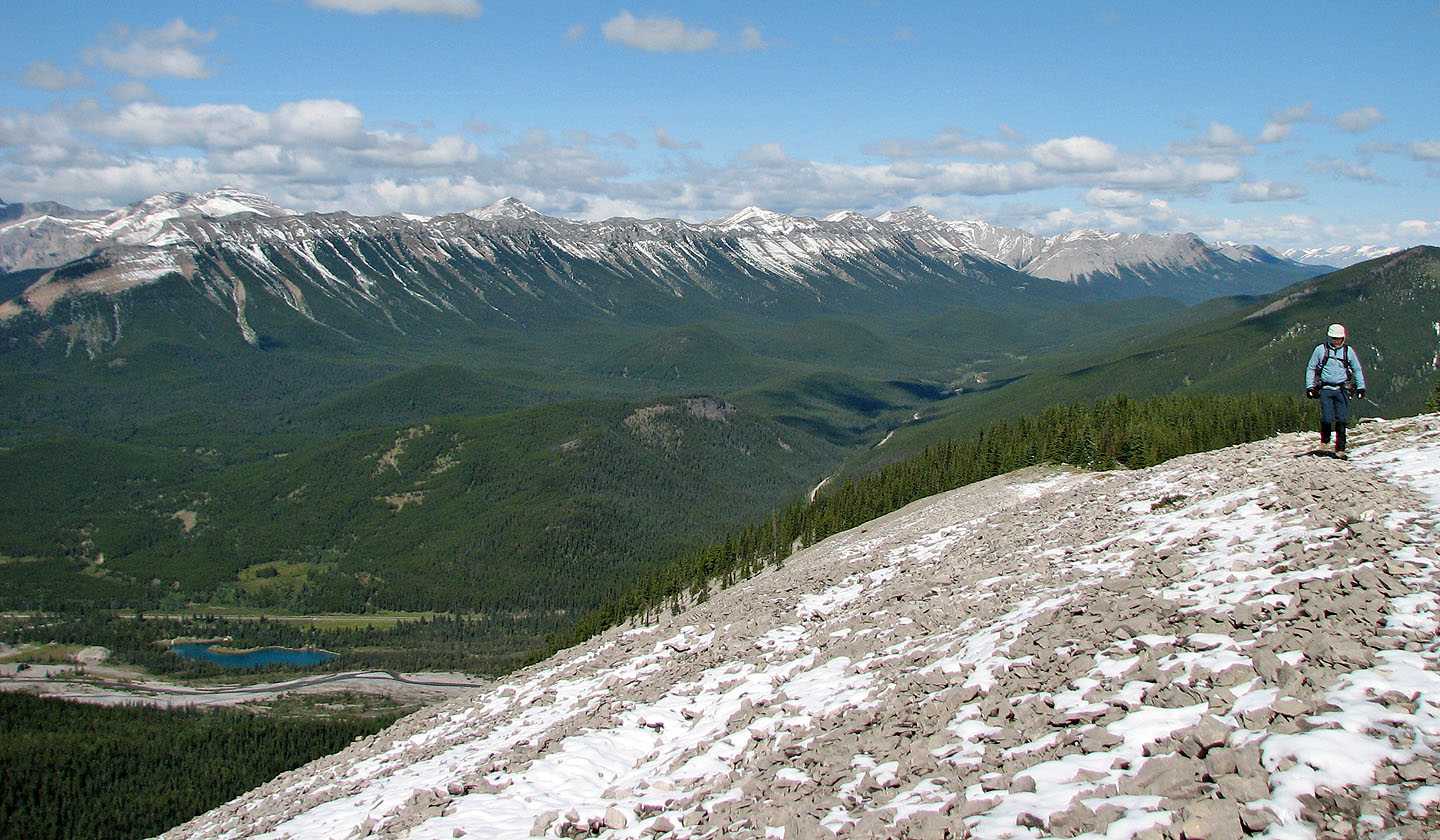 Nahahi Ridge fills the background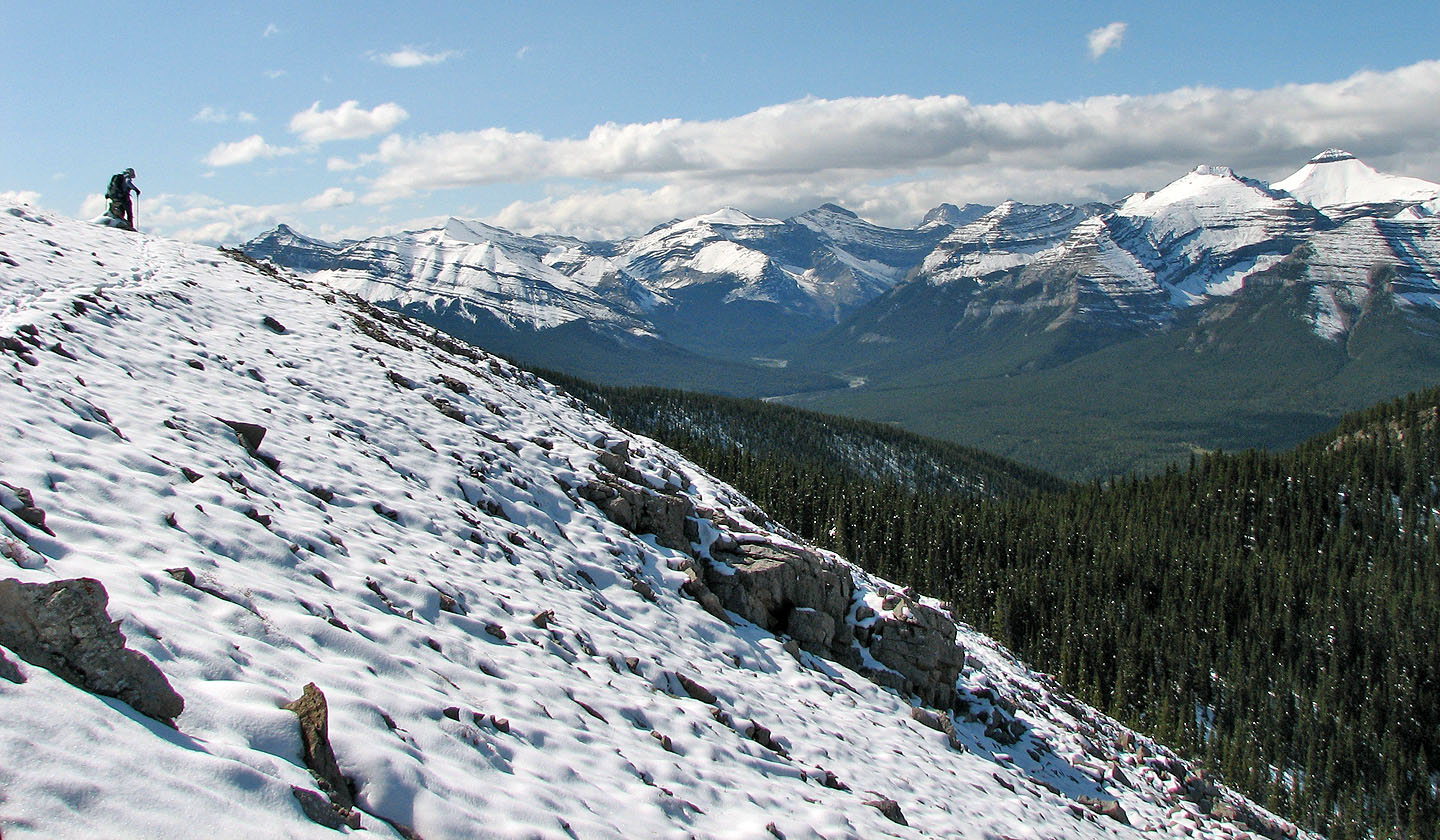 The trail ends at a cairn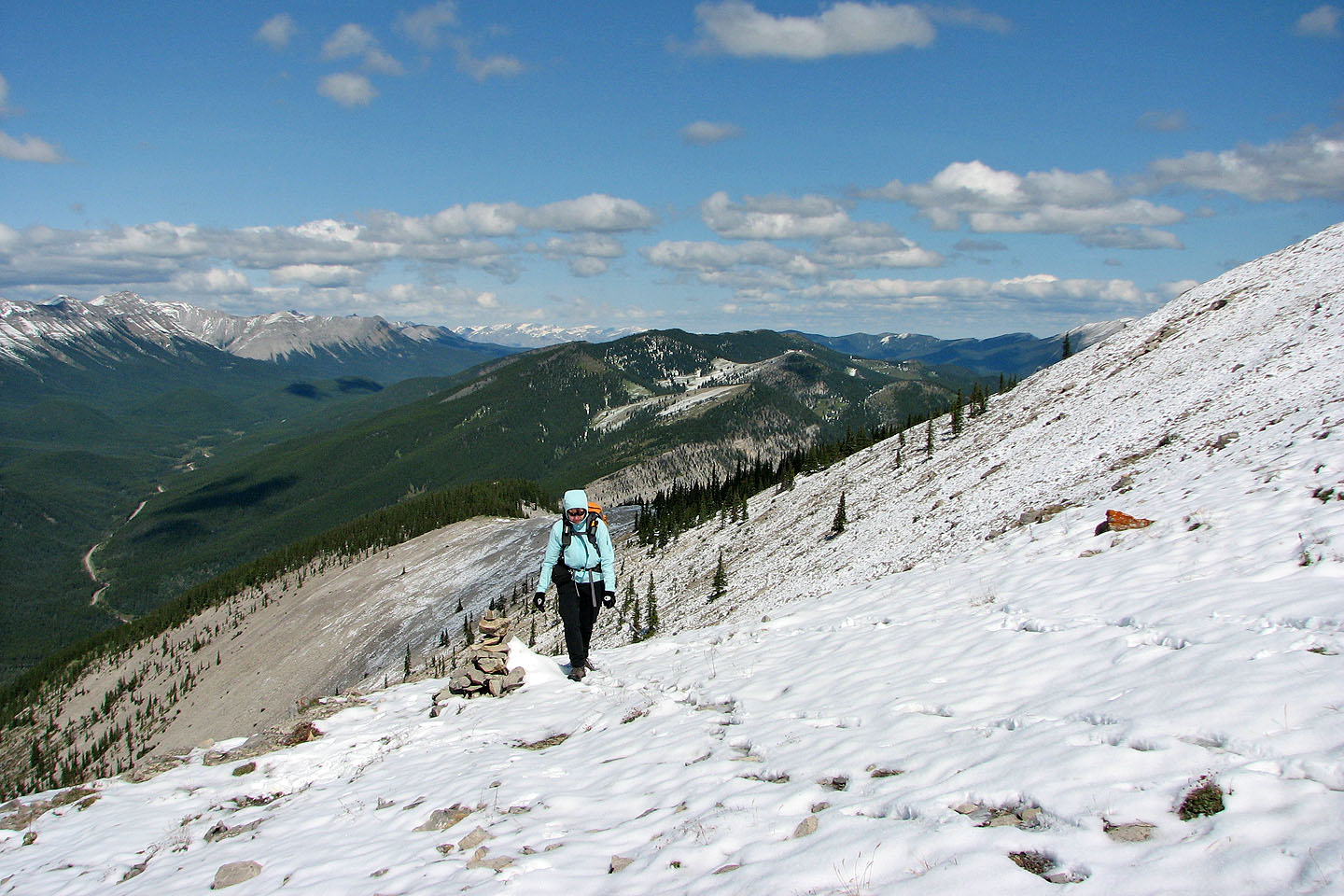 Dinah reaches the cairn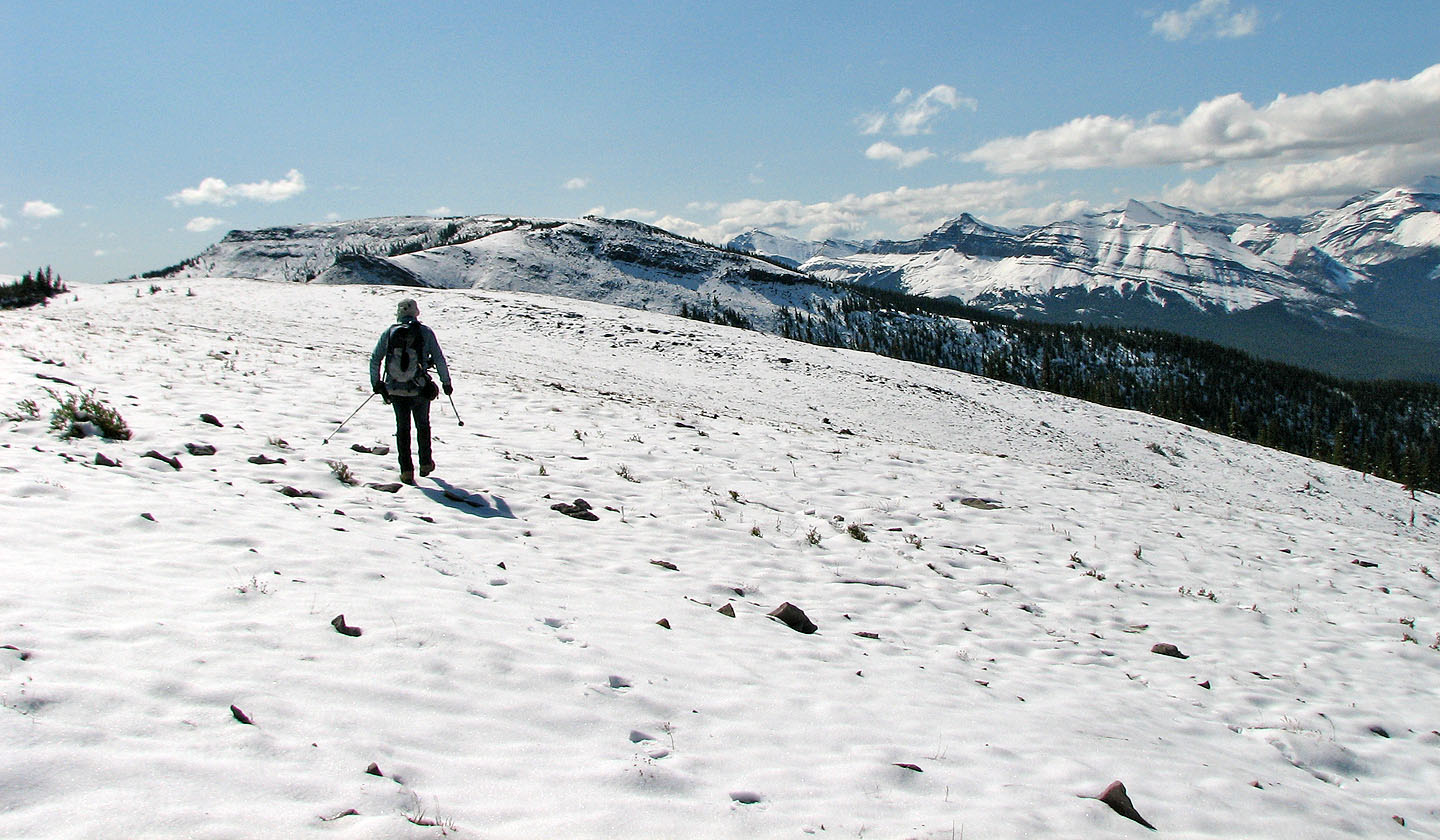 We head to Forgetmenot Ridge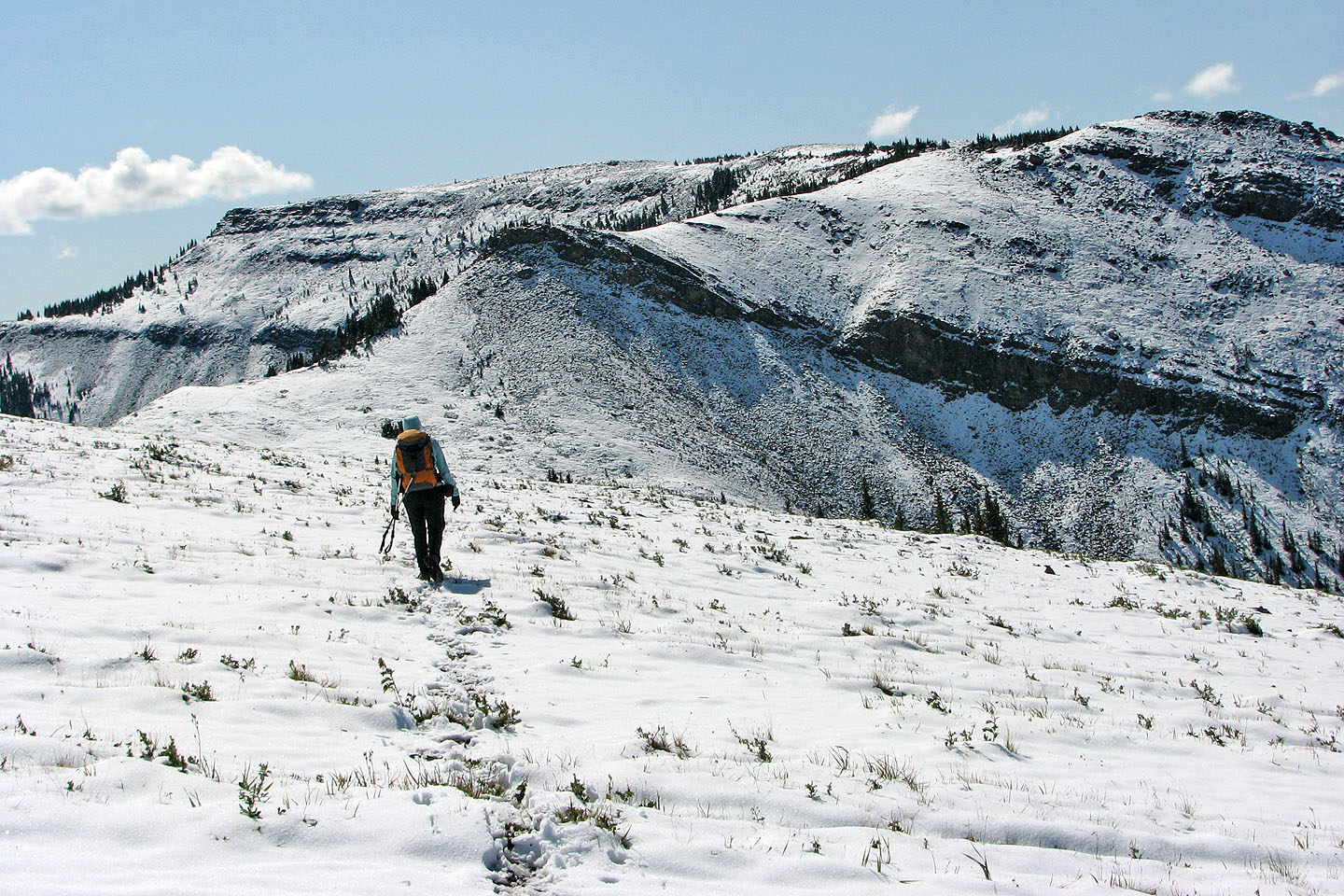 The summit of Forgetmenot Ridge is near the point on the left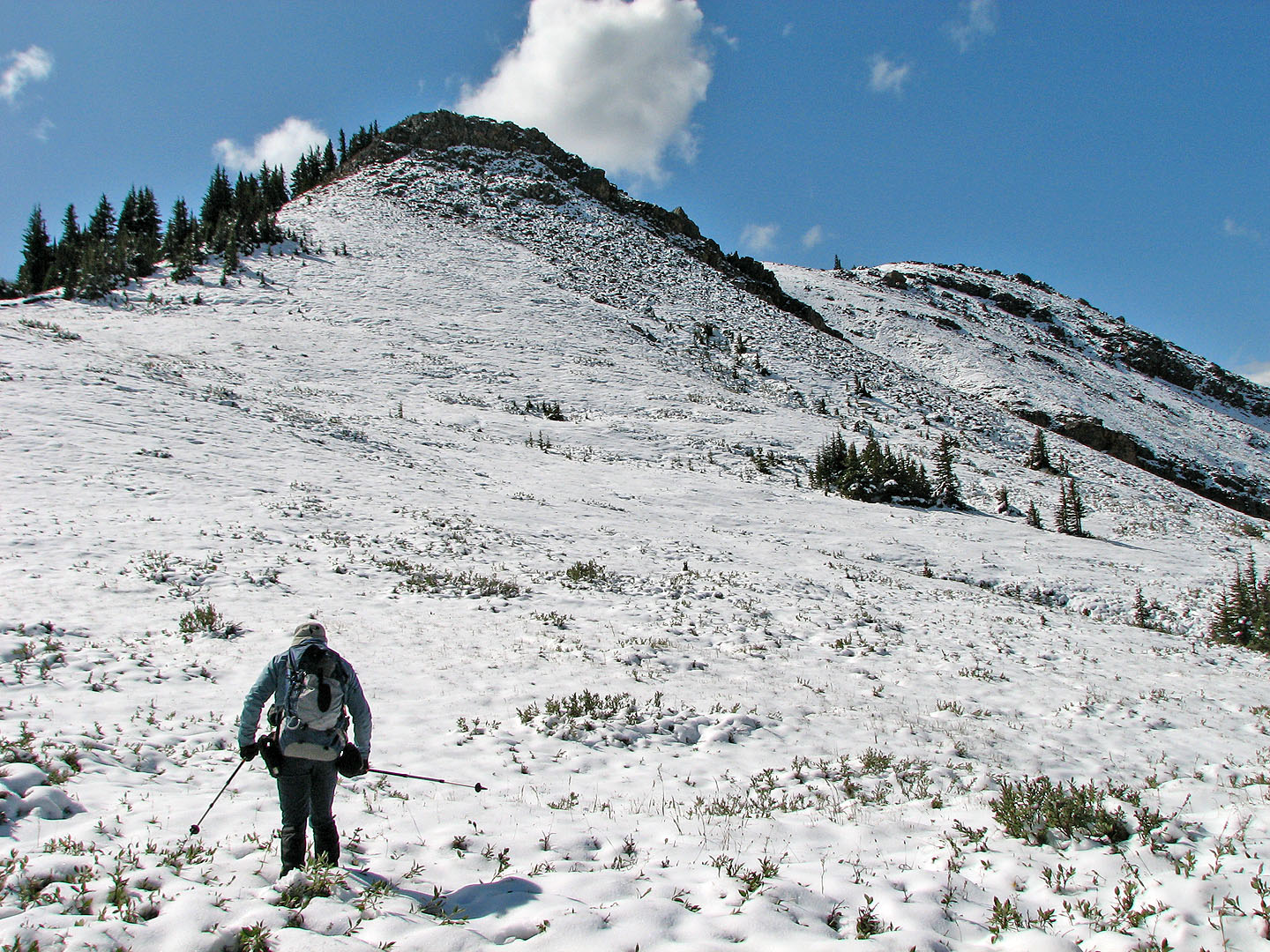 The trail heads up the left side of a minor cliff band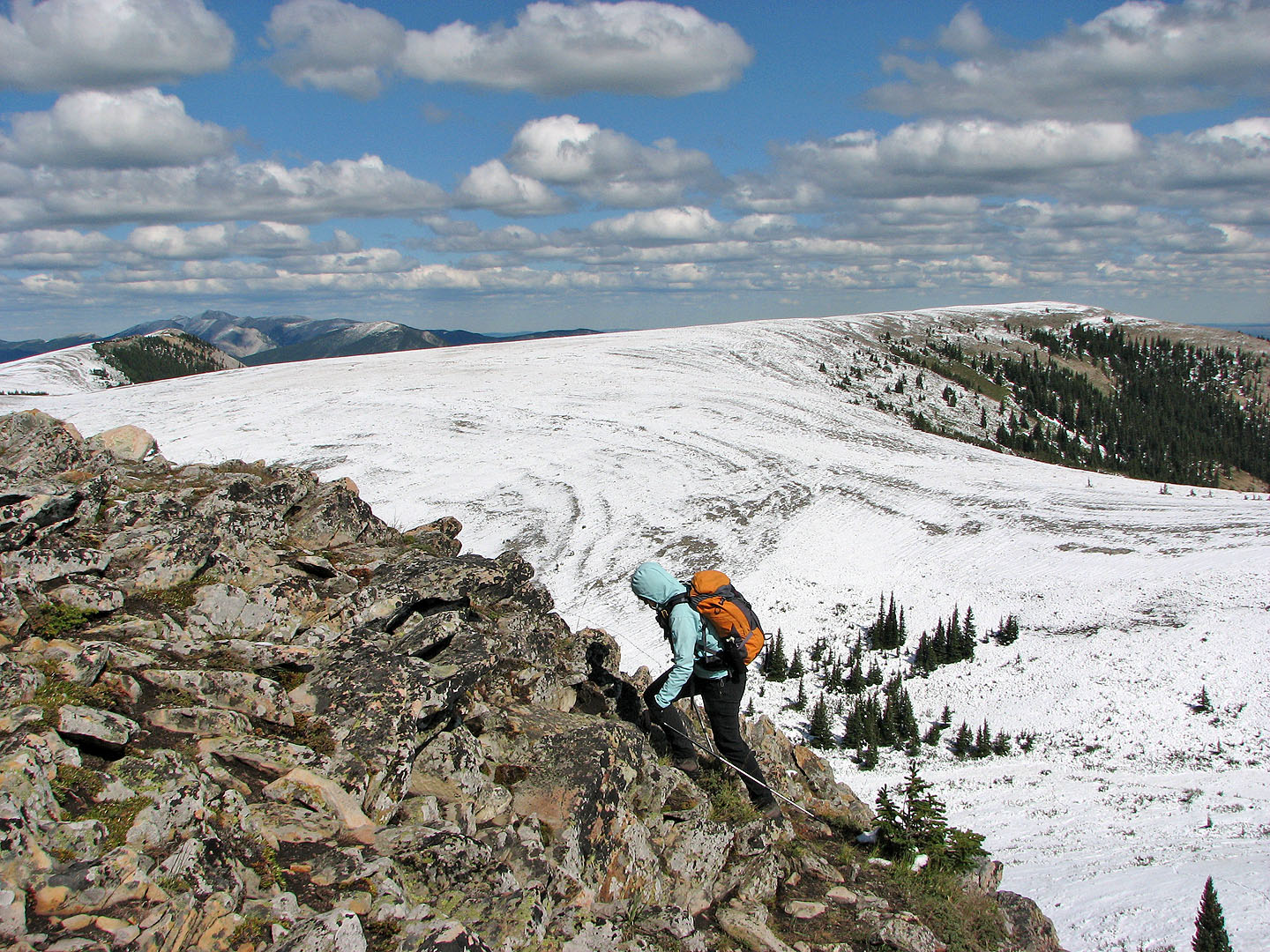 Climbing up the rock band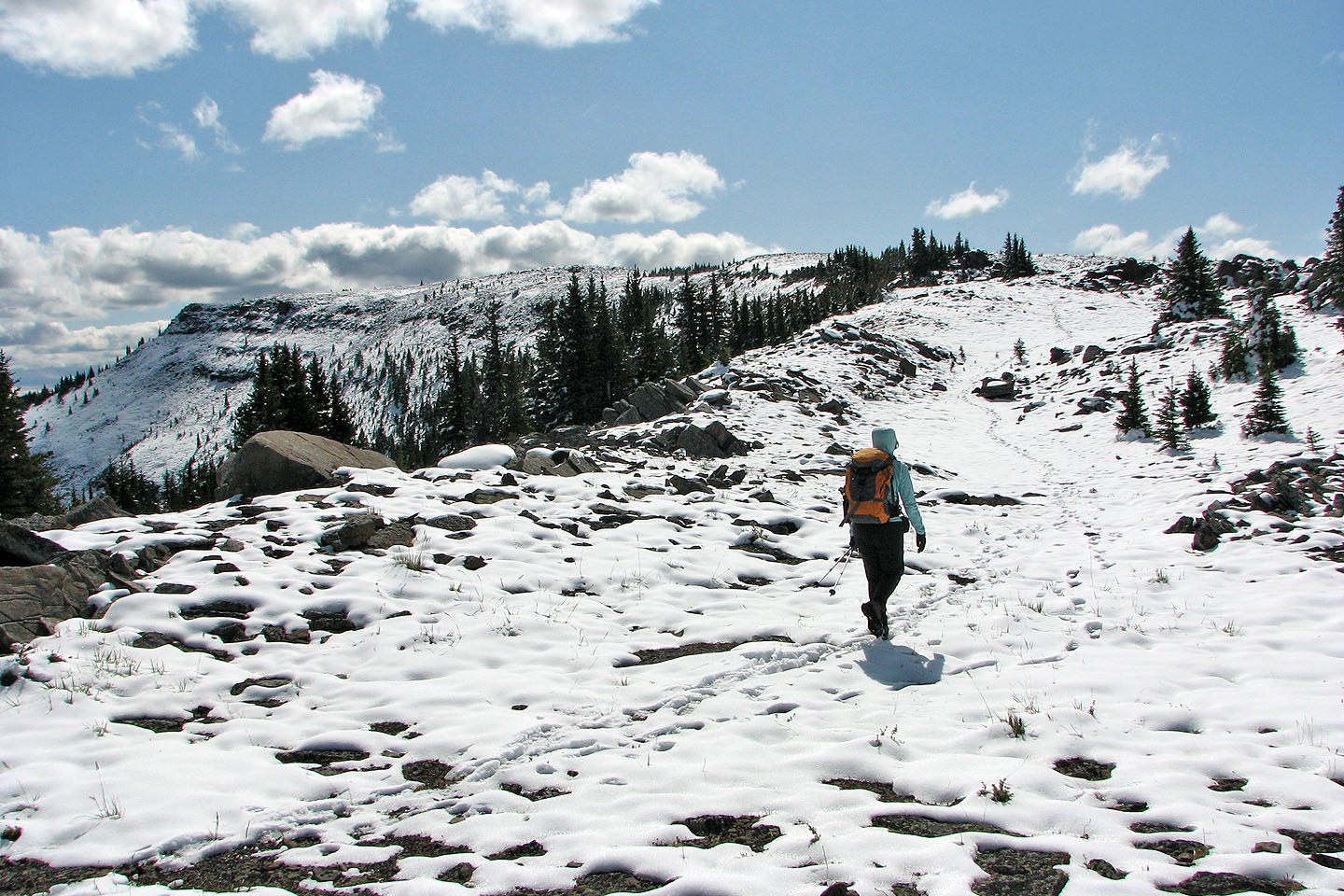 We continued our walk to the summit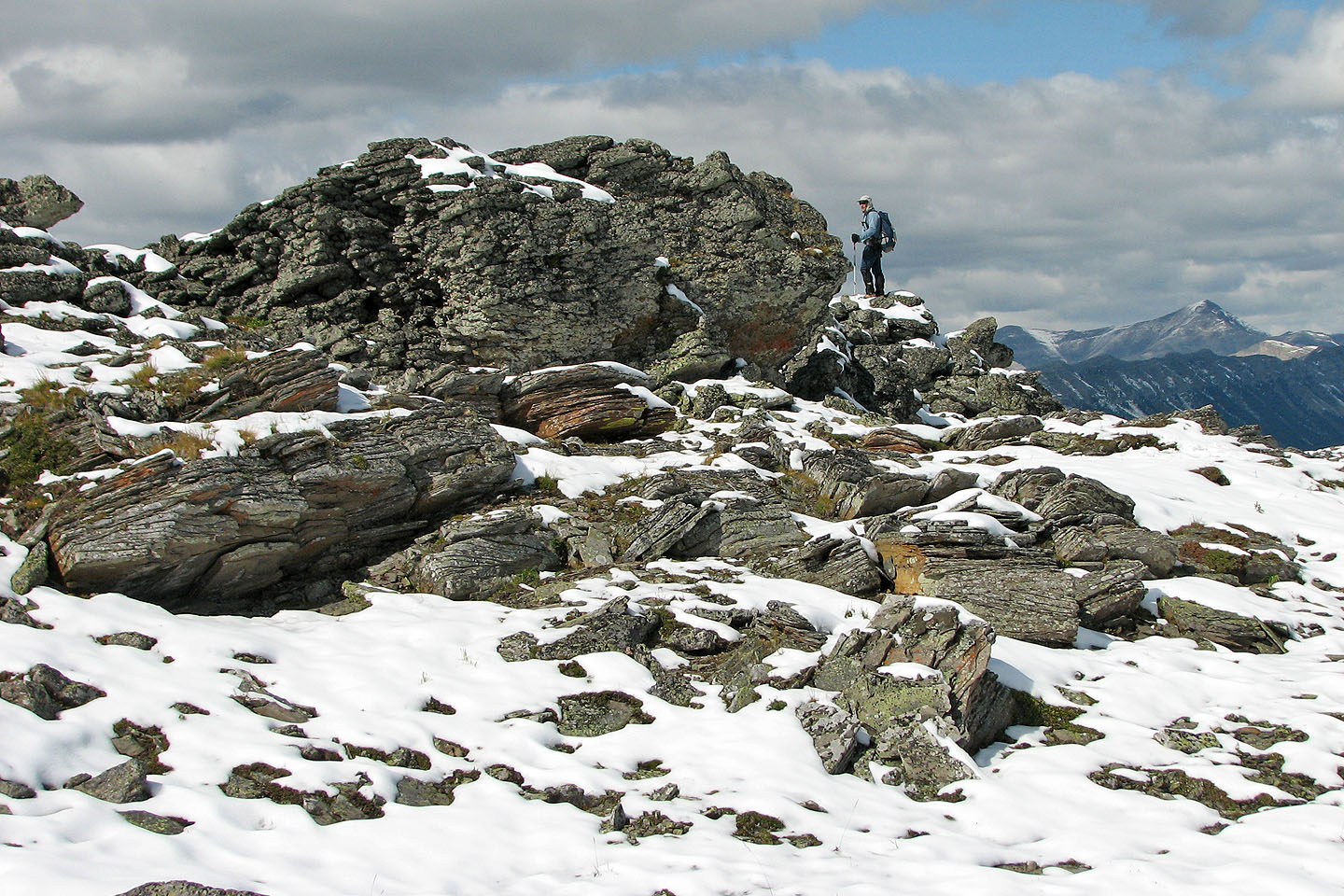 I checked out some interesting rocks (mouse over to look back)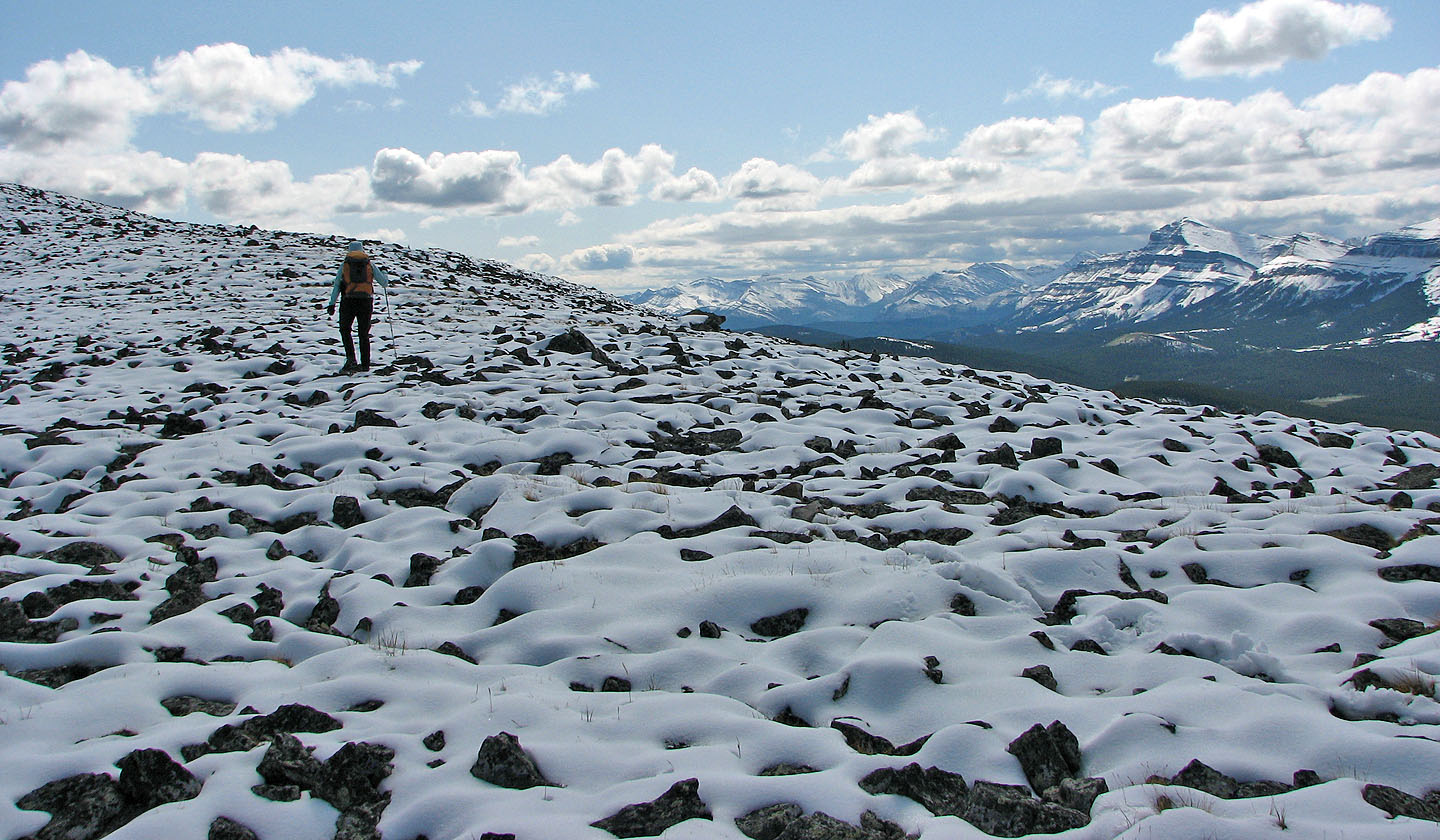 A great deal of annoying loose, jagged rocks before the summit of Forgetmenot Ridge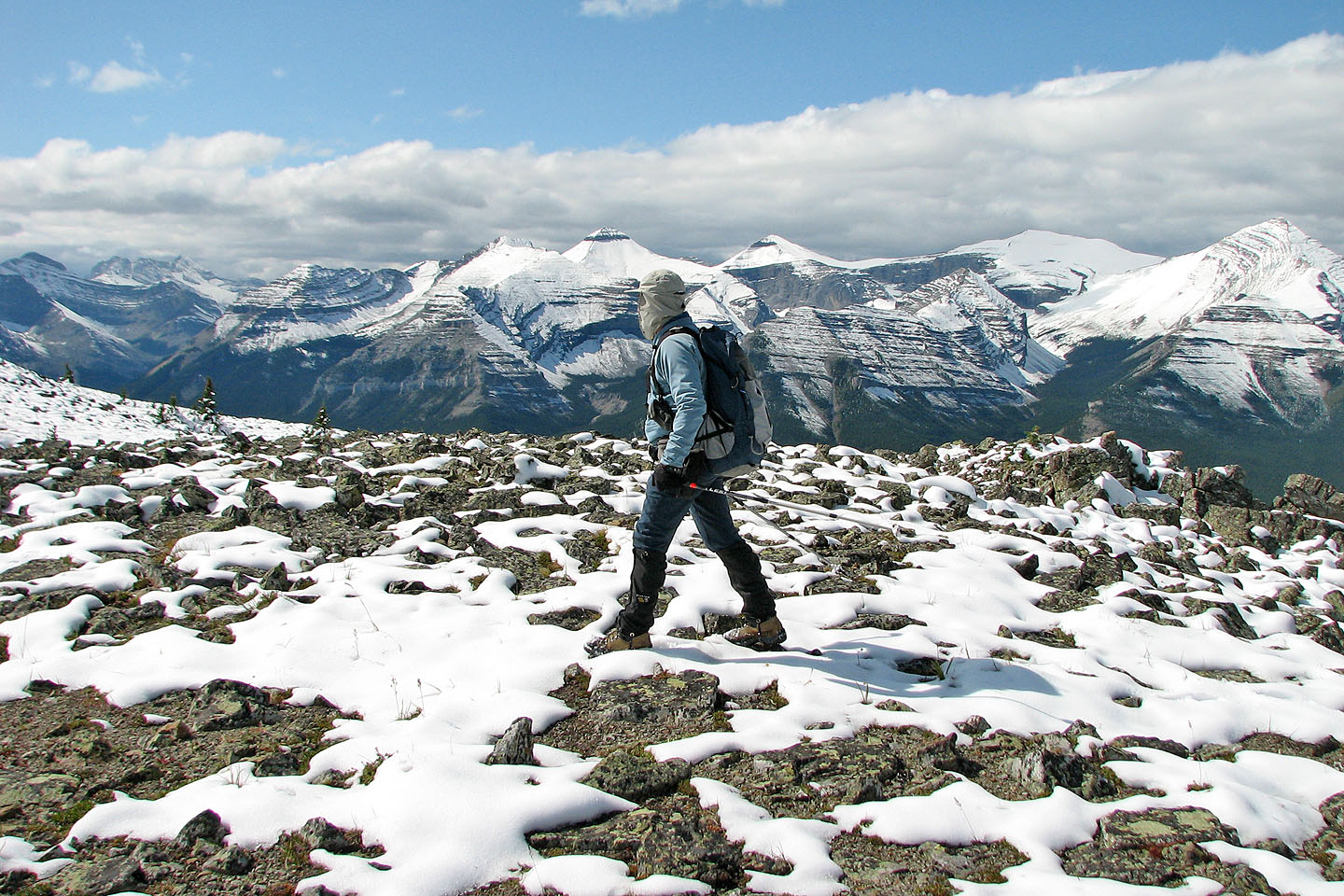 Banded Peak, Outlaw Peak, Mount Cornwall and Mount Glasgow on the skyline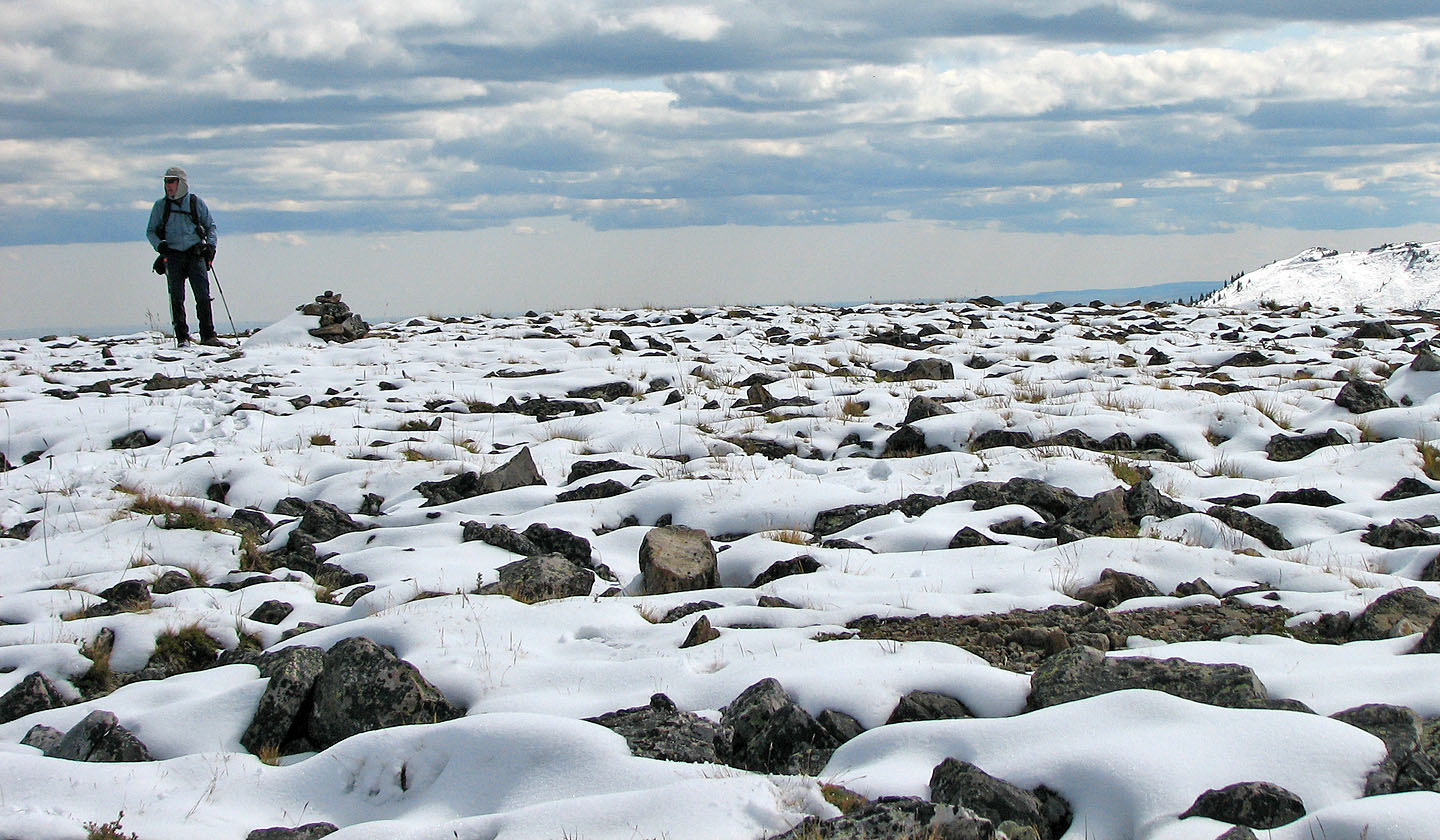 On the broad summit of Forgetmenot Ridge

Starting out for Forgetmenot Mountain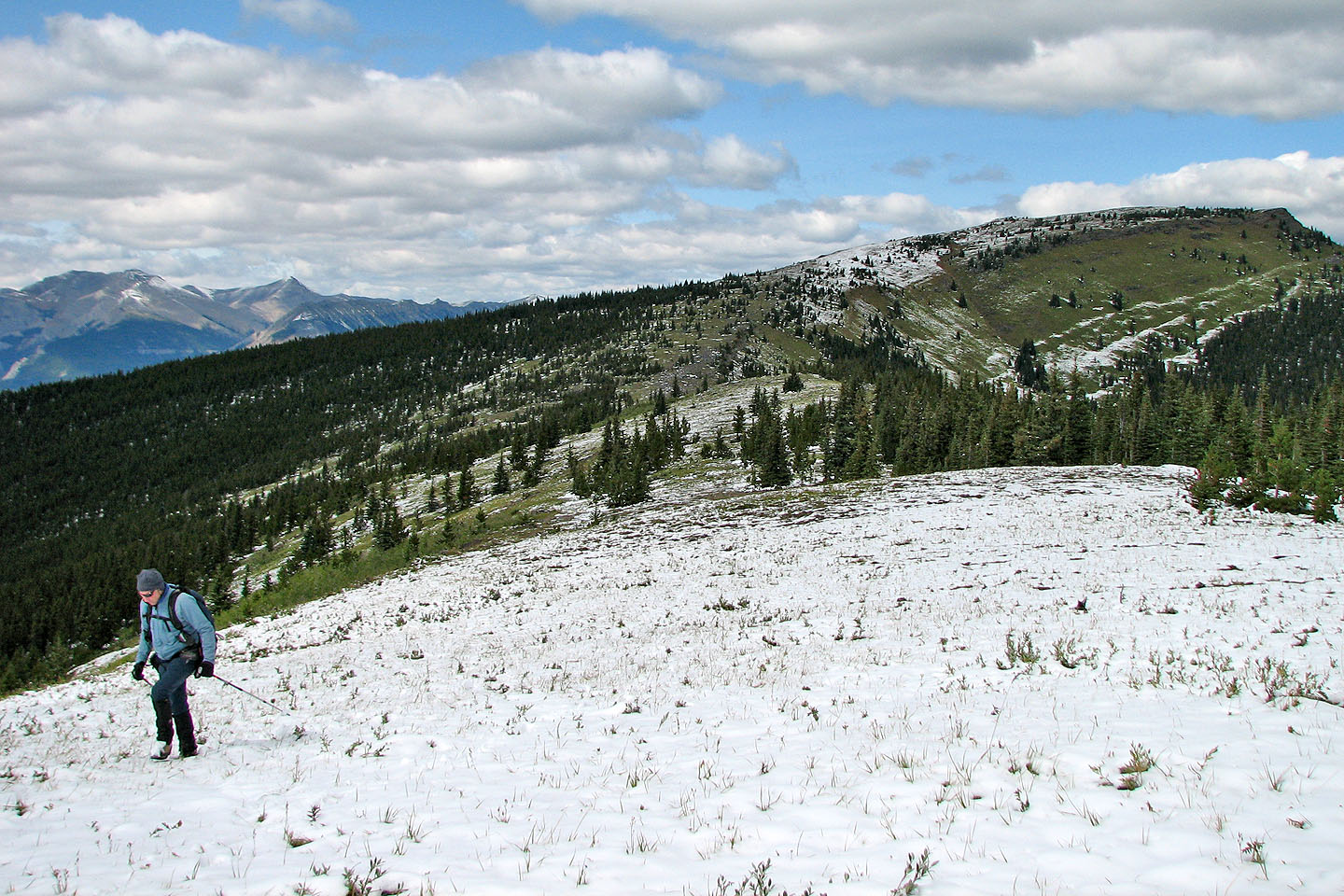 Looking back at Forgetmenot Ridge as we ascend Forgetmenot Mountain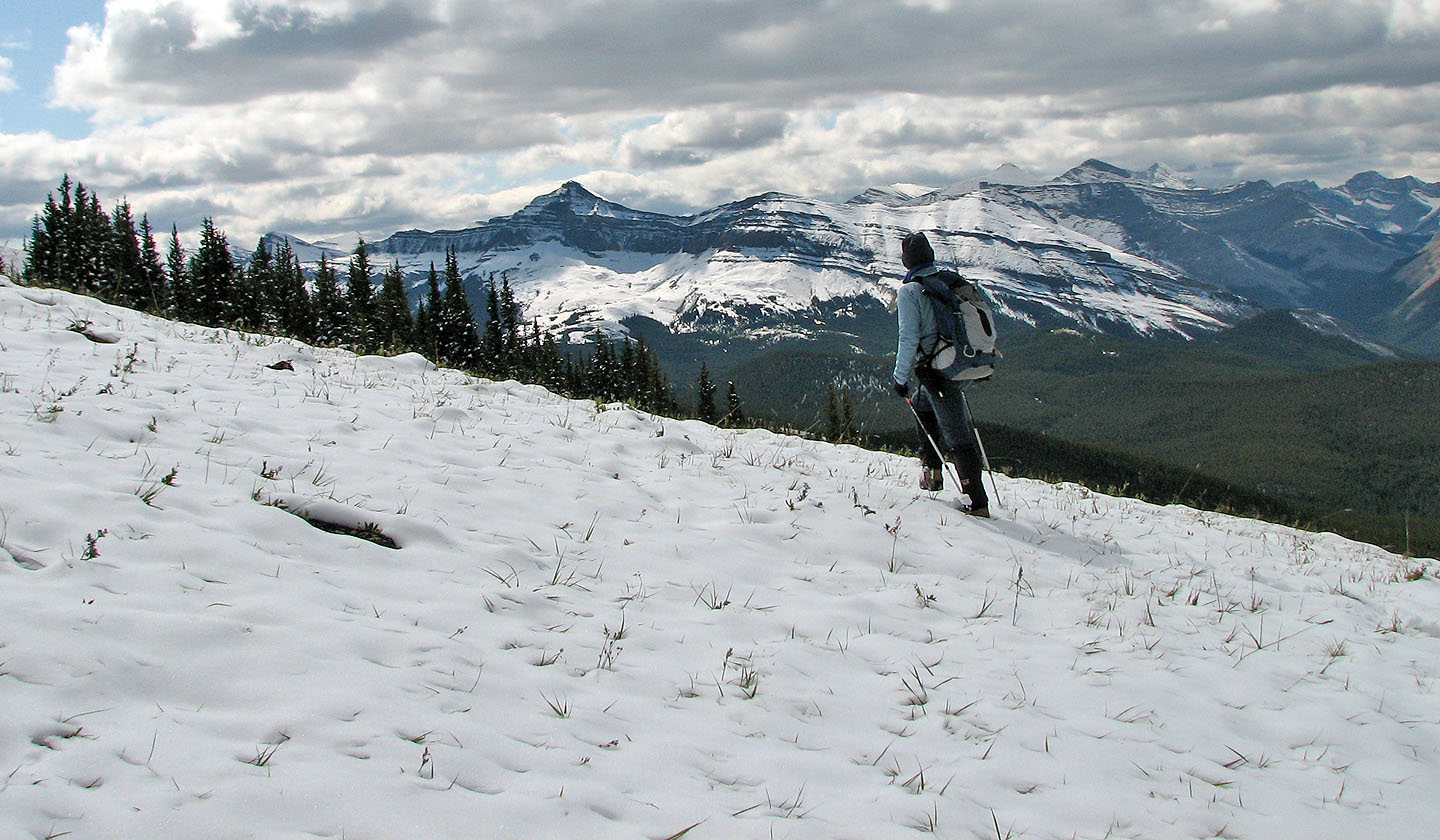 Threepoint Mountain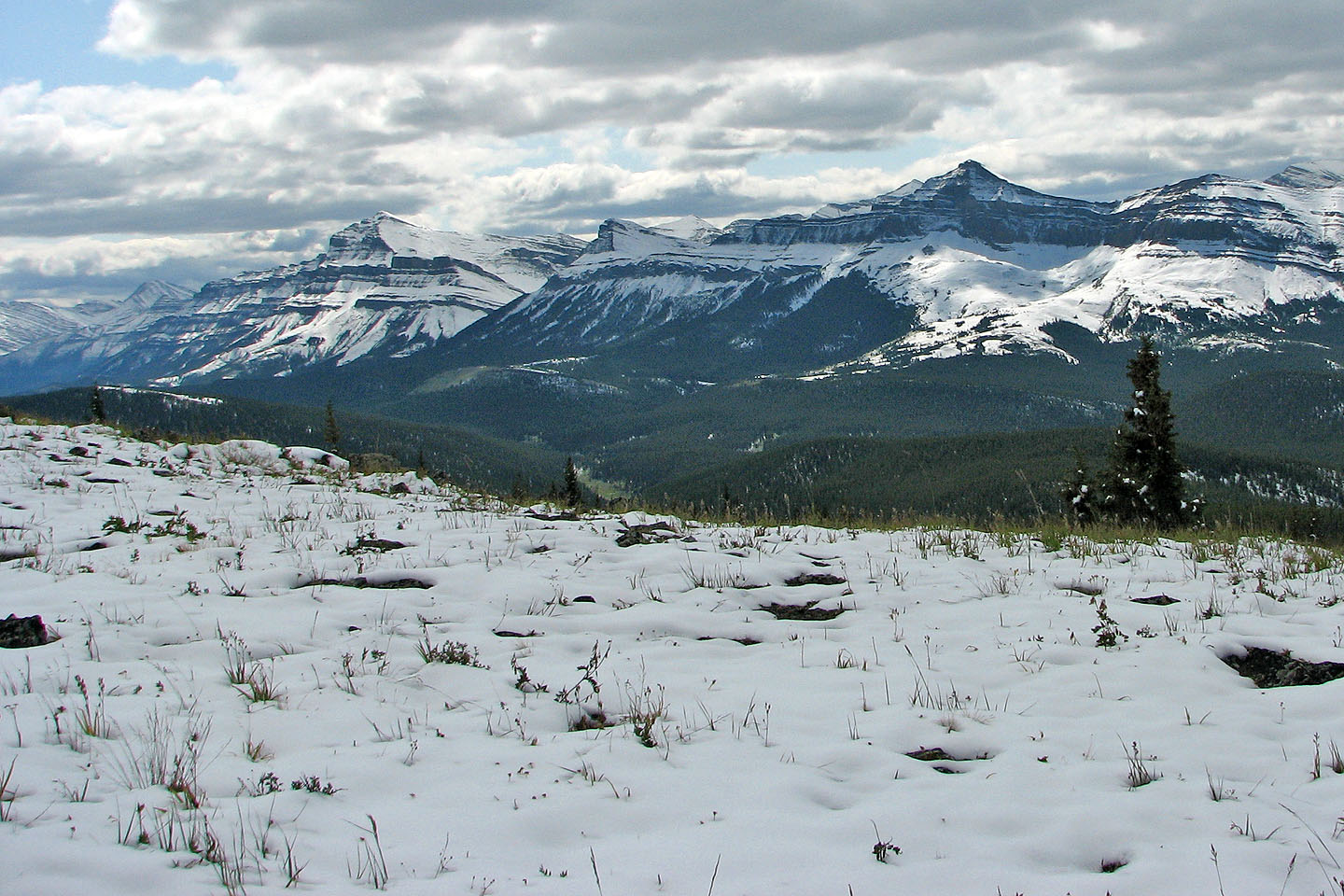 Bluerock Mountain, Mount Rose and Threepoint Mountain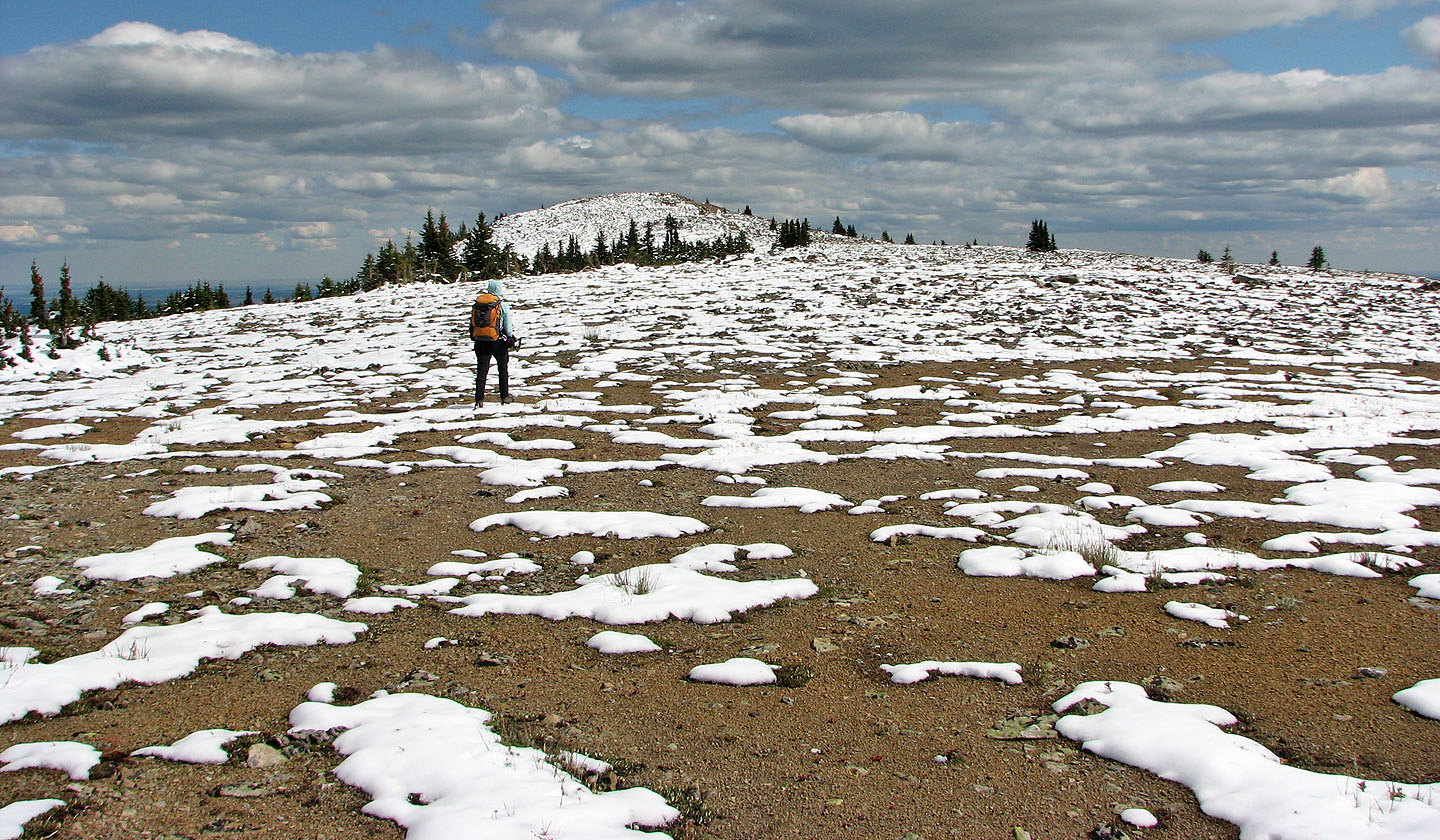 Hiking to the summit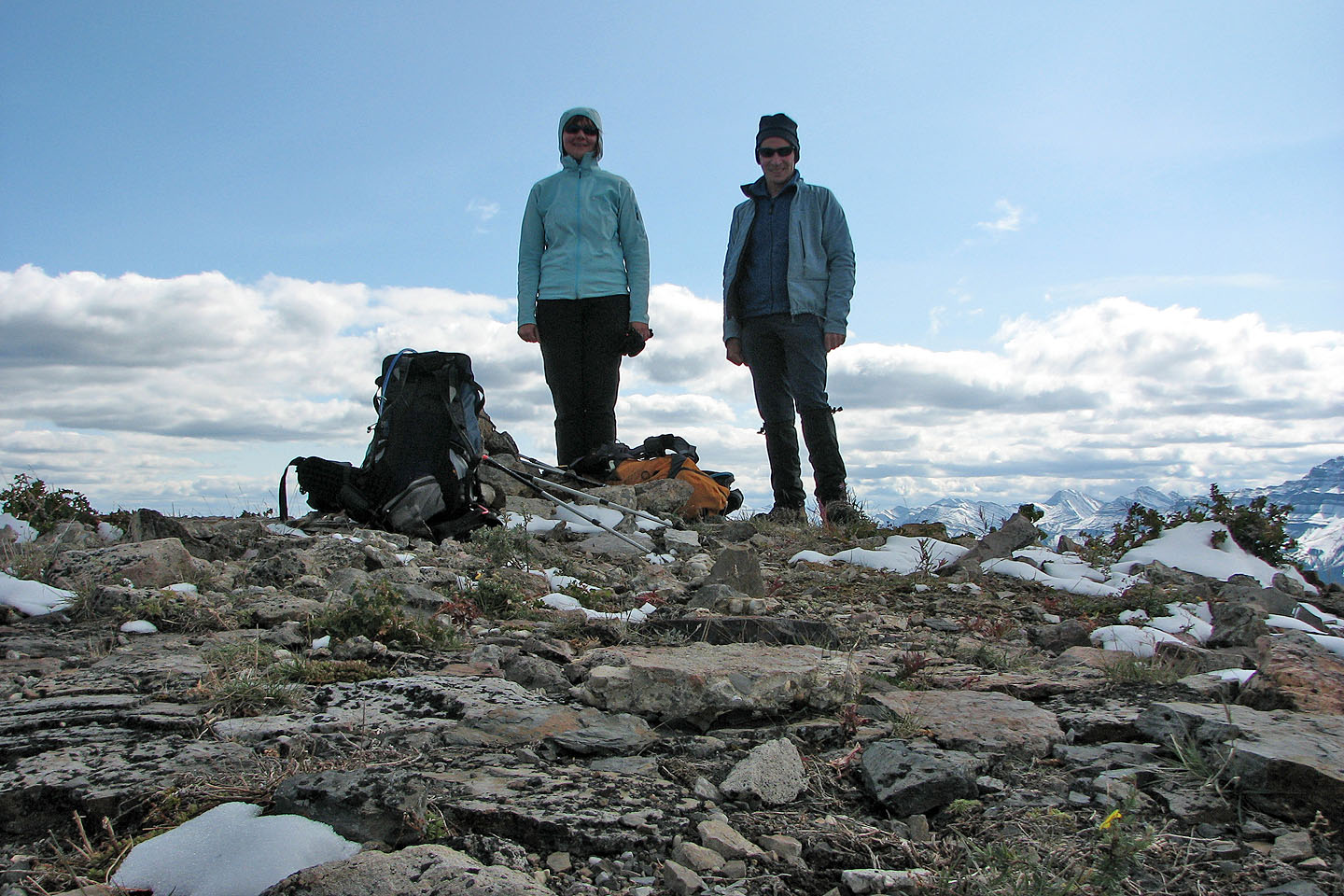 On the summit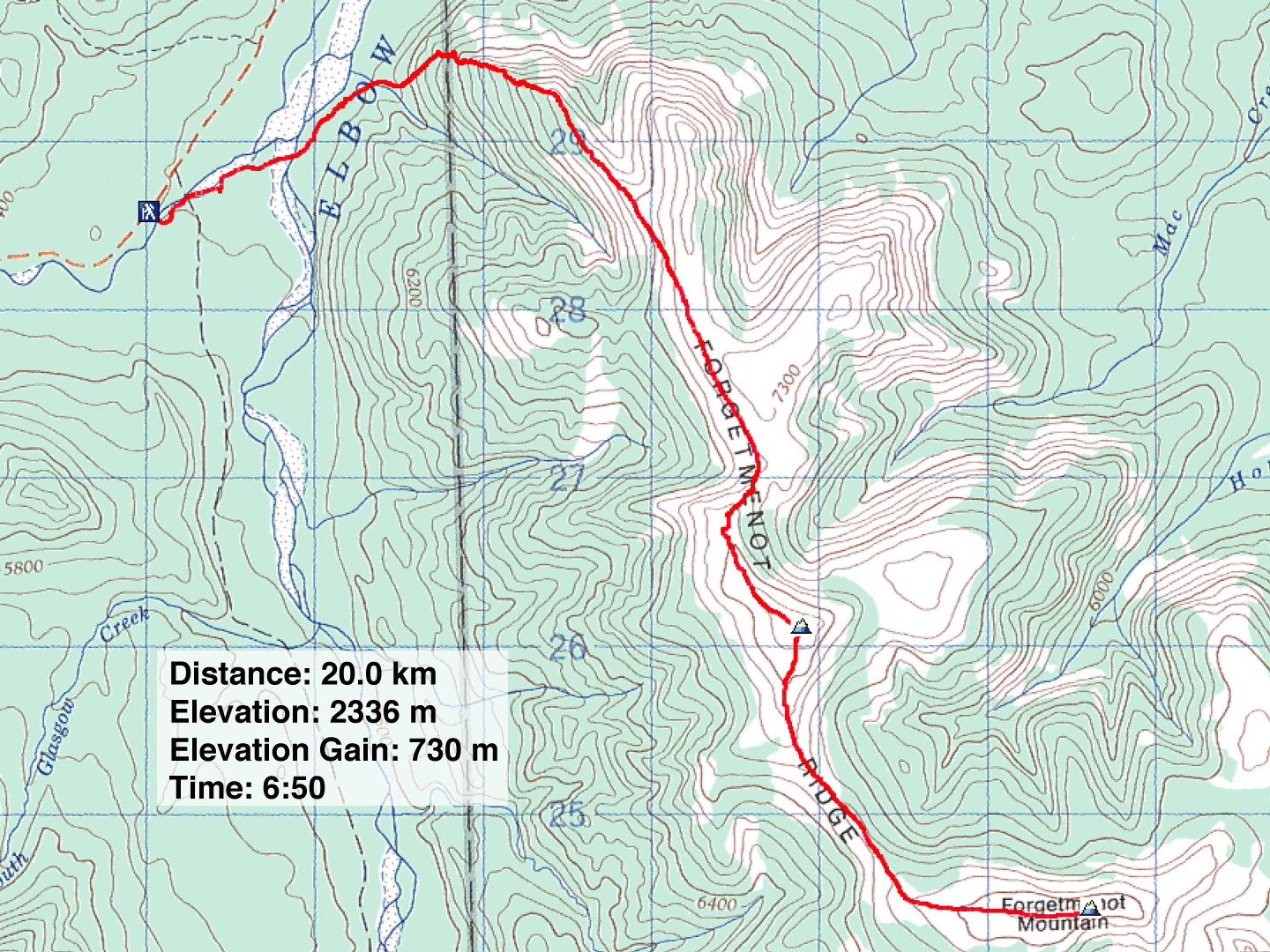 82 J/15 Bragg Creek