bobspirko.ca | Home | Canada Trips | US Trips | Hiking | Snowshoeing | MAP | About

Akamina Ridge

Waterton Lakes National Park, Alberta
August 28, 2004
Distance: 19.6 km
Cumulative Elevation Gain: 1061 m
Dinah and I had hoped to escape the rain that plagued the Rockies by heading south to climb Akamina Ridge, but it didn't work. It rained off and on throughout our trip.
Following Kane's directions, Dinah and I hiked 20 minutes to Akamina Pass to find a cutline that was overgrown and wet with recent rain. After fighting our way through wet brush for 45 minutes, we were thoroughly soaked from the waist down.
When we broke free of the brush onto a larch-covered crest above Cameron Lake, it began raining. It continued to rain or sleet off and on until well into our descent hours later.
Leaving the ridge, we had to find a break in the rock band to get to the next ridge. Not only could we not see a break, we couldn't even see the rock band! A heavy mist obscured our views. We followed a trail for a bit, and when it began to clear, we tried to scramble up. We came close to finding places to climb up, but wet rock and muddy boots prevented us from getting far. When a ptarmigan and her brood of chicks saw us, the hen squawked in alarm. Eventually it calmed down and simply walked around me, so close I could have reached down and touched it.
After an hour of trying to gain the ridge, we headed back close to the crest. By then the mist had cleared, and we found an easy way up. From there we plodded along a broad ridge to the summit, taking in a few ups and downs along the way.
The first high point had a summit register, but the true high point (116323) was further on. Much of the views were obscured by clouds, but on the upside were the rainbows. From the summit it was a long plod back on good trails to Wall Lake and the parking lot.
For some reason -- because of the ups and downs? – Alan Kane says the height gain is 1300 m. In reality it's less than 900 m. In 2012, we returned to climb both Akamina Ridge and Forum Peak using the hiking route.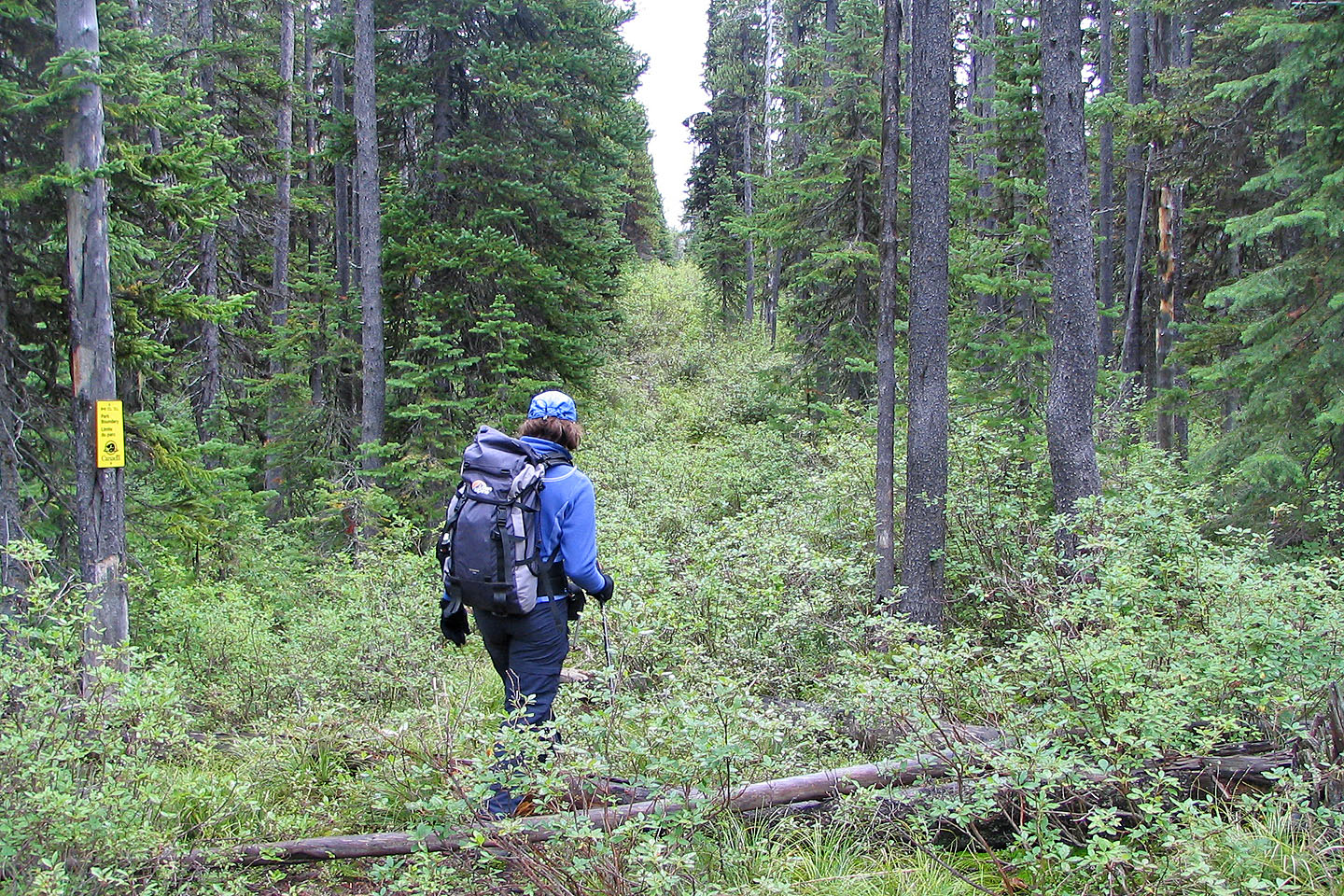 Starting up the cutline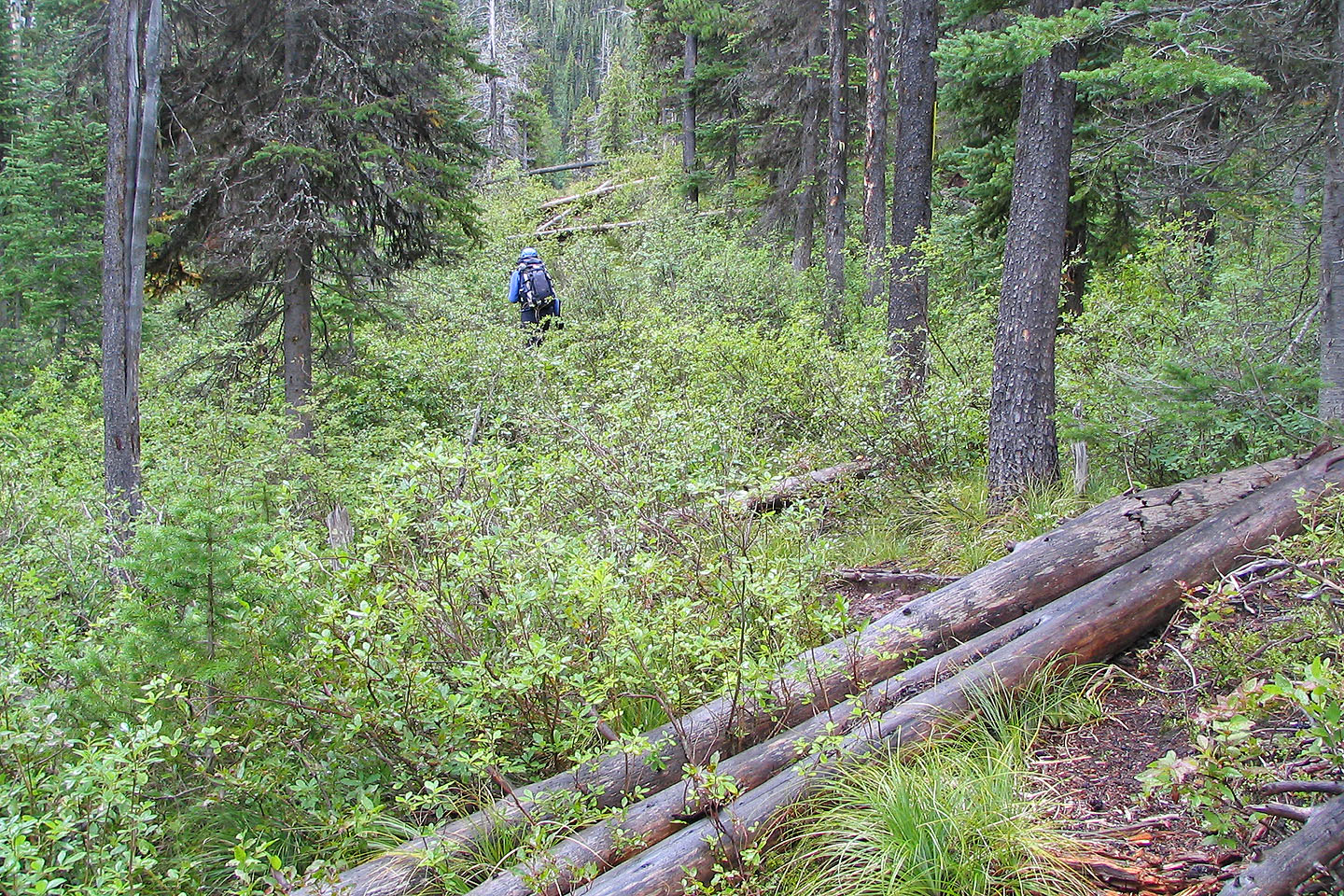 The real crux of this scramble was fighting your way up the cutline! We did it in wet weather and became thoroughly soaked.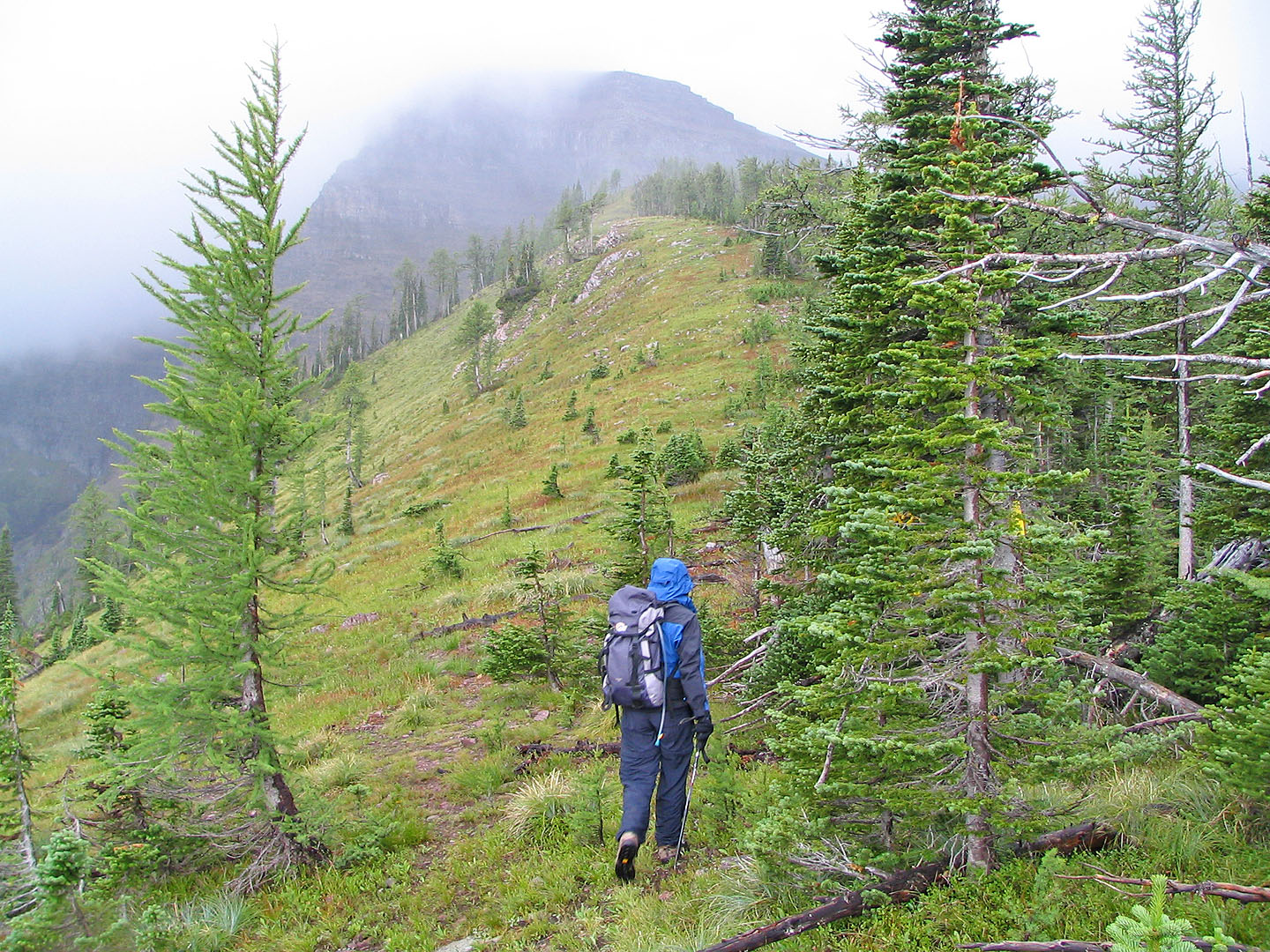 After the cutline the ridge opens up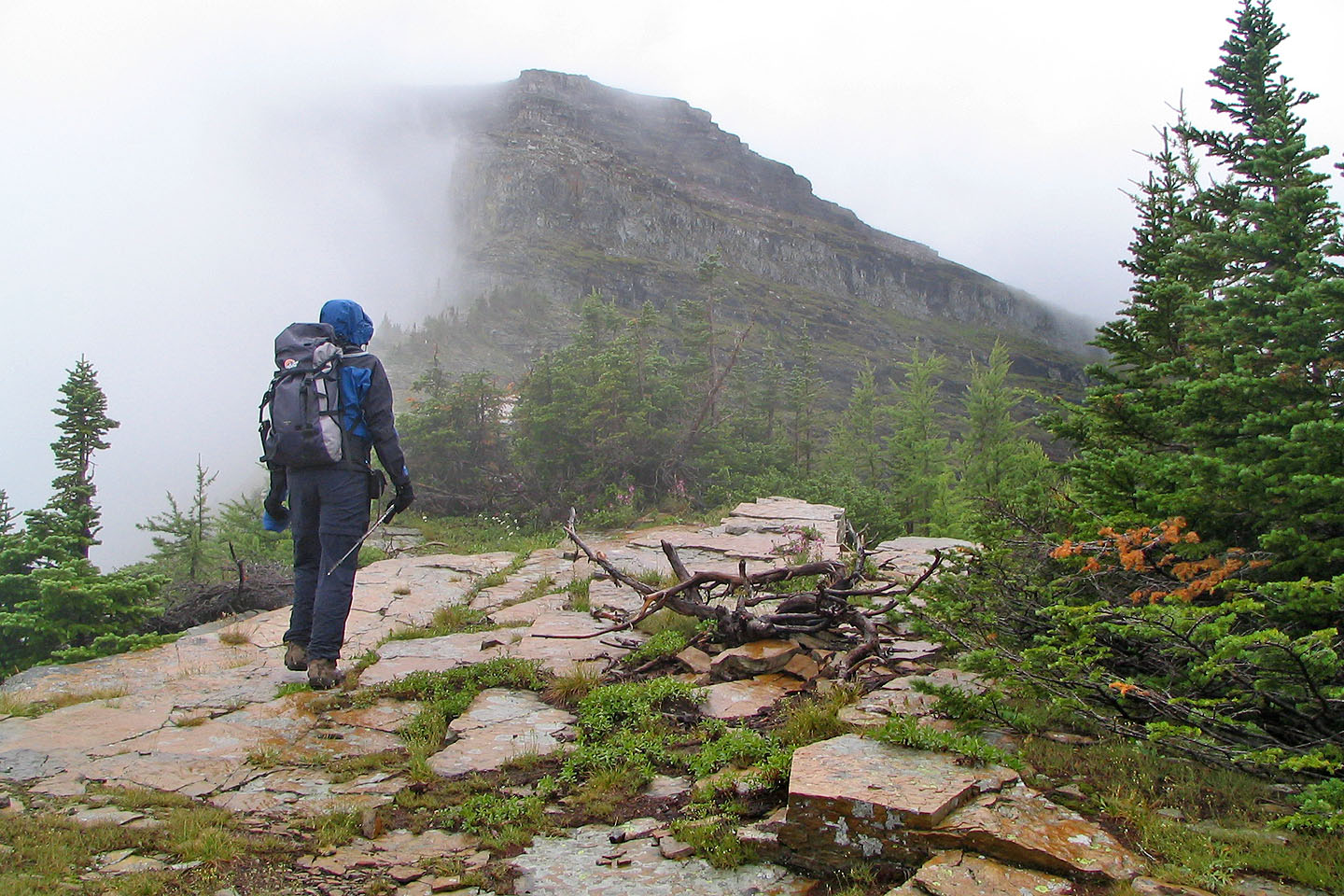 From the crest you can see the rock band that must be climbed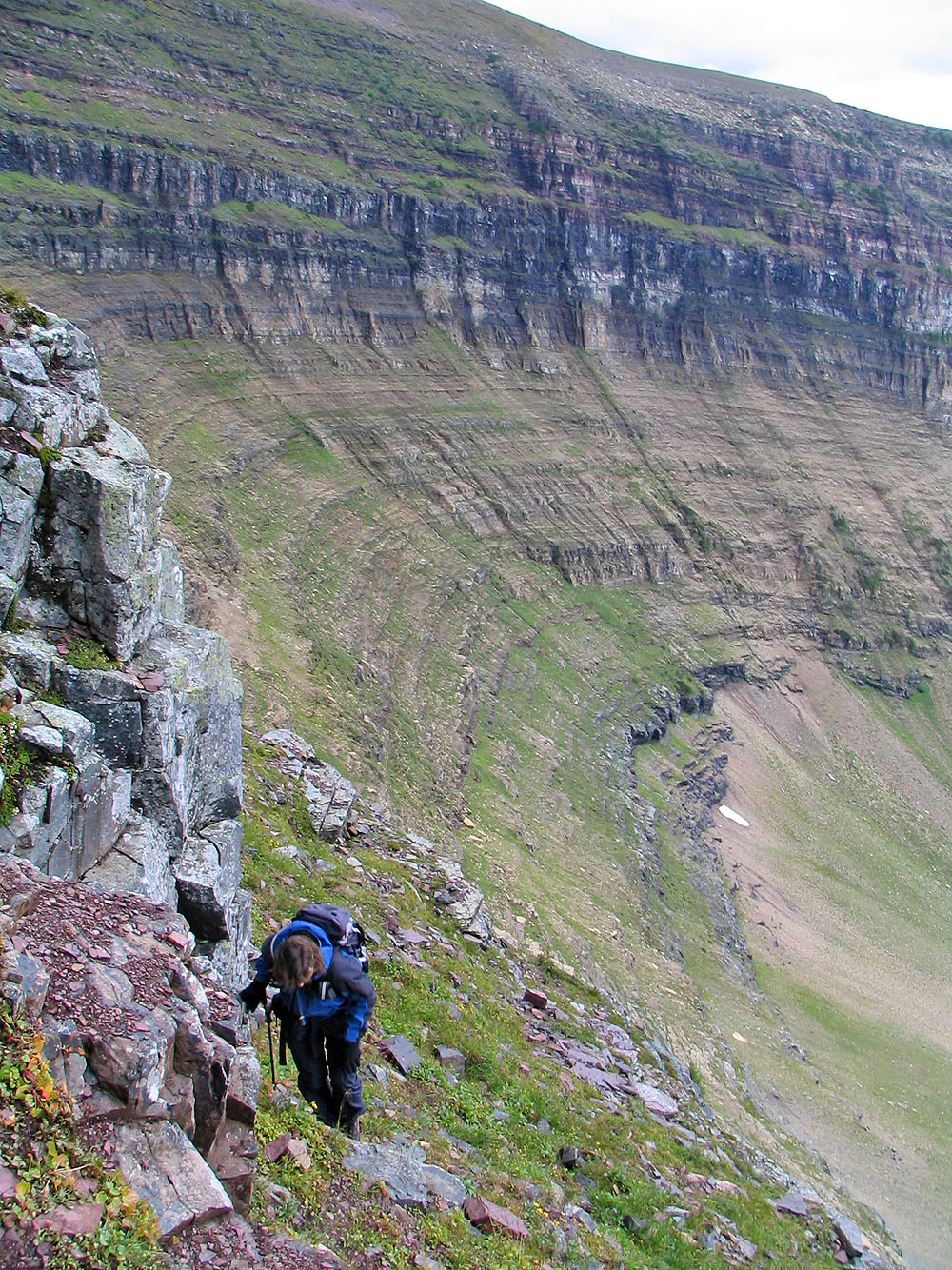 At base of the cliff band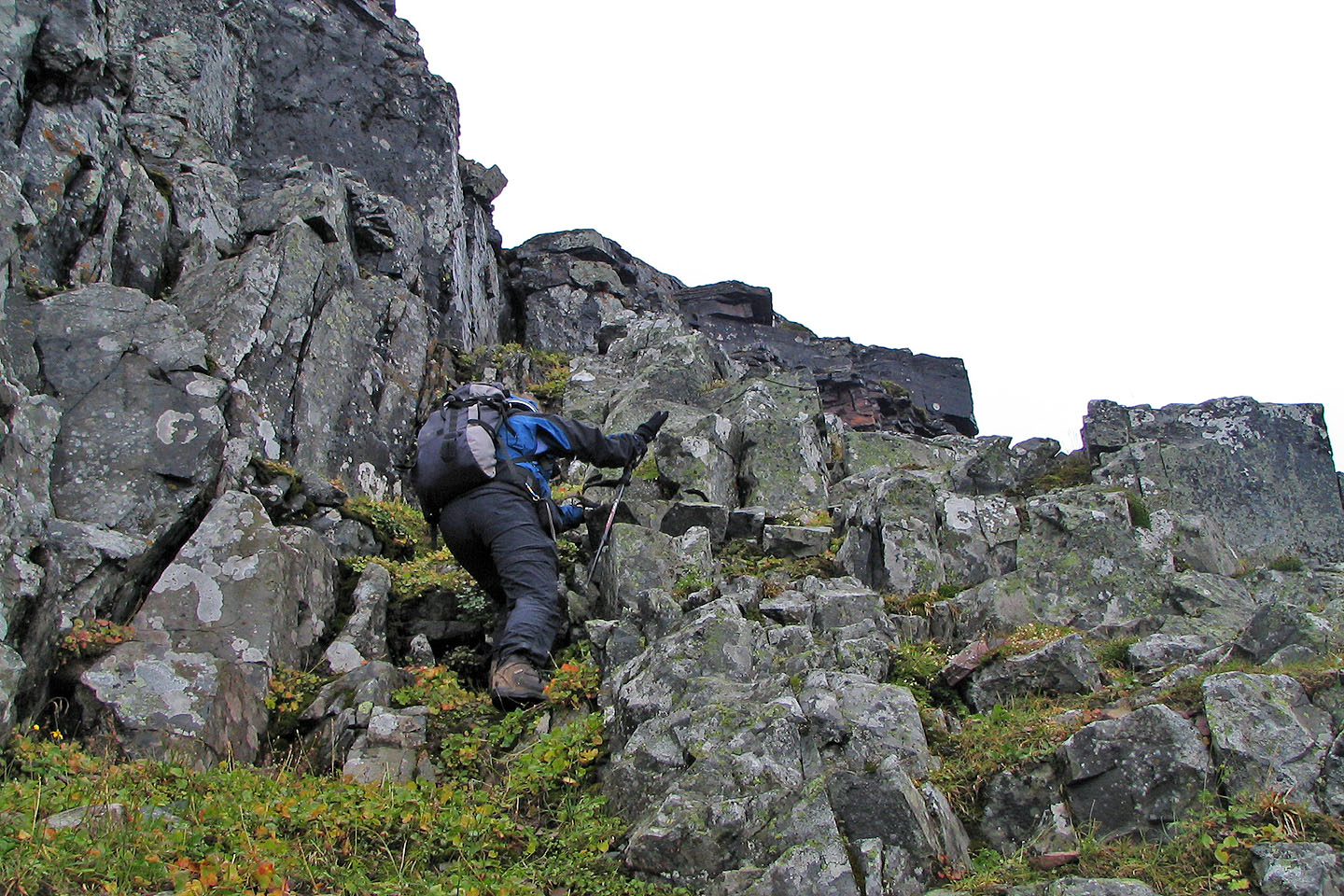 Looking for a way up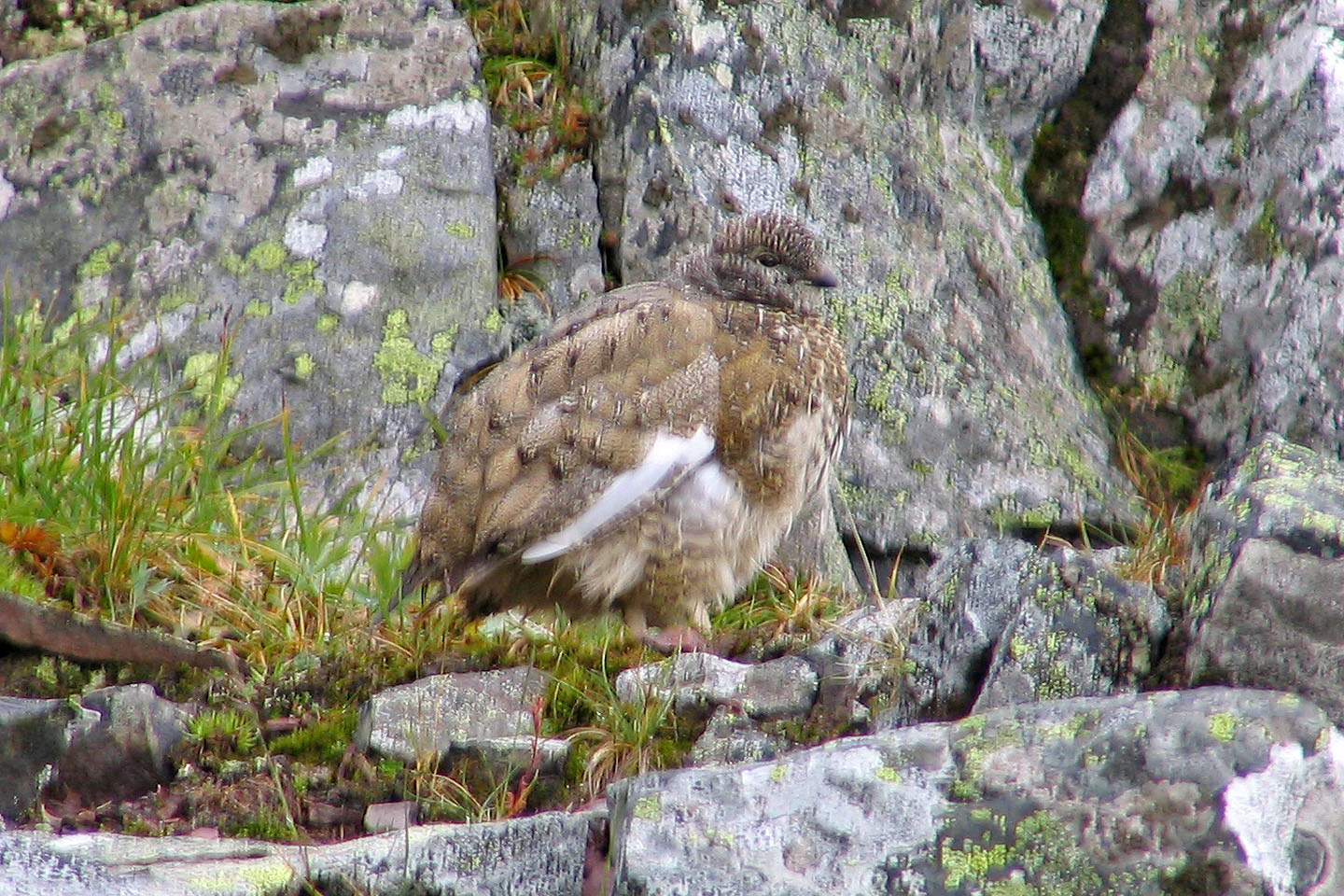 Even this ptarmigan chick seemed unhappy with the weather

On the ridge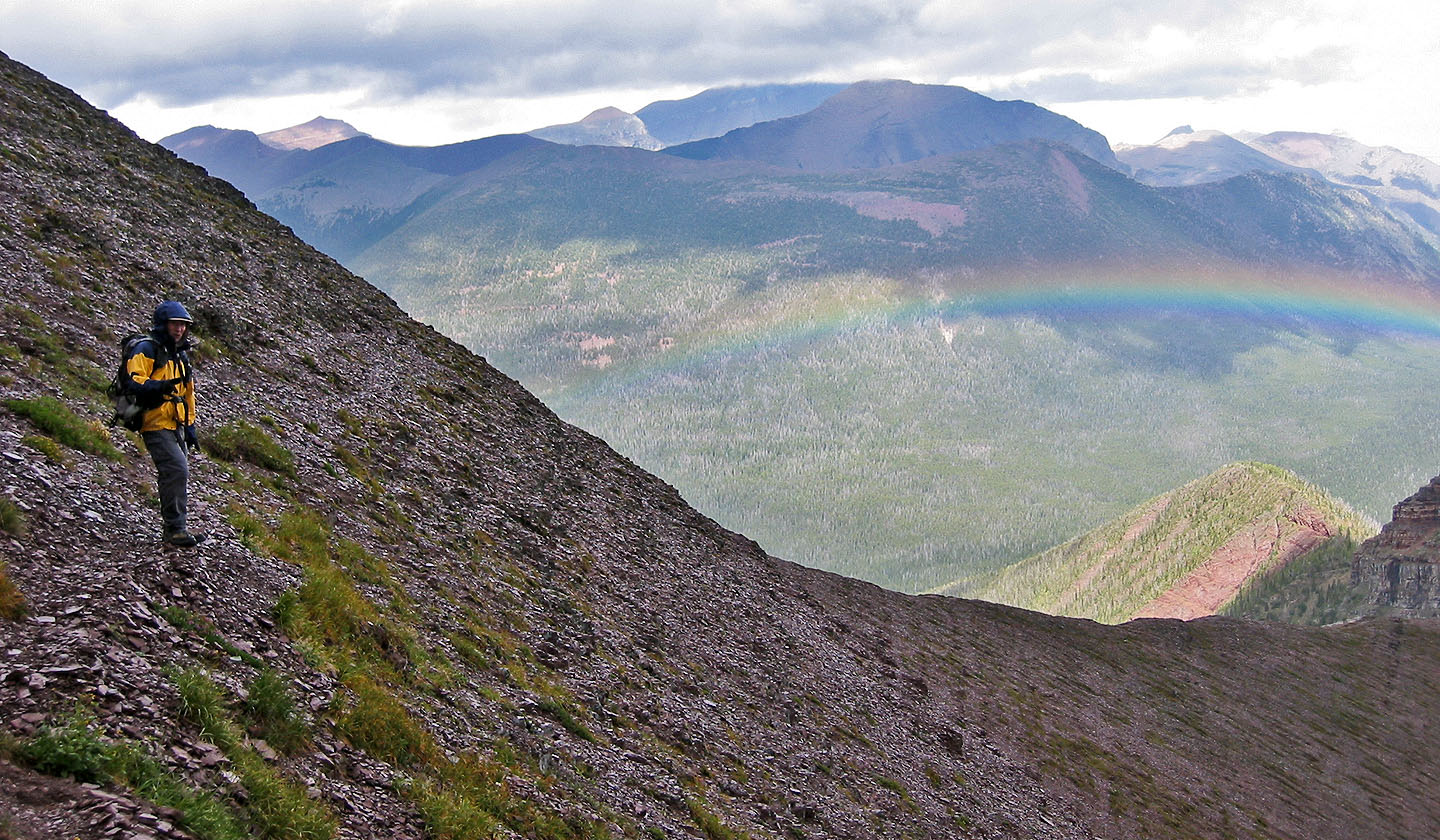 This rainbow does little to brighten up our day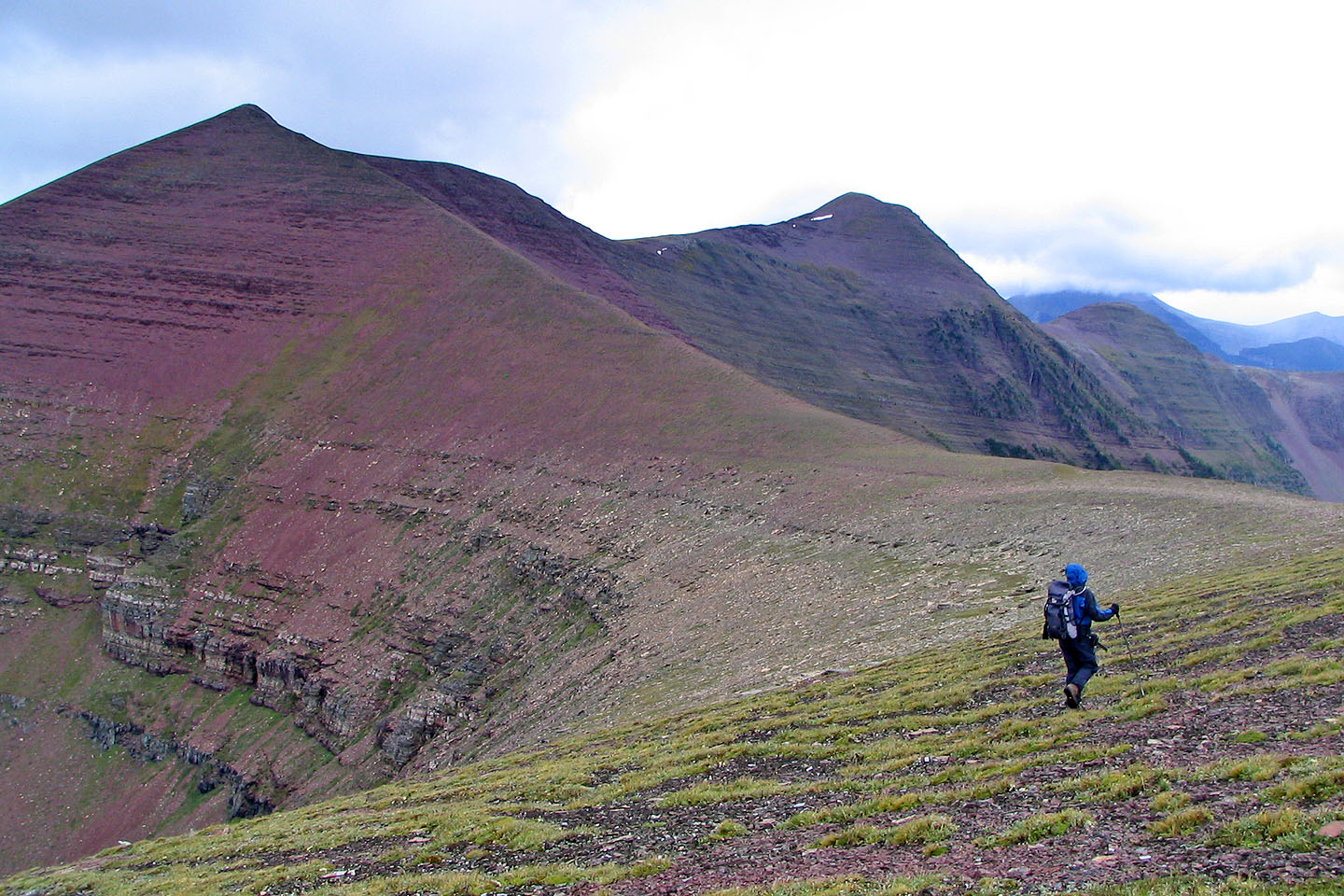 The true summit (116323) is on the right but the register was on the peak to the left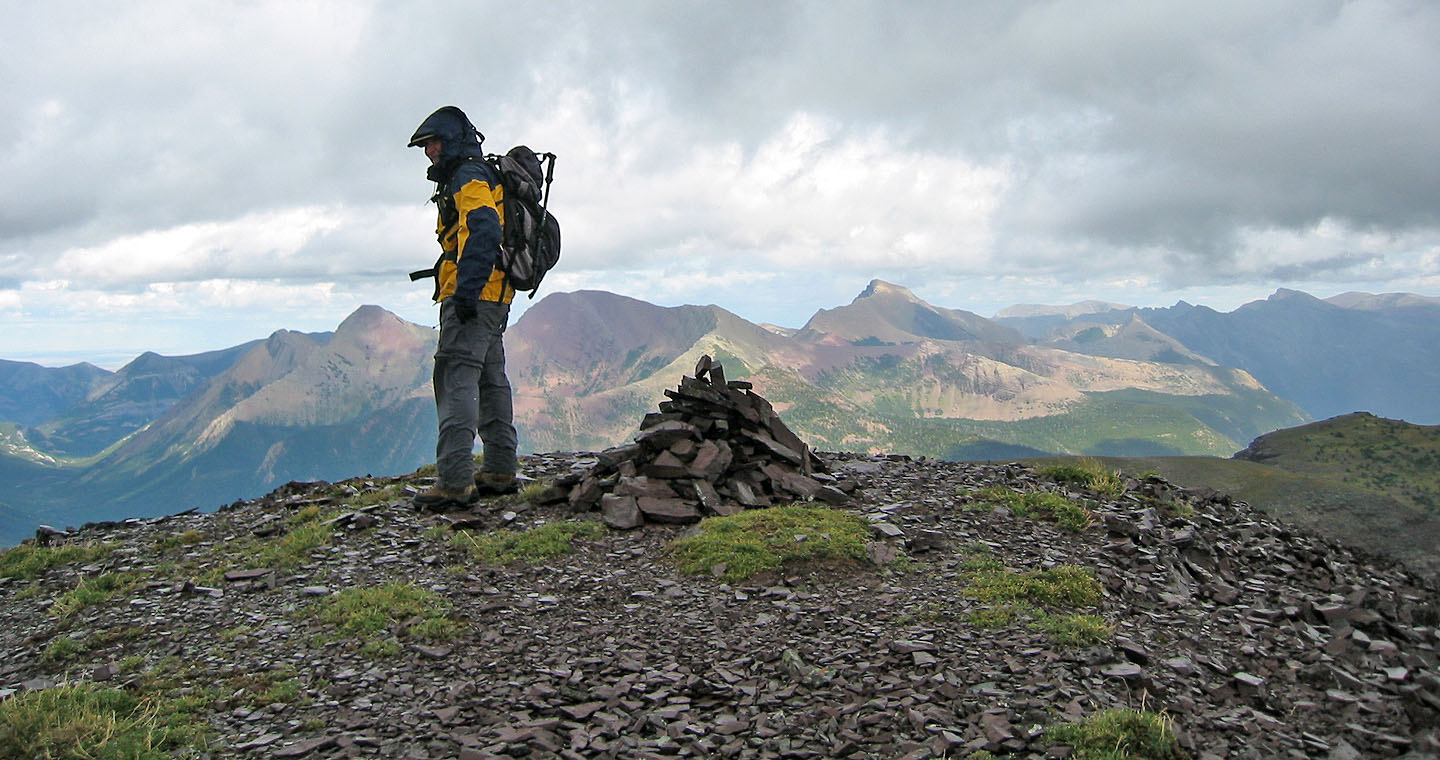 Summit register was on the high point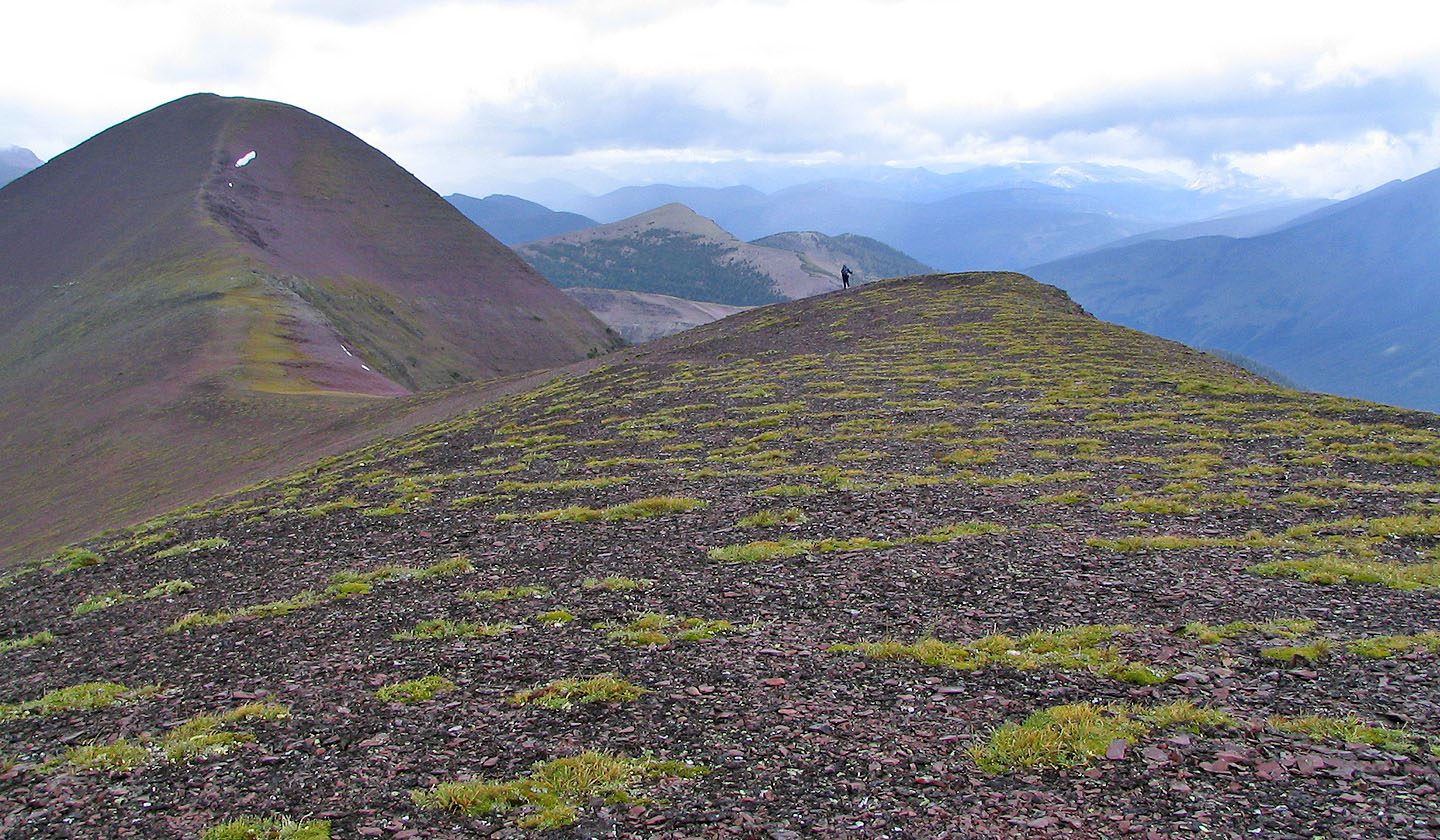 Continuing on to the summit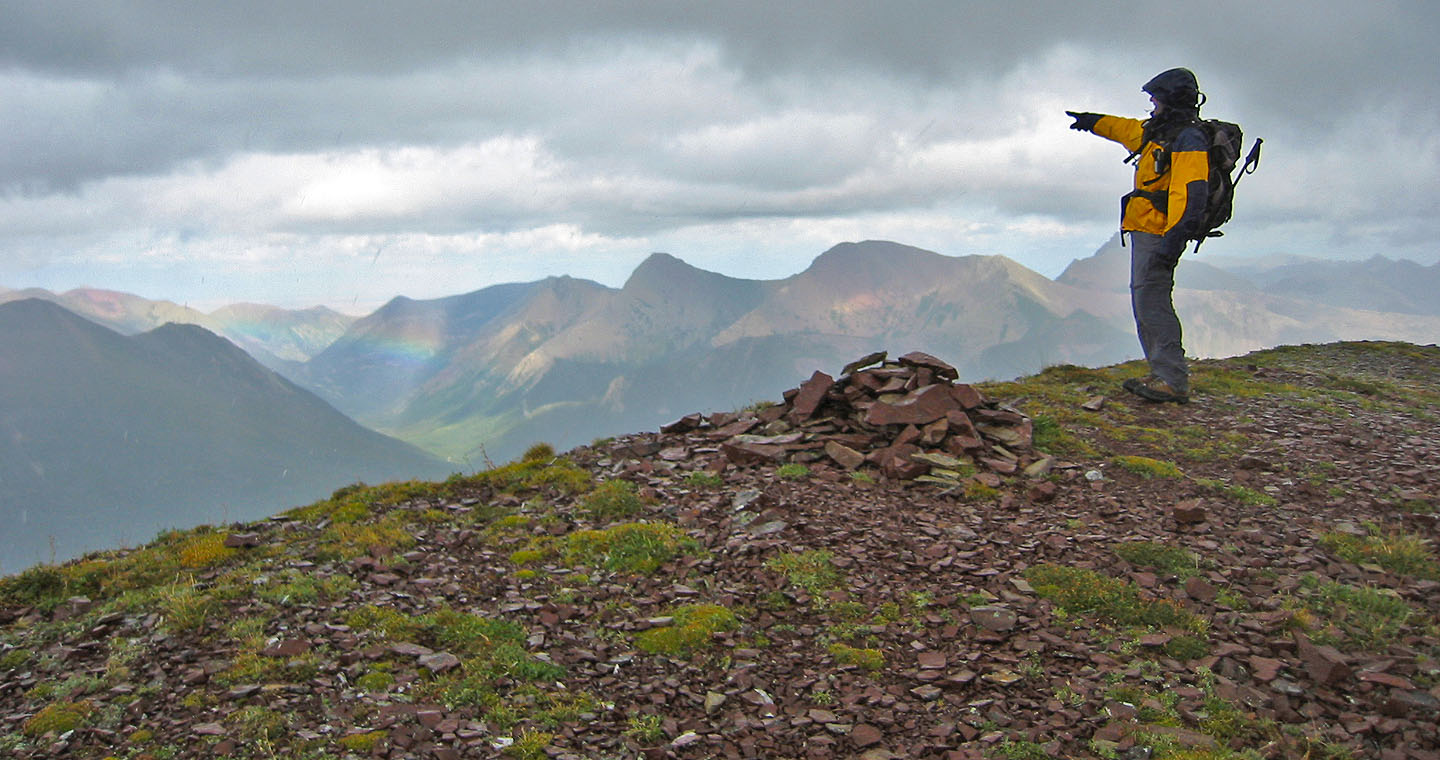 The true summit: from here we continued north to the reach the end of the ridge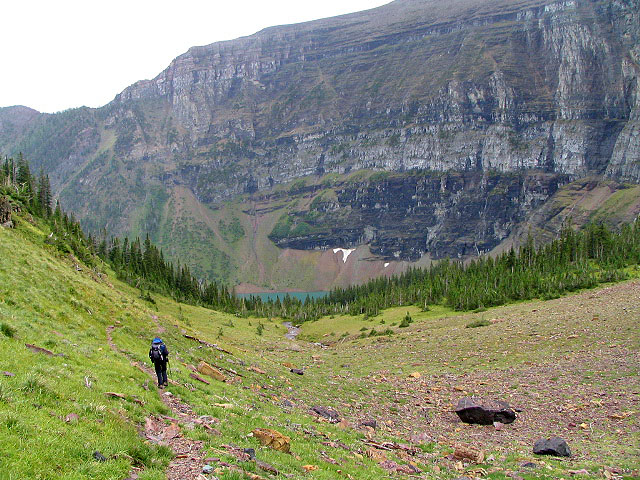 Descending to Wall Lake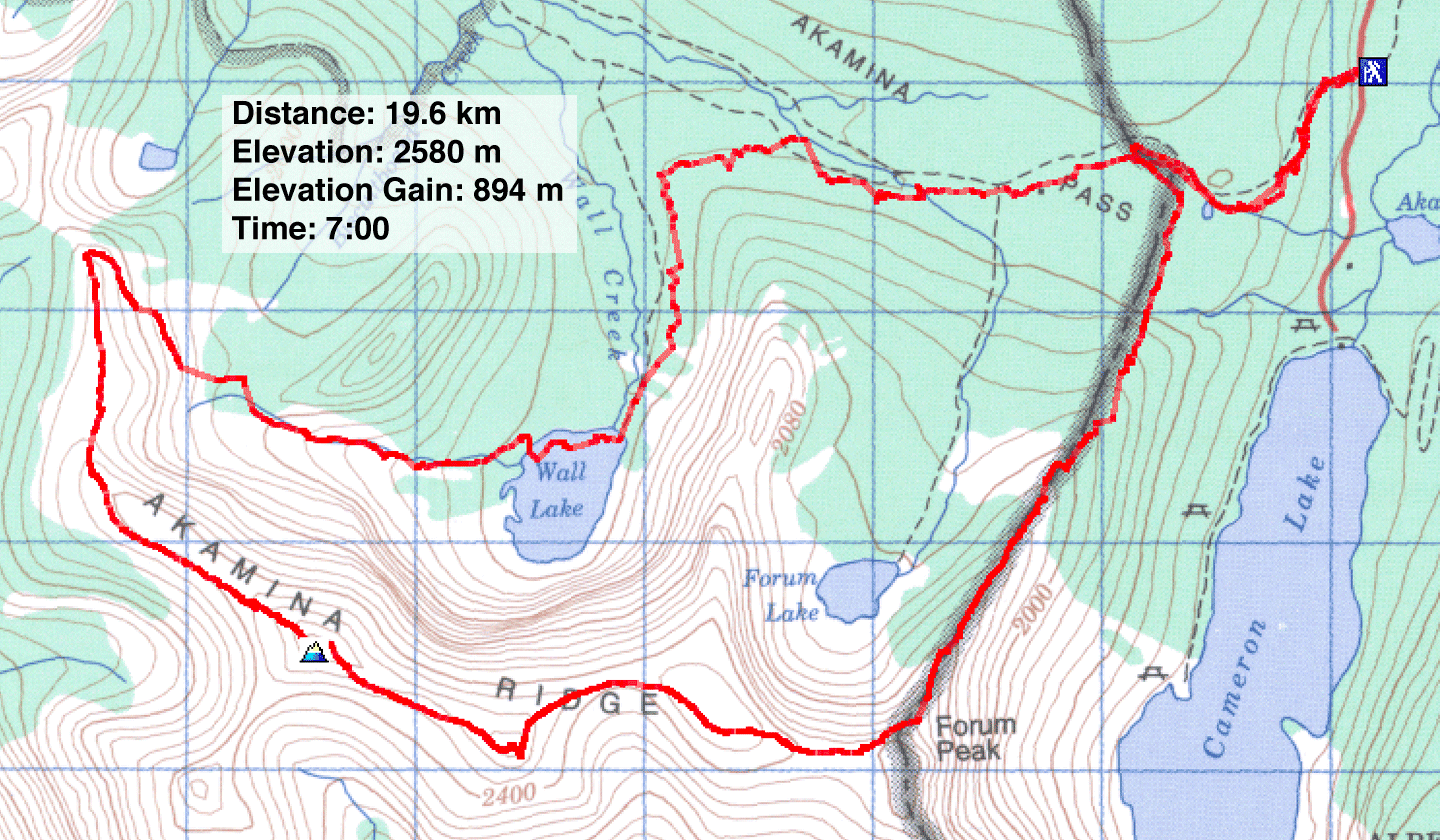 82 G/1 Sage Creek