bobspirko.ca | Home | Canada Trips | US Trips | Hiking | Snowshoeing | MAP | About

Observation Point
Zion National Park, Utah
April 9, 2018
Distance: 11.5 km (7.1 mi)
Cumulative Elevation Gain: 800 m (2625 ft)
Appearing on the edge of the East Rim, Observation Point offers a stunning view down the length of Zion Canyon. The Point is easily reached on a broad trail, much of it a patchwork of pavement and cement.
It begins with switchbacks before settling into a long, deep canyon that winds to another set of switchbacks carved into white sandstone. Here it's an airy drop at the edge, although there's plenty of room to pass other hikers. And there were many others. It's a popular hike, although I didn't find it as crowded as Angel's Landing. After the last switchback, the trail follows the canyon rim to end at a viewpoint.
Shin, Dinah and I drove three hours from Las Vegas to reach Zion National Park. At 10:20 am, we pulled into one of the very last parking spots in the shuttle bus parking lot. Those coming later could only hope to seek a spot in the small overflow parking lot, or else face paid parking in the town of Springdale.
We walked to the bus stop and after waiting several minutes, caught the next bus. The bus made several stops along Zion Canyon Road before reaching Weeping Wall trailhead, our stop. Nearly an hour passed since parking our vehicle.
The hike up the trail unfolded nicely with plenty of canyon scenery to take in along the way. We plodded up the lower switchbacks, breezed through the canyon and started up the upper switchbacks. It wasn't until the trail broke out onto a sheer, white rock face, that we could see our objective, Observation Point. We quickly covered the nearly level dirt trail to the Point.
At the rim, trees run almost to the edge and dozens of people swarmed the area making it difficult to get a clear view of Zion Canyon. There was no solitude to be found here, so we didn't stay long. We ate lunch, took a few photos and headed back down, giving us a chance to catch any scenery we might have missed coming up.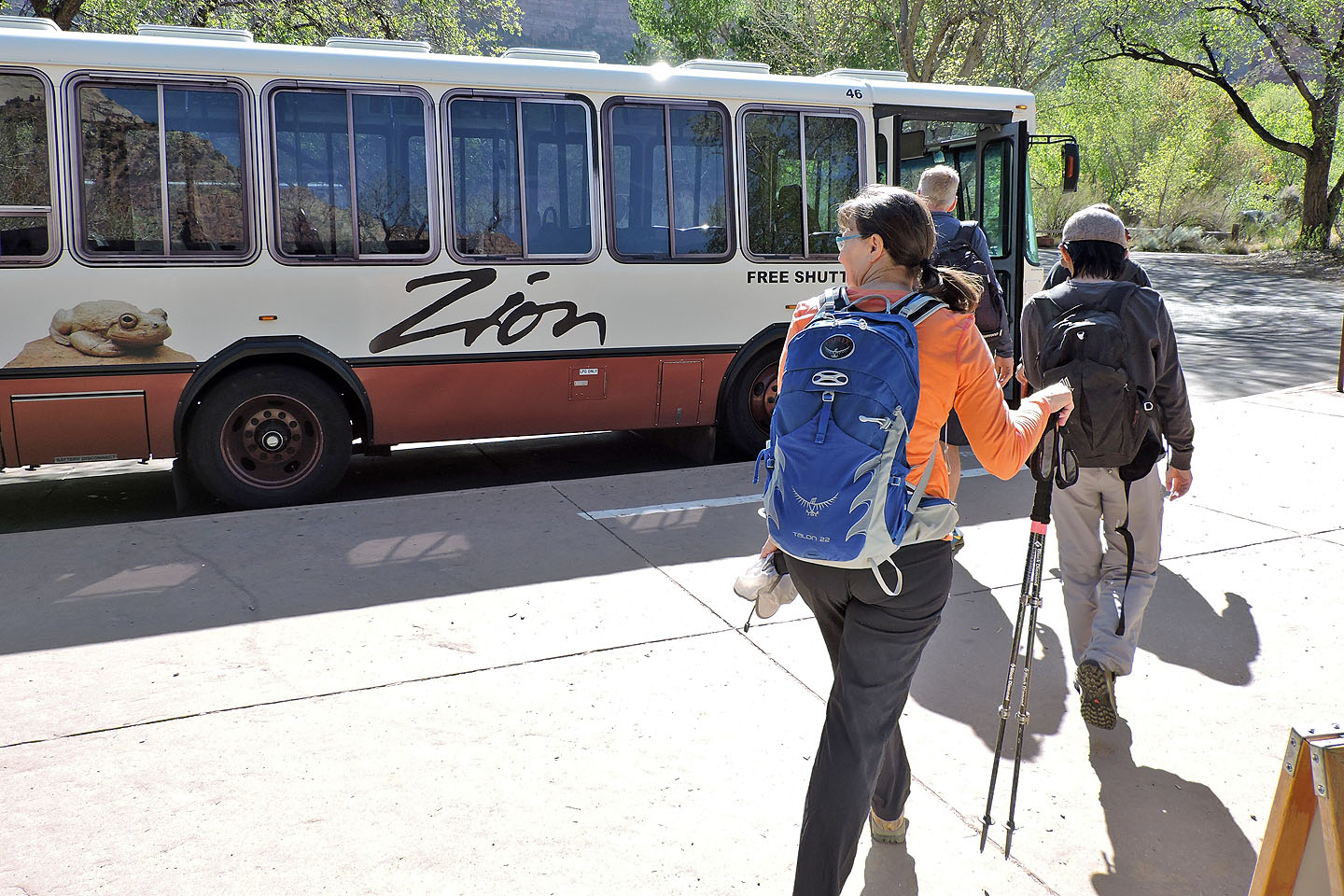 Boarding the Zion shuttle bus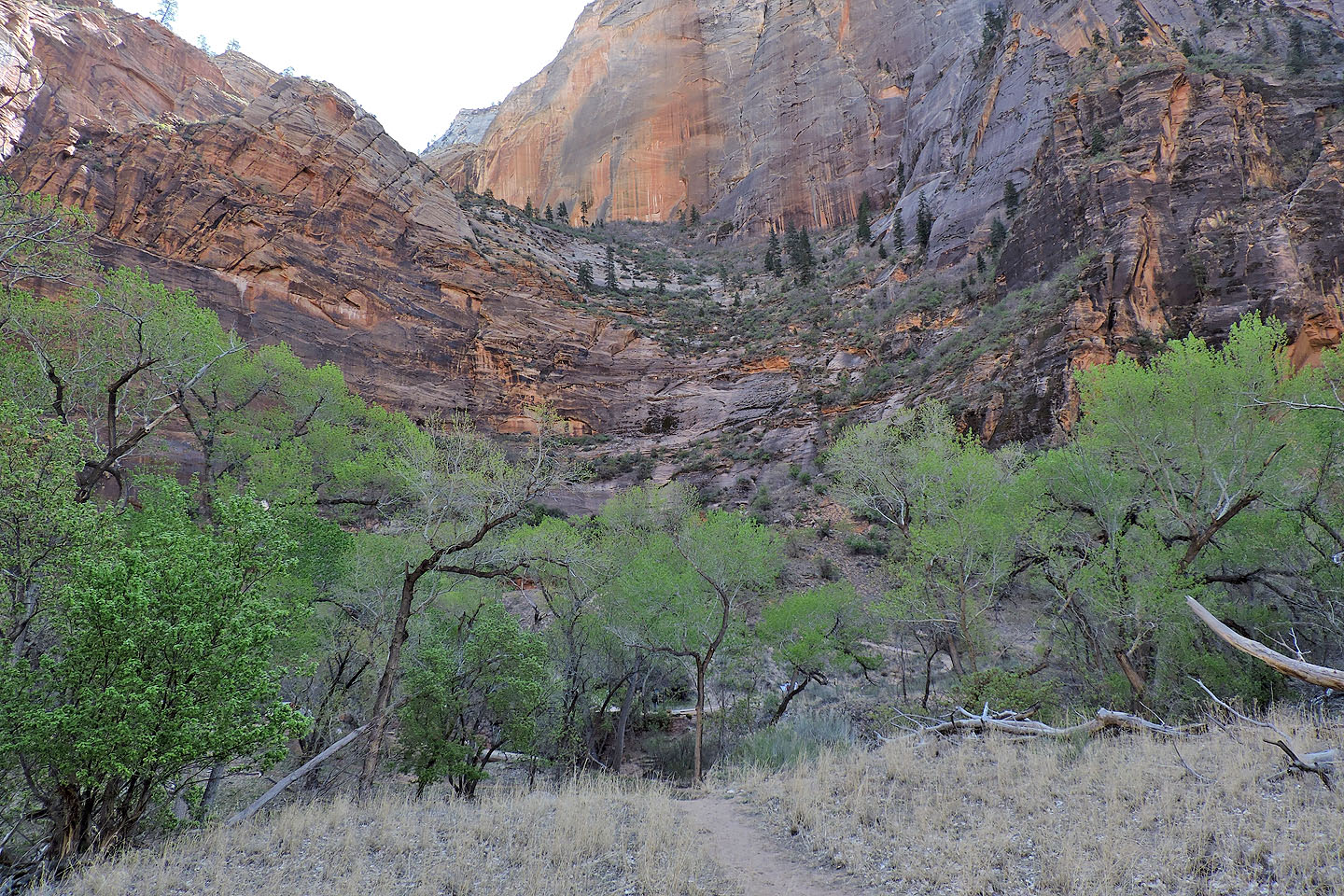 View from the trailhead. Switchbacks ascend the steep slope in the centre.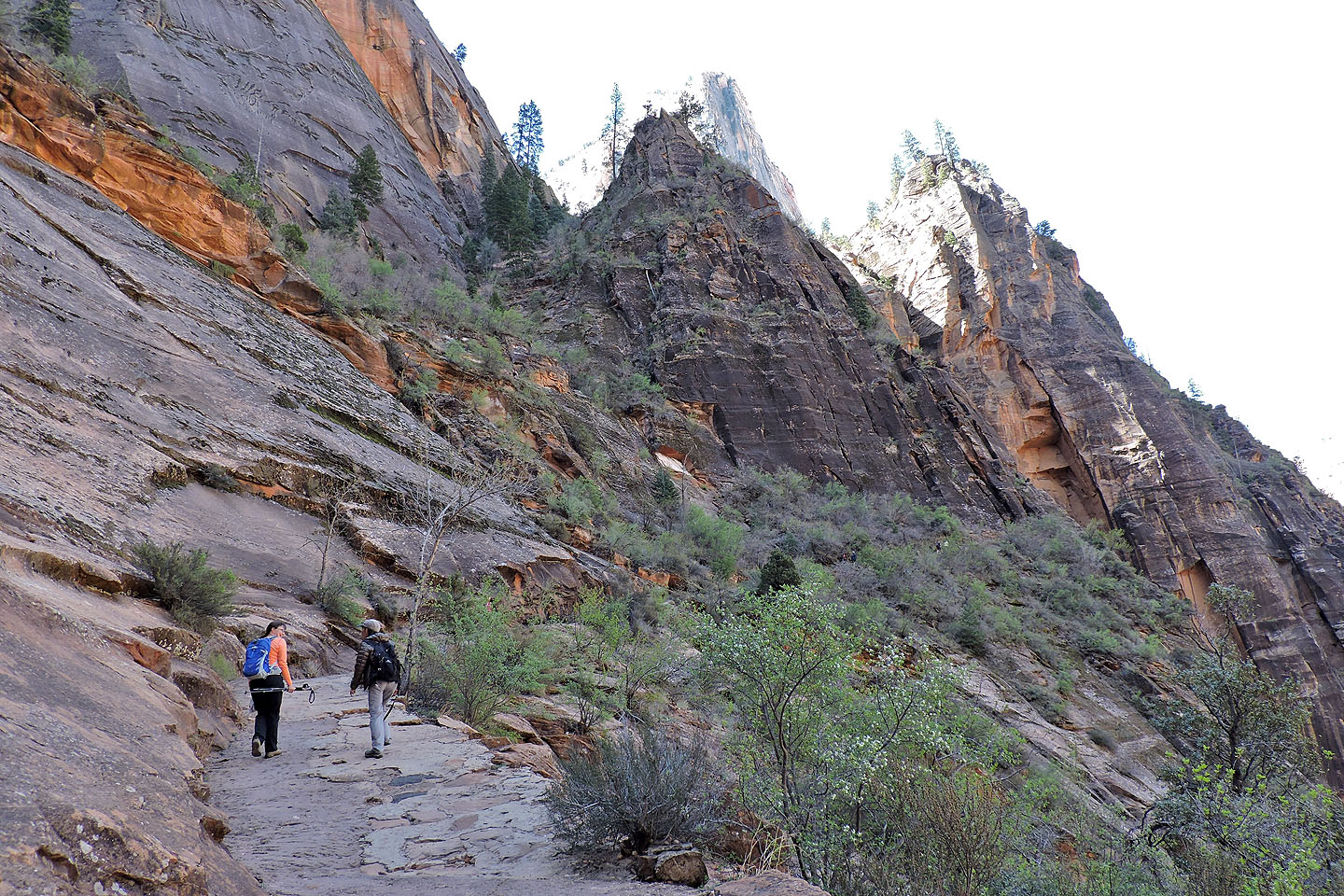 Hiking up the lower switchbacks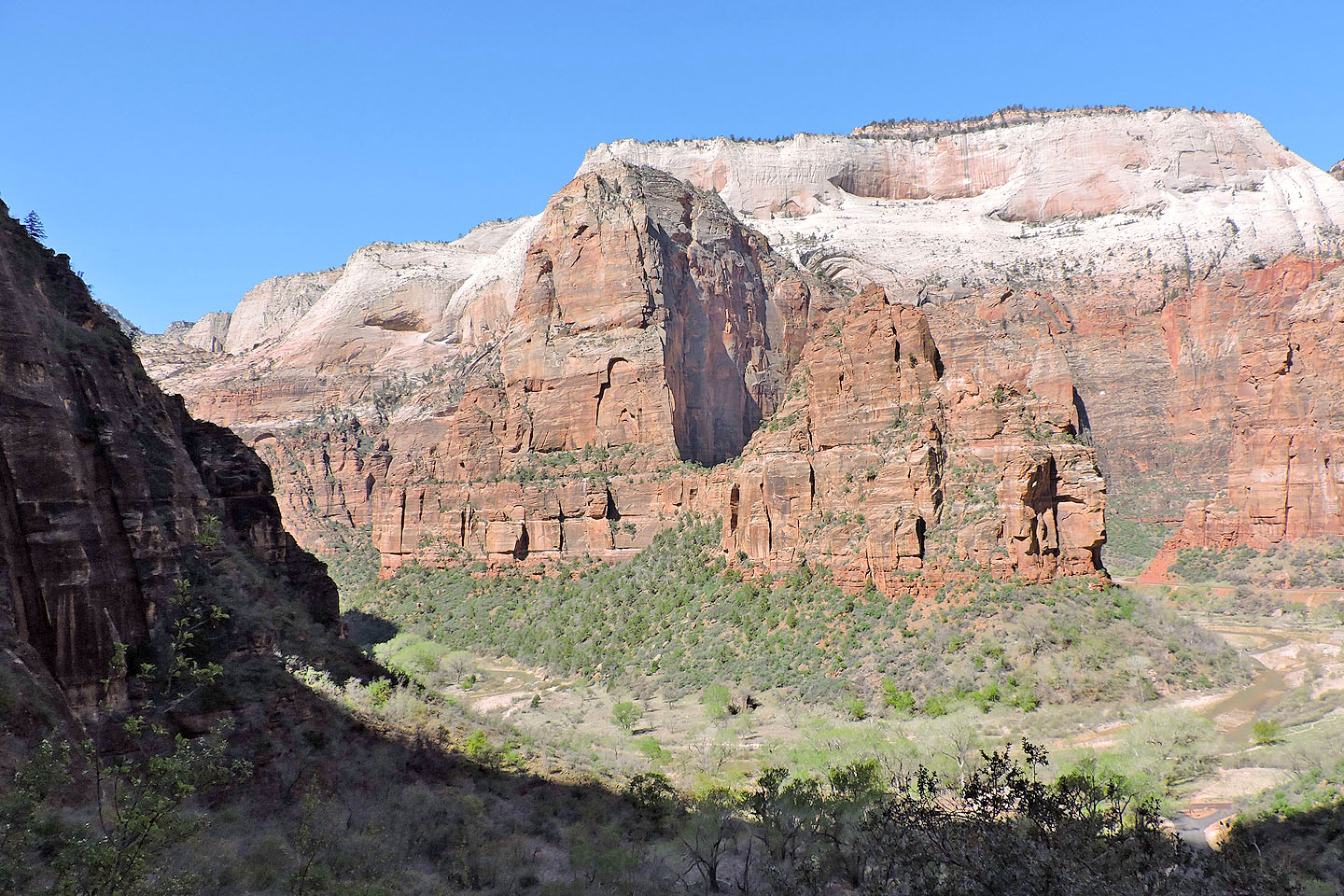 Looking across Zion Canyon at Angel's Landing (centre)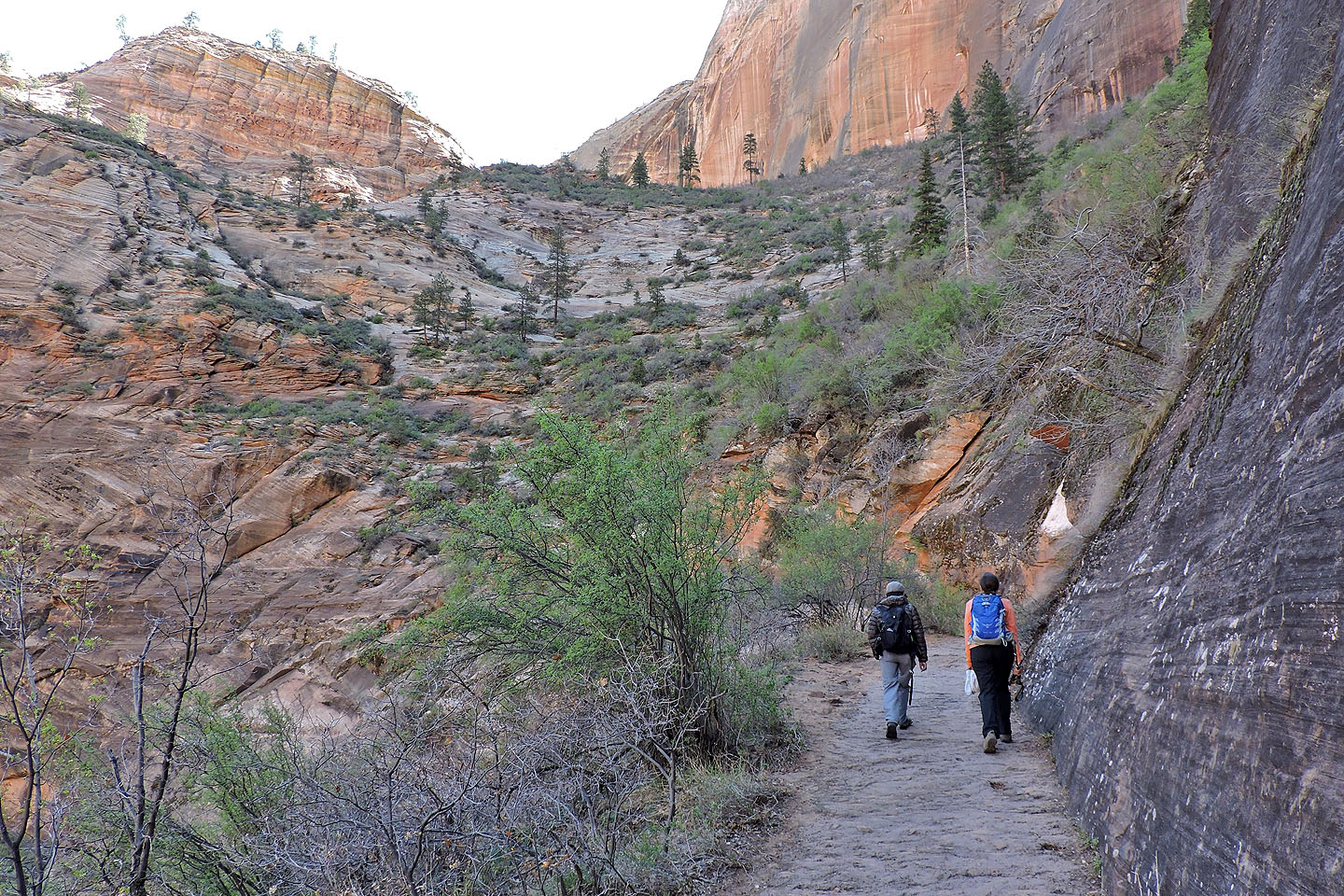 Partway up the switchbacks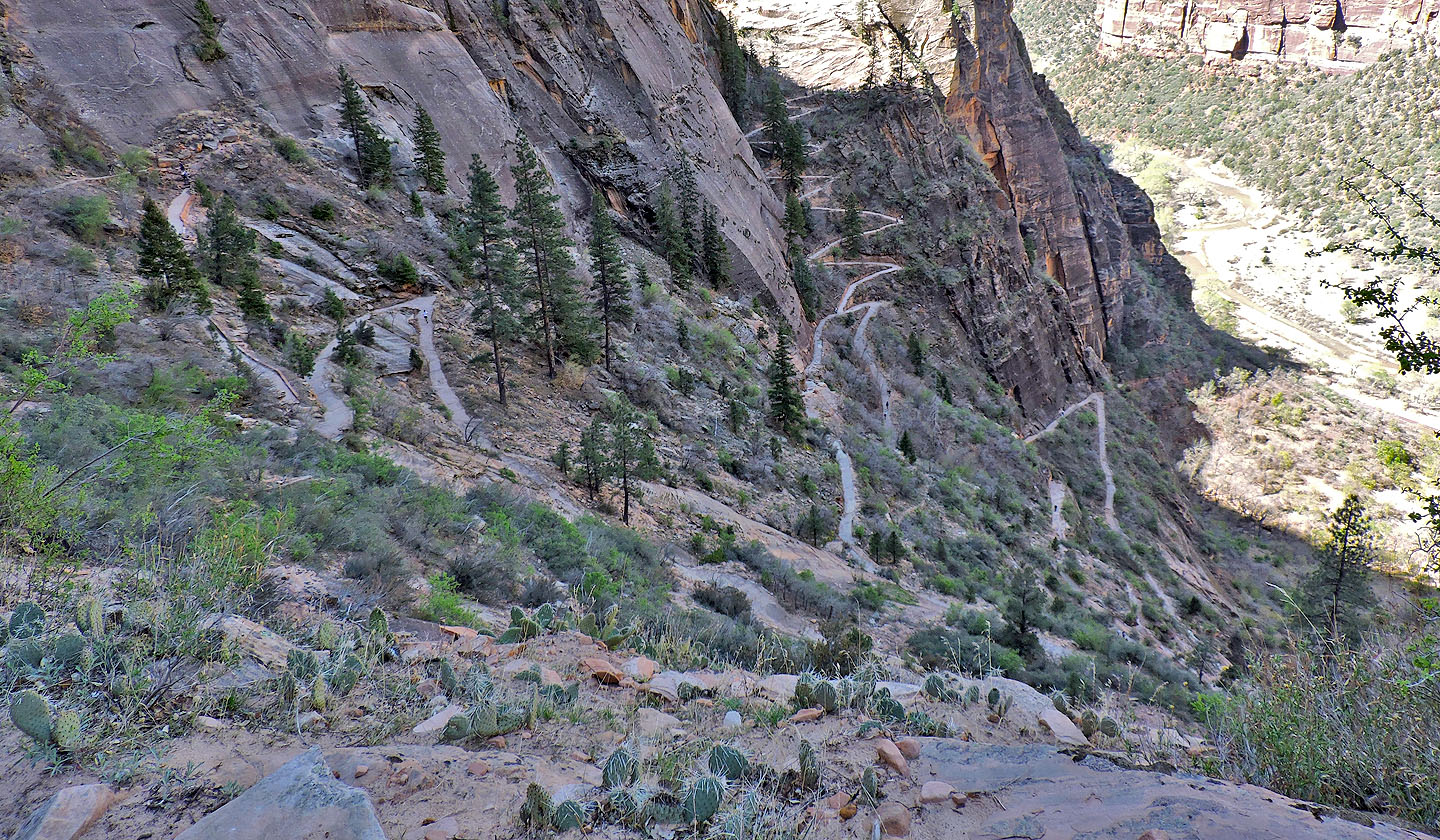 Looking down at the switchbacks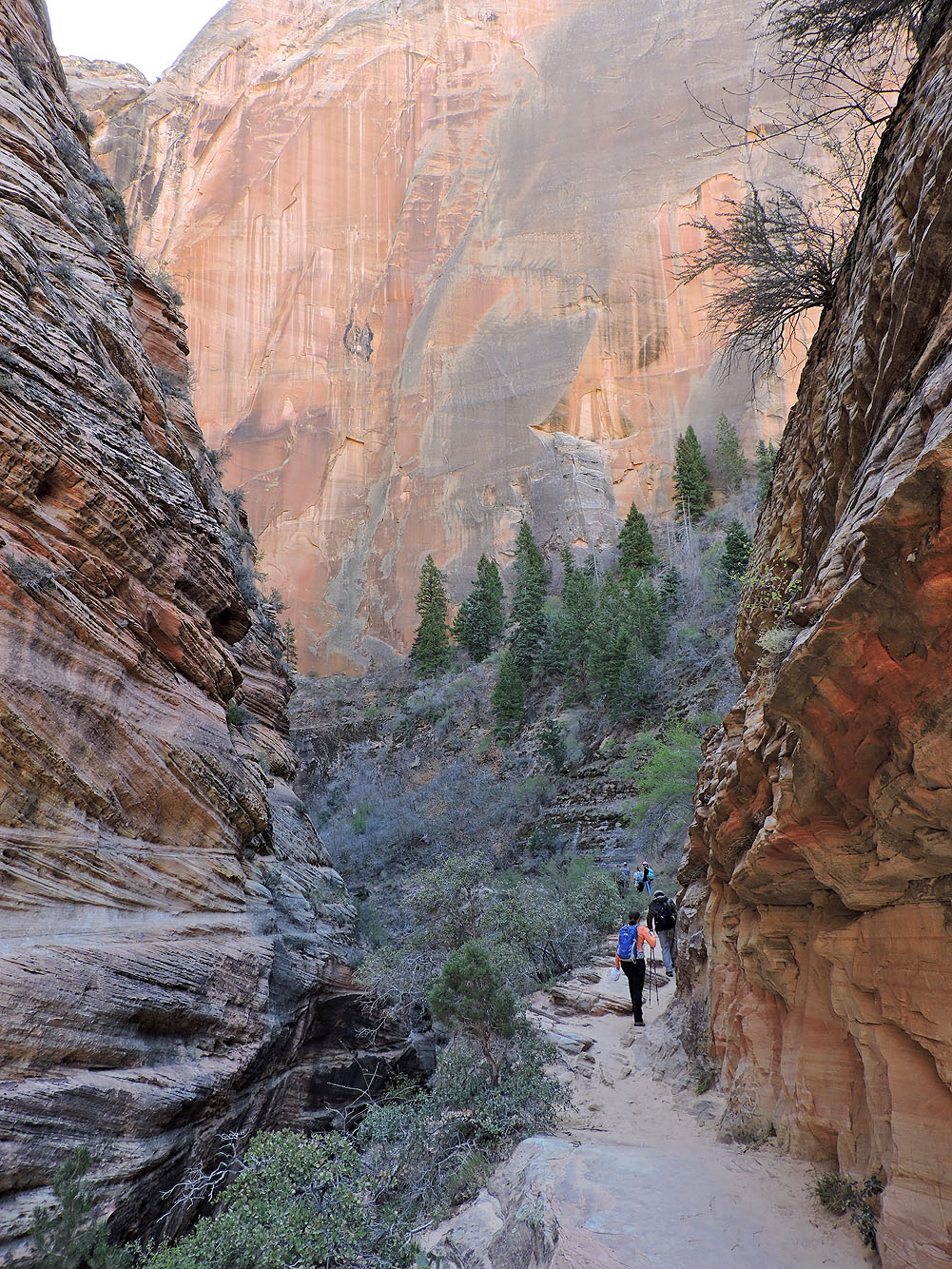 After climbing the switchbacks we entered Echo Canyon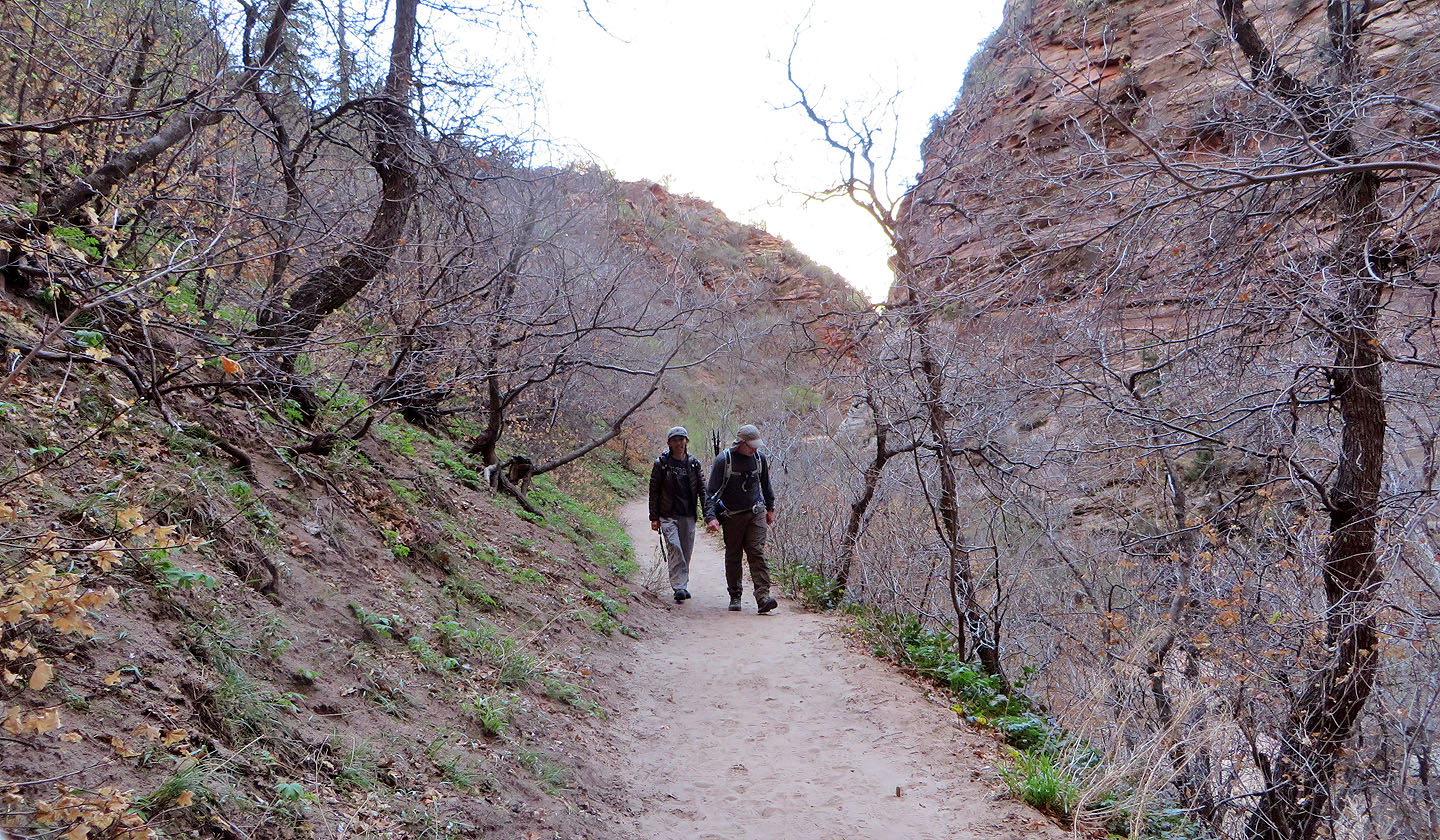 Trees line the canyon here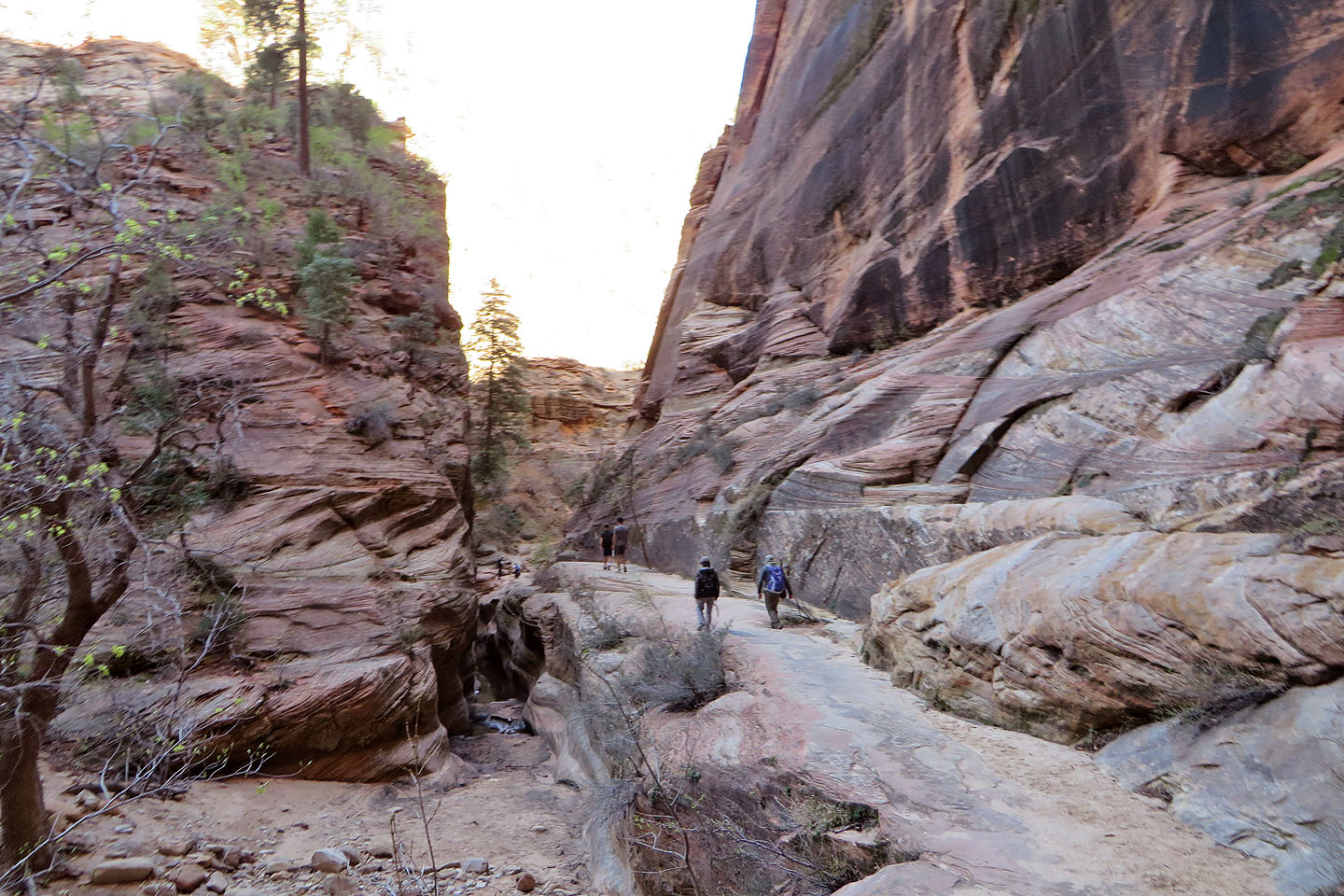 The canyon soon narrows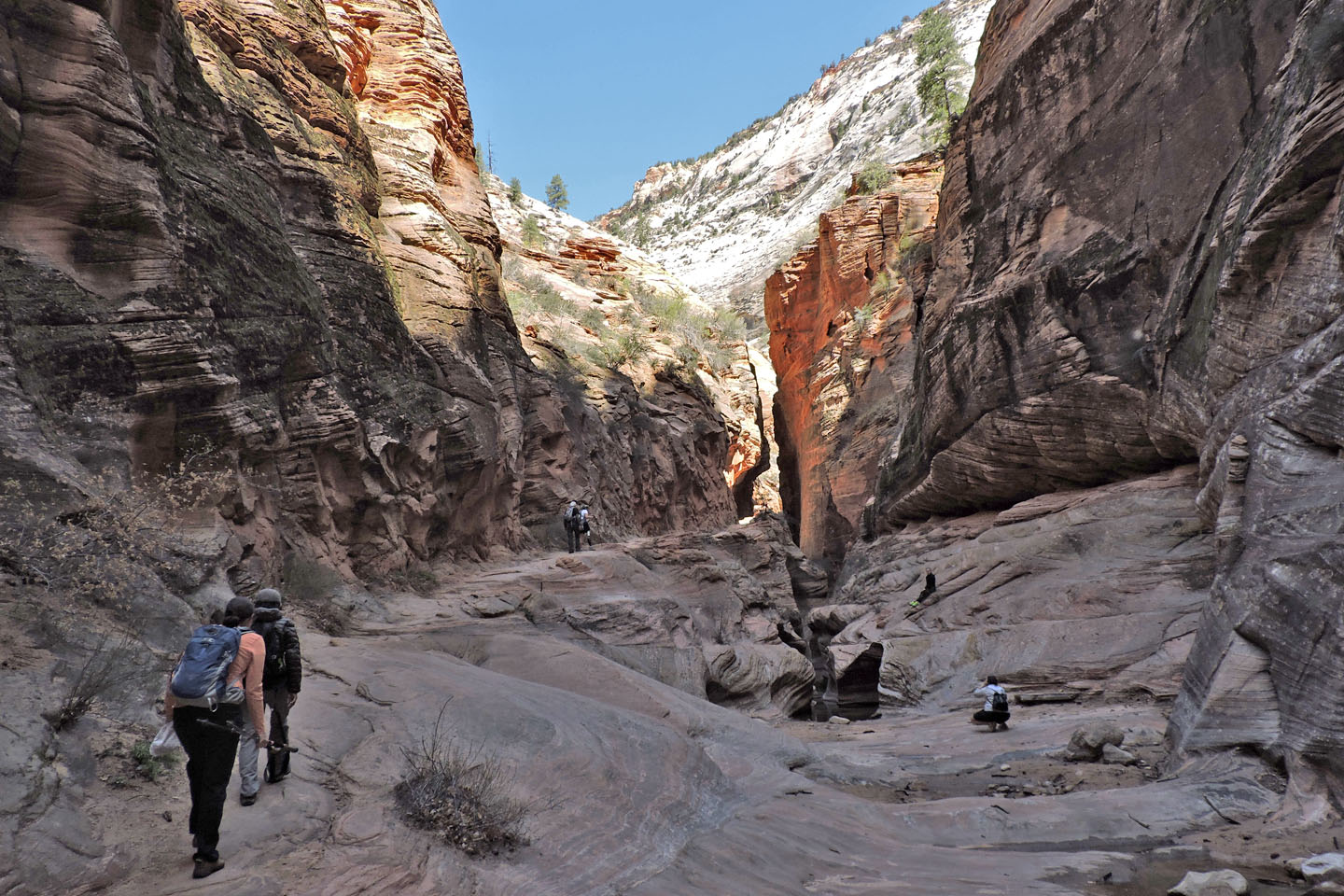 The slot canyon is ahead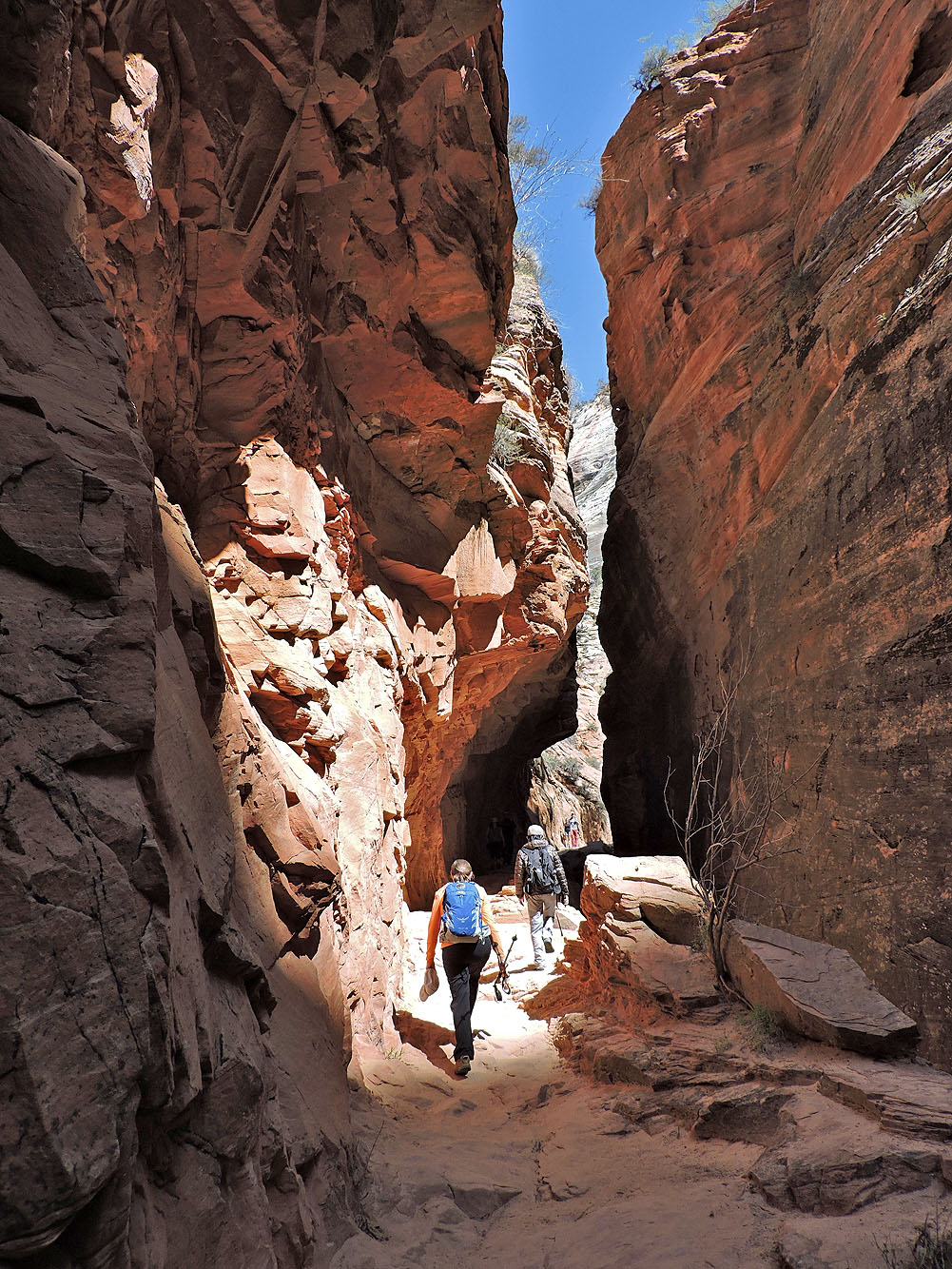 Entering the slot canyon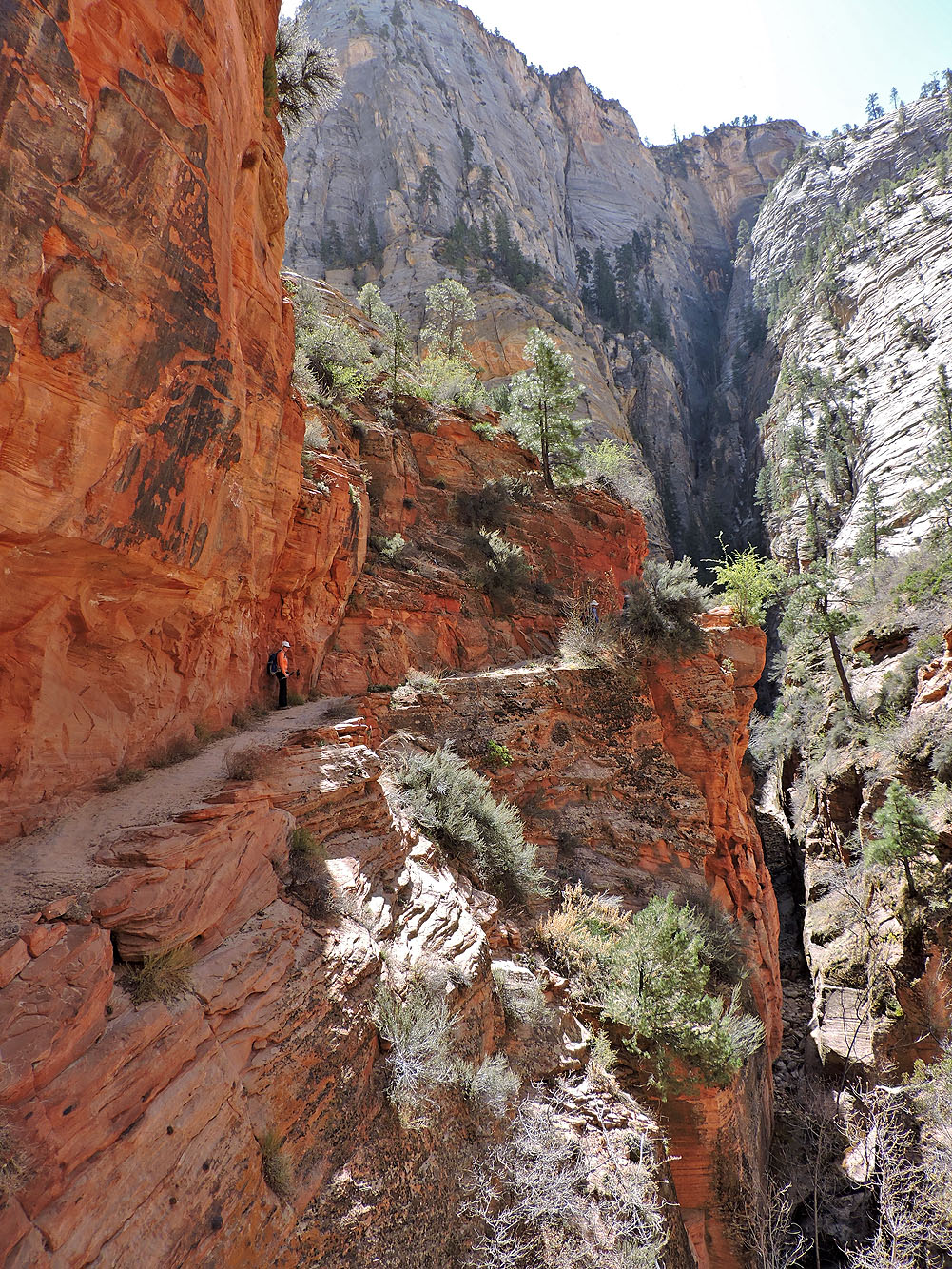 After the slot canyon, the trail follows a ledge along the side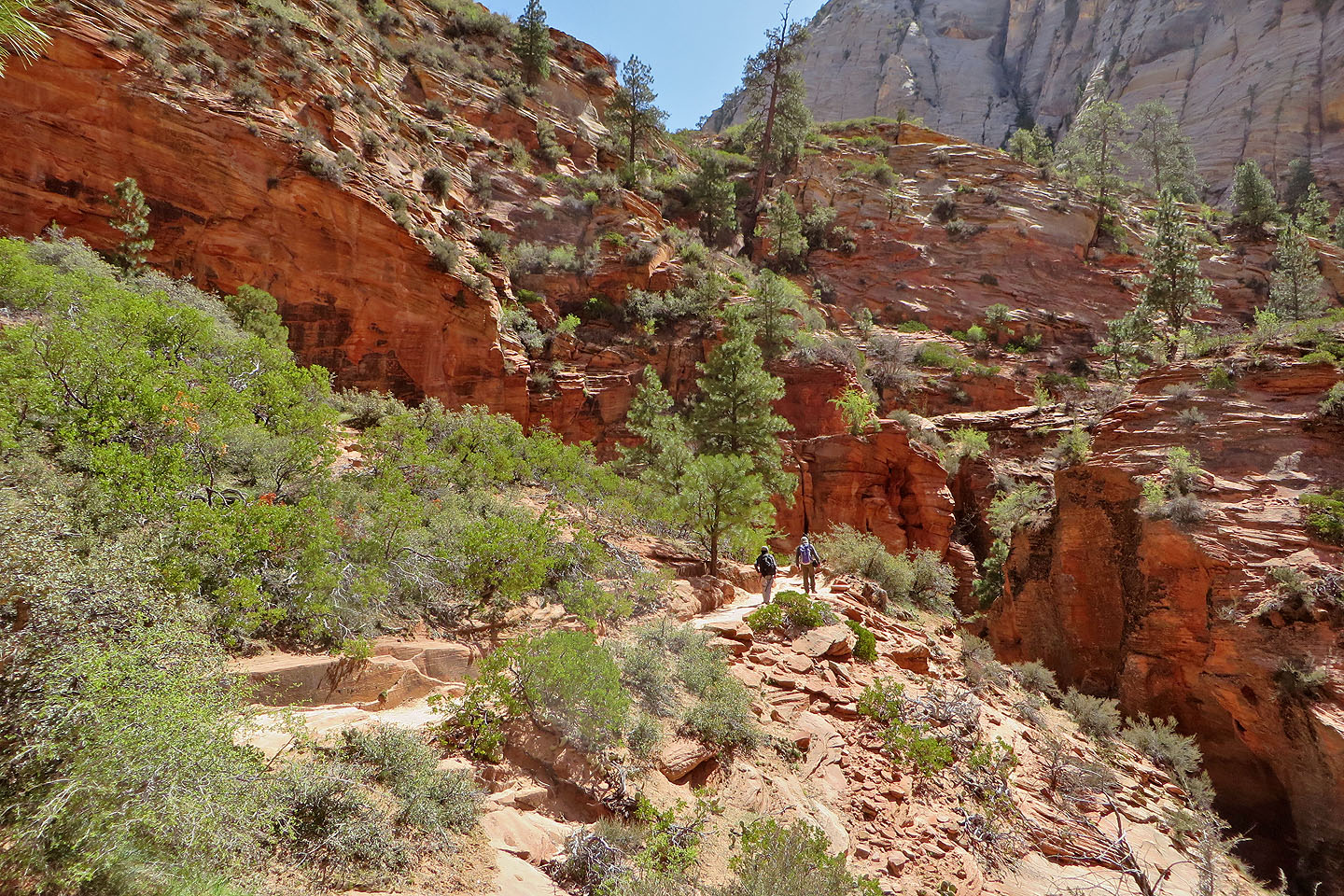 The canyon opens up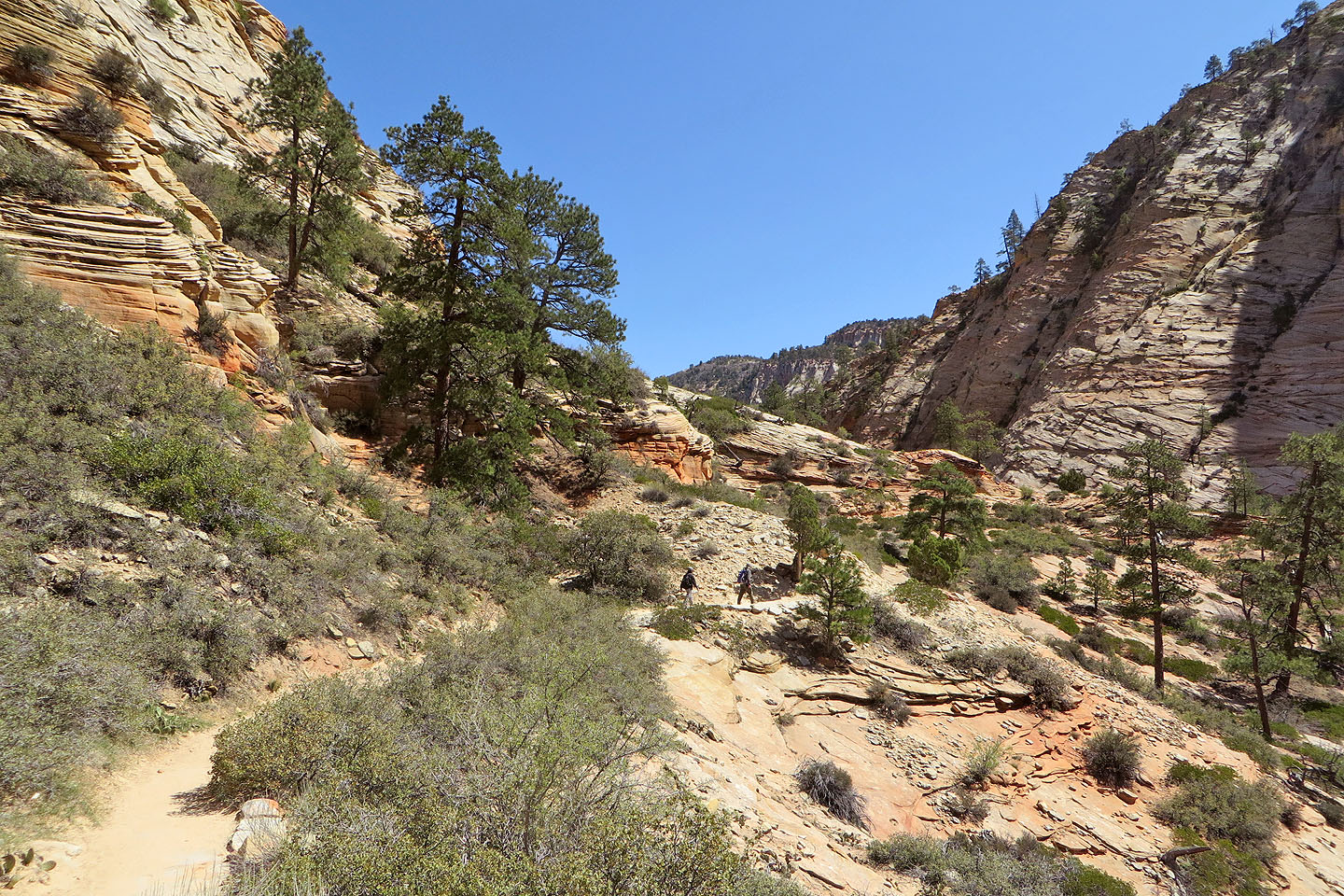 Continuing up the trail to more switchbacks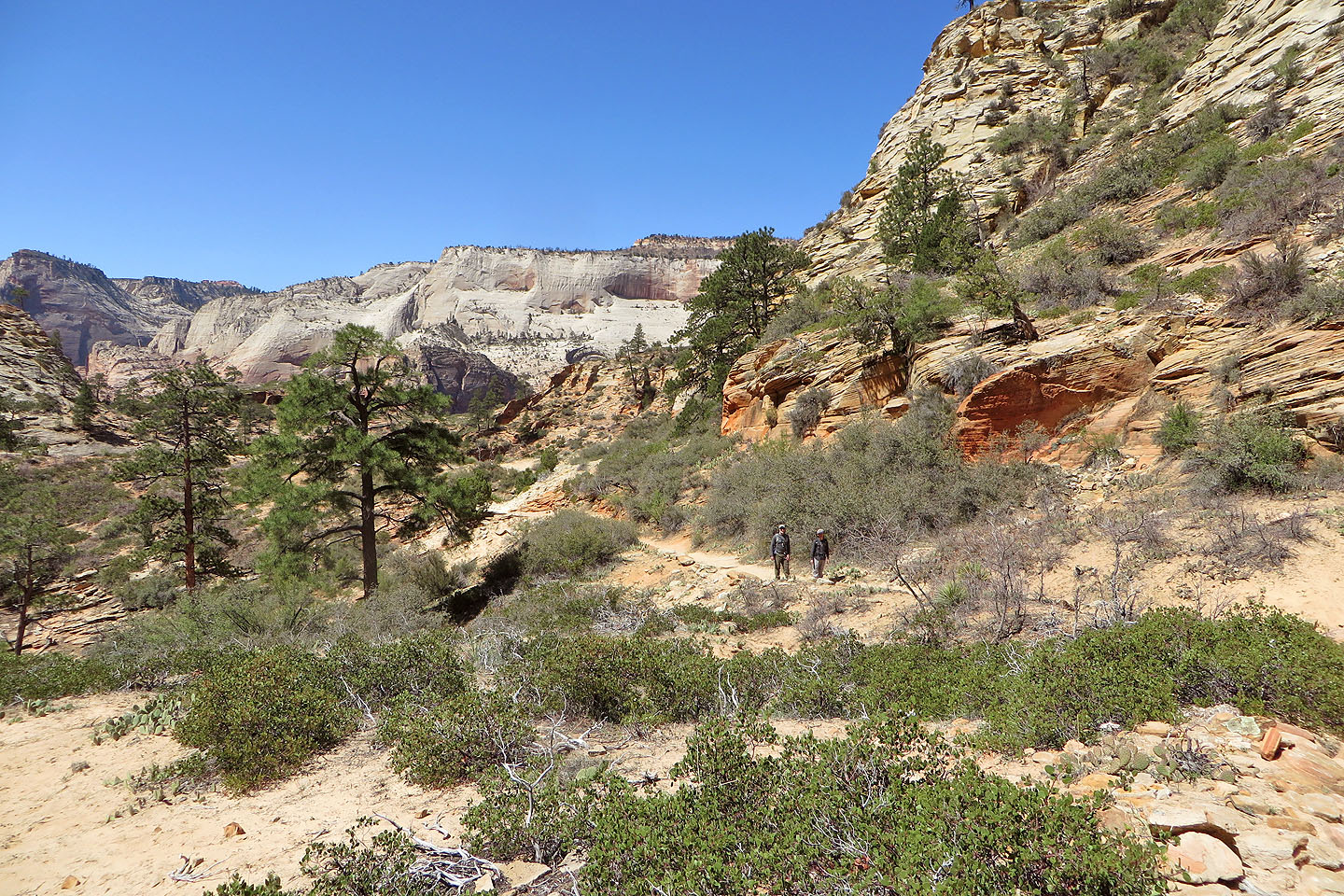 Looking back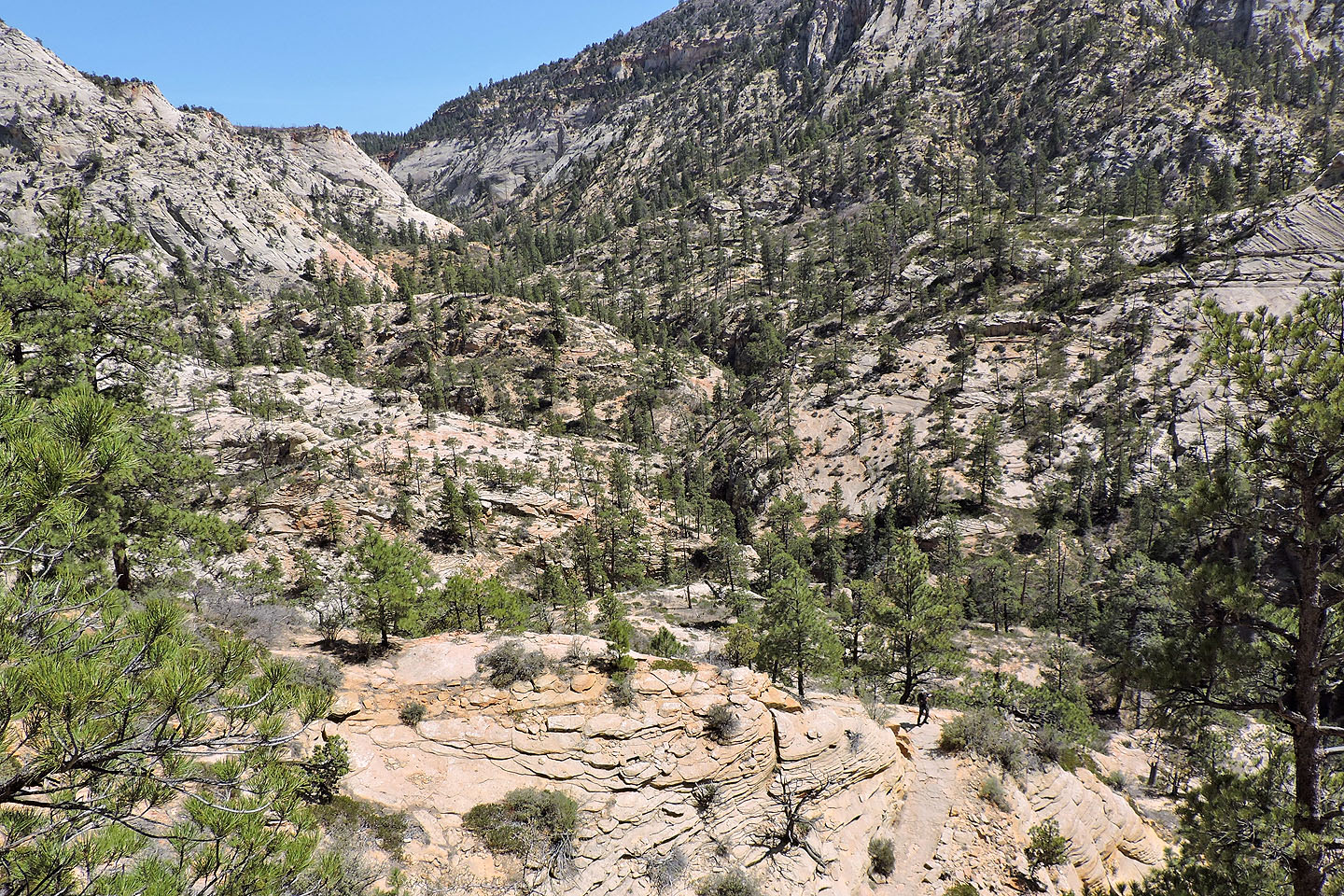 Looking down at a switchback. Note the hiker on the trail bottom right.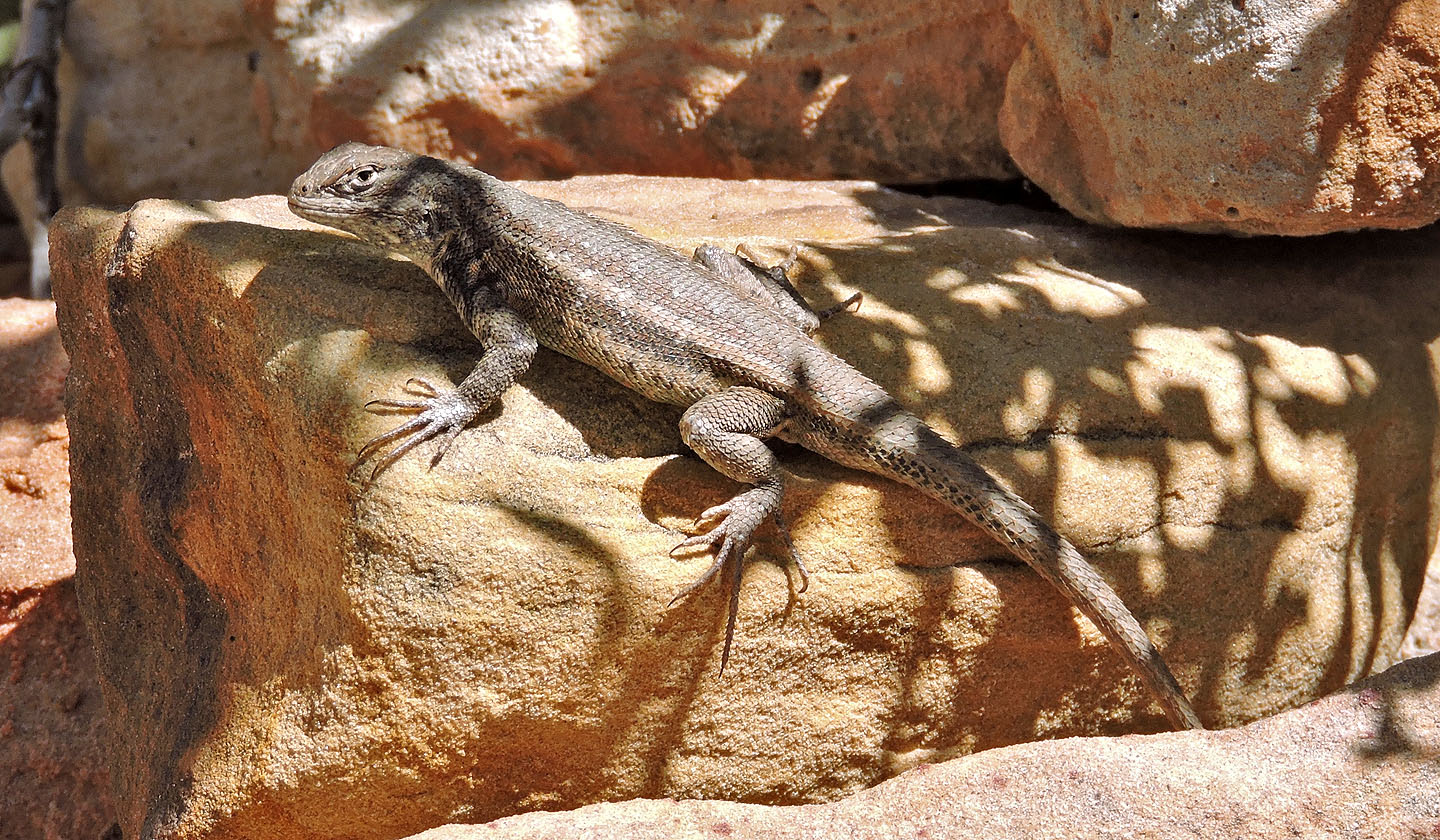 Lizard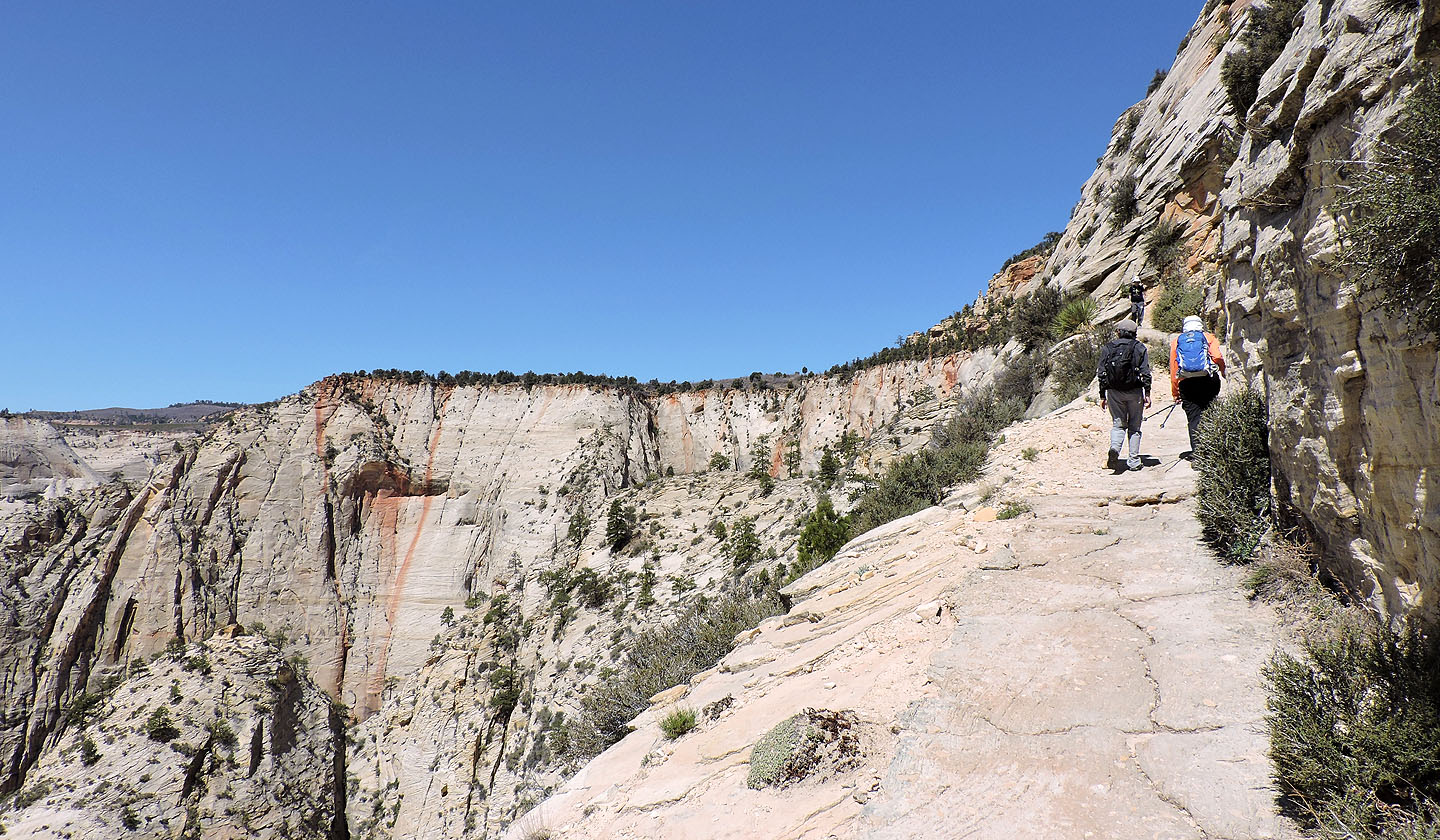 After climbing the upper switchbacks, Observation Point appeared in the distance on our left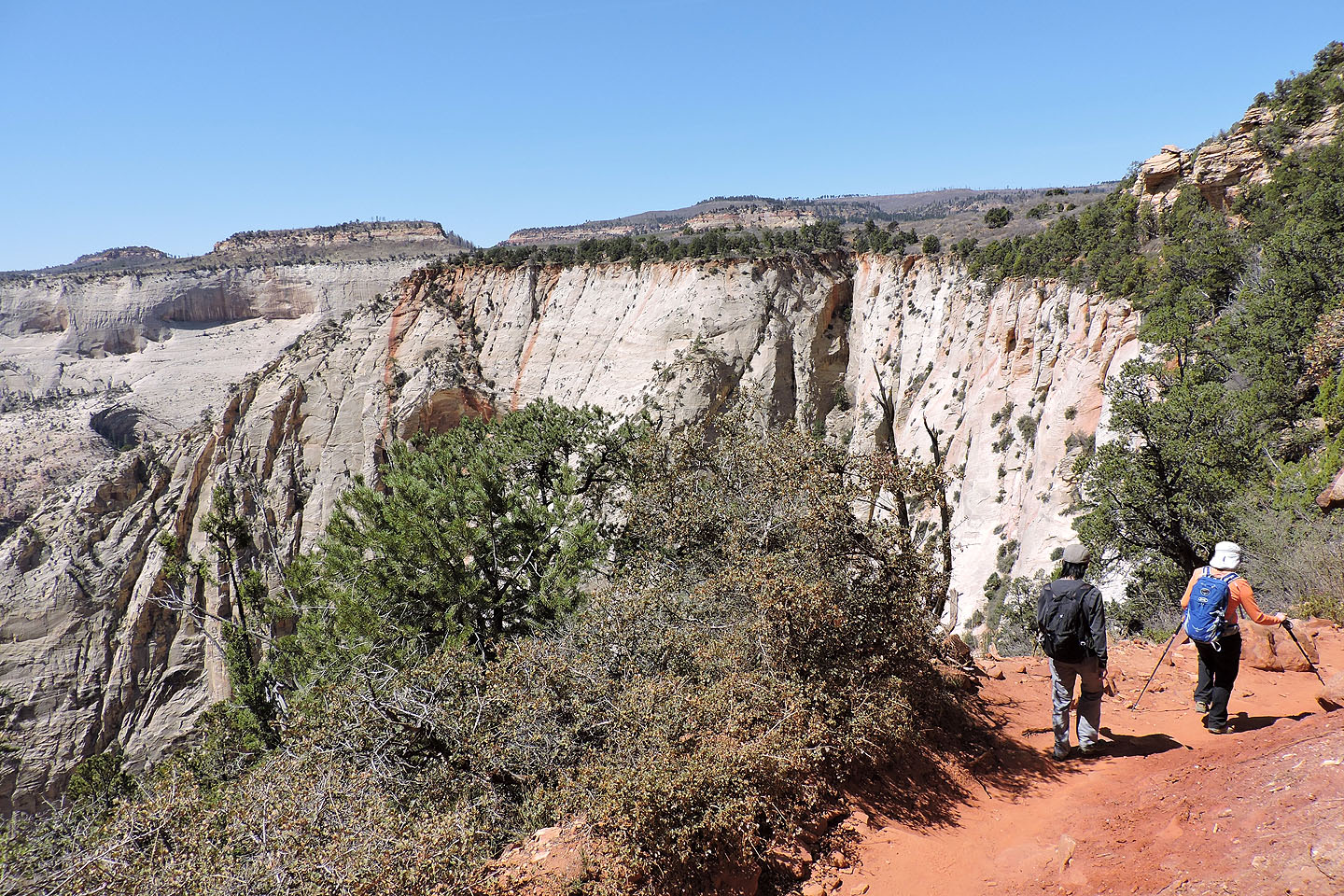 Drawing closer to the Point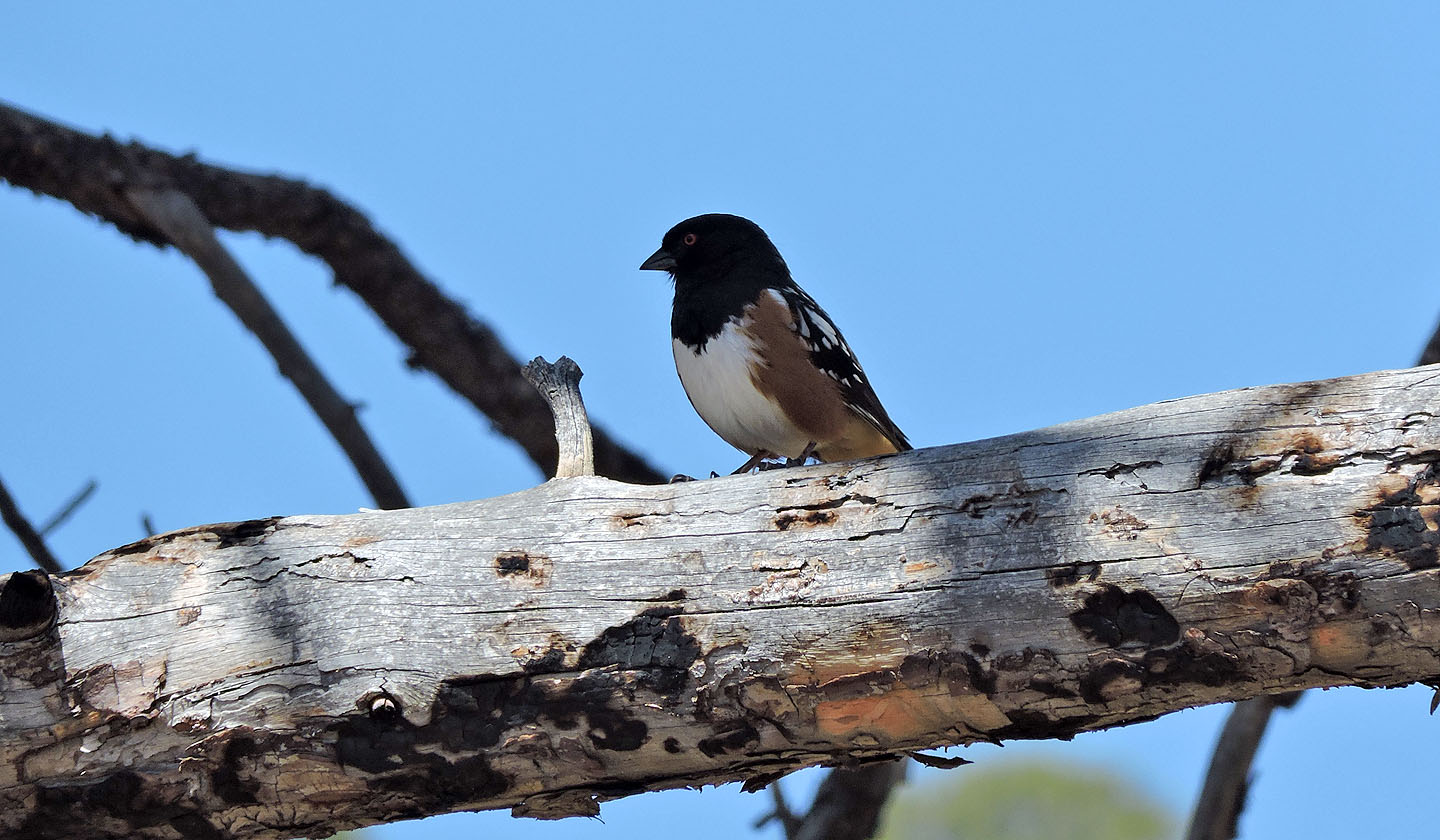 Spotted towhee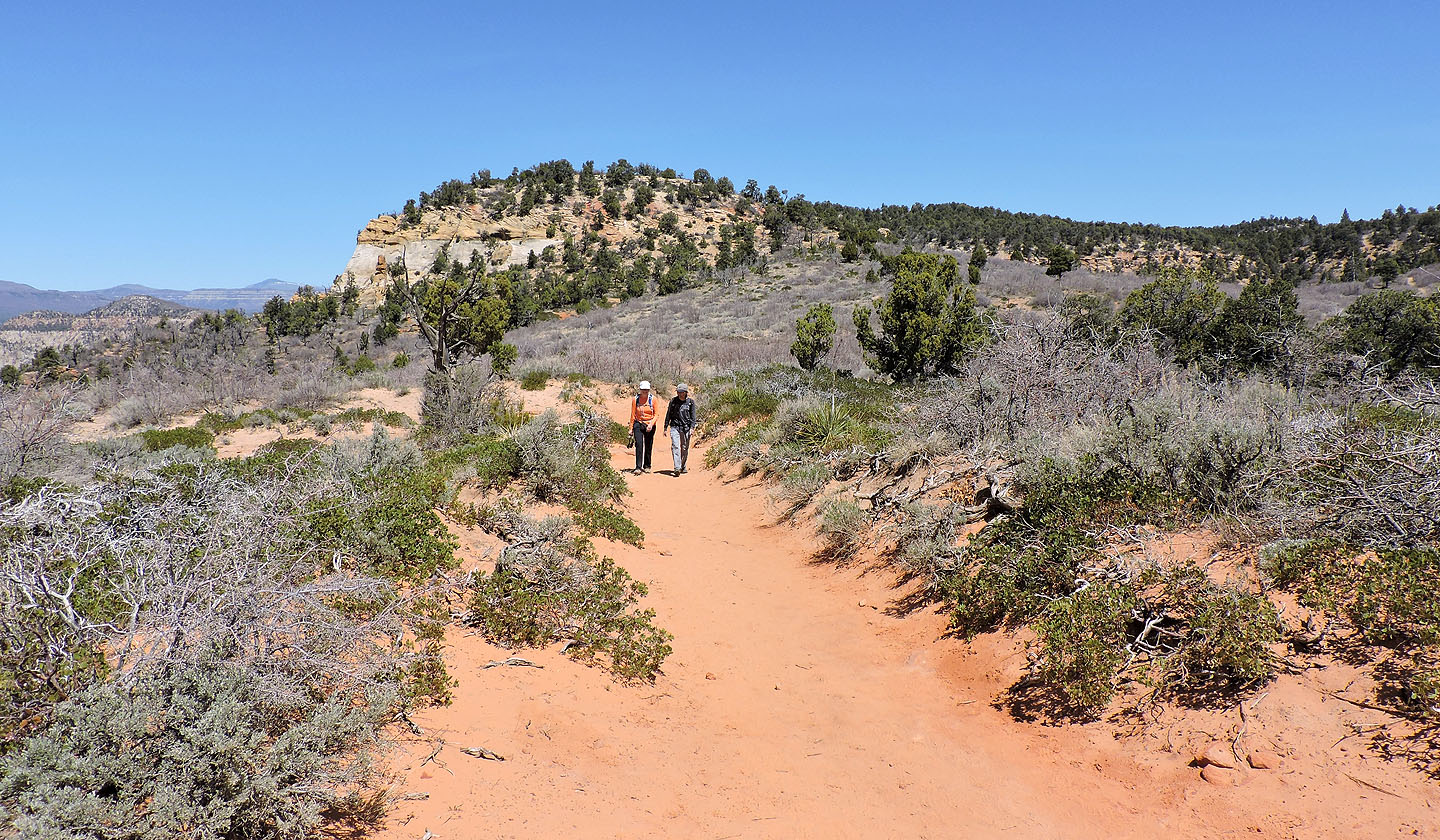 We turned onto a plateau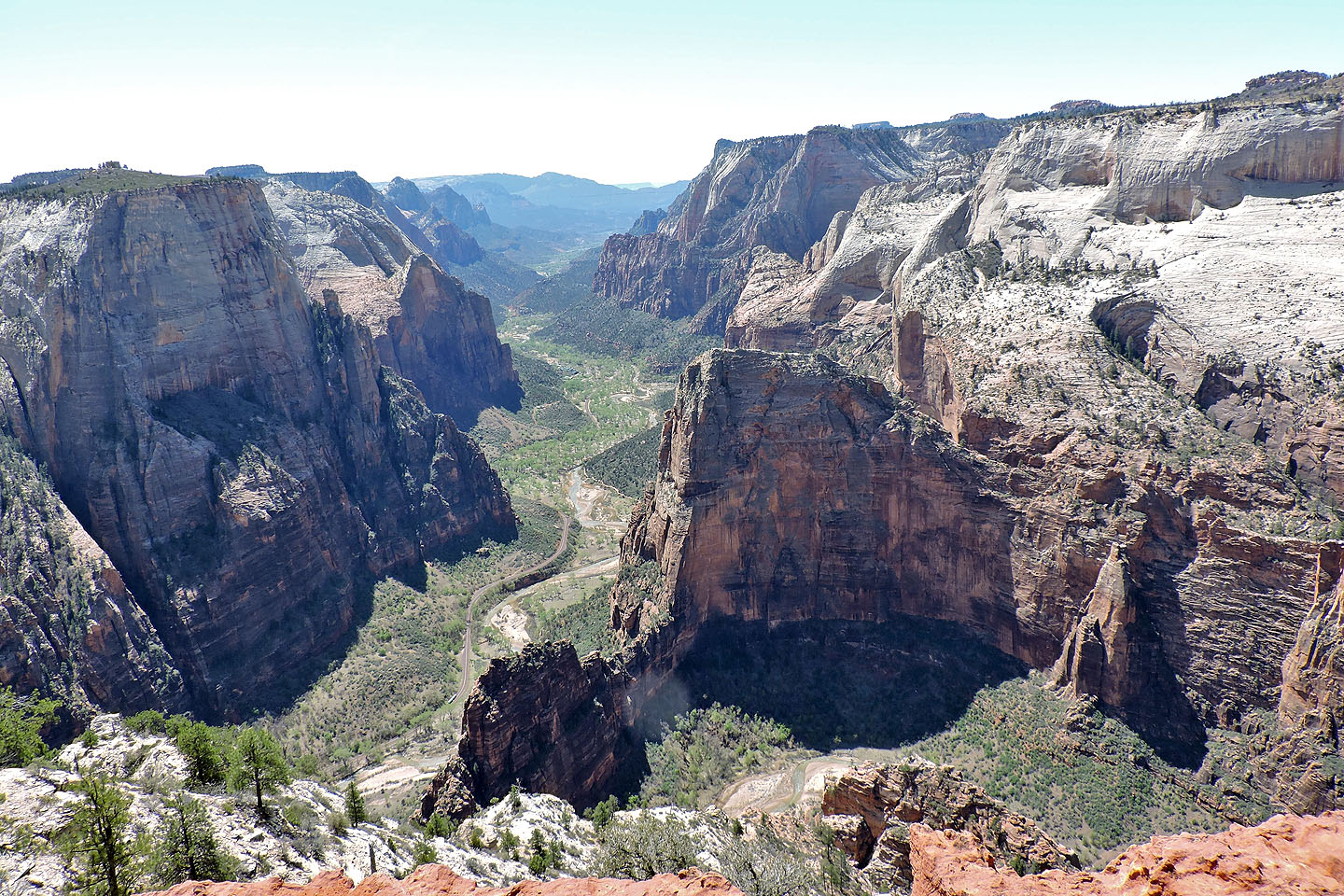 Looking down Zion Canyon from Observation Point. Angel's Landing is in the centre.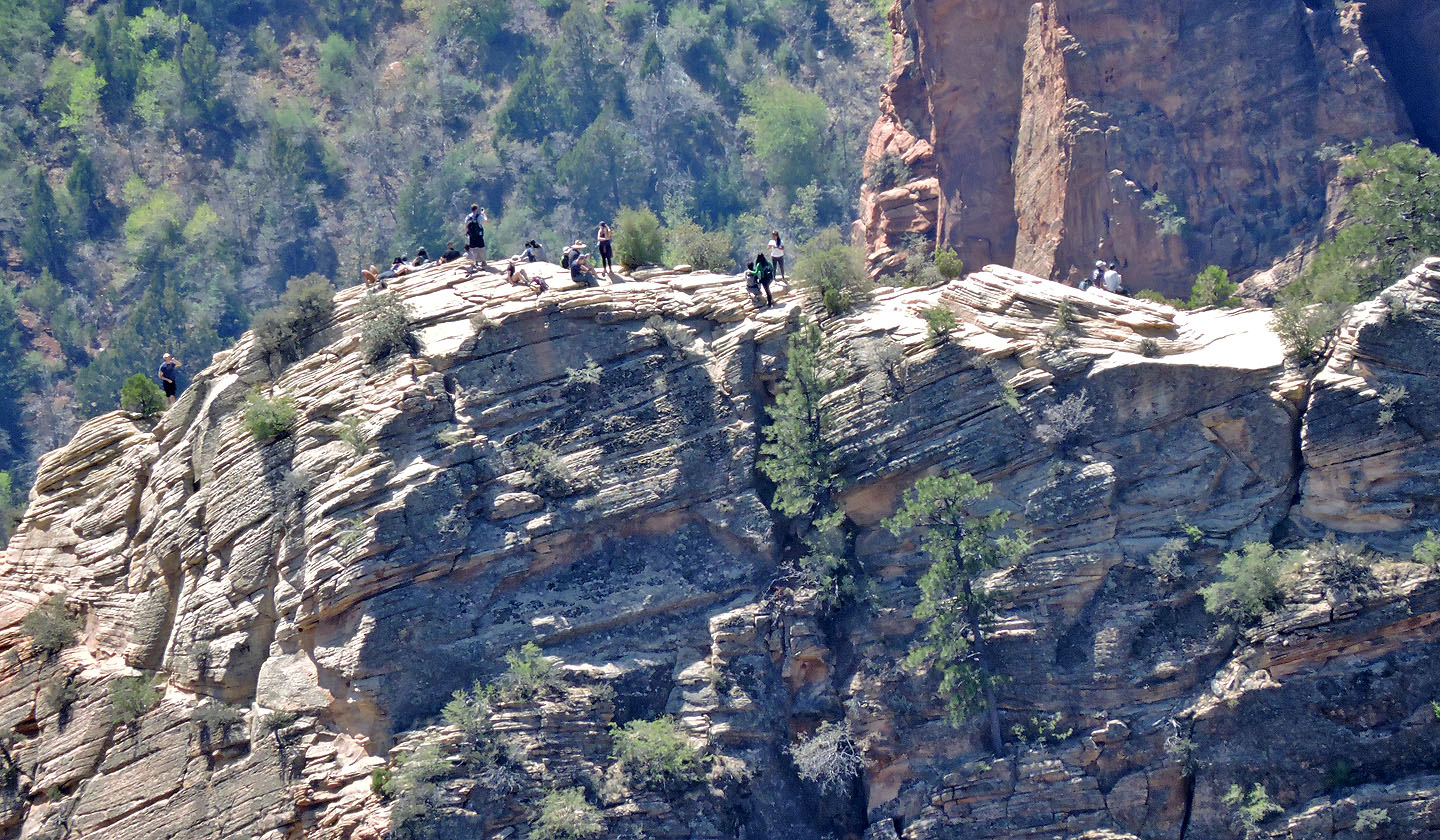 People lounging on Angel's Landing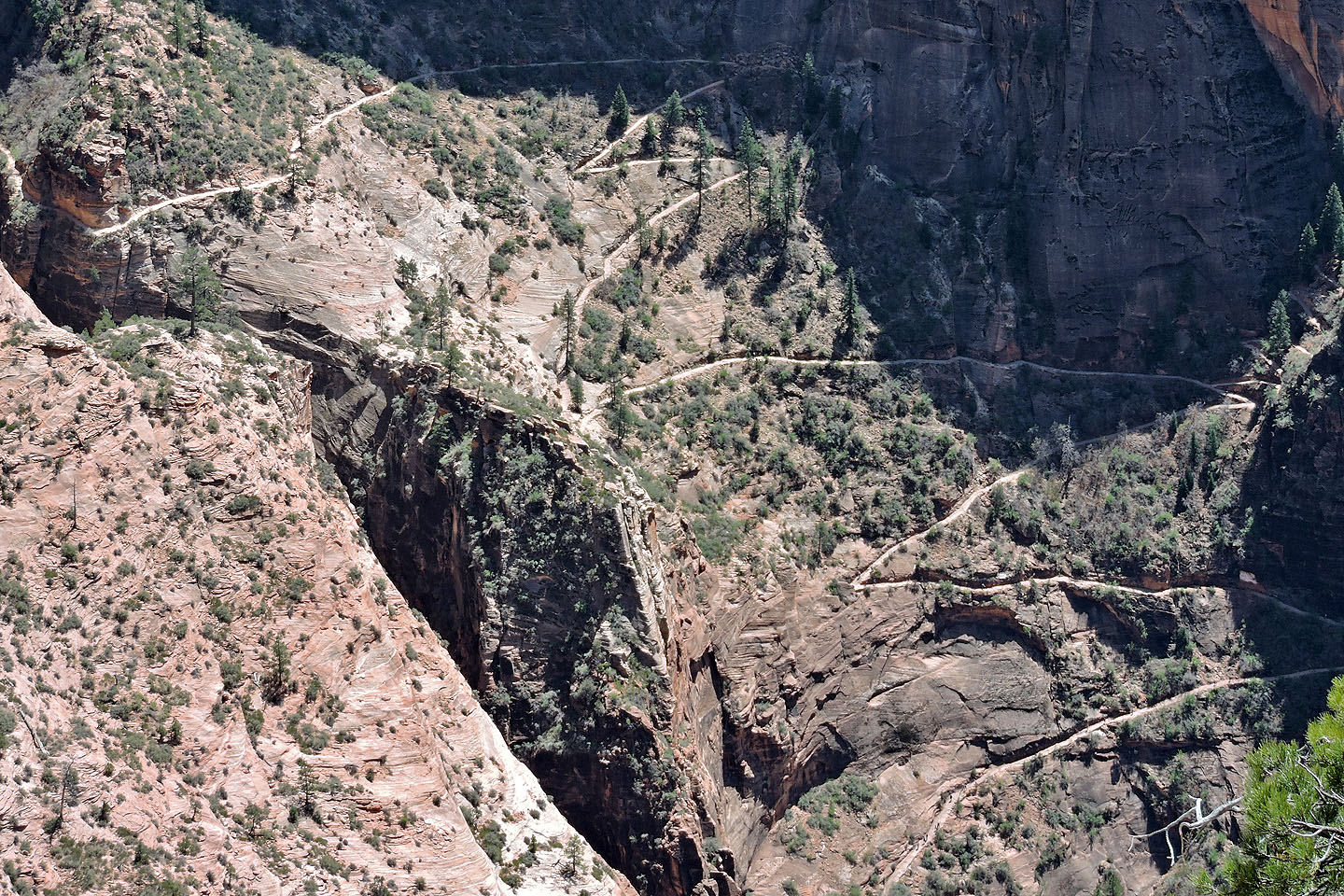 Looking down at the lower switchbacks

The upper switchbacks are carved into white sandstone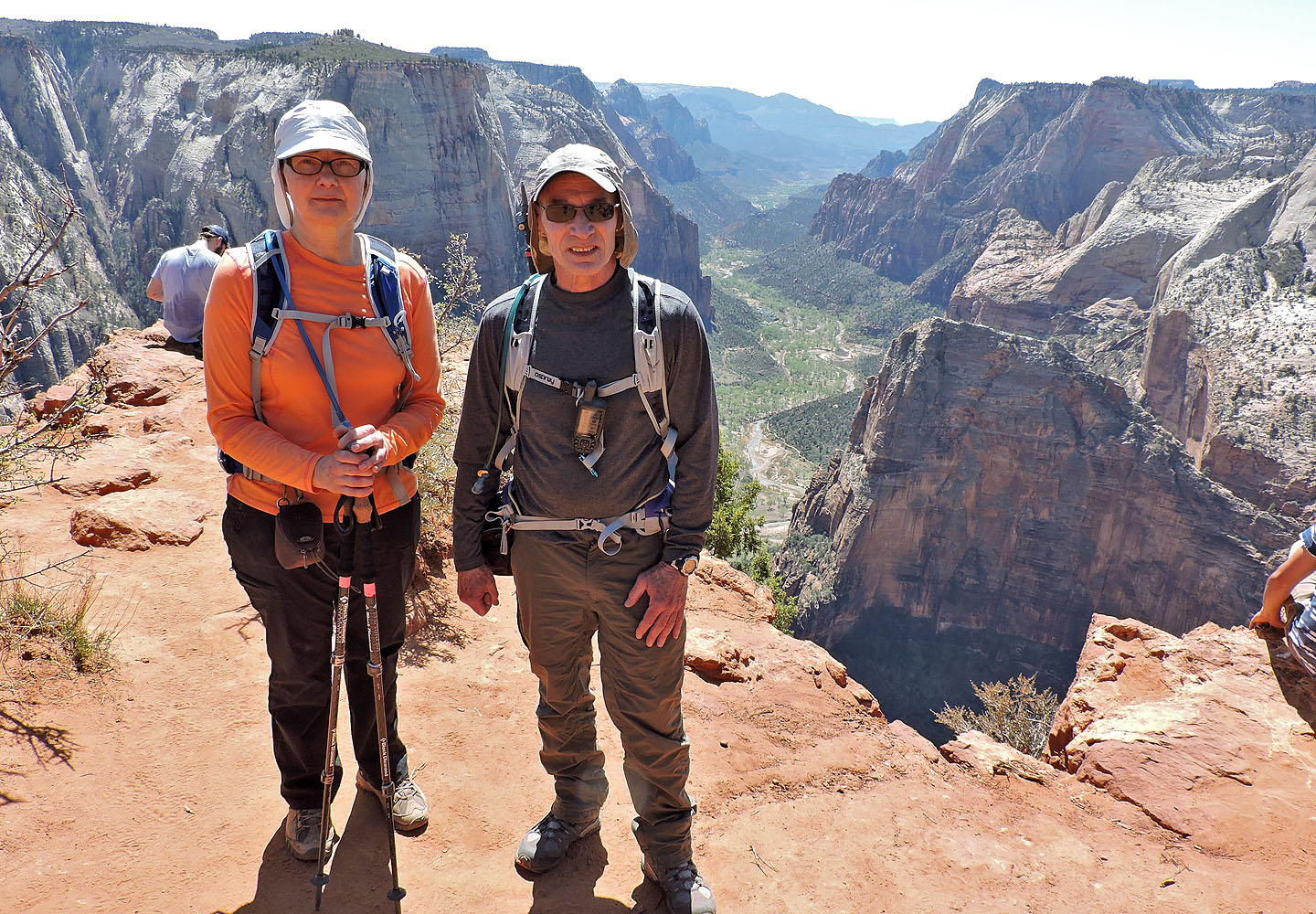 Dinah and me on Observation Point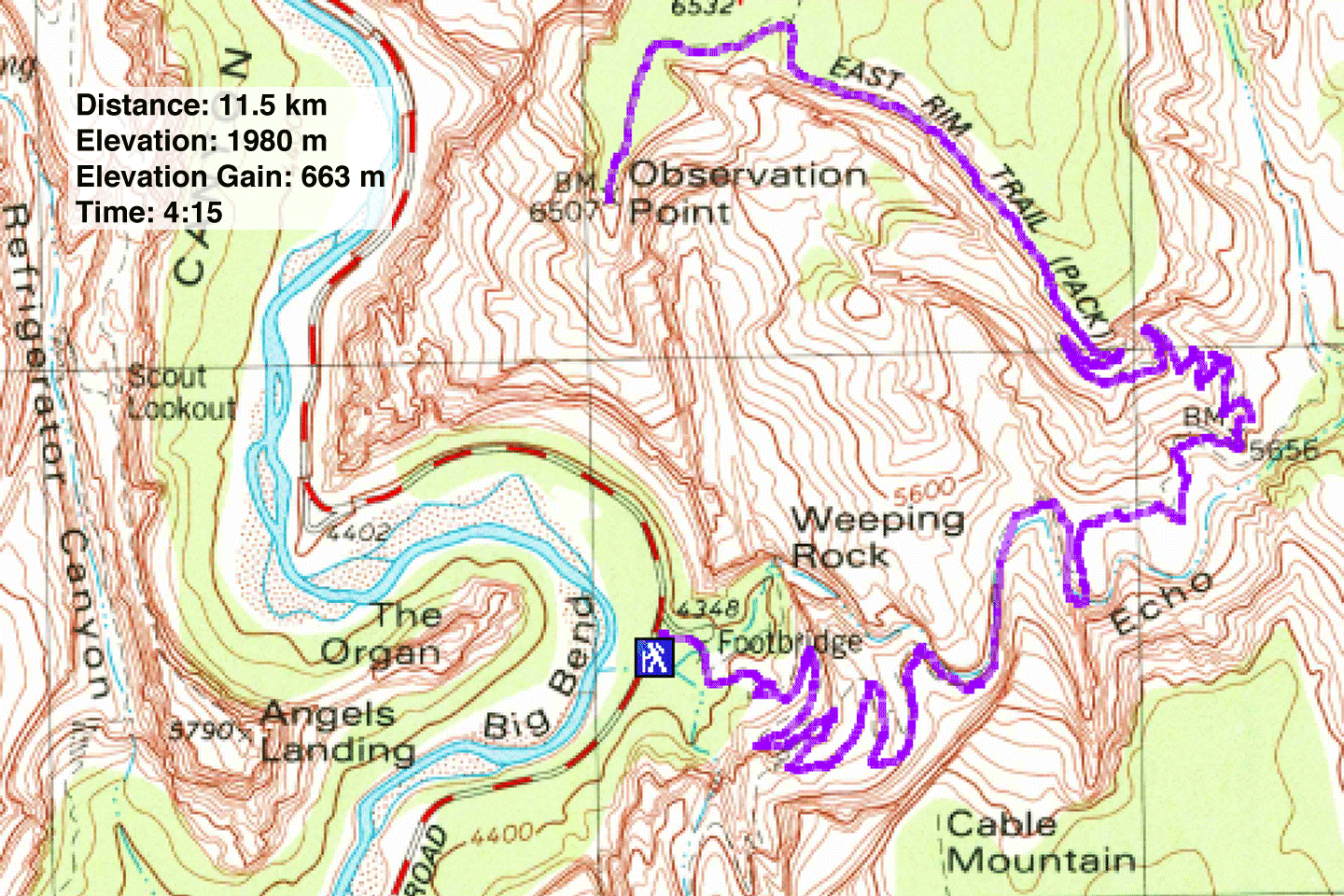 Temple of Sinawava (7.1 mi, 6496 ft, 2175 ft)