bobspirko.ca | Home | Canada Trips | US Trips | Hiking | Snowshoeing | MAP | About

Windy Peak
Red Rock Canyon NCA, Nevada
October 25, 2009
Distance: 9.0 km (5.6 mi)
Cumulative Elevation Gain: 686 m (2251 ft)
After flying into Las Vegas from Calgary the day before, Dinah and I had much to do, but we had time for a quick trip so we climbed Windy Peak. From the Rio Hotel, it was less than an hour's drive to the back roads off of Blue Diamond Road. We started driving down the longer, narrower road but became concerned about getting stuck in the soft tracks. Also the encroaching thorny bushes scratched the sides of our car rental. So instead, we drove down the shorter, more rugged jeep trail as far as we could and then hiked 1.7 km to the trailhead.
We had little route information except for a map showing the way. But it was enough as we soon hit upon a trail after leaving the road. The trail swung around the left side of the mountain before ascending to a level section called the "Football Field." Past that, the trail climbed and then abruptly disappeared about 250 m below the summit. Clearly we had to keep climbing up a rugged, vegetated ravine, but the best way wasn't apparent. We kept right, trying to avoid cactus and bushes while skirting steep slabs.
Shrubbery eventually gave way to bare rock where the occasional cairn indicated that we were on track. The top flattened out, and we made our way to the cairn holding a register.
Our route was rather easy, and it was only later that we learned there was an east route that required much more scrambling. Nonetheless, we were happy to have summited this little desert peak.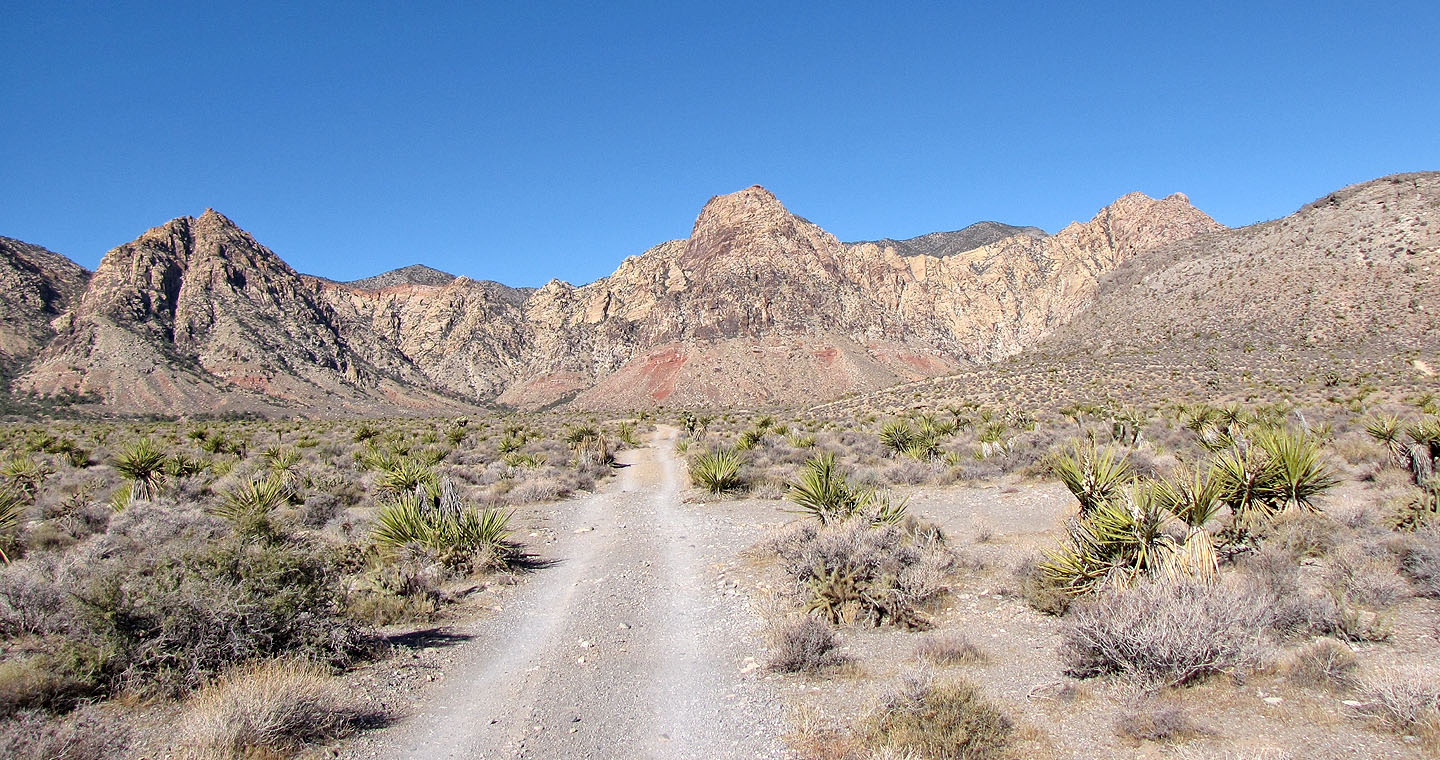 The road leads to Windy Peak, false summit seen here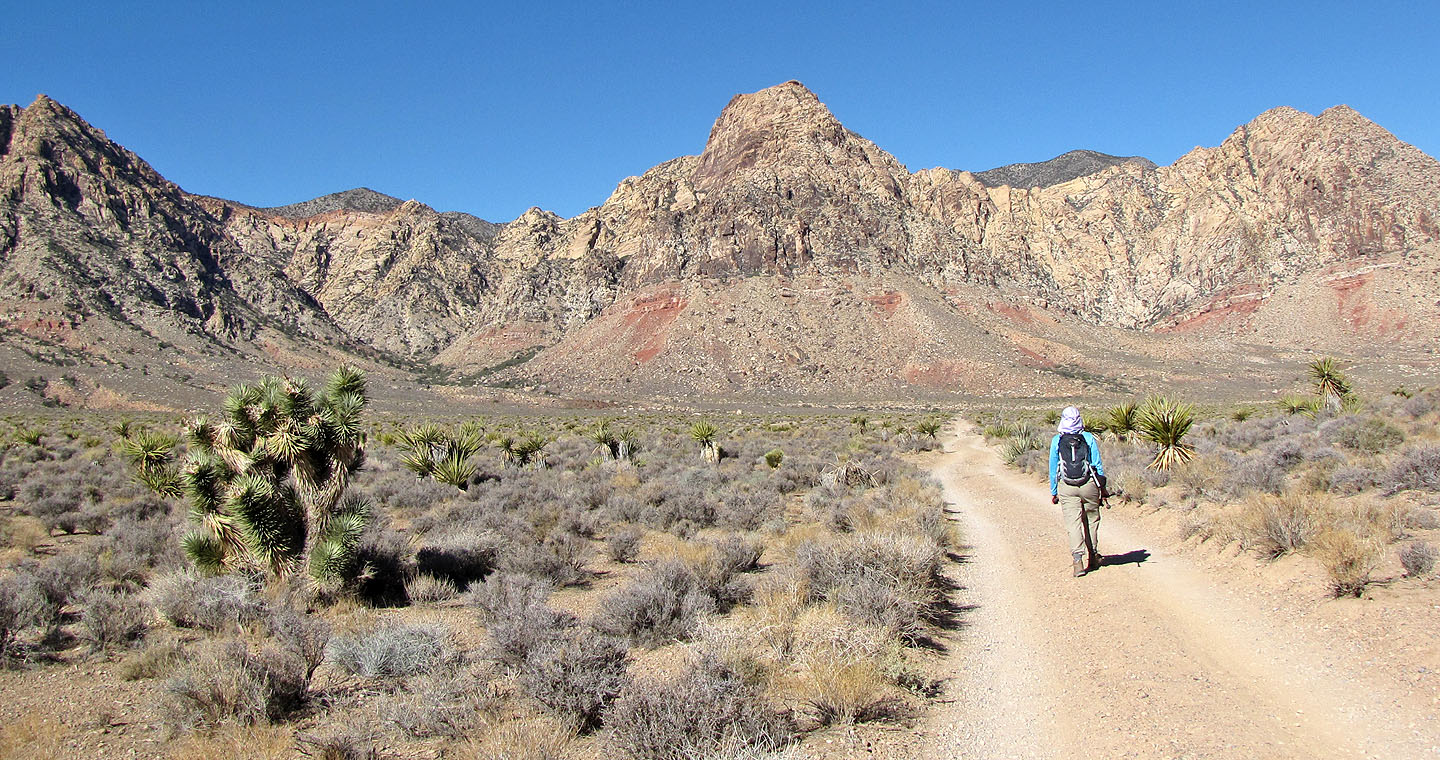 After leaving the road, we will head to the left side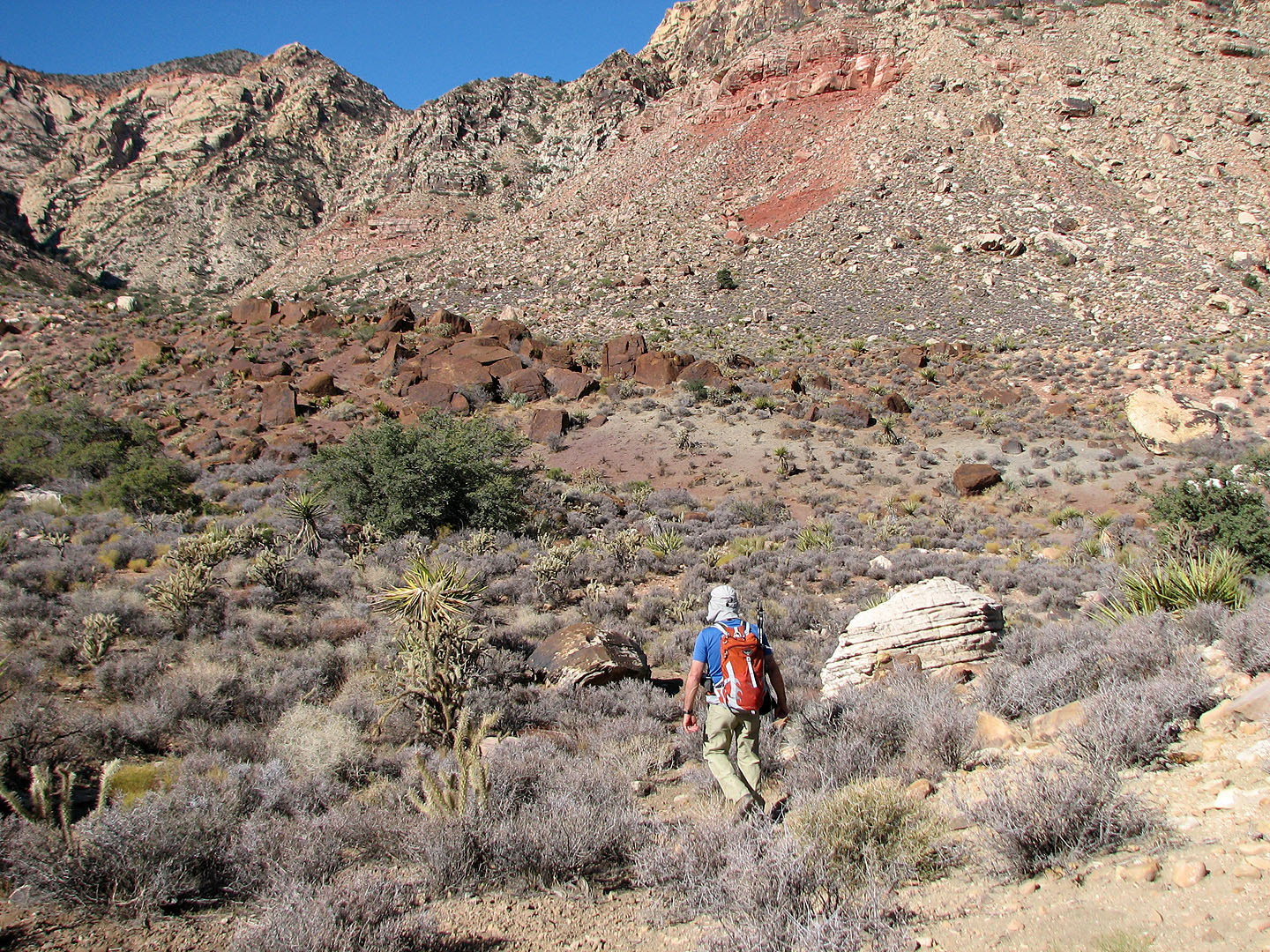 Heading to the mountain base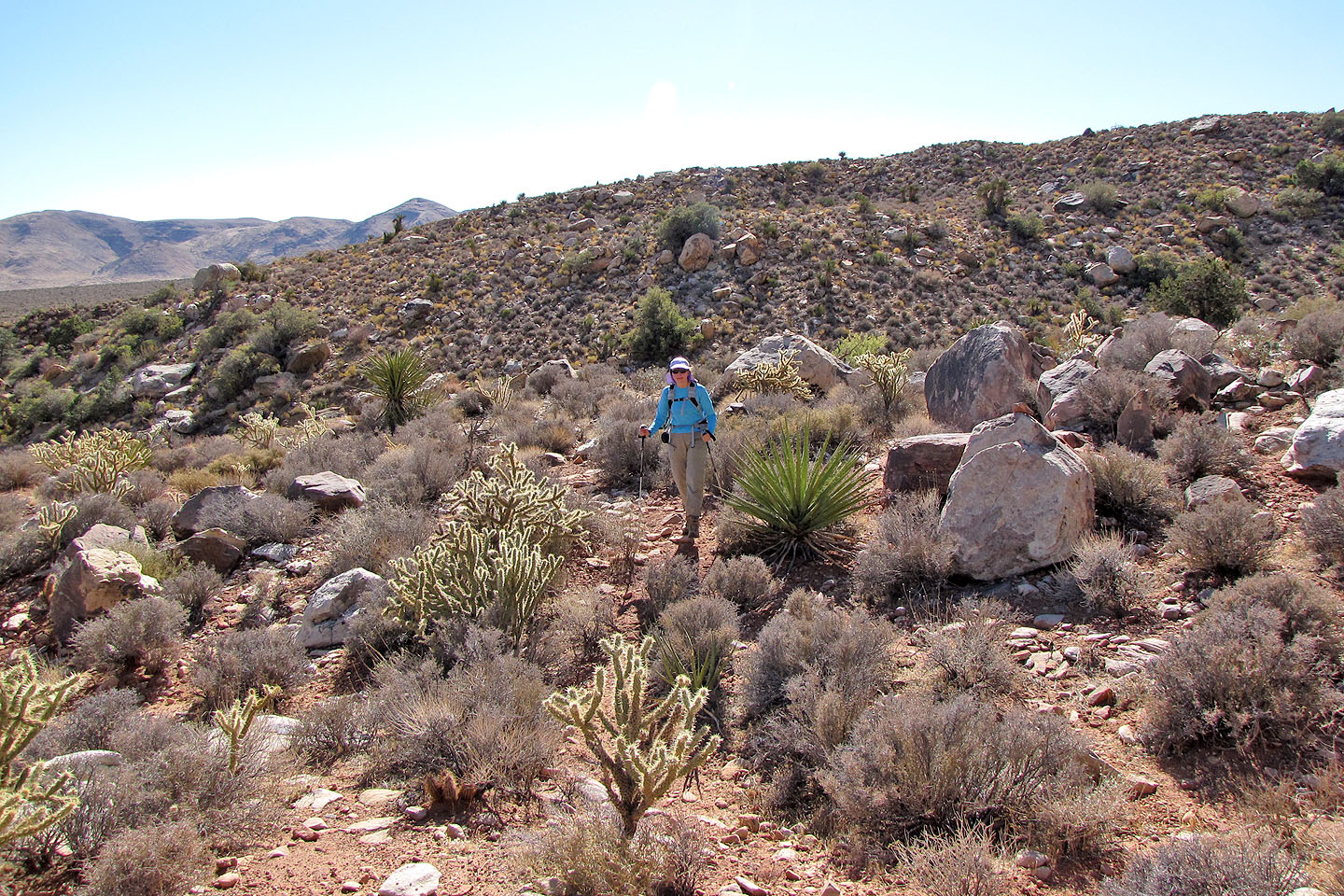 Dinah makes her way around the desert plants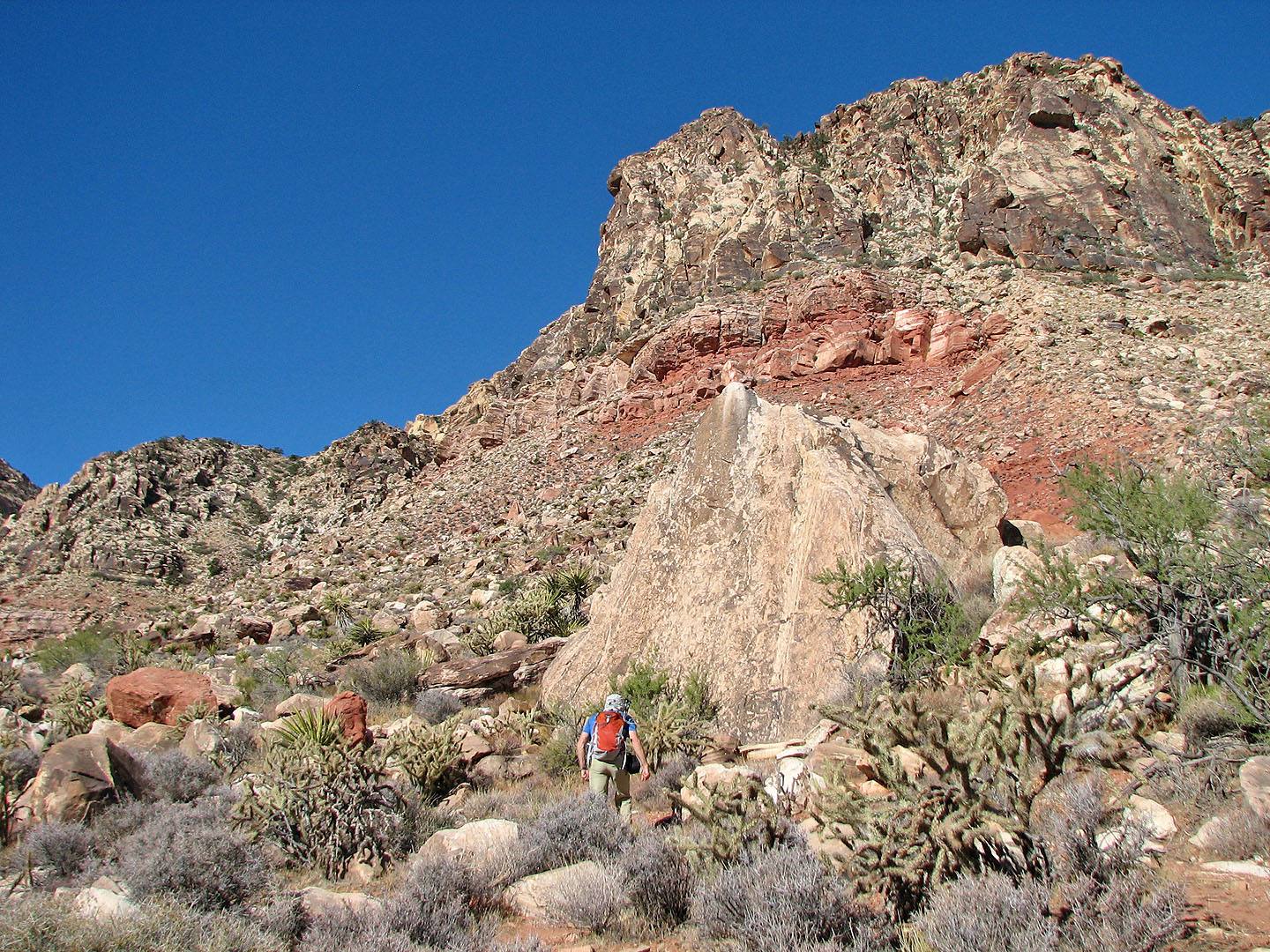 One of many huge boulders we passed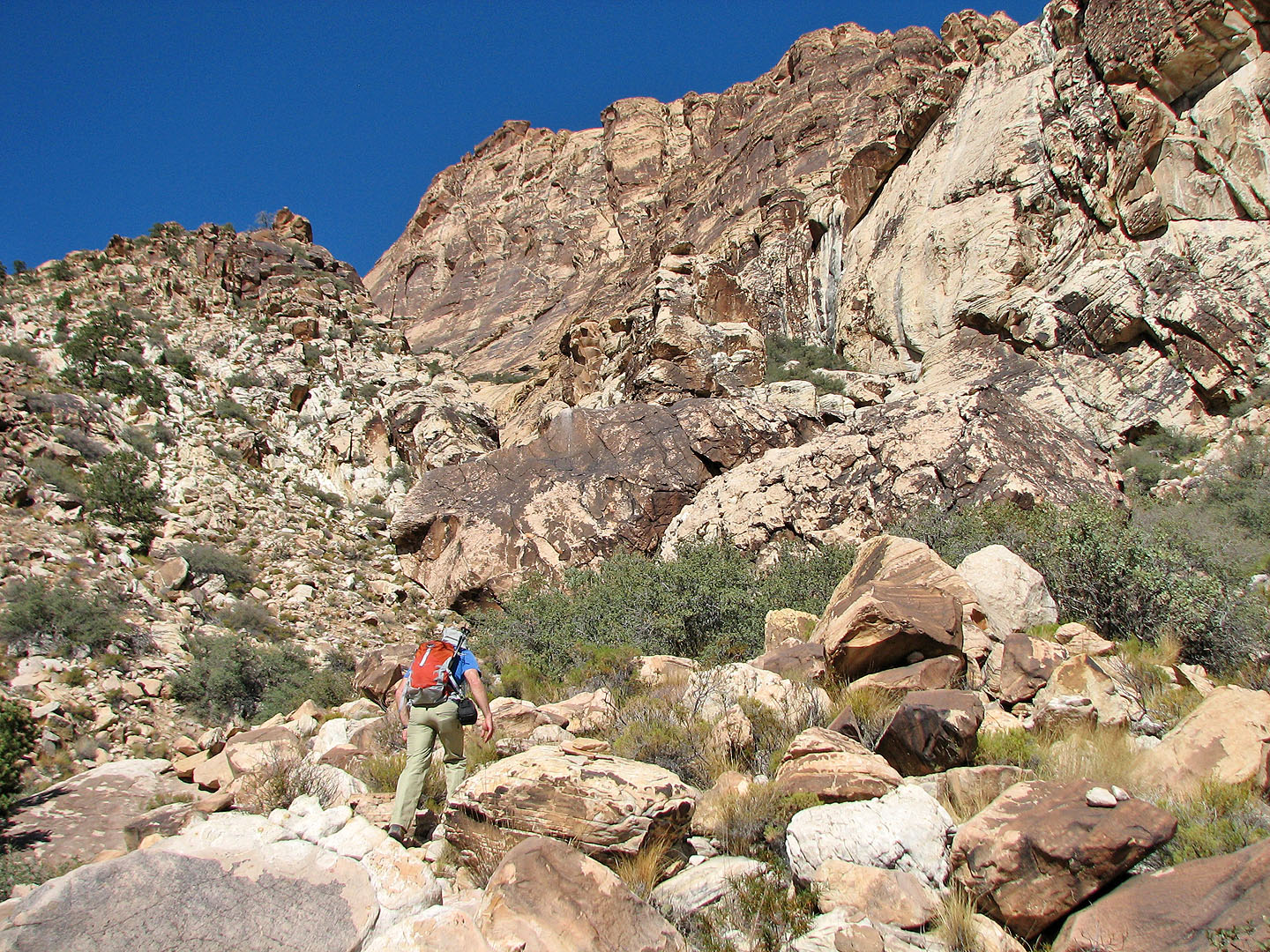 The trail skirts the mountain base before rising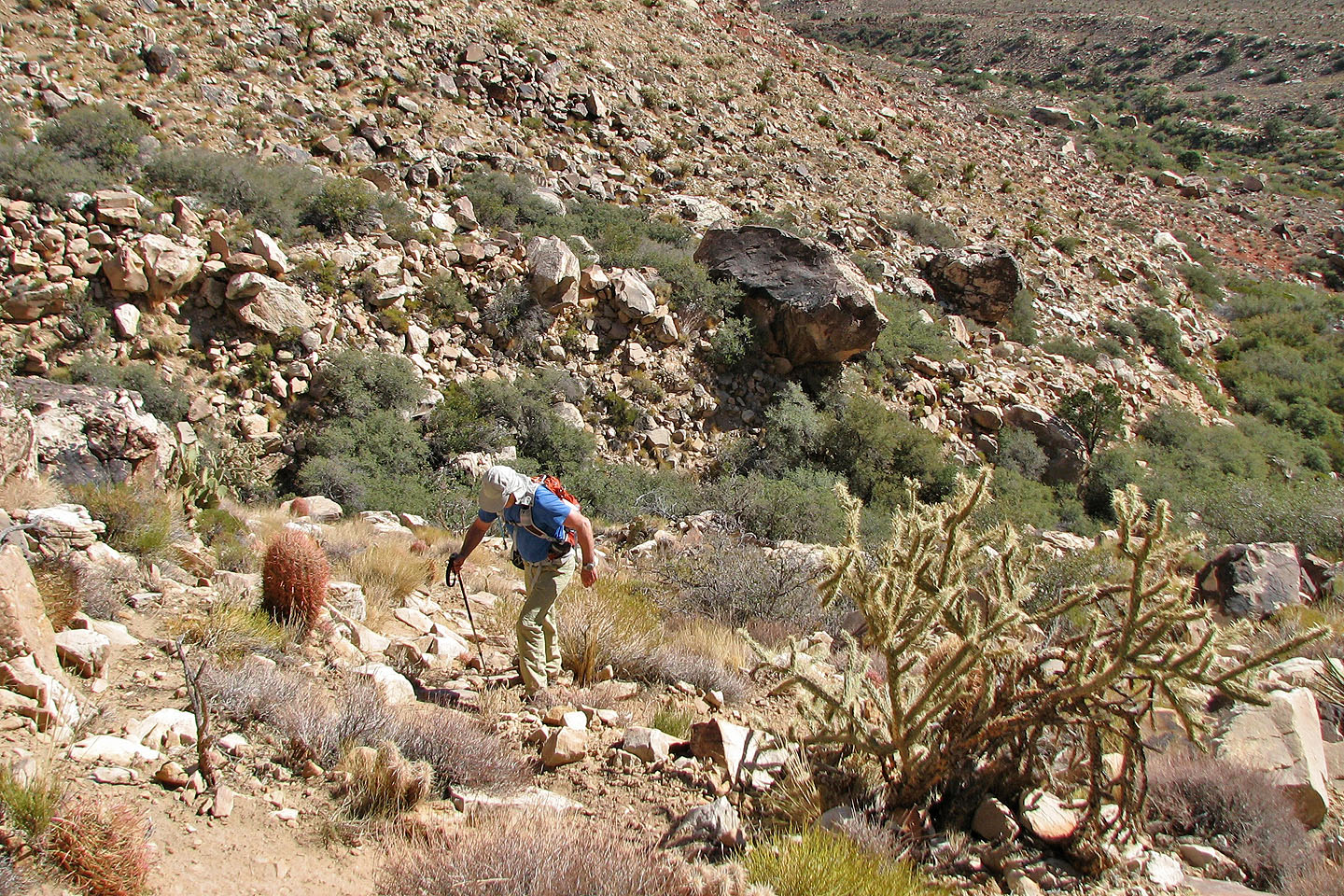 Finally we started to ascend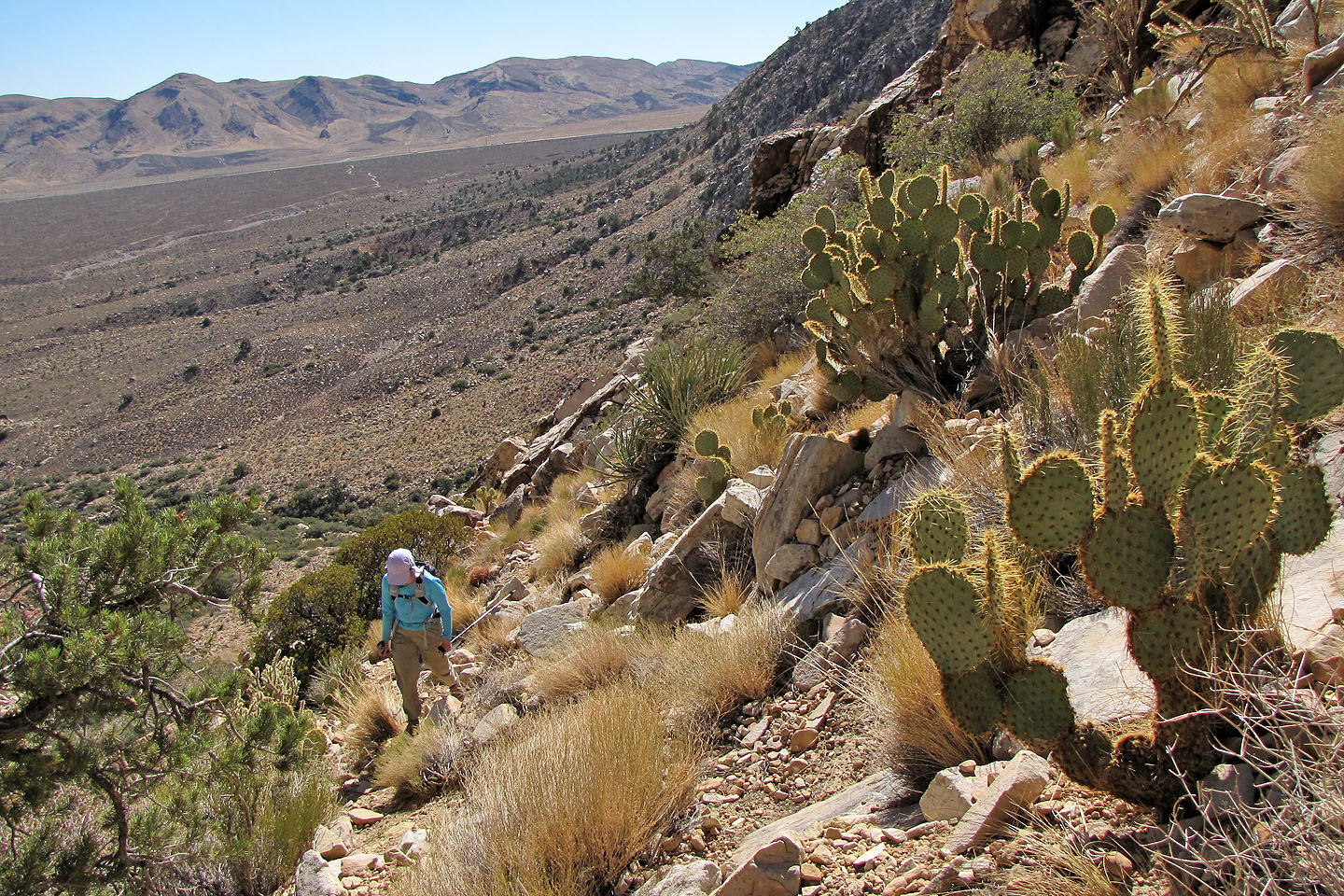 Prickly pear cactus on the right and shrub live oak on the left (mouse over)

Impressive cliffs below the summit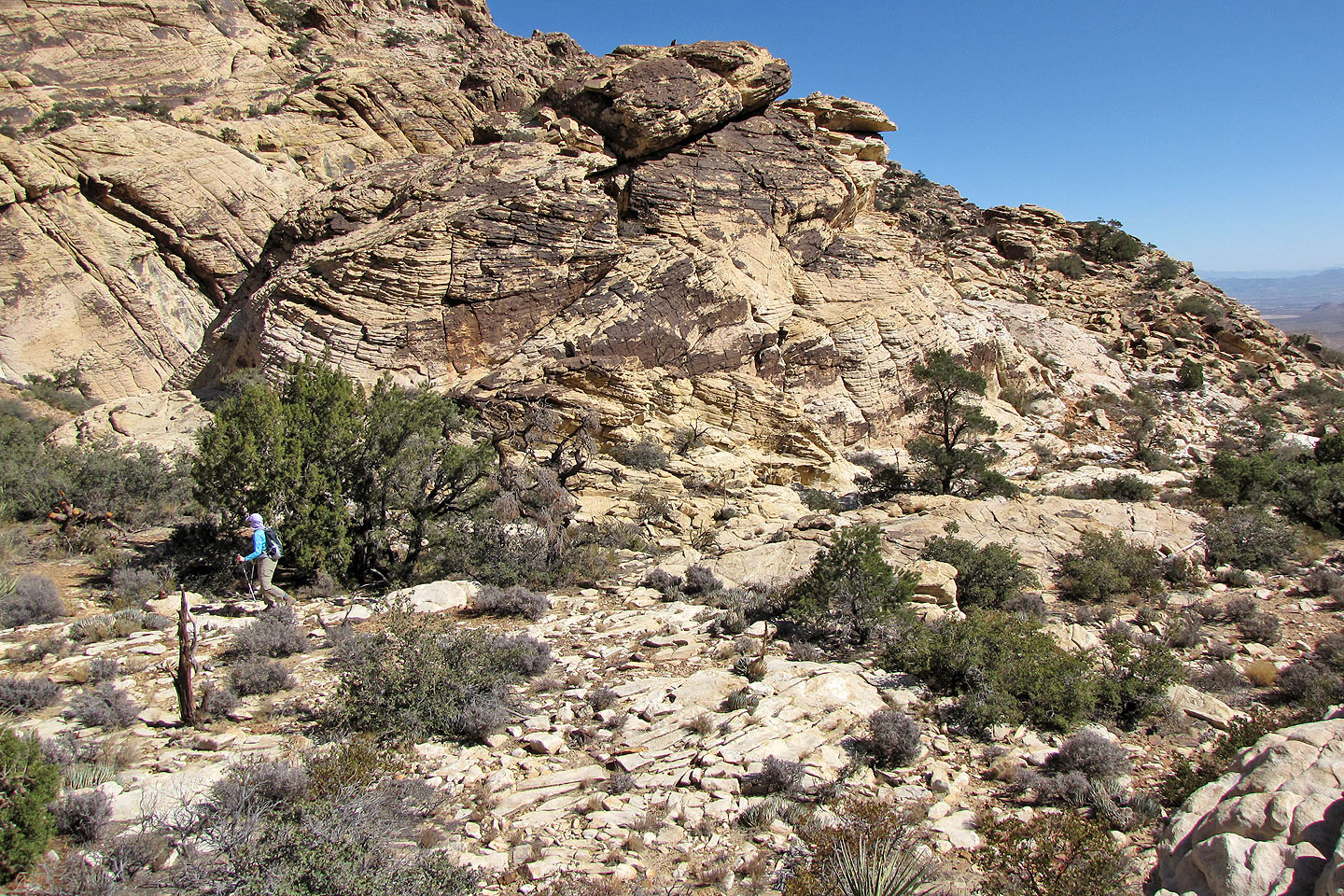 The Football Field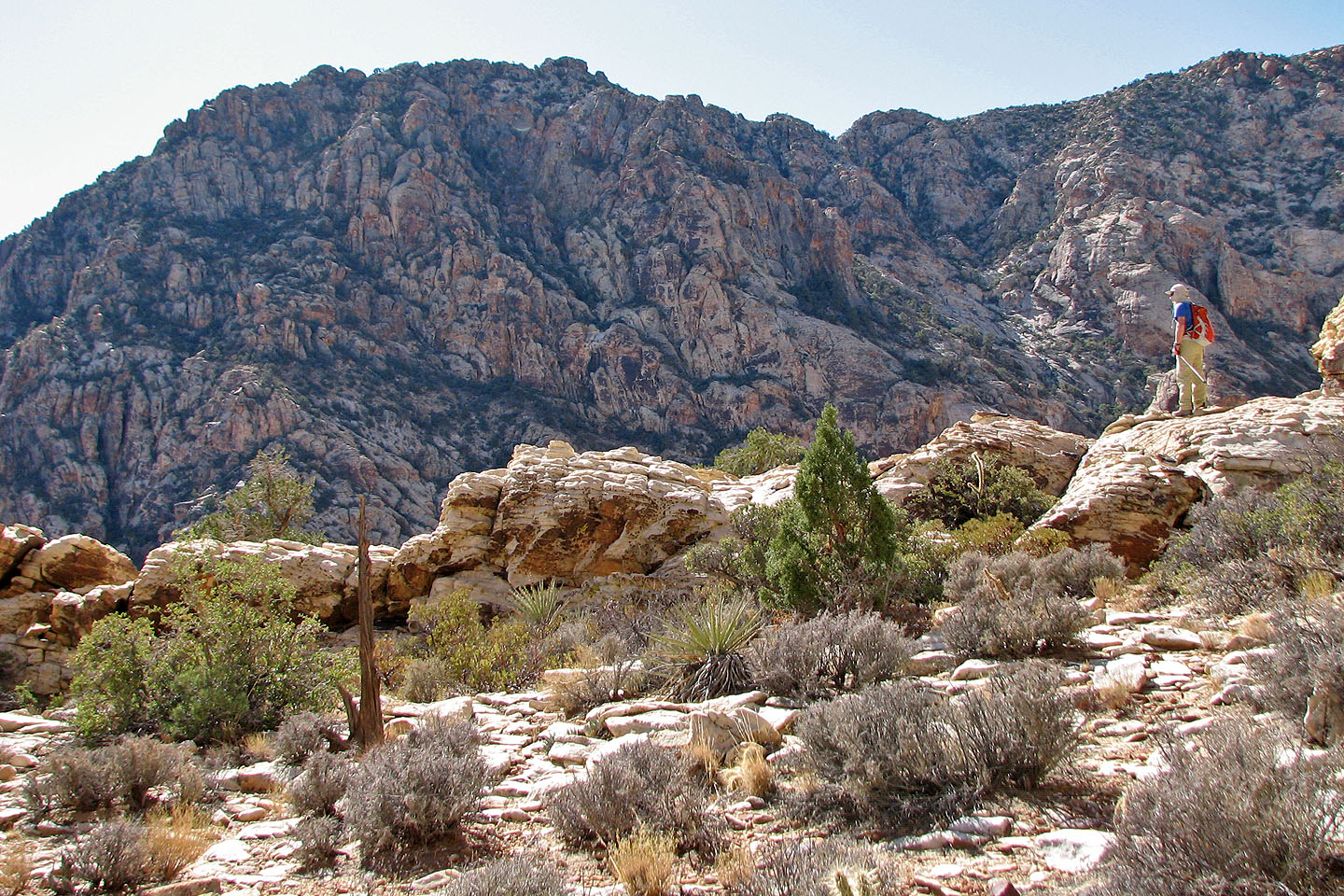 Hollow Rock Peak on the left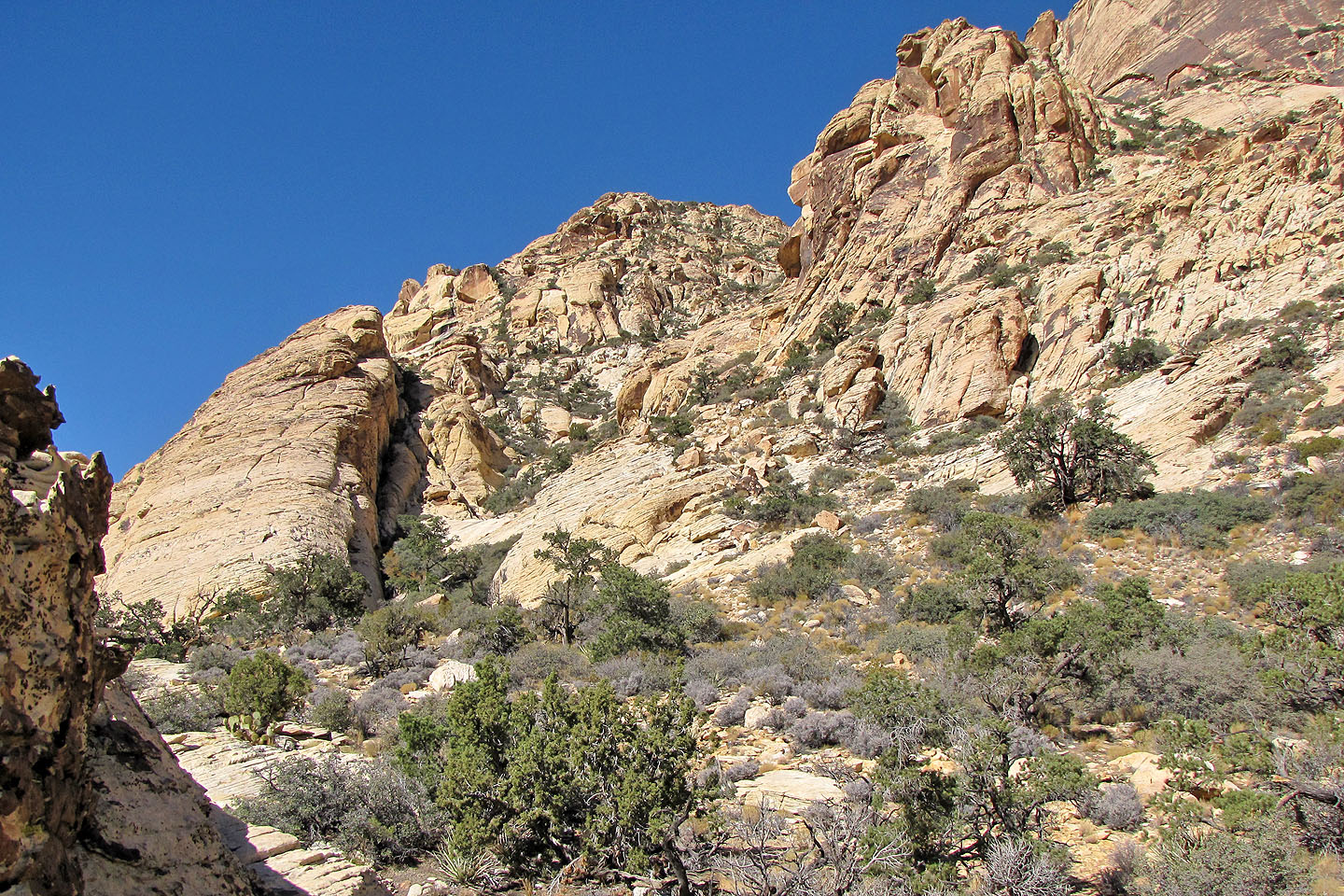 The trail winds up the ravine ahead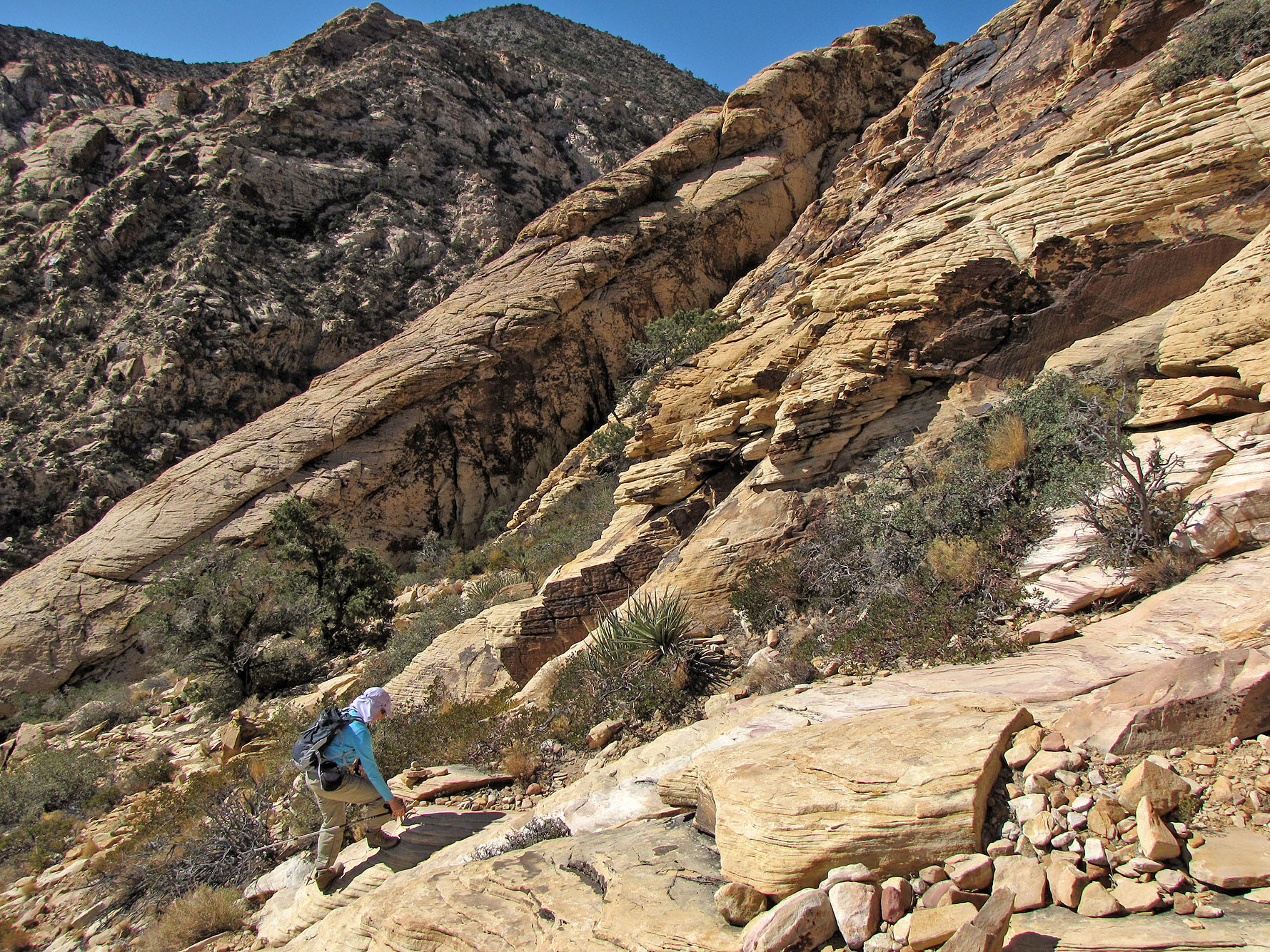 The trail swings right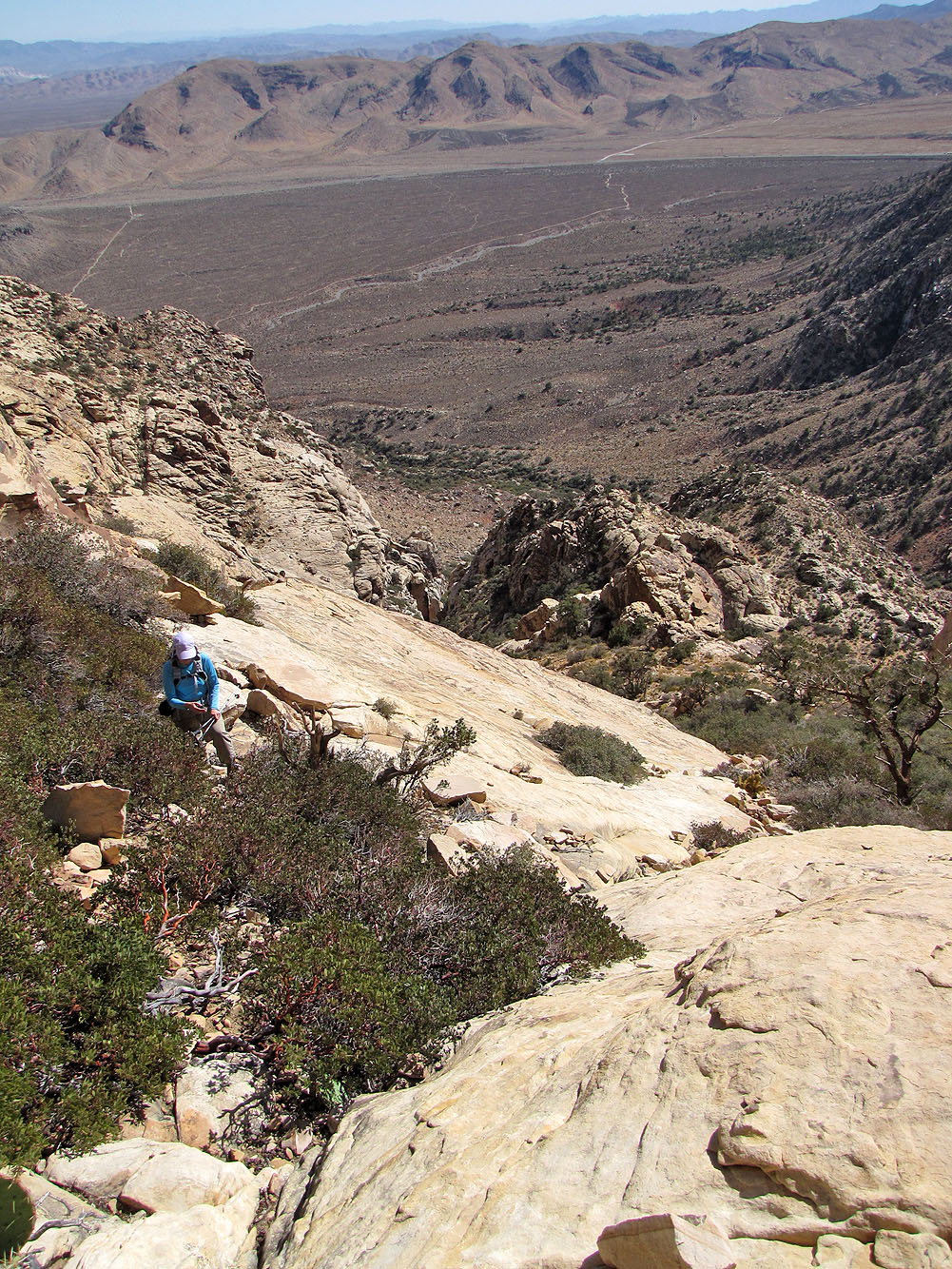 Looking down at a rock slab we climbed up. Cottonwood Peak in the upper right.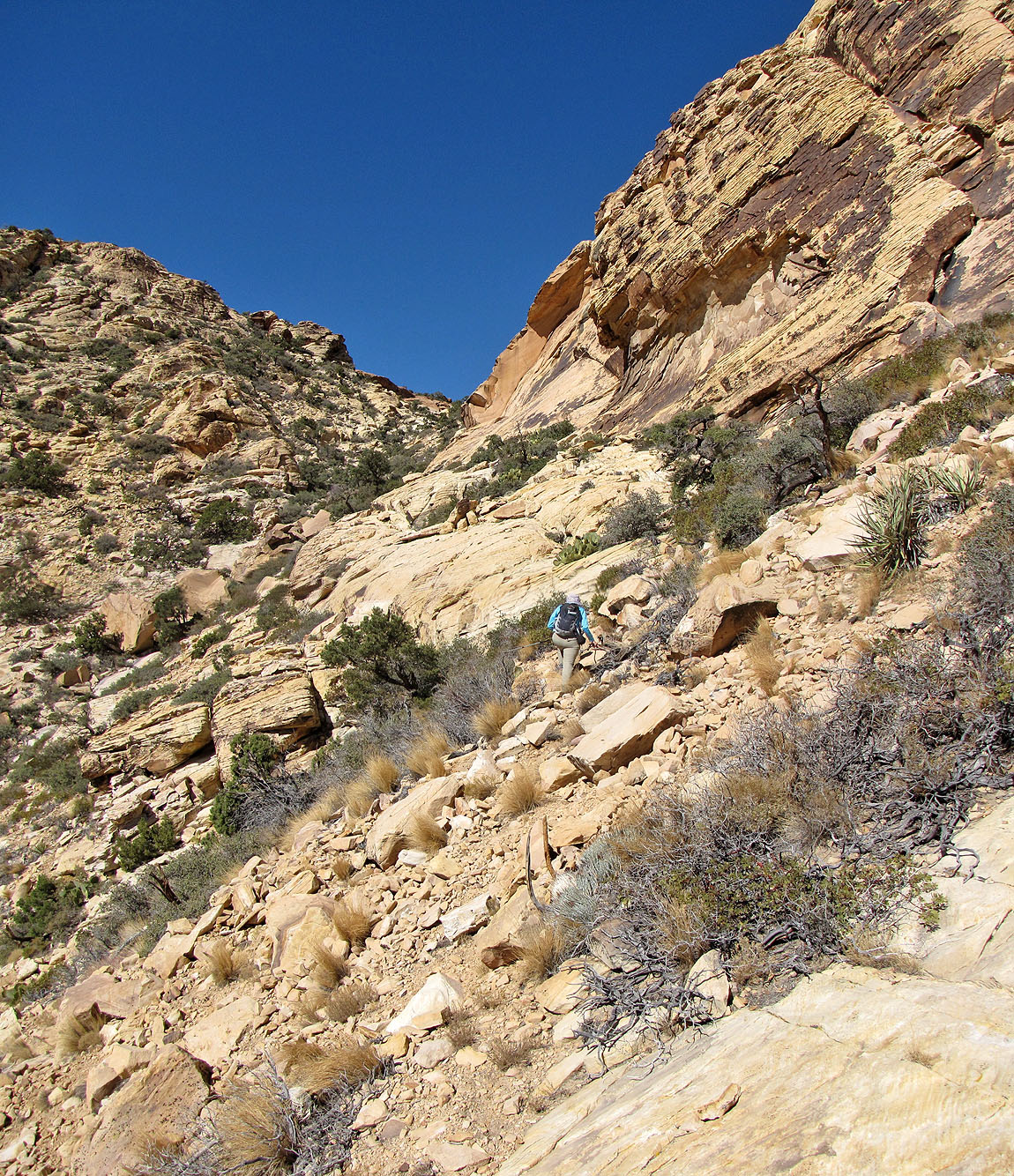 We continue climbing while keeping right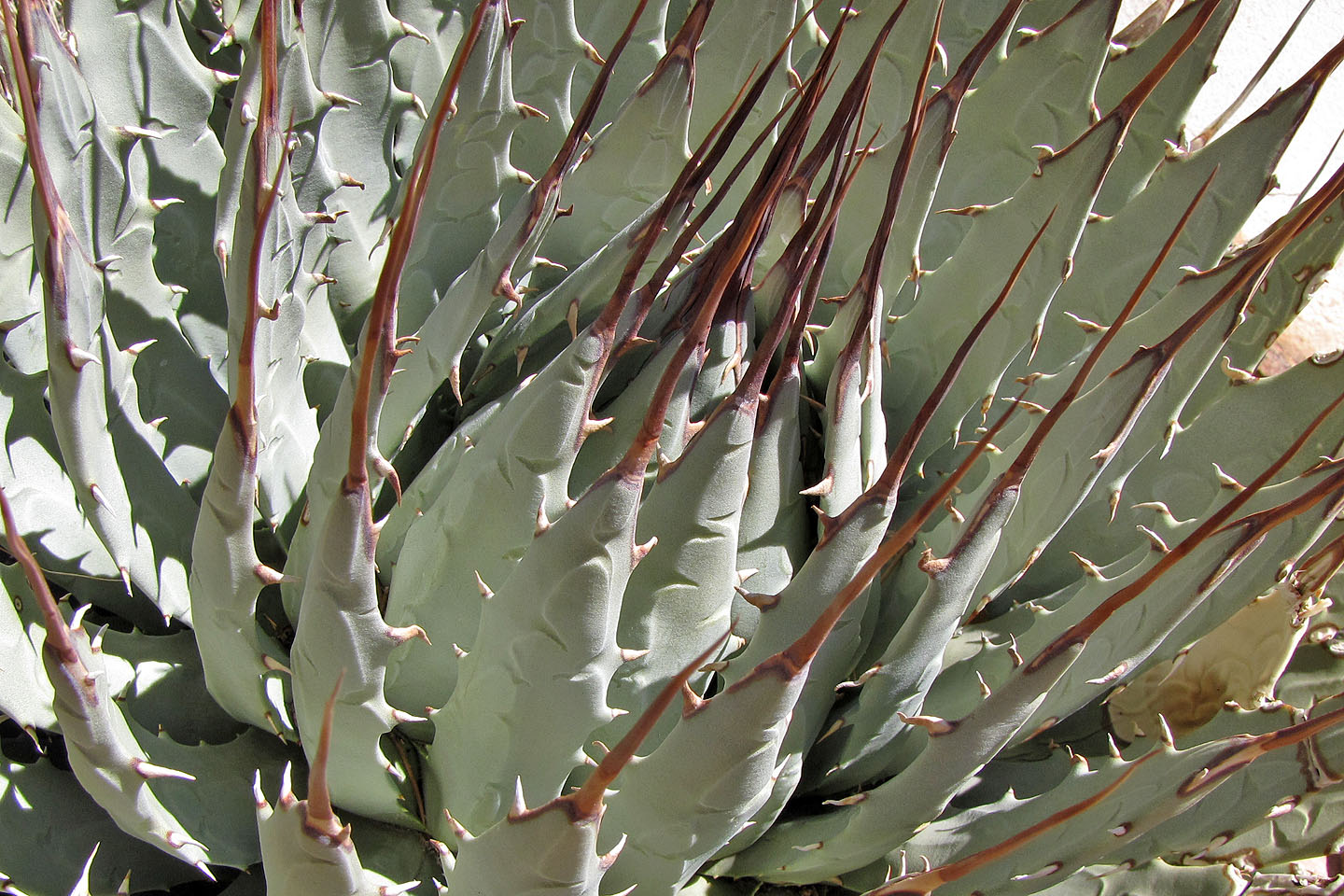 Agave detail (mouse over to back up)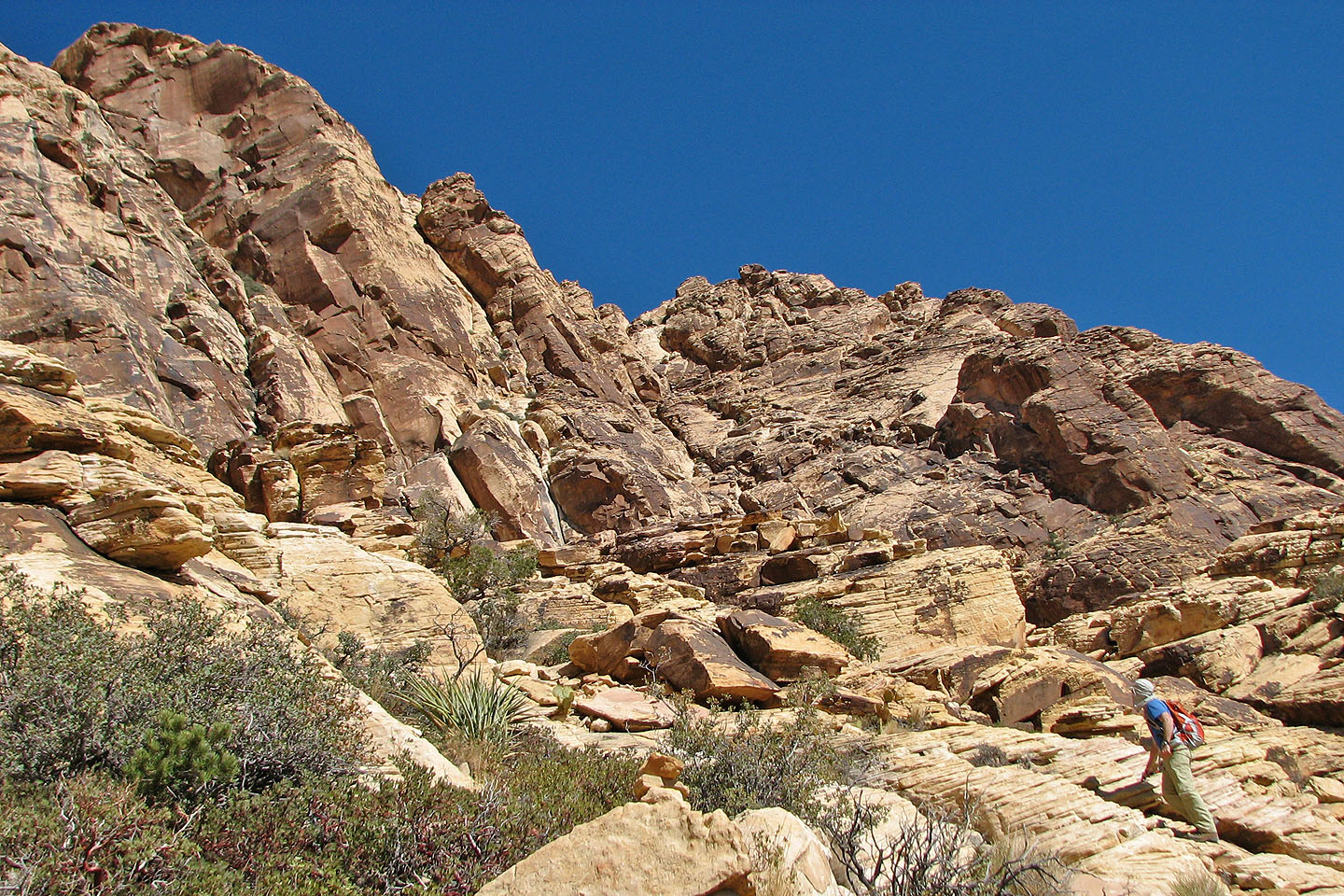 We stopped to look where the route goes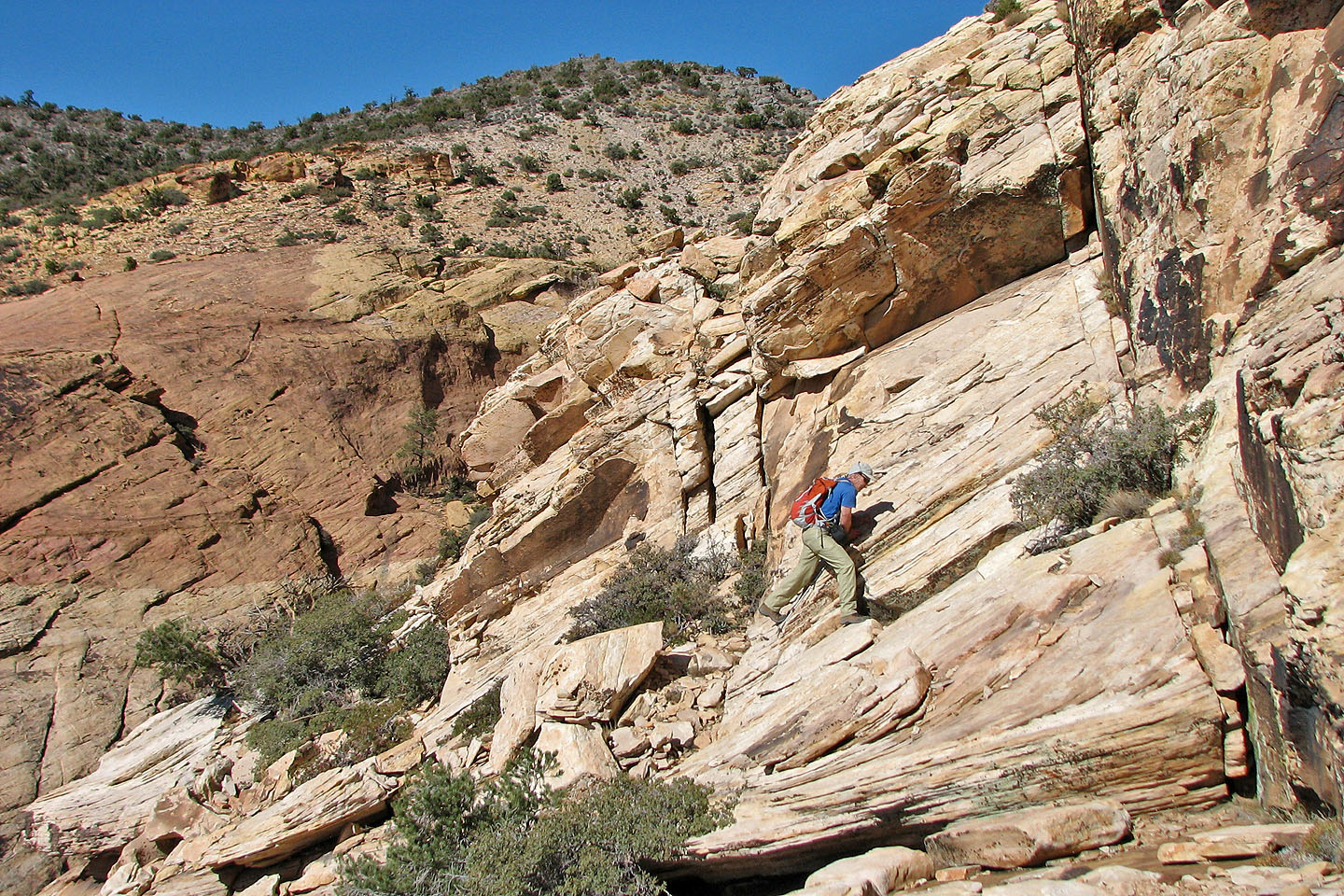 No real difficulties along the way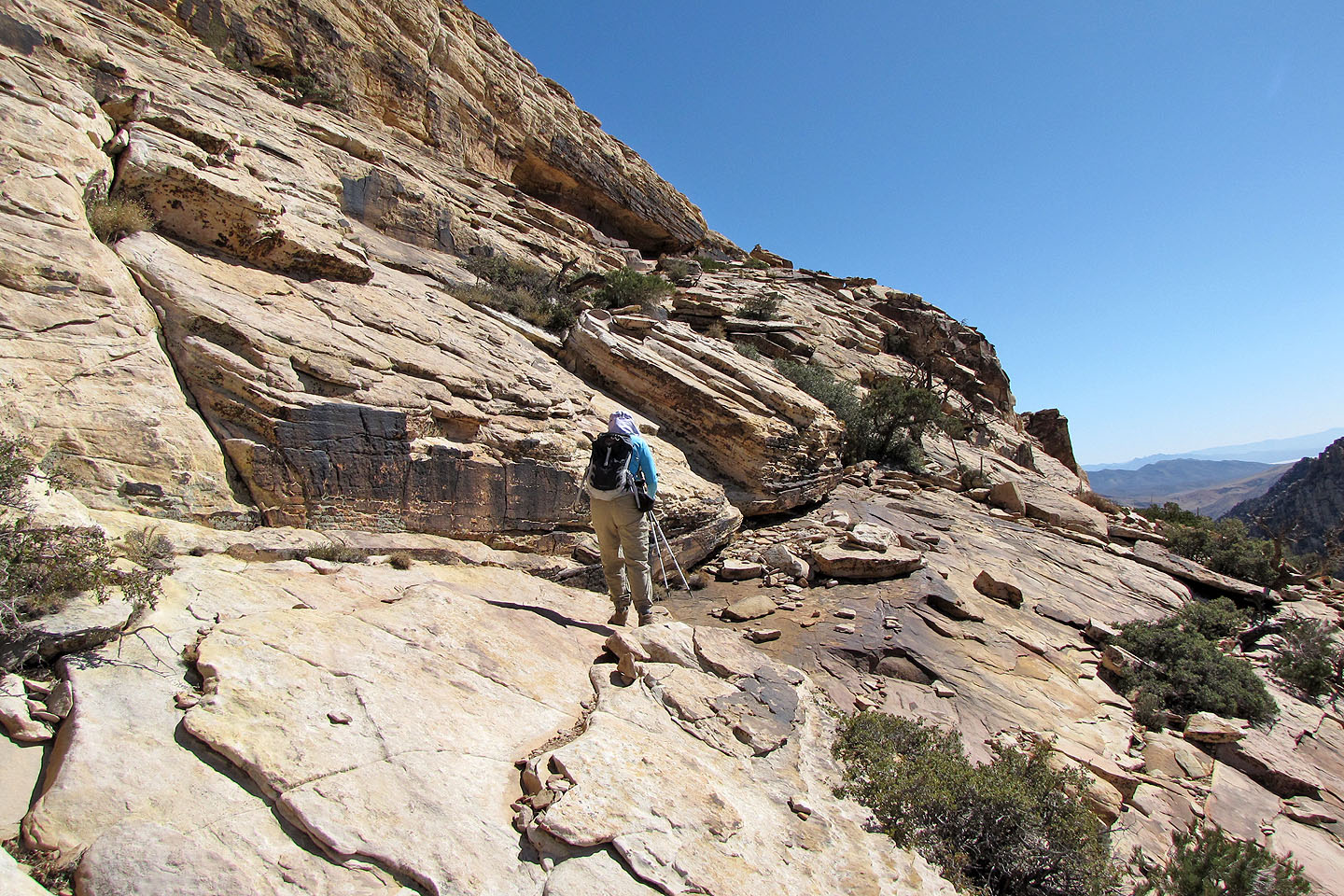 Getting close to the summit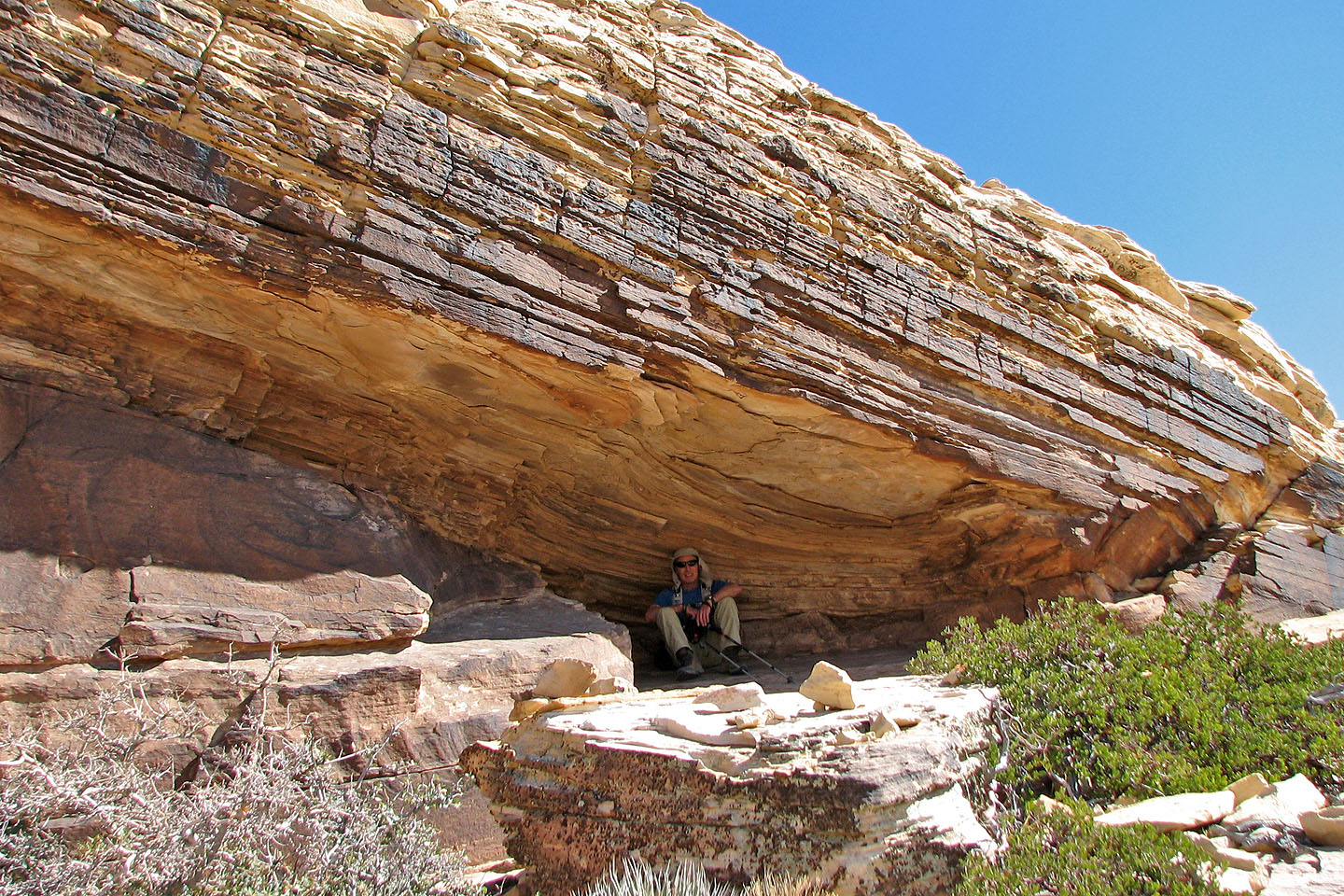 Relaxing under an overhang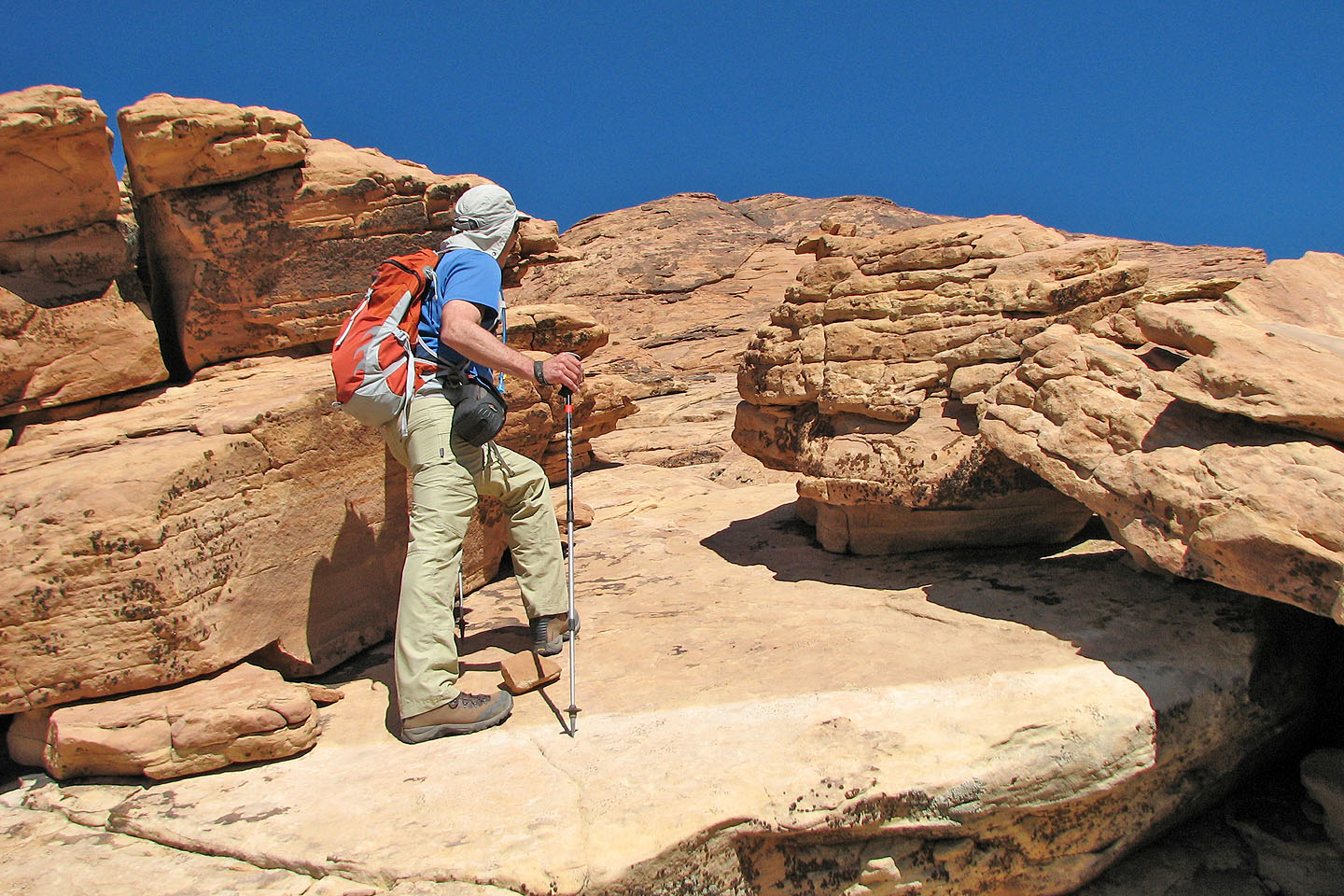 False summit ahead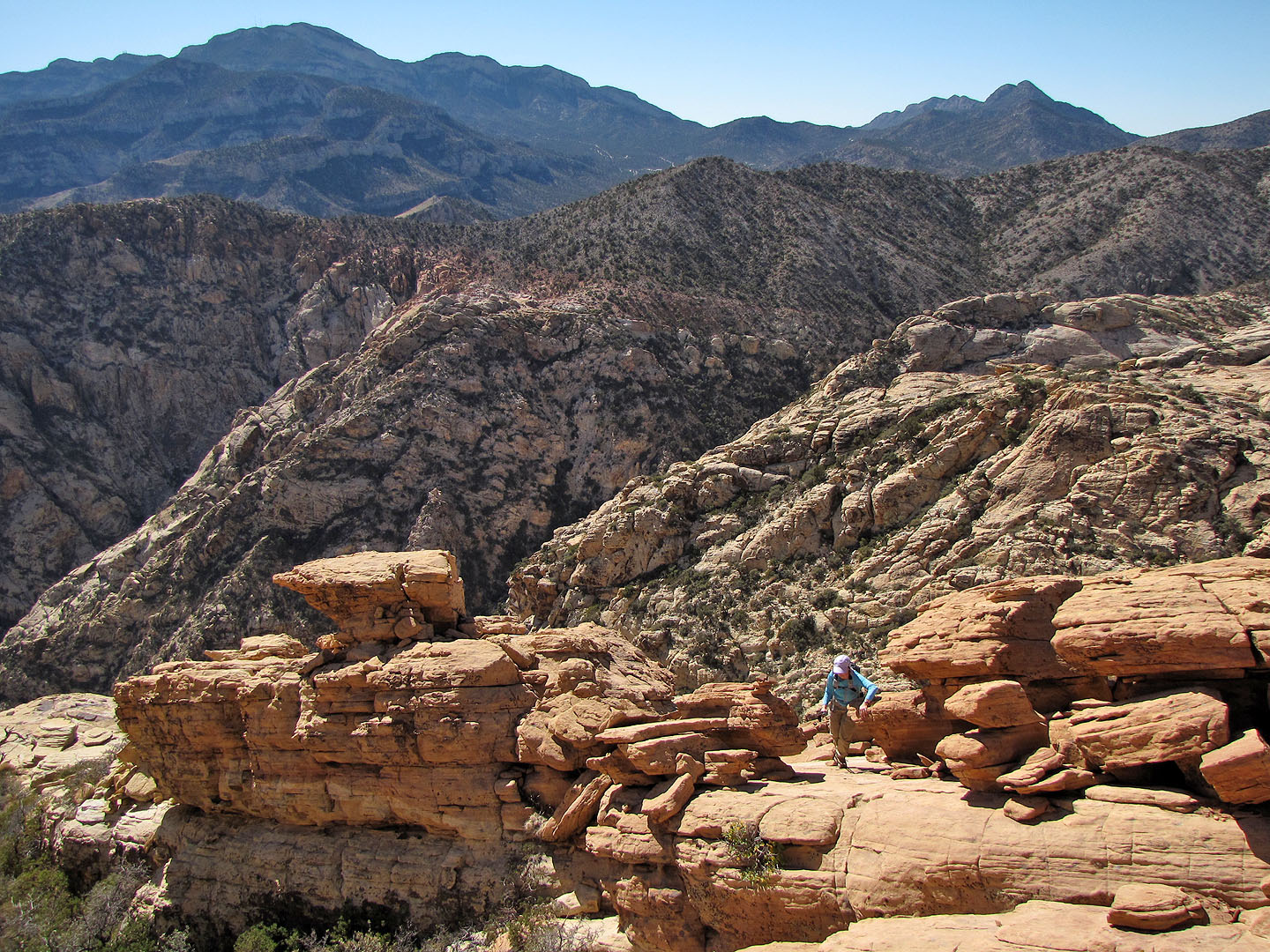 Potosi Mountain left, in the background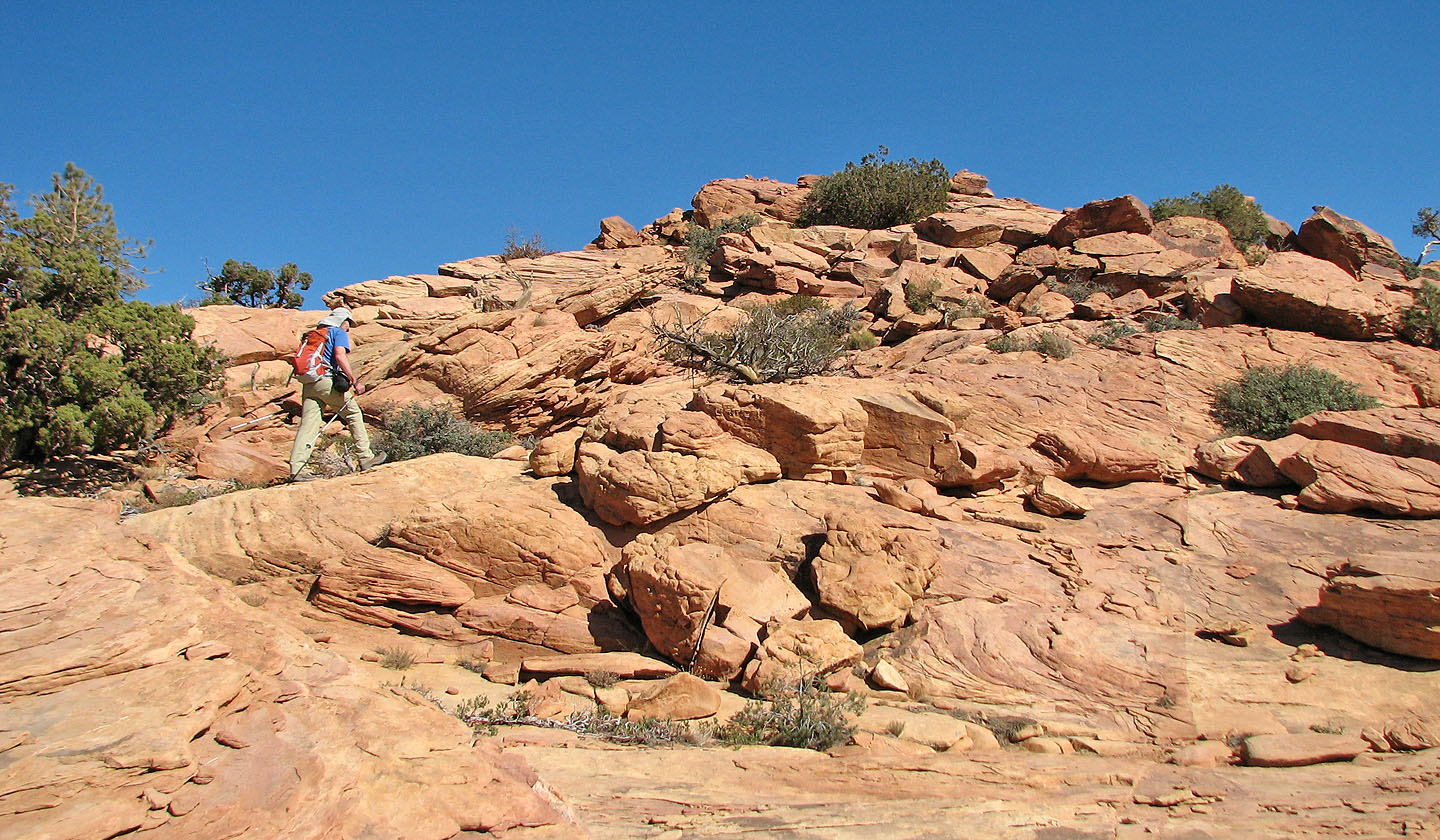 Looking for the highest point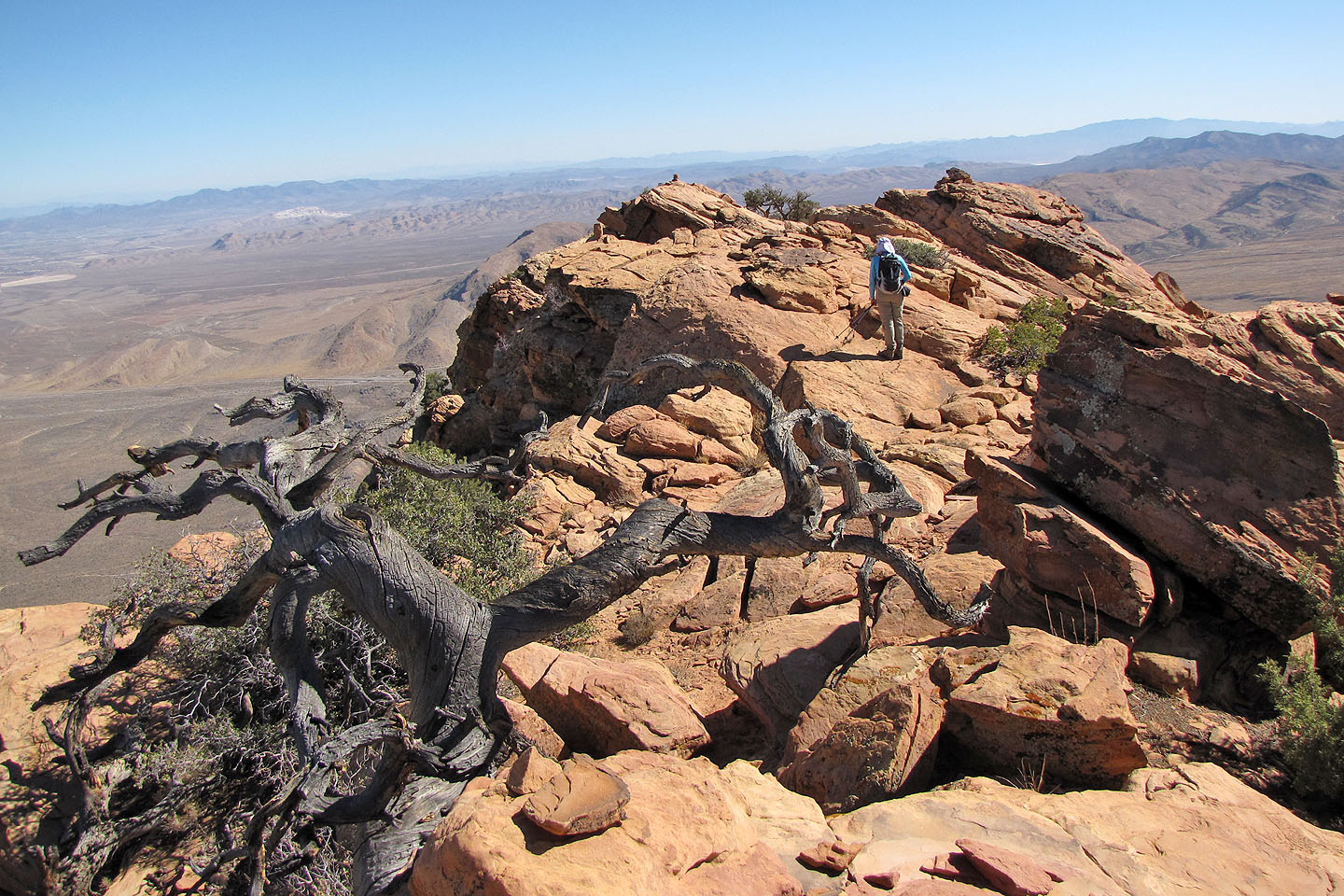 Dinah heads to the summit on her right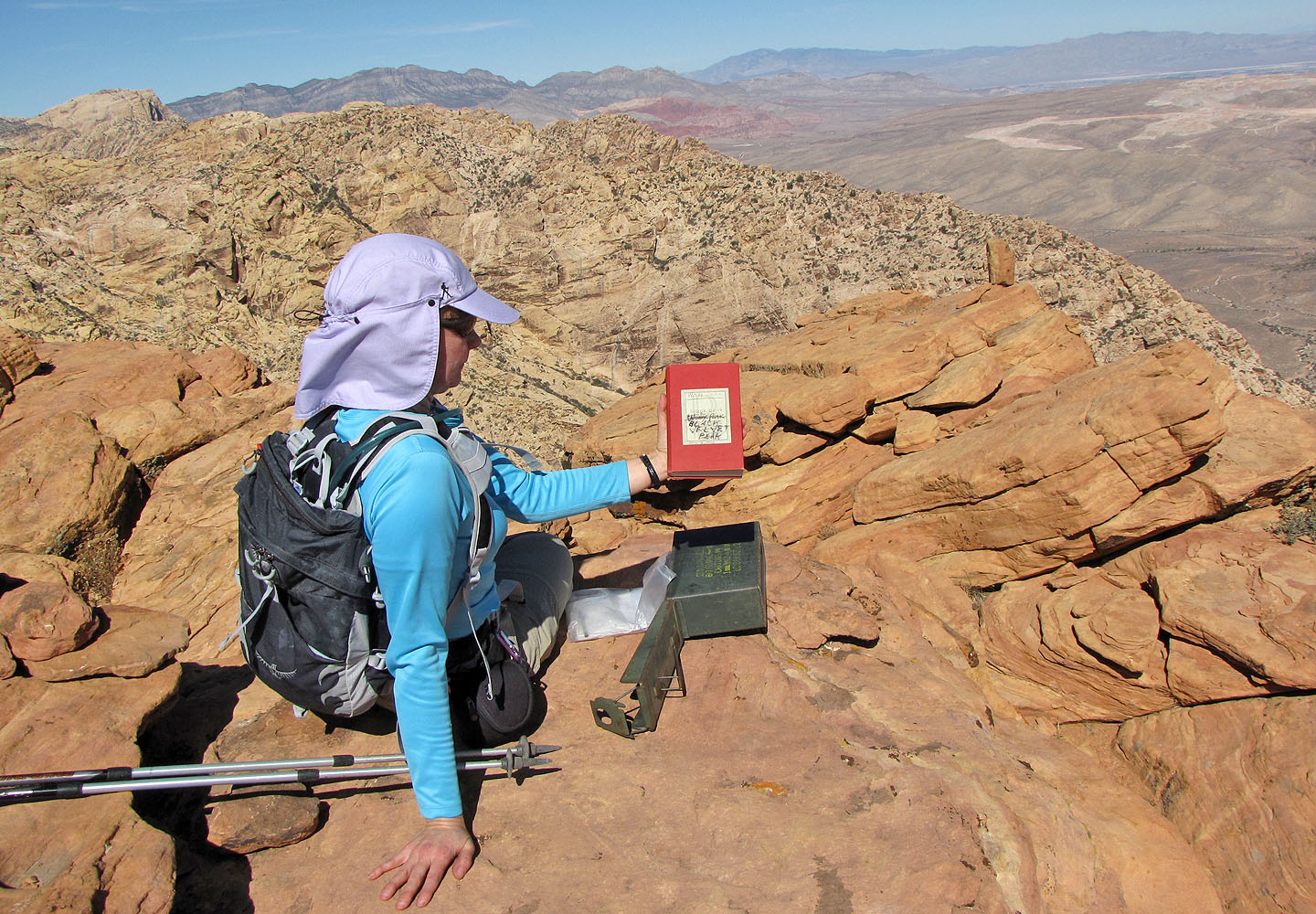 The cover displays an argument (mouse over) on what the name of this peak was

On the top of Windy Peak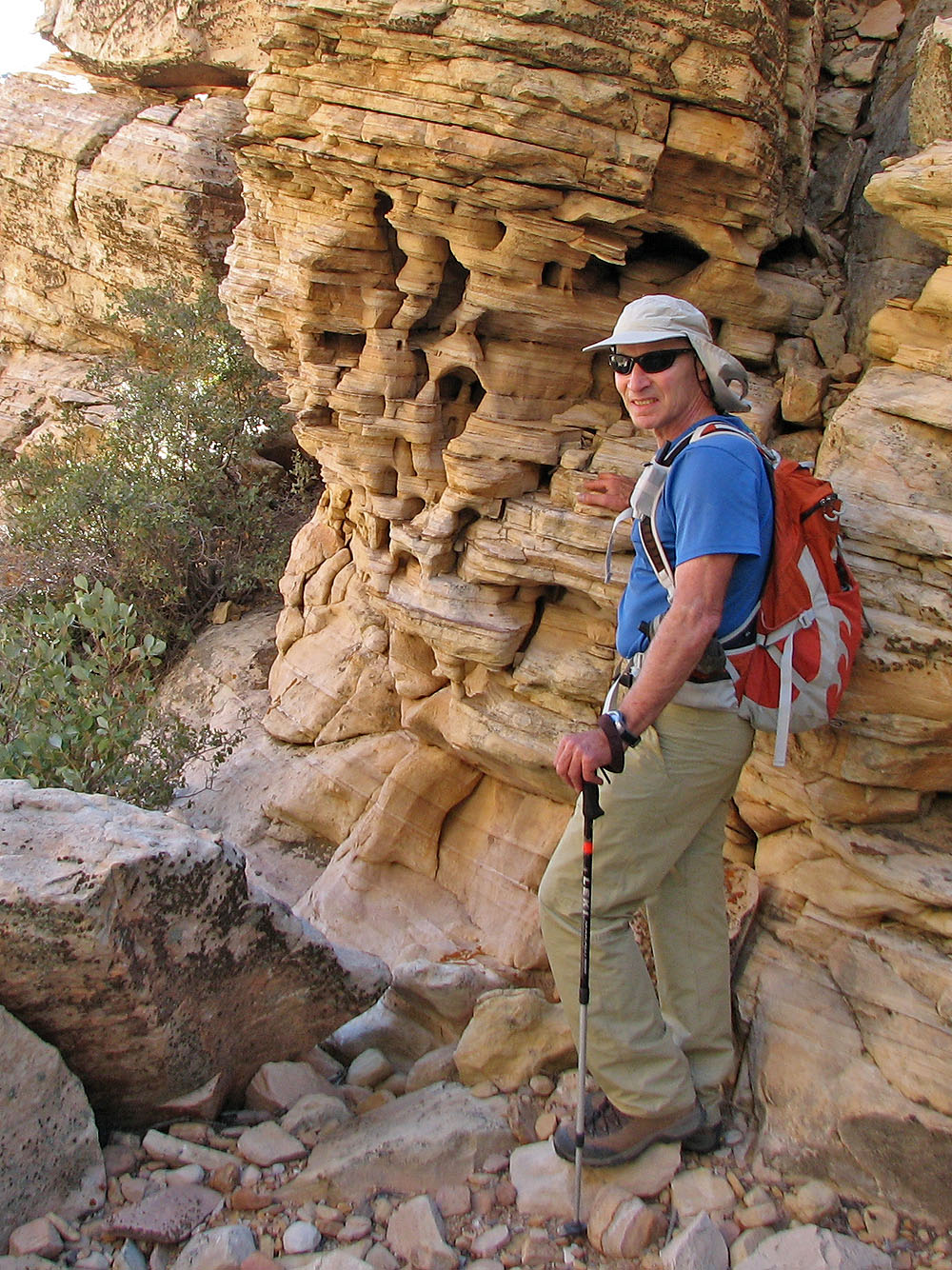 Checking out cool rock formations on the way back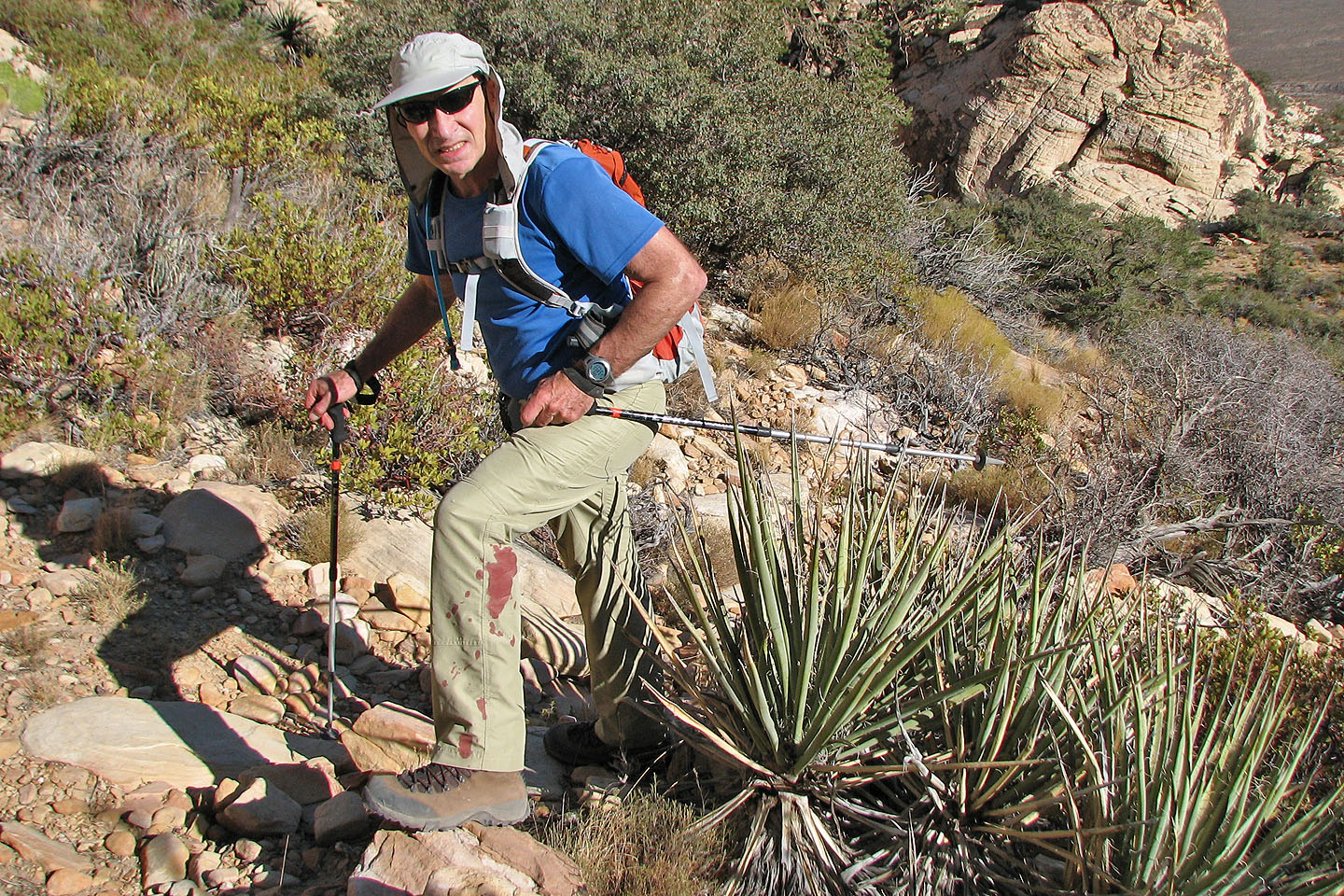 I ran into a yucca plant. Despite appearances, it was a minor injury.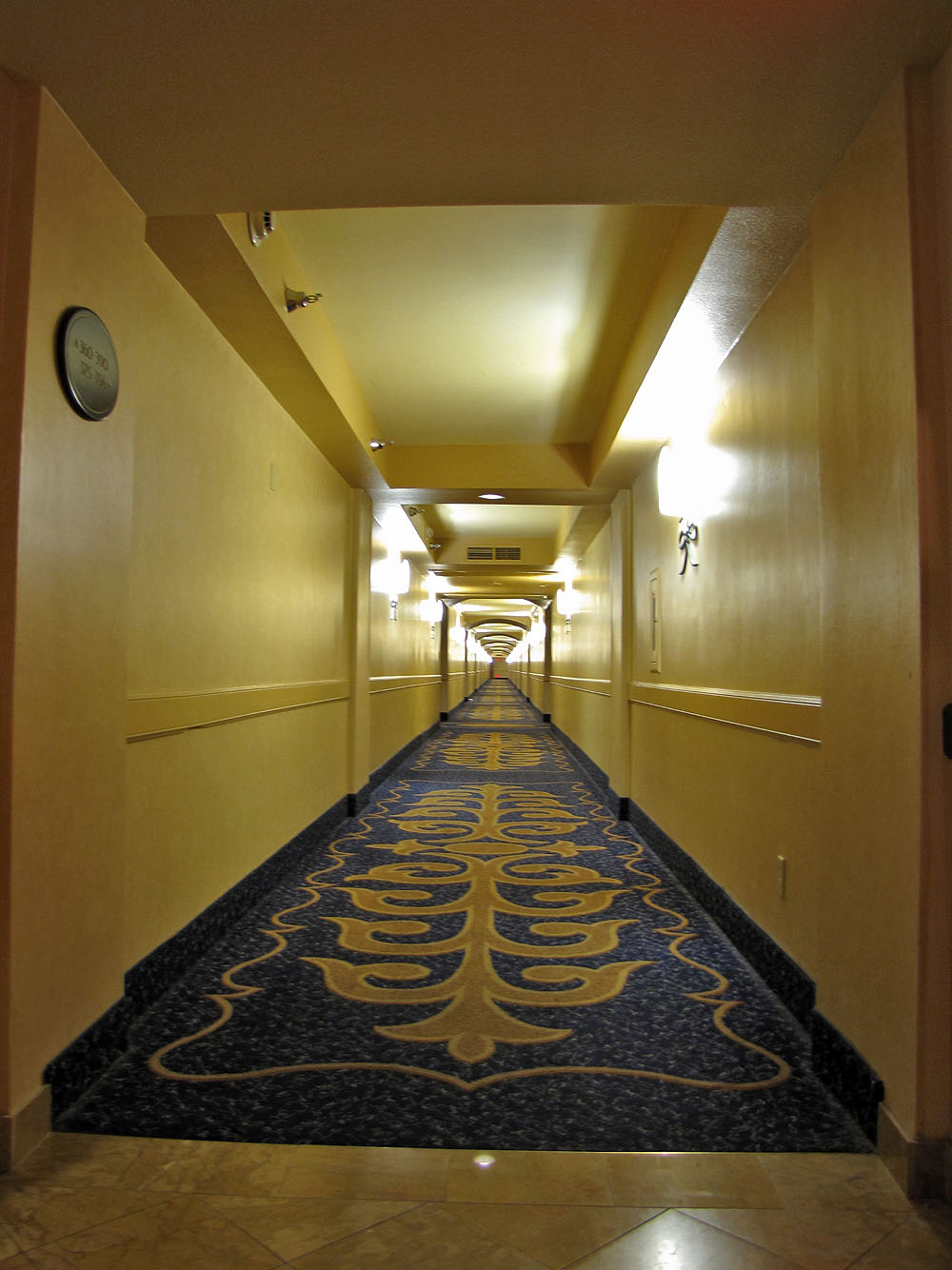 Back at the Rio Hotel, it's a long walk to our suite at the end of the hall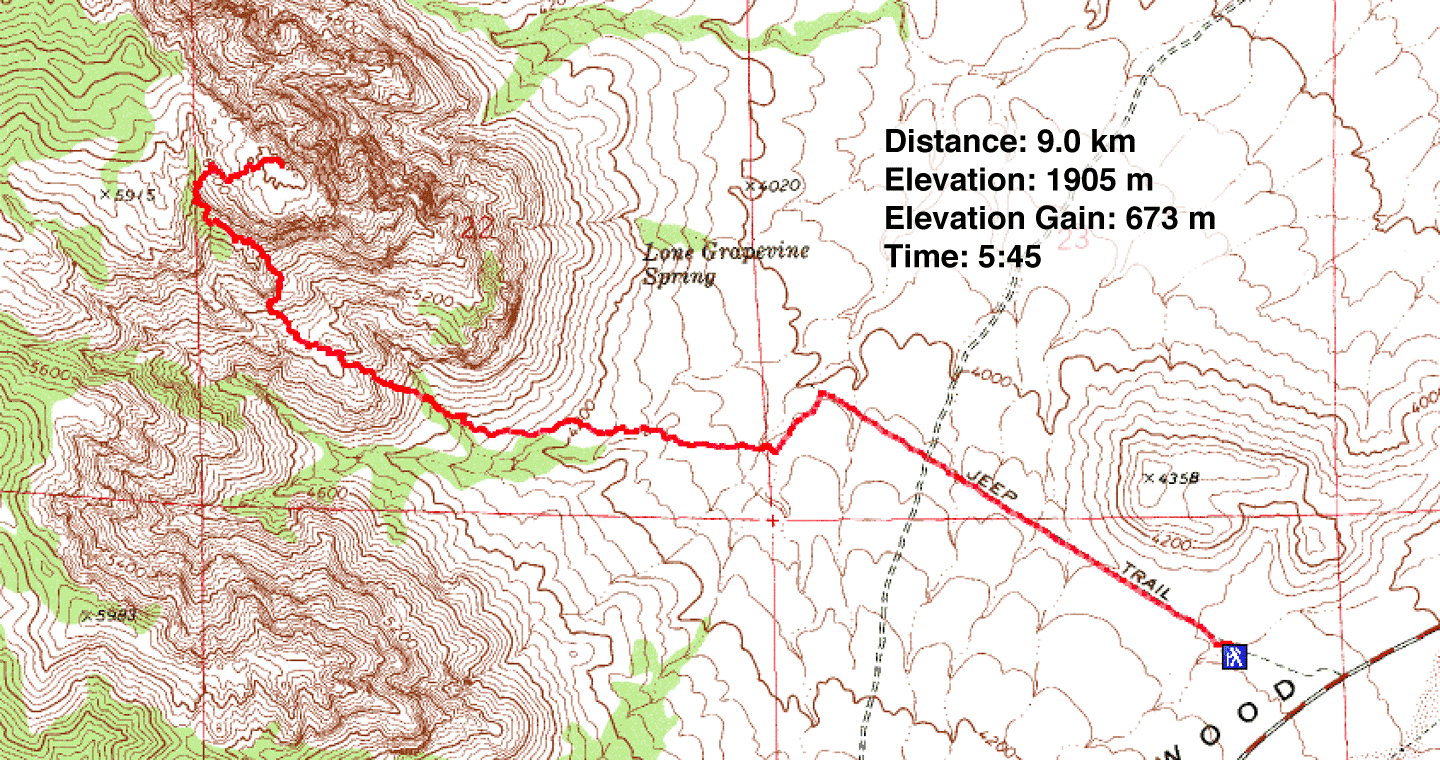 Blue Diamond Topo (5.6 mi, 6250 ft, 2208 ft)