bobspirko.ca | Home | Canada Trips | US Trips | Hiking | Snowshoeing | MAP | About

Sutor Peak
aka Mount Sutor
North Mukluk Wilderness Area, Nevada
January 14, 2013
Distance: 7.8 km (4.7 mi)
Cumulative Elevation Gain: 400 m (1213 ft)
Among the many places around Las Vegas where petroglyphs can be found, there is Sloan Canyon. The canyon bears hundreds of native drawings etched into the rocks thousands of years ago. And there's the option of continuing up the canyon to ascend a small peak: Sutor Peak. We encountered no challenges on this trip unless you count getting a flat tire.
James Boone describes Sloan Canyon on his website. To get there, he suggests driving up a long, rough power line road and turning off to Sloan Canyon. A high- clearance vehicle is required, but even the bottom of our rented Jeep Liberty hit rocks. Nonetheless we made it to the trailhead.
Being windy and unseasonably cold, Dinah, Shin and I dressed in layers and set off up the canyon. It wasn't long before we found petroglyphs on both sides of the canyon. While many of them made no sense to us modern-day people, some were recognizable: bighorn sheep, human figures and hands. Continuing past the canyon, we hiked up the gentle slopes leading to the top of Sutor Peak.
After returning to the trailhead, we didn't relish jolting back down the nearly 4-mile-long power line road. Henderson was closer, and it appeared possible to use construction roads to get quickly back on paved roads. So instead of turning left on the power line road, we went right. We only had to drive a few hundred yards before our wheels found a smooth gravel road. We followed it north and came out on Bicentennial Parkway a couple of blocks west of Anthem Parkway. (Use our route at your own risk. If there were No Trespassing signs, we would have missed them coming out.)
Five minutes after we hit the pavement, a low tire pressure warning lit up on the dashboard. As soon as we could, we pulled into a gas station to find a rear tire half-deflated, air hissing out. Shin tried using a can of Flat Tire Repair from the gas station, but air continued escaping.
We brought out the jack and tried jacking up the SUV, but strangely, even when fully extended, the jack didn't lift the car high enough! We were able to wiggle the flat tire off but couldn't put the spare on. So Shin called AAA and 15 minutes later, a yellow tow truck pulled up next to us. The serviceman noted the jack was placed correctly and shook his head. He also noticed that the Jeep was equipped with worn, cheap tires, a wear inconsistent with the rental's 2,200 miles on the odometer. (Mental note: check tires on future car rentals!)
After AAA put the spare on, we drove to Tire Works. We had to wait an hour and a half to get the flat fixed, but the service was free. As we drove away, we wondered how we would have fared had we driven back on the long power line road. It was no place to get a flat and not have a proper jack.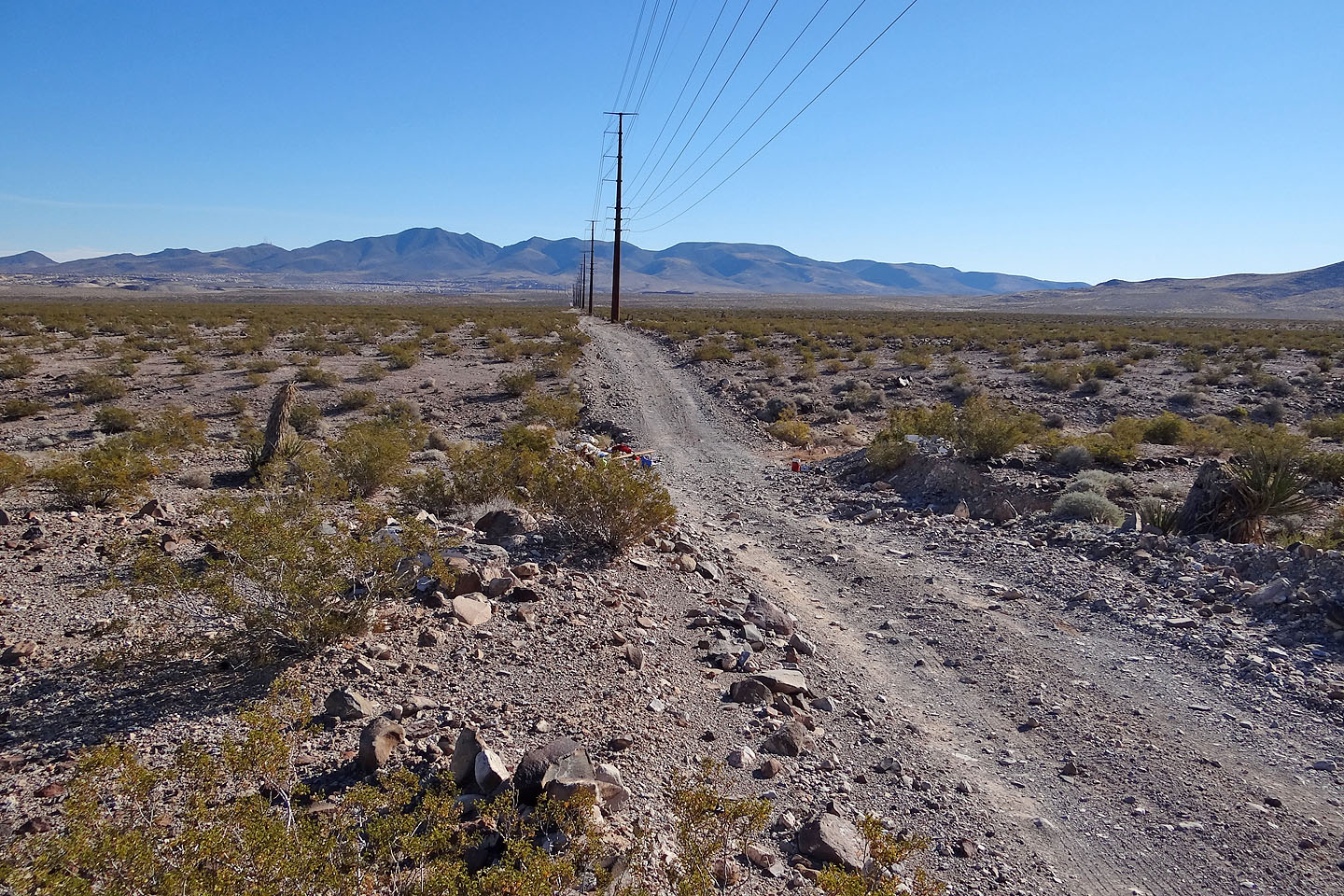 Flat at first, the power line road later had deep, steep dips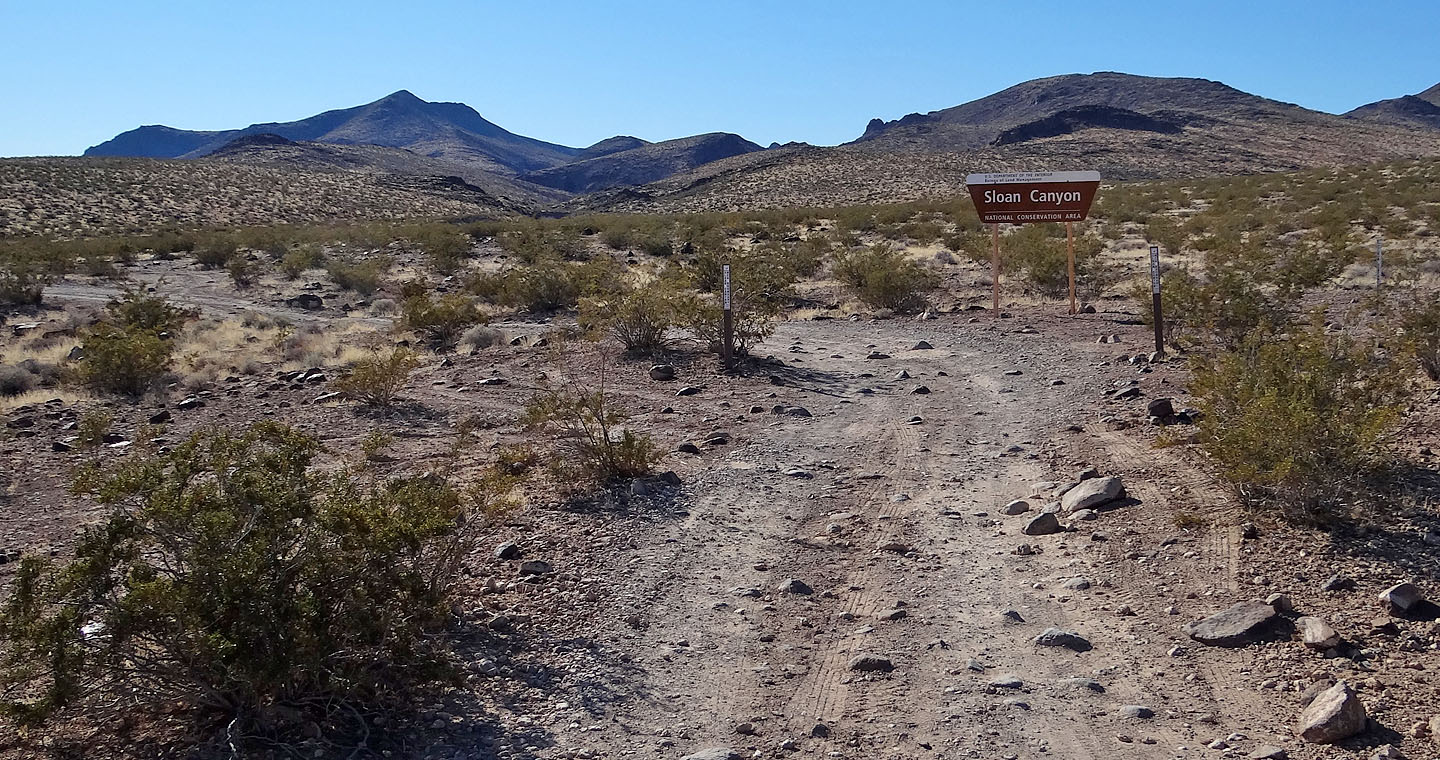 After leaving the power line road we soon reached the edge of the park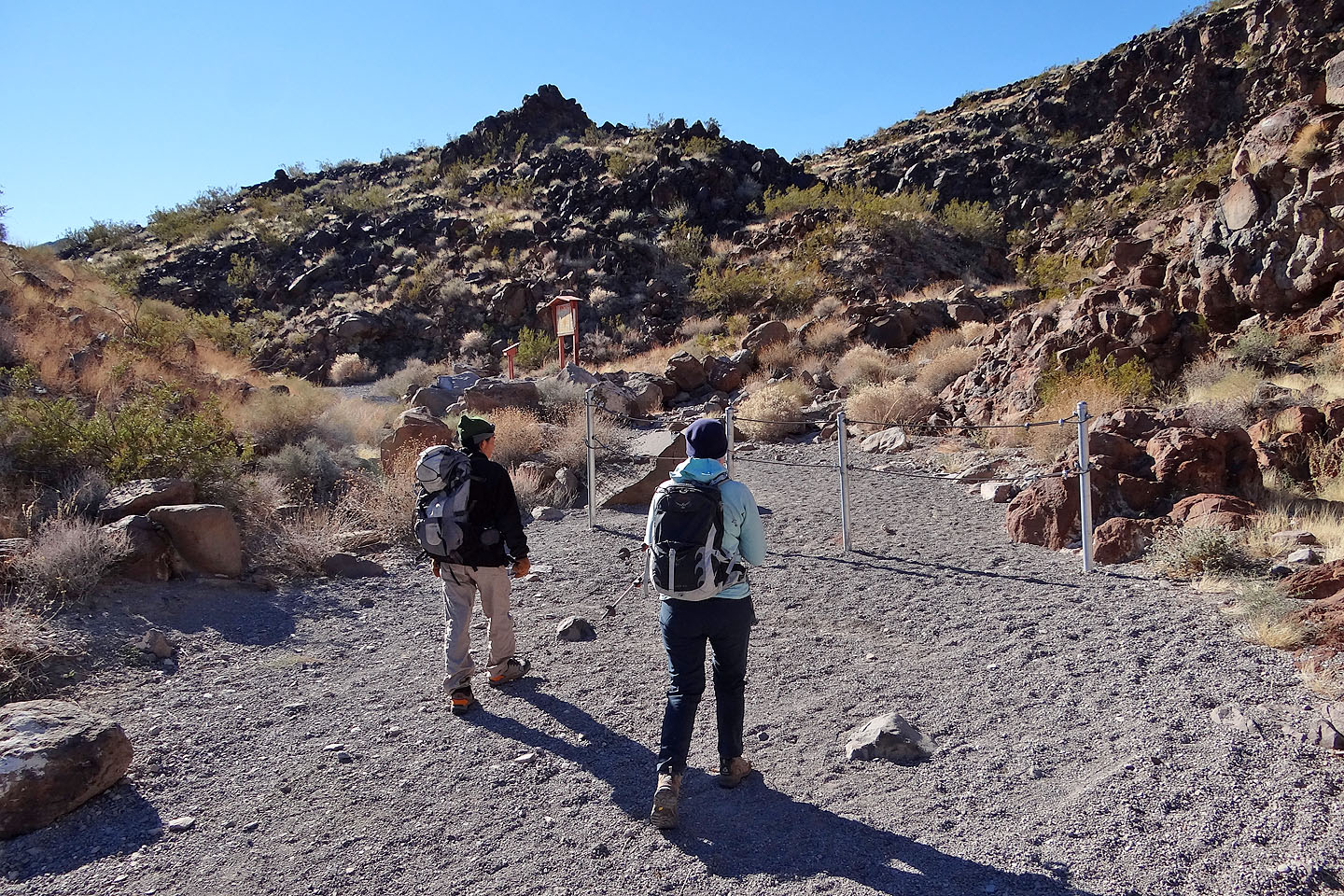 Sloan Canyon trailhead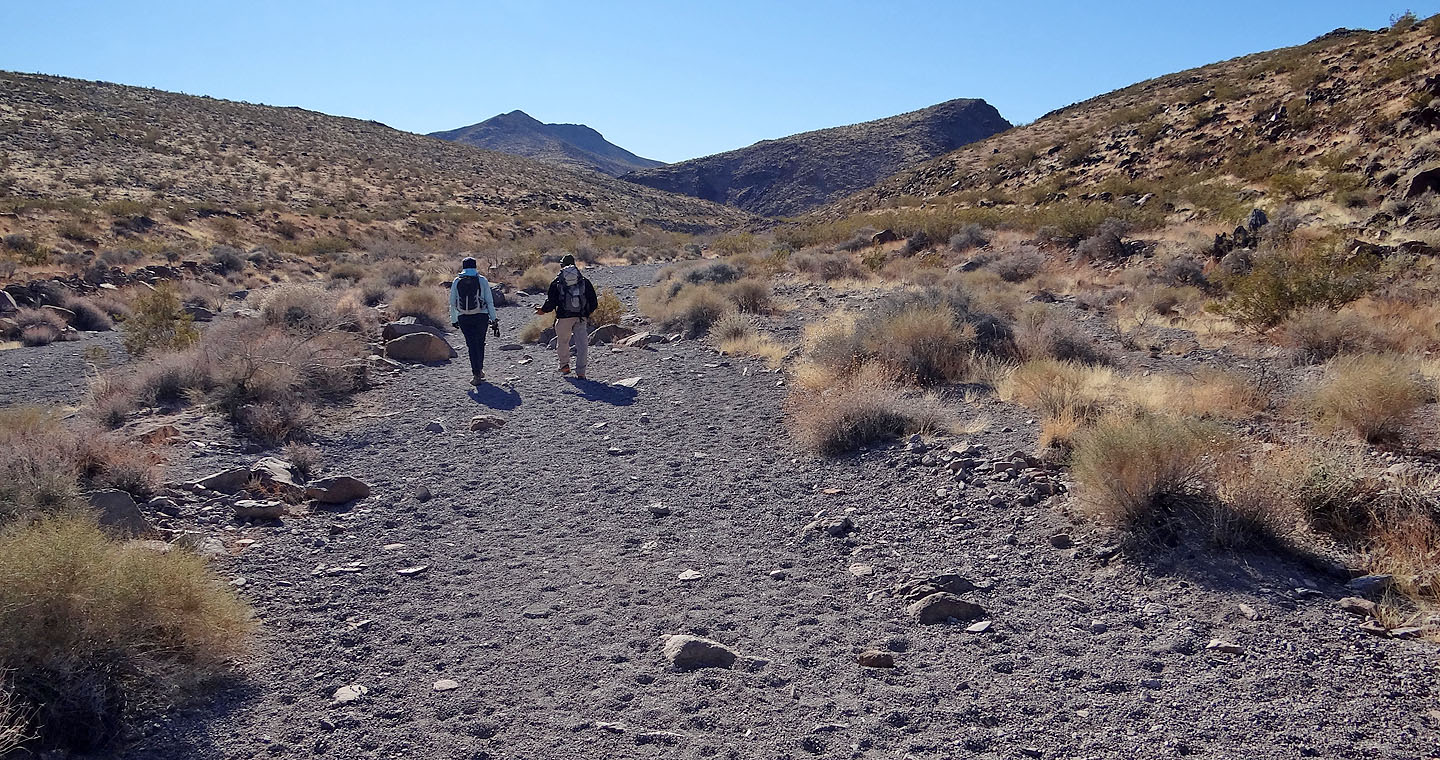 Sutor Peak ahead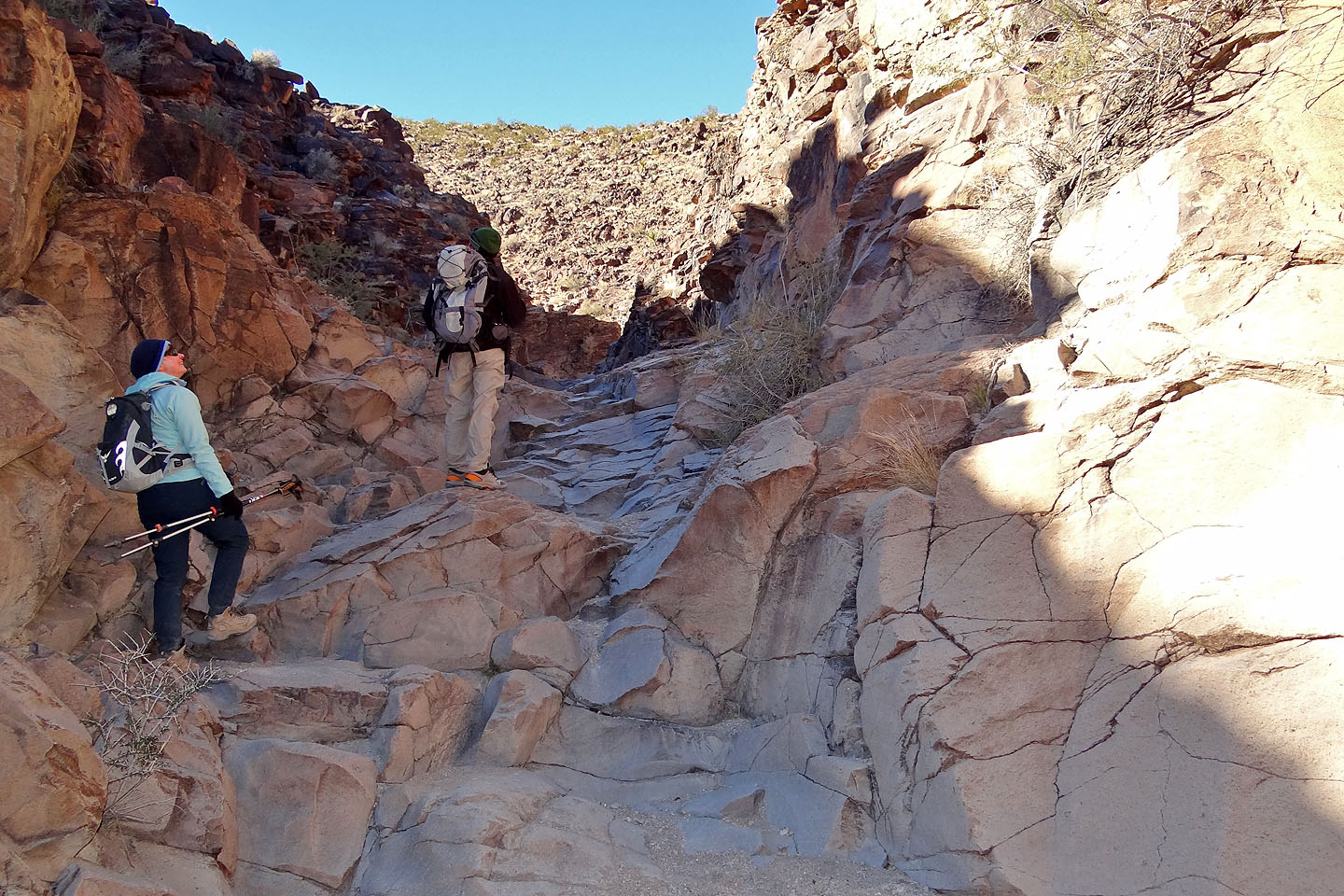 Hiking up the canyon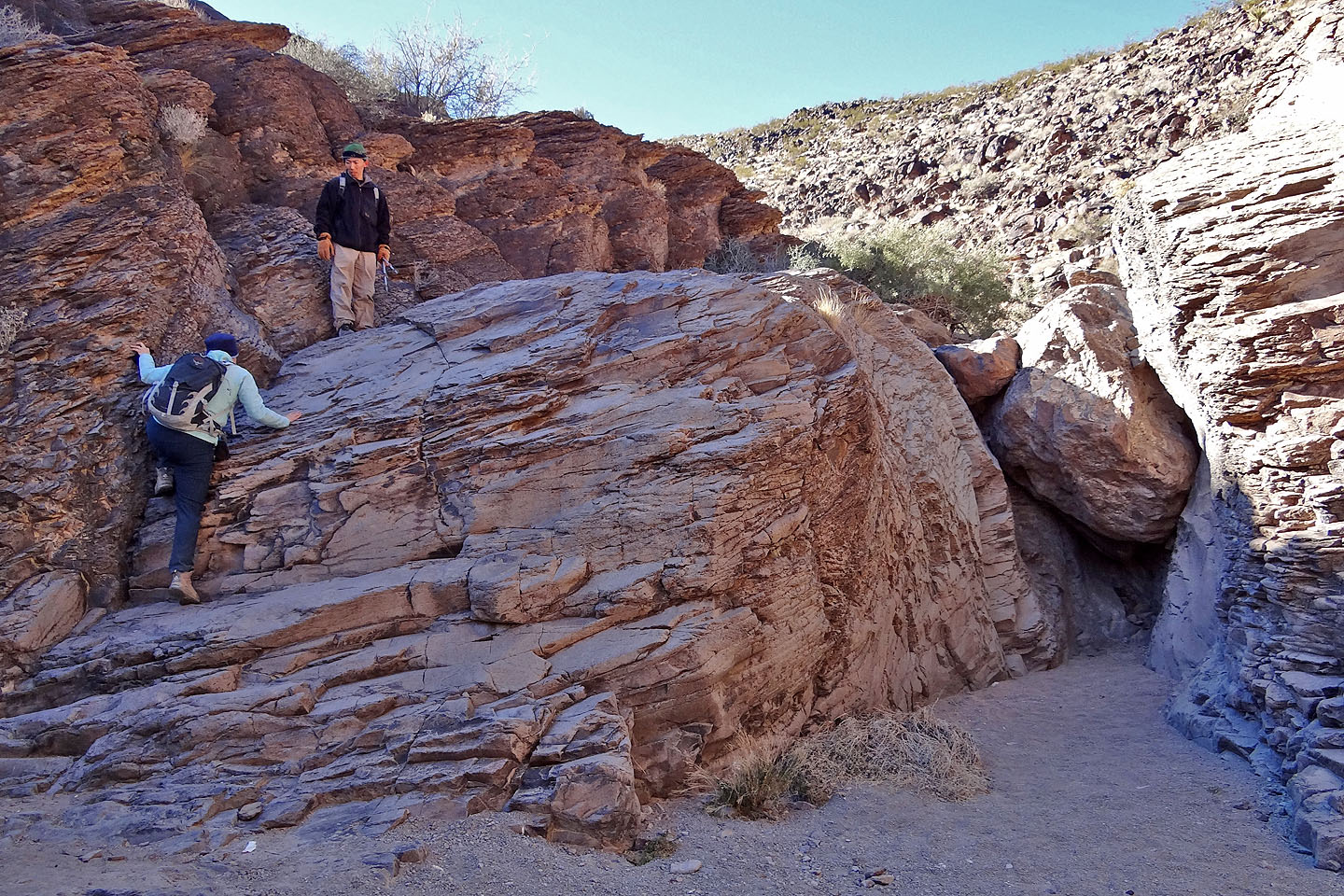 The only tricky section was next to a chockstone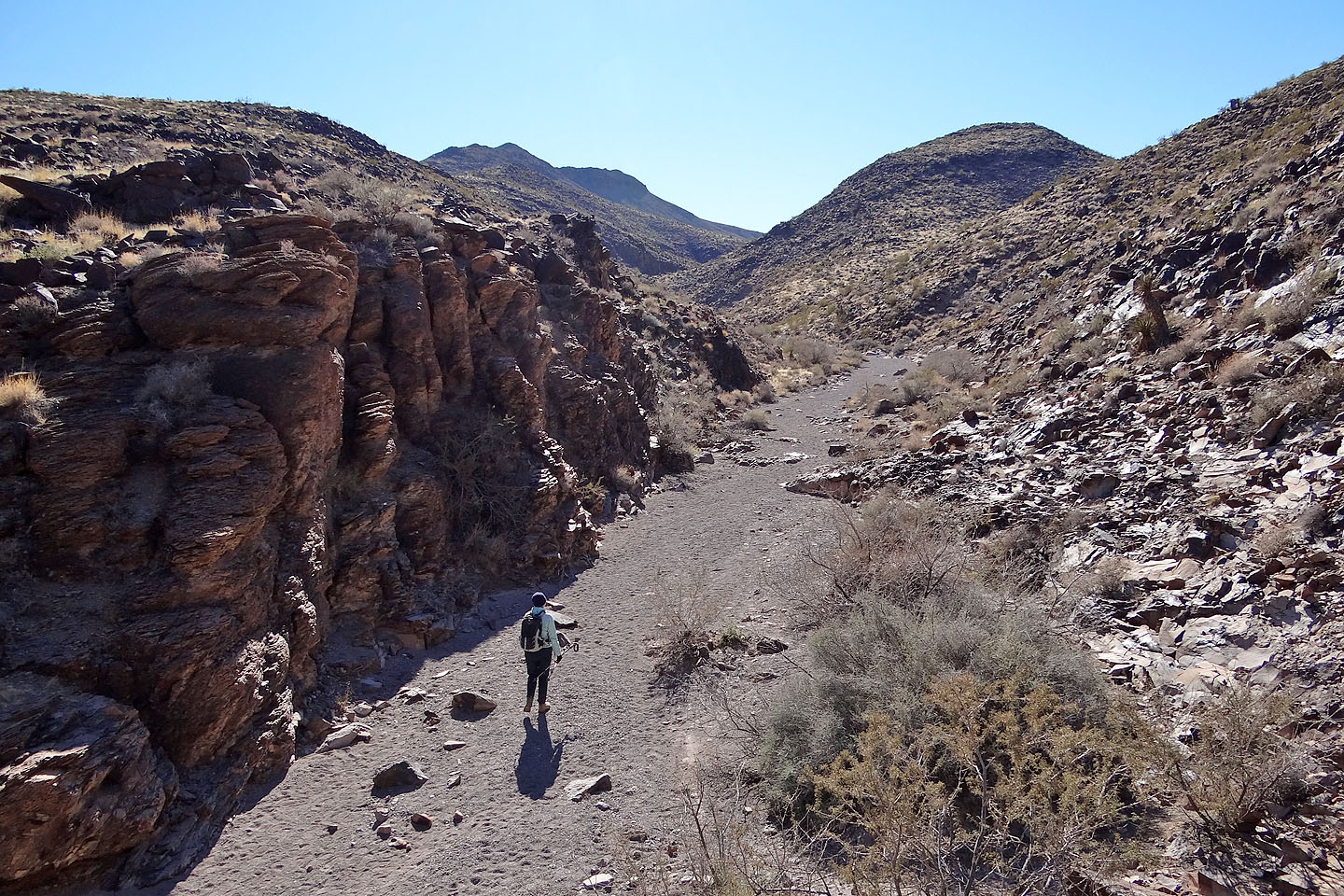 The petroglyphs are at the end of the canyon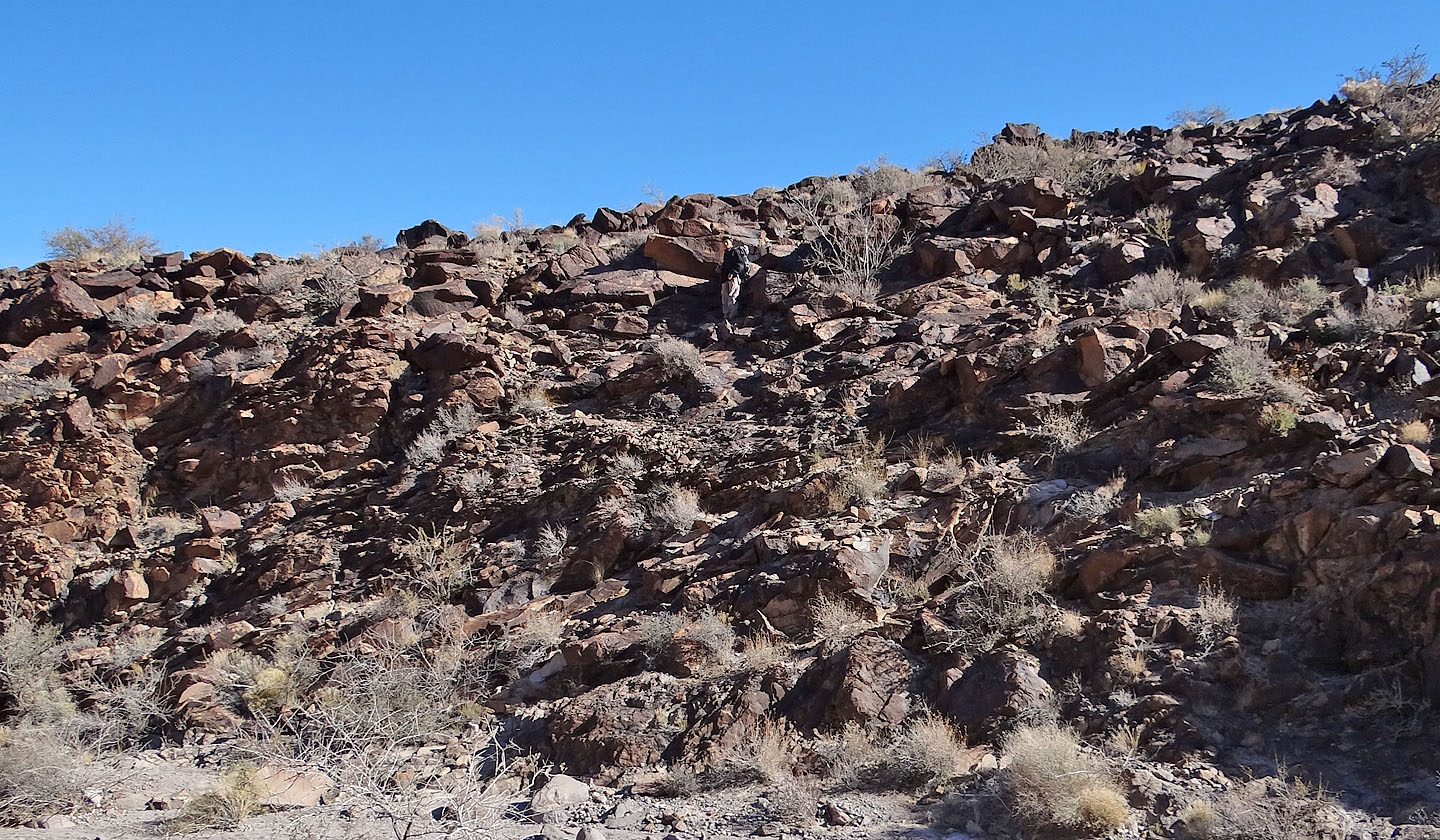 Shin searches for petroglyphs on the hillside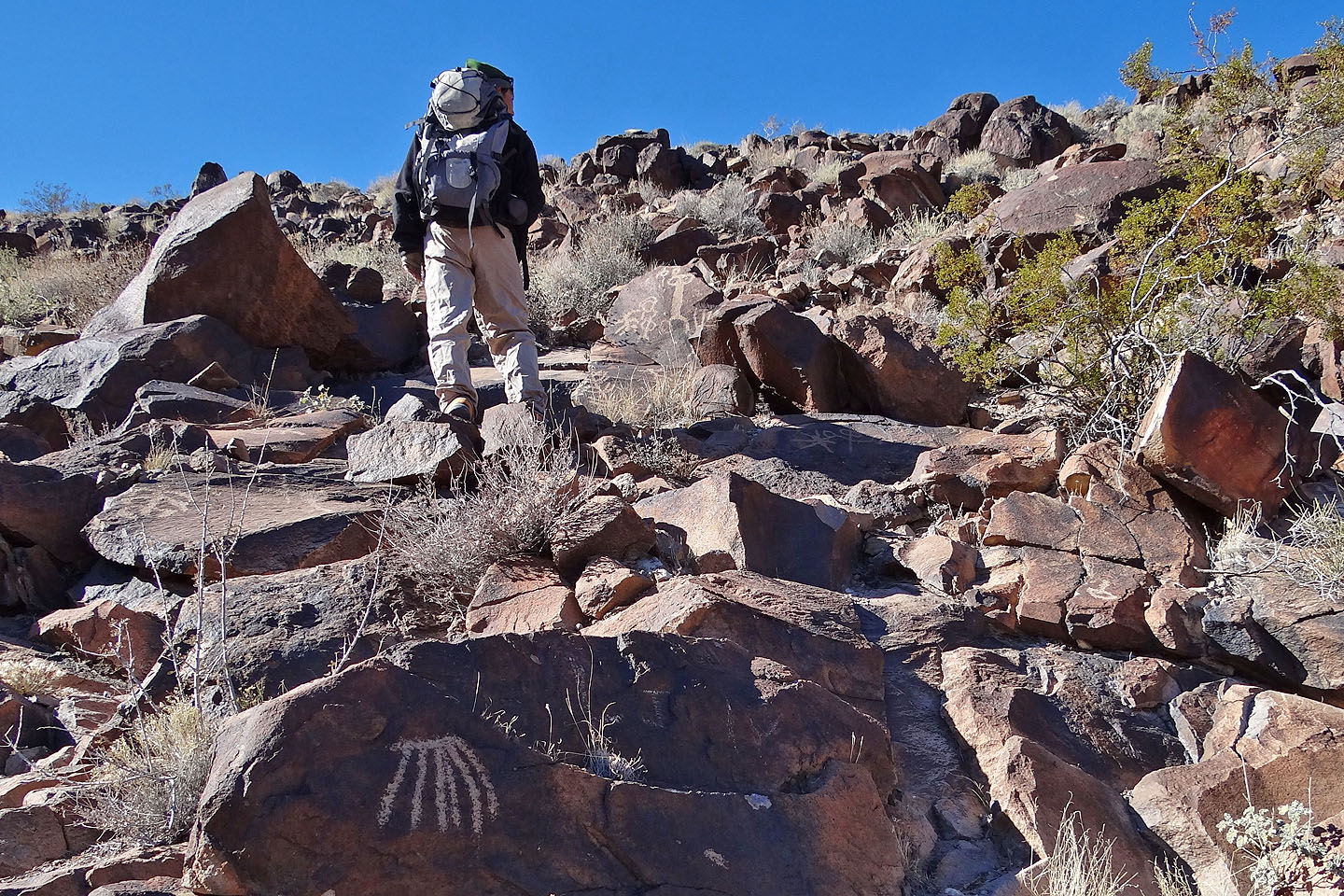 Shin studies a petroglyph (mouse over)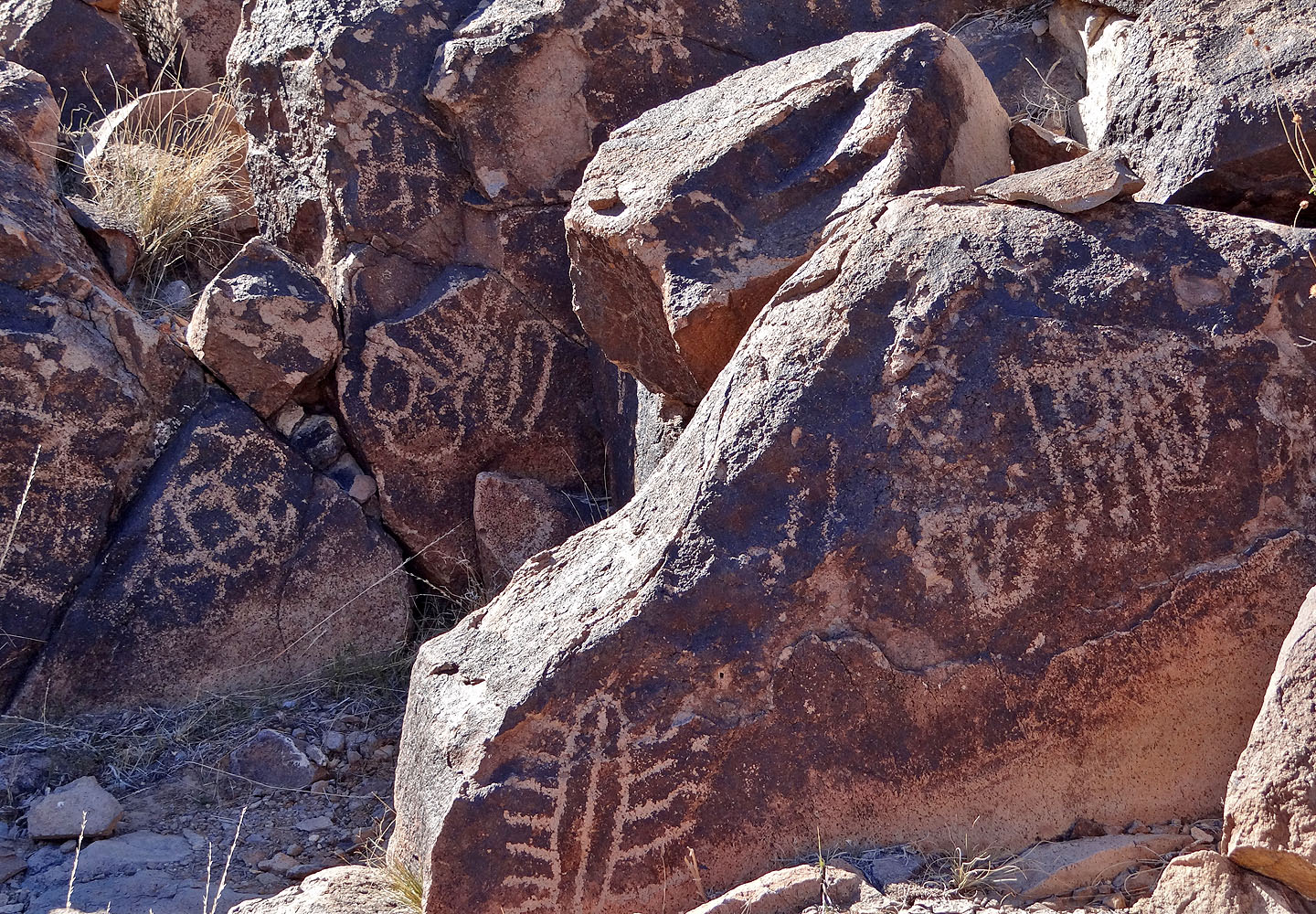 It seemed every rock with patina had been etched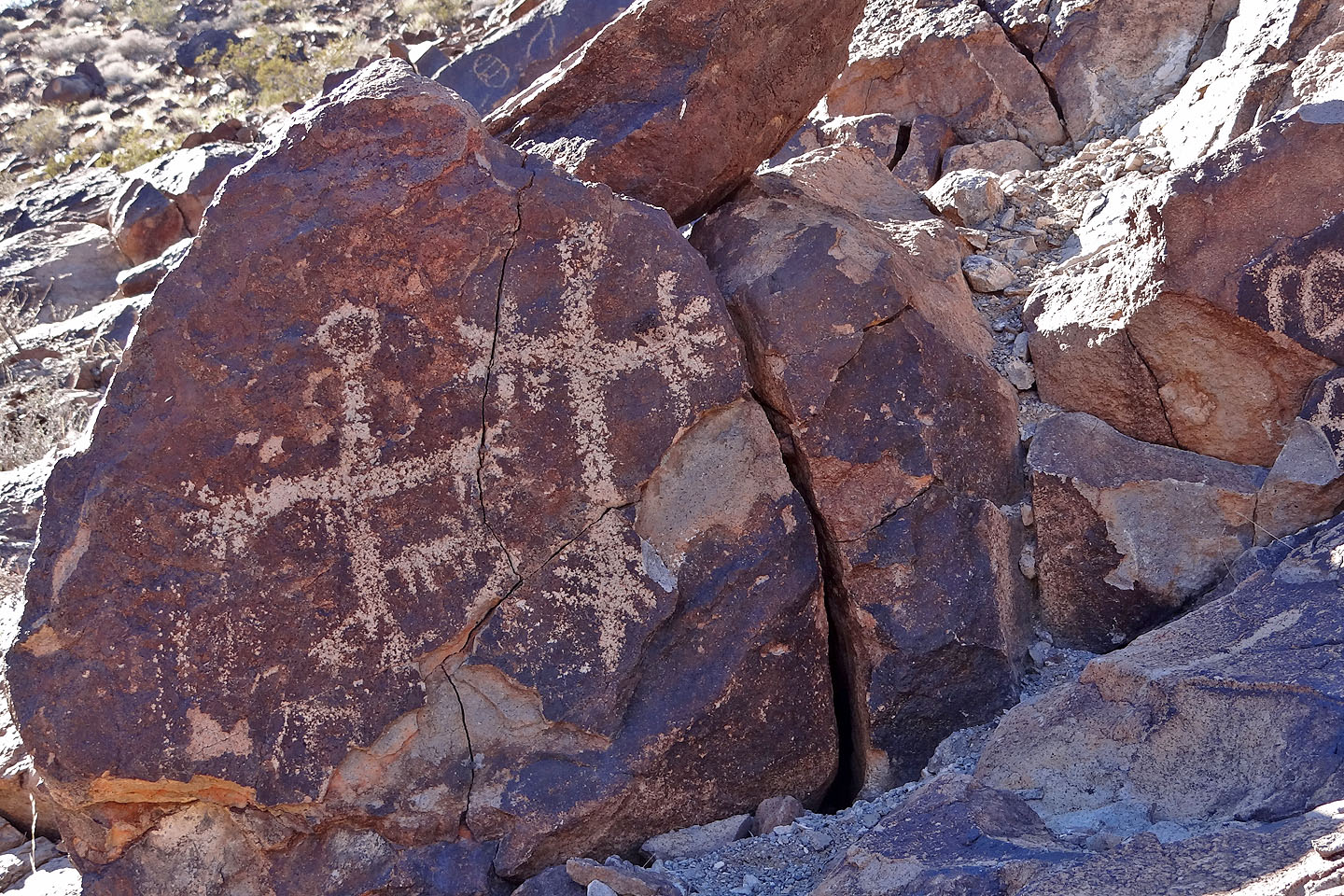 Some of the hundreds of petroglyphs in the canyon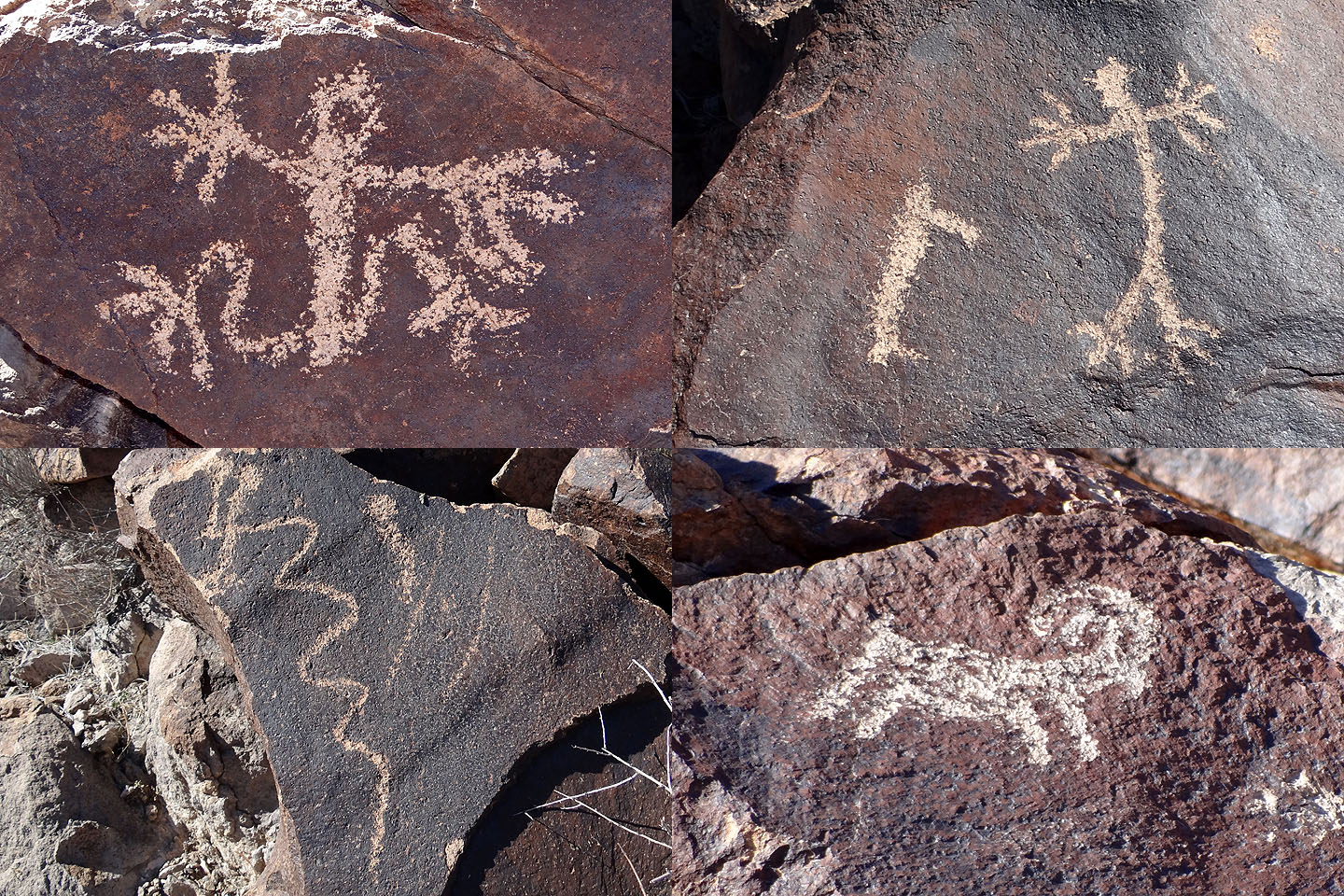 People and animals were a recurring theme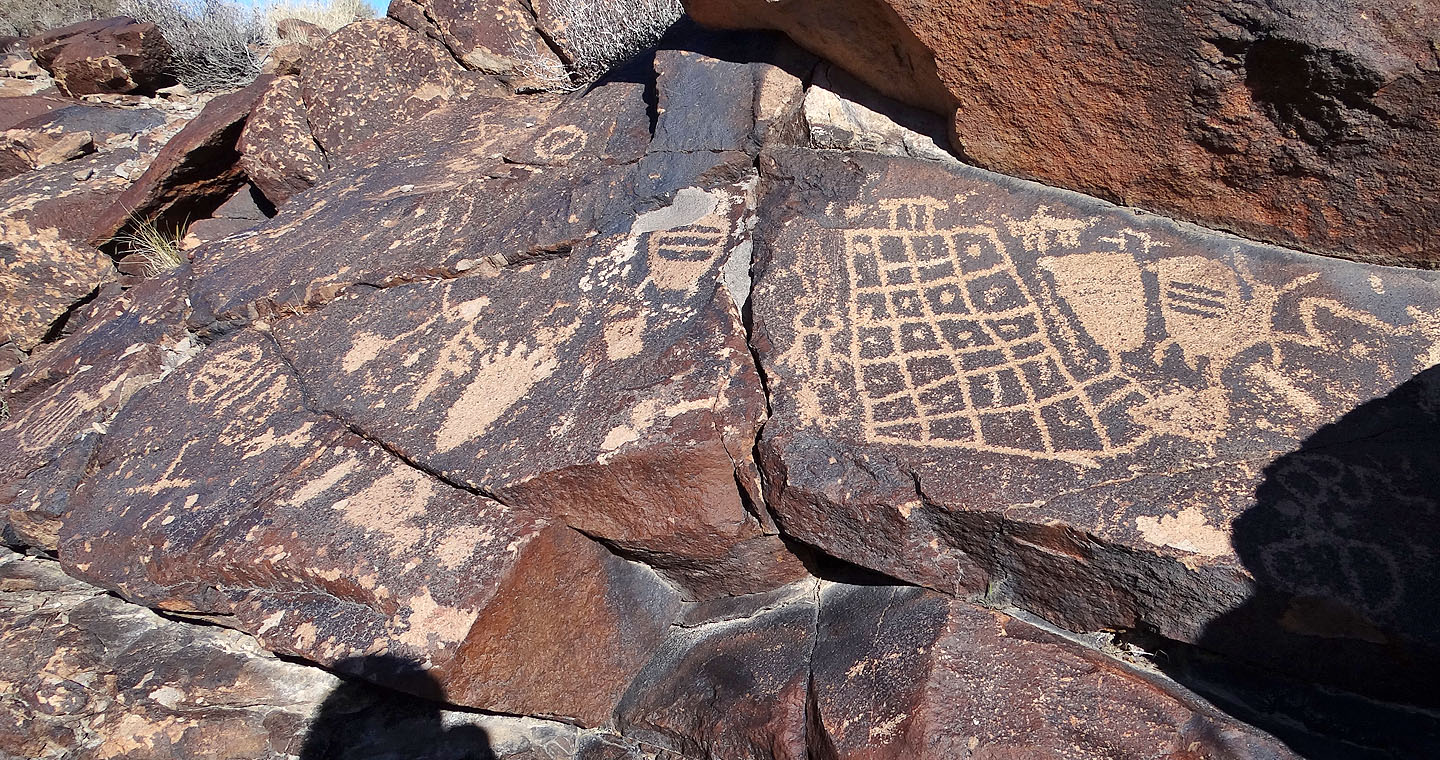 There were abstracts and patterns as well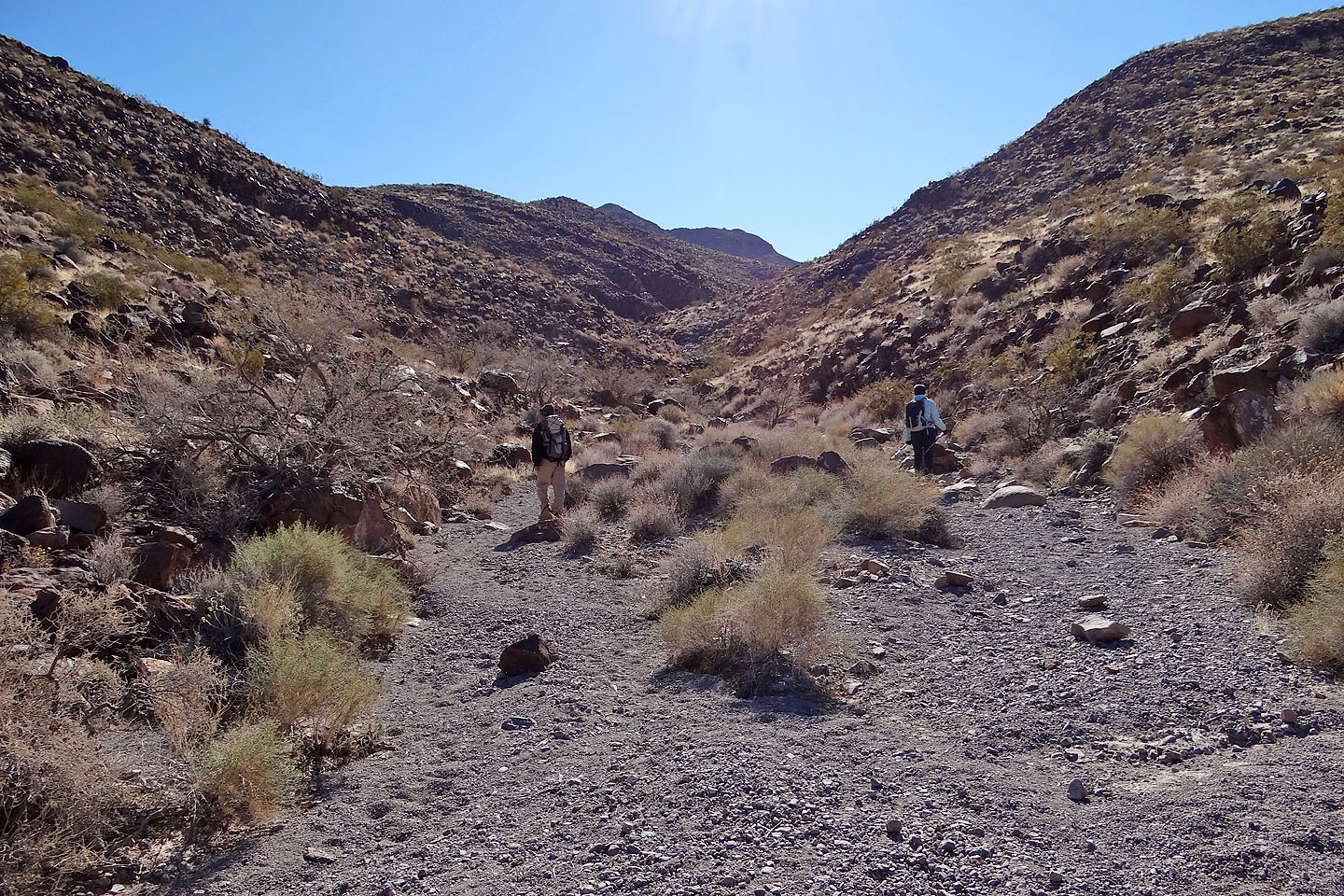 Continuing up the canyon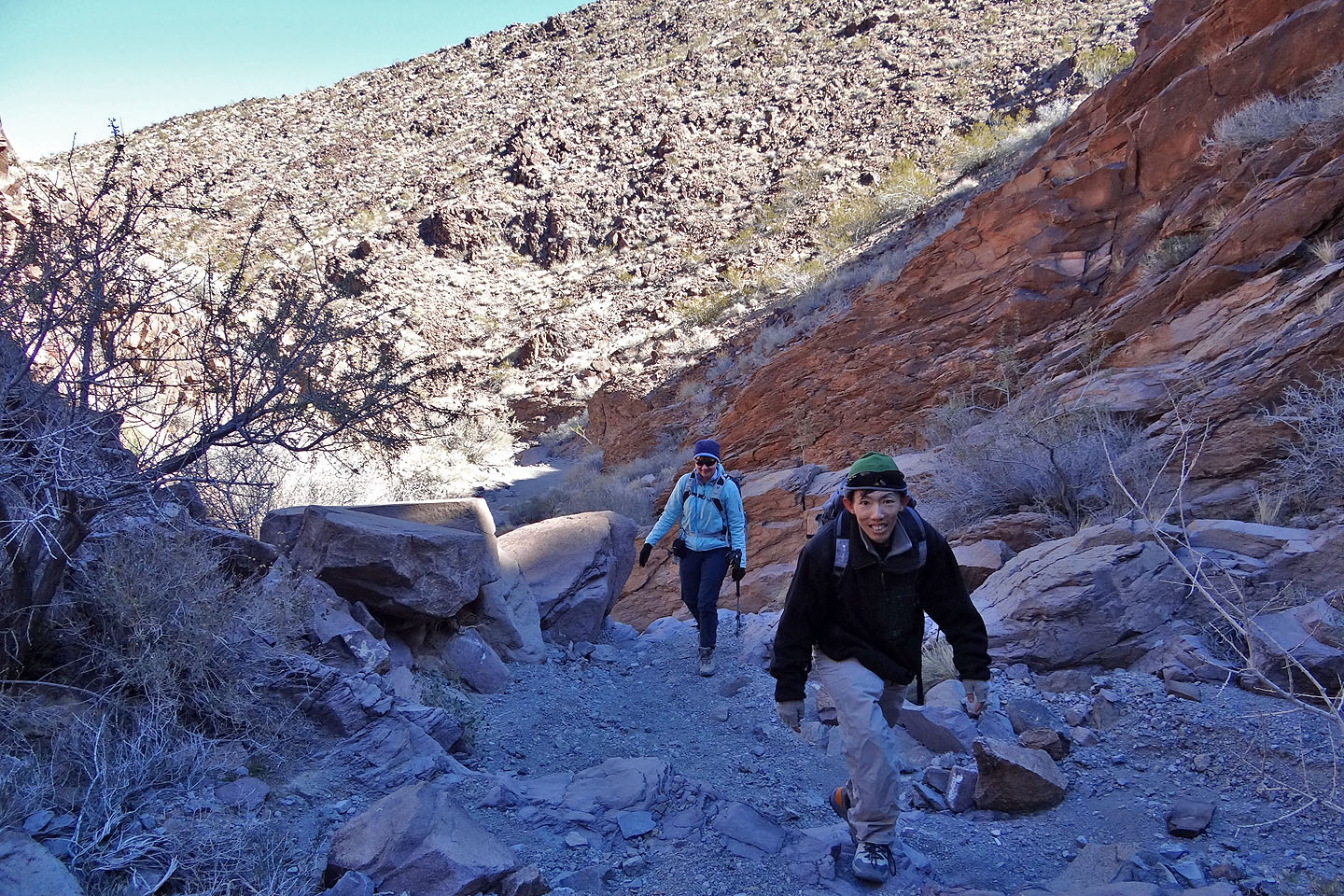 The area was in a cold snap so temperatures hovered around freezing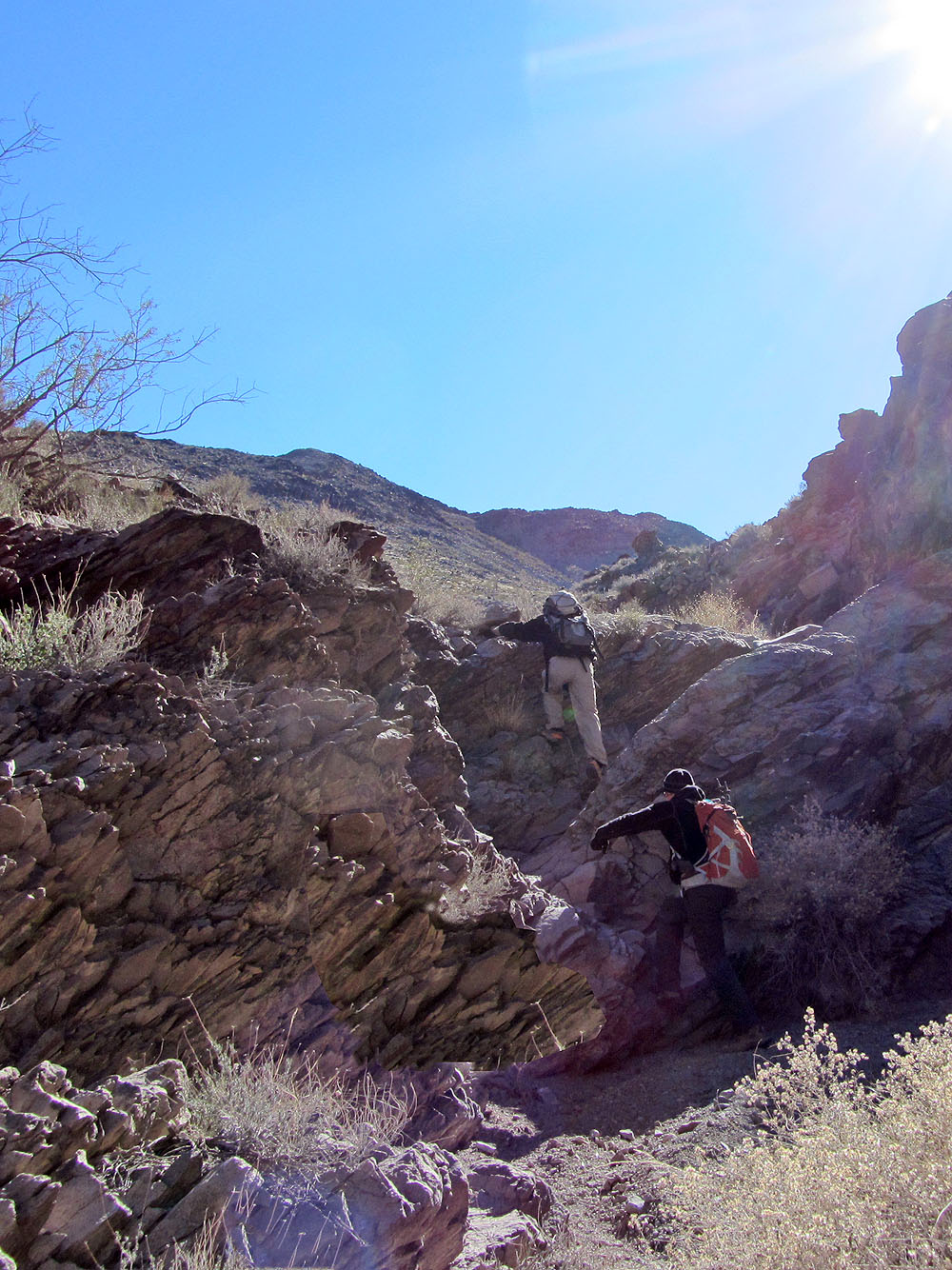 Brief sections of easy scrambling in the canyon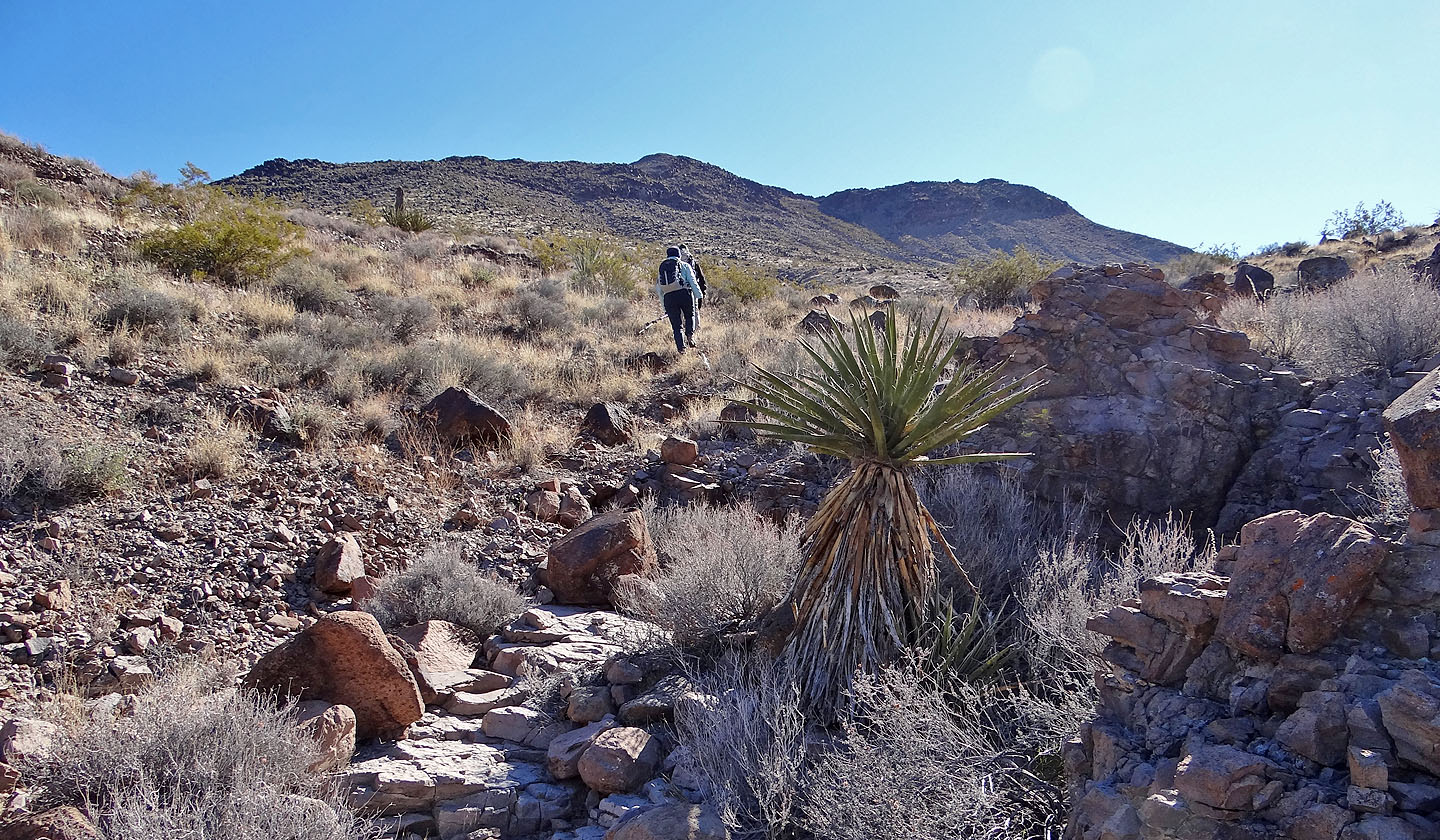 After exiting the canyon we head to Sutor Peak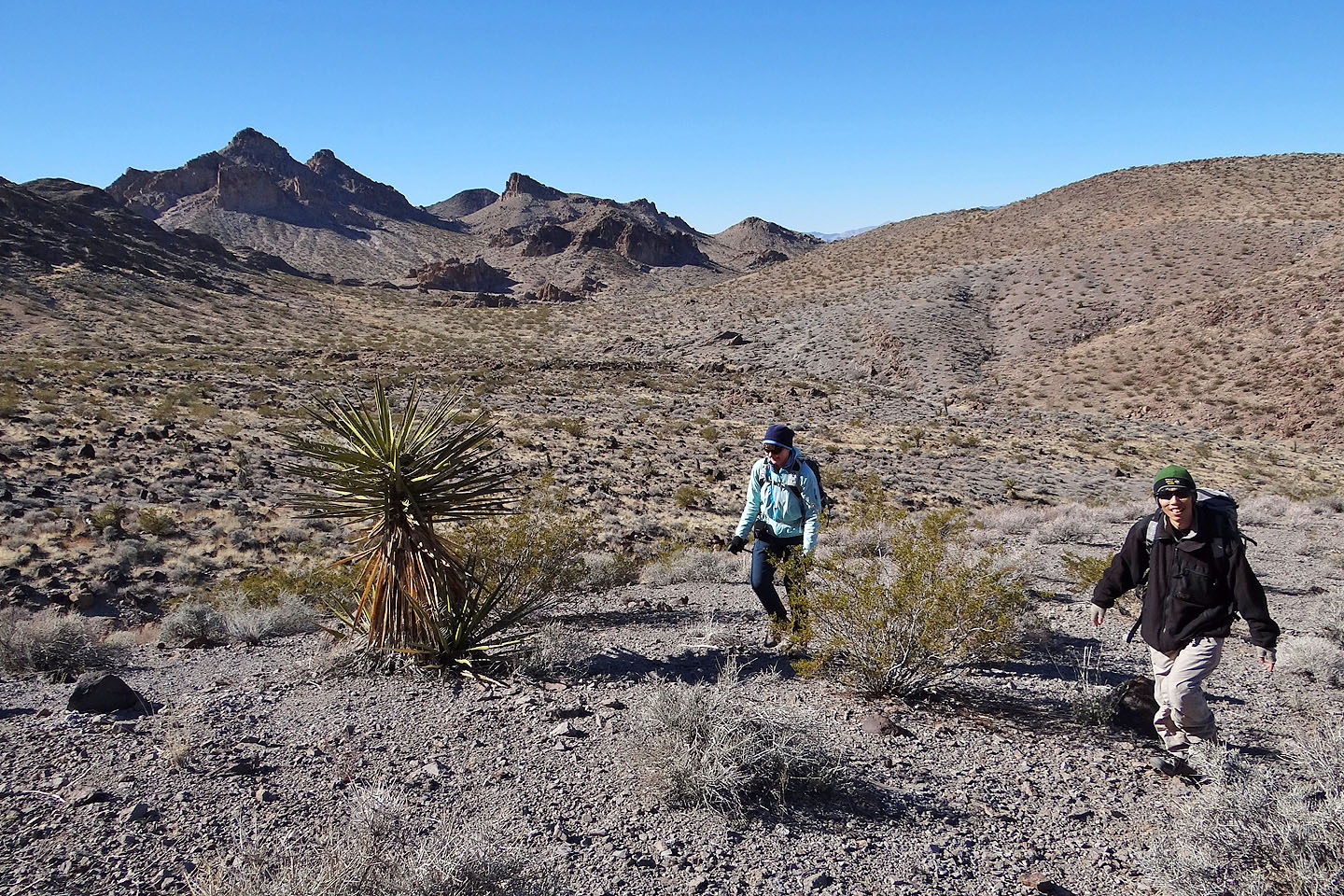 Small, unnamed peaks to the west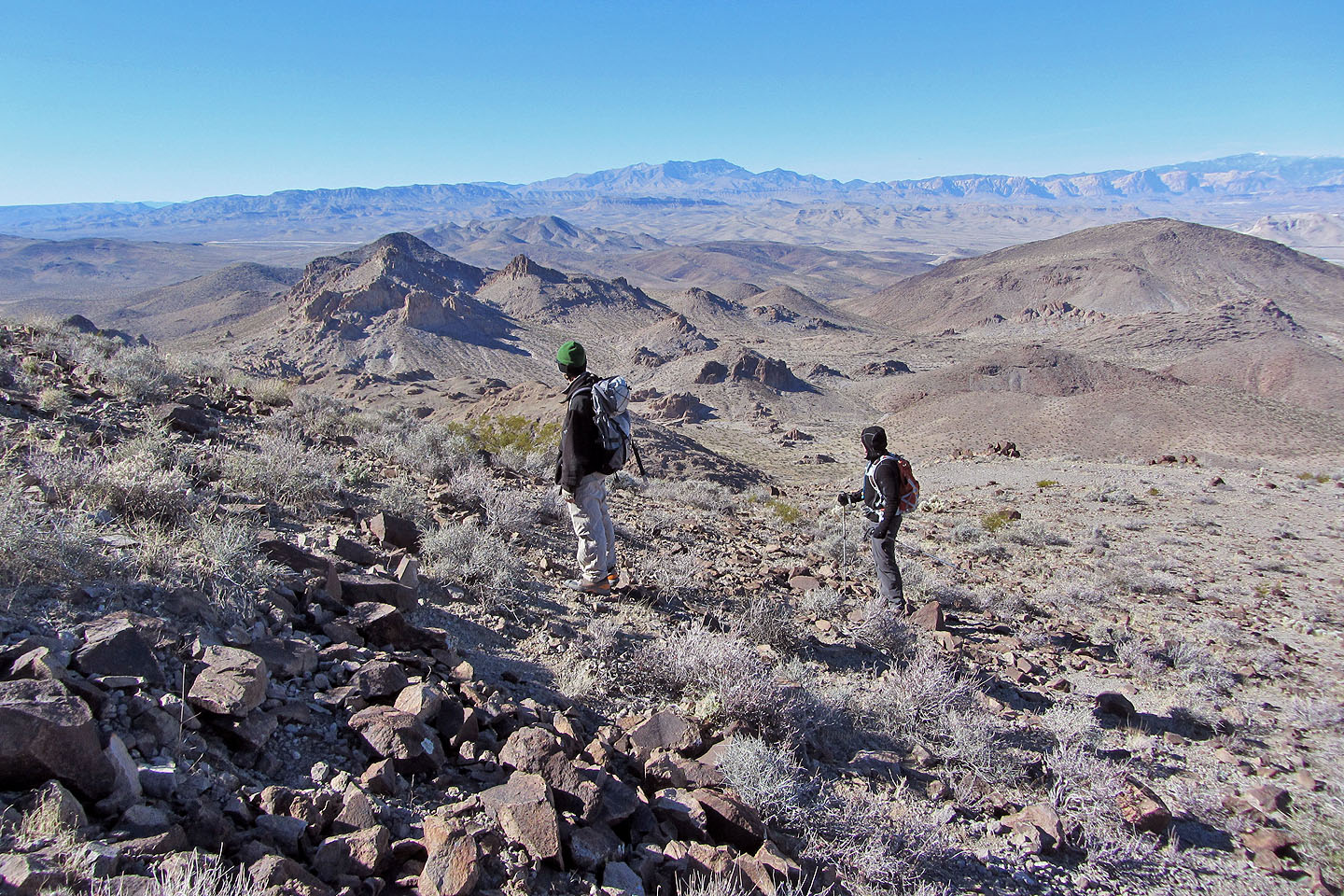 Potosi Mountain to the west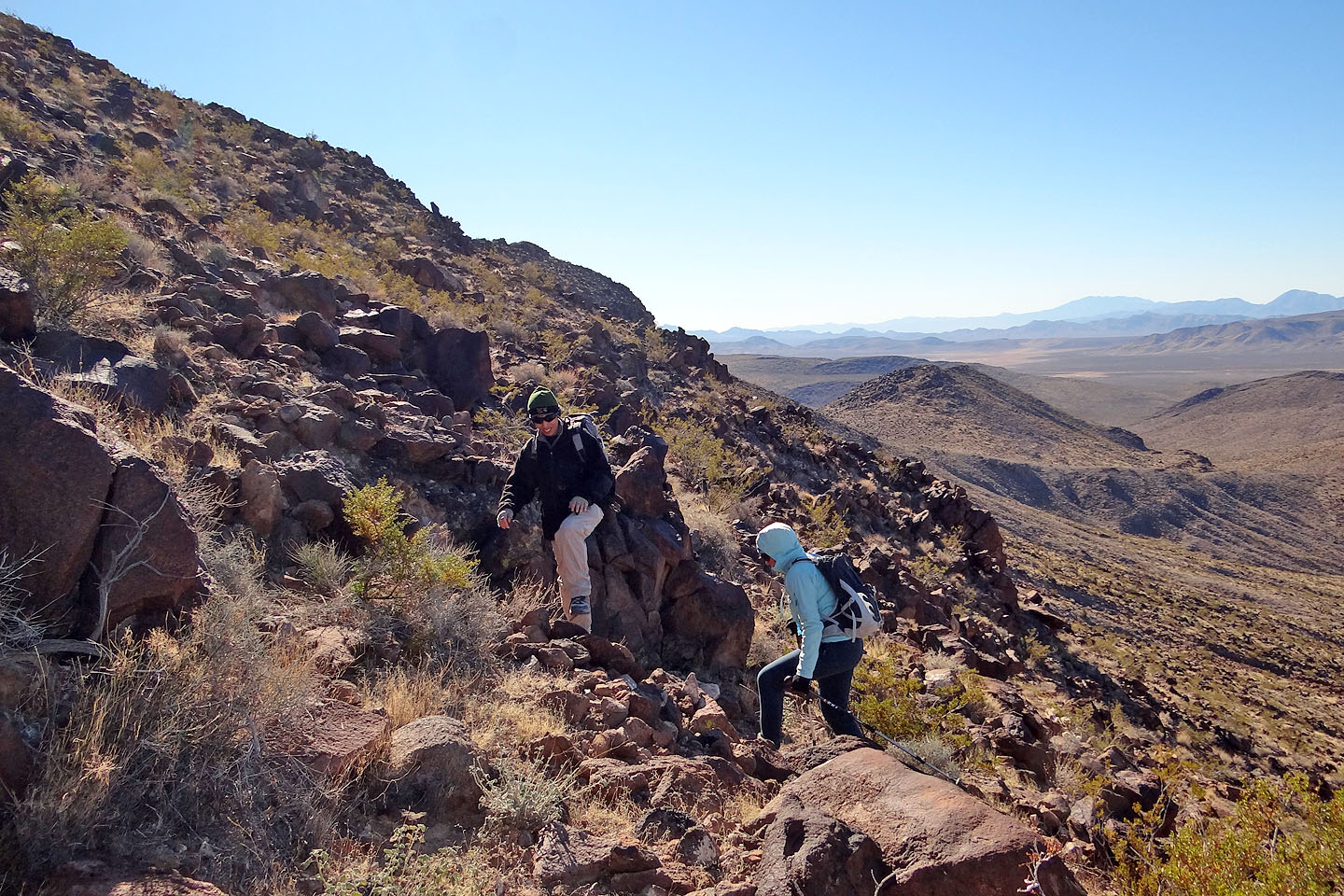 The slope steepens near the crest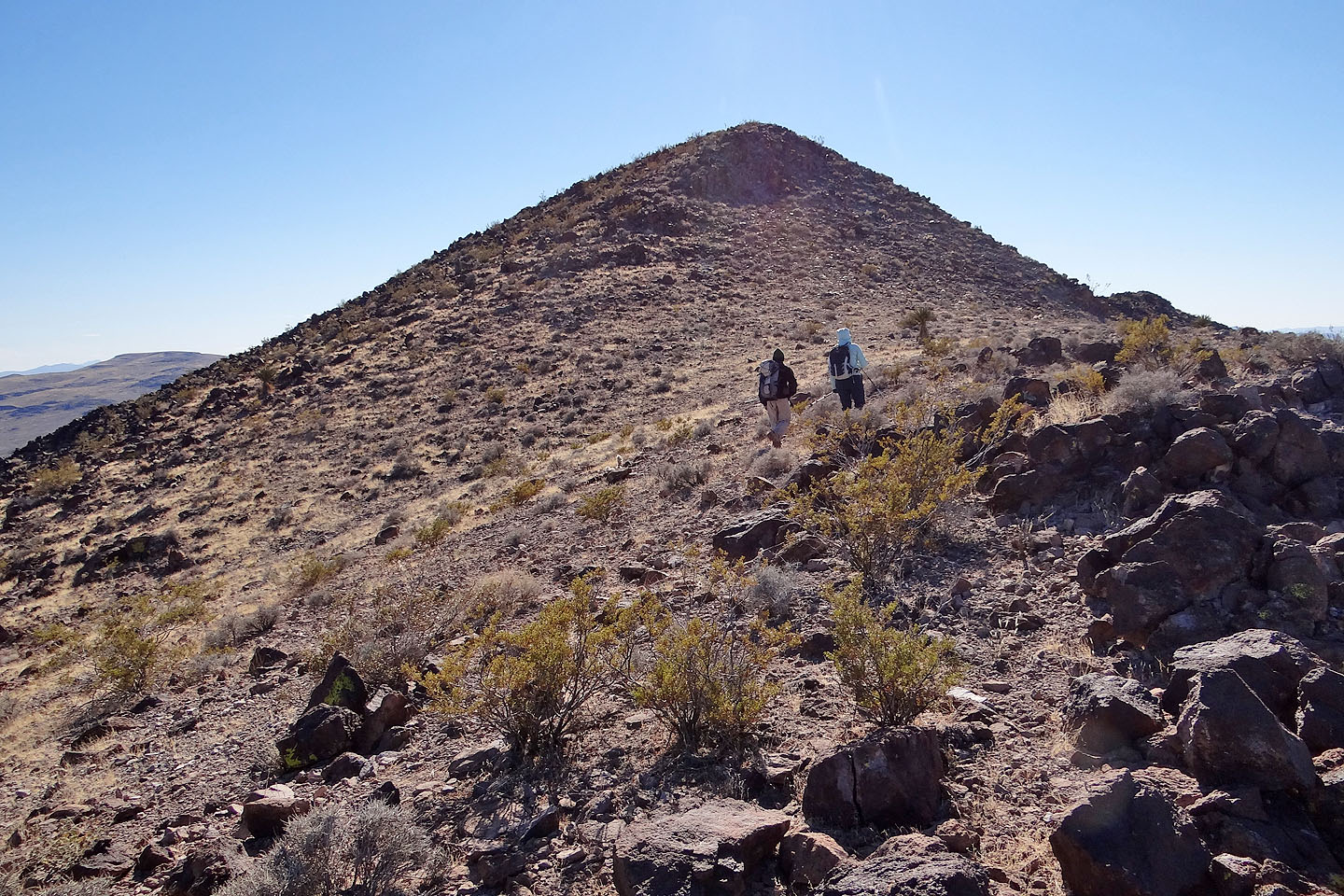 On the ridge heading to the summit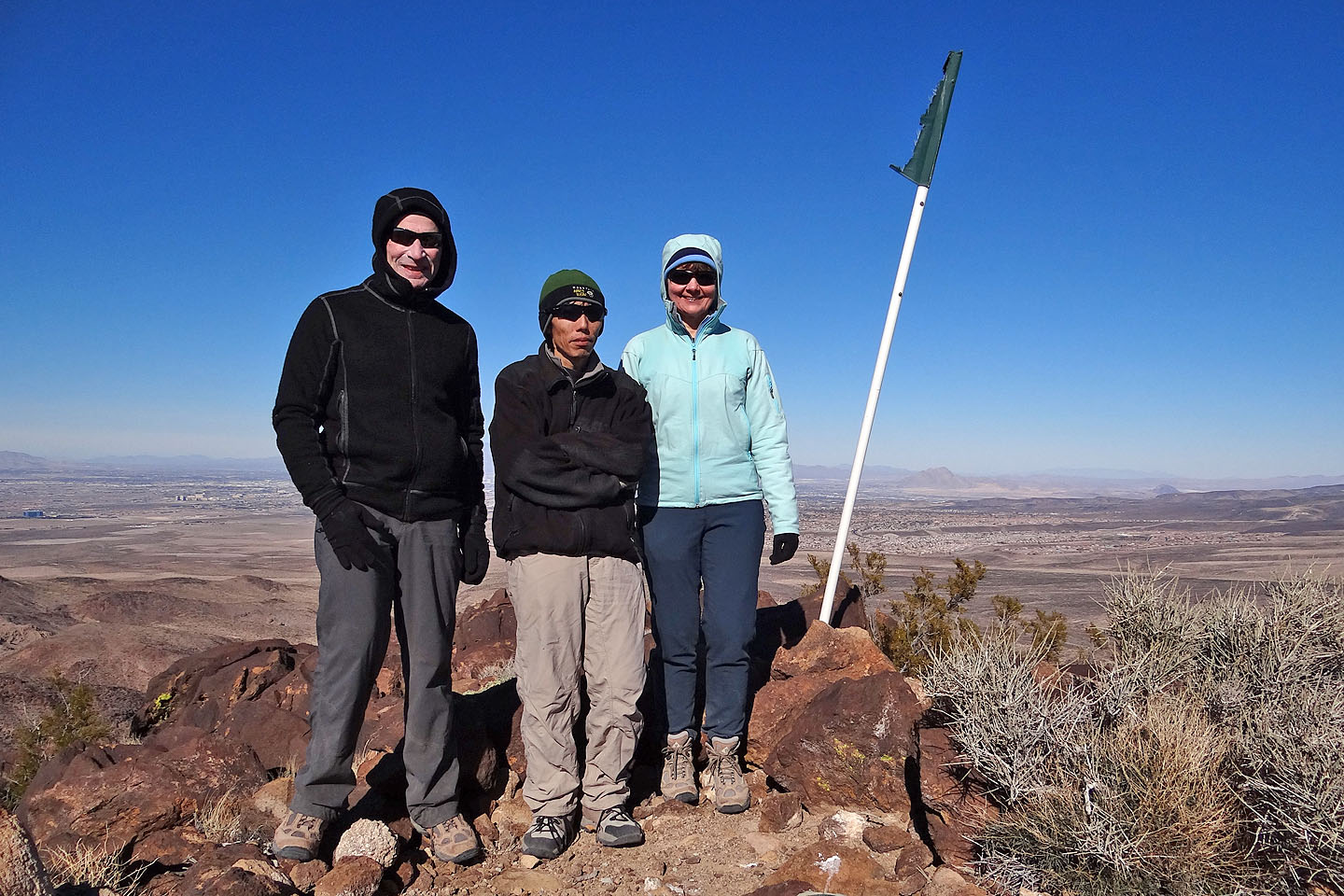 The summit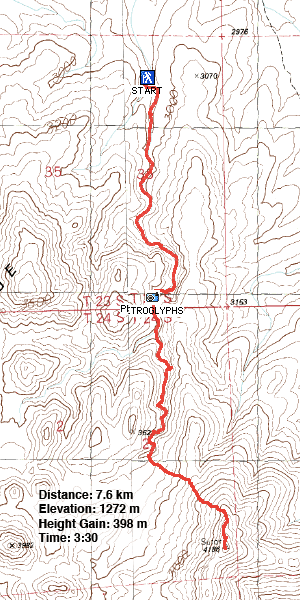 Sloan and Sloan NE (4.7 mi, 4173 ft, 1306 ft)