bobspirko.ca | Home | Canada Trips | US Trips | Hiking | Snowshoeing | MAP | About

Sunrise Mountain
Las Vegas, Nevada
January 15, 2013
Distance: 7.8 km (4.8 mi)
Cumulative Elevation Gain: 511 m (1677 ft)
Sunrise Mountain lies so close to the edge of Las Vegas that some hikers park at an Albertsons supermarket and walk a mile up the road to the trailhead. Indeed, it's recommended. Auto break-ins are common on the barren stretch of road by the trailhead. But Dinah and I parked at the trailhead without incident. The heck with walking up a paved road!
An intervening ridge blocked our view of Sunrise Mountain from the trailhead, but after hiking over a low pass, we saw our objective. Instead of going directly to the mountain, however, we followed a wash that meandered left of it. At this point, we had dropped down 90 m from the pass, leaving us 40 m below the trailhead. When we came to an impressive arch on the slope on our right, it looked like a good place to leave the wash. After we hiked up and through the arch, we noticed a dirt road below us. We dropped down and started hiking up the road. The road eventually veered right and up, but ahead there was a wash. We left the road and started up the wash, eventually reaching a saddle on the ridge connected to Sunrise Mountain.
When the summit came into view, the route became obvious. Head to the bump before the saddle, climb it and follow the ridge to the summit. Actually, we didn't take the ridge but preferred to follow the base of a cliff band on the left side.
From the summit we had the satisfaction of seeing Nellis Air Force Base far below us. En route we had seen jets overhead and heard their thundering roar. Now we could see them landing and taking off. Then after lounging on the summit for several minutes, we took off, back down the mountain that is.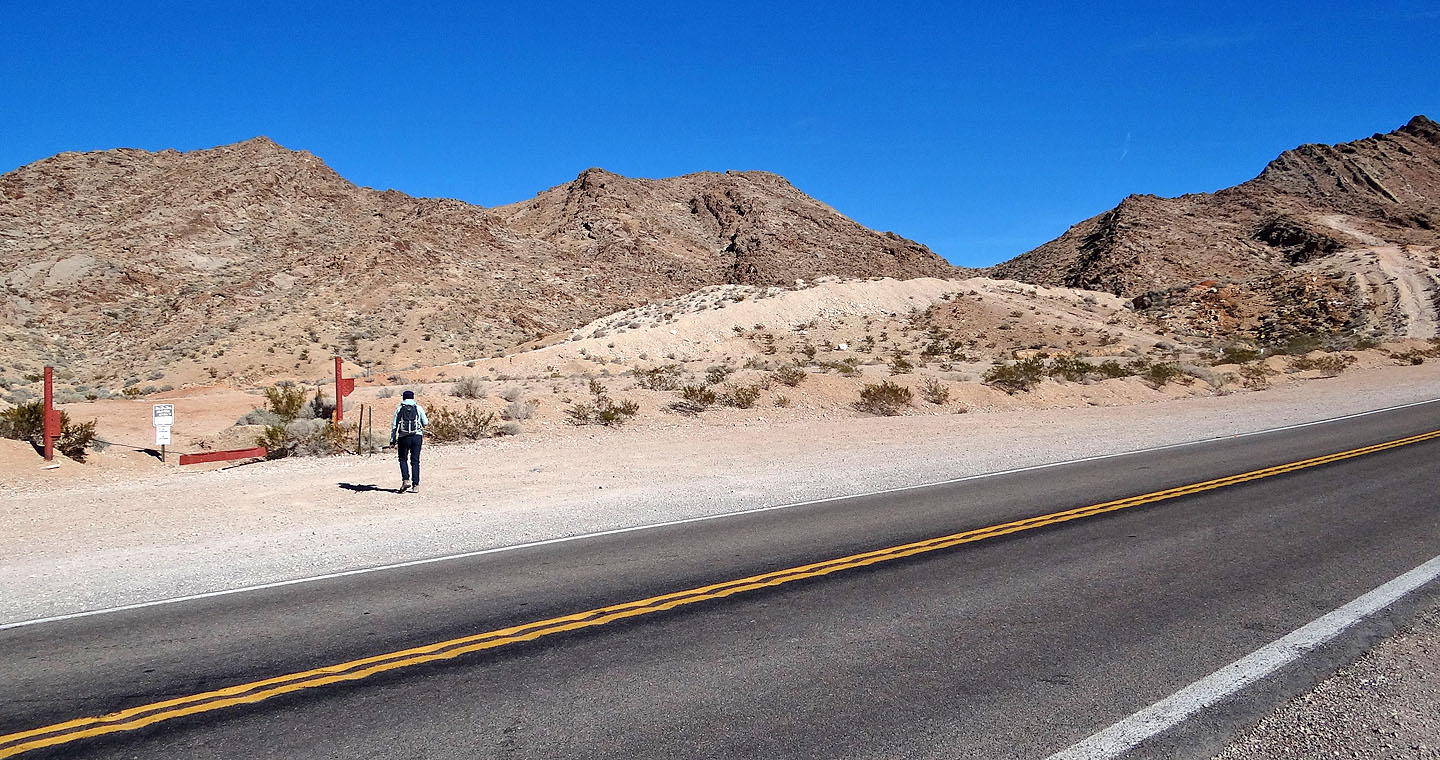 At the trailhead, a road on the white mound ahead leads to a trail, which in turn, goes to the
pass on the right.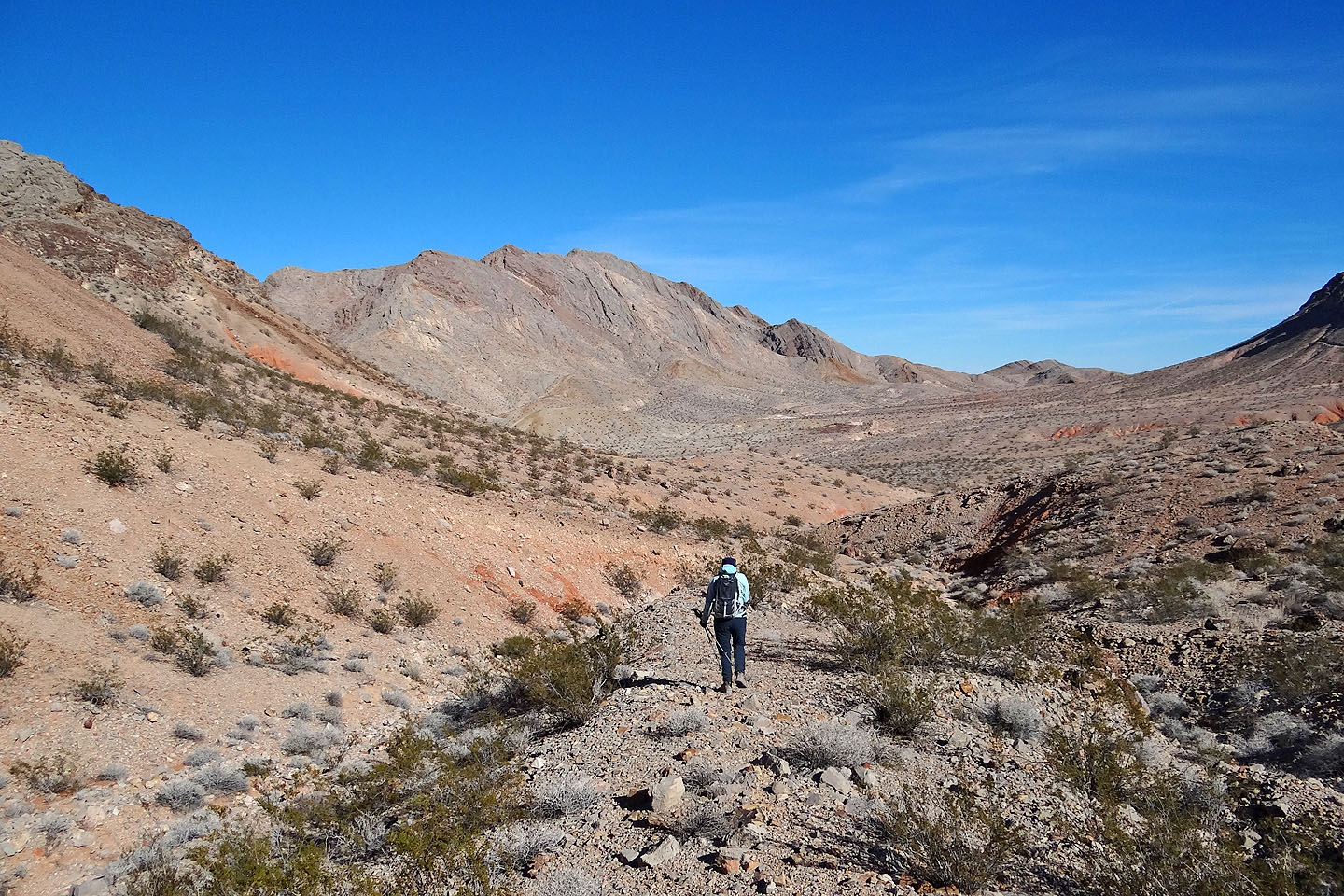 Sunrise Mountain fills the view on the other side of the pass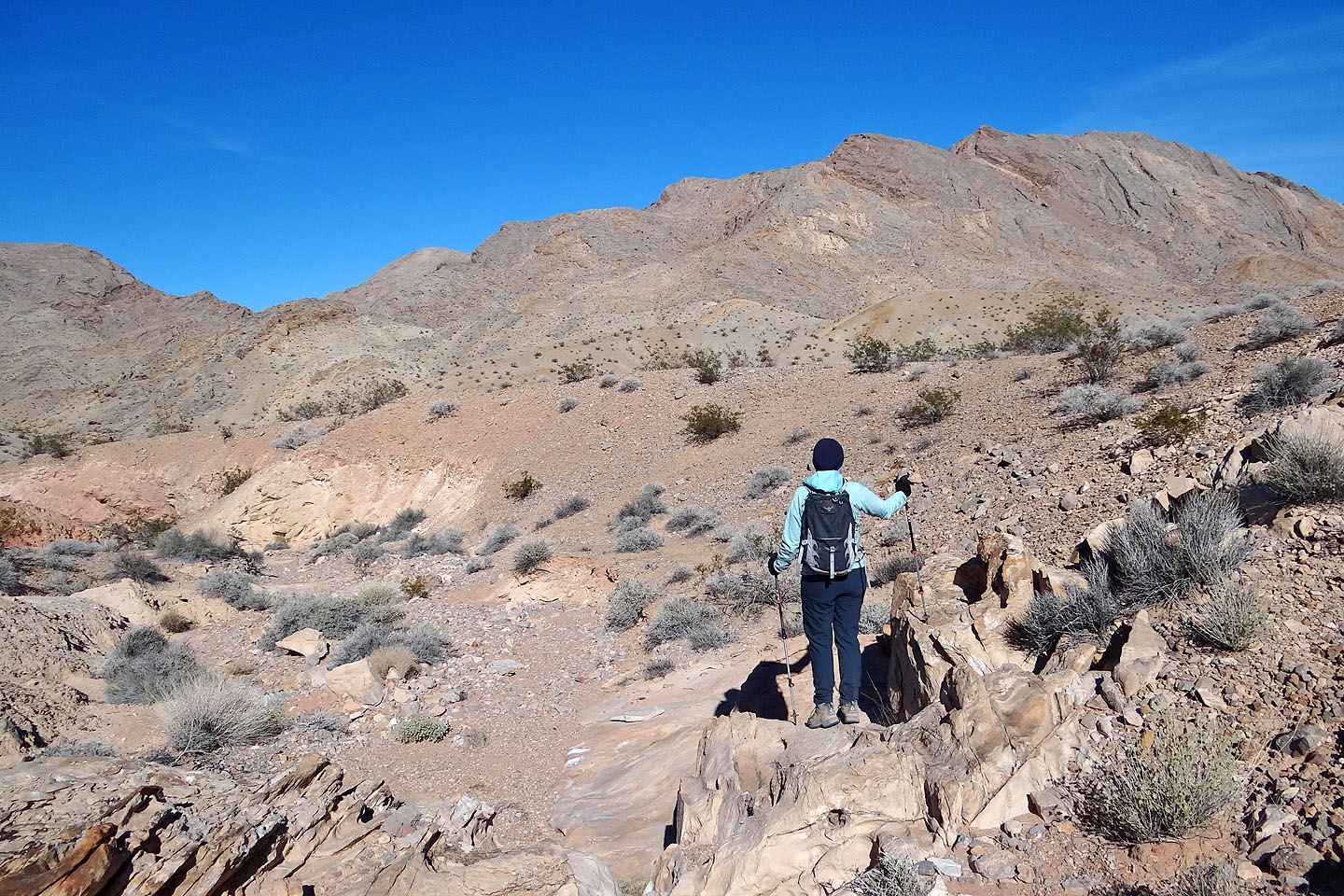 Following the wash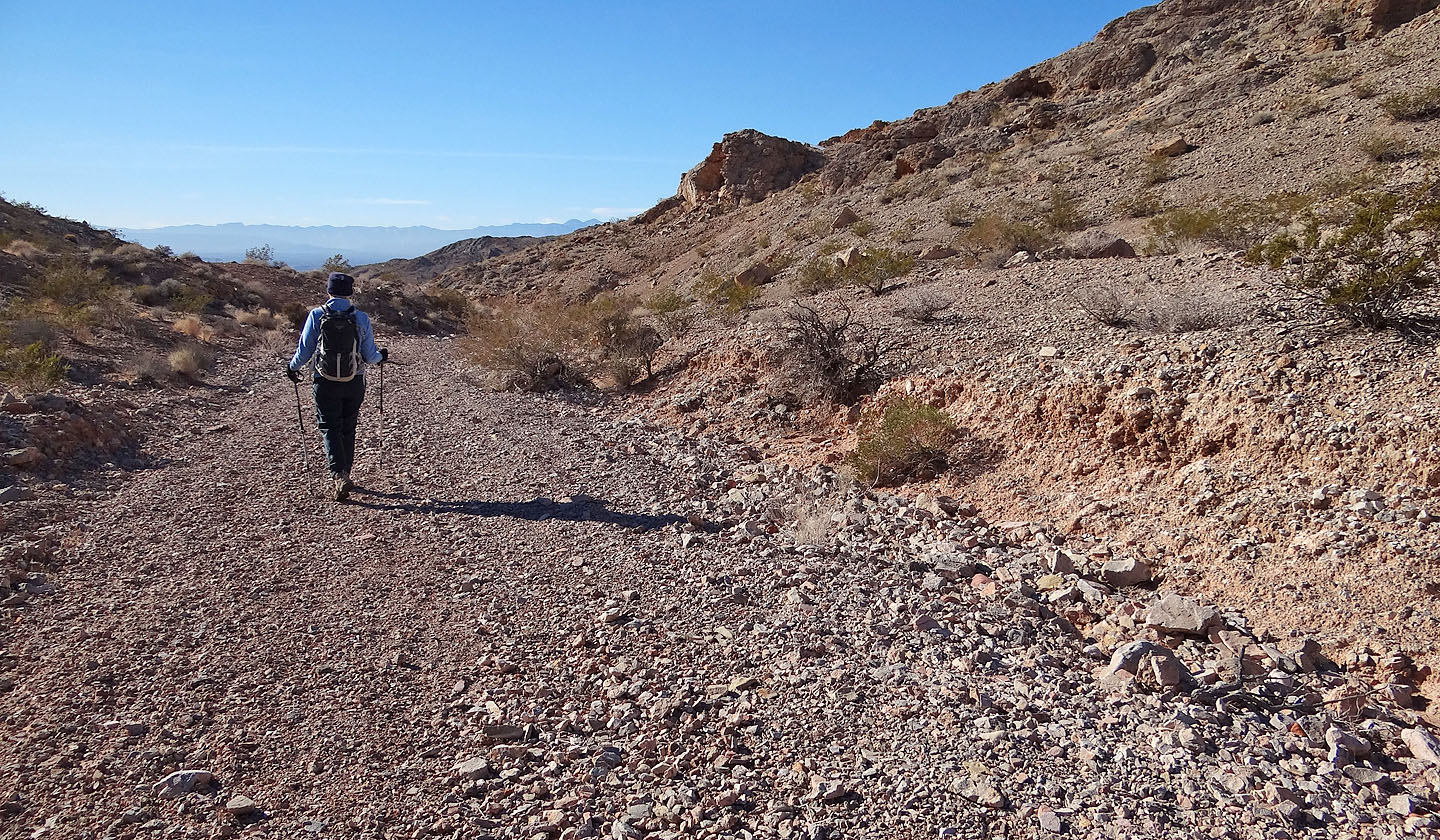 The wash runs by the arch (the outcrop on the slope)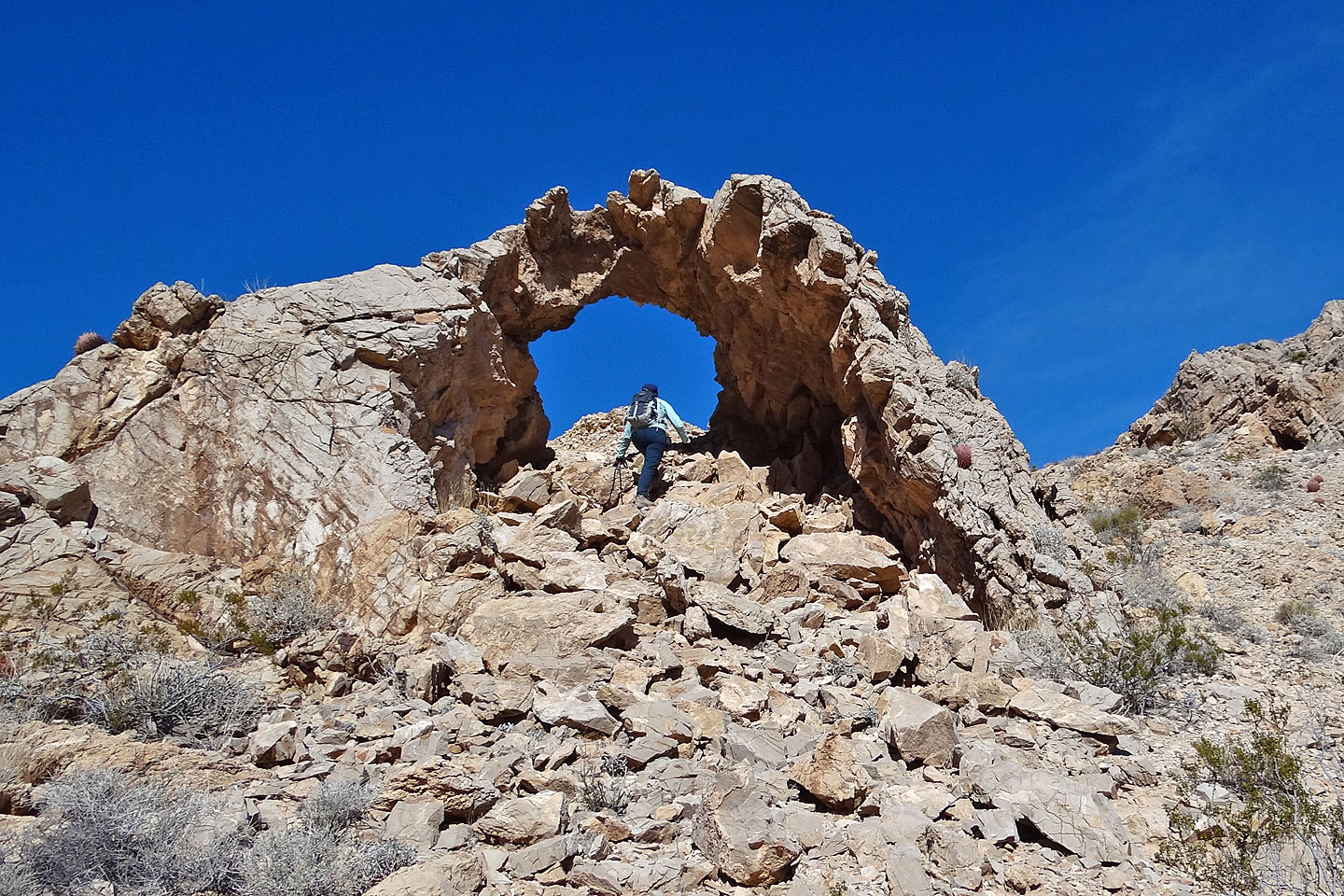 Hiking through the arch (mouse over for a view back through the arch)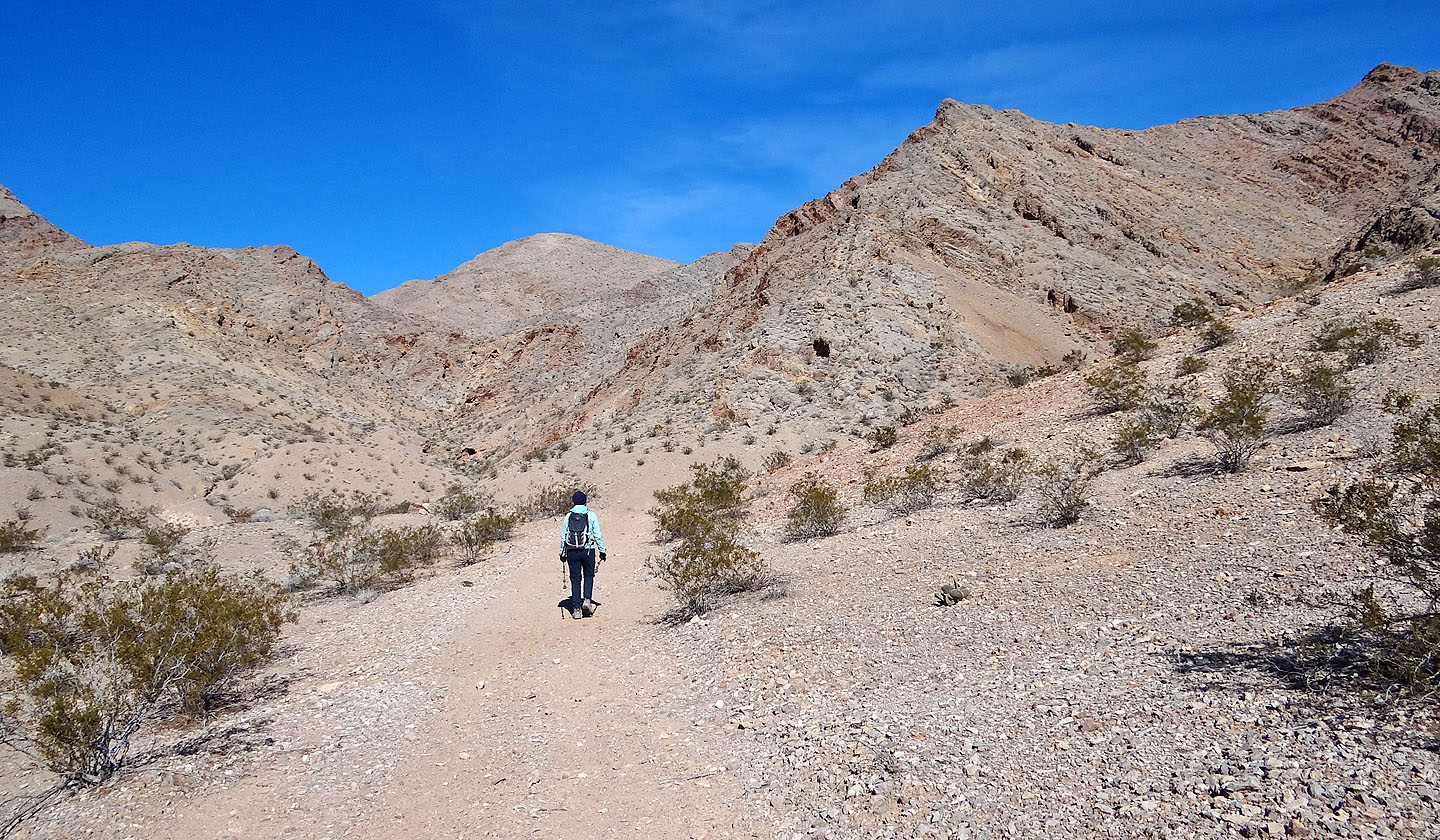 After the arch, we dropped down to a road and headed to the wash straight ahead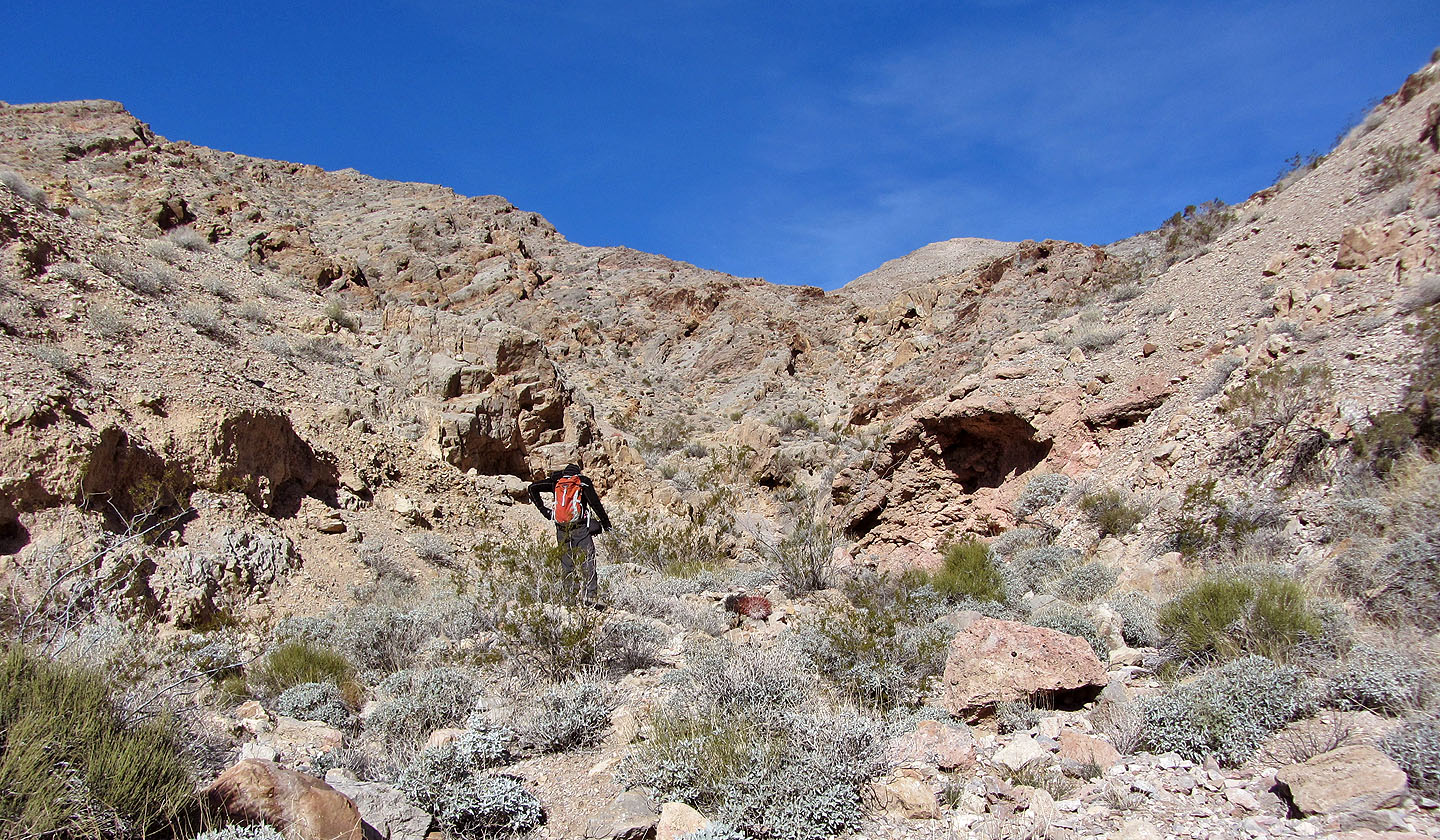 We made our way up the wash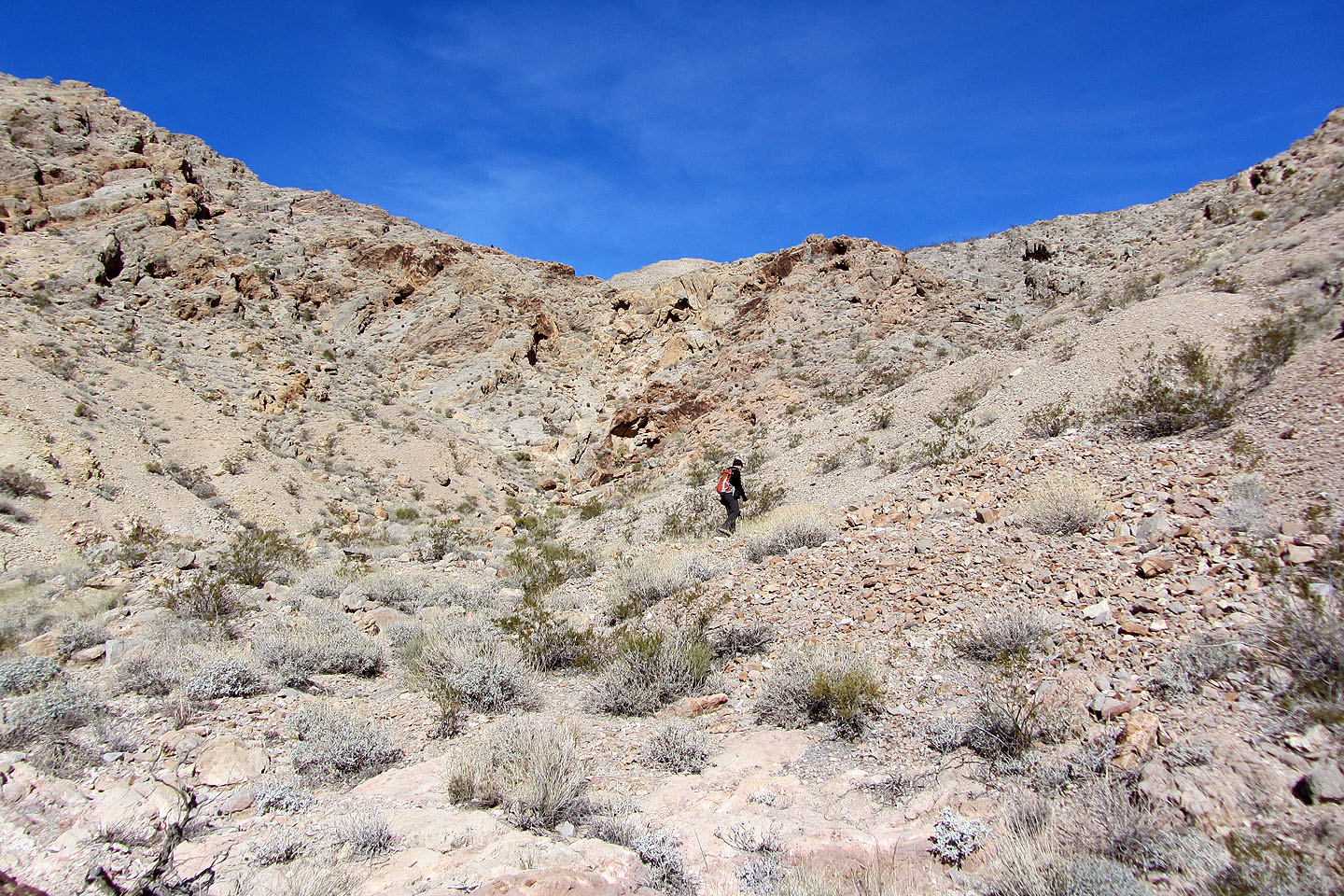 The wash bends to the right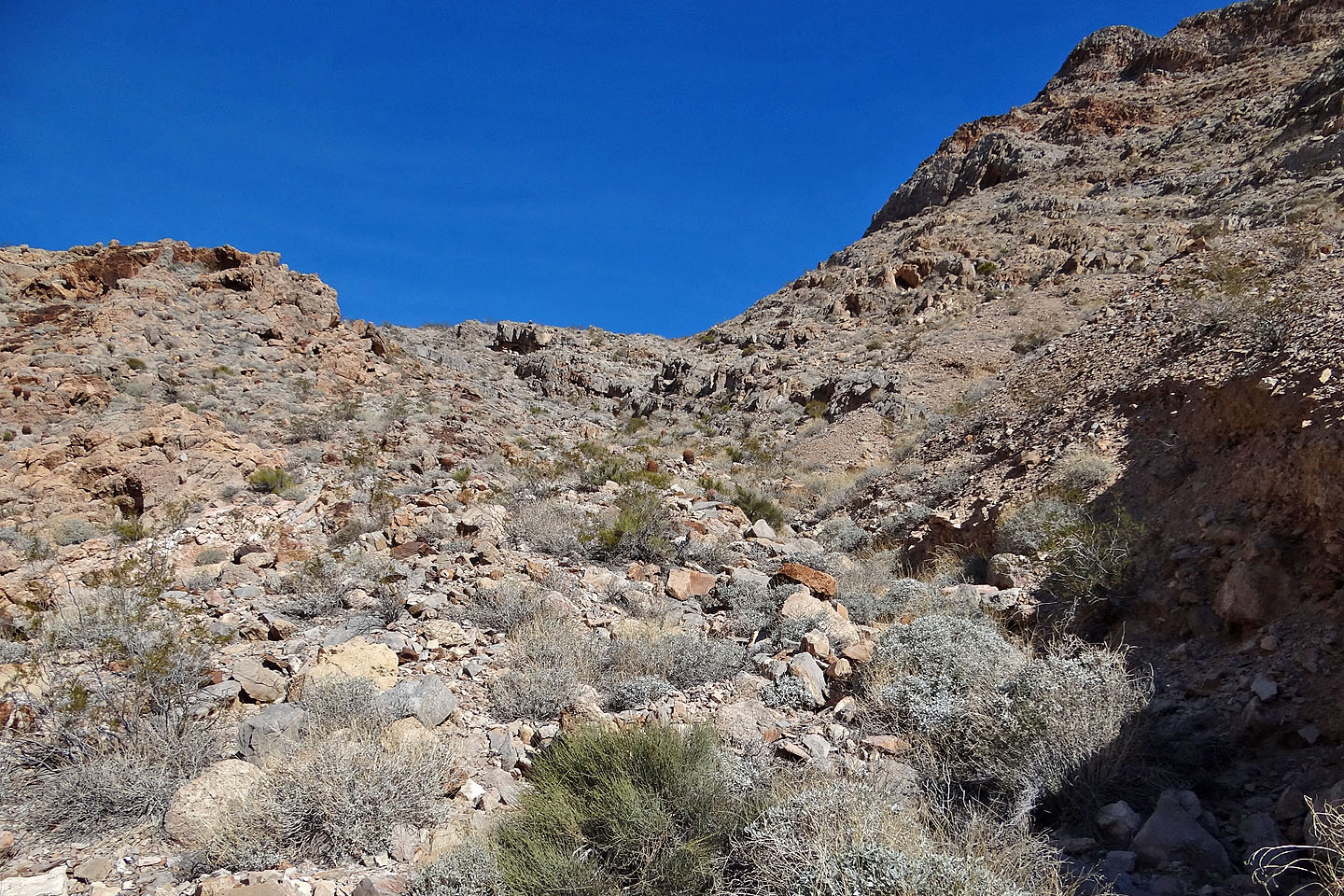 Looking up the wash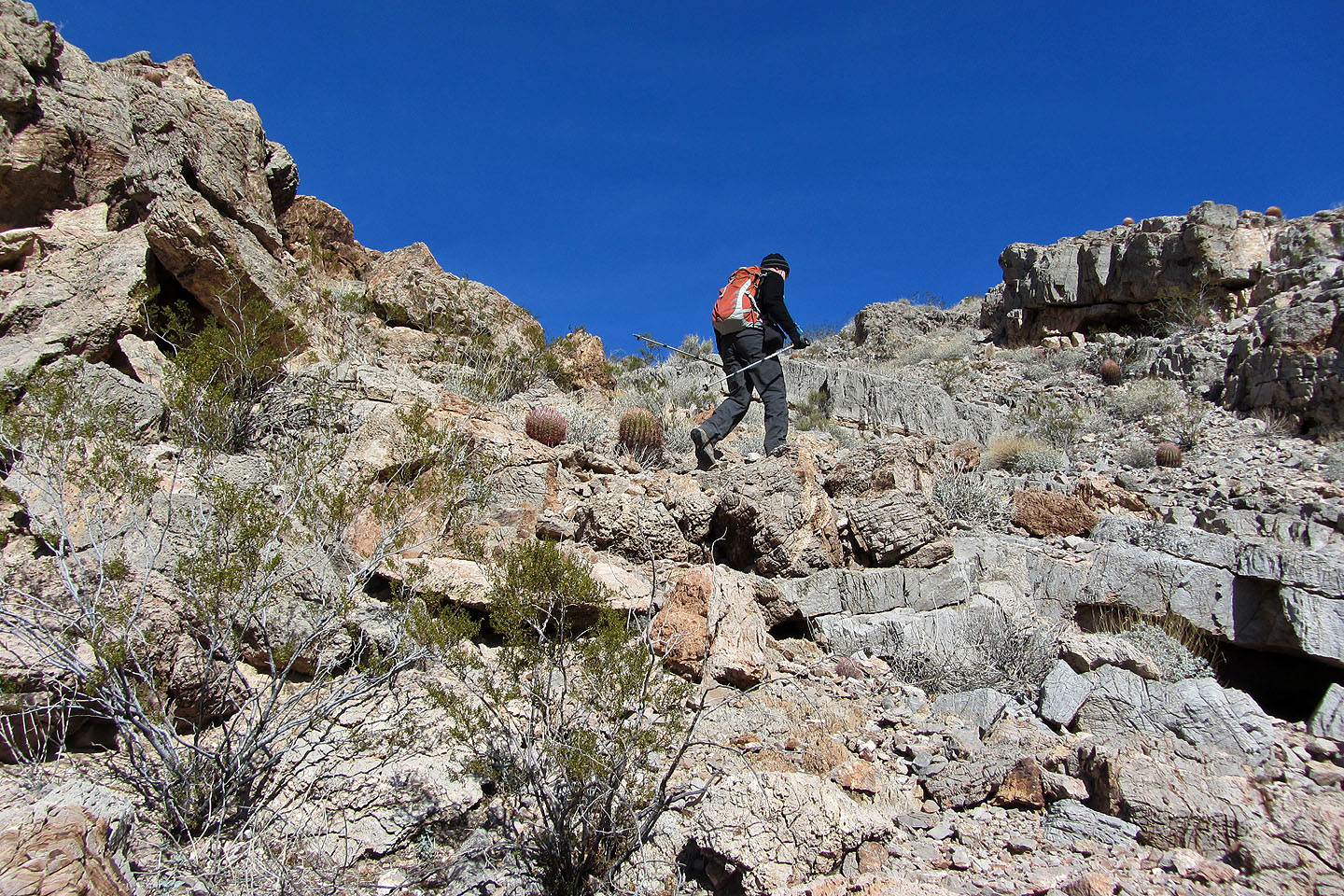 Typical terrain in the wash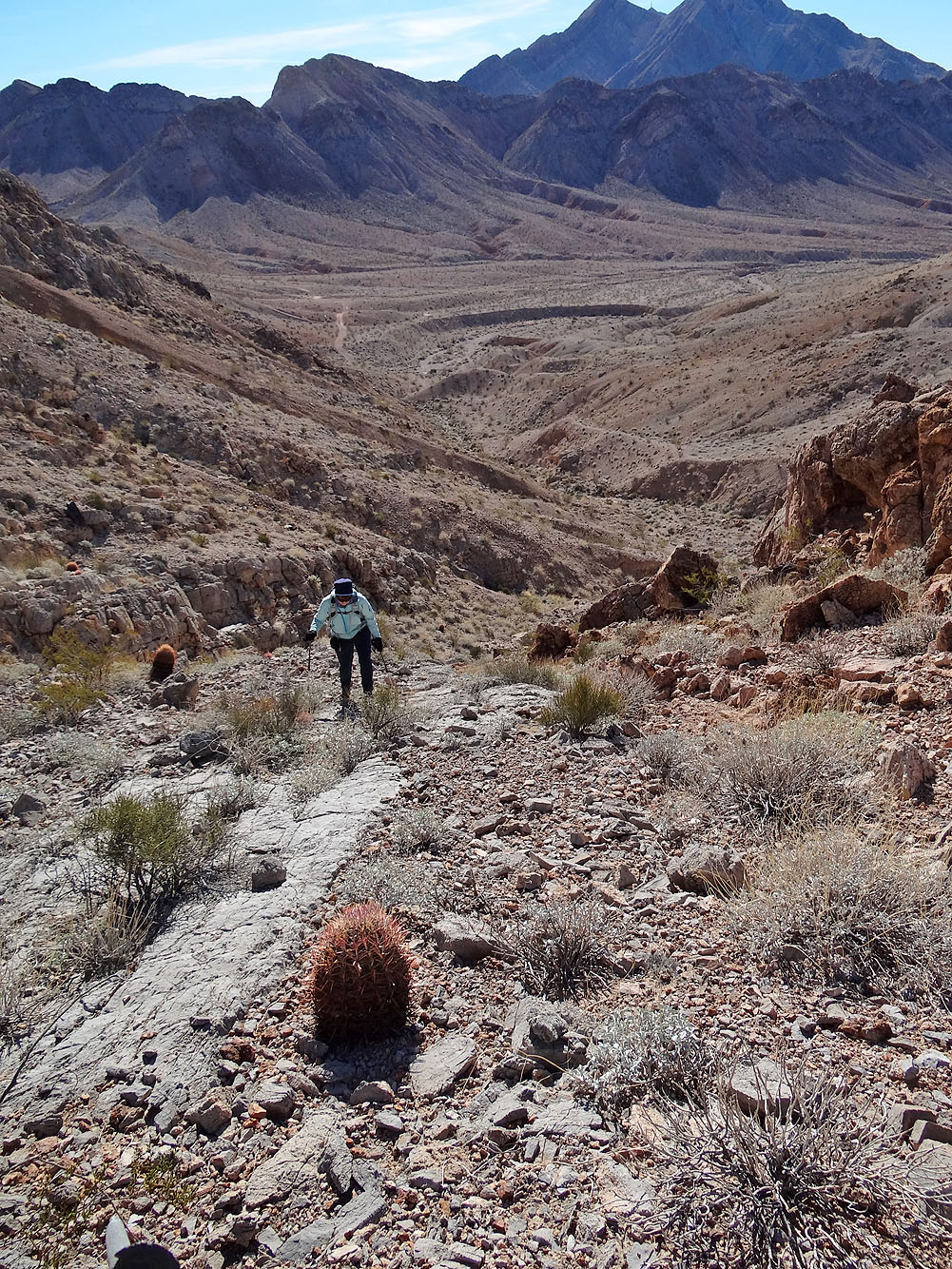 Looking back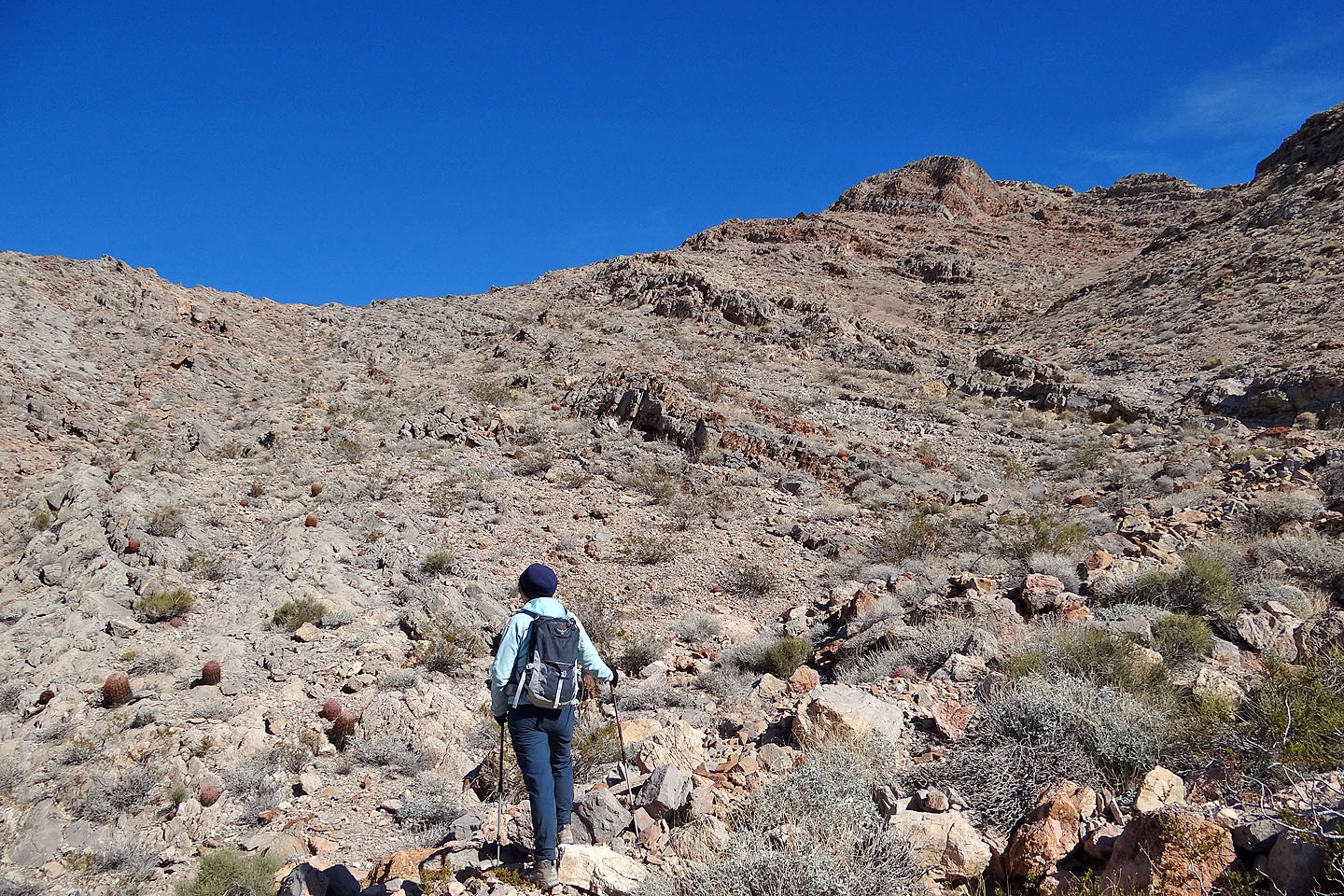 After coming to a rise, we see the low saddle we must reach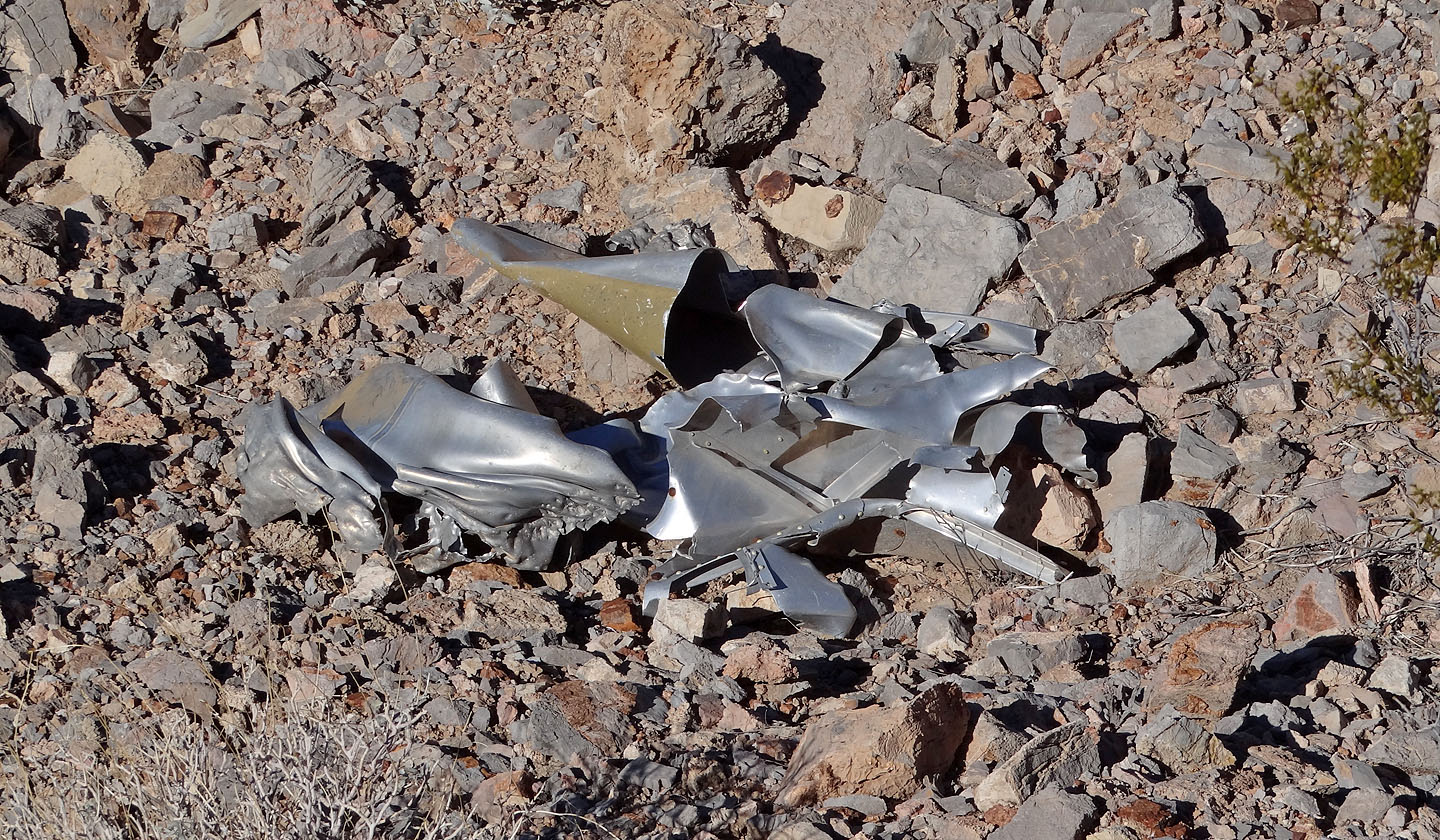 Debris from an aircraft

Frenchman Mountain in the background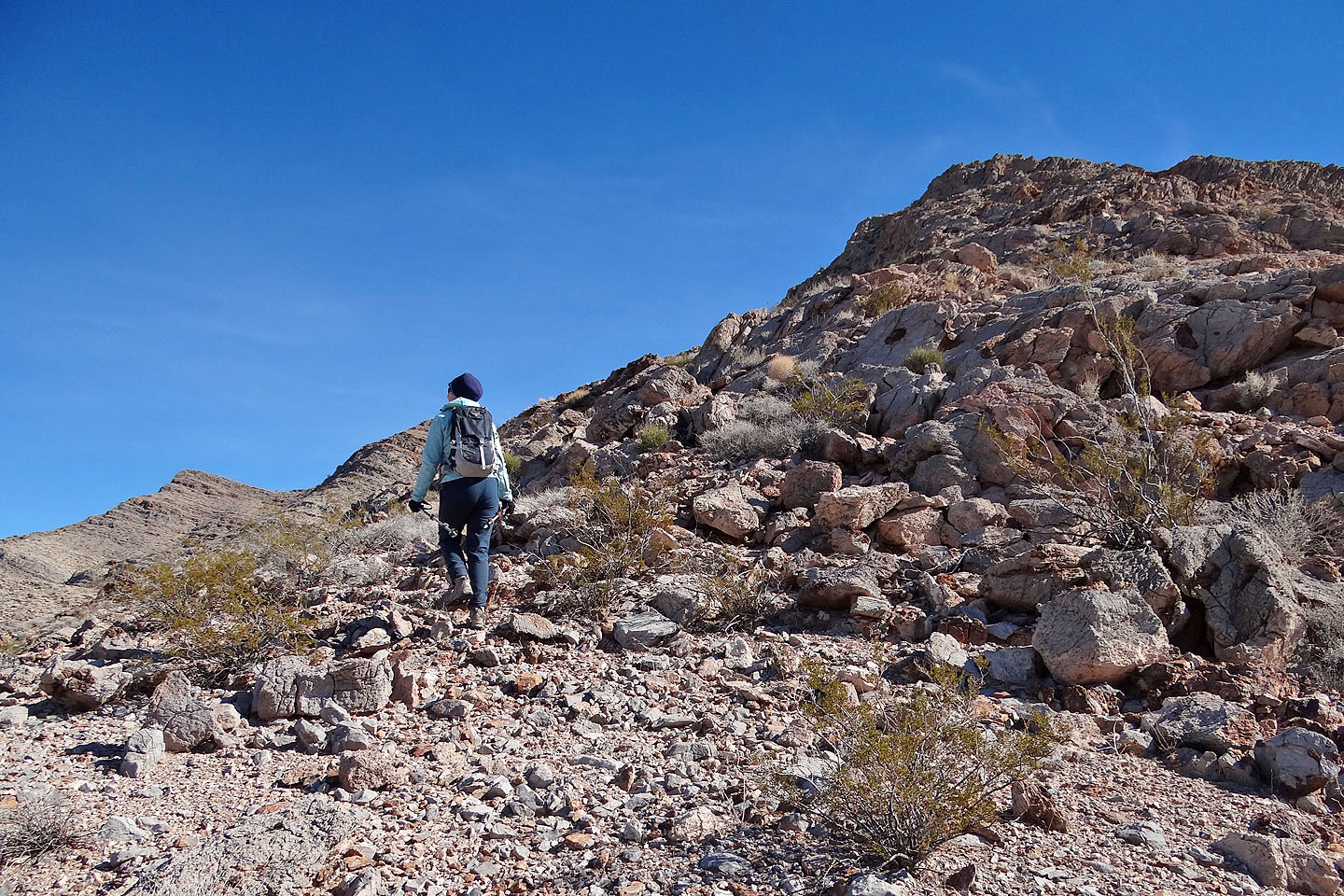 After reaching the saddle, we can see the summit (far left)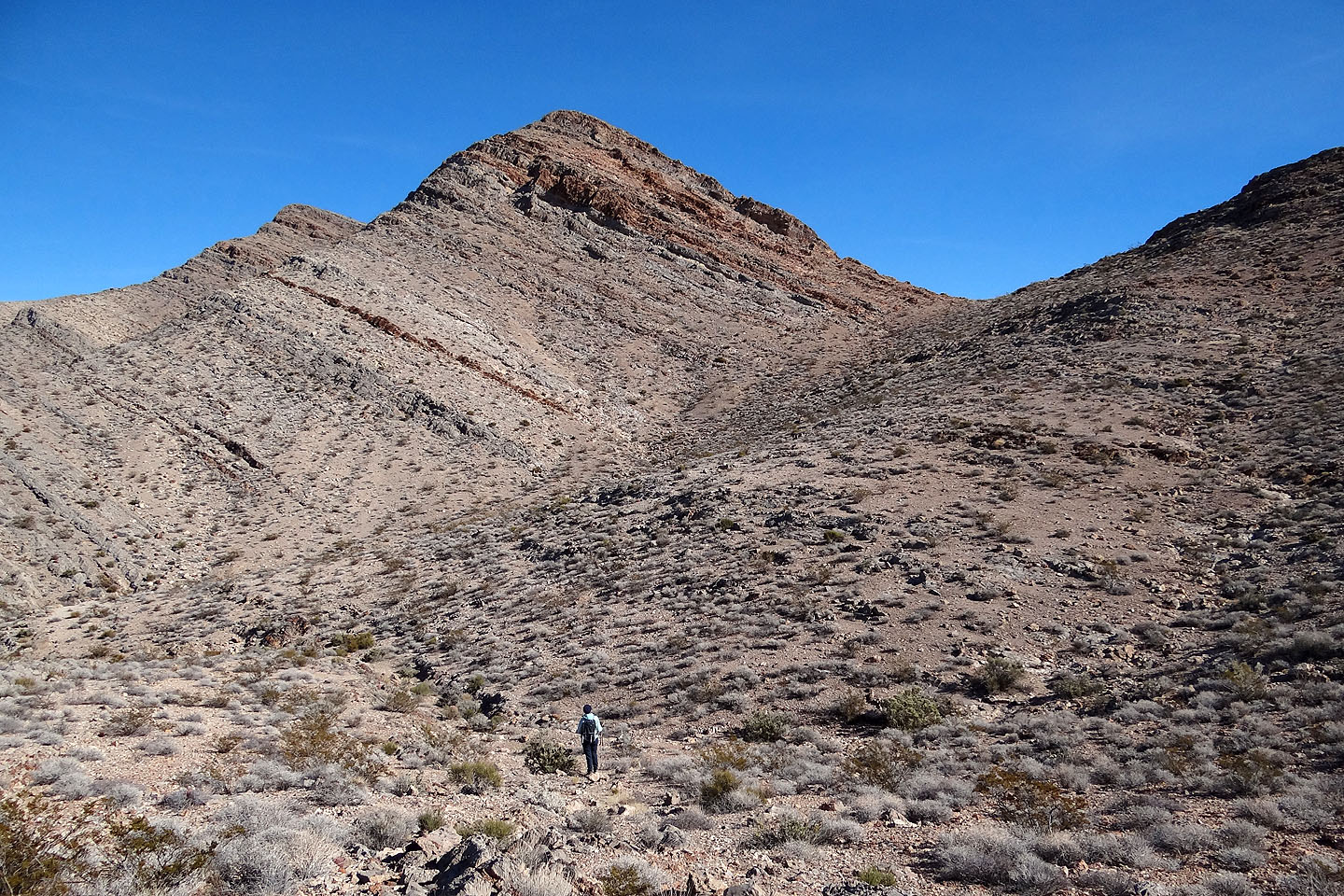 We dropped down into a bowl. The summit is far left so we'll have to ascend the bump before it.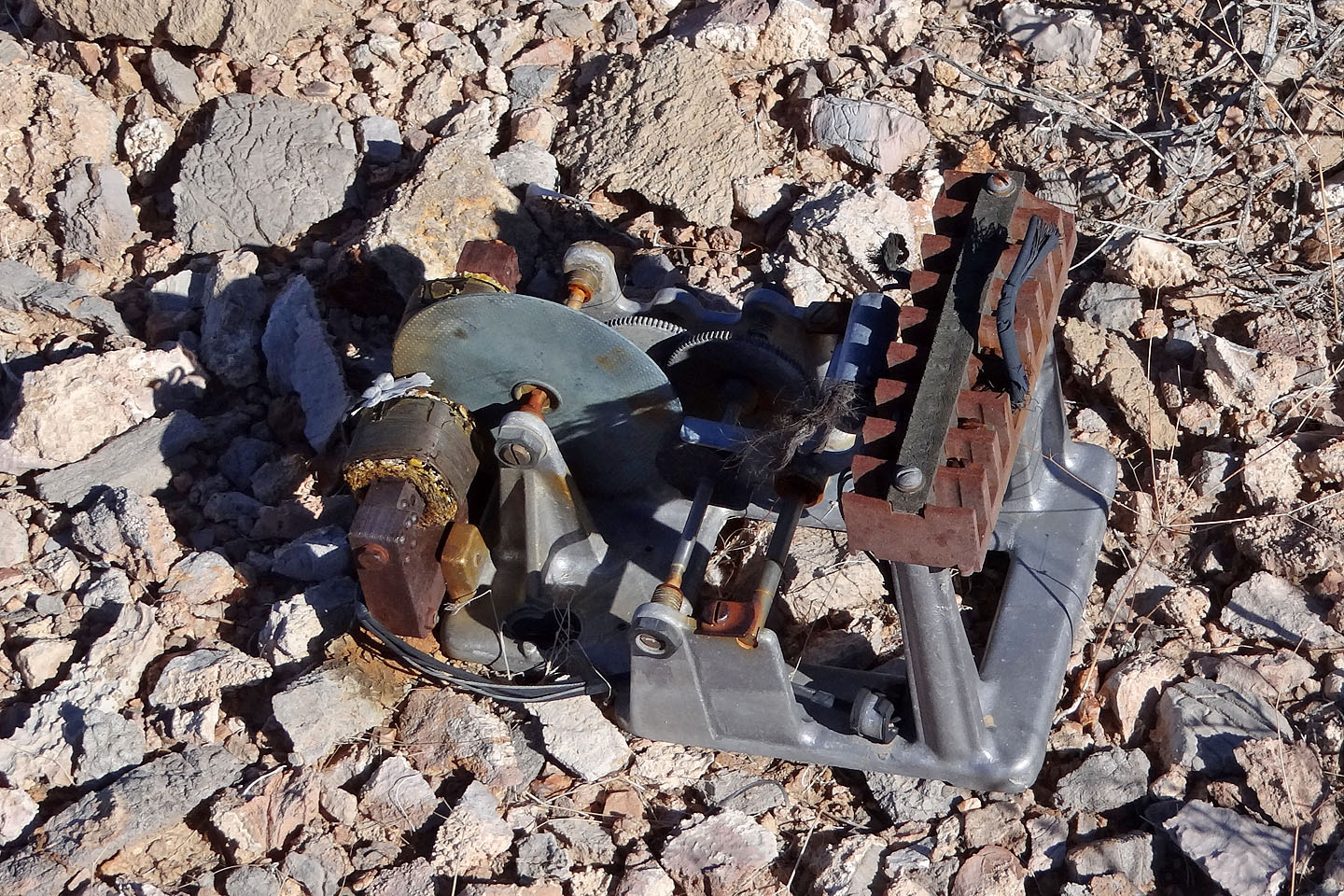 More debris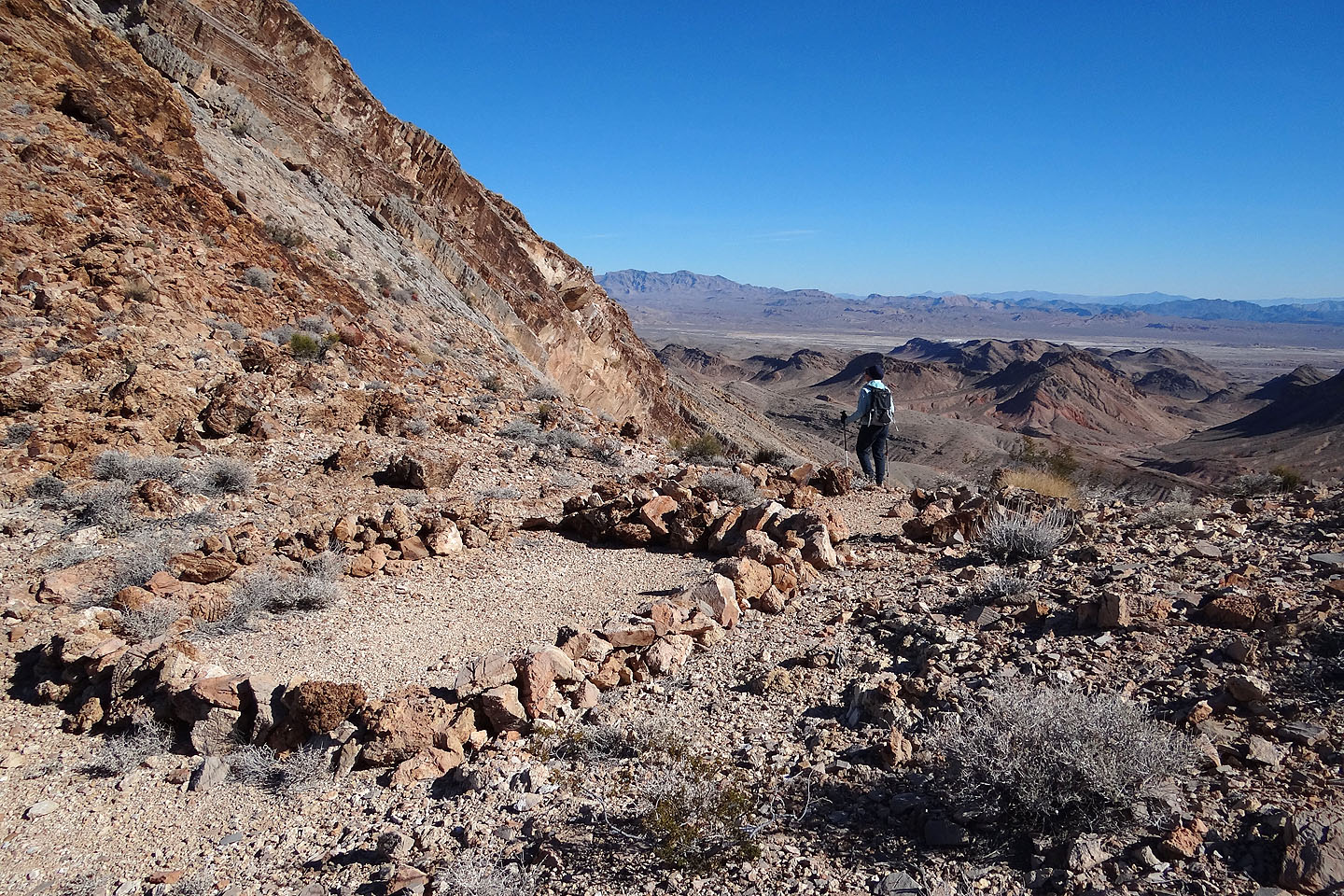 On the saddle before the bump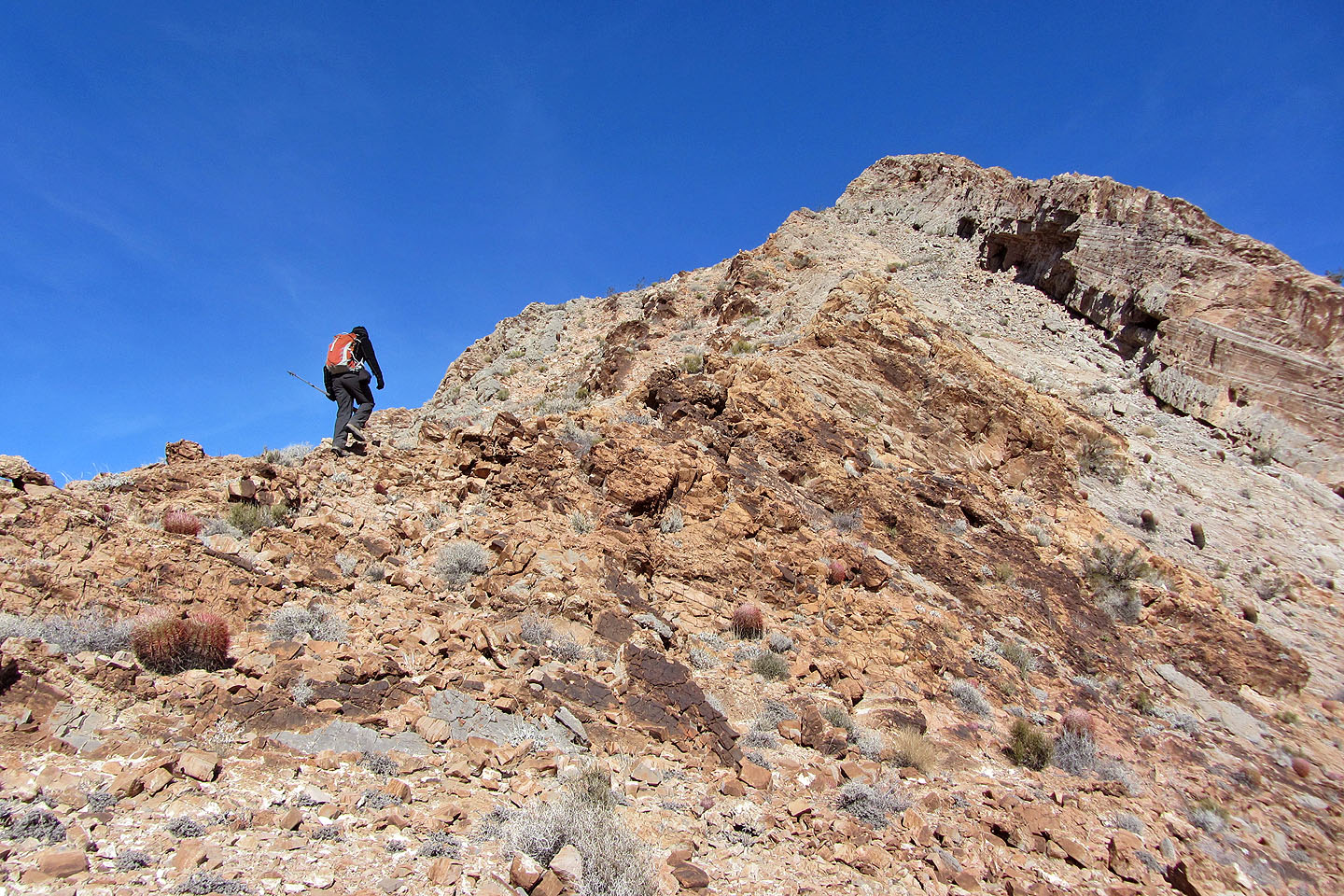 Hiking up the bump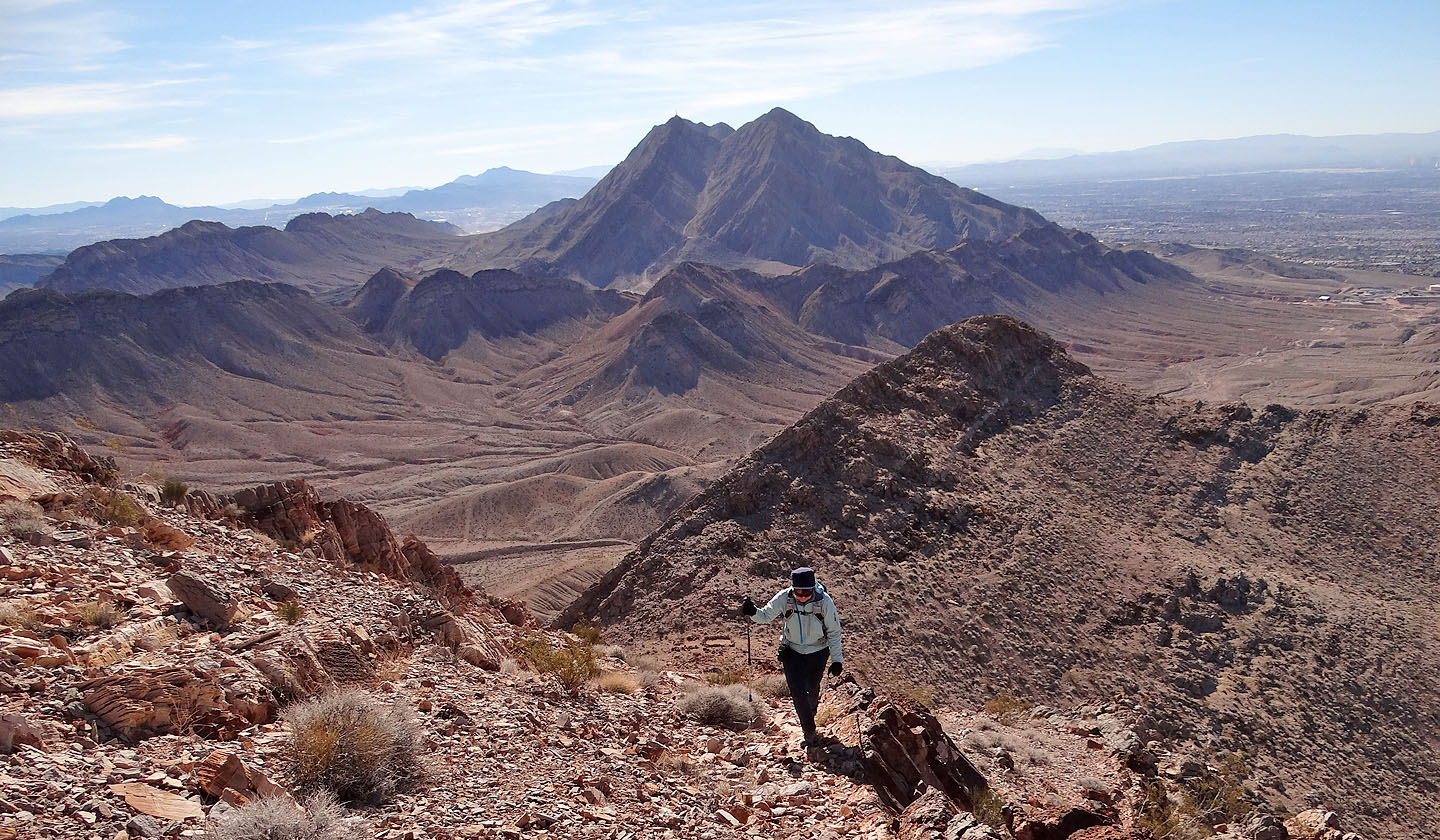 The view behind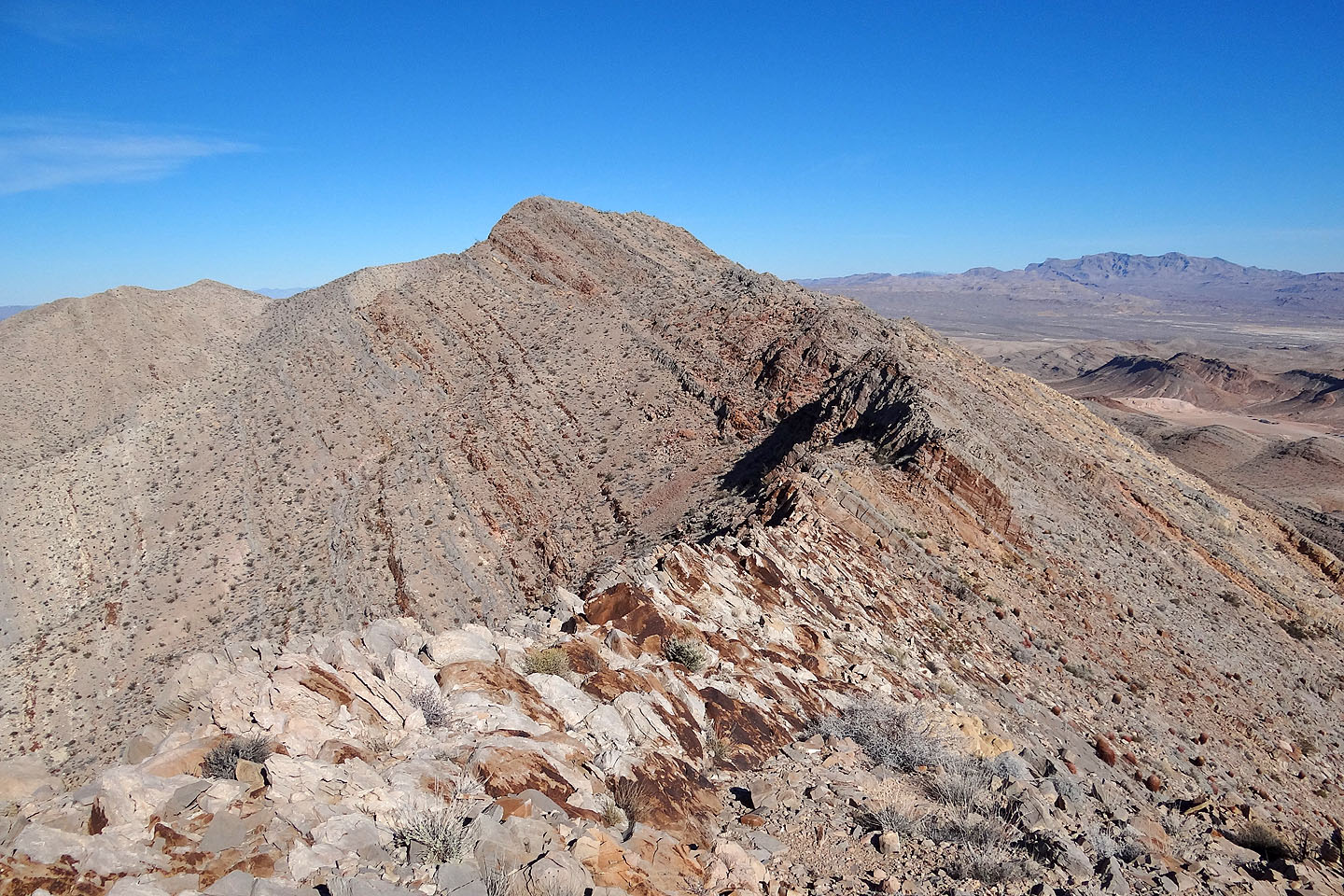 From the bump it looked possible to hike on the right side, but we went left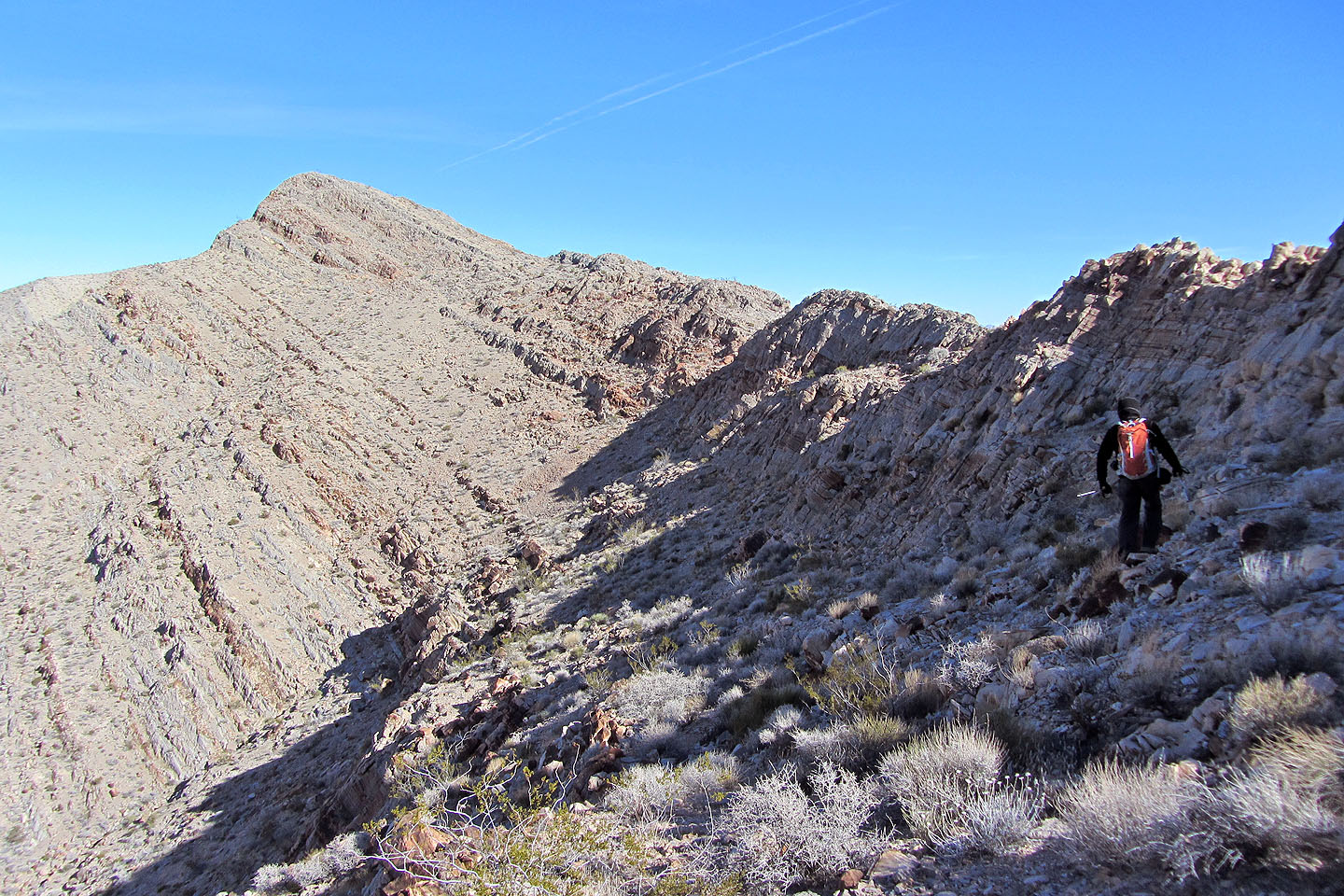 We followed the base of a cliff band nearly all the way to the summit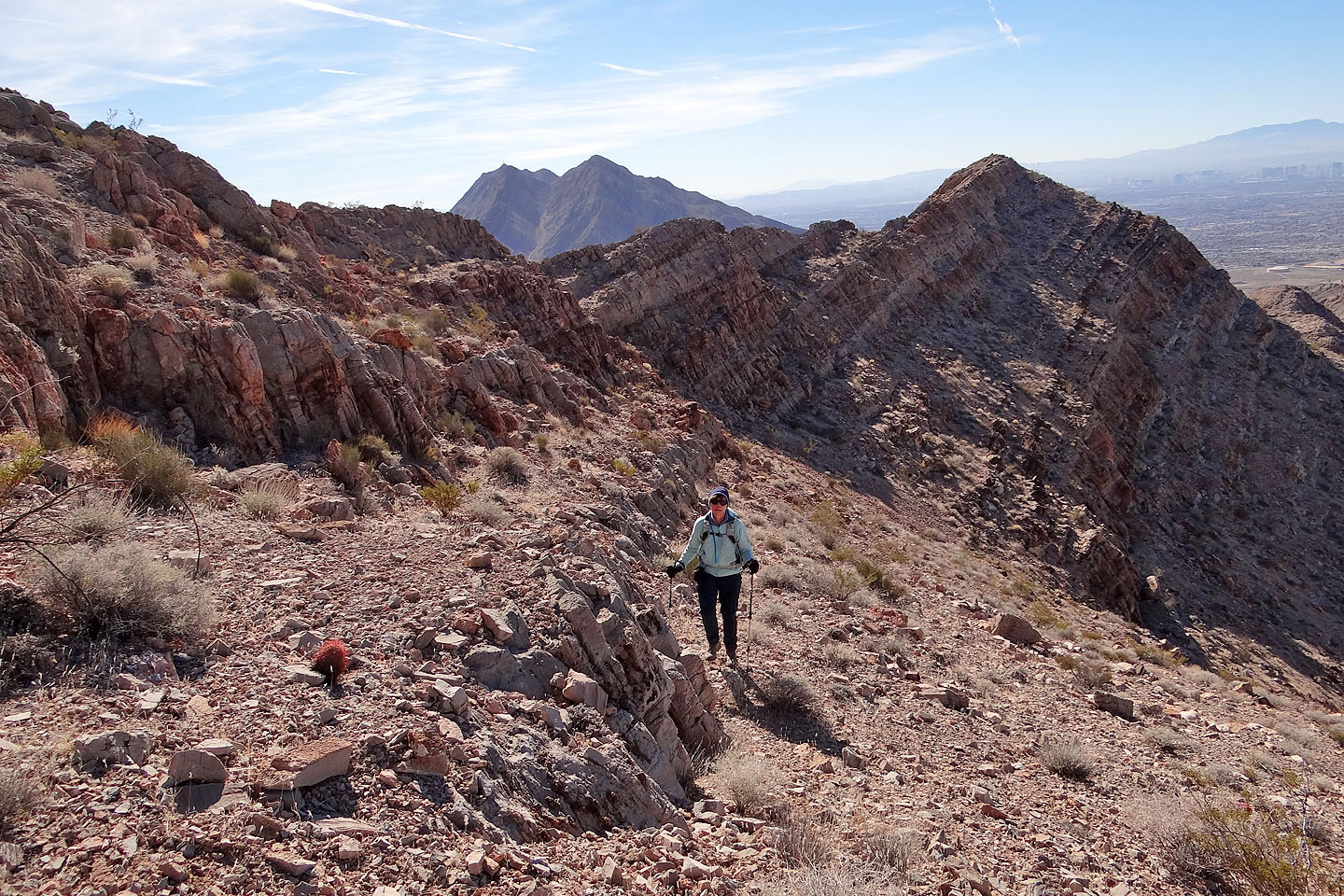 Looking back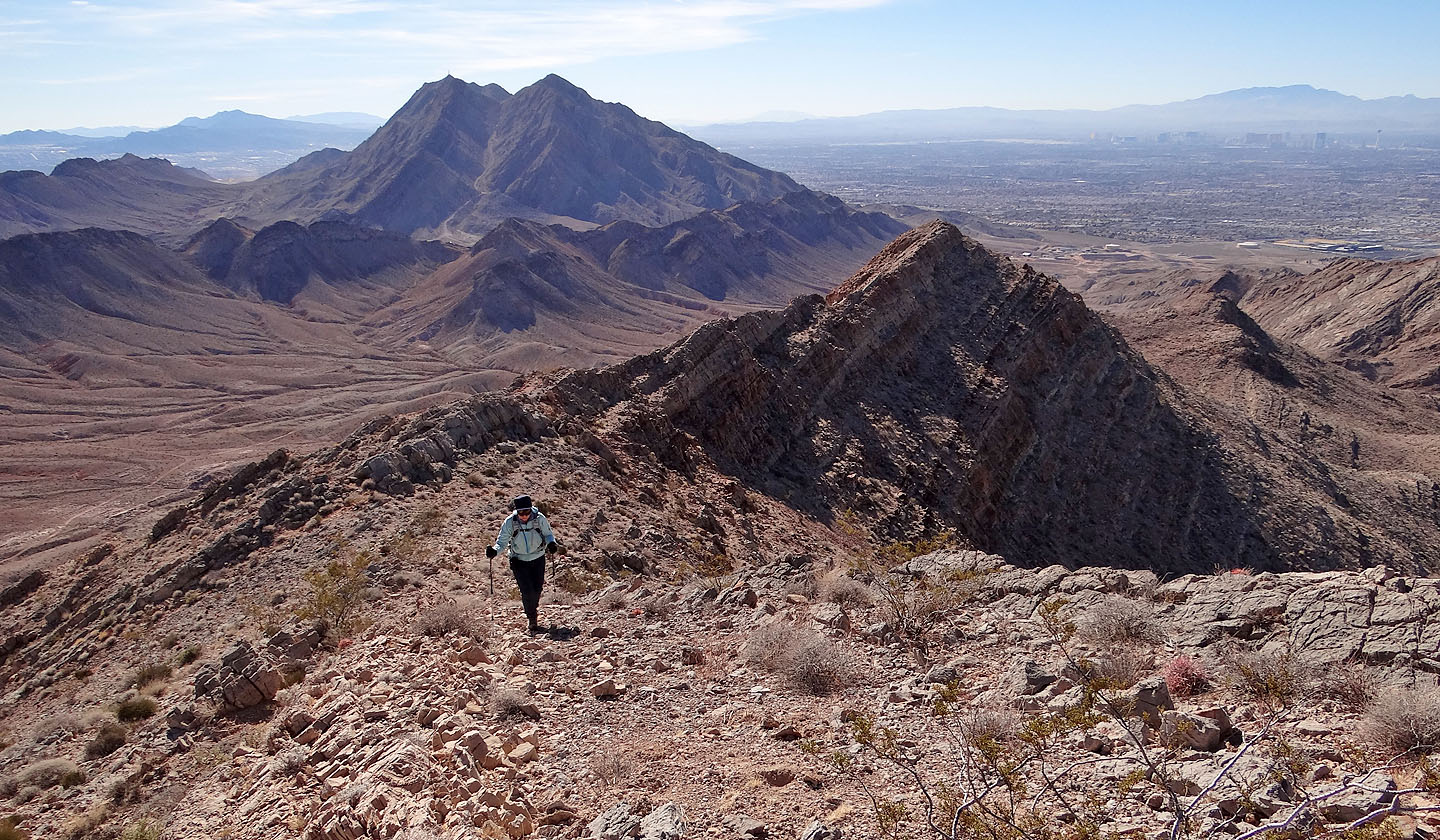 Regaining the ridge just before the summit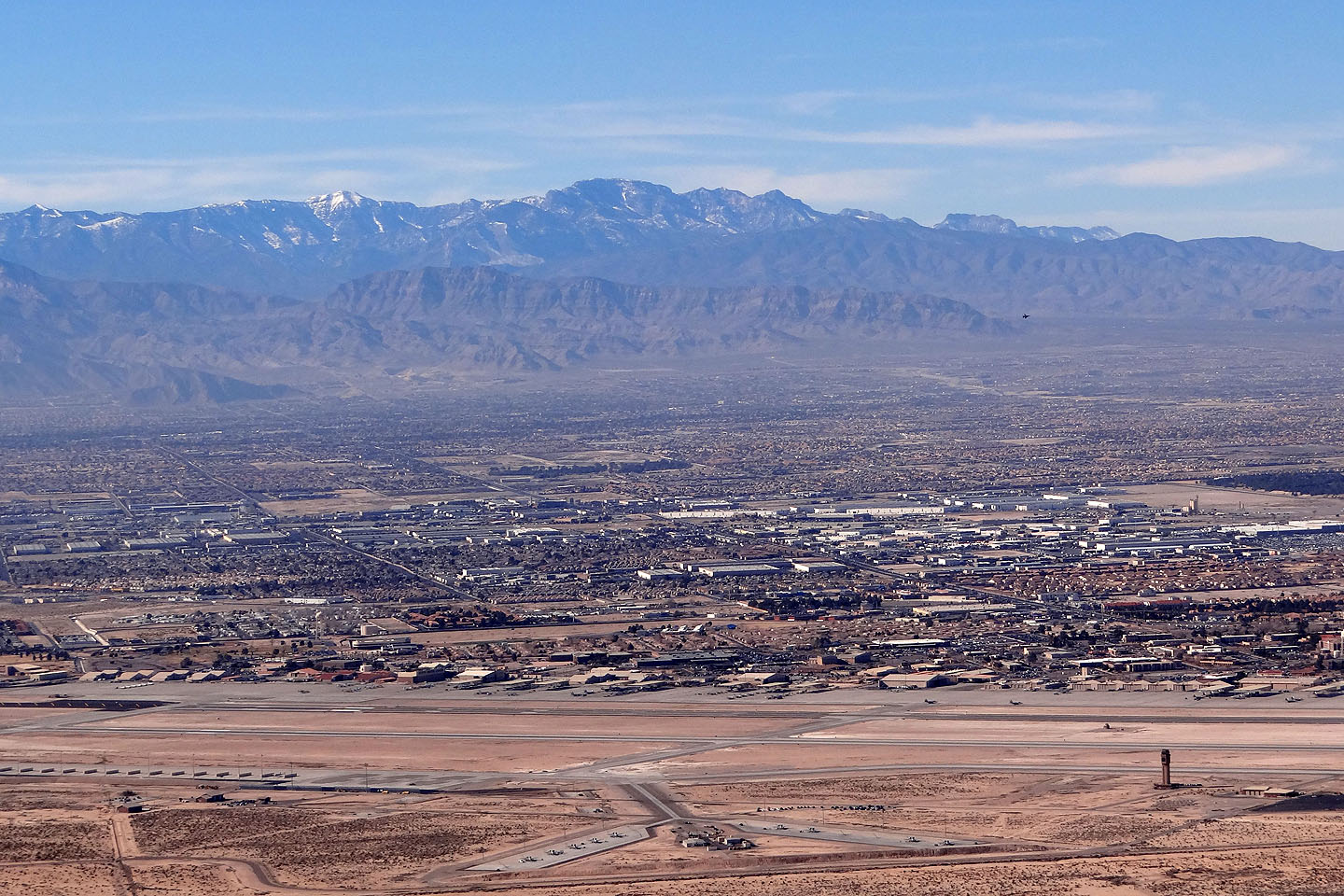 Charleston Peak and Mummy Mountain on the skyline. Nellis Air Force Base below (mouse over to see a fighter jet landing)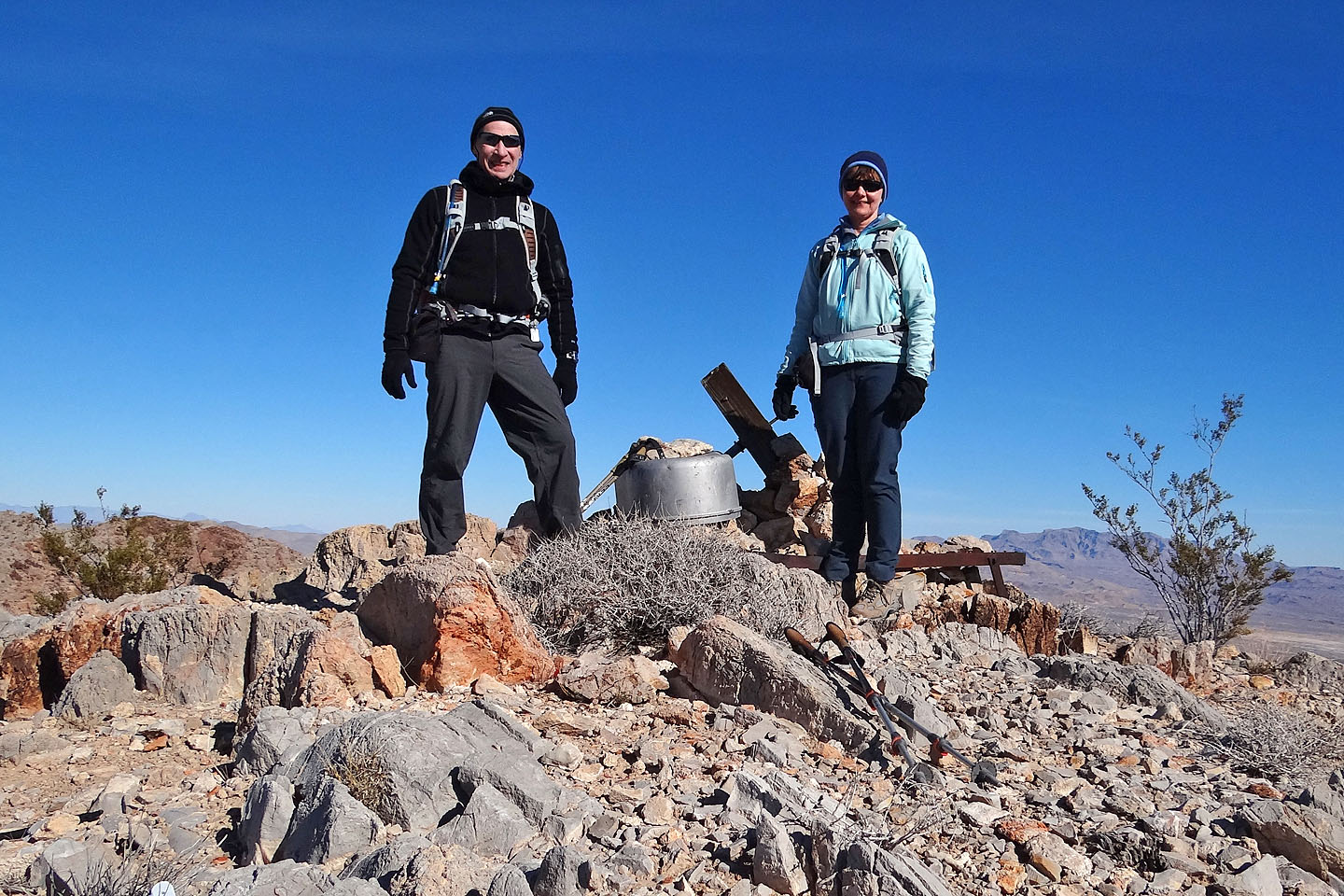 On the summit of Sunrise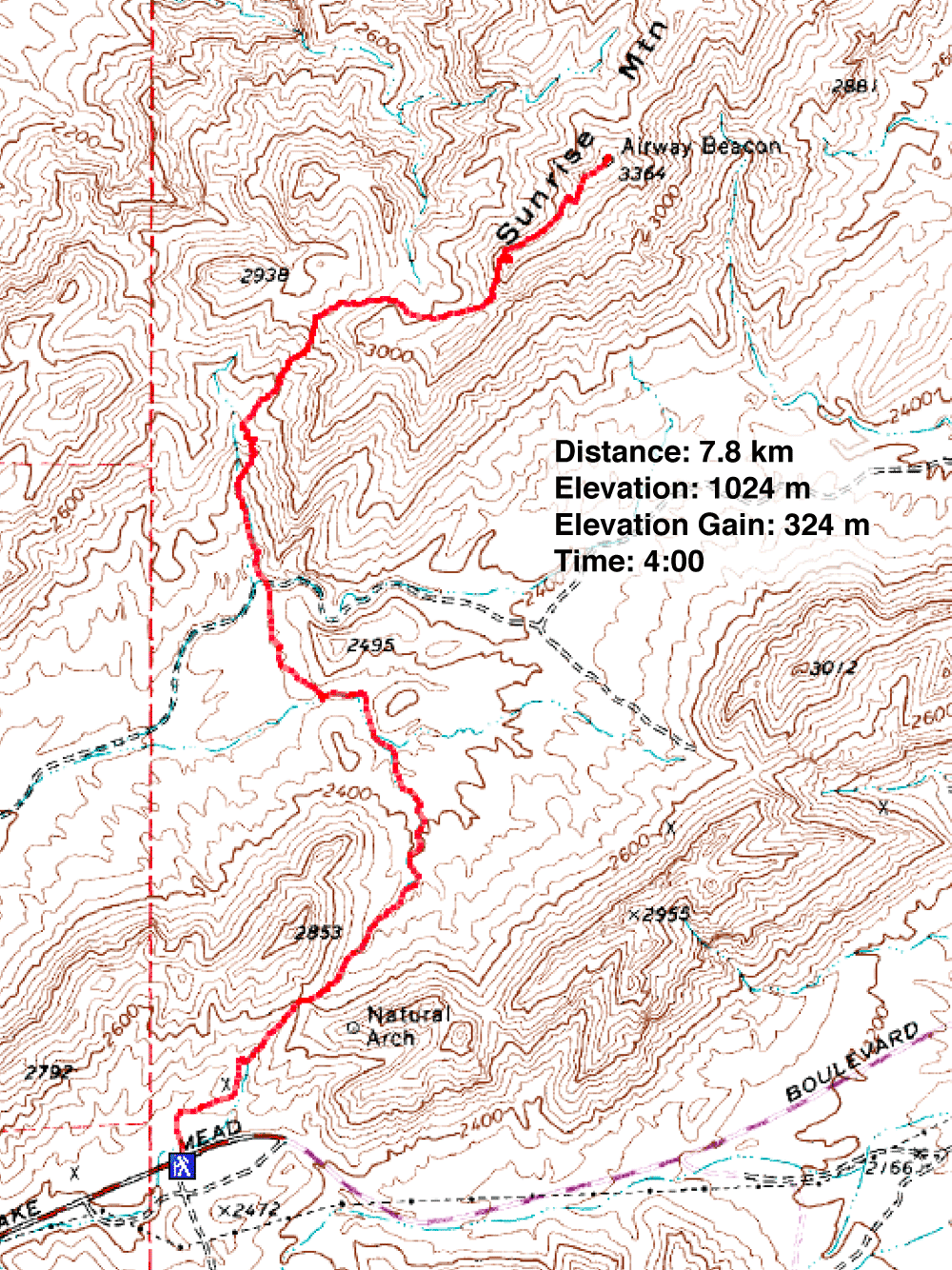 Frenchman Mountain (4.8 mi, 3360 ft, 932 ft)