bobspirko.ca | Home | Canada Trips | US Trips | Hiking | Snowshoeing | MAP | About

Rainbow Ridge
aka Knob Peak
Lake Mead NRA, Nevada
January 22, 2014
Distance: 7.6 km (4.7 mi)
Cumulative Elevation Gain: 393 m (1289 ft)
After seeing the trip report for Rainbow Ridge on Around the Bend Friends' website, I was immediately smitten with their photos of alluring multicoloured vistas and intriguing rock formations. Naturally I wanted to see it for myself.
Shin, Dinah and I followed their route with a few differences. We completed a shorter, counterclockwise loop and used a different starting point. We parked at a pullout after mile marker 14 on Northshore Road. After walking 100 m back down the road, we dropped down to a wash on our right. A few minutes of hiking brought us to Rainbow Canyon. With its sheer rock walls and two dry falls, the canyon hike is worth experiencing, but our goal was to reach Rainbow Ridge.
At the end of the canyon, a stiff and unrelenting ascent to the summit awaited us. We had to bend our backs into the steep slope, but there was little need to use our hands. After reaching the summit, we ate our lunch and surveyed nearby peaks such as Anniversary Narrows Peak and Murphy's Peak.
Our adventure didn't end on top of Rainbow Ridge. We followed the undulating ridge to a saddle at the east end. We didn't climb the ridge on the other side of the saddle but instead opted to drop to a wash lined with brilliant, colourful rock. It took us back to Northshore Road. As we plodded along the pavement to our car, we talked of the fascinating time we had on Rainbow Ridge. Shin was so impressed, he planned on taking a Meetup group there.
Our visit with Shin didn't end when we returned to the city. That evening he treated us to a sumptuous repast at Yonaka (voted the second-best Japanese restaurant in Vegas last year). We sated on a nine-course dinner, a meal that more than quelled our appetites after climbing Rainbow Ridge.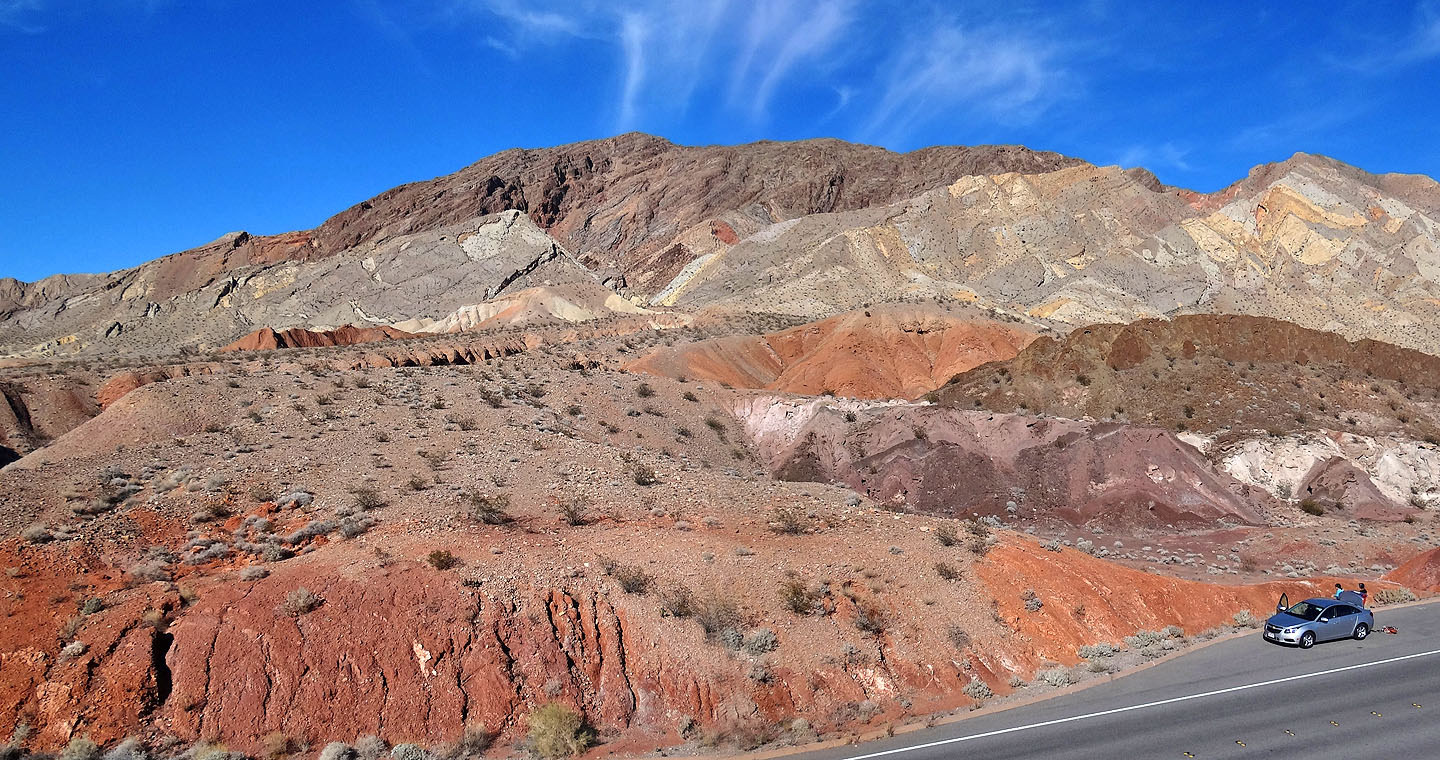 Rainbow Ridge seen from near the pullout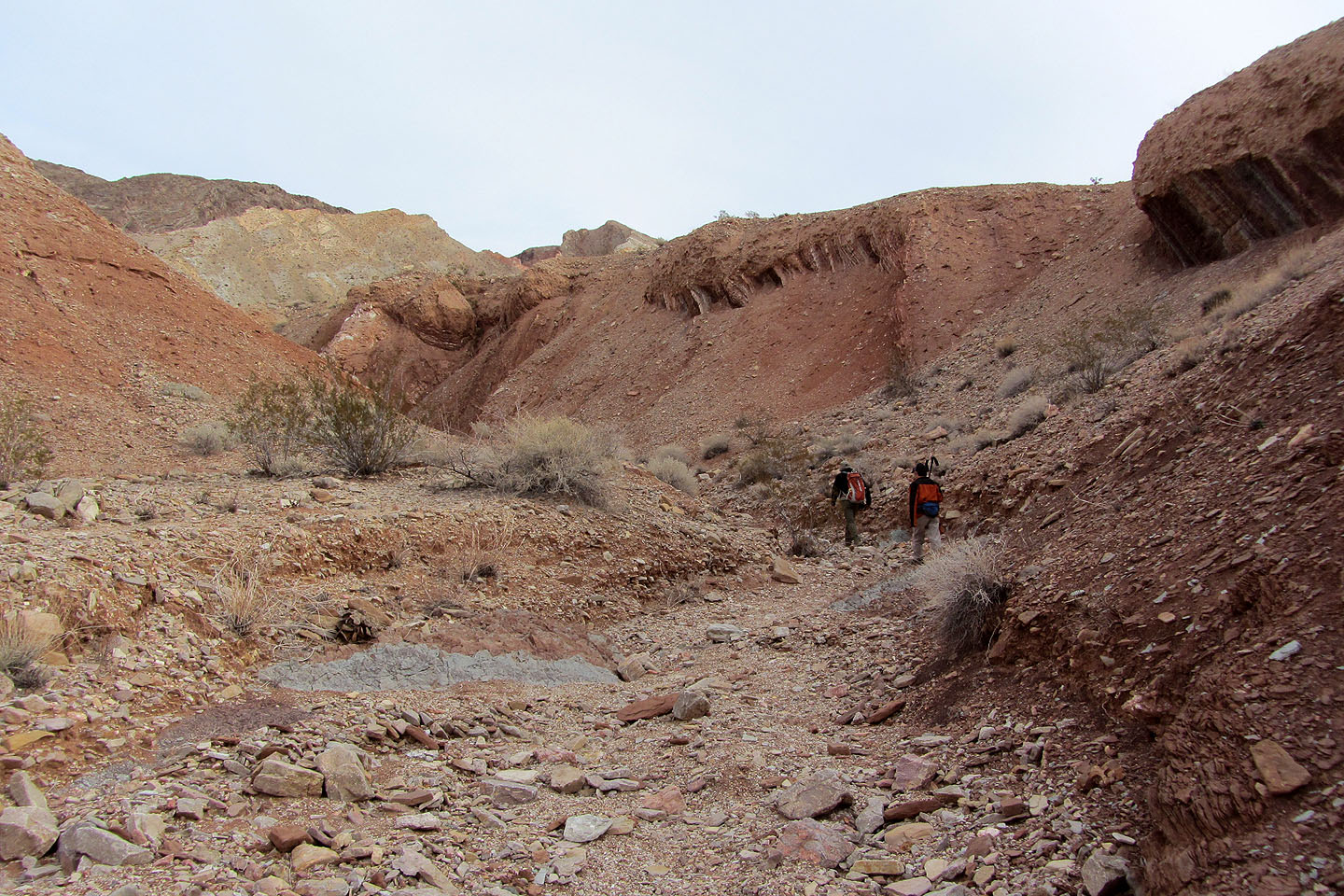 Starting up the wash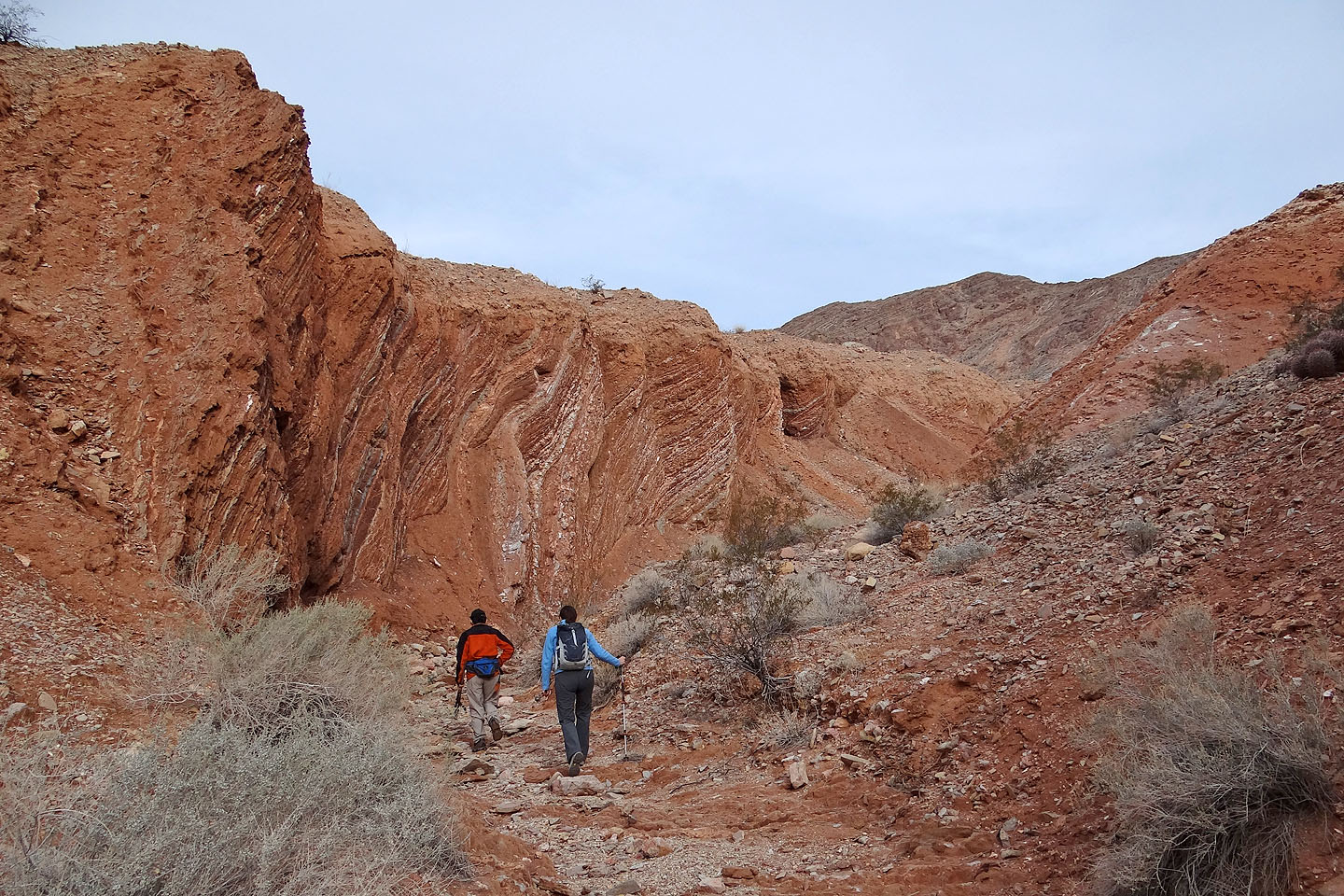 Entering Rainbow Canyon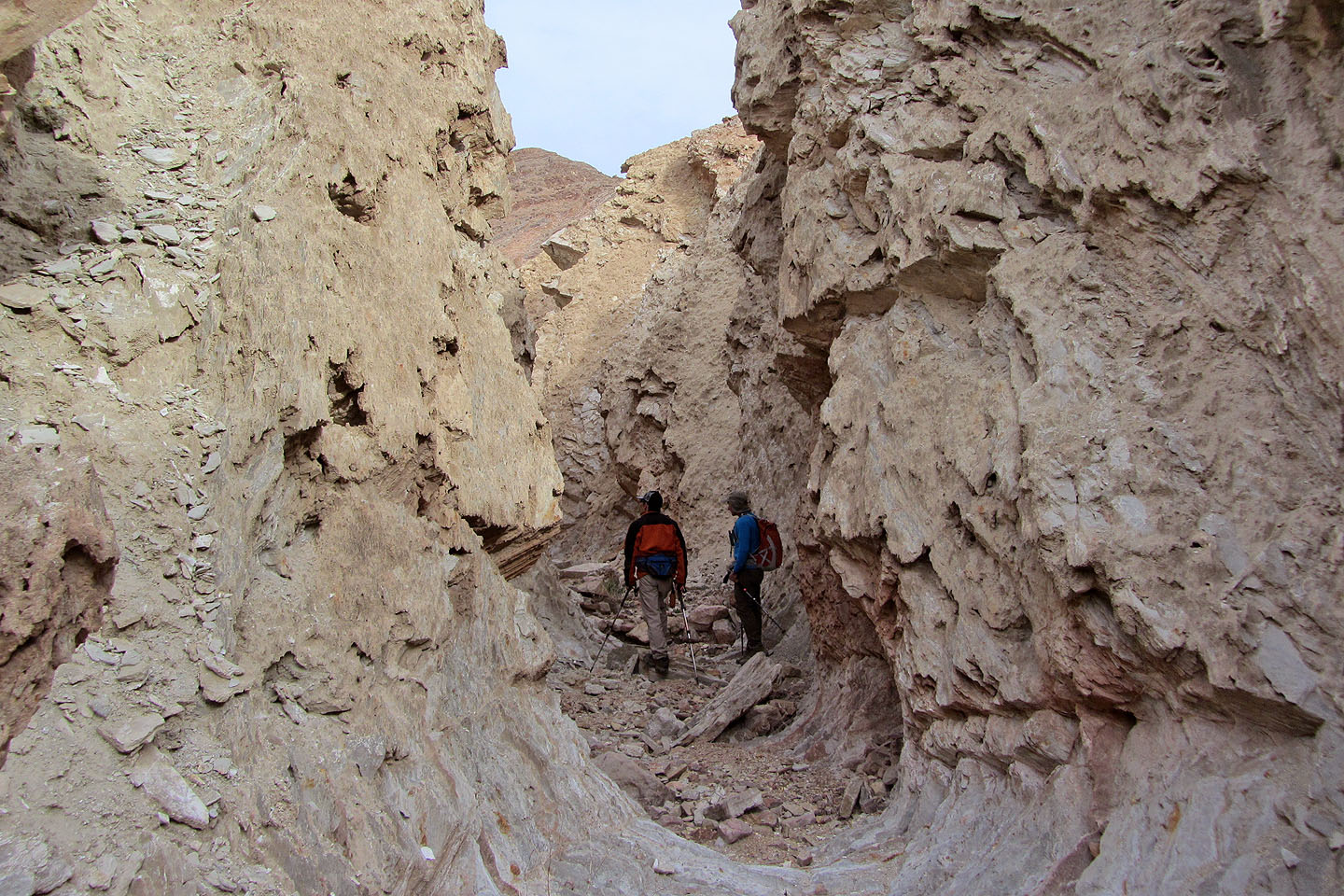 The canyon narrows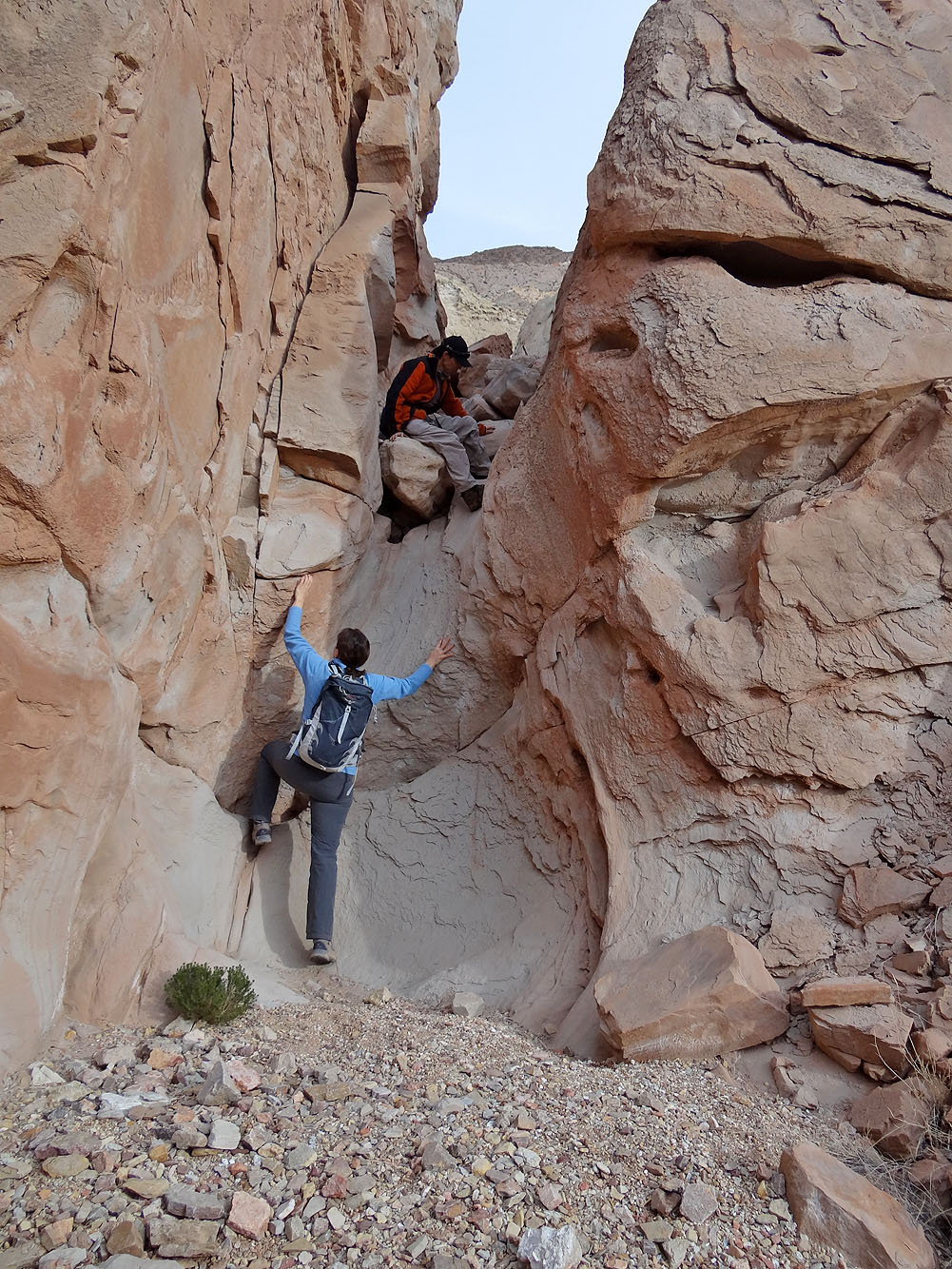 First dry fall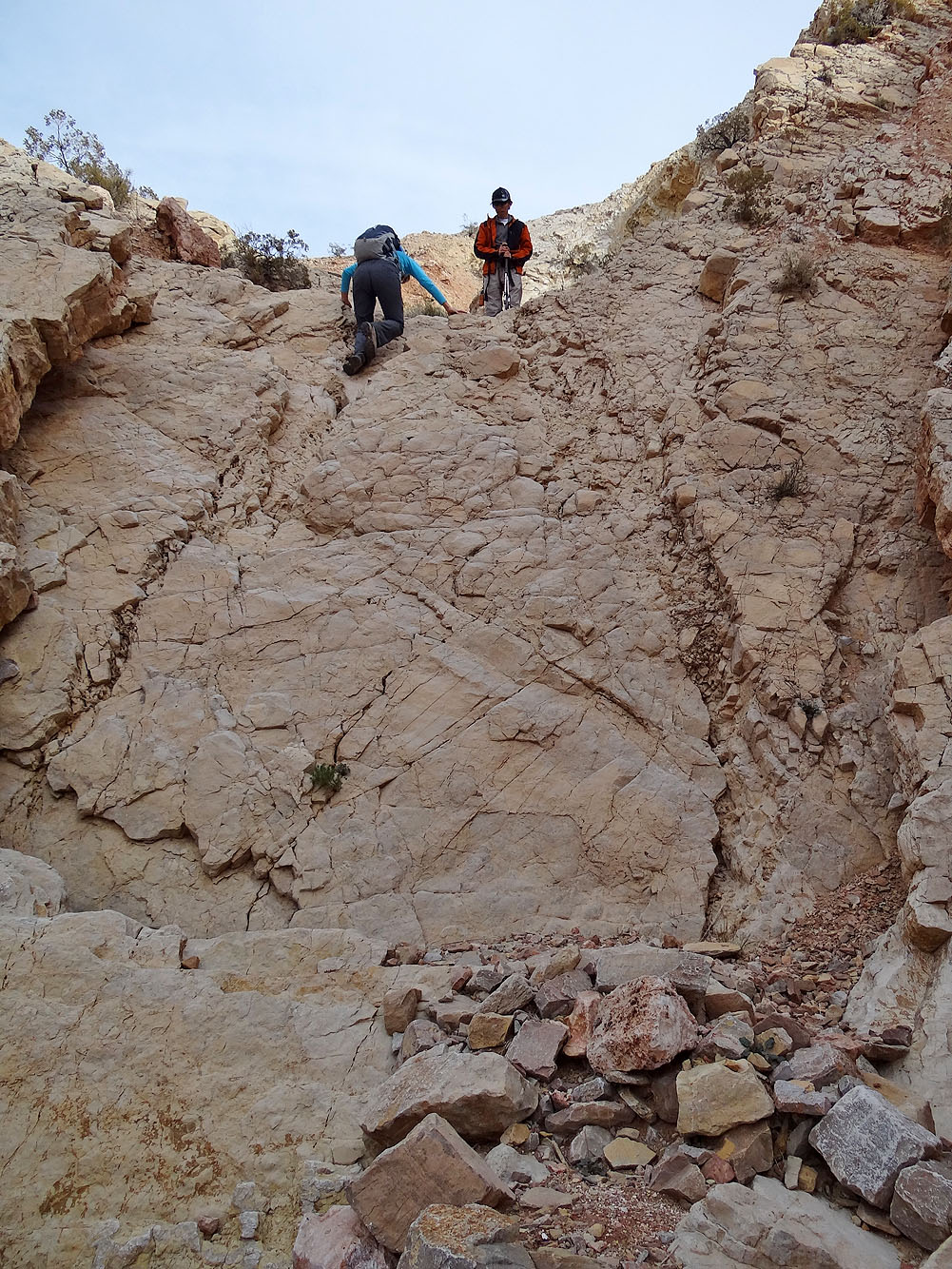 Second dry fall (mouse over to look down it)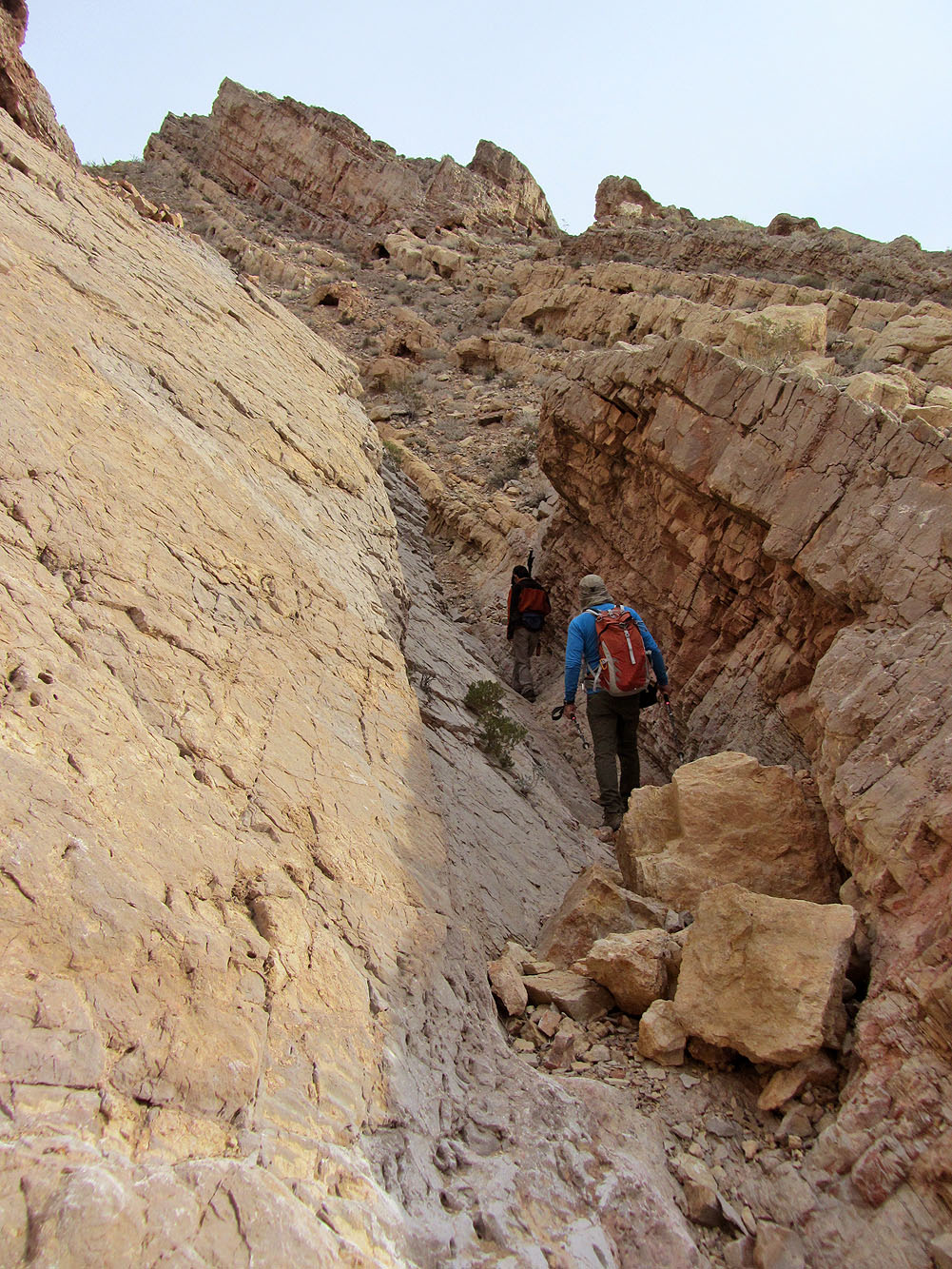 Going through another narrow section (mouse over to look back)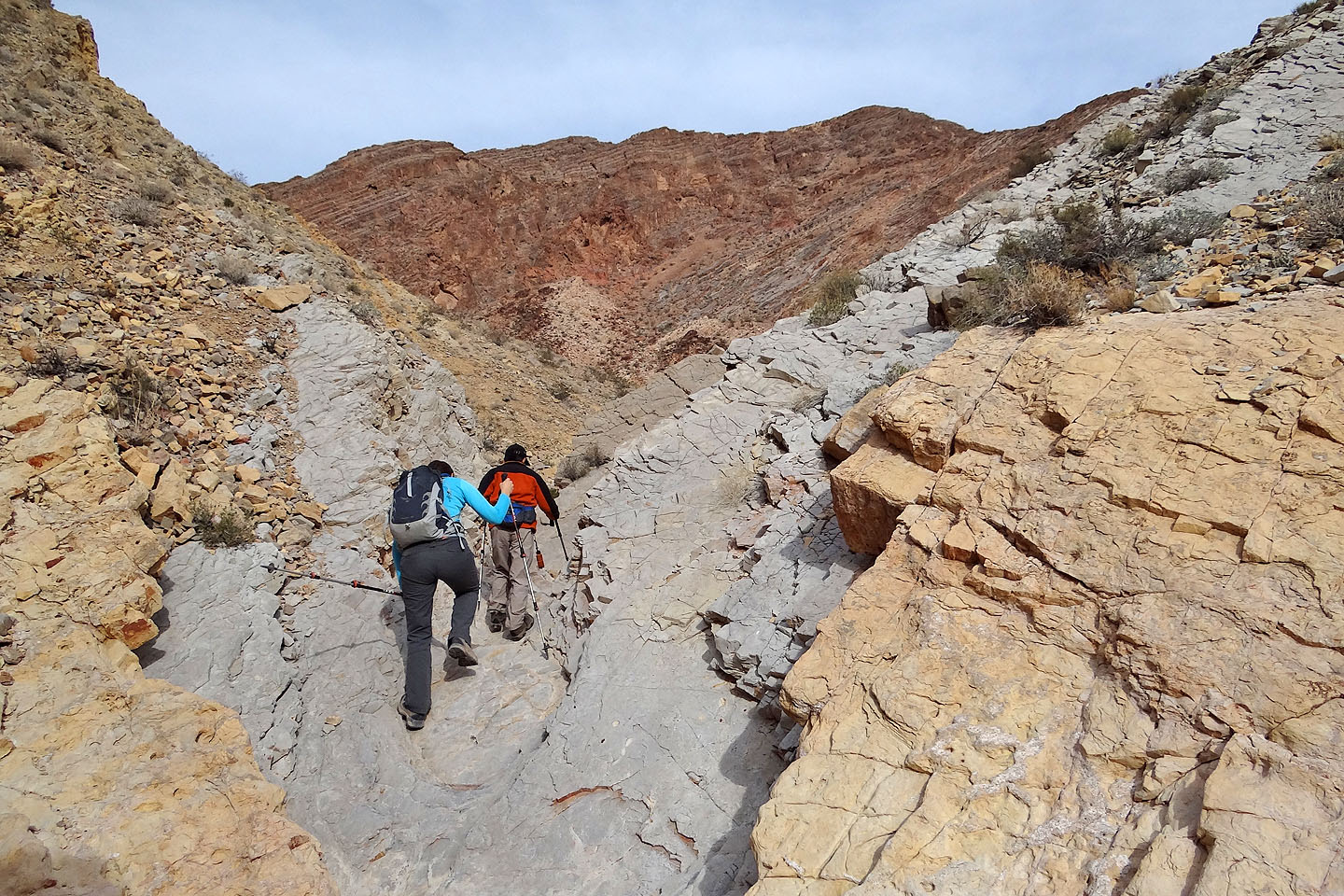 Exiting the canyon. Ahead is the steep slope we'll ascend.

Heading up the slope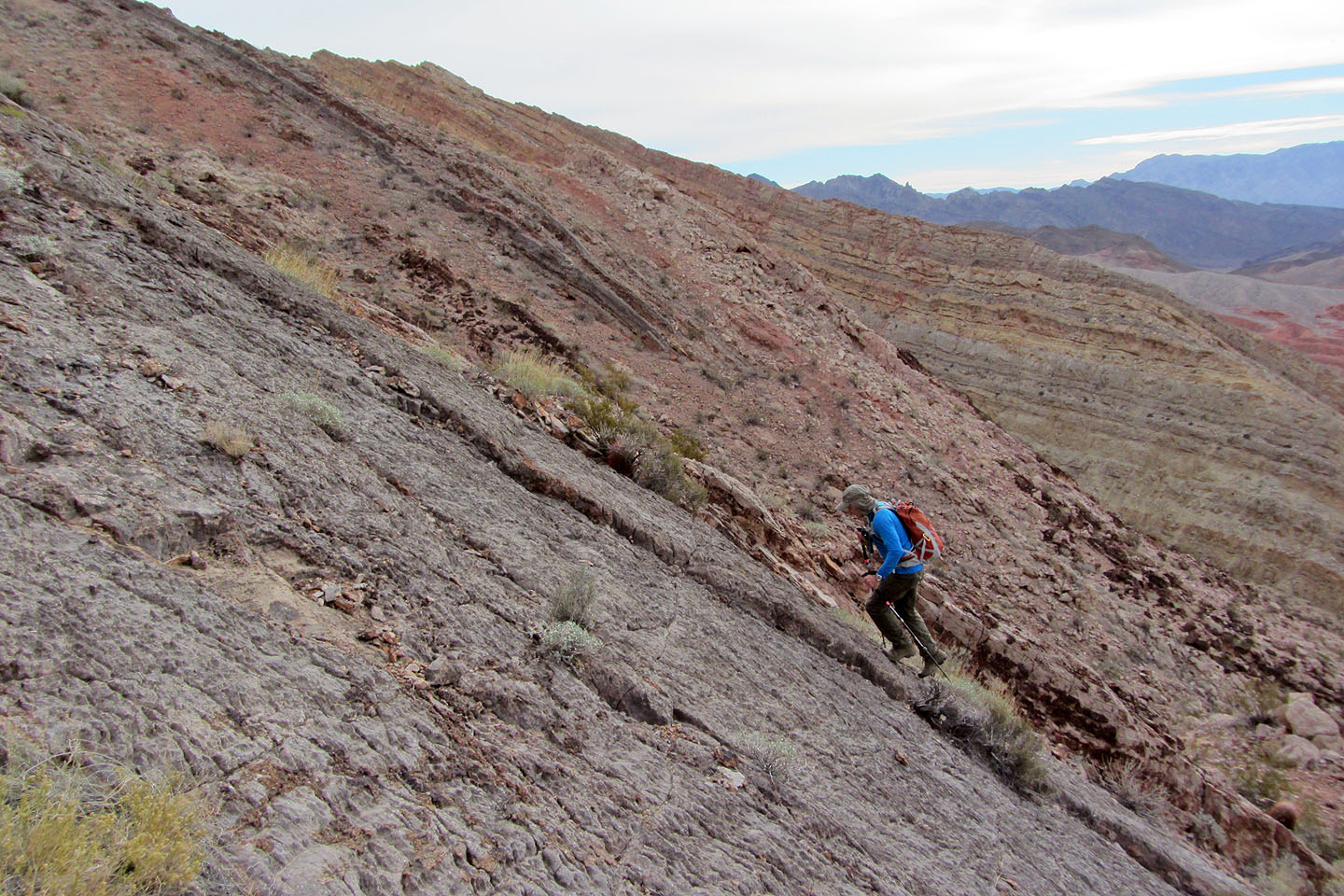 Much of it was very steep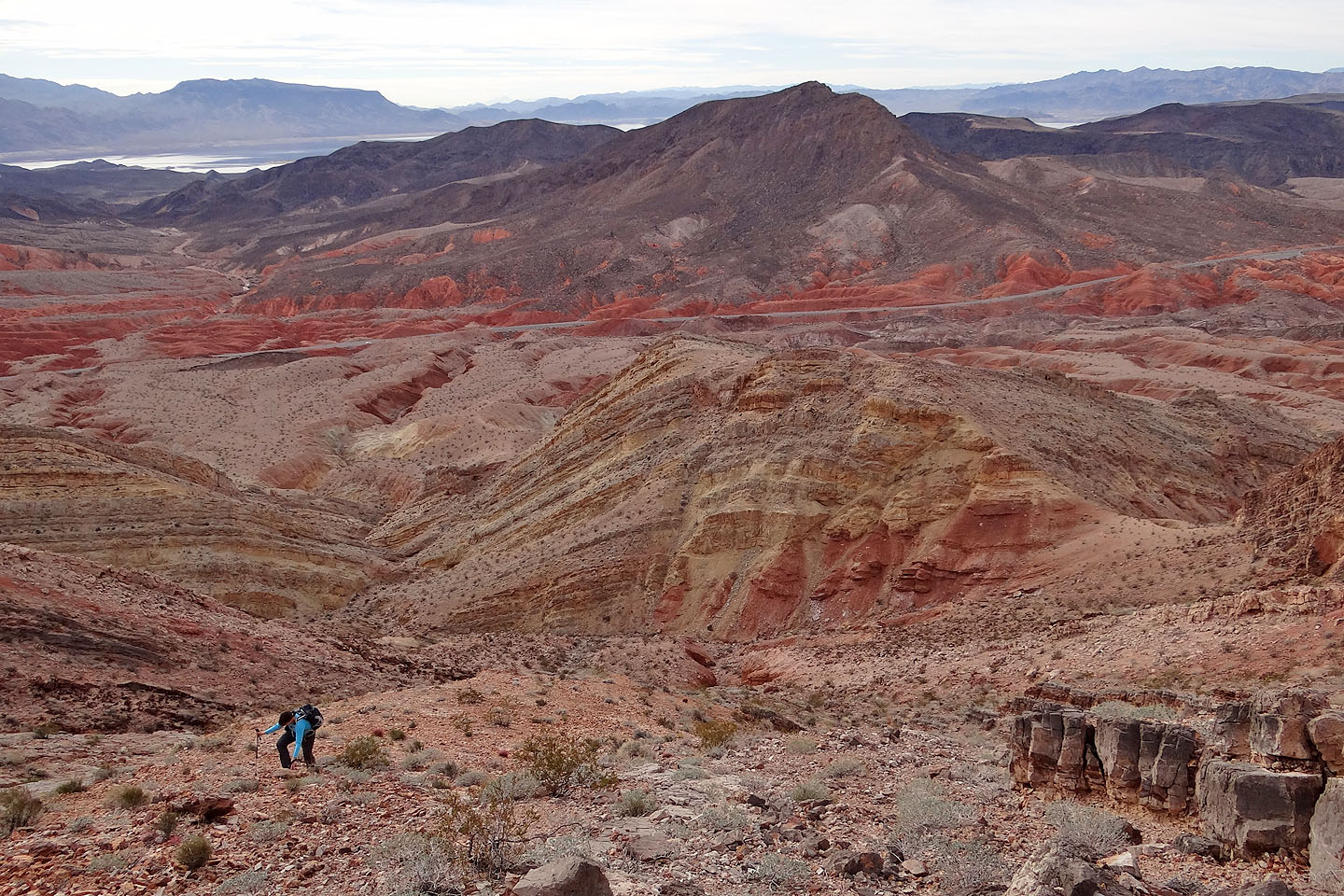 Looking back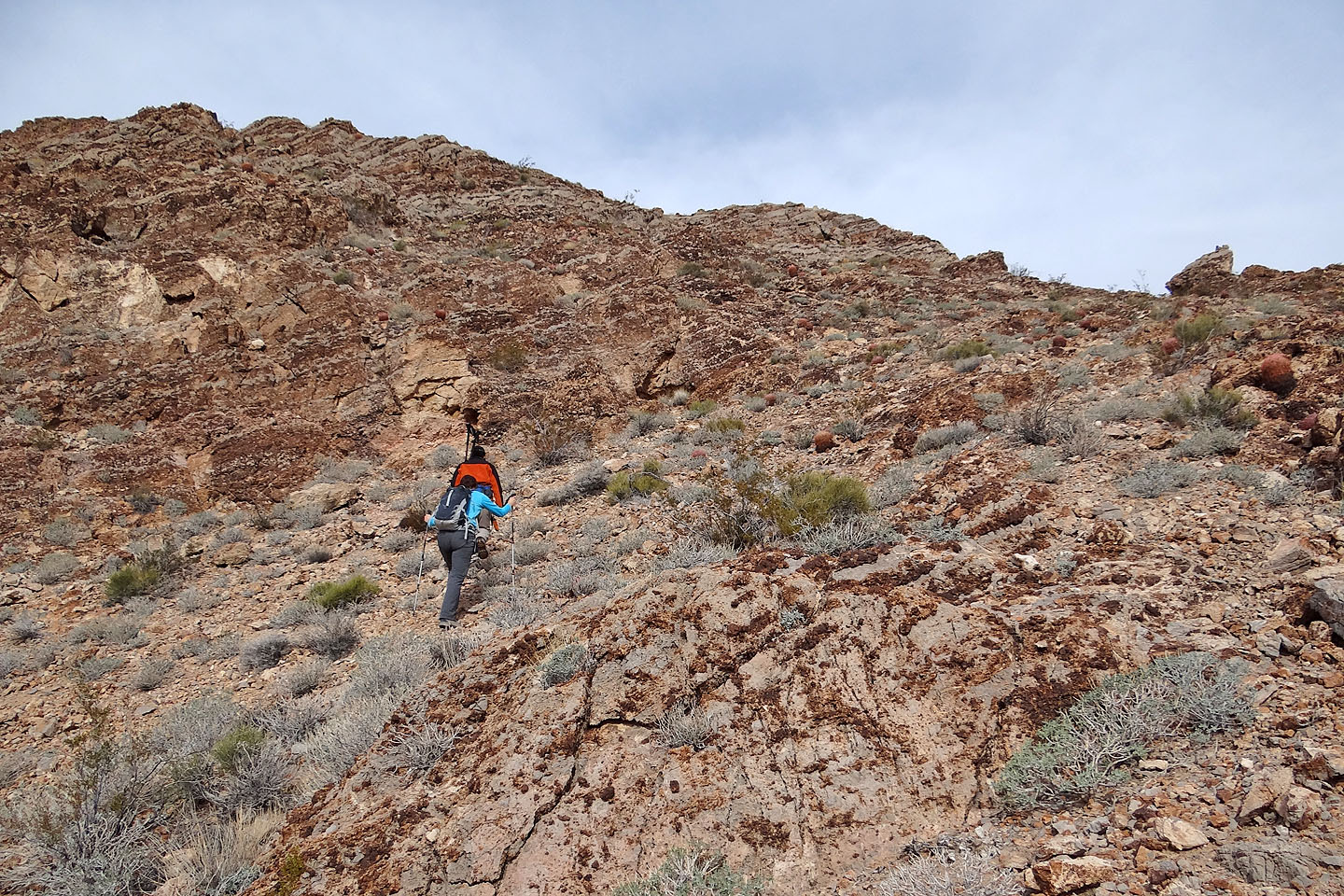 Almost on the ridge crest. Summit is left.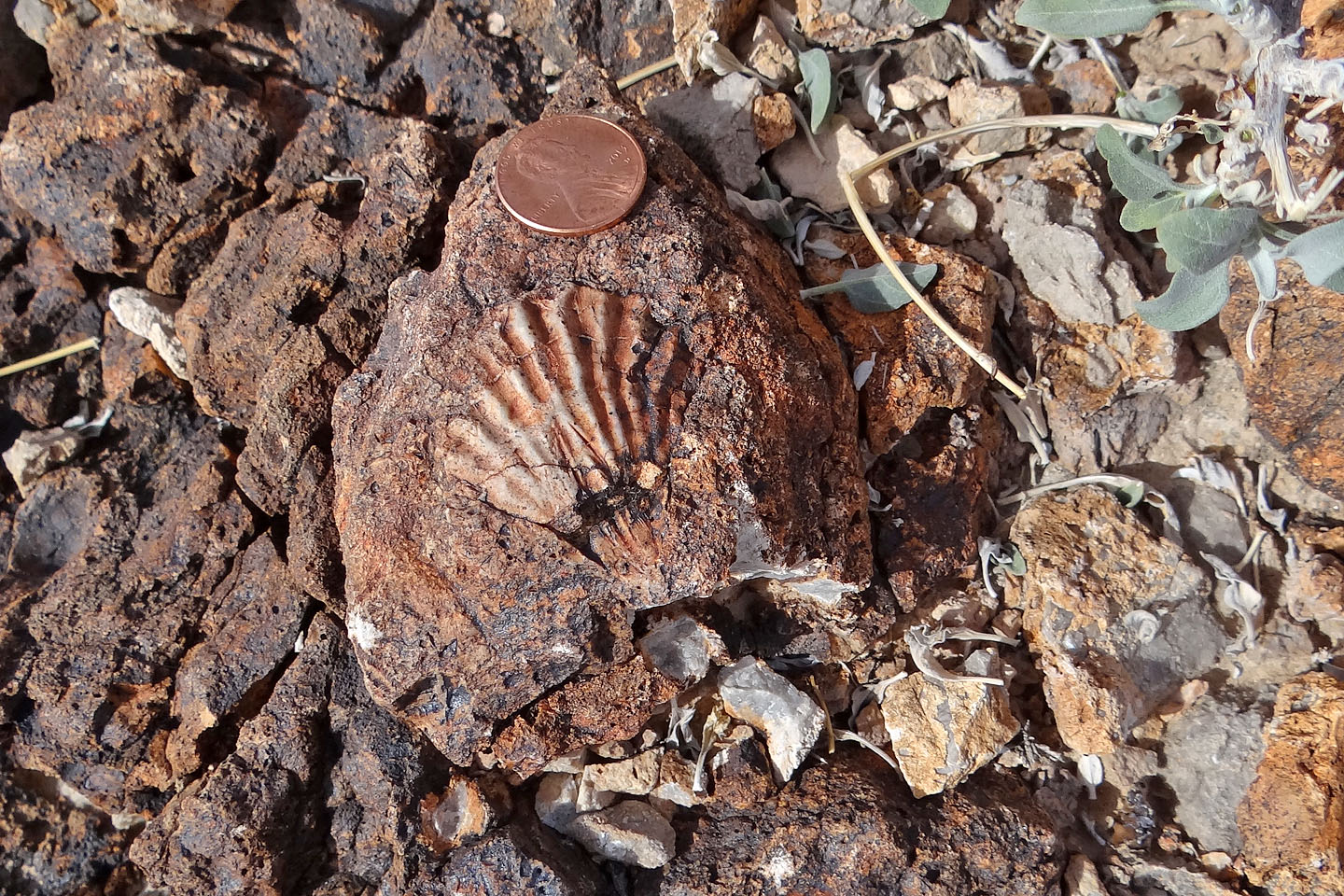 Fossil shell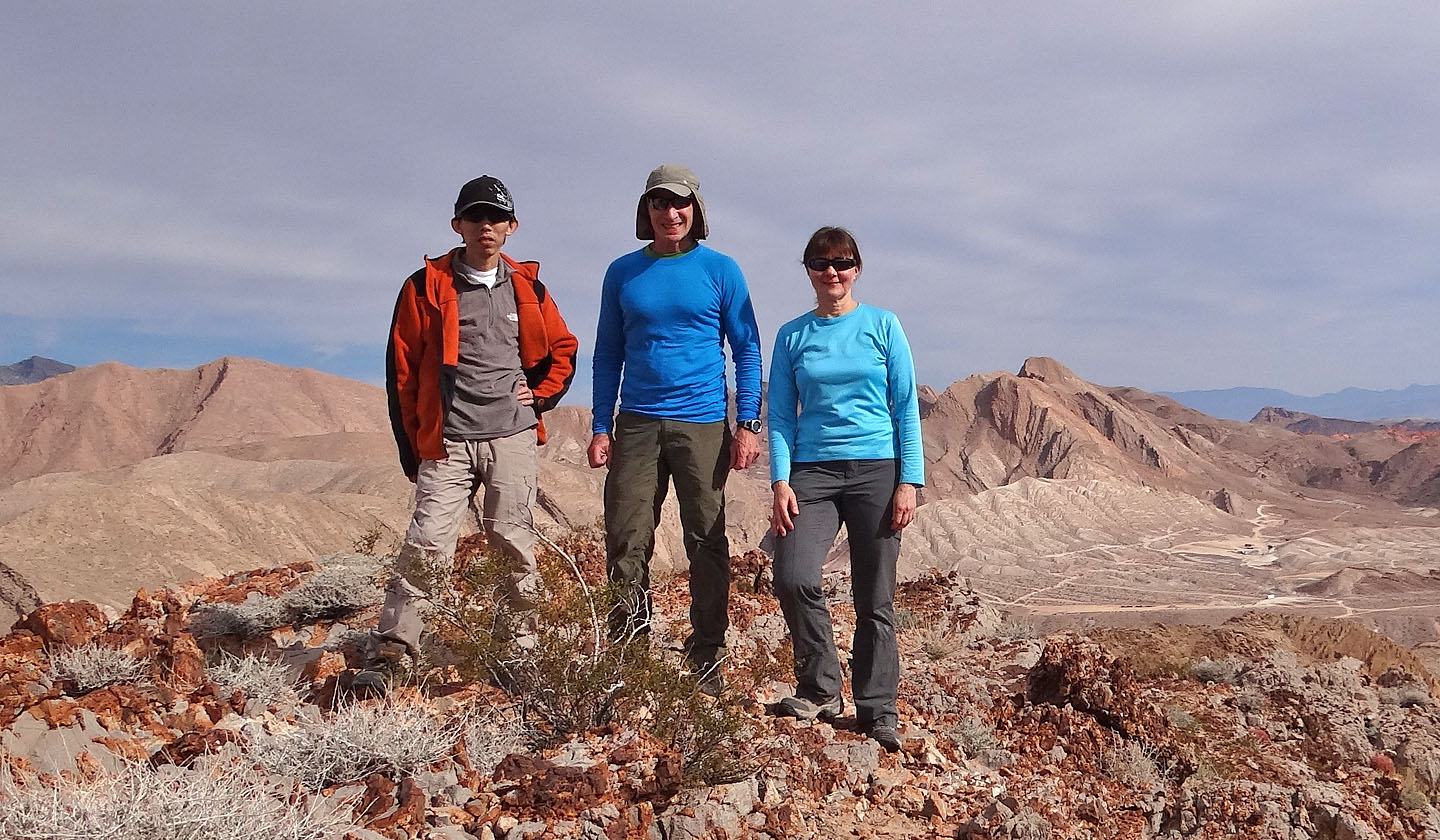 On the summit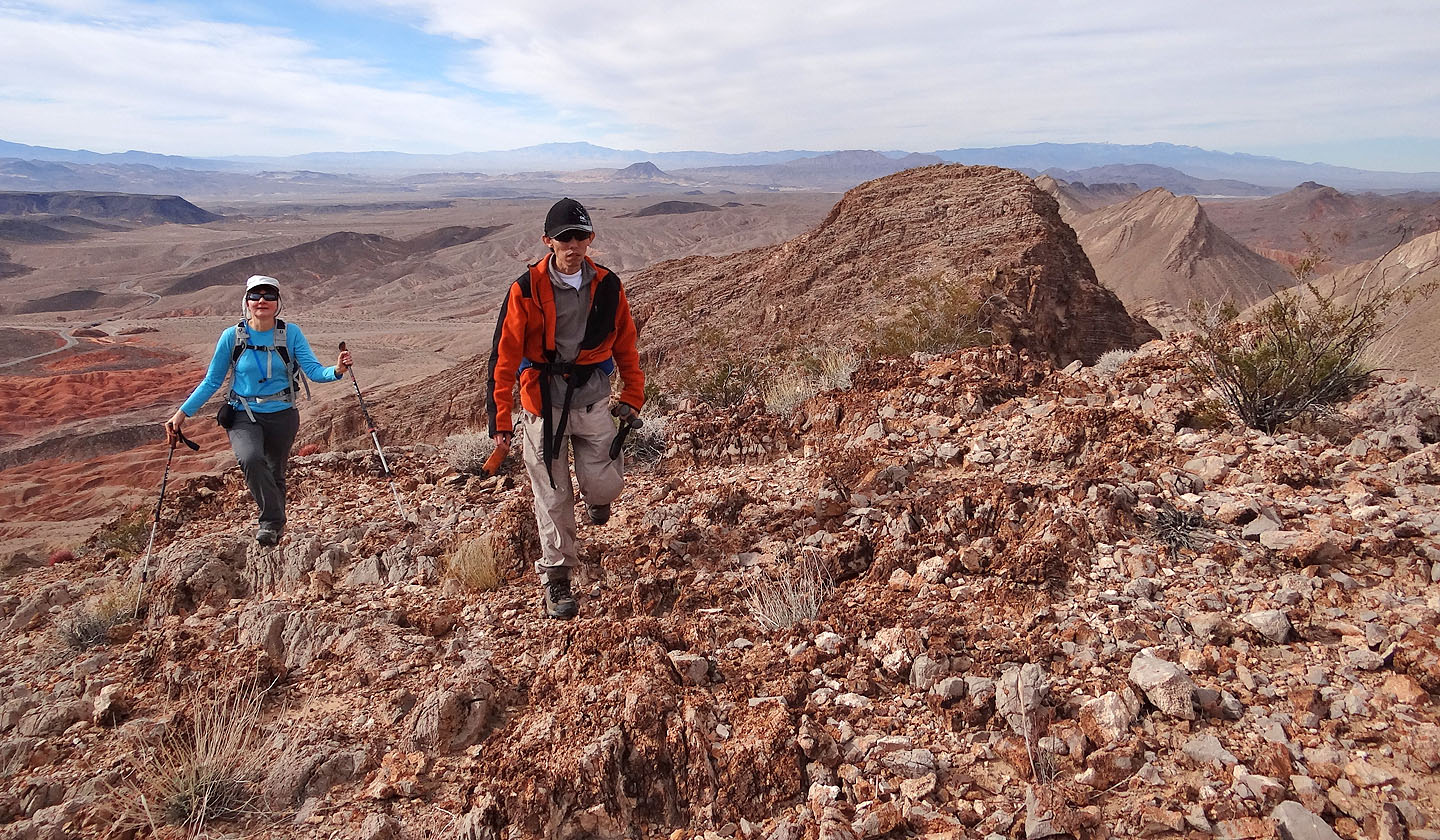 We put the summit behind us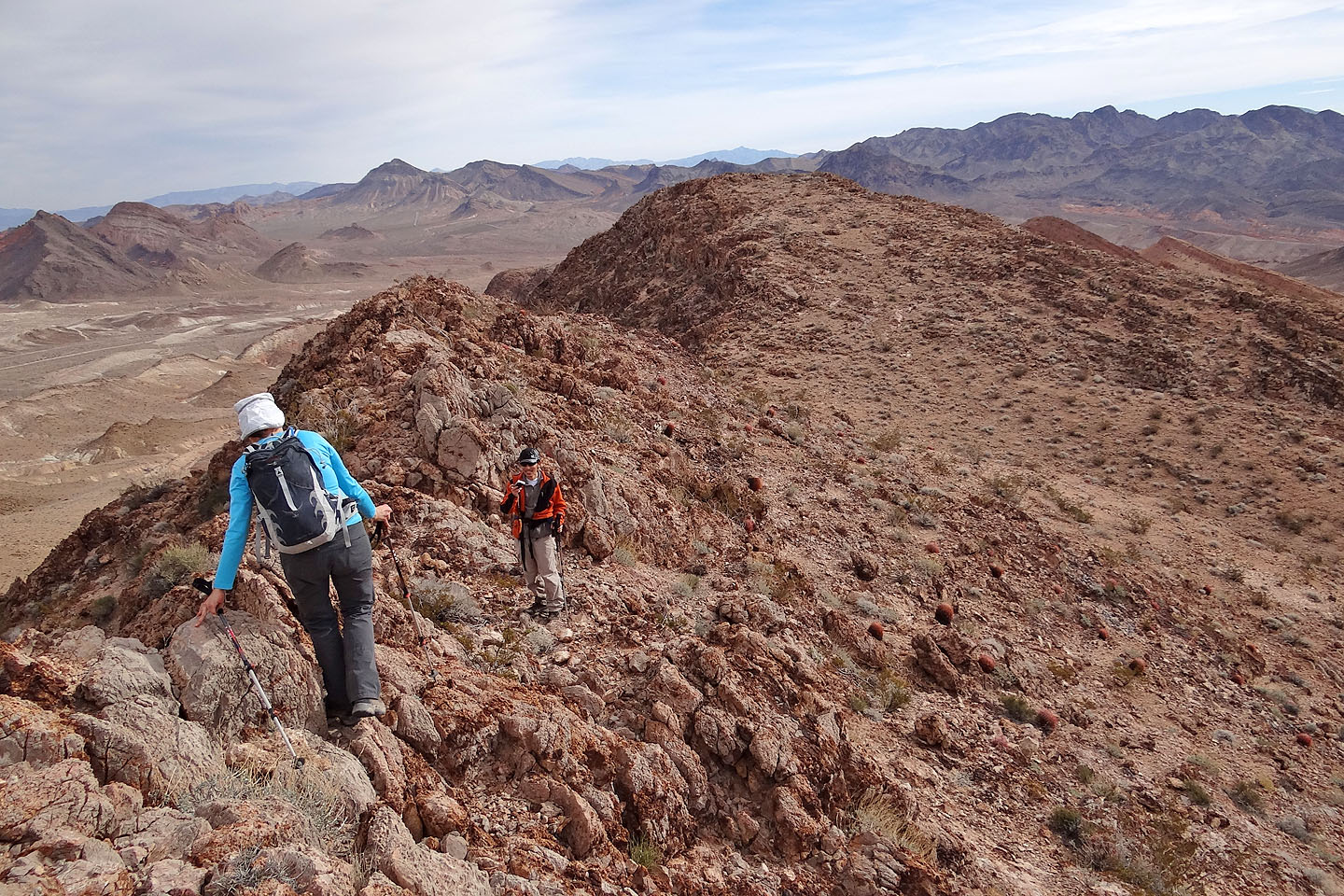 Following the ridge crest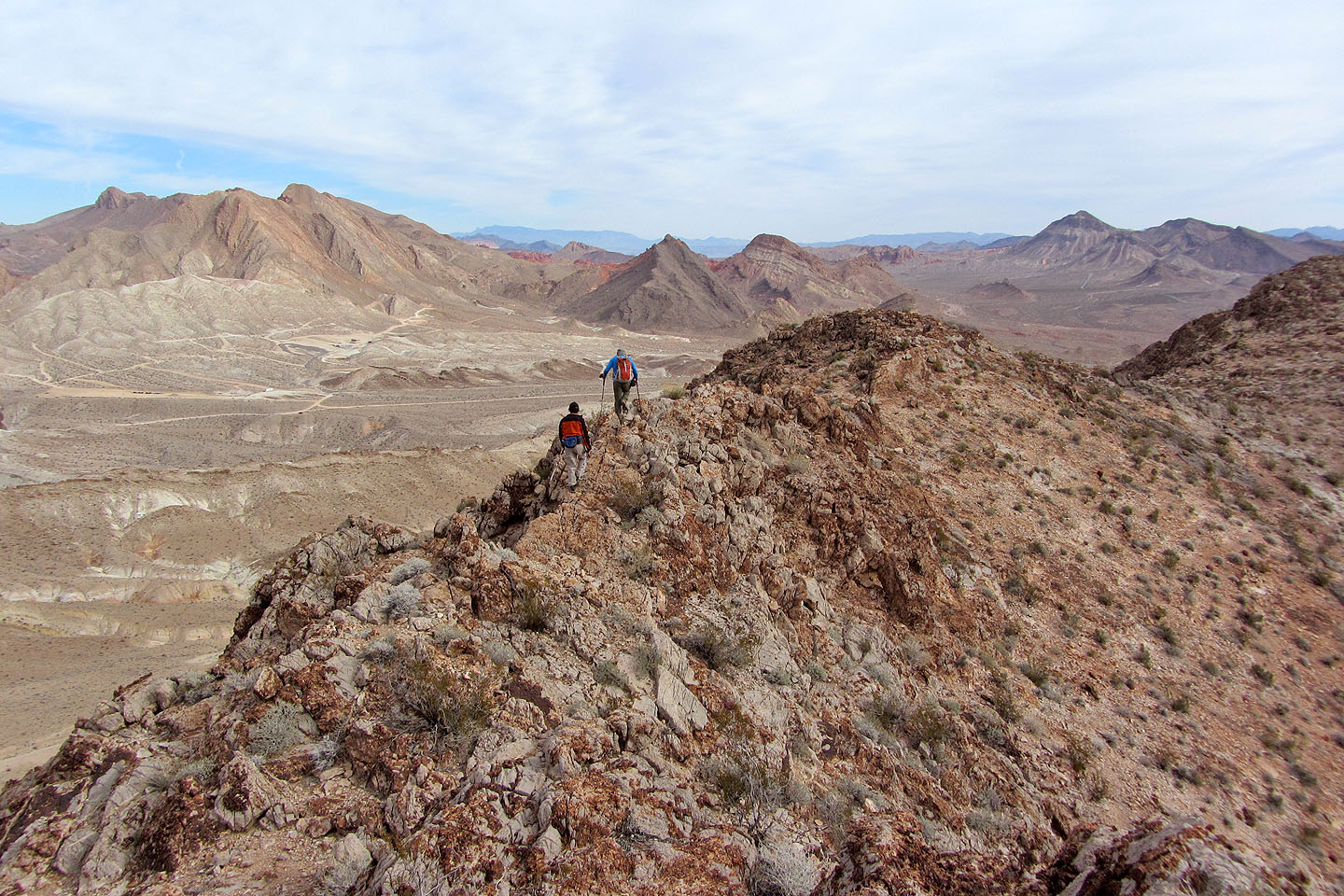 The narrow ridge here is easily avoided using a ledge on the left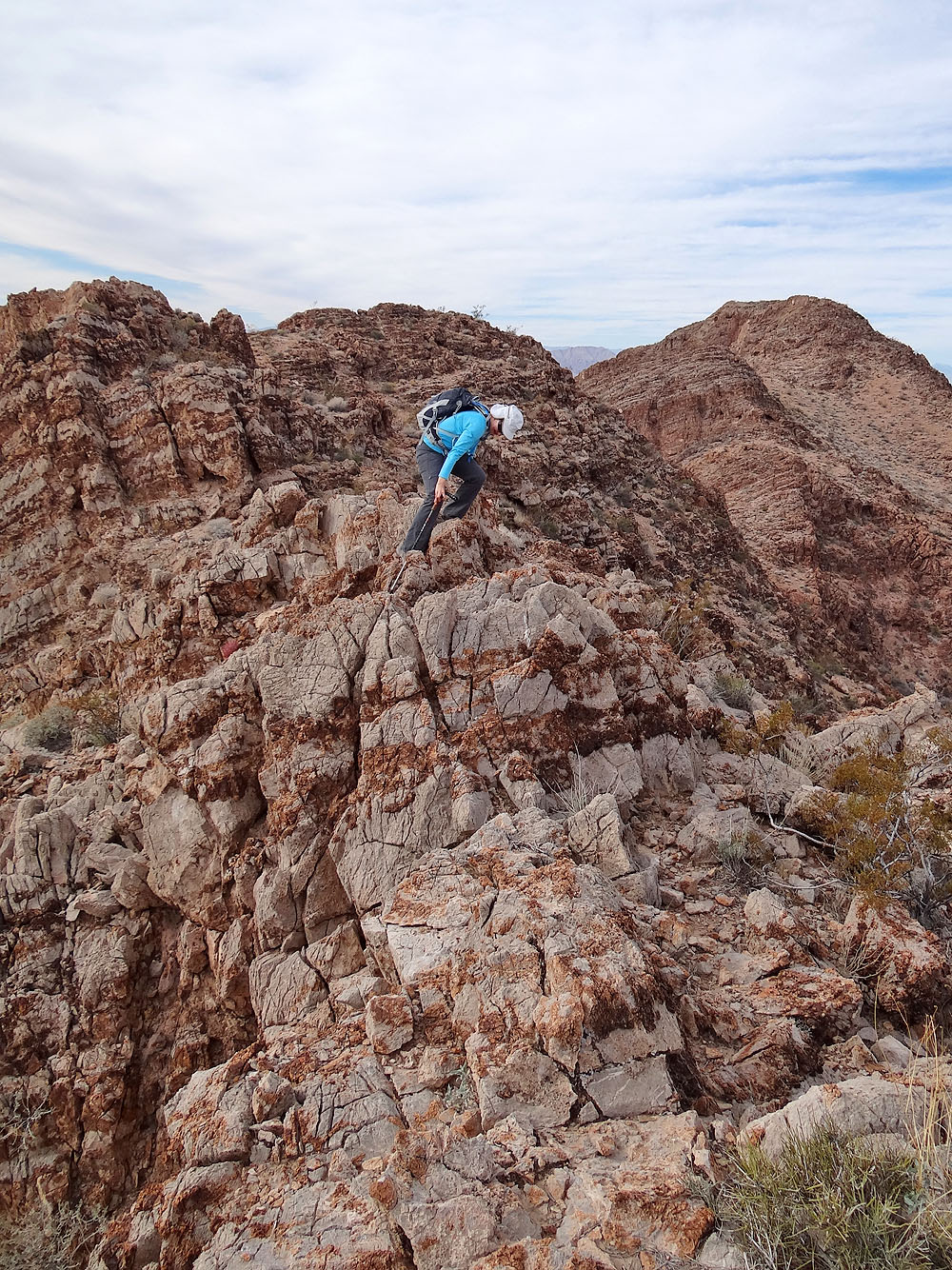 Dinah negotiates a short downclimb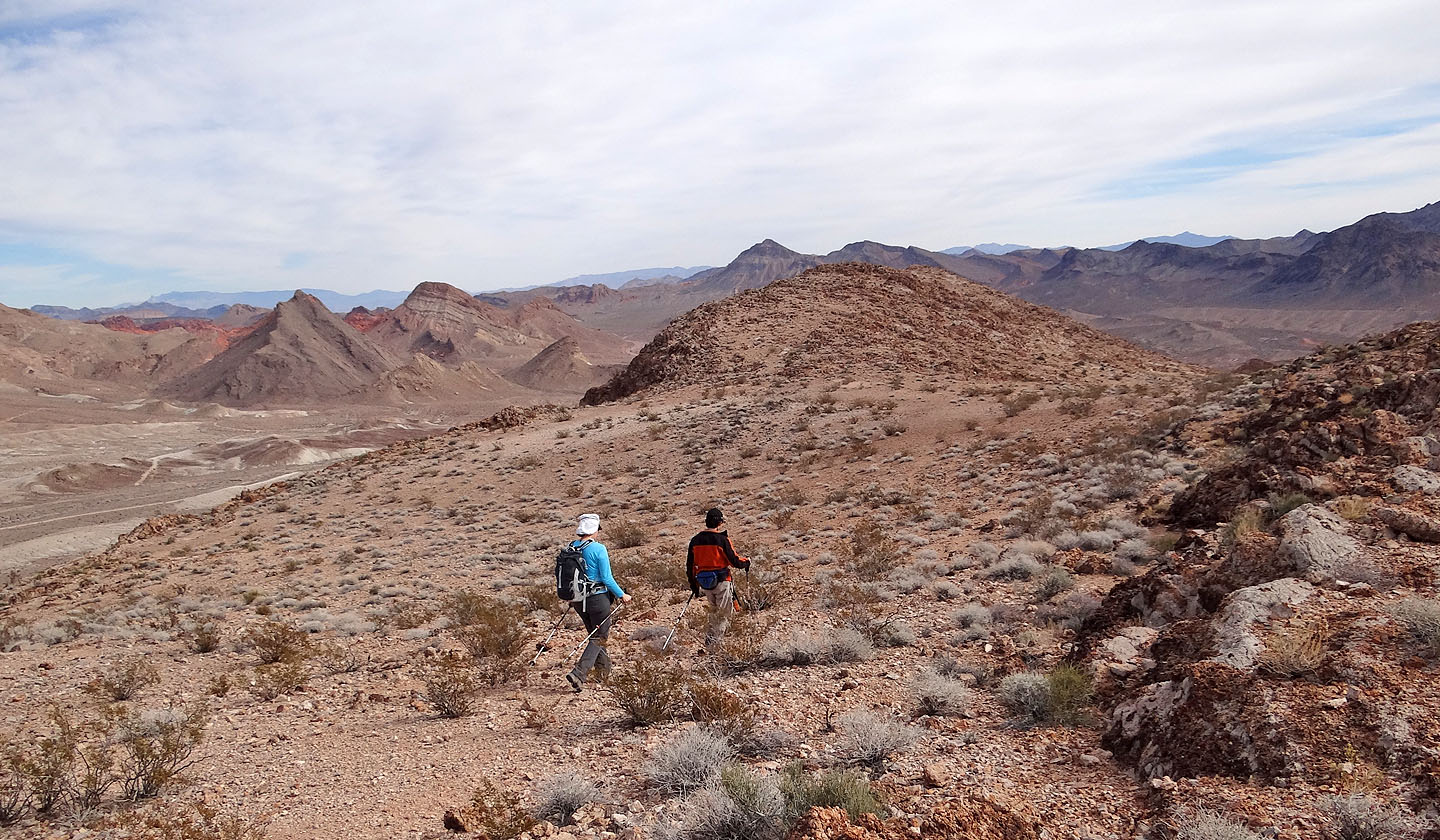 A flat section along the ridge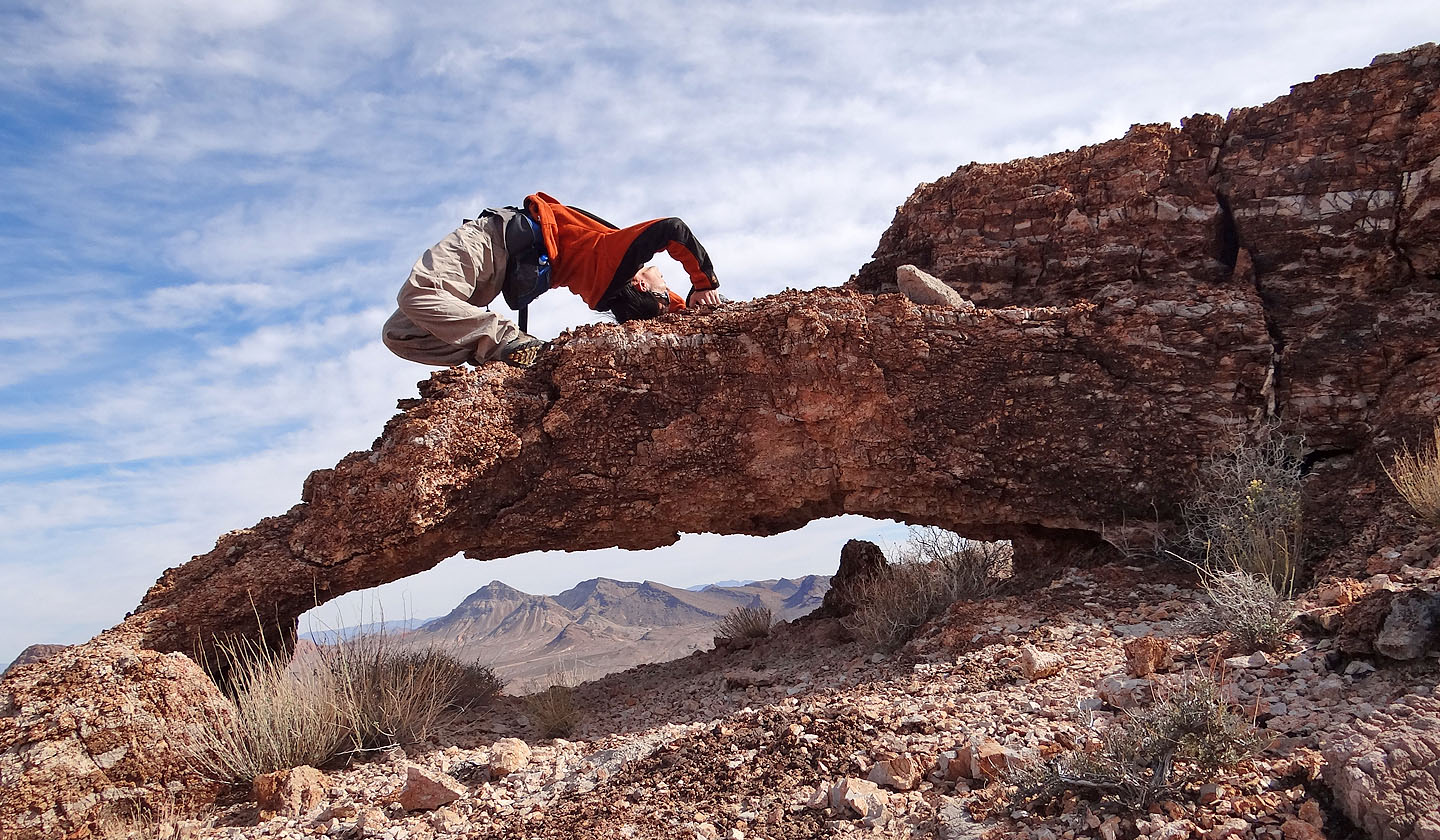 Shin forms an arch on an arch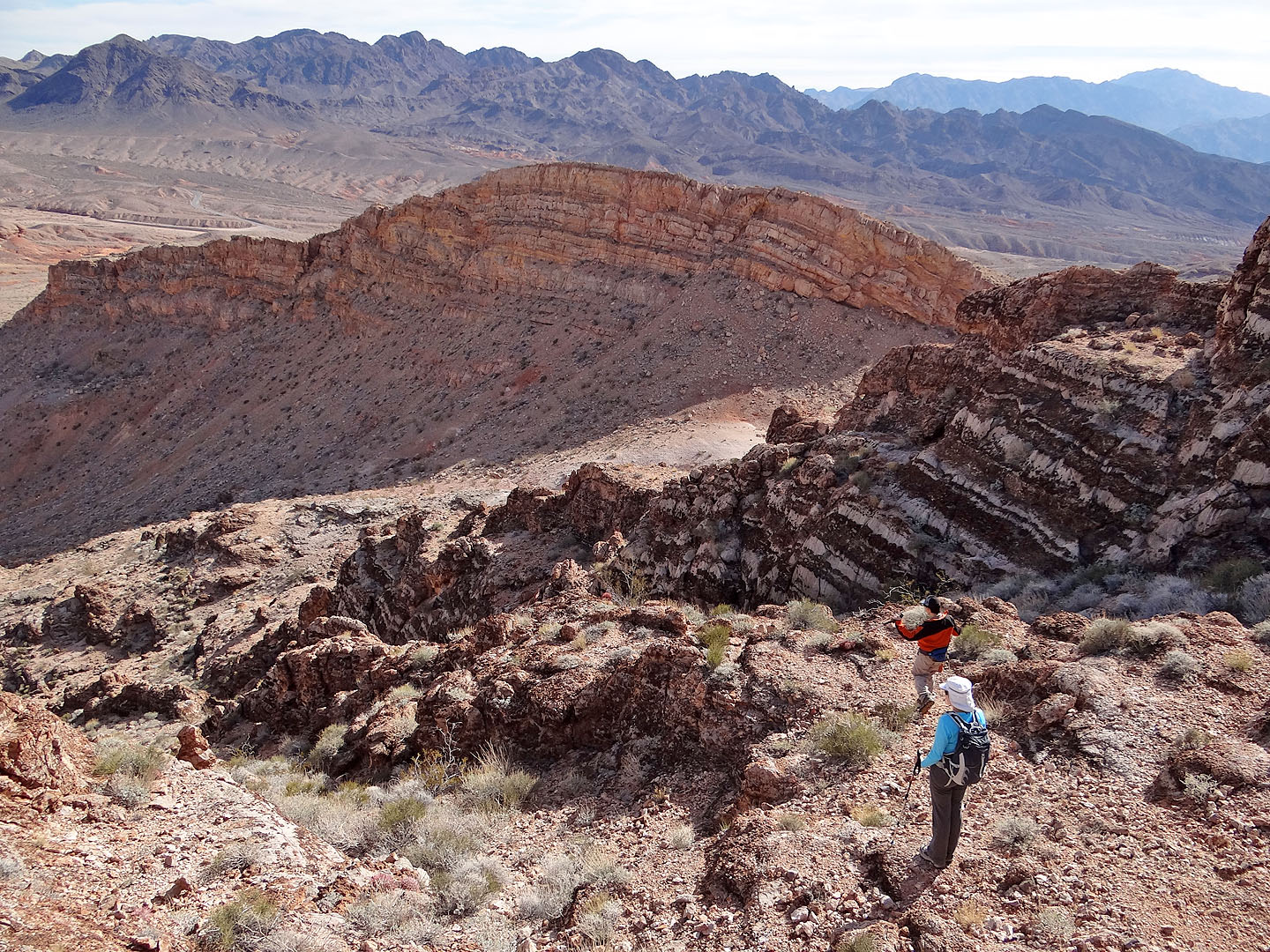 To reach the saddle, we dropped down a wash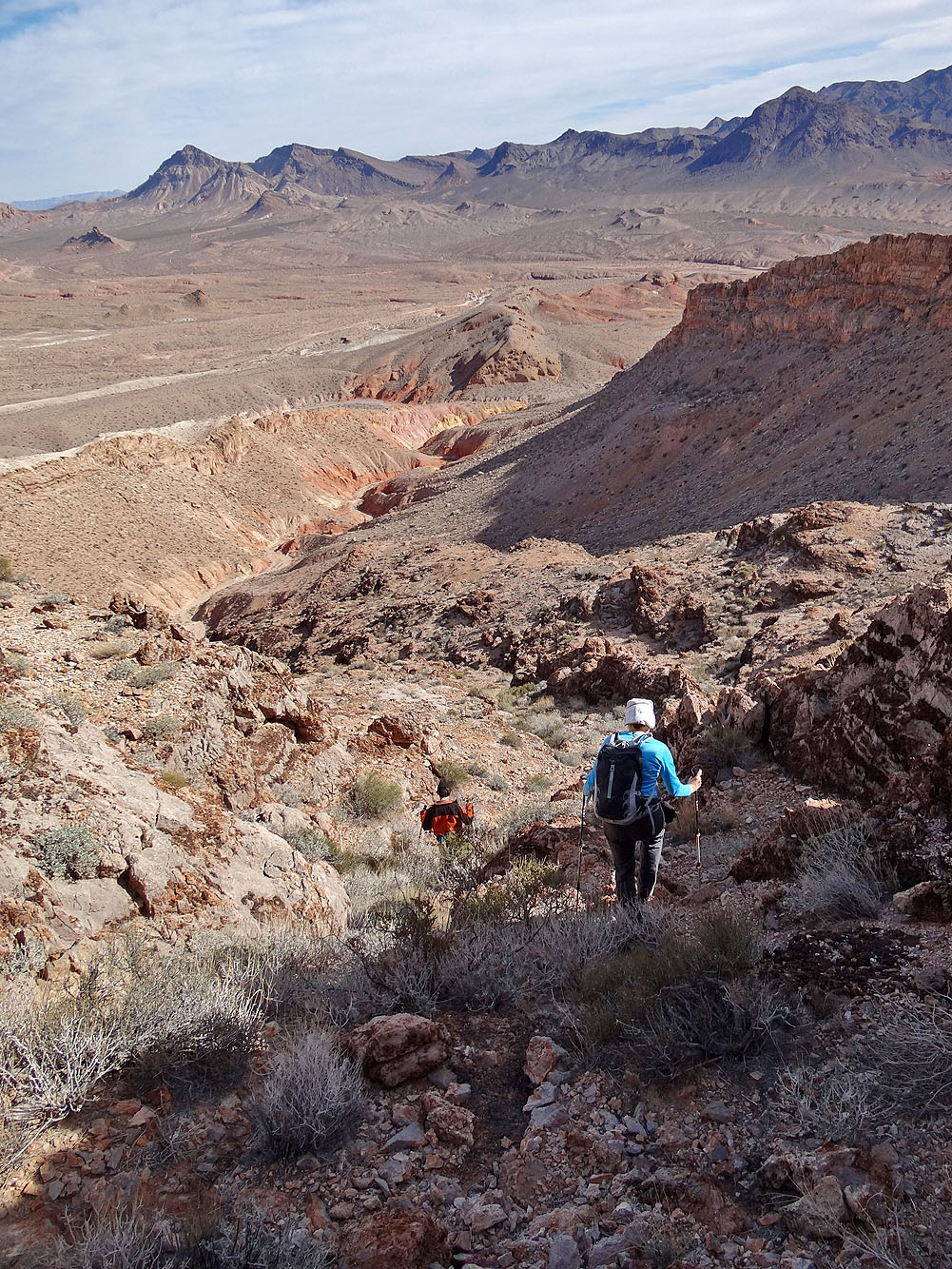 Going down the wash (mouse over to look up it)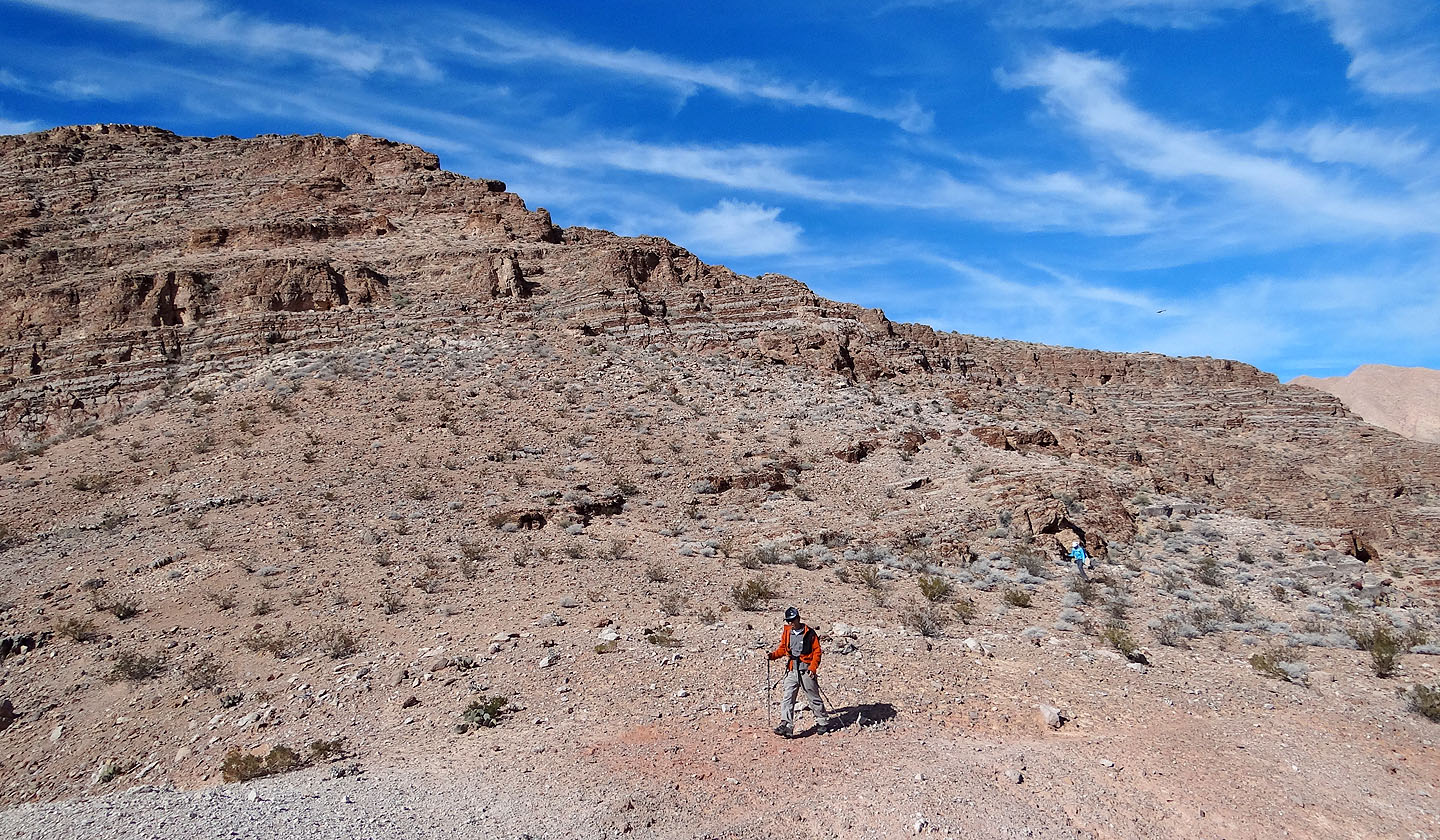 Looking back from the saddle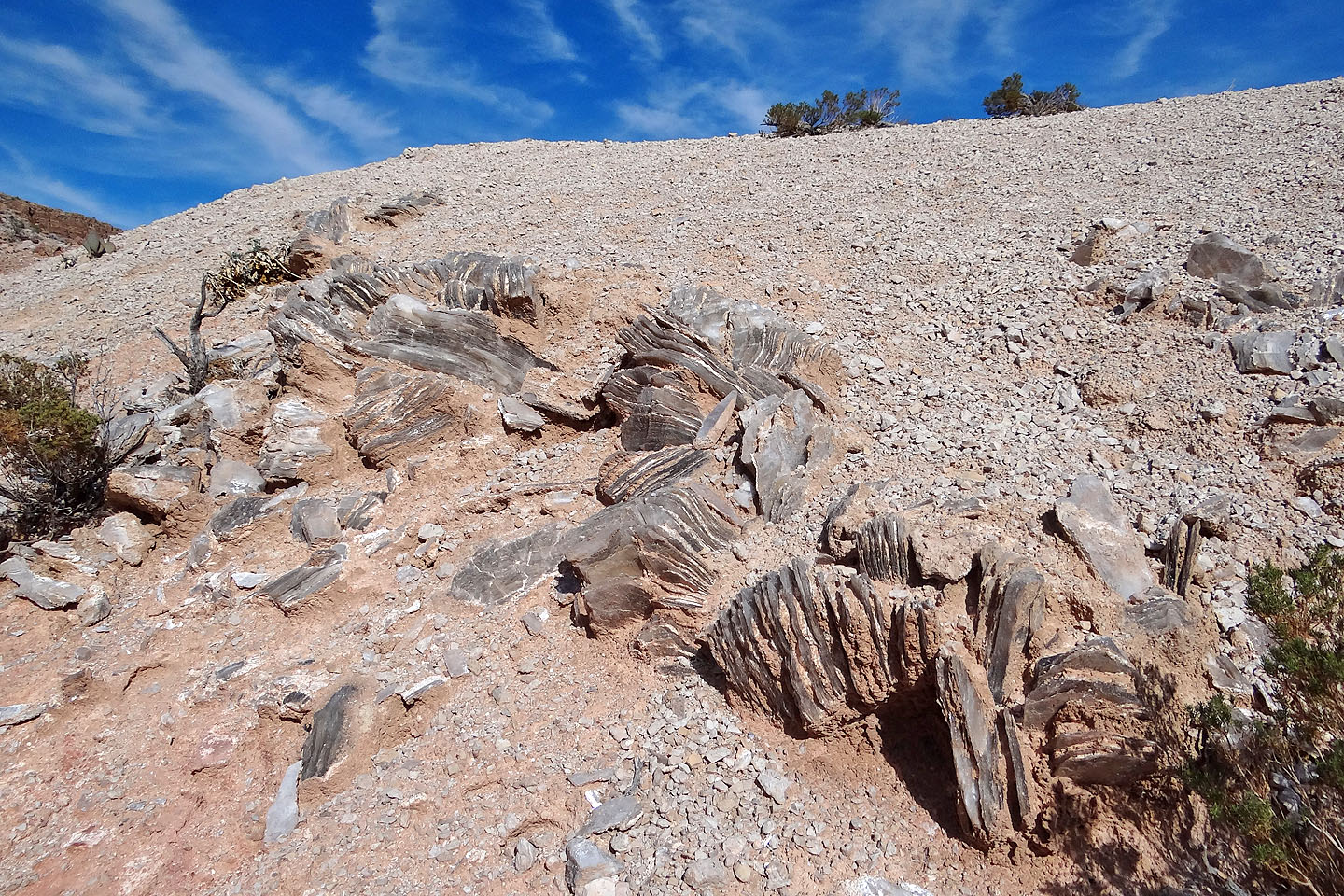 A large deposit of gypsum just below the saddle (mouse over for a close-up)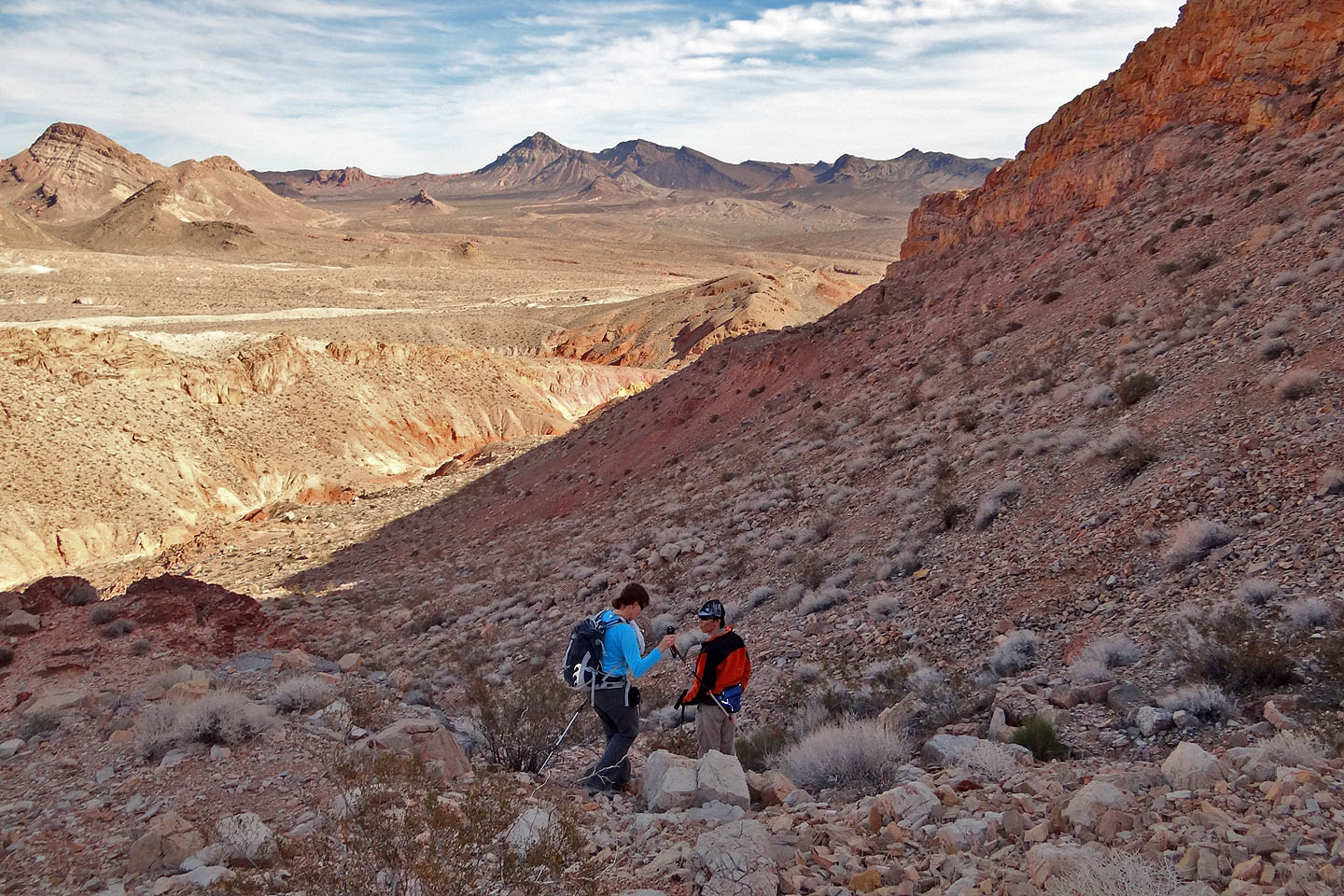 Heading down to the wash below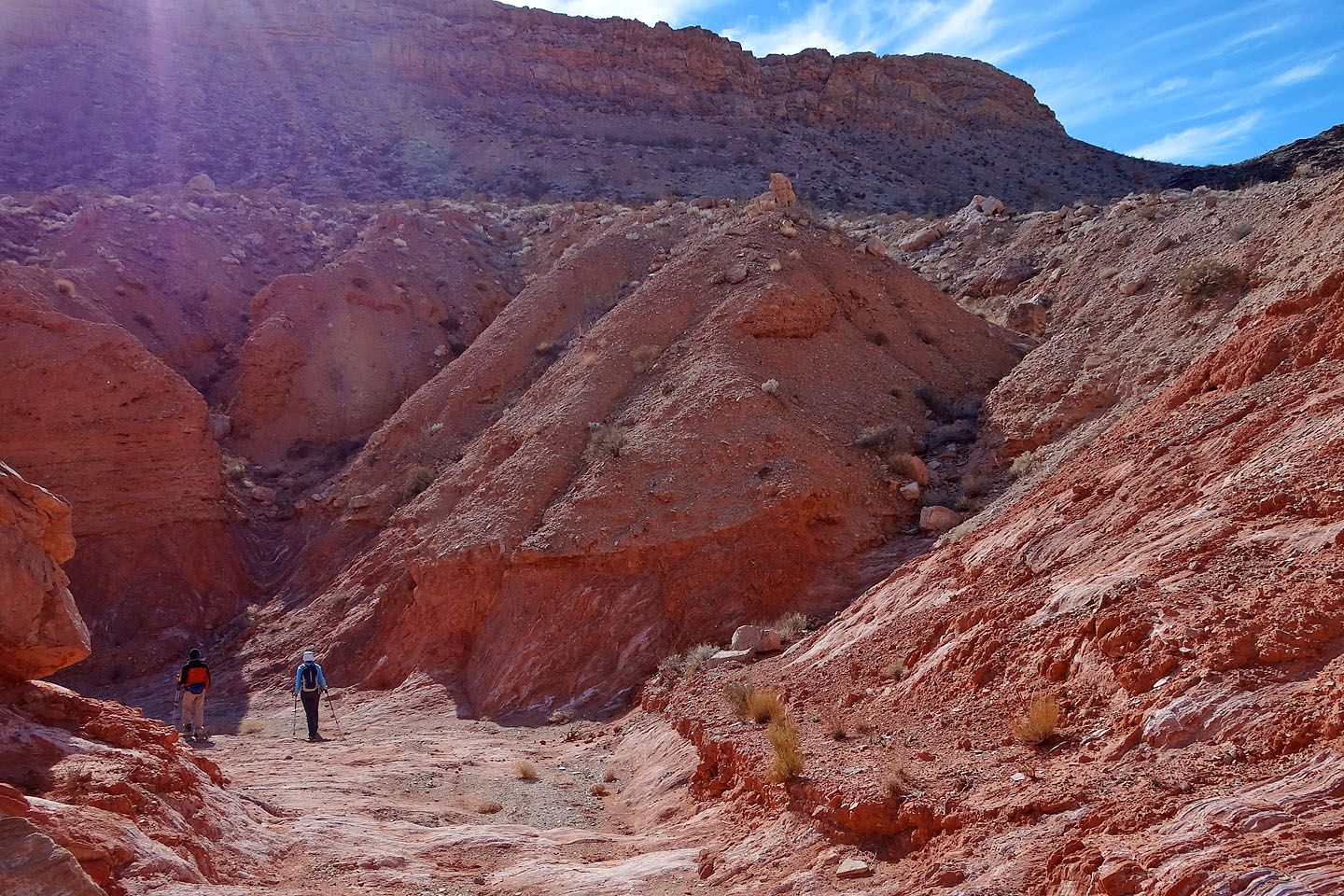 In the wash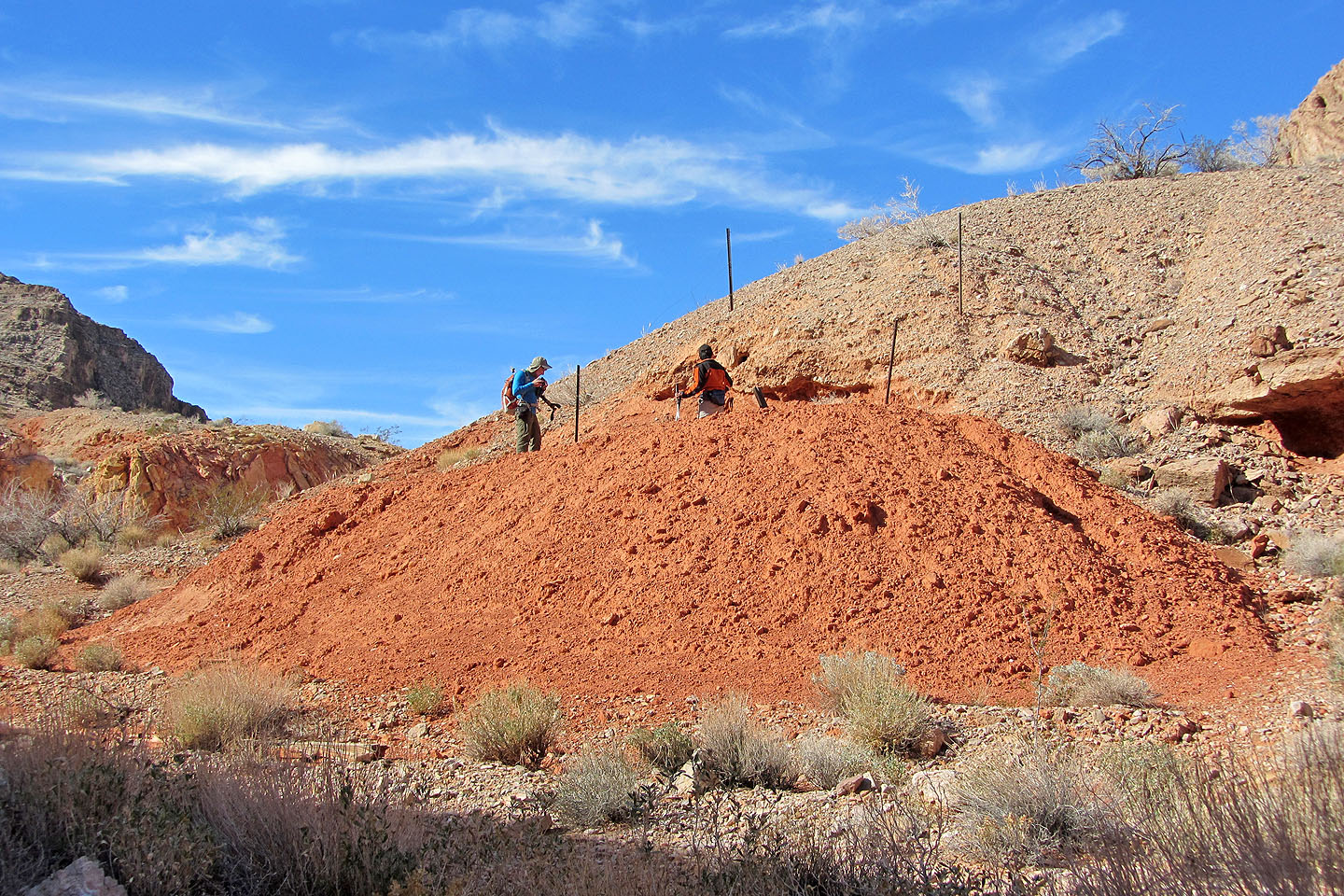 Shin and I check out a vertical mine (mouse over)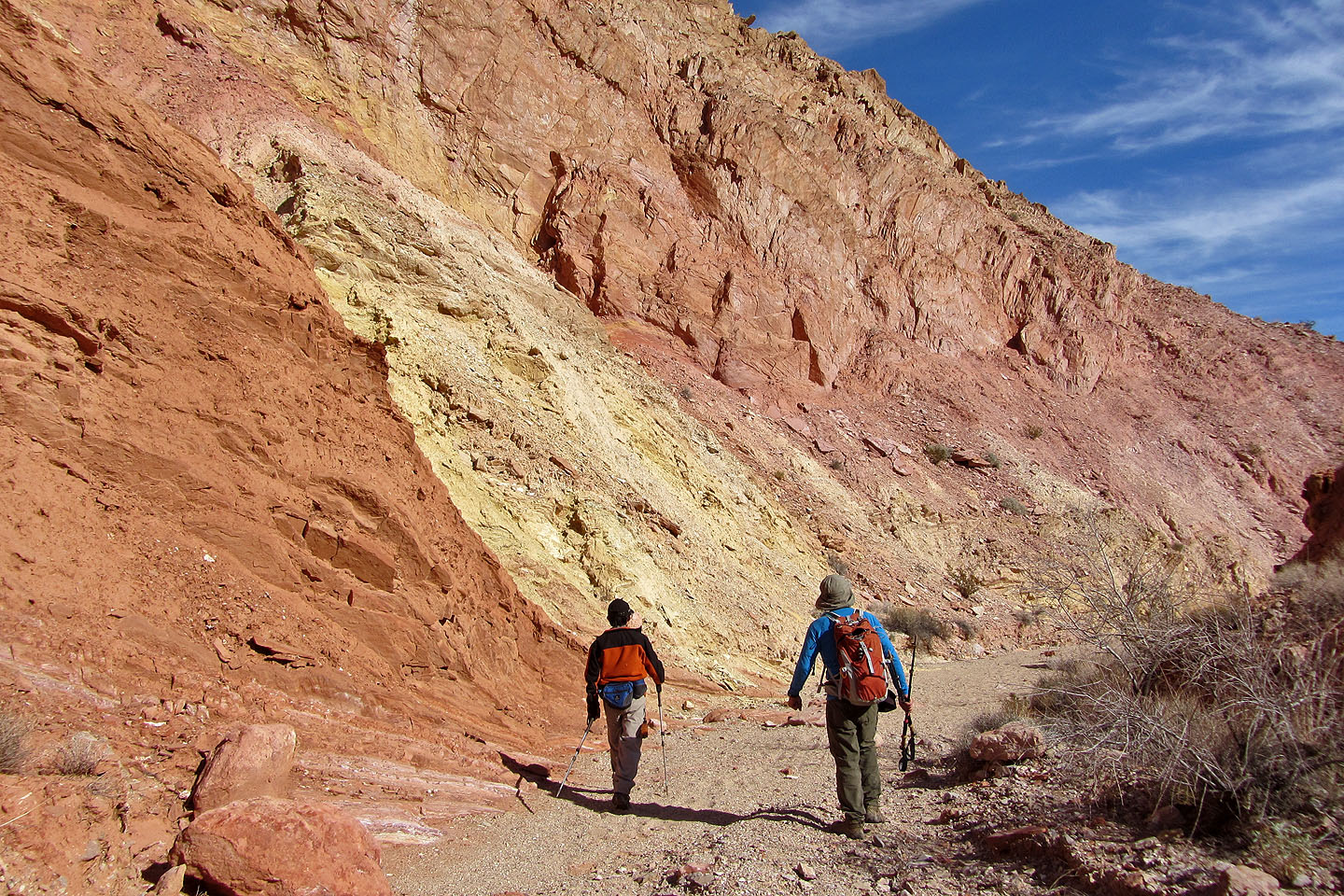 Continuing down the colourful wash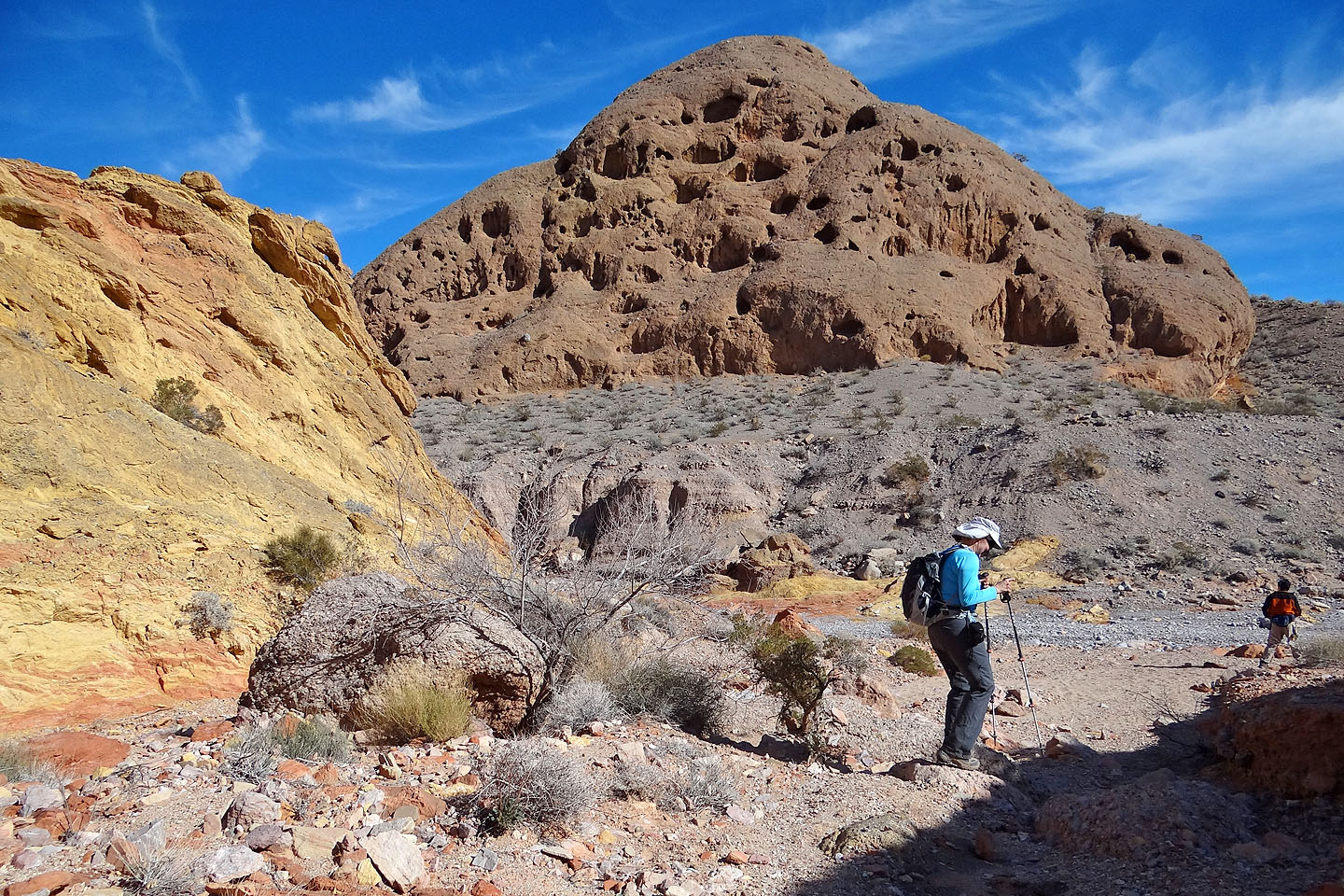 Strange hill full of holes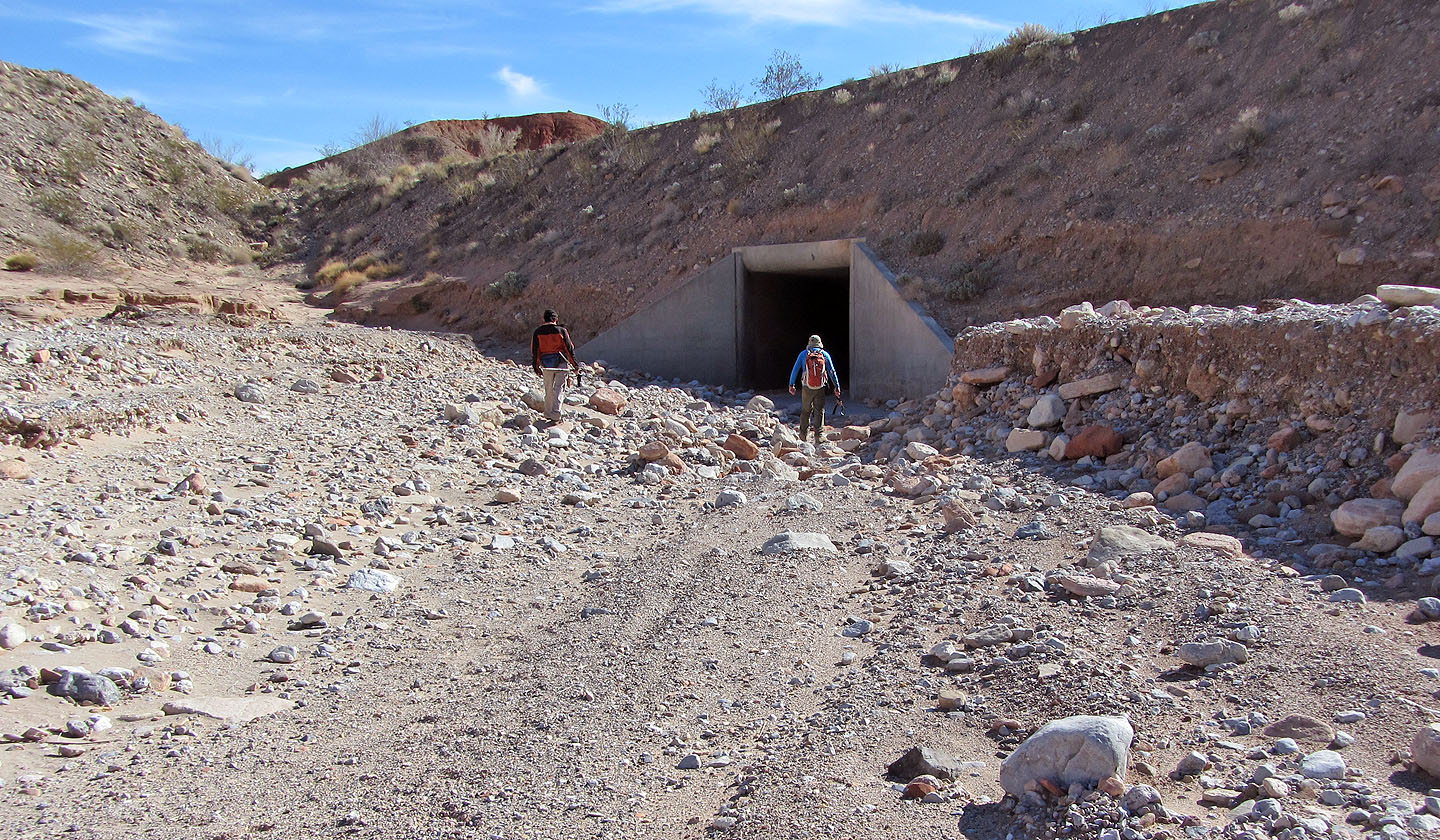 For the heck of it, we walked through the tunnel under the road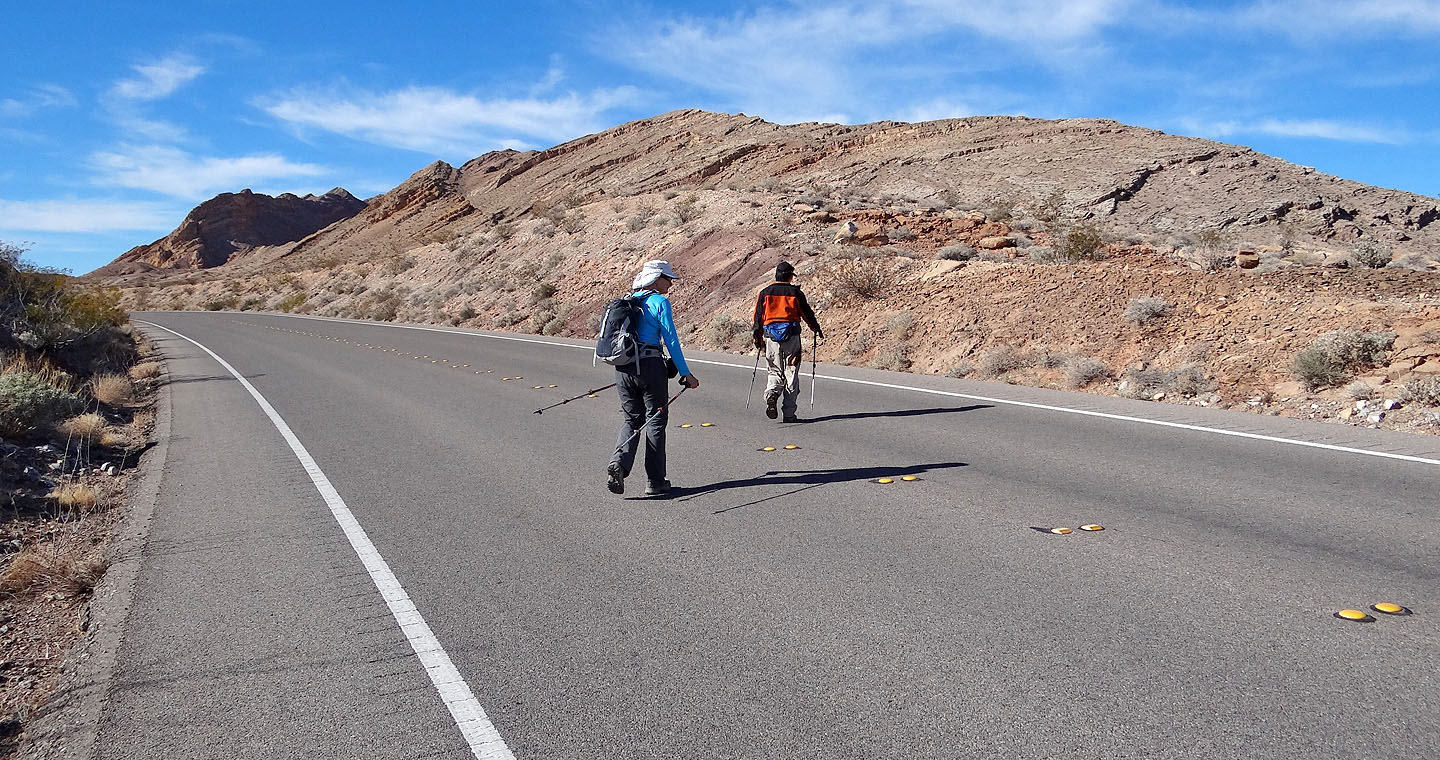 It's a 2.5 km walk back to the car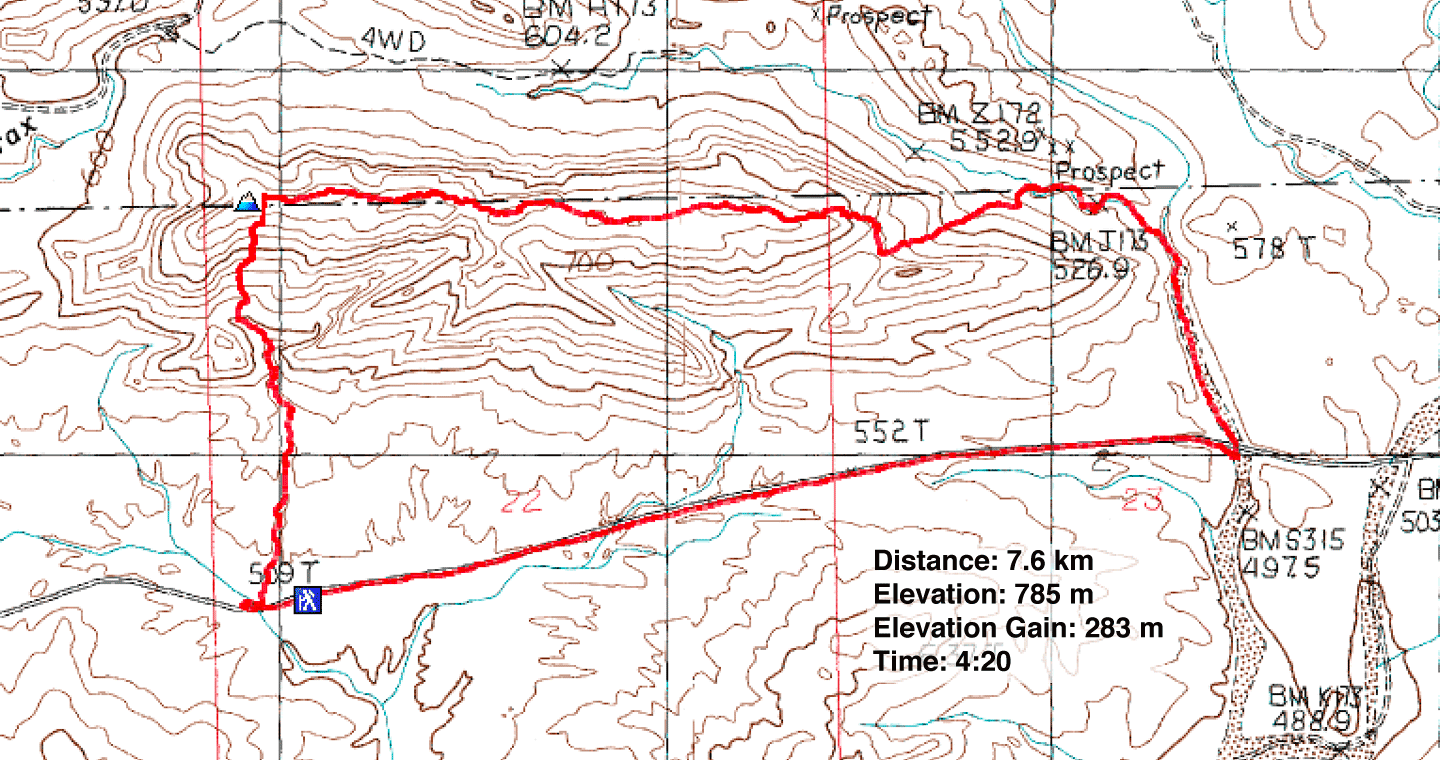 Calville (4.7 mi, 2575 ft, 928 ft)