bobspirko.ca | Home | Canada Trips | US Trips | Hiking | Snowshoeing | MAP | About

Juniper Peak
Red Rock Canyon NCA, Nevada
April 13, 2009
Distance: 7.7 km (4.8 mi)
Cumulative Elevation Gain: 662 m (2172 ft)
Juniper Peak is not among the highest peaks in Red Rock Canyon and only a class 2 climb, but it was the first desert peak Dinah and I ascended. We're used to climbing in the Canadian Rockies, so we found routefinding in a desert landscape a bit daunting. But the environment is fascinating, and we marvelled at the lizards and cactus as well as the unfamiliar geology. Credit goes to Jim Boone's website for helping me identify flora and fauna.
We tried climbing Juniper Peak the previous day, but since we didn't have a good route description, we missed the turnoff. When we reached a chimney (later we learned it was Gunsight Notch) that looked risky without helmets, we turned back.
By our next attempt, we had sorted out where we went wrong. We reached Juniper Canyon from Pine Creek Trail. Keeping right we found the turn-off for Juniper Peak and ascended rock slabs. Here lizards scurried everywhere. So many, that I saw two collide!
We followed the cairns and trails to the summit with little difficulty. Occasionally we lost sight of the route, but by backtracking several metres we were always able to get on track.
Even though Juniper Peak is dwarfed by nearby peaks, the view was superb. But of course, all of it was new and striking to us. Given how close this rugged, fascinating terrain is to Las Vegas, I can see why Red Rock Canyon is a popular area for climbing.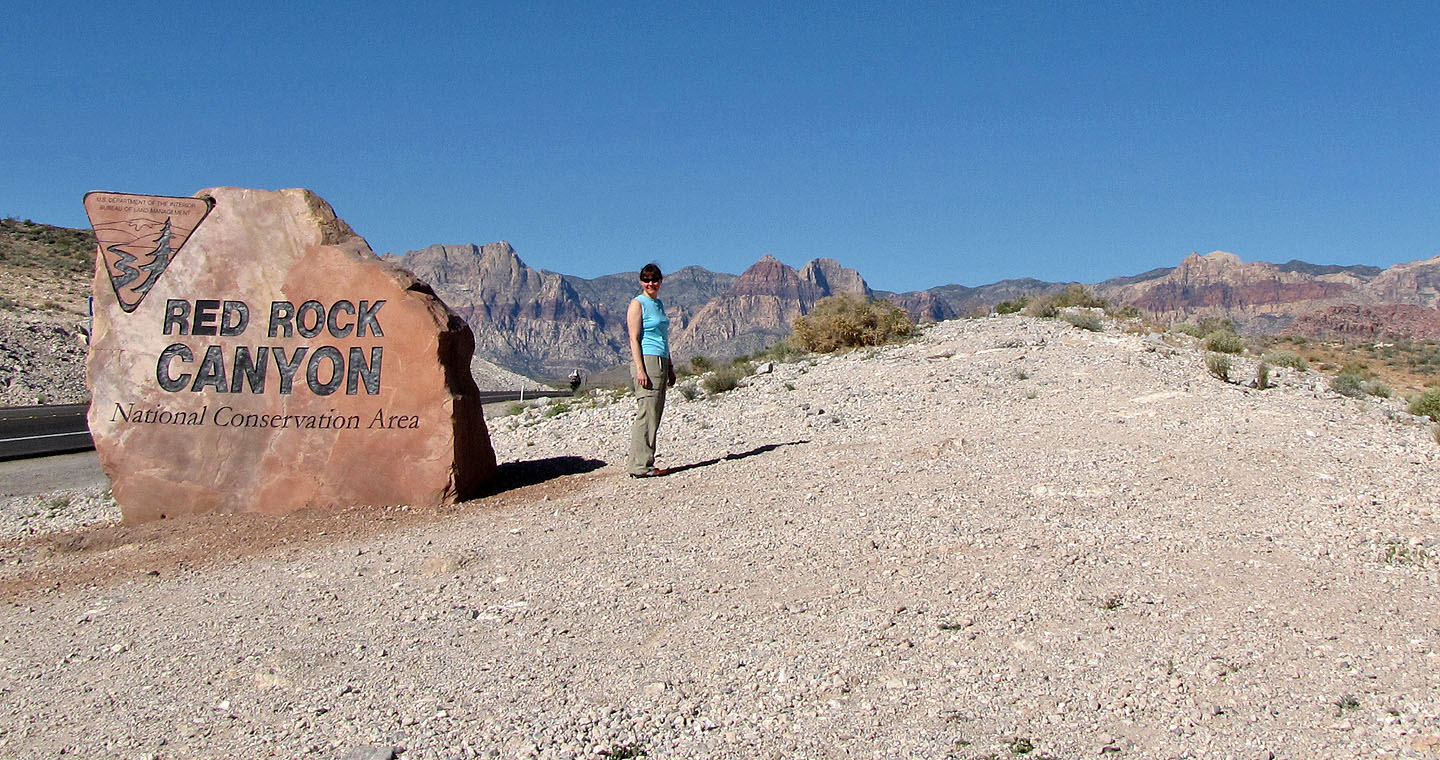 Juniper Peak is in Red Rock Canyon National Conservation Area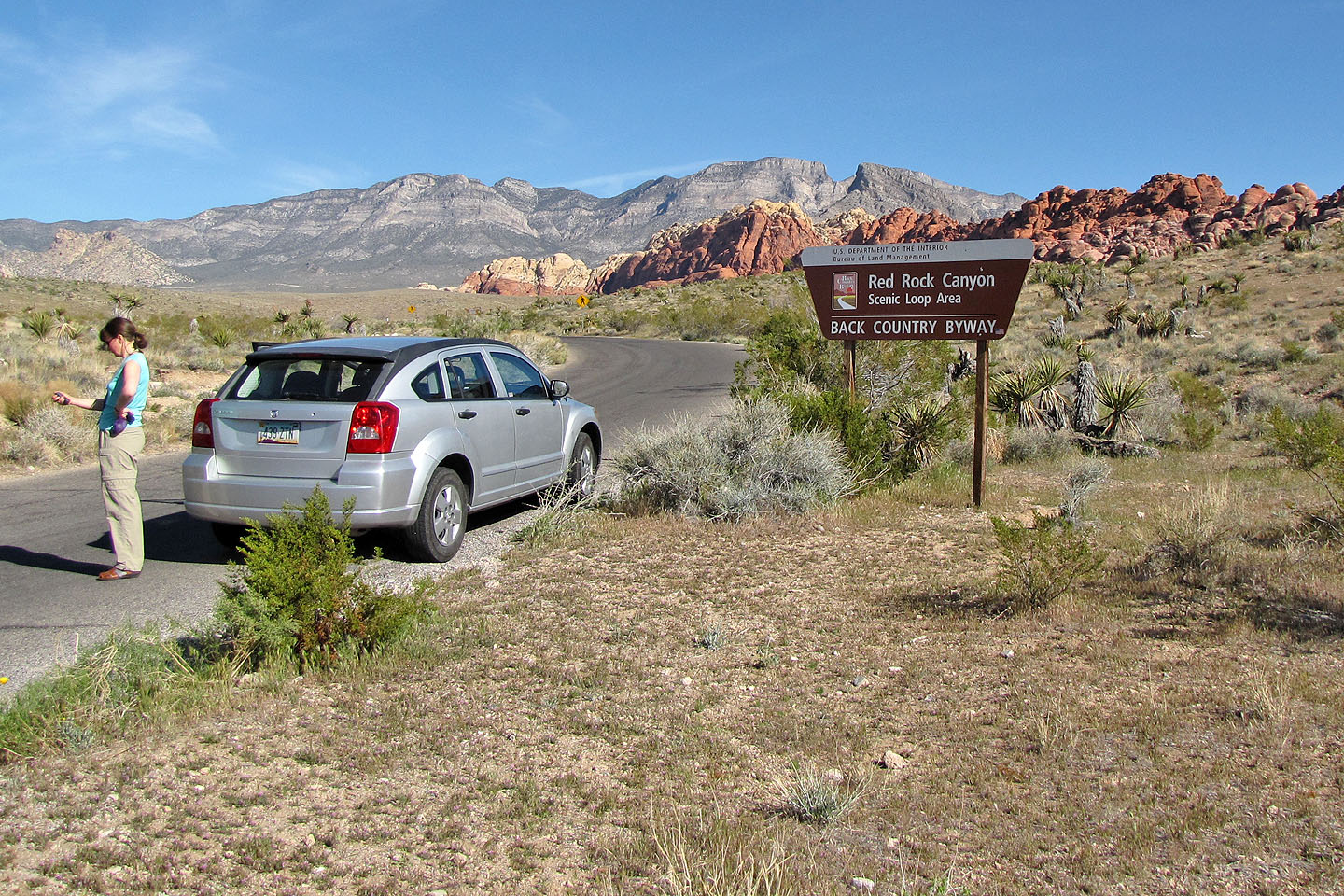 The mountain is accessed from the Red Rock Canyon Scenic Loop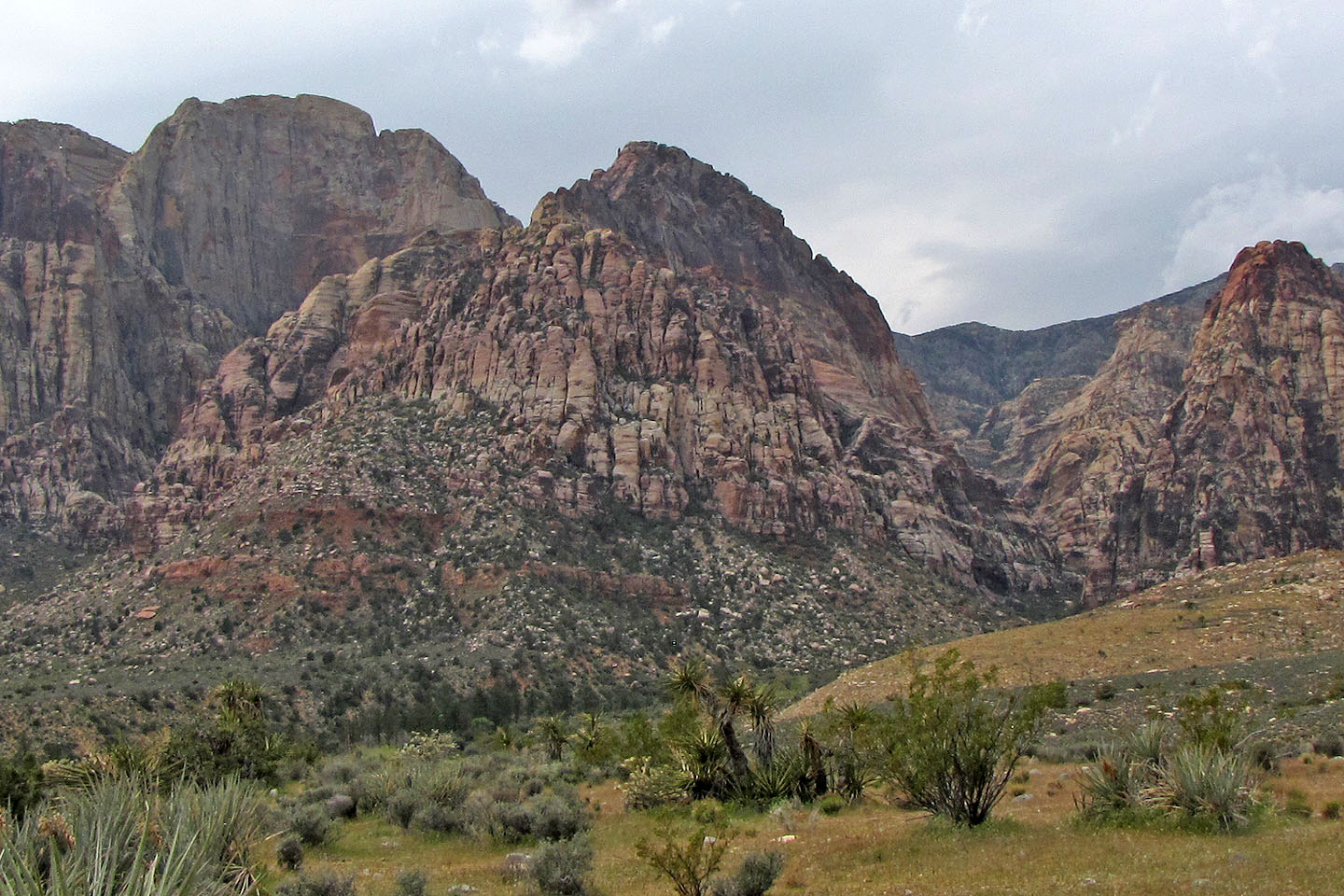 Juniper Peak seen from the trailhead: Rainbow Wall sits left while Magic Mountain lies in front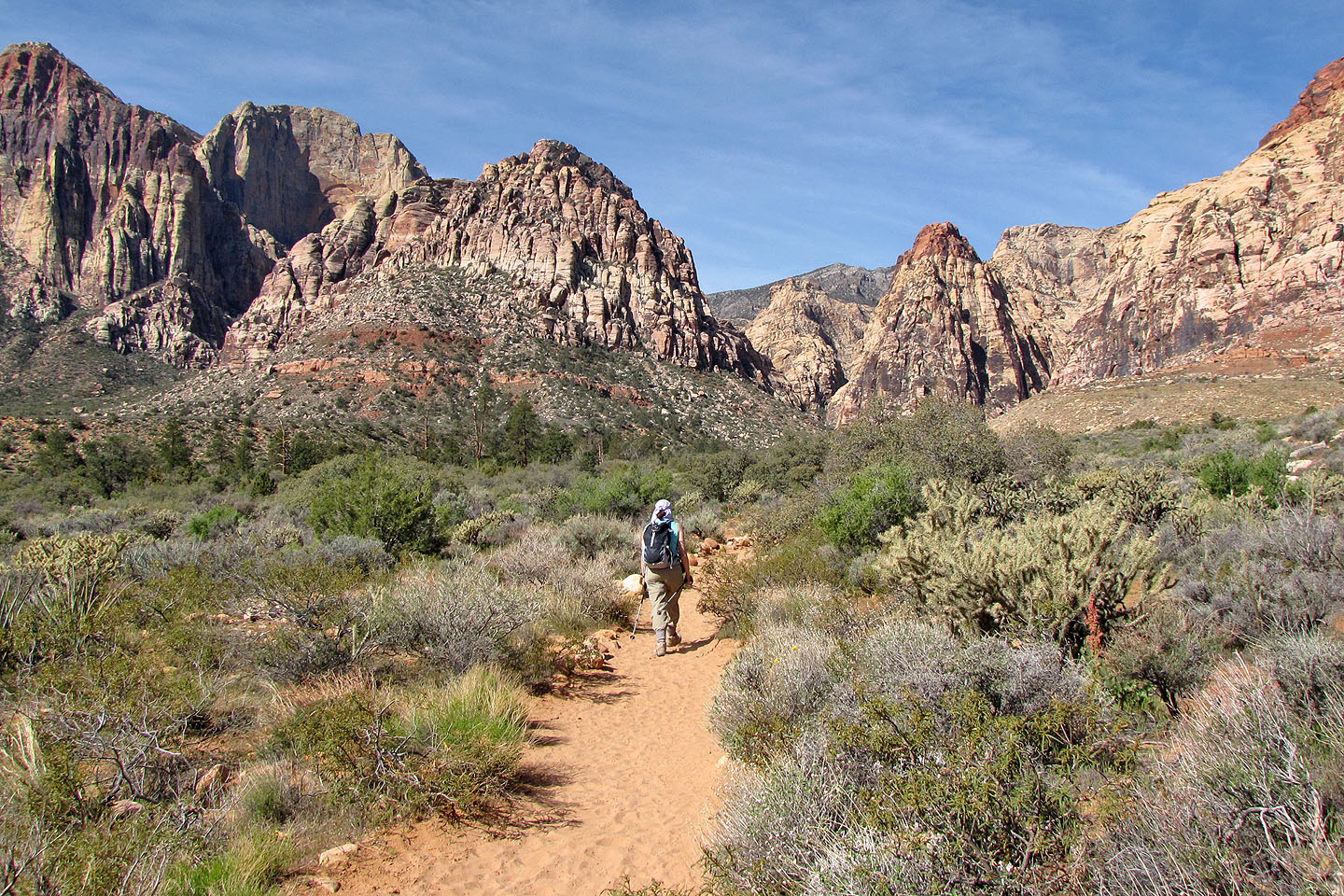 Hiking down Pine Creek Trail: Magic Mountain and Mescalito ahead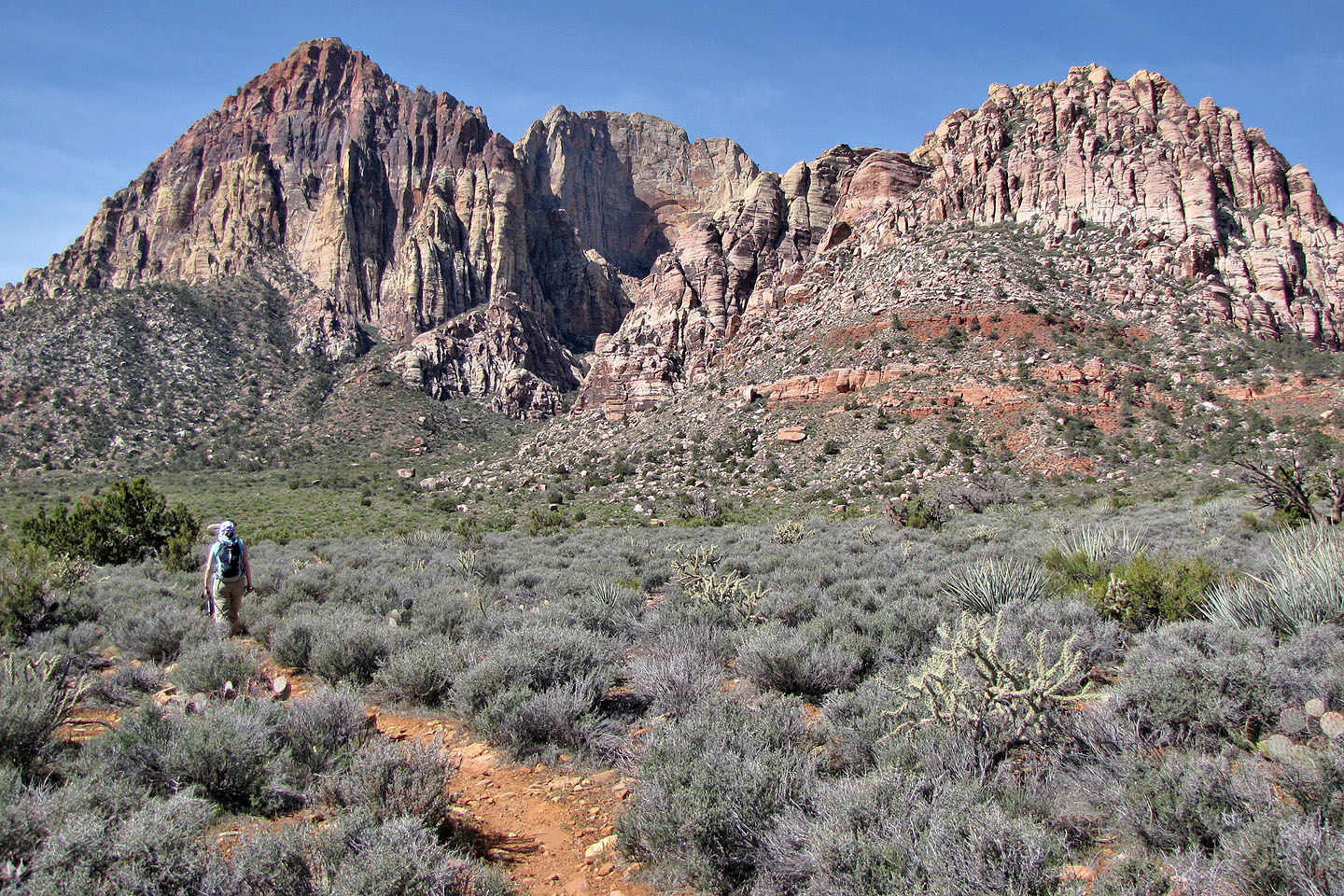 Rainbow Peak, Rainbow Wall and Magic Mountain (Juniper Peak is hidden)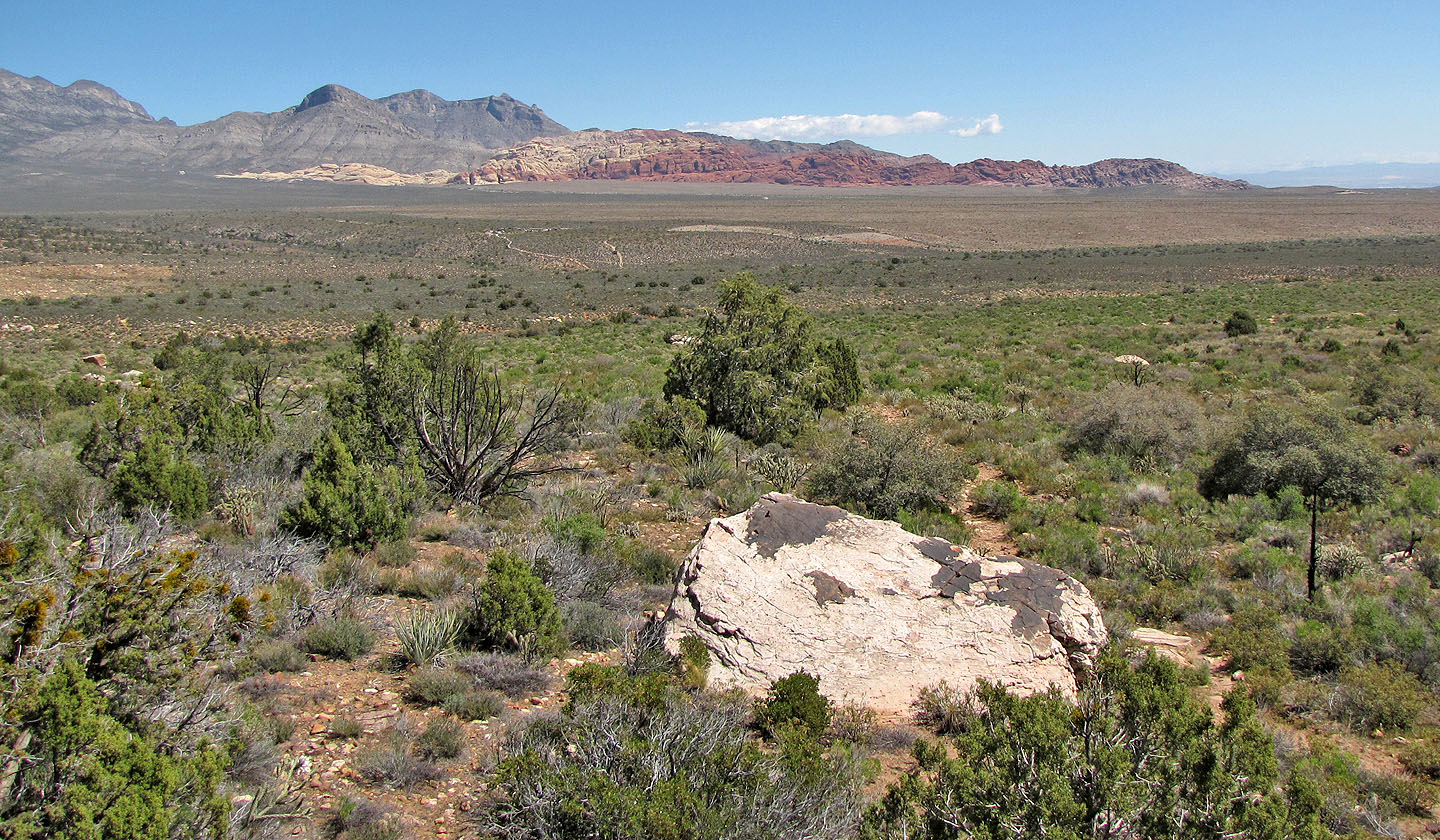 Looking back at Turtlehead Peak and the colourful Calico Hills

Cholla and barrel cactus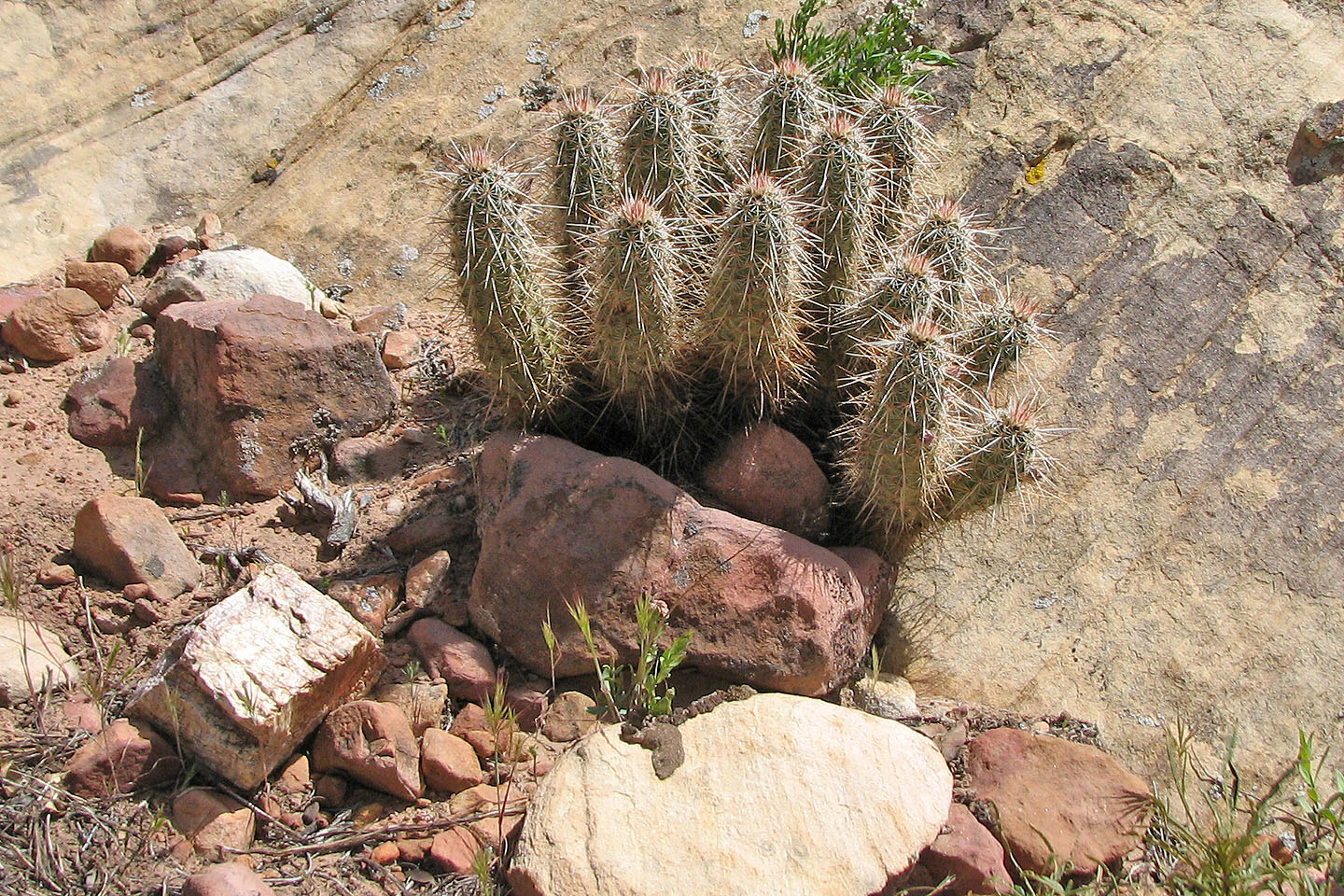 Hedgehog cactus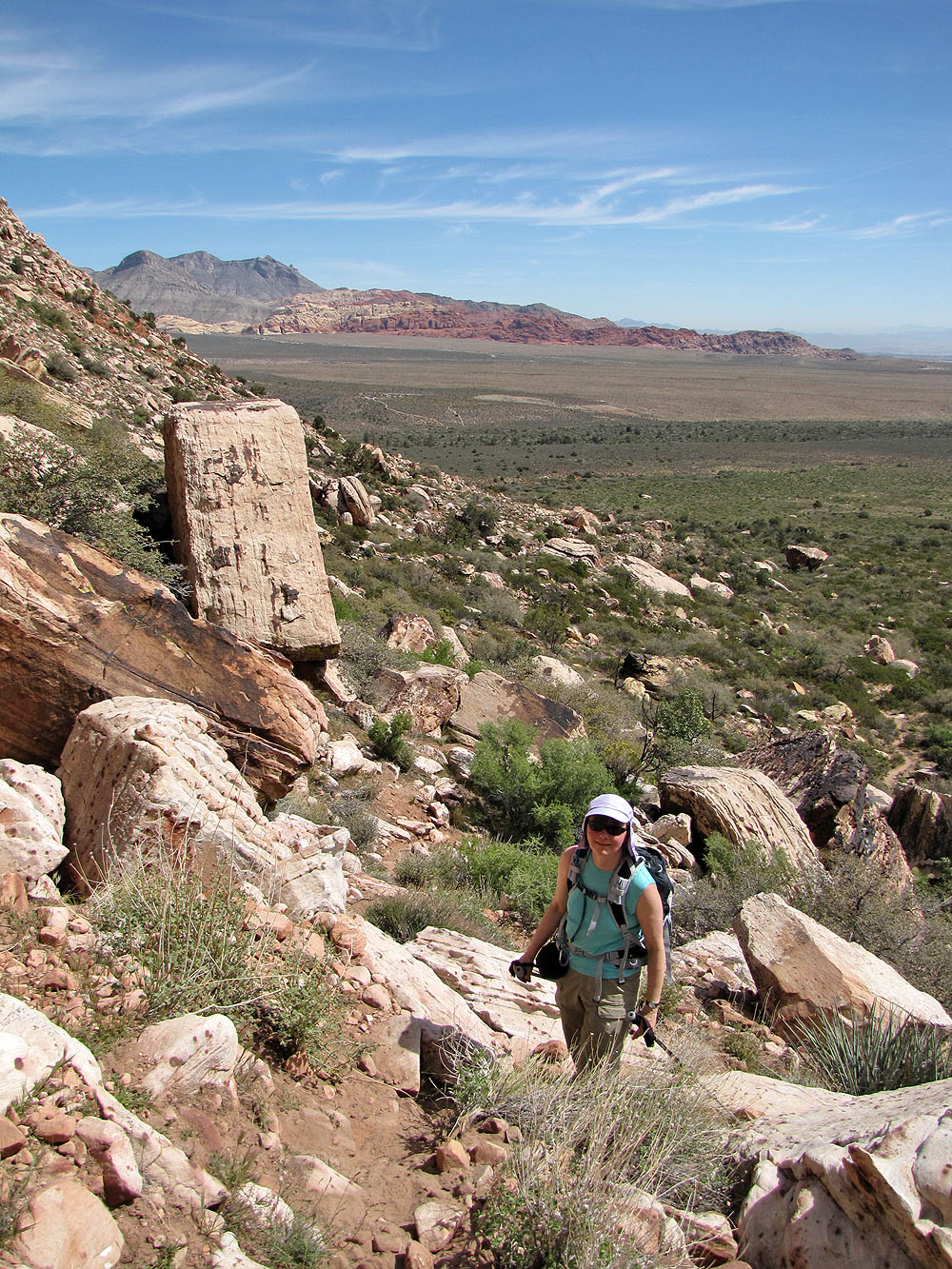 Approaching Pine Creek Canyon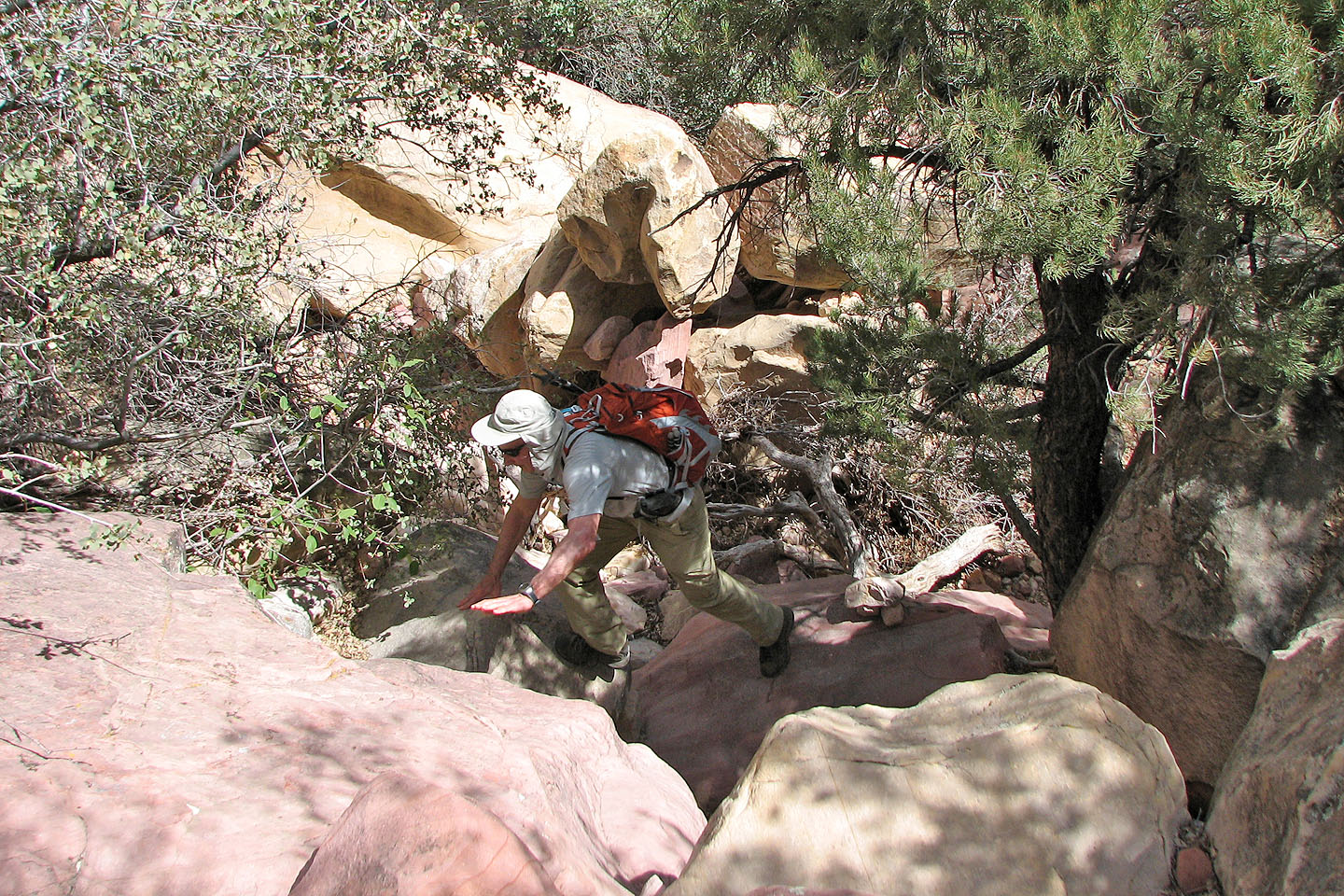 We clambered up some boulders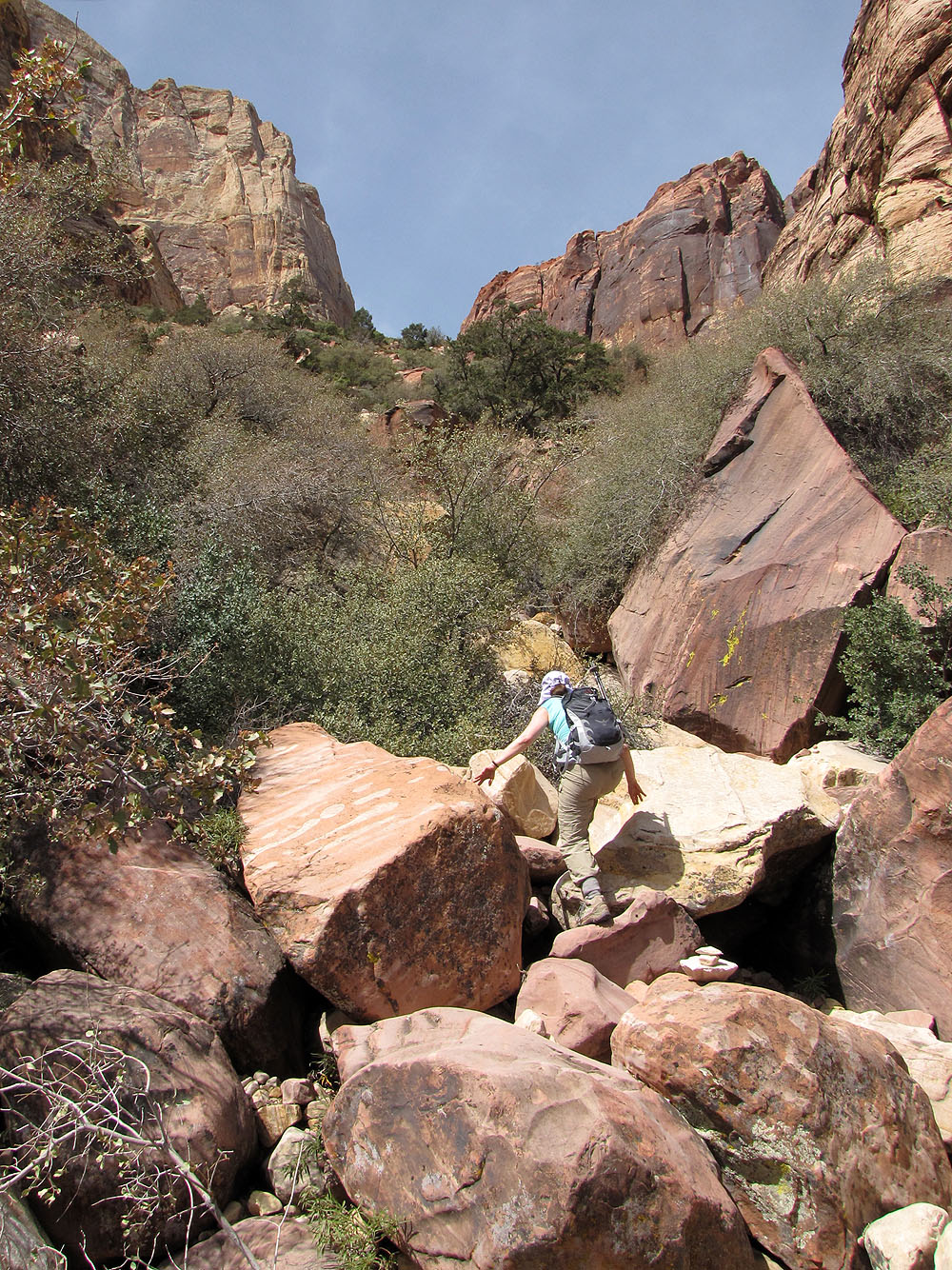 Past the boulders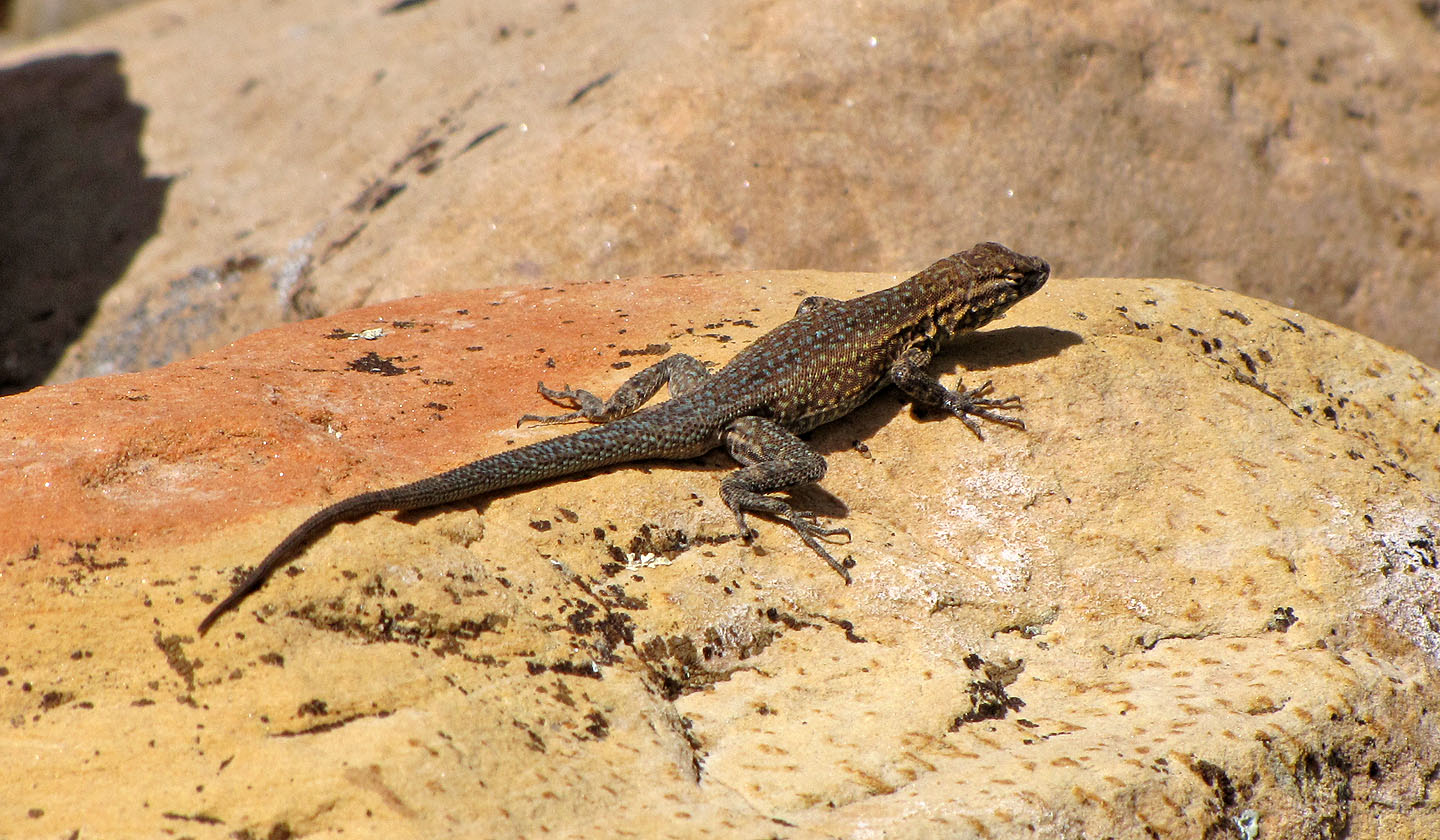 Small lizard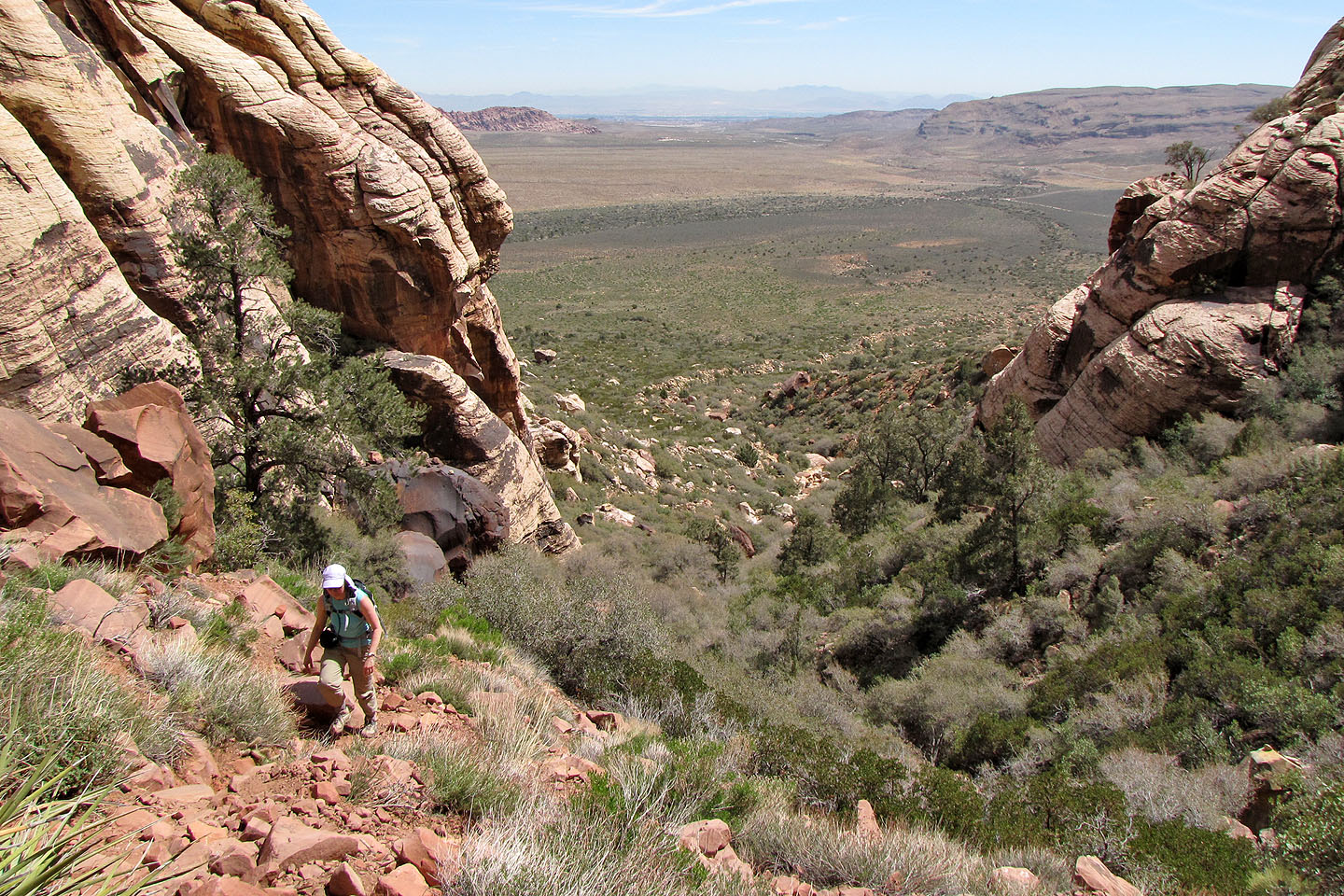 Looking back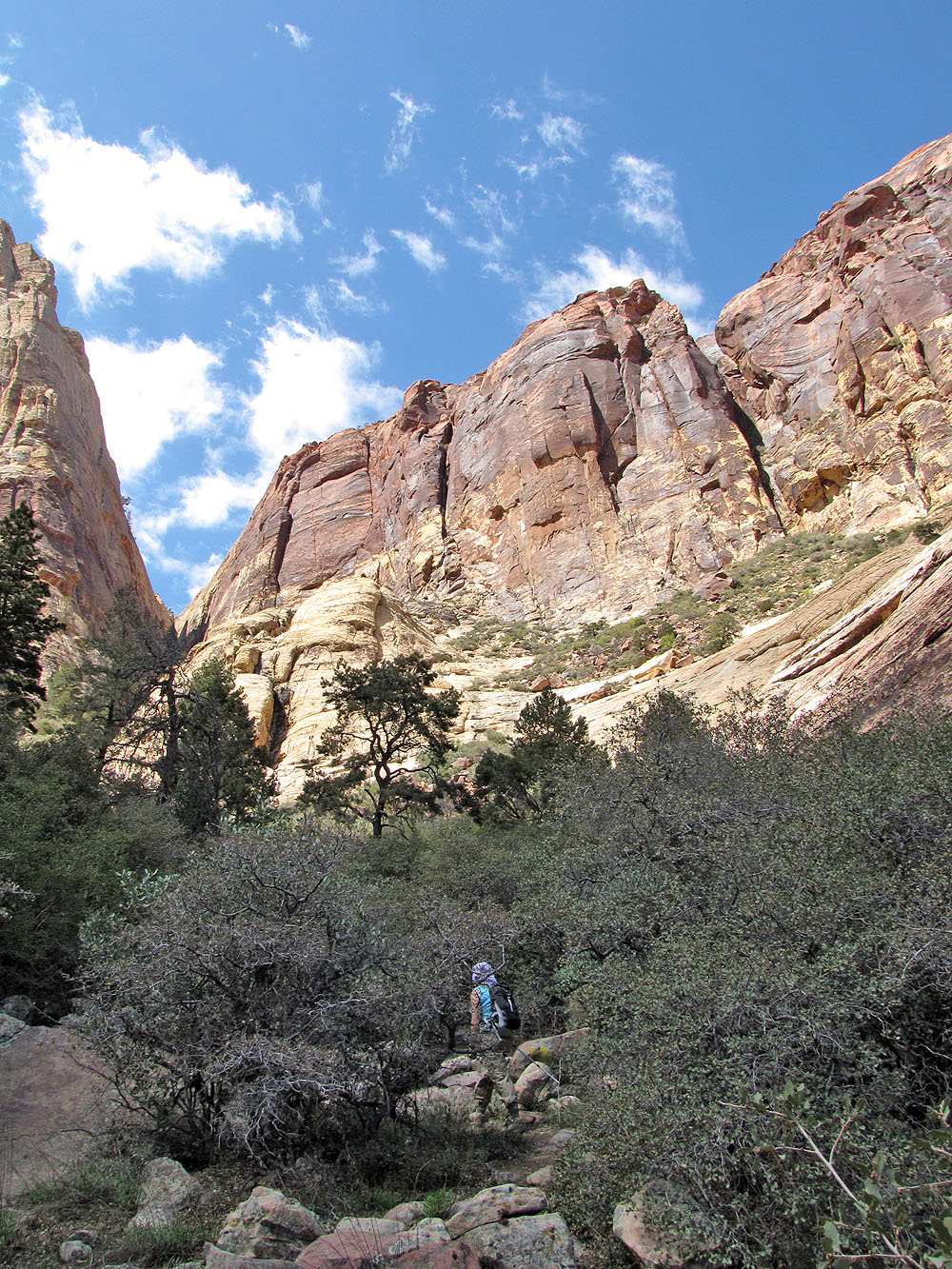 We'll gain the lower rock slabs on the right. Gunsight Notch left.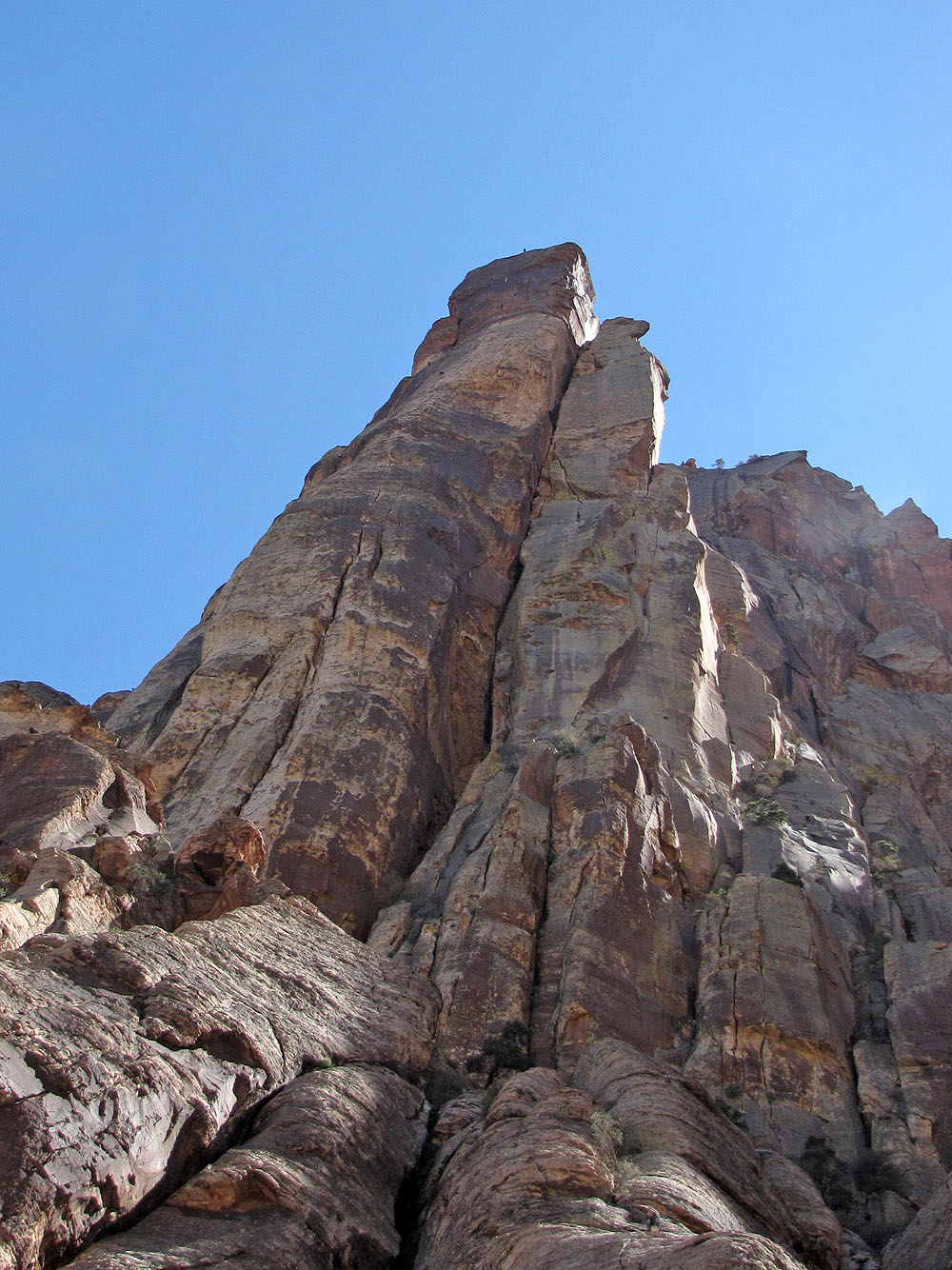 On the other side of the canyon we viewed climbers on Cloud Tower (mouse over for a close-up)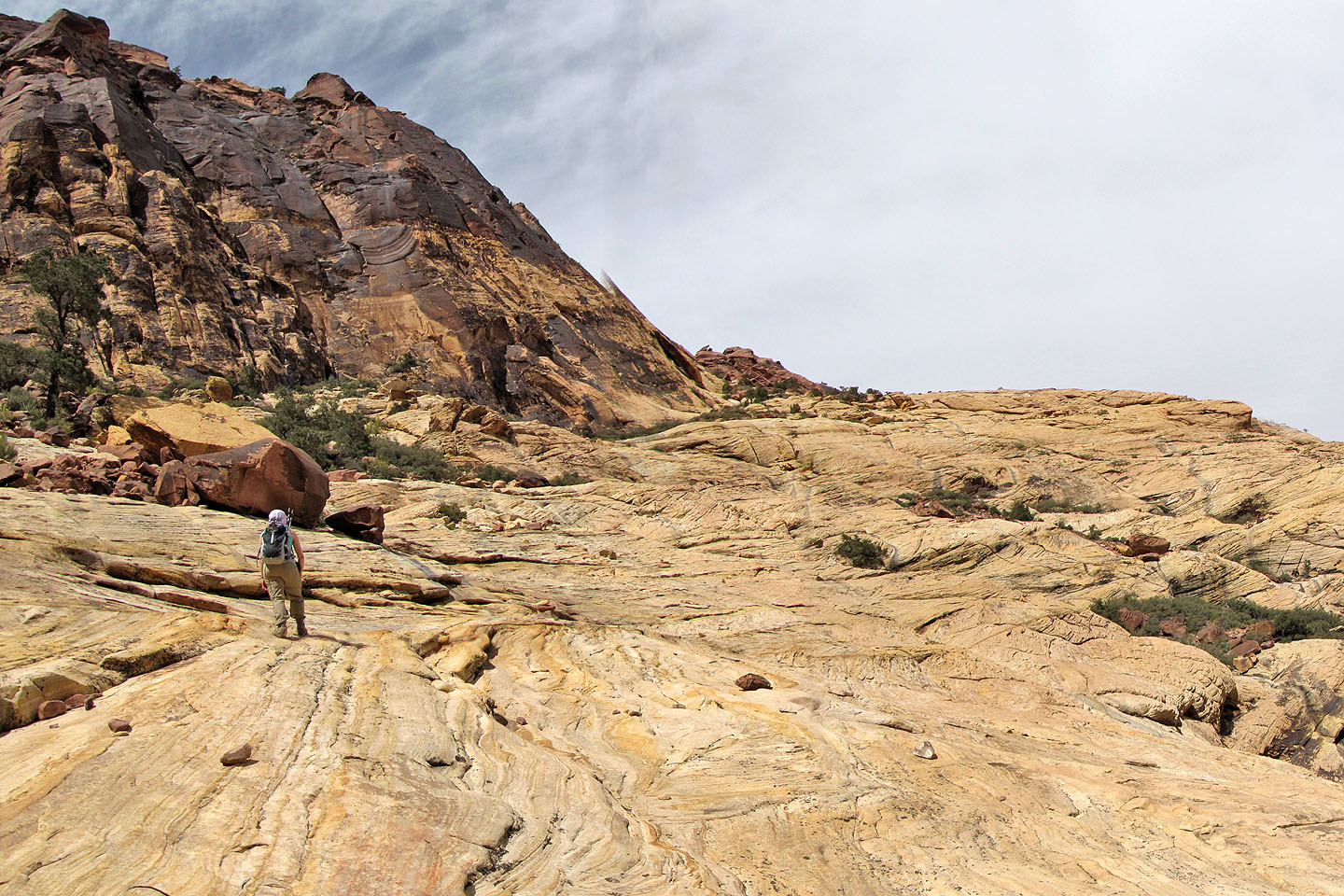 On the slabs above the canyon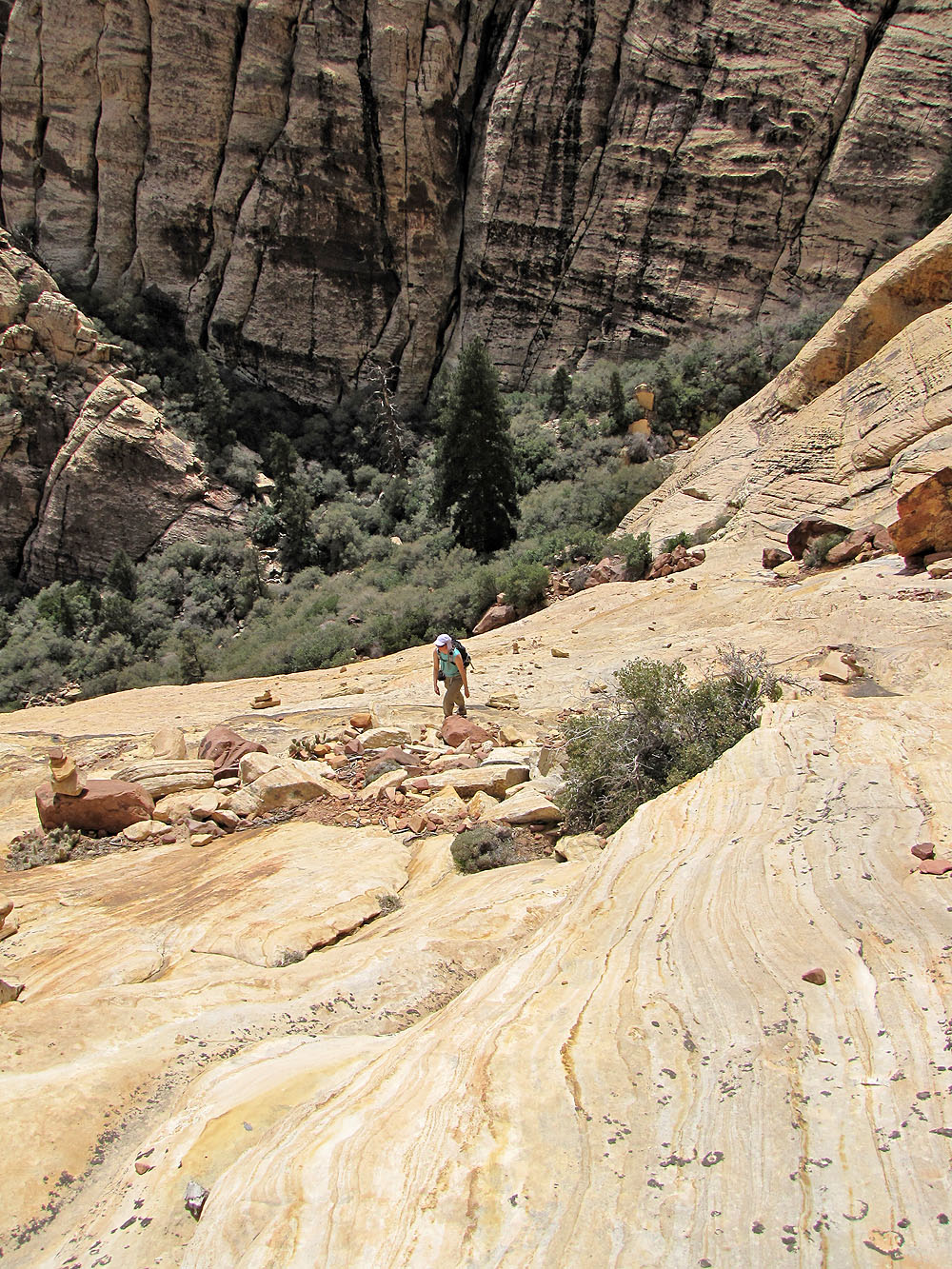 Dinah makes her way up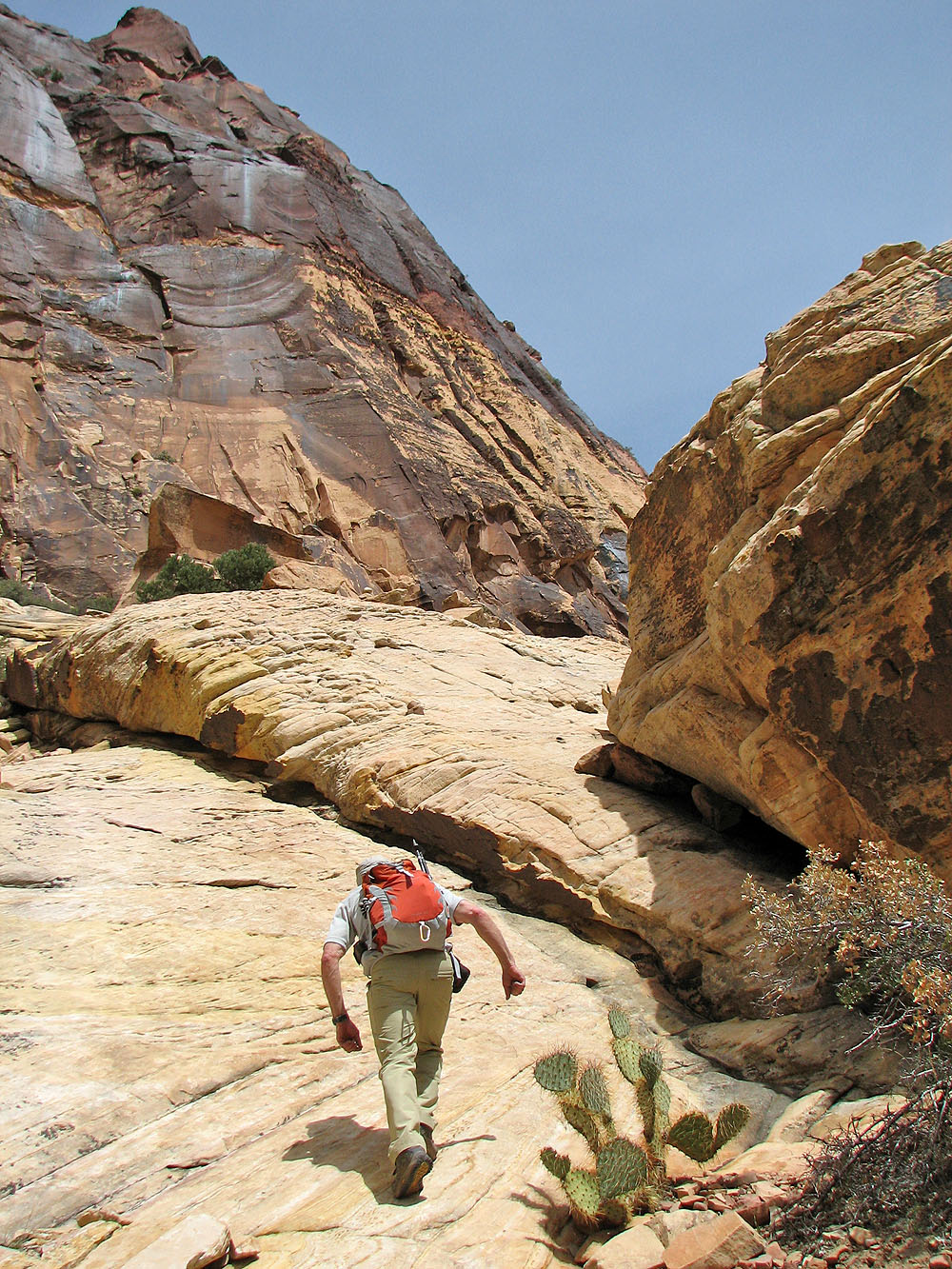 Lots of pancake pricklypear cactus here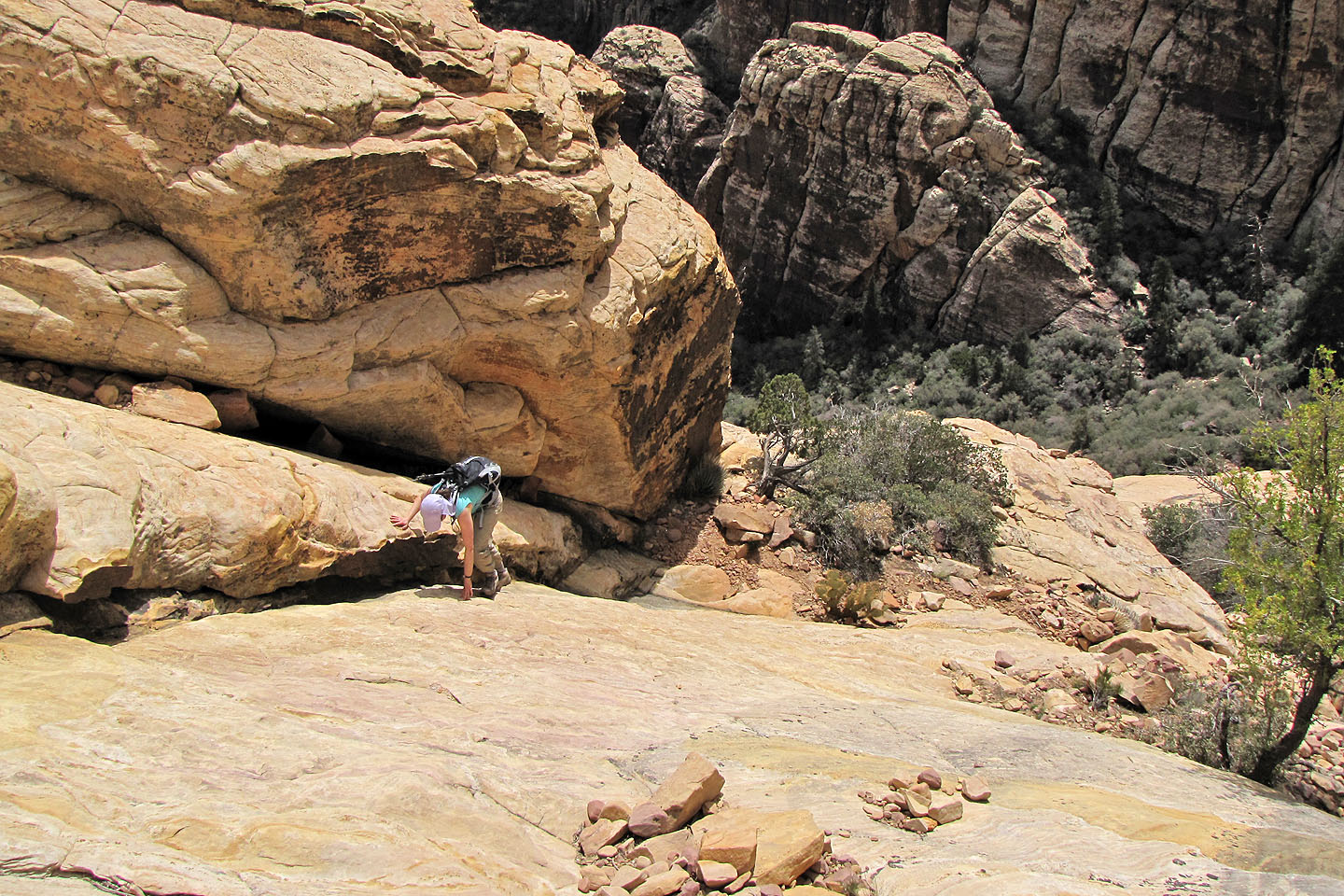 Juniper Canyon below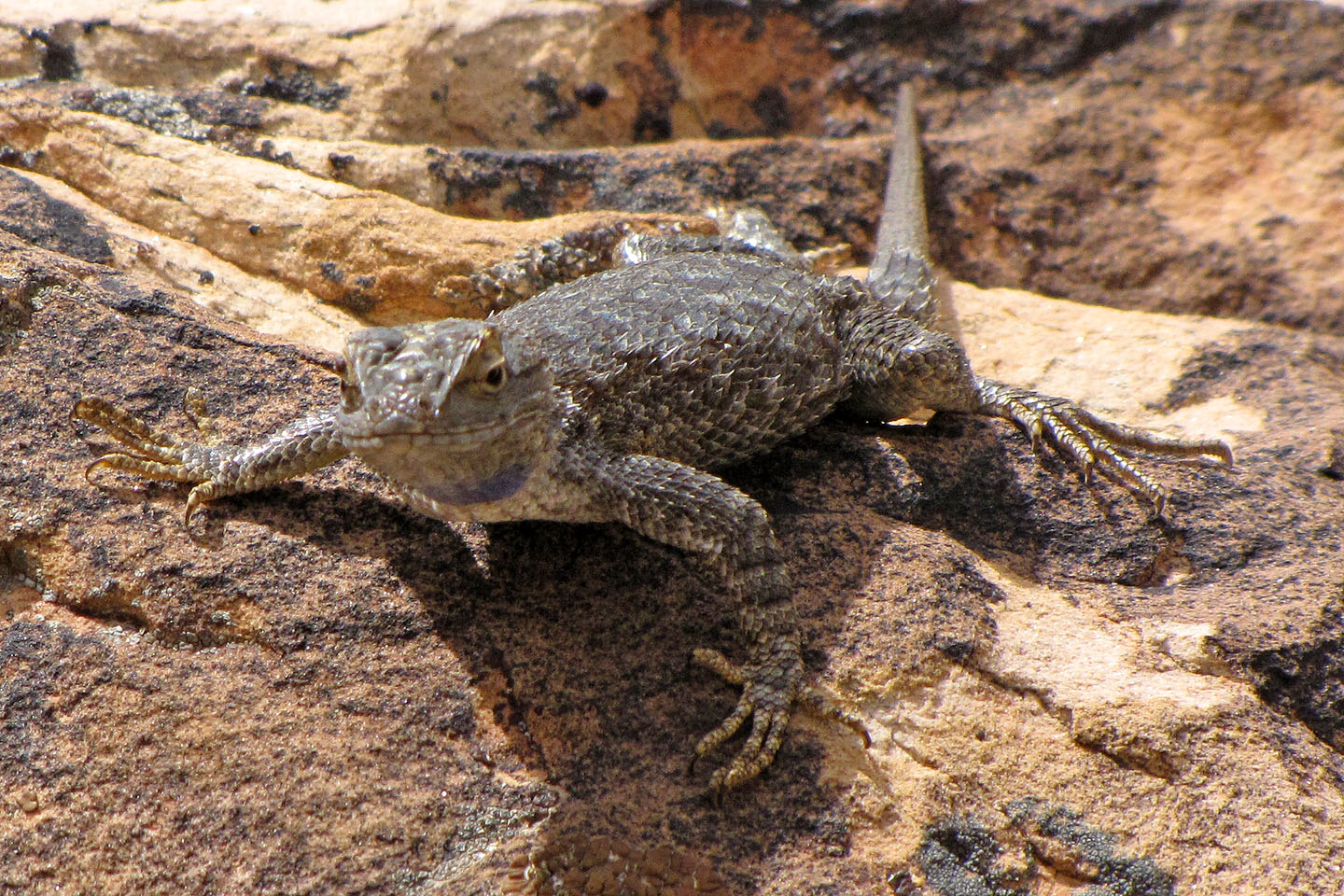 This lizard watched me intently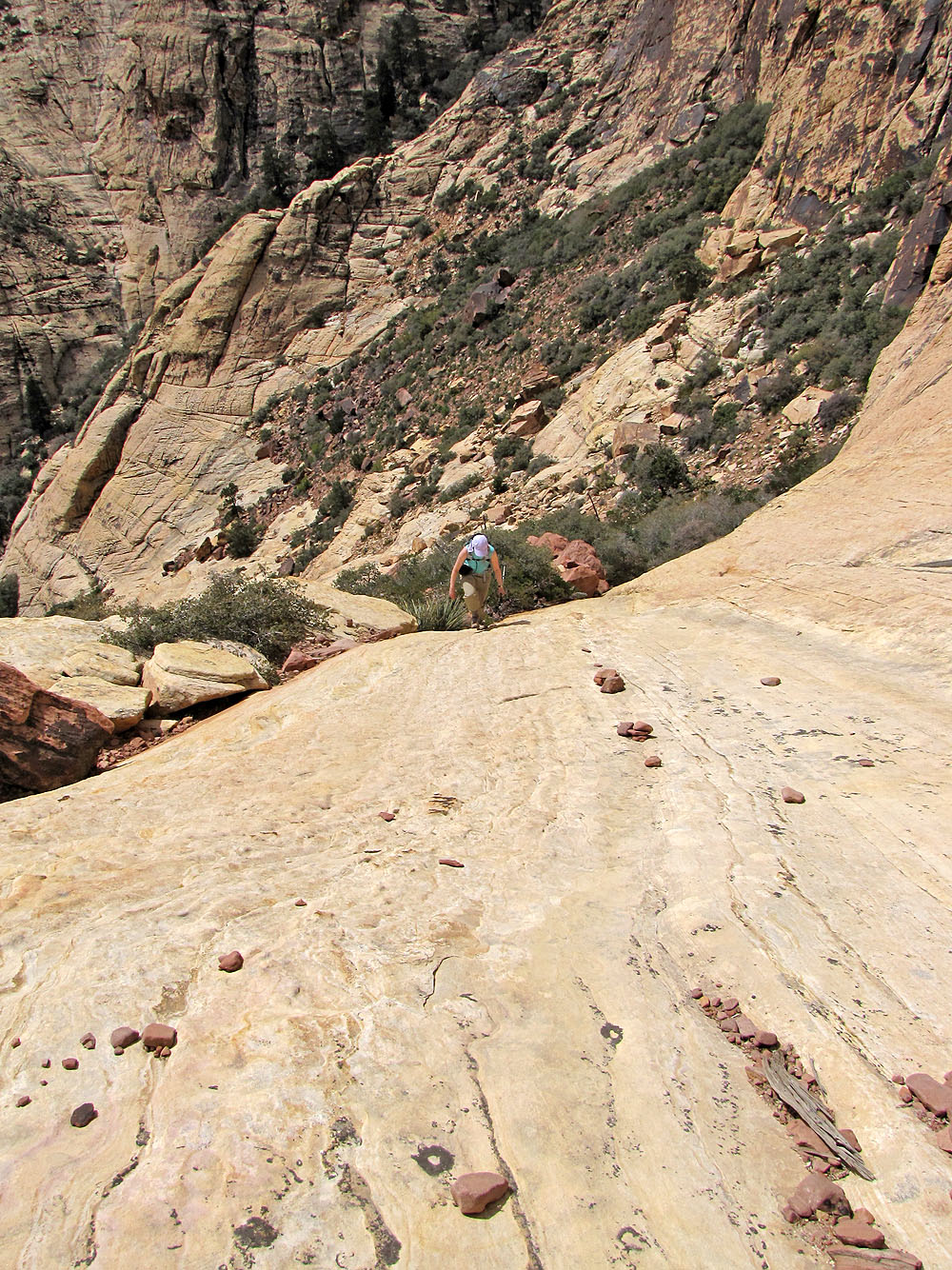 Walking up yet another smooth section of rock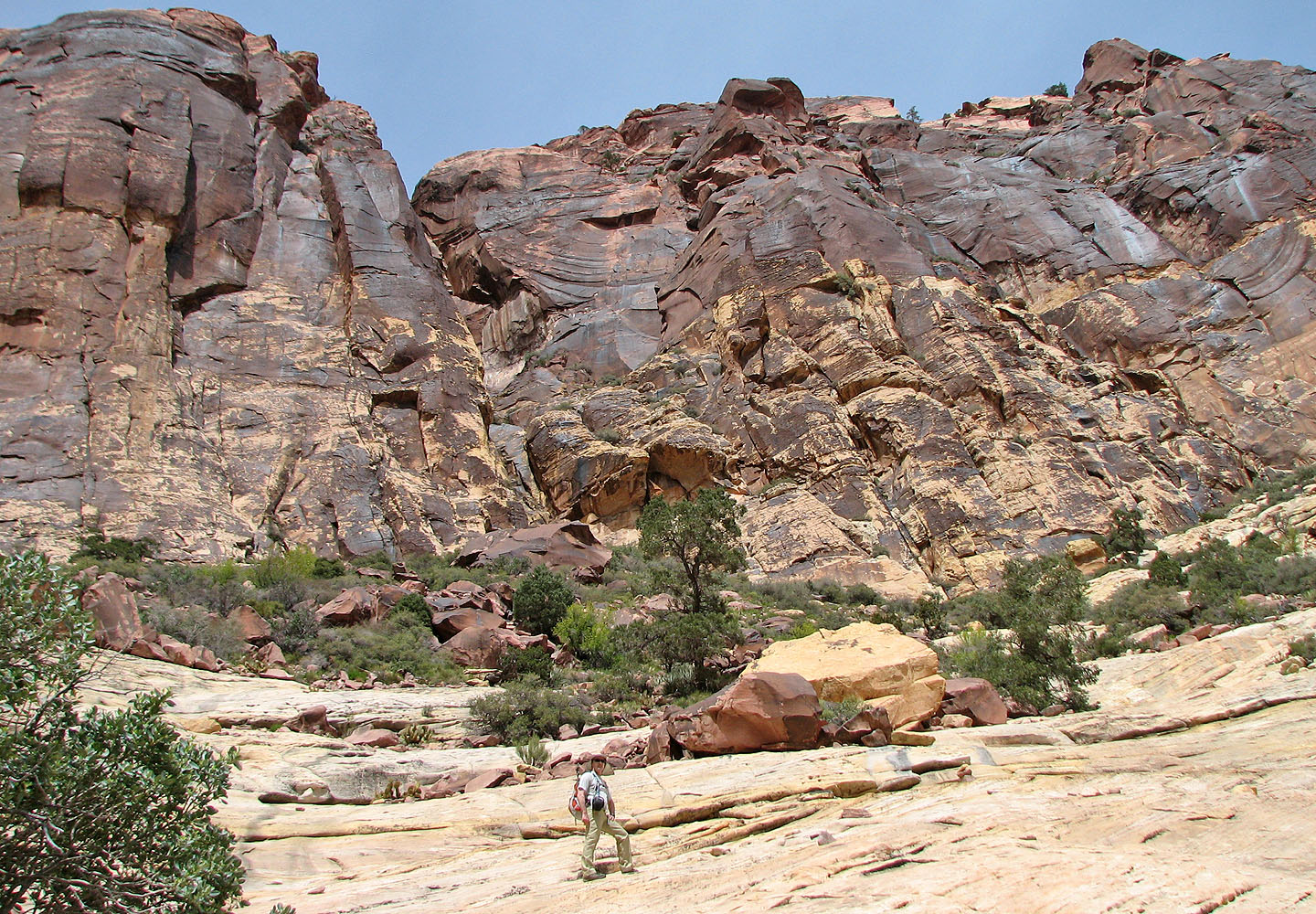 Rocks tower well above us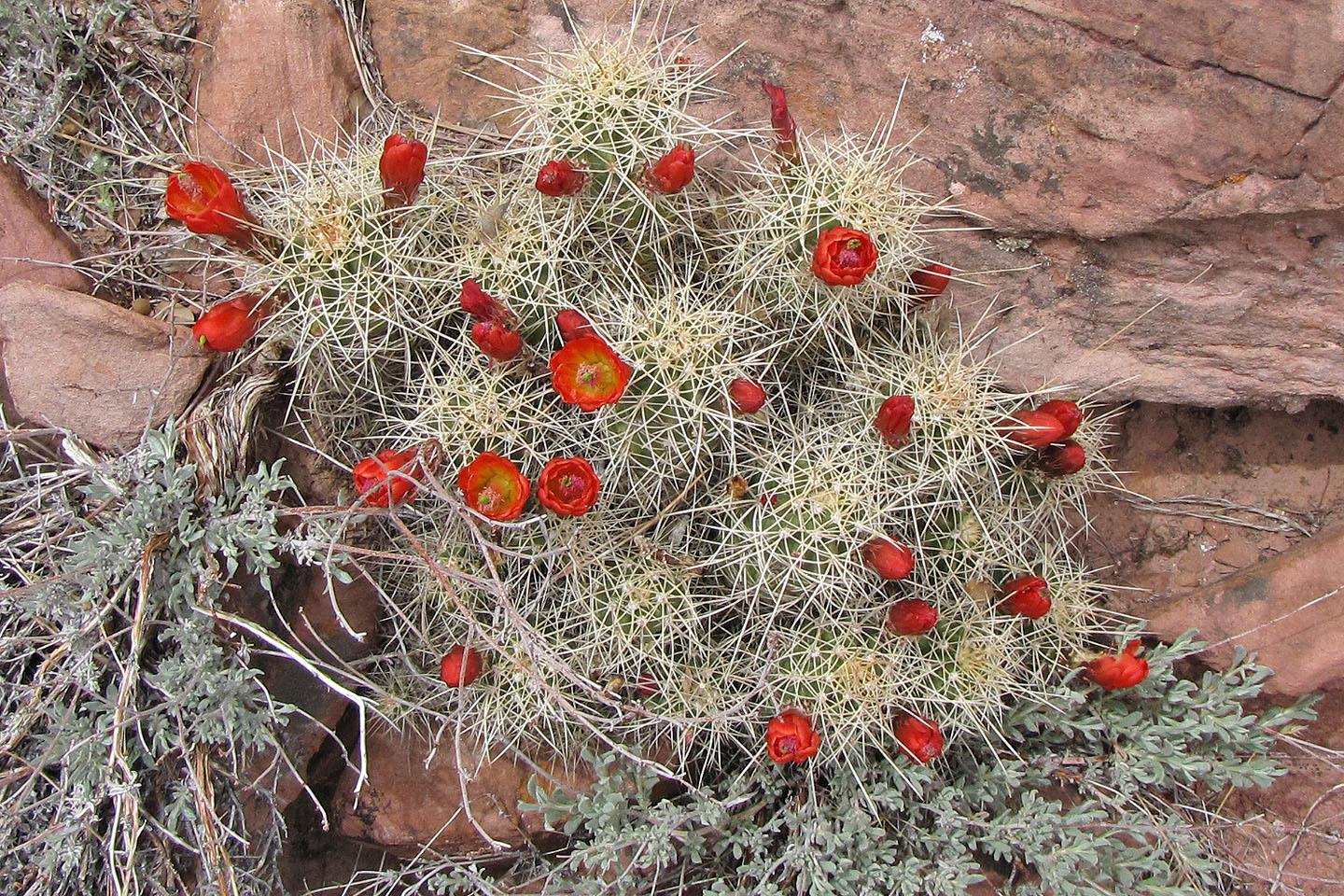 Cactus beginning to bloom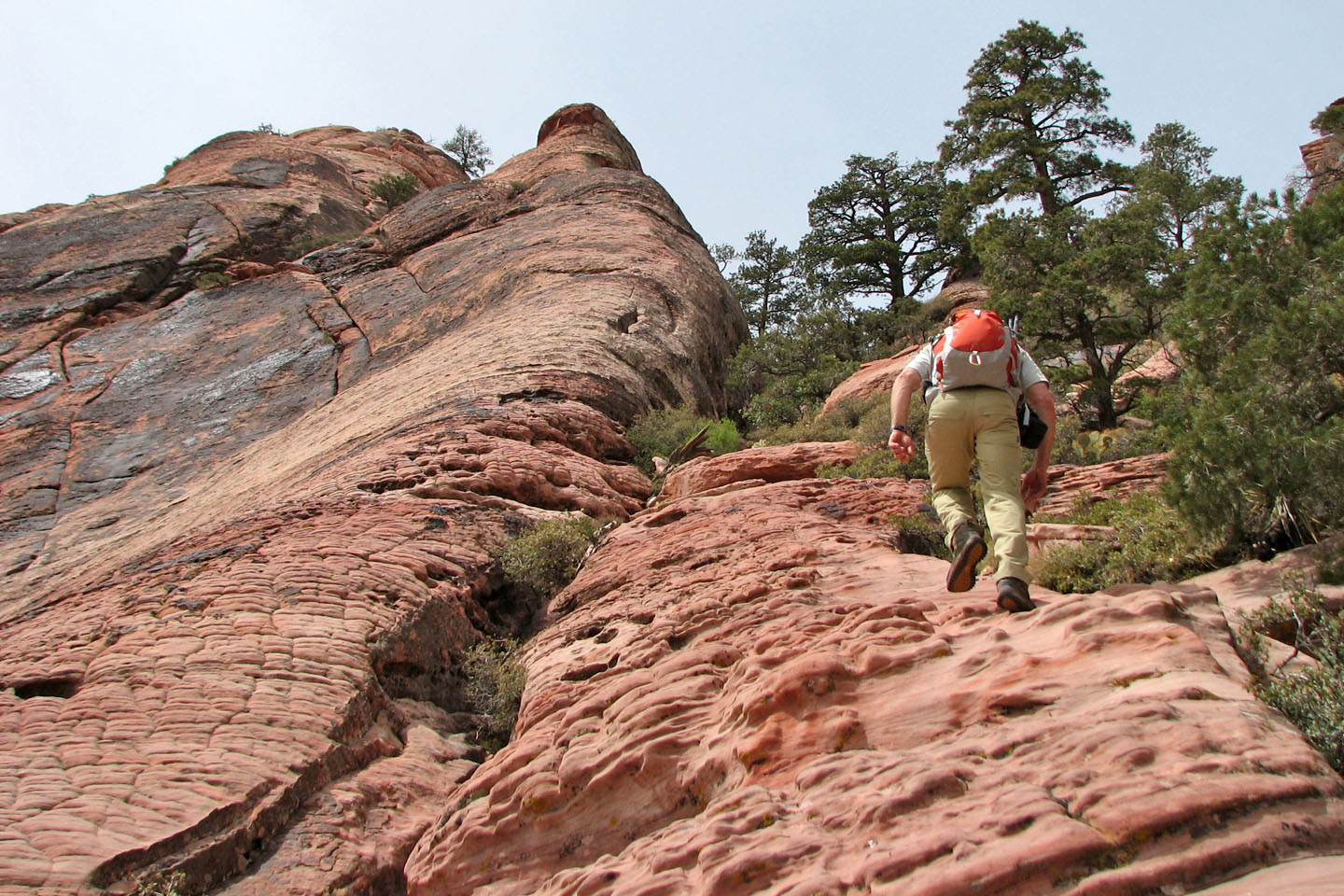 Interesting rock everywhere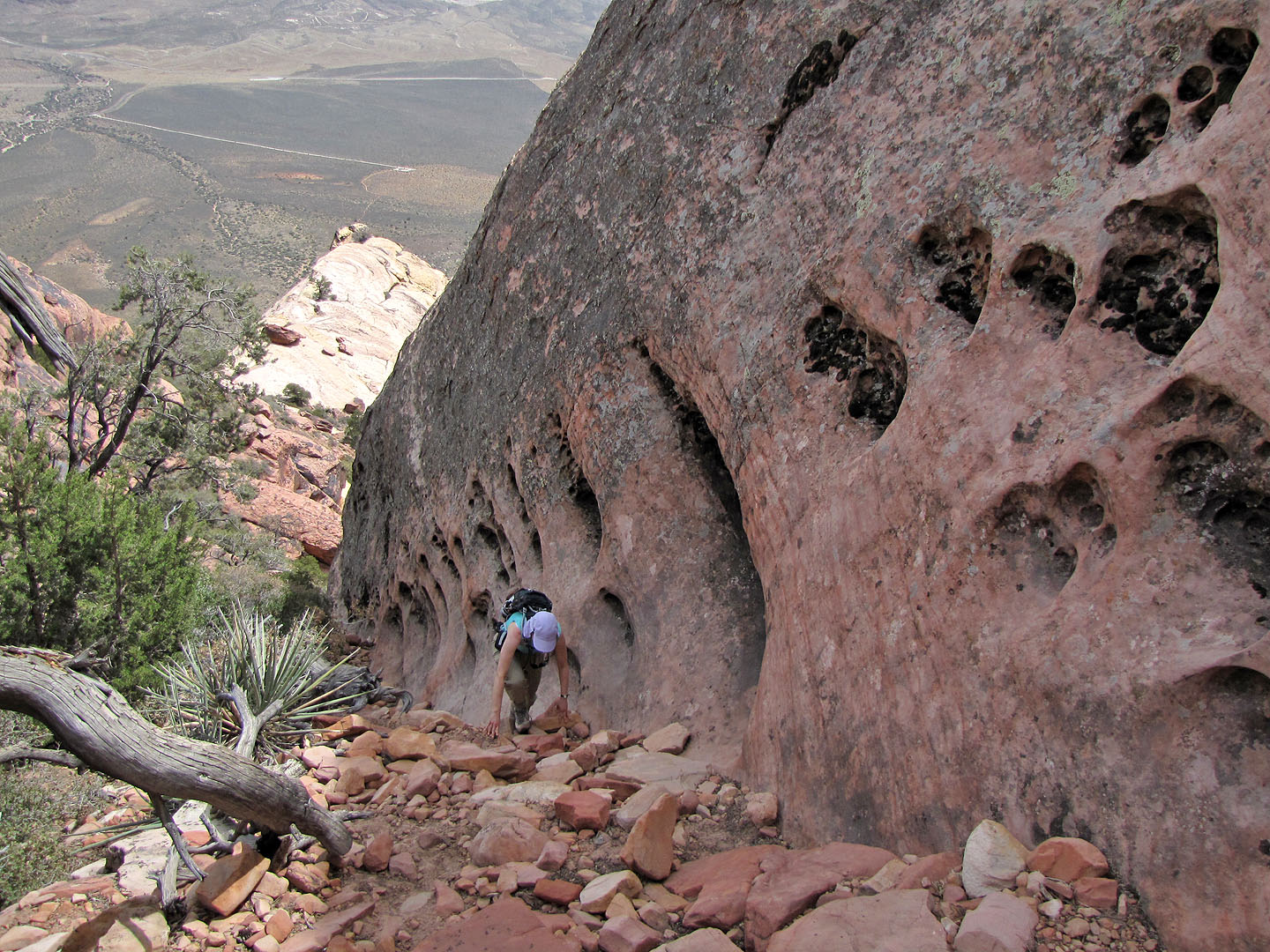 Following alongside a pitted rock face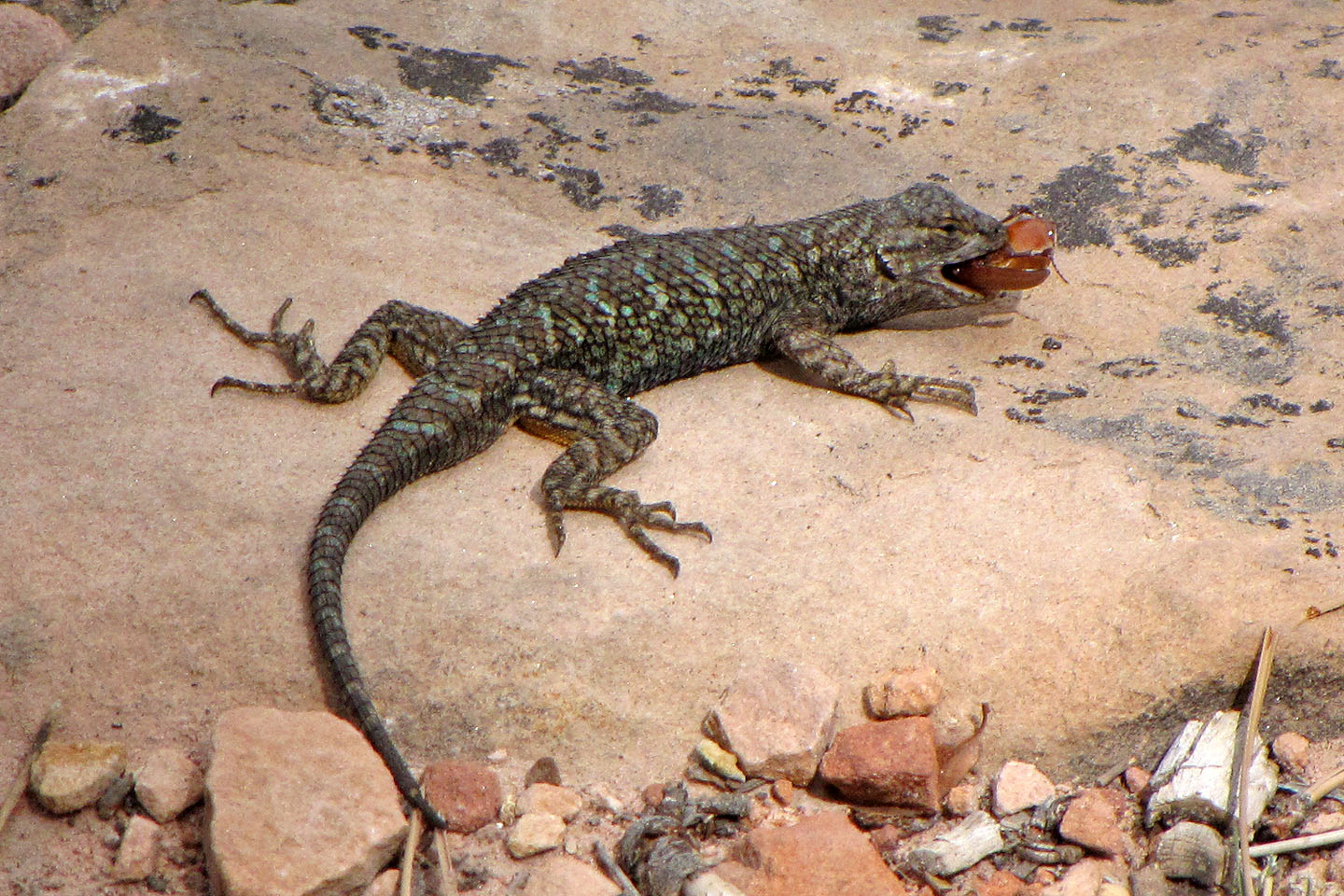 Ignoring good manners, this lizard ate his food in one gulp (mouse over)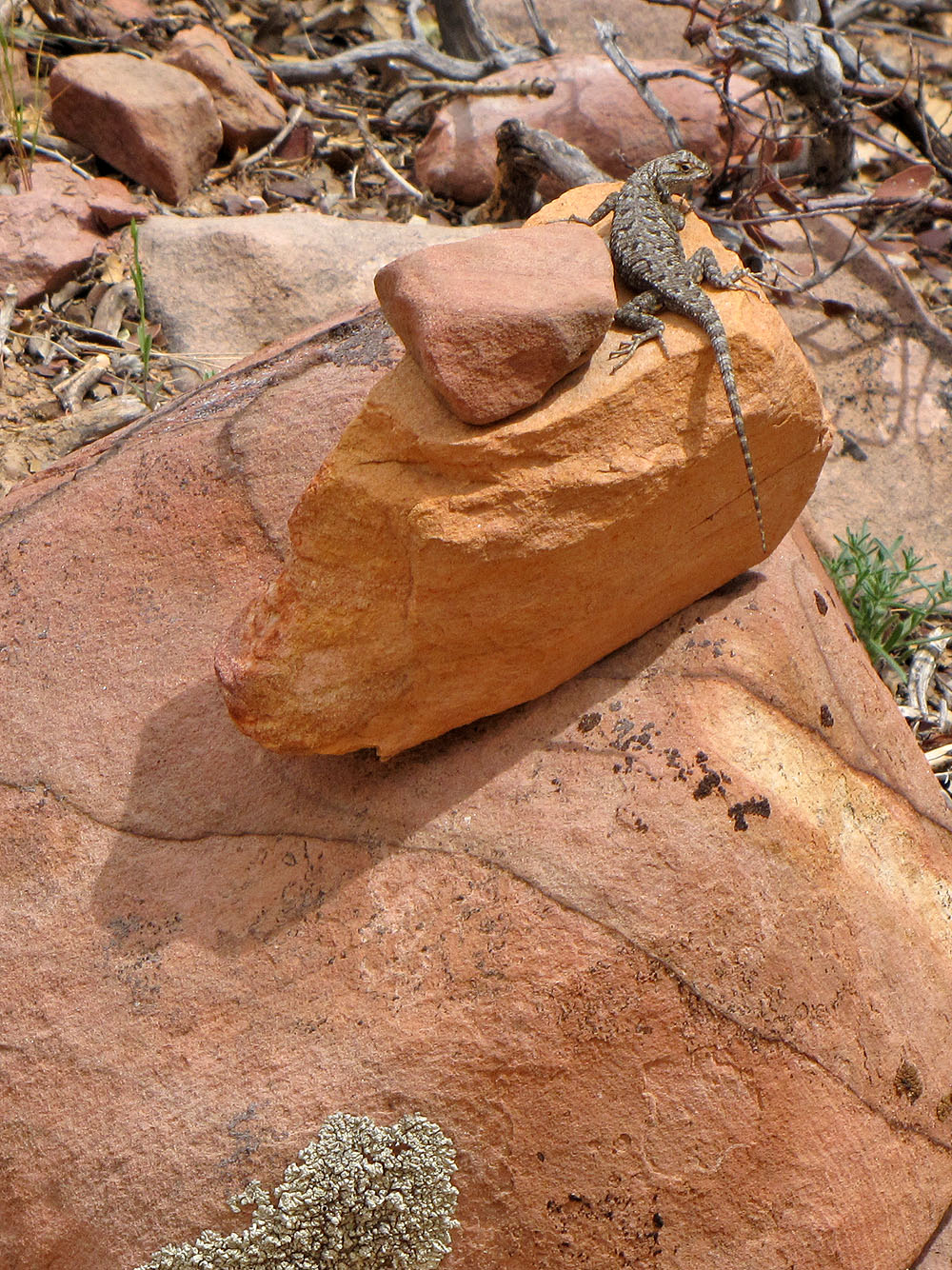 Paths and cairns like this one make routefinding easy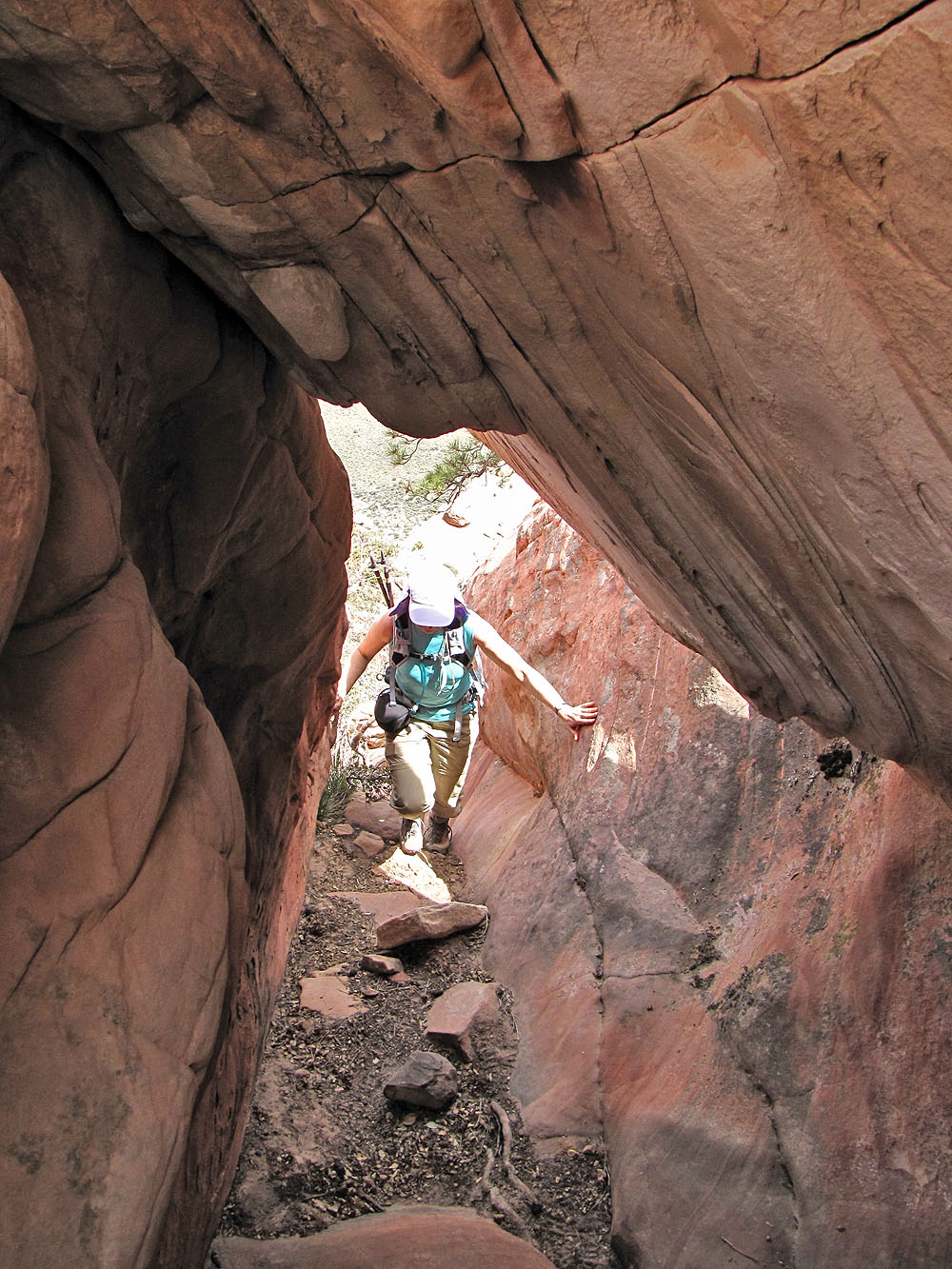 Just before the summit, the route goes through a tunnel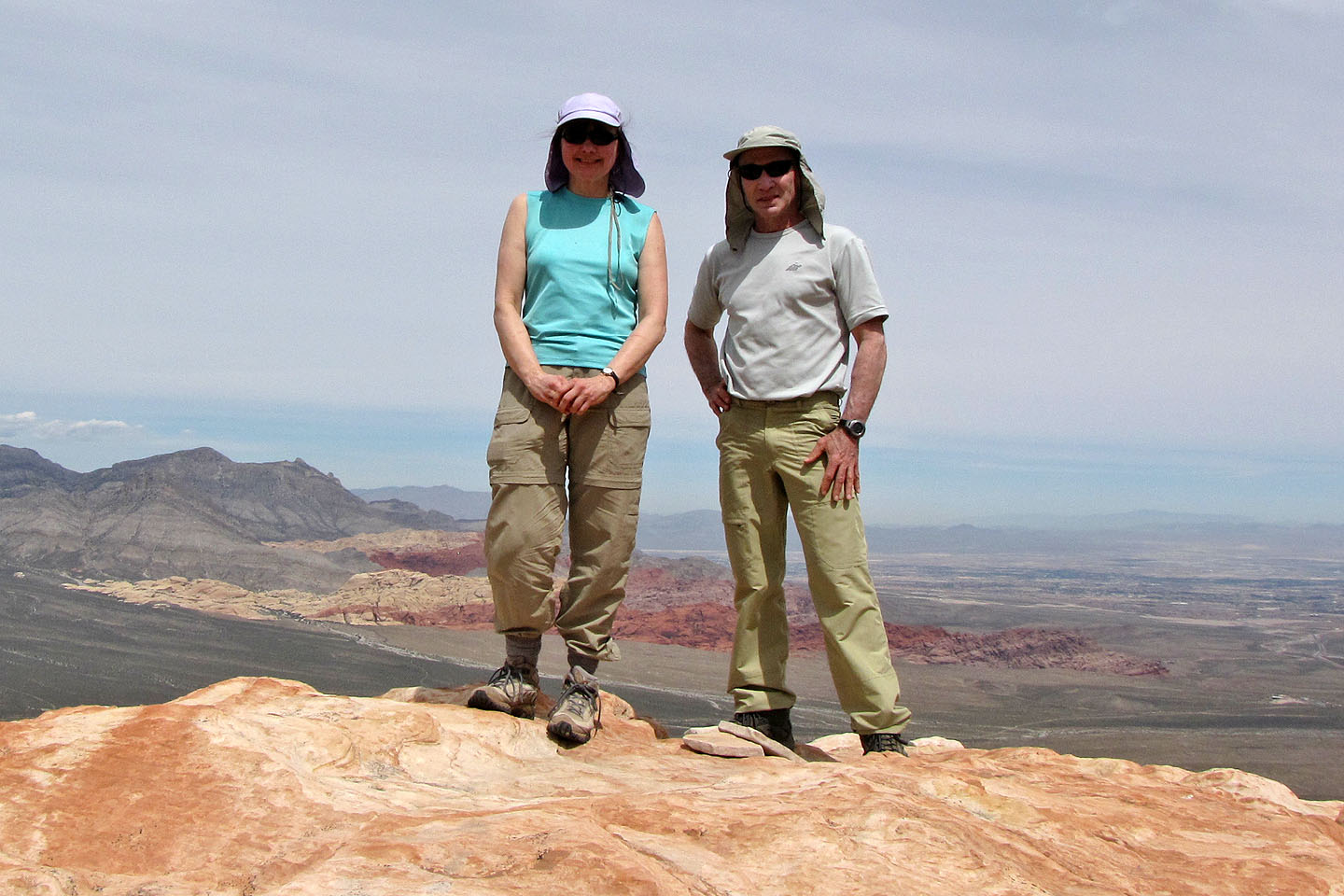 On the summit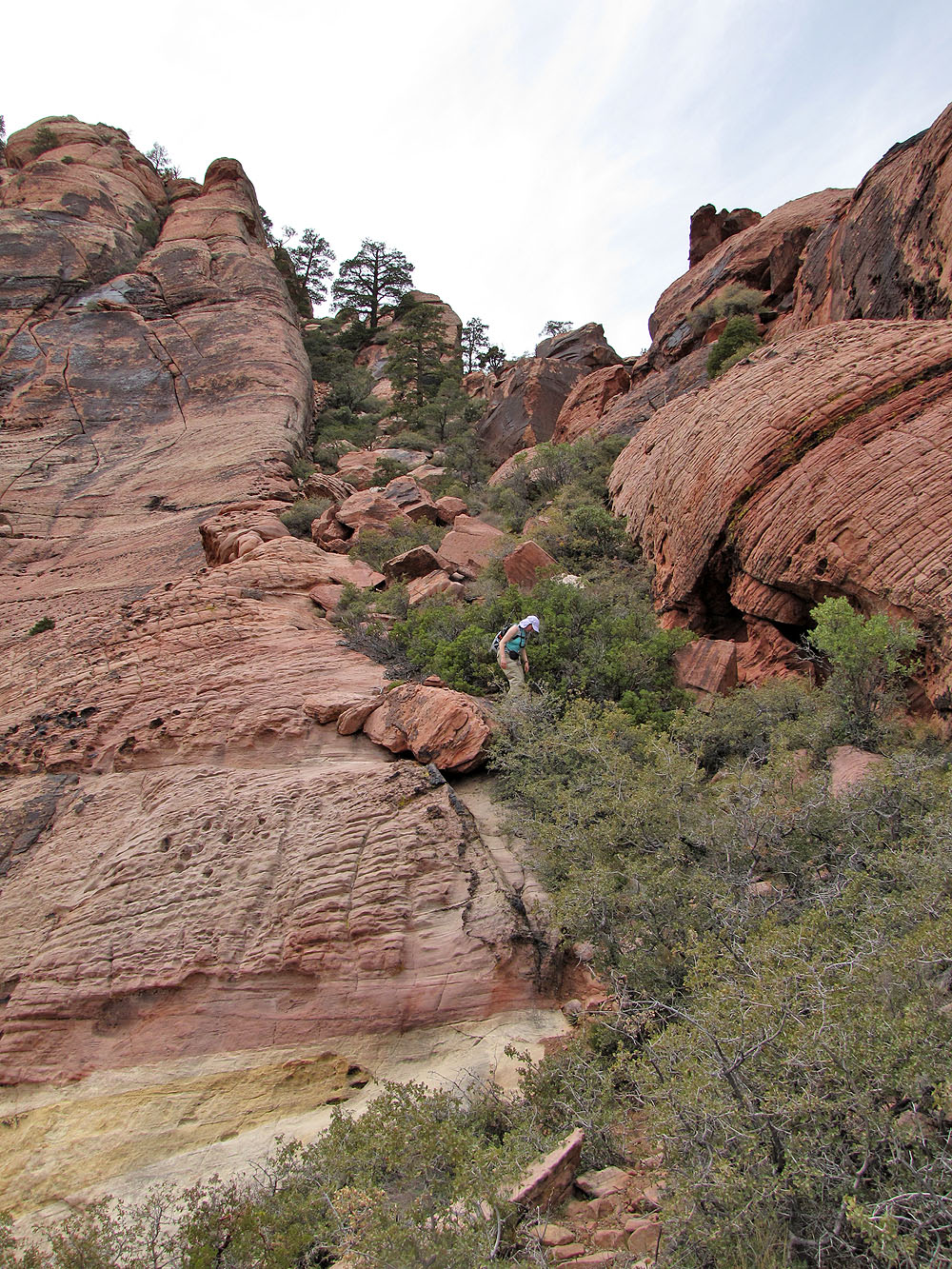 Heading back down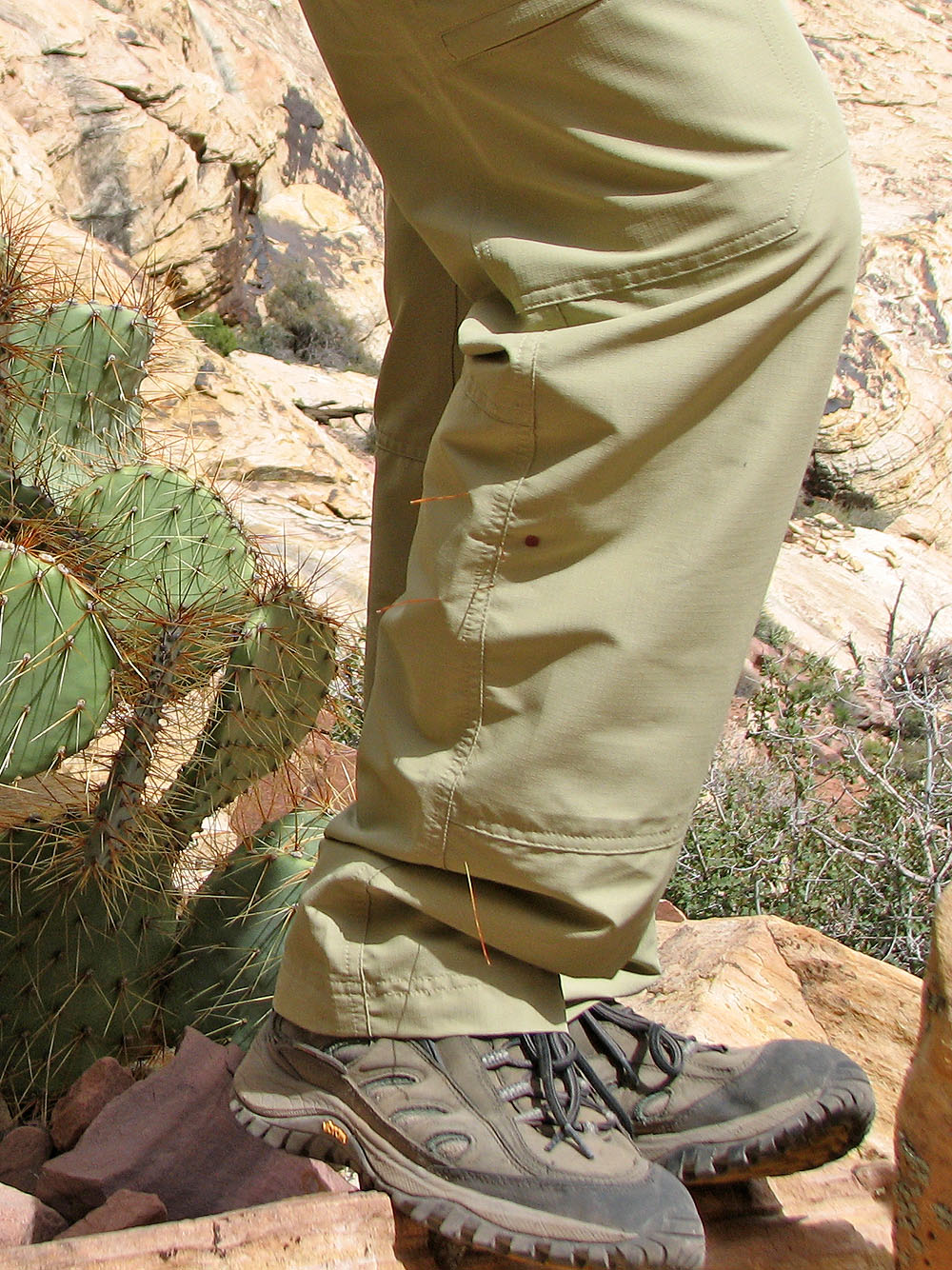 Contact with a cactus leaves a spot of blood on my pant leg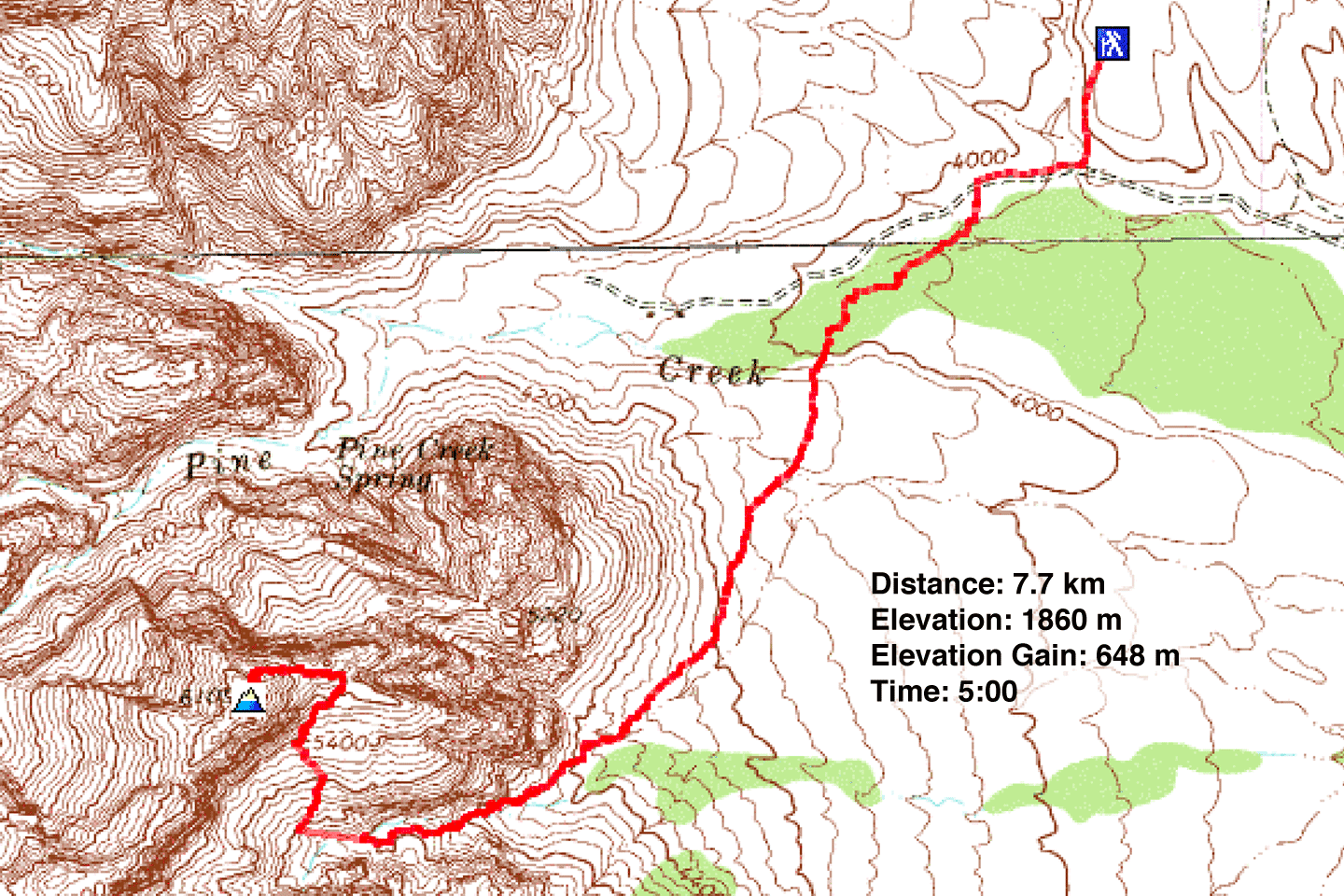 La Madre Mountain, Blue Diamond (4.8 mi, 6102 ft, 2126 ft)