bobspirko.ca | Home | Canada Trips | US Trips | Hiking | Snowshoeing | MAP | About

Halfmellow Peak
Lake Mead NRA, Nevada
October 18, 2018
Distance: 9.7 km (6.0 mi)
Cumulative Elevation Gain: 394m (1293 ft)

Like many mountains near the Redstone Picnic Area in Lake Mead National Recreation Area, Halfmellow Peak is a minor point that lies amid incredible red sandstone. Halfmellow itself isn't comprised of this rock, but we passed some beautiful, crimson outcrops.
Shin, Dinah and I parked at a pullout on Northshore Road and walked a short distance down the pavement to reach the start of the trail. The trail, a combination of road and wash, leads to Pinto Valley. After reaching the valley, we turned up a side wash.
In the side wash, a towering sandstone outcrop caught our eye, but we left it to investigate later. First we wanted to climb Halfmellow Peak. After passing the outcrop, we climbed out of the wash onto desert flats. We followed alongside the wash on easy terrain. We headed to a canyon that would take us to the north ridge of the mountain.
The canyon was rugged and complex, prone to branching, but was no more than a class 2 climb. After reaching a saddle, we turned left and hiked easily to the summit a short distance away. From there we could see Little Pyramid Peak and Sentinel Peak, and of course Lake Mead. After lunch, we headed back down.
In Pinto Valley, we detoured to take a close look at the sandstone tower we had passed earlier. The enormous, crimson outcrop was worth examining. Then we dropped down into the wash below that led back to our approach. We enjoyed the hike and by the time we got back to our car, we were feeling, well, half mellow.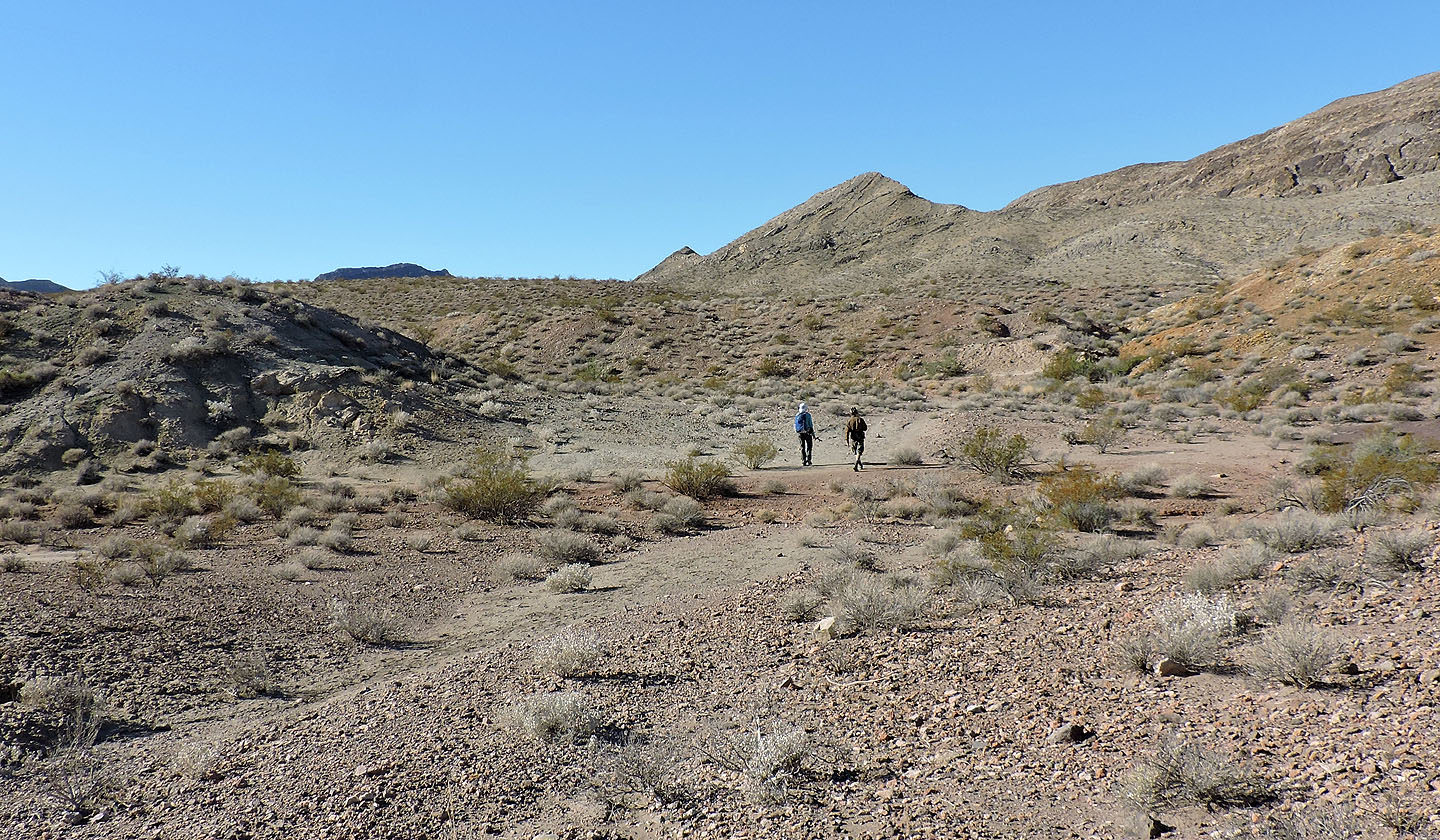 Starting up the old road from the highway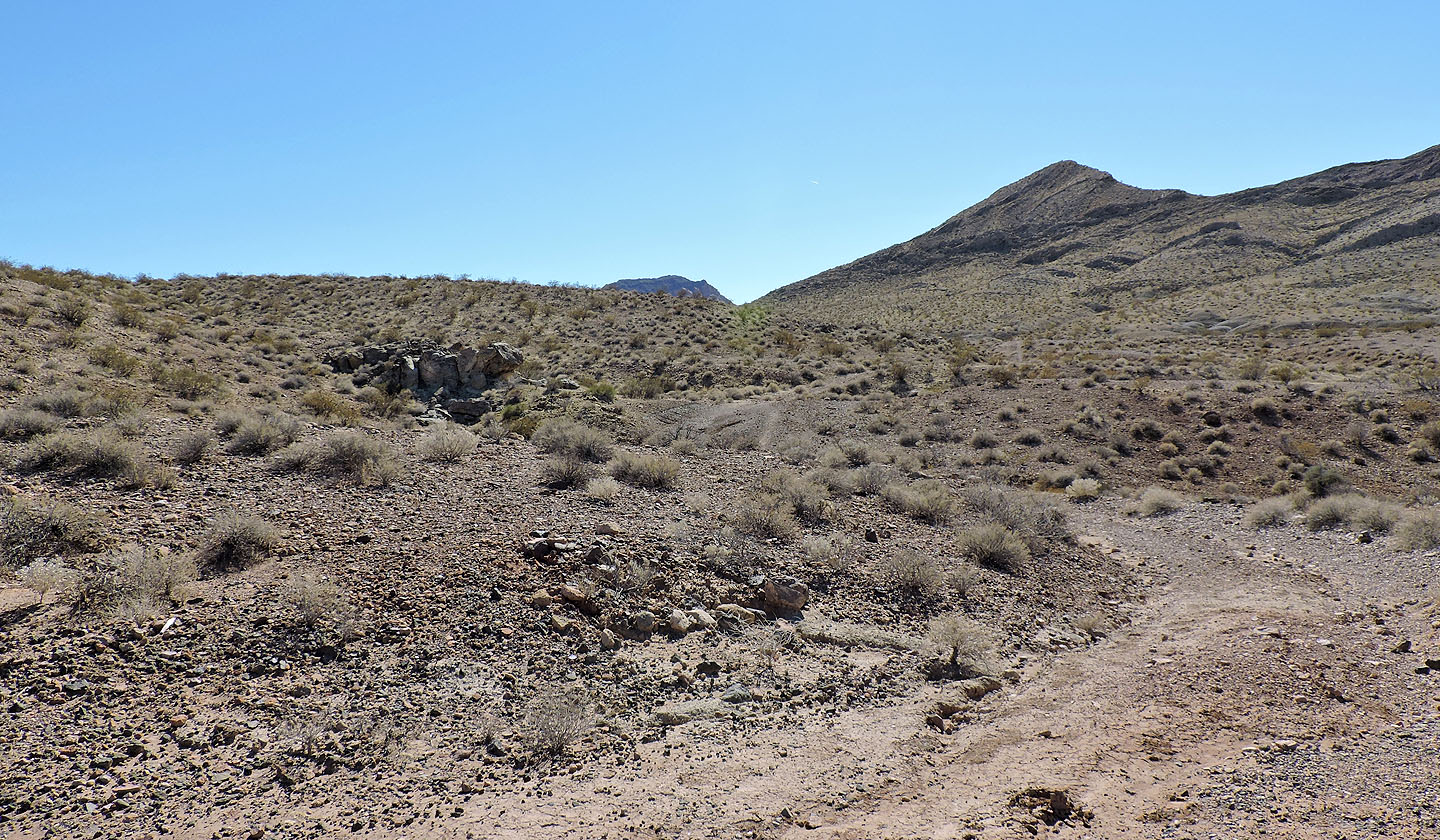 We followed the road for a couple of klicks before we entered a wash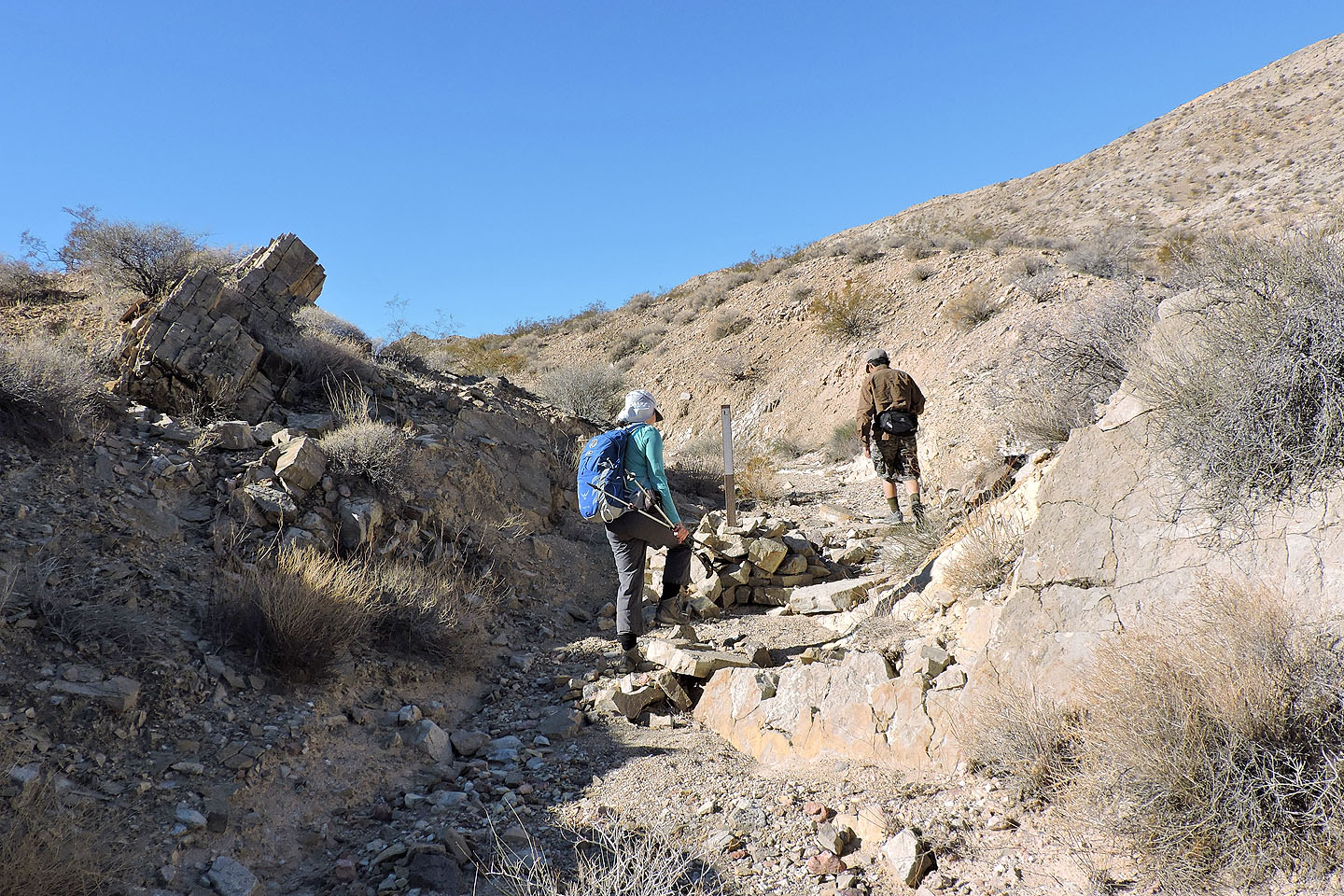 Hiking up the wash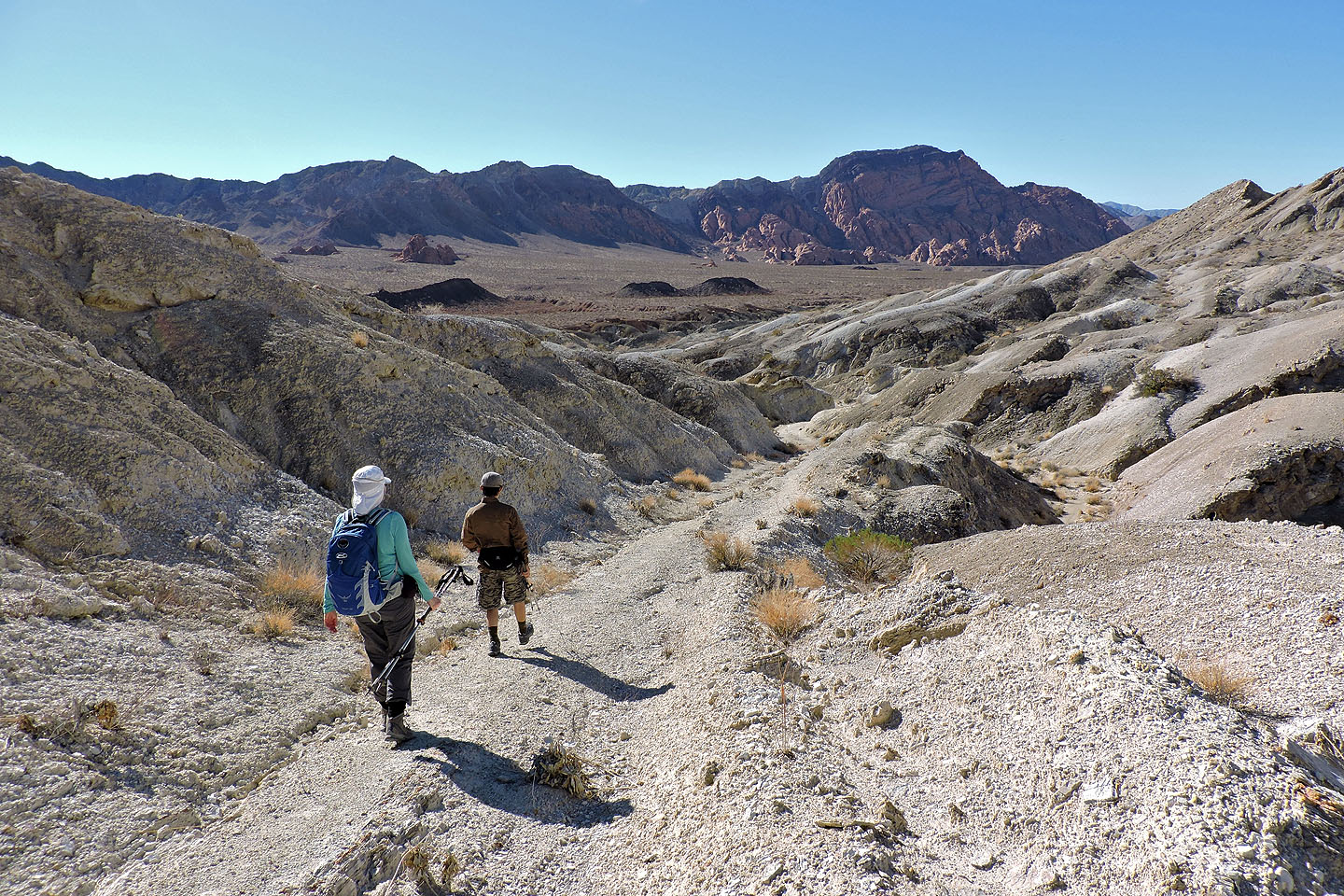 Back on the road which leads to Pinto Valley. The red mountain ahead is Sentinel Peak.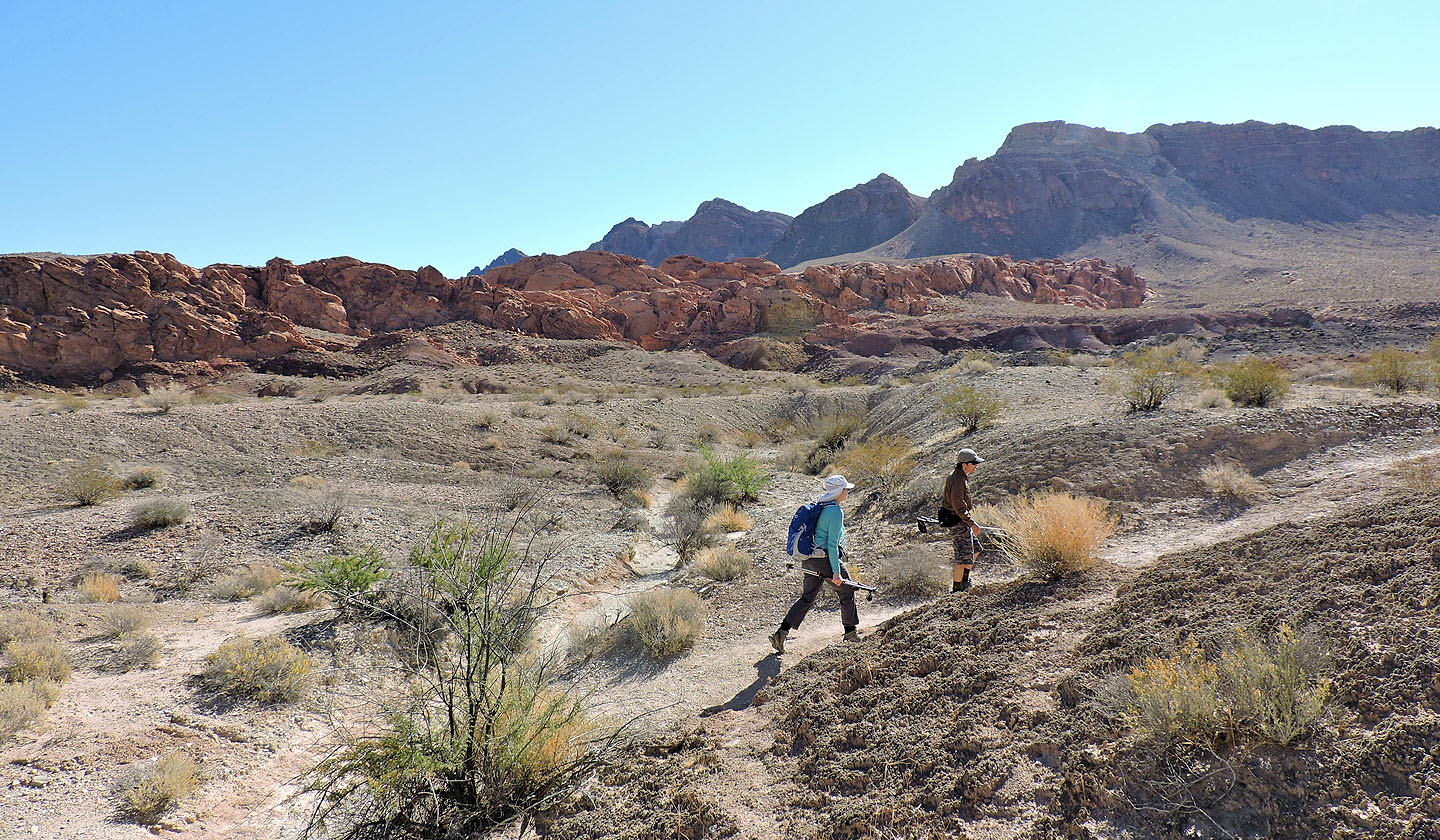 We passed red sandstone rocks that looked like fun to explore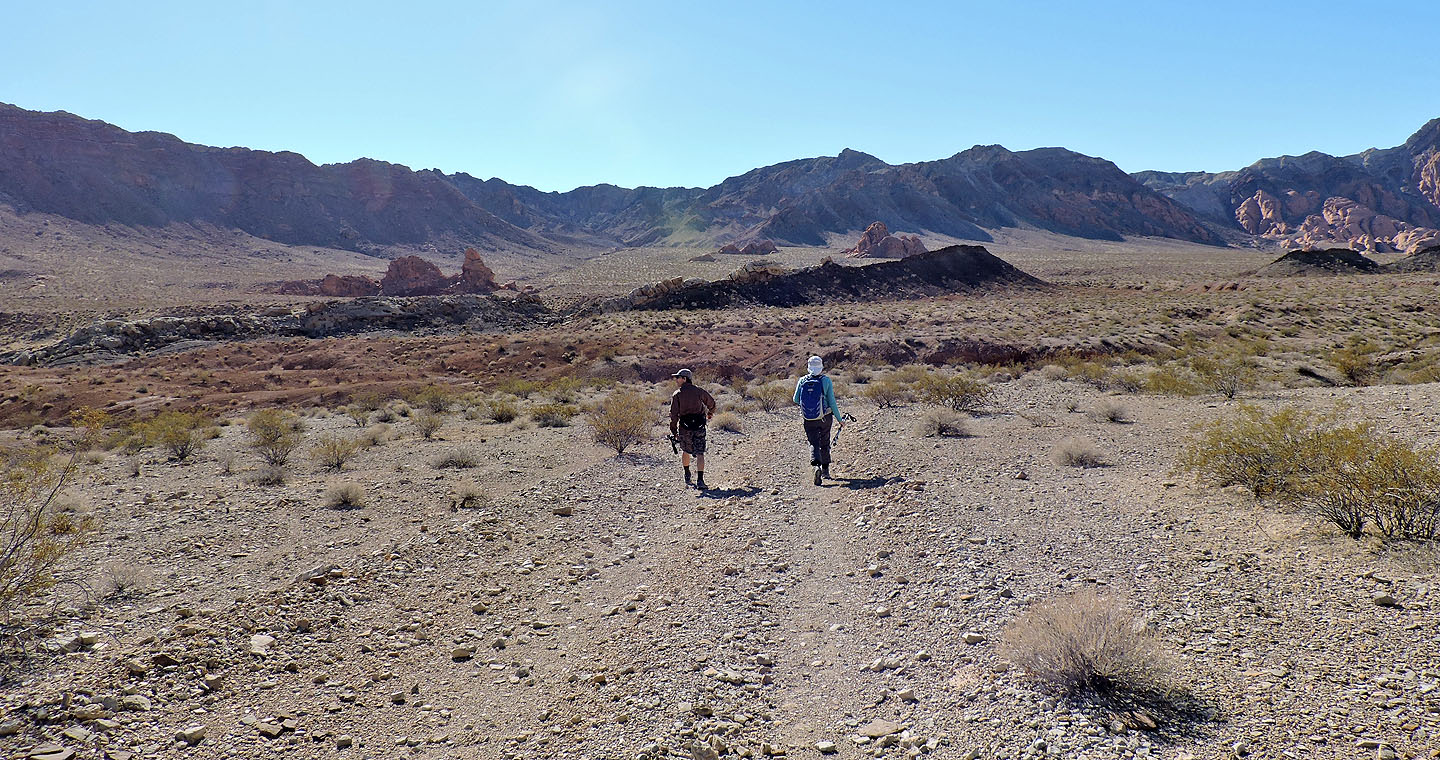 We'll exit the road at a wash at the right end of the dark ridge in the centre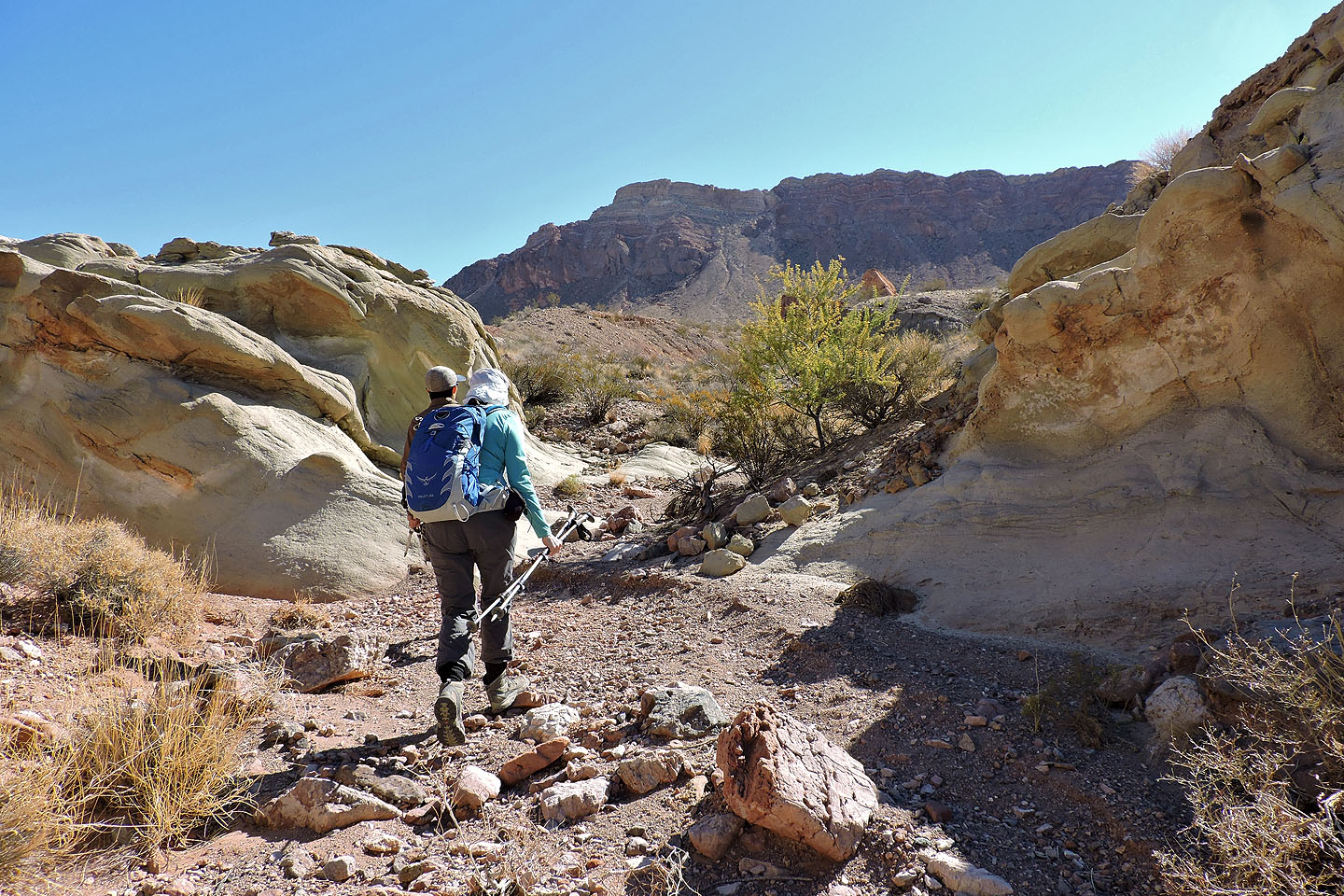 Hiking down the wash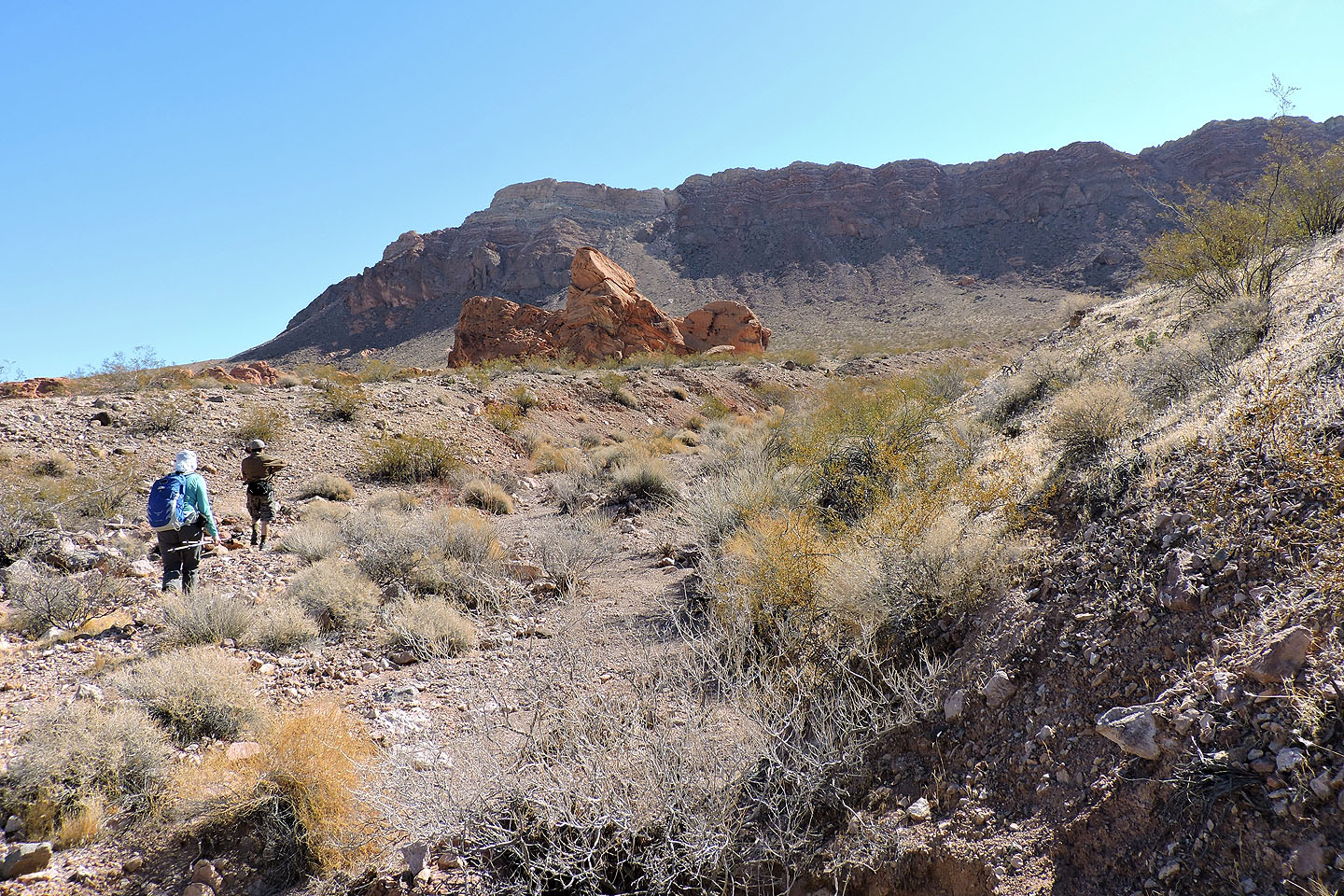 We left the wash and climbed the right side after passing the red sandstone outcrop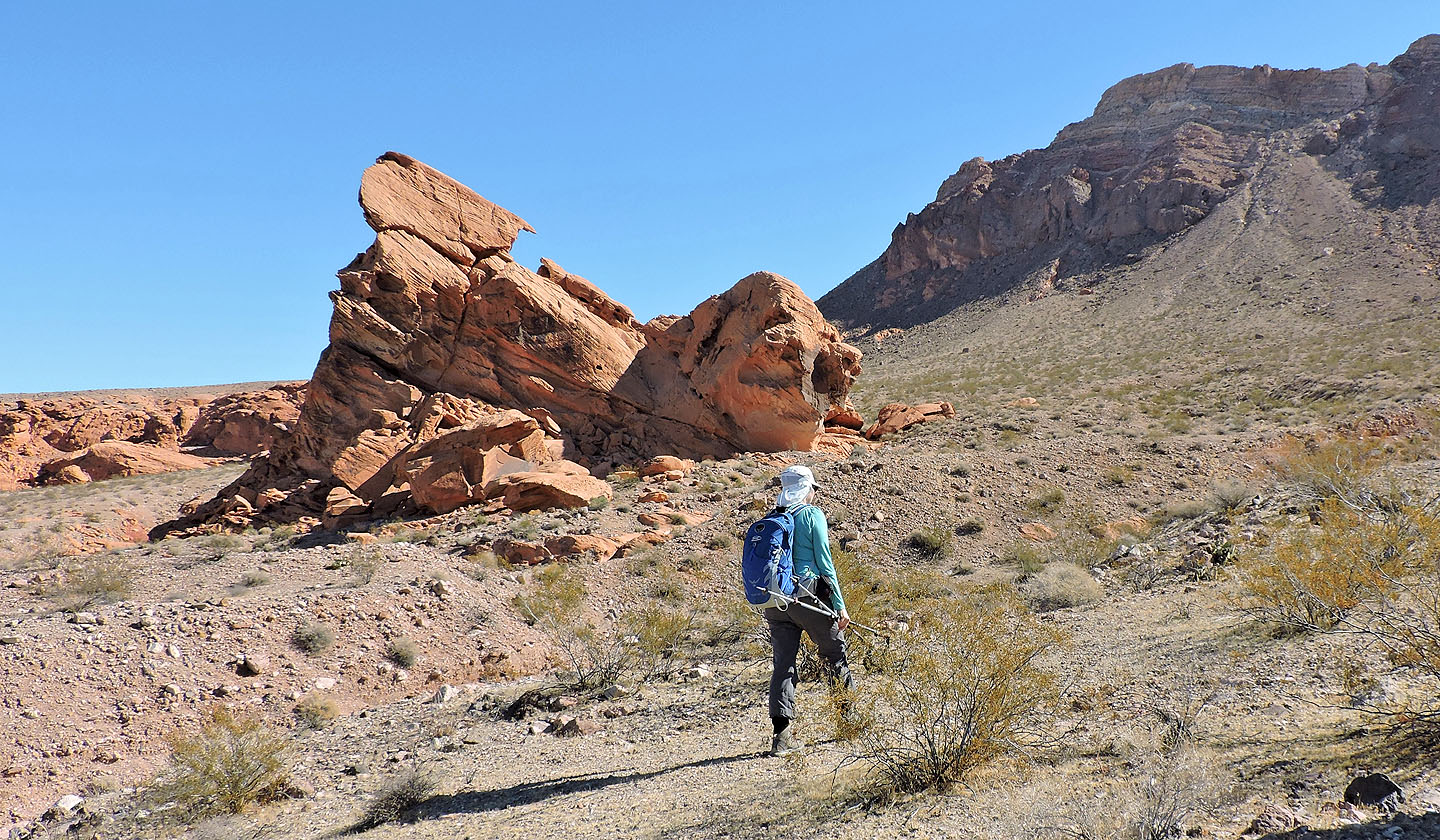 We came back later to take a closer look at the outcrop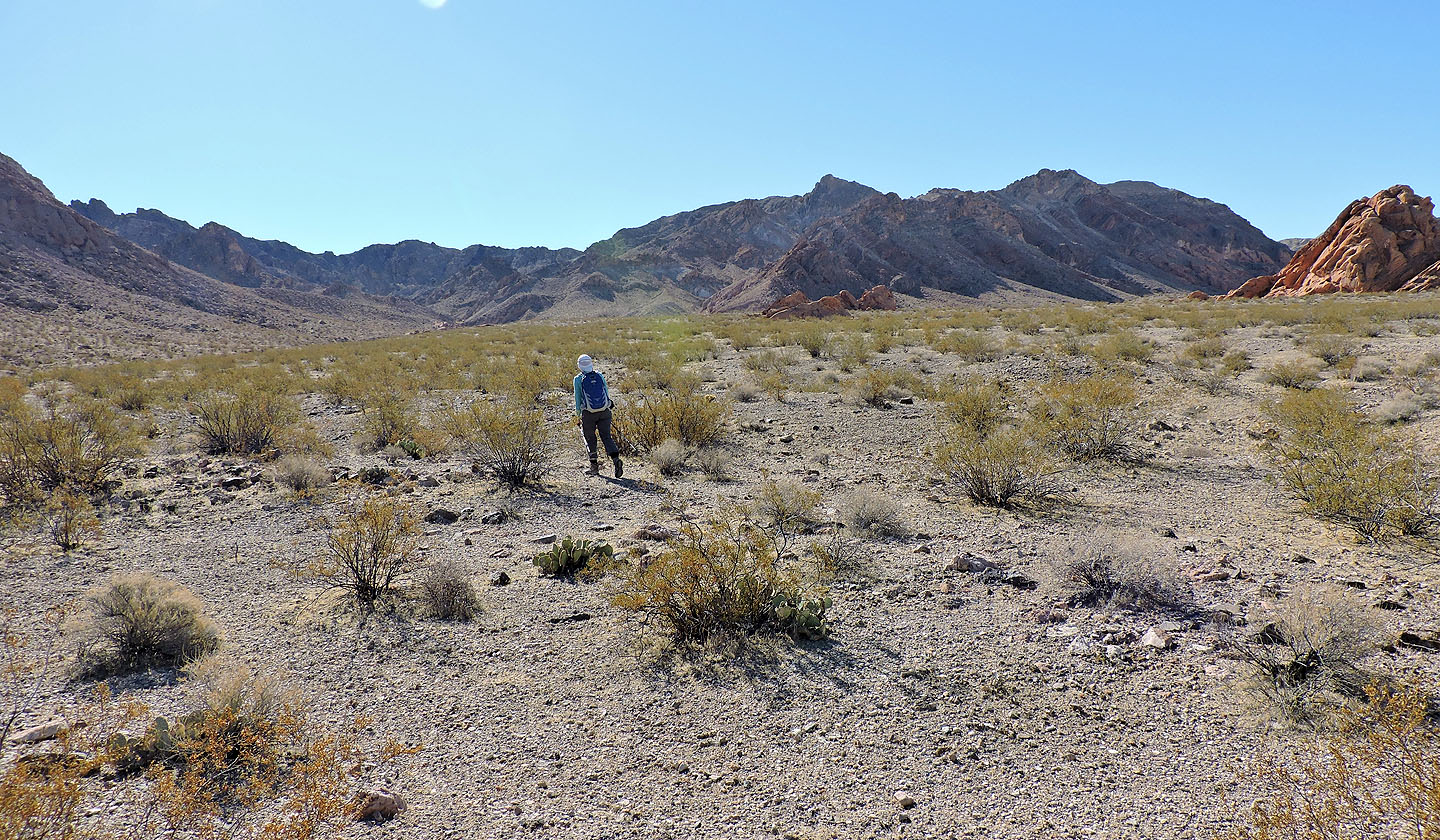 We made our way to the canyon on the left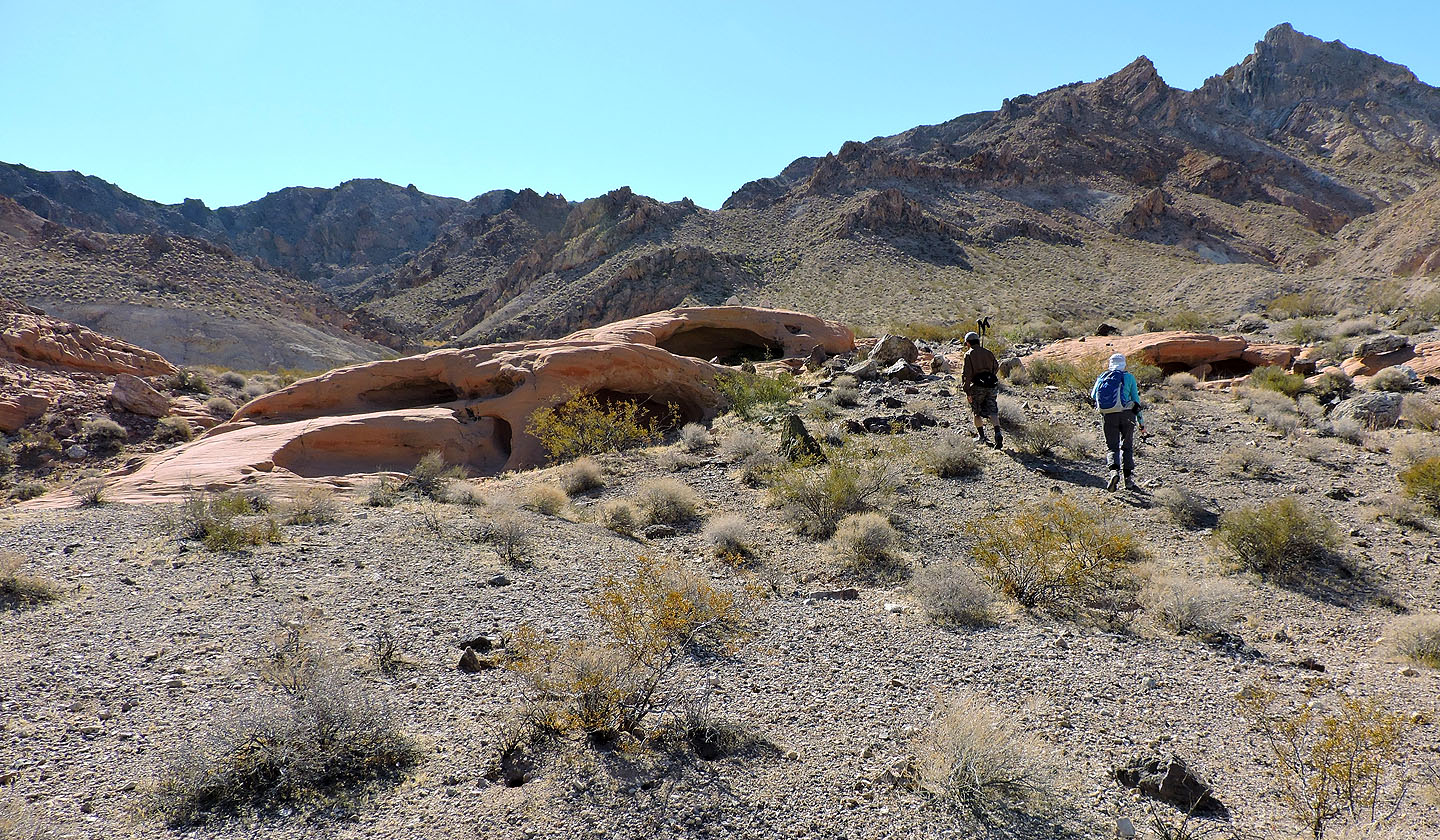 We passed more sandstone outcrops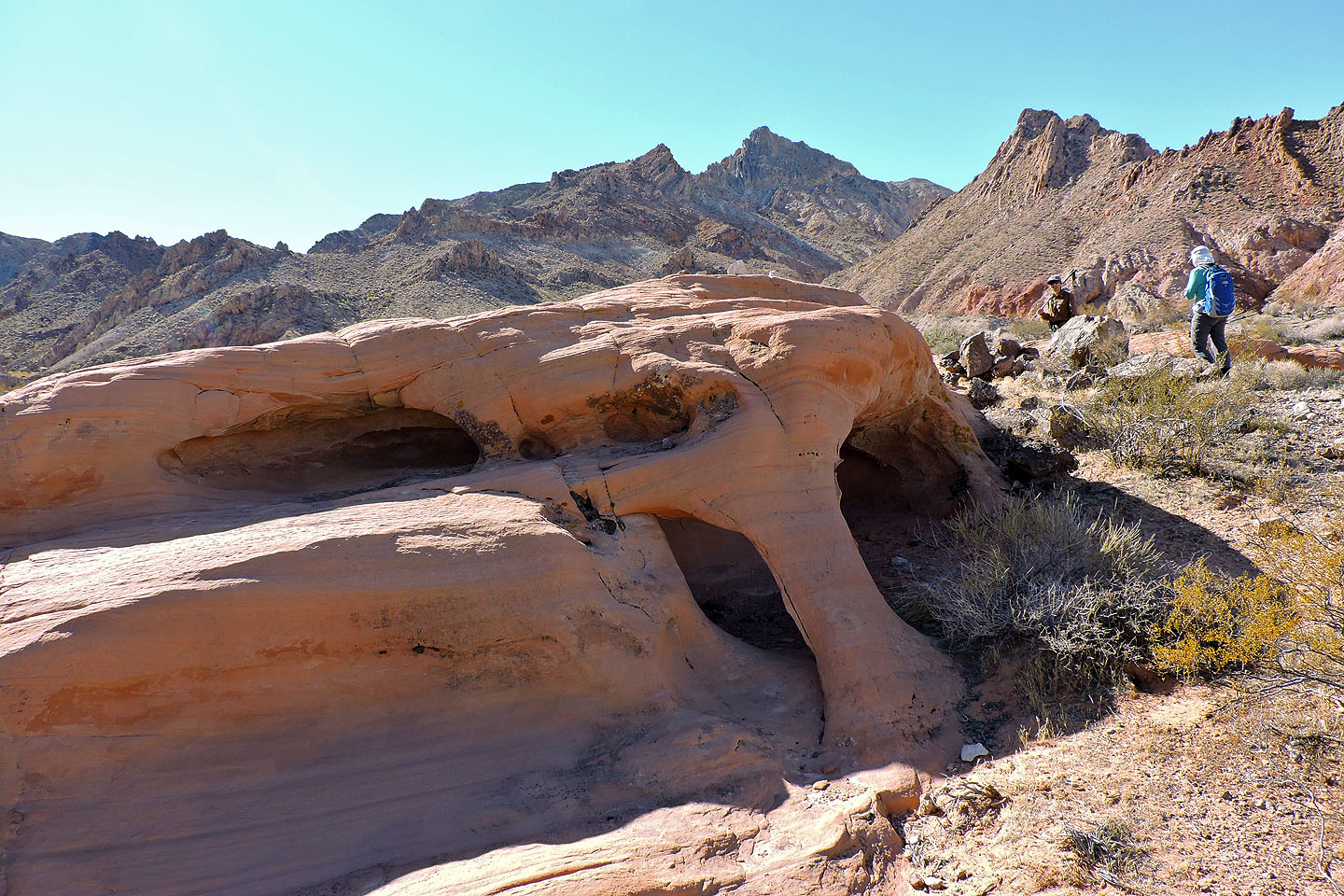 A closer look at the sandstone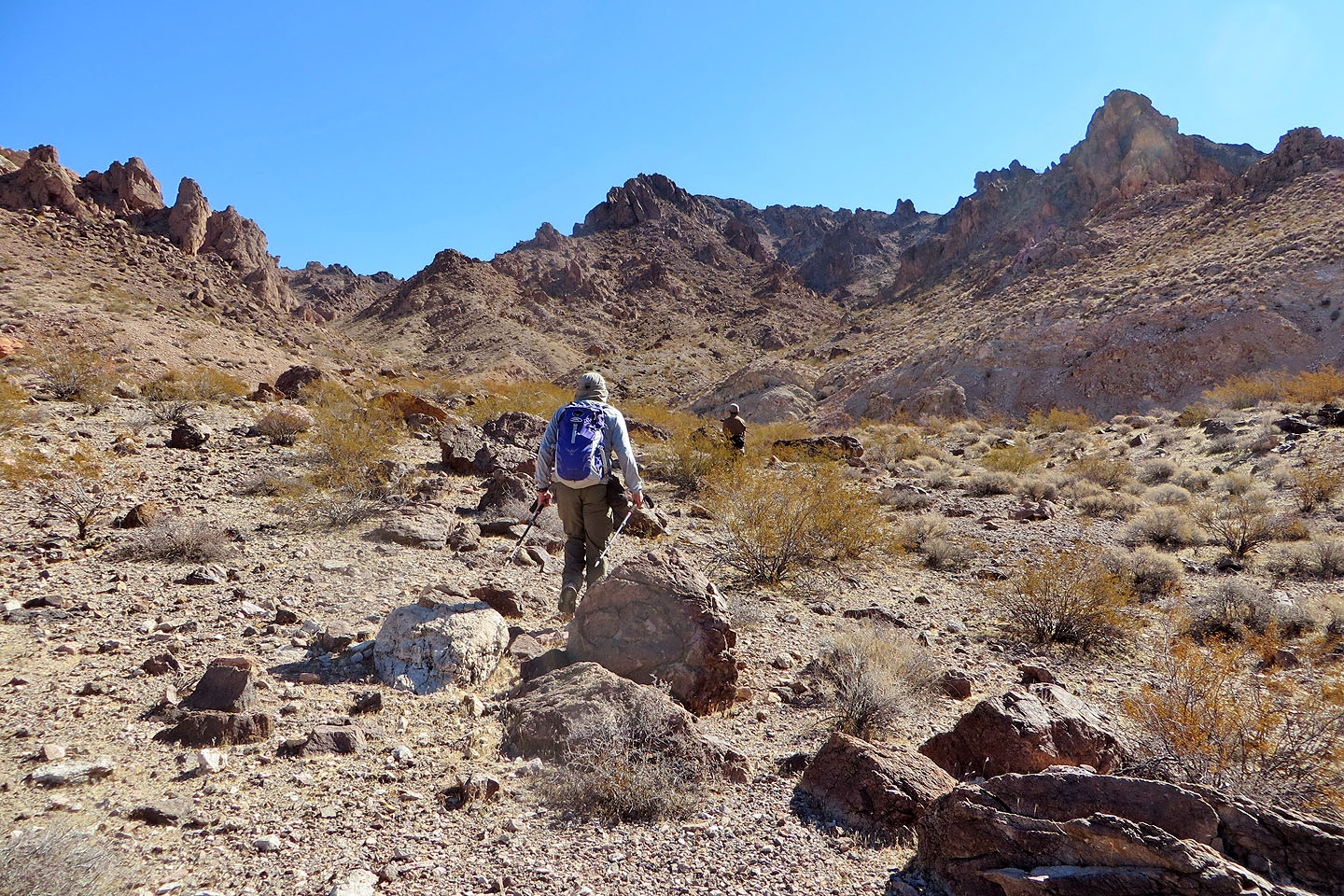 After going around a corner we saw the ascent canyon ahead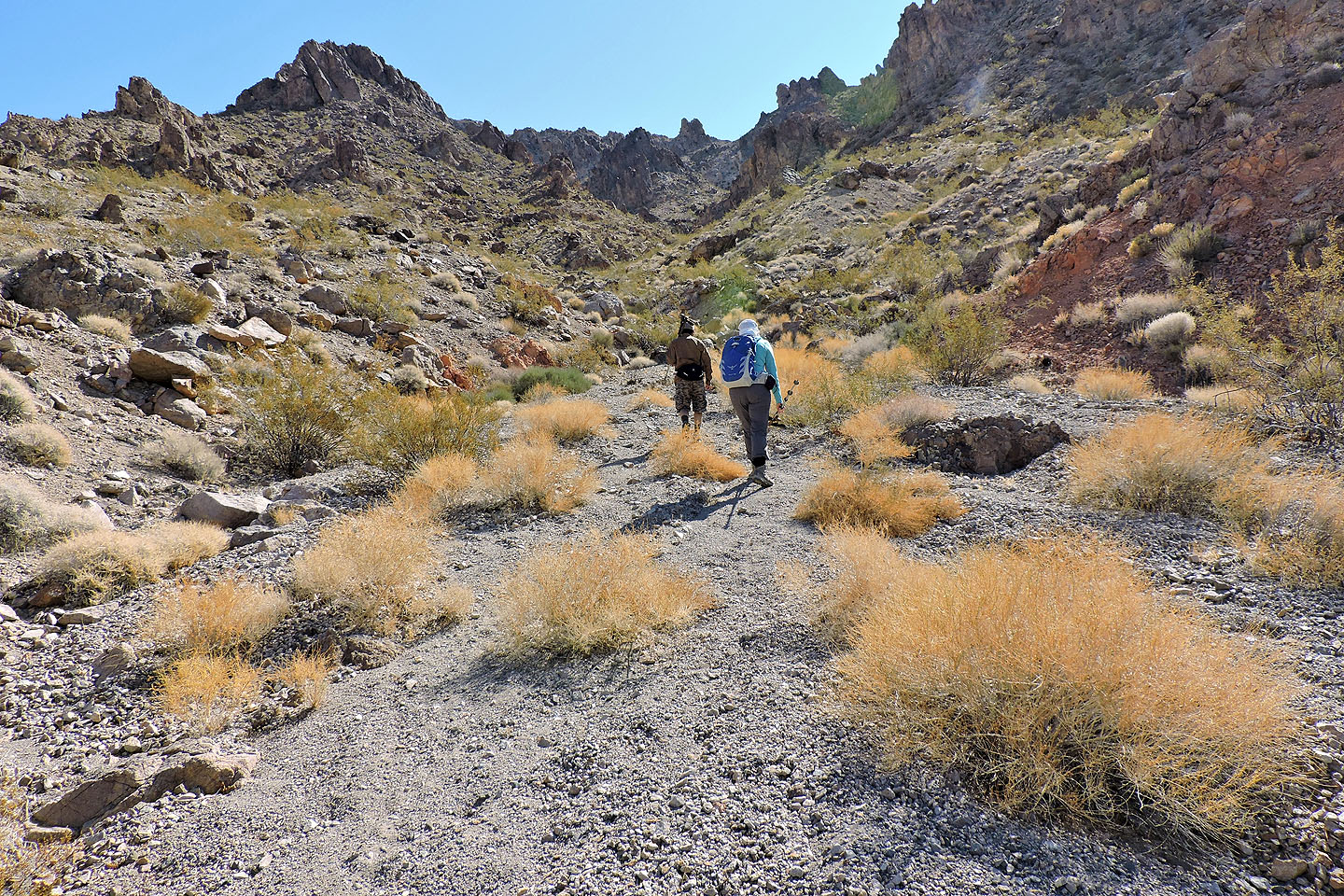 The saddle is to the right of the tooth-shaped rock above us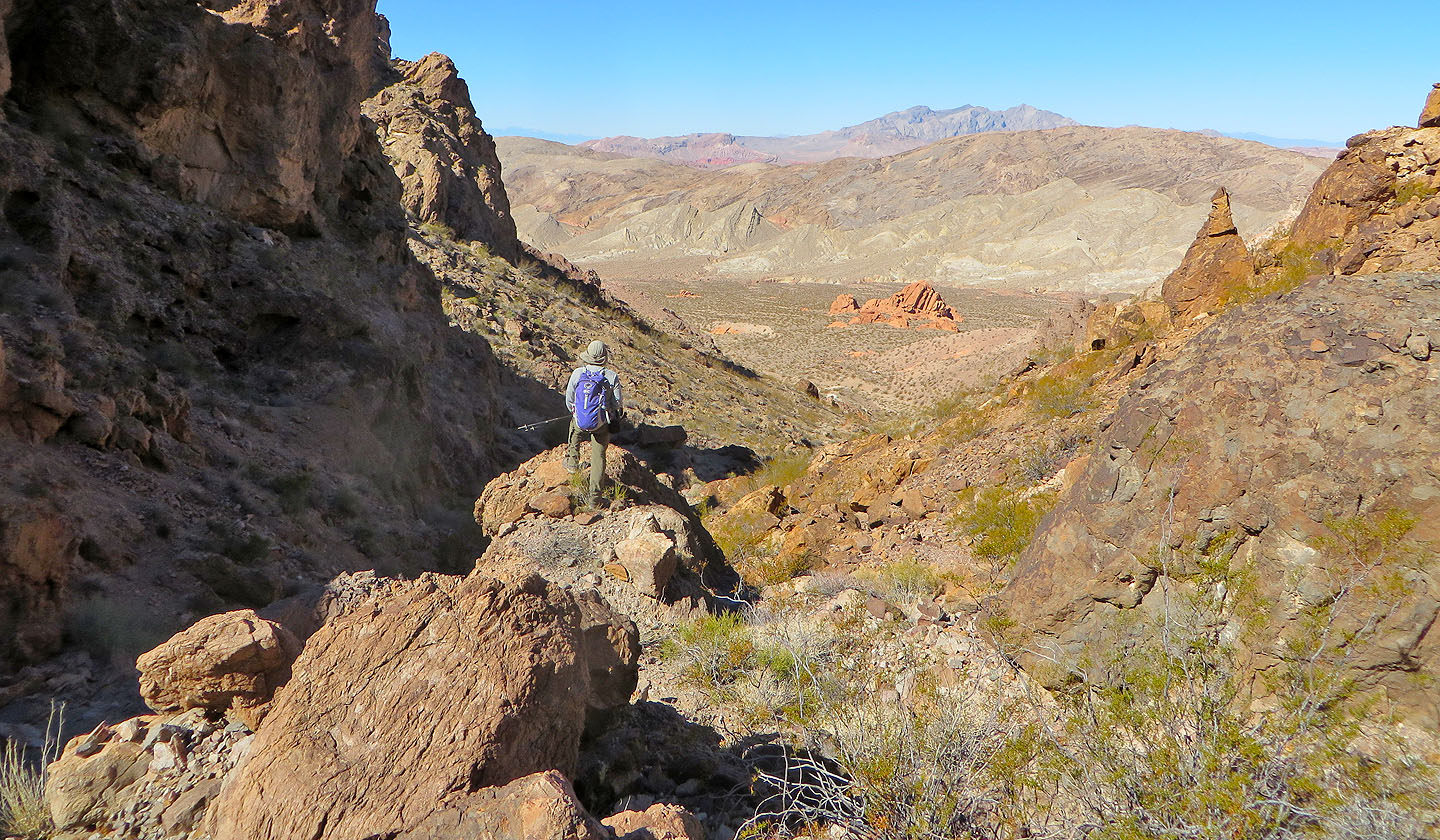 Looking back after we started up the canyon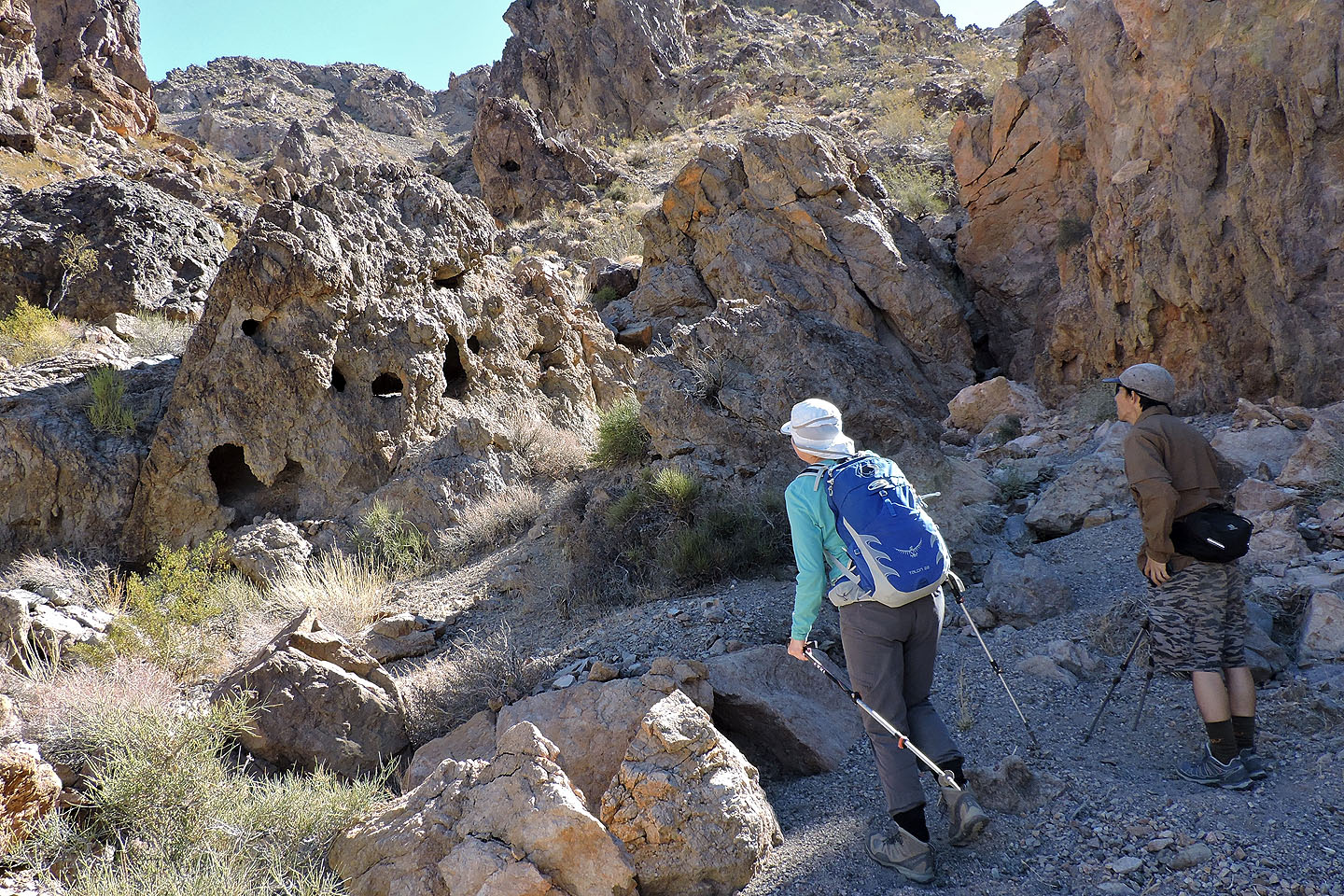 We passed a feature in the canyon that we dubbed the "Halloween Rock"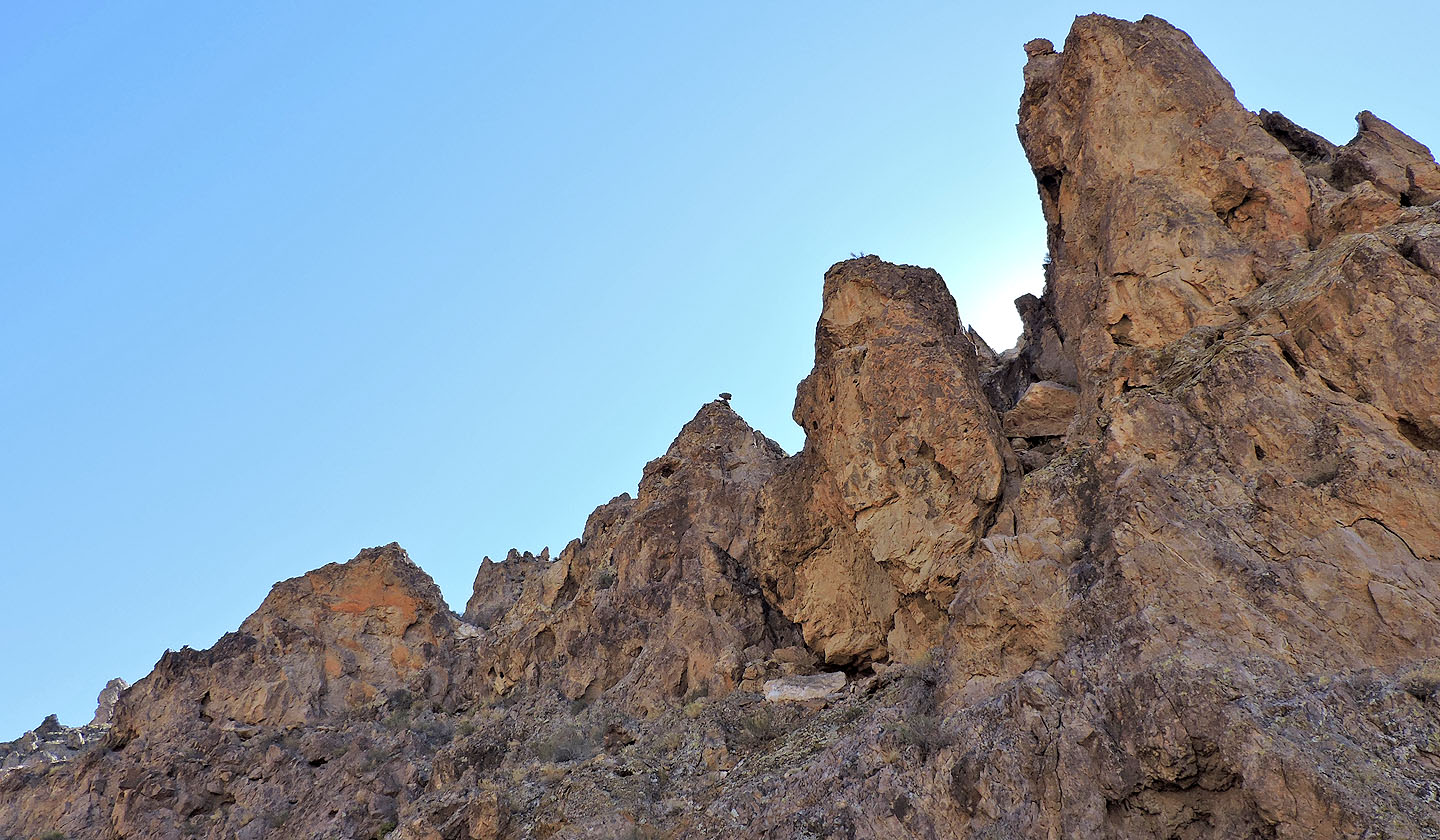 Overhead we spied a small balancing rock (mouse over for a close-up)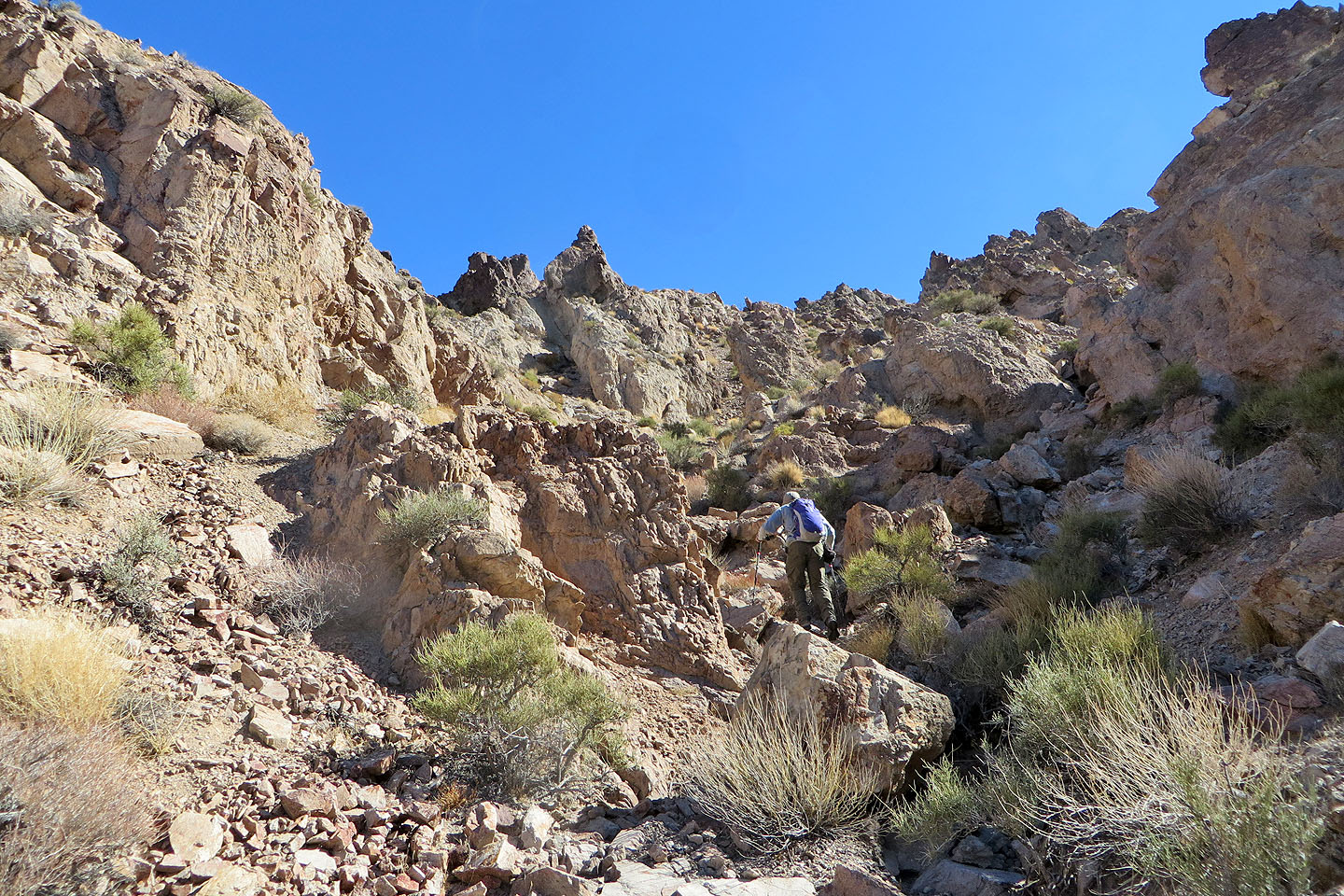 The canyon is rugged and steep in places but only a class 2 climb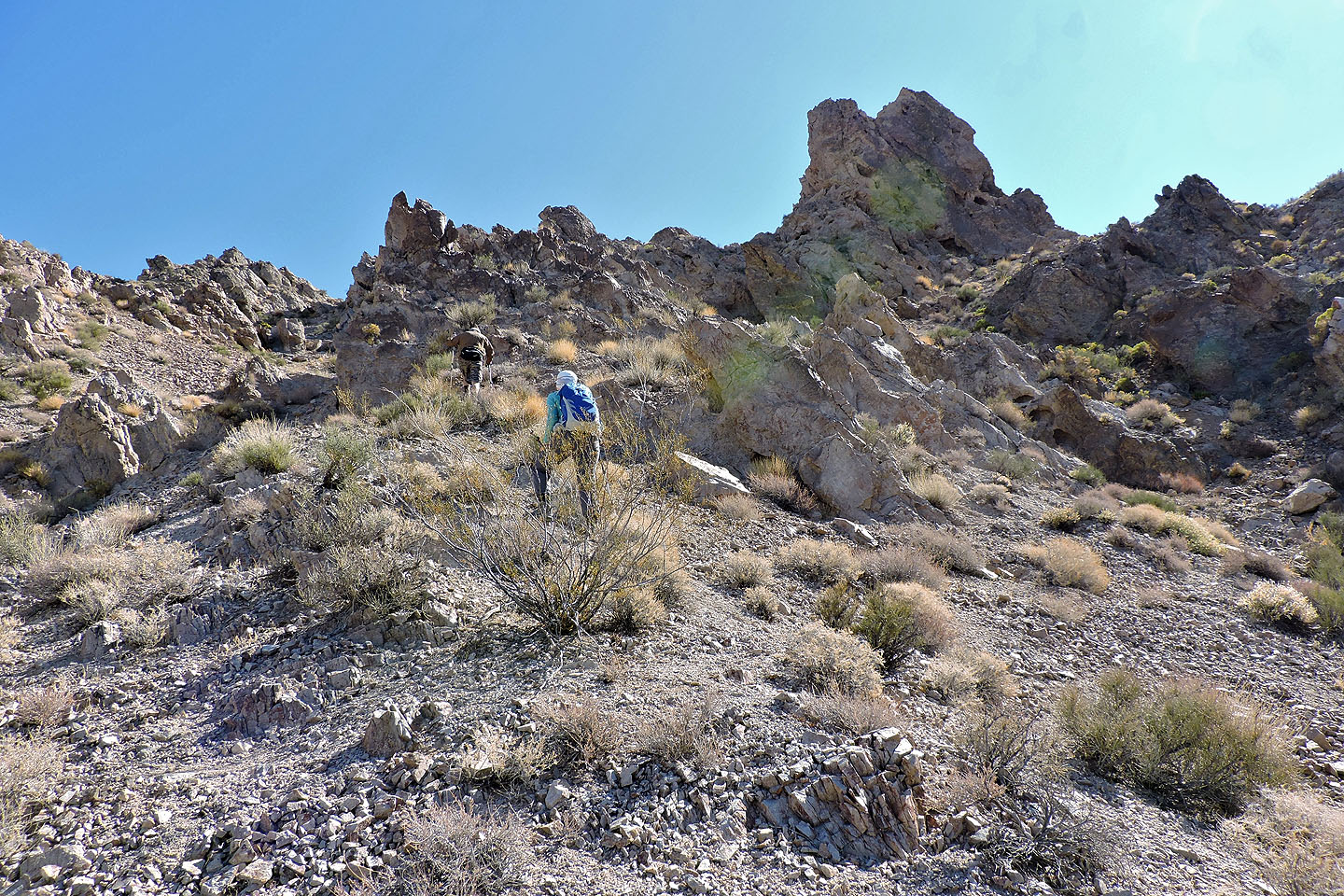 We're almost at the tooth rock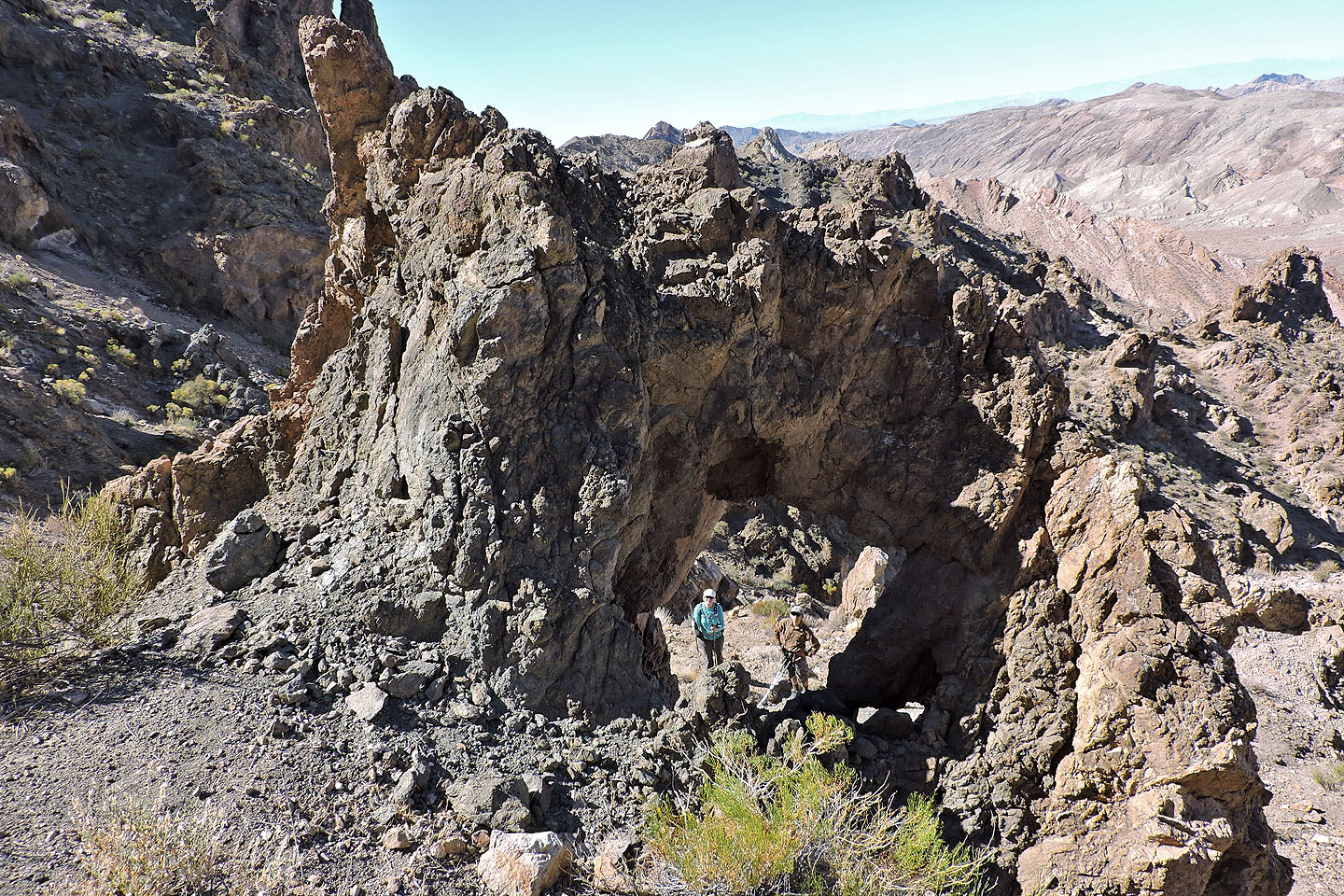 Looking down through a window at Dinah and Shin (mouse over for their view)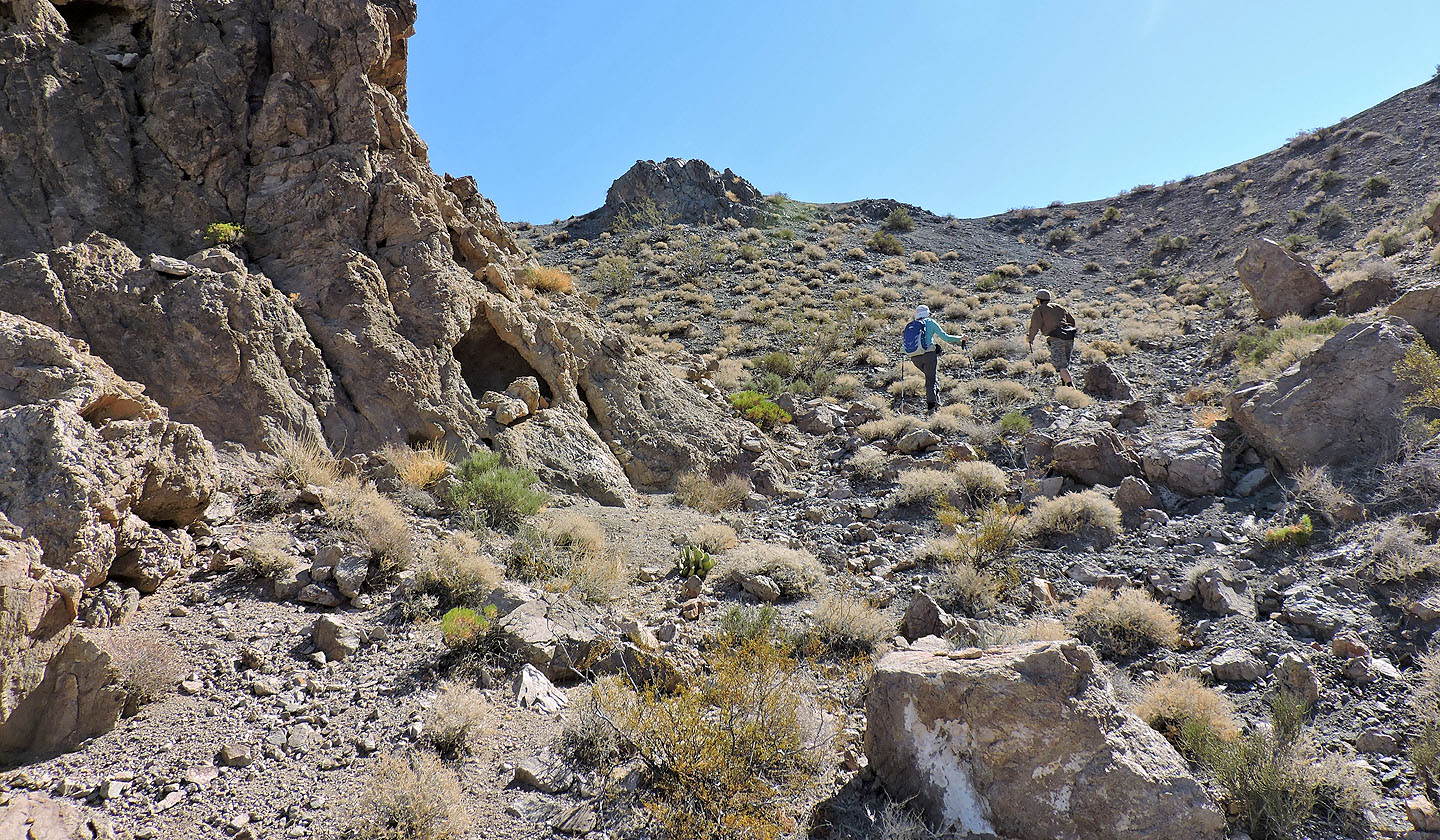 We turned right just before reaching the saddle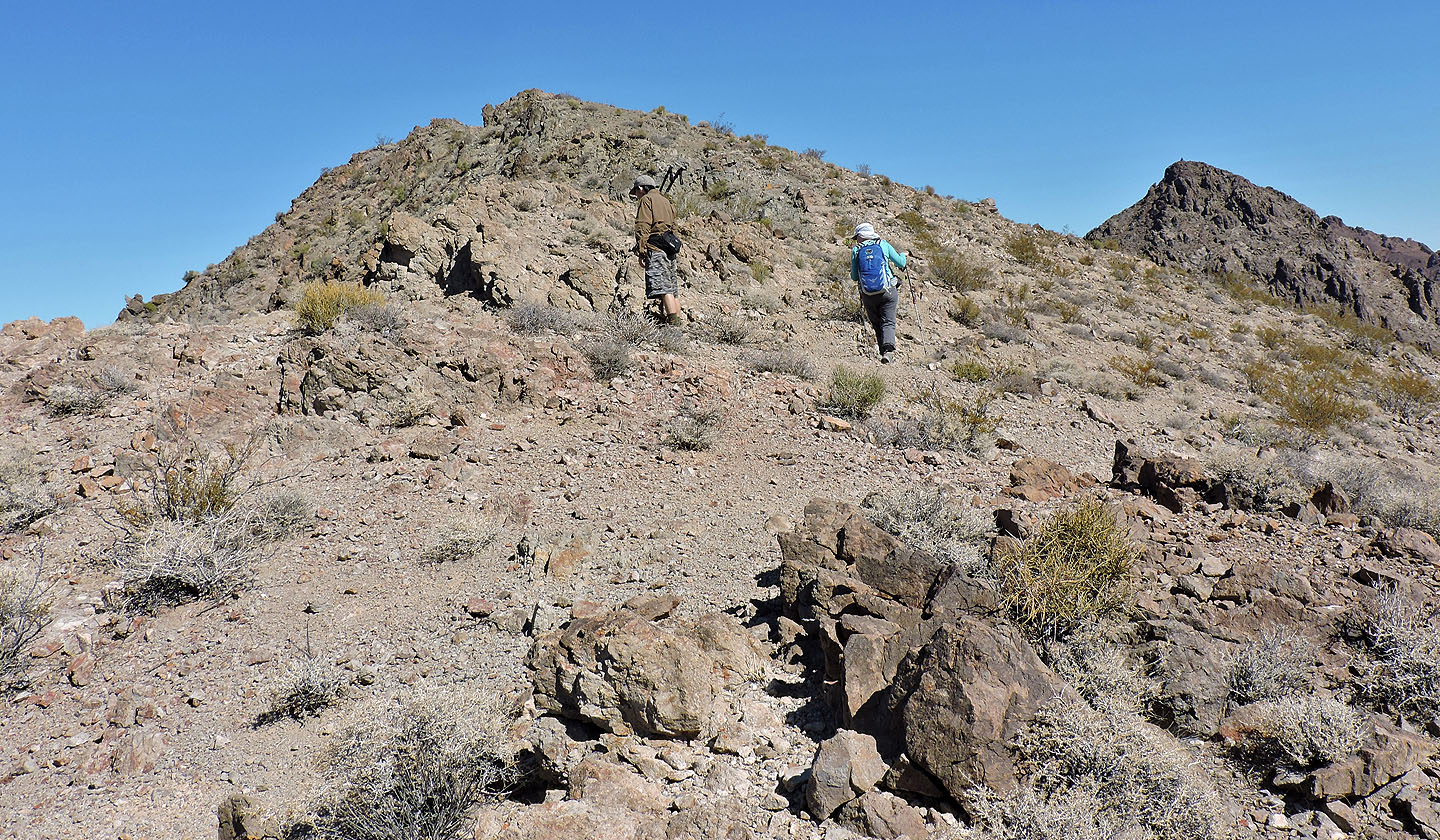 After starting along the ridge, we could see Little Pyramid Peak on our right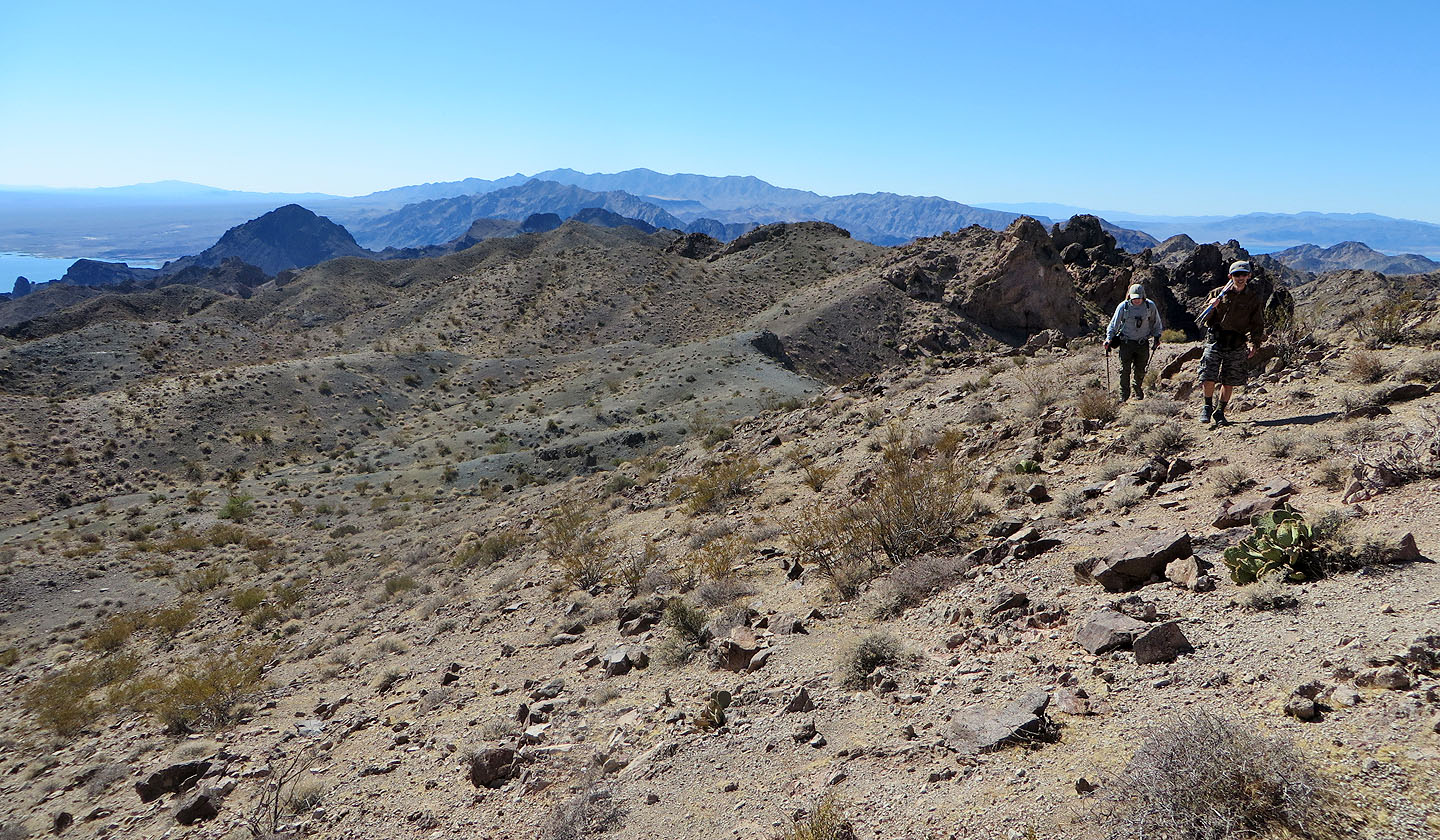 We hiked easily up the ridge to the summit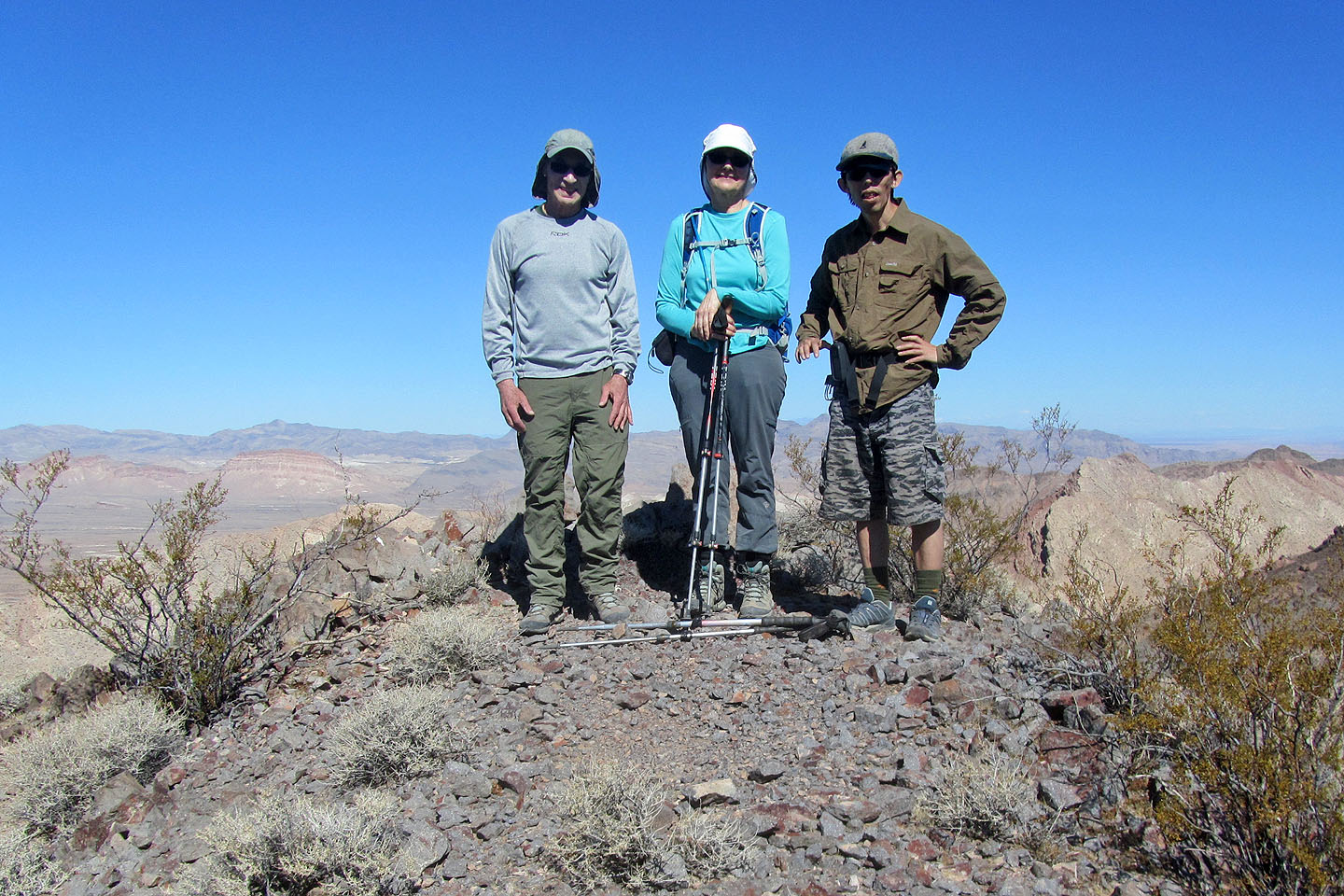 On the summit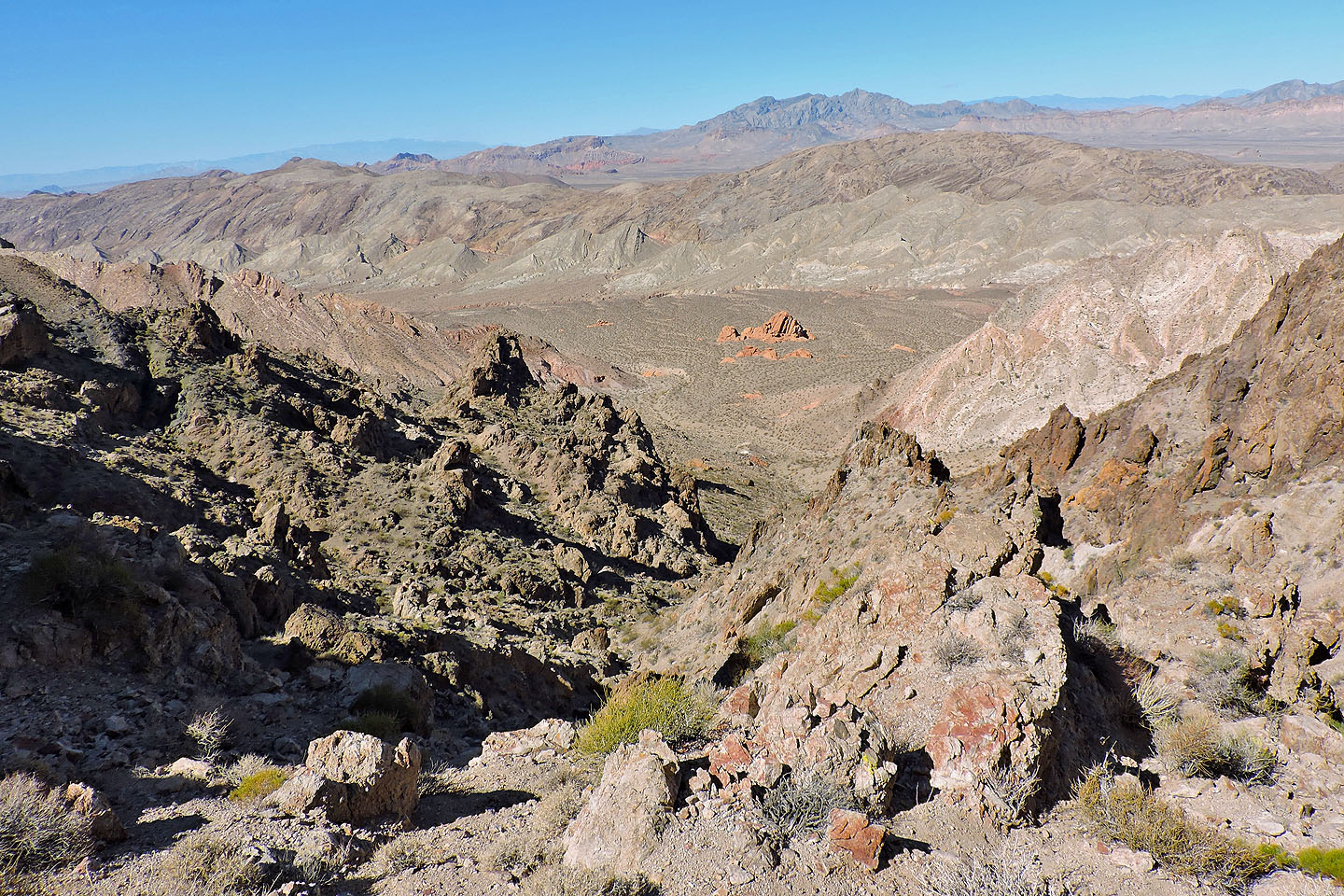 Returning to the saddle, we started down the left side of the canyon where we found soft scree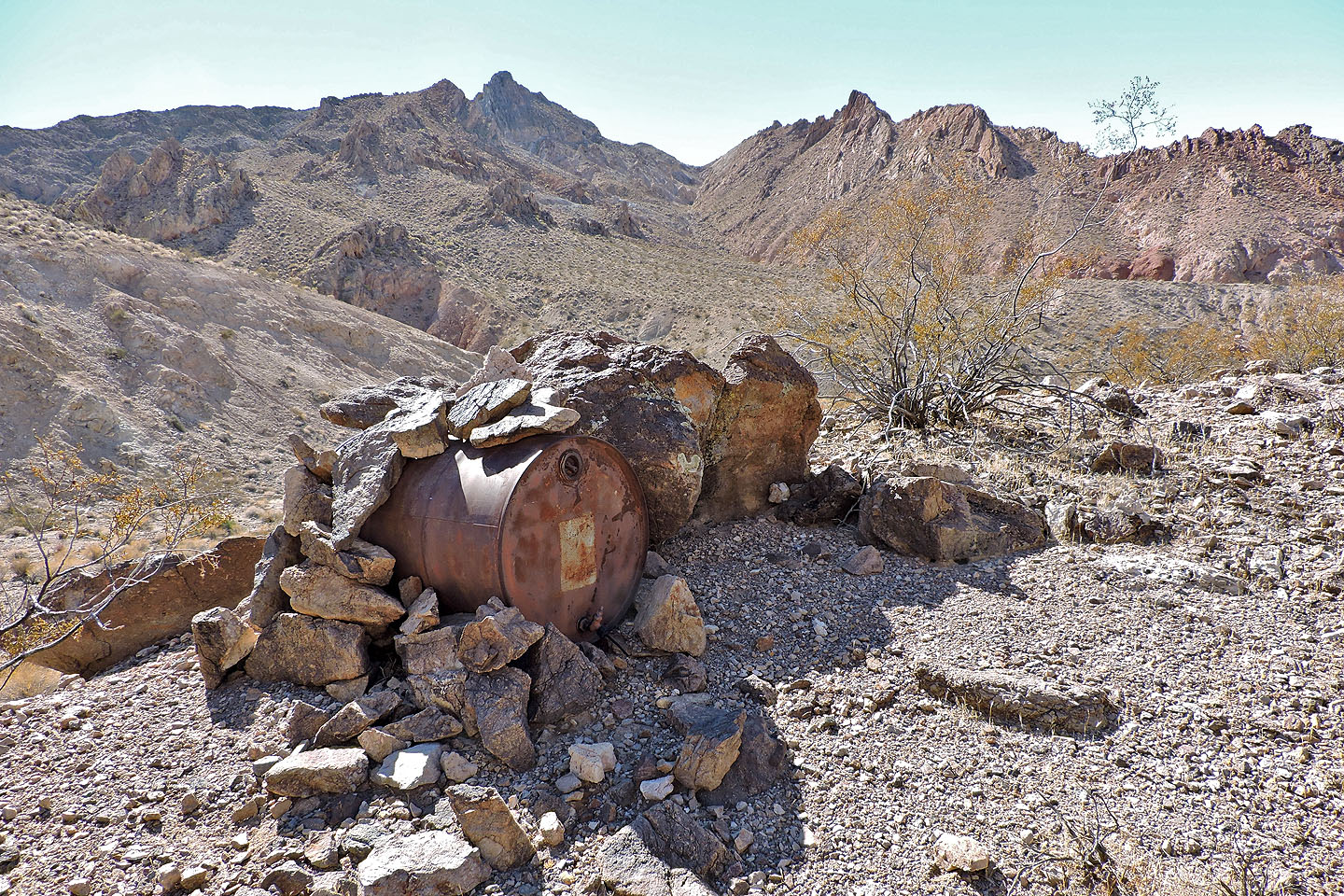 Back in the valley we came across a barrel used to water plants via a hose for some experiment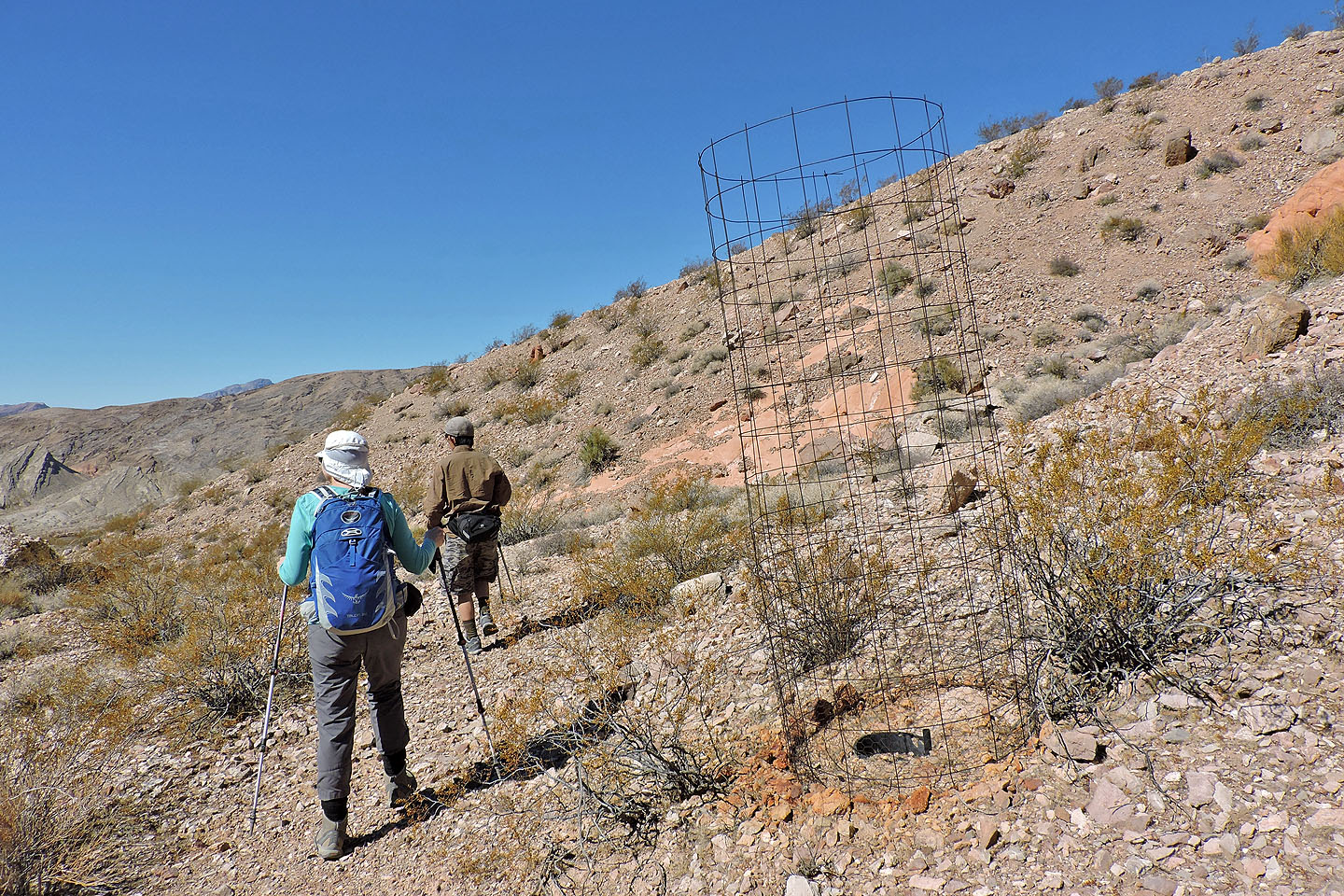 One of the areas set up to receive the water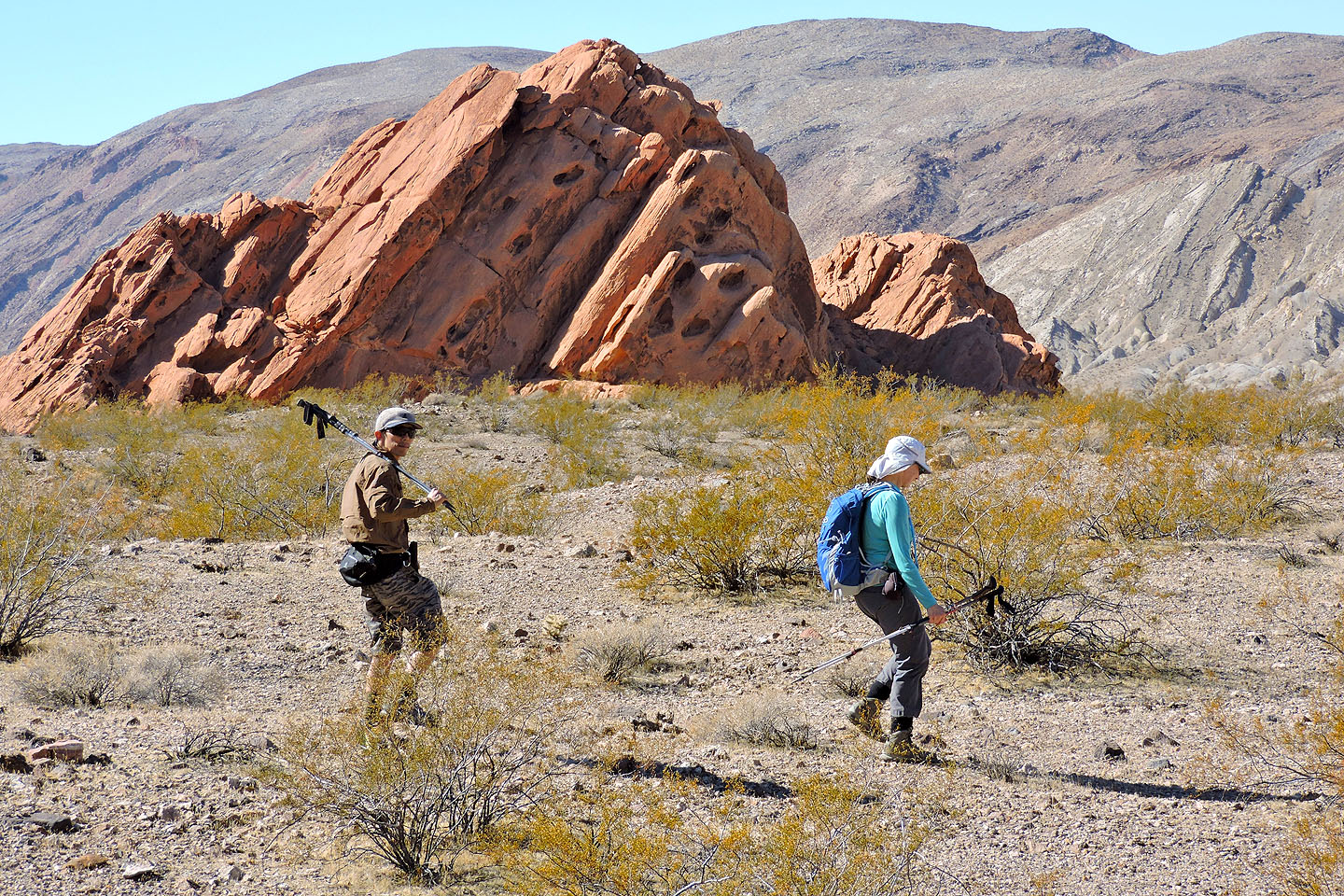 We passed a sandstone outcrop on our left but didn't bother to visit it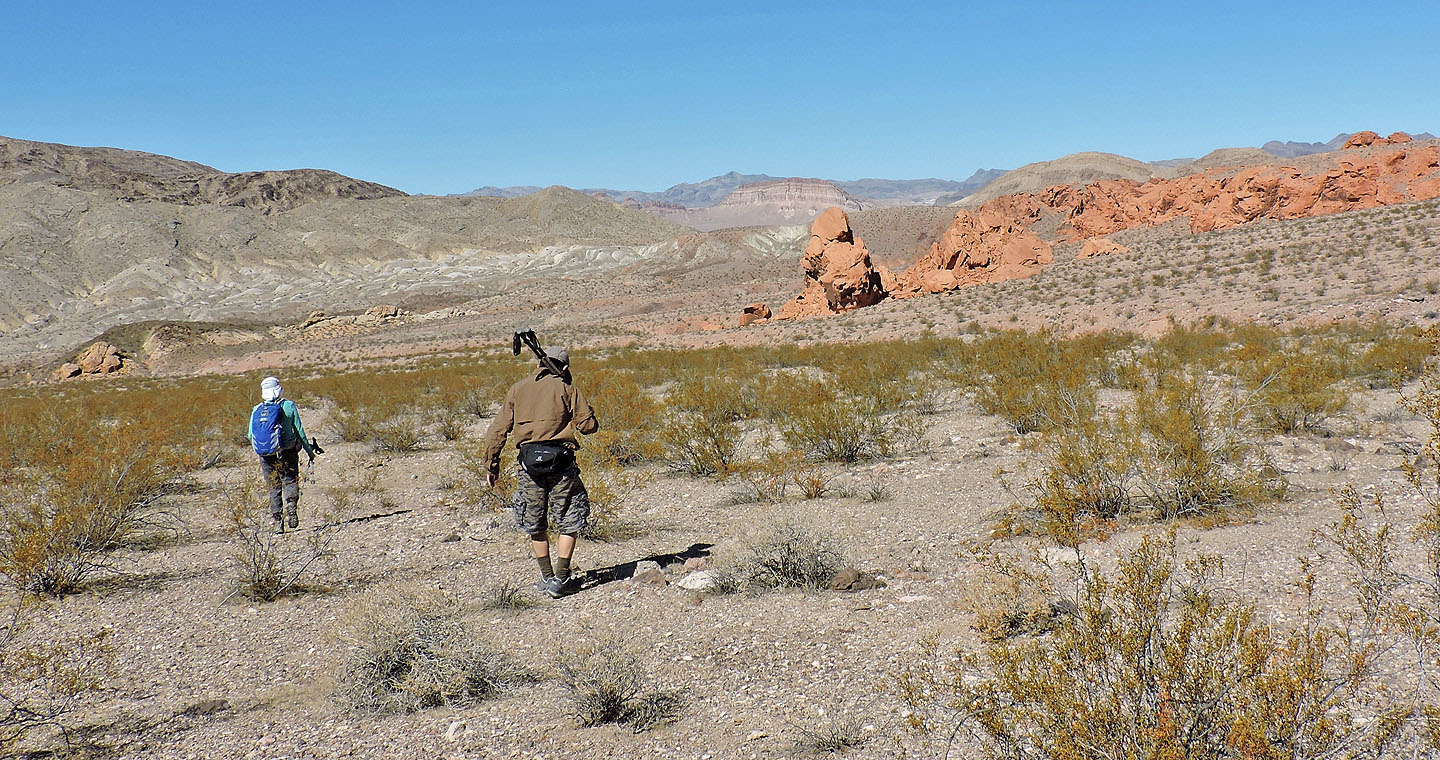 We headed to the sandstone outcrop we passed earlier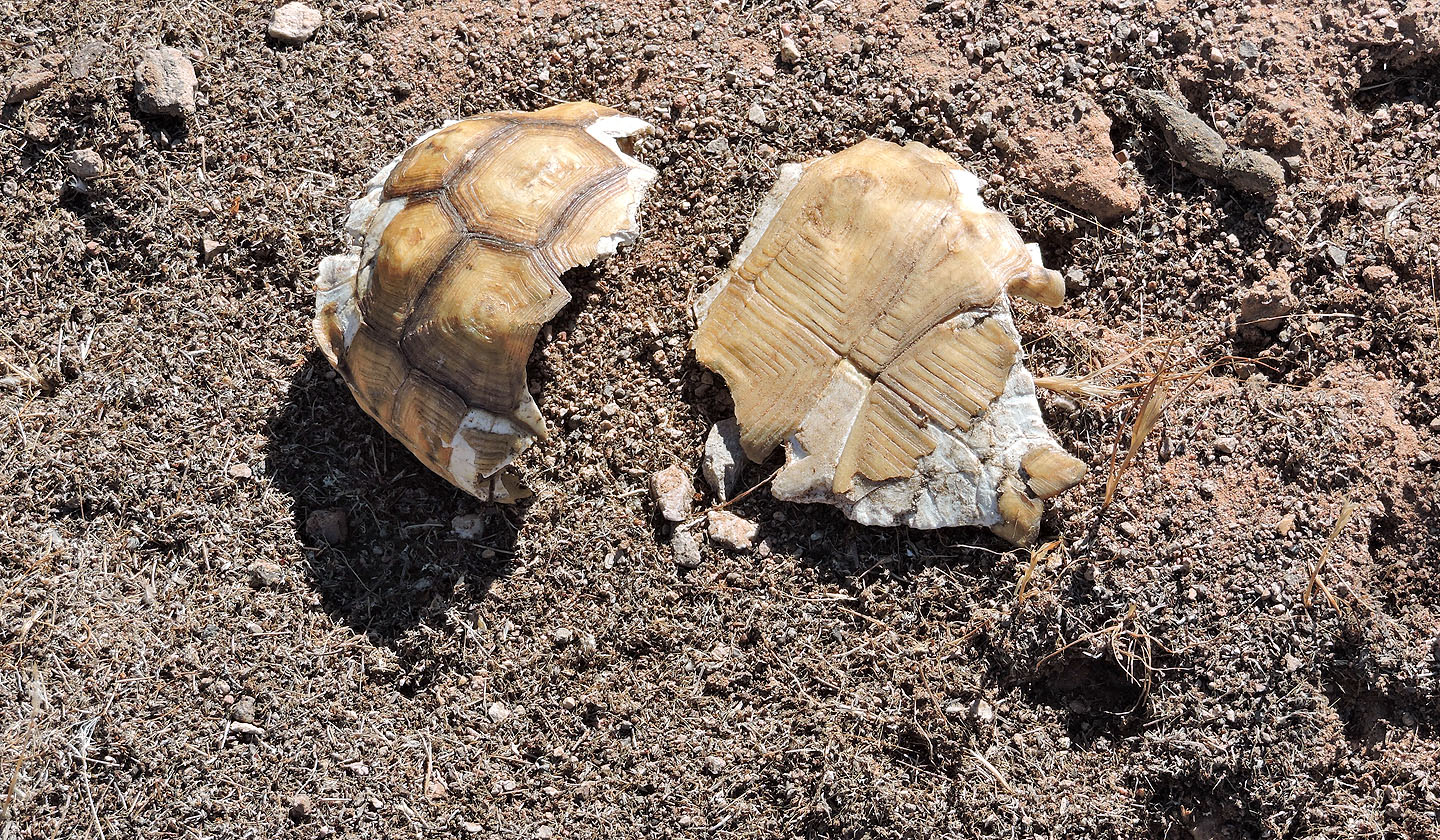 Remains of a desert tortoise shell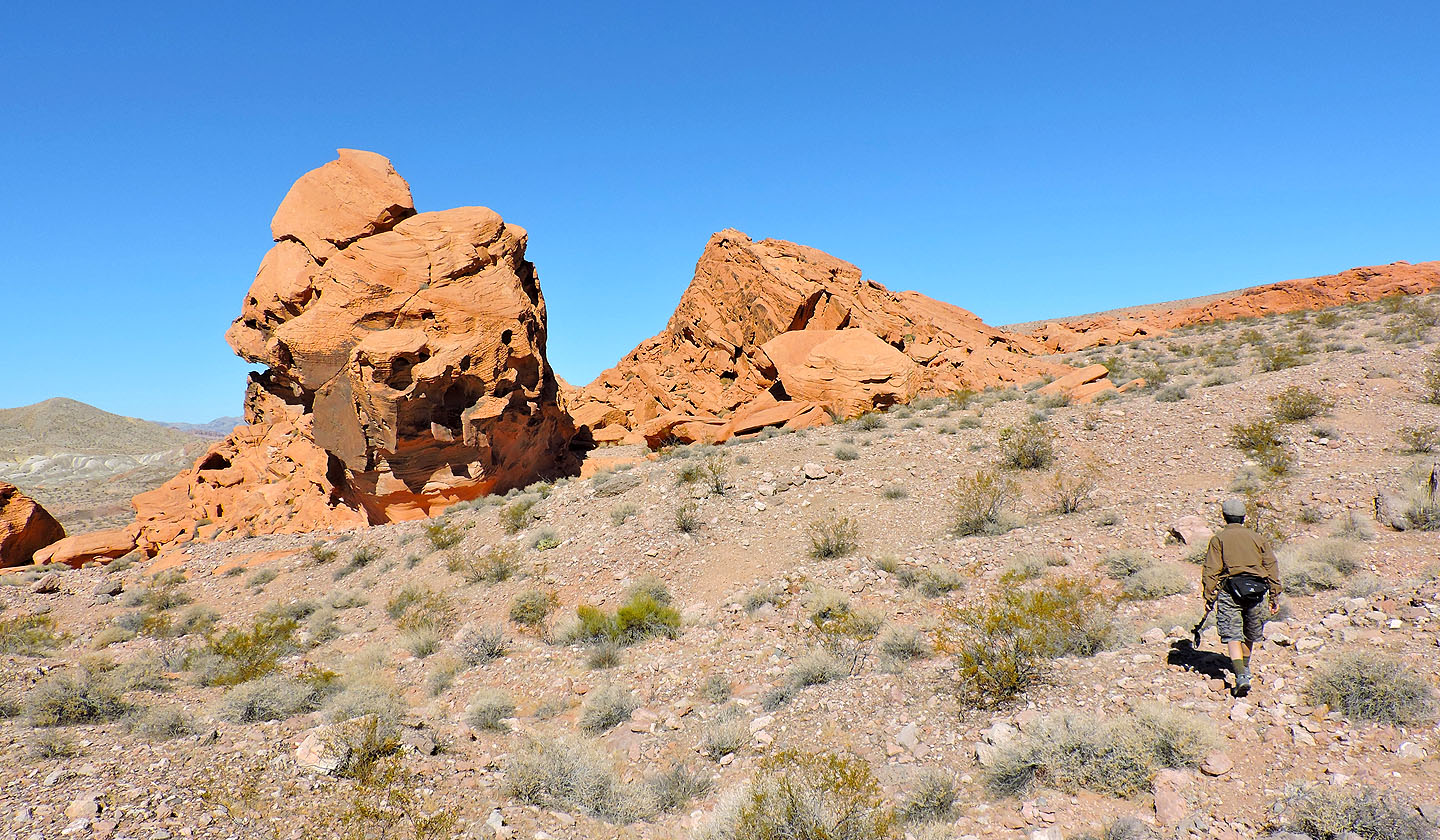 Coming up to the towering outcrop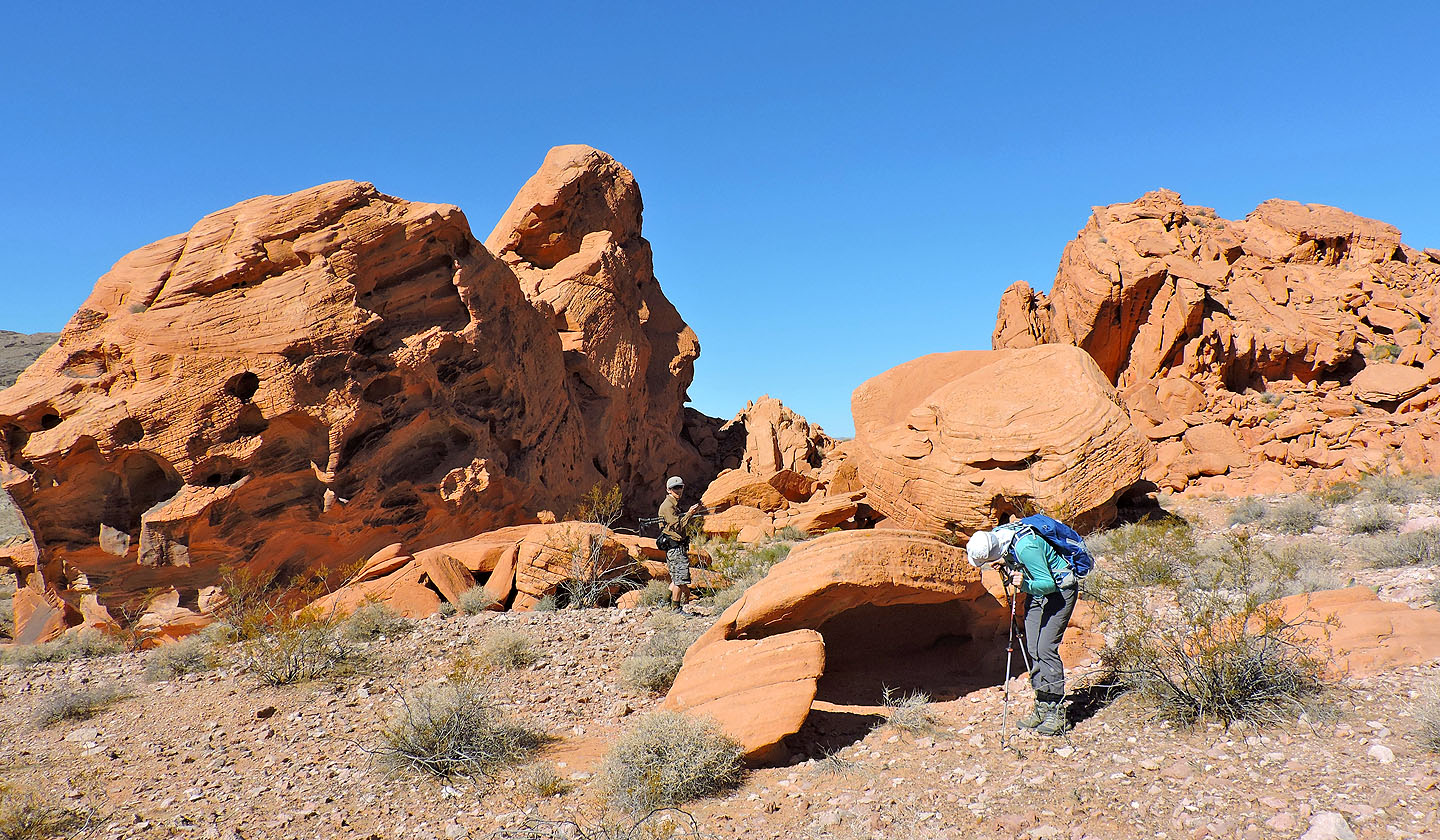 Taking a closer look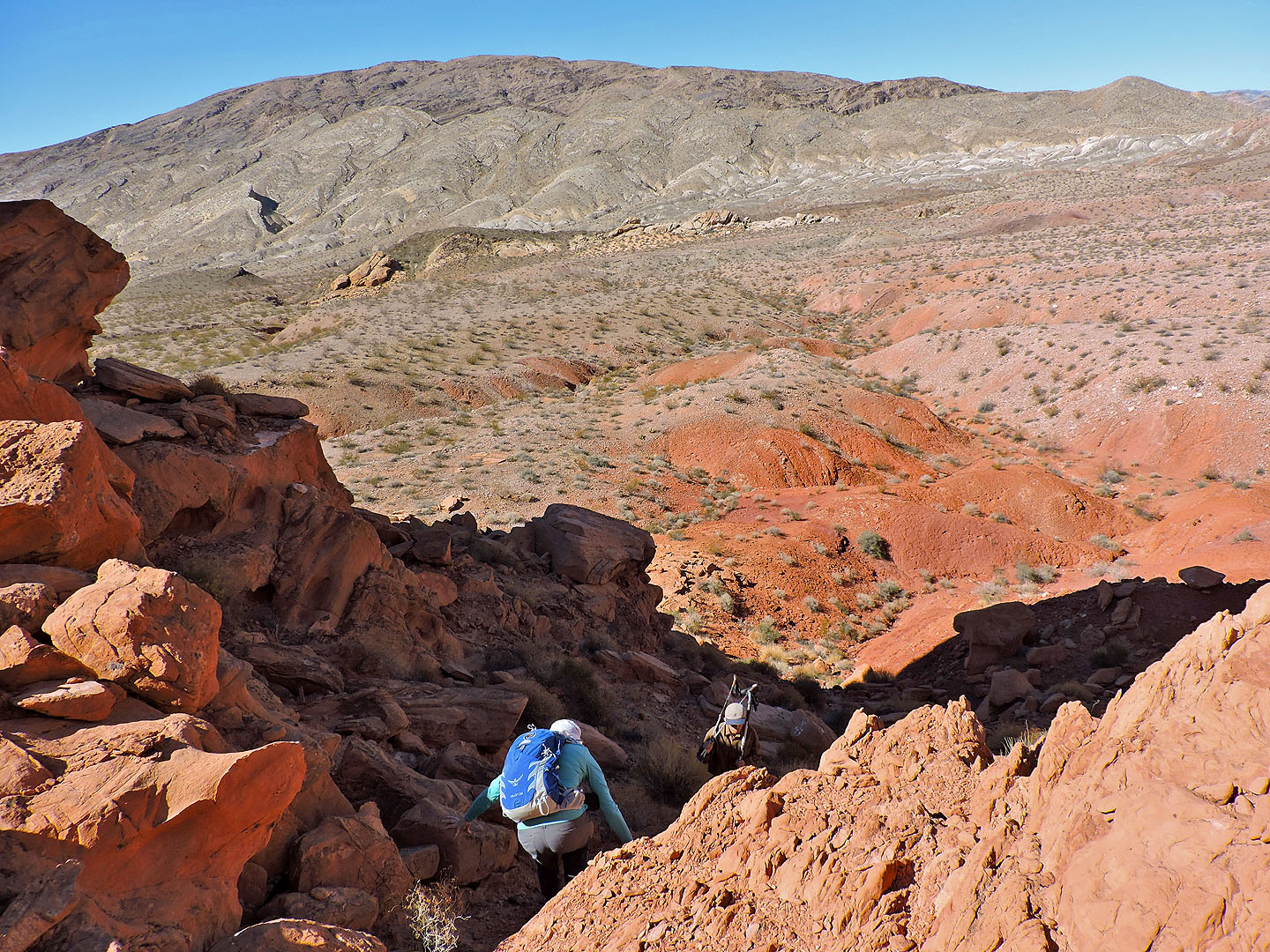 From the outcrop, we dropped down to a wash below and followed it back to where it joined the wash we hiked up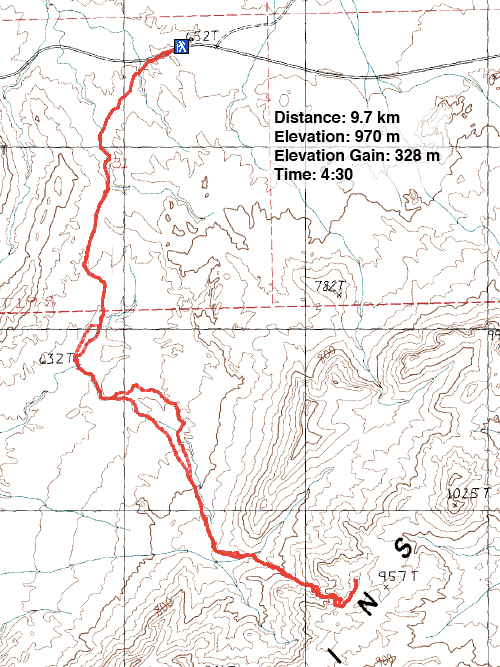 Boulder Canyon (6.0 mi, 3182 ft, 1076 ft)