bobspirko.ca | Home | Canada Trips | US Trips | Hiking | Snowshoeing | MAP | About

Davidson Peak
Mormon Mountains, Nevada
October 21, 2015
Davidson Peak offers a short, delightful ascent via the east ridge, but it's not the approach in Andy Zdon's book, Desert Summits. He suggests taking back roads to the south side of the saddle connecting Davidson Peak and a subpeak called Little Davidson Peak. But on Google Earth, I could see no back roads going there. Moreover, the powerline road that Zdon proposes is rough and tortuous. We ended up taking a good road to the north side of the saddle.
To get to our start point from Las Vegas, drive 10 miles past Exit 100 on the I-15. Turn right and follow a road as it runs back alongside and then under the highway. Turn left onto the Old Spanish Highway. The dirt road soon turns right and becomes Halfway Wash Road. Follow the main road as it winds around to the north side of the saddle. Don't drive up the steep slope, but rather park on a side road at the bottom.
Sonny, Dinah and I walked up the road a bit before making a beeline to the end of the east ridge; this road, we realized later, swings around to the ridge anyway. Once on the ridge, we followed it as it curves around an impressive canyon. The ridge was merely a hike until we encountered a hump halfway up. Small cliffs guard this hump, but we had no trouble traversing left before scrambling easily to the top. The only other part along the ridge worth noting was a steep rock section that required some hands-on climbing. Just before the summit, the ridge narrows and levels off. We stepped onto the summit.
Lacking a summit cairn, let alone a summit register, suggests Davidson Peak garners little attention. This is puzzling since it's a short and relatively easy climb within reach of Las Vegas and just minutes from Mesquite. On the flip side, you can be assured of finding solitude there.
KML and GPX Tracks
Sonny's Trip Report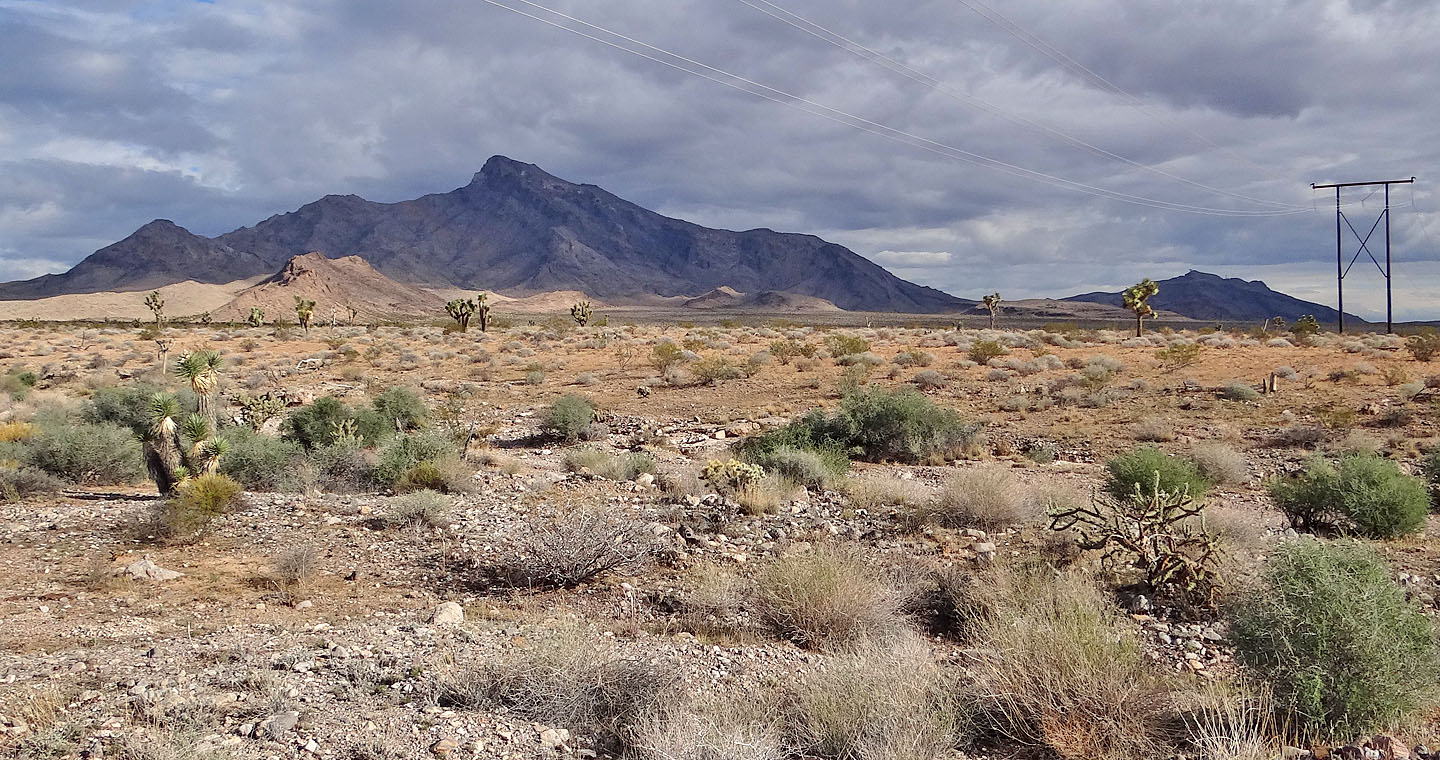 Davidson Peak and Little Davidson Peak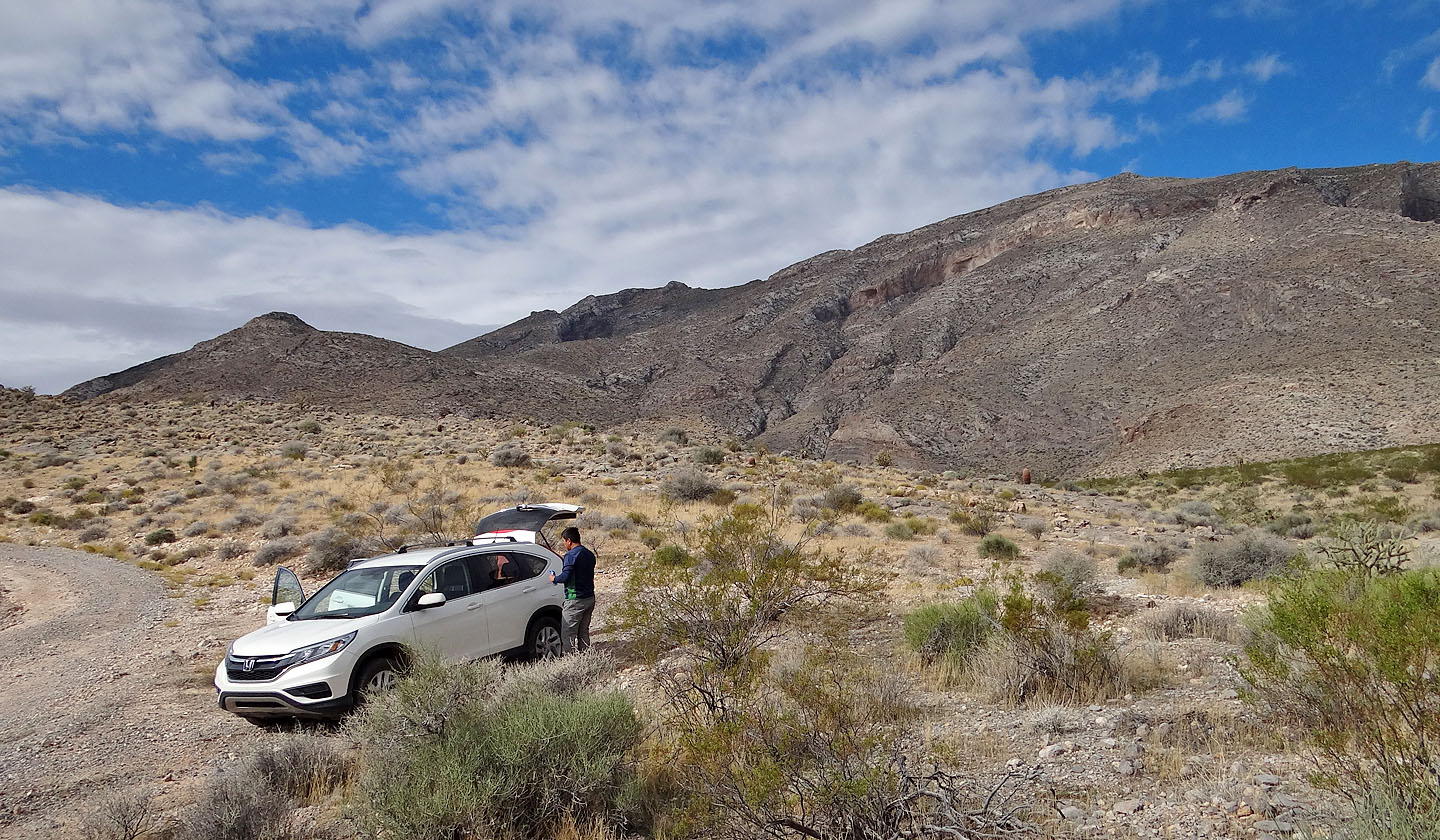 After parking here, we hiked up a side road. The summit is the small bump in the centre.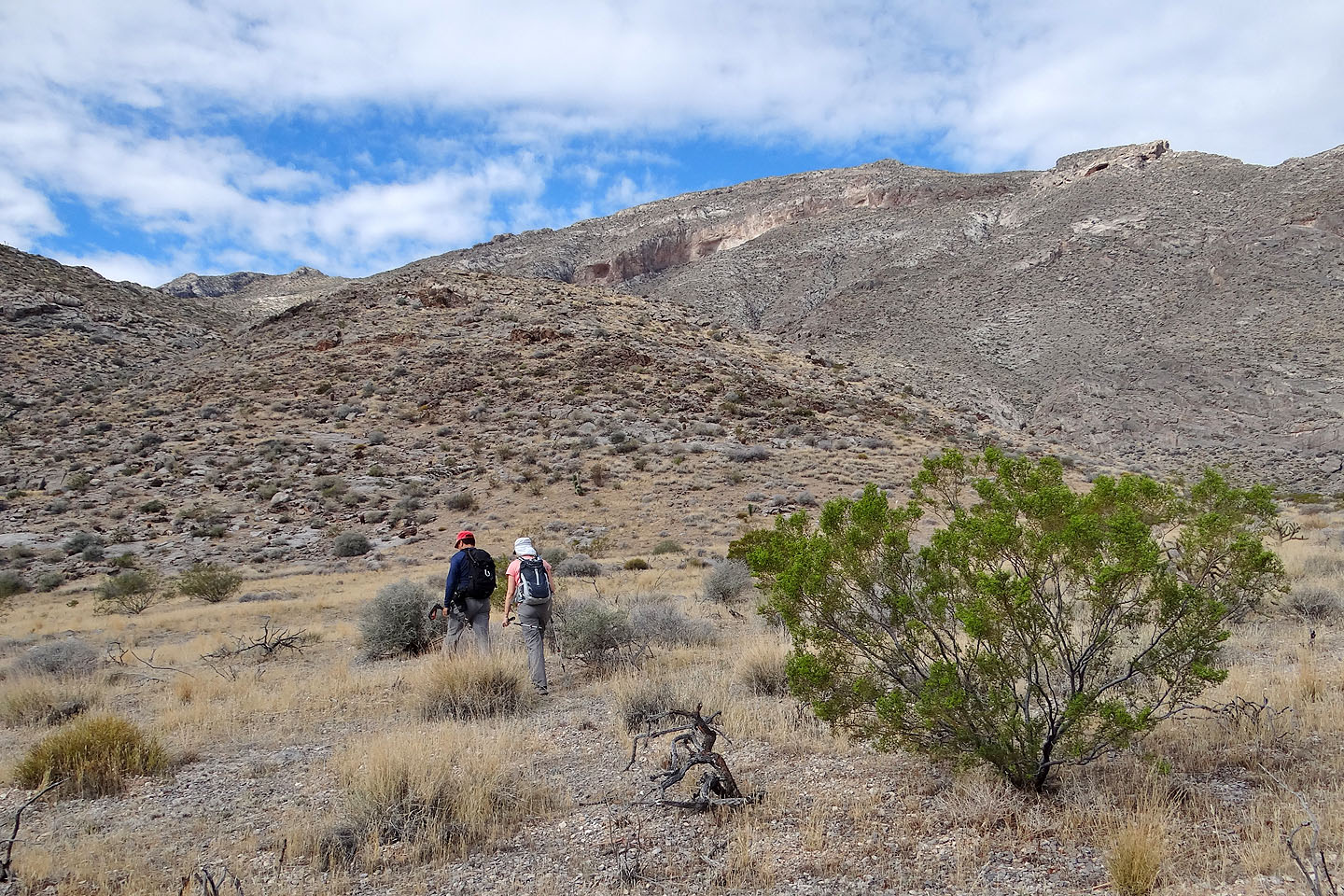 After hiking up the road, we started up the slope ahead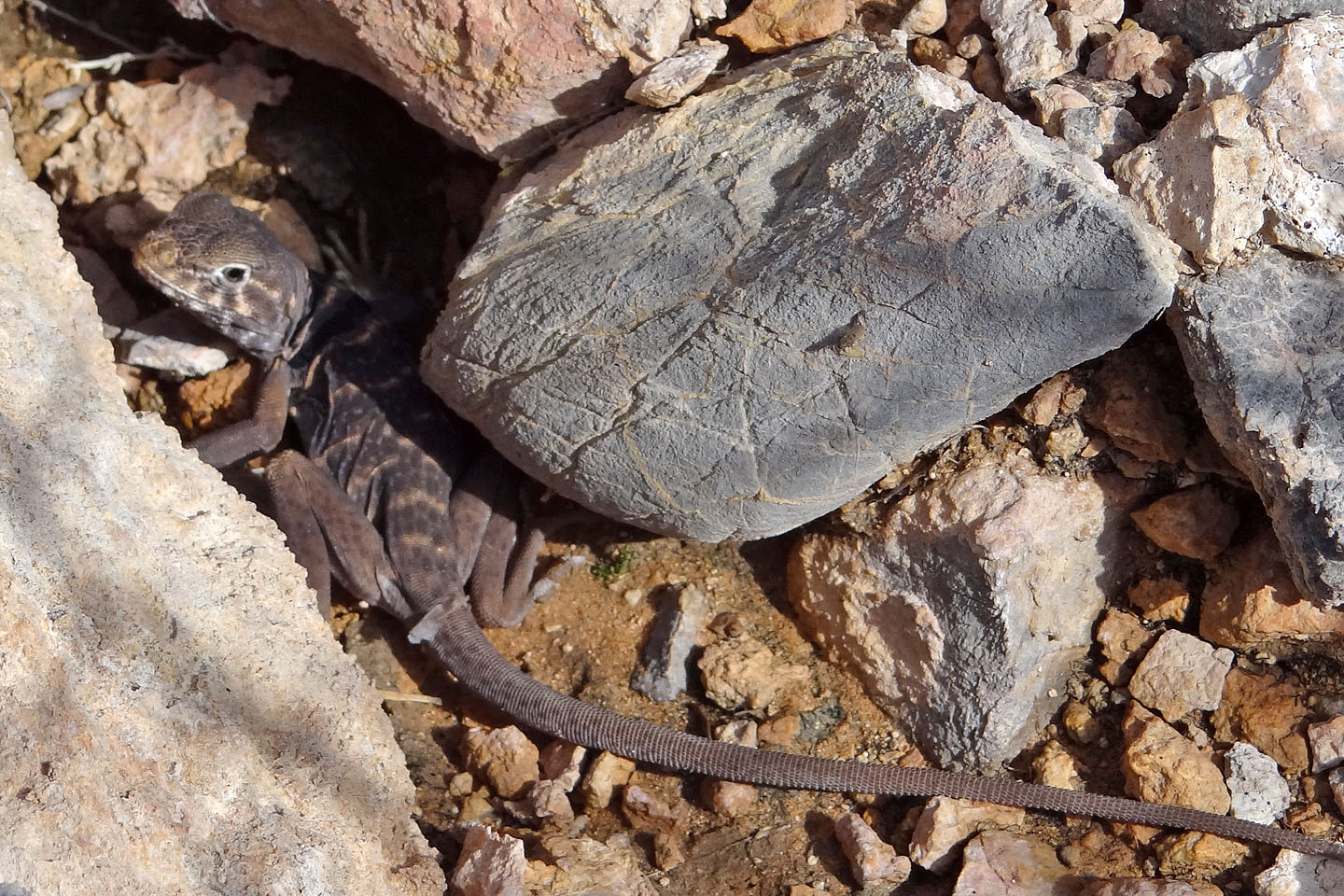 Great basin collared lizard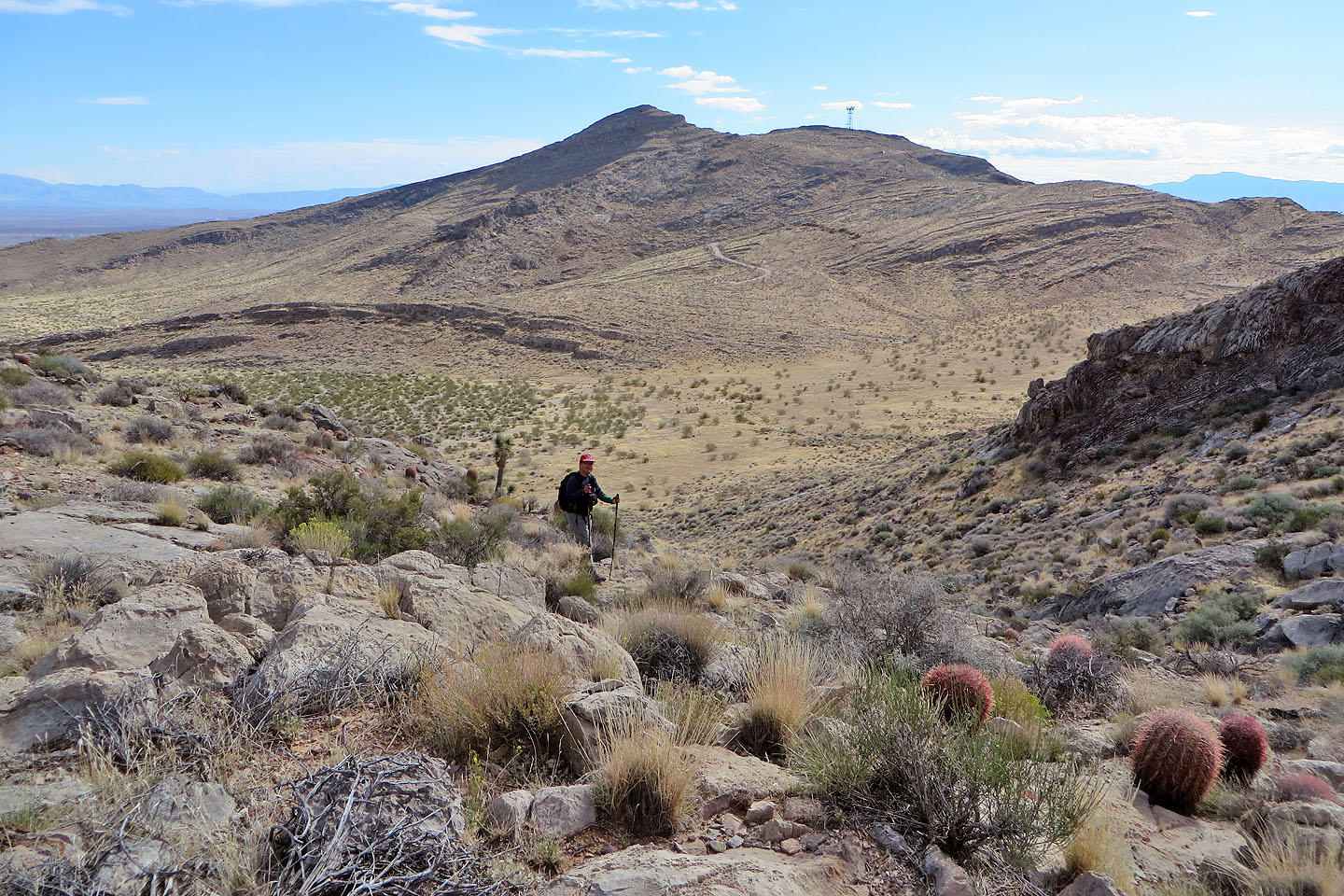 To the east is Little Davidson Peak

The summit bump is directly above me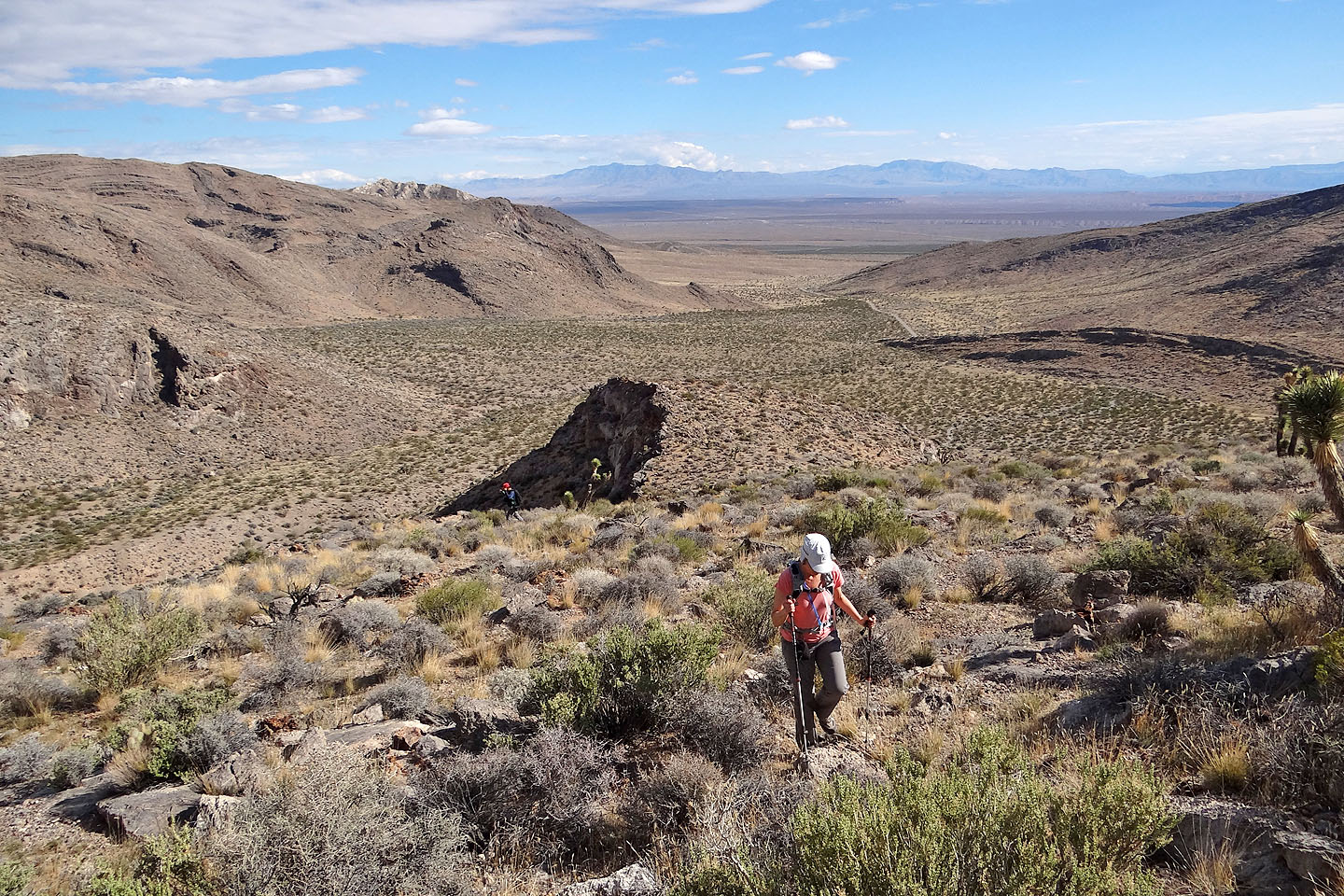 Looking back along the ridge we ascended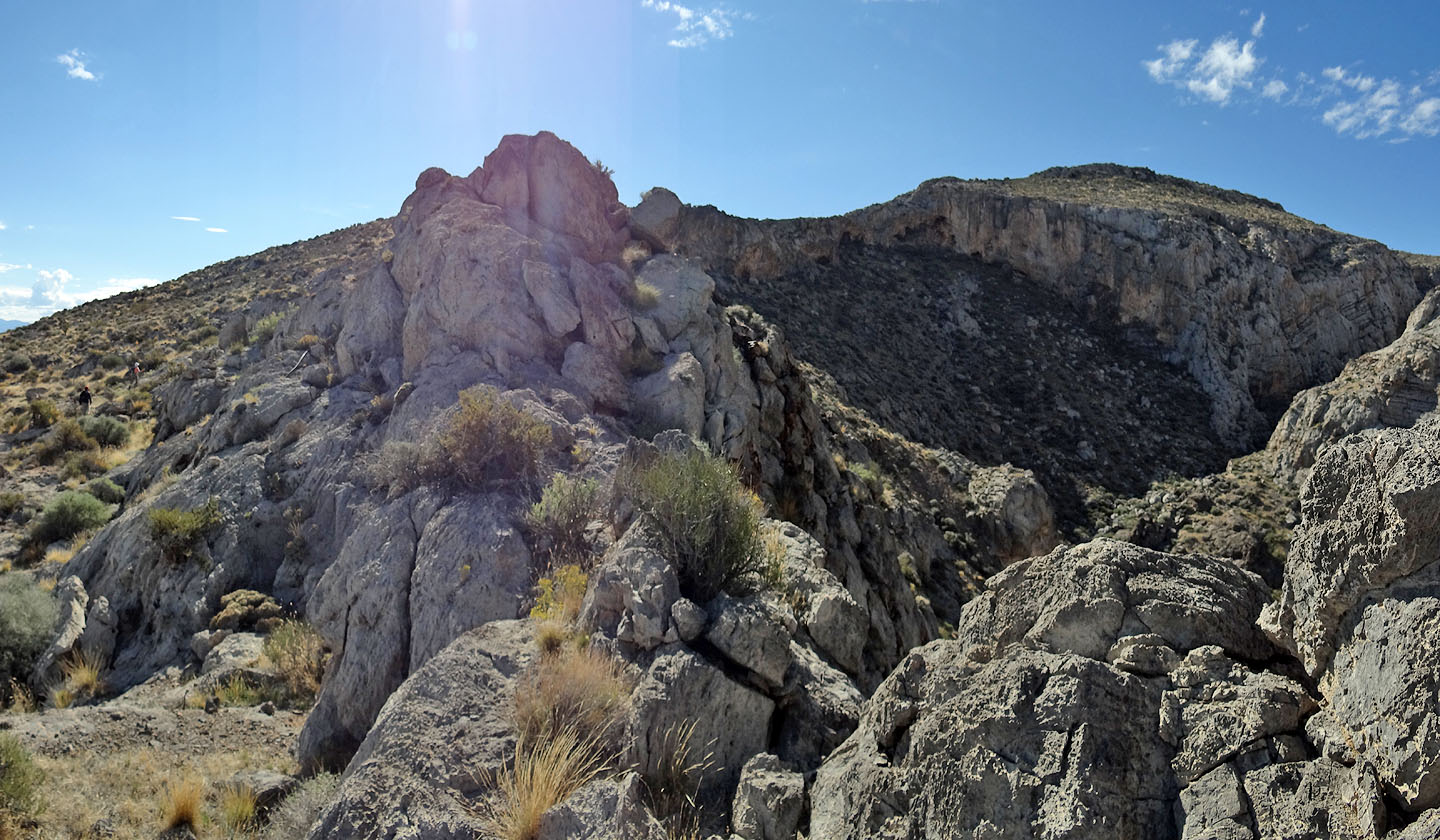 The ridge curves around a canyon to the hump on the right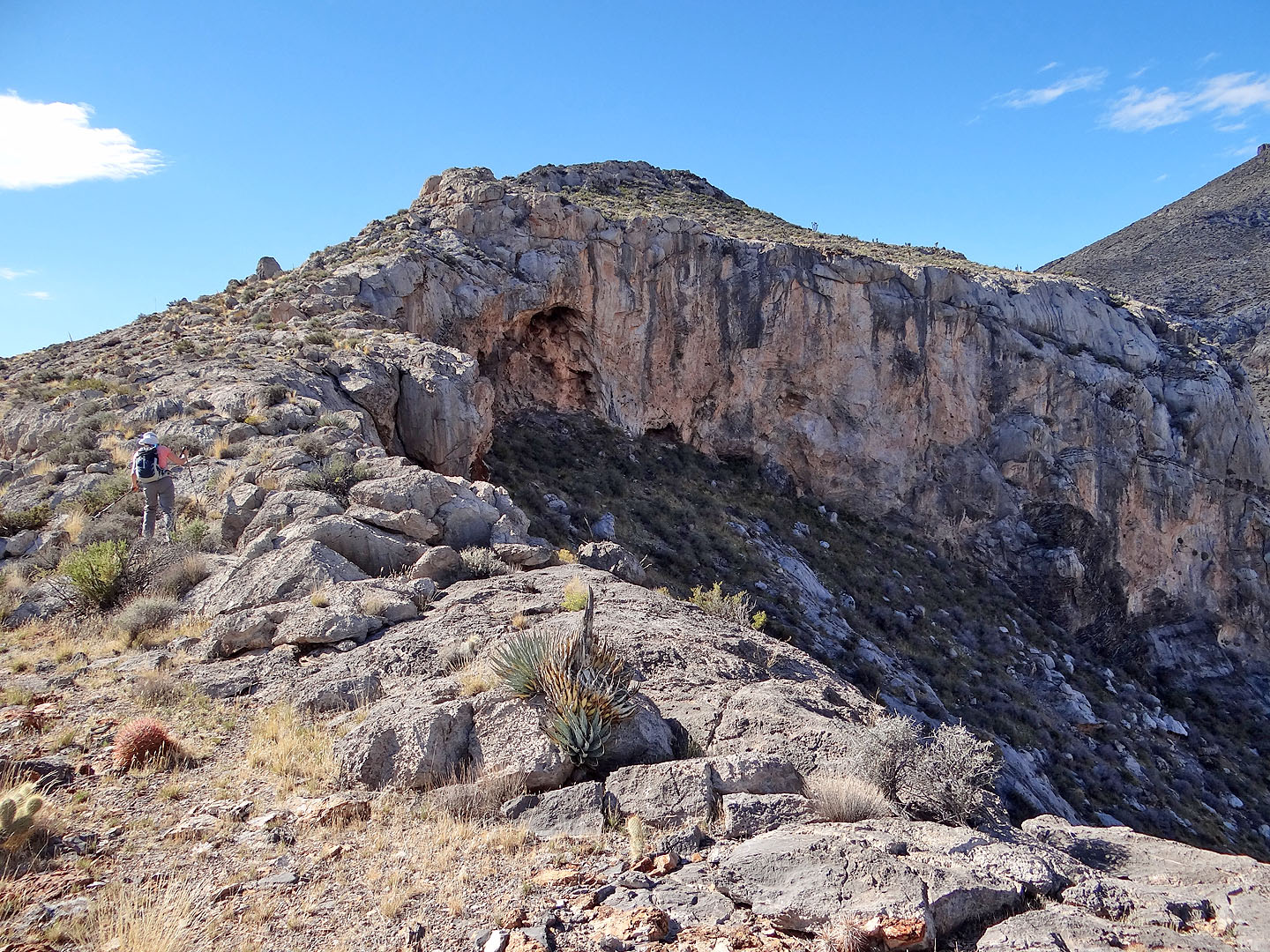 Heading to the hump (mouse over to look back)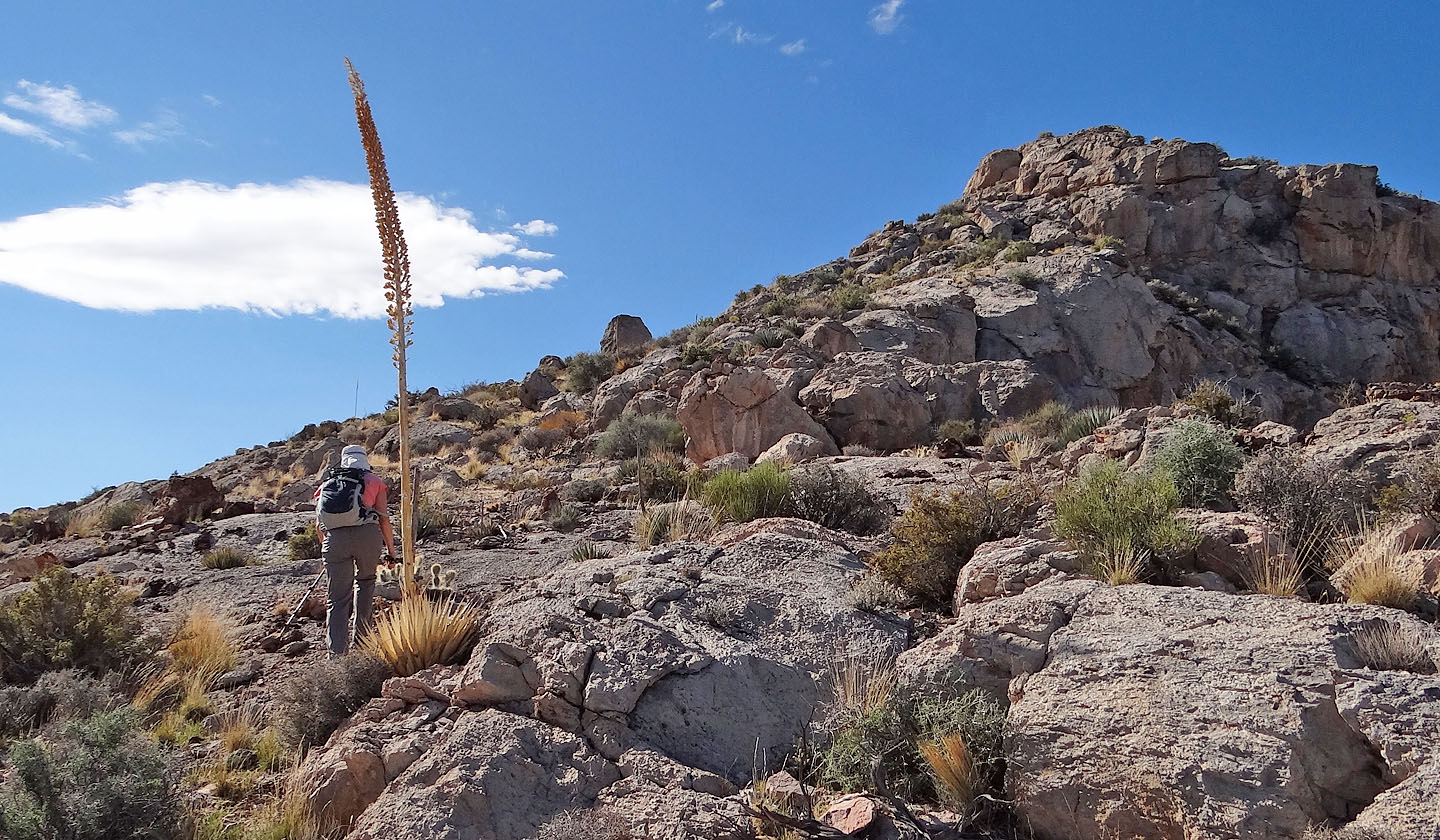 Dinah passes a towering agave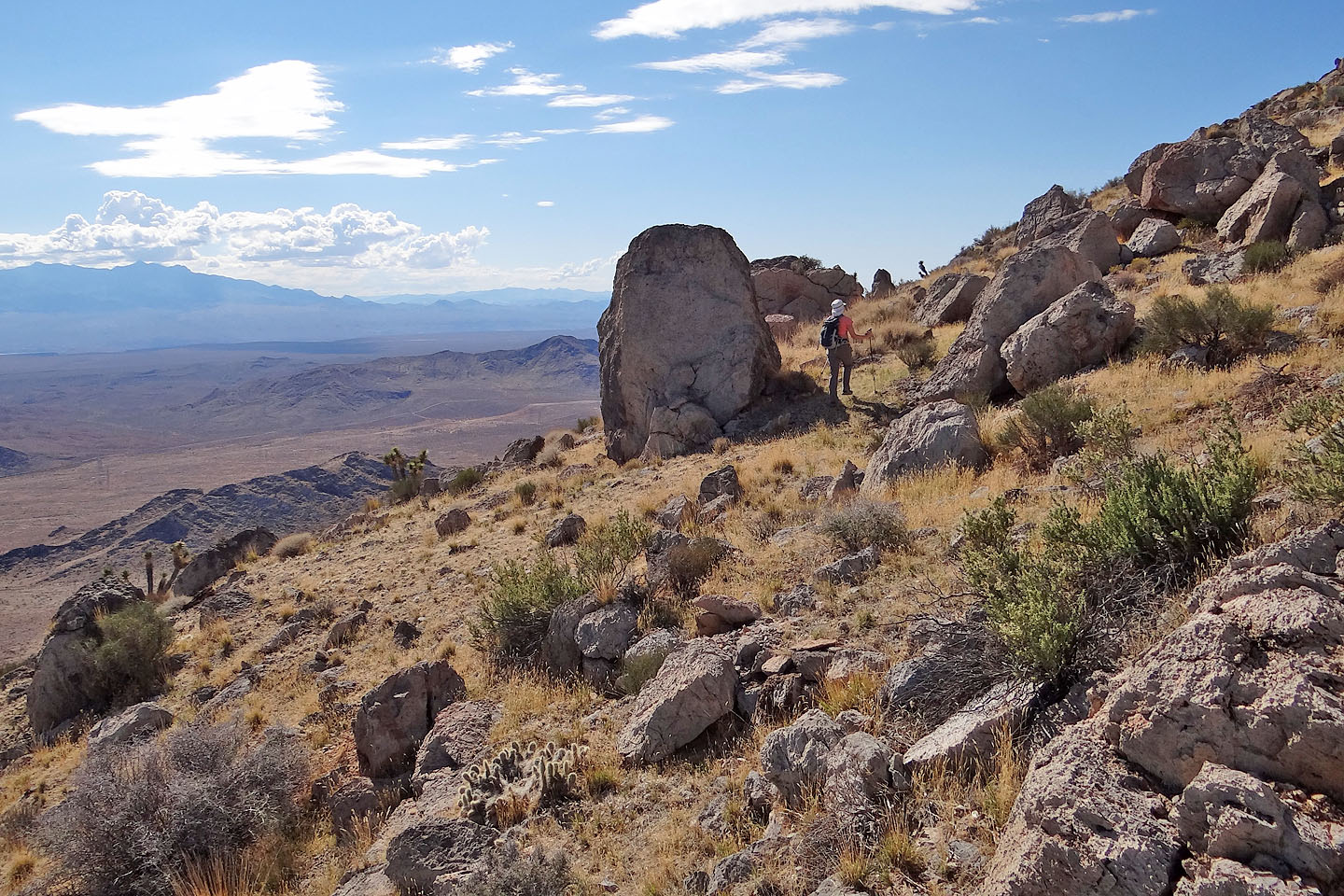 We kept left, below the ridge crest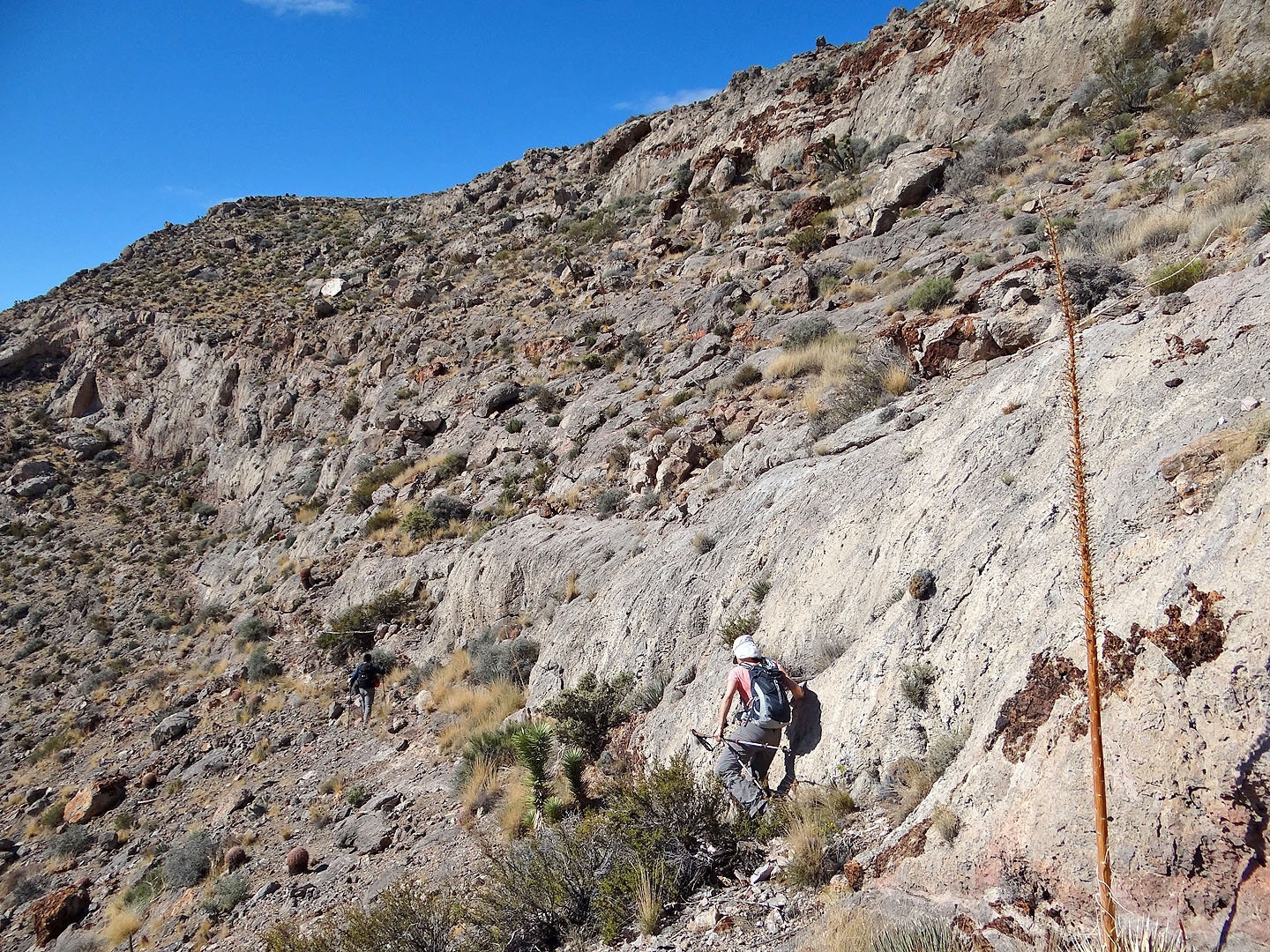 After traversing a bit, we looked for a place to gain the ridge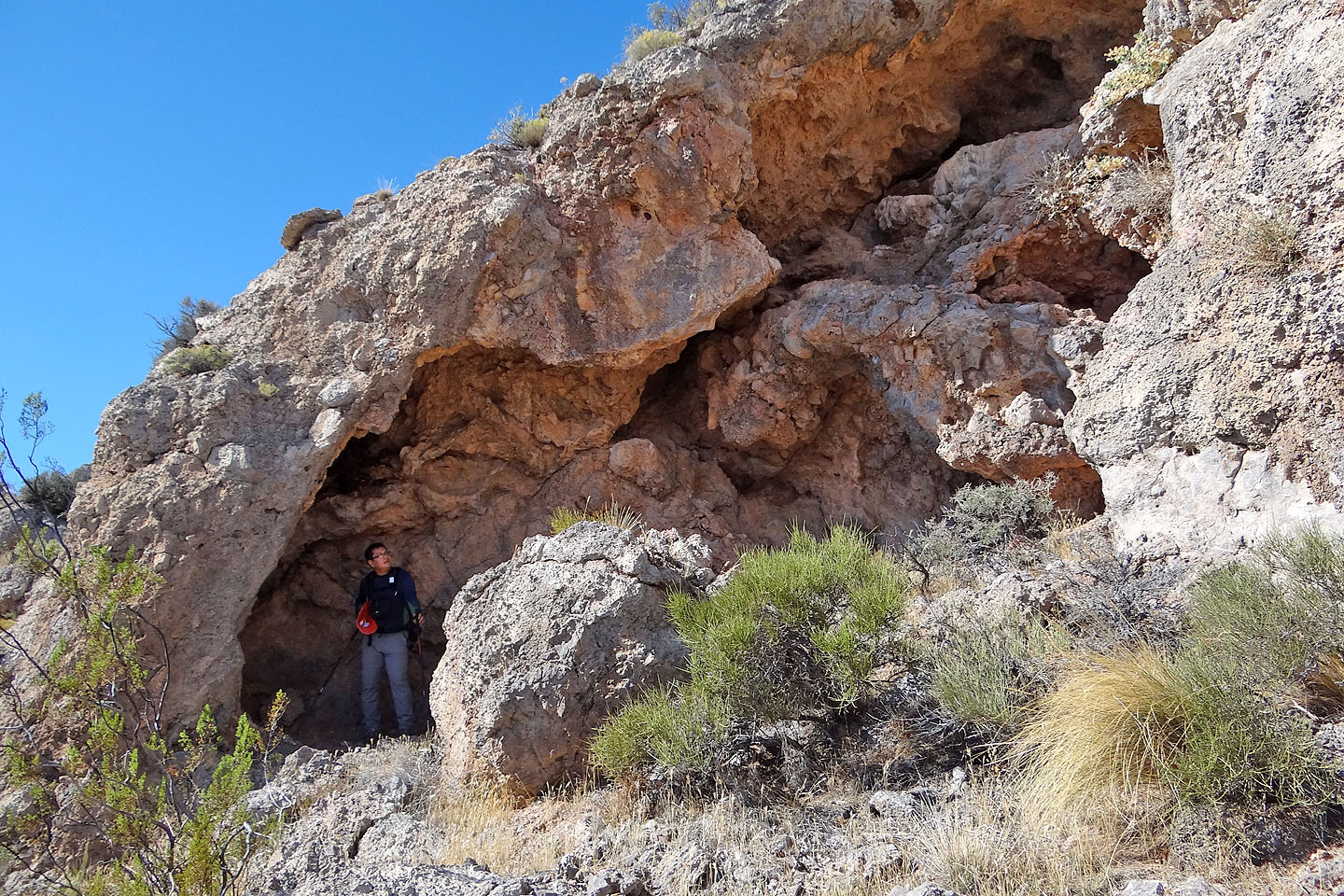 Sonny checks out a shallow cave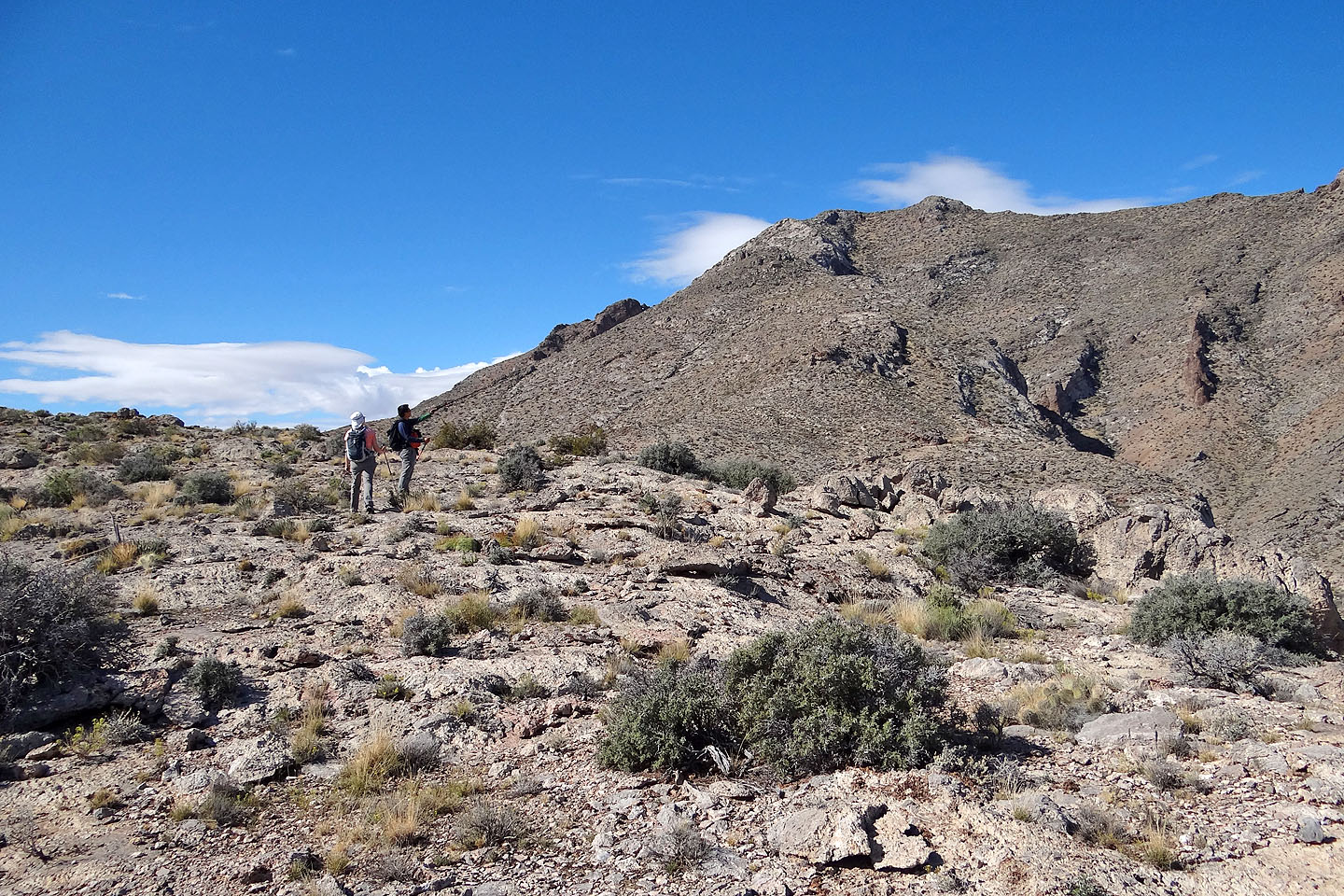 Dinah and Sonny stopped to study the route from the hump to the summit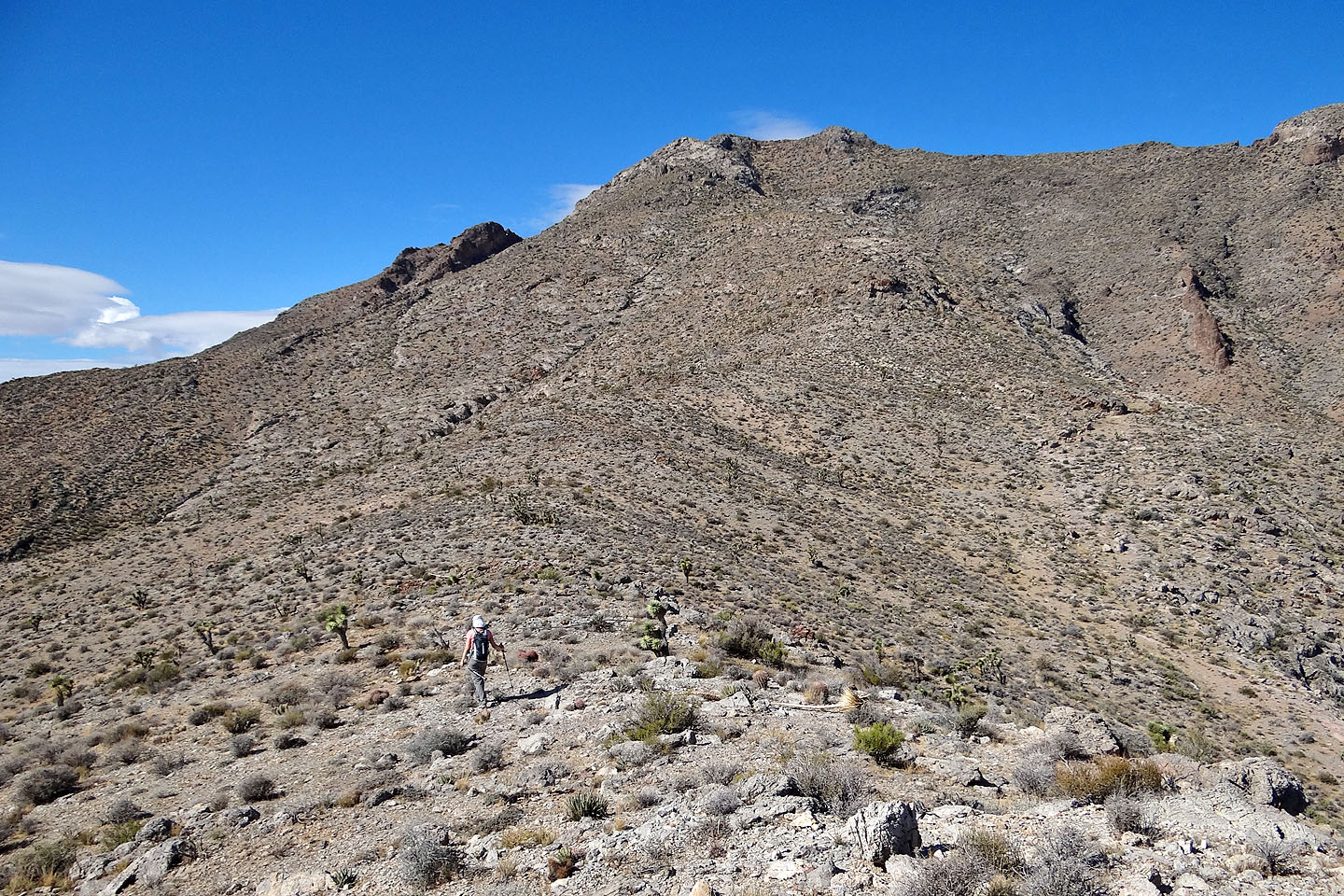 After coming down the hump we headed to the summit ridge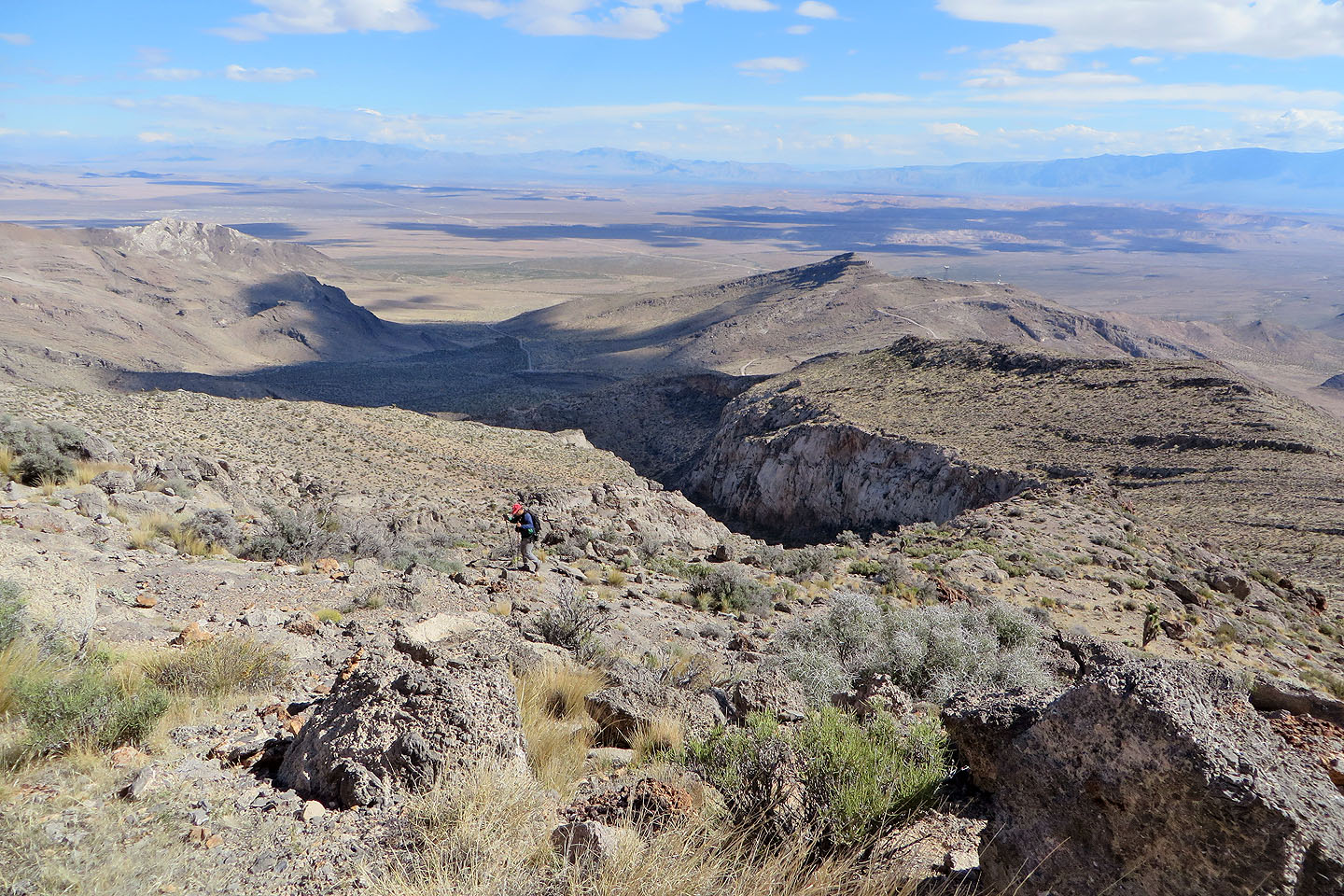 Looking back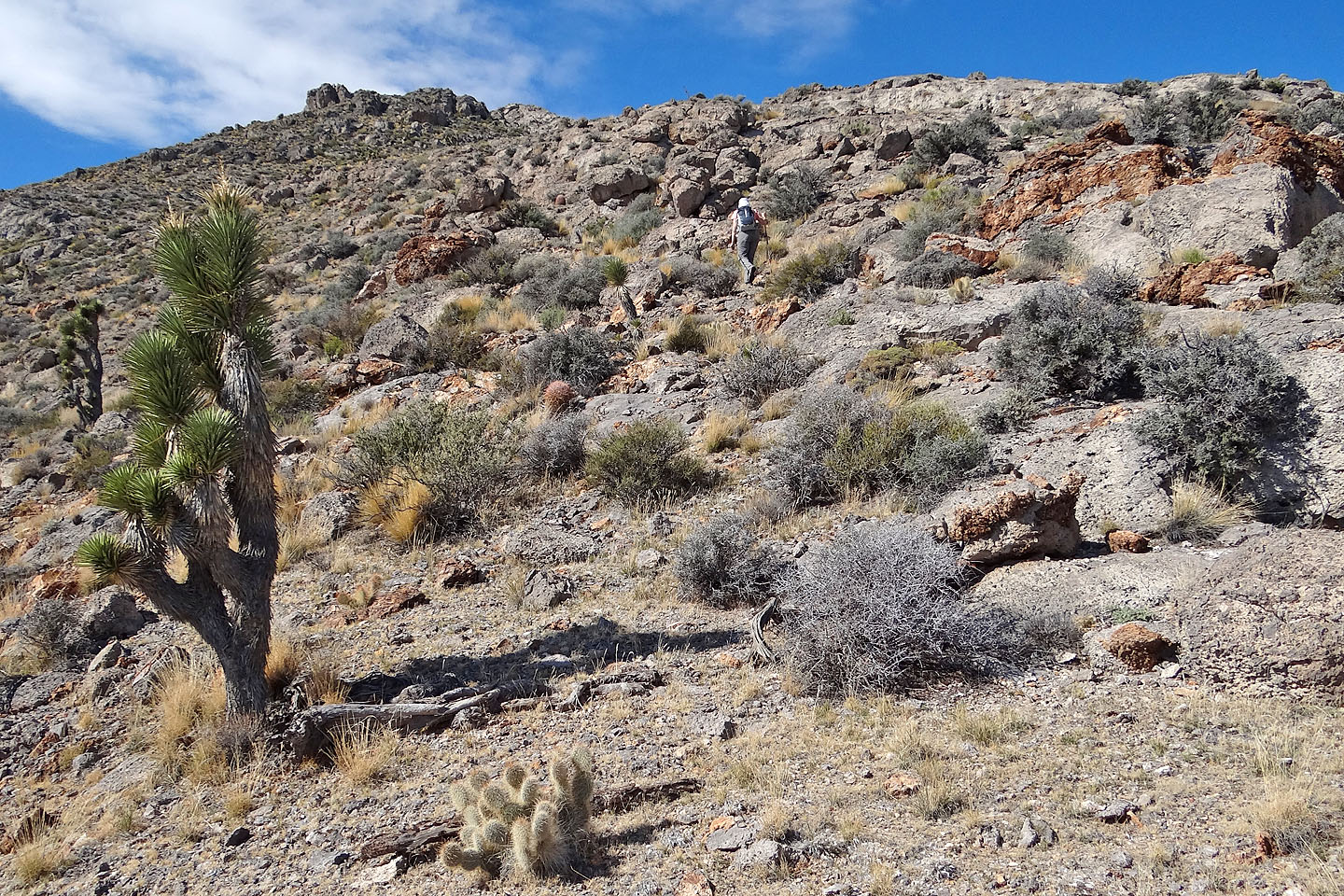 As we climbed higher, we encountered more rocks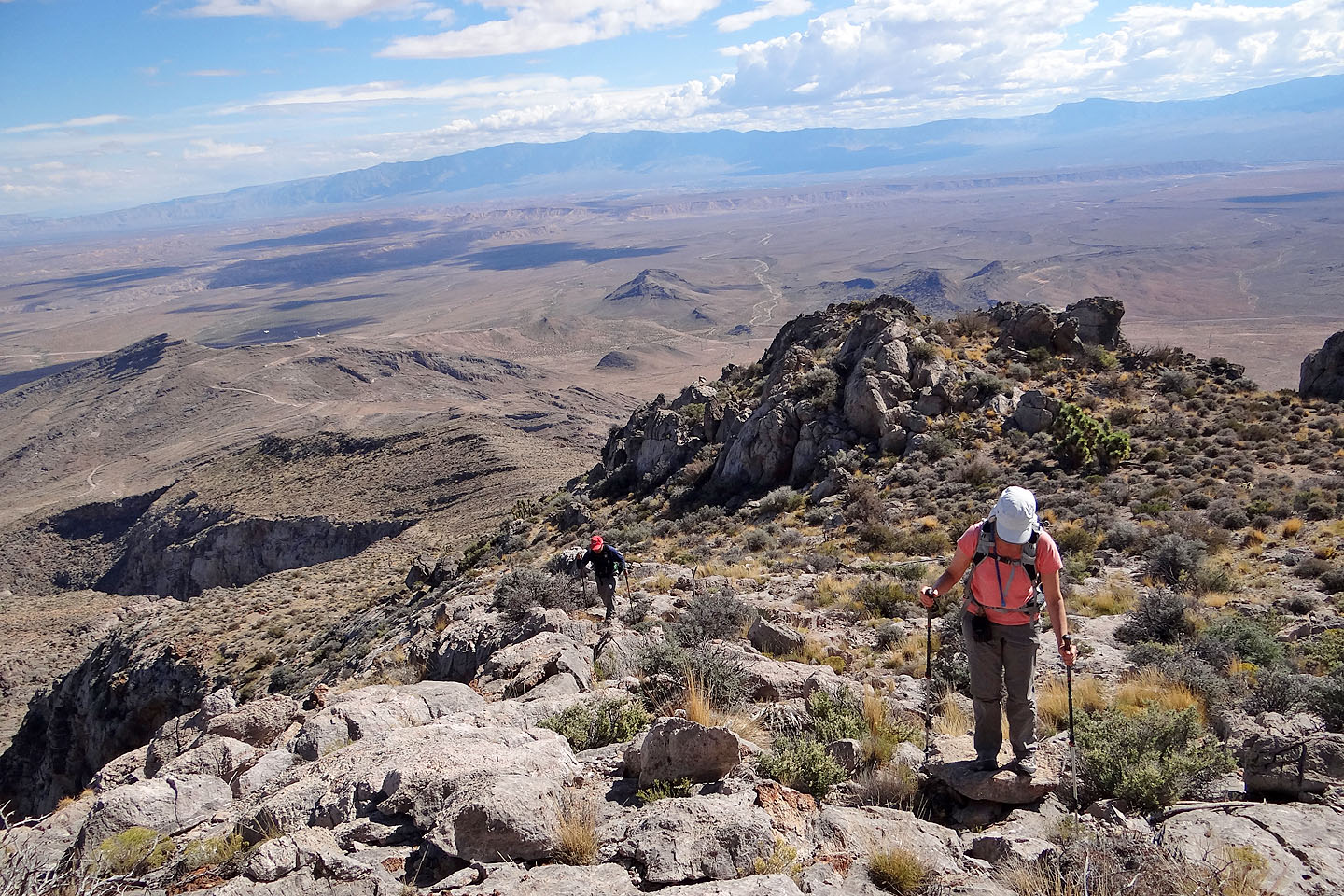 Looking back at a rock outcrop that we bypassed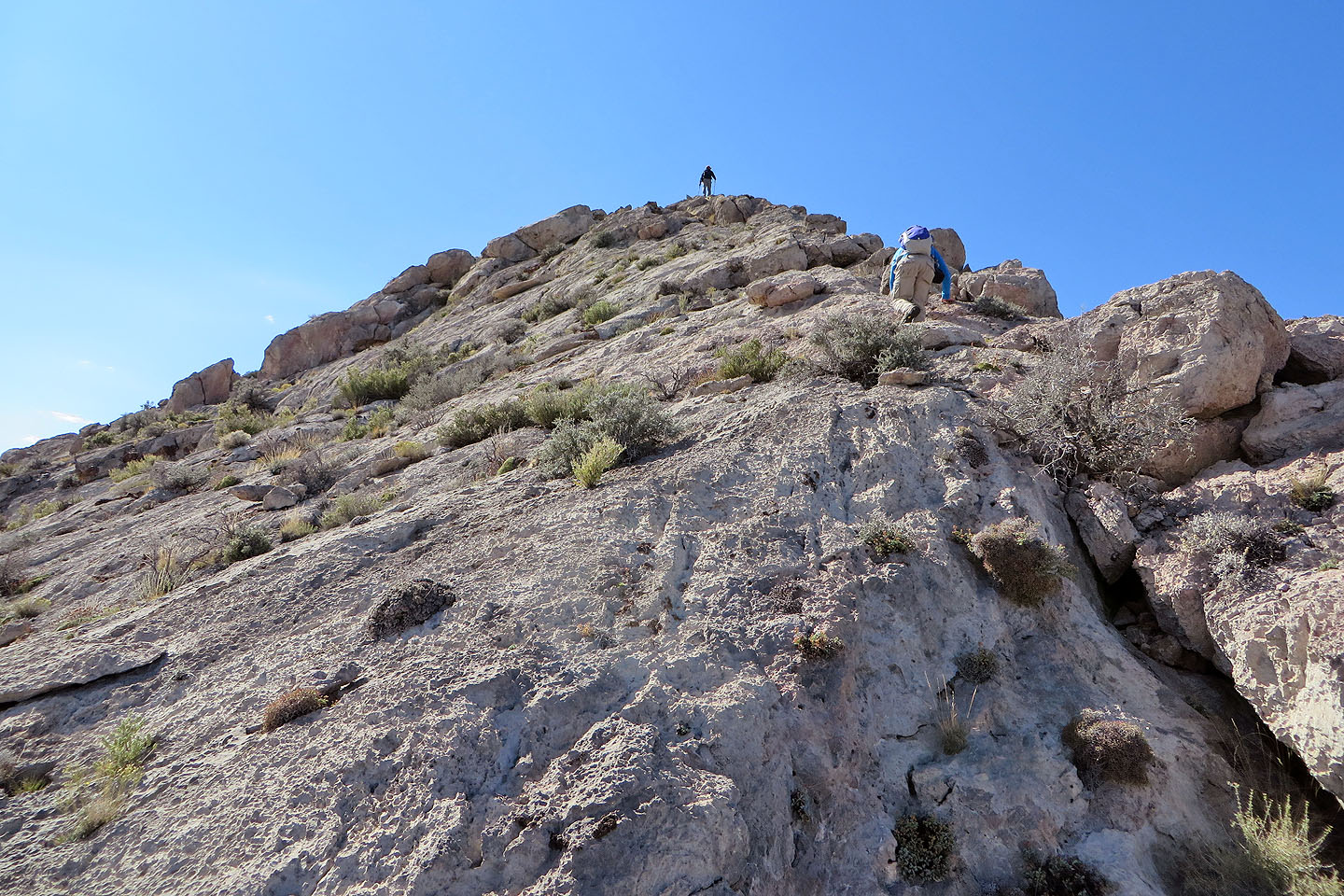 This was the steepest section of our route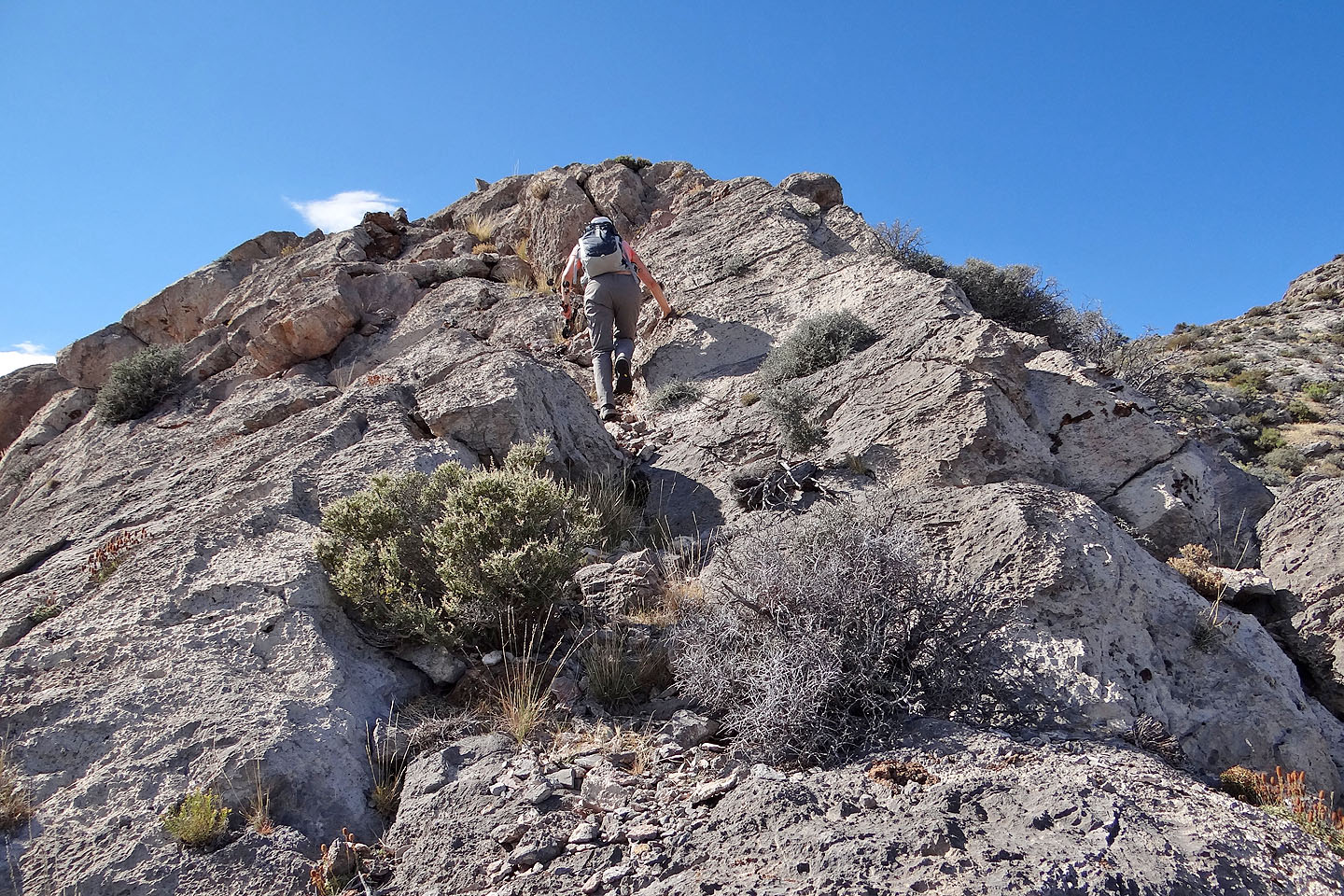 Nearing the top of the steep rock section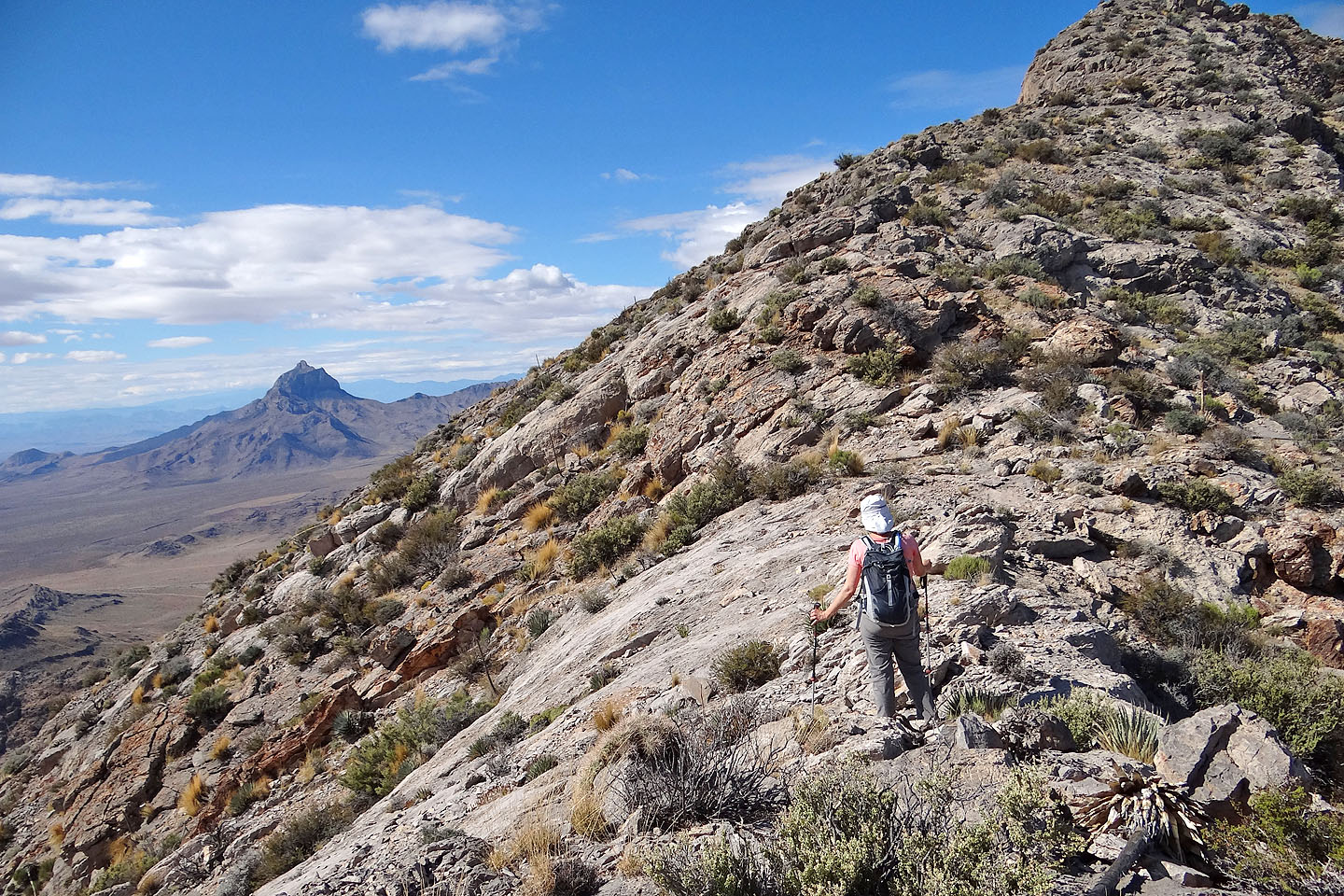 Moapa Peak comes into view (mouse over for a close-up)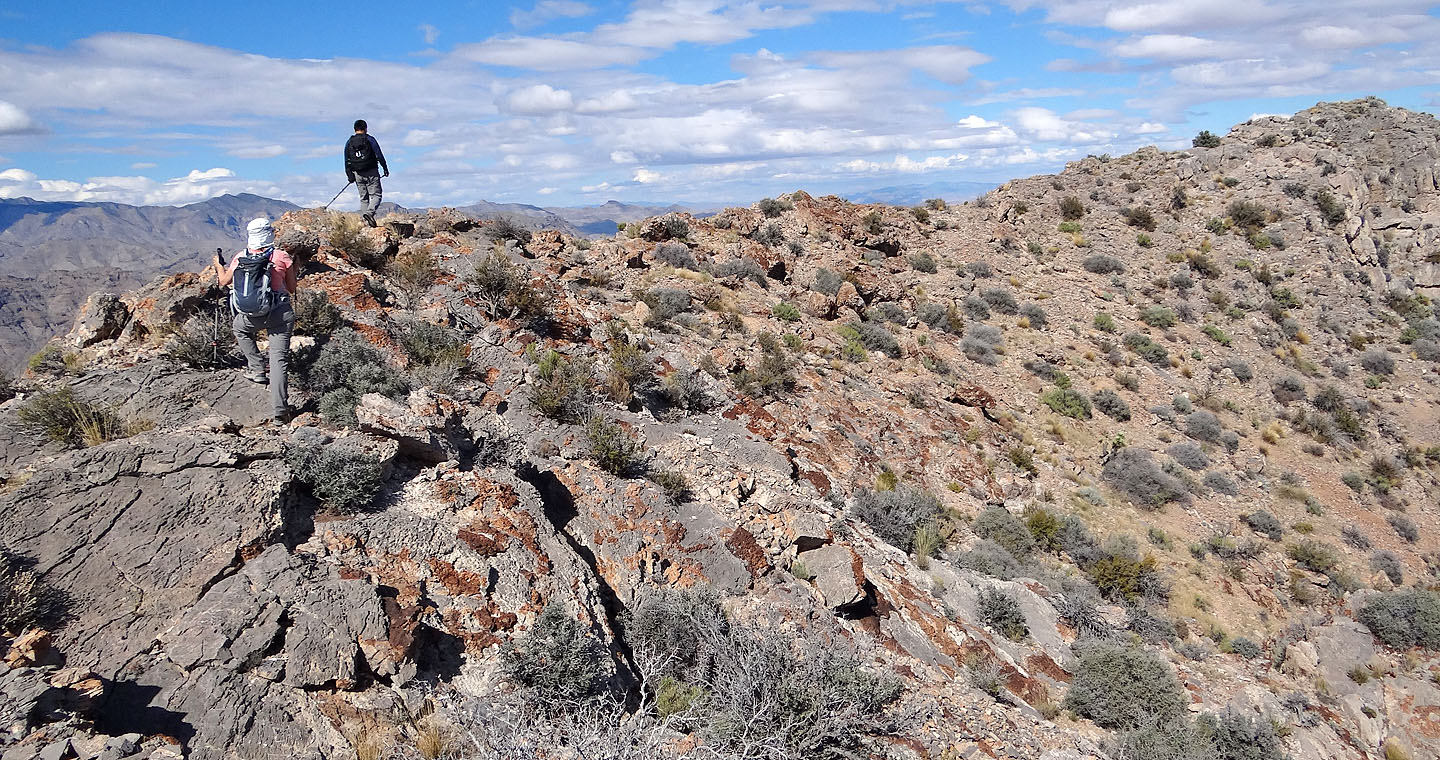 The final section of ridge to the summit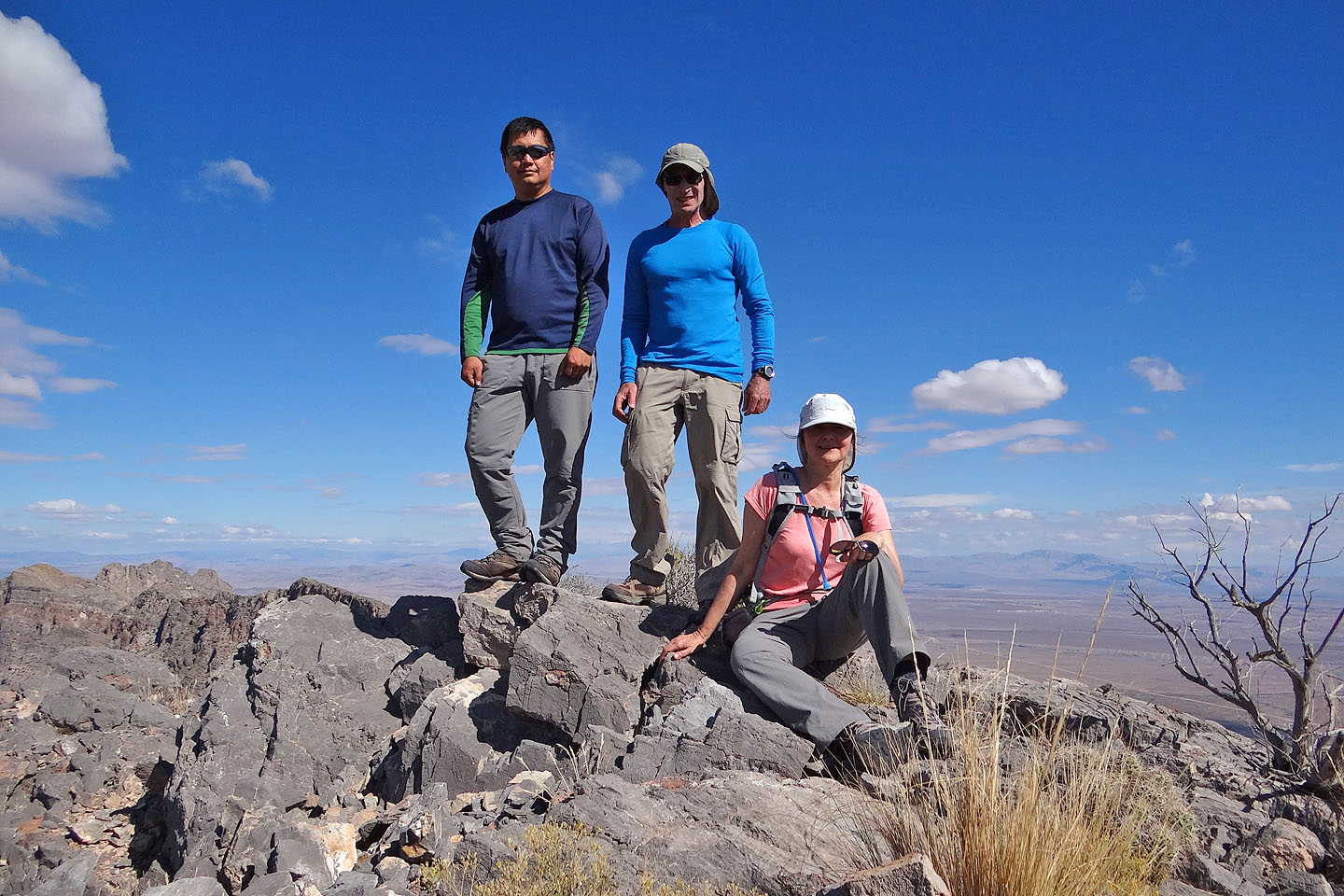 On the summit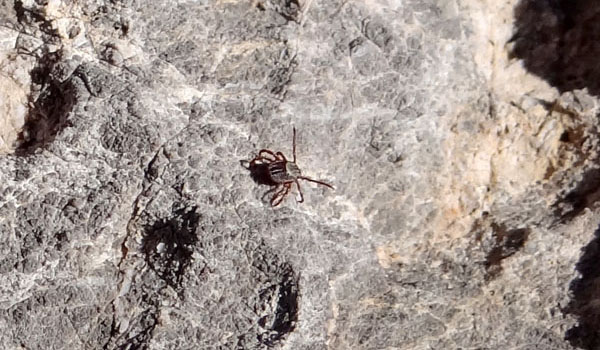 Watch out for ticks on Davidson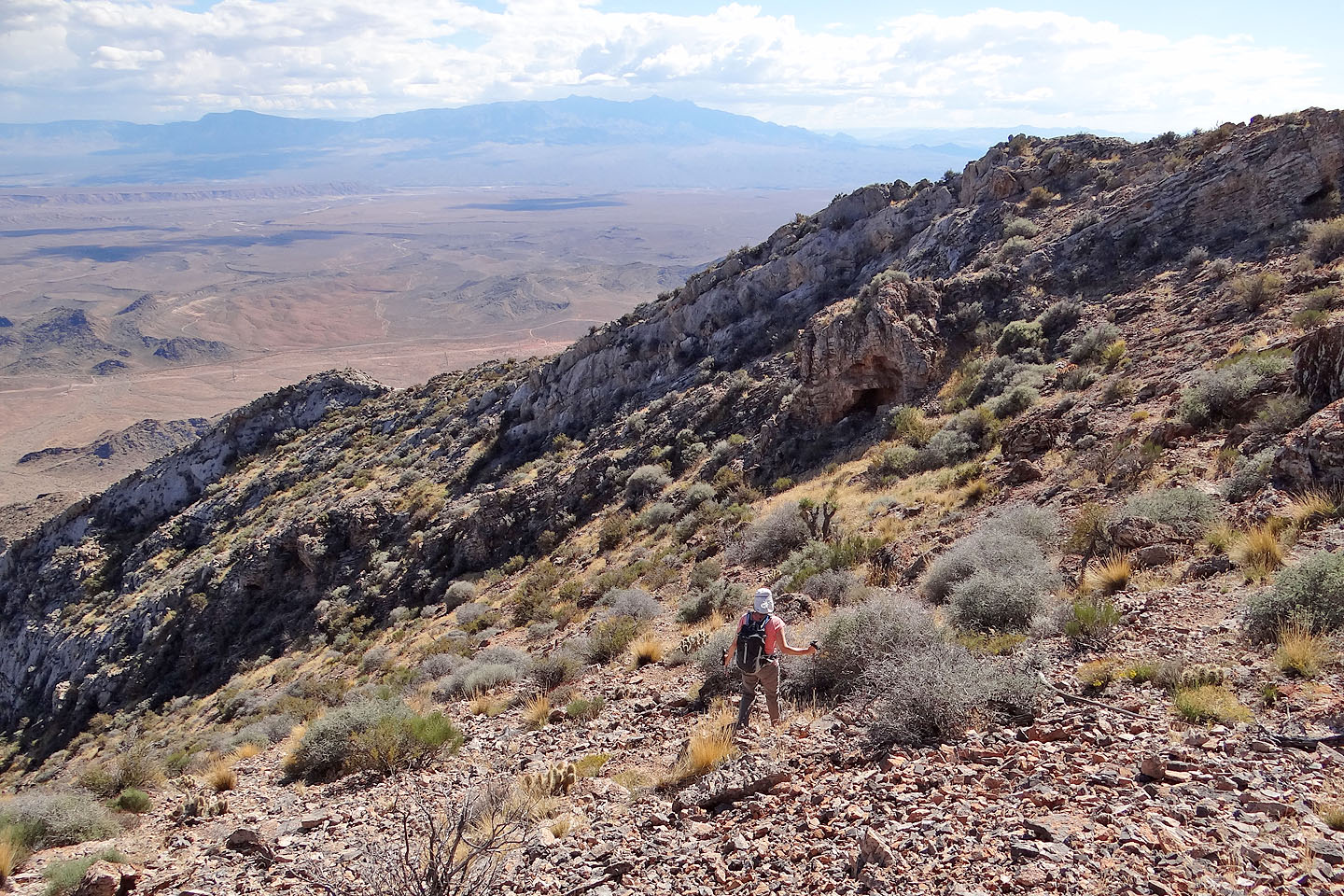 Instead of following the ridge down from the summit, Dinah and I cut across the slope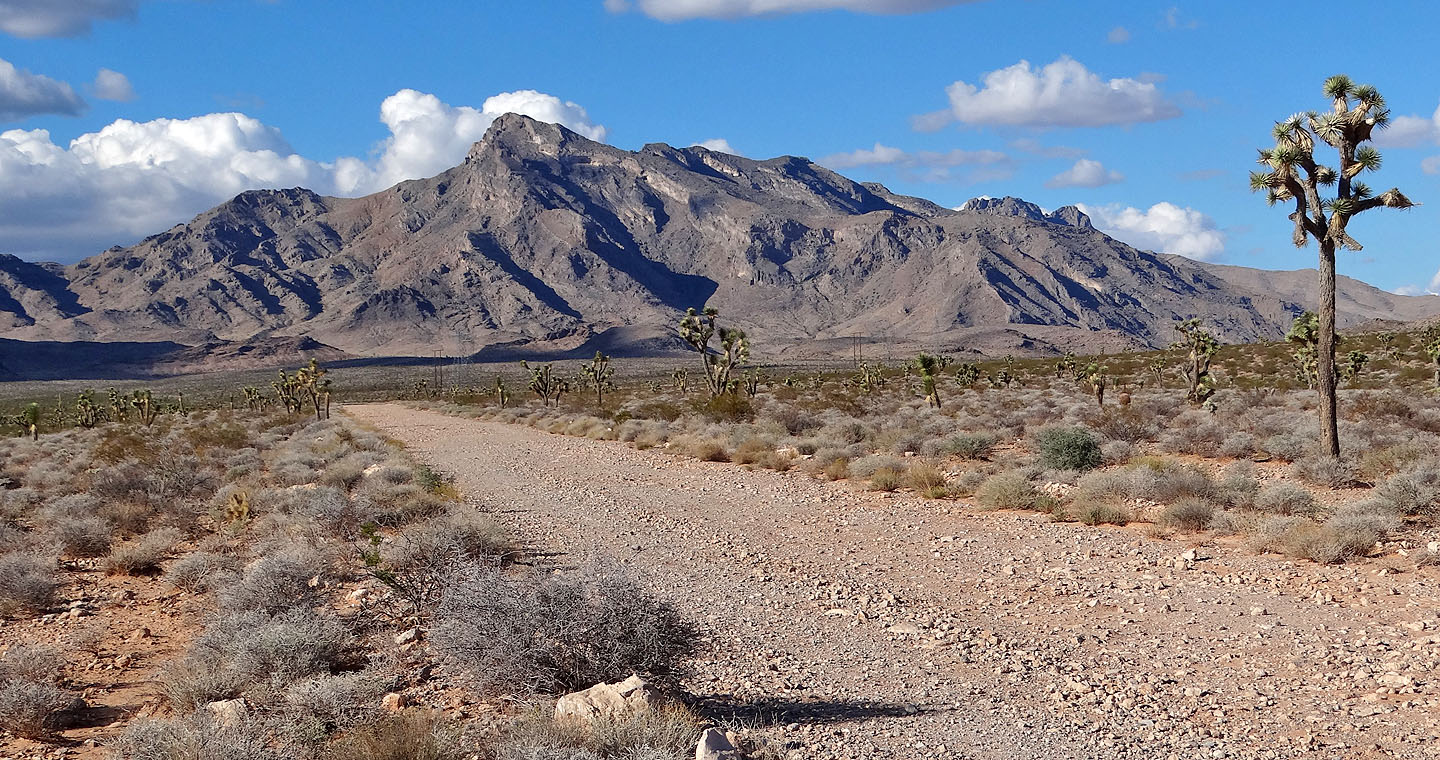 A parting shot of Davidson Peak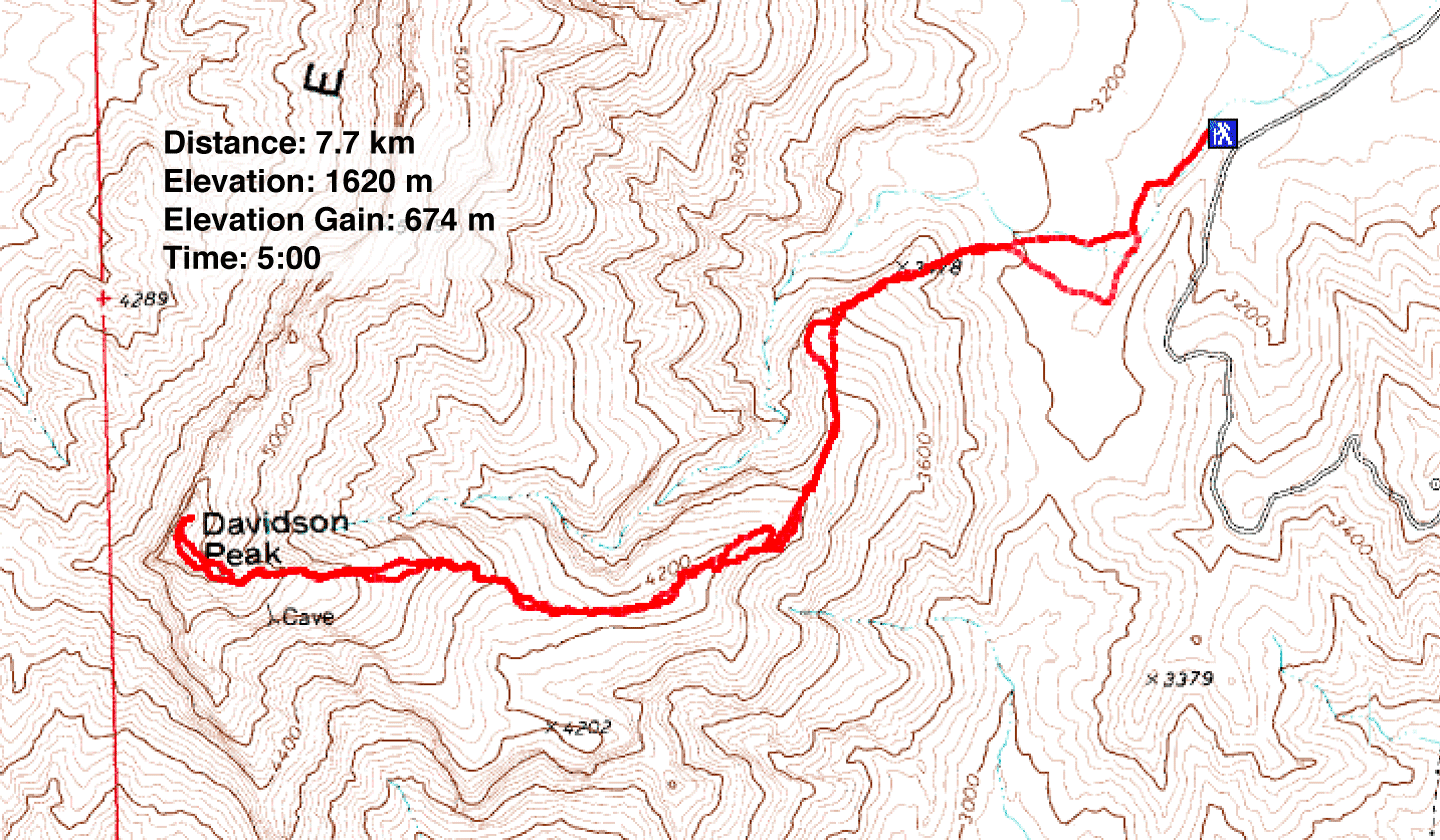 Davidson Peak Topo (4.8 mi, 5315 ft, 2211 ft)