bobspirko.ca | Home | Canada Trips | US Trips | Hiking | Snowshoeing | MAP | About

Crescent Peak
Mojave National Preserve, Nevada
April 12, 2015
Appearing as a straight ridge that comes to a point, there's no hint of a crescent shape on Crescent Peak. Nor is the ridge steep. Running an easy incline, the hike could be done with your hands in your pocket, although you would risk tripping over cactus.
Crescent Peak is a half-day trip an hour's drive from Las Vegas. Dinah and I took the I15 south before turning off onto Nipton Road and following it to North Crescent Peak Road. After driving two miles down this graded dirt road, we found a 4WD road branching left. While some parties have driven up this rough road several hundred metres, we decided not to risk our rented 4WD vehicle. We hiked up the road.
But before we stepped foot on the rough road, a quad raced up North Crescent Peak Road and stopped next to us in a cloud of dust. Living nearby, the driver came to check if a vehicle parked here yesterday was gone (it was). Presumably he was going to show us the same concern and make sure we got safely back. After we exchanged a few words, he turned and disappeared back down the road. Dinah and I headed towards Crescent Peak.
After passing through a Joshua tree forest, the road disappeared into a wash. We kept to the wash even when we passed a side ridge we could have taken (we used it on the descent, however). But when the wash became bushy, we ascended the slope on our right and reached a saddle. This left us with a 500-metre ridge traverse to the summit. With the summit nearly always in sight and easy slopes abounding, route-finding was never an issue on this trip. We just hiked and enjoyed the desert scenery.
We were the first to sign the summit register this year, which shows how unpopular Crescent Peak is. This small peak may not be sought-after, but we thought it held charm. We enjoyed the solitude, the flowering cactus and the view of distant peaks.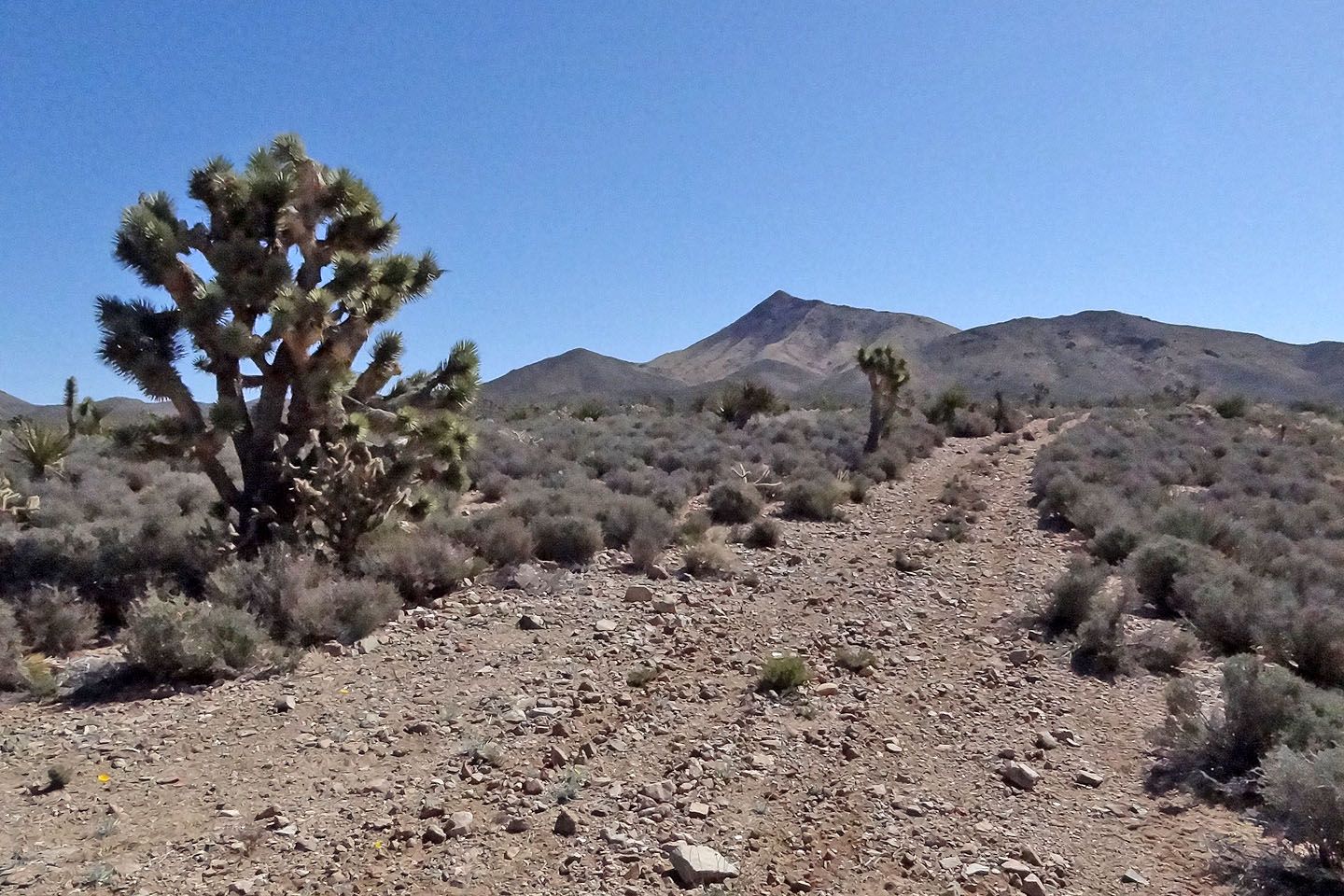 Crescent Peak seen from the start of the dirt road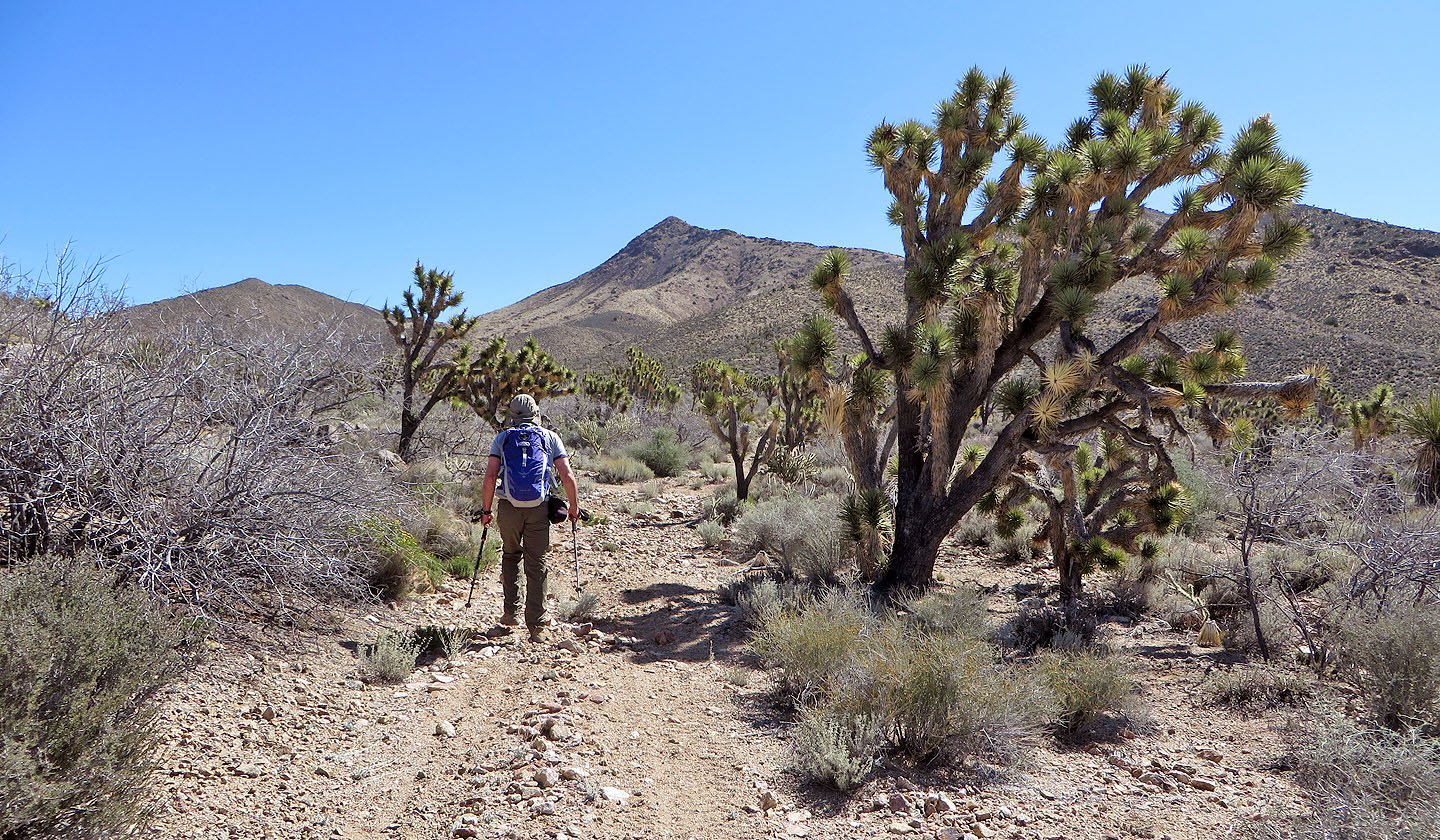 Joshua trees lined much of the road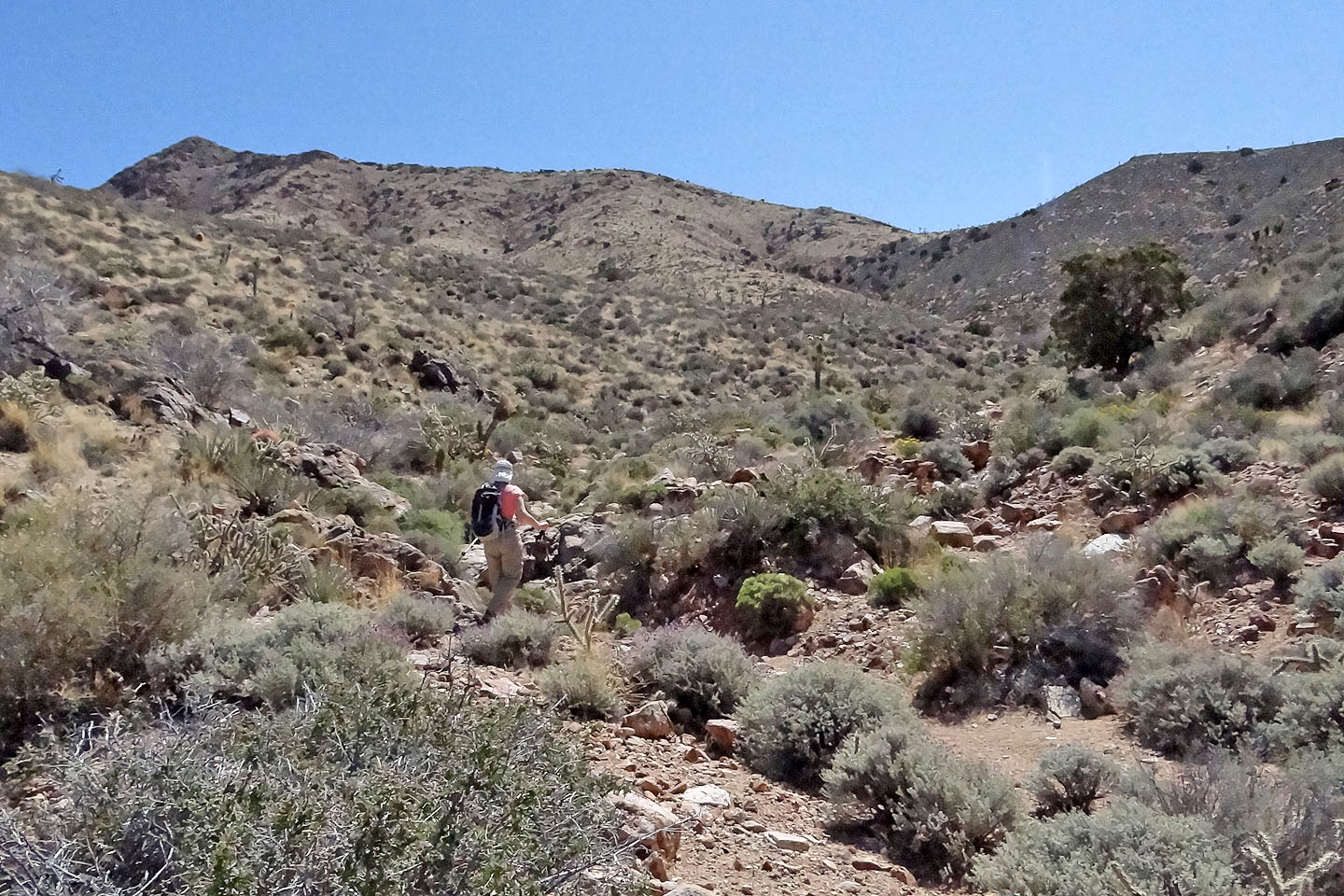 After the road ended, we followed a wash before ascending the saddle on the right. On our descent, we followed the broad side ridge in the centre.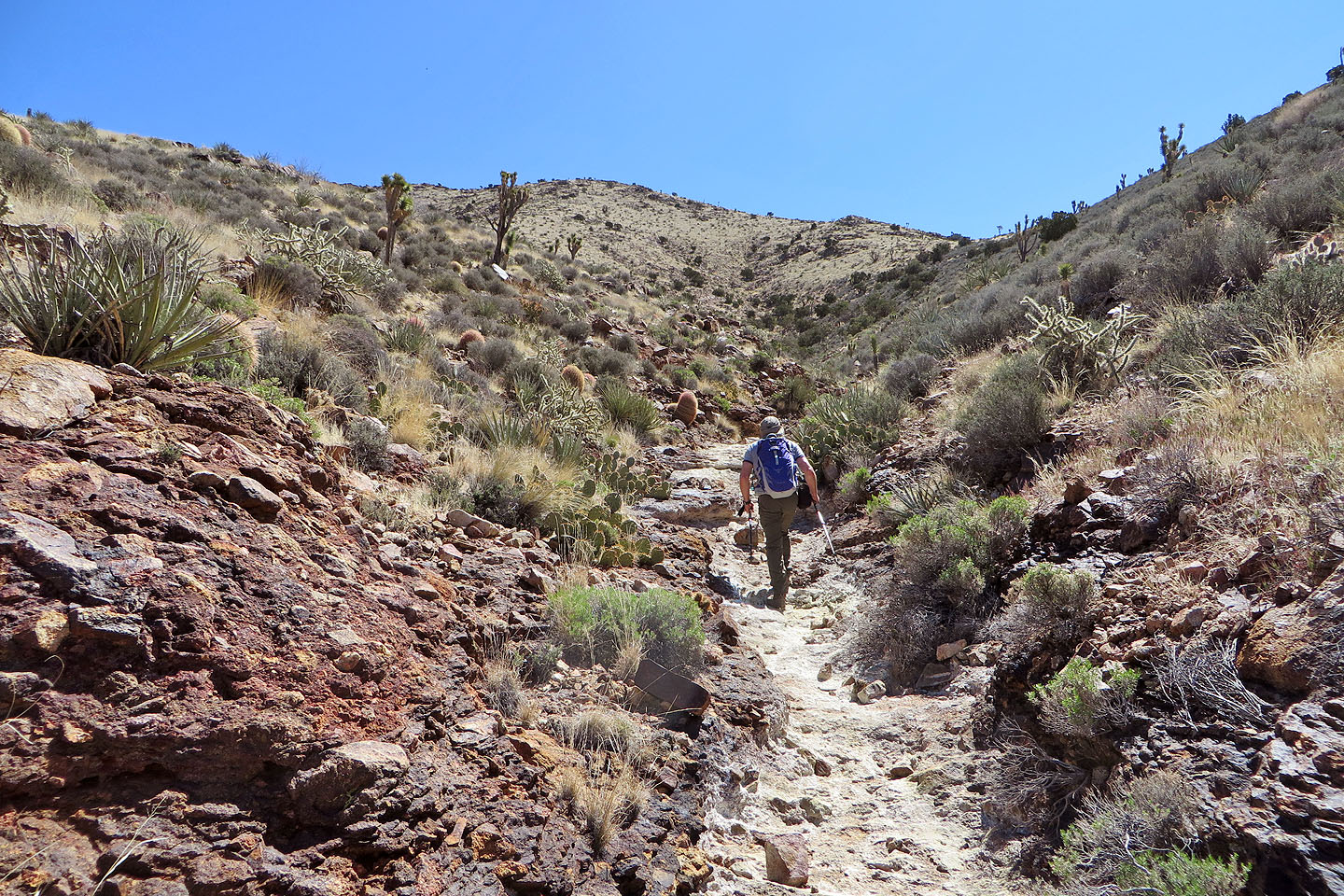 We followed the wash but broke off to the right when it became too bushy to continue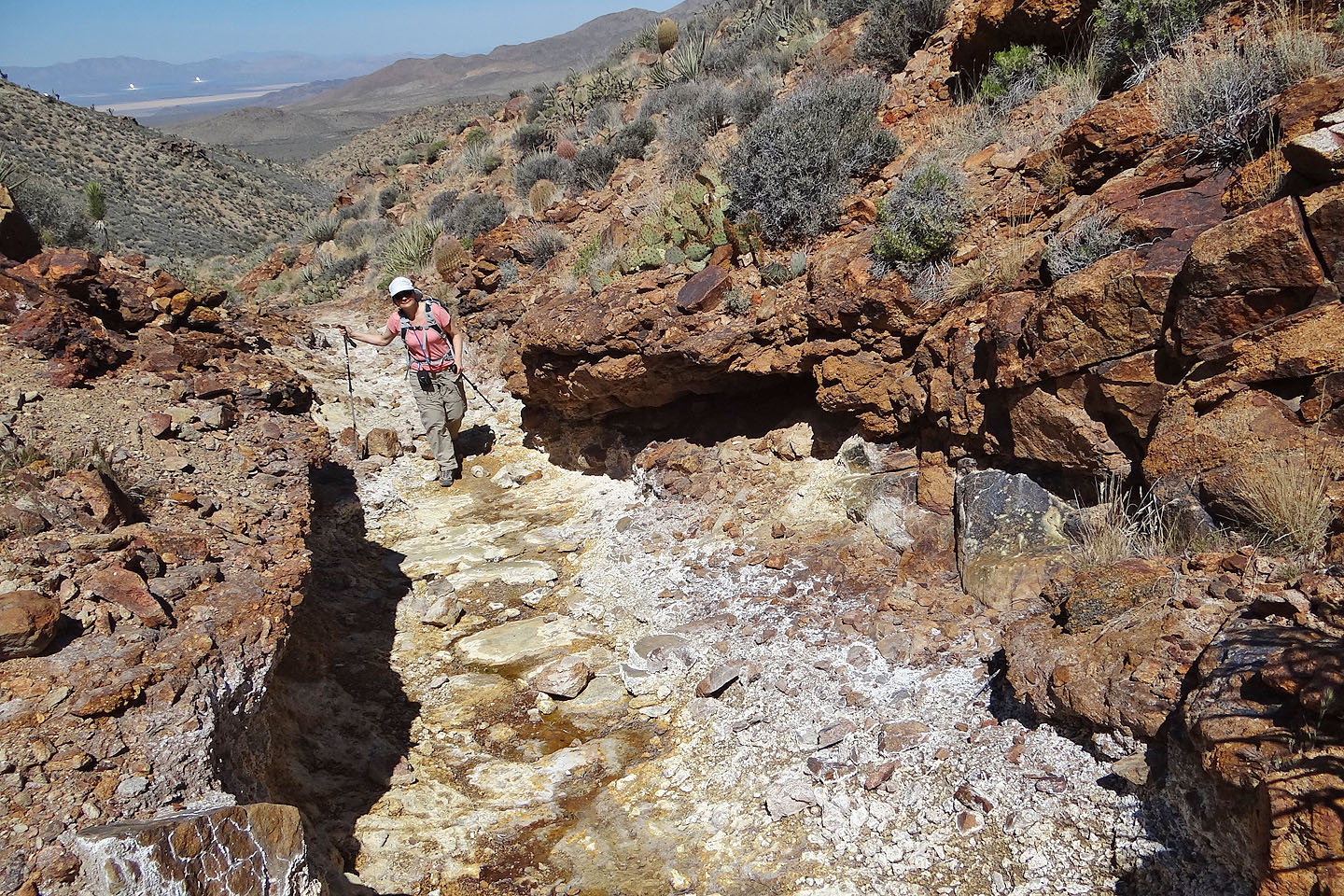 Looking back along the wash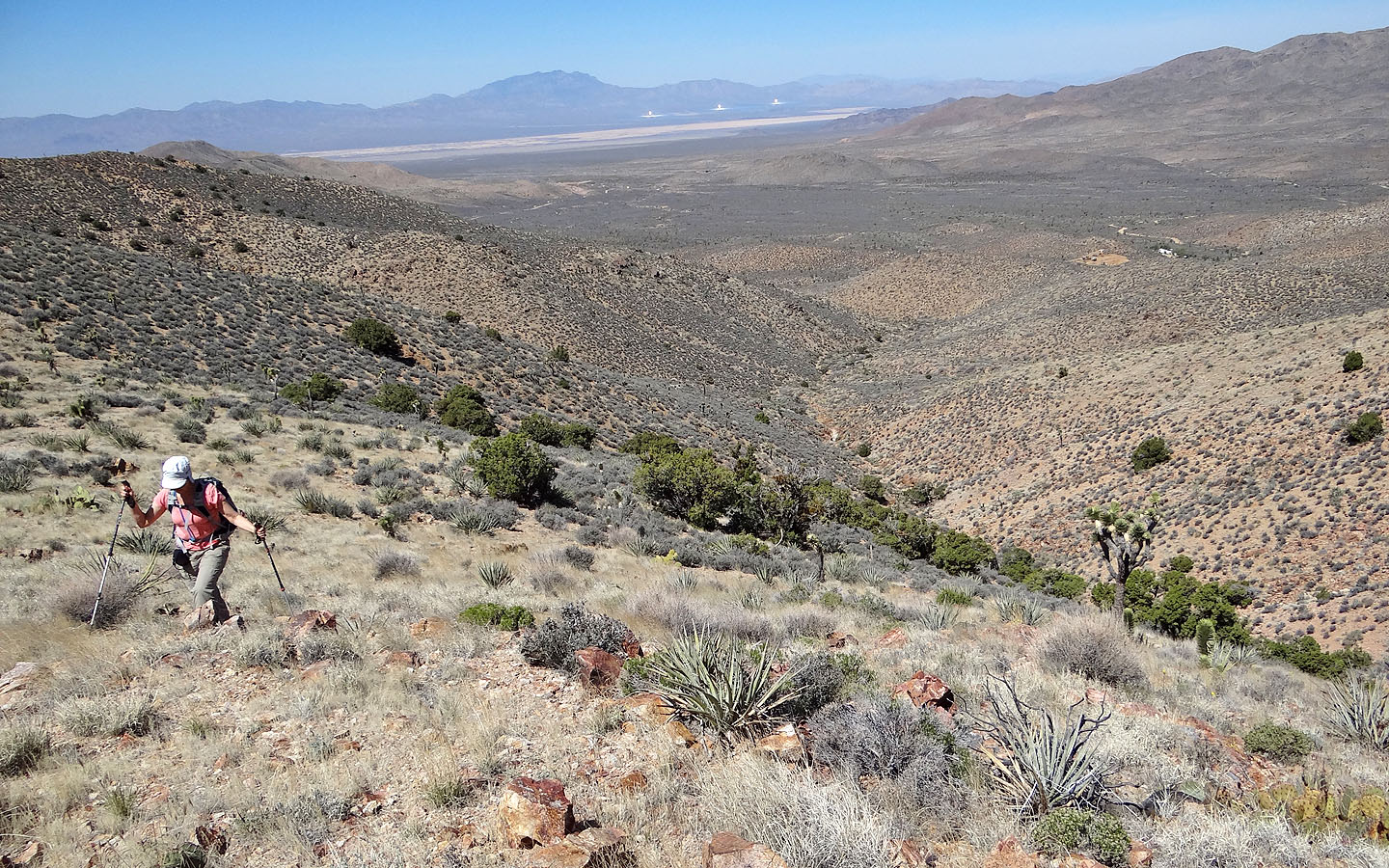 Heading to the saddle. In the background, Clark Mountain rises above the Ivanpah Solar Power Facility (mouse over for a close-up).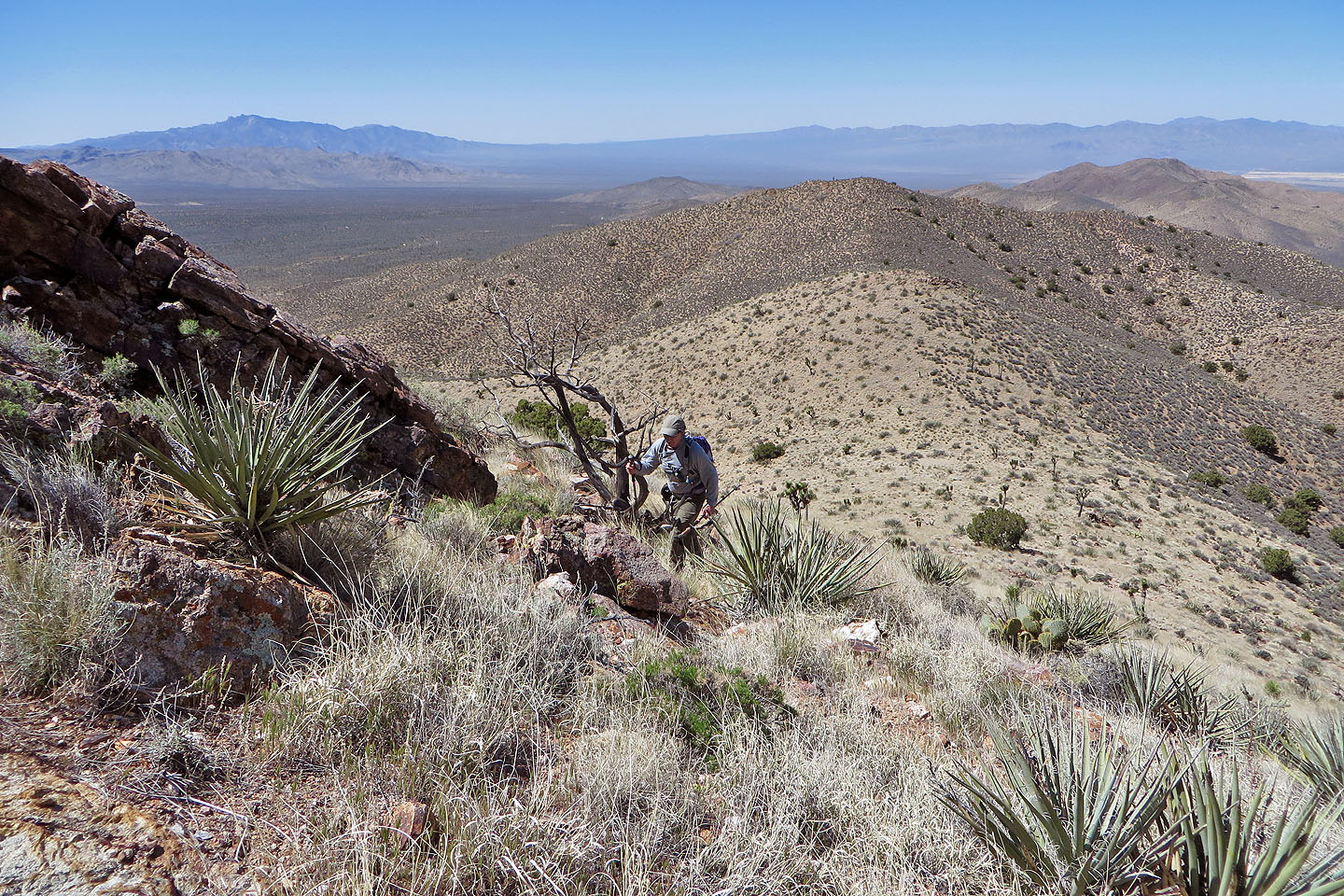 Hiking up from the saddle. Left is New York Peak (mouse over for a close-up) .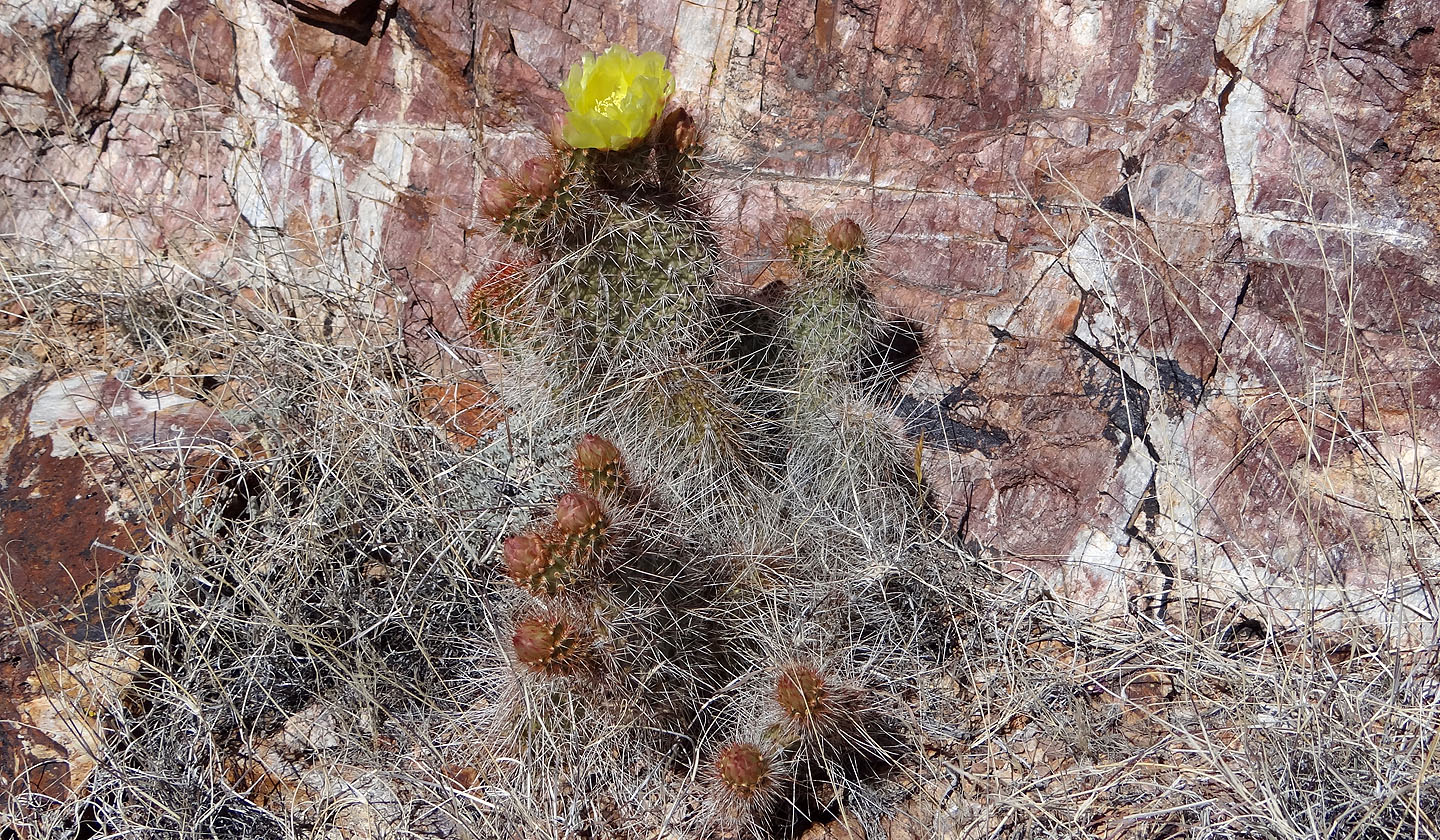 Grizzlybear cactus (mouse over for a close-up of the flower)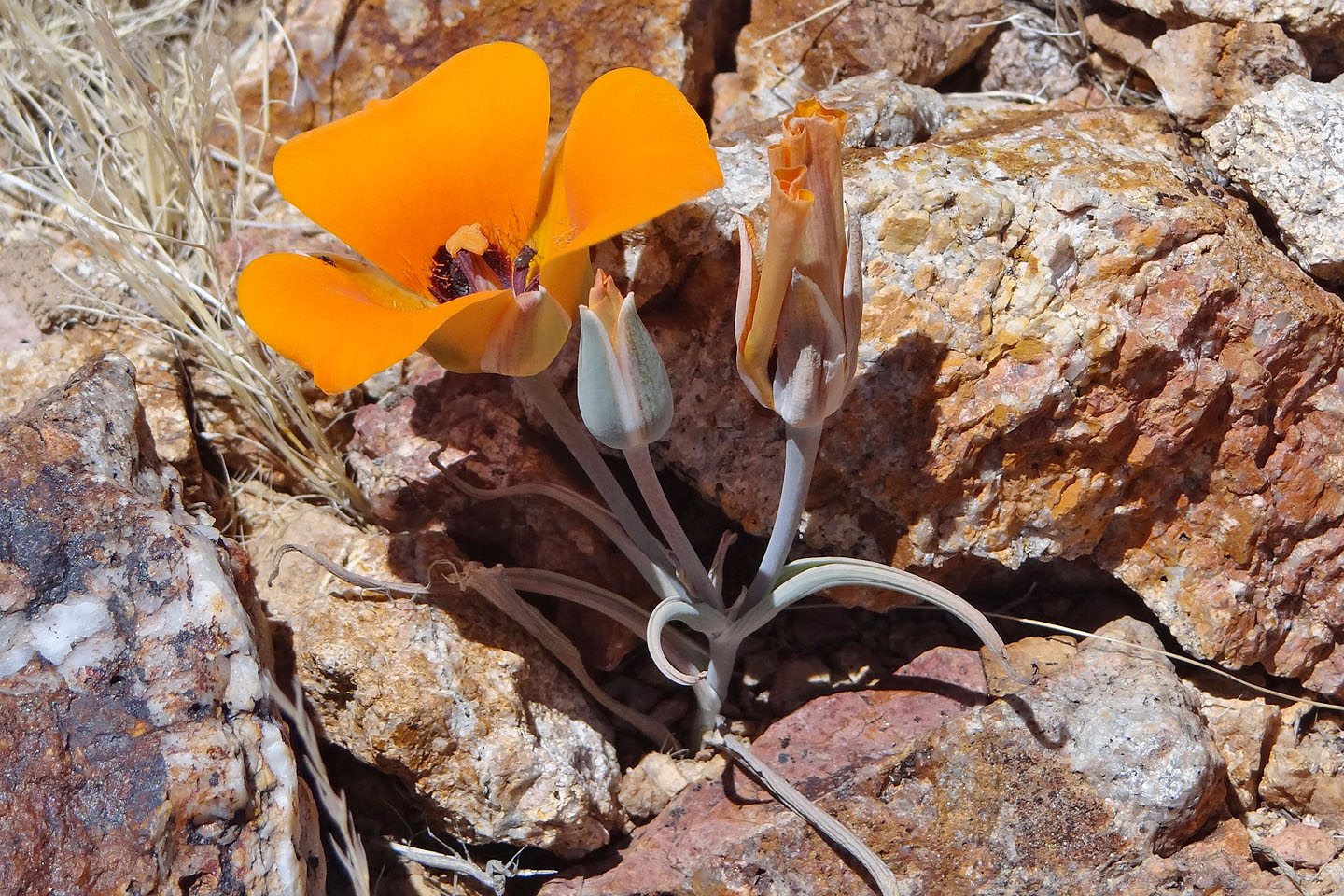 Desert mariposa tulip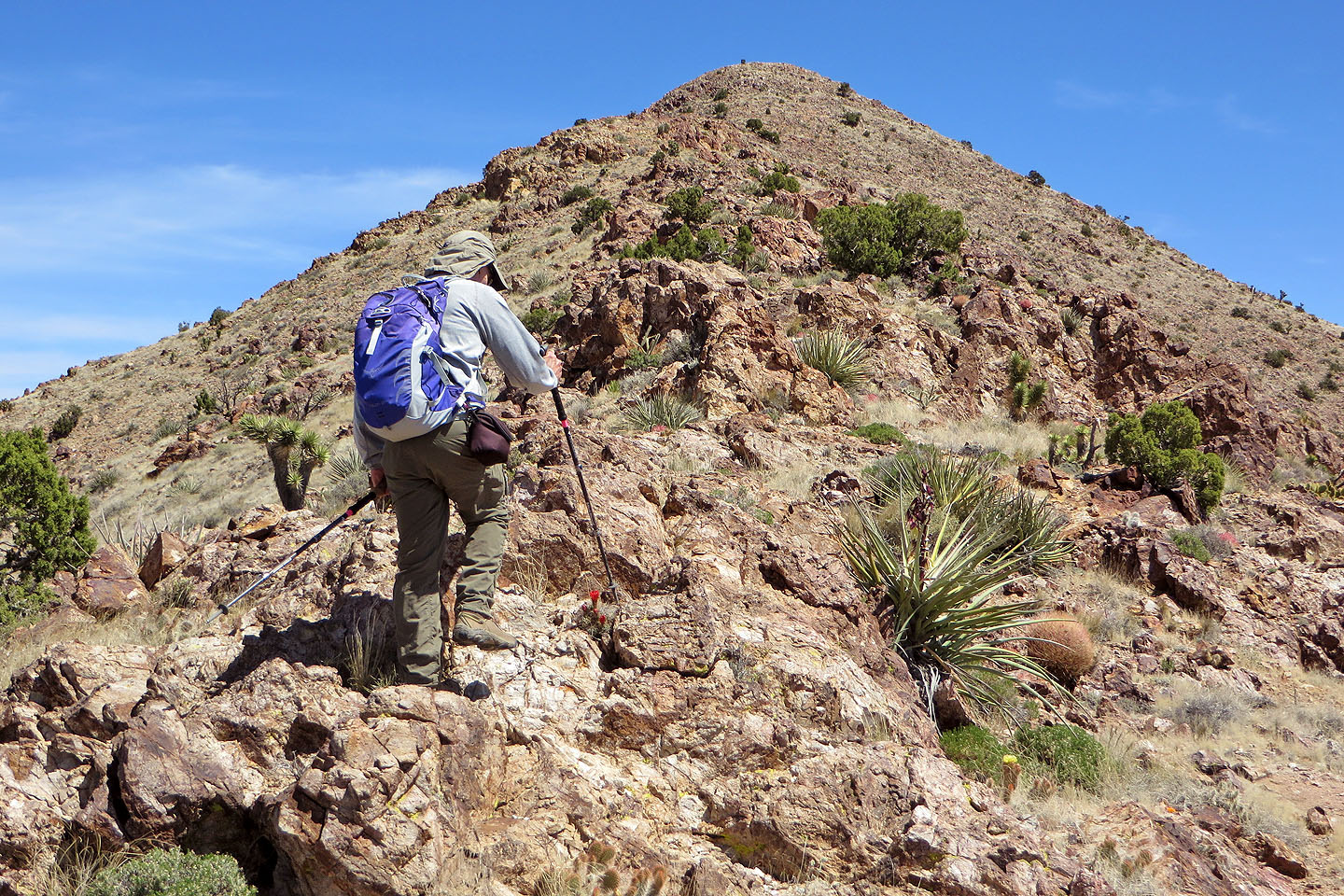 The summit comes into view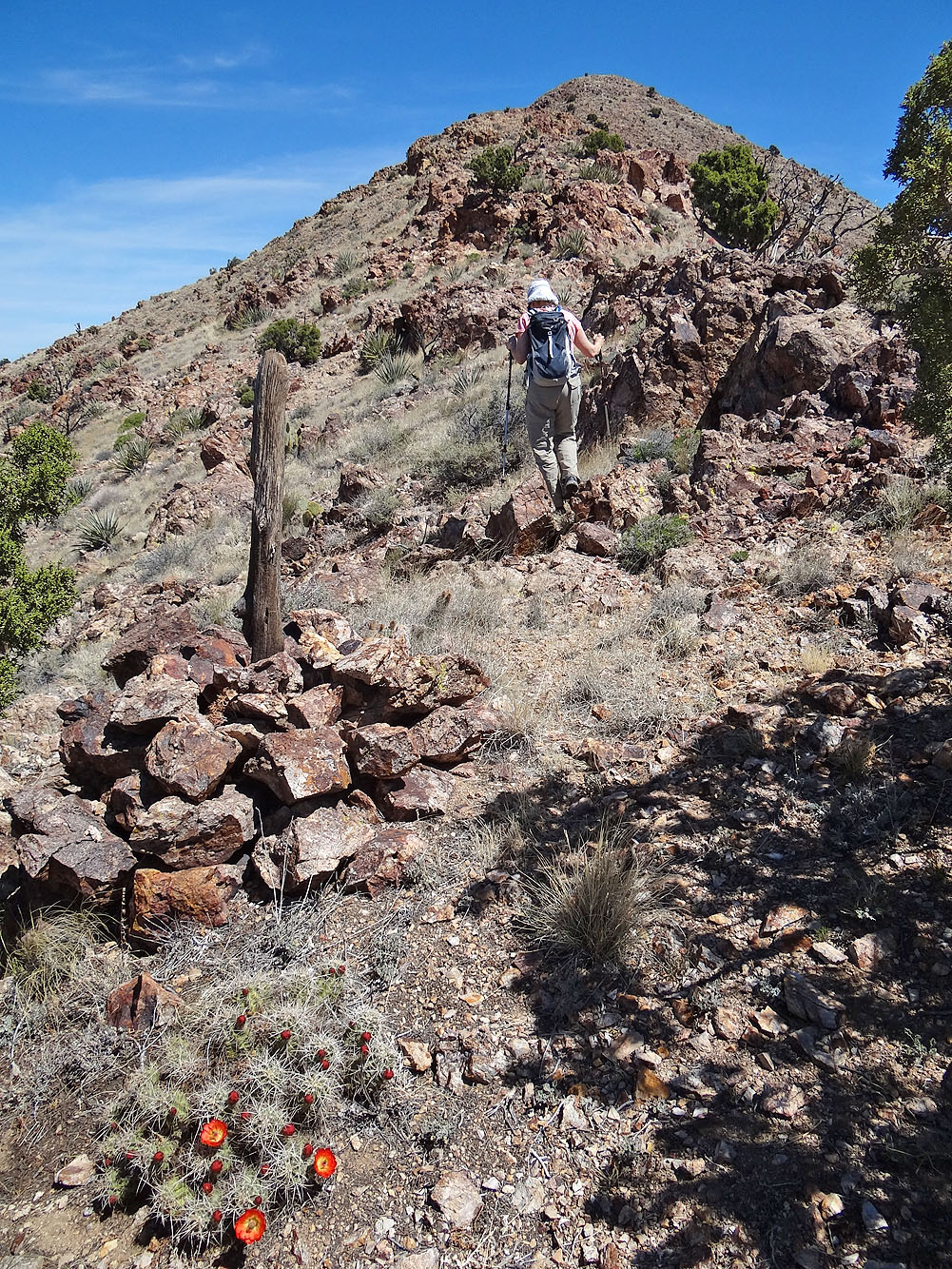 One of many discovery posts that mark old claim boundaries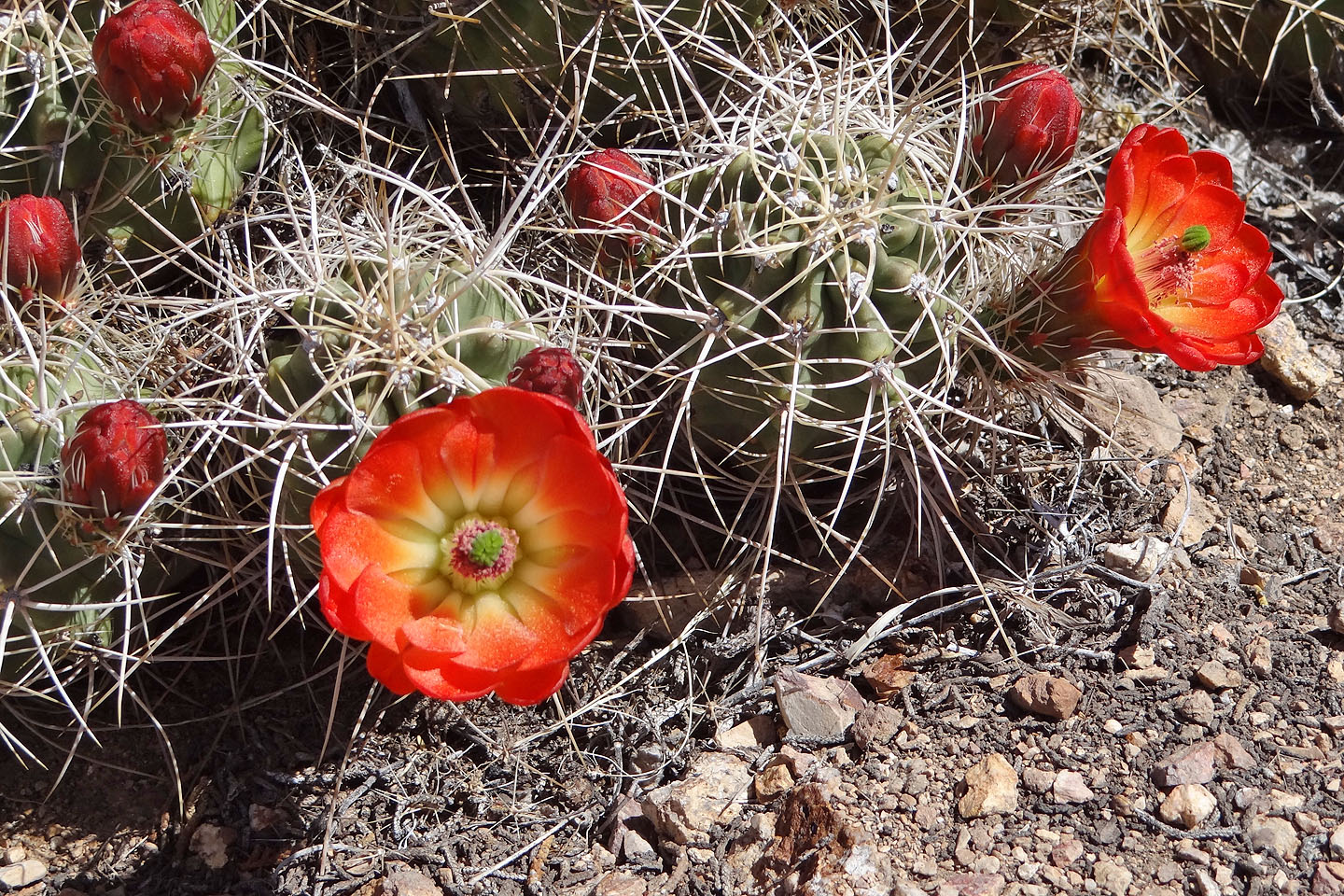 Mojave kingcup cactus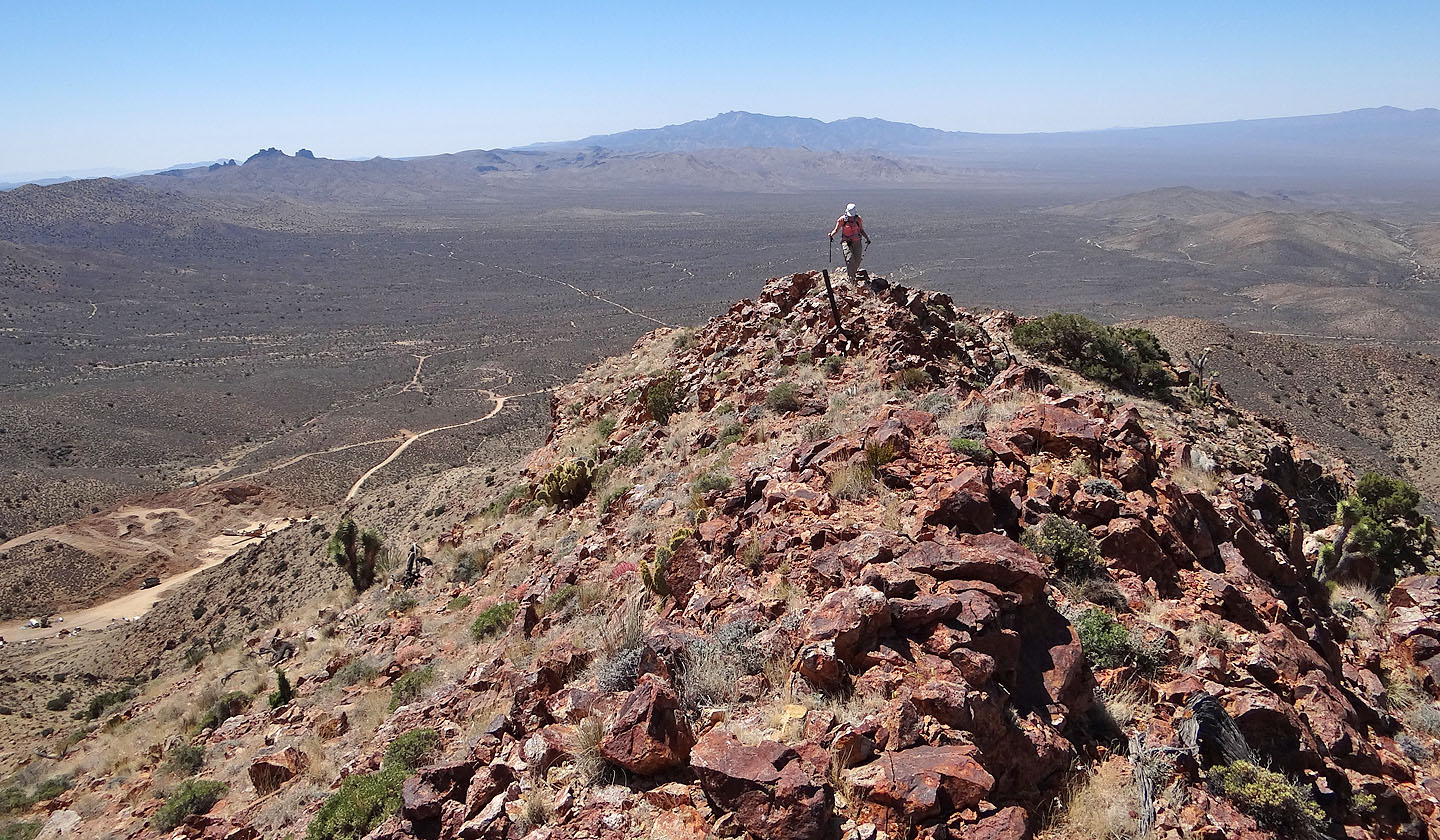 Looking back. Castle Peaks left.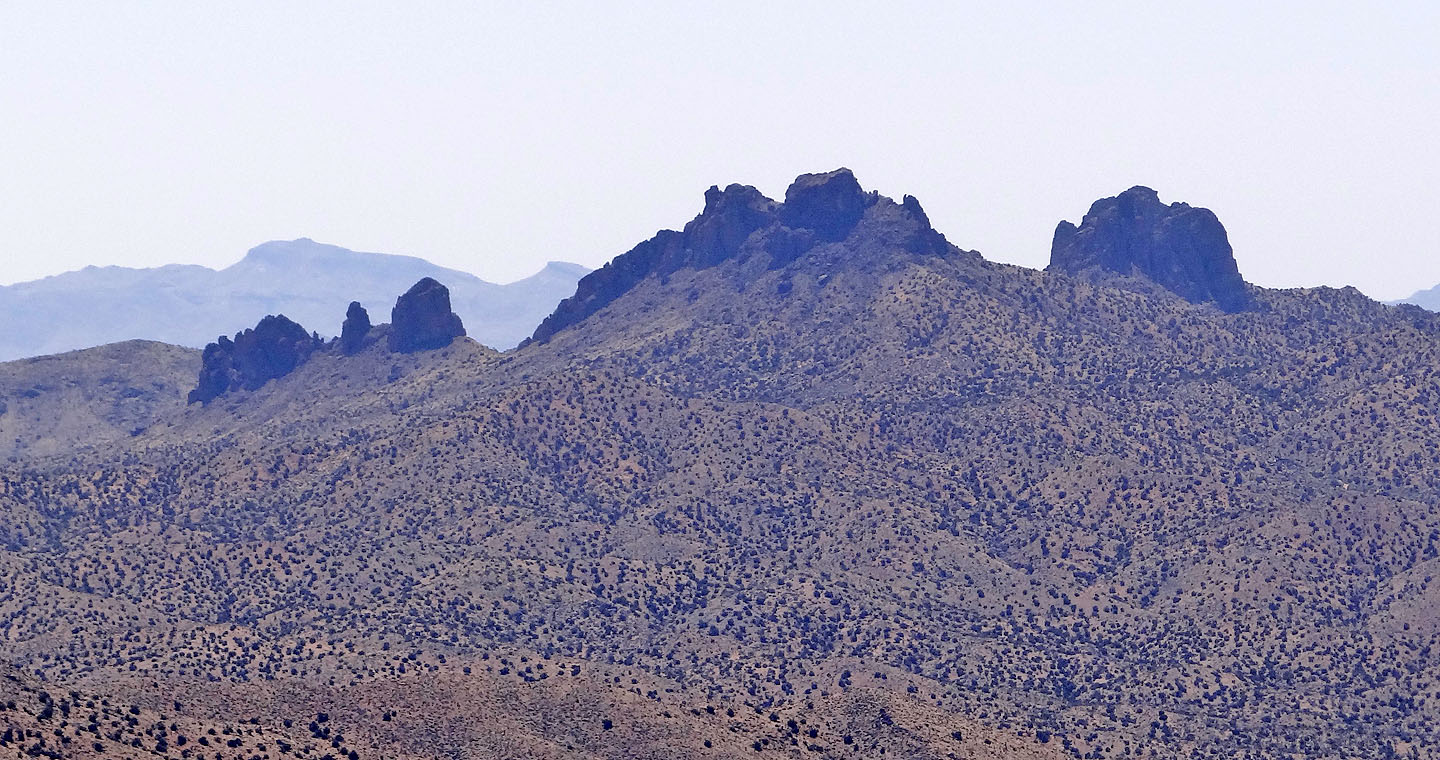 Closer look at Castle Peaks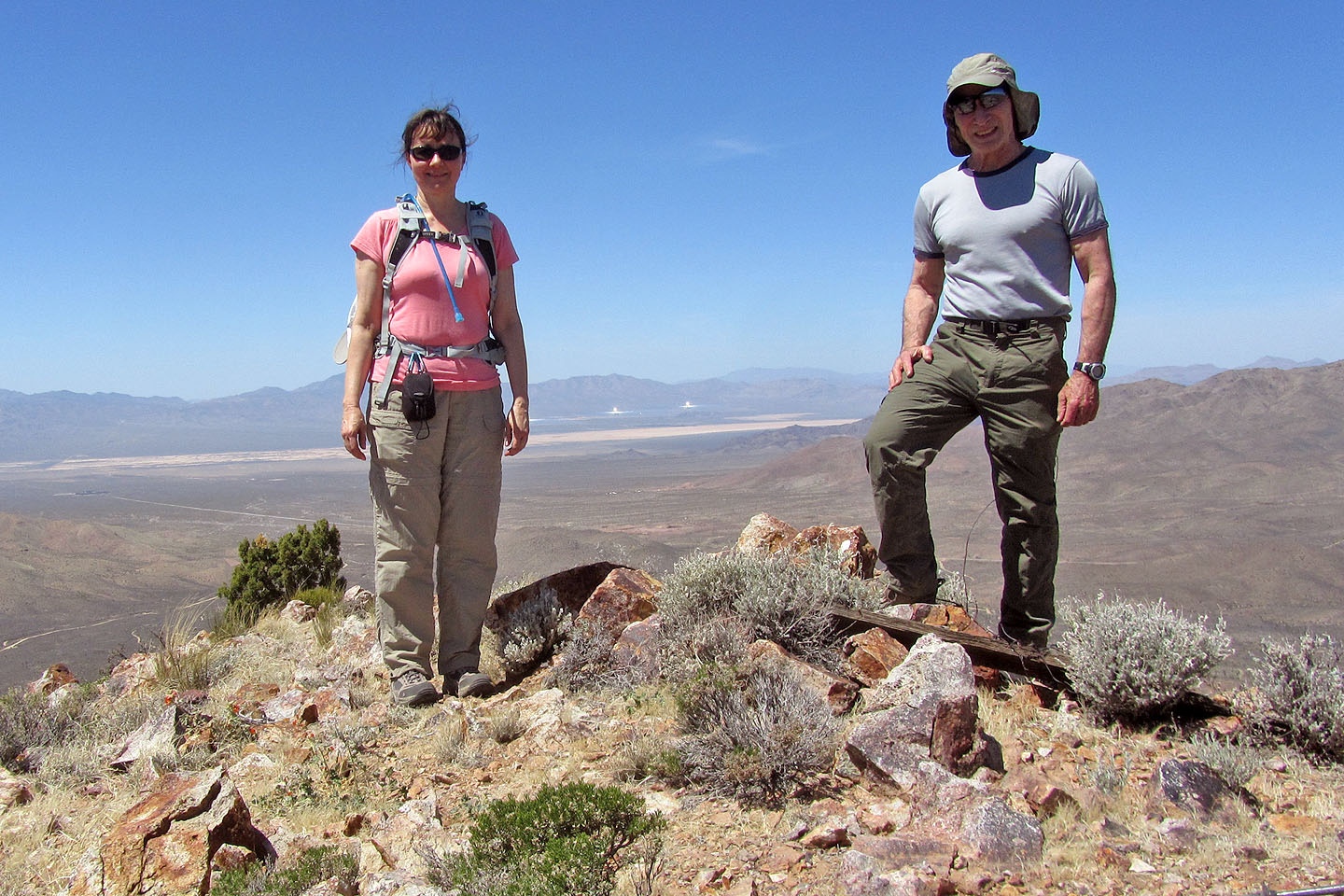 Standing on the summit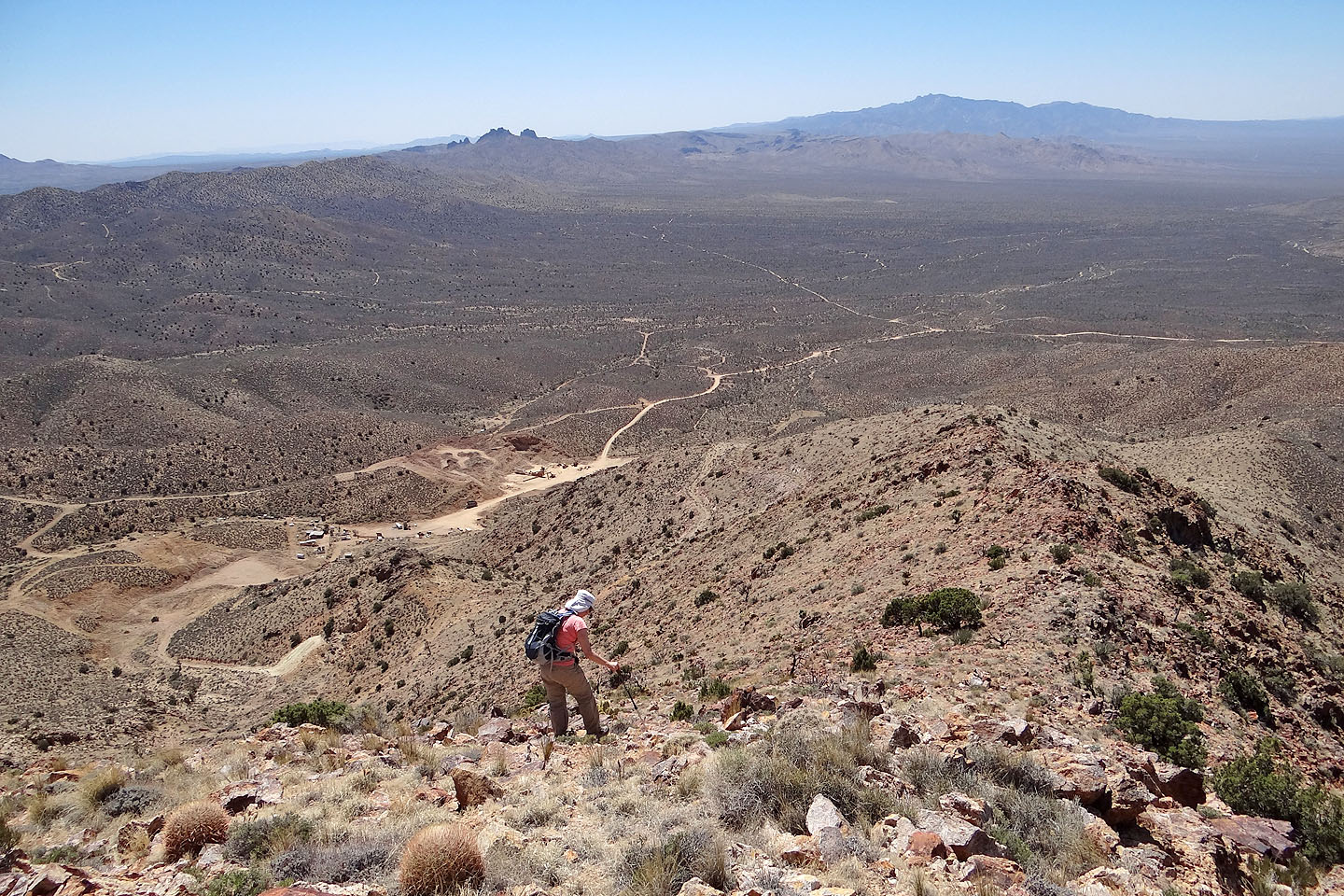 Heading back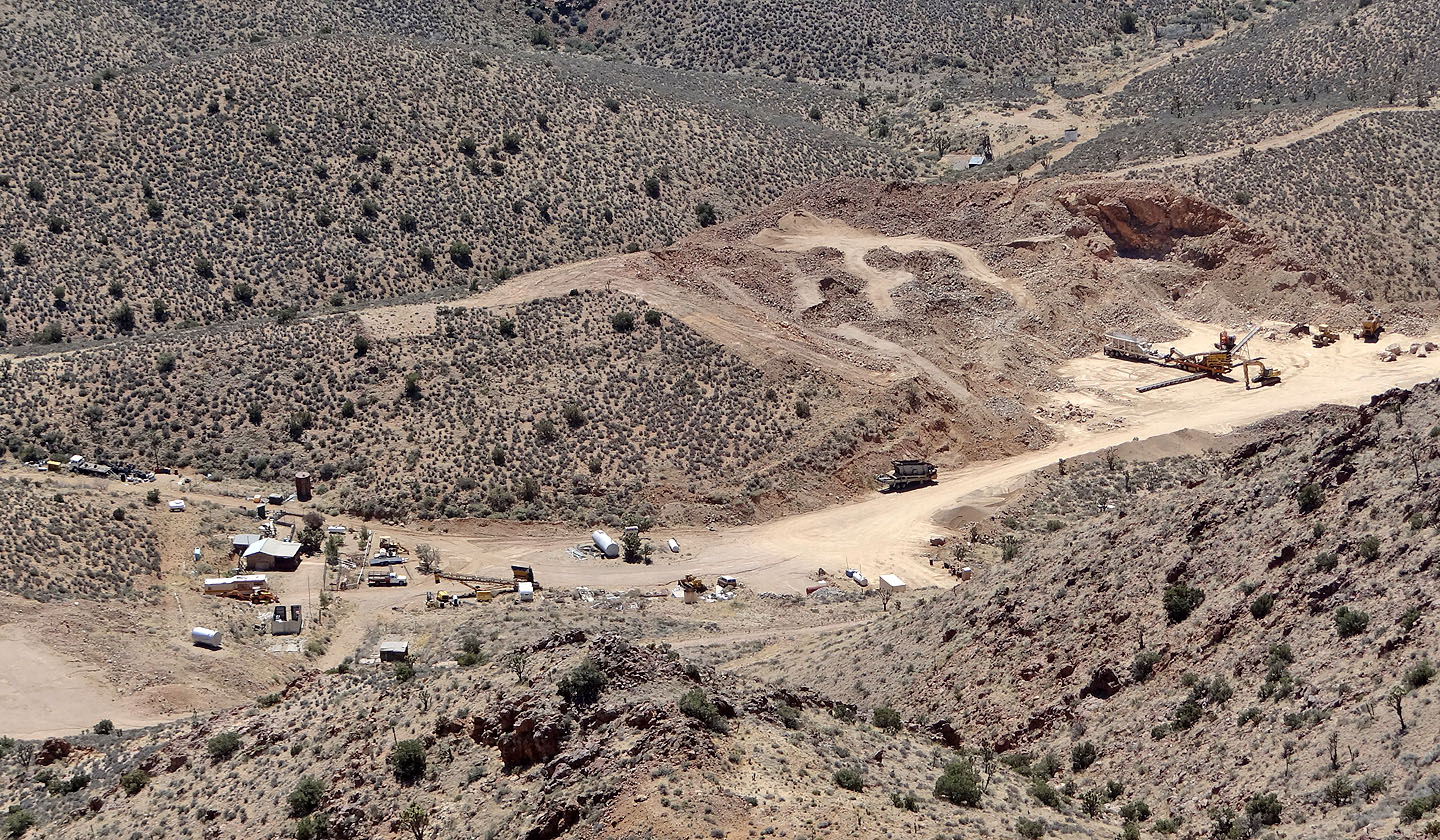 Below is a mining operation (mouse over)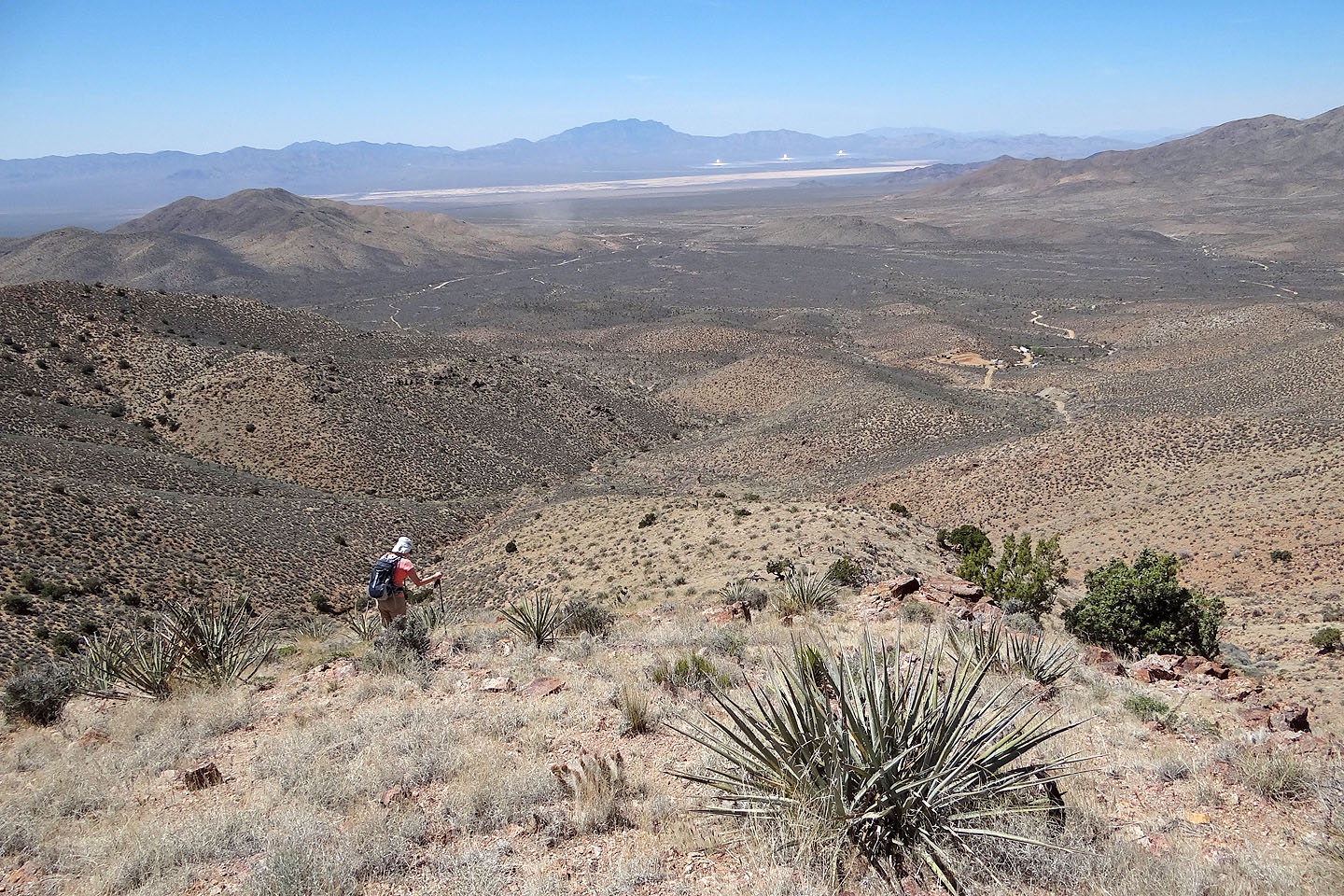 Hiking down the side ridge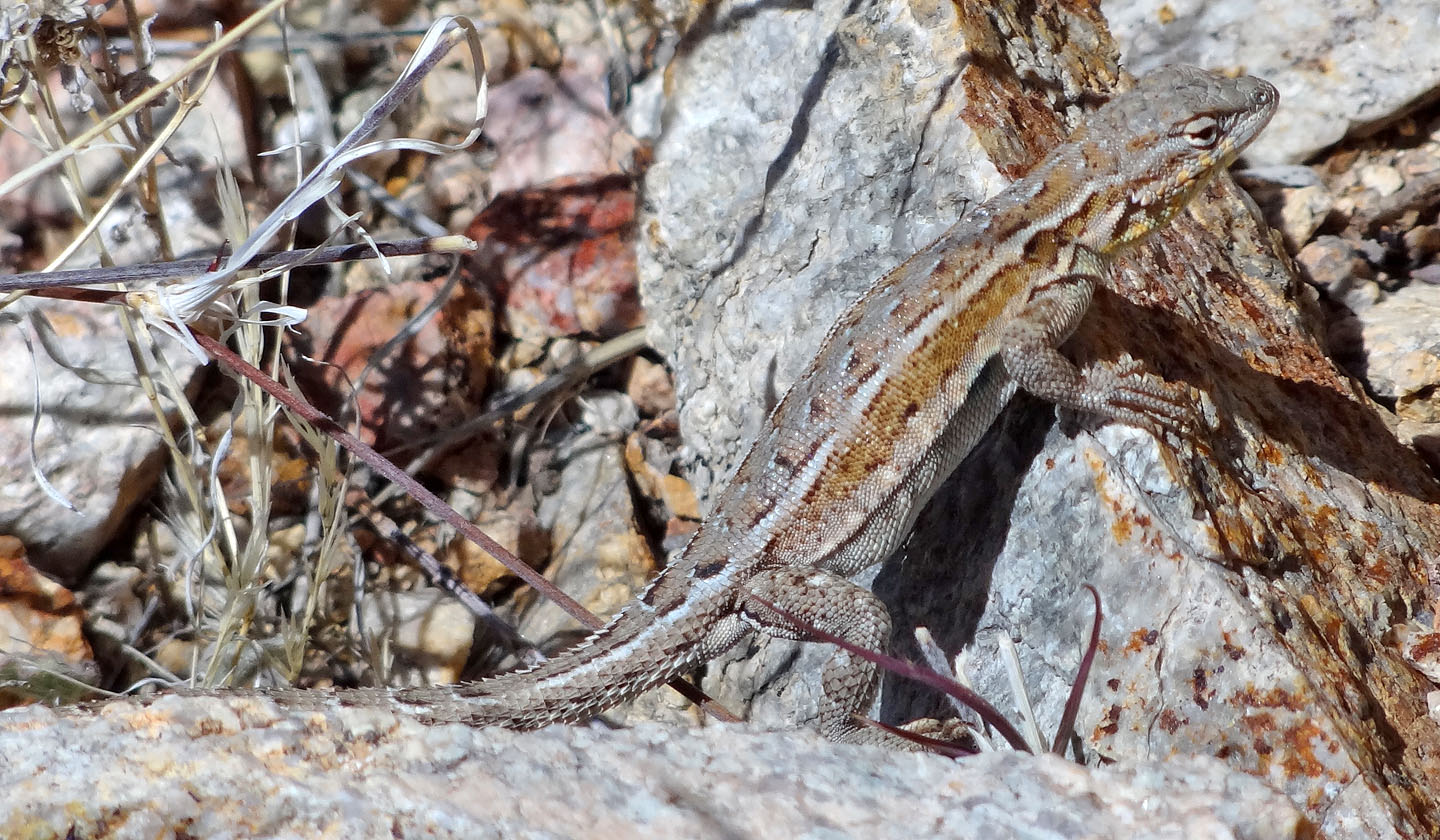 Sagebrush lizard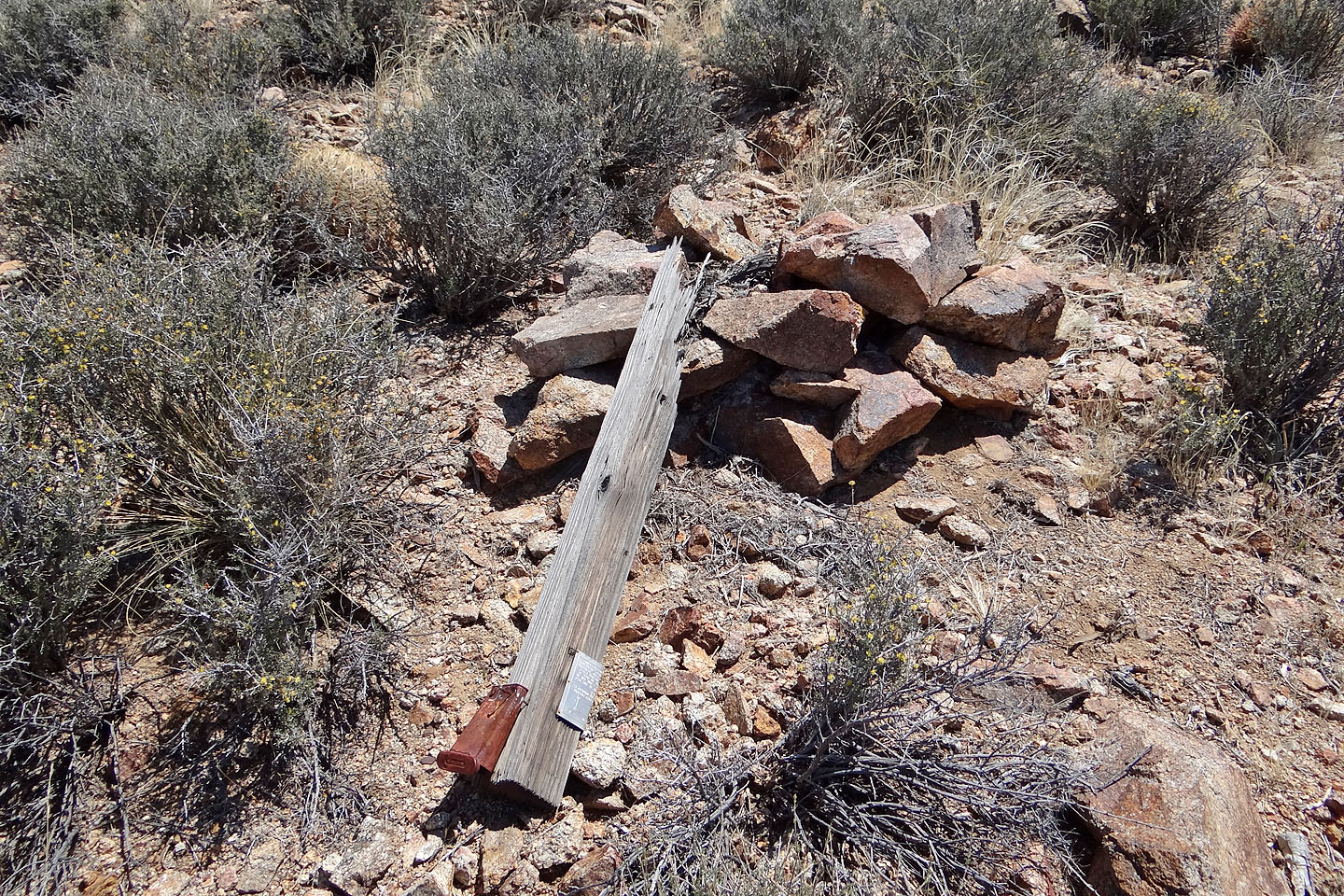 A collapsed discovery post on the side ridge (mouse over to read the label)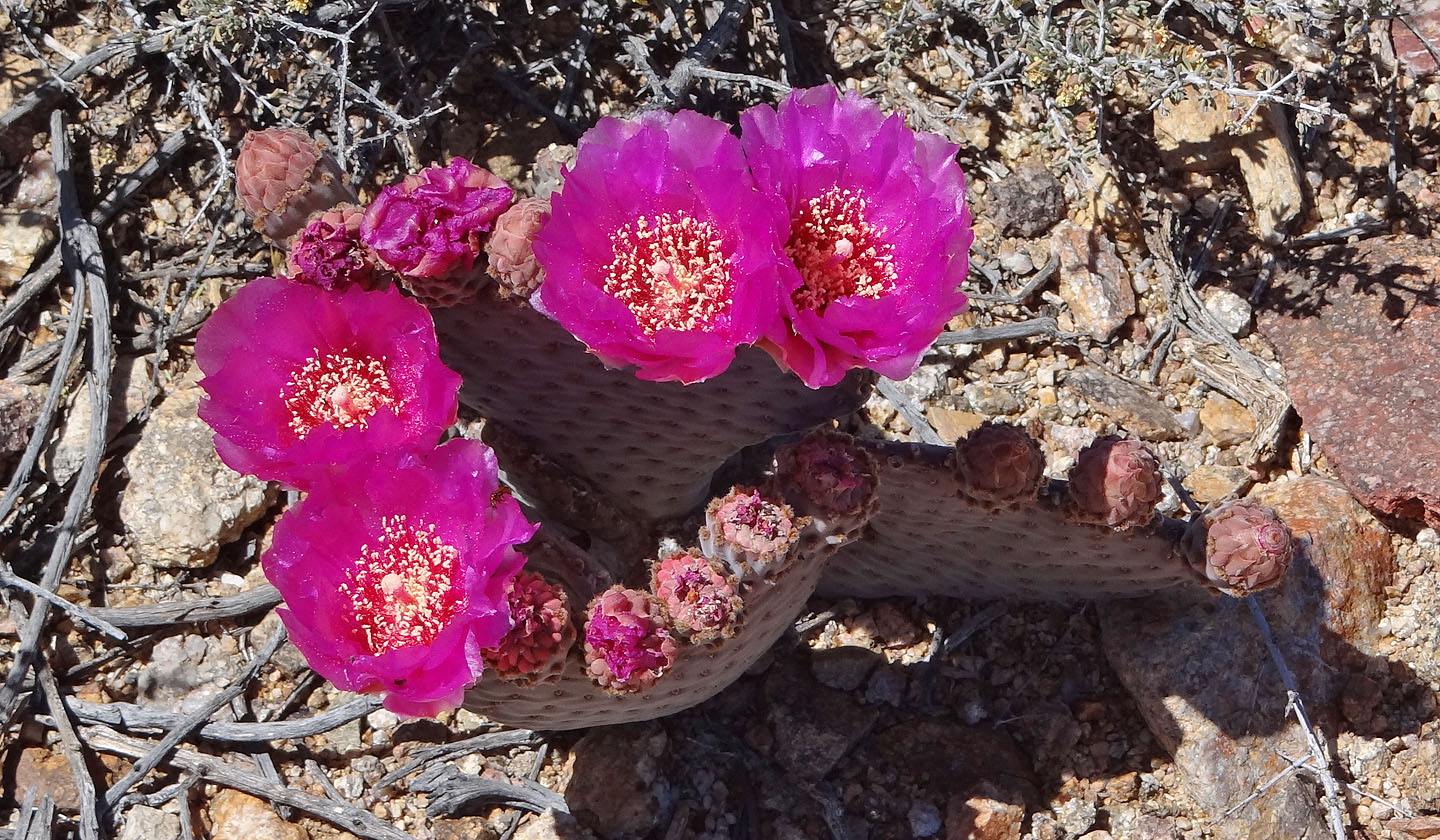 Beavertail cactus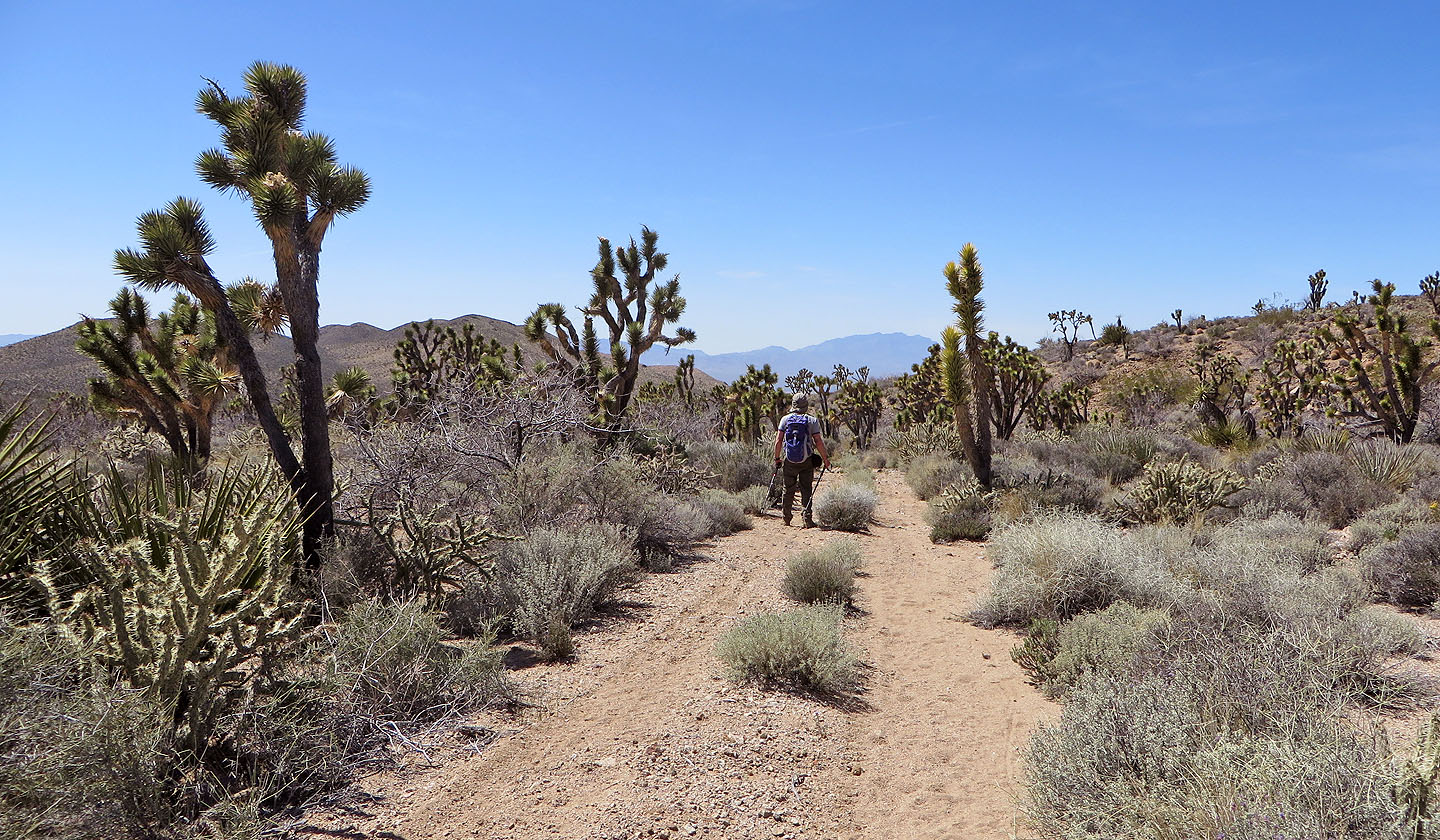 Following the road back to our car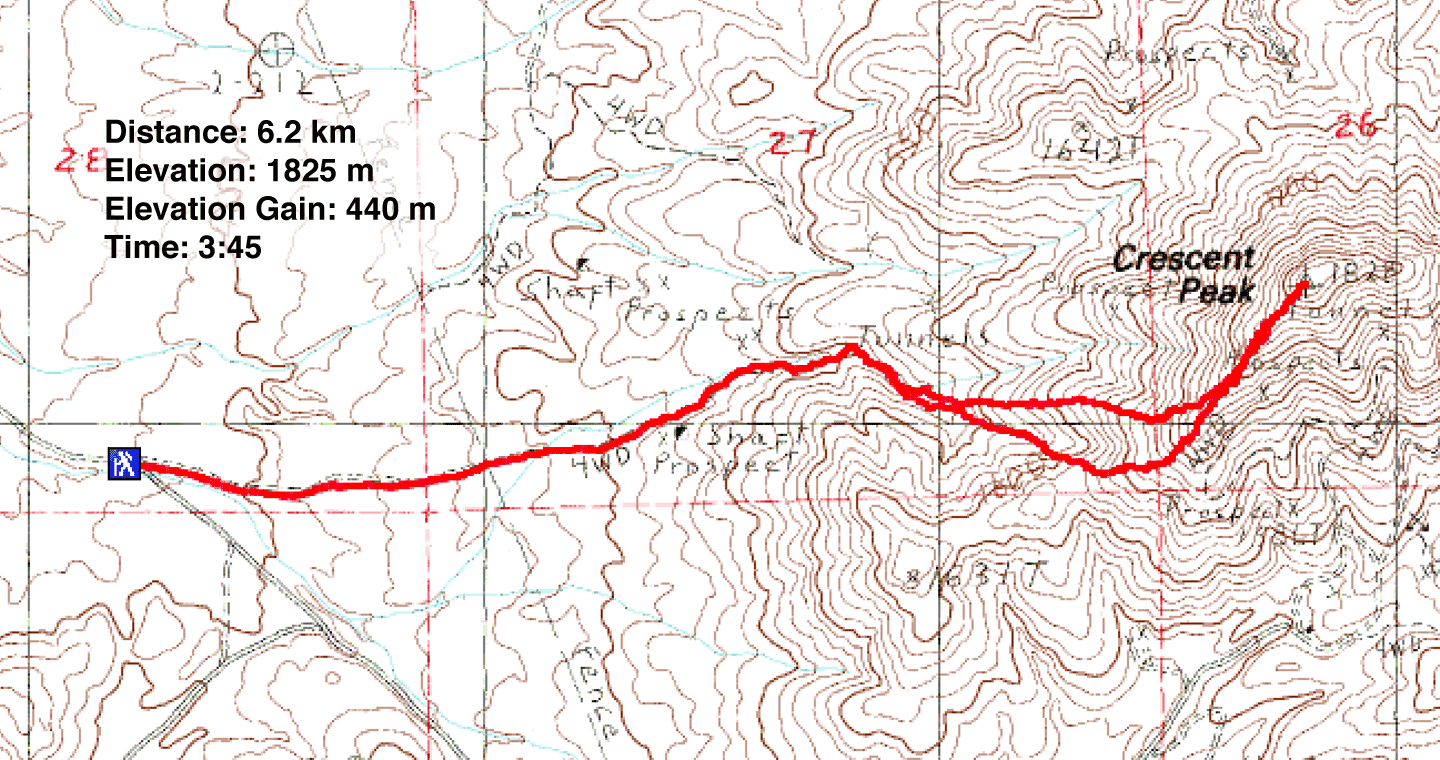 Crescent Peak Topo (3.9 mi, 5988 ft, 1444 ft)