bobspirko.ca | Home | Canada Trips | US Trips | Hiking | Snowshoeing | MAP | About

Otokomi Mountain
Glacier National Park, Montana
June 30, 2013
Distance: 10.7 km (6.6 mi)
Cumulative Elevation Gain: 1026 m (3366 ft)
Dinah and I decided to steer clear of the destruction left in the wake of the historic flood in Southwest Alberta last week and instead headed south of the border to climb Otokomi Mountain in Glacier National Park. The three-hour drive from Calgary took us past St. Mary to the Rising Sun Cabins where we found a small parking lot less than 100 m from the Otokomi Lake trailhead.
No trail leads all the way to the summit of Otokomi Mountain, but the lake trail offers a good start. Following directions from Summitpost, we hiked nearly 2 km up the trail to where it crosses a stream. We left the trail and started up the treed slope on our right.
At first we followed a faint side trail, but after it disappeared, we bushwhacked 250 m before emerging at the bottom of an extensive and wholly unappealing talus slope, the beginning of a long, steep ascent with every rock skidding or wobbling underfoot.
After a seemingly interminable ankle-twisting climb, we reached the first false summit. Here at least the rock was a bit firmer, and after that the terrain continued to improve. And the scenery improved too. St. Mary Lake held our attention until two golden eagles glided into view.
We found it easier to keep left of the rugged ridge crest. But the crest eventually flattened, morphing into a broad summit ridge that encompassed both a seemingly misplaced summit cairn and the summit 500 m away. The summit, just a few metres higher than the cairn, lacked any distinguishing mark. But for our efforts, we were rewarded with fine alpine scenery which included a couple of the remaining glaciers in Glacier National Park. We lingered on the top of Otokomi Mountain for half an hour before starting back, giving us a chance to experience the wonderful loose rock we had come to despise.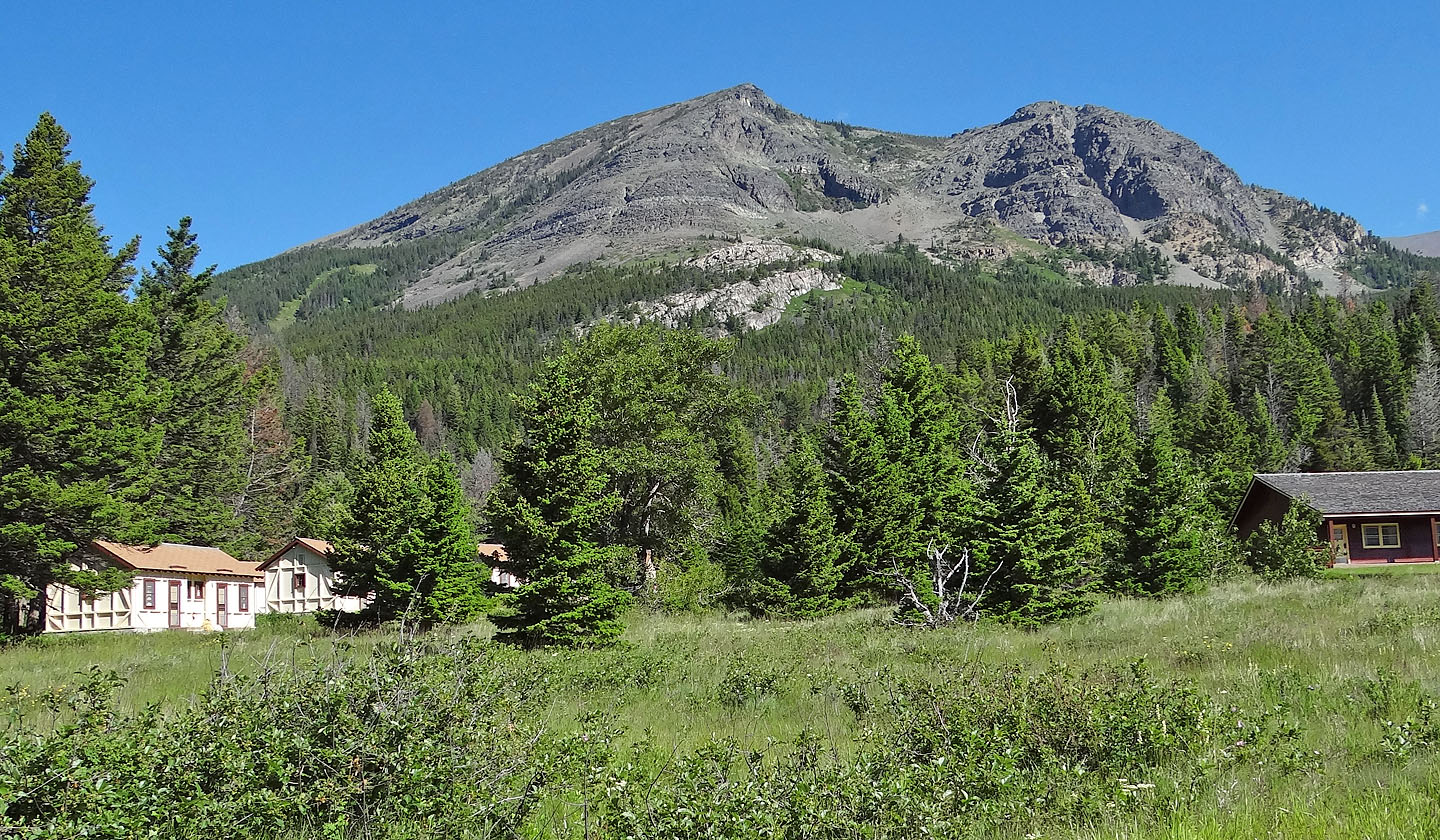 The first false summit of Otokomi Mountain as seen from near the parking lot. The route bypasses the cliff bands on the left (mouse over)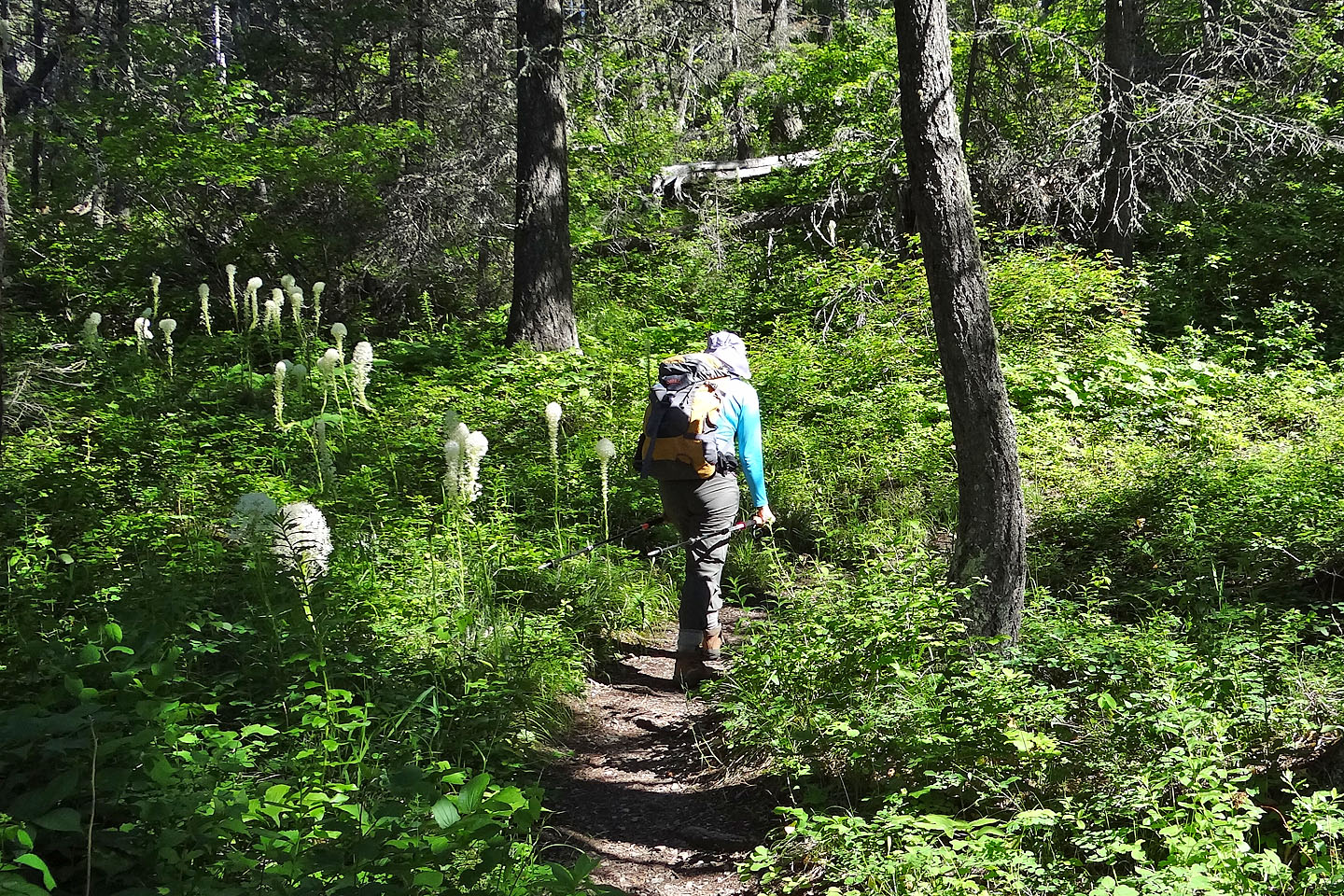 Beargrass lines the Otokomi Lake Trail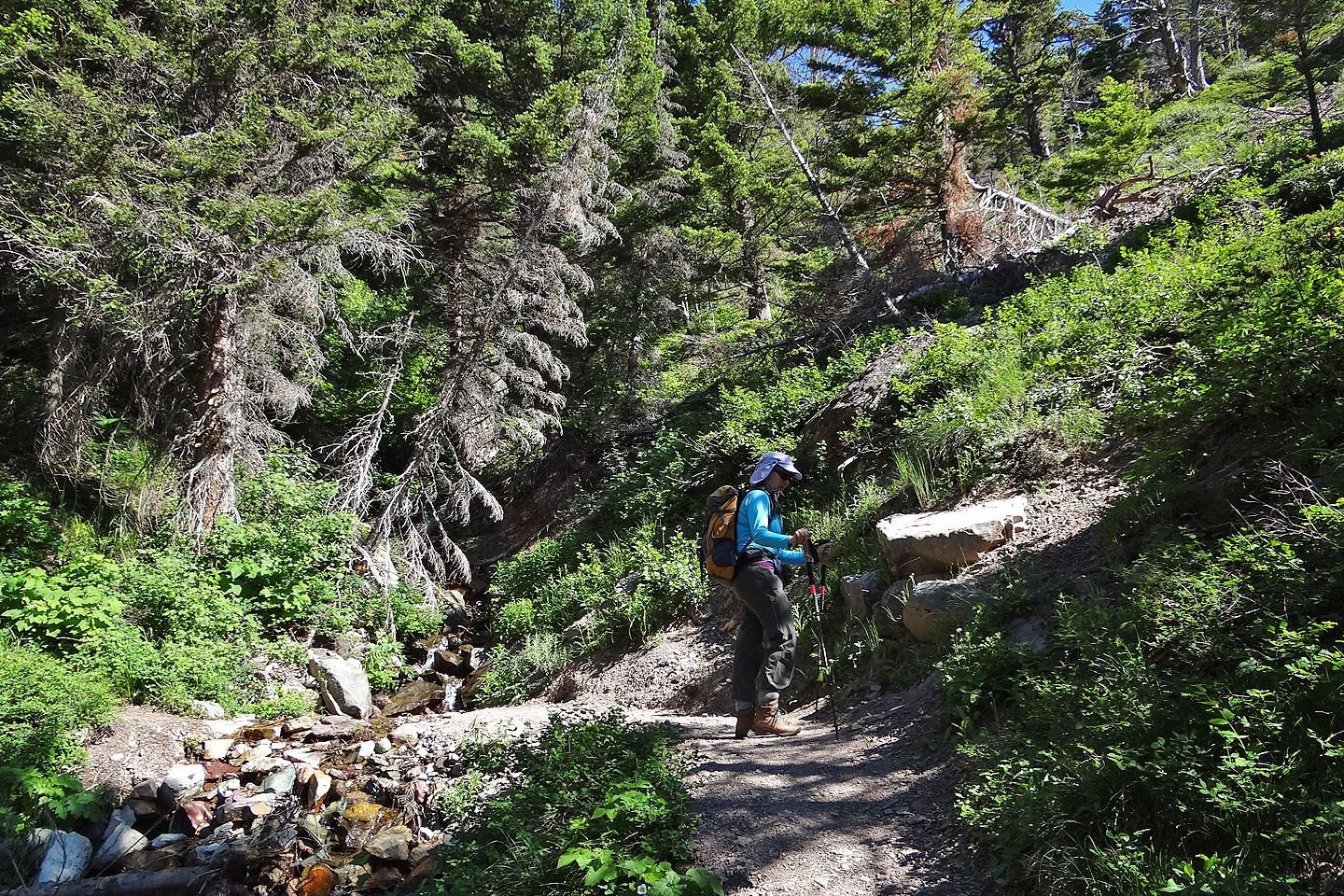 We exited the lake trail next to a stream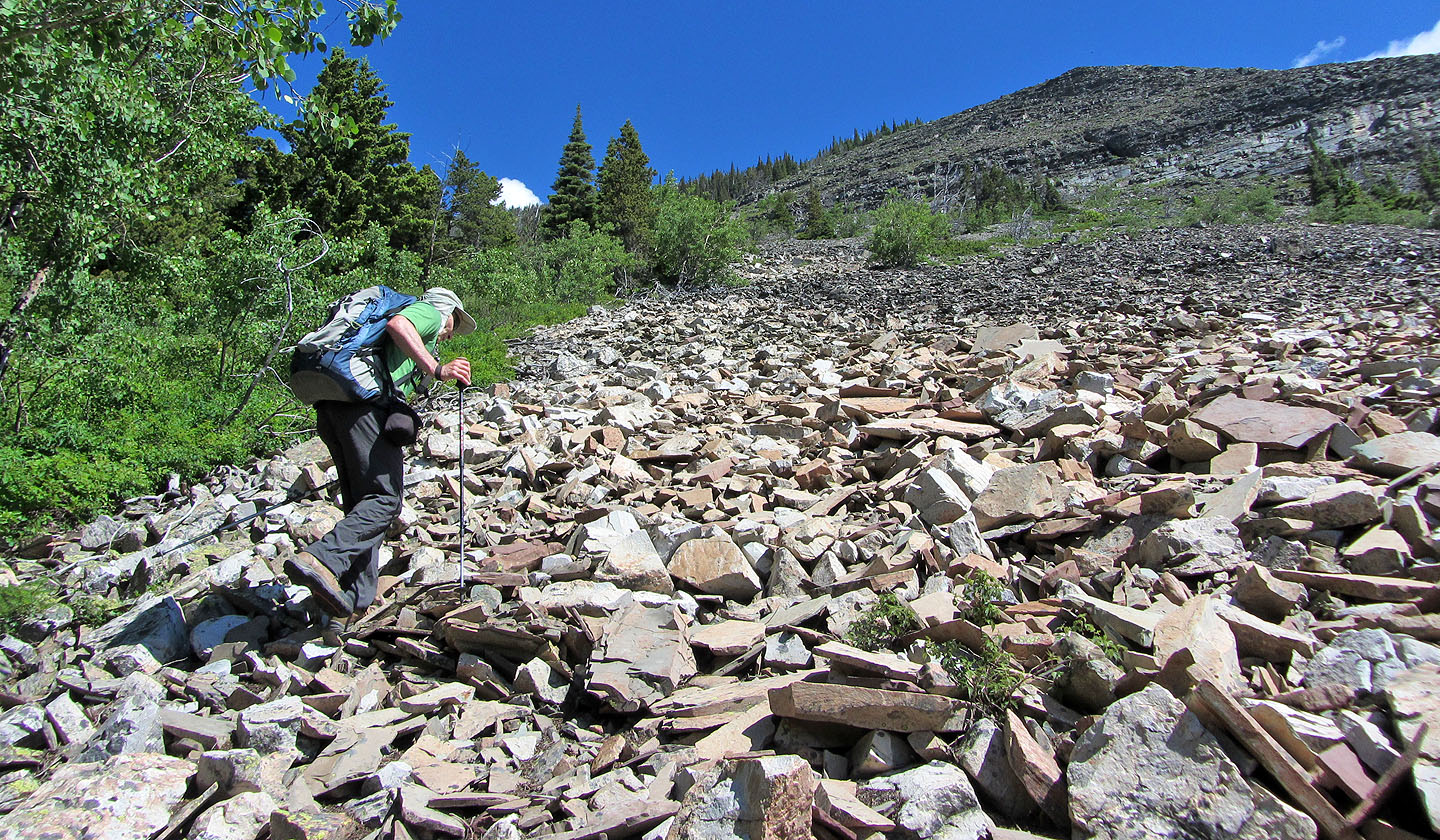 Looking up the talus slope: we kept left all the way to the false summit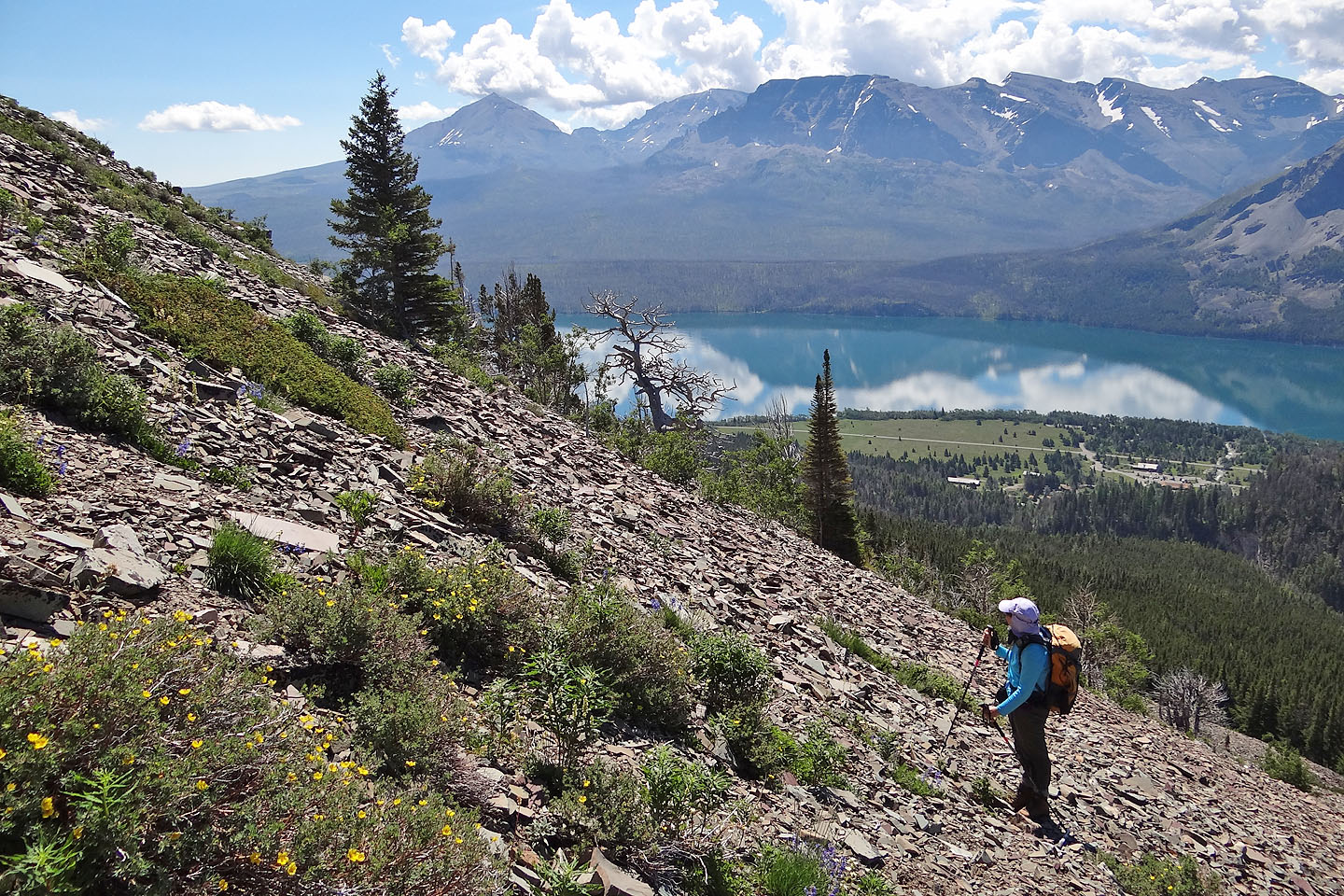 Looking across Saint Mary Lake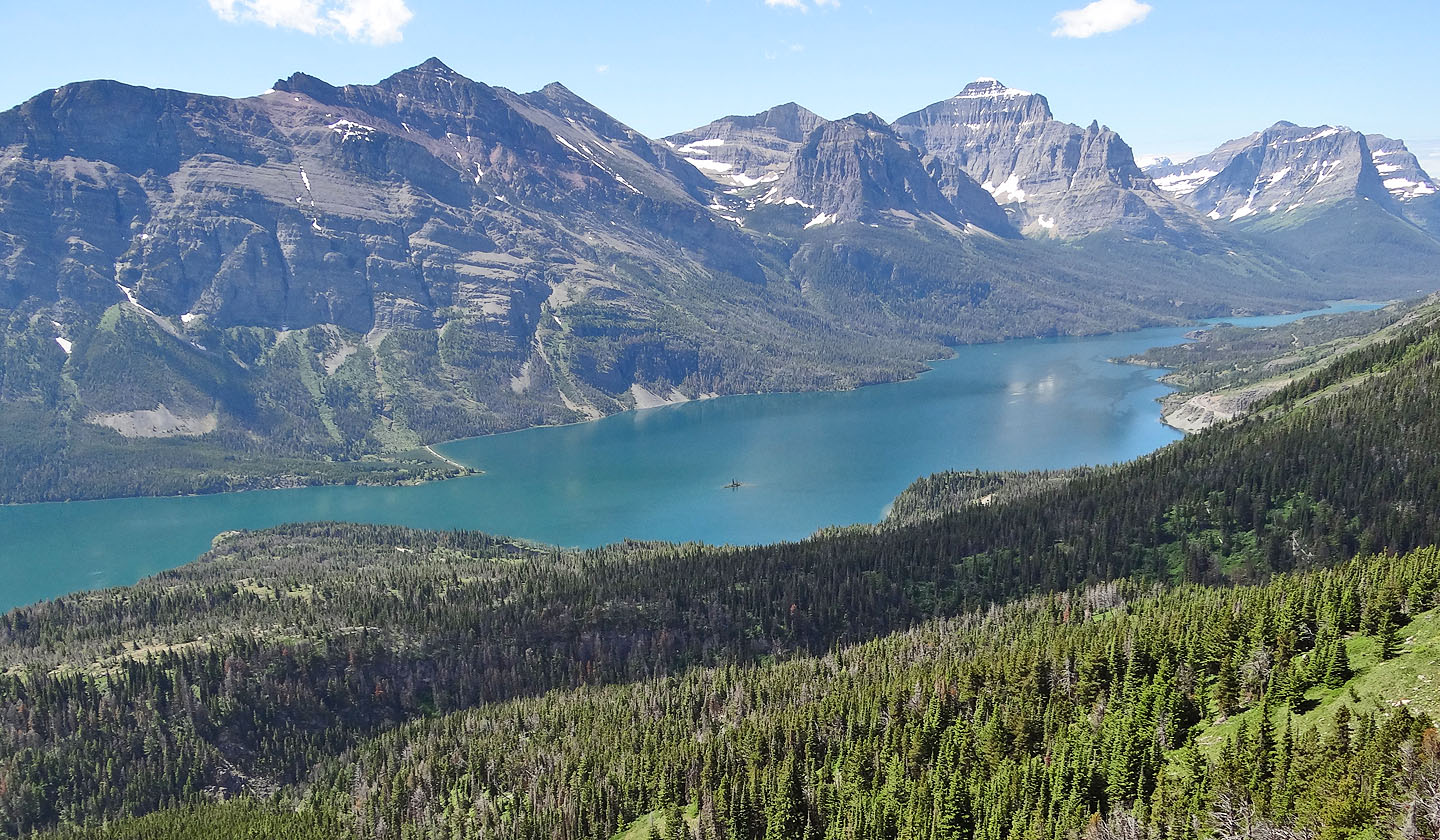 Looking down at the lake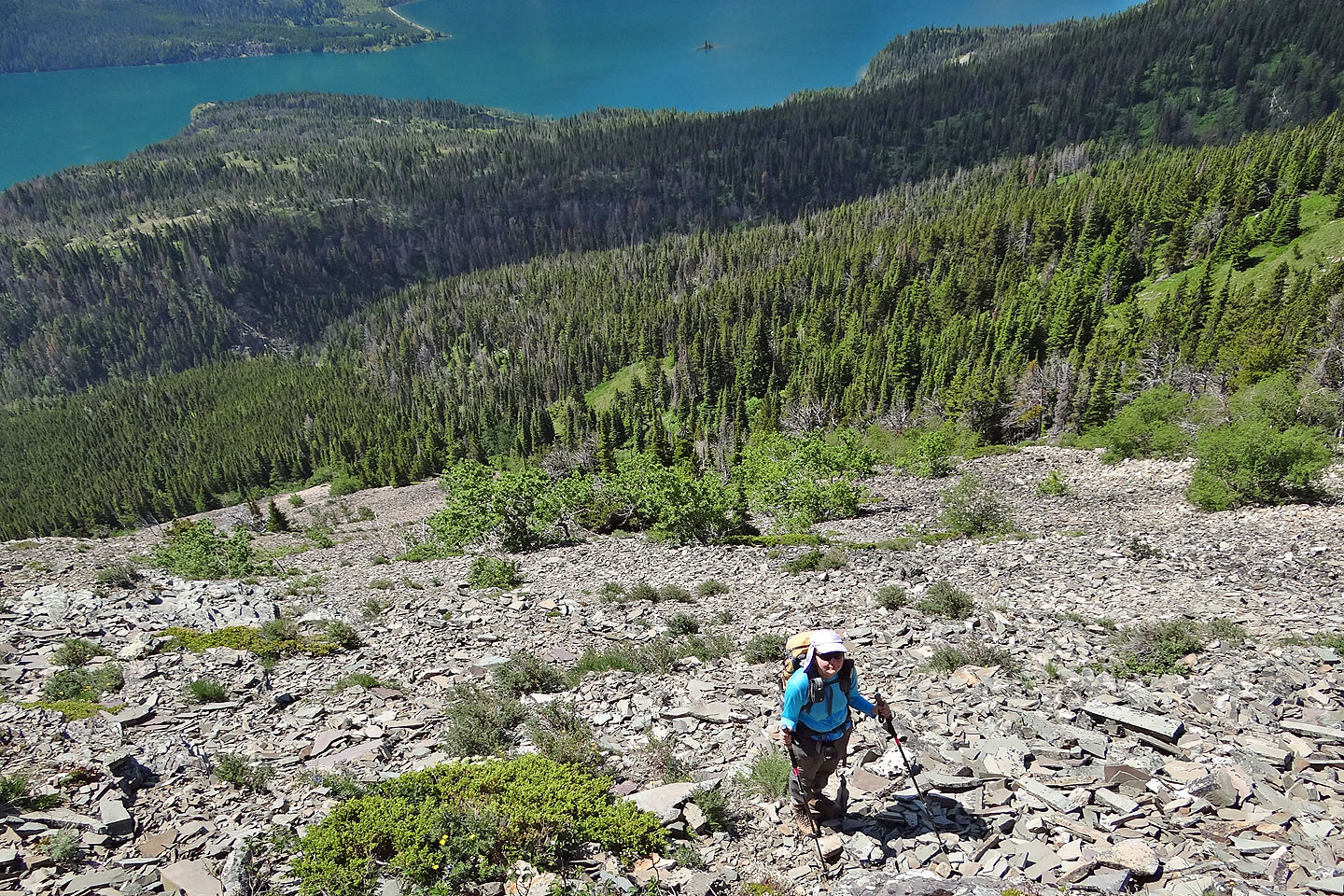 We could see all the way down to the pale patch of scree that we started up on, but even here we are nowhere near the false summit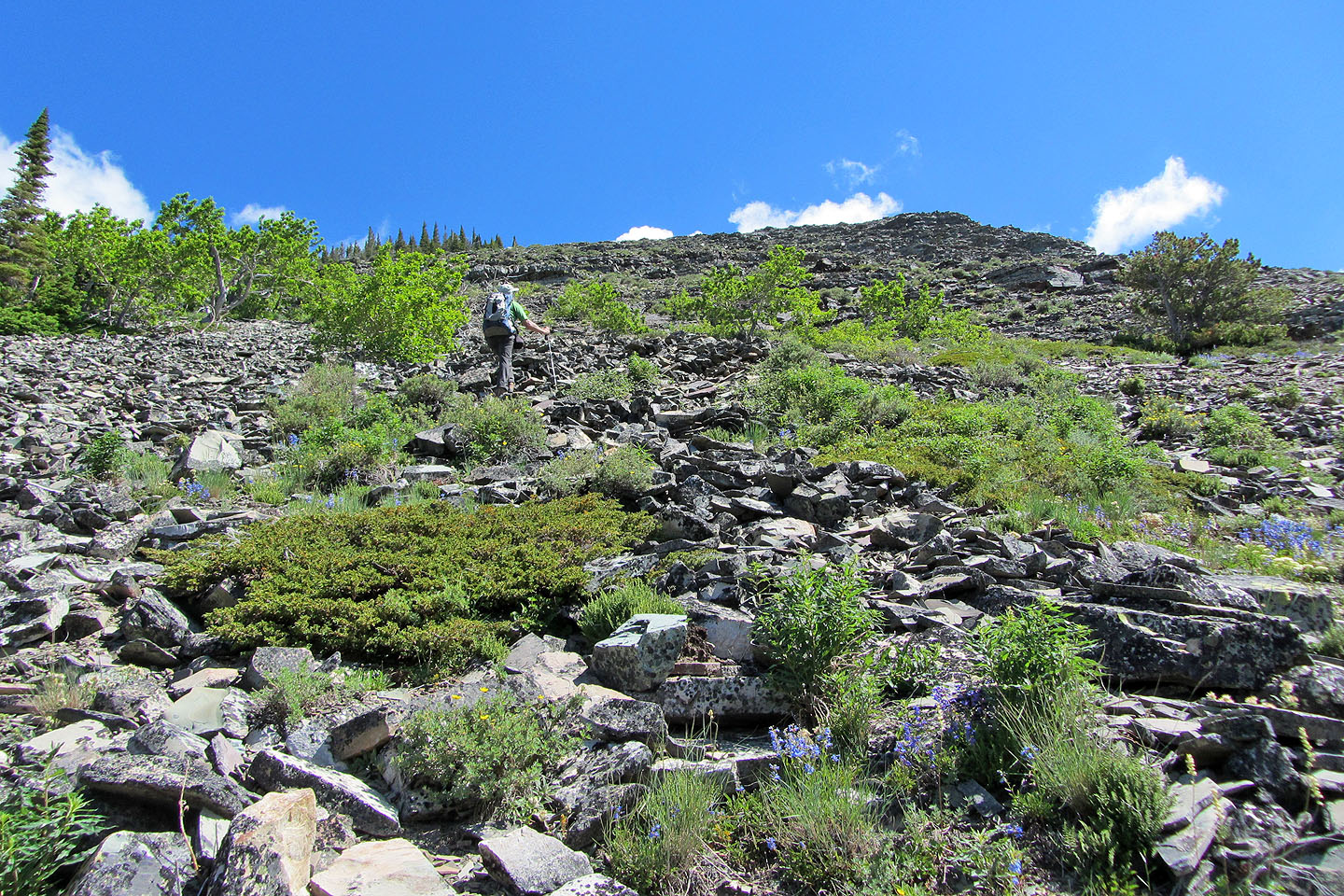 Loose rock extends to the false summit and beyond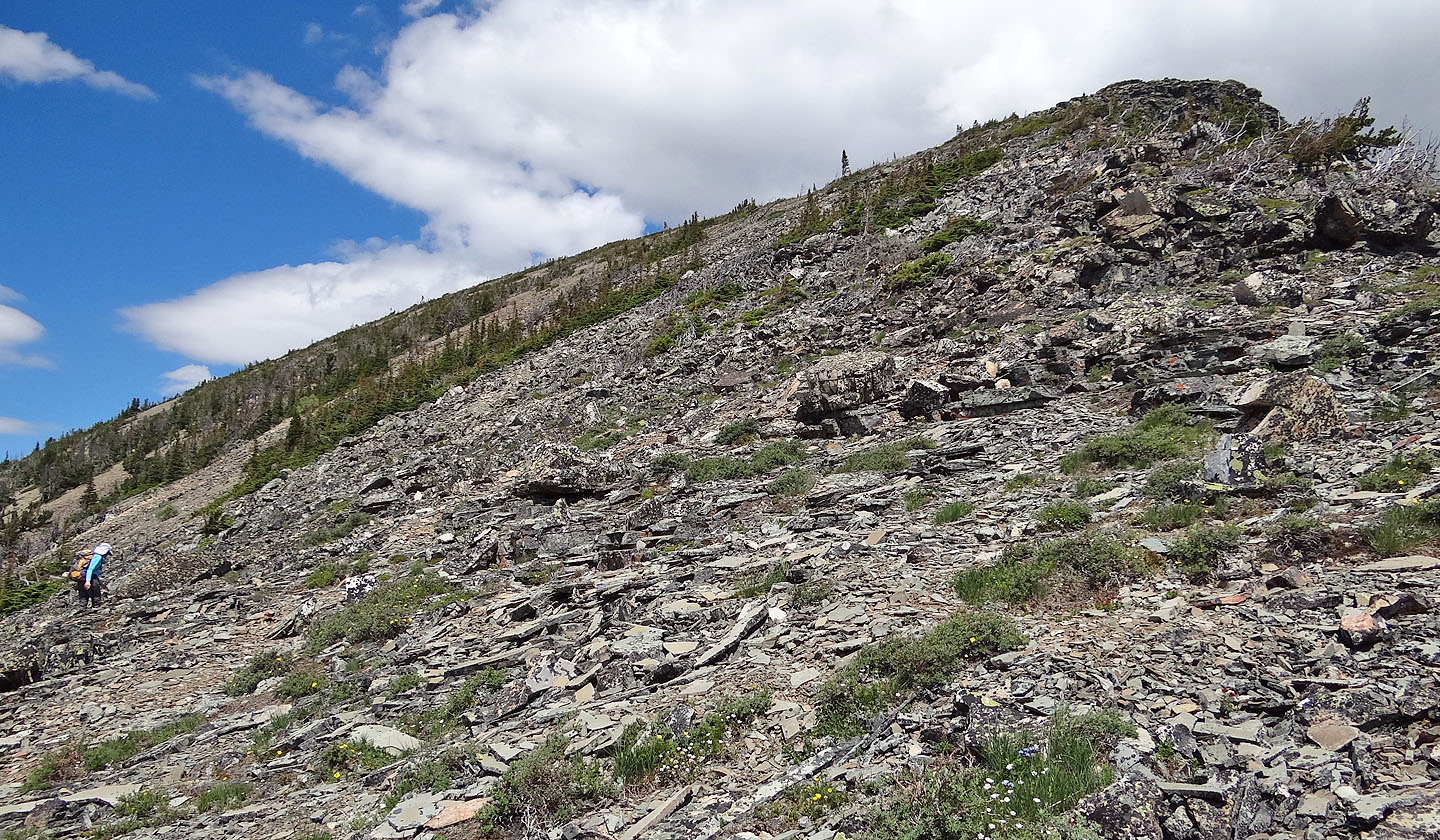 View from the first false summit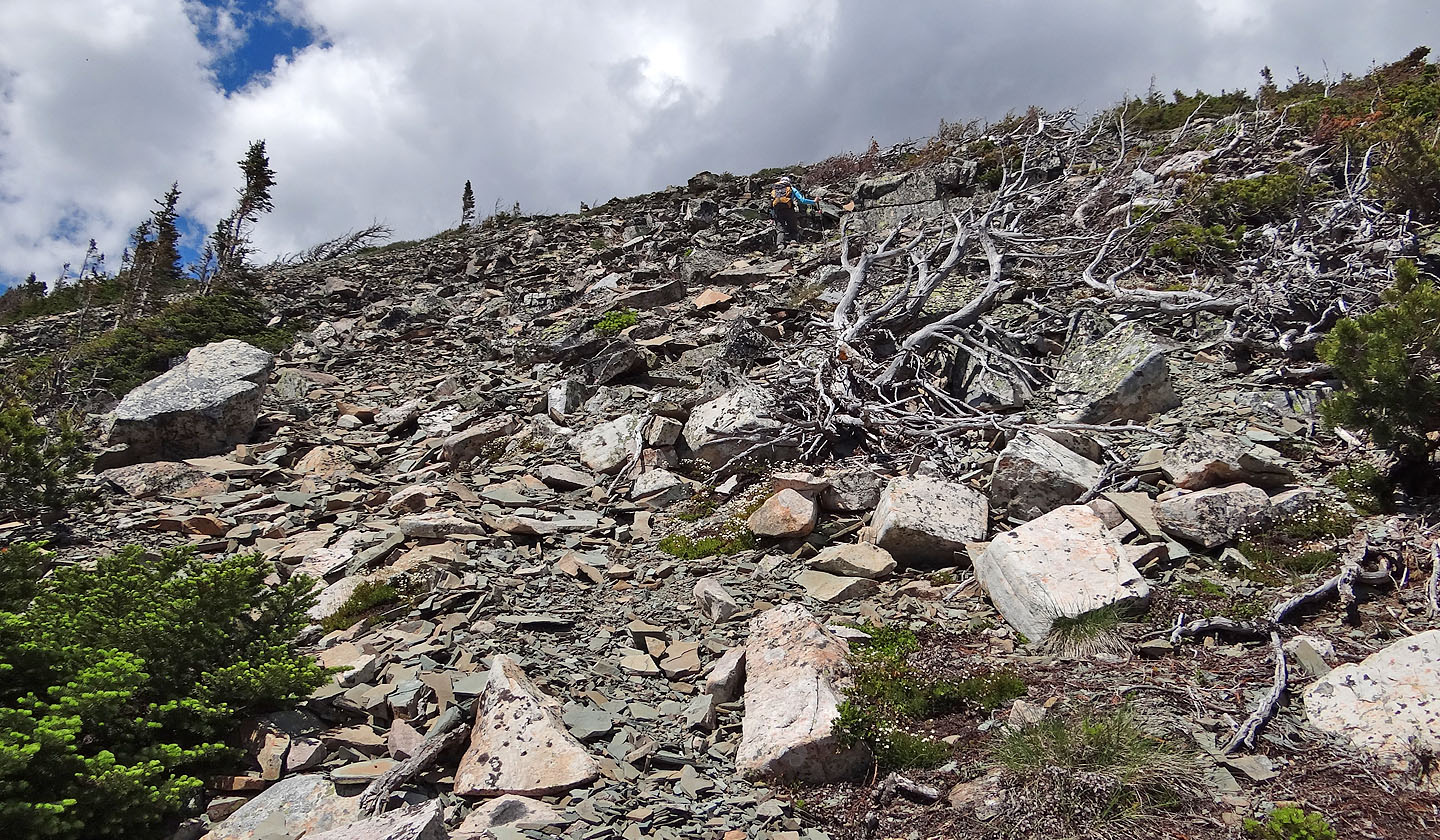 We continued up the ridge, keeping left of the crest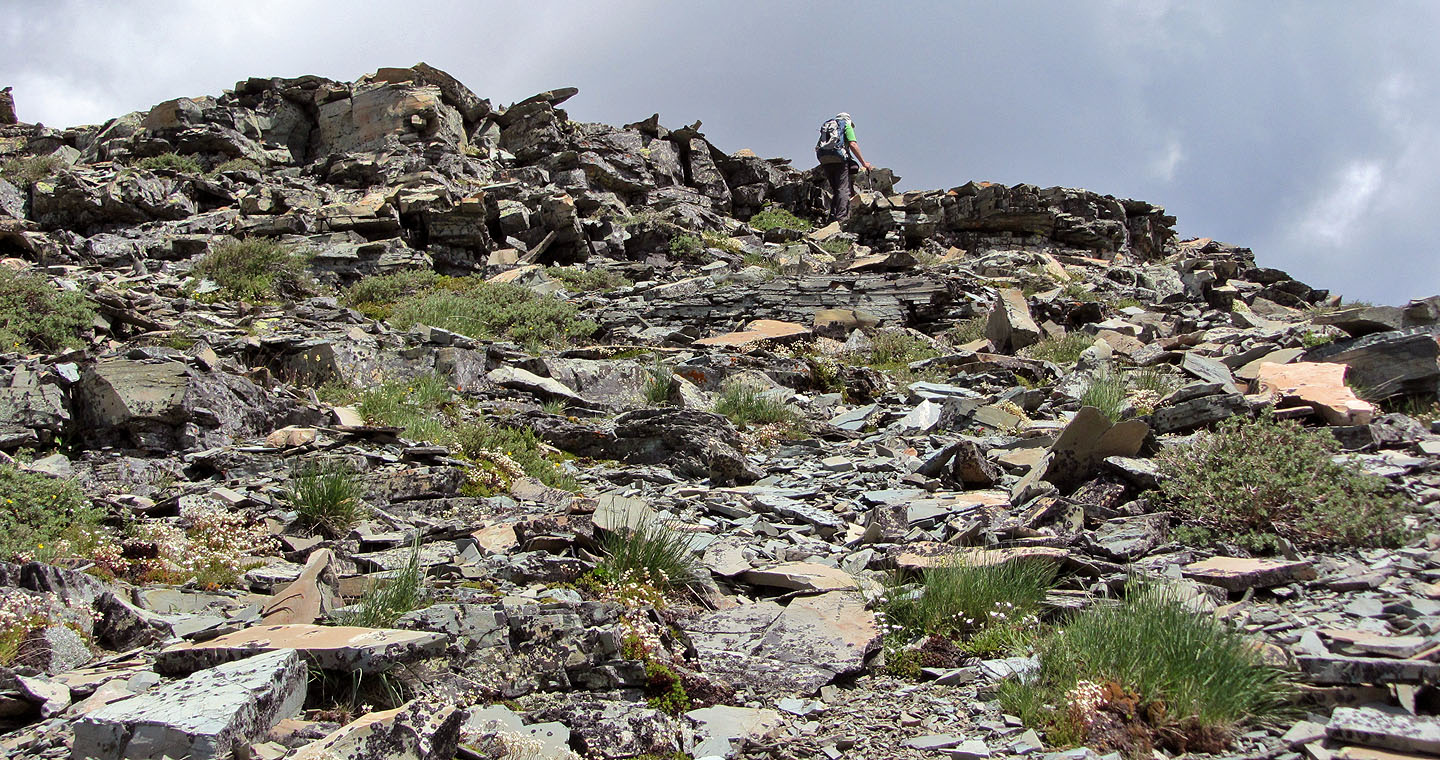 Reaching the first false summit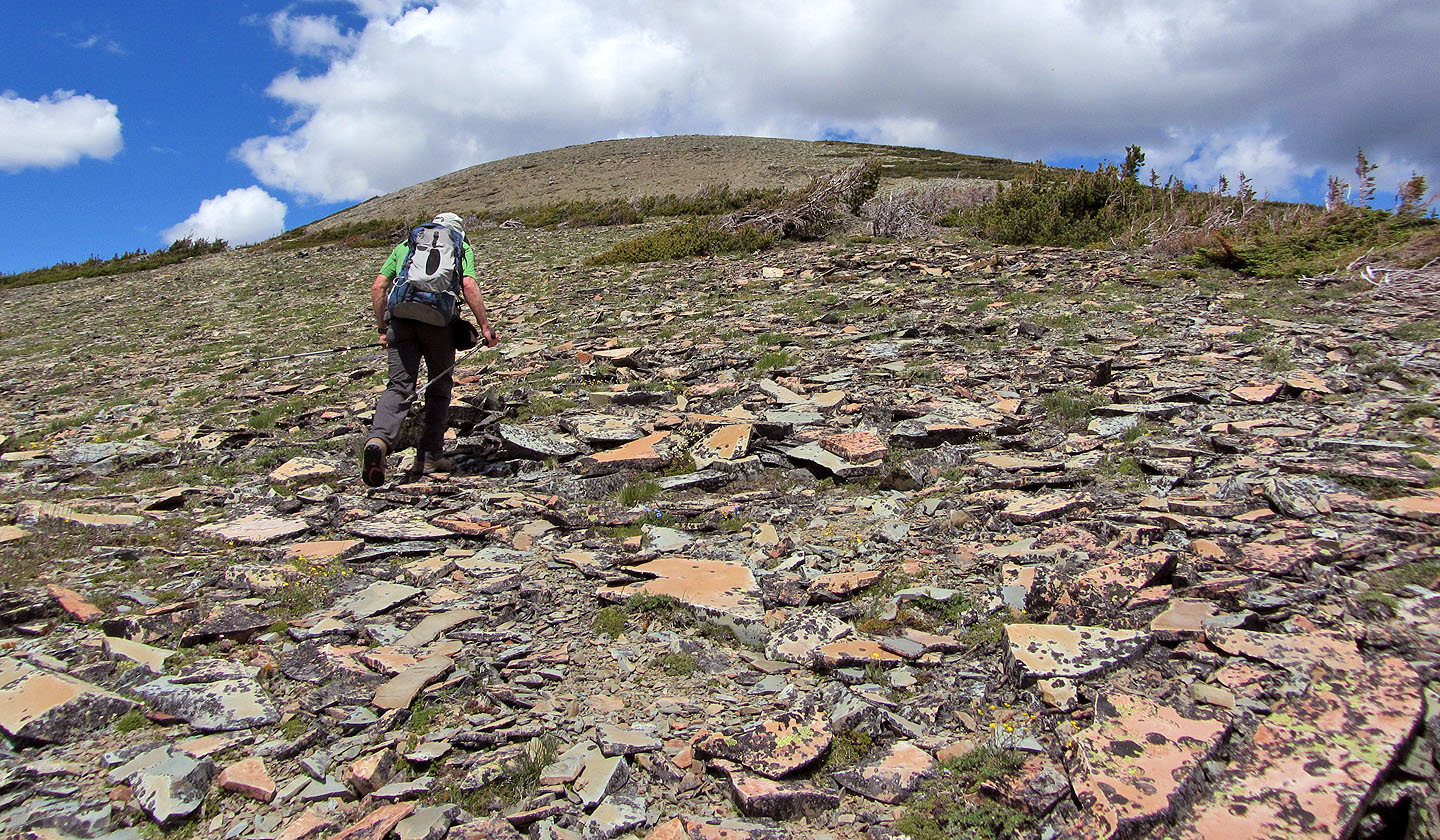 Another false summit ahead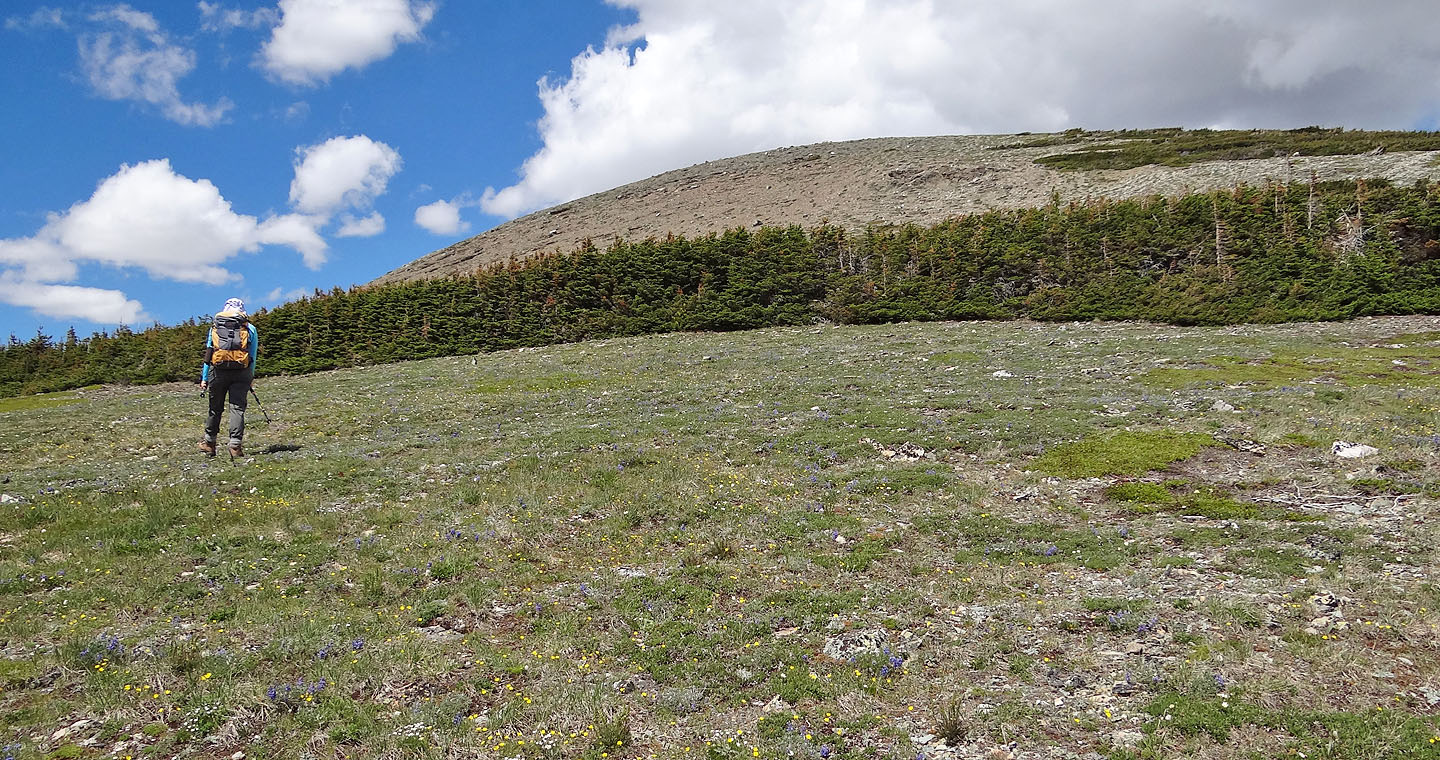 We were forced to make extensive detours around rows of dense krummholz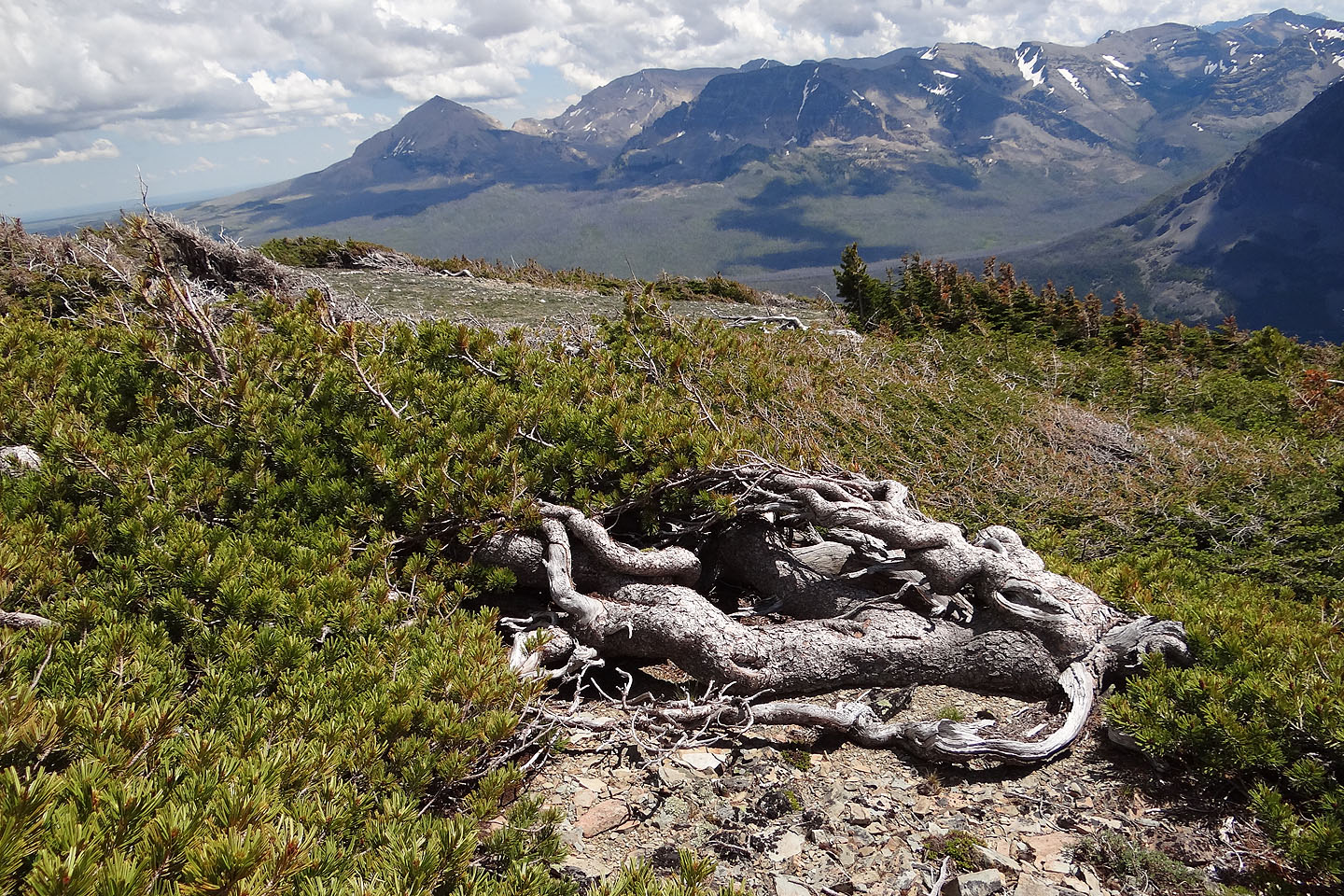 The trees were truly impenetrable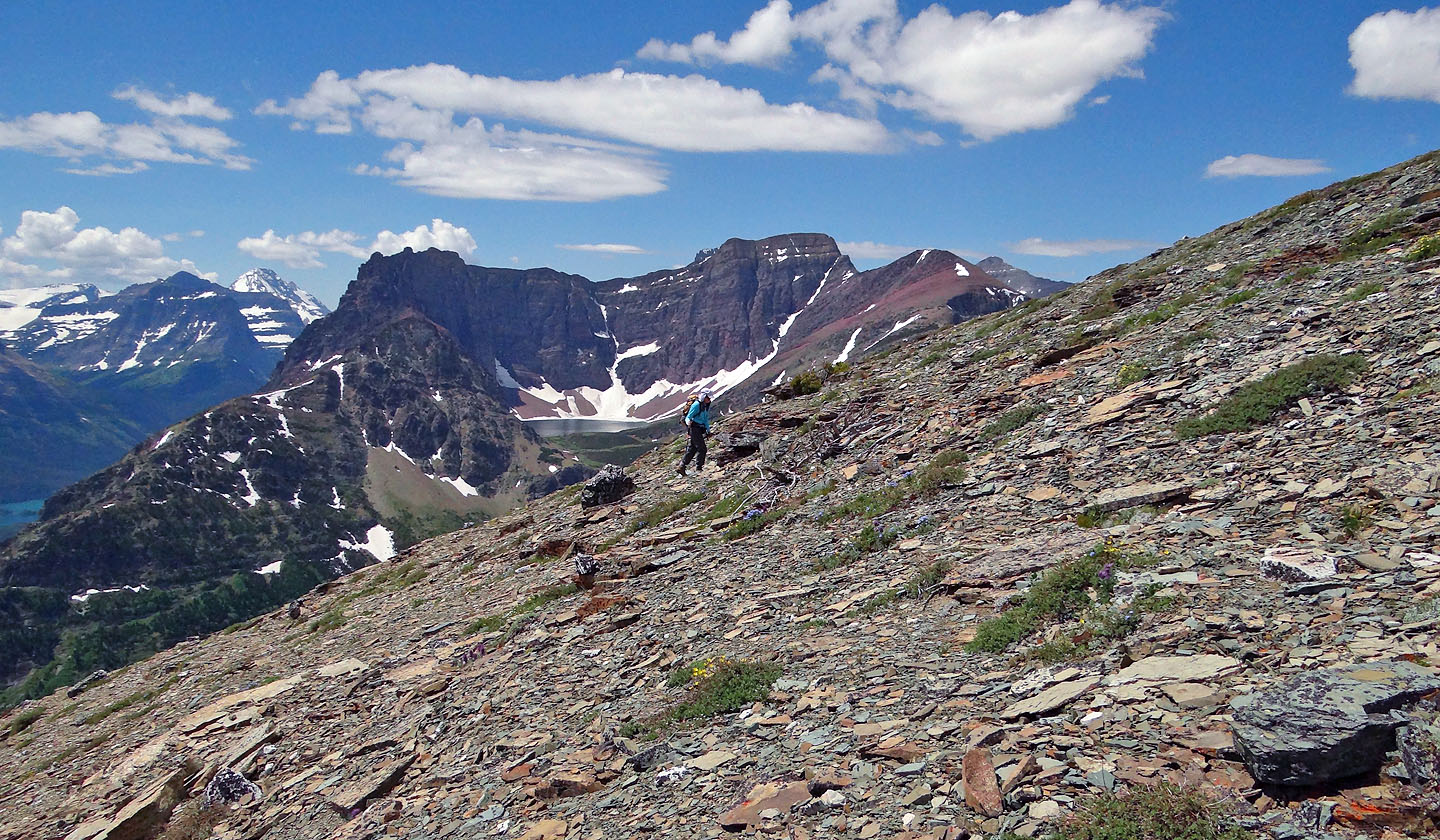 Goat Lake appears behind Dinah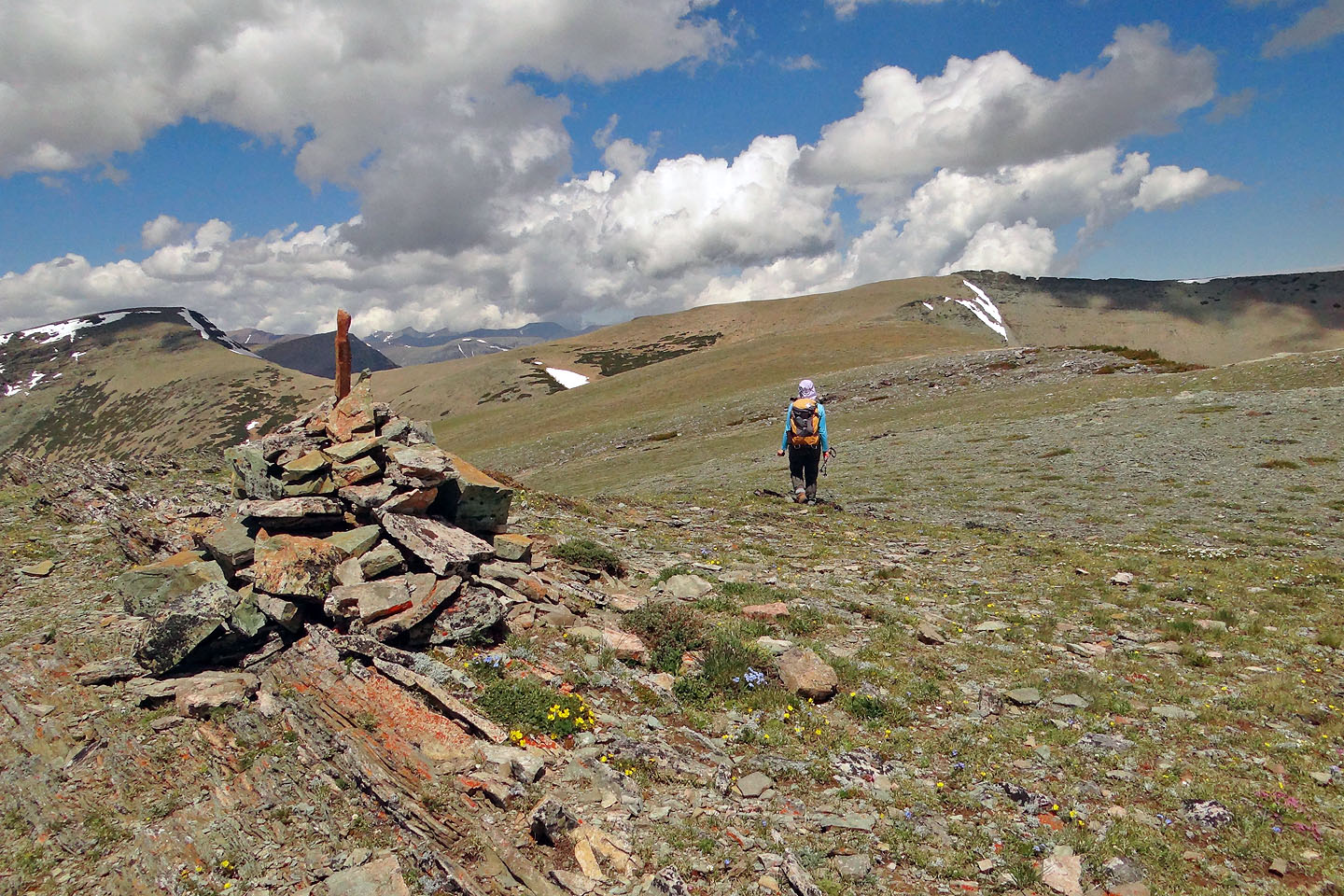 After reaching a cairn, we proceeded another 500 m to Otokomi's summit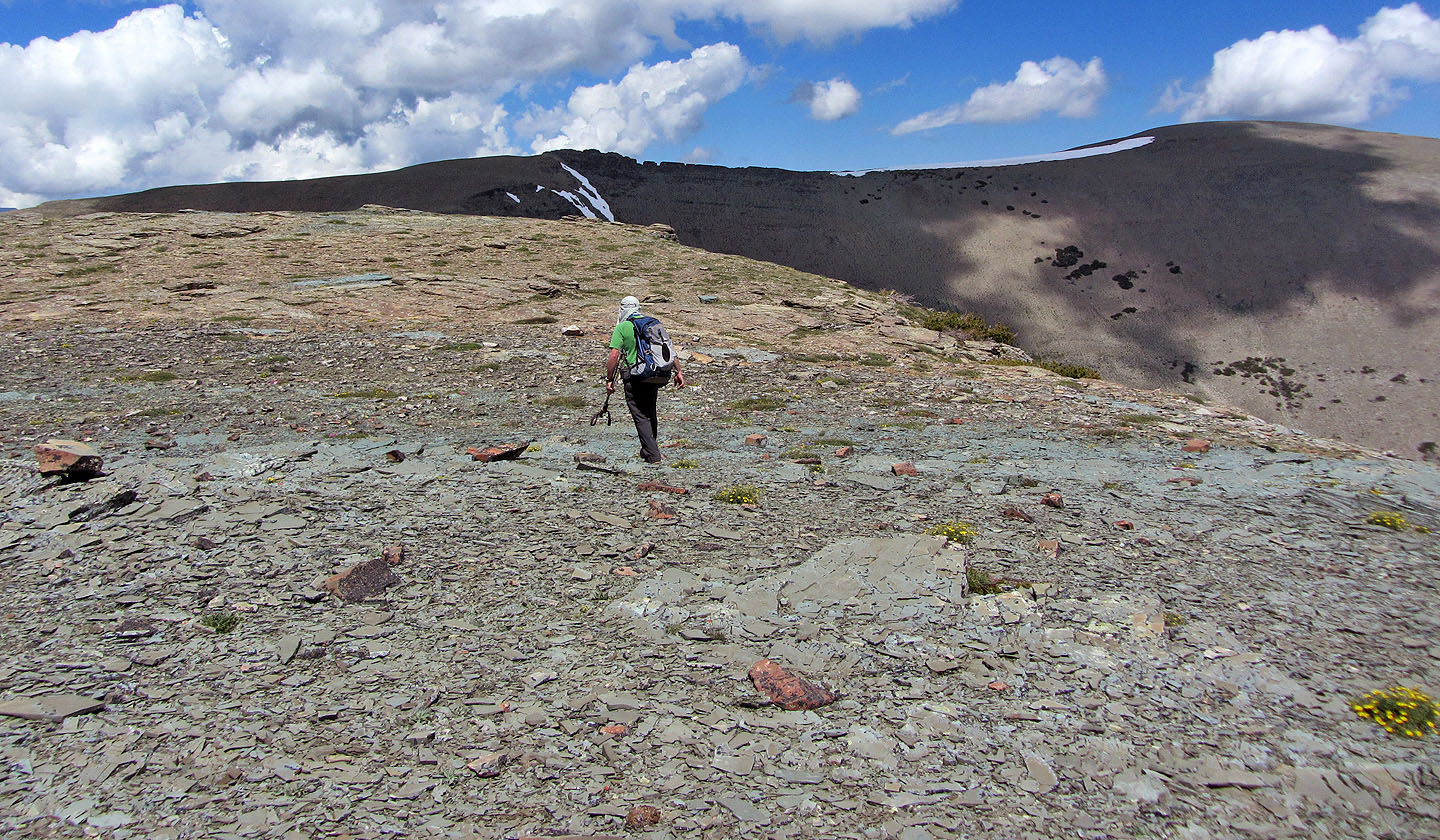 Coming to the featureless summit. East Flattop Mountain on the right.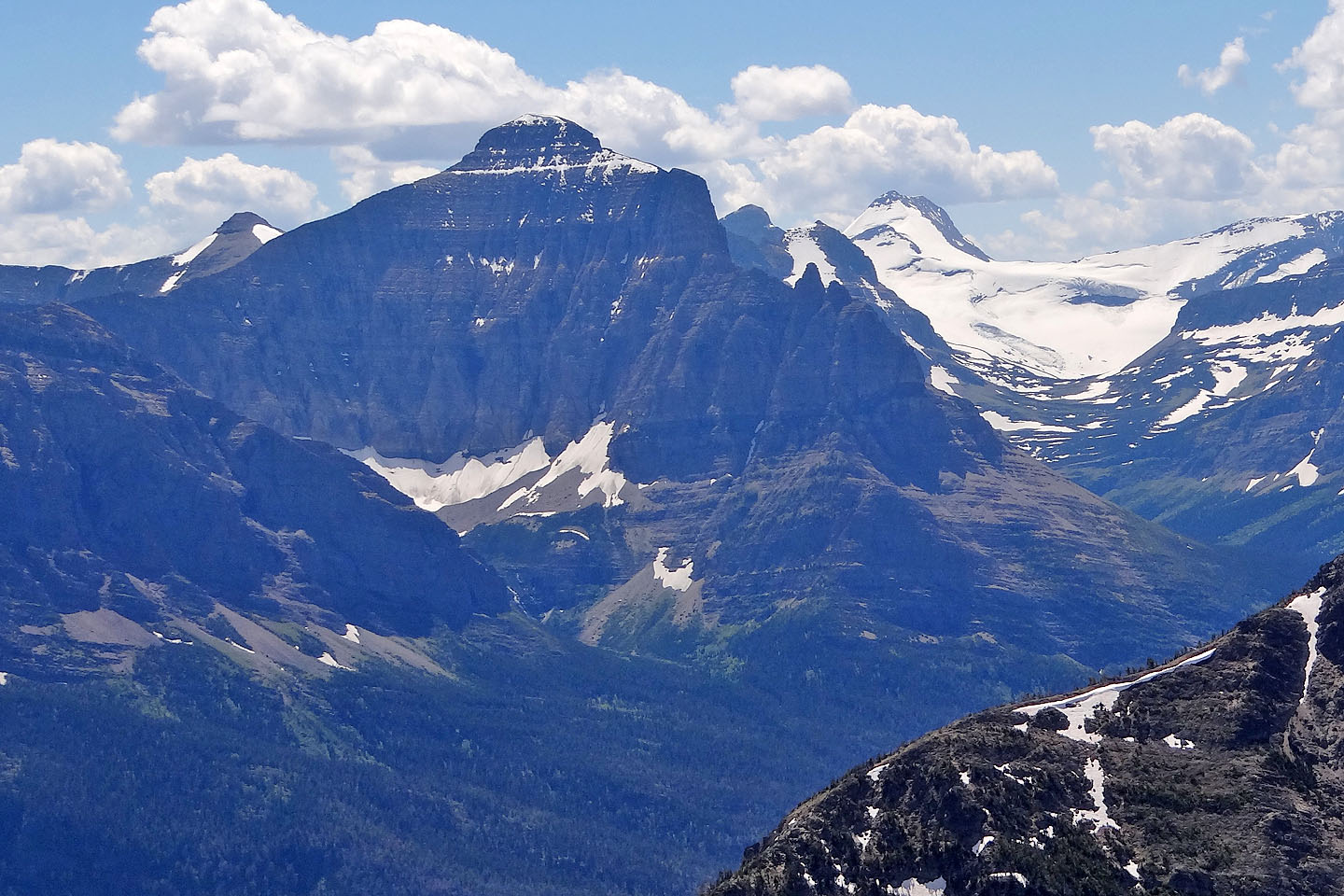 Little Chief Mountain lies south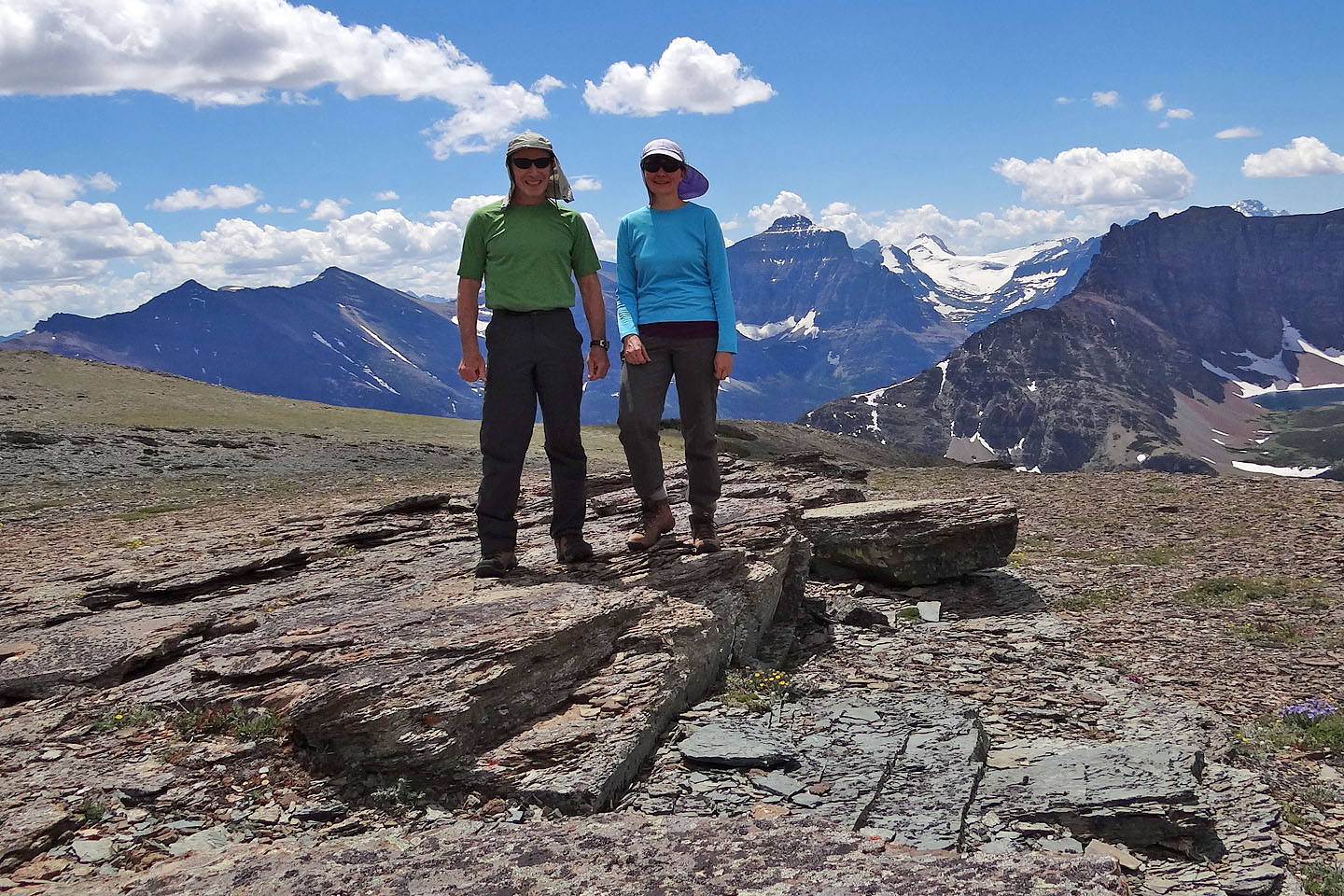 On the summit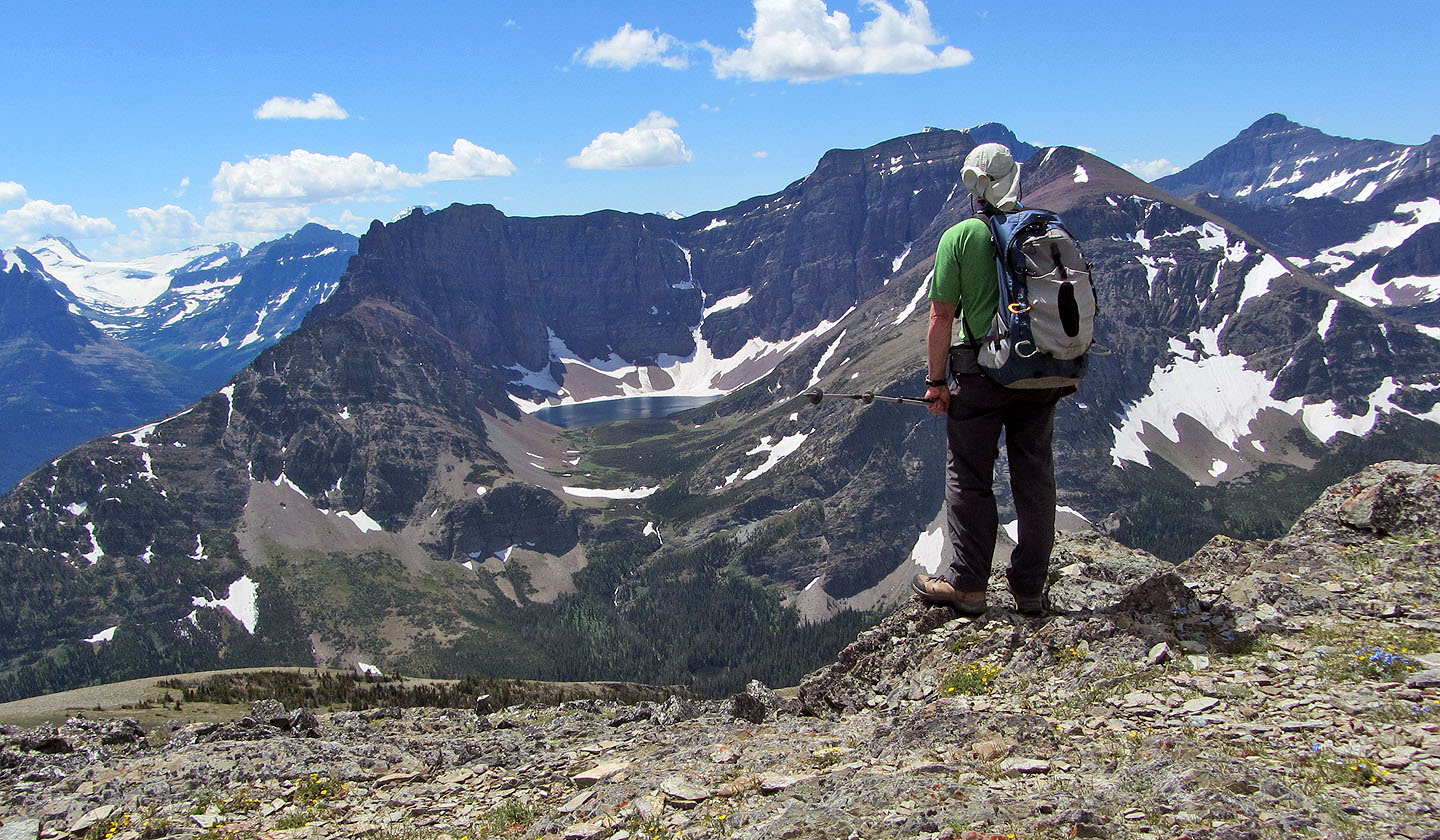 Stopping to look at Goat Lake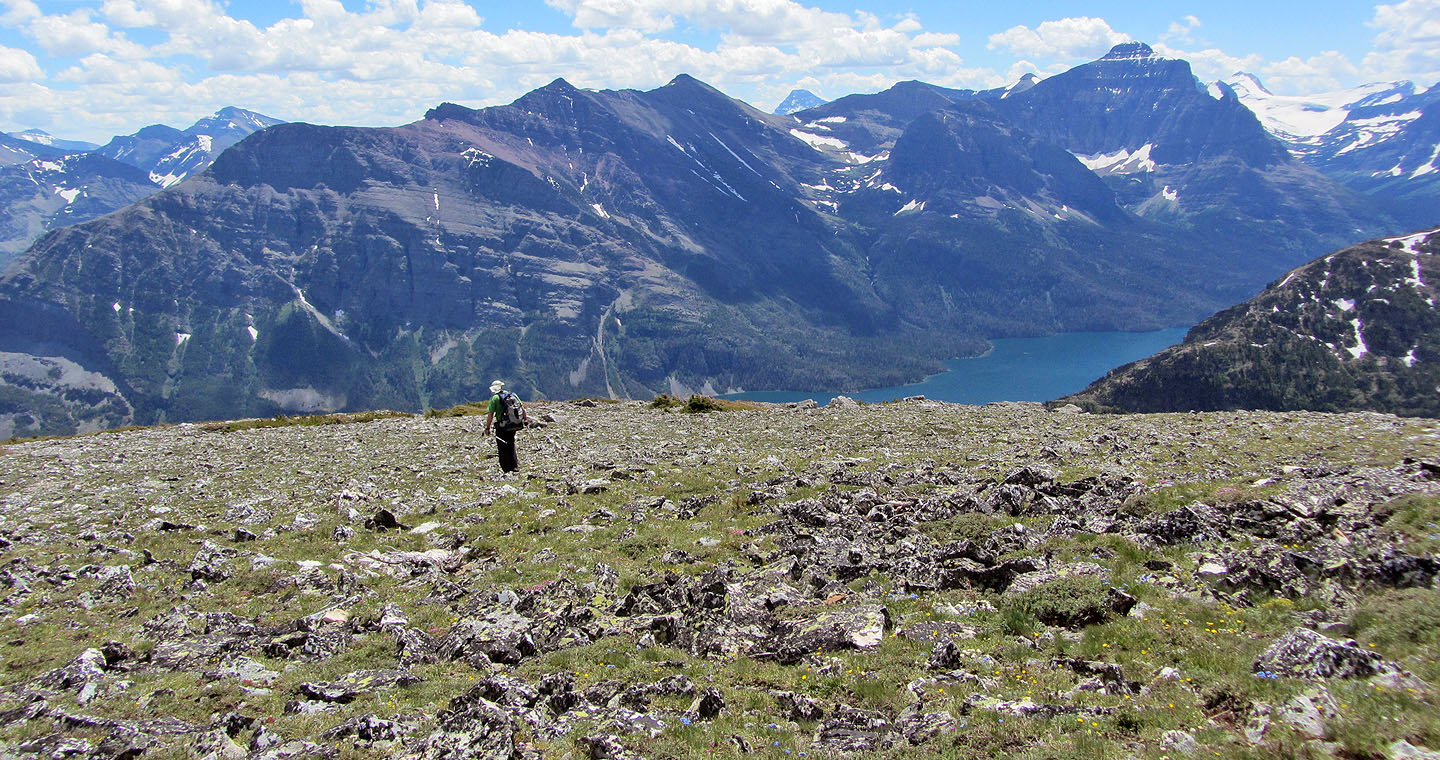 Heading back from the cairn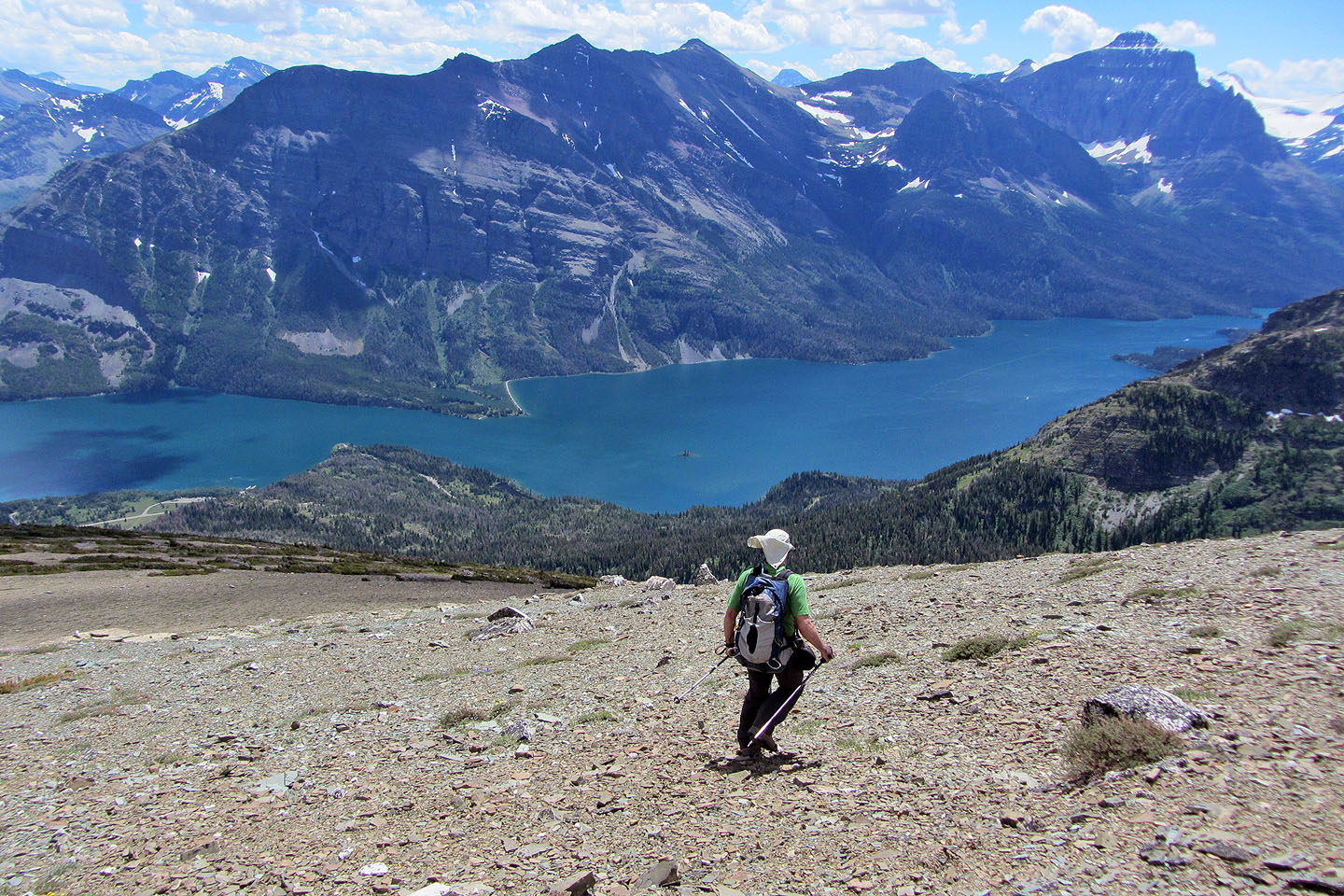 We have to go through krummholz maze (lower left)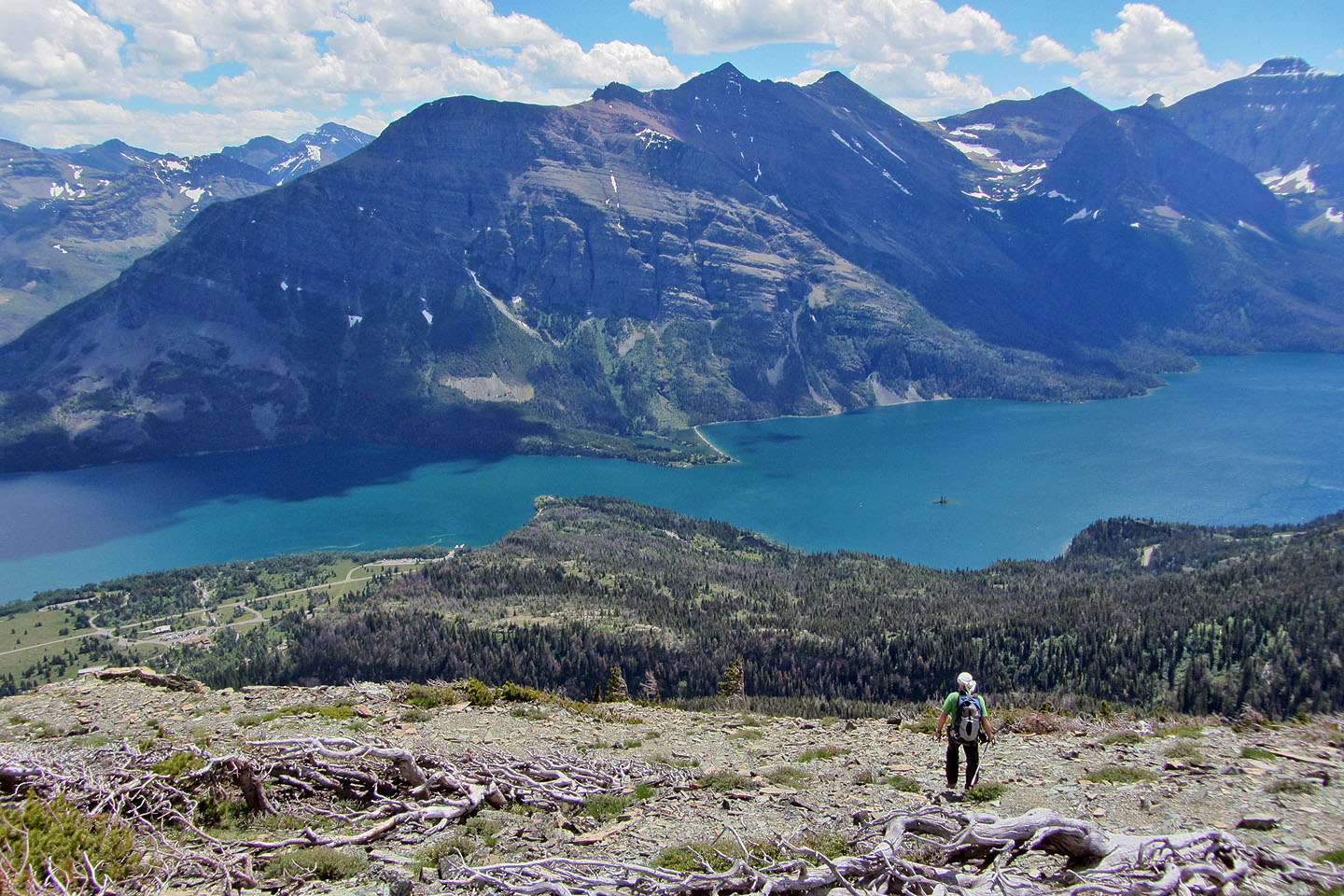 We'll be glad to get down the awful talus below us, and get back to our car at Rising Sun Cabins (lower left)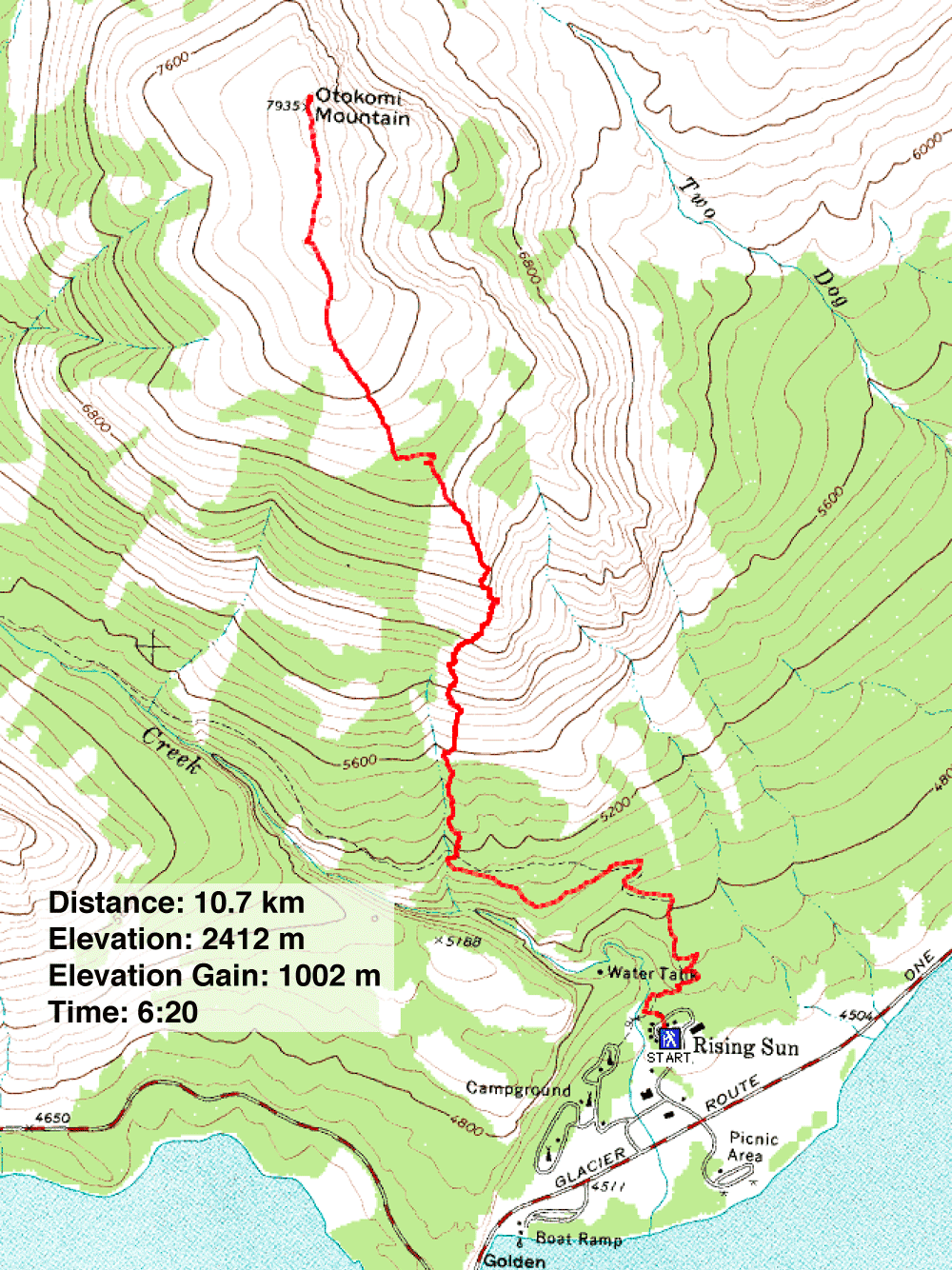 Rising Sun (6.6 mi, 7913 ft, 3287 ft)