bobspirko.ca | Home | Canada Trips | US Trips | Hiking | Snowshoeing | MAP | About

Birds Eye View
Bannack State Park, Montana
September 12, 2023
Distance: 6.7 km (4.2 mi)
Cumulative Elevation Gain: 205 m (673 ft)
Faced with a long drive, Dinah and I took a break to do a short hike in Bannack State Park. The park is 20 minutes off of the I-15 and charges $8.
Birds Eye View Loop begins in Bannack, a ghost town that was once a gold mining town. From the parking lot by the info centre, we entered the town and crossed the bridge over Grasshopper Creek. We passed another parking lot and came to a gate at the edge of a grassy expanse. After going through the gate, we followed the trail as it gently rises to reach the foot of wooded hills. A brief trail leads to a small, bare hill that looks across Grasshopper Valley.
After returning to the main trail, we hiked a short distance to take in two more side trails, each leading to a view of Hendricks Lode Mine. The last thing left to see was the town itself. We finished the loop, crossed another bridge over Grasshopper Creek and started down the main street.
We've come across a few ghost towns in our travels, but none left a lasting impression. Bannack, on the other hand, stands out. Dozens of old buildings line the street: hotels, jails, a saloon, a school, a church and so on. You are allowed to enter most buildings and look around. It gives you a taste of what life was like in the late 1800s. One could spend an afternoon poking around, but we had to get going. We returned to our car ready to hit the highway.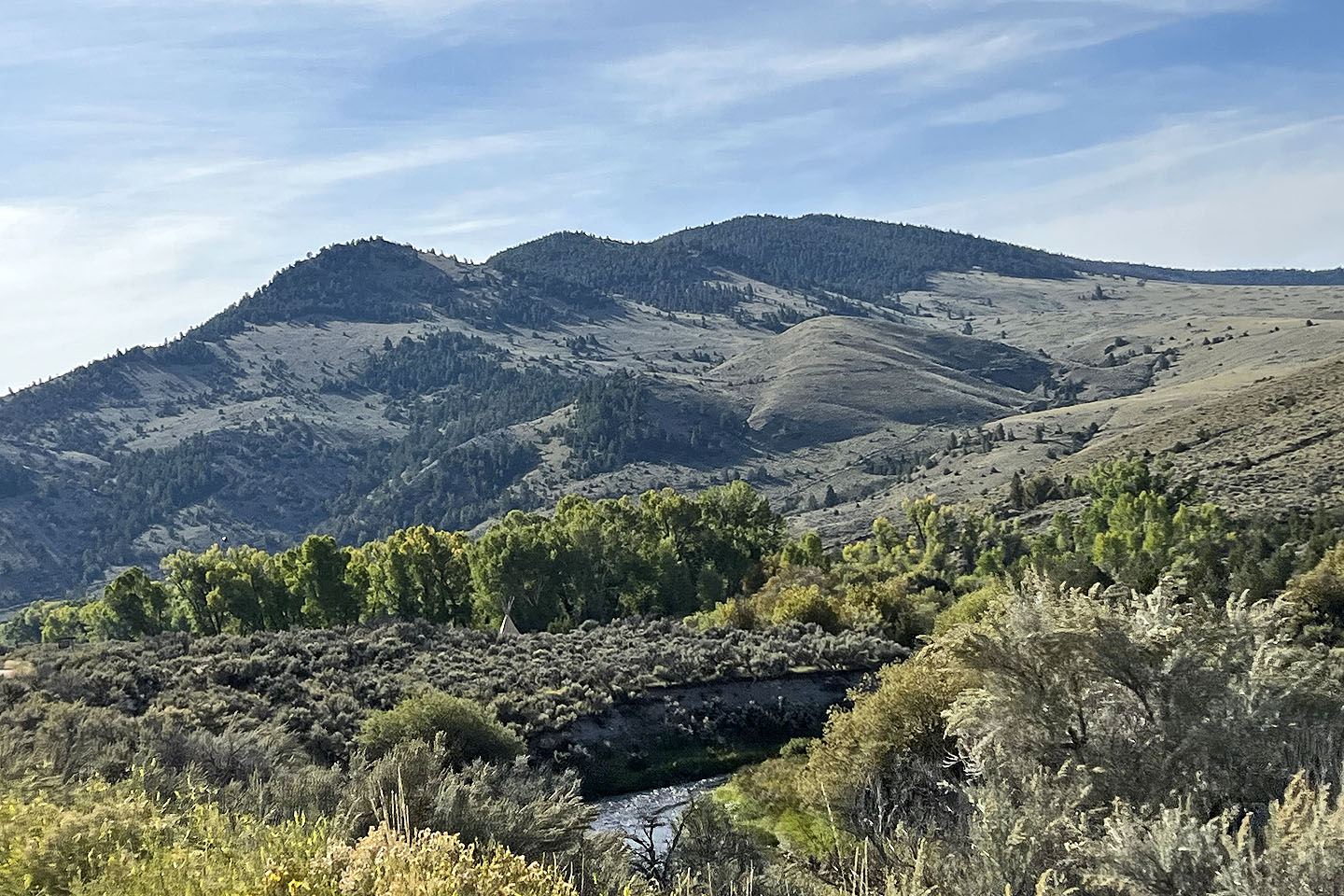 Bannack State Park: we reached the bare hill centre right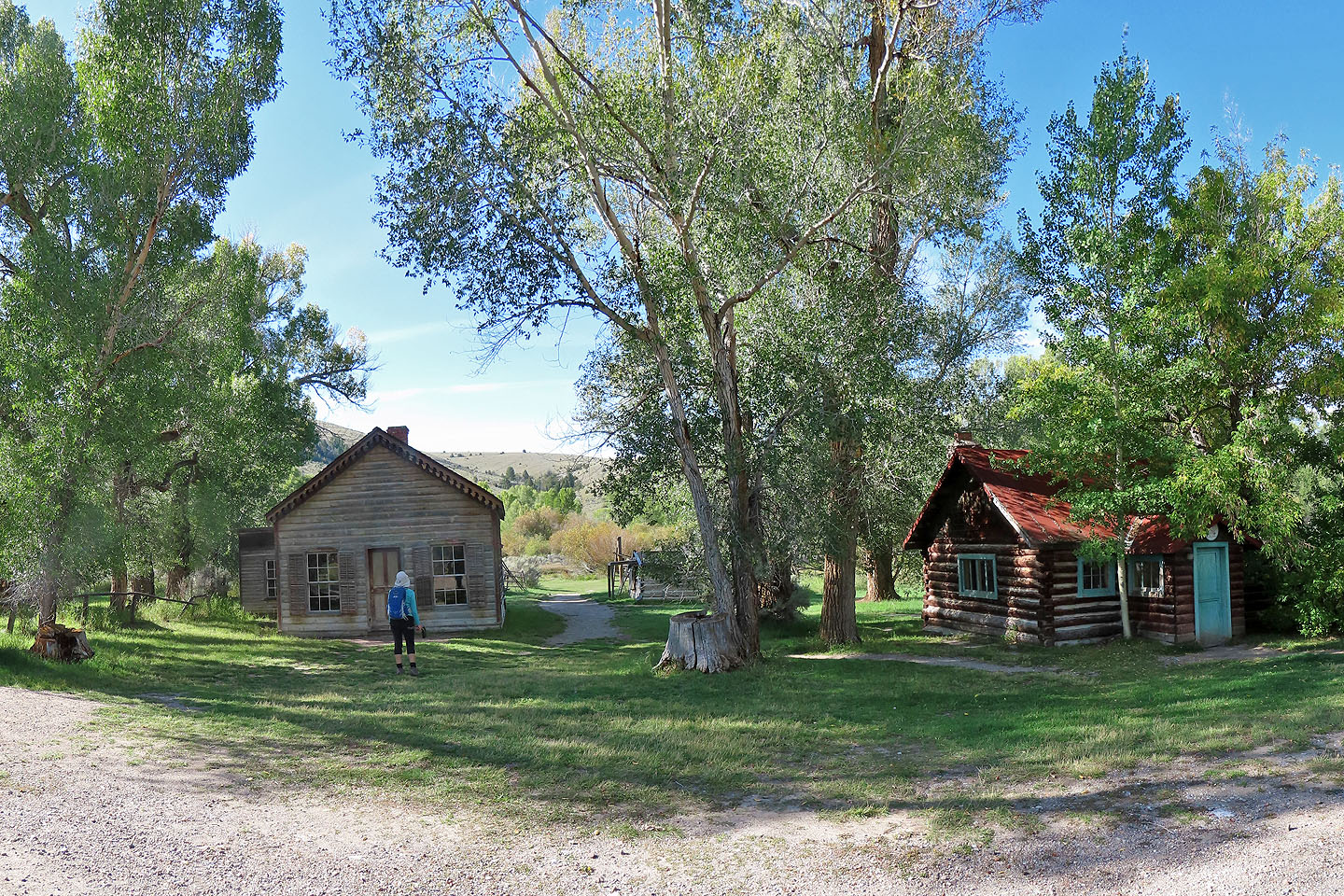 The loop begins between these houses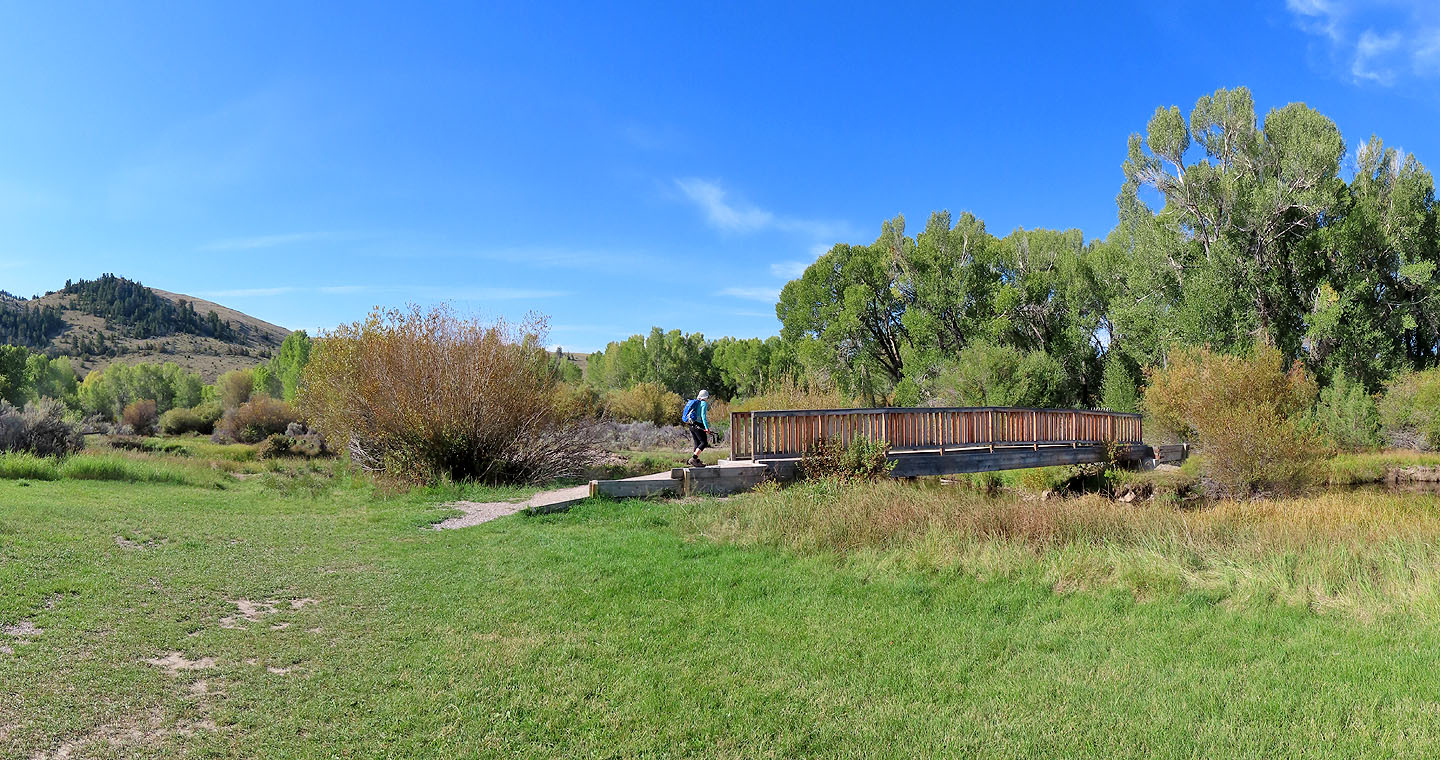 We crossed a bridge over Grasshopper Creek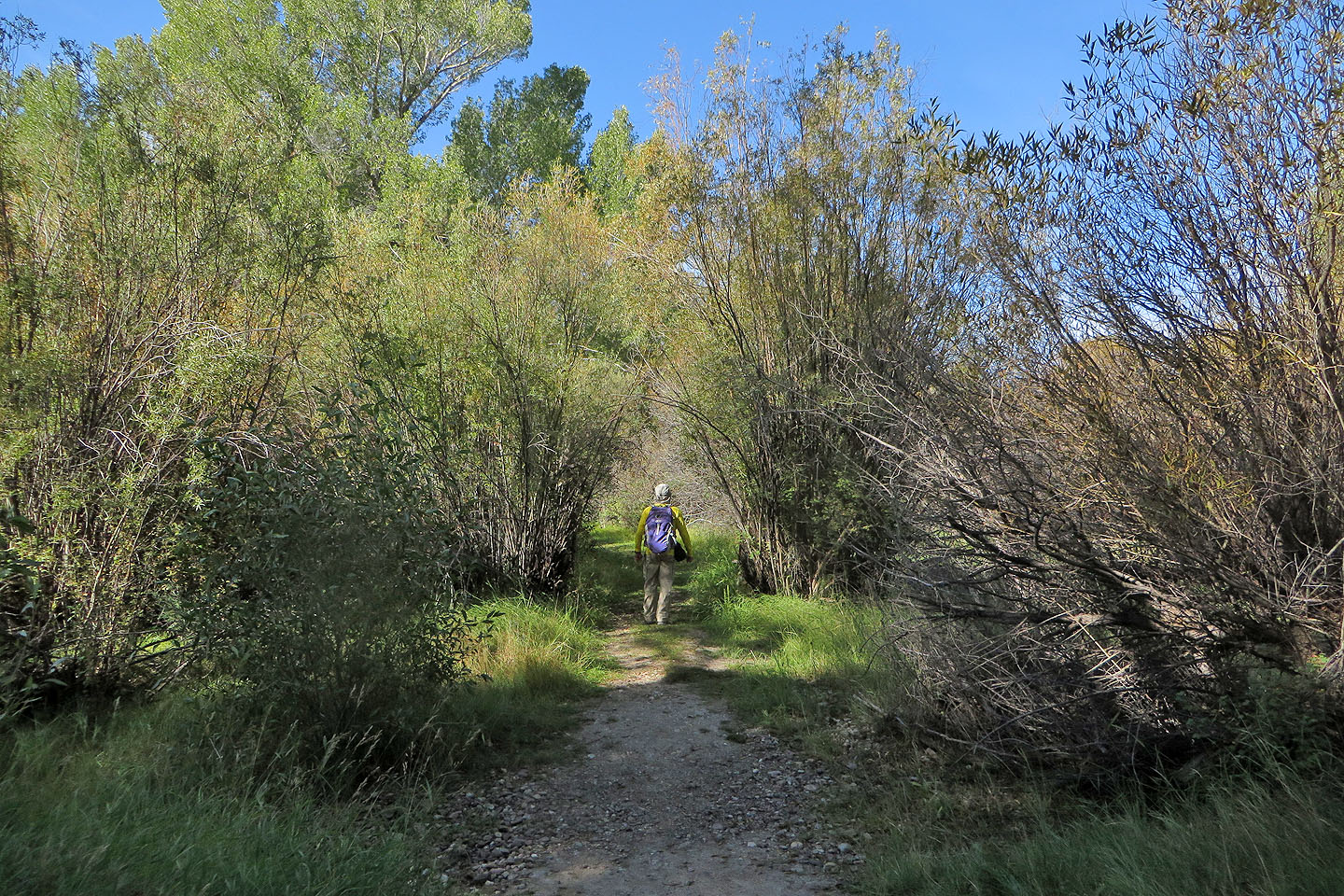 We passed through tall bushes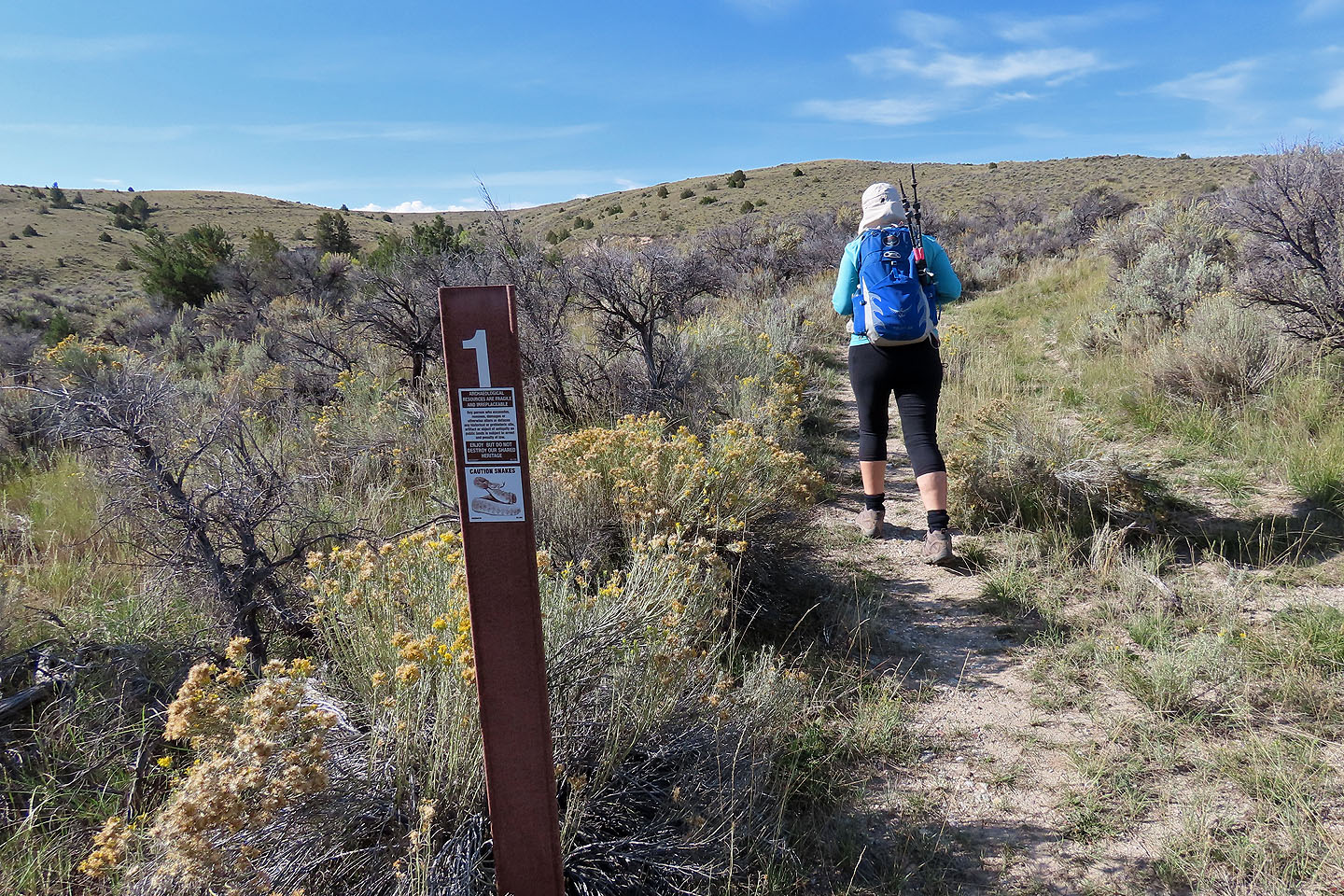 A sign warns of rattlesnakes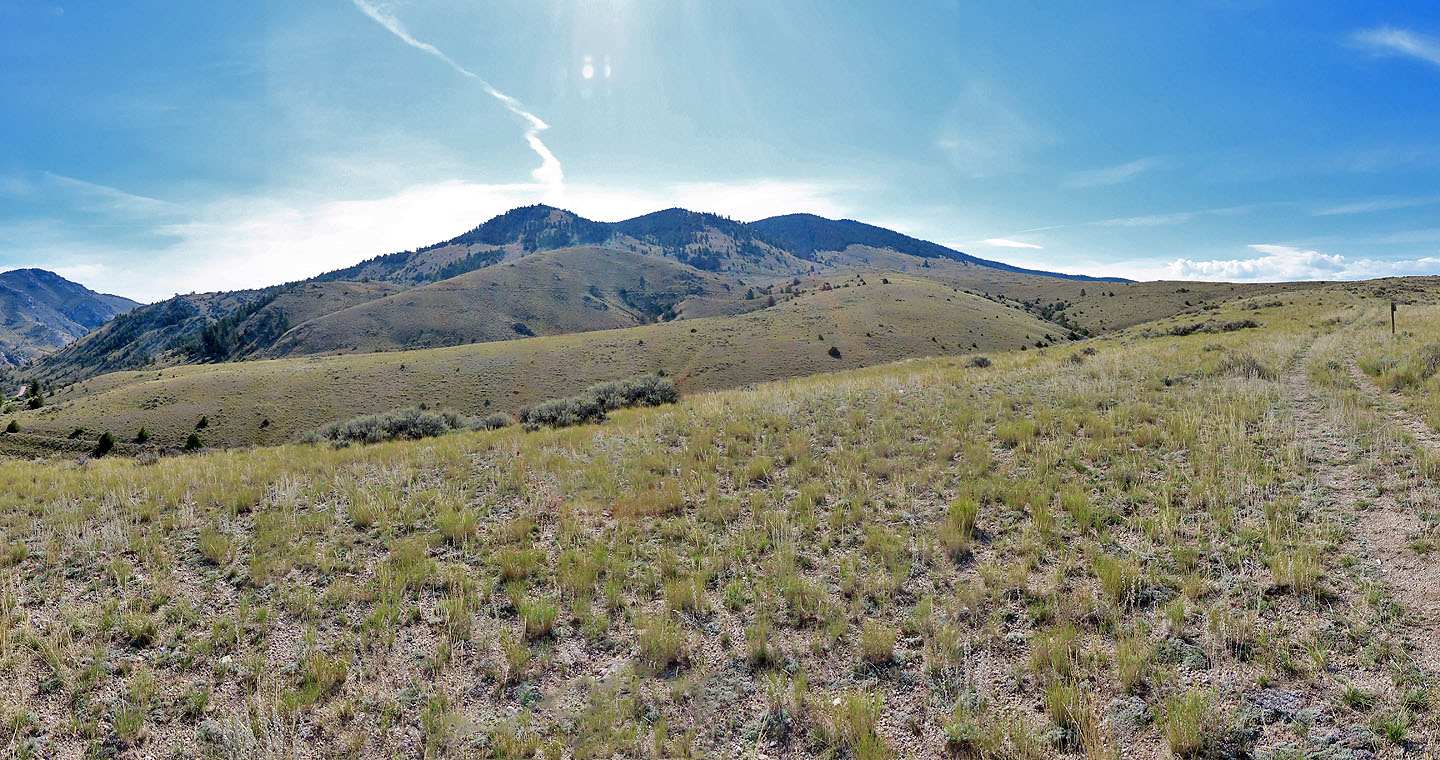 The trail makes a wide turn before reaching the bare hill in the centre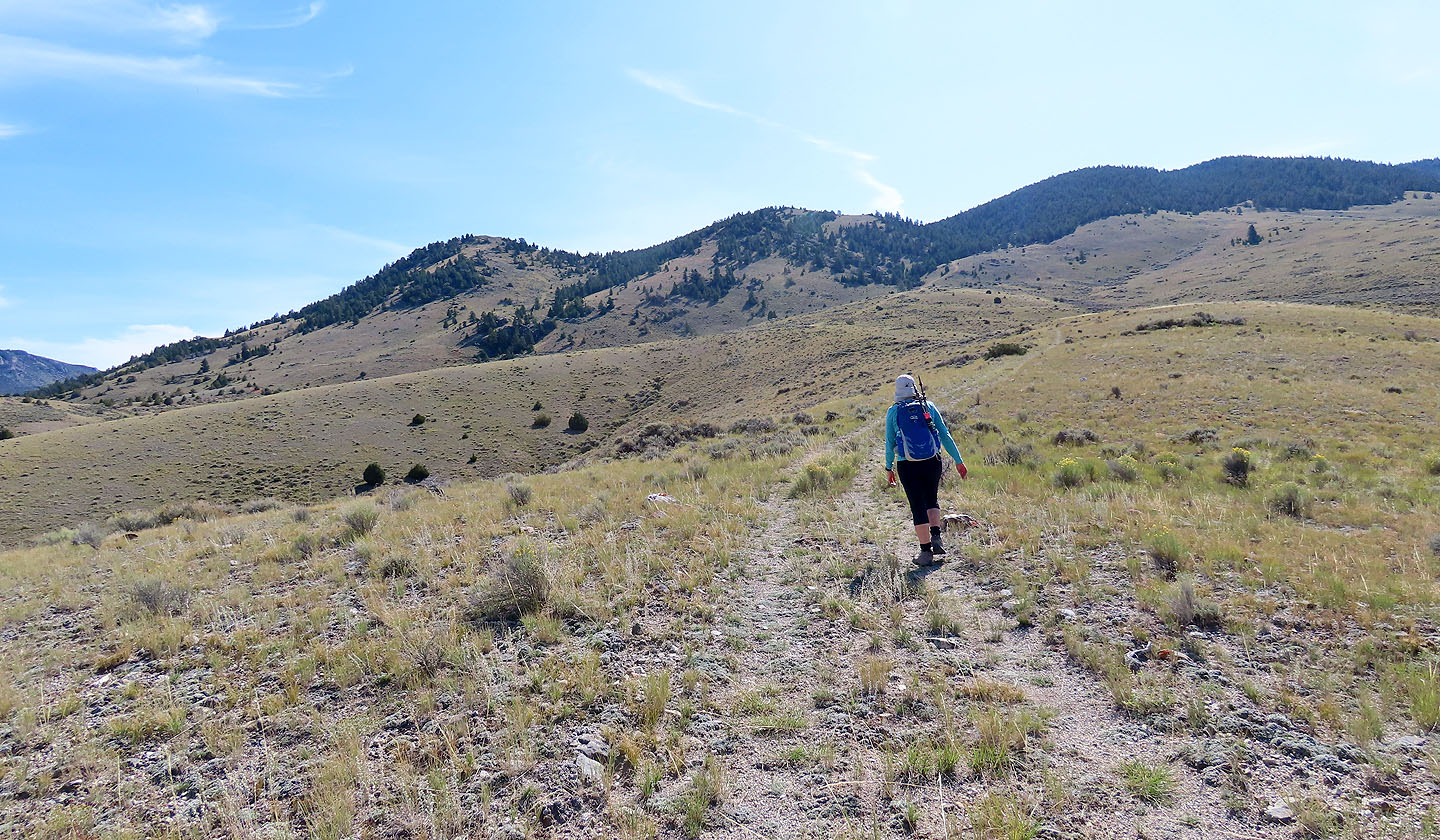 We hiked towards forested hills before turning left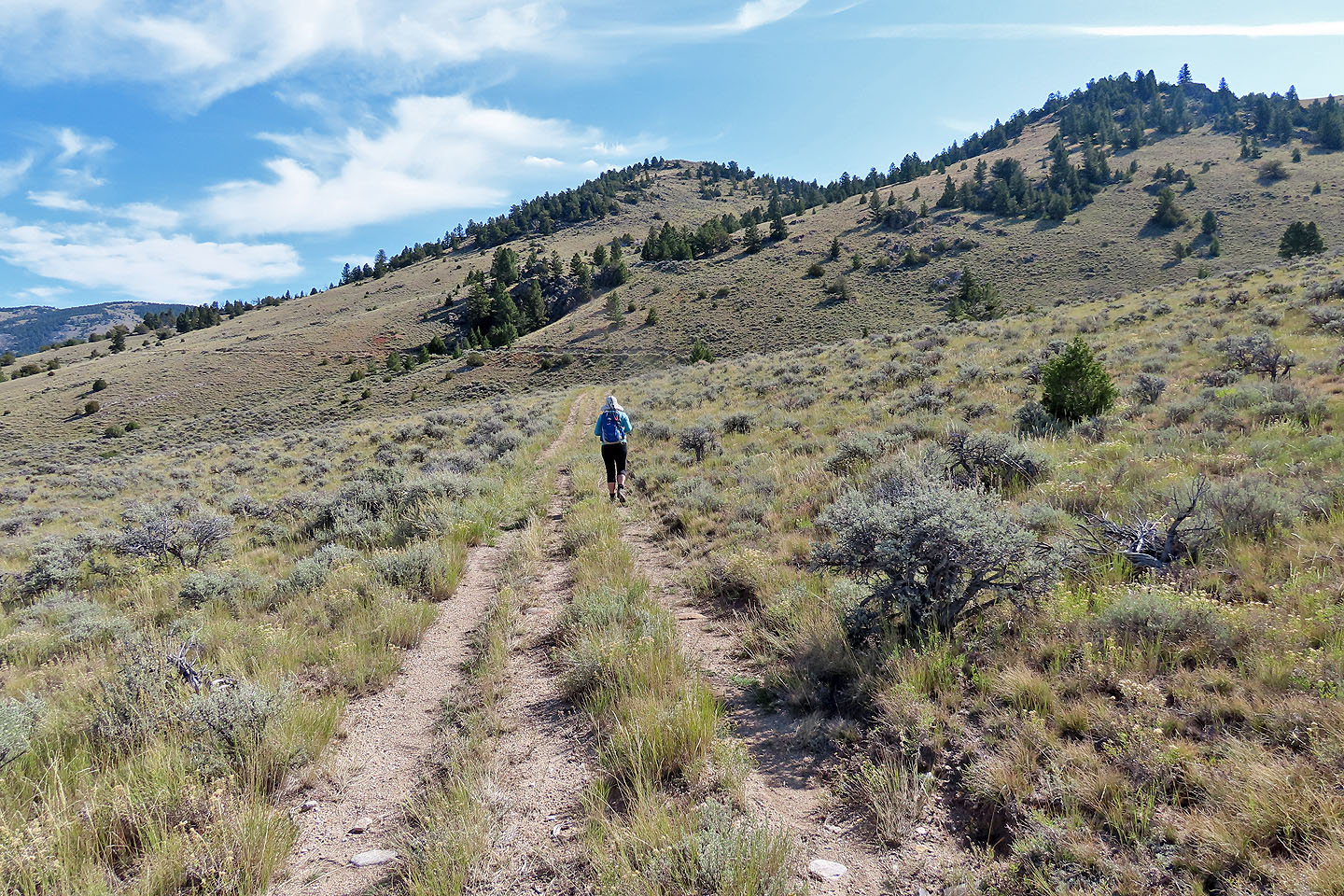 The trail leads to the path above Dinah that cuts into the slope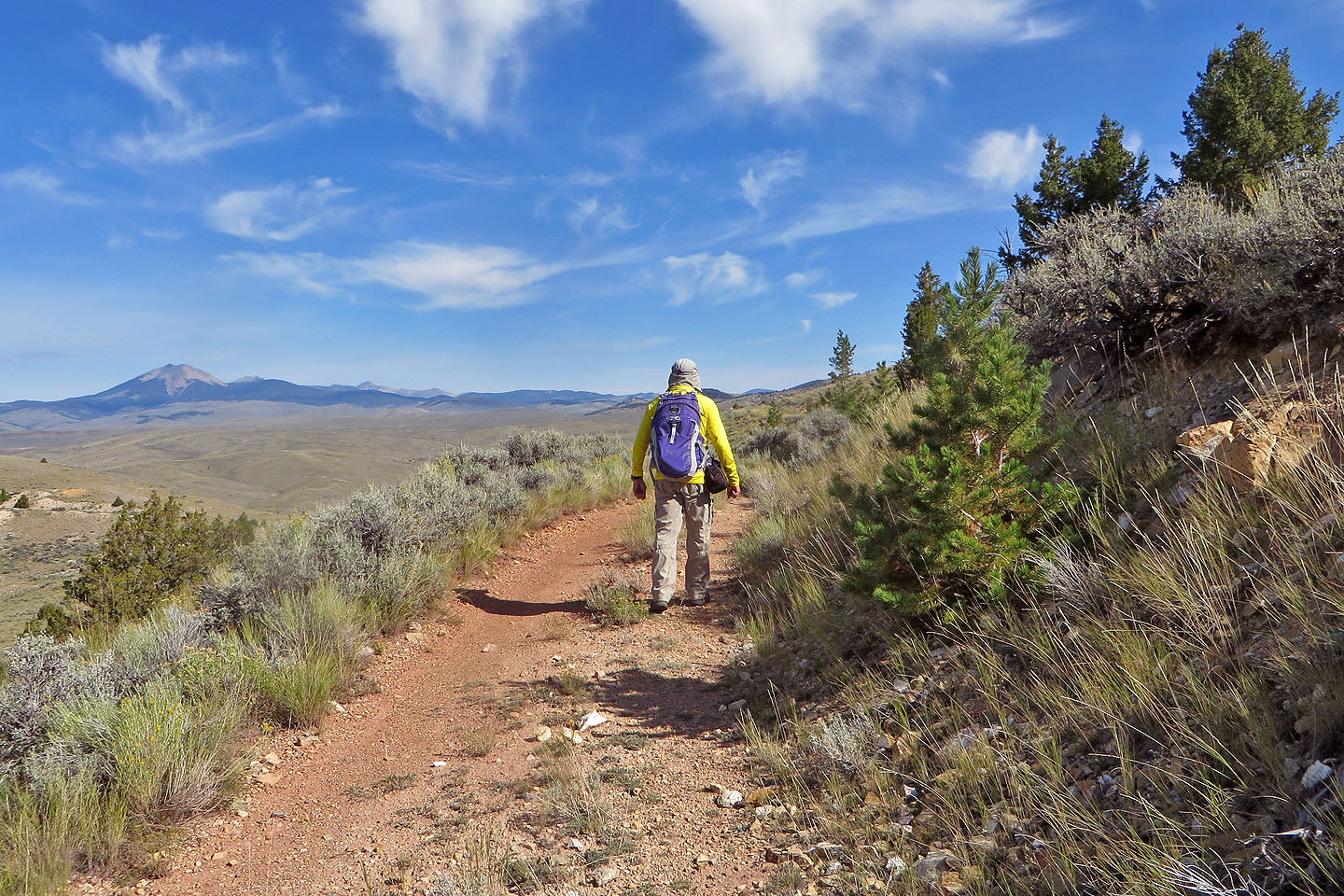 Baldy Mountain appears on the other side of Grasshopper Valley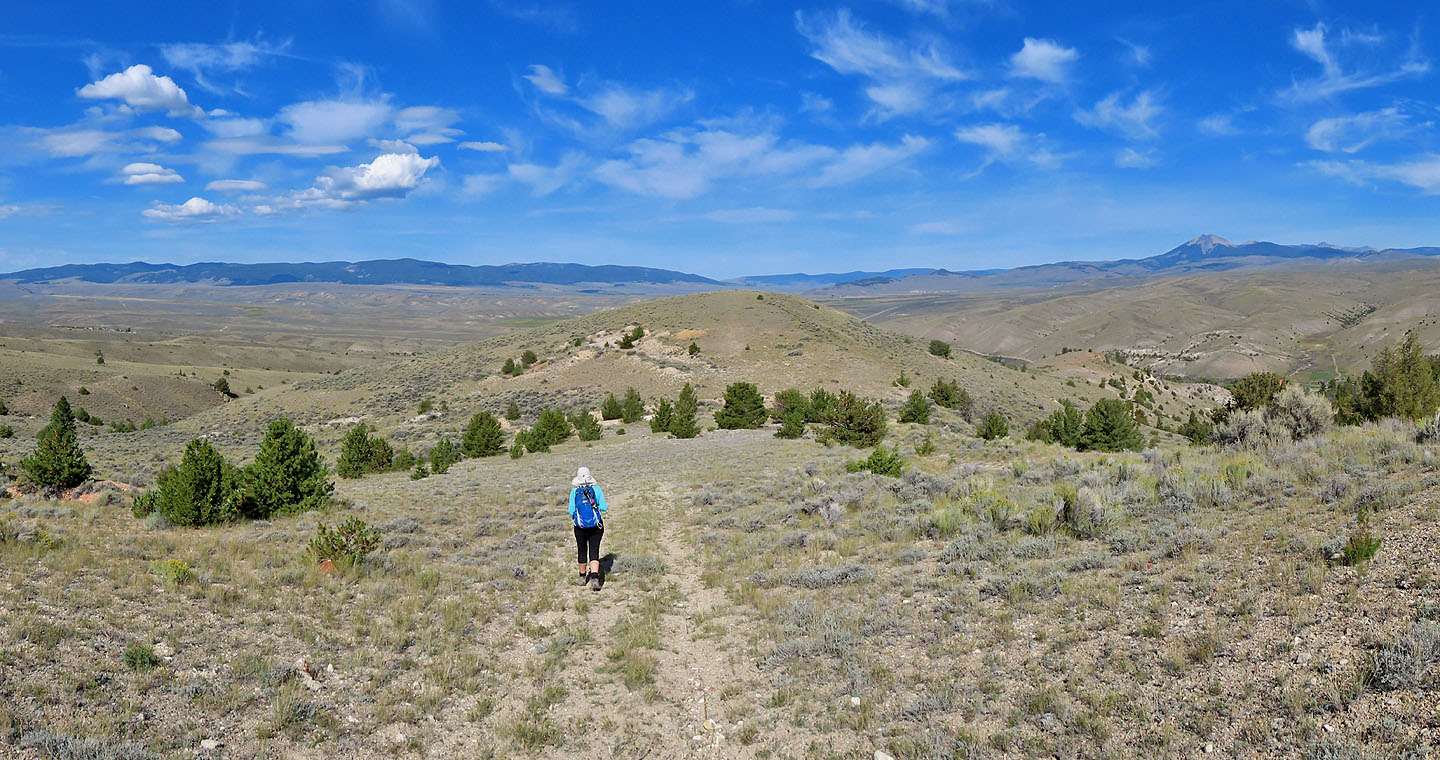 Going to the viewpoint on the hill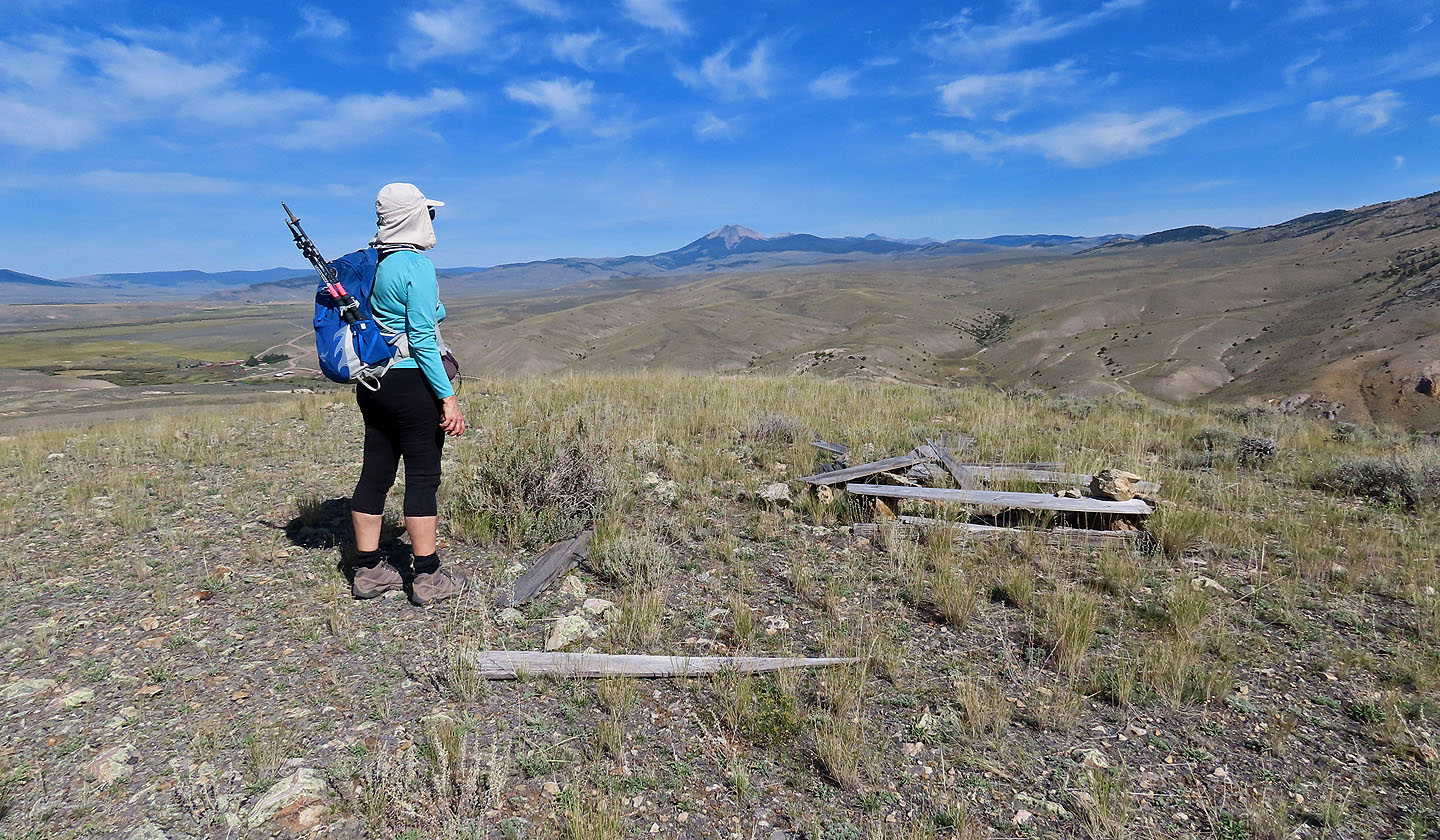 Dinah takes in the sights from the top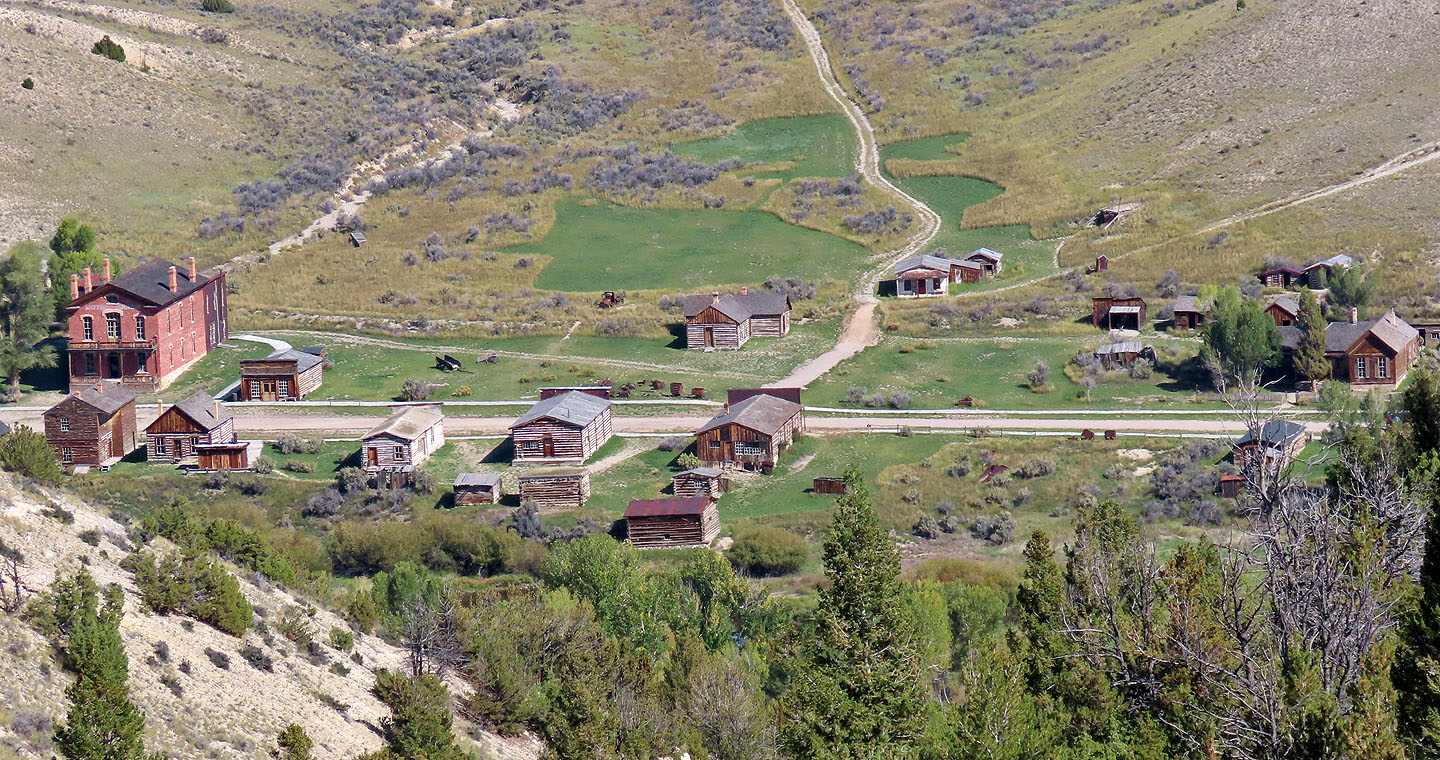 Looking down at the ghost town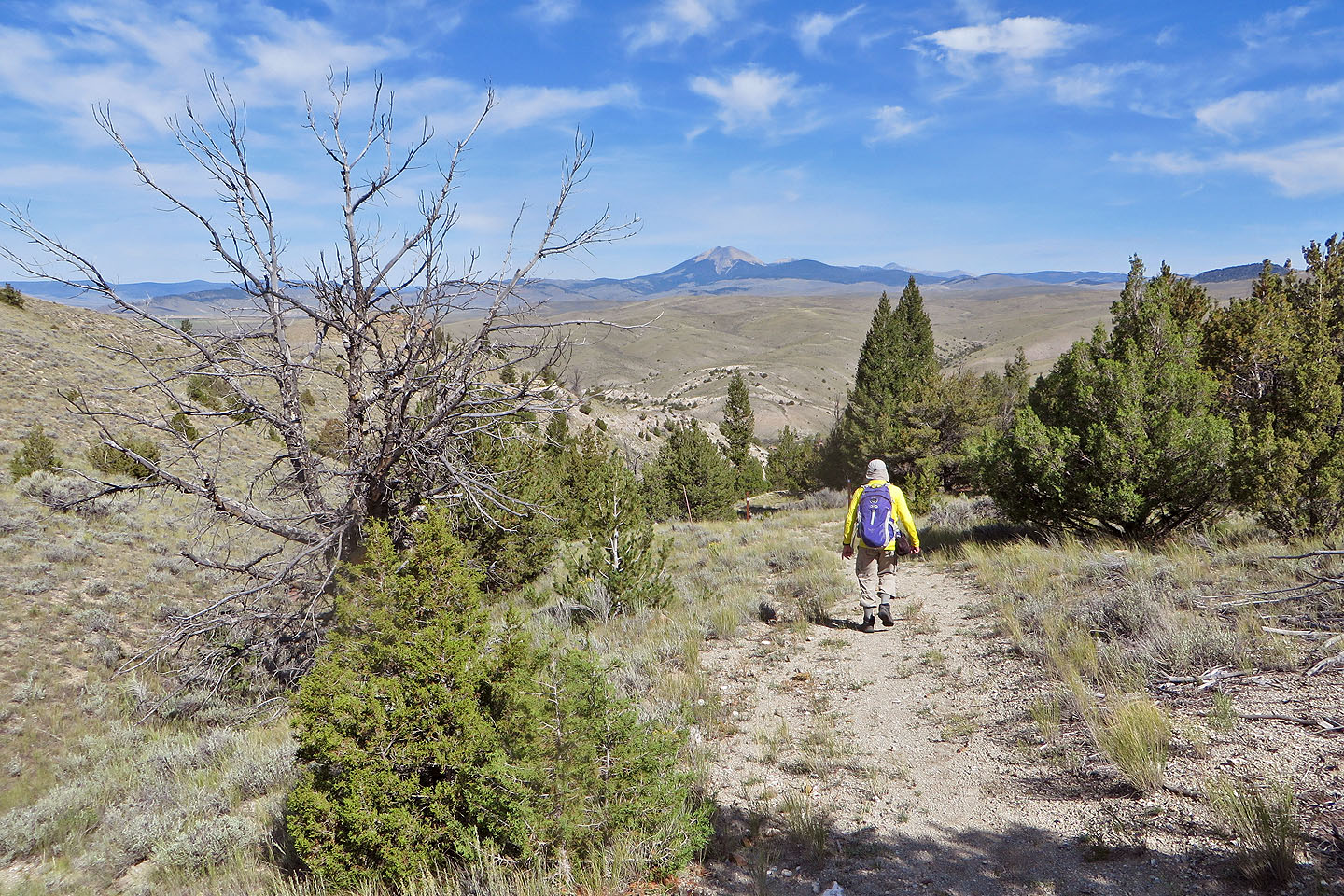 We continued along the loop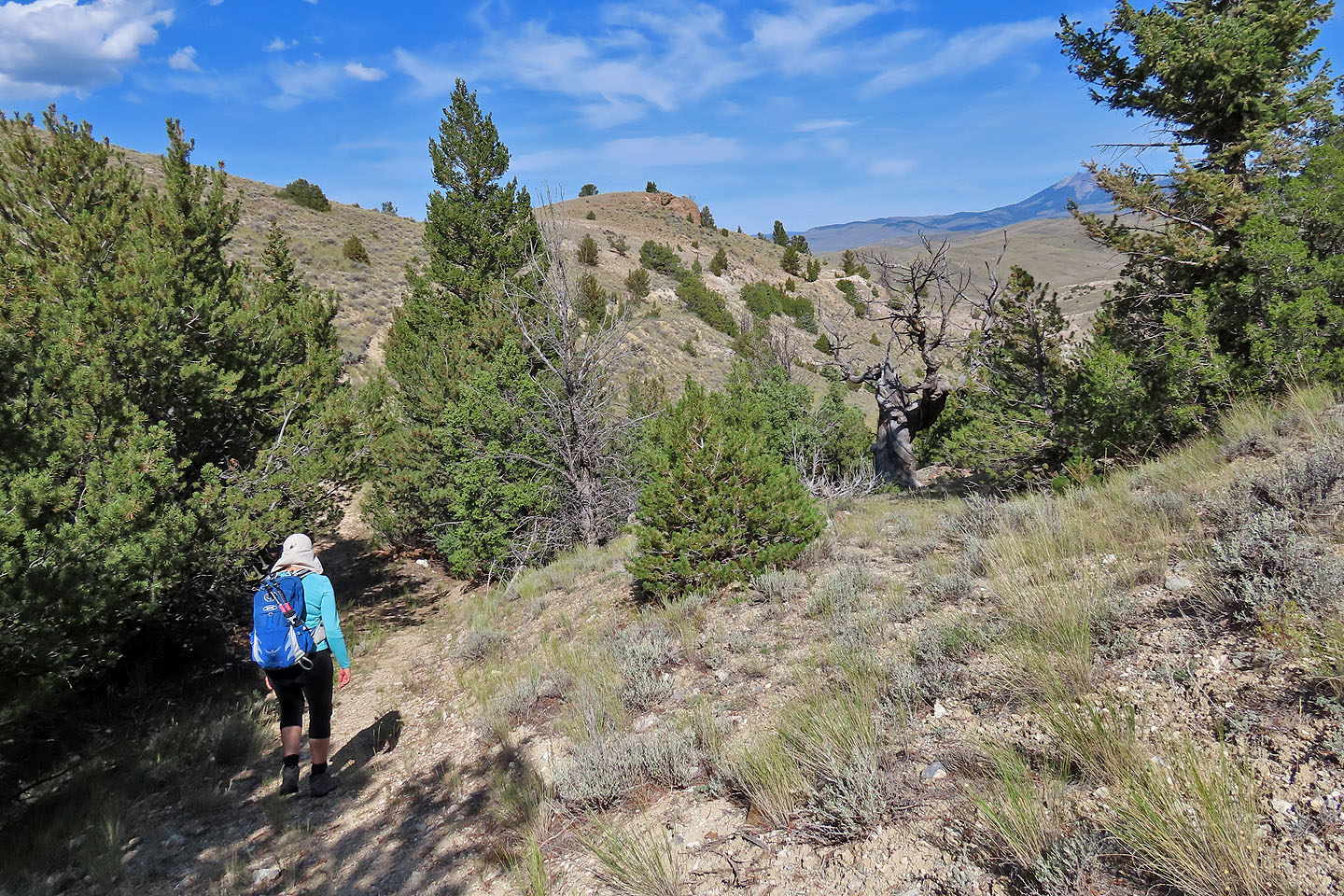 A side trail leads to a view of the mine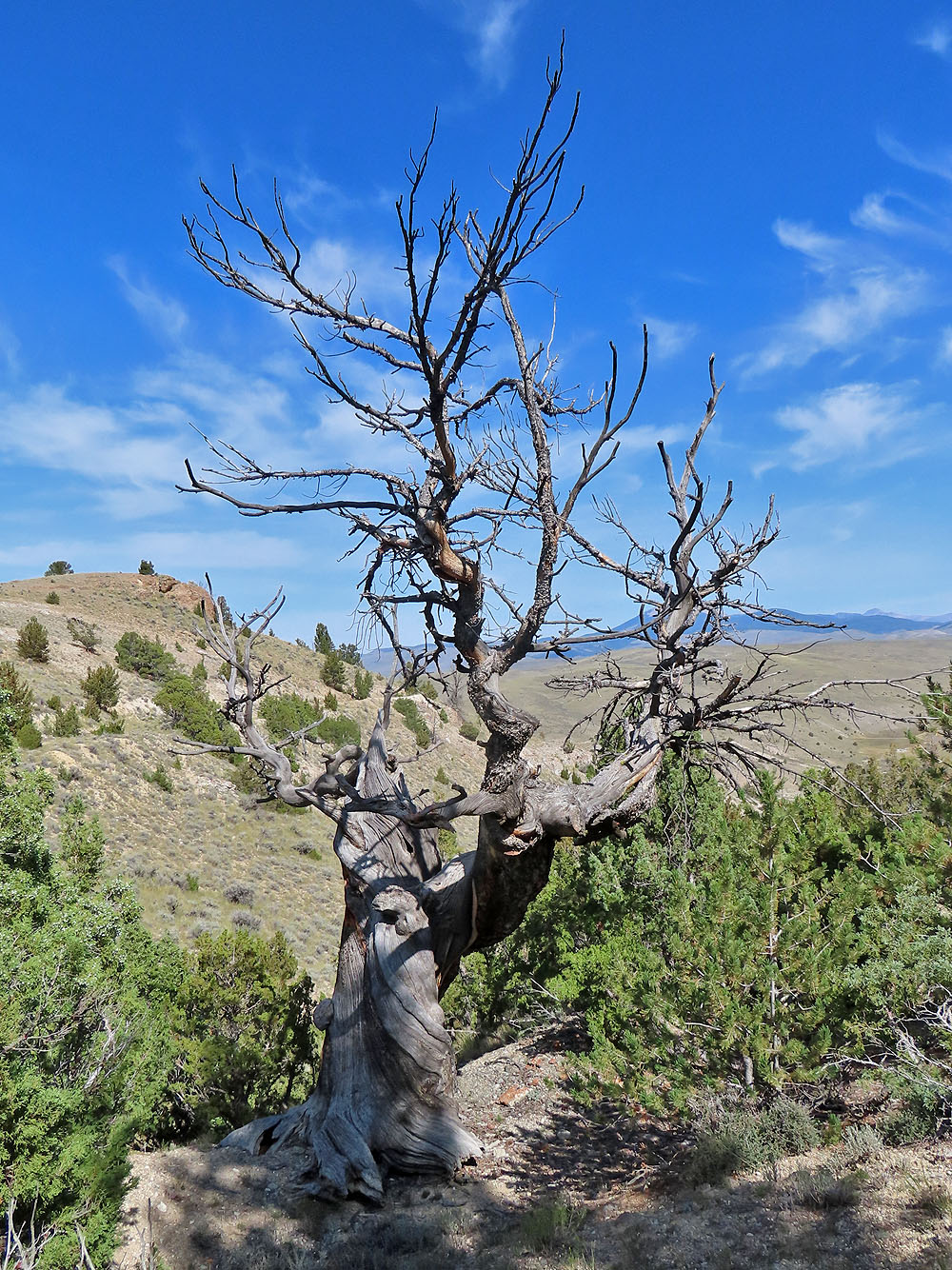 This old tree caught my eye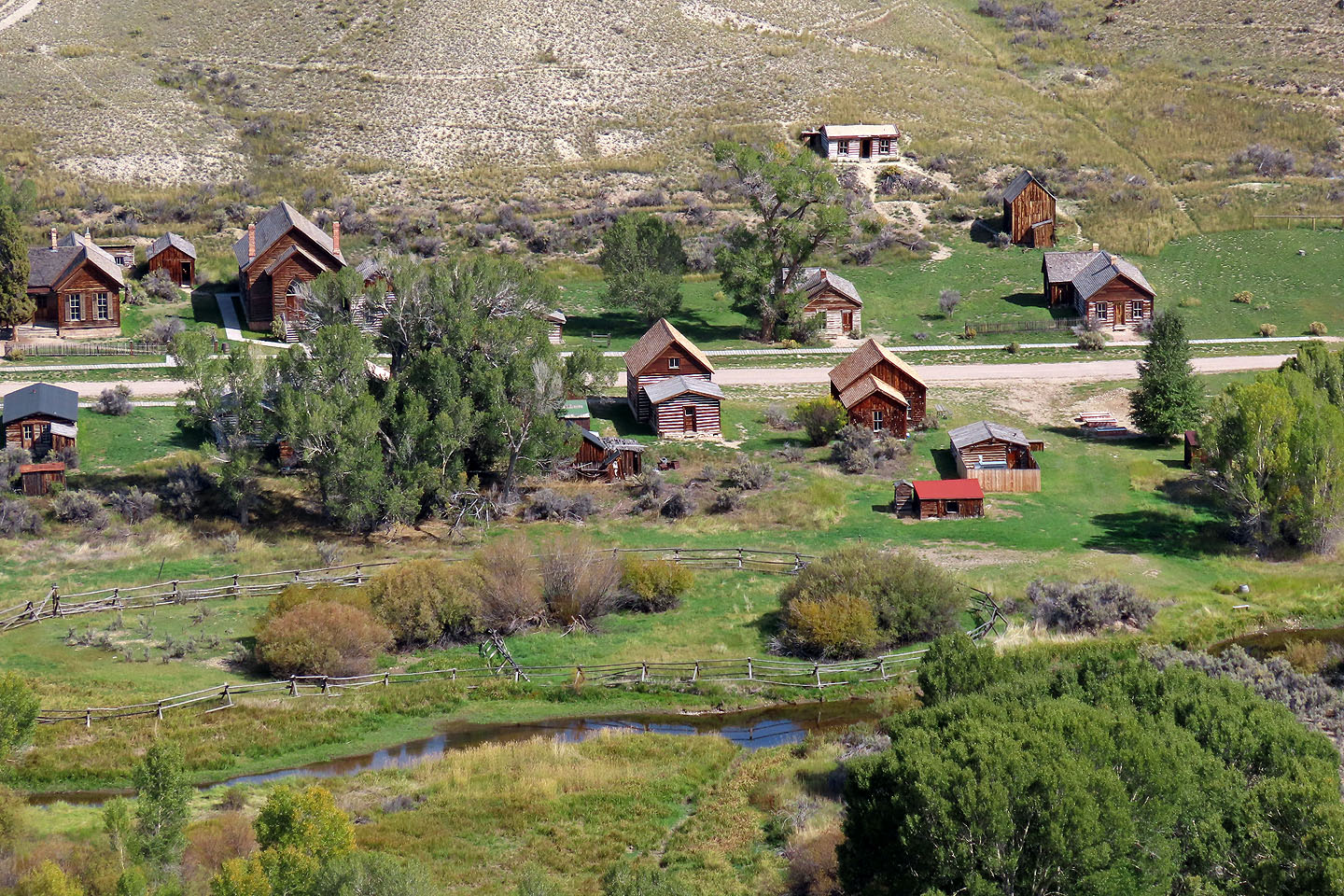 There's a good view of the town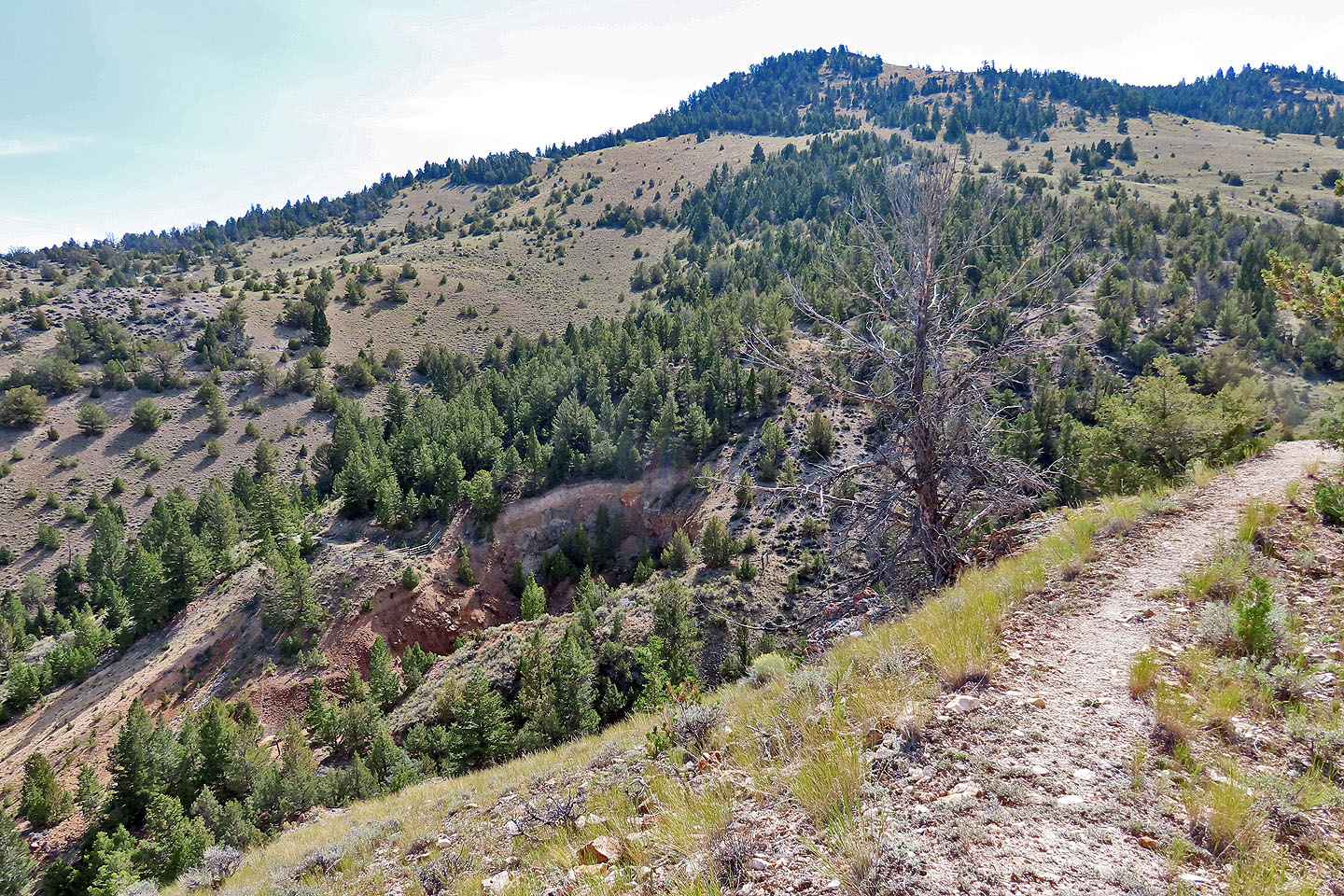 Looking down at Hendricks Lode Mine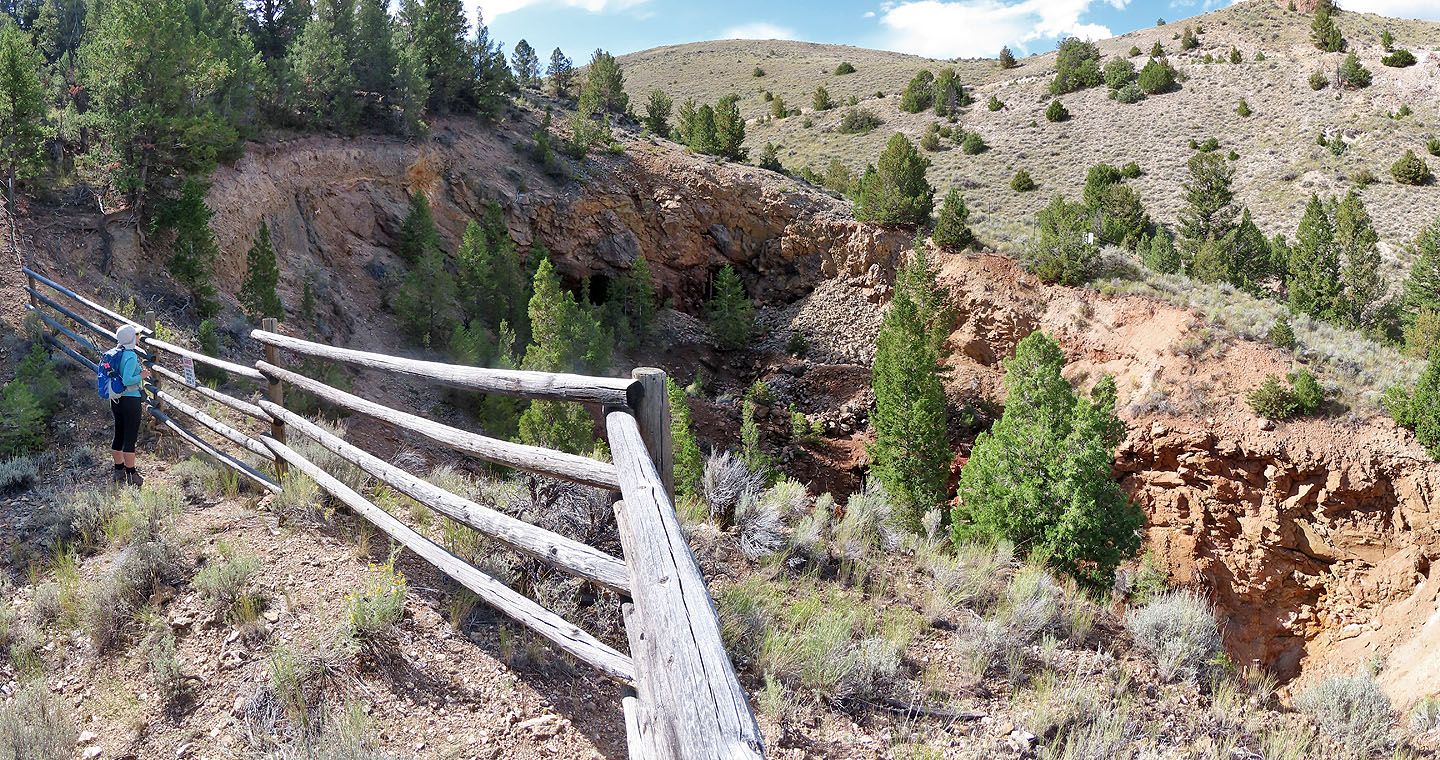 From another side trail, we had another view of the mine, although there was little to see (mouse over)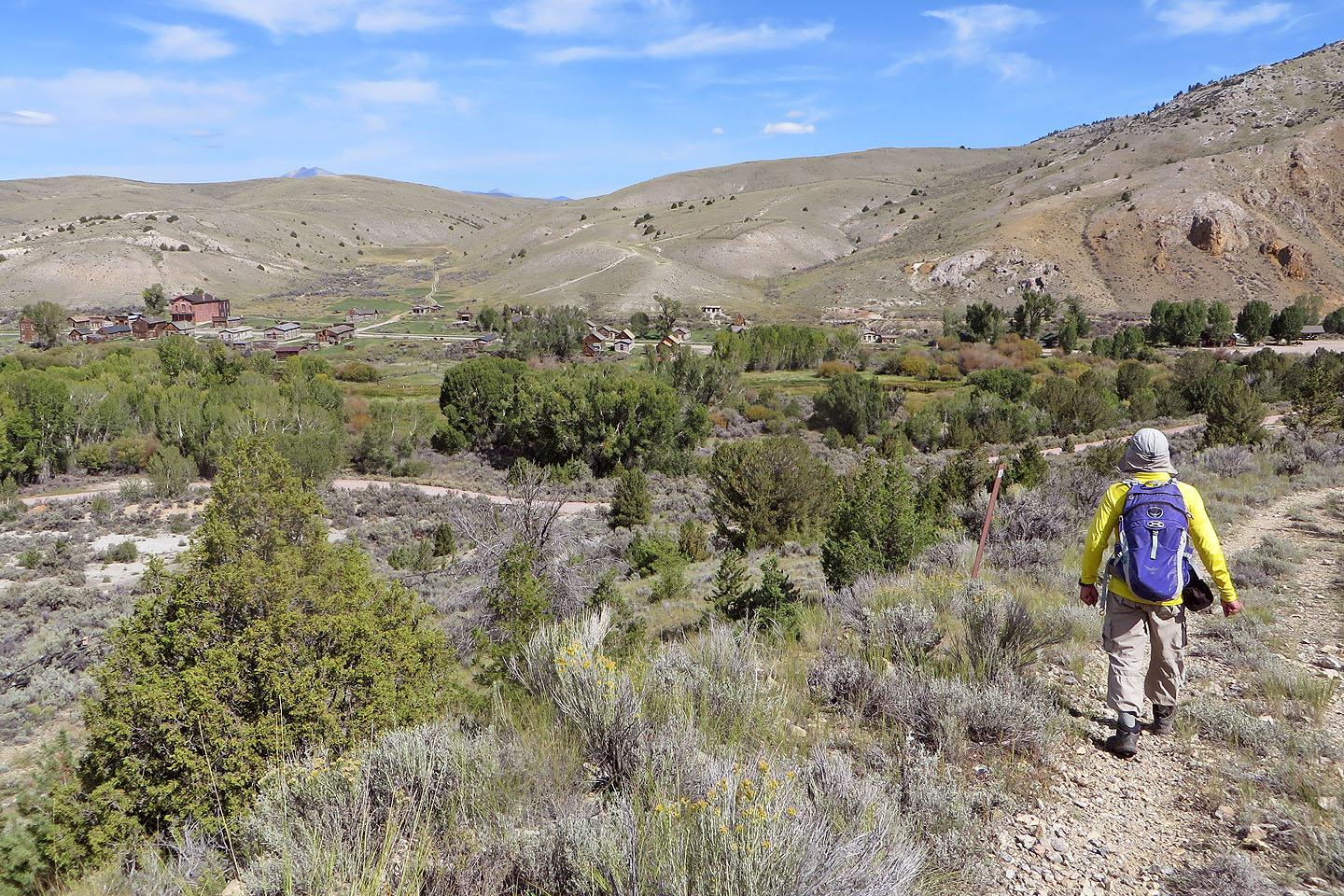 We continued down the trail towards the town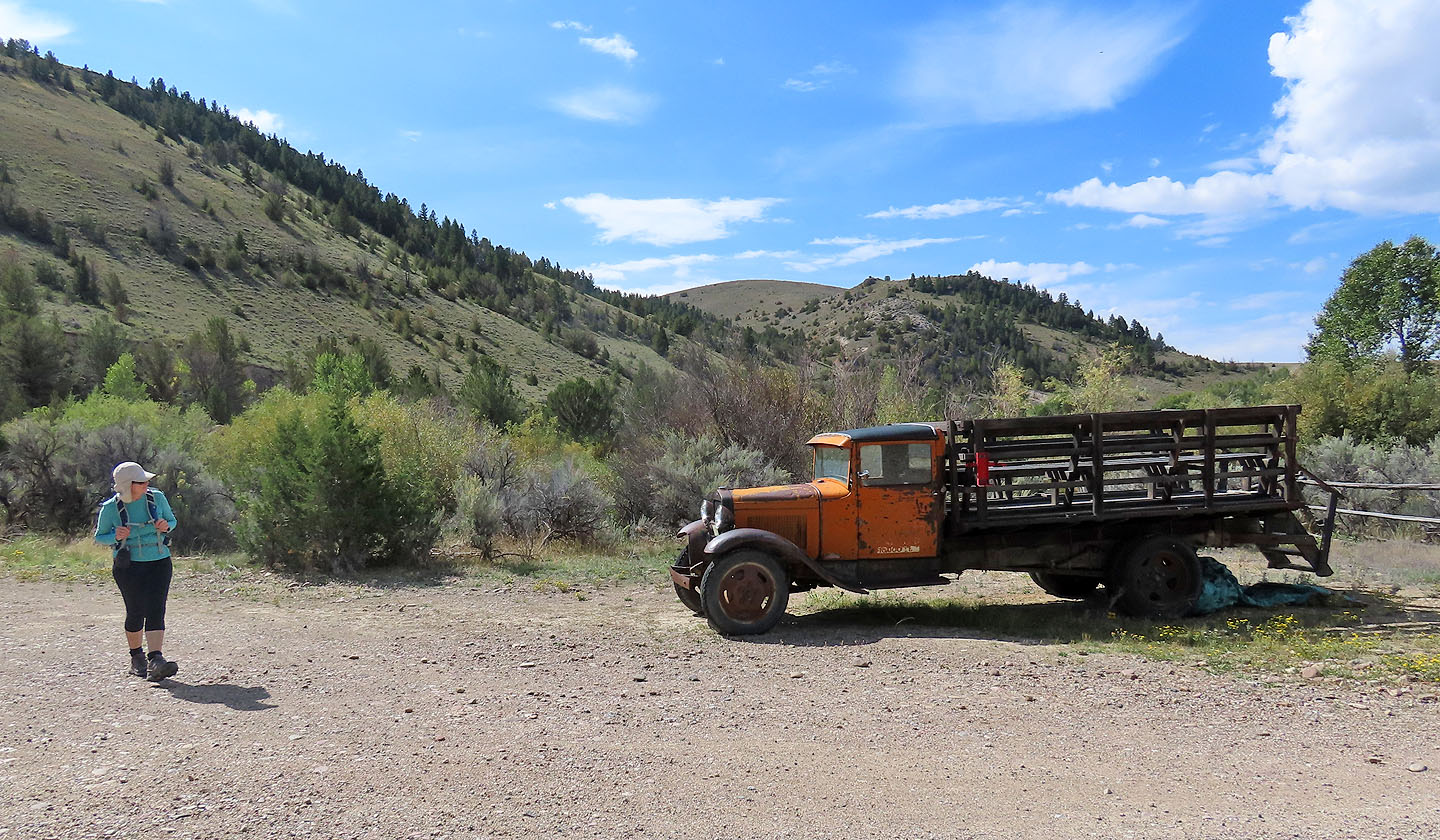 We passed an old truck before entering the town. In the centre is the hill we climbed.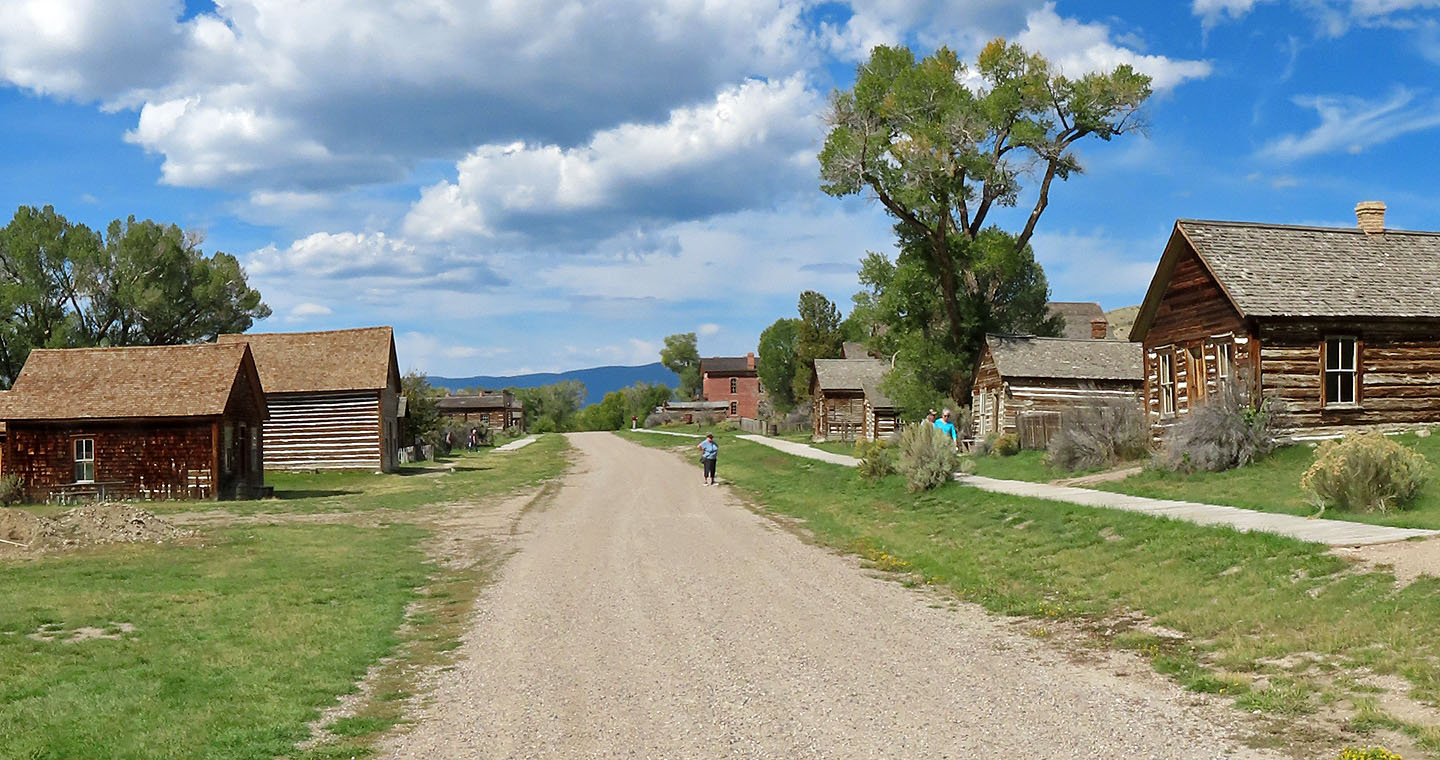 We walked down the street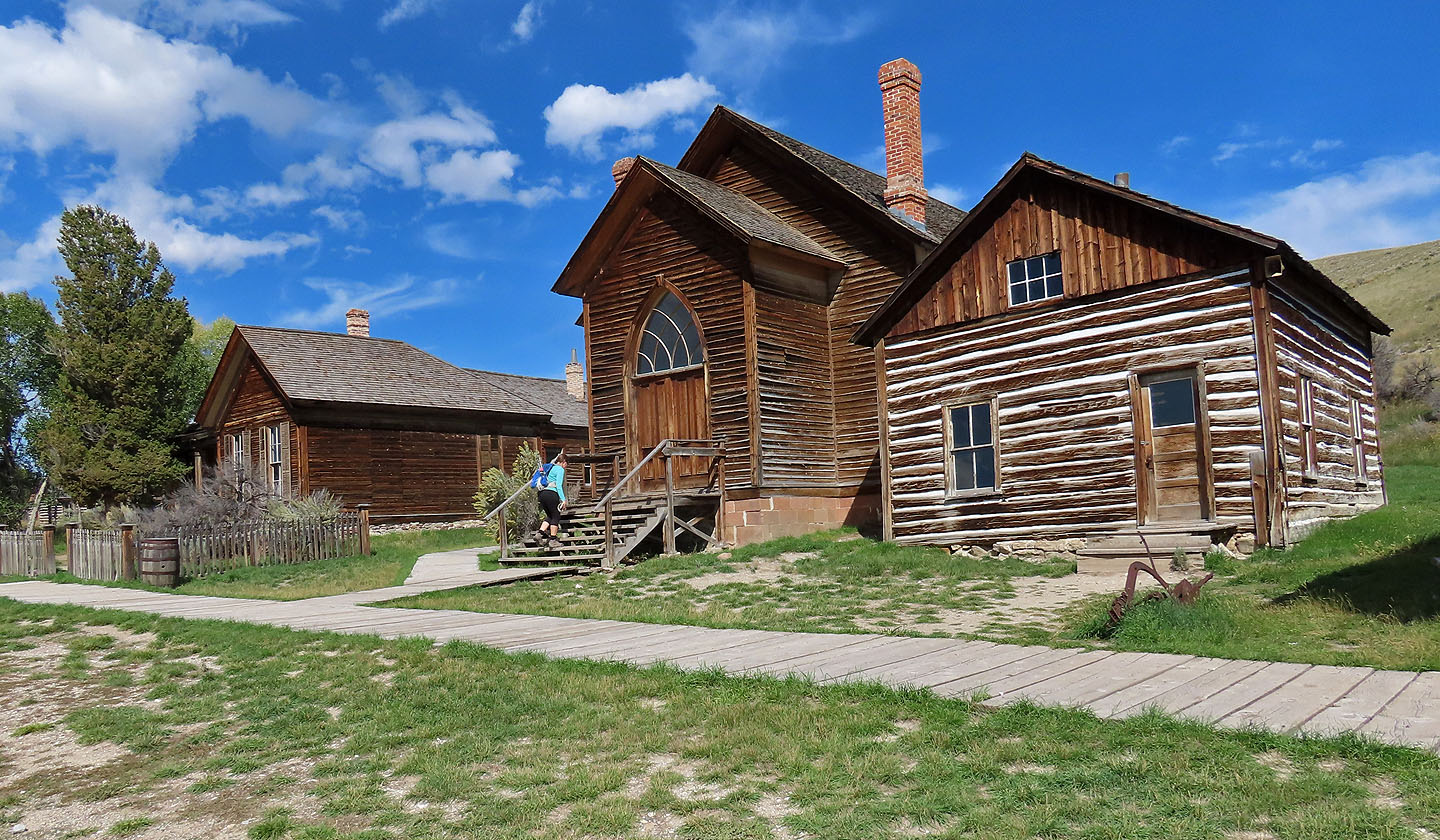 Dinah entered the church (mouse over to see inside)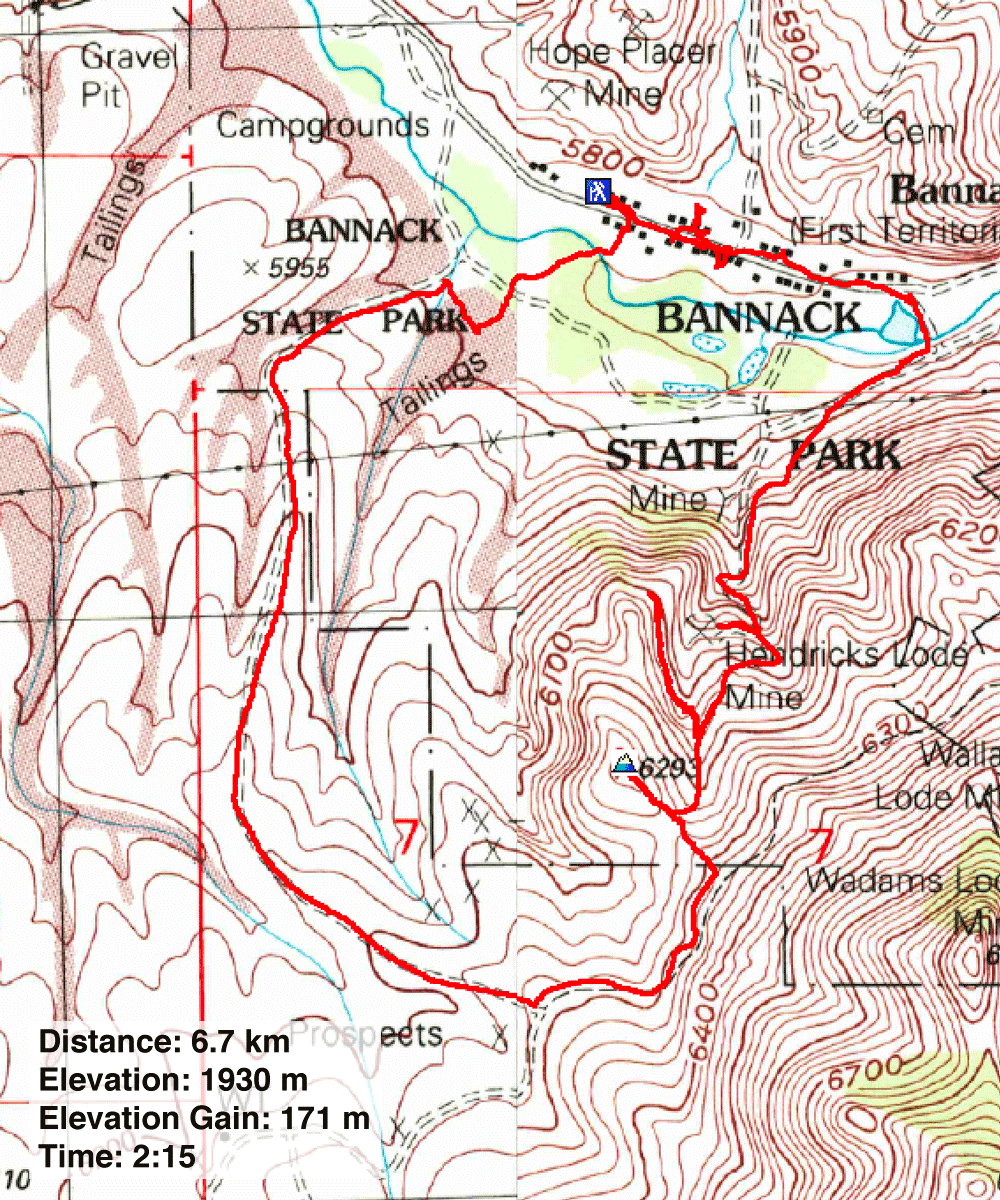 Bannack and Mill Point Topos (4.1 mi, 6332 ft, 561 ft)