bobspirko.ca | Home | Canada Trips | US Trips | Hiking | Snowshoeing | MAP | About
Mitchell Peak (Attempt)
Mojave National Preserve, California
April 2, 2012
After reading about Mitchell Peak in Zdon's Desert Summits it sounded like a fine Mojave peak to climb, straightforward and easy. But it didn't turn out that way. Dinah and I, along with our Las Vegas friend Shin, were caught completely off guard by the difficulties we faced.
It started well enough. The hike led us up an old road that took us past the ghost town of Providence – all we saw was a crumbling stone building and some rusted tin cans – and then up the east ridge of Mitchell. But as we ascended a rocky slope, the grade increased and routefinding became hard. Craning our necks to scan the steep, dark cliffs above, we wondered how we would get through them. But after squeezing through a notch and zigzagging up through the rocks, we made the crest, although it was time-consuming.
The route wasn't easier once we reached the ridge. Not only did steep rock hamper us, but Mitchell's superabundance of prickly plants conspired to block simple routes. Shin, comfortable with desert travel, slipped through the cactus plants and catclaw trees almost unscathed, while Dinah and I, primed with bushwhacking in Canadian Rockies and used to bulldozing through vegetation, repeatedly impaled ourselves on cactus needles and catclaw thorns. So the steep rock and plethora of prickly flora hindered our progress along the ridge. Nor did it help that Dinah suffered from a cold. When we reached an exposed ridge, she decided to hang back.
Shin and I continued. But even though we were closing in on the summit a mere 400 m away, I worried about the time. We were four hours into our trip with about four hours of daylight left. Even if we could bag the summit, which at our rate of travel would take the better part of an hour, it would leave scant time to get down this troublesome mountain in daylight. And my concern lay with Dinah who wasn't feeling well. Leaving Shin to continue (who, being faster than Dinah and I, could gain the summit and catch up to us), I turned back and made my way to Dinah.
Shin, however, didn't get far. He soon turned around and caught up to me just as I reached Dinah. He had given up because of steep rock slabs that "looked scary." Nor did an alternate route along a knife-edge ridge hold any appeal for him. The three of us made our way back to the car.
Shin wants to return to try again, but not Dinah and me so much. Mitchell Peak has got to be the ugliest desert peak ascent we've done. And in the days to follow, we kept pulling cactus needles out of our hands and legs, souvenirs from Mitchell Peak.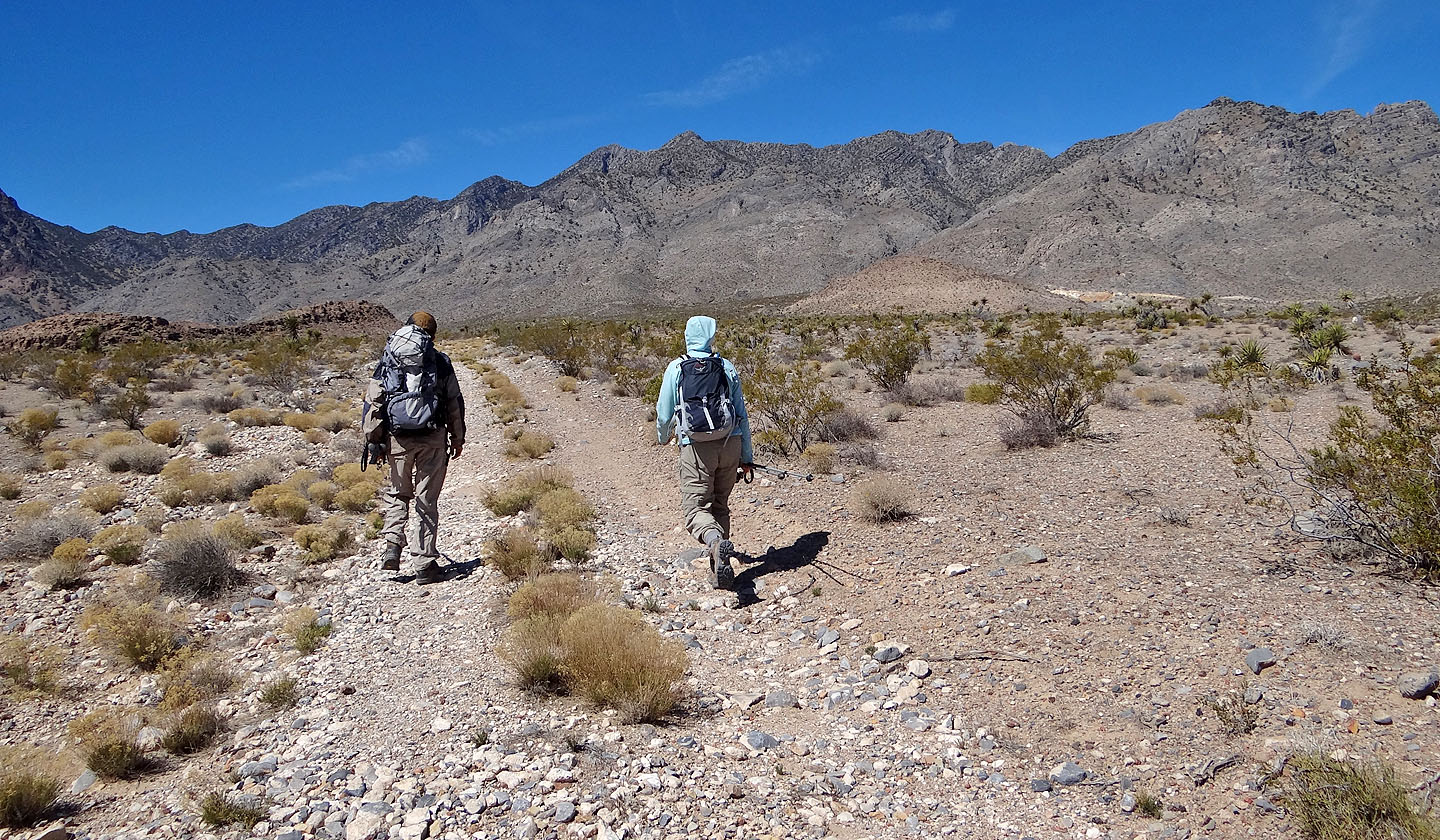 Shin and Dinah on the road. We are heading to the ridge above Dinah.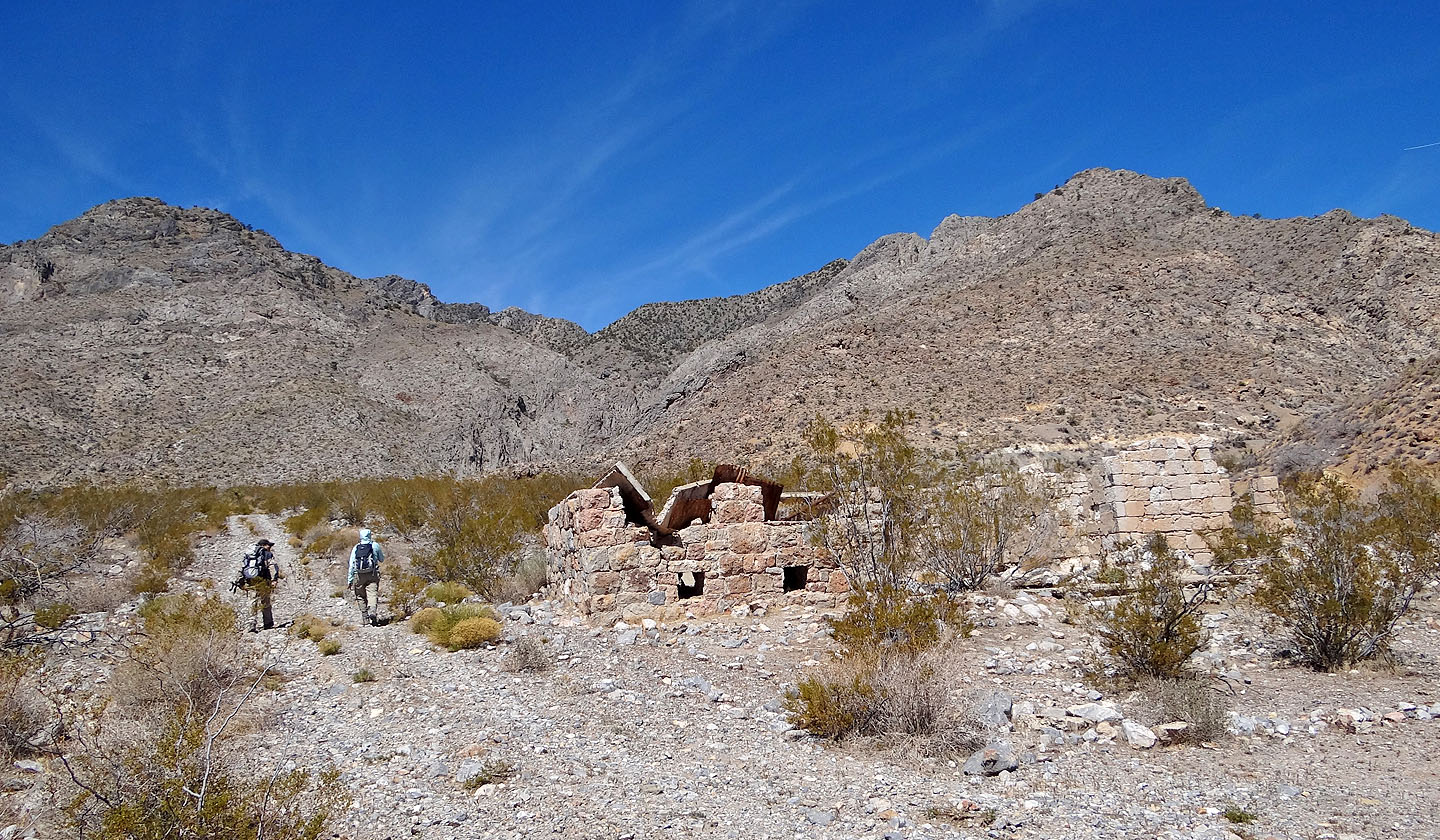 Passing the stone cabin (mouse over to view the interior)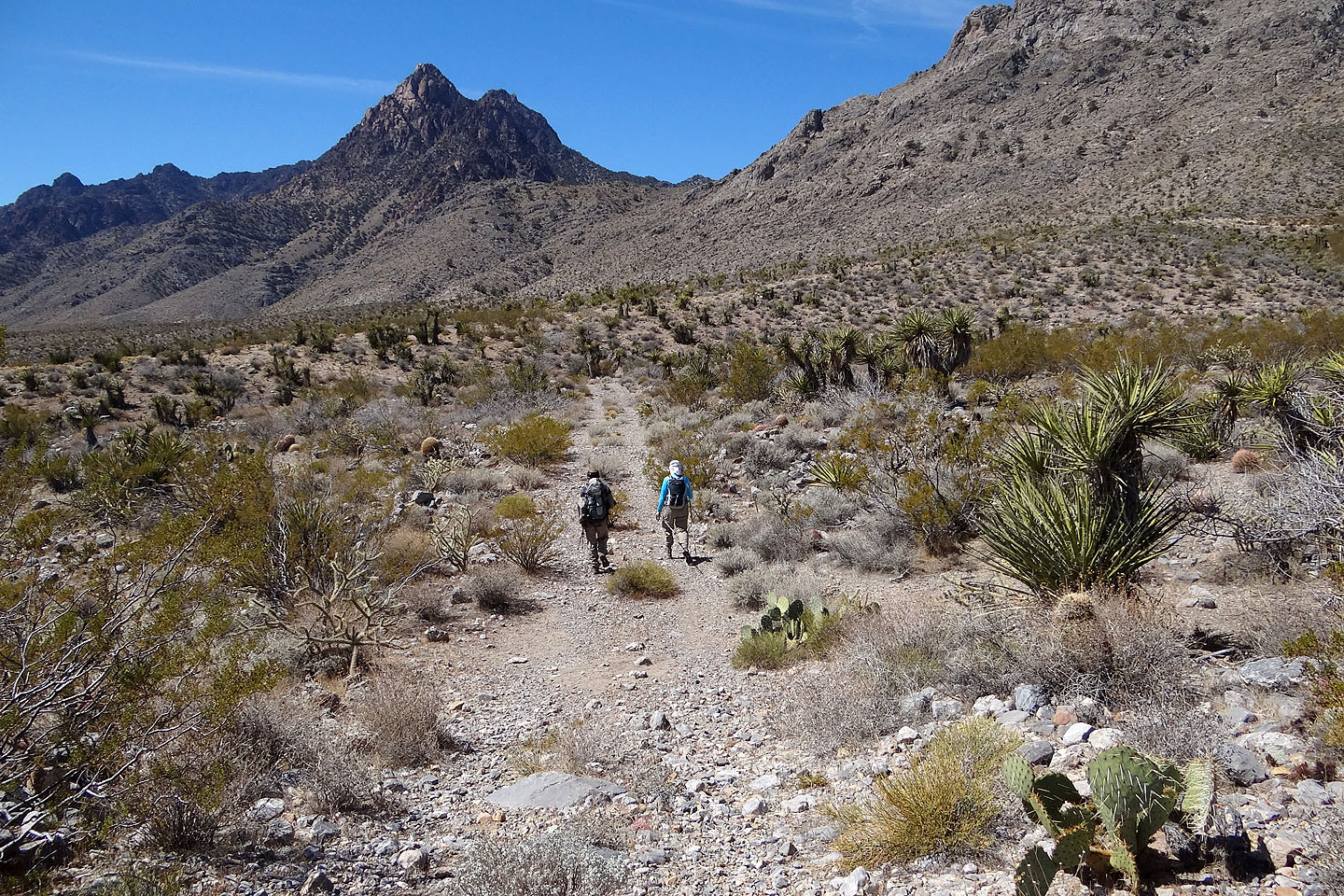 Edgar Peak (left) is the highest point in the Providence Range while Mitchell Peak is the second highest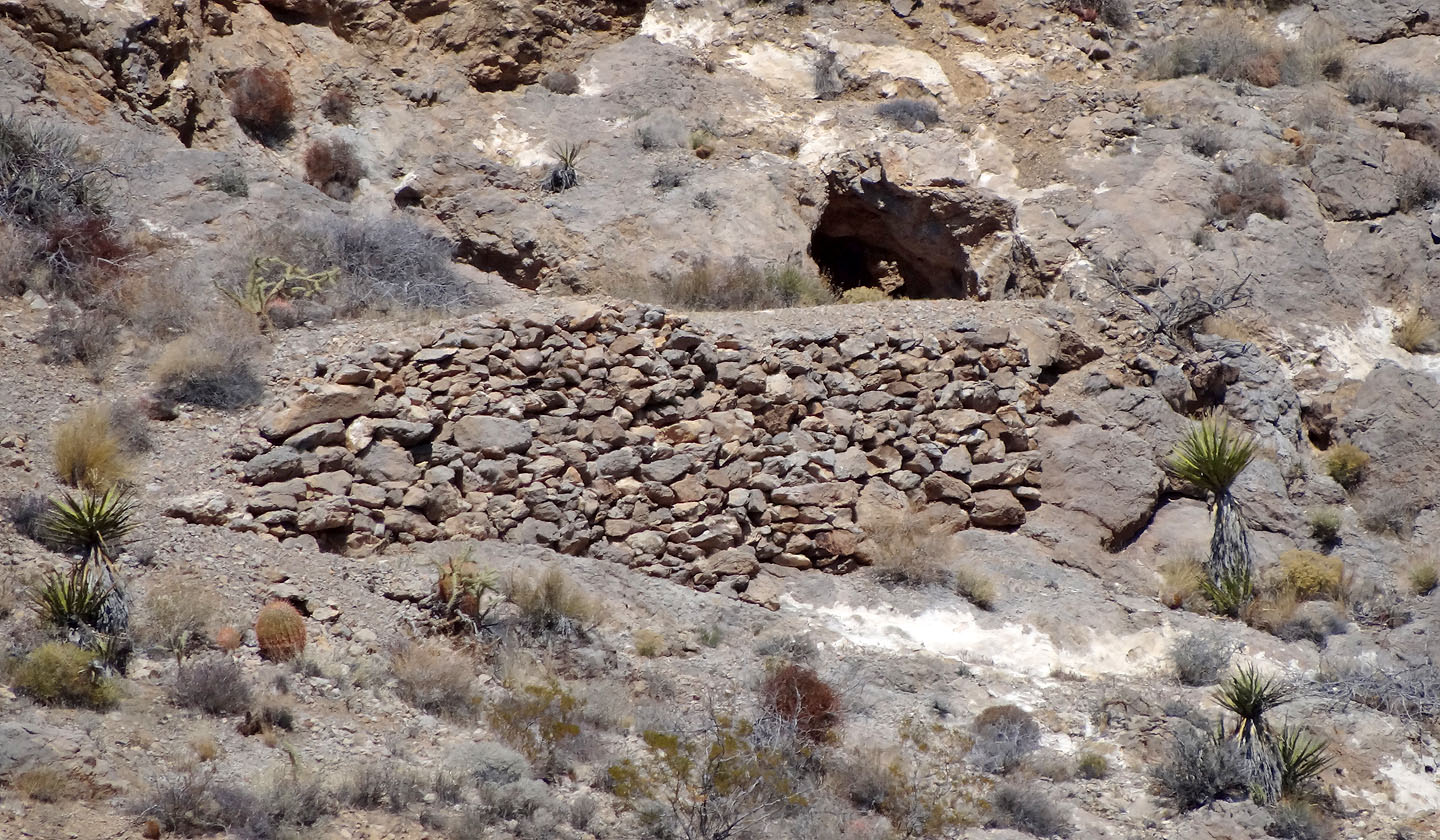 We passed by King Mine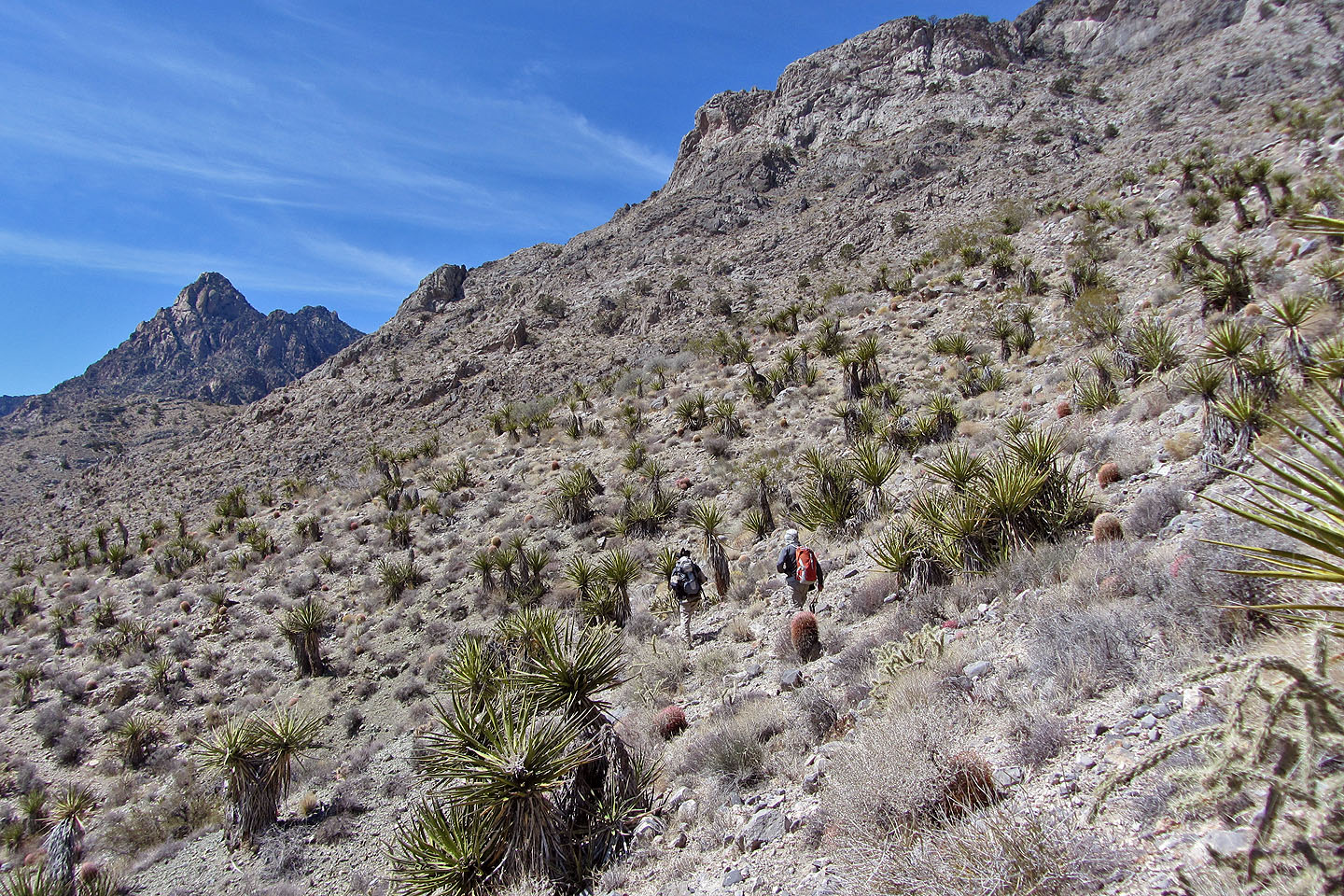 After leaving the road we start up the slope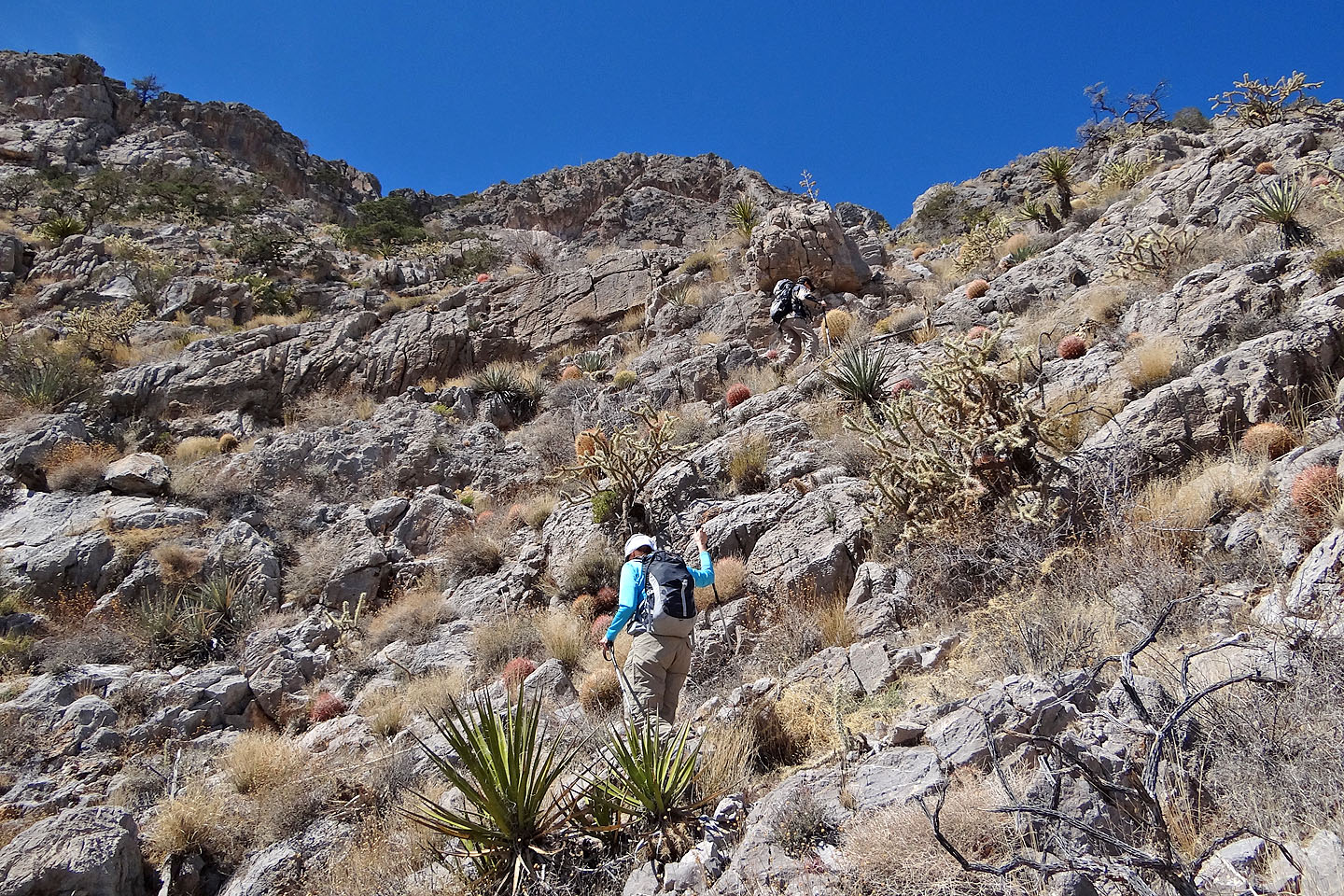 We aim for the notch on the left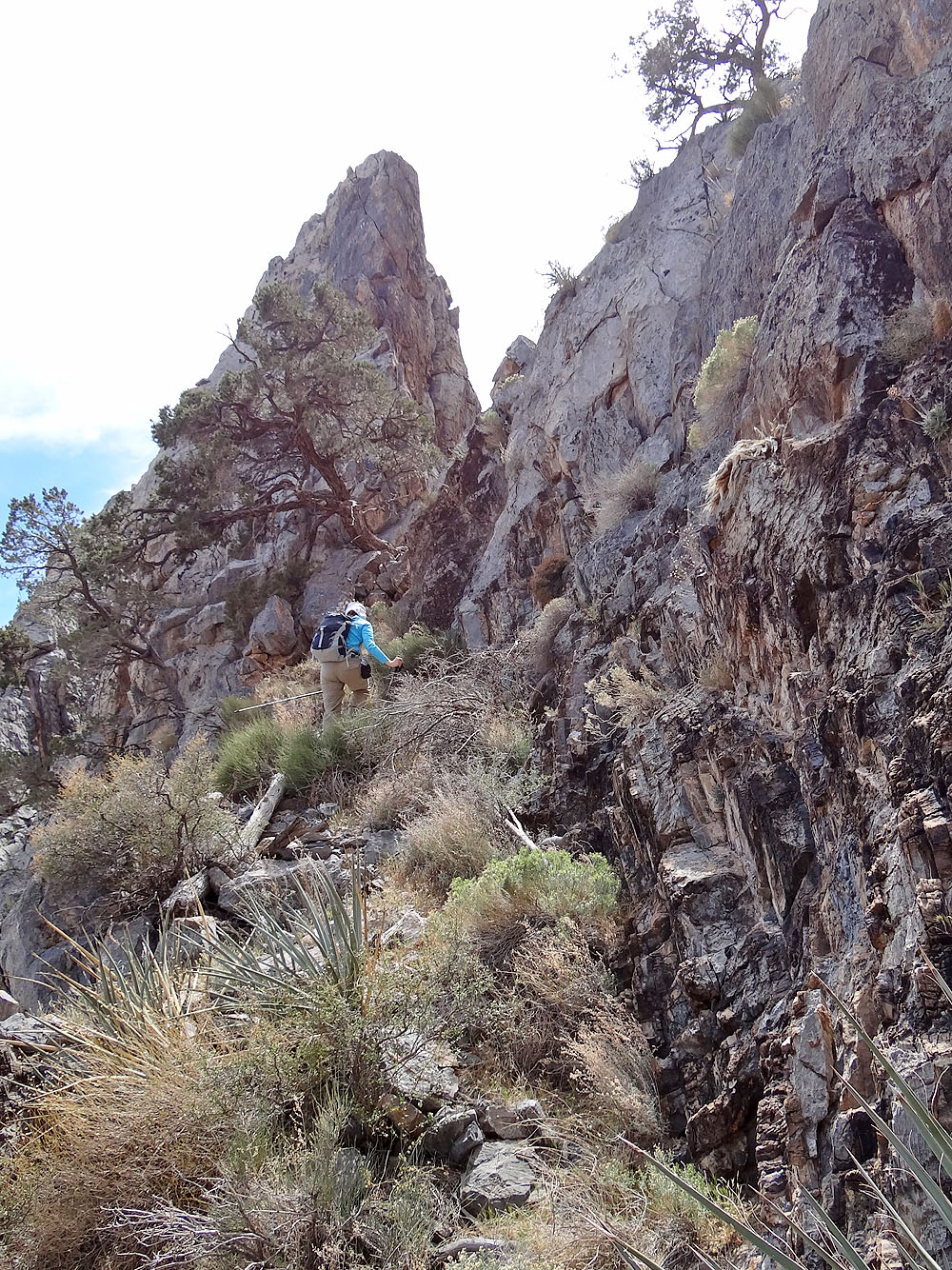 Dinah leads the way to the notch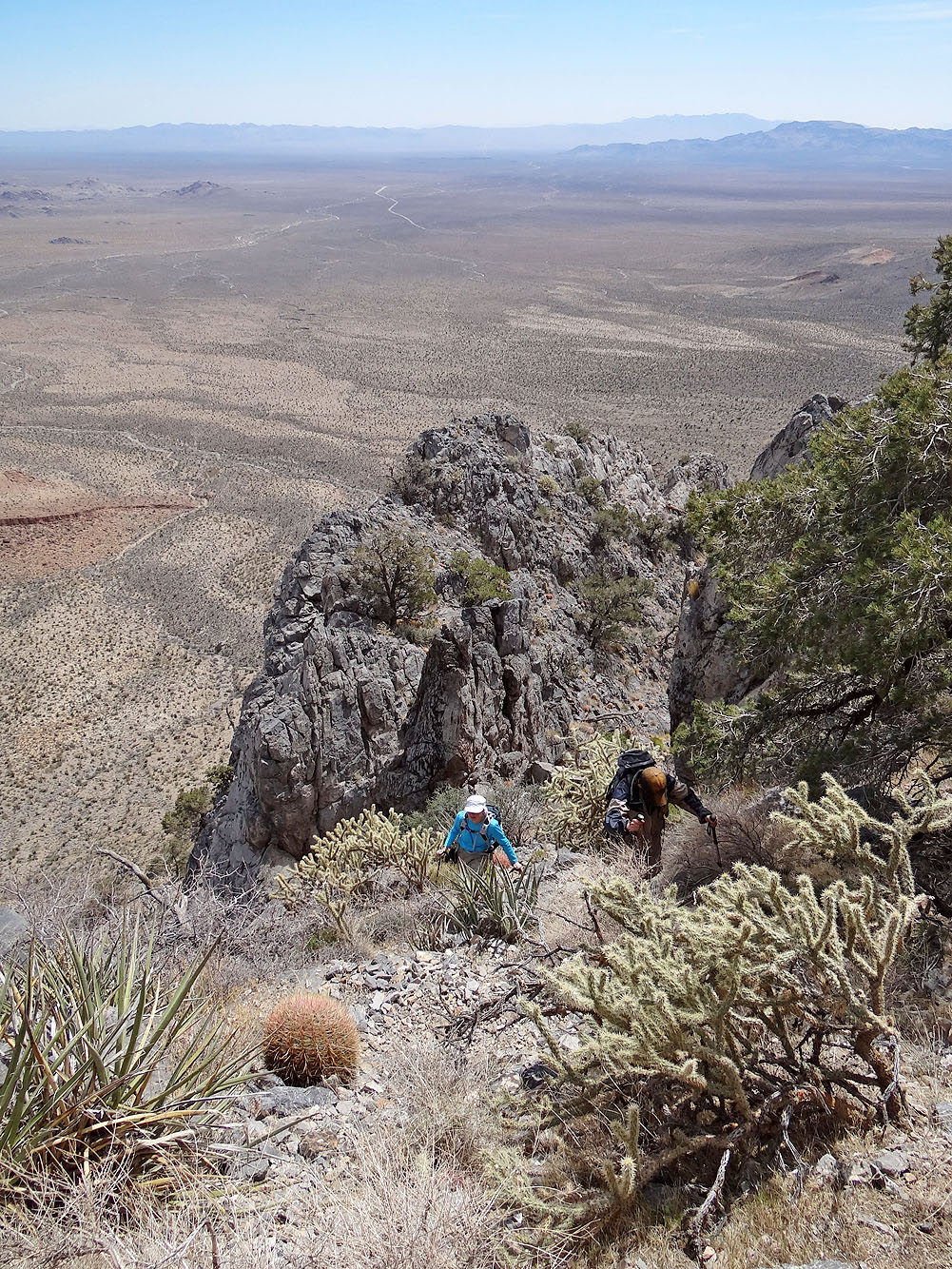 After the notch we turn right and hike up a ramp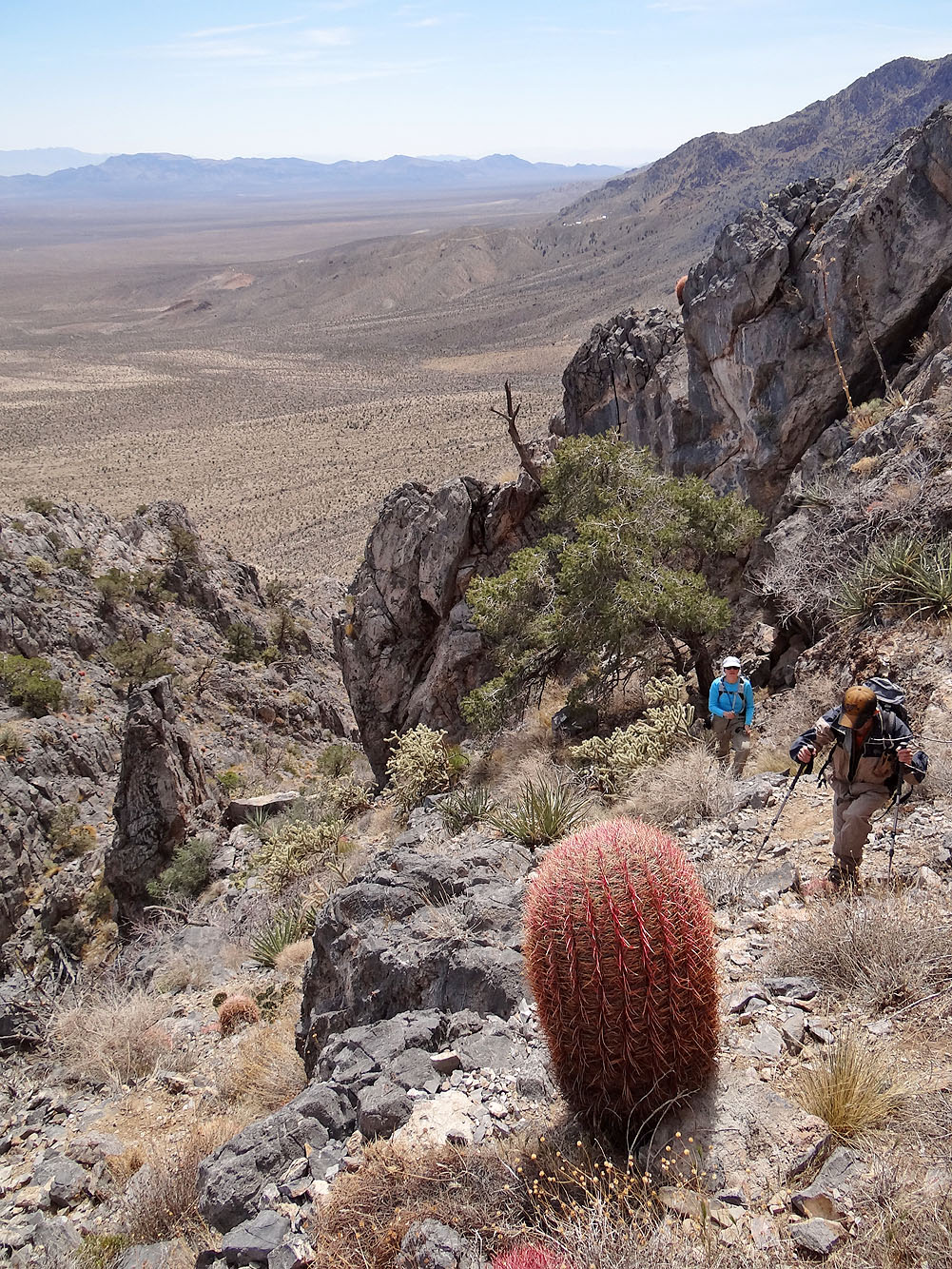 A little higher on the ramp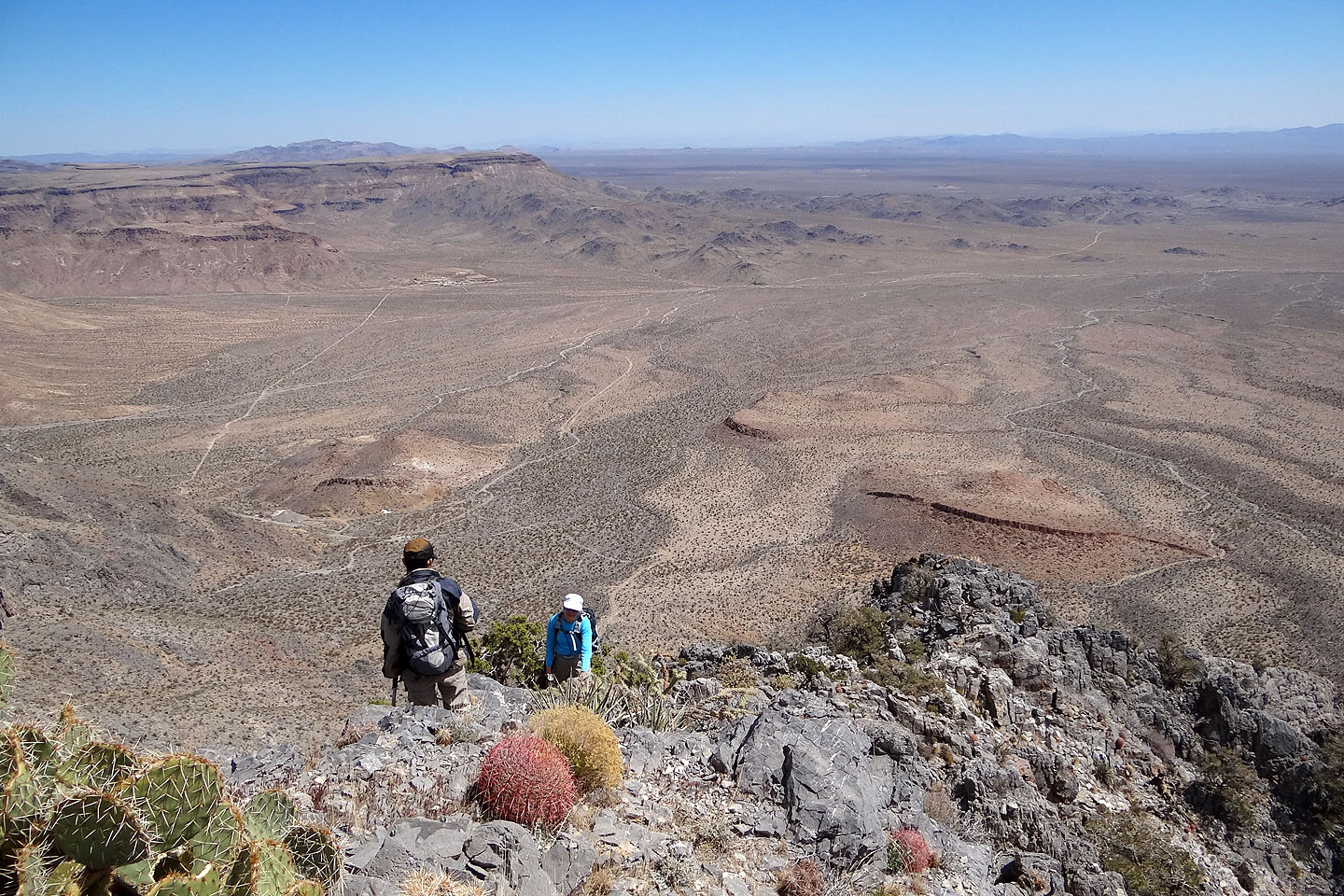 On the ridge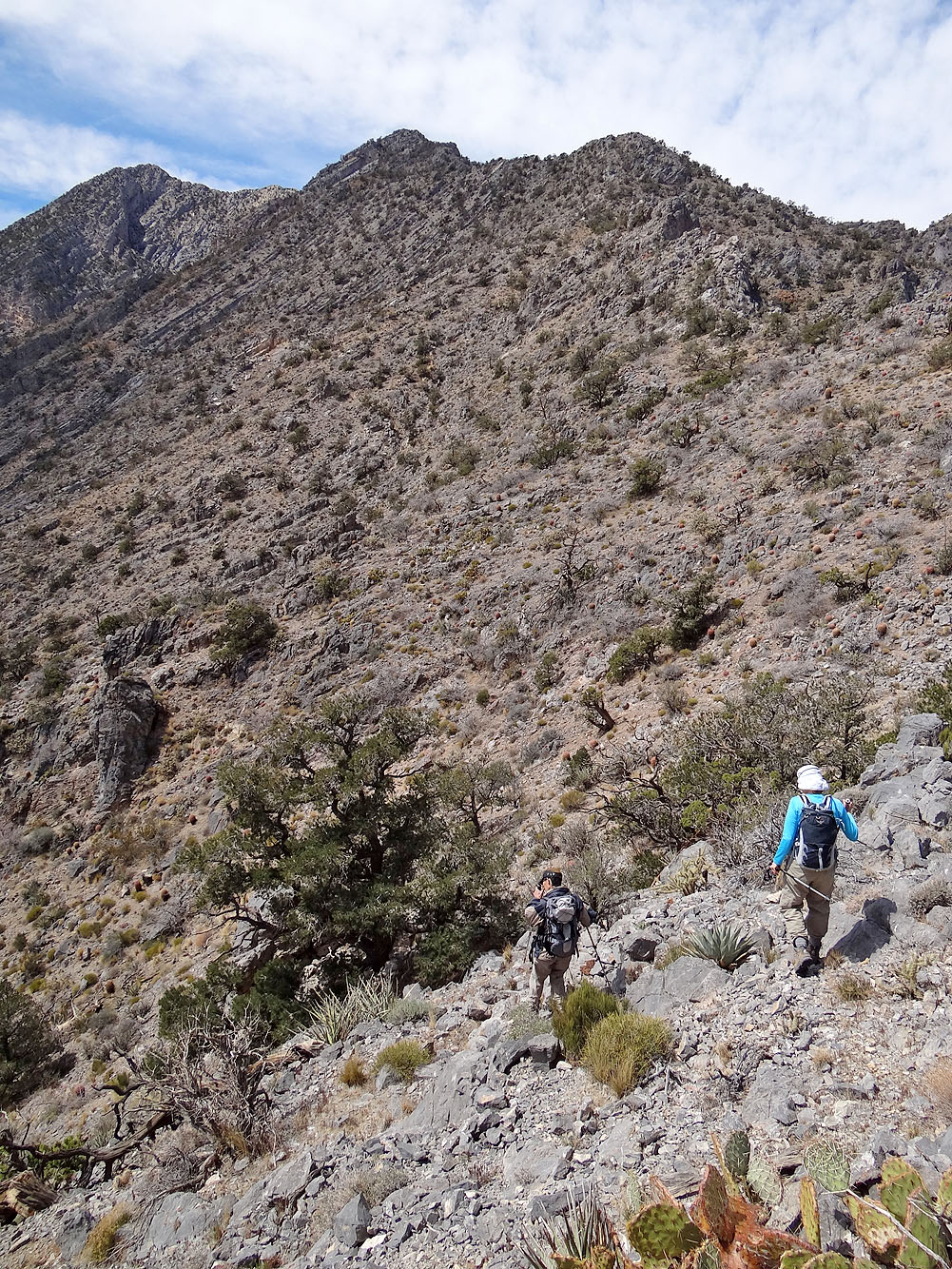 The summit appears far off on the left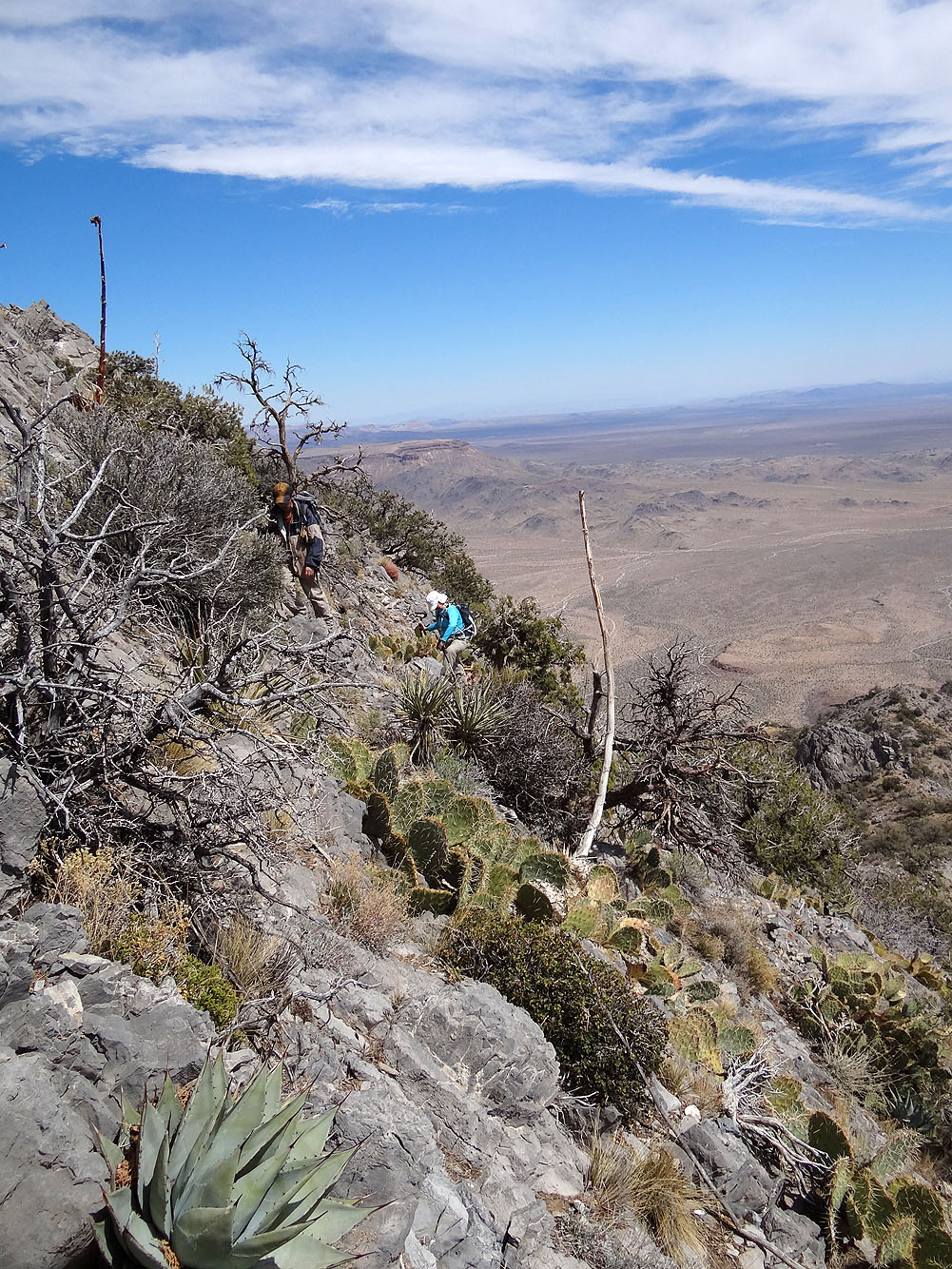 To regain the ridge, we climbed up a steep slope rife with prickly plants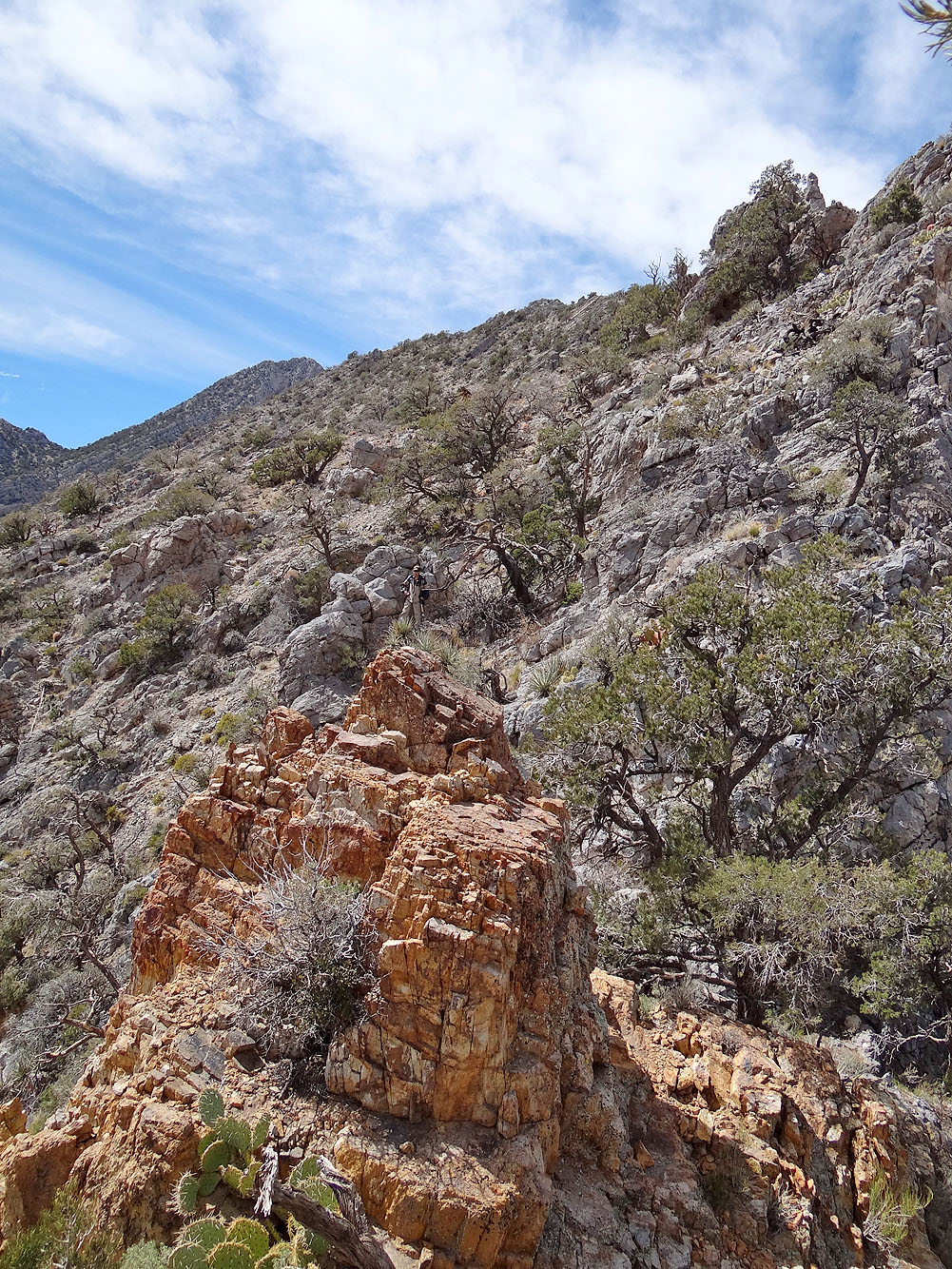 No easy terrain to be found anywhere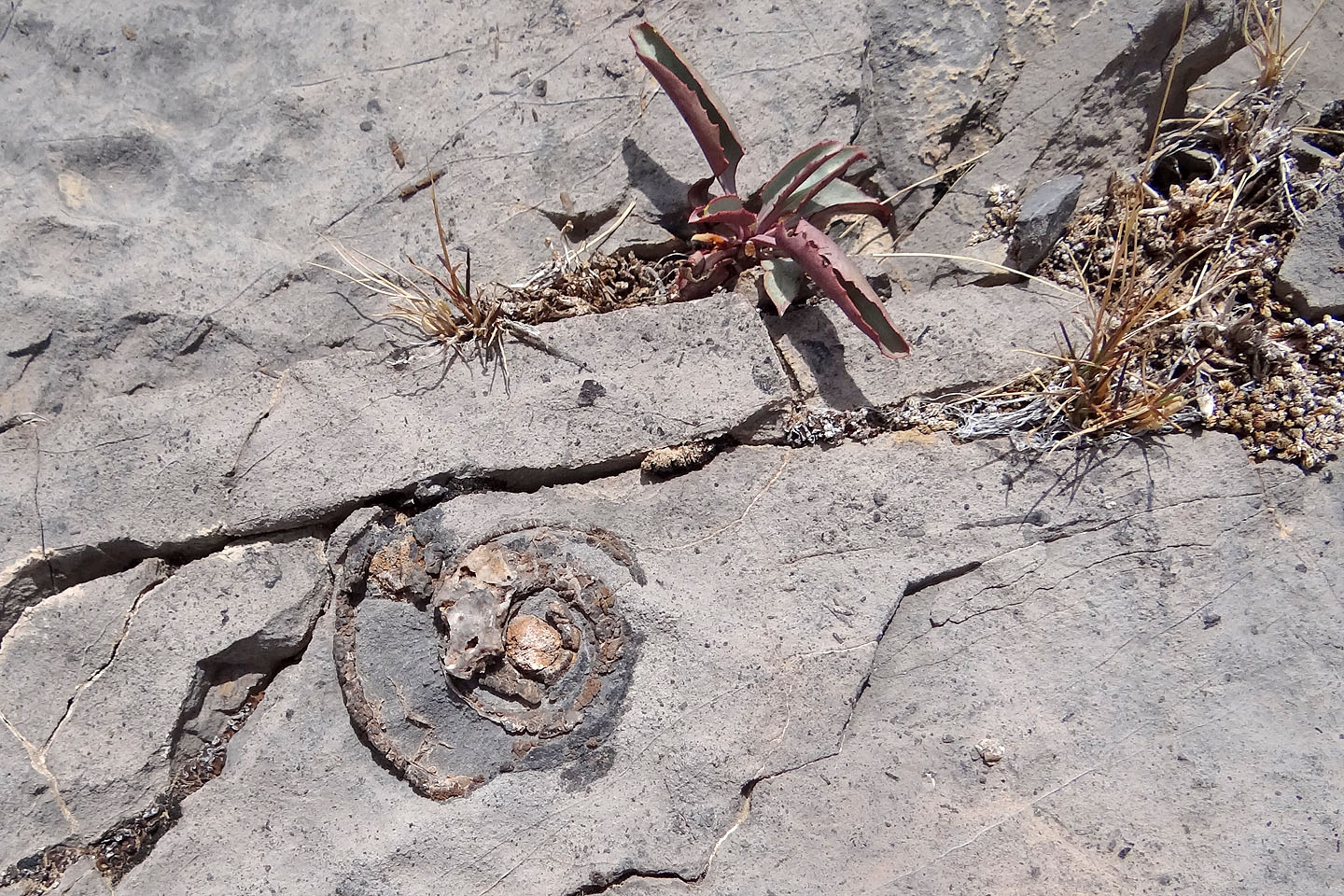 Snail fossil?

Negotiating steep slabs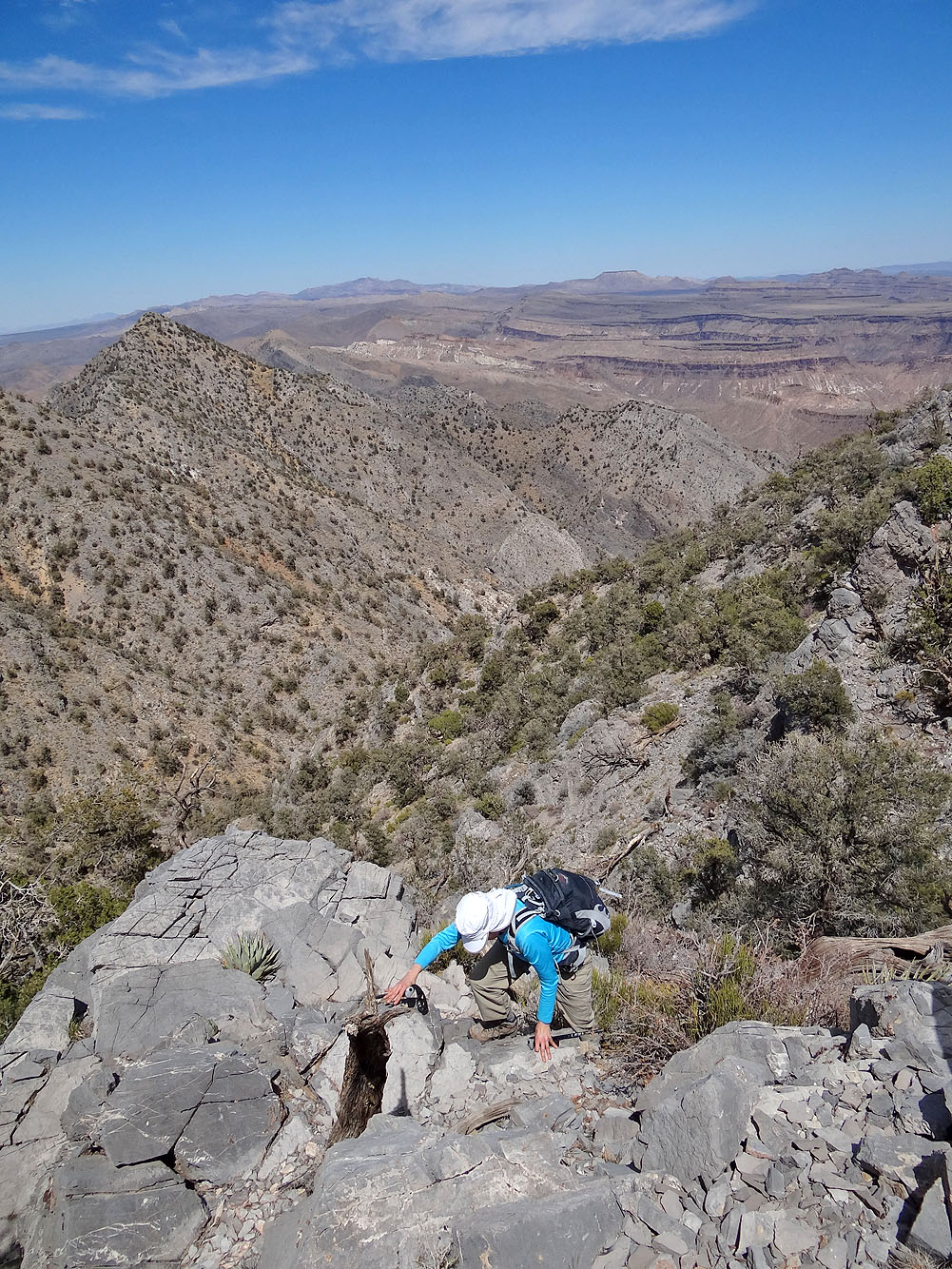 Table Mountain (mouse over) appears in the distance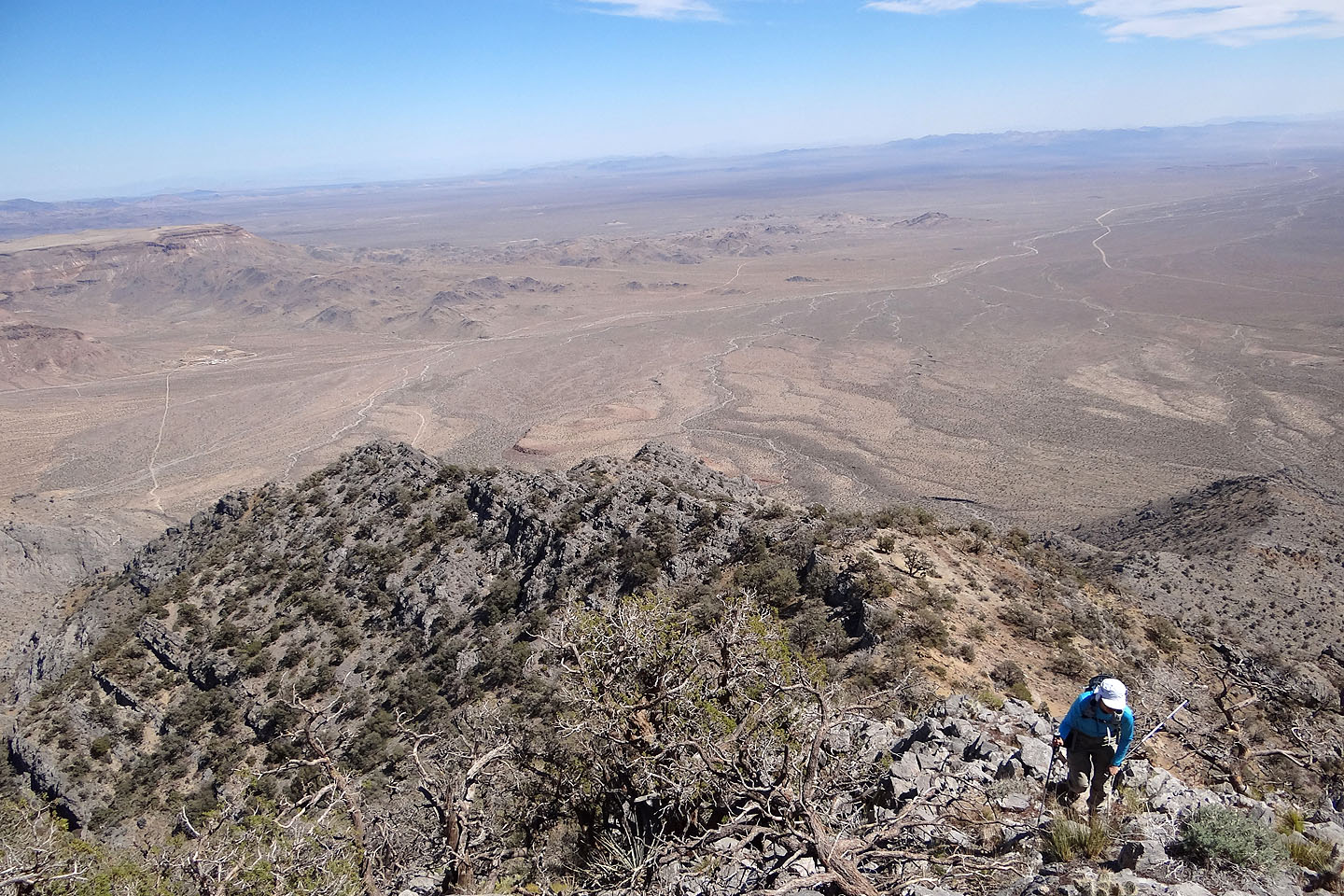 Back on the ridge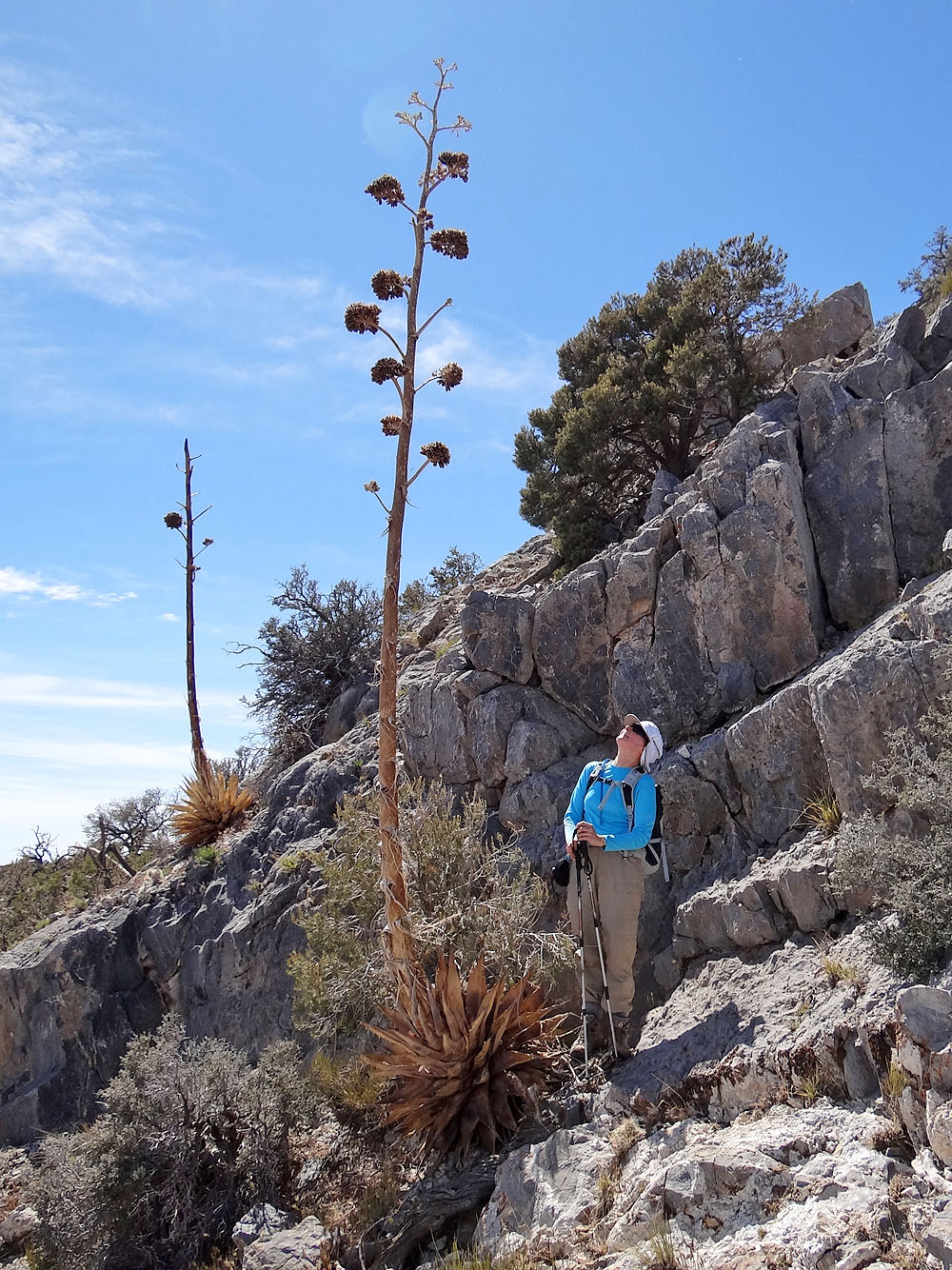 A dead agave towers over Dinah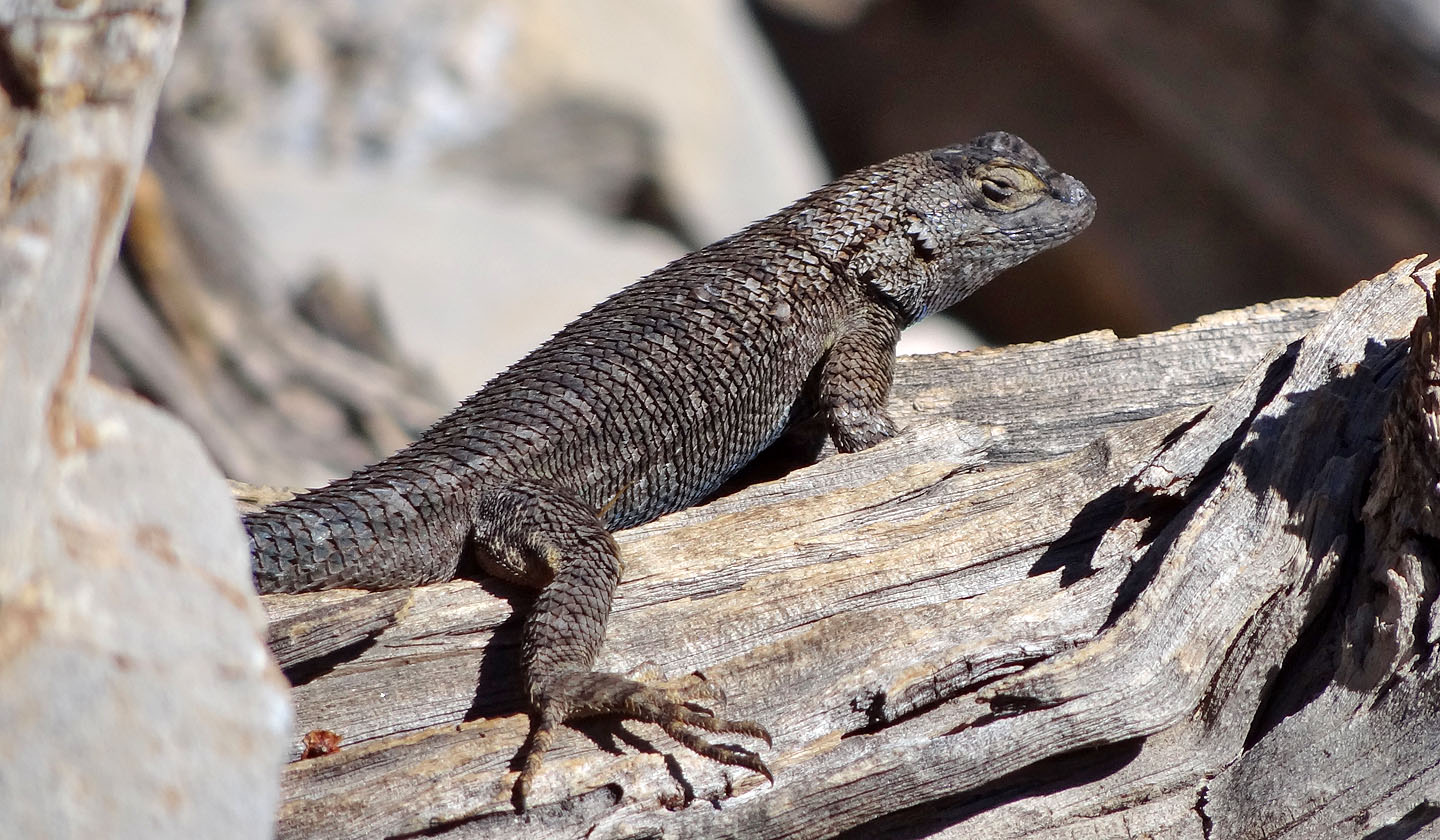 Spiny lizard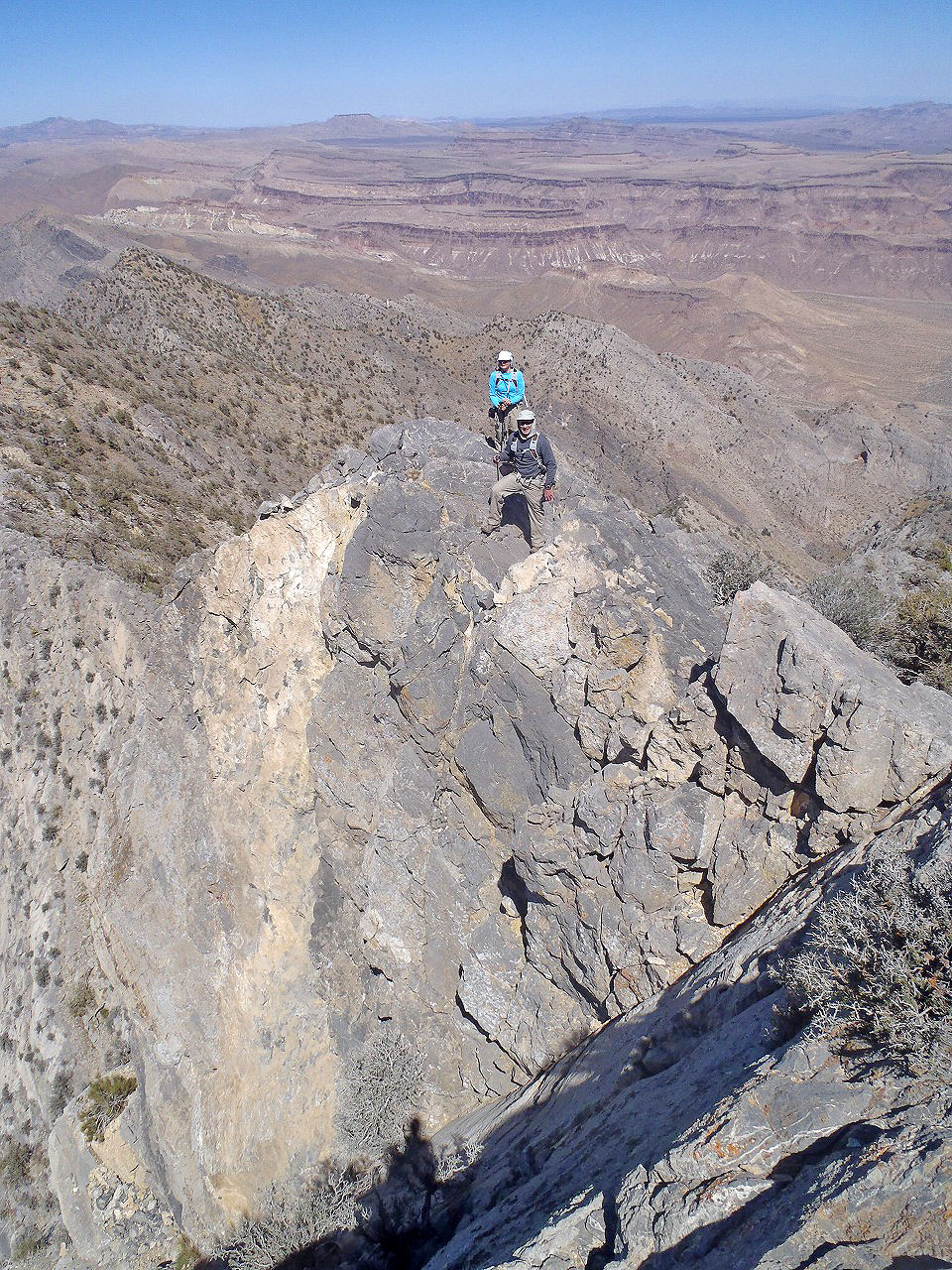 Dinah and I on the exposed ridge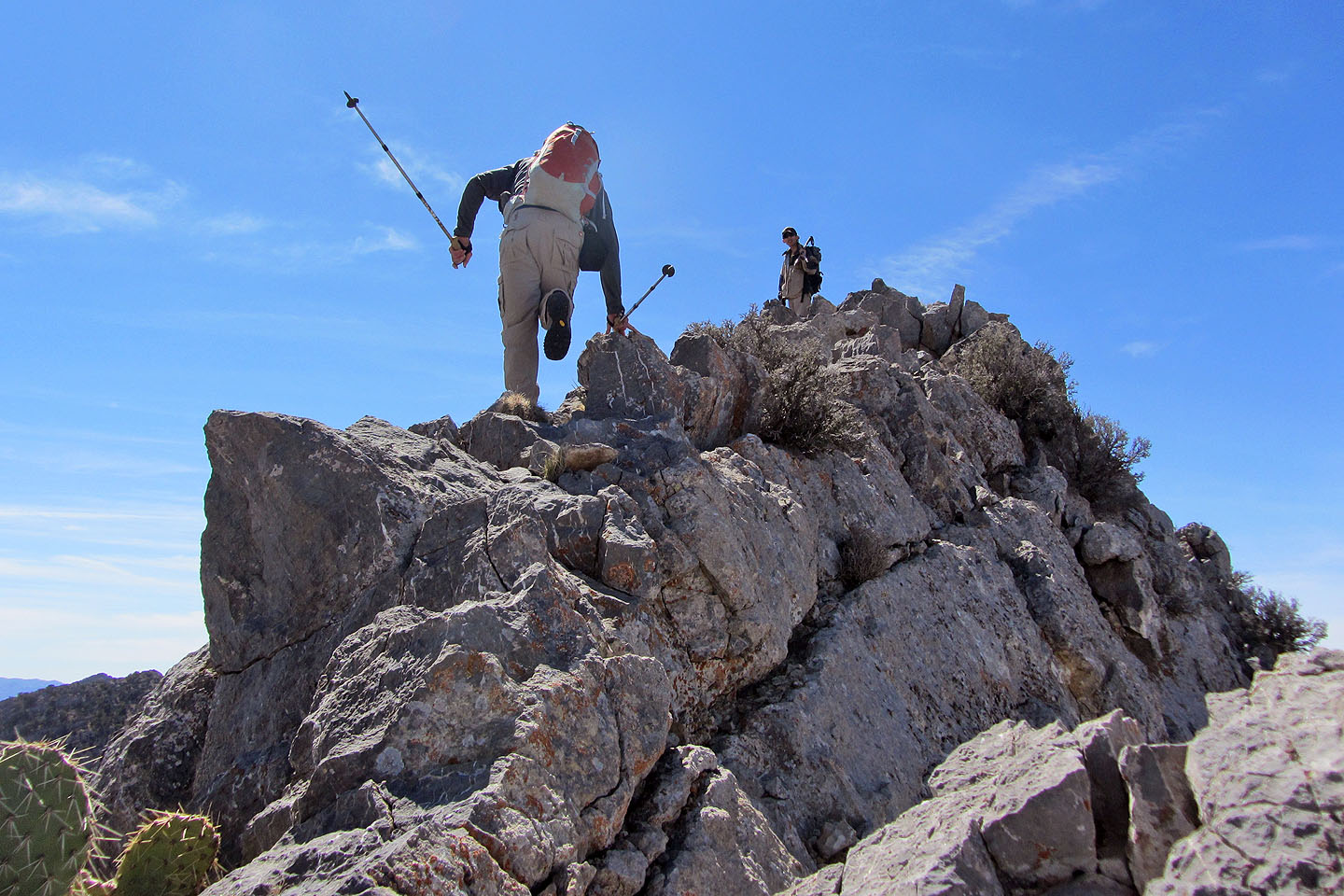 I start across the ridge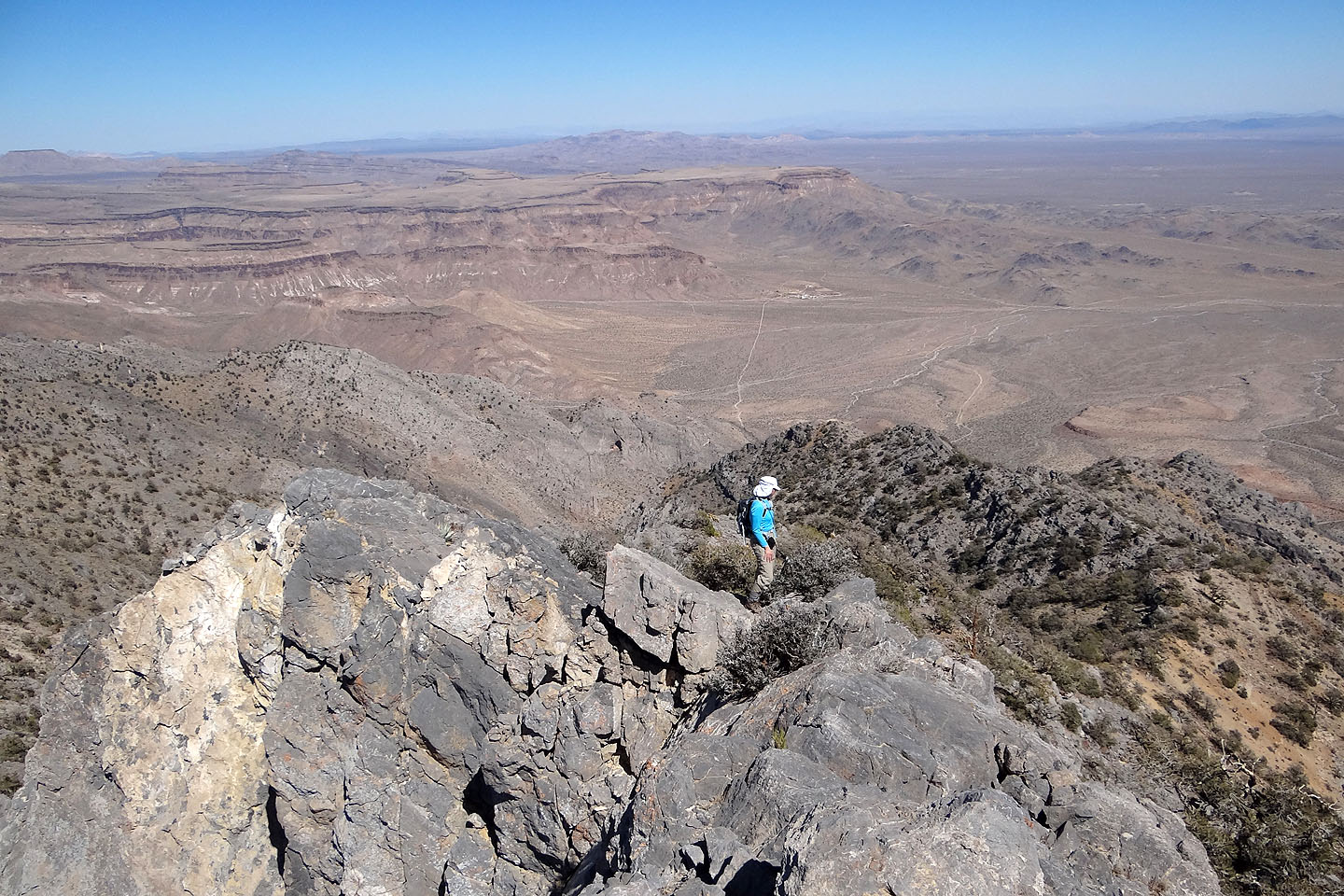 Dinah hangs back while Shin and I push on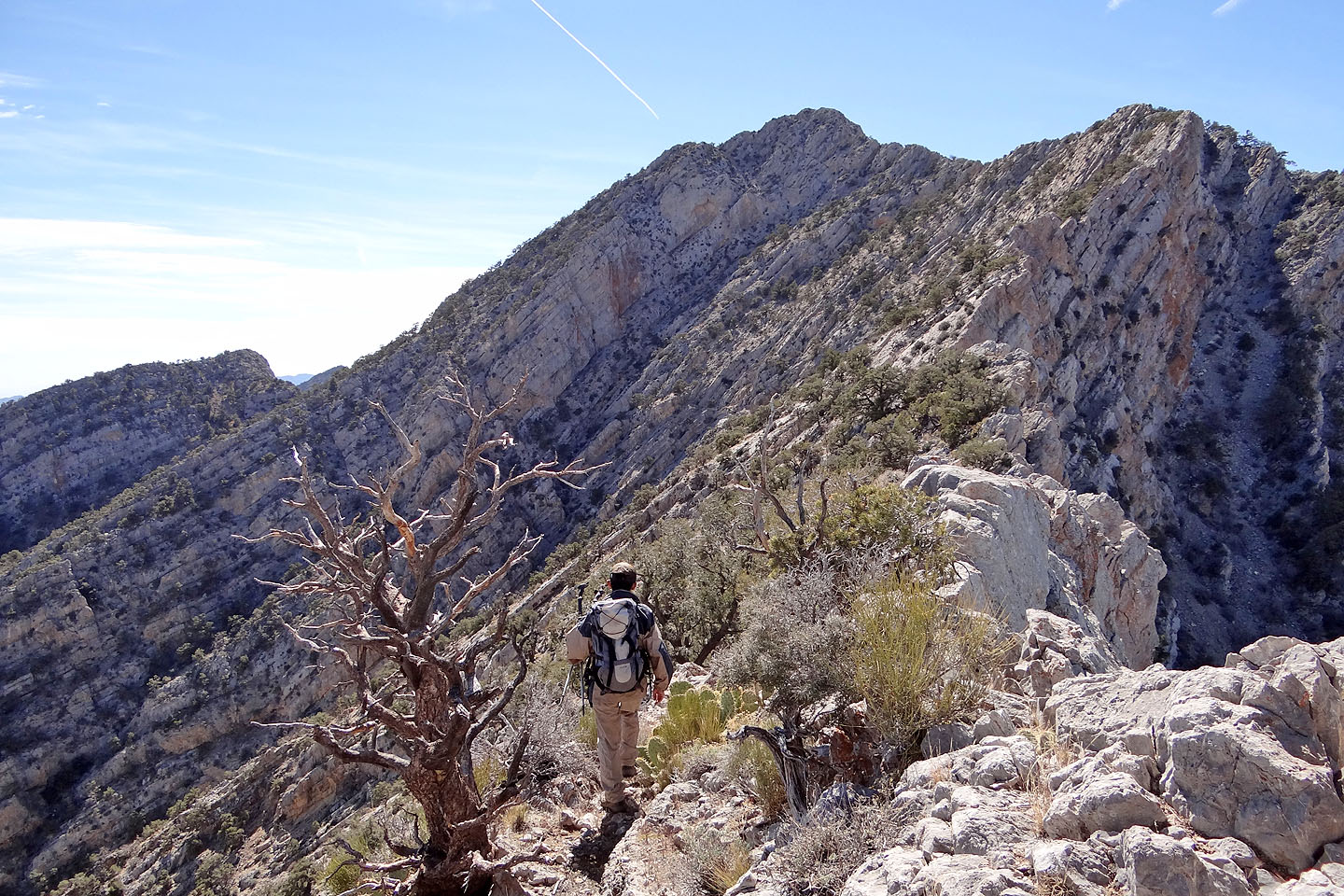 We wonder about the knife edge and steep slabs before the summit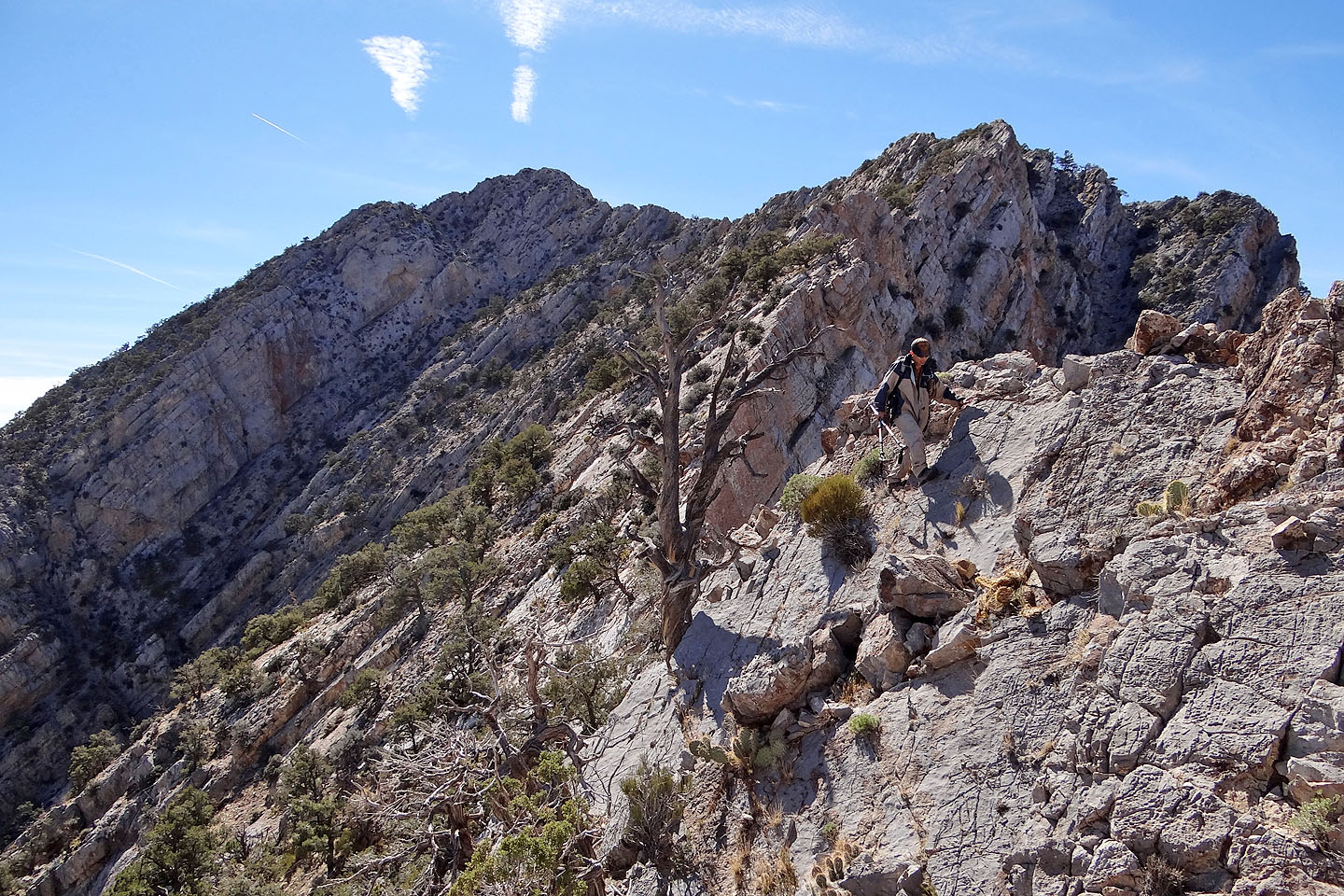 Here Shin tried to follow a knife-edge but was forced to drop down steep slabs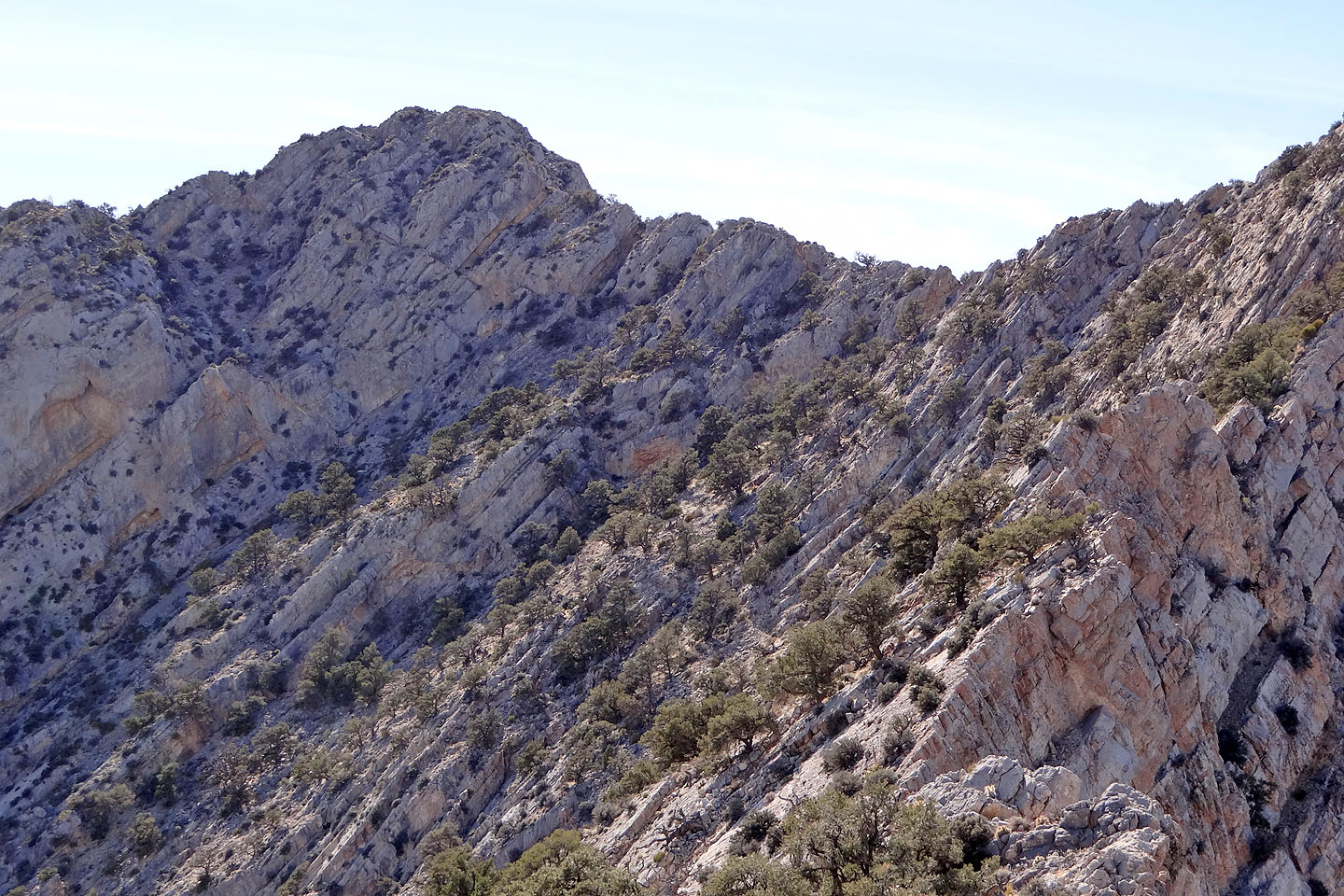 Closer look at the steep slope before the summit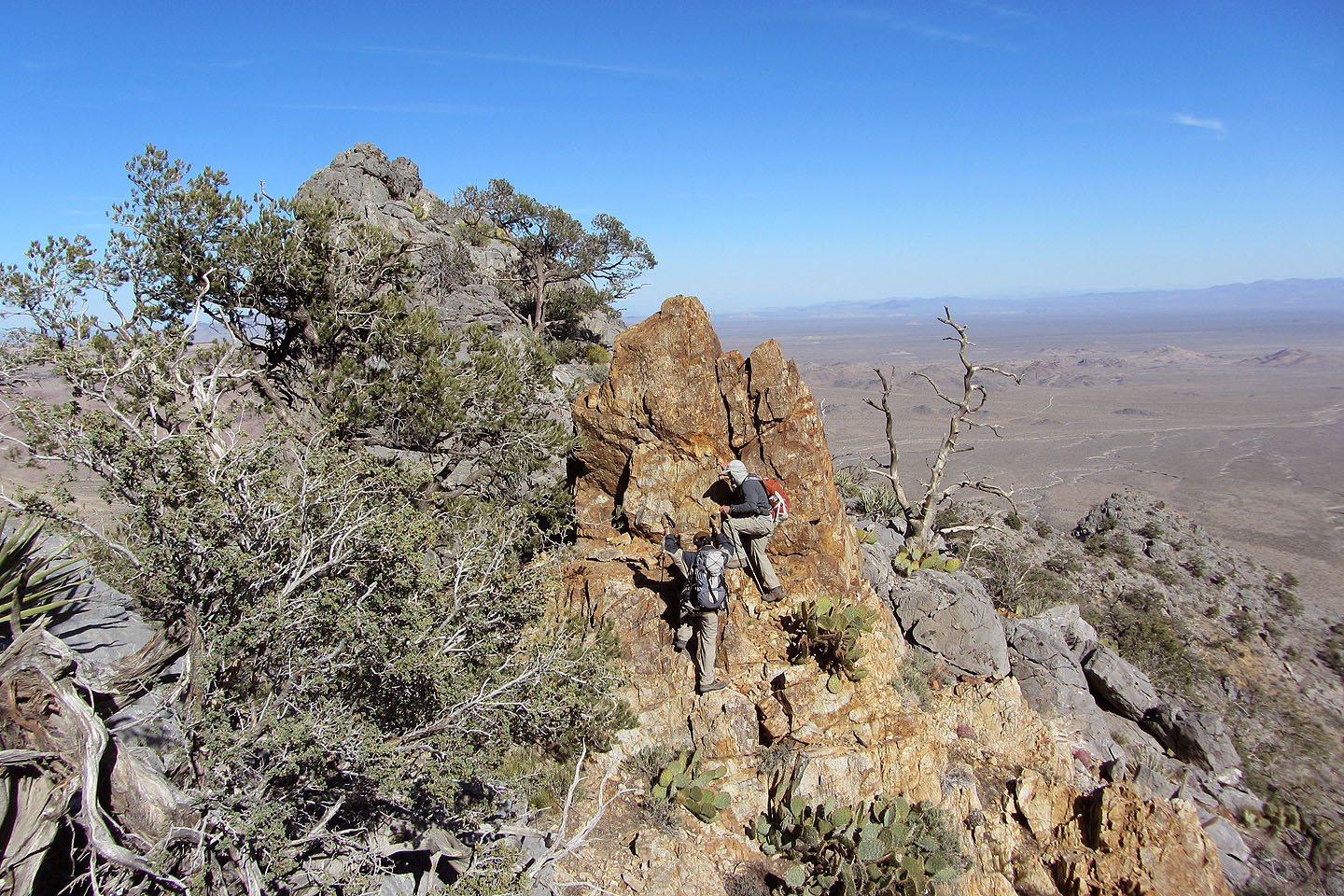 Heading back, Shin and I scrabble around an orange pinnacle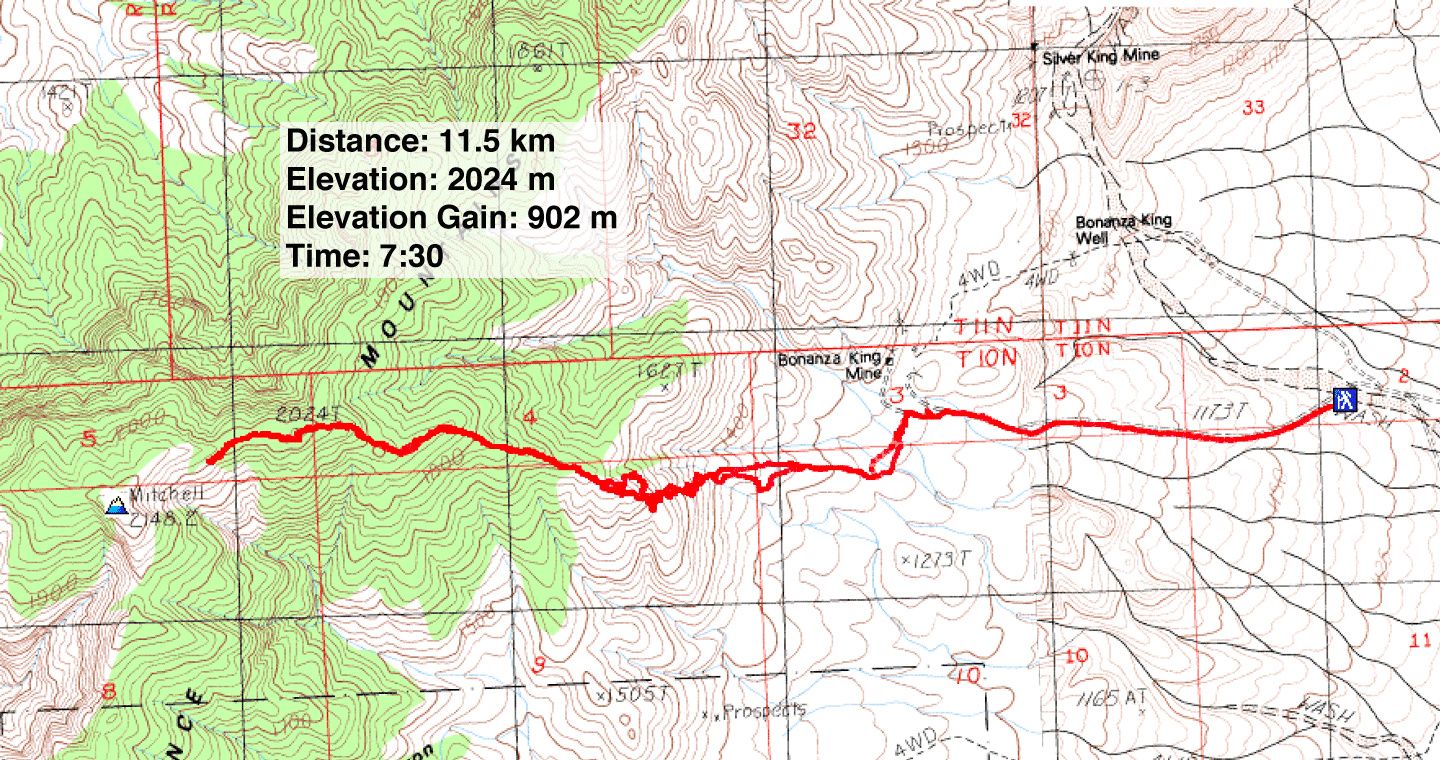 Fountain Peak and Colton Well Topos (7.1 mi, 6640 ft, 2959 ft)